Duty And Honor Famous Quotes & Sayings
List of top 66 famous quotes and sayings about duty and honor to read and share with friends on your Facebook, Twitter, blogs.
Top 66 Quotes About Duty And Honor
#1. When an honest writer discovers an imposition it is his simple duty to strip it bare and hurl it down from its place of honor, no matter who suffers by it; any other course would render him unworthy of the public confidence. - Author: Mark Twain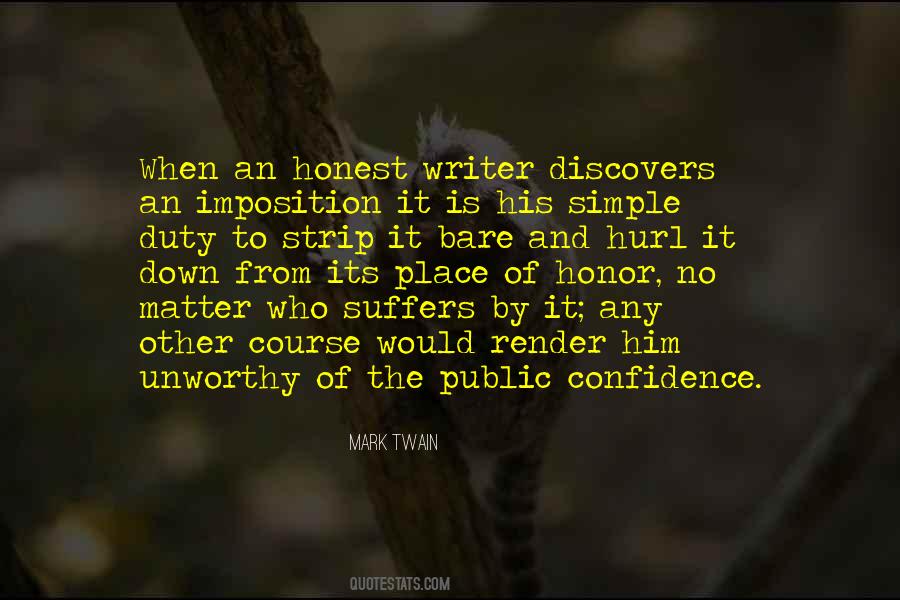 #2. Whatever our place allotted to us by Providence that for us is the post of honor and duty. God estimates us, not by the position we are in, but by the way in which we fill it. - Author: Tryon Edwards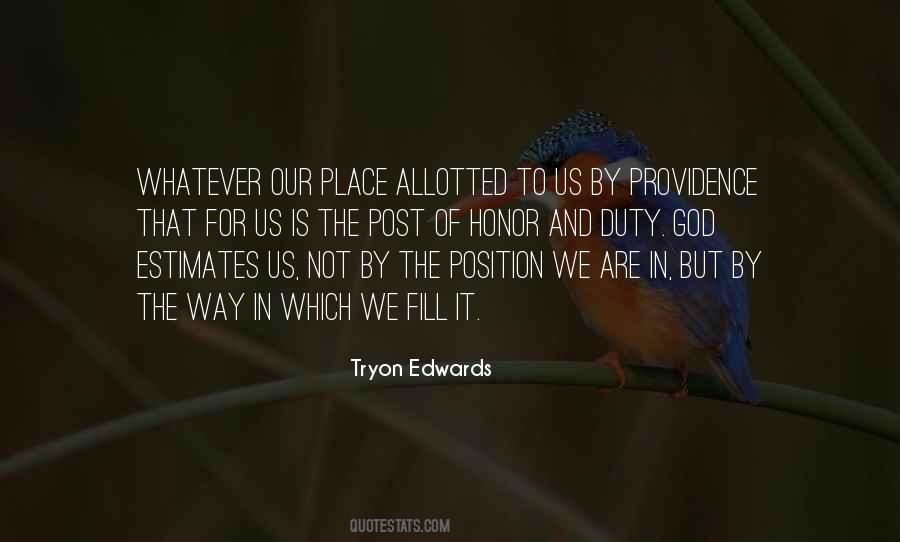 #3. There is a way of losing that is finding. When soul overmasters sense. When the noble and divine self overcomes the lower self. When duty and honor and love immortal things bid the mortal perish. It is only when a man supremely gives that he supremely finds - Author: Joshua Lawrence Chamberlain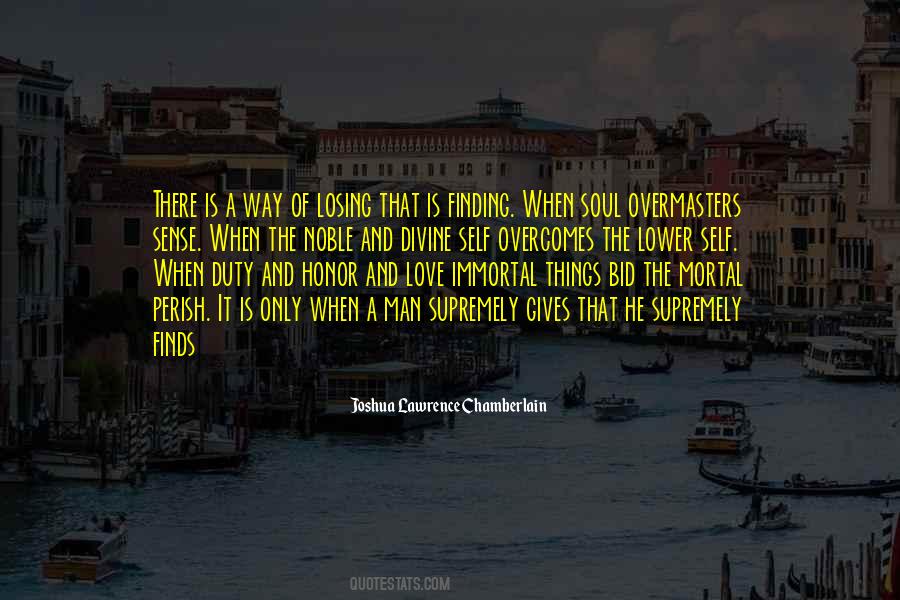 #4. Whilst weakness and timidity keep us to our duty, virtue has often all the honor. - Author: Francois De La Rochefoucauld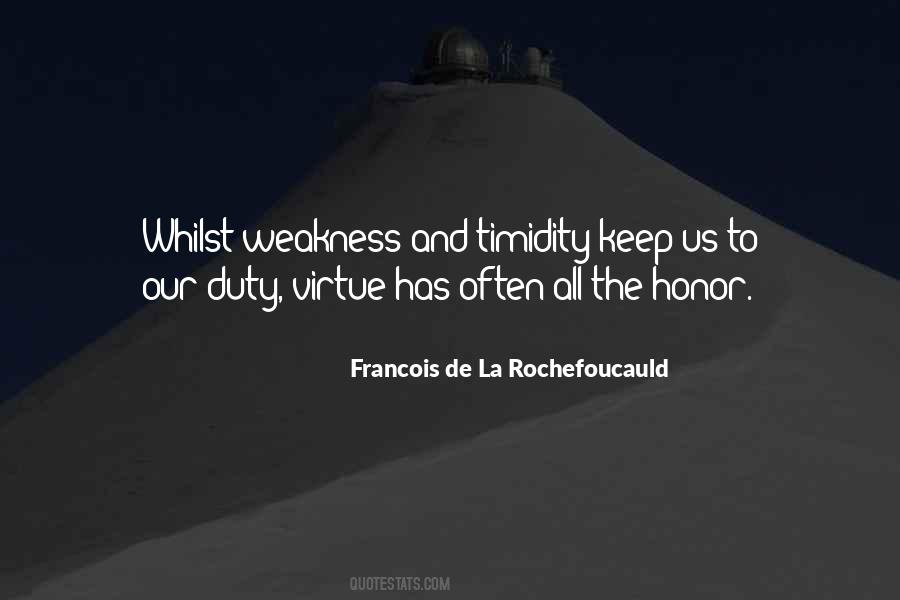 #5. The meaning of life has not much to do with good and evil, right and wrong, duty, honor, country, or any of that.
It has to do with cutting the right deal. - Author: Nelson DeMille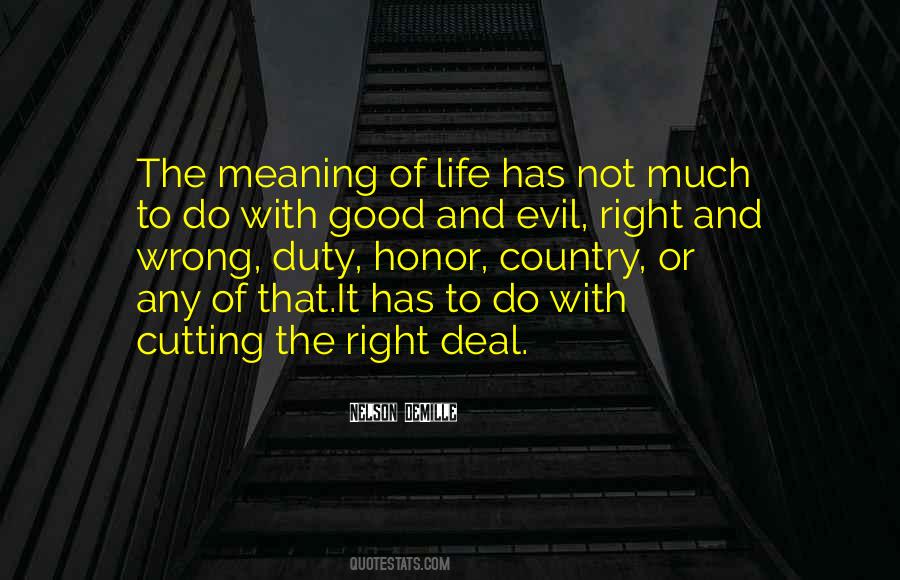 #6. She was no pushover. That was for sure. She was strong, opinionated, easy to underestimate and misunderstand. She had her own ideas about duty and honor and she kept to her principles even with a gun at her back. - Author: Robert Edsel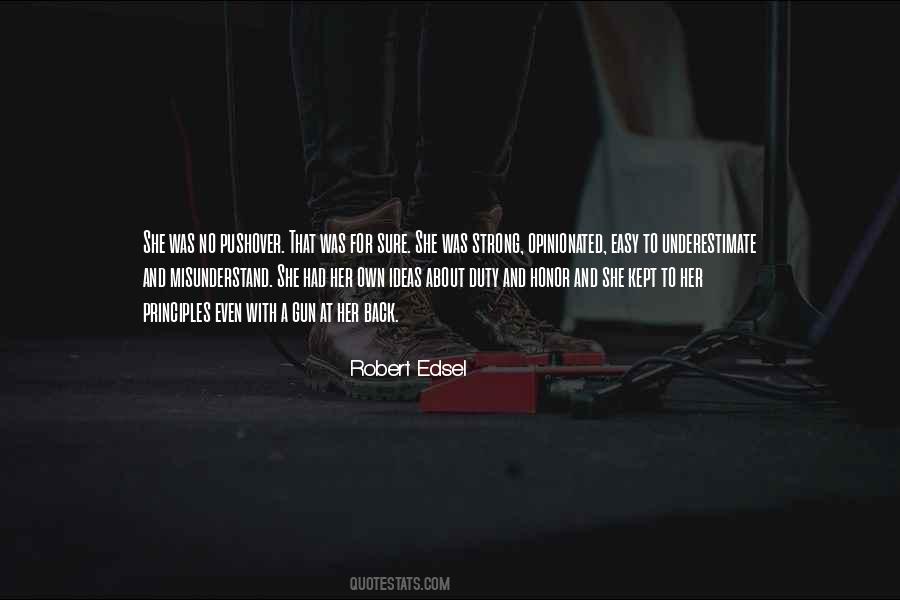 #7. Love is a Christian word, Anjin-san. Love is a Christian thought, a Christian ideal. We have no word for 'love' as I understand you to mean it. Duty, loyalty, honor, respect, desire, those words and thoughts are what we have, all that we need. - Author: James Clavell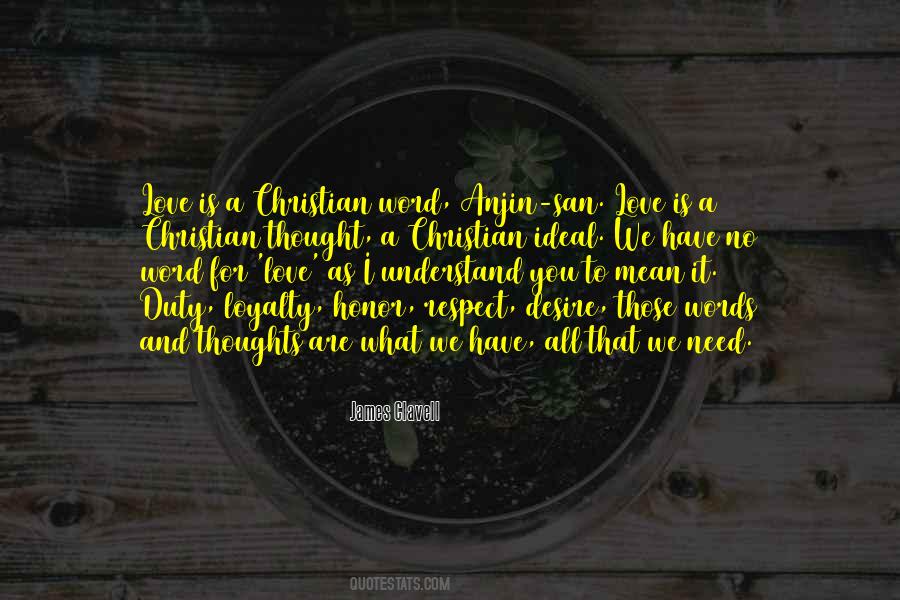 #8. Americans love to pick up, move on, start over. But instead of being somebody fresh and new, they become somebody lonely and lost, or, far too often these days, they become nobody at all, a machine for satisfying hunger, without loyalty or honor or duty. - Author: Orson Scott Card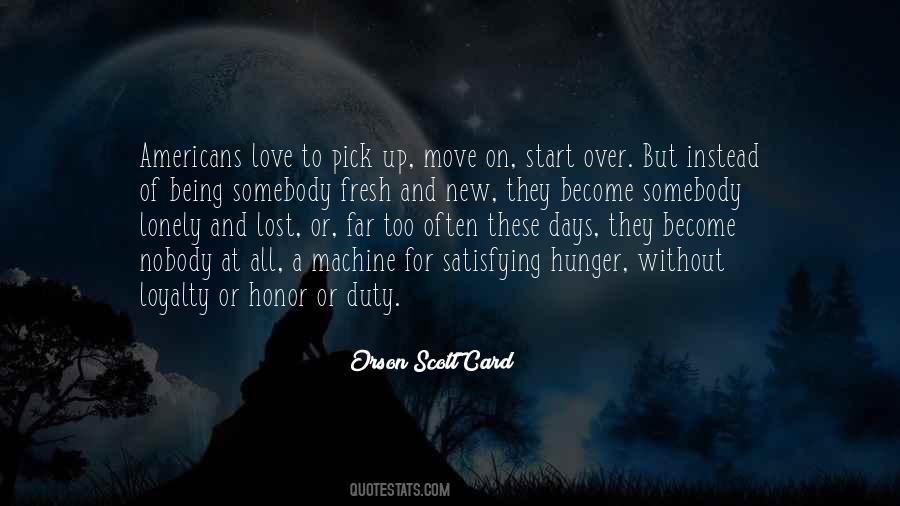 #9. The only force that can sustain true and consistent courage is some form of spiritual belief that values like honor, duty, loyalty and integrity above the status, power, money and even security. - Author: Michael Josephson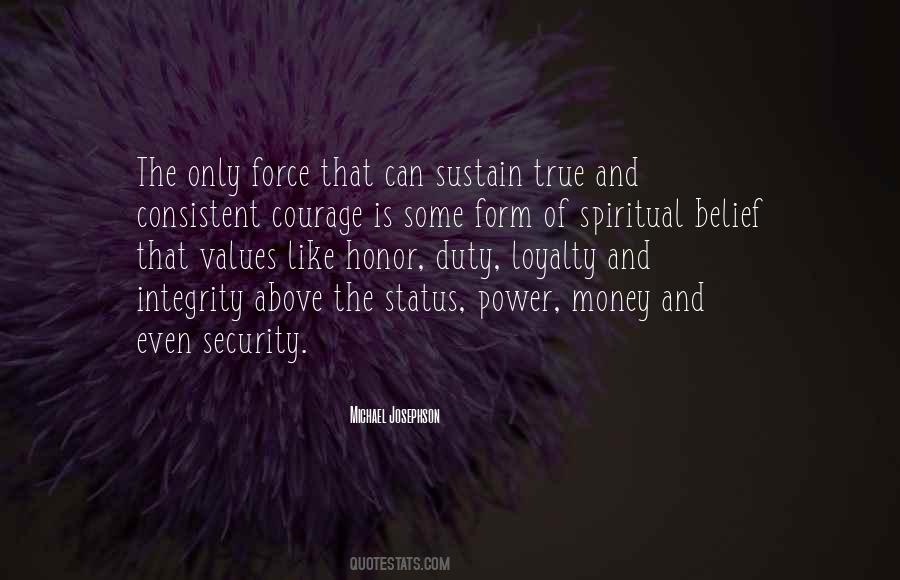 #10. I'll spend time playing 'Call of Duty' and 'Medal of Honor.' - Author: Kevin Dillon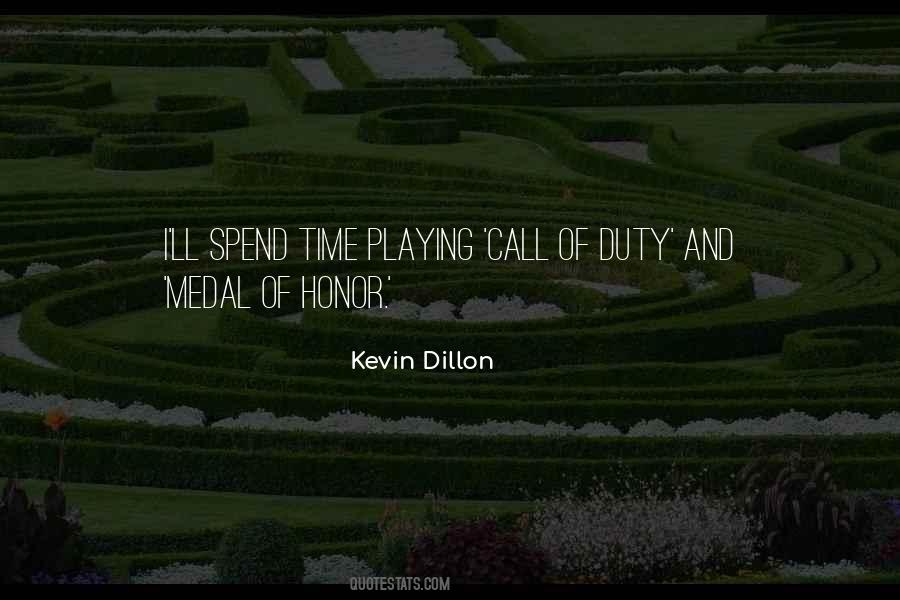 #11. We did an evil thing, father."
"What do you think war is? We're men. Not boys swinging sticks at each other and pronouncing the evil wizard's defeat. We do what duty and honor demand, and often what we do is terrible. - Author: Daniel Abraham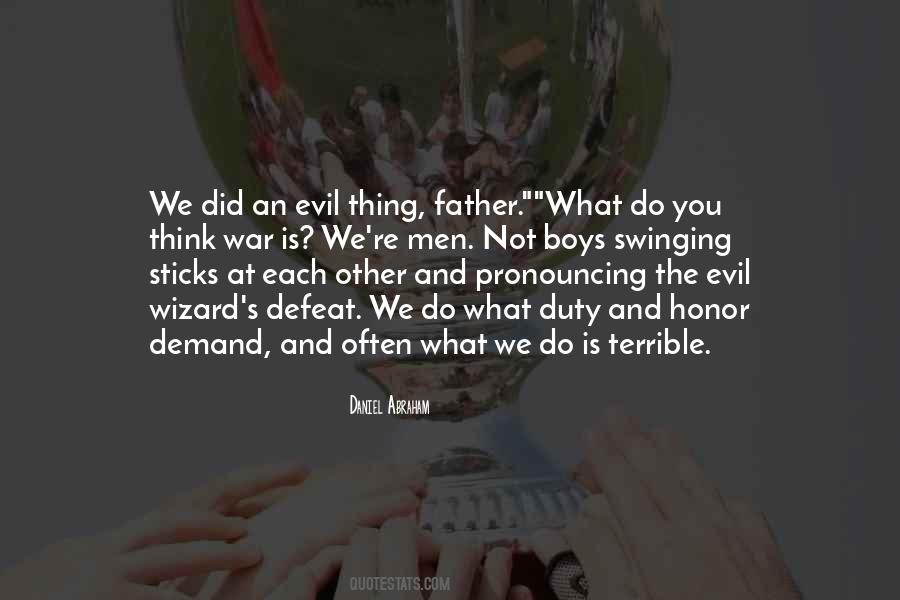 #12. The great thing about our system of democracy is when they call you for jury duty, you have to come ... It's an honor and a privilege. I was called and I've got to be here. - Author: Antonio Villaraigosa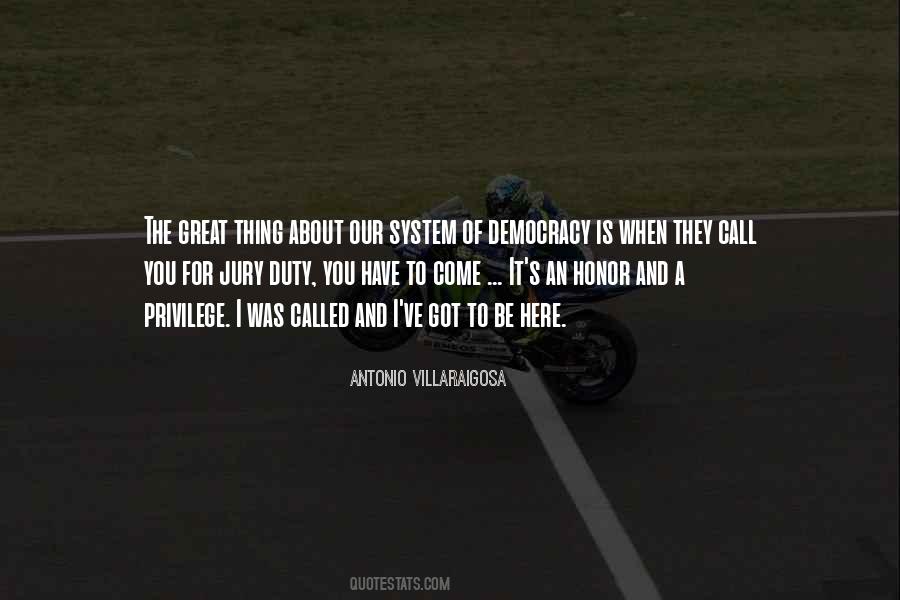 #13. Remember that this greatness was won by men with courage, with knowledge of their duty, and with a sense of honor in action. - Author: Thucydides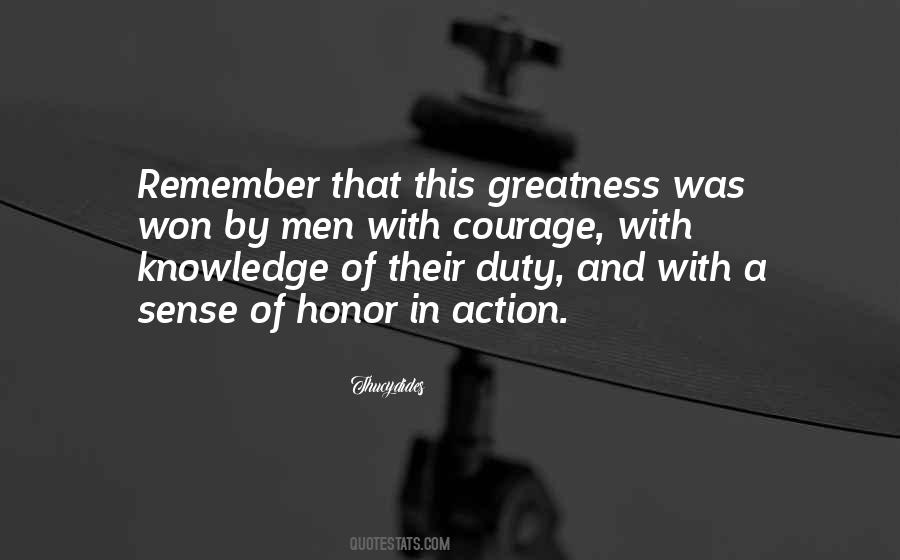 #14. In some ways, I had a traditional 'old South' upbringing, meaning that I spent some time in a military school, and acquired an inoculum of the military ethic that is still with me today: honor, duty, loyalty. - Author: E. O. Wilson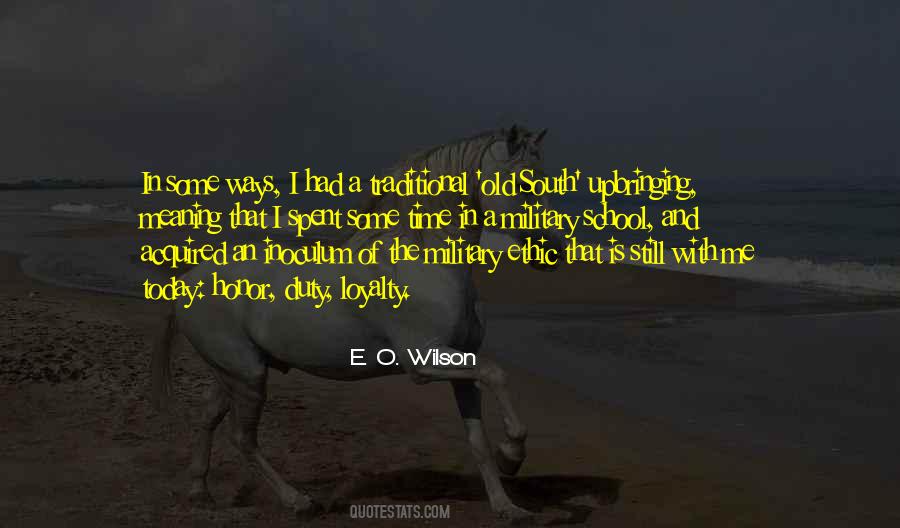 #15. Even if a sense of honor and duty were not the primary motivating factors in the Warren Commission's work, simple self-interest would naturally have induced its members not to try to cover up the existence of a conspiracy if, in fact, they found one. - Author: Vincent Bugliosi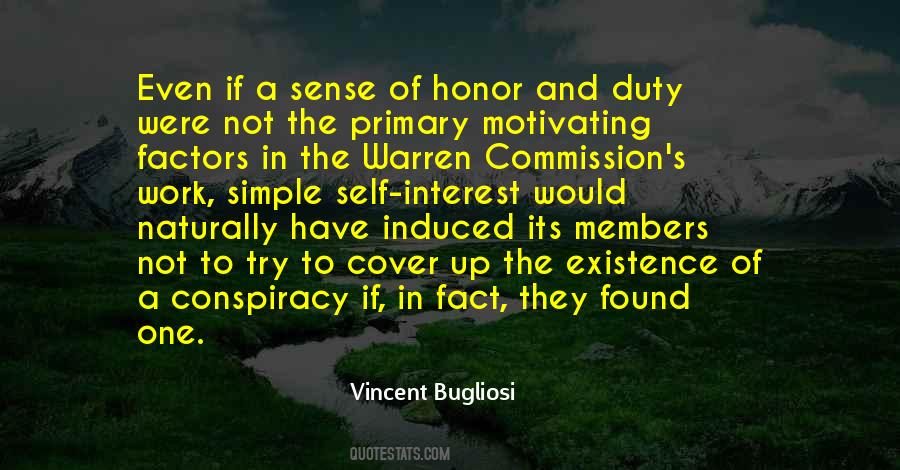 #16. Now I remembered a captain's honor and his only duty: to bring his crew back alive. - Author: Carsten Jensen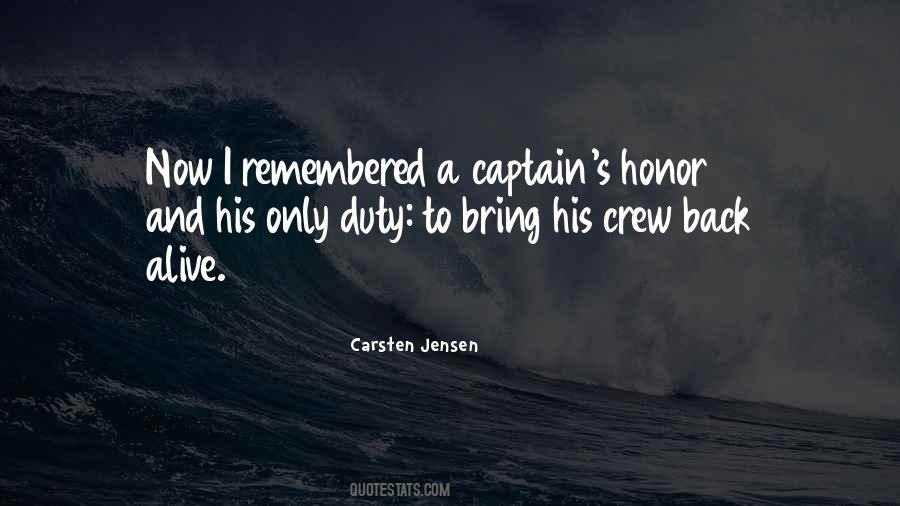 #17. Love grows and wanes, but honor, duty, and commitment, those things are constant and stable. They define who you are. - Author: Richelle E. Goodrich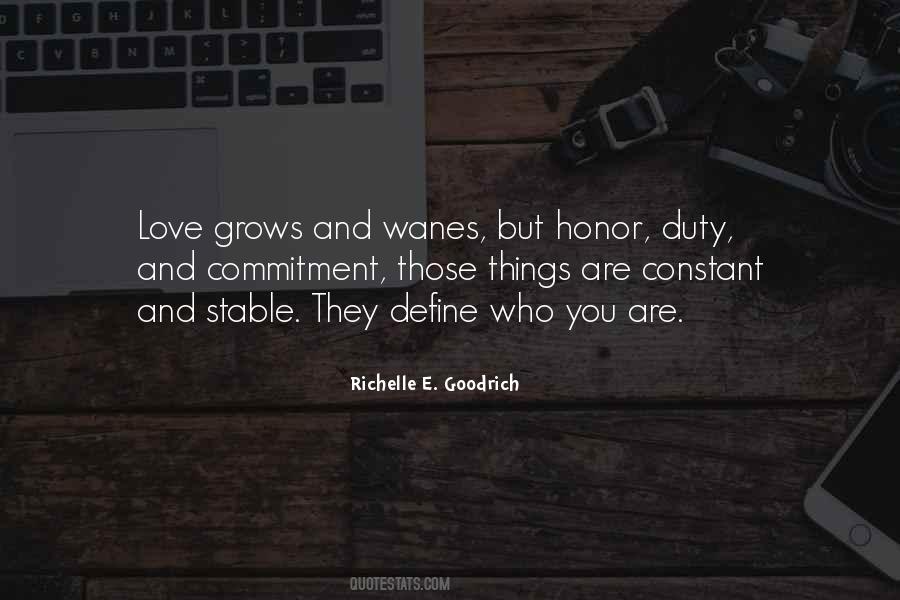 #18. Better than honor and glory, and History's iron pen, Was the thought of duty done and the love of his fellow-men. - Author: Richard Watson Gilder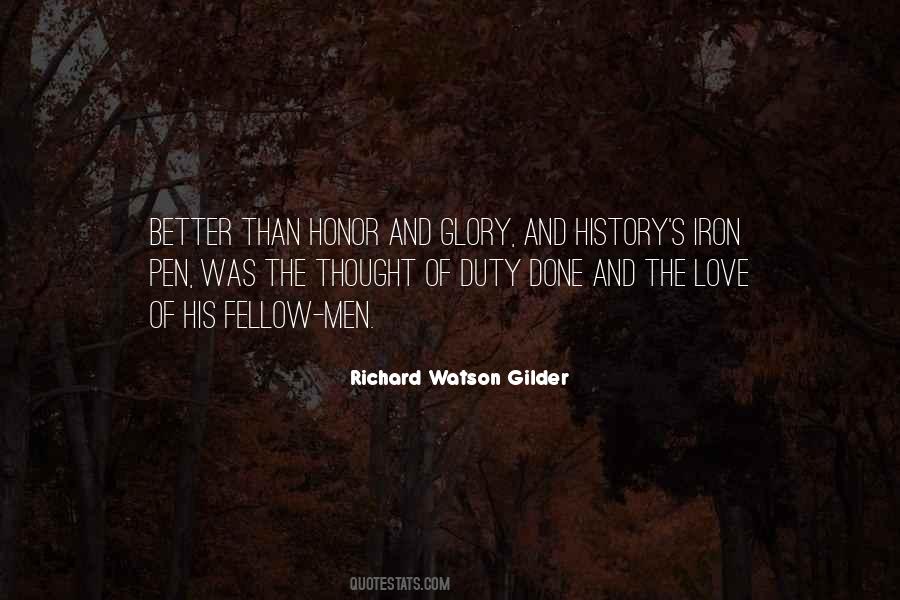 #19. A craven can be as brave as any man, when there is nothing to fear. And we all do our duty, when there is no cost to it. How easy it seems then, to walk the path of honor. Yet soon or late in every man's life comes a day when it is not easy, a day when he must choose. (Maester Aemon) - Author: George R R Martin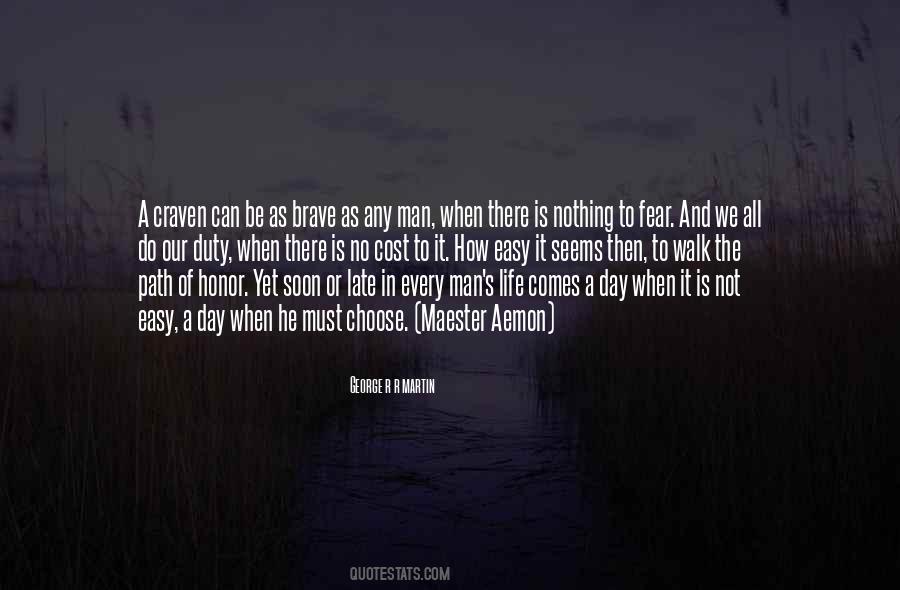 #20. It's an old copy and it's starting to fall apart, but I hold on to my Handbook because nothing else makes promises like that around here, promises with these words burning inside them: honor, duty, and try. - Author: Tupelo Hassman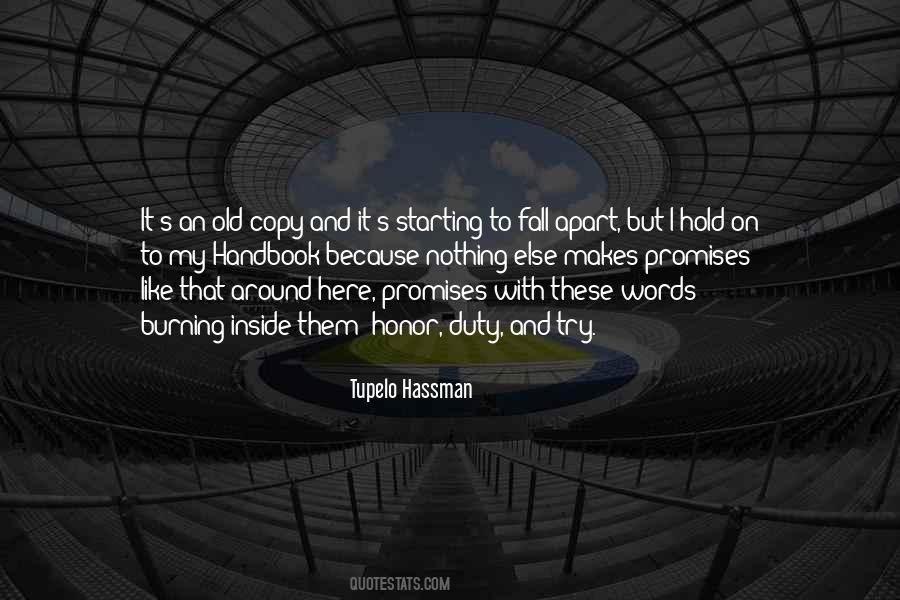 #21. That clever mind, that sharp tongue and droll wit. His love for Ella, manifested in sacrifice and secret smiles; his sense of honor and duty; his pride in the face of unceasing subjugation. His joy of nature, his respect for all things living, his skill with ... well, everything. - Author: Rachel Haimowitz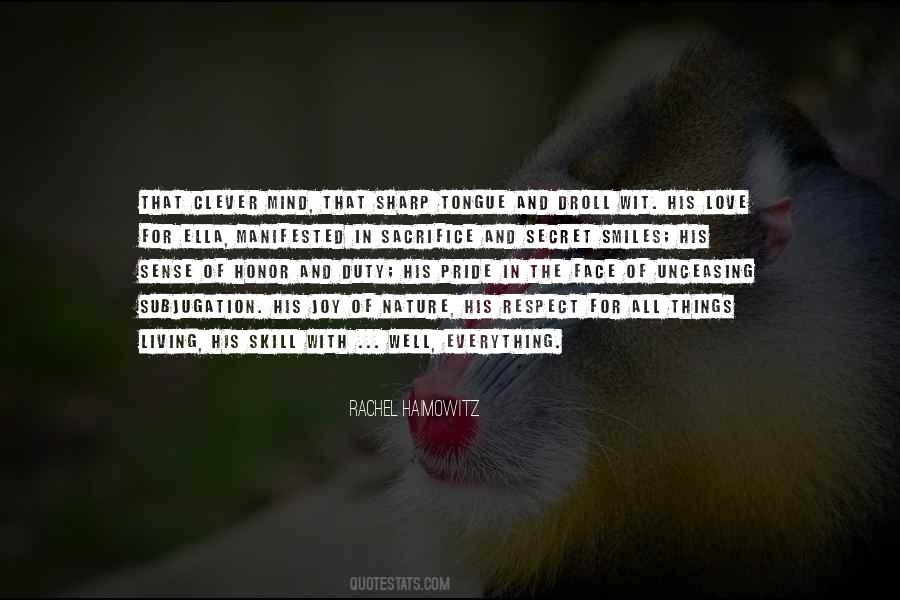 #22. As a soldier, I've served with the most brave people in an institution that's built on integrity, honor, and duty. - Author: Tulsi Gabbard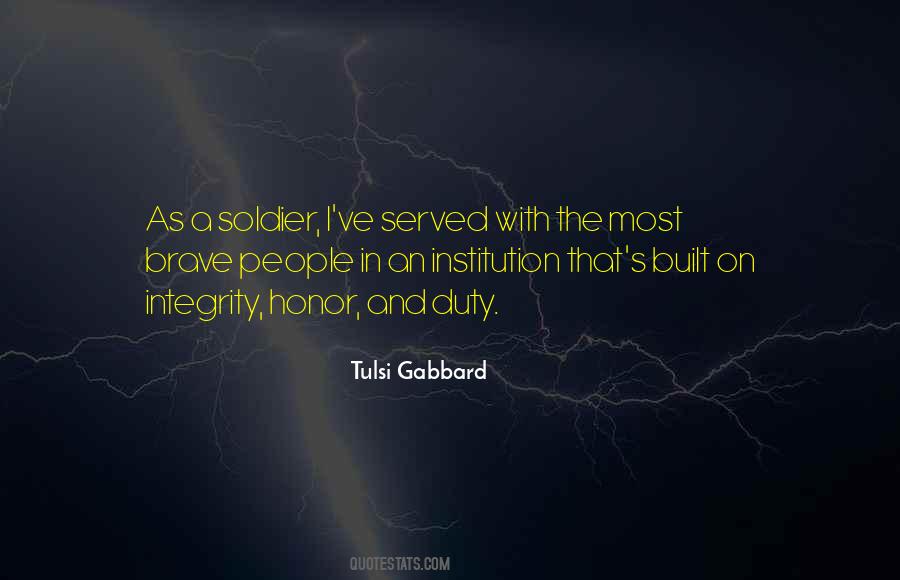 #23. Churchill knew the importance of peace, and he also knew the price of it. Churchill finally got his voice, of course. He stressed strategy, but it was his voice that armed England at last with the old-fashioned moral concepts of honor and duty, justice and mercy. - Author: Suzanne Fields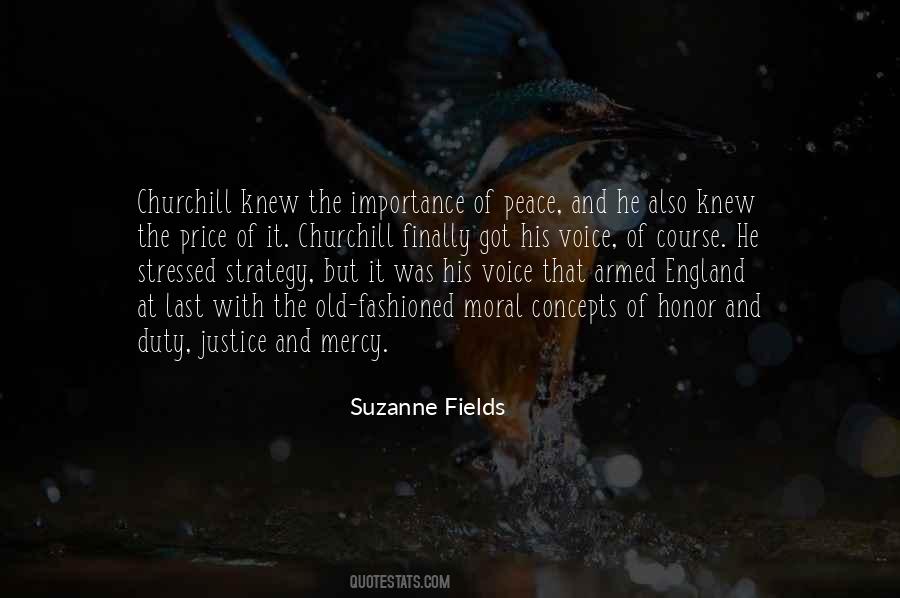 #24. On my honor, I will do my best
To do my duty To God and my country - Author: Boy Scouts Of America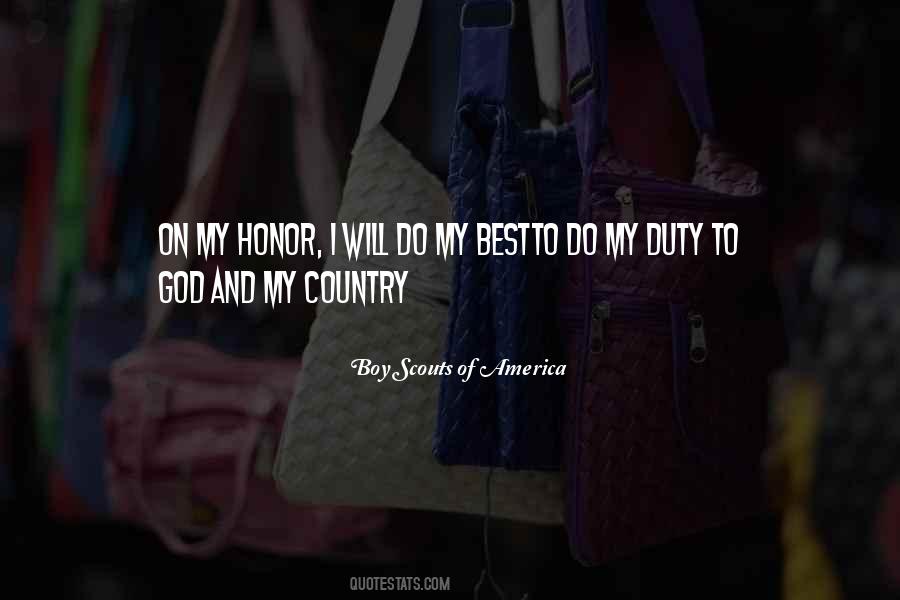 #25. An ideal marriage is a true partnership between two imperfect people, each striving to complement the other, to keep the commandments, and to do the will of the Lord ["Our Sacred Duty to Honor Woman," Ensign, May 1999). - Author: Russel M. Nelson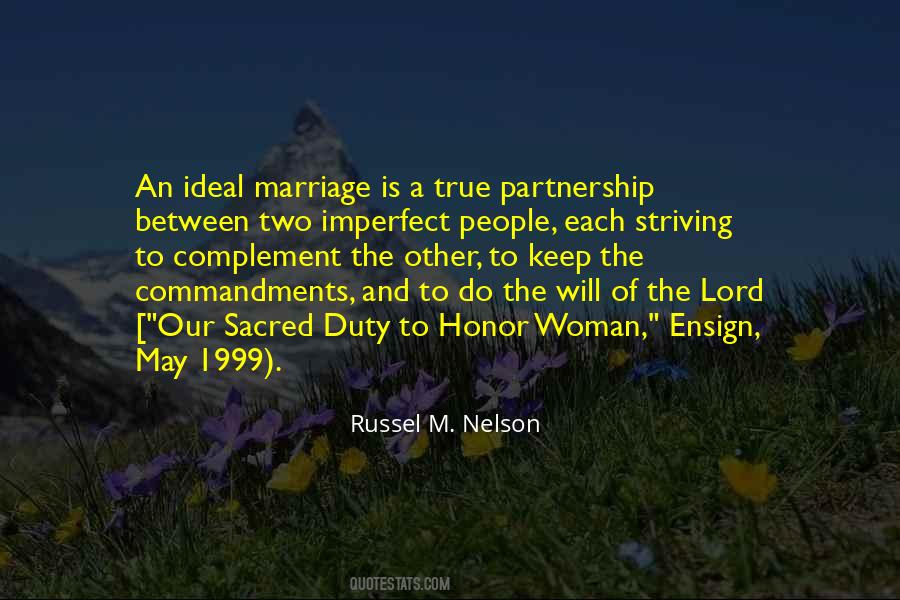 #26. Duty and honor, I thought. Stern and difficult taskmasters, but I must obey them both now. - Author: Cameron Dokey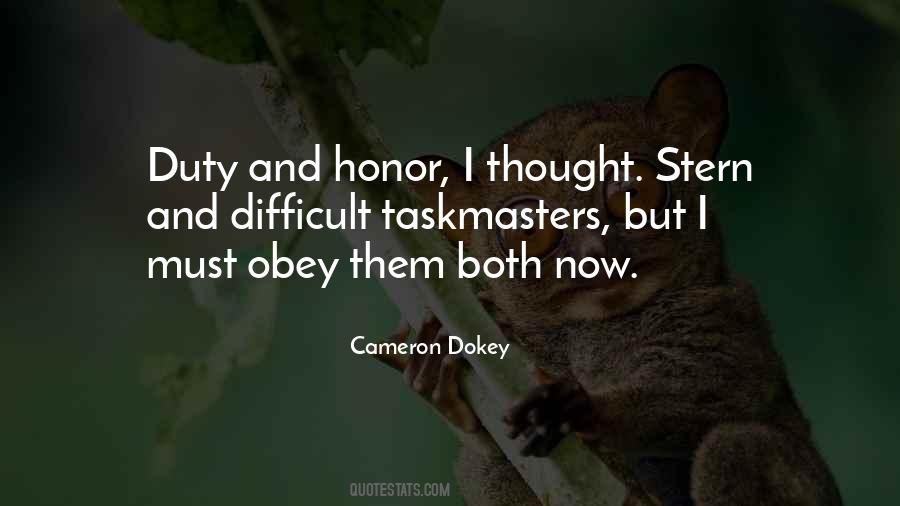 #27. The torch America carries is one of decency and hope. It is not America's torch alone. But it is America's duty - and honor - to hold it high enough that all the world can see its light. - Author: Mitt Romney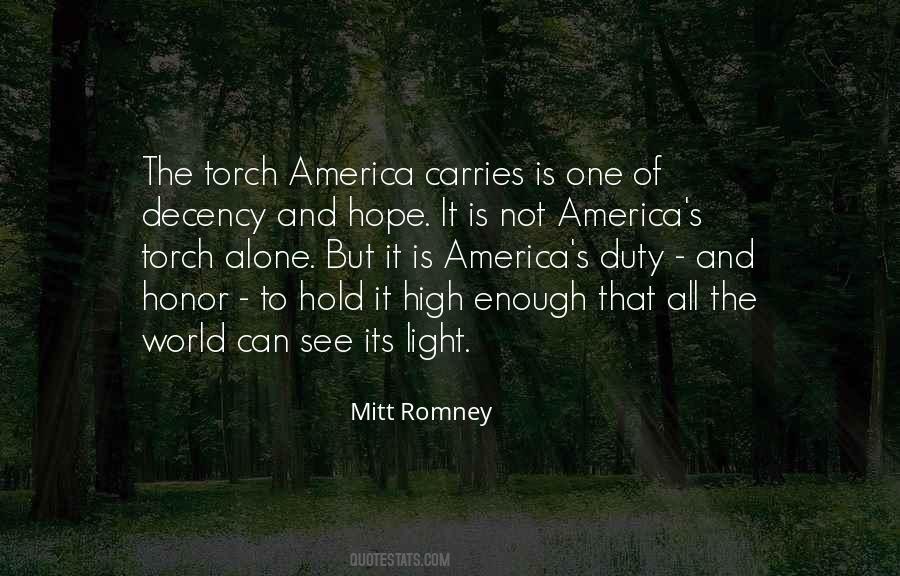 #28. I love 'Call of Duty;' I'm a huge fan, but I started off with 'Medal of Honor' and I stuck with what I knew. I never got into the online play with people, across the world, across the country. - Author: Mehcad Brooks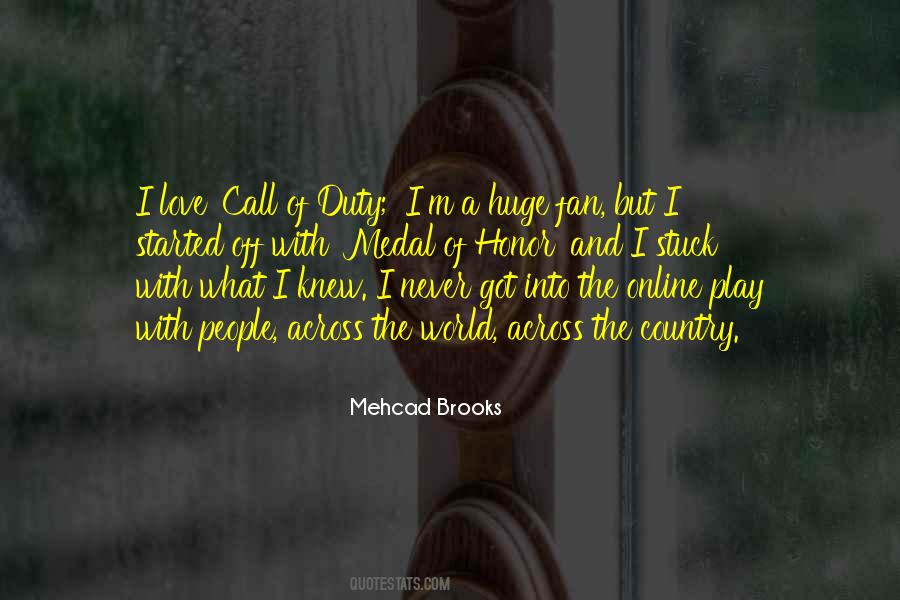 #29. All the great things are simple. - Author: Winston Churchill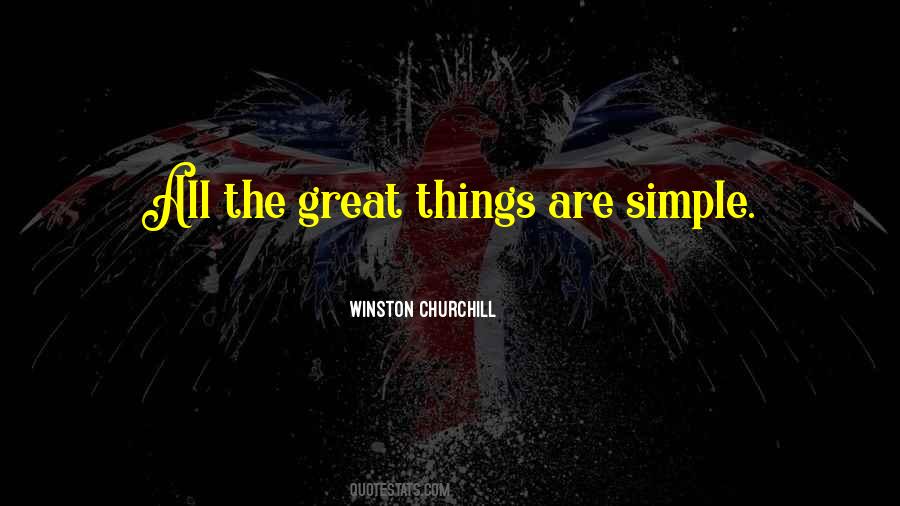 #30. Leadership to me means duty, honor, country. It means character, and it means listening from time to time. - Author: George W. Bush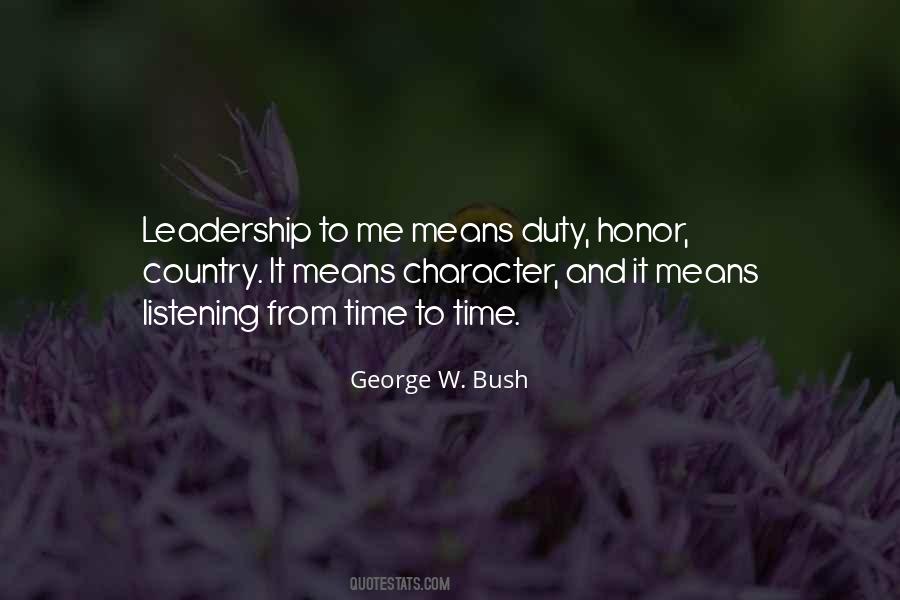 #31. I used to be so convinced that happiness was the goal, yet all those years I was chasing after it I was unhappy in the pursuit. Maybe the goal really should be a life that values honor, duty, good work, friends and family. - Author: Robert Downey Jr.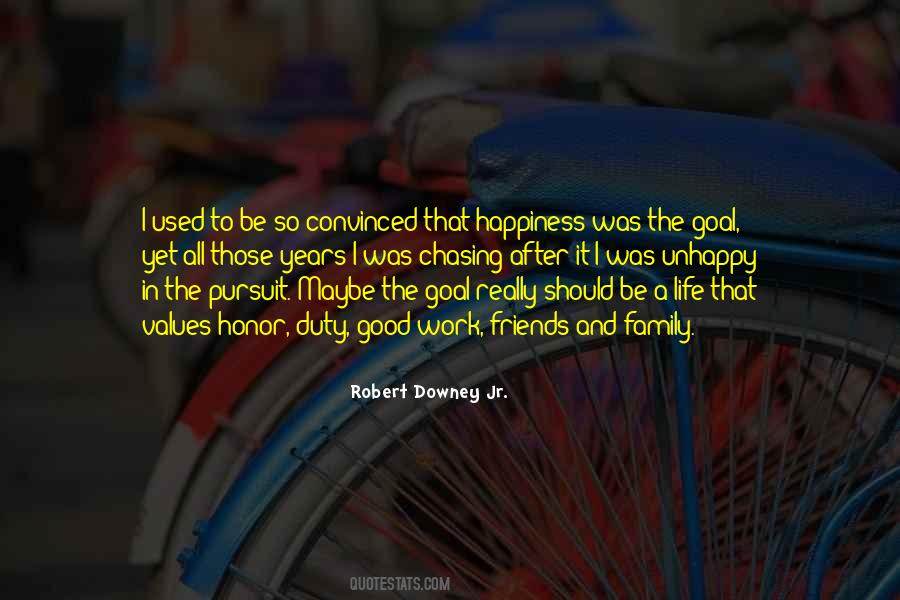 #32. Honorable, Bernita mine. To look after those who can't look after themselves, to attend to duty rather than convenience. You have reminded me of what honor requires, and I'm grateful. That last word - grateful - wasn't one Nita heard very often. - Author: Grace Burrowes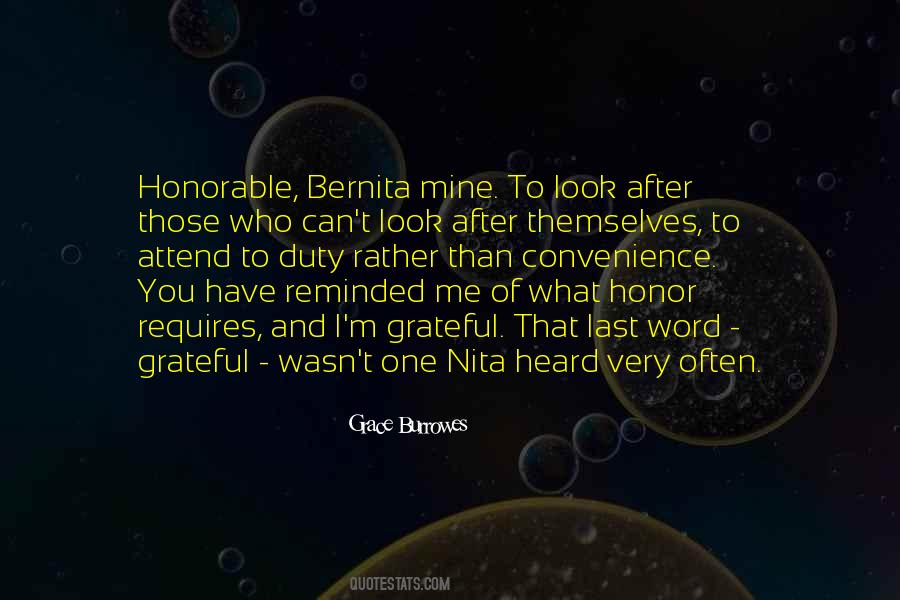 #33. Human happiness and moral duty are inseparably connected. - Author: George Washington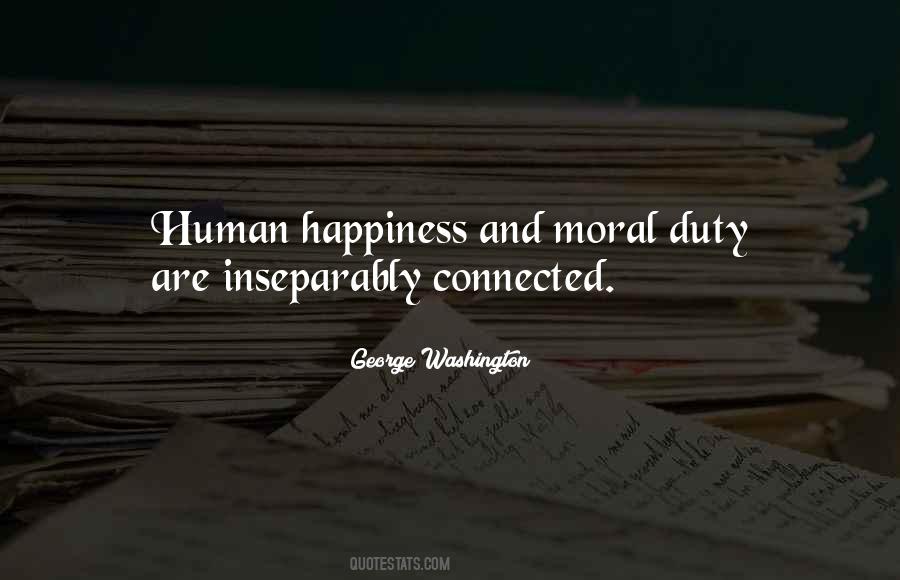 #34. Maybe in death you'll understand that love, and all other needs take a backseat when the one thing you want, stands against all that you swear to protect. - Author: Charles Lee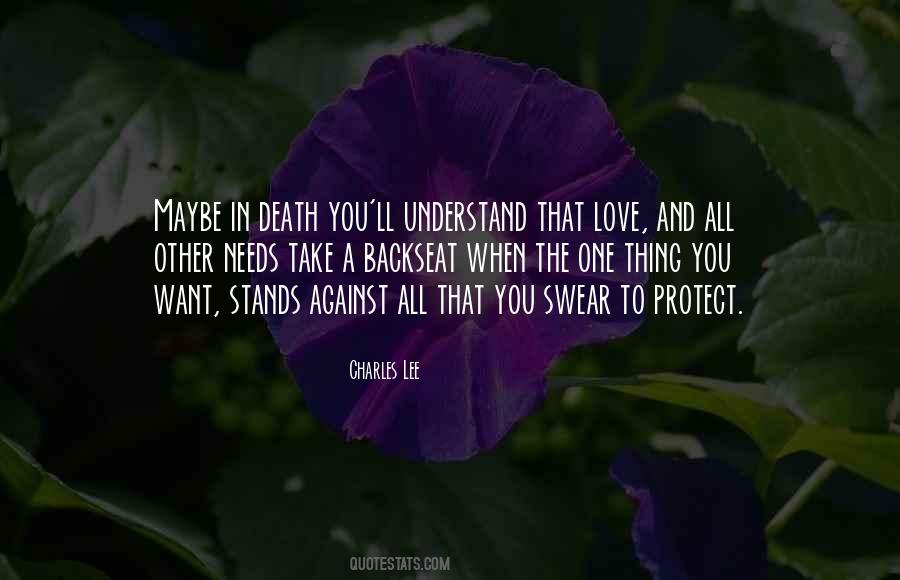 #35. We are following Allah's word. We believe that humanity's only duty is to honor Allah and his prophet Muhammad, peace be upon him. We are implementing what is written in the Koran. If we manage to do so, then of course it will be a success. - Author: Abdul Sattar Abu Risha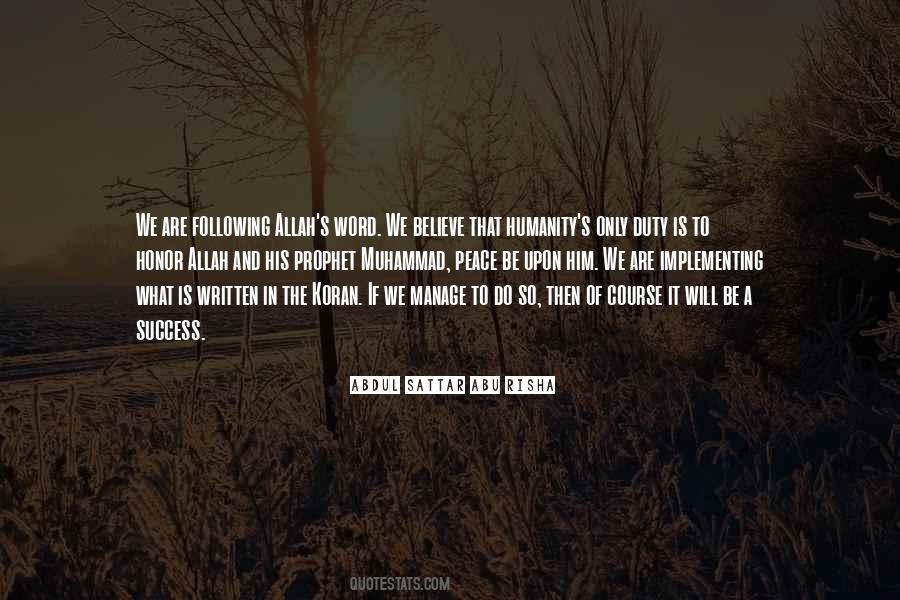 #36. A man's first duty is to his own conscience and honor; the party and country come second to that, and never first. - Author: Mark Twain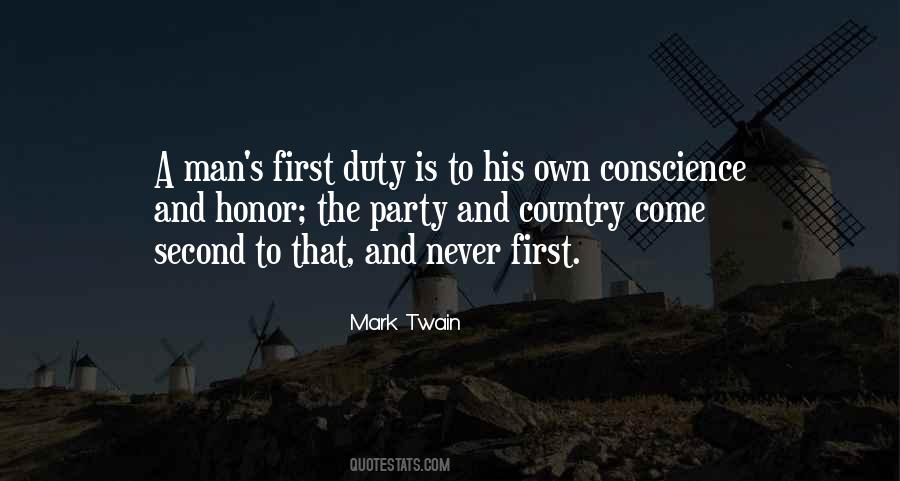 #37. I will do my duty no matter what the price, I've counted up the cost, I know the sacrifice. Oh, and I don't want to die for you, but if dying is asked of me, I'll bear that cross of honor cause freedom don't come free. - Author: Toby Keith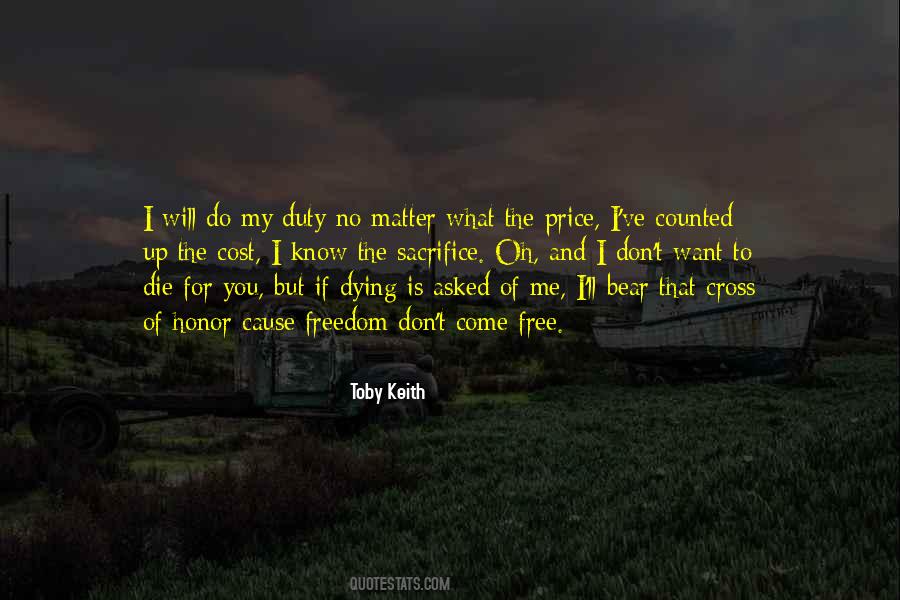 #38. Sacrifices. They married in record numbers and gave birth to another distinctive generation, the Baby Boomers. They stayed true to their values of personal responsibility, duty, honor, and faith. - Author: Tom Brokaw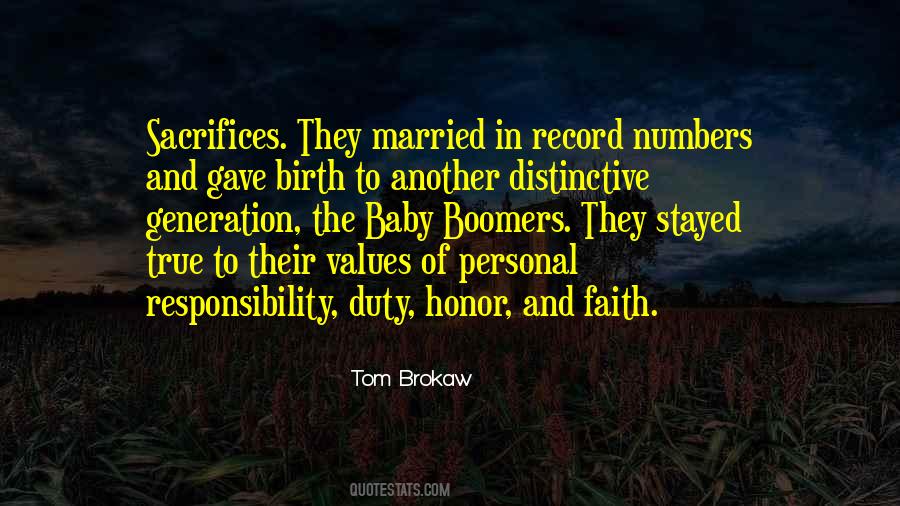 #39. It didn't matter how old you got, the finality of death never changed, and neither did the ideals of loyalty and duty and honor, things this punk had never understood. - Author: Martha Reed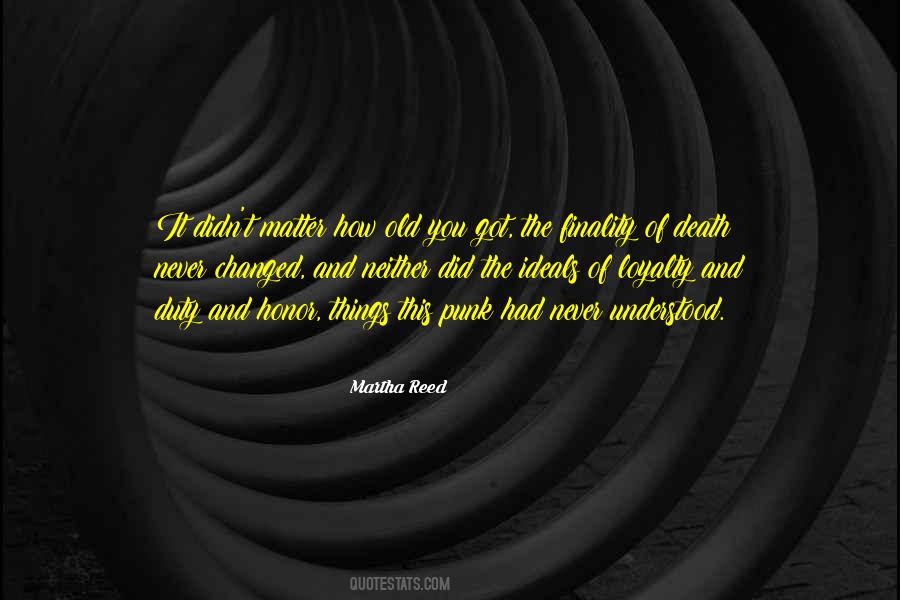 #40. Honor, duty, and love. He would not sacrifice Anna for his father and all the other werewolves in existence. Given a choice, he chose love. - Author: Patricia Briggs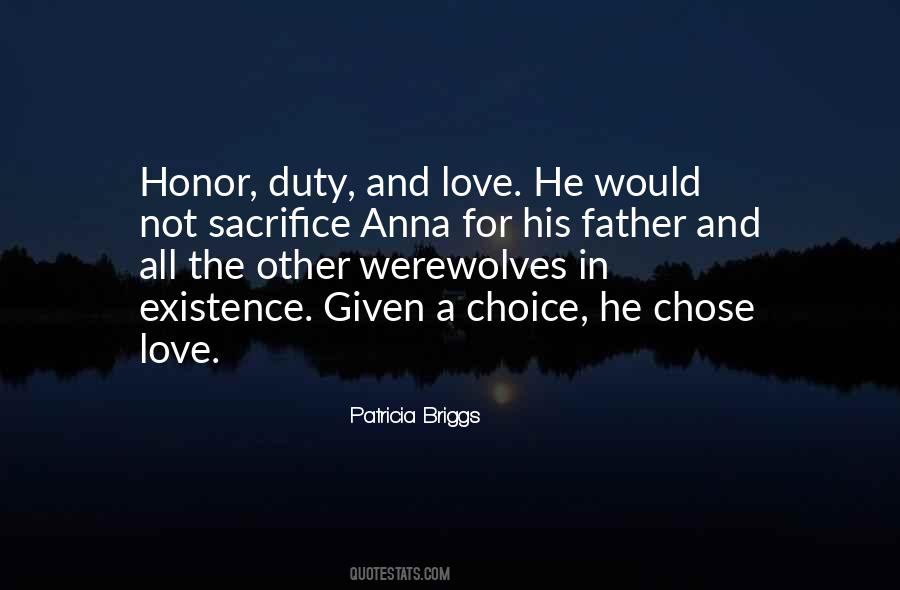 #41. Honor and duty will ride upon my shoulders till the day I die, like the old man of the sea, who once picked up can never be put dow. - Author: Simon R. Green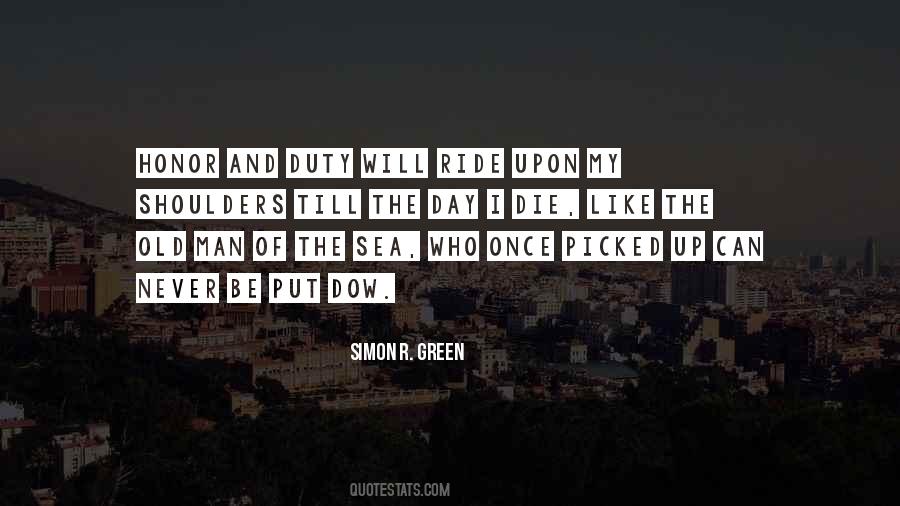 #42. All the great things are simple, and many can be expressed in a single word: freedom, justice, honor, duty, mercy, hope. - Author: Winston Churchill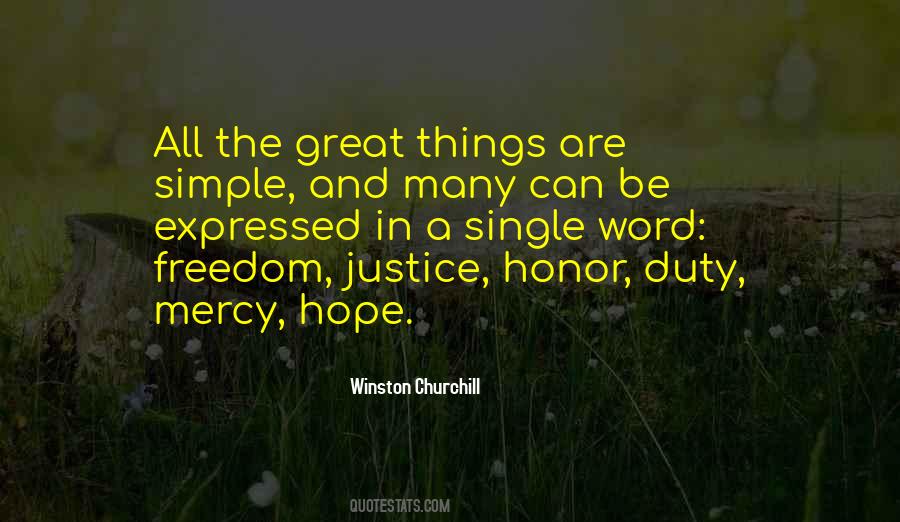 #43. Are these the duties I required? I called for the heart and spirit and you bring nothing but the carcass of duty. Should I receive this?" "The Lord says These people come near to me with their mouth and honor me with their lips, but their hearts are far from me." Isaiah 29:13 - Author: Thomas Watson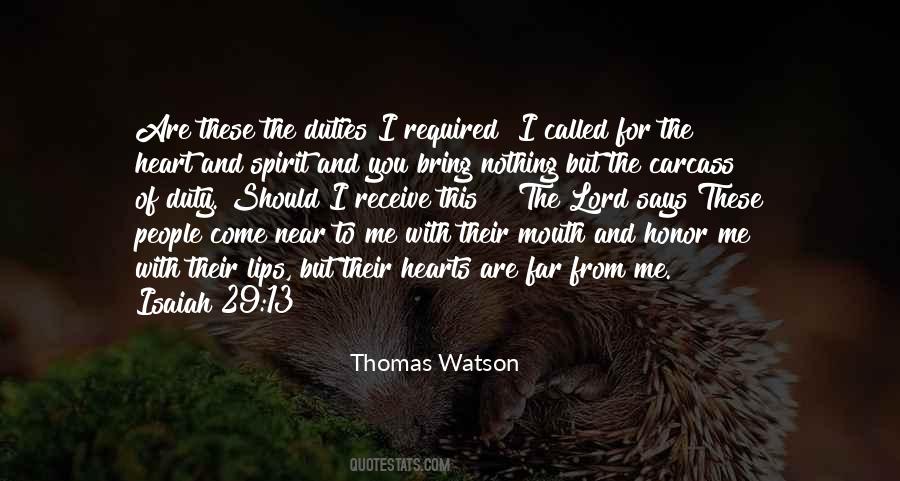 #44. Primal anger sharpened in his gut, brimming with a territorial, possessive need. Not a need for her, but a need to portect
a male's duty and honor. - Author: Sarah J. Maas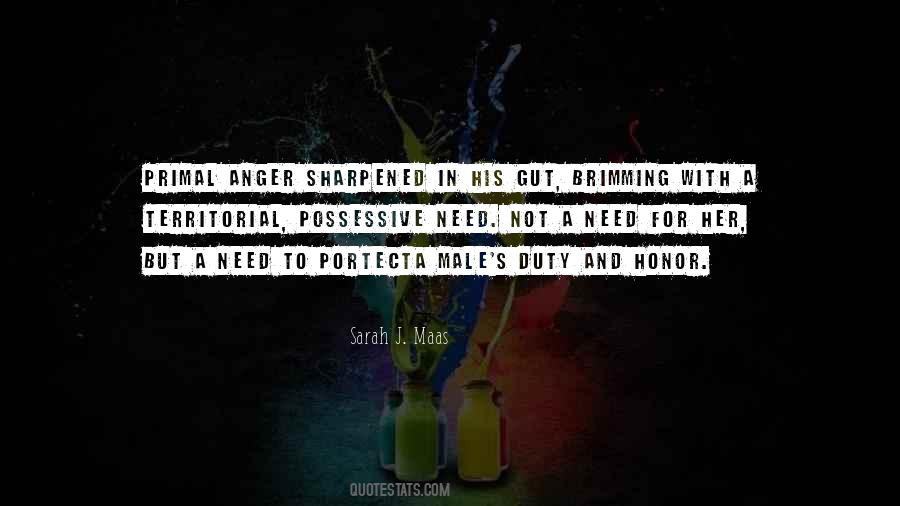 #45. Honor, justice, and humanity, call upon us to hold, and to transmit to our posterity, that liberty which we received from our ancestors. It is not our duty to leave wealth to our children, but it is our duty to leave liberty to them. - Author: John Dickinson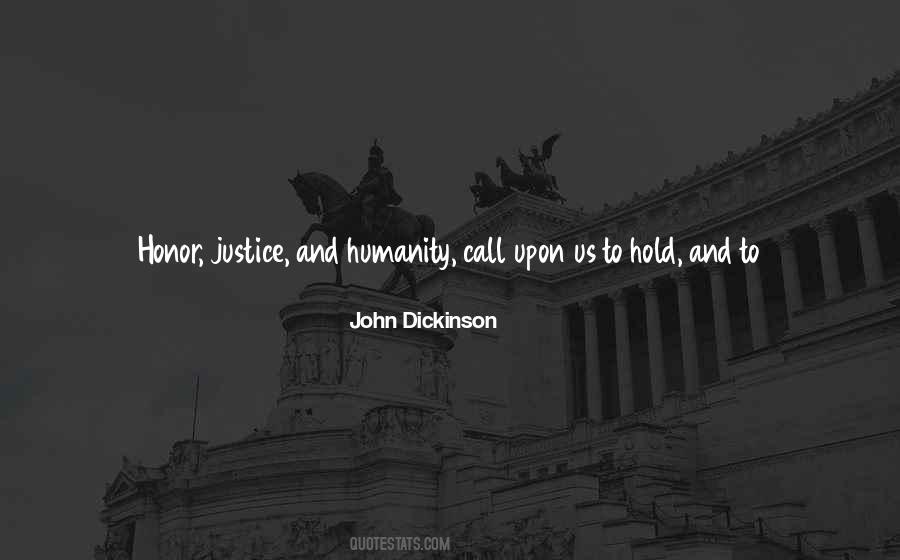 #46. The thing about a marine is that they can be the nicest men and women you will ever meet, but when it comes to their duty there are none fiercer. - Author: Joshua Mcnutt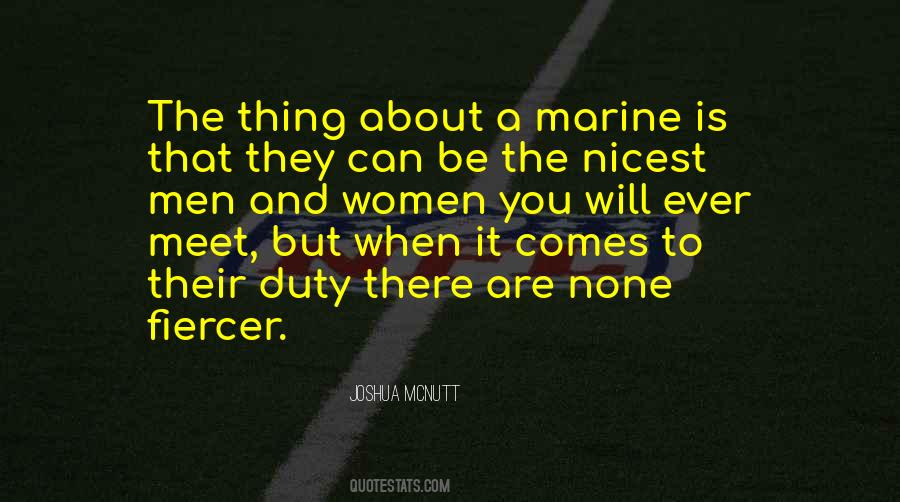 #47. A person less fortunate than yourself deserves the best you can give. Because of duty, and honor, and service. You understand those words? You should do your job right, and you should do it well, simply because you can, without looking for notice or reward. - Author: Lee Child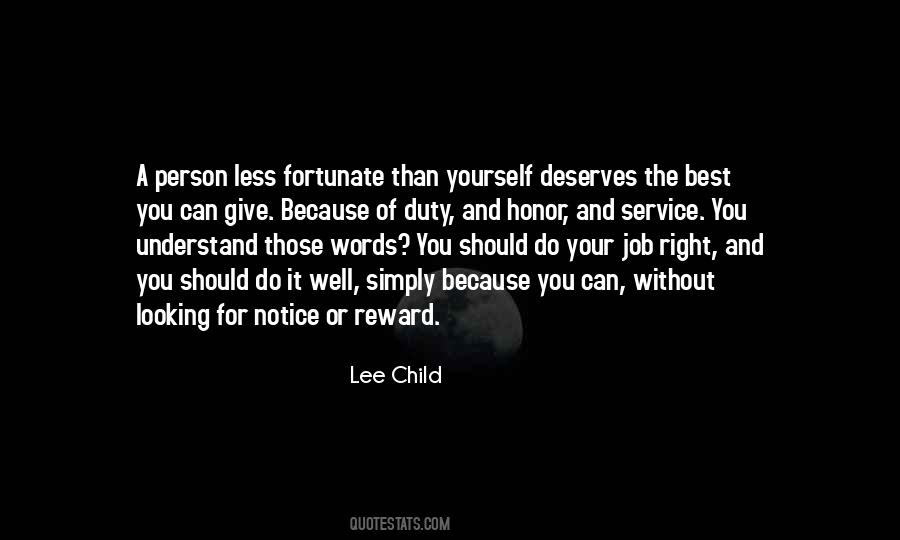 #48. The difference there is betwixt honor and honesty seems to be chiefly the motive; the mere honest man does that from duty which the man of honor does for the sake of character. - Author: William Shenstone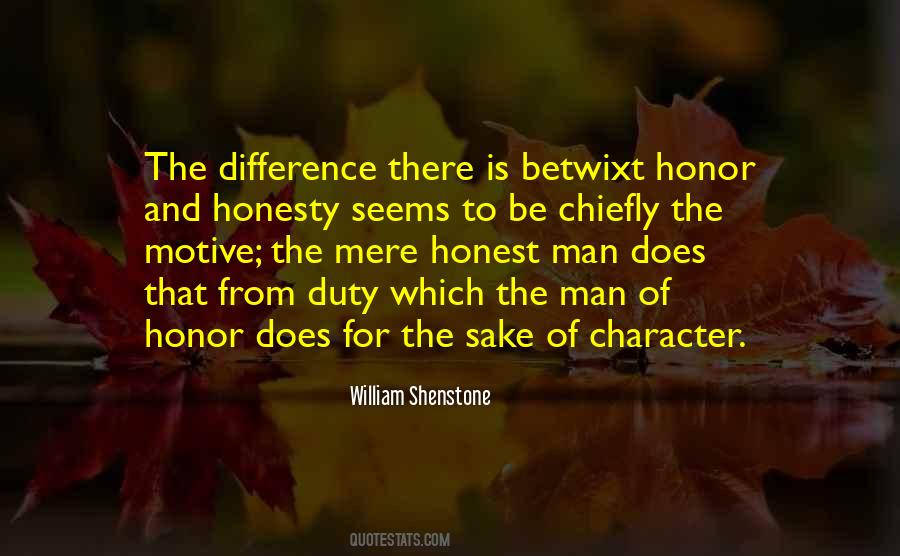 #49. Never, do you hear me? I will give up my friends, my country, my duty, and even my honor - but never you. - Author: Alyssa Day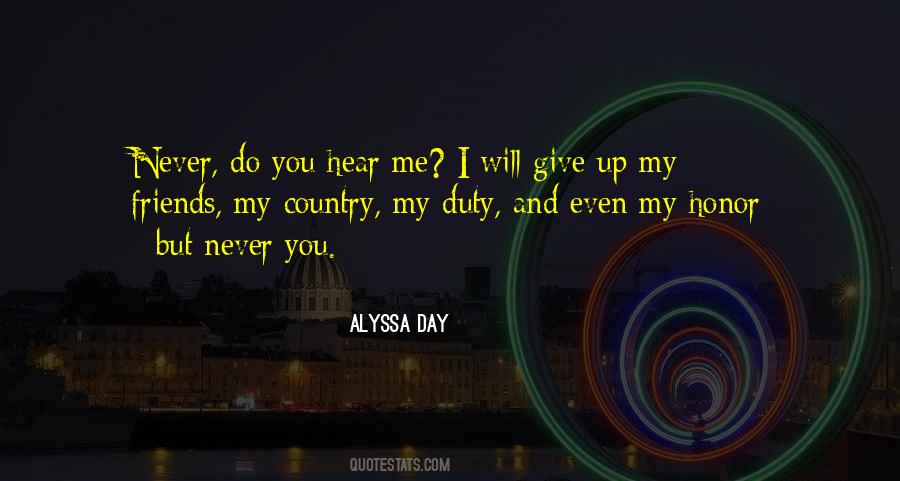 #50. Be the hero of your children's story. Never let them believe for a minute that honor, courage and doing what is right is only reserved for other fathers and mothers. - Author: Shannon L. Alder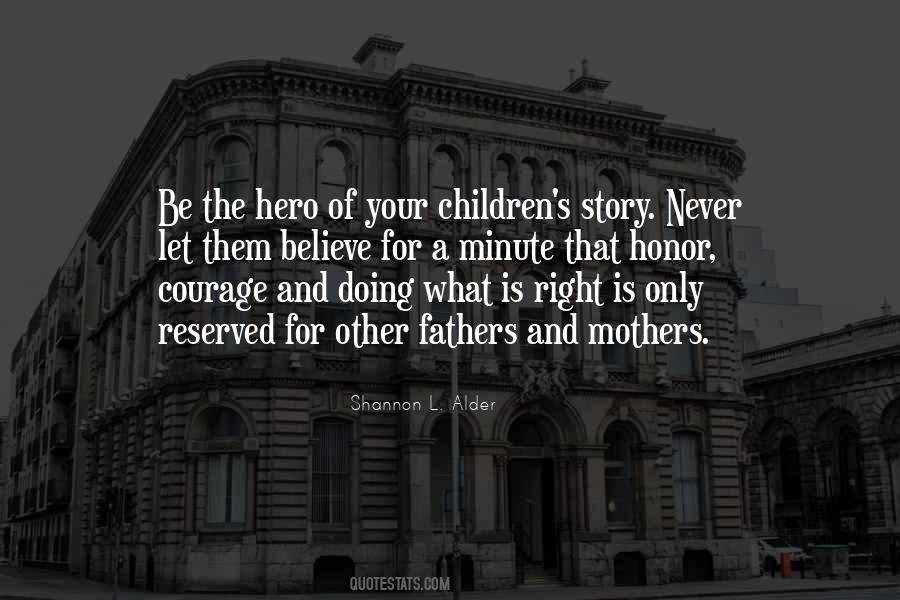 #51. A real man will never let his fear of death overpower his honor, his sense of duty to his country, and his innate manhood. - Author: George S. Patton Jr.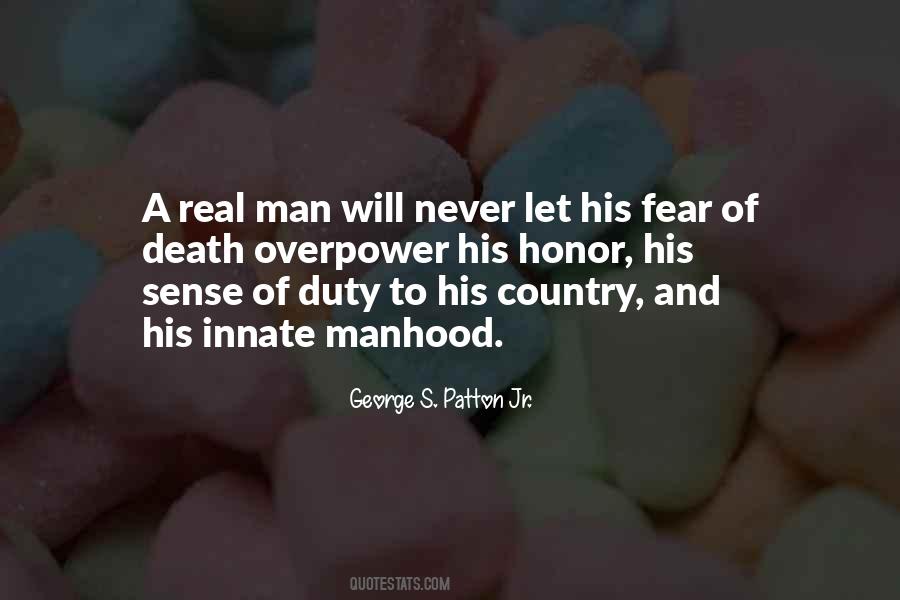 #52. In yielding we are like the water, by nature placid, conforming to the hollow of the smallest hand; in time, shaping even the mountains to its will. Thus we keep duty and honor. We cherish clan and civilization. We are Chinese. - Author: Bette Lord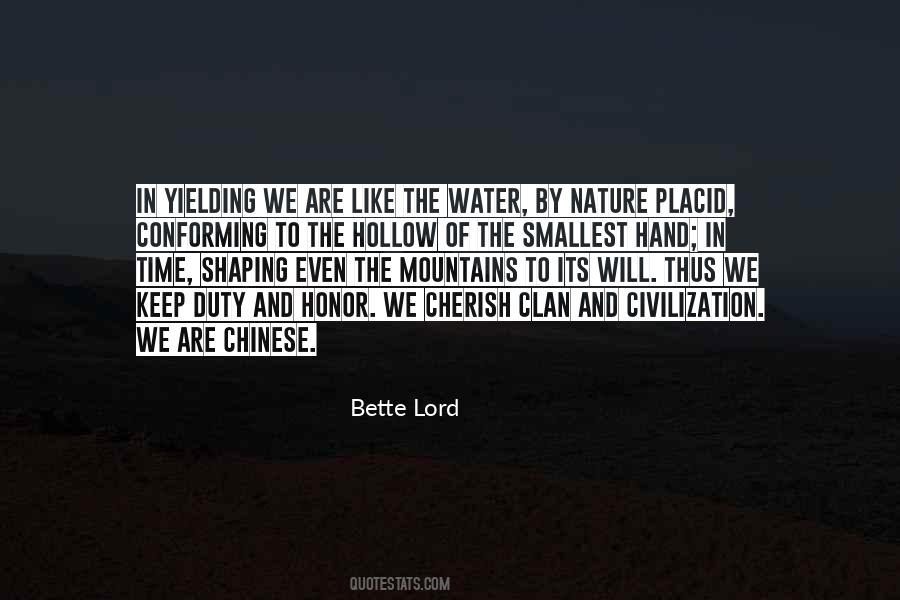 #53. I grew up in a time when people believed in duty, honor and country. My grandfathers were both officers. My father was a General in the Air Force. My brother and I were both in the Army. I've always felt a kinship with soldiers; I think it's possible to support the warrior and be against the war. - Author: Kris Kristofferson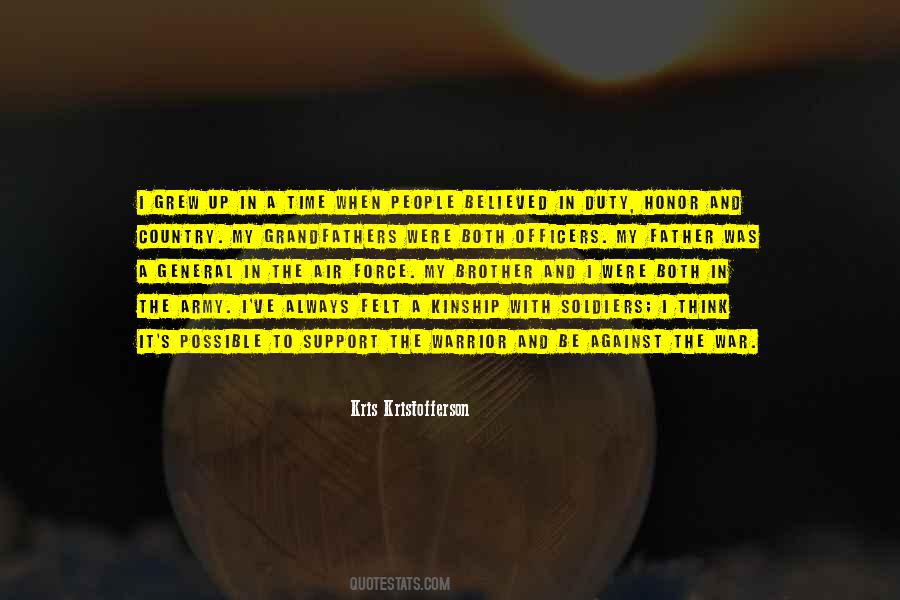 #54. Can't help but see the wariness, the effort, the impatience. I can't help but see two people together out of a sense of genetic duty, doomed already to bewilder and disappoint each other, each honor-bound to defy the other. - Author: Khaled Hosseini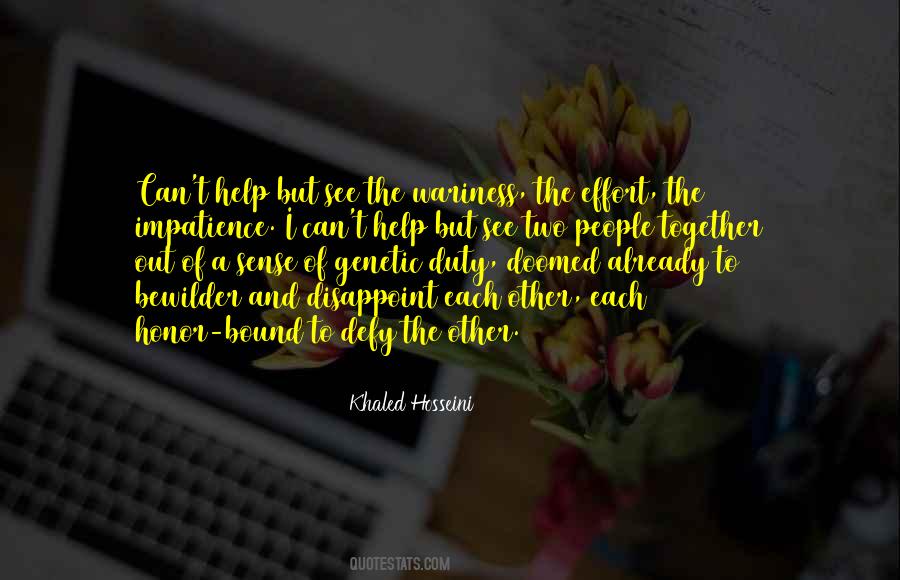 #55. Duty and honor are oft enough realm only for those with security to afford them. - Author: Chris Galford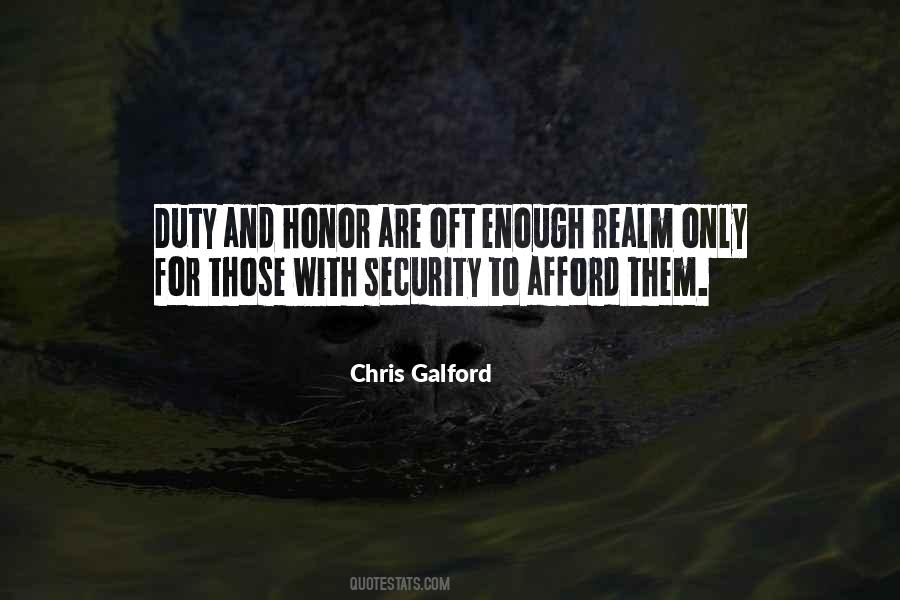 #56. Do your duty and leave the rest to Providence. - Author: Stonewall Jackson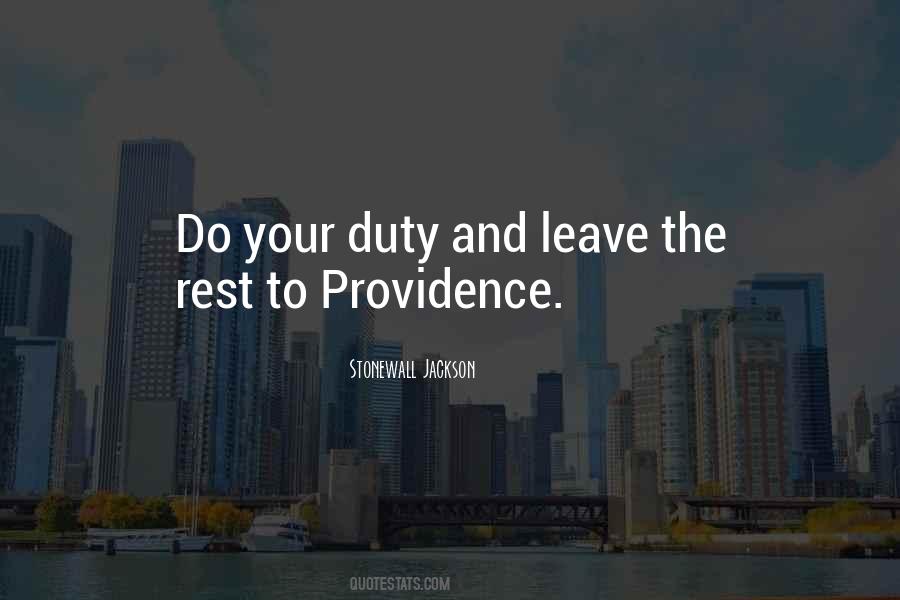 #57. The tapestry of her life was a work of art created not with a needle but with duty, courage, and honor, sprinkled liberally with laughter and hope. - Author: Karen Ranney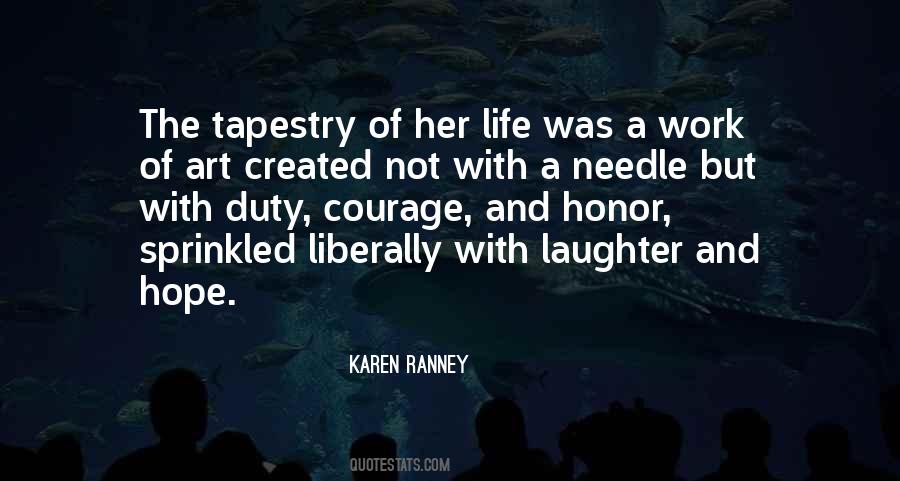 #58. What is honor compared to a woman's love? What is duty against the feel of a newborn son in your arms ... or the memory of a brother's smile? Wind and words. Wind and words. We are only human, and the gods have fashioned us for love. That is our great glory, and our great tragedy. - Author: George R R Martin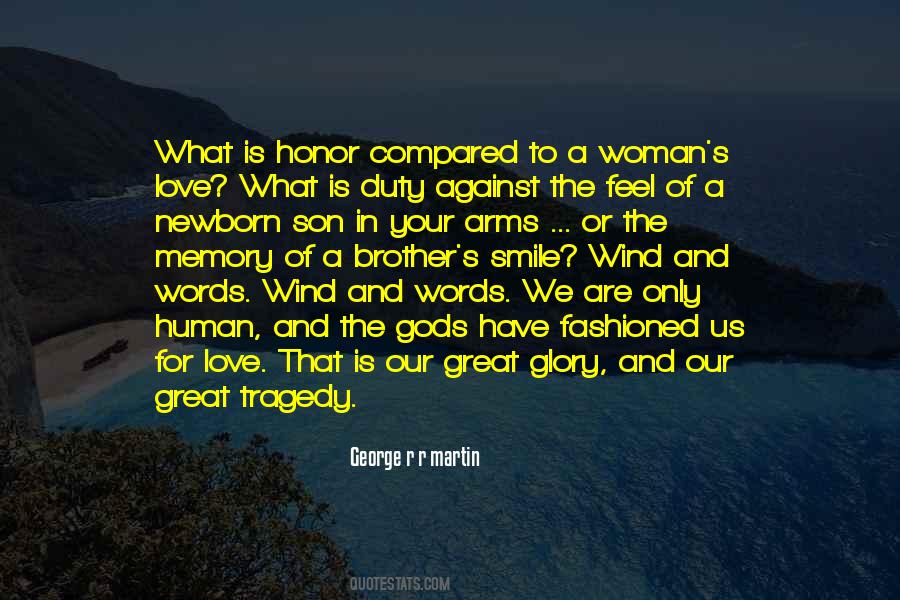 #59. True courage is the result of reasoning. A brave mind is always impregnable. Resolution lies more in the head than in the veins, and a just sense of honor and of infamy, of duty and of religion, will carry us farther than all the force of mechanism. - Author: Jeremy Collier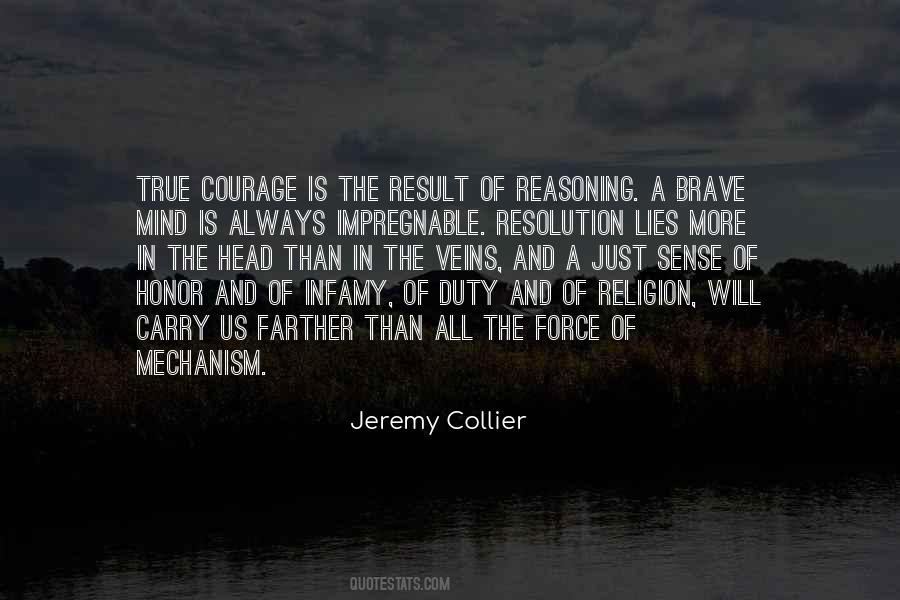 #60. There is a true glory and a true honor: the glory of duty done
the honor of the integrity of principle. - Author: Robert E.Lee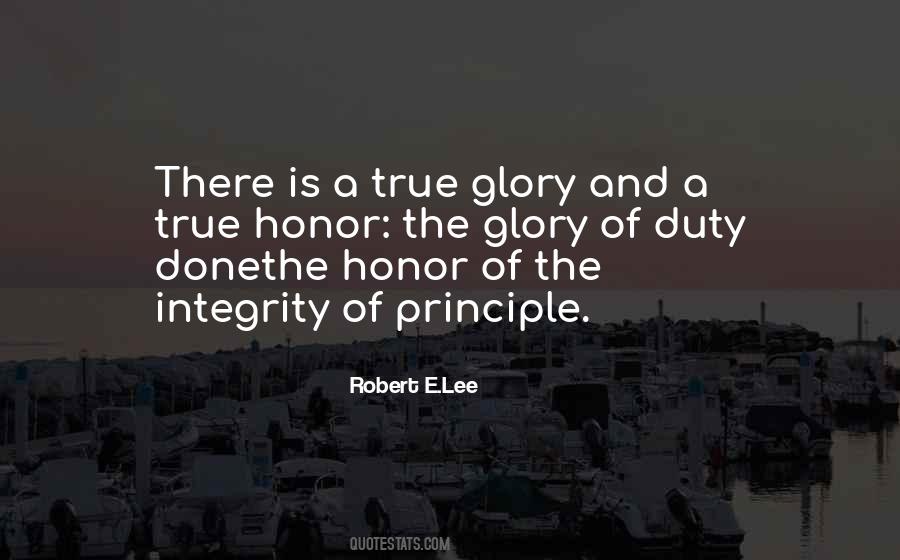 #61. Time and wave, sun and wind, night and fire, moons and stone. We walk through the world only once. Only one life is given by the Nameless. It is a gift, a burden, a challenge, a duty to not waste it. To serve the Highest. To the end of our road, with our Honor intact. - Author: G. Derek Adams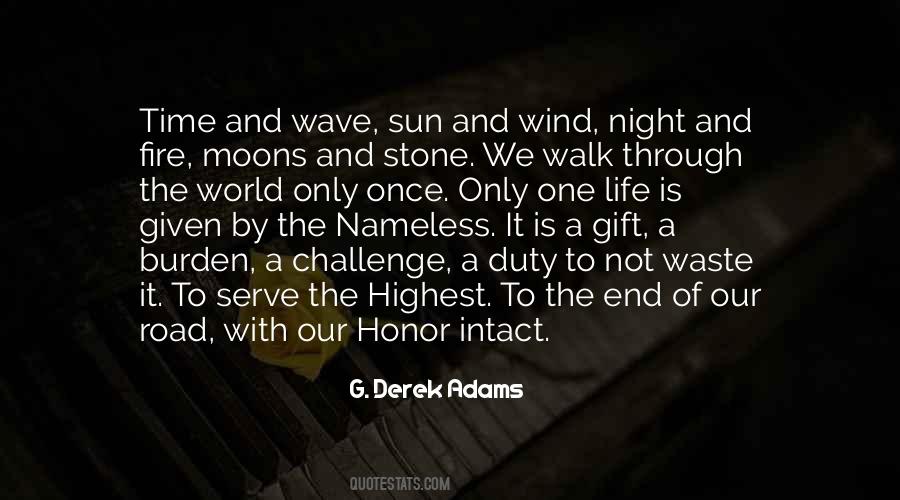 #62. The stern hand of fate has scourged us to an elevation where we can see the great everlasting things which matter for a nation - the great peaks we had forgotten, of Honor, Duty, Patriotism, and clad in glittering white, the great pinnacle of Sacrifice pointing like a rugged finger to Heaven. - Author: David Lloyd George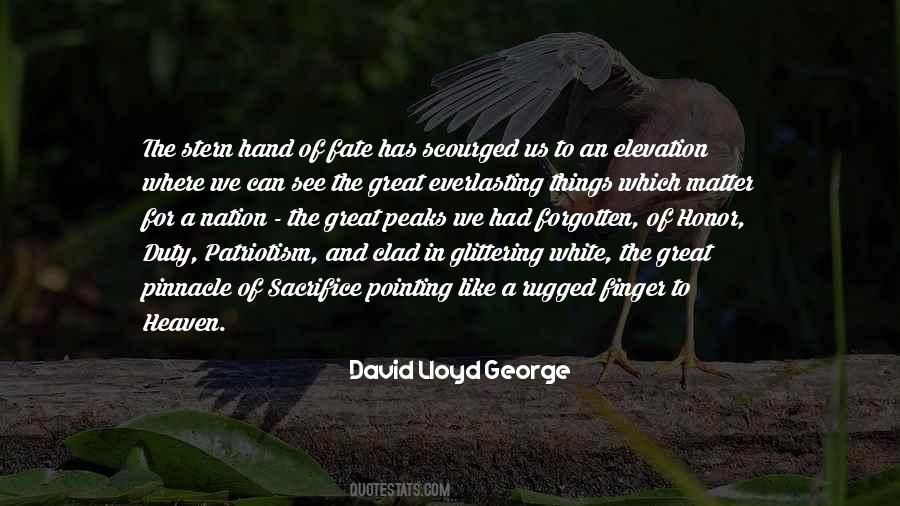 #63. Liberal education develops a sense of right, duty and honor; and more and more in the modern world, large business rests on rectitude and honor as well as on good judgment. - Author: Charles William Eliot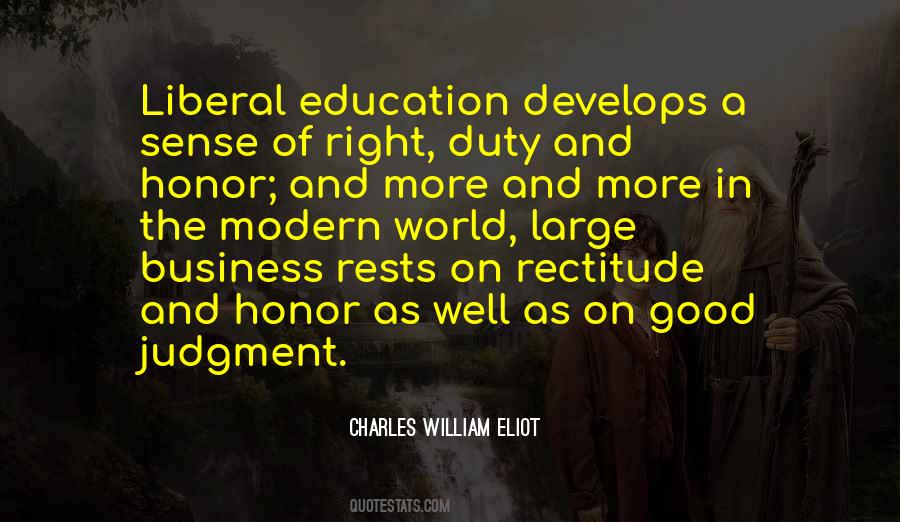 #64. To their duty to God, youth should realize their duty to our country. They should love and honor the Constitution of the United States, the basic concepts and principles upon which this nation has been established. Yes, they need to develop a love for our free institutions. - Author: Ezra Taft Benson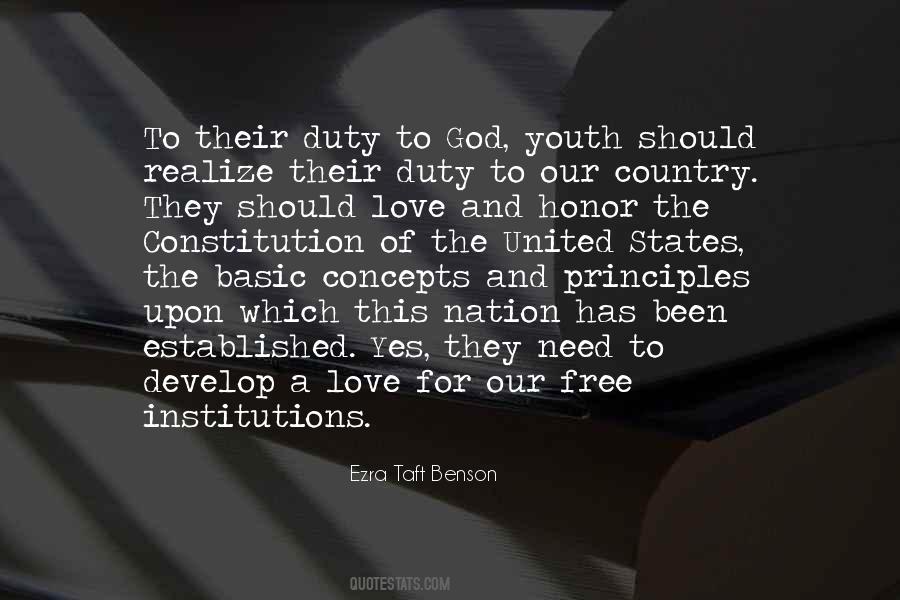 #65. I feel it is a blessing, a duty, an honor, that we give the love that we have, and we share the lives that we have with our fullest heart. - Author: Bellamy Young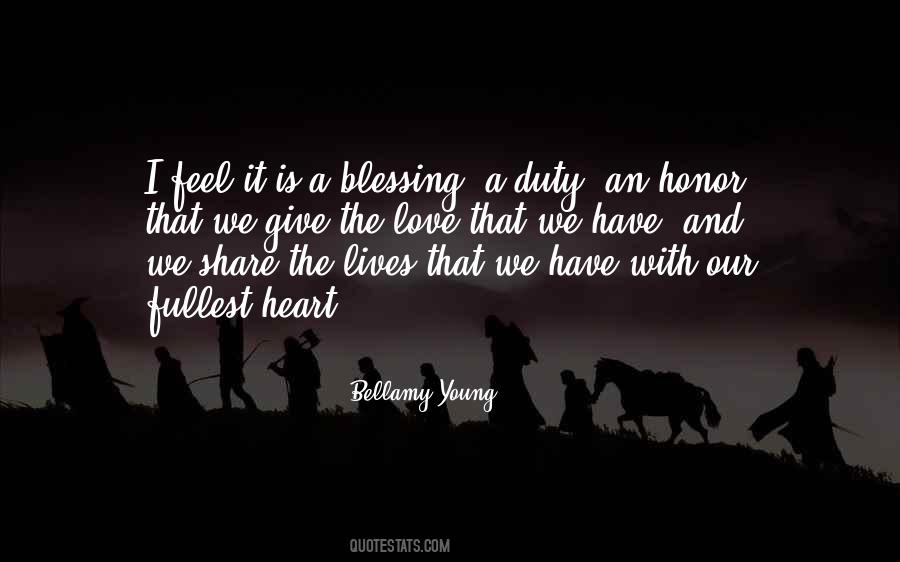 #66. The WWII generation shares so many common values: duty, honor, country, personal responsibility and the marriage vow For better or for worse
it was the last generation in which, broadly speaking, marriage was a commitment and divorce was not an option - Author: Tom Brokaw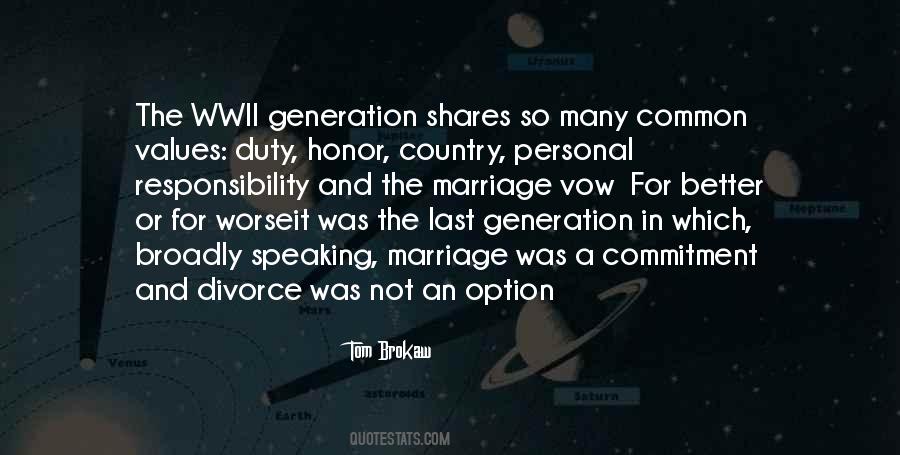 Famous Authors
Popular Topics