Doing What We Want Famous Quotes & Sayings
List of top 100 famous quotes and sayings about doing what we want to read and share with friends on your Facebook, Twitter, blogs.
Top 100 Quotes About Doing What We Want
#1. What we want to do in this moment is rarely what's best for us. We need to take a longer view of life and to realize that to become someone worth becoming, I probably need to be doing things I don't want to be doing. - Author: Vince Antonucci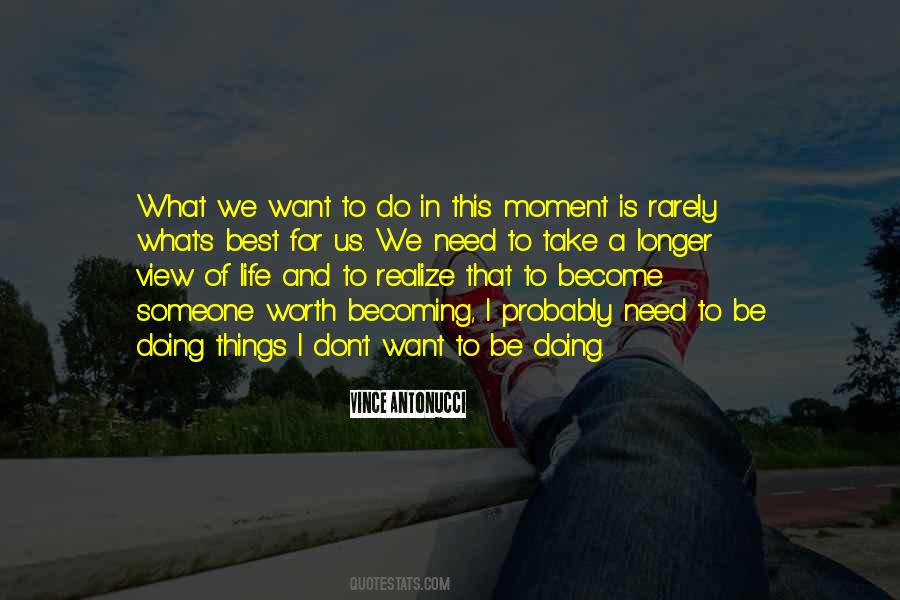 #2. Live or die: mere consequences of what you have built. What matters is building well. So here we are I've assigned myself a new obligation. I'm going to stop undoing deconstructing I'm going to start building ... What matters is what you are doing when you die ... I want to be building. - Author: Muriel Barbery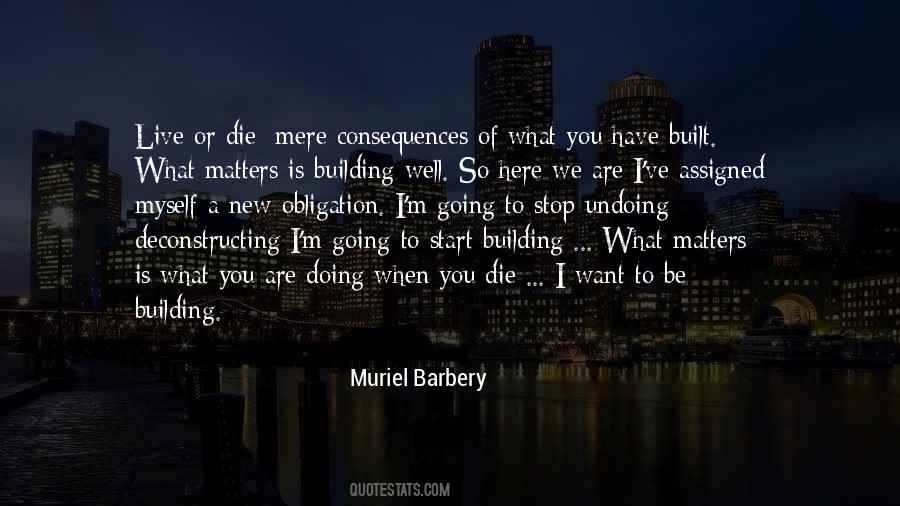 #3. I'd stay away from investments in a variety of sectors that are capital intensive. Anyone who says we need $100 million before we know if what we're doing makes sense and the customers want it - that's not going to work. - Author: Steve Jurvetson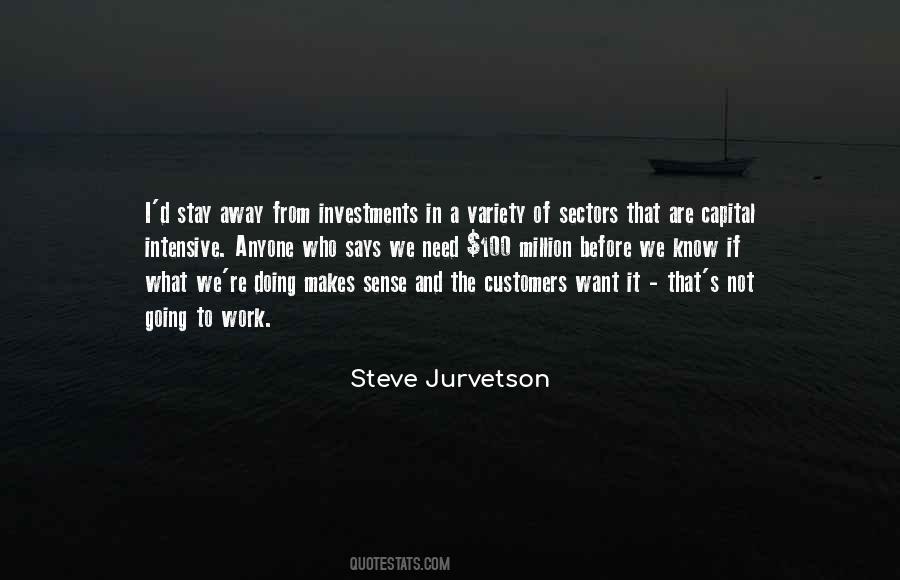 #4. If you want to solve very complex problems, you will have to end up letting machines work out a lot of the details for themselves, and in ways that we don't understand what they are doing. - Author: Joshua Lederberg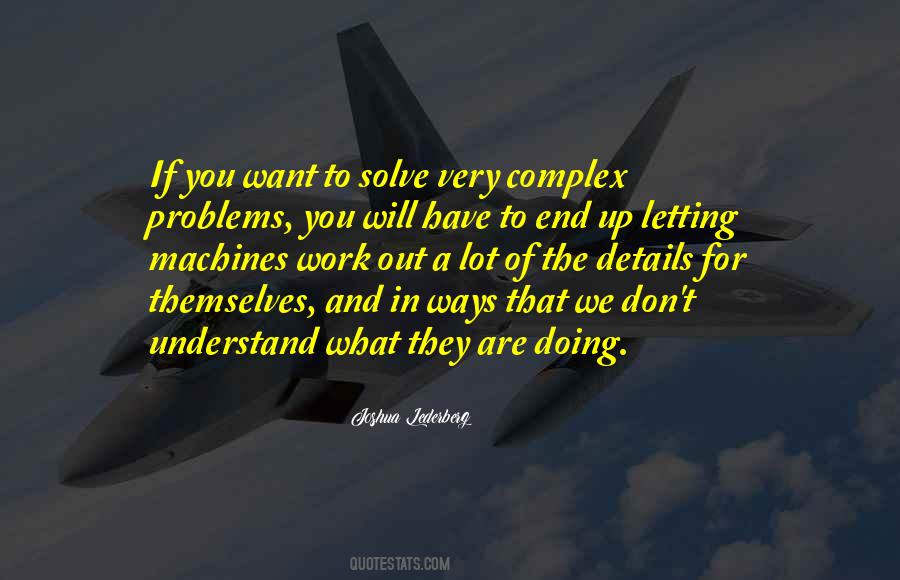 #5. They don't want to see rap music. They don't want to see the Beastie Boys. They don't care what we're doing. They want one thing and one thing only: that's to see Madonna come on stage. - Author: Ad-Rock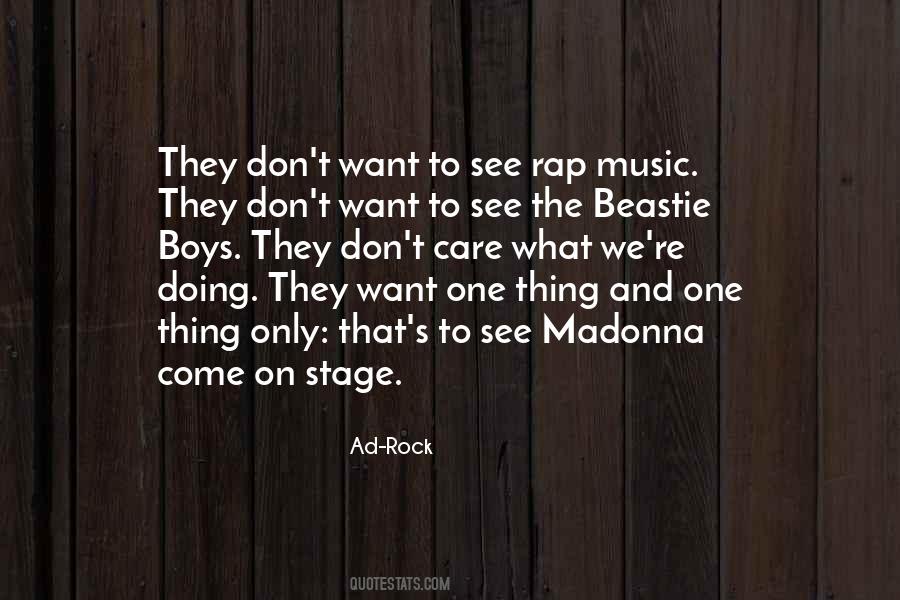 #6. We're doing exactly what the Republicans don't want: getting more people involved in our democracy. Giving more Americans a voice in their future. - Author: Jim Messina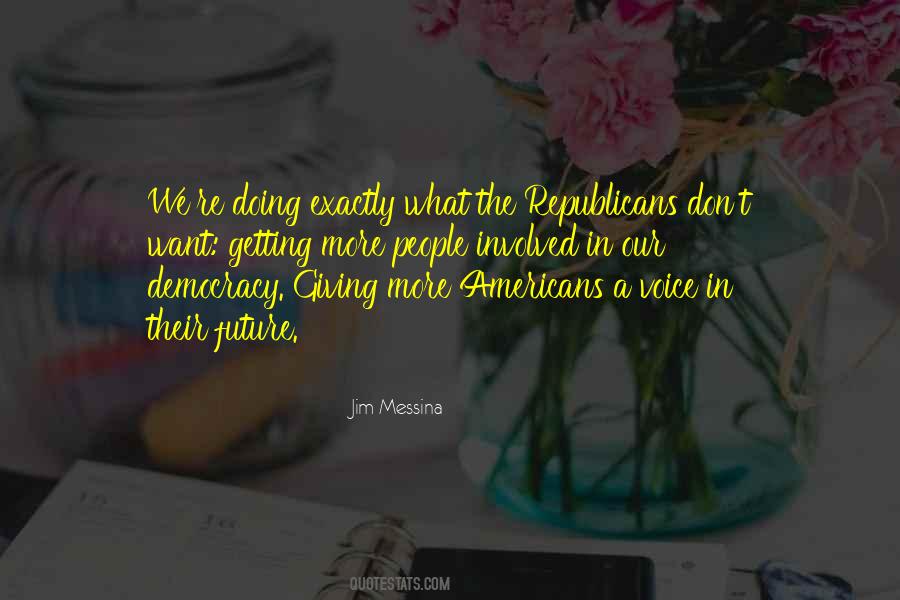 #7. Integrity is the glue that holds our way of life together. What our young people want to see in their elders is integrity, honesty, truthfulness, and faith. What they hate most of all is hypocrisy and phoniness ... Let them see us doing what we would like them to do. - Author: Billy Graham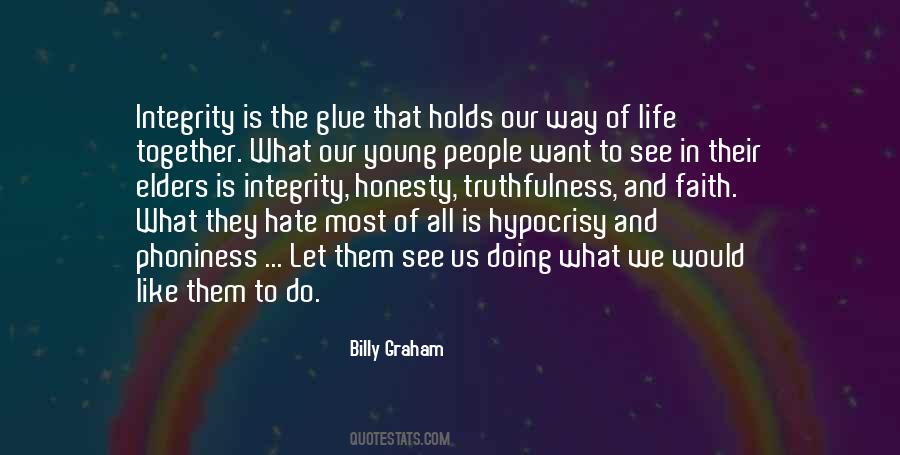 #8. These tools were my parents' way of saying: What you're doing is important. We support it. We want to help you find your way. - Author: Aspen Matis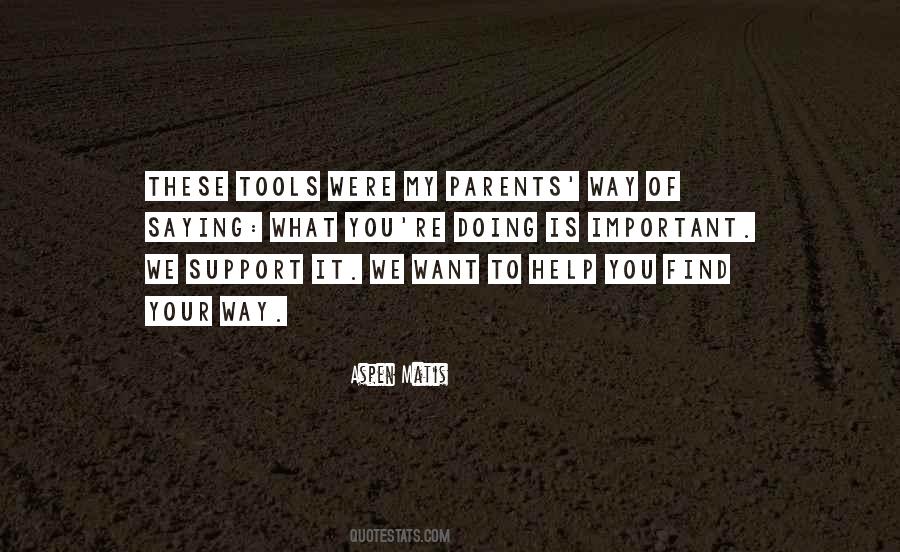 #9. We all want to begin with ability, with what we can do. But when have you ever been a good judge of what you're capable of? People are always doing things that amaze themselves. - Author: Jeff Goins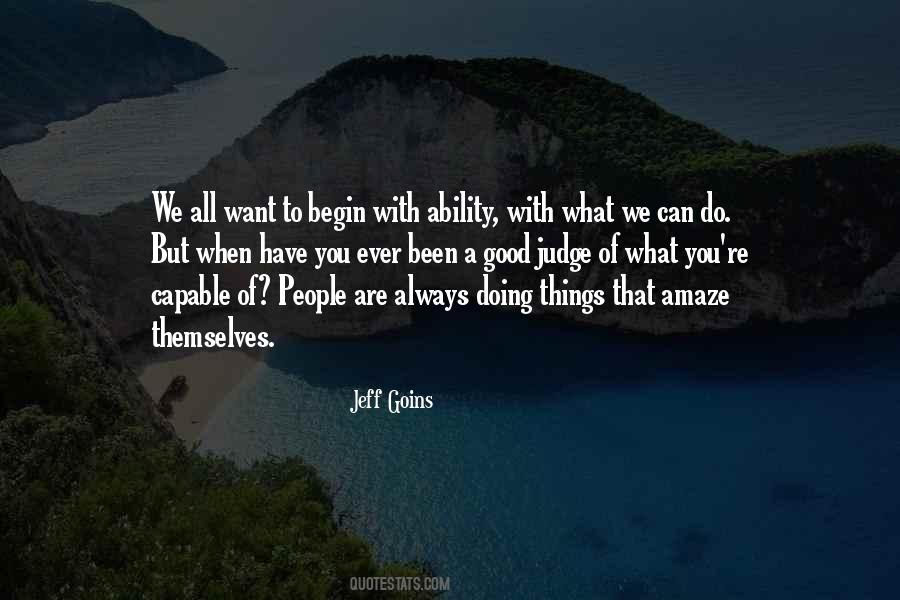 #10. Hope I die before I turn into Pete Townshend. It would look ridiculous to do what we're doing now when I'm 40. That's why I want to destroy my career before it's too late. - Author: Kurt Cobain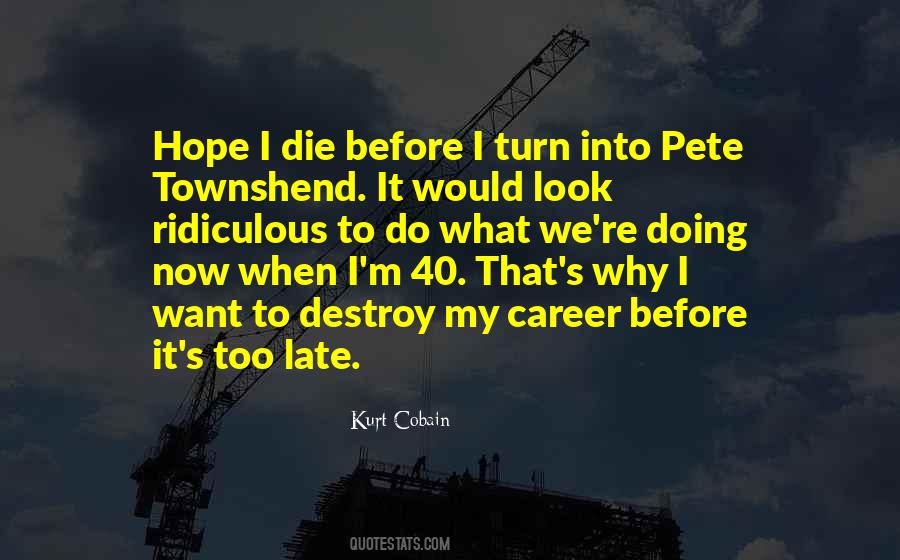 #11. Begin doing what you want to do now. We are not living in eternity. We have only this moment, sparkling like a star in our hand
and melting like a snowflake ... - Author: Francis Bacon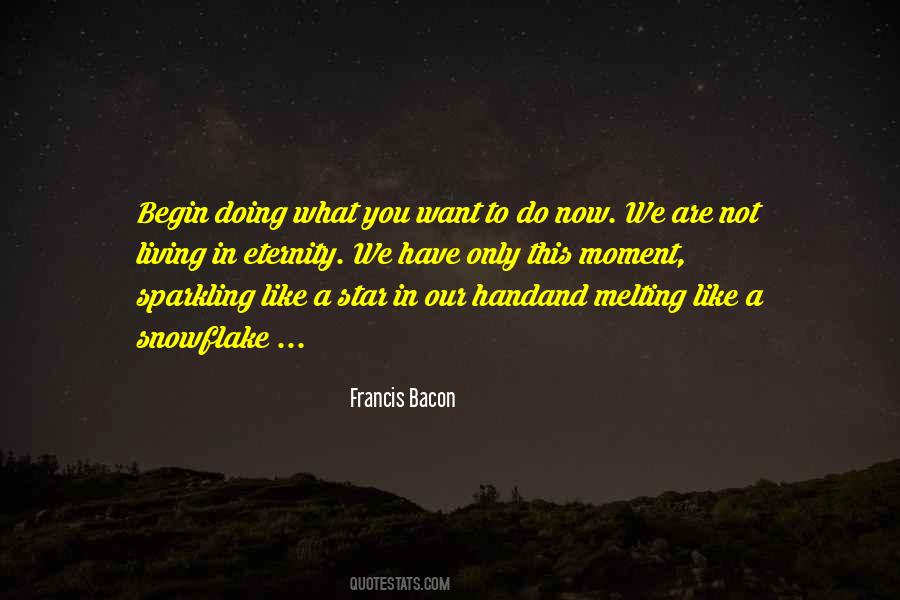 #12. I stopped eating beef in high school, and in college I stopped eating poultry. I am not a huge fan of factory farming and what we're doing to animals. I try to eat as clean as possible because I want to know what I'm putting into my body. - Author: Susanna Thompson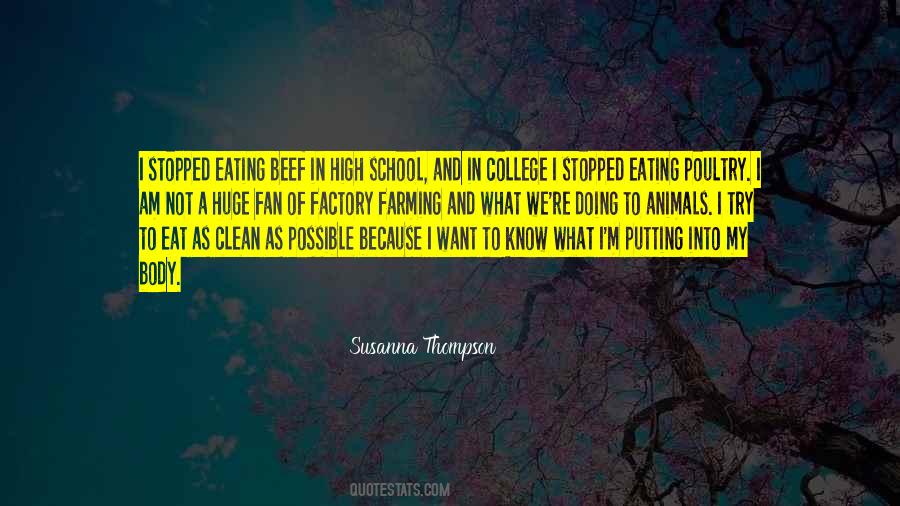 #13. If we won't be serious about dealing with our sin,we cannot expect to grow in our faith. If you want to move to a new level with God,take an inventory of what God has told you about your sin and consider what you've been doing about it. - Author: Richard Blackaby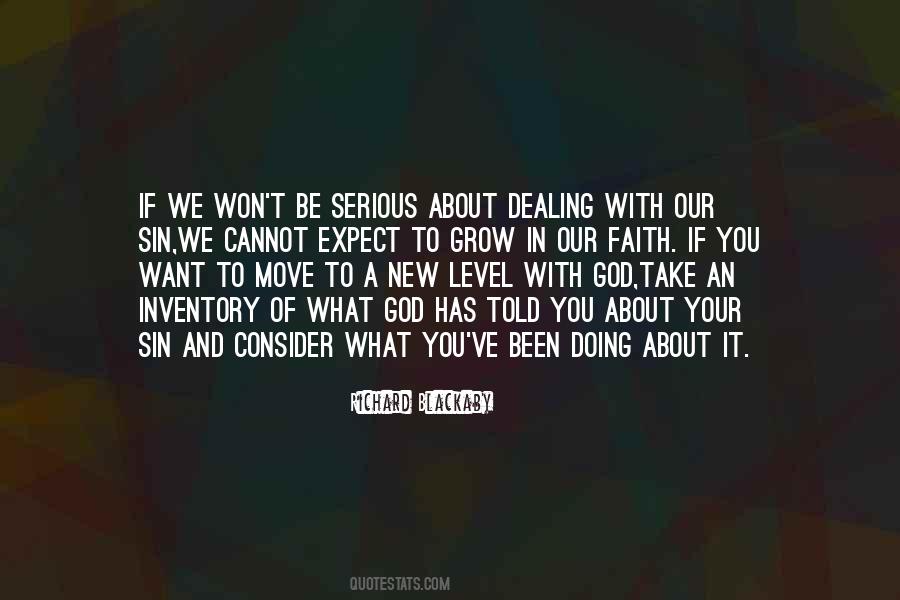 #14. There is always that fine line between doing what we want and doing what we're told. - Author: Kelly Creagh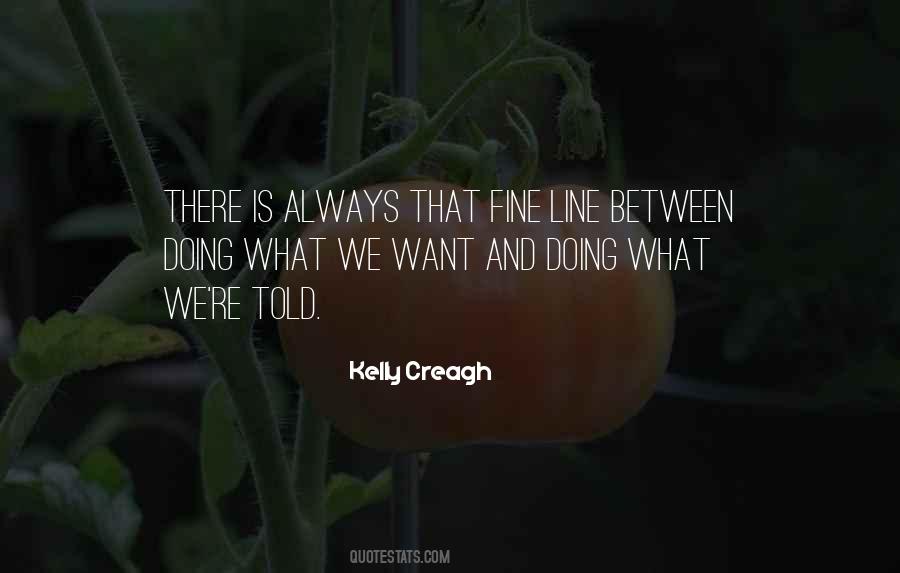 #15. Sometimes you're pushing and what you want to do is not coming with ease; doors are not opening. A lot of times we're pushing against resistance. If one looks closely, there is often a message in that resistance: "Wait a minute, maybe it's not what you're supposed to be doing." - Author: Farrah Gray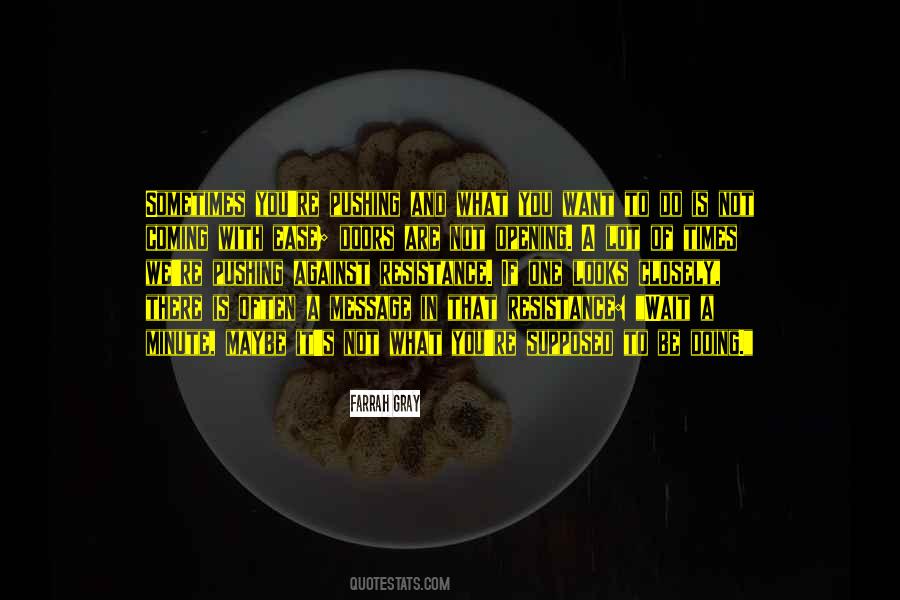 #16. Generally speaking, "an eye single to the glory of God" means sacrifice. It means that instead of endlessly doing what we want to do, we have to do what the Lord wants us to do, but we have to do it in his way when he wants us to do it. - Author: Hartman Rector Jr.
#17. You've got to remember even the Apple regeneration started with colorful iMacs. So let us first get the colorful iMacs. I think with what we're doing with Lumia, we're at that stage. I want to do good devices that people like, and then we will go on to doing the next thing and the next thing. - Author: Satya Nadella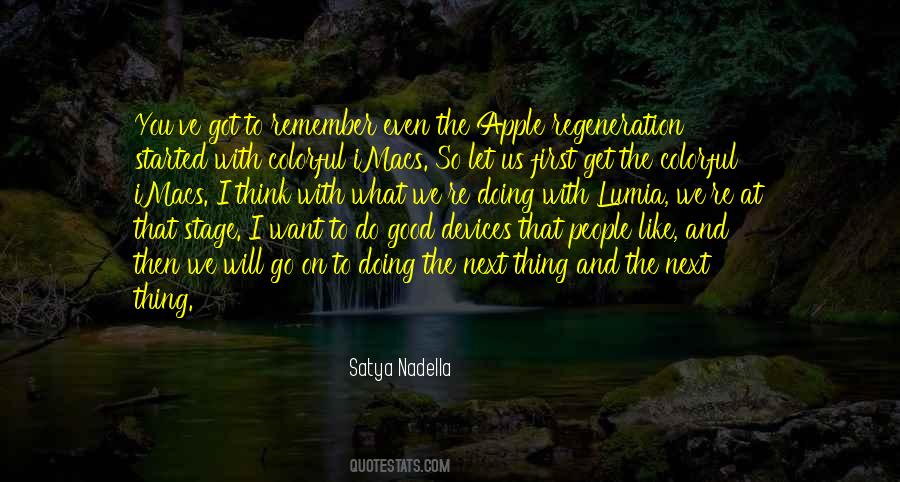 #18. What we are doing is satisfying the American public. That's our job. I always say we have to give most of the people what they want most of the time. That's what they expect from us. - Author: William S. Paley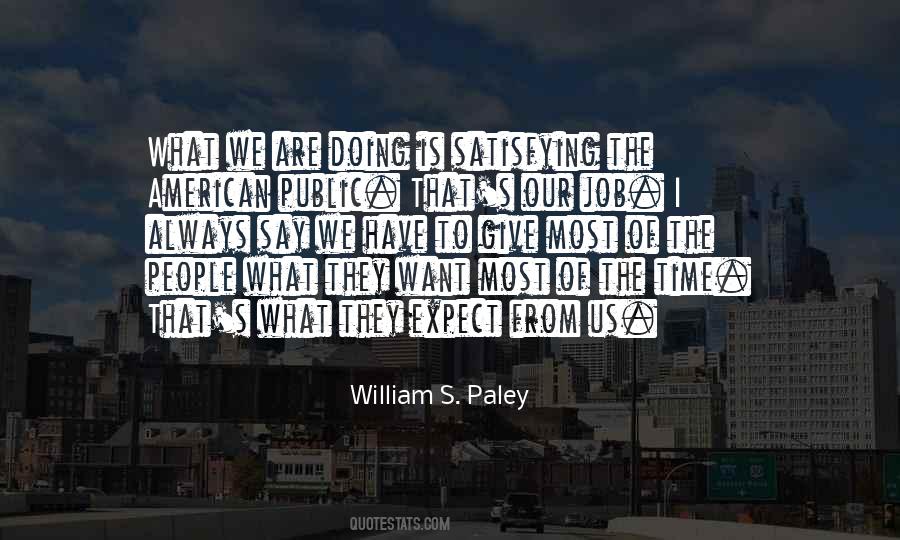 #19. We allow each other to pursue our goals. I wouldn't want to be married to someone who was not happy with what they were doing with their life and Bono wouldn't either. - Author: Ali Hewson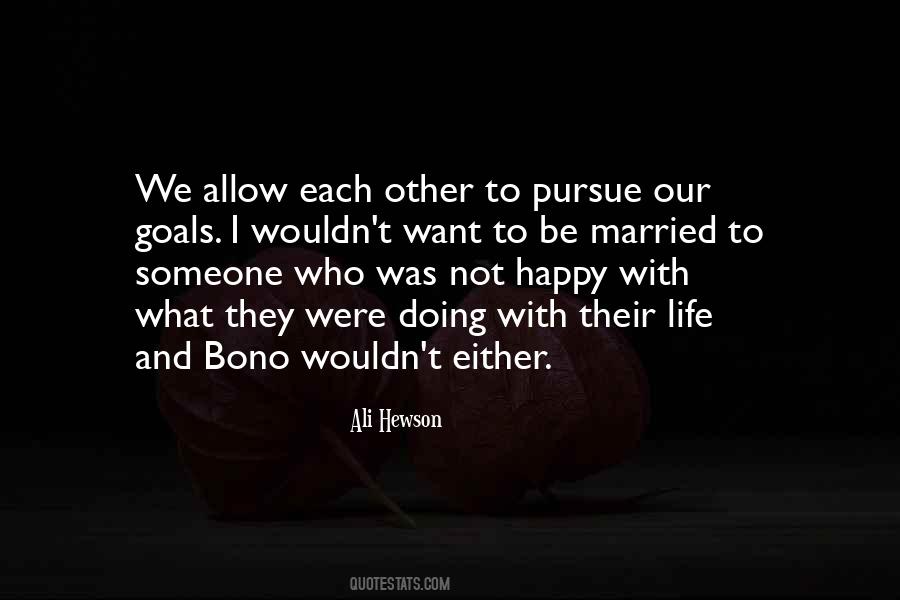 #20. Since I walked in the door as secretary of energy, I've been doing everything in our powers to do what we can to reduce these gas prices ... So, of course we don't want the price of gasoline to go up; we want it to go down. - Author: Steven Chu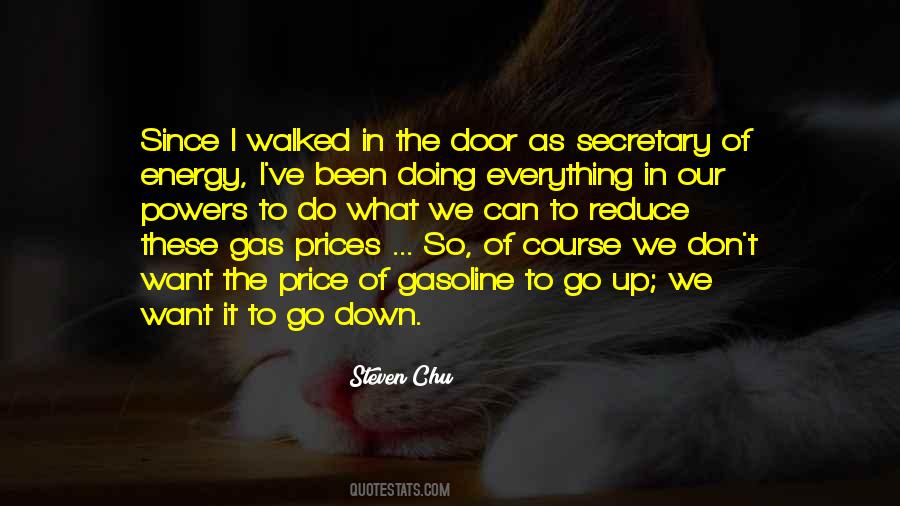 #21. We're all working hard, but so far away from what we actually want to be doing. We're all peering in at the window of a party we aren't invited to yet, a party we wouldn't know how to dress for, or what kind of conversation to make, even if we came as someone's guest. - Author: Lauren Graham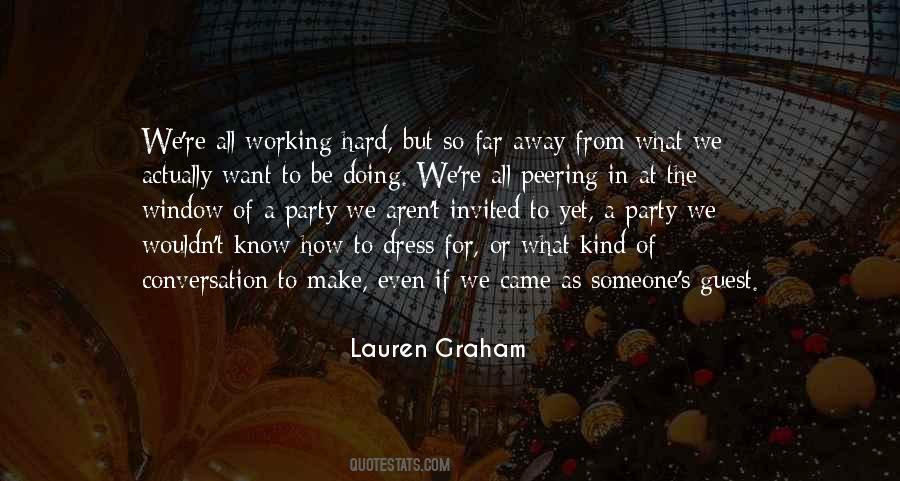 #22. We get to design what we want to see in the world rather than doing what other people think should be done. - Author: Jack Dorsey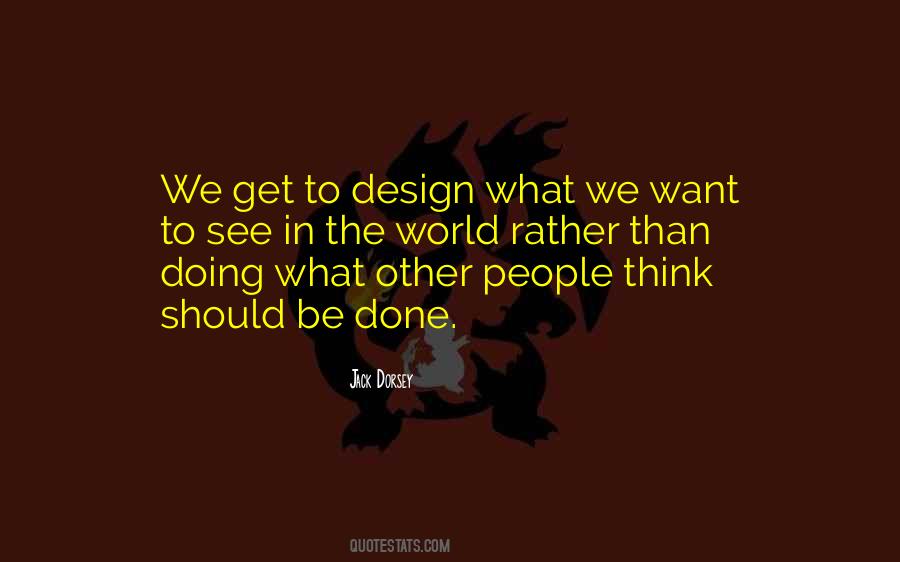 #23. What I want you to do is think long and hard about this. You made us to kill and conquer, and we are doing it better than you ever anticipated. Far better than you could ever do yourselves. You are no match for us. Do not make us your enemy. Confirm. - Author: Dan Wells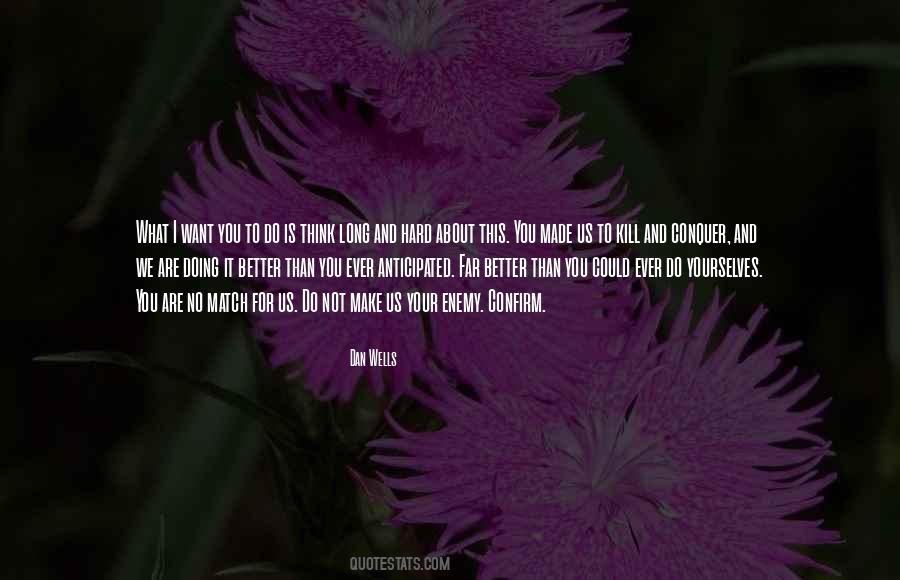 #24. But more than anything I kind of pride myself in continuing the process that we're trying to accomplish, and that's just to get better and work on my fundamentals. So that's been kind of in the theme now for a couple years and we stuck with it and that's kind of what I want to keep doing. - Author: Webb Simpson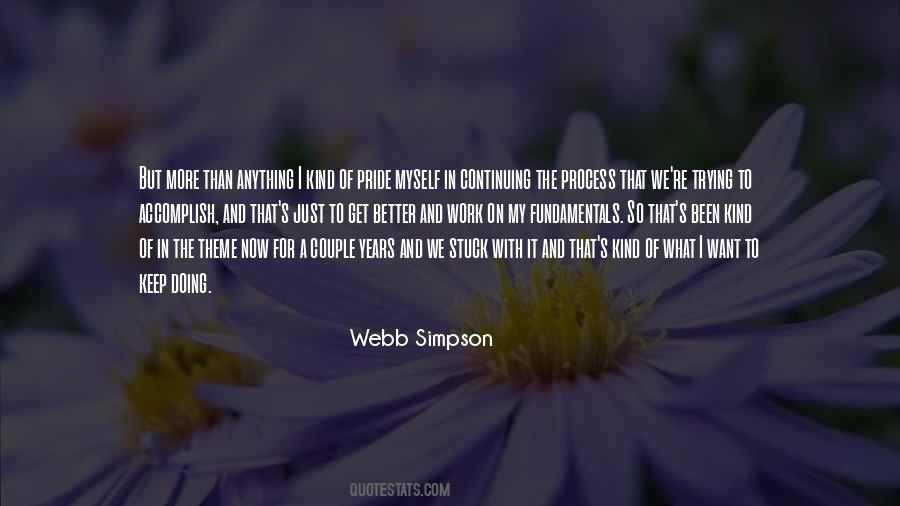 #25. Can you guess what I'm doing?"
"Cutting my heart out."
"You took mine when I was ten; I want yours now. We are lovers of justice, you and I - what could be more just than that? - Author: William Goldman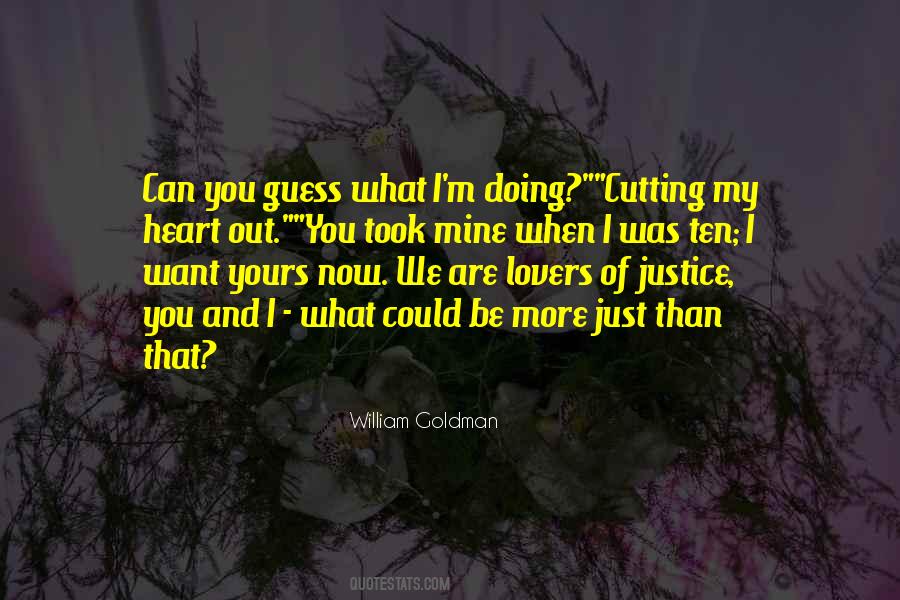 #26. I want to continue doing good work where we can expand opportunities for all Americans. That's what we're fighting for. - Author: Steve Scalise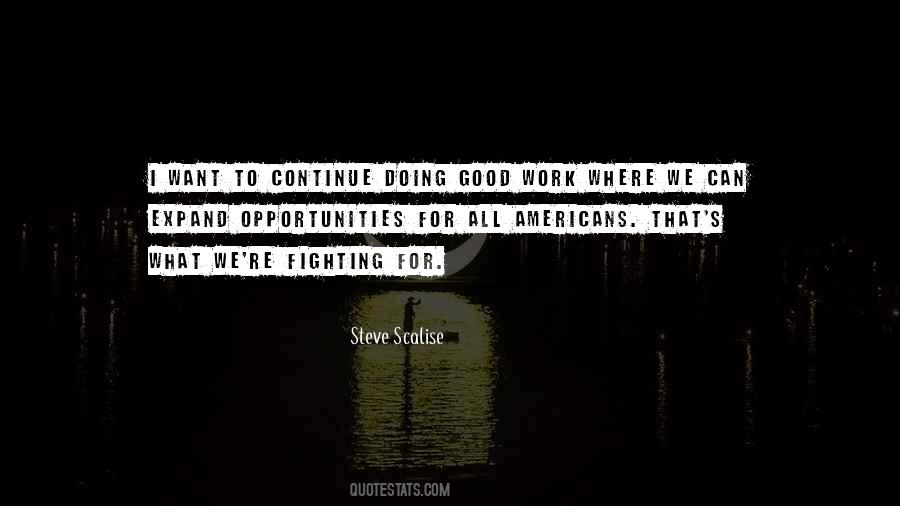 #27. What we're also doing is helping police forces in terms of issues like procurement and IT, so that savings can be made in those areas which I think is the sort of thing that everybody is going to want us to be doing. - Author: Theresa May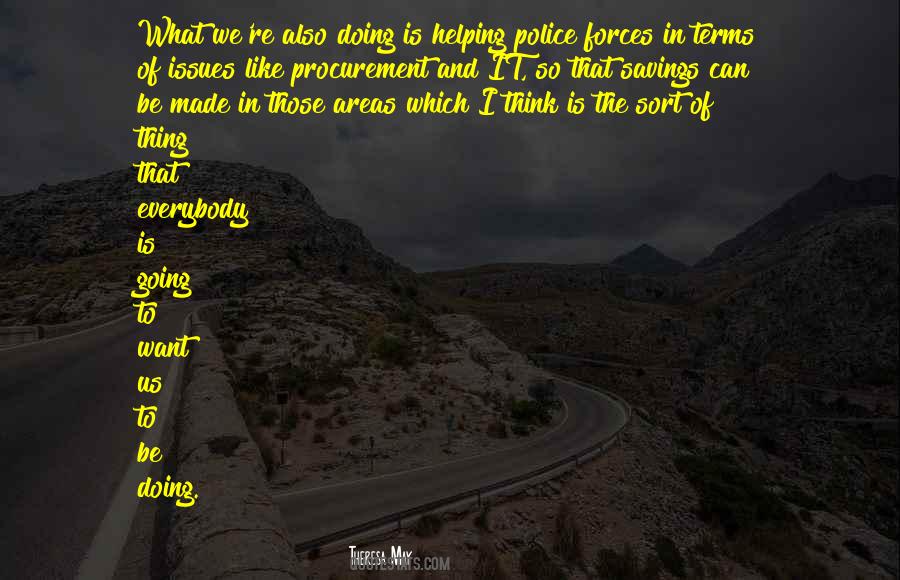 #28. A monogamous marriage and family is what some women want - but not all of us. We are mostly doing serial monogamy anyway. - Author: Betty Dodson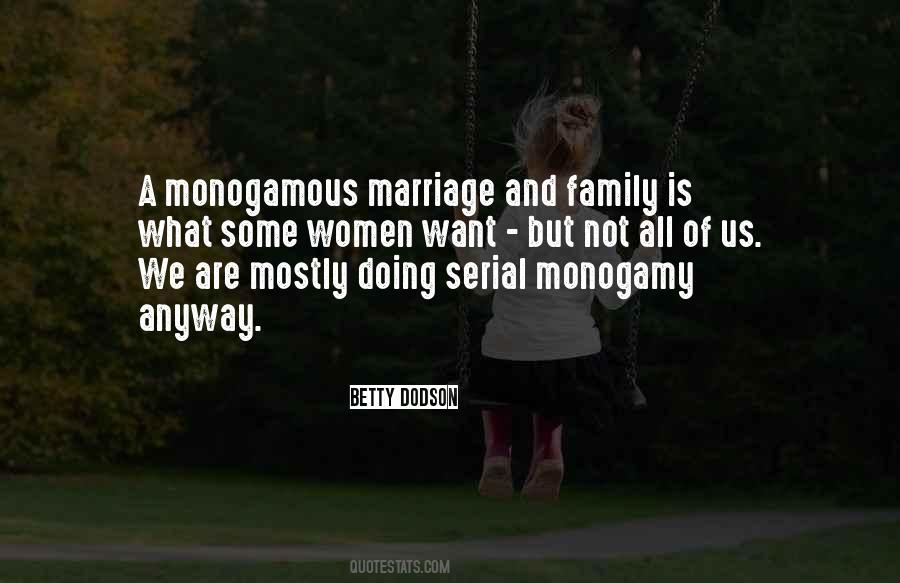 #29. As long as I'm enjoying what I'm doing, then that's fine. That's what I want. I want to enjoy life. We're only here for a small ride, so it may as well be a good one. If I can go to work enjoying what I do, then my life becomes a very nice one. - Author: Aneurin Barnard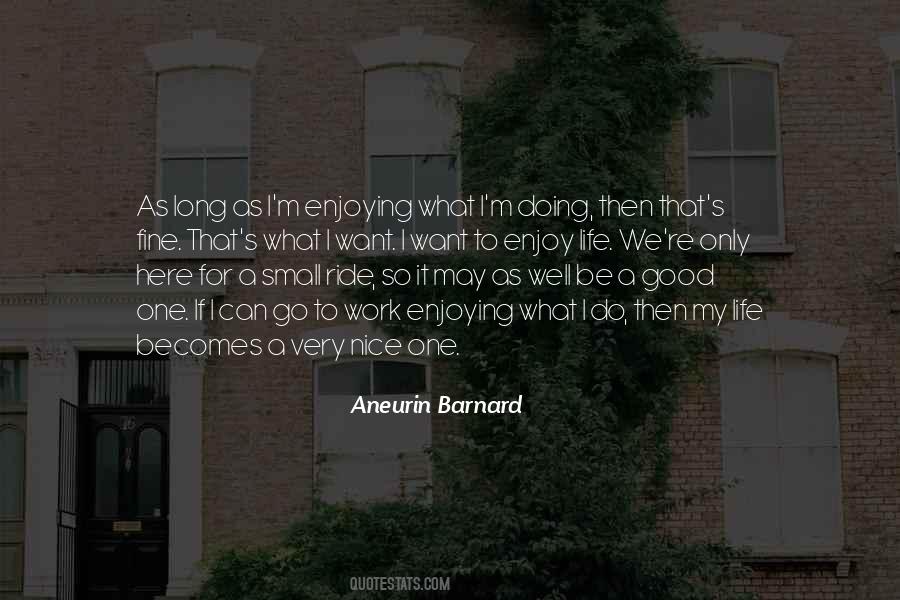 #30. What we're doing with Band of Brothers is trying to put it into human terms, so it is not just a flickering, black and white myth on a screen, it is a resonant story. I want the audience to recognize themselves in these men. They're not just mythic heroes. - Author: Tom Hanks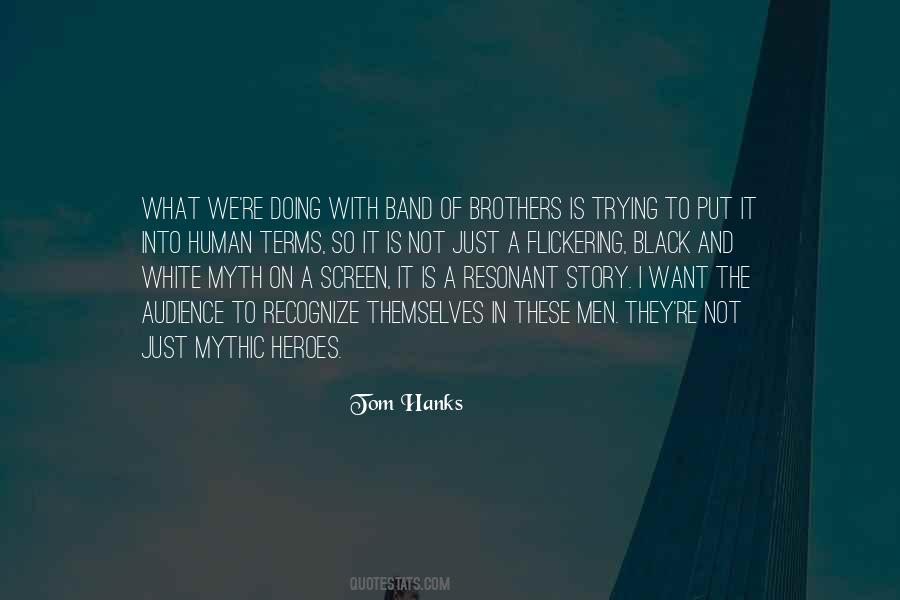 #31. You can't tell me what we're doing right now is not working. The perception is, well, it's not. I don't deal in perception. I want to deal in reality. The reality of the matter is that the percentage of guys who are taking has gone way down. - Author: Tom Glavine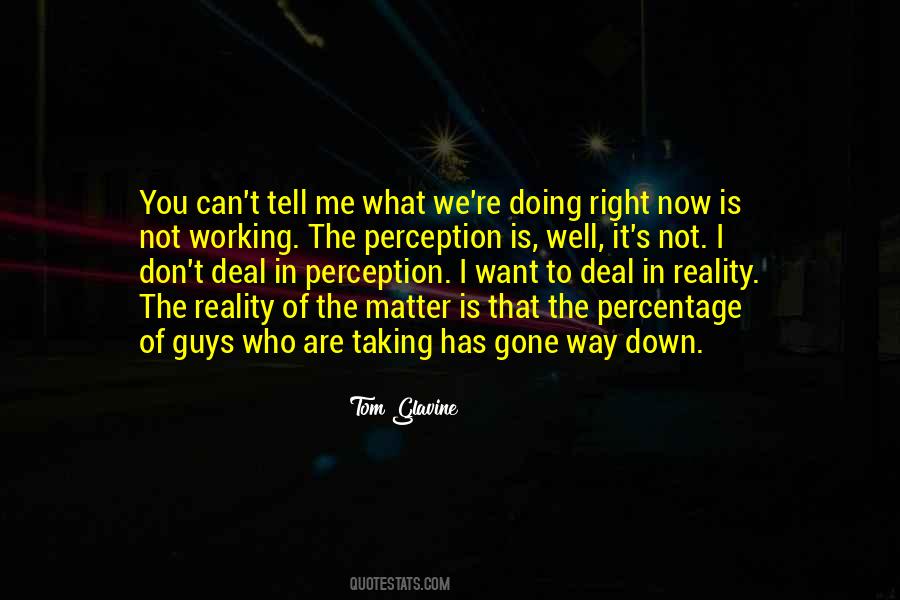 #32. I just want to carry on the way we [ Joy Division] are, I think. Basically, we want to play and enjoy what we like playing. I think when we stop doing that I think, well, that will be the time to pack it in. That'll be the end. - Author: Ian Curtis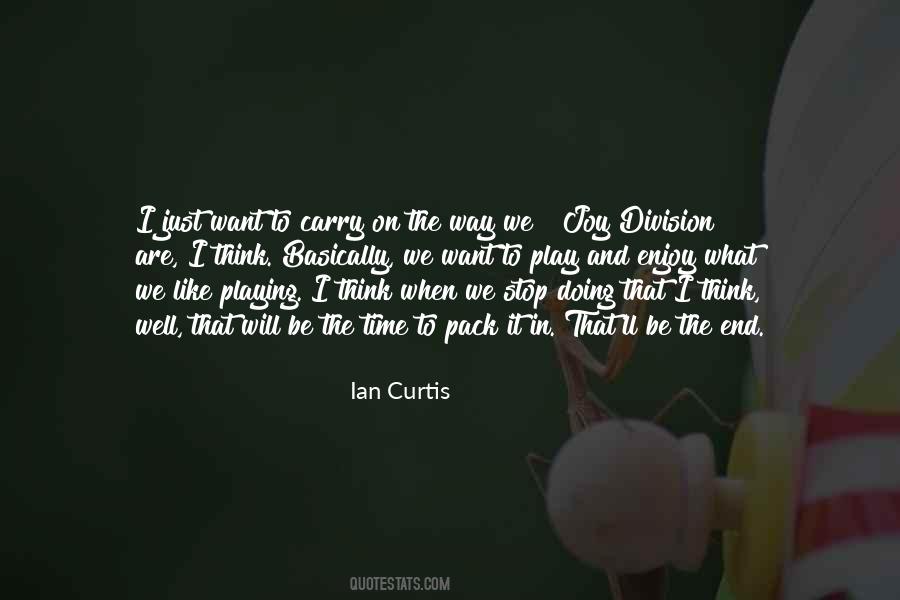 #33. What are the Chinese doing, what are we doing, what are - so we need, both the developed world and the developing world, really need to be moving, once again, getting all your arrows in the same direction if you want to have any impact. - Author: Elizabeth Kolbert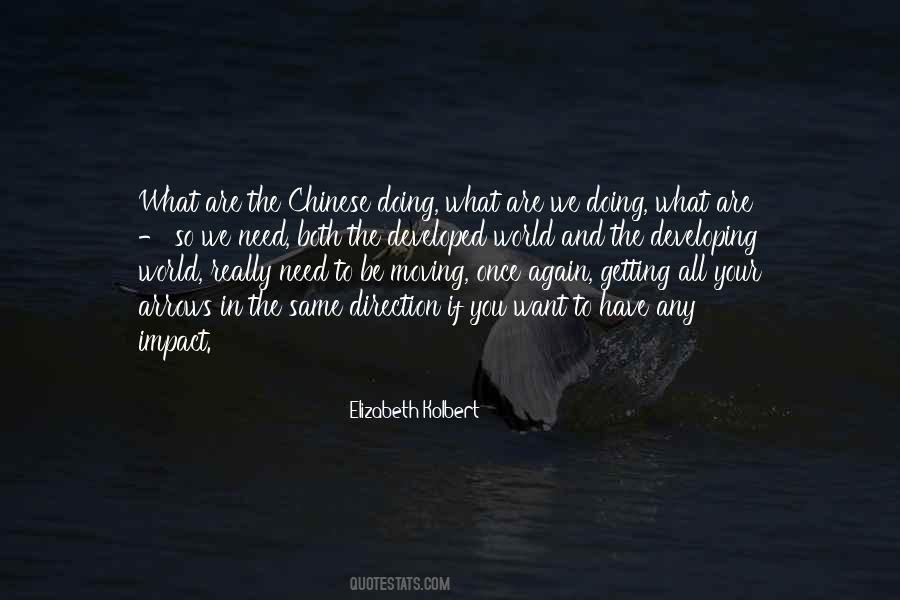 #34. Jealousy I wish we could express this emotion like kids do. If someone gets something you want, you just hit them over the head and snatch it back. That's why children are so un-neurotic. They are doing what we only dream of. The - Author: Ruby Wax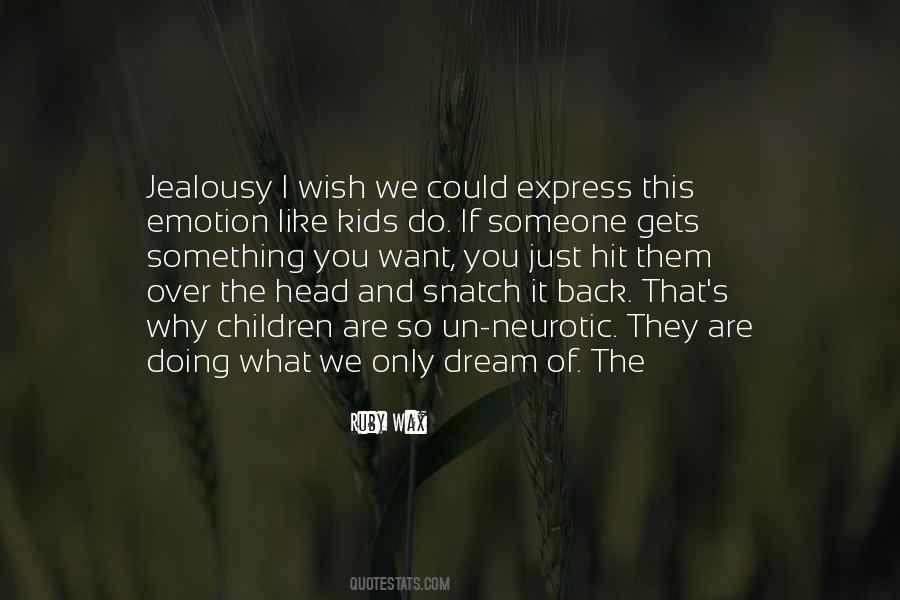 #35. I want to overhear passionate arguments about what we are and what we are doing and what we ought to do. I want to feel that art is an utterance made in good faith by one human being to another. I want to believe there are geniuses scheming to astonish the rest of us, just for the pleasure of it. - Author: Marilynne Robinson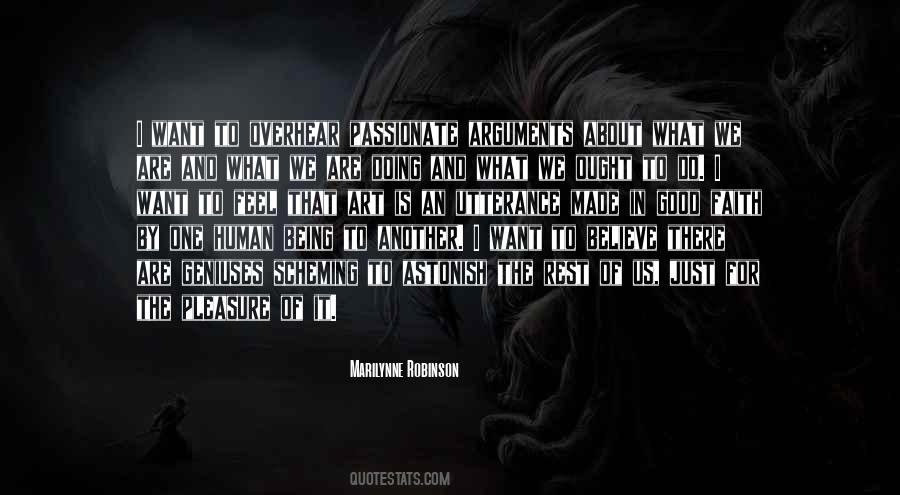 #36. People say what we're doing is holding out when in reality the teams are trying to crush the draft market because they don't want to pay fair market value. - Author: Scott Boras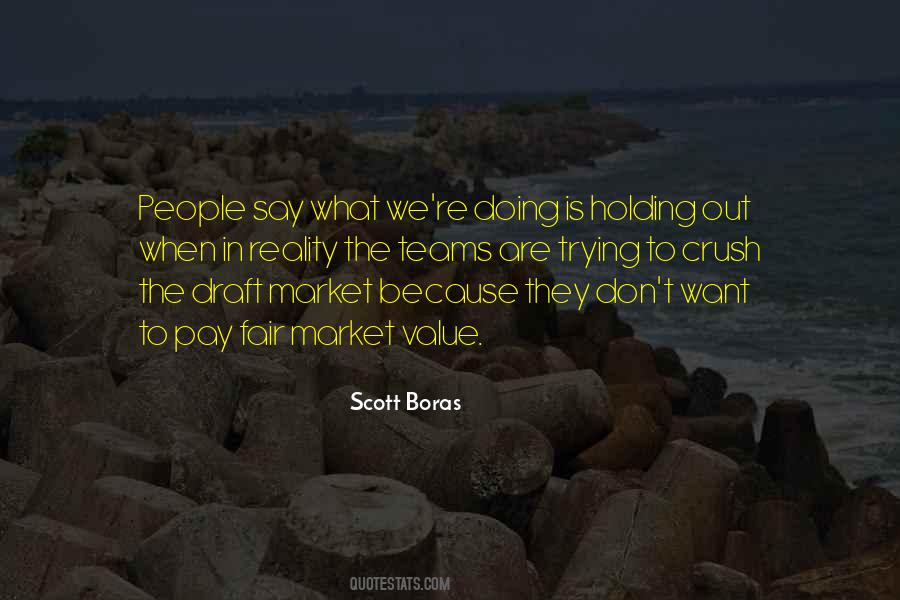 #37. I can do whatever I want. They will tell me if what I am doing is stupid or a total waste of time. I may tell them that they are wrong, and we will come to an agreement. - Author: Bill Budge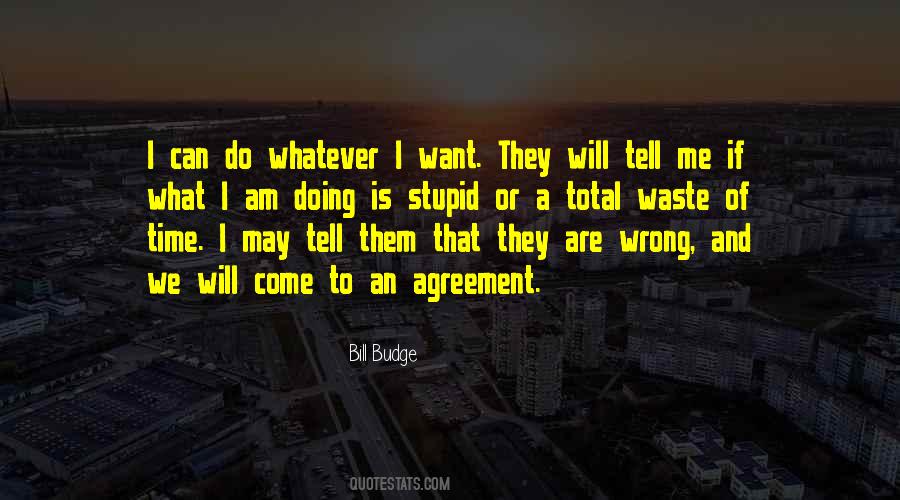 #38. You can't let the fear of what people might say or think stop you from doing what you want to do or else we would never do anything. - Author: Jennifer Lopez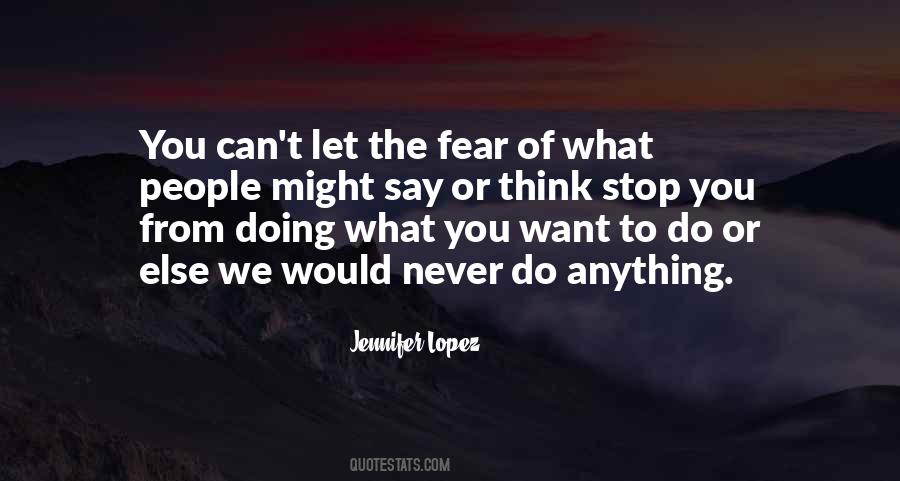 #39. THE KEY TO SUCCESS is not what you do, it is how you feel about what you are doing. Success begins with a positive attitude, it is the most valuable asset we may own. Success begins with a good feeling about where we are and a positive attitude about where we want to be. - Author: Iyanla Vanzant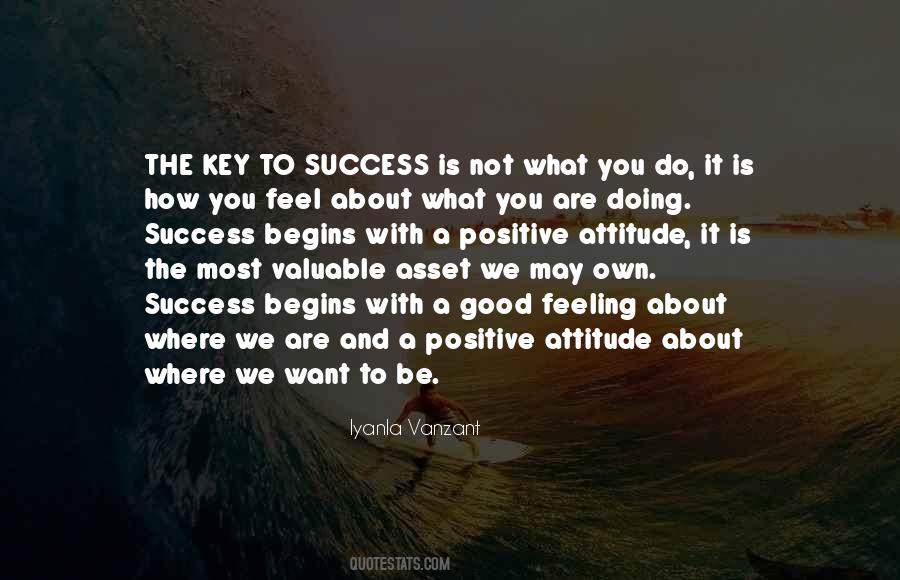 #40. I want to make films about the human condition, what we're doing to the world or ourselves. - Author: Ridley Scott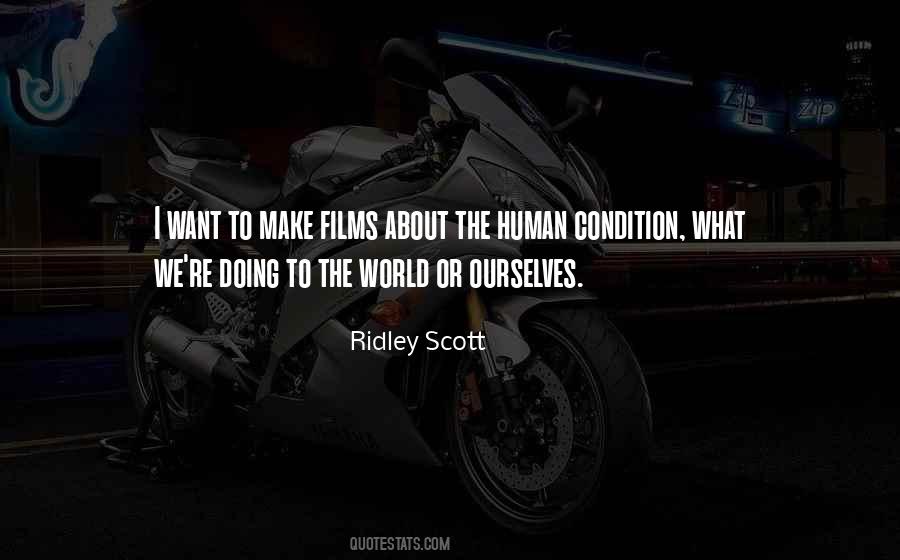 #41. I like what we're doing. I don't want something else right now; will you just focus on the dick in your hand? - Author: Christina Lauren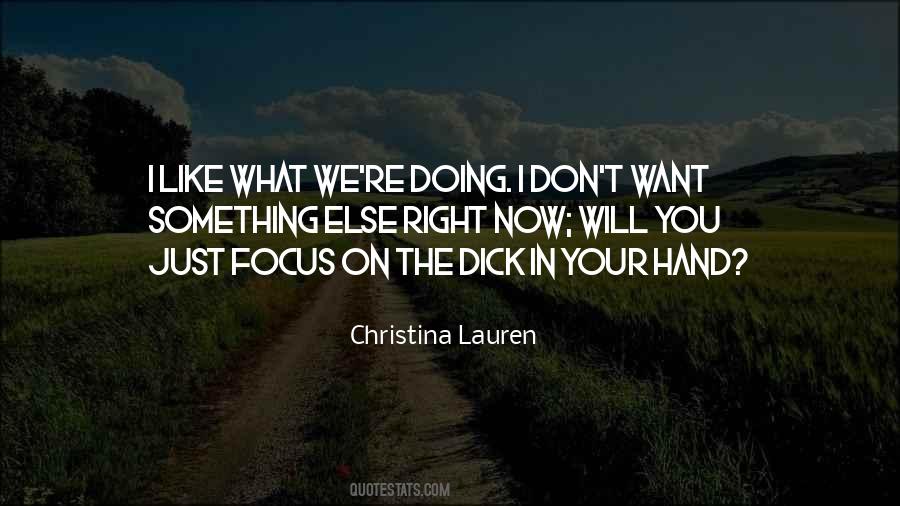 #42. Many people know what they want to have, but have no idea of who they want to be. Getting 'things' simply will not fulfill you. Only living and doing what you believe is 'the right thing' will give you that sense of inner strength that we all deserve. - Author: Tony Robbins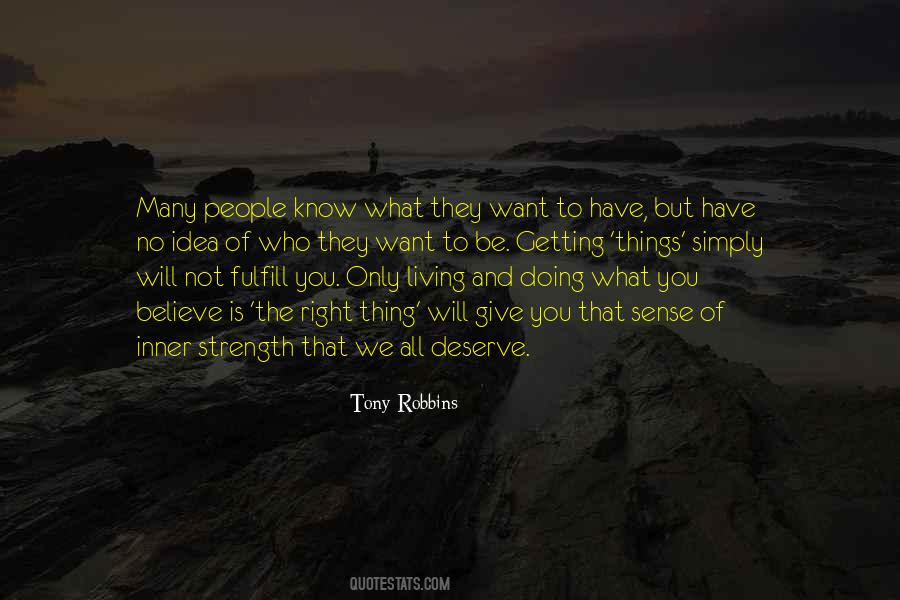 #43. The reason we don't get what we want isn't because we don't have the ability or time. We aren't willing to do the things we need to do when we don't feel like doing them. There's an impact of that entitlement on their business. The attitude is you learn to fall in love with the daily grind. - Author: Rory Vaden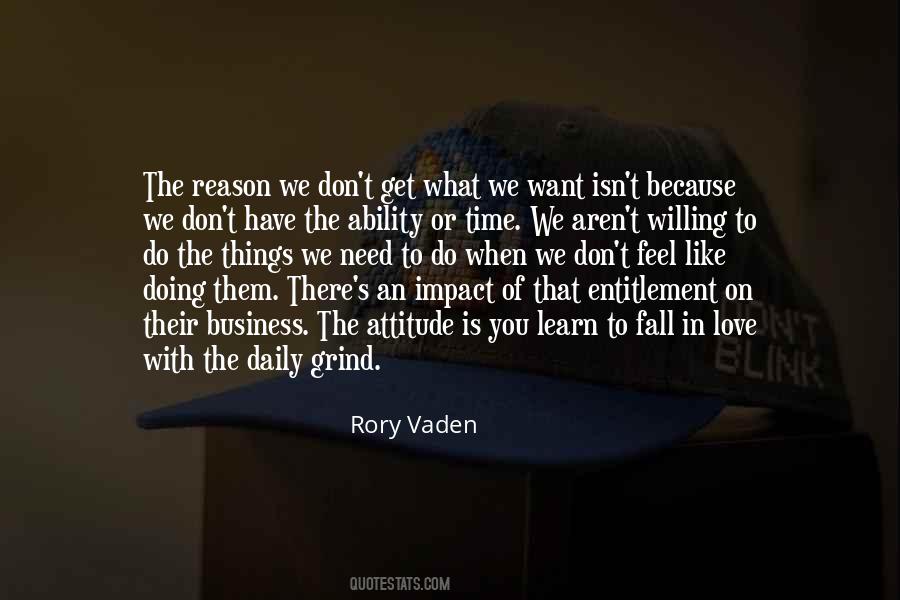 #44. We've got over 1 million merchants who have claimed their businesses on Foursquare, running specials and doing other things. What we want to do is take these tools used by the 50-100 national retailers and make them accessible to our 1 million merchants. Then you've got something really powerful. - Author: Dennis Crowley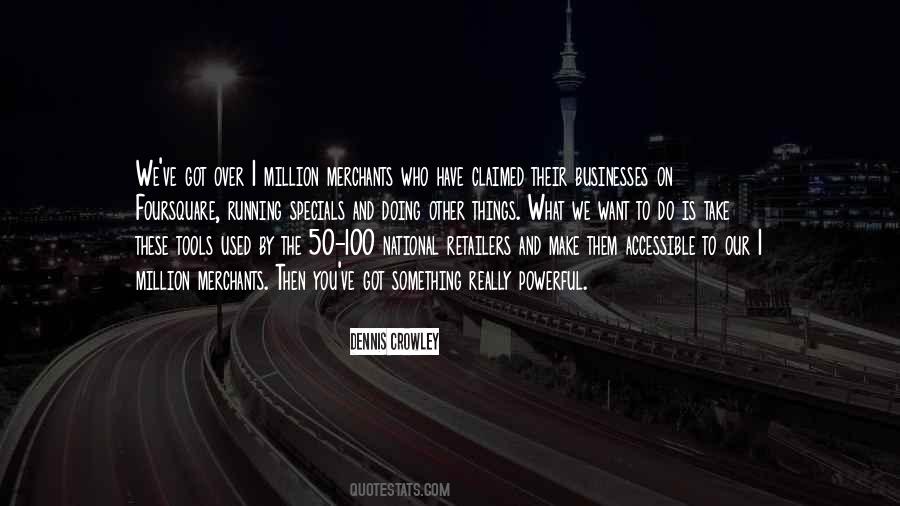 #45. We are highly susceptible to self destruction when we aren't doing what we really want with our lives. - Author: James Dillehay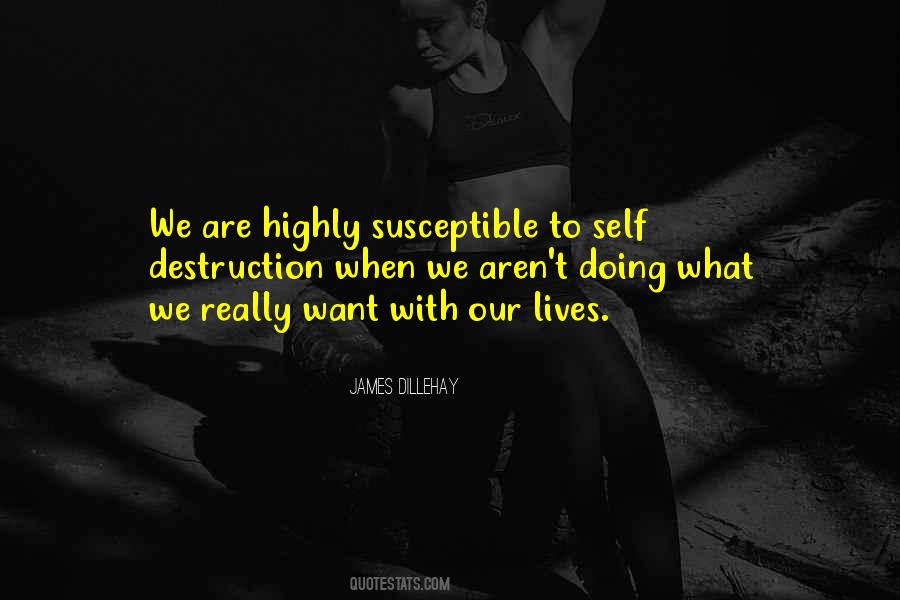 #46. But at the same time, my parents always encouraged my brother and me to be happy with what we were doing. My parents were athletes in high school; my mom and my dad were the stars of the basketball team, but they never pushed my brother and me to be anything we didn't want to be. - Author: Jonathan Groff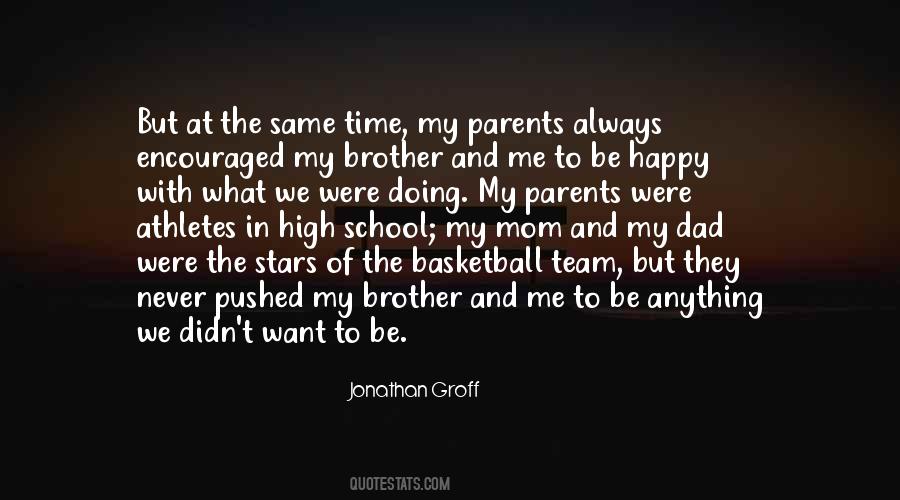 #47. If we ask two questions, we will see that punishment never works. First: What do we want the other person to do? Second: What do we want the other person's reasons to be for doing as we request? - Author: Marshall B. Rosenberg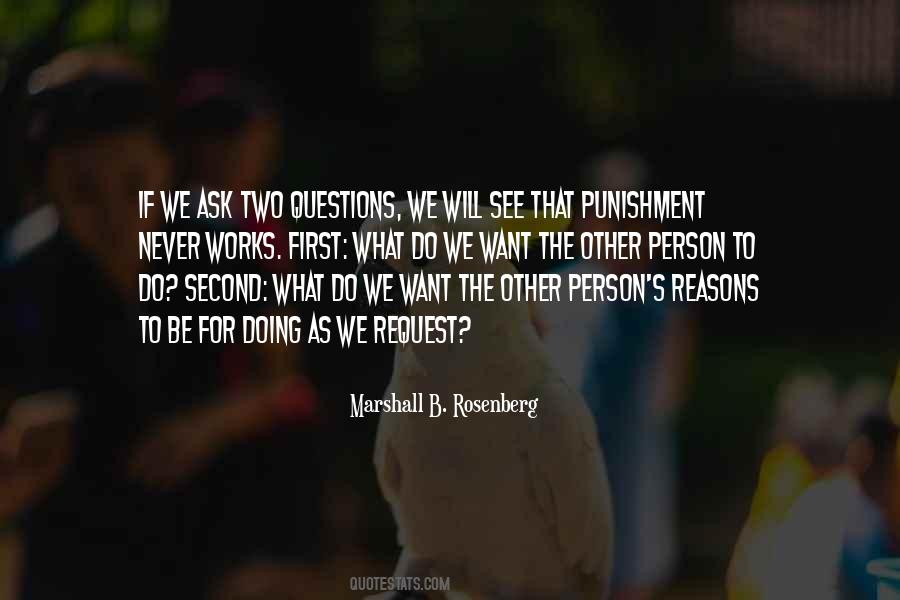 #48. Idea, " he said, "but before I tell you what it is, I think we have to agree on whether or not we have business to do here. Do we want to try again to do what we tried to do once before? Do we want to try to kill It again? Or do we just divide the check up six ways and go back to what we were doing? - Author: Stephen King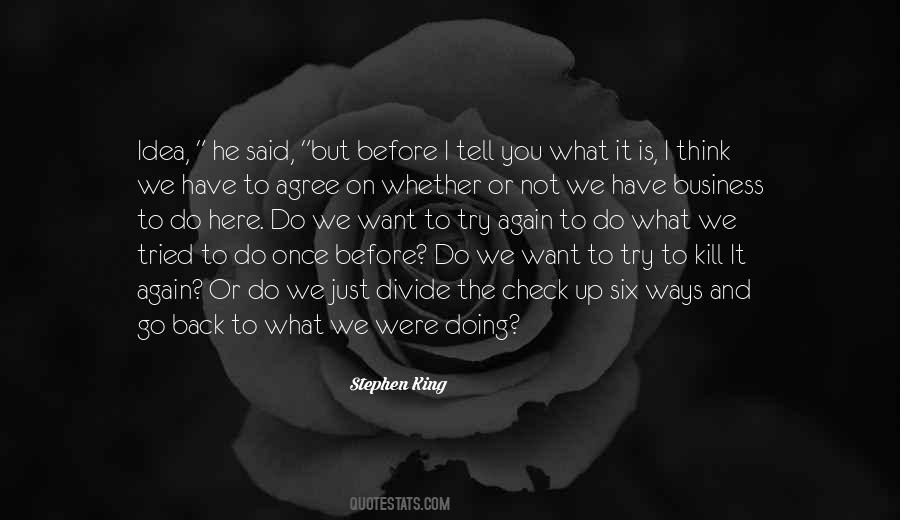 #49. At Facebook, we build tools to help people connect with the people they want and share what they want, and by doing this we are extending people's capacity to build and maintain relationships. - Author: Mark Zuckerberg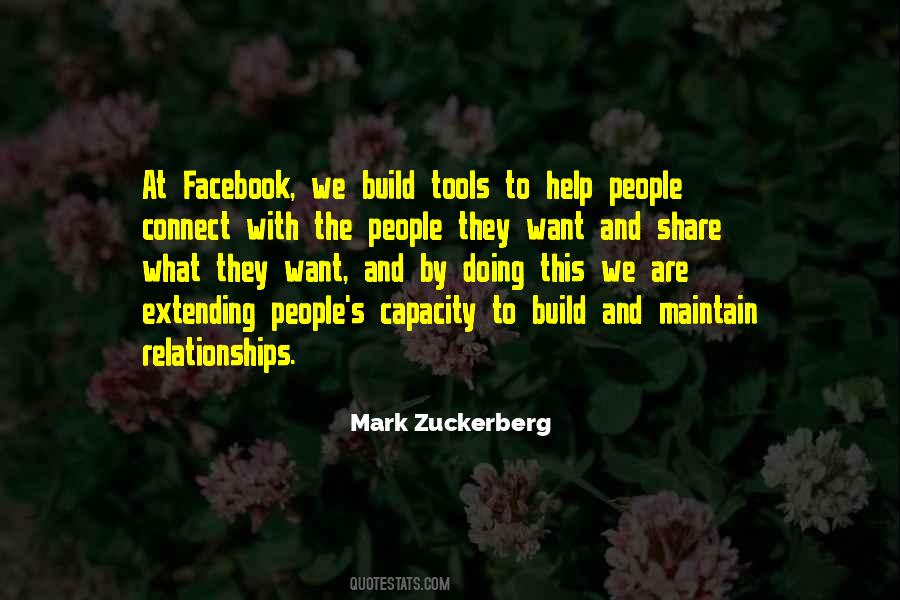 #50. Visualize what you want out of life and think big. Don't feel undeserving. We're all deserving of living our dreams - some of us realize it and some don't. You're not doing anyone any favors by living small. Embrace these truths and step up. The world is waiting. - Author: Jillian Michaels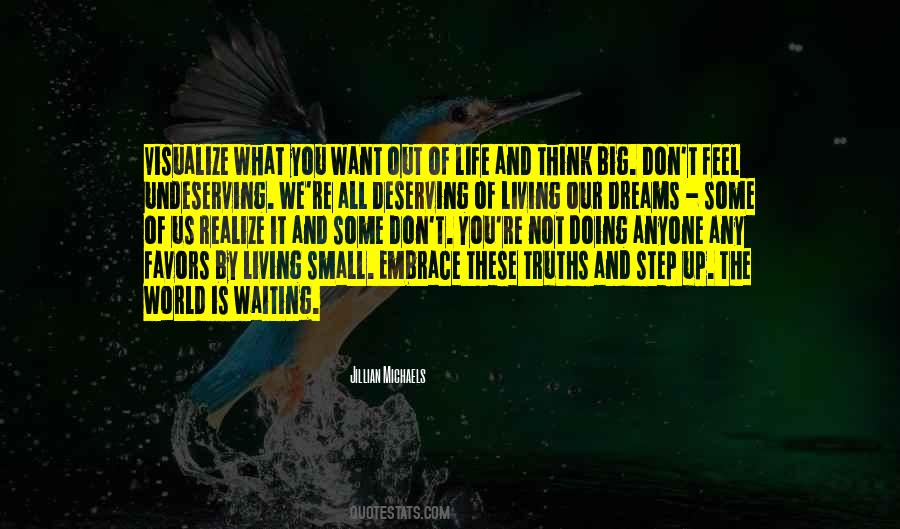 #51. As we trust God to give us wisdom for today's decisions, He will lead us a step at a time into what He wants us to be doing in the future. - Author: Theodore Epp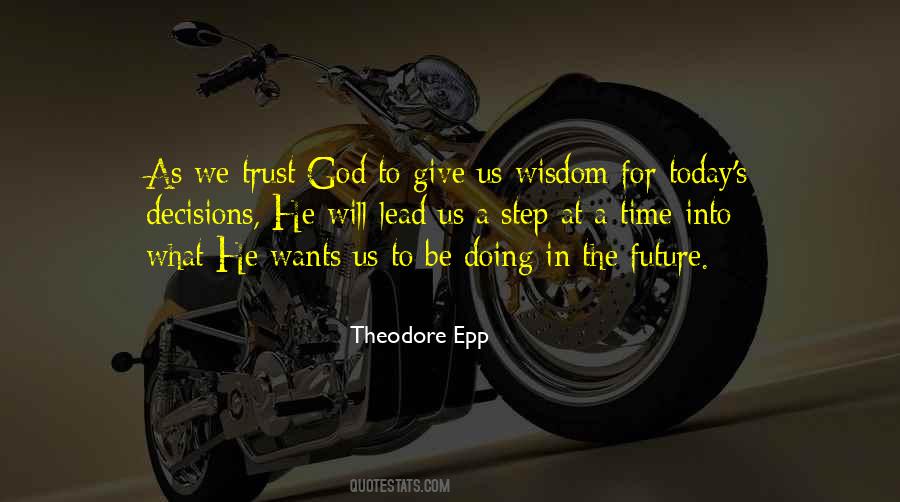 #52. If I did only what I wanted to do, I would not be obedient to the Creator. Sometimes He wants us to do certain things that we may not feel like doing. When it comes to what God asks of us, we need more than good intentions we need to follow through fully. - Author: John Wooden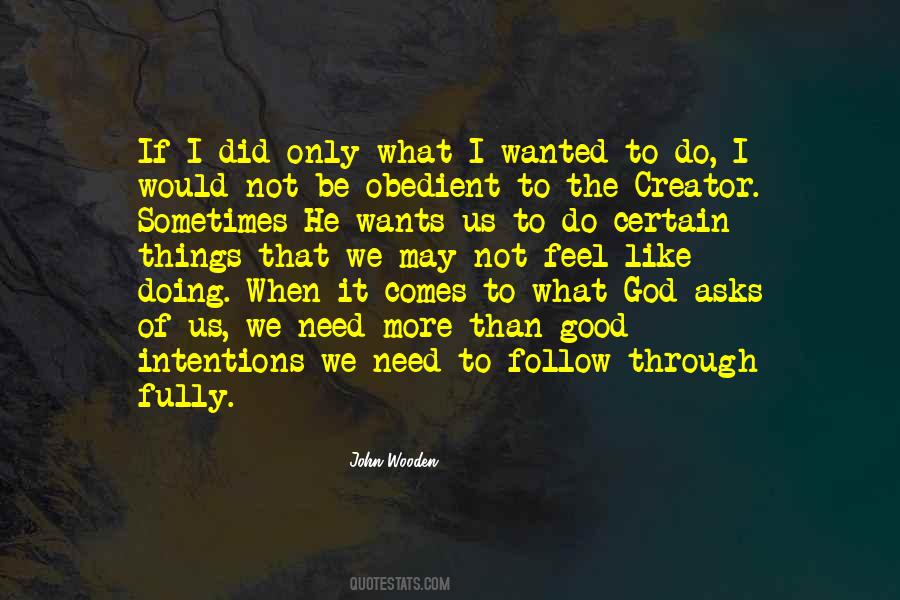 #53. It's incredible what we can do if we really want to do it. All we need is to be aware of what we are doing and to return to the authenticity we were born with. - Author: Miguel Angel Ruiz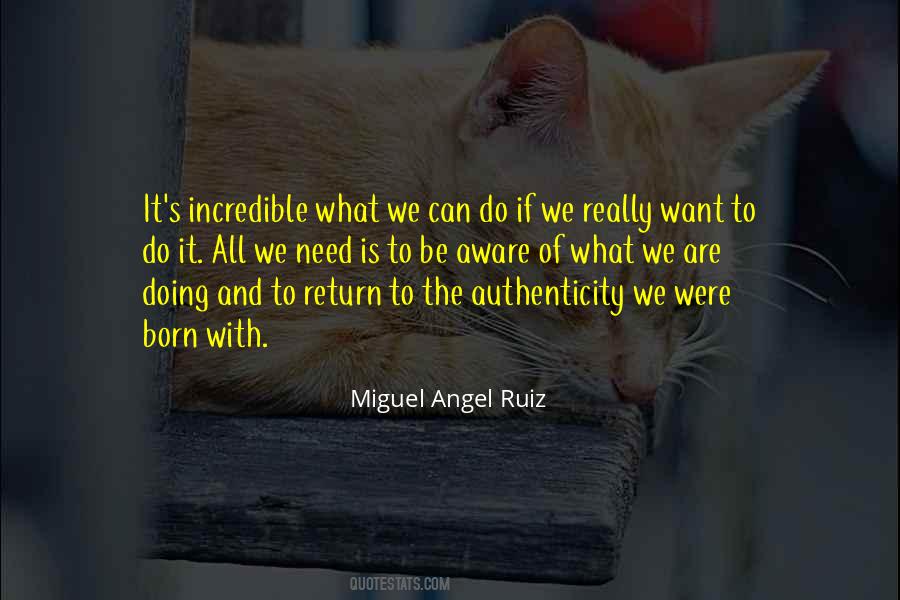 #54. We have to keep trusting God. We can't just trust God when he's doing what we want. We have to trust him even when things are not as we would like them. - Author: Akhil Sharma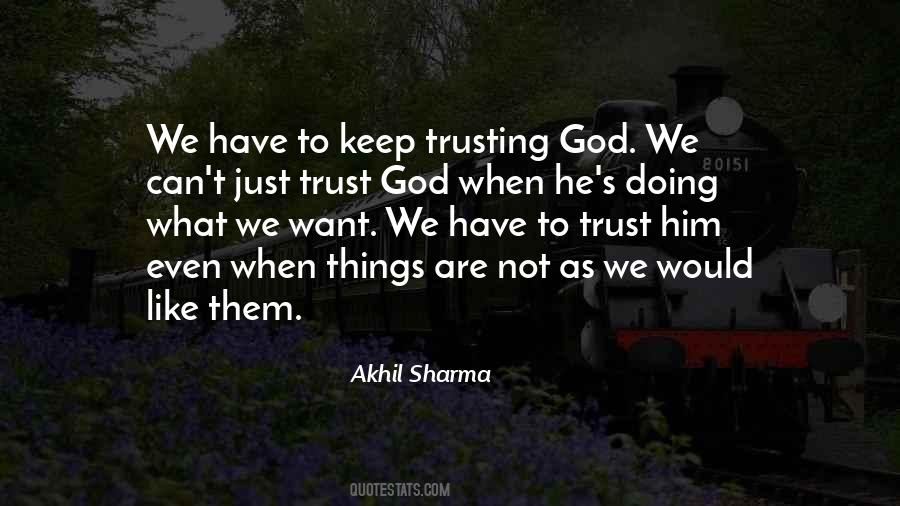 #55. I just remember, all I'm doing is remembering when I was a kid I remember that they used to put out there in the old west, a wanted poster. It said: "Wanted, Dead or Alive." All I want and America wants him brought to justice. That's what we want. - Author: George W. Bush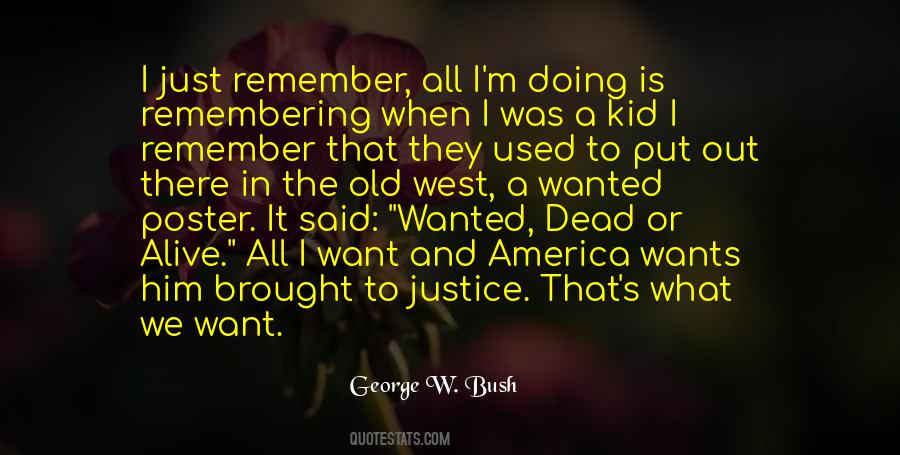 #56. It was all about taking the leap of faith. It said that the fear that stops us from doing what we really want, is often not based on reality. We shape our fears in our heads, but things are so much easier than we think. - Author: Effrosyni Moschoudi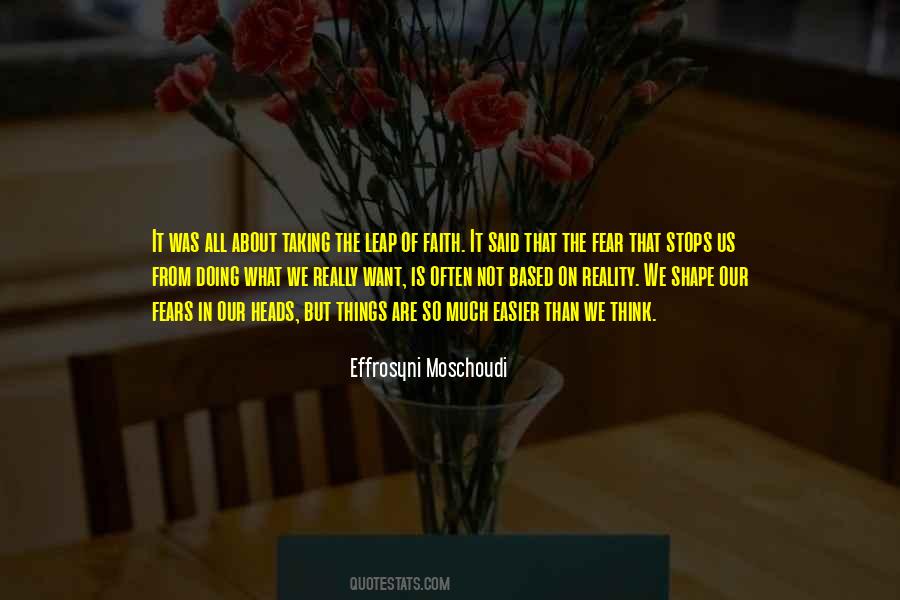 #57. The Carter Center has a policy of doing what others do not want to do. We do not compete with the World Health Organization, the United Nations or the US government. - Author: Jimmy Carter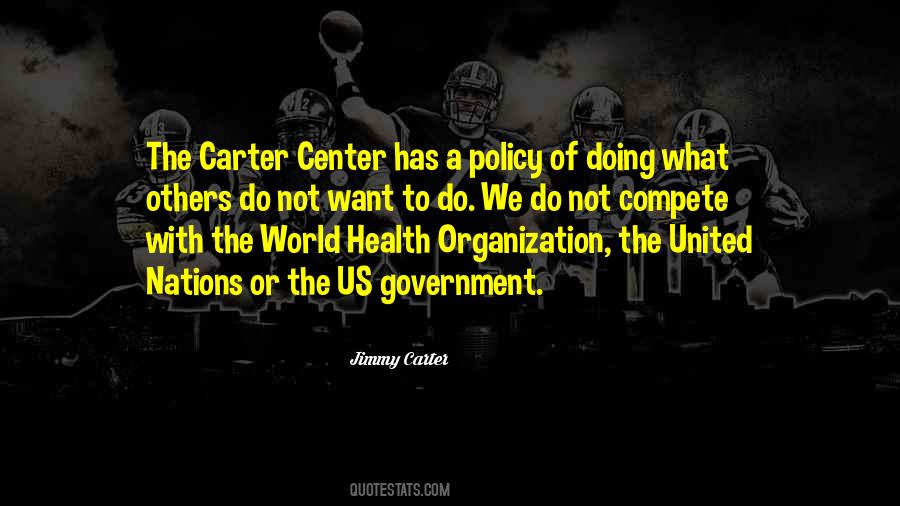 #58. People are generally forced to change. We don't want to change, and then something absolutely forces us to realize that what we are doing isn't working or that our picture of the world is wrong. We fail. So we change. - Author: Ira Glass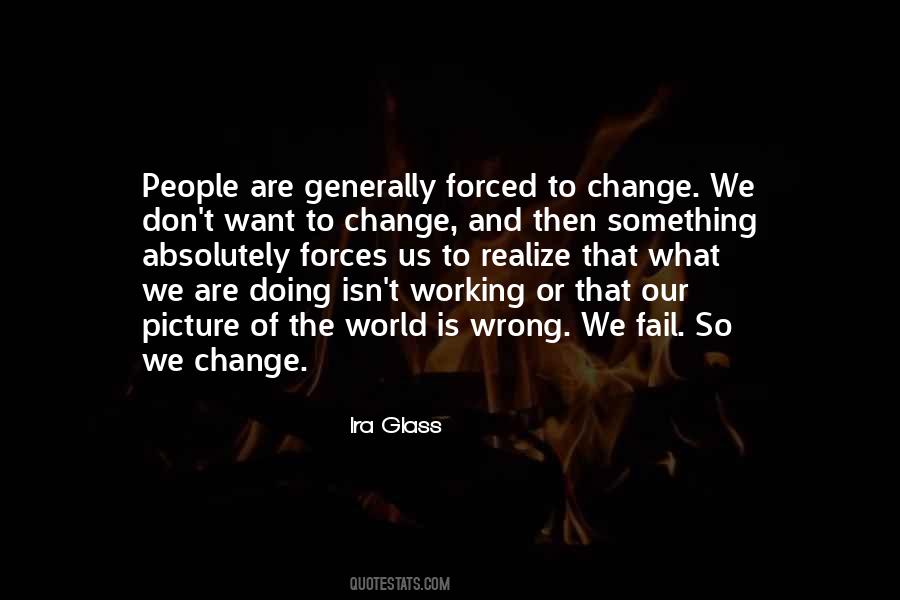 #59. I don't want what we're doing to just end up as notes for a novel. - Author: Ben Lerner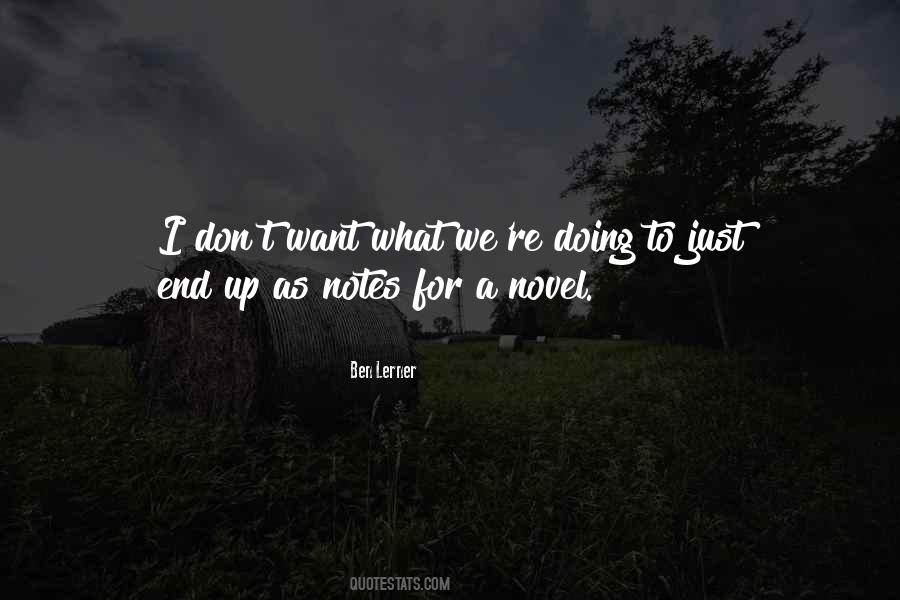 #60. No, I don't want to hear it. You've broken me for the second time, and believe me, Erik Titov, I won't let you do it again. The only thing we need to discuss is our son, and I hope that you know what you are doing. I've let you hurt me, but you won't hurt Dimitri. So go, if you are going. - Author: Toni Aleo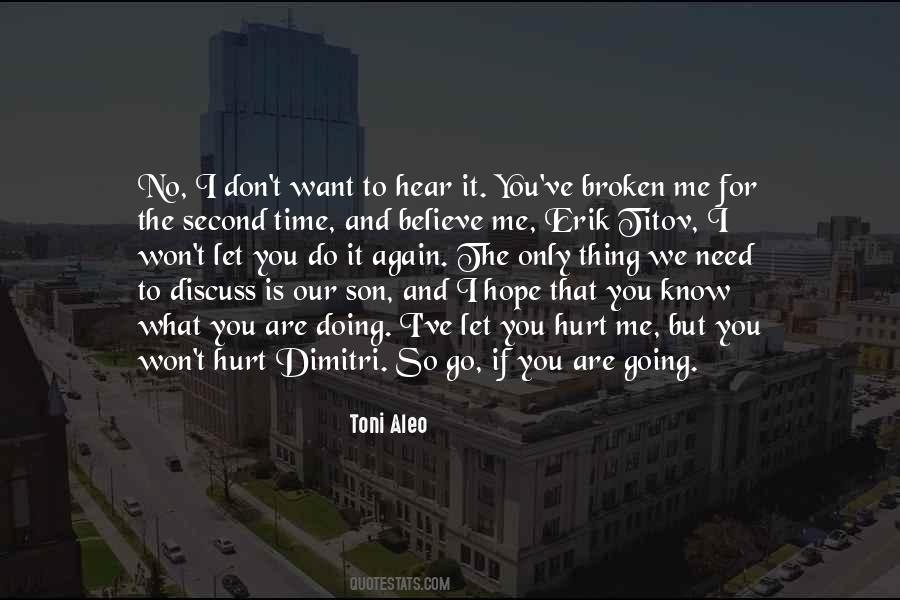 #61. I would just imagine there's a criticism for just about everything, if you want to take something down. No one's invincible. The Jicks are a work in progress and we don't think everything we do is the bee's knees or something, we're just trying our best to get turned on by what we're doing. - Author: Stephen Malkmus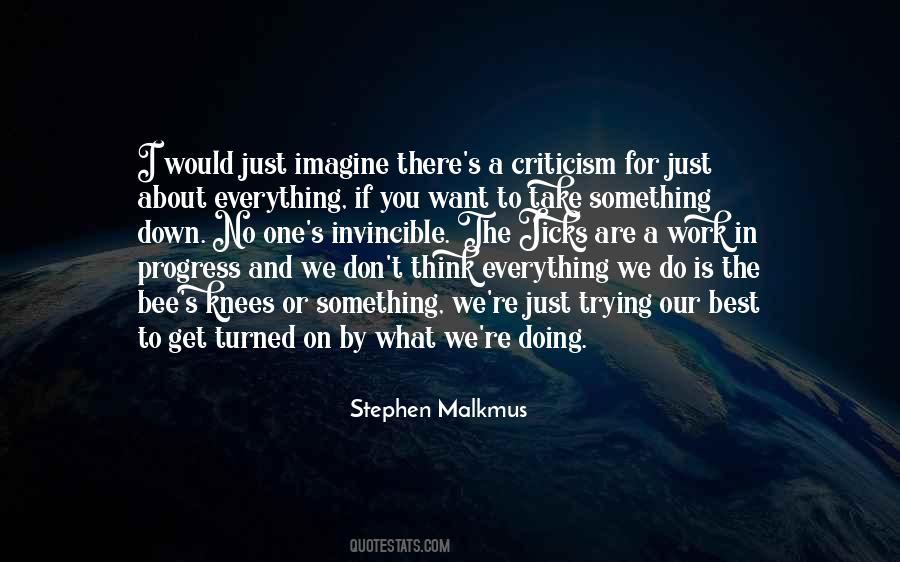 #62. The overall commentary on what I'm doing is saying, 'Hey look! I get to create whatever persona I want to, and it's all up to me. And the truth is, we are all - basically the universe - pretending to be humans for a brief moment of time. With a little self-induced amnesia. - Author: RuPaul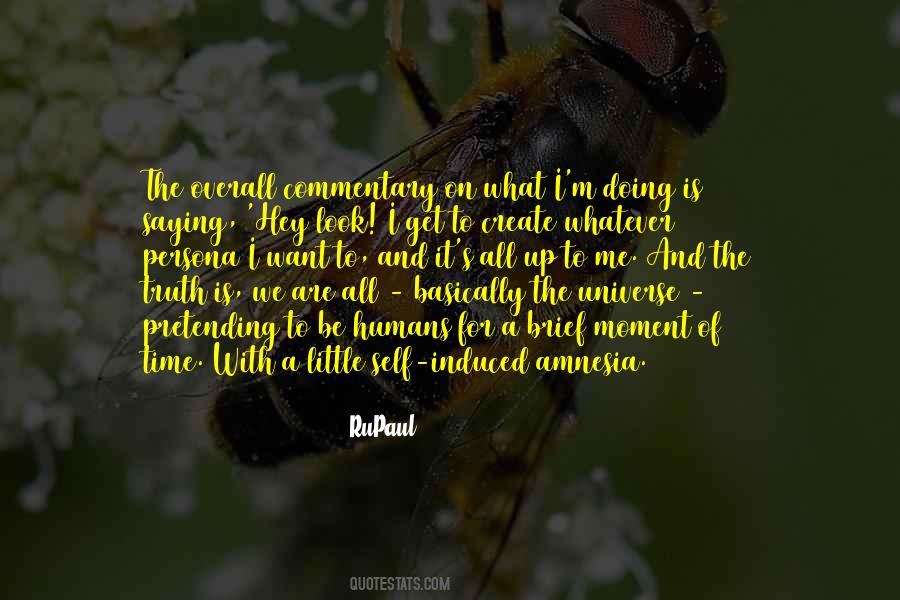 #63. ...you're dazzling. I'm dazzled, I'm upside down and inside out and...God, Vivian. I don't know what to say. There aren't words. I just want to crawl back under the blanket and spend my life doing that with you. And everything else we did today. - Author: Beatriz Williams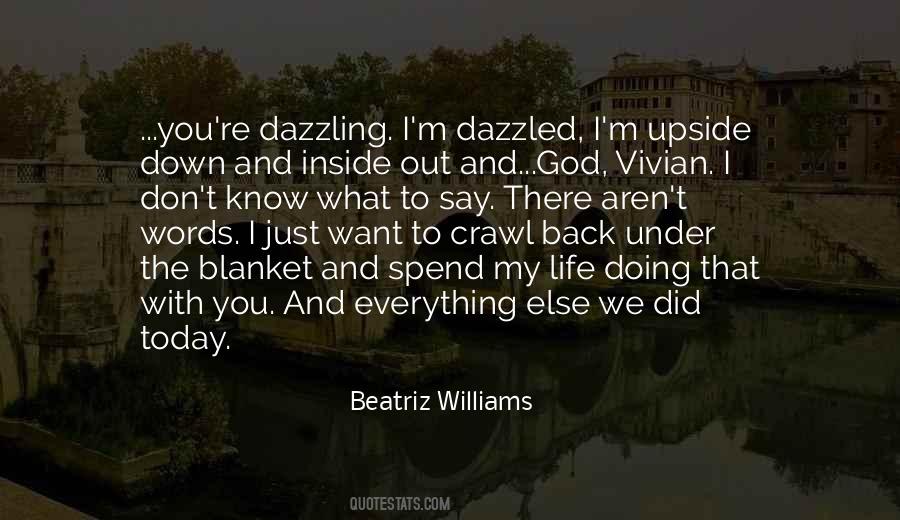 #64. Um, sorry we touched your precious," I say, pointing to his guitar. He chuckles. "Normally I'd want to break your fingers but since you knew what you were doing and used her for good instead of evil, I'll say it's no problem." "What constitutes evil?" "Taylor Swift. - Author: Anne Mercier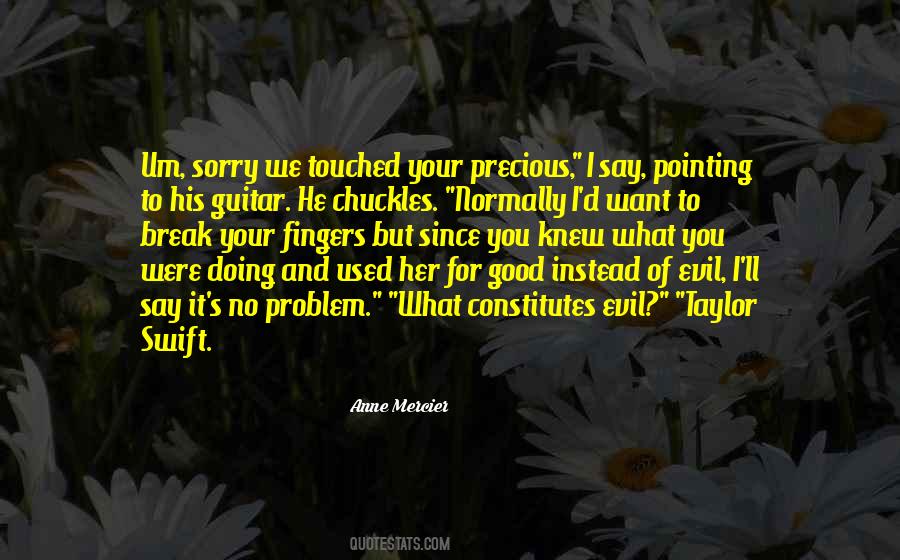 #65. We don't want anybody to come off half-cocked and make a decision about what we're only in the middle of doing, right? So if there's shots of me out there, then somebody's going to say, "Oh, that's not the right way. That's not this and that." It has to be seen in context. - Author: Colm Feore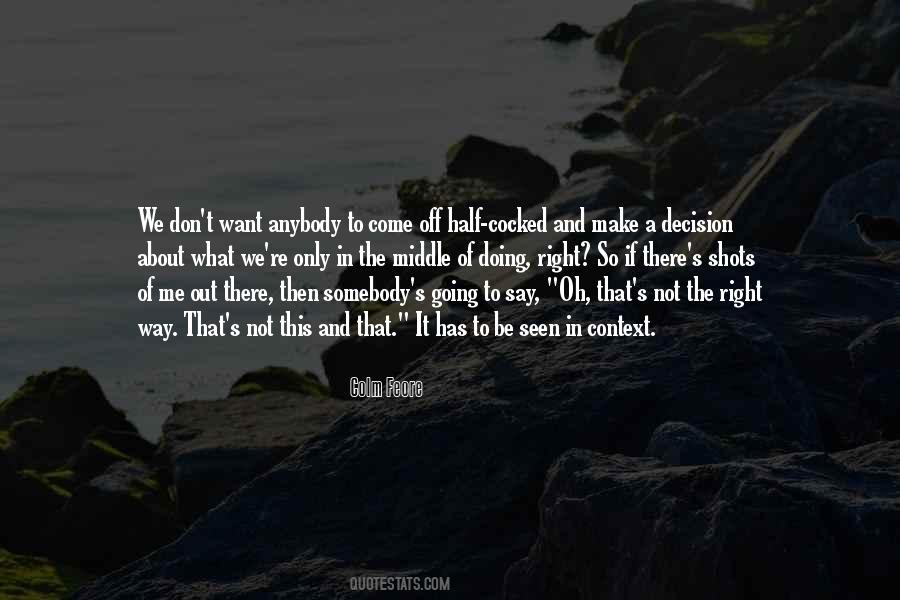 #66. Most of us don't mind doing what we ought to do when it doesn't interfere with what we want to do, but it takes discipline and maturity to do what we ought to do whether we want to or not. - Author: Joseph B. Wirthlin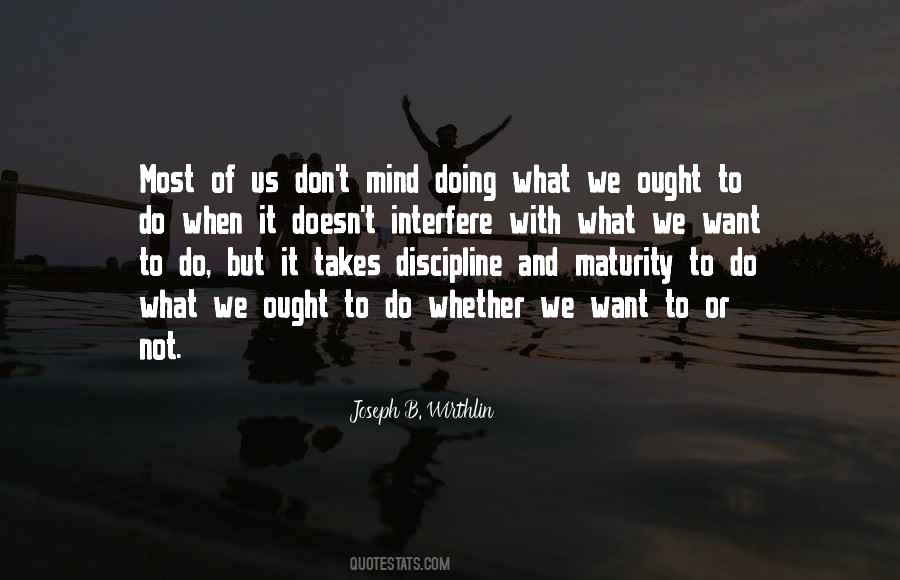 #67. I want to be around you whenever I can. Doesn't matter what we're doing. You don't have to take your clothes off to get my attention. All you have to do is look my way. Exist. - Author: Ranae Rose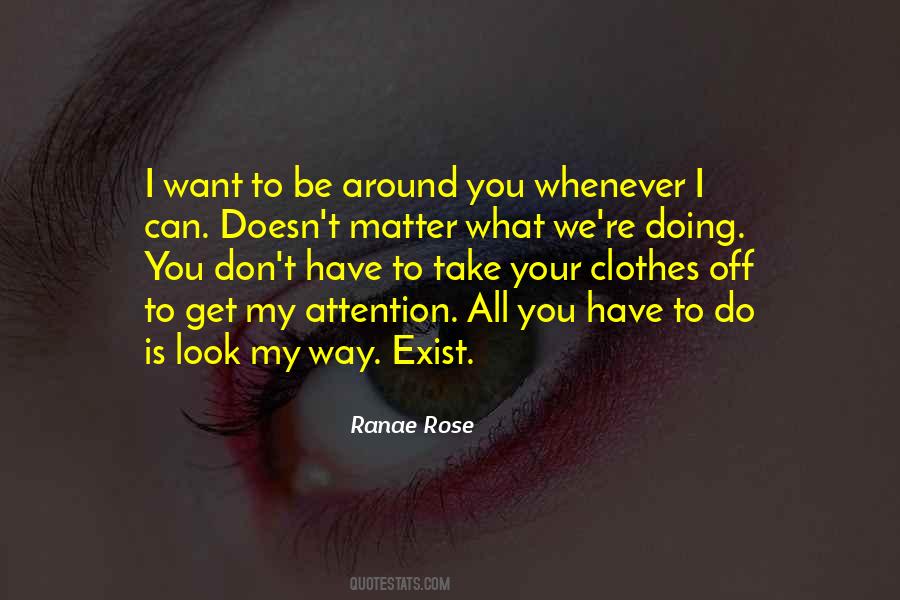 #68. Hard work leads to low returns. Insight and doing what we want lead to high returns. - Author: Richard Koch
#69. We must trust that what we're doing has a purpose. We must realize that we're not here to make kids conform or perform, but that we're here to help them to develop their own unique skills and talents, not the ones we want them to have or the ones we think they should have. - Author: Tom Walsh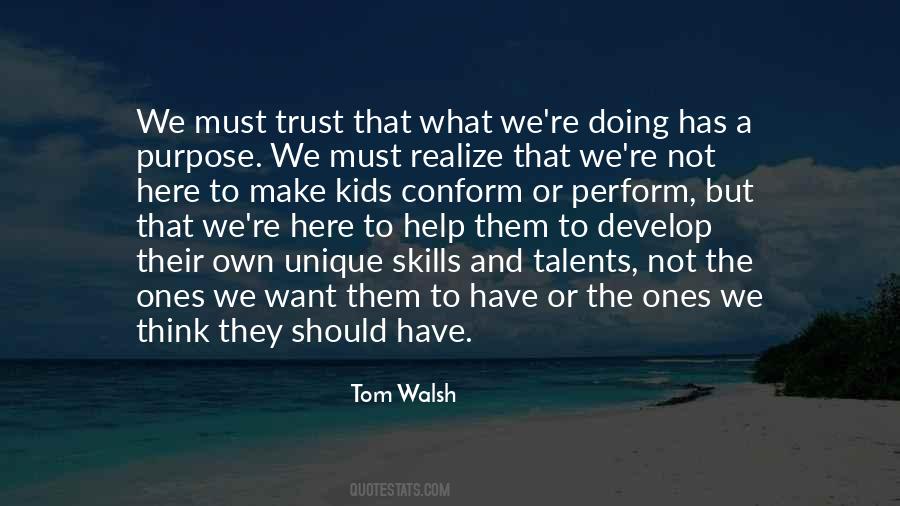 #70. Oftentimes we don't manifest what we want in our lives, because our energy is too focused on what others are doing in their lives. This lack of focus in our own life, dilutes our energy and we leak our creative potential into other people's soul experience. - Author: Sabrina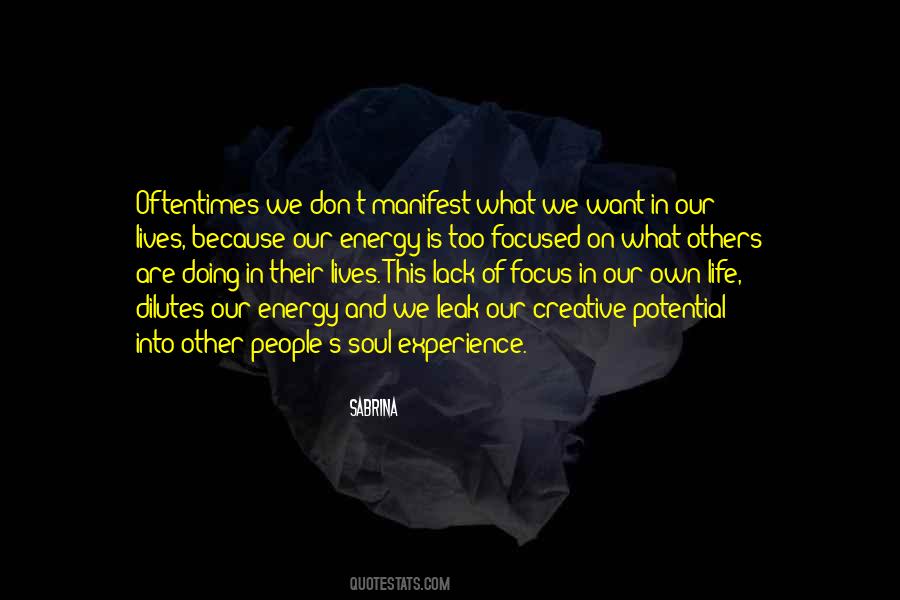 #71. I've been doing extremely dangerous activities for a long time, but I've been lucky enough to have survived so far. However, sooner or later we all die ... and, if that's the case, I want to die doing what I love to do the most. That's how I view death. - Author: Yuichiro Miura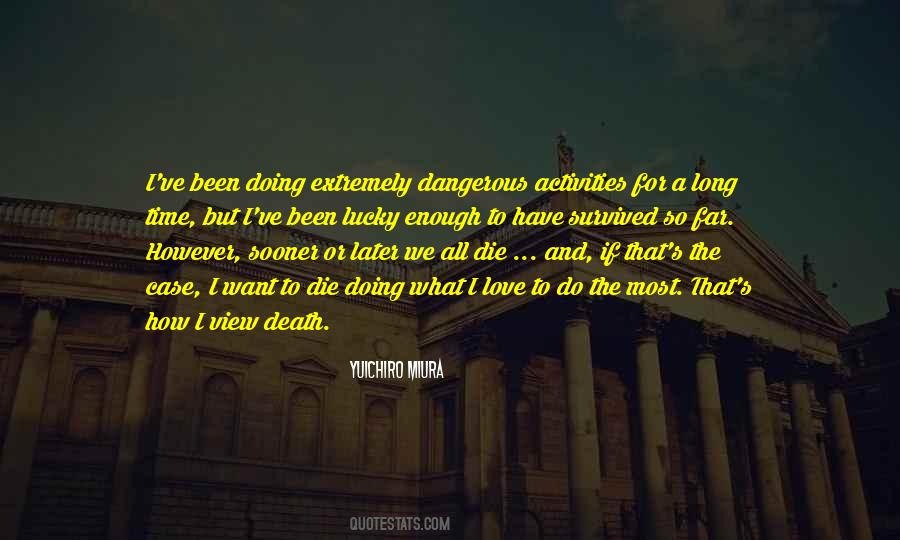 #72. We throw you as many as you want, in this profession, and the more you want the more we'll give you, until you're so confused that you'll just beg for us to stop. Stop what? You're the one who started it - you're doing it anyway. - Author: Frederick Lenz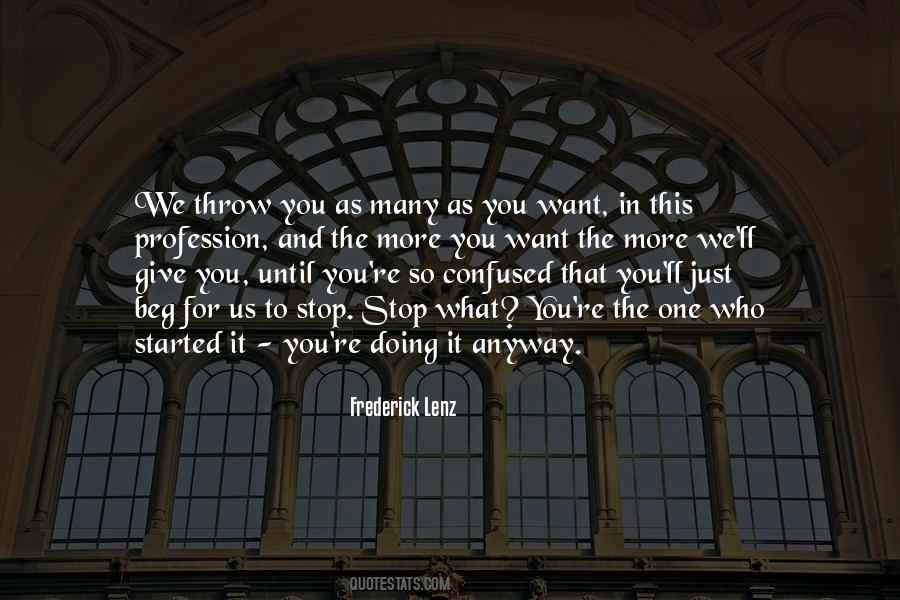 #73. The idea is that they wouldn't want to deal with militant Islam but an Islam and Muslims who are committed to progress, committed to development, who like peace and are moderate in their ways. So that's what we are doing here. - Author: Abdullah Ahmad Badawi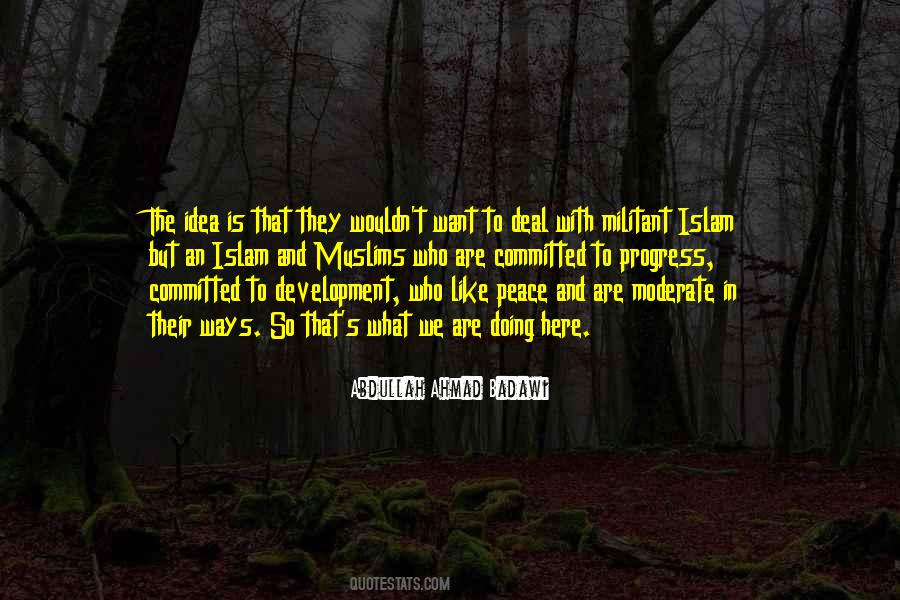 #74. Justice is doing for others what we would want done for us. - Author: Gary Haugen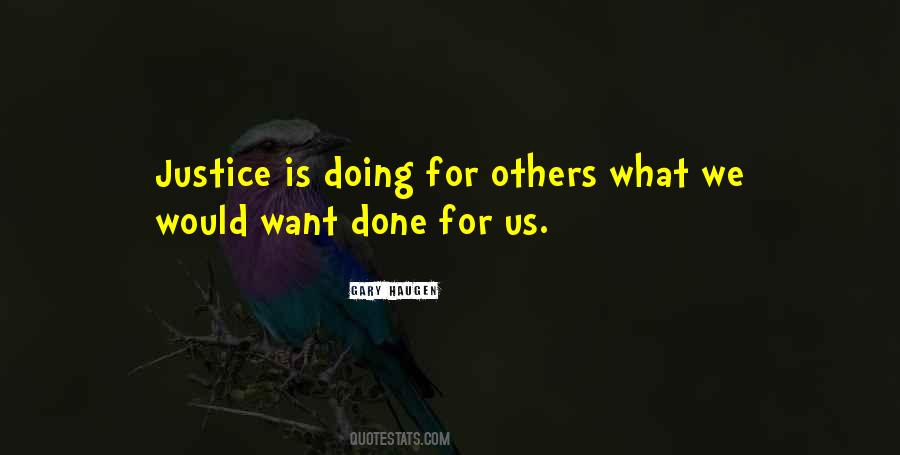 #75. Most of us are busy gambling on the most dangerous risk of all - living our whole life not doing what we want on the bet that we can buy the freedom to do it later. - Author: Jake Ducey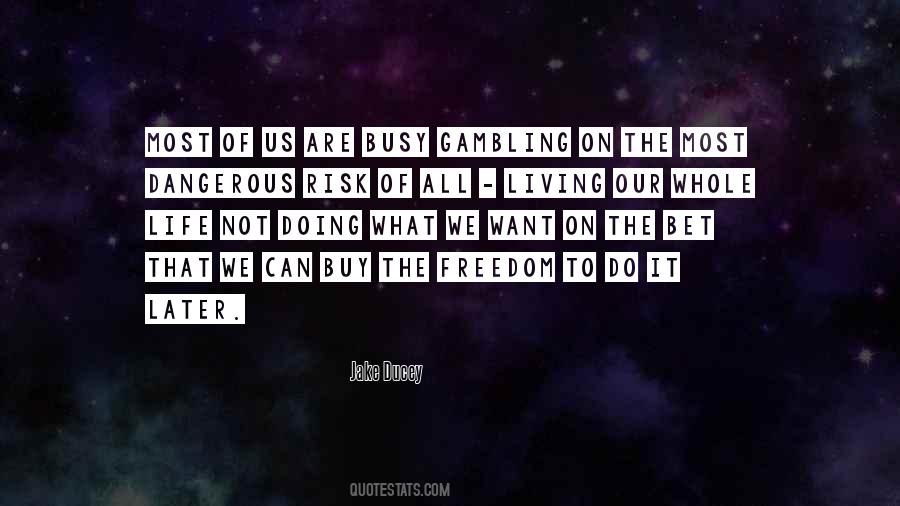 #76. You have to be clear what your message is and what you're doing. I mean, Miley Cyrus is an amazing talent, and sometimes you kind of just want to say, 'We know you're not Hannah Montana anymore. We know that, my dear. My darling. Now, go be great.' - Author: Tori Amos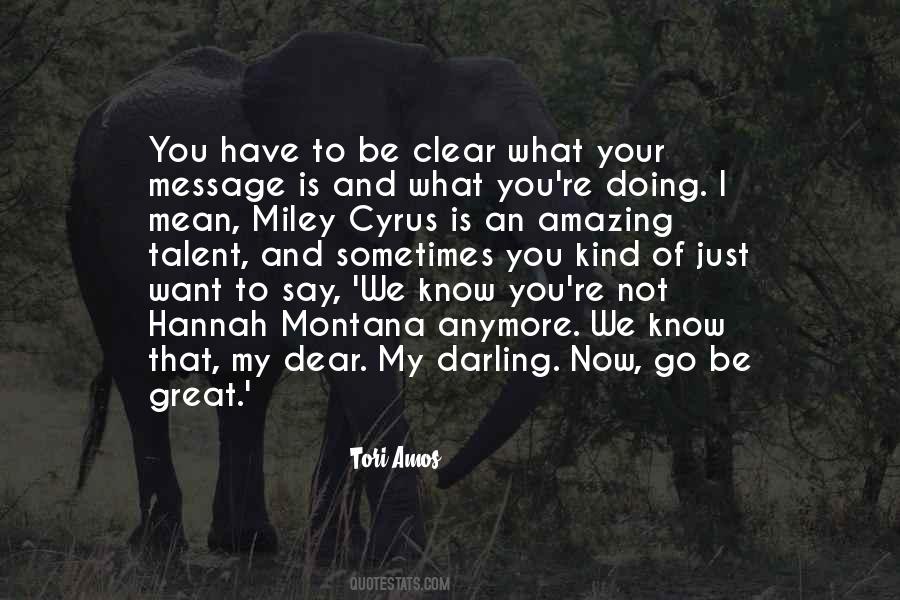 #77. Our ego seeks to understand everything. It wants all the answers. Part of what destroys the ego and connects us with the light is doing things that absolutely don't make any sense. If we want something beyond logic, like a miracle, we have to do something that is beyond logic. - Author: Yehuda Berg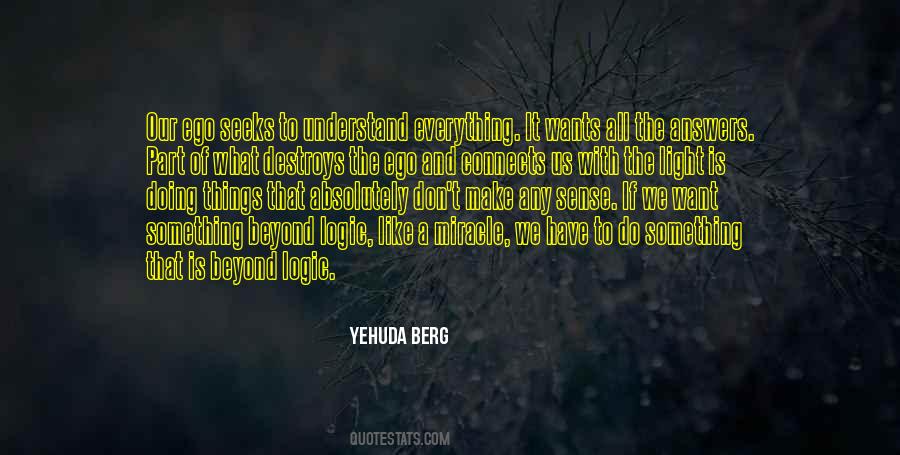 #78. We want to be seen for who we really are, and each person has his own complex story and reasons for doing what they do. - Author: Annette Bening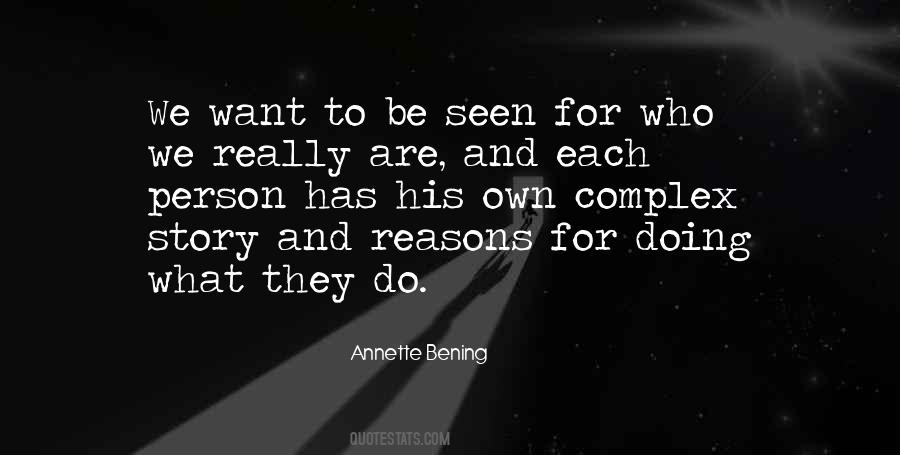 #79. True freedom is not about being able to do whatever we feel like doing; rather, it is about being able to do what we truly want to do, in spite of what we feel like doing at the moment. - Author: David J. Lieberman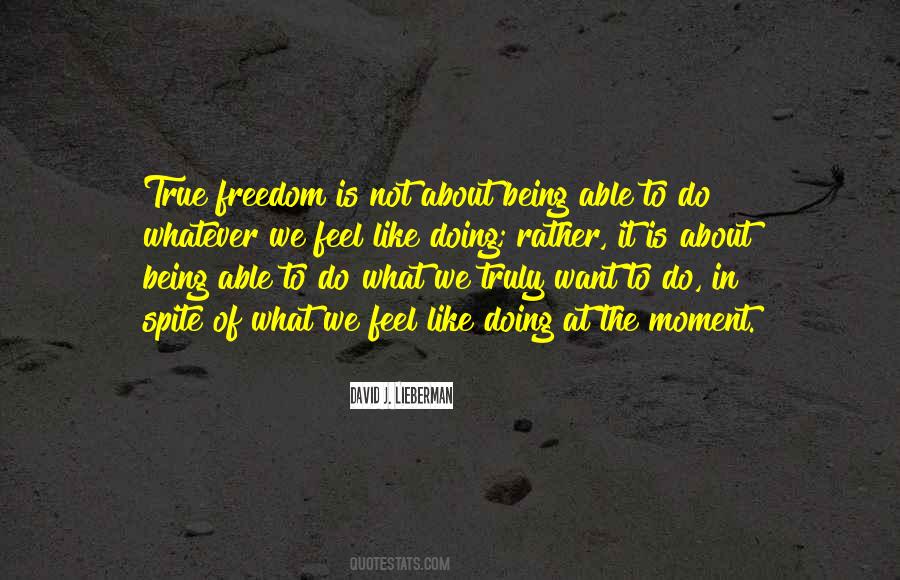 #80. Freedom is not doing what we want, but what we should. - Author: Victor Manuel Rivera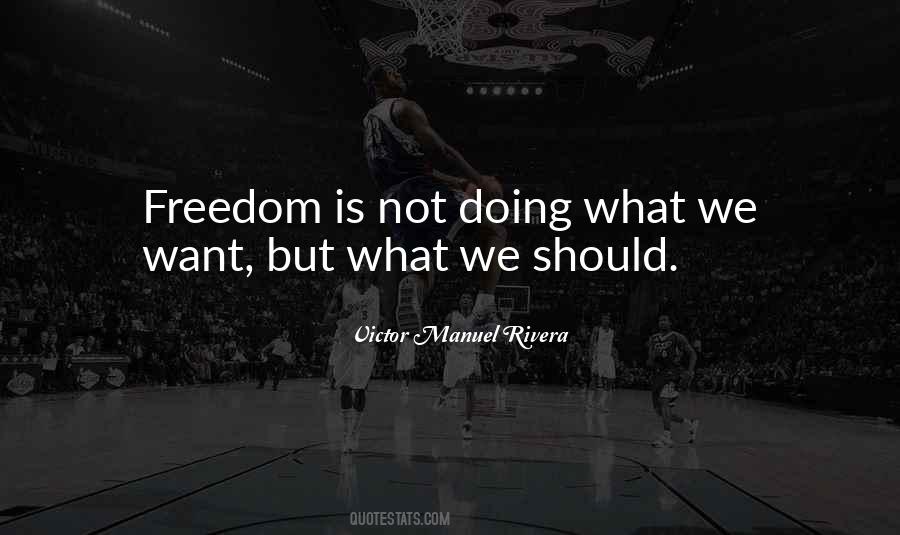 #81. Actors are people who are doing a job they want to do, which isn't the case for many of the people who watch what we do. - Author: Martin Freeman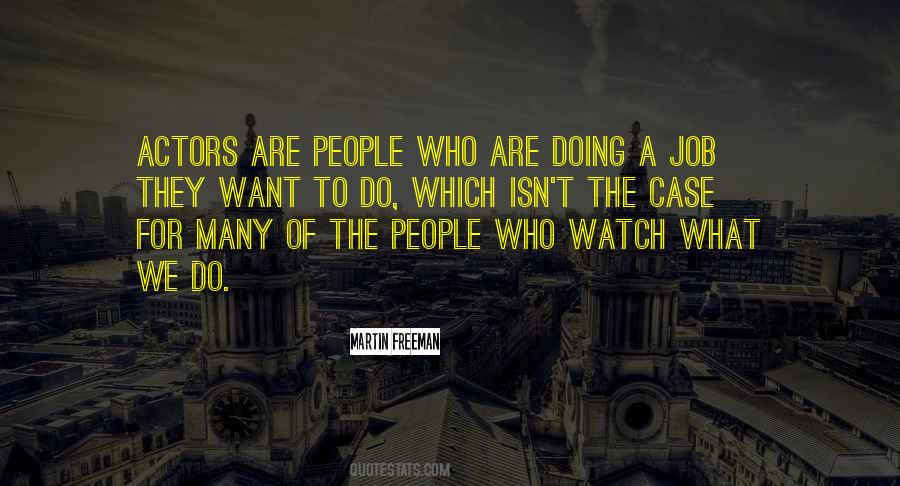 #82. I support special forces. I support trainers. I support the air campaign. And I think we're making some progress. I want to continue to intensify that, and that's exactly what the president is doing. - Author: Hillary Clinton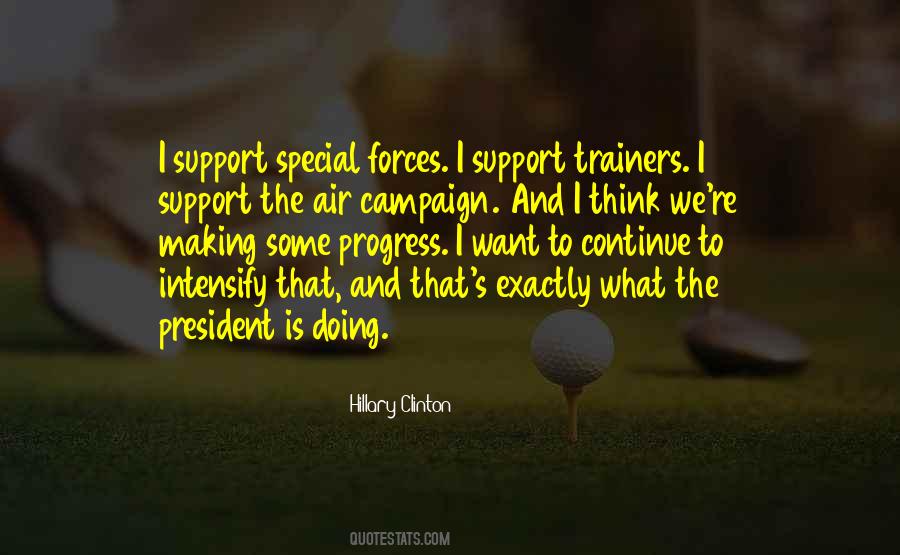 #83. I swear I only want to hear about you, to know what you've been doing. It's a hundred years since we've met-it may be another hundred before we meet again. - Author: Edith Wharton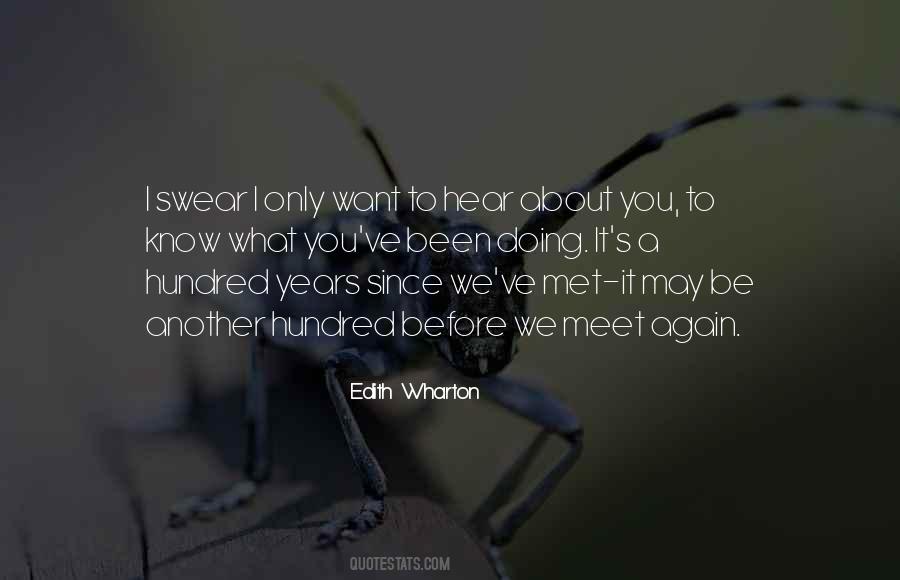 #84. We want to believe that we can continue doing what we've done for the past thousand years and not worry about the consequences coming back to us. - Author: Sylvia Earle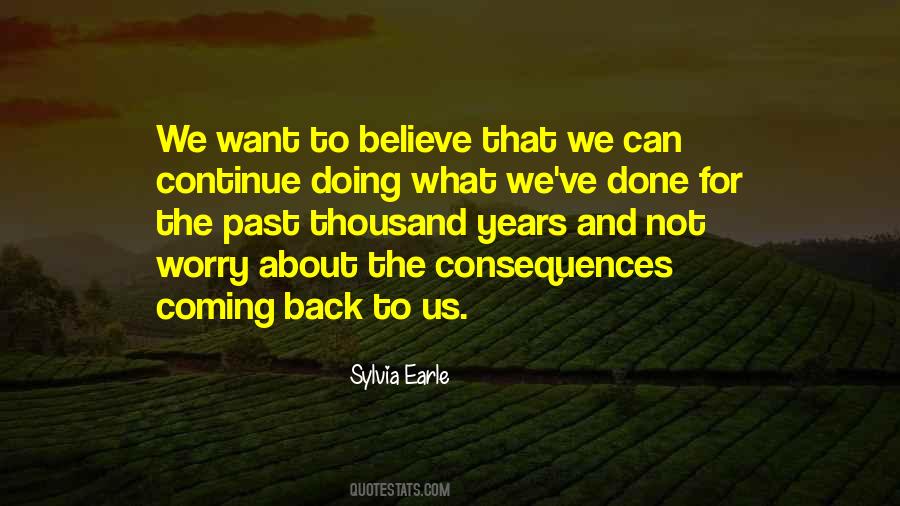 #85. We want to explore. We're curious people. Look back over history, people have put their lives at stake to go out and explore ... We believe in what we're doing. Now it's time to go. - Author: Eileen Collins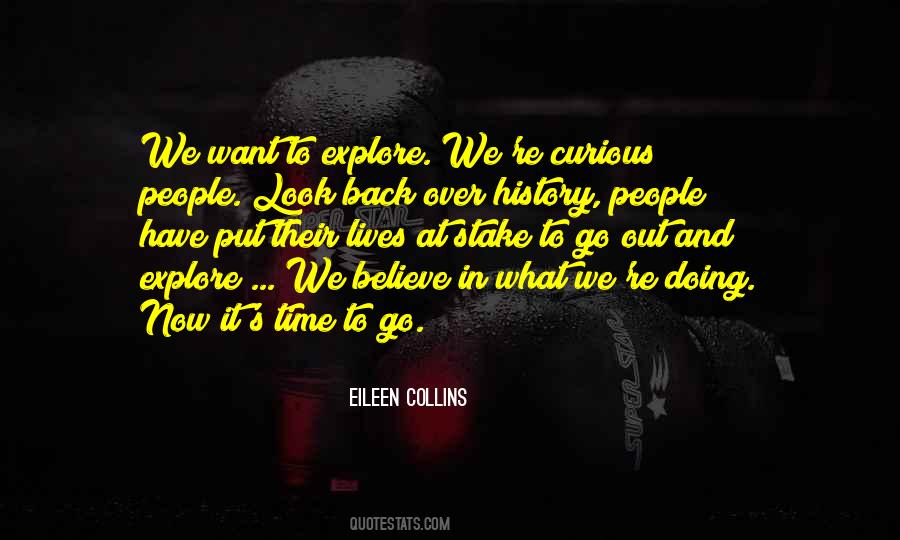 #86. My husband's the first one to say, "This is not the end of the world." We're doing what we want to do - what we have chosen to do - and we know the risks involved. - Author: Cindy McCain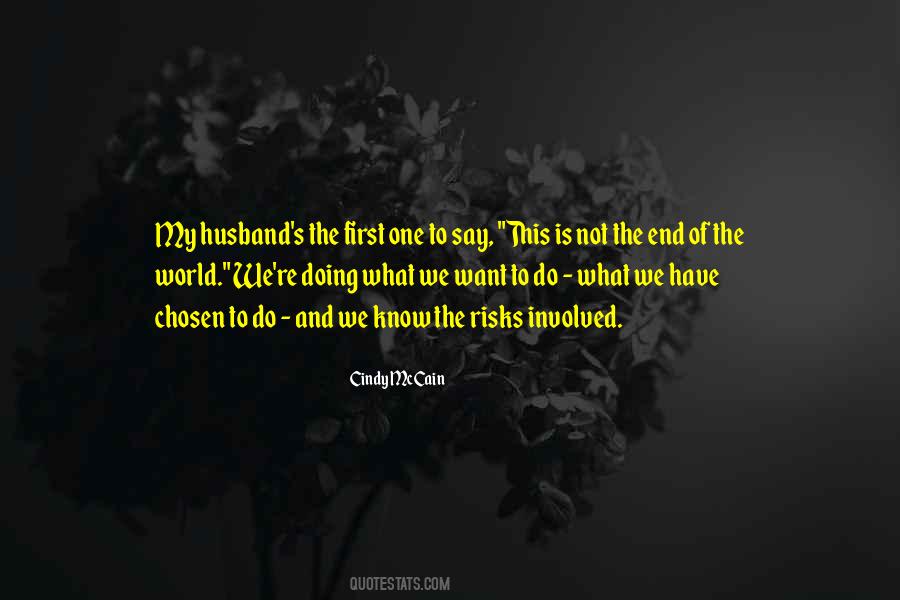 #87. I've got a drought-tolerant garden; I've got a company - crazy as it sounds, we make yogurt. There are actors who have to act no matter what, but I don't want to do it just for the sake of doing it. - Author: Rene Russo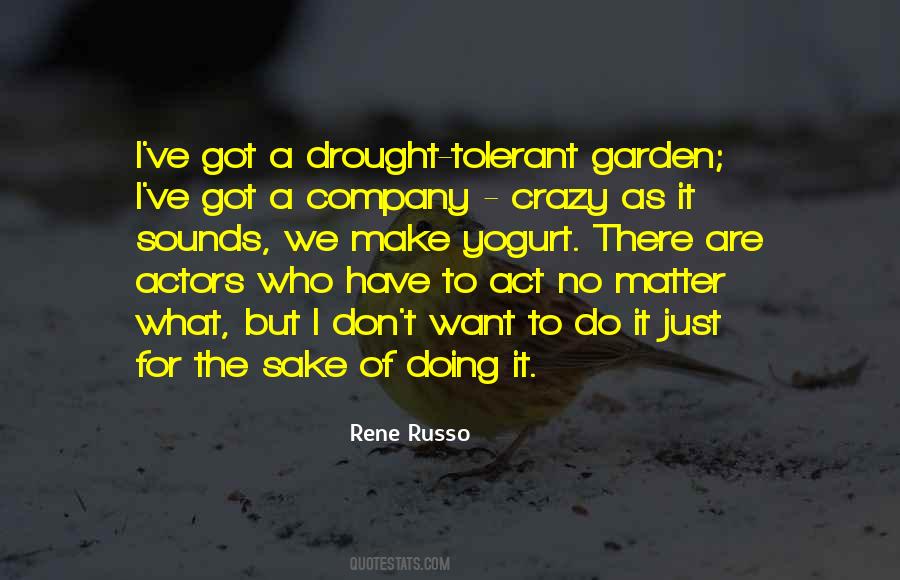 #88. The ideas behind the words are simple ones that work in everyday life; find what we most want to do; do it, no matter what; and in the doing be guaranteed a very difficult and a very happy lifetime. - Author: Richard Bach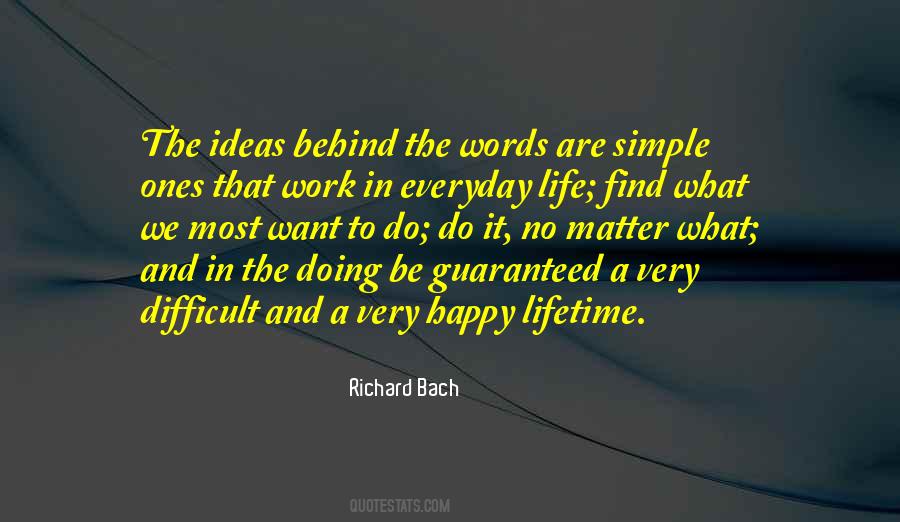 #89. One thing both my parents agree on is this: if people are doing something unfair, it's part of our job to remind them what's fair, even if sometimes it still doesn't turn out the way we want it to. - Author: Kelly Jones
#90. If a player is trying to intimidate a skilled player on your team, what do we want? We want our skilled players playing, so we shouldn't be doing that. - Author: Bobby Orr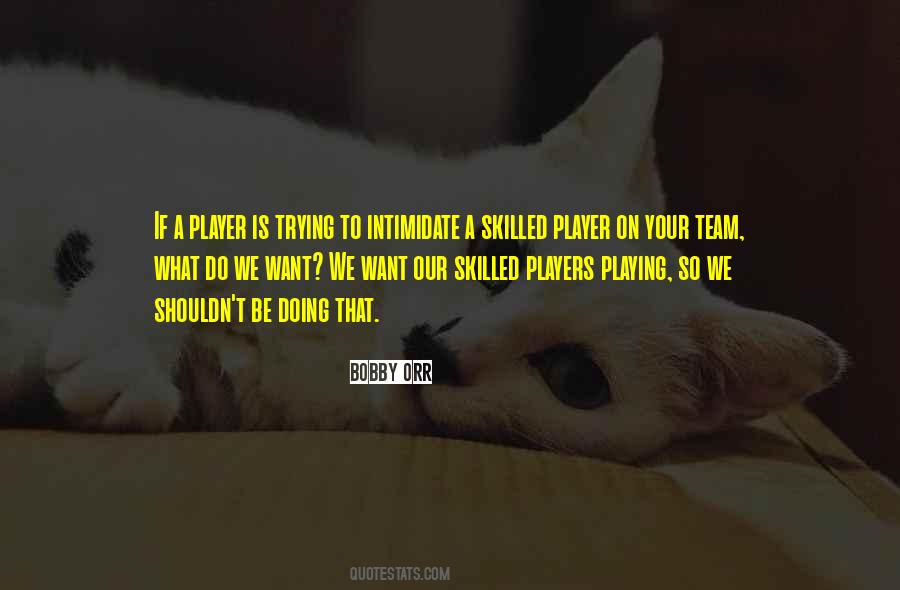 #91. Please be peaceful. We believe in law and order. We are not advocating violence, I want you to love your enemies ... for what we are doing is right, what we are doing is just
and God is with us. - Author: Martin Luther King Jr.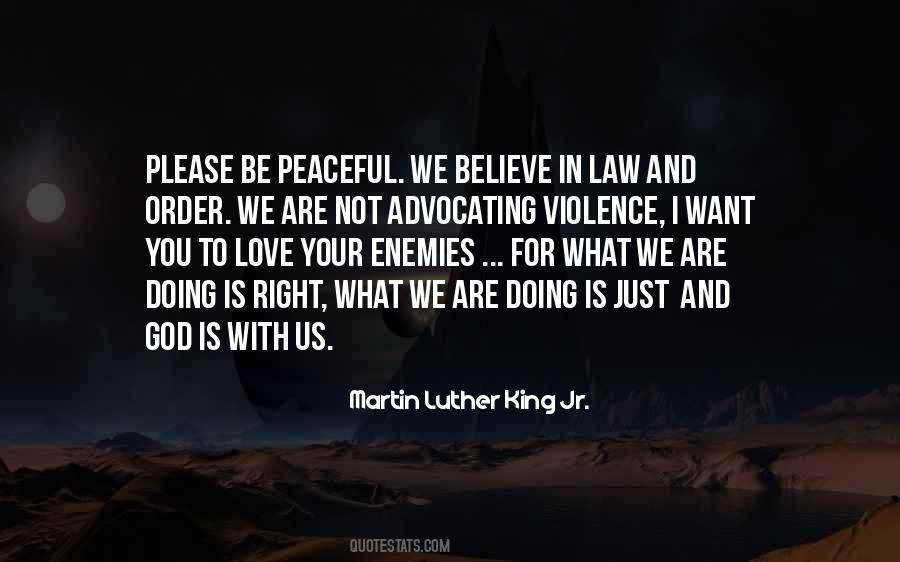 #92. I will definitely start in small venues, as I want to find my feet as a performer; the first shows that Westlife did was ten dates at Wembley, which was just crazy. We didn't have a clue what we were doing because it was so big. - Author: Shane Filan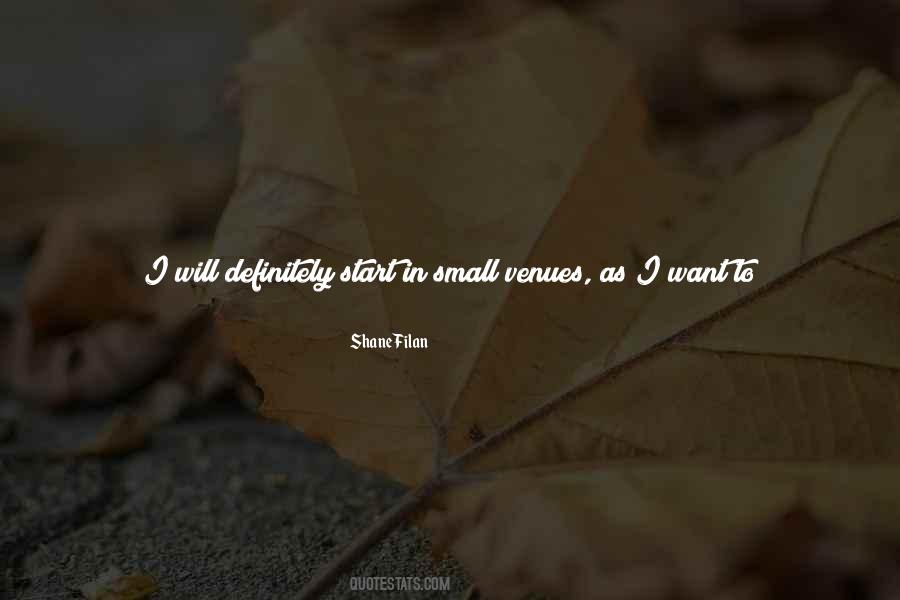 #93. In the conduct of life we make use of deliberation to justify ourselves in doing what we want to do. - Author: W. Somerset Maugham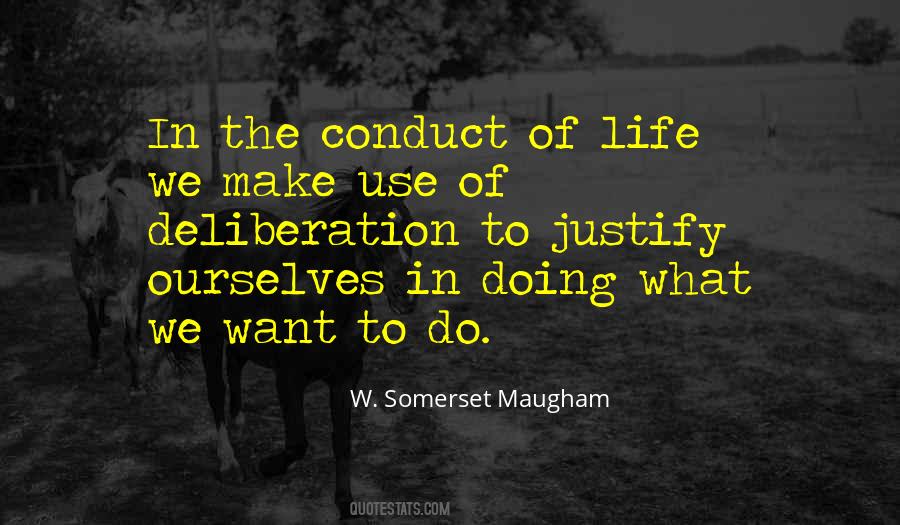 #94. We want to be famous as a writer, as a poet, as a painter, as a politician, as a singer, or what you will. Why? Because we really don't love what we are doing. If you loved to sing, or to paint, or to write poems, if you really loved it you would not be concerned with whether you are famous or not. - Author: Jiddu Krishnamurti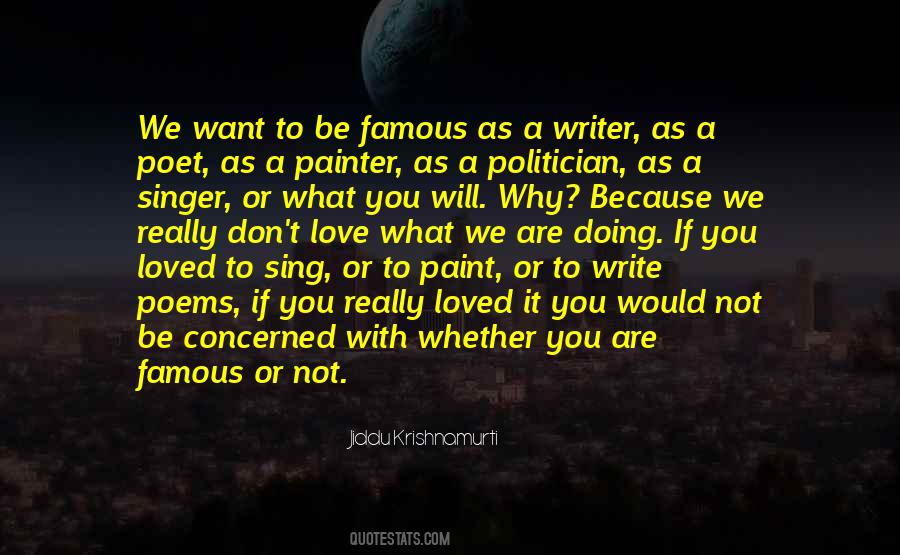 #95. We have a funny concept of time in this culture. We revere it as we revere money, yet we rarely spend any of it on ourselves. We complain that we can't make what time we have go around, yet day after day we spend our allotment doing things we don't really want to be doing. - Author: Jan Phillips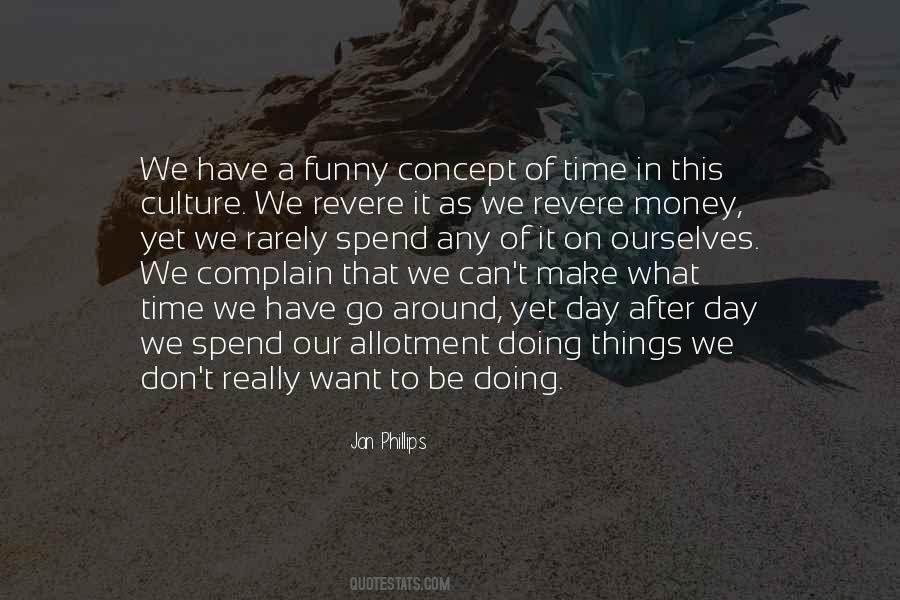 #96. At times those skills were really hard to do because not only was I having to contend with the camera, but I was having to learn these new skills and the ball was always kind of doing what you didn't want it to do. So it got a little bit frustrating at times but we got there. - Author: Parminder Nagra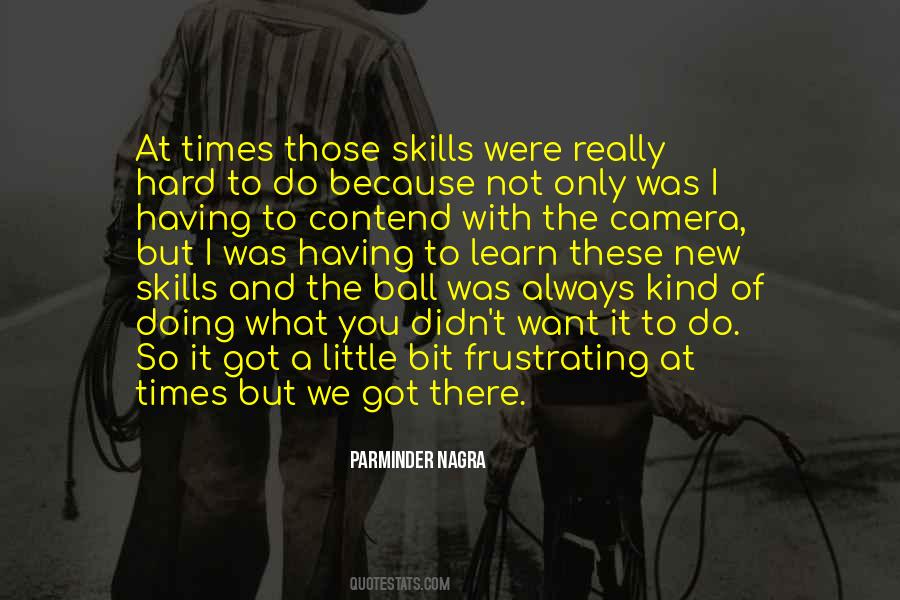 #97. If I want to read something that's really giving me something serious and fundamental to think about, about the human condition, if you like, or what we're all doing here, or what's going on, then I'd rather read something by a scientist in the life sciences, like Richard Dawkins, for instance. - Author: Douglas Adams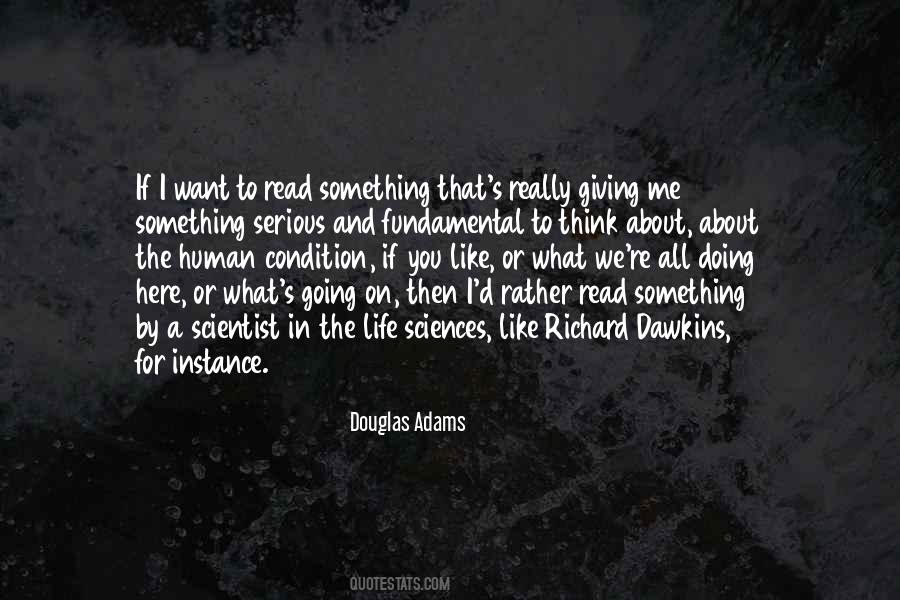 #98. I want a clean slate with you, Clare. You're special to me. I don't know what we're doing or where it's going but I've never felt anything like this, and I can't mess that up by doing the same shit I've always done. - Author: J.L. Berg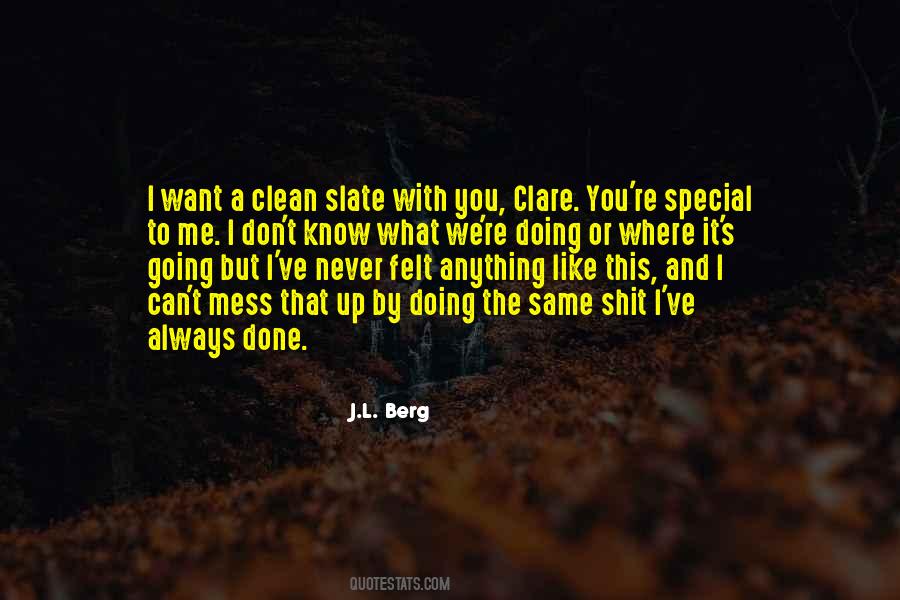 #99. If we're living in a free country,we should be free to do what we want to do if we're not hurting anyone else or their property. Why should I be incarcerated if I'm doing something that doesn't hurt anyone else? - Author: Woody Harrelson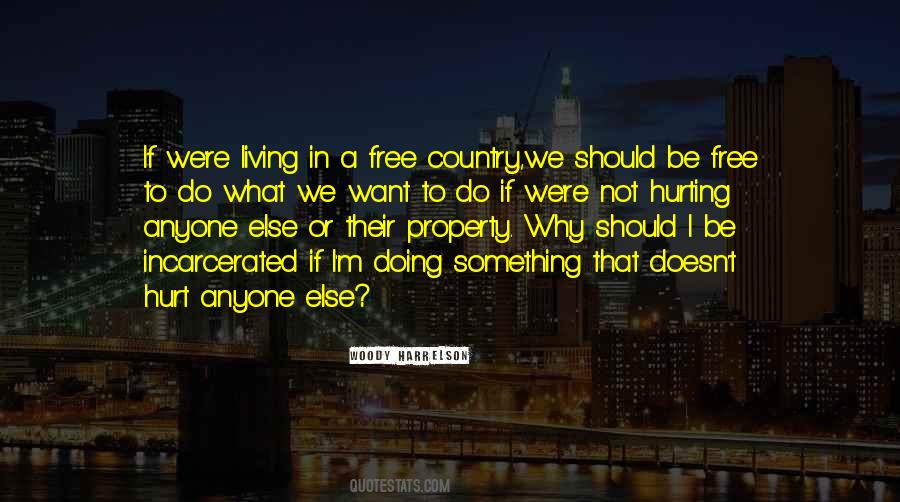 #100. Do we consider that anything goes, that we have no responsibility towards others but only for satisfying our needs?
Well, that is the crux of the great novels xxx - the question of doing what is right or what we want to do. - Author: Azar Nafisi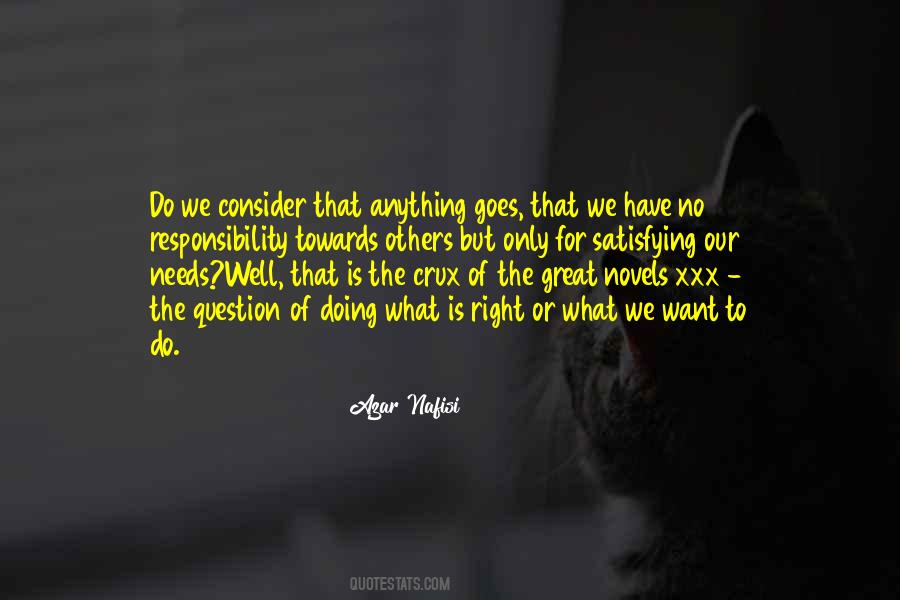 Famous Authors
Popular Topics