Destiny And Stars Famous Quotes & Sayings
List of top 34 famous quotes and sayings about destiny and stars to read and share with friends on your Facebook, Twitter, blogs.
Top 34 Quotes About Destiny And Stars
#1. I watched the spinning stars, grateful, sad and proud, as only a man who has outlived his destiny and realizes he might yet forge himself another, can be. - Author: Roger Zelazny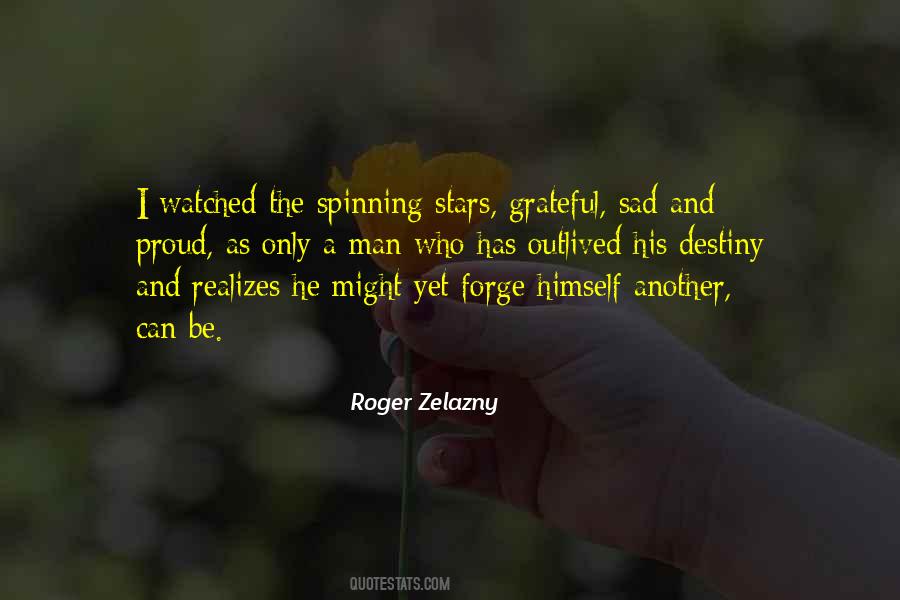 #2. If I venture to displace ... the microscopical speck of dust ... on the point of my finger, ... I have done a deed which shakes the Moon in her path, which causes the Sun to be no longer the Sun, and which alters forever the destiny of multitudinous myriads of stars. - Author: Edgar Allan Poe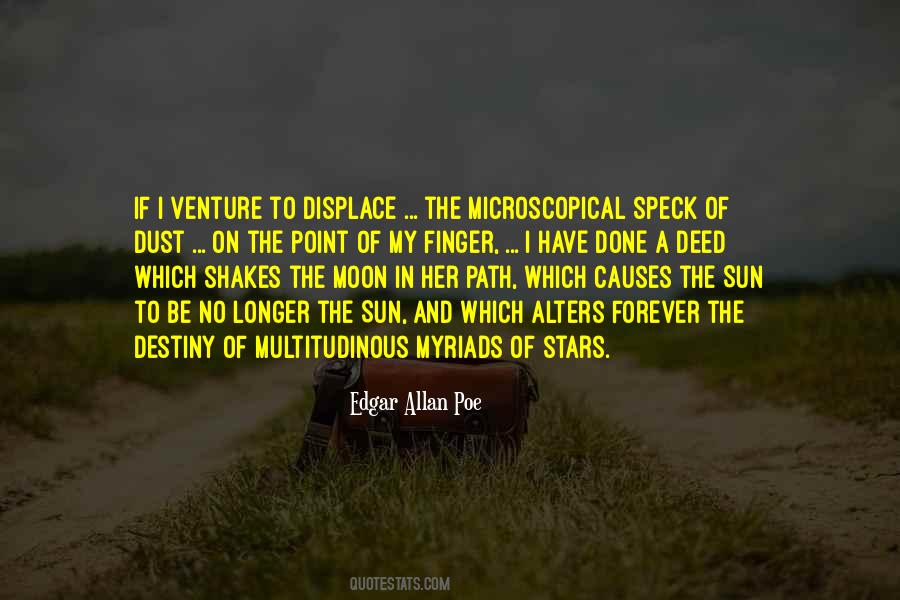 #3. You don't find love, it finds you. It's got a little bit to do with destiny, fate, and what's written in the stars. - Author: Anais Nin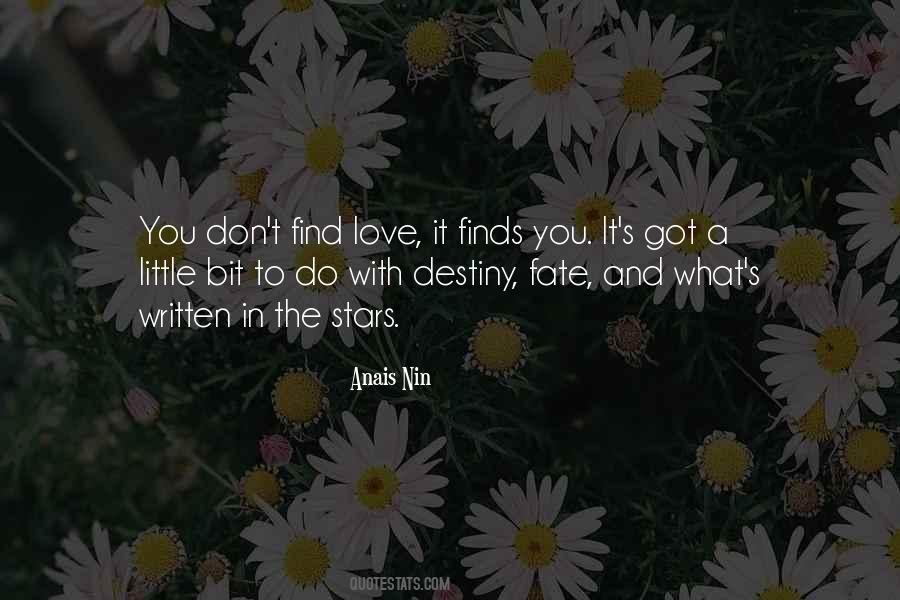 #4. They who talk much of destiny, their birth-star, etc., are in a lower dangerous plane, and invite the evils they fear. - Author: Ralph Waldo Emerson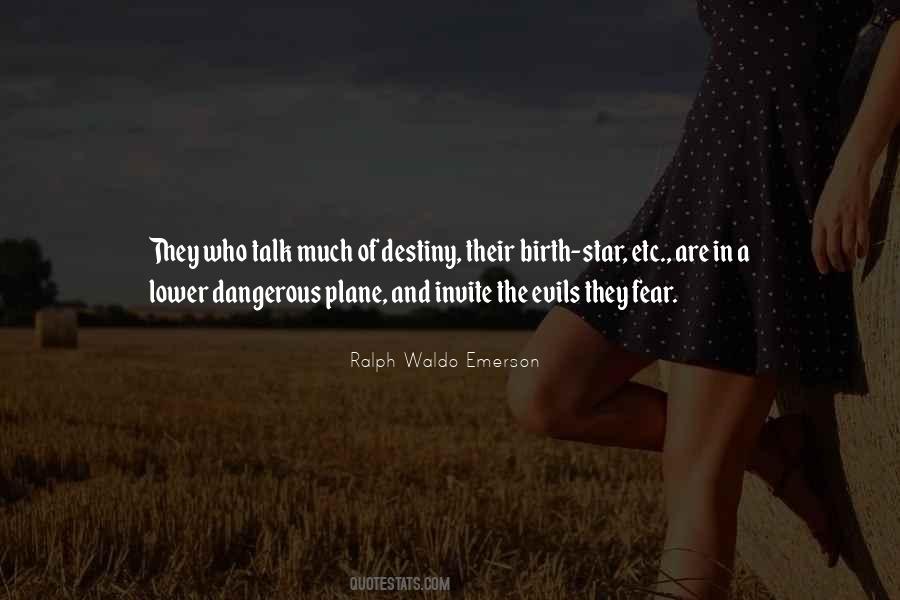 #5. So when in the future you will read with delight the horoscope, and will be based on these projections your life, remember that you are primarily the owners and masters of your destiny. And it's not an allegation. "Stars" affect. But do not govern. They create the background, mood. - Author: Tatiana Danina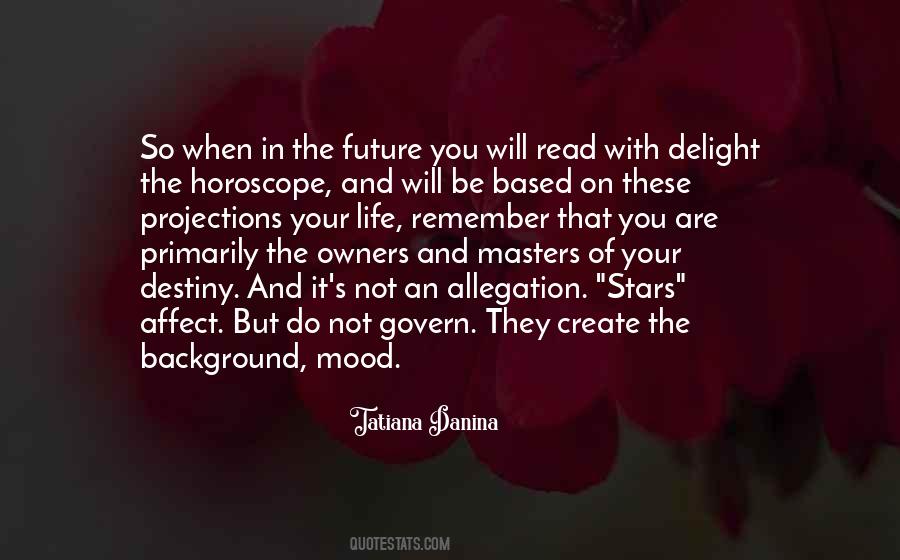 #6. So many stars in the sky, each unique and full of destiny. I wanted more than anything to be part of those stars.
I never realized becoming one would destroy me. - Author: Tracy Krimmer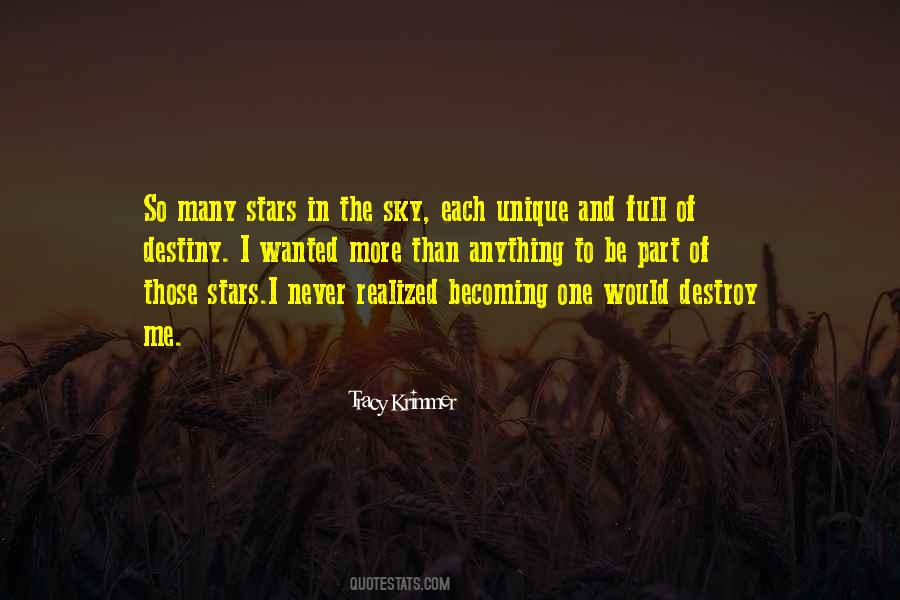 #7. Design your own universe, make your own stars, write your own stories, and create your own destiny. - Author: Karina Halle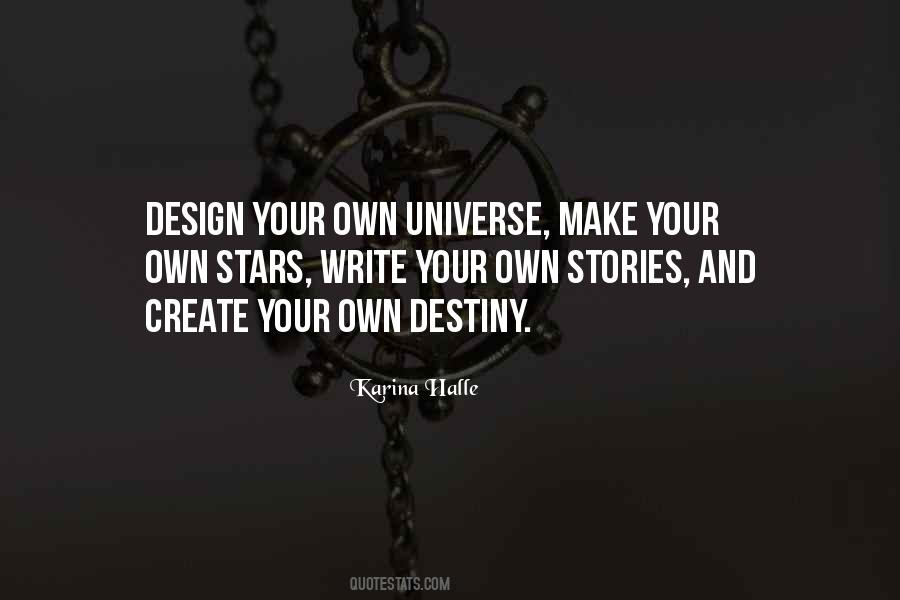 #8. I think sometimes the stars align whether we want them to or not. And we're drawn to certain people and places for no other reason than ... Destiny. - Author: Morgan Parker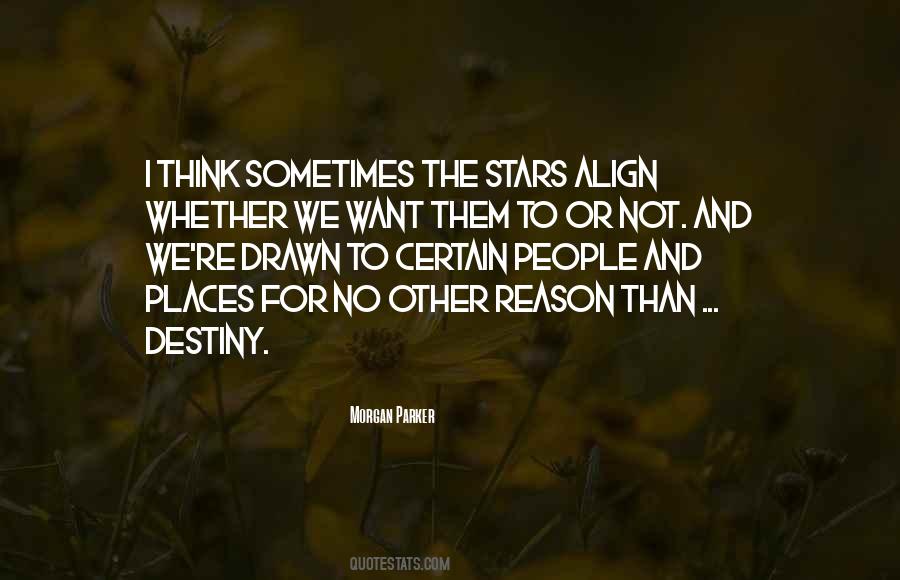 #9. To the youth of today, I also have a wish to make: be the scriptwriters of your destiny and feature yourselves as stars that showed the way towards a brighter future. - Author: Nelson Mandela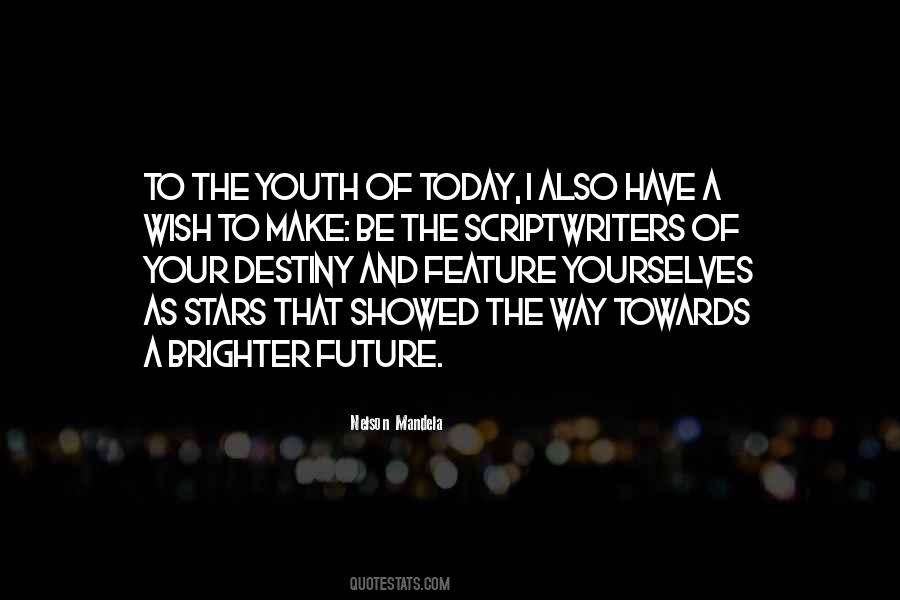 #10. The destiny of [Google's search engine] is to become that Star Trek computer, and that's what we are building. - Author: Amit Singhal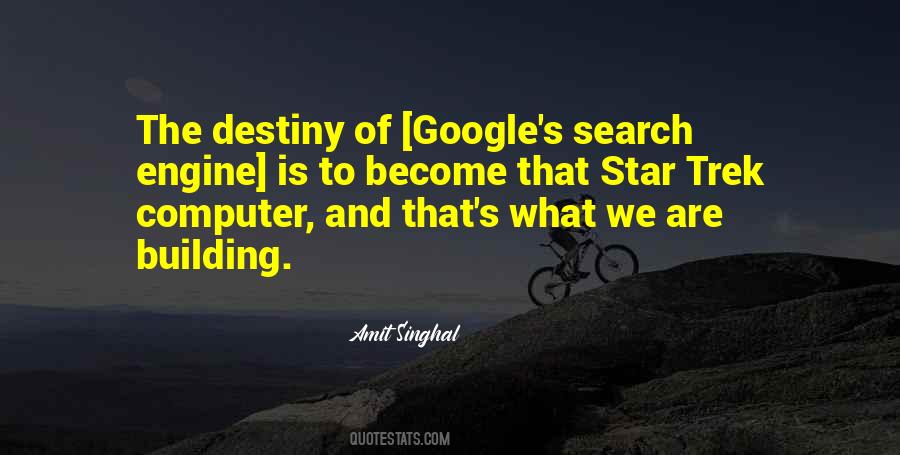 #11. Though the day of my Destiny 's over, And the star of my Fate hath declined, Thy soft heart refused to discover The faults which so many could find. - Author: Lord Byron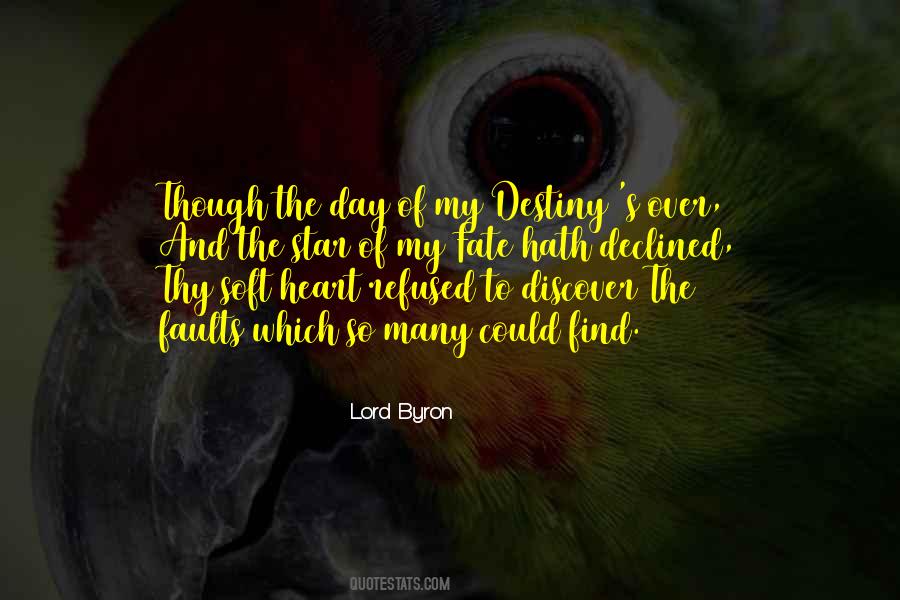 #12. Beautiful it is, and a gleam from the same eternal pole-star visible amid the destinies of men, that all talent, all intellect, is in the first plane moral. What a world were this otherwise! - Author: Thomas Carlyle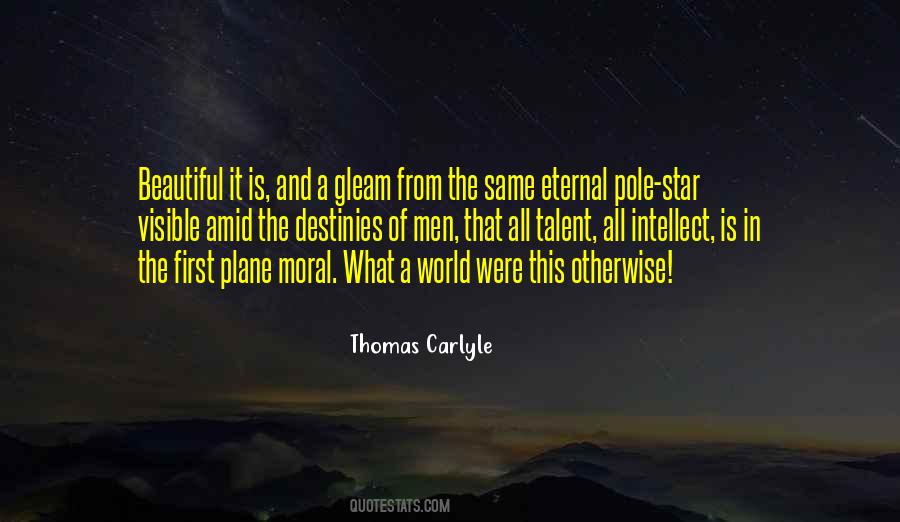 #13. Look up and see His Word among the stars, where He has set your Name along with His. Look up and find your certain destiny the world would hide but God would have you see. C-ep.4. Let us wait here in silence, and kneel - Author: Foundation For Inner Peace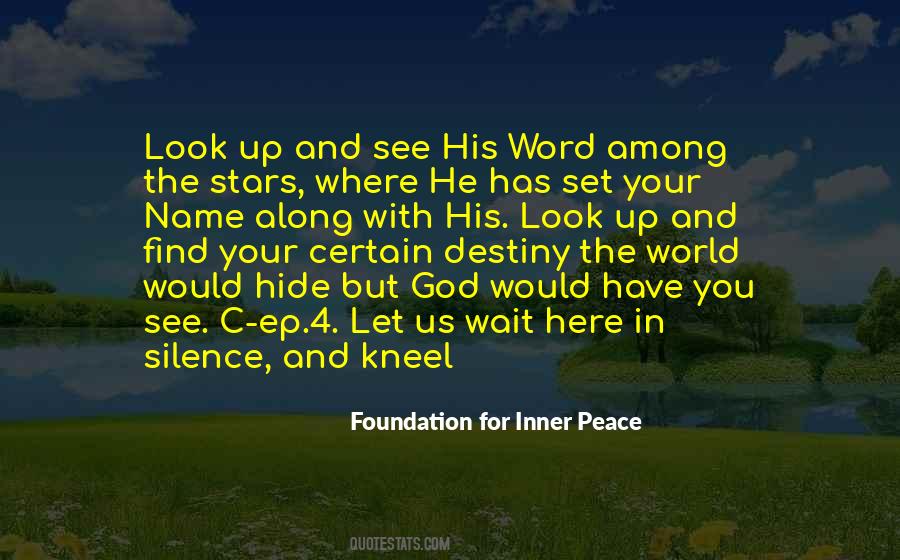 #14. There is a design working behind the curtain of the stars, and we are fulfilling it, drawn toward the future on the tide of time, toward our destiny as the first settlers of a new world.
The room was still. He has them, she thought. - Author: Amy Kathleen Ryan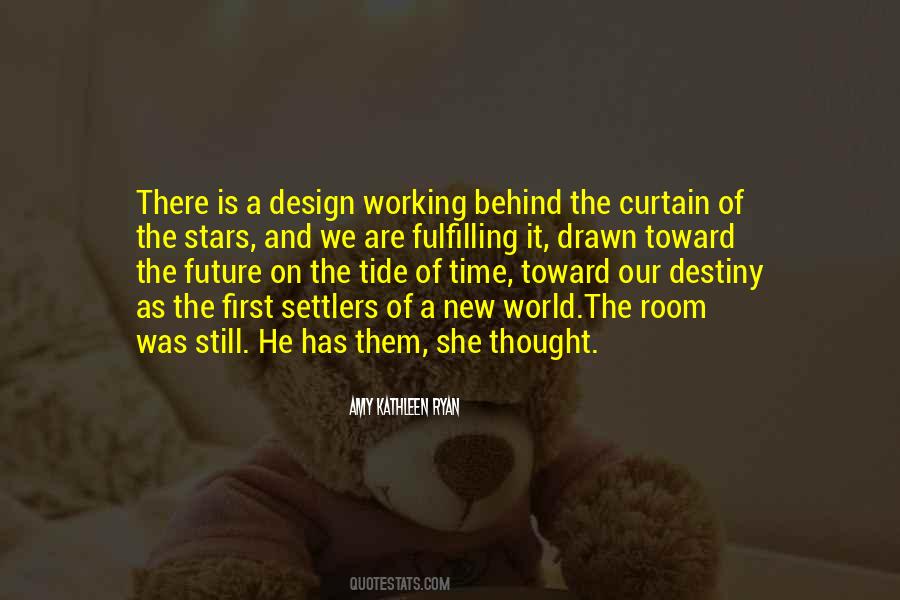 #15. I think that the human race does command its own destiny and that that destiny can eventually embrace the stars. - Author: Lorraine Hansberry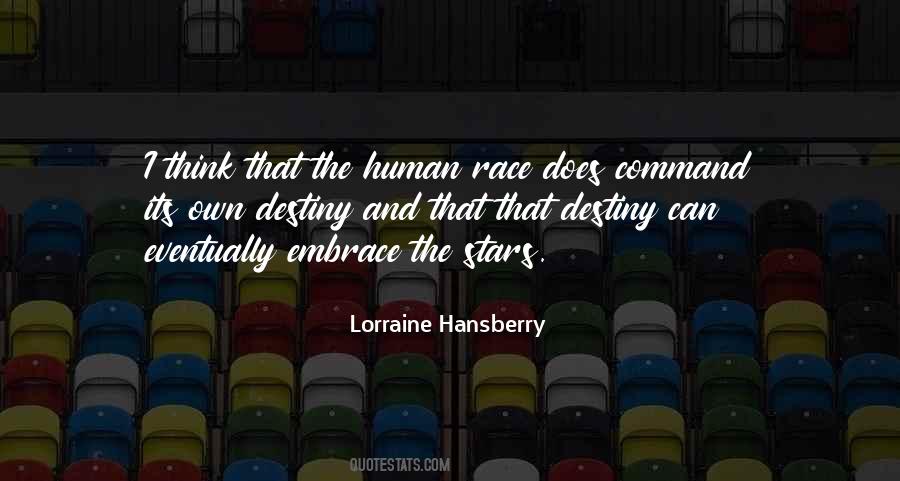 #16. If you follow the ancient maps written on the stars, no person will ever understand you. So if you could read these maps, would you follow them? And forever be misunderstood? Or would you close your eyes tightly and pretend to be like everyone else? - Author: C. JoyBell C.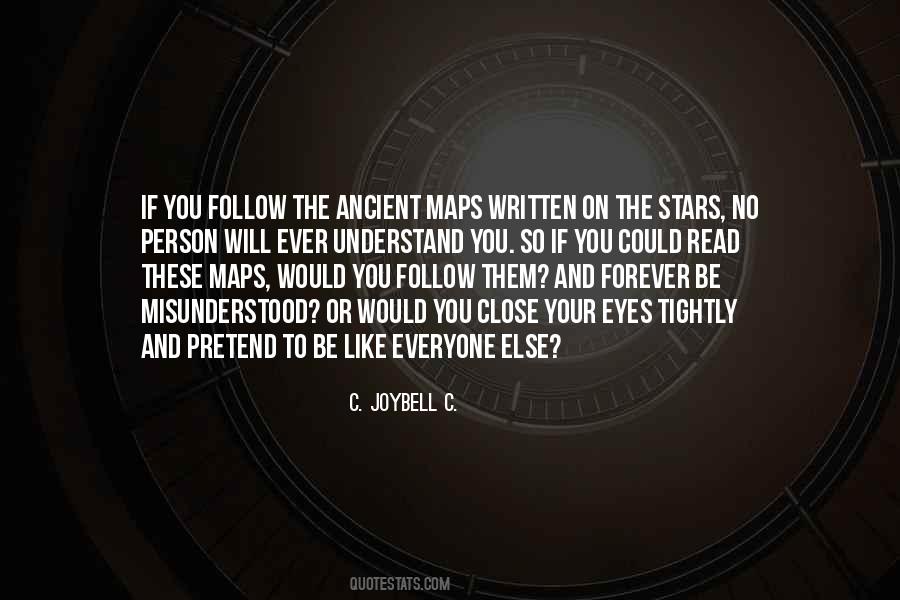 #17. They lived the slow and invisible interpenetration of their universes, like two stars gravitating around a common axis, in ever tighter orbits, whose clear destiny is to coalesce at some point in space and time. - Author: Paolo Giordano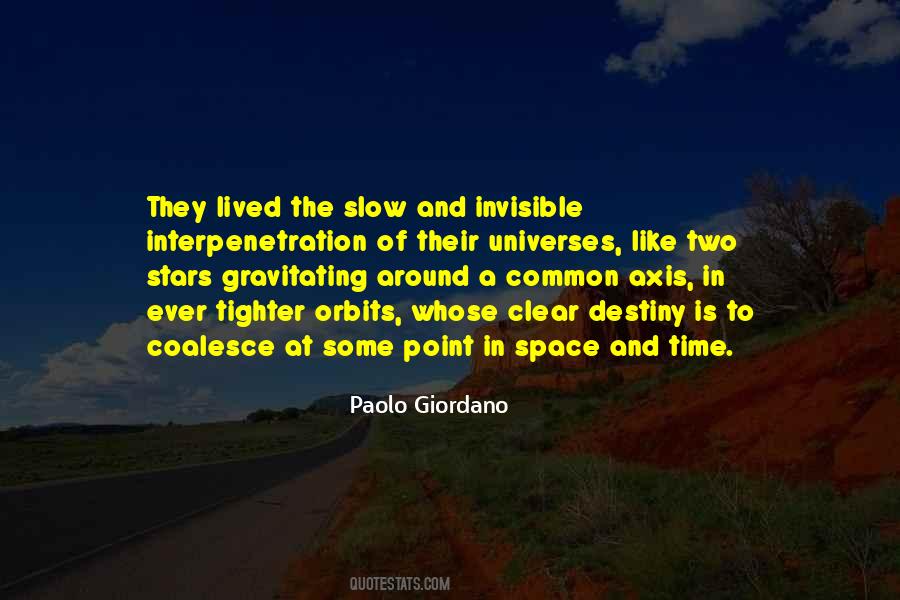 #18. I do believe in fate and destiny, but I also believe we are only fated to do the things that we'd choose anyway. - Author: Kiersten White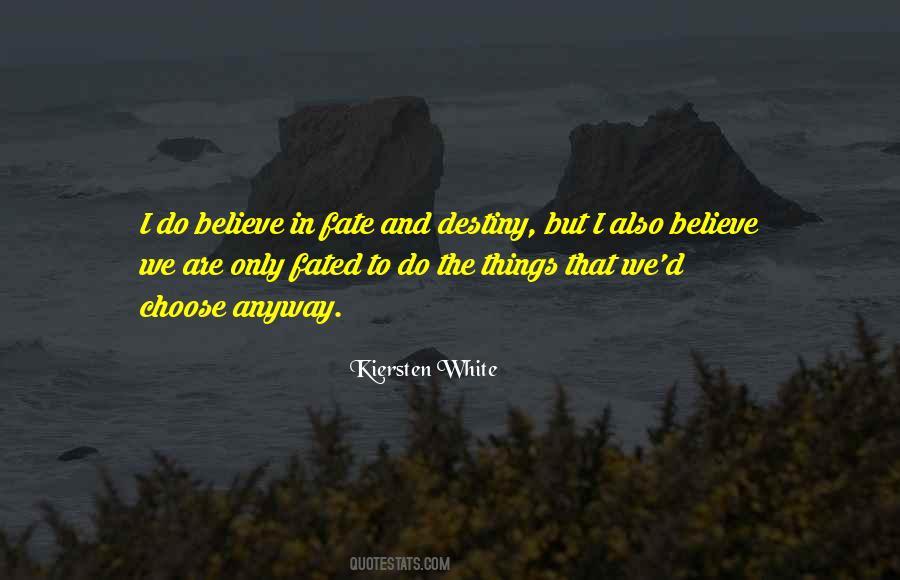 #19. Ideals are like stars; you will not succeed in touching them with your hands, but like the sea fearing man on the desert of waters, you choose them as your guides, and following them, you reach your destiny - Author: Carl Schurz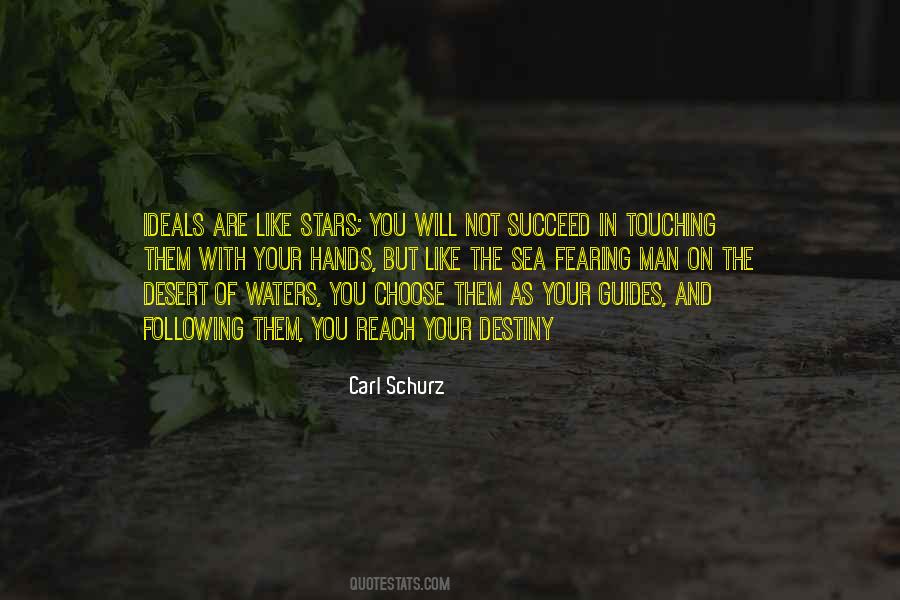 #20. Earth and air, fire and water, the stars in their courses, the high tide of destiny and the Will of divine Providence are all arrayed against the forces of oppression. -- Louis Gregory - Author: Janet Ruhe-Schoen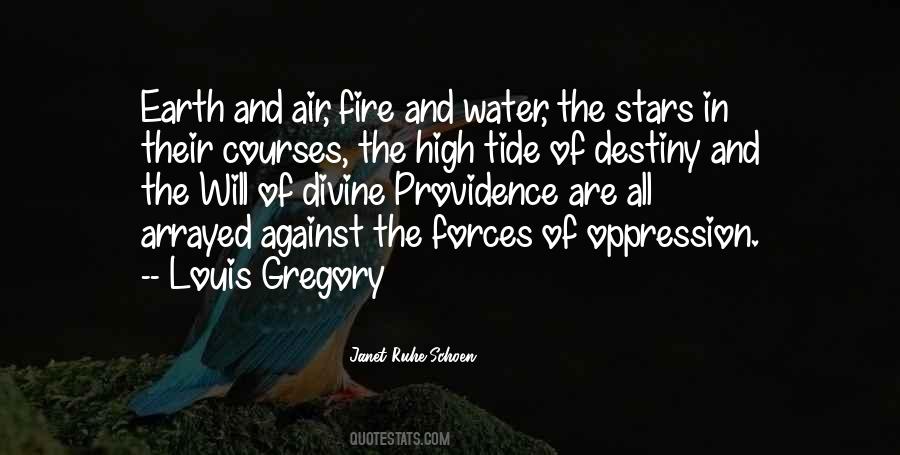 #21. I will look on the stars and look on thee, and read the page of thy destiny. - Author: Letitia Landon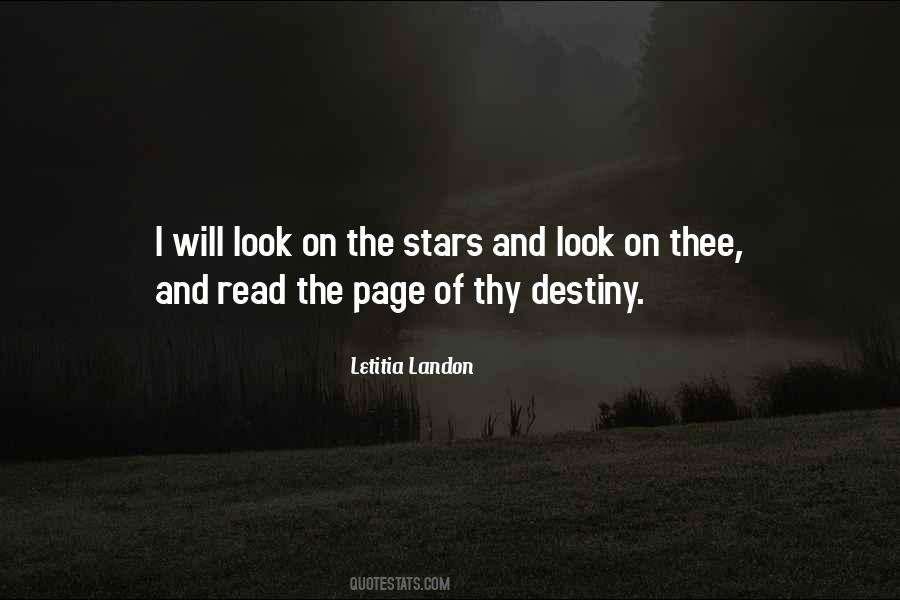 #22. We are now becoming more aware of our links to the universe and are reaching out to the universe for knowledge. We are evolving from earth creatures to star creatures. Our minds now explore the worlds beyond, and we sense a destiny beyond this planet. - Author: Douglas Cardinal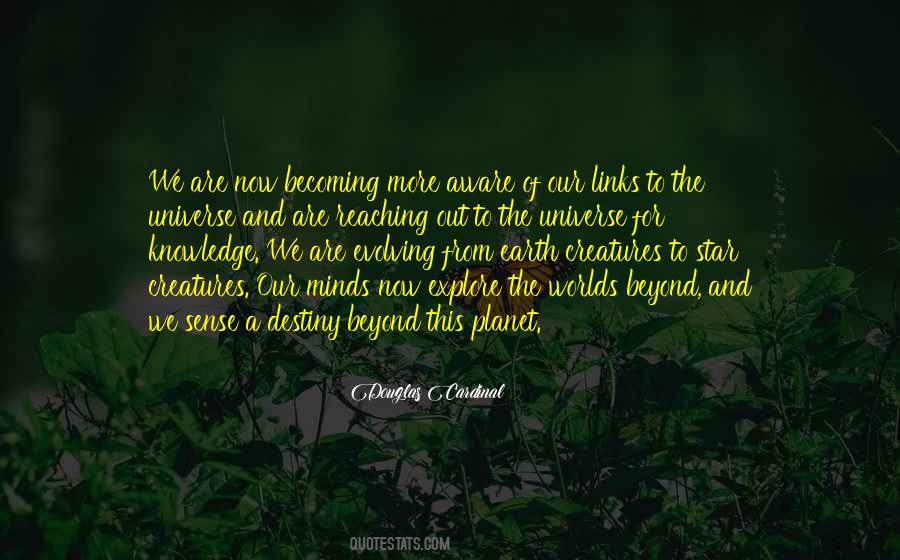 #23. It's odd to think we might have been Sun, moon and stars unto each other; Only I turned down one little street As you went up another. - Author: Fannie Heaslip Lea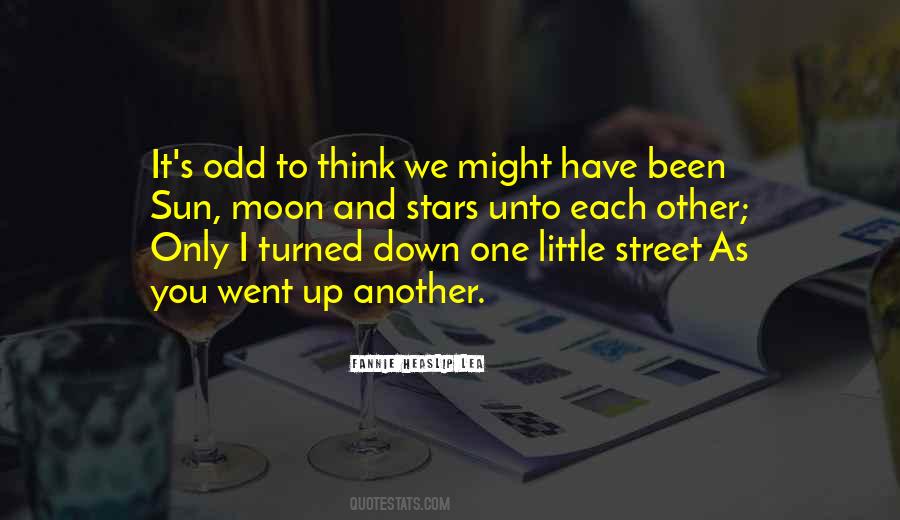 #24. The way to find your own North Star is not to think or feel your way
forward but to dissolve the thoughts and feeling that make you miserable.
You don't have to learn your destiny
you already know it; you just have to unlearn the thoughts that blind you to what you know. - Author: Martha Beck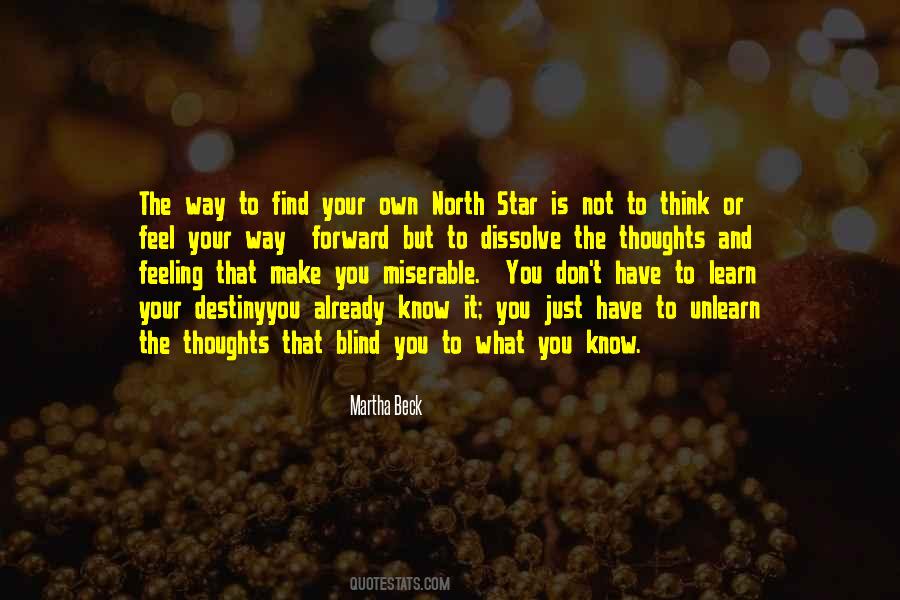 #25. It takes solitude under the stars, for us to be reminded of our eternal origin and our far destiny. - Author: Archibald Rutledge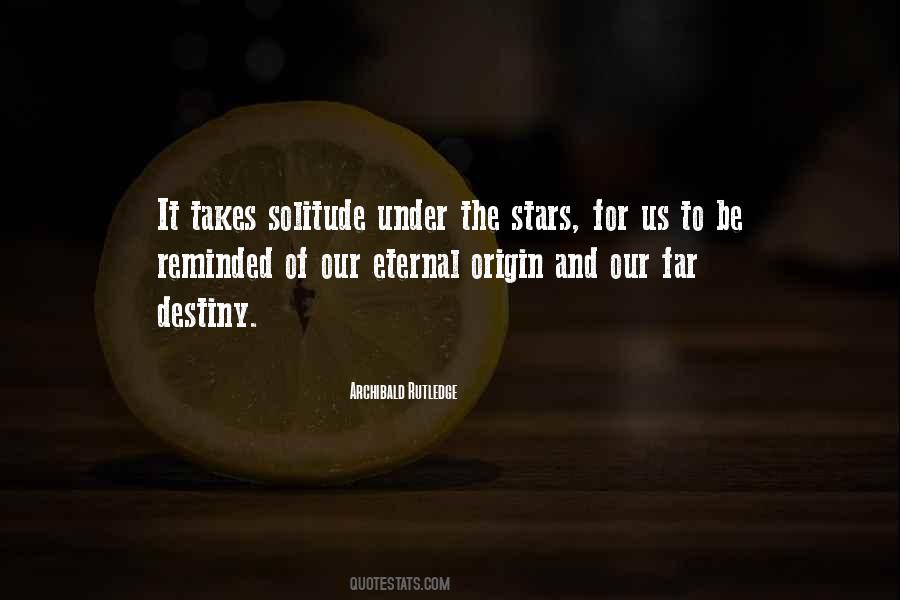 #26. We are born for a higher destiny than that of earth; there is a realm where the rainbow never fades, where the stars will be spread before us like islands that slumber on the ocean, and where the beings that pass before us like shadows will stay in our presence forever. - Author: Edward Bulwer-Lytton, 1st Baron Lytton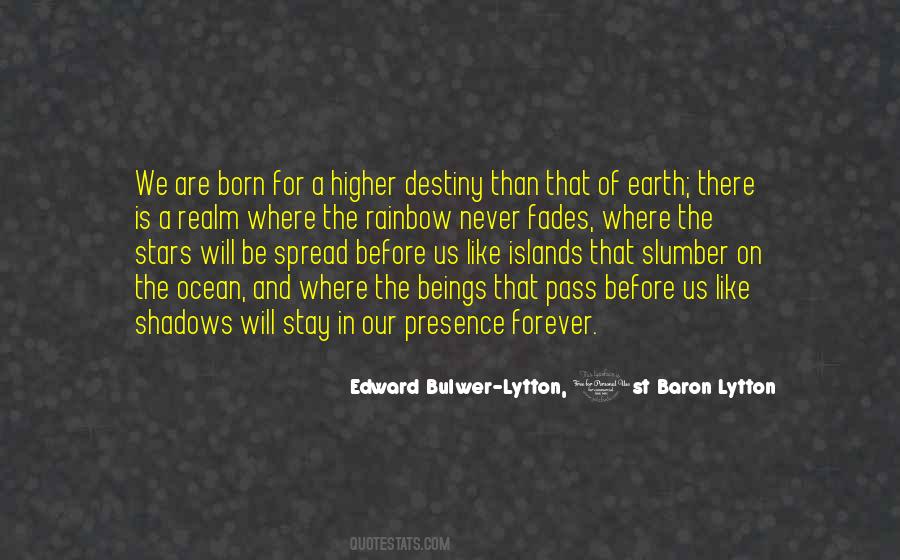 #27. Whatever your circumstances, whatever your past, the forces that determine your future are nowhere but within your own heart and mind. It is here that the star of your destiny shines. - Author: Daisaku Ikeda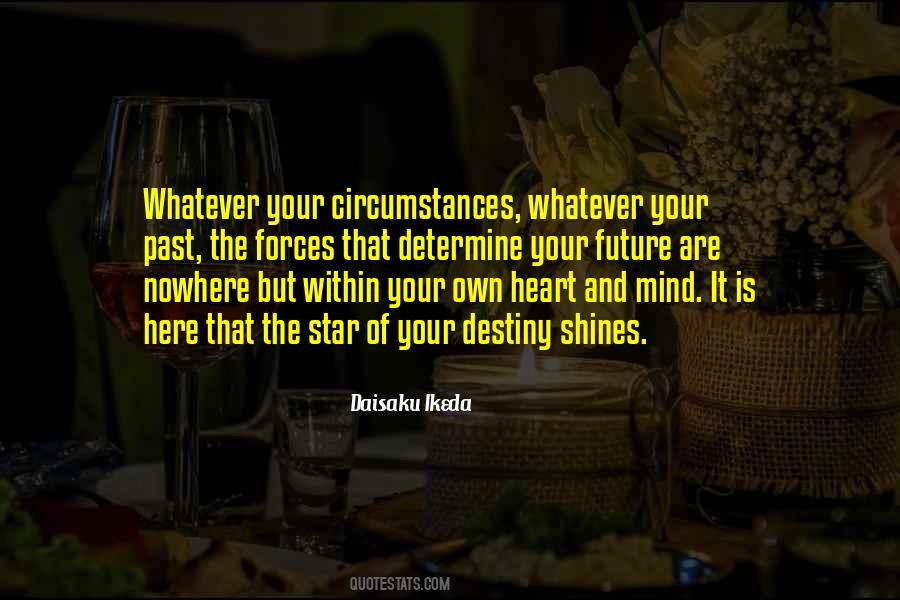 #28. May the wind always be at your back and the sun upon your face, and the winds of destiny carry you aloft to dance with the stars. - Author: George Jung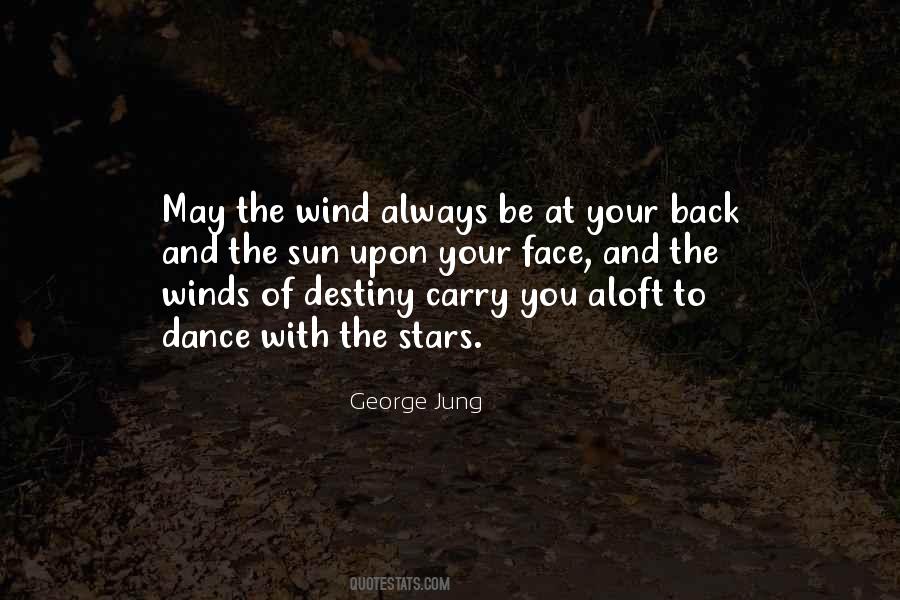 #29. The stars once spoke to man. It is world destiny that they are silent now, but in their silence there grows and ripens what man speaks to the stars! - Author: Rudolf Steiner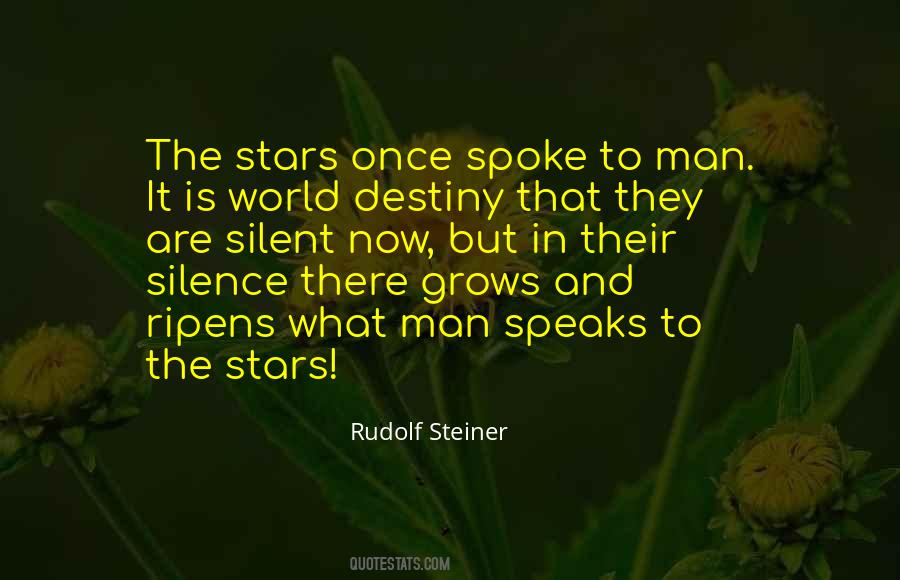 #30. First, the thoughts are chosen,
then the prayers are spoken.
The candles are lit,
then the plea is submitted.
But soon after you move away,
there is wax;
melting, adulterating and braiding-
a new constellation up on your blanks. - Author: Jasleen Kaur Gumber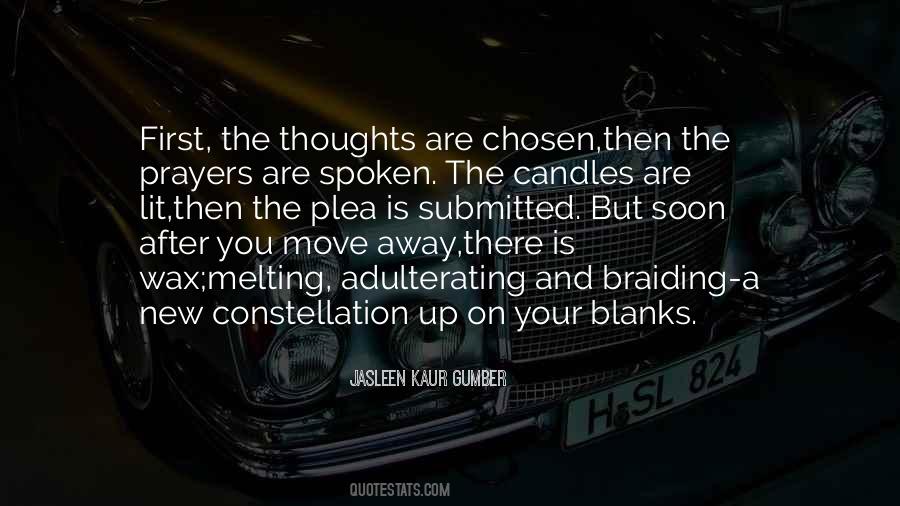 #31. My father quoted everyone, from Shakespeare to Emerson, on the subject of destiny, and then he'd point out that except for the Greeks, everyone agreed: The stars do fuck-all for us; you must make your own way. - Author: Amy Bloom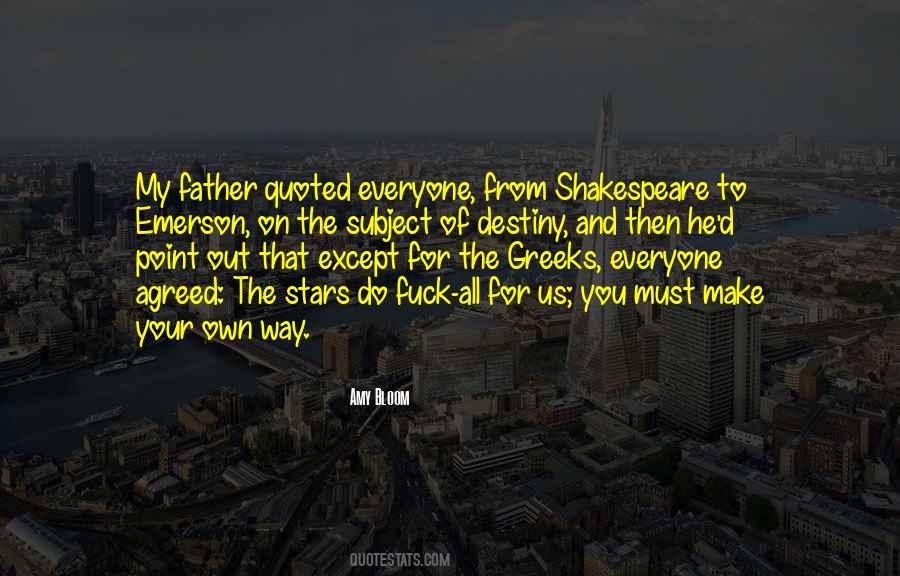 #32. Space offers extraordinary potential for commerce and adventure, for new innovations and new tests of will. As Americans, we can't help but reach for the stars. It's our nature. It's our destiny. - Author: Bill Frist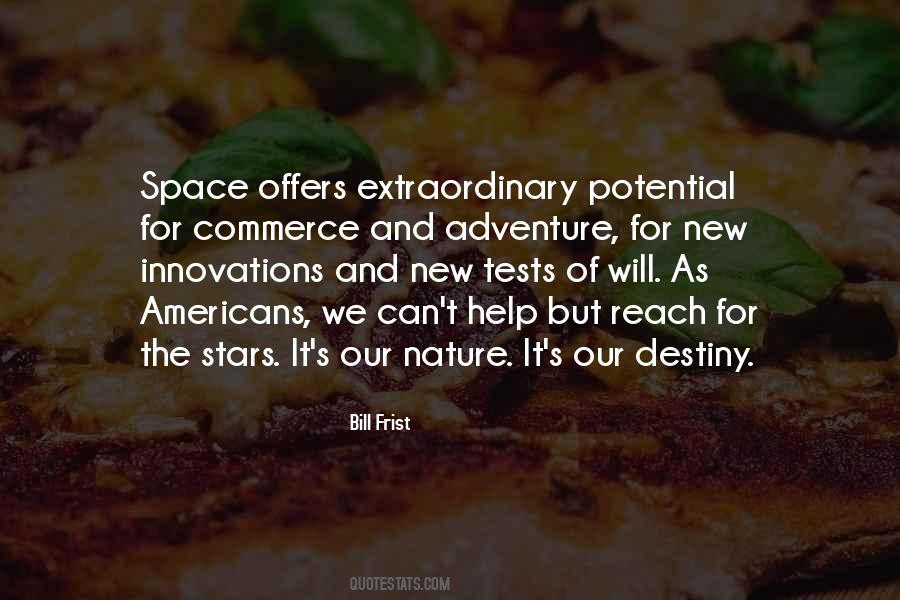 #33. Opera stars know that biology is destiny. Sometime in their 50s or early 60s, the powerful, flexible and ultimately mysterious instrument that has been the source of their artistry frays, cracks and disappears. - Author: Michael A. Walsh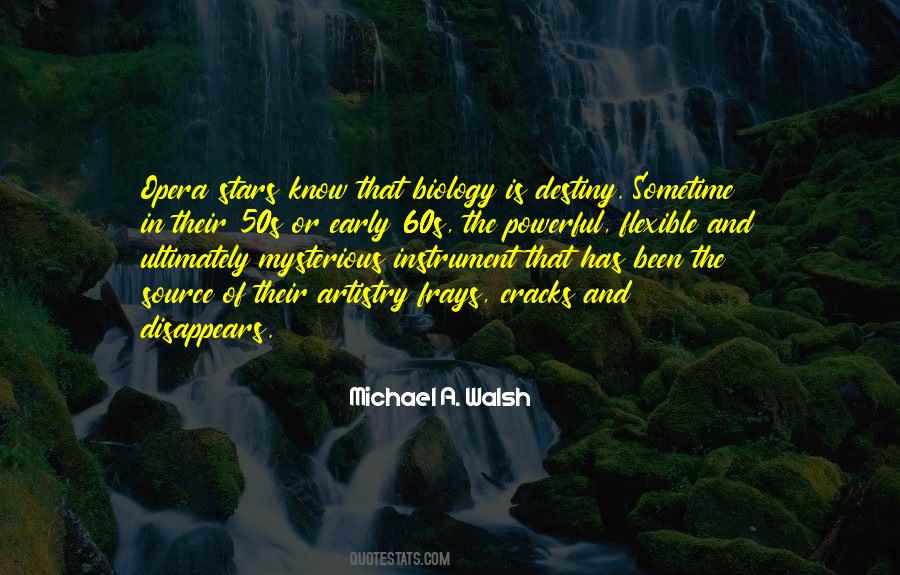 #34. I used to look out the window of my bedroom as a kid, and there were these stars that, in my mind, made a big "A" in the sky. I thought my destiny was to go there. - Author: Helen Mirren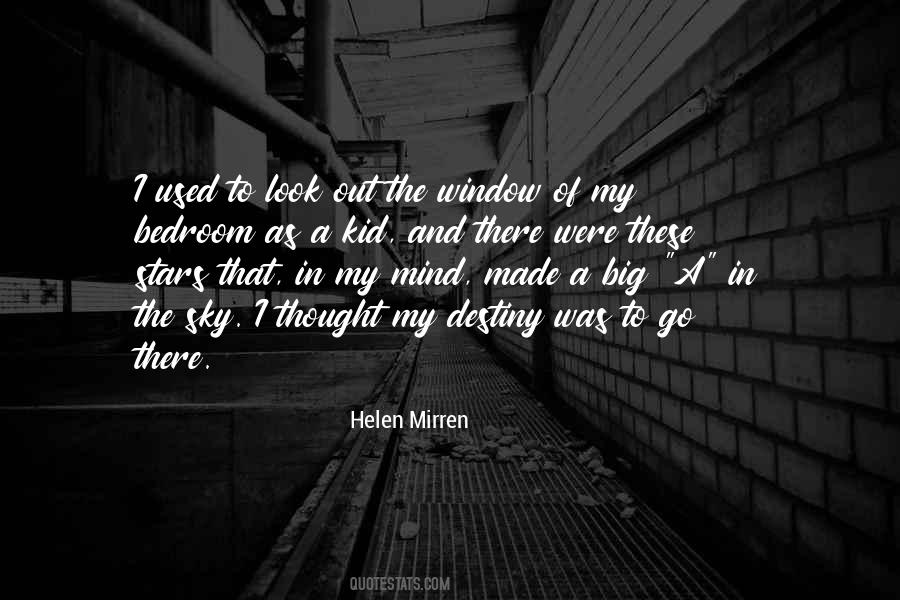 Famous Authors
Popular Topics