Creative Living Famous Quotes & Sayings
List of top 100 famous quotes and sayings about creative living to read and share with friends on your Facebook, Twitter, blogs.
Top 100 Quotes About Creative Living
#1. Teachers should not fear going off plan if a better learning opportunity presents itself. Plans are plans, but children are living, breathing, creative people, who deserve to have their questions answered and original ideas explored. - Author: Adele Devine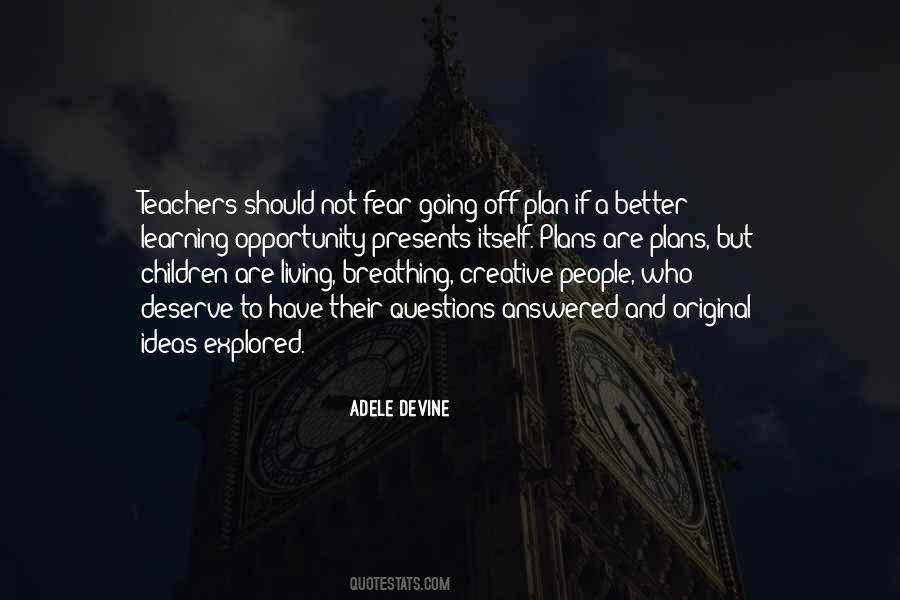 #2. Writers do not have the privilege of sleep. There is always a story coming alive in their heads, constantly composing. Whether they choose it or not. - Author: Coco J. Ginger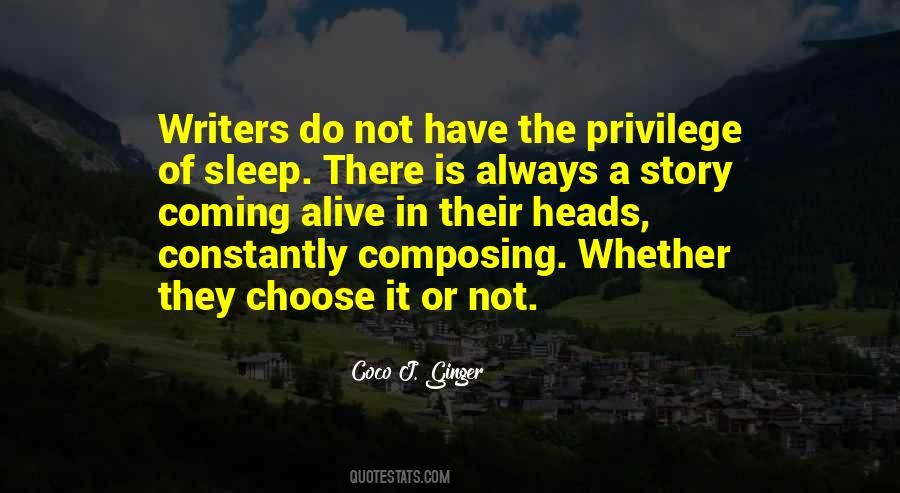 #3. The wide open nature of any truly creative artistic endeavor is one of its most important virtues, and one of its harshest realities. Only the most determined, hardest working, capable and creative will make their way to earning a good living by their art. - Author: Mike Svob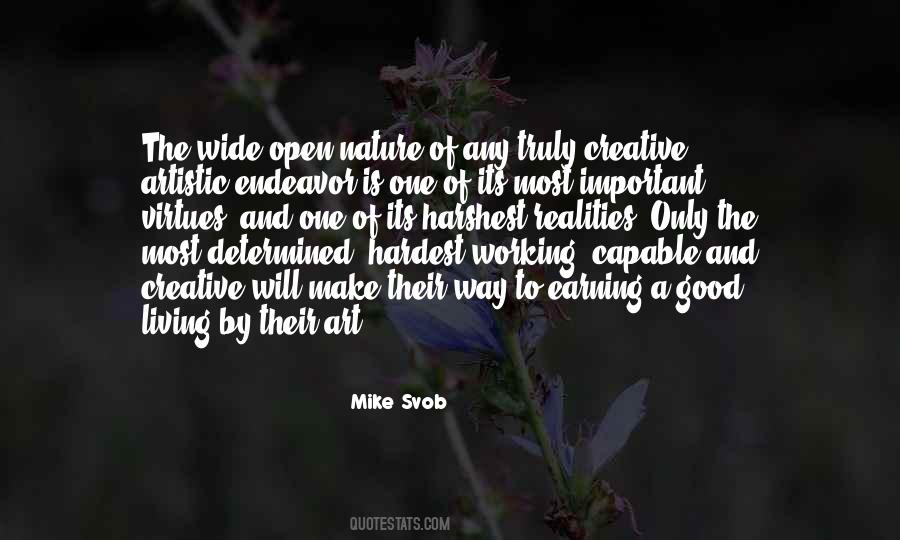 #4. Creative living, or the life of a creator, seems like a leap into the unknown only because "normal life" is rigid and traumatized. - Author: Stephen Nachmanovitch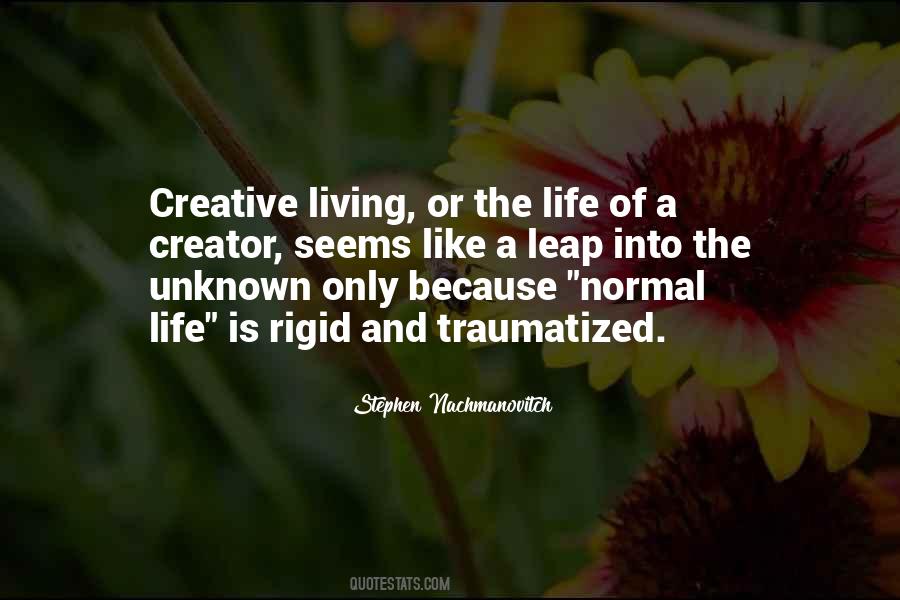 #5. If you are living a life that feels right to you, if you're willing to take creative chances or a creative path that feels like it's mostly in keeping with your sensibilities, you know, aesthetic and artistic, then that's what matters. - Author: Tracy Chapman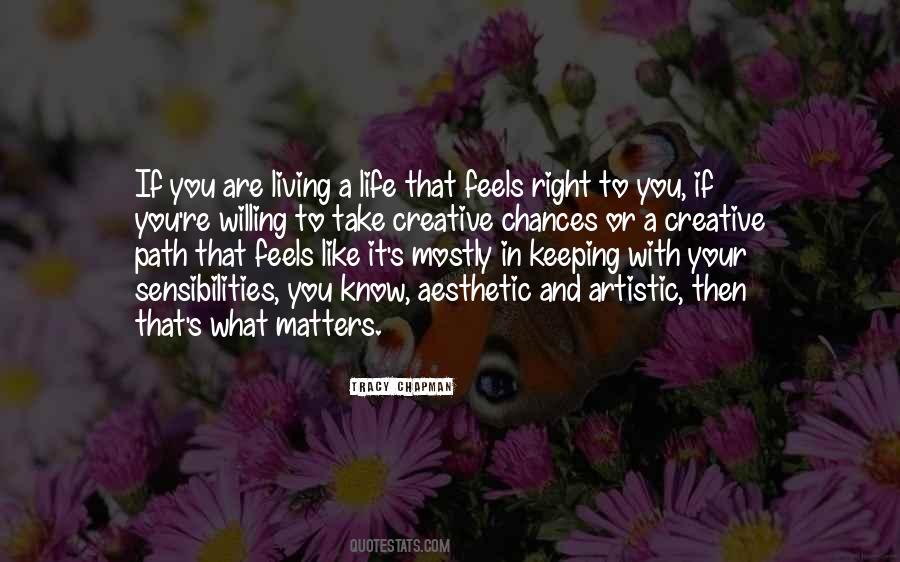 #6. Any wrong decision you have ever made will become unimportant when your attention has shifted from it to a creative reason for living right here and now. - Author: Raymond Charles Barker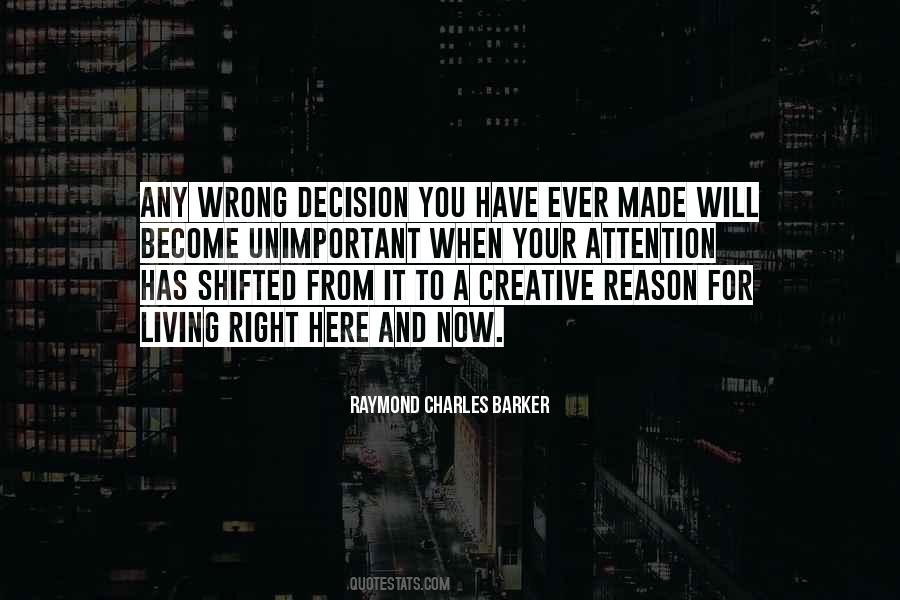 #7. I can't stay friends with anyone who doesn't have a passion for something; and, generally speaking, artistic people, creative people carry it right into the kitchen, too. They have a zest for life; the excitement of living. All of the great eaters I've known are also men of great wit. - Author: Alan King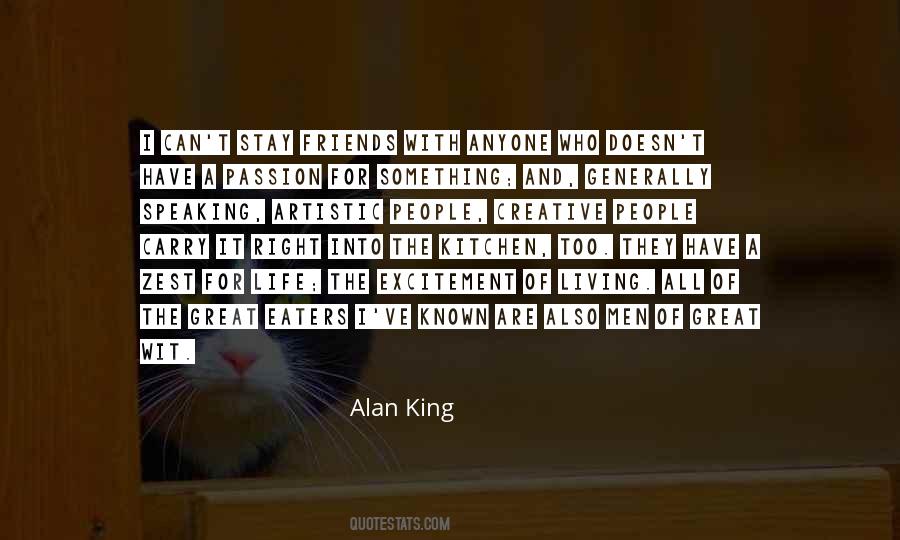 #8. An inspired and inspiring guide to living with optimism in a world that is increasingly jaded and pessimistic. Uplifting, rousing, and challenging us to dream the world into being in a positive and creative manner. - Author: Alberto Villoldo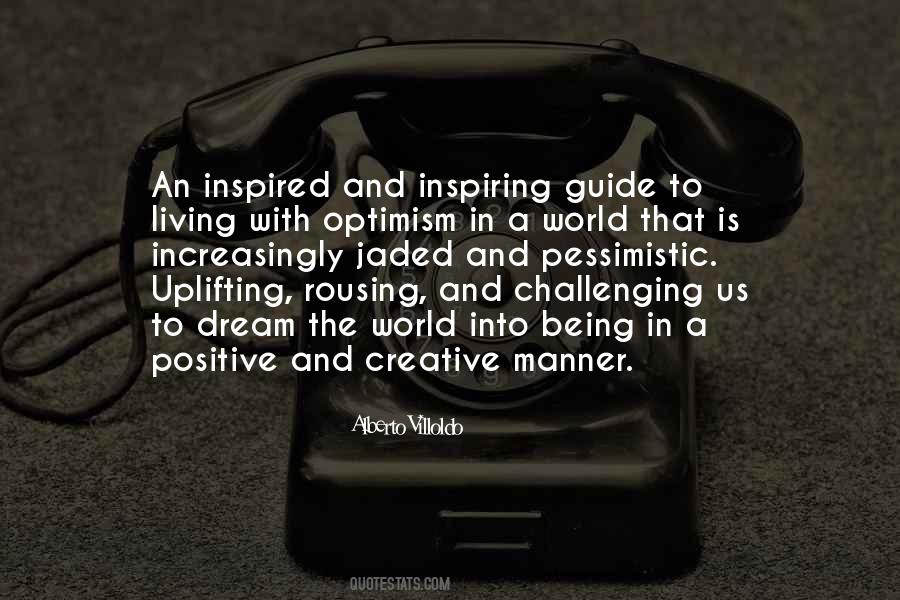 #9. I am living a simple life with a complicated mind and I have yet to find a state of mind where I feel safe with who I am, where I am, with what I do. - Author: Charlotte Eriksson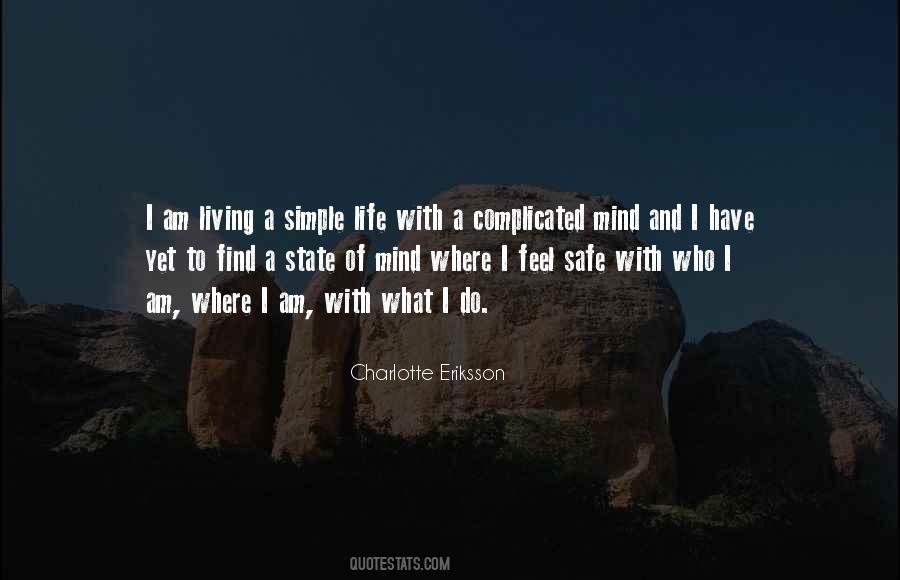 #10. If we fail to nourish our souls, they wither, and without soul, life ceases to have meaning ... The creative process shrivels in the absence of continual dialogue with the soul. And creativity is what makes life worth living. - Author: Marion Woodman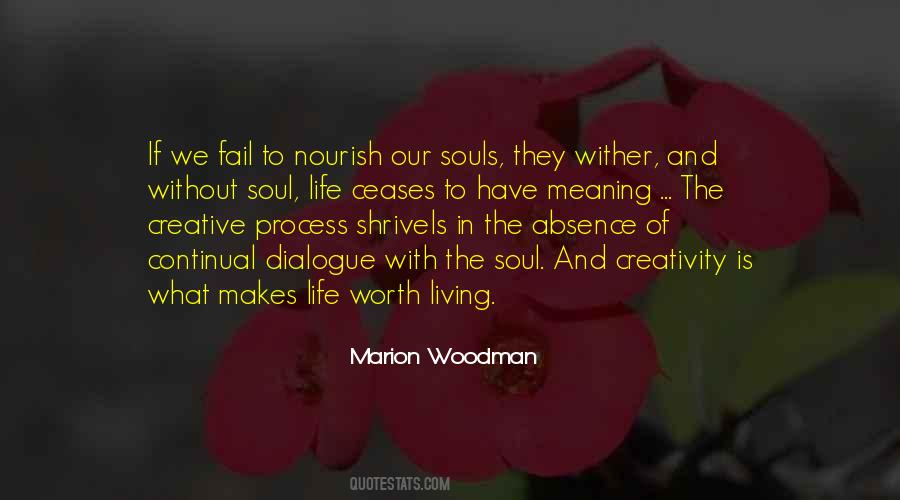 #11. I would say I am at peace with the mystery of my mother's journals. Of course, I will always wonder, but isn't that the creative tension of living with uncertainty? By leaving me her empty journals, my mother has made herself very present. - Author: Terry Tempest Williams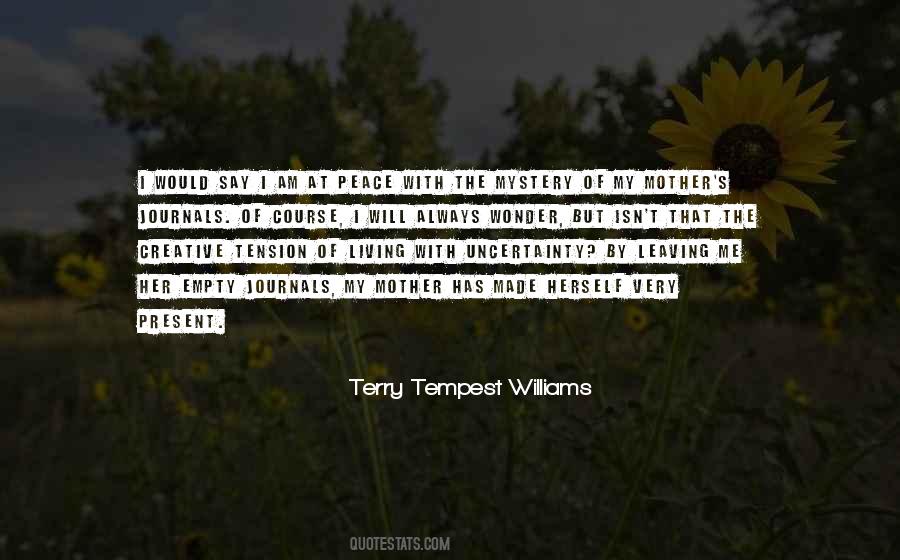 #12. Does not the very word 'creative' mean to build, to initiate, to give out, to act - rather than to be acted upon, to be subjective? Living photography is positive in its approach, it sings a song of life - not death. - Author: Berenice Abbott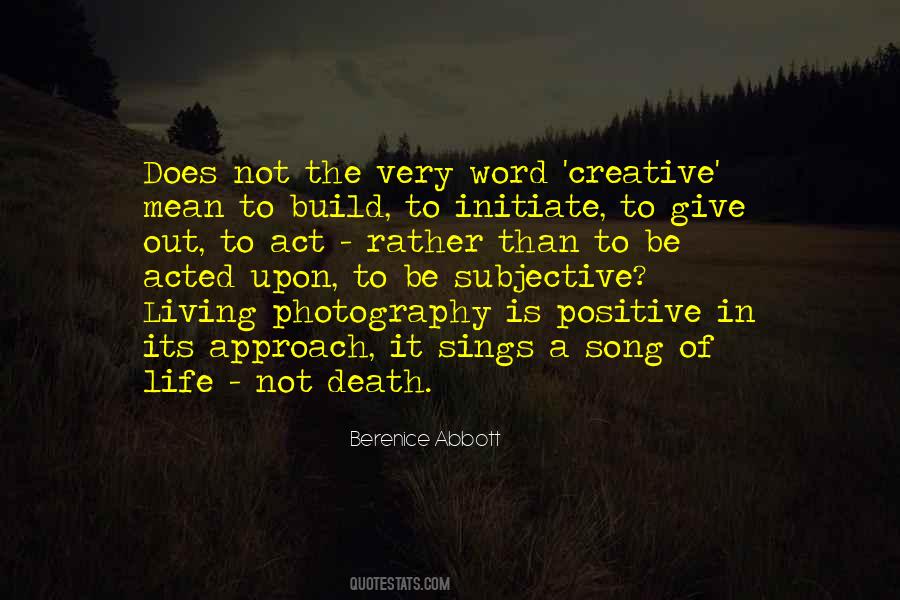 #13. Every kingdom has three pillars: Poet, Sword and Law. - Author: Lara Biyuts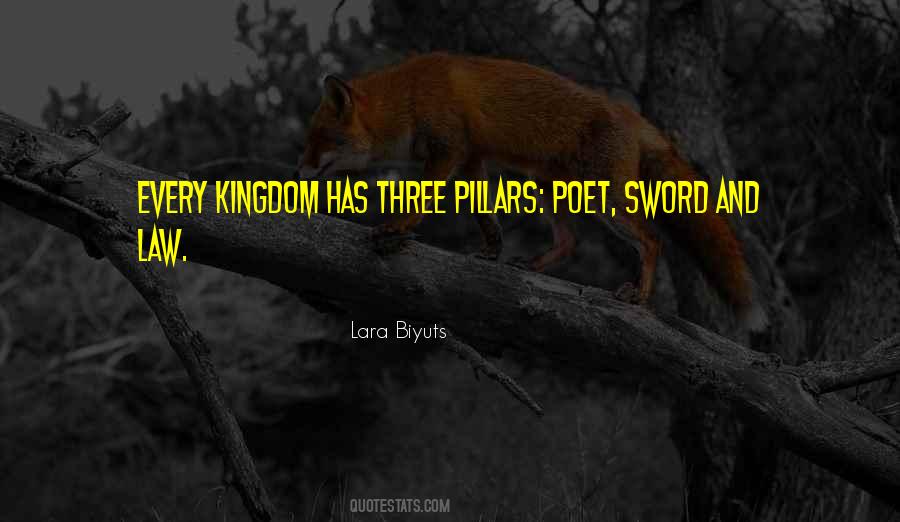 #14. Is not the tremendous strength in men of the impulse to creative work in every field precisely due to their feeling of playing a relatively small part in the creation of living beings, which constantly impels them to an overcompensation in achievement? - Author: Karen Horney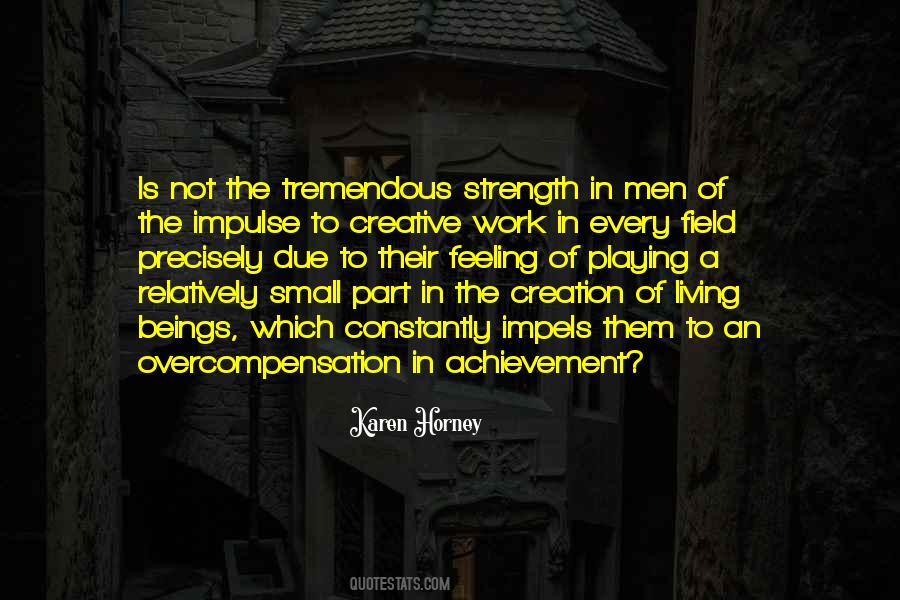 #15. The art of living is simply the art of using energy in an intelligent and creative way. - Author: Laura Huxley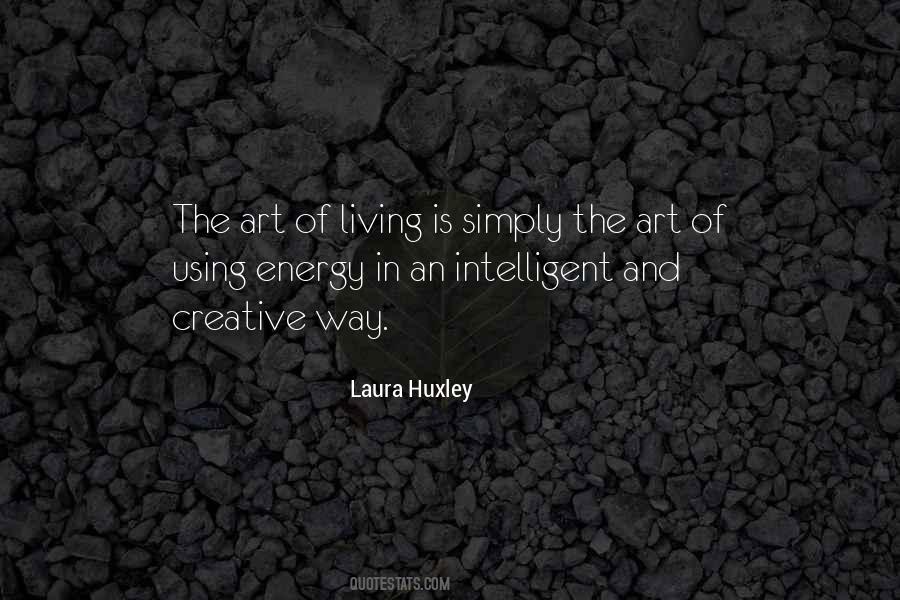 #16. We're living in a different world now in terms of employee needs, and companies have to offer alternative methods for getting the work done. Even under the most difficult circumstances you can have creative flexibility. - Author: Anne M. Mulcahy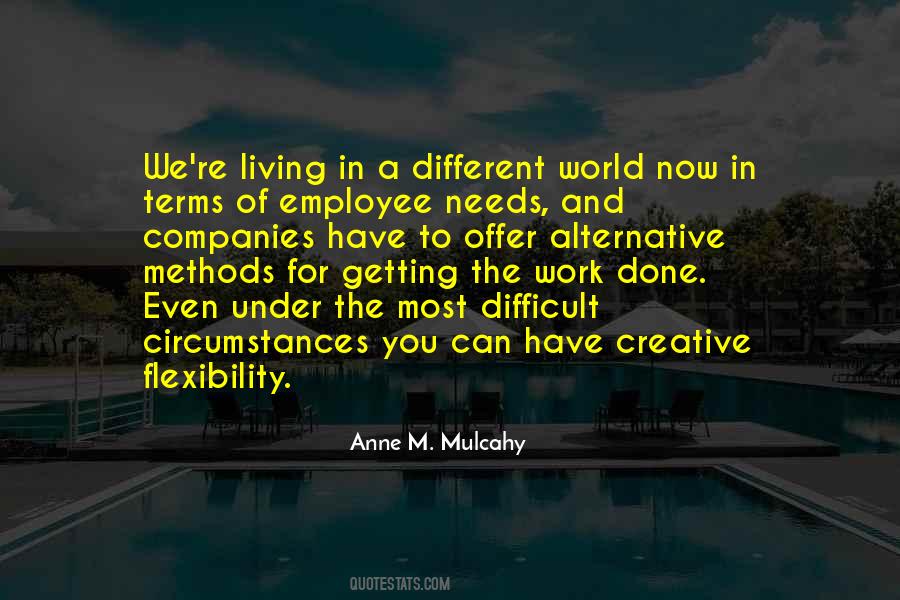 #17. Which, of course, isn't the point of writing - but it would be nice if, along with the creative satisfaction of writing and seeing my work in print, I could do more than merely scrape a living. Okay, moaning over. - Author: Eric Brown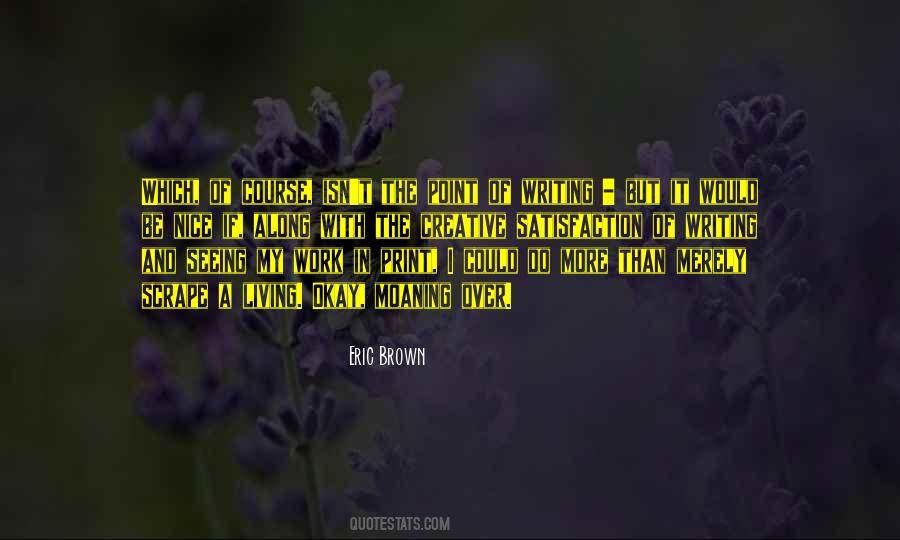 #18. So this, I believe, is the central question upon which all creative living hinges: Do you have the courage to bring forth the treasures that are hidden within you? - Author: Elizabeth Gilbert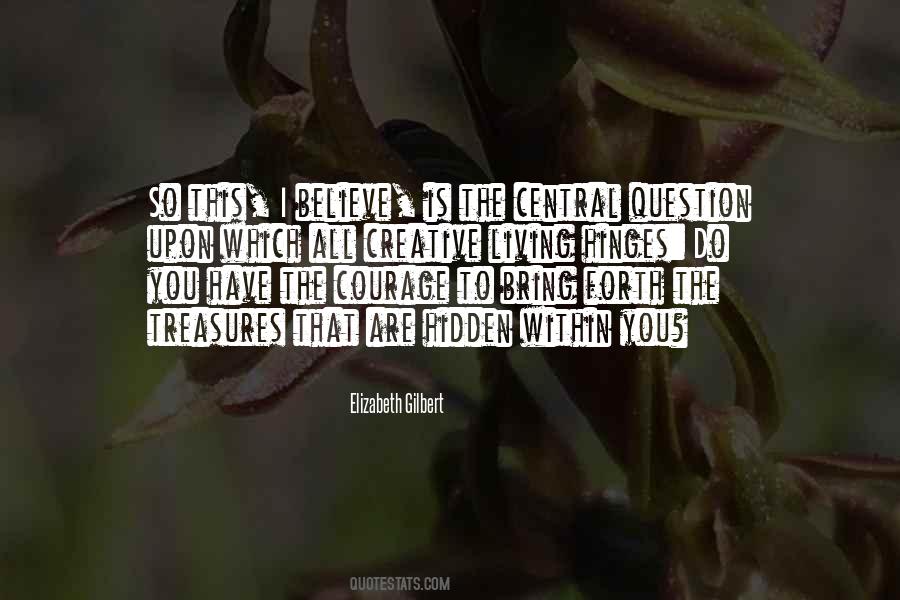 #19. If it were really up to me, I would study literature and creative writting. I would major it it, if I really could. But whose life these days are really up to the person living it? - Author: Molly Lynn Robinson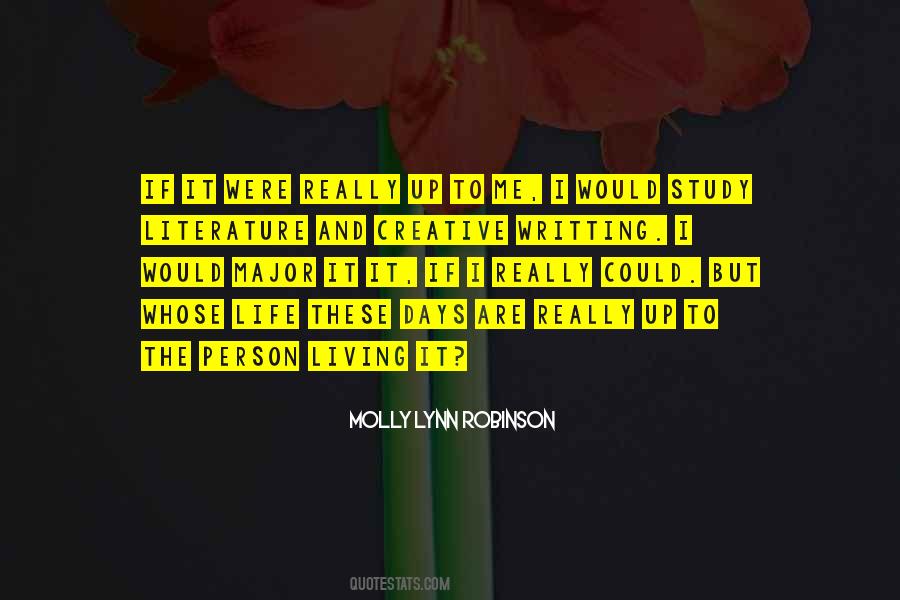 #20. The primary function of the creative use of language - in our age - is to try to constantly restore words to their meanings, to keep the living tissue of responsibility alive. - Author: Jorie Graham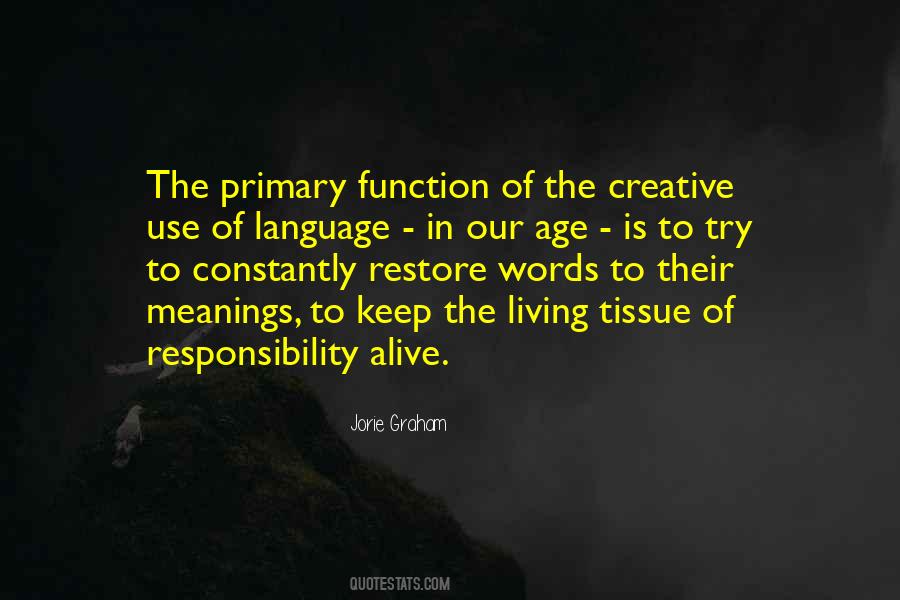 #21. If, like Charles Silberman, we think school "should prepare people not just to earn a living but to live a life - a creative, humane, and sensitive life,"22 then children's attitudes toward learning are at least as important as how well they perform at any given task. - Author: Alfie Kohn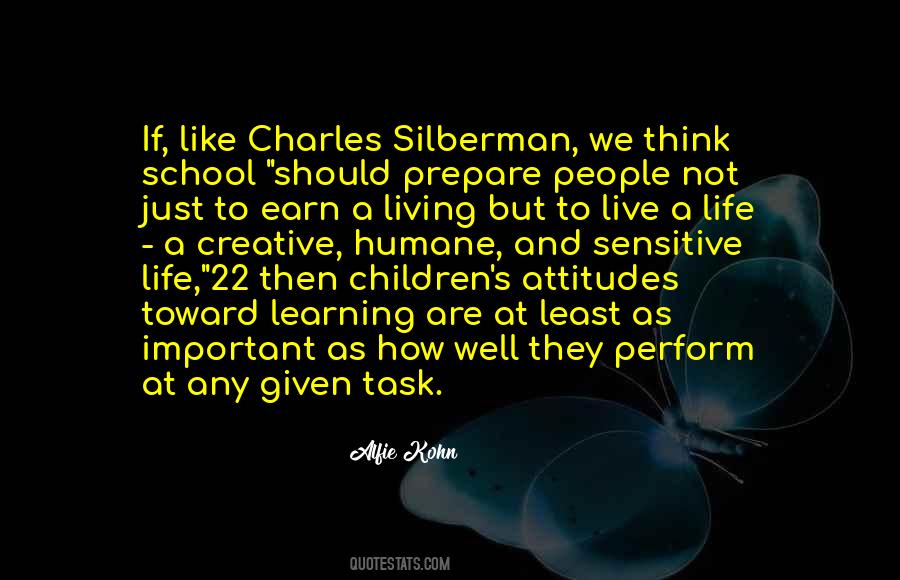 #22. I believe there is no more creative medium than photography to recreate the living world of our time ... Photography gladly accepts the challenge because it is at home in its element: namely, realism-real life-the now. - Author: Berenice Abbott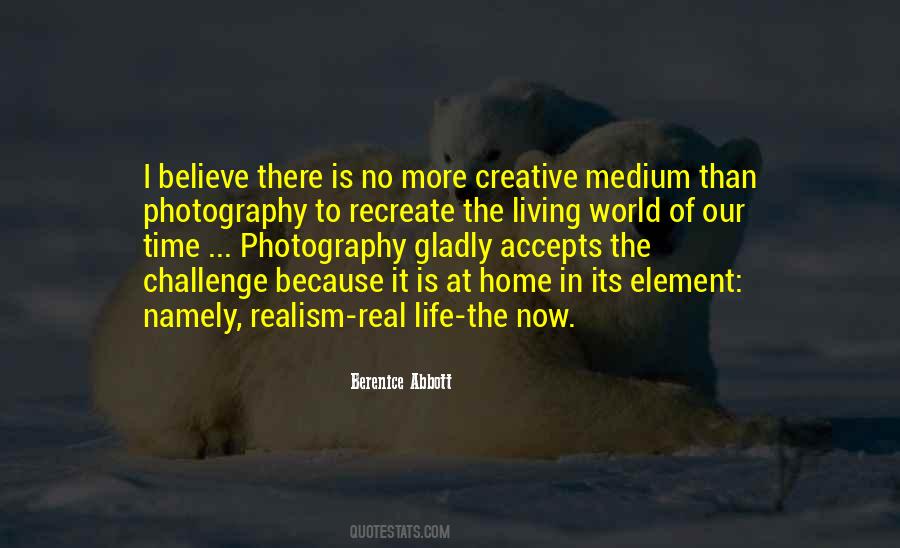 #23. In strange and uncertain times such as those we are living in, sometimes a reasonable person might despair. But hope is unreasonable and love is greater even than this. May we trust the inexpressible benevolence of the creative impulse. - Author: Robert Fripp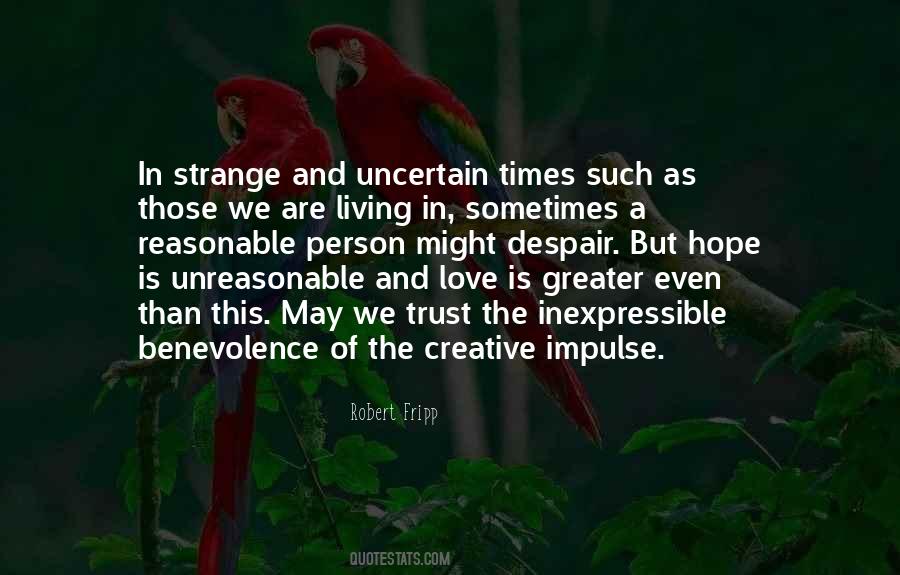 #24. We don't consider manual work as a curse, or a bitter necessity, not even as a means of making a living. We consider it as a high human function, as the basis of human life, the most dignified thing in the life of the human being, and which ought to be free, creative. Men ought to be proud of it. - Author: David Ben-Gurion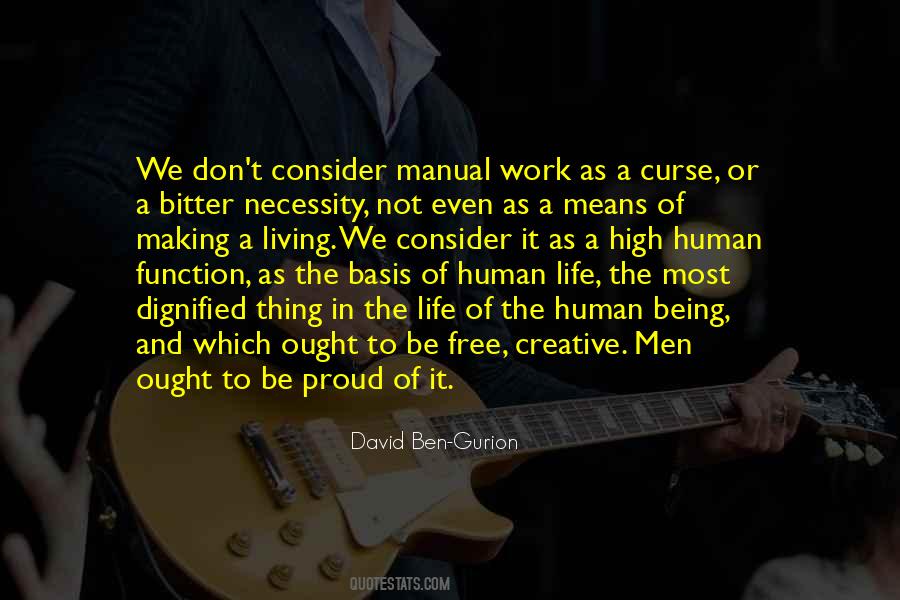 #25. Because often what keeps you from creative living is your self-absorption (your self-doubt, your self-disgust, your self-judgment, your crushing sense of self-protection). - Author: Elizabeth Gilbert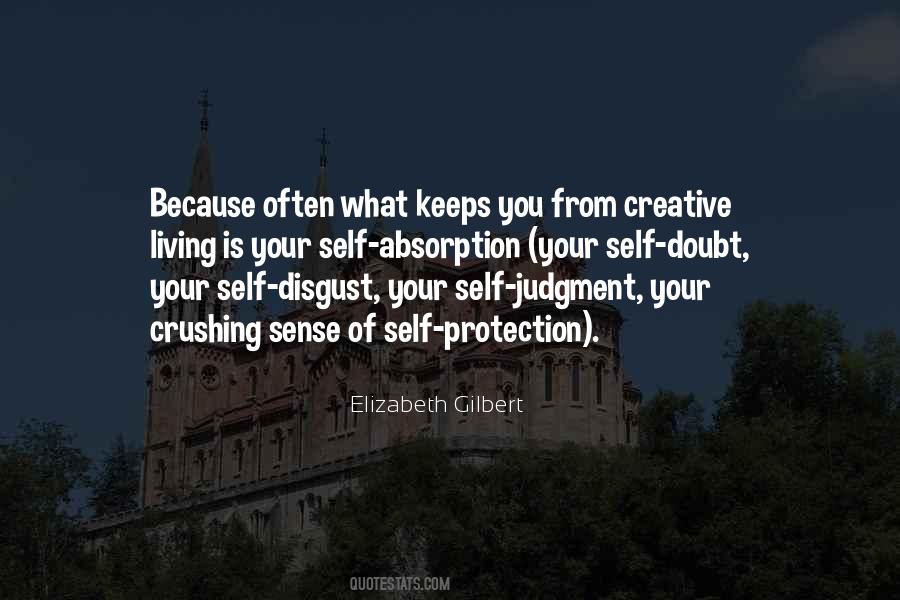 #26. No, when I refer to "creative living," I am speaking more broadly. I'm talking about living a life that is driven more strongly by curiosity than by fear. One - Author: Elizabeth Gilbert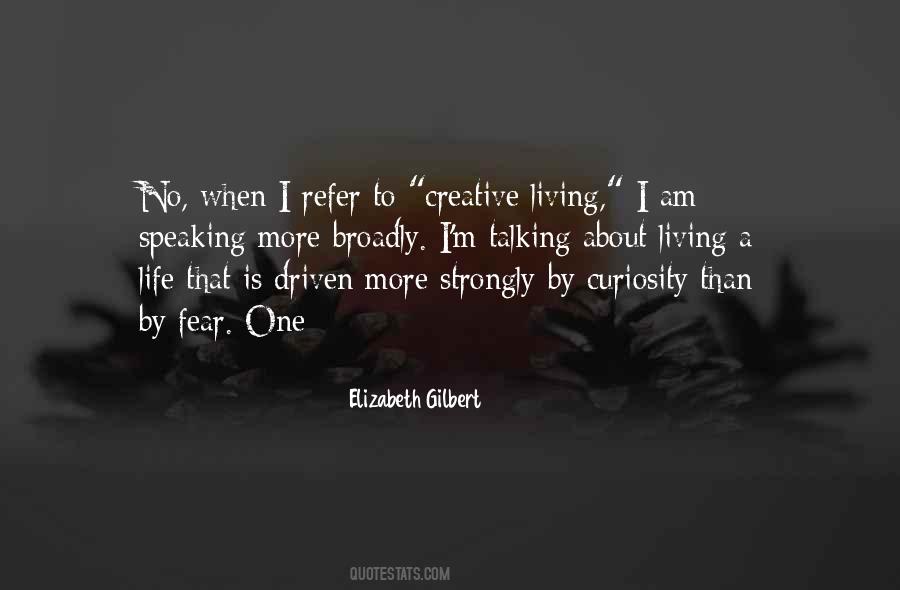 #27. Living is a creative and active process of diligent learning that entails industrious human action, attentive awareness, and thoughtful reflection. Learning is one facet of human beings innate capacity that can provide a sense of worthiness to human life. - Author: Kilroy J. Oldster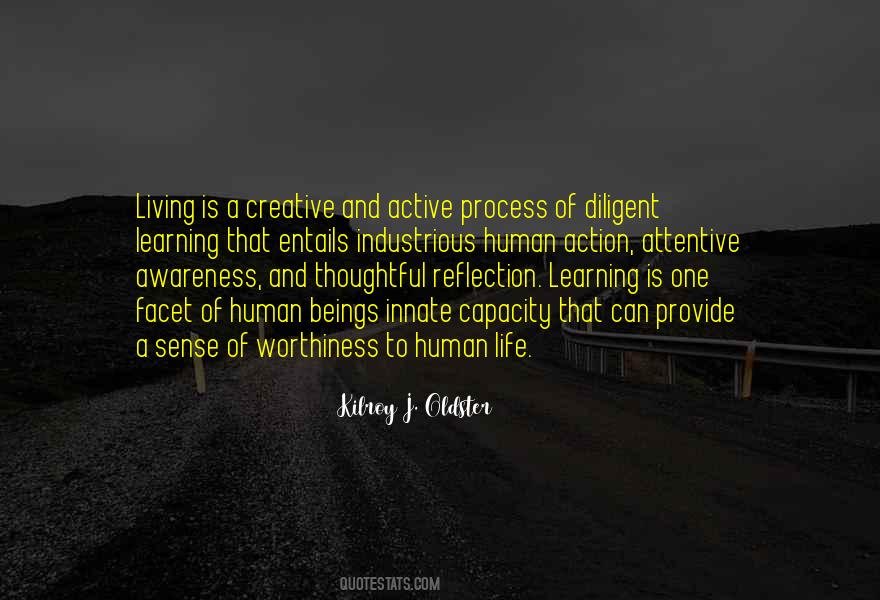 #28. O, when it comes to faith, what a living, creative, active, powerful thing it is. It cannot do other than good at all times. It never waits to ask whether there is some good work to do ... - Author: Martin Luther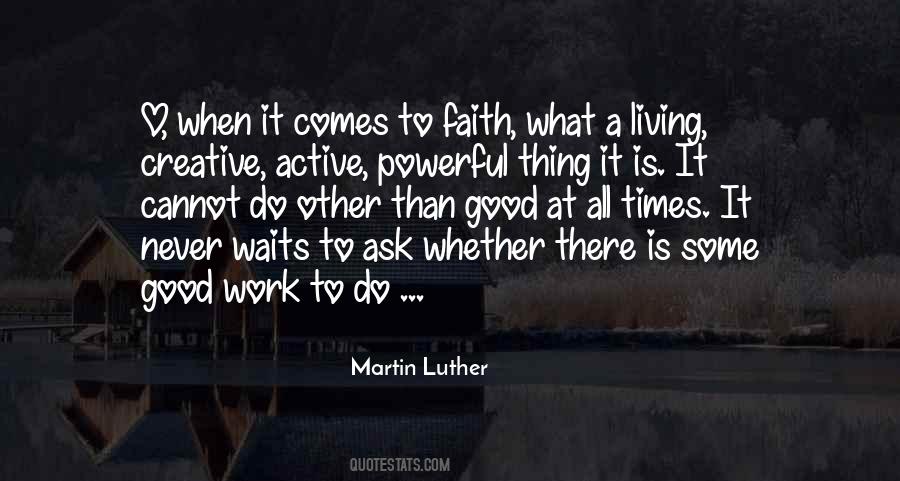 #29. Once something is memorable, it's living and you're using it. That to me is the foundation of a creative society. - Author: Yo-Yo Ma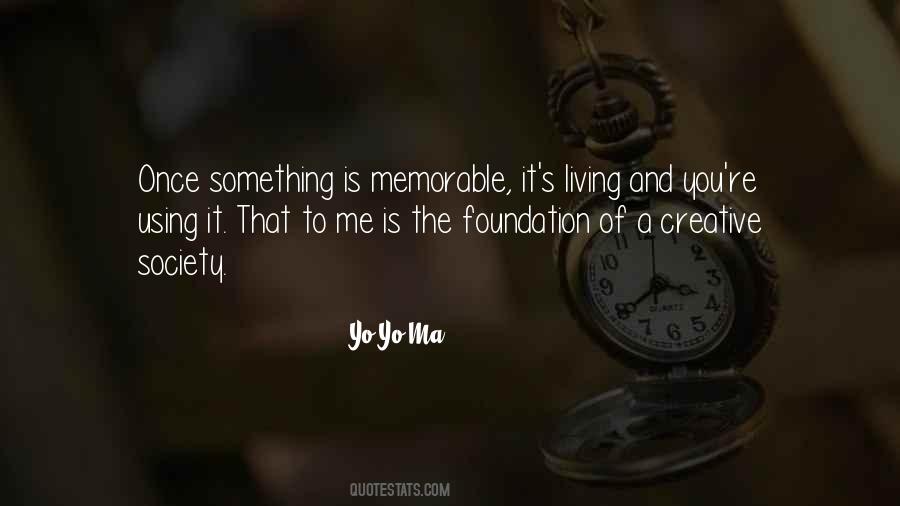 #30. When I talk about "creative living" here, please understand that I am not necessarily talking about pursuing a life that is professionally or exclusively devoted to the arts. - Author: Elizabeth Gilbert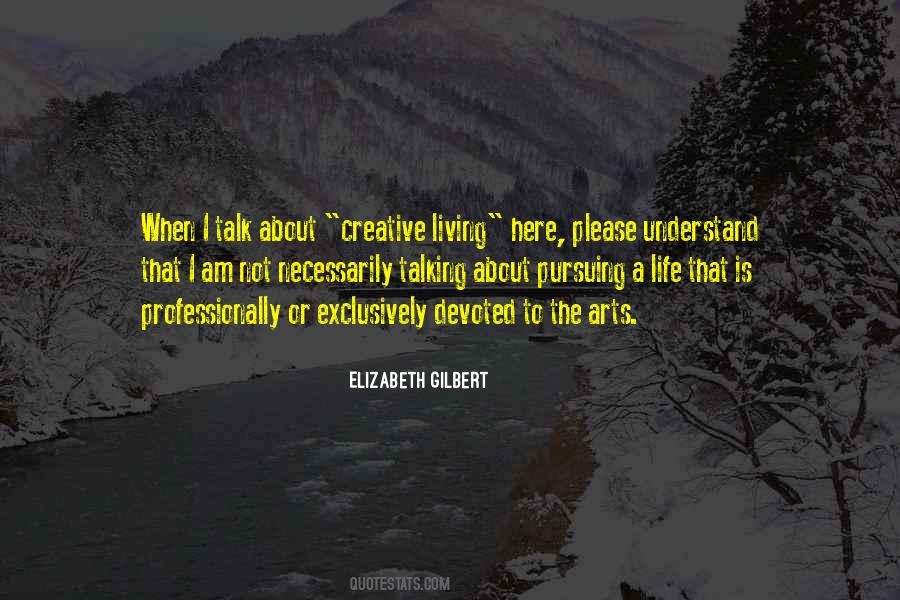 #31. Encouraged, we recognise the importance of living artistically, aesthetically and creatively as creative creatures of the creator. - Author: Edith Schaeffer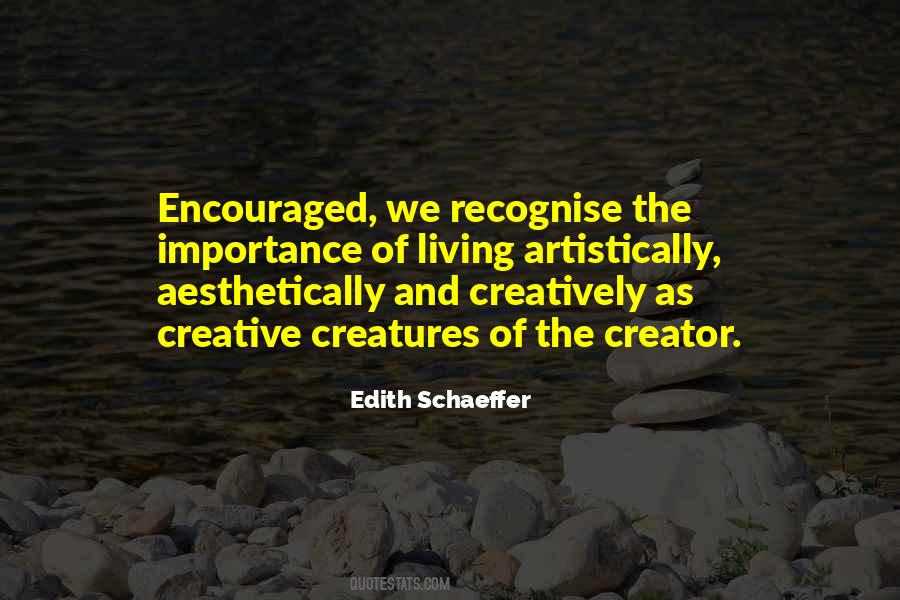 #32. The eyes of the creative spirit can see in all directions. - Author: Orna Ross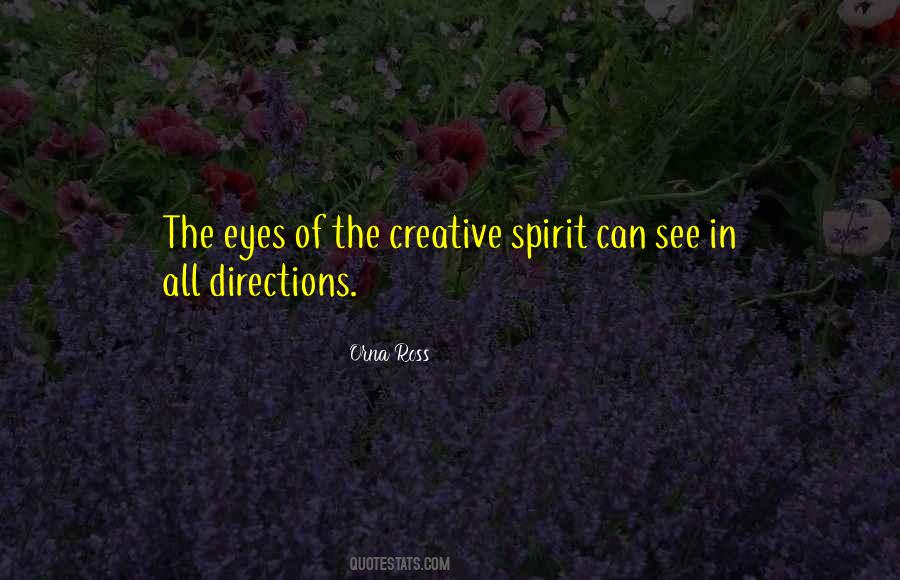 #33. The greatest satisfaction you can obtain from life is your pleasure in producing, in your own individual way, something of value to your fellowmen. That is creative living! For you, life can be a succession of glorious adventures. Or it can be a monotonous bore.
Take your choice! - Author: Neil Gaiman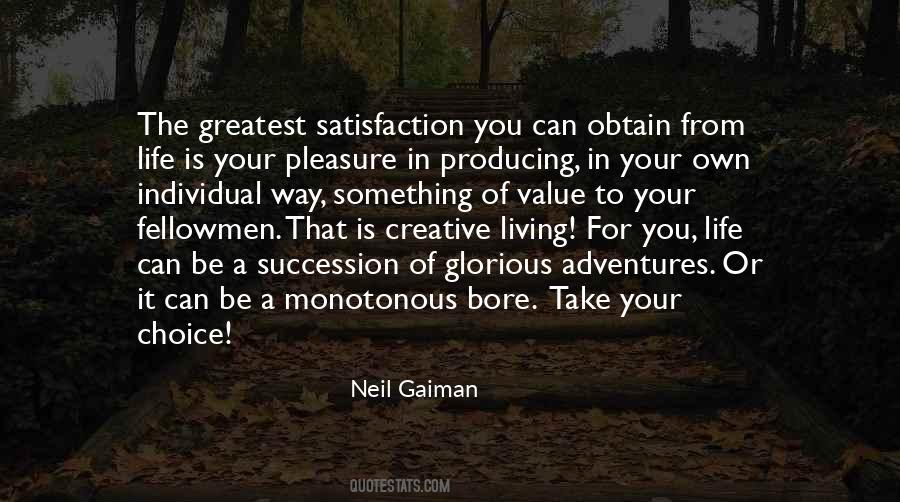 #34. Rejoice in the abundance of being able to awaken each morning and experience a new day. Be glad to be alive, to be healthy, to have friends, to be creative, to be a living example of the joy of living. Live to your highest awareness. Enjoy your transformationa l process. - Author: Louise Hay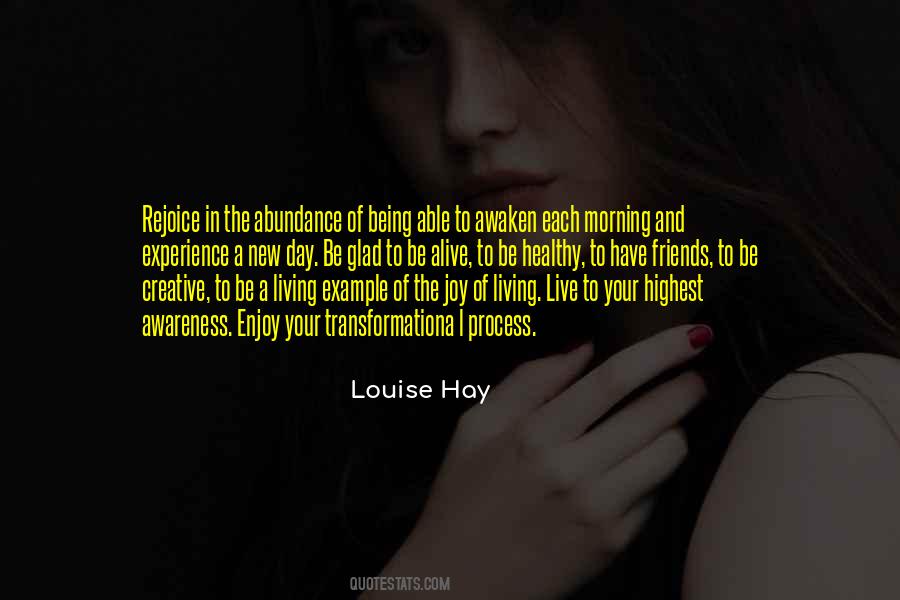 #35. What I like doing is writing and recording and much more on the, I guess, the - on that creative level. It's fun interpreting songs and all that, but I wouldn't like it as a living. - Author: David Bowie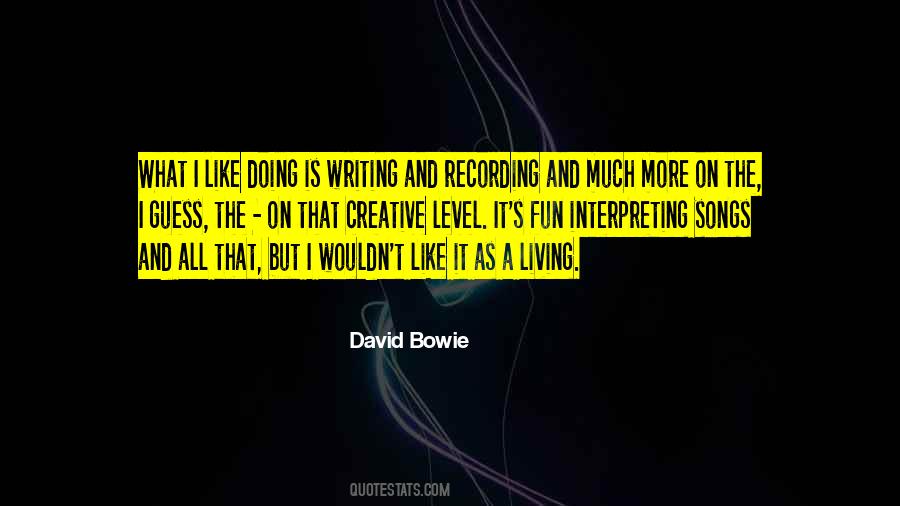 #36. Appreciation is the breath of life to the creative artist, and in spite of modern conditions, there is enough abroad to sustain him. But his name is now legion; he competes with the dead as well as the living; and the rewards and honours seem attenuated by division. - Author: Walter J. Phillips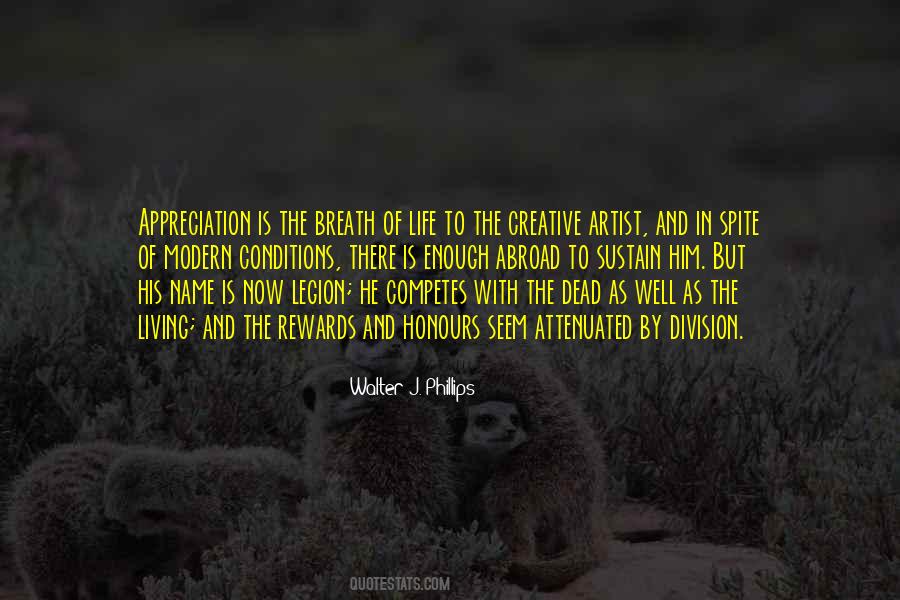 #37. Common sense means living in the world as it is today; but creative people are people who don't want the world as it is today but want to make another world. - Author: Abraham Maslow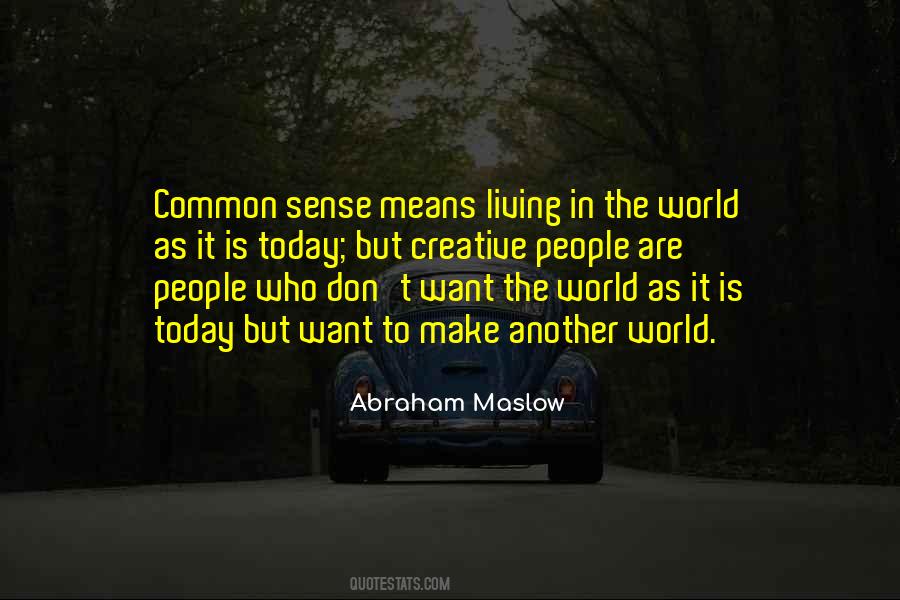 #38. There's nothing creative about living within your means. - Author: Francis Ford Coppola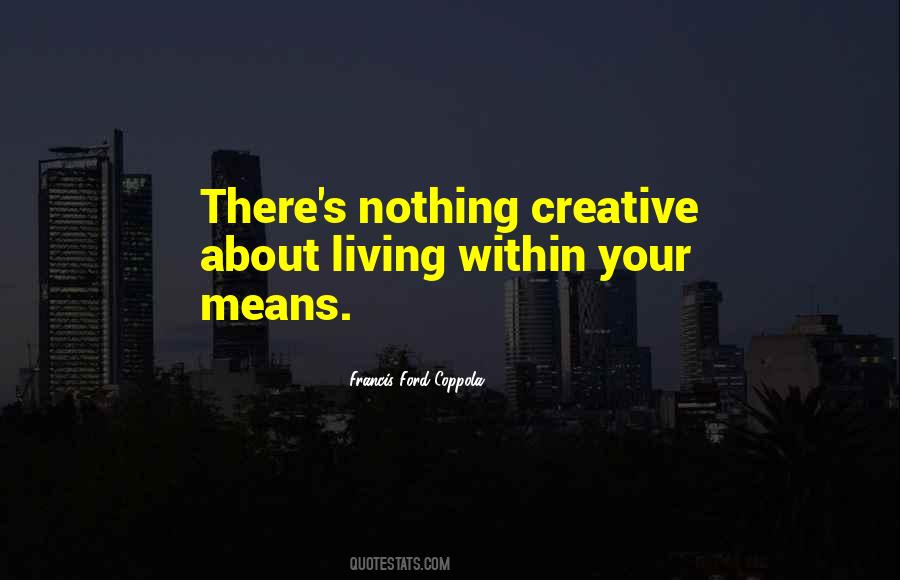 #39. Physics is now saying we might be living in one of an infinite number of parallel universes. We can learn practical and creative things to do with the information. - Author: Robert Moss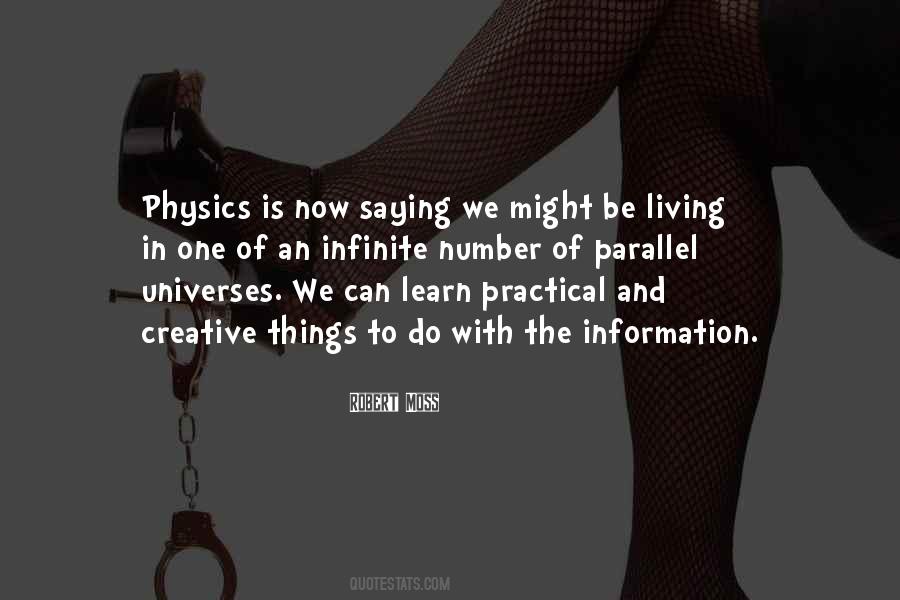 #40. The only meaningful life is that which is deepened by carrying through these commitments, living through the dead periods in order to lay the foundations for the creative ones. - Author: Charles Taylor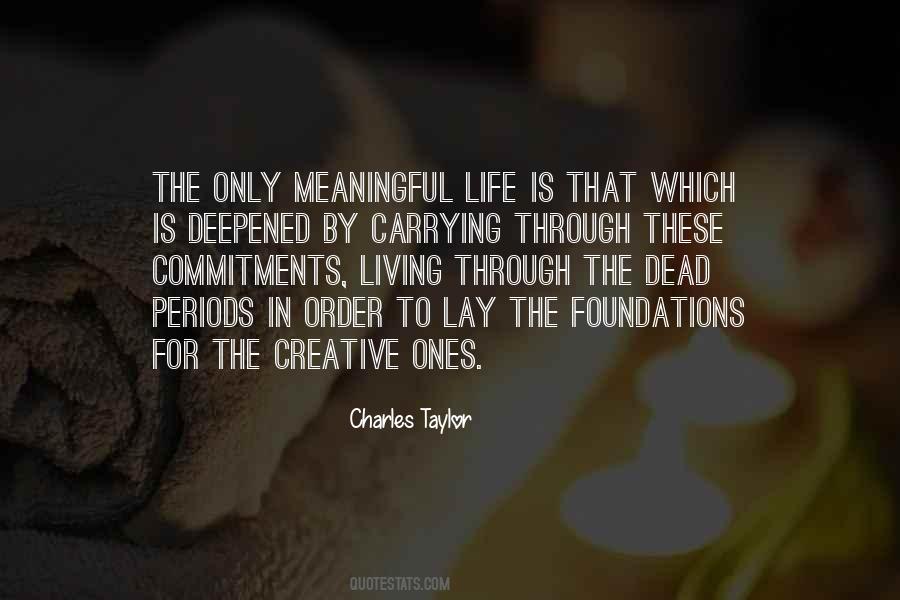 #41. You can clear out whatever obstacles are preventing you from living your most creative life, with the simple understanding that whatever is bad for you is probably also bad for your work. - Author: Elizabeth Gilbert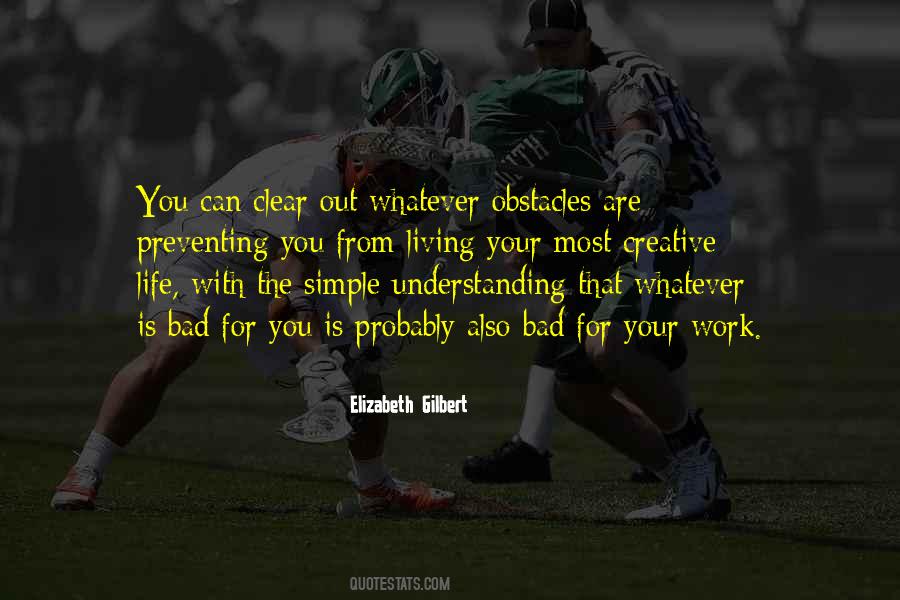 #42. I'm dependent on writing for a living, so really it's to my advantage to understand how the creative process works. One of the problems is, when you start to do that, in effect you're going to have to step off the edge of science and rationality. - Author: Alan Moore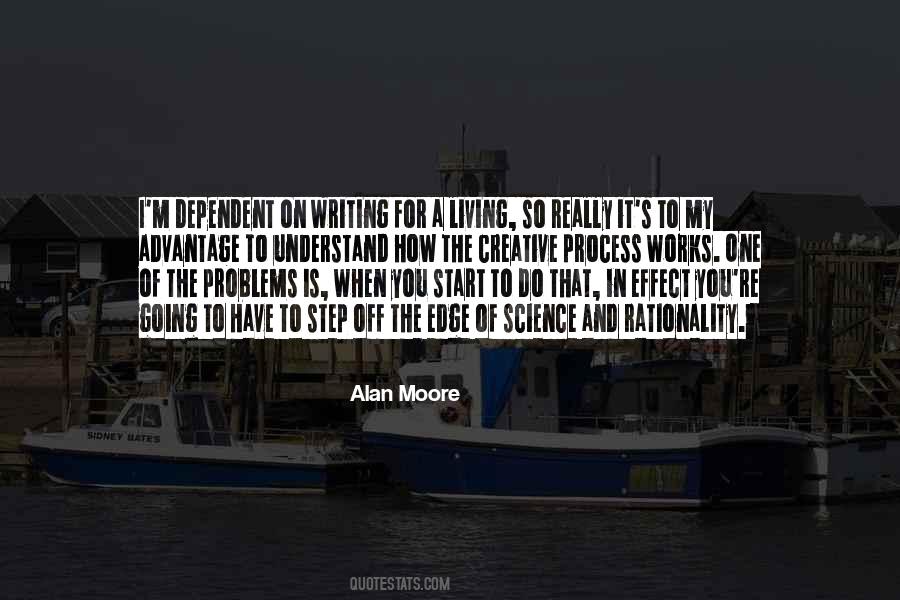 #43. All my life I've had the privilege to make my living with my imagination, and the most important thing has been to see my creative life grow. I was educated to do that and have lived accordingly. - Author: Tommy Lee Jones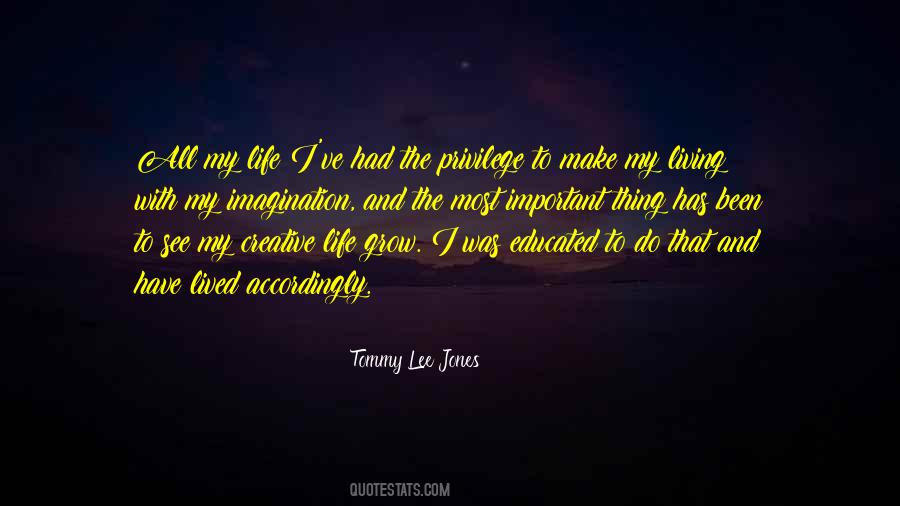 #44. My dad said to me the other day, I really am an artistic person. I was shocked as I never saw him as a creative. I think me and my sisters are living out that side of him as my sister is another creative person, she's a songwriter. - Author: Robert Pattinson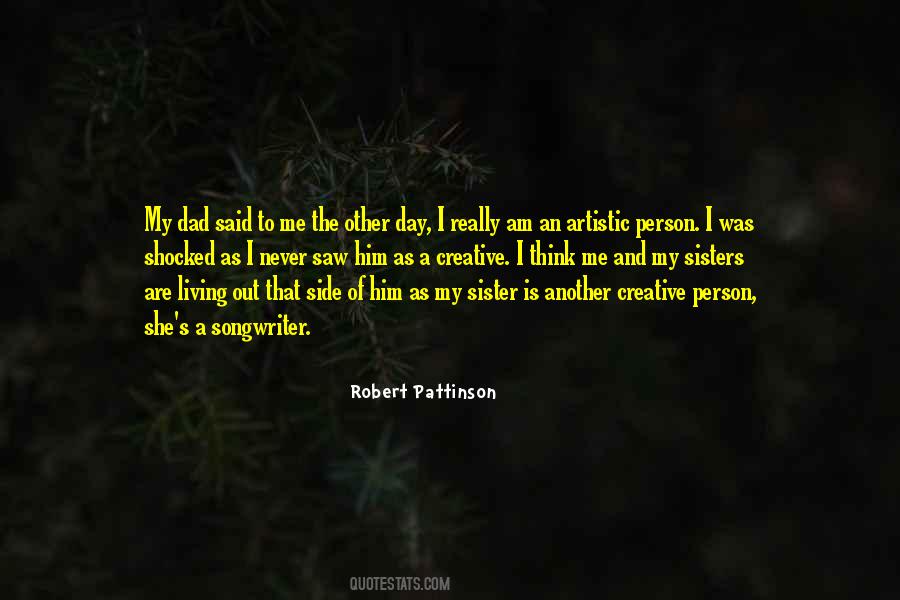 #45. What you do for a living is not be creative, what you do for a living is ship. - Author: Seth Godin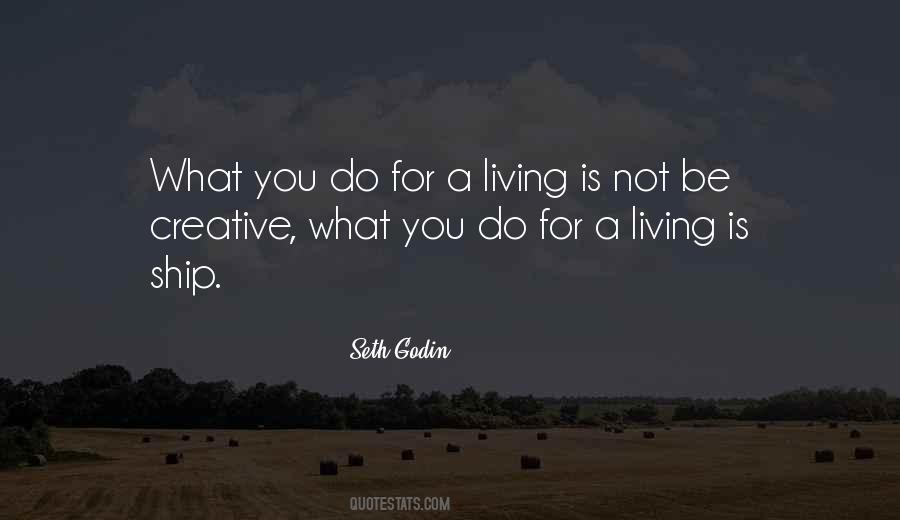 #46. No past experience, however rich, and no historical research, however thorough, can save the living generation the creative task of finding their own answers and shaping their own future. - Author: Alexander Gerschenkron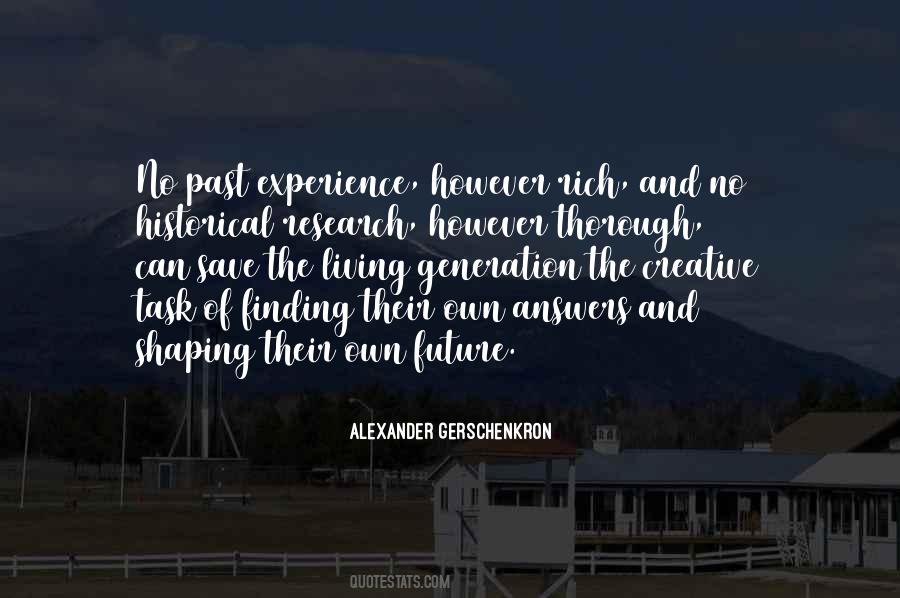 #47. It ain't bragging if you've done it. There's nothing wrong with being proud of doing something well. In fact, if you intend to do something creative for a living, it's absolutely essential.
[check for wording] Proper pride says, "I'm good at this." Improper pride says, "I'm better than you. - Author: James A. Owen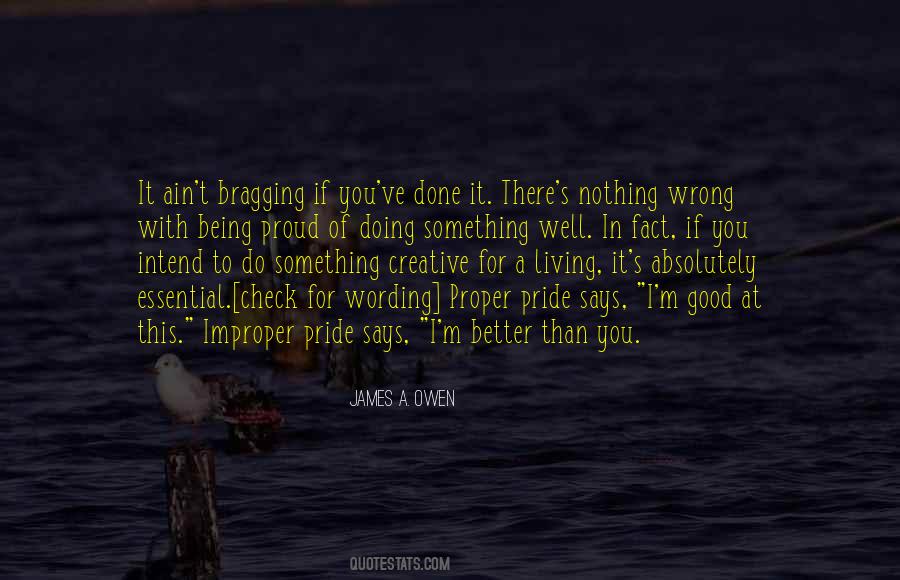 #48. I think from the time I was a kid I've been an entertainer. I've always had the ability to play characters. When I came to California, I was overwhelmed that you could do this and get paid for it, make a living on it, and be creative within this art form. - Author: Matt Schulze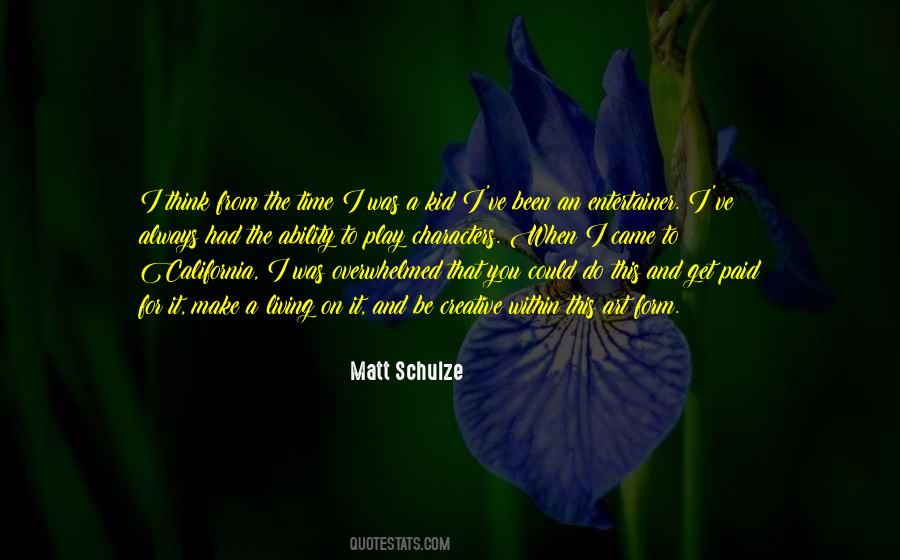 #49. For those who can do it and who keep their nerve, writing for a living still beats most real, grown-up jobs hands down. - Author: Terence Blacker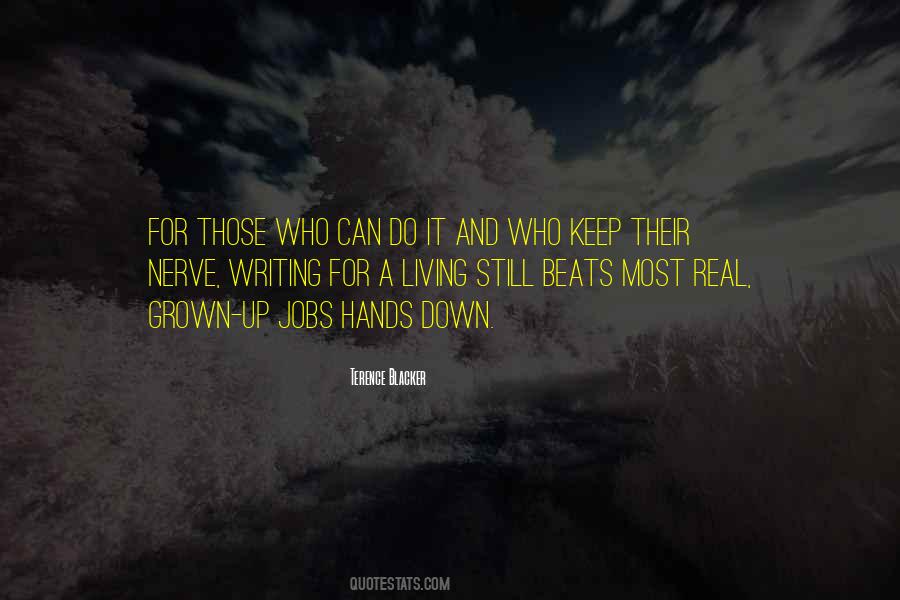 #50. I think that when you decide to dedicate yourself to creative endeavors and surround yourself with people who are creative, you very quickly learn how hard it is to survive doing those kinds of things, not to mention make a living at them. - Author: Oscar Isaac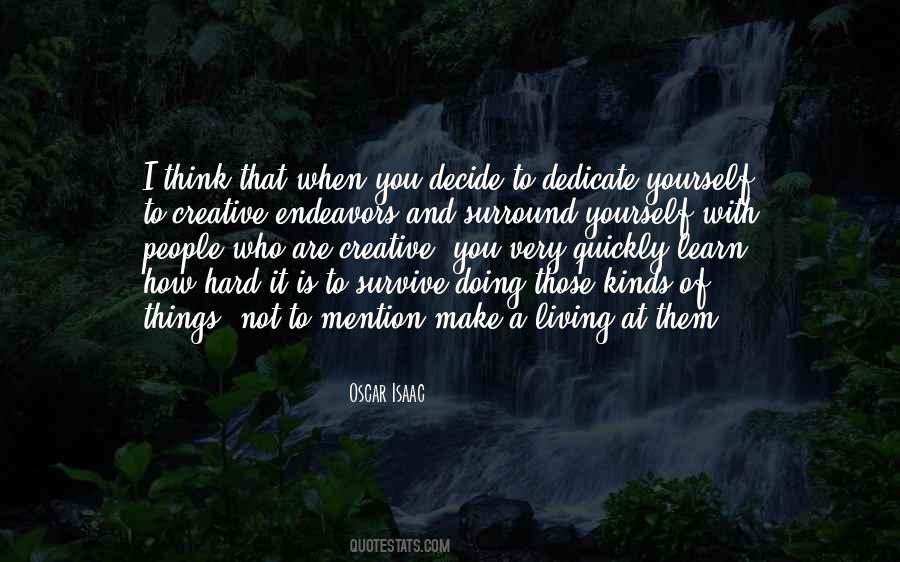 #51. A tattoo is a true poetic creation, and is always more than meets the eye. As a tattoo is grounded on living skin, so its essence emotes a poignancy unique to the mortal human condition. - Author: V. Vale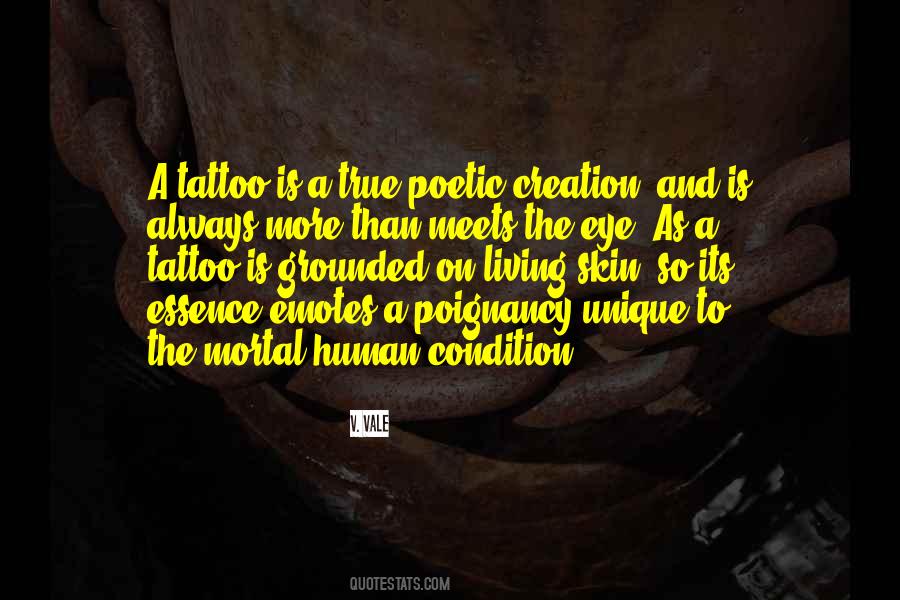 #52. Living is art.
Breathing and heart beating is music.
Seeing is painting the world with our eyes.
Touching is sculpting the shape of everything.
Life is the most intense art of all. - Author: Jacob Nordby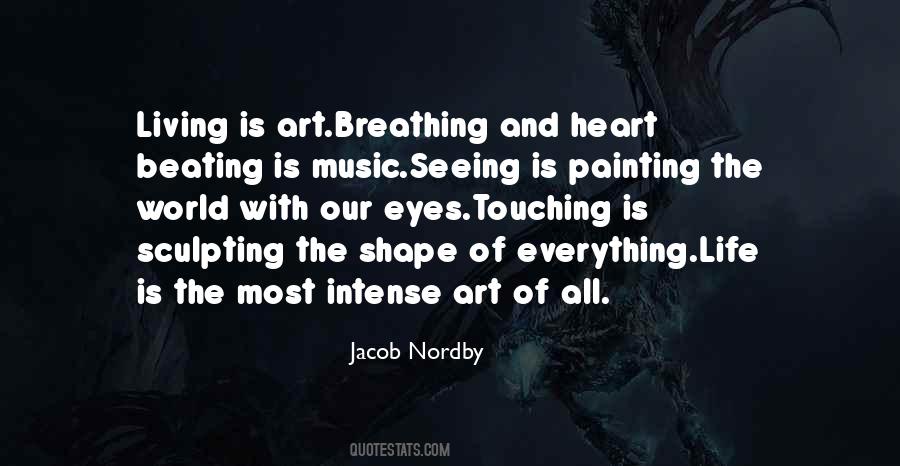 #53. True art is creation, and creation is beyond all theories. That is why I say to any beginner: Learn your theories as well as you can, but put them aside when you touch the miracle of the living soul. Not theories but your own creative individuality alone must decide. - Author: Carl Jung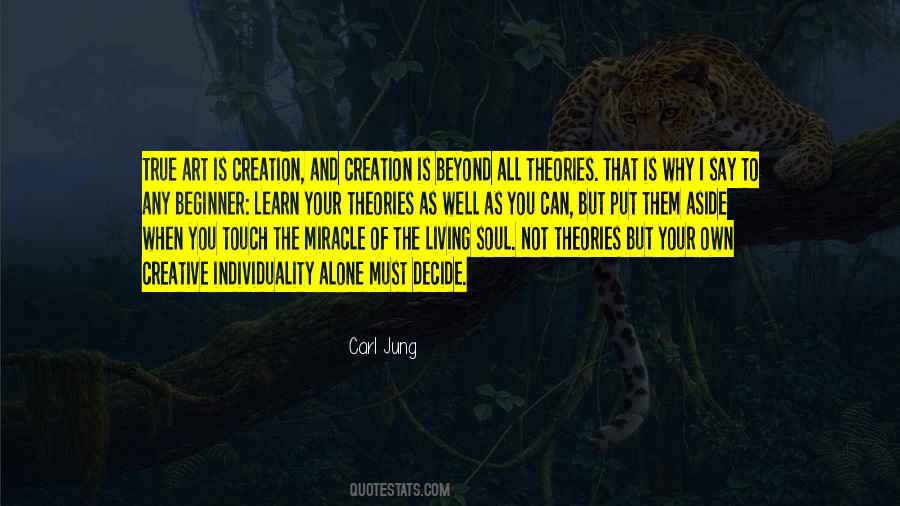 #54. There's an awful lot of choices in the world as far as what one can do for a living. It's best to be familiar with as many sectors of the working world as you can be so you'll be better at your creative job anyway. - Author: Justine Bateman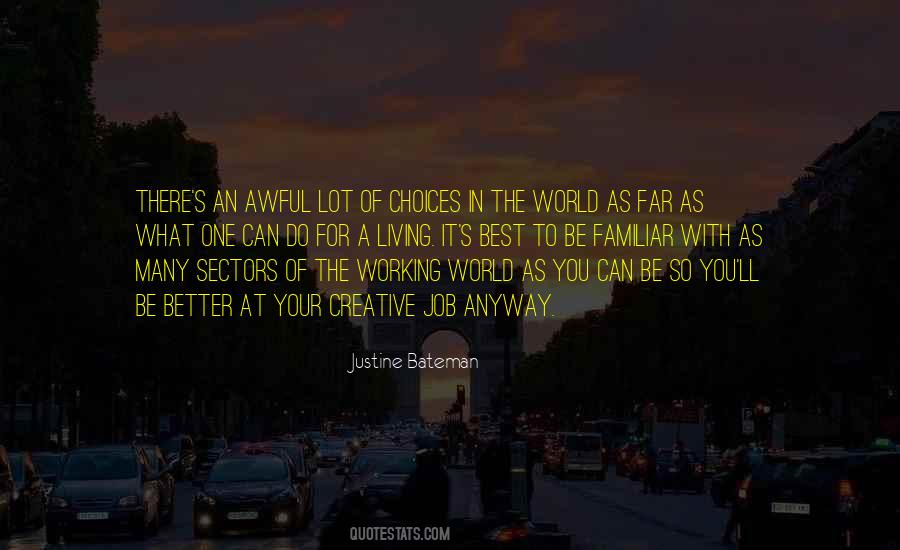 #55. There's no retirement for an artist, it's your way of living so there's no end to it. - Author: Henry Moore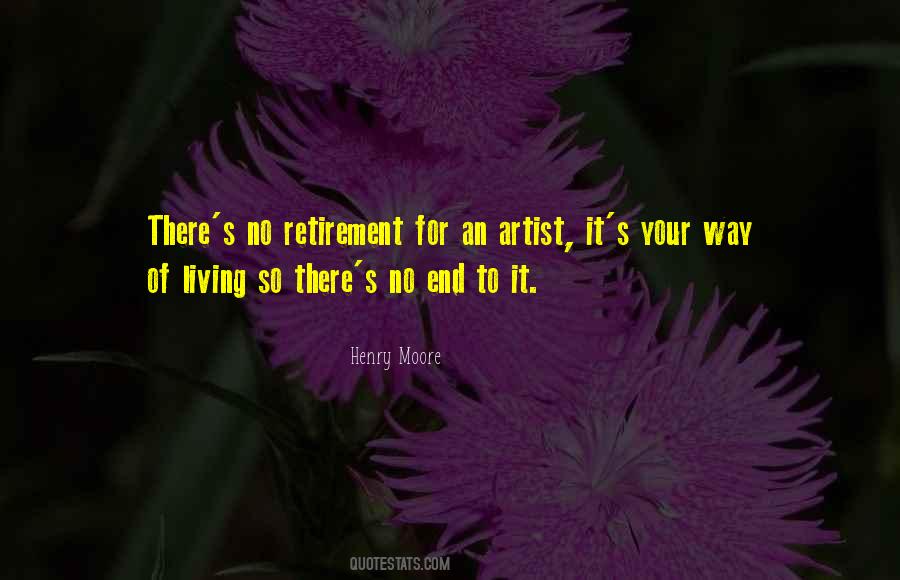 #56. When our days become dreary with low-hovering clouds and our nights become darker than a thousand midnights, we will know that we are living in the creative turmoil of a genuine civilization struggling to be born. - Author: Martin Luther King Jr.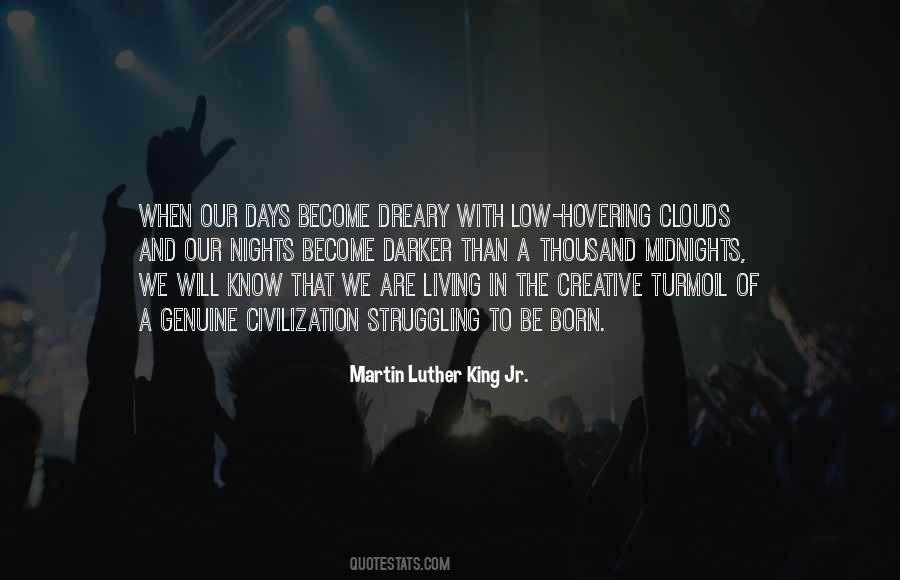 #57. Children should be introduced right from the start to the potentialities of their environment, to the physical and psychological laws that govern the visual world, and to the supreme enjoyment that comes from participating in the creative process of giving form to one's living space. - Author: Walter Gropius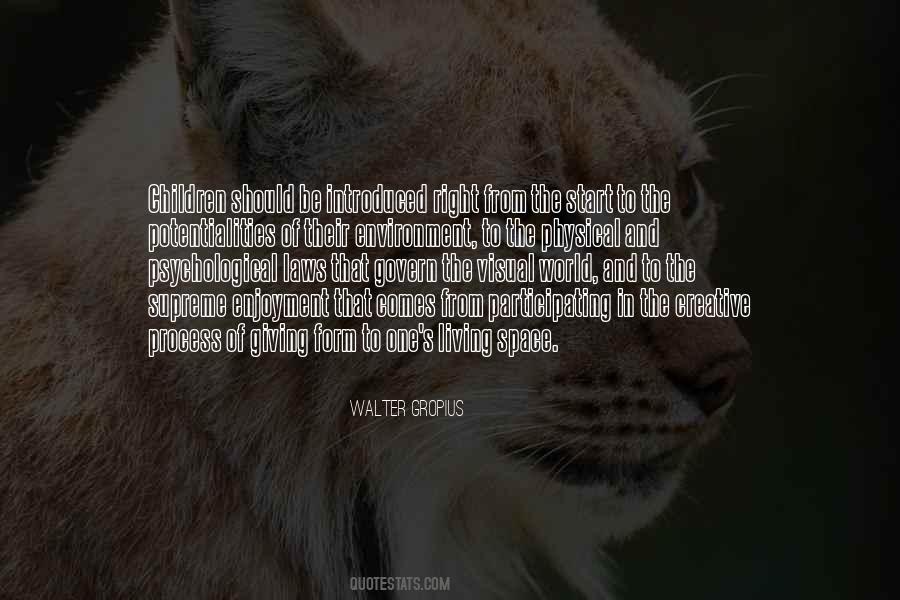 #58. If the reason why you're doing anything creative is to make a living, then you're doing it wrong - Author: Casey Neistat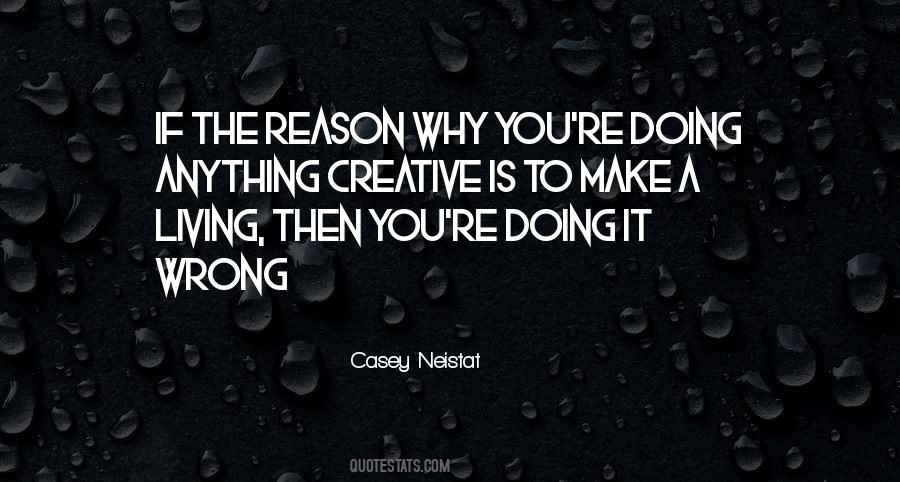 #59. Creating doesn't make us unhappy, unhappiness makes us creative. To create is to live, and in living, we want only to creat more, to set our foundations depper and reach higher toward the sky. If sadness is what makes us creative, then sadness is nothing else but life. - Author: Eric G. Wilson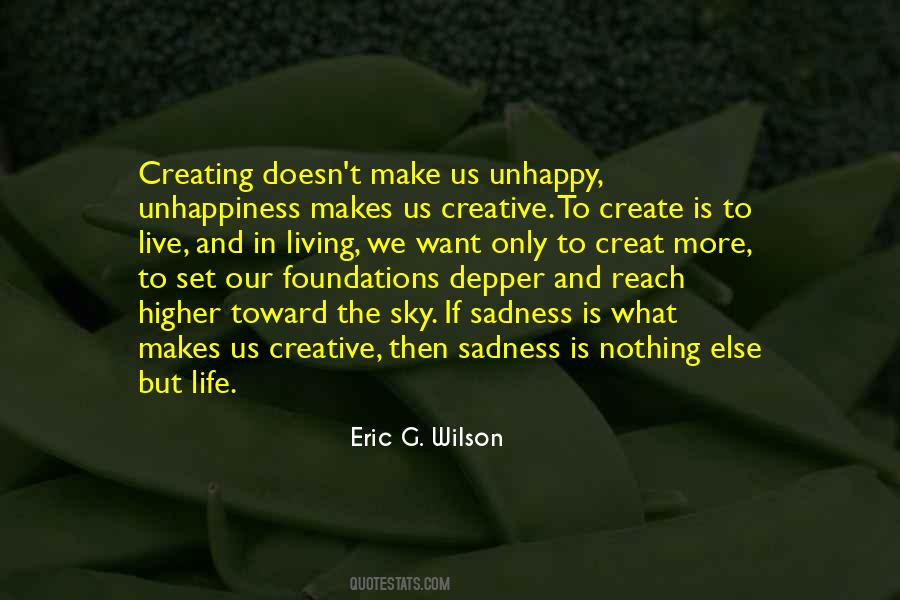 #60. The writer's ultimate purpose is to use his gifts to develop man's awareness of himself so that he, man, can become a better instrument for living together with other men. This sense of identity is the root by which all honest creative effort is fed. - Author: Jay Saunders Redding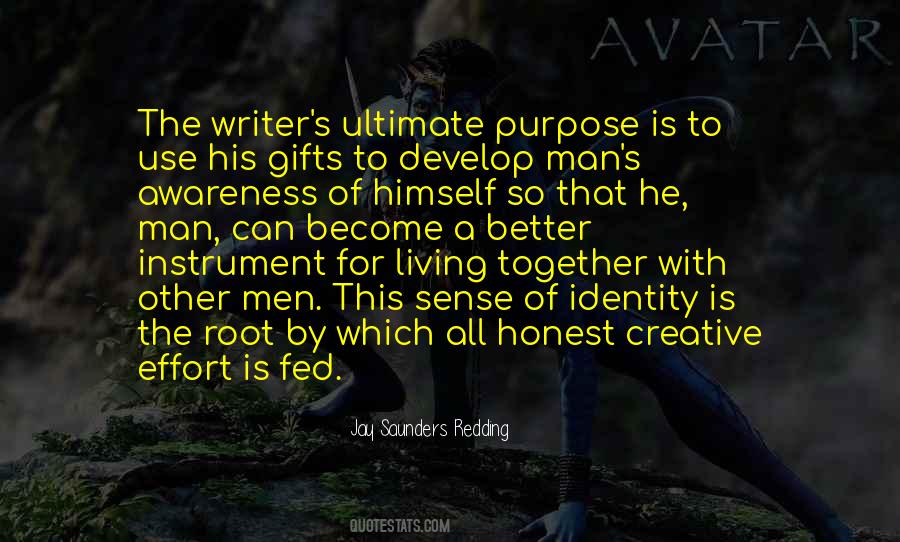 #61. I never had any doubts about my abilities. I knew I could write. I just had to figure out how to eat while doing this.
[Cormac McCarthy's Venomous Fiction, New York Times, April 19, 1992] - Author: Cormac McCarthy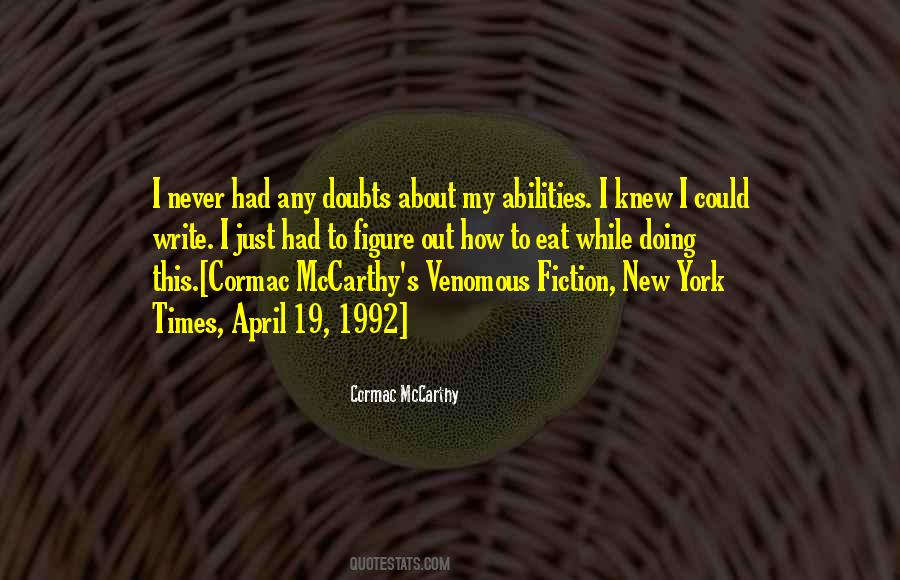 #62. How you do money is how you do life. - Author: Orna Ross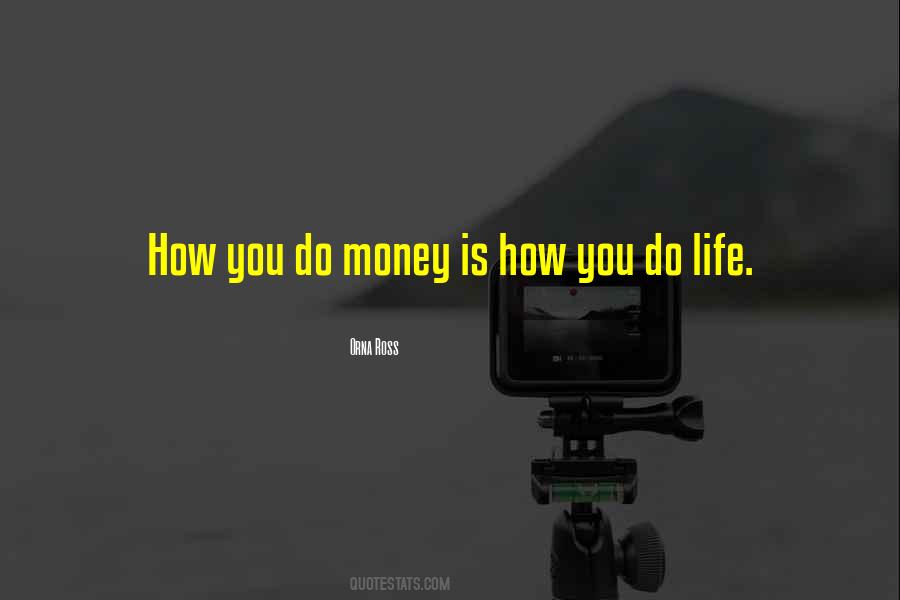 #63. The trouble with simple living is that, though it can be joyful, rich, and creative, it isn't simple. - Author: Doris Janzen Longacre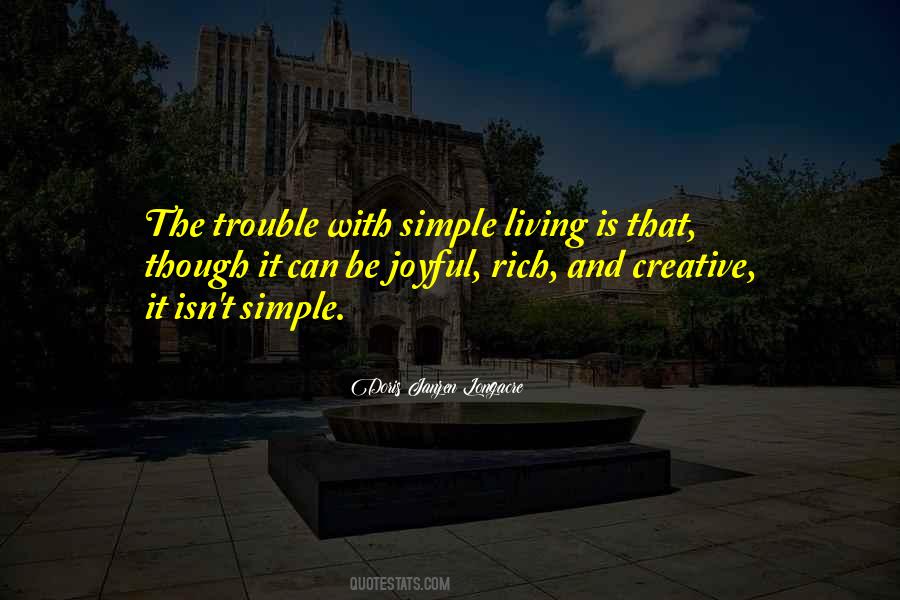 #64. How you manage yourself between those bright moments, when things aren't going so great, is a measure of how devoted you are to your vocation, and how equipped you are for the weird demands of creative living. Holding yourself together through all the phases of creation is where the real work lies. - Author: Elizabeth Gilbert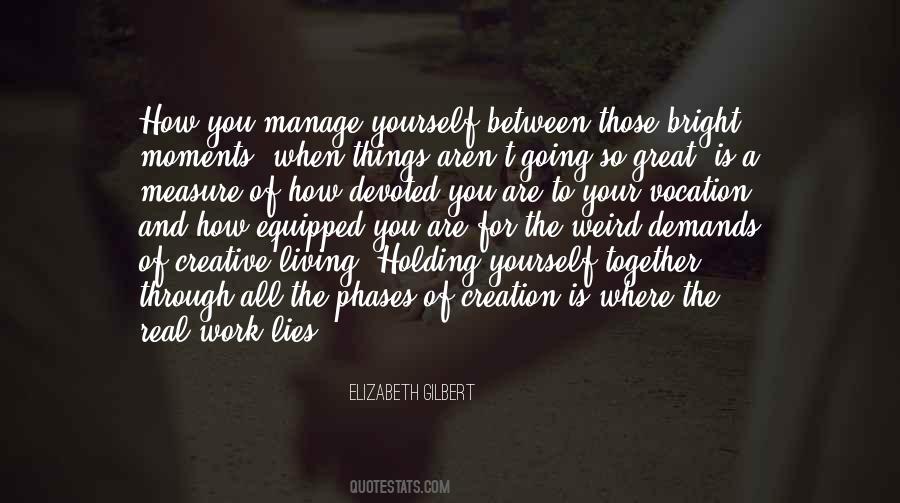 #65. We are innately creative beings capable of writing a love story worth living, and we cannot afford to miss out on the opportunity to experience nourishing relationships. - Author: David Simon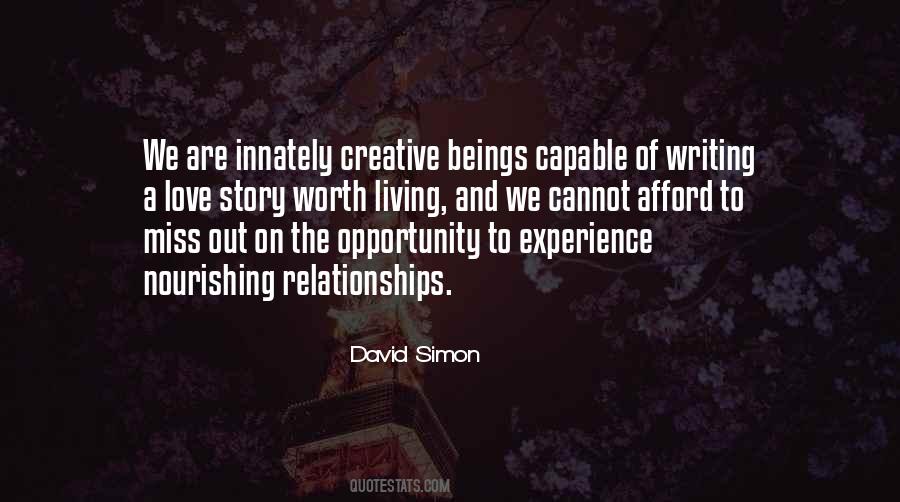 #66. Space is an environment of emptiness. It offers no possibility for natural adaptation to any living organism - and particularly not to the highly sophisticated creature, man. Yet man has the ability to resolve this paradox through his intellectual power and creative faculties. - Author: Hubertus Strughold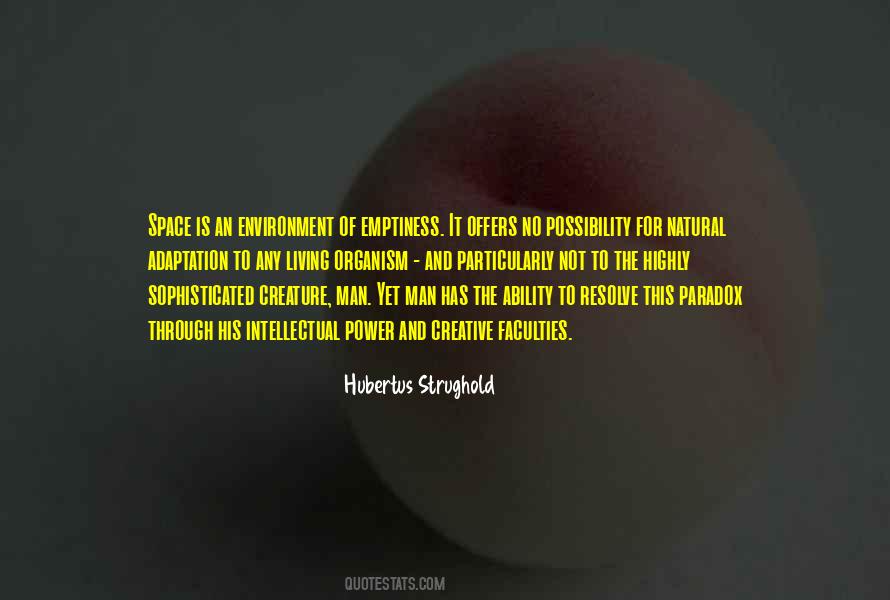 #67. I see everything as creative material. If I pick up a shell of a song that I wrote 10 years ago, all that matters is the reality of that material as it's living today. - Author: Antony Hegarty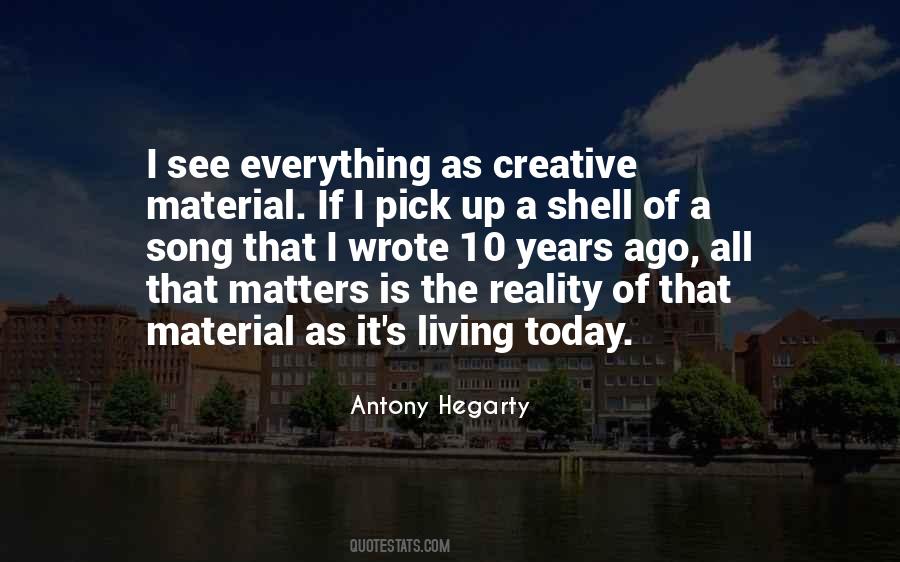 #68. Many people are dead inside which is why they crave the living artists creative truth. - Author: Bryant McGill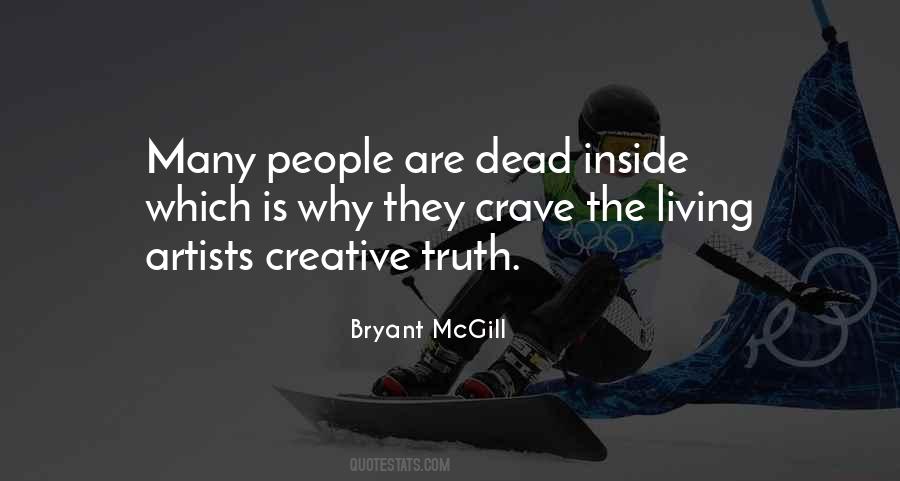 #69. The creative process is a living thing, implanted, as it were in the souls of men. - Author: Carl Jung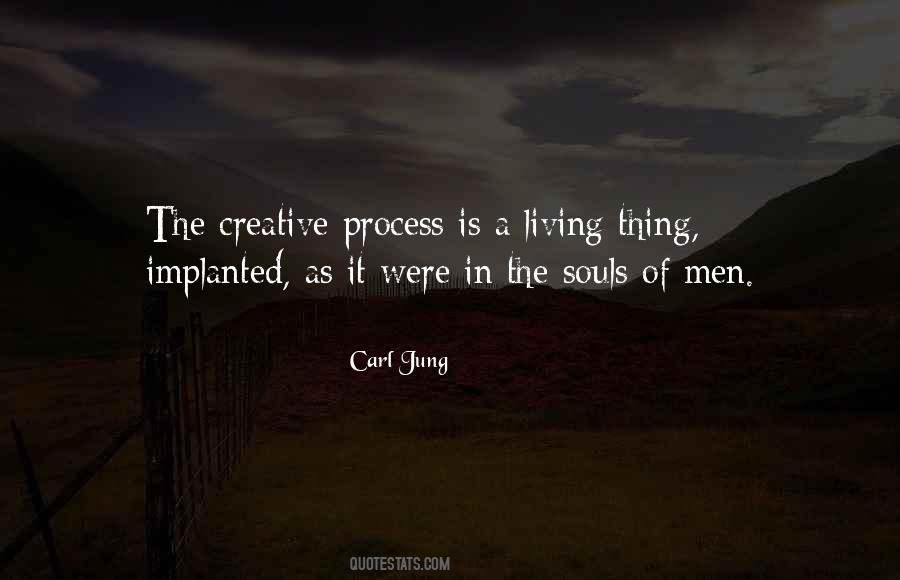 #70. Big Tech's nonchalance about copyright violation tramples over people like my wife and me, who strive to make a living in the great tradition of the creative realm. - Author: Peter Lerangis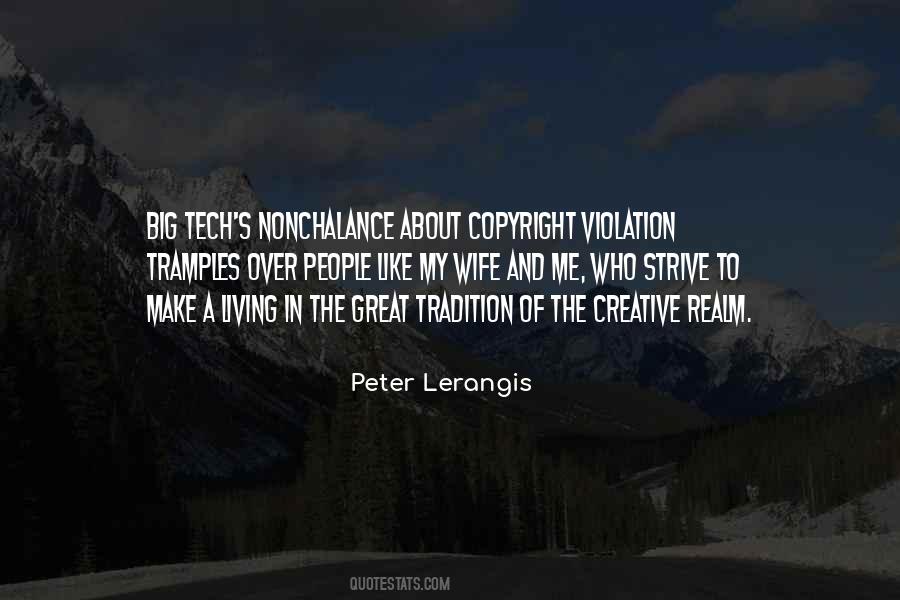 #71. Creative power flourishes only when I am living in the present. - Author: Brenda Ueland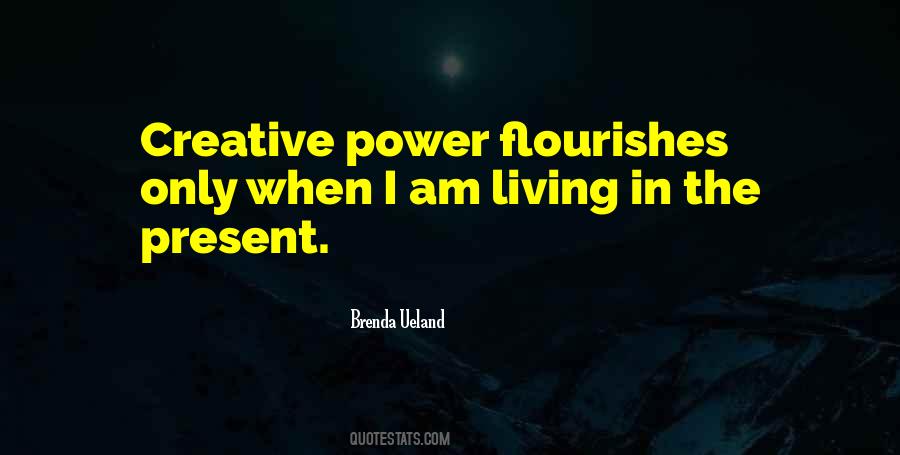 #72. All living things must grow or they will die. Adaptation to change is a characteristic of all living systems. Thus, all living things must grow, adapt, evolve, or die. Evolution is nature's creative way of pushing living organisms to higher degrees of complexity. We adapt up, not compromise down. - Author: Alvin Conway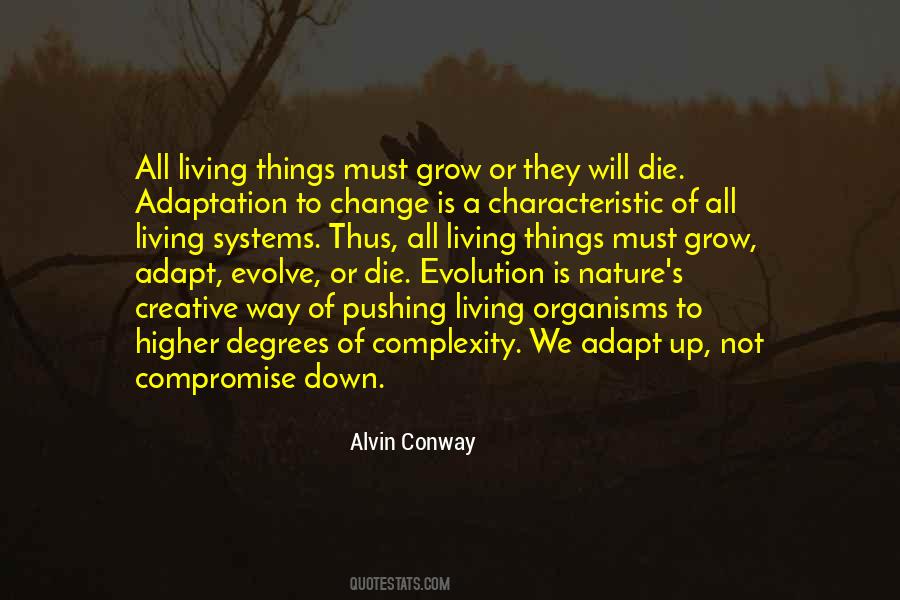 #73. I wonder what it means about American literary culture and its transmission when I consider the number of American poets who earn their living teaching creative writing in universities. I've ended up doing that myself. - Author: Marilyn Hacker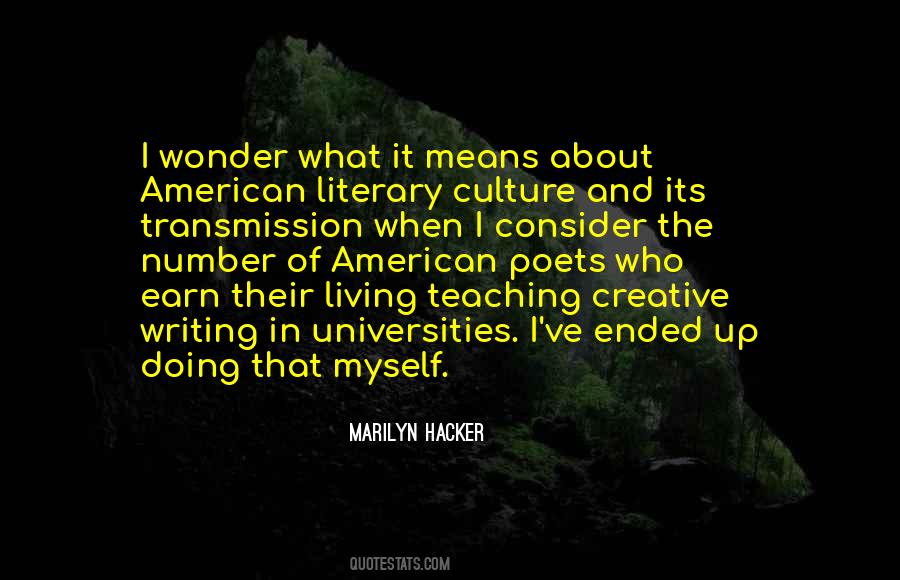 #74. You are God's highest form of creation. You are a living breathing creative magnet. You have the ability to control what you attract into your life. - Author: Bob Proctor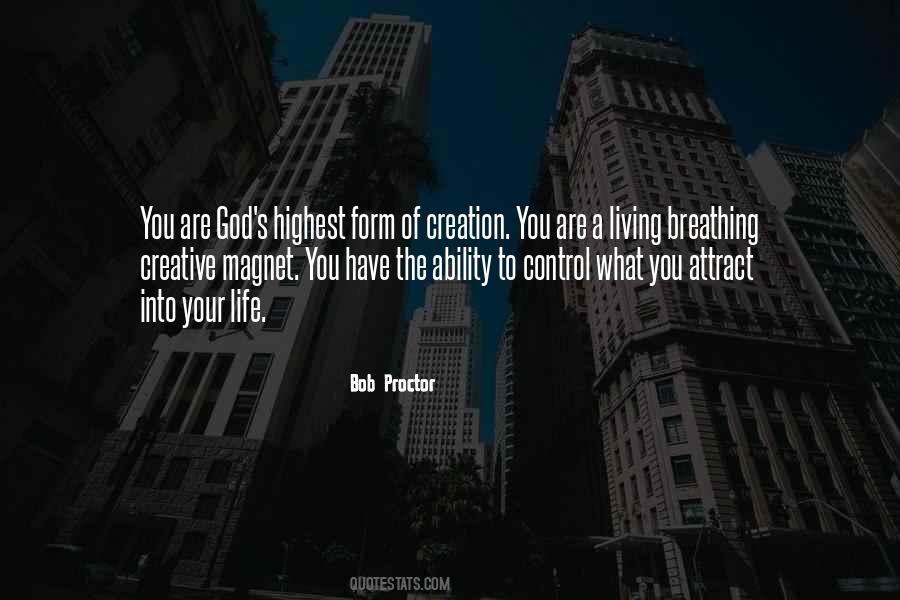 #75. Living in London as a student is tough. And my heart goes out to every single drama student in London because, as an actor, it's a creative process that you are taking on, and if you don't get to do it every day, it hurts. - Author: Emilia Clarke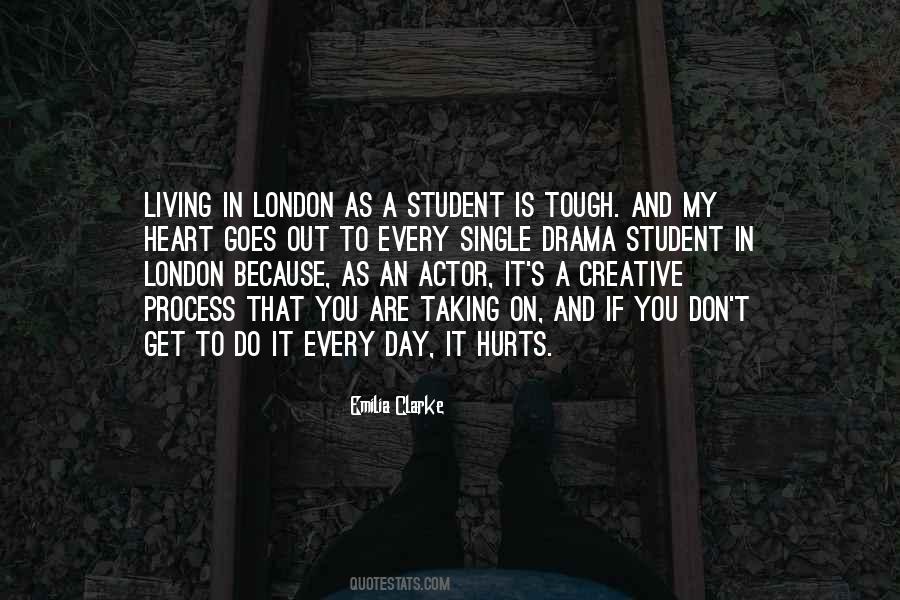 #76. Creative writing programmes are not very necessary. They just exist so that people like us can make a living. - Author: Chimamanda Ngozi Adichie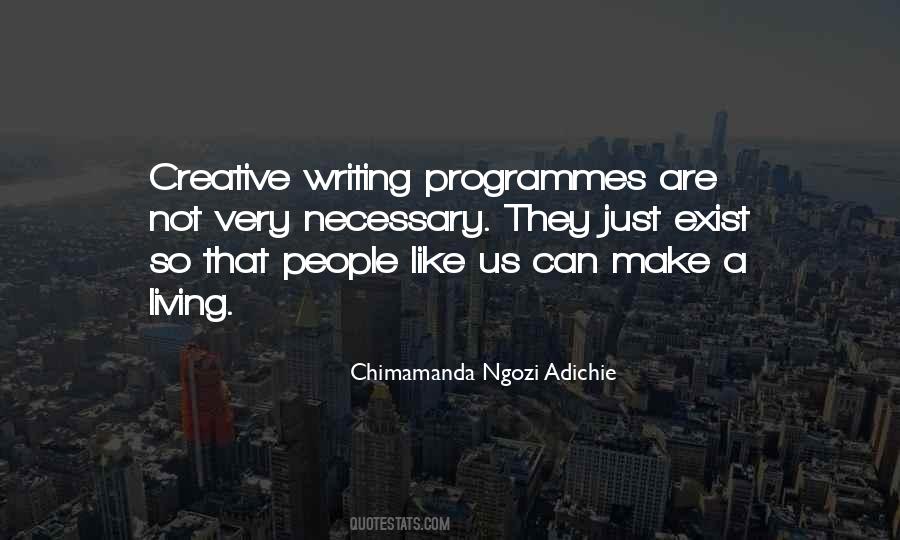 #77. It [doesn't matter] what you look like, where you come from, or what you do for a living. All that matters is that we continue to fan the flame of humanity by living our lives as the ultimate creative expression of who we really are. - Author: Janine Shepherd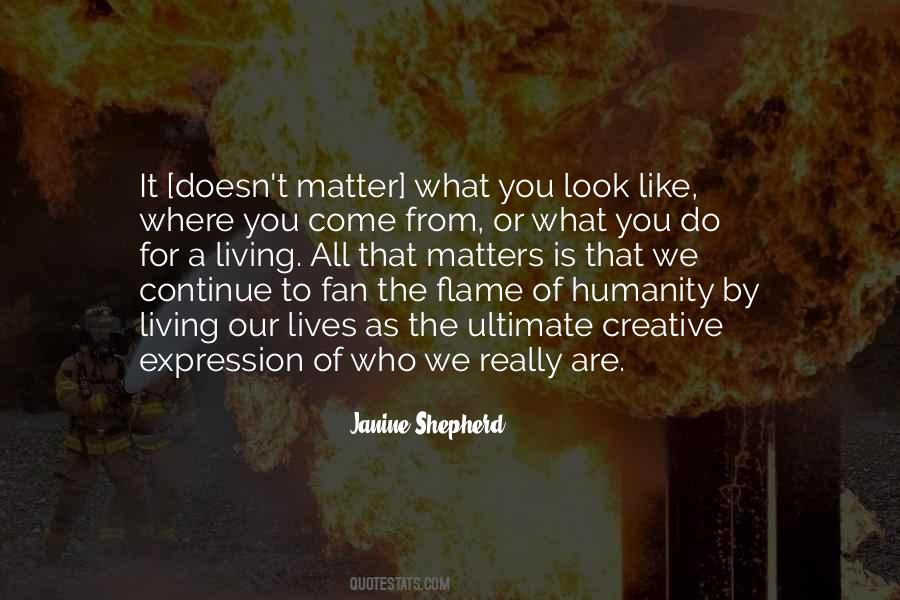 #78. The essential ingredients for creativity remain exactly the same for everybody: courage, enchantment, permission, persistence, trust - and those elements are universally accessible. Which does not mean that creative living is always easy; it merely means that creative living is always possible. - Author: Elizabeth Gilbert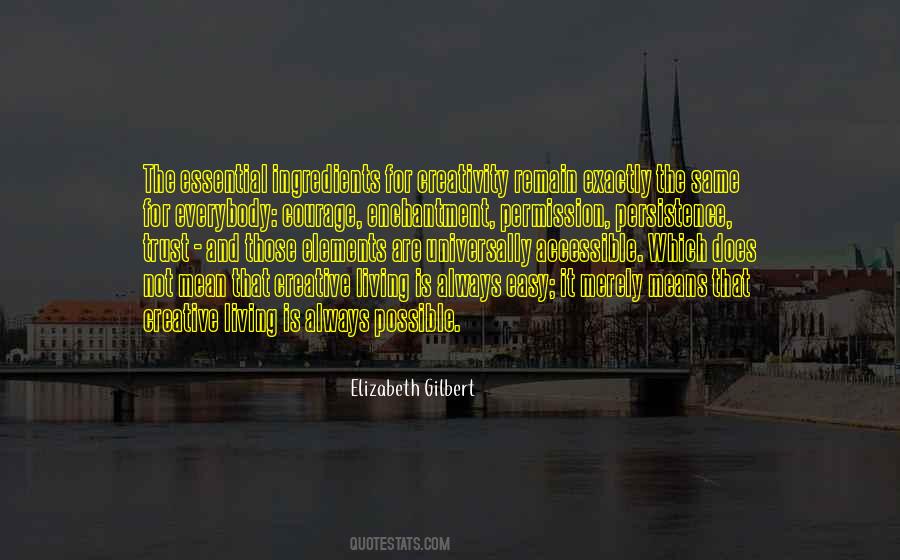 #79. Coming into a realization that there is purpose in why God has given all of us the gift of life- To promote the cause of Christ and God's Kingdom in a creative manner that expresses our uniqueness. - Author: R. Alan Woods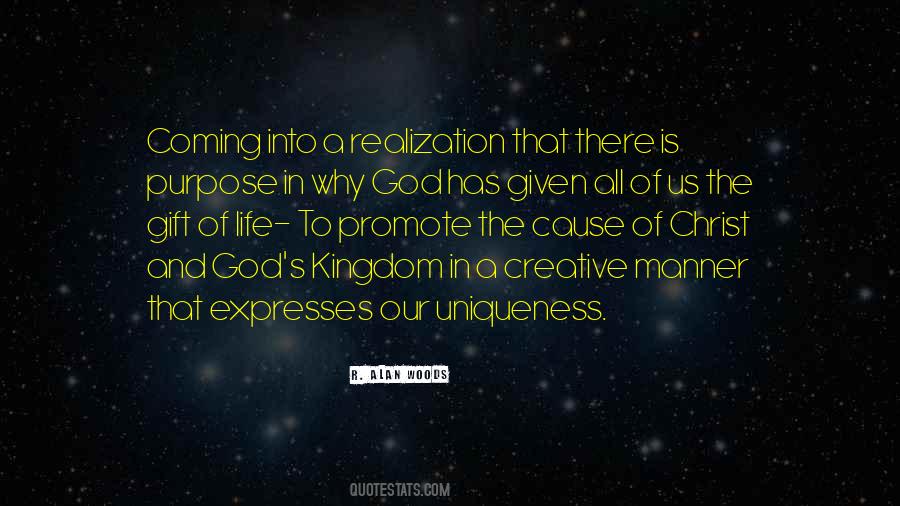 #80. The power in which we must have faith if we would be well, is the creative and curative power which exists in every living thing. - Author: John Harvey Kellogg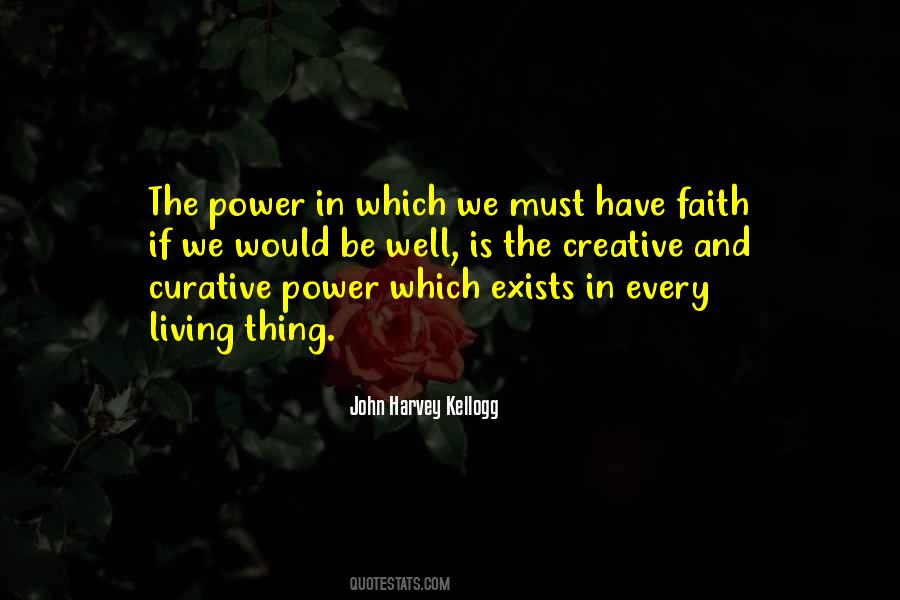 #81. When it comes to faith, what a living, creative, active, powerful thing it is. It cannot do other than good at all times. It never waits to ask whether there is some good work to do, rather, before the question is raised, it has done the deed, and keeps on doing it - Author: Martin Luther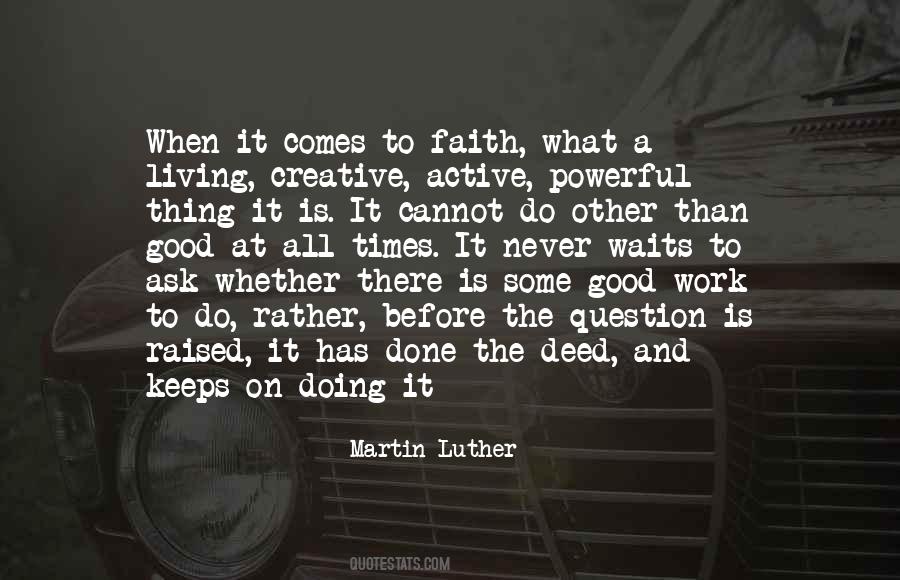 #82. To me the biggest irony of this lifetime that I'm living is that for someone who thrives in the public eye in the creative ways that I do, I actually don't enjoy being in the public eye. - Author: Alanis Morissette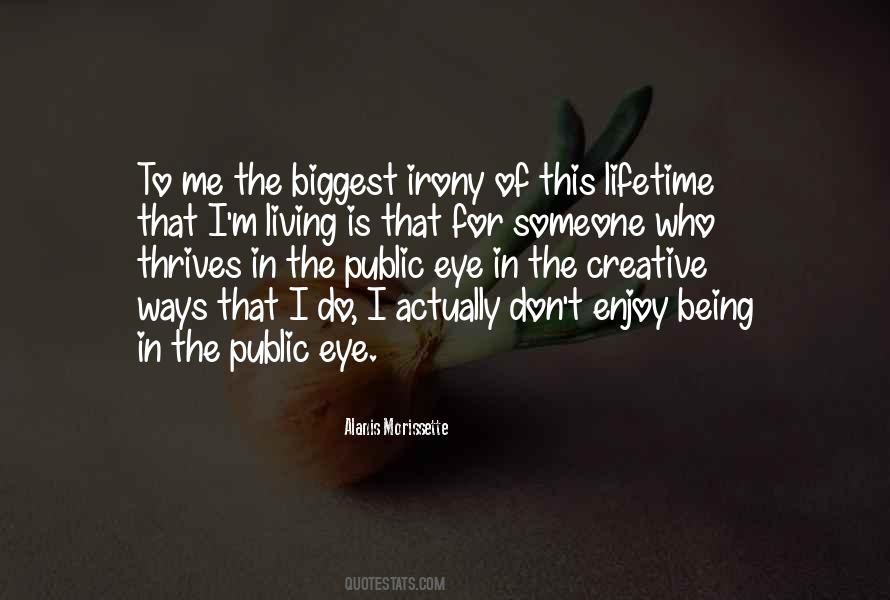 #83. Because creative living is a path for the brave. We all know this. And we all know that when courage dies, creativity dies with it. We all know that fear is a desolate boneyard where our dreams go to desiccate in the hot sun. - Author: Elizabeth Gilbert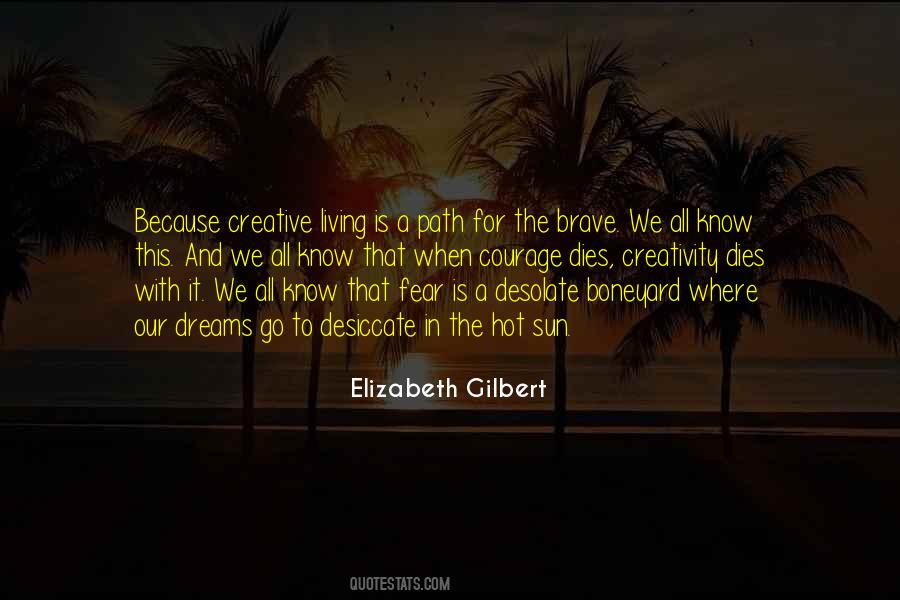 #84. Tension is a prerequisite for creative living. - Author: Agnes Meyer Driscoll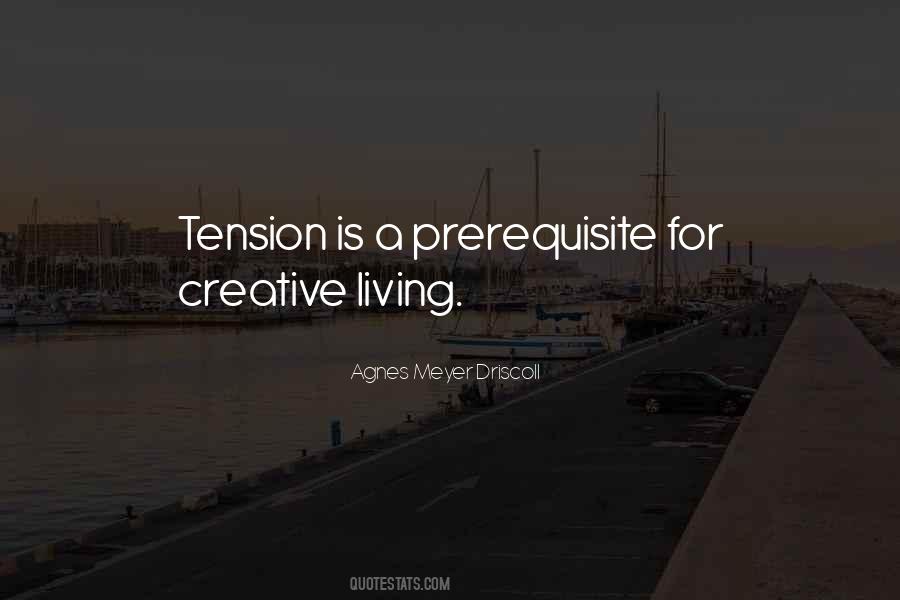 #85. Living with hope is like rubbing up against a cheese grater. It keeps taking slices off you until there's so little left you just crumble. - Author: Catherine Austen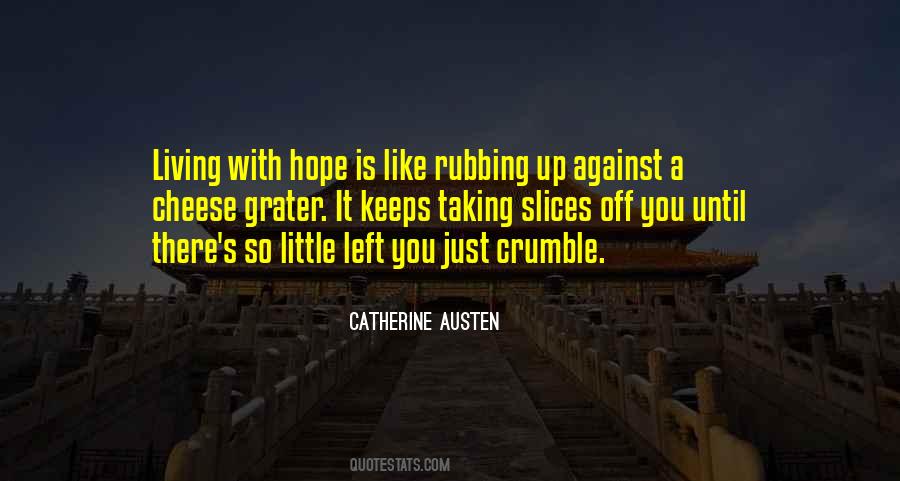 #86. Conscious choice is creative. Unconscious choice is destructive. That is how we end up living other people's lives. - Author: Sarah Ban Breathnach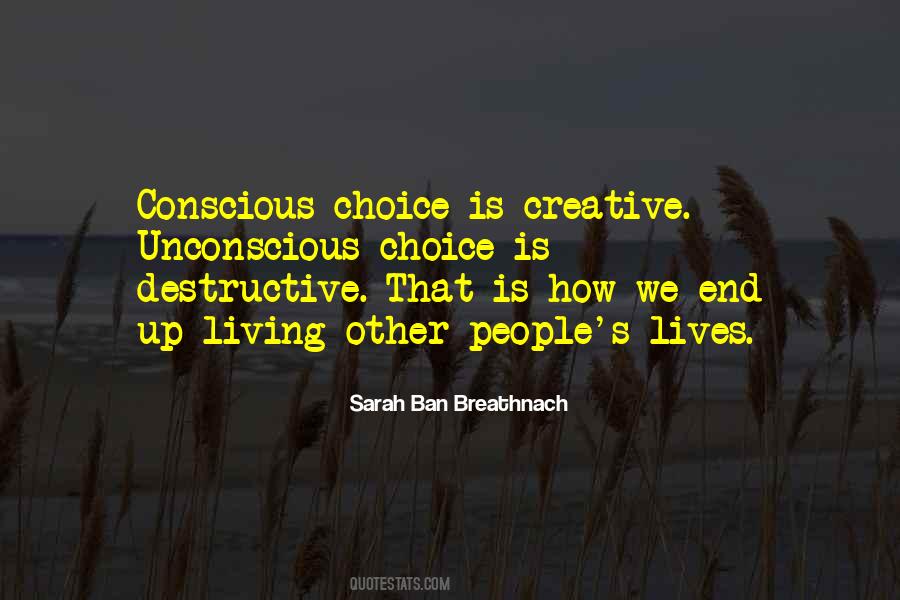 #87. I am pushing you, even if it's off a cliff, to create. Write that book, that song; pore over the concept of redecorating your life. I meet people all the time who say they're not creative. Bullshit, motherfuckers, you are creative. - Author: Nikki Sixx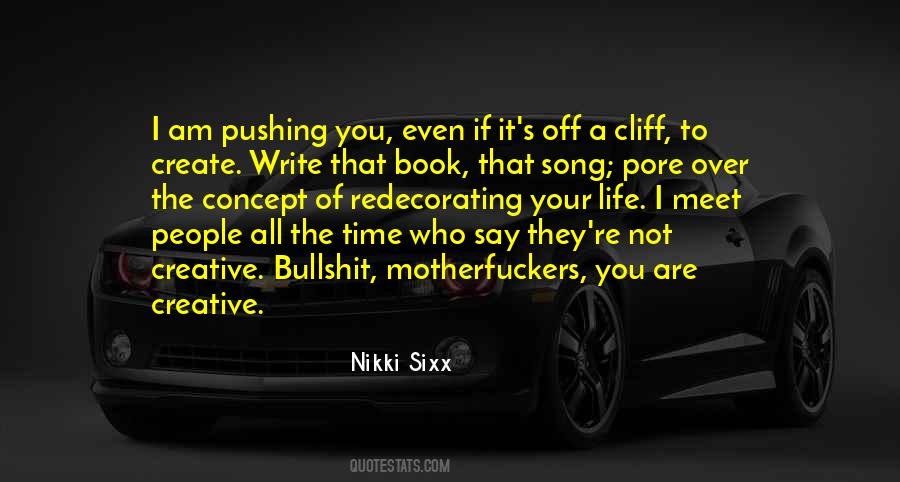 #88. Everything is the product of one universal creative effort. There is nothing dead in Nature. Everything is organic and living, and therefore the whole world appears to be a living organism. - Author: Lucius Annaeus Seneca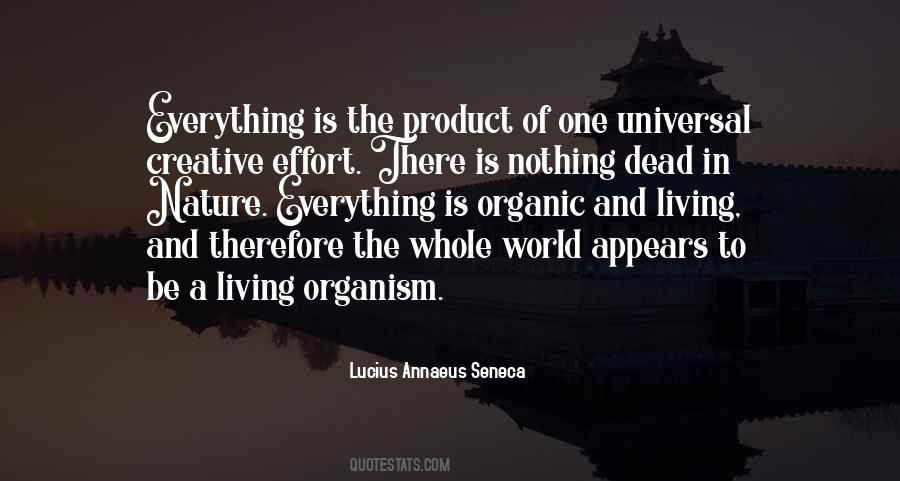 #89. We're all creative, it's just some of us earn our living by being so. - Author: John Hegarty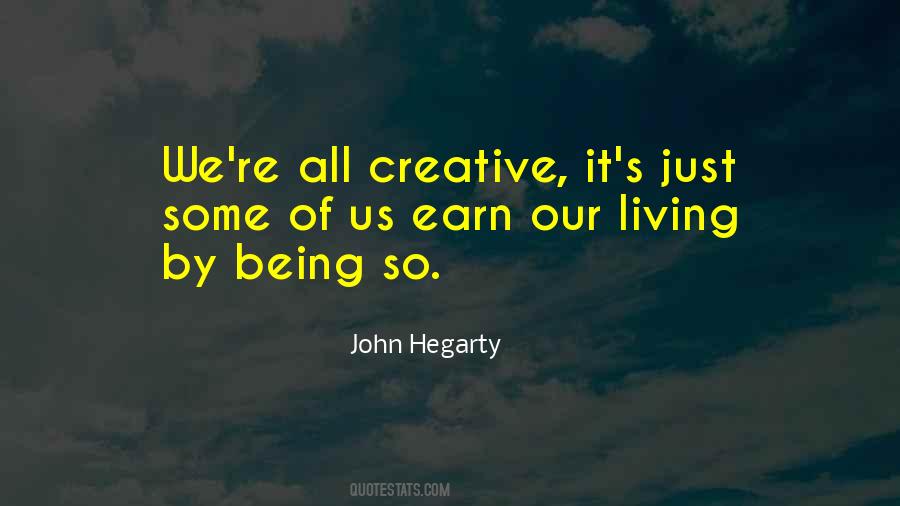 #90. For the Chinese, the Greeks, the Mayans, or the Egyptians, nature was a living totality, a creative being. For this reason, art, according to Aristotle, is imitation; the poet imitates the creative gesture of nature. - Author: Octavio Paz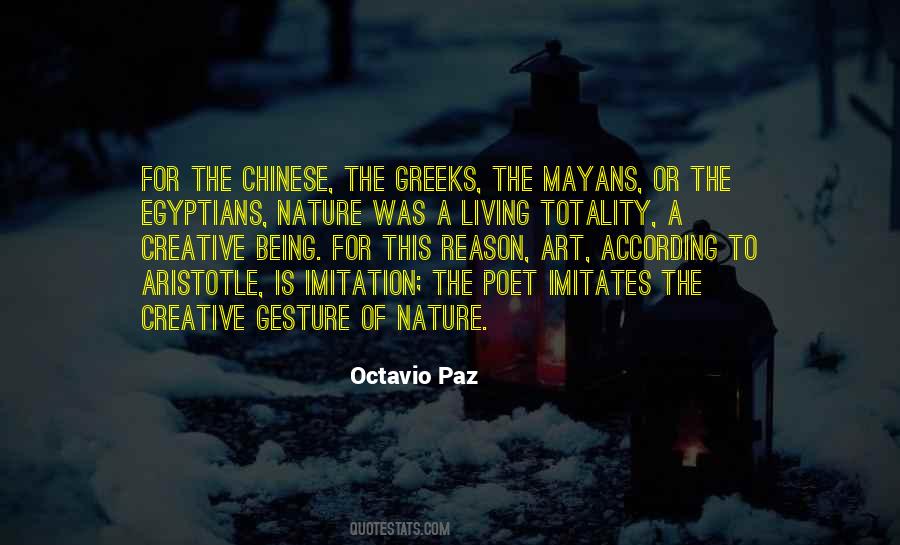 #91. I love church buildings, particularly cathedrals, and I like living in spaces that remind me of music or evoke that creative energy. - Author: Laura Mvula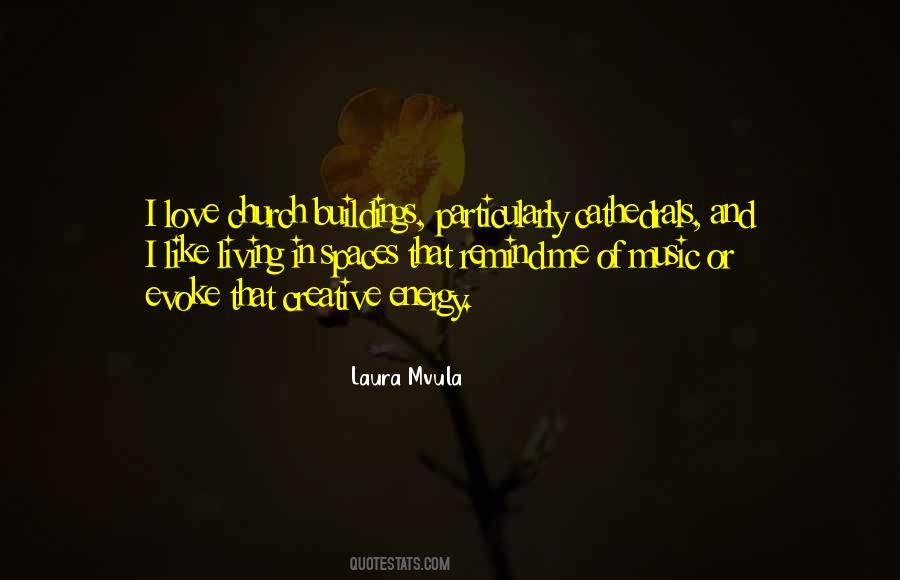 #92. But reading is not idleness?it is the passive, receptive side of civilization without which the active and creative world would be meaningless. It is the immortal spirit of the dead realised within the bodies of the living. It is sacramental. - Author: Stephen Spender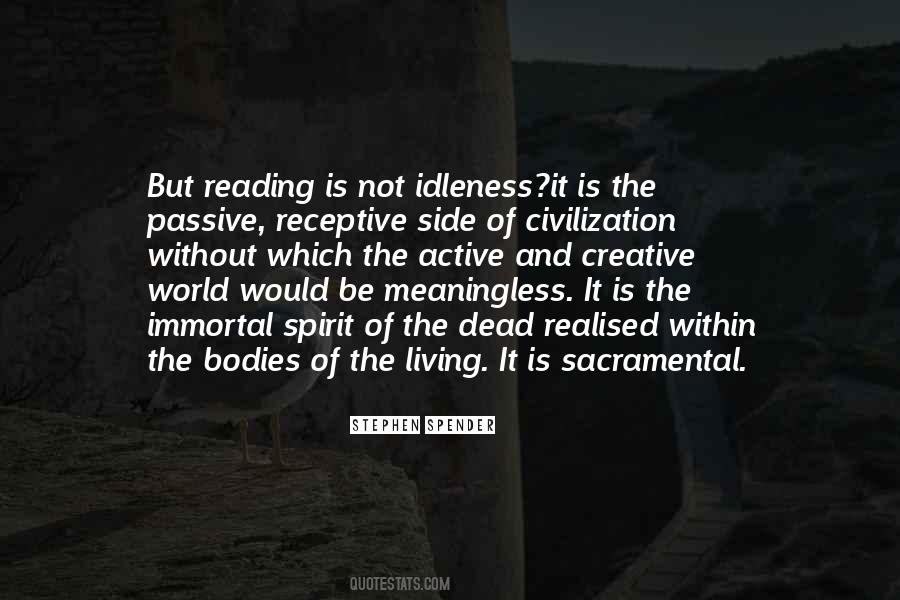 #93. A creative life is an amplified life. It's a bigger life, a happier life, an expanded life, and a hell of a lot more interesting life. Living in this manner - continually and stubbornly bringing forth the jewels that are hidden within you - is a fine art, in and of itself. - Author: Elizabeth Gilbert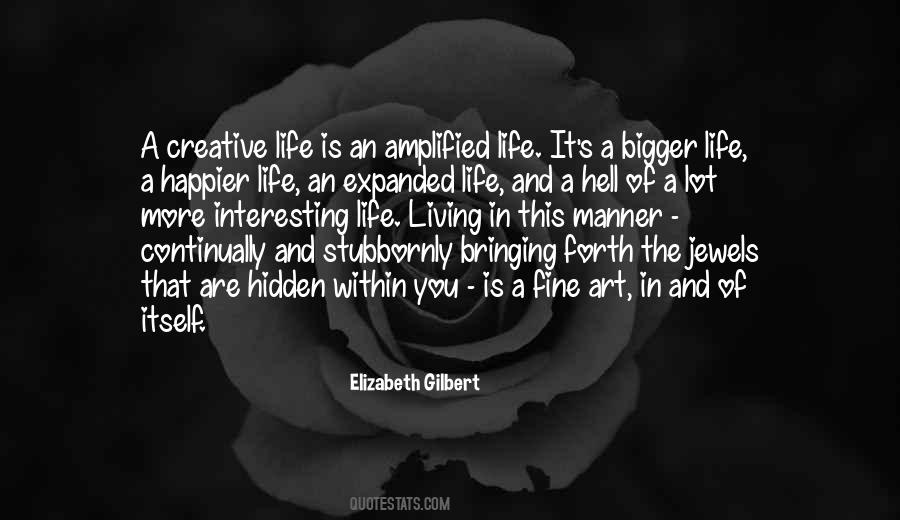 #94. In all living nature (and perhaps also in that which we consider as dead) love is the motive force which drives the creative activity in the most diverse directions. - Author: P.D. Ouspensky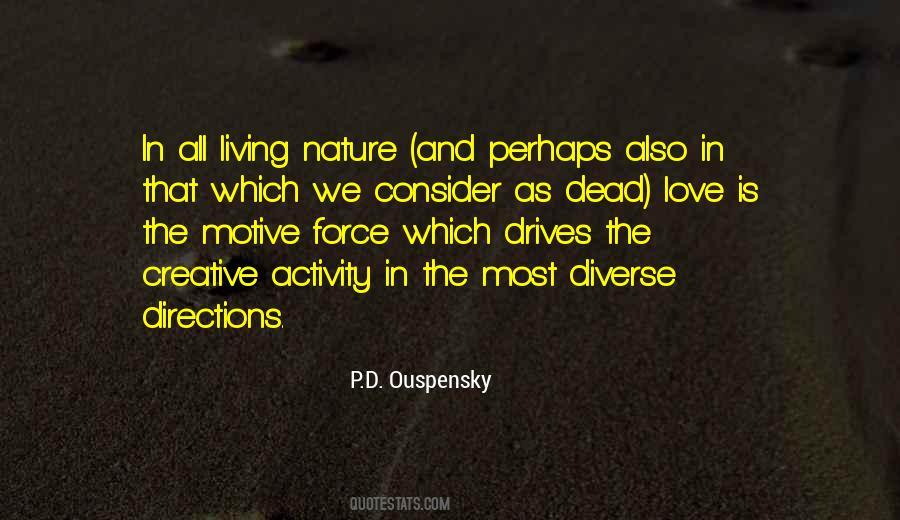 #95. God isn't a noun but a process ... a continual, infinitely creative outpouring of love and light onto all living things. - Author: Marianne Williamson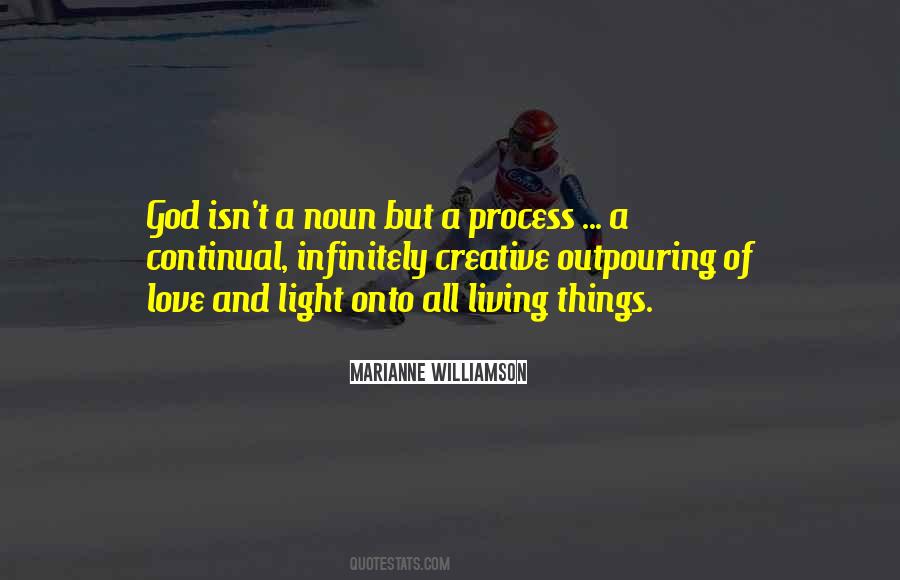 #96. Just as writing can become calligraphy when it's creatively, skillfully, and consciously performed, so can all other activities become art. In this case, we are reflecting upon life itself as an artistic statement - the art of living. - Author: H.E. Davey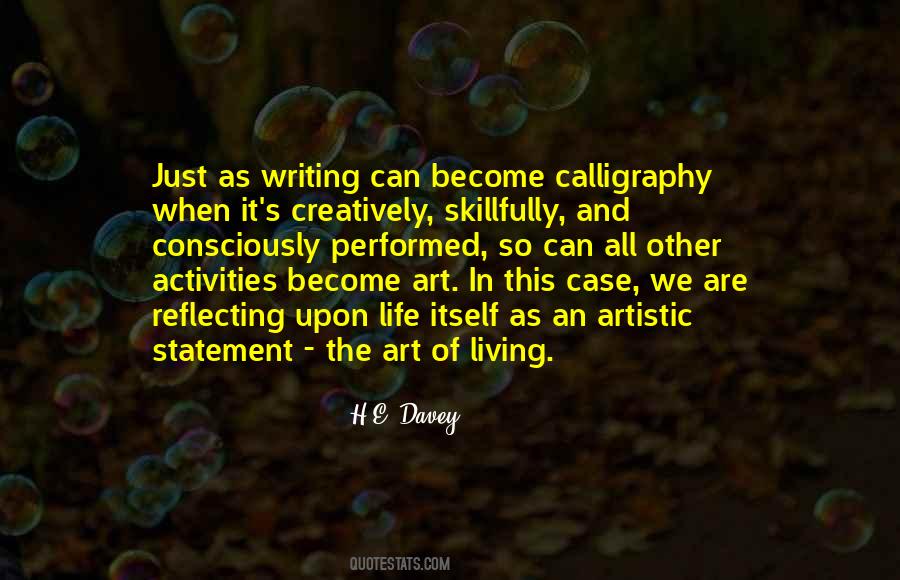 #97. Our job is not to worship history and culture like fetishes, but to feed them into our living, creative stream of personal life for spiritual and intellectual reprocessing. - Author: Angus MacLean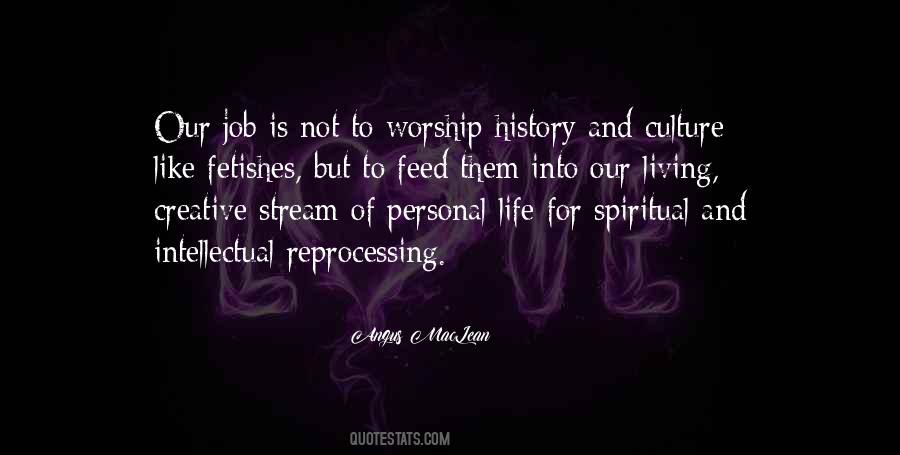 #98. You can cook when you're hungry or cook to make a living or to feel creative or even just as a distraction, but cooking for the people whom you wake up with and go to sleep with is the best thing ever - Author: Kim Severson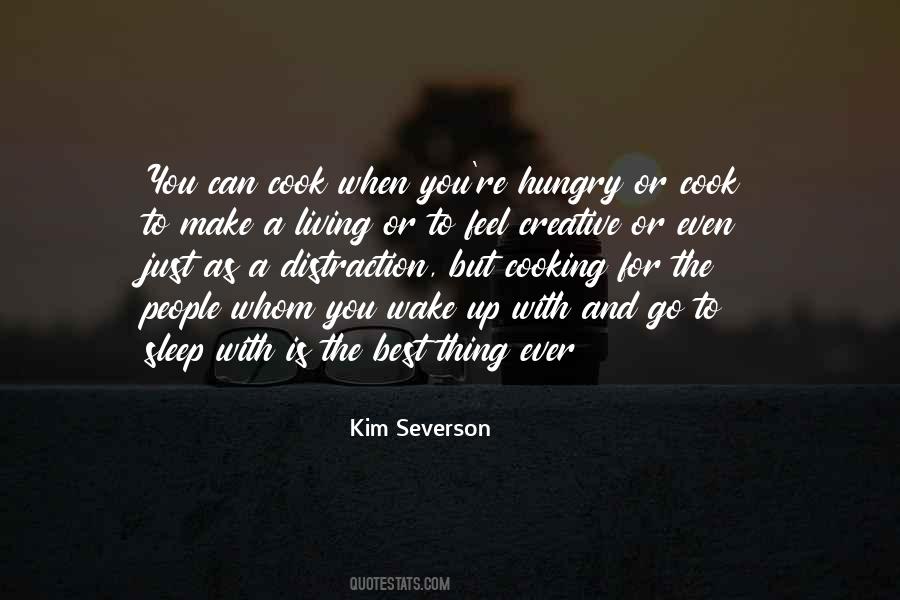 #99. The hunt to uncover those jewels - that's creative living. - Author: Elizabeth Gilbert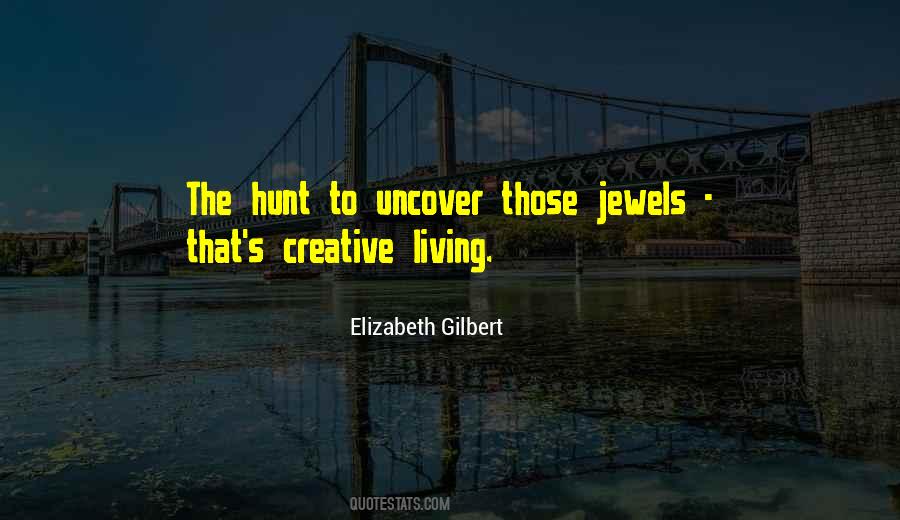 #100. Creativity is a way of living life, no matter what our vocation, or how we earn our living. Creativity is not limited to the arts ... - Author: Madeleine L'Engle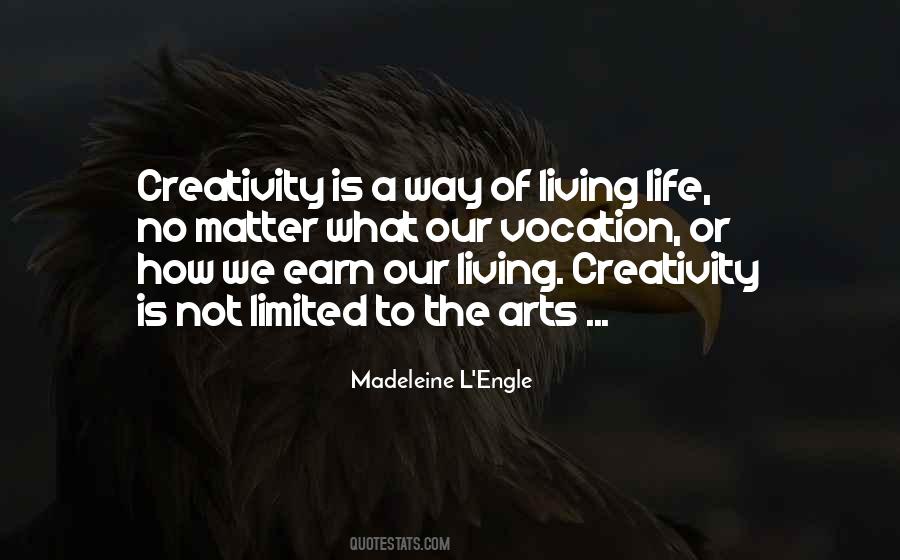 Famous Authors
Popular Topics