Creative Life Famous Quotes & Sayings
List of top 100 famous quotes and sayings about creative life to read and share with friends on your Facebook, Twitter, blogs.
Top 100 Quotes About Creative Life
#1. Entire universes flourish in my mind. Sometimes I get lost in there. - Author: Janey Colbourne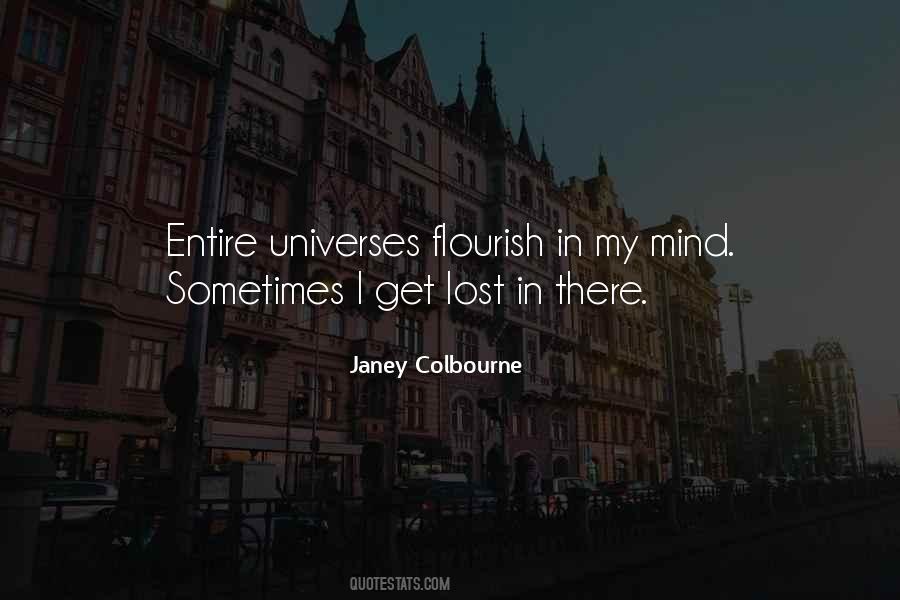 #2. Limitation of one's freedom might seem to be something negative and unpleasant, but love makes it a positive, joyful and creative thing. Freedom exists for the sake of love. - Author: Pope John Paul II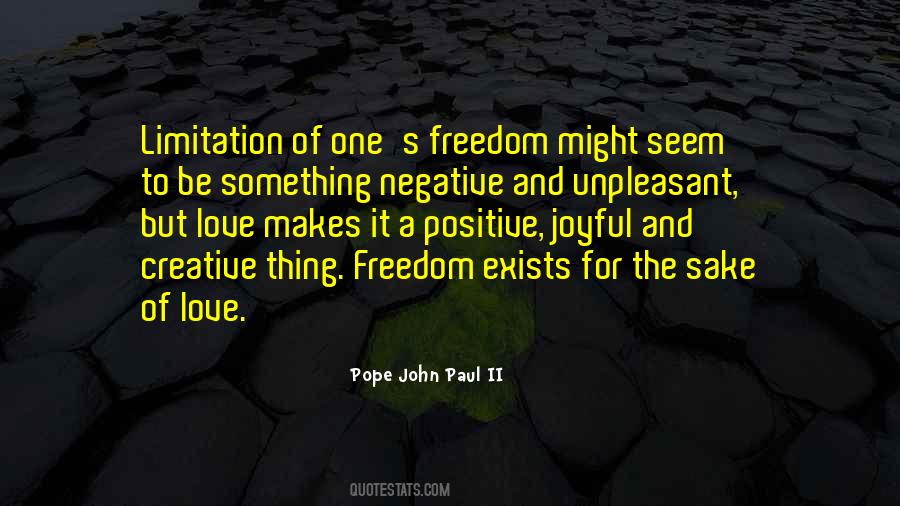 #3. I am tapping into a place in you that is unexplored, and very dangerous, but I think essential to the creative life of an artist. - Author: Brandon Boyd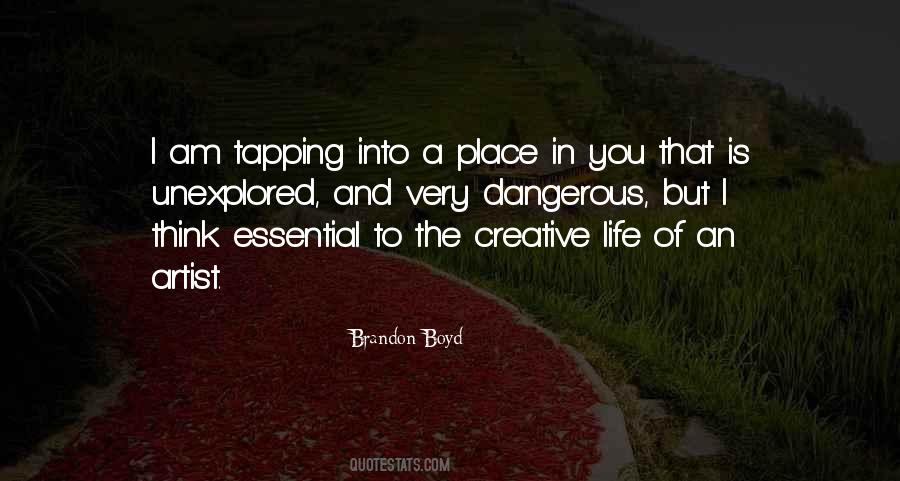 #4. Medicines have limitations; the divine creative life force has none. - Swami Sri Yukteswar - Author: Kimberly Snyder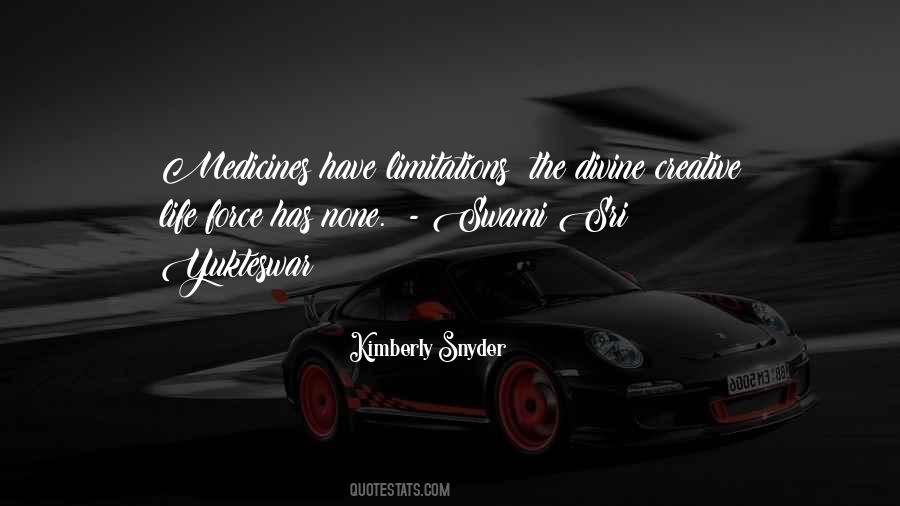 #5. A person's license to create is irrevocable, and it opens to every corner of daily life. But it is always hard to see that doubt, fear, and indirectness are eternal aspects of the creative path. - Author: Shaun McNiff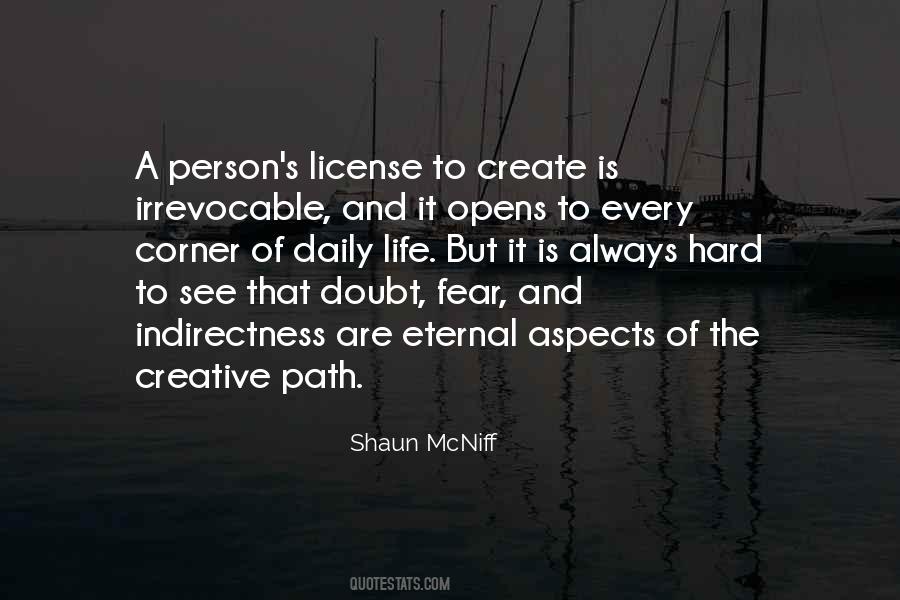 #6. I never had any doubts about my abilities. I knew I could write. I just had to figure out how to eat while doing this.
[Cormac McCarthy's Venomous Fiction, New York Times, April 19, 1992] - Author: Cormac McCarthy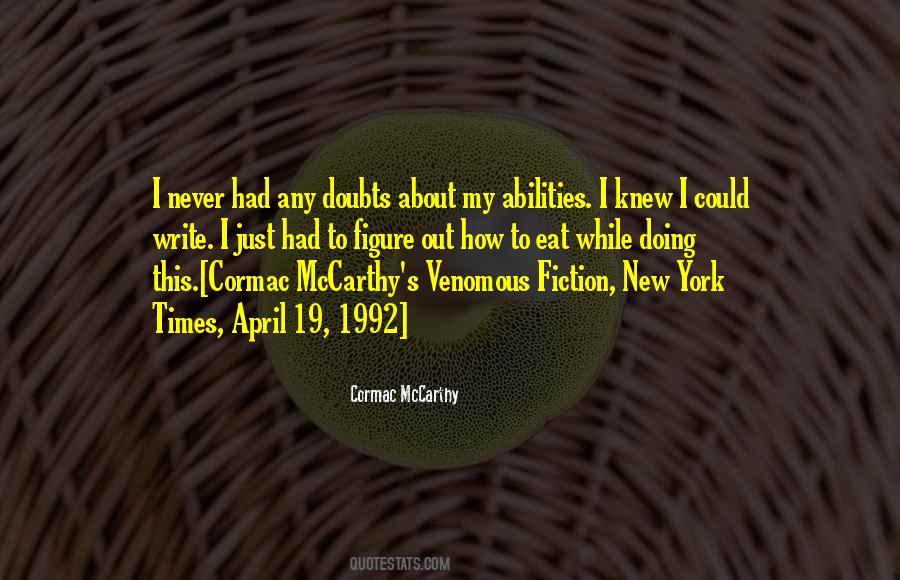 #7. How you do money is how you do life. - Author: Orna Ross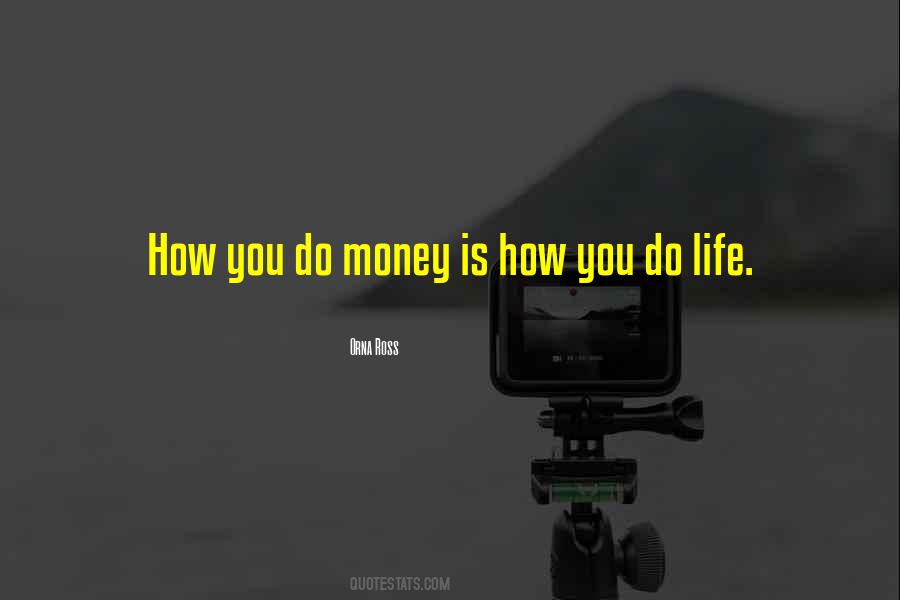 #8. I can obviously relate to a character who is an artist, because the creative process is a big part of my life. - Author: Paul Dano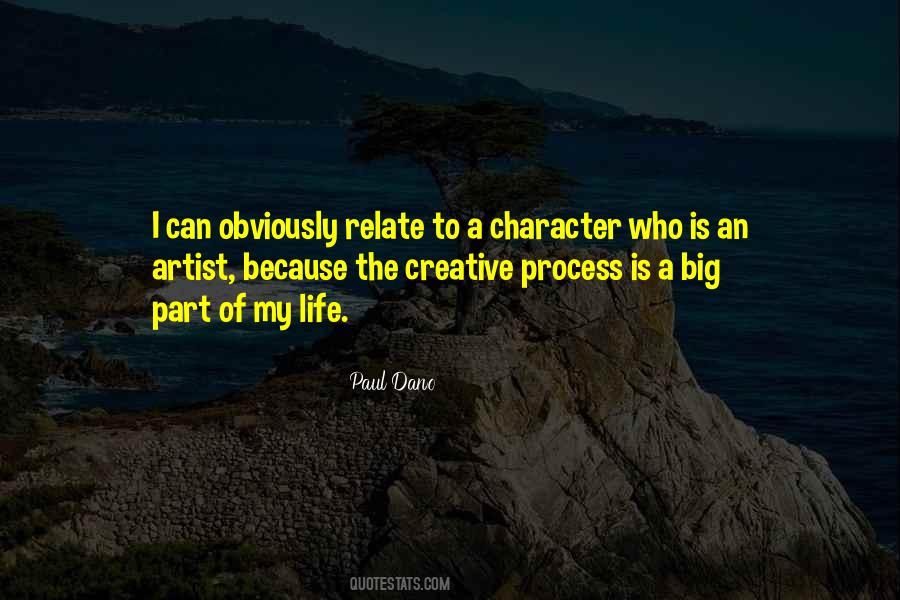 #9. She pours sugar on her life
and drinks the artist's marrow
in the bone of her glass and she lives. - Author: Kelli Russell Agodon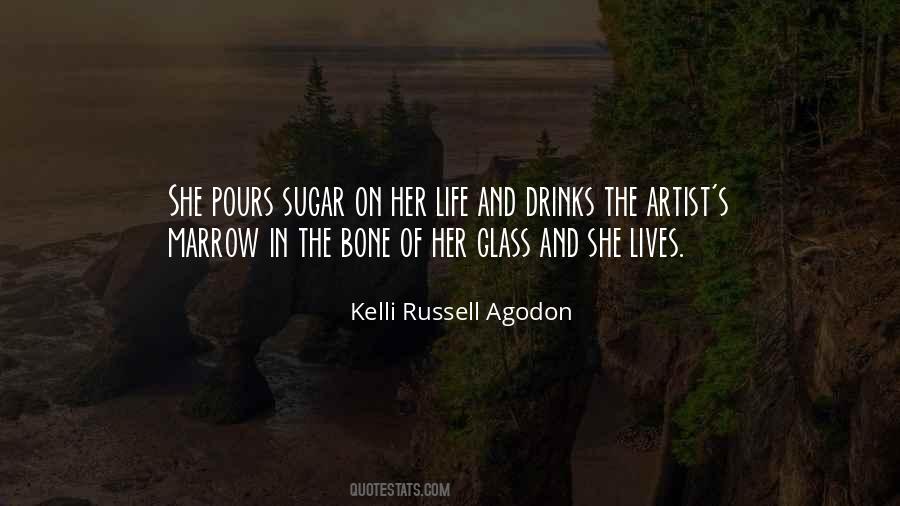 #10. Love is the sole impulse for creation; and the man who does not have it as the greatest incentive in his life has never developed the real creative instinct. No one can swing out into the Universal without love, for the whole universe is based upon it. - Author: Ernest Holmes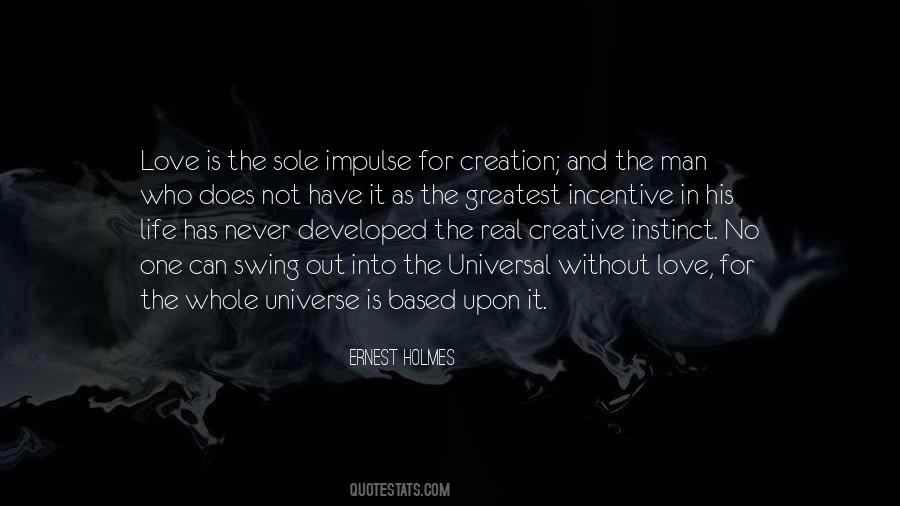 #11. I'm creative in my own life. I'm creative when I step out the door. I'm creative when I pick up a glass. Do you know what I mean? I'm one of those dreadful people who probably should have been born at the end of the 19th century and been in cafe society. That would have suited me fine. - Author: Jaye Davidson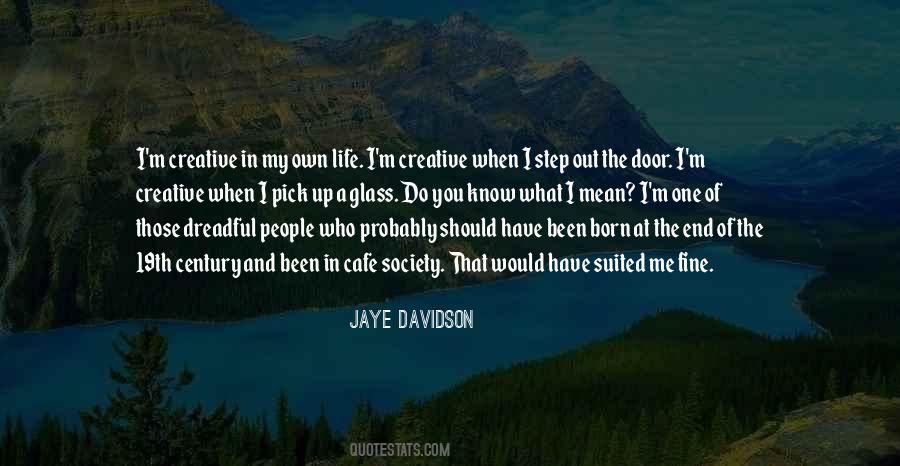 #12. There is a microscopically thin line between being brilliantly creative and acting like the most gigantic idiot on earth. - Author: Cynthia Heimel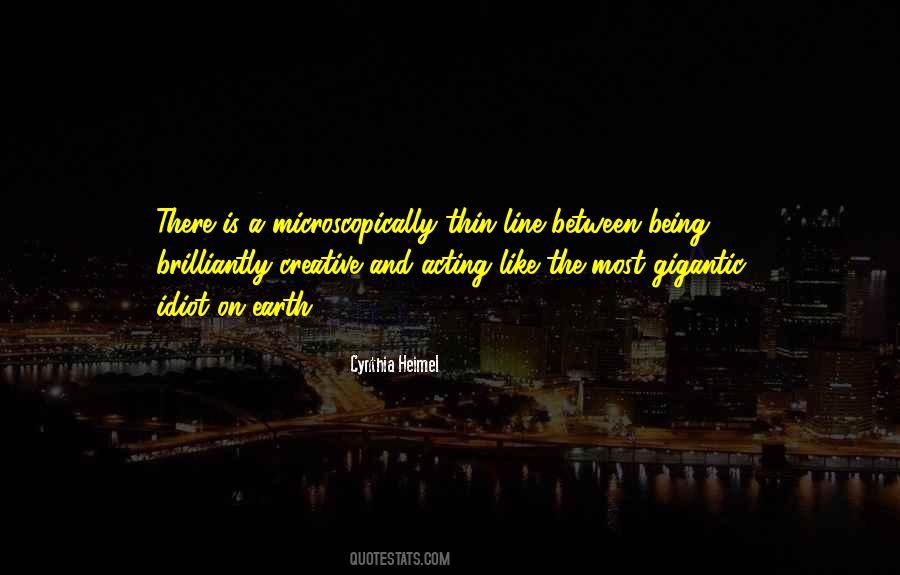 #13. I don't know where I see myself next month let alone five years. My whole life is last minute. I enjoy the spontaneity of it; I like not knowing what I will do next or whether I will be in the country next week. I just enjoy being around a creative environment. - Author: Amber Le Bon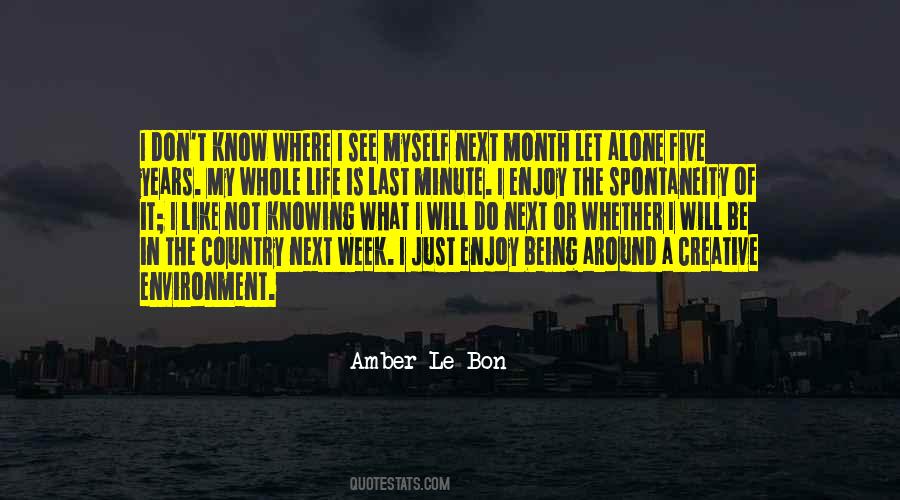 #14. The best of humanity's recorded history is a creative balance between horrors endured and victories achieved, and so it was during the Harlem Renaissance. - Author: Aberjhani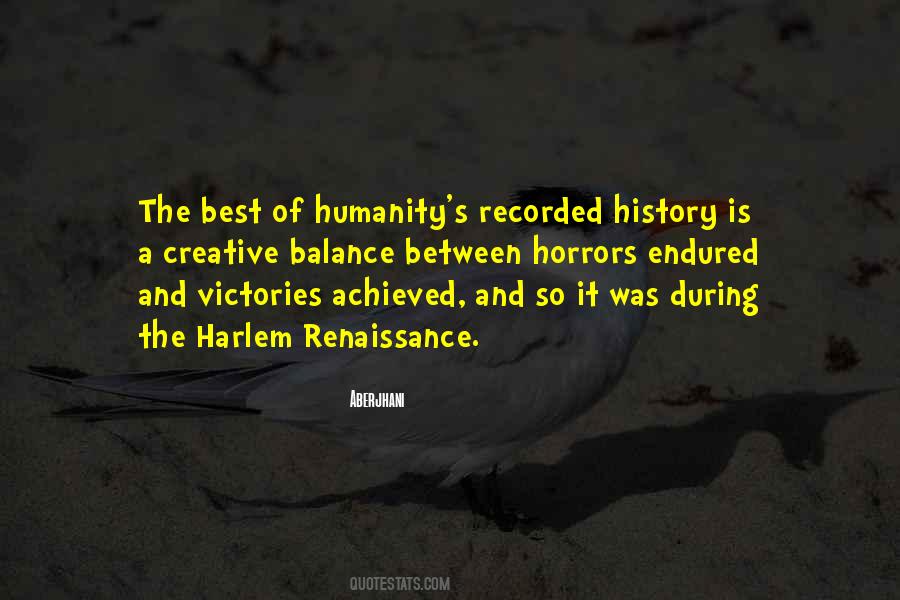 #15. Acting is such a huge part of my life. It really allows me to have a creative outlet and to actually be able to have an outlet to discuss openly the things that truly I think are relevant in the world, that make a difference. - Author: Ian Somerhalder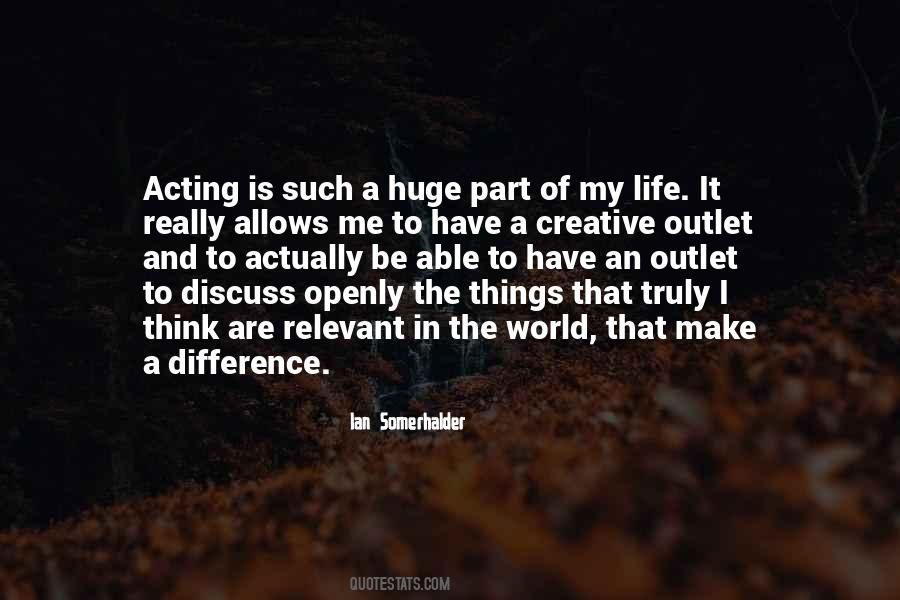 #16. Life is a beautiful mix of Success & Failures, its our responsibility to be creative to make it more beautiful.... - Author: Kris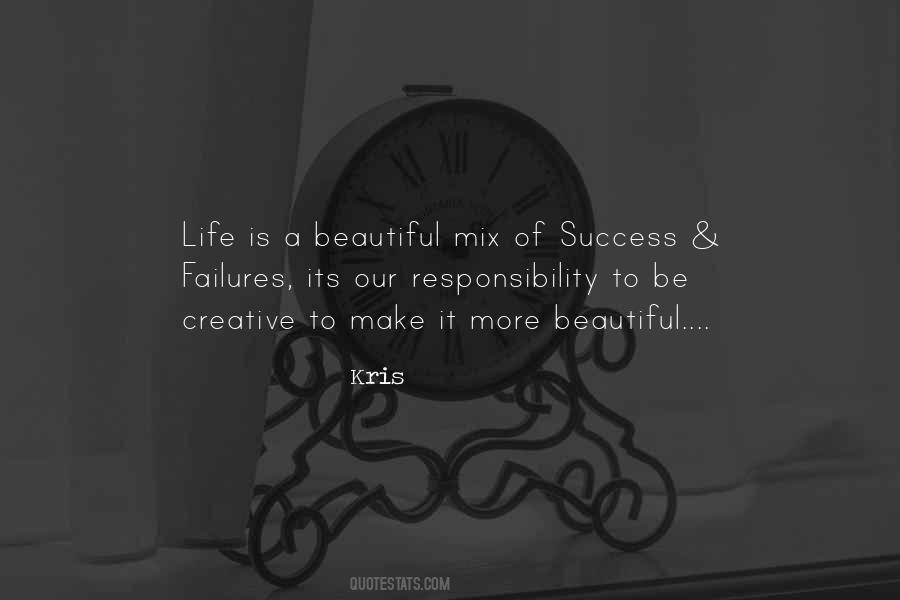 #17. Yoga releases the creative potential in life. - Author: B.K.S. Iyengar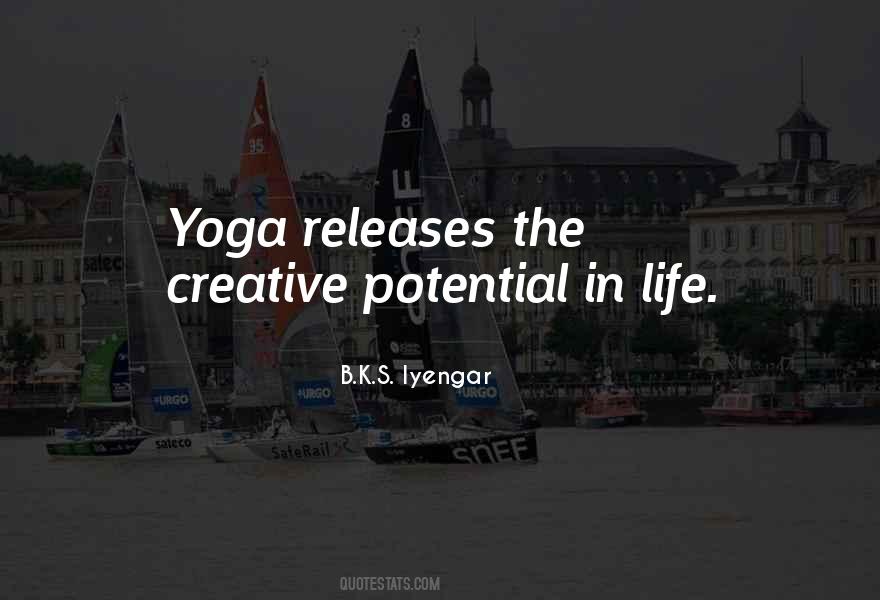 #18. When I write, it feels like there are two little creatures that sit on each of my shoulders. One whispers, "You can do this. You've got what it takes." The other sounds like my mother-in-law. - Author: Carla H. Krueger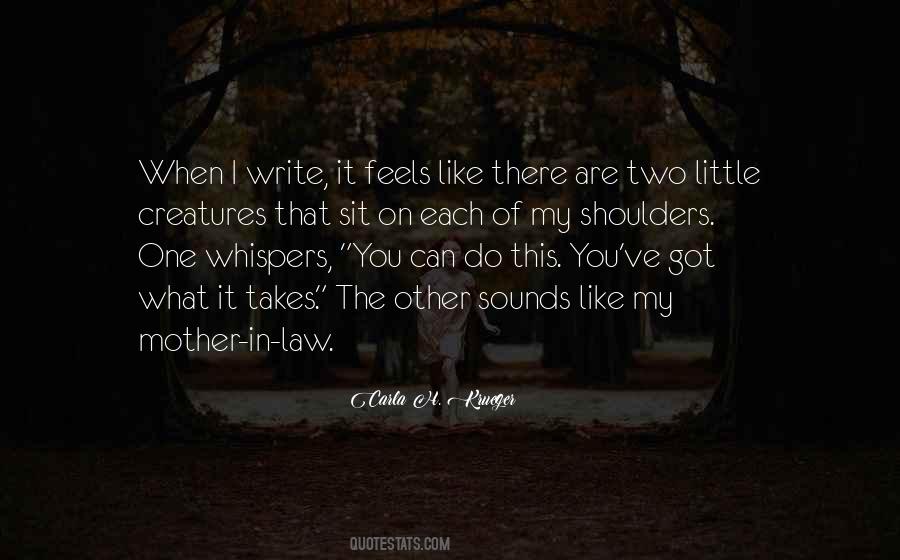 #19. Karate-do may be referred to as the conflict within yourself, or a life-long marathon which can be won only through self-discipline, hard training, and your own creative efforts. - Author: Shoshin Nagamine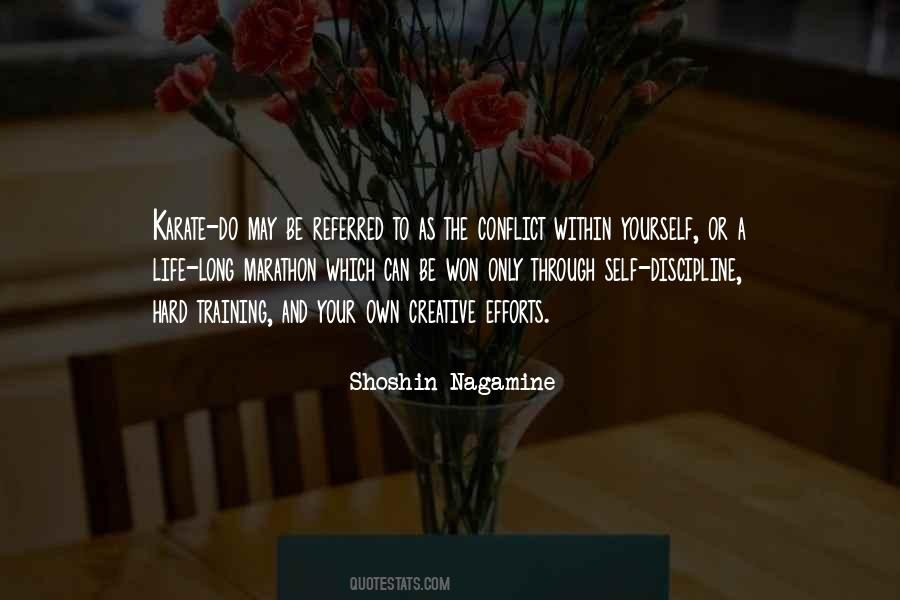 #20. FOLLY, n. That "gift and faculty divine" whose creative and controlling energy inspires Man's mind, guides his actions and adorns his life. - Author: Ambrose Bierce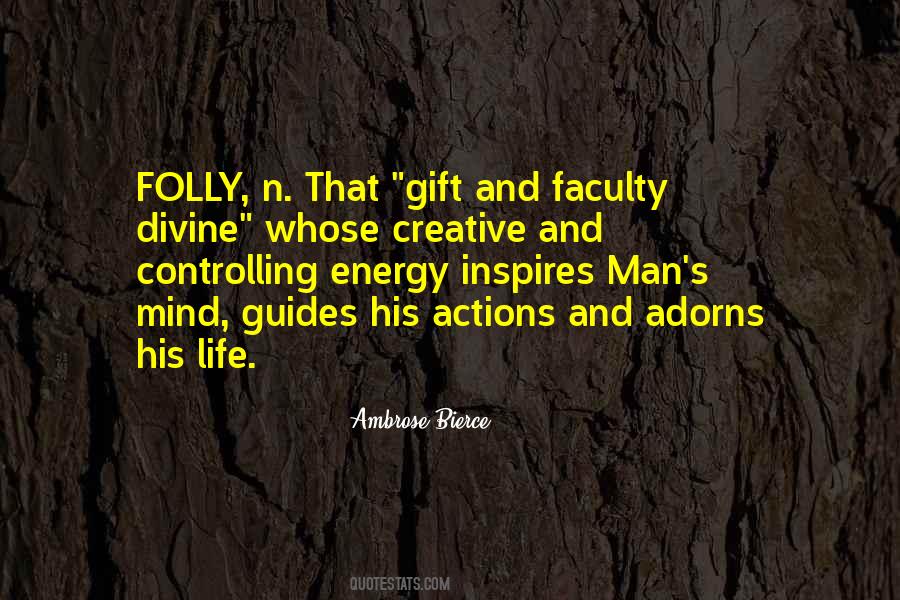 #21. Even if you actually have the good intent to do something creative or special with your life, it's hard. I mean, look at the number of people who actually get the opportunity. - Author: Katy Perry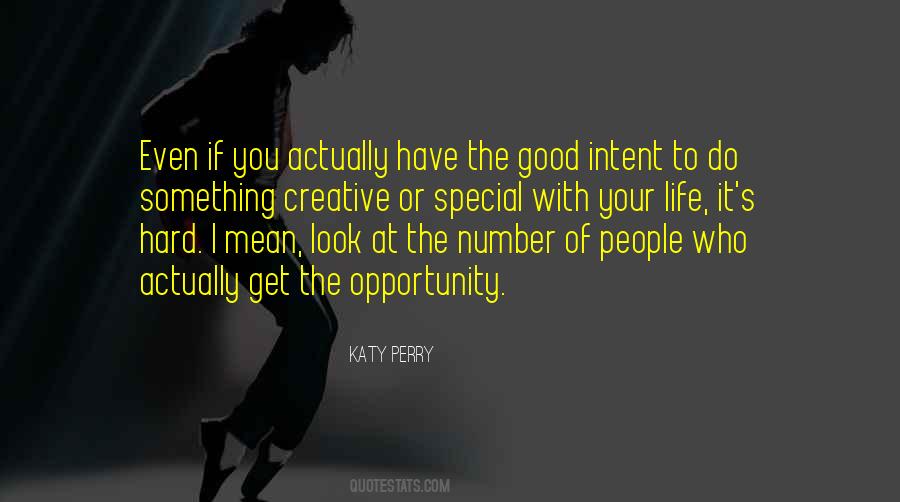 #22. We are all thinking, willing, knowing,conscious centers of Life. We are surroundedby, immersed in, and there is flowing through us a creative something ... call it what you will. - Author: Ernest Holmes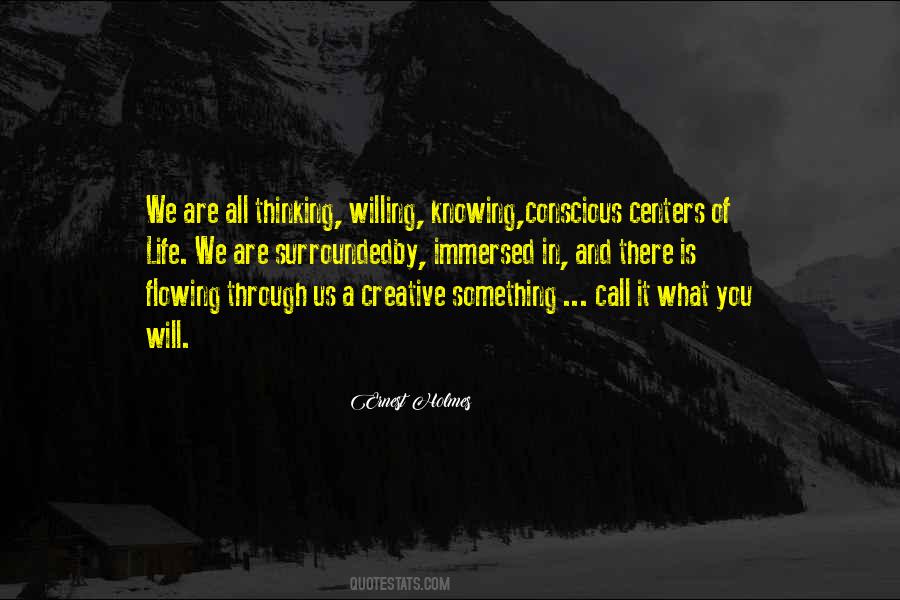 #23. The most important thing is to hold on, hold out, for your creative life, for your solitude, for your time to be and do, for your very life. - Author: Clarissa Pinkola Estes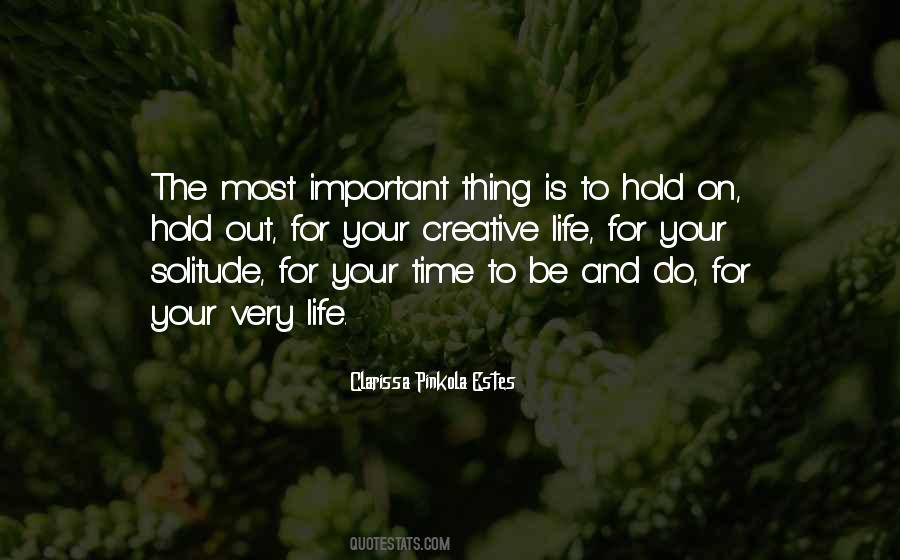 #24. When each of these three elements of vision-concern for excellence, for people and for the wider environment-are present, business is transformed from a tool for making profits into a creative, humane experiment for improving life. - Author: Mihaly Csikszentmihalyi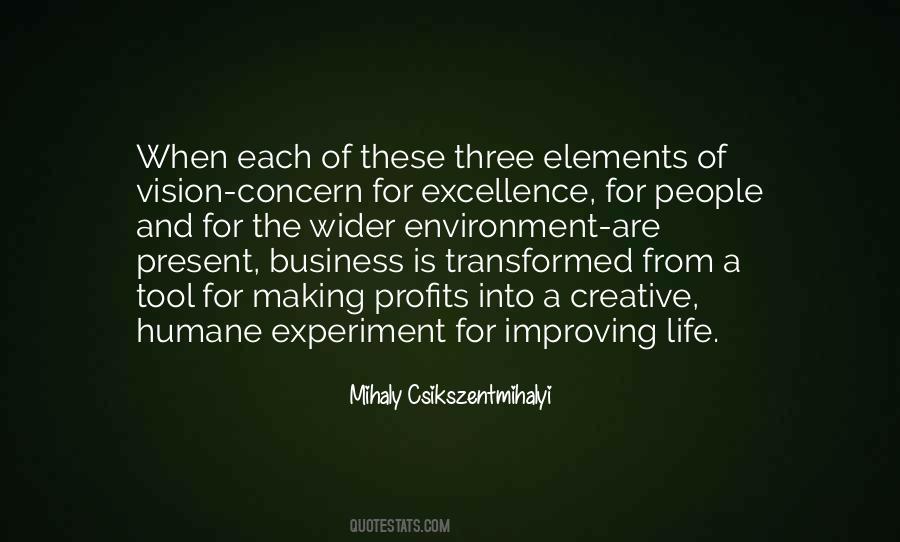 #25. I started producing out of necessity. It's not that I want to become a full time producer, but it gives me control over my creative life. - Author: Michelle Glick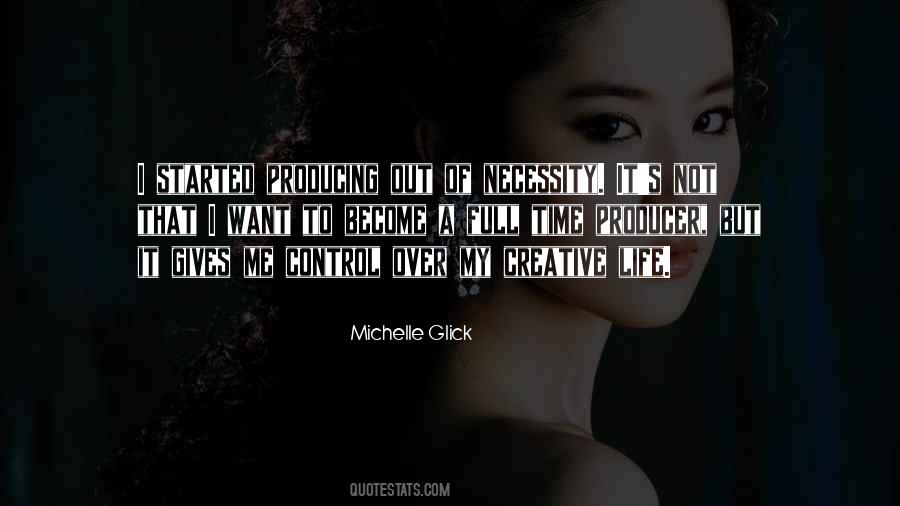 #26. Every aspect of life is pre-programmed to rise to its highest creative possibility. We don't have to make that happen, but we have to allow it to happen. And that itself is the struggle of life: resisting the resistant mind. - Author: Marianne Williamson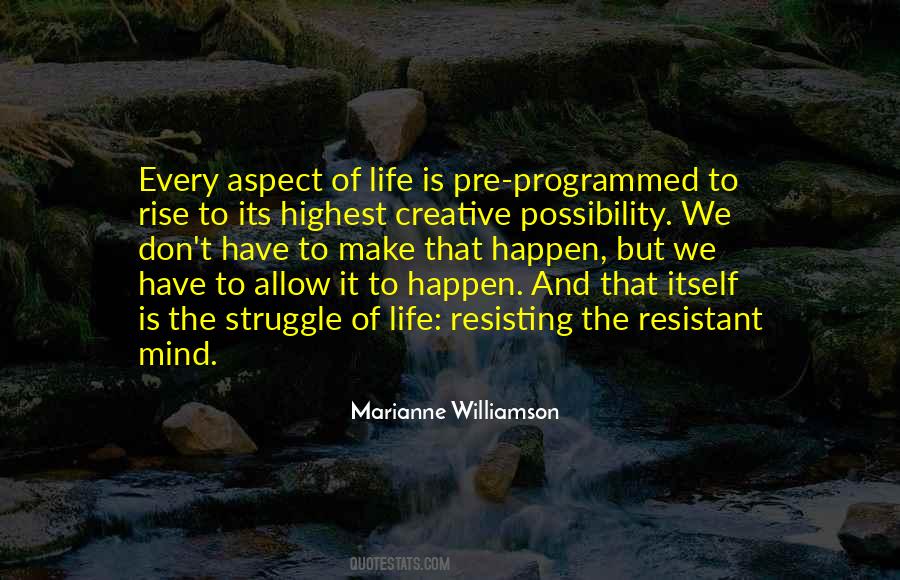 #27. The most creative and most periods of my life that were, had the most growth, were the ones where I was perceived to be failing. Perceived success is a, is really hard 'cause it doesn't really, it's not asking you to grow, see failure is asking you to grow. - Author: Ethan Hawke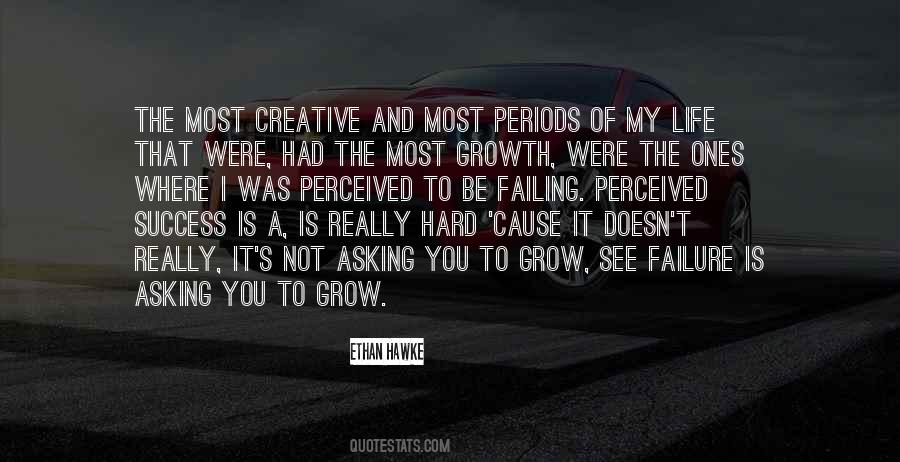 #28. Life wants you to thrive in the domain of your own unique creative vision for your yourself. - Author: Bryant McGill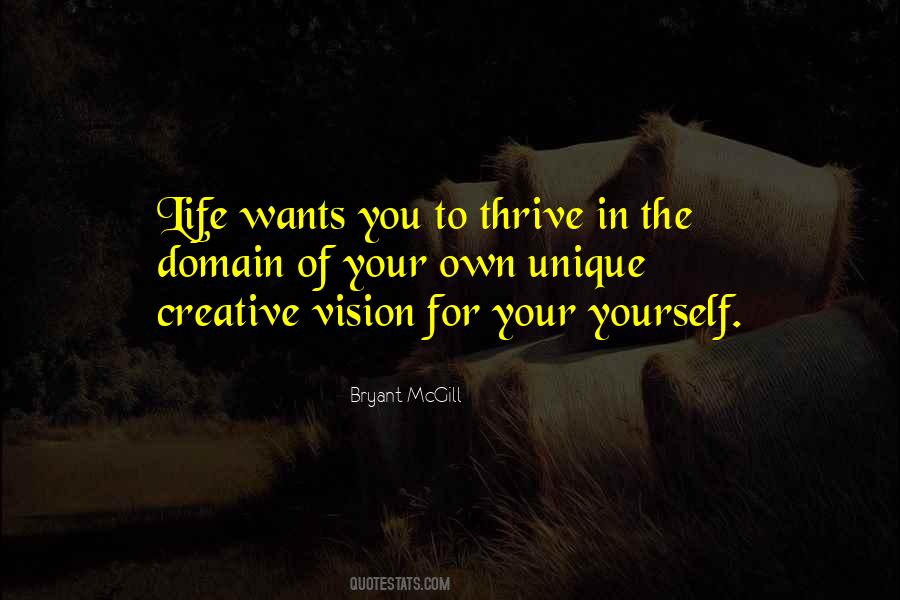 #29. We all have only one life to live on Earth, and through television we have the choice of encouraging others to demean this life or to cherish it in creative, imaginative ways. - Author: Fred Rogers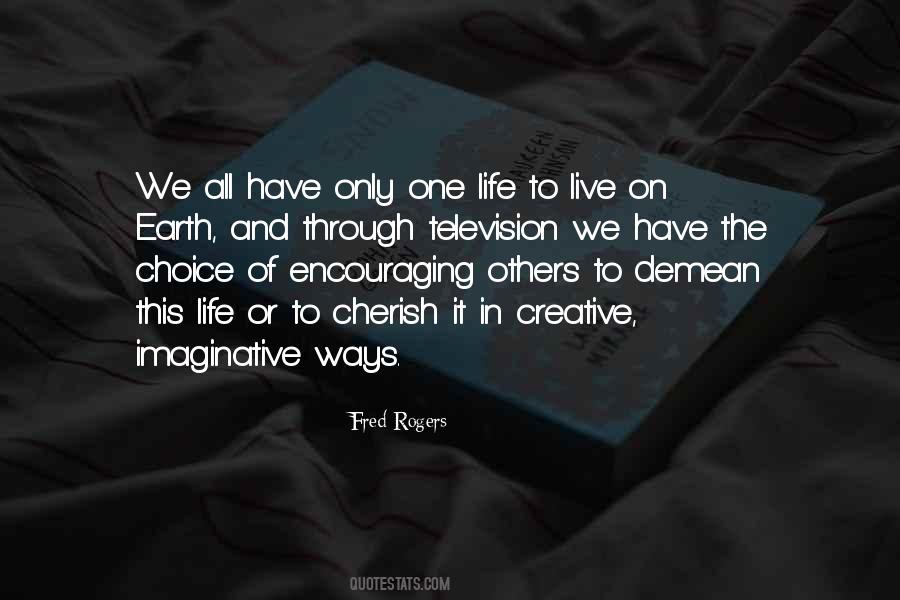 #30. Pretty much anybody who does creative work in China navigates the gray zone. People aren't clear about where the line is any more, beyond which life gets really nasty and you become a dissident without having intended ever to be one. - Author: Rebecca MacKinnon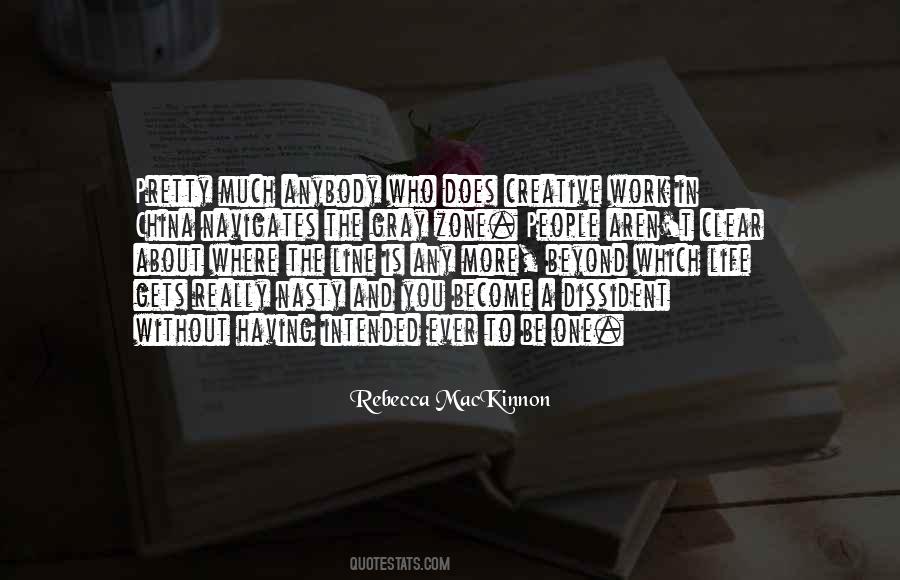 #31. You are the only thinker in
your world and your thought
is creative. Whatever you think
about the other person, you are
also creating in your life. - Author: Joseph Murphy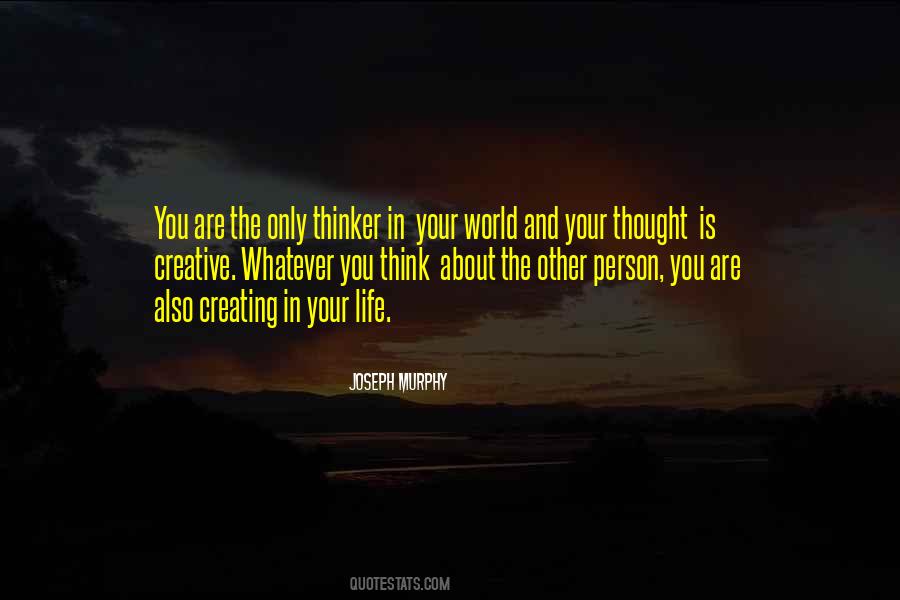 #32. The angel in man
has also been my own life-long obsession. In a sense I believe it has always been the problem of the creative being ... obsessed ... with the idea of re-creating the world in order, as I see it, to re-establish man's innocence. - Author: Henry Miller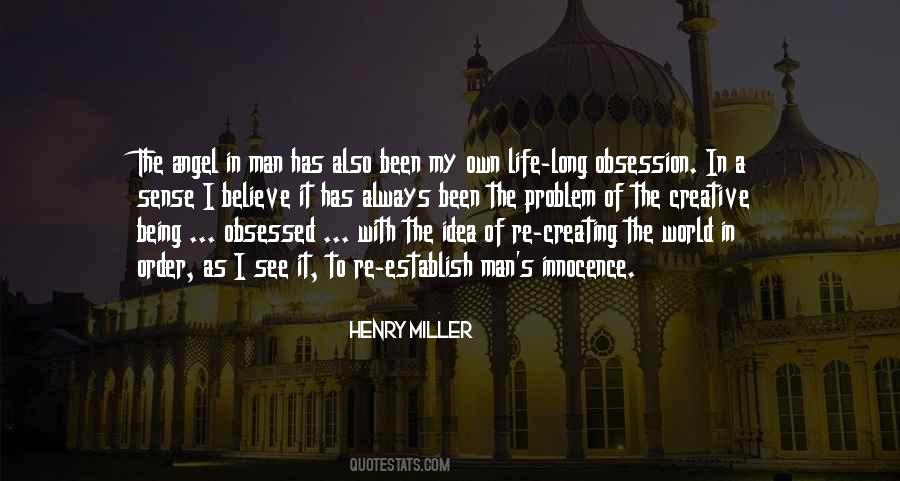 #33. At the very beginning of my creative life I loved humanity. I wanted to do something good for mankind. Soon I understood that it isn't possible to save mankind. - Author: Wislawa Szymborska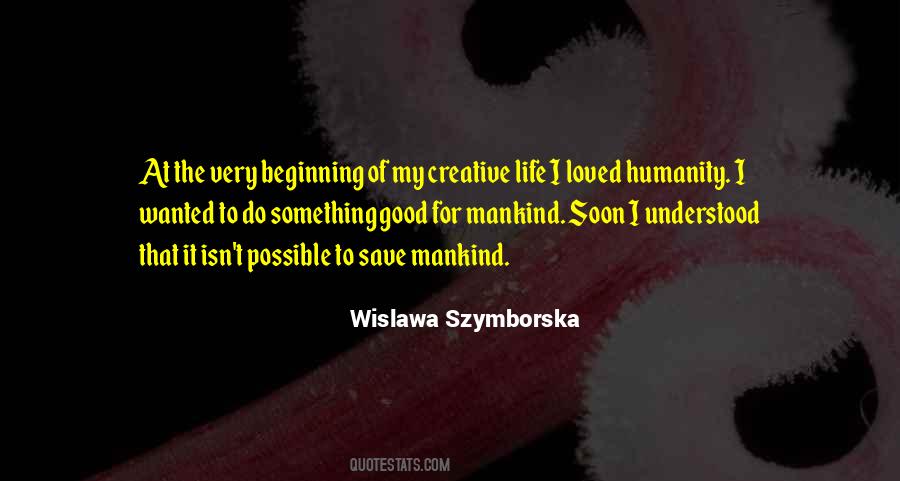 #34. I think that in order to struggle you have to be creative. In my life, creativity has been something that has sustained me; it awoke my spiritual struggle. - Author: Assata Shakur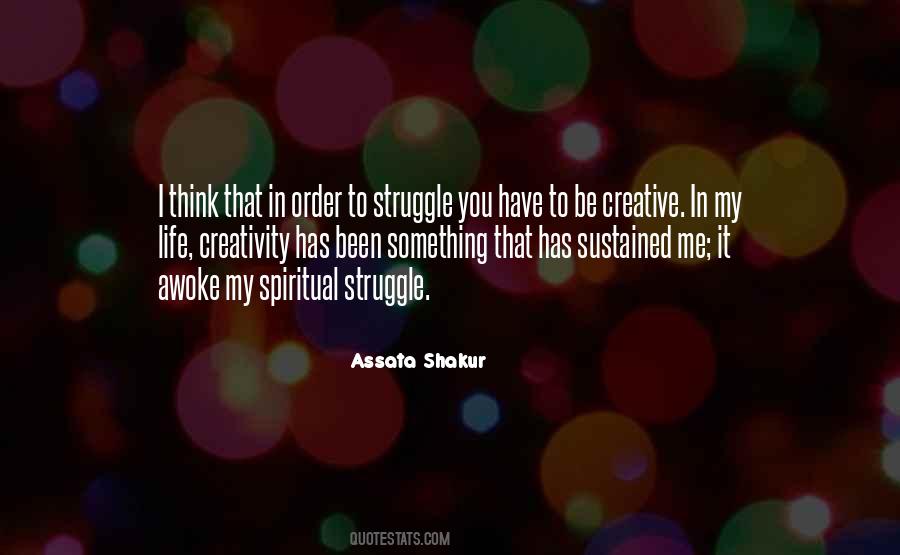 #35. Nature is powerful and beautiful,
Nature is destructive and creative,
Nature is amazing and wonderful,
Nature is loving and graceful. - Author: Debasish Mridha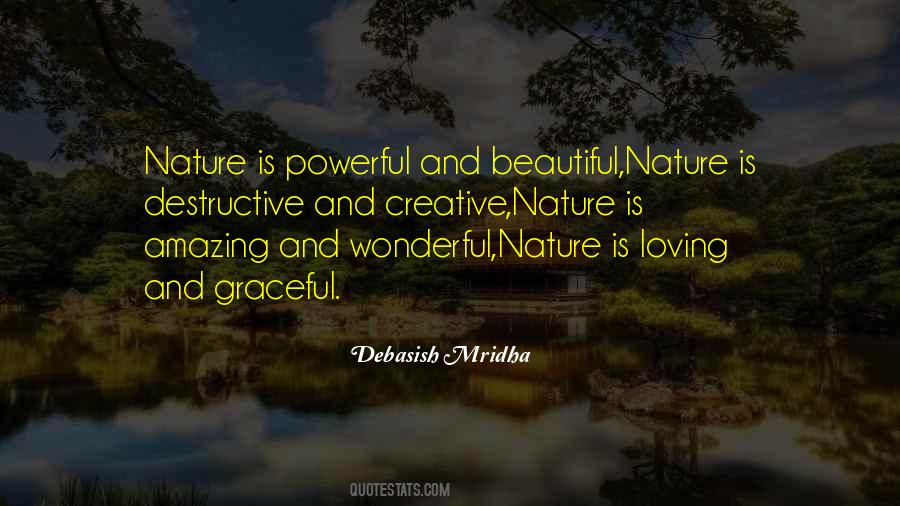 #36. No astrophysicist would deny the possibility of life. I think we're not creative enough to imagine what life would be like on another planet. Show me a dead alien. Better yet, show me a live one! - Author: Neil DeGrasse Tyson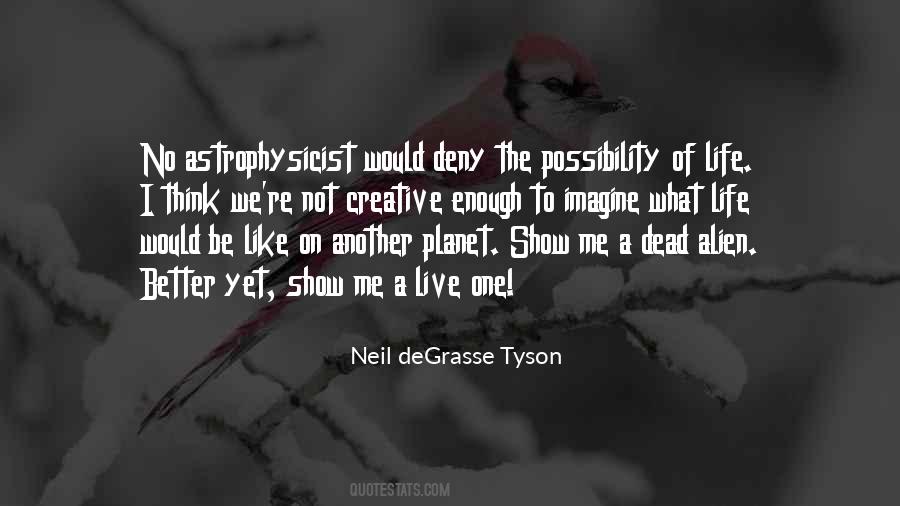 #37. As a kid, I was creative and unique, and I've had that my whole life. - Author: Lindsey Stirling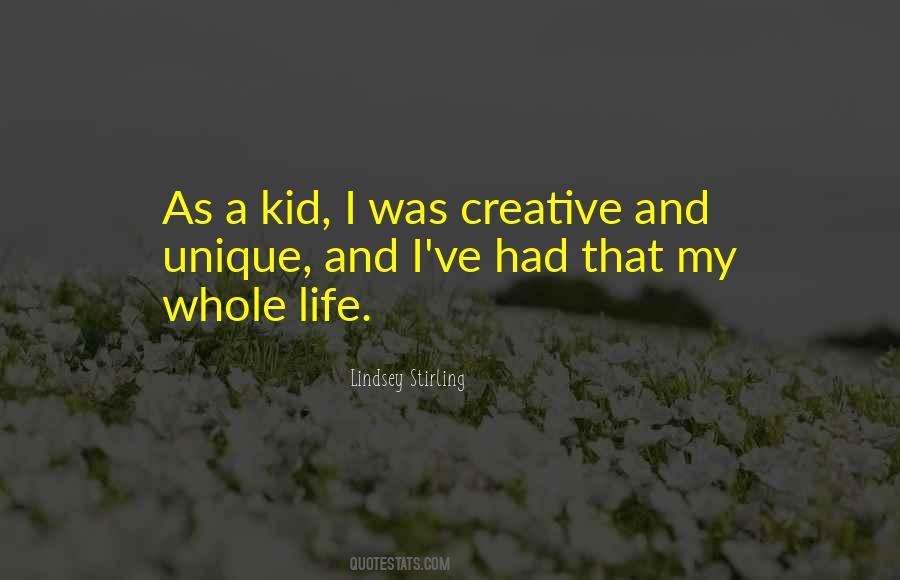 #38. My presence in California will bring a new, inspiring culinary environment to life, and I'm delighted to share my creative techniques and evolving fresh ideas with the Beverly Hills community. - Author: Jean-Georges Vongerichten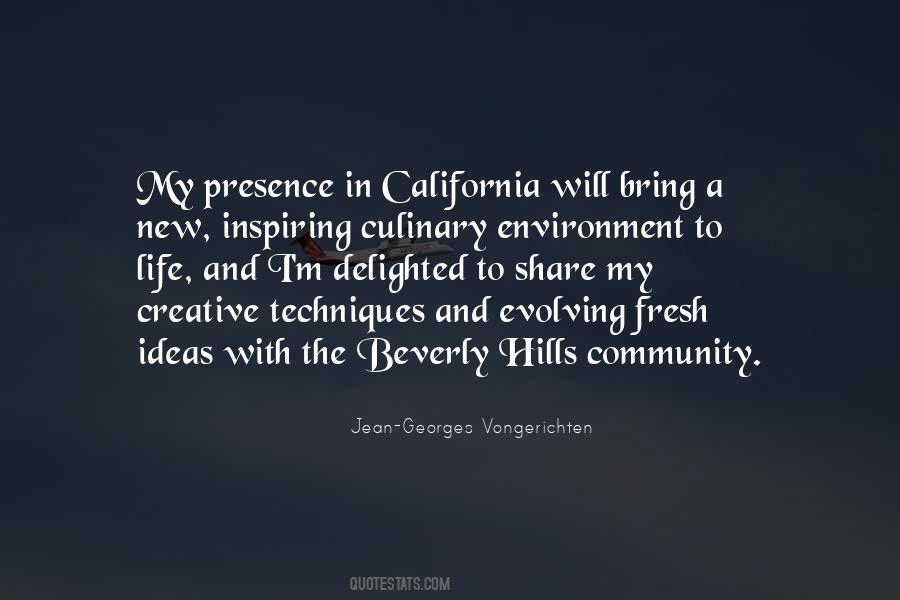 #39. I'd always need a creative outlet. But sometimes, I do fantasize what my life would be like if I weren't famous. - Author: Jodie Foster
#40. Thought is creative. Be mindful of where your attention is, because the universe doesn't know the difference. It only knows where your focus is. Life will surely manifest where you put that attention. - Author: Christina Applegate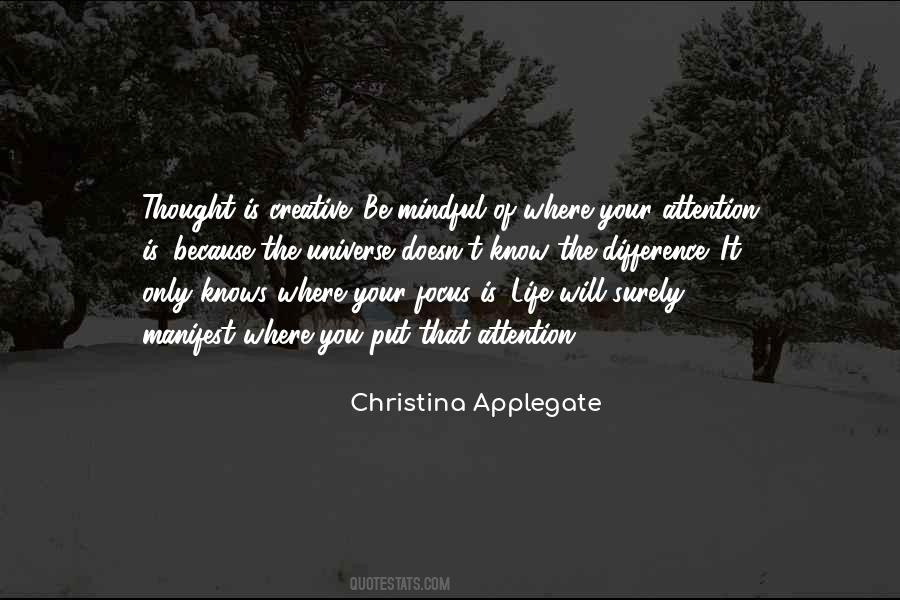 #41. America is no place for an artist: to be an artist is to be a moral leper, an economic misfit, a social liability. A corn-fed hog enjoys a better life than a creative writer, painter or musician. To be a rabbit is better still. - Author: Henry Miller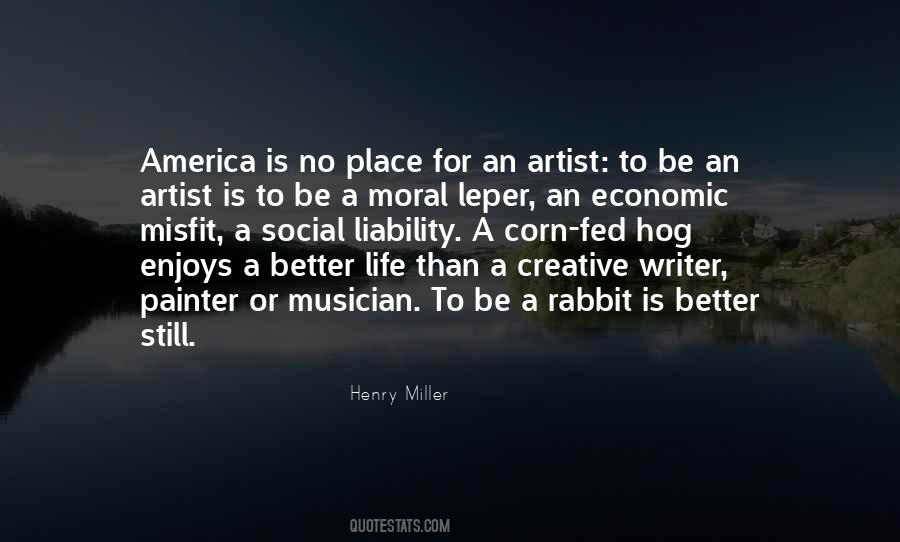 #42. To live a creative life, we must lose our fear of being wrong. - Author: Joseph Chilton Pearce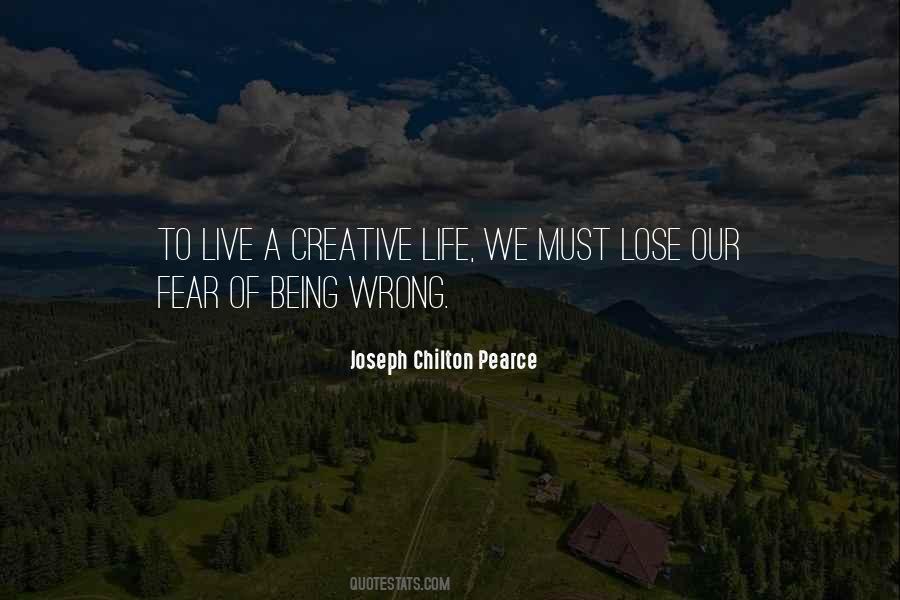 #43. Creating doesn't make us unhappy, unhappiness makes us creative. To create is to live, and in living, we want only to creat more, to set our foundations depper and reach higher toward the sky. If sadness is what makes us creative, then sadness is nothing else but life. - Author: Eric G. Wilson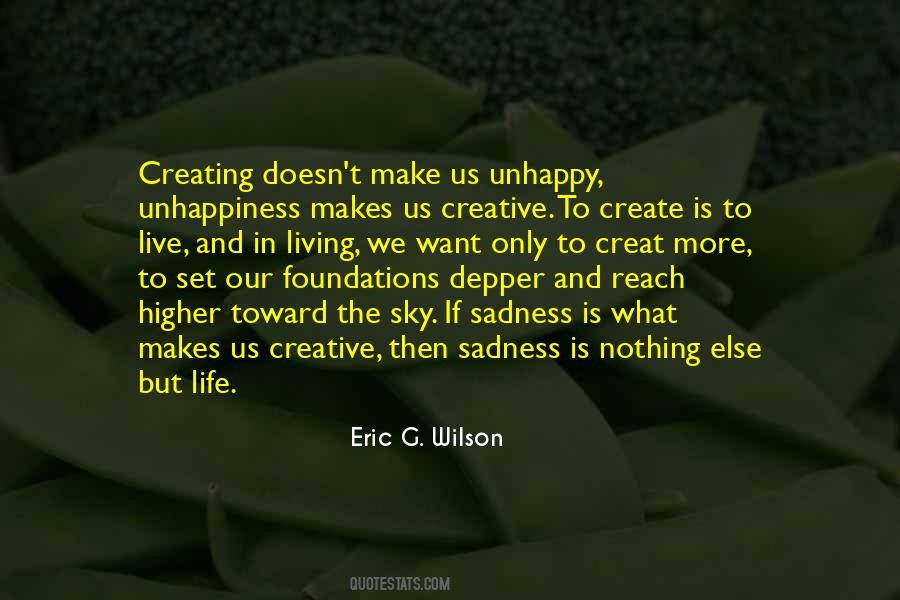 #44. Life-Enriching Education: an education that prepares children to learn throughout their lives, relate well to others, and themselves, be creative, flexible, and venturesome, and have empathy not only for their immediate kin but for all of humankind. - Author: Marshall B. Rosenberg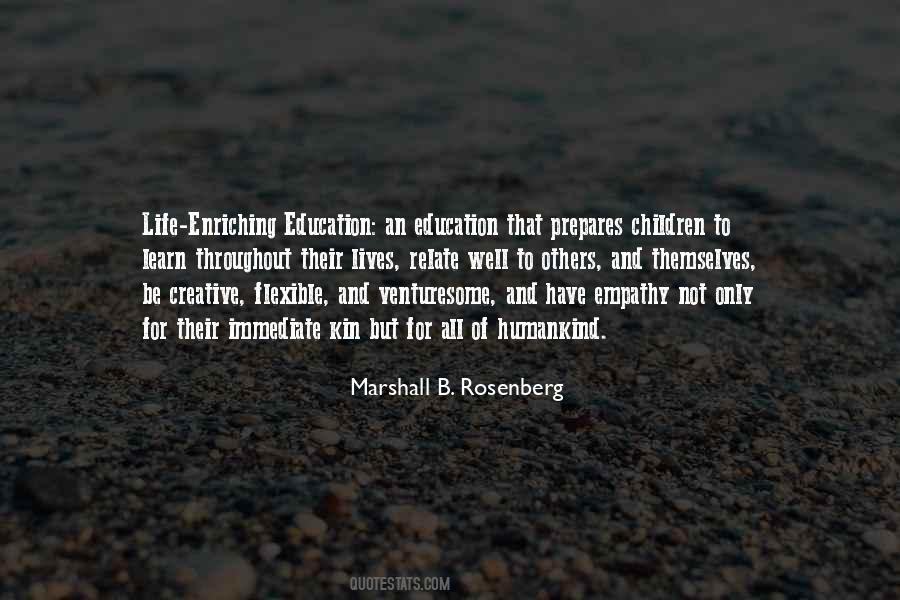 #45. When we separate our artistic activity from daily life, we cut ourselves off from our most valuable creative resource. However, if we live life as an art form in itself, we have available to us all that we experience and see. - Author: Brenda Tharp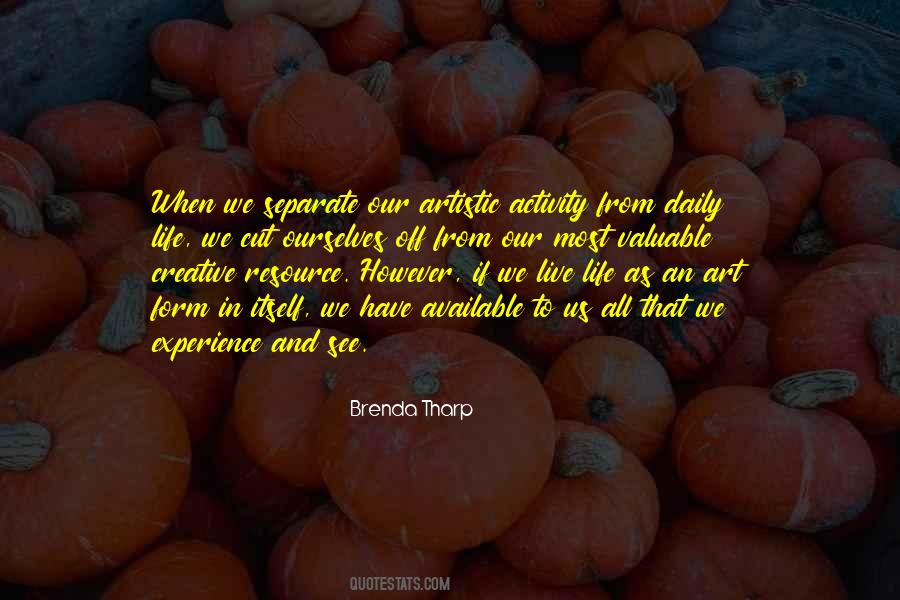 #46. Life goes by very fast. And the worst thing in life that you can have is a job that you hate, that you have no energy in, that you're not creative with and you're not thinking of the future. To me, might as well be dead. - Author: Robert Greene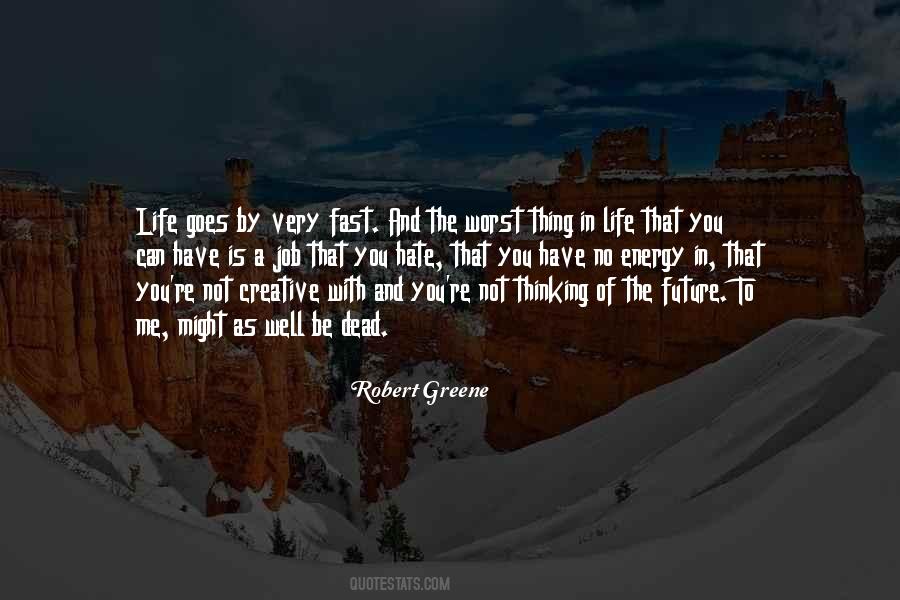 #47. all men are different, and it is the difference between them that creates the greatness, the variety, and the creative inspirations of life, as well as the tensions of social intercourse. - Author: Joost A.M. Meerloo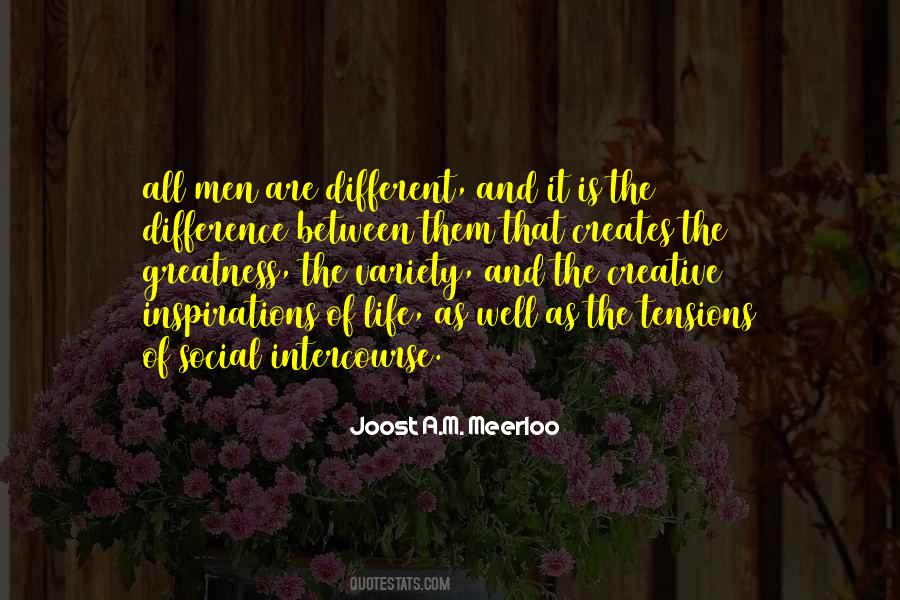 #48. We know too much and feel too little. At least, we feel too little of those creative emotions from which a good life springs. - Author: Bertrand Russell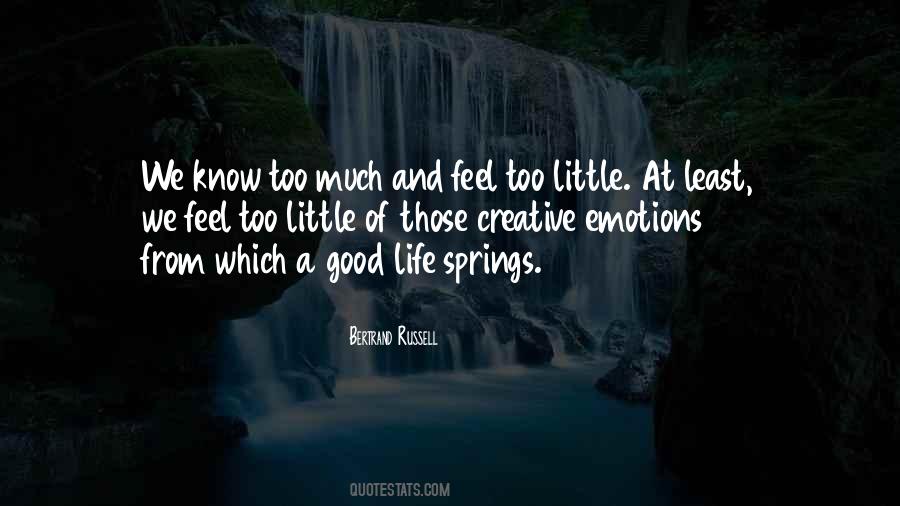 #49. The free, creative, loving people who shine so brightly in my memory of studios and coffee shops have become models for a huge section of the population. If they in turn can just stay alive in the face of power and terror, they may become the decisive section. - Author: Kenneth Rexroth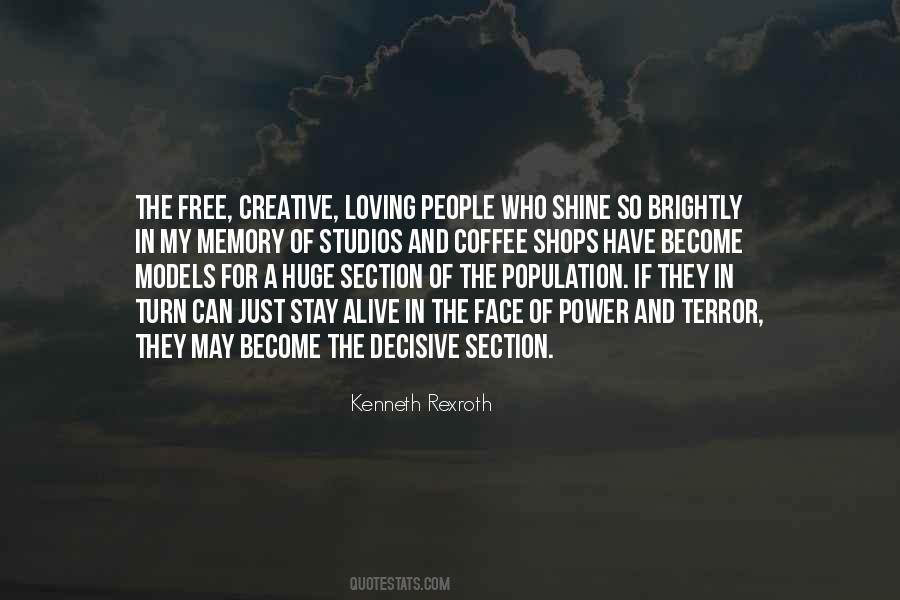 #50. The overman ... Who has organized the chaos of his passions, given style to his character, and become creative. Aware of life's terrors, he affirms life without resentment. - Author: Friedrich Nietzsche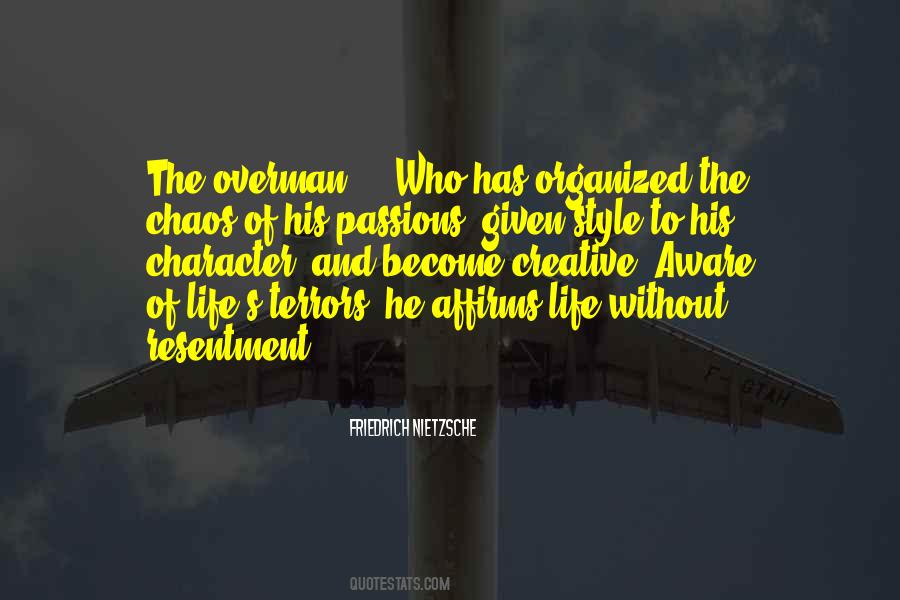 #51. The problem of life is to change worry into thinking and anxiety into creative action. - Author: Harold Bridgwood Walker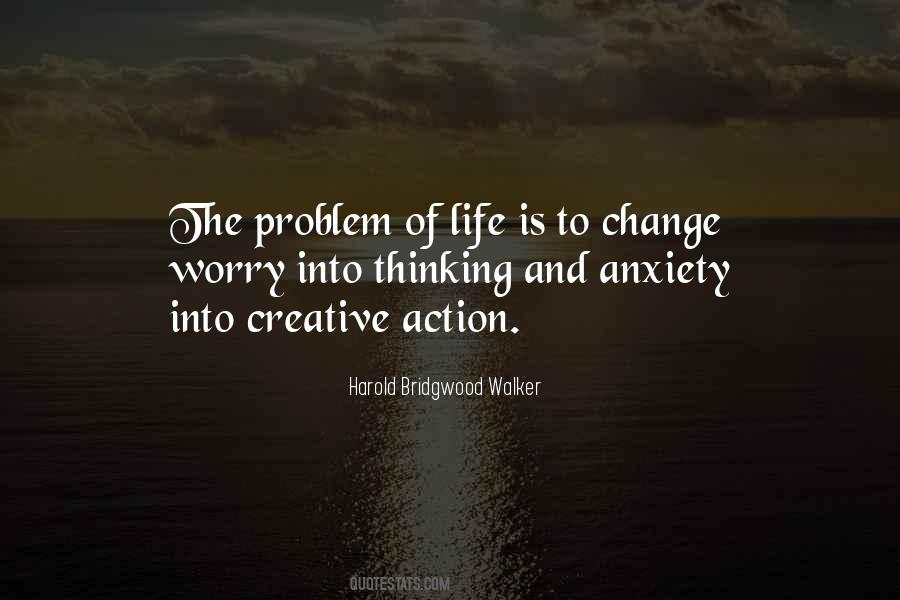 #52. But life at its best is a creative synthesis of opposites in fruitful harmony. - Author: Martin Luther King Jr.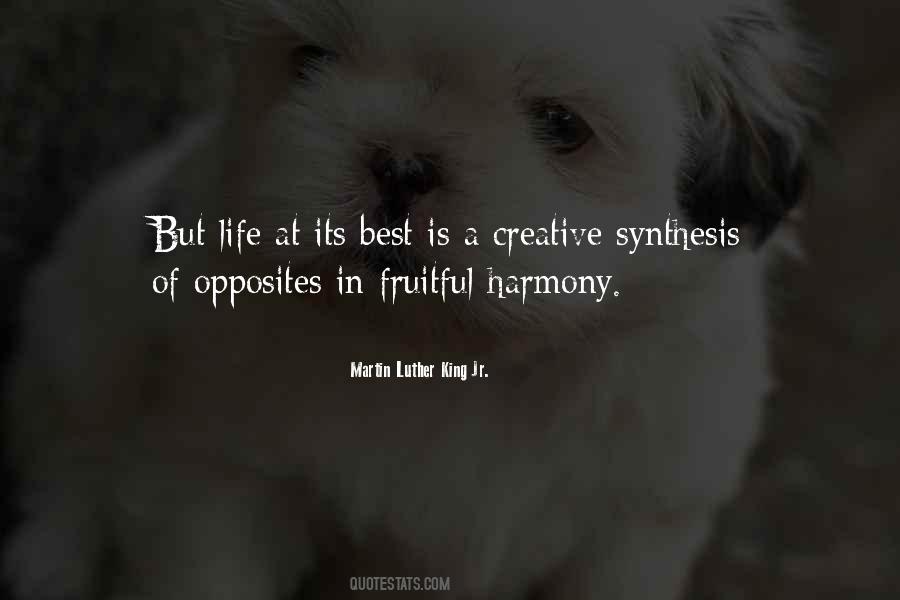 #53. My life wasn't beautiful and creative before I became politically active. My life was totally changed when I began to struggle. - Author: Assata Shakur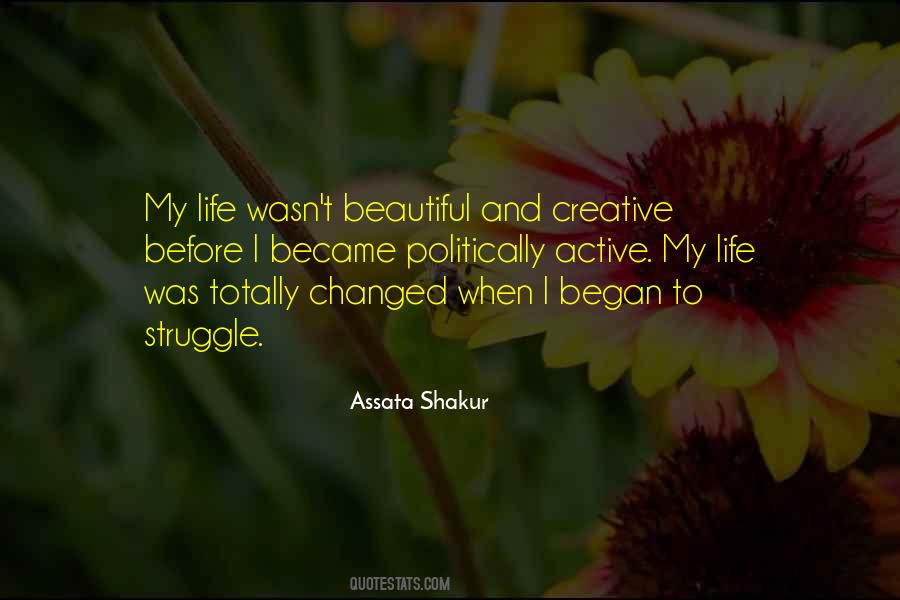 #54. Most people assume I write at night because of the kind of books I write, but I can shut out the light with my mind. - Author: Carla H. Krueger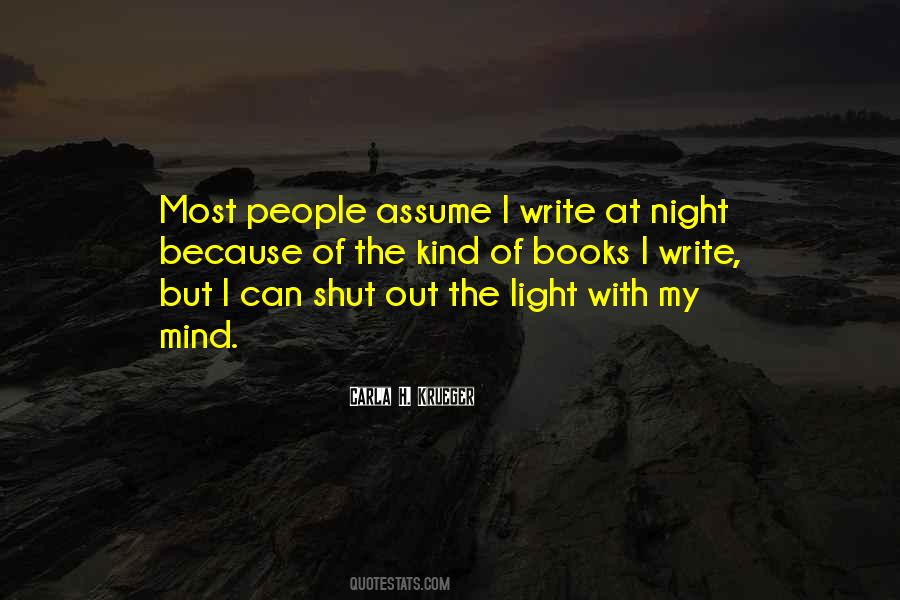 #55. All people are struggling to be creative in some way, and the artist is the one who has succeeded in this task of life. - Author: Rollo May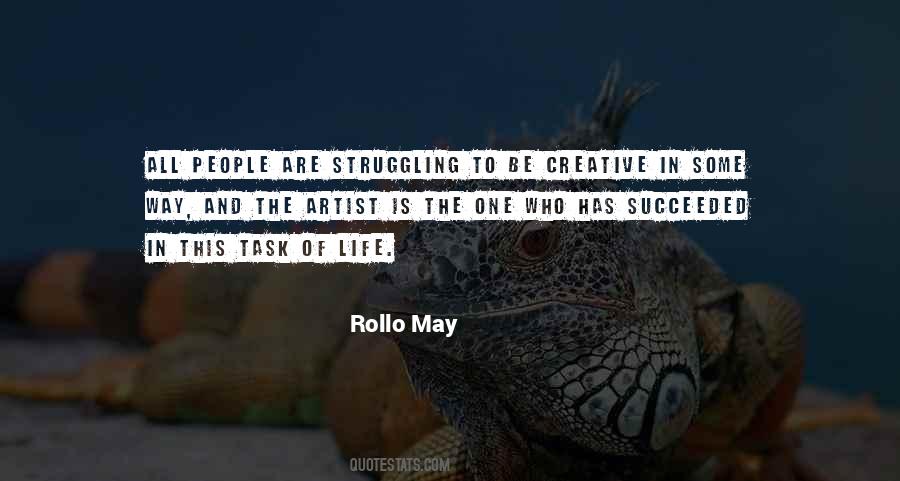 #56. I've never been one to go to church, but I've al was ways believed in a creative intelligence behind the ongoing riddle of the world. - Author: Bill Clegg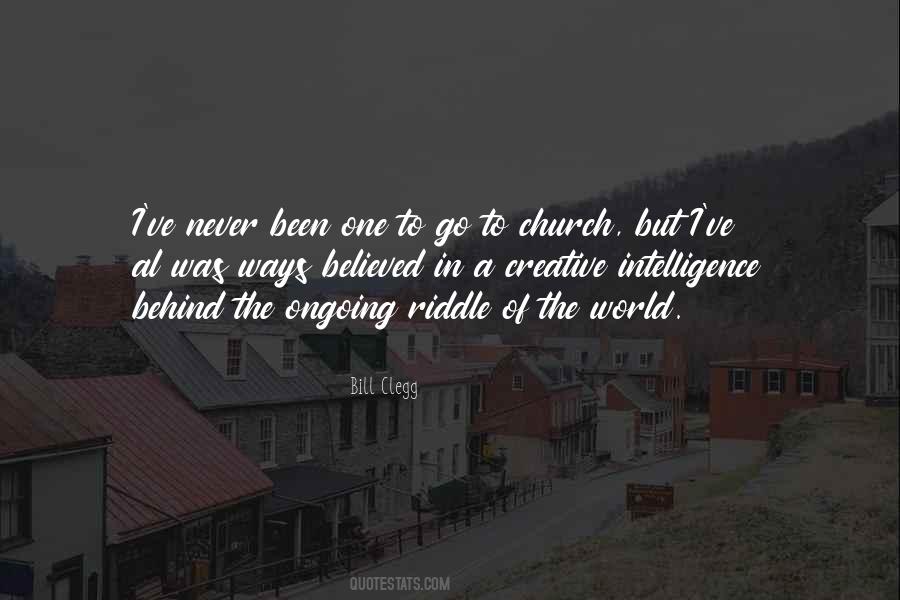 #57. The word 'question' is derived from the Latin quaerere 'to seek,' which is the same root as the word for quest. A creative life is a continued quest, and good questions are useful guides. - Author: Paul A. Kaufman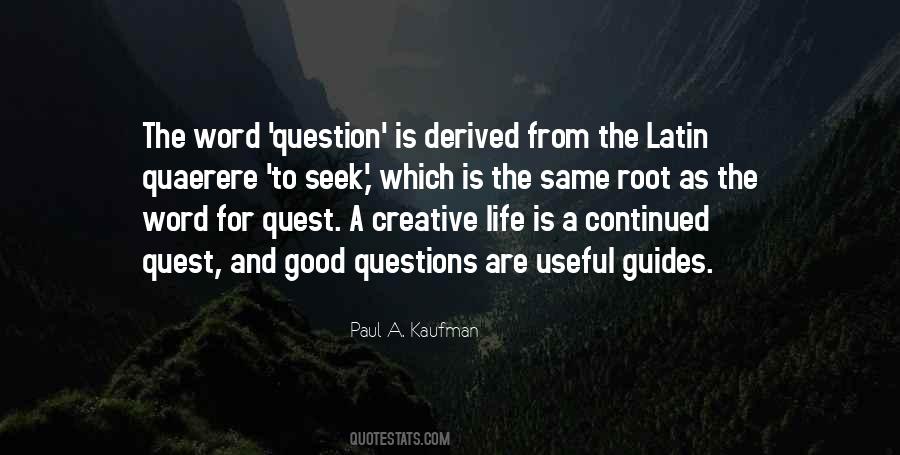 #58. You can't help but be creative, we all are unique beings and have a unique story to tell from different walks of life. - Author: Bebe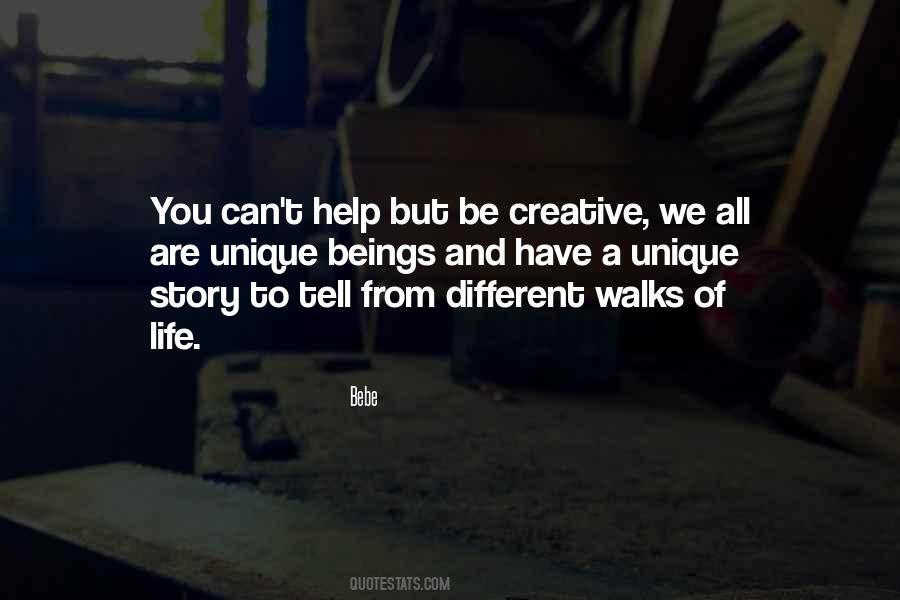 #59. You do not need anybody's permission to live a creative life. - Author: Elizabeth Gilbert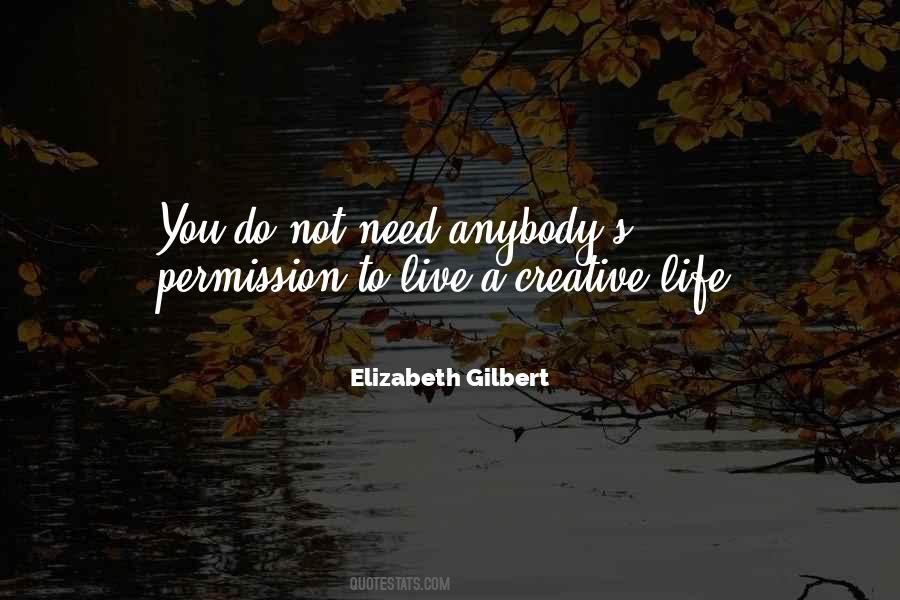 #60. Tapping into the essence of originating Spirit, emulating the attributes of the creative force of intention, and manifesting into your life anything that you desire that's consistent with the universal mind ... - Author: Wayne Dyer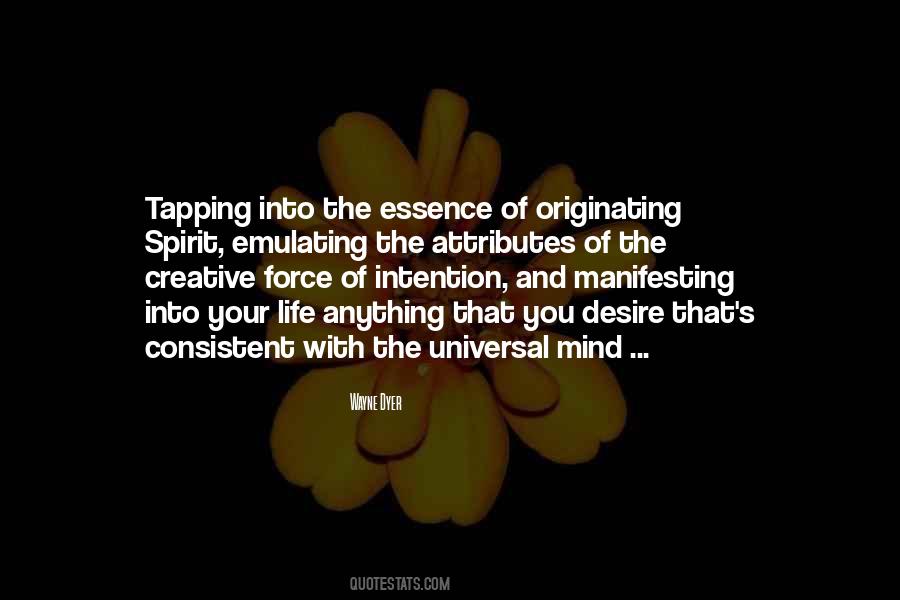 #61. Nobody should force you to do a bad piece of work in your whole life - no client, no creative director, nobody. The job isn't to please the client; the job is to produce something for the client that makes them incredibly successful. - Author: George Lois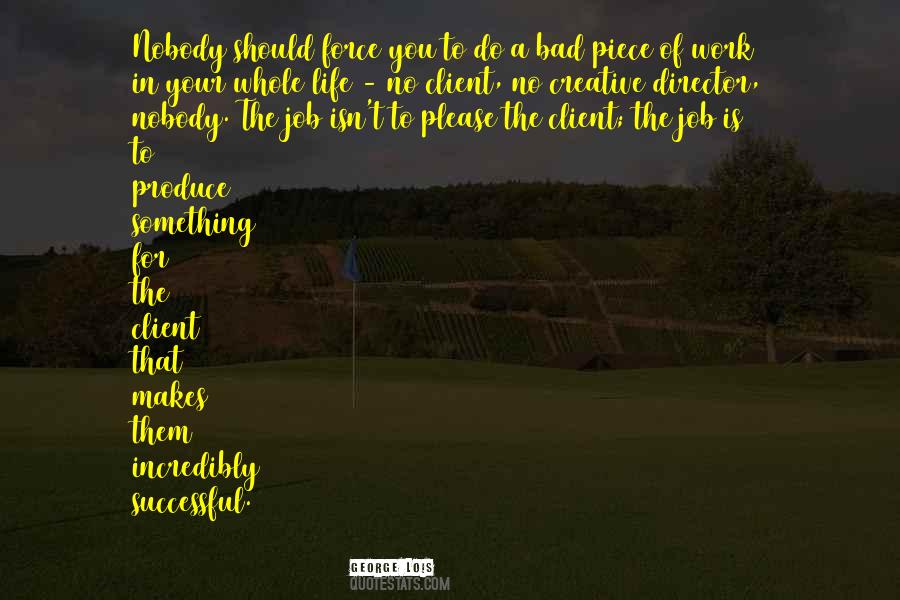 #62. Oftentimes we don't manifest what we want in our lives, because our energy is too focused on what others are doing in their lives. This lack of focus in our own life, dilutes our energy and we leak our creative potential into other people's soul experience. - Author: Sabrina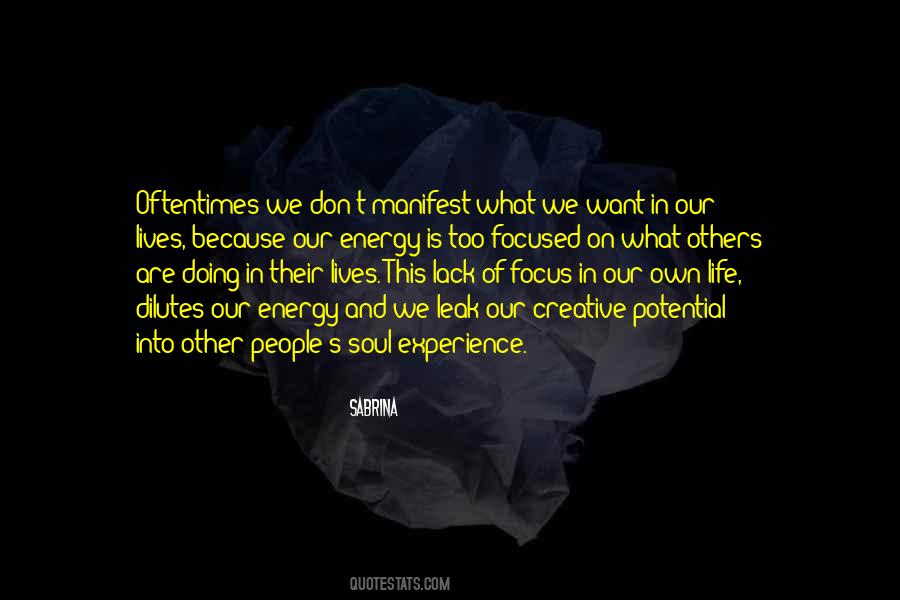 #63. Like art, religion is an imaginative and creative effort to find a meaning and value in human life. - Author: Karen Armstrong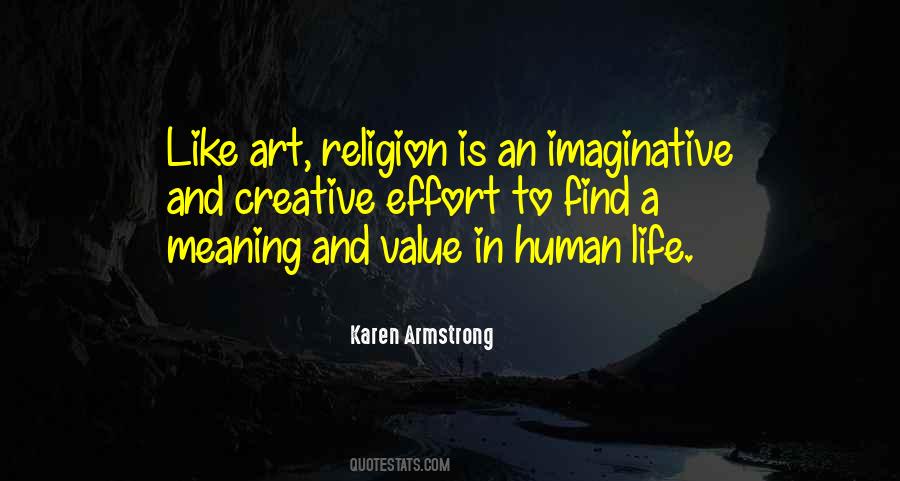 #64. Reading, Writing, and Enjoying A Creative Life. - Author: Chrystal Dorsey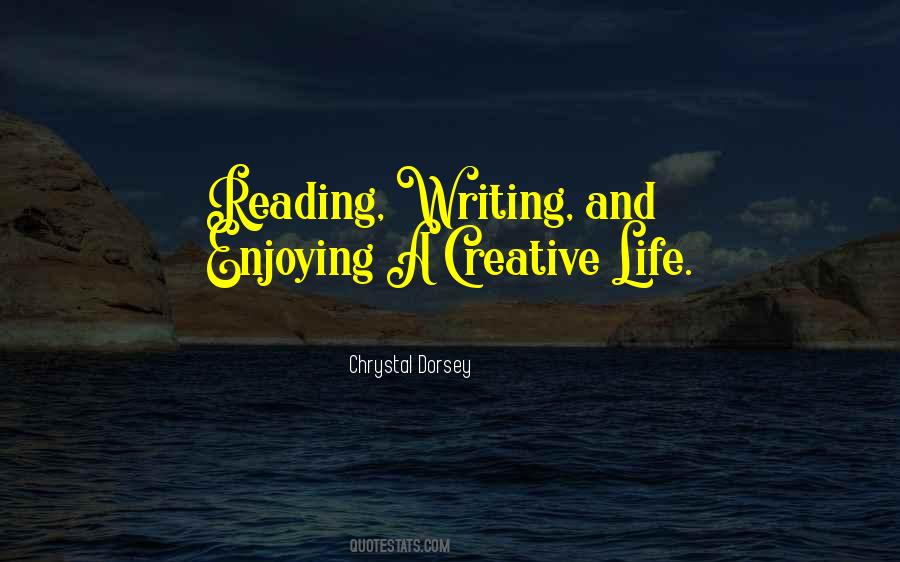 #65. You are God's highest form of creation. You are a living breathing creative magnet. You have the ability to control what you attract into your life. - Author: Bob Proctor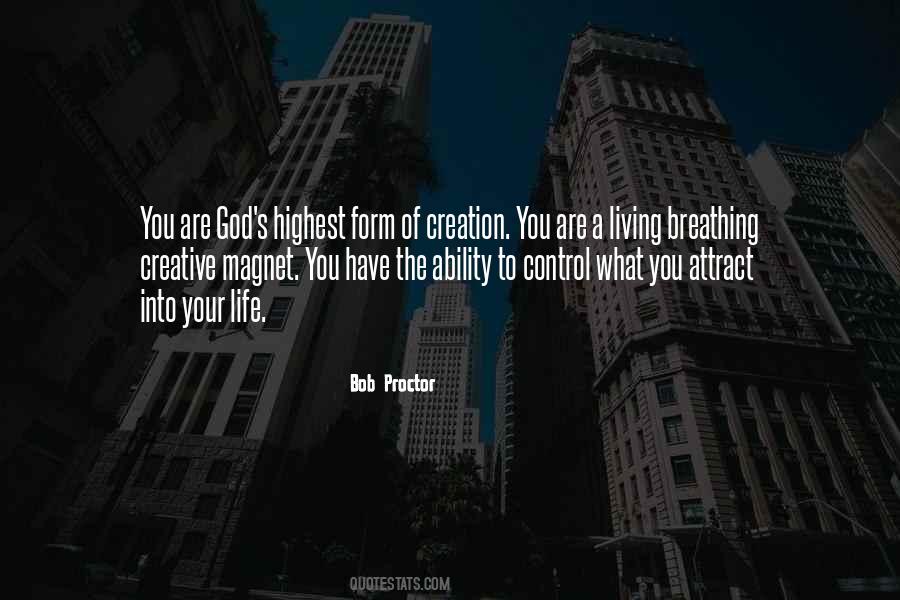 #66. Open your creative heart like an unfurling flower and petal and share your exquisiteness. - Author: Amy Leigh Mercree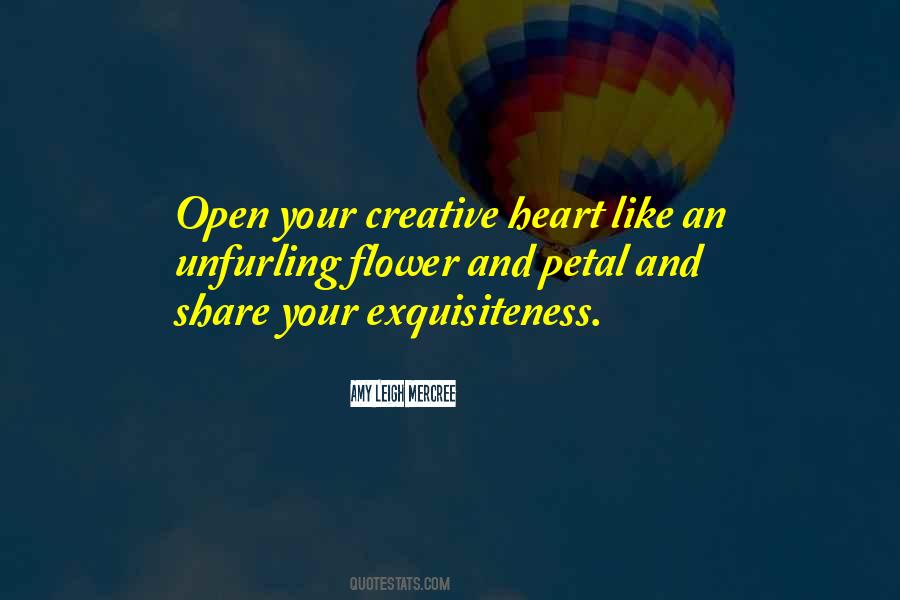 #67. The truth is that solitude is the creative condition of genius, religious or secular, and the ultimate sterilising of it. No human soul can long ignore "the giant agony of the world" and live, except indeed the mollusc life, a barnacle upon eternity. - Author: Helen Waddell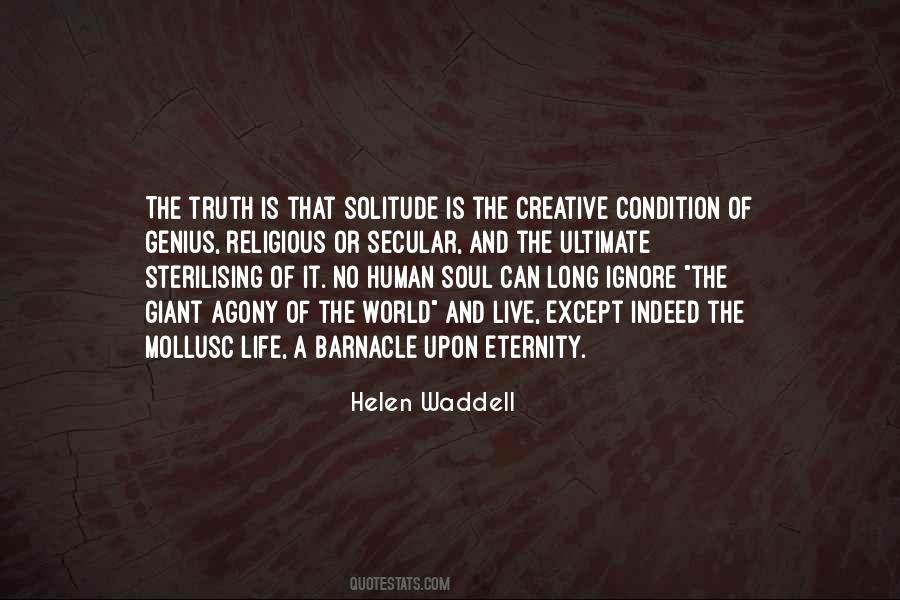 #68. Evolutionary learning calls upon our creative potentials as it empowers us to envision images of the future and bring those images to life by design. - Author: Bela H. Banathy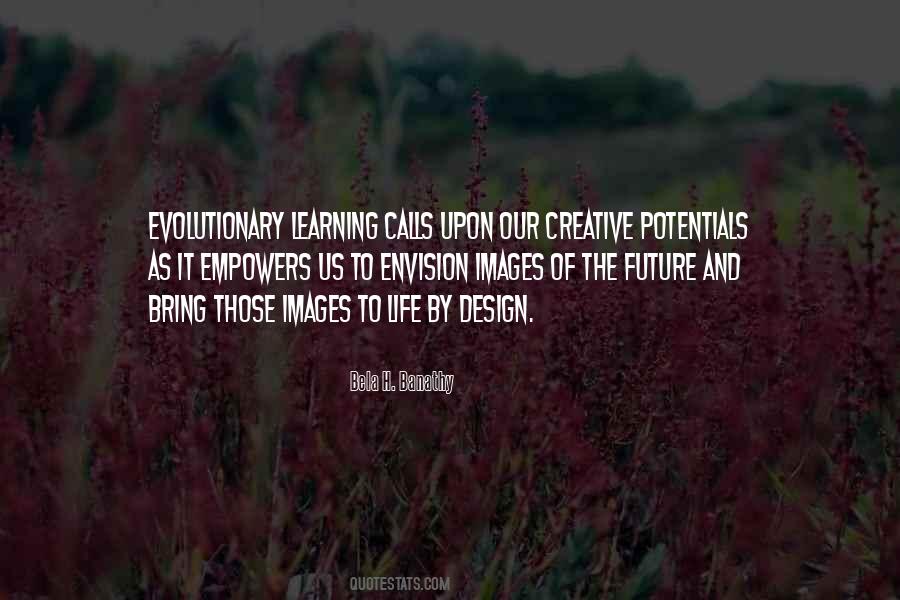 #69. The American family is failing in its job of turning out stable human beings ... It is failing because Americans do not dare to cultivate in themselves those characteristics which would make family life creative and rewarding. To do so, would ruin them financially. - Author: Margaret Halsey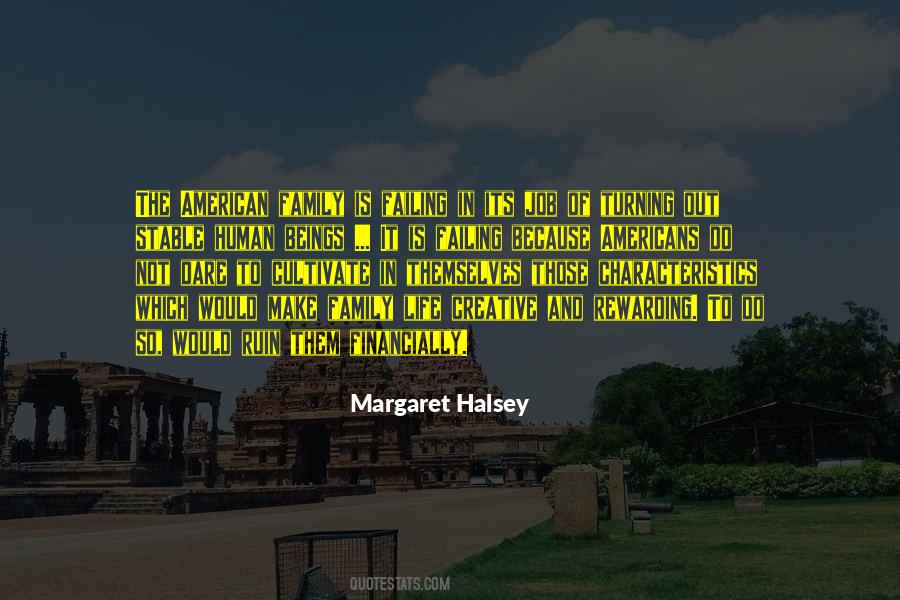 #70. If you have fathered a child, if you have given birth, if sex is a source of healthy pleasure, thank your pelvis and your reproductive organs for allowing you to feel the creative rhythms of life. - Author: Elizabeth Lesser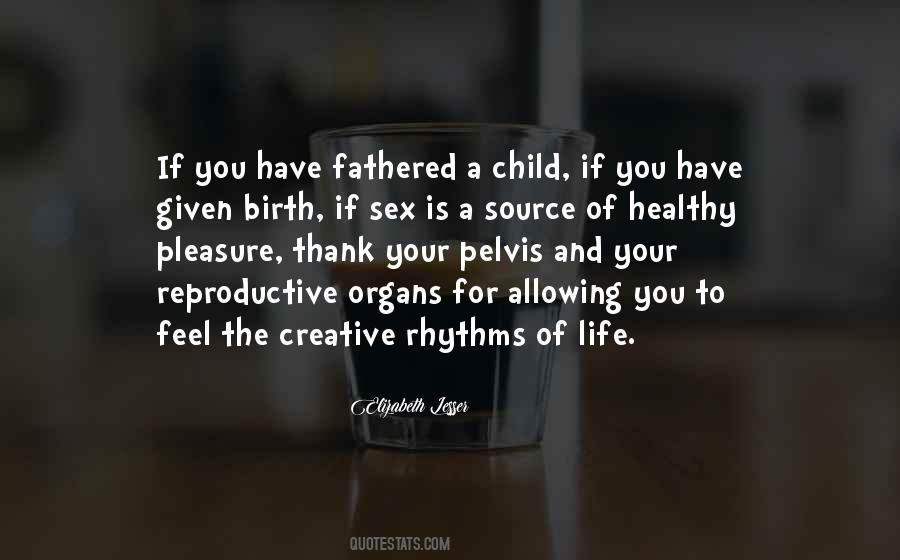 #71. My idea in terms of managing a narrative, or in thinking in my creative life, is that you could easily argue that the past, the present and the future all occur simultaneously, and if you can postulate that, then you're not strictly bound to a linear narrative. - Author: Tommy Lee Jones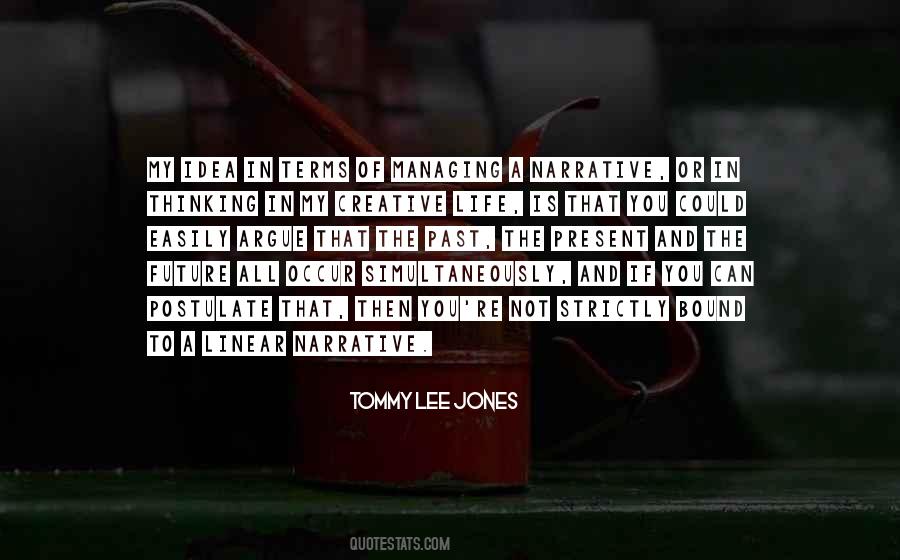 #72. The psychic depths are nature, and nature is creative life. - Author: Carl Jung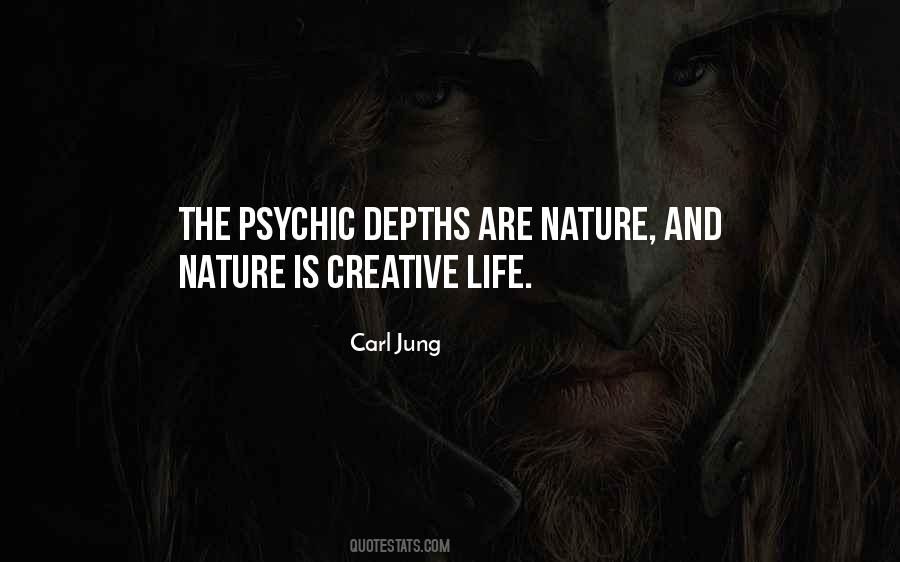 #73. Raise your standards for the one thing over which you have complete control
yourse lf. It means you're committed to being intelligent, flexible, and creative enough to consistently find a way to look at your life in a fashion that makes any experience enriching. - Author: Tony Robbins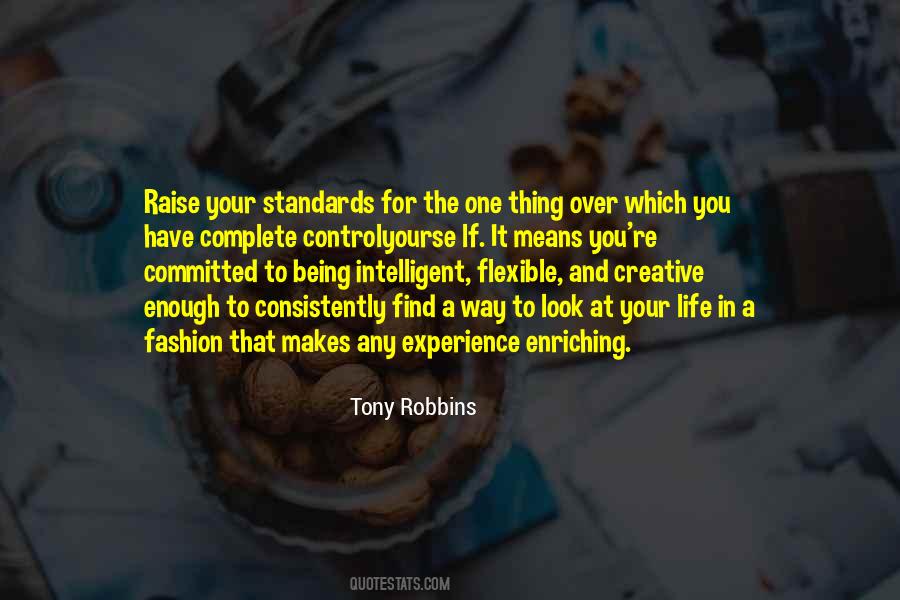 #74. Cooking for people is an enormously significant expression of generosity and soulfulness, and entertaining is a way to be both generous and creative. You're sharing your life with people. Of course, it's also an expression of your own need for approval and applause. Nothing wrong with that. - Author: Ted Allen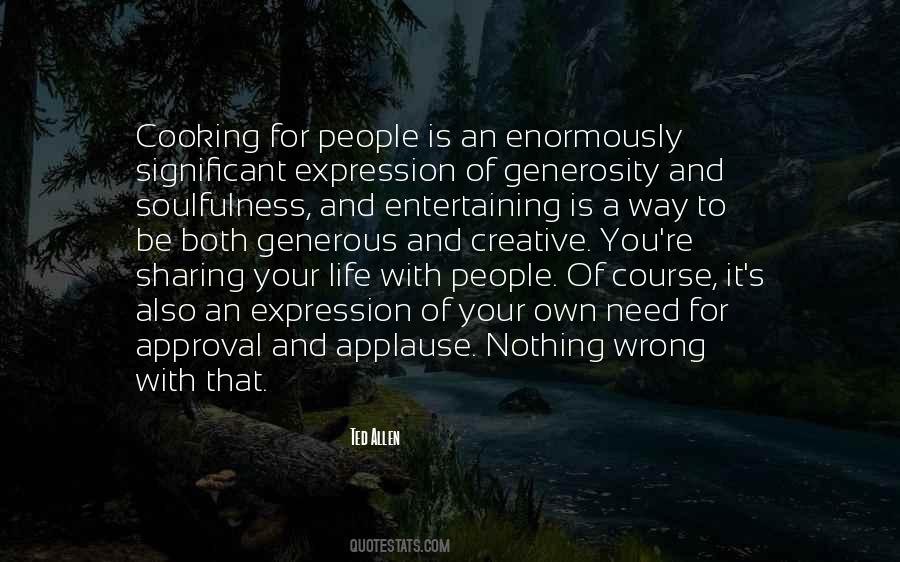 #75. The Life Triumphant is that which places what a man gives to the world in creative expression far ahead of that which he takes from it of the creations of others. - Author: Walter Russell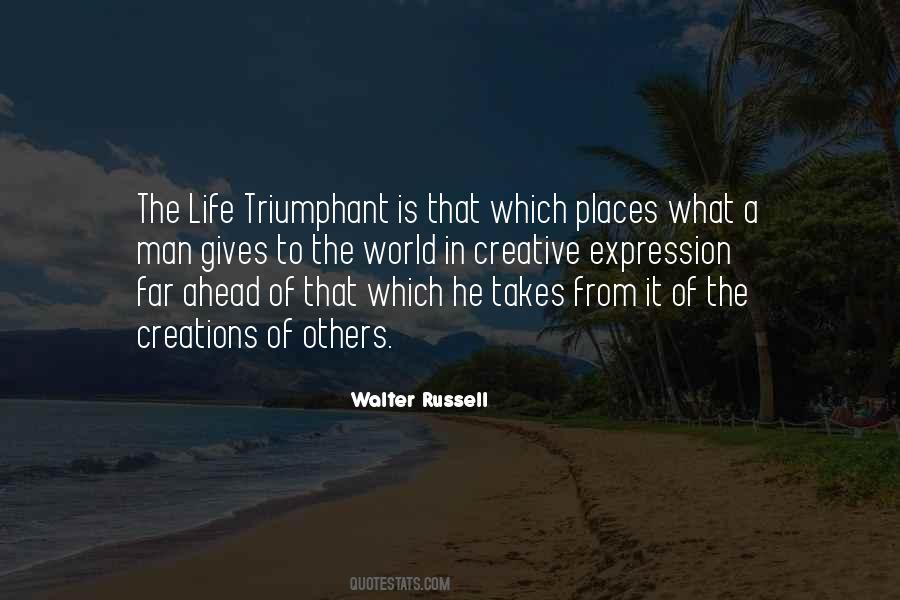 #76. The whole thrust in my life right now is spinning my assignments around and making them work in a more personal way ( ... ) I wanted to go back and do the original thing: one camera, one lens, one film. You really have to put yourself in a position of danger to be creative. - Author: David Alan Harvey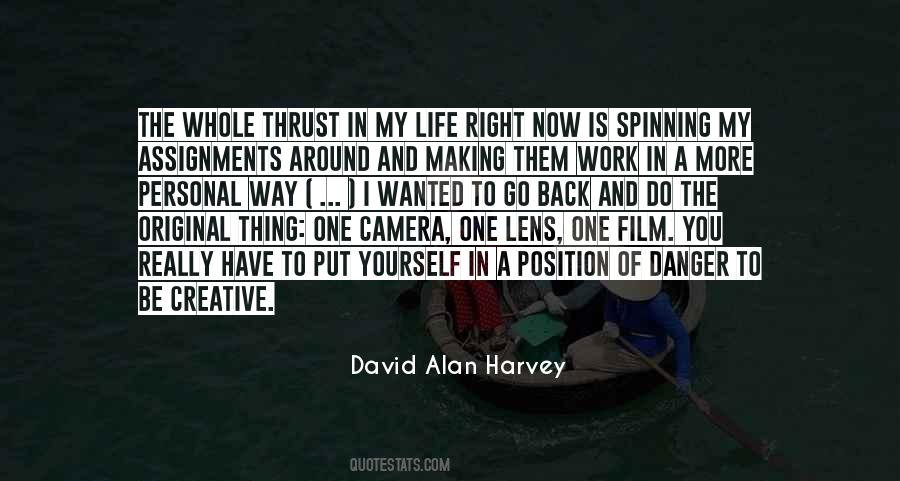 #77. Let the juices that are stirred into new life flow at this creative bloodletting of our artistic beings. (Zoltan Galos) - Author: Z.J. Galos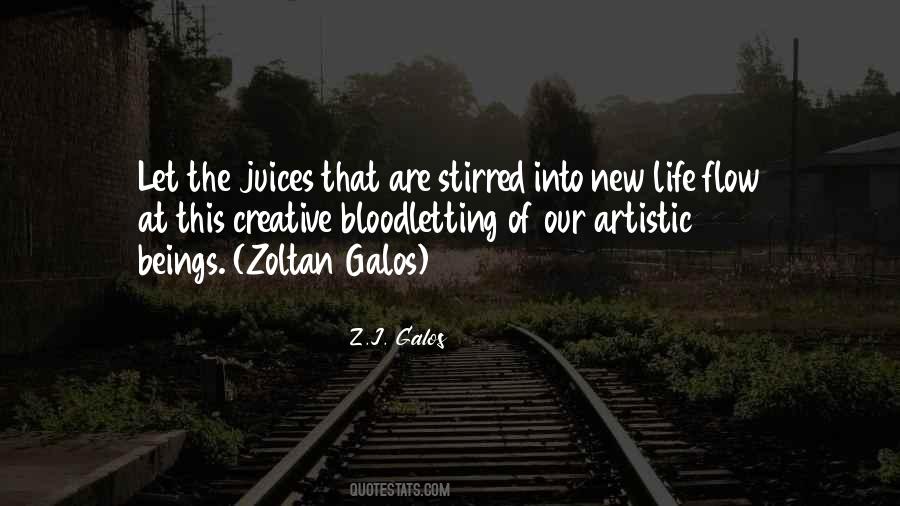 #78. There is a great gulf between the really creative person and normal people. The totally creative person does not have the rest of his life in proper proportion. - Author: Caitlin Thomas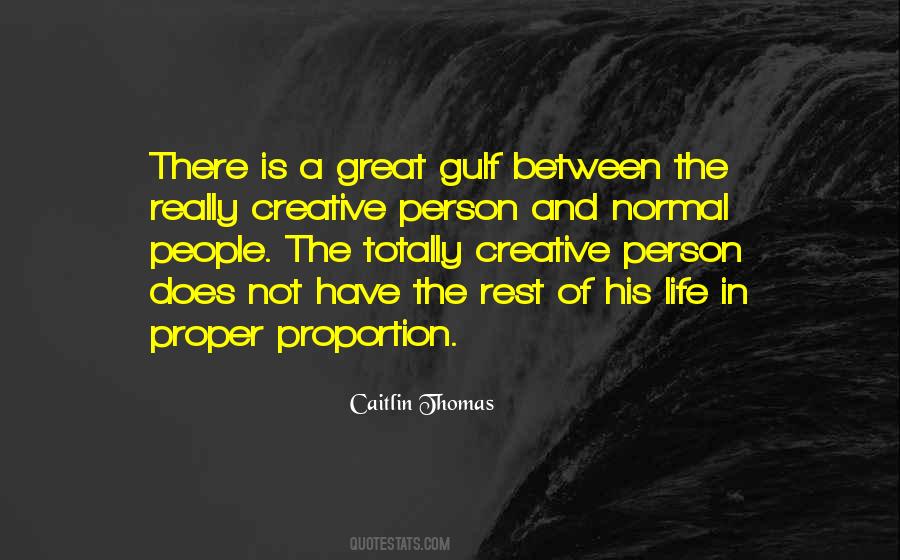 #79. She gave life a meaning.
She was art, dressed like a painters pallet, bright and unaware of how goddam beautiful she could be turned into; with the right touch, her smile was the brush and her story was the canvas. - Author: Nikki Rowe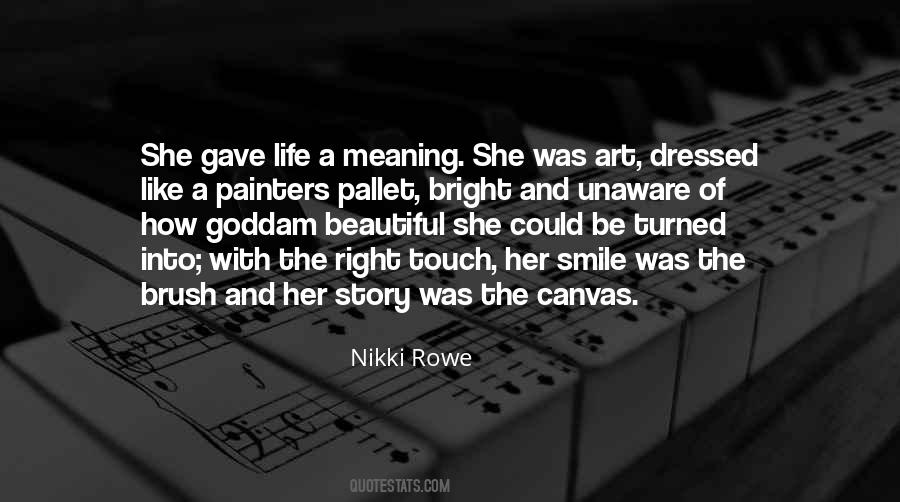 #80. A dream is your creative vision for your life in the future. You must break out of your current comfort zone and become comfortable with the unfamiliar and the unknown. - Author: Dennis Waitley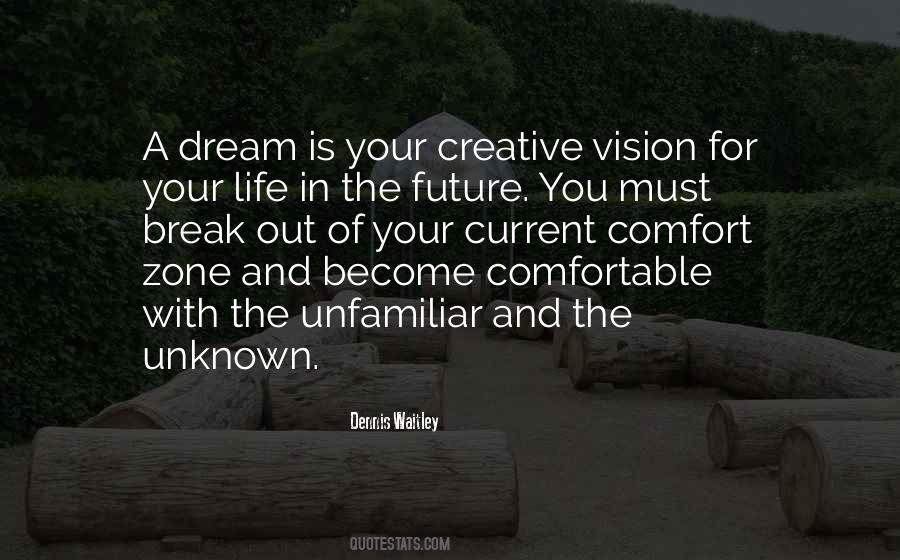 #81. I play piano and that's my love. I read and I paint and I compose music, so I've got a pretty full creative life. And it's not because, I'm obsessively creative. - Author: Anthony Hopkins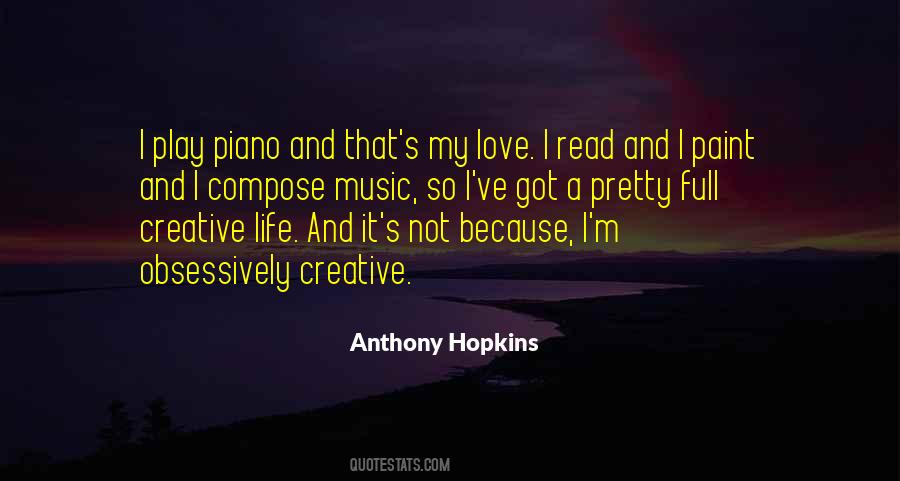 #82. Love is the beauty; love is the truth. Love is the creative and sustaining energy of life - Author: Debasish Mridha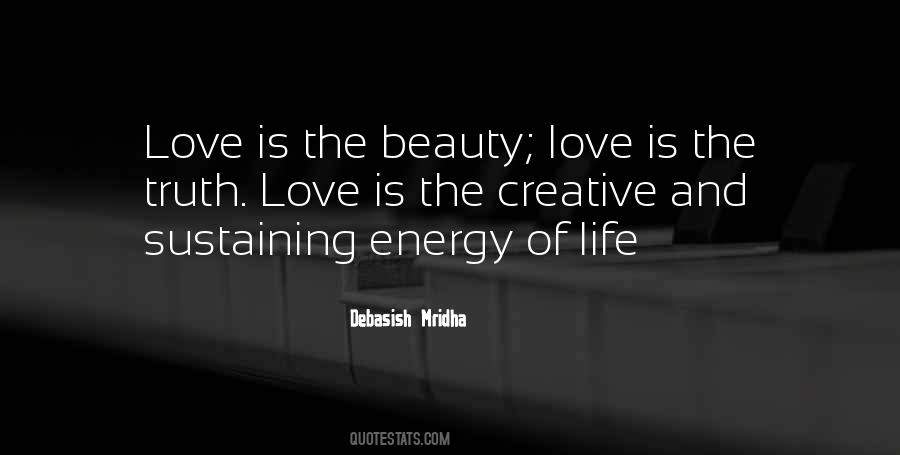 #83. Design is a way of life, a point of view. It involves the whole complex of visual communications: talent, creative ability, manual skill, and technical knowledge. Aesthetics and economics, technology and psychology are intrinsically related to the process. - Author: Paul Rand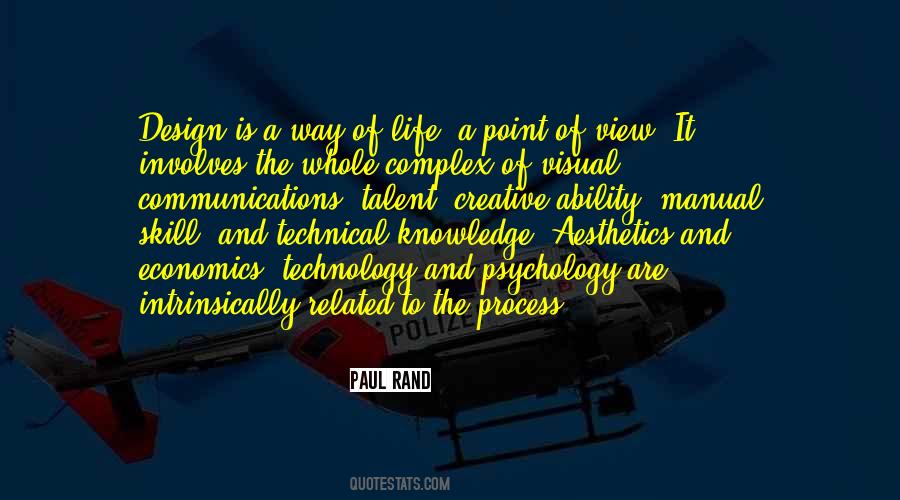 #84. 'The Dick Van Dyke Show' was the most fun I ever had and the most creative period of my life. - Author: Dick Van Dyke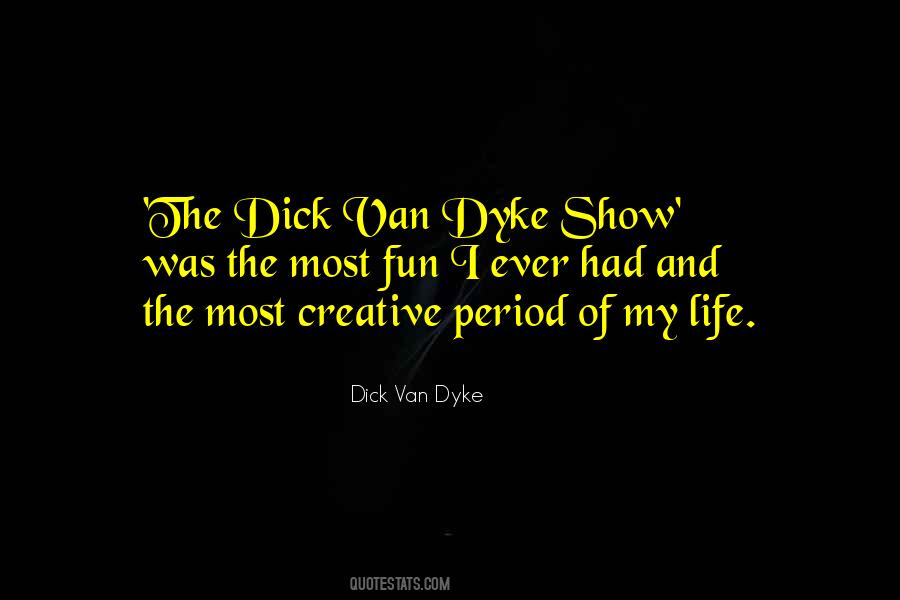 #85. To live a creative life we must loose our fear of being wrong. - Author: Joseph Pearce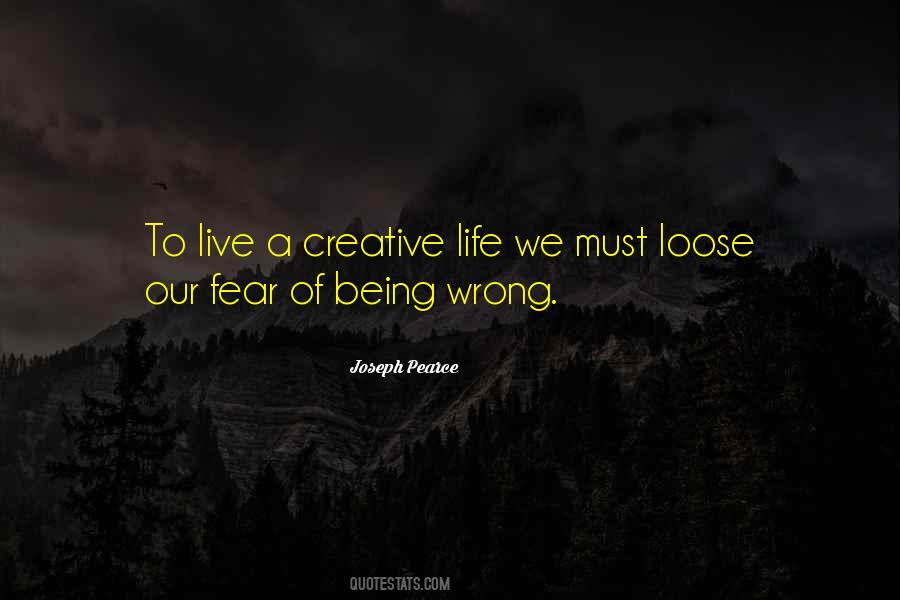 #86. Just as thoughts, send out vibrations to which there is a creative and attractive power, gratitude stimulates the field of etheric energy that surrounds you on a subtle level to bring into your life more of what brings you joy. - Author: Genevieve Gerard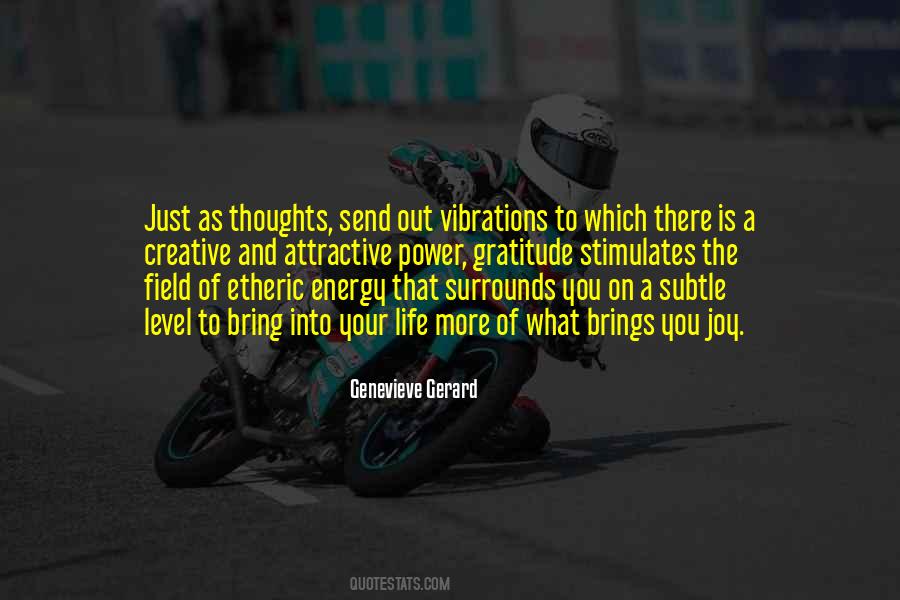 #87. I see many people who disguise themselves. I know some people who say, "I'm an artist, I'm very creative, I'm different from ordinary people." But I don't believe those people. I like to see the strangeness or weirdness in ordinary people or ordinary scenery or ordinary, everyday life. - Author: Haruki Murakami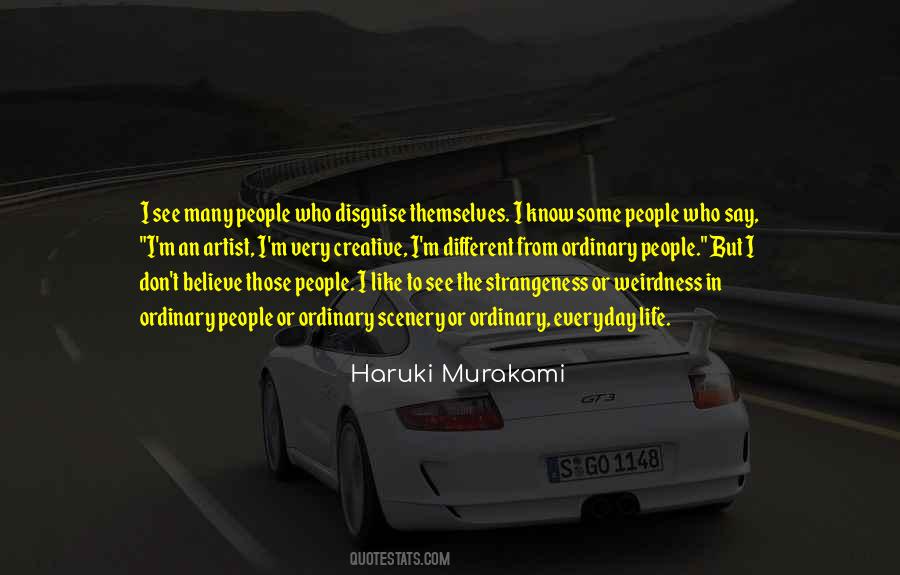 #88. You know how creative people are, we have to try everything until we find our niche. - Author: E.A. Bucchianeri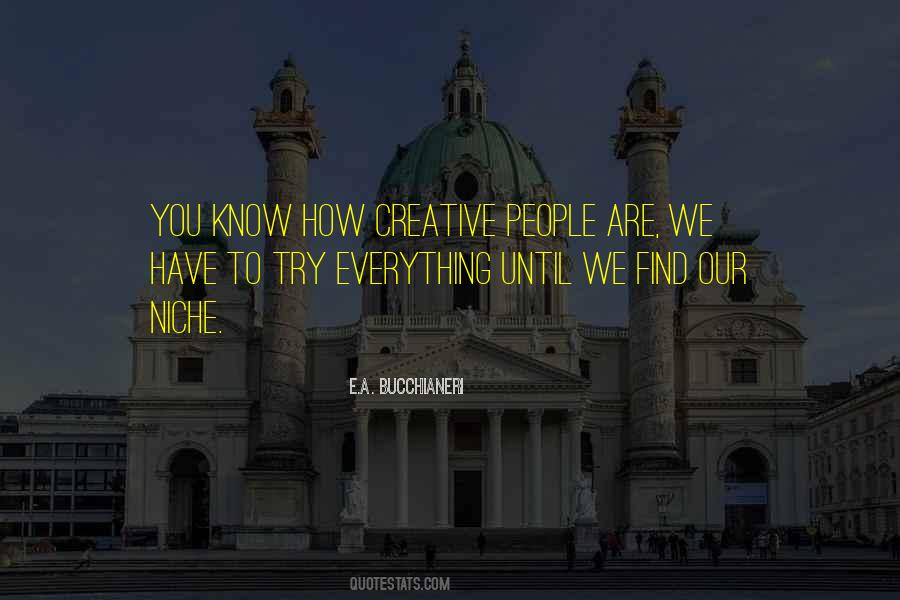 #89. In order not to cut out a large part of one's private life, the creative work should not swallow up every other form of self-expression. But that is the most complicated thing. - Author: Elena Ferrante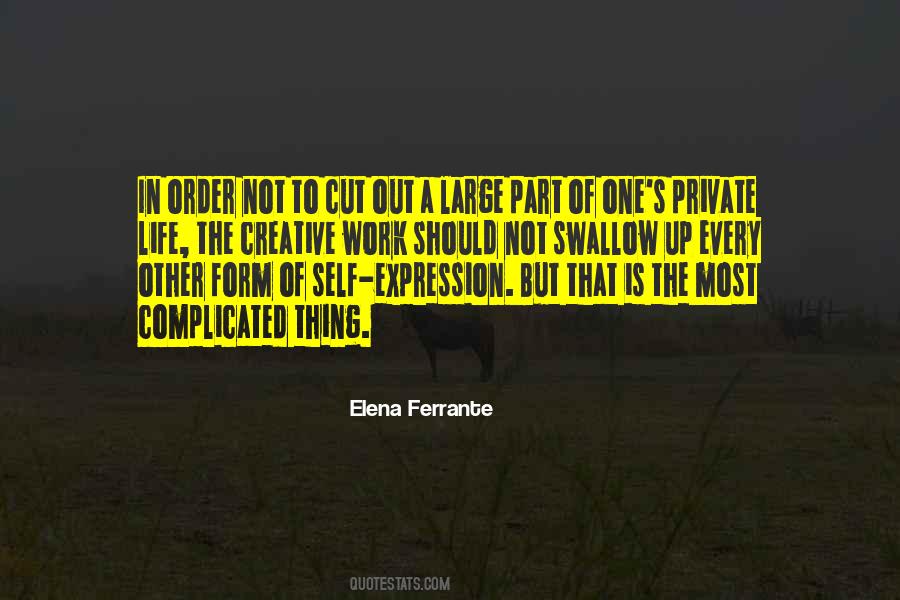 #90. If you stick in the business of being creative, you get hurt. And creative disappointment seems so much harder to take than any other kind. But if you're not prepared to get hurt like that, life can be pretty boring. I think I'm going to keep on going. - Author: Chuck Barris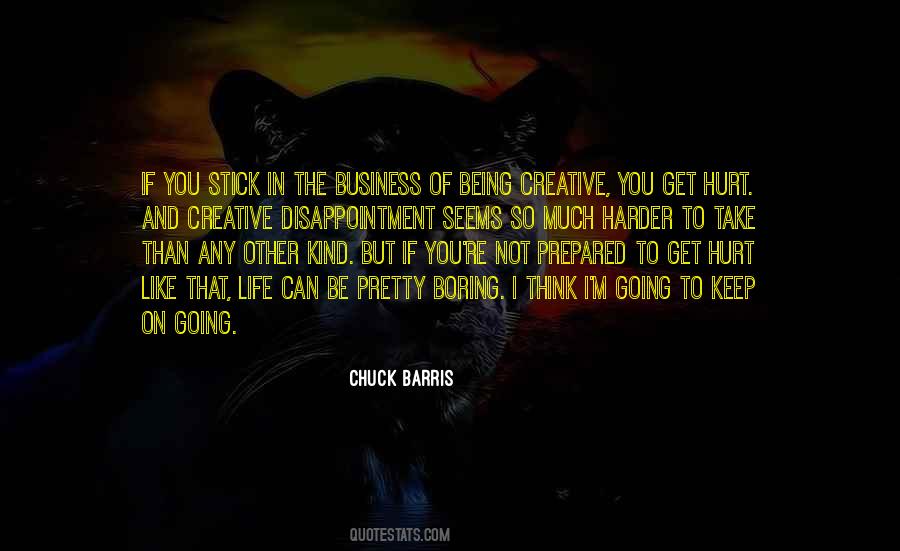 #91. There are so many good reasons to stop complaining if you want to live a more creative life. - Author: Elizabeth Gilbert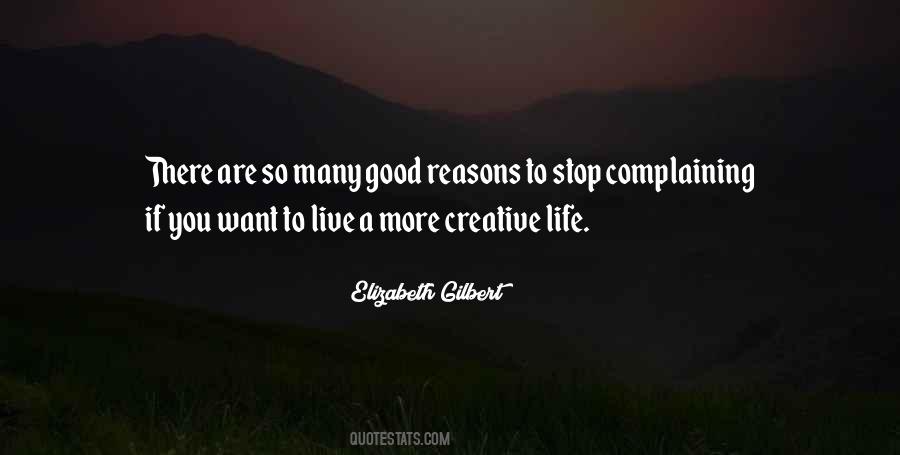 #92. We need to be creative with young people. If they have no opportunities, they will get into drugs and be vulnerable to suicide. - Author: Pope Francis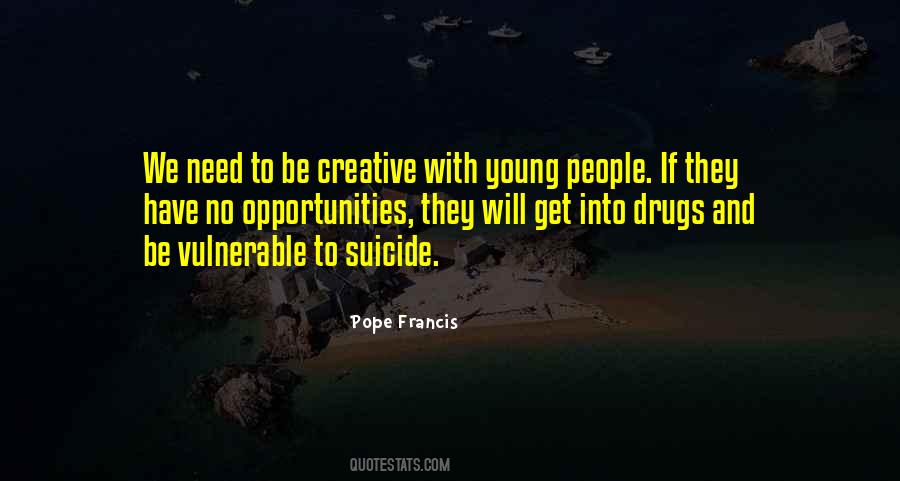 #93. Express your feelings, no matter what. Make your every word beautiful, bright, and lovely. Make your every thought creative, caring, and lively. - Author: Debasish Mridha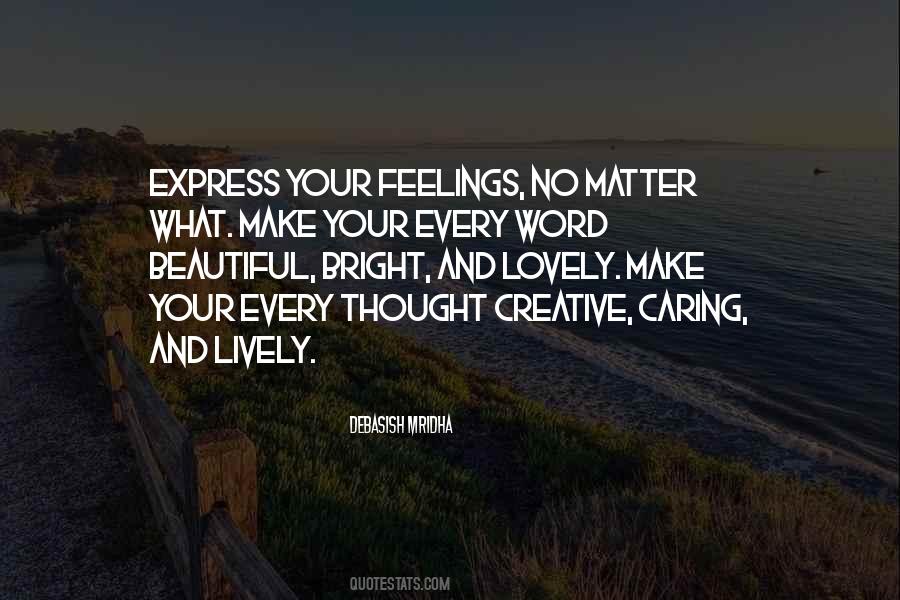 #94. Beauty perishes in life, but is immortal in art. - Author: Leonardo Da Vinci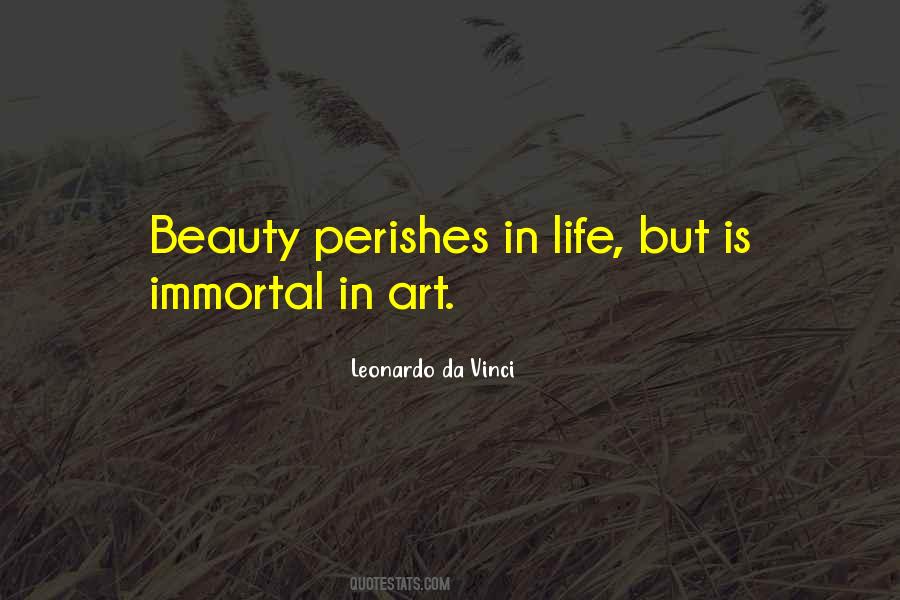 #95. The call to the creative life is a call to dignity, to a life of vulnerability and adventure and the call to a life that exquisite excitement and indeed ecstasy will often visit. - Author: John O'Donohue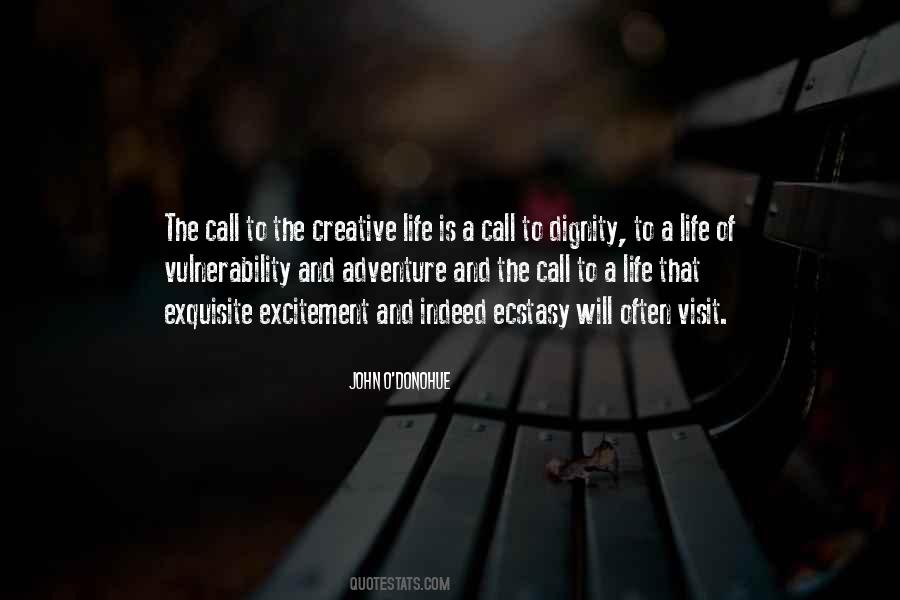 #96. Marvel Comics has always been a place where I felt at home. It has been a very important part of my life and has always been a wellspring of creative and relevant ideas. - Author: Jeff Lindsay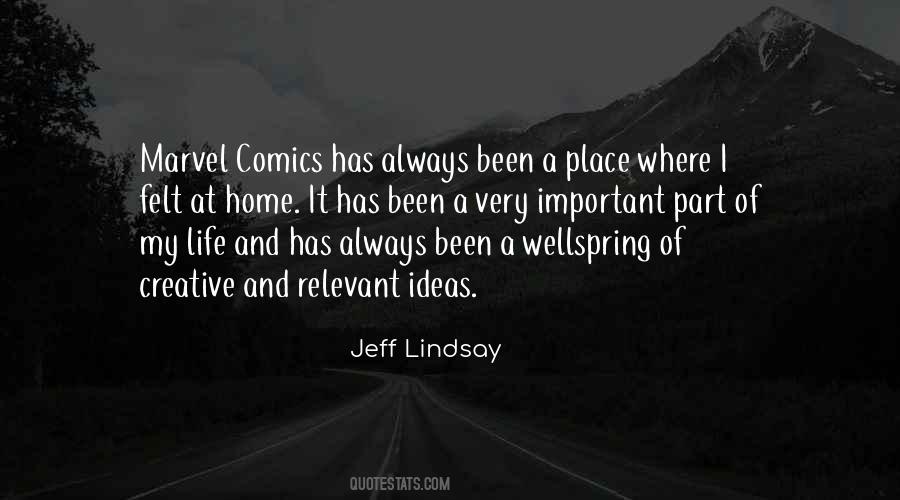 #97. Do you mind even a little that you are still addicted to people-pleasing, and are still putting everyone else's needs and laundry and career ahead of your creative, spiritual life? Giving all your life force away, to "help" and impress. Well, your help is not helpful, and falls short. - Author: Anne Lamott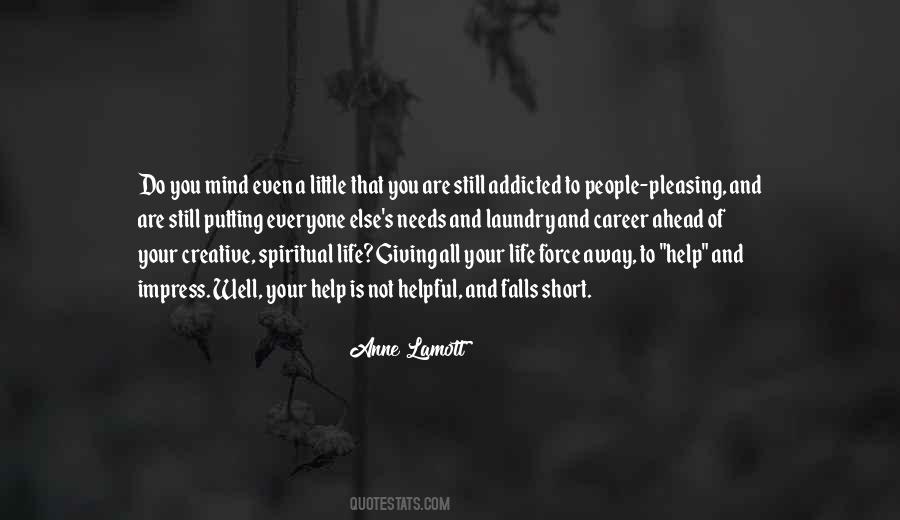 #98. When we C things correctly, life becomes Creative instead of reaCtive. - Author: Donald Walsch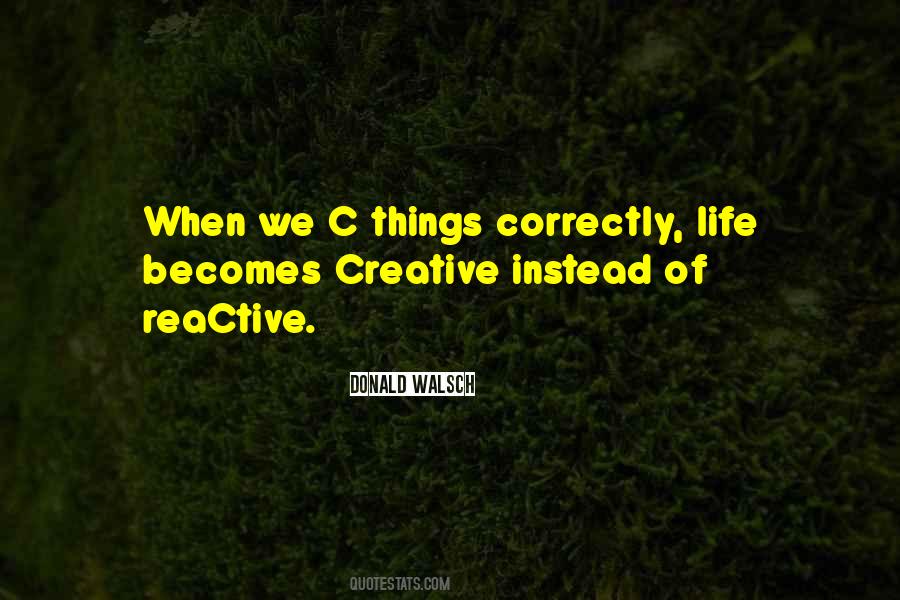 #99. The trick to finding writing time is to make writing time in the life you've already got. - Author: Julia Cameron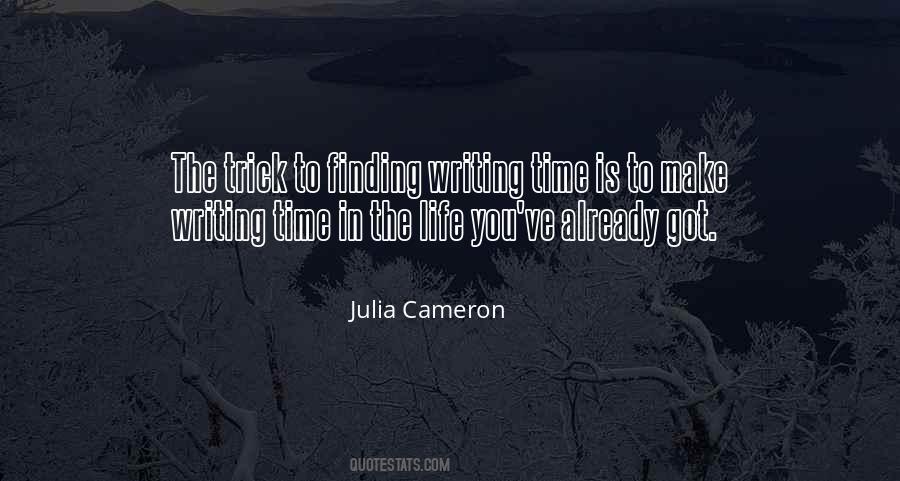 #100. You will pass through storms and heavy rains, and at times you will suffer defeat. The essence of the creative life, however, is not to give up in the face of defeat but to follow the rainbow that exists within your heart. - Author: Daisaku Ikeda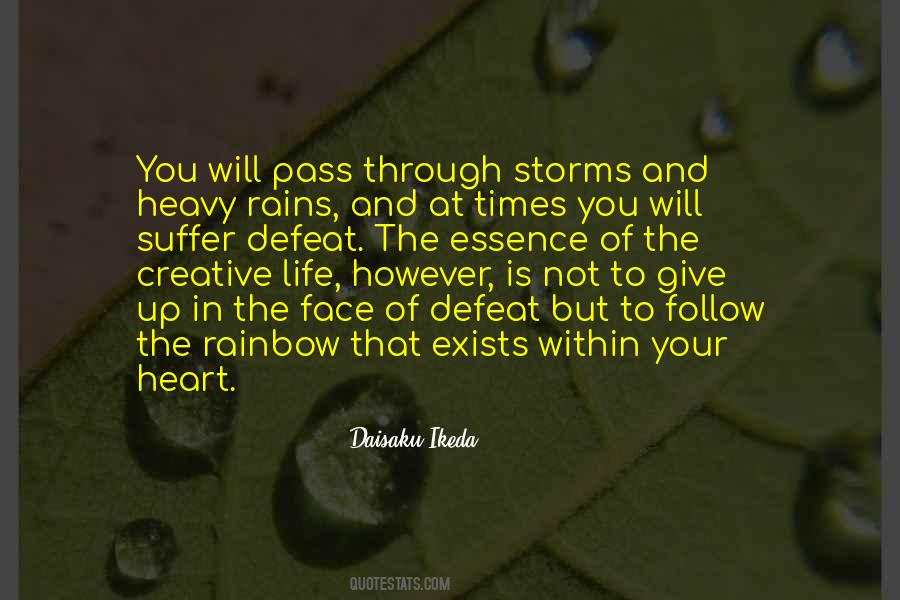 Famous Authors
Popular Topics