Cinema Film Famous Quotes & Sayings
List of top 100 famous quotes and sayings about cinema film to read and share with friends on your Facebook, Twitter, blogs.
Top 100 Quotes About Cinema Film
#1. After 100 years, films should be getting really complicated. The novel has been reborn about 400 times, but it's like cinema is stuck in the birth canal. - Author: Harmony Korine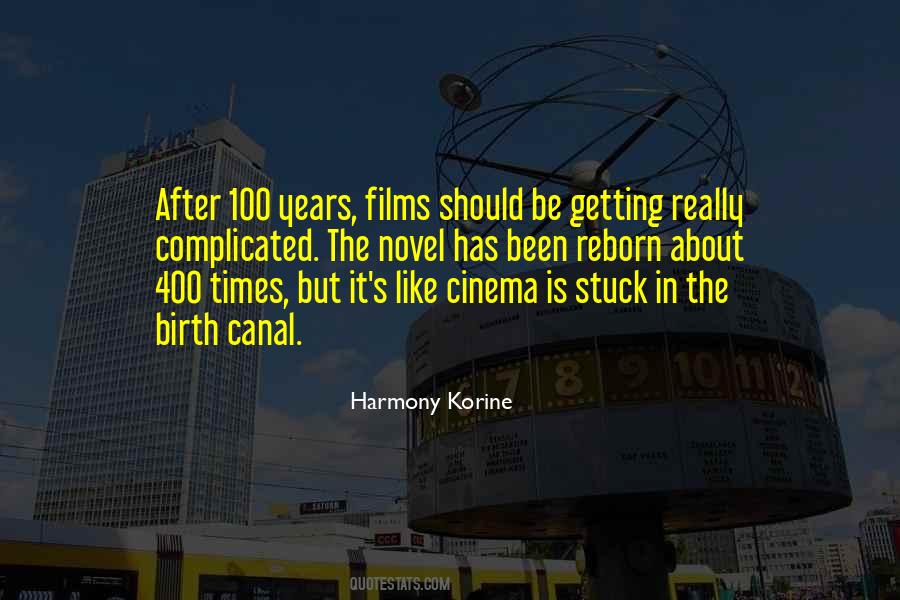 #2. To get noticed, I had to take my films in a space which was much more democratic in terms of cinema - the international film festivals. - Author: Anurag Kashyap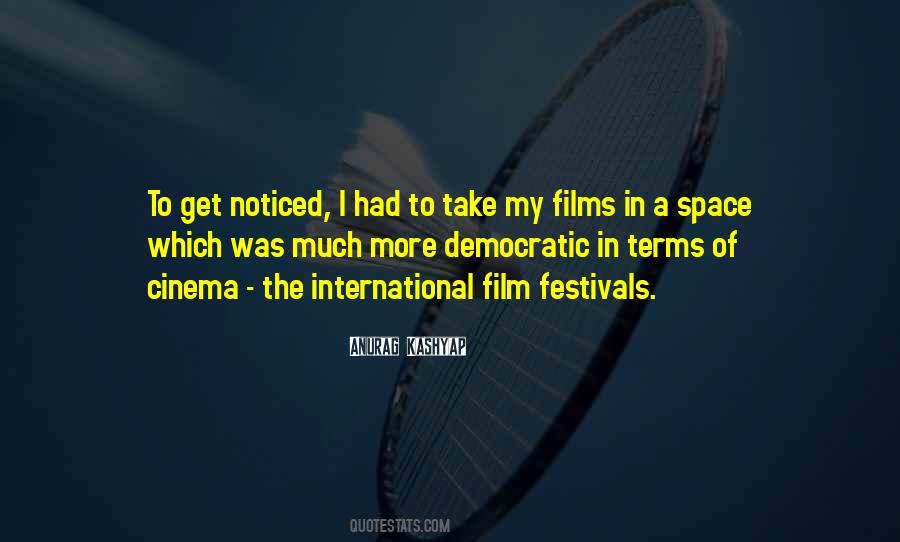 #3. When I go the cinema, unfortunately nowadays, especially with the big commercial films, the audience is spoon-fed through the entire experience and they don't have to do any work. - Author: Michael Fassbender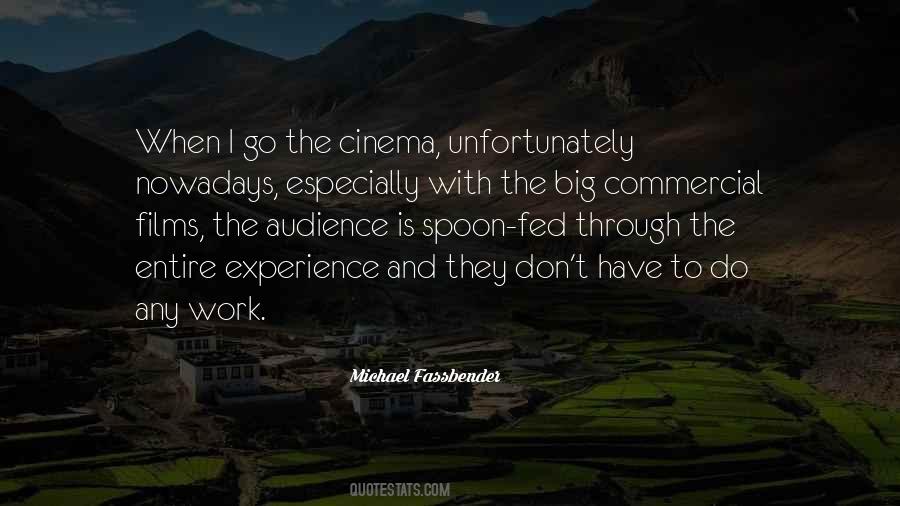 #4. The cinema is truth 24 frames-per-second - Author: Jean-Luc Godard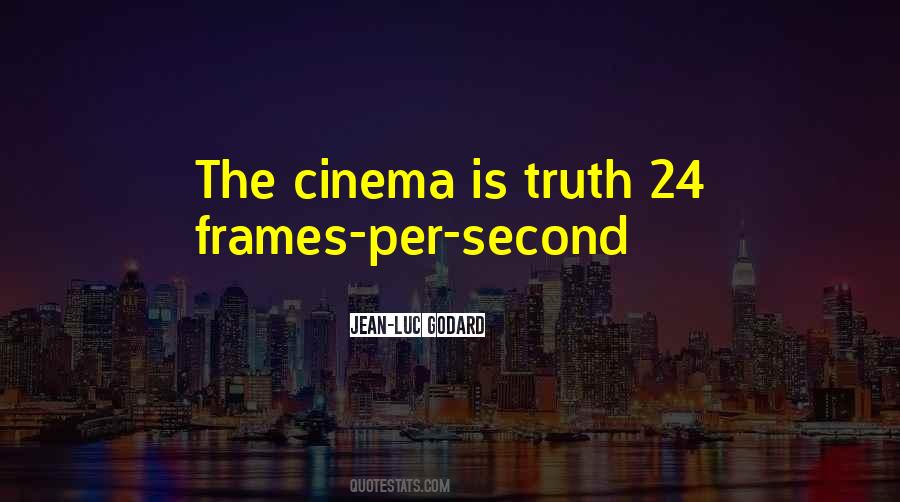 #5. You become a film critic because you're interested in film. I don't know whether knowing so much about cinema leads you to make better films, but it certainly can't hurt. - Author: Michael Haneke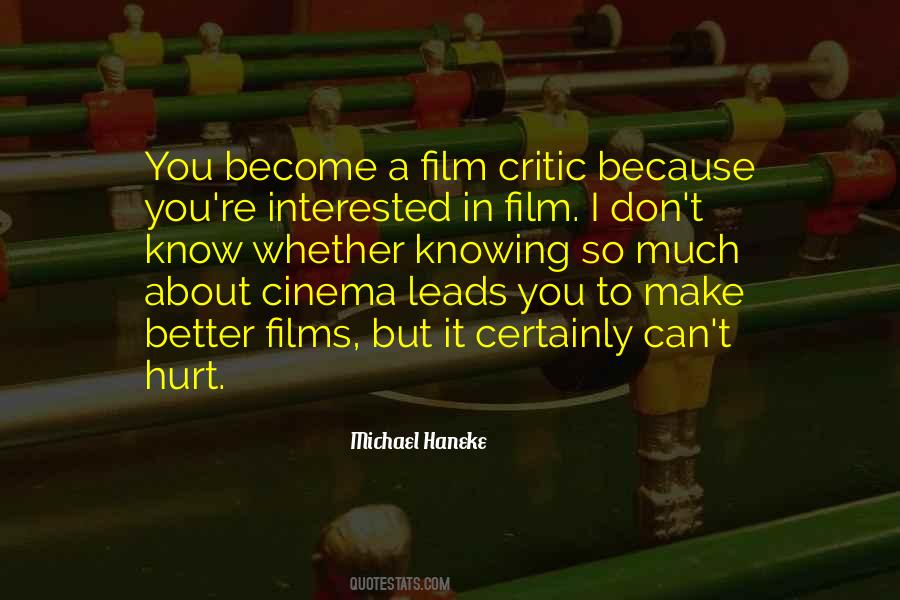 #6. For me, filmmaking combines everything. That's the reason I've made cinema my life's work. In films, painting and literature, theatre and music come together. But a film is still a film. - Author: Akira Kurosawa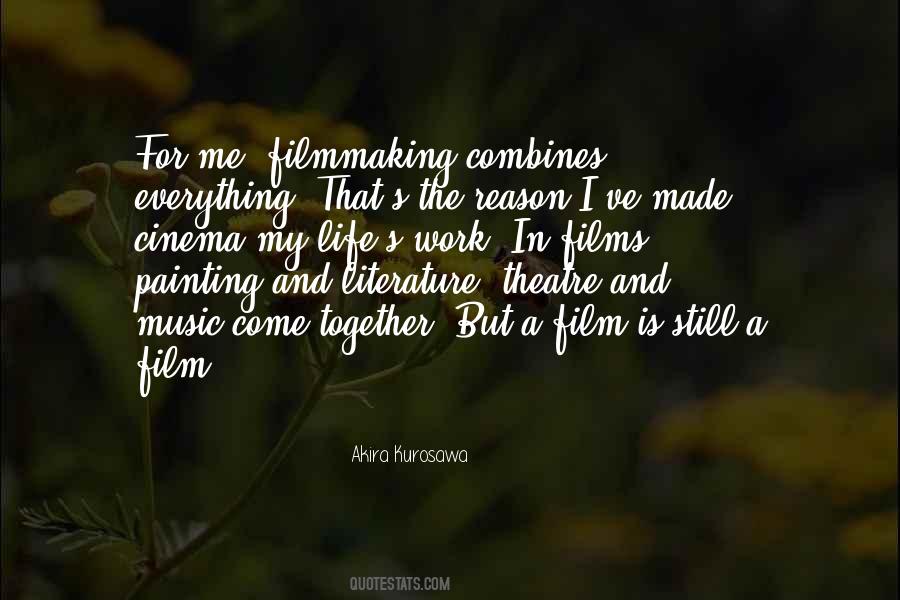 #7. There's nothing like sitting in a completely quiet room, and then the strings start up. It's like when you go to the cinema - the first two or three minutes of any film are amazing. Because the screen is so big. The scale. Directors can pretty much do anything for those first few minutes. - Author: Jonny Greenwood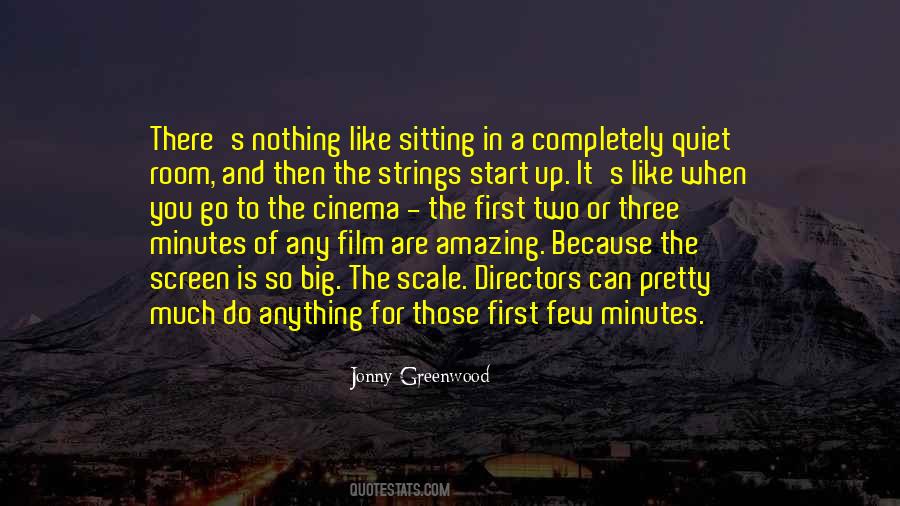 #8. When I go to a film, you're taking it easy and you let things wash over you. That's what cinema's all about. You get involved in a world that's being created in front of you. - Author: Mary Hansen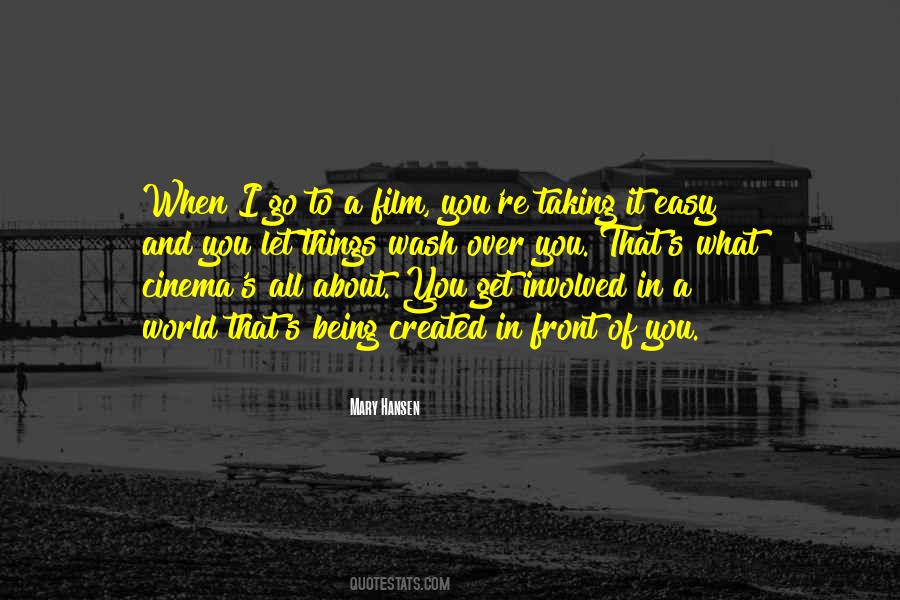 #9. To Bette Davis, Gena Rowlands, Romy Schneider ... To all actresses who have played actresses, to all women who act, to all men who act and become women, to all the people who want to be mothers. To my mother.
- Dedication, Todo Sobre Mi Madre - Author: Pedro Almodovar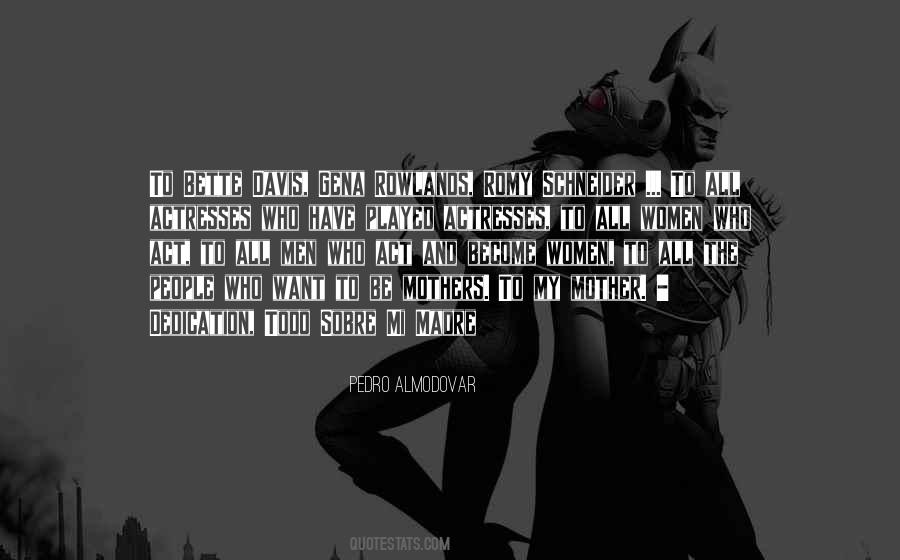 #10. American capitalism finds its sharpest and most expressive reflection in the American cinema. - Author: Sergei Eisenstein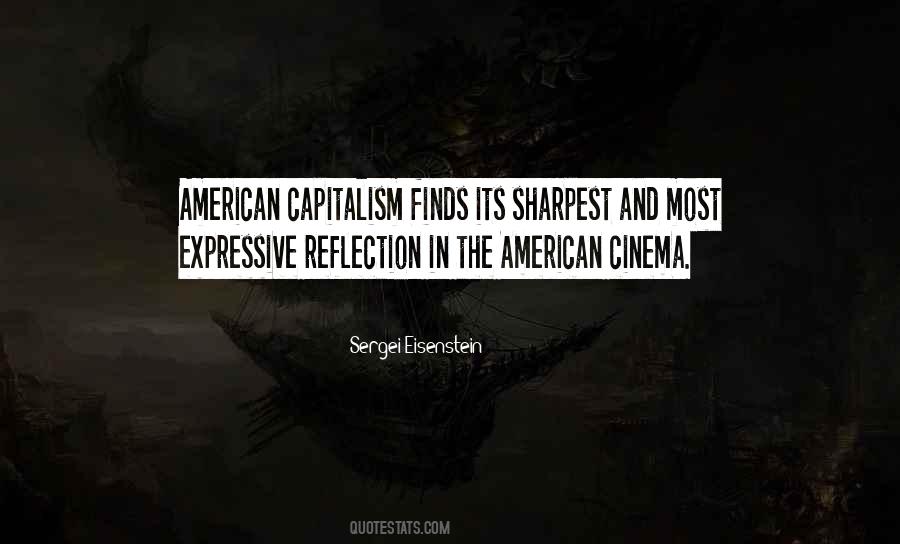 #11. There have been innumerable films about film-making, but Otto e Mezzo was a film about the processes of thinking about making a film
certainly the most enjoyable part of any cinema creation. - Author: Peter Greenaway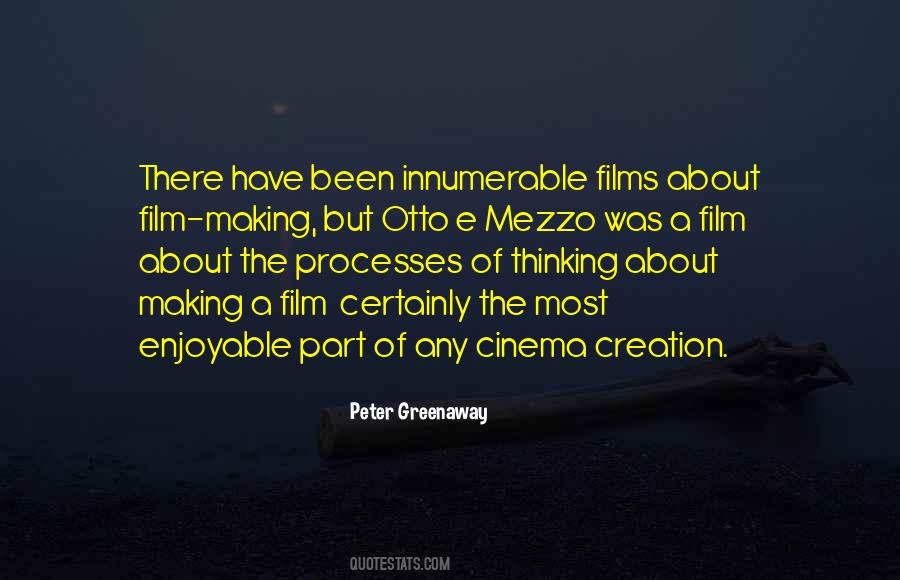 #12. THE MAN WITH A MOVIE CAMERA(1929) the 'honesty' of documentary as compared with fiction film, the 'perfection' of the cinematic eye compared with human eye. - Author: Steven Jay Schneider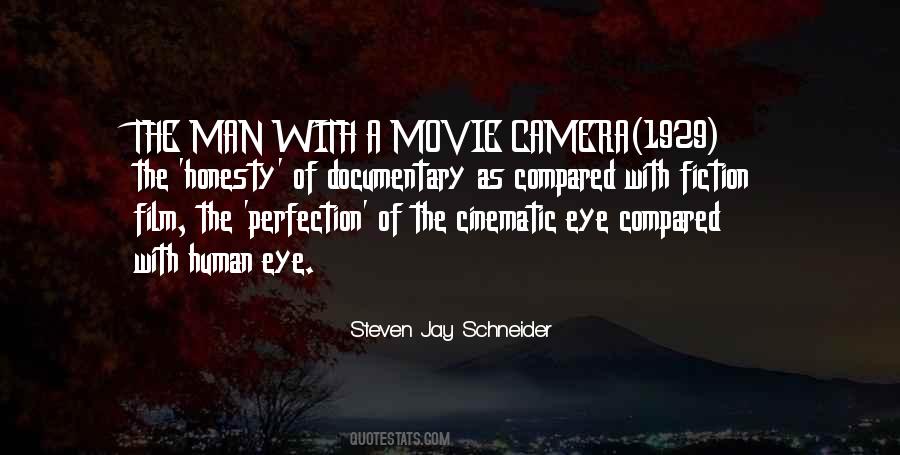 #13. When I went to the cinema as a boy, when I saw a war film, I thought the general was the star, and that Cary Grant was an extra. I had no idea about the structure of film, but I loved going to the cinema. - Author: Nicolas Roeg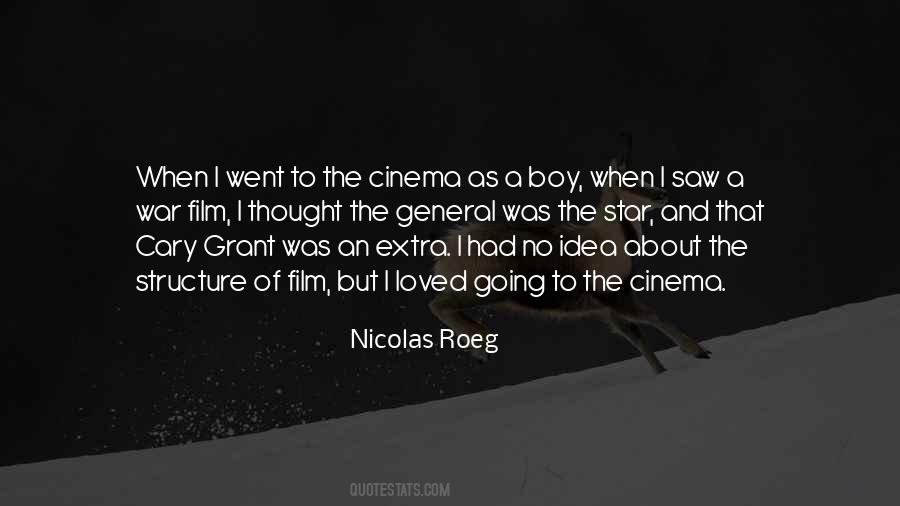 #14. Anyone who's made film and knows about the cinema has a lifelong love affair with the experience. You never stop learning about film. - Author: Francis Ford Coppola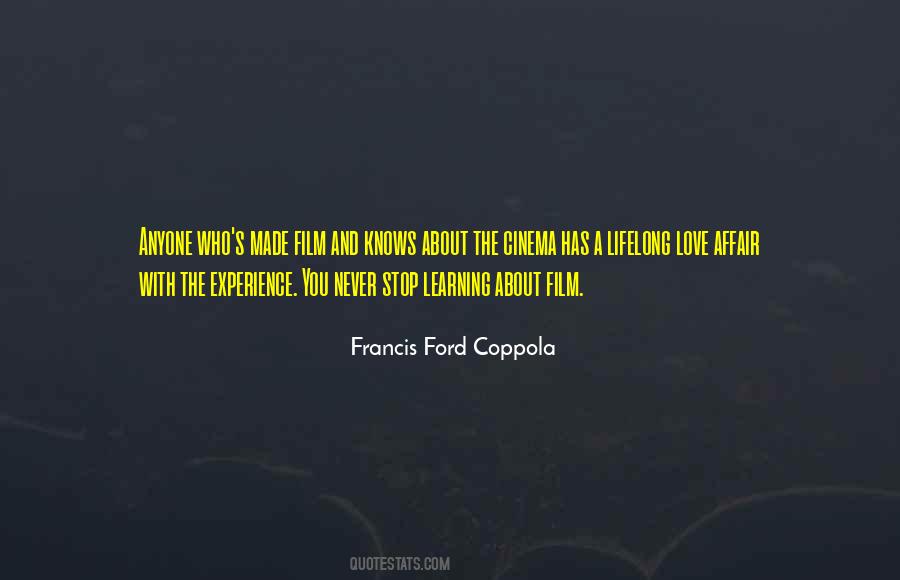 #15. Film is not analysis, it is the agitation of mind; cinema comes from the country fair and the circus, not from art and academicism. - Author: Werner Herzog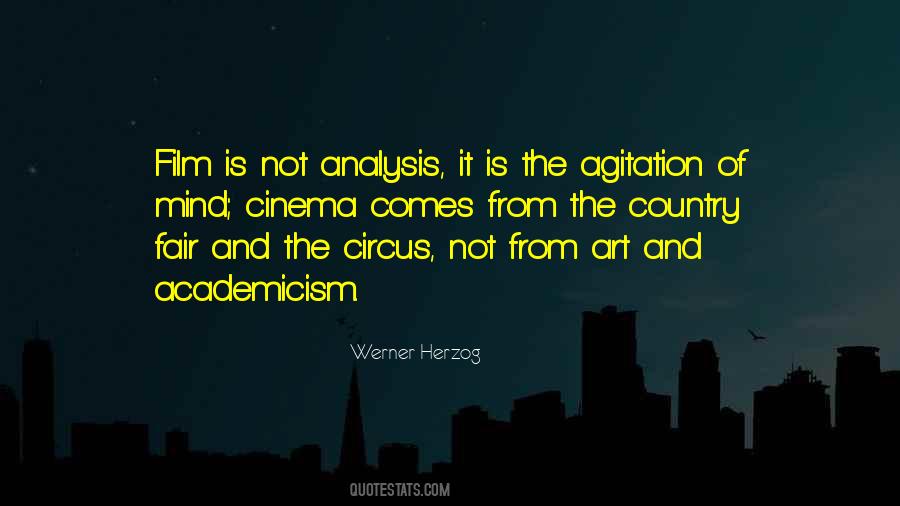 #16. My films are doing well in Polish cinemas, so I don't really have problems financing them, and my international accolades are helpful. - Author: Malgorzata Szumowska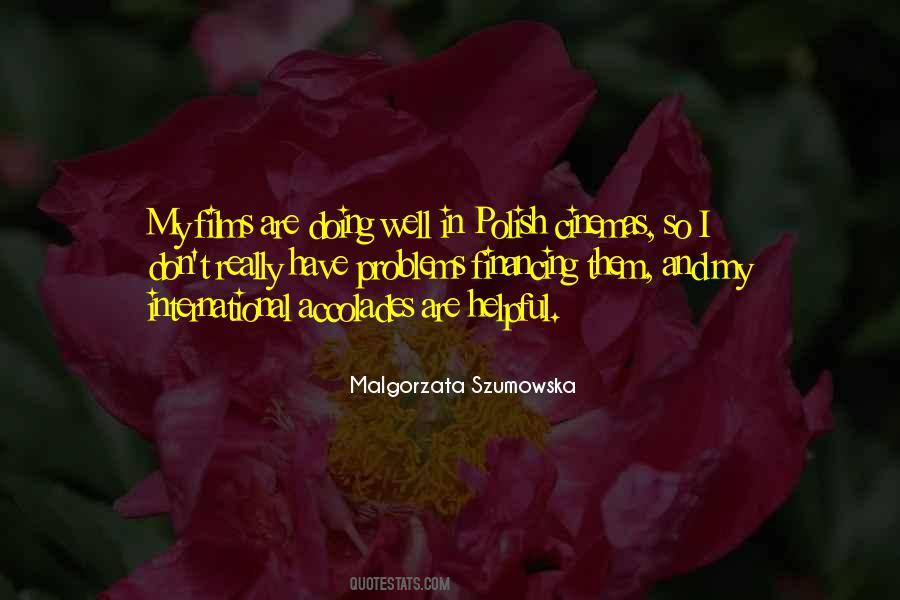 #17. In the Indian film industry, especially those of us who are in mainstream cinema, we invariably play a typical hero's role. More often than not, we cater to the public perception. However, there is a latent desire in most actors to do a role where you can go all out and experiment. - Author: Abhishek Bachchan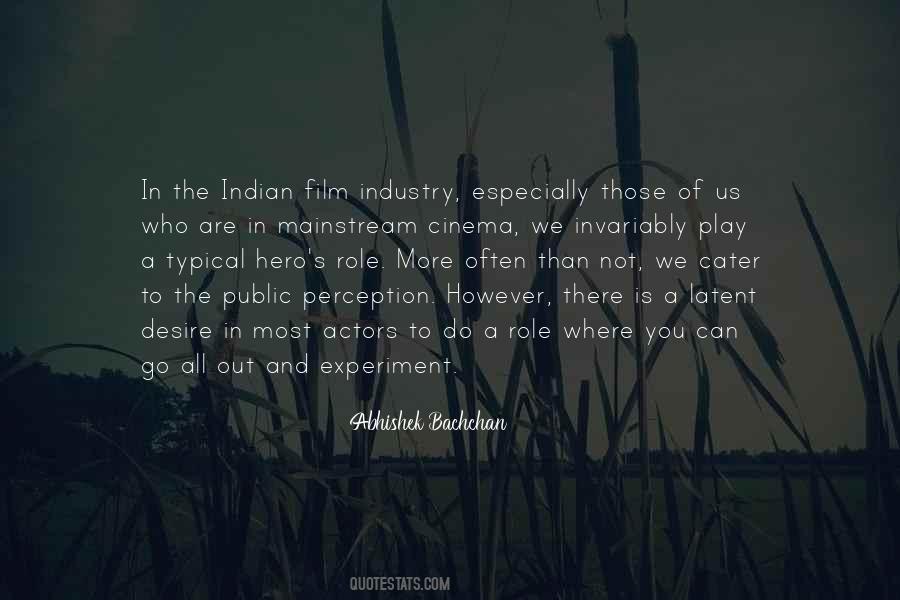 #18. Your relationship to a film, and to cinema, is very much determined by yourself, so what is relevant is you. - Author: Bruno Dumont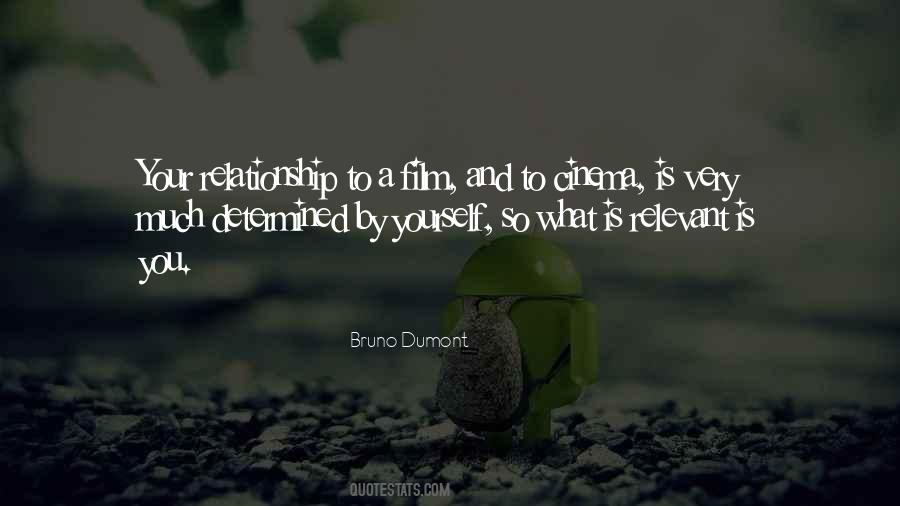 #19. Of course the French are making very credible movies and it is still one of the greatest nations in terms of world cinema but the real problem is the decay in film criticism. - Author: Wim Wenders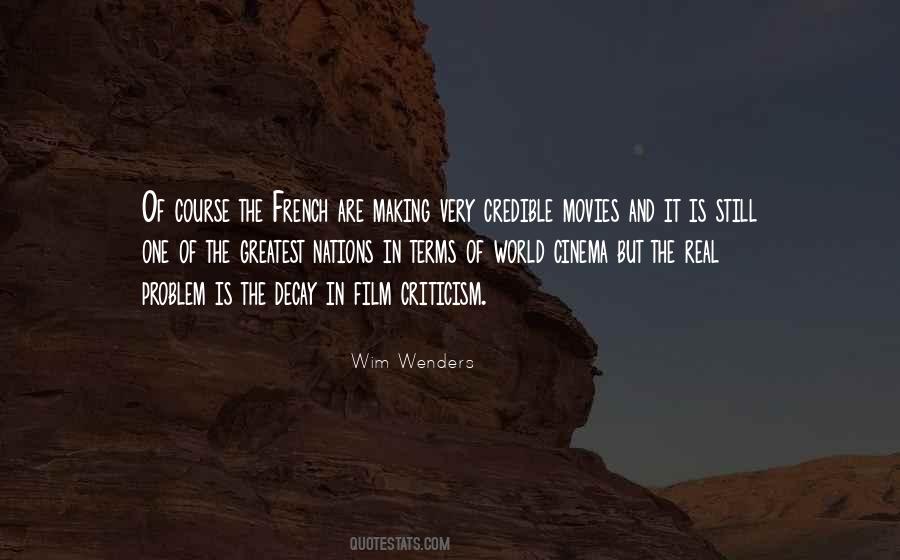 #20. I wanted to make a film about my dad, a sort of love letter, and explain what I understood of his cinema, which was so utopian. I also wanted to give the sense of his cinema, because they have never been very big box-office, but they were very influential. - Author: Isabella Rossellini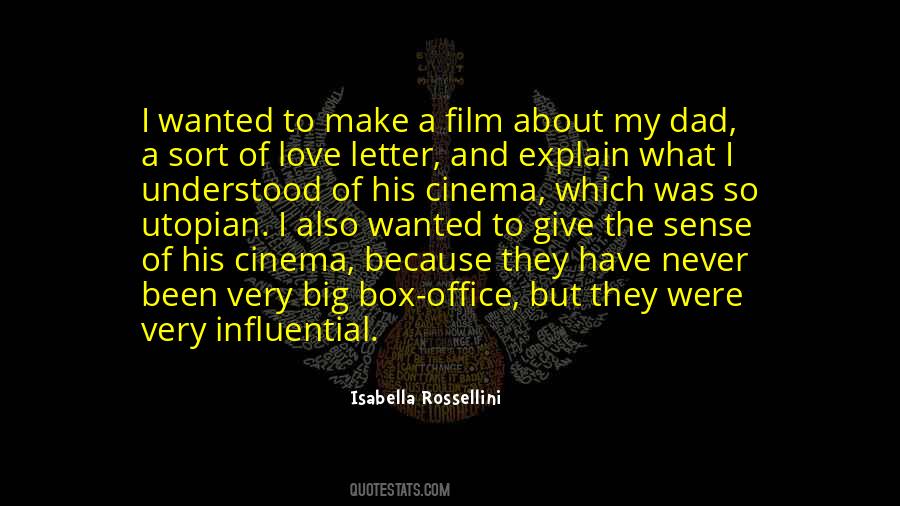 #21. I come from an everyday middle class family in India. The film industry reached us only through our television sets and cinema halls. - Author: Lavrenti Lopes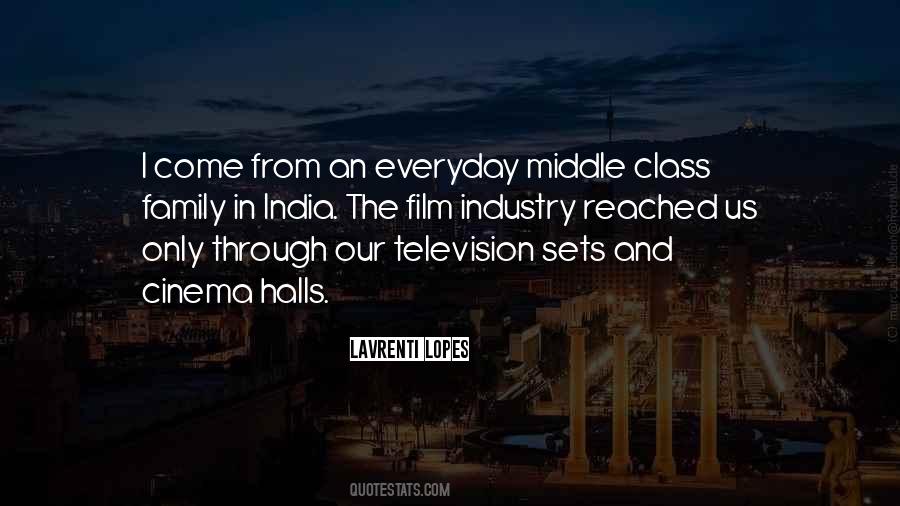 #22. We can't keep thinking in a limited way about what cinema is. We still don't know what cinema is. Maybe cinema could only really apply to the past or the first 100 years, when people actually went to a theater to see a film, you see? - Author: Martin Scorsese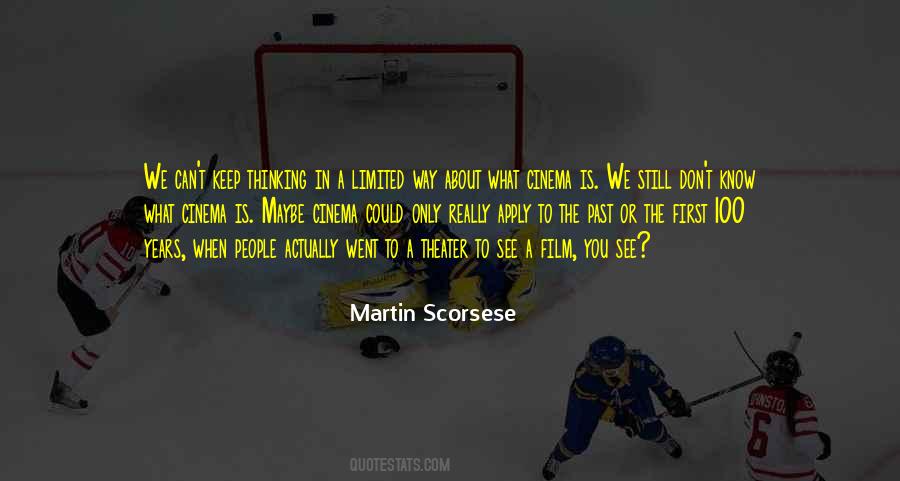 #23. I have been a film buff all my life and believe that the finest cinema is fully the equal of the best novels. - Author: Salman Rushdie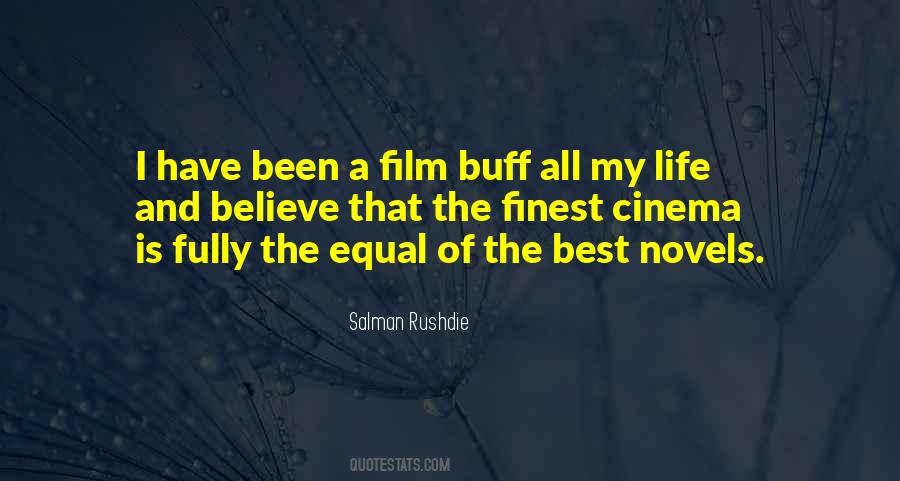 #24. The whole aspect of cinema and film festivals should be a moment to come together and celebrate art and humanity. It would be a shame if there was such a divide. - Author: Keanu Reeves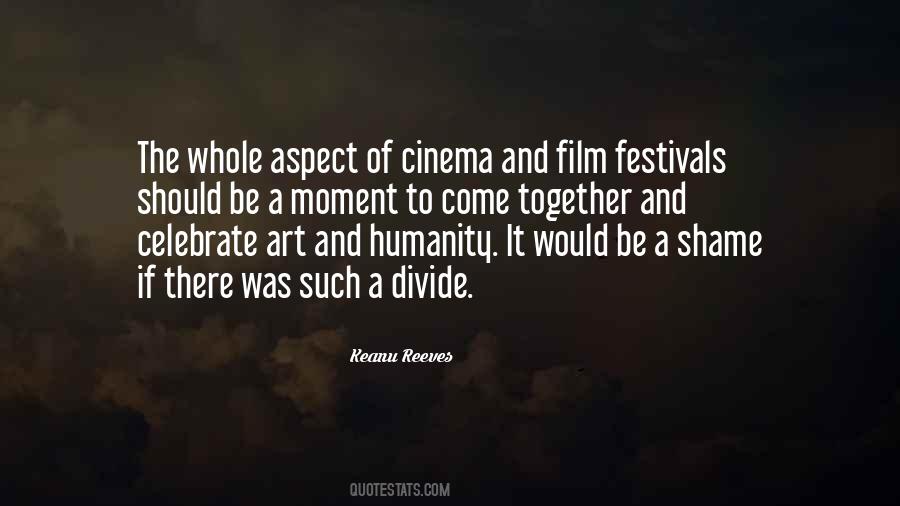 #25. Today, I demand that a film express either the joy of making cinema or the agony of making cinema. I am not at all interested in anything in between; I am not interested in all those films that do not pulse. - Author: Francois Truffaut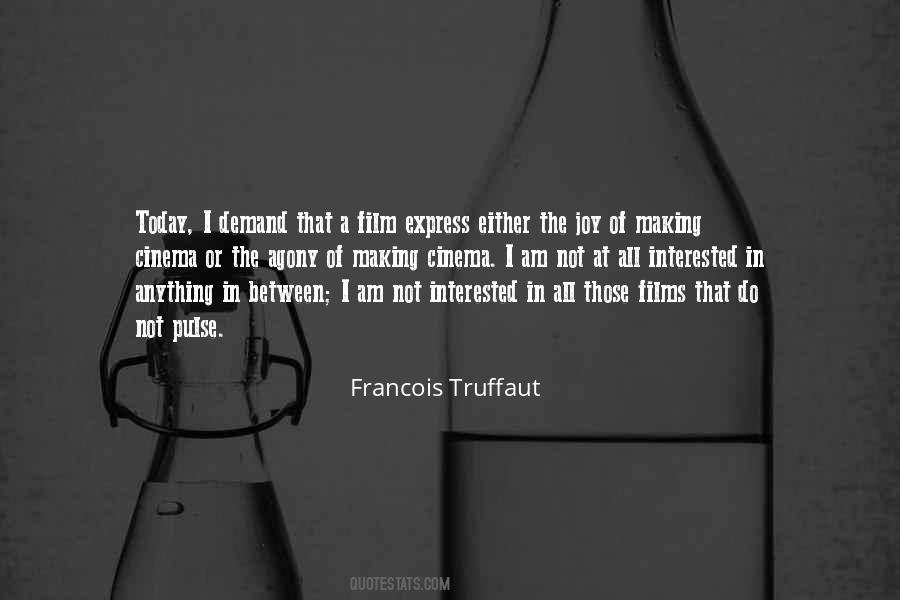 #26. Sequels are not done for the audience or cinema or the filmmakers. It's for the distributor. The film becomes a brand. - Author: Francis Ford Coppola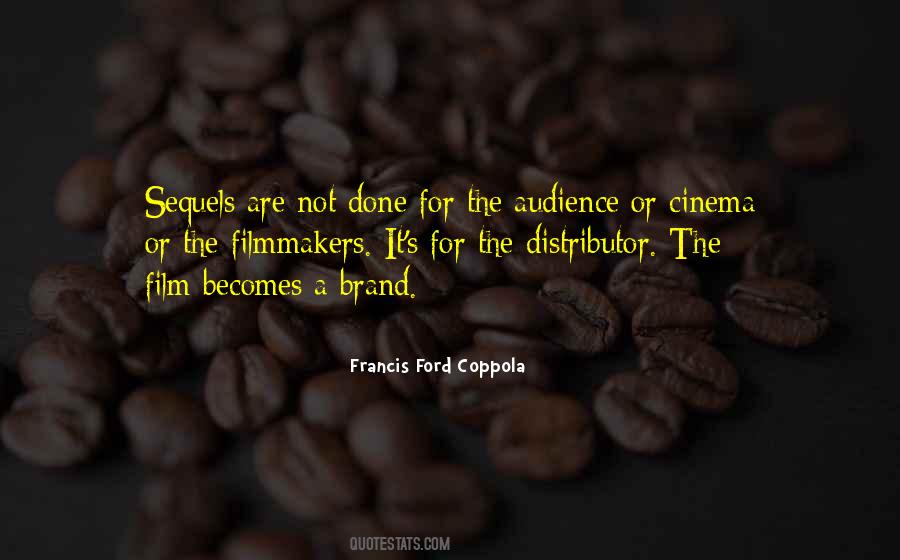 #27. I think that there's a very lucid side in cinema: entering a theater and seeing the film. - Author: Miguel Gomes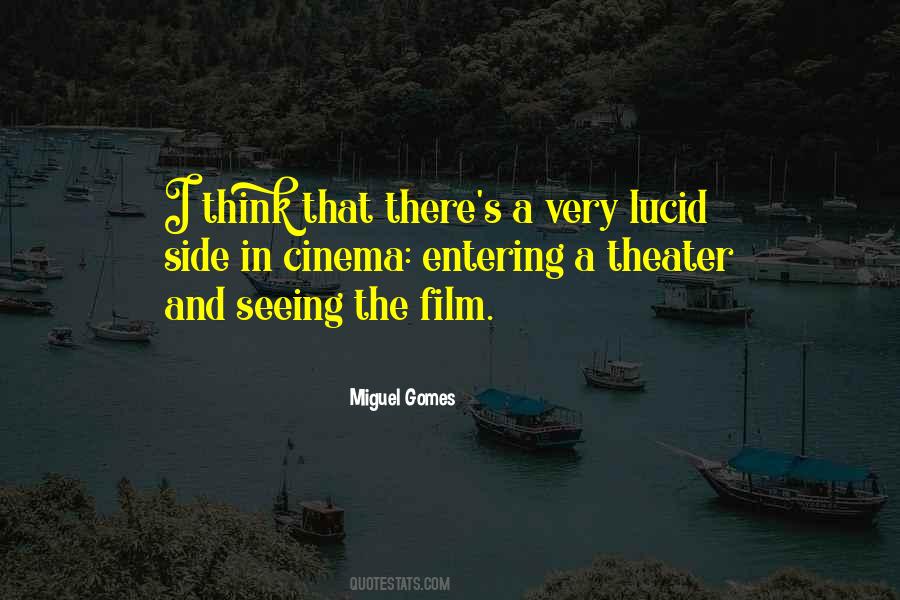 #28. I never sit in a cinema and go, "Ah! I want to be in that film!" - Author: Carey Mulligan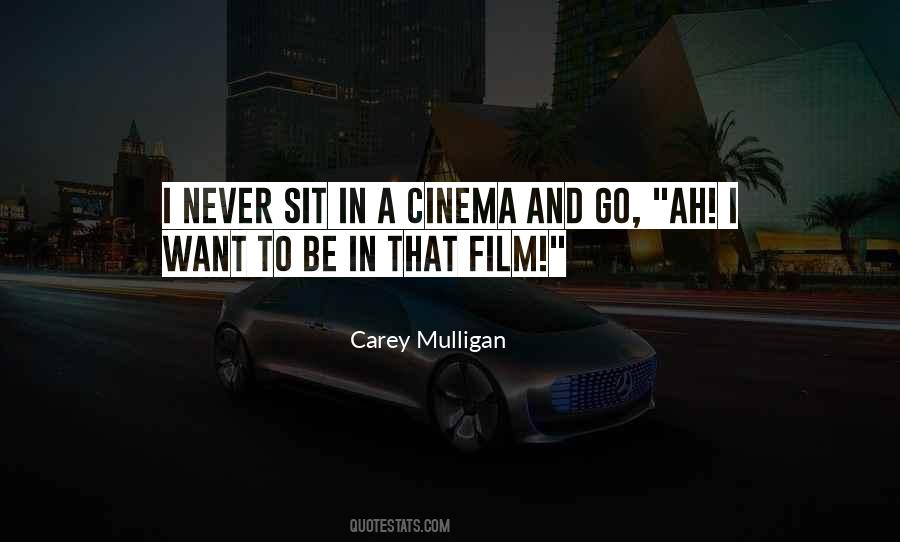 #29. The influence of cinema on all contemporary writers is undeniable. Because film is such a powerful and popular art form, we prose writers think cinematically. - Author: Hector Tobar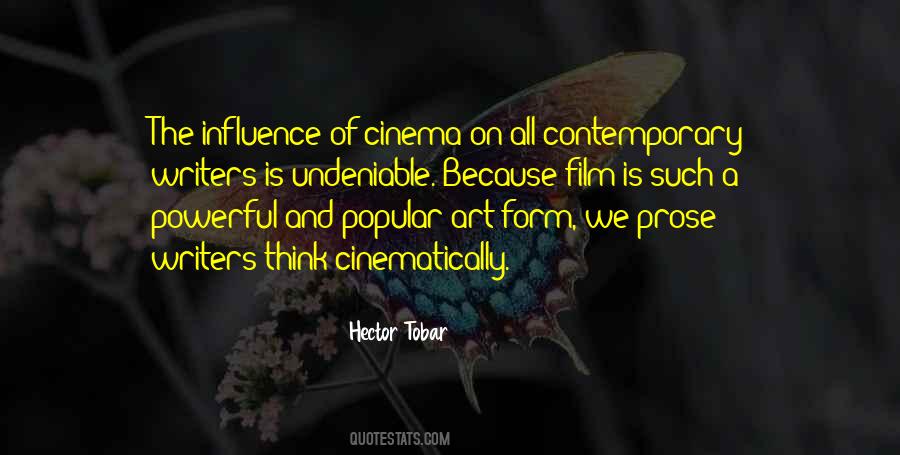 #30. Music is the only passion I shamelessly indulge in. However, for recreation I enjoy watching movies. 'Wizard of Oz' was the first film I ever saw, followed by the 'Bond' movies. I also watch a lot of World cinema through DVDs mostly brought by one of my best friends who's now based in Toronto. - Author: A.R. Rahman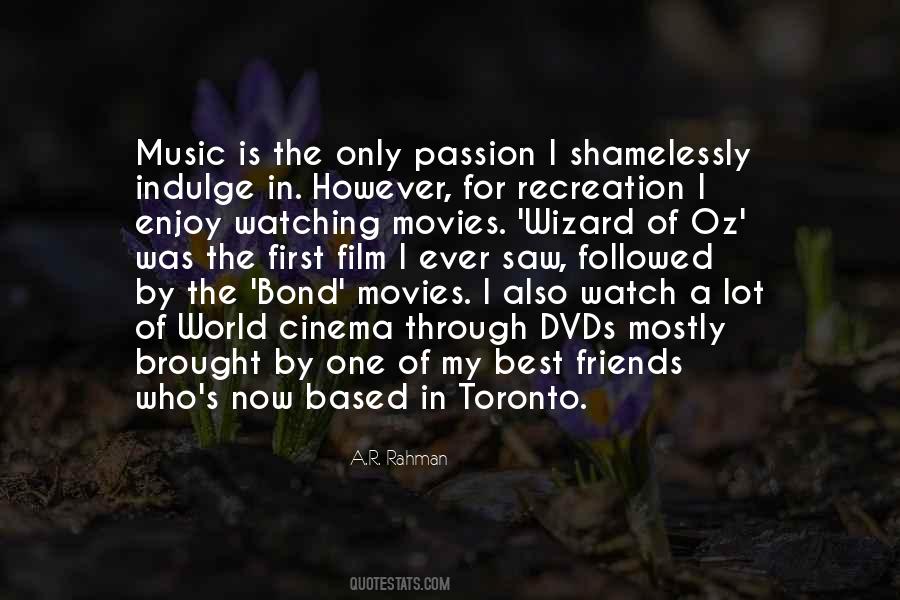 #31. I was a young film student around the time of the new wave in film in the 1970s; old Hollywood was naff and over. For me, as a film student, I was going to see French and Italian cinema; American cinema was 'Easy Rider' and 'Taxi Driver.' Everything was gritty. - Author: Gillian Armstrong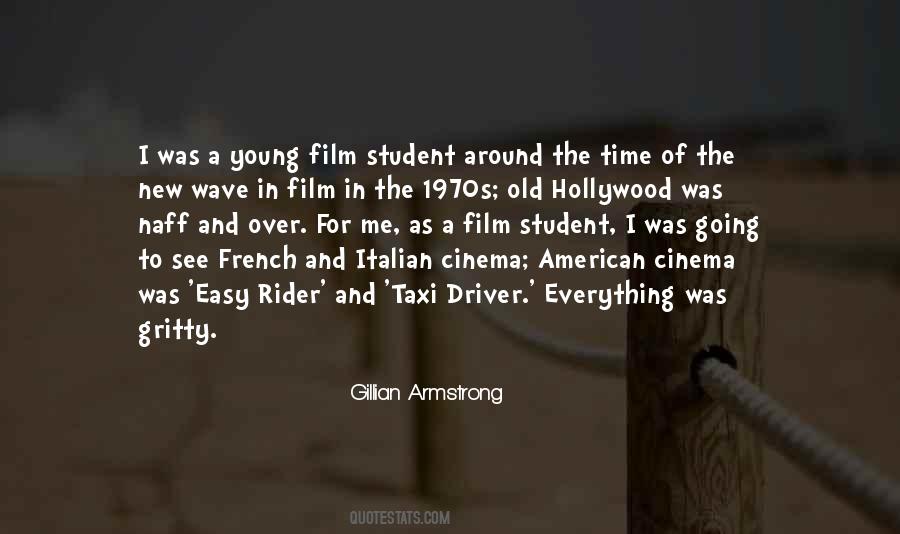 #32. I've never done a film before where every single person in the audience knows the ending. I mean suspense, twists are almost impossible these days. People are blogging your endings from their cinema seats. - Author: Danny Boyle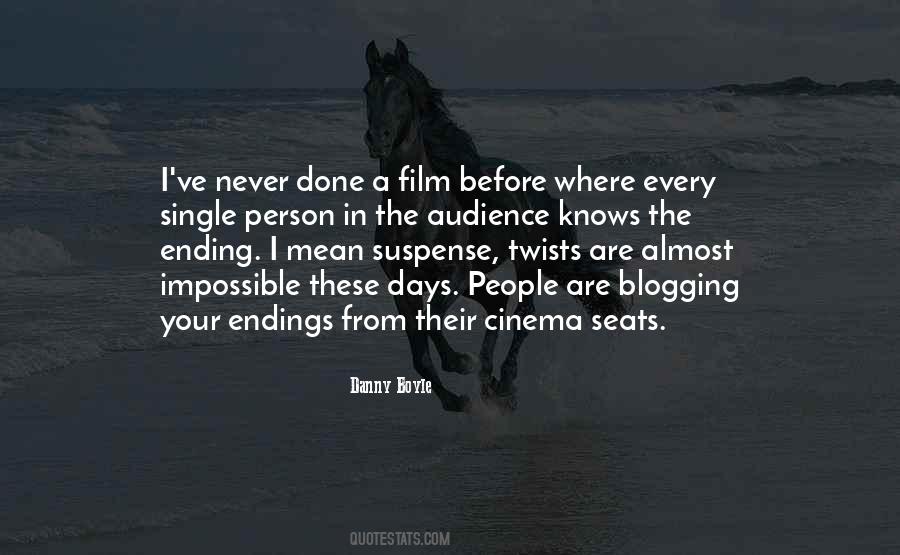 #33. I did not make this a long film for its own sake. I wanted to make an entertaining film and offer it out there for those who want to see it. If word of mouth suggests there is an audience out there, hopefully their cinema will show it. - Author: Kenneth Branagh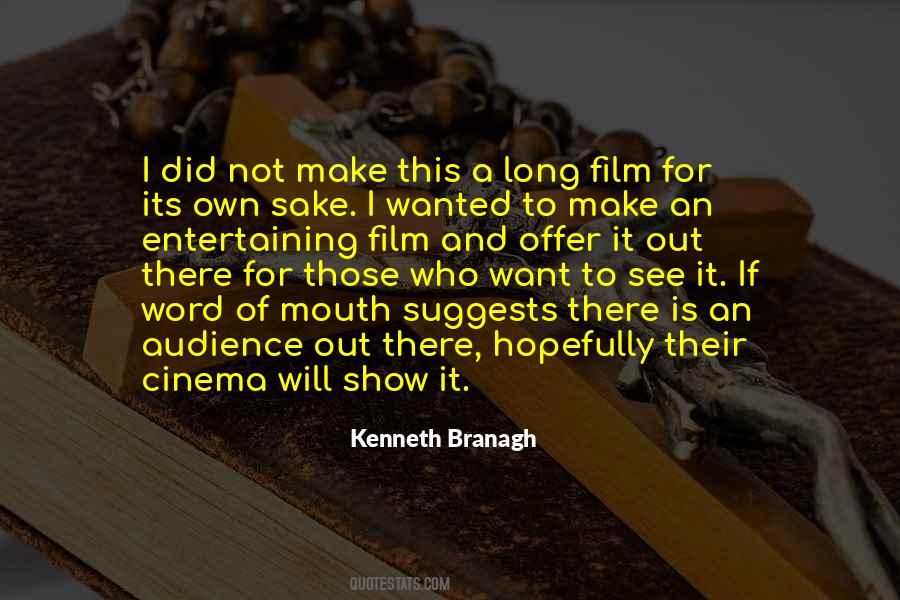 #34. Norway is a small country, about half the size of Sweden, but it has a very good film climate because they have municipal cinemas, so even in the smallest towns you have a cinema that shows art house films from all over the world. - Author: Stellan Skarsgard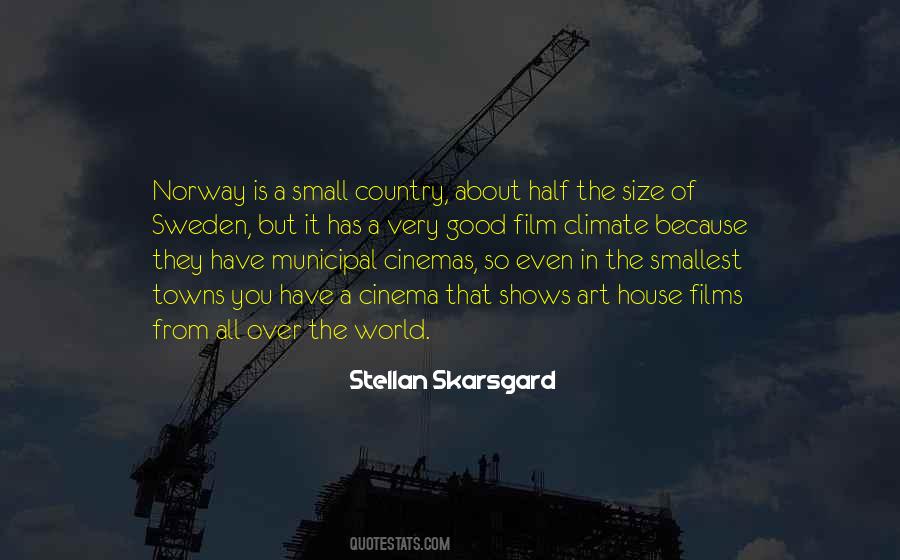 #35. I see horror as part of legitimate film. I don't see it as an independent genre that has nothing to do with the rest of cinema. - Author: Guillermo Del Toro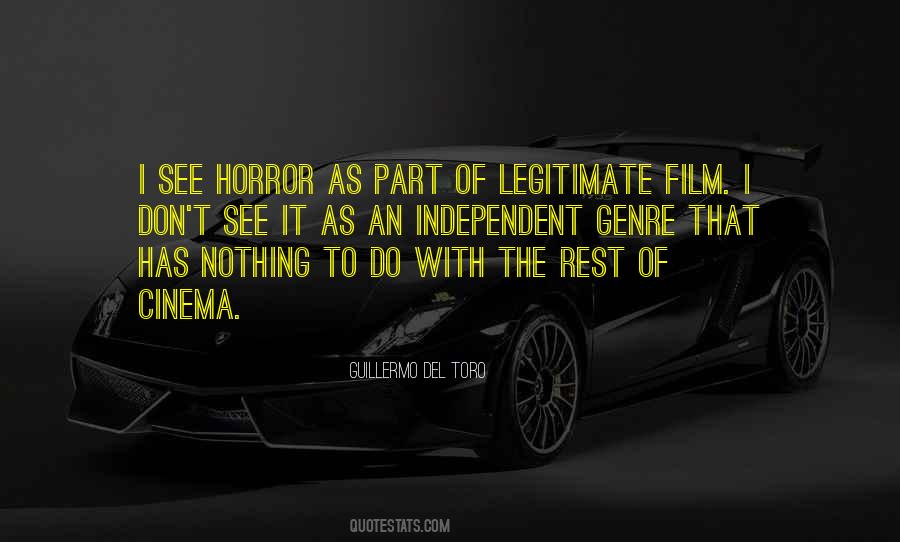 #36. In my films, I hope there are a few moments where you feel almost illuminated, like in a state of ecstasy, stepping out of yourself, beyond yourself and perceiving something which is only, in the case of cinema, possible in collective dreams. - Author: Werner Herzog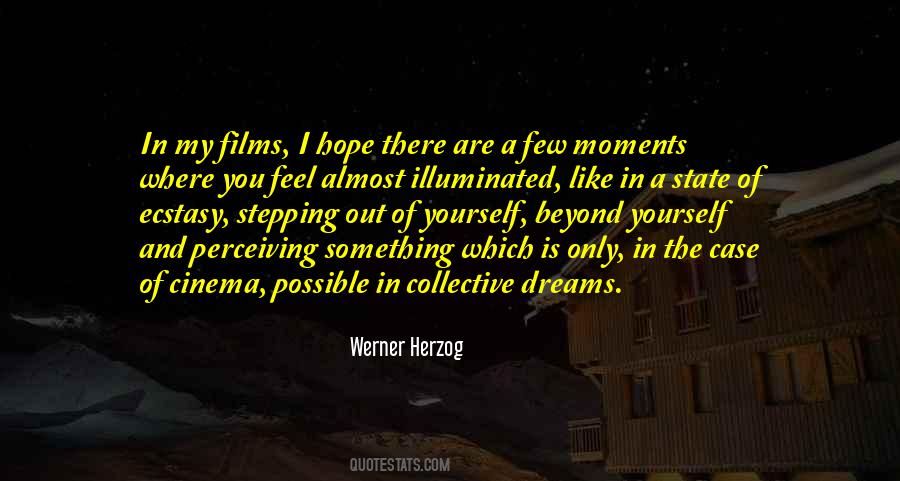 #37. The enigma of cinema is gone because of the focus on business. As soon as you attach numbers to a film, you limit it. Films are meant to be an escape from reality. - Author: Shahrukh Khan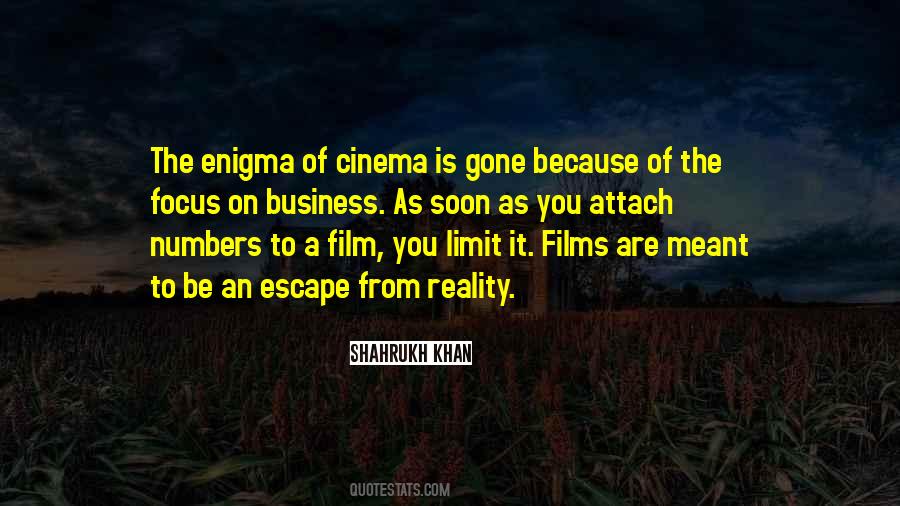 #38. My absolute favorite song I've ever written is "This Is Where We Came In." It's a nudge at younger listeners, cause at one time you could go into a cinema halfway through a film and then stay through and pick up where you left off. - Author: James Hunter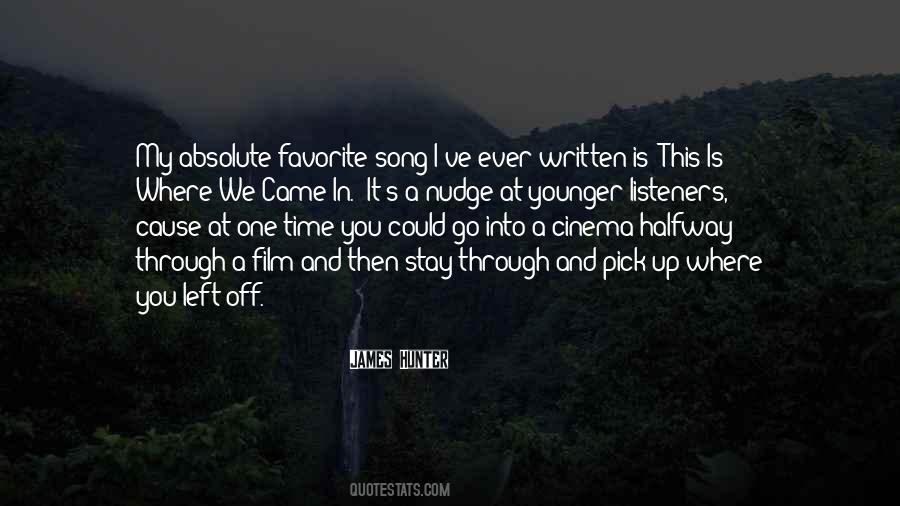 #39. If you're going to break cinema, film, and movies apart, very rarely to you get the opportunity to even think that you've been a part of cinema. - Author: Kiefer Sutherland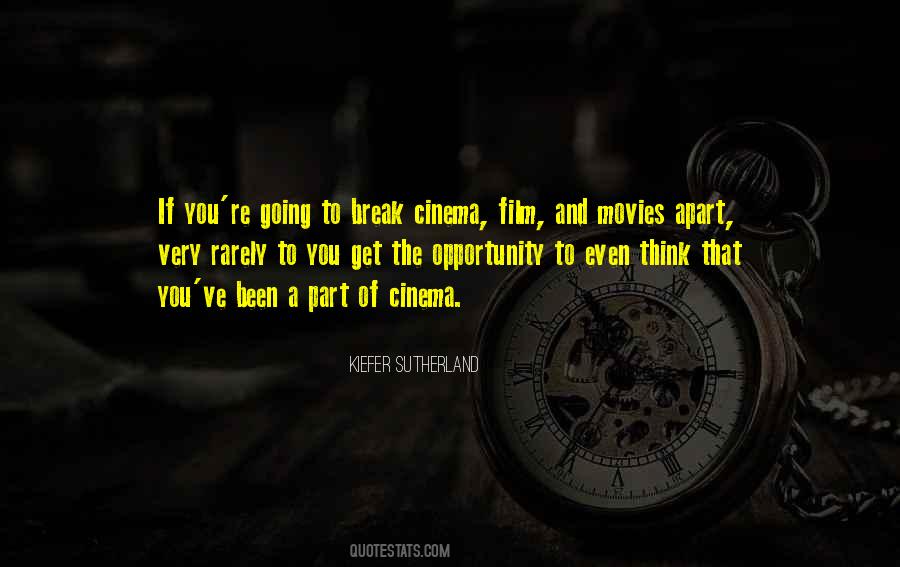 #40. But then when you go through the process of making the film and you sit in the cinema two years later and your jaw hits the floor, it's quite sad in a way because you're looking at yourself - facially anyway - and see the way you looked when you were 20. - Author: Ray Winstone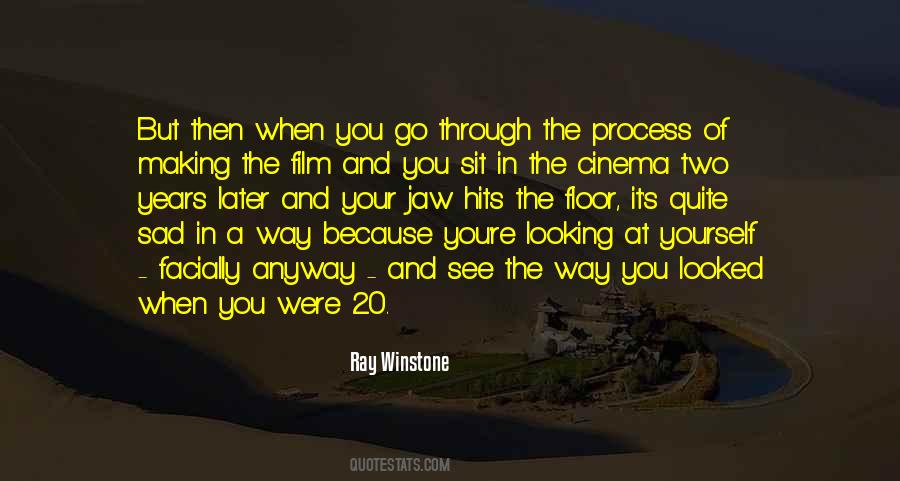 #41. I wouldn't be a good wife, but I would be a wife in a way that was cinematically compelling. - Author: Gabby Bess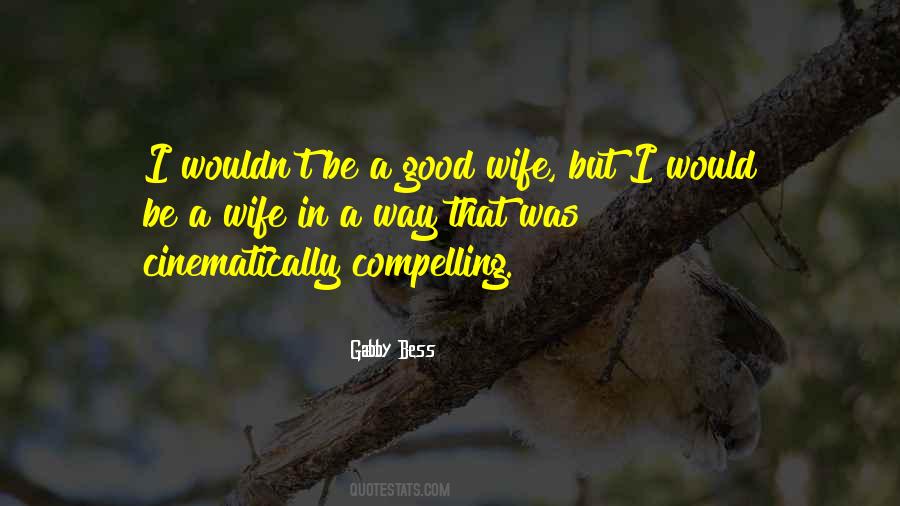 #42. I never studied anything about film technique in school. Eventually, I realized that cinema and theater are not so different: from the gut to the heart to the head of a character is the same journey for both. - Author: Ralph Fiennes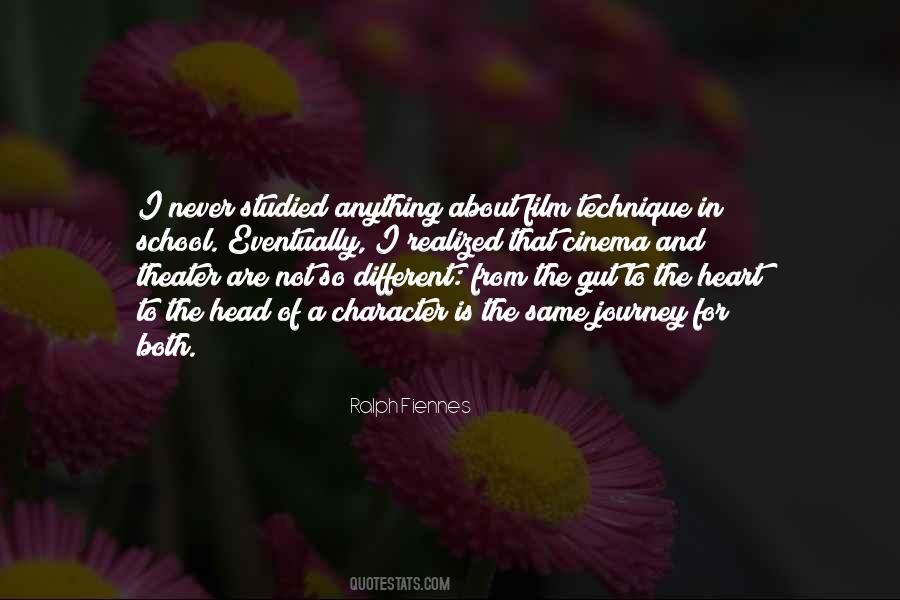 #43. Over the years, there has been an intermingling of film and aircraft. This relationship has generated all kinds of movies, including those filmed in San Diego. - Author: James L. Farmer Jr.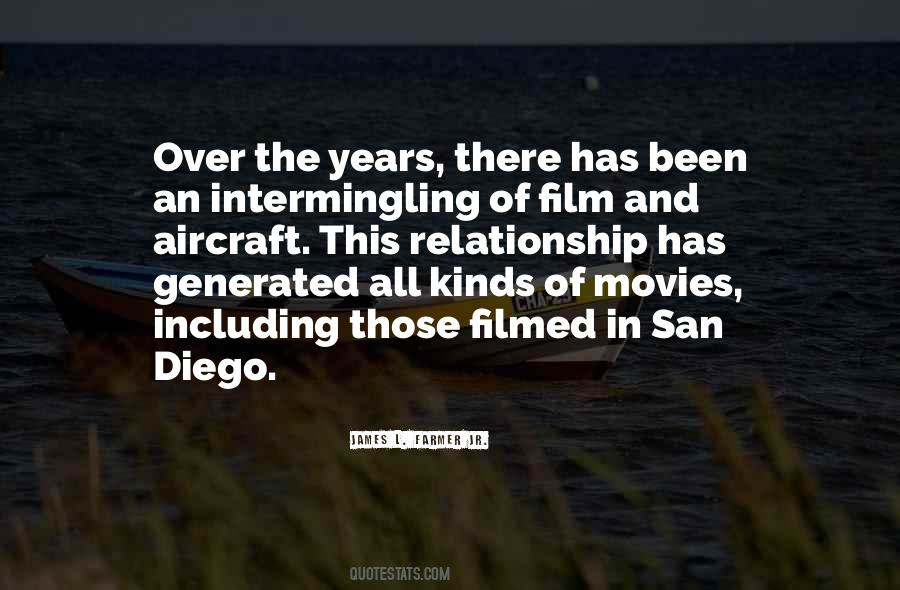 #44. Film analysis enables us to recognize how the filmmakers have their magic on us, how all the constituent elements of the film have combined to create that magic. Rather than rob us of the pleasures of watching films, this approach affords us the even greater pleasure of deep engagement - Author: Jon Lewis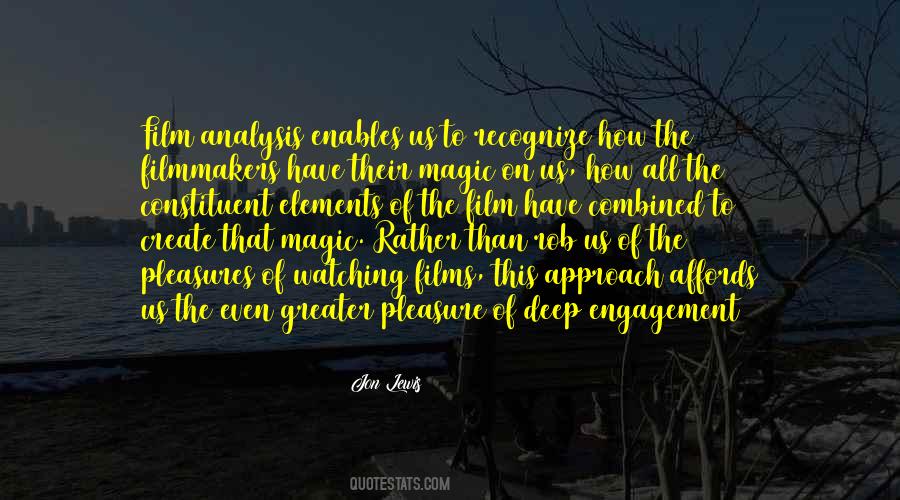 #45. I am going to produce a movie of my own. I am not going to stick to the time-tested formulae of Hindi cinema. I want to make a film for the present generation. So there will be a lot of new faces in the film. - Author: Kabir Bedi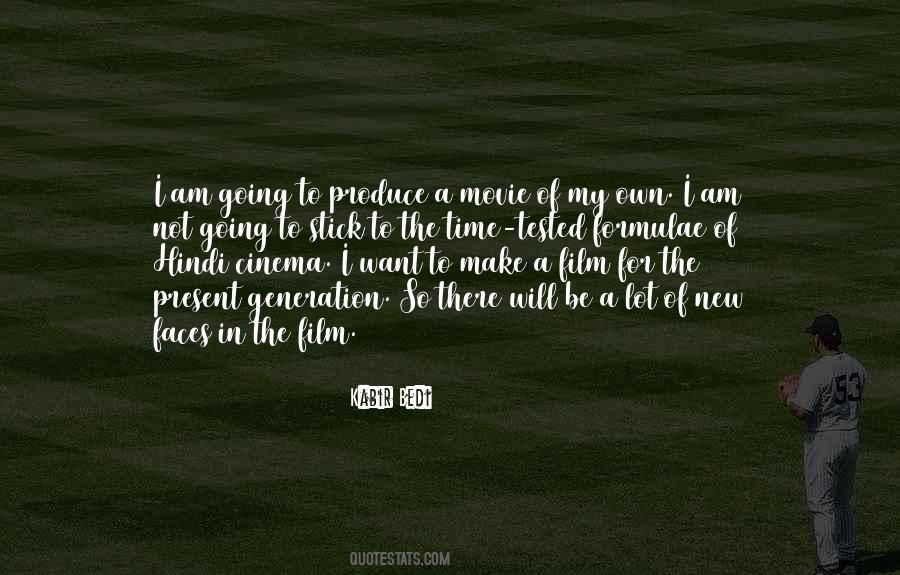 #46. I'm still fighting. I don't know how much longer, but I'm still fighting a struggle, which is to make cinema alive and not just make another film. - Author: Agnes Varda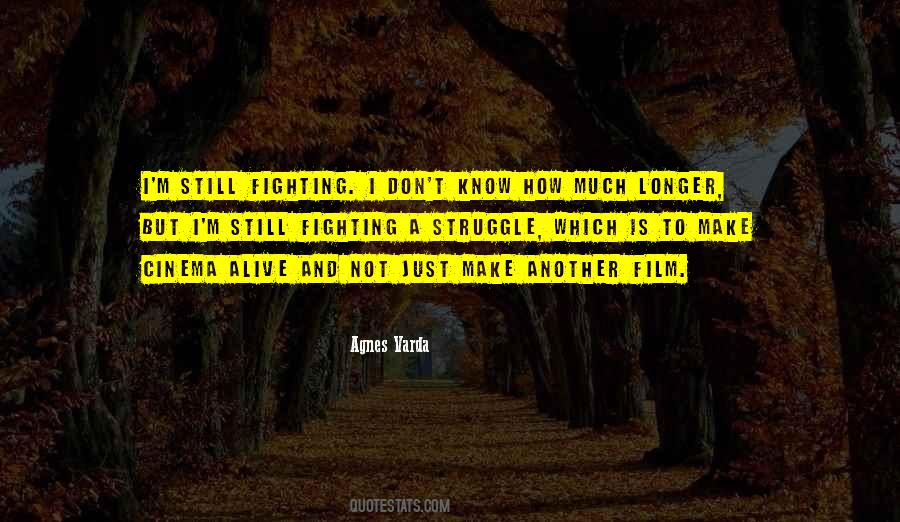 #47. There's a difference between watching a film and watching a bit of cinema and enjoying a film as a piece of cinema. - Author: Nick Frost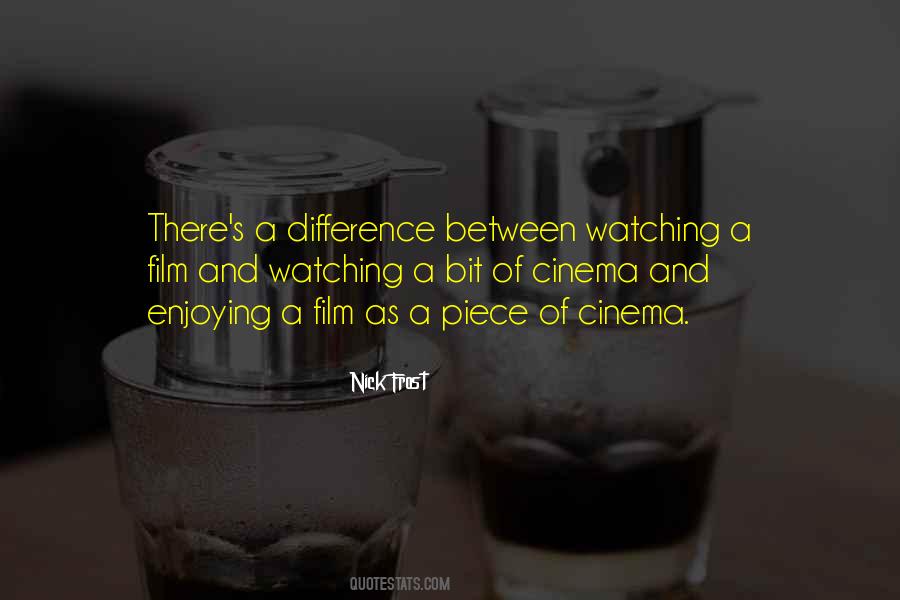 #48. I can no longer think what I want to think. My thoughts have been replaced by moving images. - Author: Georges Duhamel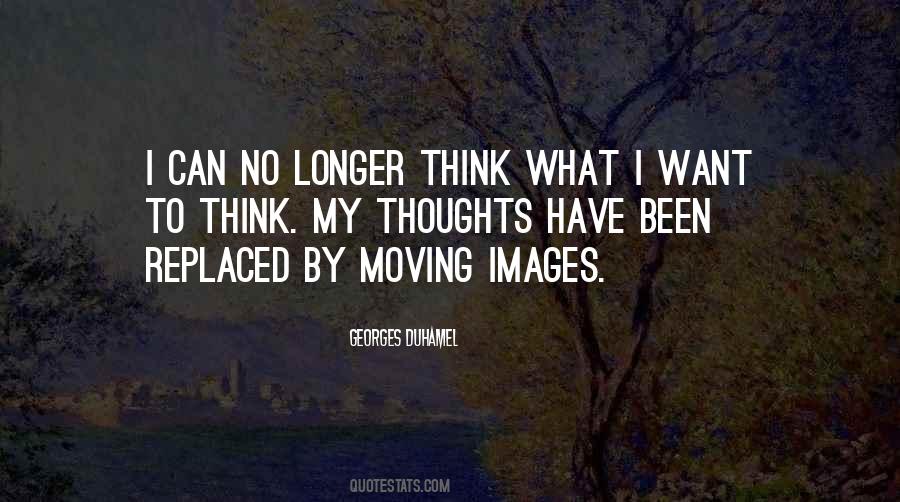 #49. I think film is about images. Cinema needs good images. I think that if you don't have good images, it's not going to be a good film. I think all films should be really visual. - Author: Vilmos Zsigmond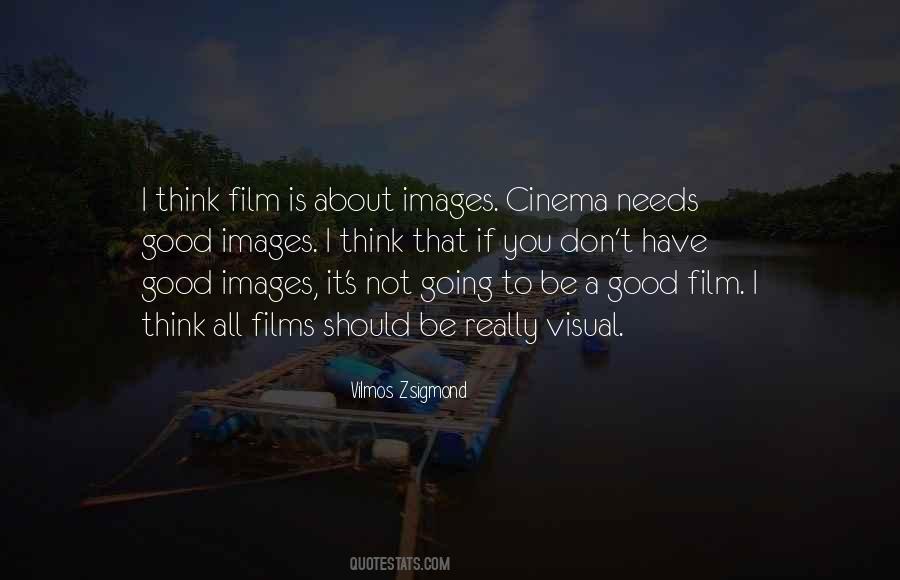 #50. I remember breaking the news to both my parents that I wanted to be a director, and they both looked very doubtful. They didn't know what a closet Hindi film buff I was. I used to dance to old Hindi films songs on the sly, so my decision to be a part of Hindi cinema was shocking even for my parents. - Author: Karan Johar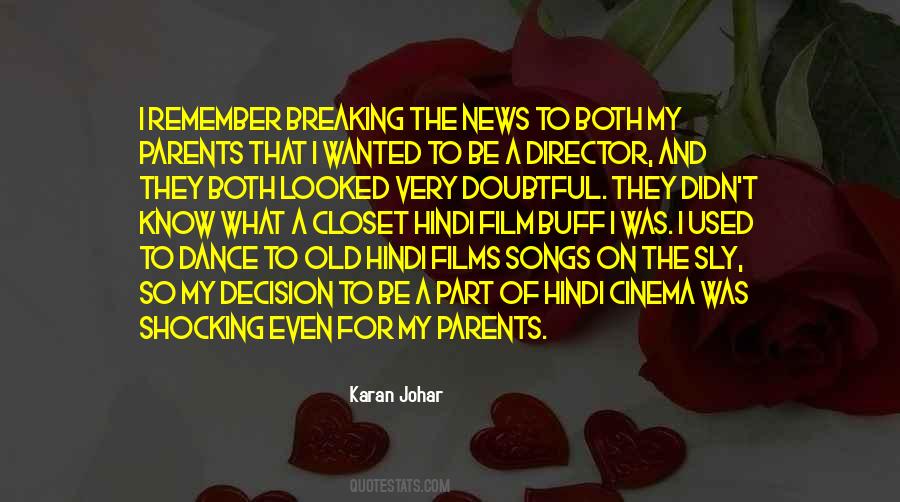 #51. My thinking was that today's spectator is so well-versed in film language that all theories about suspense, as argued by Dreyer and Hitchcock, on what makes you scared in cinema, can be ditched. It's the spectator, finally, who's going to construct the menace and the fear. - Author: Bruno Dumont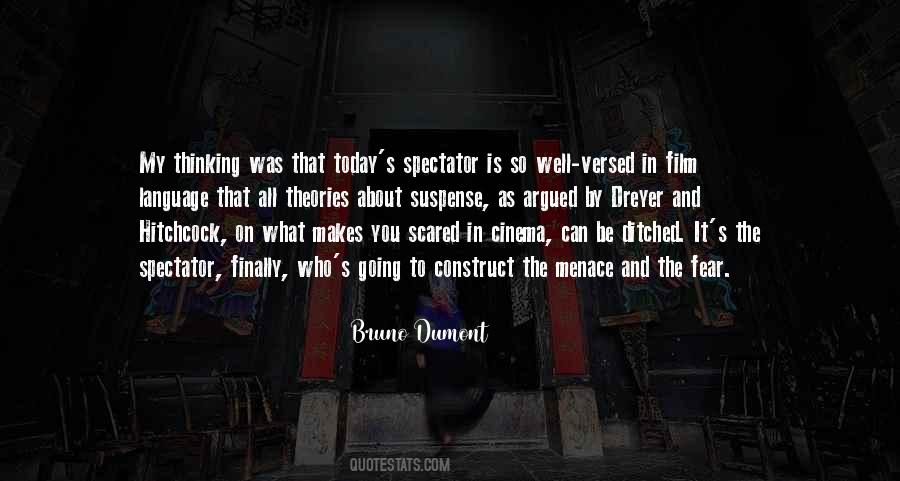 #52. Although it is a fantasy film, it's as real as it can be. You have to imagine that an audience will buy their ticket to a cinema and get on a first-class flight and journey to Middle Earth. - Author: Orlando Bloom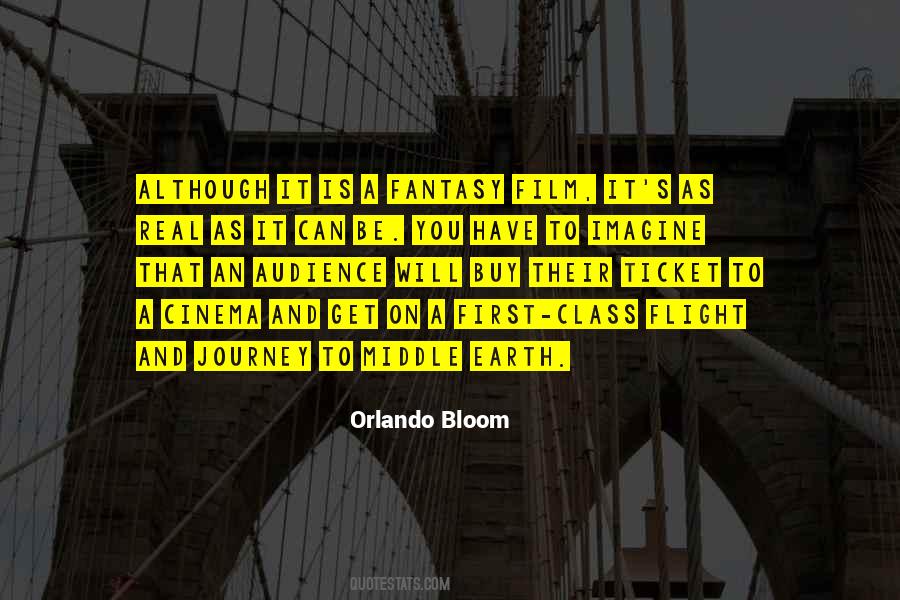 #53. Academia is the death of cinema. It is the very opposite of passion. Film is not the art of scholars, but of illiterates. - Author: Werner Herzog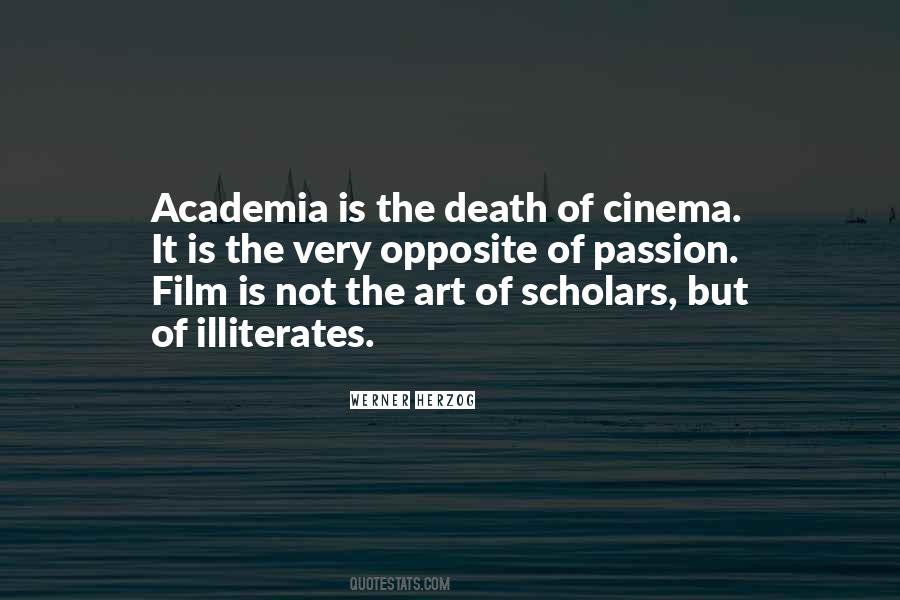 #54. Everybody has something that chews them up and, for me, that thing was always loneliness. The cinema has the power to make you not feel lonely, even when you are. - Author: Tom Hanks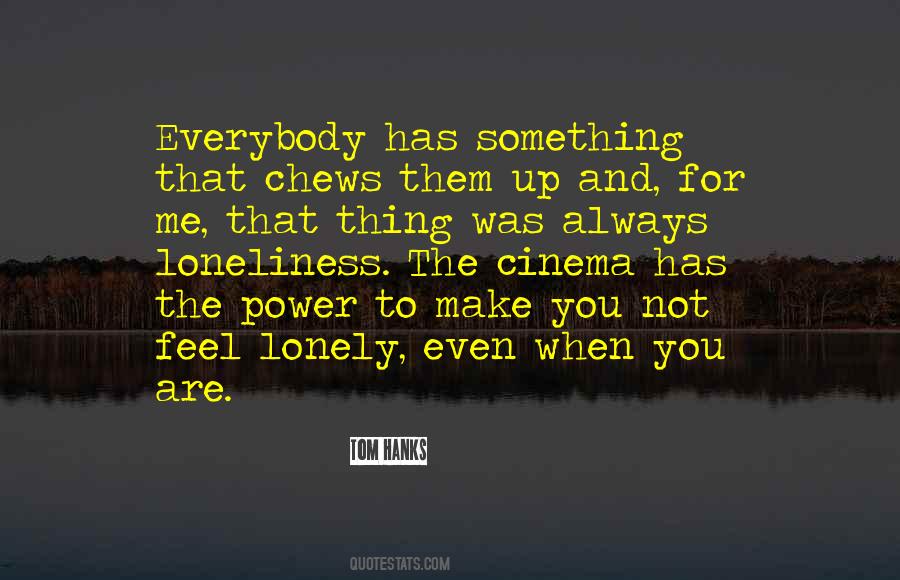 #55. When I started my first film, there were three women directors in France. Their films were OK, but I was different. It's like when you start to jump and you put the pole very high - you have to jump very high. I thought, I have to use cinema as a language. - Author: Agnes Varda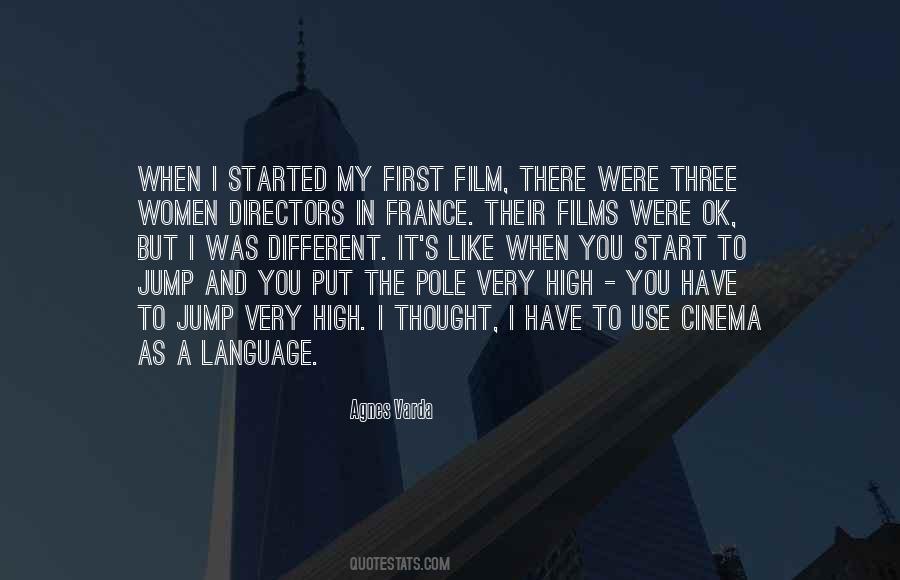 #56. I don't go to the cinema often anymore - I'd rather just pop in a disk and get the biggest monitor you've got, and if the quality is superb, I can watch a film, and if I don't like it I can pop it out. - Author: Ridley Scott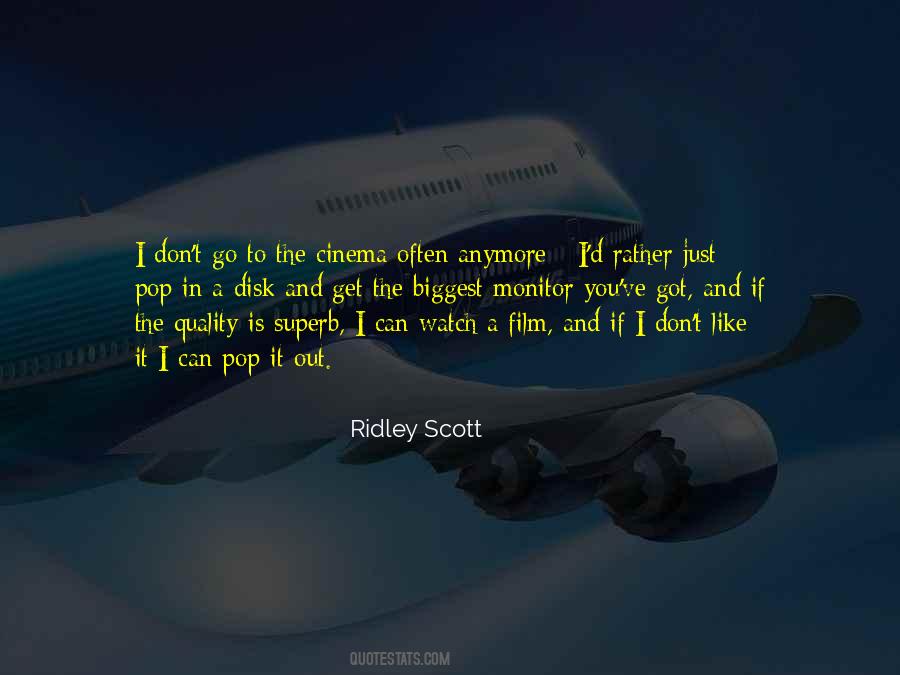 #57. And Twin Peaks, the Film is the craziest film in the history of cinema. I have no idea what happened, I have no idea what I saw, all I know is that I left the theater floating six feet above the ground. - Author: Jacques Rivette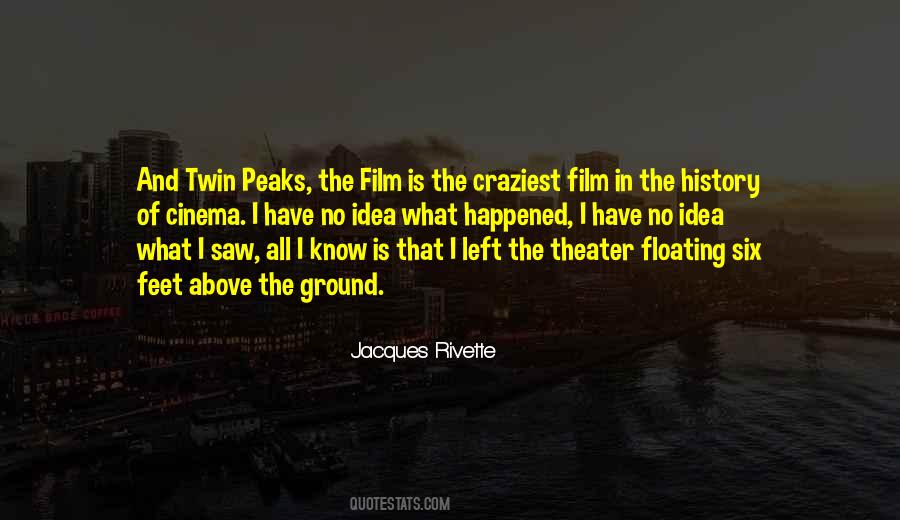 #58. Oh how Shakespeare would have loved cinema! - Author: Derek Jarman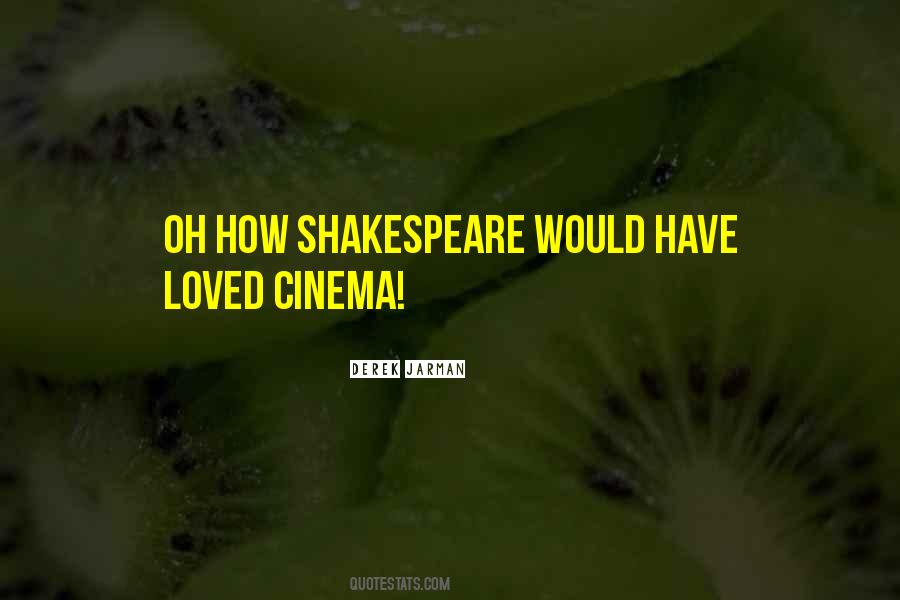 #59. Harrison Ford was pretty content as a carpenter who thought it would be nice to work on TV and ended up being the biggest film star in the history of cinema. - Author: Dirk Benedict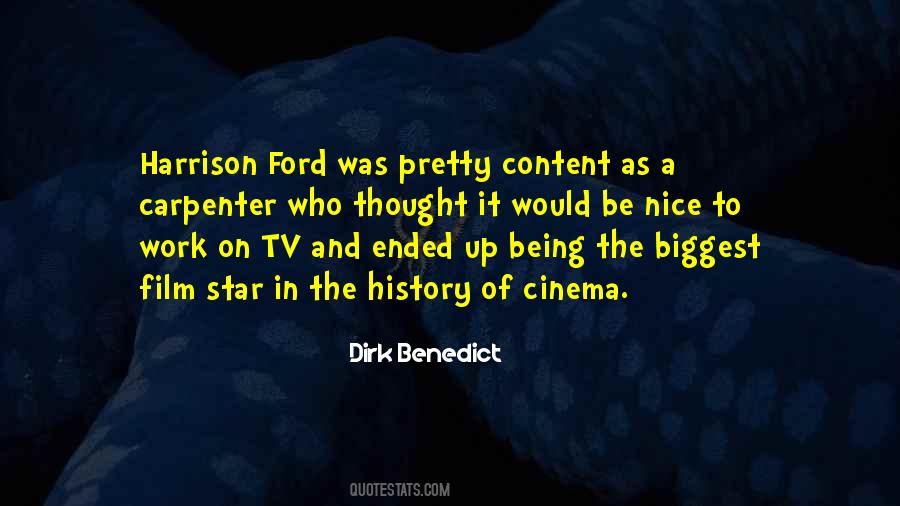 #60. I watch all the classic films that film people say that you ought to have seen, and I try to watch things in the cinema when they come out, just to keep my eye on the competition. I'm bored when I'm not working. - Author: Sam Riley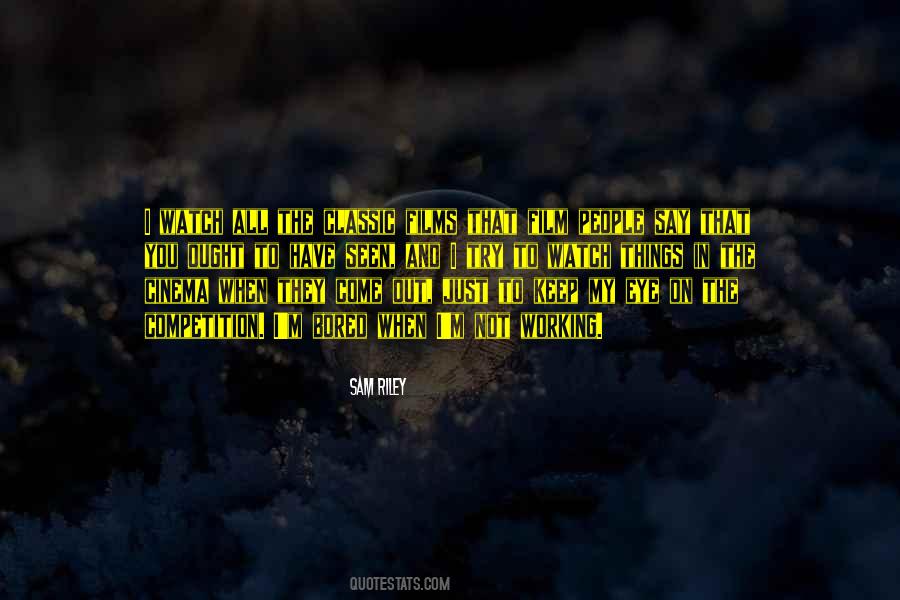 #61. Hollywood's Studio Era was part of a Golden Age because it didn't need profanity (unlike reality-television today) - Author: Manny Pacheco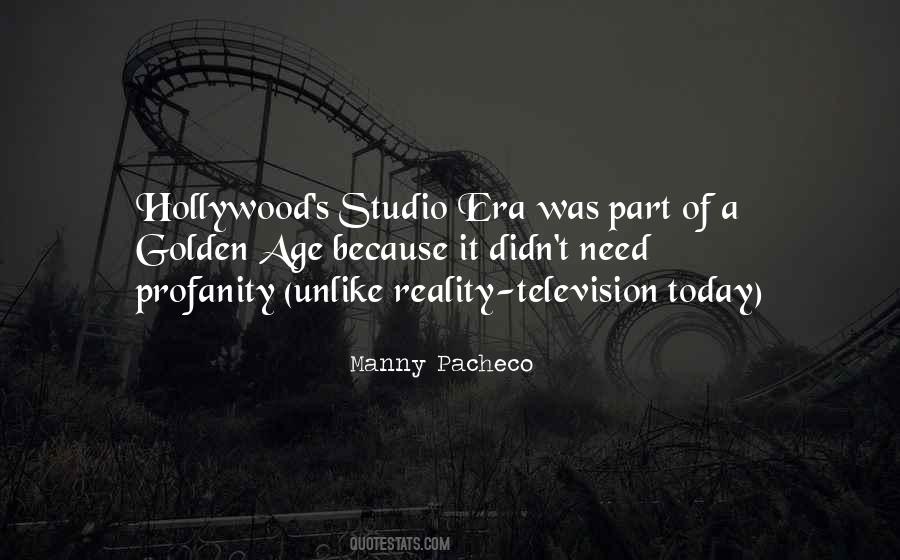 #62. In the film industry, all the money is focused on television and the stupidity of American cinema. - Author: Gerard Depardieu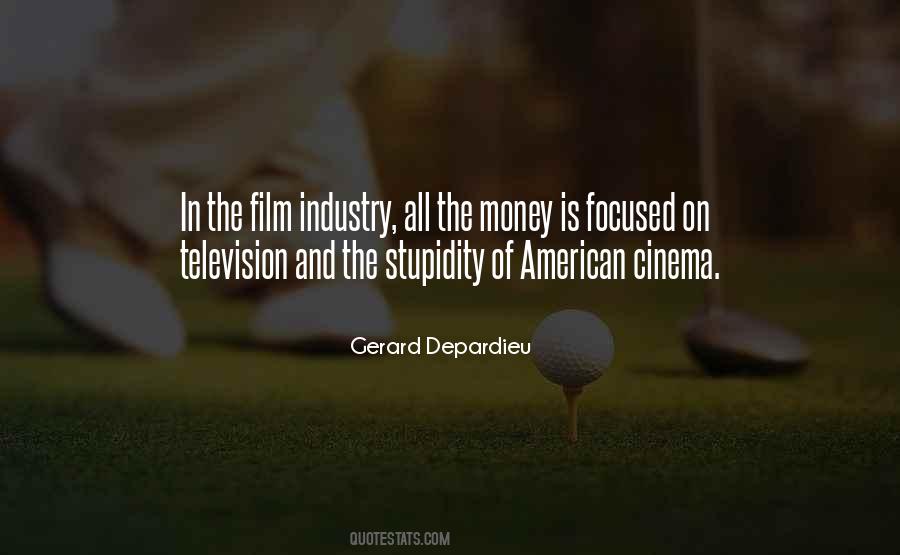 #63. In my experience there are billions of dollars available for pieces of shit. As soon as the material distinguishes itself by something interesting, financing becomes a problem. - Author: Rutger Hauer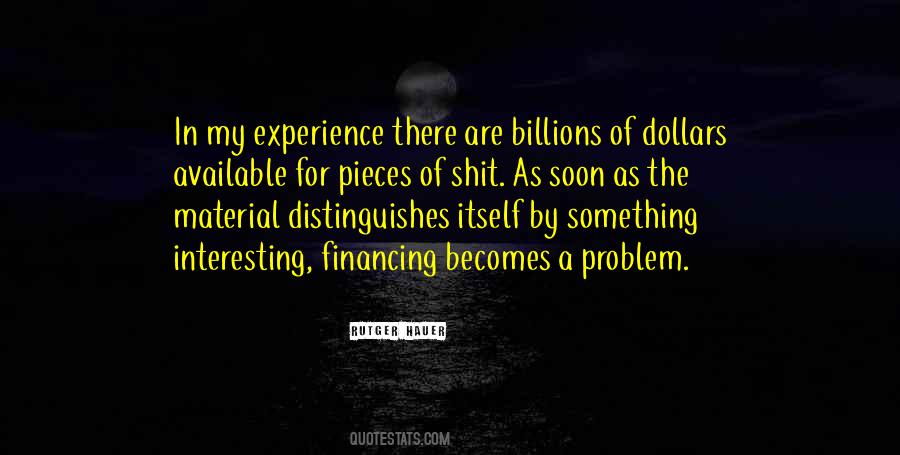 #64. At Harvard, direct cinema was the core of the film department, and most of the students were trying to make socially conscious works, but I was trying to combine fiction and non-fiction to show how our seemingly factual world is constituted through fantasy and stories. - Author: Joshua Oppenheimer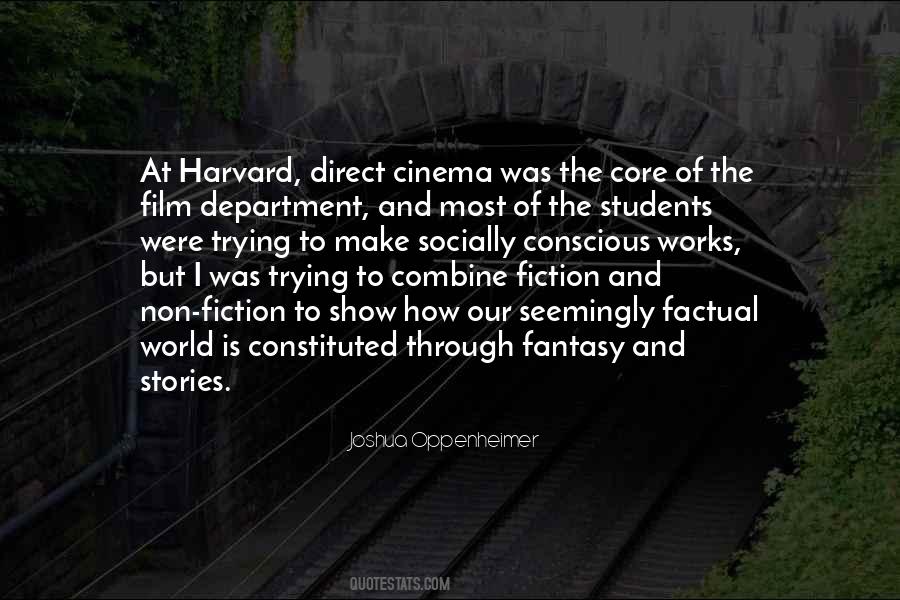 #65. For British cinema to survive, you really need a British film culture, and it's got to start down there, with young kids watching films in the cinema - so they can be transported to a different world. - Author: Gurinder Chadha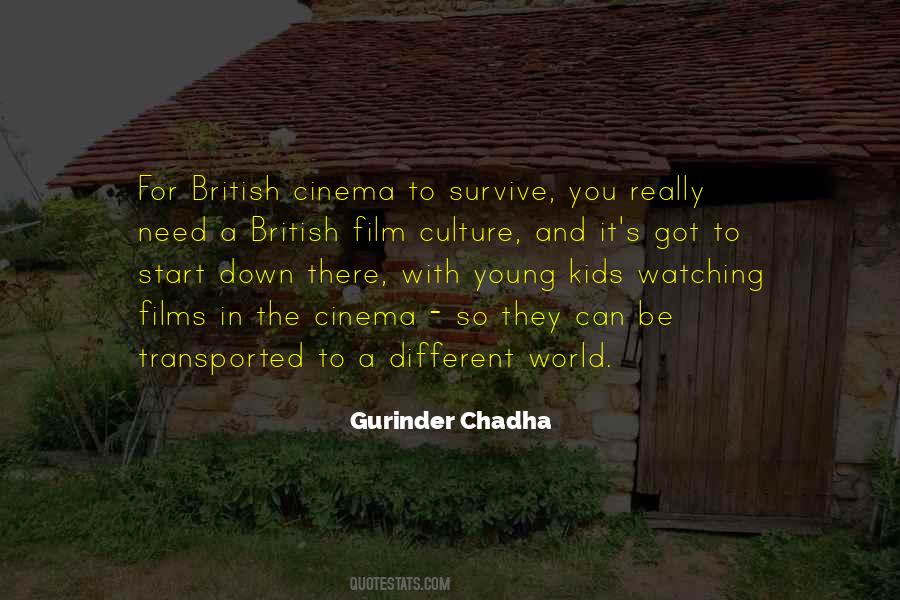 #66. Kenji Mizoguchi is to the cinema what Bach is to music, Cervantes is to literature, Shakespeare is to theatre, Titian is to painting: the very greatest. - Author: Jean Douchet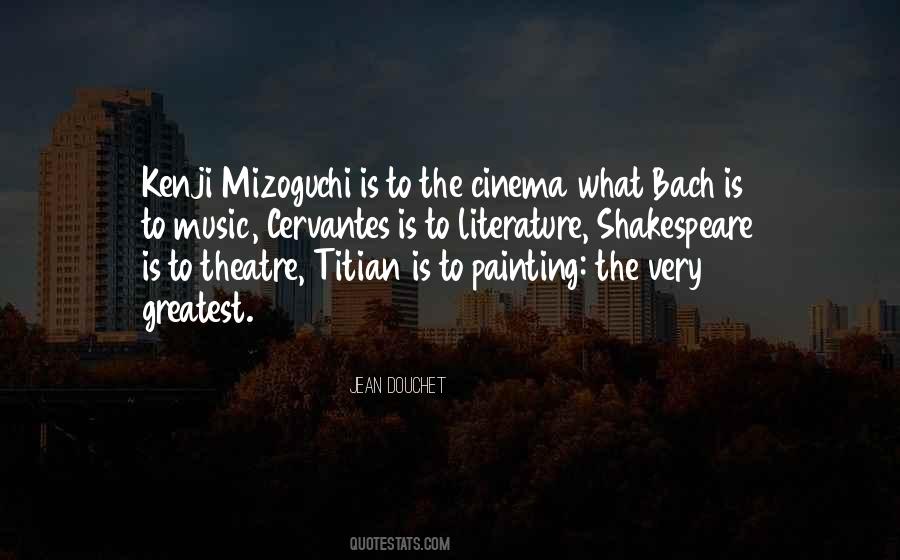 #67. In a mall cinema he watched a Korean film in which a man was locked in a room for fifteen years without finding out why. - Author: Anonymous
#68. I foresee no possibility of venturing into themes showing a closer view of reality for a long time to come. The public itself will not have it. What it wants is a gun and a girl. - Author: D.W. Griffith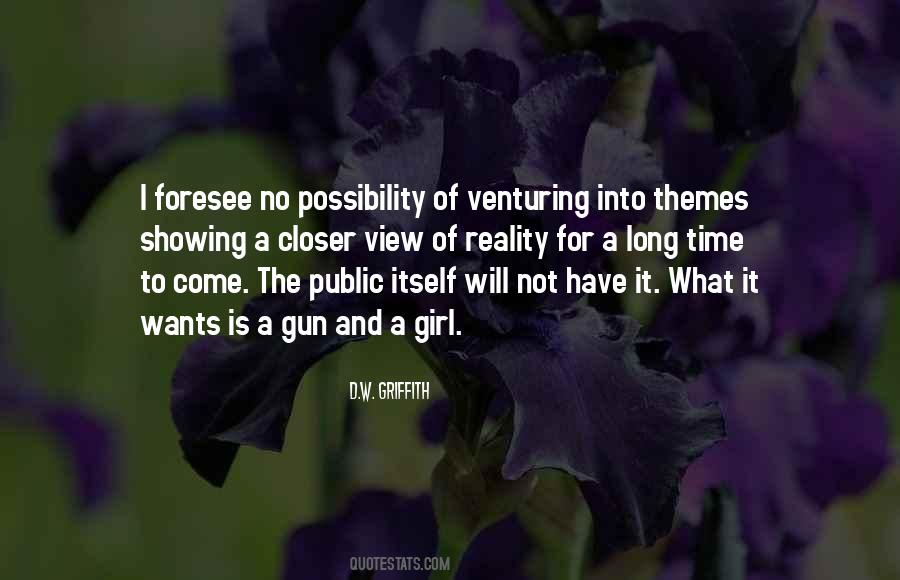 #69. When you make a film it is like asking yourself a question. When it is finished, you know the answer. Ultimately with all of cinema, we are just trying to learn about ourselves. I have always used the opportunity to make a film to learn more about myself, which I am still doing. - Author: Francis Ford Coppola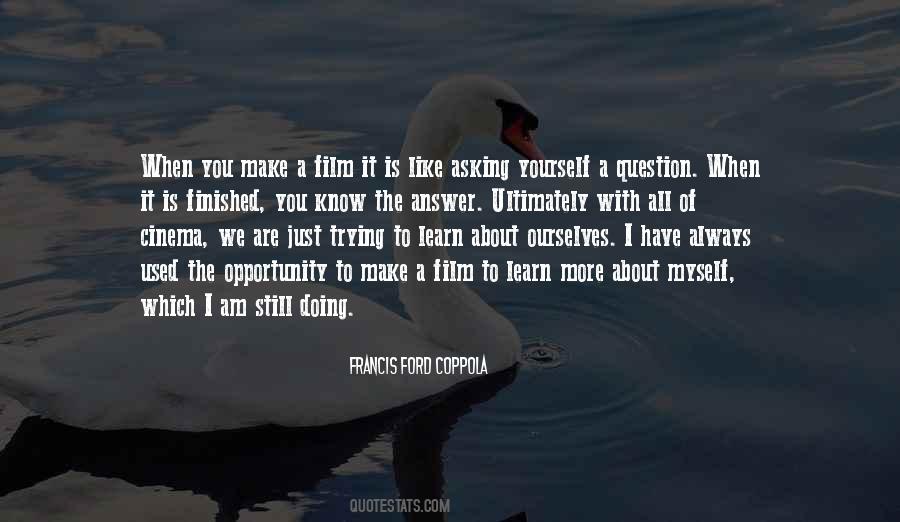 #70. What makes international cinema so interesting is that each territory has its own sensibility. When you look at an Indian or French film, there's a certain flavor. And even though the language is different, if the film is successful, it has something very common and understandable. - Author: Wong Kar-Wai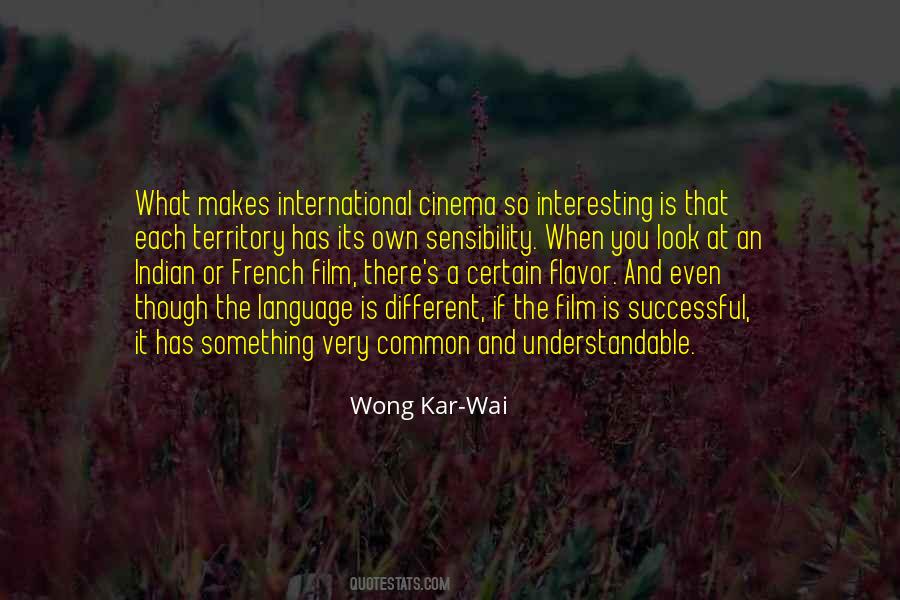 #71. I went to the Tokyo Film Festival in Japan because I love Japanese cinema. - Author: Leslie Caron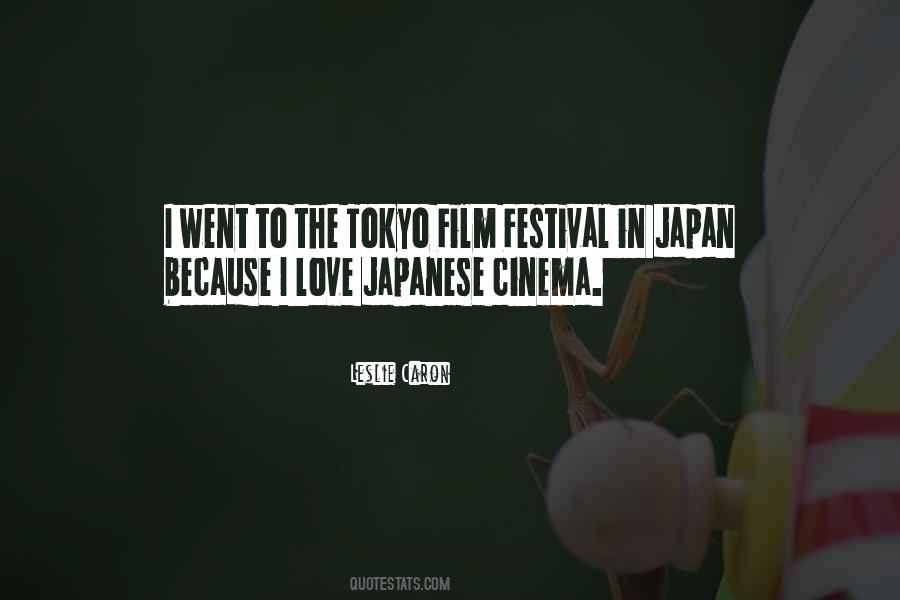 #72. We're losing film, especially in projection, we're losing a great achievement of civilization. A still image and darkness make up 50% of the experience. The still images become movement in your head. That's the magic of cinema. - Author: Laszlo Nemes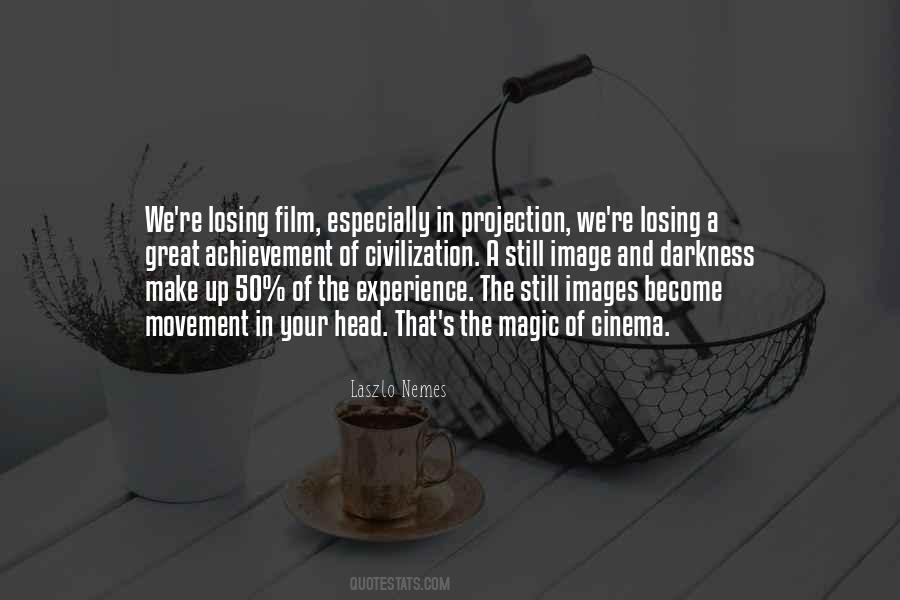 #73. The cinema is going to form the mind of England. The national conscience, the national ideals and tests of conduct, will be those of the film. - Author: George Bernard Shaw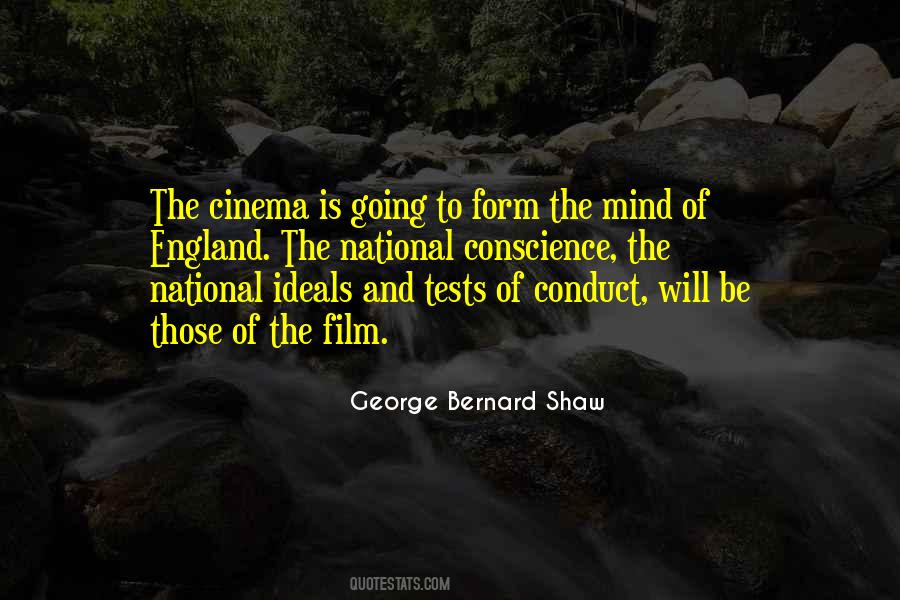 #74. MANY MANAGE TO SEPARATE THEIR LIFE FROM THEIR FILMS. THEY LIVE ONE WAY AND EXPRESS OTHER IDEAS IN THEIR WORKS. THEY ARE ABLE TO SPLIT THEIR CONSCIENCE. I CAN'T. TO ME CINEMA IS NOT JUST MY JOB: IT'S MY LIFE, AND EACH FILM IS AN ACT OF MY LIFE. - Author: Andrei Tarkovsky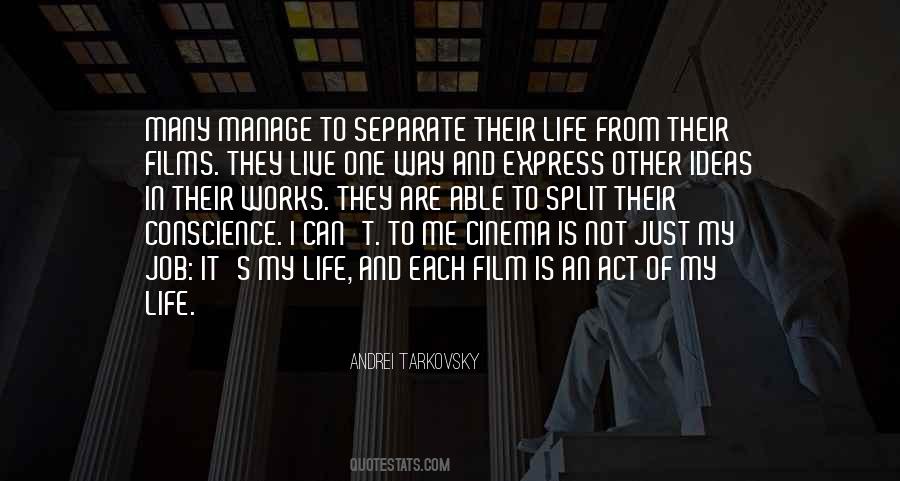 #75. The boundaries between contemporary art and cinema are so rigid. It's unbelievable. The film critics don't know my artwork and the art world doesn't know my films. - Author: Agnes Varda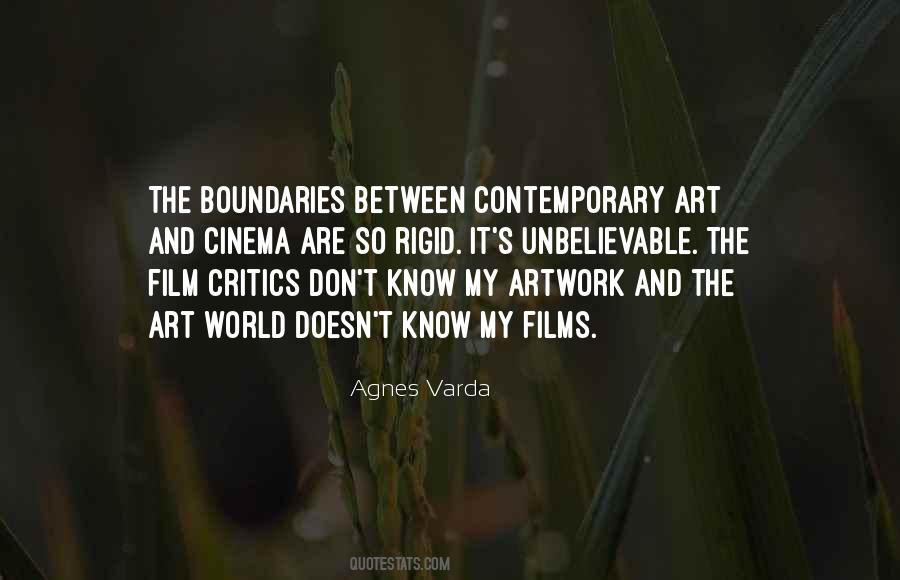 #76. The notion of directing a film is the invention of critics - the whole eloquence of cinema is achieved in the editing room. - Author: Orson Welles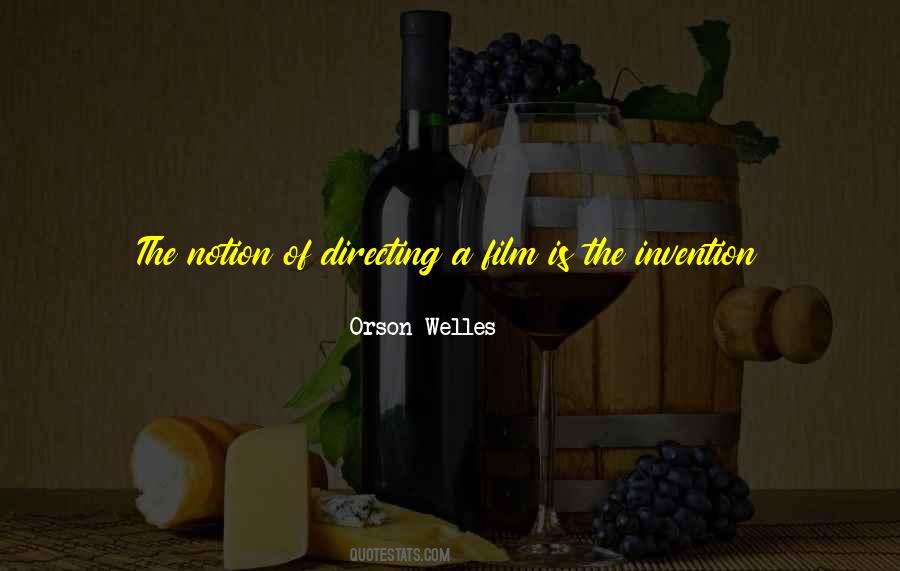 #77. Wherever you turn you cannot live without internet, phones .. So I think the film industry will change, but I still believe that the TV will survive in the same way the cinema survives. - Author: Tommy Wiseau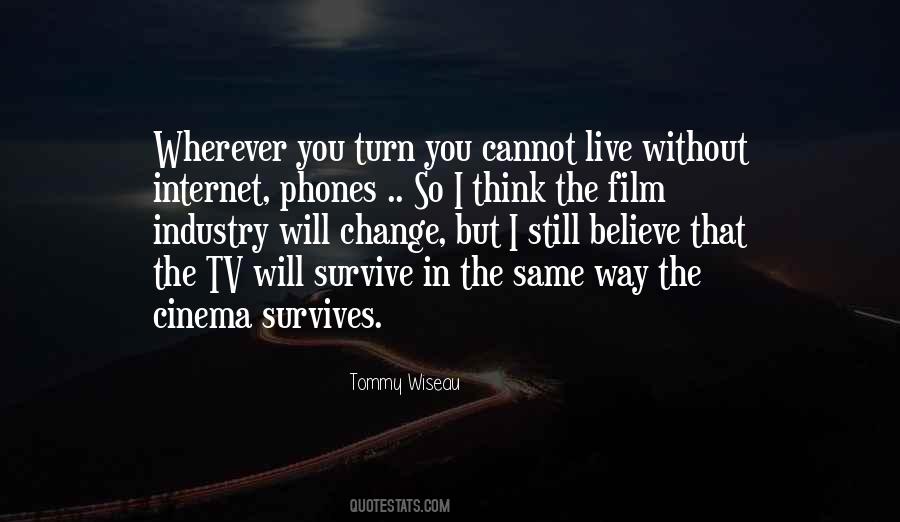 #78. I got exposed to art-house cinema and foreign films. I was from L.A., so it was a film culture that I didn't know about. - Author: Lisa Cholodenko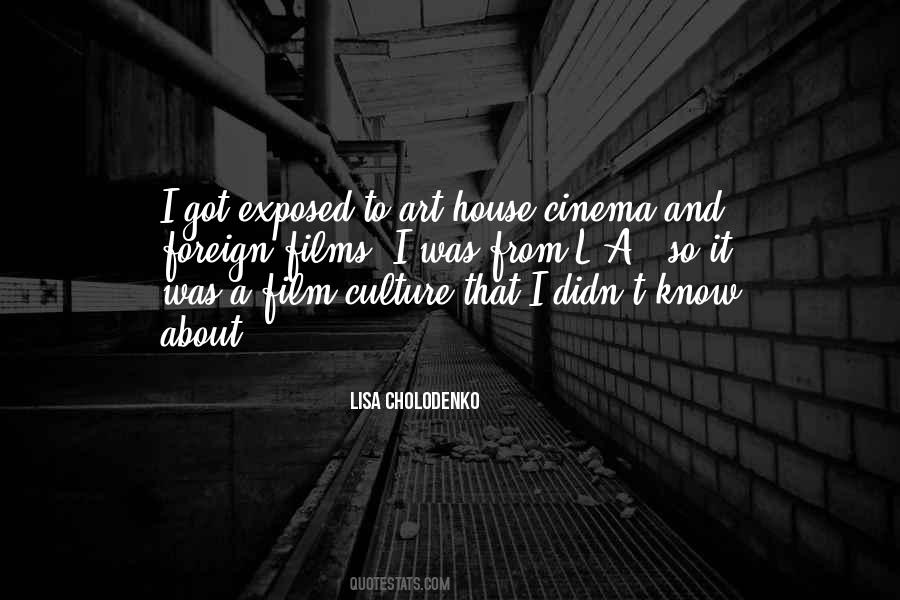 #79. Each time I had an internship to do or an essay to write, I would always do it in the field of cinema. Nobody in my family worked in film and nobody could understand it. - Author: Thomas Bidegain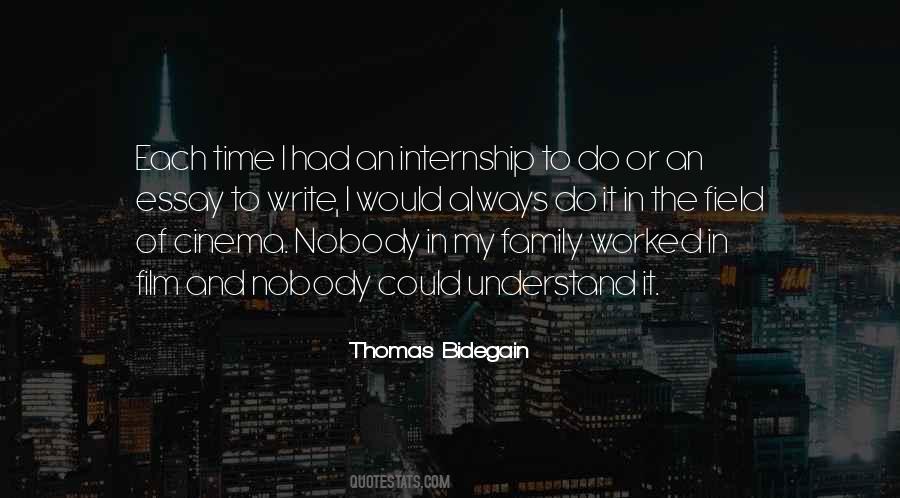 #80. It is clear that through the partnerships between Global Cool and the International Indian Film Academy, Indian cinema has the potential to provide great leadership by exciting its enormous and enthusiastic audience to do their bit to save the planet - Author: Prince Charles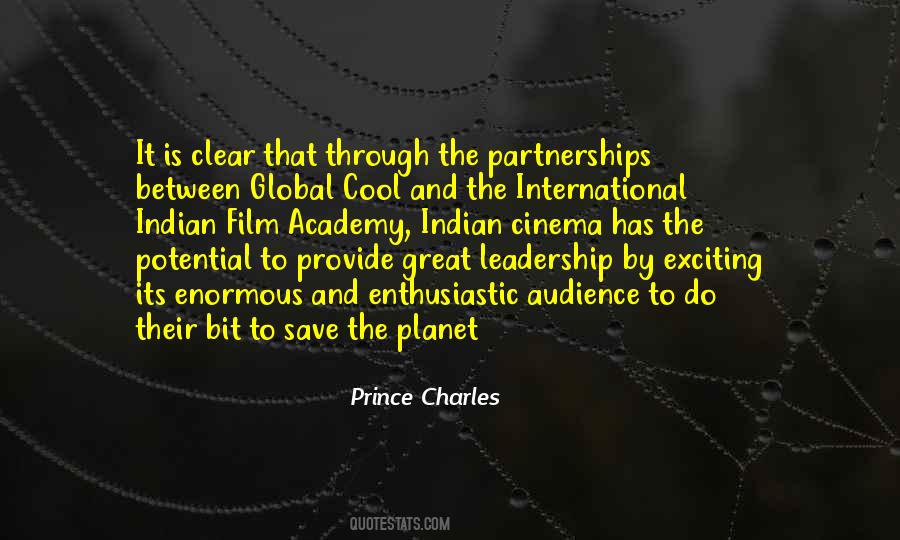 #81. But you can still find good films if you read your local film critics and are willing to drive a bit. You have to be a proactive film viewer to have the most provocative cinema life. - Author: Stephen Hunter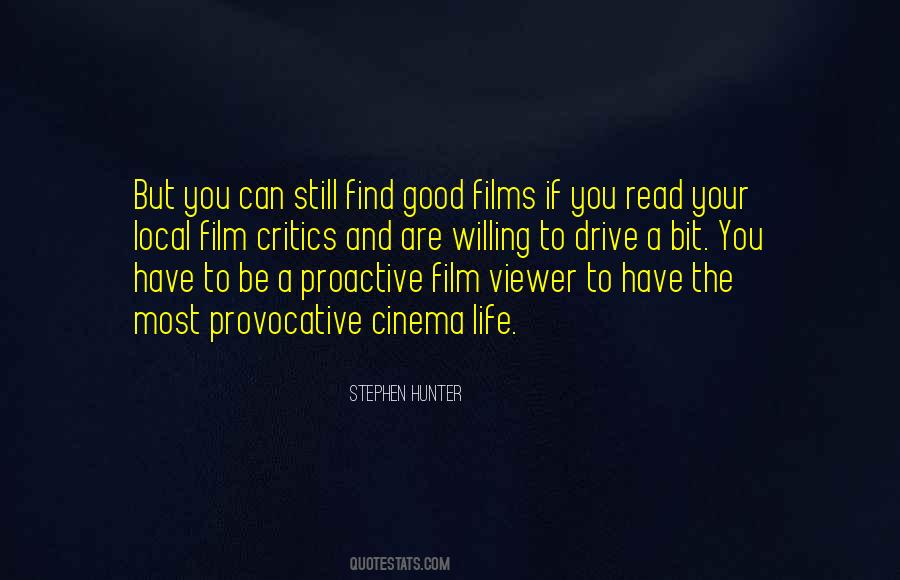 #82. Cinema is gambling. It is better to gamble on a unique film even if it seems like suicide. - Author: Thomas Langmann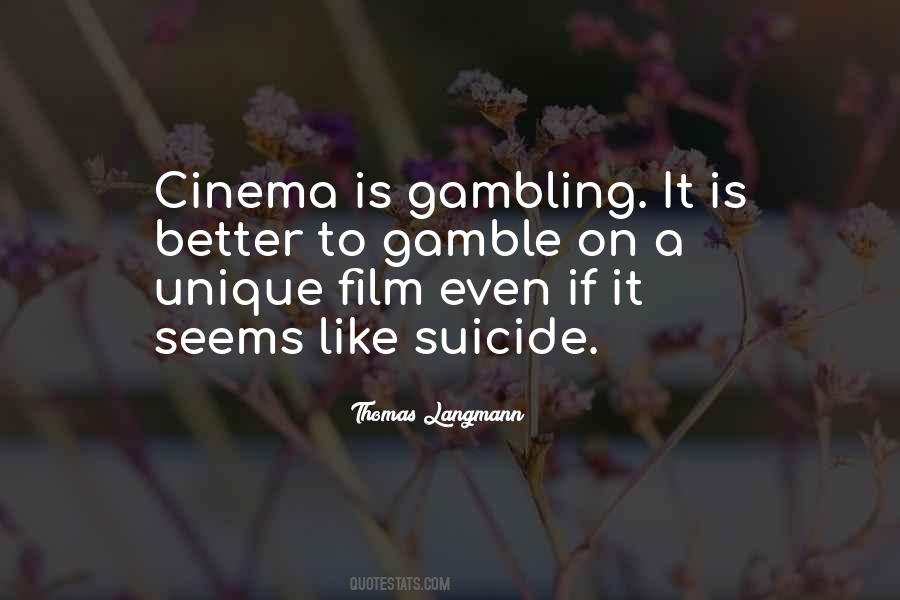 #83. I wouldn't want to do a Bollywood film per se, but I would like to do an Indian-language film. For some reason I think Bollywood has become synonymous with commercial cinema, which is song and dance and everything that is larger than life, and I am interested in the reality. - Author: Freida Pinto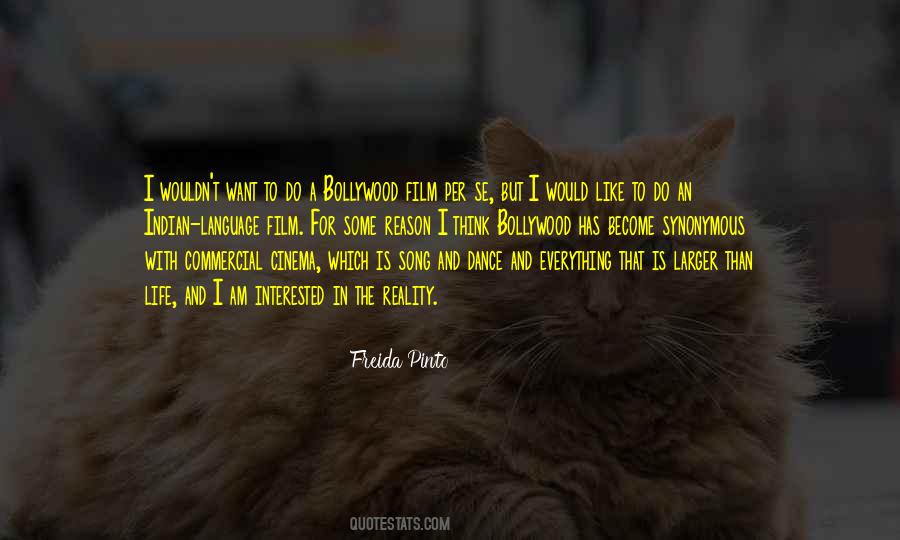 #84. The King and Queen made the rounds after the film. We were told how we were to respond, and we were in a semi circle in the lounge area of the cinema, they came around after the King, the Queen and both Princesses. - Author: Kim Hunter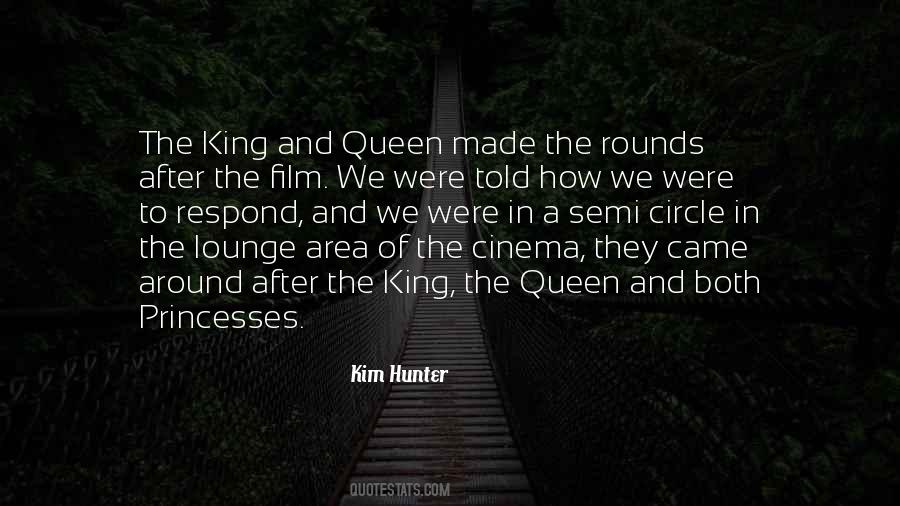 #85. I kind of worry about that a little bit - we lost our film culture for 30 years because the Americans came in and bought up all the cinema chains and wouldn't show any Australian films. - Author: Yahoo Serious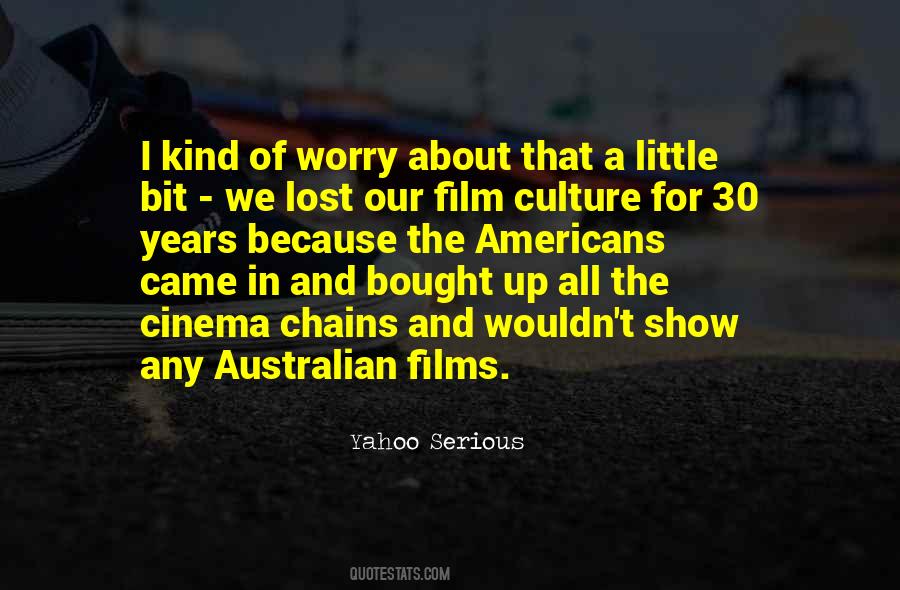 #86. You'll never see my favourite film on any screen in the world," I replied with a smile. "Not even here in the Cinema Paradis - Author: Nicolas Barreau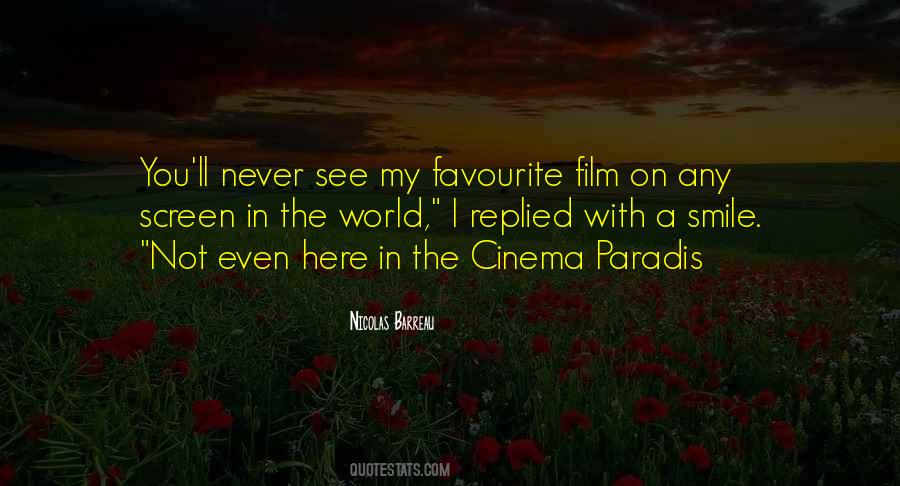 #87. Any film I do is not going to change the way black women have been portrayed, or black people have been portrayed, in cinema since the days of D.W. Griffith. - Author: Spike Lee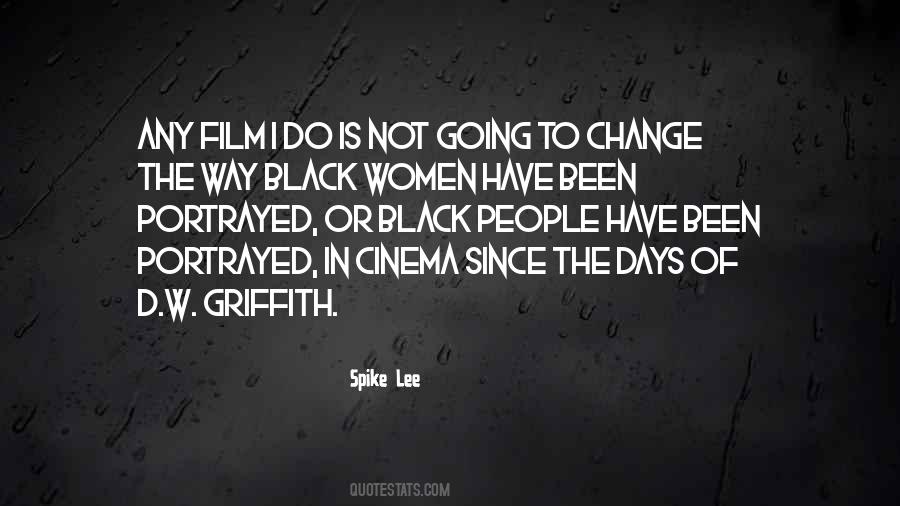 #88. Every year there's a jury at the Cannes Film Festival. Getting on the jury is very competitive in France. Not because the French love cinema, but because they love to judge. - Author: Craig Ferguson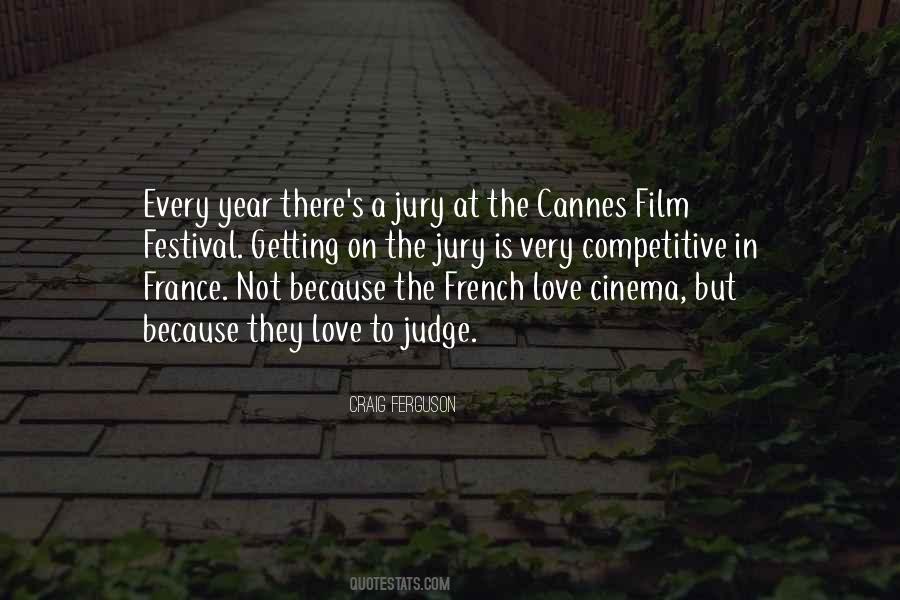 #89. I wish I could play music. I think I get as closeas possible with the editing of the films. Over the years musichas been an even more important influence than-or as important as-film.There's no doubt about it. Painting, movement, dance, sculpture-it'sall in cinema. - Author: Martin Scorsese
#90. The general idiocy of mankind is such that they can be swayed by words, and however mortifying, for the present you have to accept the fact as you accept it in the cinema that a film to be a success must have a happy ending. - Author: W. Somerset Maugham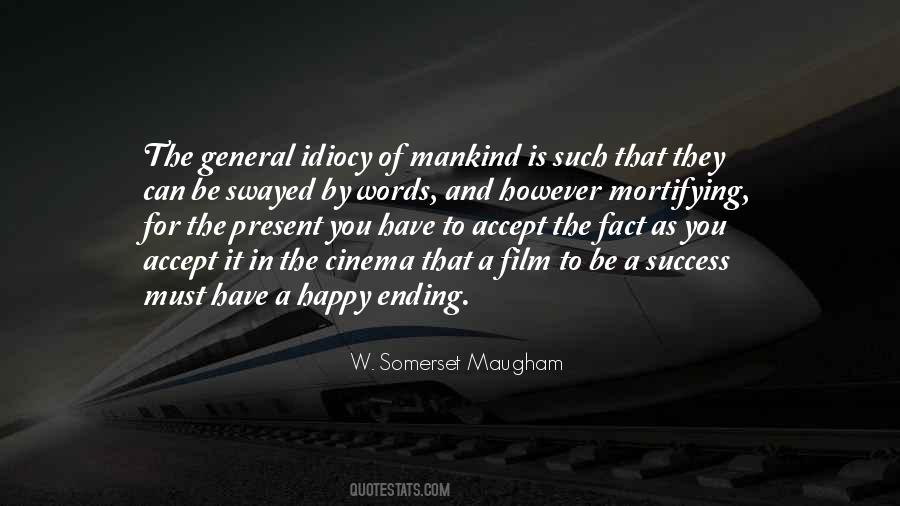 #91. A "name" no longer carries a film. People used to go to the cinema to see a "John Wayne film." And you don't have that thing happening now except in the rock world, which has taken the event out of movies. - Author: Elizabeth Taylor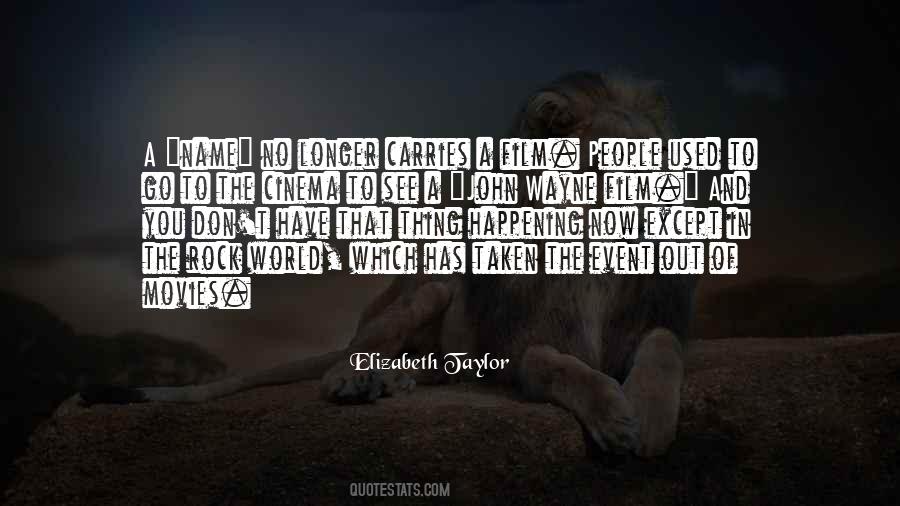 #92. 'Menace II Society' itself was a groundbreaking film. It's definitely going to go in the vaults of classics in all of cinema. The Hughes Brothers created an incredible project. Just gave the world something a little different than what we had seen in previous films in that same genre. - Author: Larenz Tate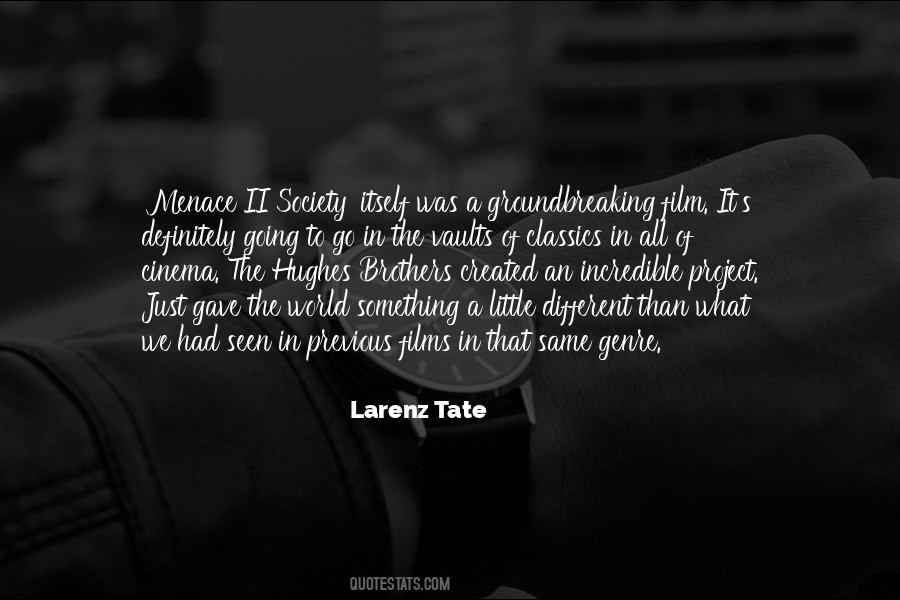 #93. I love escaping into film, because everyday life I find quite troublesome. So any excuse to go into a cinema and say goodbye to the world for a couple of hours, or in a book or whatever, is great. - Author: Alison Goldfrapp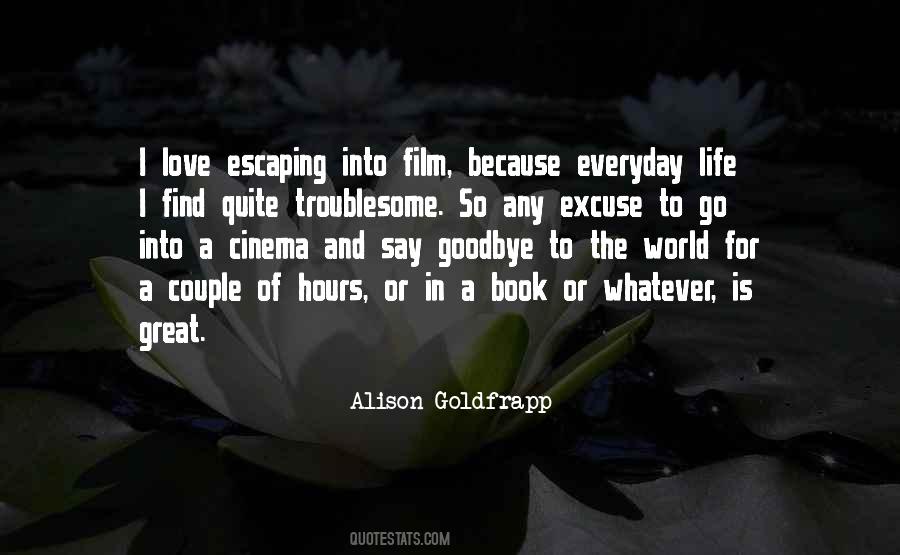 #94. I just finished a film a few days ago, and I came home and said I learned so much today. So if I can come home from working on a little film after doing it for 45 years and say, I learned so much today, that shows something about the cinema. Because the cinema is very young. It's only 100 years old. - Author: Francis Ford Coppola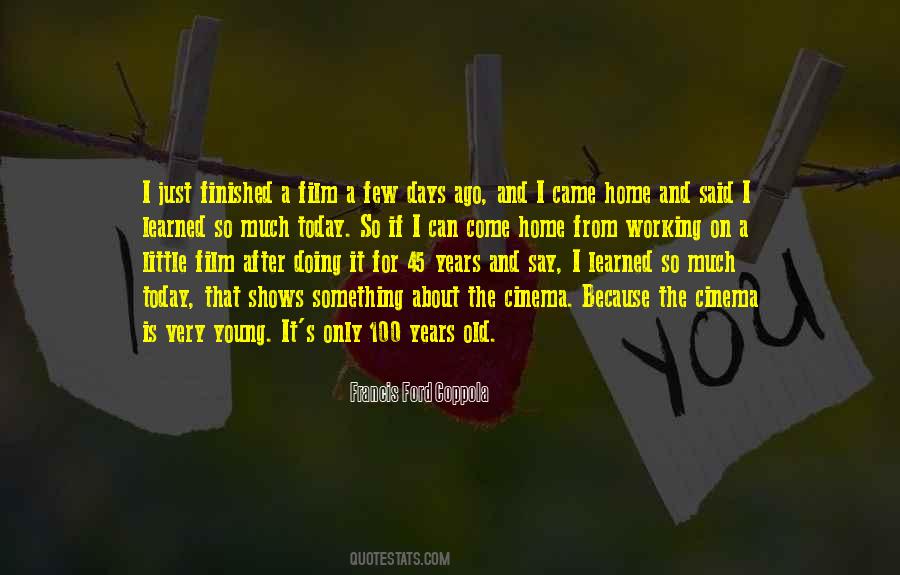 #95. Everyone has their truth. Mine lies in the cinema. - Author: Dawn Garcia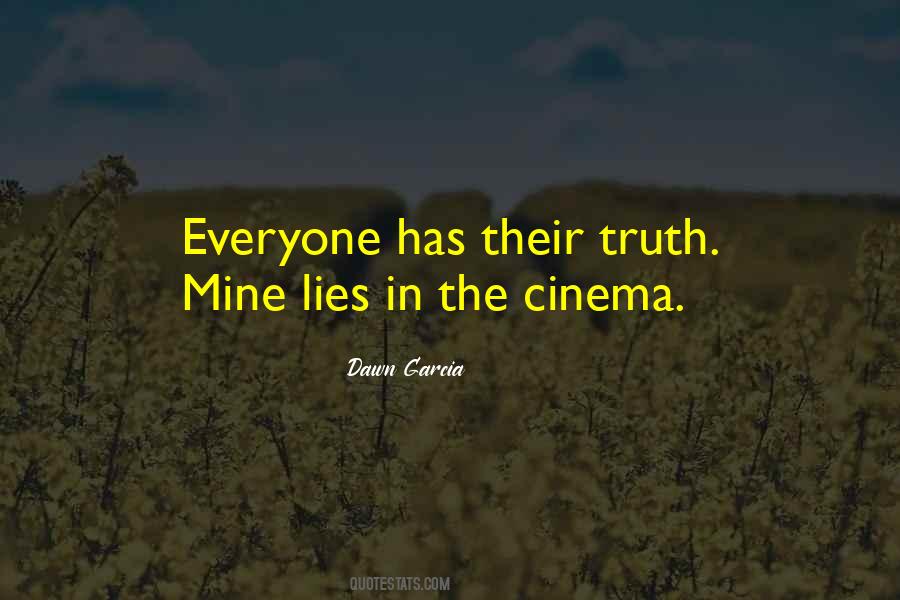 #96. The novel succeeds on terms exclusive to literature. A good film succeeds on terms exclusive to the cinema. That's why so many bad novels can become good movies, like 'Jaws' or 'The Godfather.' - Author: Alexander Payne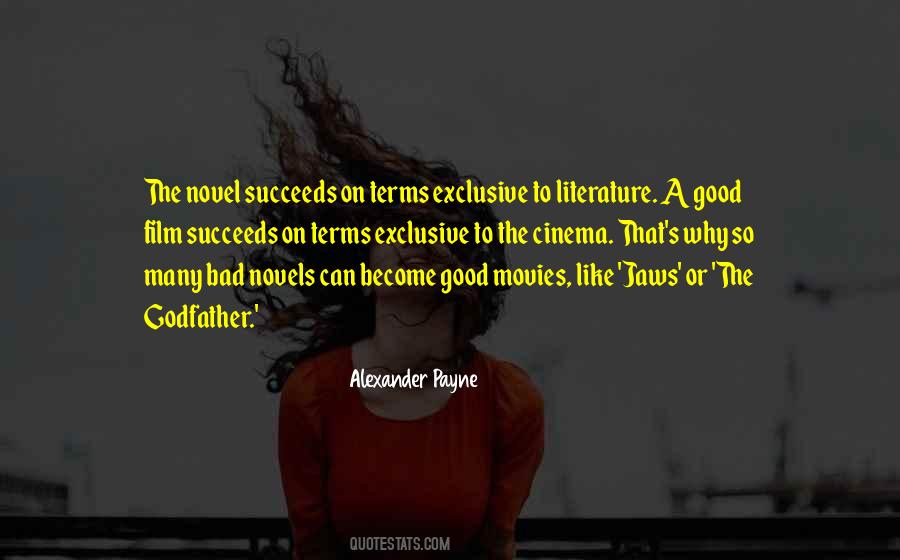 #97. It's hard to imagine anyone interested in film not being a fan of Alfred Hitchcock because he's such a key influence on the entire history of cinema - it's hard to escape his shadow. - Author: Toby Jones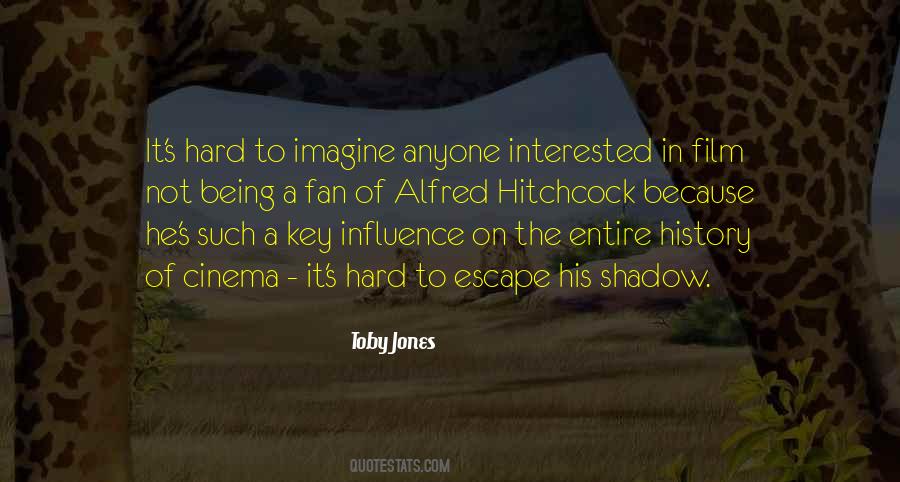 #98. When I make a film I'm always in reality among the trees, and among the people like yourselves. There's no symbolic or conventional filter between me and reality as there is in literature. The cinema is an explosion of my love for reality. - Author: Pier Paolo Pasolini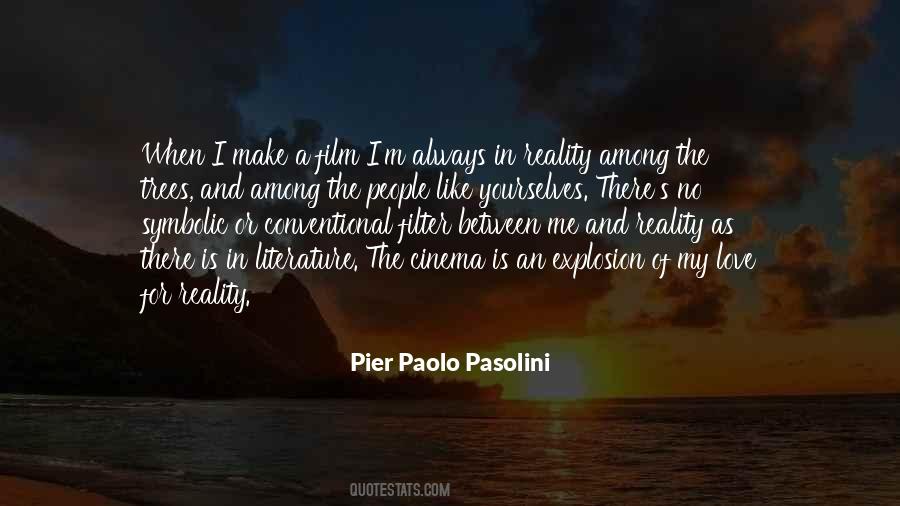 #99. Secret Cinema has created a new way of experiencing film. The fusion of film and theatre allows for a much more powerful experience and adds an incredibly unique dimension for the audience. It certainly did for me. I was blown away - Author: Kevin Spacey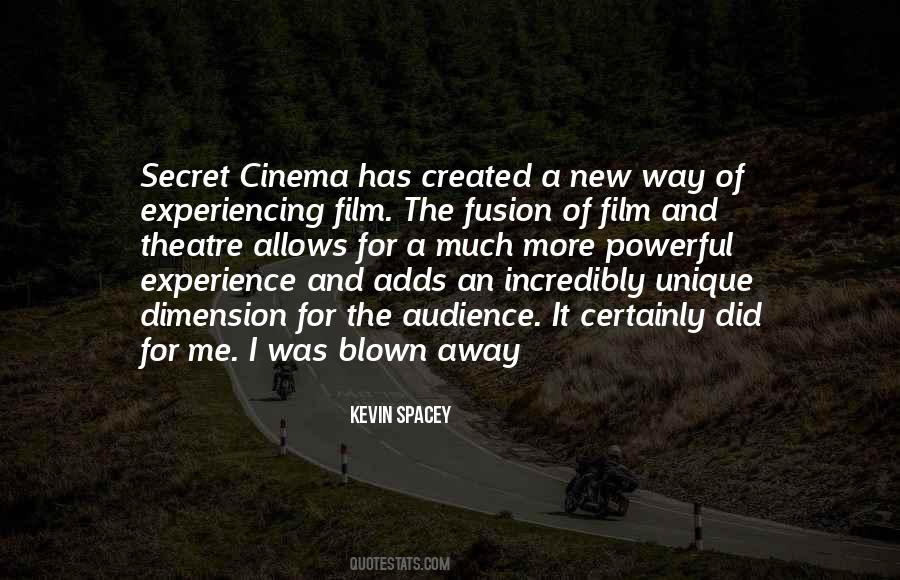 #100. I'm in the early stages of a film called 'Freezing Time' about Eadweard Muybridge, the Victorian photographer who was really the forefather of cinema. Digital animators still treat his images like the Bible. He was a very obsessed man. - Author: Andy Serkis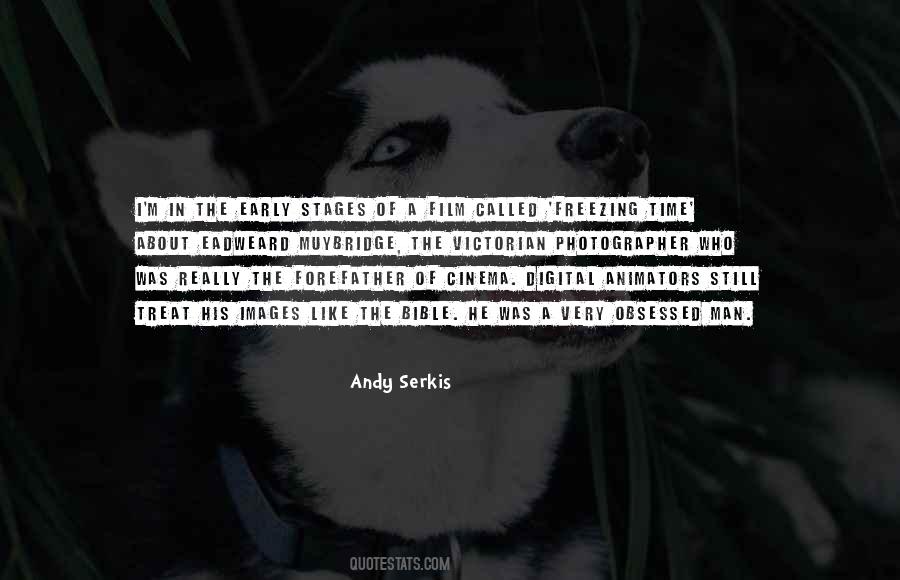 Famous Authors
Popular Topics