Christmas In Your Heart Famous Quotes & Sayings
List of top 60 famous quotes and sayings about christmas in your heart to read and share with friends on your Facebook, Twitter, blogs.
Top 60 Quotes About Christmas In Your Heart
#1. When you're rearranging the furniture to make way for the decorations and the tree, make sure you rearrange your heart to make room for the Savior of Mankind. - Author: Toni Sorenson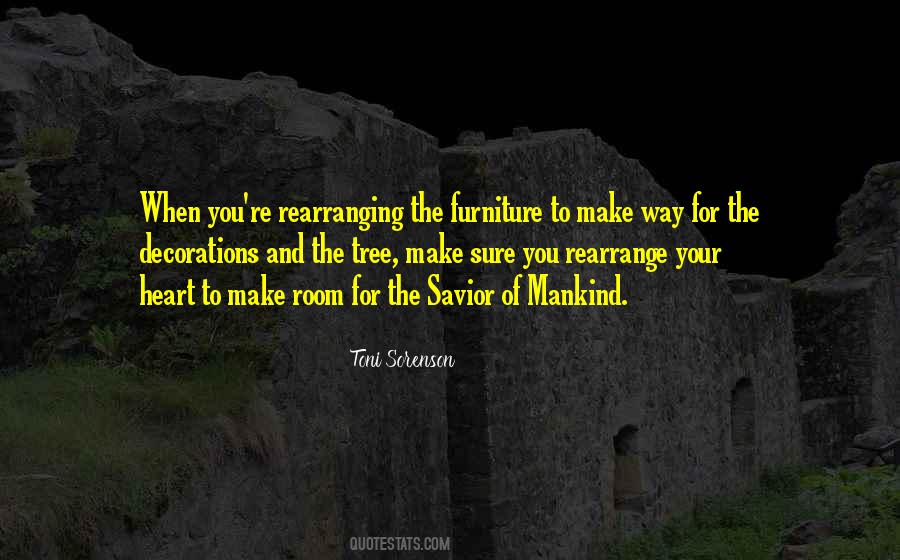 #2. The church-bells of innumerable sects are all chime-bells to-day, ringing in sweet accordance throughout many lands, and awaking a great joy in the heart of our common humanity. - Author: Edwin Hubbel Chapin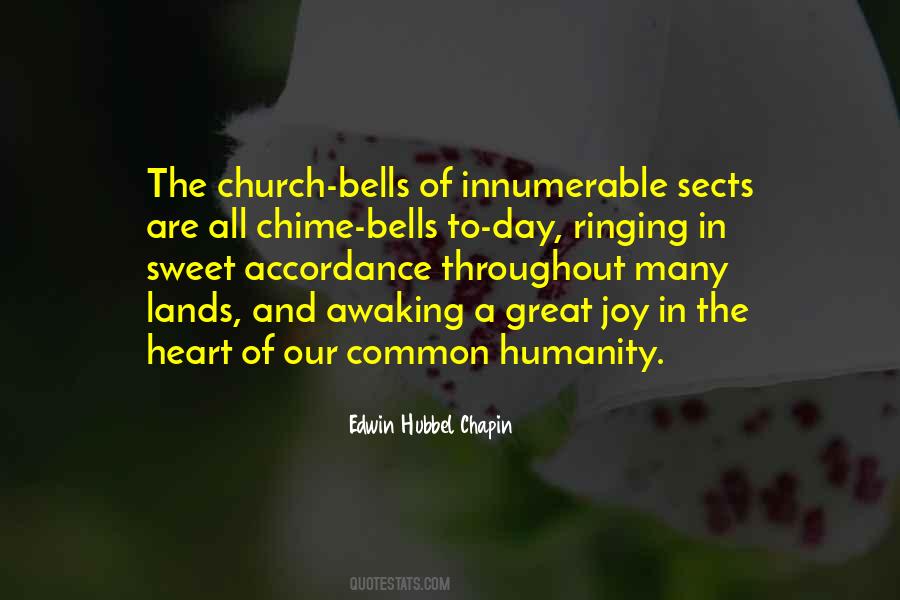 #3. God seeks to influence humanity. This is at the heart of the Christmas story. It is the story of light coming into the darkness, of a Savior to show us the way, of light overcoming the darkness, of God's work to save the world. - Author: Adam Hamilton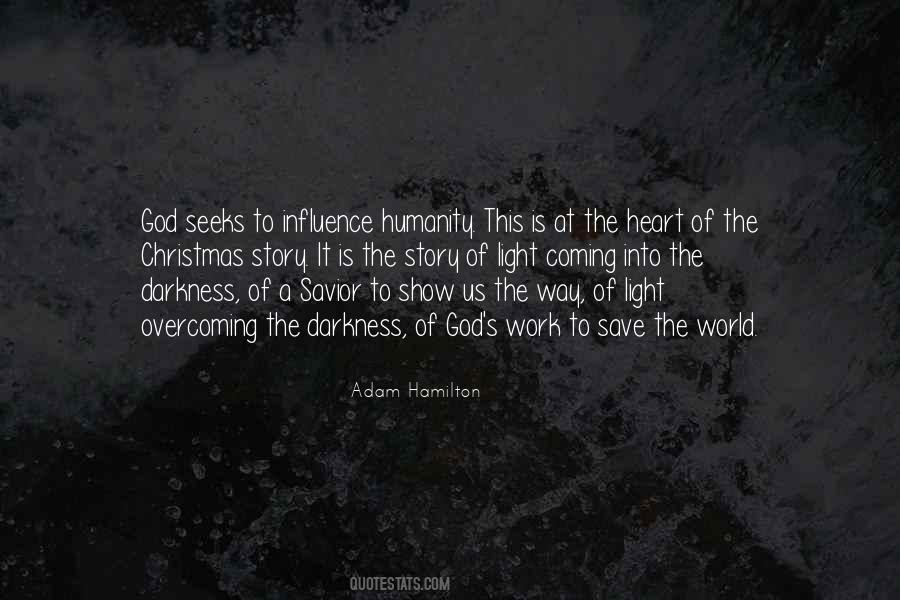 #4. What is salvation without faith? is like
a Christmas tree without a star, is like
a kingdom without a king, is like
a heart without a beat, is like
a light switch that just won't turn on. - Author: Anthony Liccione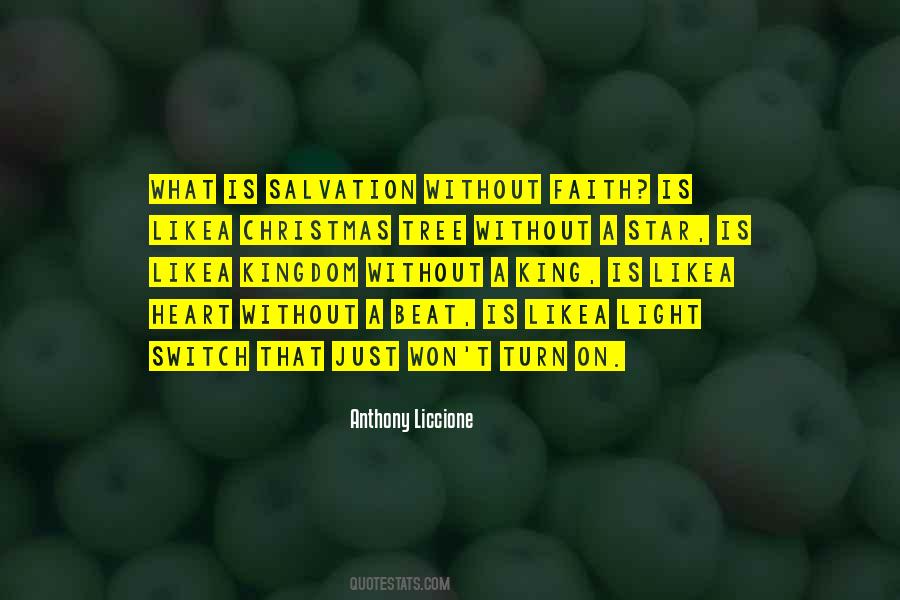 #5. We're raising our girls to understand the real meaning of Christmas, and to know that it's most important to have Christmas in your heart. We go to our local mall and donate toys, and we say prayers for all the people in the world who might not be as lucky as we are. - Author: Faith Hill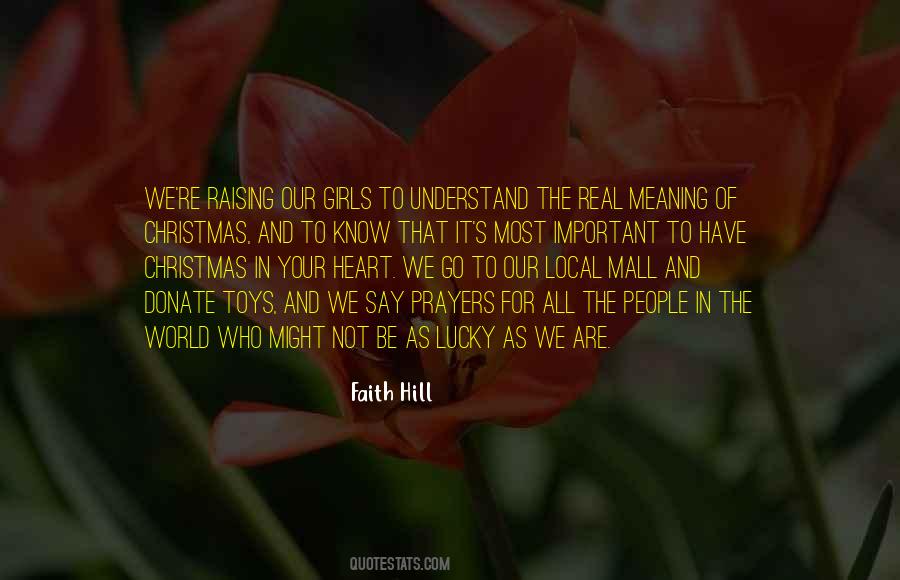 #6. I will honor Christmas in my heart, and try to keep it all the year. - Author: Charles Dickens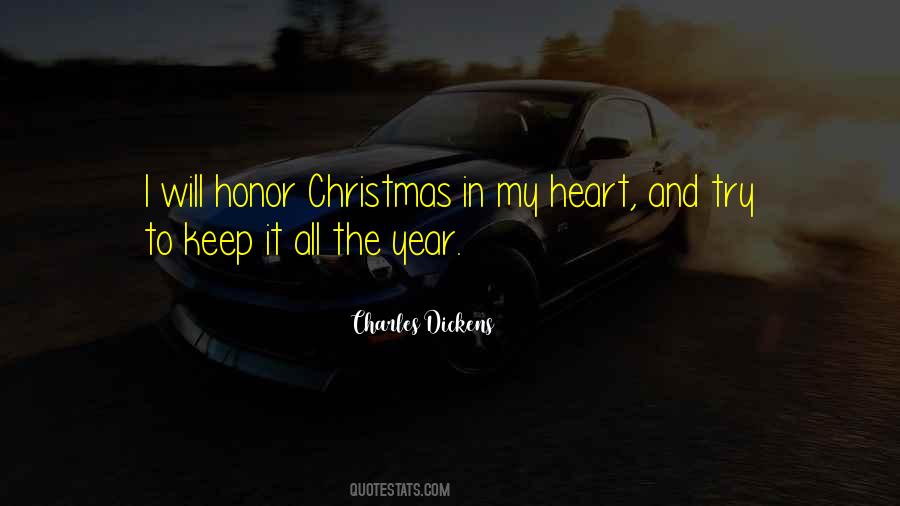 #7. And numerous indeed are the hearts to which Christmas brings a brief season of happiness and enjoyment. - Author: Charles Dickens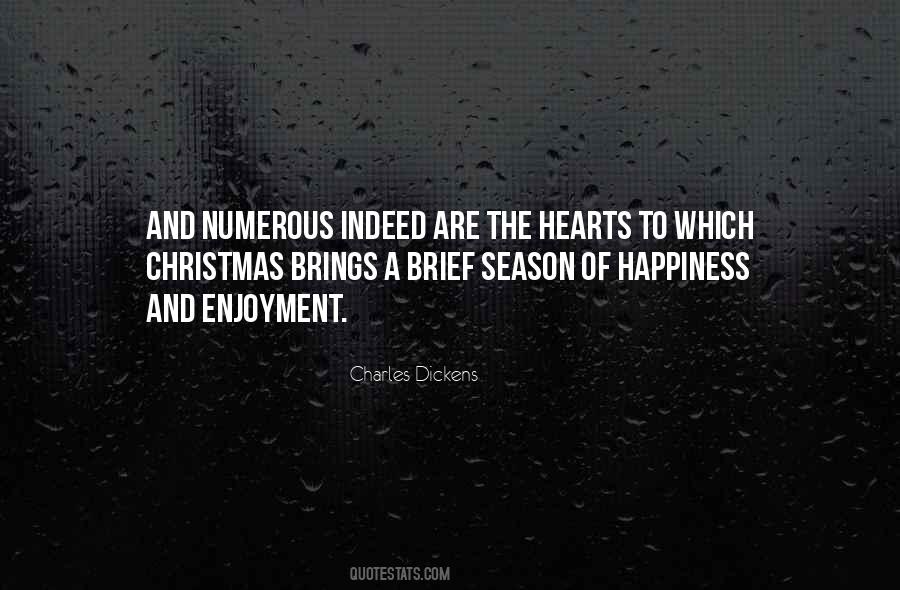 #8. A white cloth falls on your heart; How beautiful you are - The winter loves us, because only lovers have a pure heart. - Author: Kristian Goldmund Aumann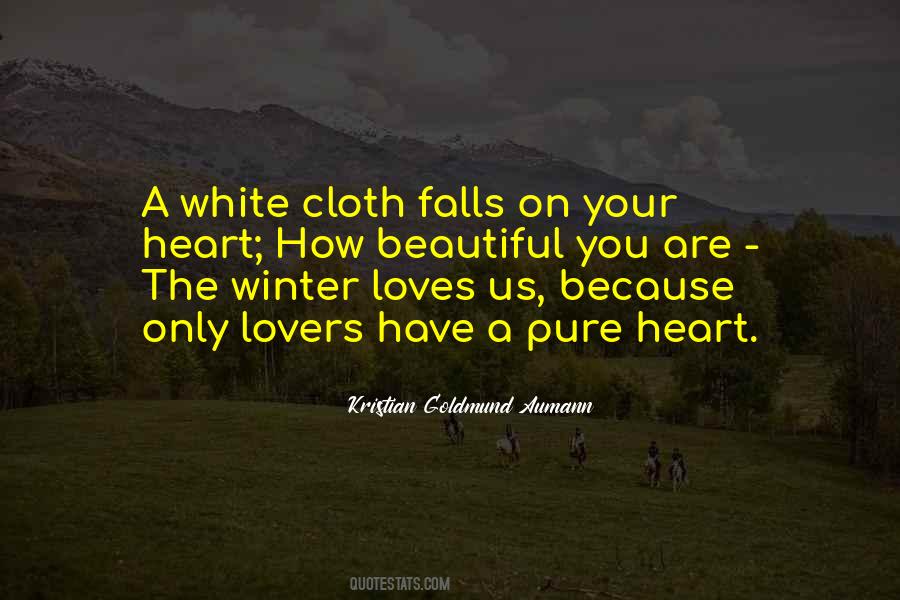 #9. Christmas Eve was a night of song that wrapped itself about you like a shawl. But it warmed more than your body. It warmed your heart ... filled it, too, with melody that would last forever. - Author: Bess Streeter Aldrich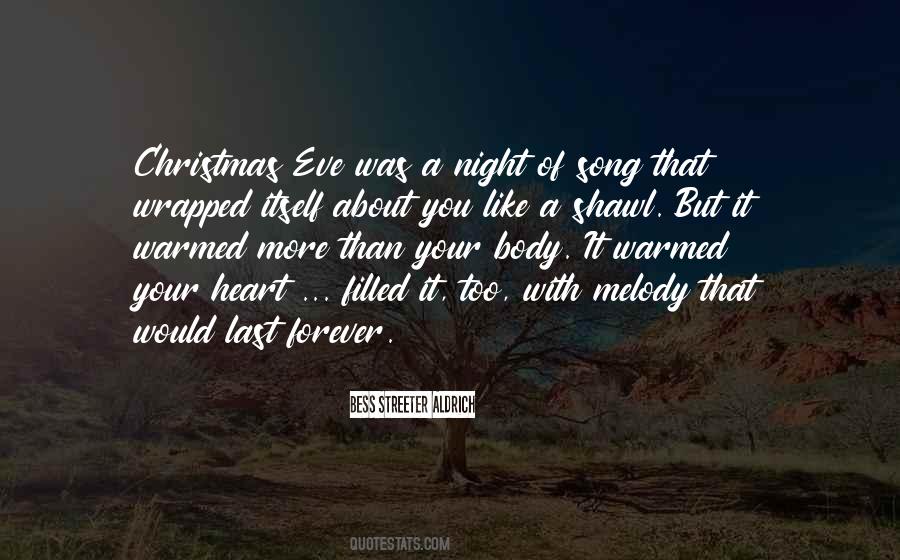 #10. Christmas is not in tinsel and lights and outward show. The secret lies in an inner glow. It's lighting a fire inside the heart. Good will and joy a vital part. It's higher thought and a greater plan. It's glorious dream in the soul of man. - Author: Wilferd Peterson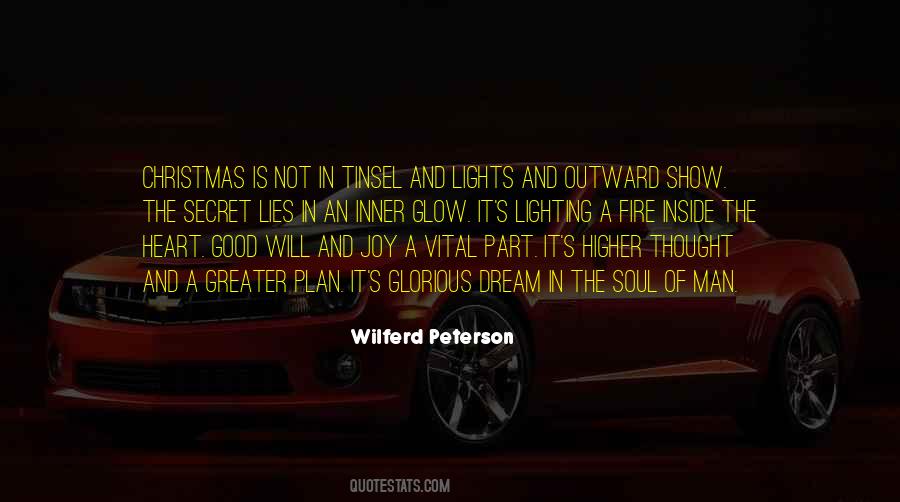 #11. The only real blind person at Christmas time is he who has not Christmas in his heart. - Author: Helen Keller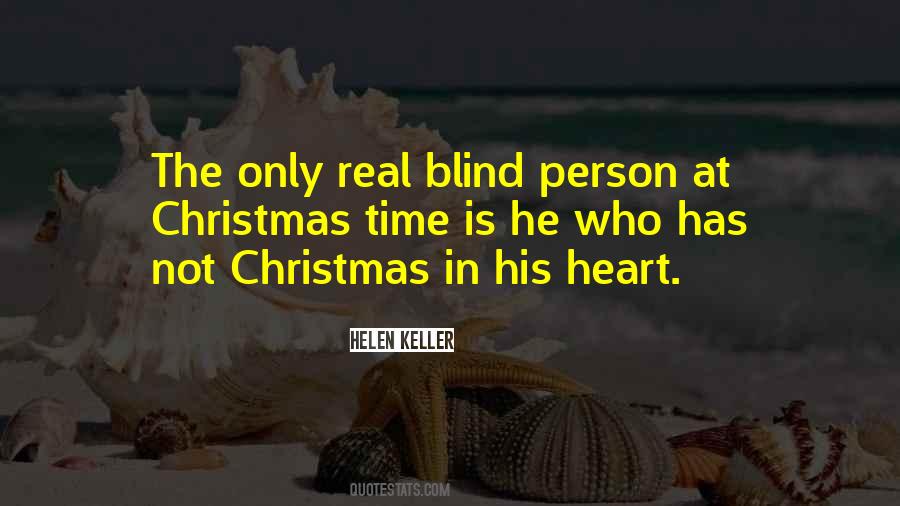 #12. God bless you and utterly satisfy your heart ... with Himself. - Author: Amy Carmichael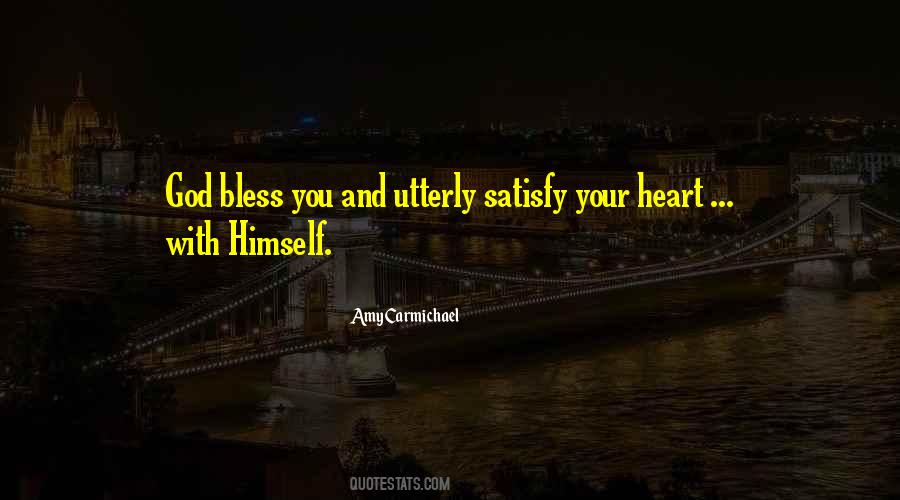 #13. God of hope, I look to you with an open heart and yearning spirit. During this Advent season, I will keep alert and awake, listening for your word and keeping to your precepts. My hope is in you. - Author: Matthew Kelly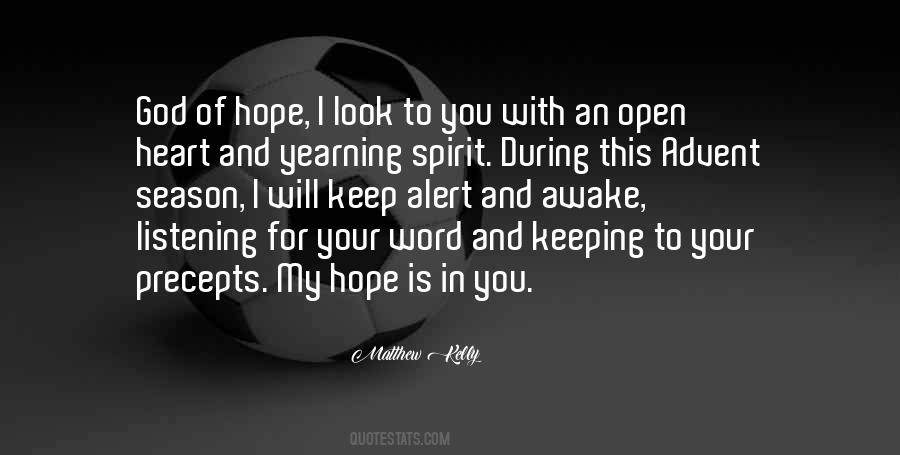 #14. I pray that on this day [Christmas] when only peace and good-will are preached to mankind, better thoughts may fill the hearts of our enemies and turn them to peace. - Author: Robert E.Lee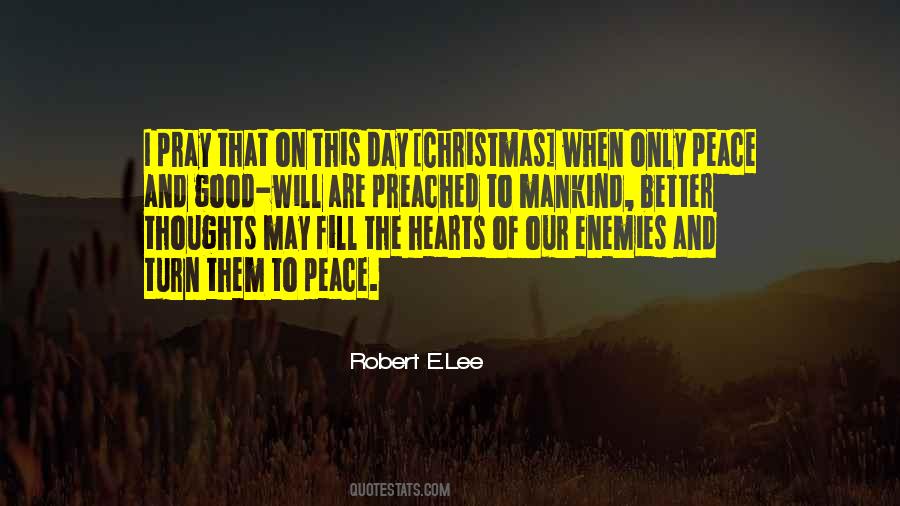 #15. Mankind is a great, an immense family ... This is proved by what we feel in our hearts at Christmas. - Author: Pope John XXIII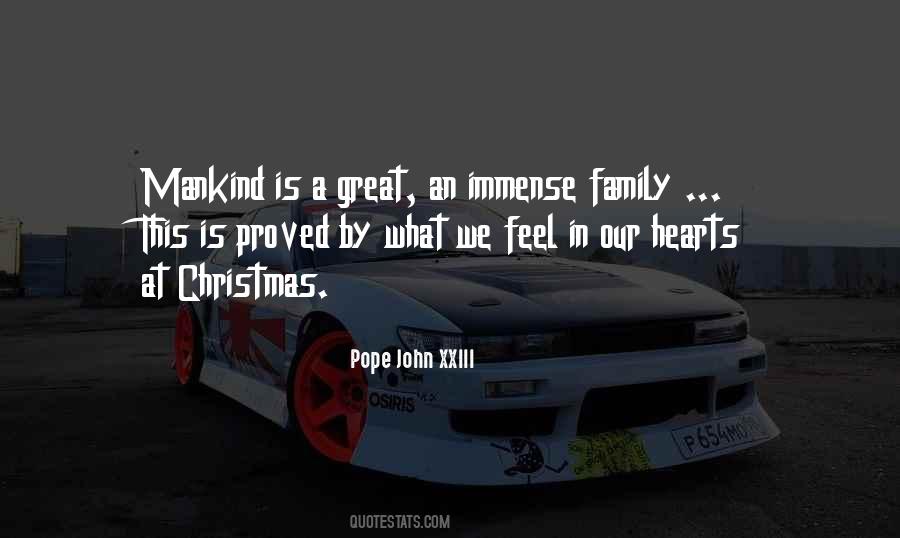 #16. Love with a kind heart is what we can give to each other. - Author: Lailah Gifty Akita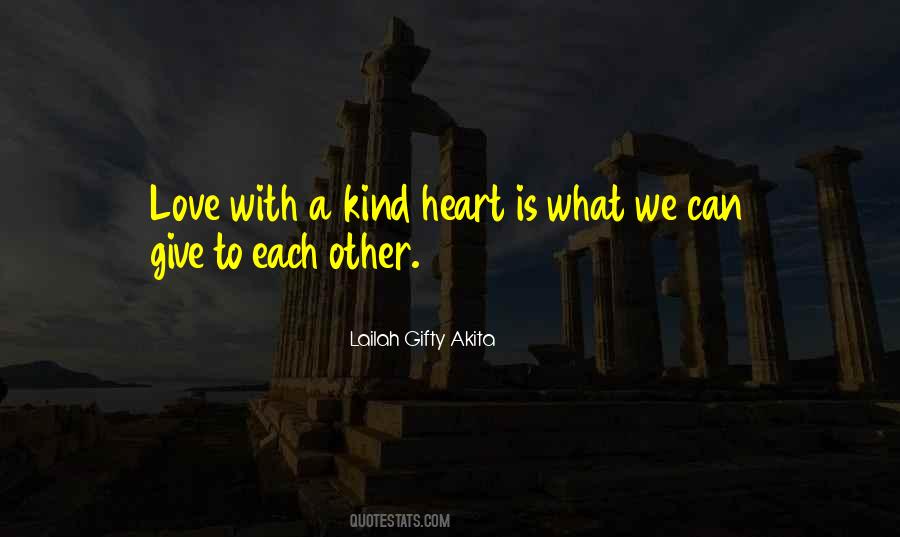 #17. The familiar warmth from the church saturated his heart. Was this what Mom meant by Christmas joy? - Author: Jennifer Gladen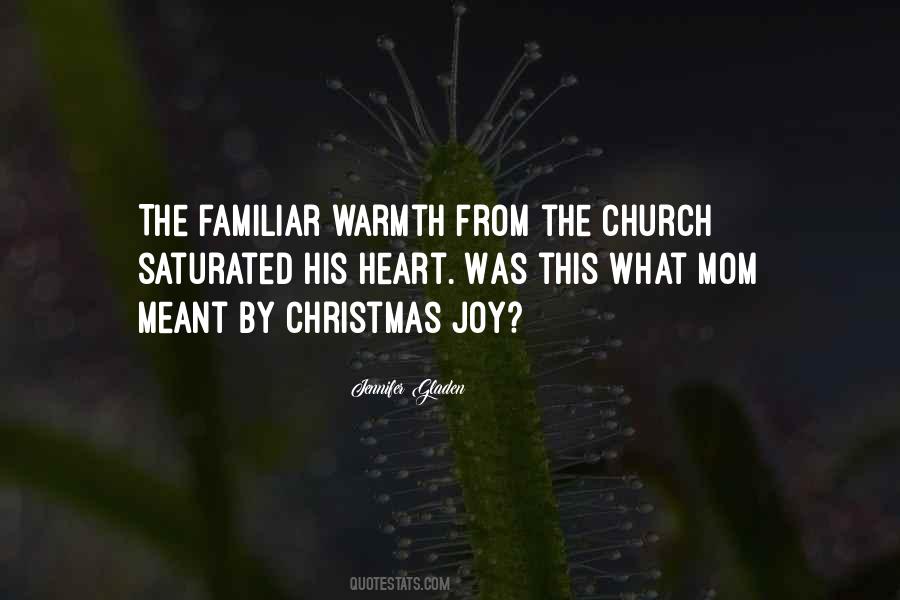 #18. Christmas is very special and not a sell-out date. If you are not sure, ask your heart. - Author: Kristian Goldmund Aumann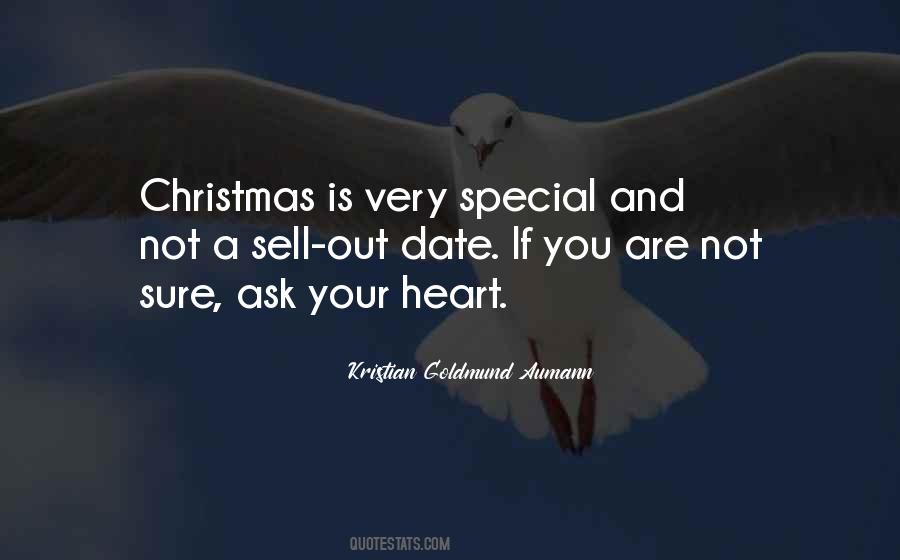 #19. 'A Christmas Carol' has been described as the most perfect of Dickens's works and as a quintessential heart-warming story, and it is certainly the most popular. - Author: Claire Tomalin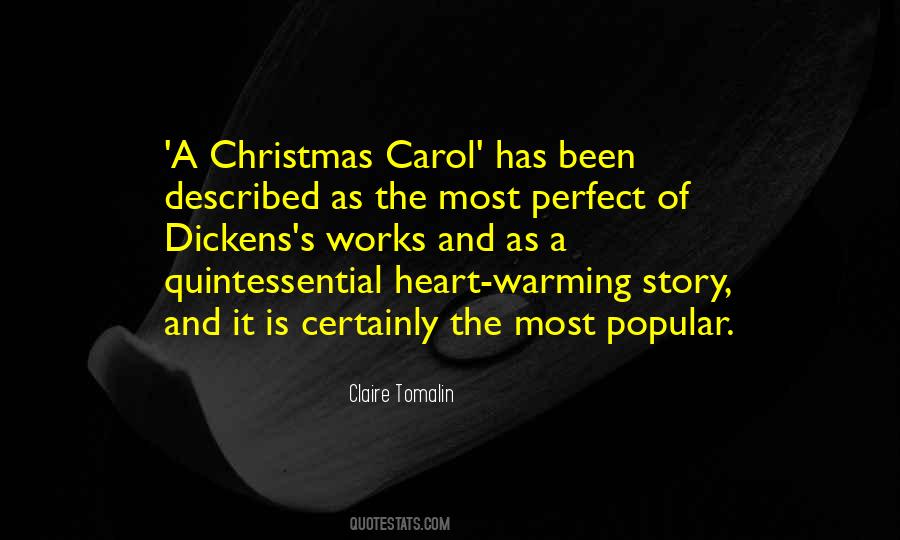 #20. Christmas will always be as long as we stand heart to heart and hand in hand. - Author: Dr. Seuss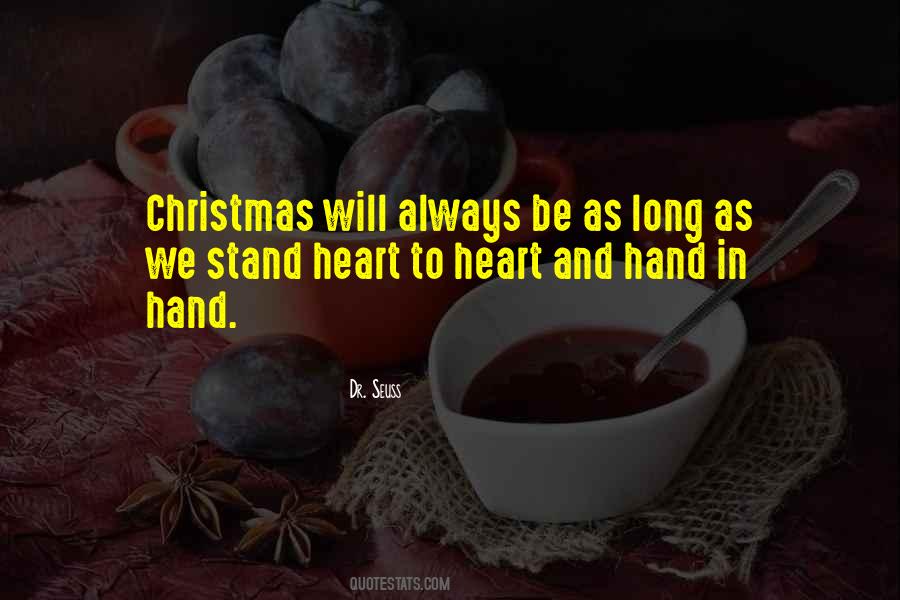 #21. To celebrate the heart of Christmas is to forget ourselves in the service of others. - Author: Henry C. Link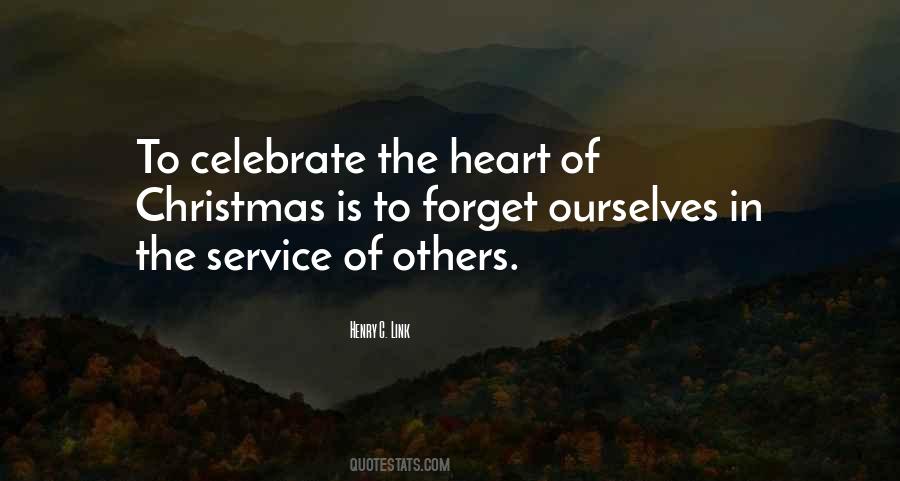 #22. At Christmas, I am always struck by how the spirit of togetherness lies also at the heart of the Christmas story. A young mother and a dutiful father with their baby were joined by poor shepherds and visitors from afar. They came with their gifts to worship the Christ child. - Author: Queen Elizabeth II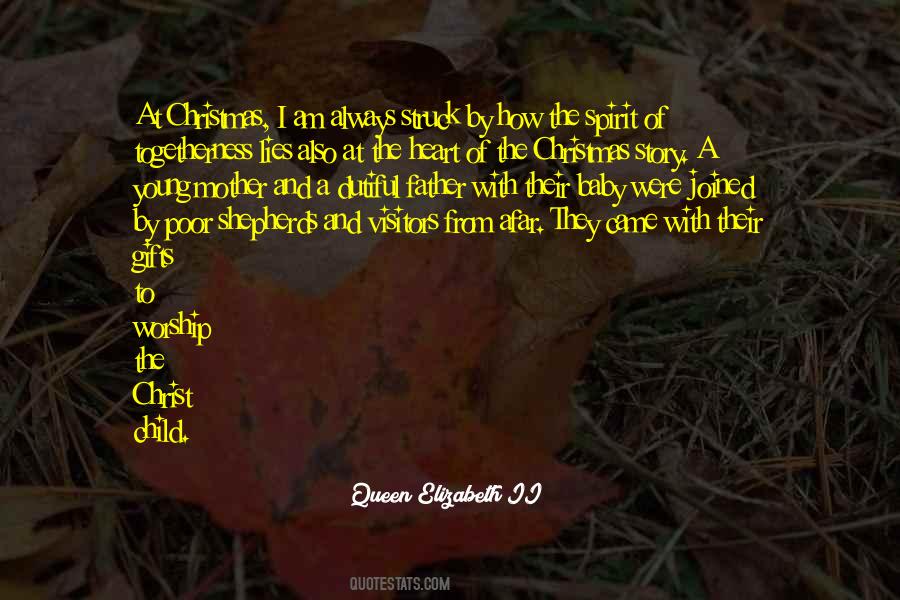 #23. Fail not to call to mind, in the course of the twenty-fifth of this month, that the Divinest Heart that ever walked the earth was born on that day; and then smile and enjoy yourselves for the rest of it; for mirth is also of Heaven's making. - Author: Leigh Hunt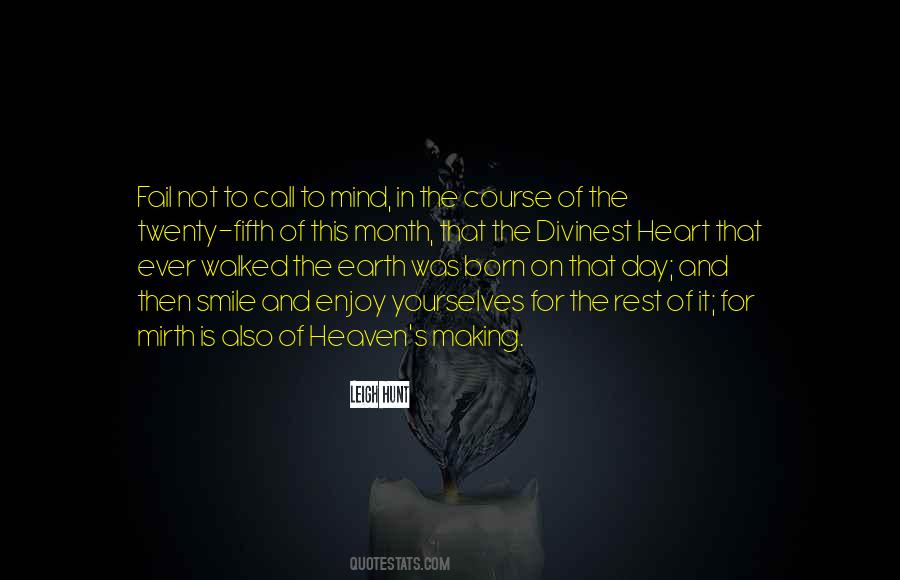 #24. New life, new hope, new joy will start when this is given from the heart. - Author: Melody Carlson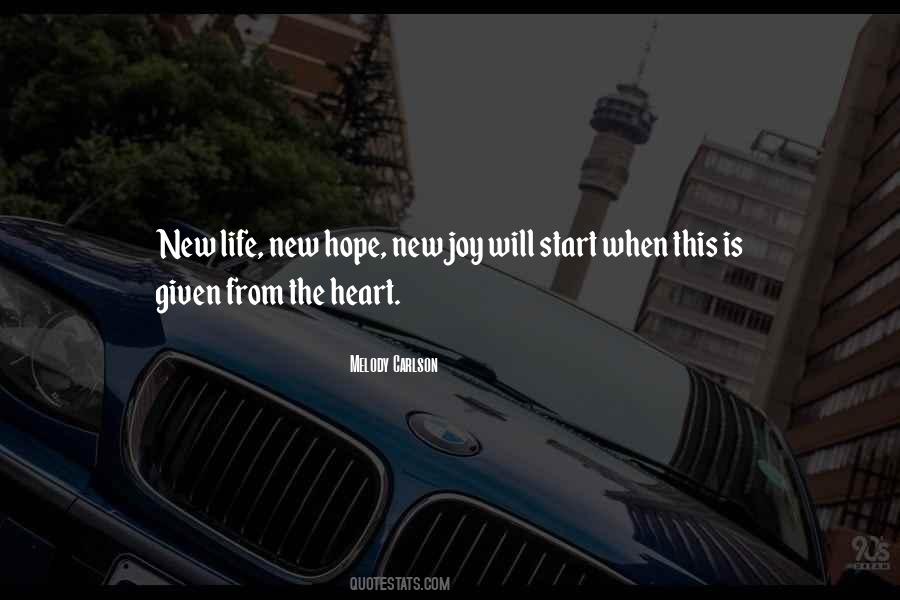 #25. I will honour Christmas in my heart, and try to keep it all the year. I will live in the Past, the Present, and the Future. The Spirits of all Three shall strive within me. I will not shut out the lessons that they teach! - Author: Charles Dickens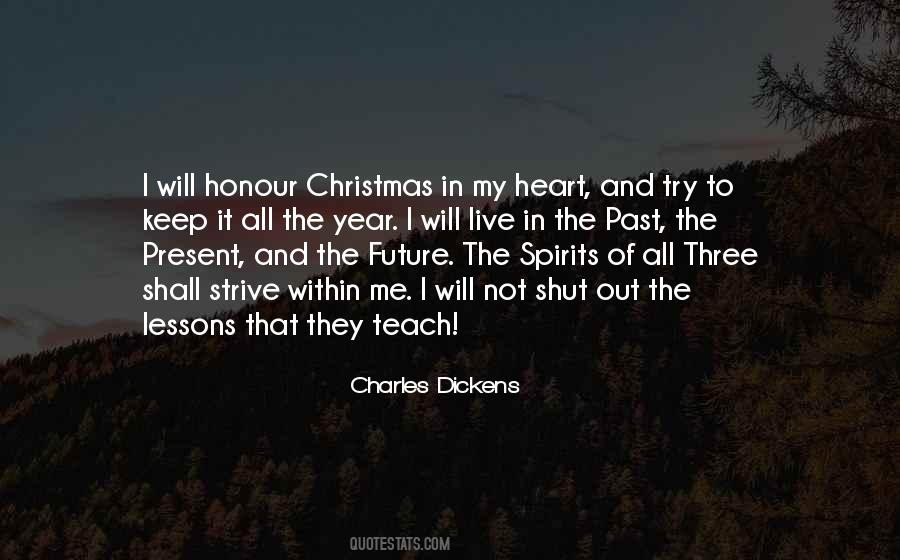 #26. On most guys, Hale's smile would have looked sheepish. On him, it was so roguishly charming that Kat's heart actually skipped a beat. - Author: Ally Carter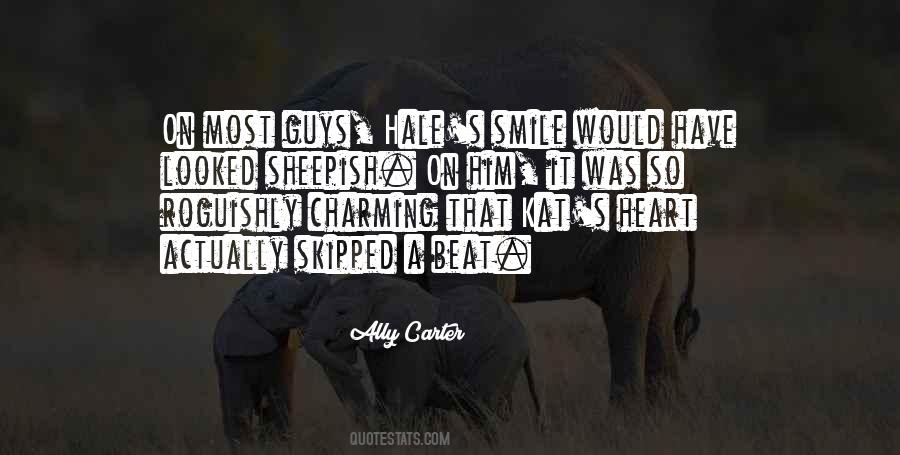 #27. It comes every year and will go on forever. And along with Christmas belong the keepsakes and the customs. Those humble, everyday things a mother clings to, and ponders, like Mary in the secret spaces of her heart. - Author: Marjorie Holmes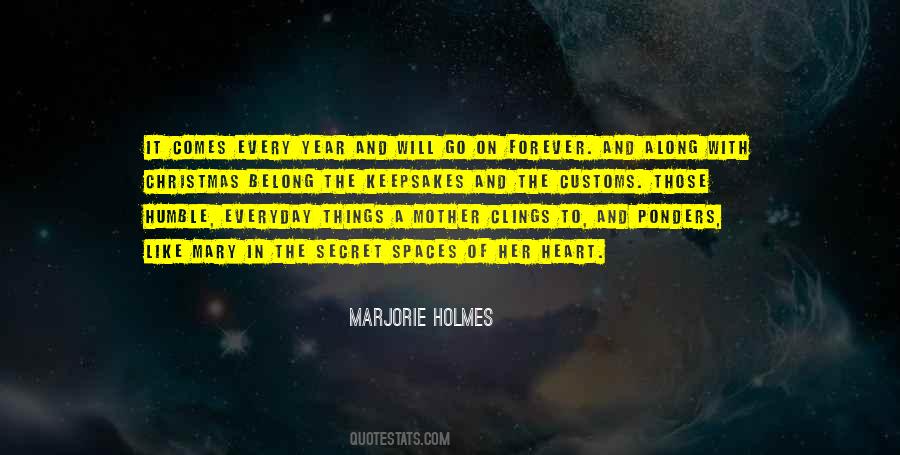 #28. Heart ring in the night; Lights shine from your eyes - Marble crunching the snow. - Author: Kristian Goldmund Aumann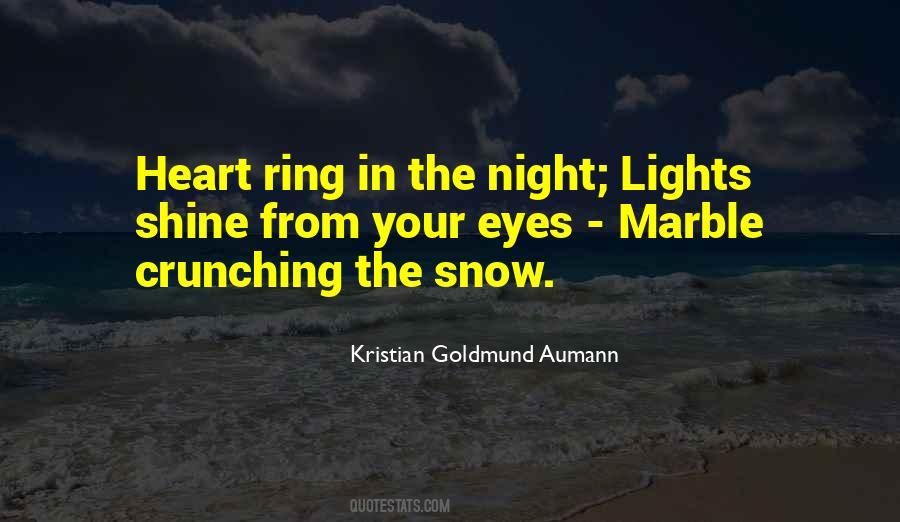 #29. Lord Jesus, master of both the light and the darkness, send your Holy Spirit upon our preparations for Christmas. We whose hearts are heavy seek the joy of your presence. We are your people, walking in darkness, yet seeking the light. To you we say, 'Come Lord Jesus!' - Author: Henri Nouwen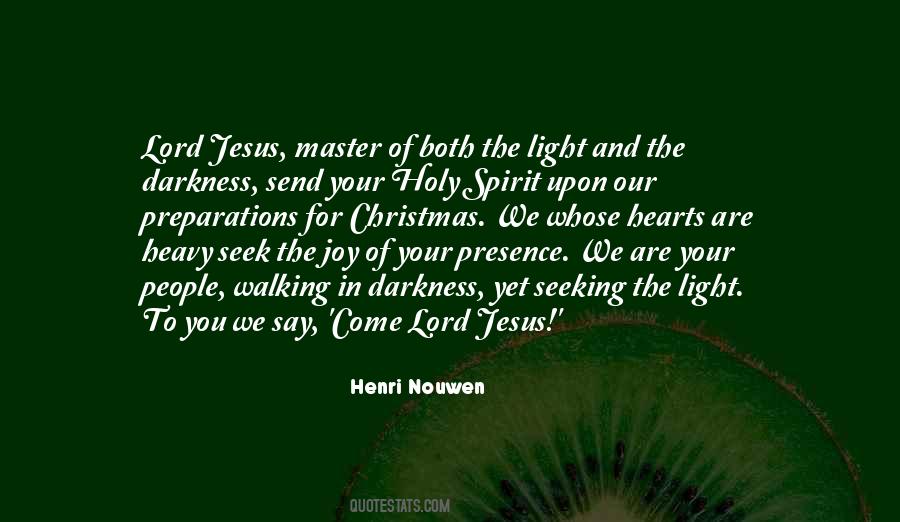 #30. We joyfully pray with grateful heart to welcome blessings in New Year. - Author: Lailah Gifty Akita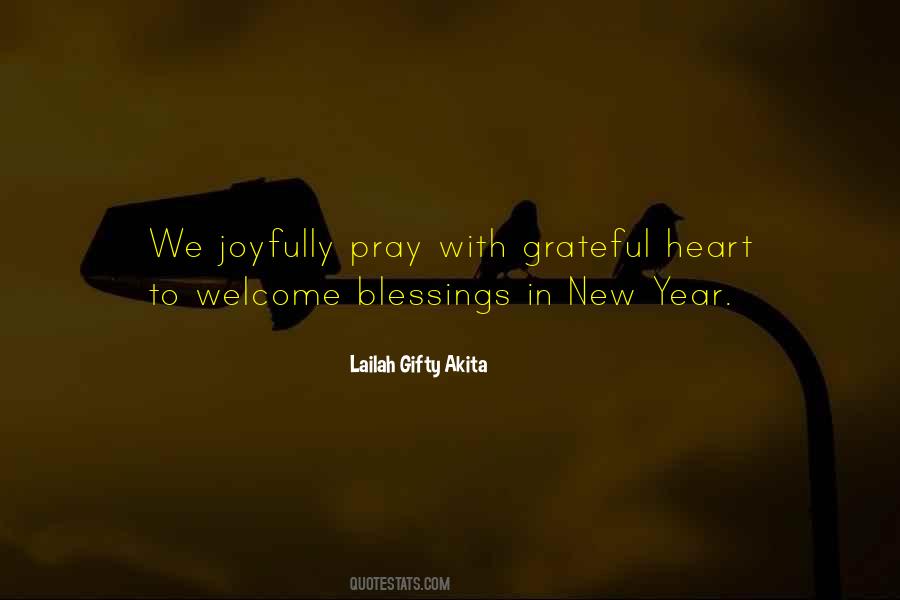 #31. 600Christmas is about giving from the heart more than giving from the store. - Author: Toni Sorenson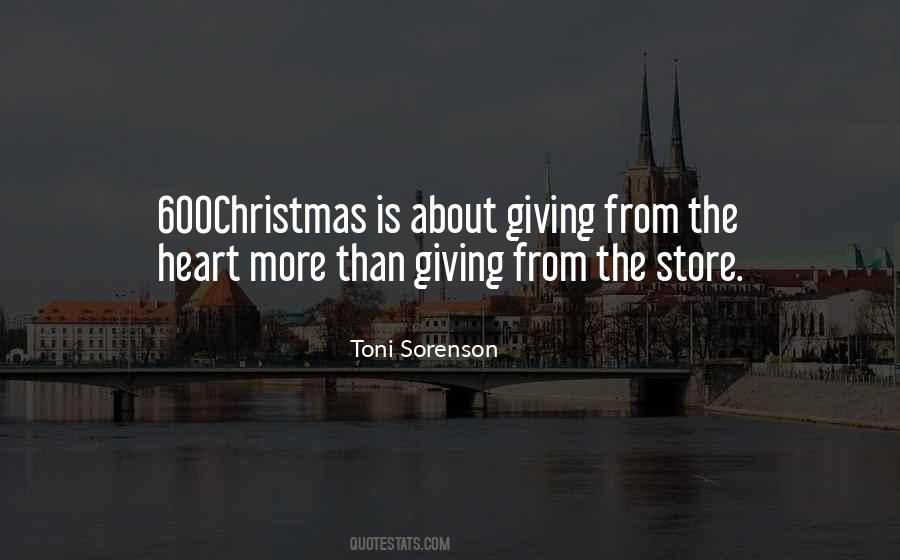 #32. Jim flinched when their hands met. "Your hands are like ice."
She snatched her hands back and shoved them into her pockets. "You know what they say - cold hands, warm heart. - Author: Nicki Edwards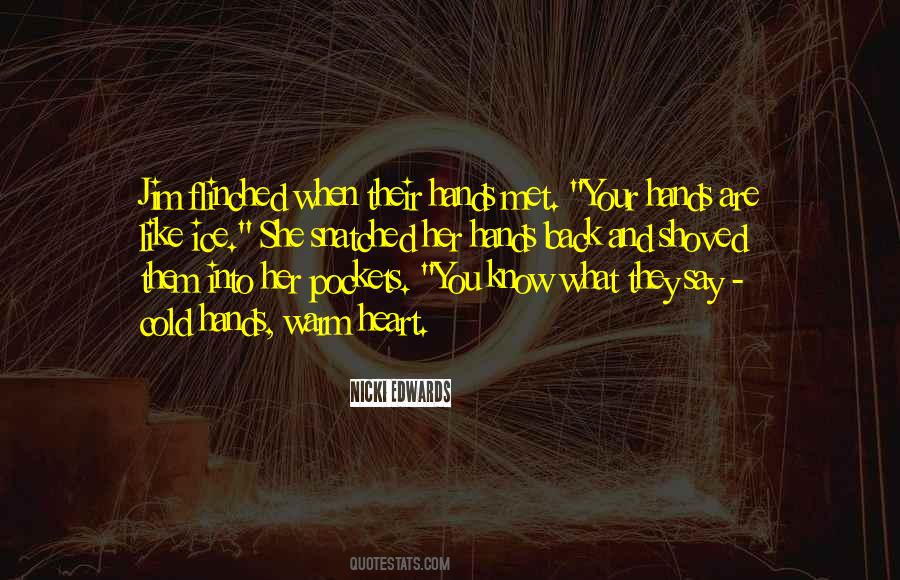 #33. COMPASSION ALERT:
As we enter the Season of Goodwill - Feel the warm glow in your heart by lighting up a smile on someone's face - Author: Kamil Ali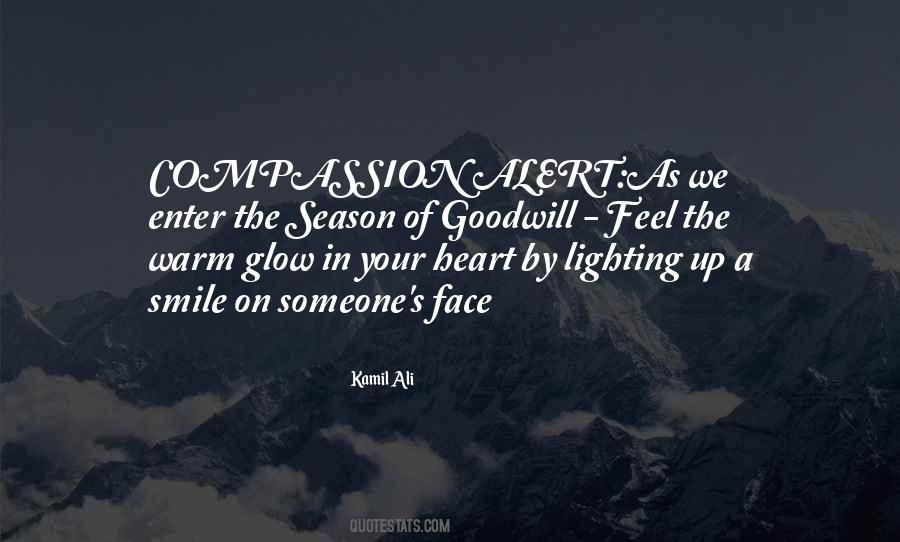 #34. If you can't find the spirit of the holidays in your heart, you'll never find it under a tree. - Author: Michael Holbrook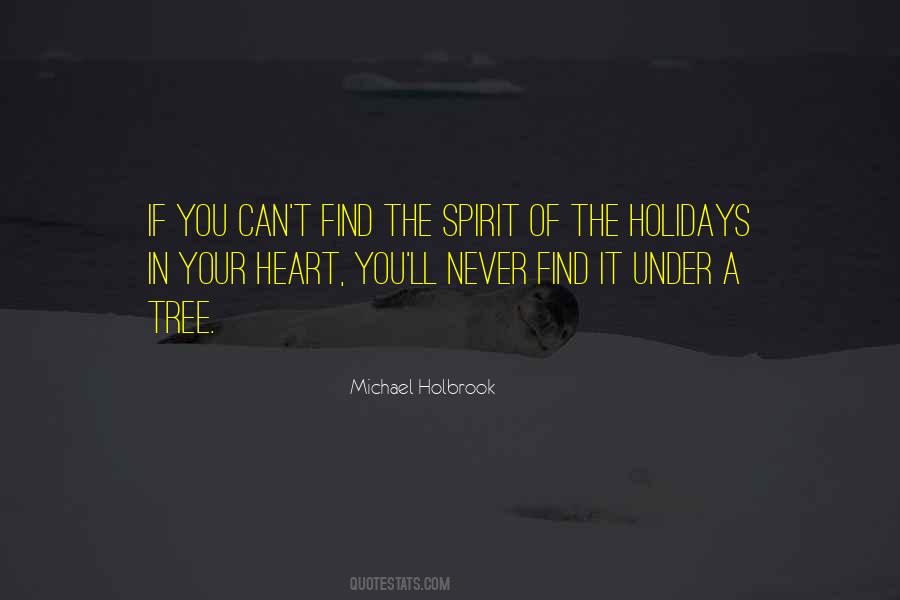 #35. I want no Christmas without a burden for lost souls, a message for sinners, a heart to bring in the lost sheep so dear to the Shepherd, the sinning souls for whom Christ died. - Author: John R. Rice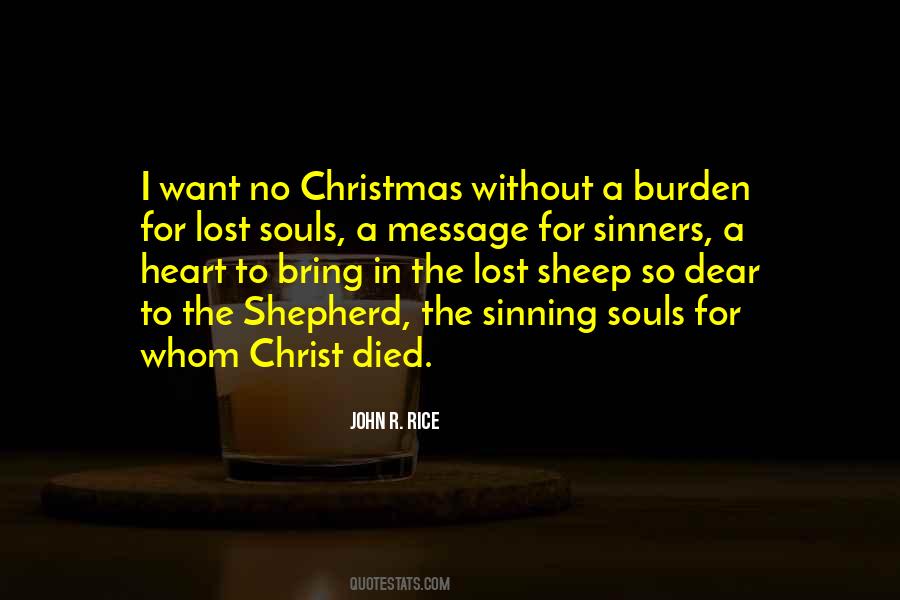 #36. Christmas is, of course, the time to be home - in heart as well as body. - Author: Garry Moore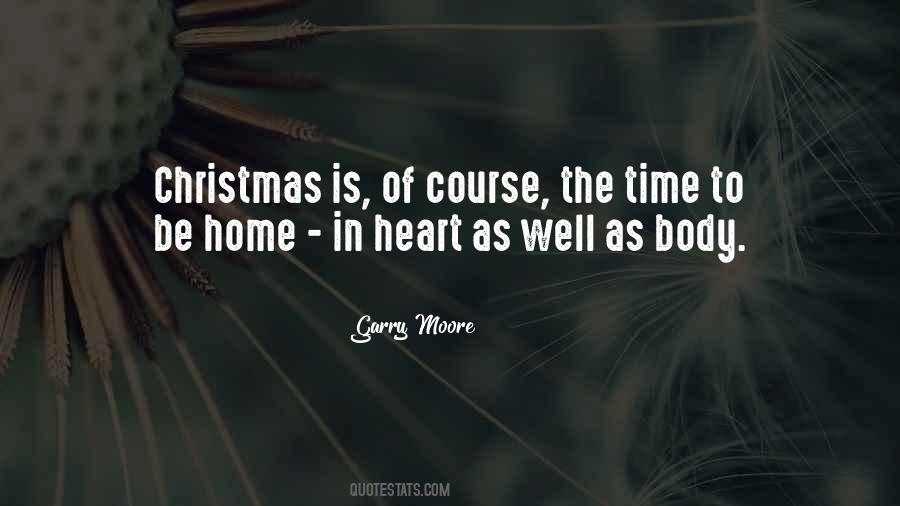 #37. The mystery of the Holy Night, which historically happened two thousand years ago, must be lived as a spiritual event in the 'today' of the Liturgy," the Pope clarified. "The Word who found a dwelling in Mary's womb comes to knock on the heart of every person with singular intensity this Christmas. - Author: Pope John Paul II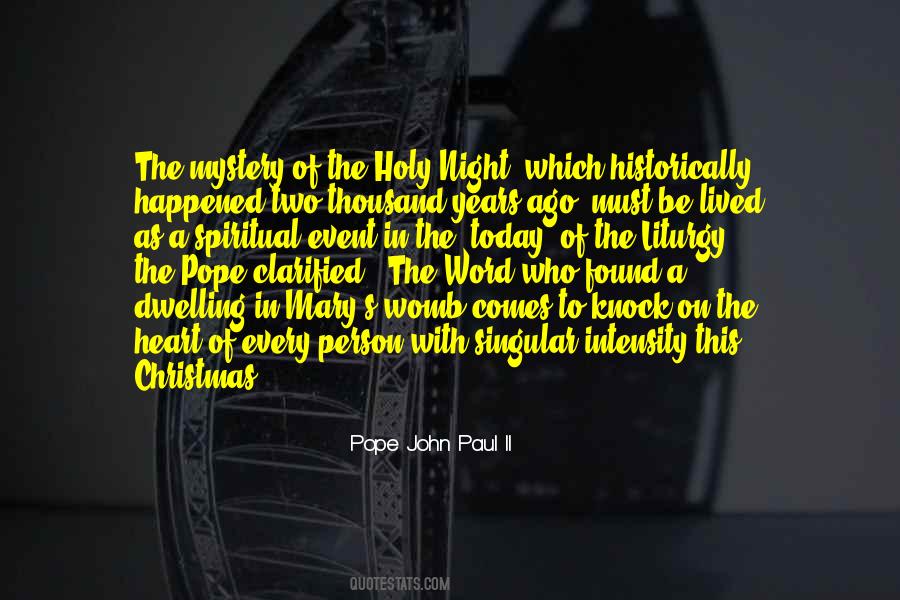 #38. Like God, Christmas is timeless and eternal, from everlasting to everlasting. It is something even more than what happened that night in starlit little Bethlehem; it has been behind the stars forever. There was Christmas in the heart of God before the world was formed. - Author: Roy Rogers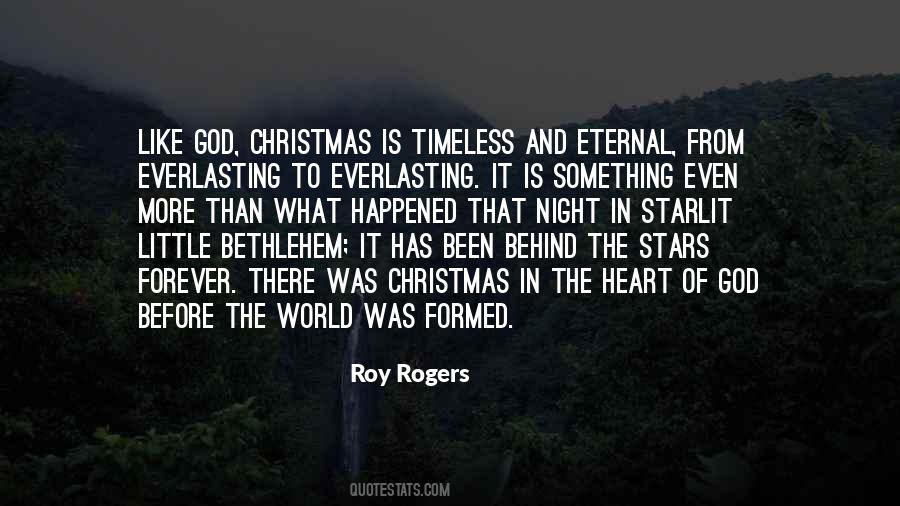 #39. The joy of brightening other lives, bearing each others' burdens, easing other's loads and supplanting empty hearts and lives with generous gifts becomes for us the magic of Christmas. - Author: William Carey Jones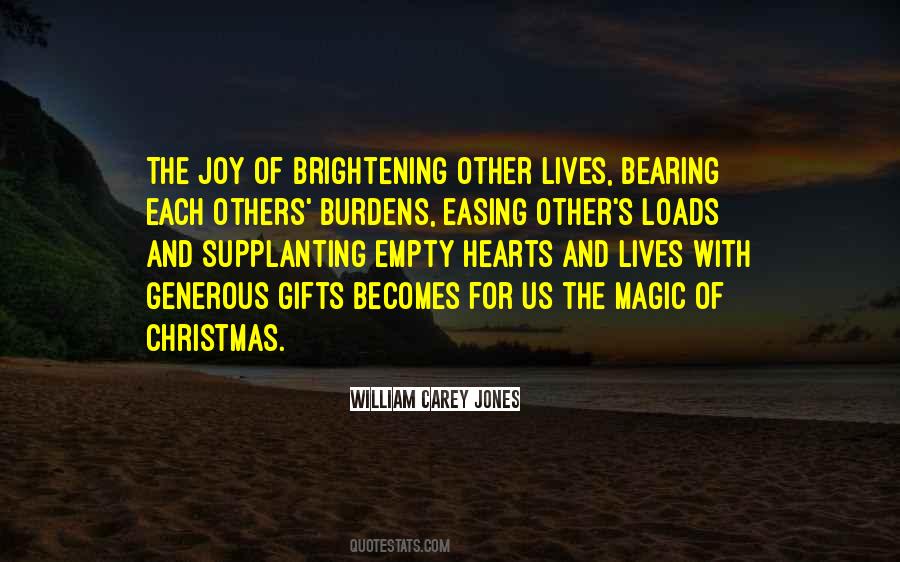 #40. Selfishness makes Christmas a burden;
Love makes it a delight.
The joy of brightening a child's heart creates the magic of Christmas. - Author: William Carey Jones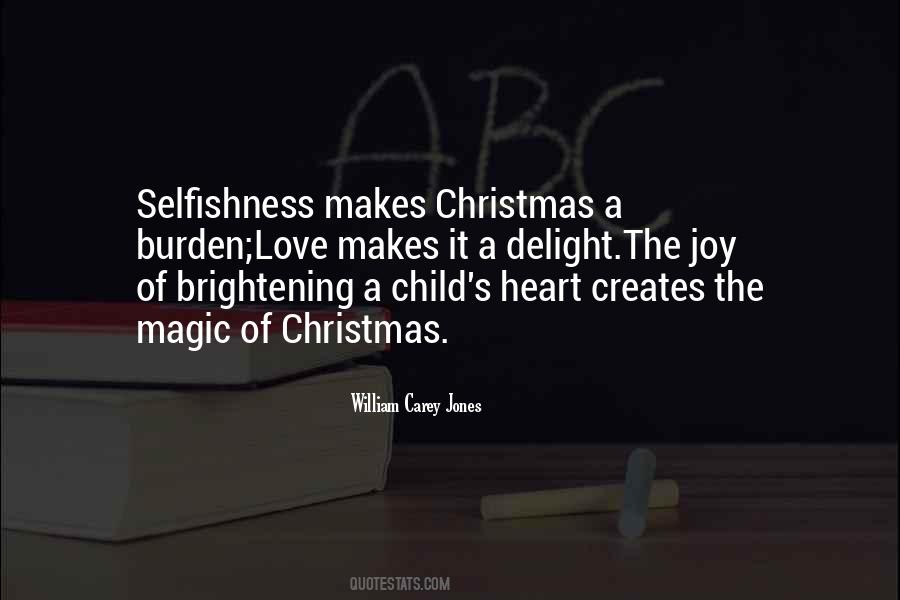 #41. During Christmas, open your heart with love to appreciate the beauty of life and all the presents that you have received from the earth. - Author: Debasish Mridha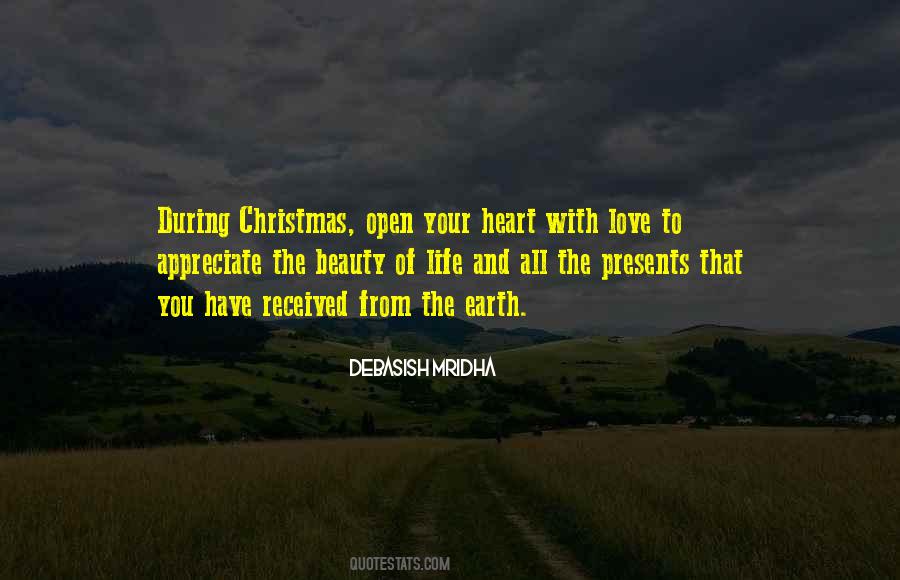 #42. At this Christmas when Christ comes, will He find a warm heart? Mark the season of Advent by loving and serving the others with God's own love and concern. - Author: Mother Teresa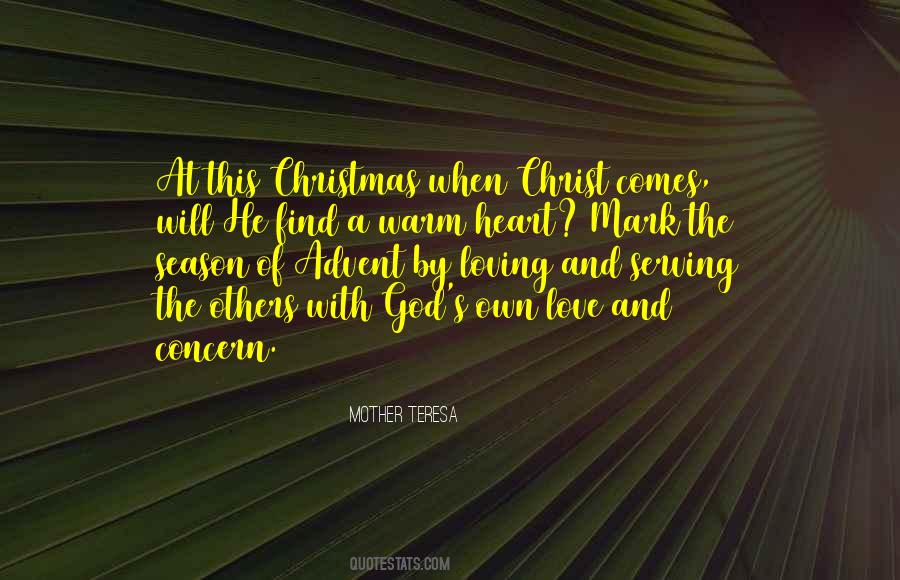 #43. The light of the Christmas star to you. The warmth of home and hearth to you. The cheer and goodwill of friends to you. The hope of a child-like heart to you. The joy of a thousand angels to you. The love of the Son and God's peace to you. - Author: Sherryl Woods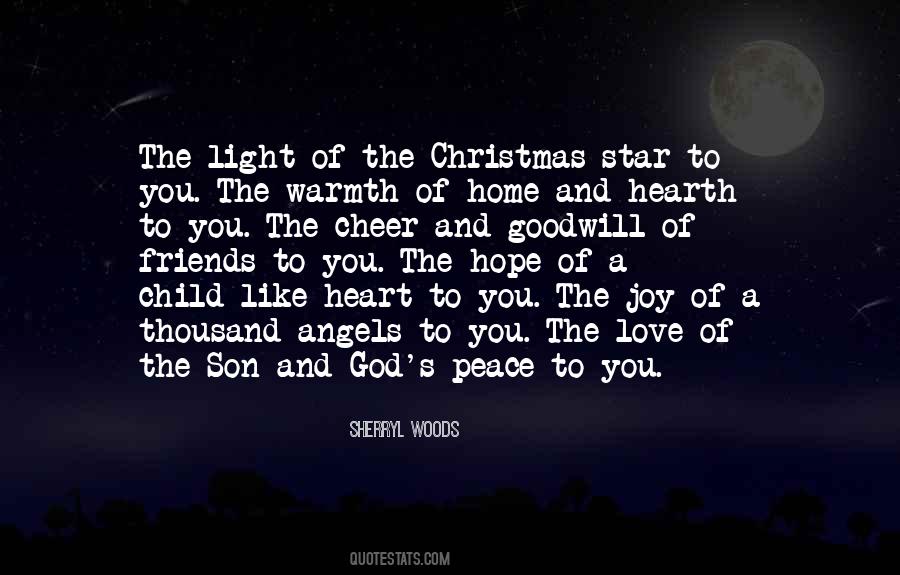 #44. As Christmas draws near, let the words resonate - not just within your heart & mind, but Soul. - Author: Eleesha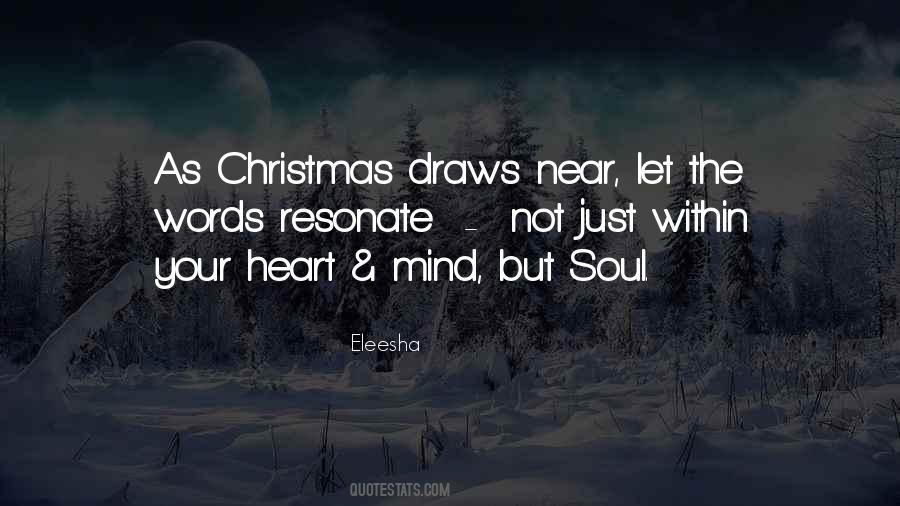 #45. What can I give Him,
Poor as I am?
If I were a shepherd
I would bring a lamb.
If I were a Wise Man
I would do my part.
Yet what can I give Him?
I give Him my heart. - Author: Christina Rossetti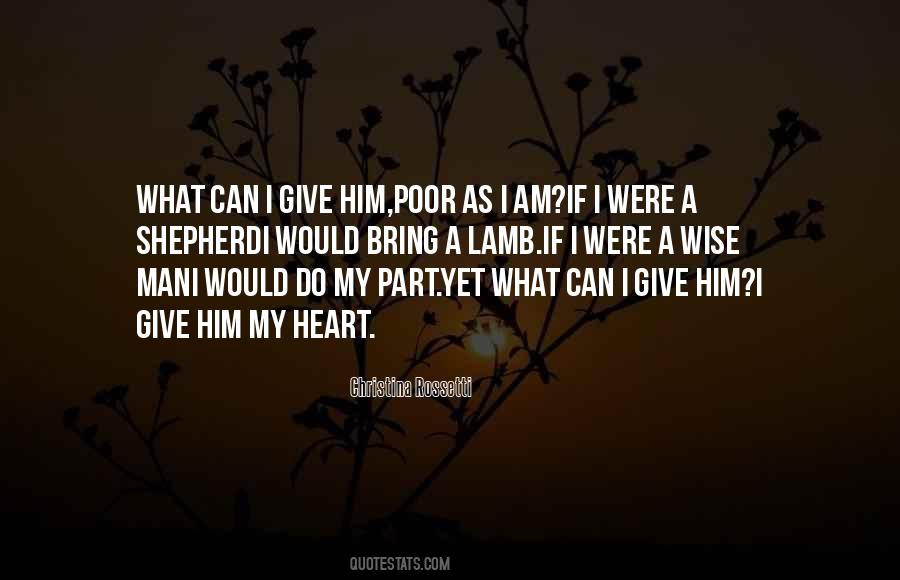 #46. The irony of Christmas is always upon the poor in heart; the mystery of the solstice is always upon the rest of us. - Author: John Cheever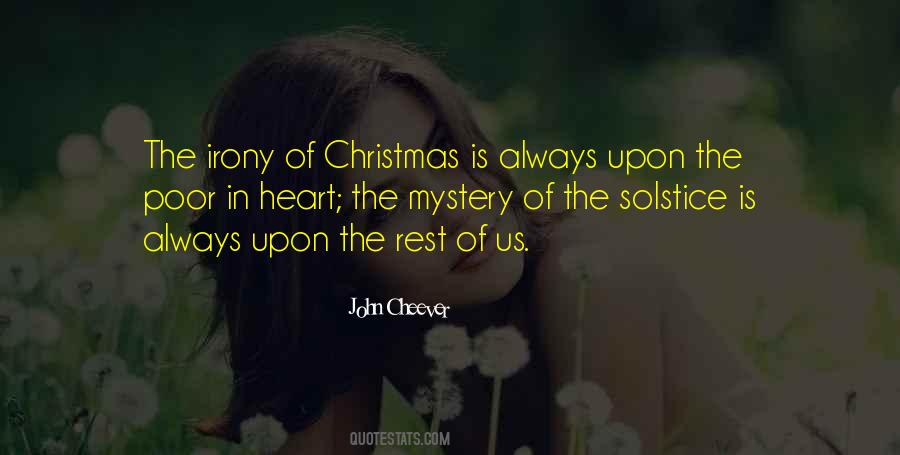 #47. And what it meant was we would be together for many more Christmas's because we truly loved each other, heart to heart. Not based on how we looked or how some of the things we do appear stupid to the other person but how we cared for each other. Deep down in our core. - Author: E.Z. Friedel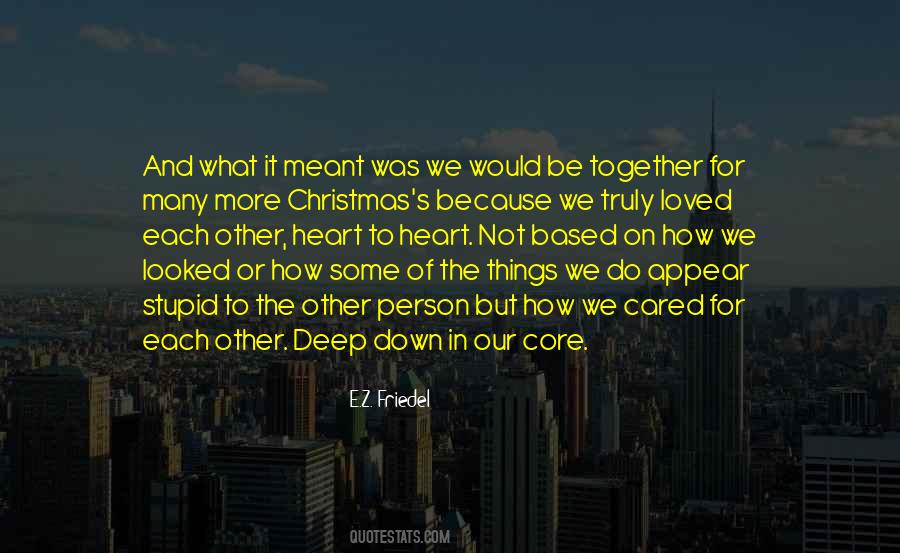 #48. Christmas does not remind us that God was born over 2000 years ago. It is a time to remember that God was born in our Heart and Lives in our Heart, everyday!-RVM - Author: R.v.m.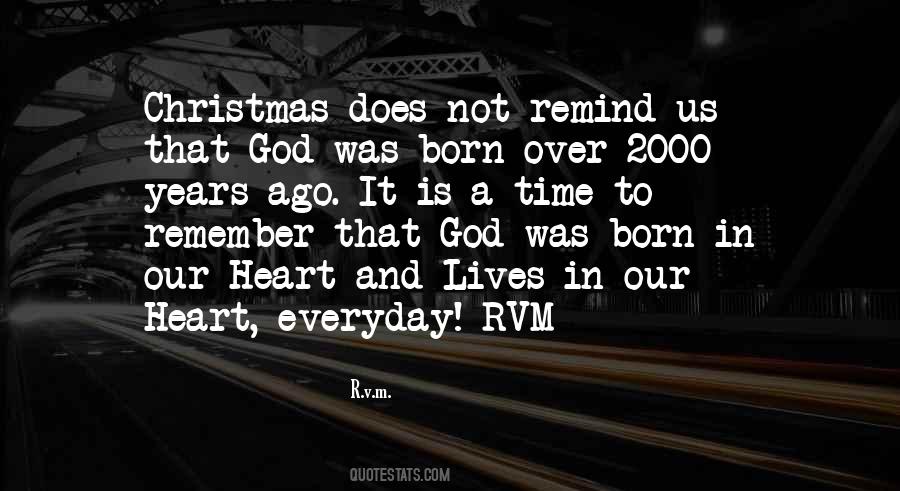 #49. If I could work my will," said Scrooge indignantly, "every idiot who goes about with 'Merry Christmas' on his lips, should be boiled with his own pudding, and buried with a stake of holly through his heart. He should. - Author: Charles Dickens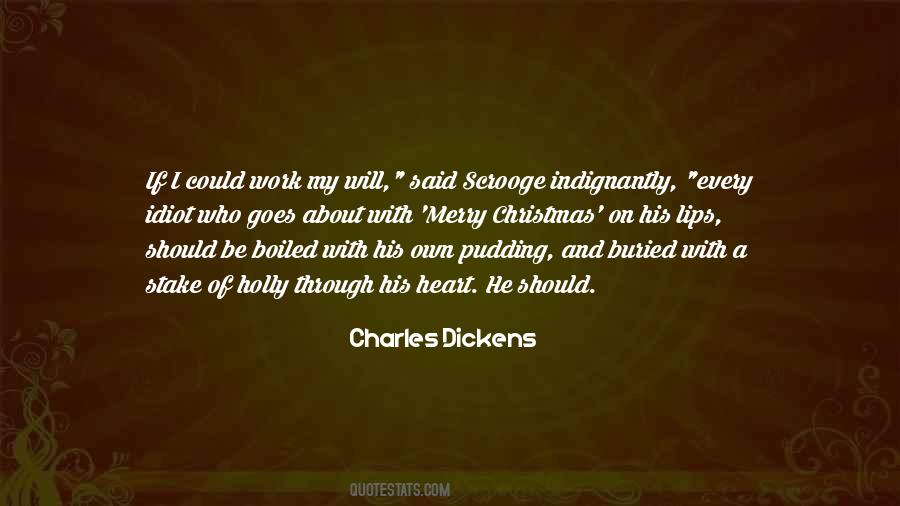 #50. Christmas is the season for kindling the fire of hospitality in the hall, the genial flame of charity in the heart. - Author: Washington Irving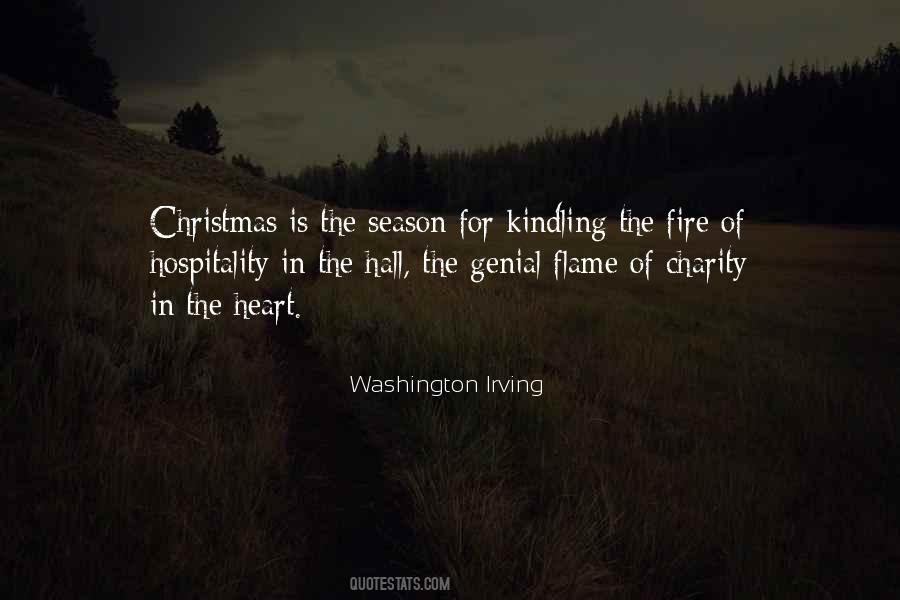 #51. The very purpose of Christ's coming into the world was that He might offer up His life as a sacrifice for the sins of men. He came to die. This is the heart of Christmas. - Author: Billy Graham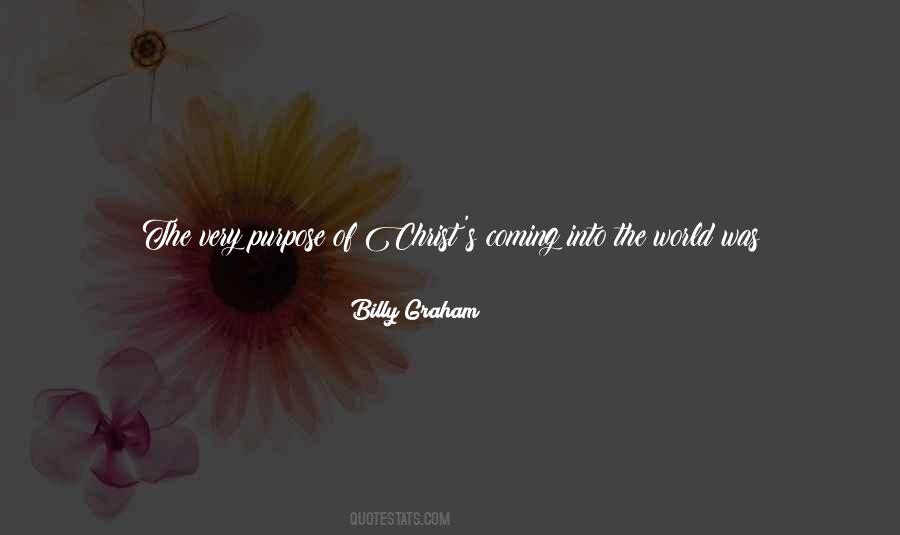 #52. To close a fellow human being in your heart compels more respect than attending 1000 Christmas Masses. - Author: Ben Midland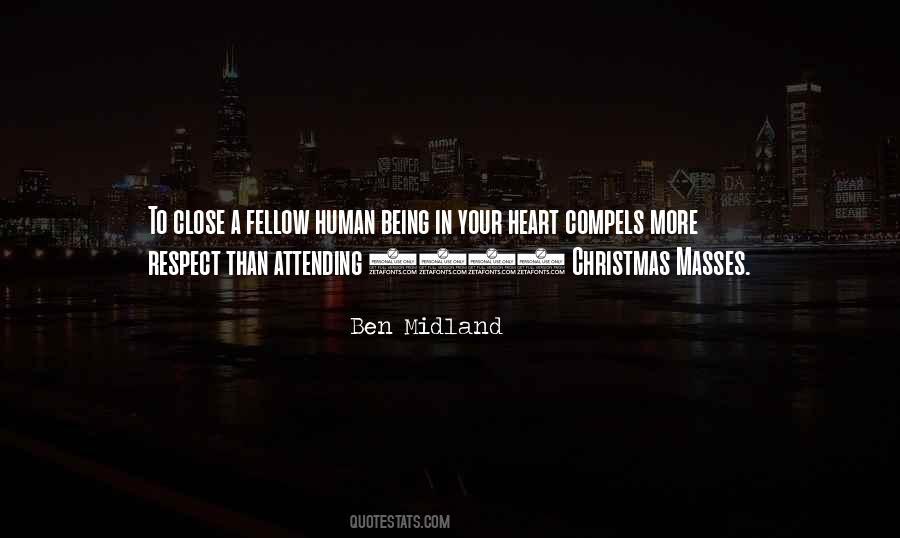 #53. Christmas
Silence in the time
The first snow fell in your laughter
Childlike anticipation
Christmas is in your heart - Author: Kristian Goldmund Aumann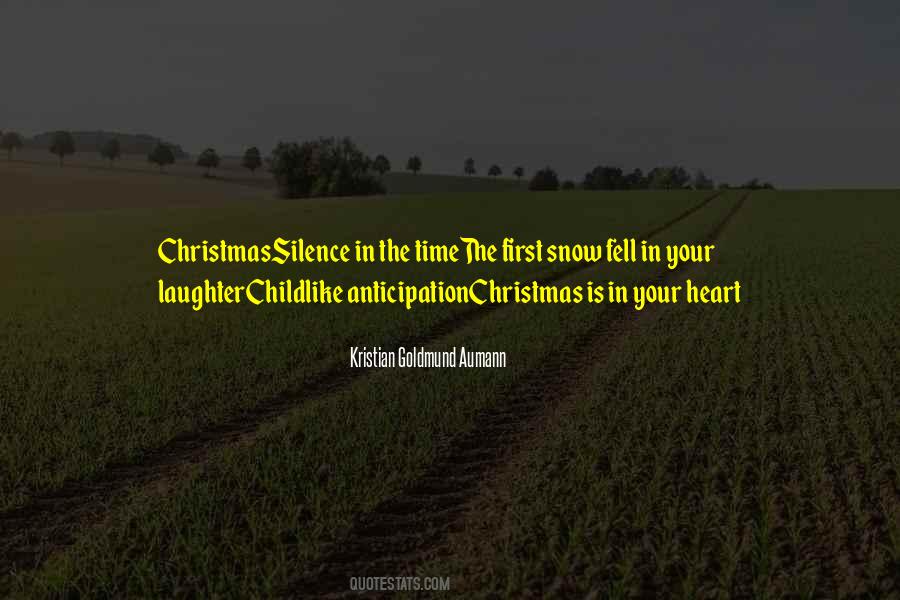 #54. Quietly, almost a breath, an angel touched you by the hand - and your heart, he made it shine, in the times of hope. - Author: Kristian Goldmund Aumann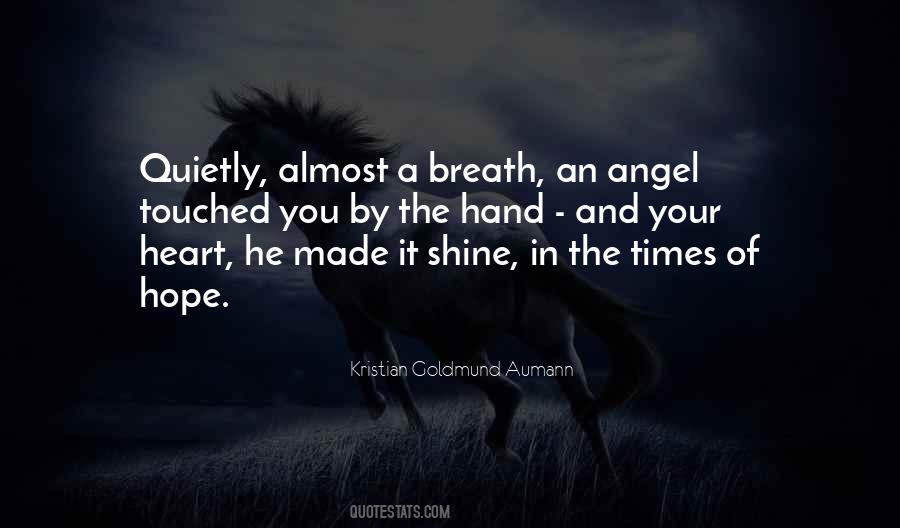 #55. And the more you spend in blessing The poor and lonely and sad,
The more of your heart's possessing
Returns to you glad. - Author: John Greenleaf Whittier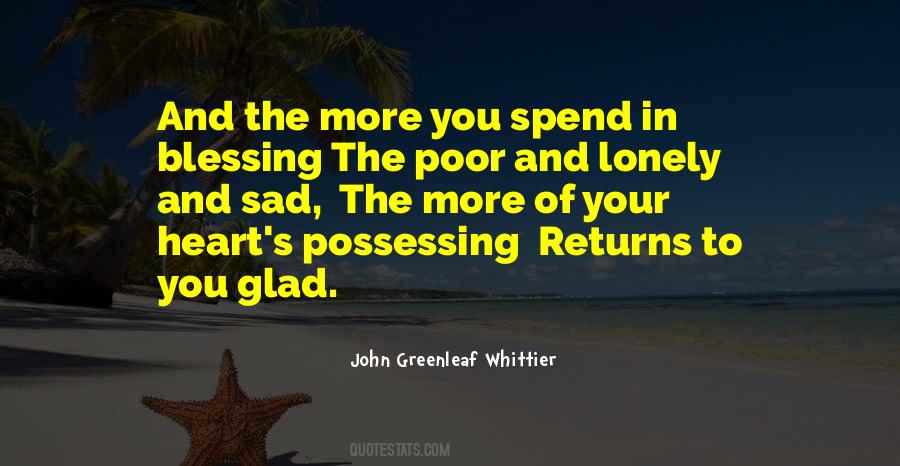 #56. Christmas; find peace in your heart - where darkness gives way to light. - Author: Kristian Goldmund Aumann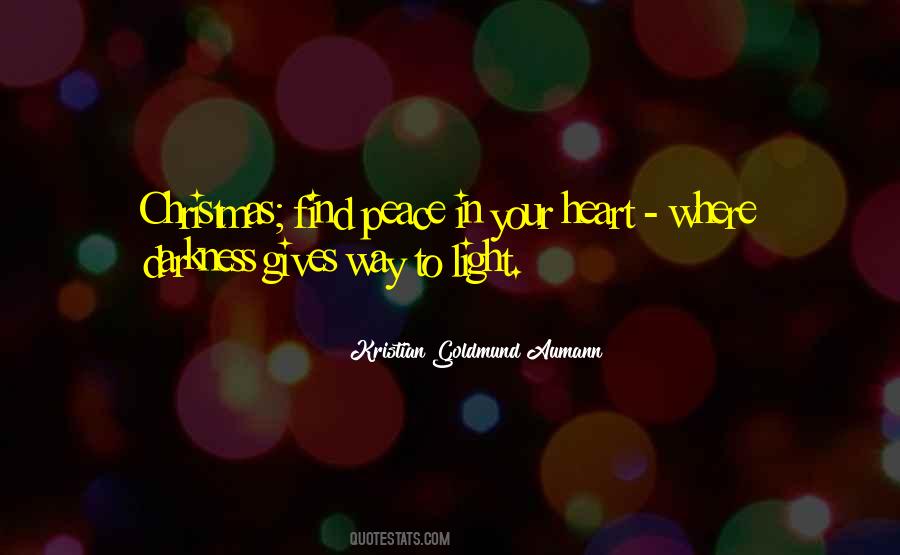 #57. Christmas; silence breathed childlike anticipation in your heart. - Author: Kristian Goldmund Aumann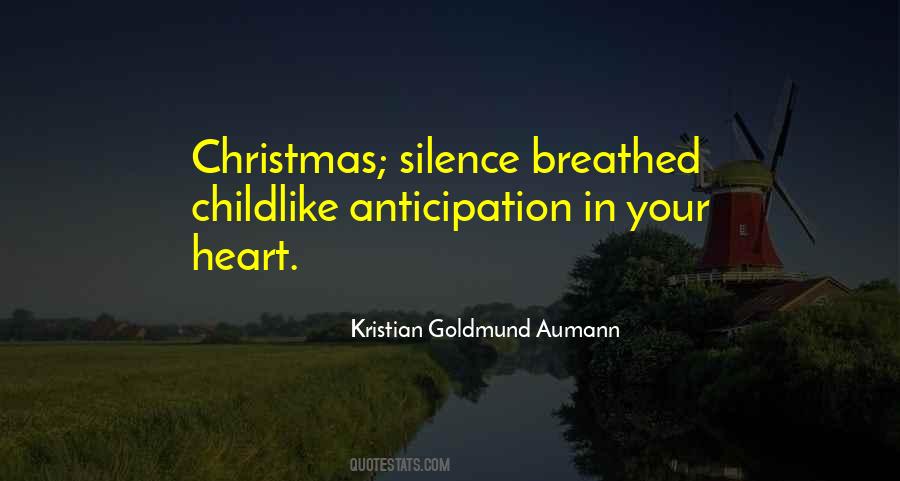 #58. Say what's in your heart, Annie.'
'You're in my heart, Samuel. - Author: Vannetta Chapman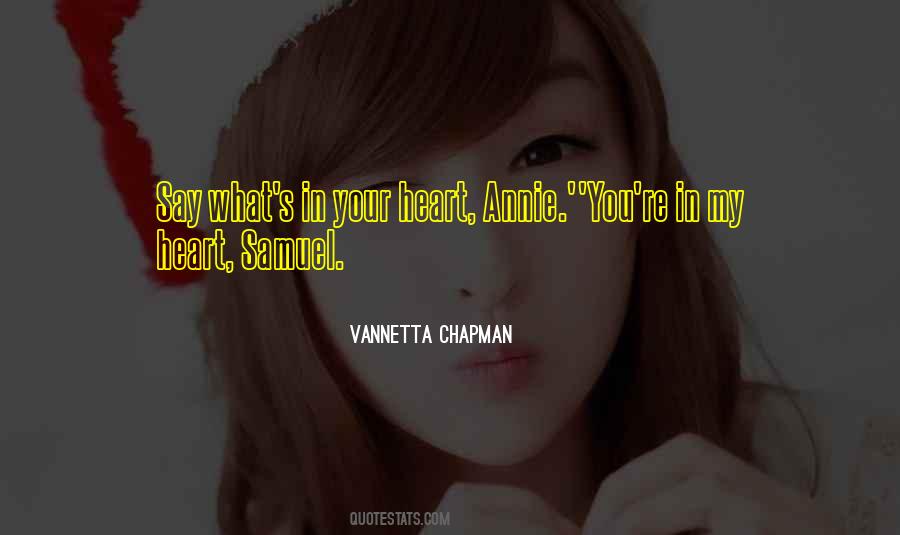 #59. Christmas isn't a parade or concert but a piece of home you keep in your heart wherever you go. - Author: Donna VanLiere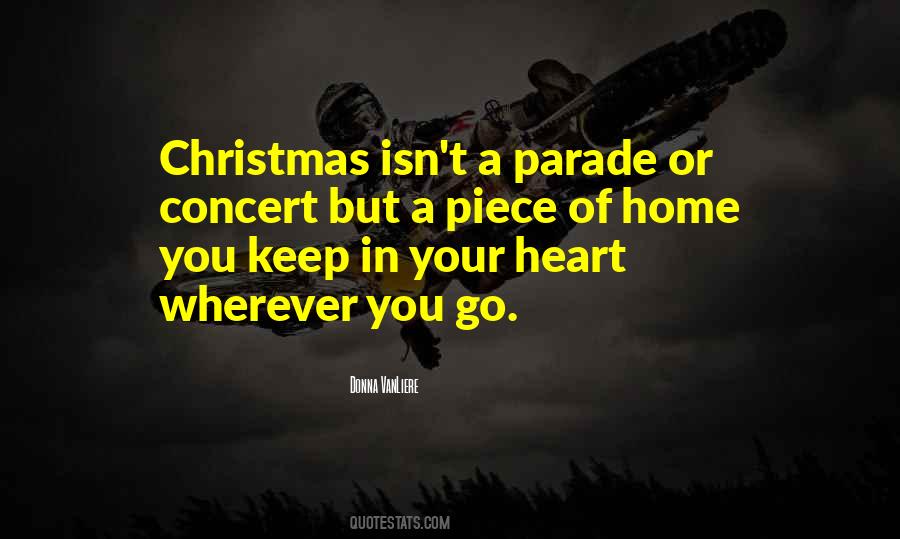 #60. If in your heart you make a manger for his birth then God will once again become a child on earth. - Author: Angelus Silesius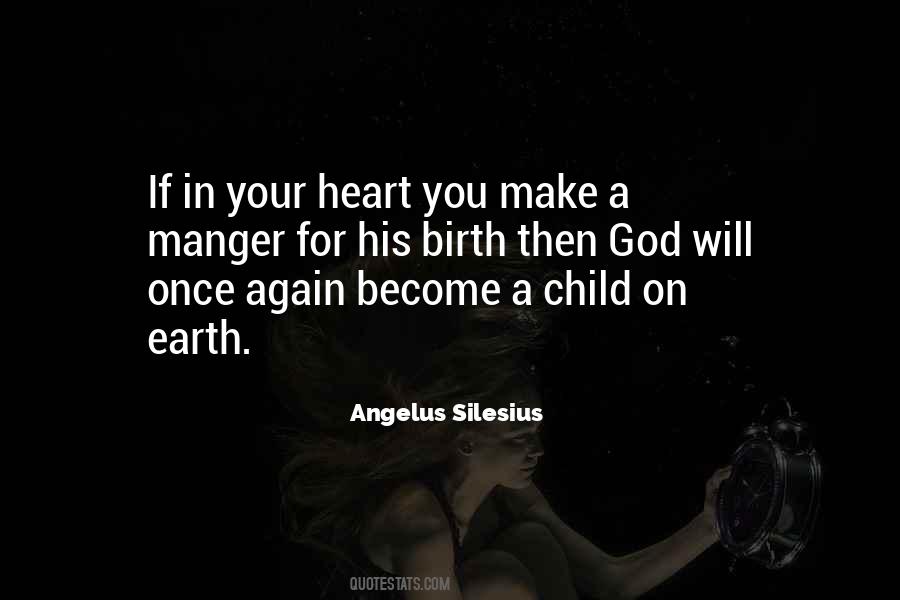 Famous Authors
Popular Topics