Business Social Media Famous Quotes & Sayings
List of top 73 famous quotes and sayings about business social media to read and share with friends on your Facebook, Twitter, blogs.
Top 73 Quotes About Business Social Media
#1. Being effective at social media, whether for business or personal use, means capturing people who have short attention spans. They're only a click away from a picture of a funny cat, so you have to make your thing more compelling than that cat. And that can be a high bar. - Author: Alexis Ohanian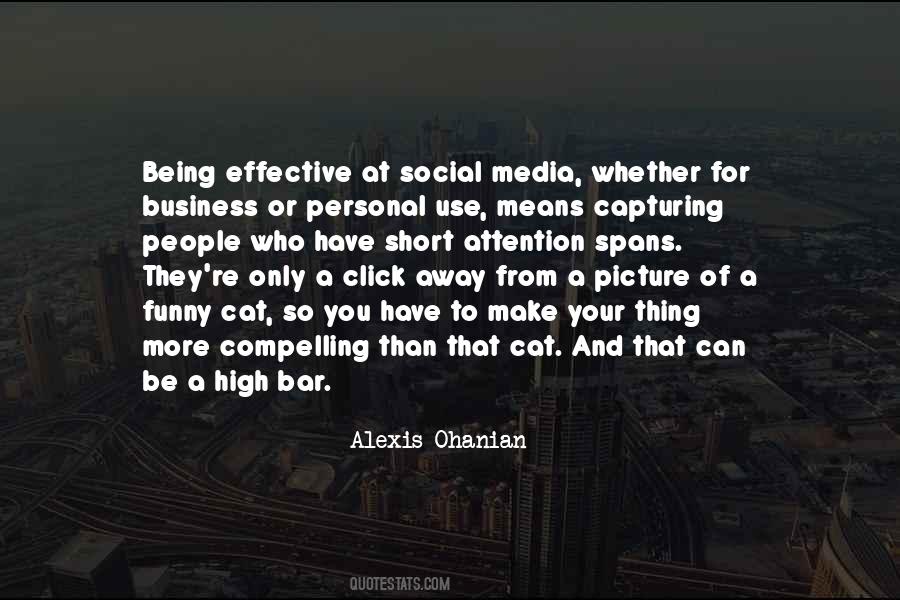 #2. You need to change your mind from sell sell sell to help help help and if you can do that as a business you will win in social media - Author: Mark Schaefer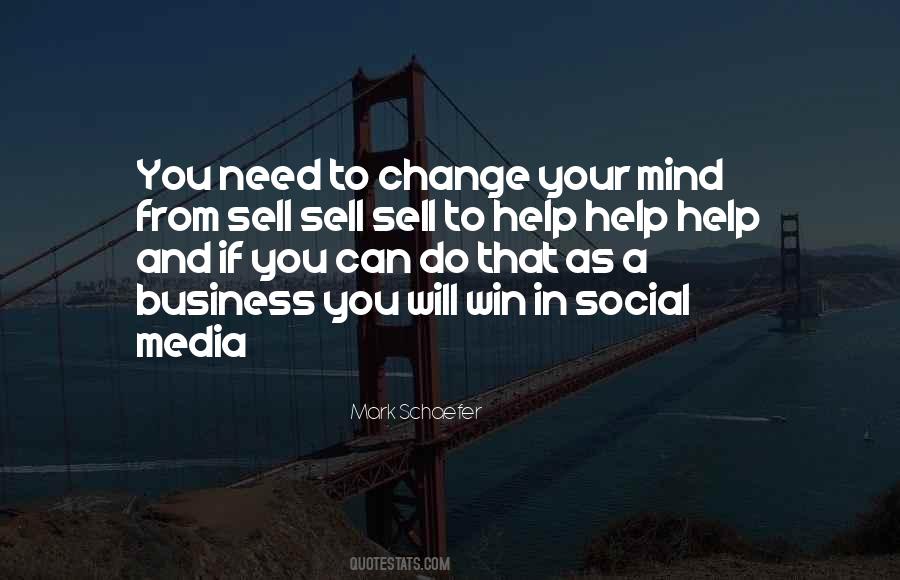 #3. Before you can pick a social-media strategy, you have to think of your customer and what the value proposition is for them. Social media is a way to engage customers, not to give your business a 'shout out.' - Author: Carol Roth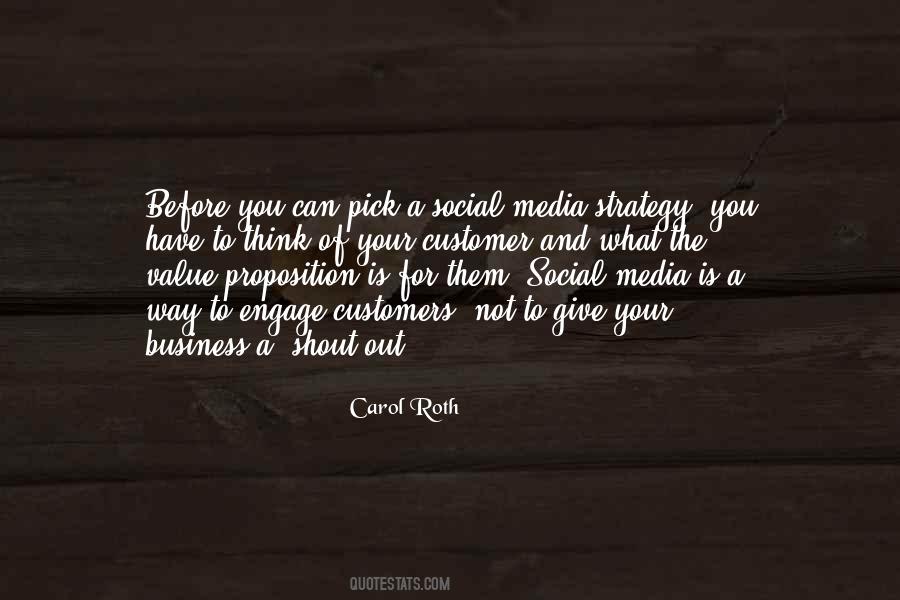 #4. For your business to stand out and succeed, you have to put a primary focus on the social media space, go in big (halfway will not do), and do it better than most, right from the start. - Author: Brian E. Boyd Sr.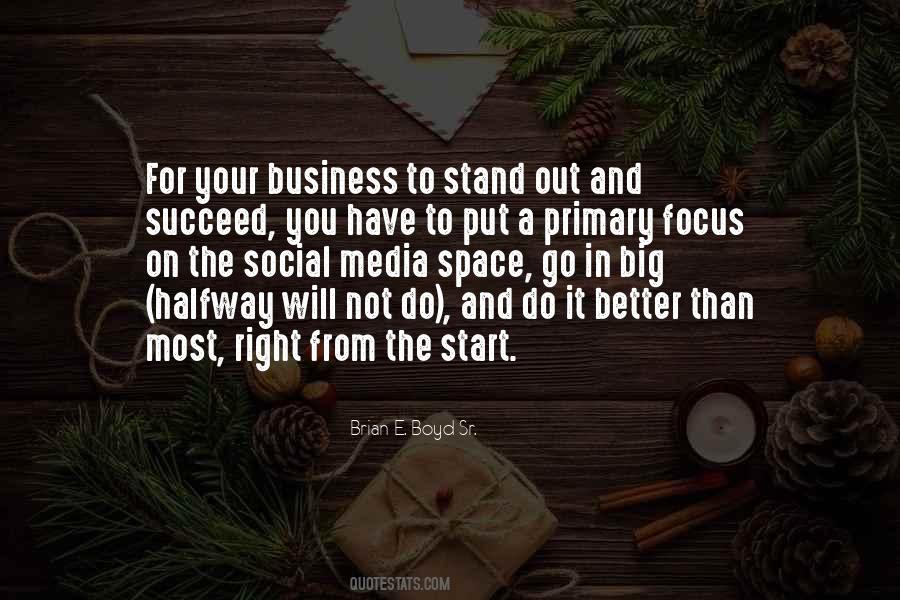 #5. Social media isn't something that you "do", instead you have to "be" social. - Author: Peter Thomson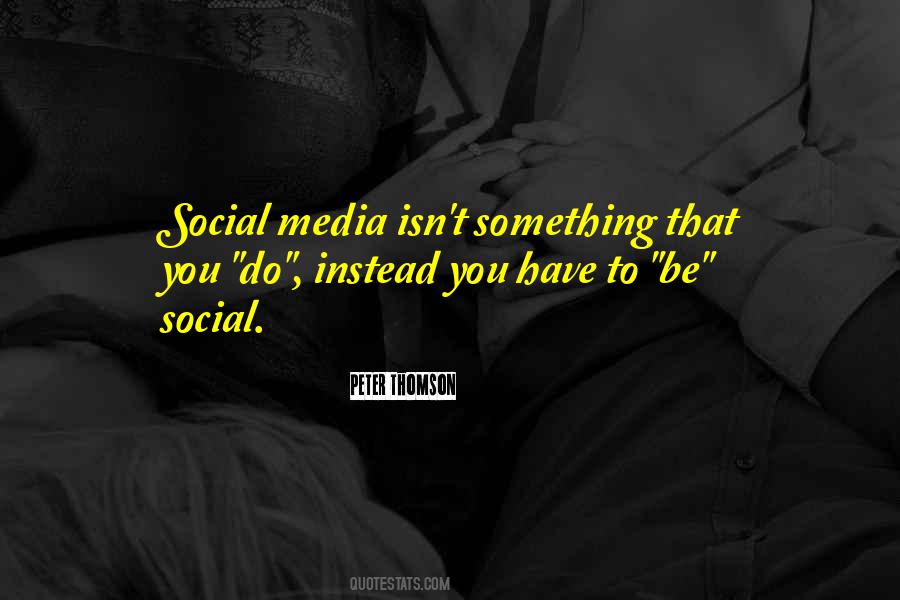 #6. It's about "Moments," not Milestones. - Author: Ted Rubin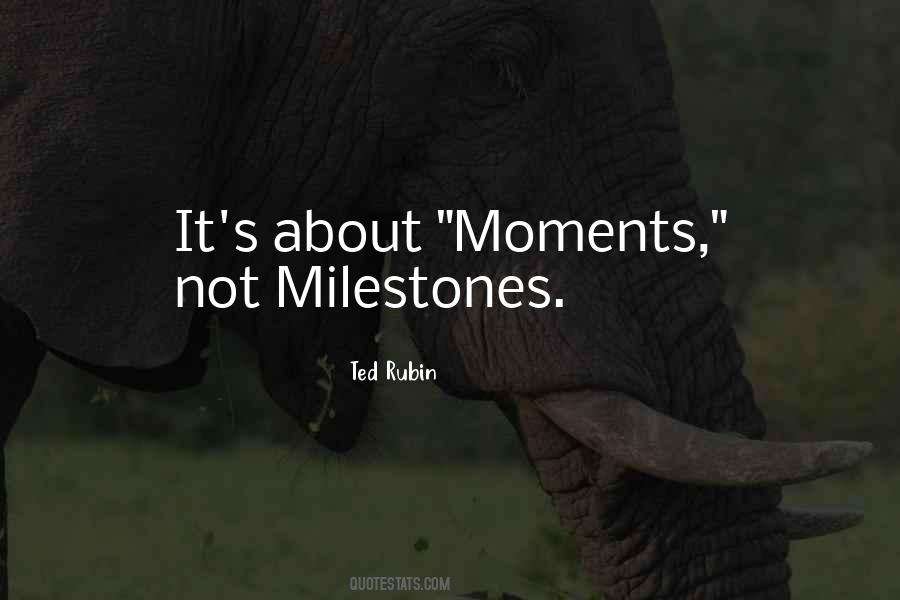 #7. The ROI of social media is that your business will still exist in 5 years. - Author: Erik Qualman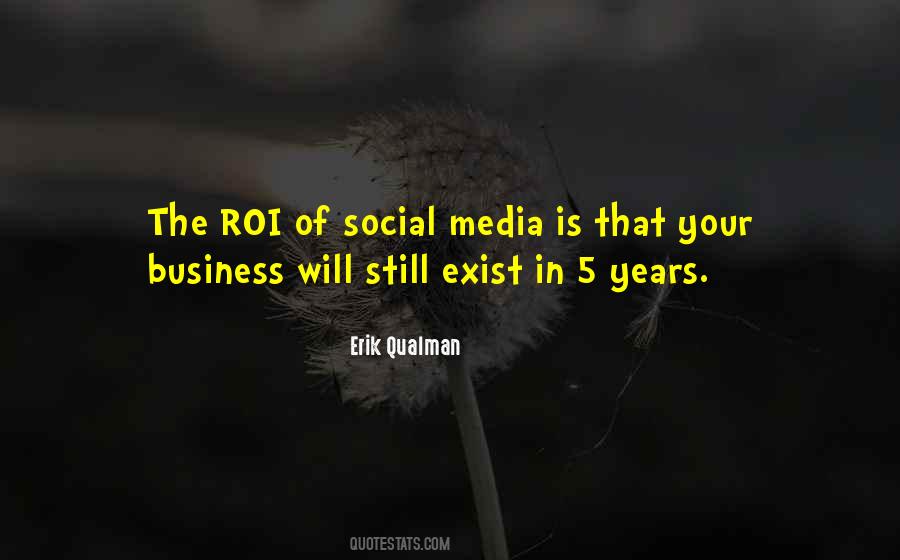 #8. Social media is your opportunity to reach a massive number of people with transparency, honesty, and integrity. - Author: Brian E. Boyd Sr.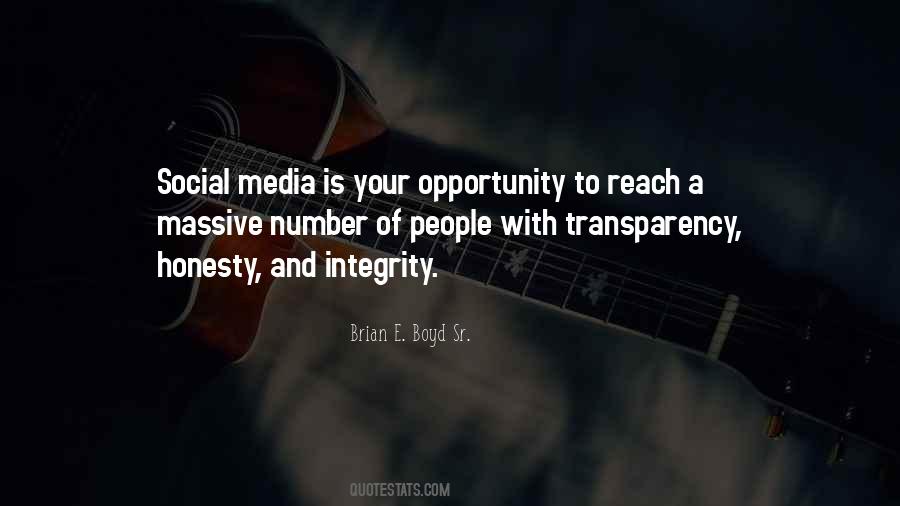 #9. There is a fundamental shift that social media necessitates in business today - the need to transition from 'Me First' to 'We First' thinking. - Author: Simon Mainwaring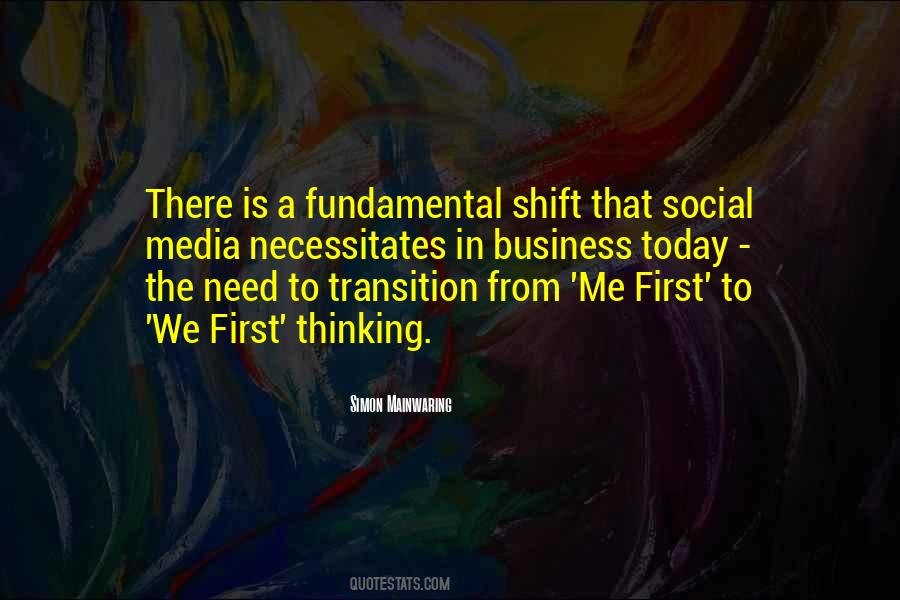 #10. Posting dramatic charts or funny pictures is good and giving people smart reasons to believe what they already think is great. - Author: Derek Thompson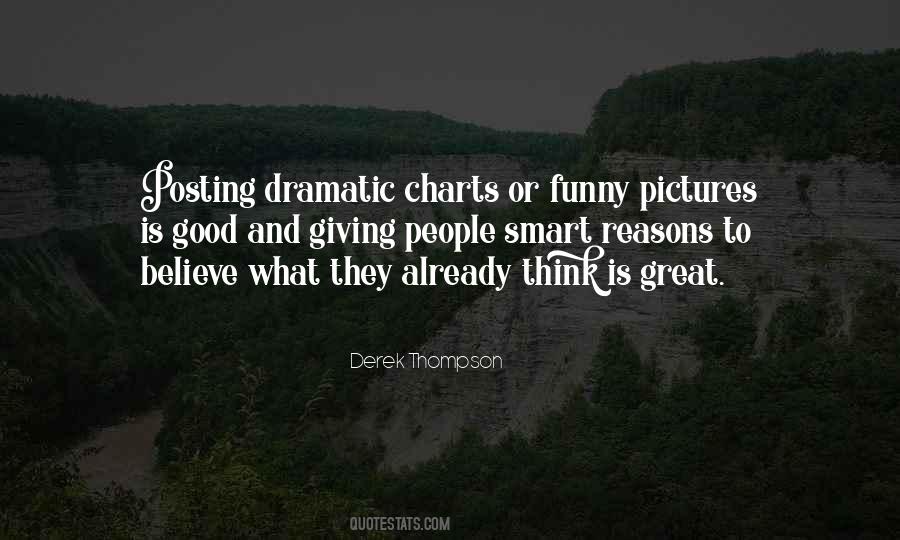 #11. being likeable isn't just about social media or business - it's about living life, to its fullest. - Author: Dave Kerpen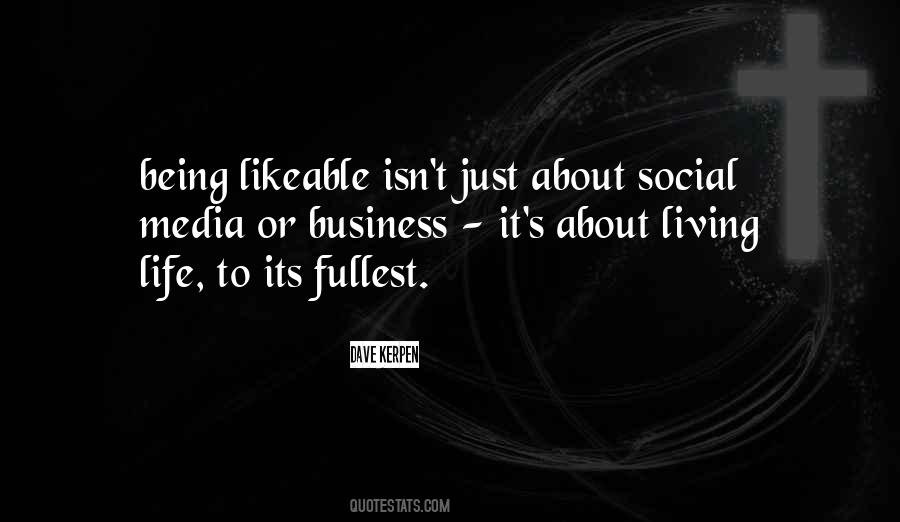 #12. Your brand is a combination of a customer's experiences with your business at every touchpoint. Each memory, thought, impression, website visit, story, sales letter, social media post, event, phone call, and transaction contribute to
your company's brand reputation. - Author: Elaine Fogel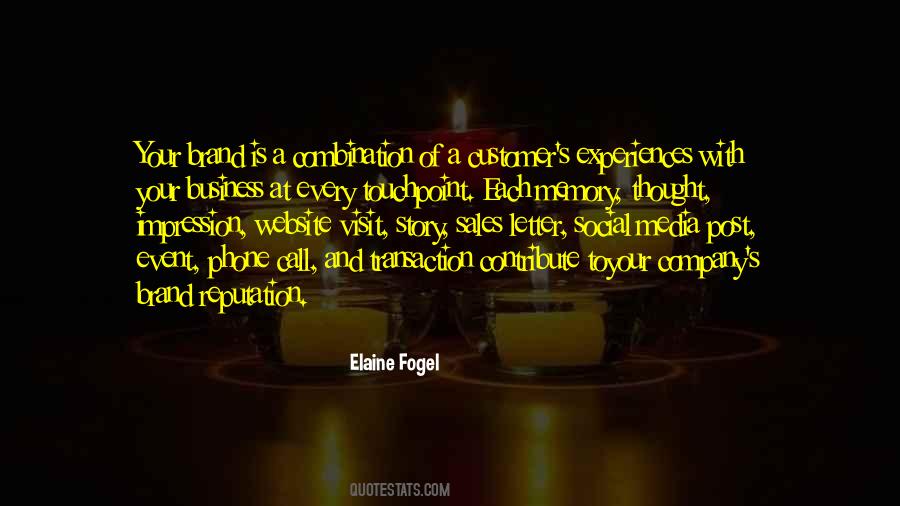 #13. Social media takes time and careful, strategic thought. It doesn't happen by accident. - Author: Brian E. Boyd Sr.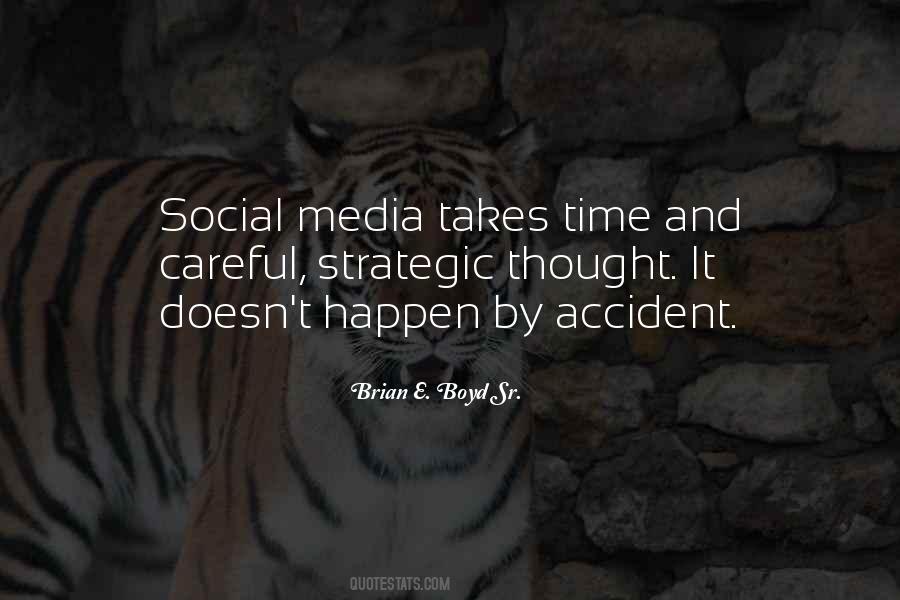 #14. Projects become complex because we try to solve it alone. Use your working relationships to help you problem solve. Your solution may be as easy as asking your online community for help and direction. - Author: Lisa A. Mininni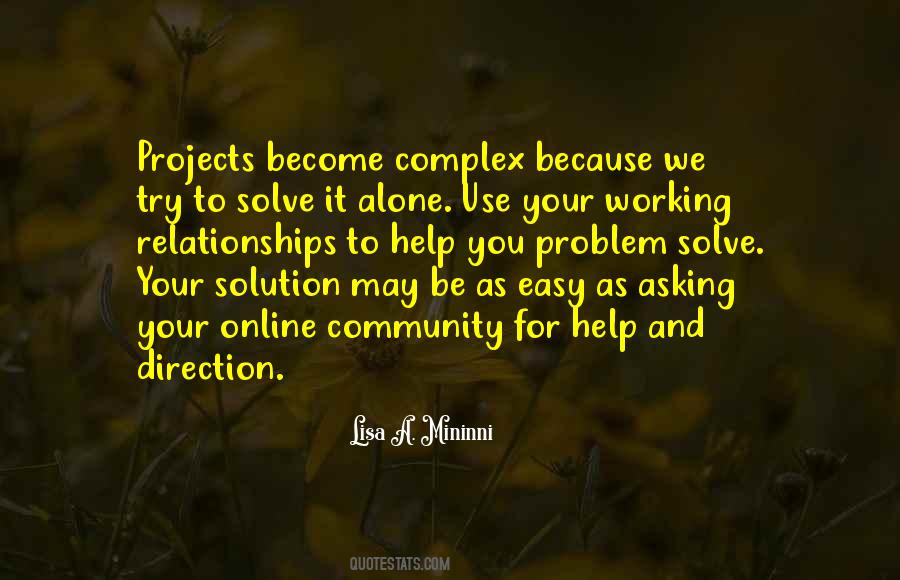 #15. When it comes to branding and the ever-changing social media phenomenon, you're not a mushroom. In other words, you shouldn't be kept in the dark and fed a pile of...well, you get the idea. - Author: David Brier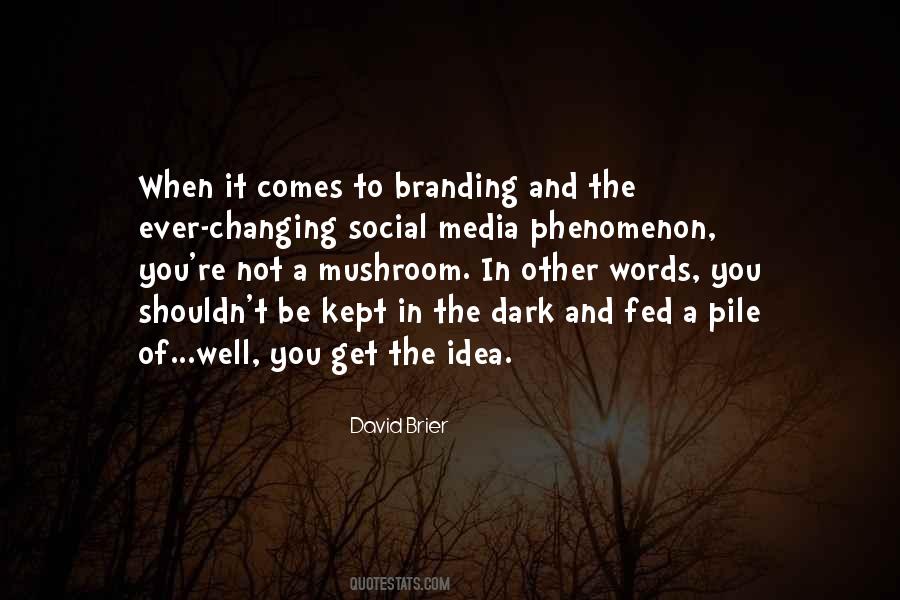 #16. The way you react to challenging situations will say a lot about you. Actually, it will make or break your business. - Author: Cendrine Marrouat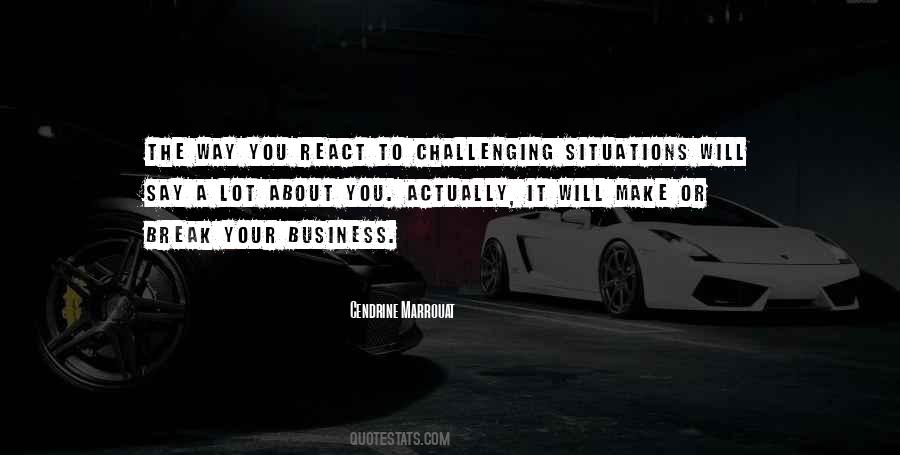 #17. Instead of finishing the sentence she slid a business card across the counter. It listed her contact information for every social media site I'd heard of, and several that were still in beta. Except for Google Plus. Even Internet-addicted fairies have standards. - Author: Alex Shvartsman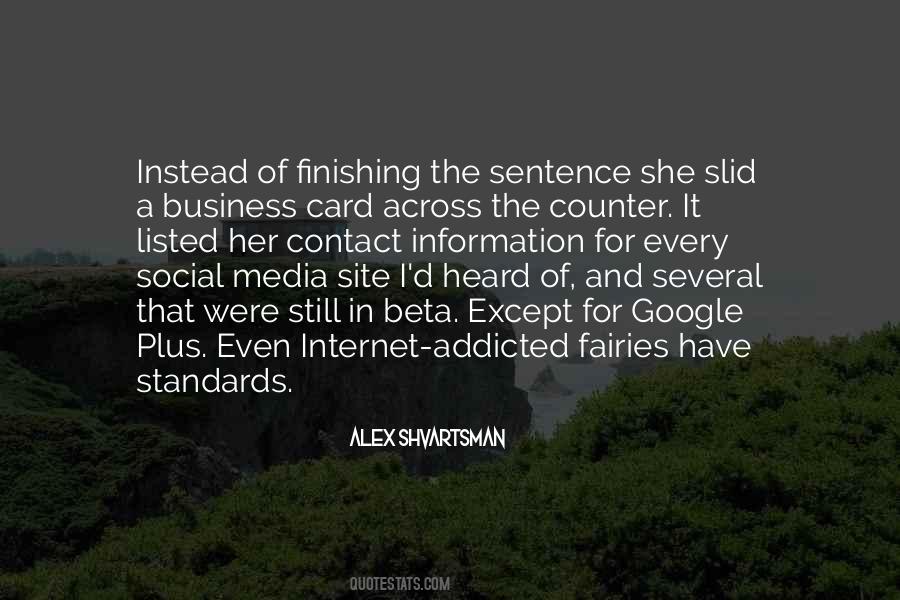 #18. I have a dad-ager. My dad is really good at the business end of things. But it's really a family affair. My mother handles all my social media stuff - Facebook, Twitter, e-mails, that kind of thing. - Author: Jencarlos Canela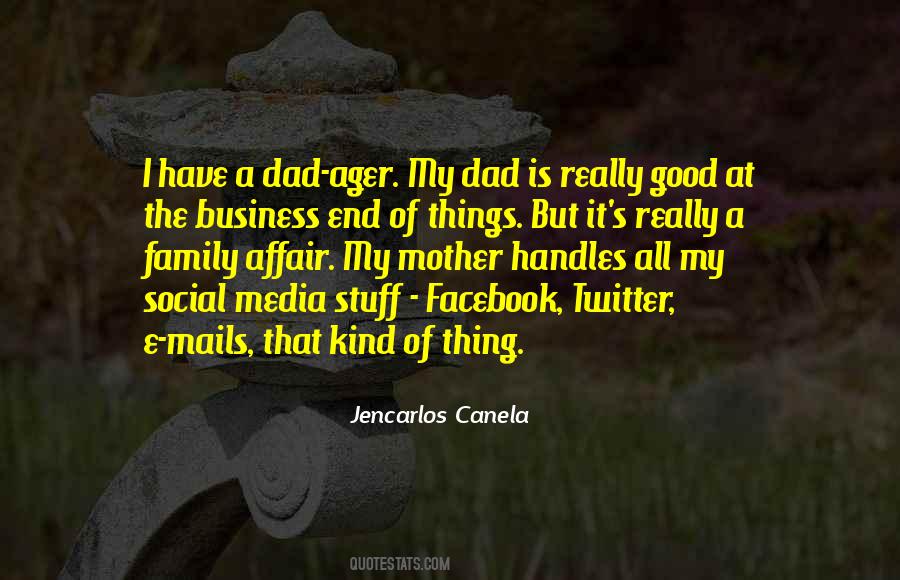 #19. Visibility without Value is Vanity - Author: Bernard Kelvin Clive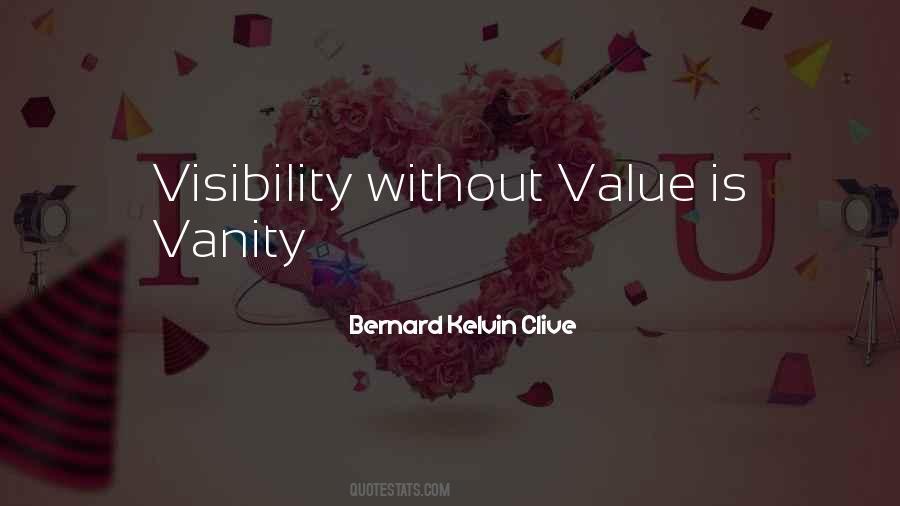 #20. When I hear people debate the ROI of social media? It makes me remember why so many business fail. Most businesses are not playing the marathon. They're playing the sprint. They're not worried about lifetime value and retention. They're worried about short-term goals. - Author: Gary Vaynerchuk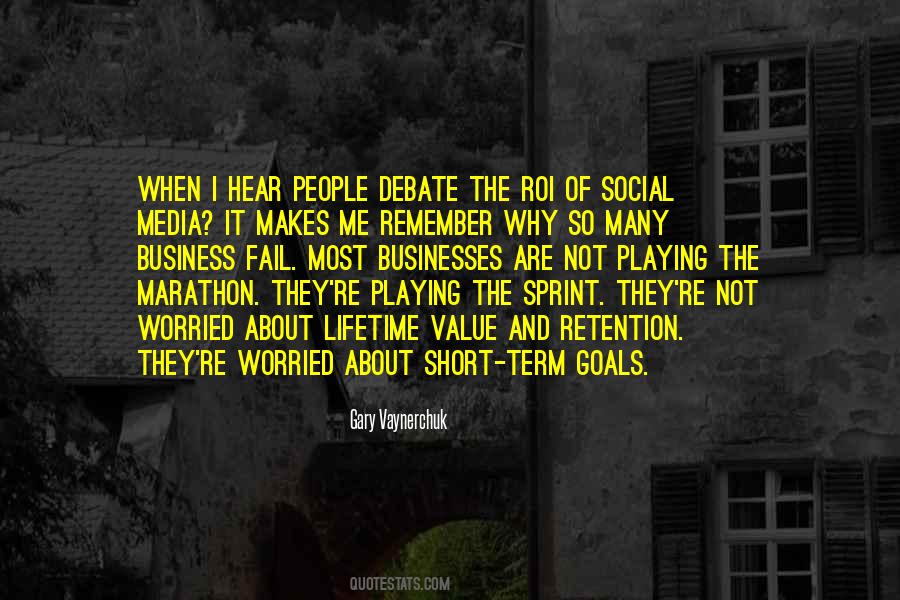 #21. Overnight the digital age had changed the course of history for our company. Everything that we thought was in our control no longer was. But within a year we had invested in social media and digital experts. Now Starbucks is the number one brand on Facebook. - Author: Howard Schultz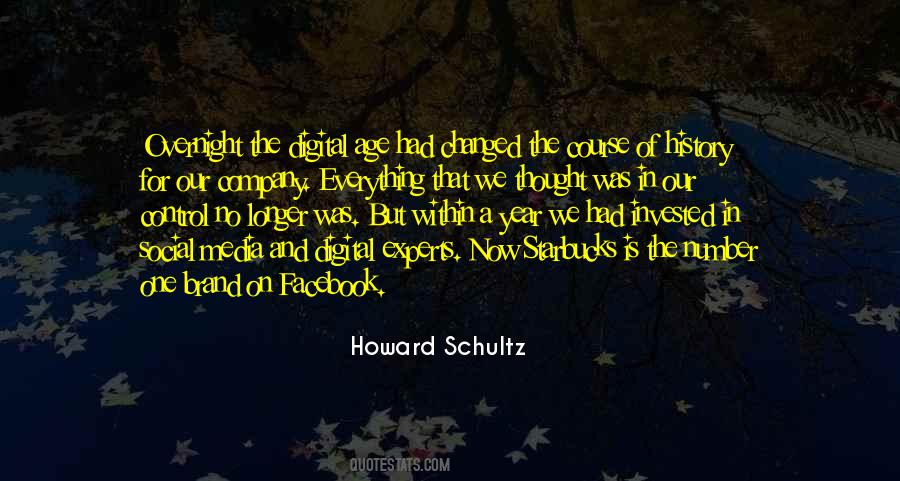 #22. In the coming years, if not sooner, social media will become a powerful tool that consumers will aggressively use to influence business attitudes and force companies into greater social responsibility - and, I suggest, move us towards a more sustainable practice of capitalism. - Author: Simon Mainwaring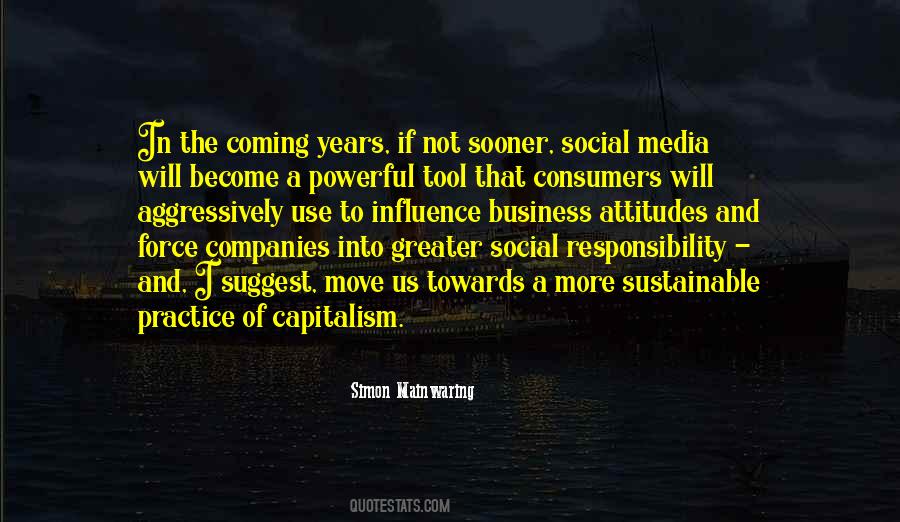 #23. When you have a business, you don't use Instagram as your primary selling storefront. That's what your website is for. Instead, your Instagram profile is meant to drum up interest for your business, gather followers, and direct them to your website to learn more. - Author: Kevin J. Donaldson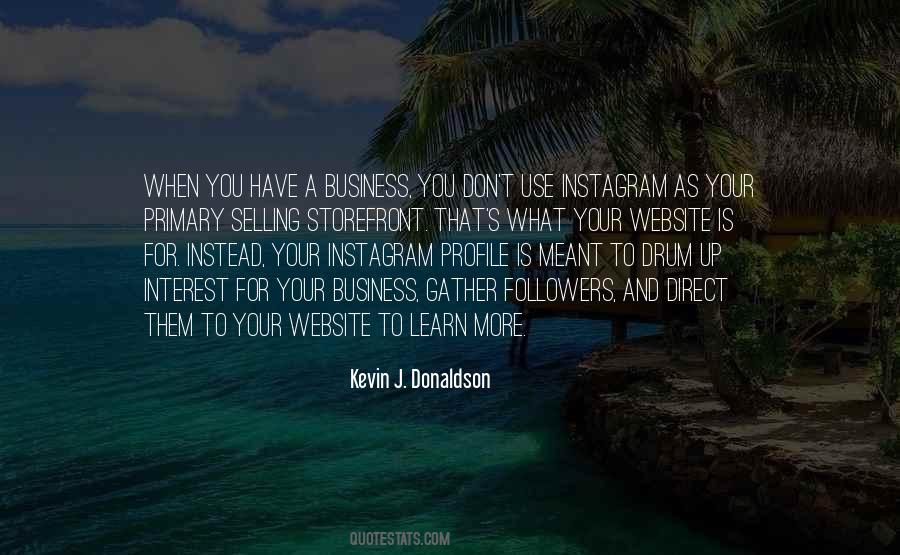 #24. With the growing reliance on social media, we no longer search for news, or the products and services we wish to buy. Instead they are being pushed to us by friends, acquaintances and business colleagues. - Author: Erik Qualman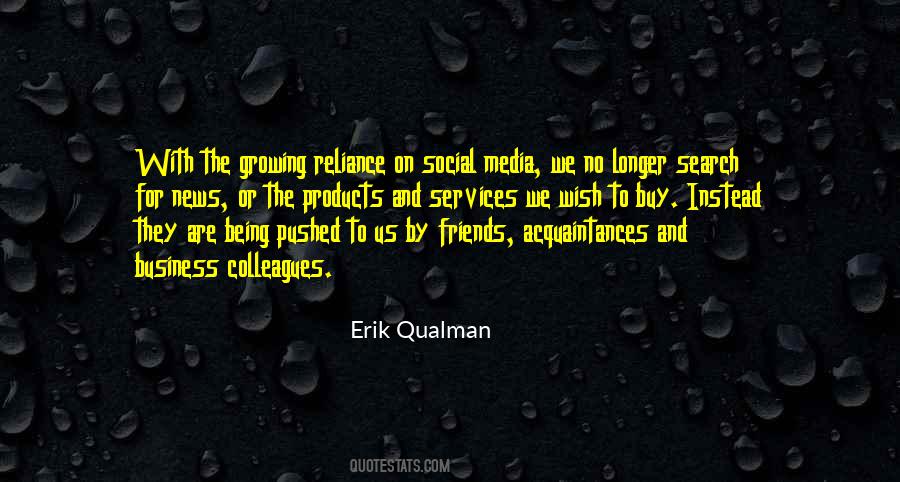 #25. Brands that will survive and thrive from now on are those with C-level executives that understand the incredible opportunity new media offers them and commit to excellence in managing their social media presence. - Author: Brian E. Boyd Sr.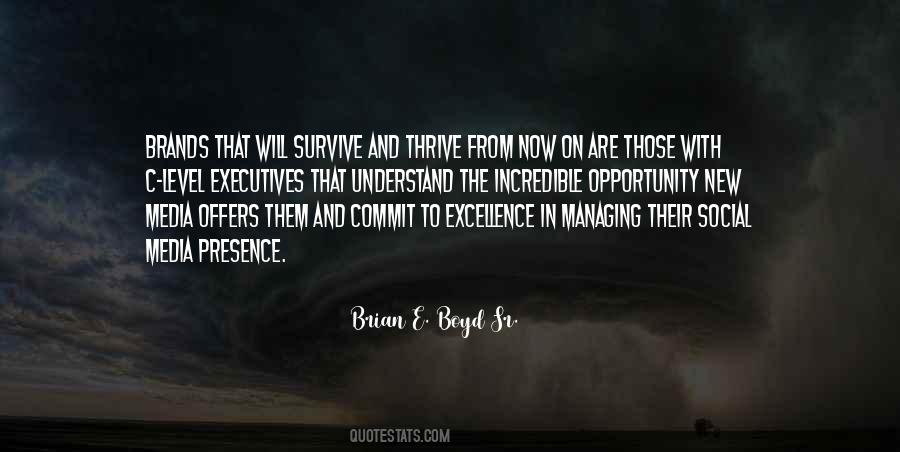 #26. The record labels used to spend money on advertising, and social media has replaced that entirely - it's putting magazines out of business. It's put big companies into completely reinventing their strategies. - Author: Steve Aoki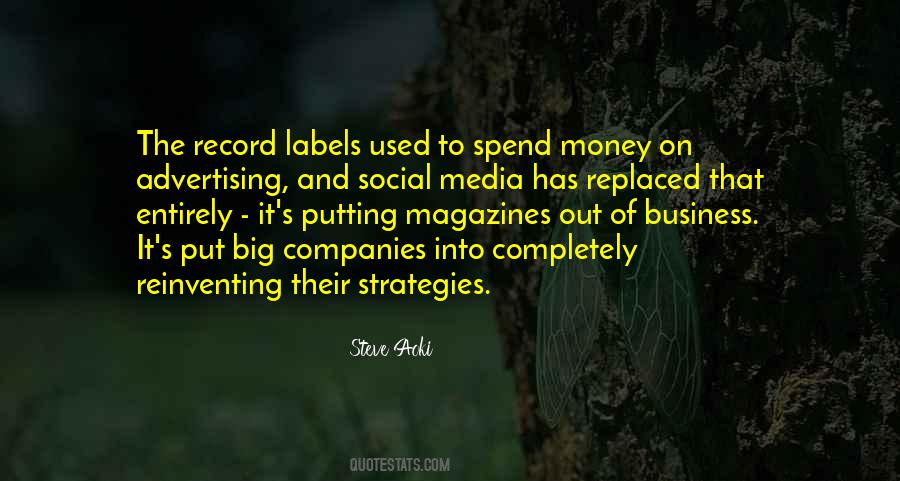 #27. Social media is not just a spoke on the wheel of marketing. It's becoming the way entire bicycles are built. - Author: Ryan Lilly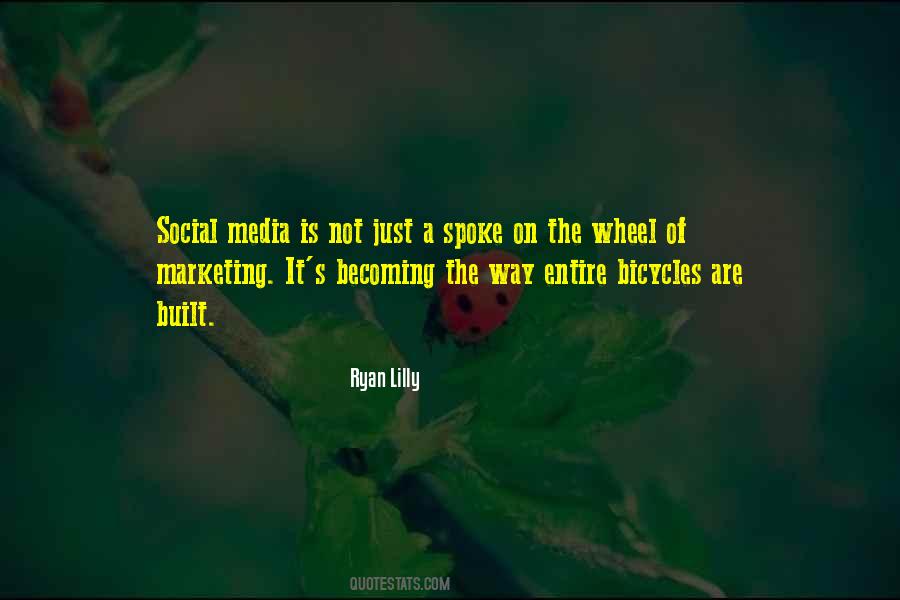 #28. Your uniqueness is your greatest strength, not how well you emulate others. - Author: Simon S. Tam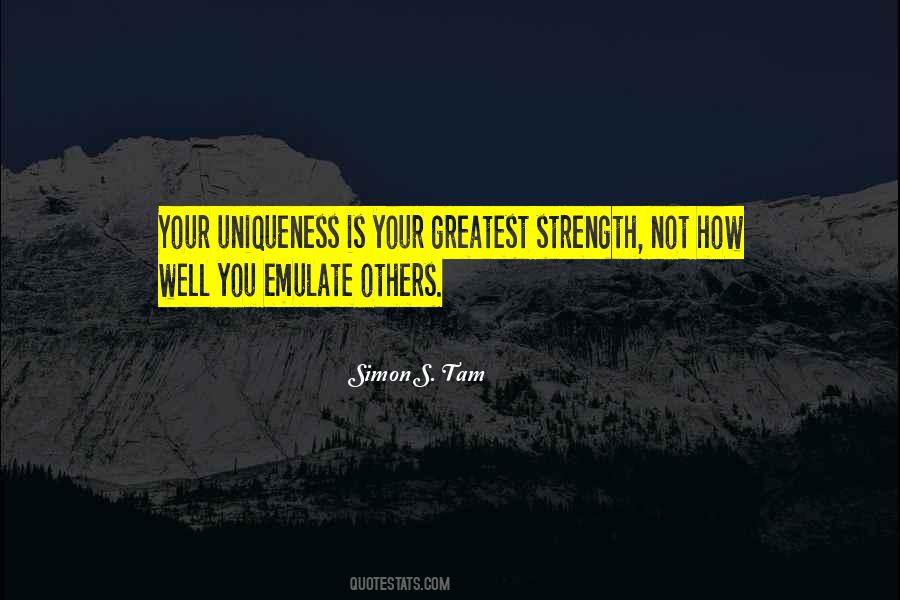 #29. Social media is about connecting with people, not collecting people. - Author: Karen Clark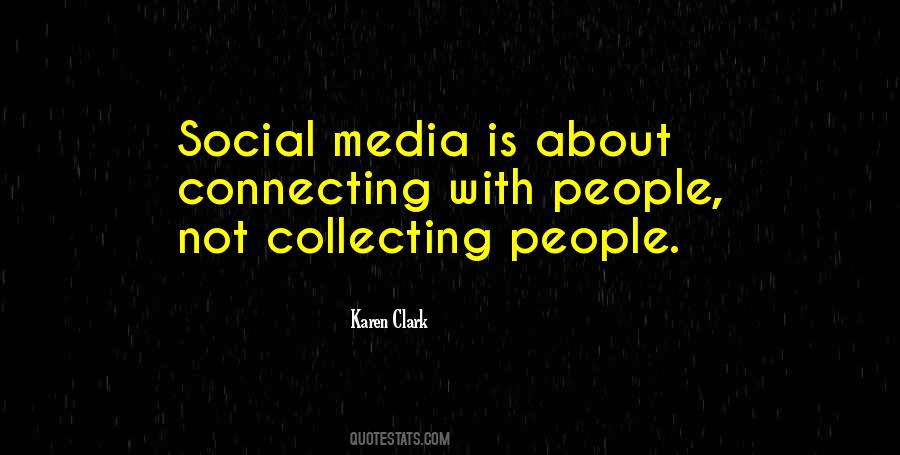 #30. Social media allows us to behave in ways that we are hardwired for in the first place - as humans. We can get frank recommendations from other humans instead of from faceless companies. - Author: Francois Gossieaux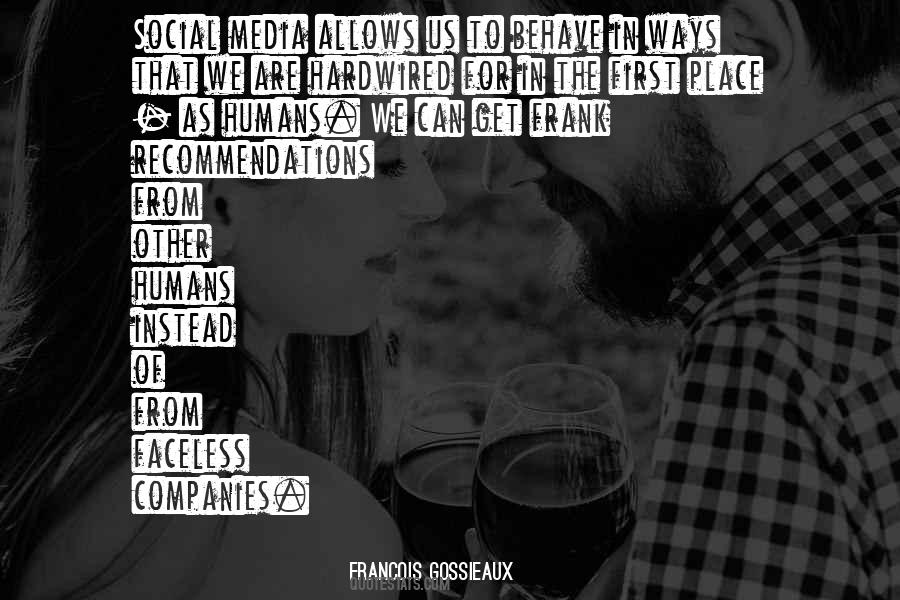 #31. If you are only focused on the Money... You risk completely overlooking the People. - Author: Ted Rubin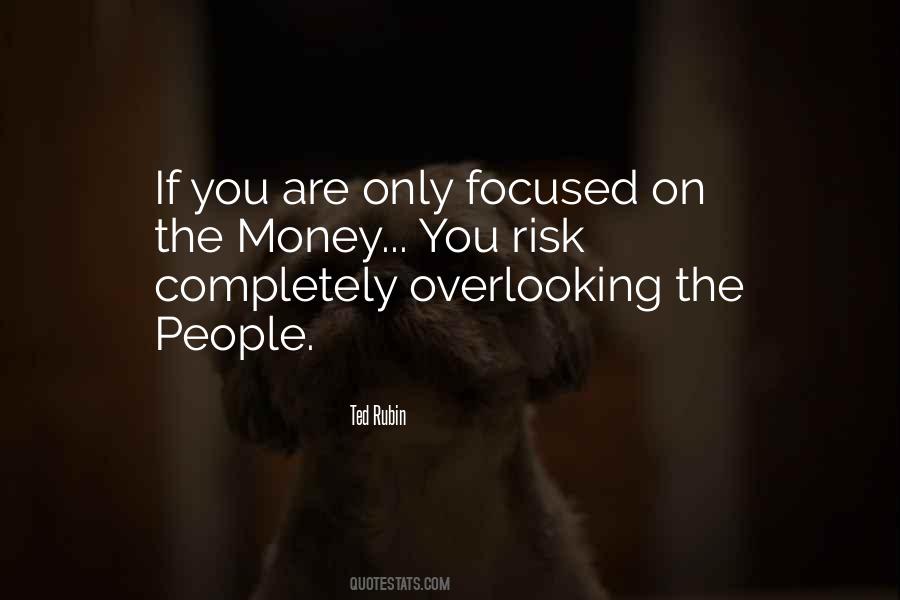 #32. It is far better to have 10,000 Facebook friends who are in the same category or aligned with your values or a common inter- est than 100,000 random robot followers from around the world. - Author: Brian E. Boyd Sr.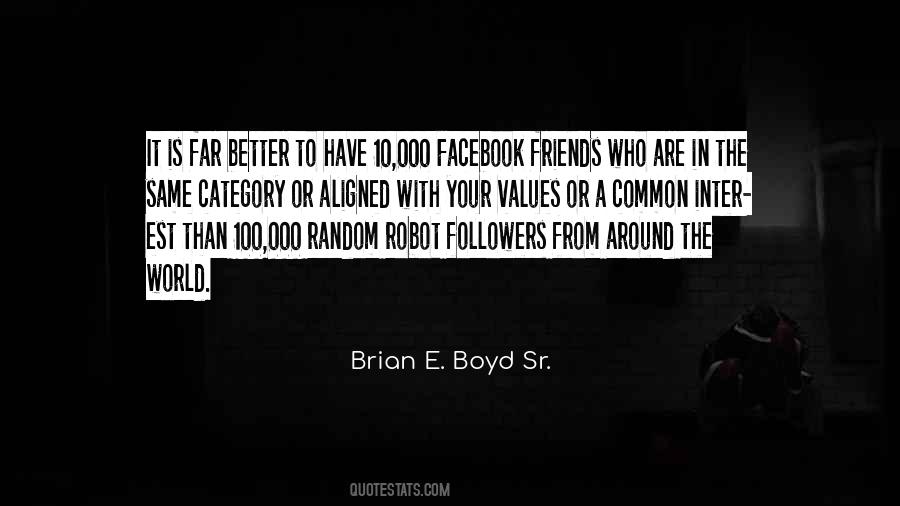 #33. Entrepreneur, your last 20 tweets has to be about your brain, brand and business. - Author: Onyi Anyado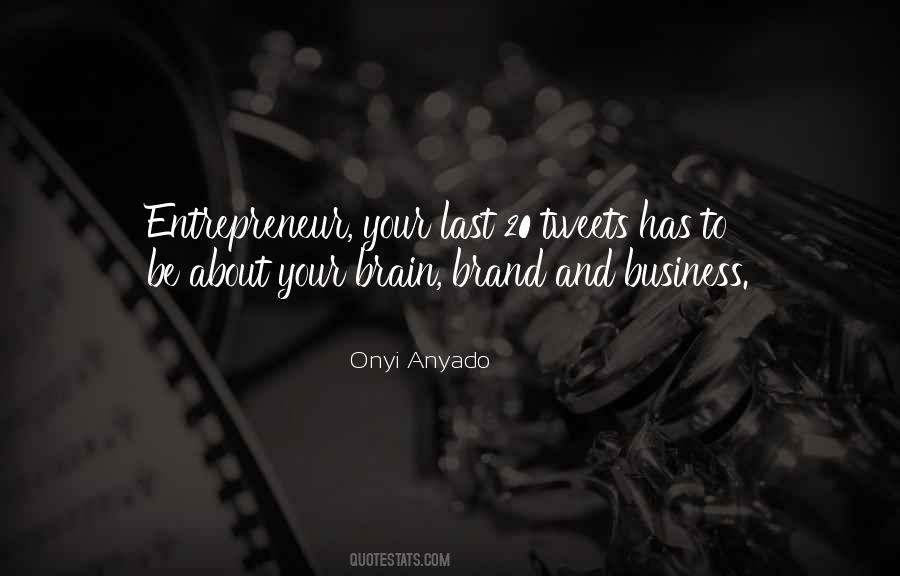 #34. Give yourself permission 2 evolve. Become a philosopher; come up with your own interpretation of life and stop accepting someone else's as your truth. - Author: Germany Kent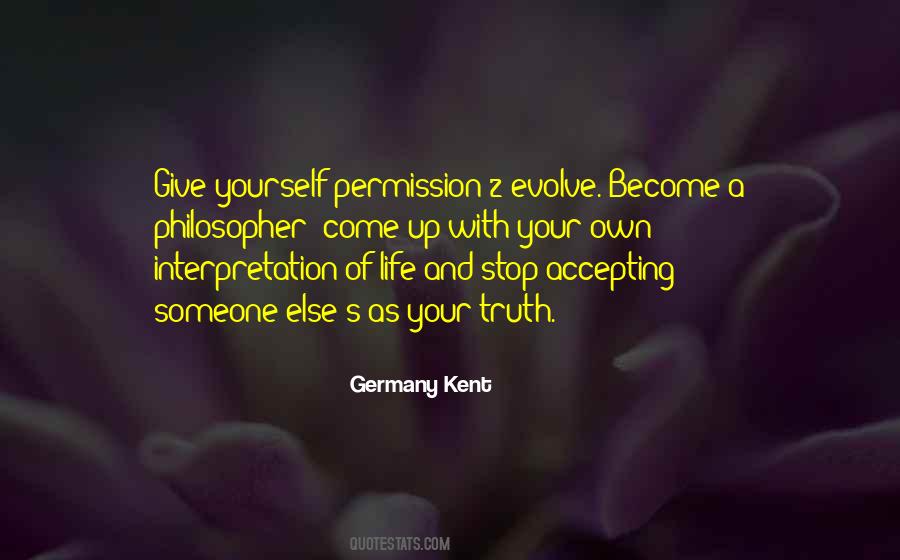 #35. While strides are being made in the social-media space, the newspaper and news business should continue to embrace social media. - Author: Amy Jo Martin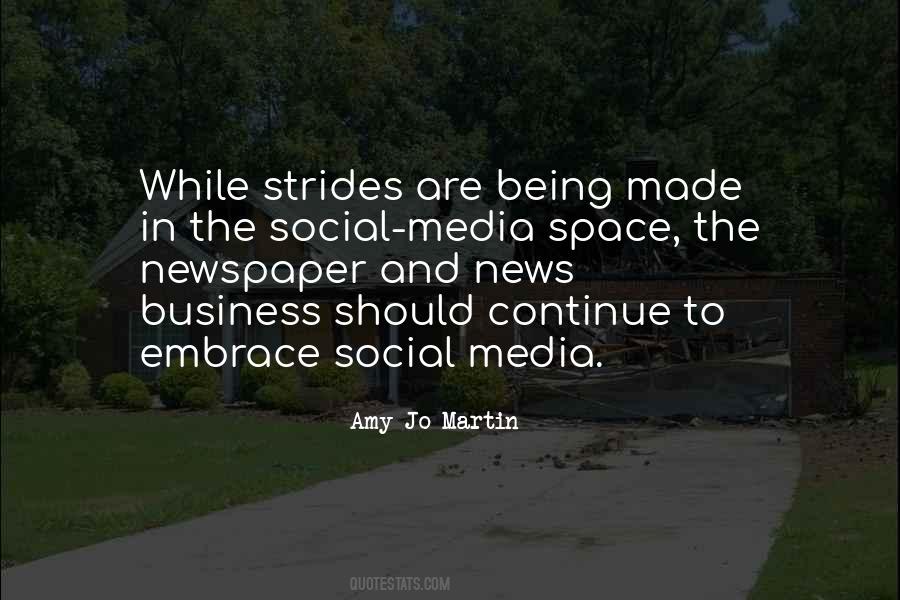 #36. REAL trumps PERFECT... because REAL creates TRUST. - Author: Ted Rubin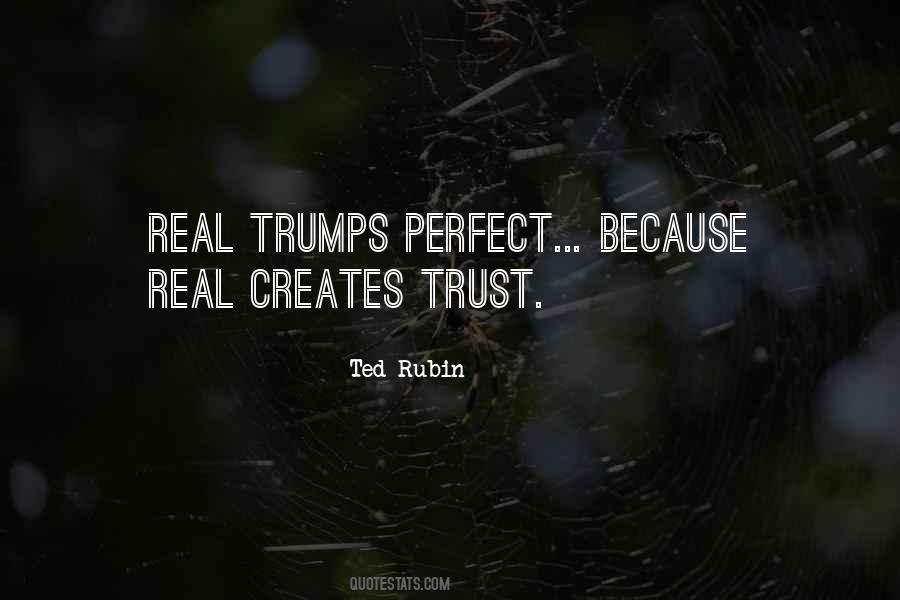 #37. A brand is no longer what we tell the consumer it is - it is what consumers tell each other it is. - Author: Scott D. Cook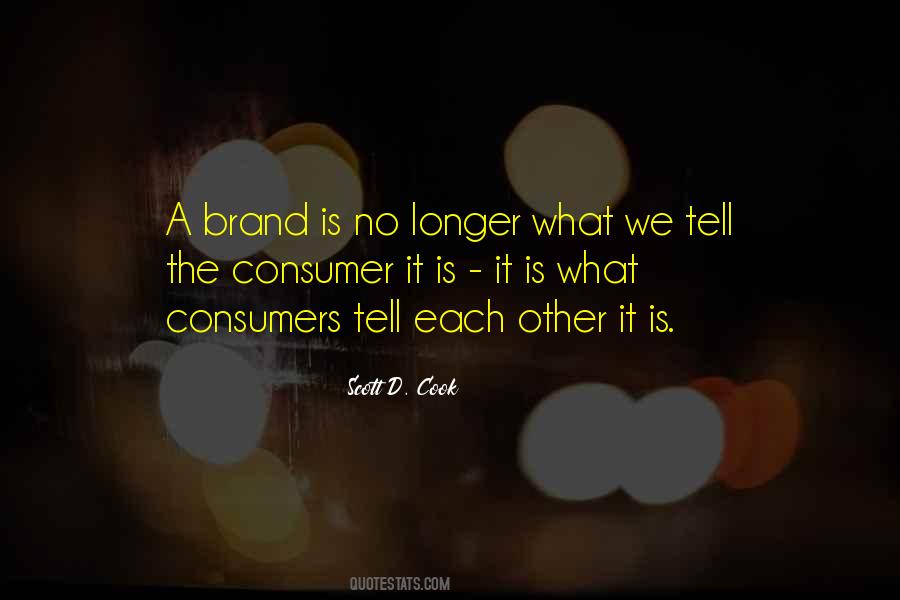 #38. While paying attention to positive and negative feedback is very important, it is not enough. What also matters is acknowledging and responding to this feedback. This is how you nurture your relationship with your audience. - Author: Cendrine Marrouat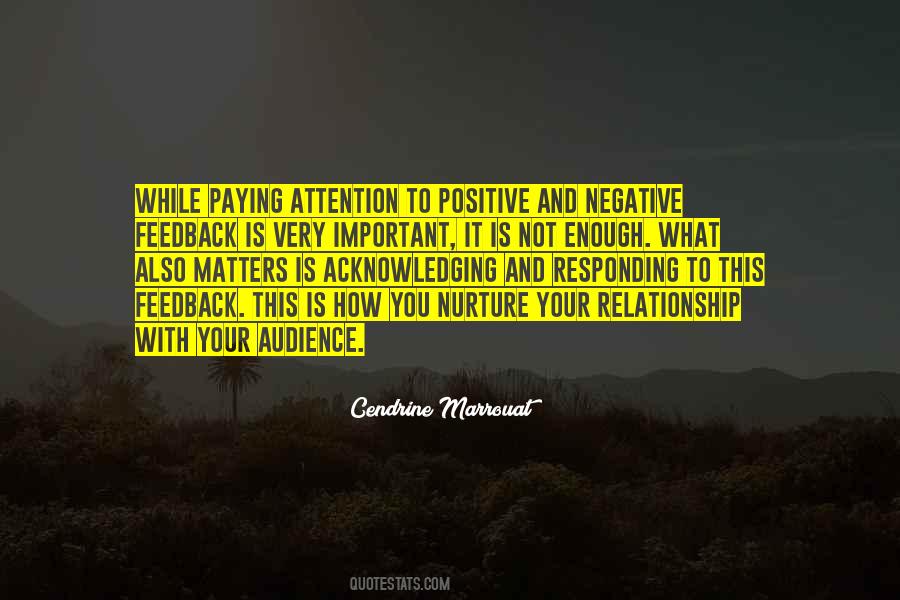 #39. Treat your entire audience with the same level of care. - Author: Cendrine Marrouat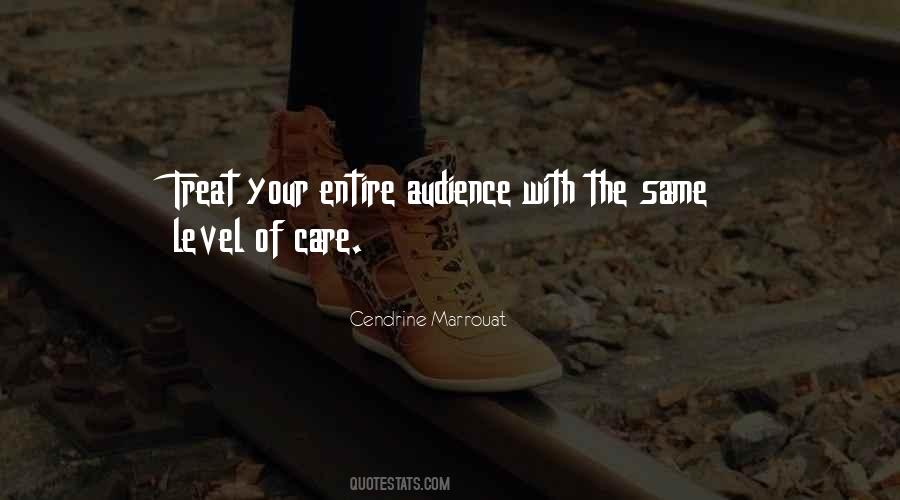 #40. Boomers were the original Millennials. - Author: Ted Rubin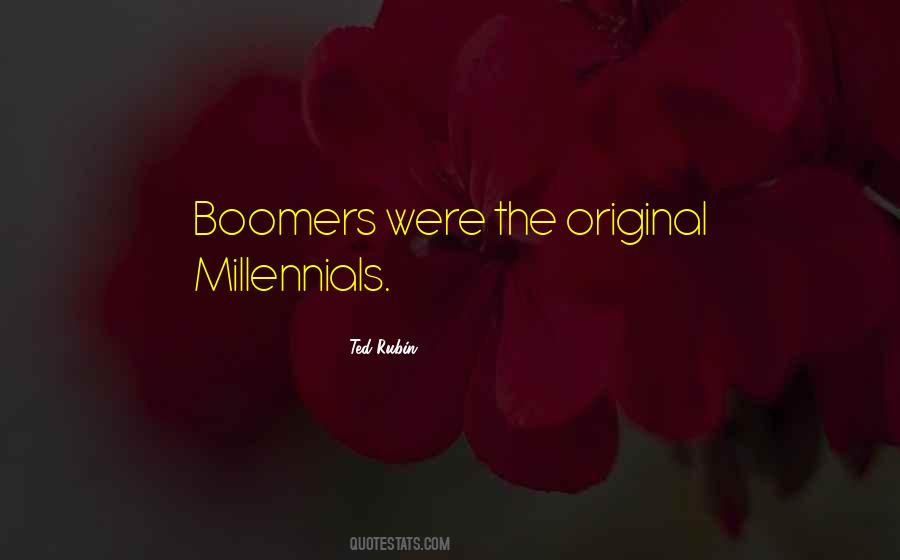 #41. Social media is interesting. It helps me connect with fans. It's immediate. It's a big part of my touring business - getting the word out via Twitter, Facebook, and Instagram. - Author: Hannibal Buress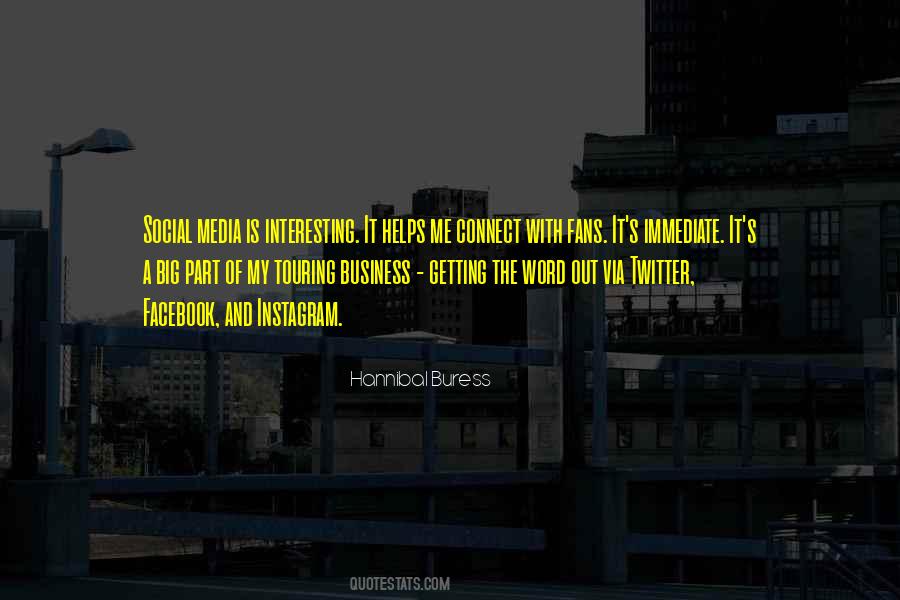 #42. Determining who the members of your audience are is the most important piece in the business puzzle. - Author: Cendrine Marrouat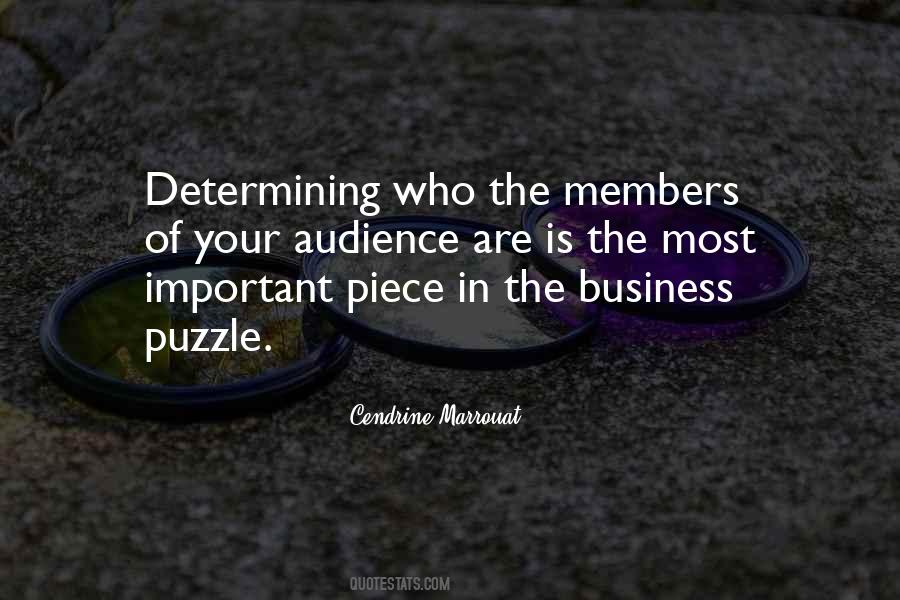 #43. Instagram, as well as all other social media platforms, is meant to complement your main marketing efforts for your business, not take over them. - Author: Kevin J. Donaldson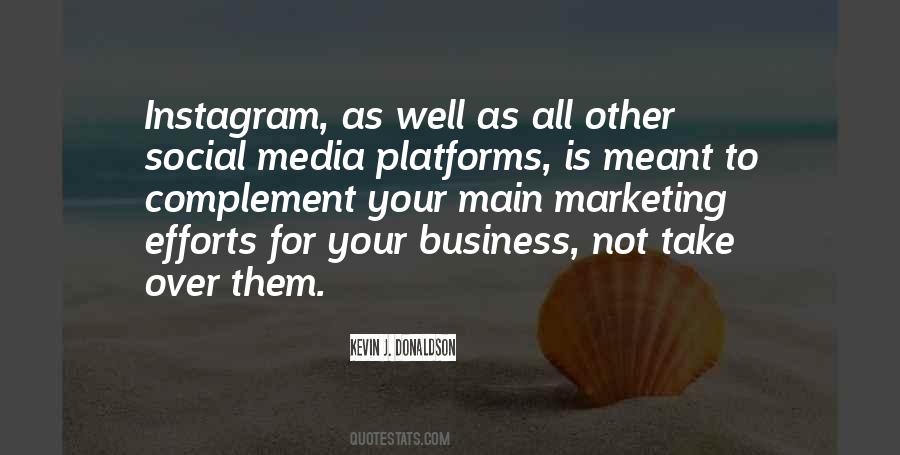 #44. MIND YOUR OWN SOCIAL MEDIA BUSINESS - Author: Qwana M. BabyGirl Reynolds-Frasier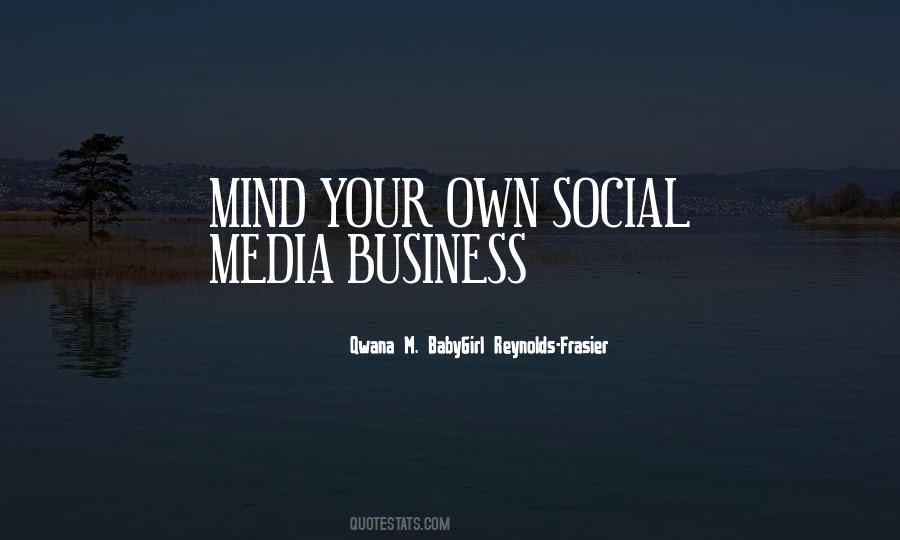 #45. The landscape for business isn't changing because of social media, it's changing because consumer expectations are evolving. - Author: Brian Solis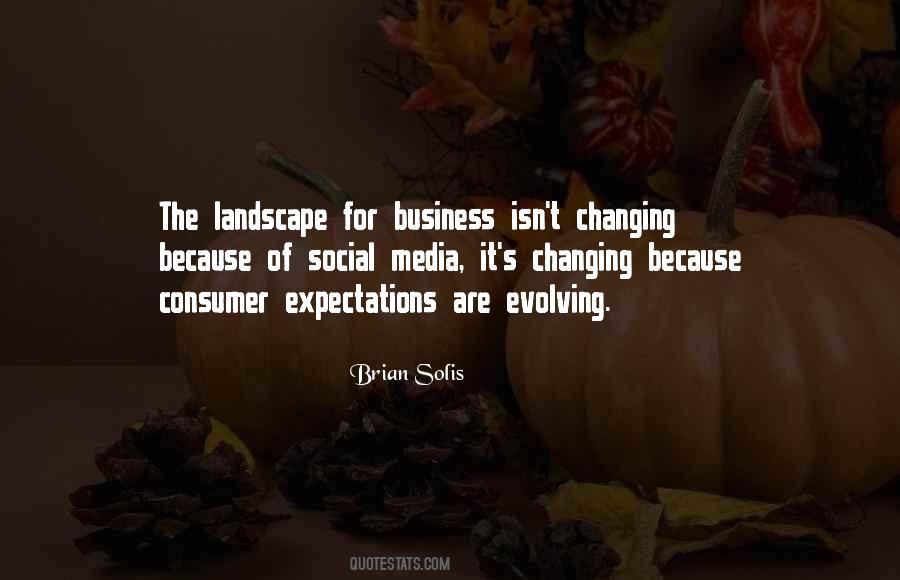 #46. Social media requires that business leaders start thinking like small-town shop owners. This means taking the long view and avoiding short-term benchmarks to gauge progress. It means allowing the personality, heart and soul of the people who run all levels of the business to show. - Author: Gary Vaynerchuk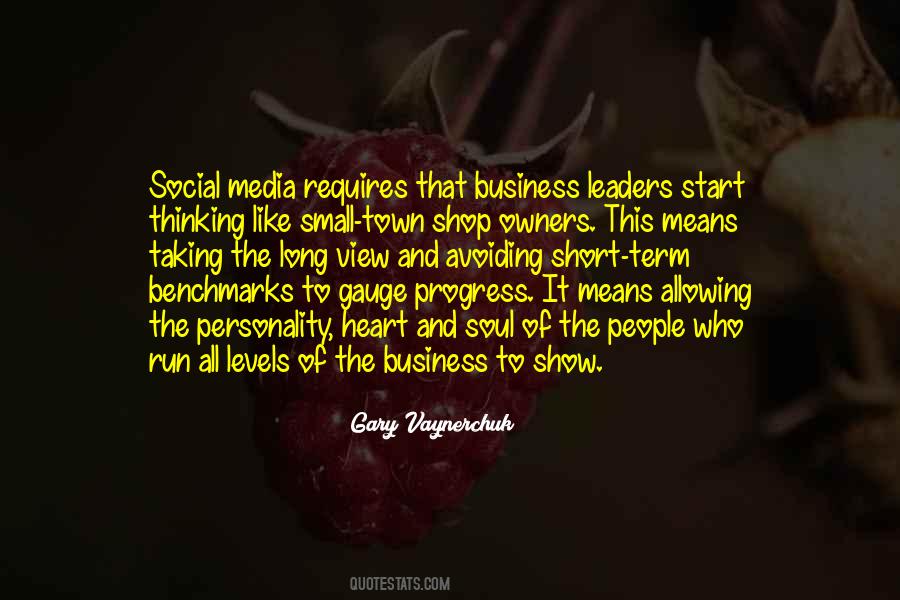 #47. Social Media begins with a story - your story. - Author: Germany Kent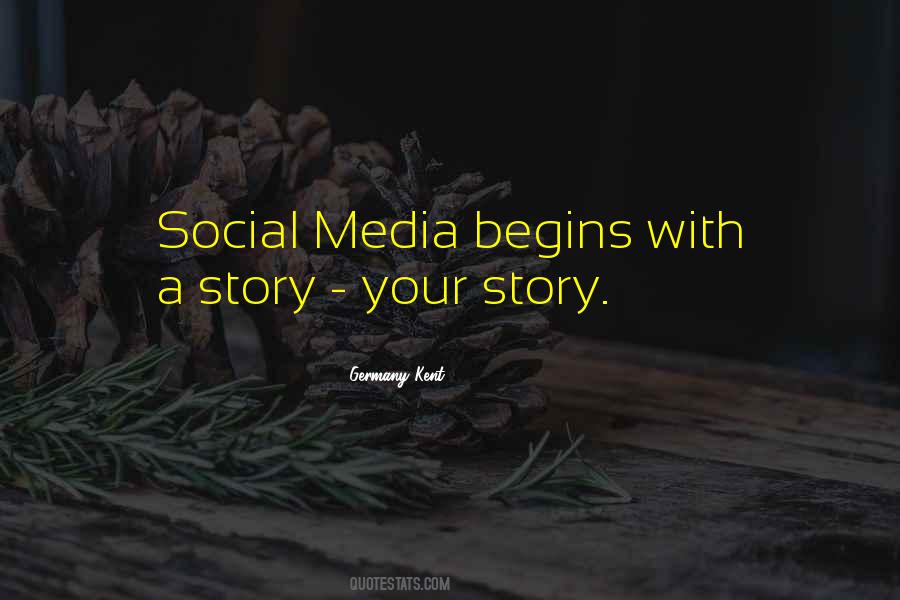 #48. Why are we trying to measure social media like a traditional channel anyway? Social media touches every facet of business and is more an extension of good business ethics. - Author: Erik Qualman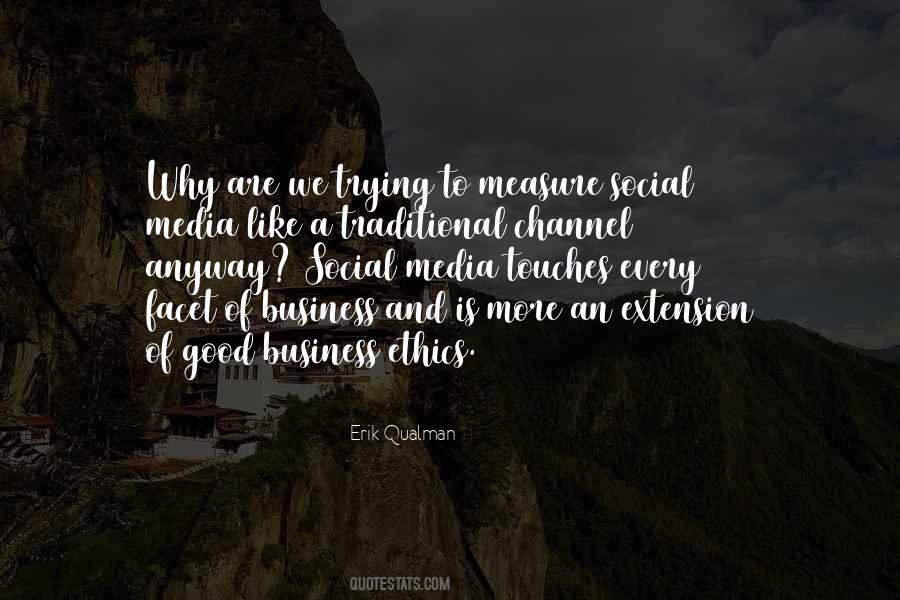 #49. Netiquette makes being a 'goody goody' online cool for everyone because we all have to get along. - Author: David Chiles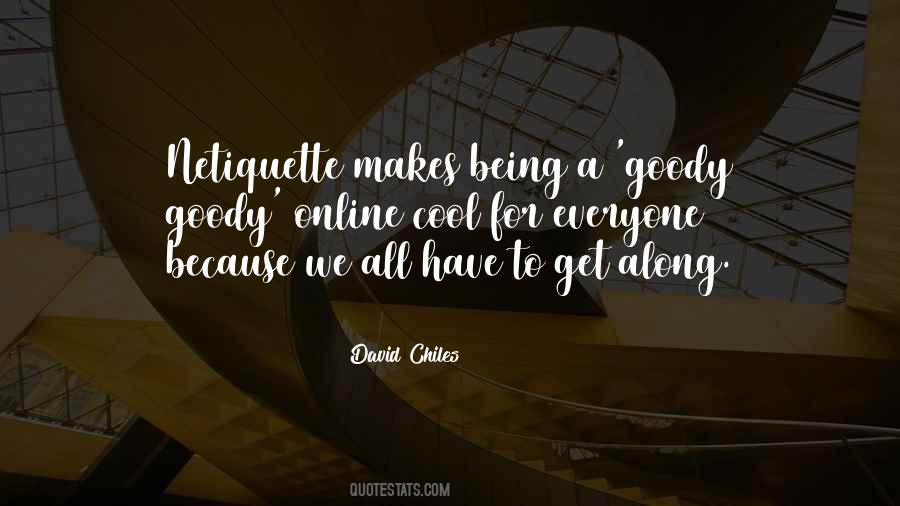 #50. Most of social media is simply a popularity contest. Well, I'm not here for the competition; I have important business and words of depth to change the course. So, while you follow the path of the ignorant, the rest of us will celebrate truth and the higher path. - Author: Dara Reidyr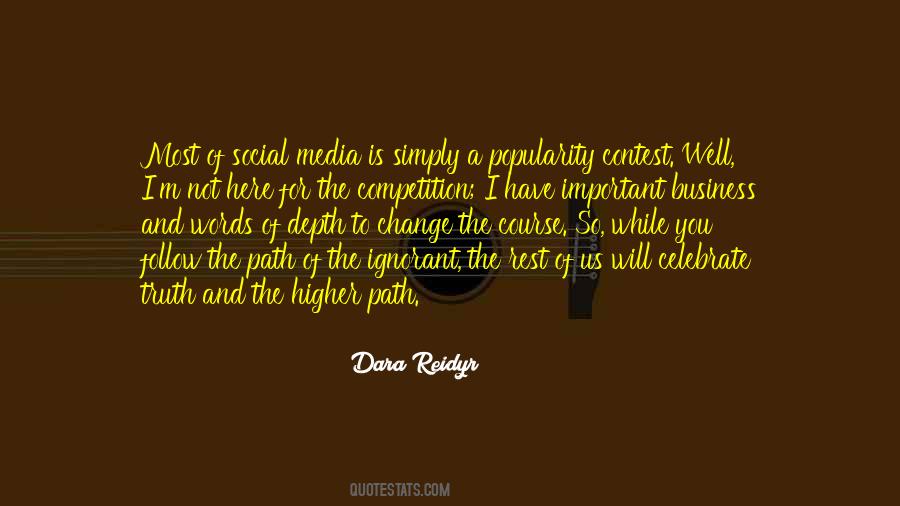 #51. People do not just buy products. They buy better versions of themselves. And the packages in which they want the products to be delivered must come from humble and approachable brands. People have no patience for fluff. - Author: Cendrine Marrouat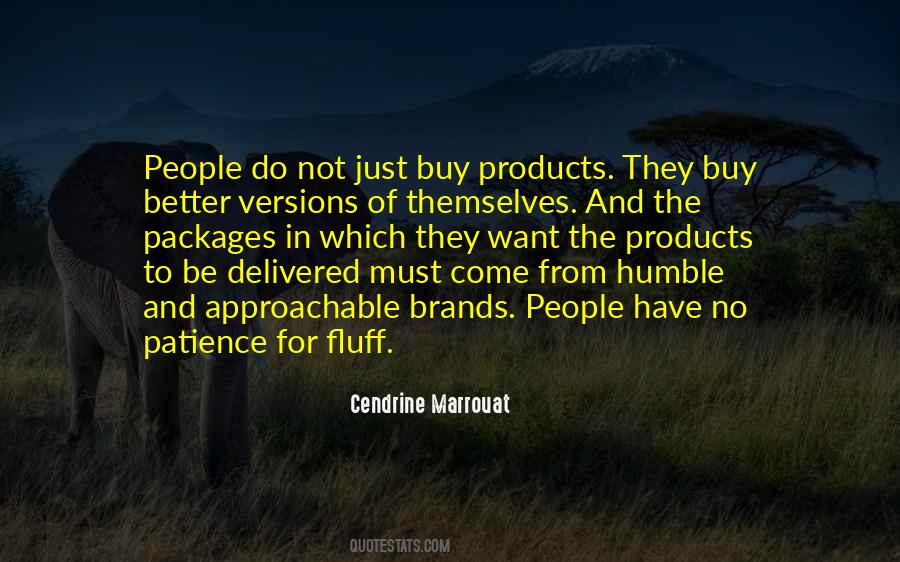 #52. Content is the currency of the social web and sharing that content is the catalyst to new relationships and business benefits. - Author: Mark Schaefer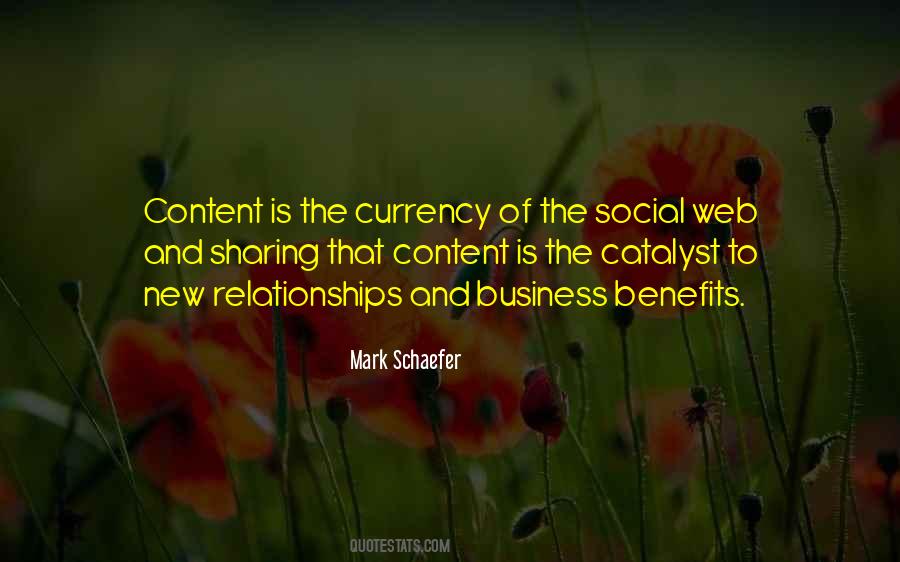 #53. In this day and age, social media is a huge part of a business, which I actually love. It's a phenomenal platform to share your message, keep others and myself inspired and help keep your students connected to your events. The hardest part is the anonymous ability to say whatever you want. - Author: Kathryn Budig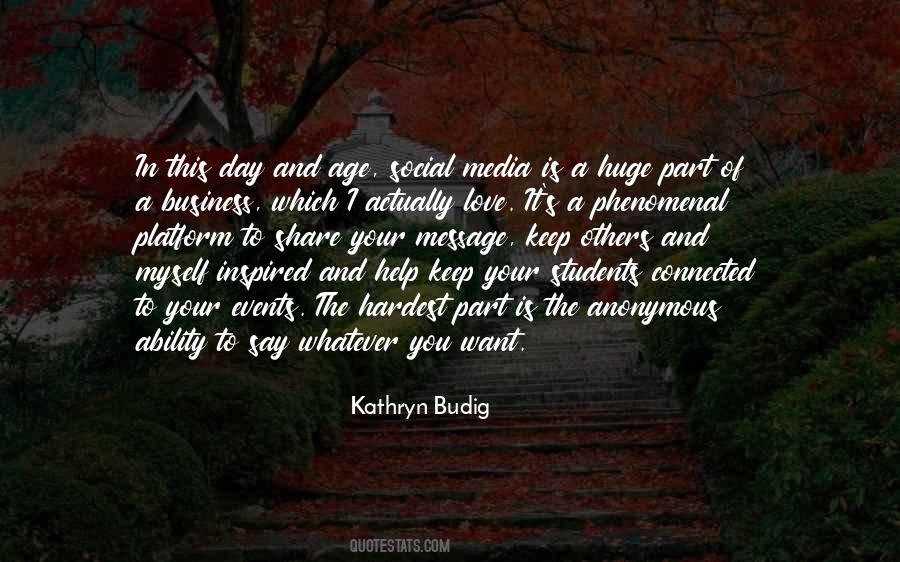 #54. A large social-media presence is important because it's one of the last ways to conduct cost-effective marketing. Everything else involves buying eyeballs and ears. Social media enables a small business to earn eyeballs and ears. - Author: Guy Kawasaki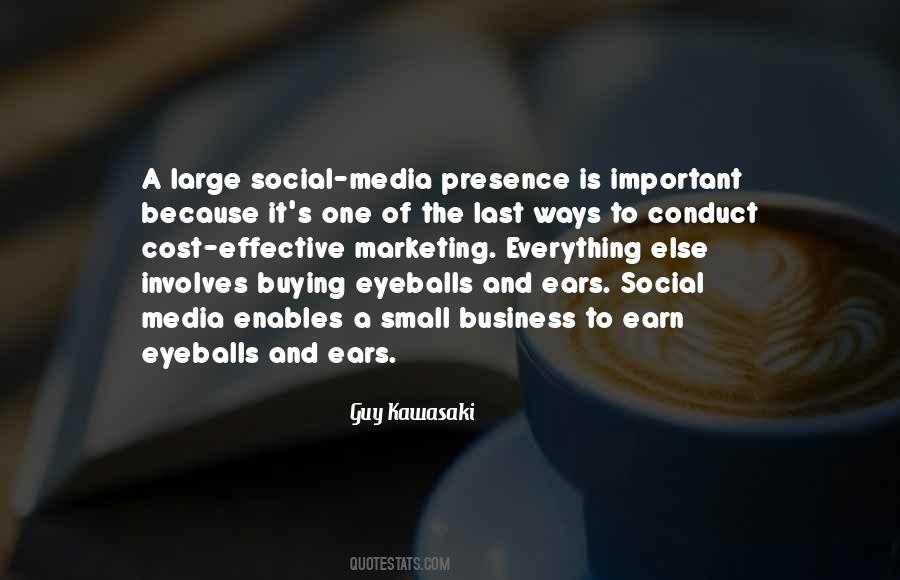 #55. Social media allows you to network, collaborate, and share your work with others. Building a solid network via social is the most valuable thing you can do for your business or personal brand. - Author: Chelsea Krost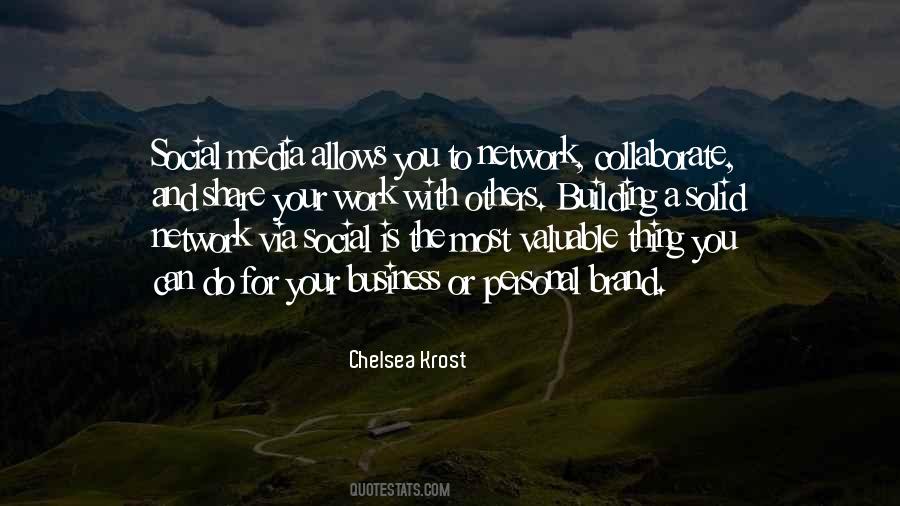 #56. My readers and my audiences have turned into my followers. They are more than interested in what I have to say in the subjects of sales, loyalty, attitude, networking, business social media, and becoming a trusted advisor. - Author: Jeffrey Gitomer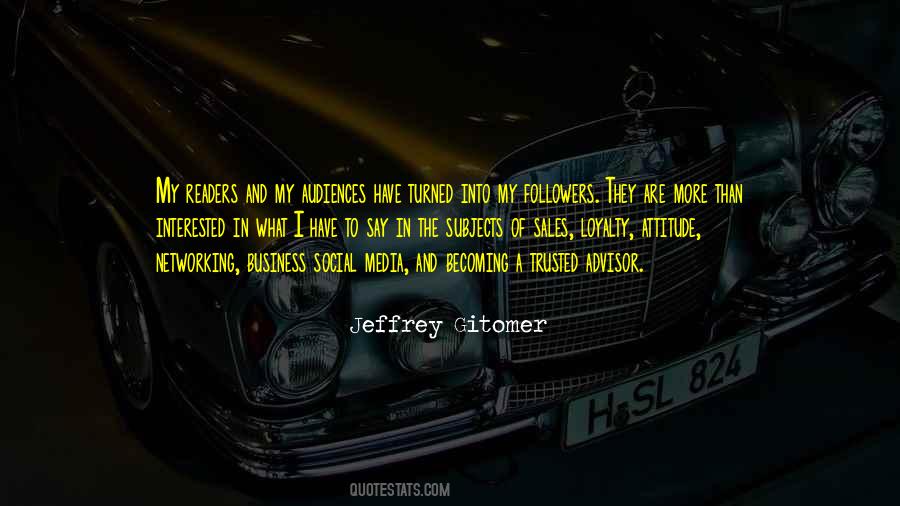 #57. The more you engage and connect, the more engagement and connections you will have. - Author: Loren Weisman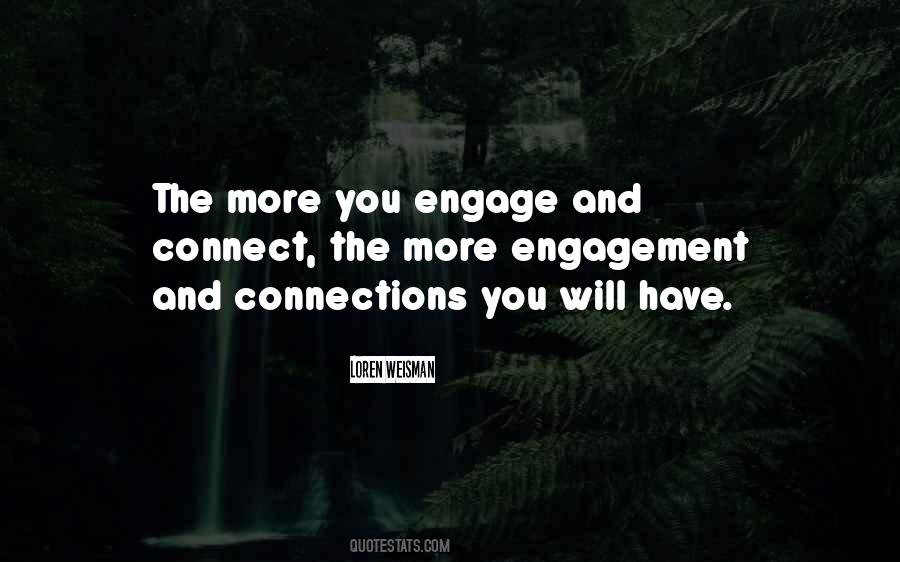 #58. The leverage and influence social media gives citizens are rapidly spreading into the business world. - Author: Simon Mainwaring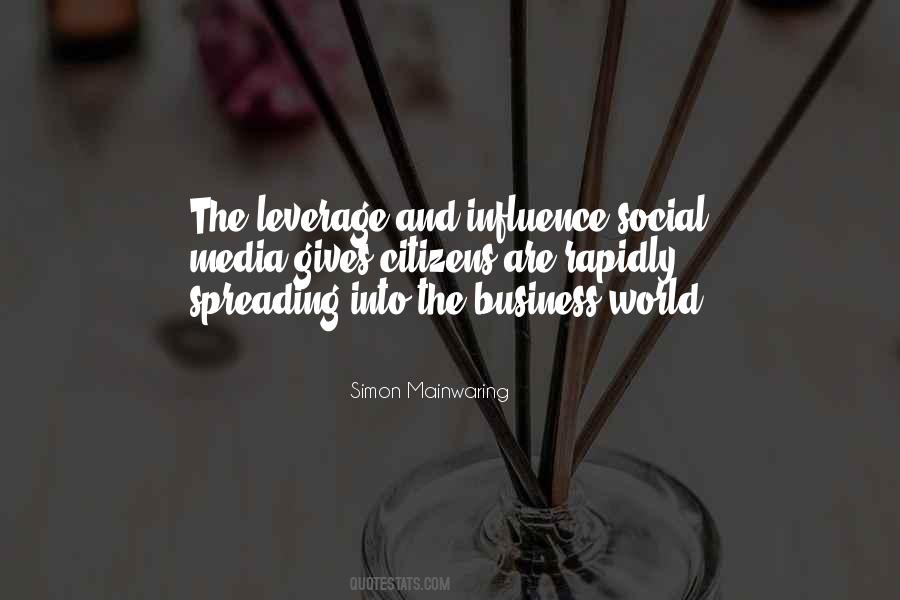 #59. When we think a thought enough times it becomes a belief and that belief becomes a pattern which, in turn, becomes how we live our lives. - Author: Sherree Mongrain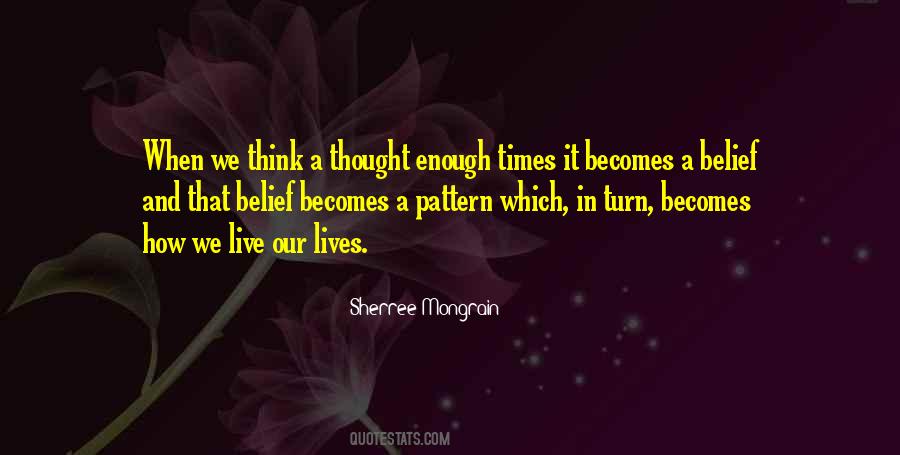 #60. Google AdWords help with targeting people. Social media makes it easy to find people. A lot of people write blogs as a hobby. Others do it to make money. Instead of advertising on a blog, do a revenue share where you give them a 10-percent share for the business you receive. - Author: Cameron Johnson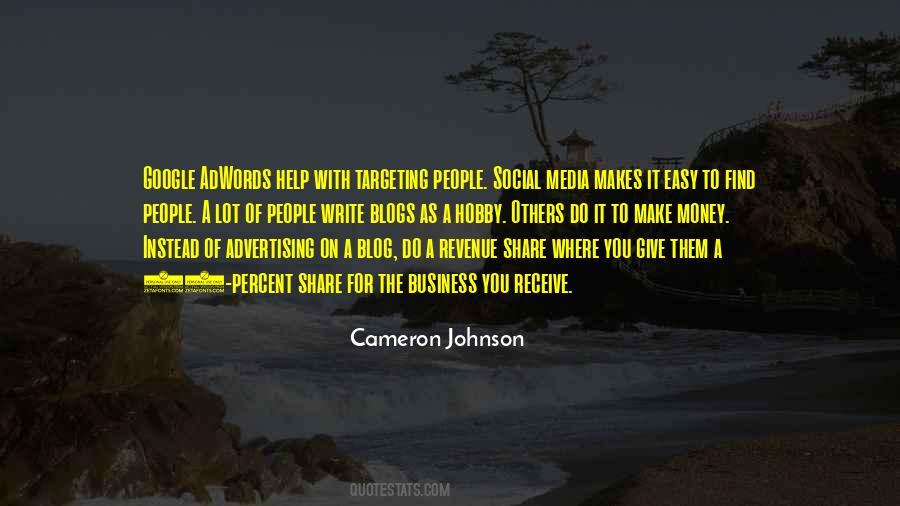 #61. Social Media Strategy isn't rocket science...but it might as well be if you don't know what you're doing. - Author: Sherree Mongrain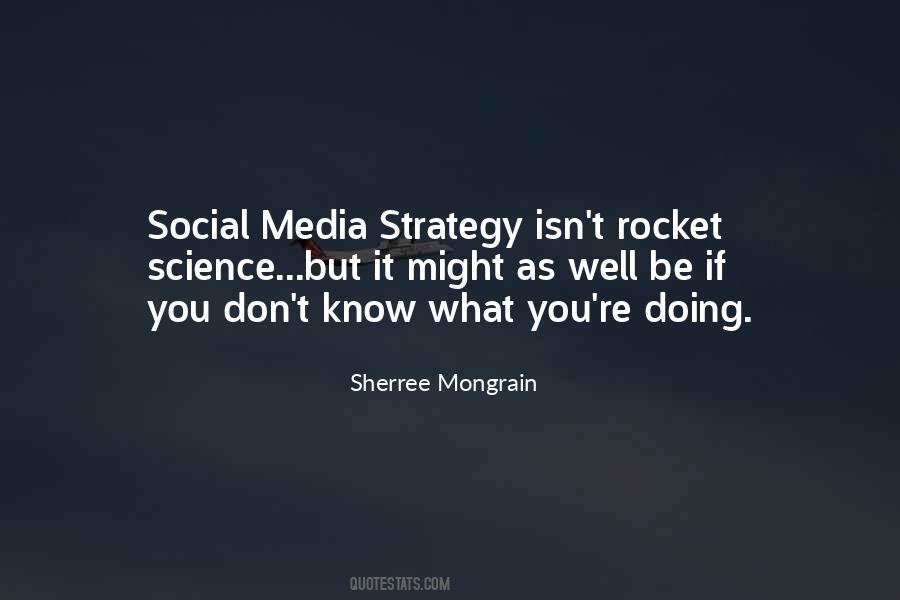 #62. Social media presents an opportunity for business people to connect and know each other prior to a phone call or email taking place. - Author: Jeffrey Gitomer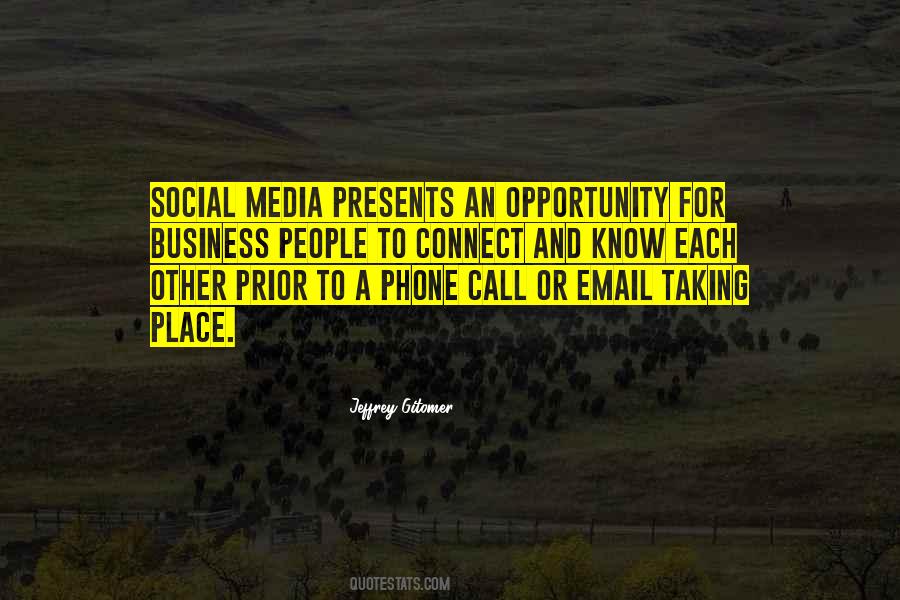 #63. 90% of new business fail in the first three months of launching, due to lack of proper planning, wrong selection of niche/products and marketing platform. - Author: K. Raveendran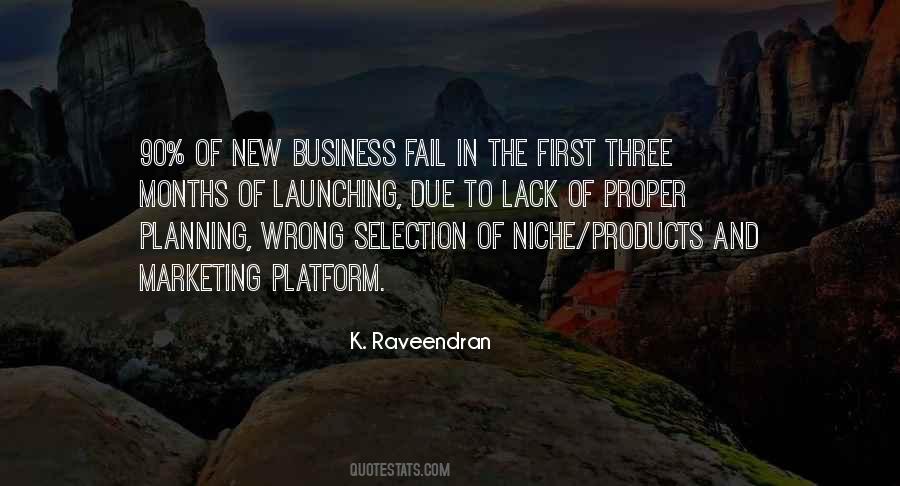 #64. Update a traditional element of your business with social media designs. Facebook, Twitter, and other social media are hot right now, and leveraging their popularity can make your business stand out, be memorable, and seem fresh and up-to-date. - Author: Anita Campbell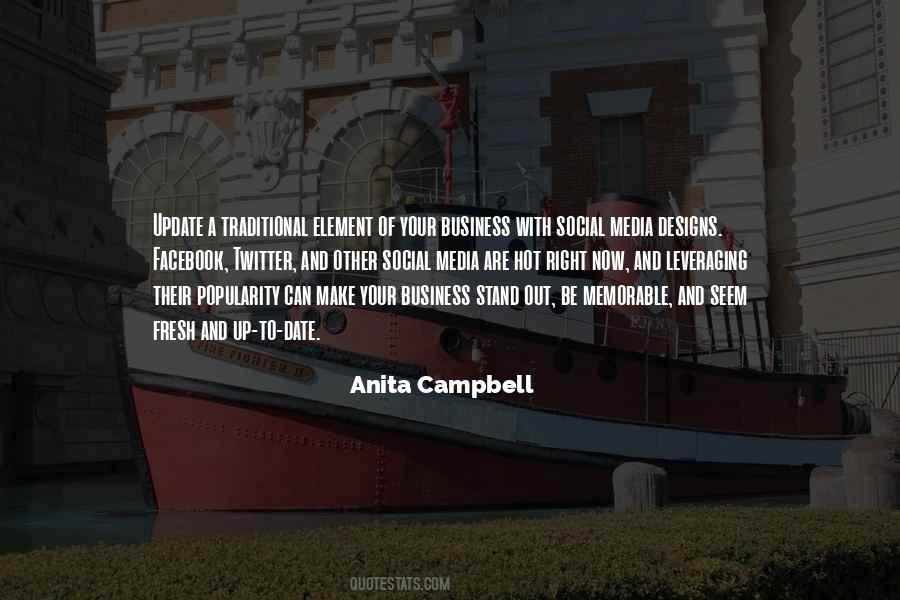 #65. Personally, I'd love to see more social media firms develop business models that aren't reliant on advertising. If you're a social media firm selling ads, your goal is to get people to interrupt what they're doing all day long so they come and stare at your service as much as possible. - Author: Clive Thompson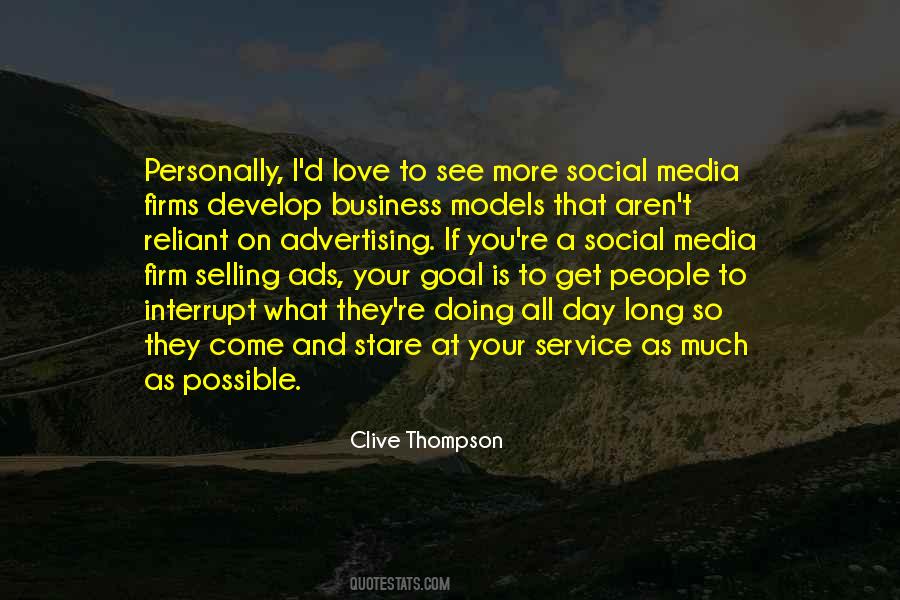 #66. The Kingdom is the love of God prevailing in politics, in business, in government, in media. It is all the impact of the laws of God creating a social environment where the strong help the weak, where those who have give to those who don't. It's a society where relationships are built on love. - Author: Myles Munroe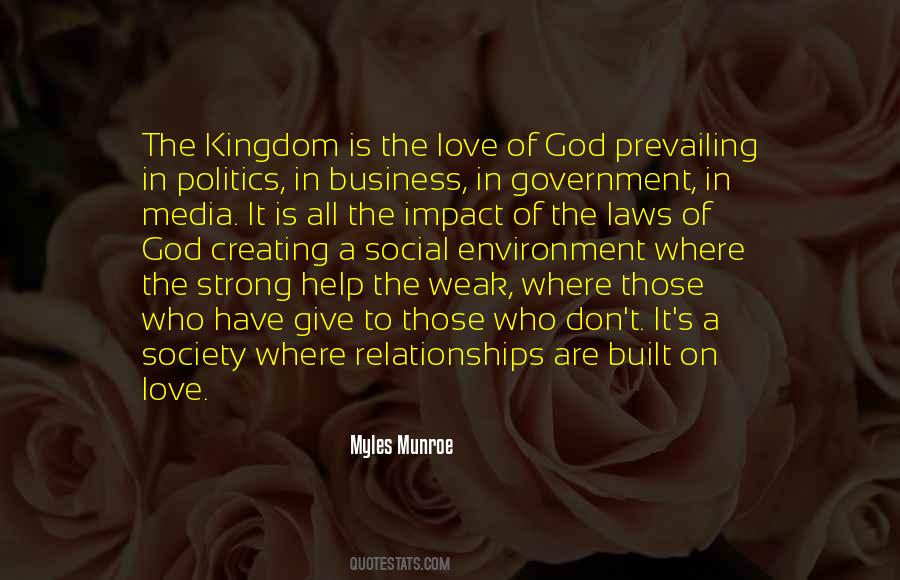 #67. The evolving social and digital media platforms and highly innovative and relevant payment capabilities are causing seismic changes in consumer behavior and creating equally disruptive opportunities for business. - Author: Howard Schultz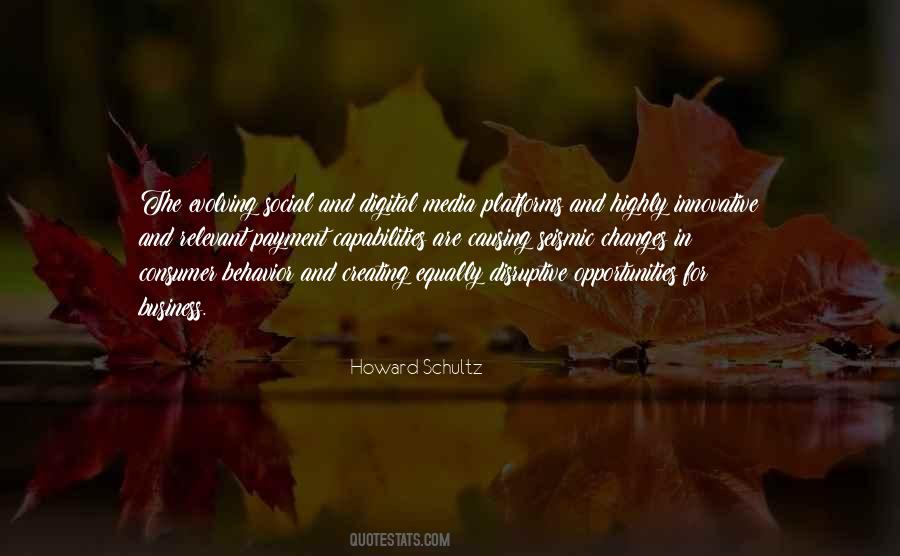 #68. The goal is not to be good at social media, the goal is to be good at business because of social media. - Author: Jay Baer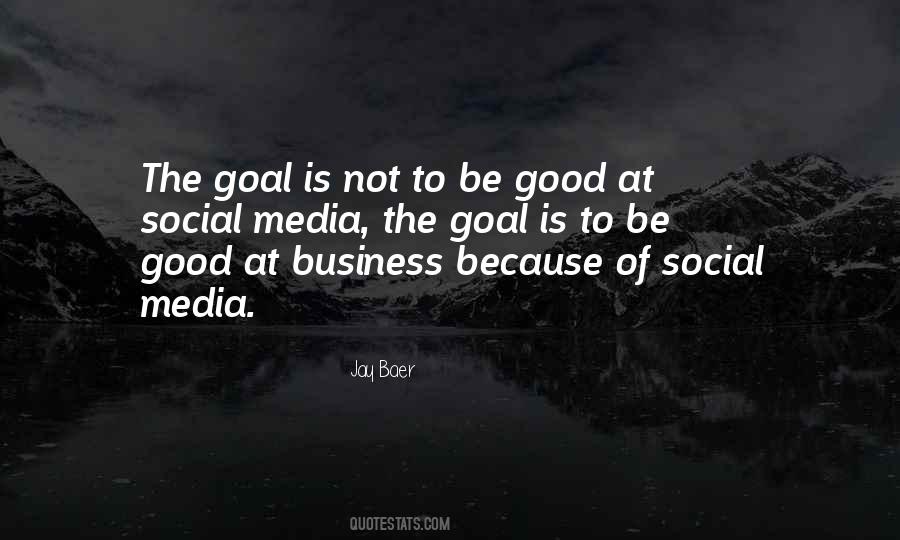 #69. People do not want more noise in their social media streams. They want entertainment, uplifting conversations, and products that last. Most importantly, they want to be taken seriously. - Author: Cendrine Marrouat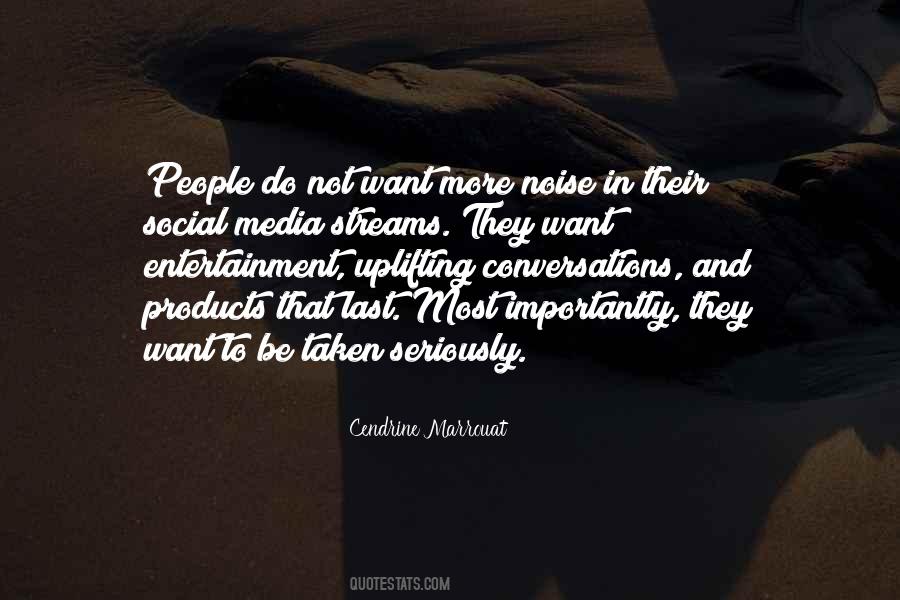 #70. You've got to be very cognizant of the correlation between social media links and business because they don't always correlate as highly as people would like. - Author: Mark Cuban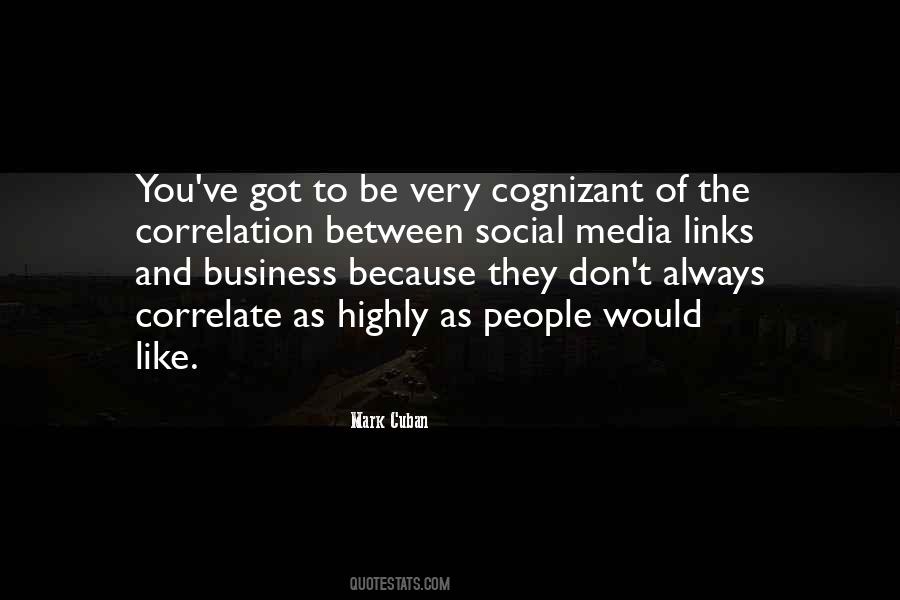 #71. People will never respond to you more positively than when you seek to make your impact felt at the human level. - Author: Cendrine Marrouat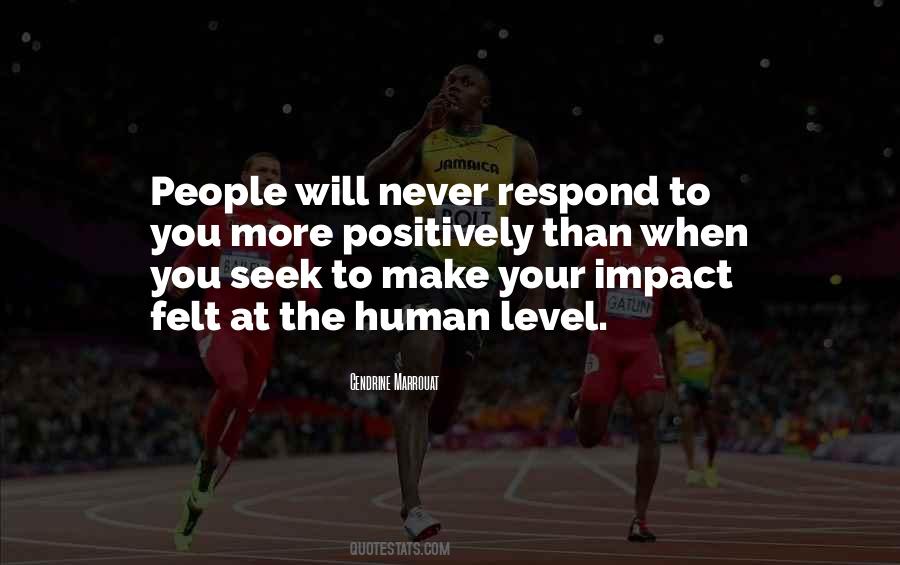 #72. We may end up with a life deferred by the business of its own collection. - Author: Sherry Turkle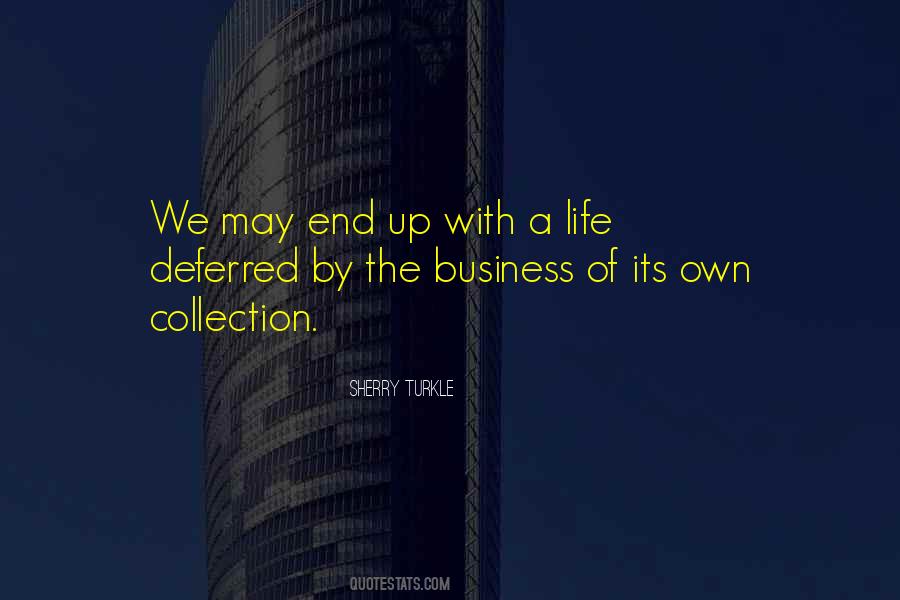 #73. Today's businesses can't just use social media; they have to become social businesses, inside and out and from top to bottom. Ultimately, that is the goal of this book: to harness the power of being a social business to become the most highly recommended organization in your industry/category/niche. - Author: Paul M. Rand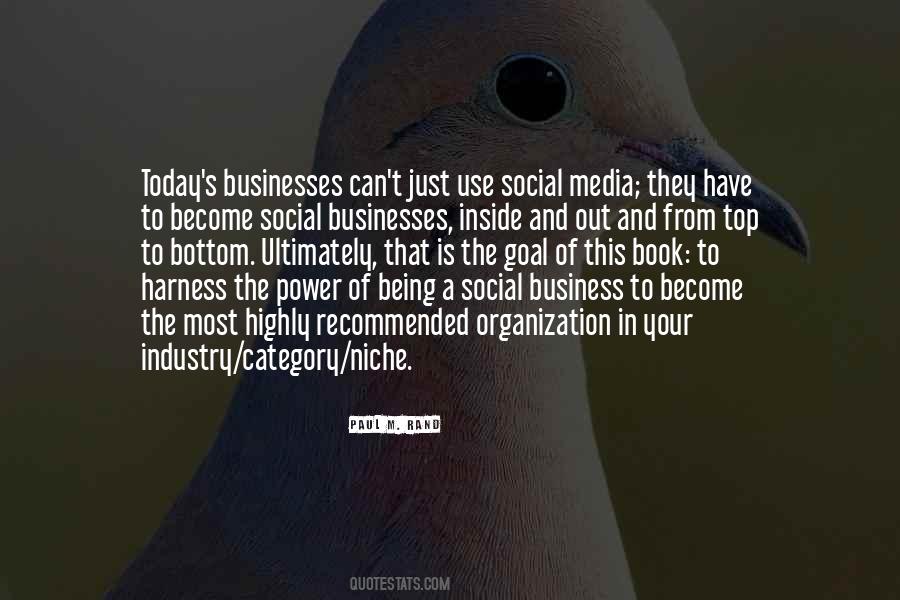 Famous Authors
Popular Topics