List of top 35 famous quotes and sayings about bluegrass music to read and share with friends on your Facebook, Twitter, blogs.
Top 35 Quotes About Bluegrass Music
#1. I've been writing a lot of country music again. I've written some bluegrass material. I'm having a good time doing that.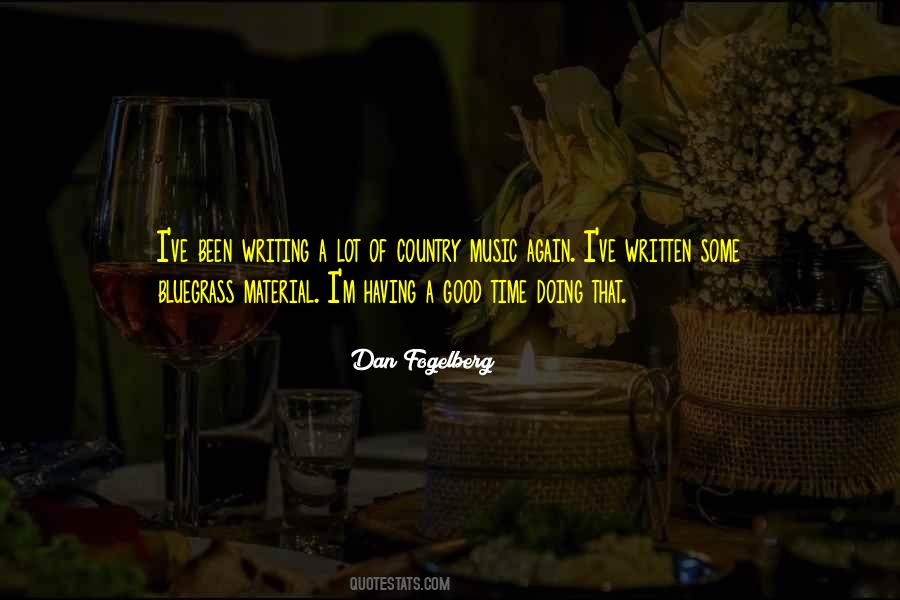 #2. What music I listen to day to day changes very, very much. I can go from bluegrass to heavy metal, to blues, to classical and big band and then go to pop and rap.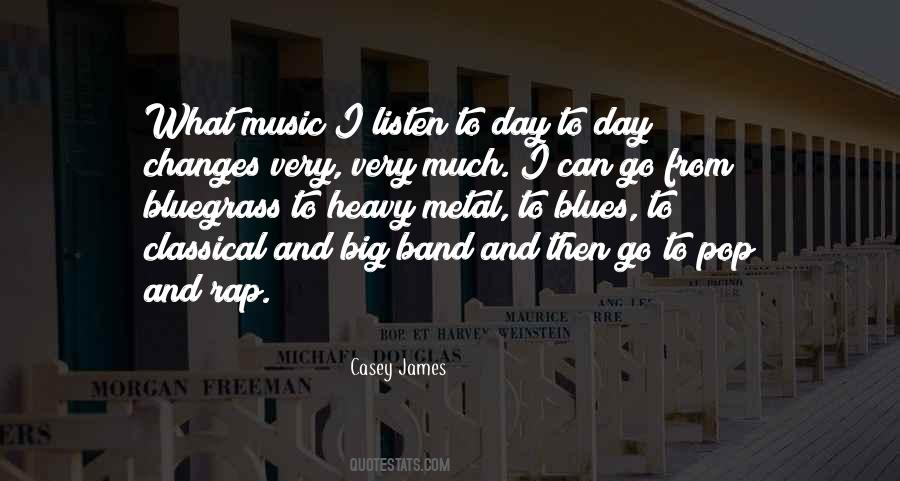 #3. I enjoy bluegrass, folk, gospel, and classical. I don't listen to music when I write. I sometimes listen to music just before I sit down to write.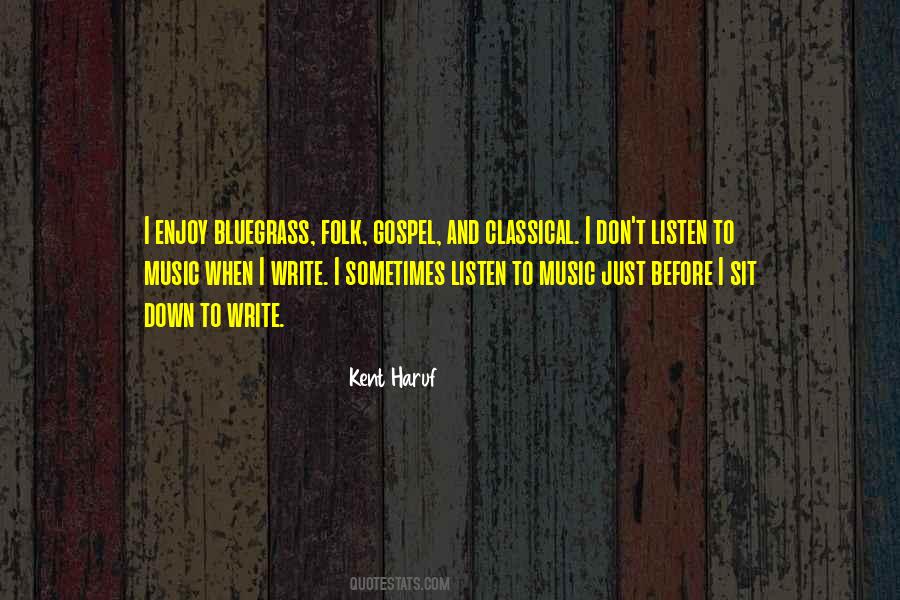 #4. I think the Flecktones are a mixture of acoustic and electronic music with a lot of roots in folk and bluegrass as well as funk and jazz.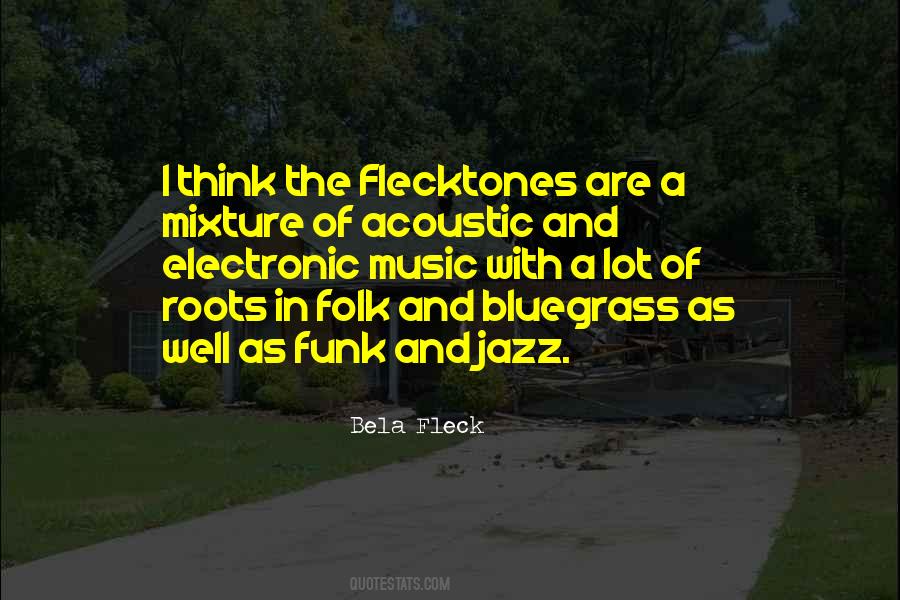 #5. I always loved bluegrass, but there was so much I didn't know about American country music in respect to the origins of this country. It was interesting to see the evolution of it.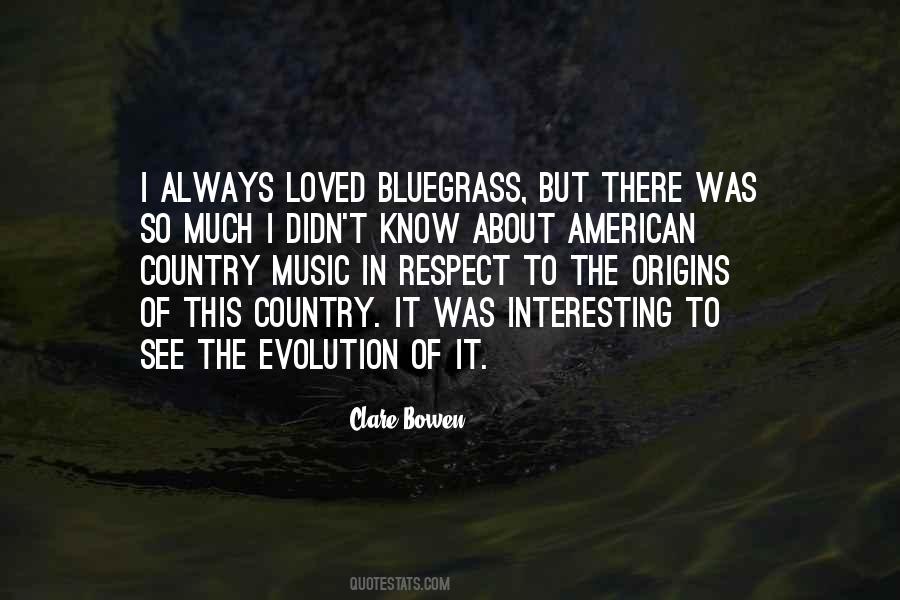 #6. I like all kinds of music. I listen to Abigail Washburn, the Punch Brothers, and Marc Johnson, the great clawhammer player. I also listen a lot to Sirius Radio, there's a lot of bluegrass there.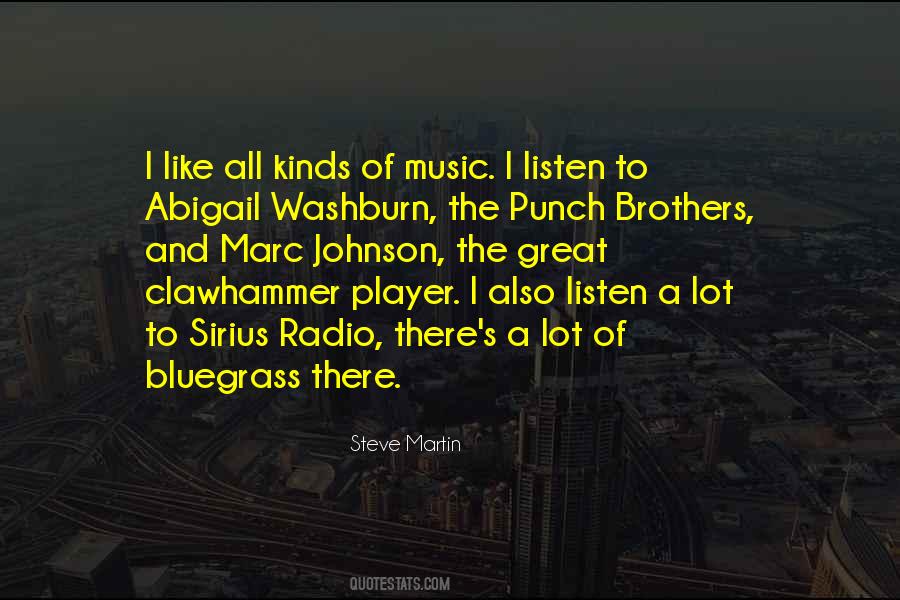 #7. I had some good teachers. One of the greatest teachers I've had is bluegrass music: going back and listening to Bill Monroe's music, the Stanley Brothers, Flatt & Scruggs. When I was with Ralph Stanley I learned a lot from him.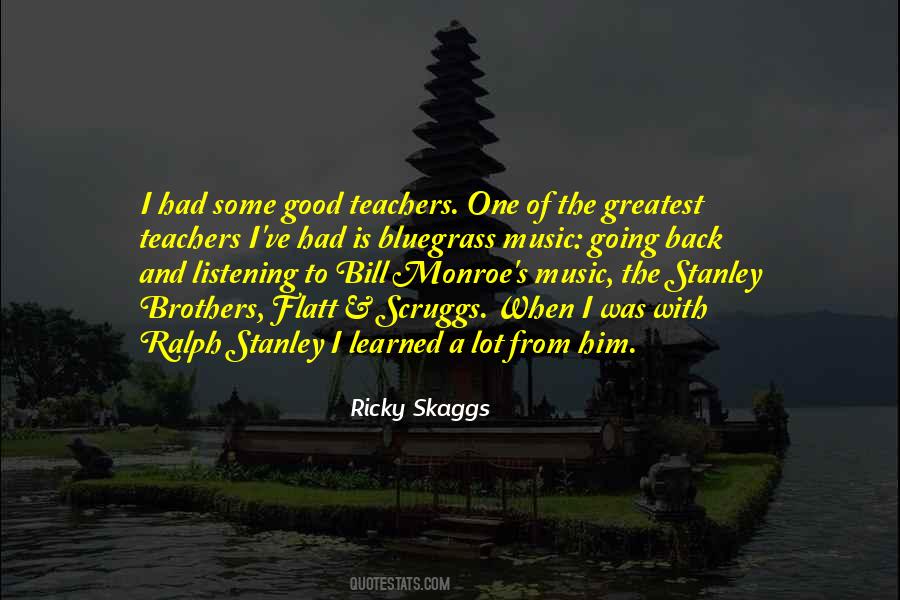 #8. Most of the music I've become interested in is hybrid in its originsClassical music, of course, is unbelievably hybrid. Jazz is an obvious amalgam. Bluegrass comes from eighteenth-century Scottish and Irish folk music that made contact with the blues. By exploring music, you're exploring everything.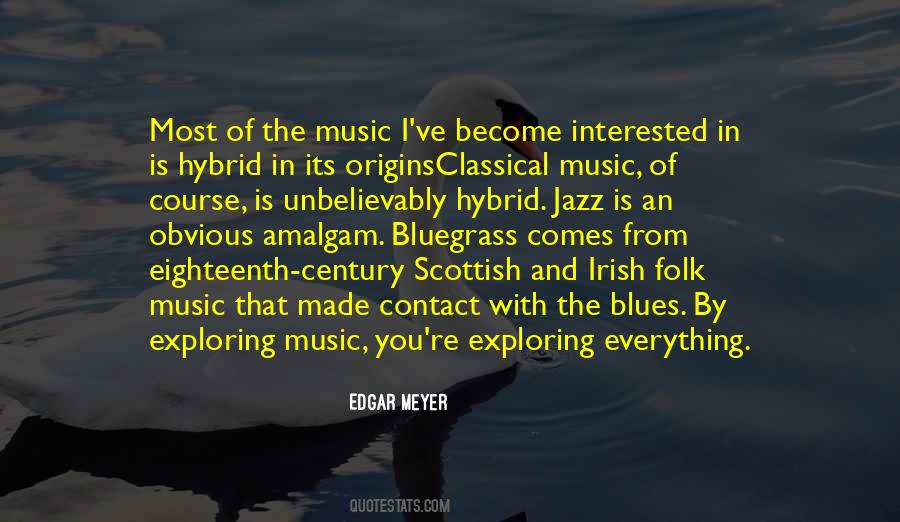 #9. I like for it to be mountain music or old-time country music or traditional bluegrass. Either one will fit me. It's traditional, basically.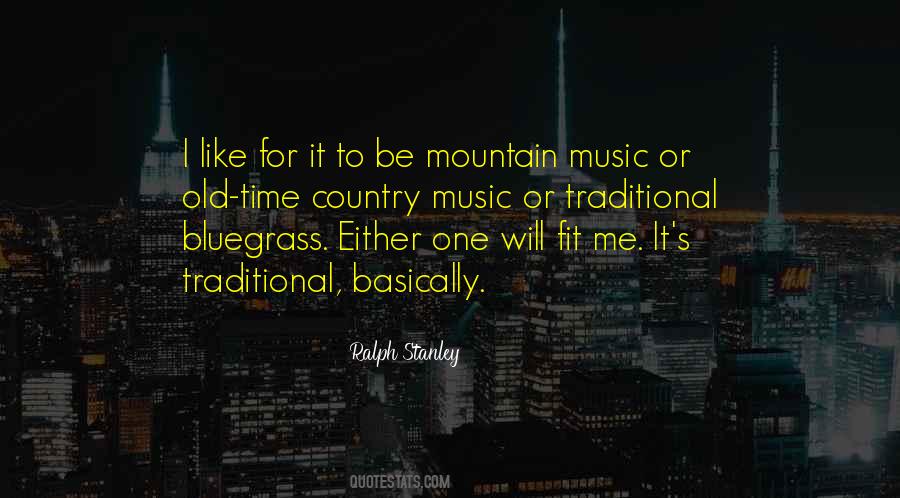 #10. Early Bluegrass is my favorite kind of music, not to many people know that.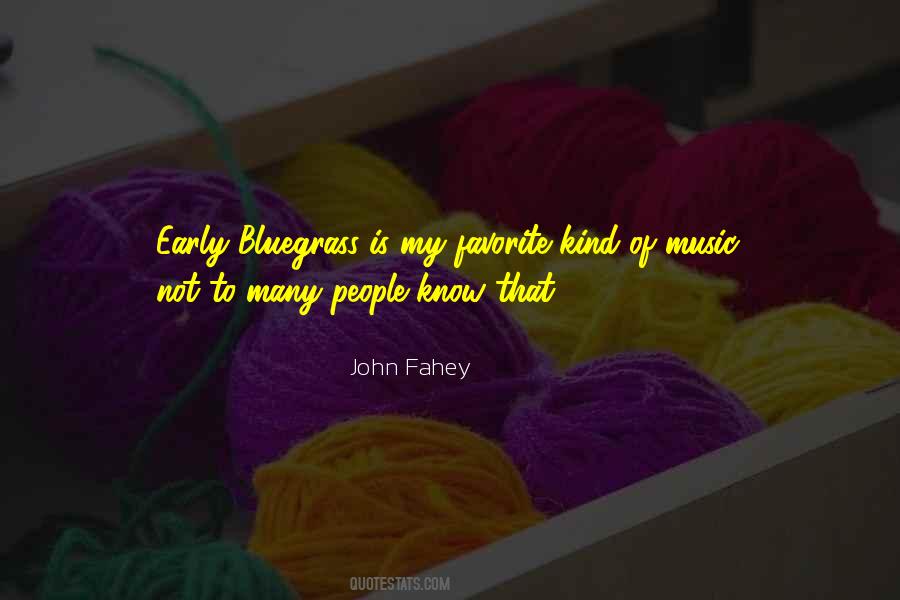 #11. A lot of great bluegrass comes out of Kentucky. There's a lot of great music, like the Judds, Billy Ray Cyrus, Ricky Skaggs, and Keith Whitley. There's a lot of bluegrass intertwined with country music.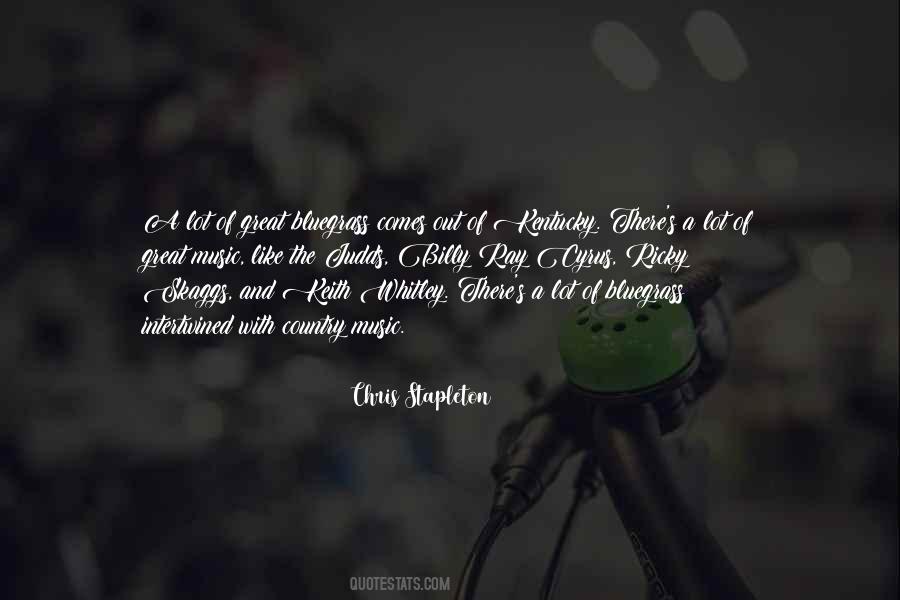 #12. It doesn't matter if you stick the name 'bluegrass' on it. I think people call things bluegrass that I wouldn't necessarily call bluegrass, but what they're calling country music today I'm not sure that I would call country music. But I love music and I try to encourage people.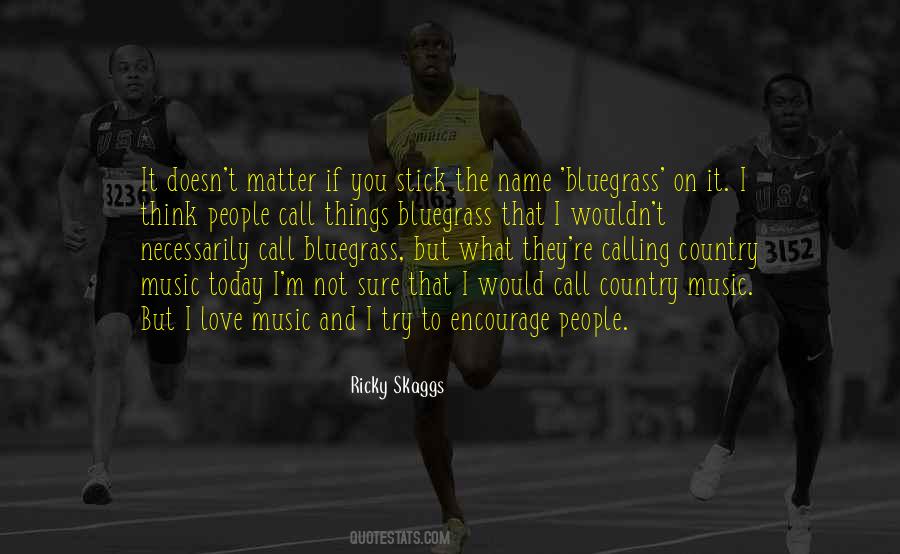 #13. I feel good about being able to take bluegrass on to television like 'Letterman' and 'The View,' and I've heard nice things about being able to do that. I really haven't felt any negativity toward me or my music.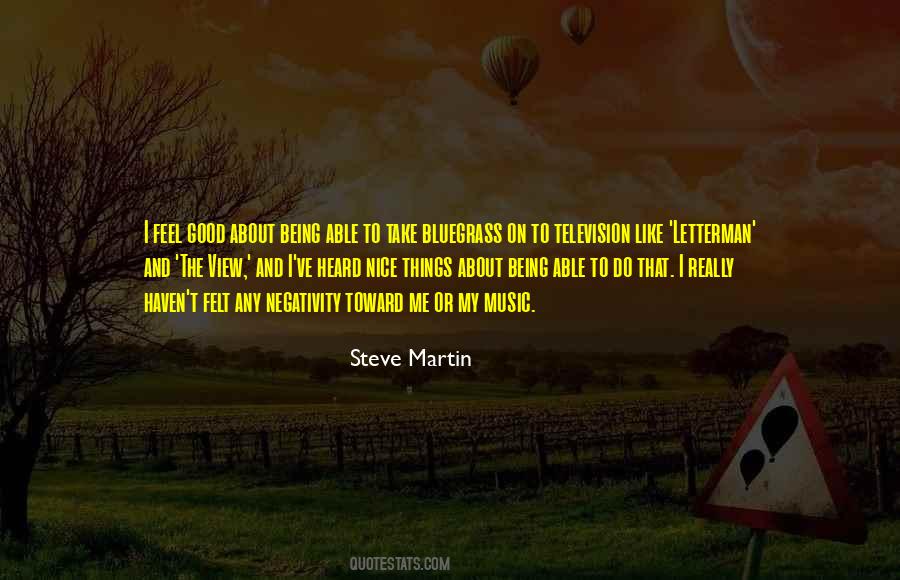 #14. Ireland and America, music-wise, are very closely related. The Irish came over with their fiddles in hand, and you can hear it in the bluegrass and rockabilly. I love it when music from different countries combine.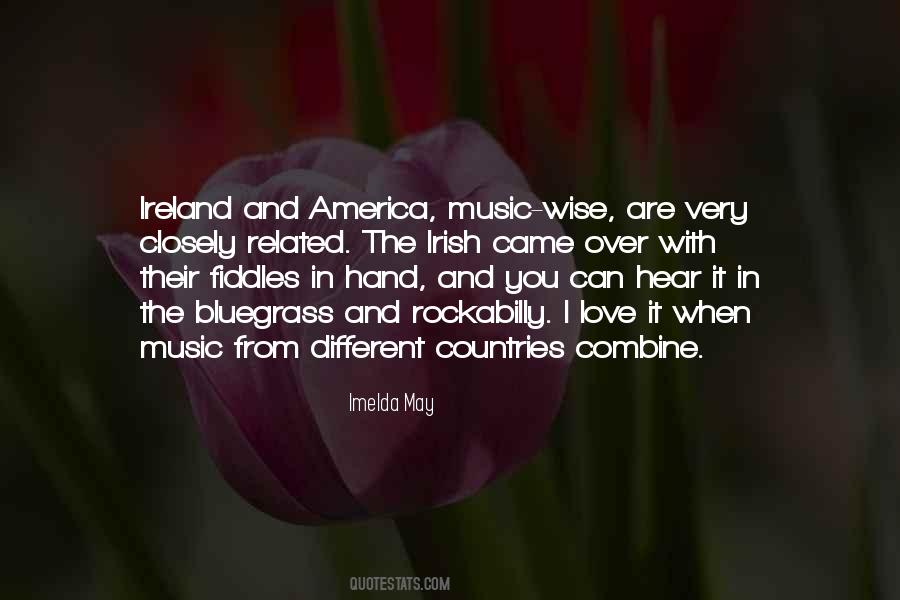 #15. I think Earl Scruggs playing propelled bluegrass and Bill Monroe's music to the level that - where we're all still talking about it.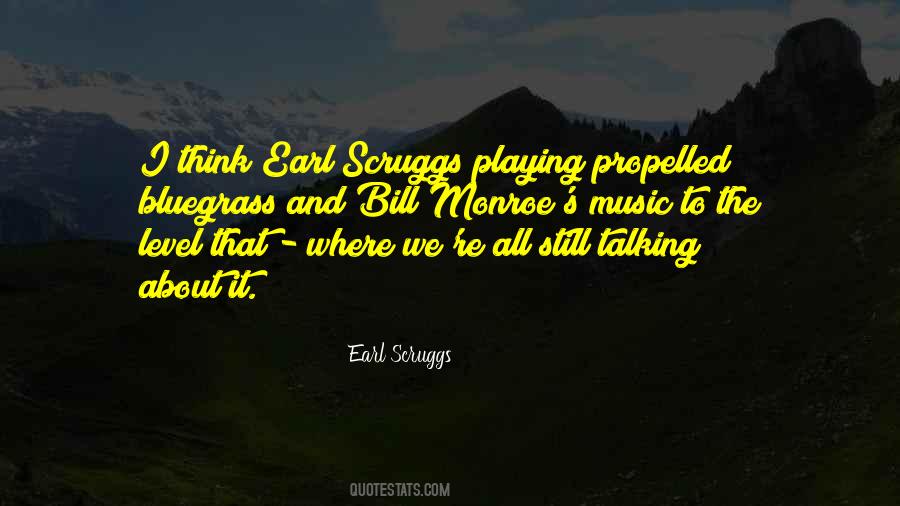 #16. It's true that bluegrass is a virtuosic form and asks that of its performer. Old-time music is older rawer and purer. It's less stylized. We don't solo. Well sometimes we do, but it's different it has more to do with rock-and-roll than bluegrass does.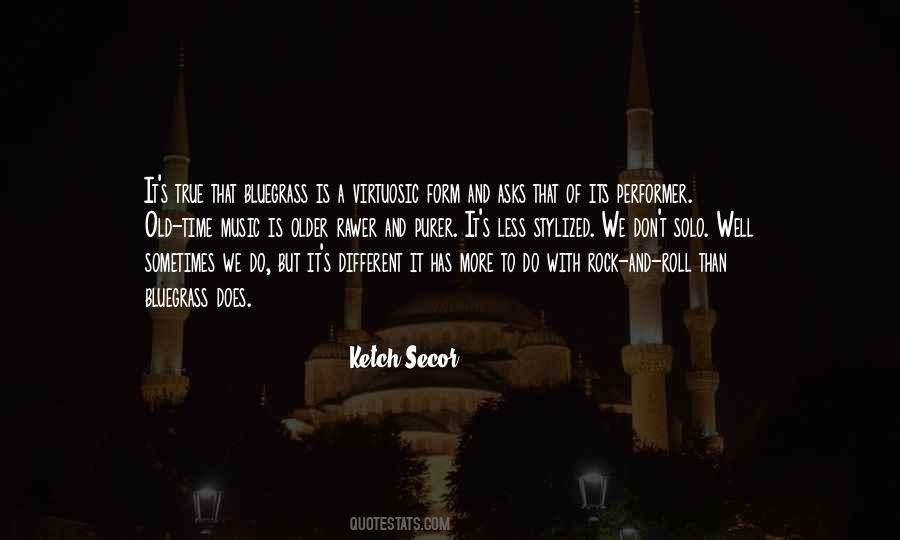 #17. I'm just trying to unite the western crowd and the bluegrass crowd a little more ... I get to do that again on my new album, Tall Grass and Cool Water ... This is the first time I've had every song on an album be a Bluegrass and Cowboy Song at the same time.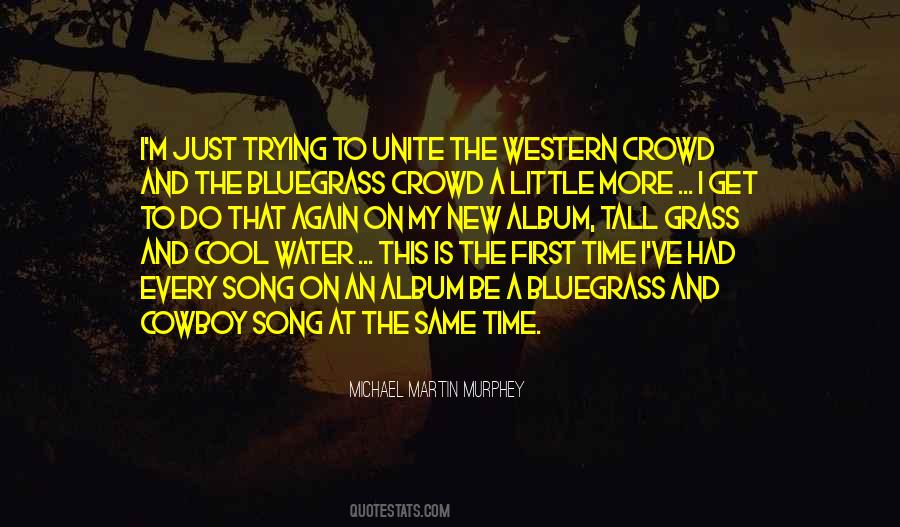 #18. I just hope bluegrass entertainers take care of their music and take care of their fans. If you don't practice, the man next door who is practicing will beat you.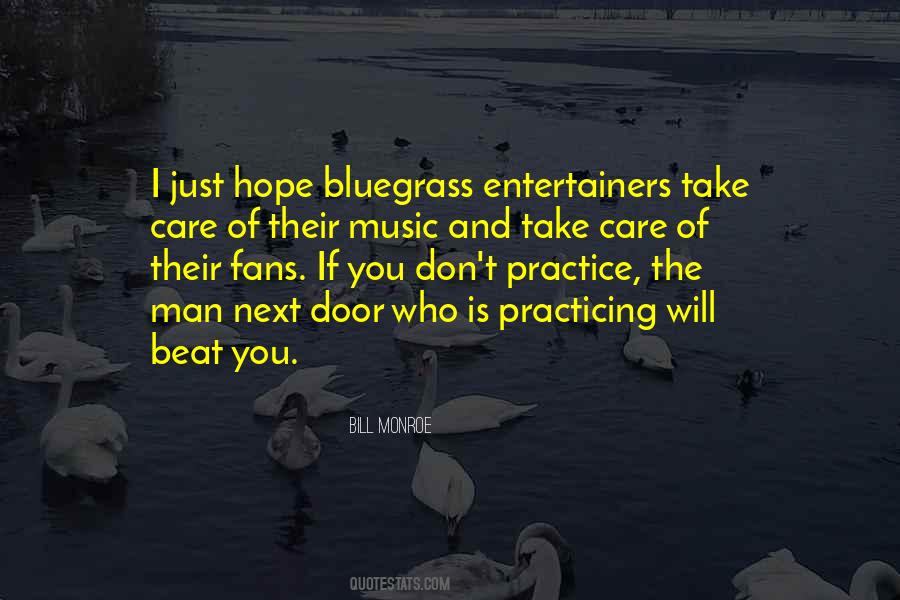 #19. Speaking of WAMU, [bluegrass and old time music DJ] Ray Davis did a lot of work there. I've know Ray, I guess for 50 years - 40, or 50 years. And, he plays a lot of my records.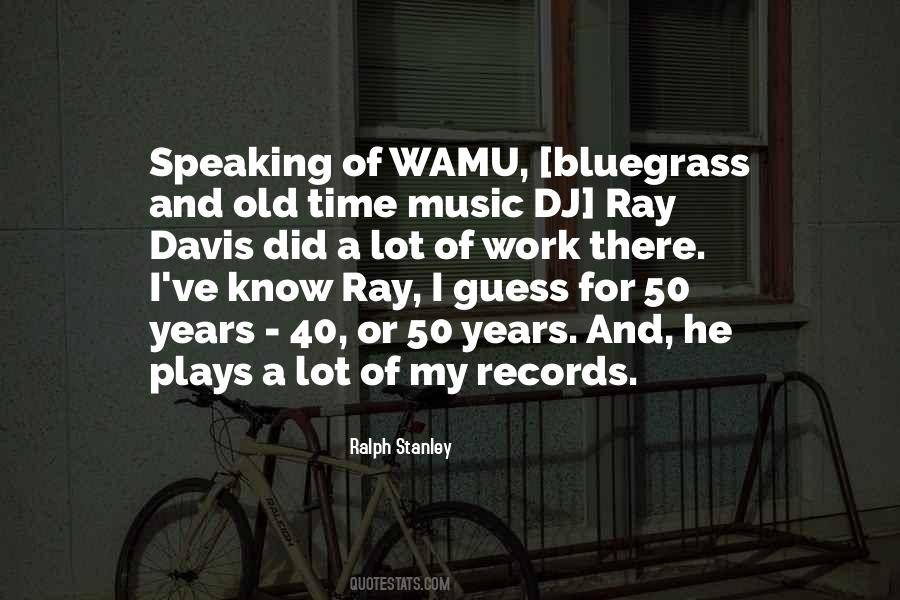 #20. Bluegrass is wonderful music. I'm glad I originated it.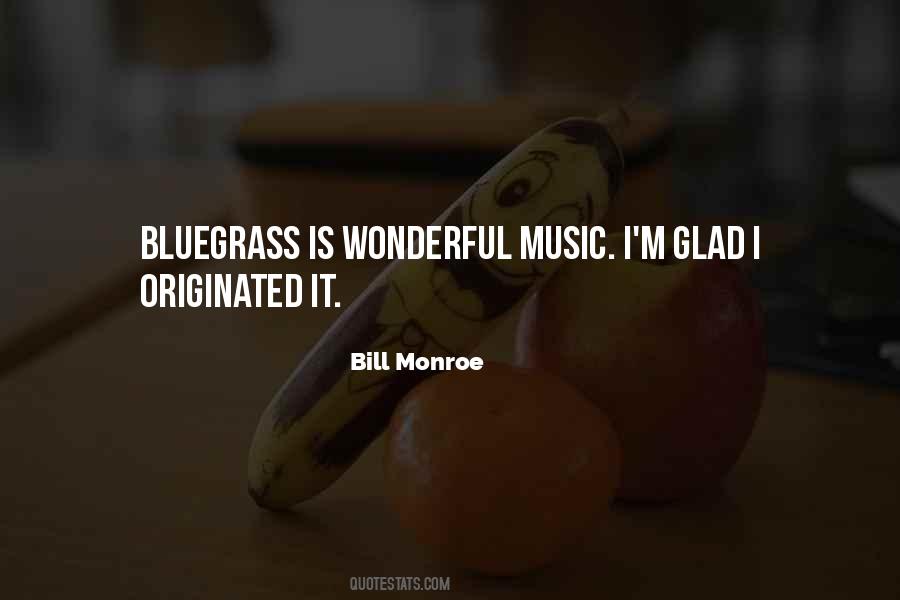 #21. If you looked at my iPod, you would get a trip out of all the different music, from the real heavy metal to bluegrass to classical.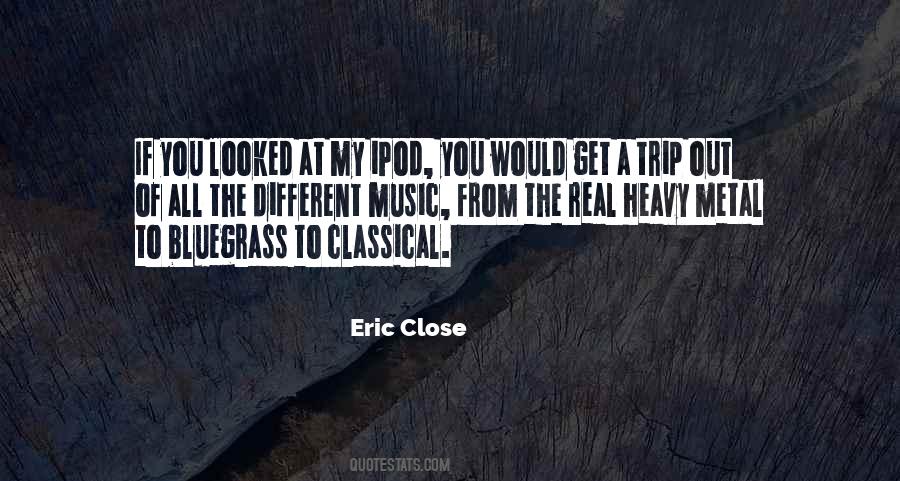 #22. All along, I did what I was comfortable doing, which was to play the music I enjoyed and try to stretch the parameters a bit. Country and bluegrass and folk were my foundation.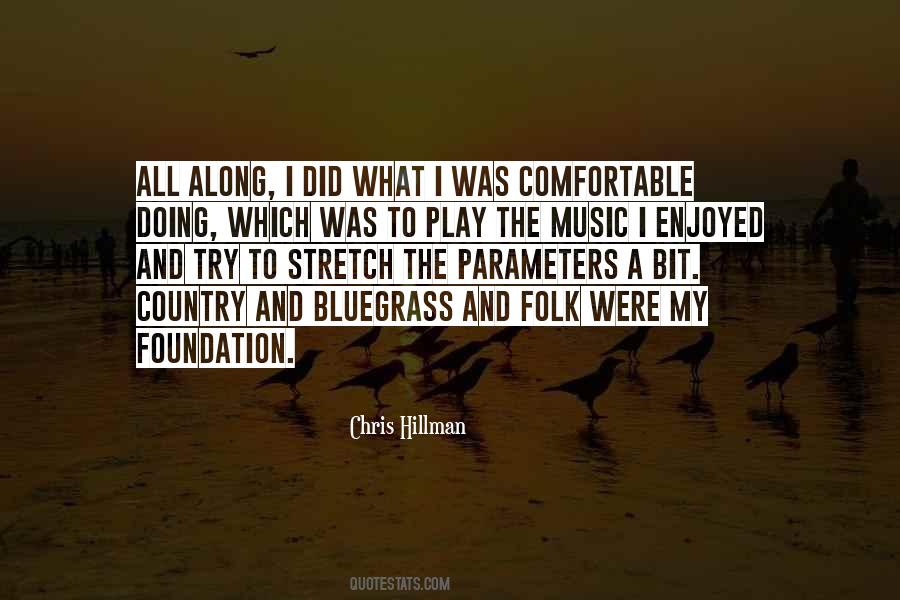 #23. Because the blues is the basis of most American music in the 20th century. It's a 12-bar form that's played by jazz, bluegrass and country musicians. It has a rhythmic vocabulary that's been used by rock n' roll. It's related to spirituals, and even the American fiddle tradition.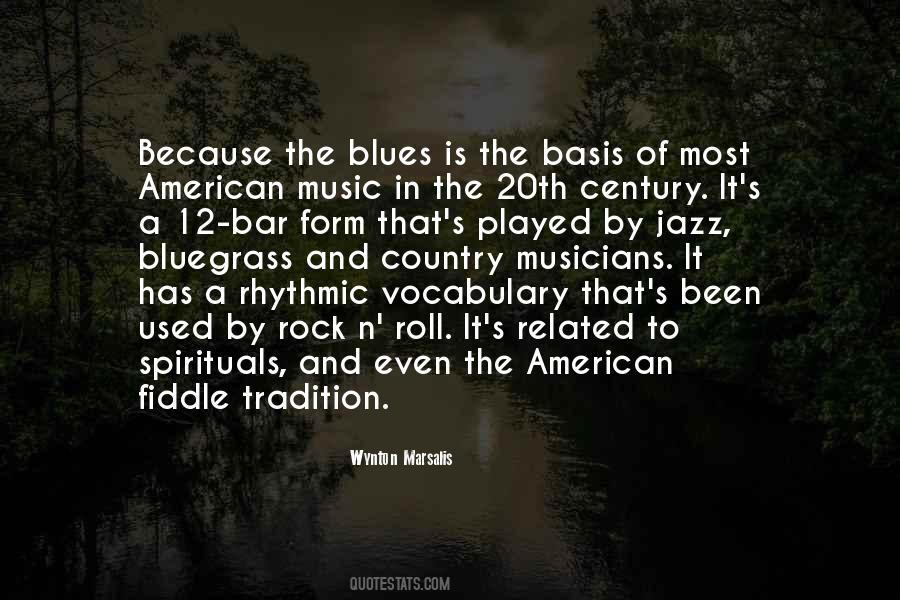 #24. I was in a bluegrass band. I made two records with a band called the SteelDrivers. They were nominated for two Grammys. I then I was in a rock band called the Junction Brothers; we made kind of '70s hard rock music.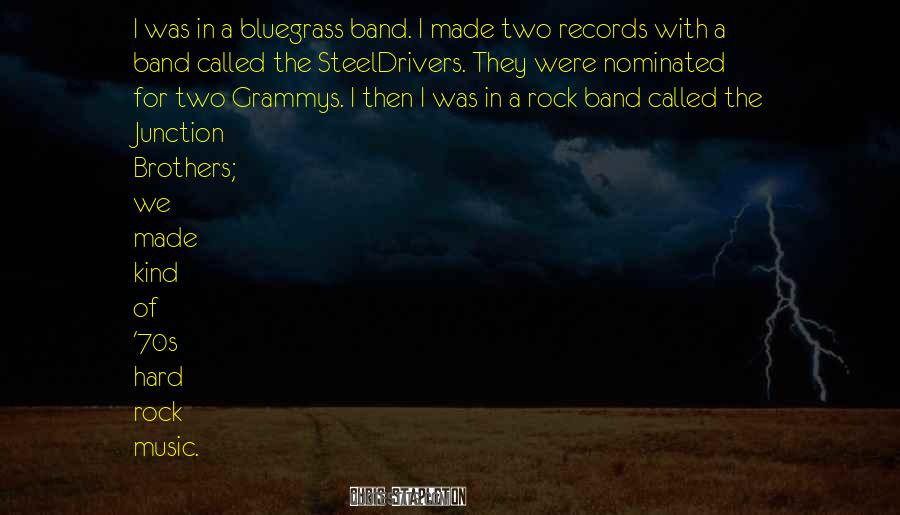 #25. Bluegrass has brought more people together and made more friends than any music in the world. You meet people at festivals and renew acquaintances year after year.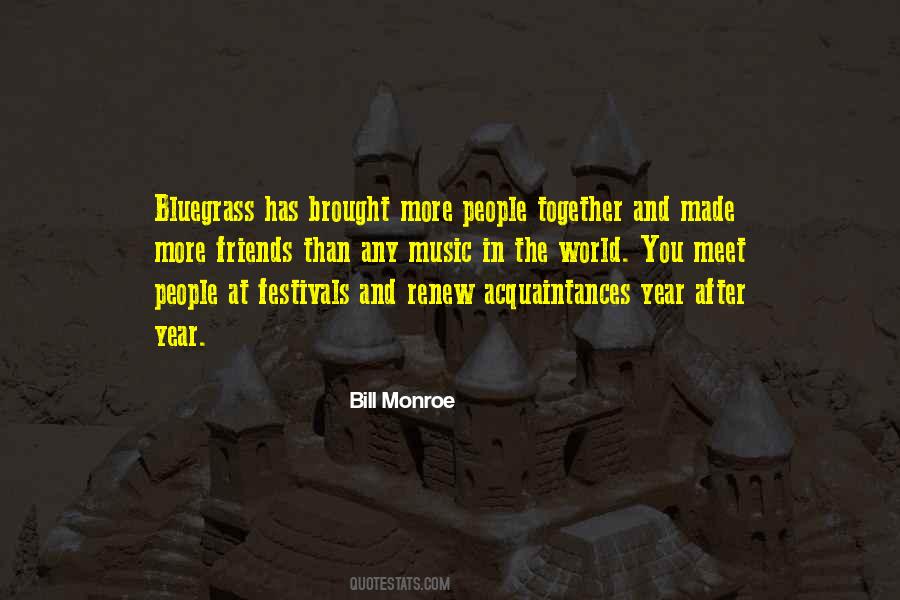 #26. The music has to come from bluegrass first. We always said back in the 70s that if you want to play newgrass you have to go through the school of bluegrass. You know, maybe Jack Black can make a movie now called School of Bluegrass . That would be cool.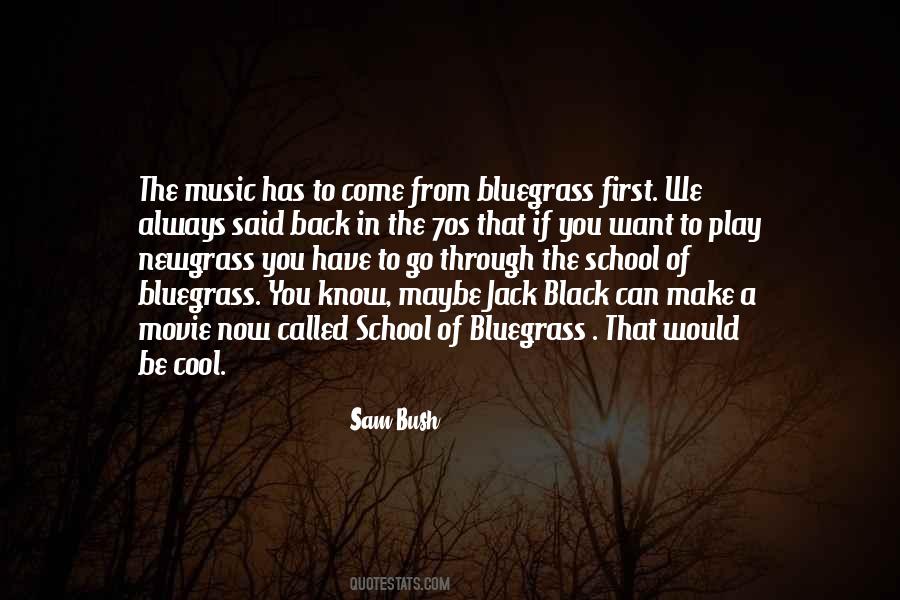 #27. There are so many wonderful, wonderful musicians in the world, I cannot possibly make a distinction between the fact that they might play classical music, or bluegrass, or Irish traditional, or Indian music.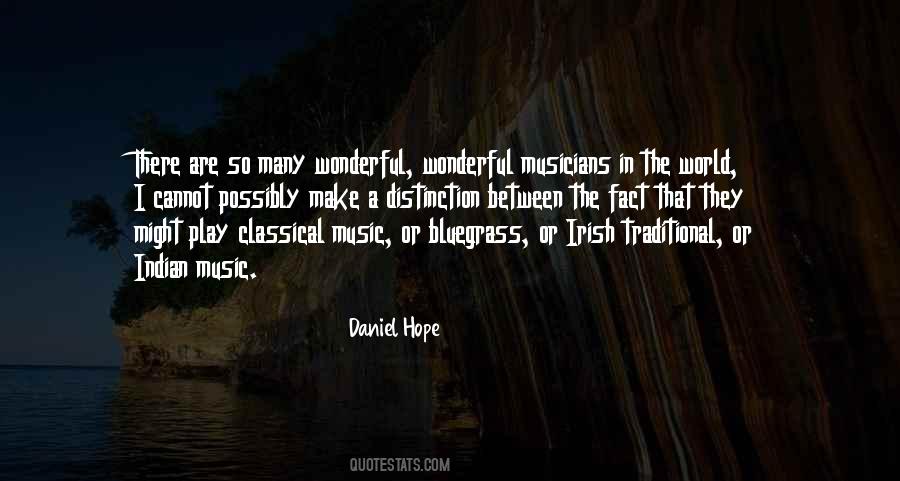 #28. I became a professional musician and played all kinds of music. I played bluegrass, I played classical music, and for many years, I played jazz.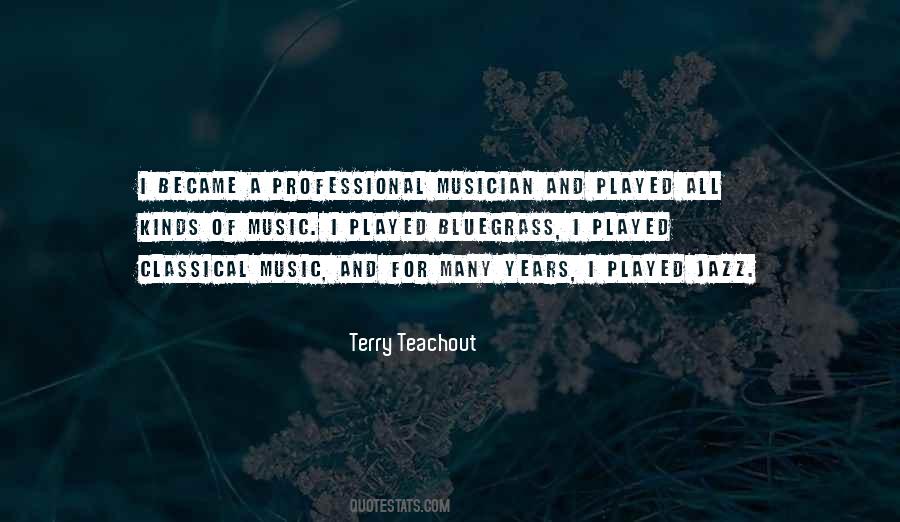 #29. I think the great country songs mixed with some of that bluegrass instrumentation - and surrounding all that with a little bit of a rock vibe and energy - is the kind of music I make.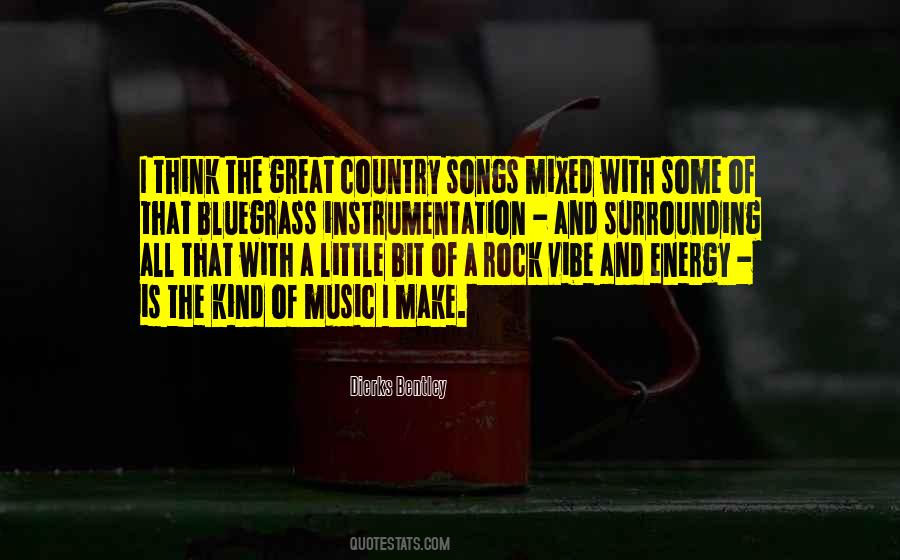 #30. When I hear bluegrass today, I hear so many new sounds in it. It's almost like country music in a way.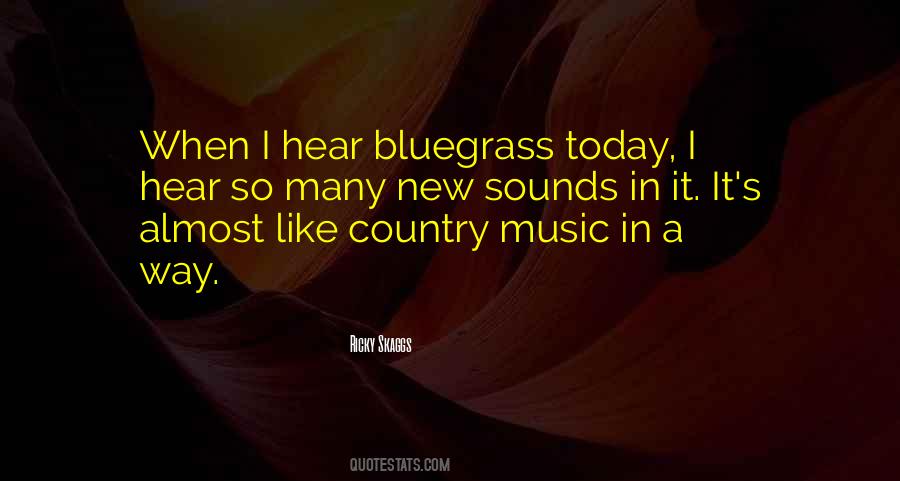 #31. It was around that time, early 60s. There were like three kindred spirits in New Jersey. I had two friends who played folk music, old-time music and bluegrass and we started a little band called the Garret Mountain Boys.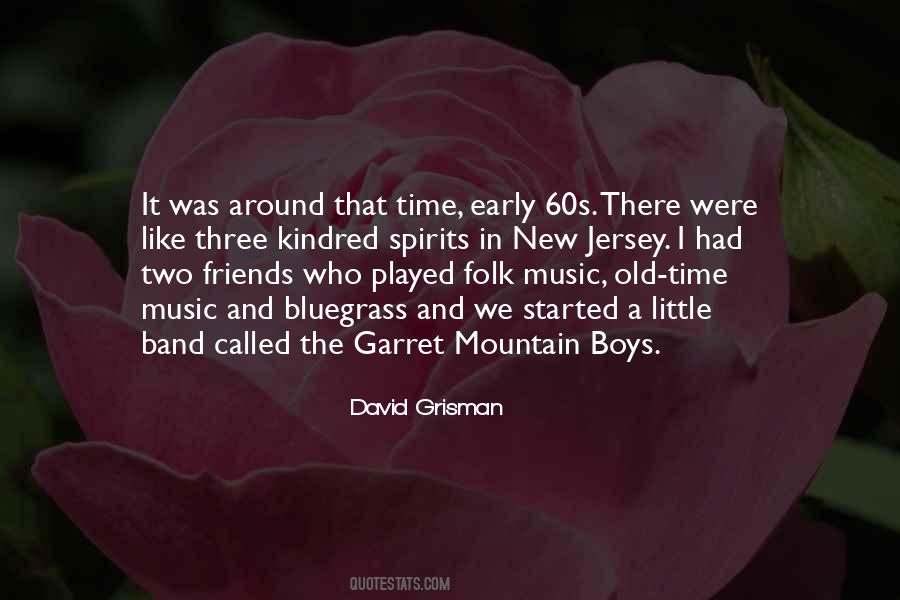 #32. That's what I love about Nashville and the music community - seeing kids around acoustic music and bluegrass picking parties is the best.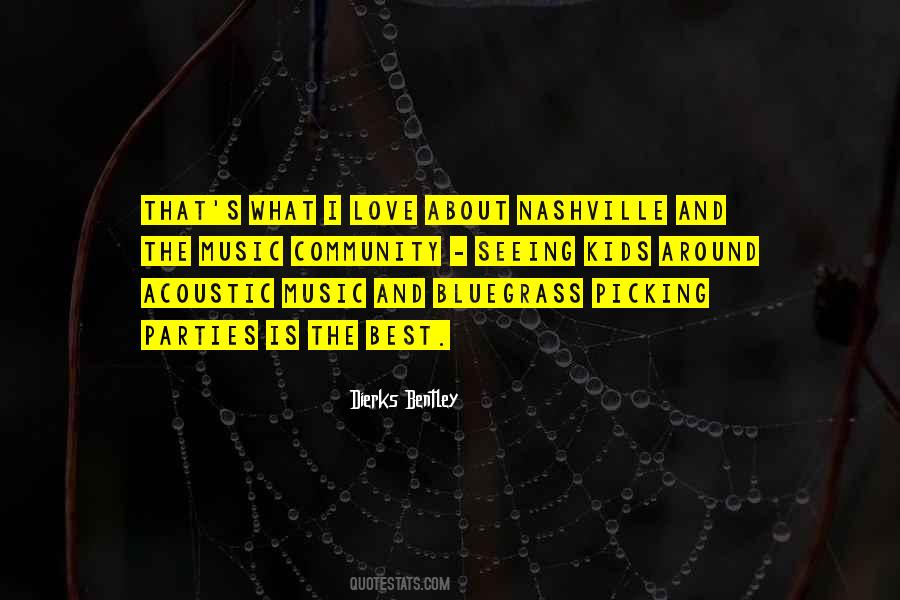 #33. The local music community here was dying for a place to record, so we started doing acoustic, folk and bluegrass and then did rock projects for other bands, as well as for my son Tal and my own work.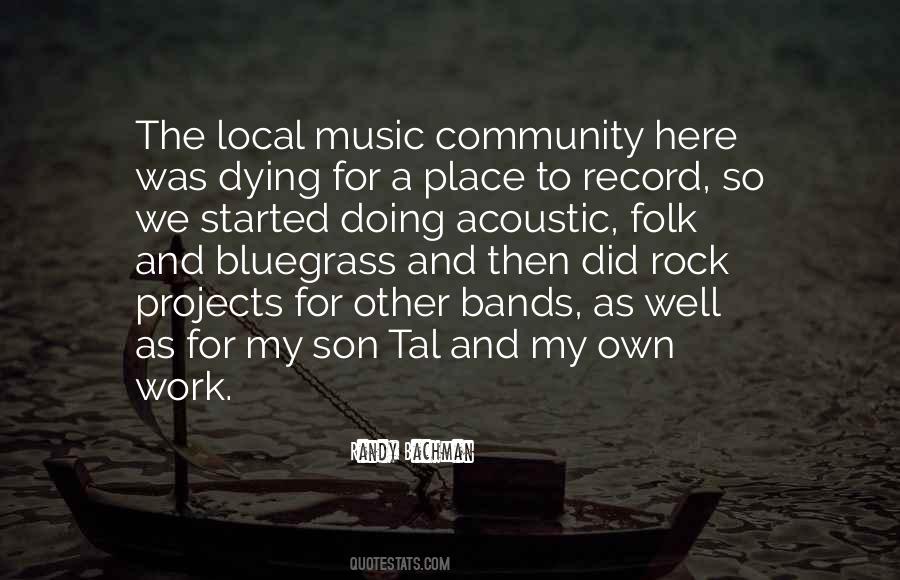 #34. I wanted to use some kind of name so people would know where I was from. So I took the name "bluegrass." There is not a prettier name in the whole world.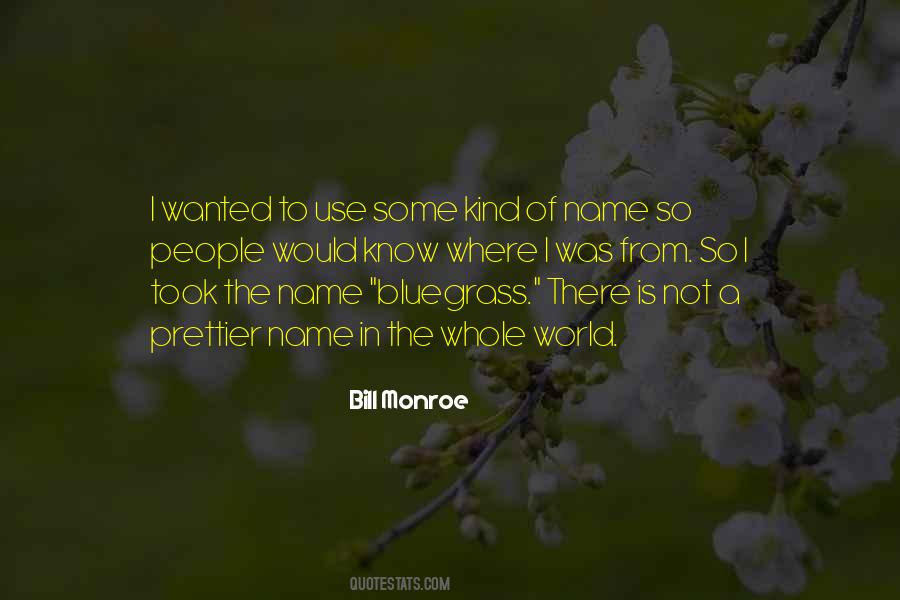 #35. I listen to and I play all kinds of music, and I'm interested in jazz and in bluegrass - I like it all - but Cuban music speaks to me in a certain way.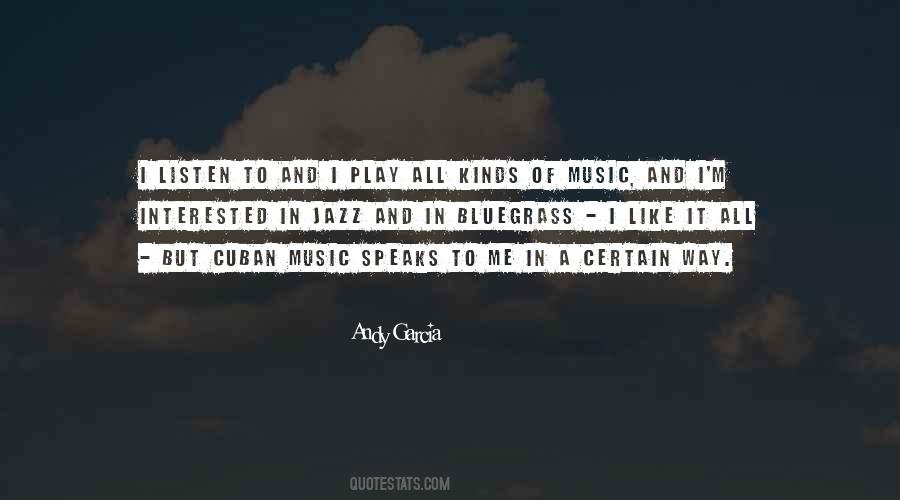 Famous Authors
Popular Topics