Best Interests At Heart Famous Quotes & Sayings
List of top 48 famous quotes and sayings about best interests at heart to read and share with friends on your Facebook, Twitter, blogs.
Top 48 Quotes About Best Interests At Heart
#1. My heart has always been truly convinced that in serving the cause of America, I am fighting for the interests of France. - Author: Marquis De Lafayette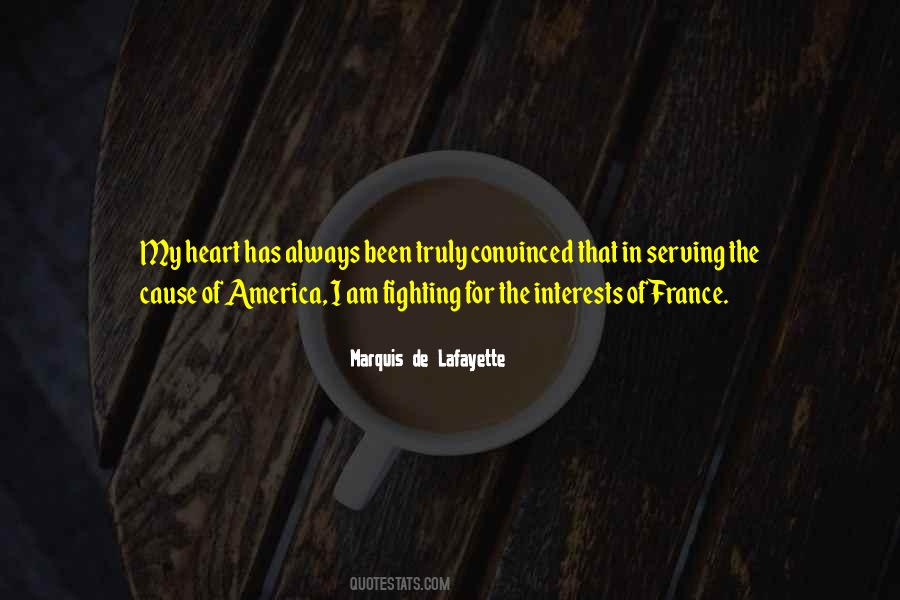 #2. I had complete faith that this was a man who would keep his promises, who would always be there when I needed him, who would always have my best interests at heart. Together we would be able to face anything in life. - Author: Rosemary K. West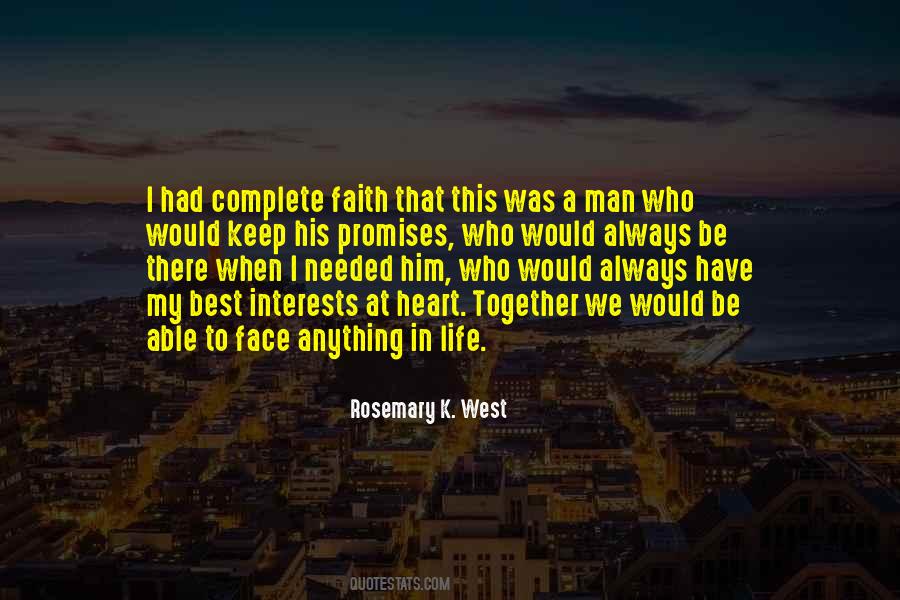 #3. I trust the political system to be what it is. It's a structure to keep the country running, a boat to get us [citizens] from one side to the other, and it has the country's best interests at heart. Not the people's. - Author: Erykah Badu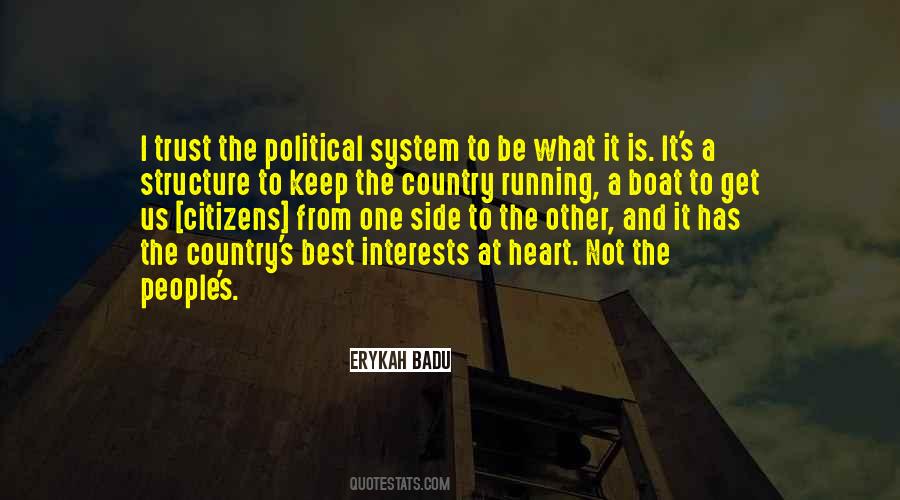 #4. That's the conundrum of cartoon stripping, as opposed to political cartoons. When your anger is the driving force of your drawing hand, failure follows. The anger is OK, but it has to serve the interests of the heart, frankly. - Author: Berkeley Breathed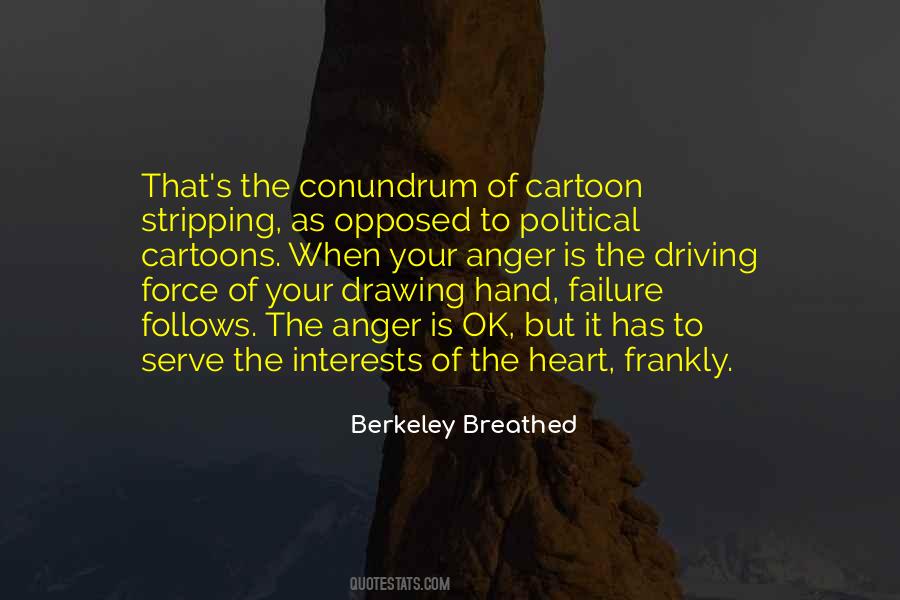 #5. What a large volume of adventures may be grasped within the span of his little life by him who interests his heart in everything. - Author: Laurence Sterne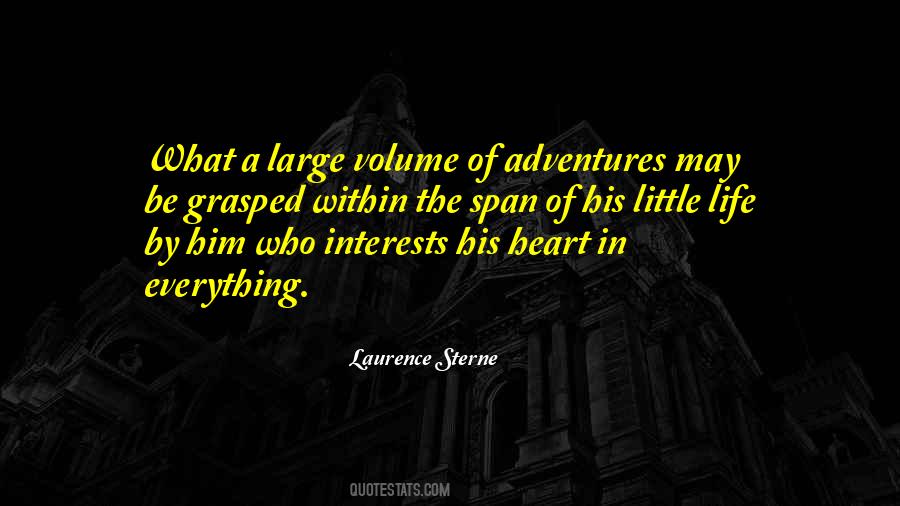 #6. Don't write what you know - what you know may bore you, and thus bore your readers. Write about what interests you - and interests you deeply - and your readers will catch fire at your words. - Author: Valerie Sherwood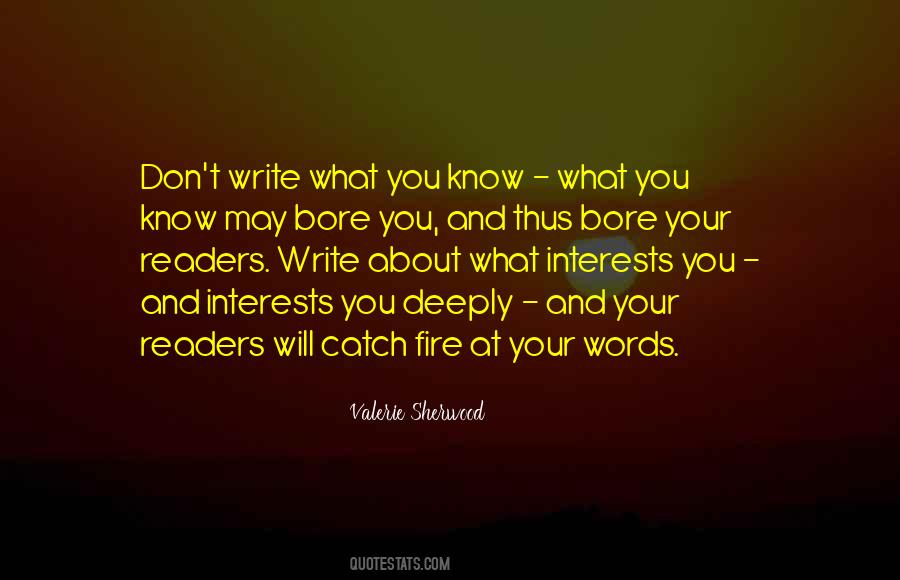 #7. Listen to your parents. Be obedient to them whether you agree with them or not. They love you more than anyone else and have your best interests at heart. - Author: James E. Faust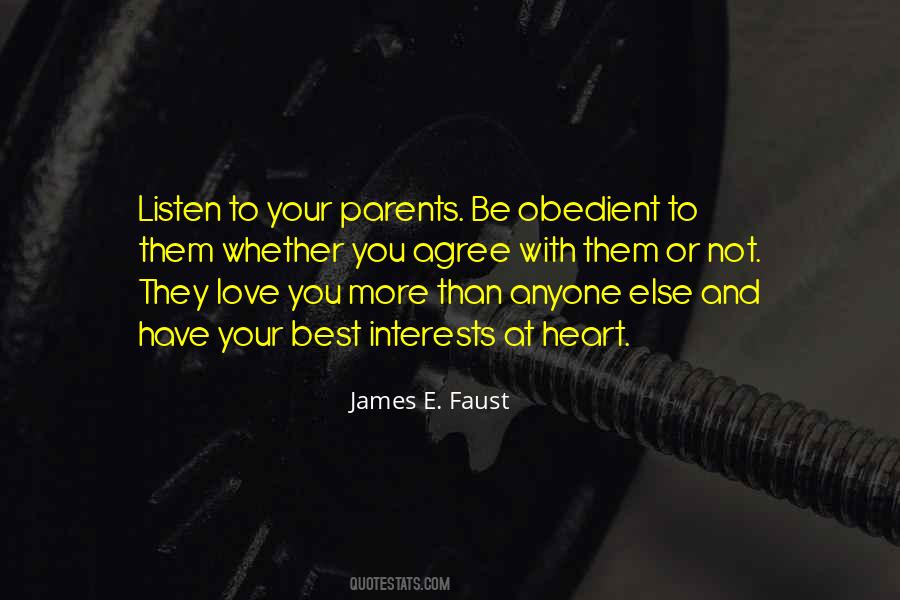 #8. Since the beginning of time, children have not liked to study. They would much rather play, and if you have their interests at heart, you will let them learn while they play; they will find that what they have mastered is child's play. - Author: Carl Orff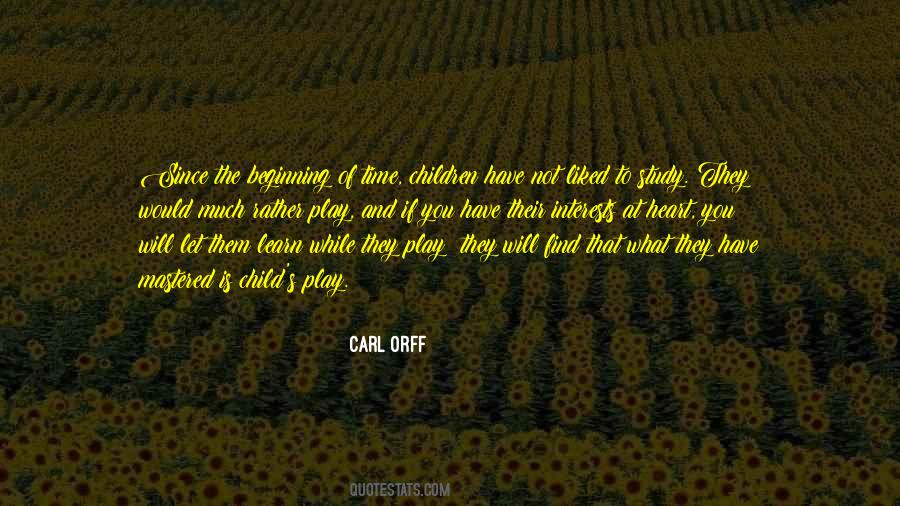 #9. A true friend has your best interests at heart and the pluck to tell you what you need to hear. - Author: E.A. Bucchianeri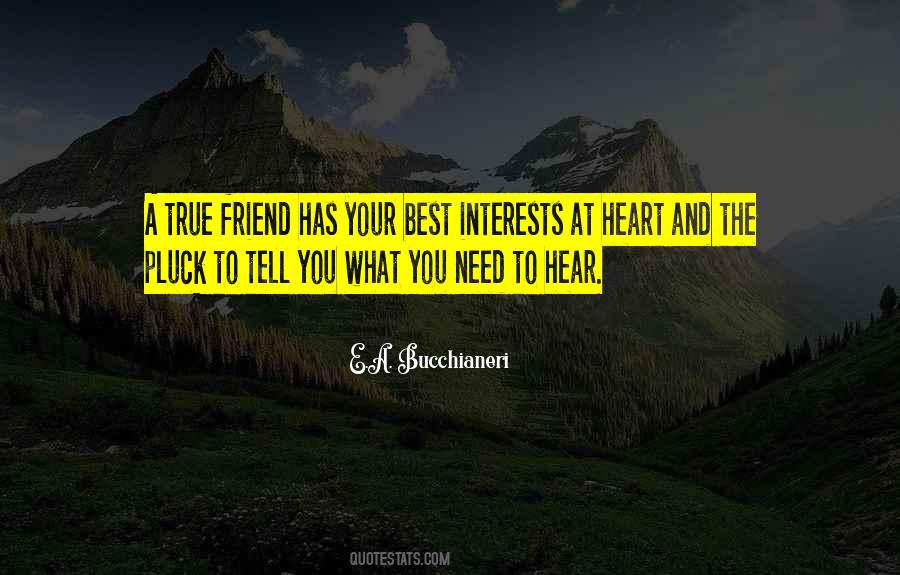 #10. I know some people say I can be funny. But there is always a deeper meaning to what I say. I am a socialist at heart and have the interests of the poor in mind. When people see how I manage to work my way out of tough situations, it gives them hope in their own life. - Author: Lalu Prasad Yadav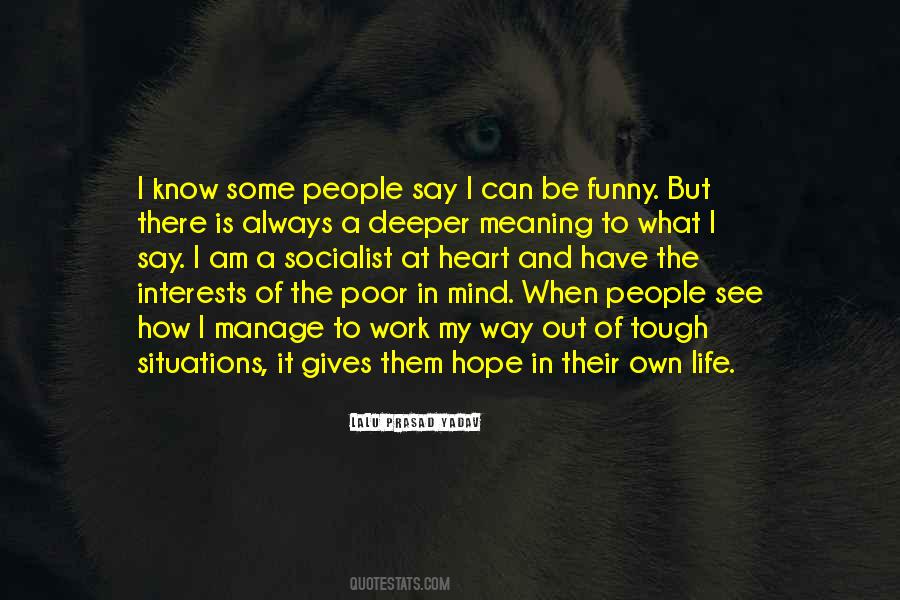 #11. Players respond to coaches who really have their best interests at heart. - Author: Mike Singletary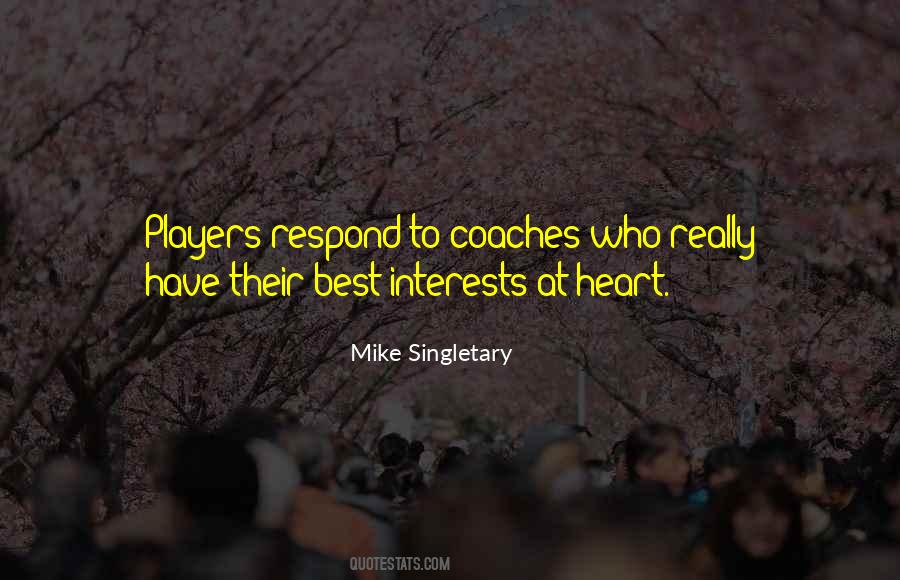 #12. Some people accuse us of too much emotionalism. I say we have too little. That is why we are losing church people to other interests. We need not only to capture their minds; we've got to touch their hearts. We've got to make people feel their faith. - Author: Billy Graham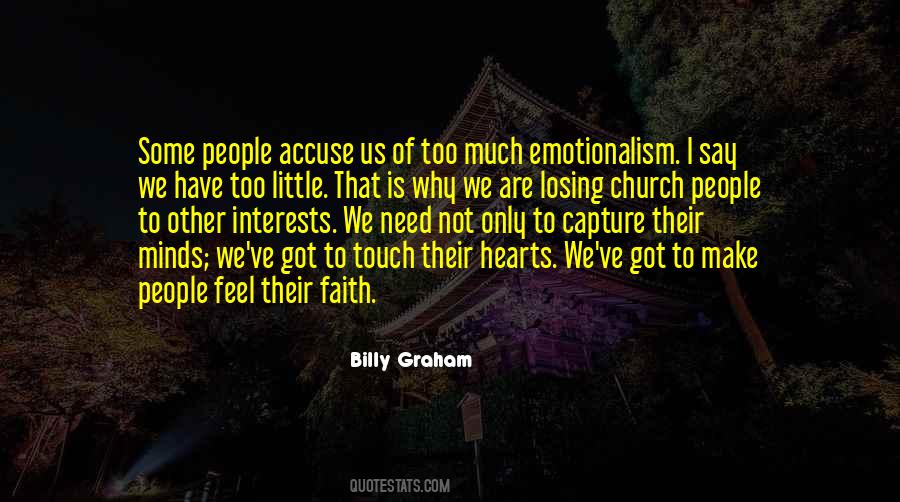 #13. Federal system is at the heart of Indian democracy but UPA is adamant to break the nation by breaking the federal structure for their vested interests. It's a conspiracy to grab power through the backdoor ... - Author: Narendra Modi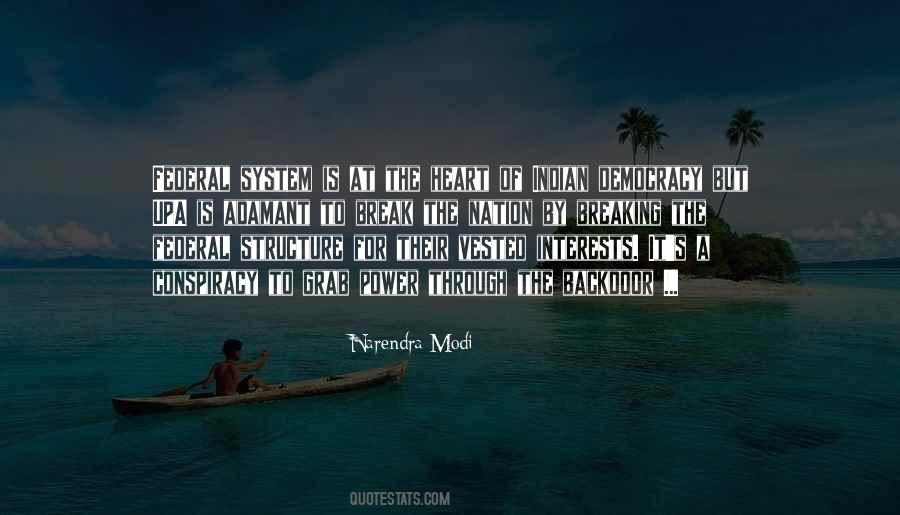 #14. I'm concerned that young people, far too often, abdicate their responsibilities of learning and adapting and give that over to people who may not always have their best interests at heart. - Author: Len Elmore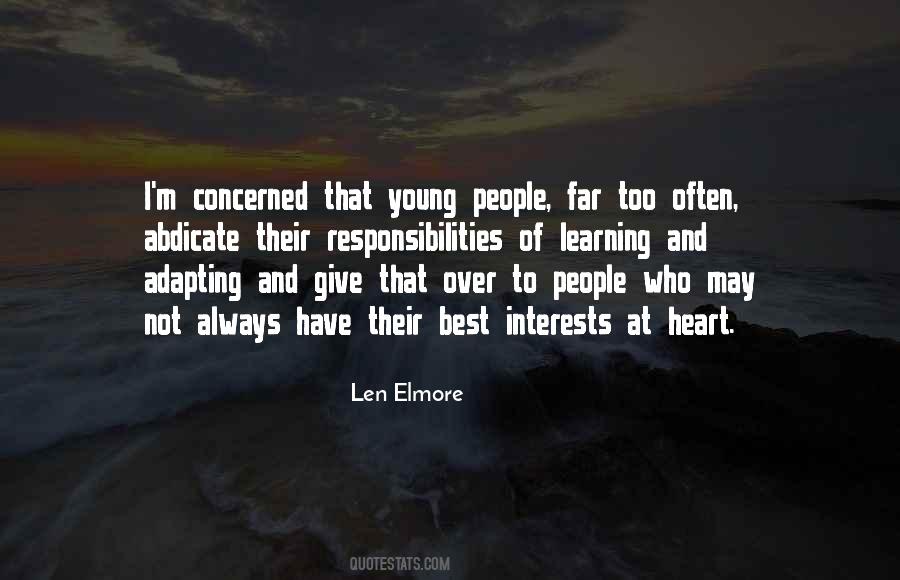 #15. Trust is not simply a matter of truthfulness, or even constancy. It is also a matter of amity and goodwill. We trust those who have our best interests at heart, and mistrust those who seem deaf to our concerns. - Author: Gary Hamel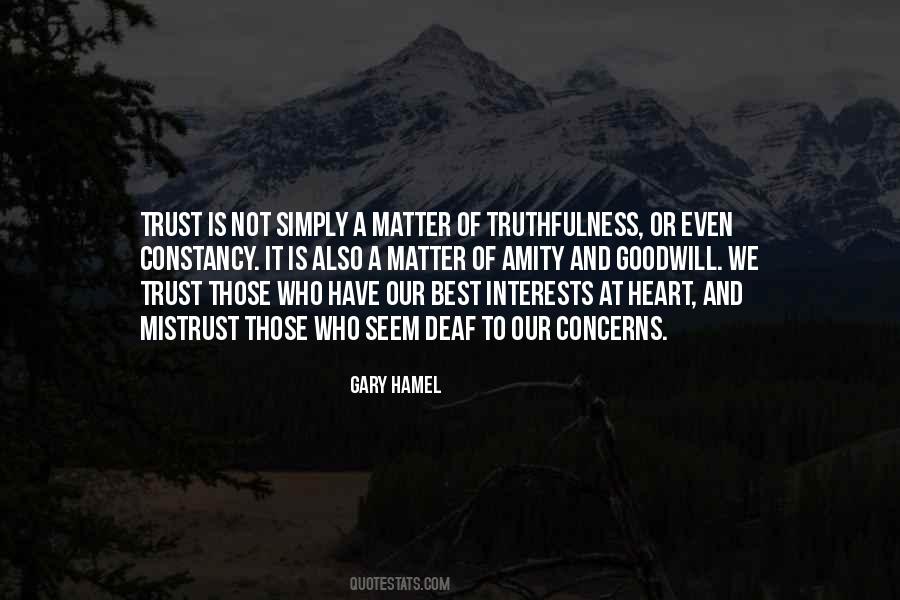 #16. All classes of society are trade unionists at heart, and differ chiefly in the boldness, ability, and secrecy with which they pursue their respective interests. - Author: William Stanley Jevons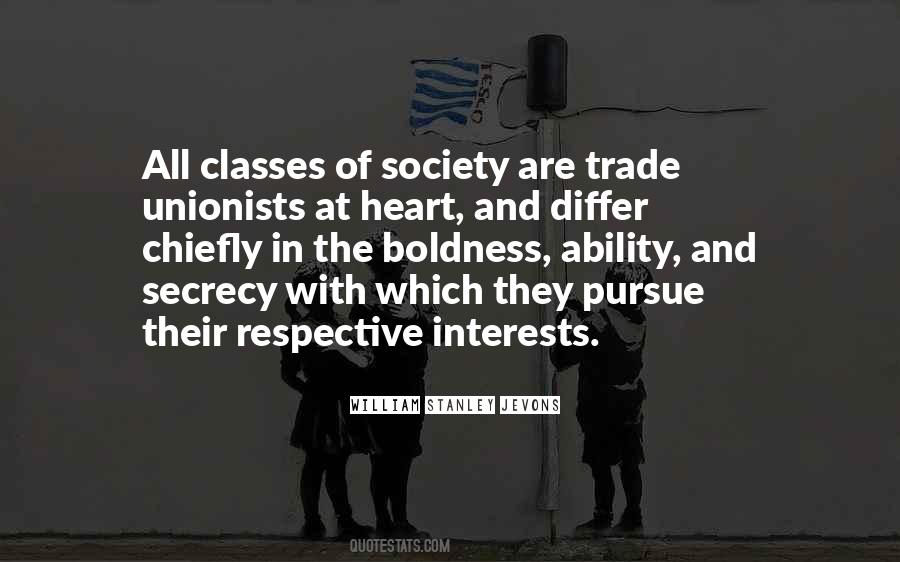 #17. Anyone who wants to pretend that your Huntington's disease is an invention is someone who does not have your best interests at heart. - Author: Mallory Ortberg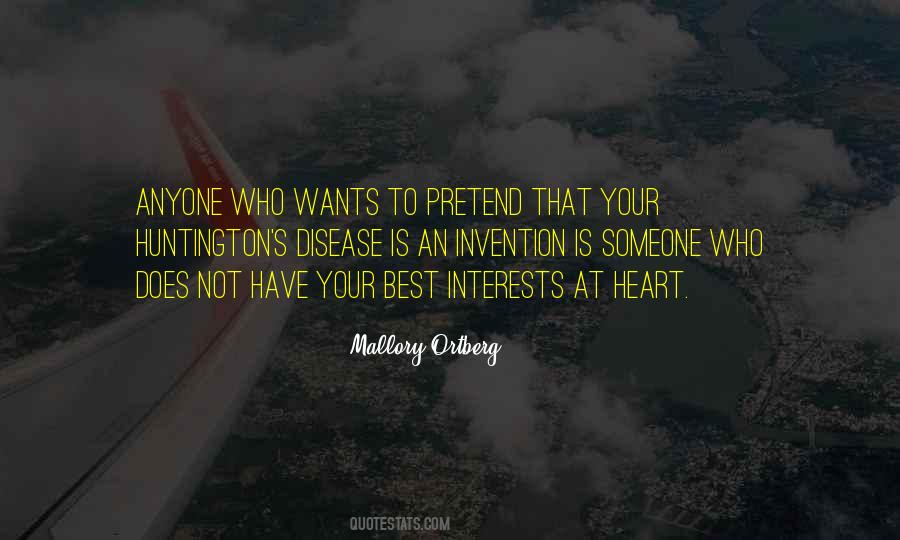 #18. Pandaemonium was inhabited by creatures quite convinved that the great Satan had their best interests at heart. Poor little devils. - Author: Daniel Patrick Moynihan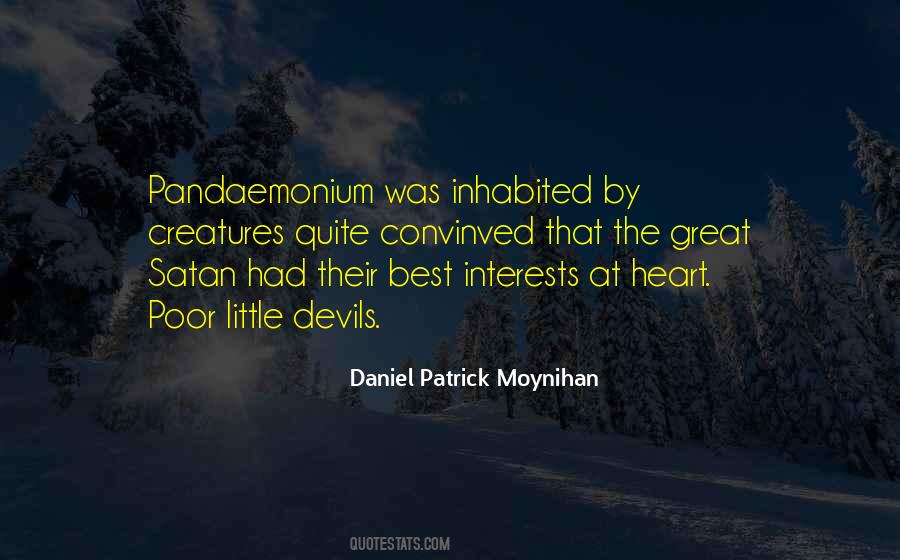 #19. And that the arming of so many black youths, uh, and loading up our community with drugs, and then just having an open shooting gallery, is the work of people who obviously don't have our best interests [at heart]. - Author: Jason Whitlock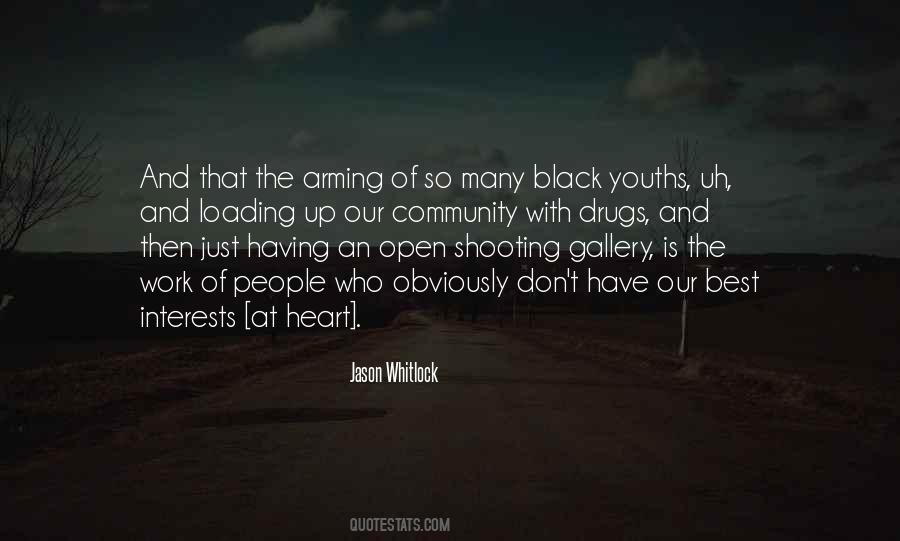 #20. I deal in a very artistic way of what interests me and marks my passion, and I try to - whether its good or not - am in love with acting and the stage and characters and the ability to reach and to touch people, so that's where, I guess, that's where my heart will reside, by and large. - Author: Angela Bassett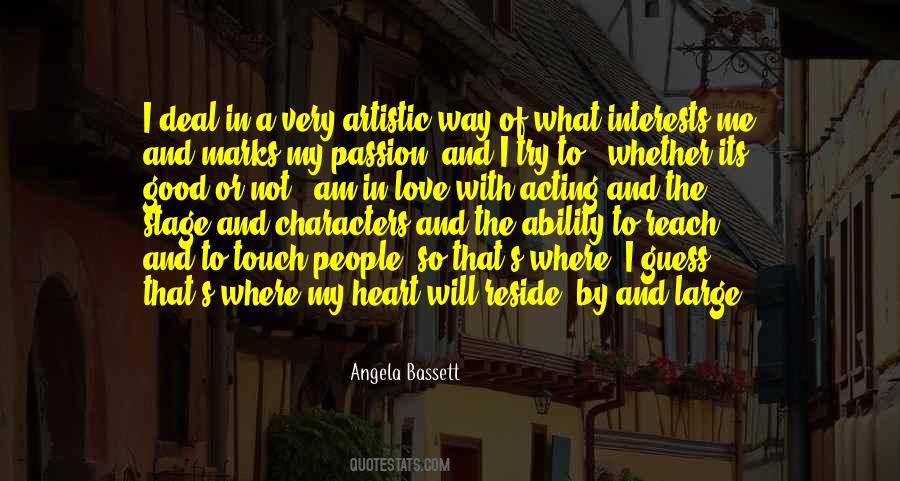 #21. Things don't always happen the way we planned. As we learn to trust in God's plan, we will see that He has our best interests at heart. - Author: Dan Ellis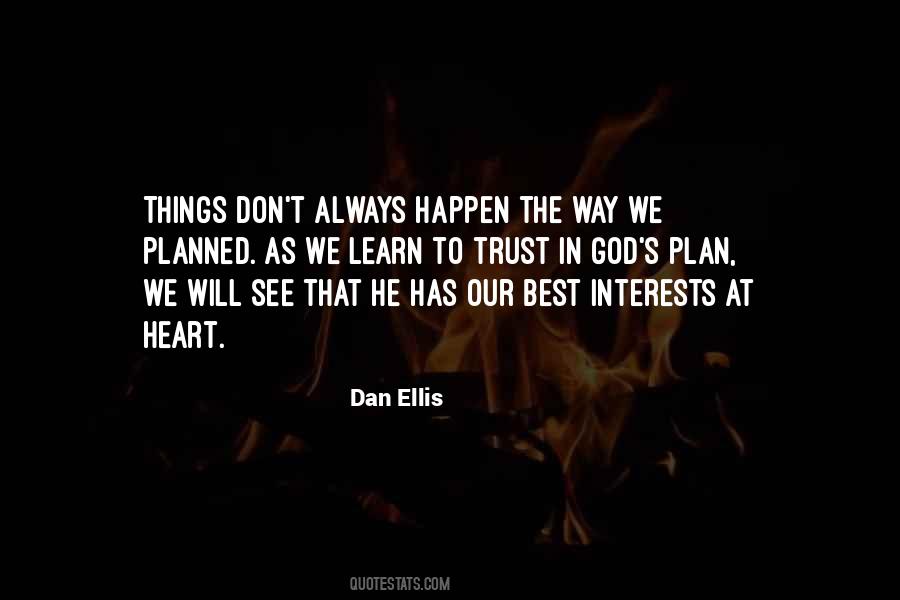 #22. Although our interests as citizens vary, each one is an artery to the heart that pumps life through the body politic, and each is important to the health of democracy. - Author: Bill Moyers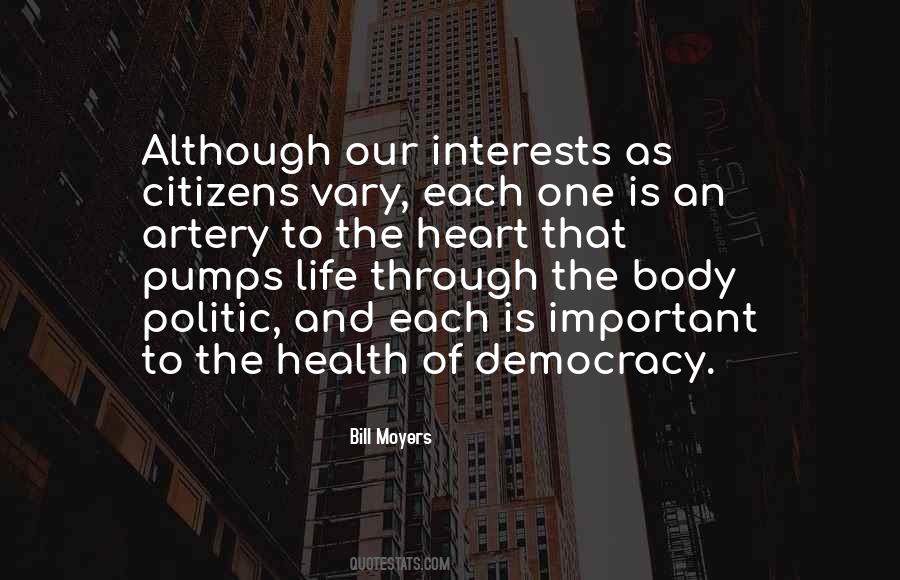 #23. Maybe - just maybe - Sadie had my best interests at heart. (I just caught her making faces at me, so maybe not.) - Author: Rick Riordan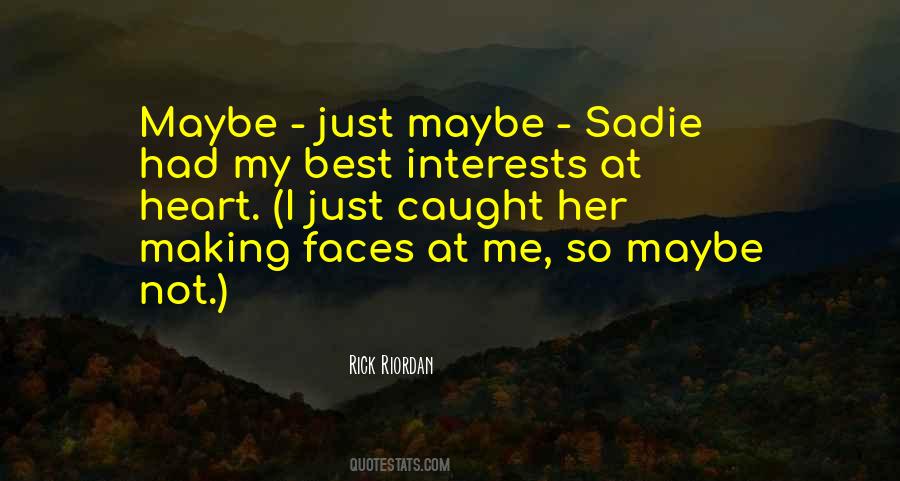 #24. I had never had any heart-pumping spiritual moments, the ones that would have made me think there was someone up there with my best interests at heart. So, if he did exist, one might say God and I mutually ignored each other. - Author: Anonymous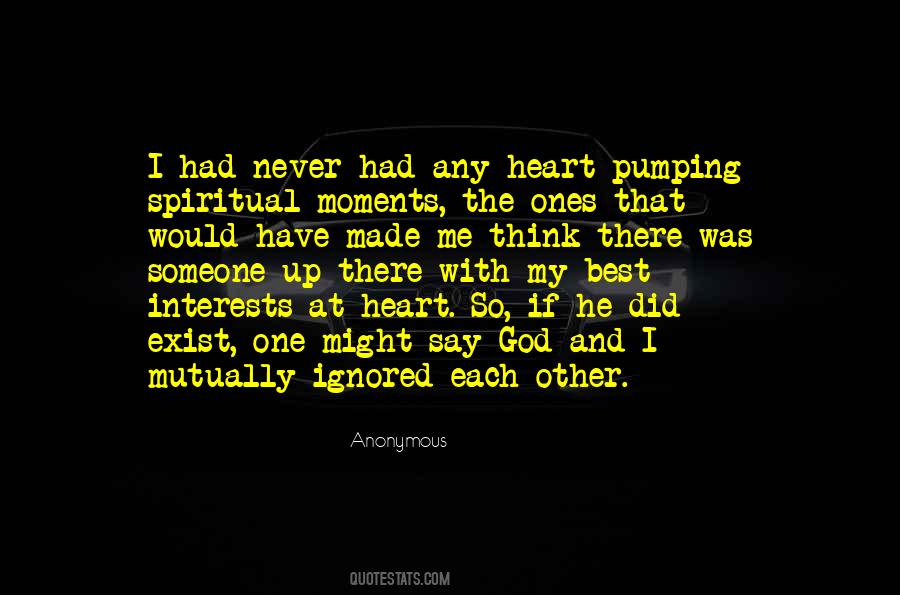 #25. It's like someone cutting up a loved one in front of you, all the time insisting they've got your best interests at heart. They're very devious nowadays. - Author: Malcolm Wilson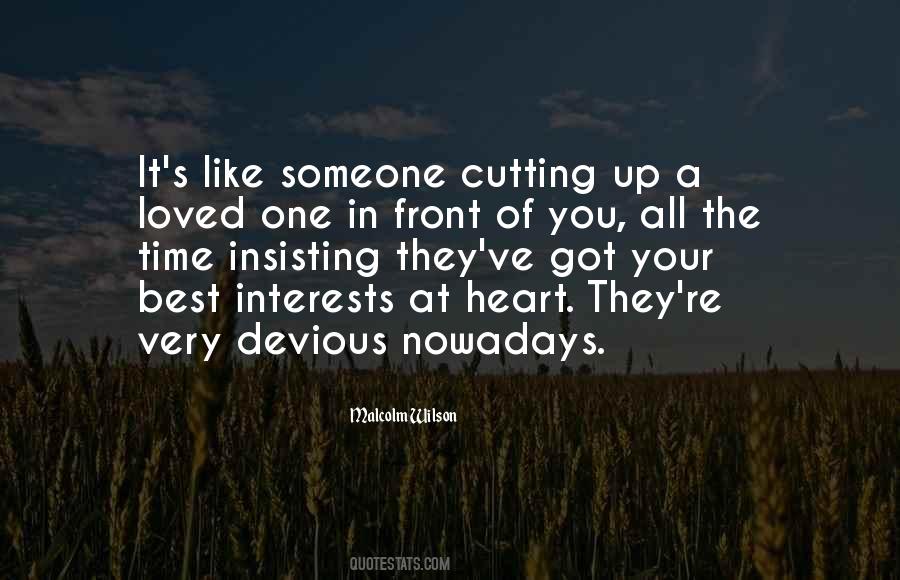 #26. Do you know why I believe in the Lord Jesus and what He says? Because He has proved to me that He has my best interests at heart. What could He do that He did not do? He already gave His life for us (Romans 5:8-10; 8:32) - Author: David Jeremiah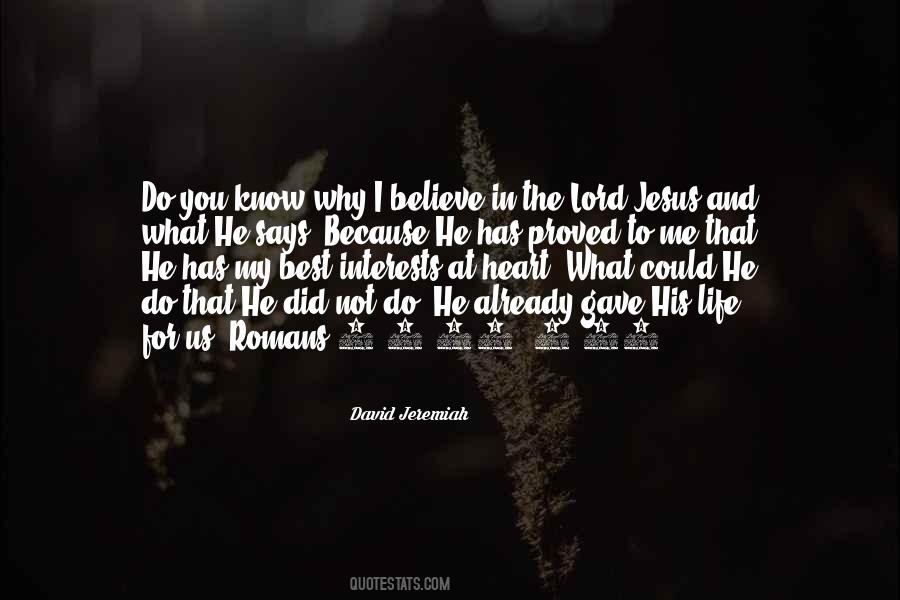 #27. In the sixties, for anybody to suggest that the government didn't have our best interests at heart and policemen sometimes killed people would have automatically made them a radical firebrand lefty. That's not the case anymore. - Author: Alan Moore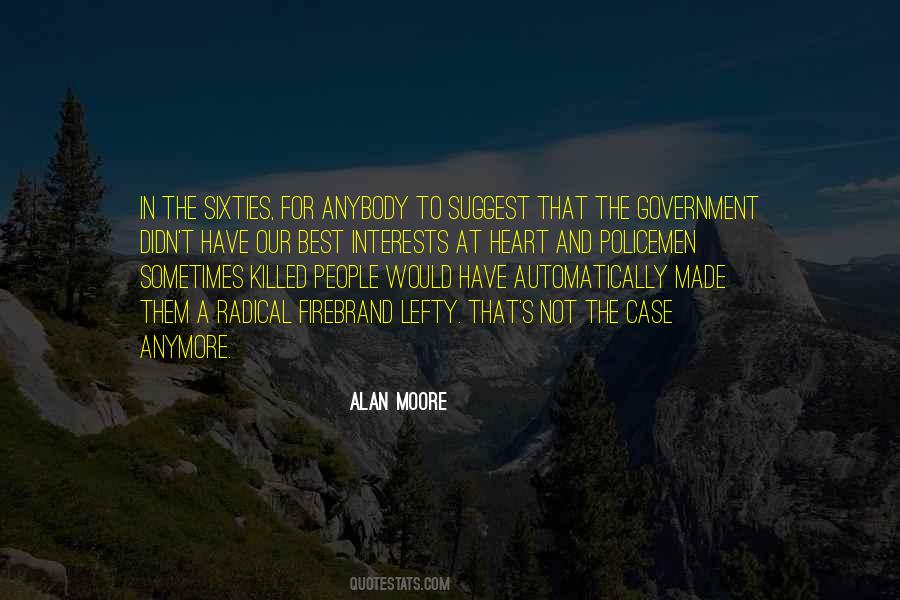 #28. Narrow all your interests until your mind, heart, and body are focused on Jesus Christ. - Author: Oswald Chambers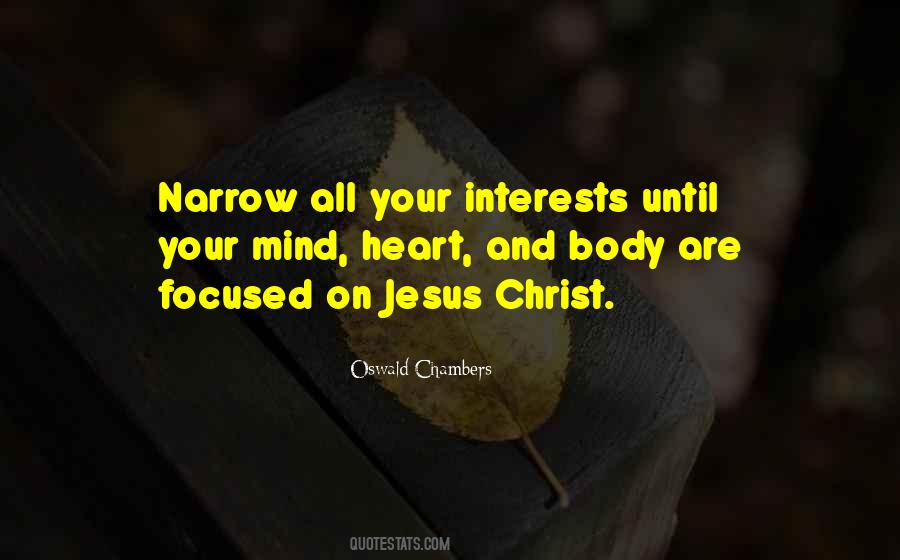 #29. What interests me is whatever it is that allows the heart to continue to yearn for something the intelligence knows is impossible to have: a lost love, a shelter from life's blows, the return of a time past, even a connection to the dead. - Author: Alice McDermott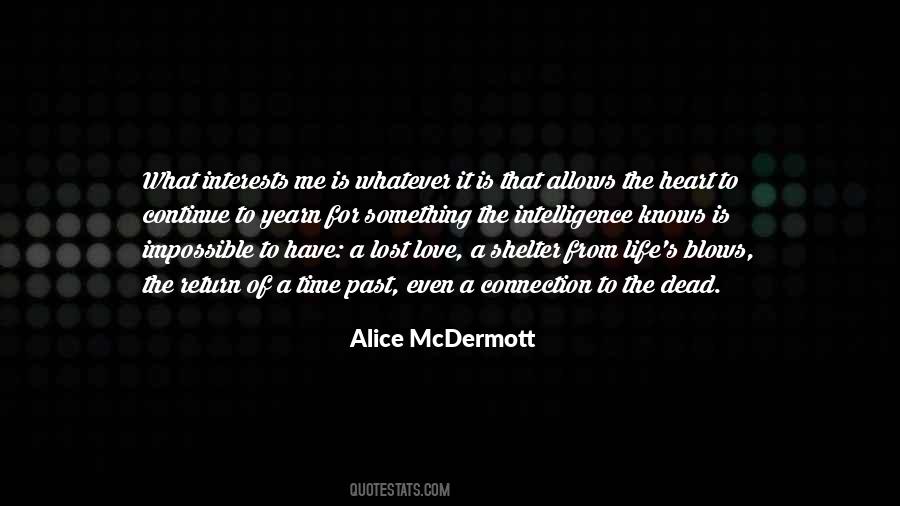 #30. When you trust your own abilities and those of the people around you, you overcome fear. And when the people you lead trust themselves and you - that you have their best interests at heart and are authentic - is when you and they will achieve the most. - Author: Phil Dourado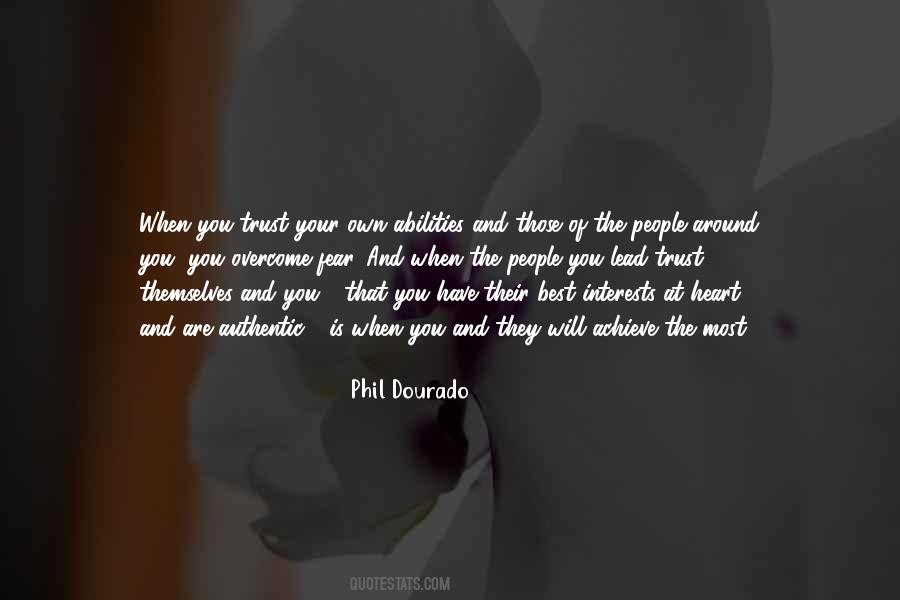 #31. Moreover, and we must not forget this, interests which are not very friendly to the ideal and the sentimental are in the way. Somestimes the stomach paralyzes the heart. - Author: Victor Hugo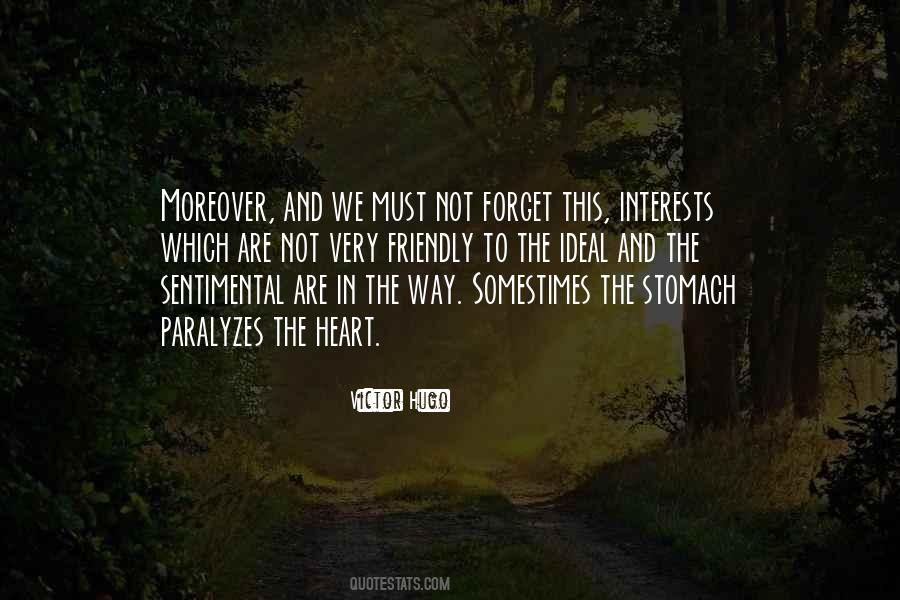 #32. Humans are ambitious and rational and proud. And we don't fall in line with people who don't respect us and who we don't believe have our best interests at heart. We are willing to follow leaders, but only to the extent that we believe they call on our best, not our worst. - Author: Rachel Maddow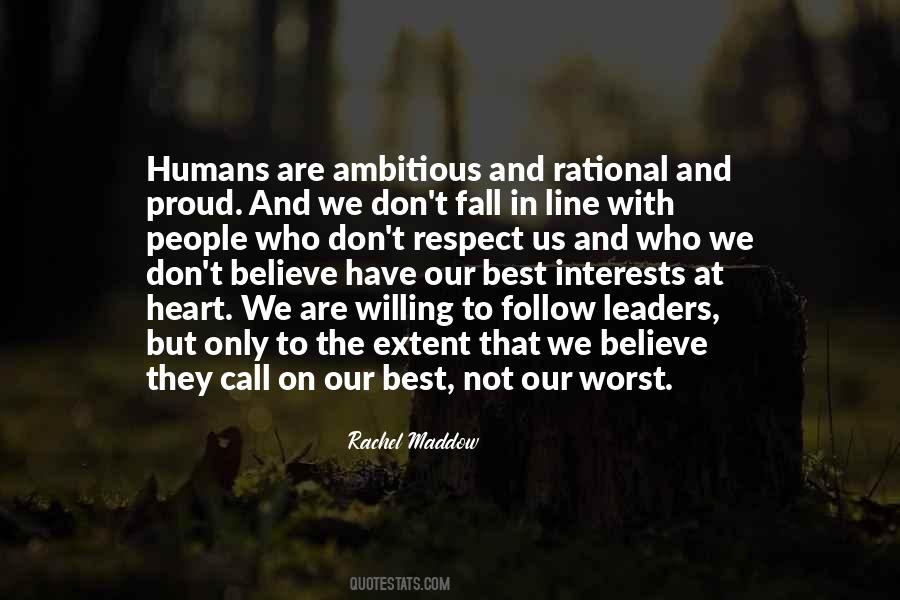 #33. When I listen to gospel singers pouring their heart out to God, it's the act of pouring their hearts out that interests me. - Author: Moby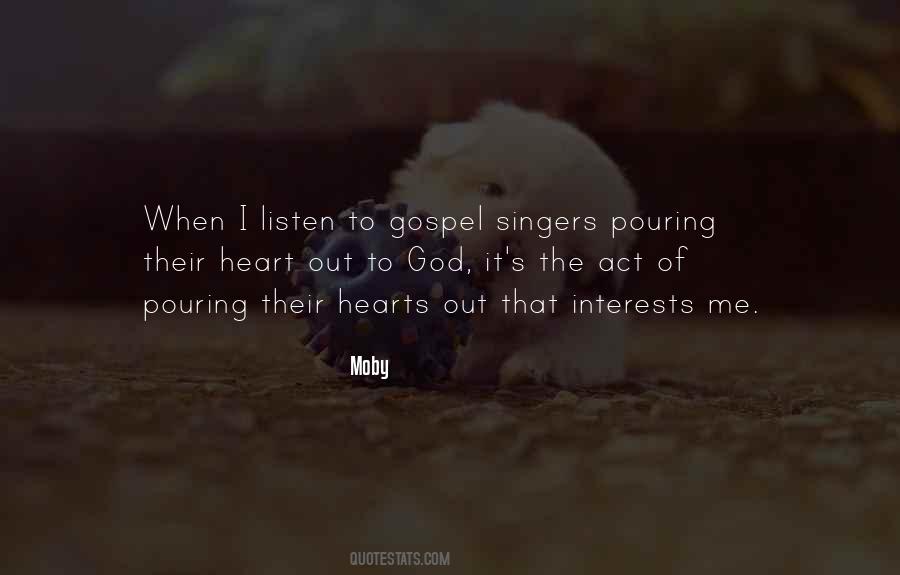 #34. While you may not be able to understand exactly what God is doing, you can trust that He is doing something. He has your best interests at heart. And He will make everything in your life beautiful in His perfect time. - Author: Stormie O'martian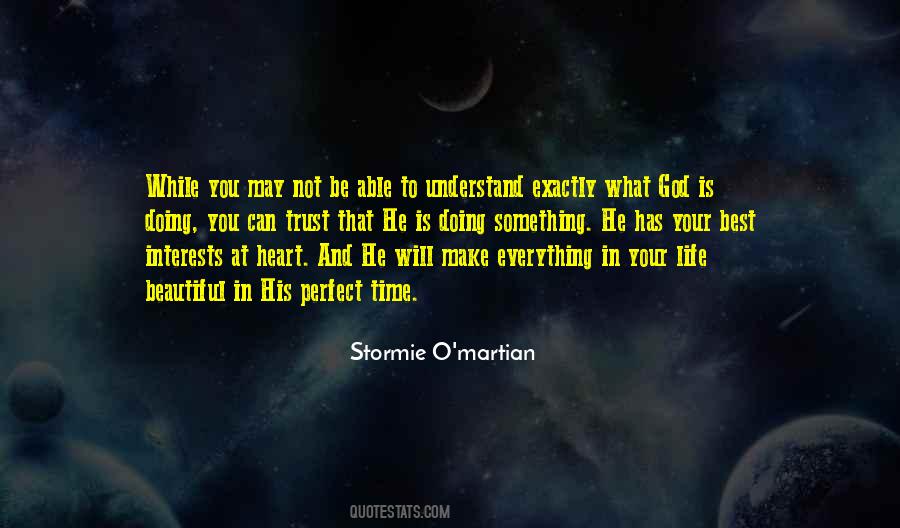 #35. There's no one else I would rather have as my manager than my mom because I know that she has our best interests at heart. Sometimes, it's hard to separate manager mode from mom mode. I think as our manager, my mom will get more emotional about situations than she would if she was just our manager. - Author: Kourtney Kardashian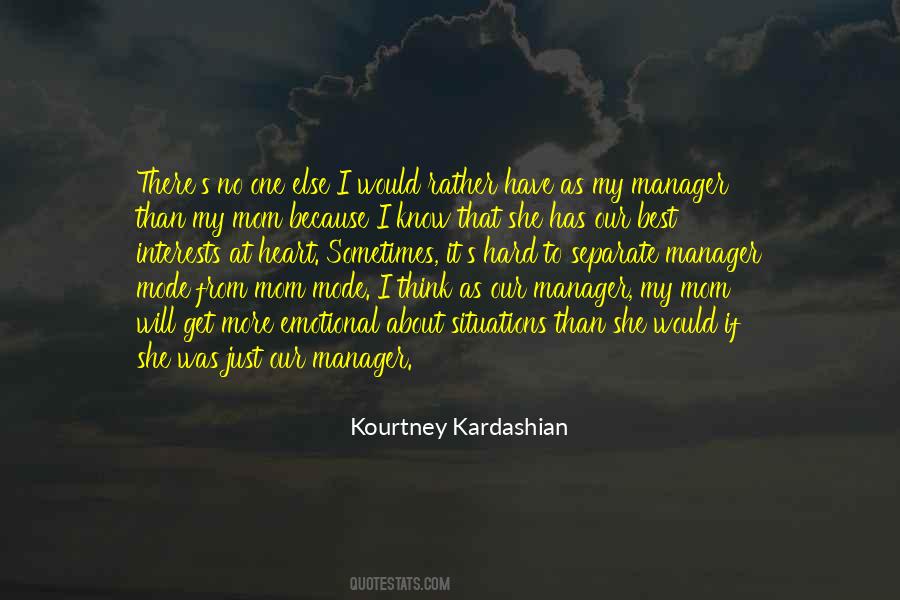 #36. I'll never be that trusting again, believing accountants and lawyers have my best interests at heart. - Author: Irene Cara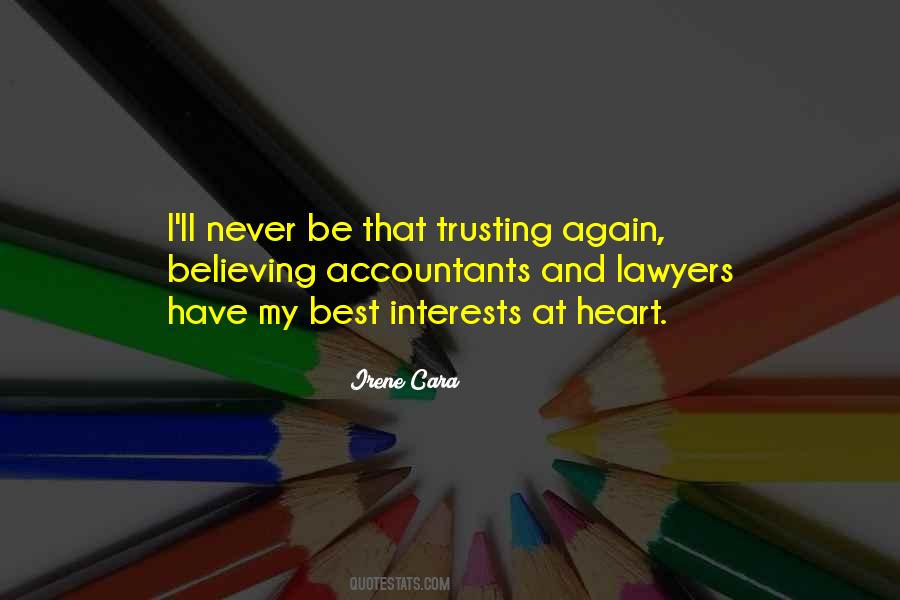 #37. For me the only things of interests are those linked to the heart - Author: Audrey Hepburn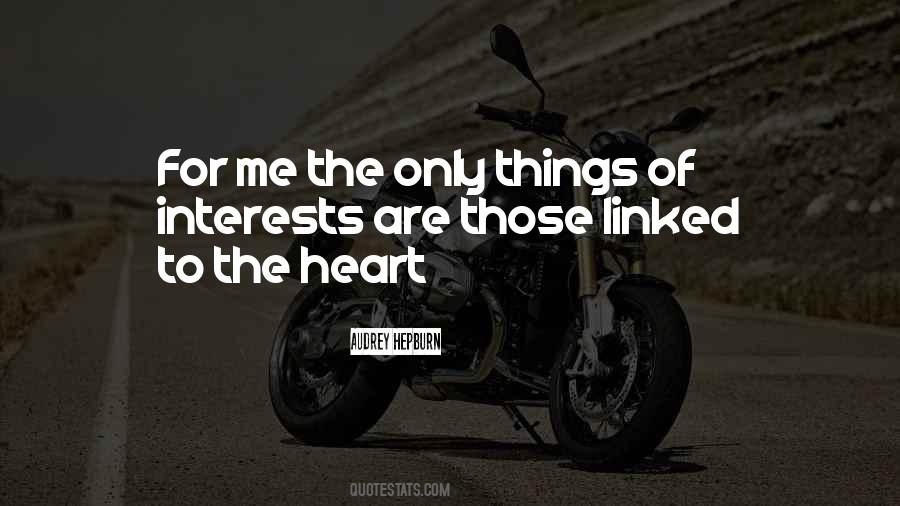 #38. For decades, the plight of the Palestinian people has been exacerbated by internal corruption, a lack of effective investment, and the political cynicism of the Arab states, who often did not have the best interests of the Palestinians at heart. - Author: Edgar Bronfman, Sr.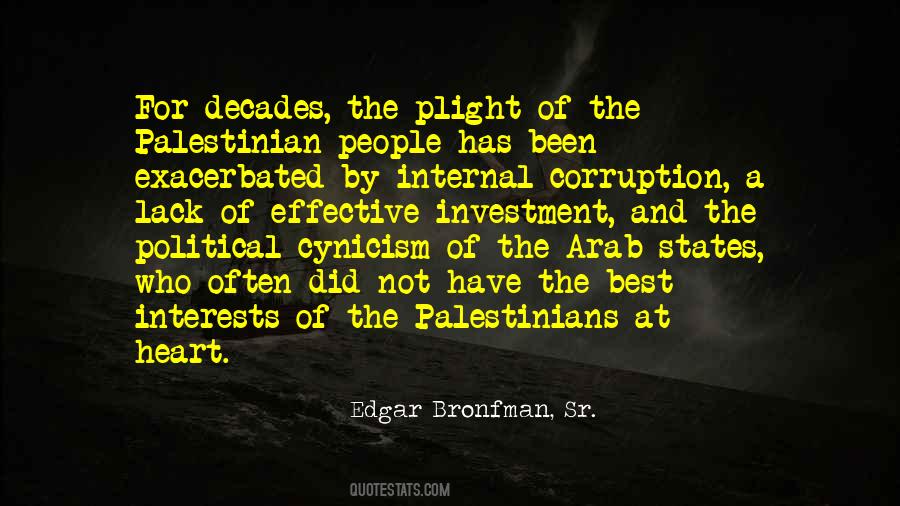 #39. Narrow all your interests until the attitude of mind and heart and body is concentration on Jesus Christ. - Author: Oswald Chambers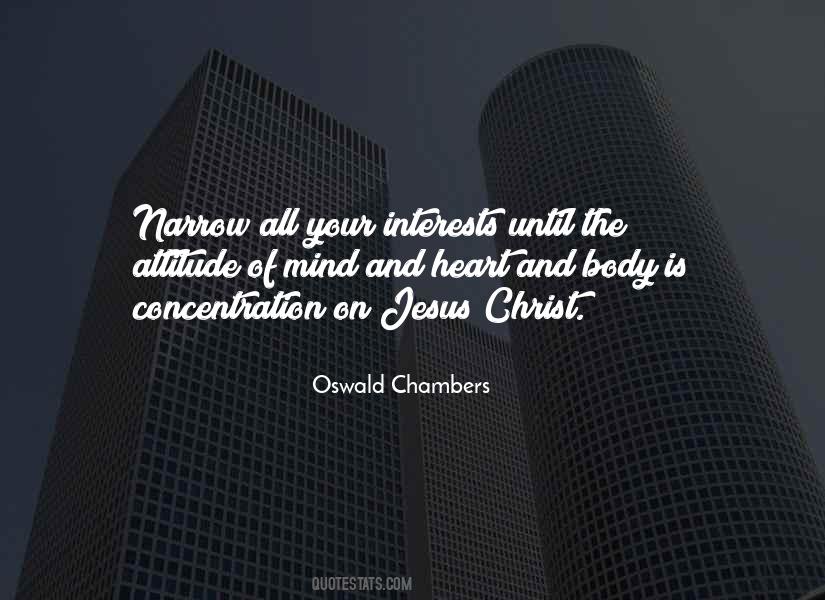 #40. Healthy and non-shaming mirroring is an important part of the process. We can gain this from a highly emotionally intelligent and effective peer group that has our best interests at heart. - Author: Christopher Dines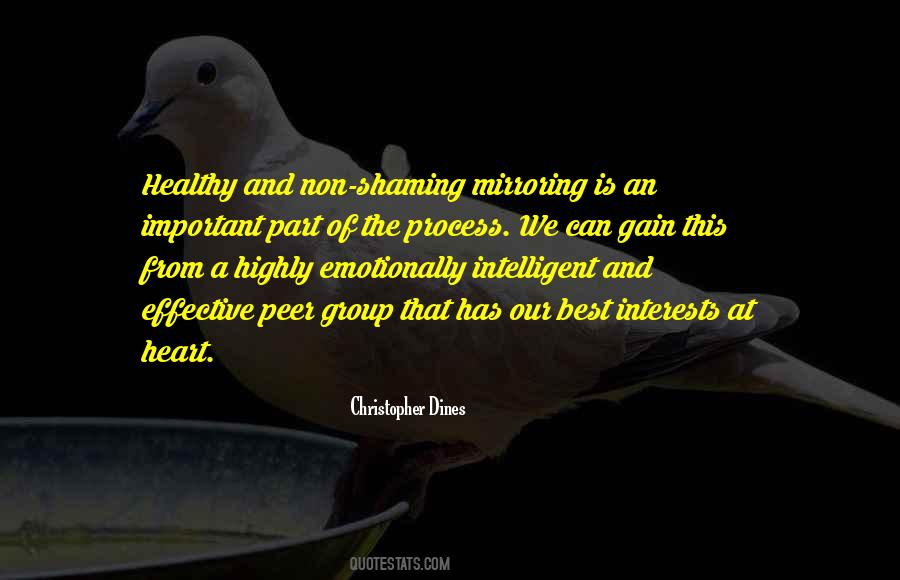 #41. The most successful exploiter is the one who makes others feel that he or she has their best interests at heart. - Author: Randall Collins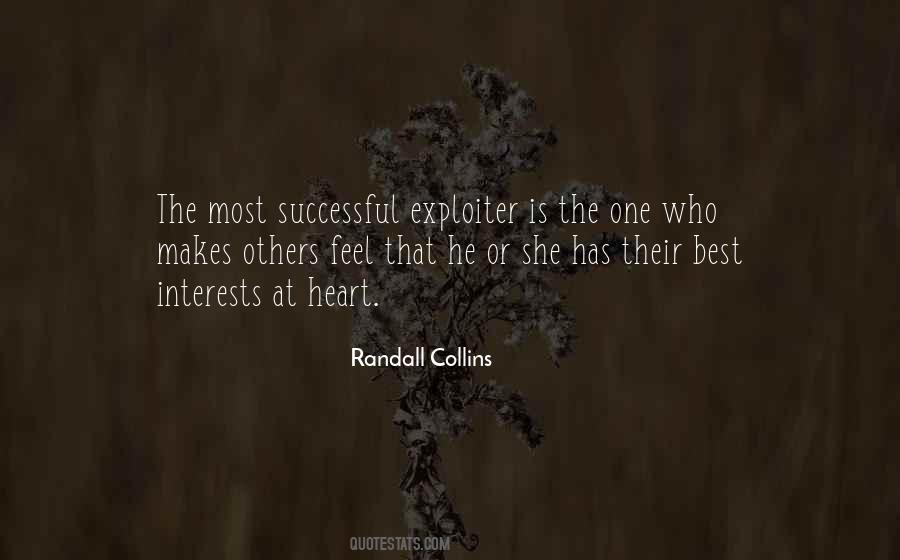 #42. My dad takes care of me as a manager and as a dad. That's his job, you know, to take care of me. He has my best interests at heart. - Author: Jessica Simpson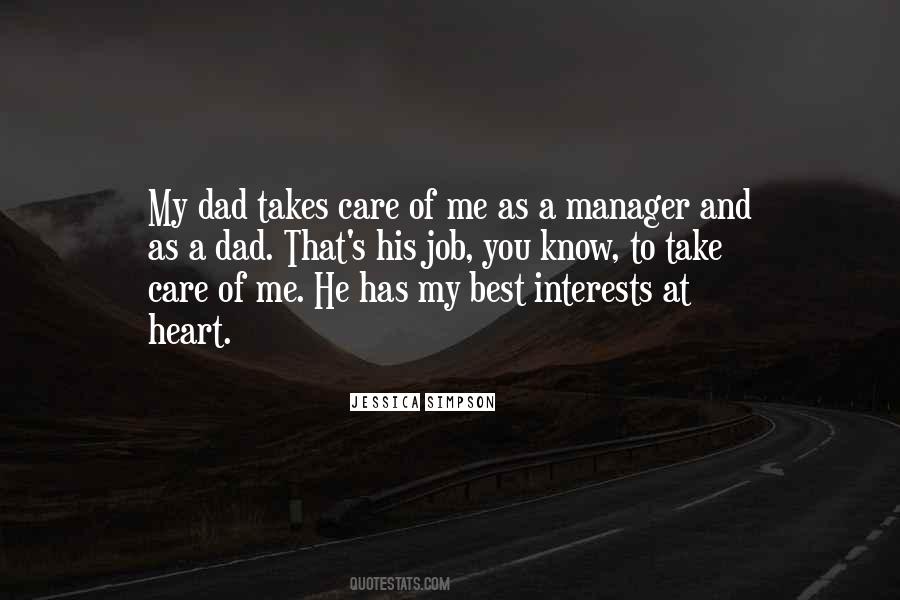 #43. Gabriel might always have his own best interests at heart, but he expects everyone else to do the same for themselves. To him, we are all the center of our own universes. - Author: Kelley Armstrong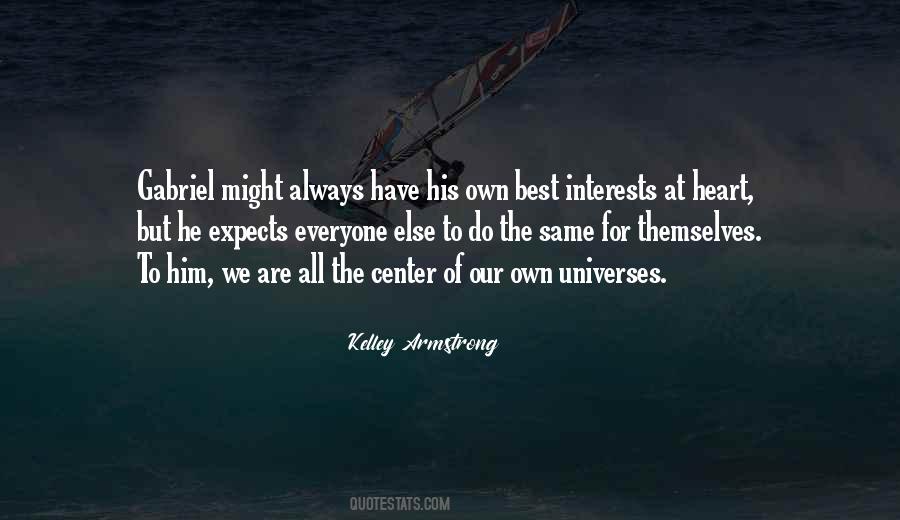 #44. Imagine how fluid life would be if we each had an advisor who, with our best interest at heart, provided clear, objective and decisive guidance. When we trust our instincts, we do. - Author: Gina Greenlee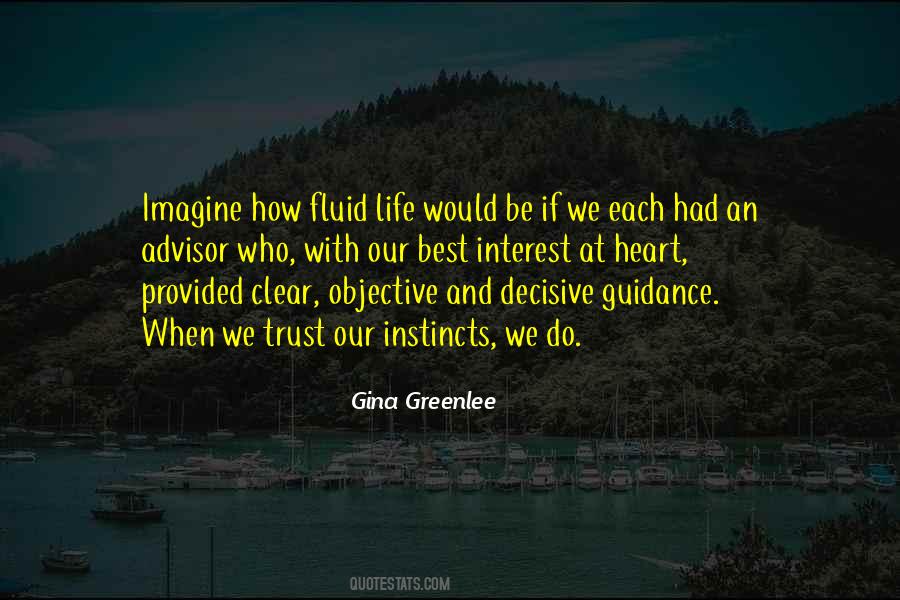 #45. Faith to me is having absolute certainty that God is in control of my life and that He has my best interests at heart. - Author: Dan Ellis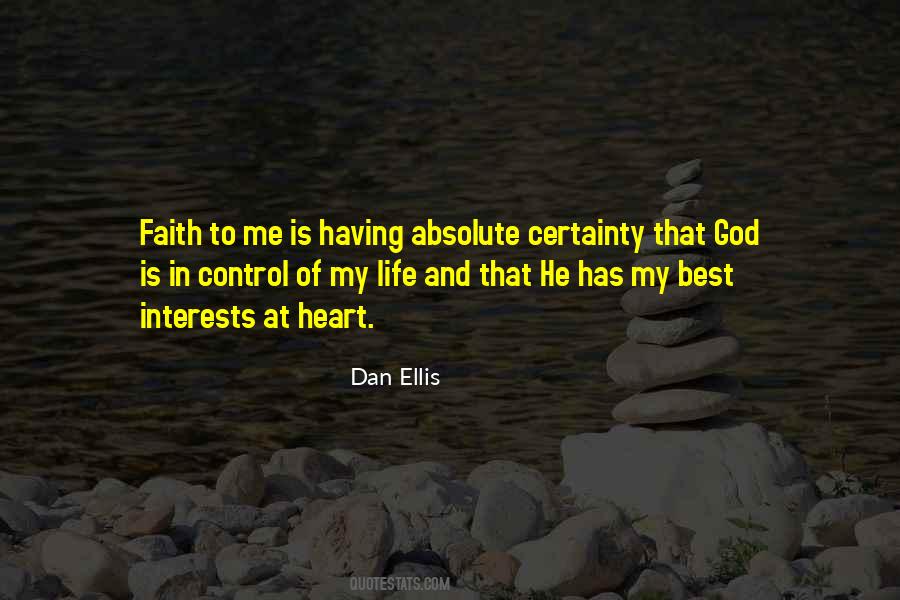 #46. The heart attitude behind your prayer interests God much more than the actual words you say. - Author: Andrew Wommack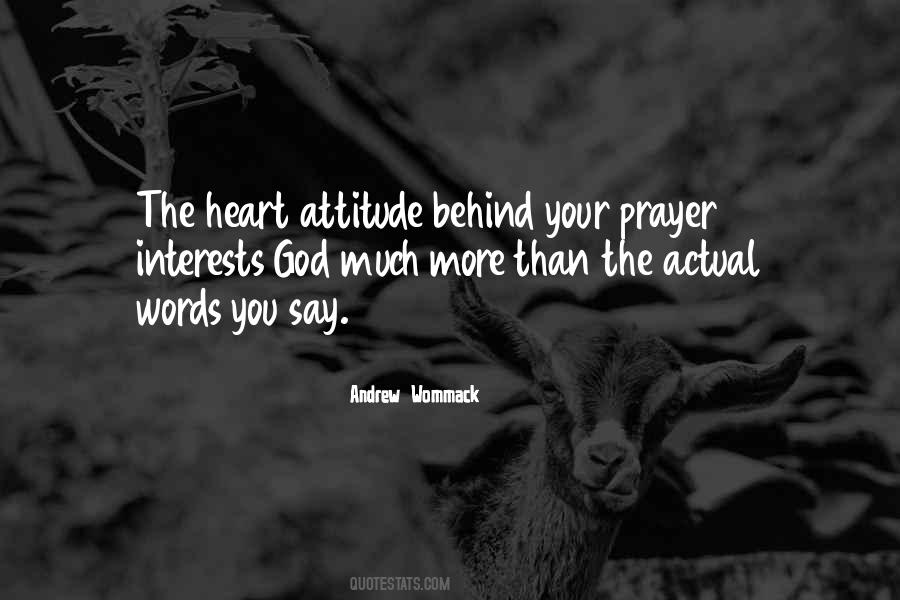 #47. America's heart and soul is more embedded in our love of liberty, self-reliance, and tolerance than by our foreign policy, driven by powerful special interests with little regard for the Constitution. - Author: Ron Paul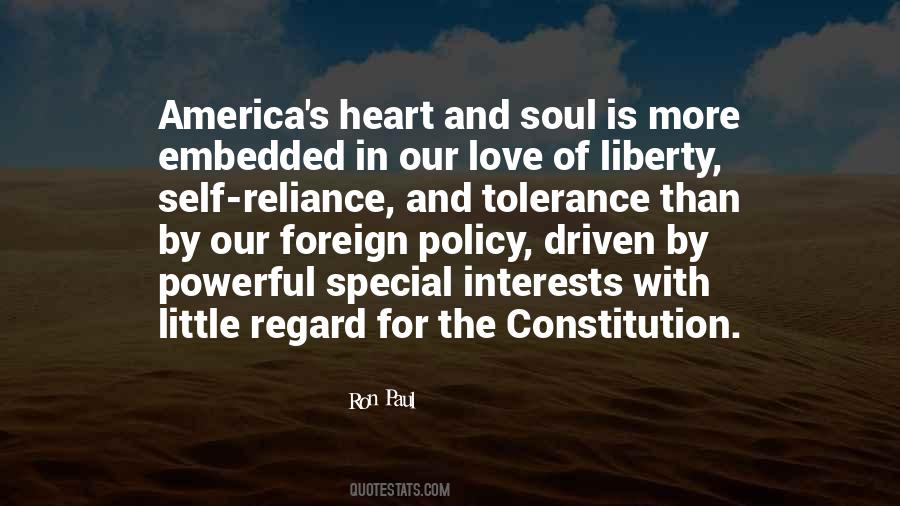 #48. Australians can trust me to get the job done. They can have the confidence that in the heart of the circumstances I will win through in their interests no matter how relentlessly negative the leader of the opposition is. - Author: Julia Gillard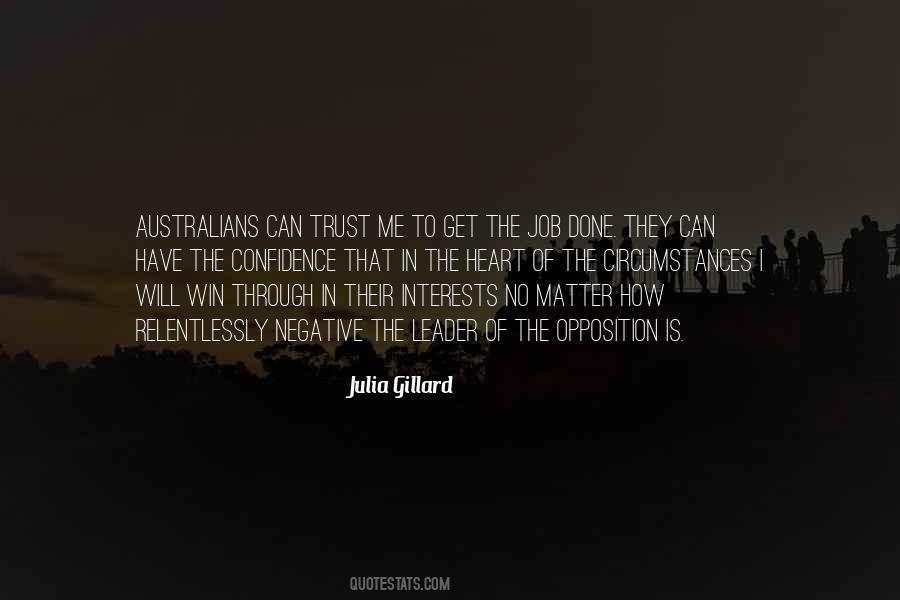 Famous Authors
Popular Topics