Being Nominated Famous Quotes & Sayings
List of top 31 famous quotes and sayings about being nominated to read and share with friends on your Facebook, Twitter, blogs.
Top 31 Quotes About Being Nominated
#1. People who are different are constantly dealing with families who don't understand them. - Author: Andrew Solomon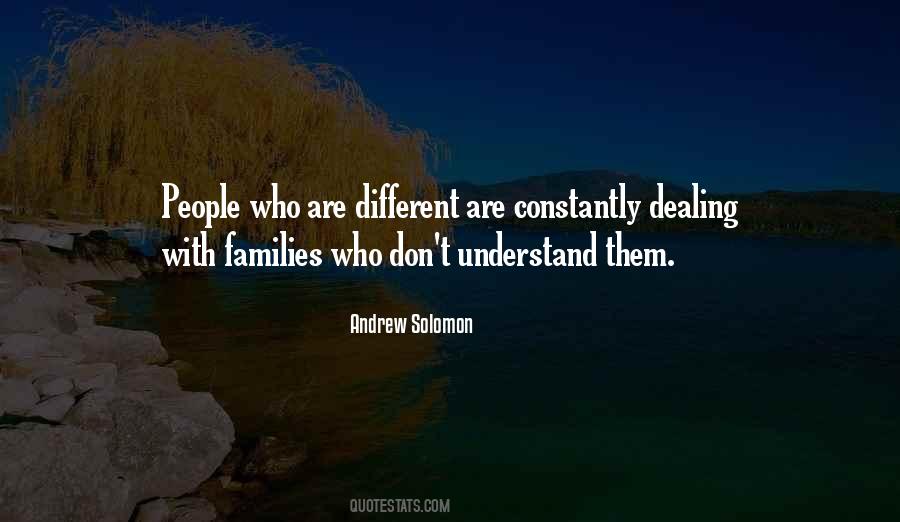 #2. Being nominated is a great thrill, and we like to say that all four of us were nominated, which means that our director, Anthony Page was nominated four times. - Author: Bill Irwin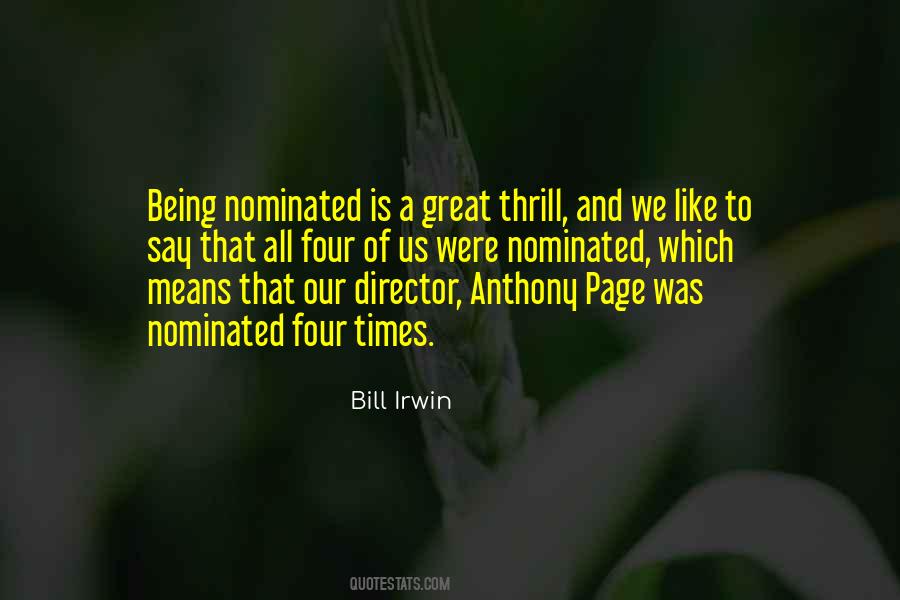 #3. I had been told by so many people that I was going to be nominated, that I should be nominated, that there wasn't any question about my being nominated. I don't think it was a surprise. - Author: Gloria Stuart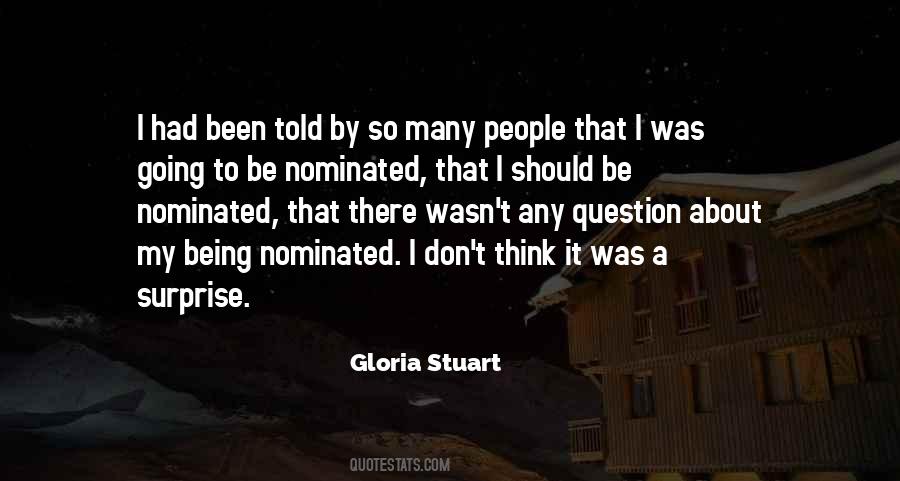 #4. Don't 'Syd' me. You've lied to me. You've hid things from me. How dare you talk to me like we're still friends, like we ever mattered to you at all?--Sydney Field - Author: Megan Maldonado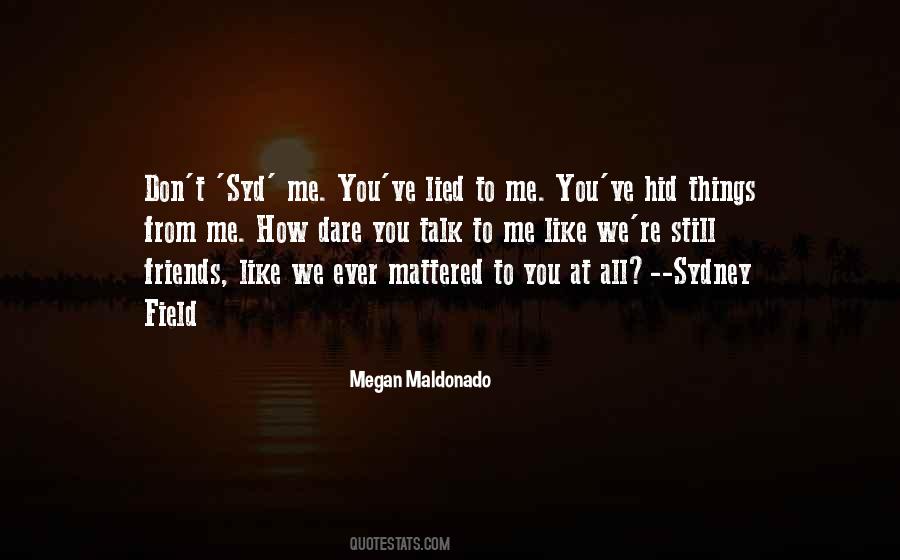 #5. I know you're always supposed to want more of everything. But in truth, I'm having a nice ebb and flow of being in my daughter's life every day and getting to keep my work life alive. I'm not nominated for ten thousand everythings every minute, but I am acting and telling stories I love. - Author: Helen Hunt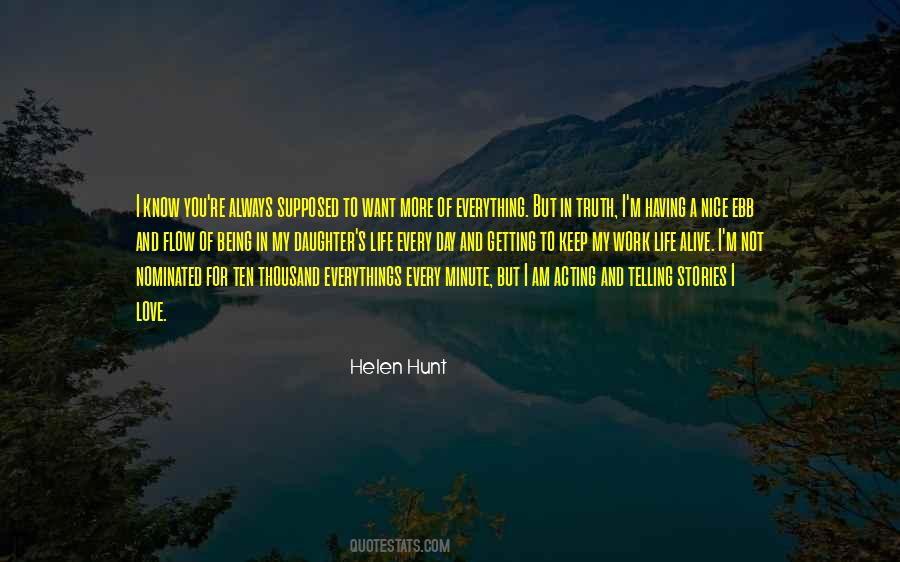 #6. I'm not ashamed of being a bubbly, funny person. I think that's as valid as being the dark, brooding, tortured Oscar-nominated one. - Author: Cameron Diaz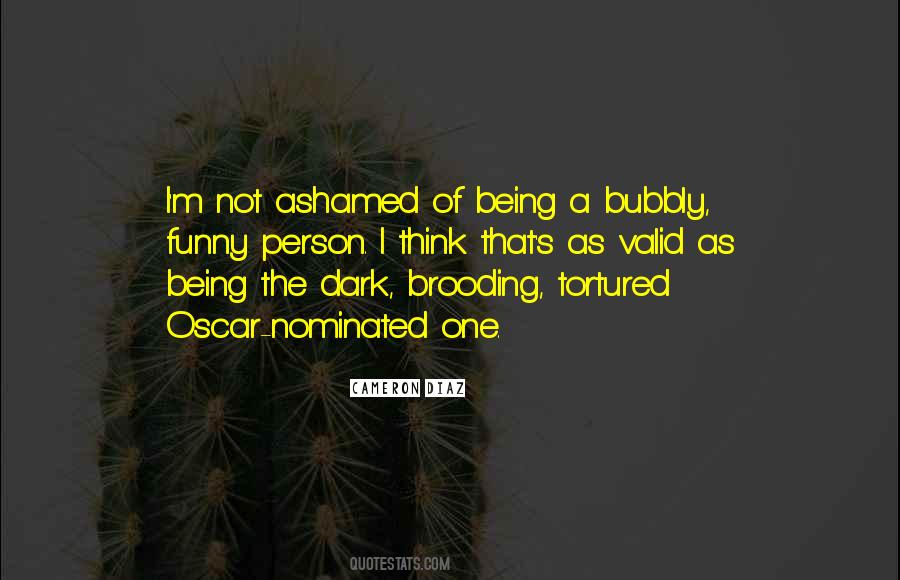 #7. Every writer must reconcile, as best he may, the conflicting claims of consistency and variety, of rigour in detail and elegance in the whole. The present author humbly confesses that, to him, geometry is nothing at all, if not a branch of art. - Author: Julian Coolidge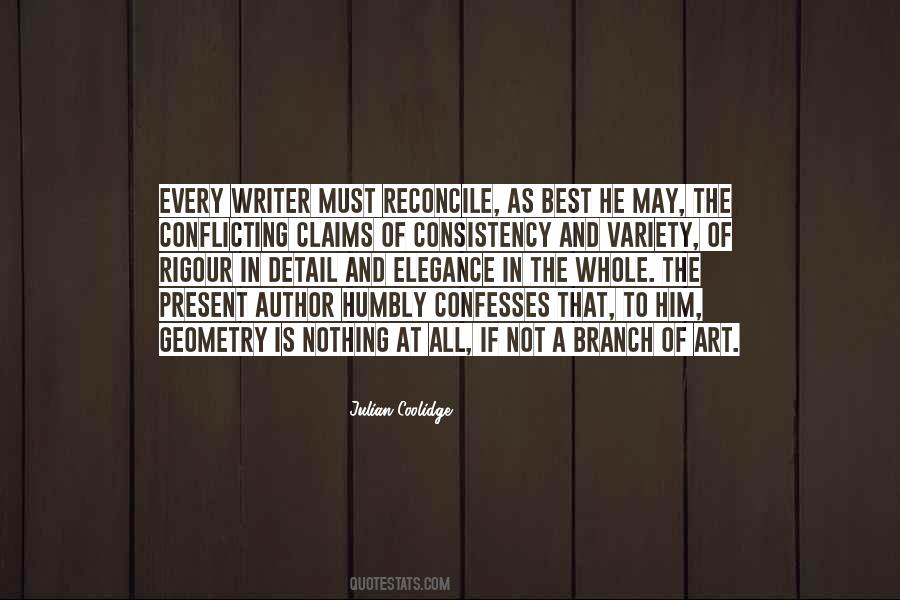 #8. He relented to the kiss and gave of himself what she required, his lips parting in symmetry with hers until the moment of realization collapsed. - Author: Thomm Quackenbush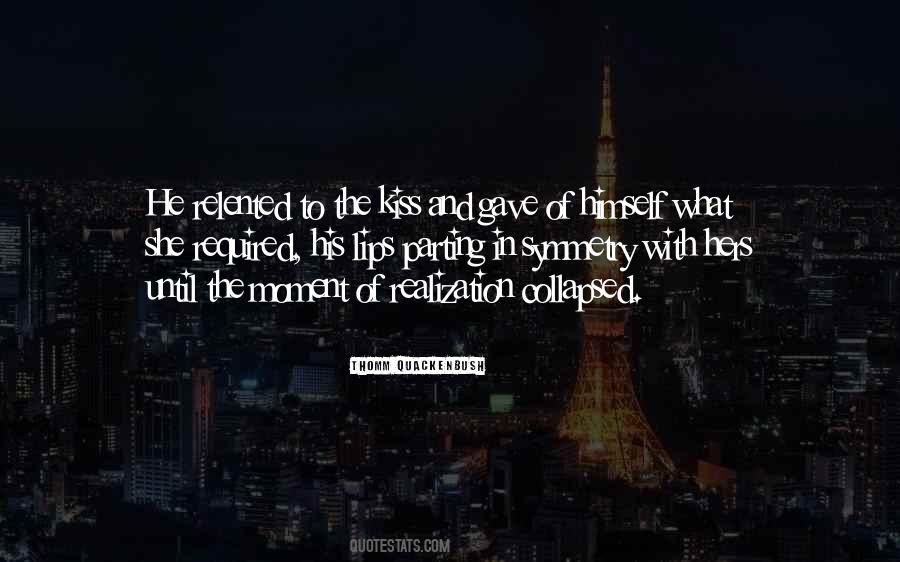 #9. It's hard for a person to try to keep his stuff together being nominated for something and then performing onstage. - Author: Juicy J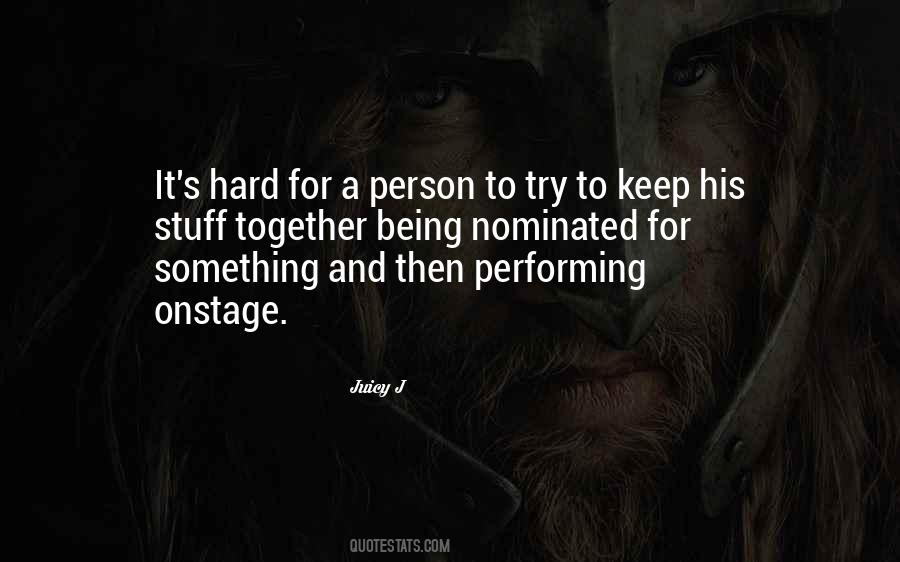 #10. For me, it's not about winning an award. It's also about not even being nominated. - Author: Jarod Kintz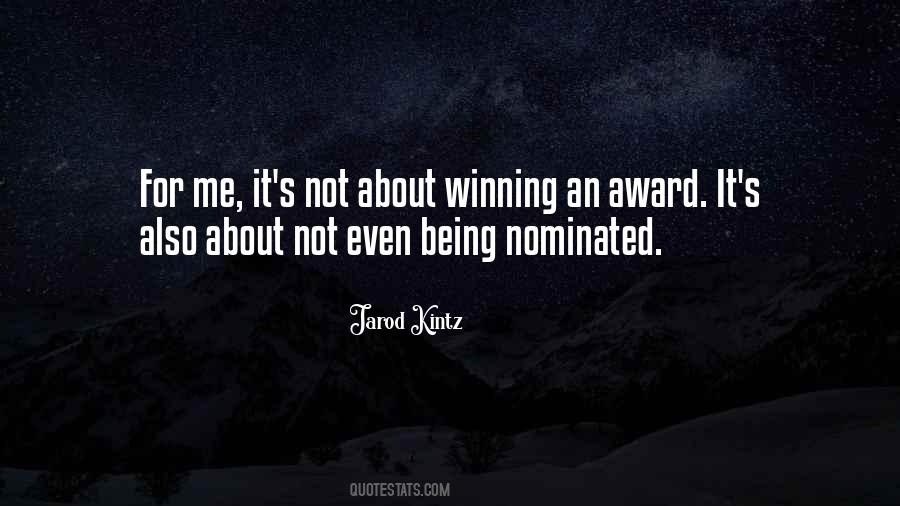 #11. What experience has shown me is that it takes your life to become an artist. - Author: Eric Fischl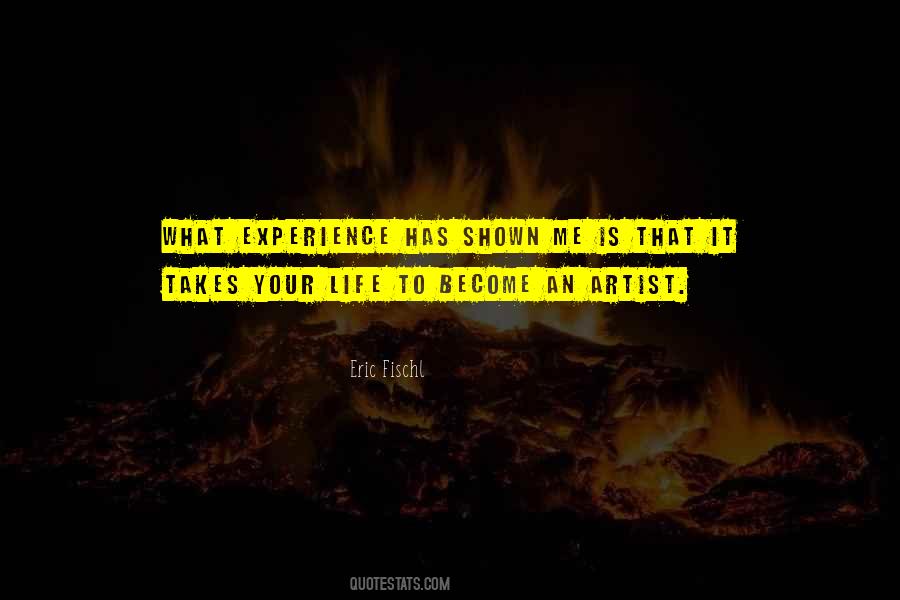 #12. If a movie is nominated for, say, an Academy award, that movie will instantly become popular in Japan. There's always been a bit of a complex the Japanese have about being taken seriously in the West. - Author: Hirokazu Koreeda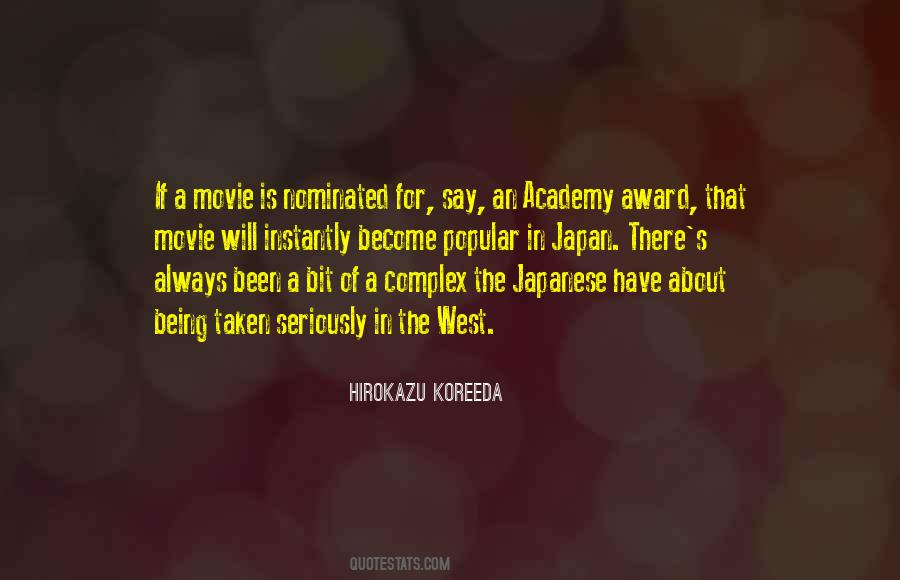 #13. There's been a few things that have been insane with 'Rather Be', and being nominated for a Grammy is, like, the pinnacle one. - Author: Jess Glynne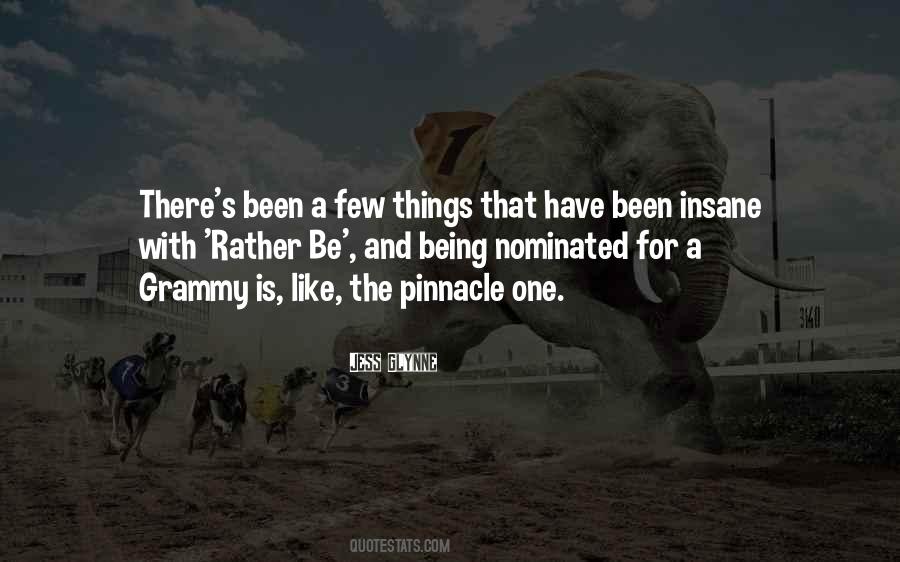 #14. By-the-bye, what became of the baby?" said the Cat. "I'd nearly forgotten to ask."
"It turned into a pig," Alice answered very quietly, just as if the Cat had come back in a natural way.
"I thought it would," said the Cat, and vanished again. - Author: Lewis Carroll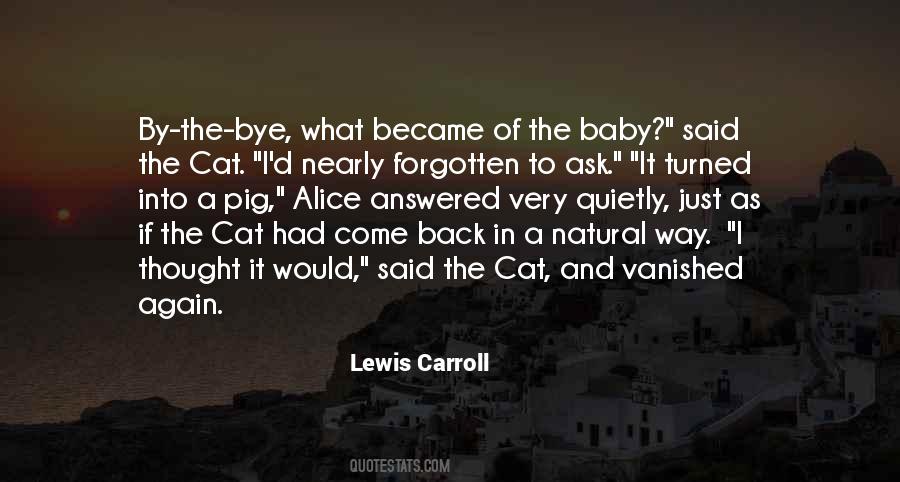 #15. One of the books that has guided me in the last ten years of my life to help me to be that leader is the Buddhist monk Thich Nhat Hanh's Being Peace. He's a Vietnamese monk. He was nominated for a Peace Prize by Dr. Martin Luther King. - Author: Sandra Cisneros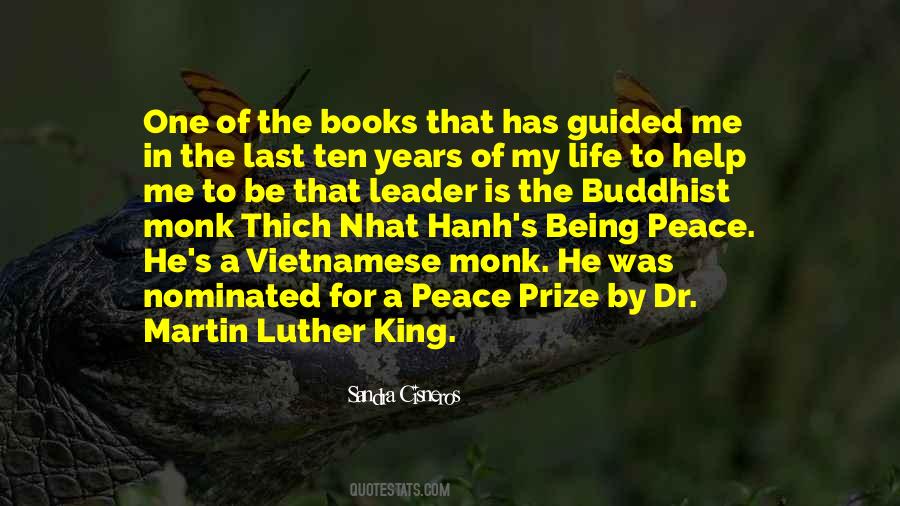 #16. My acting is still being recognized for the fact that I wasn't nominated. - Author: Eva Longoria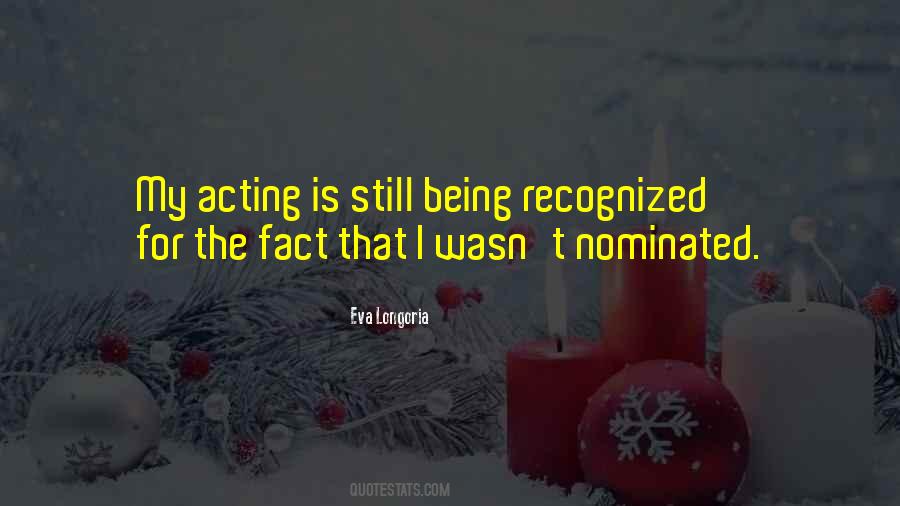 #17. I guess winning an Oscar is the ultimate dream. A lot of amazing actors go their whole career without even being nominated. So that would definitely be a goal to reach. It's a difficult one, but I'm aiming for it! - Author: Taylor Lautner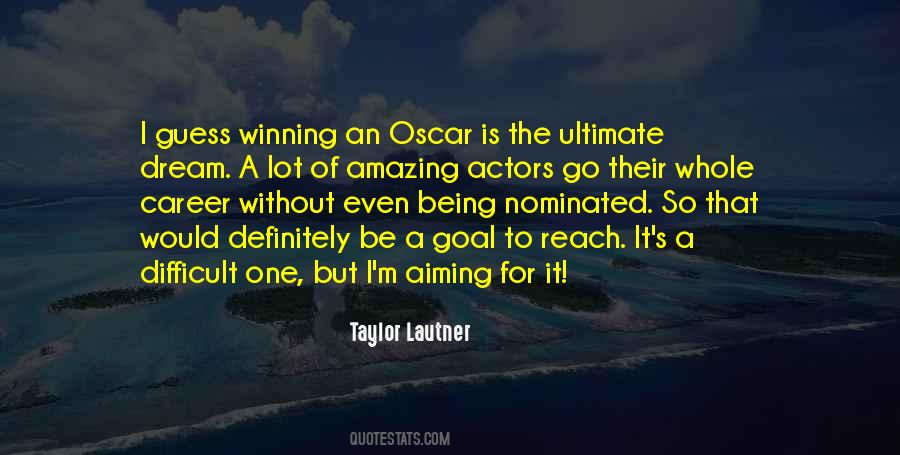 #18. Making the best-seller list is a big deal; it's like being nominated for an Oscar. Hitting No. 1 is like actually winning the award. It's very gratifying. - Author: Brad Thor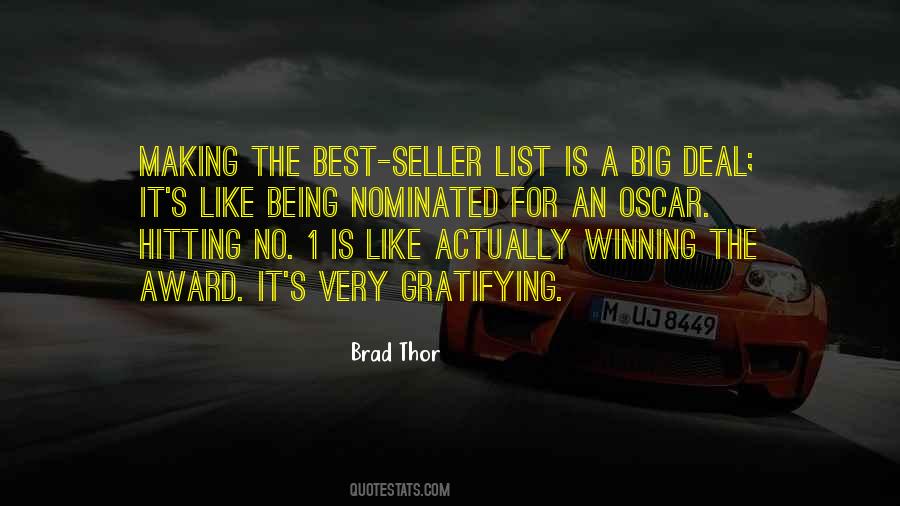 #19. I am always a little surprised when anyone sees anything I make, so being nominated for the Oscar is beyond amazing - what a tremendous honor. - Author: Joshua Oppenheimer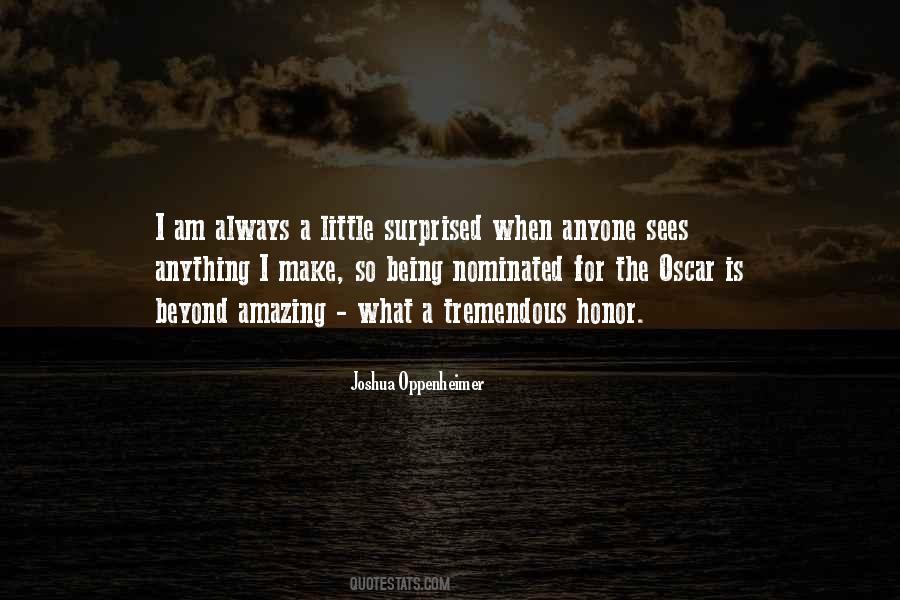 #20. Say unto thine own heart, 'I am mine own redeemer. - Author: Anton Szandor LaVey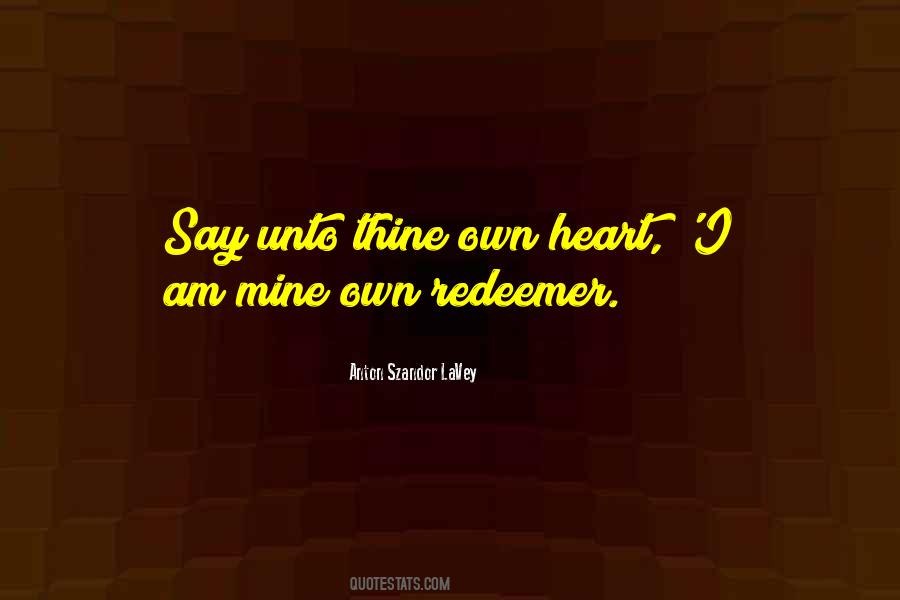 #21. I think it is very possible he [Donald Trump] could be nominated and depending on how this all plays out, I would take him seriously in terms of being able to win because he's appealing to a very, very - he's appealing to fear. - Author: Joe Biden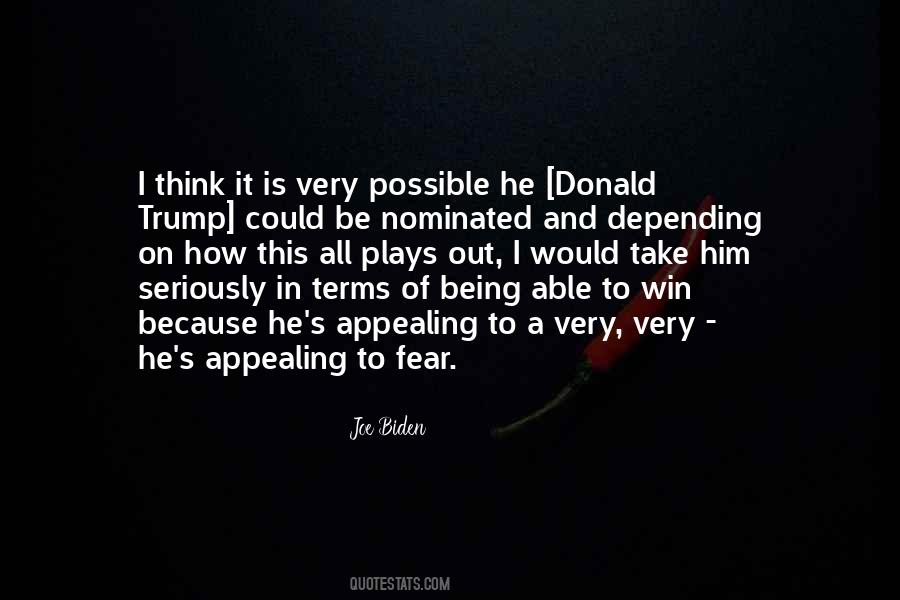 #22. I'll deal with you later. In my bed. Gwen met Markus's gaze as he spoke those words telepathically. Heat spread through her like wildfire. Biting her lower lip, she thought back to him, I look forward to it. - Author: Lia Davis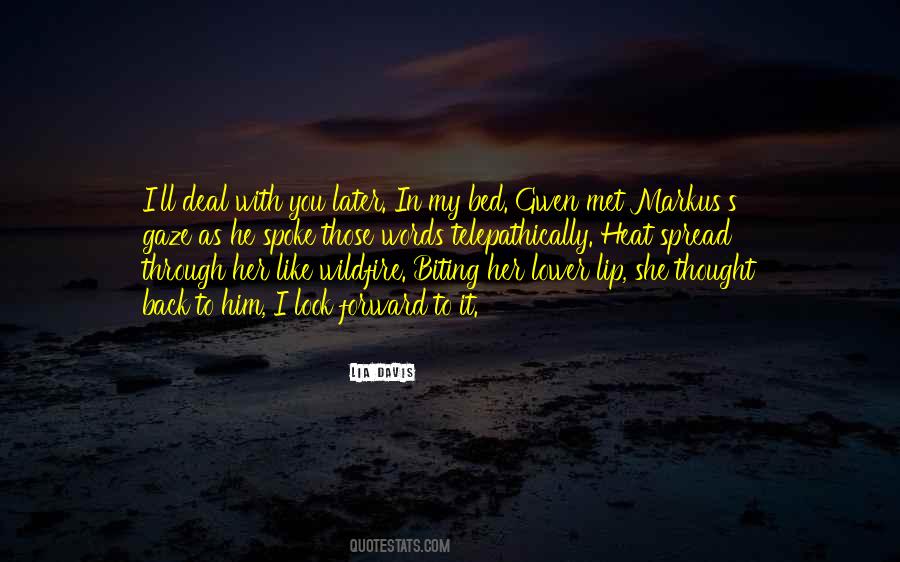 #23. It was very cool to be honored and be acknowledged in that way for the first time ever, being nominated for an Emmy. - Author: Sheila E.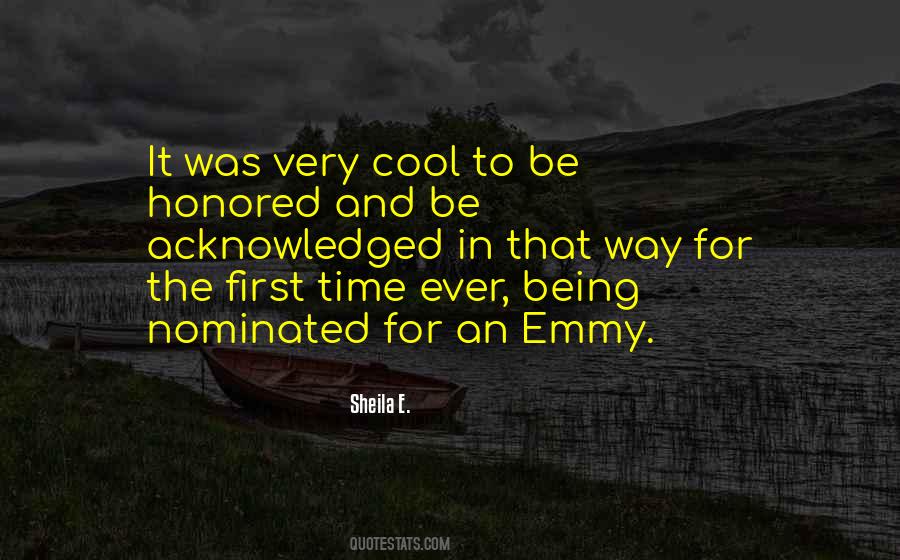 #24. The bottom line is the Kiss Army is growing by leaps and bounds. - Author: Ace Frehley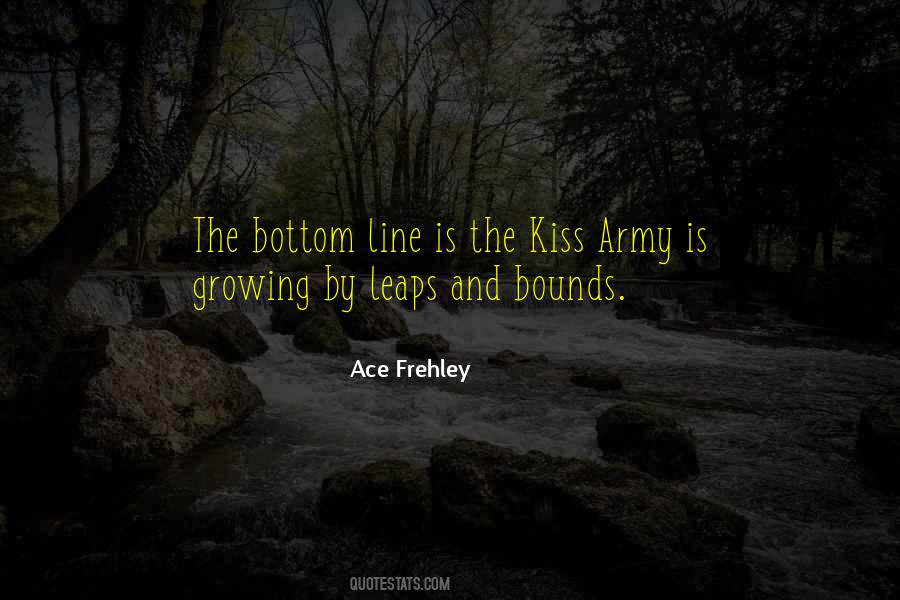 #25. I've been nominated twice before as actor in a leading part. Now I'm nominated as actor in a supporting part. If I don't win, I'll just wait until I'm nominated for being in the theater during the show. Do they have one like that? - Author: Alan Alda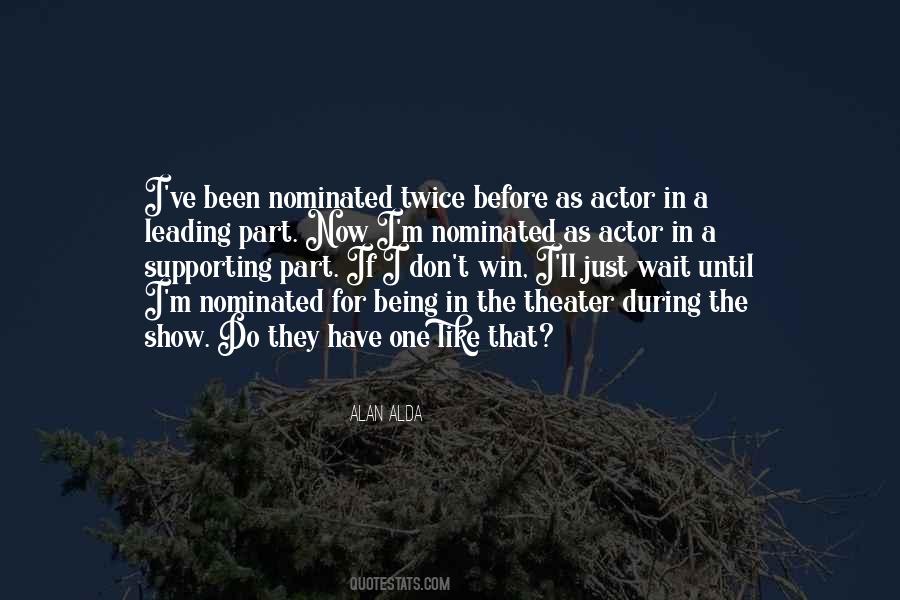 #26. Being nominated is the win. For me, being nominated is winning. It's just unbelievable. - Author: Martha Plimpton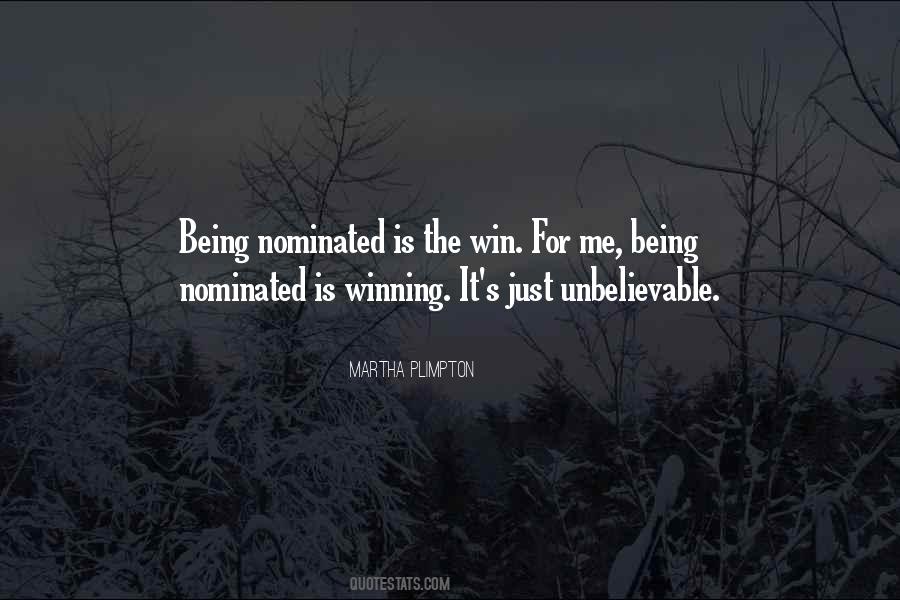 #27. Don't let anyone convince you that love doesn't matter. - Author: Katherine Center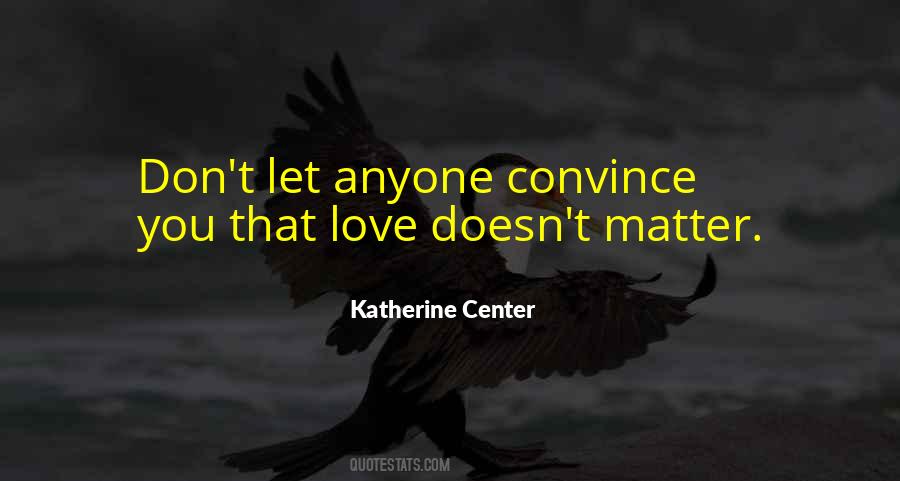 #28. I'm awkward at these things. Just being nominated for an Academy Award for Best Supporting Actor for Karate Kid was a real surprise and I was a little uncomfortable. - Author: Pat Morita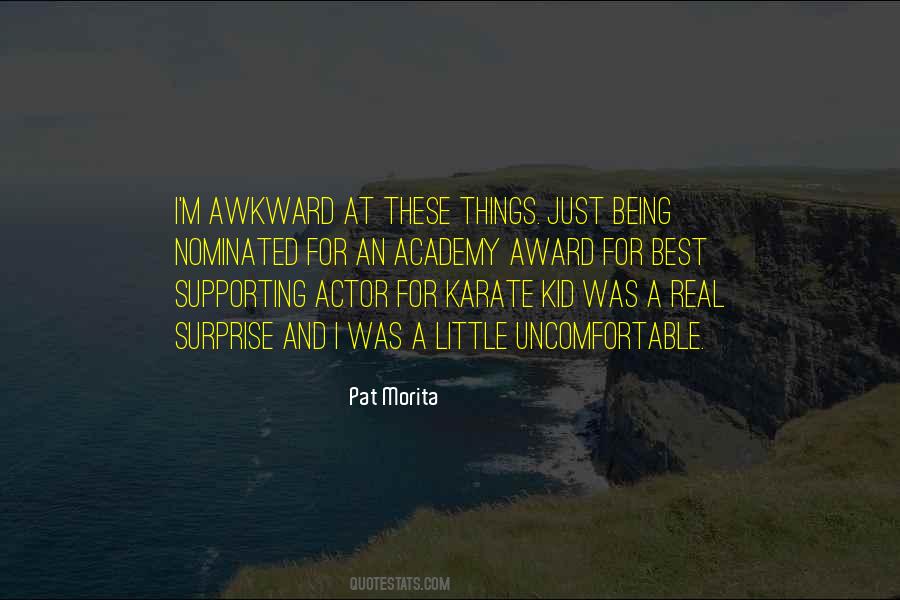 #29. I want to score 50 goals. It's my dream. - Author: Evgeni Malkin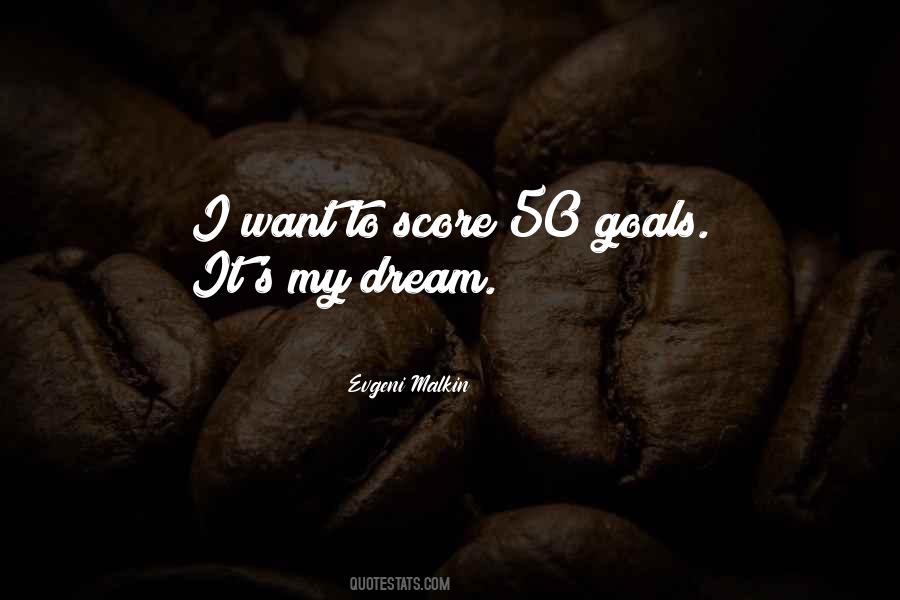 #30. I don't think it's any fun, even if you are one of the most respected authors in the world like Margaret Atwood, to keep being nominated and not win. - Author: Kazuo Ishiguro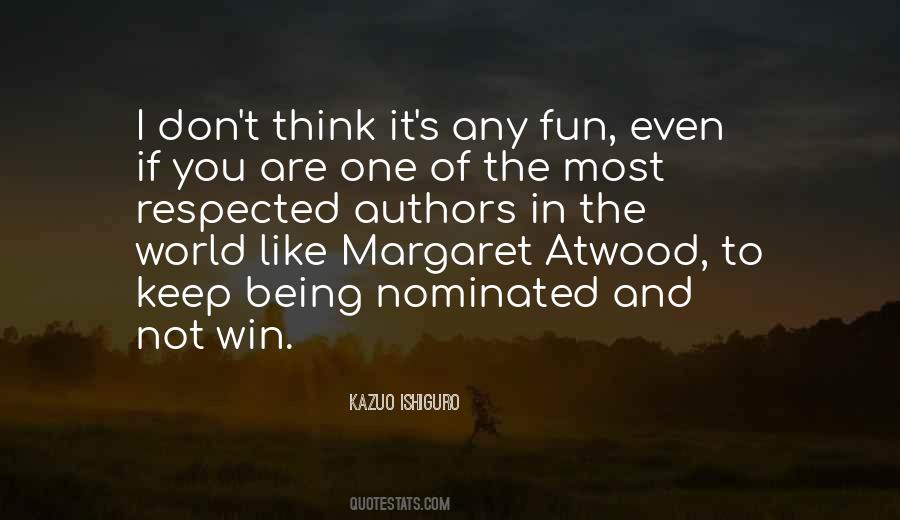 #31. We can never know ... But maybe it's because no black actors merited being nominated.Why put people into categories? - Author: Charlotte Rampling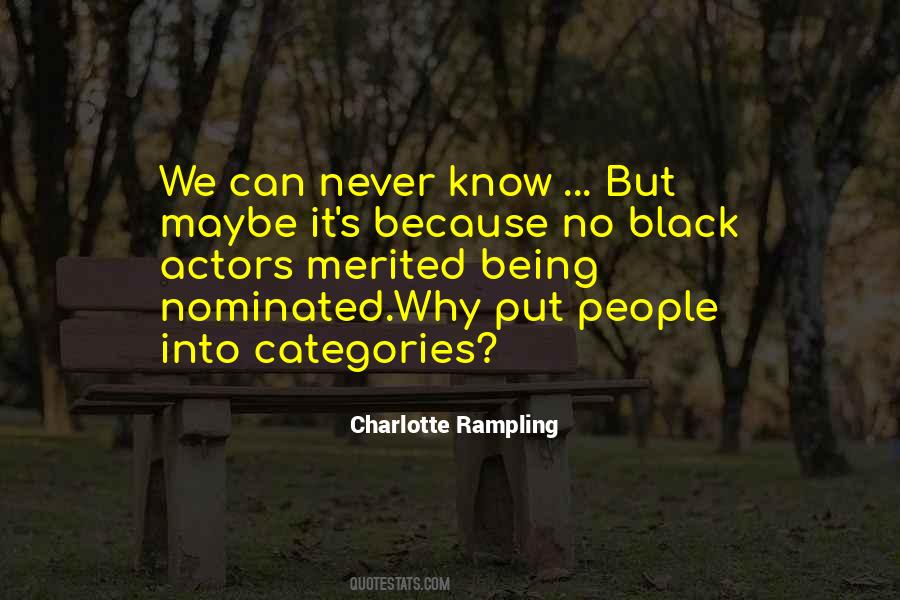 Famous Authors
Popular Topics