Beach Love Famous Quotes & Sayings
List of top 100 famous quotes and sayings about beach love to read and share with friends on your Facebook, Twitter, blogs.
Top 100 Quotes About Beach Love
#1. All that I desire in life are three ...
A wilderness: A beach on the sun-drenched sea,
A puff of opium,
And thee. - Author: Roman Payne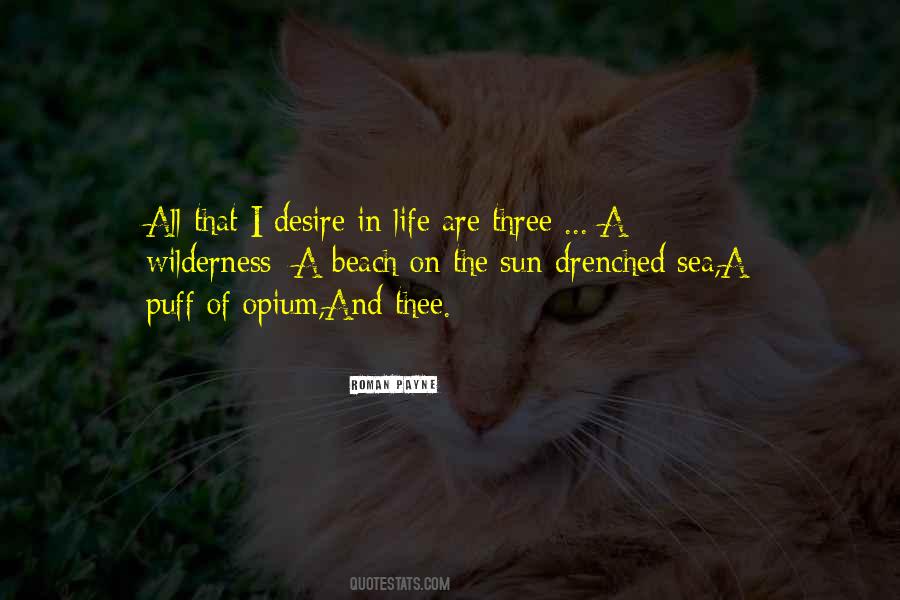 #2. I love going to the cinema, listening to music, yoga and long walks along Holkham beach in Norfolk. - Author: Saffron Aldridge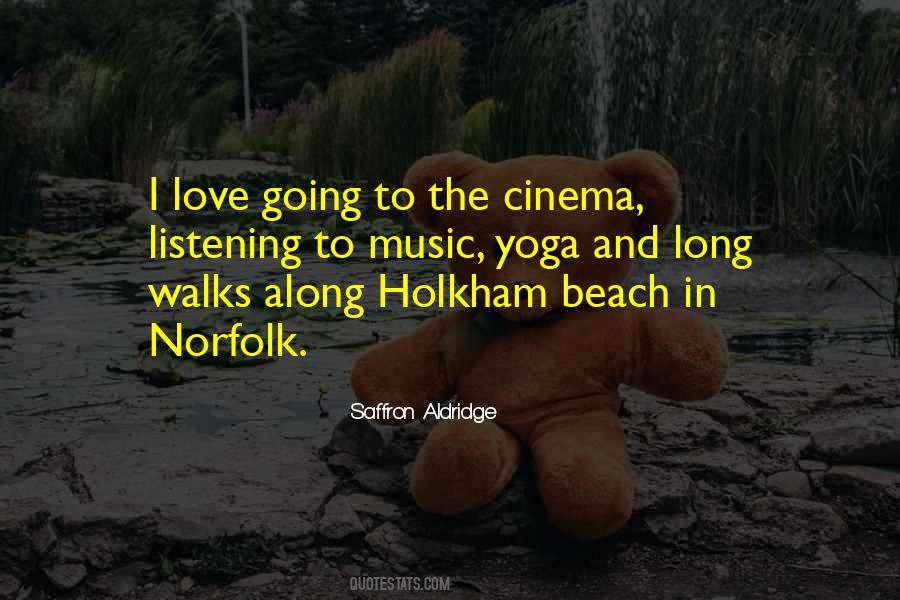 #3. The music I have created, along with the other Beach Boys, has taken me all over the world. For these past 50 years, I guess you could say, 'I get around.' - Author: Mike Love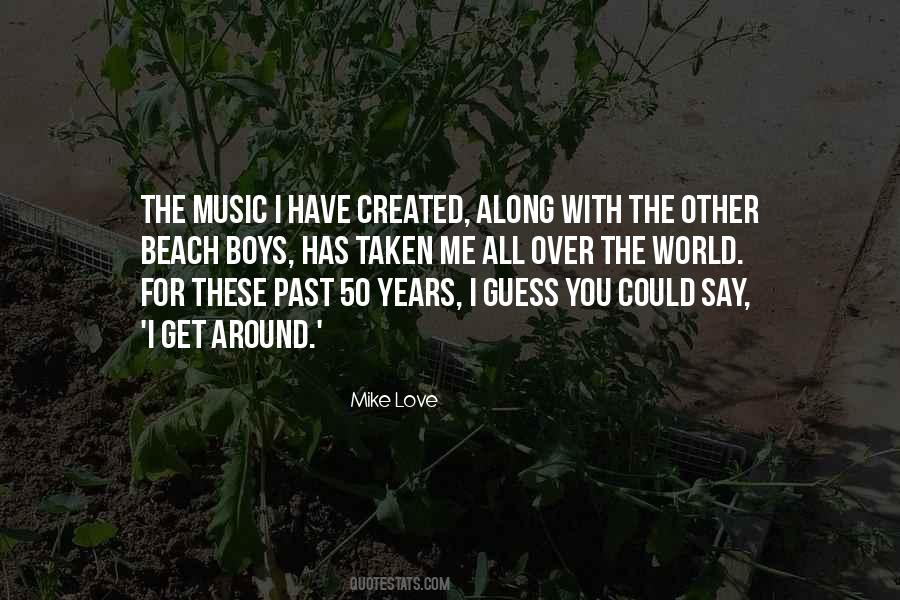 #4. Cue dream sequence of Liam running slowly on a beach carrying me in his arms. I love how he's strong enough to carry me with one arm while using the other arm to feed the seagulls. He's such an animal lover like that. - Author: R.S. Grey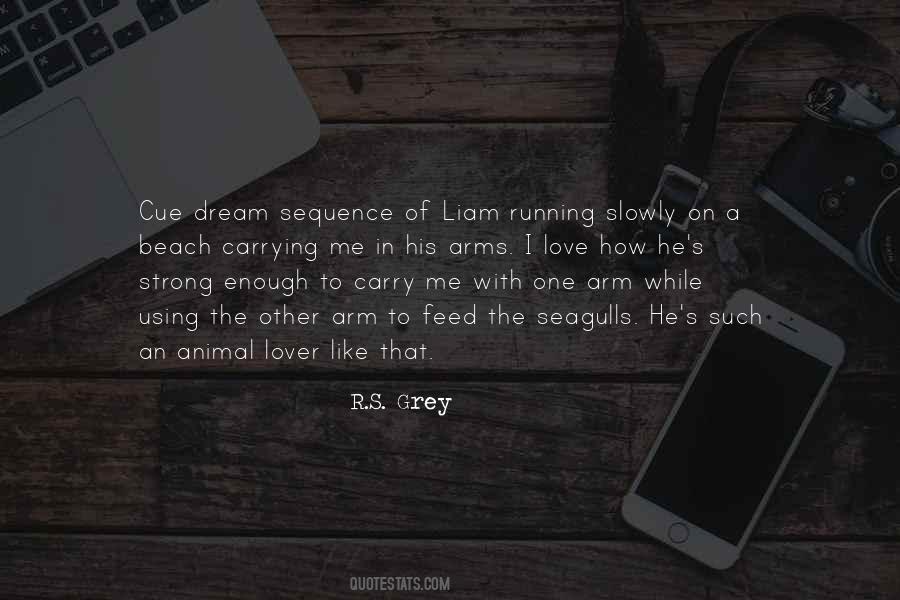 #5. I love the beach, and I love sunshine. - Author: Megan Fox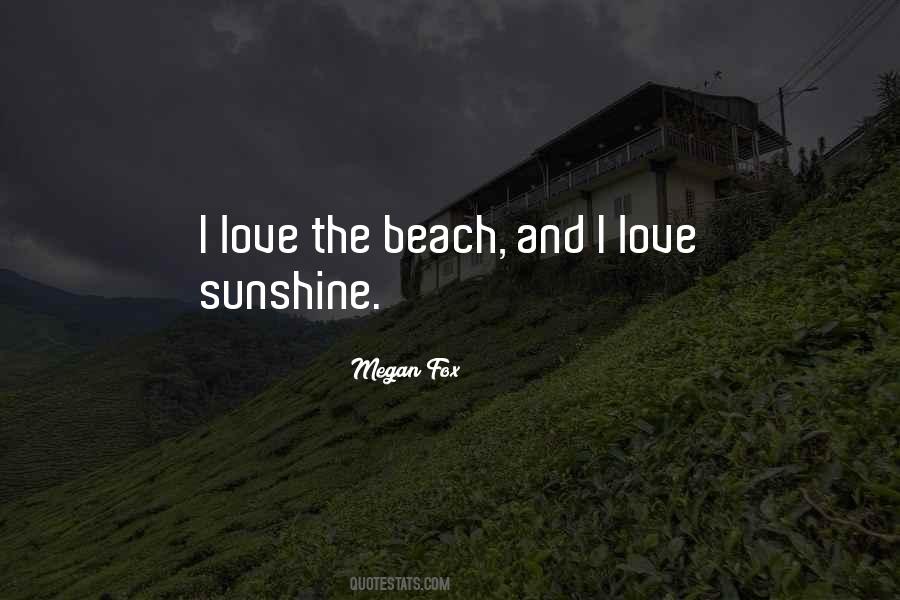 #6. The right thing to do would be for you to acknowledge that you feel something for me that's remotely close to what I feel for you. I've asked only for a single grain of sand from you, Persephone, while I'm the whole fucking beach at your feet... - Author: Linda Robertson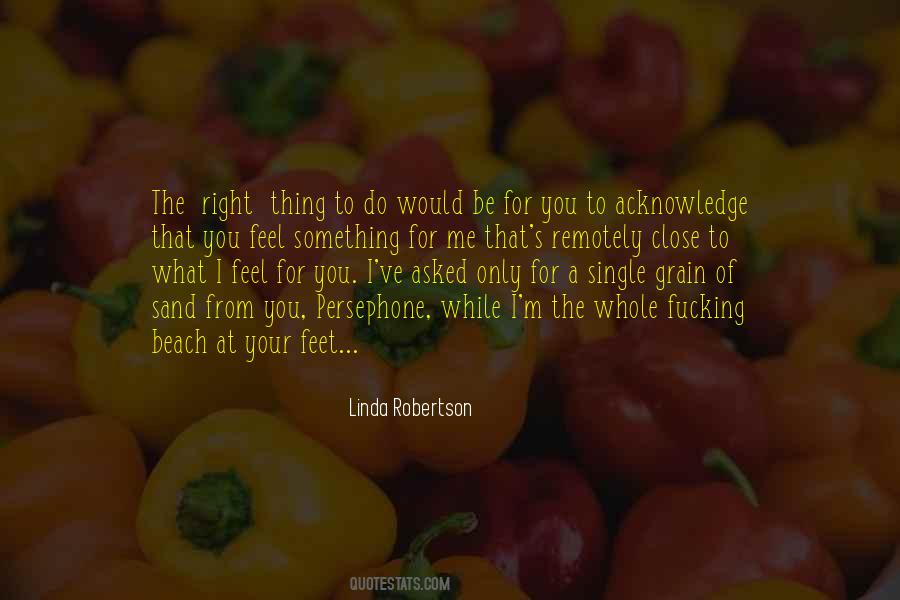 #7. I love walks, hiking, exploring and being on the beach. - Author: Ireland Baldwin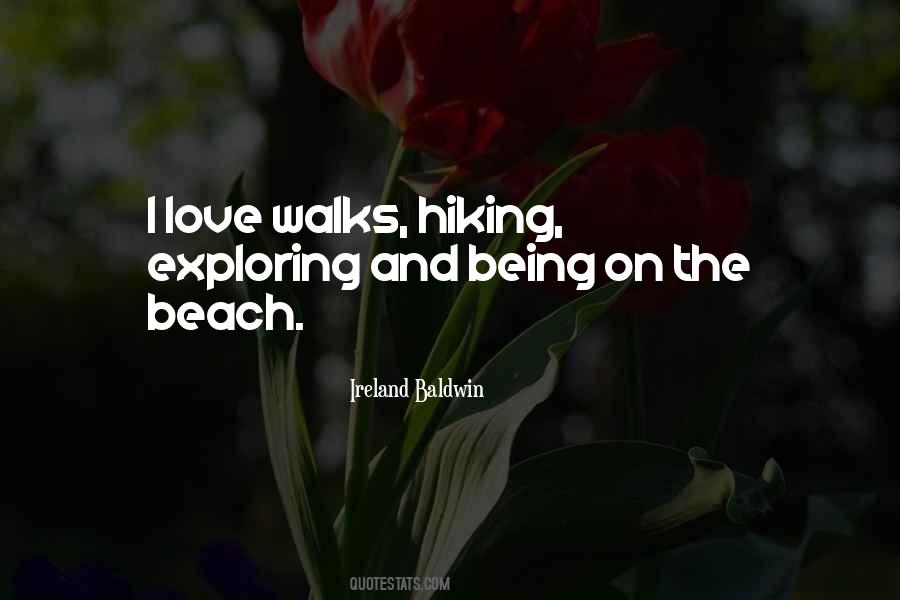 #8. I gravitate towards happy music. I love the Beach Boys. - Author: Zooey Deschanel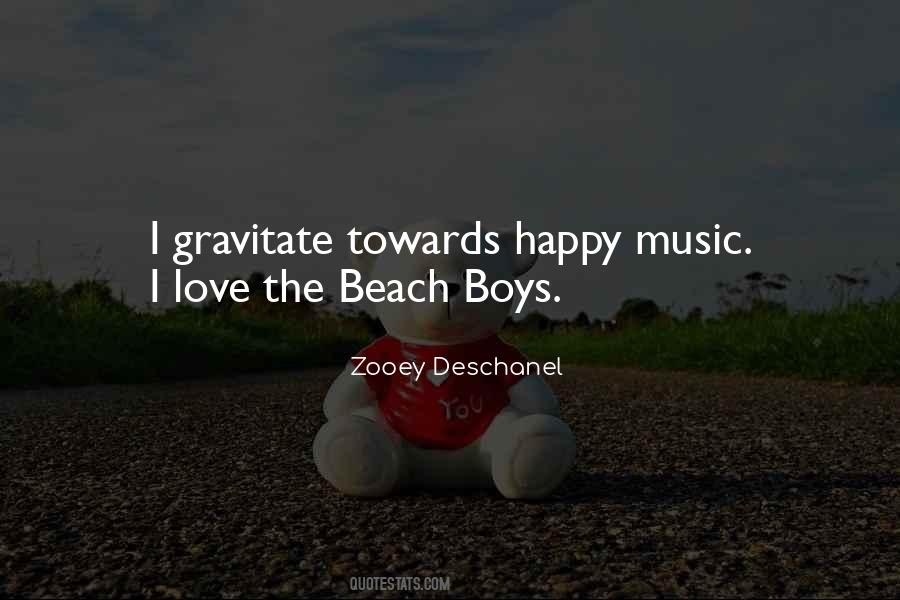 #9. Sometimes I listen to '60s or oldies stations to see if they're going to play a Beach Boys song. - Author: Mike Love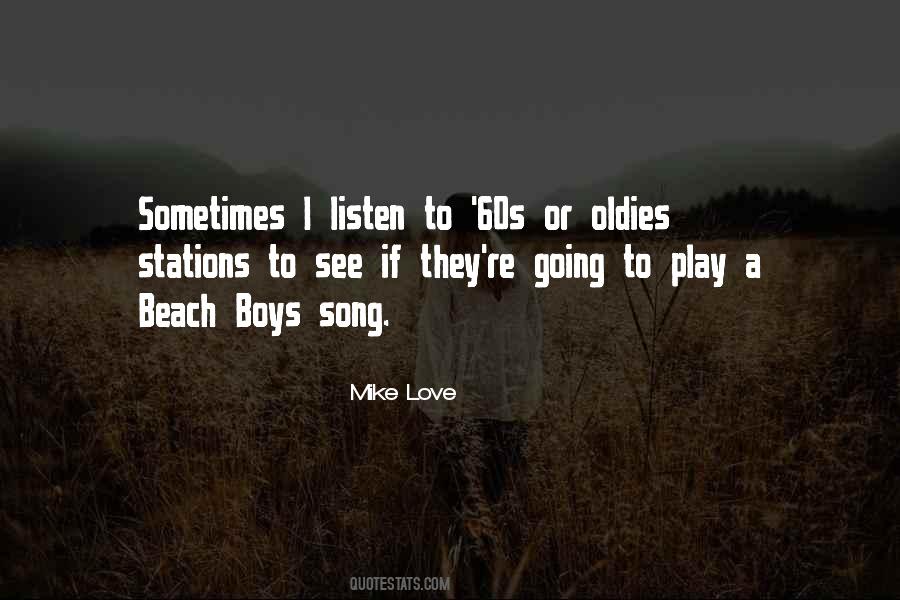 #10. I love New York City for its energy. Pebble Beach, Carmel Beach and that all area, for its completely laid back energy. Paris for the charm, shopping and the glamour. - Author: Eva LaRue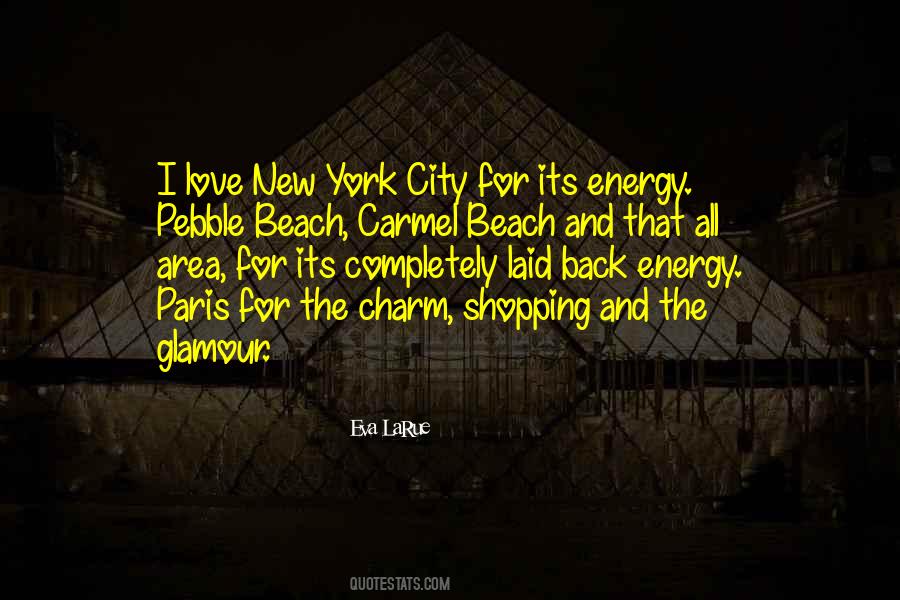 #11. I love being natural. I never feel more beautiful then after I've been to the beach and my hair's just a crazy mess of salt curls, or when I've just been outside all day hiking. - Author: Troian Bellisario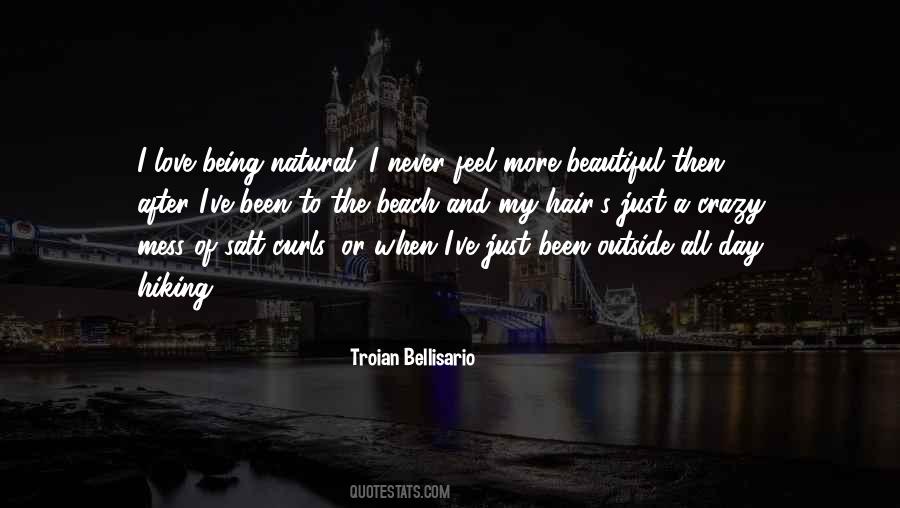 #12. Old love is a row of beach huts in November. - Author: Julian Barnes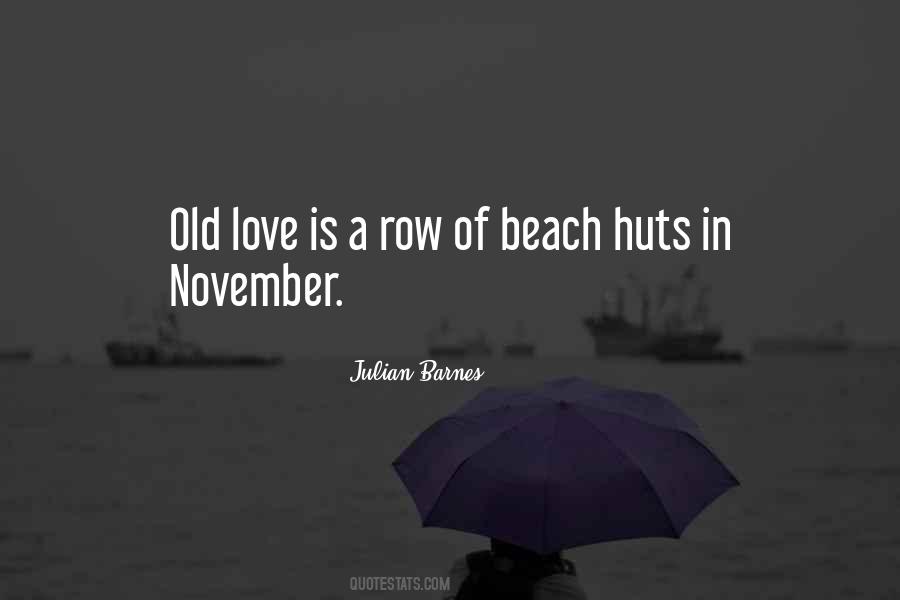 #13. The Beach Boys already had about four or five albums under our belt when these newcomers, The Beatles, took the U.S. by storm in early 1964. - Author: Mike Love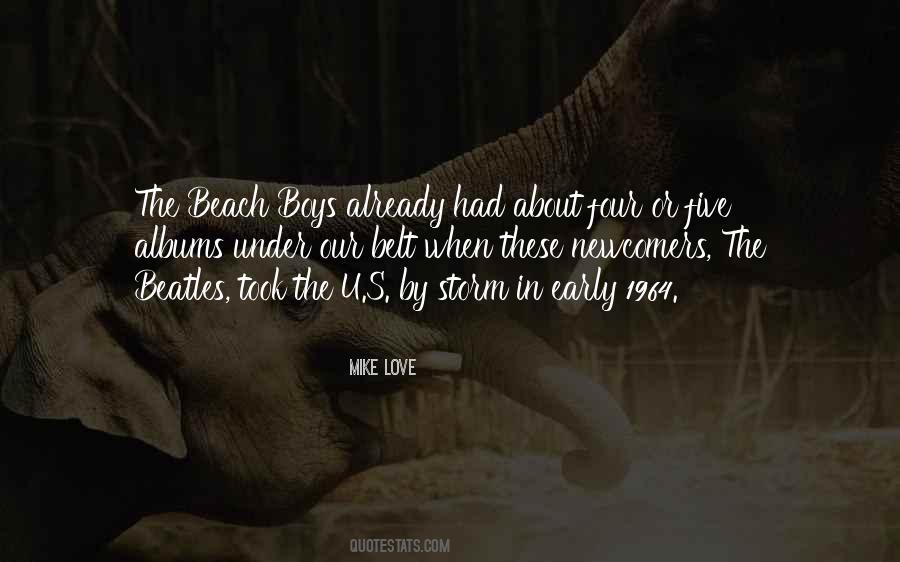 #14. And on the eighth day God created Palm Beach...

Season Of The Devil: Love & Evil In Palm Beach - Author: Pamela Southwood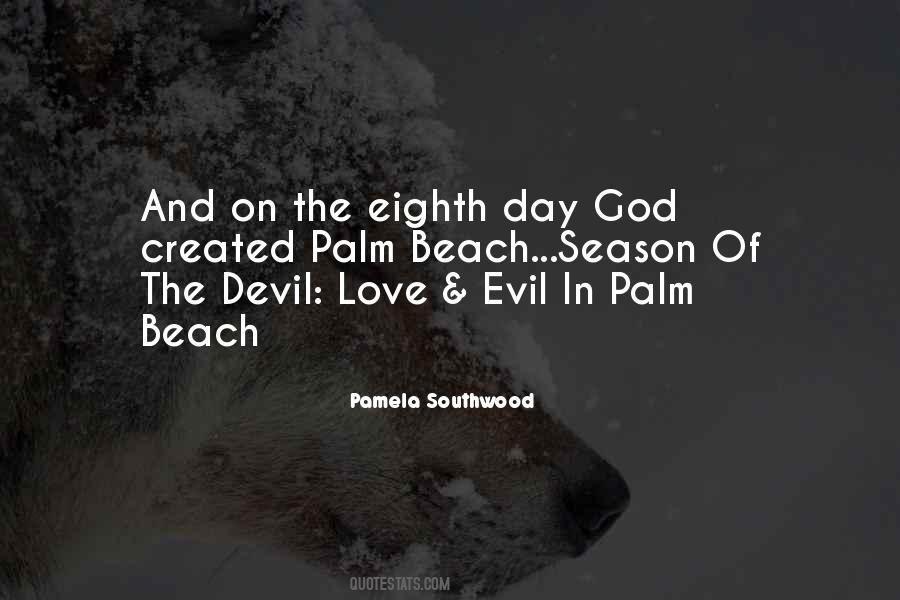 #15. I love vengeance like normal people love sunsets and long walks on the beach. I eat vengeance with a spoon like it's honey. In fact, I may not even be a real person, but just a vow of vengeance made flesh. - Author: Laini Taylor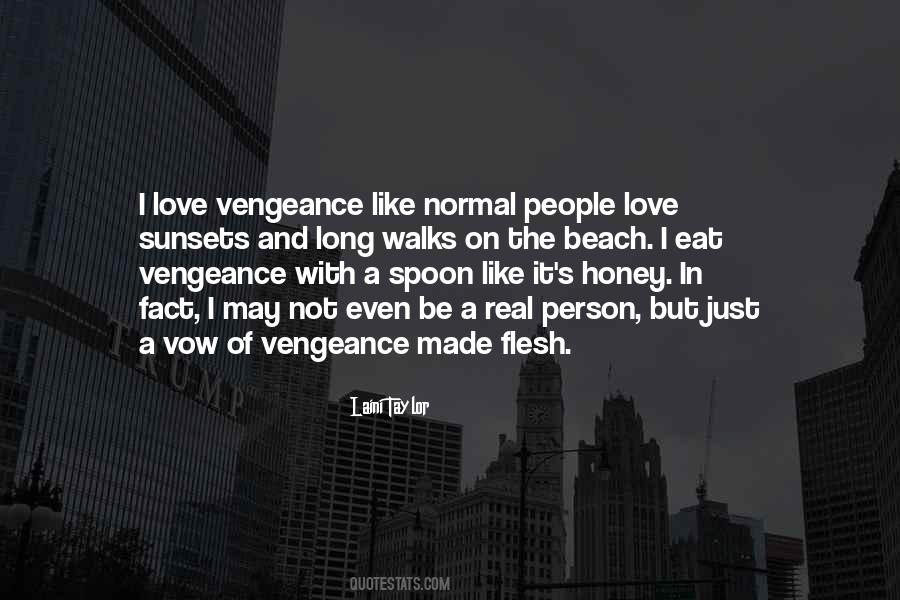 #16. I'm the lead singer of the Beach Boys and an ambassador of this amazing music that touched a generation. - Author: Mike Love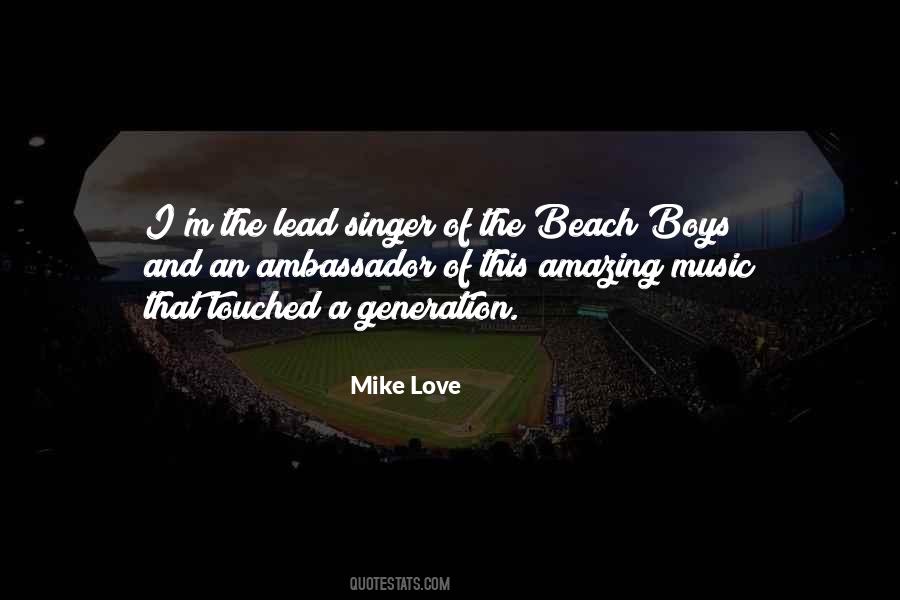 #17. If you think about it, finding true love is a lot like finding a particular grain of sand on the beach. - Author: Chrissy Anderson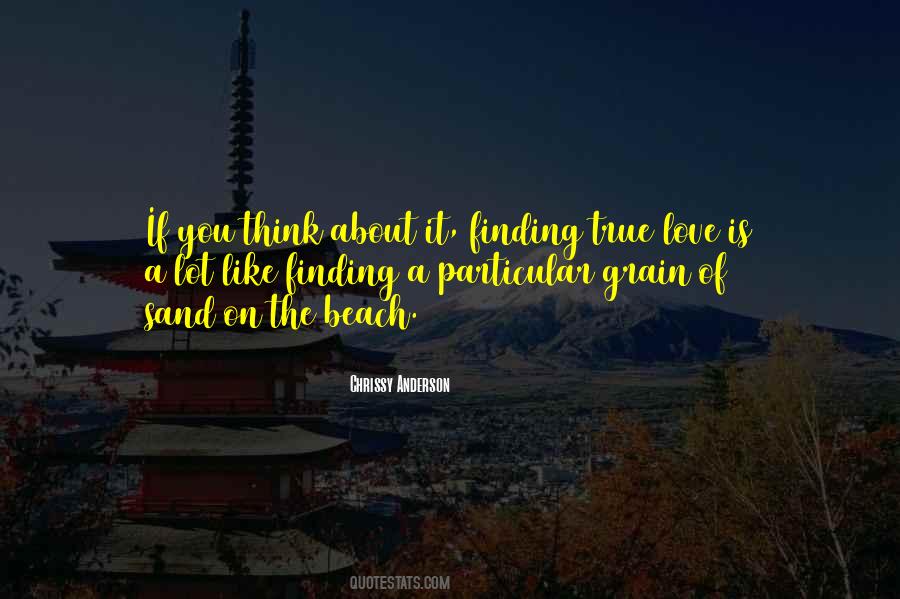 #18. I stared at my lap. I wished I were confident, I wished I were brave. I wished he didn't scare me. But the more he spoke the less I wanted to look away, and the more I did. - Author: Rose Fall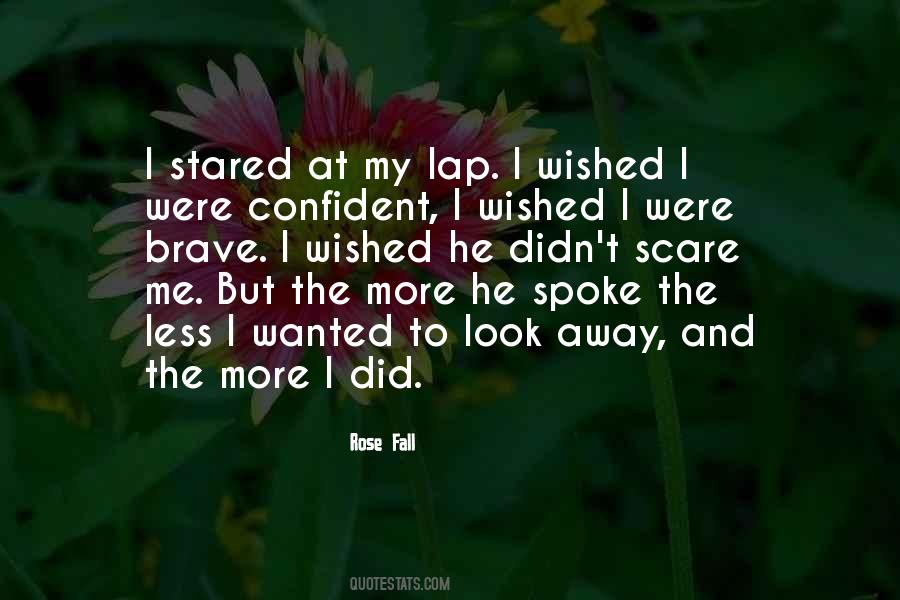 #19. I should have told you the minute I saw you that you look beautiful. I do love the way you look tonight. - Author: Robin Bielman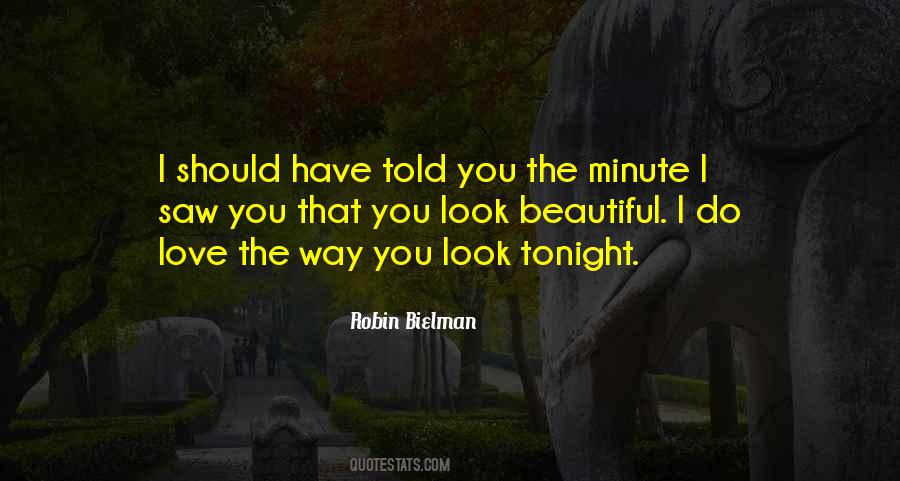 #20. I love L.A. for the beach and stuff, that's the reason I live here. - Author: Eddie Money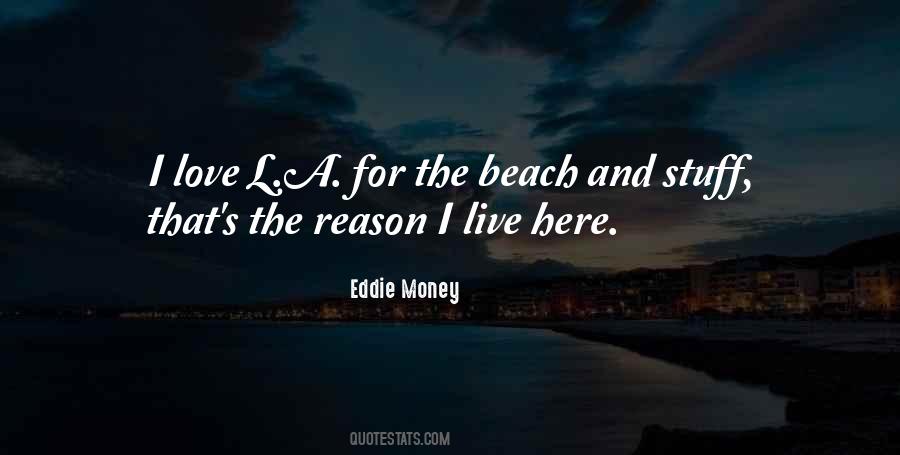 #21. I recall that day on the beach - the sand so brilliant, the clouds so massive, and the wind punishing your hair ... - Author: John Geddes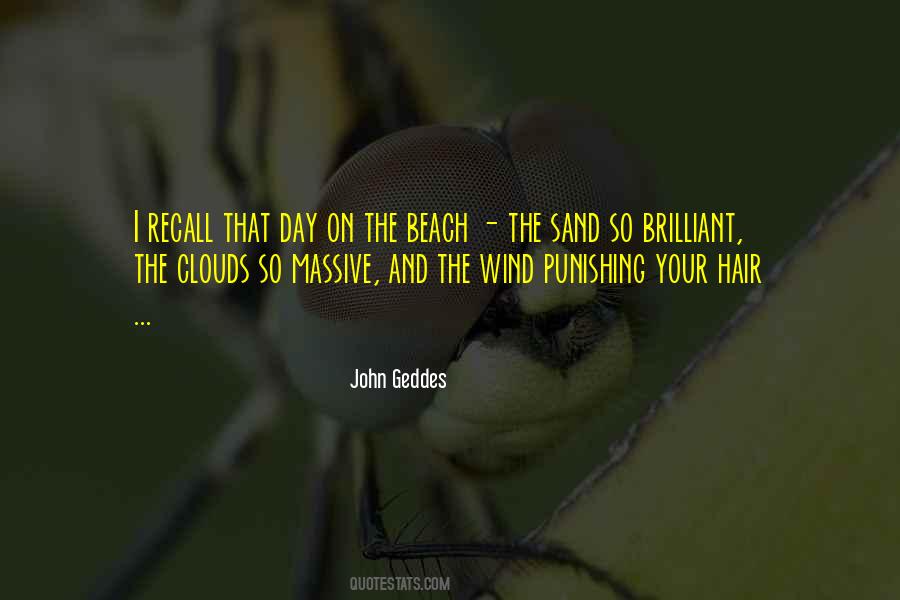 #22. Everybody has their own appreciation of the Beach Boys, depending on where they're coming from with their musical tastes, so we tried to be representative of all eras and of everybody in the band and their contributions. - Author: Mike Love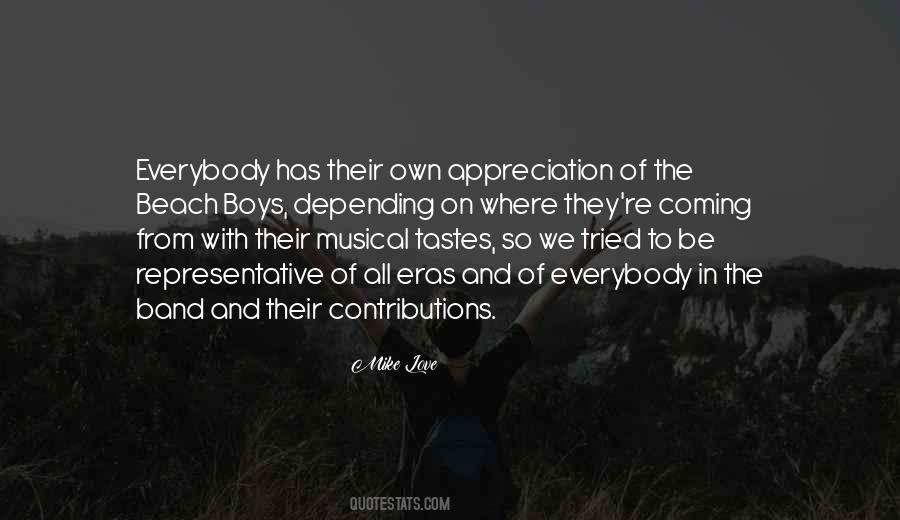 #23. I love the ocean; growing up around Laguna Beach, I spent my summers surfing, diving, and snorkeling. - Author: Greg MacGillivray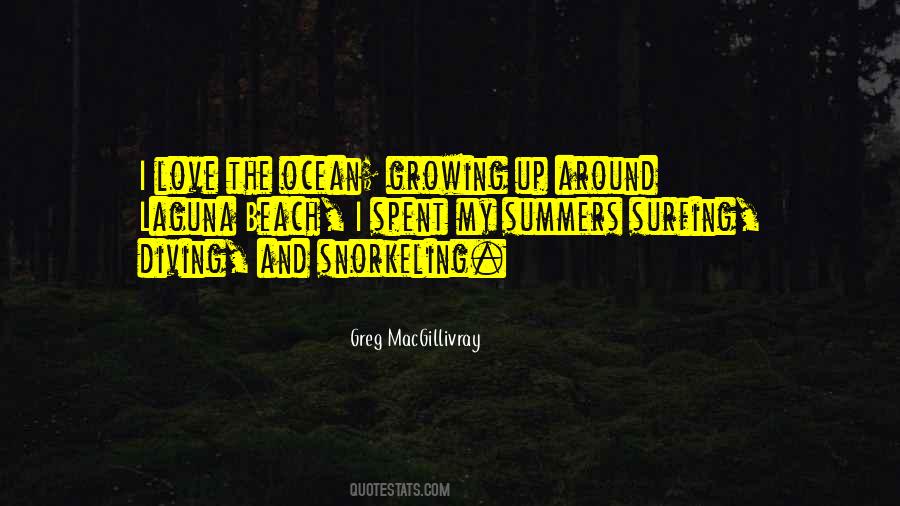 #24. I just got exposed to electronica, and I really liked it. I am also good with alternative rock. I like Lana Del Rey, Adele, Dido, Jack Johnson, and I love the Beatles and the Beach Boys. - Author: Anushka Sharma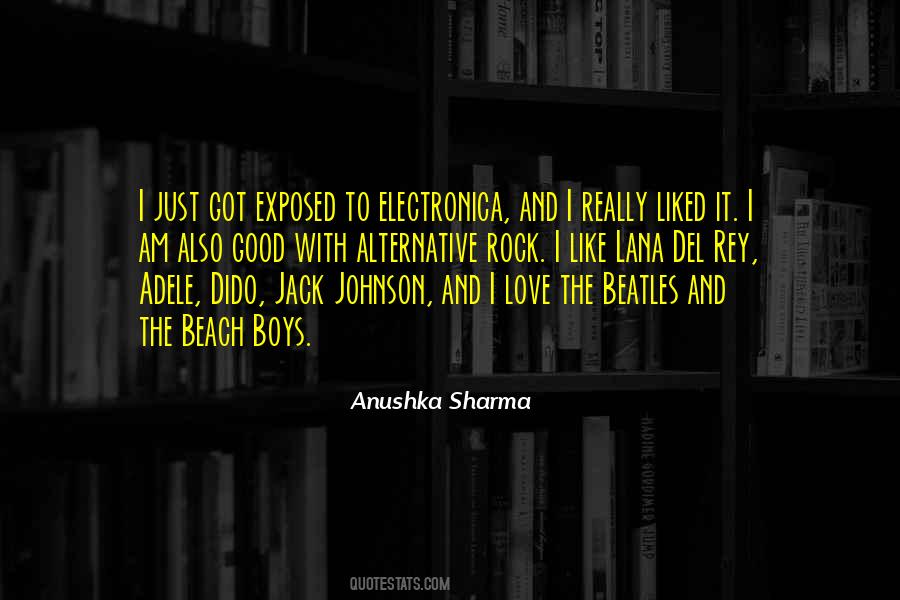 #25. Only the ocean kept the same rhythm. Crashing in and slowly pulling back out, it never lied, never changed. It tried to teach them a life of romantic consistency. - Author: Lawren Leo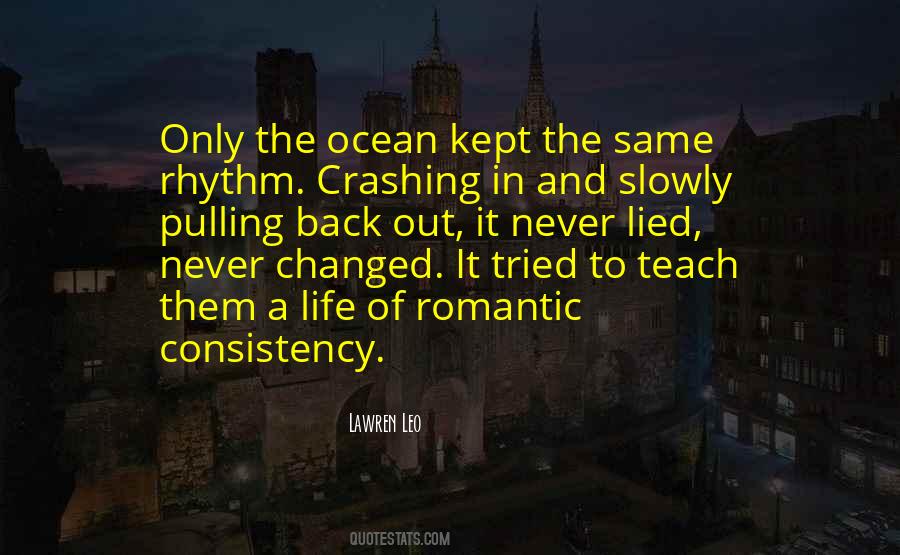 #26. I love Radiohead, which most people don't expect, and I listen to everything from Stevie Wonder to Steely Dan, Carole King, The Beach Boys, The Kinks, Beyonce Knowles, Vampire Weekend, The Beatles, Joni Mitchell, Burt Bacharach, and Paul Simon. - Author: Eliza Doolittle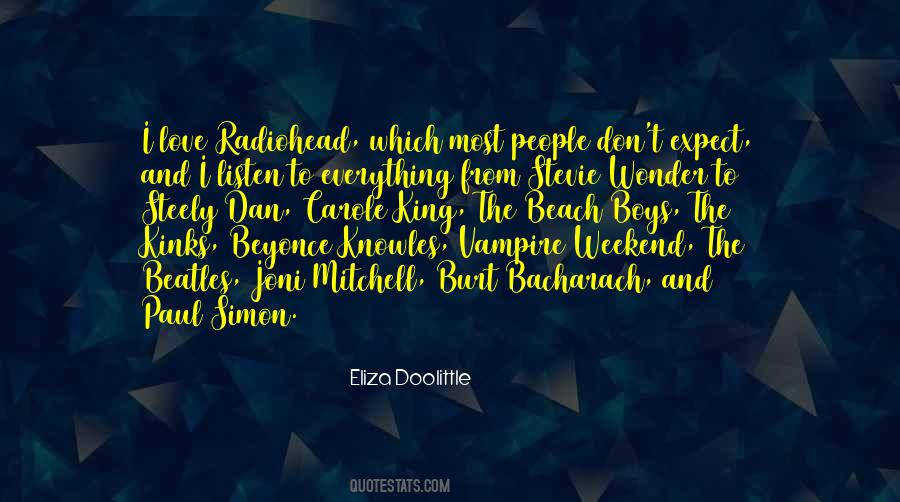 #27. You love a job, no matter how hard it is, it's still easy. Not sure, never studied up on the guy, could be wrong, but I reckon Michelangelo didn't wake up and think, 'Fuck , I gotta drag my ass outta bed. More painting at the Sistine Chapel. Wish that shit was done so I could get to a fuckin' beach. - Author: Kristen Ashley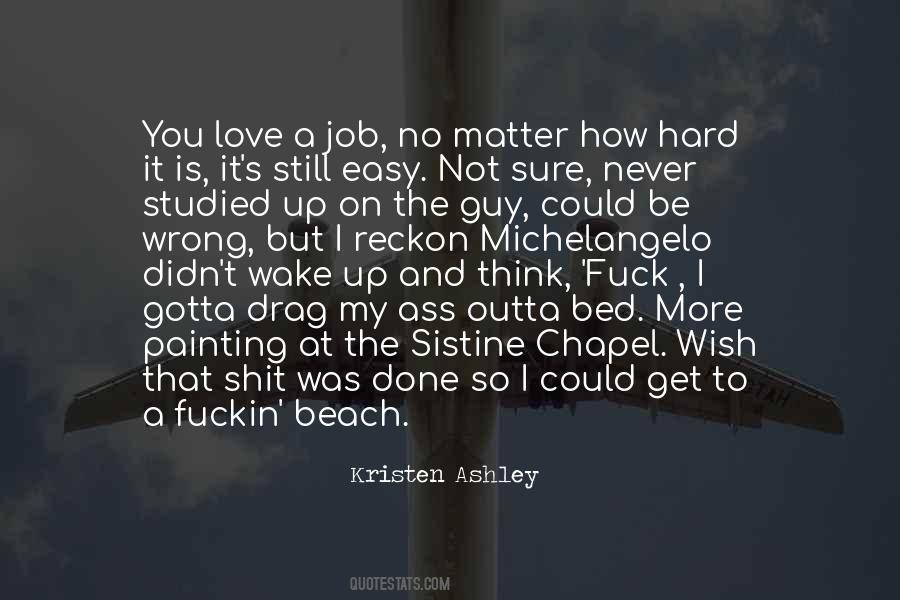 #28. If you ask any couple who have been married 50 years or longer, they will tell you they've experienced it all. The same is true of the Beach Boys. - Author: Mike Love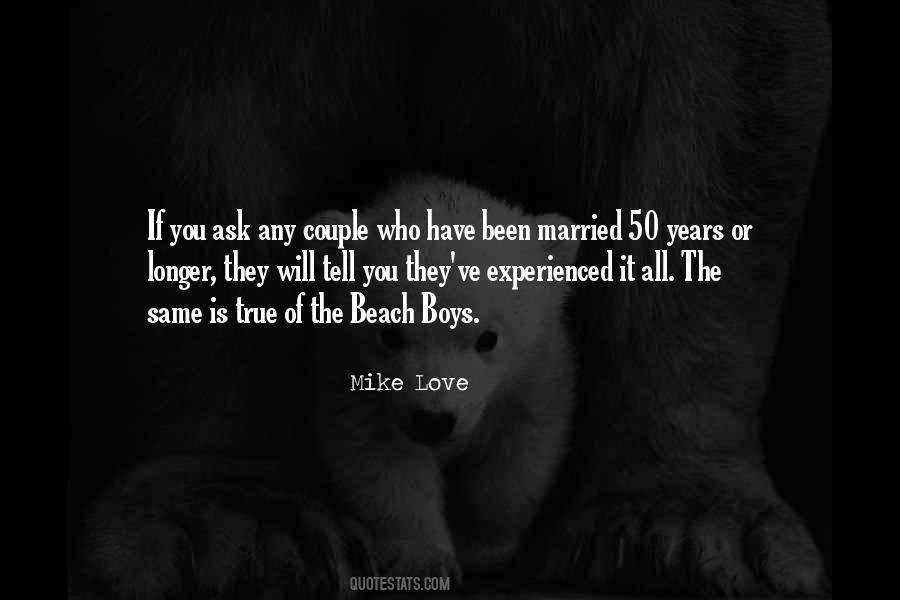 #29. I'm surrounded by the beach, so I love to fish and to dive and to swim. I walk a lot, and I bike around. I hang out at the beach, really, and muck around. - Author: Lorde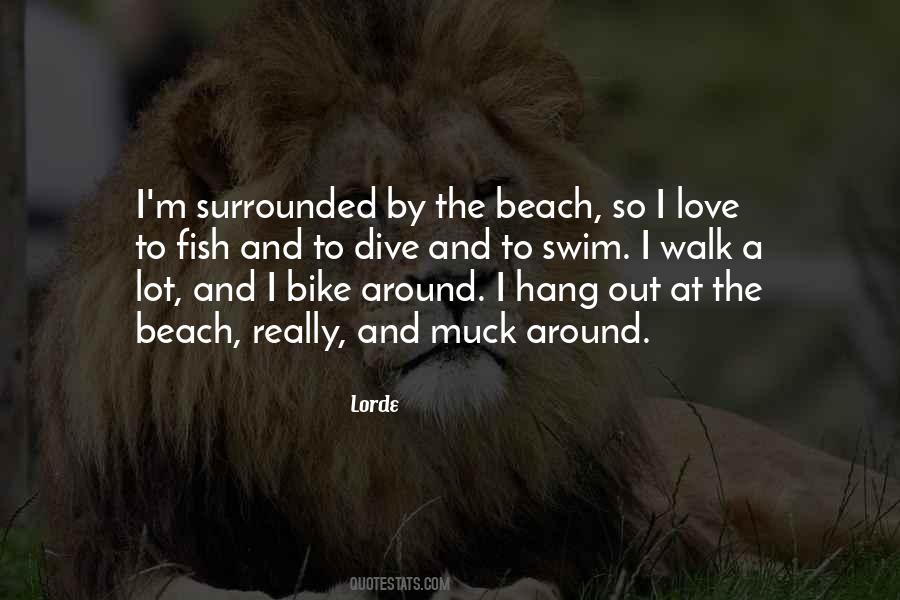 #30. I'm saying that, you know, we never get to go to the beach and just, you know, let loose. Fall in love and be different, with no permanent record. We live in our permanent record. - Author: Sarah Dessen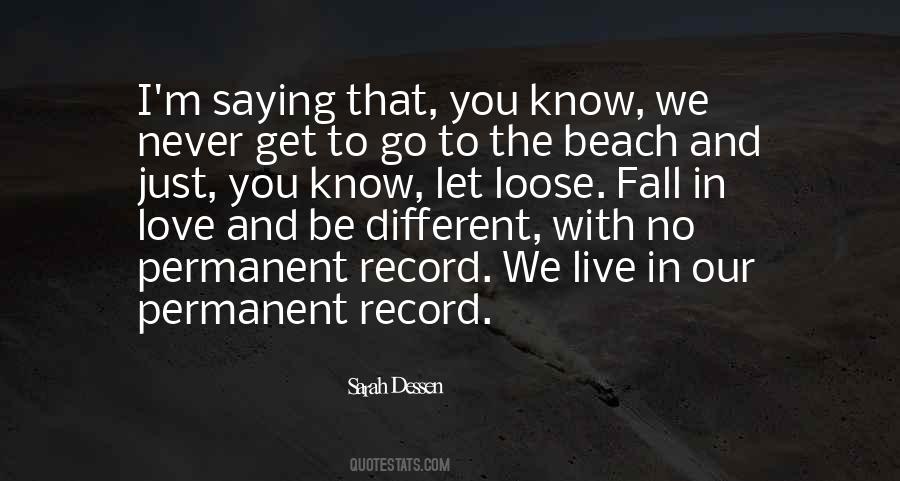 #31. I would like a partner but I can see myself without a marriage. I'd love to have someone to sit and talk with and walk on the beach with at 80. - Author: Faye Dunaway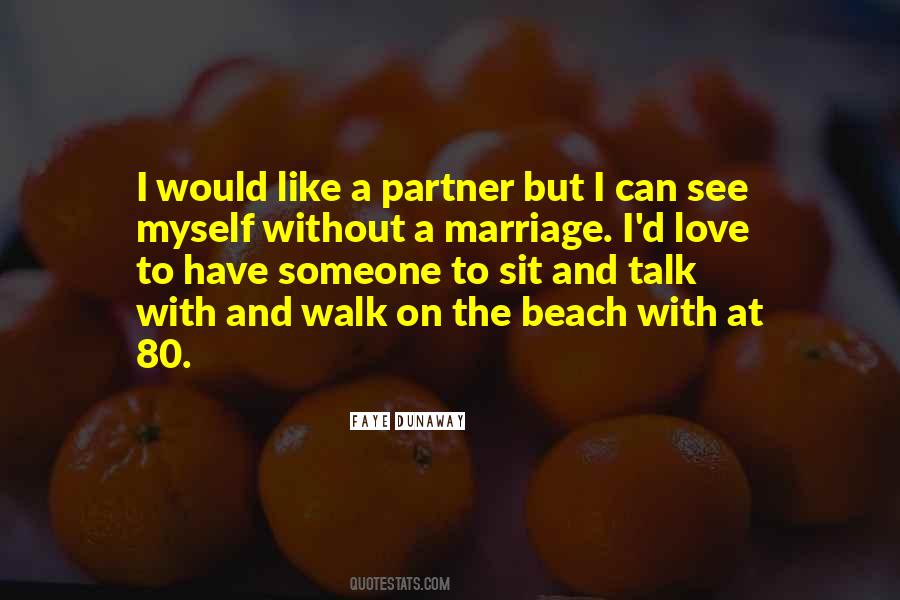 #32. We've had hassles, ups and downs, ins and outs, failures and triumphs. We're human beings, and we're not perfect. And we're mortal. But the Beach Boys is musically a tremendous body of work that transcends individuality and time and national boundaries. - Author: Mike Love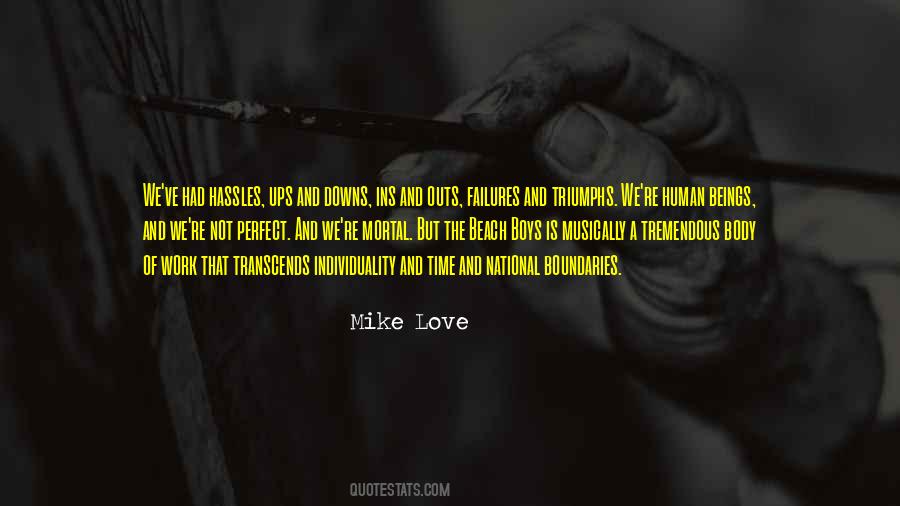 #33. My wife and I were on our honeymoon in Turks and Caicos, in the middle of nowhere, and I'm sitting on this deserted beach, and I see one lone person walking along the shore. He walks right up to me and says, 'I love 'Laser Cats,' and then just walks away. - Author: Bill Hader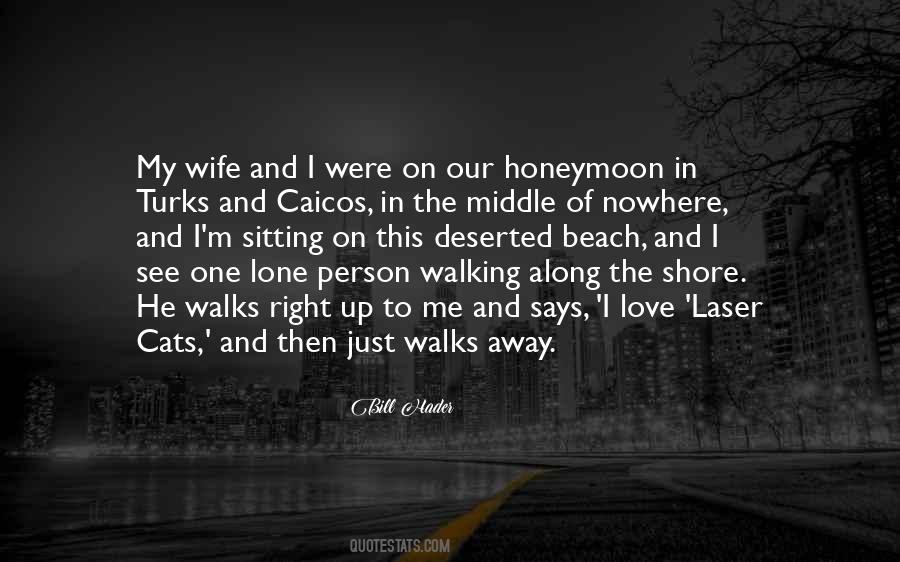 #34. A kiss on the beach when there is a full moon is the closest thing to heaven. - Author: H. Jackson Brown Jr.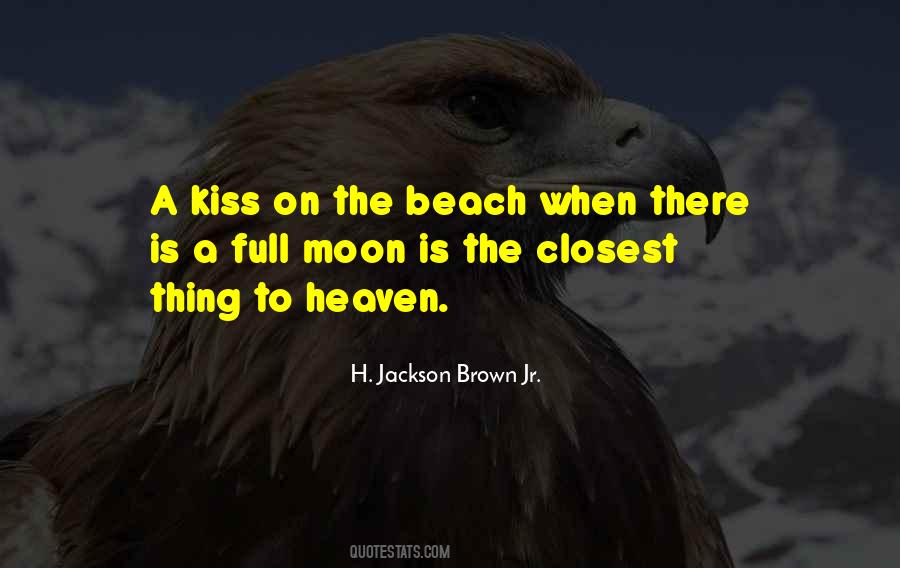 #35. I'd love to go somewhere warm, somewhere near the beach and somewhere with a cool culture. It could be Hawaii, Cuba, South America - anywhere that has a cool culture and a beautiful climate. - Author: Steve Nash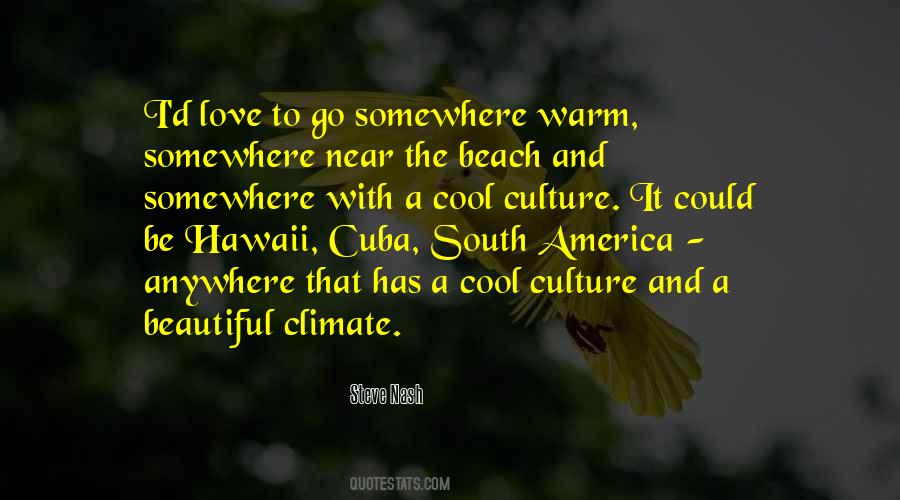 #36. I don't have time for lie-on-the-beach vacations. I'm a zoo person. There's one in New Jersey where animals actually come up to your car. I love the monkeys - I used to give them bubblegum to chew. - Author: Missy Elliot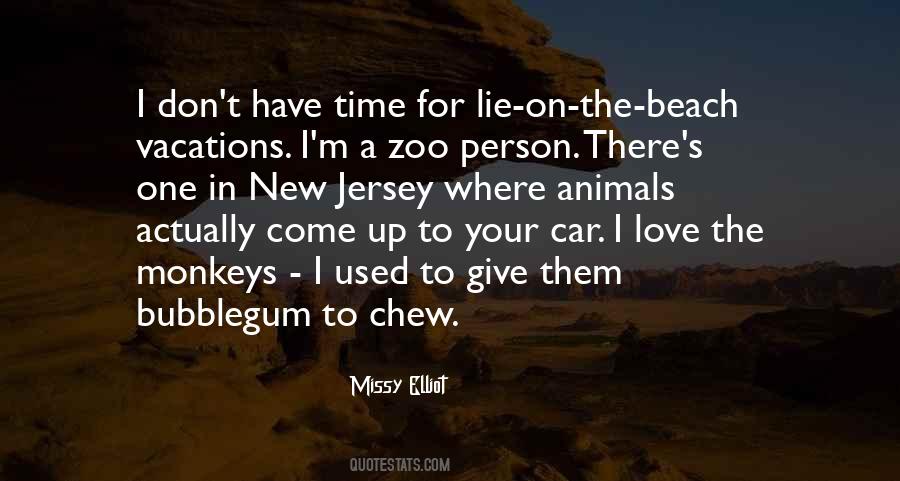 #37. There are some things I like about L.A. You can have a really healthy lifestyle, and I love running with the dogs on the beach. It's just the social scene is horrific! - Author: Mischa Barton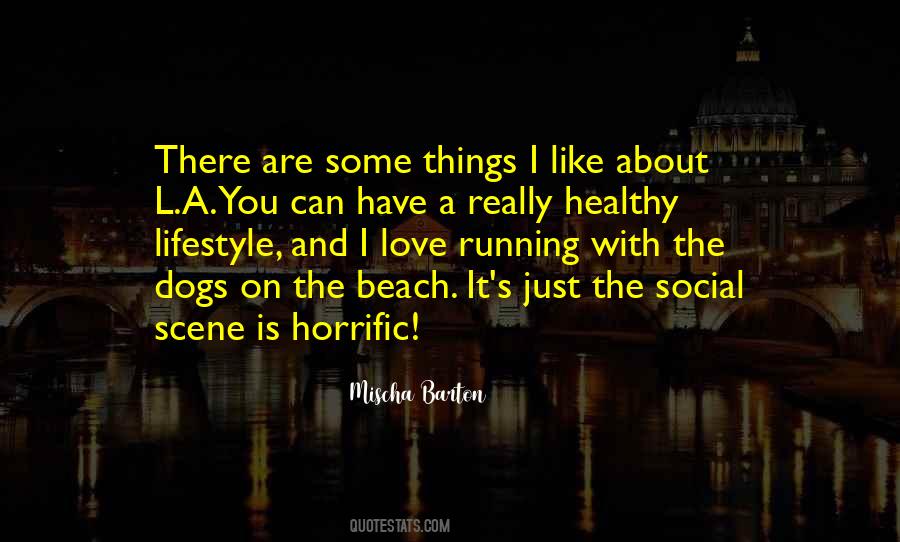 #38. I'm 24, so I'll go out and, yeah, have a few drinks and dance - I love to dance - and have a good time, but I like to do other things, too. I like going to the beach and reading and hiking. - Author: Josie Loren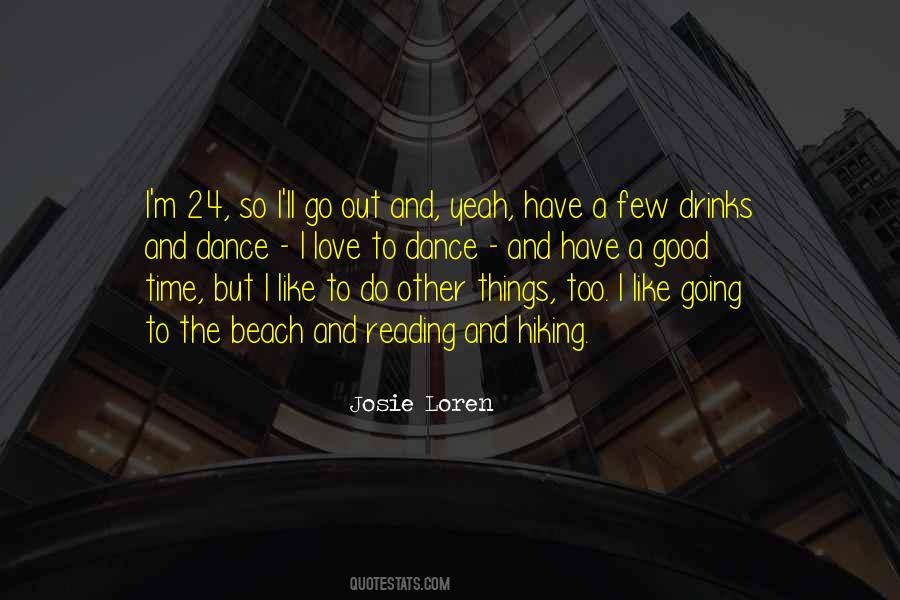 #39. Her [Gilberte's] face, grown almost ugly, reminded me then of those dreary beaches where the sea, ebbing far out, wearies one with its faint shimmering, everywhere the same, encircled by an immutable low horizon. - Author: Marcel Proust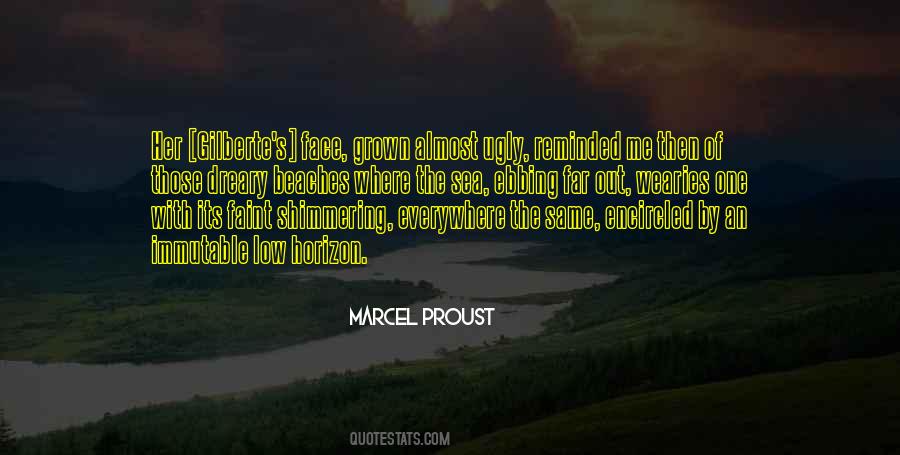 #40. I could taste the salt on her lips, each kiss like a summer wave breaking on an empty beach. - Author: Michael Faudet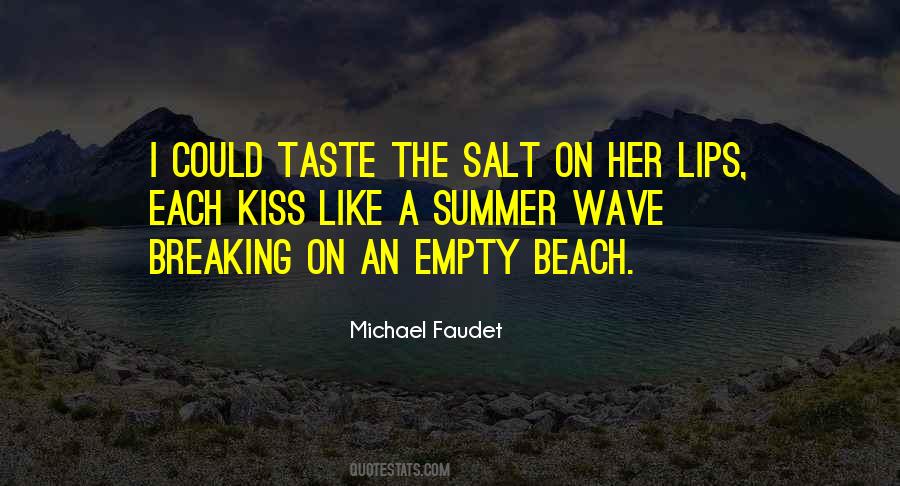 #41. I love being outdoors, playing beach tennis, going for runs in the sand, or doing a three-hour hike with my best girlfriend, Mieko. - Author: AnnaLynne McCord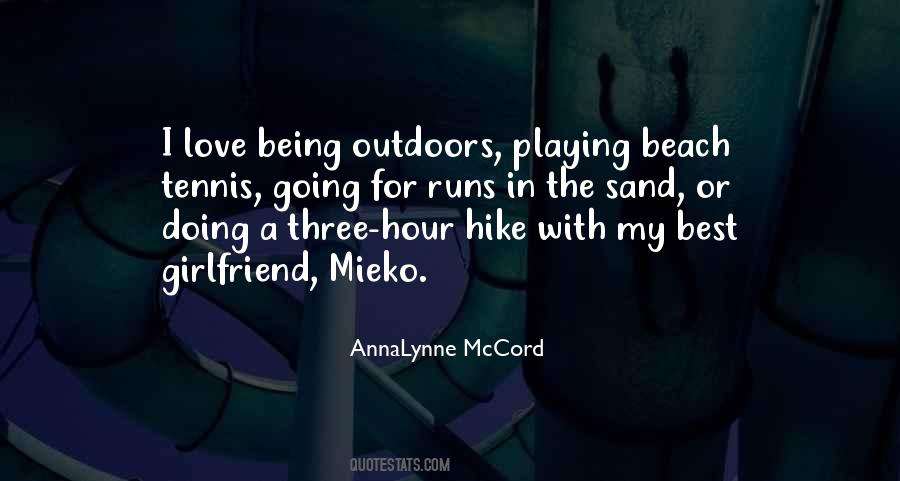 #42. I love out-of-the-way, rugged places. For me, holidays are about the experiences, and the people, and the memories, rather than sitting on a nice beach getting tanned. I try to plant myself where I am and embrace what is there in front of me. - Author: Evelyn Glennie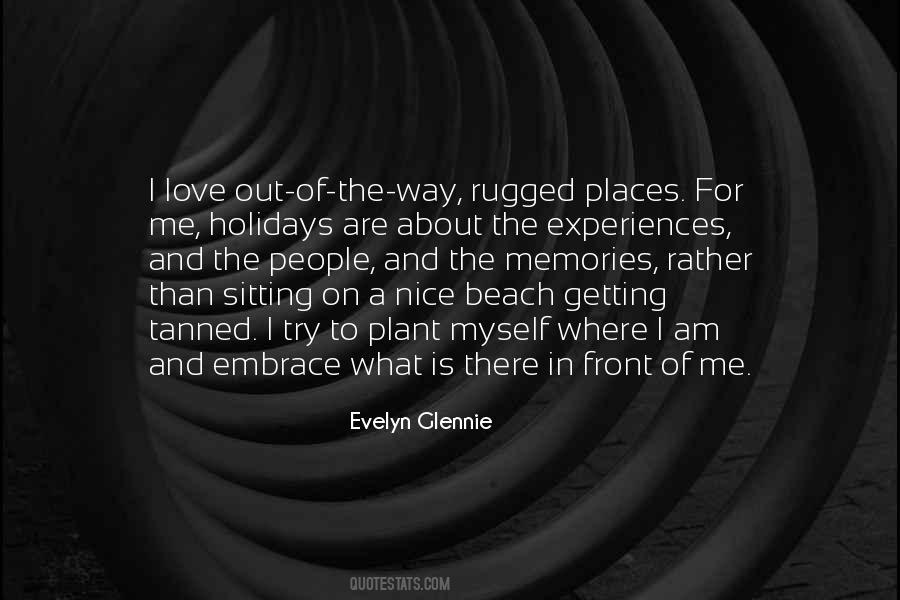 #43. Did she want him as badly as he wanted her? Did she realize he was slowly going insane for wanting her? - Author: Samantha Chase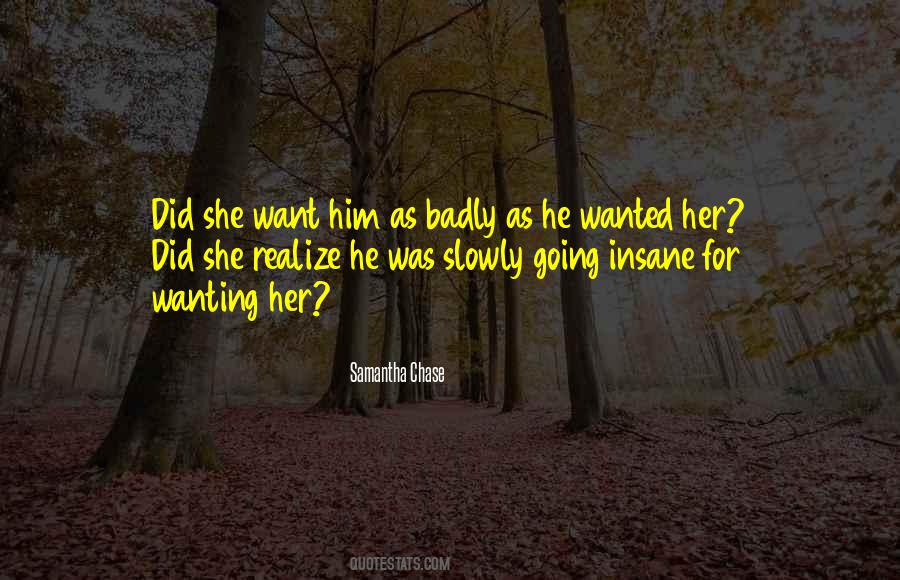 #44. I absolutely love any kind of outdoor activities like snowboarding, hiking, surfing, and laying out on the beach if I ever get the time ... which is not often! - Author: Gina Holden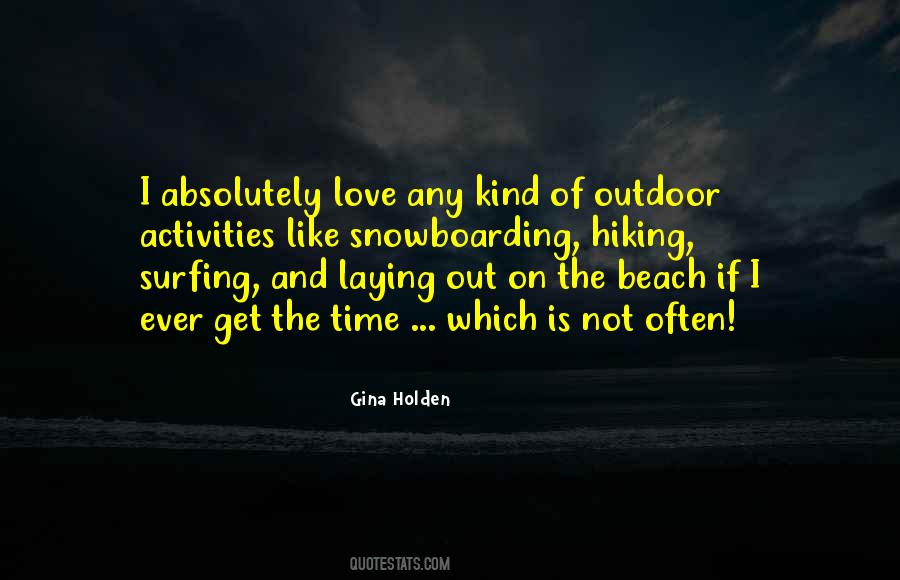 #45. Endless ocean, blue water, dreamy sky,
tranquil beach, love in the air, mind fly high. - Author: Debasish Mridha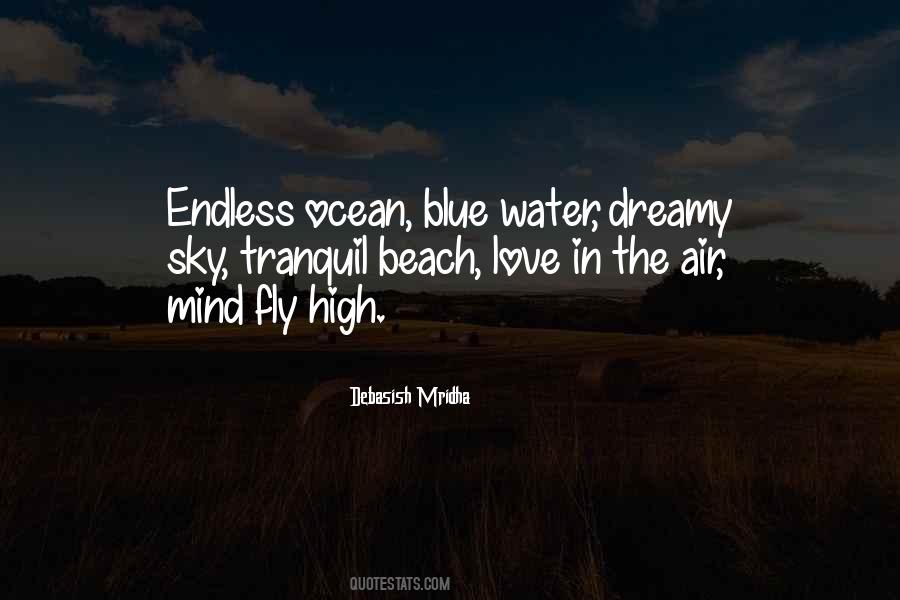 #46. I don't want to be in my car all day. I love getting up in the morning in Venice and walking my dogs down to the cafe to get my tea, and then perhaps going to a bookstore and sitting and reading, then walking to the beach. - Author: Jessica Chastain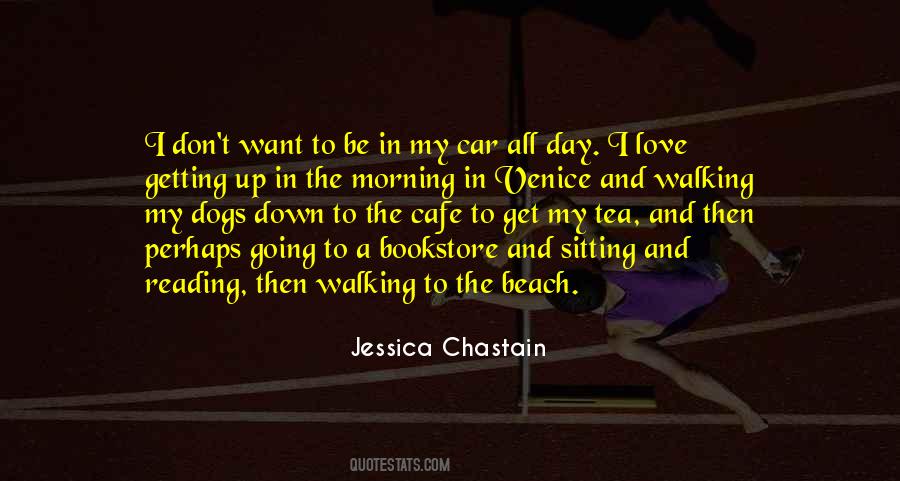 #47. I love to be outdoors, so I like to hike, bike and go to the beach. - Author: Jillian Rose Reed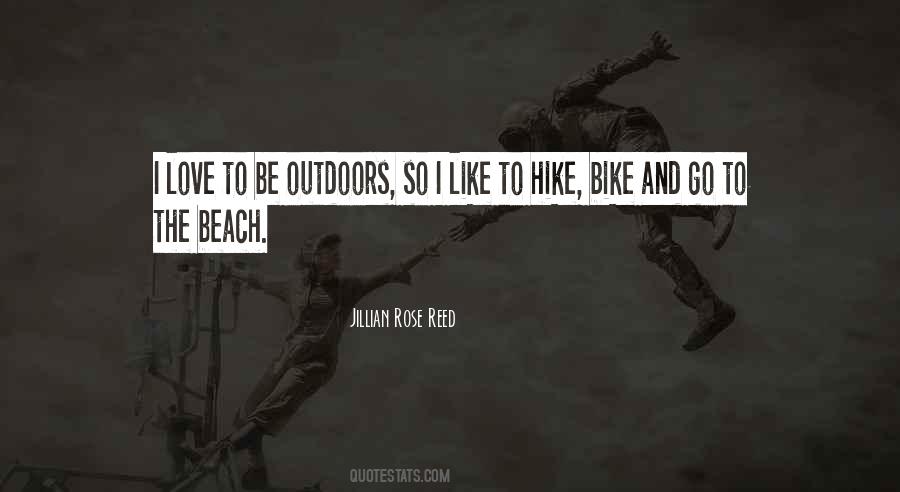 #48. What if he thinks I'm a tourist girl looking for some romantics long distance love affair just so she can share his gushing, beach-stained postcards with her friends? - Author: Sarah Ockler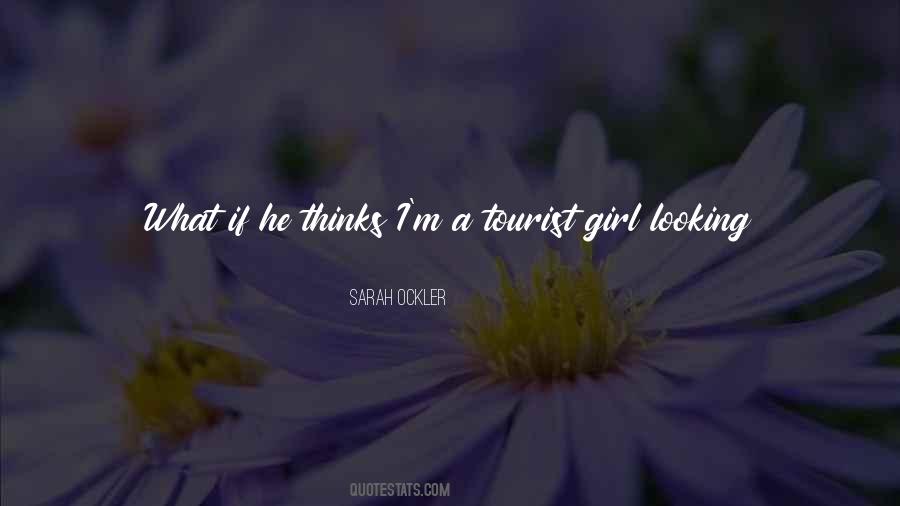 #49. There is a lot of stuff I like. I love backpacking. I love going to an island where I can just sit on the beach and read or scuba dive and sail. I do a lot of that. I still go backpacking around Europe in the summers and staying in hostels. I love that. - Author: Sam Altman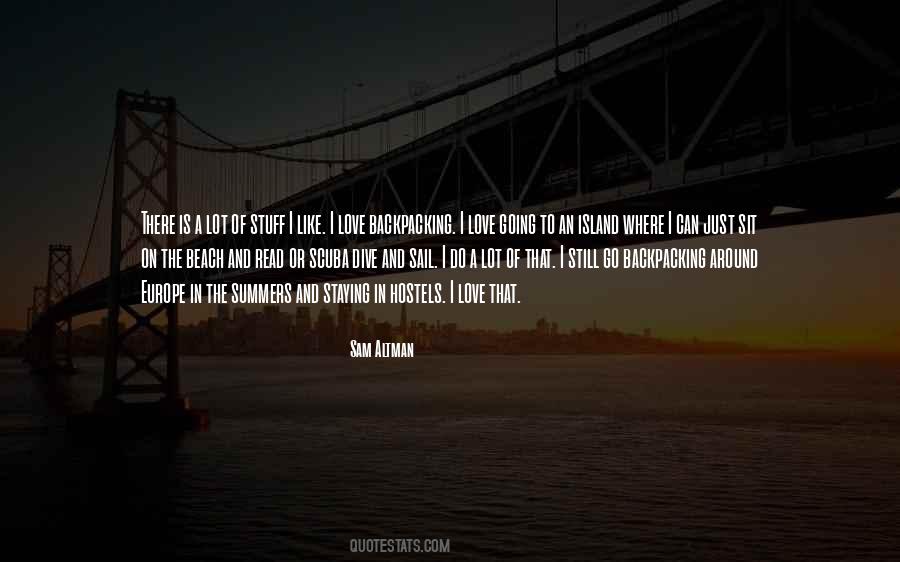 #50. I like the beach and would also love to learn golf because I think it is rather elegant for an older lady. - Author: Virginia Hey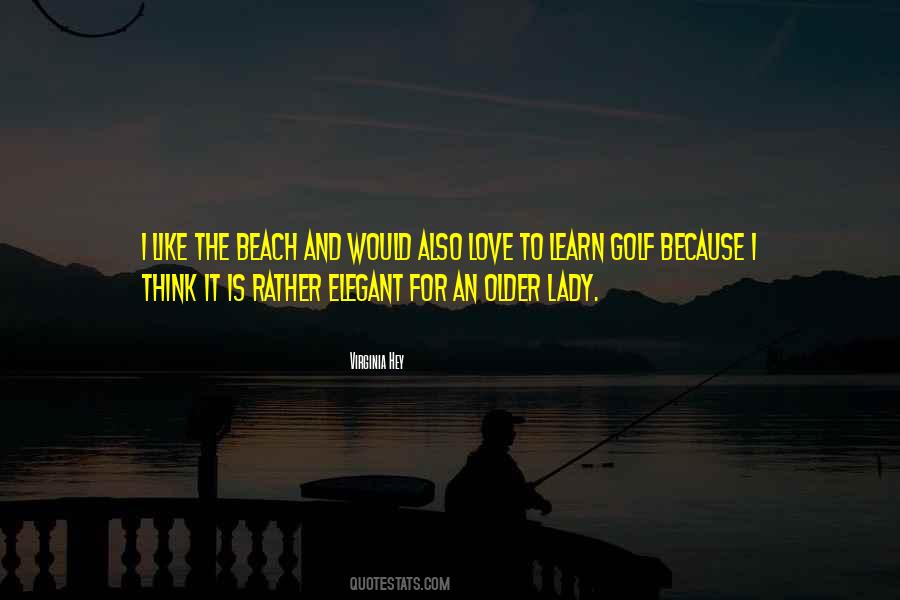 #51. I love feeling in touch with Mother Nature. Spending time outside - whether it's hiking, biking, walking on the beach, or lying in the sun - brings me clarity and energy. - Author: Chelsea Krost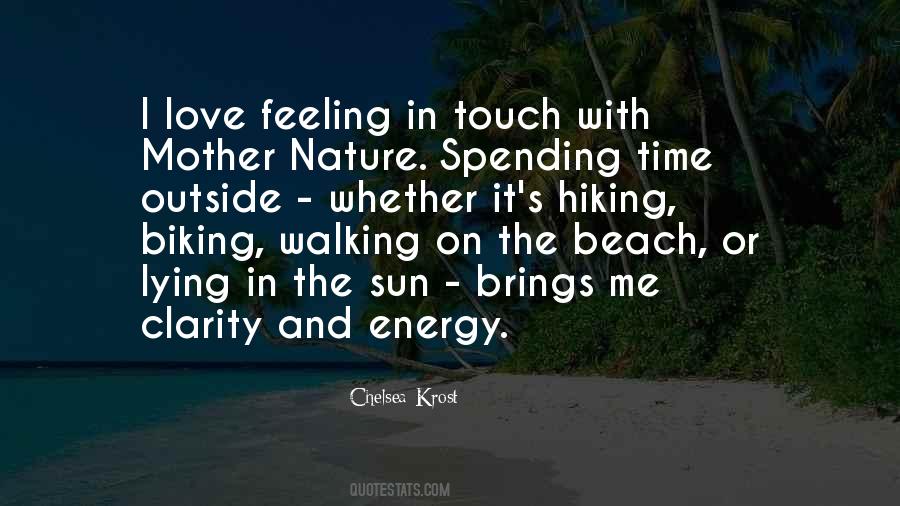 #52. John Mayer and Jack Johnson are two of my all-time favorites. I love Colbie Caillat and really cool, beach-y, guitar, acoustic type music. - Author: Halston Sage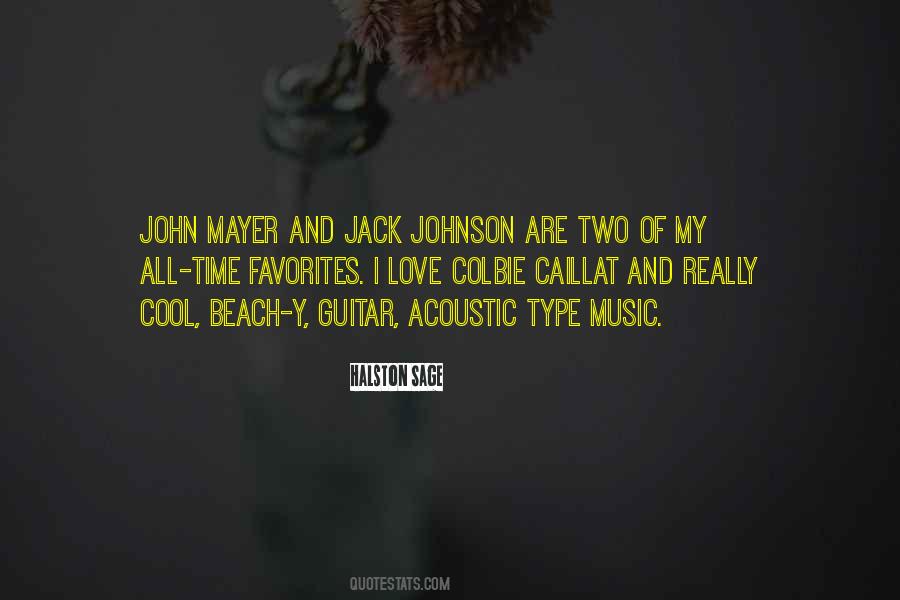 #53. I love the weather in L.A., and I can drive 20 minutes to the beach, hike minutes from my house or go snowboarding a couple hours away. - Author: Jud Tylor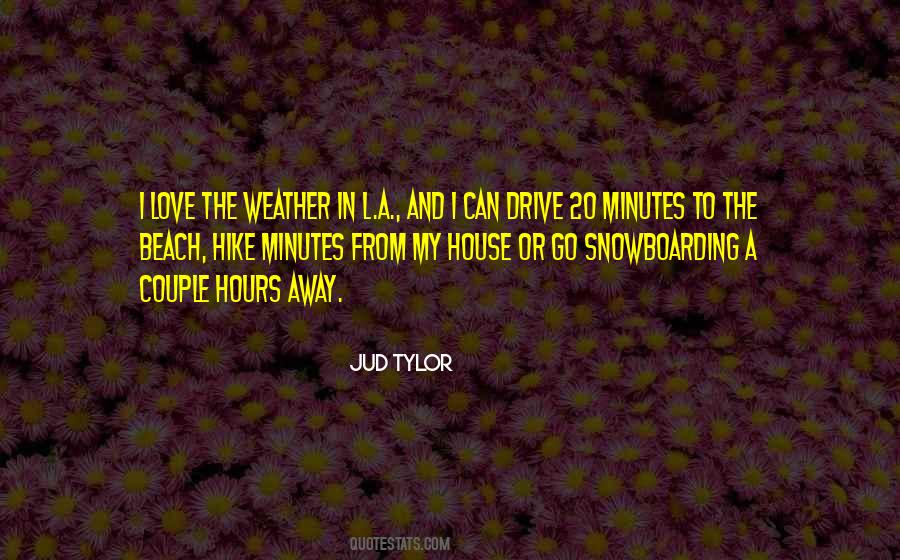 #54. I love to cook, my husband and I collect wine, and in my head, I am always on Sullivan's Island, walking the beach listening to the song of the ocean. - Author: Dorothea Benton Frank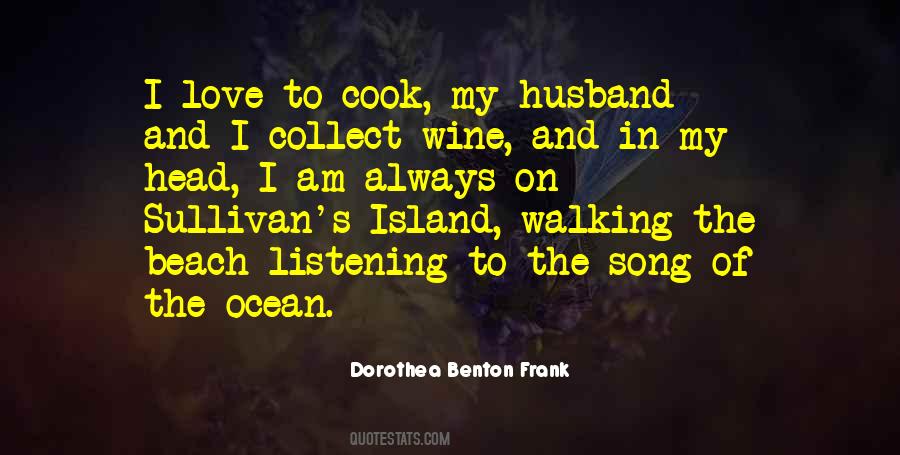 #55. If Reed wasn't planning on meeting me at the beach, I'd be rolling around naked in this bed with you in a heartbeat. I love surfing, but - " his gaze wandered over the thin sheet covering her body before he met her eyes again " - no wave could ever compete with you. - Author: Lisa Kessler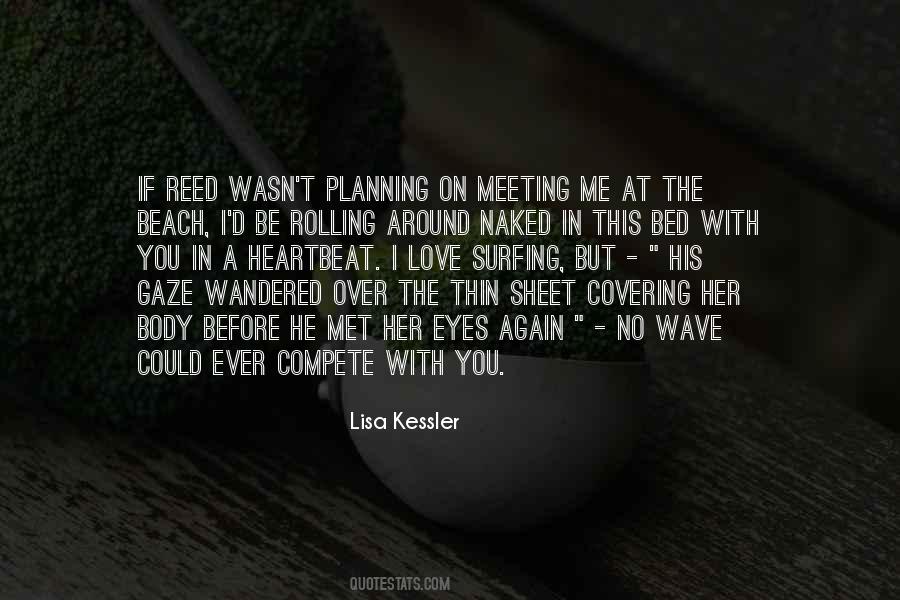 #56. For summer, I definitely love doing stuff outside. I love beach volleyball if you're close to something like that. It's really fun; you can do it with a lot of friends. - Author: Behati Prinsloo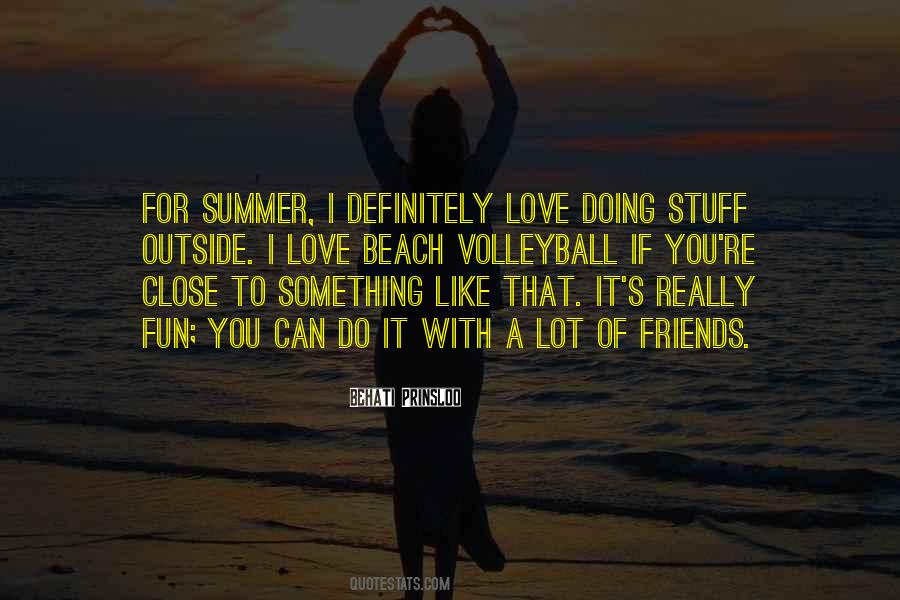 #57. I still love things that you don't even need to pay for. Going to the beach and being around five of your friends and having a good time means so much more than going out and spending hundreds of dollars. - Author: Maria Sharapova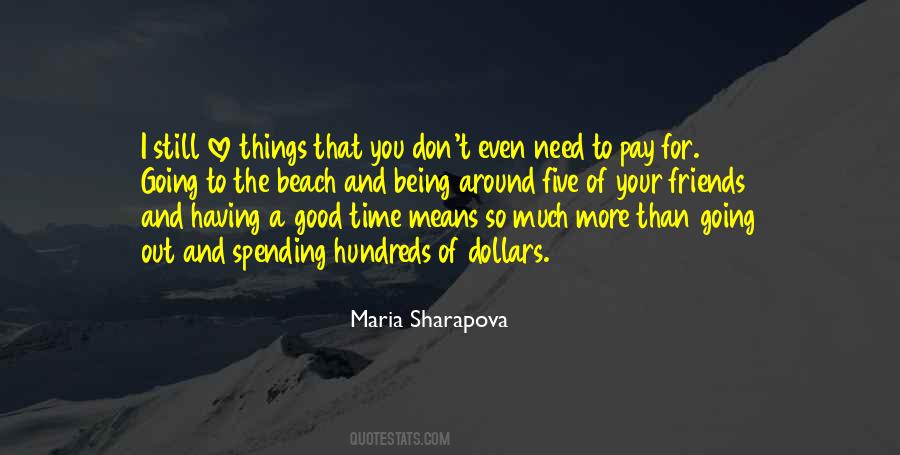 #58. If I was in Sydney, I love the beach. Even though I'm incredibly pale, I put on these terribly long unattractive rashies, and people laugh at me. My kids laugh at me. But that's what I would do. - Author: Nicole Kidman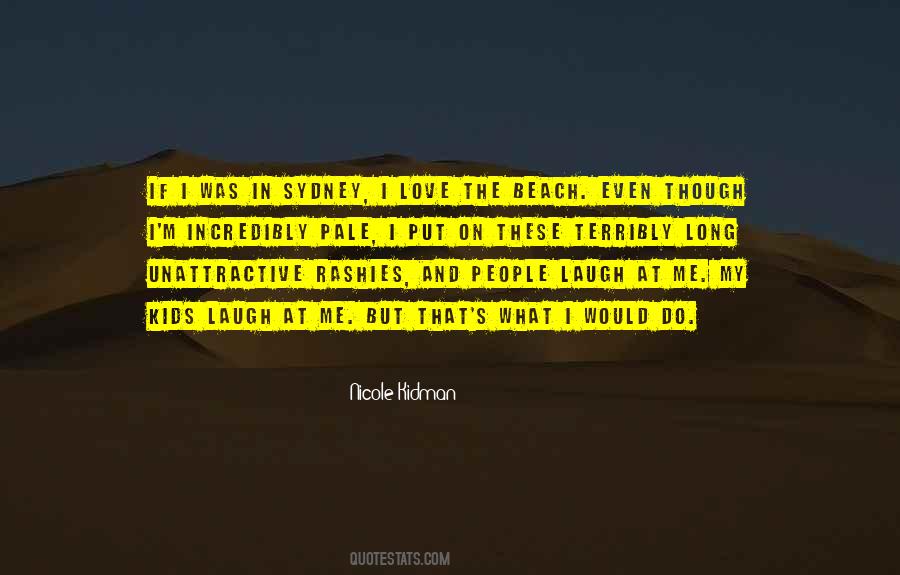 #59. I'm not a huge gym person, so I try to stay away from the gym. But I love to run on the beach or go for a walk. It's better than riding a stationary bike. - Author: Maria Sharapova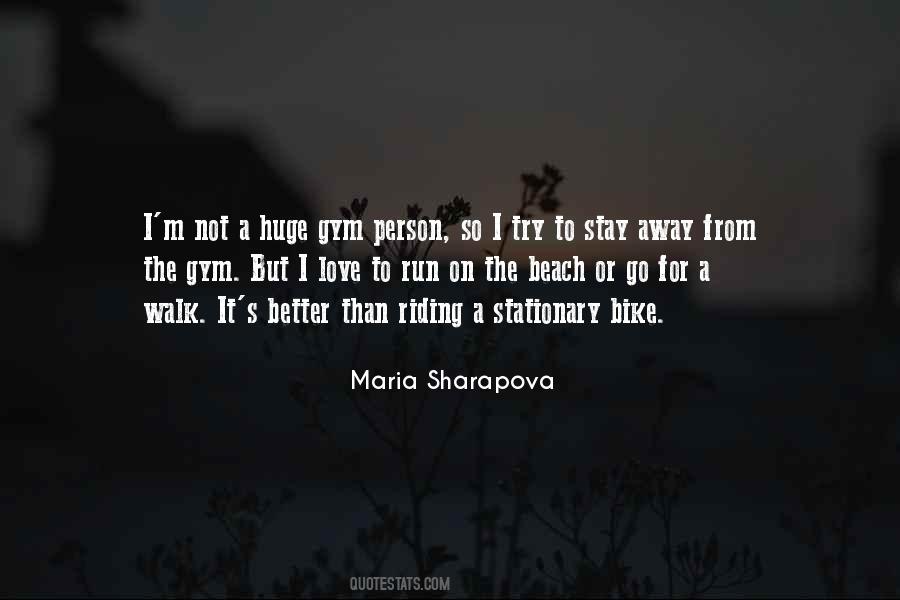 #60. I love going to the beach in the tropics and doing whatever I do - surfing, swimming or being - and the glow when I get a tan that deepens. I walk around with red and gold in my skin and feel like the most beautiful thing on the planet! - Author: Anika Noni Rose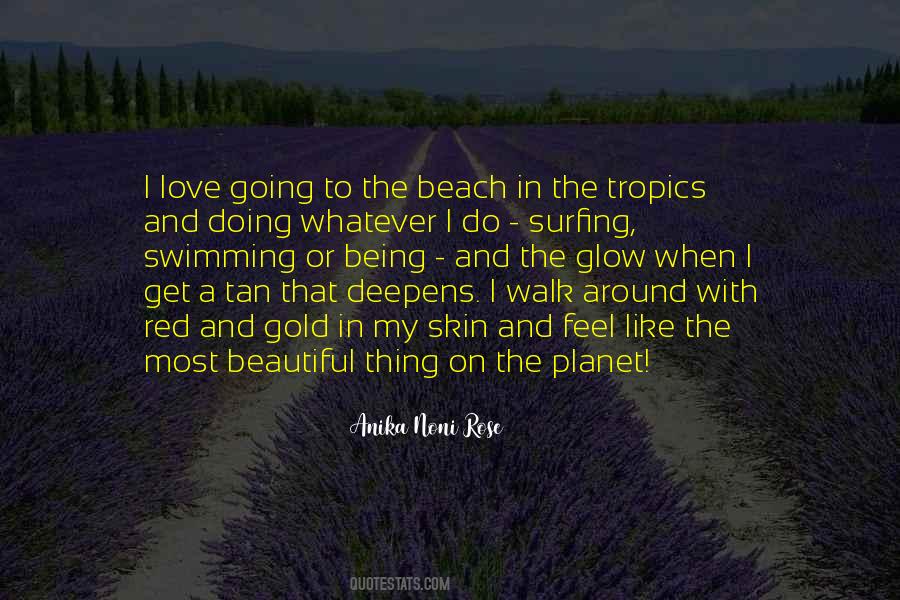 #61. We had idyllic summer holidays, building sandcastles with my father on the beach at Bridlington. It might sound strange, but I think that secure cocoon of familial love was so nourishing, it gave me the strength to live life on my own. - Author: Kiki Dee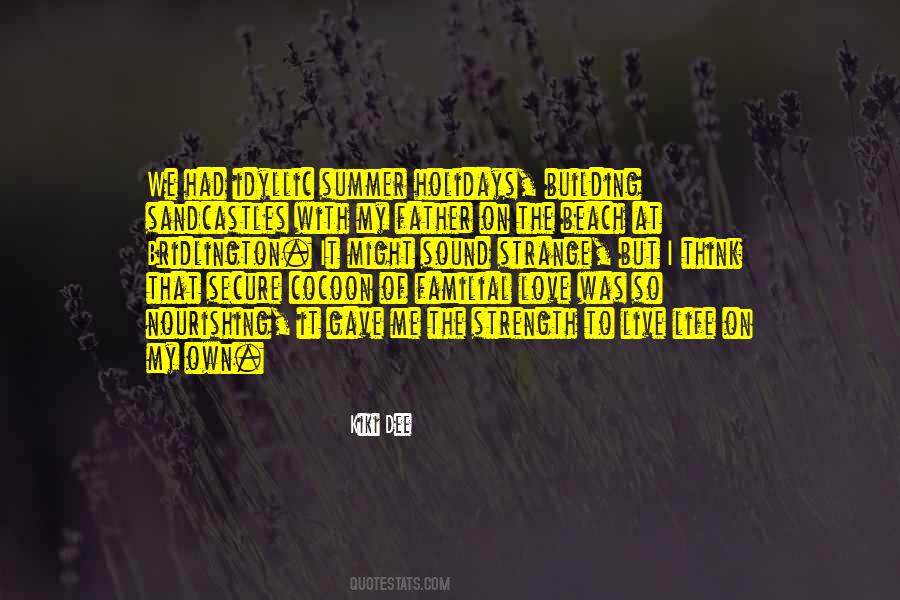 #62. I just stood there, like a grain of sand amongst a
million others on a beach. - Author: Jeff Erno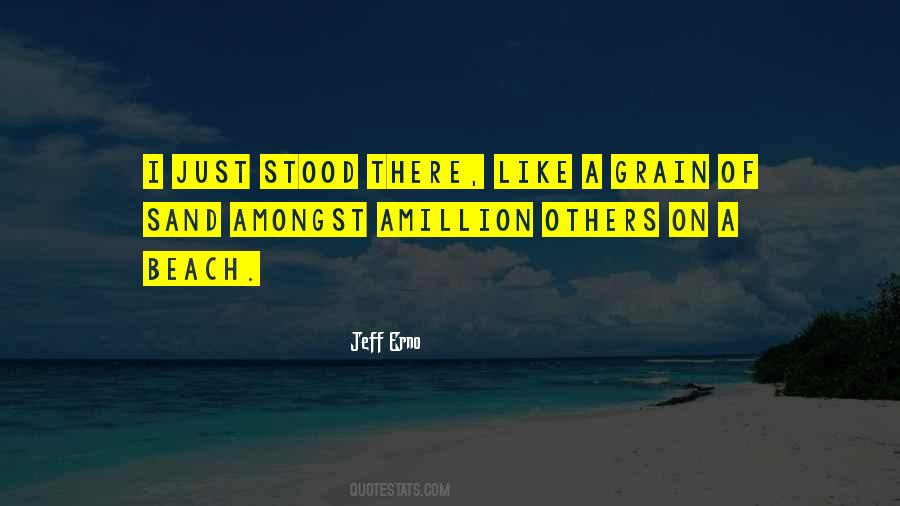 #63. I prefer to do absolutely nothing. I love to relax. But, if there's a beach around that's where you'll find me. - Author: Trina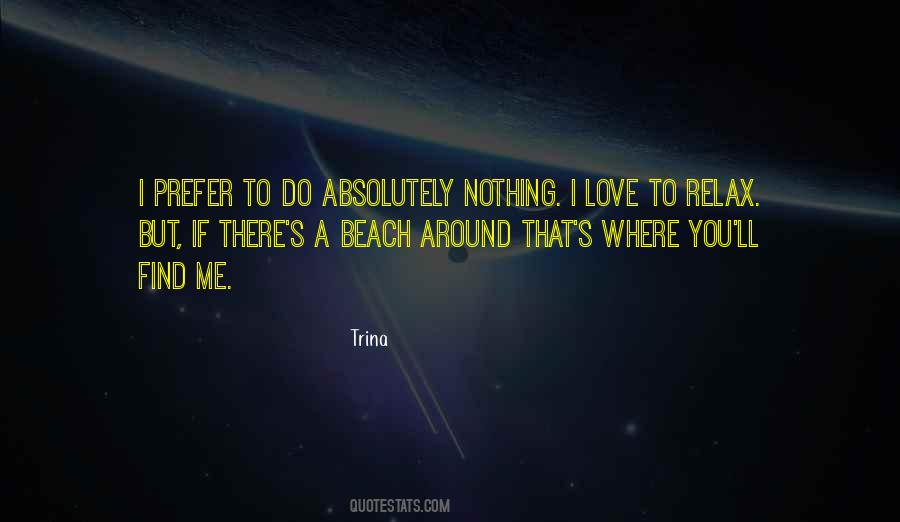 #64. I'm a naturist at heart. I love being on beaches where everyone is naked. Ugly young people, beautiful old people, whatever. It's so unsexual and so liberating ... - Author: Helen Mirren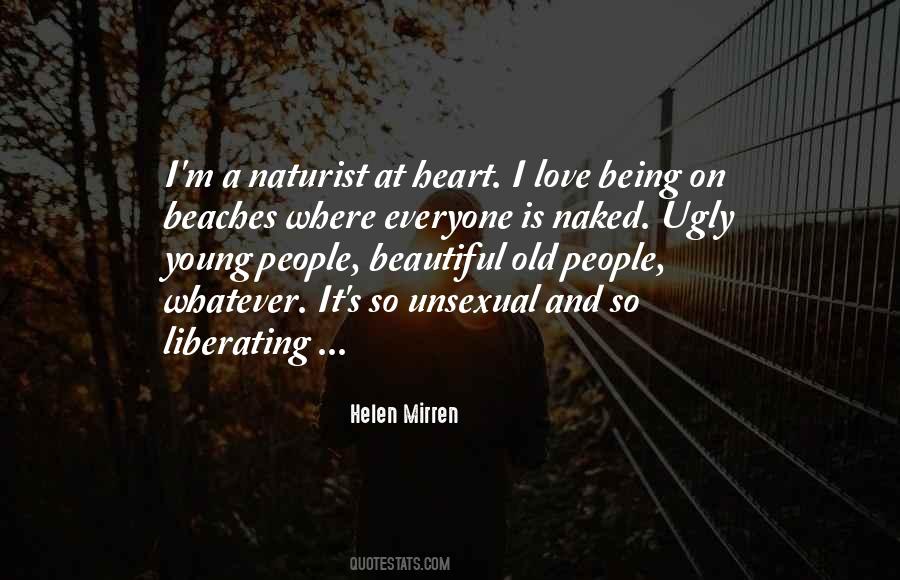 #65. I'm not the type to lay out on the beach, but I do love to work out outside, and that can really take a toll on your skin! - Author: Gabrielle Union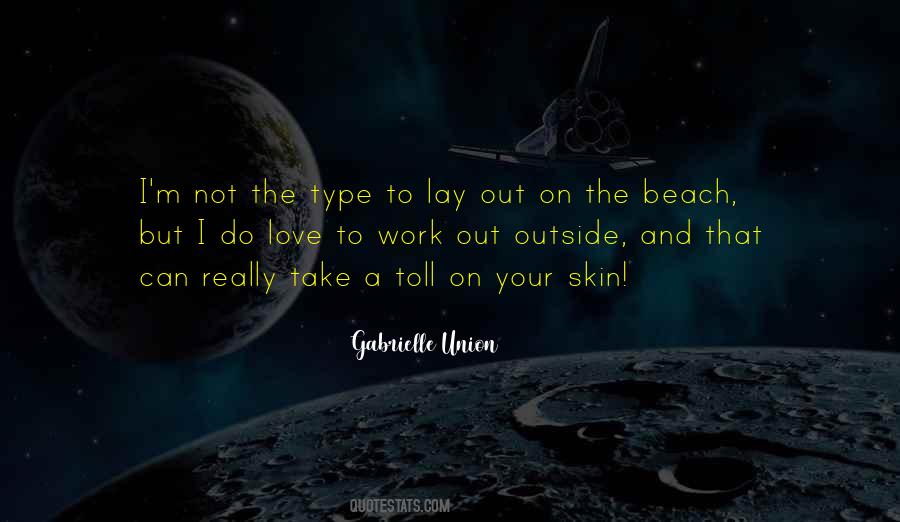 #66. Water makes me feel at peace. In Corsica, I spend most of my time on the beaches or in the rivers. That's one reason I love it there so much. The water is so clean and fresh - you can drink it straight out of the rivers! This island is my secret garden. - Author: Laetitia Casta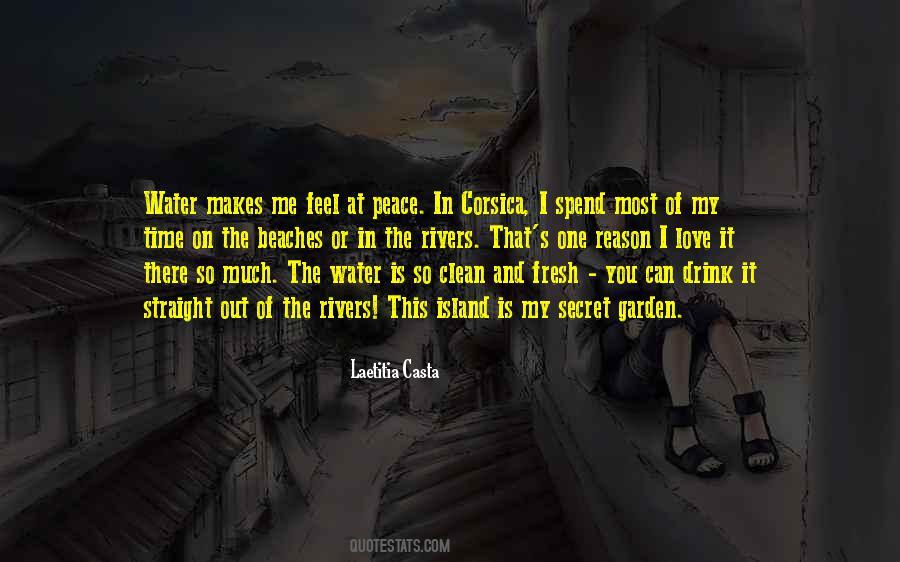 #67. Below on the beach, the surf also seemed the same, although the sea was more transparent. In the light of day, the hollow formed by the terrace and the cave seemed as tiny as a nest. They themselves were merely a man and a woman lost in the immensity. - Author: Marek Halter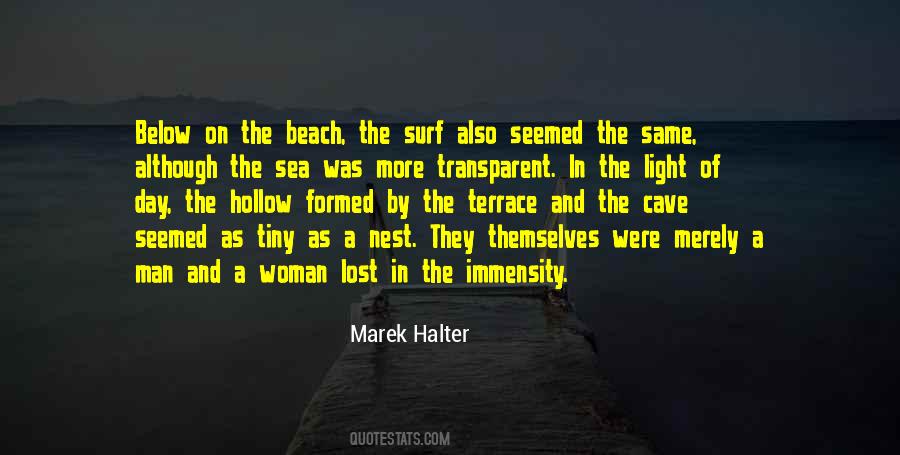 #68. I went to New York and Miami and hung out by the beach, and I love the American boys, so I wrote a song about it. - Author: Estelle Fanta Swaray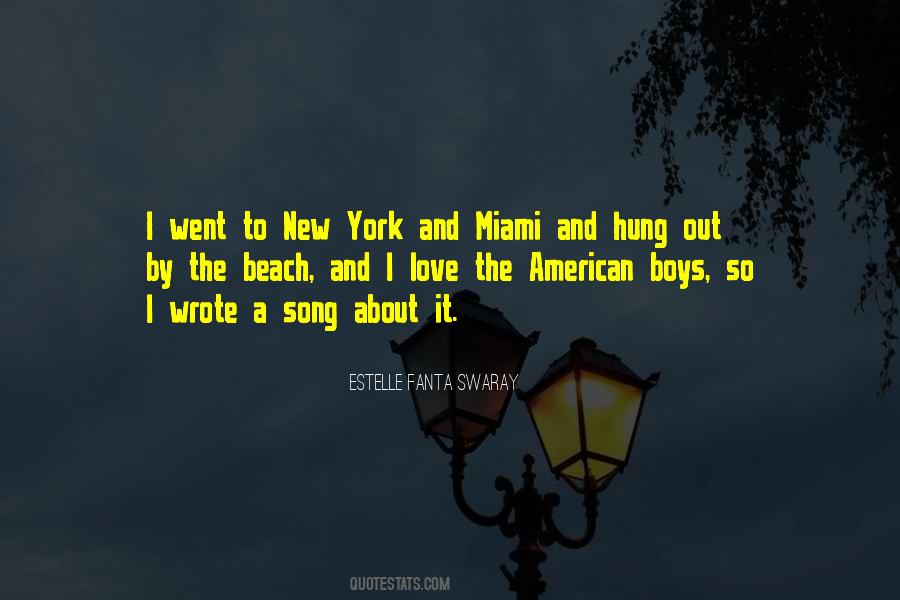 #69. I would love it if my book was considered chick-lit or a beach read. That would be great. People would buy my book. - Author: Emily Gould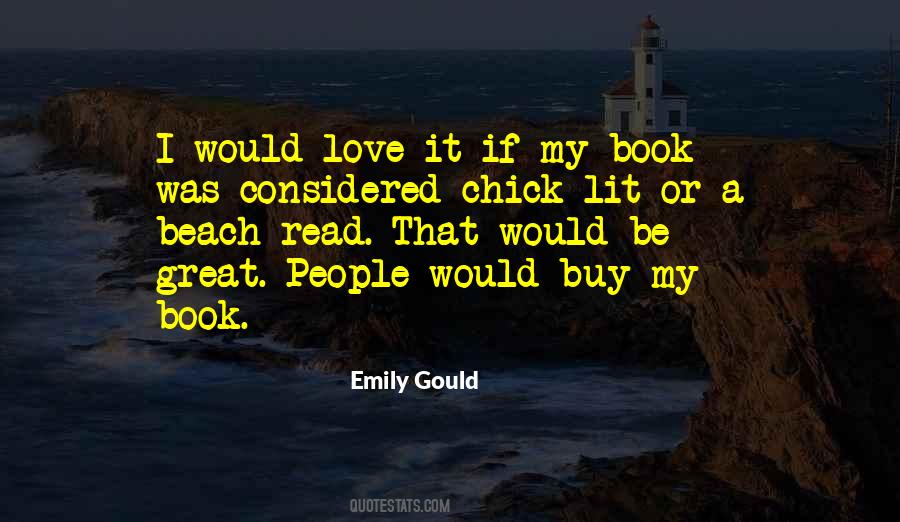 #70. About their wedding on a beach of Nantucket, after nearly 50 years together as a couple: "After years of being who we truly were only in the privacy of our homes or with a few friends, we were out in the world, under the sky, no longer pretending." - Norman Sunshine, co-author, Double Life - Author: Norman Sunshine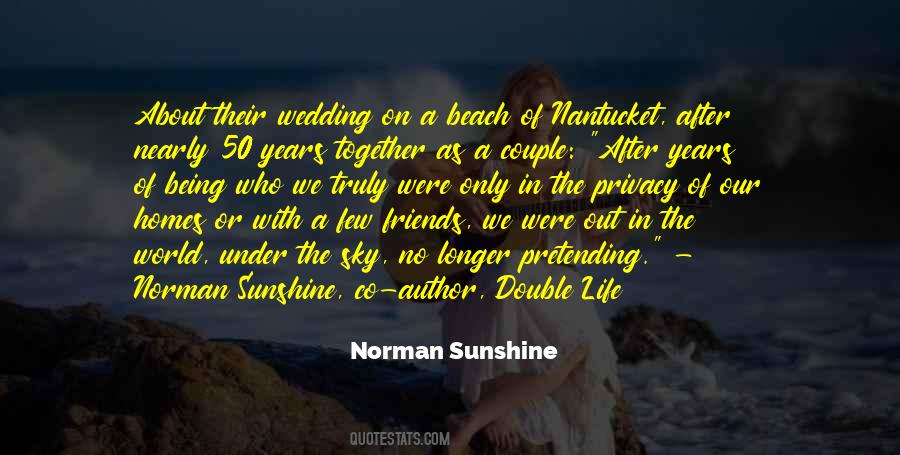 #71. According to a high percentage of novels I've read, it appears that falling in love at the beach is both easier and more satisfying than falling in love in a grocery store or mall. - Author: Erin McCahan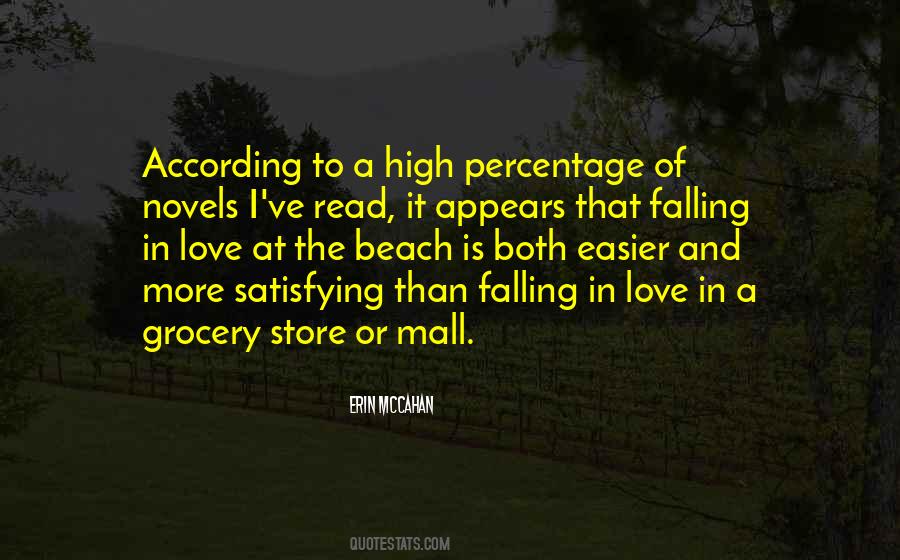 #72. I want to towel off, leave my heart on this beach and
walk the sand into a lake
of stars, while never looking back. - Author: A.P. Sweet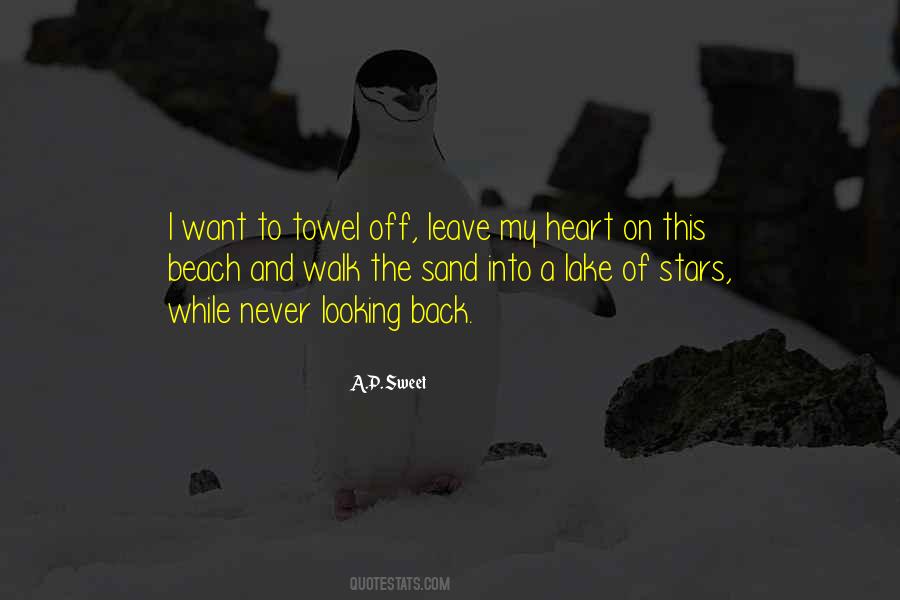 #73. One of the things I love about summer is that you can wear a bikini top and put something over it and it kind of just always looks a little beach-ready, which I think is very fun. - Author: Debby Ryan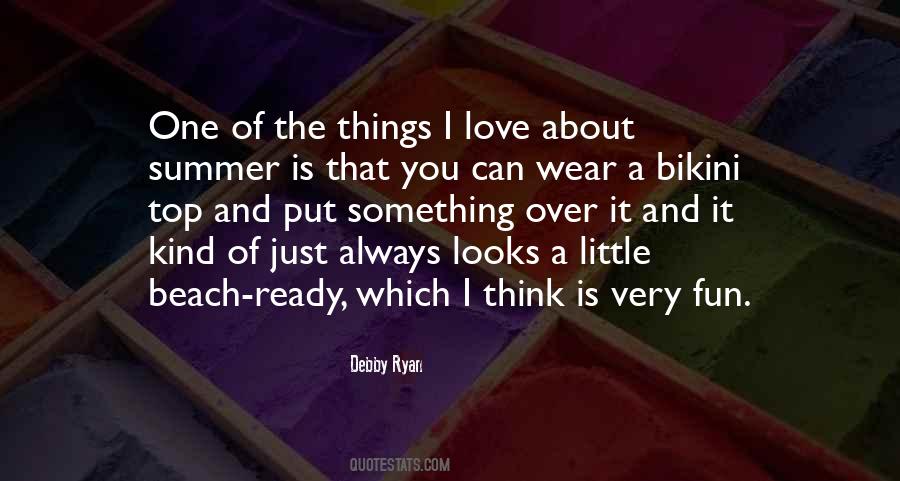 #74. I'm always in Malibu, and I'm a big fan of surfing and stuff. I love the beach. Someday I will live on the beach. - Author: Riff Raff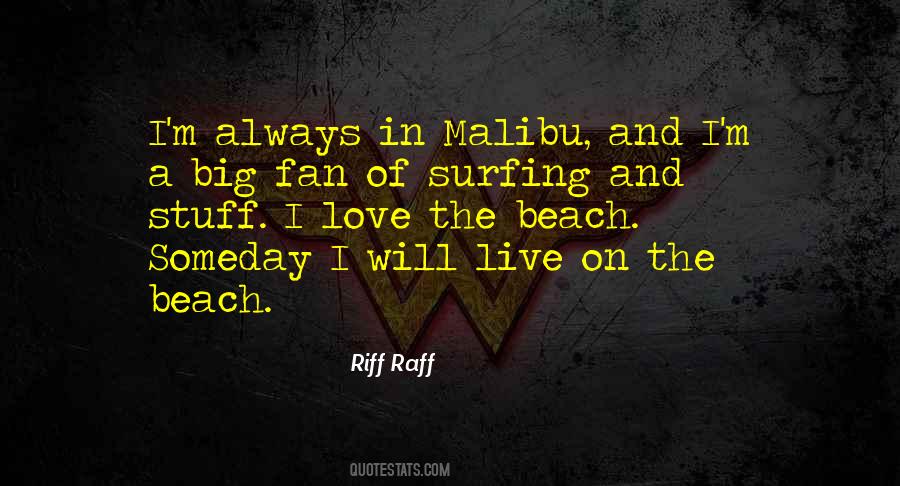 #75. I don't know how you got so lucky twice in your life, but I think love found you out on that beach. - Author: T.S. Krupa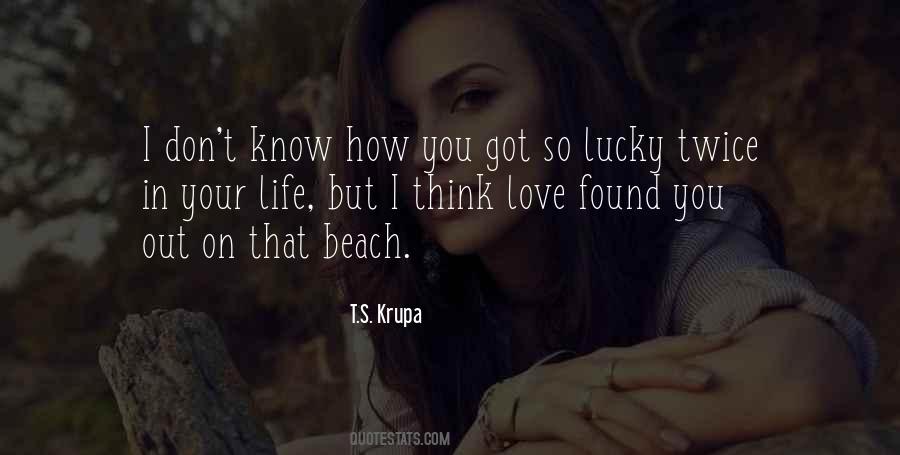 #76. This is what love is. Not the moments on the beach, or under the stars or the trees, or in the moonlight. Love is sitting together in the quiet, waiting for death to come.
Knowing you're not alone. - Author: Carolee Dean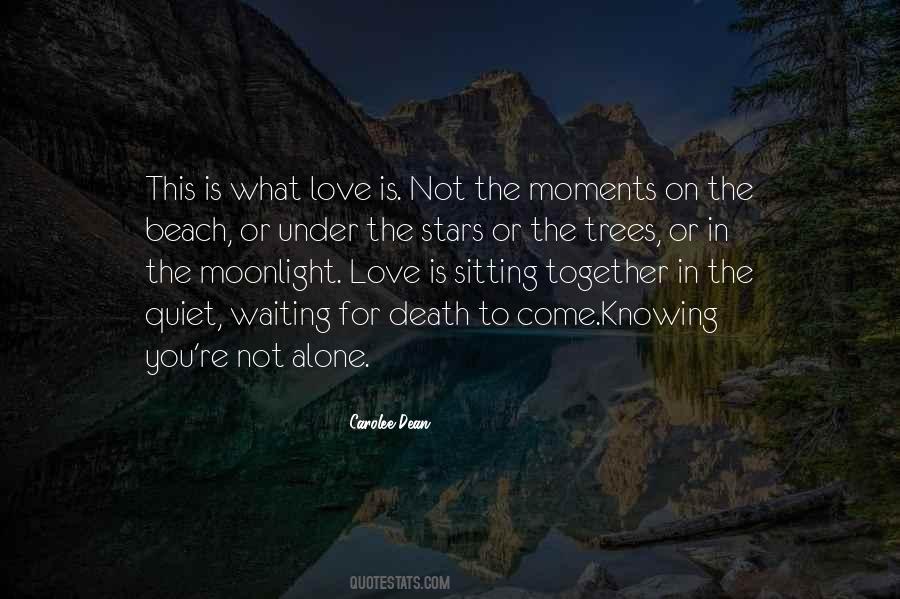 #77. We were miraculous.
We were beach creatures.
We had treasures in our pockets and each other on our skin. - Author: Nina LaCour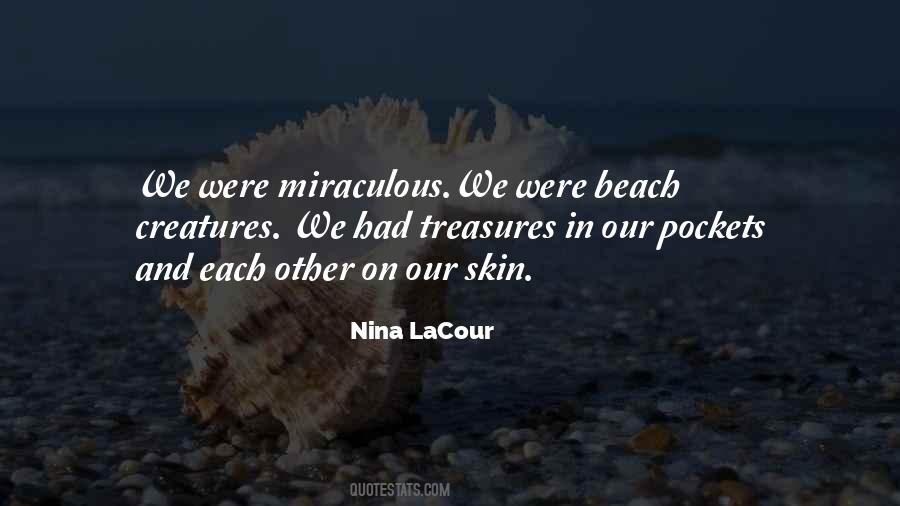 #78. We are young, life is vivacious, life is fun,
let's enjoy it, at the beach with loving sun. - Author: Debasish Mridha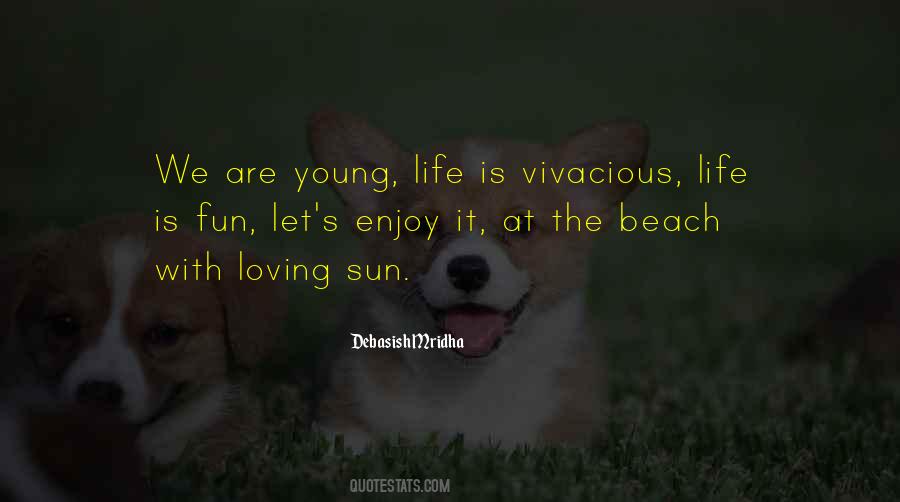 #79. Maybe out of the fifty top Beach Boys songs, I was probably the co-writer and singing lead on forty of them. - Author: Mike Love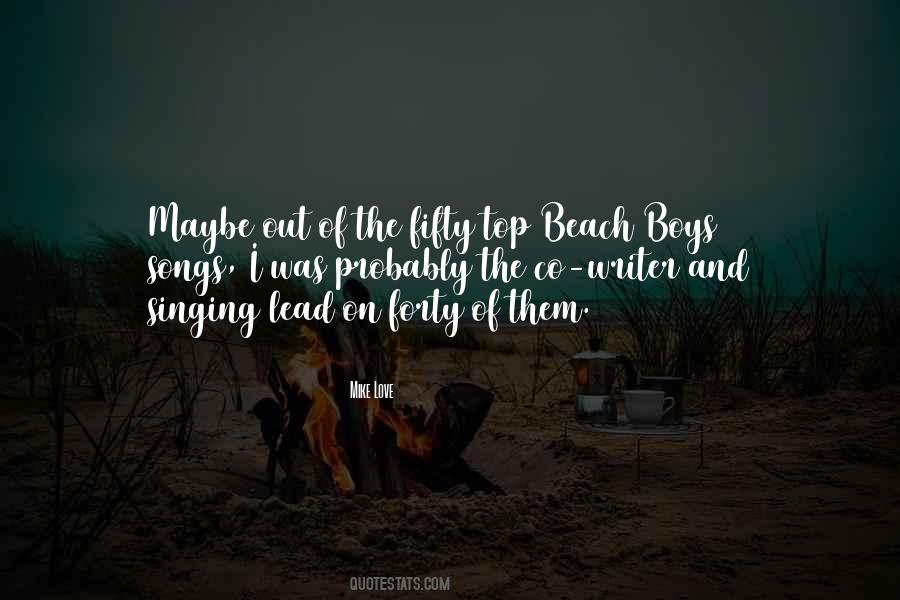 #80. As much as we love being sociable on holiday, part of me craves the idea of being away, staying in a hut on the beach, and maybe not seeing anyone for days apart from Jamie and the boys. - Author: Louise Nurding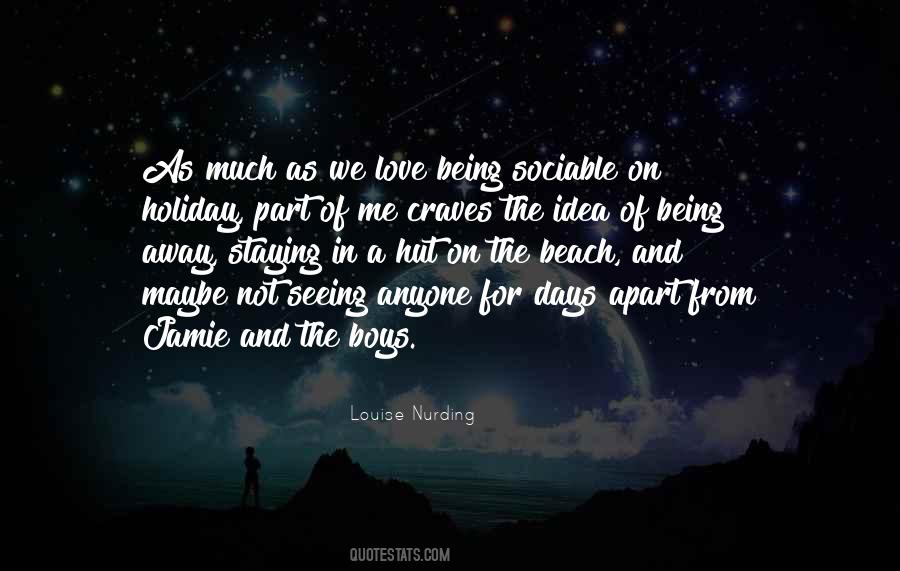 #81. We came from the '60s era, when we started and made so many hits. The song value from the '60s was so darn good, you've got The Beatles, The Beach Boys, all of Motown, and plenty of other people, too ... amazing records, amazing songs. - Author: Mike Love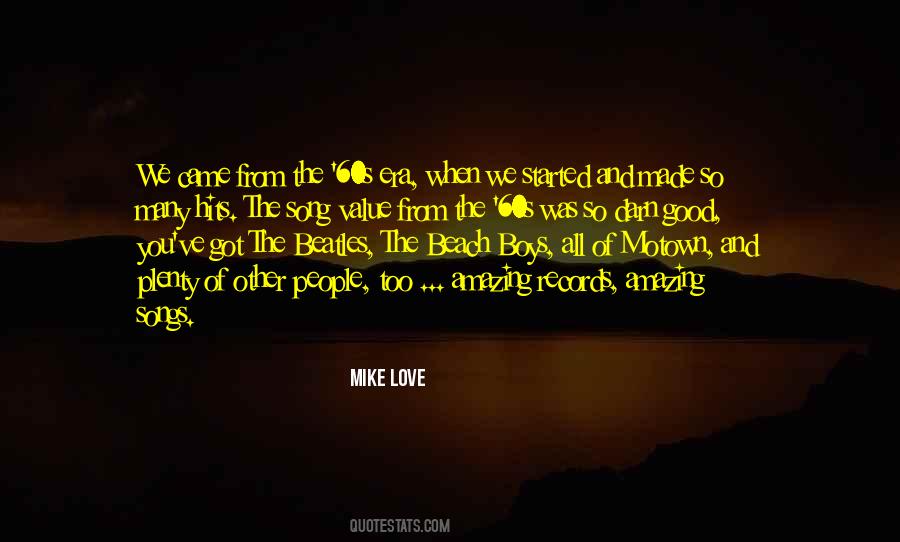 #82. New York was at the forefront of rap, so because of all the great people who have gone before me, being a rapper from Queens, I have to live up to those standards. I'm basically just a regular guy who says what he feels and likes to joke. I like long walks on the beach ... and I love rap. - Author: Action Bronson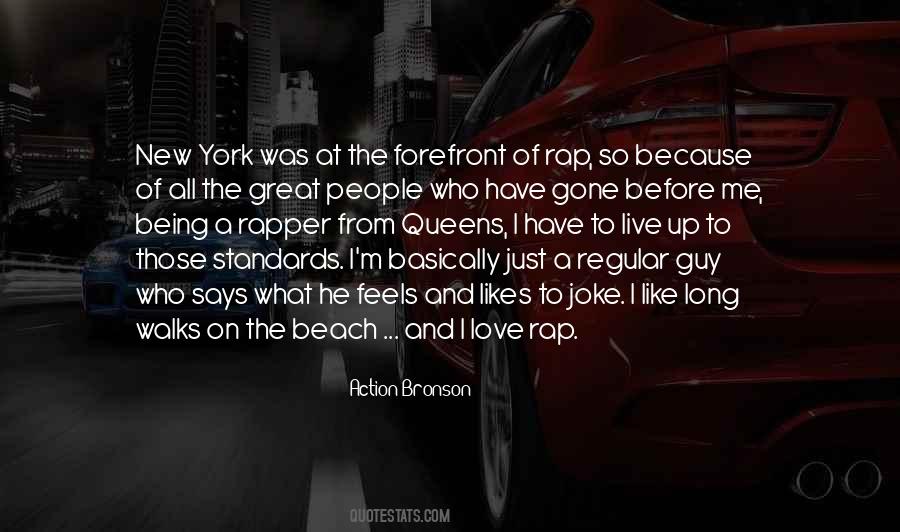 #83. I love the ocean, but I'm just not one to lie on the beach. - Author: Naomi Judd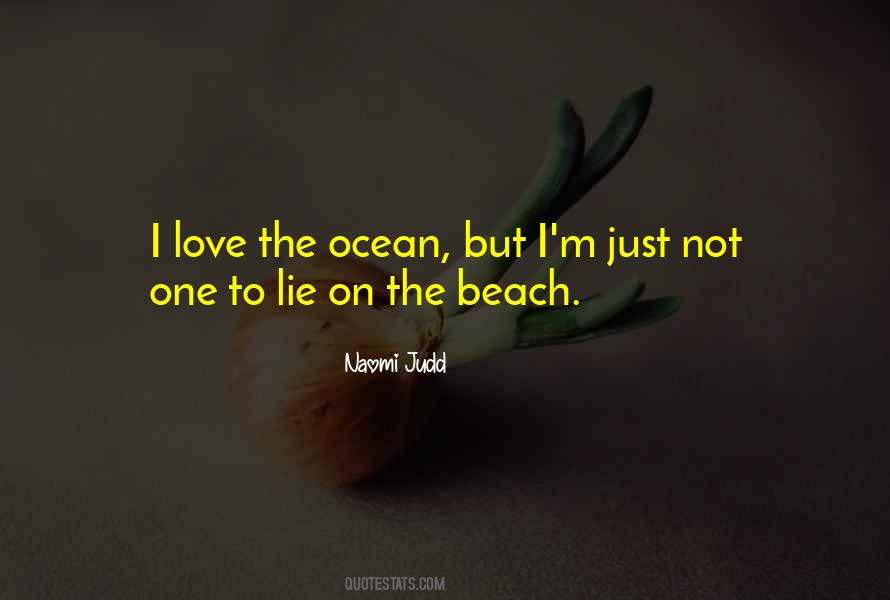 #84. I can't do this with you again and then watch you go," she admitted, her breathing ragged. Her skin tingled all over where their bodies touched and it felt as if it were over a thousand degrees in the house. - Author: Samantha Chase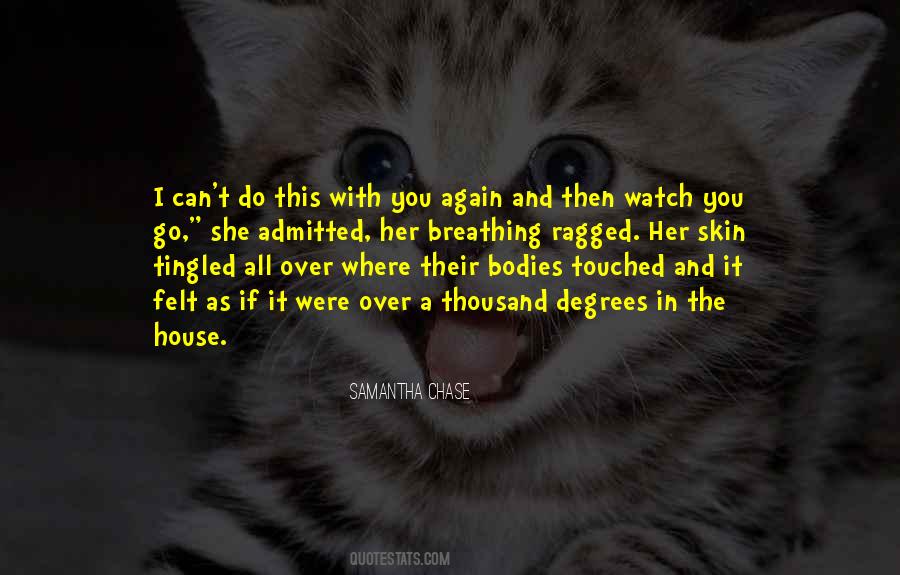 #85. I have traveled a fair amount, and I have visited some great cities. I love architecture and museums and castles and ruins and central markets and even double-decker bus tours. But, I am a sucker for a tropical beach. - Author: Chelsea Cain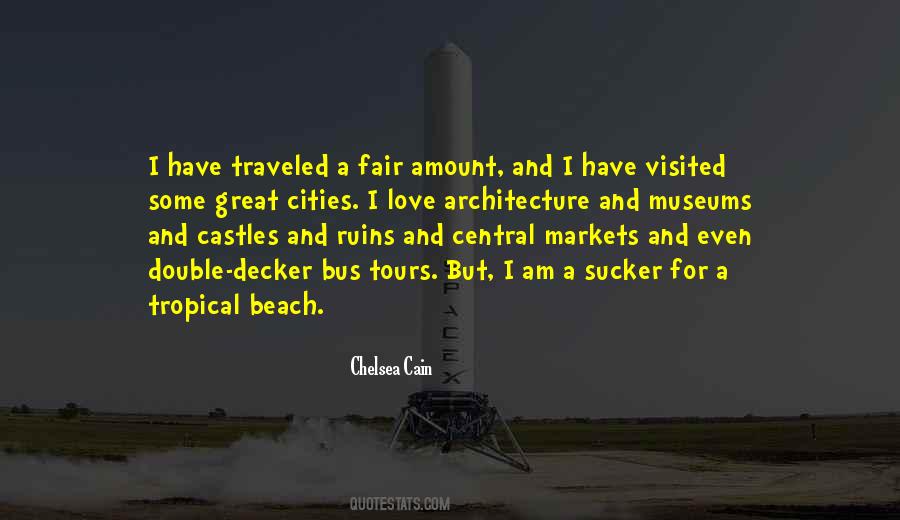 #86. Rob?" she whispered, unsure if he would be easy to wake.
"Hmmm?" he answered sleepily, kissing her on top of her head as he pulled her naked body closer. "Were you expecting someone else? - Author: Samantha Chase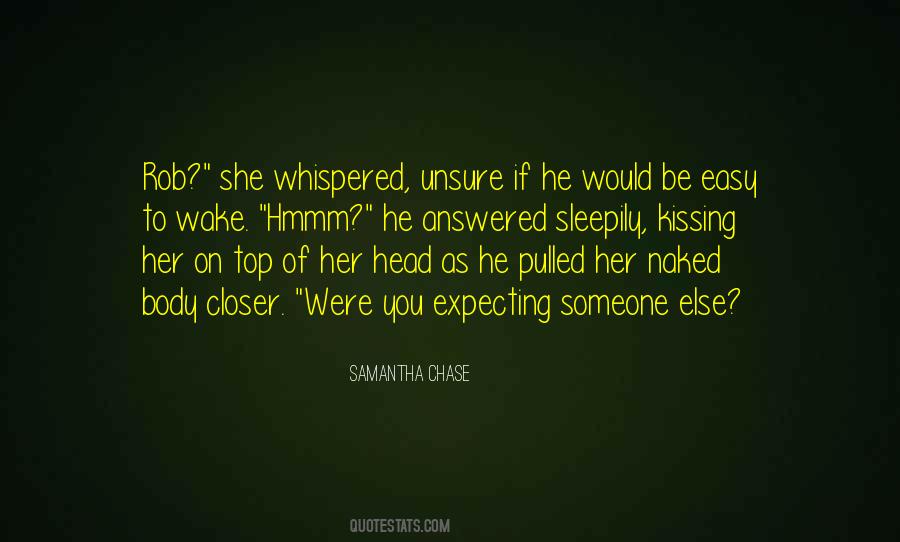 #87. Love is alcohol. - Author: Katherine Applegate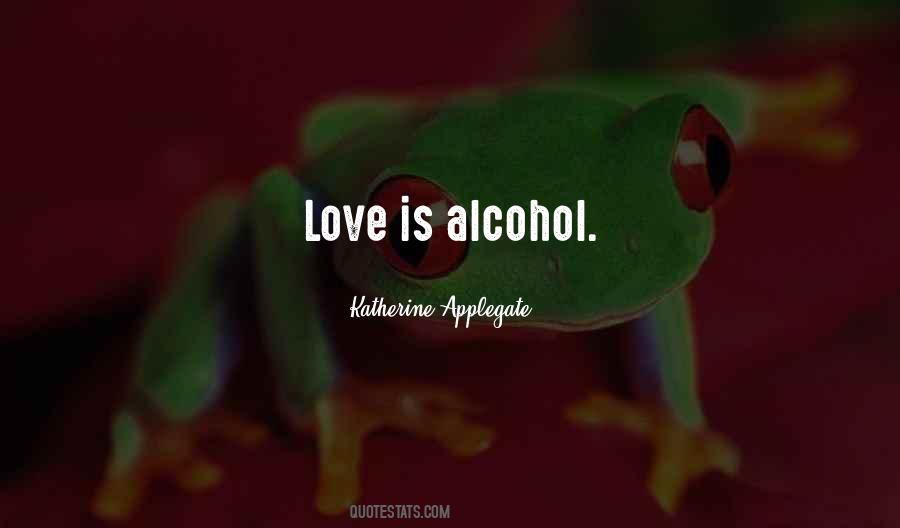 #88. All I know is we're 16 and ready to be kissed, kissed kissed. - Author: Luanne Rice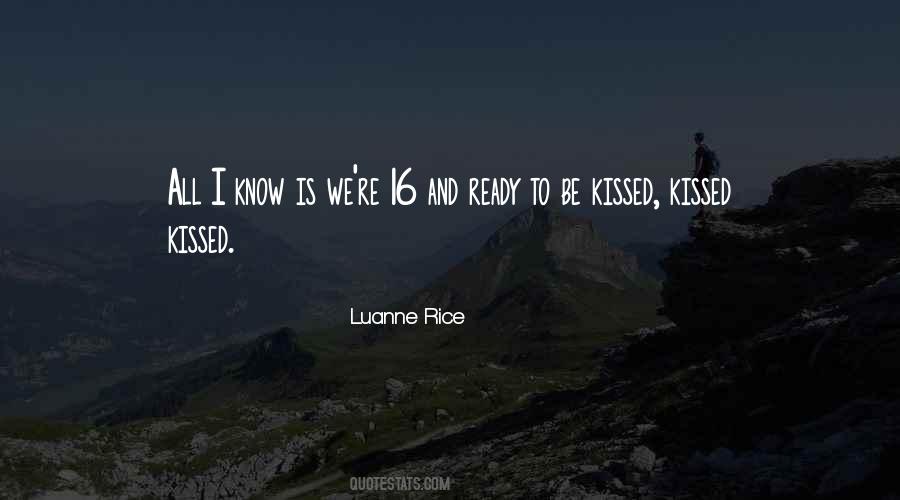 #89. If there wasn't The Beach Boys and there wasn't music, I wouldn't even talk to them. But through the music I fell in love with my brothers. - Author: Dennis Wilson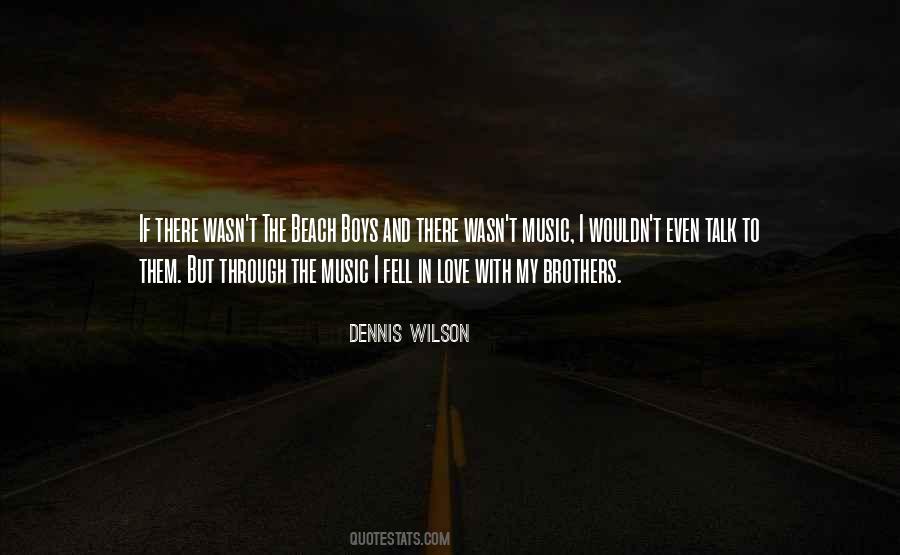 #90. I'd like to say I'm not dressed up for anyone in particular, but that would be a lie. - Author: Lisa Daily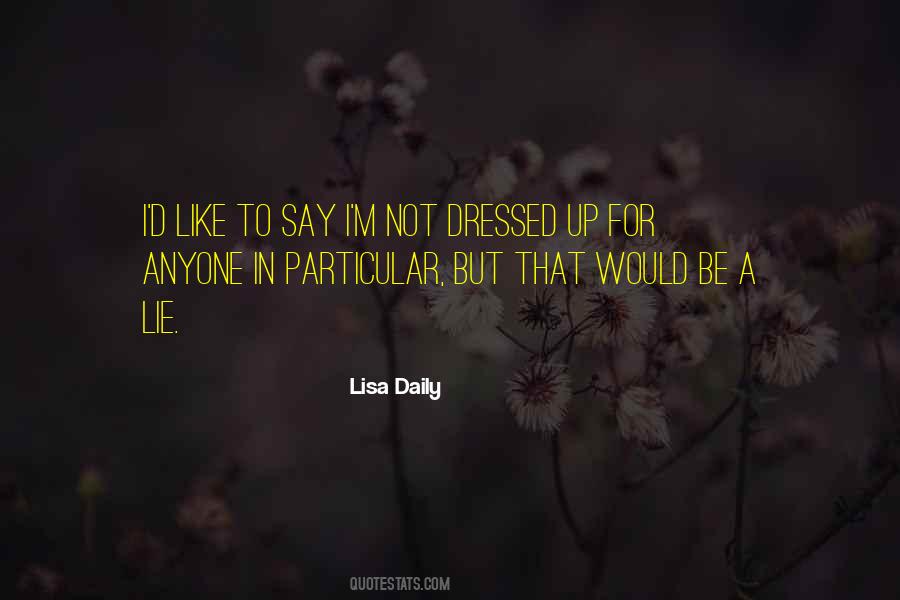 #91. I love the night. I love to feel the tide of darkness rising, slowly and slowly washing, turning over and over, lifting, floating, all that lies strewn upon the dark beach, all that lies hid in rocky hollows. - Author: Katherine Mansfield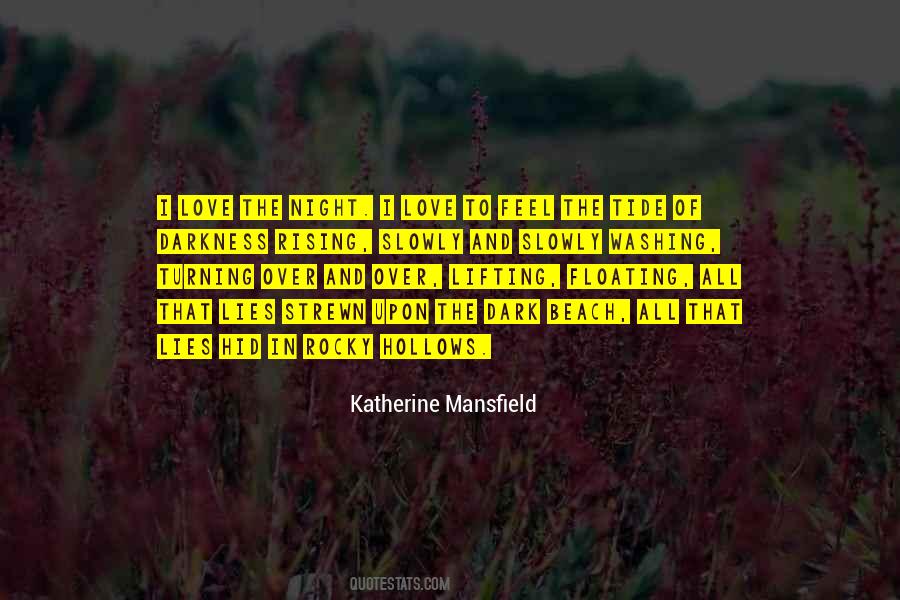 #92. I love being in Malibu. It's so cool there, and the water is just, it's nice and, and I love the beach. And I found a sand dollar there. - Author: Jackie Evancho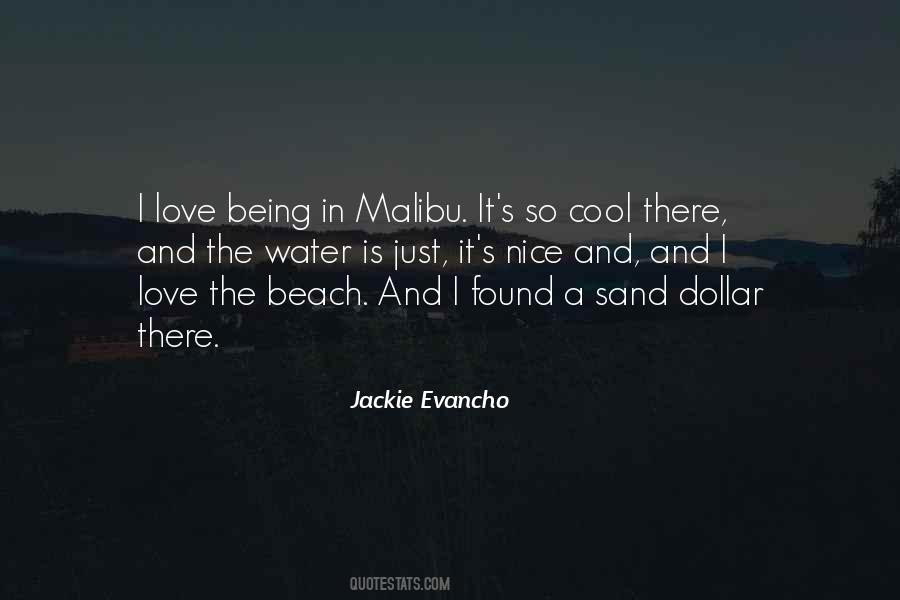 #93. Got to love men. Kissed the hell out of me yesterday, swim-stalked me on the beach this morning, and now couldn't even look up when I entered the room.

Eve, Jaymin (2014-01-15). First World (A Walker Saga Book 1) (p. 347). . Kindle Edition. - Author: Jaymin Eve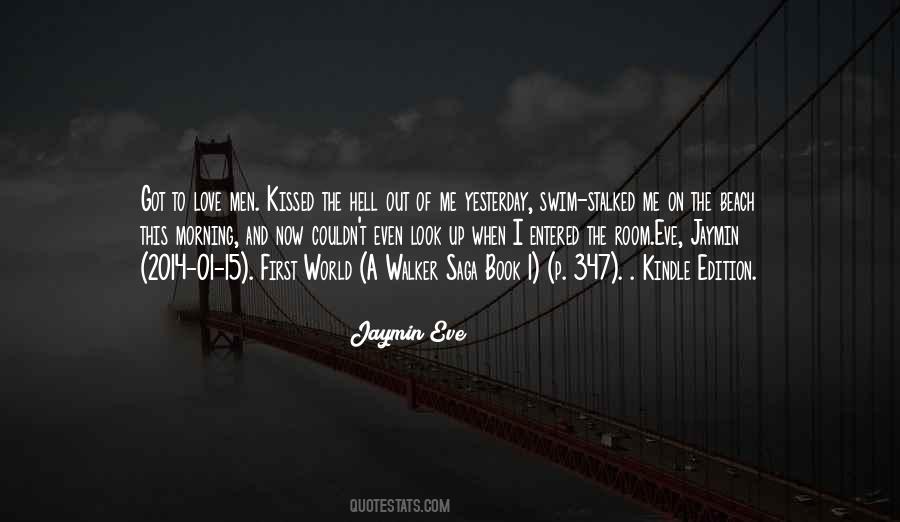 #94. I love being outdoors and think a tan is very sexy. I'll lie out on white towels strewn with pillows. I don't like to hide under hats. If anyone knows about spending lots of the time on the beach, with kids and dogs in tow, it's me. - Author: Pamela Anderson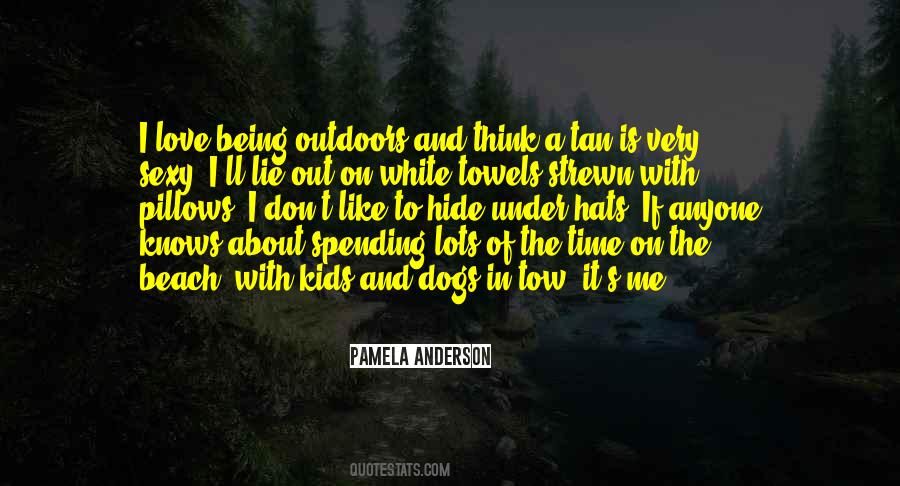 #95. Love the sea? I dote upon it
from the beach. - Author: Douglas William Jerrold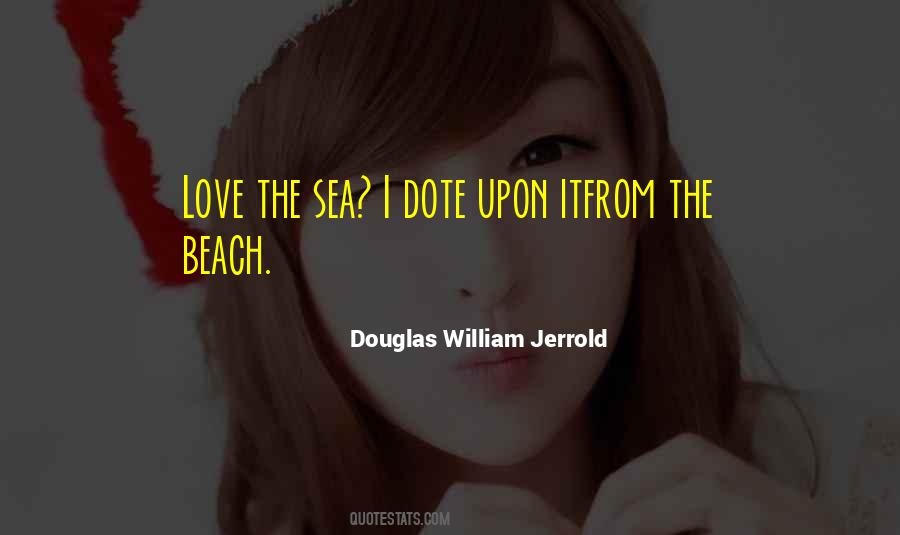 #96. I love to get home and hang out with my family. My brothers and I love spending time at the beach. I enjoy doing all kinds of surf sports and keeping healthy. - Author: Samantha Stosur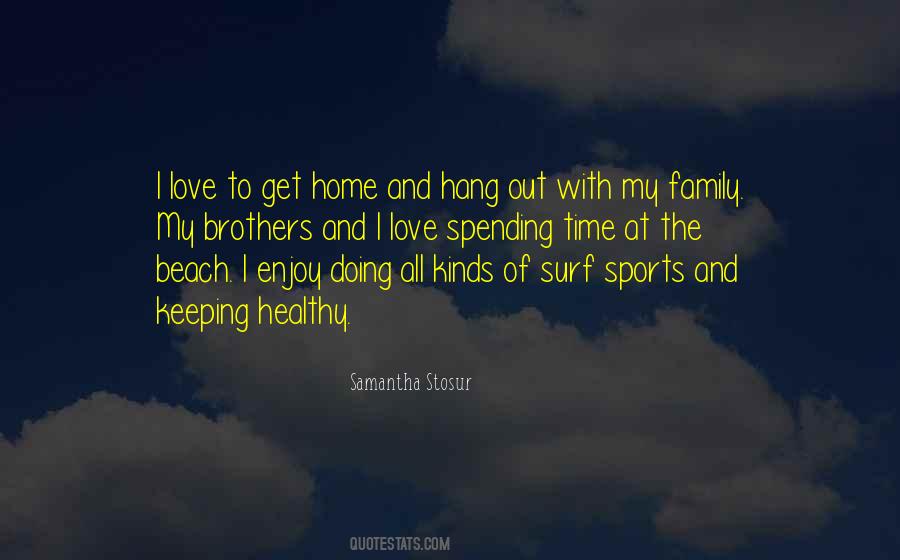 #97. It always happens around beach resorts, a certain kind of money gravitates to the scene. The gold goes to the water. People love to wear it, show it off, roll with it. For me, I just find it disgusting. - Author: Jamie Lidell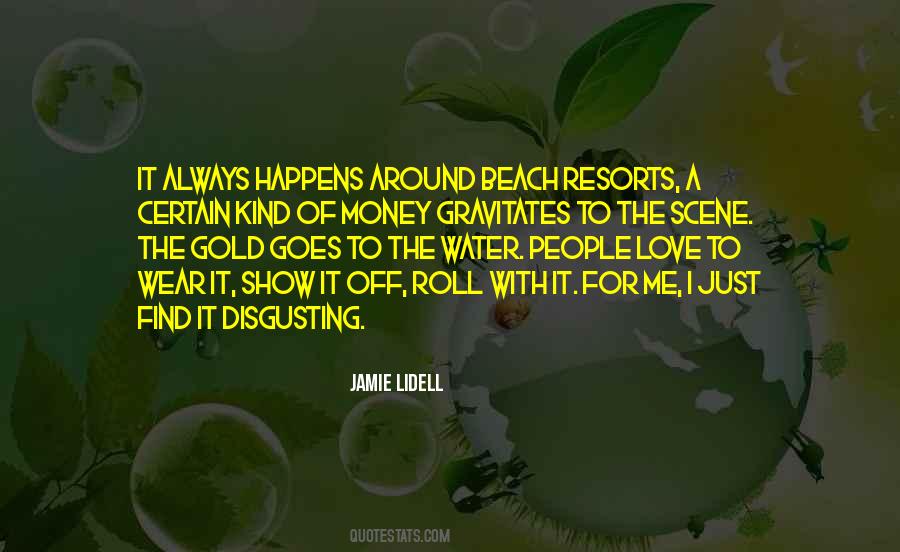 #98. Just as I watch him sit on a beach, on the trembling verge of walking out of his prison, so I watch all of us with the same hopes and dreams. I am always here. I am love.

And I cannot be contained. - Author: Geoff Visgilio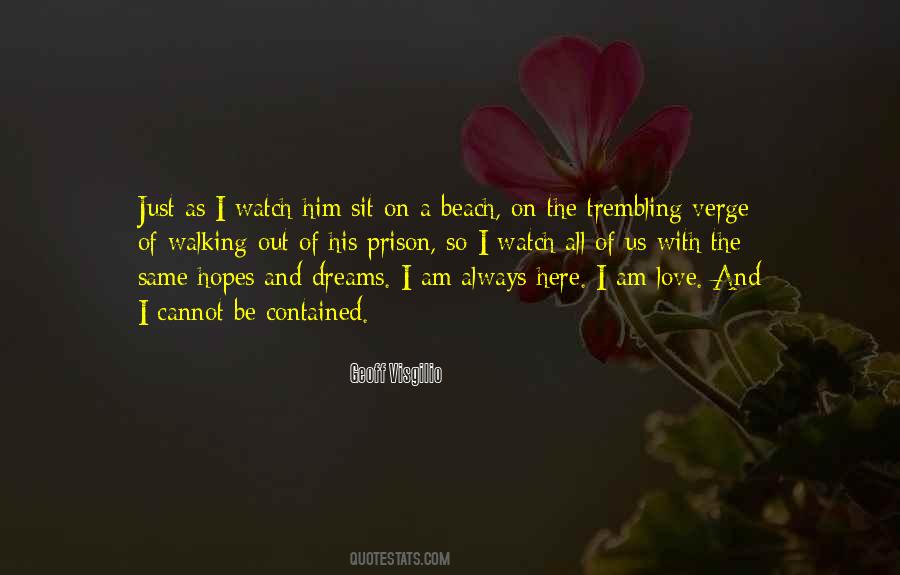 #99. I love the Sex Pistols. I'm a big Beach Boys fan and a huge Zeppelin and Queen fan. - Author: Bruno Mars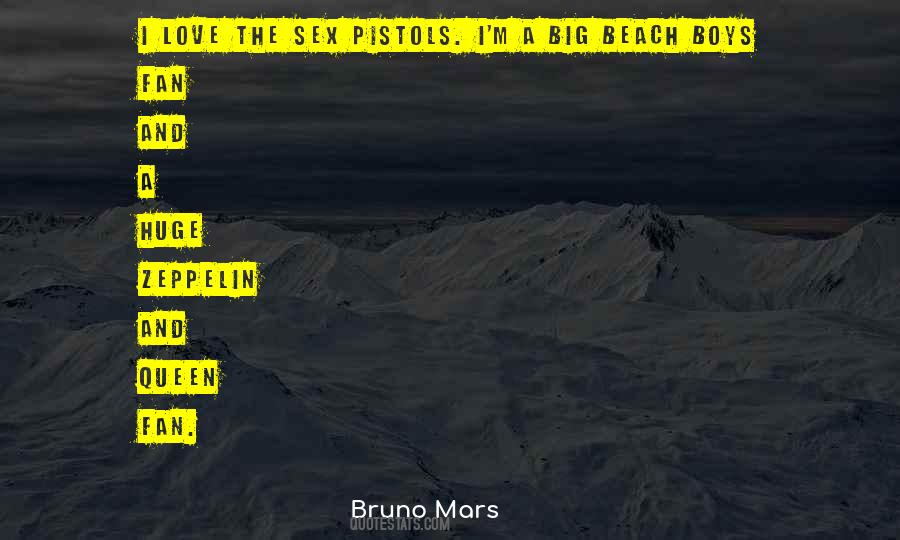 #100. My favorite place in Indonesia is Bali. I was there with my family in Nusa Dua, and my kids loved it. I'm a workaholic, so for me, Bali is a place where you can have a vacation, but you can have your own moment as well. You feel like you blend with nature - and I love the beach. - Author: Joe Taslim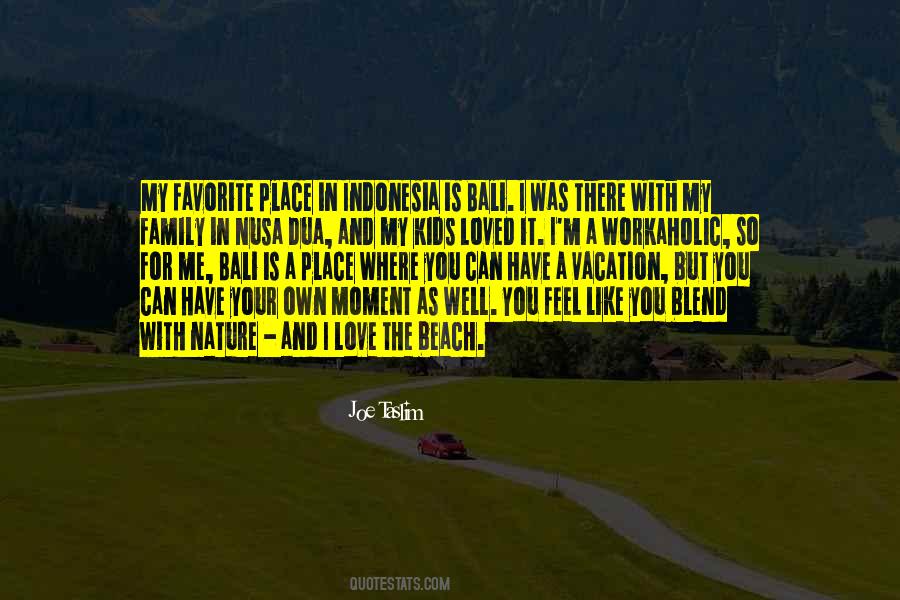 Famous Authors
Popular Topics