List of top 100 famous quotes and sayings about aim in life to read and share with friends on your Facebook, Twitter, blogs.
Top 100 Quotes About Aim In Life
#1. We aim for the practice of Christianity in their everyday life and dealings, and not merely the profession of its theology on Sundays.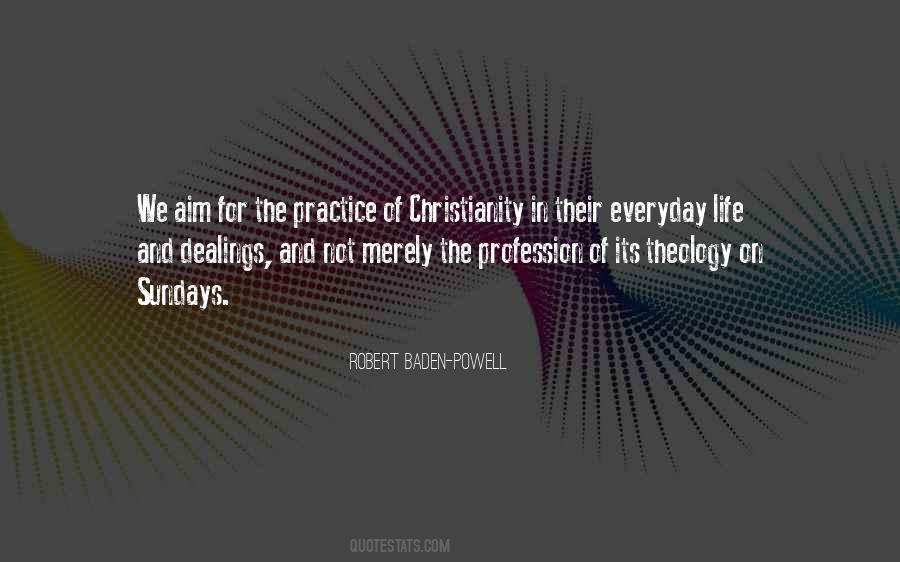 #2. Everyone's main aim should be to find his place in life and succeed as an individual.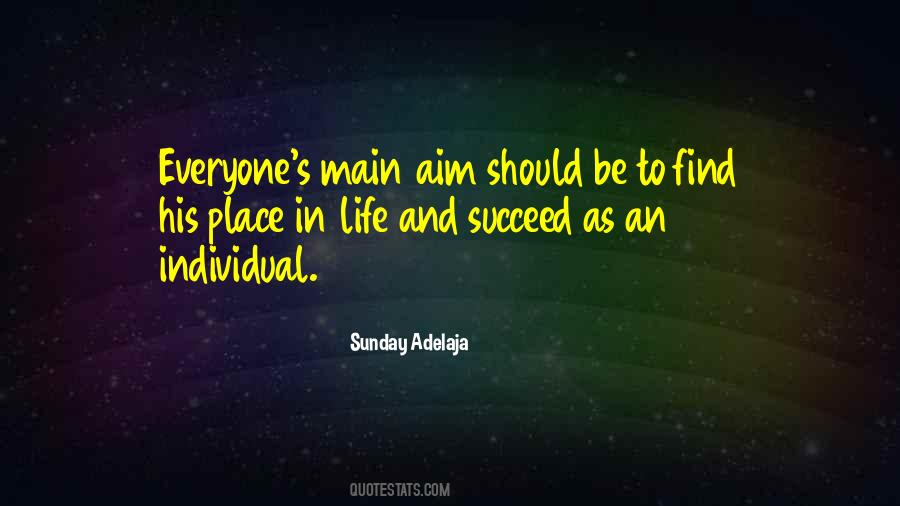 #3. To achieve in life is A hard story, you're starting to get the picture. It's hard work, and this is just the beginning.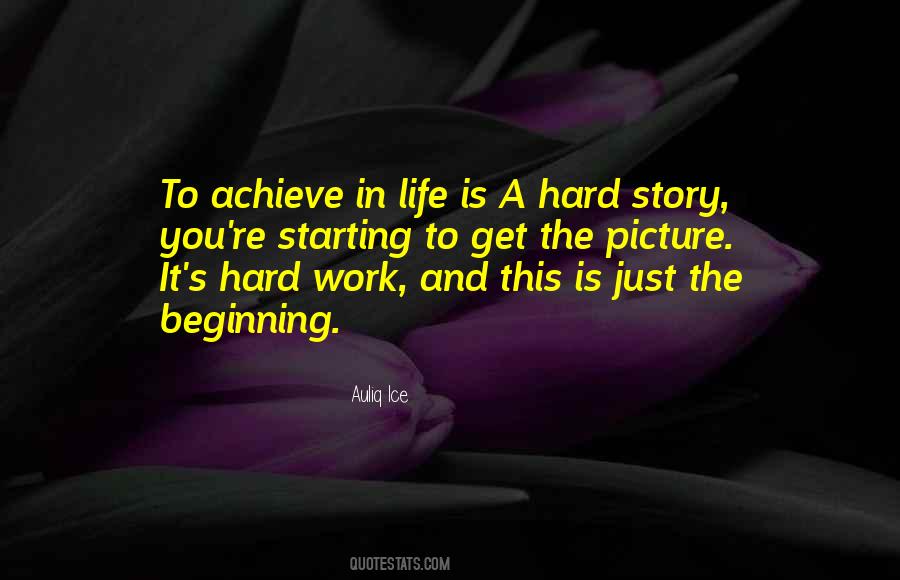 #4. If life is a game, then the people who play in center with their own style only make the real name; but for others the aim is just the same for they do anything from comment, copy, criticize, cover or cheer by being anywhere.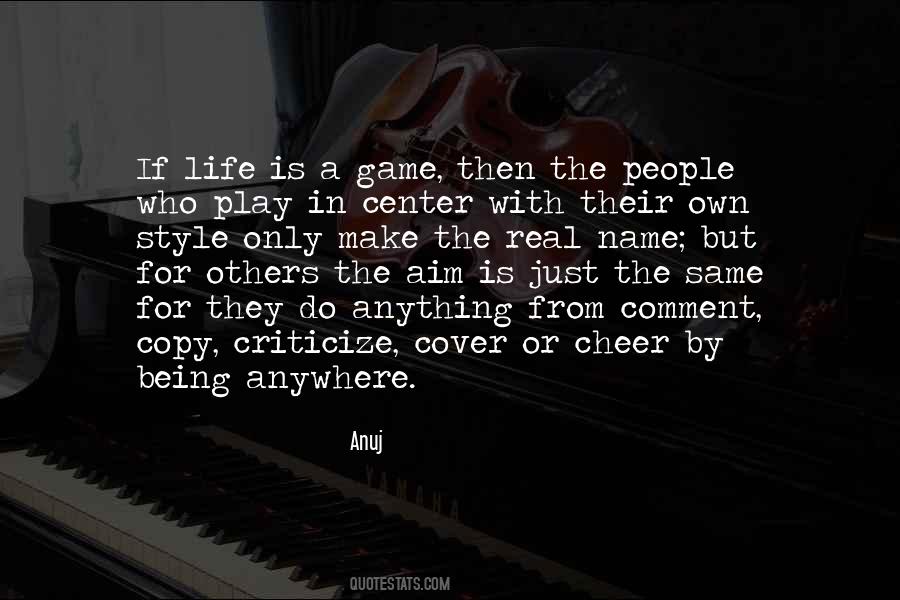 #5. The aim of the college, for the individual student, is to eliminate the need in his life for the college; the task is to help him become a self-educating man.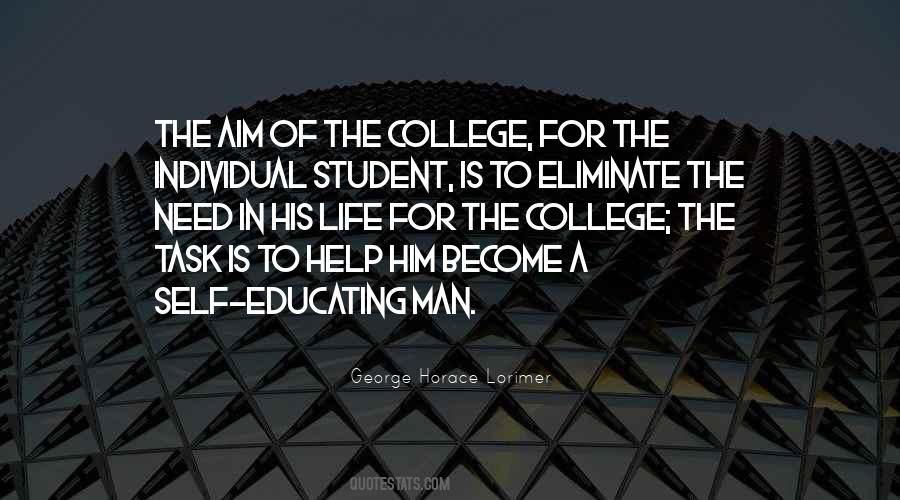 #6. And what else is it that men seek in life but power? If they want money, it is but for the power that attends it, and it is power again that they strive for in all the knowledge they acquire. Fools and sots aim at happiness, but men aim only at power.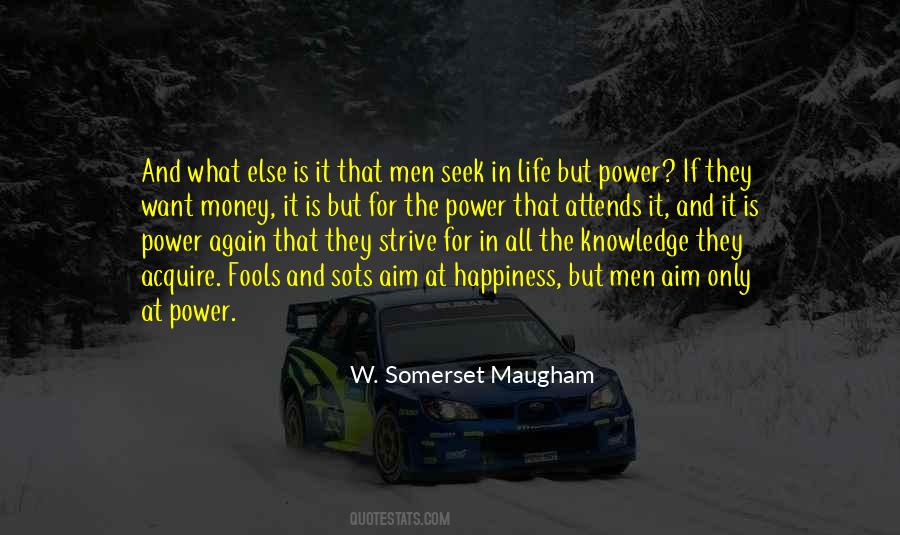 #7. It has been said that if you aim at nothing in life, you are likely to hit nothing! I have never had anyone come to me and say, 'Venita, I plan to fail.' Yet I have observed many who failed to plan and who unfortunately met with the same dismal results.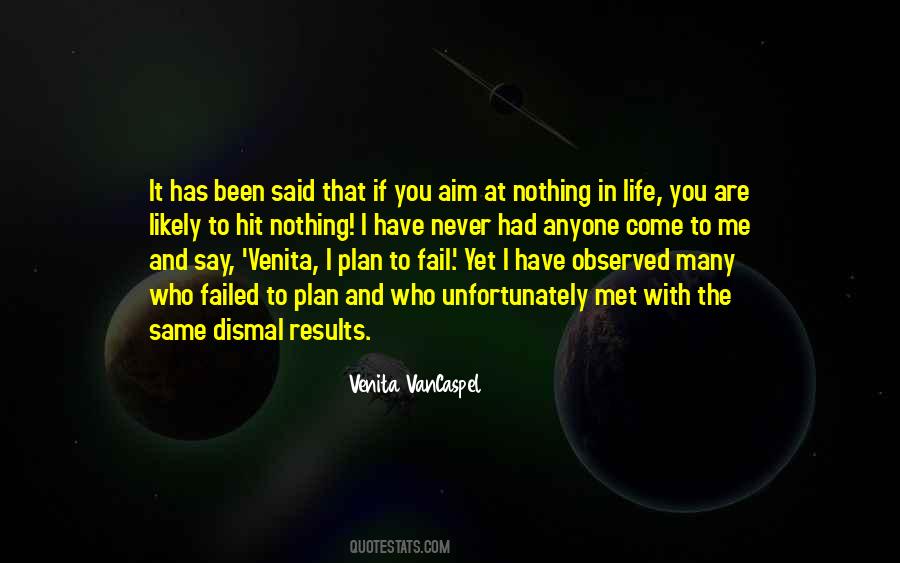 #8. I still remember March 31, 1981, when a deeply disturbed John Hinckley Jr. took aim at President Ronald Reagan and fired shots that hospitalized the Commander-in-Chief and two others, and left his Press Secretary James Brady paralyzed for life.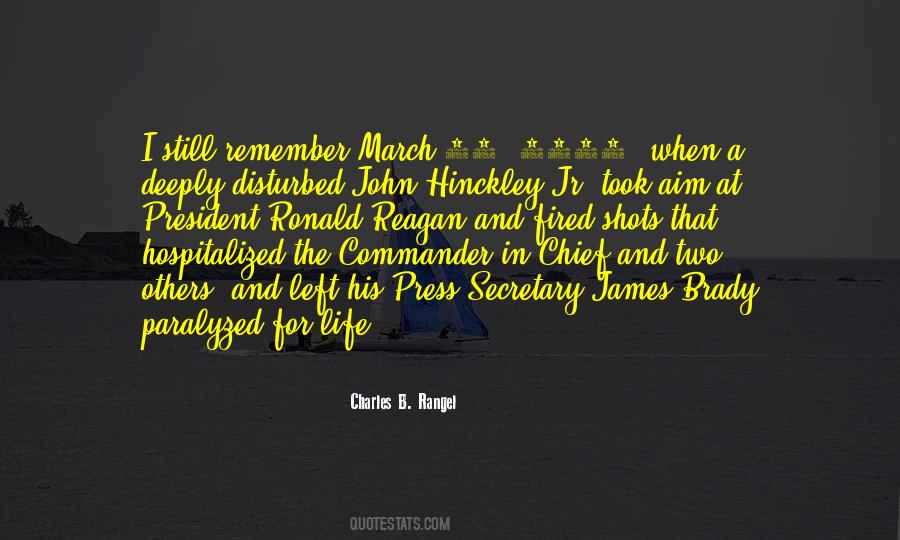 #9. We all need something to struggle against and to struggle for. The aim in life is not to avoid struggles, but to have the right ones; not to avoid worry, but to care about the right things; not to live without fear, but to confront worthy fears with force and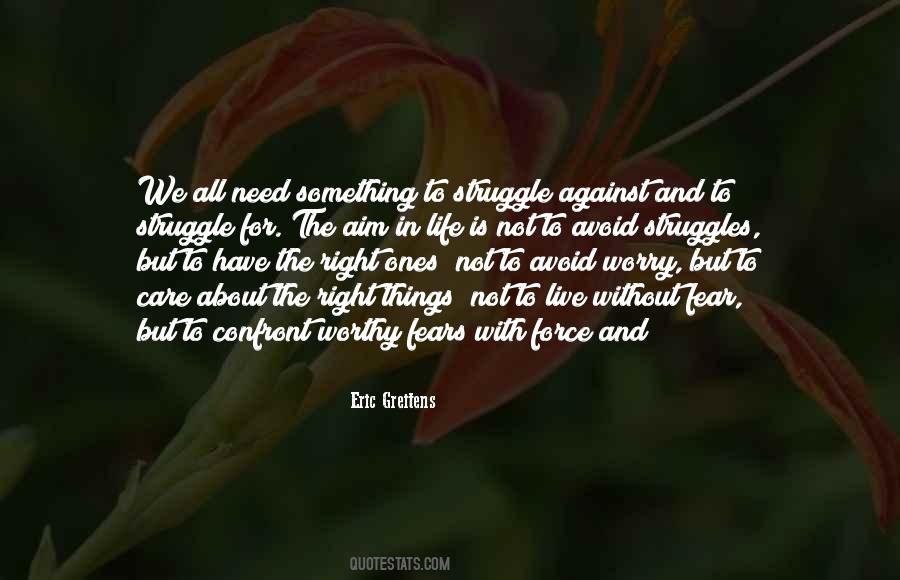 #10. When I met you I was moving like a blind arrow shot in time of need. I was flint-sharp, flint-primitive. I was aim, arrow, and target. I wanted to be wounded again. I did not want to seal myself against life. I would rather be cut than dry.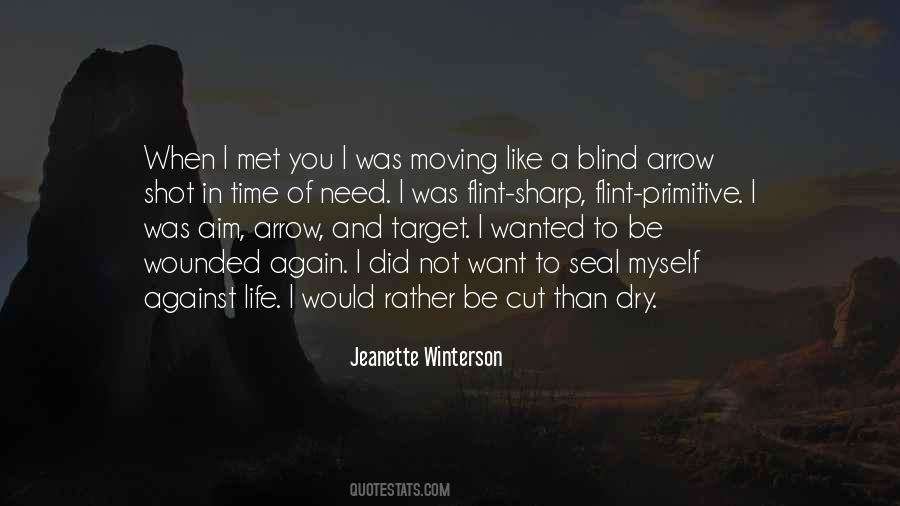 #11. Happiness in the ordinary sense is not what one needs in life, though one is right to aim at it. The true satisfaction is to come through, and see those whom one lives come through.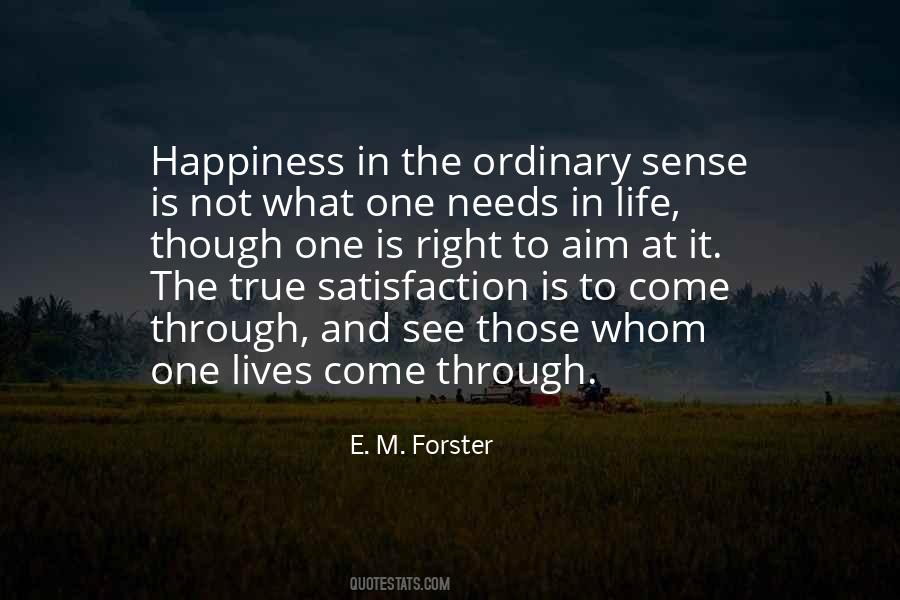 #12. If your aim is life is pursuing truth, one of the things you might want to study is why deception is so common in life.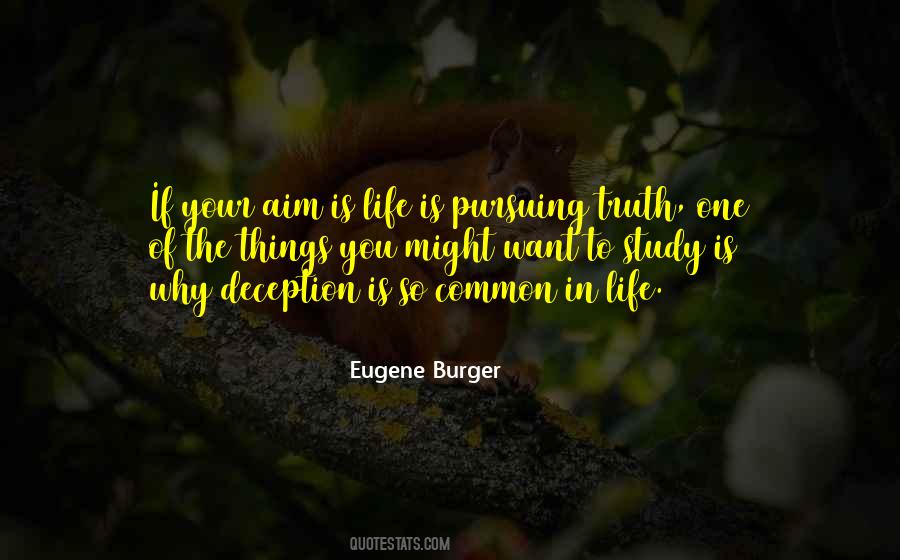 #13. Life is like crossing a river. If you take a huge step-aim for too bigger dreams-then the current will knock you off your feet and carry you away.
The way to do it is small steps, you will take hold of life. You will get there in the end.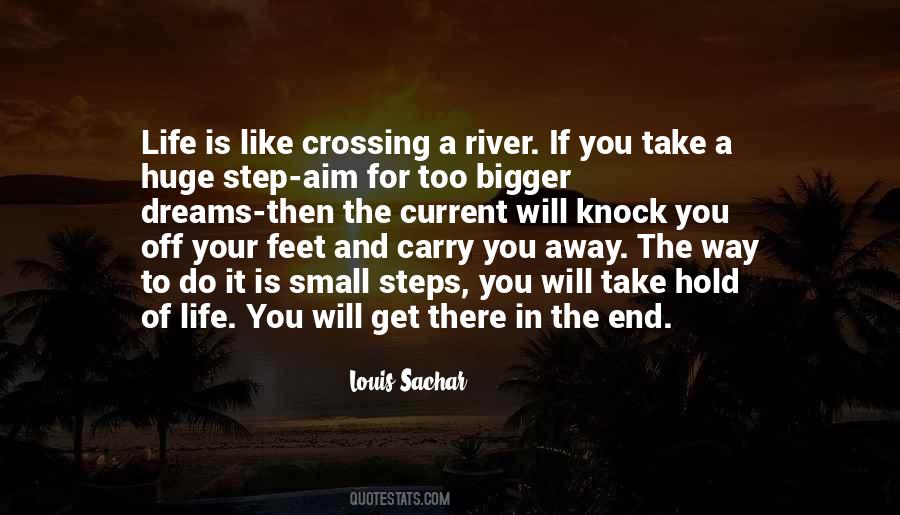 #14. Cult: simply an extension of the idea that everyone's supreme aim in life is self- fulfillment and happiness and that one is entitled to wreck marriage, children and certainly one's health and sanity in pursuit of this.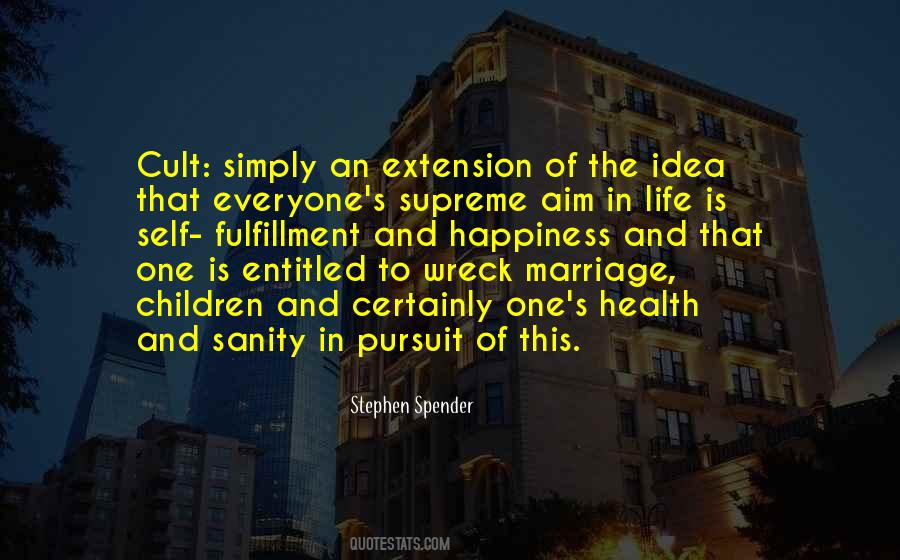 #15. Never stop fighting until you arrive at your destined place - that is, the unique you. Have an aim in life, continuously acquire knowledge, work hard, and have perseverance to realise the great life.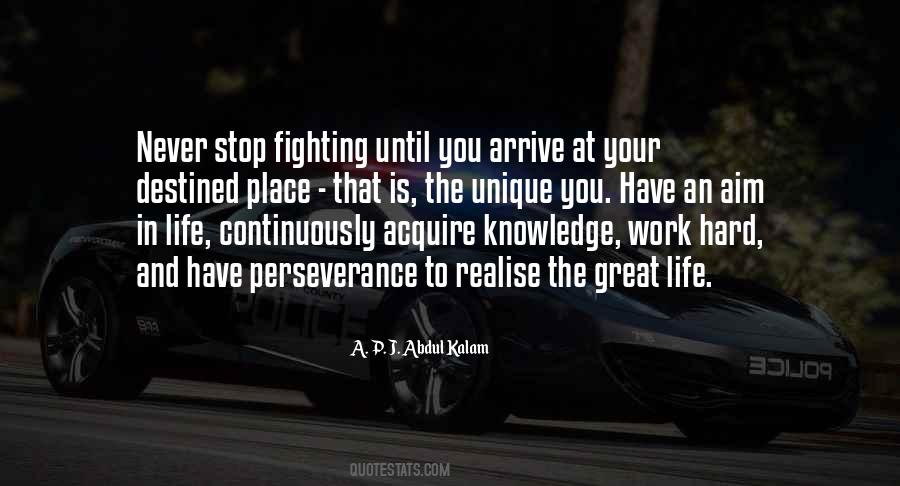 #16. The mere idea of marriage, as a strong possibility, if not always nowadays a reasonable likelihood, existing to weaken the will by distracting its straight aim in the life of practically every young girl, is the simple secret of their confessed inferiority in men's pursuits and professions to-day.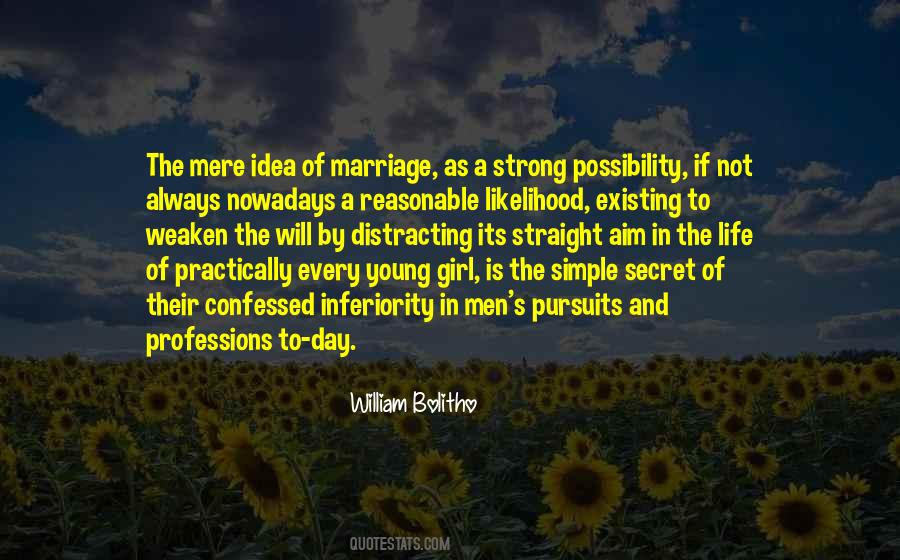 #17. The ultimate aim of all love affairs ... is more important than all other aims in man's life; and therefore it is quite worthy of the profound seriousness with which everyone pursues it.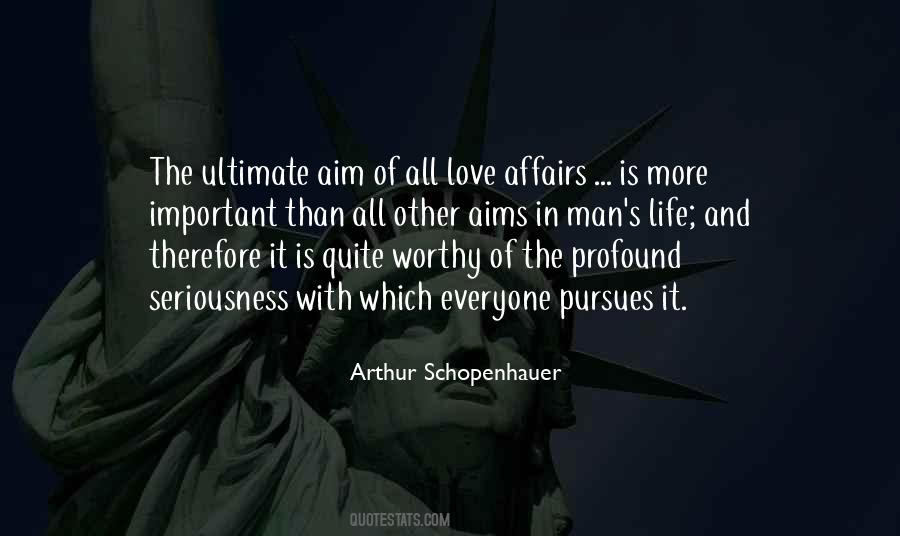 #18. The Robespierre women (as one tended to think of them now) were all on display. Madame looked actively, rather intimidatingly benevolent; it was her aim in life to find a Jacobin who was hungry, then to go into the kitchen and make extravagant efforts, and say, "I have fed a patriot!".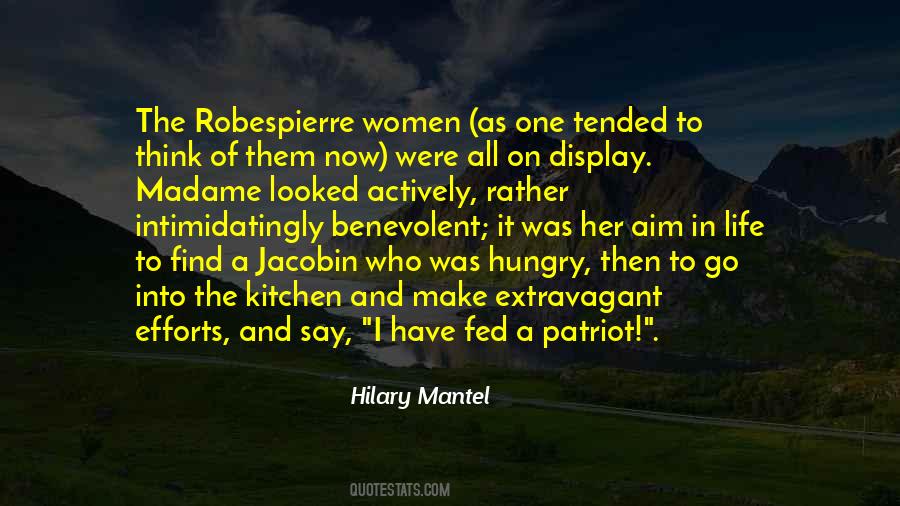 #19. Remember, no more effort is required to aim high in life, to demand abundance and prosperity, than is required to accept misery and poverty.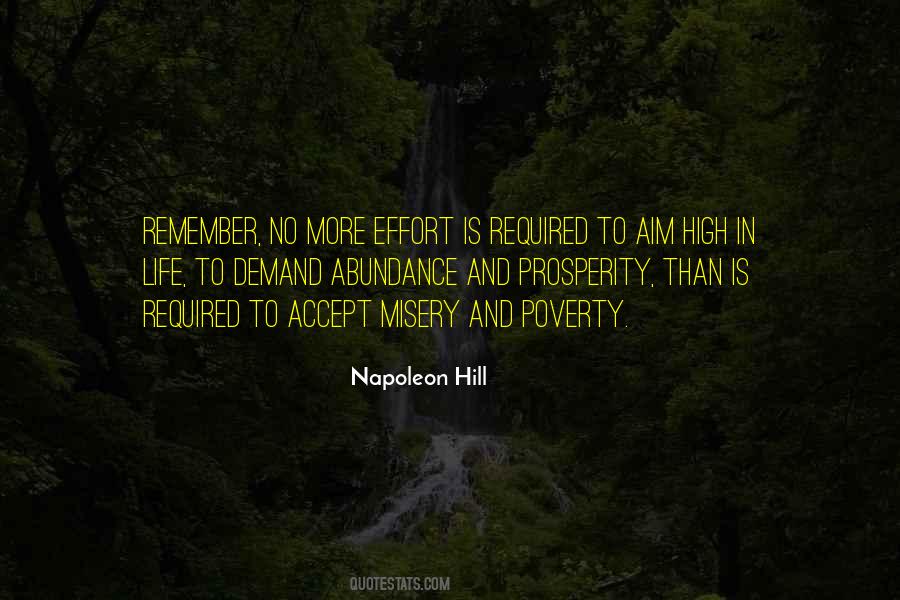 #20. It is important that an aim never be defined in terms of activity or methods. It must always relate directly to how life is better for everyone ... The aim of the system must be clear to everyone in the system. The aim must include plans for the future. The aim is a value judgment.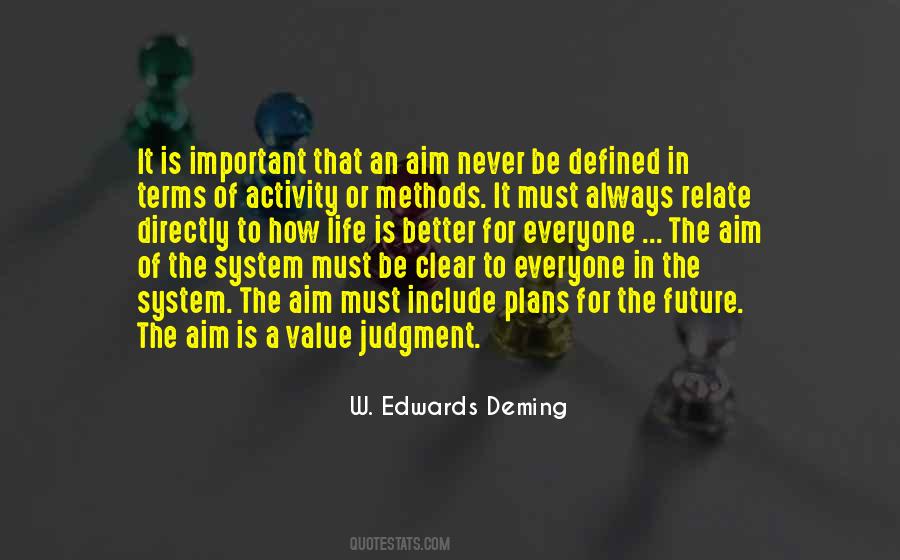 #21. Life is achievement ... Give yourself an aim, something you want to do, then go after it, breaking through everything, with nothing in mind but your aim, all will, all concentration, and get it.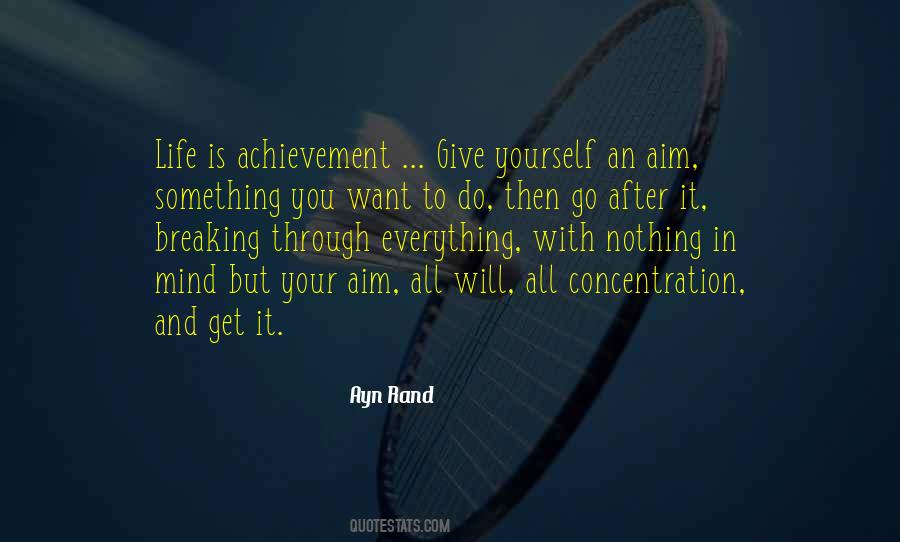 #22. The ultimate aim in life should be to fulfill to the utmost all that within our ability and to share that which is good and beautiful.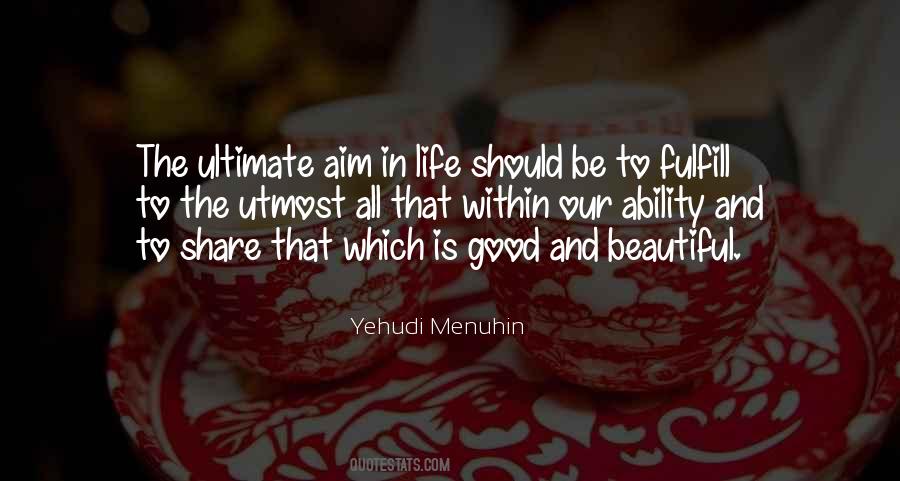 #23. When I write I don't aim to shock people, and I'm surprised when I do. But I don't think that anything that occurs in life should be omitted from art, though the artist should present it in a fashion that is artistic and not ugly. I set out to tell the truth. And sometimes the truth is shocking.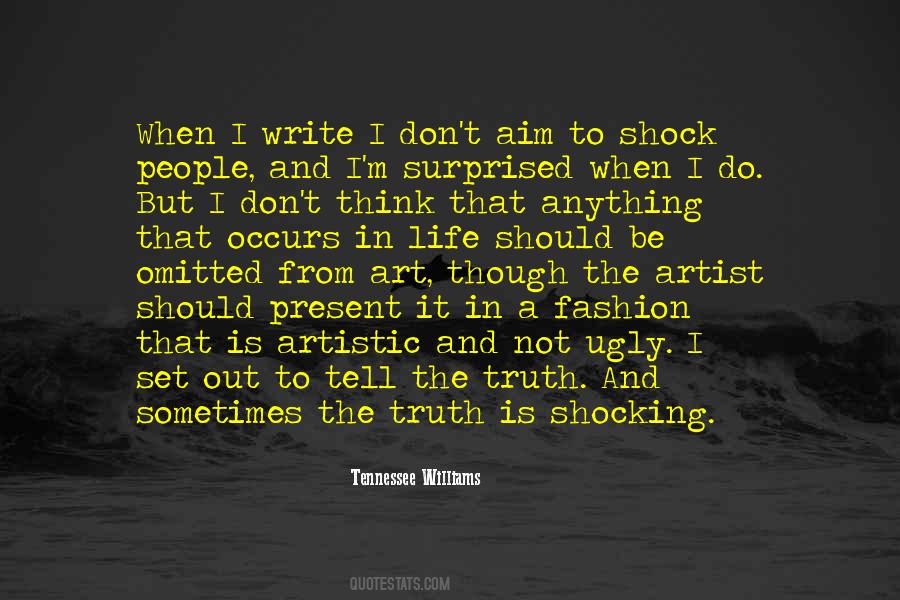 #24. The man who pursues happiness wisely will aim at the possession of a number of subsidiary interests in addition to those central ones upon which his life is built.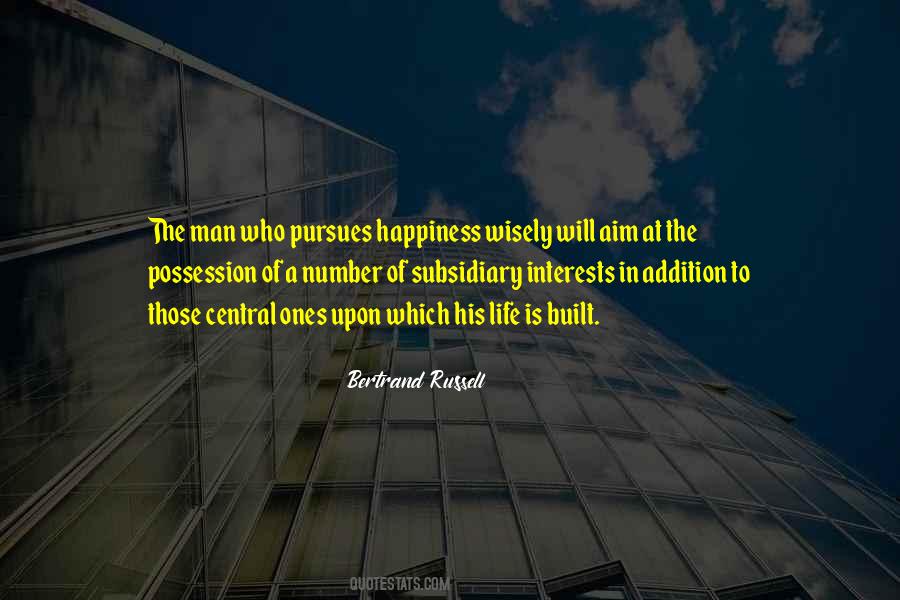 #25. If only education will aim at teaching learners' real life and life in books and not just books, learners will learn and understand real life and not just books, and they will dare to face life with real life lessons and lessons from books!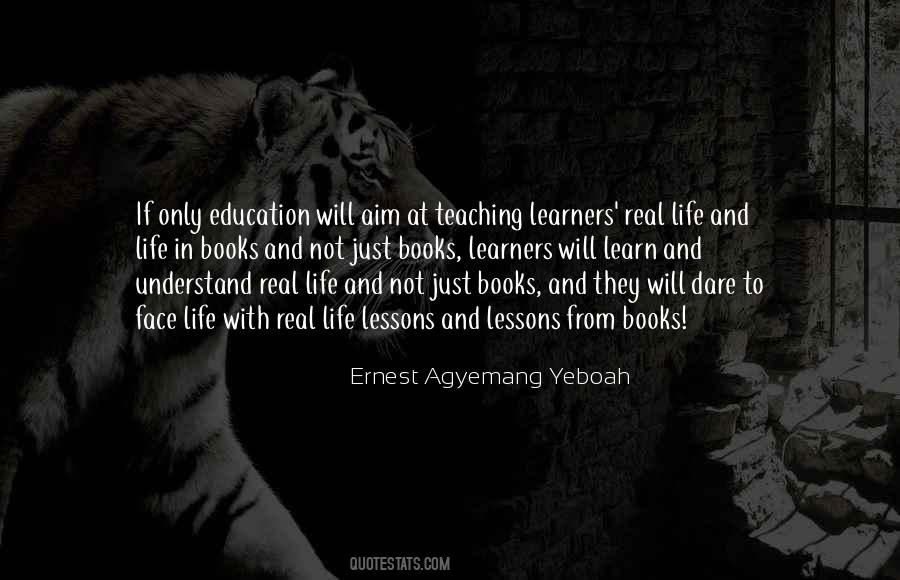 #26. Most people fail in life not because they aim too high and miss, but because they aim too low and hit.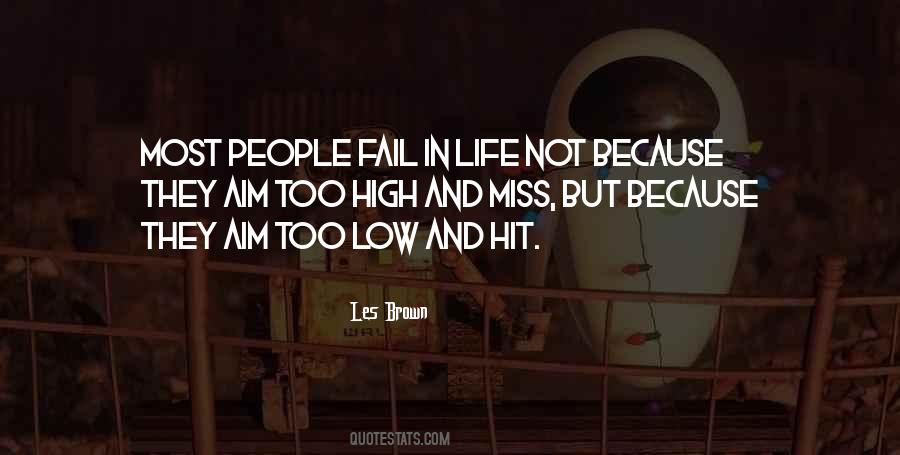 #27. It is a terrible thing to be happy! How pleased we are with it! How all-sufficient we think it! How, being in possession of the false aim of life, happiness, we forget the true aim, duty!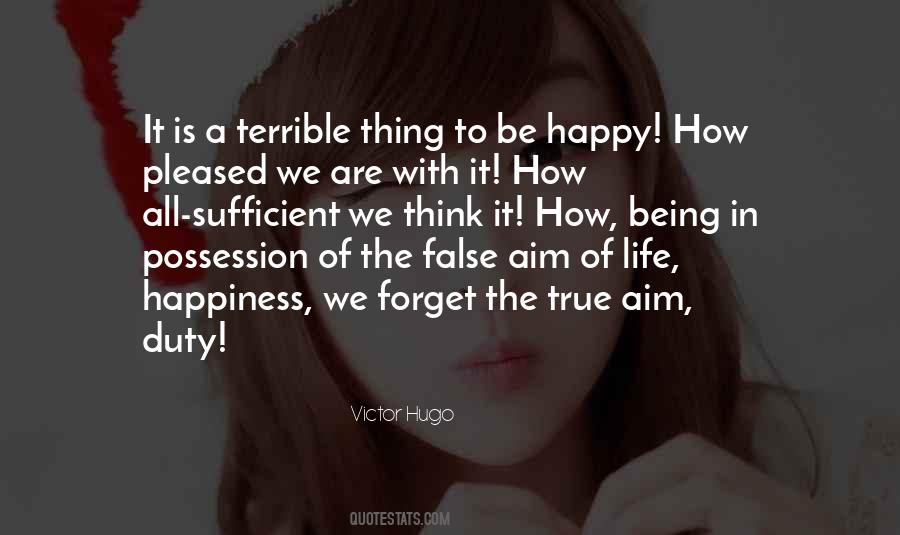 #28. That in every individual a spiritual element is manifested that gives life to all that exists, and that this spiritual element strives to unite with everything of a like nature to itself, and attains this aim through love.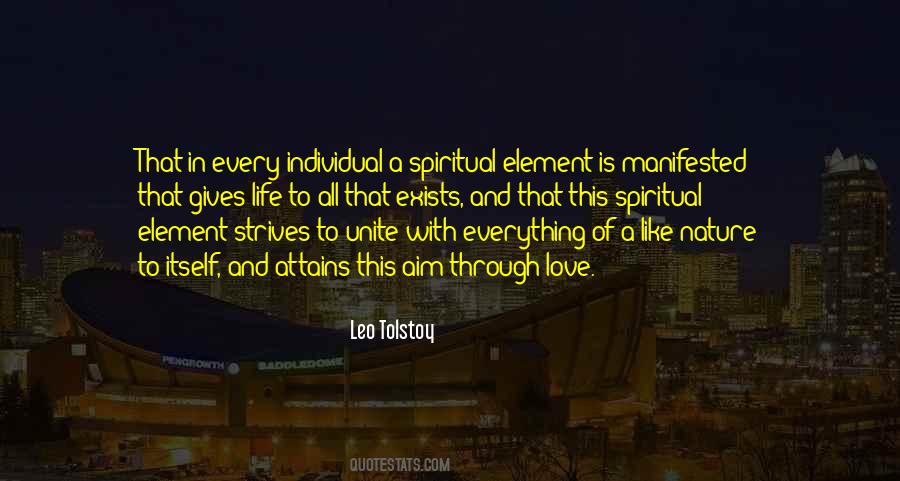 #29. Thus it is ever in life. The aims we once pursued no longer satisfy us; we aim, we strive, we aspire, until sight fails, and mind and body find rest in the grave.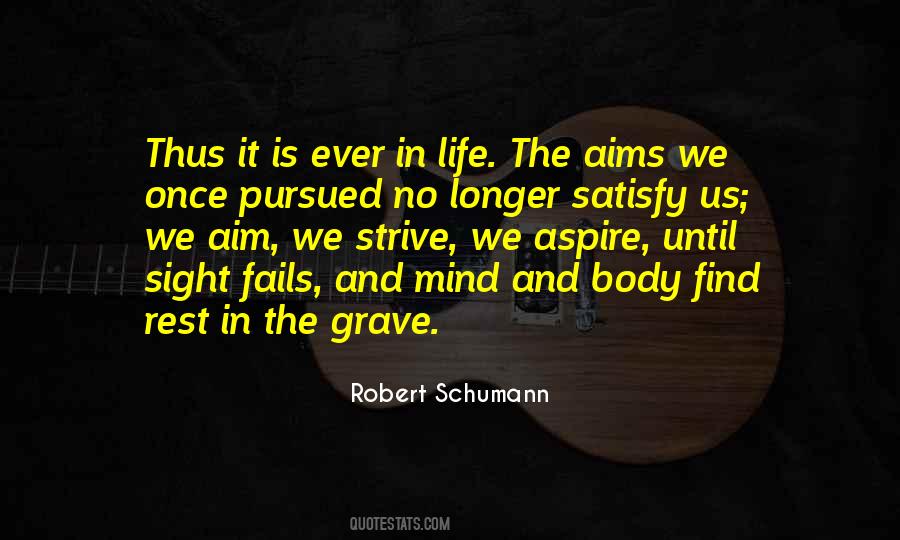 #30. My aim in life isn't so much the pursuit of happiness as the happiness of pursuit.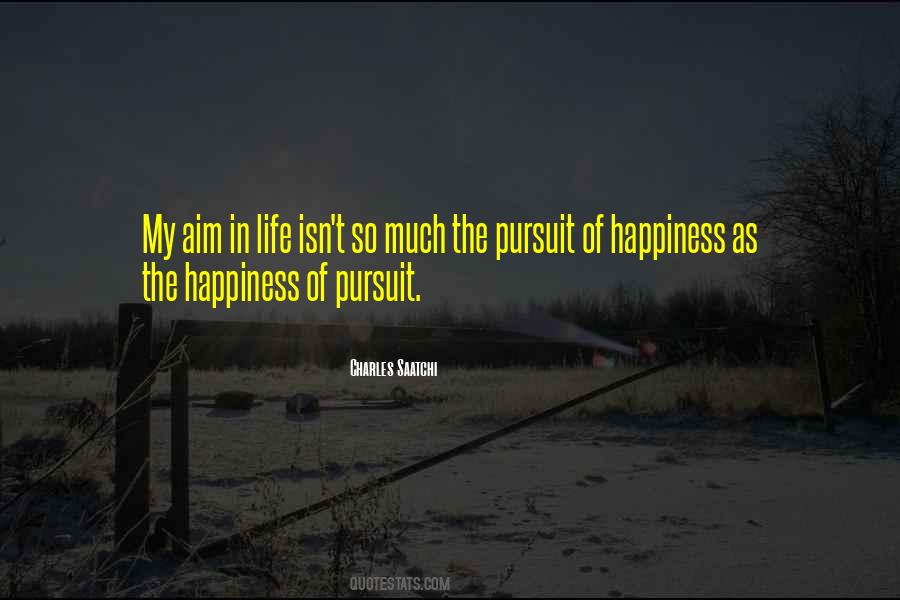 #31. The Christian man must aim at that complete obedience to God in which life finds its highest happiness, its greatest good, its perfect consummation, its peace.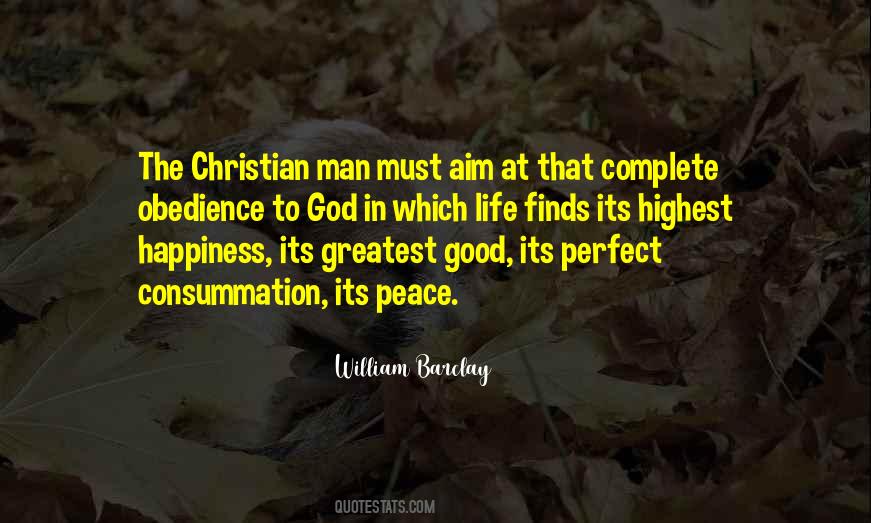 #32. Learning is the chief goal to those who aim high in life.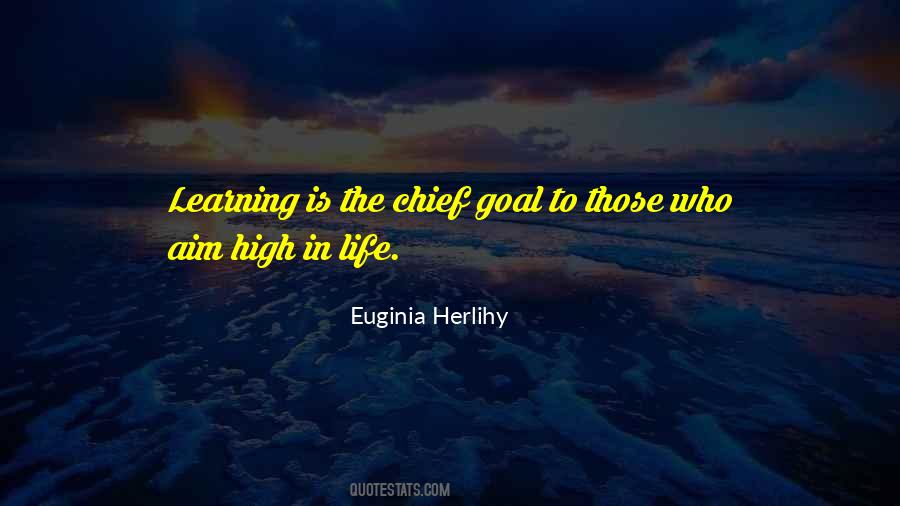 #33. The important thing in life is to have a great aim, and to possess the aptitude and perseverance to attain it.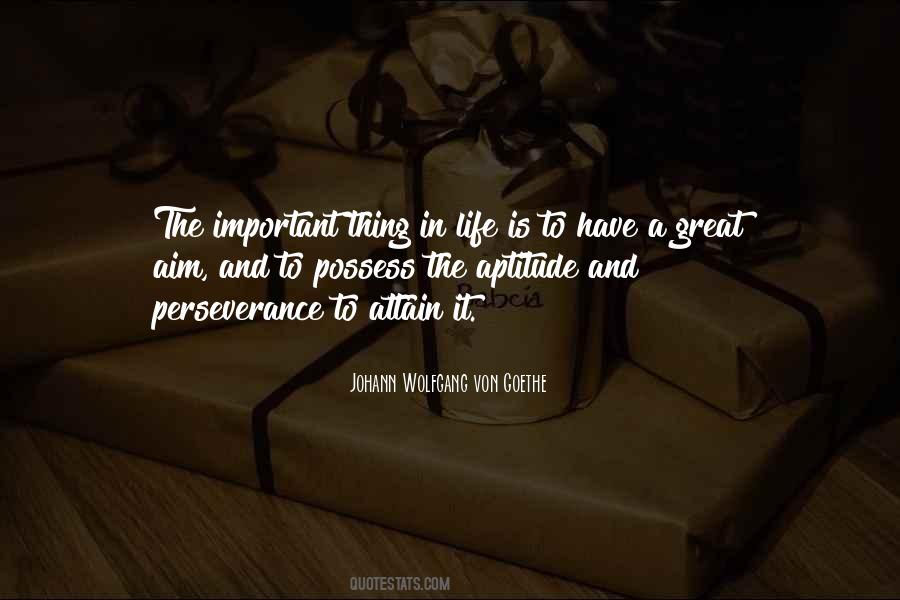 #34. Your deliberate Chief Aim in life should be selected with deliberate care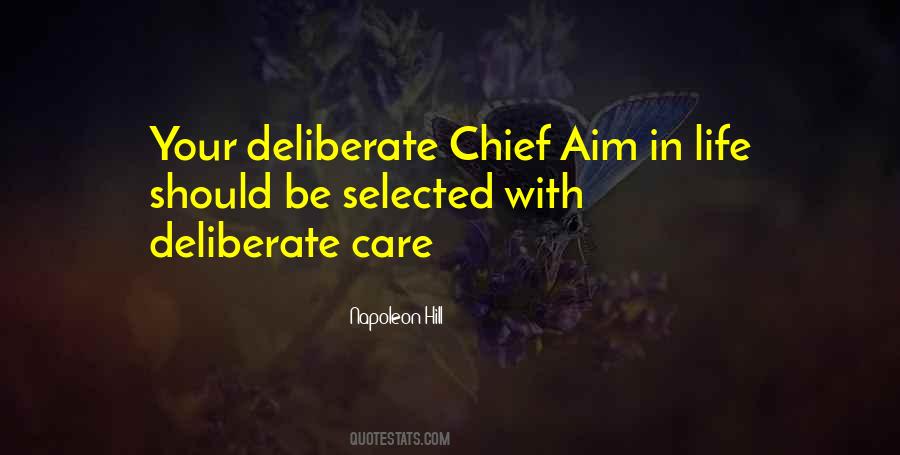 #35. My aim in painting is to create pulsating, luminous, and open surfaces that emanate a mystic light, in accordance with my deepest insight into the experience of life and nature.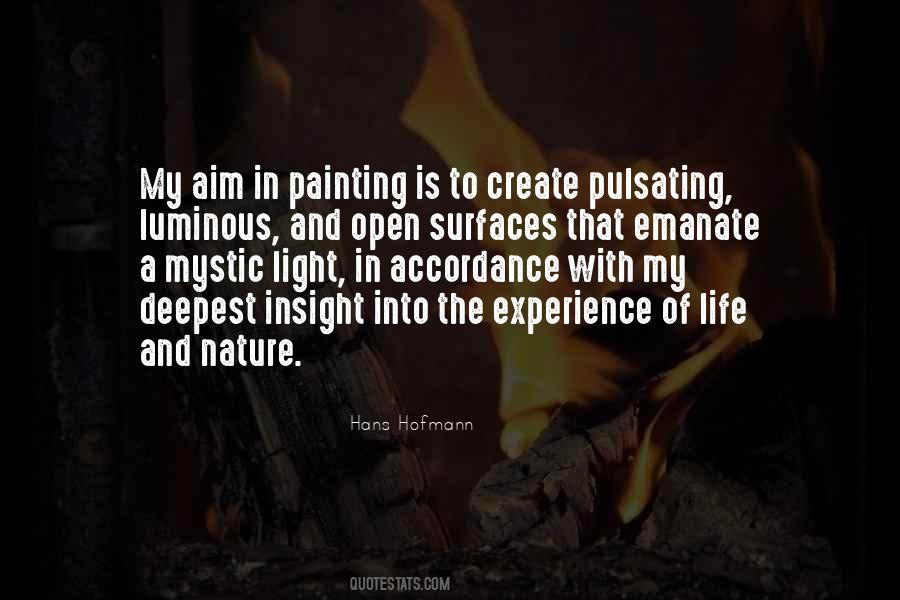 #36. Though Argaven might be neither sane nor shrewd, he had had long practice in the evasions and challenges and rhetorical subtleties used in conversation by those whose main aim in life was the achievement and maintenance of the shifgrethor relationship on a high level.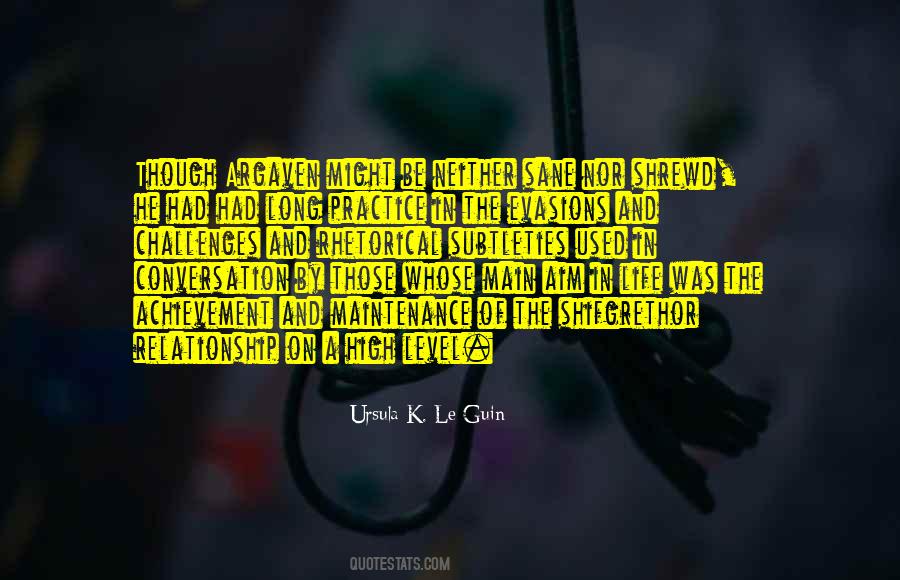 #37. Always fall in with what you're asked to accept. Take what is given, and make it over your way. My aim in life has always been to hold my own with whatever's going. Not against: with.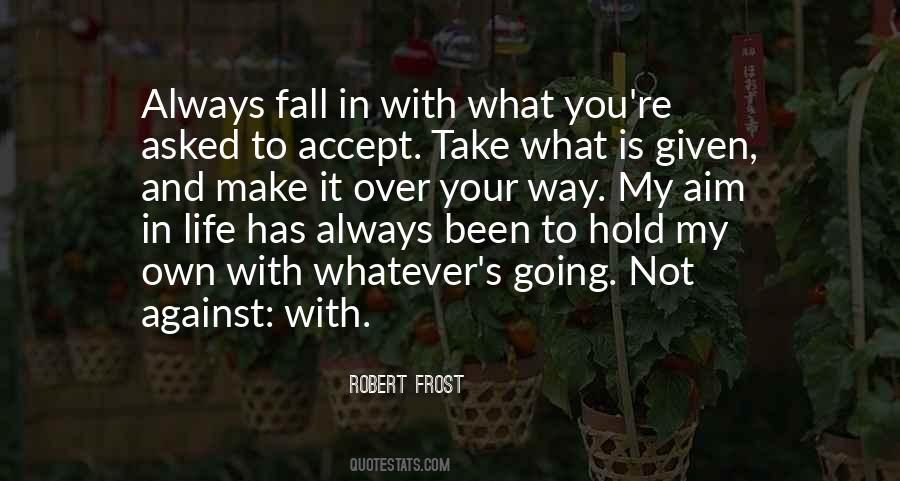 #38. So we need to not simply aim to do good in all areas of life, but be diligent in seeking to learn what actually will do good. We need to be smart about doing good. Good intentions are not enough. We need to do good that actually helps.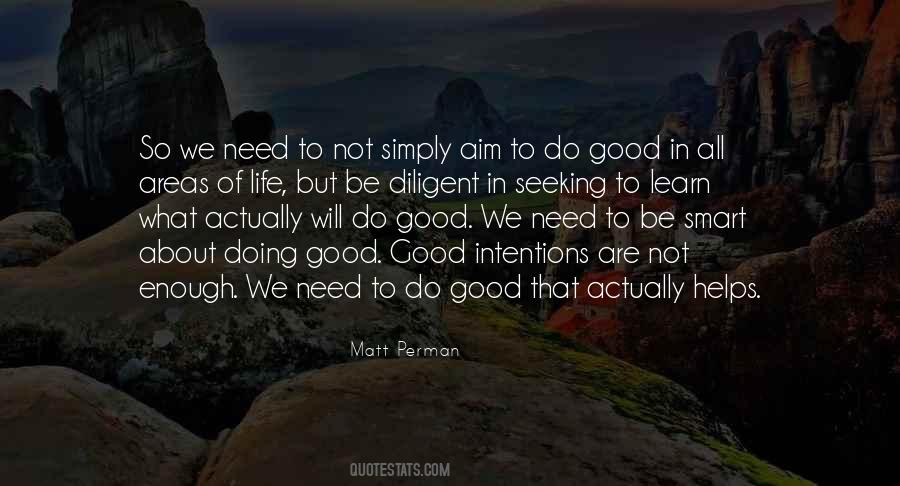 #39. That aim in life is highest which requires the highest and finest discipline.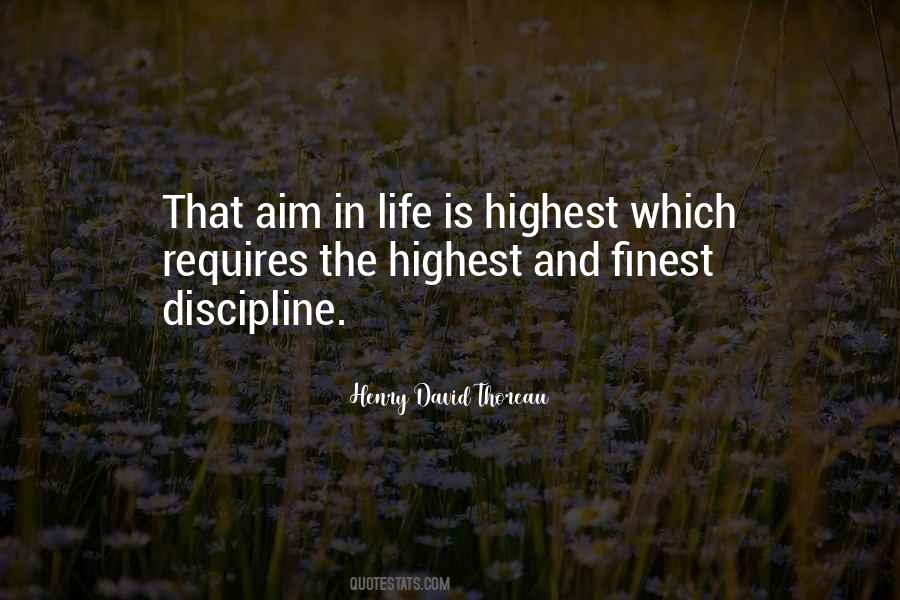 #40. If you watch animals objectively for any length of time, you're driven to the conclusion that their main aim in life is to pass on their genes to the next generation.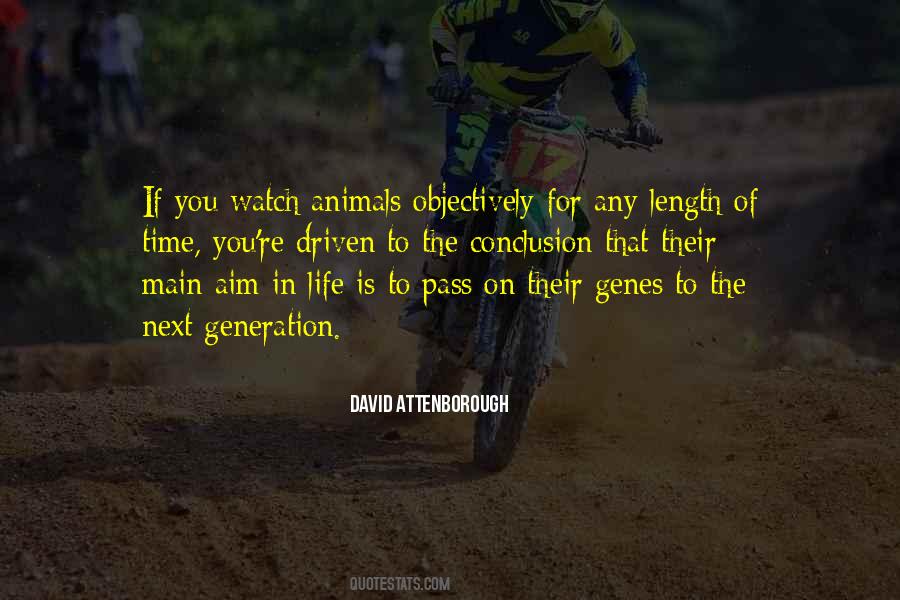 #41. The Scriptures should be read with the aim of finding Christ in them. Whoever turns aside from this object, even though he wears himself out all his life in learning, he will never reach the knowledge of the truth.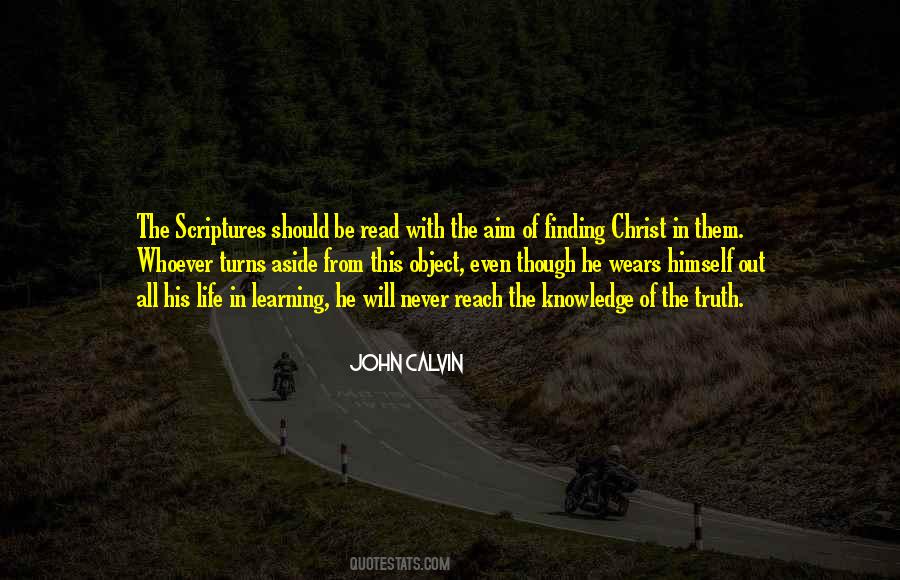 #42. The aim of life is appreciation; there is no sense in not appreciating things; and there is no sense in having more of them if you have less appreciation of them.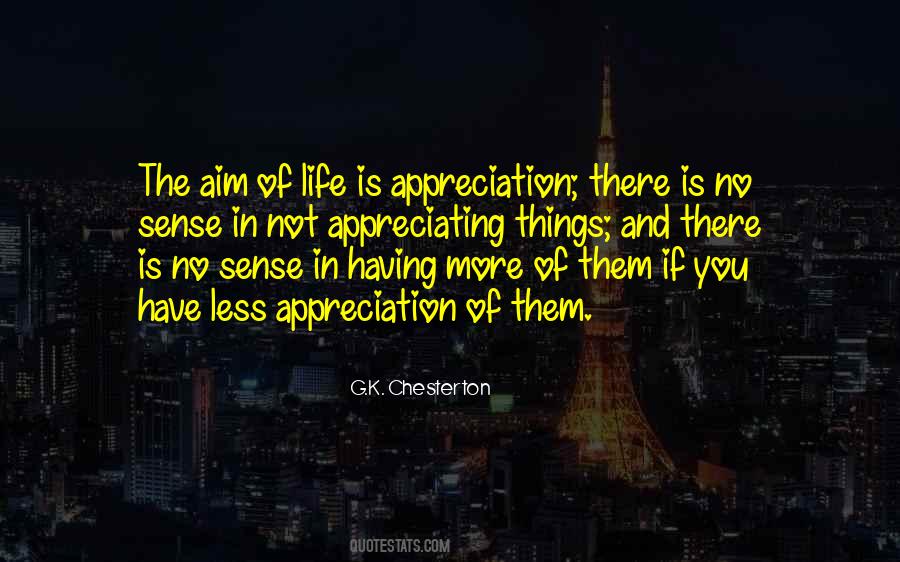 #43. One should guard against preaching to young people success in the customary form as the main aim in life. The most important motive for work in school and in life is pleasure in work, pleasure in its result, and the knowledge of the value of the result to the community.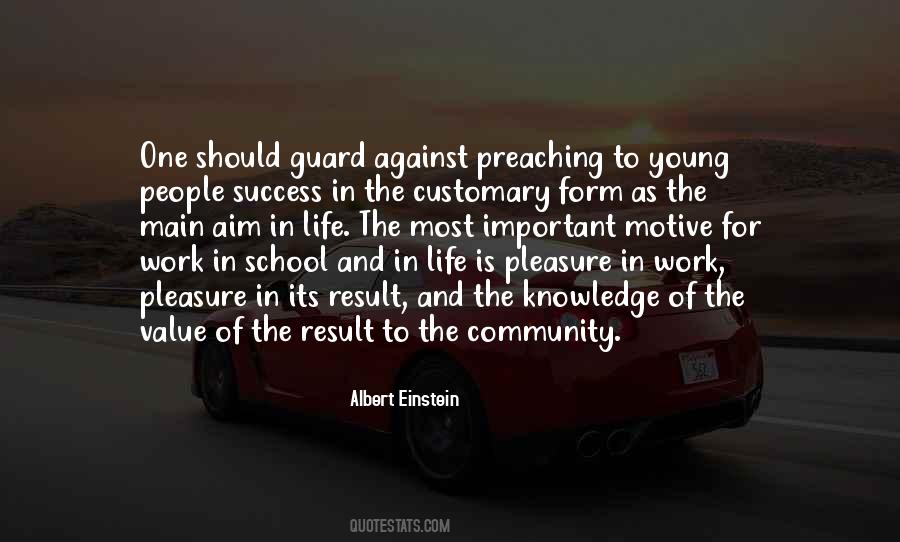 #44. Always strive to aim for the highest peak of the goals in life you have set, this way if you manage to reach even half way toward a goal, landing in the middle is not such a bad place to end up.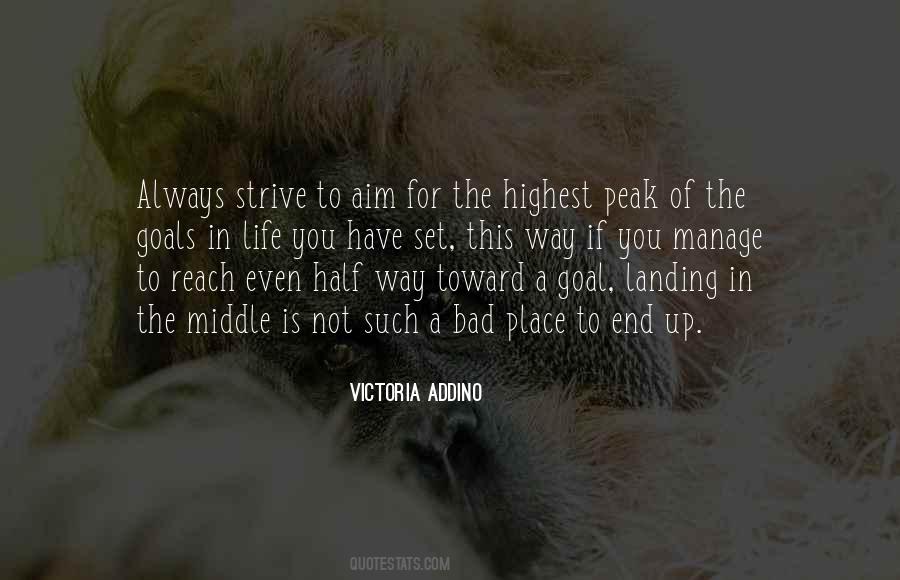 #45. We are determined not to take as the aim of our life fame, profit, wealth, or sensual pleasure, nor to accumulate wealth while millions are hungry and dying. We are committed to living simply and sharing our time, energy, and material resources with those who are in need.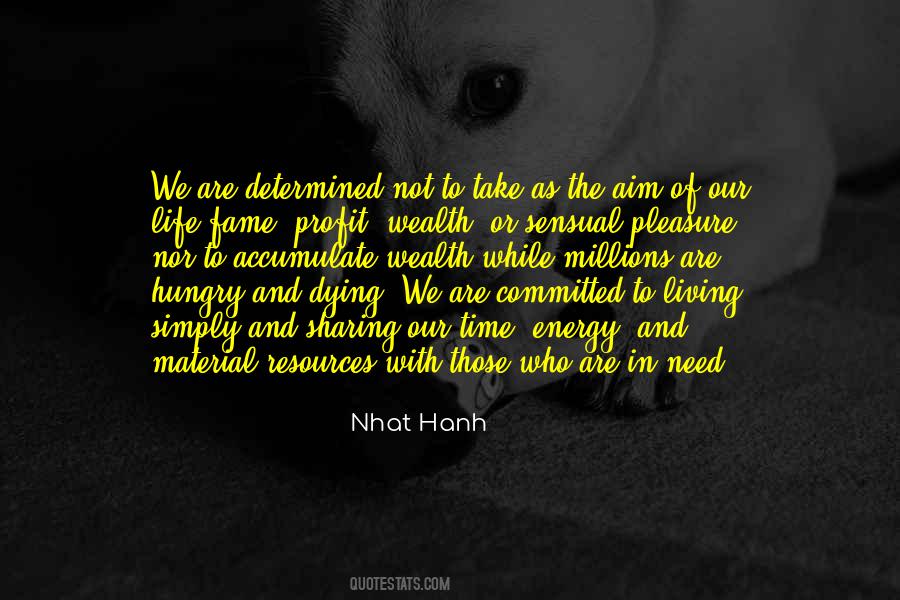 #46. I urge younger artists to know that you don't have to be anything you don't want. You can do whatever's comfortable for you. From the music I make, to the things I do in my life, I'm true to my R&B core. I have the capability to make pop records and crossover, but that's not my aim.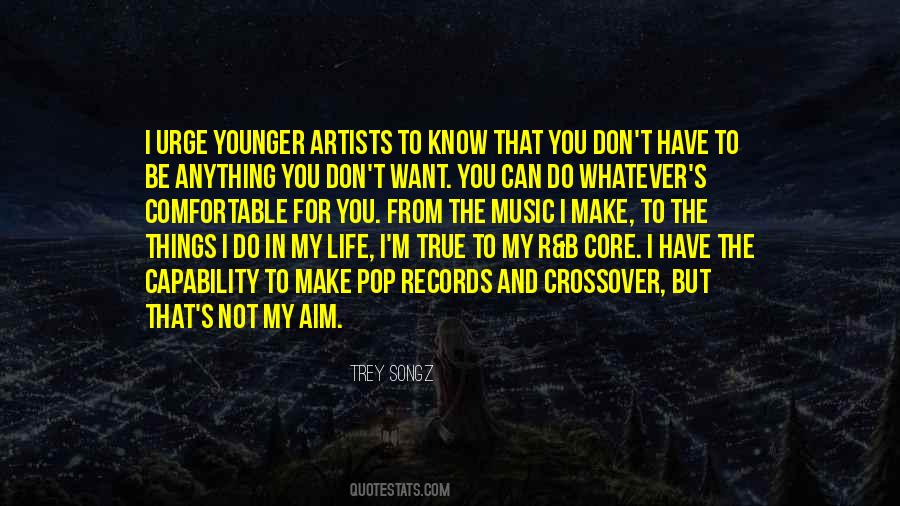 #47. Our ultimate aim in life is not to be healthy, wealthy, prosperous, or problem free. Our ultimate aim in life is to bring glory to God.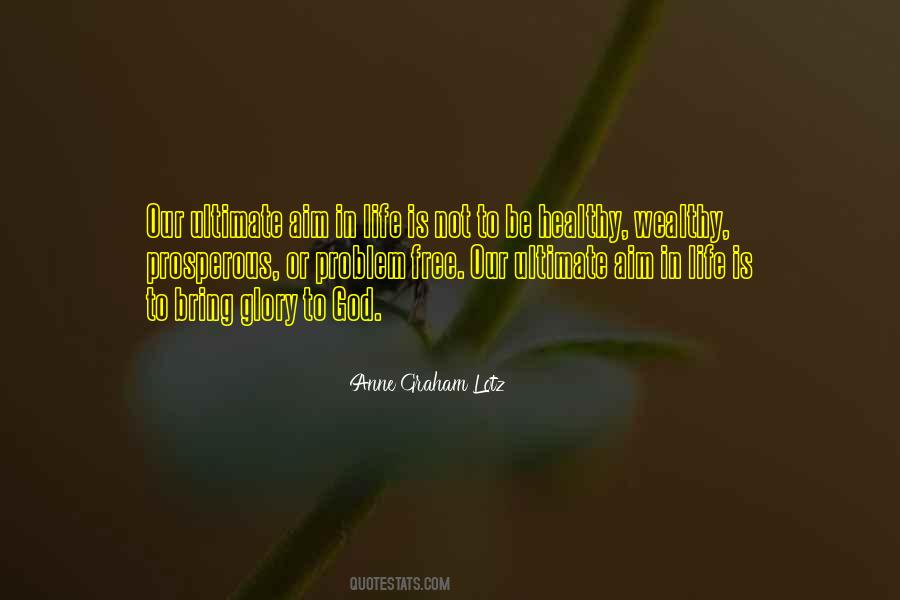 #48. People have their purposes and reasons, I just wish I found mine.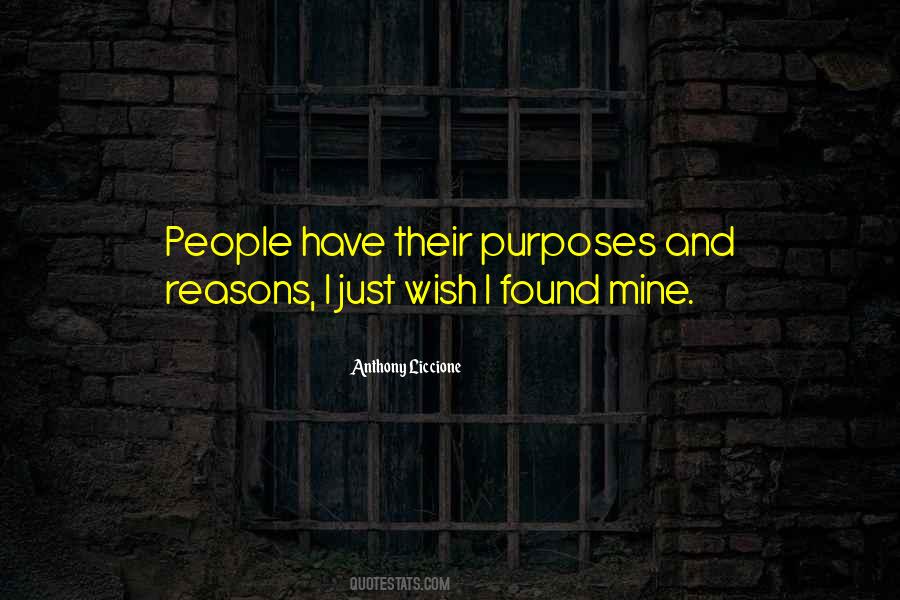 #49. The aim of an artist is not to solve a problem irrefutably, but to make people love life in all its countless, inexhaustible manifestations.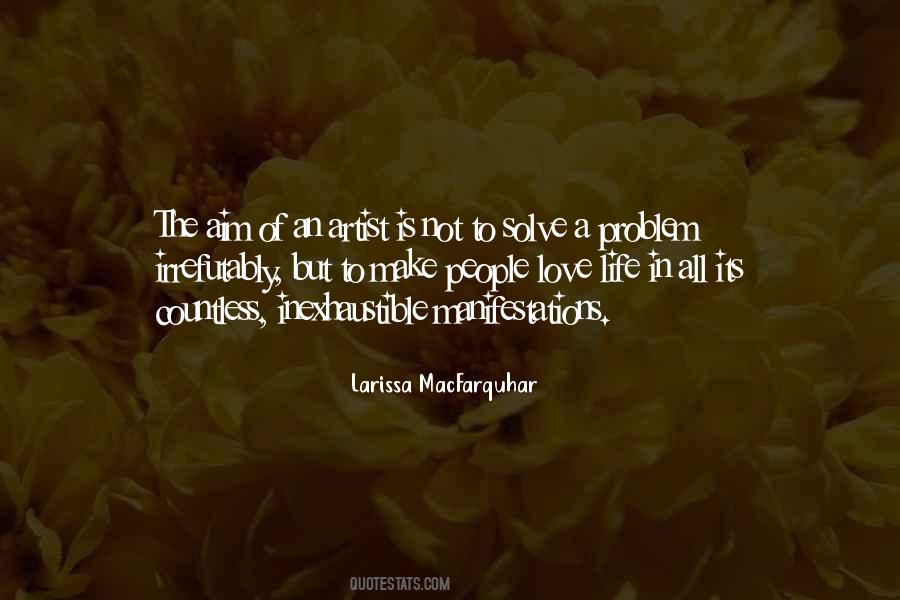 #50. I don't see myself as having made the transition. I aim to be more transient than transitional. Life is constantly changing, now at a rate faster than ever, so being in a transitory state is the best way to keep pace.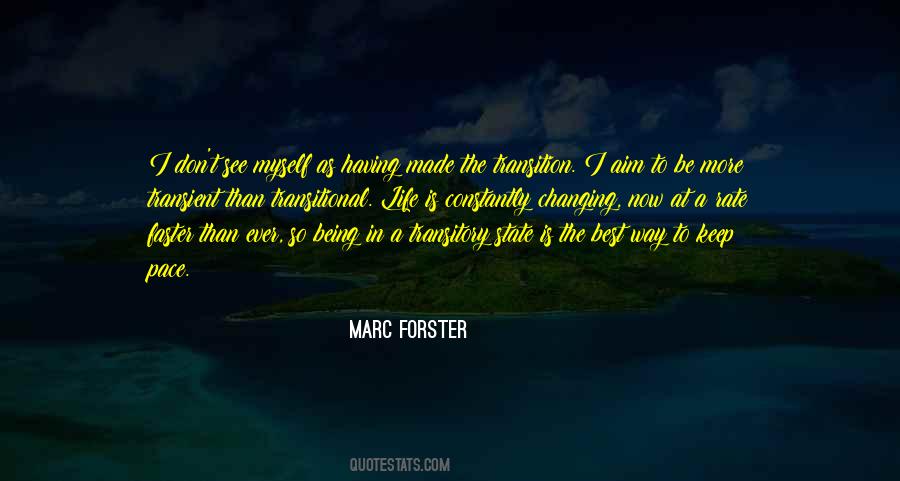 #51. A being without an aim in life, or not possessing the requisite concentration of purpose to assist him in resisting temptation, is like a cork floating upon the water, driven hither and thither by every wind that blows.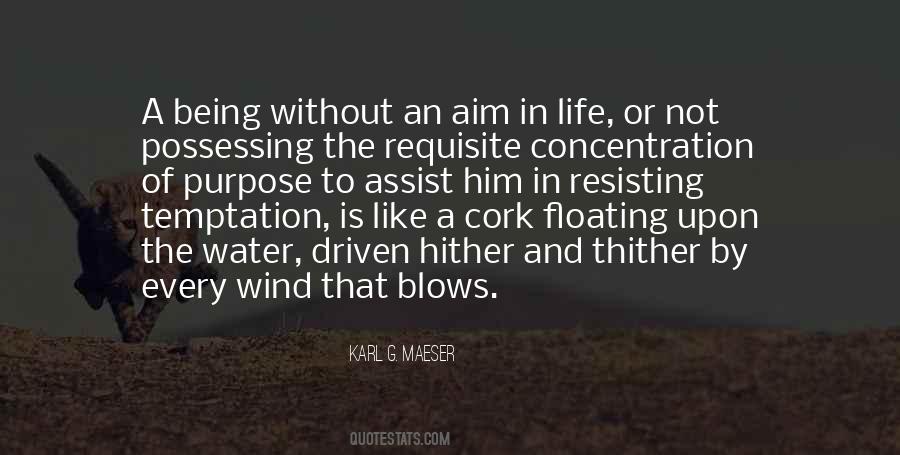 #52. Let craft, ambition, spite,
Be quenched in Reason's night,
Till weakness turn to might,
Till what is dark be light,
Till what is wrong be right!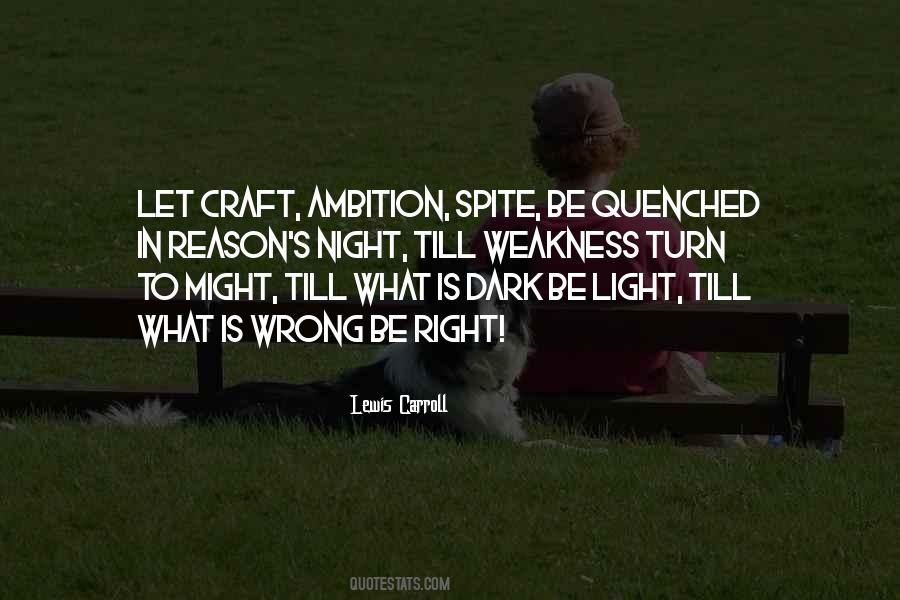 #53. Once you break one taboo, others soon come thumgbling down. Once you start rolling downhill, you carry on rolling until you reach the lowest point. For someone with no aim in life and who has never known love, leading a respectable life seems utterly pointless and unbearable.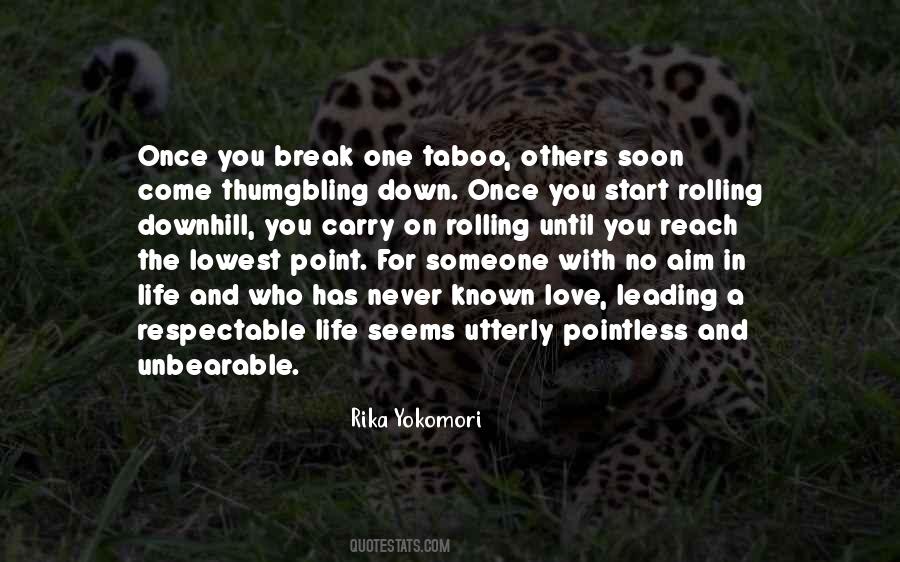 #54. Don't you think there are two great
things in life that we ought to aim at - truth and kindness? Let's
have both if we can, but let's be sure of having one or the other.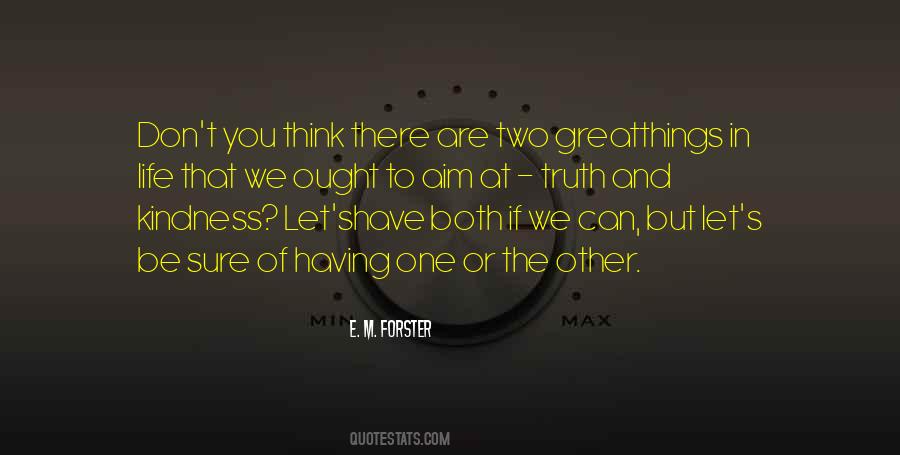 #55. Each man has to seek out his own special aptitude for a higher life in the midst of the humble and inevitable reality of daily existence. Than this there can be no nobler aim in life. It is only by the communications we have with the infinite that we are to be distinguished from each other.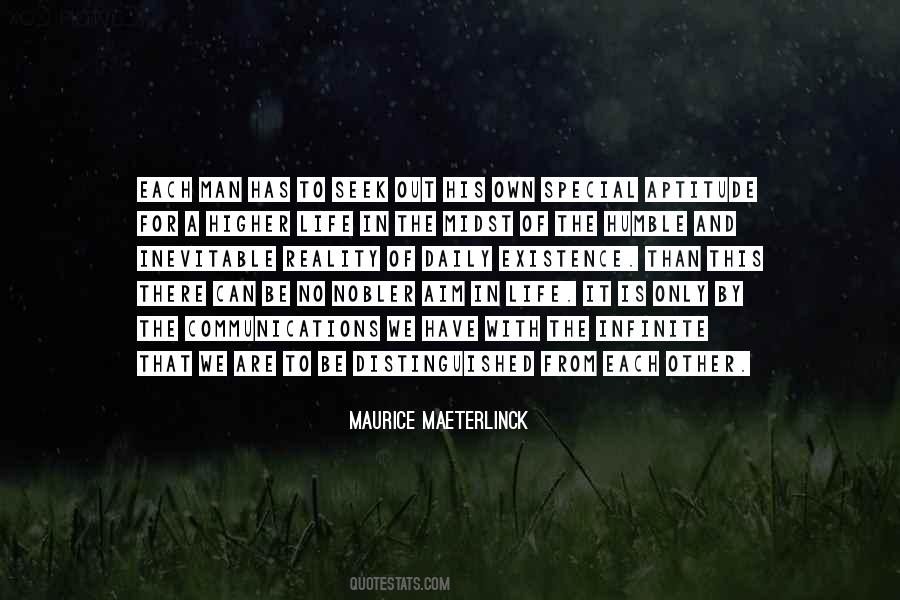 #56. Success is not about impressing and pleasing everyone, but setting your own goals, and achieving them in your own time.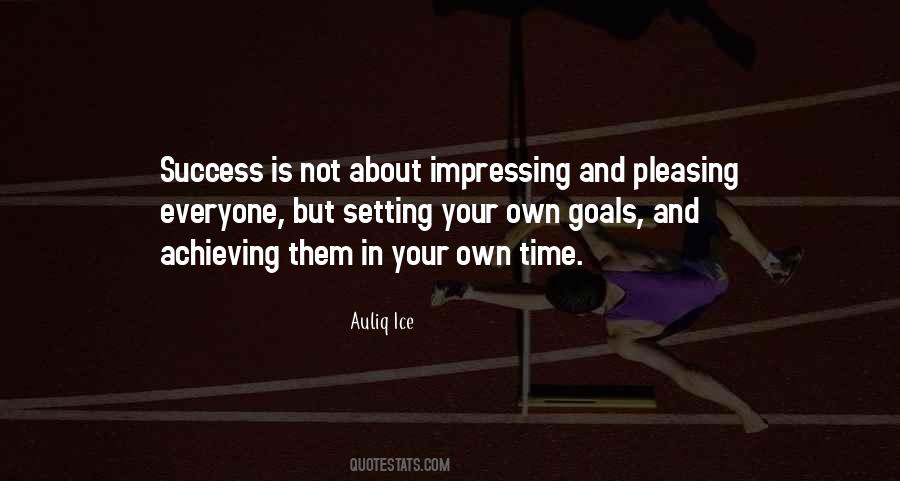 #57. The ascetic ideal has an aim - this goal is, putting it generally, that all the other interests of human life should, measured by its standard, appear petty and narrow; it explains epochs, nations, men, in reference to this one end; it forbids any other interpretation, any other end; it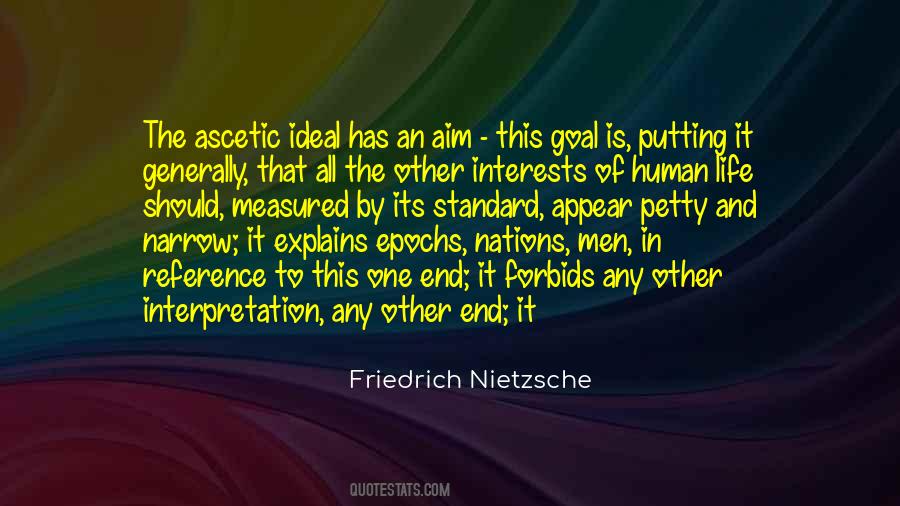 #58. Singleness of purpose is one of the chief essentials for success in life, no matter what may be one's aim.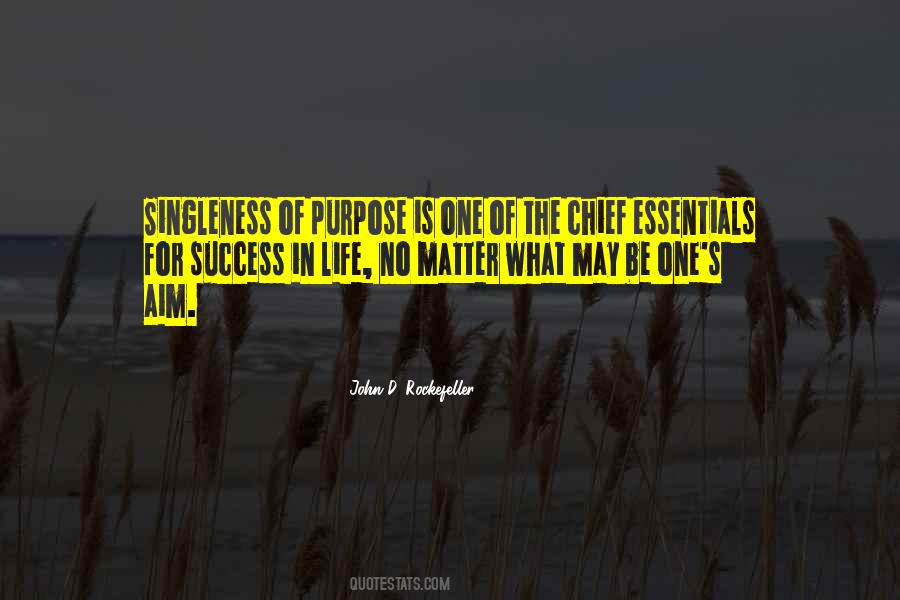 #59. People aim for the stars, and they end up like goldfish in a bowl. I wonder if it wouldn't be simpler just to teach children right from the start that life is absurd.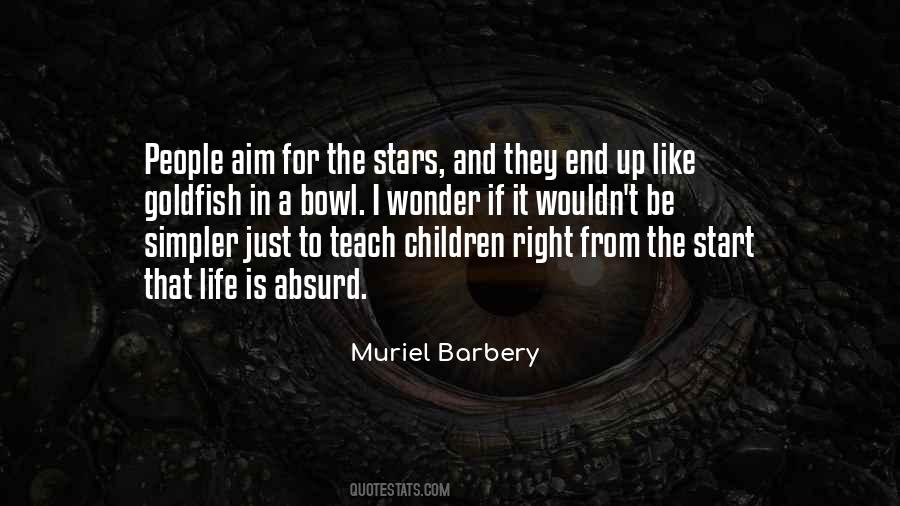 #60. It is too bad that most Olympians do not train as hard as the Lashkar jihadis whose main aim in life is to kill people.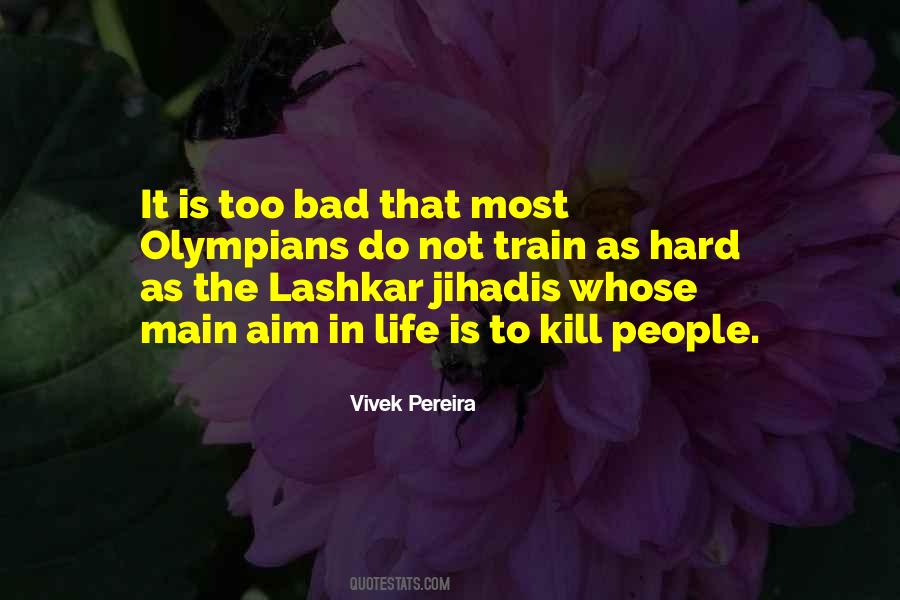 #61. A well-rounded approach to Bible study recognizes that the Bible is always more concerned with the decision-maker than with the decision itself. Its aim is to change our hearts so that we desire what God desires, rather than to spoon-feed us answers to every decision in life.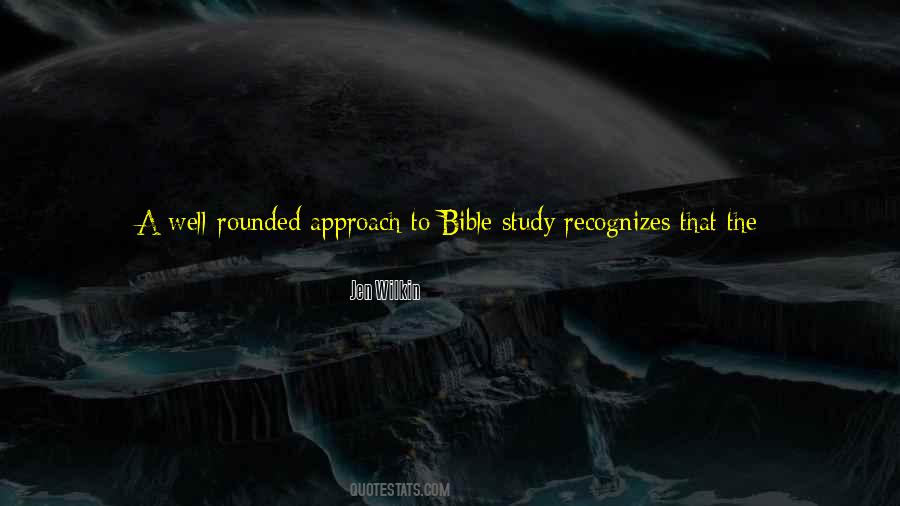 #62. Stripping away artifice - it's the constant standard I aim for in acting, to approximate life. People talk about being bigger than life - but there's nothing bigger than life.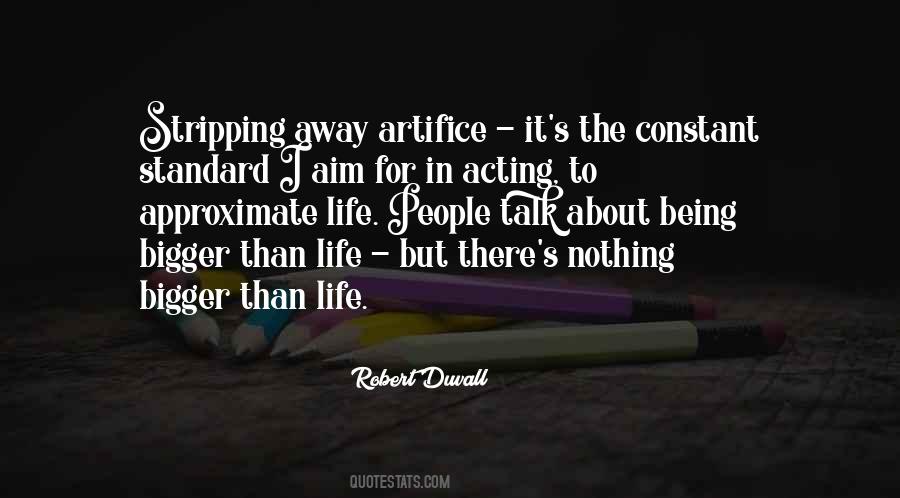 #63. Are you throwing darts at the challenges in your life? Hoping something sticks? Try using a laser instead! Choose the biggest challenge you have and take action as focused and precise as a laser. Darts can go anywhere, lasers only go where you aim them ...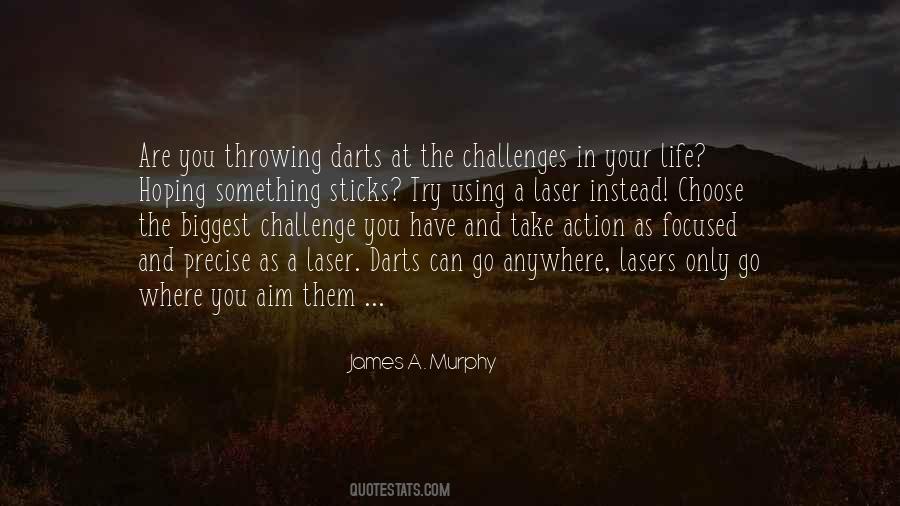 #64. The aim of Positive Psychology is to catalyze a change in psychology from a preoccupation only with repairing the worst things in life to also building the best qualities in life.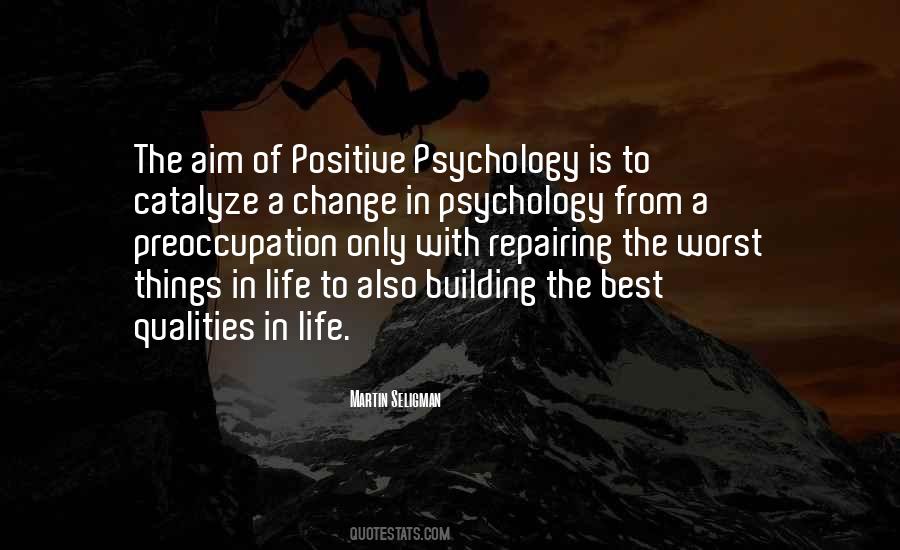 #65. Never expect women to be sincere, so long as they are educated to think that their first aim in life is to please.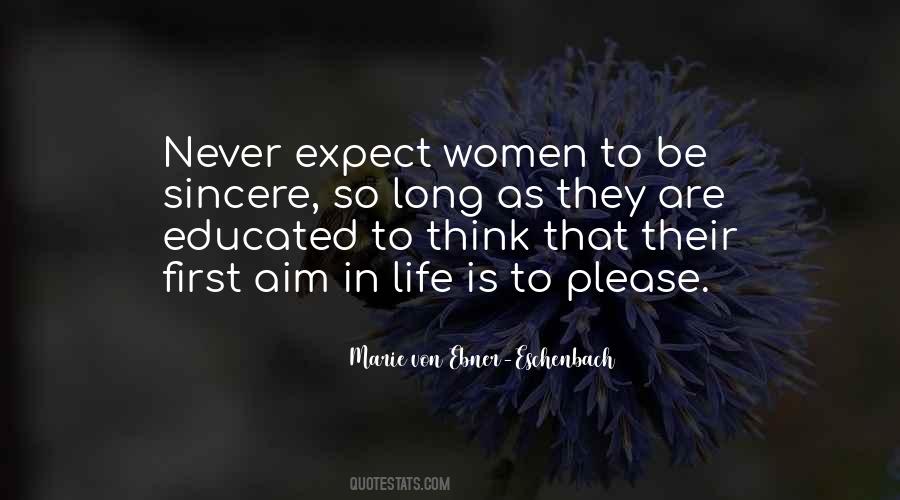 #66. If you believe in yourself, nothing is impossible. Without a dream you cannot have an aim and without an aim you cannot achieve and to dream you must have faith in yourself.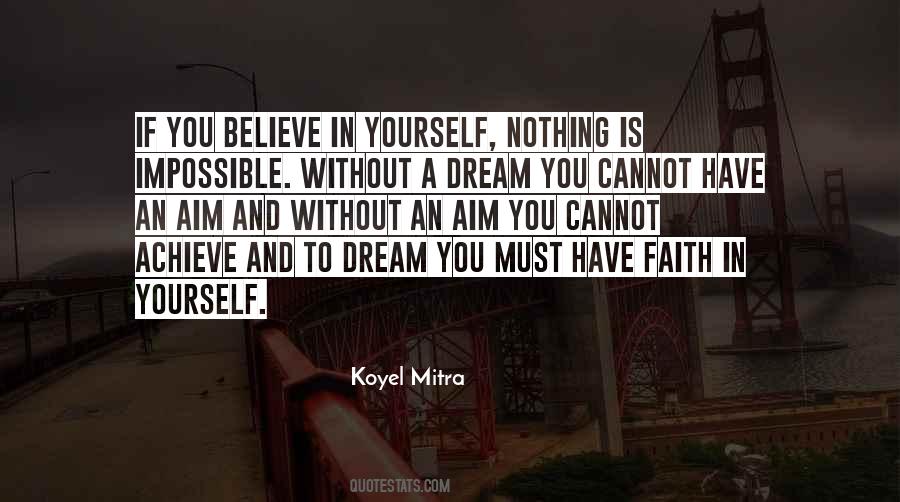 #67. Everything in life tries to hit us hard. We feel like dying. But instead fight back hard to survive. After all surviving was the only aim of everything." - Vishnu Kanchan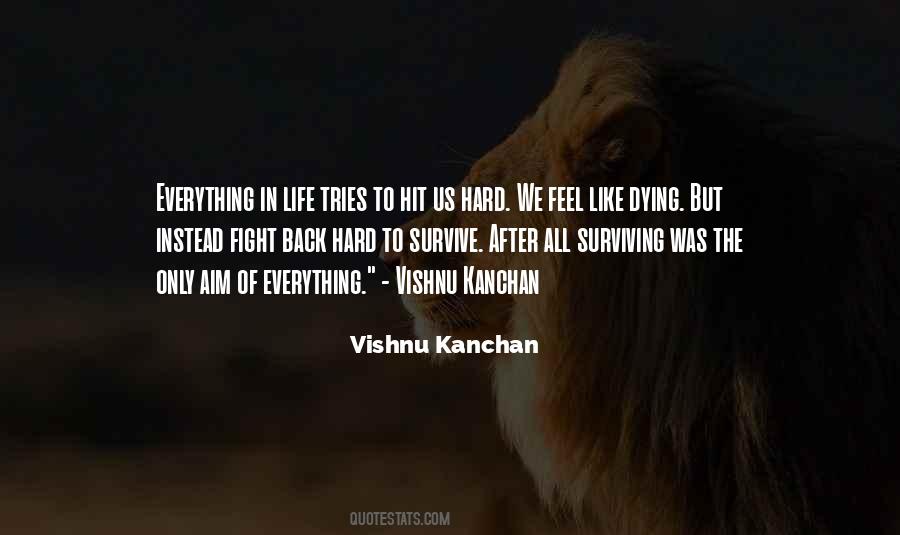 #68. What were we made for? To know God. What aim should we have in life? To know God. What is the eternal life that Jesus gives? To know God. What is the best thing in life? To know God. What in humans gives God most pleasure? Knowledge of himself.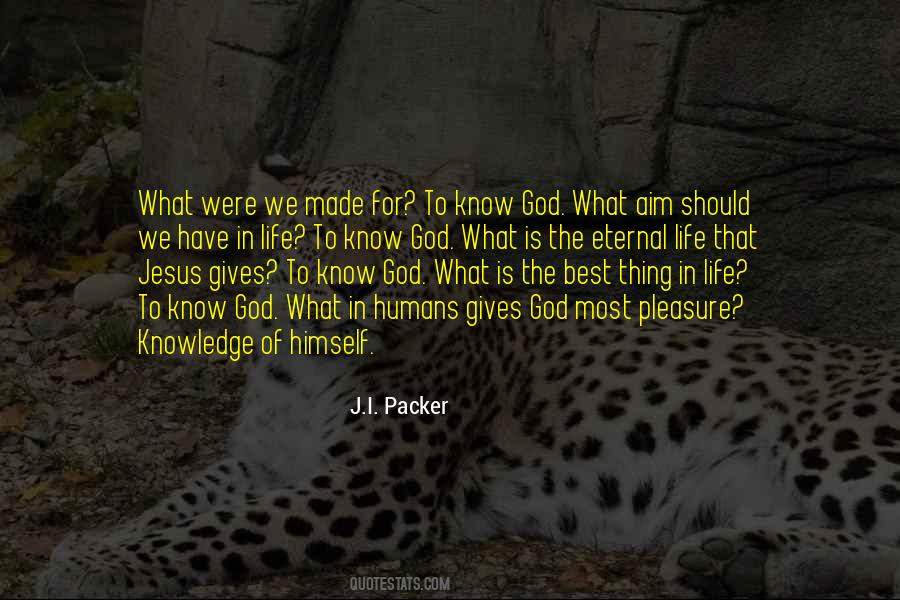 #69. The question of this book is simple: What is the best use of my smartphone in the flourishing of my life? To that end, my aim is to avoid both extremes: the utopian optimism of the technophiliac and the dystopian pessimistic of the technophobe.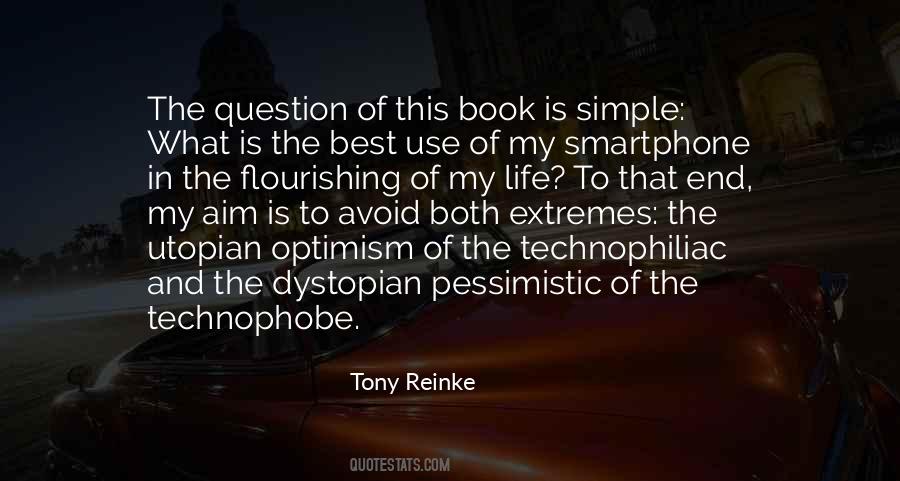 #70. The aim (of education) must be the training of independently acting and thinking individuals who, however, see in the service to the community their highest life problem.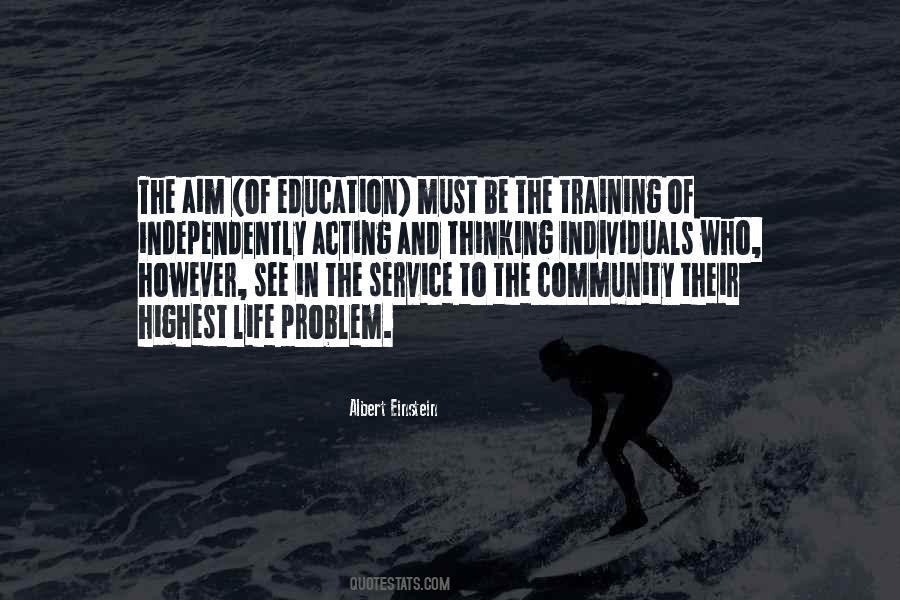 #71. If you seek God as the nonnegotiable good of your life, you will get happiness thrown in. If, however, you aim mainly at personal happiness, you will get neither.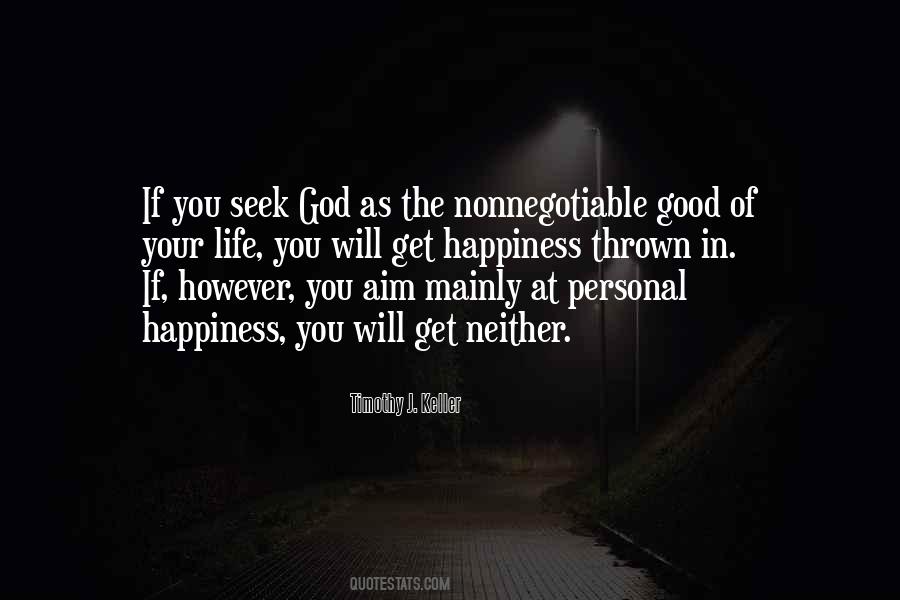 #72. My aim in life is never to be skinny.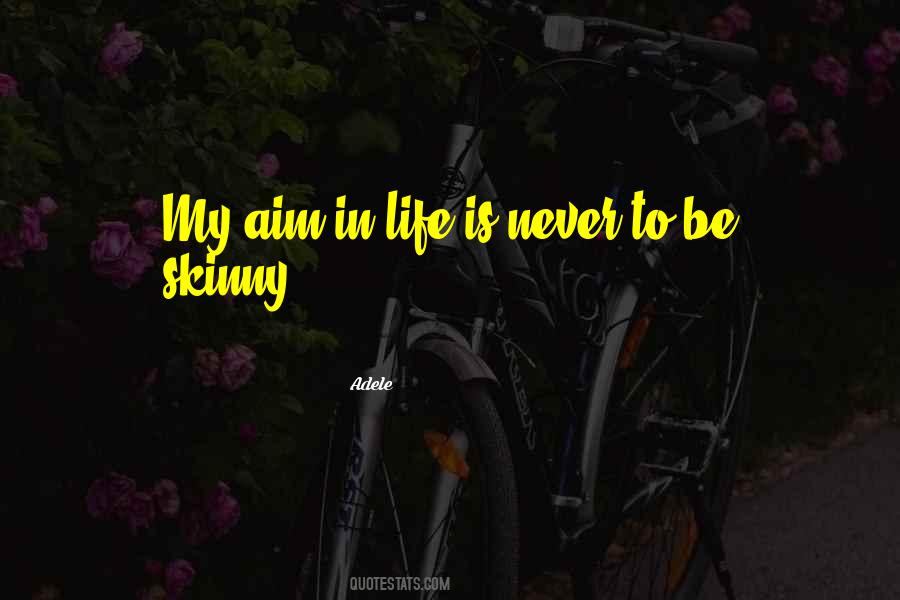 #73. One of the most powerful forces in the world is the will of men and women who believe in themselves, who dare to hope and aim high, who go confidently after the things they want from life.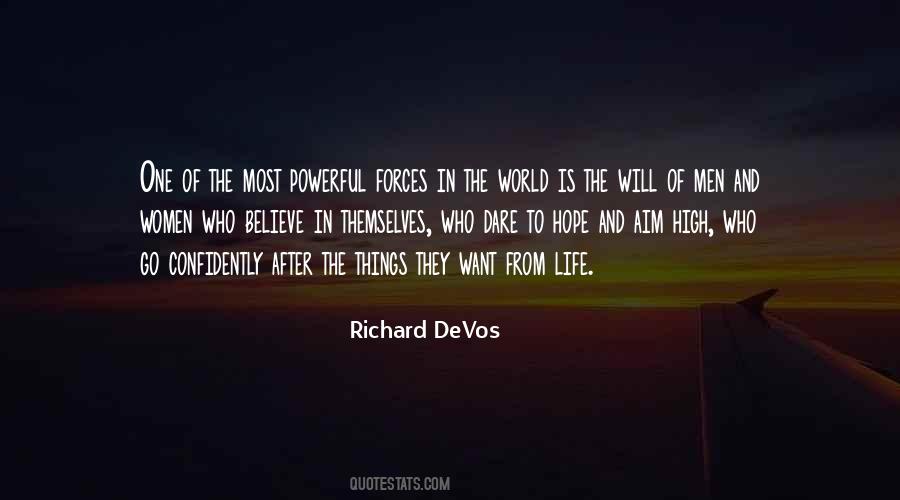 #74. My main aim is getting set up so that when I do quit, I can step away and re-evaluate what I want to do in life. Do I want to get to 50 years old and come back? Or will I just want to go home and be fishing, hunting and working around the house?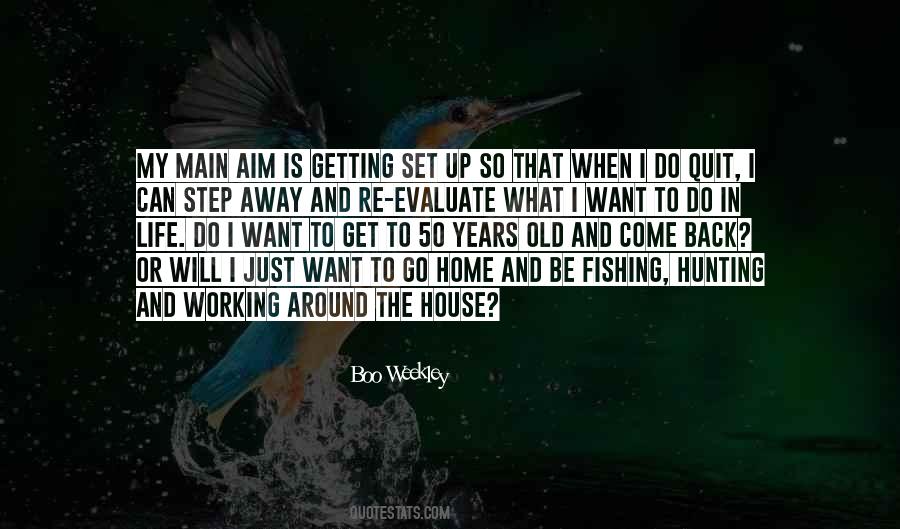 #75. My aim in life is not to judge.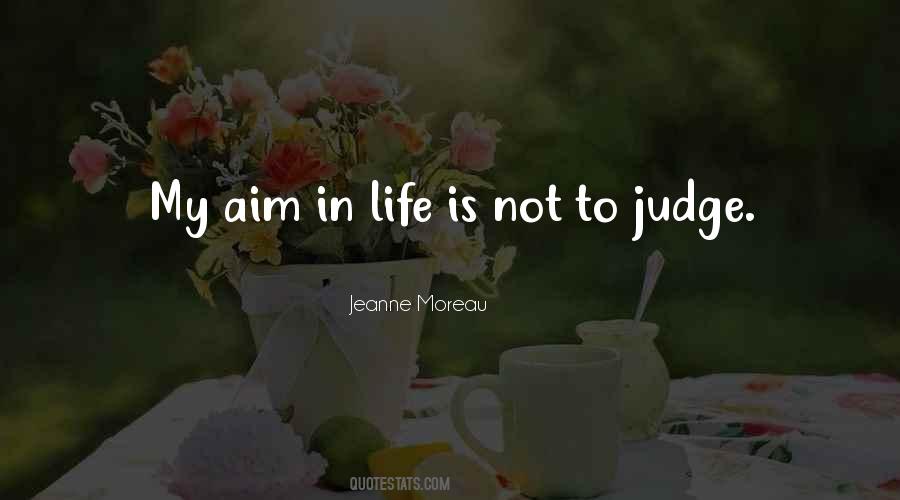 #76. God created each of us with different traits and characteristics, but regardless of what they may be, know that He made you perfect and has equipped you with every tool to accomplish your purpose in life. Aim High and Dream Big!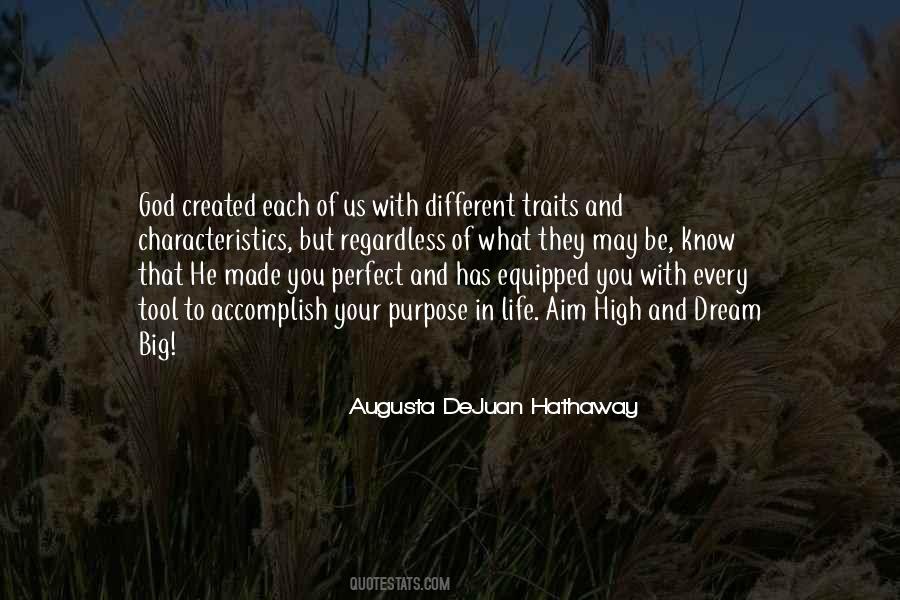 #77. Life has no smooth road for any of us; and in the bracing atmosphere of a high aim the very roughness stimulates the climber to steadier steps, till the legend, over steep ways to the stars, fulfills itself.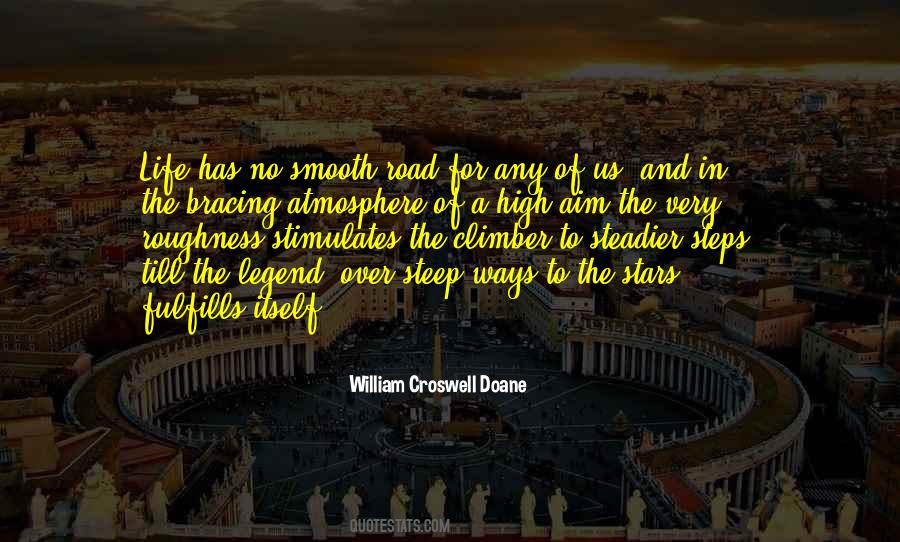 #78. ... The most worthy calling in life is that in which man can serve best his fellow man. ... The noblest aim in life is to strive to live to make other lives better and happier.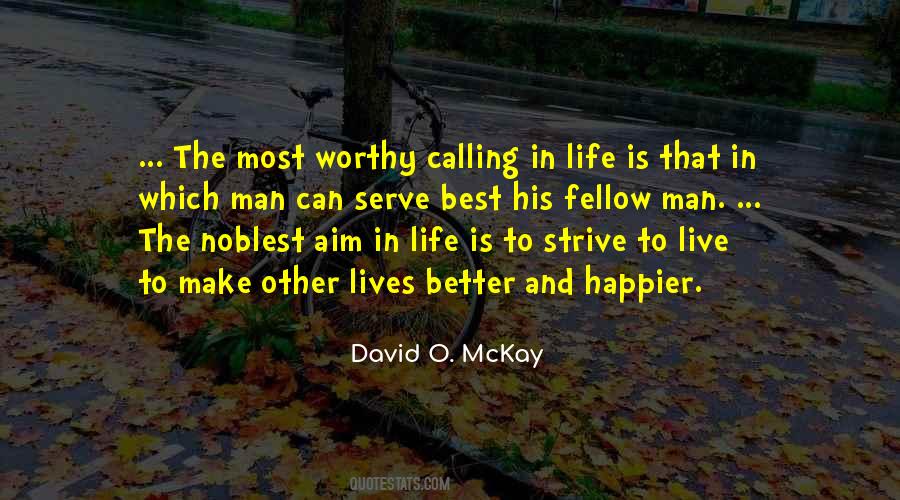 #79. As you go along your road in life, you will, if you aim high enough, also meet resistance ... But no matter how tough the opposition may seem, have courage still and persevere.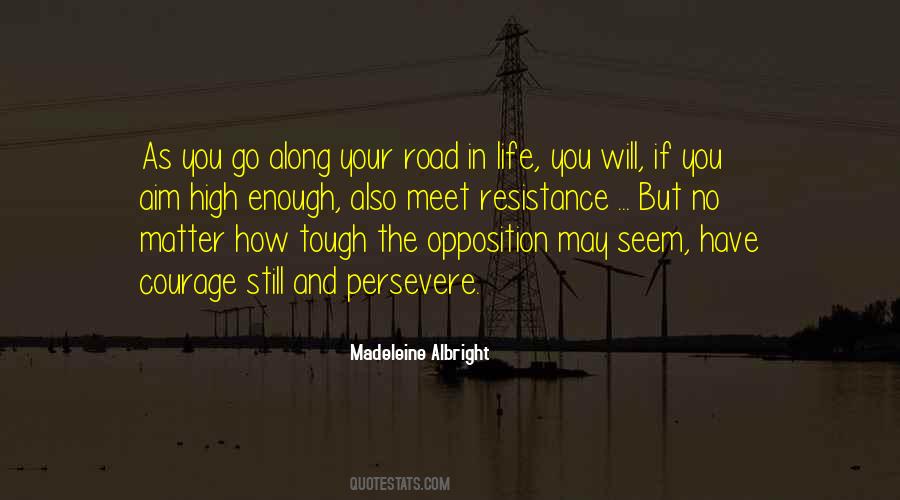 #80. It was not my aim to paint about the Negro in America in terms of propaganda. It is to depict the life of my people as I know it, passionately and dispassionately as Brueghel.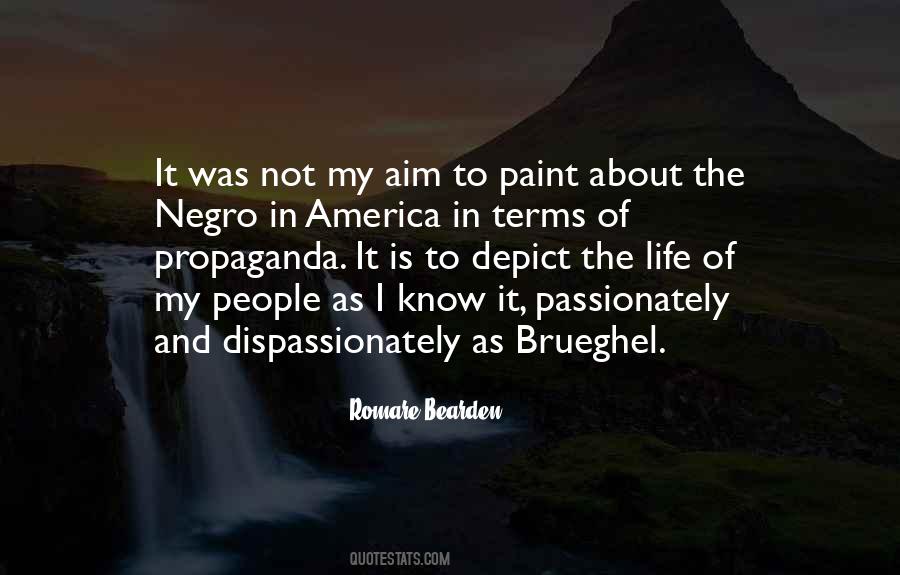 #81. Looking into the spirit of others is sometimes like looking into a pond. Though we aim to see what's deep in the bottom, we are often distracted by our own reflection.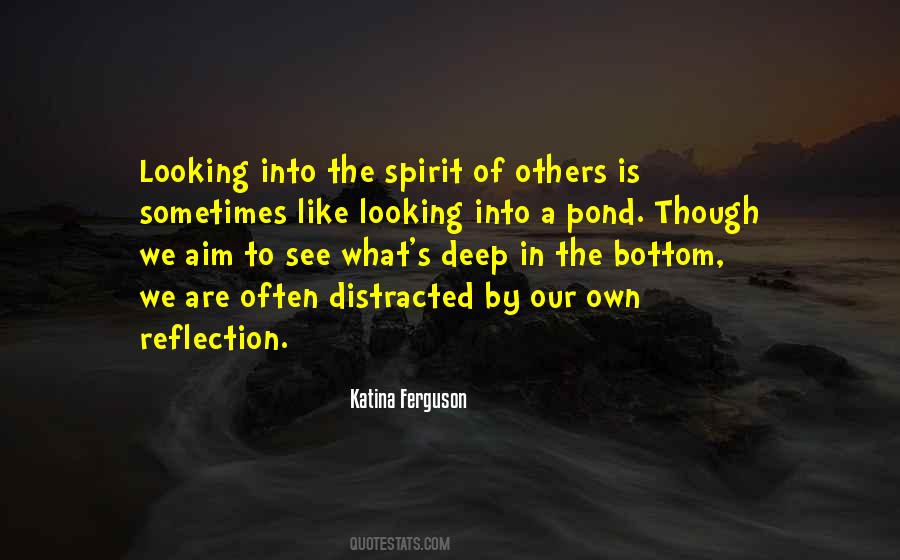 #82. The aim is to produce specific results by your actions, so you begin to do things on purpose. If I leave things to chance, I am losing the plot to make success deliberate, meaning I am increasing my chances of failing in any given task.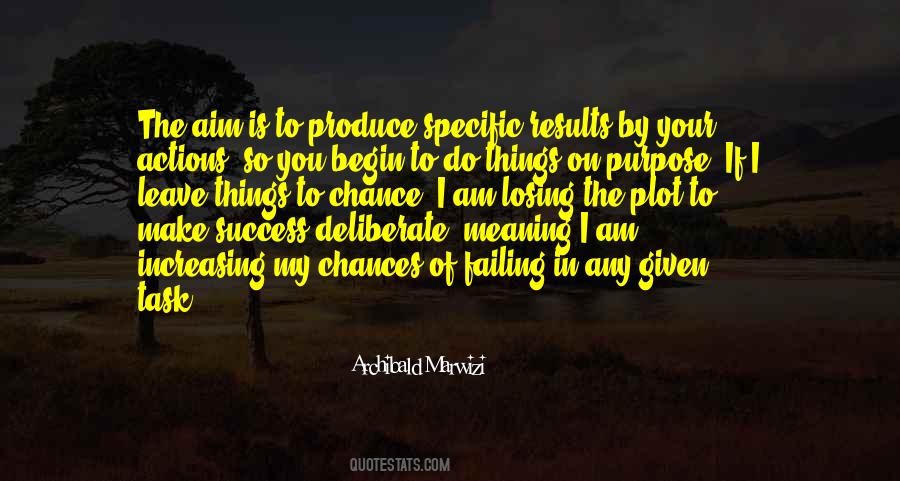 #83. You don't have to be a wreck. You don't have to be sick. One's aim in life should be to die in good health. Just like a candle that burns out.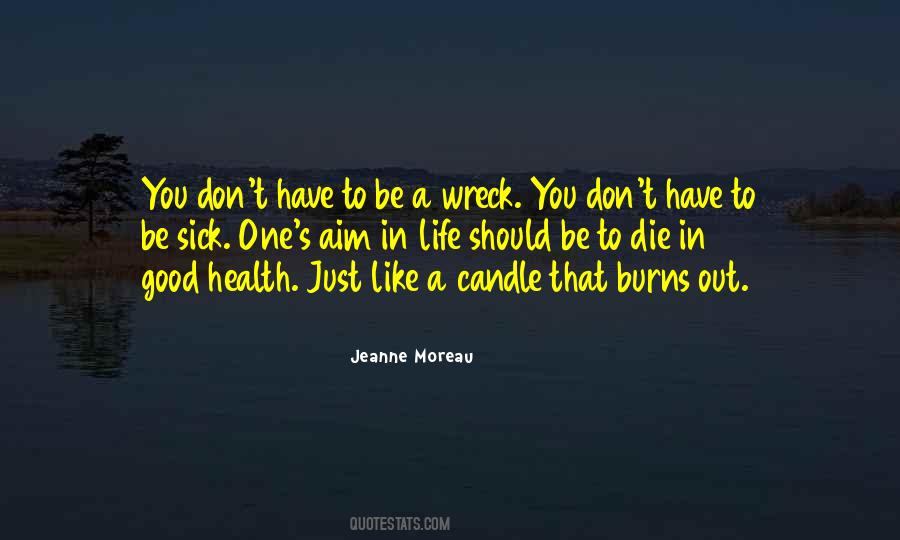 #84. Aim to live a wild, generous, full, exciting life - blessing those around you and seeing the good in all.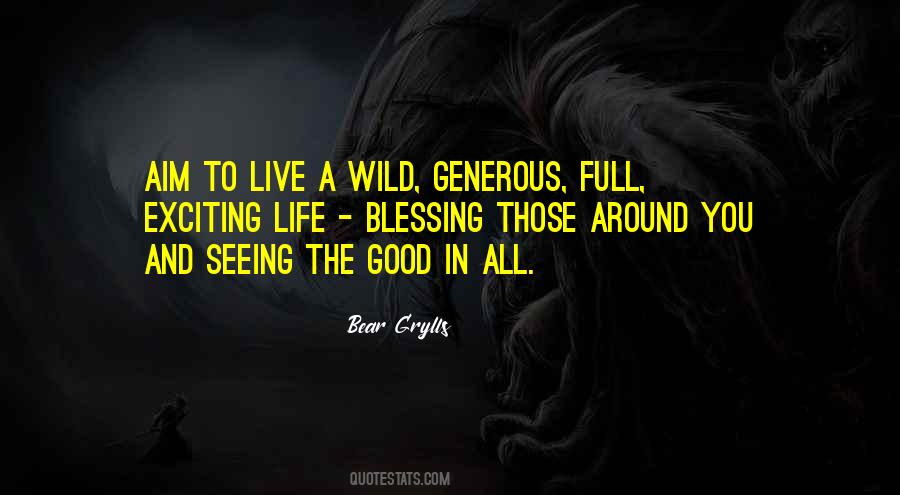 #85. To live without an aim is to wander in a wilderness.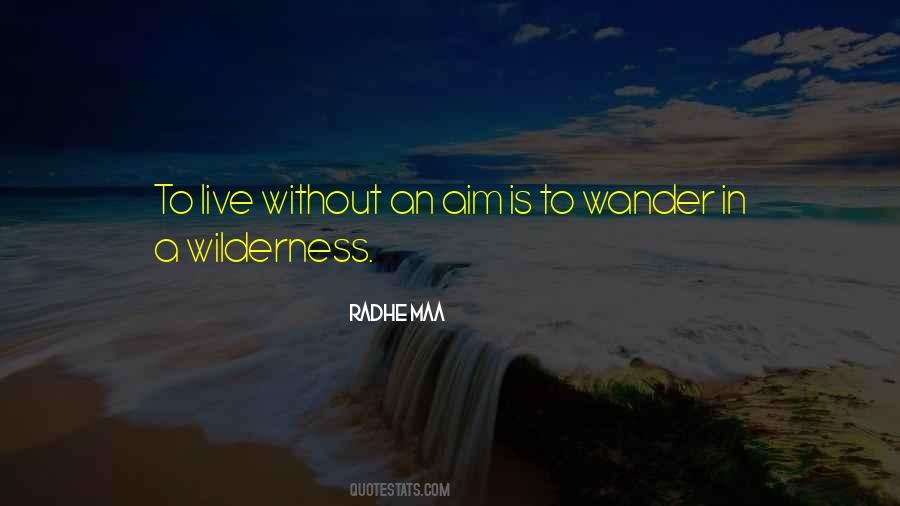 #86. The aim is to postpone frailty, postpone degenerative disease, debilitation and so on and thereby shorten the period at the end of life, which is passed in a decrepit or disabled state, while extending life as a whole.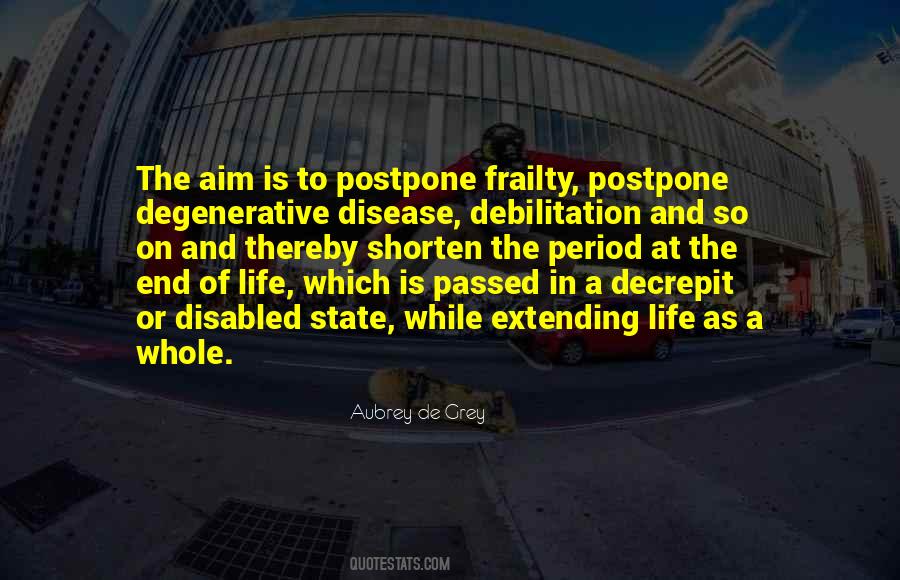 #87. A man who could not see the end of his"provisional existence" was not able to aim at an ultimate goal in life.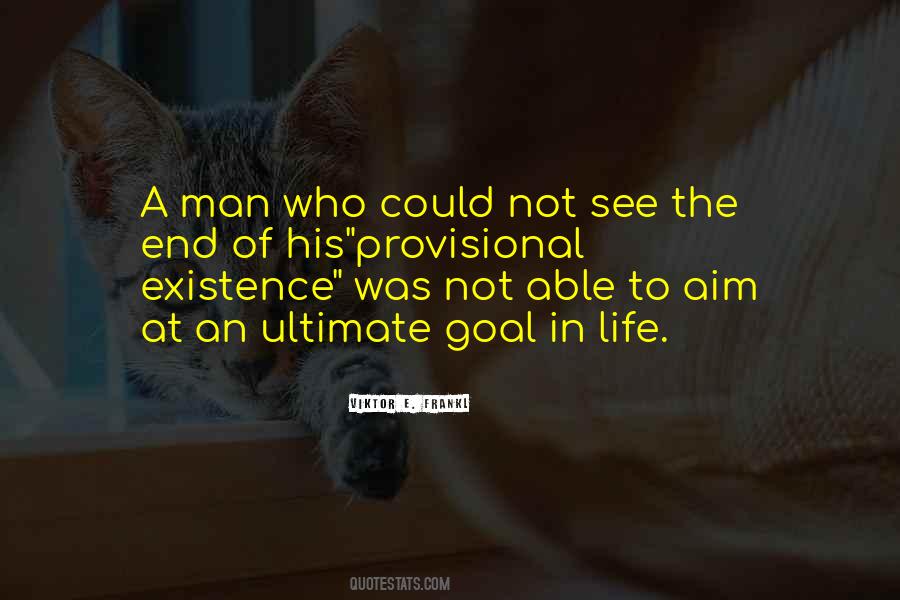 #88. Aim for a million bucks, you suddenly need a billion. I upgraded my computer, but it wasn't enough. No matter what, it ain't fucken enough in life, that's what I learned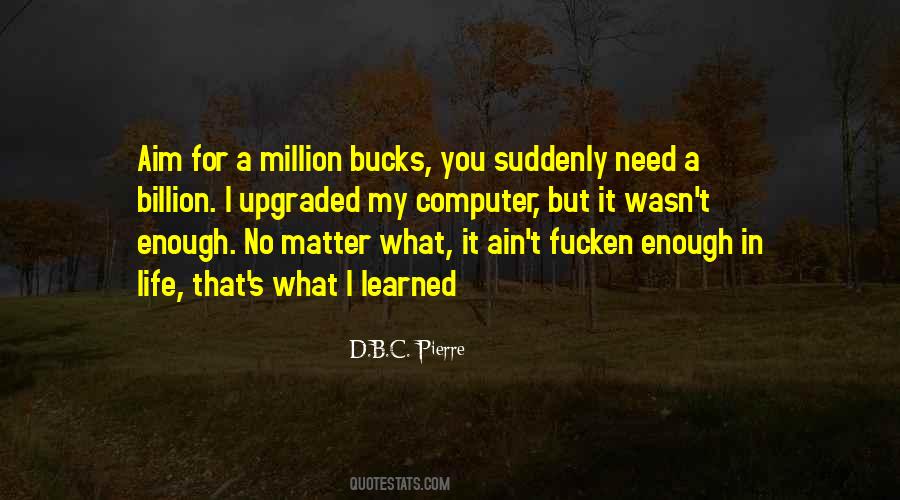 #89. And indeed, what aim in life is more important and sacred than a father's? To what should one adhere, if not to one's family?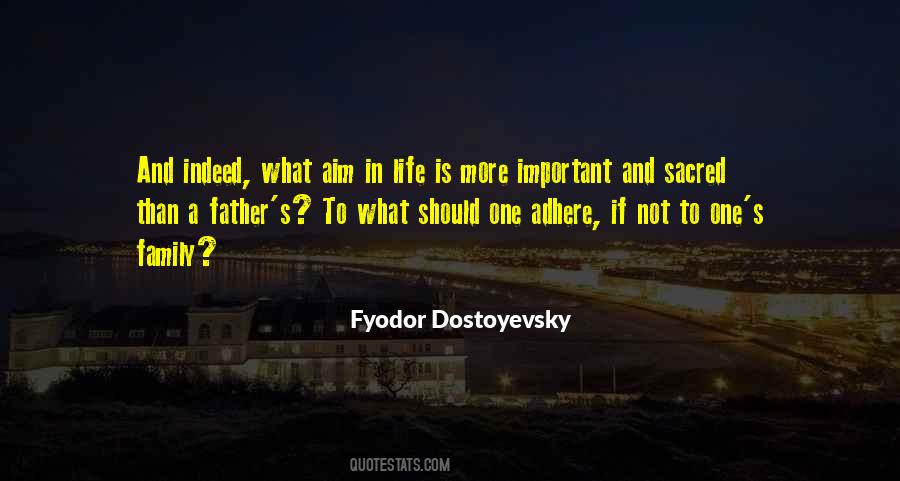 #90. There is a history in all men's lives, Figuring the nature of the times deceased, The which observed, a man may prophesy, With a near aim, of the main chance of things As yet not come to life, which in their seeds And weak beginnings lie intreasured.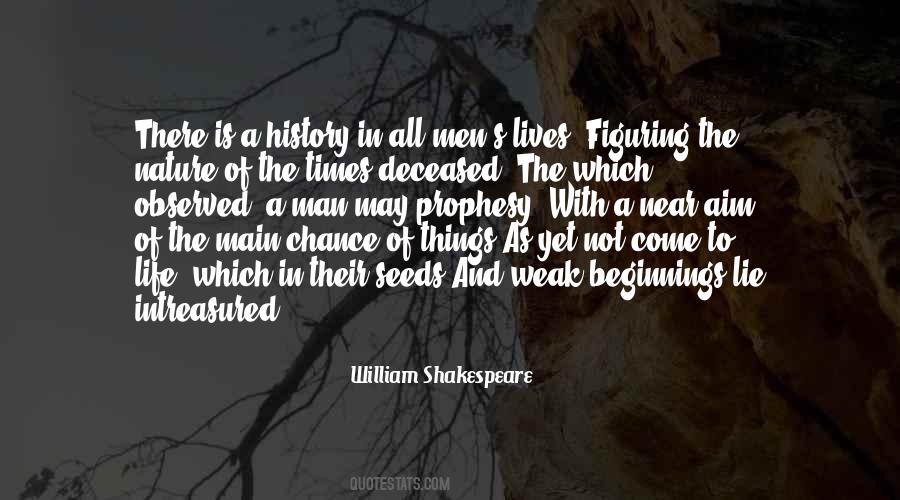 #91. 209. He who gives himself to vanity, and does not give himself to meditation, forgetting the real aim (of life) and grasping at pleasure, will in time envy him who has exerted himself in meditation.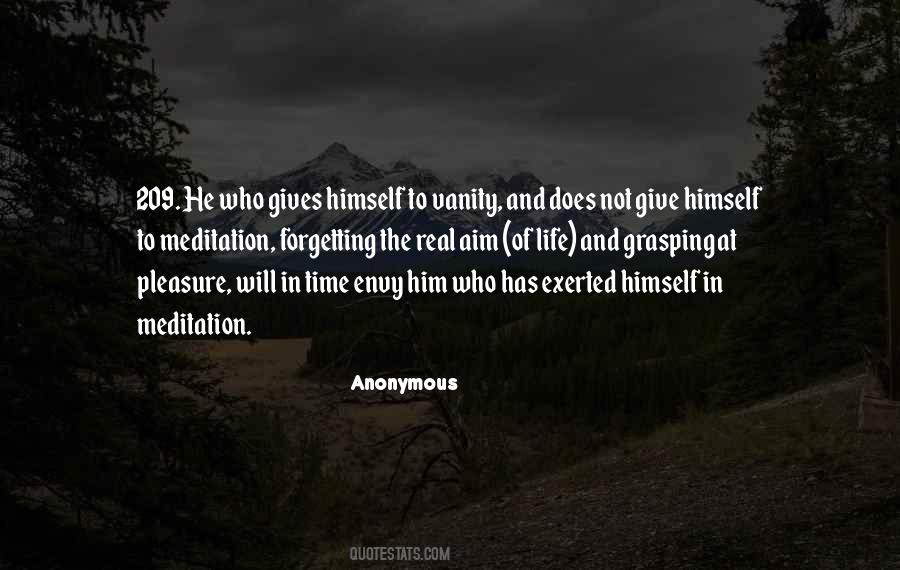 #92. My aim in life is to make pictures and drawings, as many and as well as I can; then, at the end of my life ... looking back with love and tender regret, and thinking, 'Oh, the pictures I might have made!'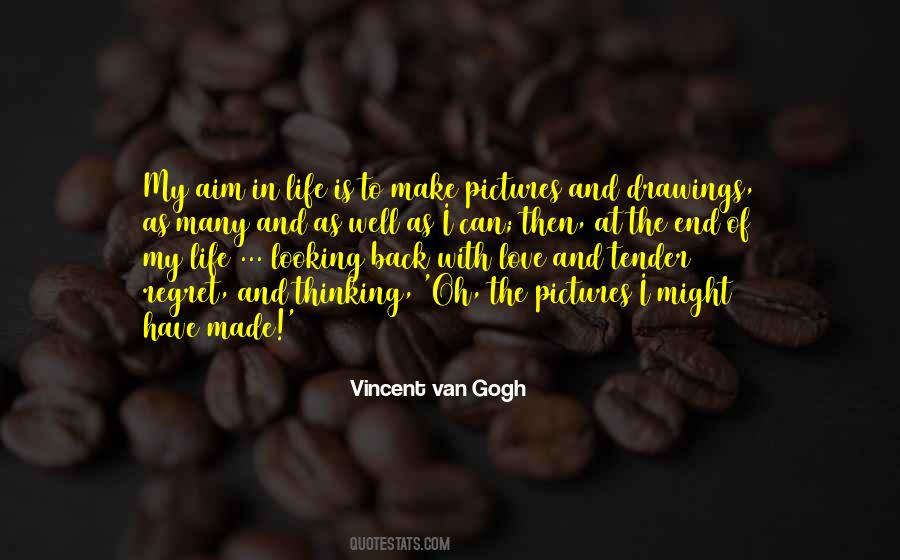 #93. Life seems to be an experience in ascending and descending. You think you're beginning to live for a single aim - ... for discovery of cosmic truths - when all you're really doing is to move from place to place as if devoted primarily to real estate.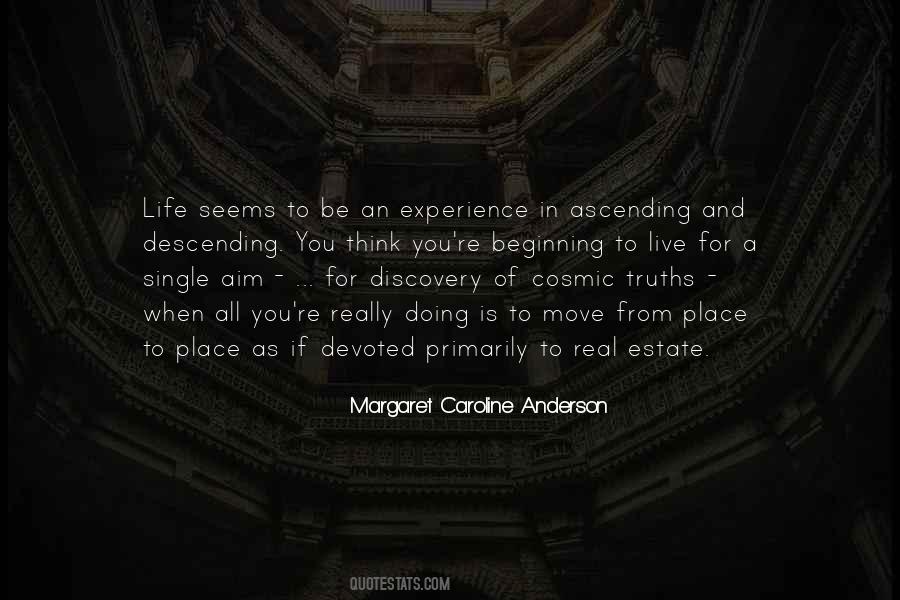 #94. To achieve in life is A hard story, But that shouldn't scare you.
#95. Common aim is stronger than blood.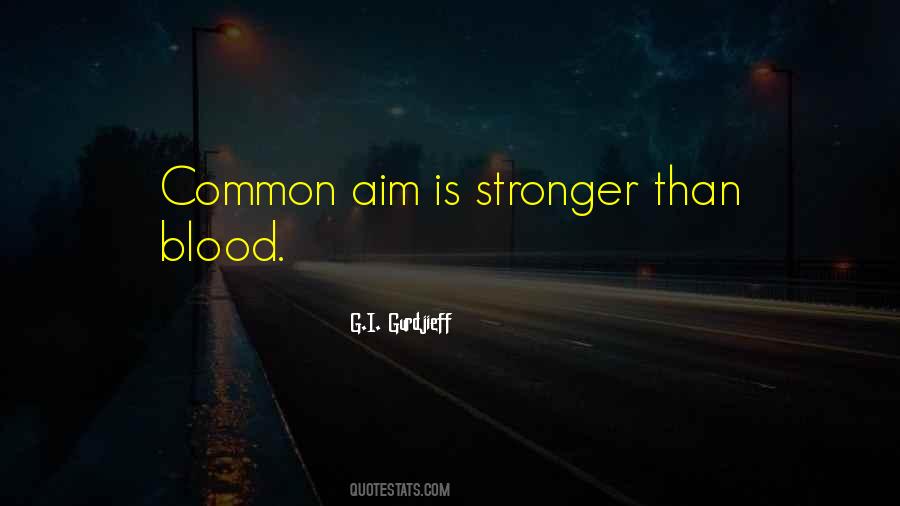 #96. Men who are engaged in public life must necessarily aim at reducing opposition to a minimum, and one of the most obvious means to that end is by misrepresenting, discrediting or ruining their opponents.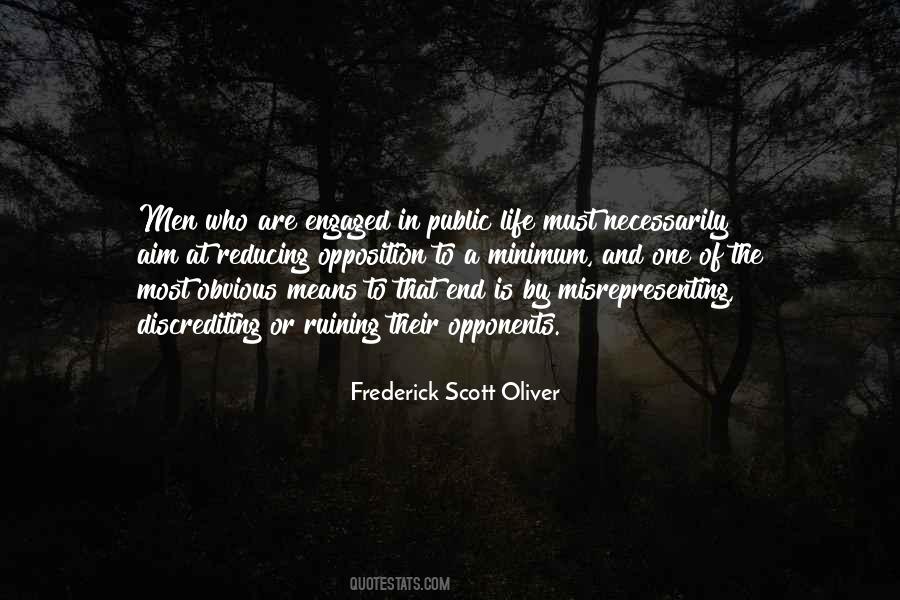 #97. My granddad always said he wanted to make me an England player. As soon as I went on to that pitch against Portugal, I knew he could die a happy man because he'd achieved his aim in life.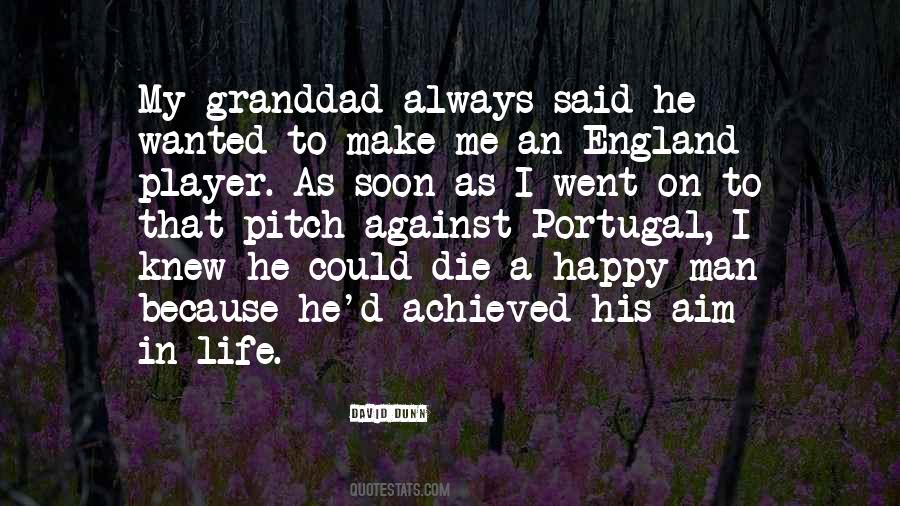 #98. The aim of spiritual life is to awaken a joyful freedom, a benevolent and compassionate heart in spite of everything.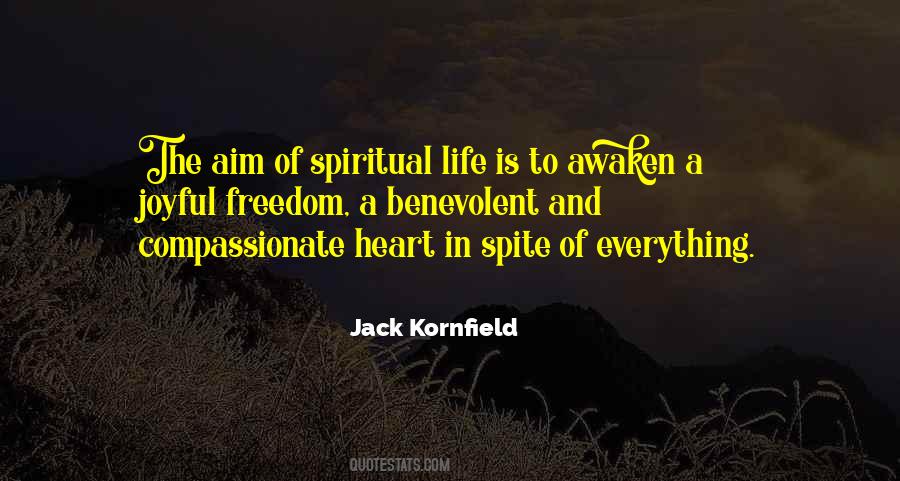 #99. A dog has one aim in life... to bestow his heart.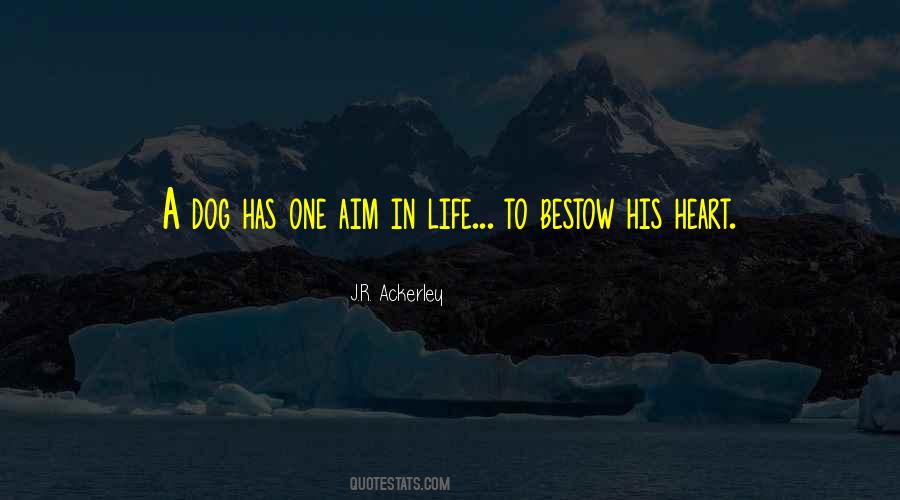 #100. How can those who possess all knowledge, which must include knowledge of life that is worth living, be interested in using knowledge only for the insignificant aim of making money?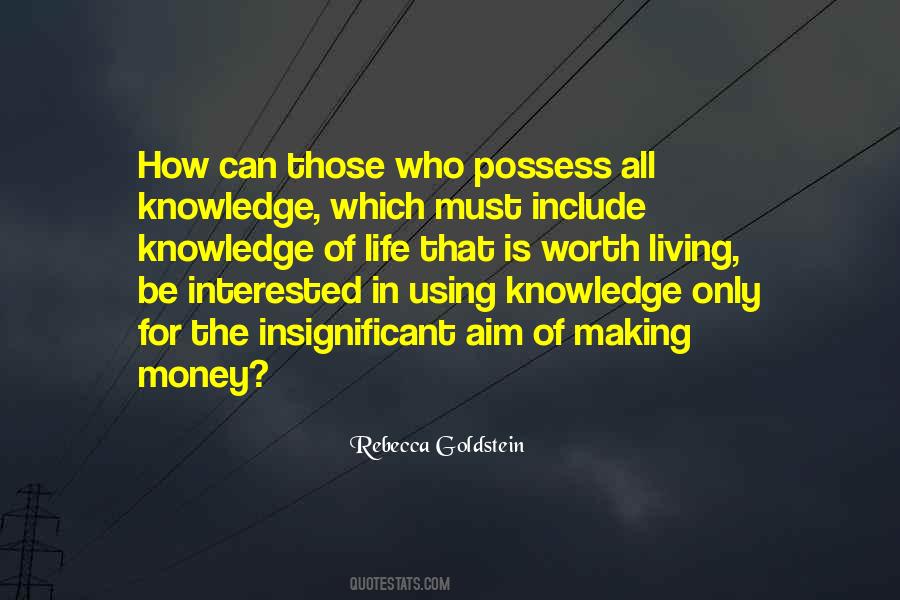 Famous Authors
Popular Topics