About Living Life Famous Quotes & Sayings
List of top 100 famous quotes and sayings about about living life to read and share with friends on your Facebook, Twitter, blogs.
Top 100 Quotes About About Living Life
#1. I'm going because my life was crap until I met you. I'm going because I don't want to be here when you're not, still living with my mum and nothing being any different. I wouldn't even be thinking about going if it hadn't been for you. - Author: Jenny Downham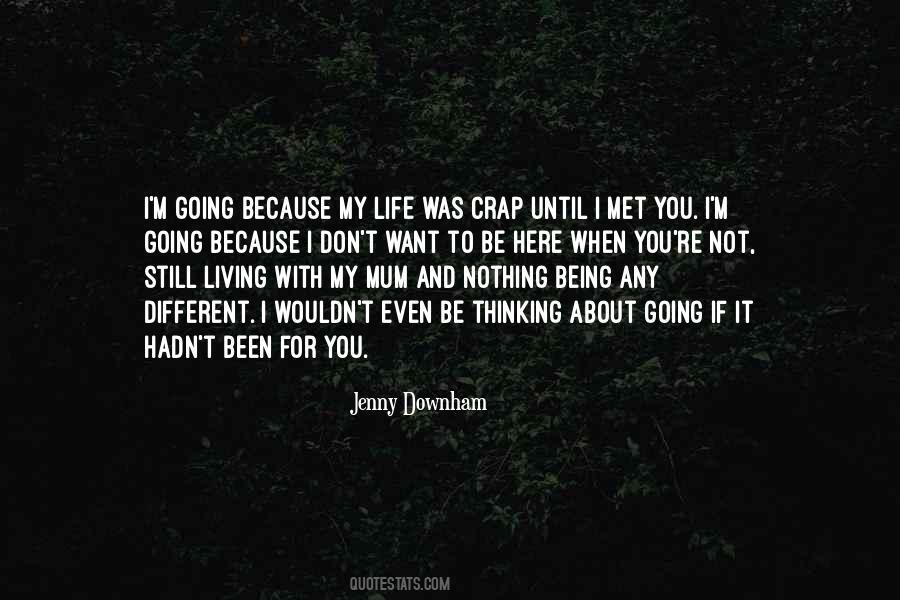 #2. But I know what it's like to constantly think about a life you aren't living. - Author: John Corey Whaley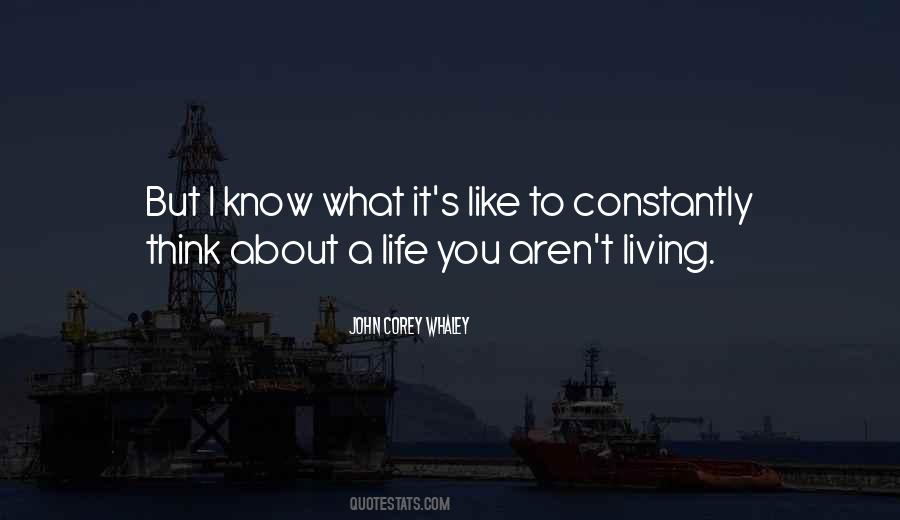 #3. Marriage is an ongoing thing, man. You continue to work at it. But it's joyful. And joyous. I don't care if people are living without a marriage certificate. It's just about people, in some way, saying to each other, 'I commit to you. I will help you in this life.' - Author: James McAvoy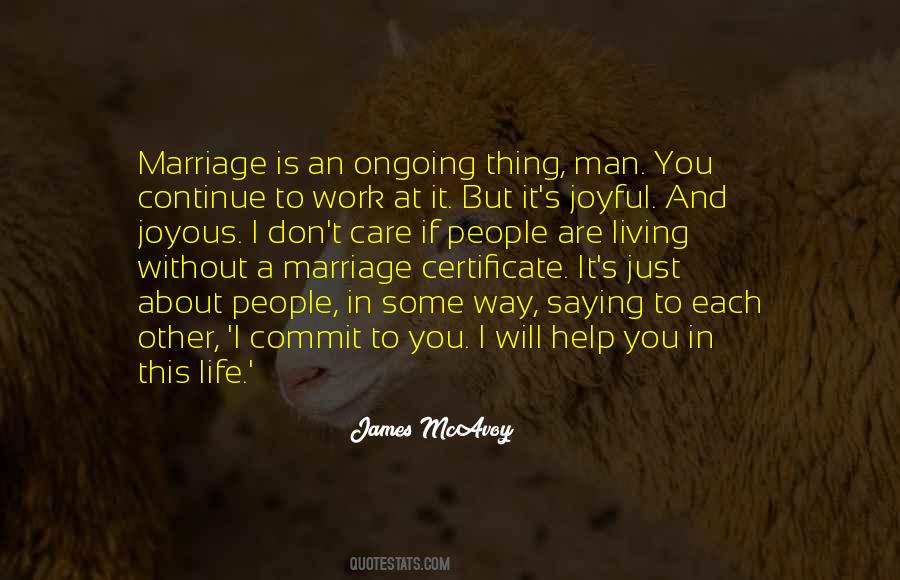 #4. Schools are not about enabling children to have a living but about children being able to have a life. - Author: Elliot W. Eisner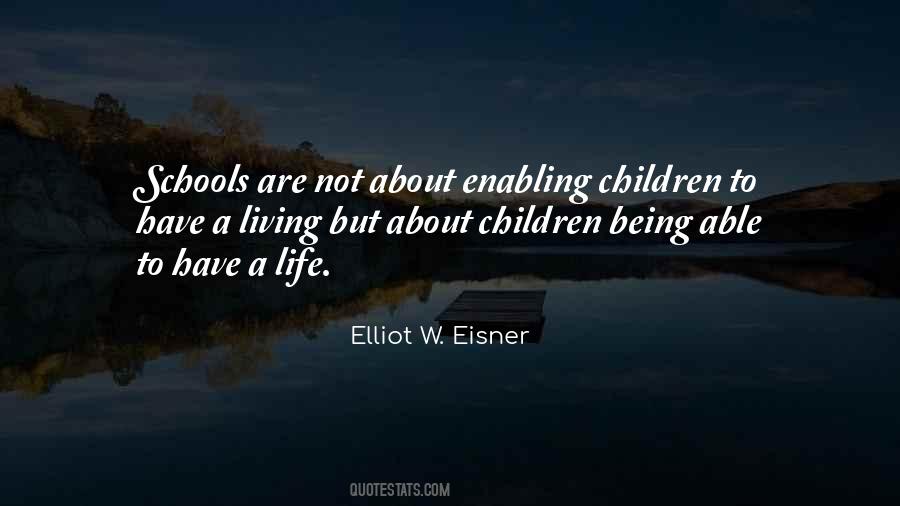 #5. A spiritual life is 24 hours a day, seven days a week. How do you live? What's true? How do you respond? It's not about living by beliefs; it's about wanting to know. - Author: Linus Roache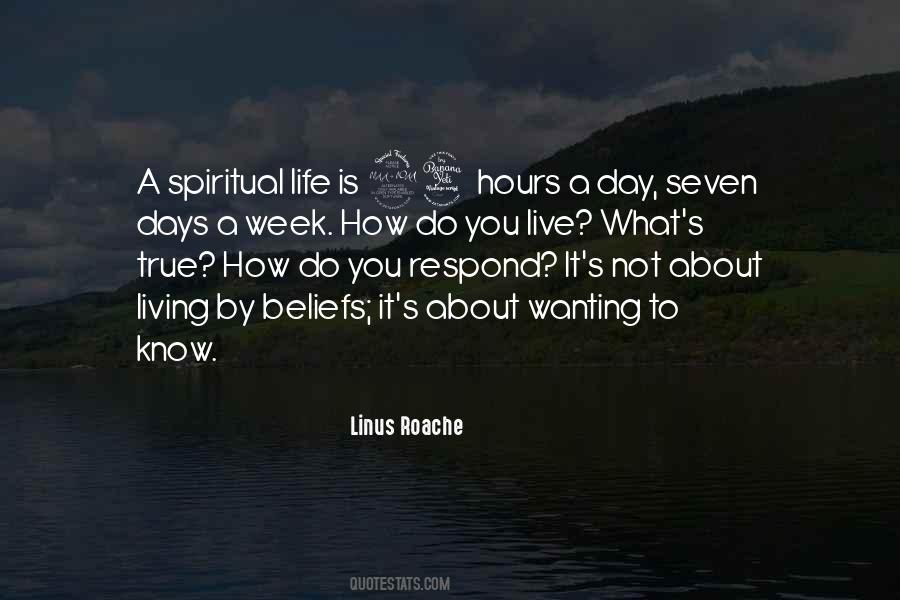 #6. Funny how new facts pop up and make you doubt that there's any goodness in life. Everyone pretends to be normal and be your friend, but underneath, everyone is living some other life you don't know about ... - Author: James Franco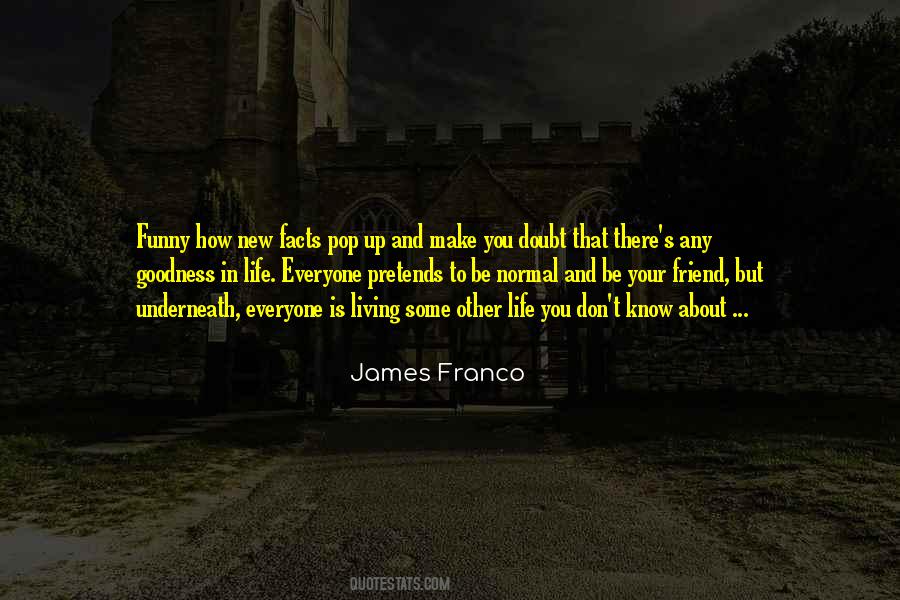 #7. Travel is at its most rewarding when it ceases to be about your reaching a destination and becomes indistinguishable from living your life - Author: Paul Theroux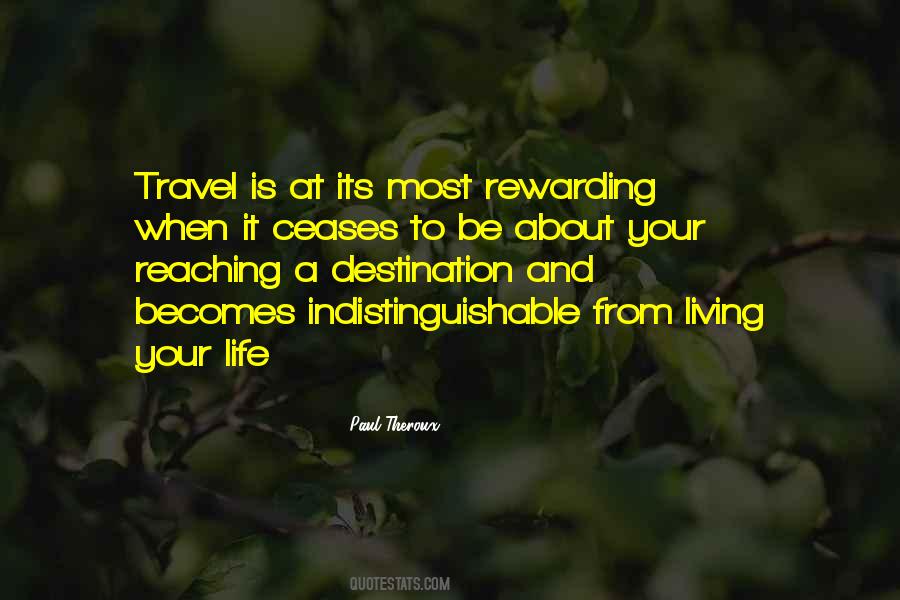 #8. I never had any doubts about my abilities. I knew I could write. I just had to figure out how to eat while doing this.
[Cormac McCarthy's Venomous Fiction, New York Times, April 19, 1992] - Author: Cormac McCarthy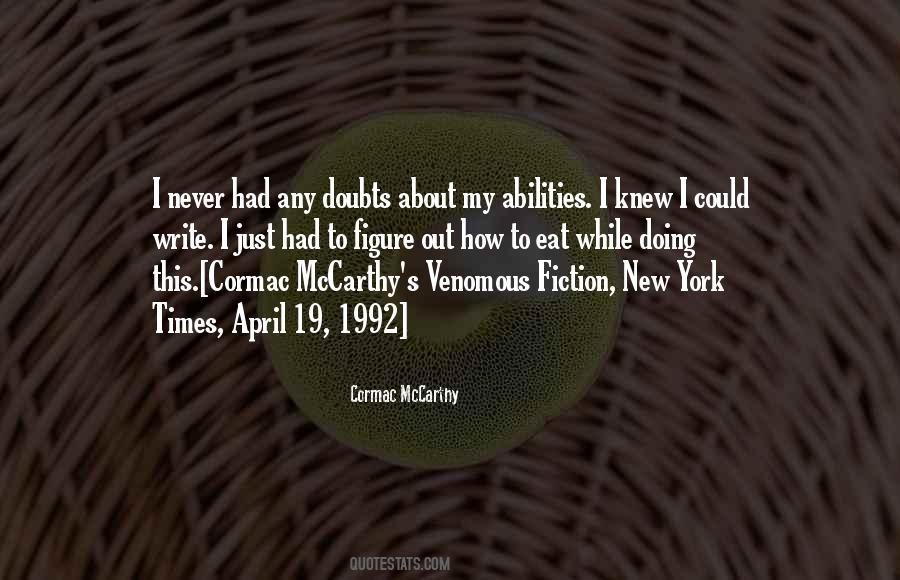 #9. Life is about creating and living experiences that are worth sharing. - Author: Steve Jobs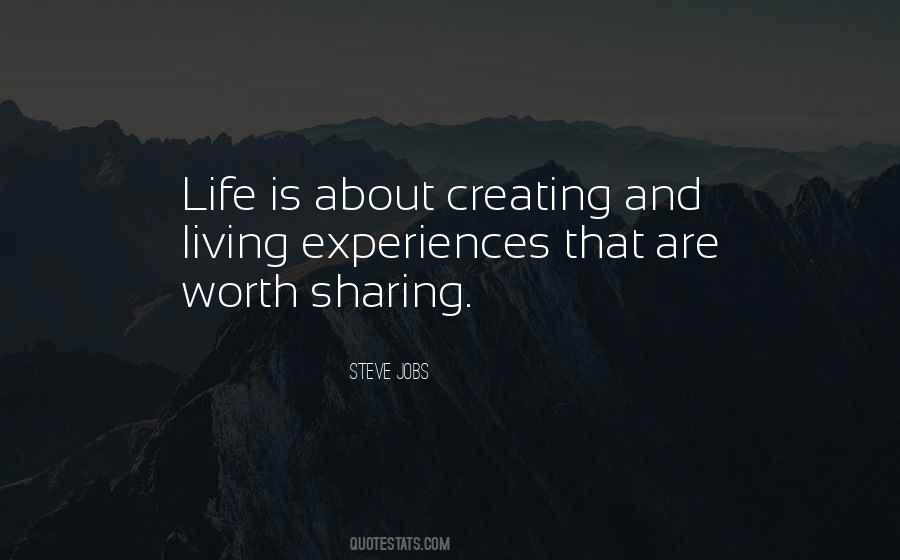 #10. Pink Champagne is about having fun and letting go, and living your life to the fullest! - Author: Ariana Grande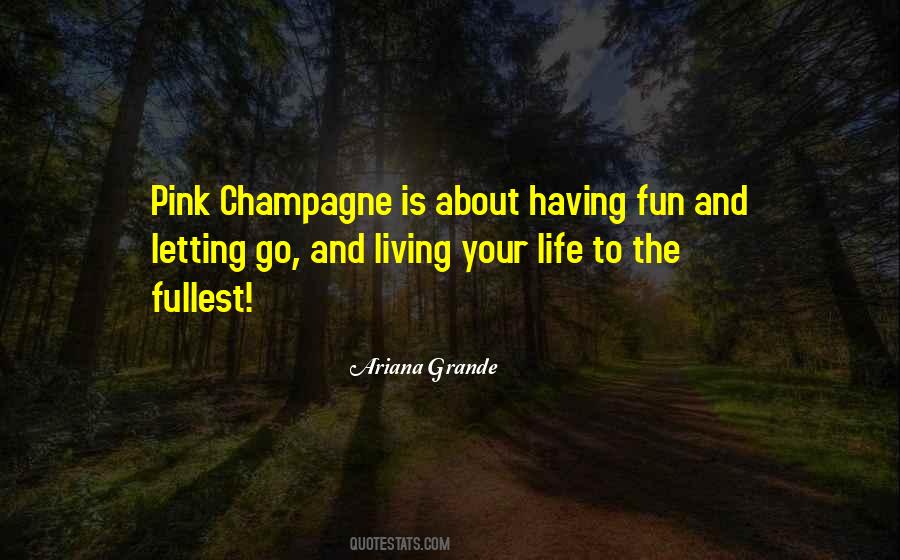 #11. El Shaddai. My all-sufficient God who is able to handle all my needs. Everything I will ever need I can find in Him. Think about that for a moment. Do you sense the power He offers us in those words? There is nothing, absolutely nothing in your life that He cannot handle. - Author: Diane Moody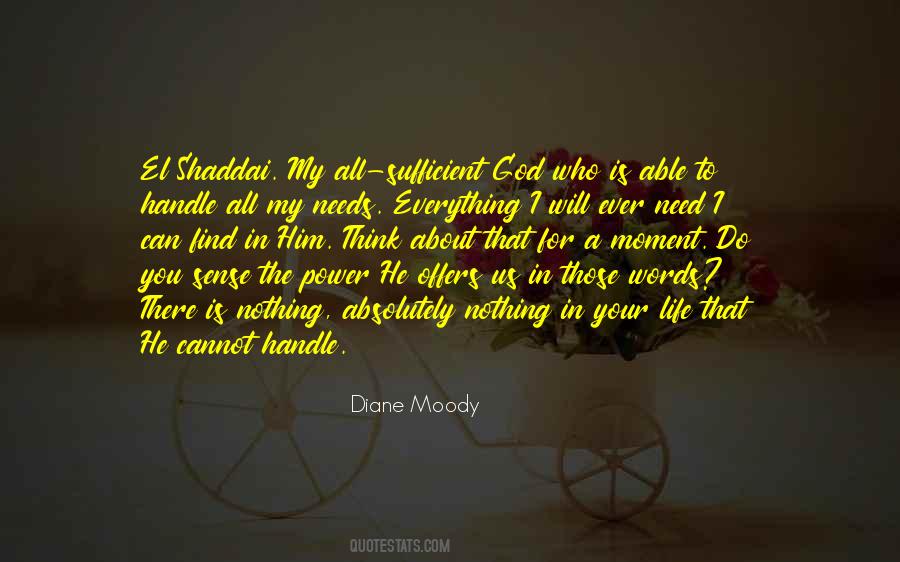 #12. In the end, what affects your life most deeply are things too simple to talk about. - Author: Nell Blaine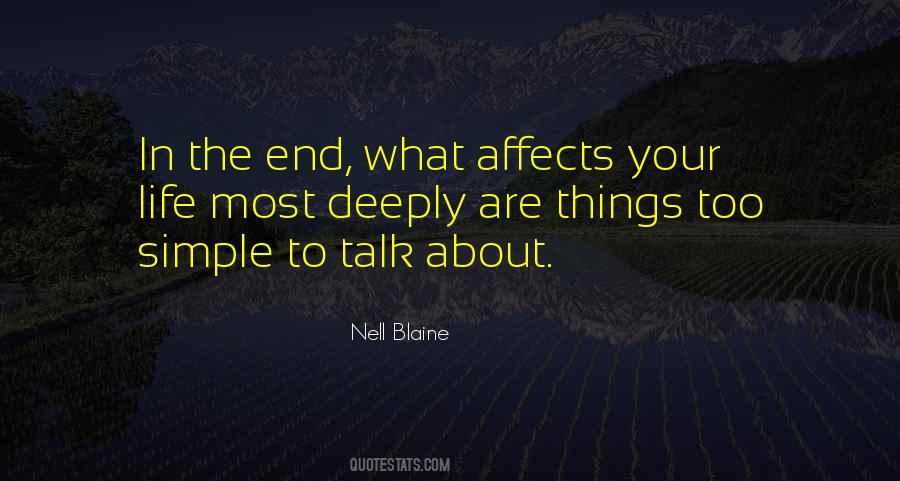 #13. Is there plenty of celebration in your life? How about your spiritual life? Is it an exercise in following rules and practices? Or does it look more like a joyous celebration? - Author: Steve Goodier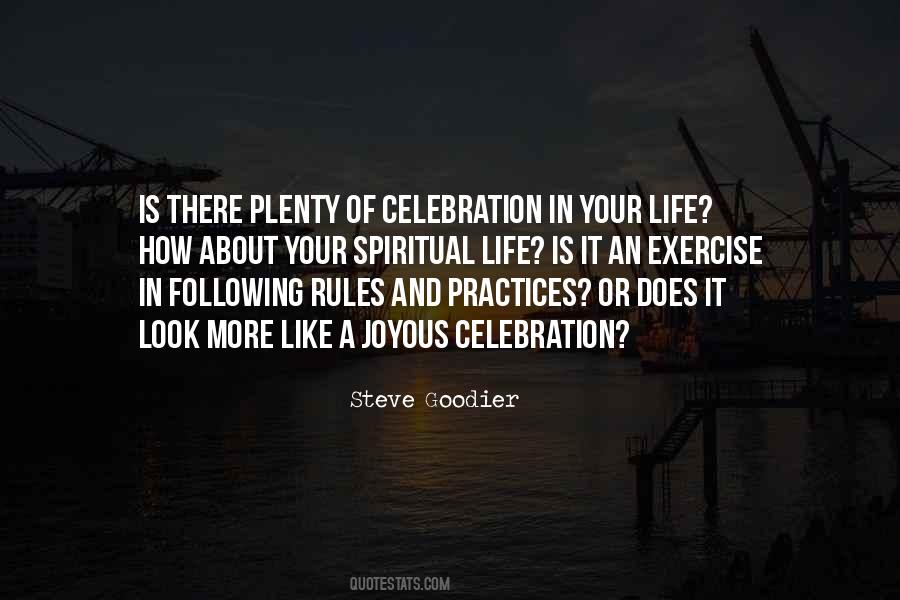 #14. He was going through one of those moments that you read about in books, when a character reacts in an unexpectedly extreme way to the normal discontents of living. - Author: Elena Ferrante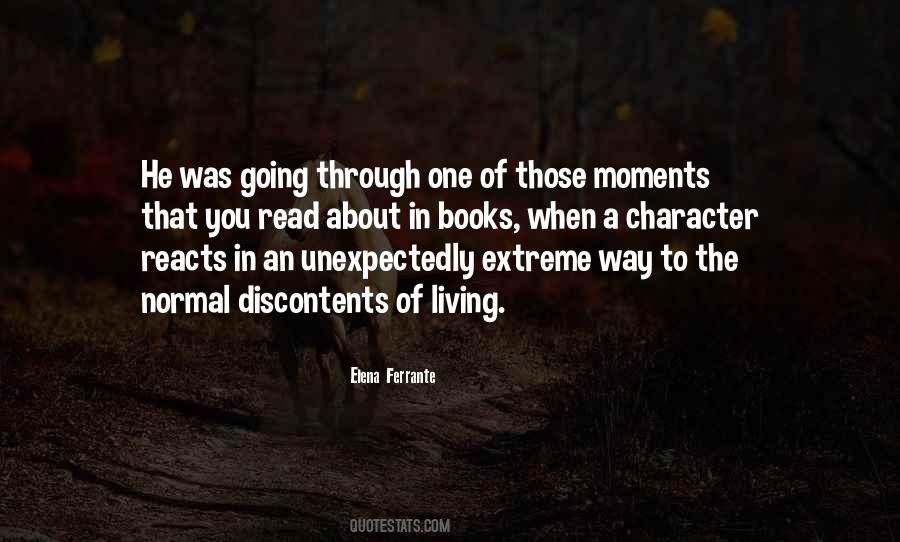 #15. If my fellow Americans could adopt even a fraction of the French attitude about food and life (don't worry, you don't have to sign on to the politics, too), managing weight would cease to be a terror, an obsession, and reveal its true nature as part of the art of living. - Author: Mireille Guiliano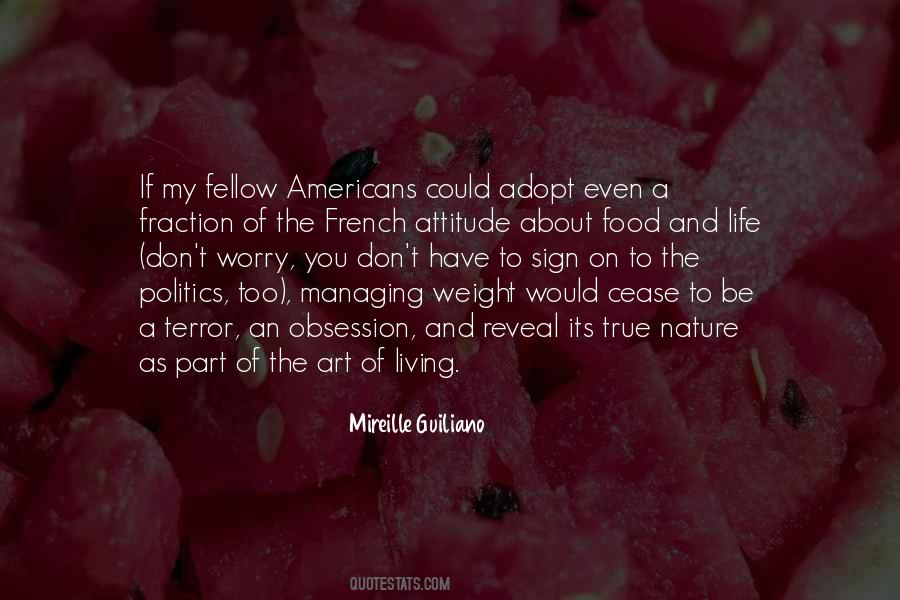 #16. In life, when one gets to the point of a deeper sense of understanding about himself and his purpose, he least explains himself much to people who fail to understand him and his purpose. That must not be interpreted as neither pride nor an uncaring attitude but a great respect for purposefulness - Author: Ernest Agyemang Yeboah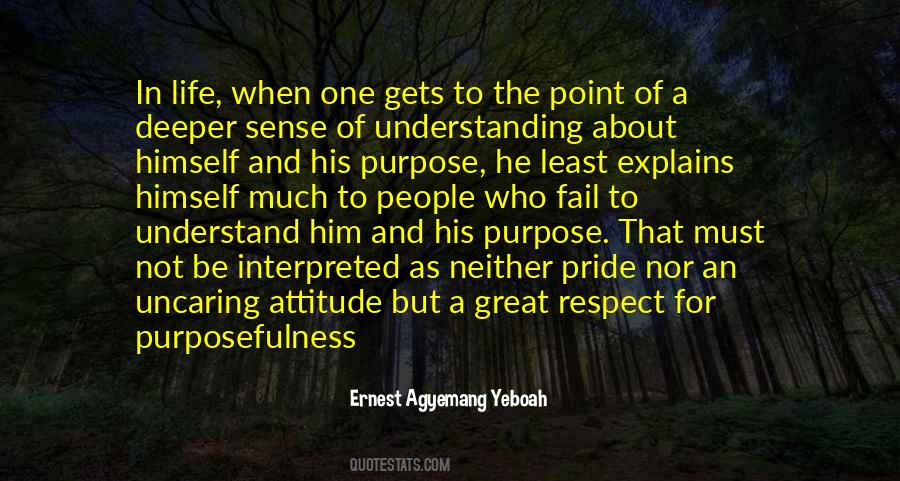 #17. After you find out all the things that can go wrong, your life becomes less about living and more about waiting. - Author: Chuck Palahniuk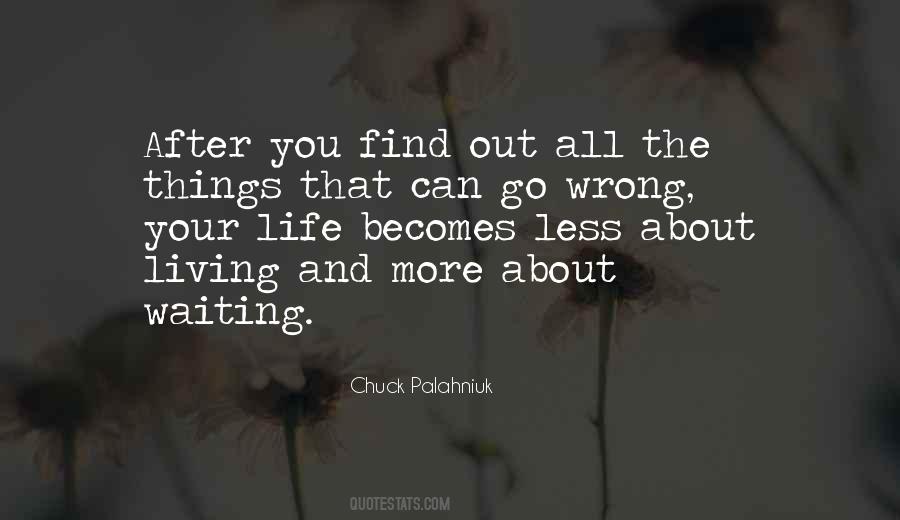 #18. Four months is a lot of living with that little life in you-thinking about it, eating right for it, nurturing it and all of a sudden, it dies. - Author: Christie Brinkley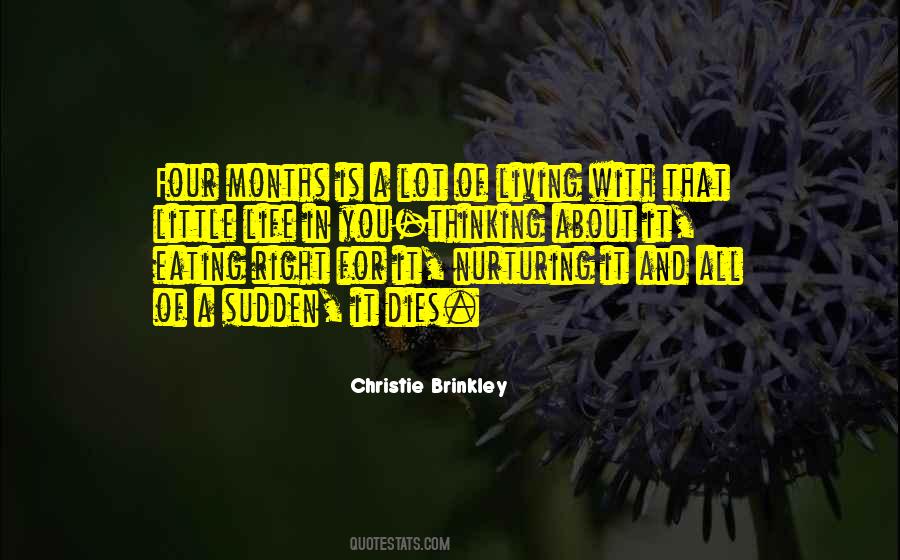 #19. There is nothing dreary or doubtful about (the life). It is meant to be continually joyful ... We are called to a settled happiness in the Lord whose joy is our strength. - Author: Amy Carmichael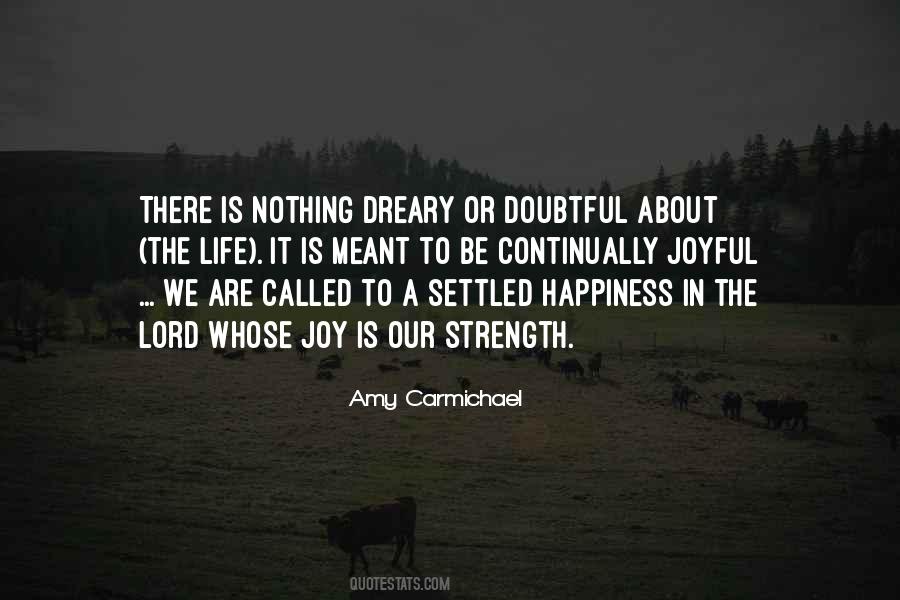 #20. Life is about creating your own world, your own joy.
Life is not about living in someone else's world or playing with someone else's toy. - Author: Debasish Mridha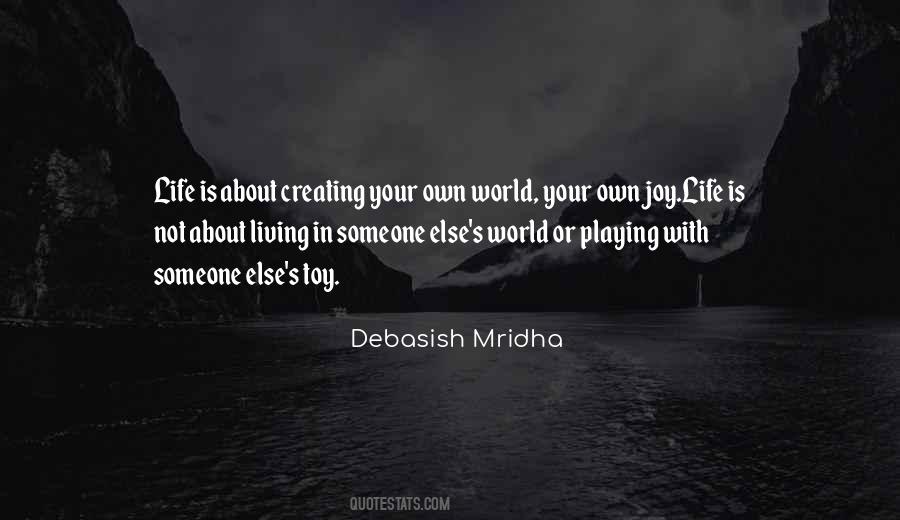 #21. I don't consider myself a rock star chef, I really don't. I cook for a living and I try to help out as many people as I can in my life and that's all I care about. I don't care about the fame of television, I use to a lot. - Author: Robert Irvine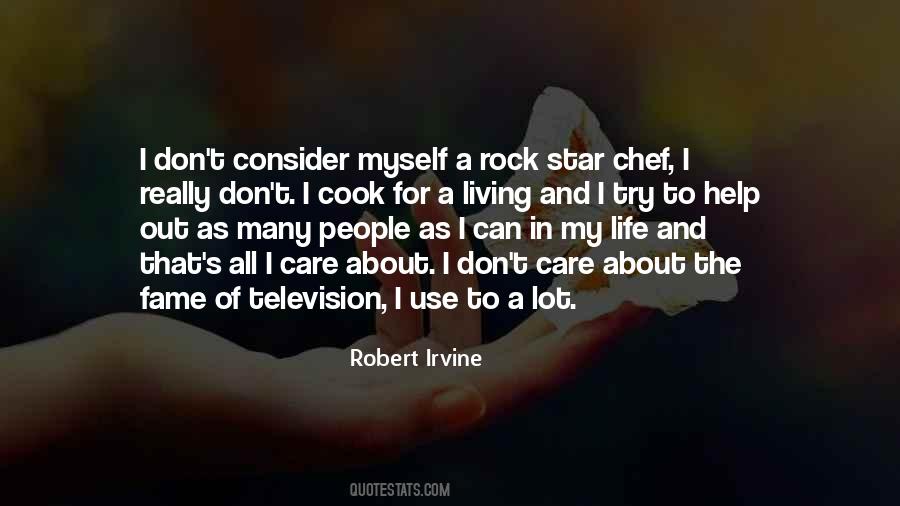 #22. Life is so precious because it's short. Even the most resilient people are fragile. Life isn't about dying or not dying. It's about living well. Living so you can be proud and happy. - Author: Ilona Andrews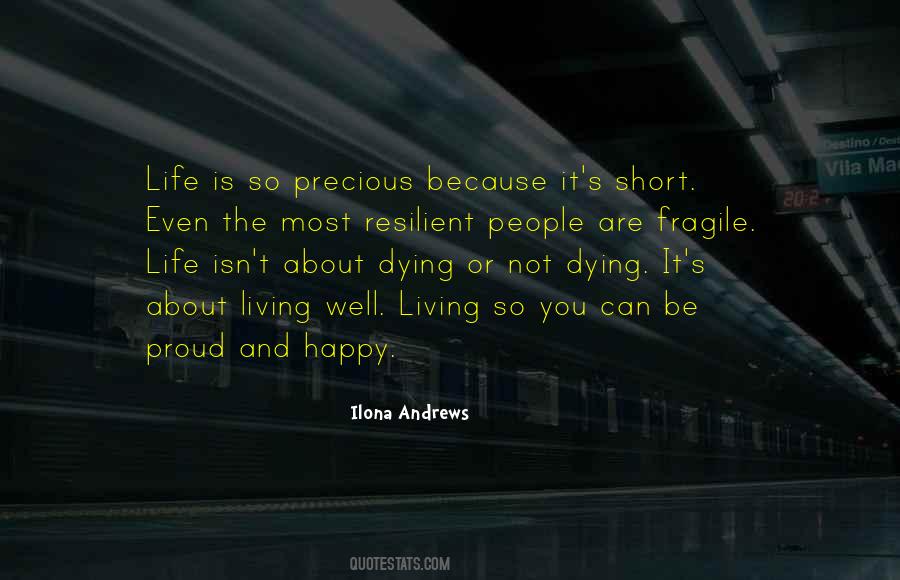 #23. The only really frightening thing about Cinnamon Hill belongs in the realm of the living and serves to remind me that some of them-just a few of them, a tiny minority-are much more dangerous than all the dead put together. - Author: Johnny Cash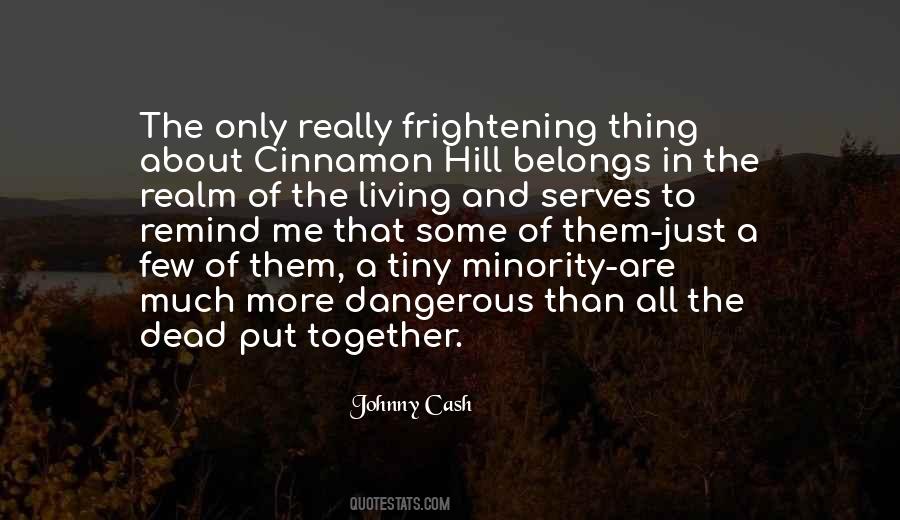 #24. Loyalty to others speaks volumes about loyalty to self. To love others, one must truly love him/herself first. - Author: Peprah Boasiako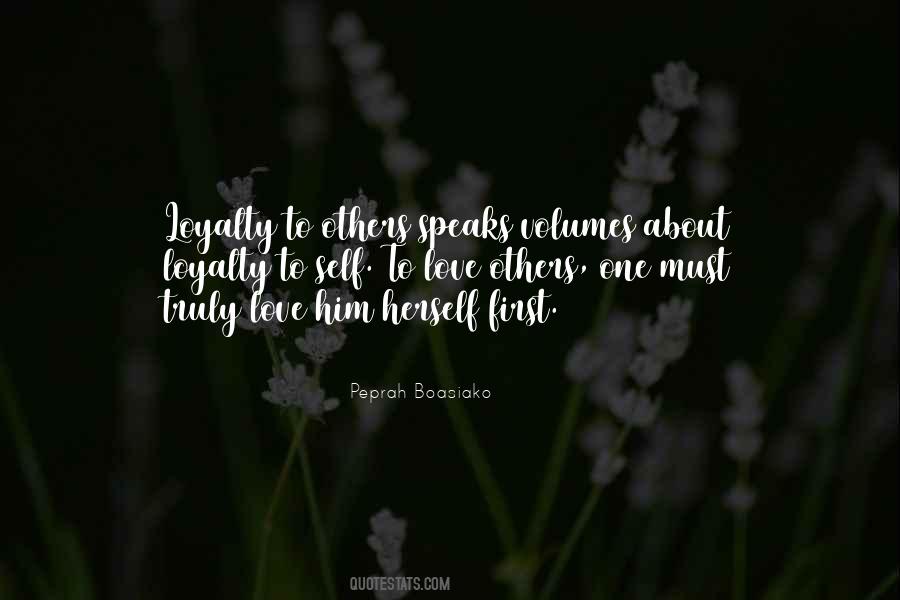 #25. There are epic downsides to living a somewhat public life. The upshot of that is there's nothing to hide. It's a relief in a way. There's nothing about me that can't be said. - Author: Natasha Lyonne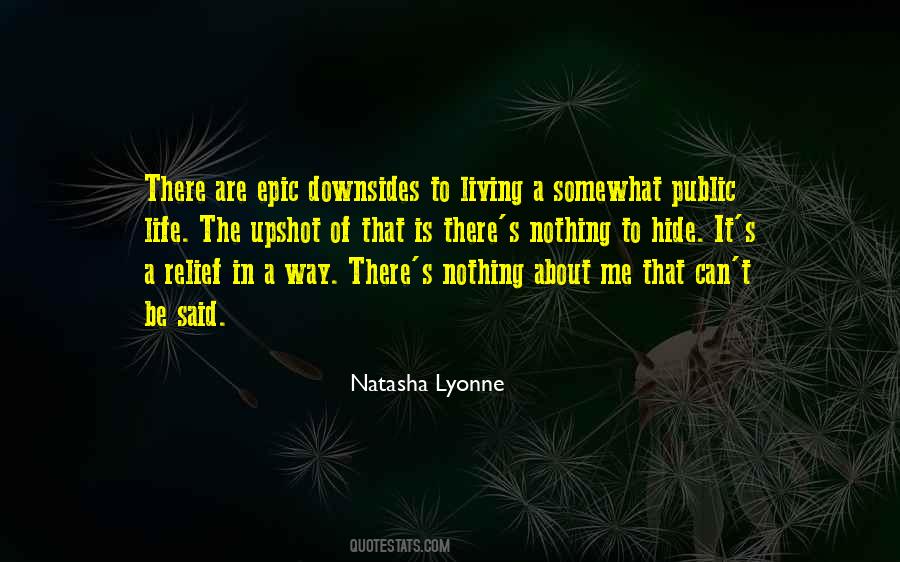 #26. If you want to know whether or not you have had a successful life, think about what people would say about you at your own funeral. - Author: Lindsey Rietzsch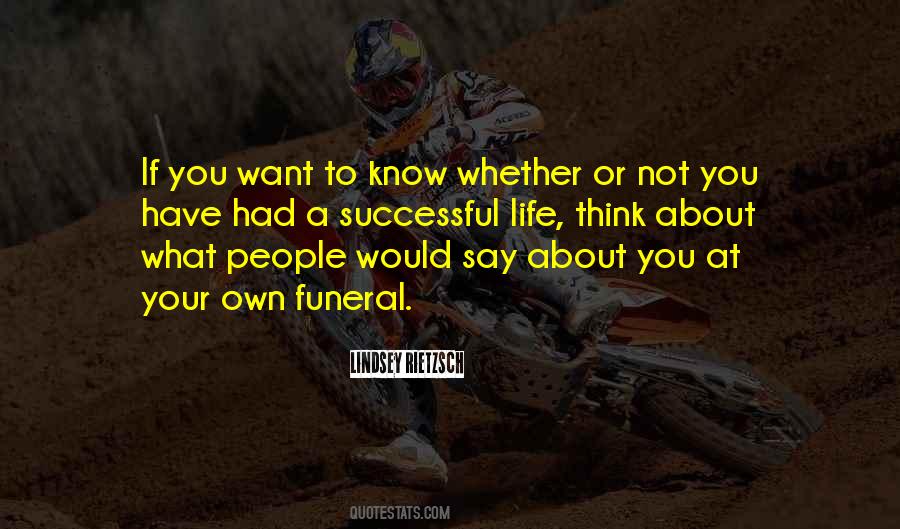 #27. Life is a waste without humor
living is all about happiness and laughter. - Author: Fauja Singh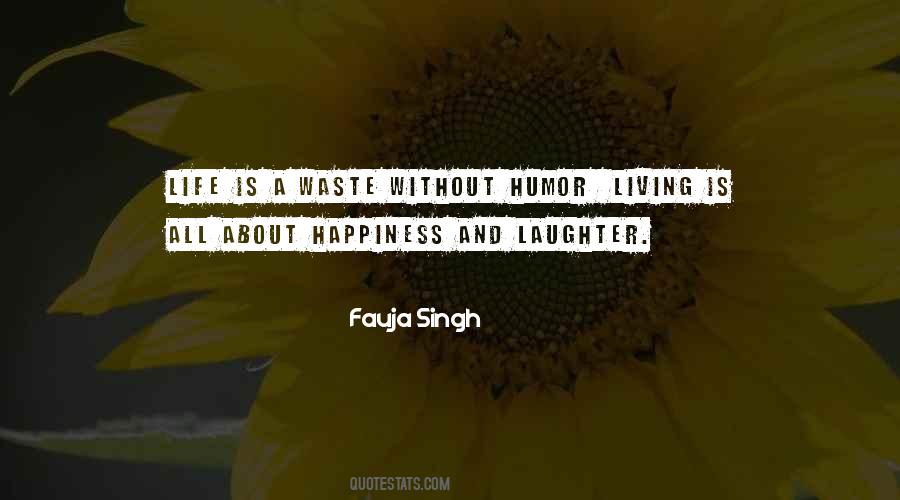 #28. Living in a way that reflects one's values is not just about what you do, it is also about how you do things. - Author: Deborah Day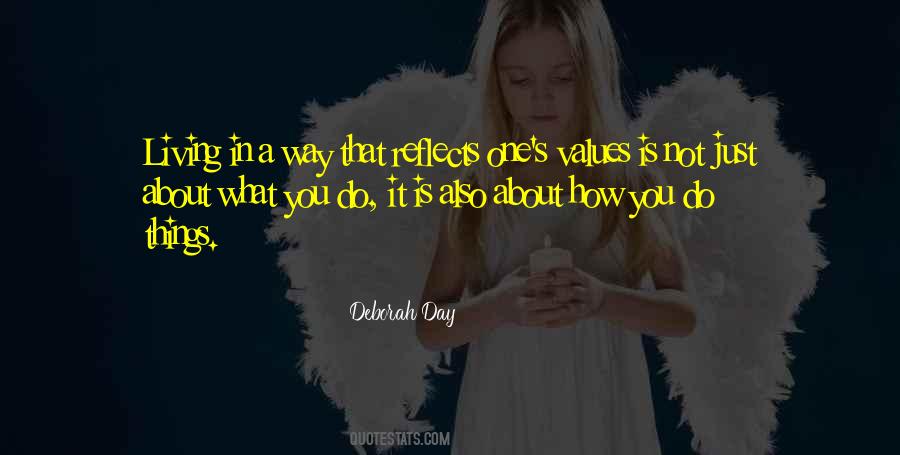 #29. What is the highest good in all matters of action? To the name, there is almost complete agreement; for uneducated and educated alike call it happiness, and make happiness identical with the good life and successful living. They disagree, however, about the meaning of happiness. - Author: Aristotle.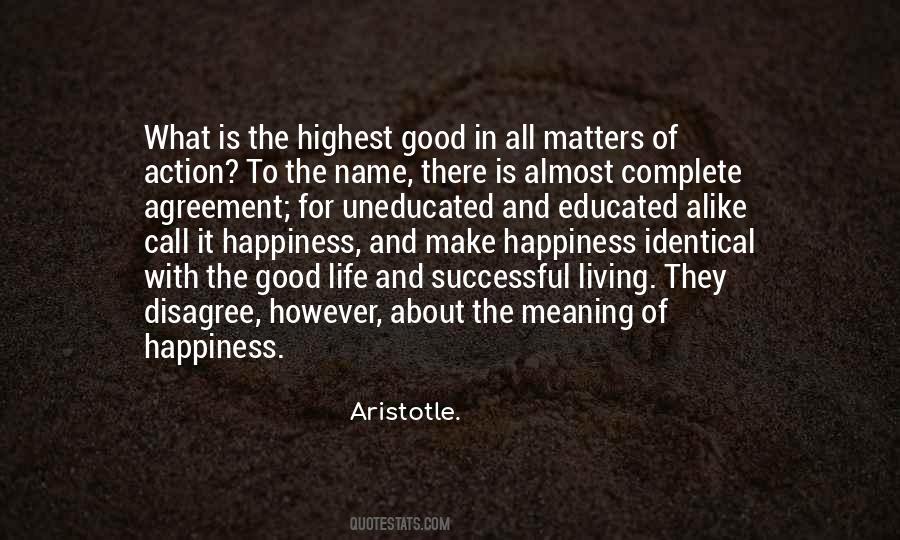 #30. It's a nice fantasy life, she said when I was done. Well, I'm living it, so it's more than a fantasy. What about love? She took off her bandanna, loosing her blond waves. Don't you have someone you love? Why would I go do something like that? - Author: Norman Ollestad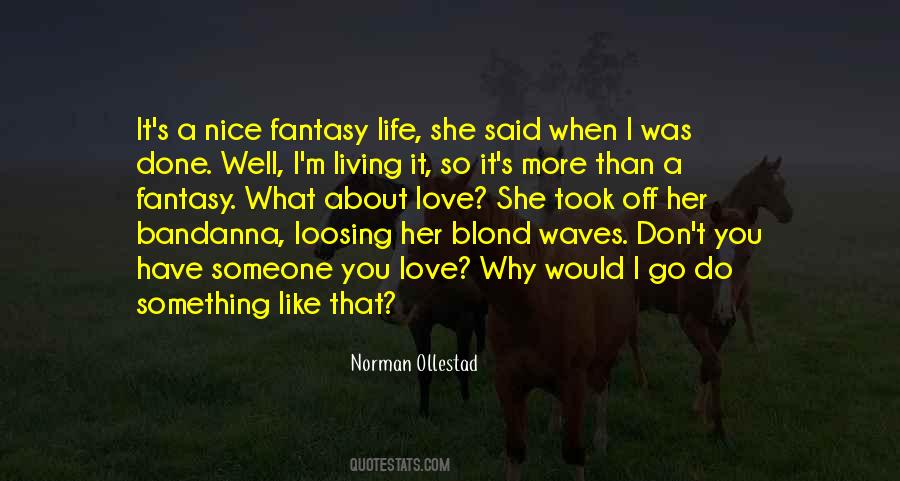 #31. I said to my wife just the other day, I was actually taking some time to consider all the blessings in my life and that things are really good. I said, you would have to be a real churl to complain about the life I'm living right now. Everything's going great. I'm having a good time. - Author: Tracy Letts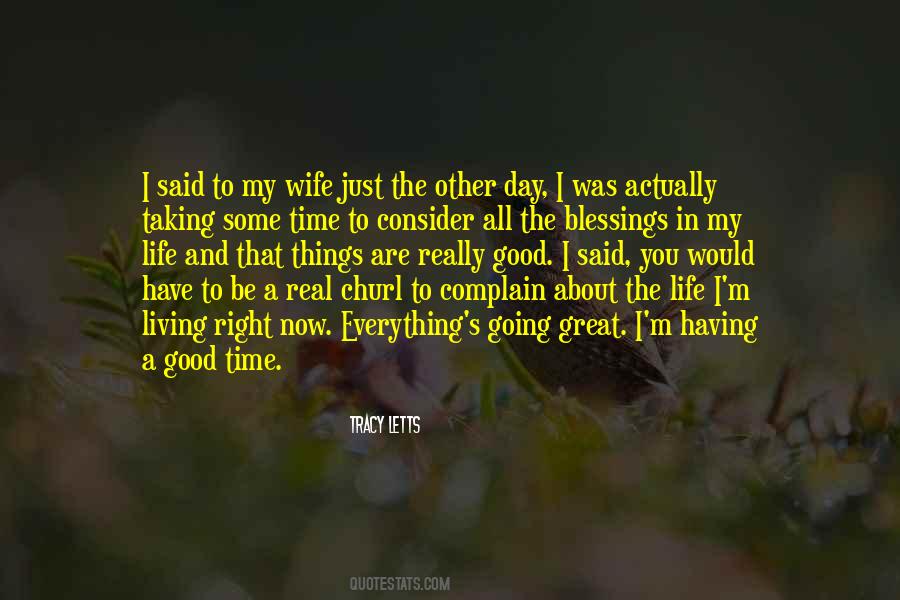 #32. Everyone pretends to be normal and be your best friend, but underneath, everyone is living some other life you don't know about, and if only we had a camera on us at all times, we could go and watch each other's tapes and find out what each of us was really like. - Author: James Franco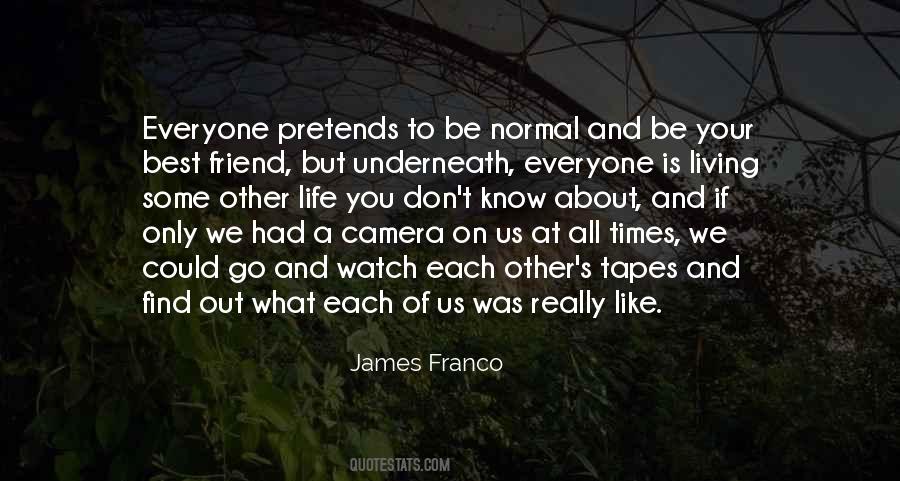 #33. About two million years ago, man appeared. He has become the dominant species on the earth. All other living things, animal and plant, live by his sufferance. He is the custodian of life on earth, and in the solar system. It's a big responsibility. - Author: George Wald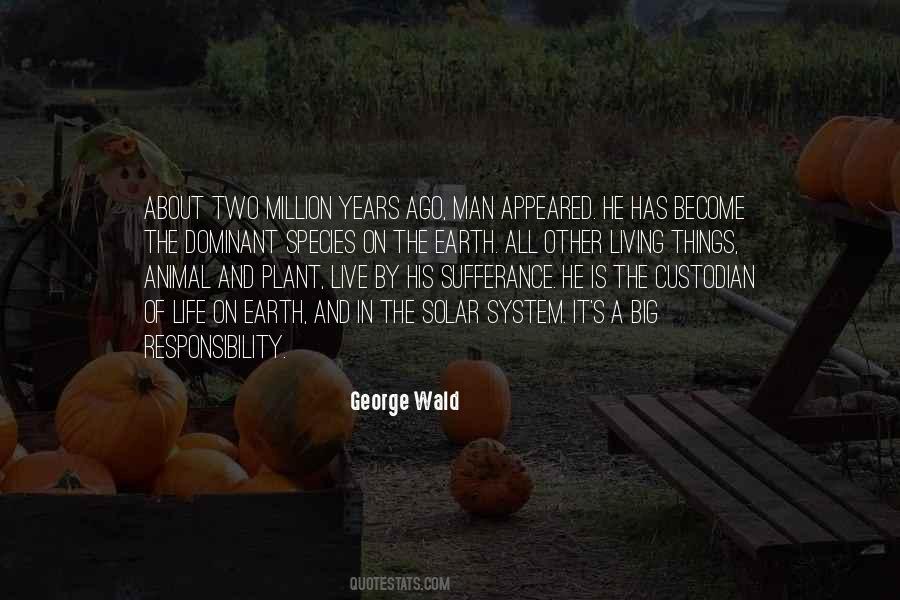 #34. Think about that for a moment. They died for you. Now take a good look at the life you're living and tell me: Did they do the right thing? - Author: Mira Grant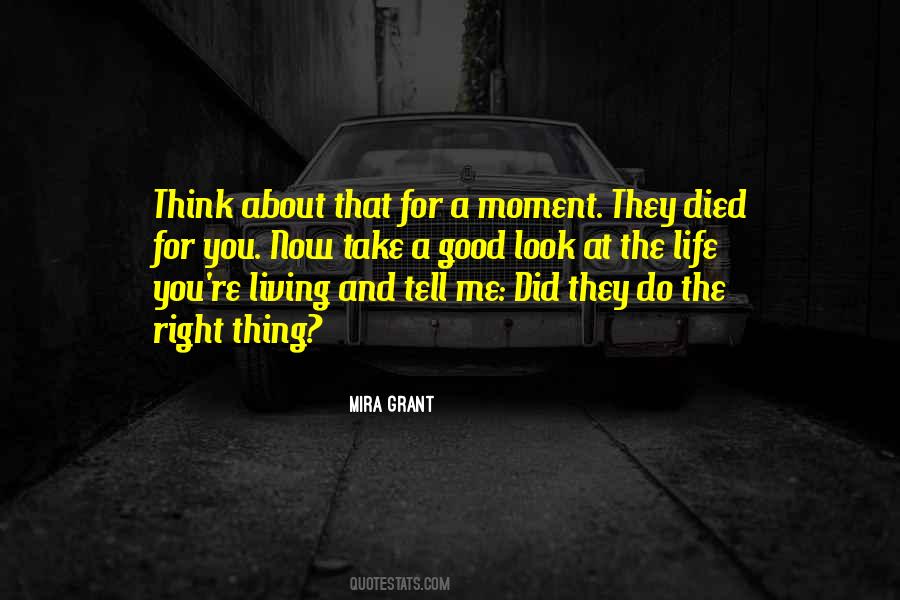 #35. Very often, human beings are living like on autopilot, reacting automatically with what happens. What interests me about the life of an explorer is you are in the unknown; you are out of your habits. - Author: Bertrand Piccard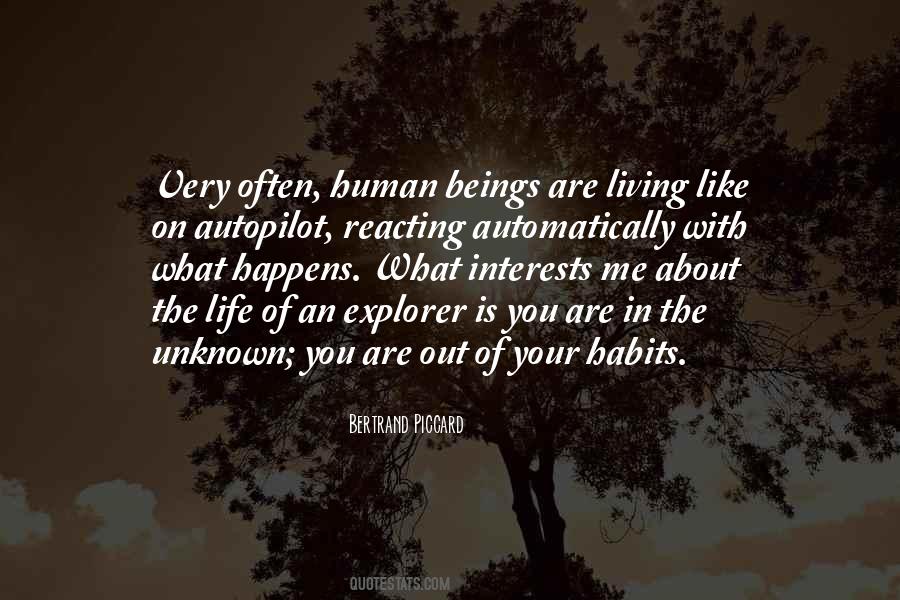 #36. If I'm going through a hard part of my life, I just think about the fact I am living a dream. Alot of people aren't as fortunate to have their hobby-the thing they love to do most-as their job. I just think about that and I feel better. - Author: Mats Sundin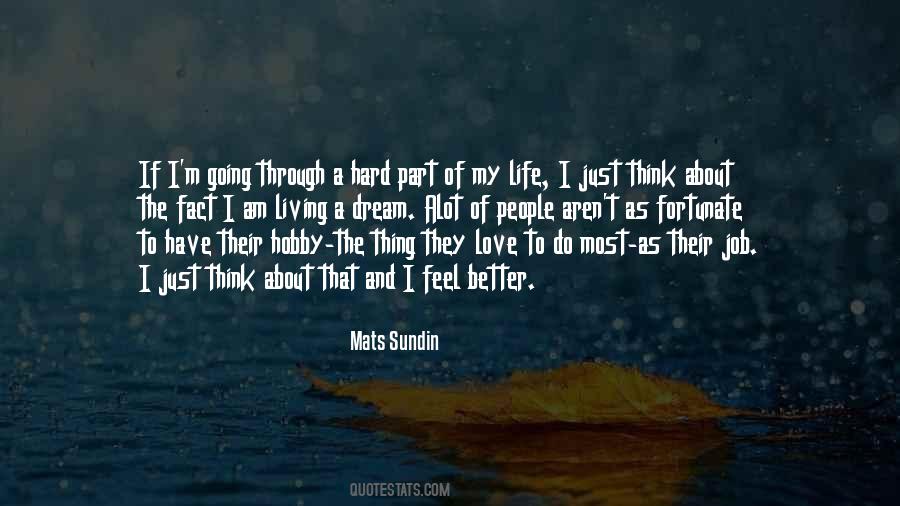 #37. Maybe he knew how I fantasized about living a twenty-four-hour life. - Author: Stephanie Danler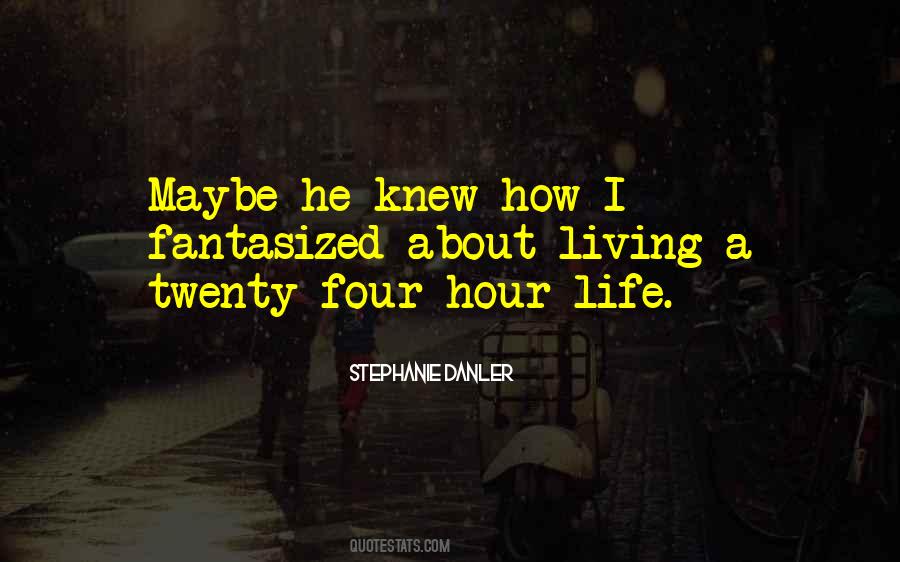 #38. It is difficult to live in and enjoy the moment when you are thinking about the past or worrying about the future. - Author: Roy Bennett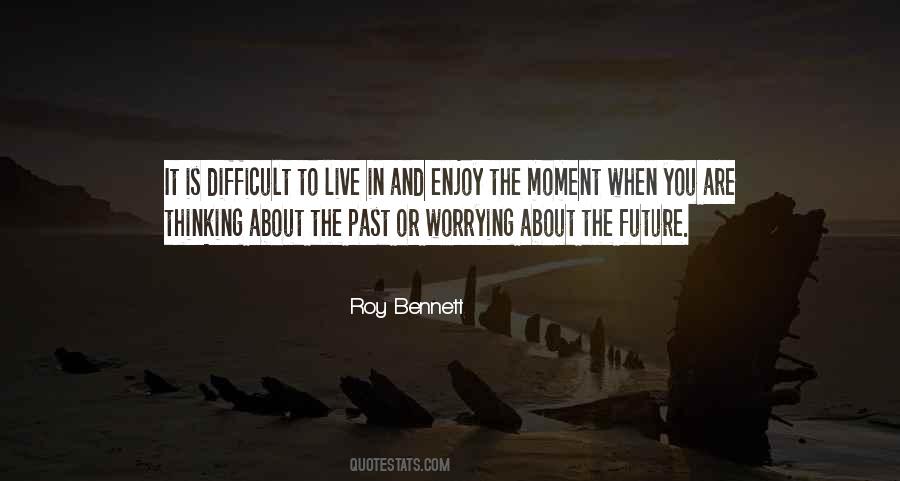 #39. The profit motive, when it is the sole basis of an economic system, encourages a cutthroat competition and selfish ambition that inspires men to be more concerned about making a living than making a life. - Author: Martin Luther King Jr.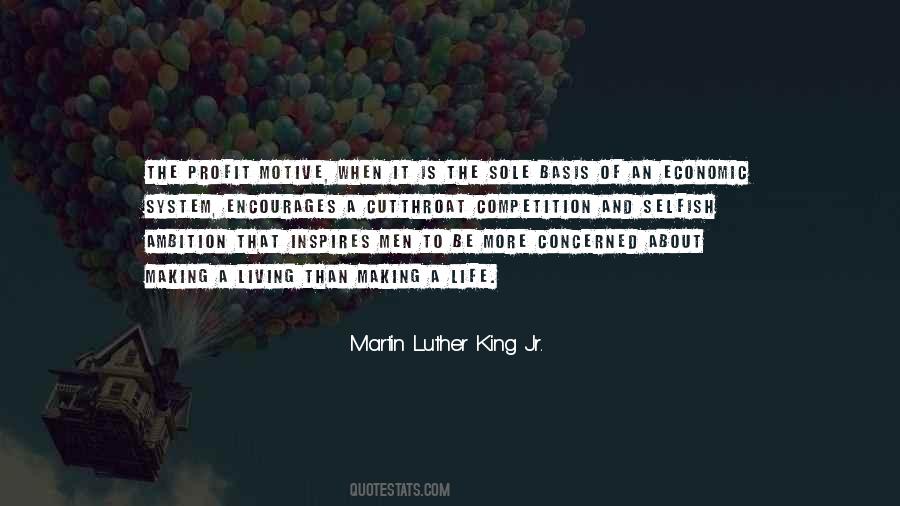 #40. About once a week I think about going and living in a cave and meditating instead. I think that would be a more peaceful life, where my spiritual journey was not interrupted by egomania so regularly. - Author: Simon Amstell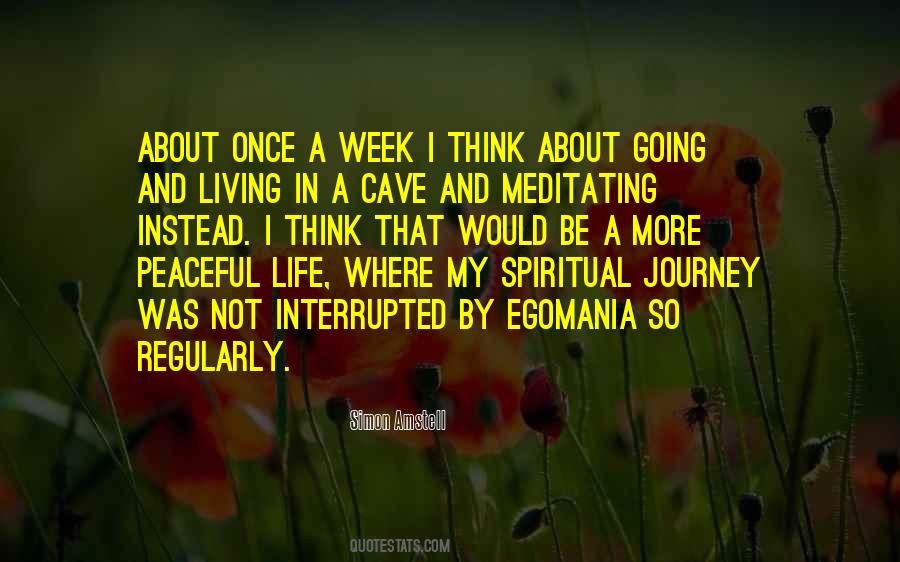 #41. Let's only care about the place where we are.
There's beauty enough in being here and not anywhere else.
If there's someone beyond the curve in the road,
Let them worry about what's past the curve in the road,
That's what the road is to them. - Author: Alberto Caeiro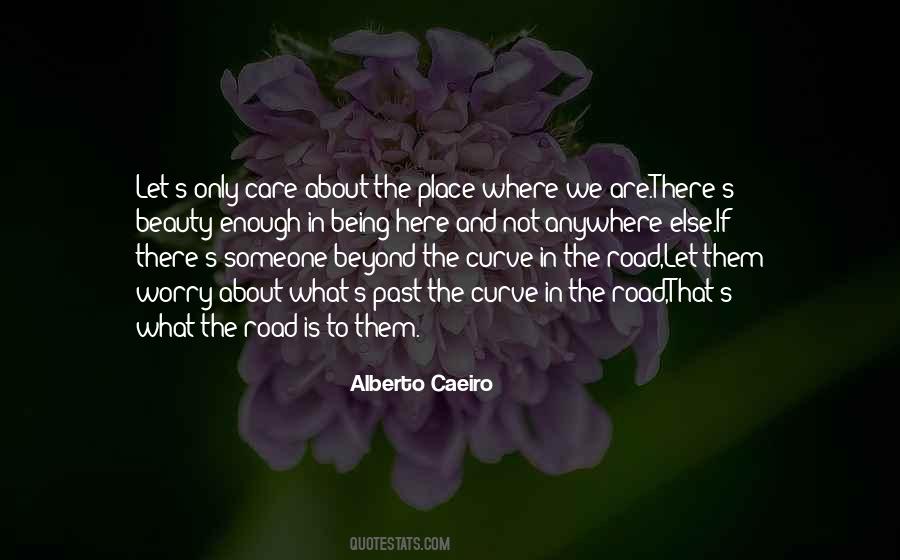 #42. I think of myself as quite a confused kind of person, because I think there's so many great things about the world, but there are so many awful things too. I feel very guilty a lot of the time about enjoying my life so much when there are people living in such misery. - Author: Lily Allen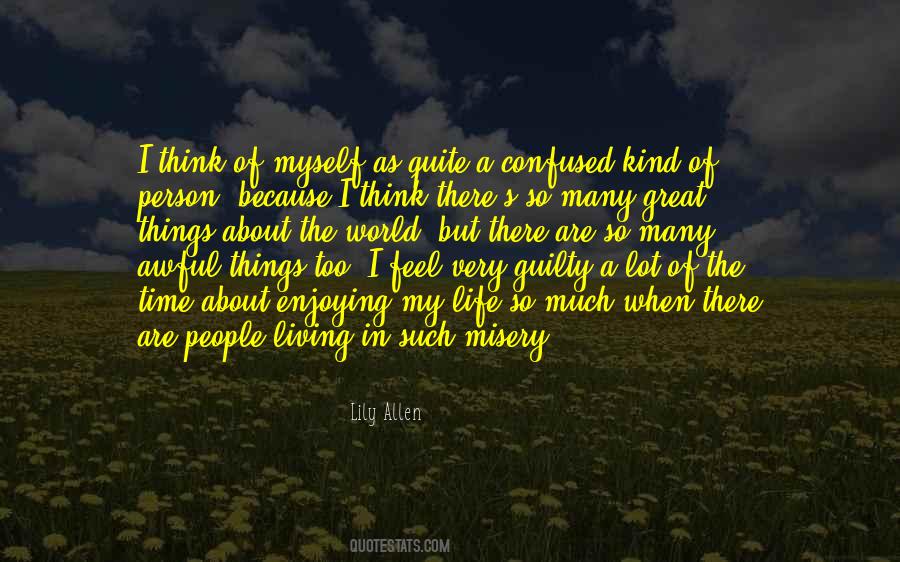 #43. You wanted to live," he says.
"You say that like it's a good thing. A virtue."
"What is it really?"
I think about this. "Selfish."
"Wanting to live is selfish?"
"Yes. - Author: Stephanie Kuehn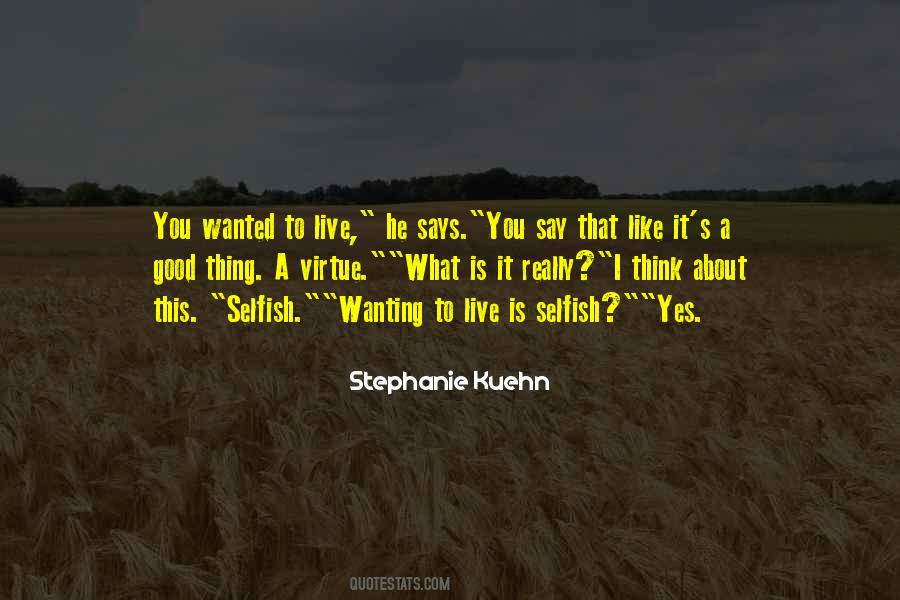 #44. You see few people here in America who really care very much about living a Christian life in a democratic world. - Author: Clare Boothe Luce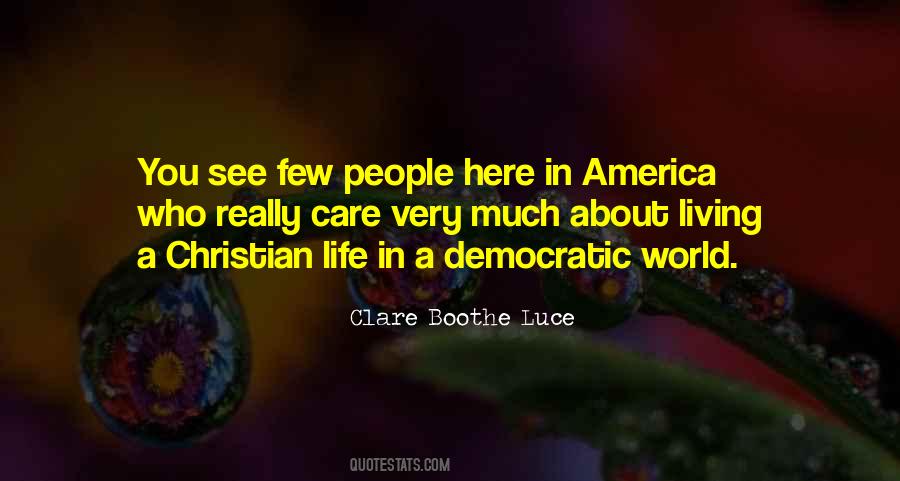 #45. The thing about living with a death sentence for so long is you tend to miss the moment life starts to get better because you're so ready for it to get much, much worse. - Author: John Goode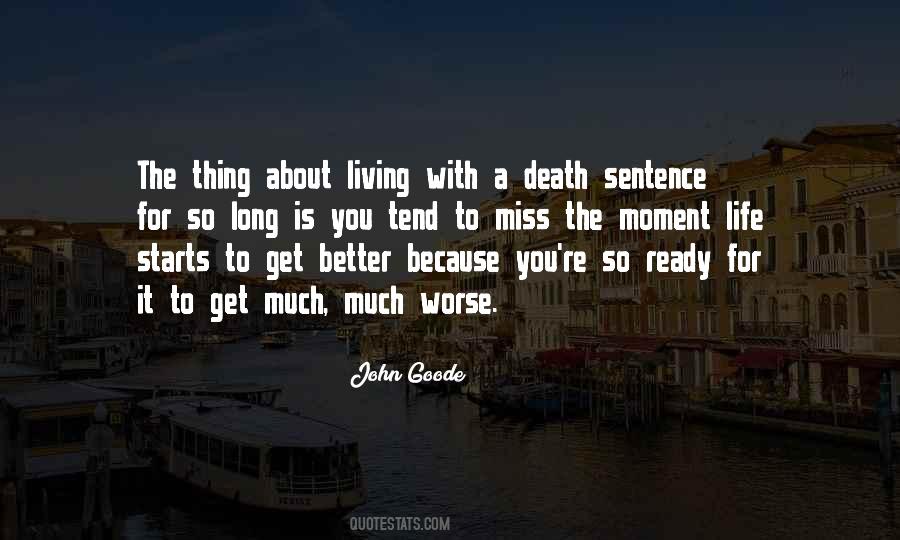 #46. So many people never pause long enough to make up their minds about basic issues of life and death. It's quite possible to go through your whole life, making the mechanical motions of living, adopting as your own sets of ideas you've come to any conclusion for yourself as to what life is all about. - Author: Catherine Marshall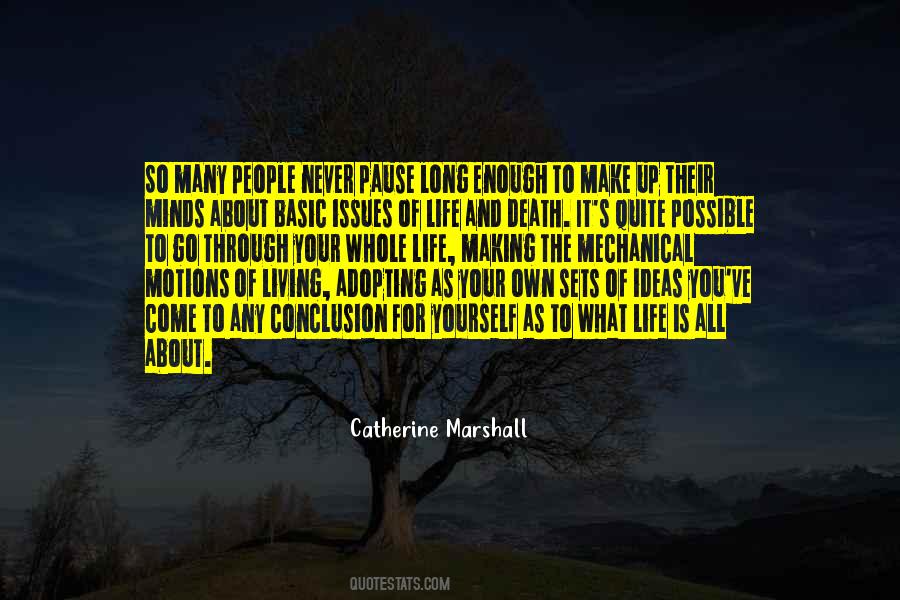 #47. Following Jesus is about having your paradigms shift as you navigate a wide range of emotions while living the big life Jesus invites us into. - Author: Bob Goff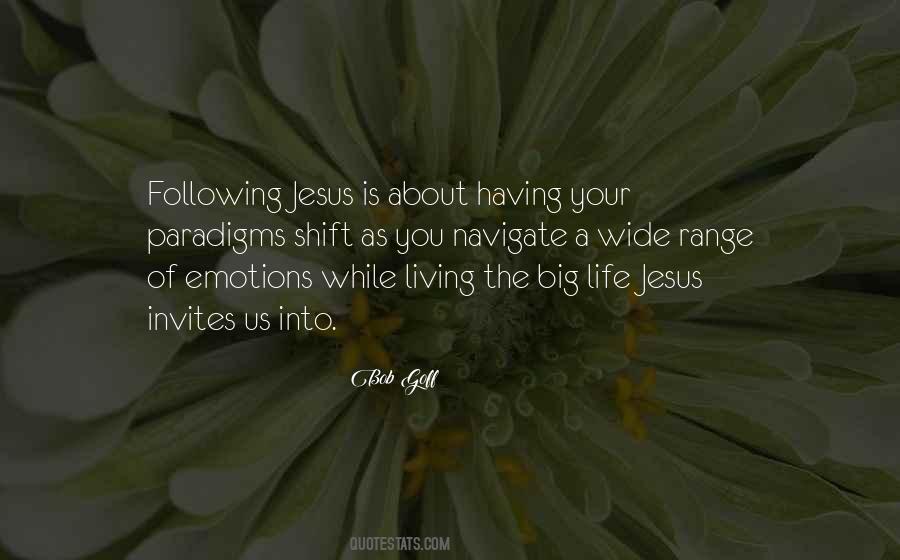 #48. Life is beautiful. You have to be thankful that we are living. Wherever you look is beauty. I know about the bad things, but I look for the good things. - Author: Alice Herz-Sommer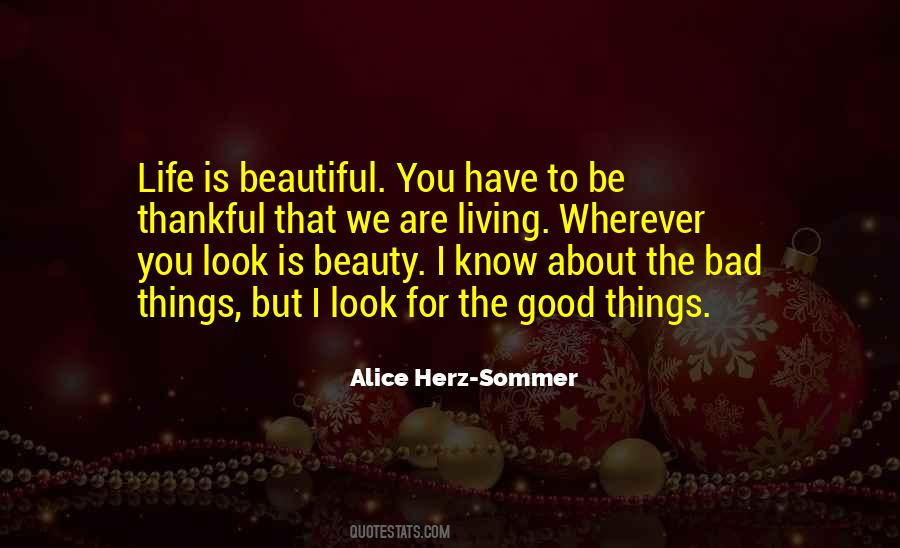 #49. Thinking about monastic ideals is not the same as living up to them, but at any rate such thinking has an important place in a monk's life, because you cannot begin to do anything unless you have some idea what you are trying to do. - Author: Thomas Merton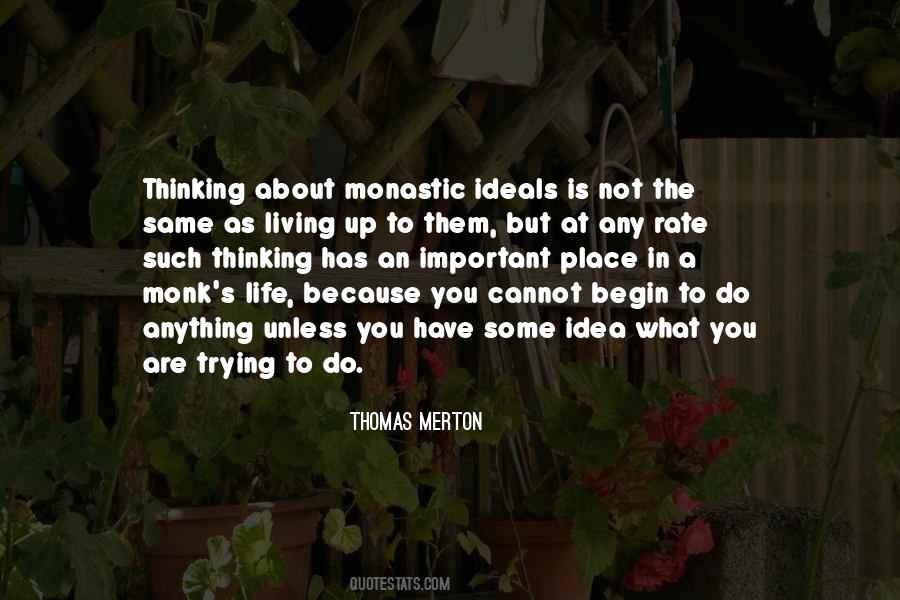 #50. I don't go birdwatching. I am birdwatching. Birdwatching is a state of being, not an activity. It doesn't depend on place, on equipment, on specific purpose, like, say, fishing. It is not a matter of organic trainspotting; it is about life and it is about living. - Author: Simon Barnes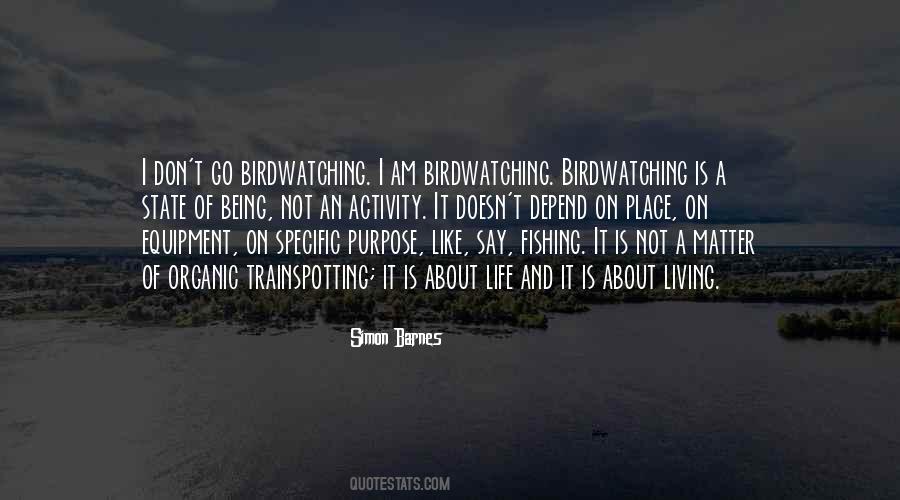 #51. That's the thing about living vicariously; it's so much faster than actual living. - Author: Audrey Niffenegger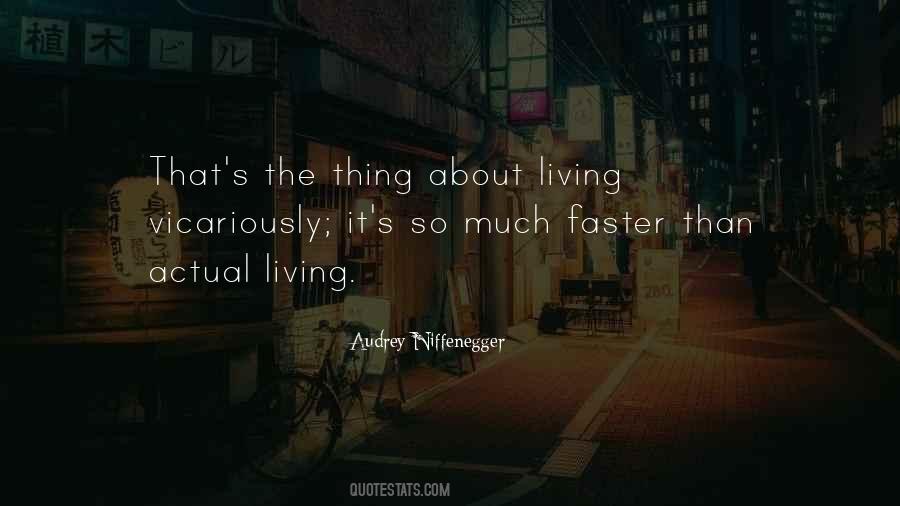 #52. Rewards of life lived with principles; bloom, when life is about to end or has departed already. - Author: Aniruddha Sastikar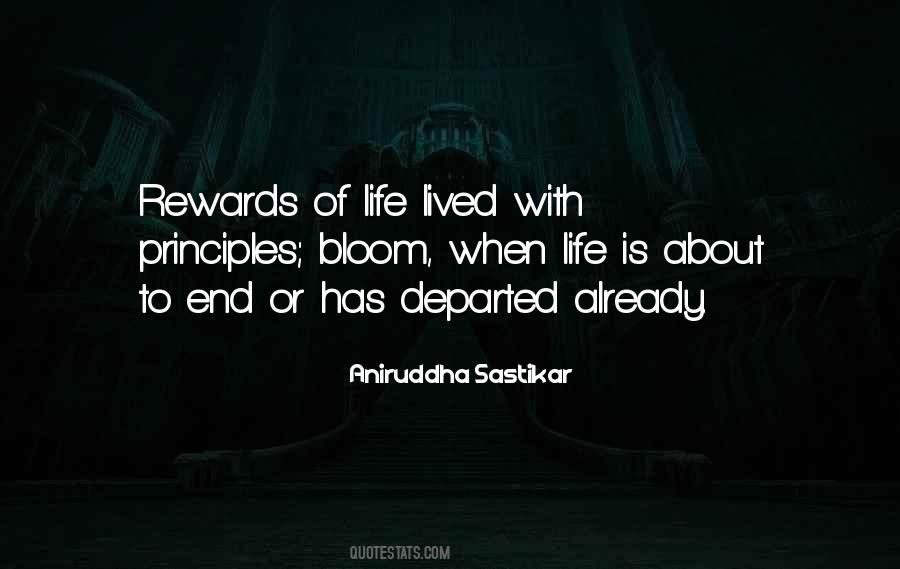 #53. Seems to me there's not much time to read about other people's lives and live your own while you're at it. If I have to choose, and I reckon I do, I'll choose living my own life over reading summat about someone else's. - Author: Sophie Hannah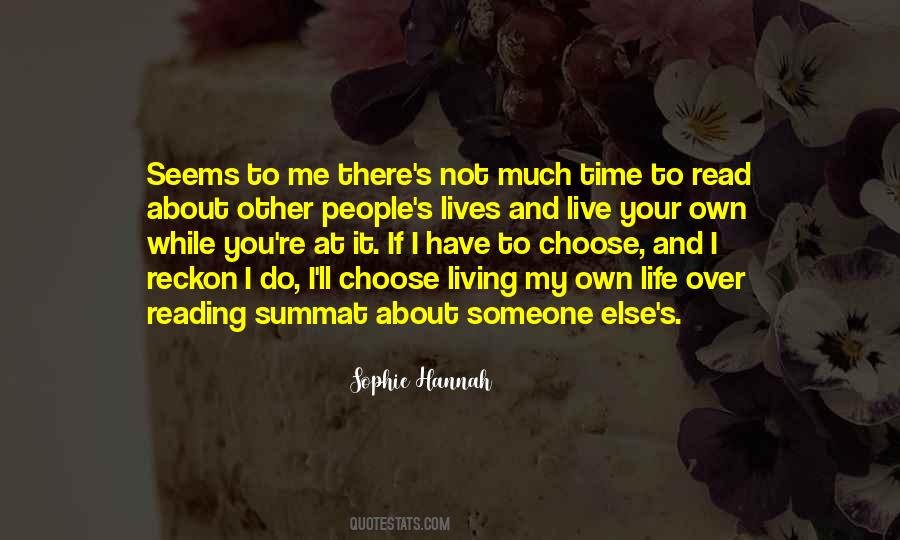 #54. It was hard when I knew I was about to be flooded with memories of a life I hadn't lived yet. Really, two lives I hadn't lived yet. - Author: Kasie West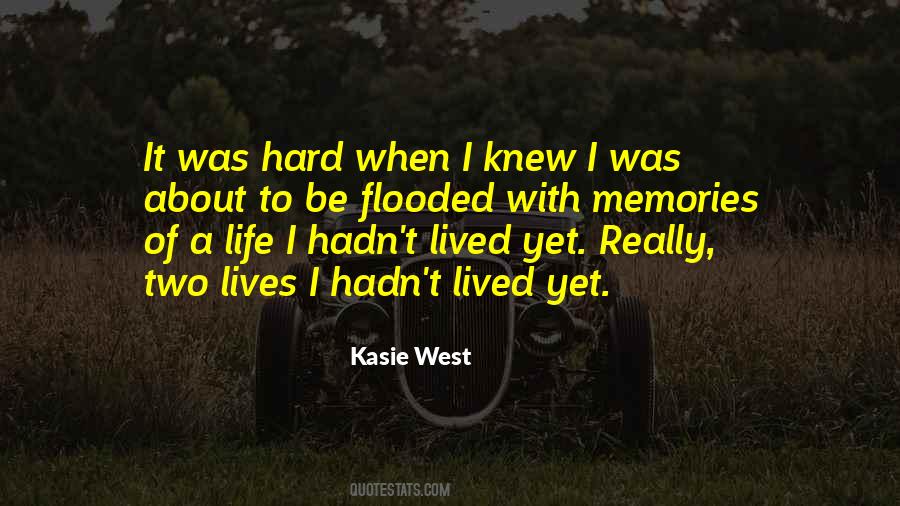 #55. And you must not worry about me. You must follow your dreams. You have your life ahead of you. I am just a wanderer passing by. - Author: Avijeet Das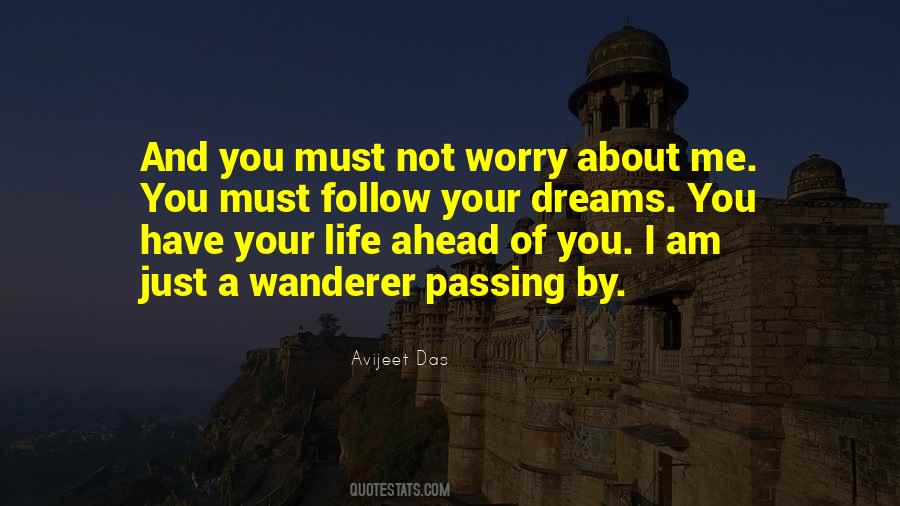 #56. What I do is about living. It's about living the best life you can and enjoying the fullness of the life around you- from what you wear, to the way you live, to the way you love. - Author: Ralph Lauren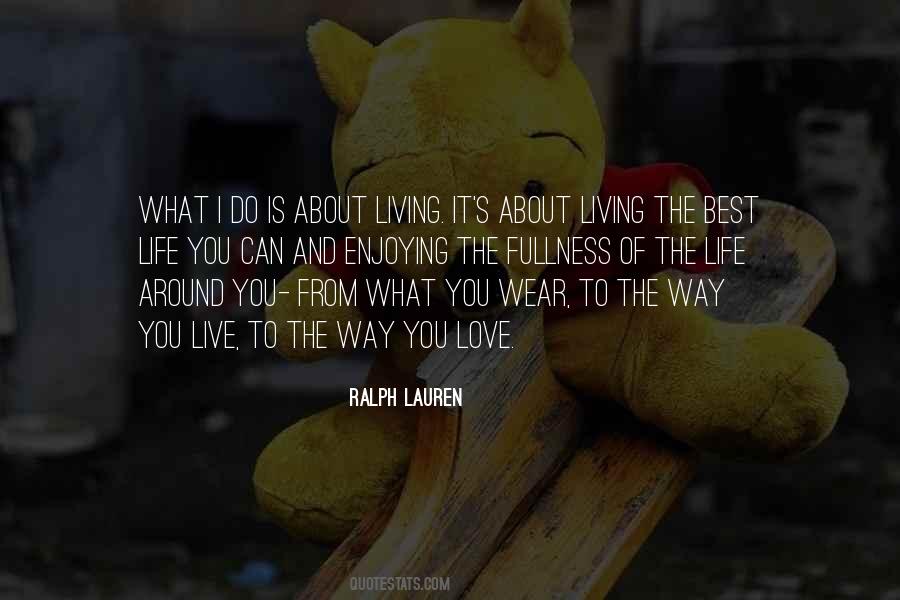 #57. Grow taller than your failures; never give up. People who are content with where they are will never be passionate about making greater accomplishments in their lives. - Author: Israelmore Ayivor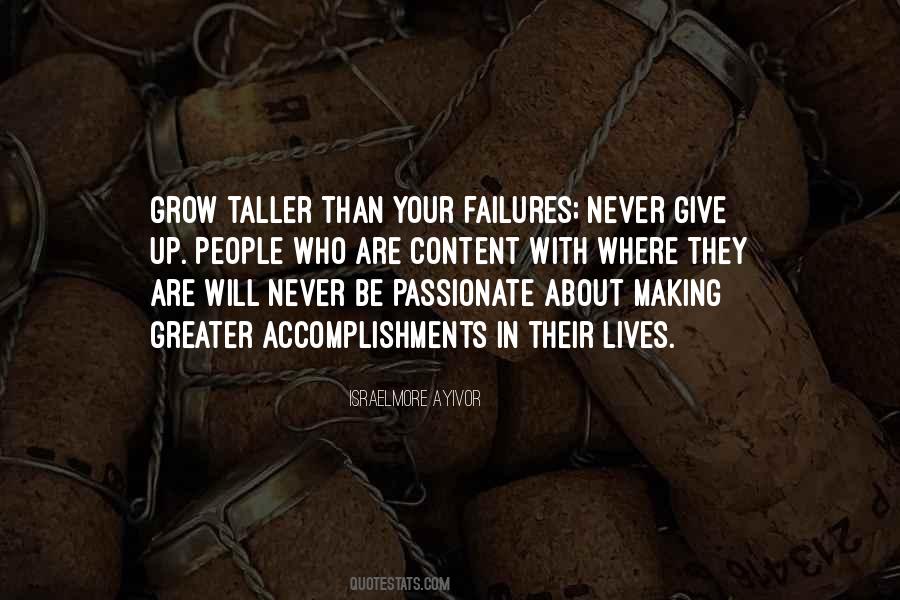 #58. There is an excitement in creating a life, rather than maintaining a life you are not excited about living. - Author: Shannon L. Alder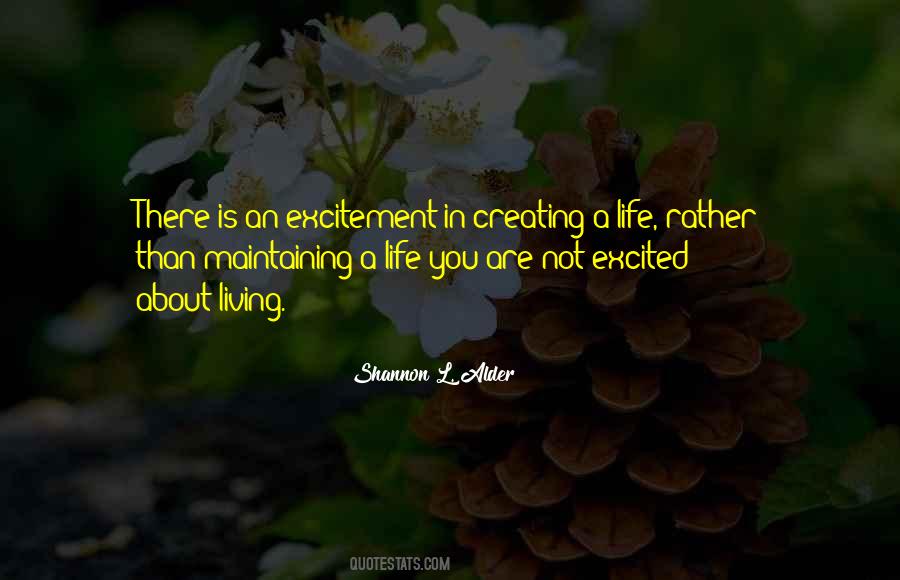 #59. This book is about fighting back. The dominant culture -civilization- is killing the planet, and it is long past time for those of us who care about life on earth to begin taking the actions necessary to stop this culture from destroying every living thing. - Author: Derrick Jensen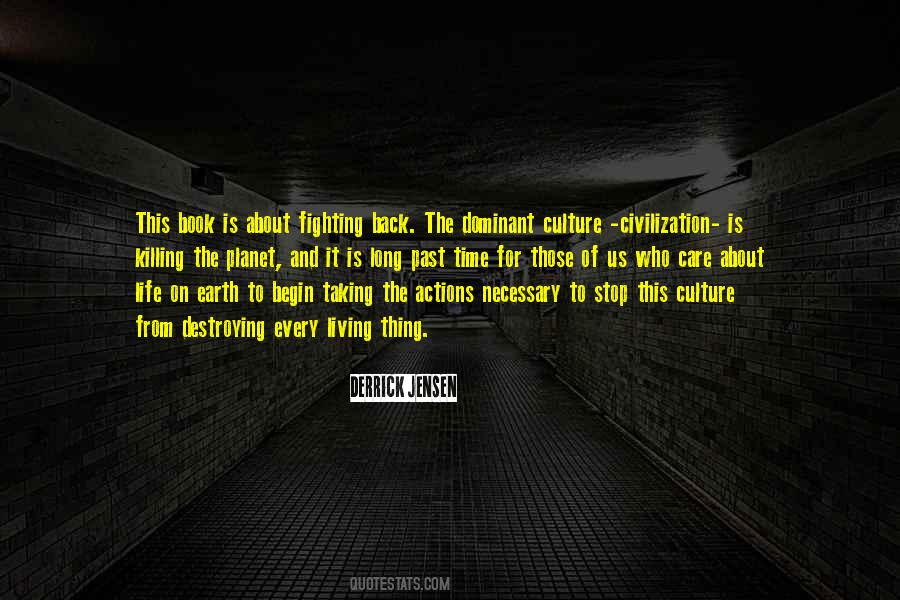 #60. One of the tragic things I know about human nature is that all of us tend to put off living. We are all dreaming of some magical rose garden over the horizon - instead of enjoying the roses that are blooming outside our windows today. - Author: Dale Carnegie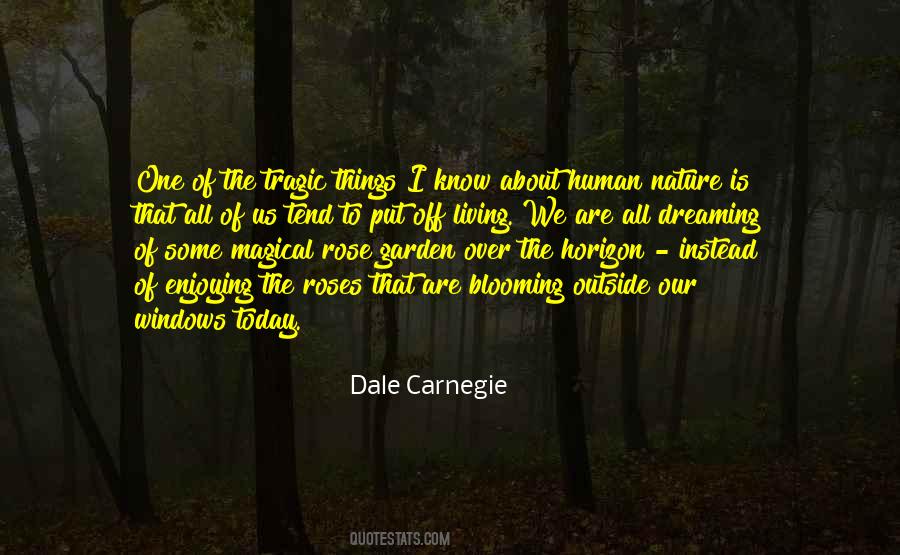 #61. It's not just a question of doing what you love for a living. It's about doing what you love with love. Then your life and all be transformed. - Author: Rasheed Ogunlaru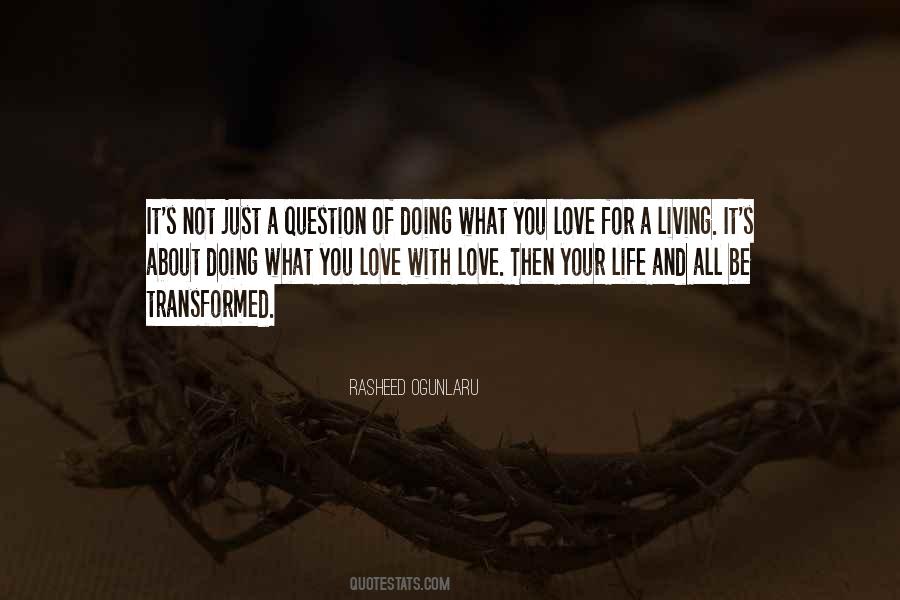 #62. We spend too much time keeping up with celebrities. They're living their dreams, what about you? Are you where you want to be in life. Get off the couch, turn off the tv and start achieving your goals. - Author: Bianca Frazier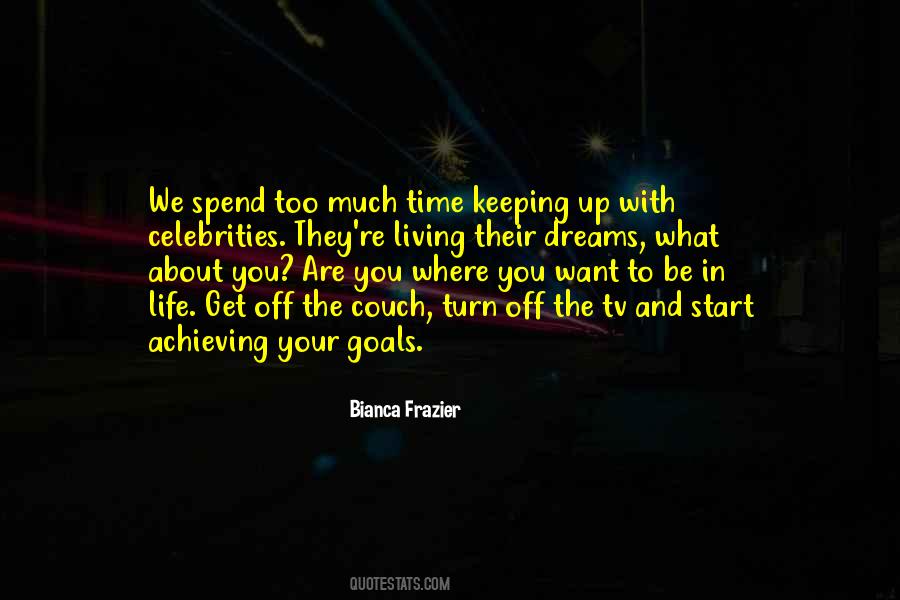 #63. When I moved to New York at 22, I didn't know what I wanted to do. I took an improv class, and the first scene I did, I felt like 'I want to do this for the rest of my life.' It was the first time I ever felt like that about anything. I tried to make a living off improv. - Author: Kurt Braunohler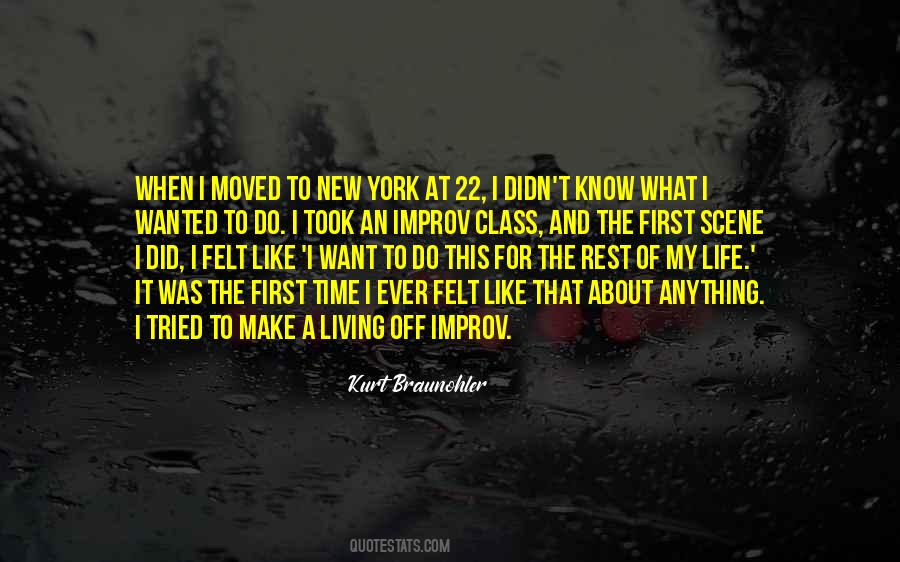 #64. To continue living, we have to die. That's the story of humanity - generation after generation - that we are going to die. There's nothing dramatic about death except that one loses one's life. - Author: Jose Saramago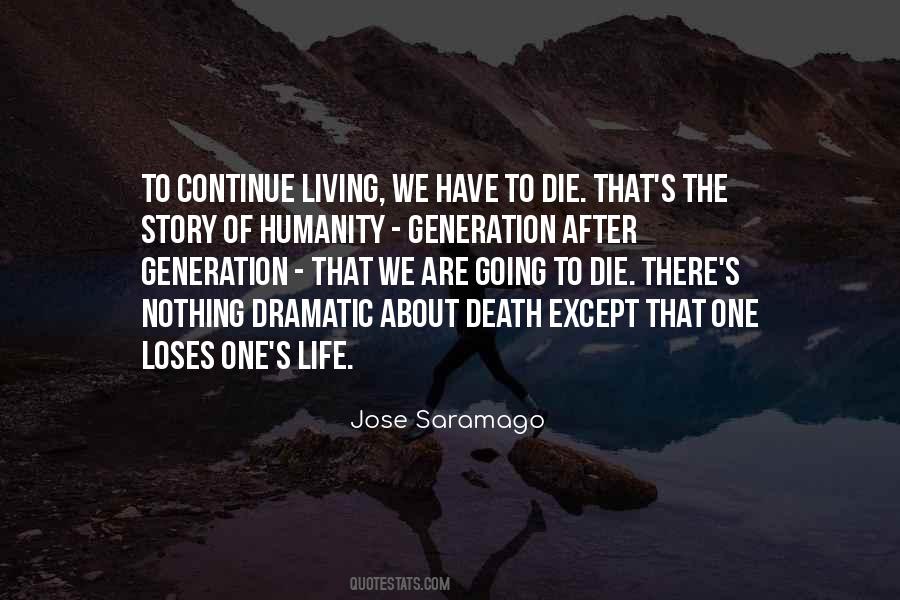 #65. Death isn't sad. There's nothing sad about it. Living a shitty life, that's sad. - Author: Mac Danzig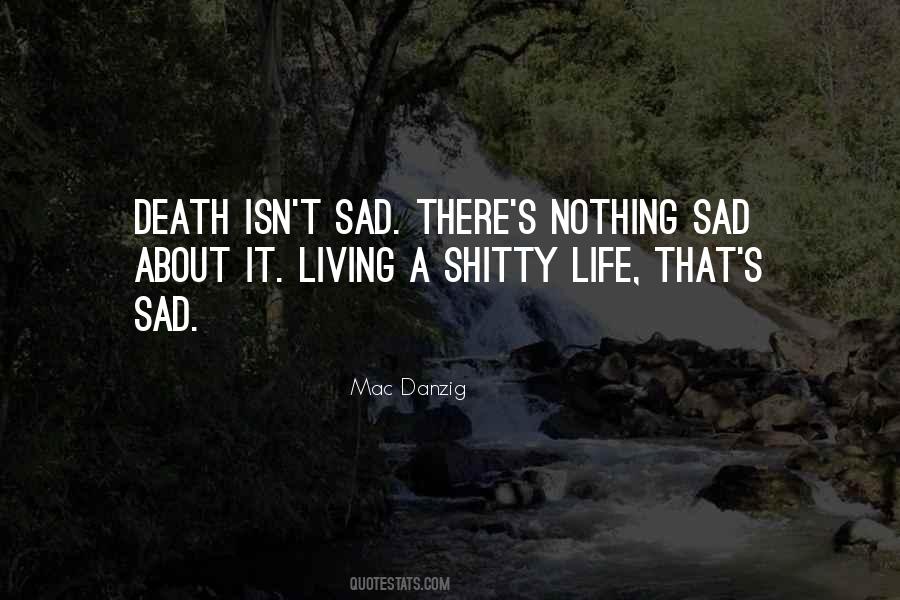 #66. The goal of living a life of faith is never to go against God, but to go with Him. It isn't just about getting what you want, it's about seeking God's best, then trusting Him with His answer." - Linda Evans Shepherd - Author: Cherie Hill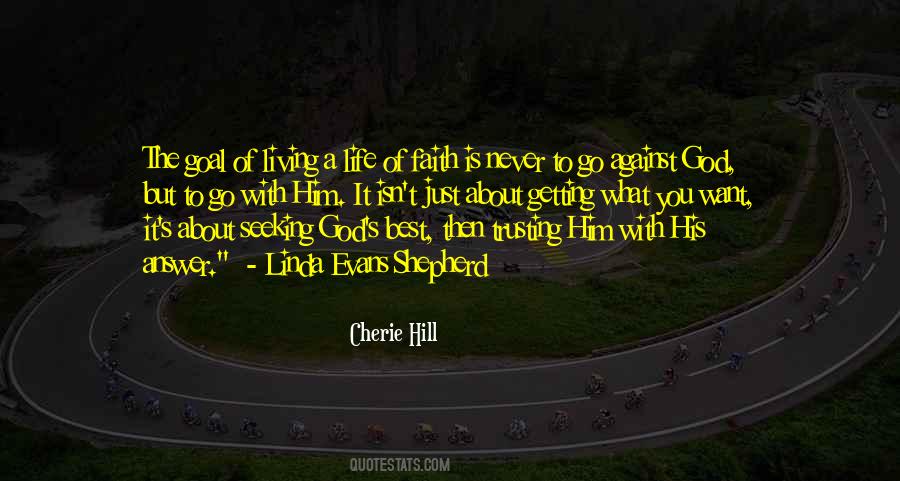 #67. People talk about 'lives of significance'-as if there's an alternative. If you're not leading a life of significance, you're not living. - Author: Andrew Williams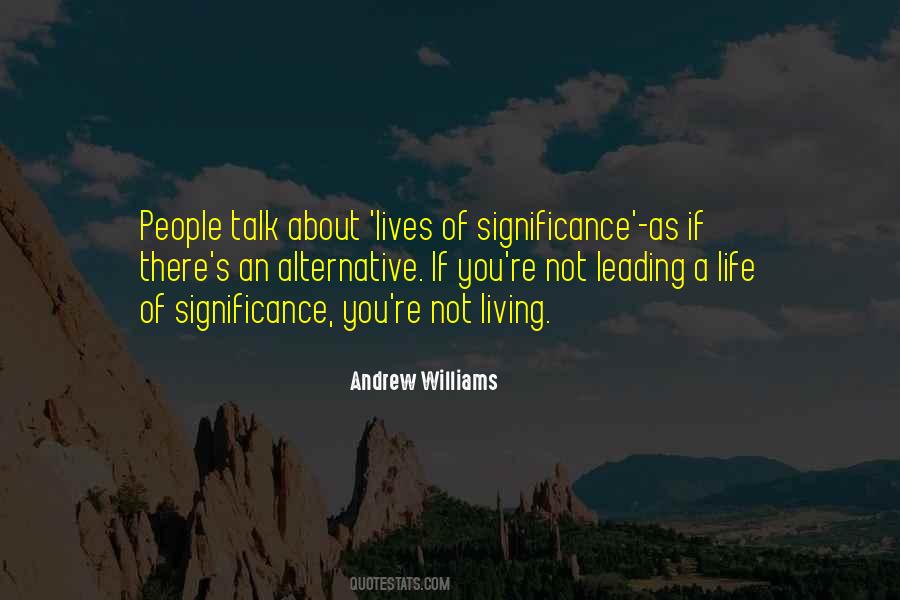 #68. There's something really terrible about having your BlackBerry next to your bed or having your laptop in the living room when you're talking to someone. The biggest source of stress in my life is the screen, the blogging. - Author: Jessica Valenti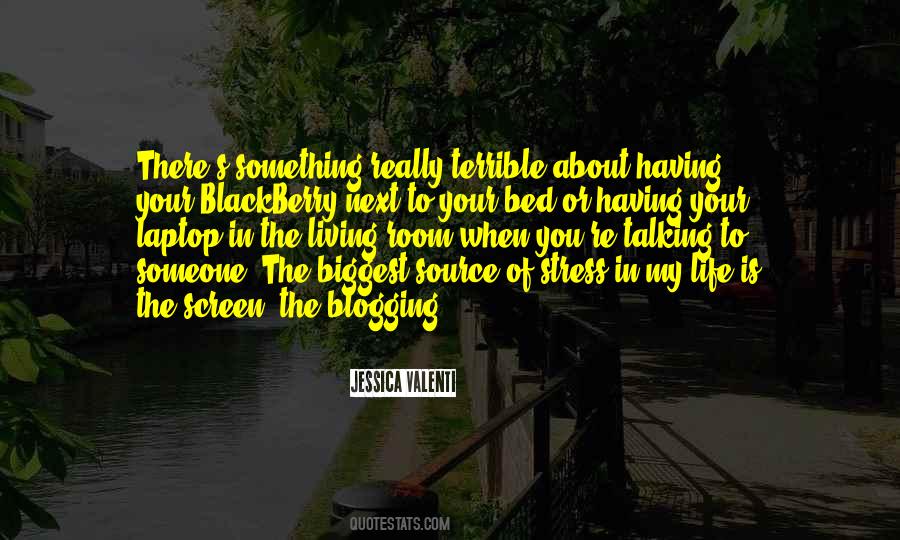 #69. Building a career or a company is about living a few years of your life like most people won't so that you can spend the rest of your life living at a level most people can't. - Author: Jay Samit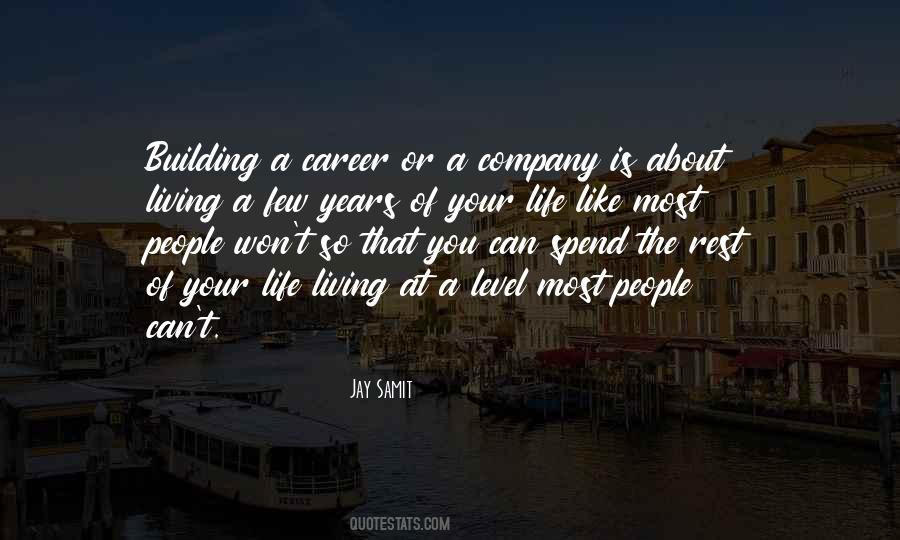 #70. We the Living is not a novel 'about Soviet Russia.' It is a novel about Man against the State. Its basic theme is the sanctity of human life - using the word 'sanctity' not in a mystical sense, but in the sense of 'supreme value.' - Author: Ayn Rand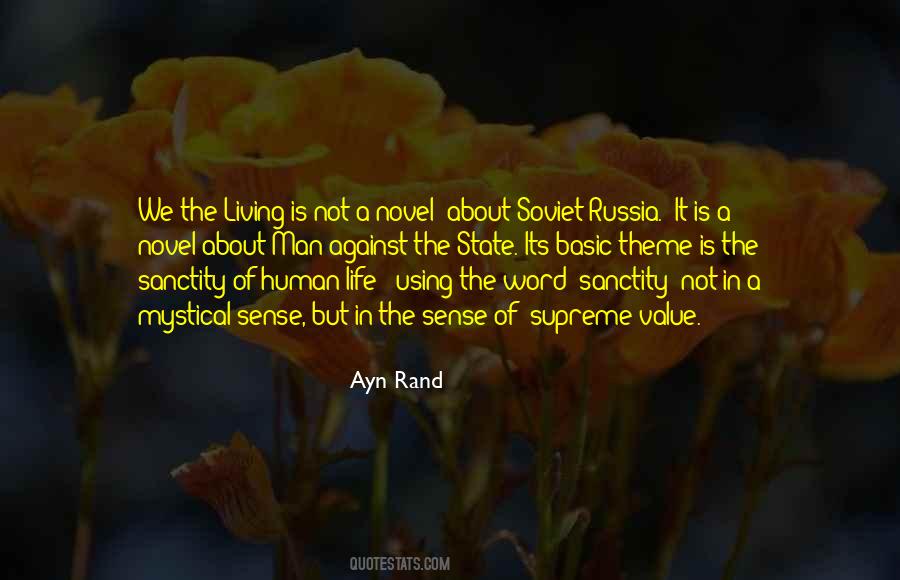 #71. Everyone needs love, never hurt a living thing [and] don't worry about the choices you make because everything will be fun because life is a closet filled with pool toys, - Author: Amy Poehler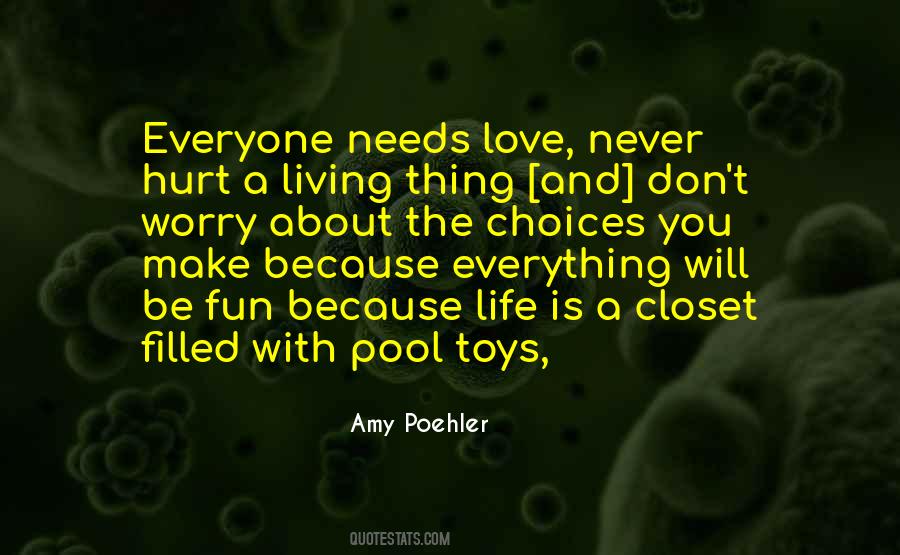 #72. Sometimes it's not about making a ton of money in one night, just to spend the rest of your life waiting on the next payday. You will fare better investing time, planning, strategic thinking in order to secure a stable, fruitful future. - Author: Carlos Wallace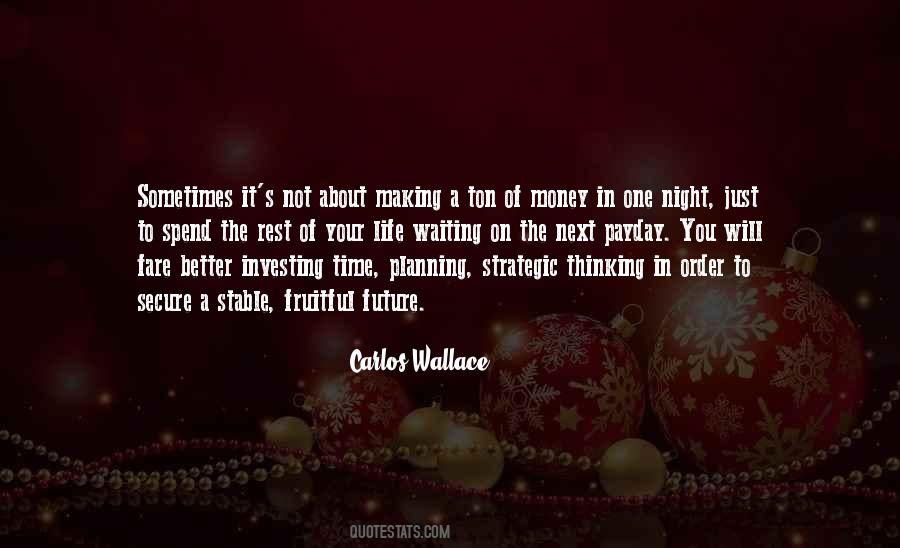 #73. The minimalist path is not about getting rid of everything and owning nothing, it is about living an integrated life in which everything has meaning and value because it is about your way of being. - Author: Ela Garrison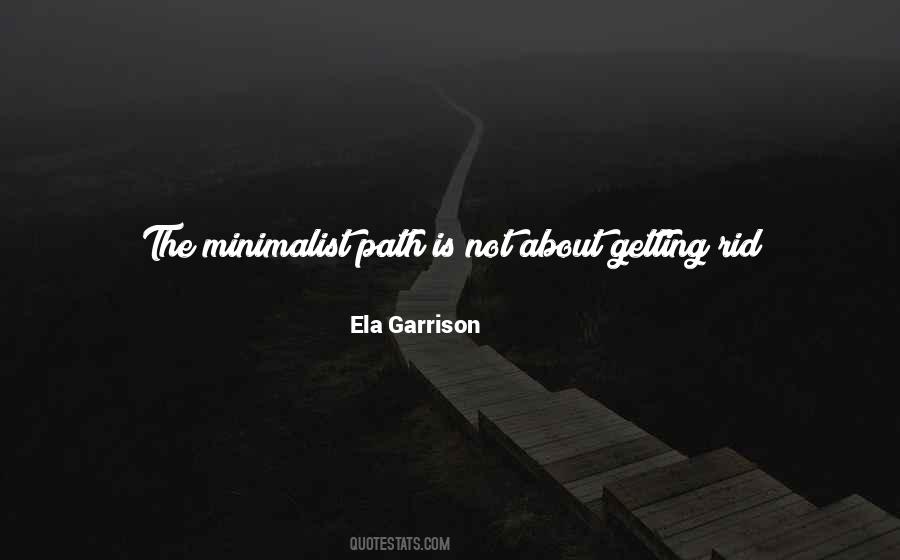 #74. Life is to short to worry about everything. - Author: Radostin Chernev
#75. If you want to believe in reincarnation, you have to believe that this life, what you're living through right now, is the afterlife. You're missing out on the afterlife you looked forward to in your last existence by worrying about your next life. This is what happens after you die. Take a look. - Author: Brad Warner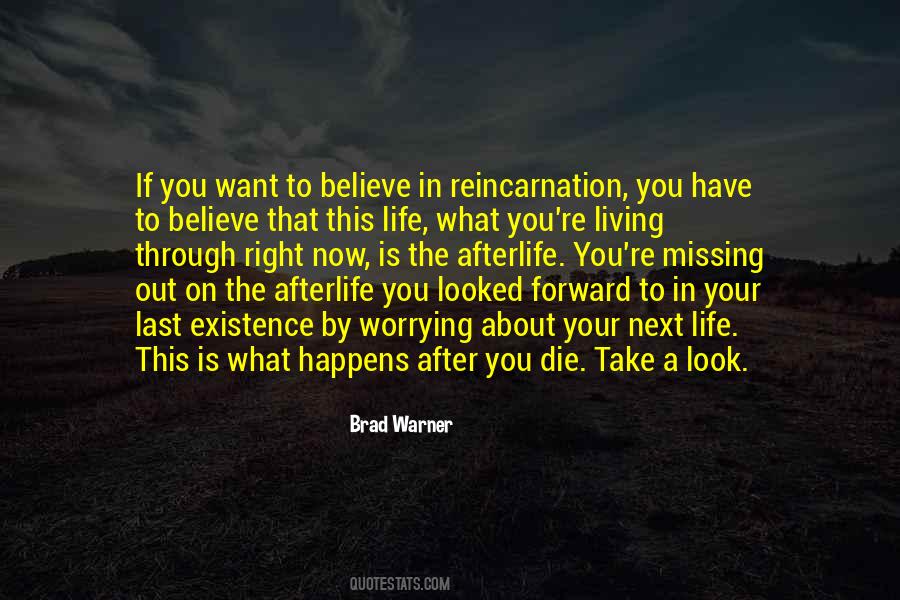 #76. Living the abundant life is different than knowing about it. It's time to begin practicing the life we were made for. - Author: Mark Beeson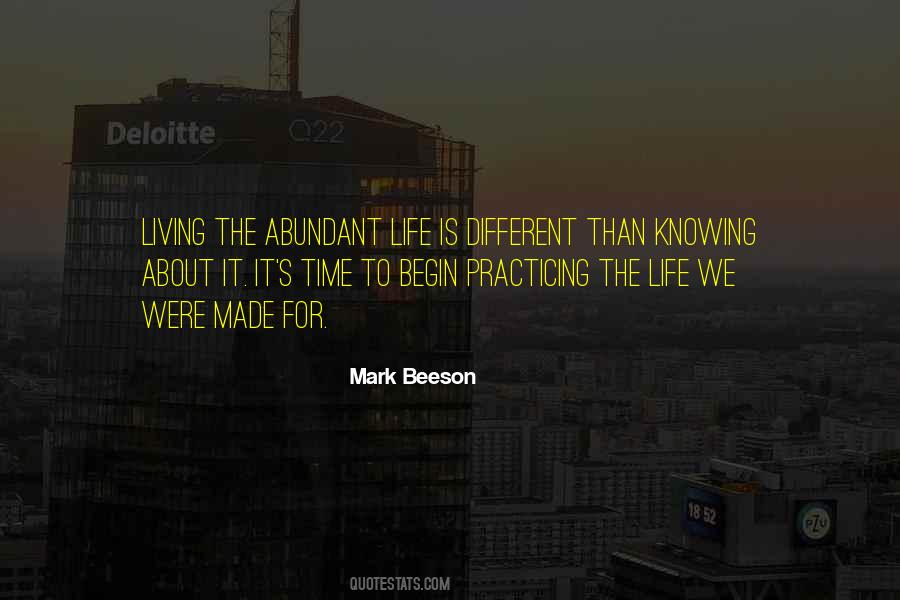 #77. When it's about your life, it's time to be selfish. - Author: Dee Dee Artner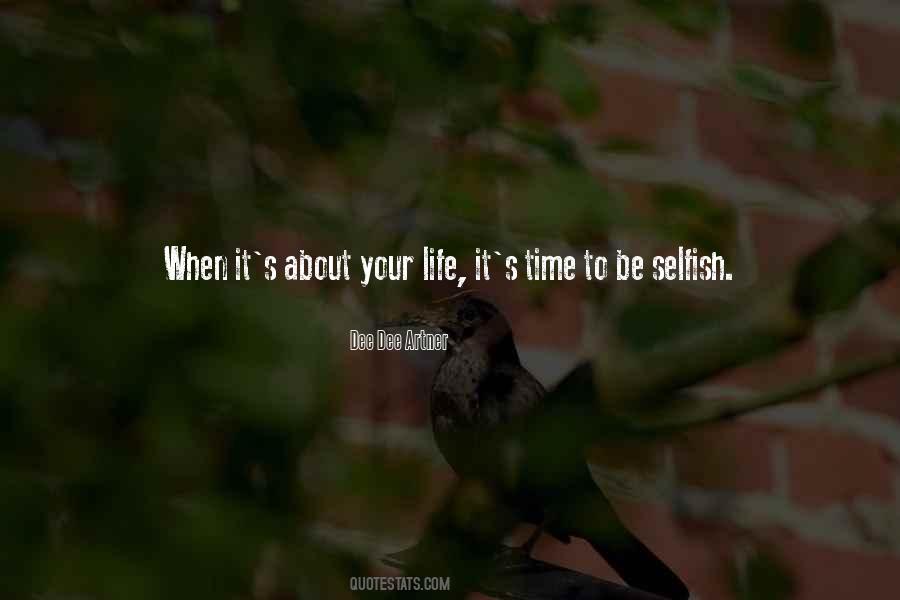 #78. Living life instead of just thinking about it. - Author: David Levithan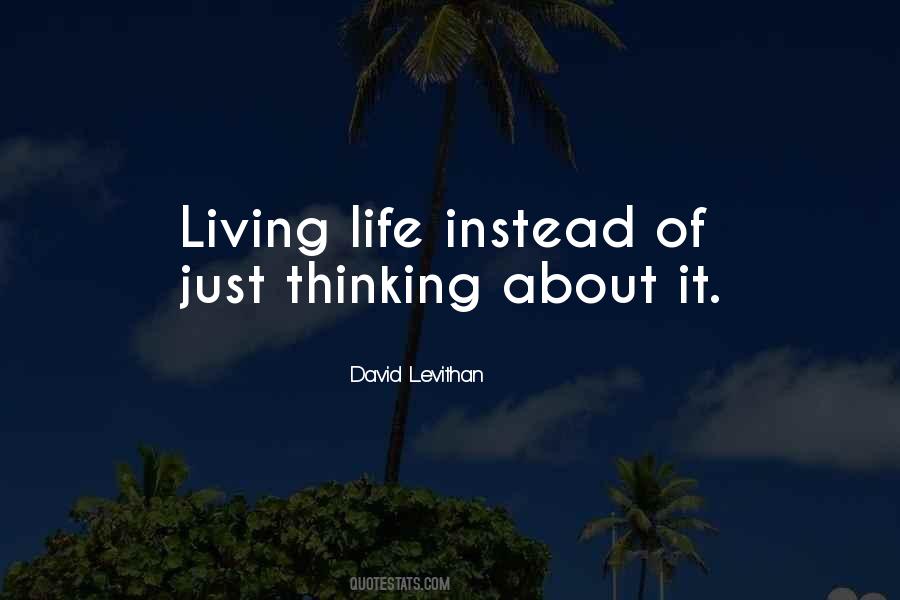 #79. I've never been called quiet about anything in my life. However, I'm also not one of those people who thinks that because I have been moderately successful at playing make believe for a living that I am supposed to tell you who to vote for. - Author: Allen Covert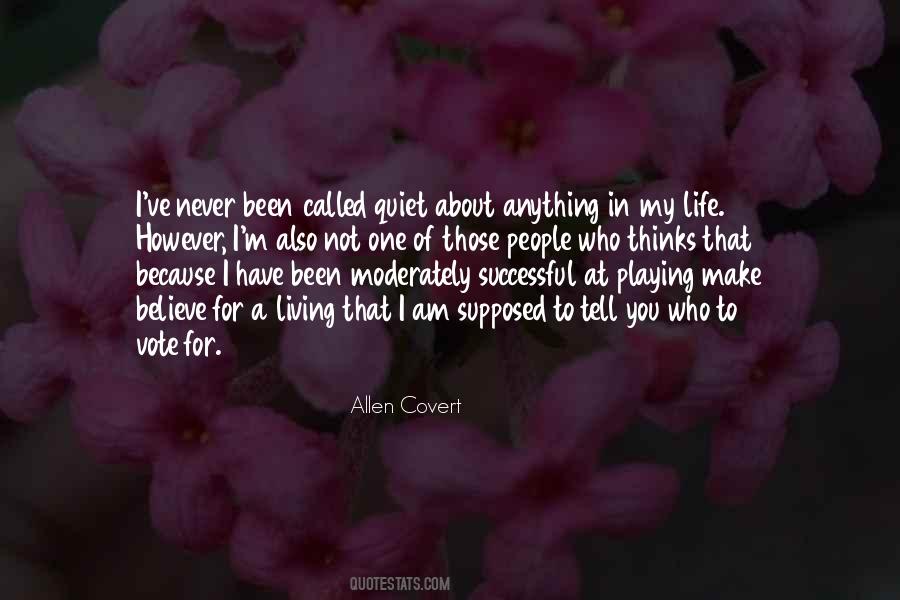 #80. God's definition of going well is unique, distinct, almost eccentric. His definition of wellness is not about health, finances, or job security. It's not about unfailing protection from the vagaries and dangers of a broken world. It's not about life being fair. It's about acceptance. - Author: Mark Buchanan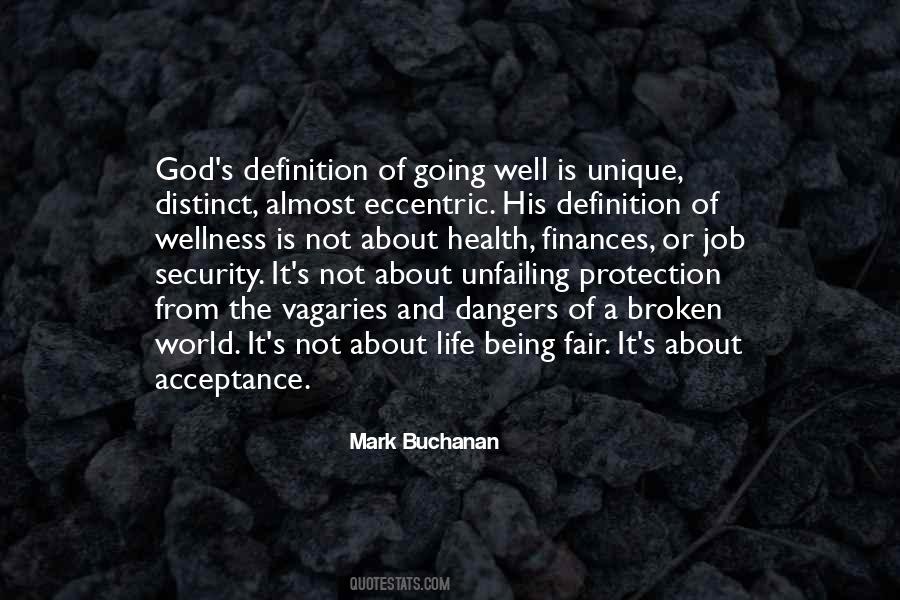 #81. Imagine living your life without the fear of being judged by others. You no longer rule your behavior according to what others may think about you. You are no longer responsible for anyone's opinion. You have no need to control anyone, and no one controls you, either. - Author: Miguel Ruiz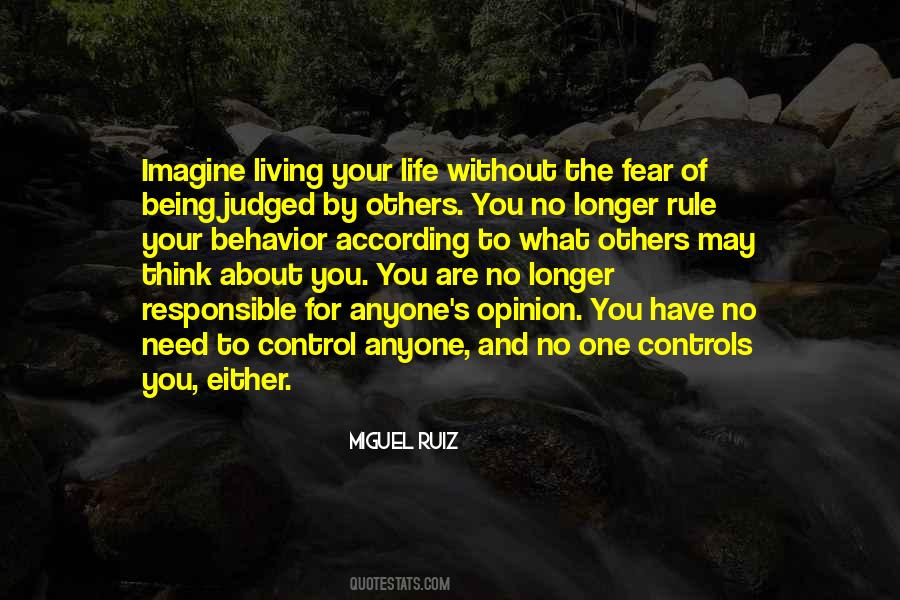 #82. The great lesson I get from 'Moby-Dick' is that when the times are bad, when there is great foreboding, there are still ways to go about living. It's through Ishmael that I find a kind of overall cosmic approach to a meaningful life in this meaningless world. - Author: Nathaniel Philbrick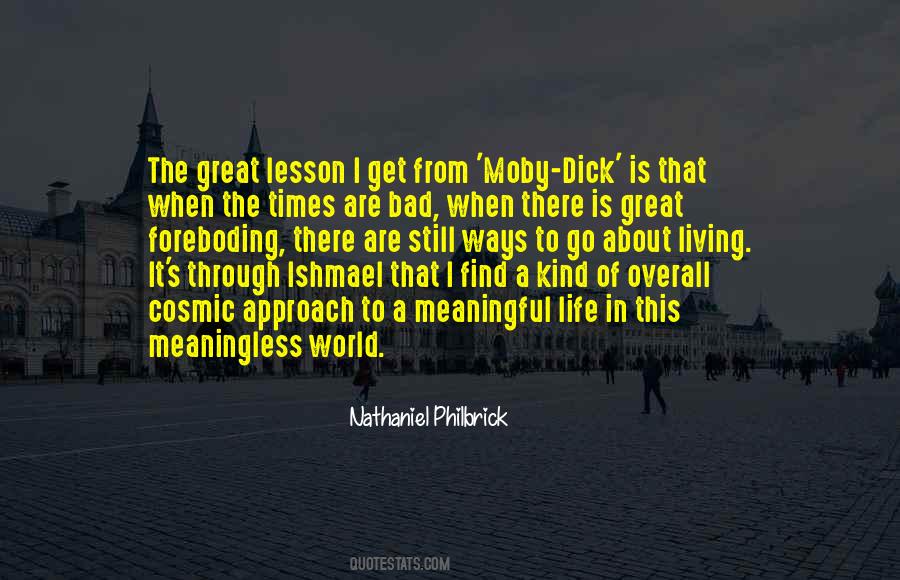 #83. It definitely has learning a lesson about the way you're living your life. I wouldn't compare our movie to that, but it has a structure where it's about a man who doesn't appreciate all that he has and finds out at the end that life has been great and he has to enjoy that. - Author: Adam Sandler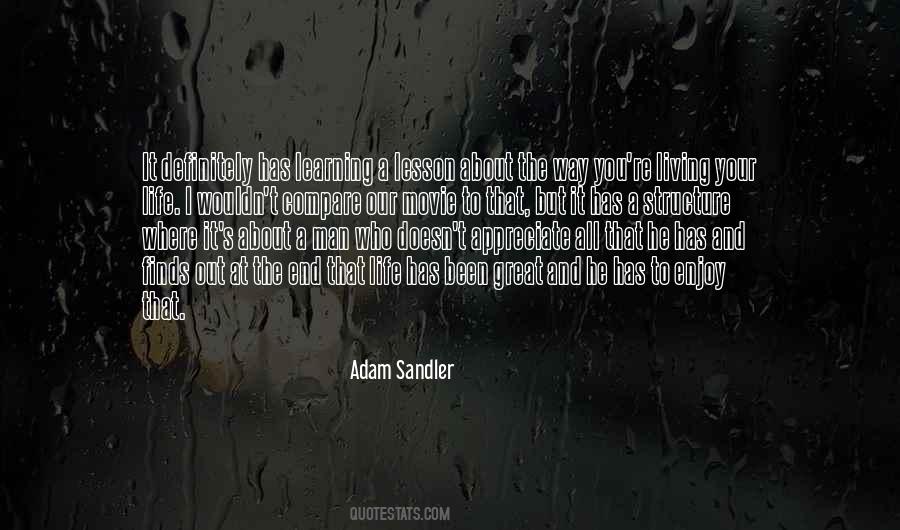 #84. I don't know about you, but this whole life thing has been the cause of all my problems. - Author: Bond Bixler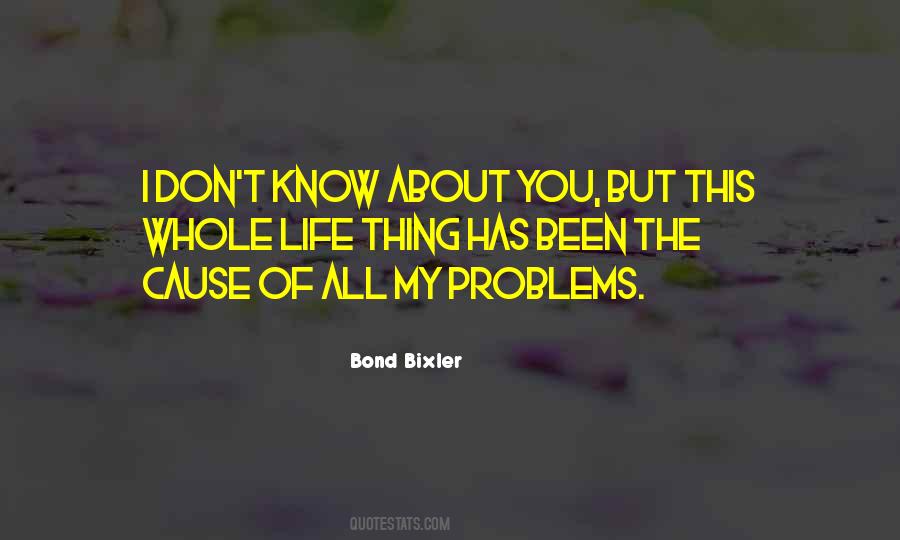 #85. As we see in Ezra's life, committed study of Scripture can bring about much more than merely head knowledge. It can bring God himself into all the recesses of our being, for "the word of God is living and active" (Heb 4:12). Take - Author: Richard J. Foster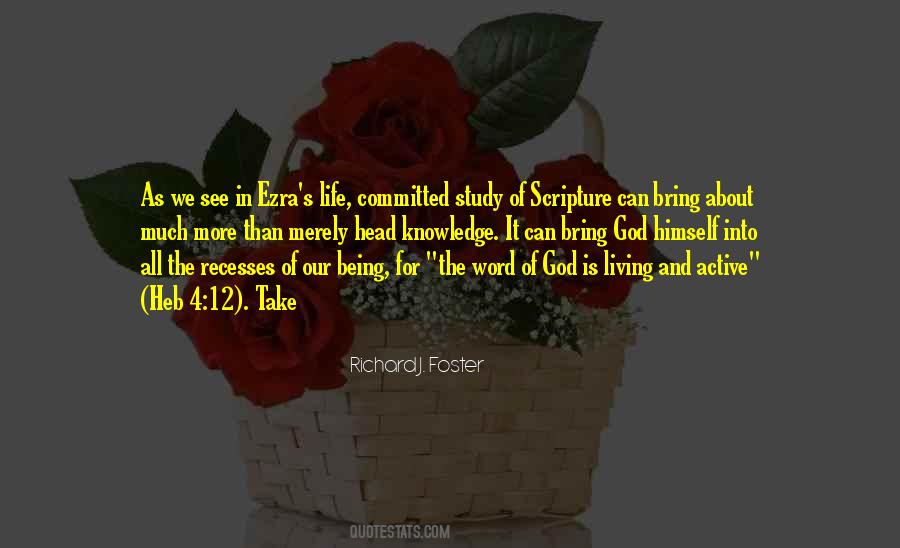 #86. Emotions buzz through our beings like busy bees, giving us the gift of living vividly. - Author: Amy Leigh Mercree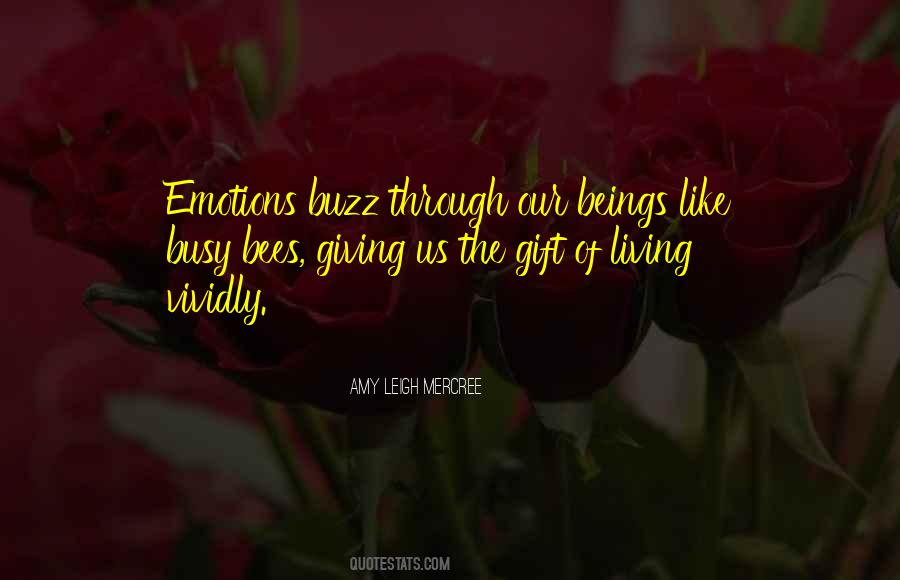 #87. How can I expect readers to know who I am if I do not tell them about my family, my friends, the relationships in my life? Who am I if not where I fit in the world, where I fit in the lives of the people dear to me? - Author: Rabih Alameddine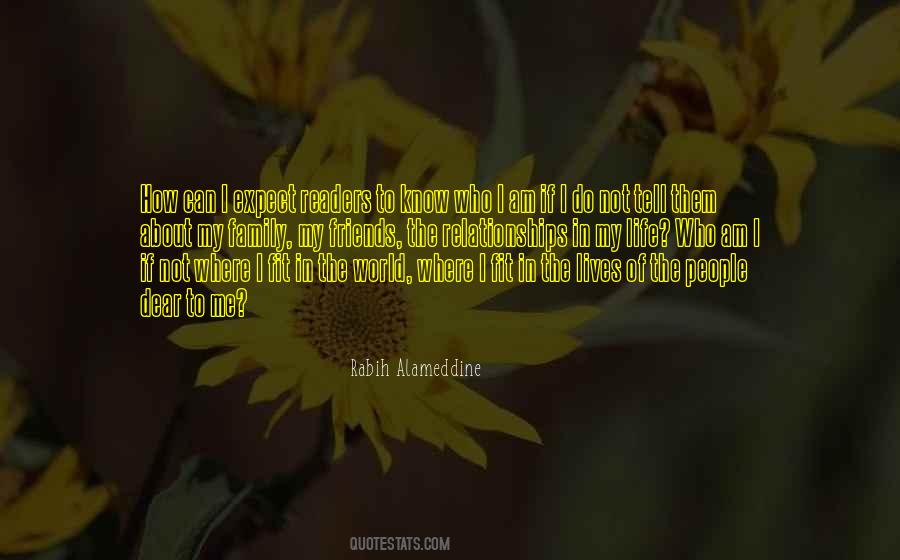 #88. I think everyone should live in New York City if they ever get the chance at least once in their life. It's such a great place to live; there's a different energy about living in the city. - Author: Odette Annable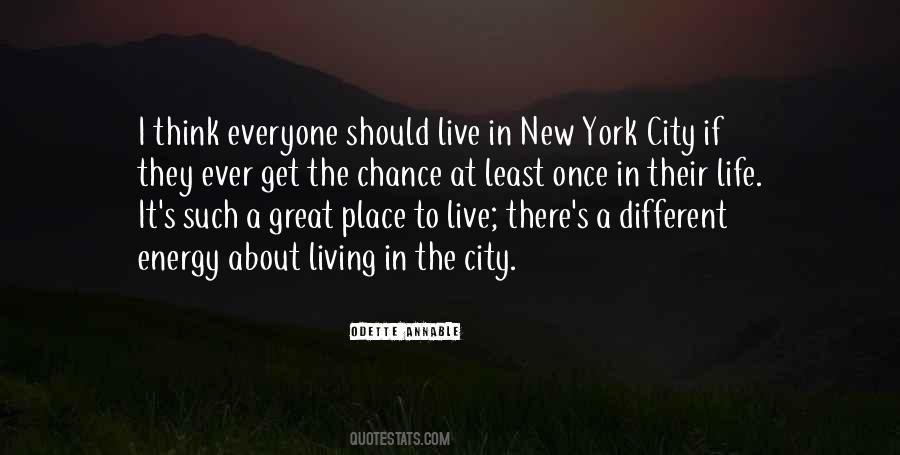 #89. I enjoy living life and I enjoy going to different restaurants and eating my way through a country and going to different museums and learning about different cultures. - Author: Mila Kunis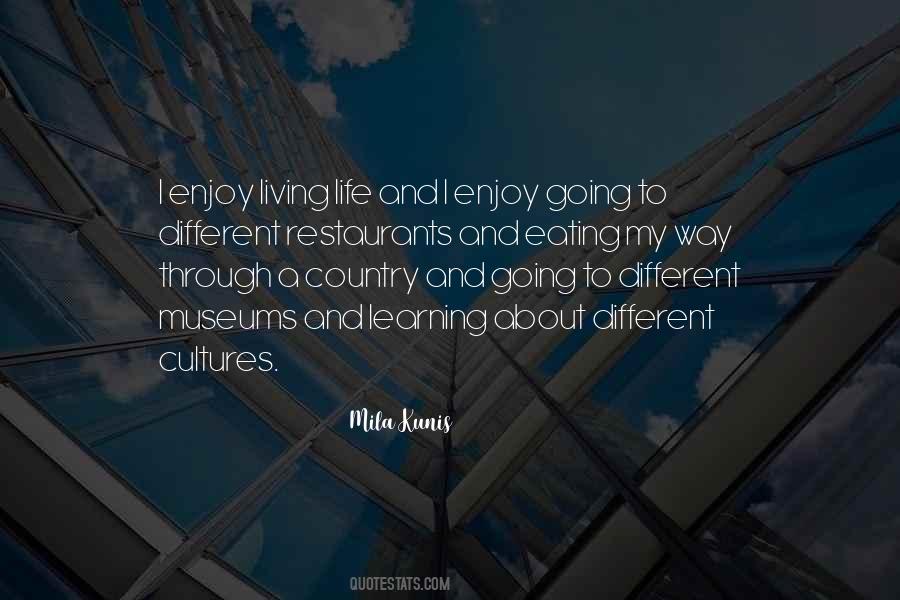 #90. But life isn't really about just geting by. Right when you've lulled yourself into a false sense of security, it likes to throw in a plot twist. Keep you on your toes. - Author: Amber L. Johnson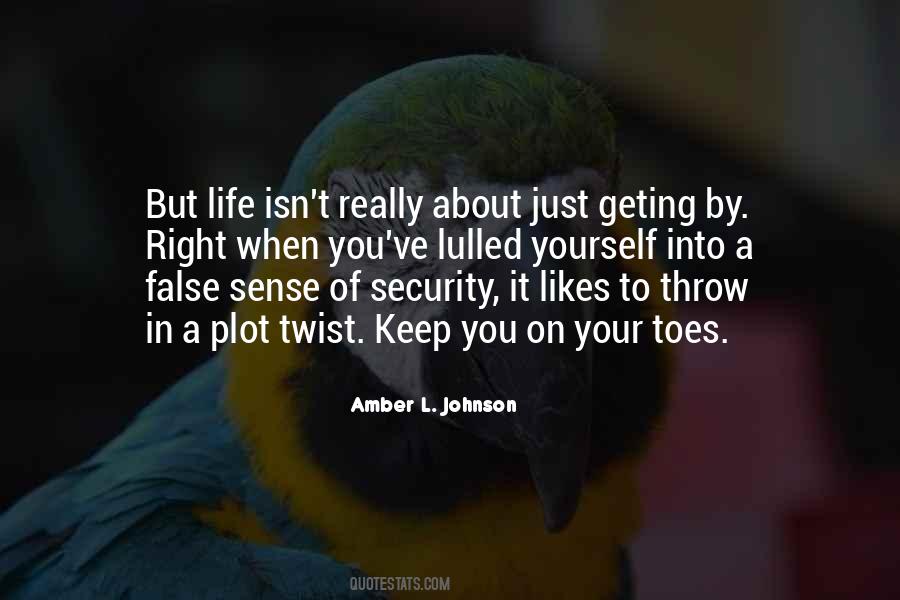 #91. The Journal is not essentially a confession, a story about oneself. It is a Memorial. What does the writer have to remember? Himself, who he is when he is not writing, when he is living his daily life, when he is alive and real, and not dying and without truth. - Author: Maurice Blanchot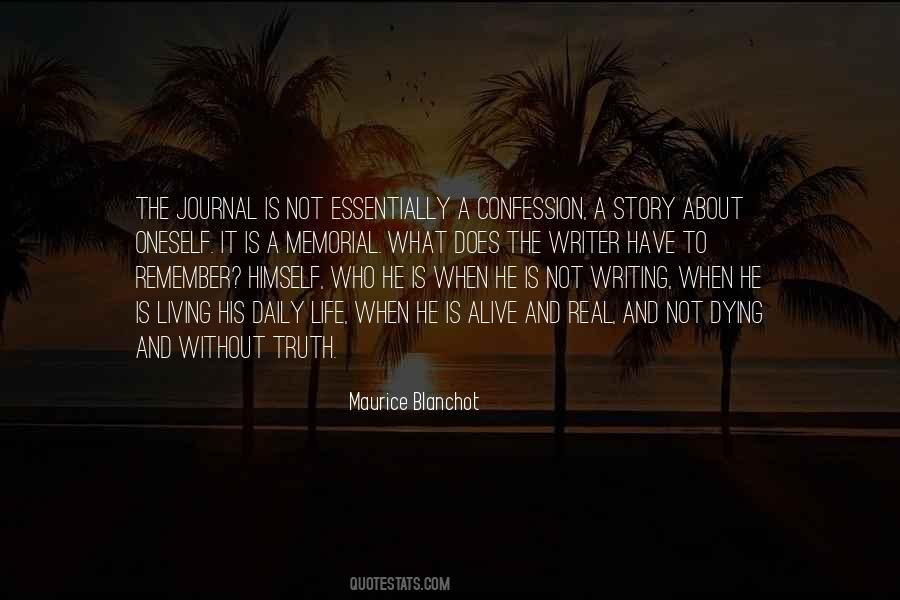 #92. Opportunities will come and go, but if you do nothing about them, so will you. - Author: Richie Norton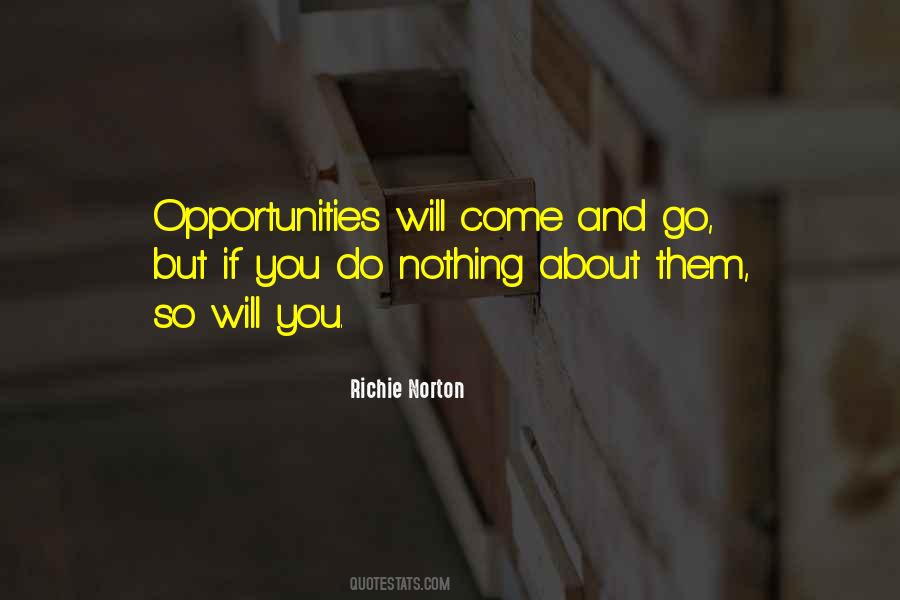 #93. You have to count on living every single day in a way you believe will make you feel good about your life - so that if it were over tomorrow, you'd be content with yourself. - Author: Jane Seymour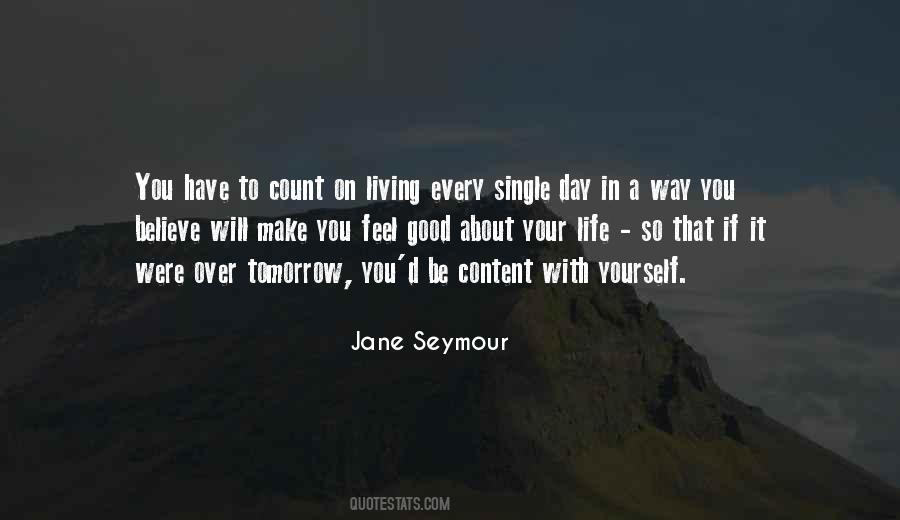 #94. 1. One learns of life not from reading books, but through living and experiencing.
2. Those who experience most aspects of life are more knowledgeable than those who only read about them. - Author: Emiliya Ahmadova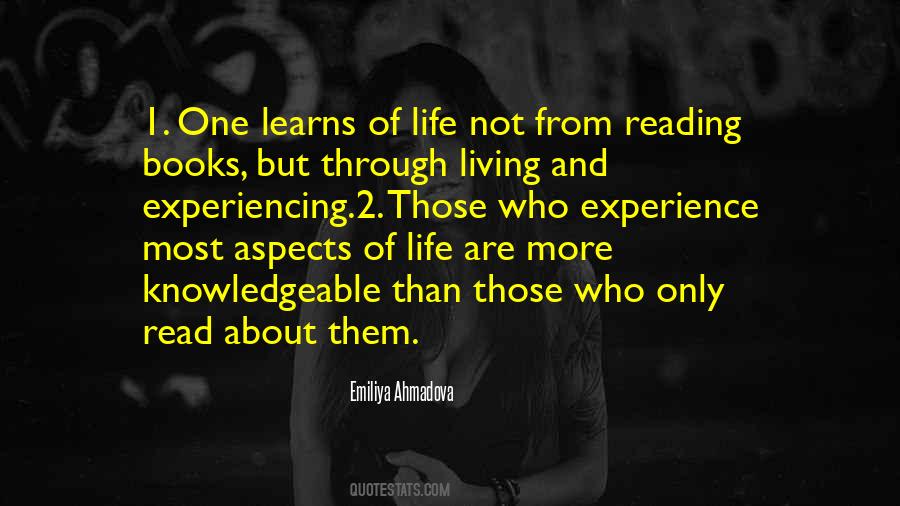 #95. Mars, we know, was once wet and warm. Was it home to life? And what can living and learning to work on its rust-colored surface teach us about the future of our own planet, Earth? Answering those mysteries may hold the key to our future. - Author: Buzz Aldrin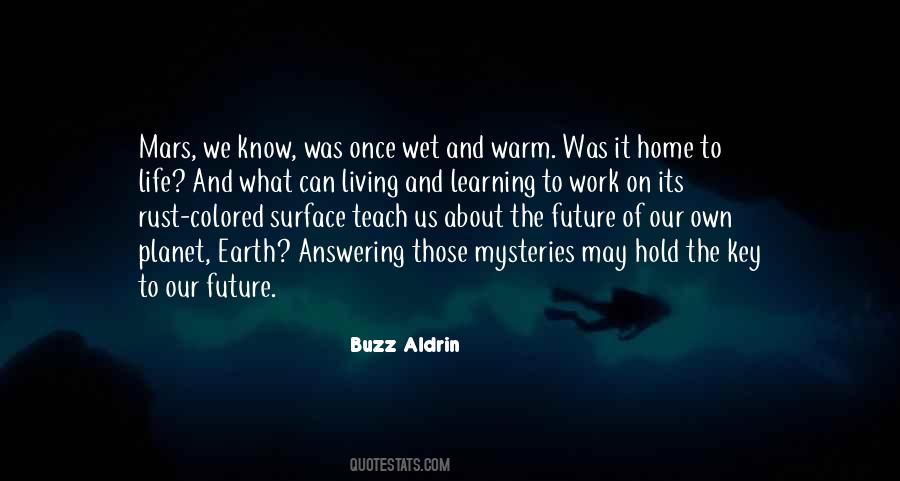 #96. Life isn't about living without problems. Life is about solving problems. - Author: Tom Krause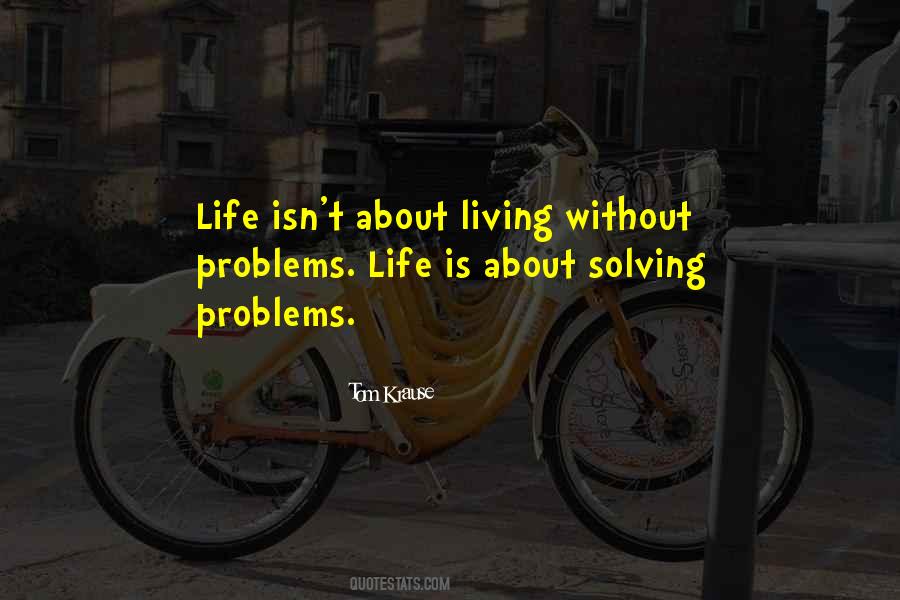 #97. Looking into Napoleon's eyes, Prince Andrei thought about the insignificance of grandeur, about the insignificance of life, the meaning of which no one could understand, and about the still greater insignificance of death, the meaning of which no one among the living could understand or explain. - Author: Leo Tolstoy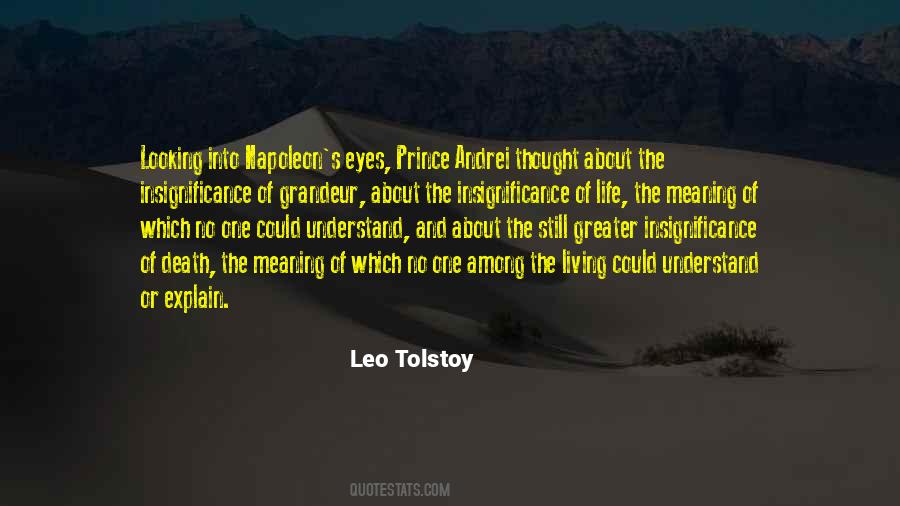 #98. The sciences paint an impersonal and objective account of the world, deliberately devoid of "meaning", telling us about origins and mechanics of life, by revealing nothing of the joys and sorrows of living. - Author: John Barrow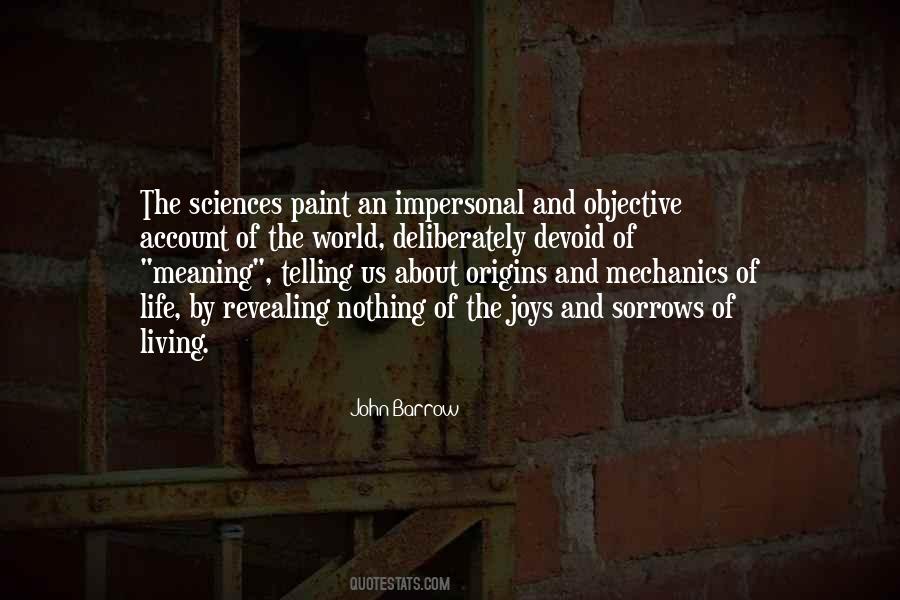 #99. Life is all about Living, Forgiving and Loving!. - Author: Deborah Roberts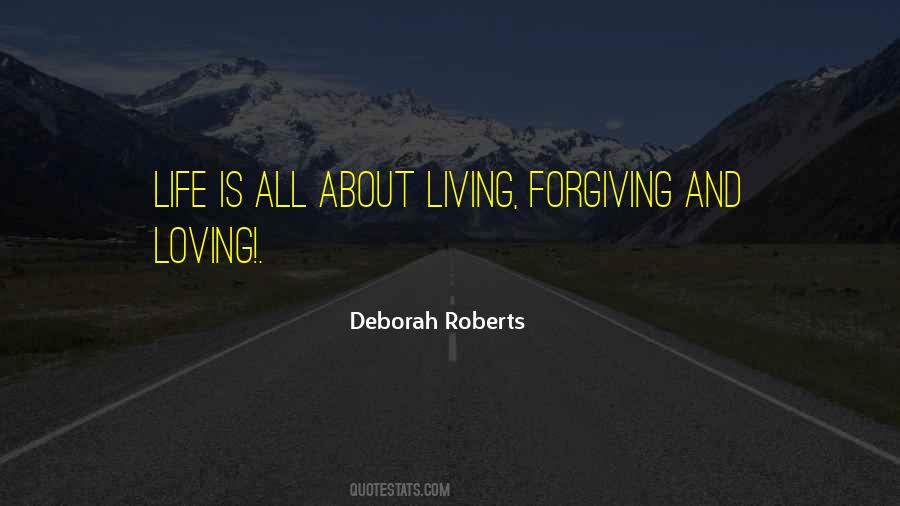 #100. I don't want to be overly dramatic about it, but I think people more and more wonder, is this living, or are we just going through the motions? What's happening? Is everything being leached out of life? Is the whole texture and values and everything kind of draining away? - Author: John Zerzan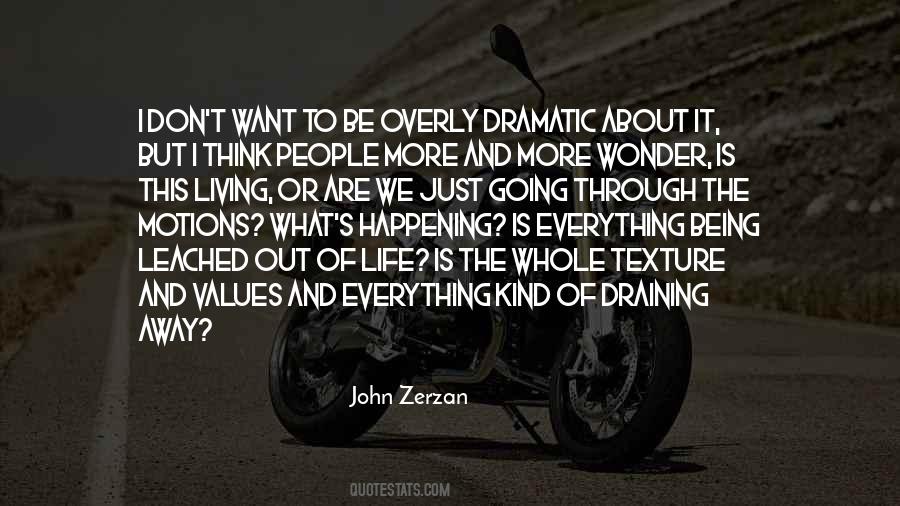 Famous Authors
Popular Topics