Price We Pay Famous Quotes & Sayings
List of top 100 famous quotes and sayings about price we pay to read and share with friends on your Facebook, Twitter, blogs.
Top 100 Price We Pay Quotes
#1. Price and Cost. Sometimes we pay more. Sometimes we pay less. You've got to determine what you are willing to pay for success. - Author: Bobby F. Kimbrough Jr.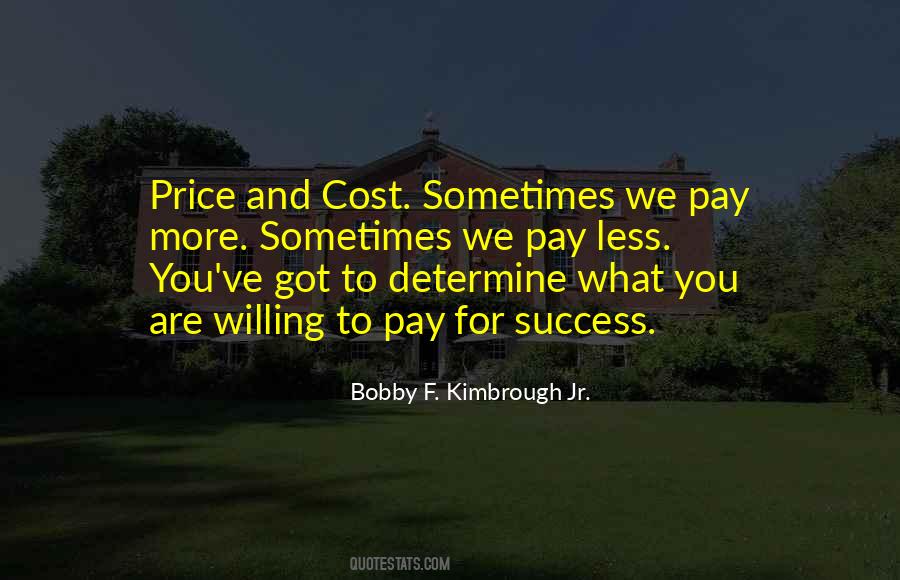 #2. Rock bottom demands we pay a price for the ride back to the top. - Author: Toni Sorenson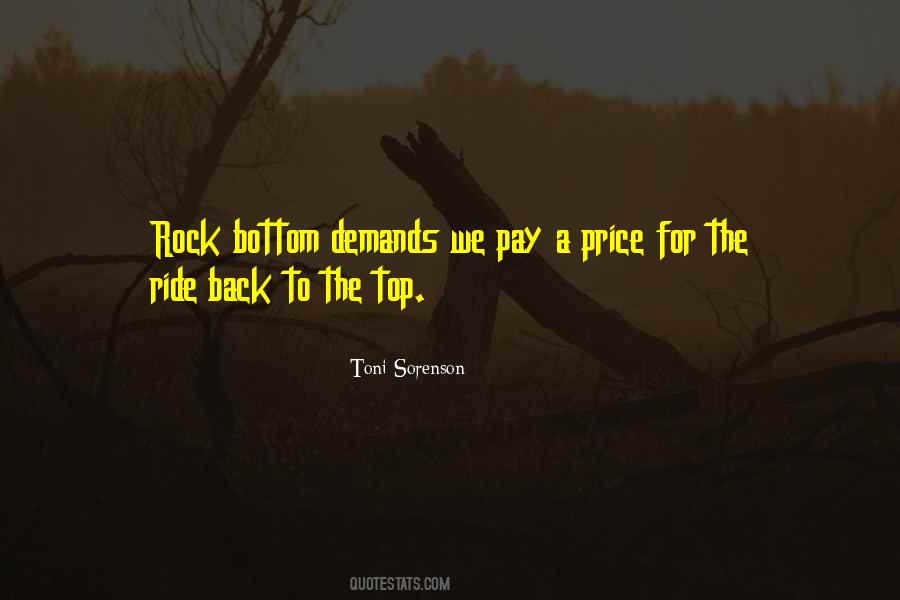 #3. In ancient times people mistook us for gods, but we peculiars are no less mortal than common folk. Time loops merely delay the inevitable, and the price we pay for using them is hefty - an irrevocable divorce from the ongoing present. - Author: Ransom Riggs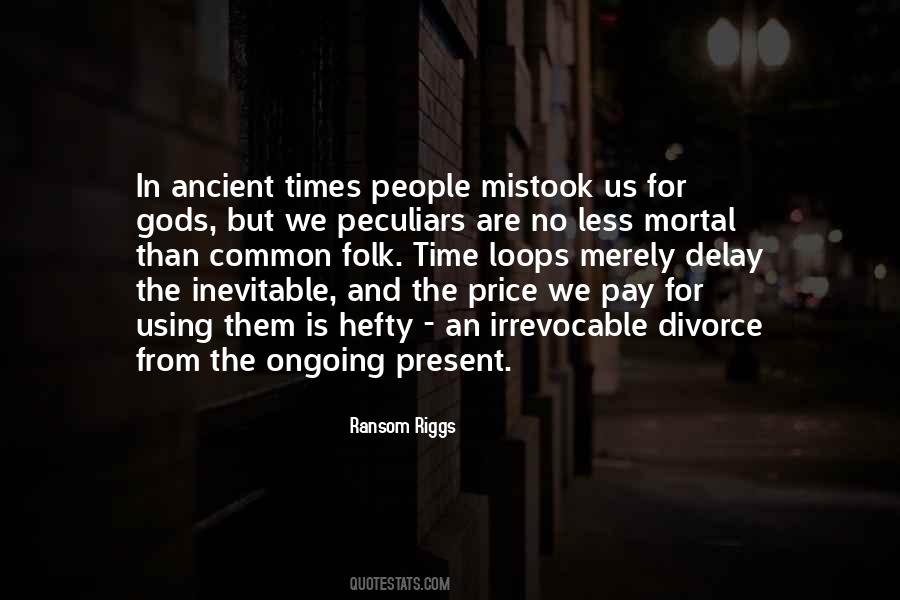 #4. As children we had been taught that no price was too high to pay for our country. But the personal price to our family had been high. - Author: Benazir Bhutto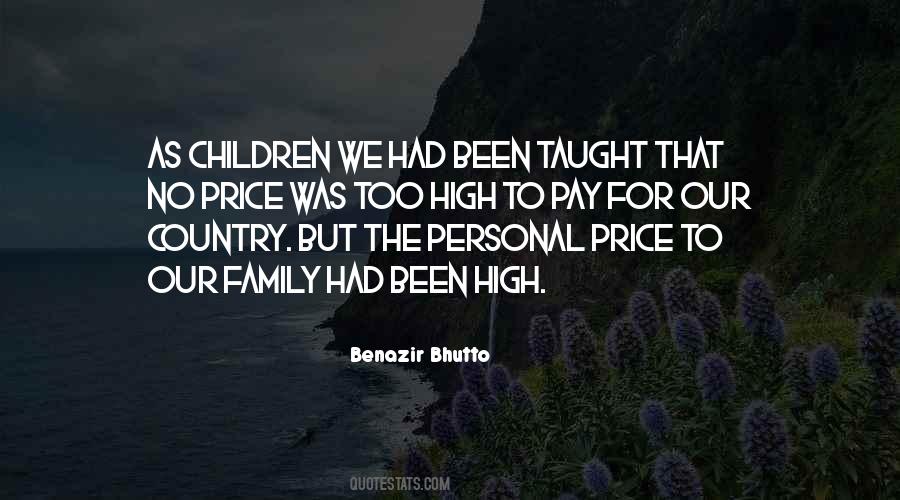 #5. Fear and debt drive this system. We are hammered with messages that terrify us into believing that we must pay any price, assume any debt, to stop the enemies who, we are told, lurk at our doorsteps. The - Author: John Perkins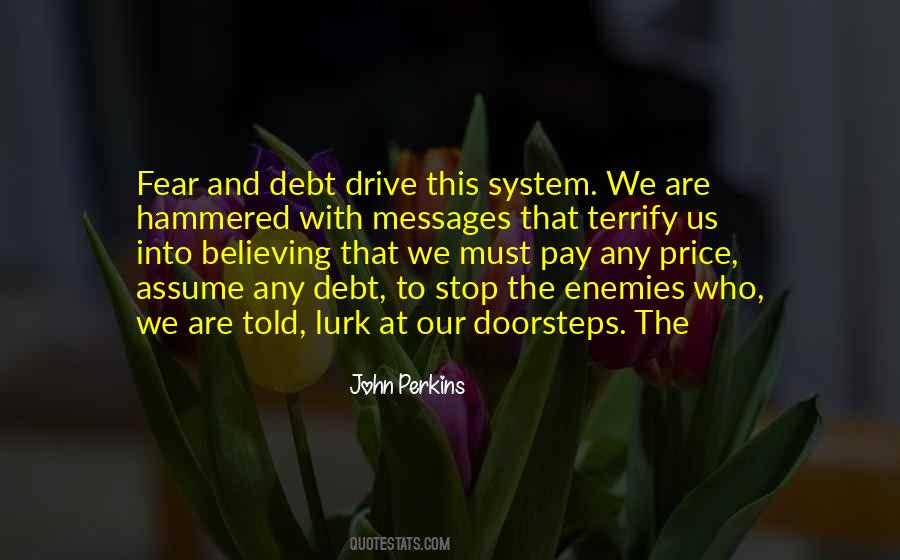 #6. What a price we pay for experience, when we must sell our youth to buy it. - Author: Javan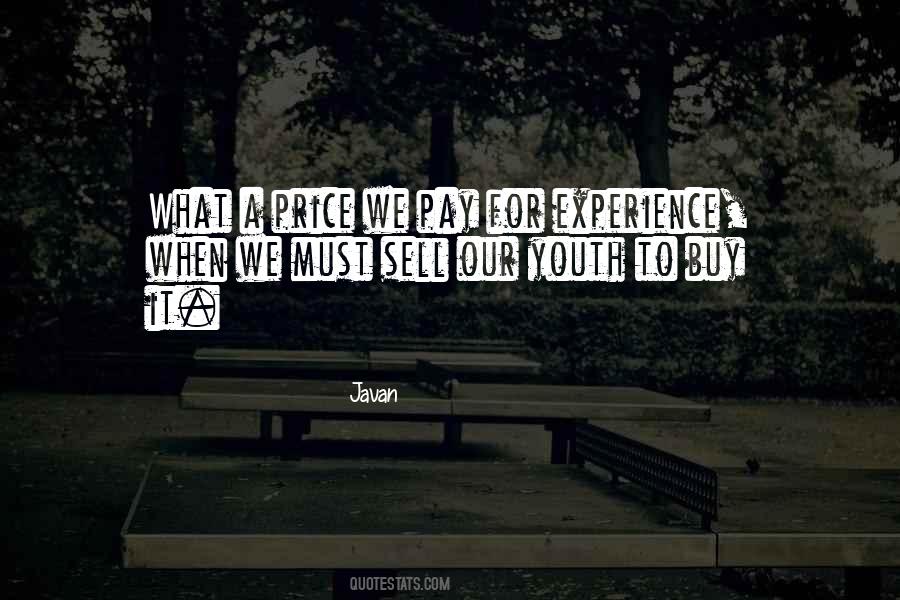 #7. Our culture encourages us to pursue pleasure at all costs, to look for what will please us in the present and not to think about the price we might pay in the future if we do not delay gratification. - Author: Anonymous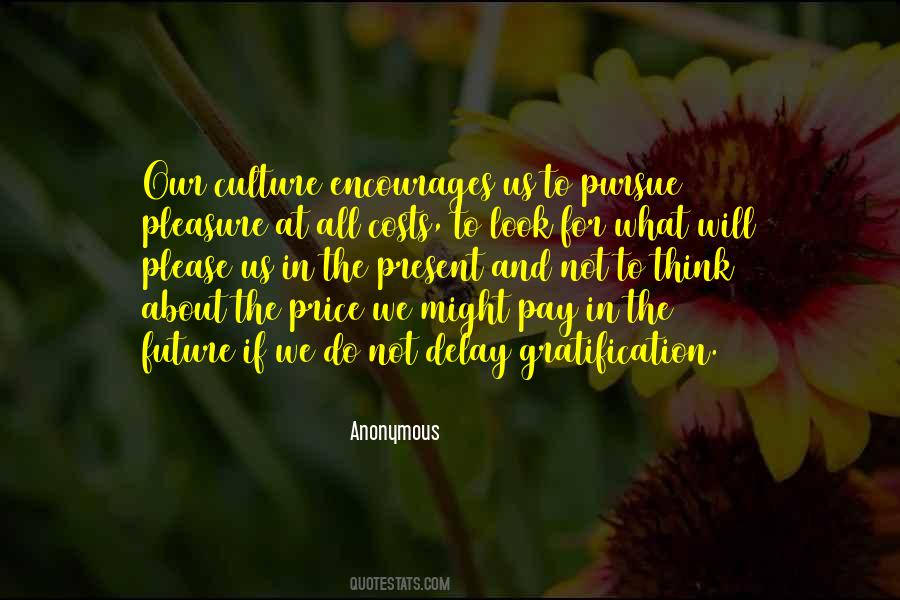 #8. It's time we recognize that, as the workplace is currently structured, a lot of women don't want to get to the top and stay there because they don't want to pay the price - in terms of their health, their well-being, and their happiness. - Author: Arianna Huffington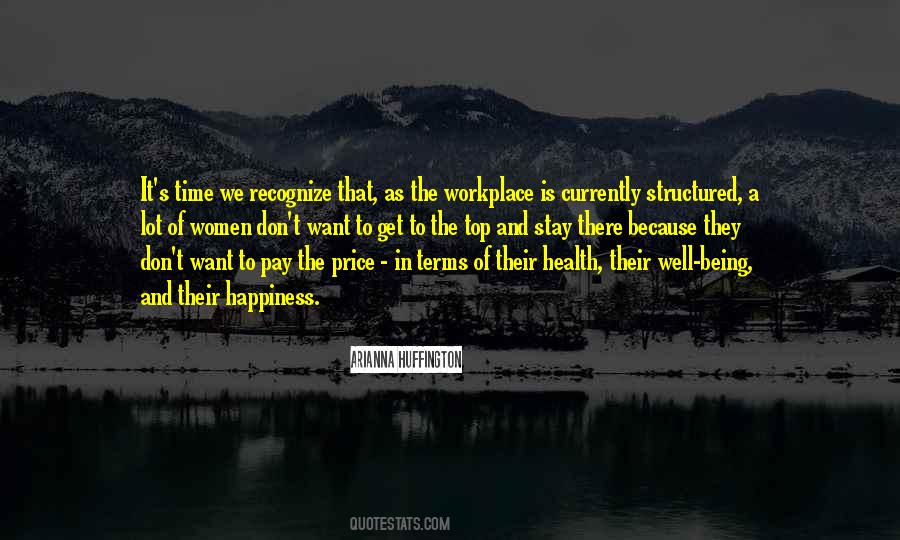 #9. In the developed world, we live 30 years longer, on average, than our ancestors born a century ago, but the price we pay for those added years is the rise of chronic diseases. - Author: S. Jay Olshansky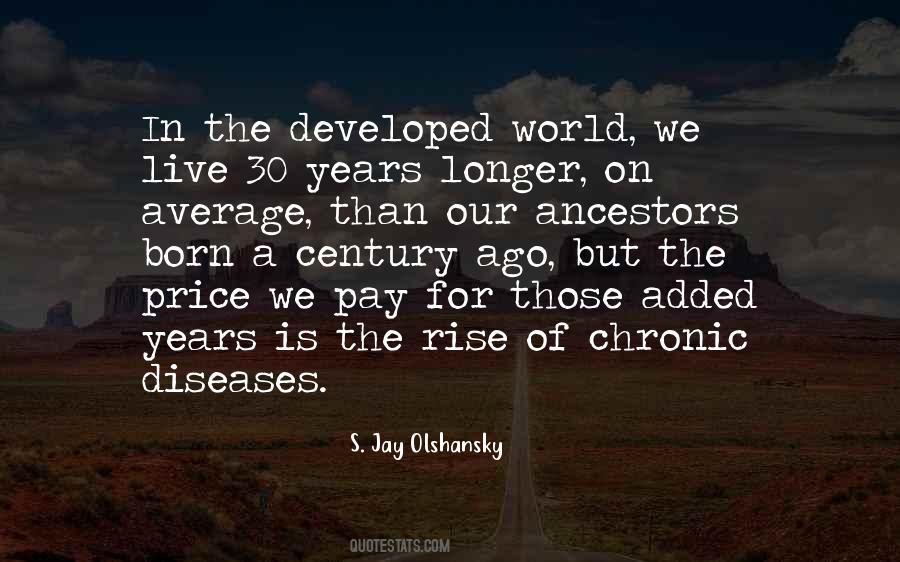 #10. Life makes us pay too high a price for its wares, and we purchase the meanest of its secrets at a cost that is monstrous and infinite. - Author: Oscar Wilde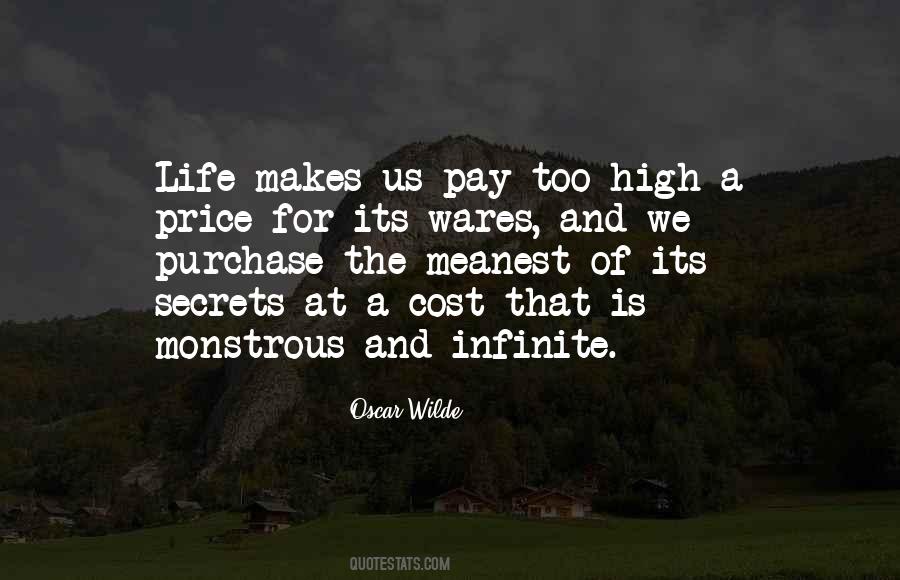 #11. We've pretended too much in our family, Luke, and hidden far too much. I think we're all going to pay a high price for our inability to face the truth. - Author: Pat Conroy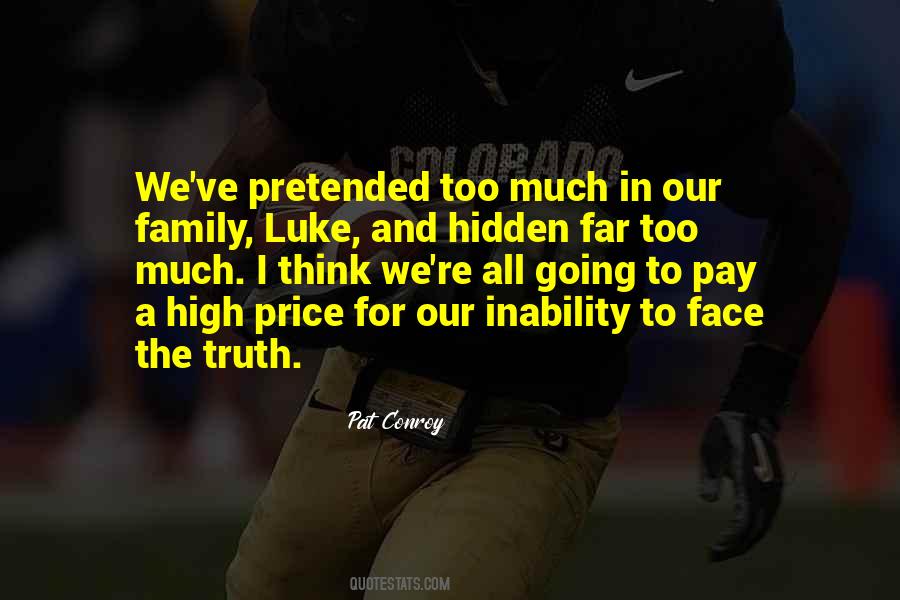 #12. The fact of the matter is that whether it's in London or Egypt or Turkey or New York or Washington, we have to pay the price of guarding ourself, which is internal vigilance. - Author: John Reid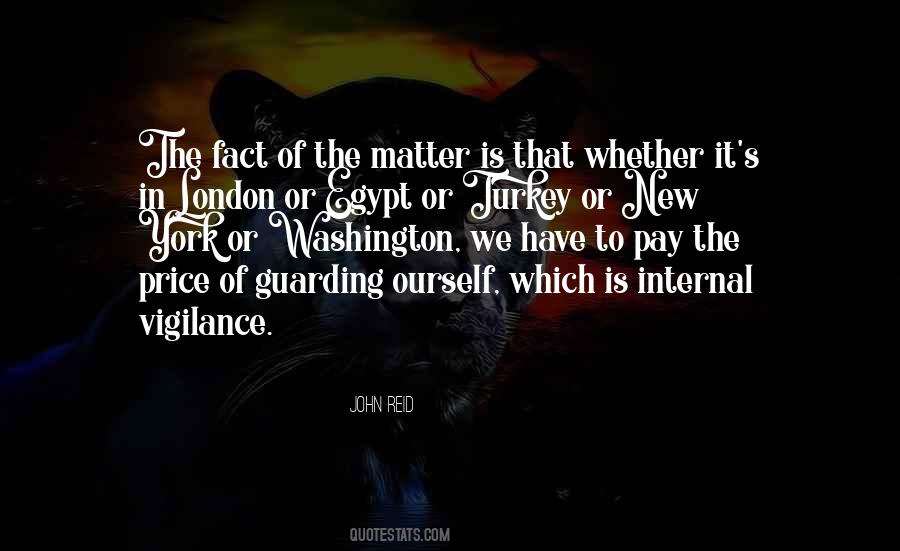 #13. We long for unity, but are unwilling to pay the price. But of course, true unity cannot be so easily won. It starts with a change in attitudes - a broadening of our minds, and a broadening of our hearts. - Author: Barack Obama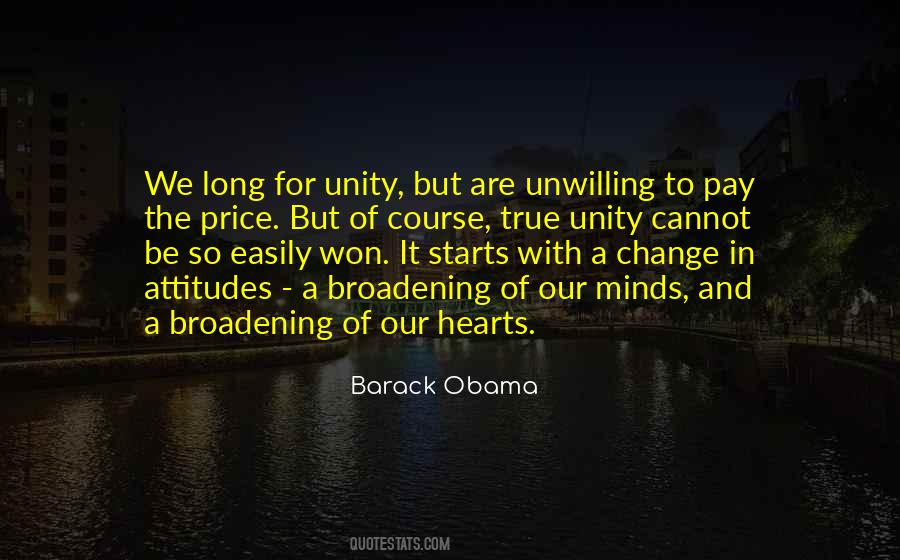 #14. Adults have
the benefit of experience and know the trick will work as long as the technique is correct.
When we "grow up" we gain this experience and knowledge, but we lose our innocence and
sense of wonder. In other words, the price we pay for growing up is a permanent sense of
loss. - Author: Alberto Alvaro Rios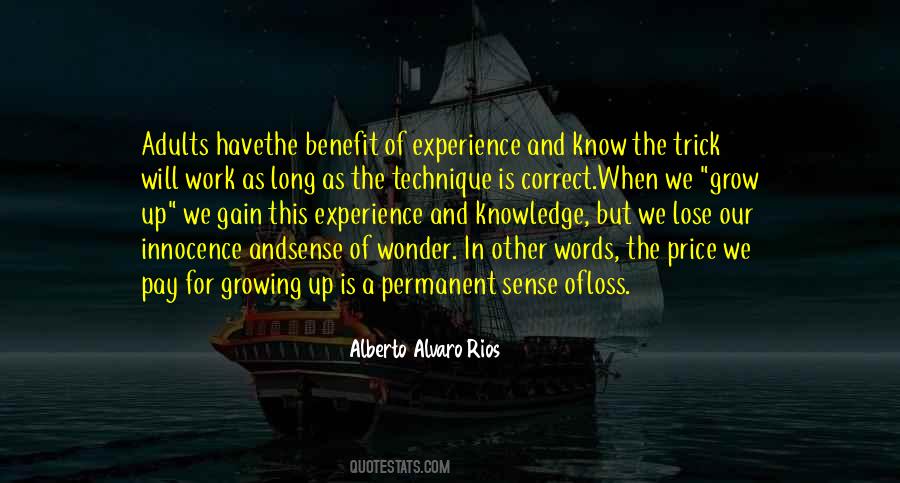 #15. Leaders aren't born they are made. And they are made just like anything else, through hard work. And that's the price we'll have to pay to achieve that goal, or any goal. - Author: Vince Lombardi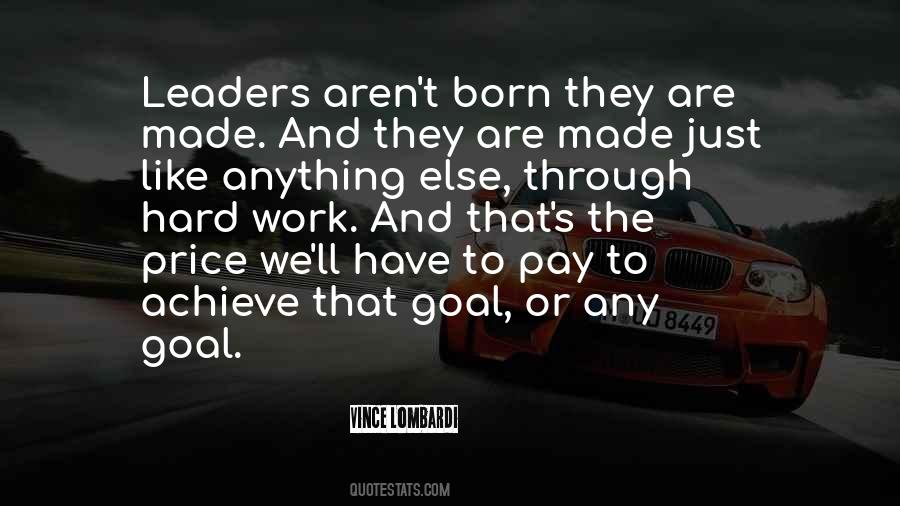 #16. For we pay a price for everything we get or take in this world; and although ambitions are well worth having, they are not to be cheaply won. - Author: L.M. Montgomery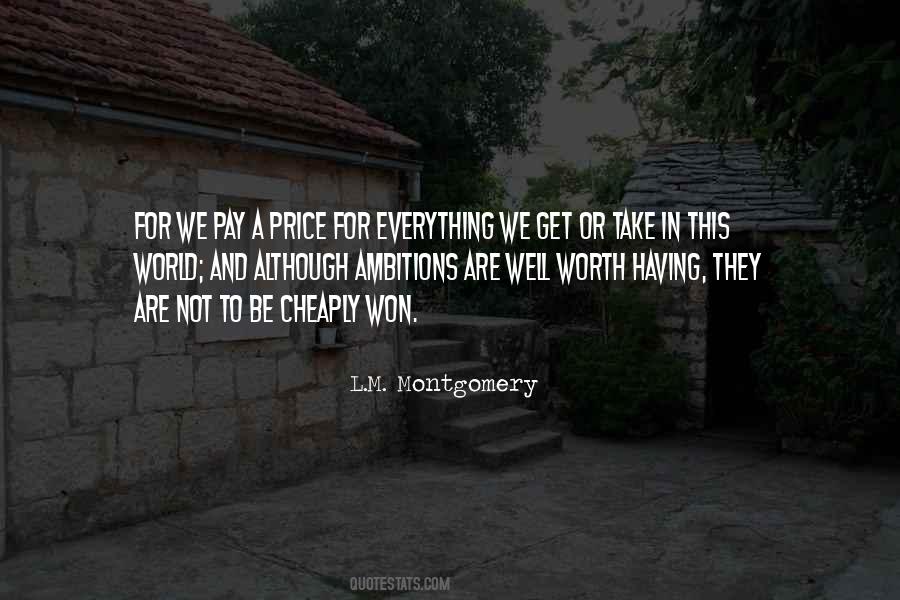 #17. The primary message of the Christian Church is that we were born in sin and we need to be rescued; we cannot rescue ourselves, so God comes to our rescue, pays the price of our sin and transforms us through the death of Jesus. - Author: John Shelby Spong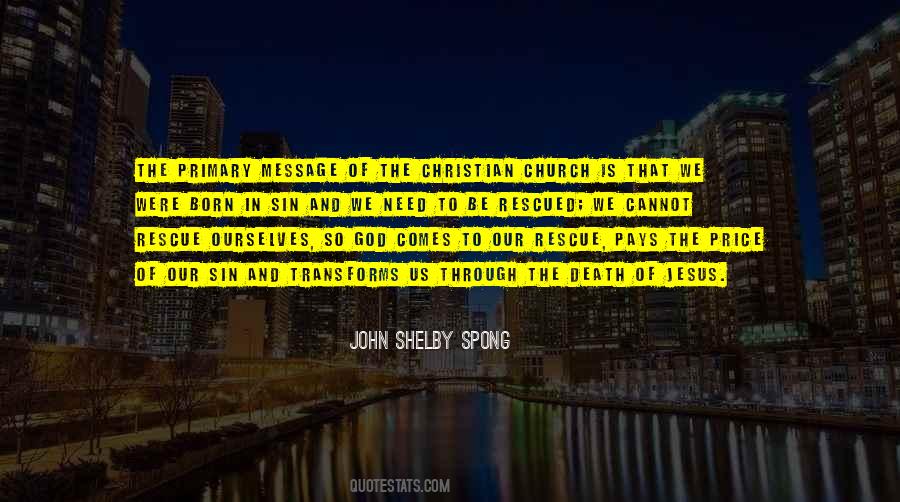 #18. The price of freedom of religion or of speech or of the press is that we must put up with, and even pay for, a good deal of rubbish. - Author: Robert H. Jackson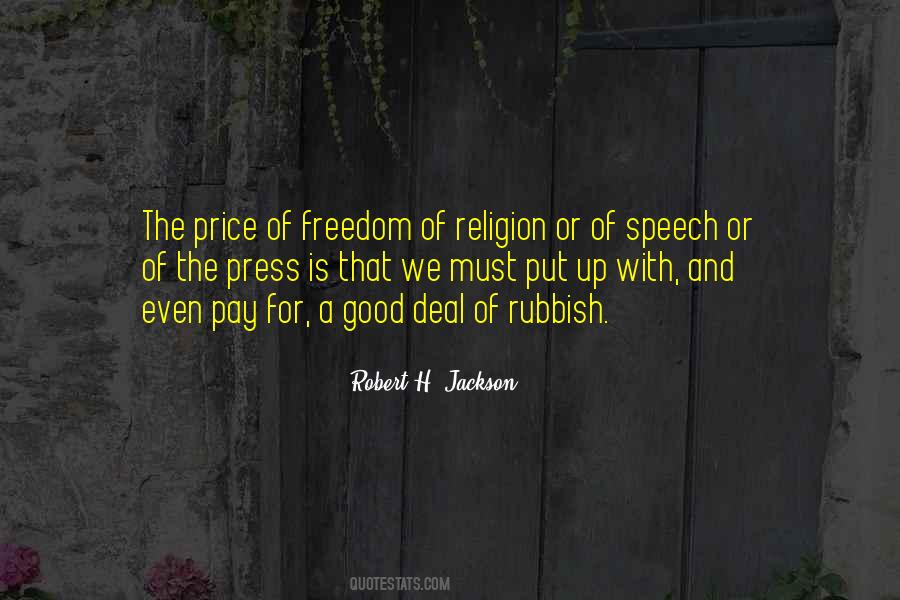 #19. You either believe in Europe at any price: in other words we have to be in Europe at any price because you can't survive without it, or you don't. If you don't it tends to suggest there is a price which you are not willing to pay. - Author: Liam Fox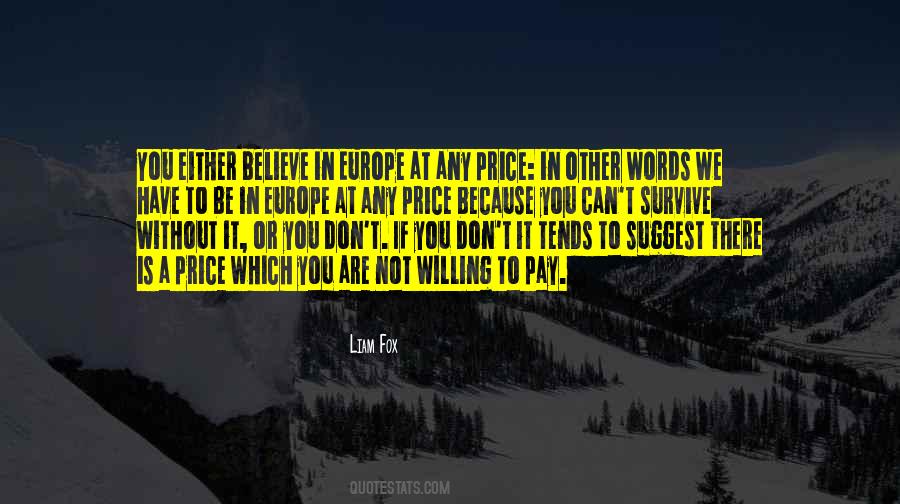 #20. The fight for justice against corruption is never easy. It never has been and never will be. It exacts a toll on our self, our families, our friends, and especially our children. In the end, I believe, as in my case, the price we pay is well worth holding on to our dignity. - Author: Frank Serpico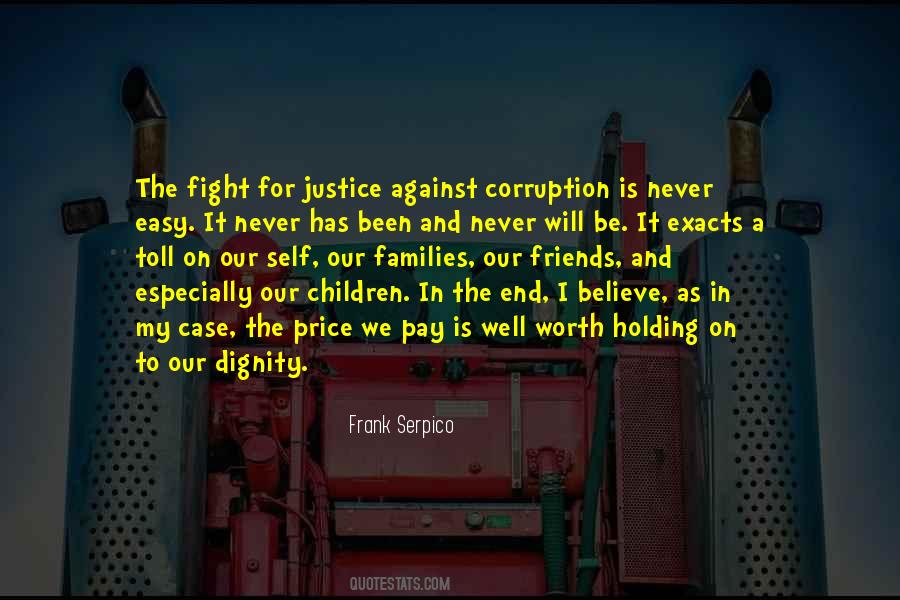 #21. The devil has convinced so many people that they are worthless. Each of us needs to stop and remember the cross-at the cross we will discover our true value-for it is here that we discover the price God was willing to pay for us, the depth of His love, and how much we are worth to Him. - Author: Roy Lessin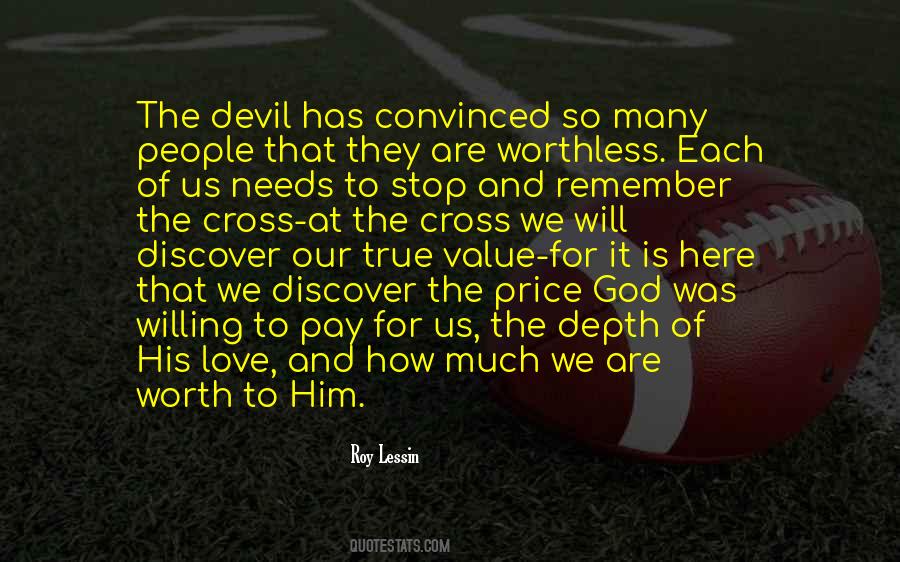 #22. Shaw's plays are the price we pay for Shaw's prefaces. - Author: James Agate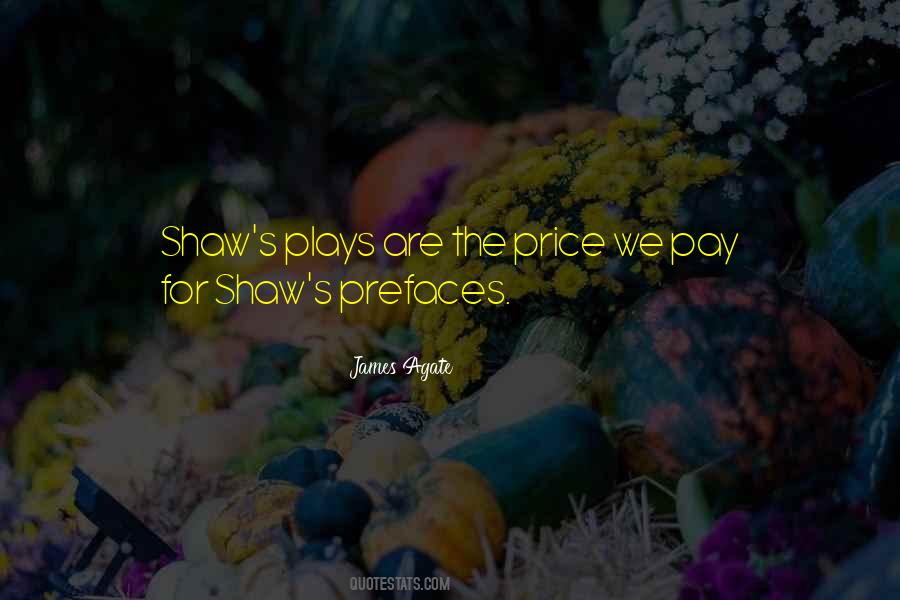 #23. The price we are willing to pay for safety cannot be infinite. It is distasteful to put a price on human life, but the more we spend on safety, the less we will have for our other goals. - Author: Peter Singer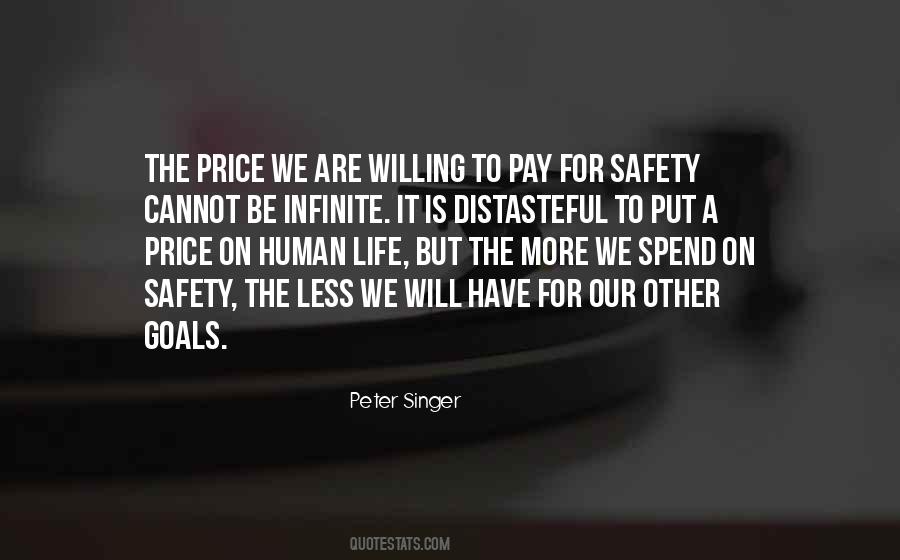 #24. As we shall see, the tractable apostrophe has always done its proper jobs in our language with enthusiasm and elegance, but it has never been taken seriously enough; its talent for adaptability has been cruelly taken for granted; and now, in an age of supreme graphic frivolity, we pay the price. - Author: Lynne Truss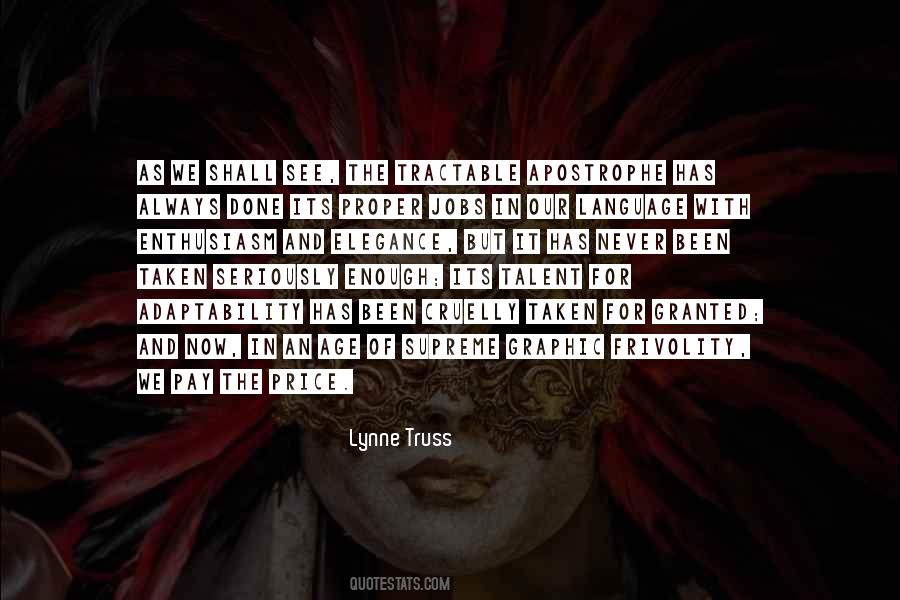 #25. Breakups can be sad, but sometimes tears are the price we pay for a freedom we need. - Author: Steve Maraboli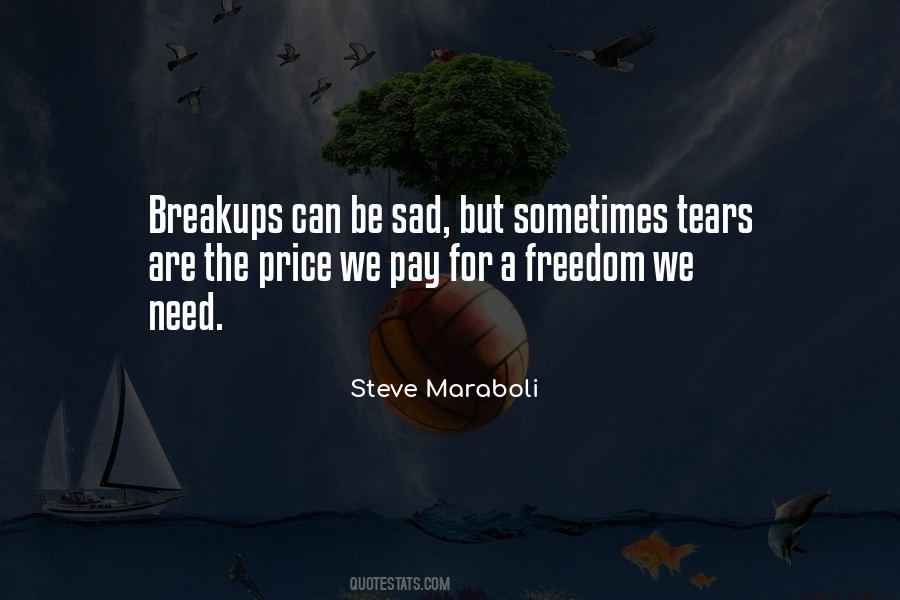 #26. We will pay any price that we are instructed to. But the money has to come from somewhere. - Author: Jerry Kramer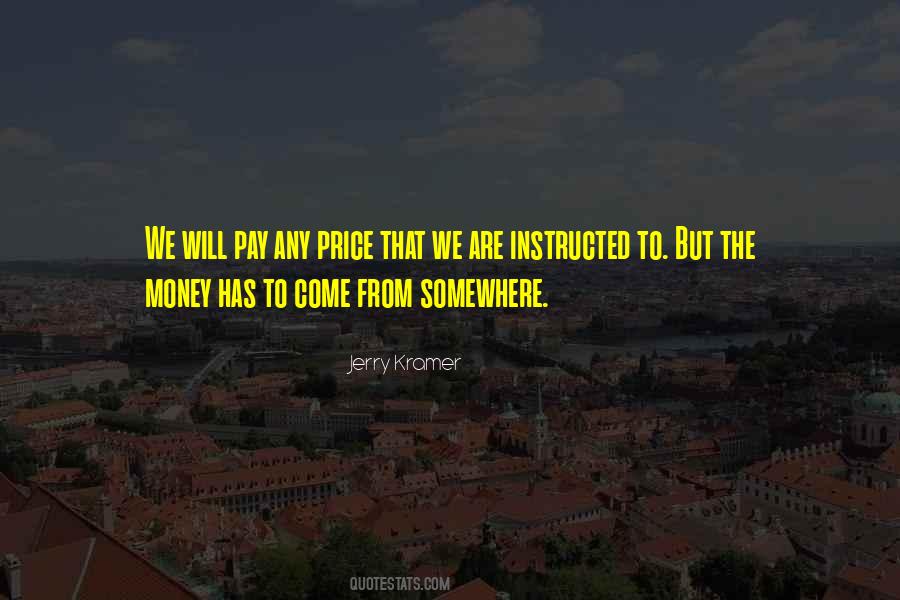 #27. The fact that we are culturally ignorant and we don't know what our heritage is, the price that we pay is that we act outside of ourselves almost all the time. We make very bad decisions how we deal with other people and their culture. - Author: Wynton Marsalis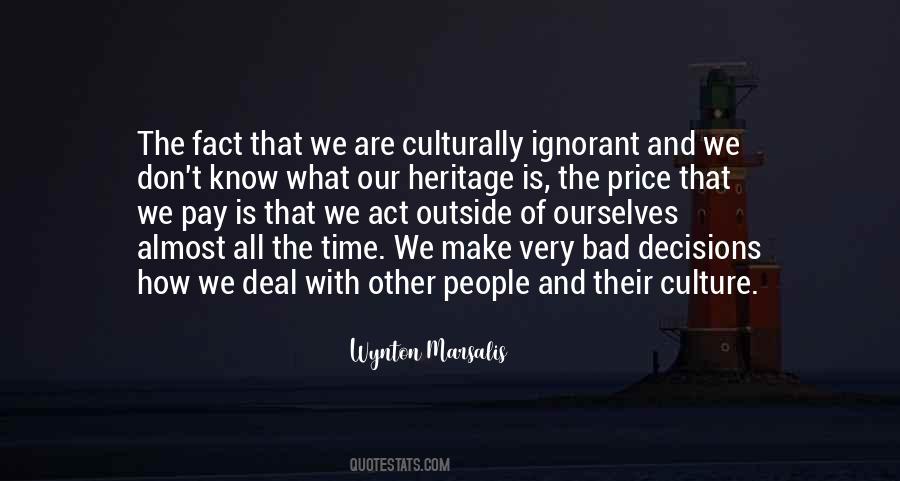 #28. We would like a church that again asserts that God, not nations, rules the world, that the boundaries of God's kingdom transcend those of Caesar, and that the main political task of the church is the formation of people who see clearly the cost of discipleship and are willing to pay the price. - Author: Stanley Hauerwas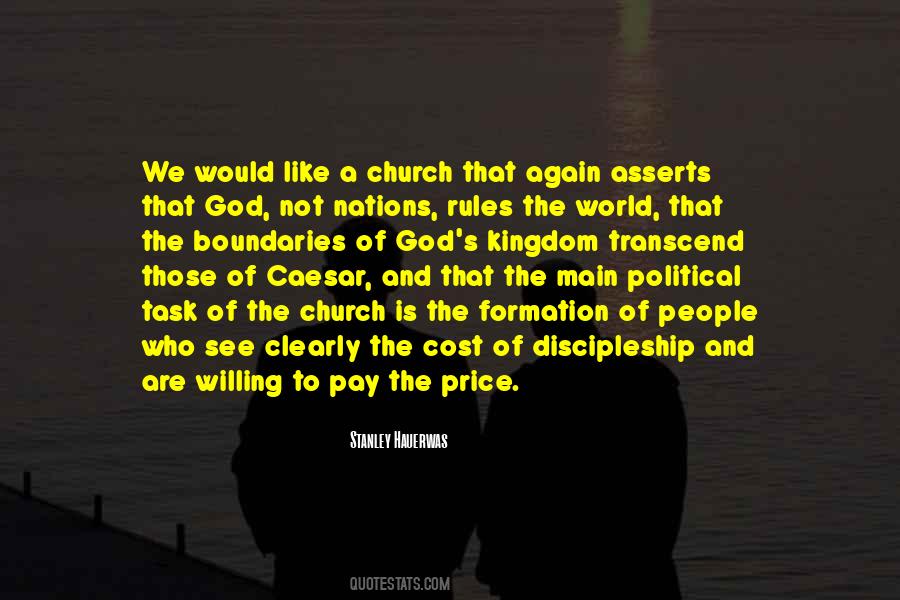 #29. Loss is the price we pay for progress," she said. "Only as we leave things behind do we move forward. - Author: Robert B. Parker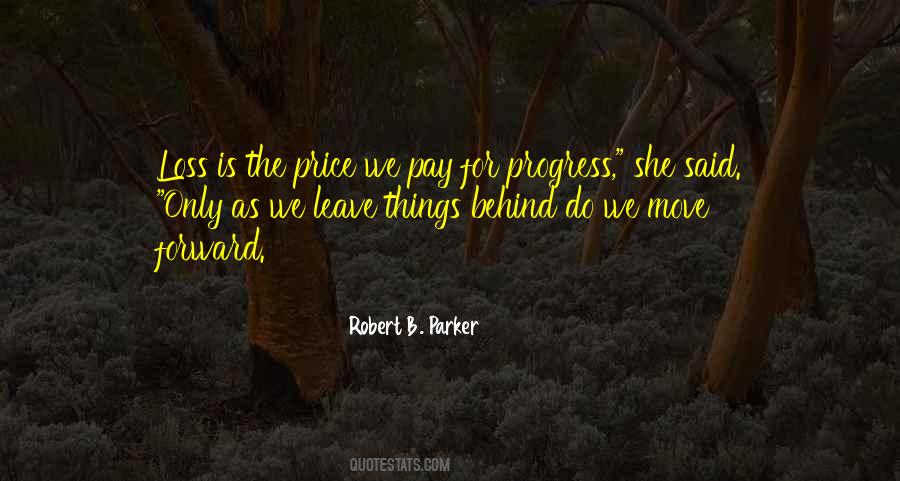 #30. We must be willing to pay a price for freedom. - Author: H.L. Mencken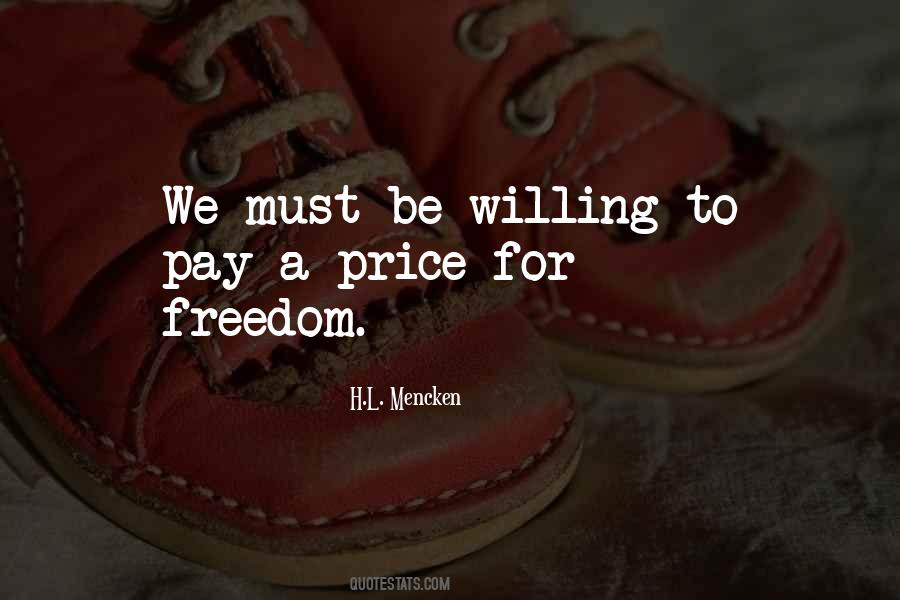 #31. The building of such a peace is a bold and solemn purpose. To proclaim it is easy. To serve it will be hard. And to attain it, we must be aware of its full meaning - and ready to pay its full price. - Author: Dwight D. Eisenhower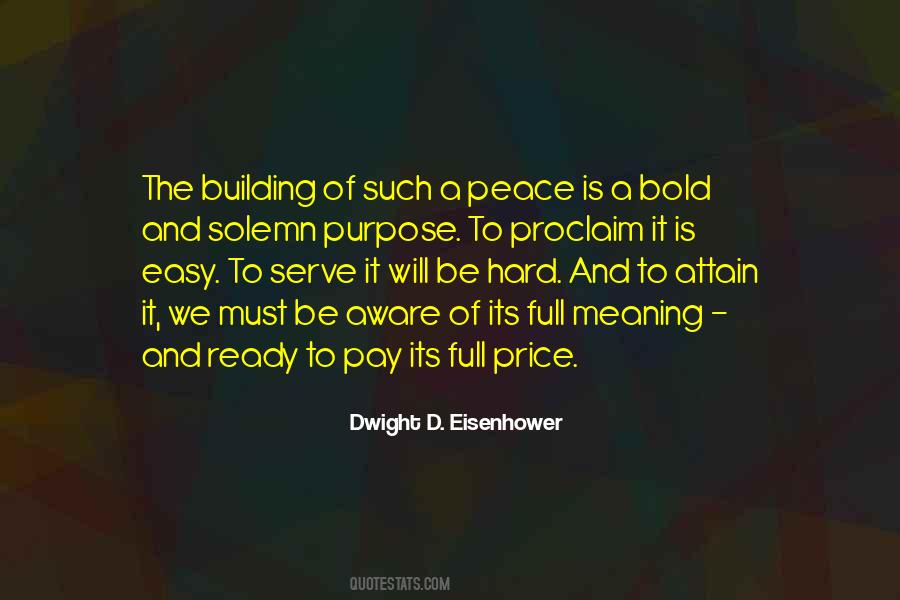 #32. We must send the message that if you use illegal drugs, you will pay the ultimate price by not playing an entire season. And if you get caught again, you will be banished for life. - Author: Jim Bunning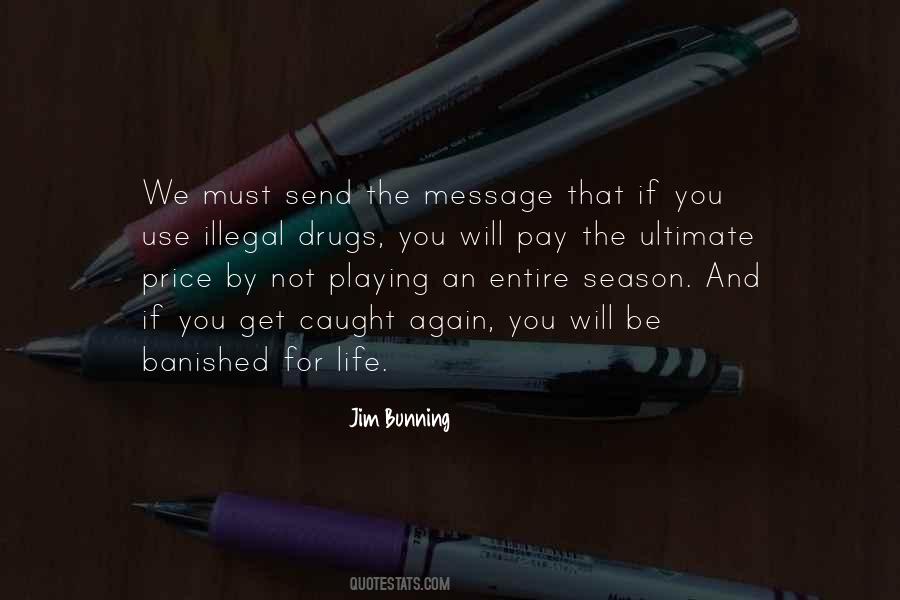 #33. until we courageously find a cheaper antidote to our ignorance, we shall courageously pay a higher price for our ignorance always - Author: Ernest Agyemang Yeboah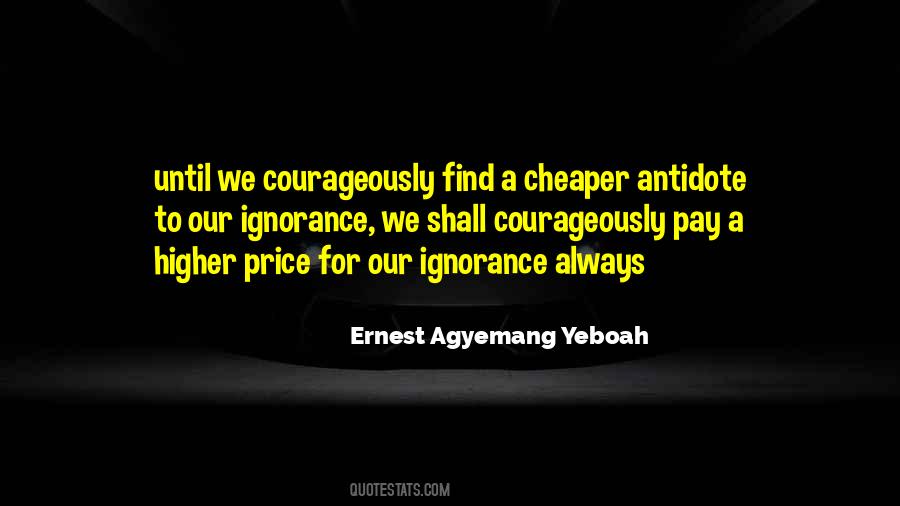 #34. We honor the old prophets, we honor the Tozers and Spurgeons but we don't want to pay the price they paid, and they paid the price by being men who walked alone who lived with God and who loved His word. - Author: Paul Washer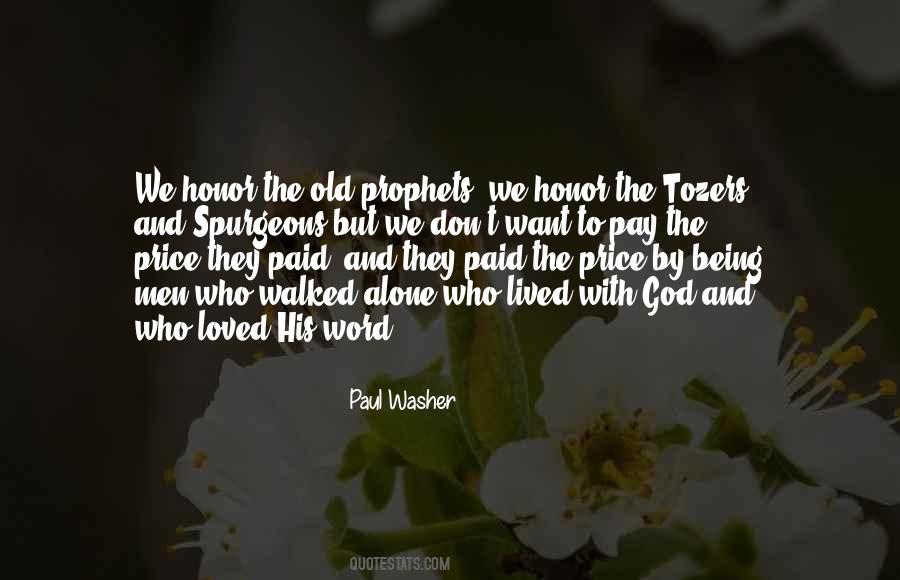 #35. You could increase farmworker wages significantly and not change the price to the consumer at all - for instance, if you redistribute how revenue is paid out across the food chain. Labor costs, particularly farm labor, is a tiny portion of the price we pay at the supermarket. - Author: Anna Lappe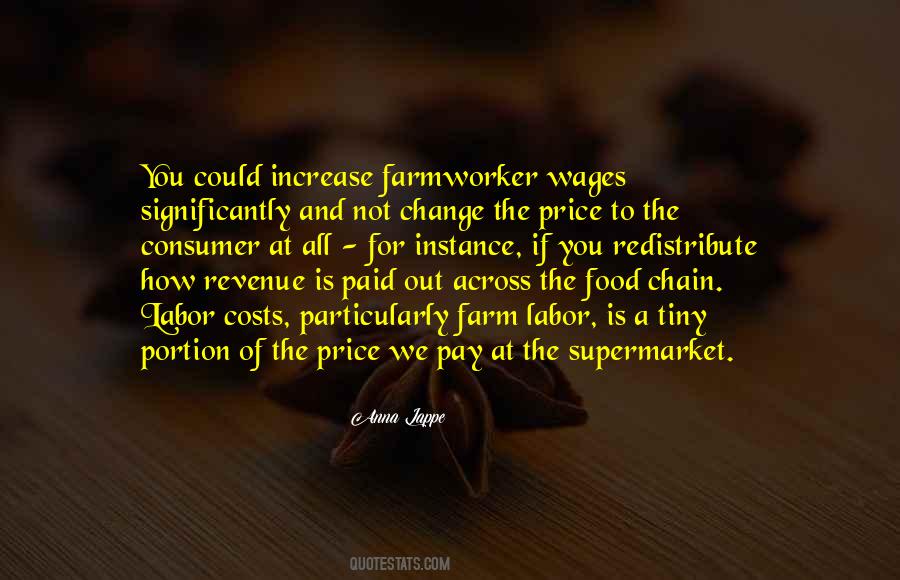 #36. You can either plan to be eternally vigilant and ready, eschewing life as we know it, or be willing to enjoy life and pay the price. - Author: Jeff Grubb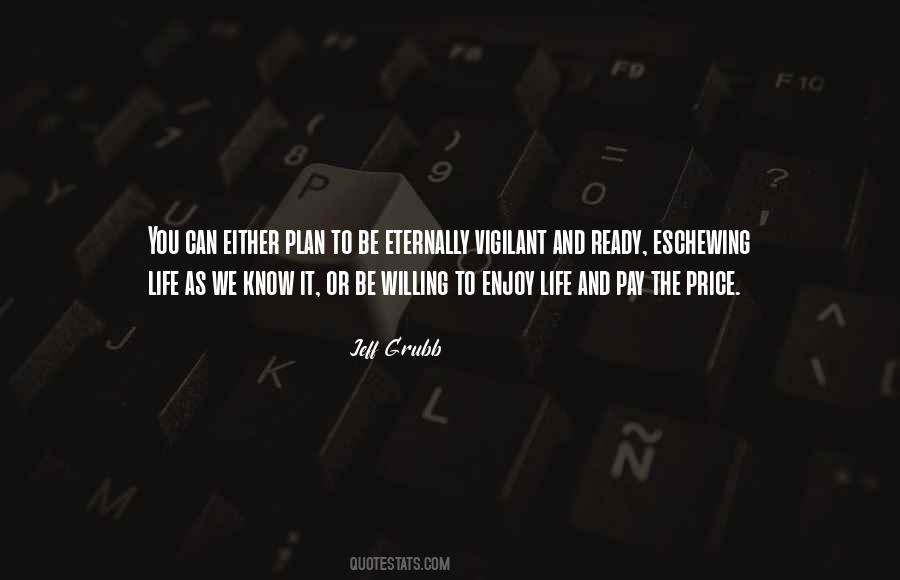 #37. The sound of tireless voices is the price we pay for the right to hear the music of our own opinions. - Author: Adlai Stevenson I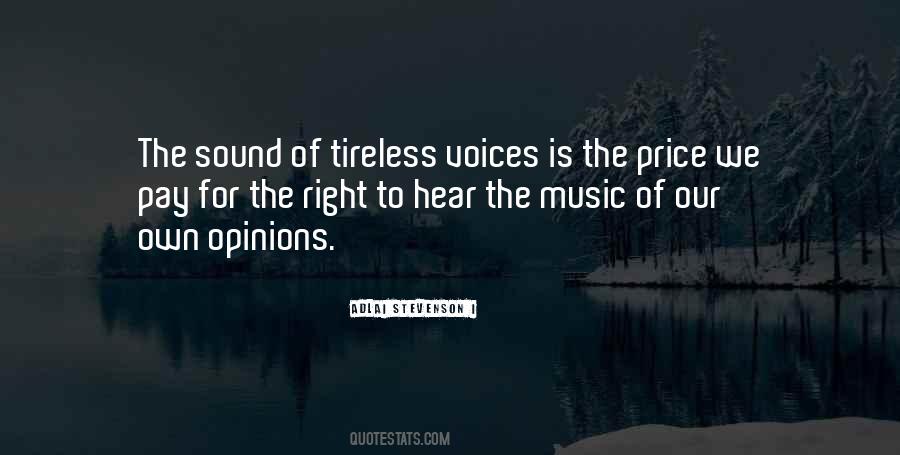 #38. The price we pay for being ourselves is worth it. - Author: Eartha Kitt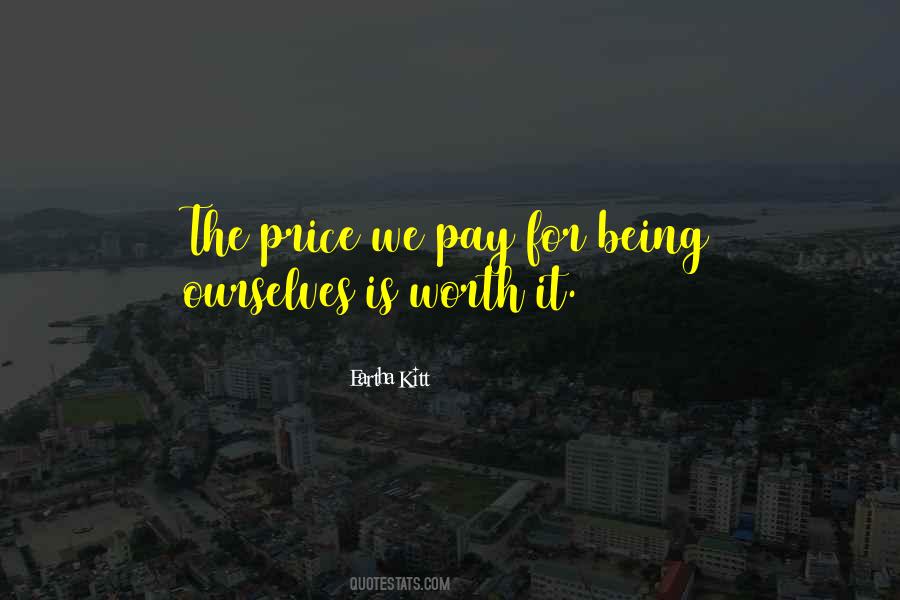 #39. The other thing I know now, is that we survive grief merely and surely by outlasting it. The ongoing fact of the narrative eclipses the heartbreak within. A deal that seems to be the price we pay for getting to hold on to our beloved dead. - Author: Gail Caldwell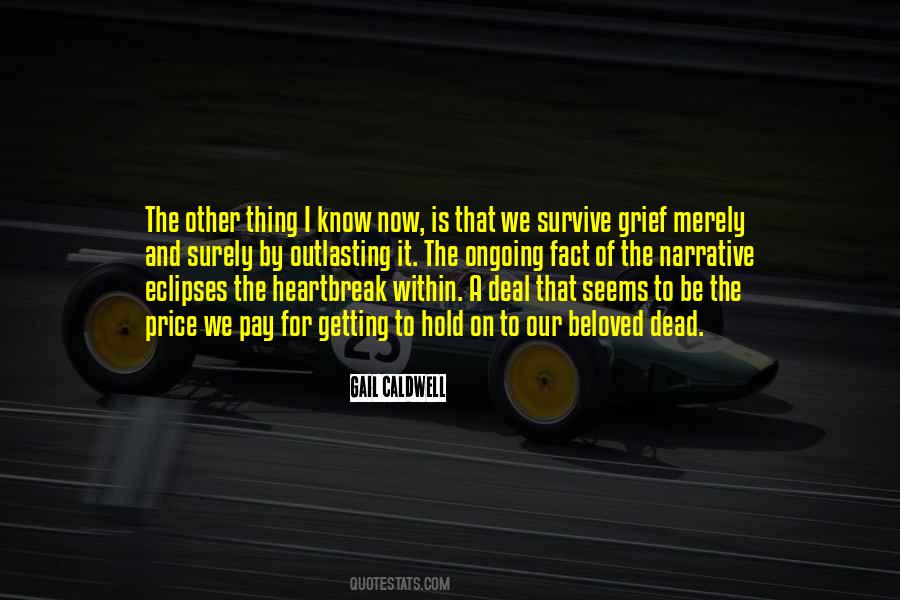 #40. Alcohol-inspired fights ... are a reminder of the price we pay for our daily submission at the altars of prudence and order. - Author: Alain De Botton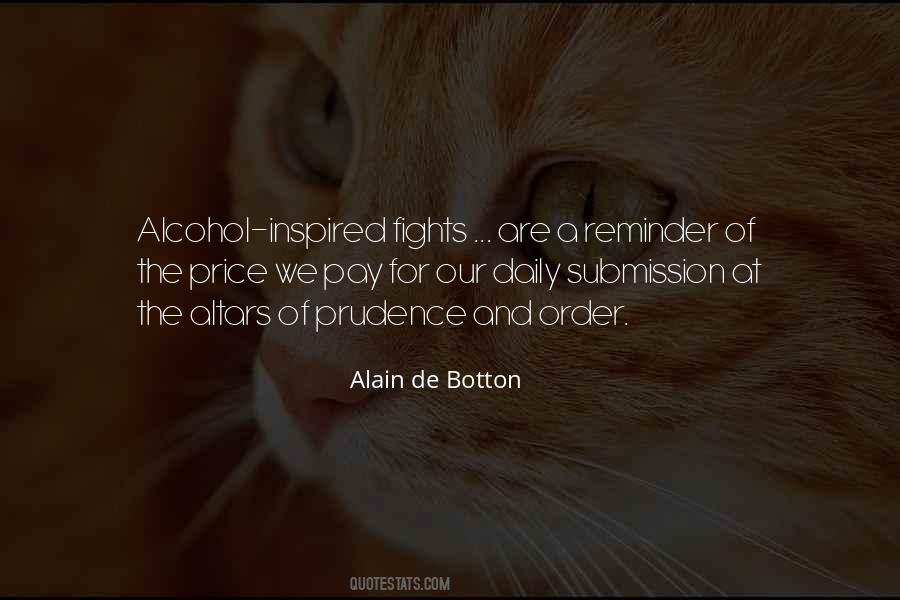 #41. We pay a price when special interests win out over the collective national interest. - Author: Chris Christie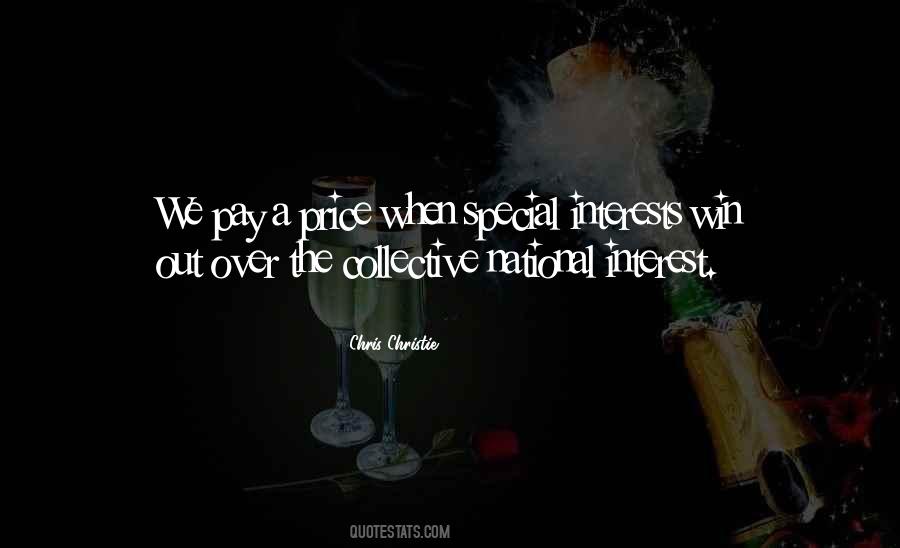 #42. If suffering through four years of hellishly misguided big government is the price we pay for true reform, it may in the end be worth it. - Author: Peter D. Schiff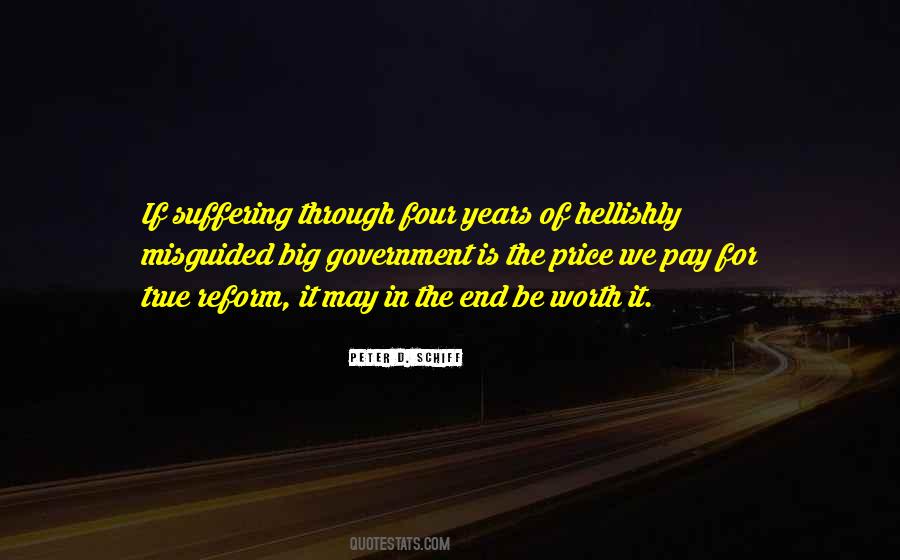 #43. Such a small question, little mouse. Why. Yet, such a large answer. Suffice it to say that the gods are at war. And when the gods make war, it's we little mice who pay the price."

~Dal Durvaas, The Living Gods - Author: W.M. Driscoll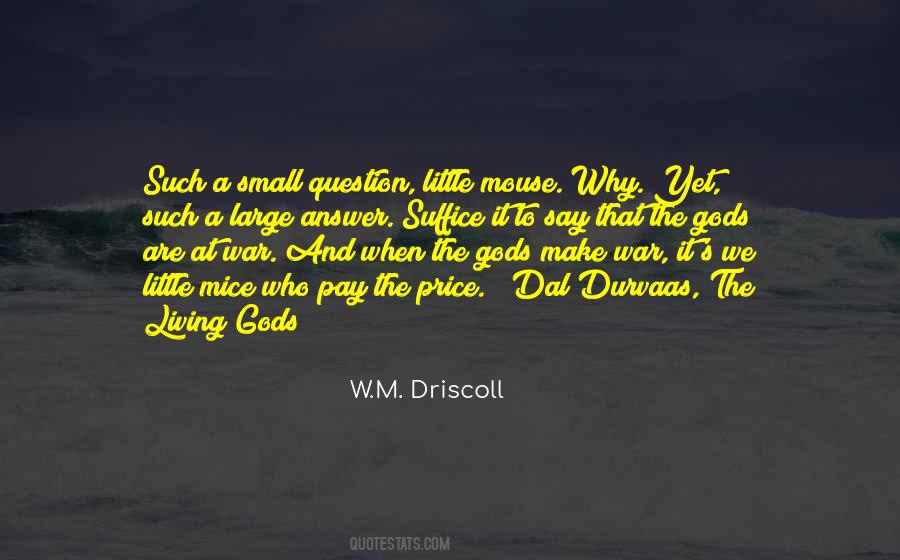 #44. If we bankrupt America, we will all pay the price. - Author: Michael Enzi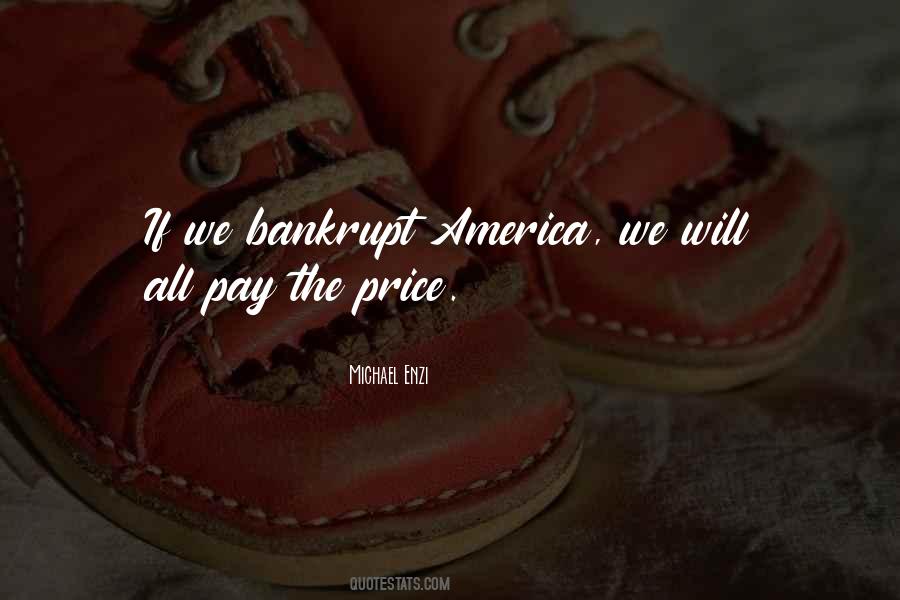 #45. We shall pay any price, bear any burden, meet any hardship, support any friend, oppose any foe to assure the survival and success of liberty - Author: John F. Kennedy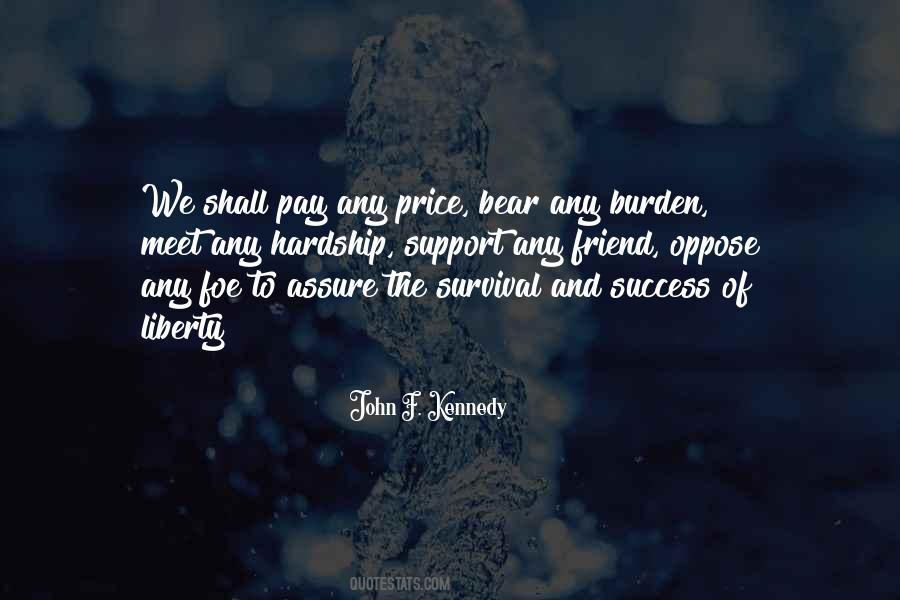 #46. We pay a high price for intelligence. Wisdom hurts. - Author: Euripides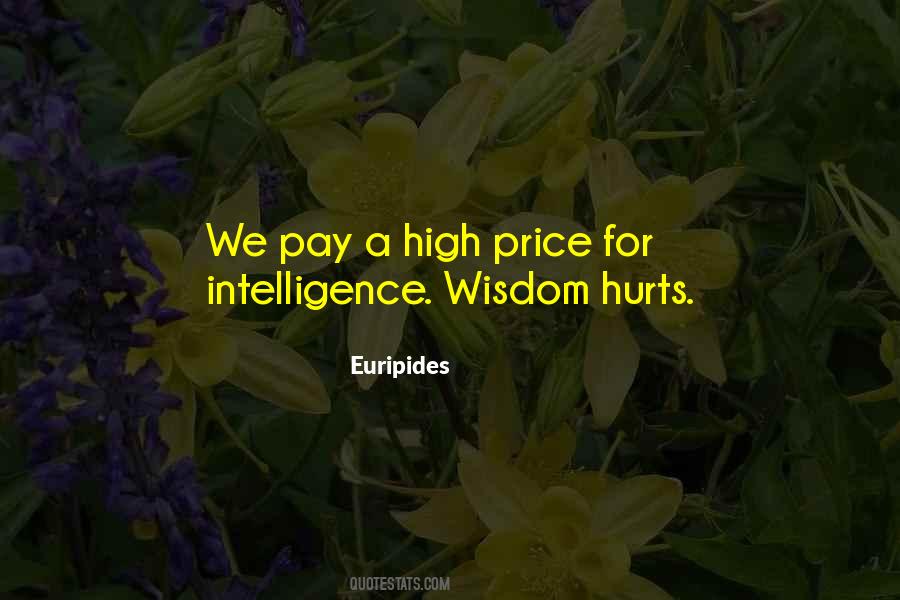 #47. In John 6 we read that when great multitudes went after Him, He told them three times that unless they were willing to pay the price, they could not be His followers. - Author: Billy Graham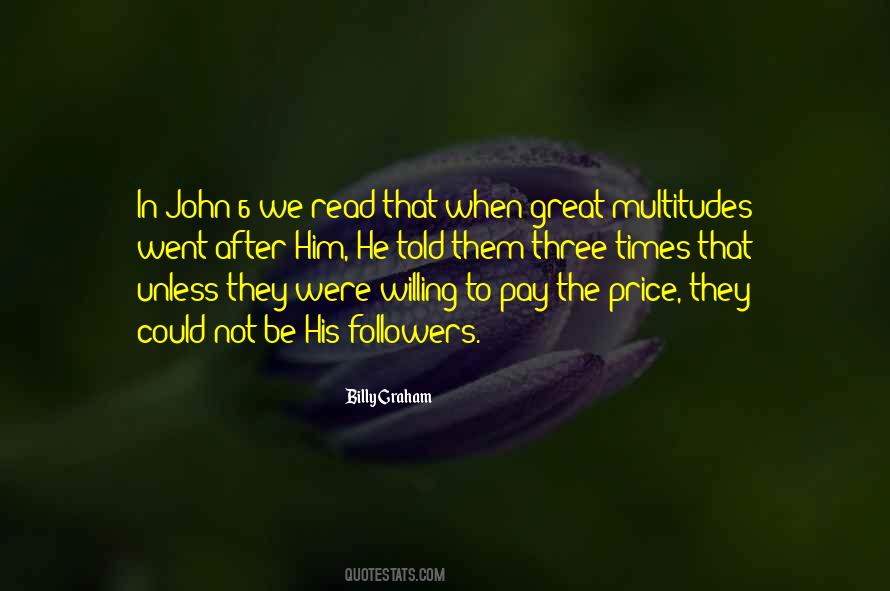 #48. We live in a society that shuns guilt, hardly knows it. It is drummed into us: "Don't feel guilty." No one wants to pay the price of reconciliation, of atonement, of forgiveness. - Author: Robert Dykstra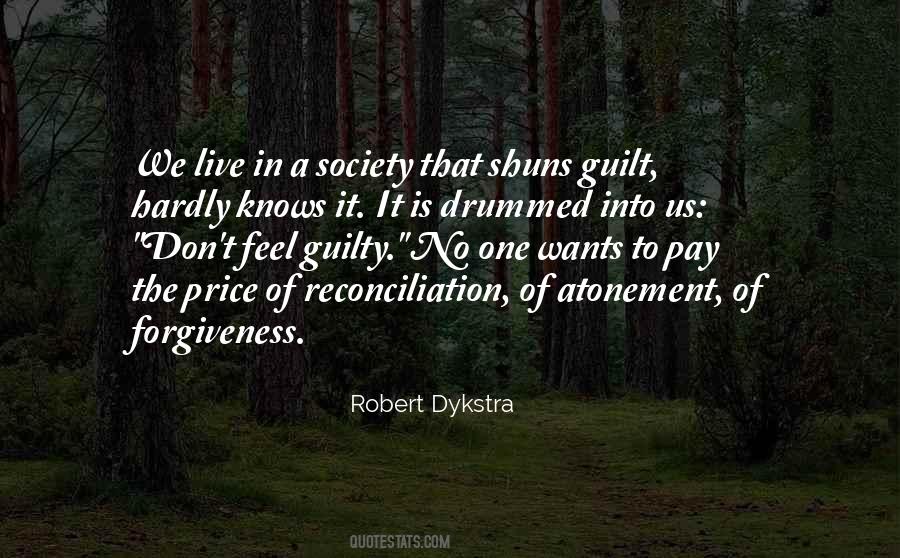 #49. There is nothing the Church of today needs so much as Spiritual Power; and there is nothing which we can have so easily, if only we are prepared to pay the price. - Author: F.B. Meyer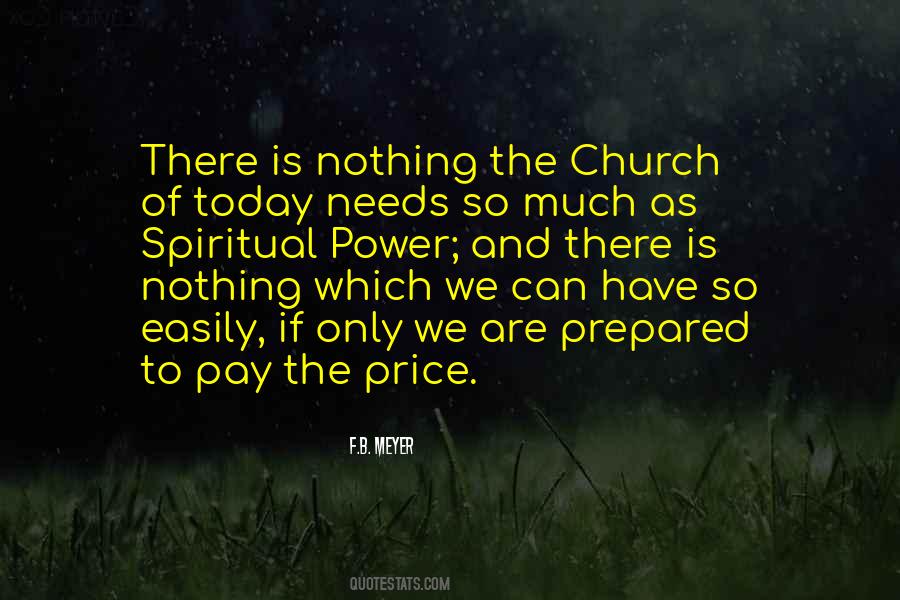 #50. Being comfortable is nice, but there is a price to pay. We only get to live this life once, so why not make it count? - Author: Andrew Griffiths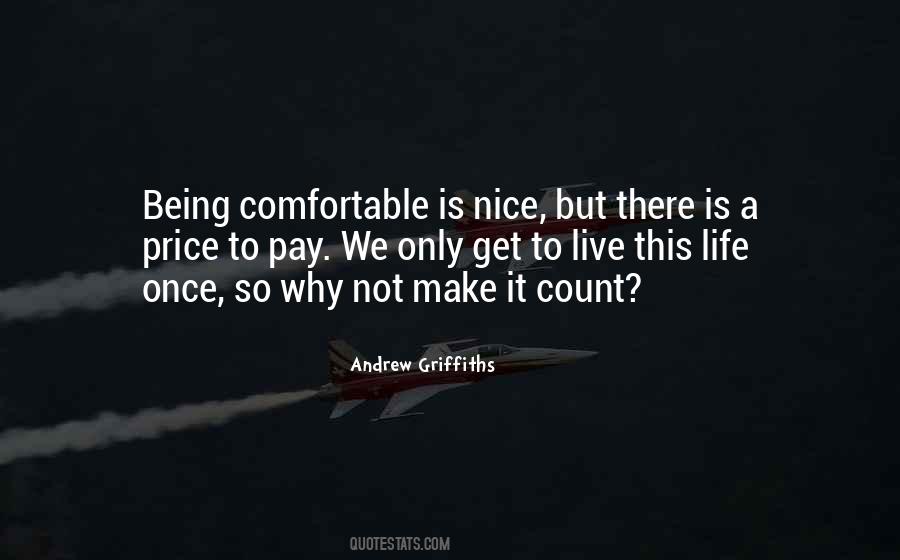 #51. Depression is the price we pay for our imagination and intelligence. - Author: Stefan Klein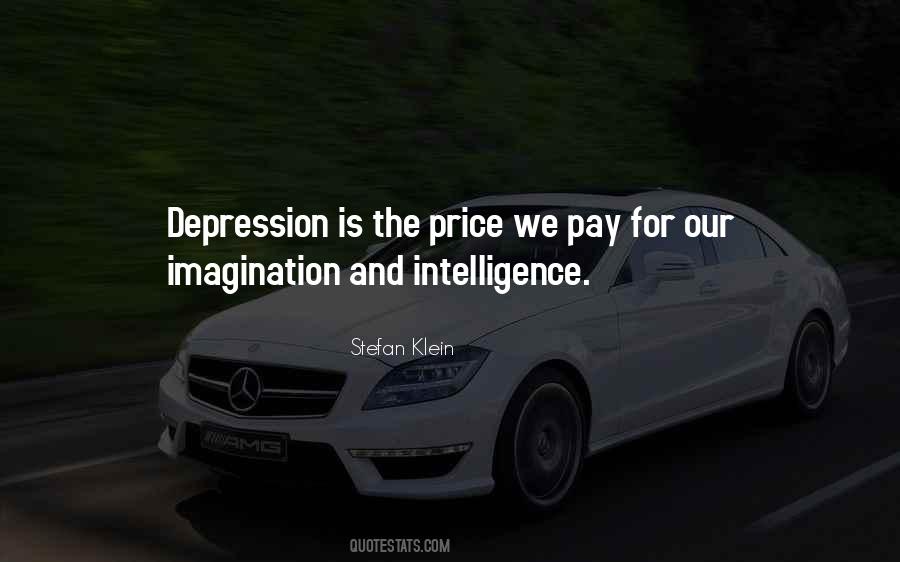 #52. America's been living on borrowed time all these years ... Playing the world's whore, wallowing in our greed. Now we're going to pay the price. - Author: Wally Lamb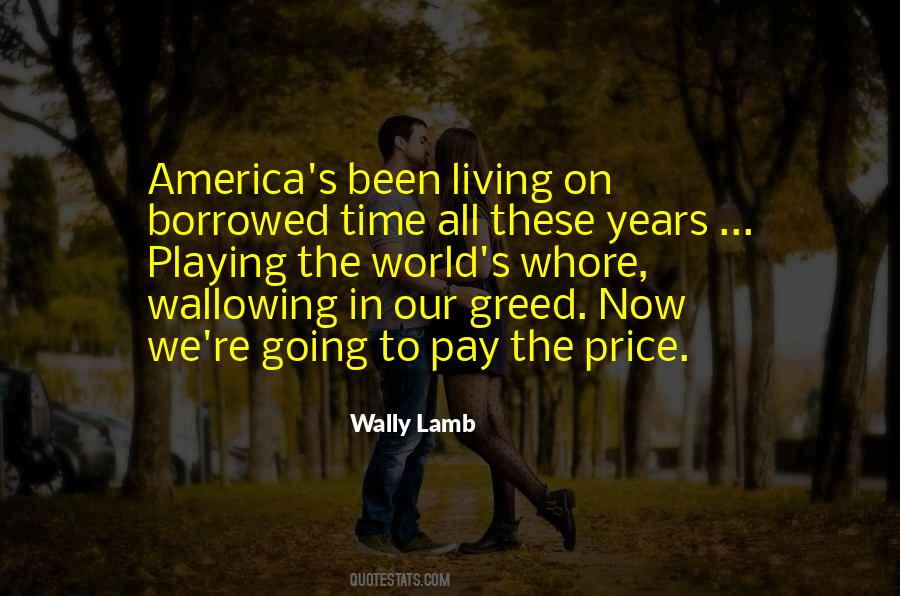 #53. Mastery does not come from dabbling. We have to be prepared to pay the price. We need to have the sustained enthusiasm that motivates us to give our best. - Author: Eknath Easwaran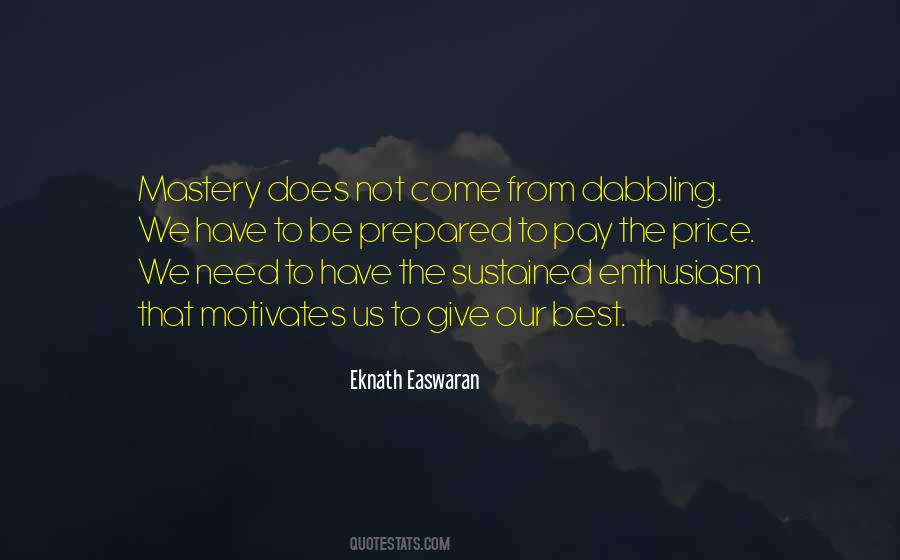 #54. It's always the balance between the individual's subjective experience and the social structural condition. As individuals we have access to more than we've ever had before. Giving up our data seems a small price to pay, especially if, as you say, we don't feel we have anything to hide. - Author: Astra Taylor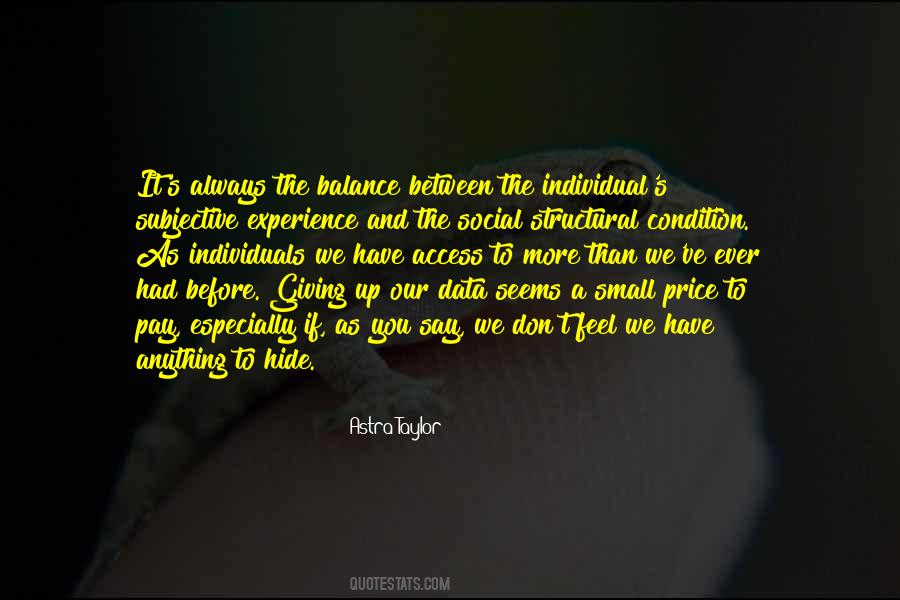 #55. Eventually we have to "settle up" and pay the price for our ethical violations. Just remember the old line that says, "You can pay me now ... or you can pay me later." Often you can buy some time, but when you "pay later" you'll probably have to pay more. - Author: Price Pritchett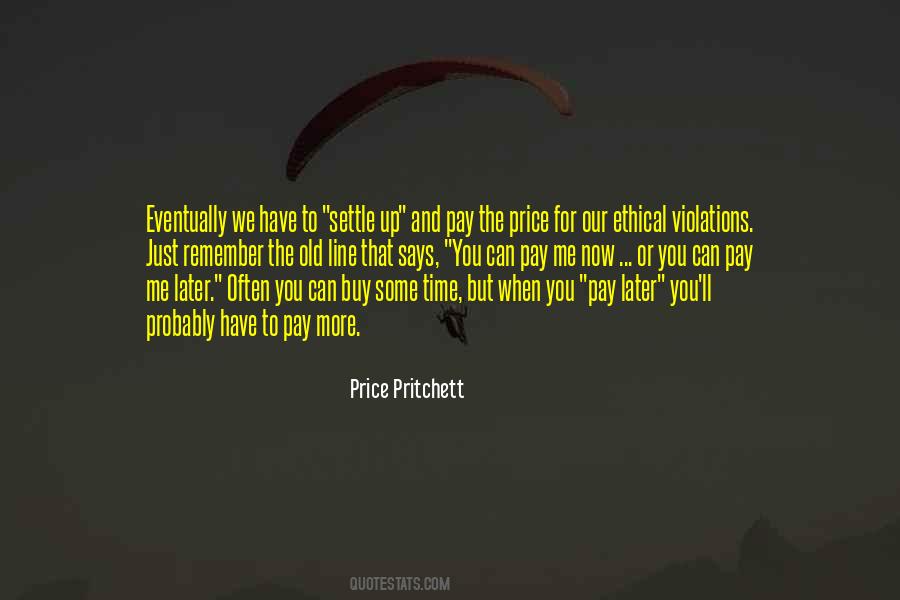 #56. Guilt is the price we pay willingly for doing what we are going to do anyway. - Author: Isabelle Holland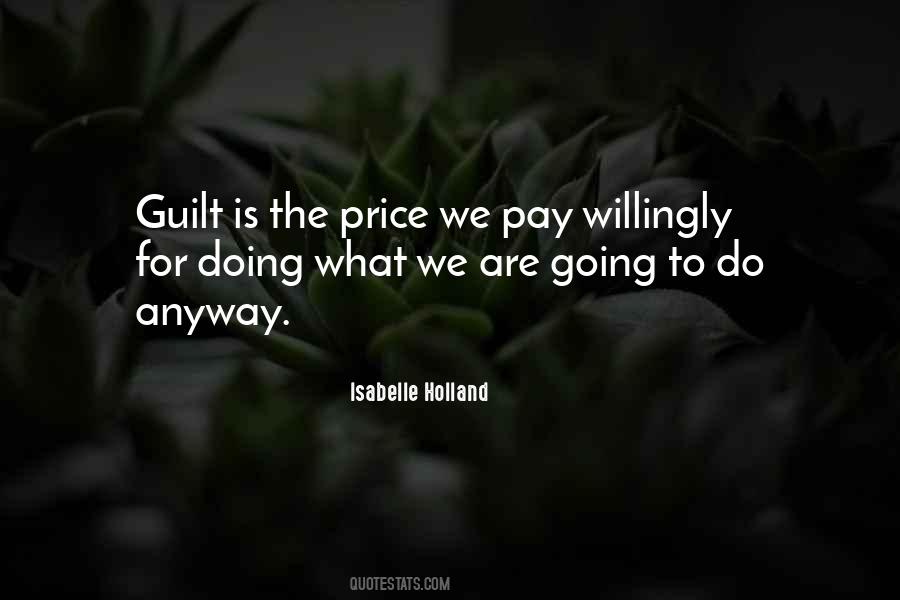 #57. To get a good deal, I buy them all with a friend. The houses, the boat, everything. We each buy half. So I pay half price! They get used more. - Author: Lars Larsen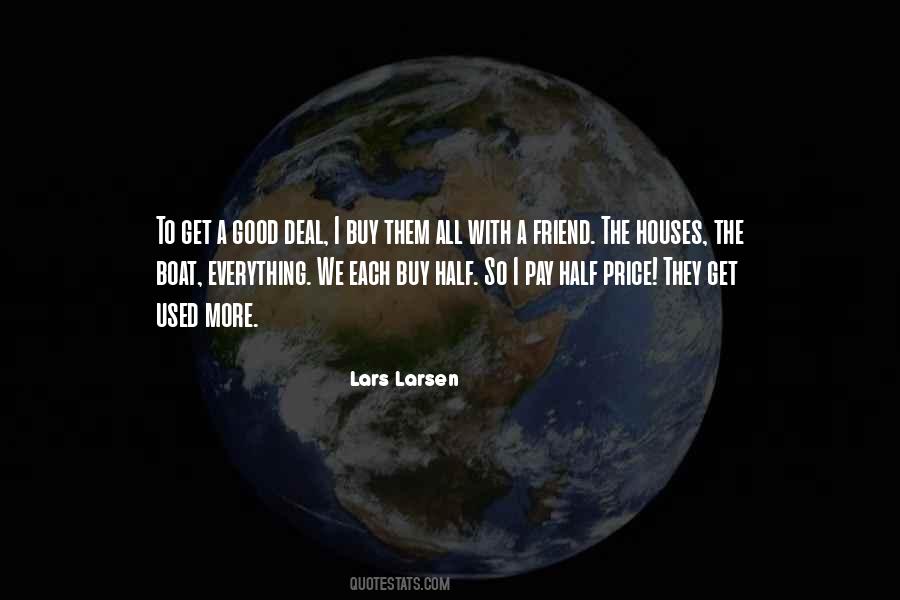 #58. He left that morning, the last words still echoing in my head, and though he said he'd come back one day I know a broken promise from a right one for I have used them myself and there is no coming back. Minds like ours are can't be tamed and the price for freedom is the price we pay. - Author: Charlotte Eriksson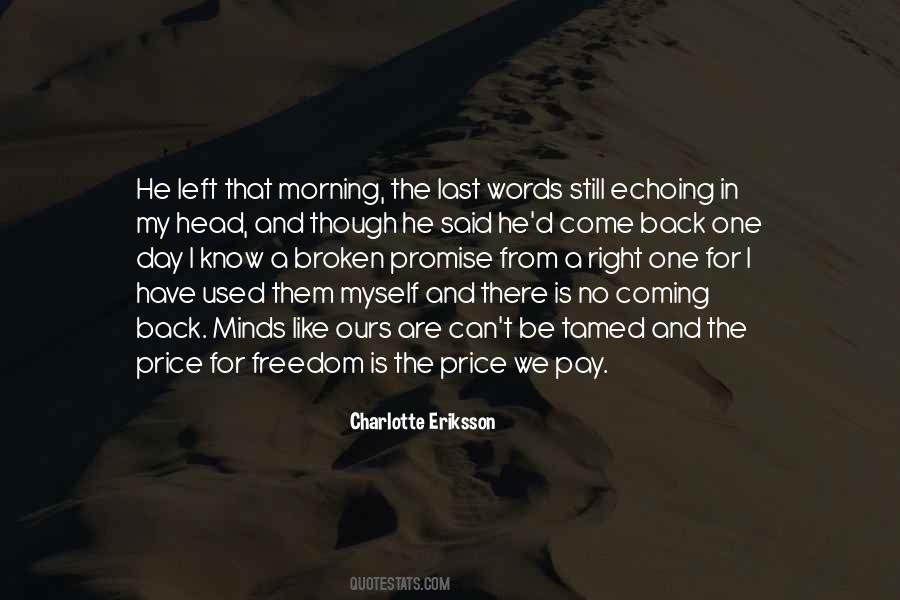 #59. One of the principle things life has taught me is that we always have a choice. When we say we "can't," we usually mean we're just not willing to pay the price. - Author: Patricia McConnell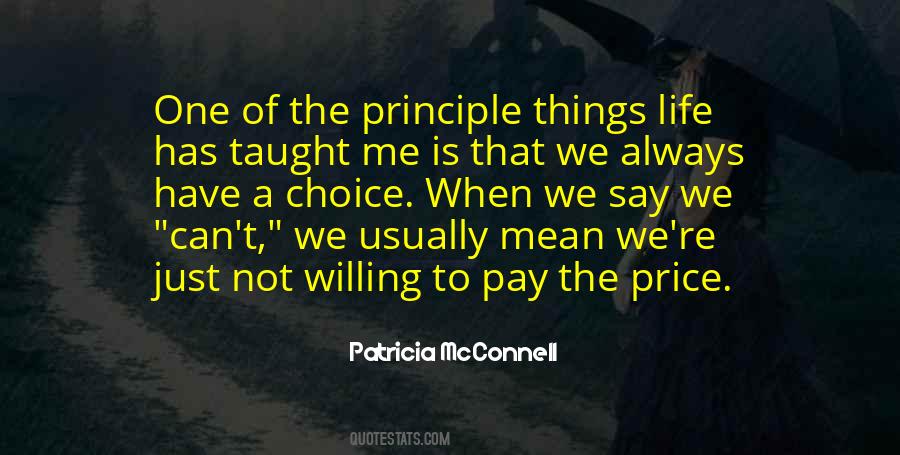 #60. You and I have the courage to say to our enemies, 'There is a price we will not pay.' There is a point beyond which they must not advance. This is the meaning of the phrase 'Peace through strength.' - Author: Ronald Reagan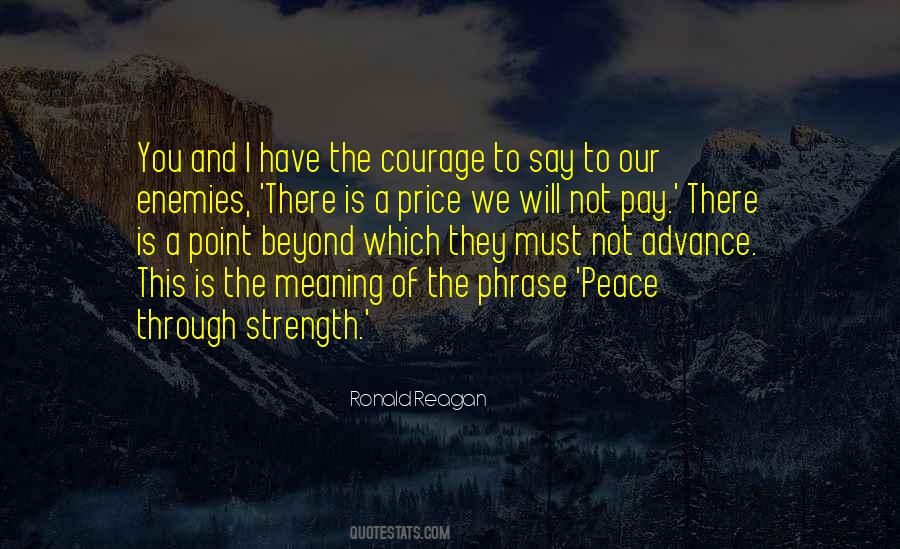 #61. IF we don't start to rethink how we are acting now ... We will pay the price later for our "old-stinking-thinking" style - Author: Tony Dovale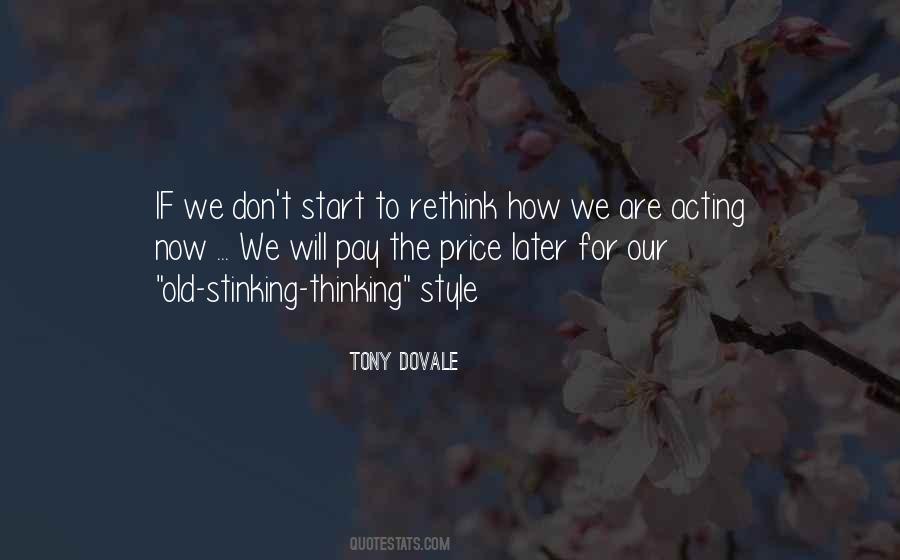 #62. If you ruin your life, you will pay the price of rehabilitating yourself ... We are not punished for our sins, but by them. Liberty means responsibility. - Author: Mike Cloud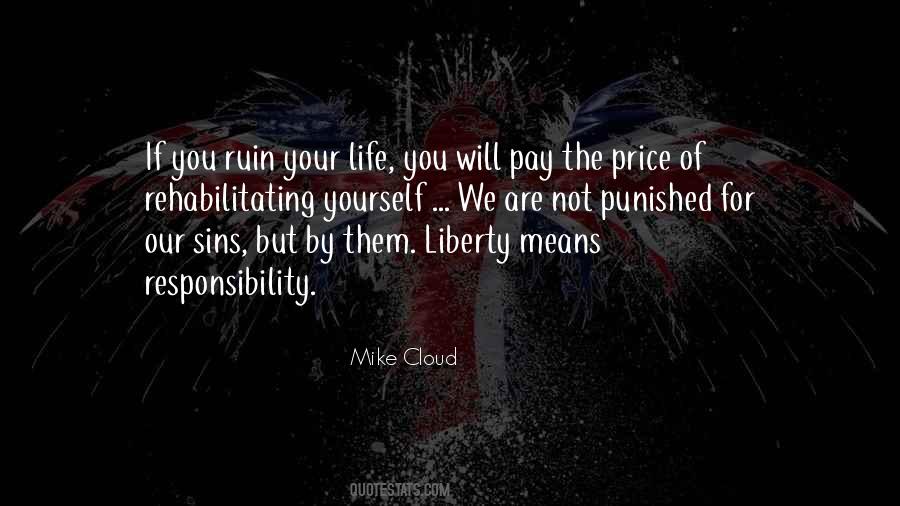 #63. No performance is worth loss of geniality. 'Tis a cruel price we pay for certain fancy goods called fine arts and philosophy. - Author: Ralph Waldo Emerson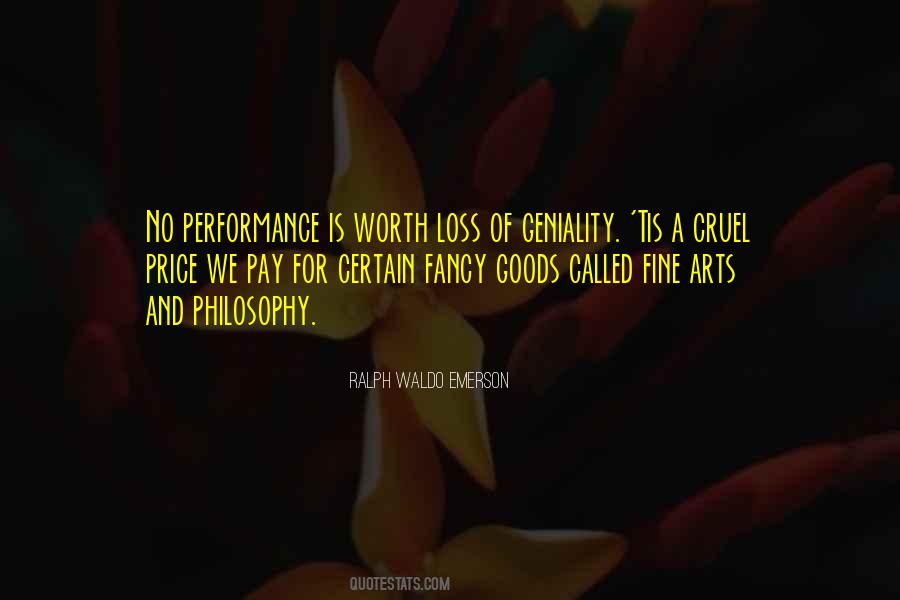 #64. It had enough room for all of us at a price we could easily pay off in ten years or so, which wasn't too bad, considering that it was in Key West and the town was founded by rapacious pirates. - Author: Jeff Lindsay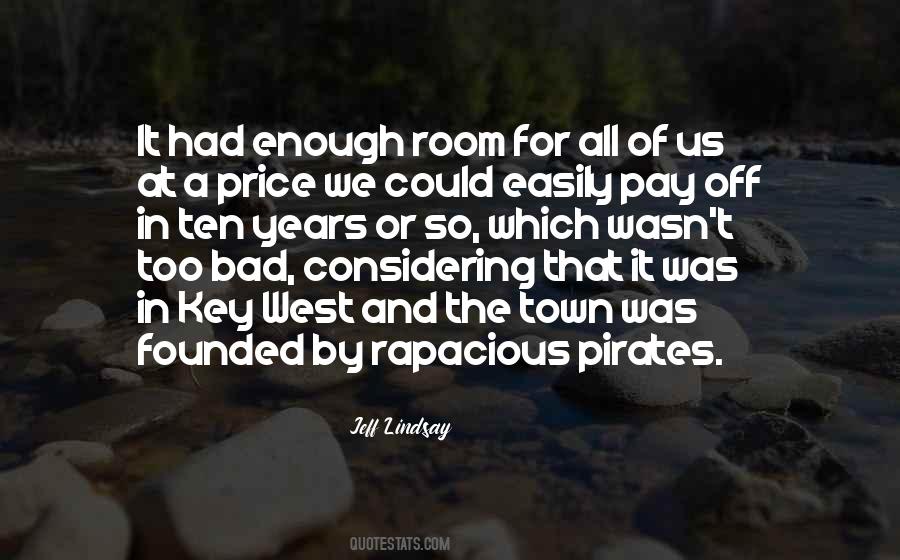 #65. If she had touched me," he said very softly, "I would have been hers and not my own, not ever again. I wanted her to touch me but I could not let her. No cat will. We let human beings caress us because it is pleasant enough and calms them - but not her. The price is more than a cat can pay. - Author: Peter S. Beagle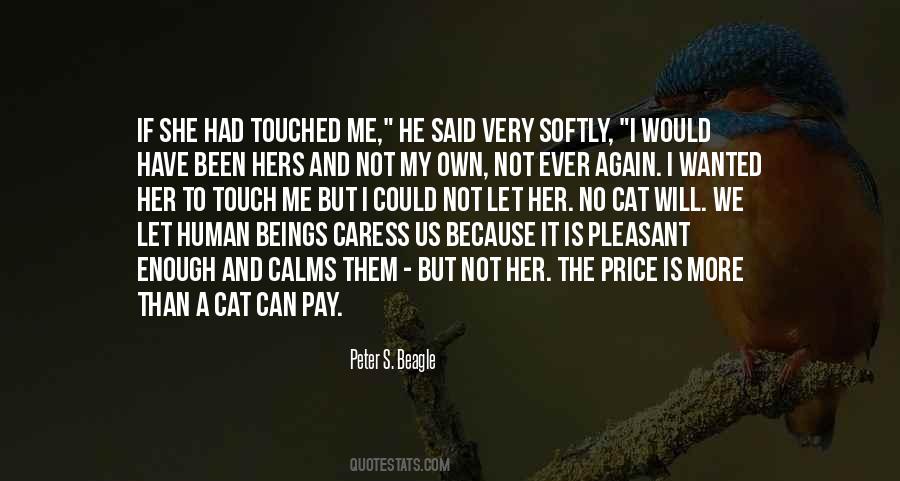 #66. What if the purpose of my life is not about me? Am I willing to give up all my dreams, my aspirations and comfort to find it/ Are you willing to pay the cost? This is the pearl of great price, the abundant life we are all seeking and, at the same time, petrified to find. - Author: Jeff Goins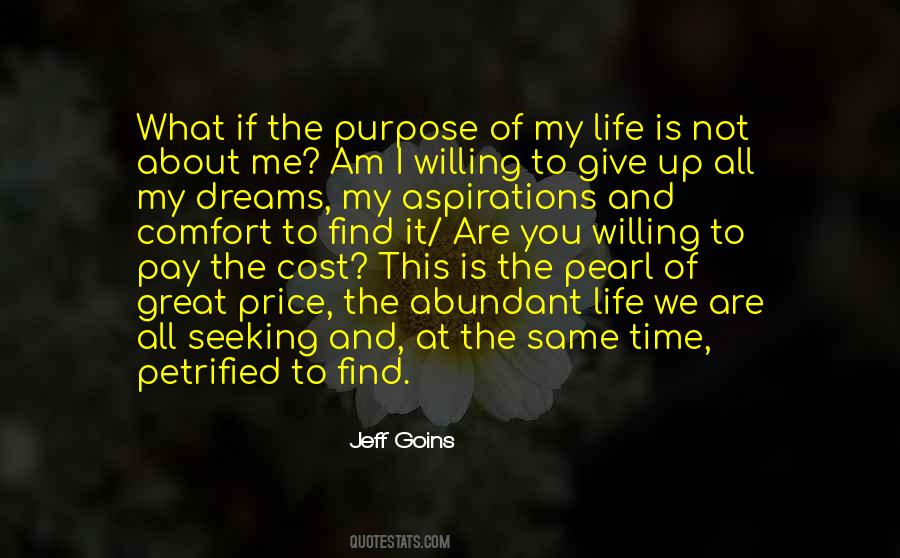 #67. Usefulness, whatever form it may take, is the price we should pay for the air we breathe and the food we eat and the privilege of being alive. - Author: Eleanor Roosevelt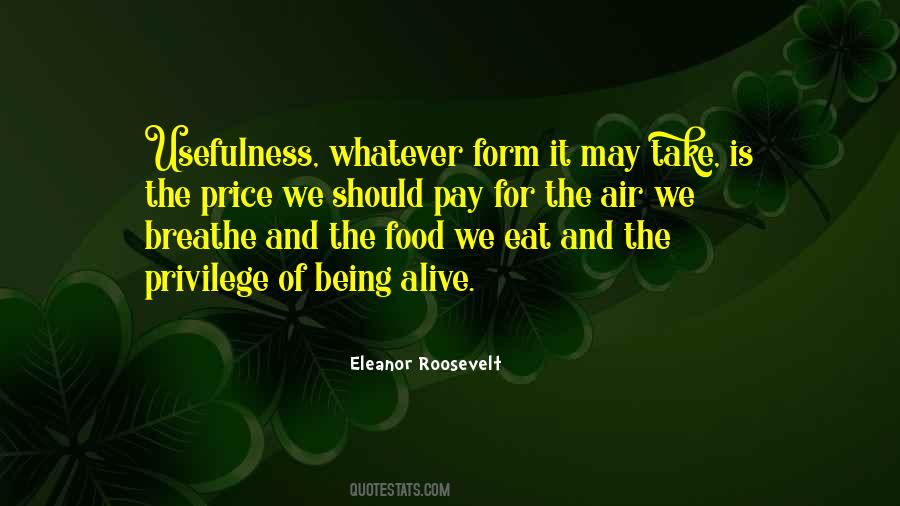 #68. ( ... ) Language acquisition might be like other biological functions. The linguistic clumsiness of tourists and students might be the price we pay for the linguistic genius we displayed as babies, just as the decrepitude of age is the price we pay for the vigor of youth. - Author: Steven Pinker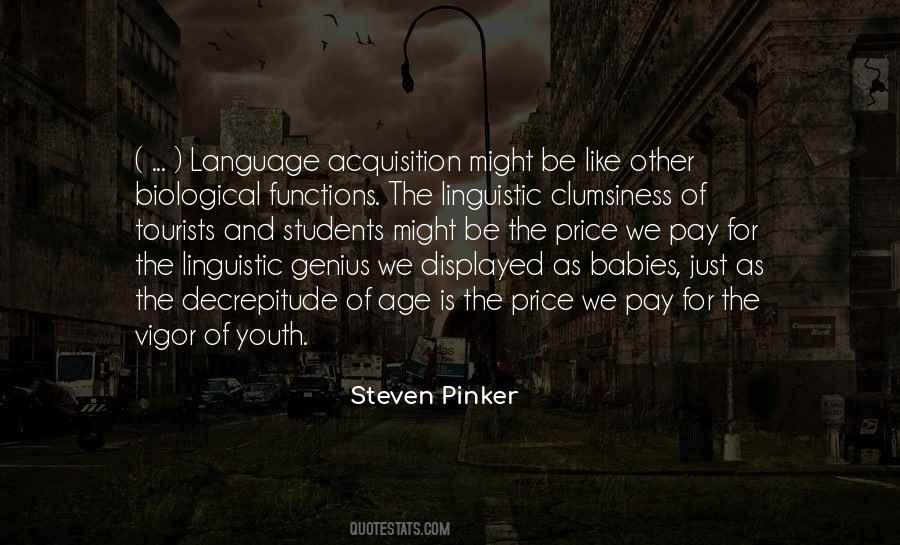 #69. If we aren't willing to pay a price for our values, then we should ask ourselves whether we truly believe in them at all. - Author: Barack Obama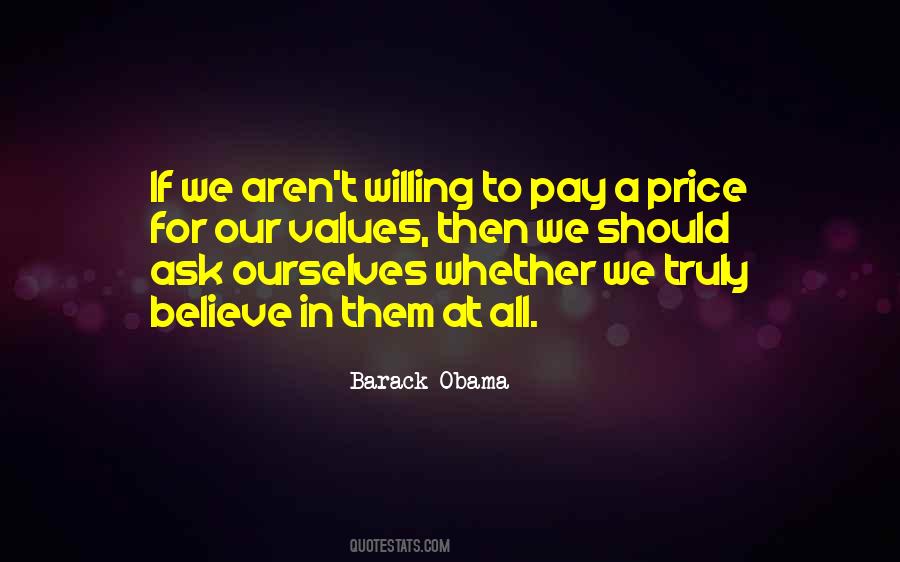 #70. We've learned the lesson that the music industry didn't learn: give people what they want, when they want it, in the form they want it in, at a reasonable price, and they'll more likely pay for it rather than steal it. - Author: Kevin Spacey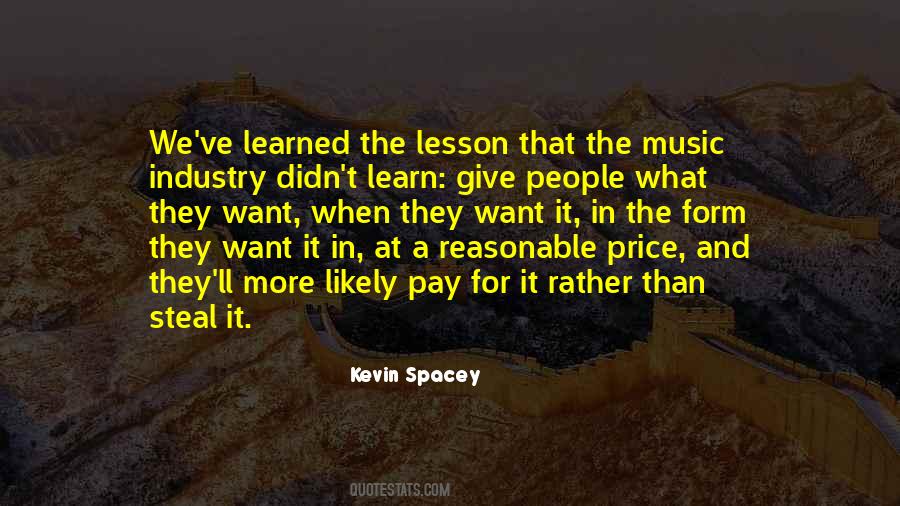 #71. If we do not resolve the euro crisis, we will all pay the price. And if we do resolve it, we will all benefit, particularly German taxpayers and savers. - Author: Mario Draghi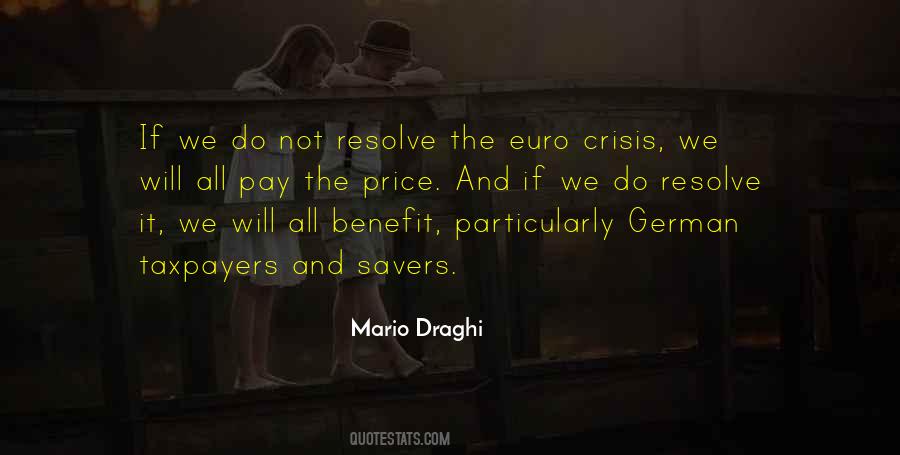 #72. There are many who say they want to be victorious Christians, but few are willing to endure the discipline necessary to make one a good solider of Jesus Christ. There is a prize to possess, but before we possess it there is a price to be paid, and few will pay it. - Author: Vance Havner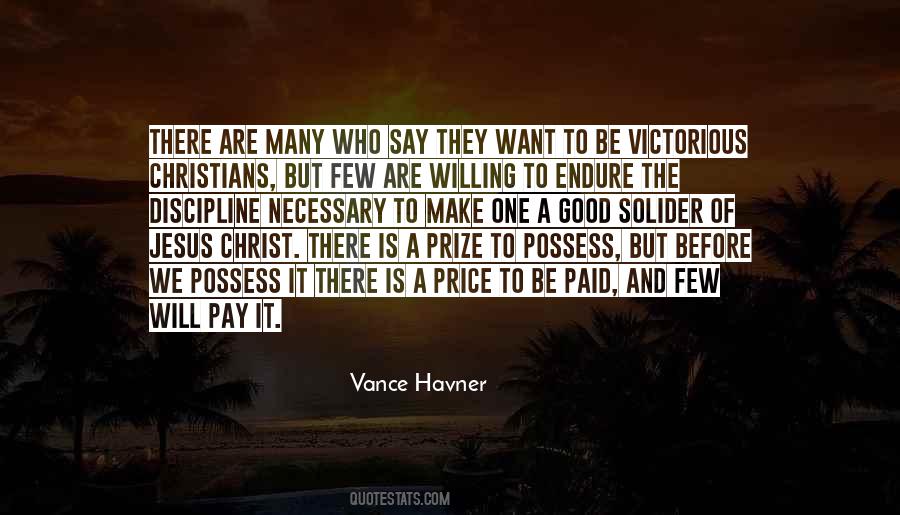 #73. Doubt is the disease of this inquisitive, restless age. It is the price we pay for our advanced intelligence and civilization-the him night of our resplendent day. But as the most beautiful light is born of darkness, so the faith that springs from conflict is often the strongest and best. - Author: Ross Turnbull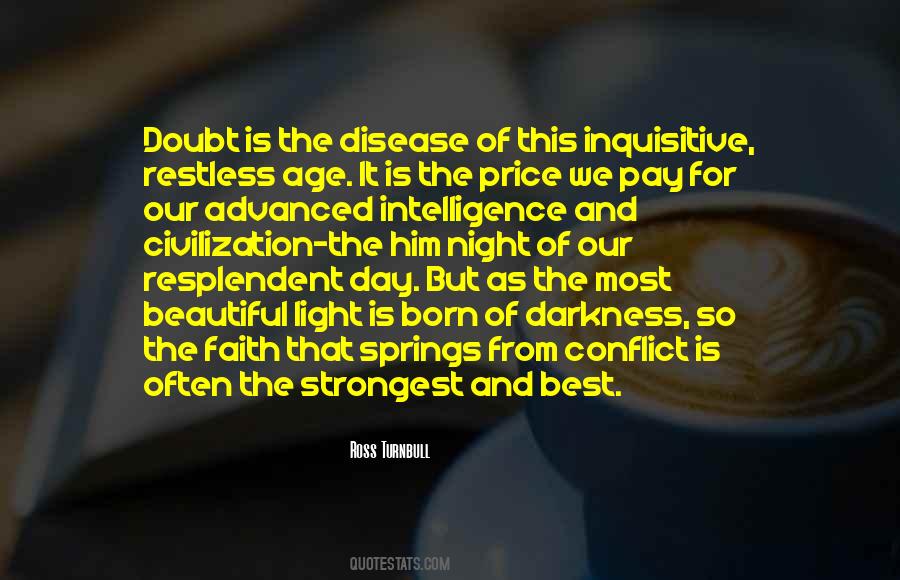 #74. If we evolved a race of Isaac Newtons, that would not be progress. For the price Newton had to pay for being a supreme intellect was that he was incapable of friendship, love, fatherhood, and many other desirable things. As a man he was a failure; as a monster he was superb. - Author: Aldous Huxley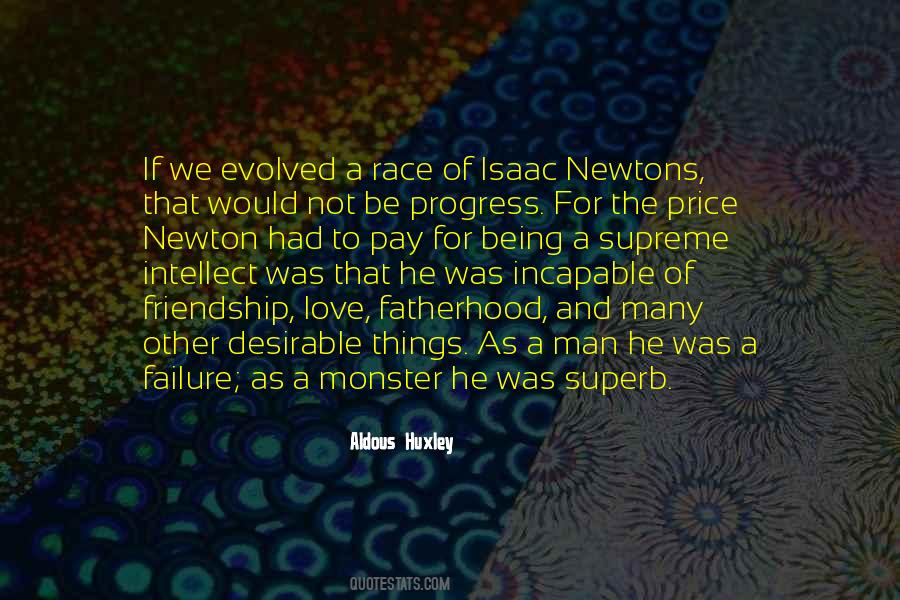 #75. Our dehumanization of the Negro then is indivisible from our dehumanization of ourselves; the loss of our own identity is the price we pay for our annulment of his. - Author: James A. Baldwin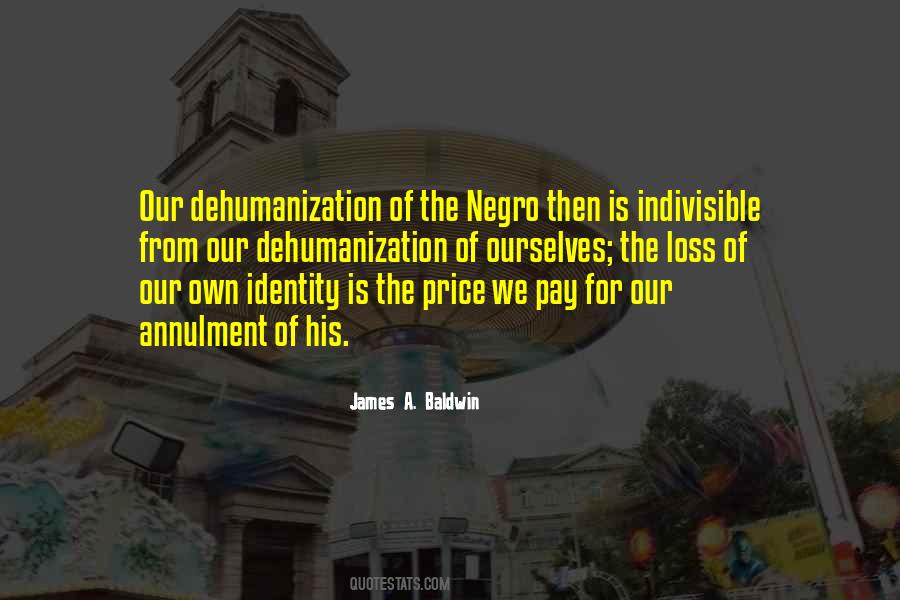 #76. Sometimes the Lord gives us a free sample of religious experience, but for more, we must pay a price with the currency of sincere dedication to the process of cleansing. - Author: Radhanath Swami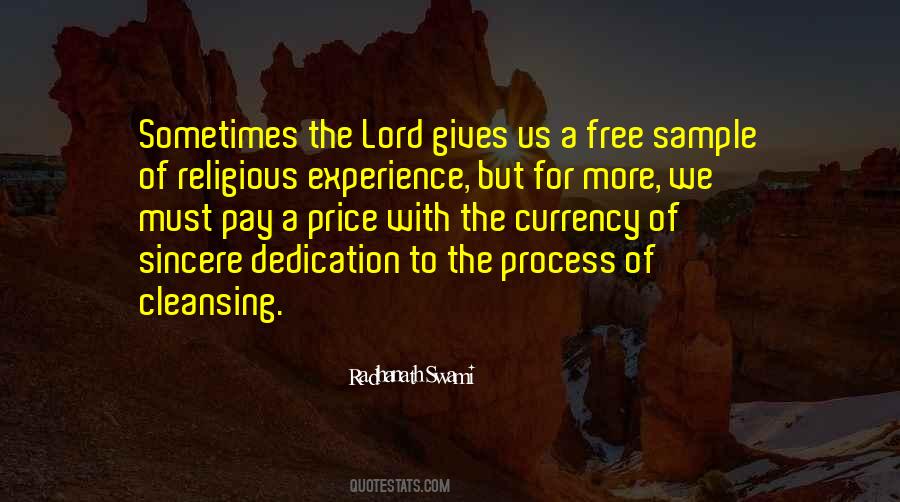 #77. The atheist risk everything for the present and the future, on the basis of a belief that we are uncaused by any intelligent being. We just happen to be here. That one is willing to live and die in that belief is a very high price to pay for conjecture. - Author: Ravi Zacharias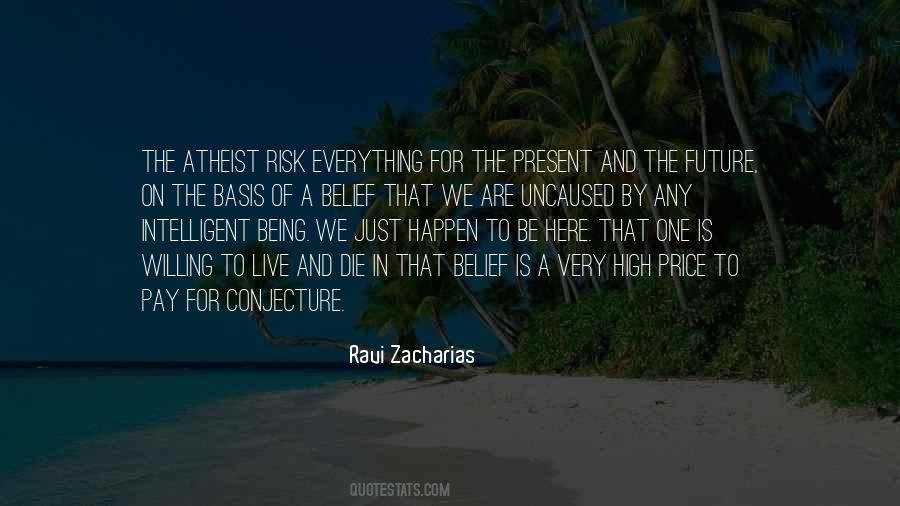 #78. Salvation is free, but there is a price to pay in following Jesus. It is never said in Scripture that we can have "Christ and ... ".It is always "Christ or ... ". What is your "or"? - Author: Billy Graham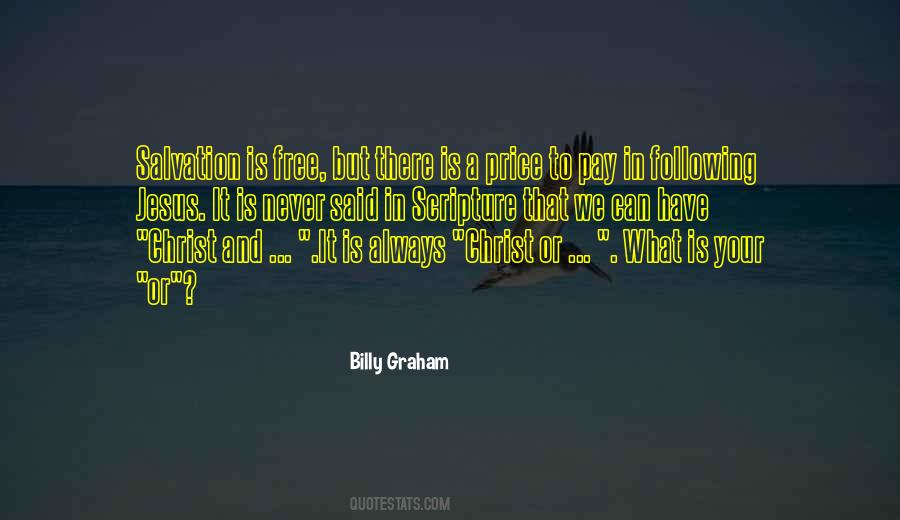 #79. The difference between the price we pay for a stock and its liquidation value gives us a margin of safety. This kind of investing is one of the most effective ways of achieving good long term results. - Author: Peter Cundill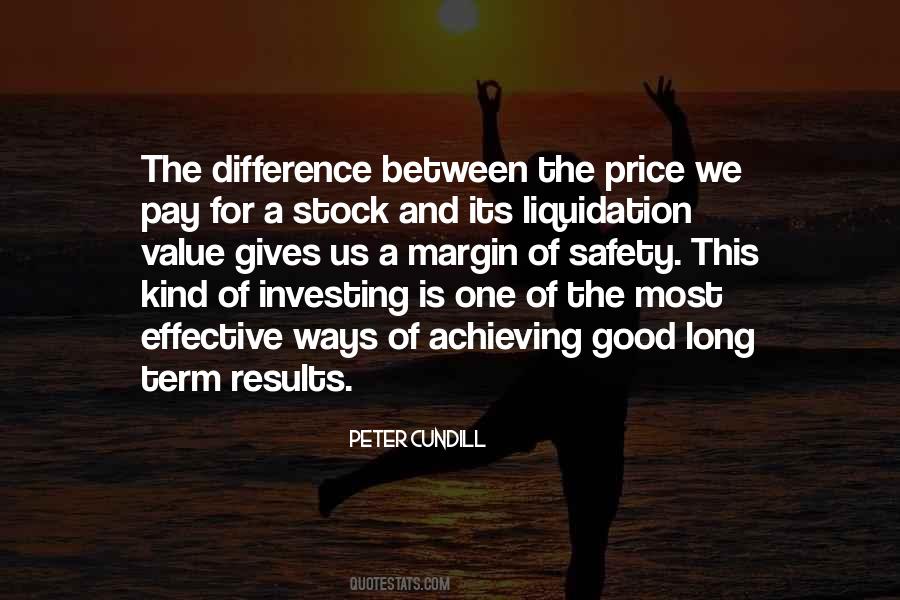 #80. The price we pay for anticipation of the future is anxiety about it - Author: Carl Sagan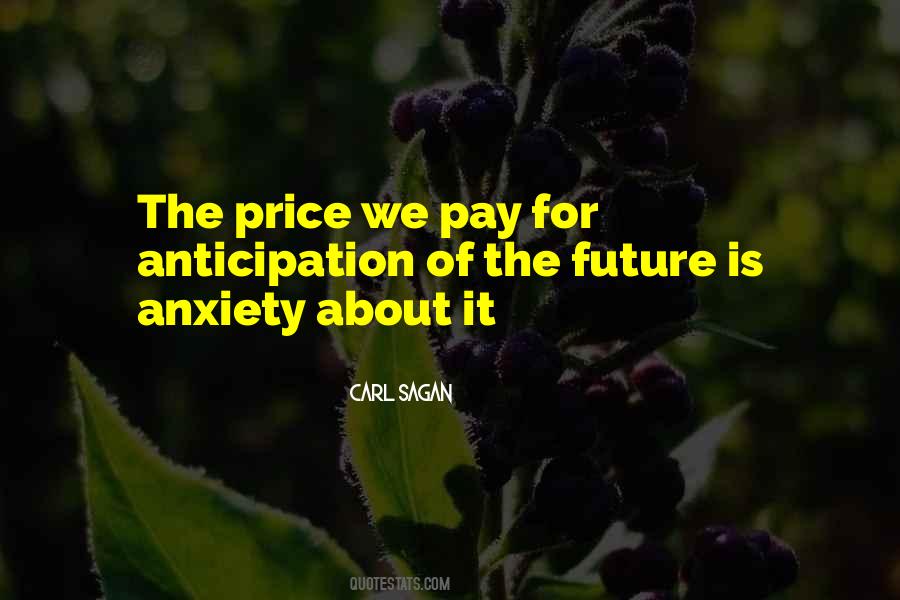 #81. Ever since I was a child I used to hear my father say: 'If the price we pay for freedom is high, we pay a much higher price if we accept to be slaves. - Author: Nawal El Saadawi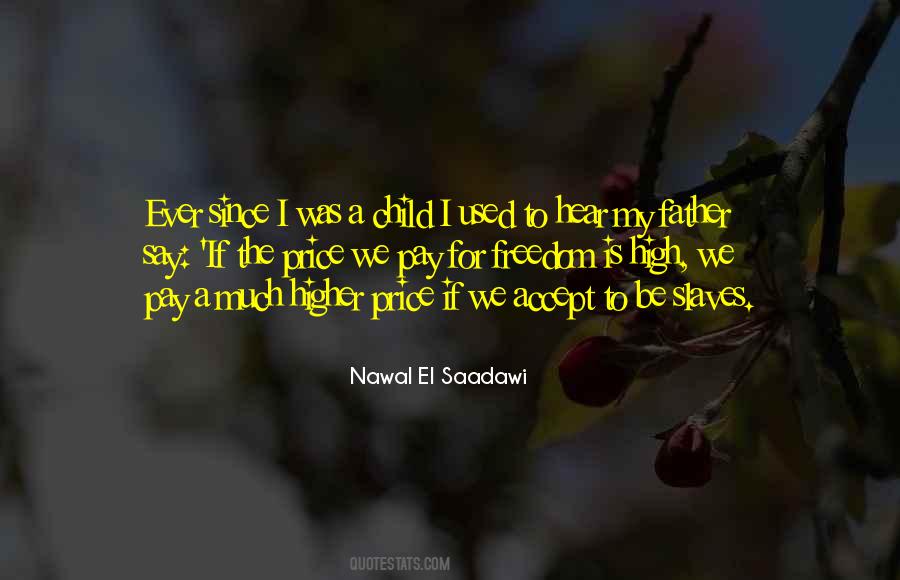 #82. There is too much at stake to chance rocking the boat by holding on to highly inflated expectations. Keeping our relationships intact and pretending they're successful, even if they aren't, is the price we must pay to harbor our deepest secrets. - Author: Sarah Jo Smith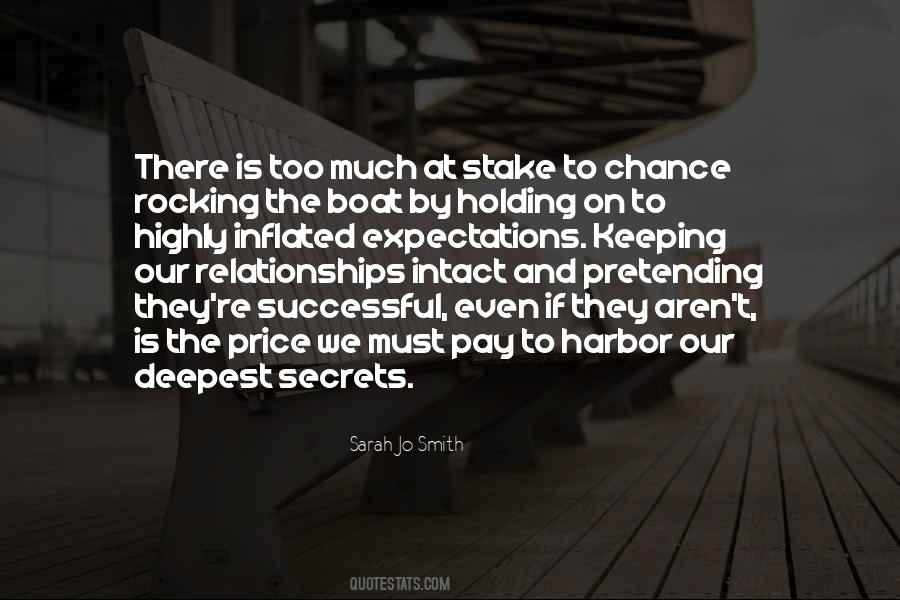 #83. We pay a price for everything we get or take in this world; and although ambitions are well worth having, they are not to be cheaply won, but exact their dues of work and self denial, anxiety and discouragement. - Author: L.M. Montgomery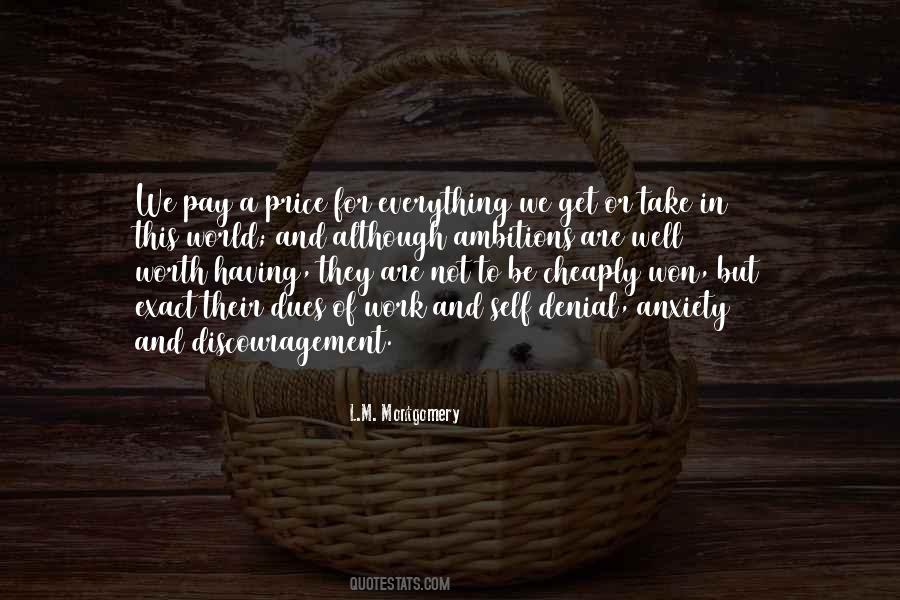 #84. It's also our collective delusion that overwork and burnout are the price we must pay in order to succeed. - Author: Arianna Huffington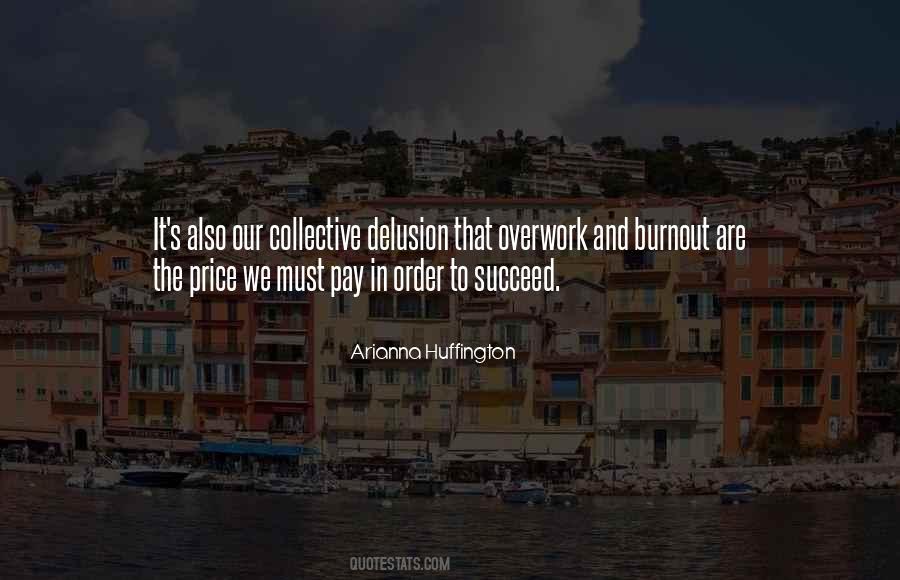 #85. If you take your kid in for the sniffles, you pay $20, but the full cost is $200. And so we need to get back to the price system where you see the full cost of health care, and then people will make smarter decisions. That will reduce health care costs, and it's a huge part of our economy. - Author: Dave Brat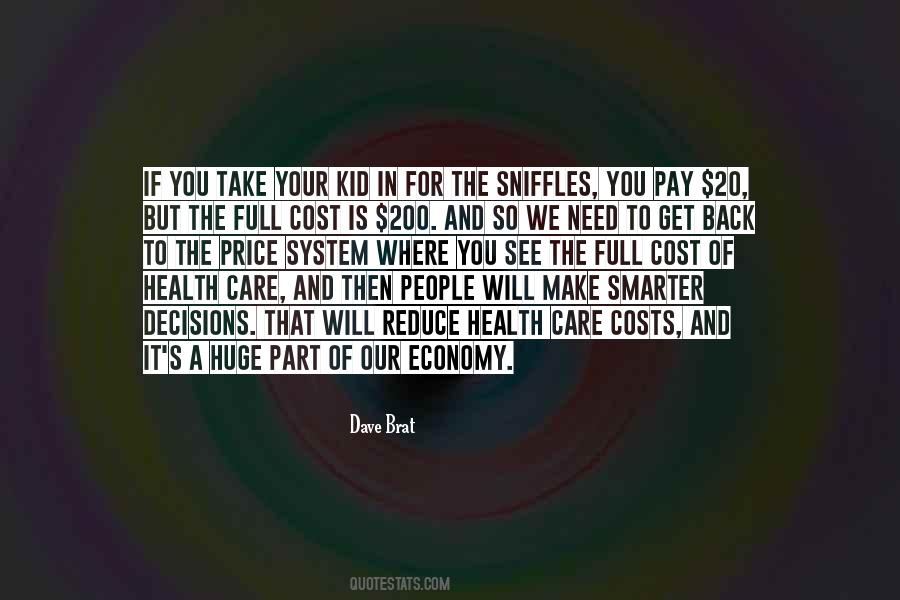 #86. Everything in life has its price, and often the heaviest prices we pay are not in terms of money. - Author: Raynetta Manees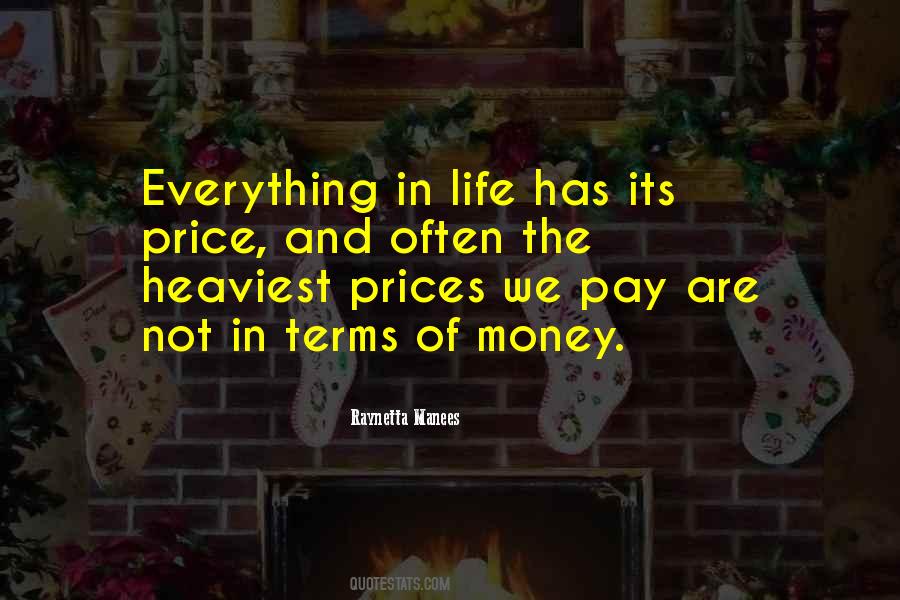 #87. Irrespective of todays judgment and the price we had to pay in this generation, we were able to close an epoch of divisions, different blocs and borders, opening the way for an era of globalization. - Author: Lech Walesa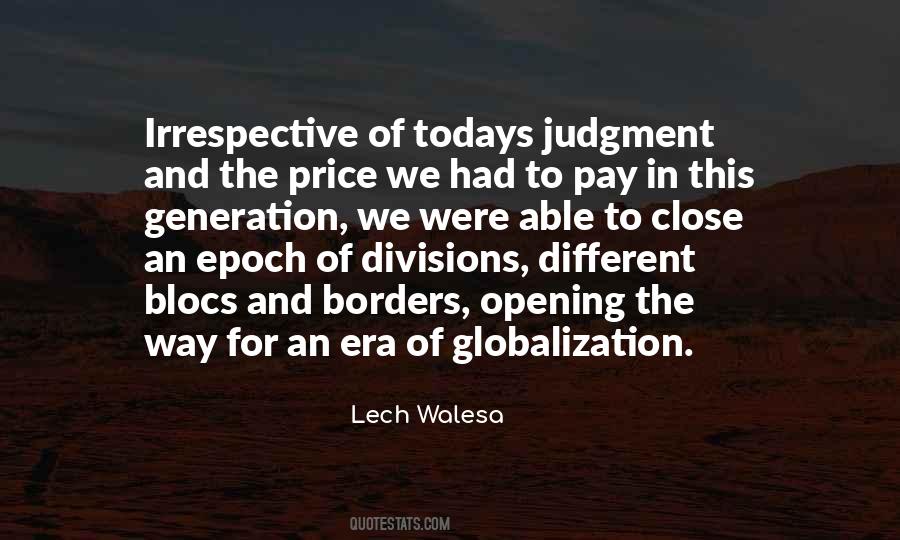 #88. The highest price we can pay for anything; is to ask it. - Author: Walter Savage Landor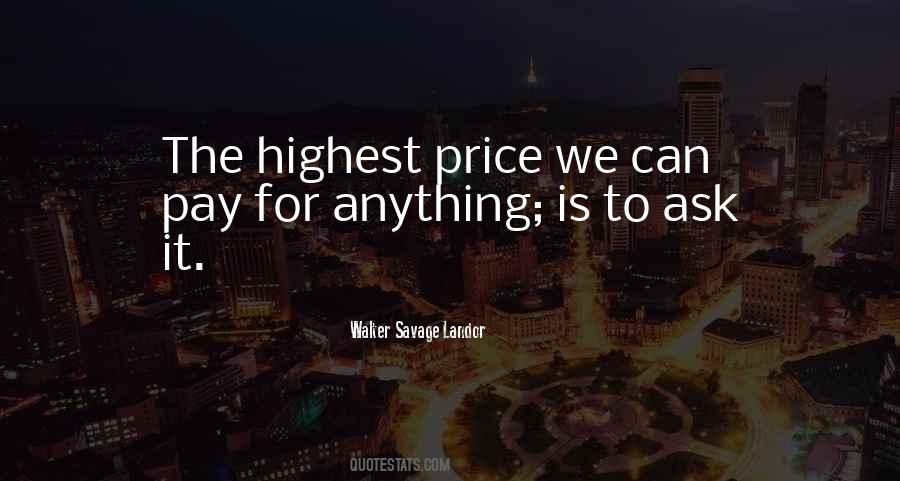 #89. How incredibly avaricious the whole operation was, the way they made the Jews pay for their tickets in the railway cars to the death camps. Yeah, and the rates for a third-class ticket, one way. And half price for children ... It was a kind of exploration of evil. Just how bad can we get? - Author: Martin Amis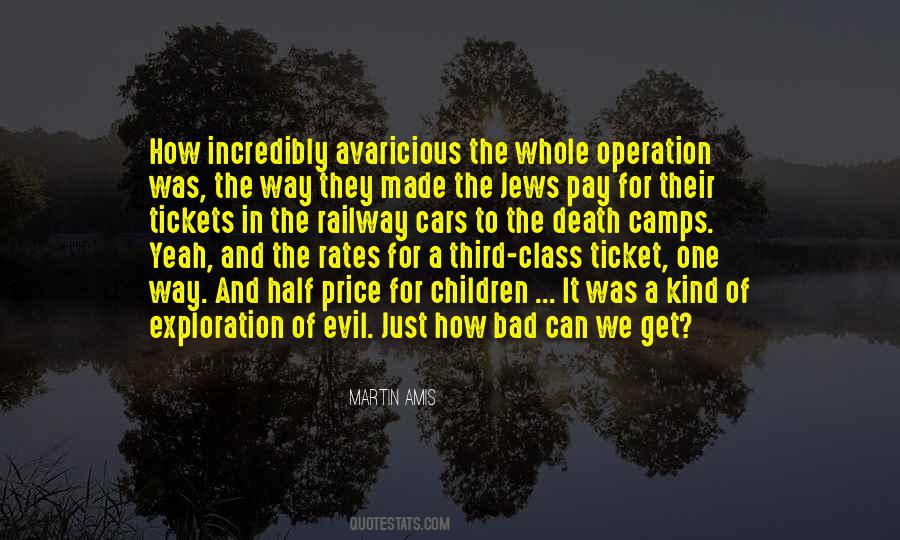 #90. Did ya ever think that we would pay the price for being lazy? - Author: Ray Davies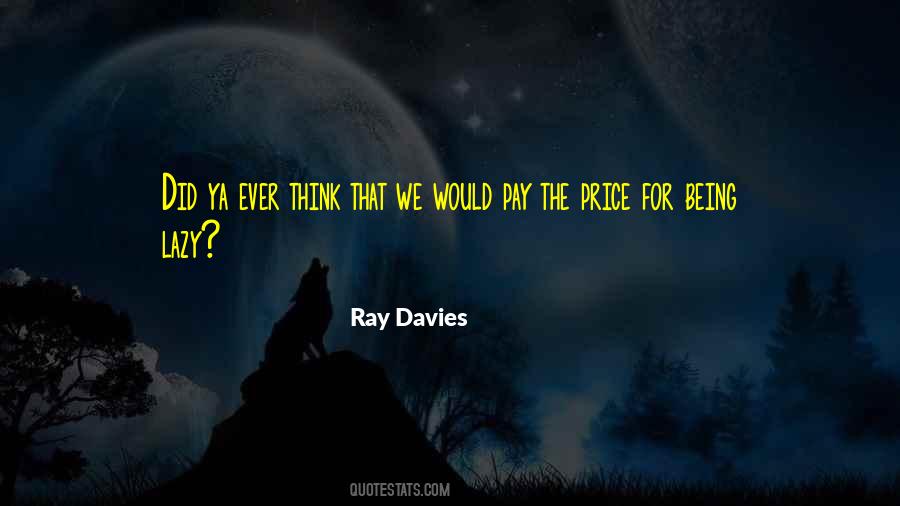 #91. I told her I don't think grief is a price we pay for love, but rather that it is a part of love. When death comes, I think the grief is to be experienced the way the joy was experienced before - and if we experience it intimately, grief and joy are not separate, and both are love. - Author: Barry Graham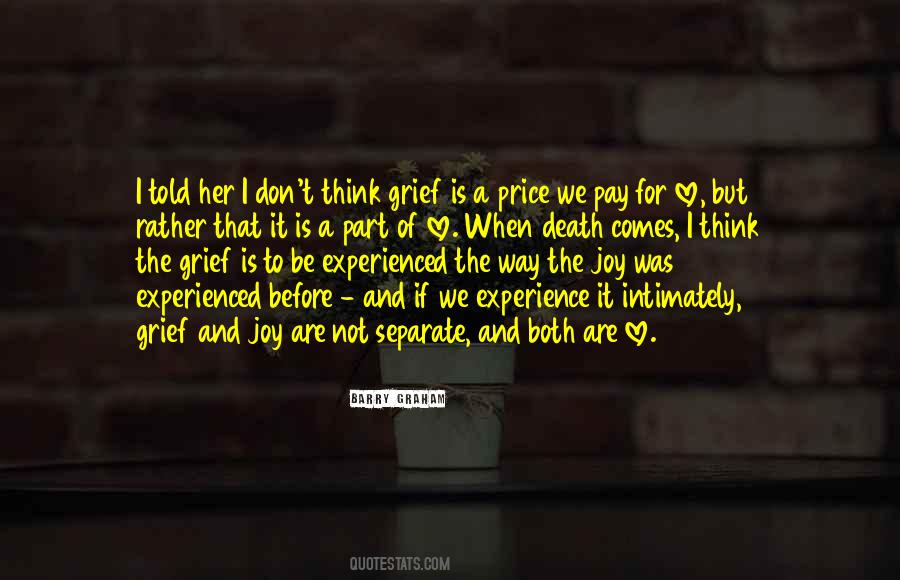 #92. The essence of man is imperfection. Failure is simply a price we pay to achieve success. If we learn to embrace that new definition of failure, then we are free to start moving ahead - and failing forward. - Author: Norman Cousins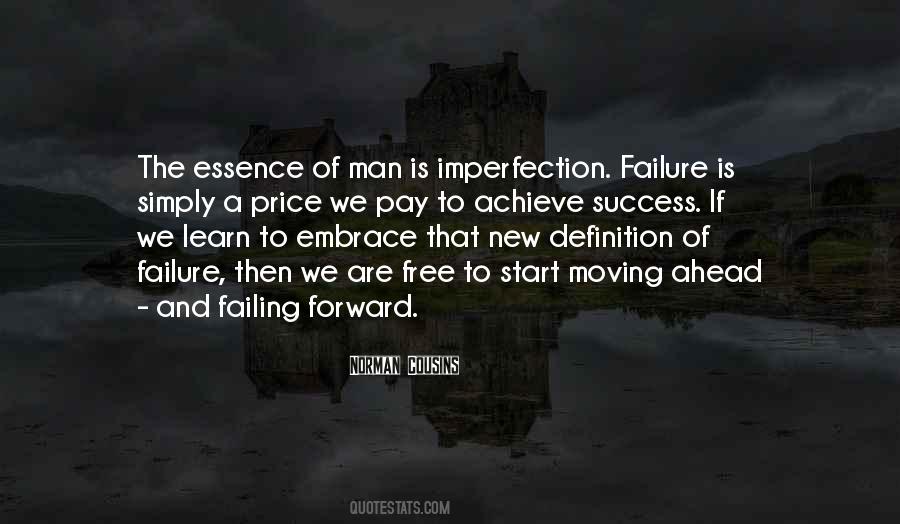 #93. So when the ruling ideology enjoins us to enjoy sex, not to feel guilty about it, since we are not bound by any prohibitions whose violations should make us feel guilty, the price we pay for this absence of guilt is anxiety. - Author: Slavoj Zizek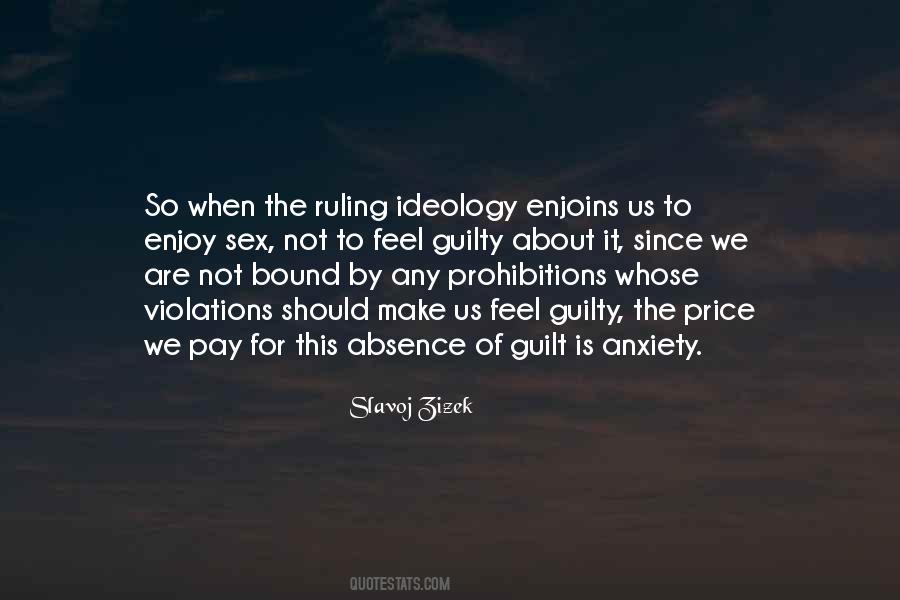 #94. Unless we practice conservation, those who come after us will have to pay the price of misery, degradation, and failure for the progress and prosperity of our day. - Author: Gifford Pinchot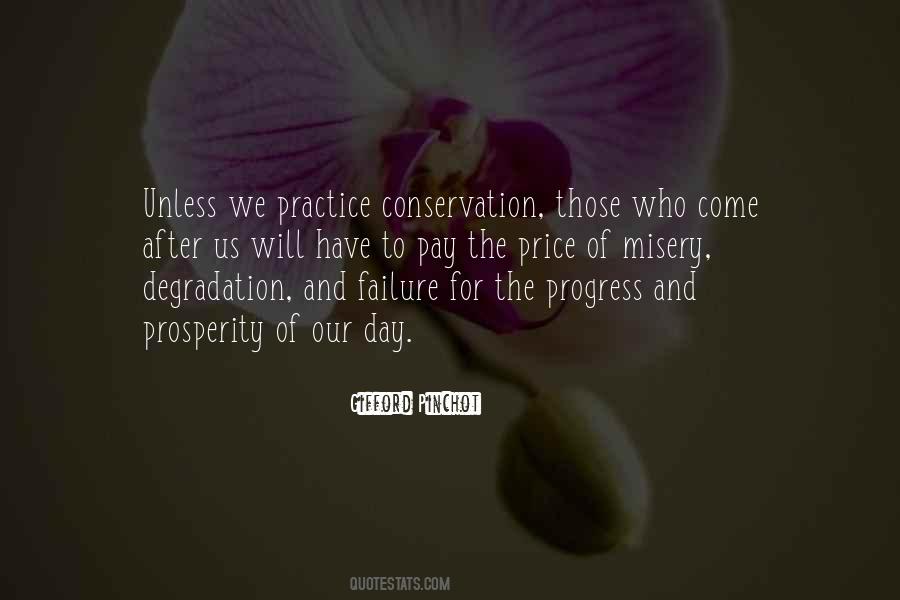 #95. You have to risk your heart to find love. It's the price we pay for a chance at bliss. - Author: Sweden Reese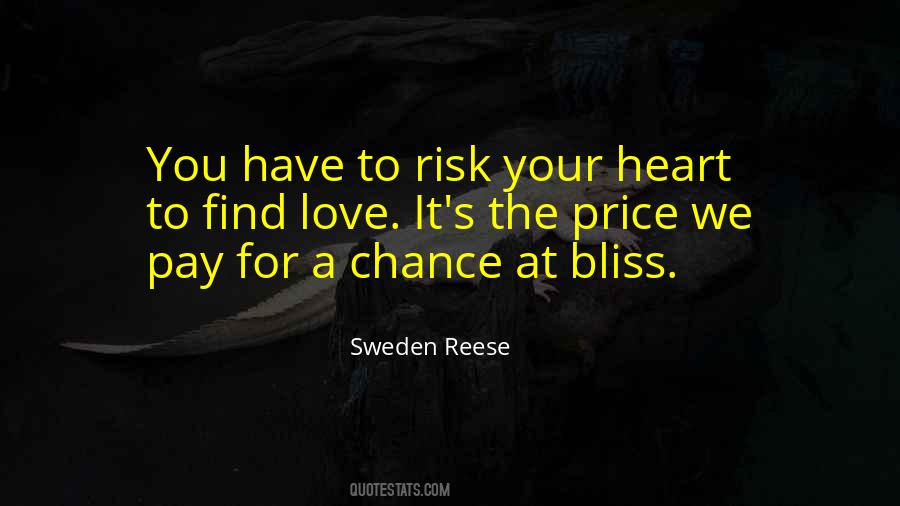 #96. All things on earth have their price, and for truth we pay the dearest. We barter it for love and sympathy. The road to honour is paved with thorns; but on the path to truth, at every step you set your foot down on your heart. - Author: Olive Schreiner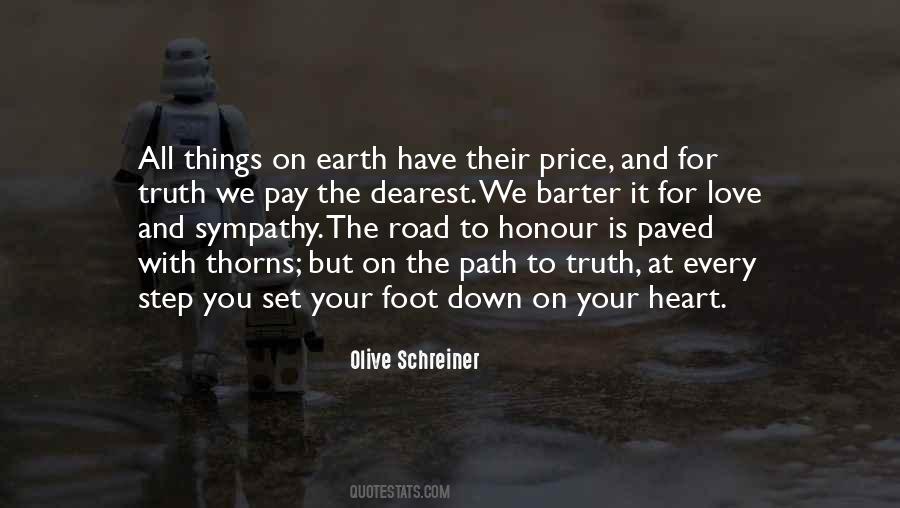 #97. We have two selves: a real-world self and a phone self, and the nonsense our phone selves do can make our real-world selves look like idiots...Act like a dummy with your phone self aand send some thoughtless message full of spelling errors, and the real-world self will pay the price. - Author: Aziz Ansari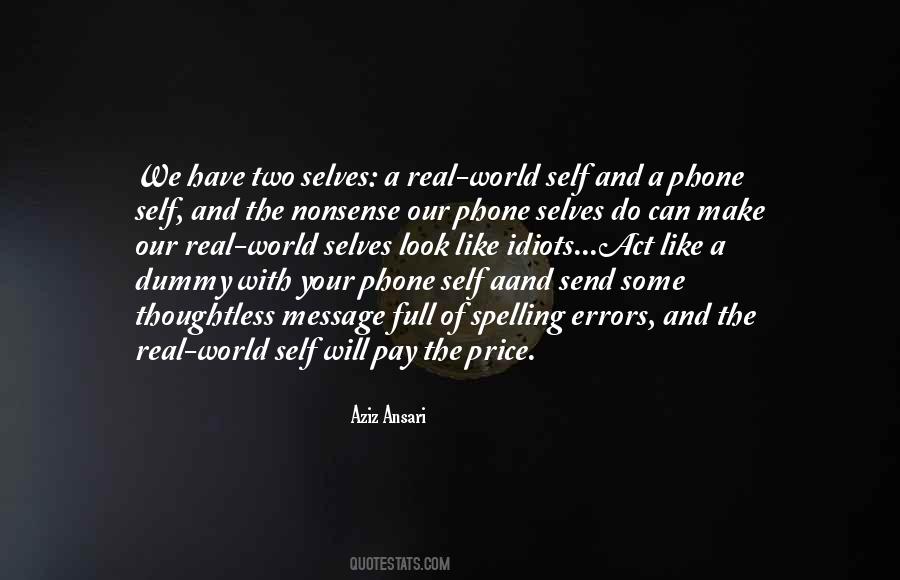 #98. Dead is nothing more than the price we pay for this privilege of having lived at all. - Author: E.M. Crane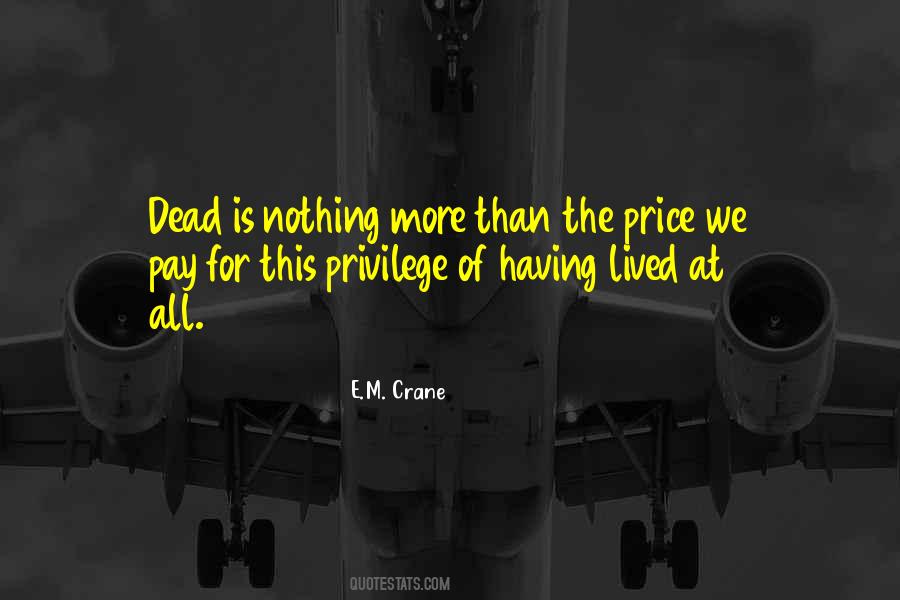 #99. Failure is simply a price we pay to achieve success - Author: John C. Maxwell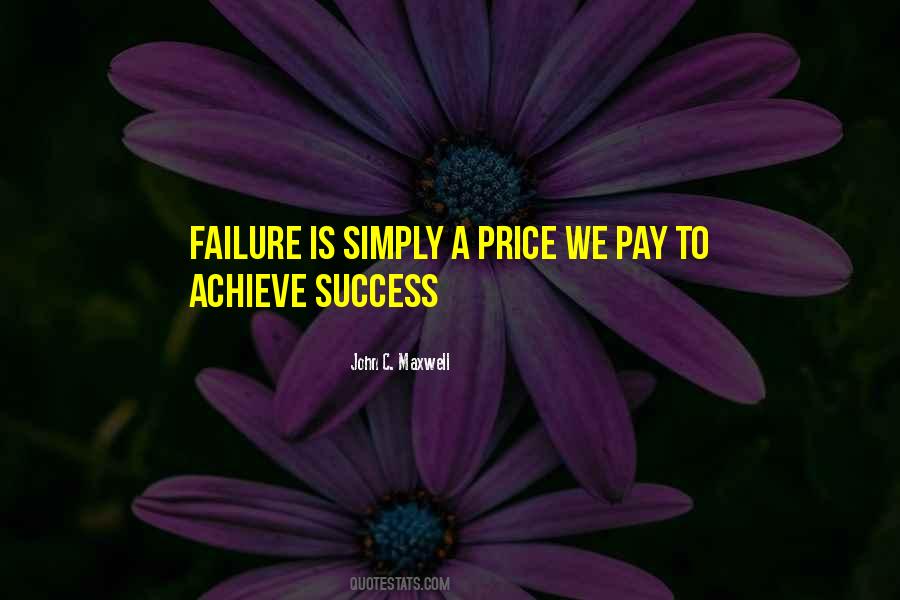 #100. The road is a lonely, exhausting, invigorating, and living thing, but the wonder of seeing things we never would have dreamed of makes it worth the price we pay to leave the safety of home - Author: Zak Bagans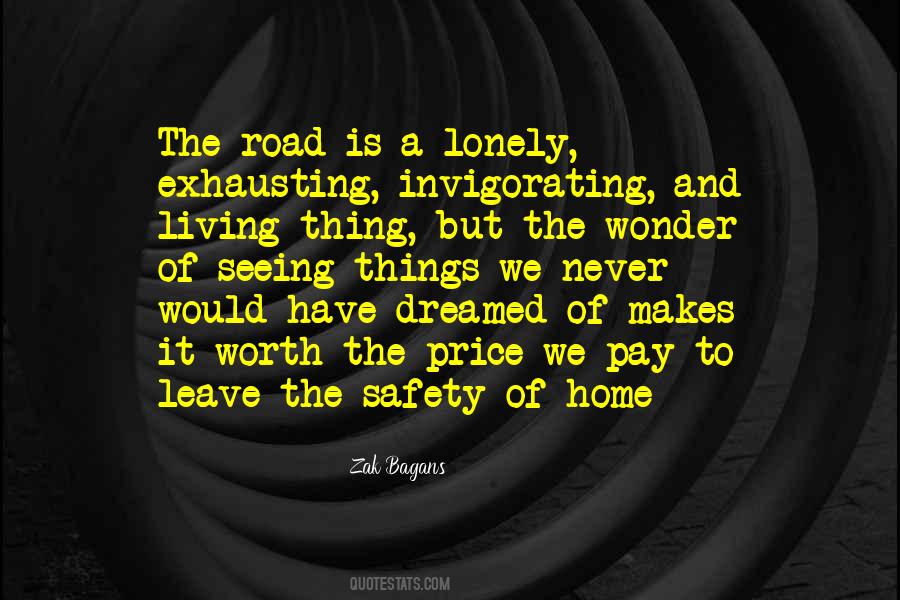 Famous Authors
Popular Topics