Poverty To Riches Famous Quotes & Sayings
List of top 37 famous quotes and sayings about poverty to riches to read and share with friends on your Facebook, Twitter, blogs.
Top 37 Poverty To Riches Quotes
#1. Why had he wanted to be rich, or to feel rich? Was he an unhappy mouse before? Didn't he see the King himself often looking sad? Was anyone completely happy? - Author: William Steig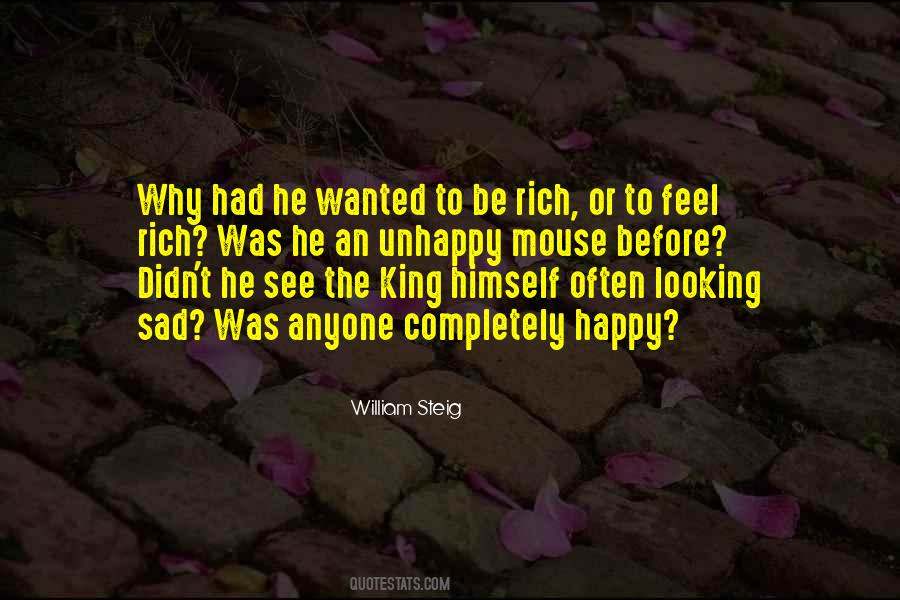 #2. There are no riches like the sweetness of content, nor poverty comparable to the want of patience. - Author: Roger Chamberlain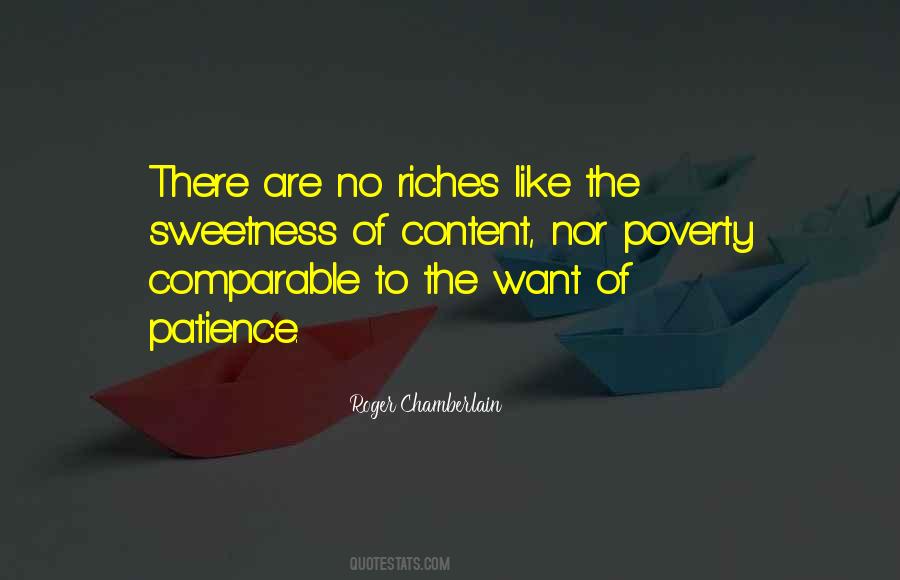 #3. Tell him that riches will not procure for you a single moment of happiness. Luxury consoles poverty alone, and at that only for a short time, until one becomes accustomed to it. - Author: Alexander Pushkin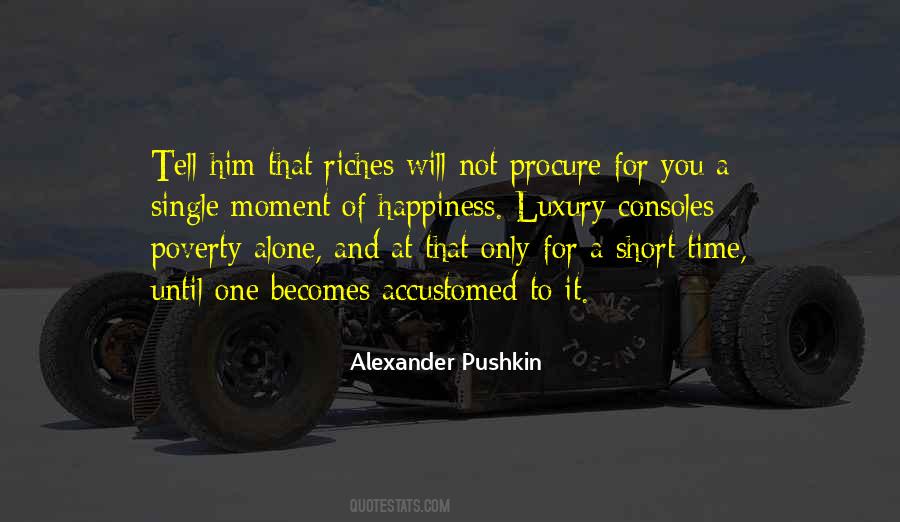 #4. There are many people in South Africa who are rich and who can share those riches with those not so fortunate who have not been able to conquer poverty. - Author: Nelson Mandela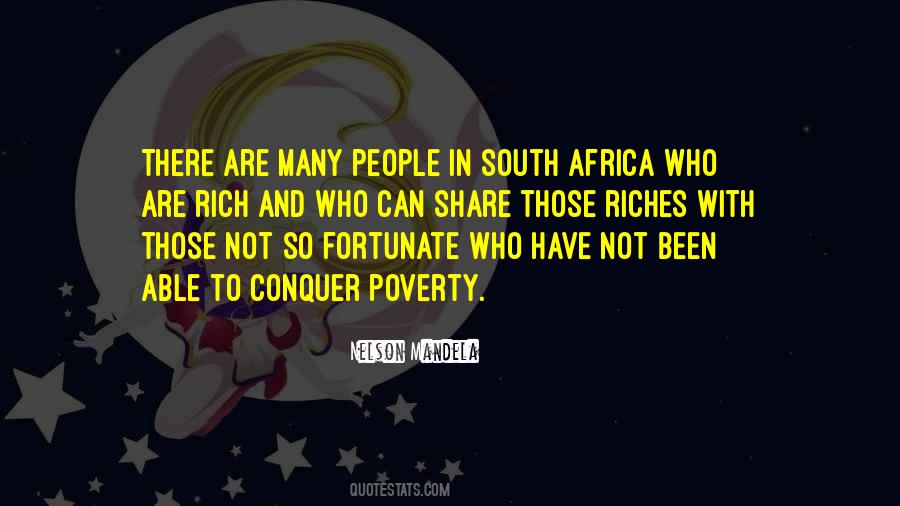 #5. You have available to you, right now, a powerful supercomputer. This powerful tool has been used through-out history to take people from rags to riches, from poverty and obscurity to success and fame, from unhappiness and frustration to joy and self-fulfillment, and it can do the same for you. - Author: Brian Tracy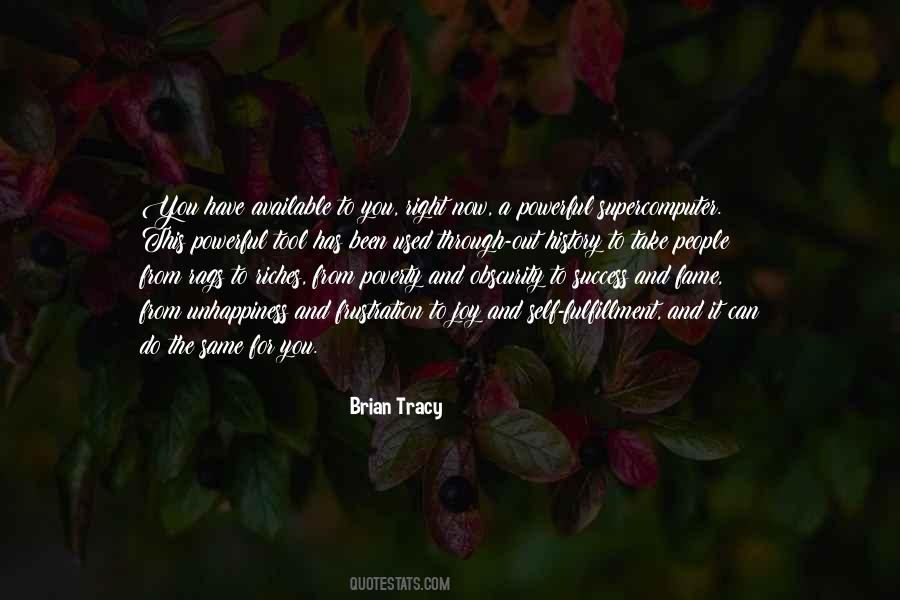 #6. Great occasions often stimulate a person to do something great, but that tells nothing of his or her real character. Great is the person who does good always, in sickness and in health, in riches and in poverty. - Author: Abhijit Naskar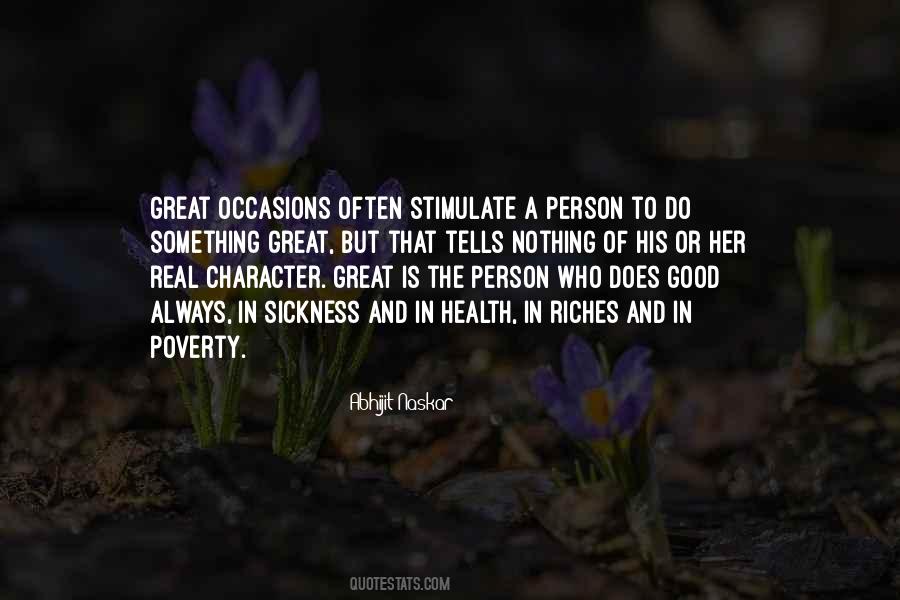 #7. I am the happiest man alive. I have that in me that can convert poverty to riches, adversity to prosperity, and I am more invulnerable than Archilles; Fortune hath not one place to hit me. - Author: Thomas Browne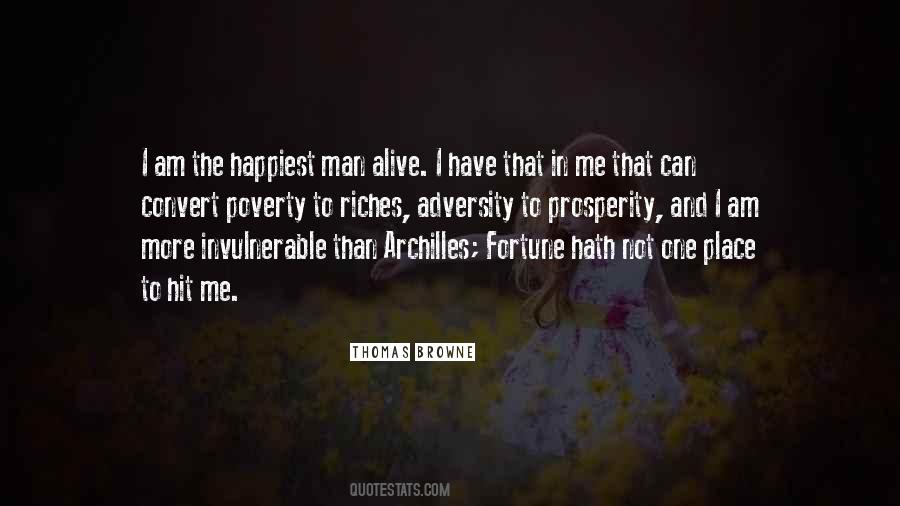 #8. Suppose that my "poverty" be a secret hunger for spiritual riches: suppose that by pretending to empty myself, pretending to be silent, I am really trying to cajole God into enriching me with some experience--what then? Then everything becomes a distraction. - Author: Thomas Merton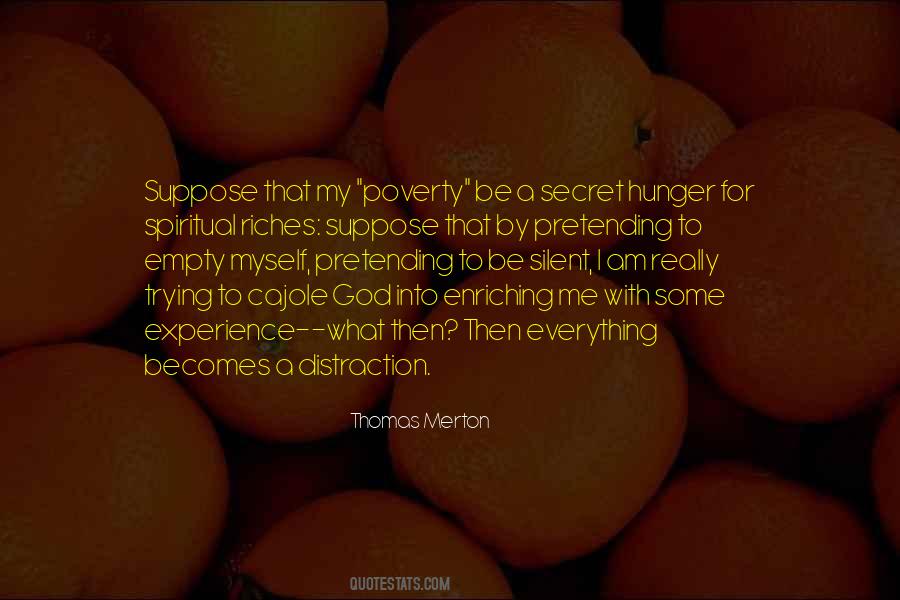 #9. Young ladies ... who fall in love, never consider whether there is sufficient "to make the pot boil" - probably because young ladies in love lose their appetites, and, not feeling inclined to eat at that time, they imagine that love will always supply the want of food. - Author: Frederick Marryat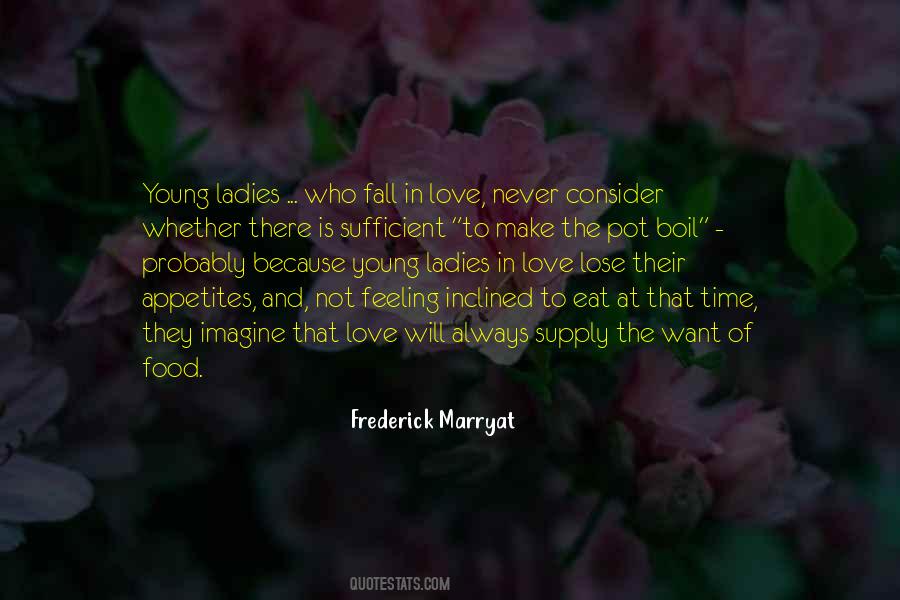 #10. The two roads that lead to poverty and riches travel in opposite directions. If you want riches, you must refuse to accept any circumstance that leads to poverty. (The word riches is here used in its broadest sense, meaning financial, spiritual, mental, and material estates). - Author: Napoleon Hill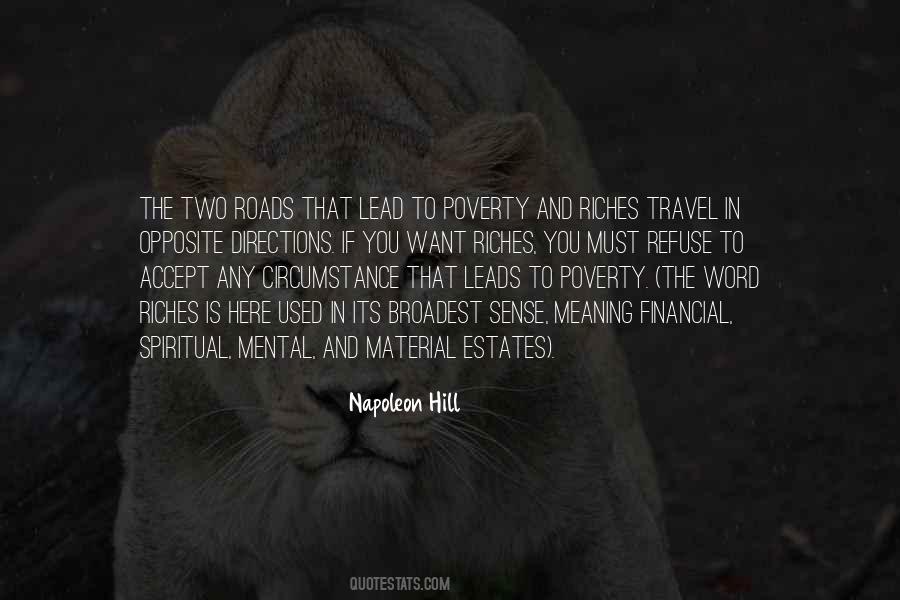 #11. All we see of someone at any moment is a snapshot of their life, there in riches or poverty, in joy or despair. Snapshots don't show the million decisions that led to that moment. - Author: Richard Bach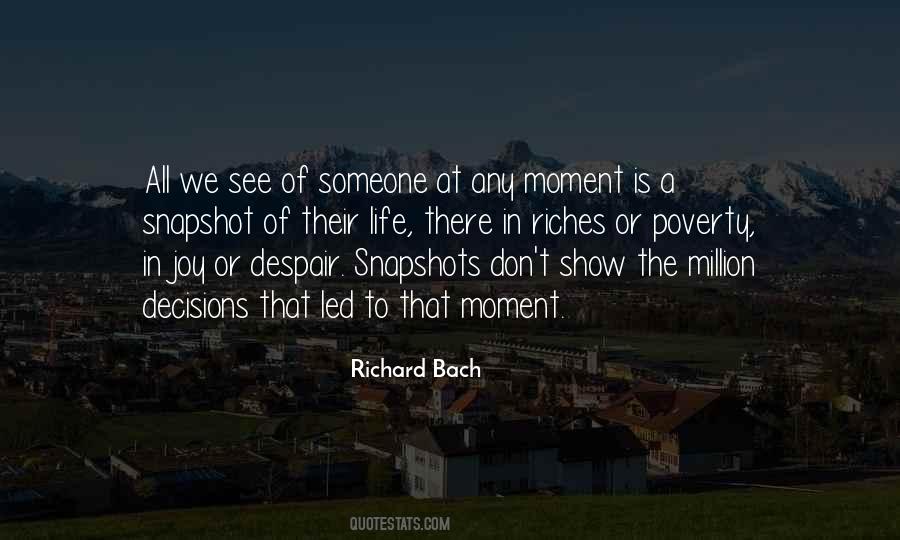 #12. 7Two things I request of You (Deprive me not before I die): 8Remove falsehood and lies far from me; Give me neither poverty nor riches - Feed me with the food allotted to me; 9Lest I be full and deny You, And say, "Who is the LORD?" Or lest I be poor and steal, And profane the name of my God. - Author: John F. MacArthur Jr.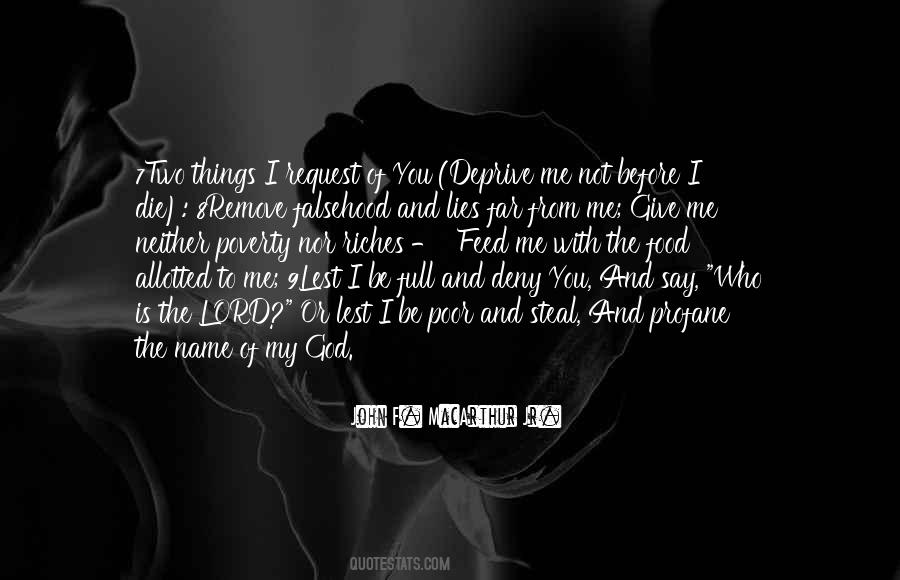 #13. According to my experience, I can testify that both riches and poverty pass away, but God abides. Whether we are rich or poor, God is. - Author: Witness Lee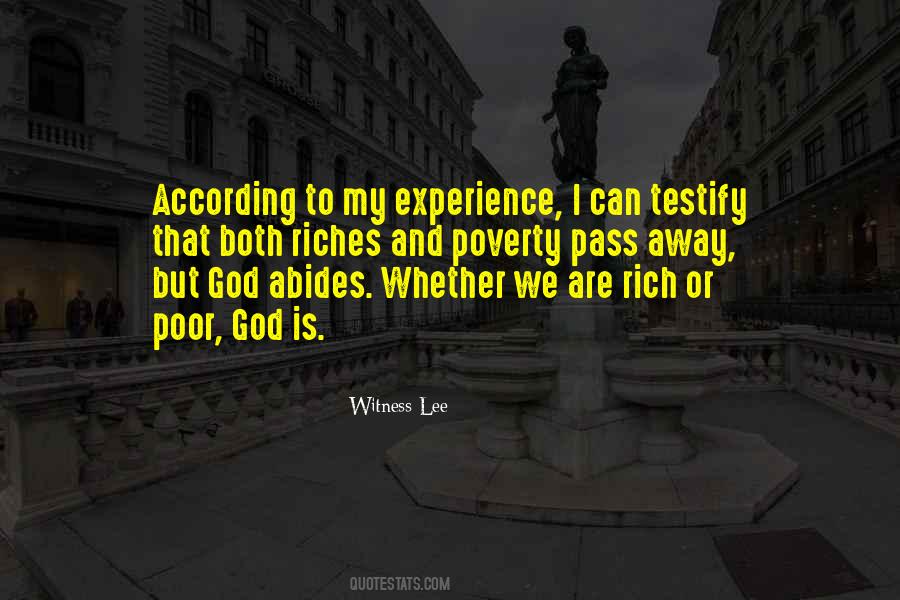 #14. We cannot buy it. We are too poor. Then men who have made the law have taken our own drink from us, and have not left us wherewith to buy it. Yet they can buy it, because they are rich. I have a feeling that that is not just. I do not grudge them their riches and all it can buy for them. - Author: Neil M. Gunn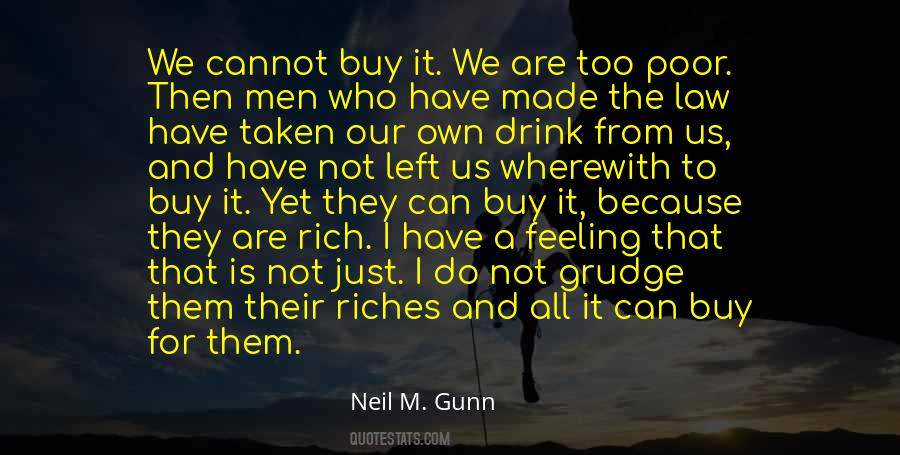 #15. Don't ever feel sad about who you are. Don't wish to be a daughter or son to a wealthy home, just because you think you're poor. Look! Everybody's poor, i discovered it when i realized that its not everything that President Barrack Obama has. - Author: Michael Bassey Johnson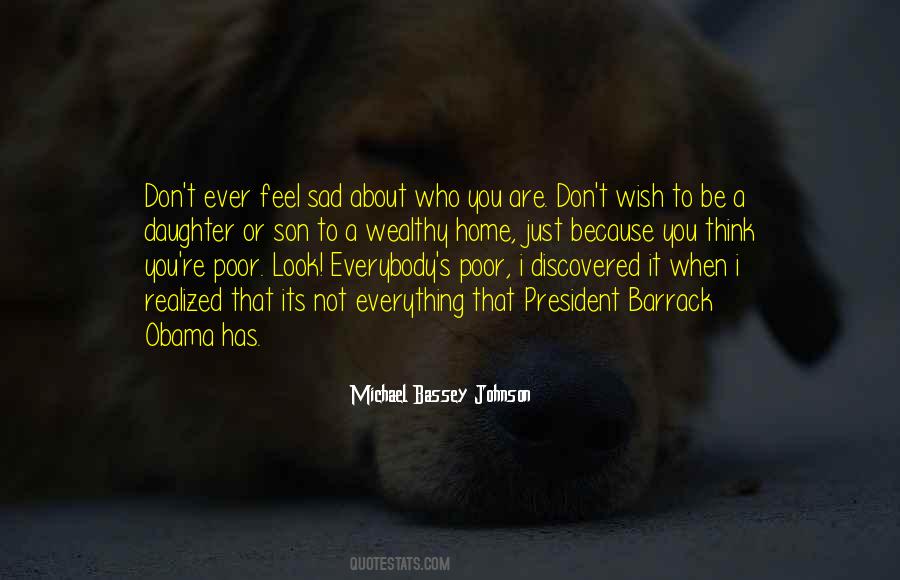 #16. These days there is a lot of poverty in the world, and that's a scandal when we have so many riches and resources to give to everyone. We all have to think about how we can become a little poorer. - Author: Pope Francis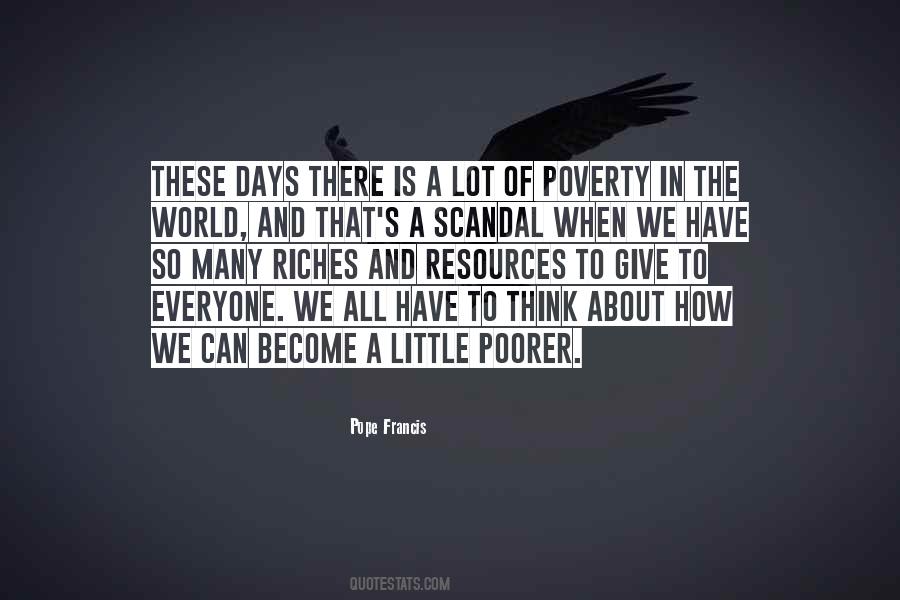 #17. Within each of us lies the power of our consent to health and sickness, to riches and poverty, to freedom and to slavery. It is we who control these, and not another. - Author: Richard Bach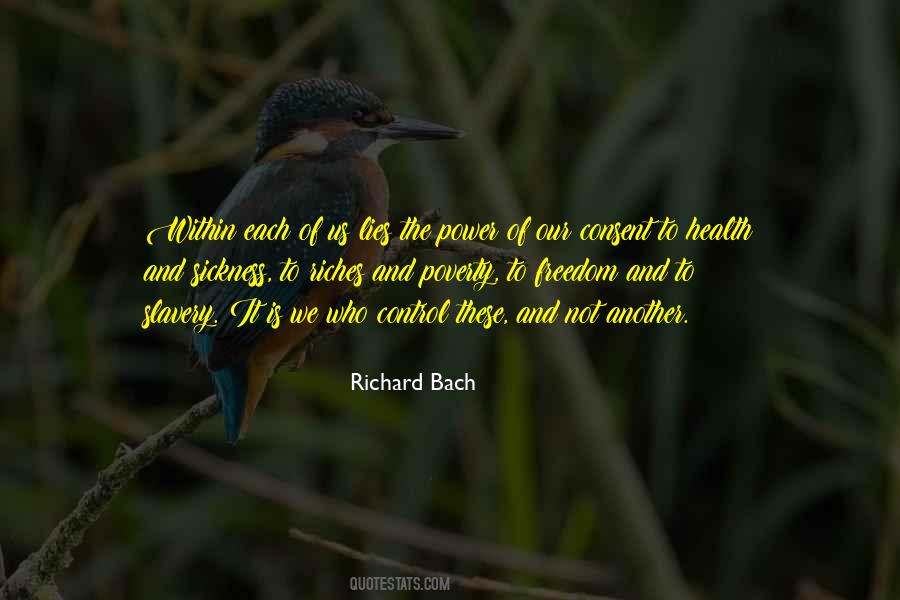 #18. A propensity to hope and joy is real riches; one to fear and sorrow real poverty. - Author: David Hume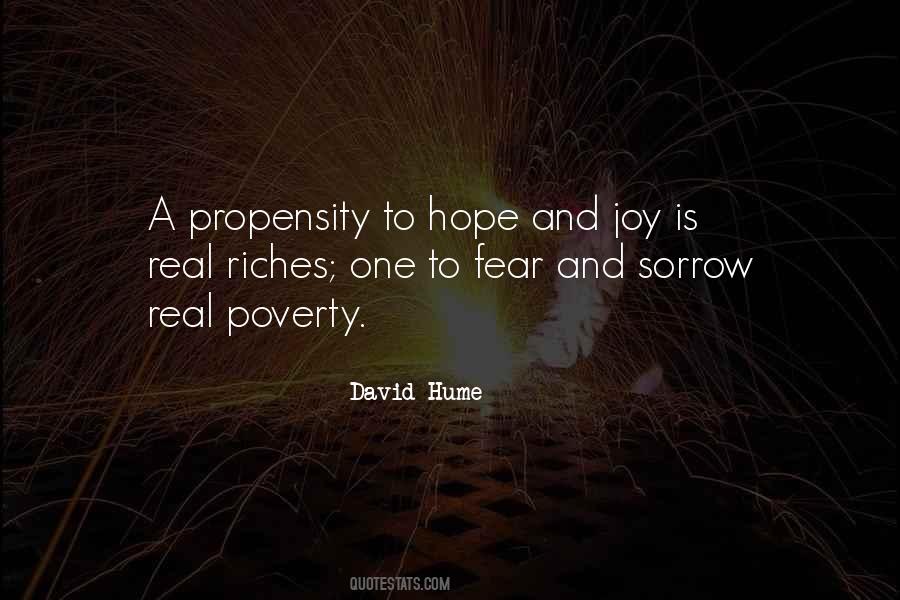 #19. Do not fret under such assistance as is needful; therein lies one great grace of poverty. It were overambitious to aim at being poor without suffering any inconvenience, in other words, to have the credit of poverty and the convenience of riches. - Author: Saint Francis De Sales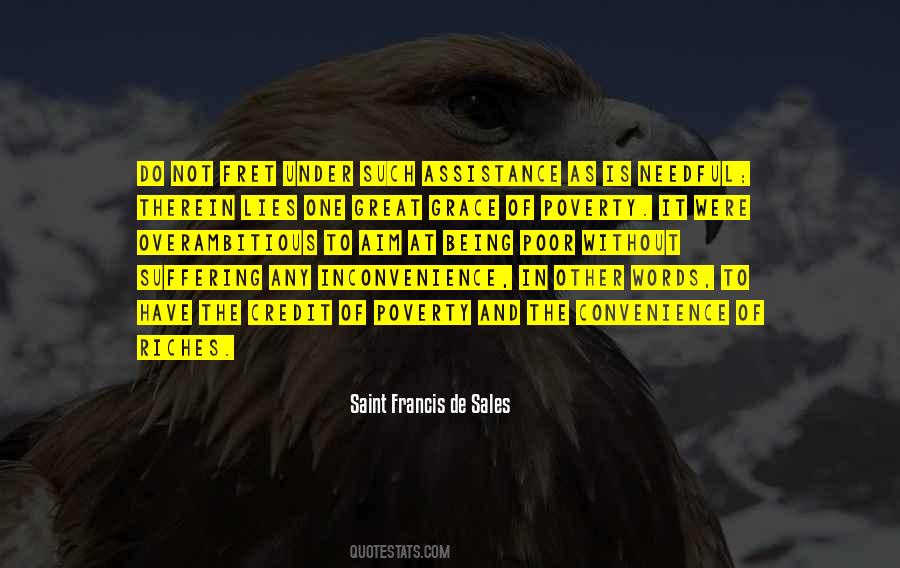 #20. My God, give me neither poverty nor riches; but whatsoever it may be Thy will to give, give me with it a heart which knows humbly to acquiesce in what is Thy will. - Author: Christian Scriver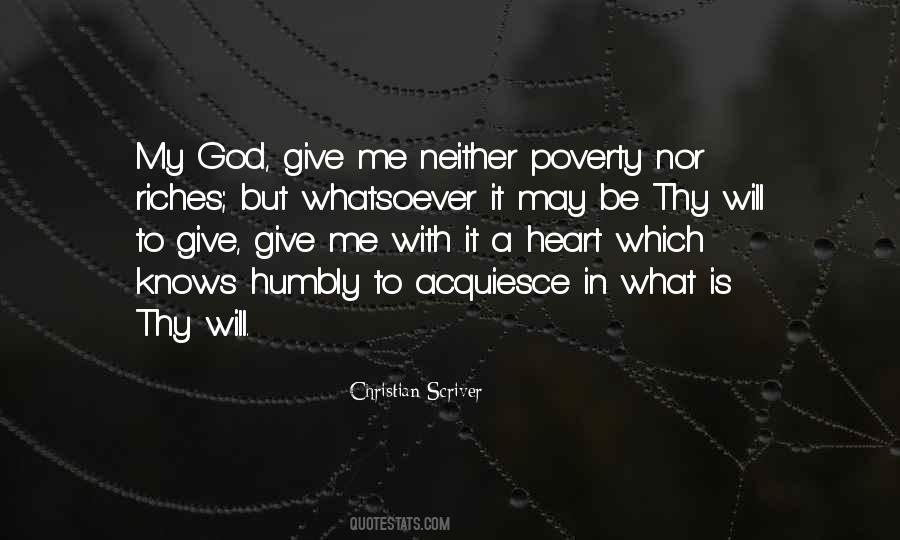 #21. In early childhood you may lay the foundation of poverty or riches, industry or idleness, good or evil, by the habits to which you train your children. Teach them right habits then, and their future life is safe. - Author: Lydia Sigourney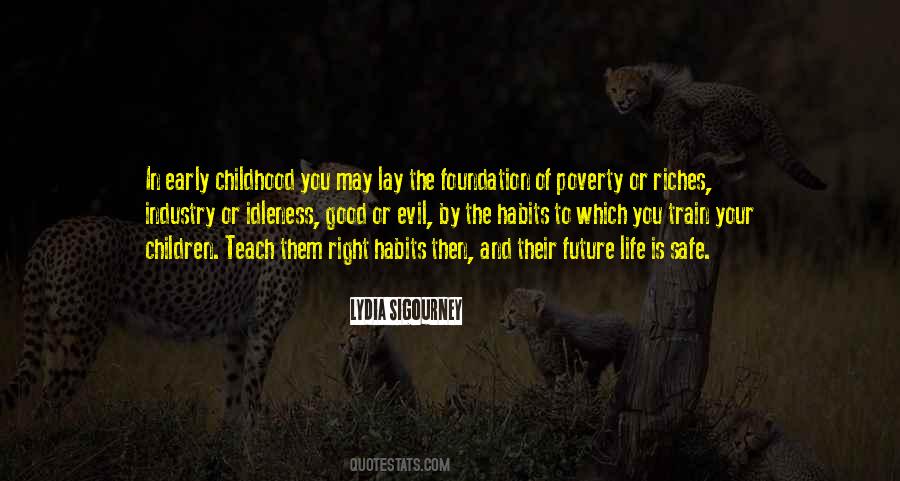 #22. If your daily life seems poor, do not blame it; blame yourself, tell yourself that you are not poet enough to call forth its riches; for to the creator there is no poverty and no poor indifferent place. - Author: Rainer Maria Rilke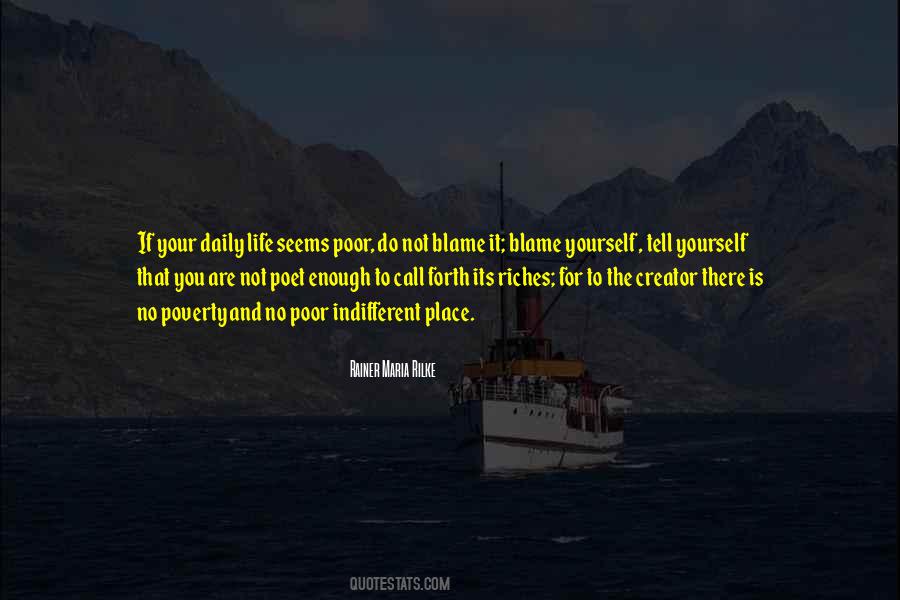 #23. To be conscious of being poor while praying for riches is to be rewarded with that which you are conscious of being, namely, poverty. Prayers to be successful must be claimed and appropriated. Assume the positive consciousness of the thing desired. - Author: Neville Goddard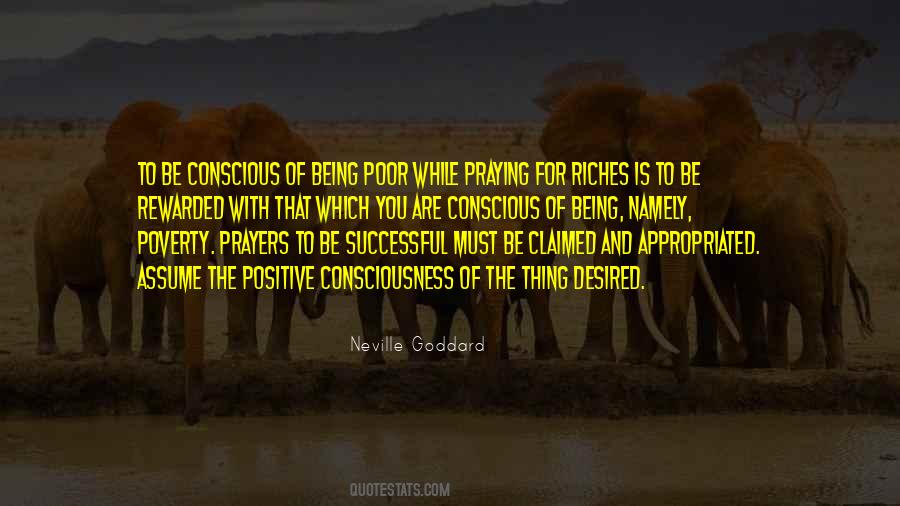 #24. If you are poor now, Aemilianus, you will always be poor. Riches are now given to none but the rich. - Author: Martial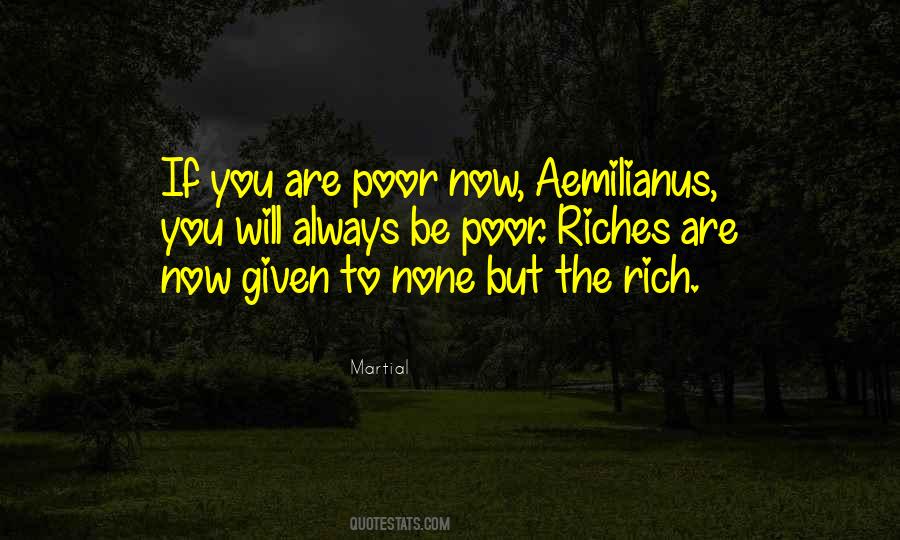 #25. This power makes no attempt to discriminate between destructive thoughts and constructive thoughts, that it will urge us to translate into physical reality thoughts of poverty, just as quickly as it will influence us to act upon thoughts of riches. - Author: Napoleon Hill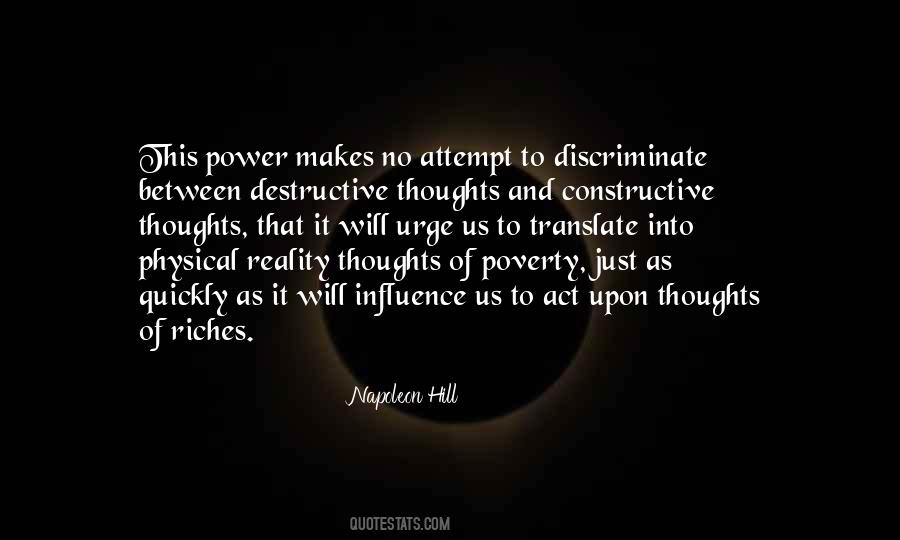 #26. From recovery to rags and rags to recovery symbolizes art - a perfect compilation of human imperfections. - Author: Criss Jami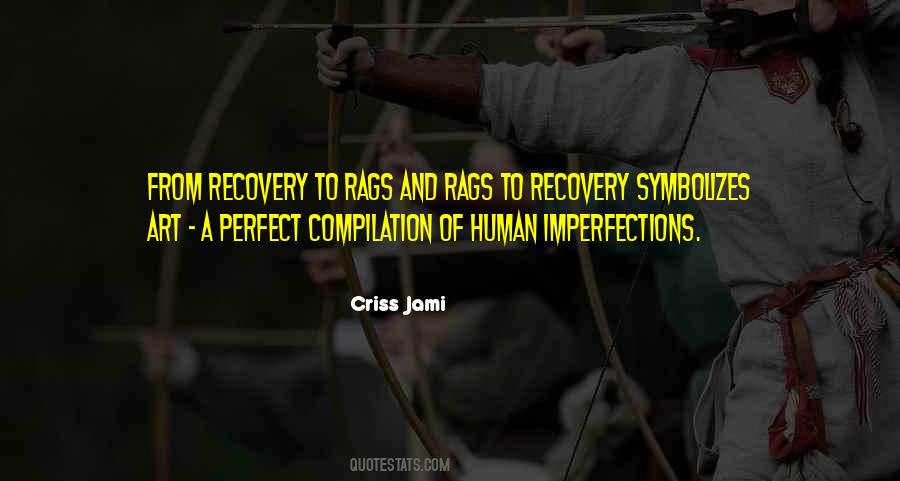 #27. No, I have no desire for riches. Honest poverty and a conscience, torpid through virtuous inaction, are more to me than corner lots and praise. - Author: Mark Twain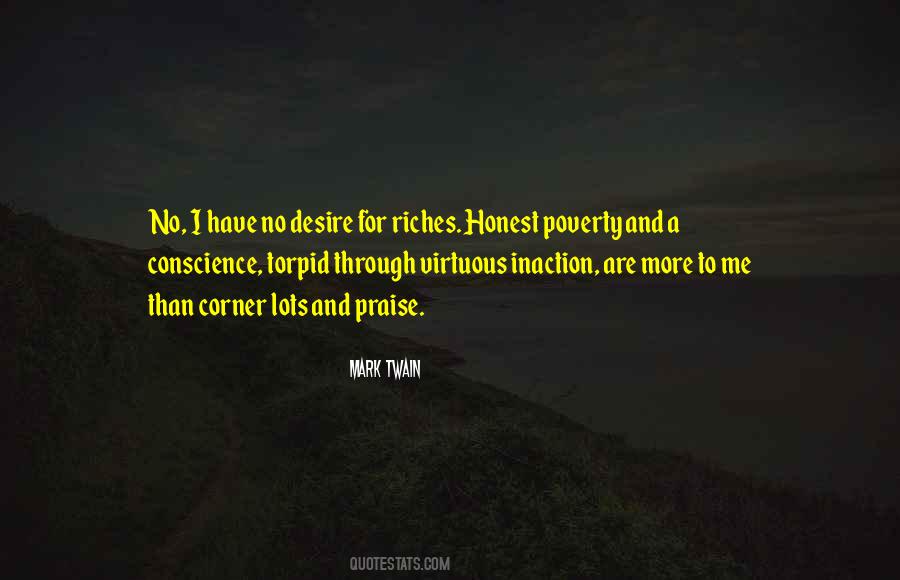 #28. To think health when surrounded by the appearances of disease or to think riches when in the midst of the appearances of poverty requires power, but whoever acquires this power becomes a mastermind. That person can conquer fate and can have what he or she wants. - Author: Wallace D. Wattles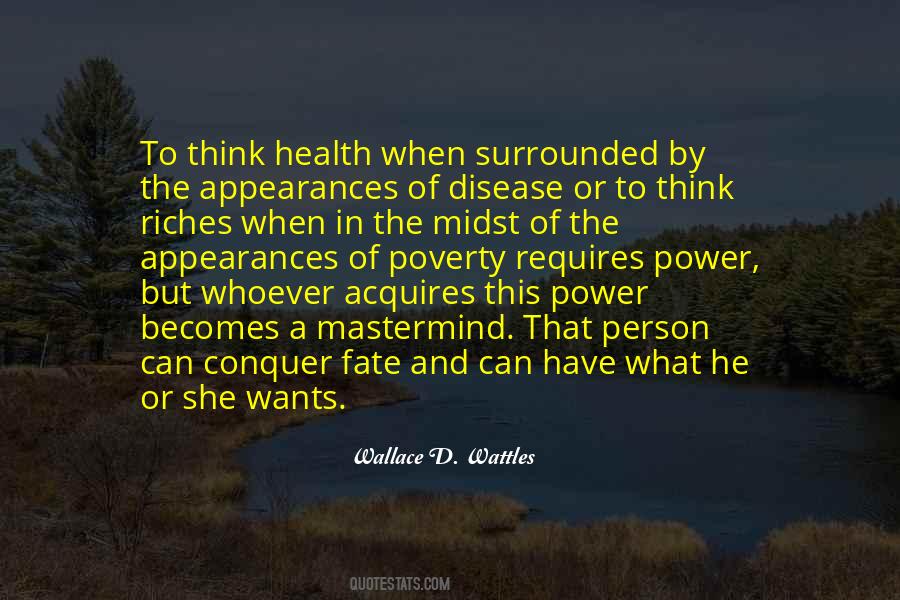 #29. Abundance isn't God's provision for me to live in luxury. It's his provision for me to help others live. God entrusts me with his money not to build my kingdom on earth, but to build his kingdom in heaven. - Author: Randy Alcorn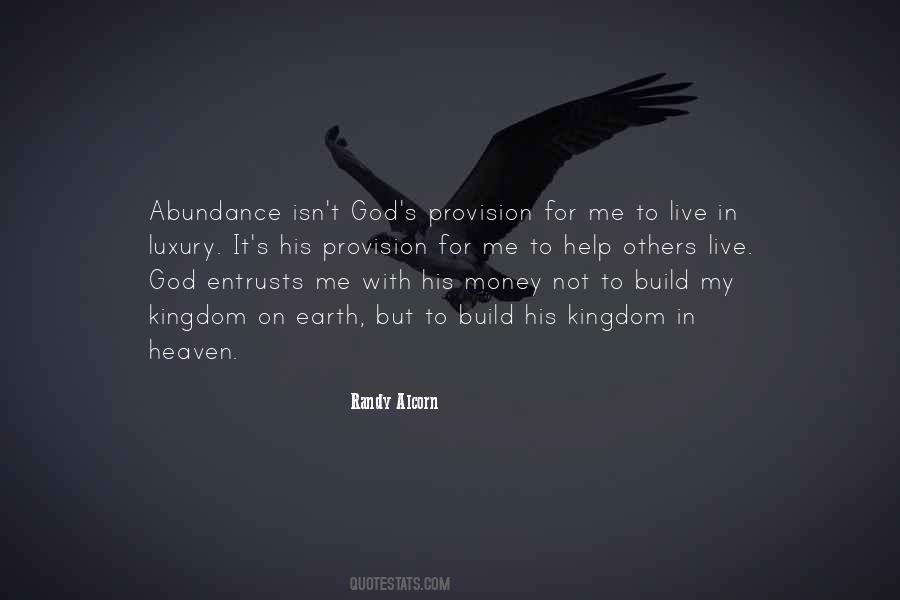 #30. What is the good news to the poor? Christ took your poverty at the cross and gave you the riches of Abraham. The chains of poverty have been broken at the cross. - Author: John Hagee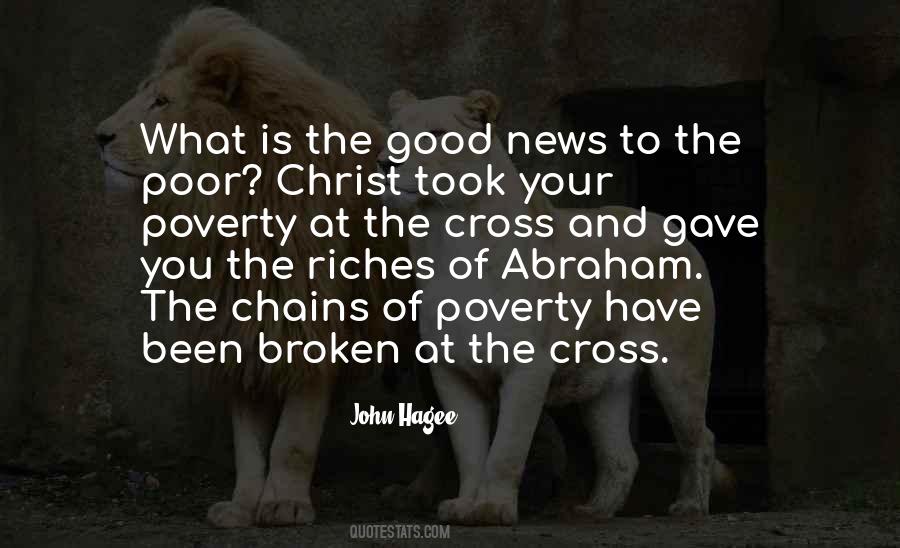 #31. This one fact the world hates; that the soul becomes; for that forever degrades the past, turns all riches to poverty, all reputation to a shame, confounds the saint with the rogue, shoves Jesus and Judas equally aside. - Author: Ralph Waldo Emerson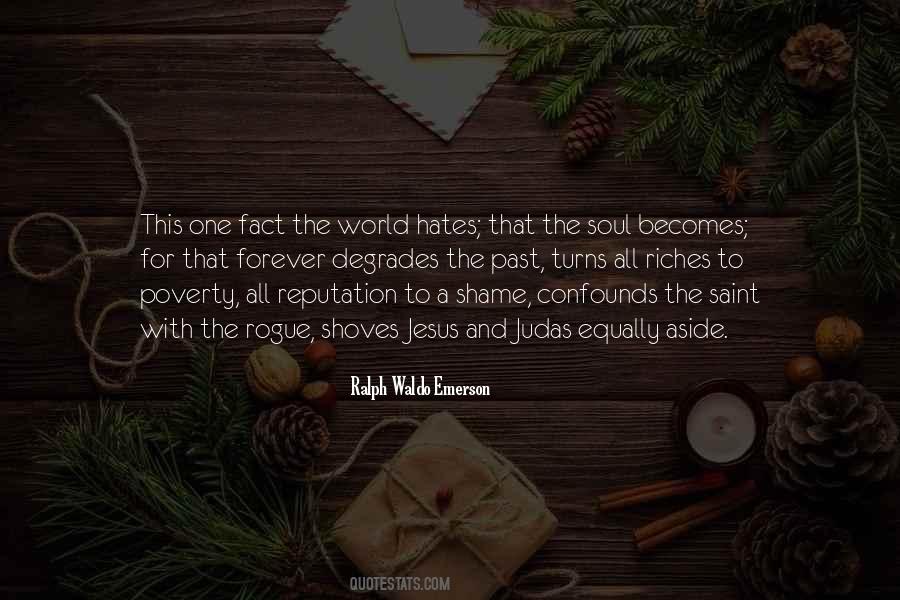 #32. Our inability to recall how we really felt is why our wealth of experiences turns out to be poverty of riches. - Author: Daniel M. Gilbert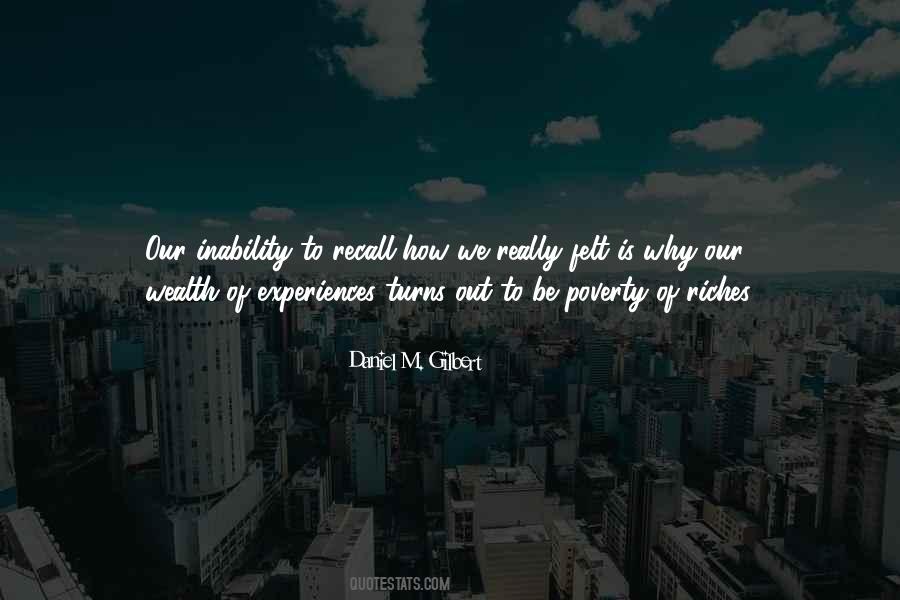 #33. Learning maketh young men temperate, is the comfort of old age, standing for wealth with poverty, and serving as an ornament to riches. - Author: Marcus Tullius Cicero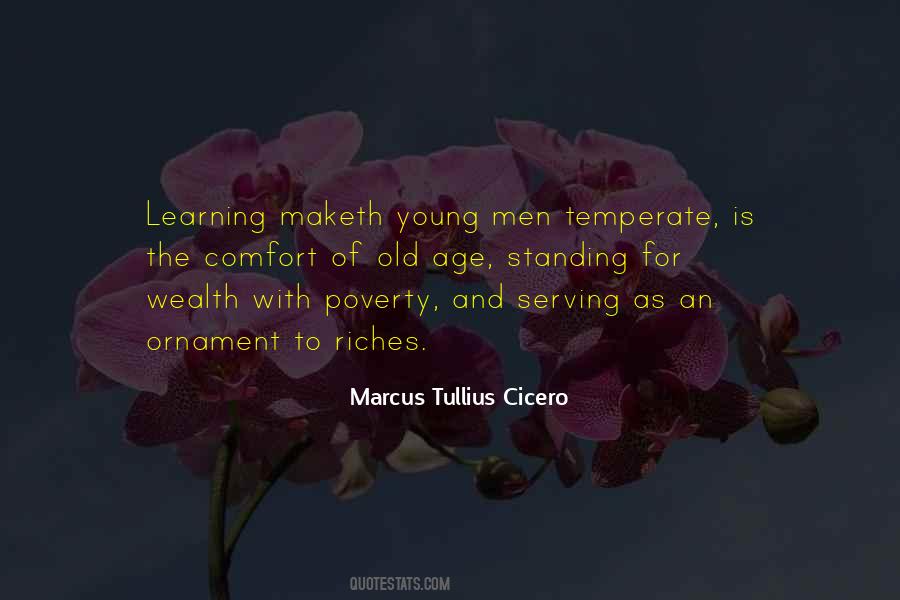 #34. In the free market, a man born into wealth or who has otherwise acquired great riches can lose his fortune depending on how he chooses to behave. Conversely, a man born into poverty or who has lost wealth once obtained can acquire a fortune, depending, again, on how he chooses to behave. - Author: Mark Levin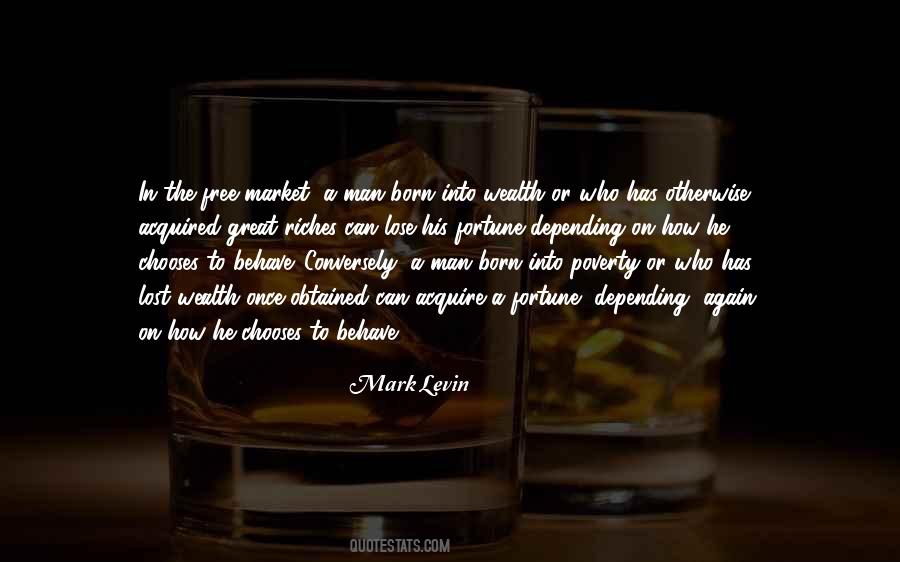 #35. It is not poverty that is to be heared, but the lack of balance between riches and poverty. - Author: Pearl S. Buck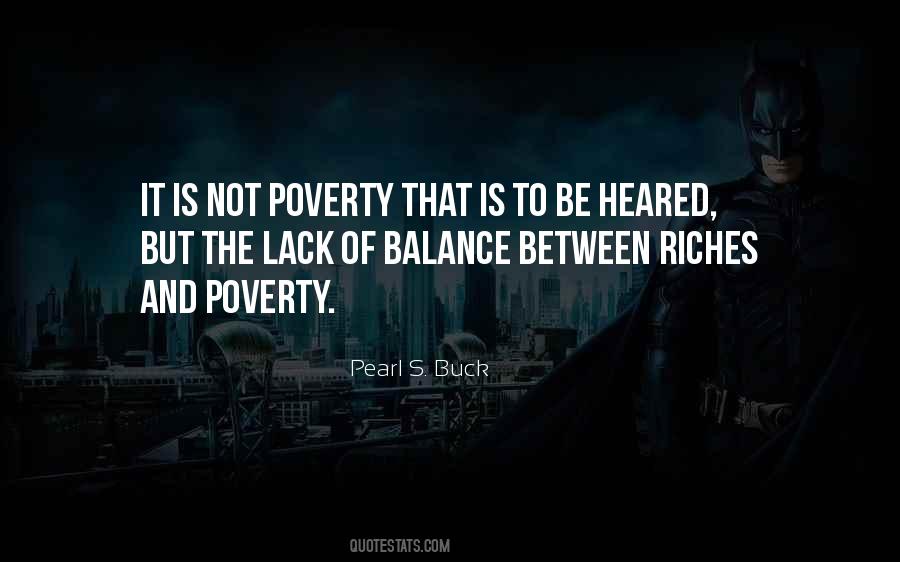 #36. There is nothing in all the world greater than freedom. It is worth paying for; it is worth going to jail for. I would rather be a free pauper than a rich slave. I would rather die in abject poverty with my convictions than live in inordinate riches with the lack of self respect. - Author: Martin Luther King Jr.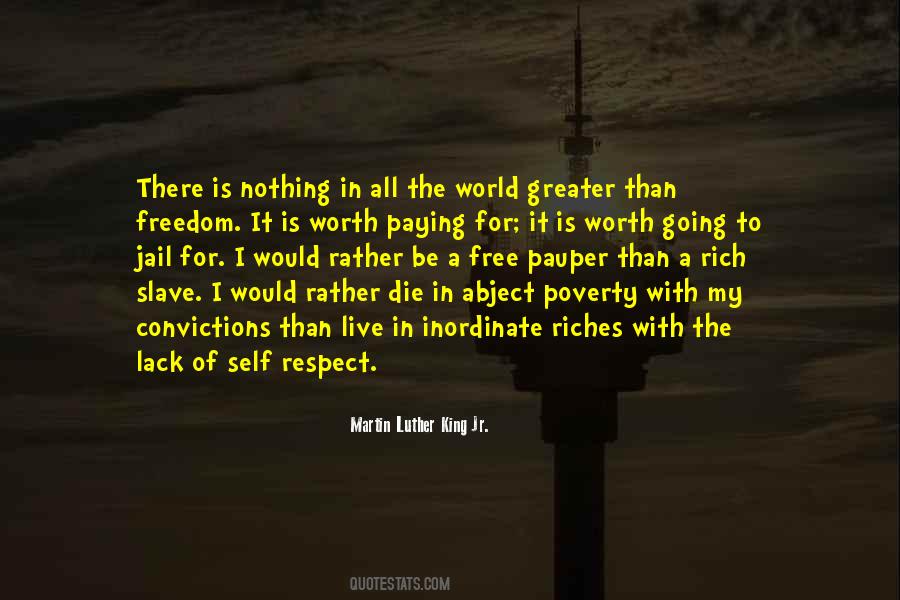 #37. What are riches - grandeur - health itself, to the luxury of a pure conscience, the health of the soul; - and what the sufferings of poverty, disappointment, despair - to the anguish of an afflicted one! - Author: Ann Radcliffe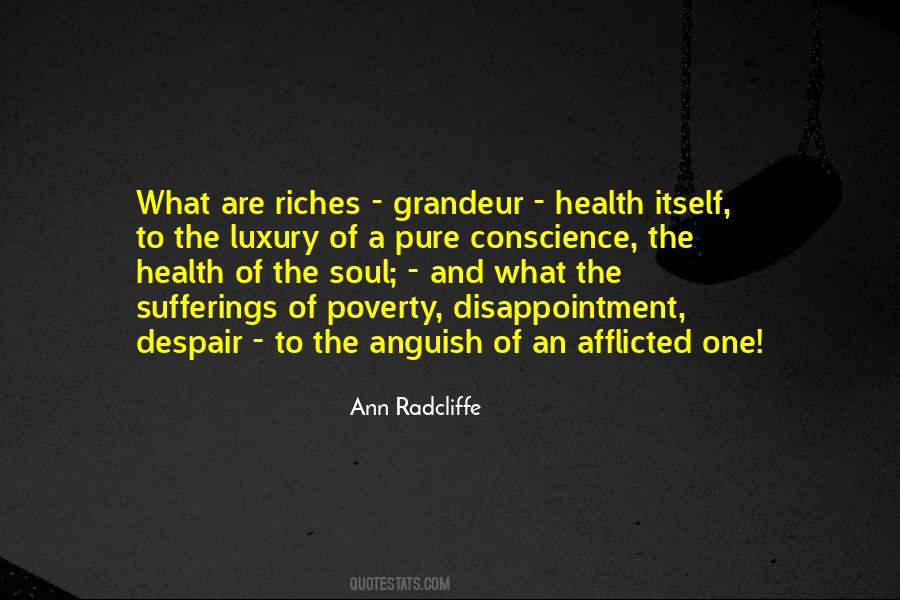 Famous Authors
Popular Topics