Political Statement Famous Quotes & Sayings
List of top 51 famous quotes and sayings about political statement to read and share with friends on your Facebook, Twitter, blogs.
Top 51 Political Statement Quotes
#1. It's not what my job is about. I'm not out to make a political statement. I want to stand for something, but more by example. - Author: Lauren Bush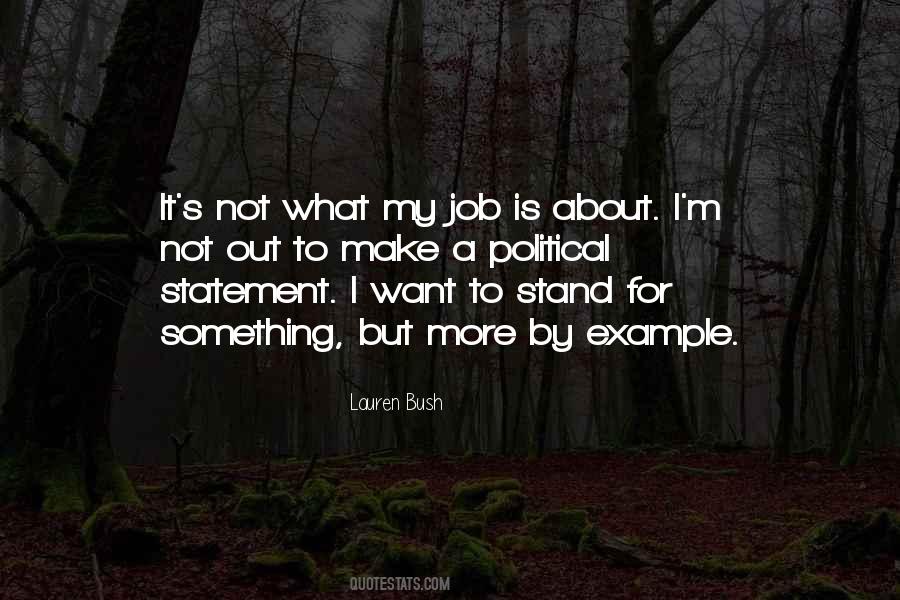 #2. And realising that humour is the most powerful way to make a political statement and say the things that you want to say. And it's not used enough, at least not in the U.S. - Author: Michael Moore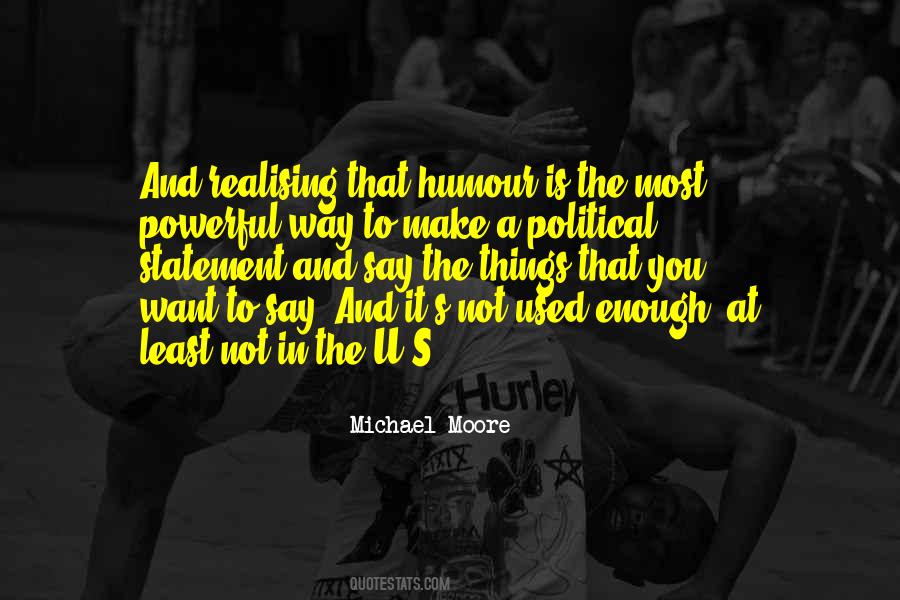 #3. With Storytelling, at least, it's explicit: this is what the censors say American citizens, no matter what age, are not permitted to see, even though it can be seen by other people all over the world. I suppose you could call it a political statement. - Author: Todd Solondz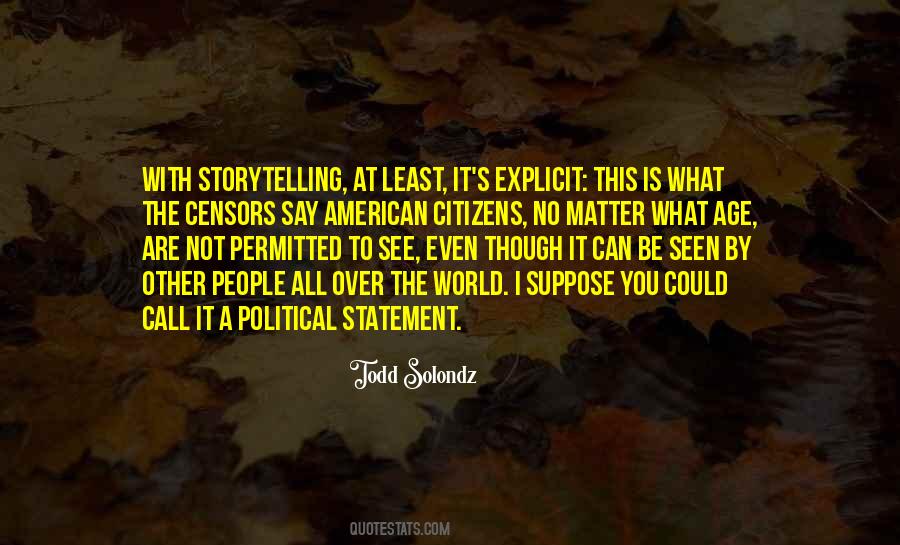 #4. I haven't made a political statement in quite a long time because, frankly, they get repeated, changed. - Author: Tom Selleck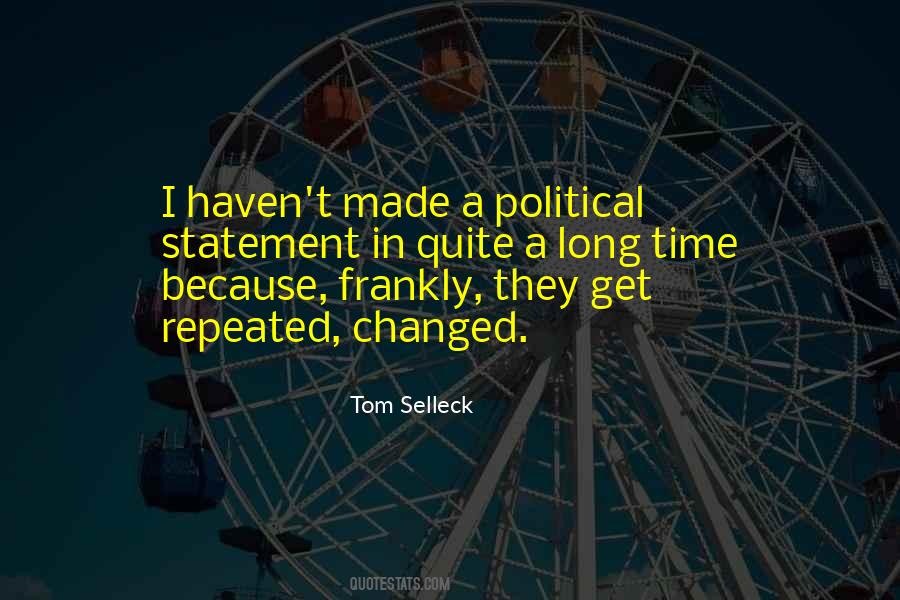 #5. Certainly, the murder of civilians for political statement did not just begin on September 11, 2001. - Author: Cliff Stearns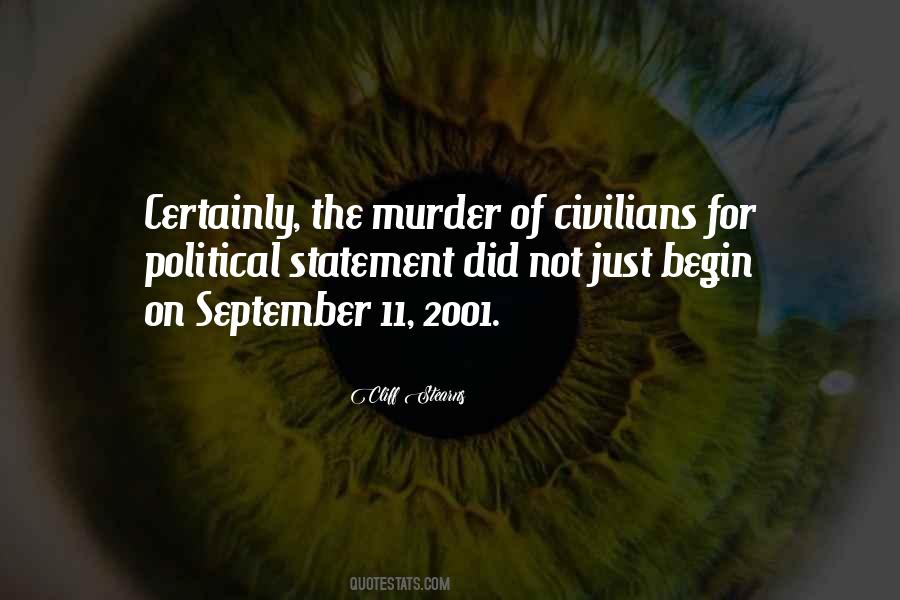 #6. Immediately after his re-election [Cameron] announced: "For too long we have been a passively tolerant society, saying to our citizens so long as you obey the law we will leave you alone." A statement so far to the right that it conceded the political centre ground to Judge Dredd. - Author: Frankie Boyle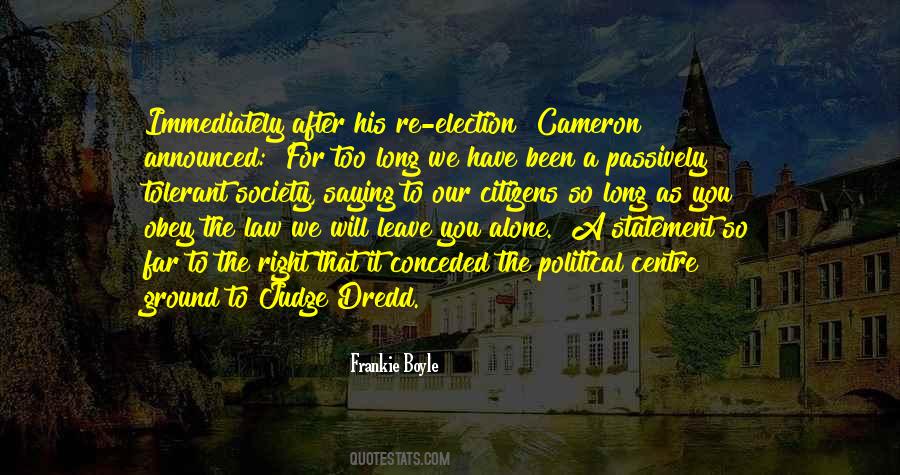 #7. When I started off with Trainspotting, it was the way the characters came to me. That's how they sounded to me. It seemed pretentious to sound any other way. I wasn't making any kind of political statement. - Author: Irvine Welsh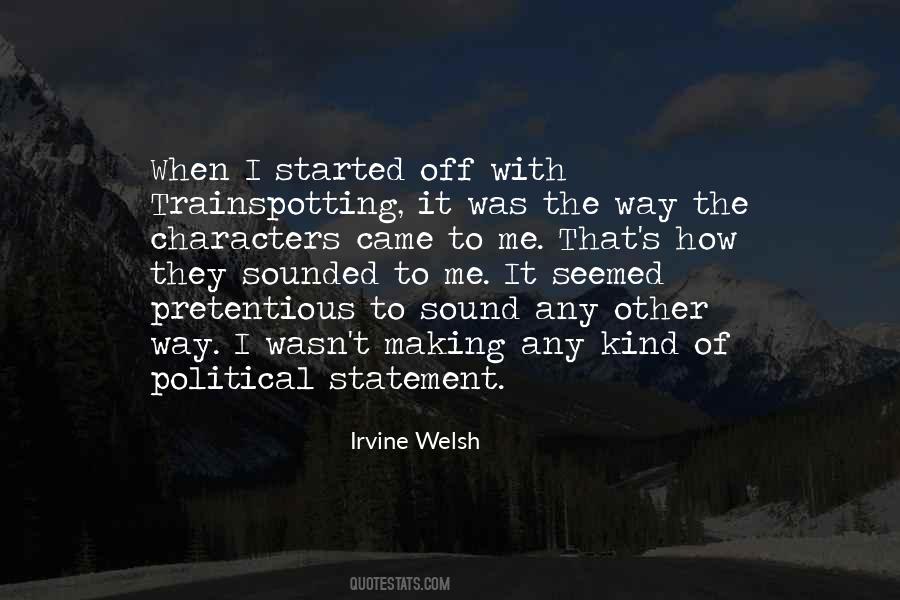 #8. I do what I do, and write what I write, without calculating what is worth what and so on. Fortunately, I am not a banker or an accountant. I feel that there is a time when a political statement needs to be made and I make it. - Author: Arundhati Roy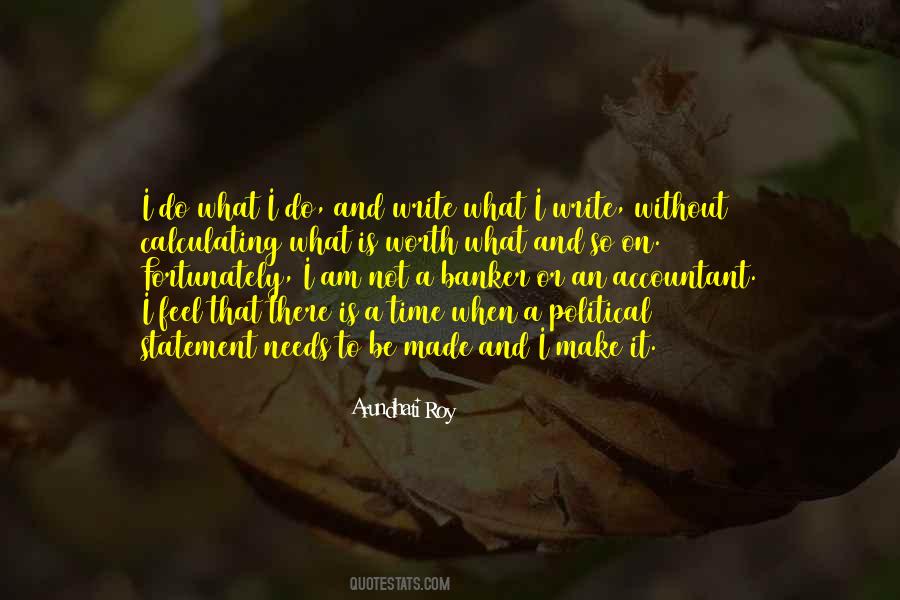 #9. The assertion that there are an infinite number of homosexualities is a political statement rather than an observable fact. - Author: Rictor Norton
#10. Whether it's people walking off 'The View' when Bill O'Reilly makes a statement about radical Islam or Juan Williams being fired for expressing his opinion, over-reaching political correctness is chipping away at the fundamental American freedoms of speech and expression. - Author: Eric Cantor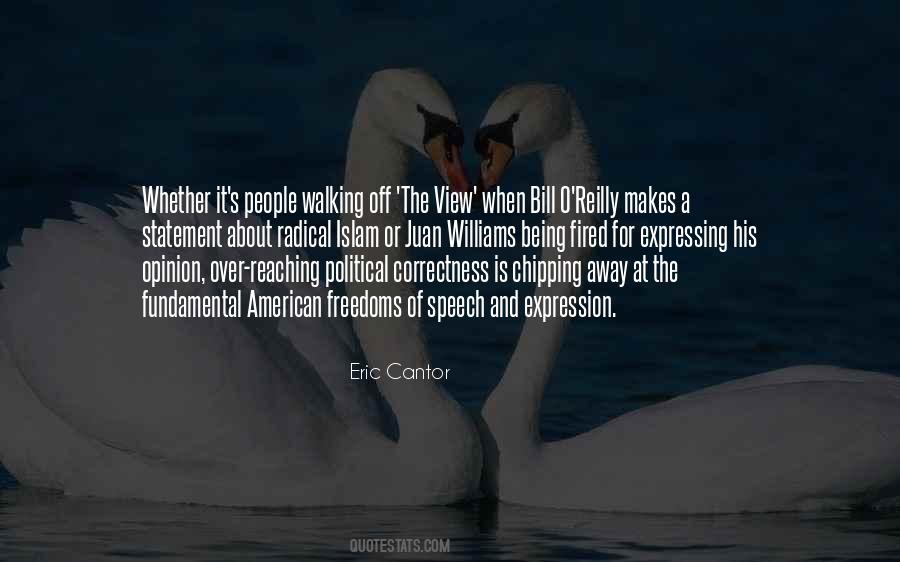 #11. A fart is not only a political statement; it is also a weapon. - Author: Bridget Christie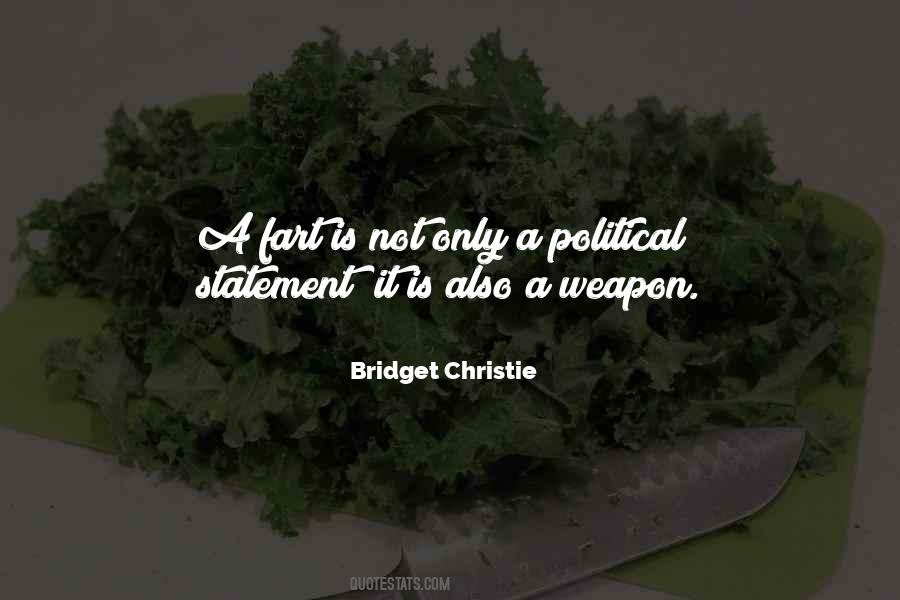 #12. I hope that just what I sing about and how I relate to my audience is as much of a political statement as I need to make. - Author: Dave Matthews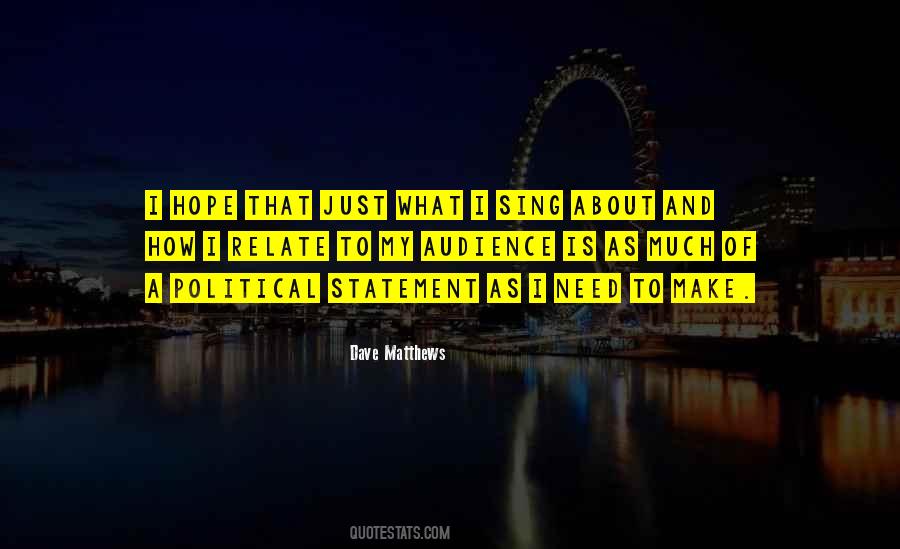 #13. Smith and Carlos aside, I object to using the Olympic awards stand to make a political statement. - Author: Brent Musburger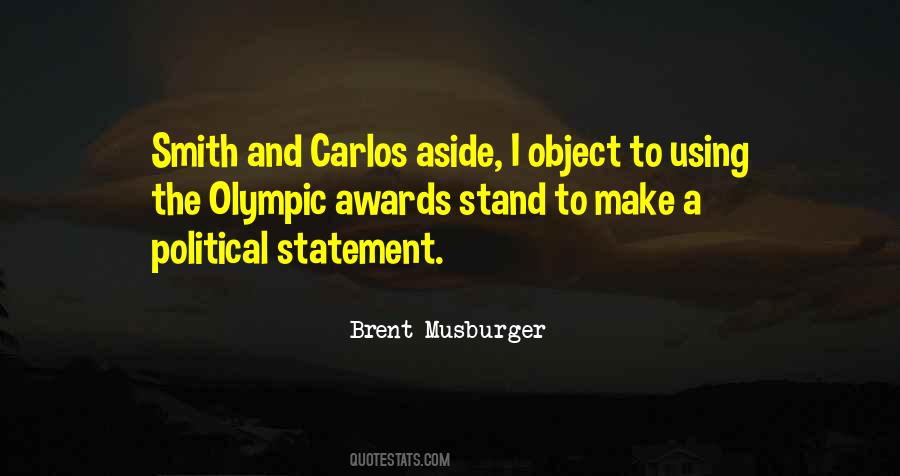 #14. Comrade, your statement is factually incorrect."
"Yes, it is. But it is politically correct."
(The Rise of Political Correctness) - Author: Angelo Codevilla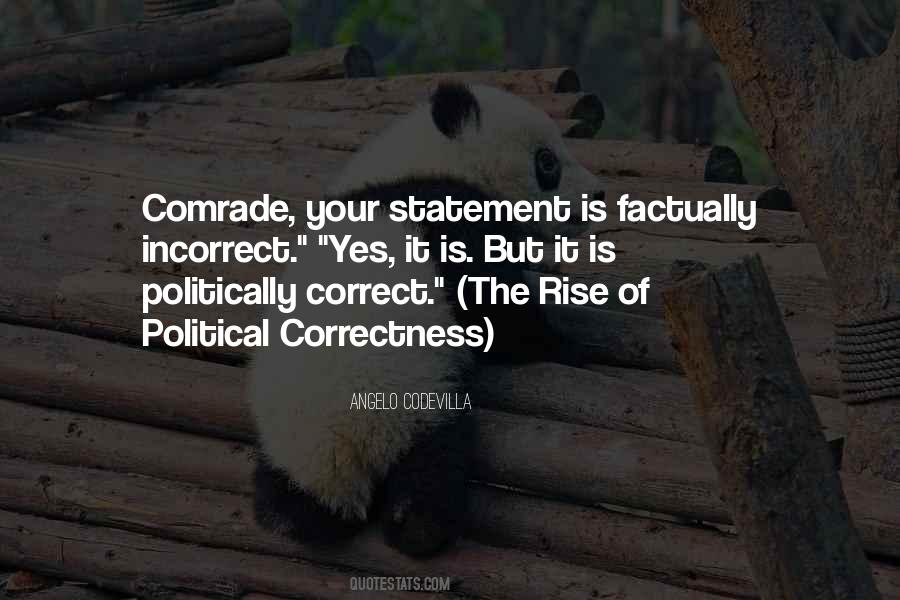 #15. When you put gas in your car you are making a political statement, because you are supporting the empires that control and continue the destruction of some countries. - Author: Javier Bardem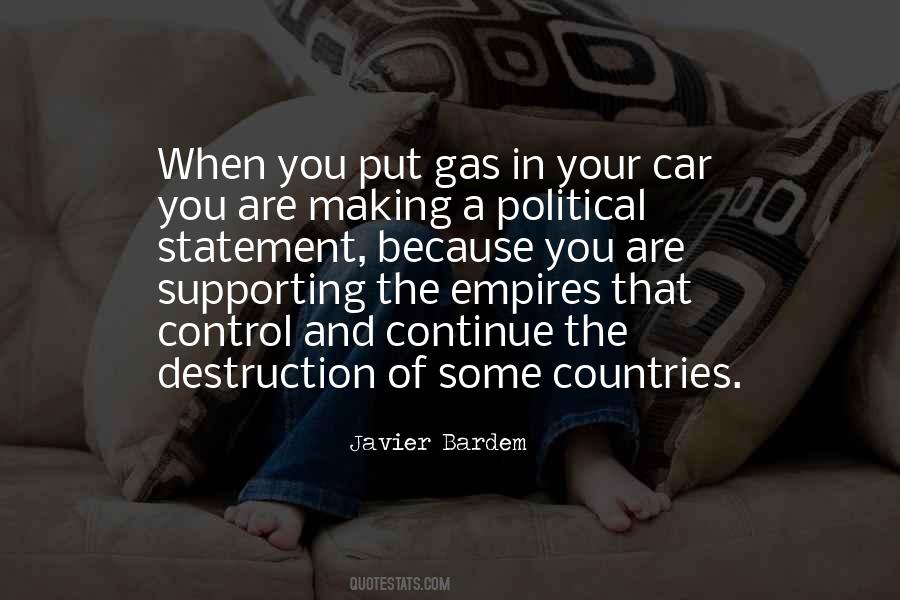 #16. The idea wasn't to make a direct political statement since the current economic collapse hadn't begun when we started on the book. The parallels I'm most interested in are the ways that human nature never changes, no matter how far back in time you look. - Author: James Vance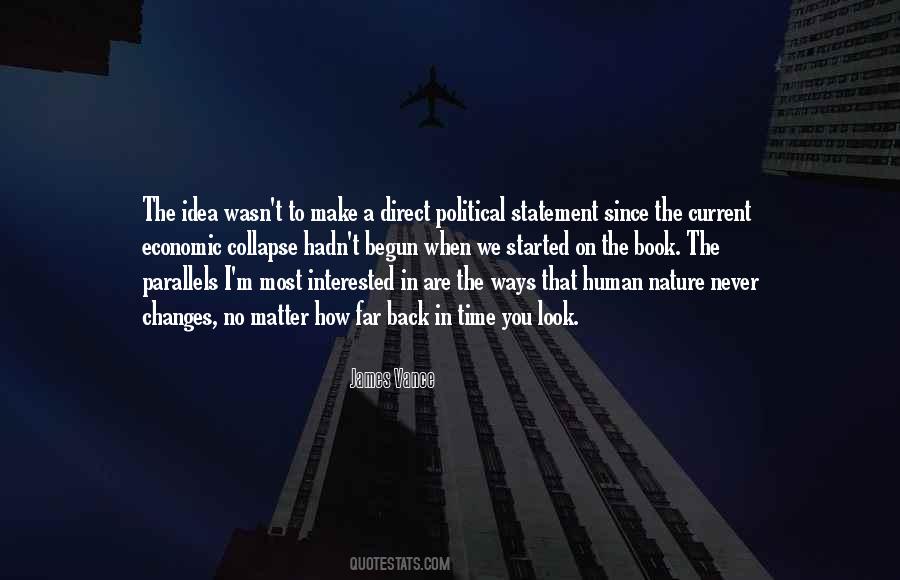 #17. I didn't want to do an electro-class album or complex rap album. I wanted to do something that was kind of like a political statement, but also club jams. I wanted it to be dancy, but intelligent at the same time. - Author: Le1f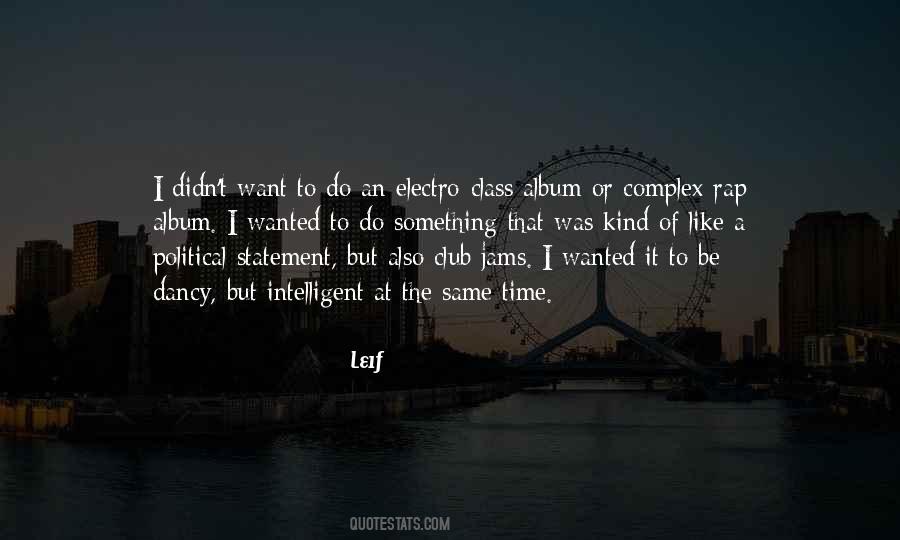 #18. Love is a human experience, not a political statement. - Author: Anne Hathaway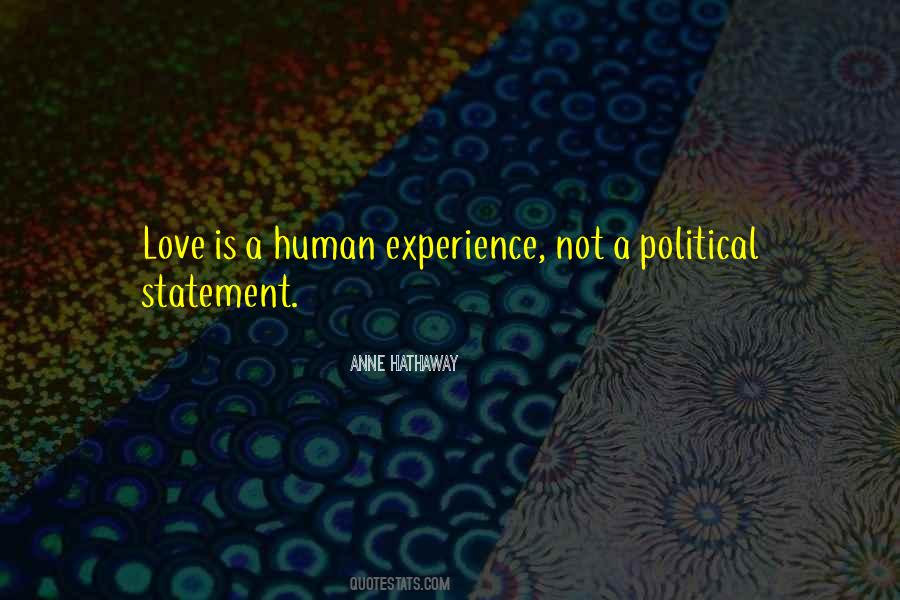 #19. That statement was not addressed to the authors of political statements. I said that I deplore attempts to misinform the public and to /trigger/ political intervention. And there were such attempts. - Author: Mario Monti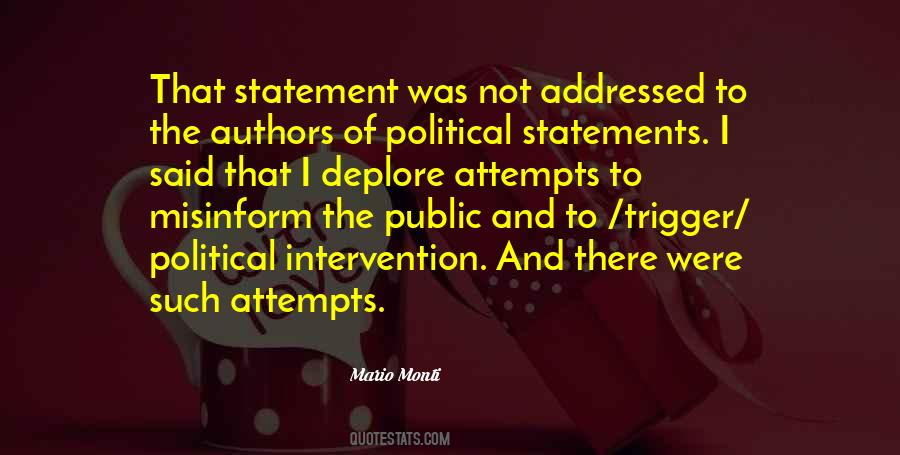 #20. I feel so Scottish when I go abroad, and I'm so proud of it, but for me, it's not a political statement - I just happen to be Scottish. - Author: Michelle Gomez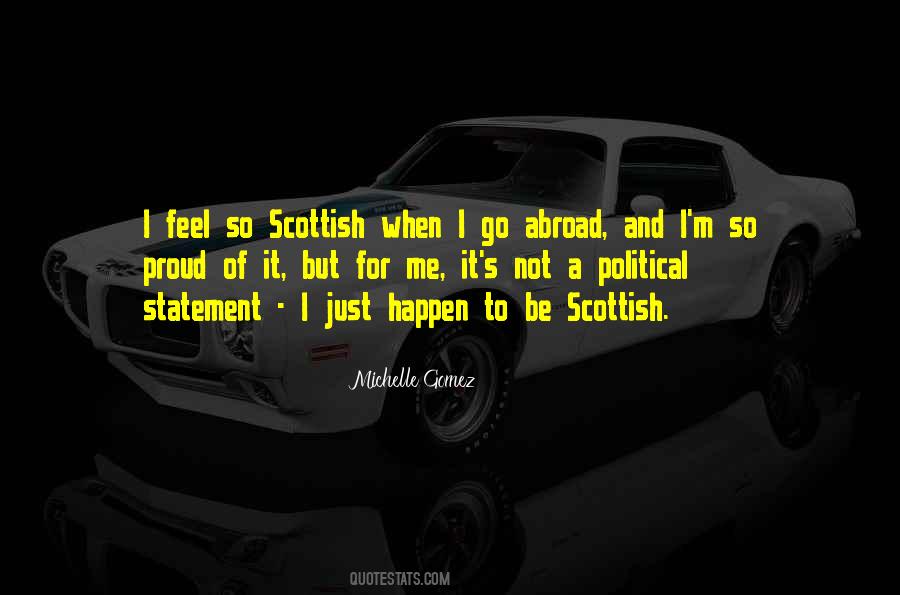 #21. People keep framing this as a religious freedom issue, but there's a difference between practicing your religion - which everyone has the right to do - and rubbing your religion in people's faces as a triumphalist political statement, which is what's happening here. - Author: Pat Condell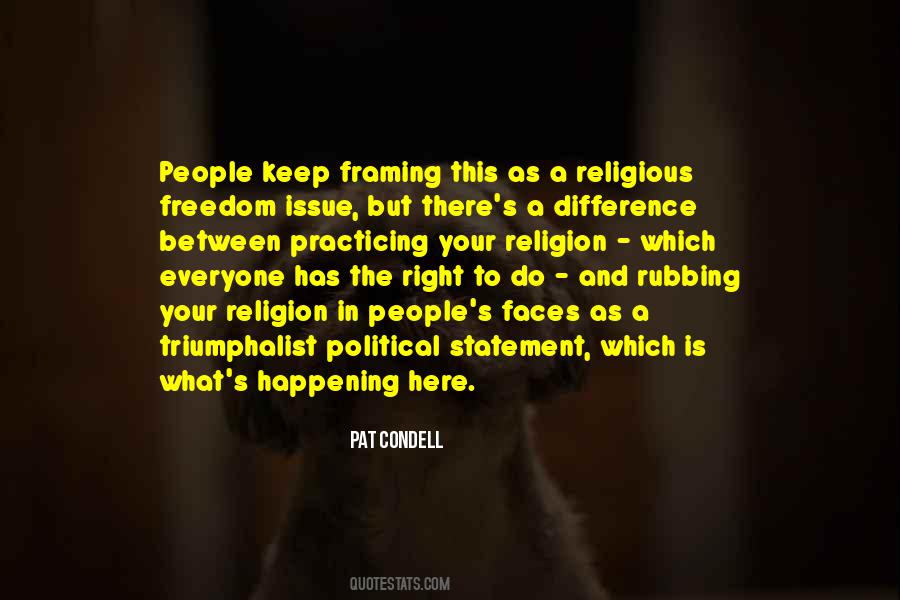 #22. Everything a gay man does makes a political statement. Everything matters: where you bank, where you shop, where you eat. When you hold your lover's hand in public - Author: Josh Lanyon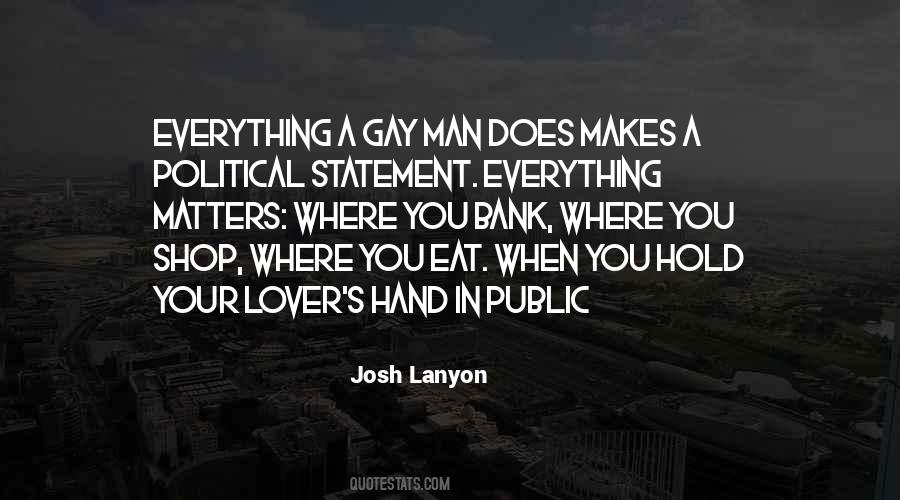 #23. I dance as a political statement, because disabled bodies are inherently political, but I mostly dance for all the same reasons anyone else does: because it heals my spirit and fills me with joy. - Author: Stella Young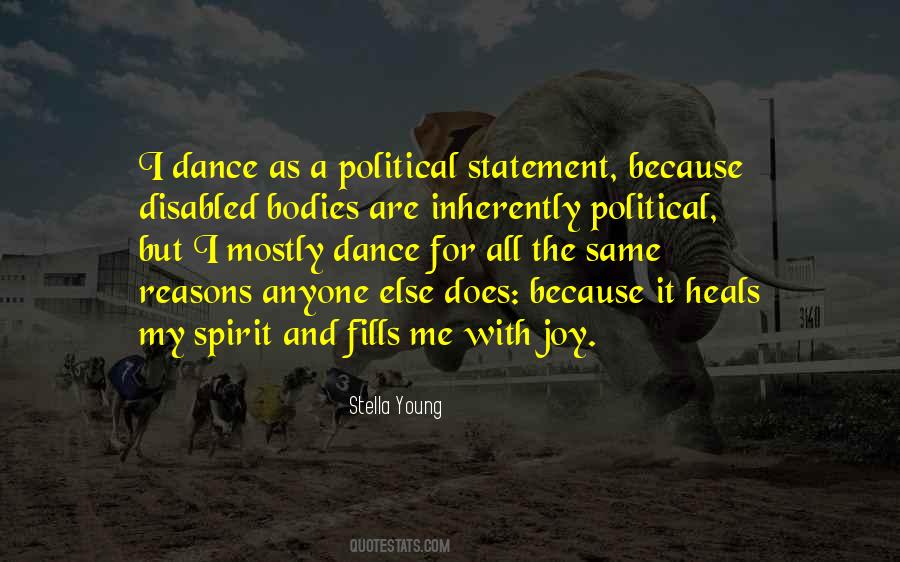 #24. I've never thought of the Olympics as a political statement. I really think a boycott ... is in the wrong as far as the athletes are concerned. - Author: Johnny Weir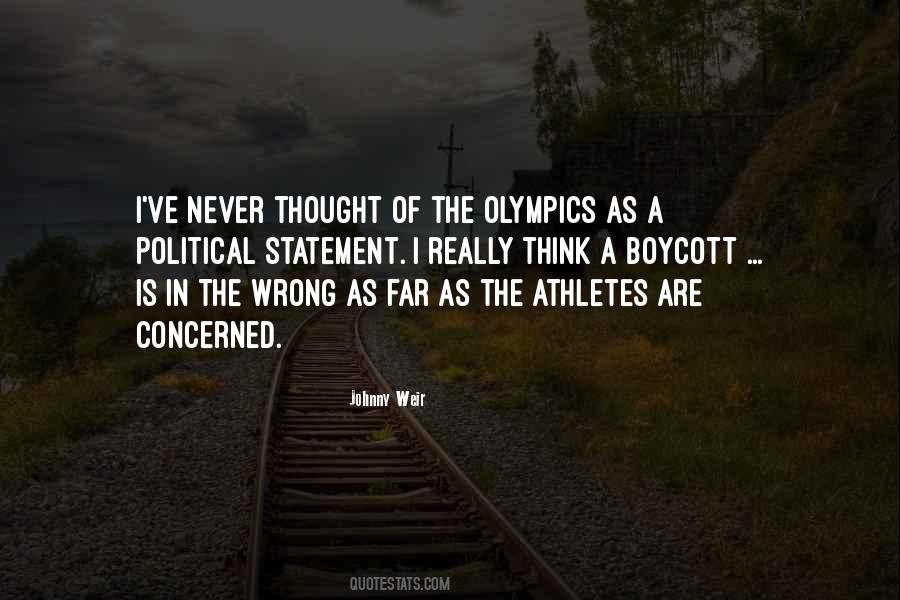 #25. Making art in America is sort of a political statement in and of itself. It's not the best environment for that sometimes. - Author: Steve Earle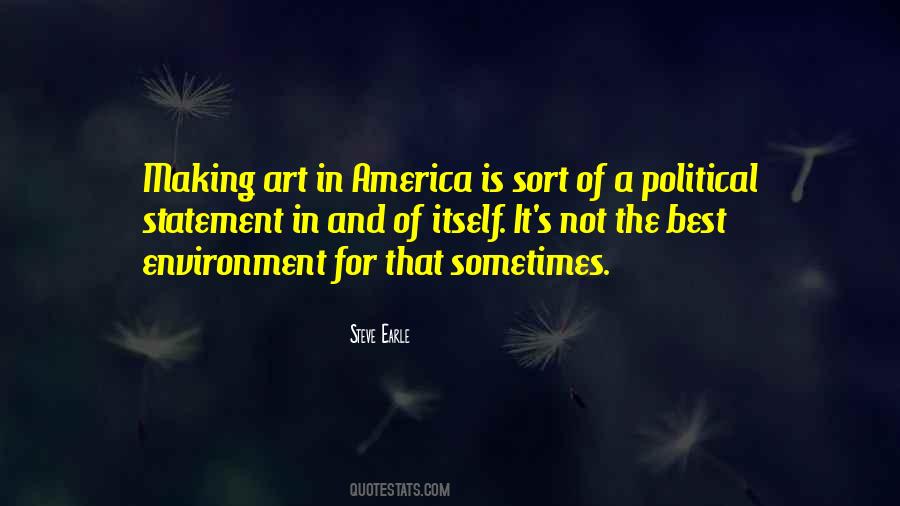 #26. The Toothbrush mustache is the most powerful configuration of facial hair the world has ever known. It overpowers whoever touches it. By merely doodling a Toothbrush mustache on a poster, you make a political statement. - Author: Rich Cohen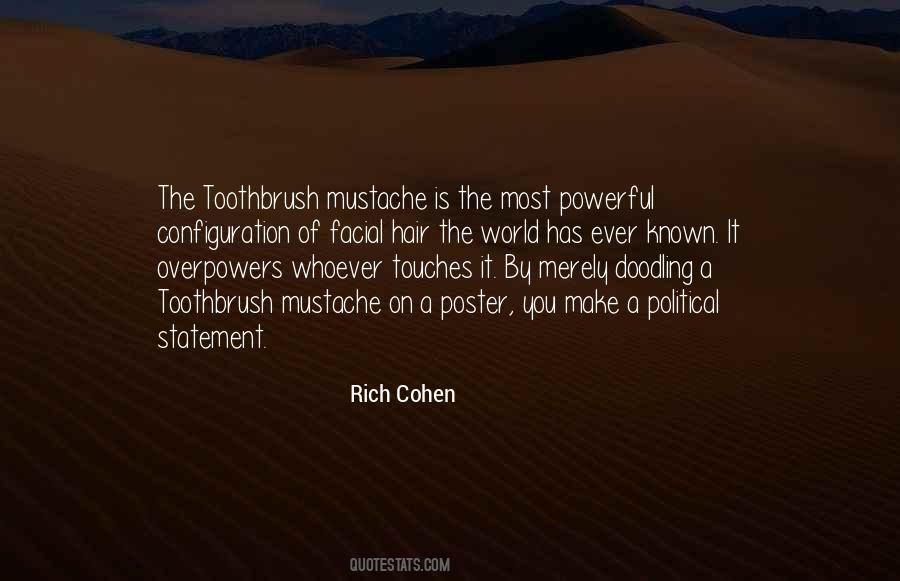 #27. I'm of the opinion that if you step on stage and you're not a straight white male, you're automatically making a political statement whether you know it or not. - Author: W. Kamau Bell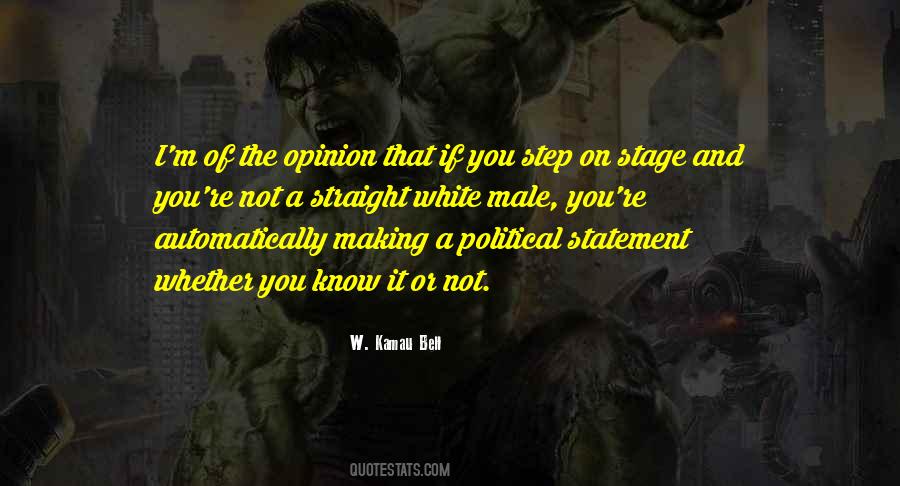 #28. All necessary measures should be taken to encourage and stimulate immigration of Jews into Palestine on a large scale. - joint statement signed by both Chaim Weizmann and Prince Faisal - Author: Sol Stern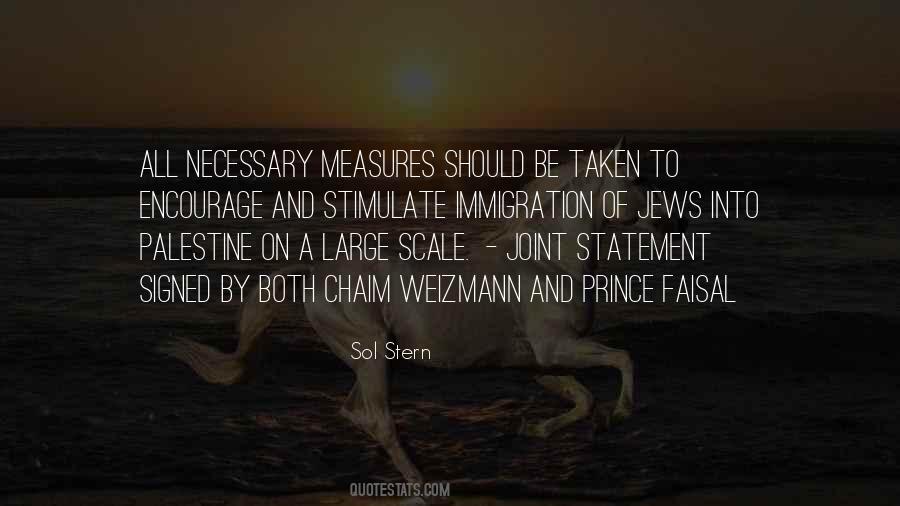 #29. I'm somewhat of a raptivist but I wasn't attempting to make a socio-political statement as much as I was attempting to voice for the voiceless whatever ideas that came to mind if I was in that situation. - Author: Myka 9
#30. The attempt to divide art and politics is a bourgeois which says good poetry, art, cannot be political, but since everything is ... political, even an artist or work that claims not to have any politics is making a political statement by that act. - Author: Amiri Baraka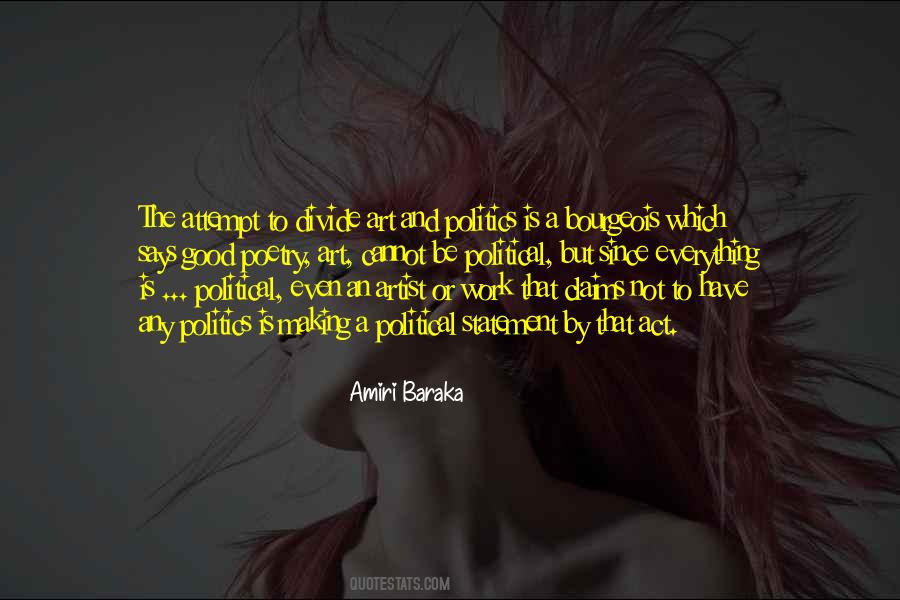 #31. Did you really say y'all to me? Did i actually make a political statement to which your non sequitur reply was, 'Are y'all vegetarians? - Author: Blanche McCrary Boyd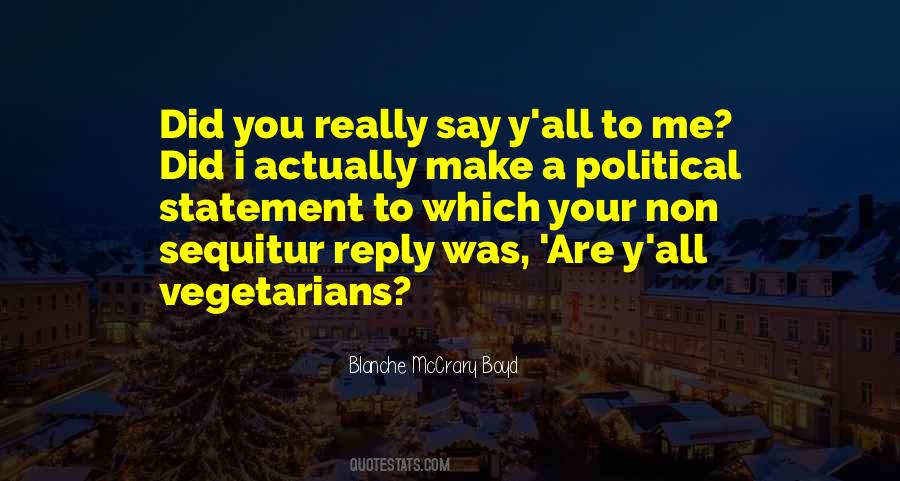 #32. I have spent much of my life turning away from the scripts given to me, in China and in America; my refusal to be defined by the will of others is my one and only political statement. - Author: Yiyun Li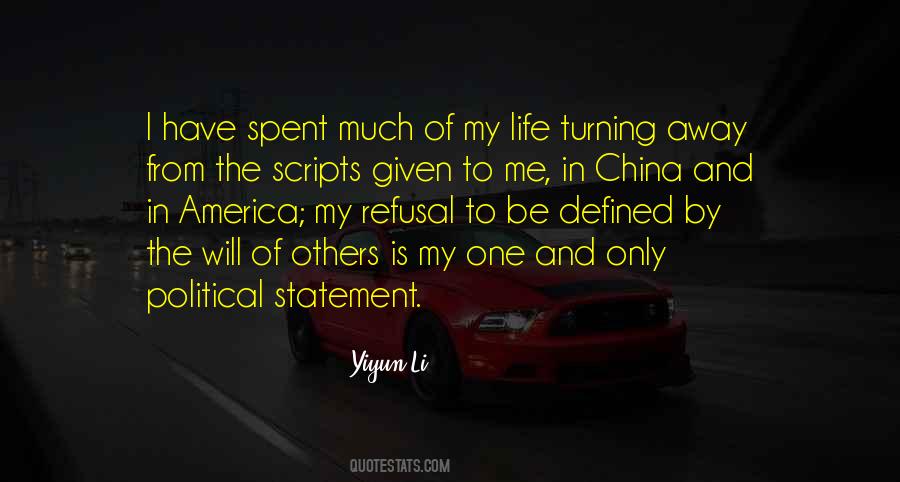 #33. If today I have to make a political statement, it is, 'I love beauty.' I think beauty makes people better. - Author: Marjane Satrapi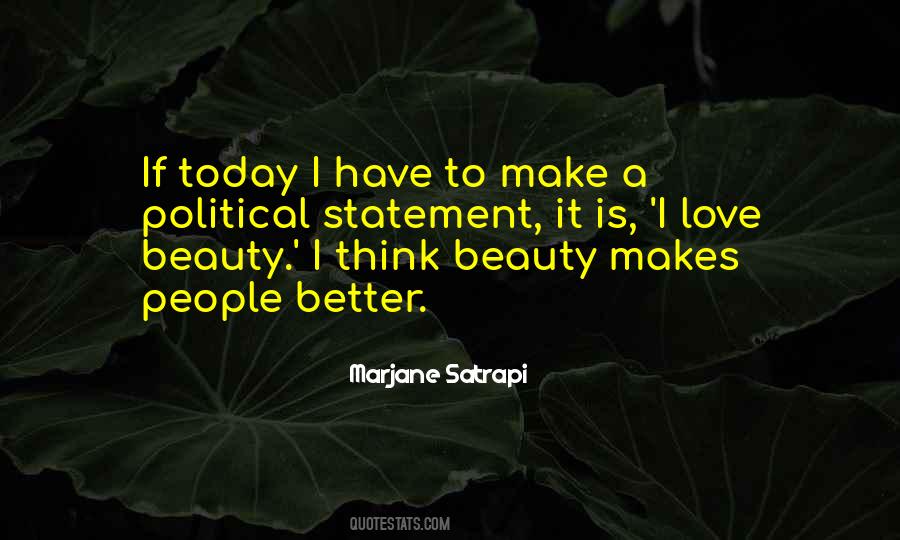 #34. My hair is an aesthetic choice ... At the same time, how you wear your hair is a political statement as well. - Author: Erykah Badu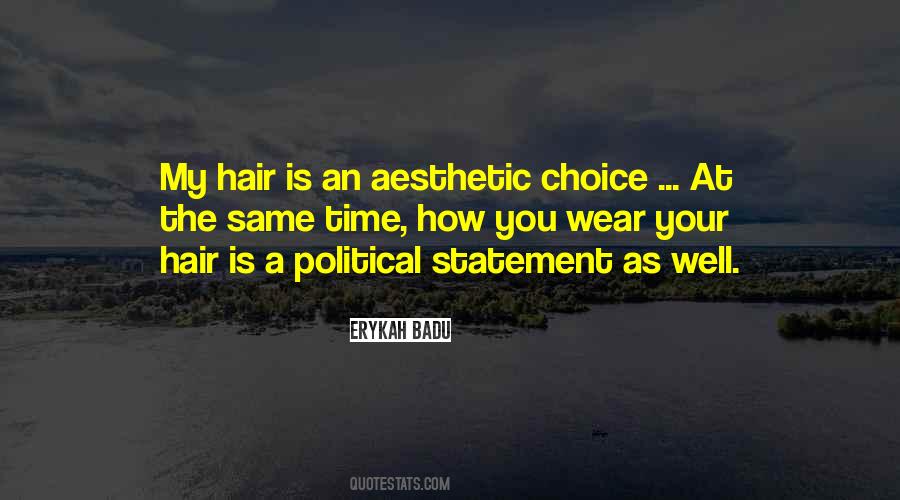 #35. Breastroke is an athletic event, butterfly is a political statement. - Author: Paul Tsongas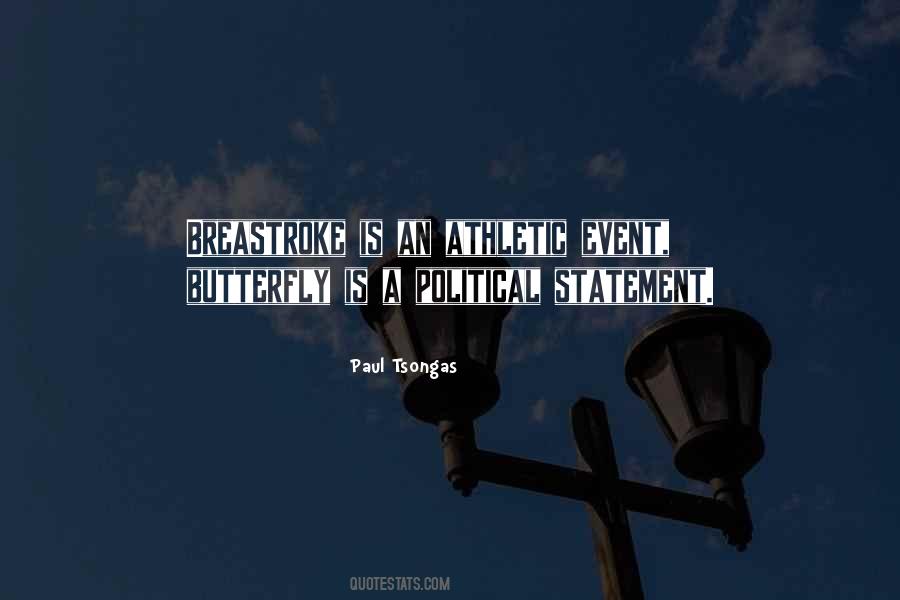 #36. Killing in the name of religion defines someone who is ignorant and actually void of religion. God does not condone terror. To kill innocent people to make a political statement is like shooting a dove to say hunting is wrong. - Author: Suzy Kassem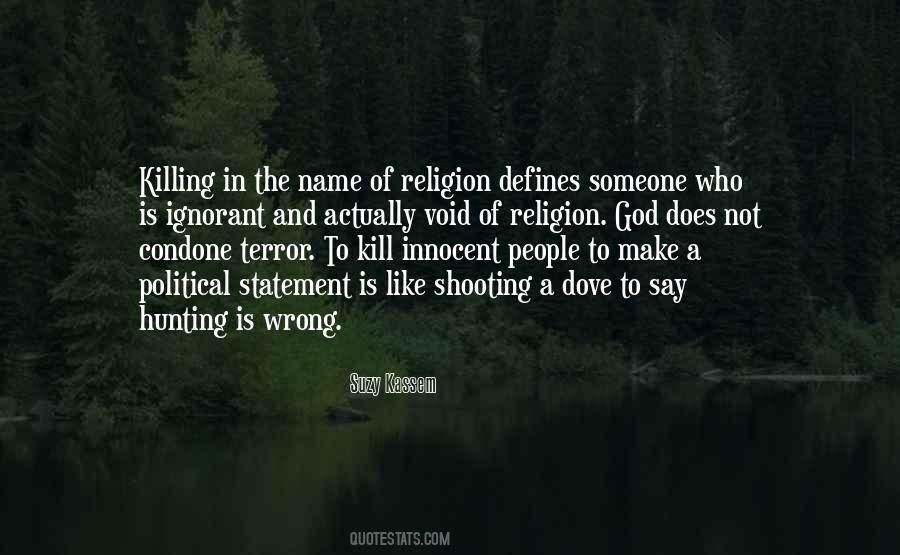 #37. Being cast out of society early on made you see civilization for the farce it was, a theater of cruelty you were free to drop out of. Instead of playing along you became a fuckup. It was a political statement and a survival skill. - Author: Michelle Tea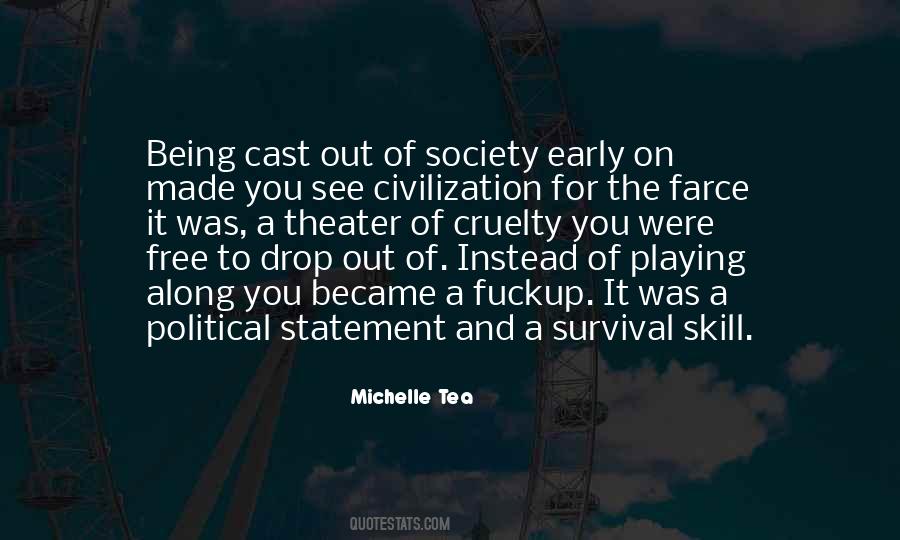 #38. Every once in a while an issue comes up where I have to make a statement. I can't totally avoid all political issues, but I try my best to minimize them. When I do make a statement, I try to be fairly neutral. - Author: Linus Torvalds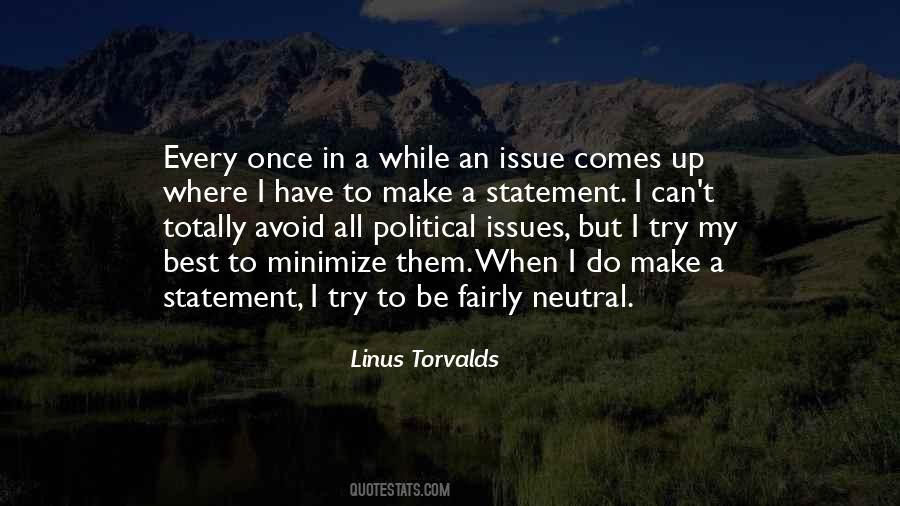 #39. My choosing Islam was not a political statement; it was a spiritual statement. - Author: Kareem Abdul-Jabbar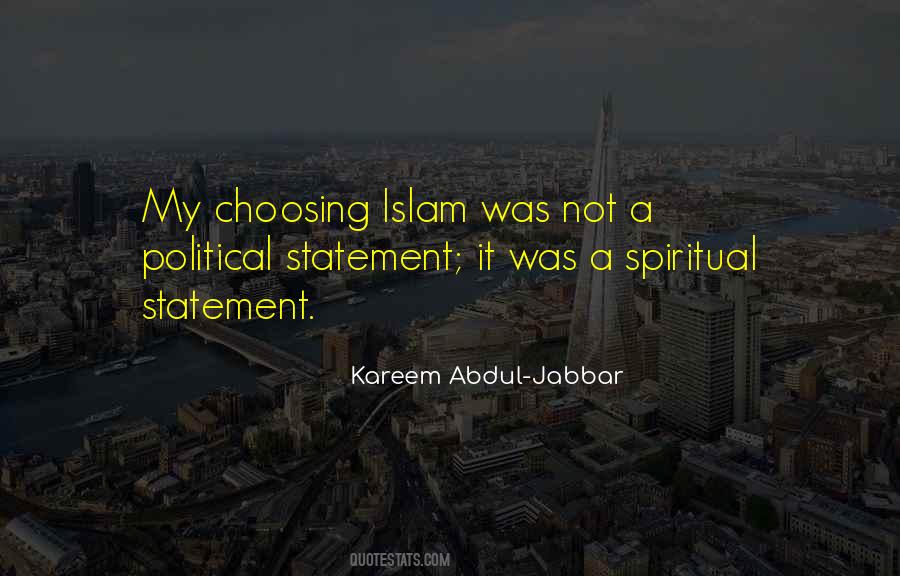 #40. Everything you do is political, even if it's abstract. You're making a political statement even if it's unwittingly. - Author: Eric Drooker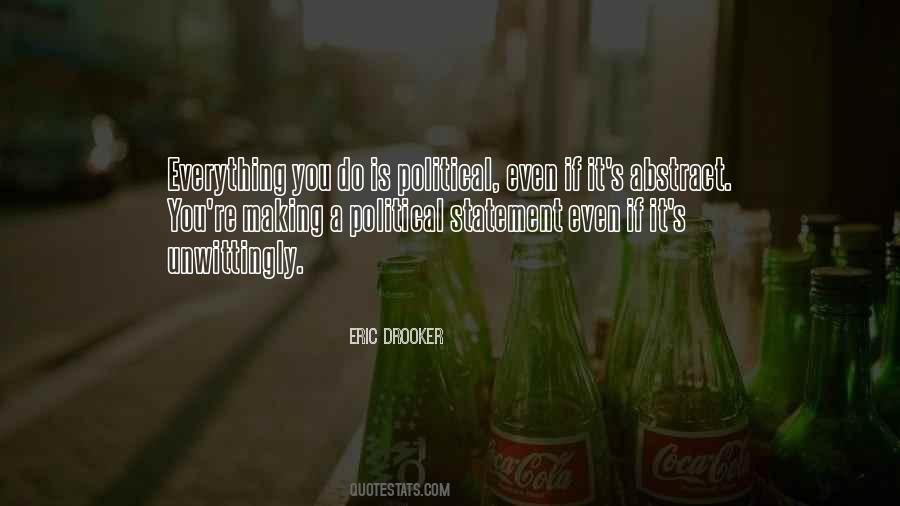 #41. It's pretty standard fare in political discourse. You misconstrue what somebody said. You isolate a statement, you lend your interpretation to it and then feign moral outrage. And Democrats have been doing it for years. - Author: John F. Kerry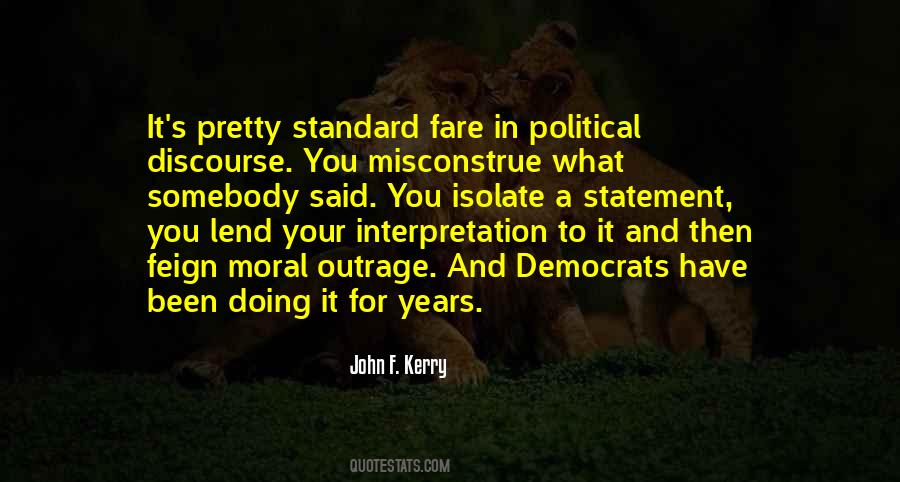 #42. I think if you say that art and politics, or religion and politics, mustn't mix, don't mix, that is itself a political statement. Even if you are writing a 19th-century novel where the money comes from a plantation in the Caribbean and you don't talk about that, that itself is a political thing. - Author: Mohsin Hamid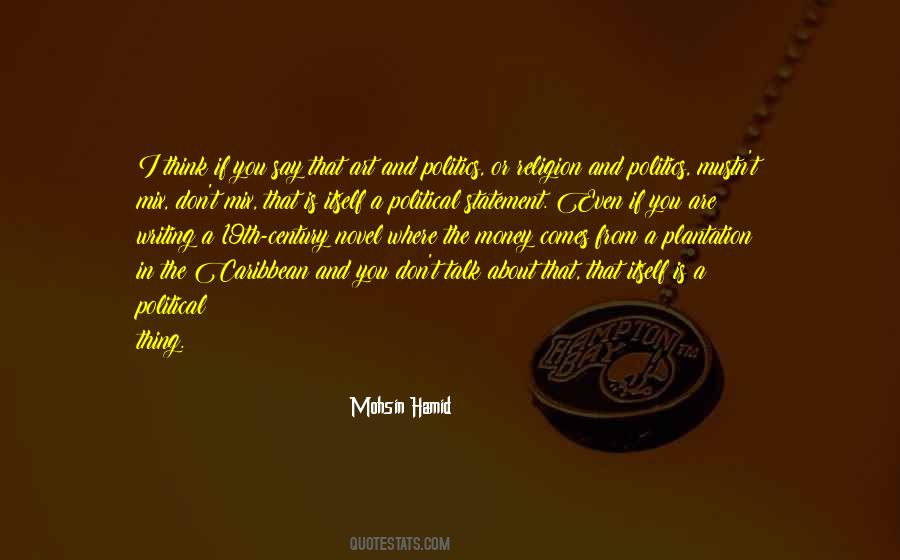 #43. Rock n' roll is not just a fashion statement; it is the attitude, and it has a political posturing as well. - Author: CeeLo Green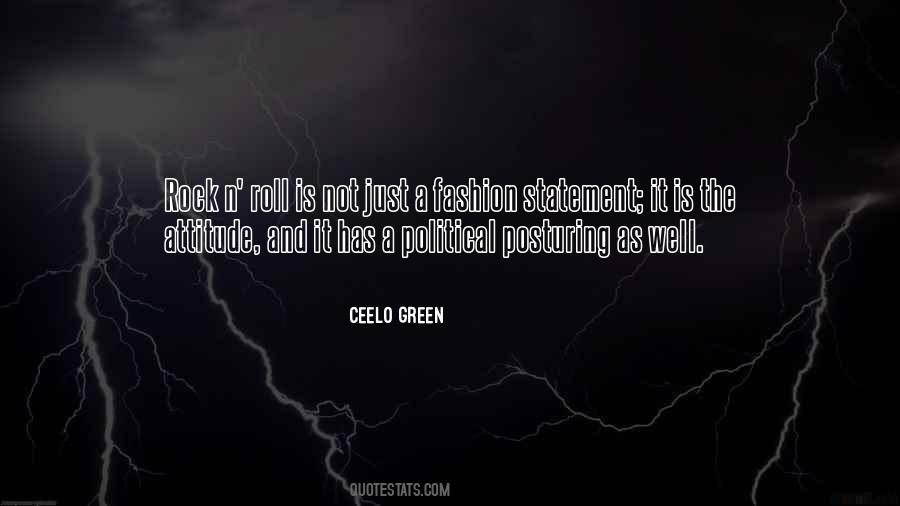 #44. You can't say 'I don't do politics,' because silence is a political statement. - Author: Tariq Ramadan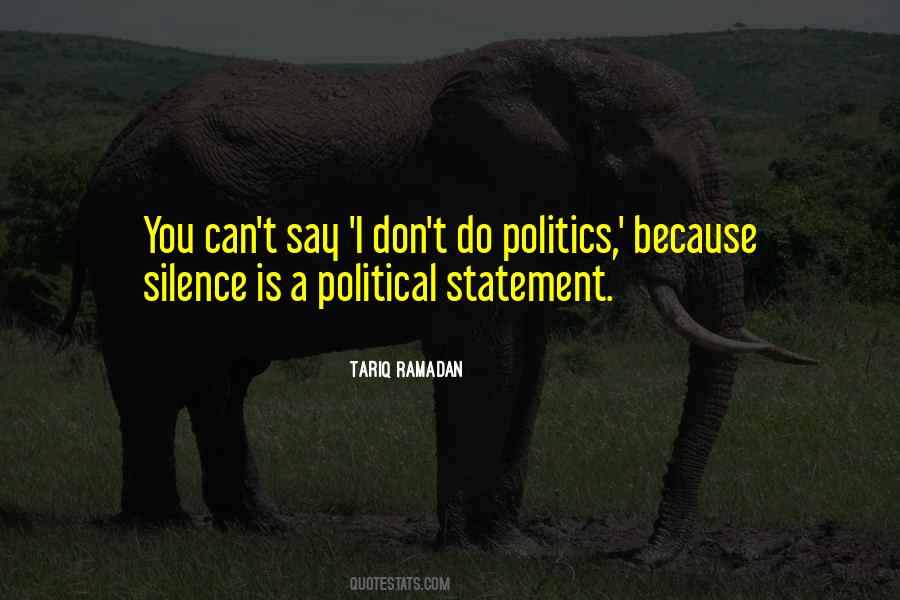 #45. Approaching any movie with a three in the title you know you are not going to get a political polemic. You are not going to get some sort of political statement or ultra-deep message. - Author: J.J. Abrams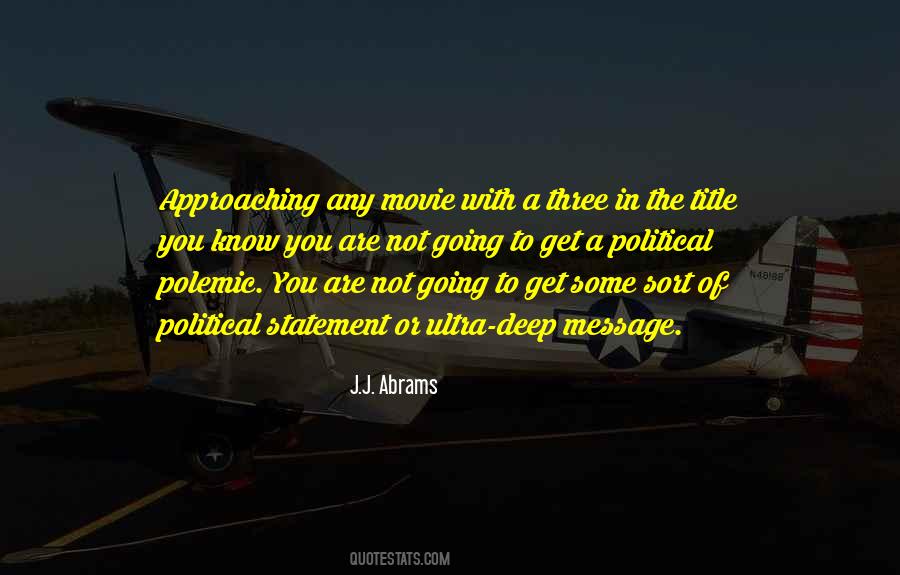 #46. I never start anything with a really overt, political, or even exactly artistic mission statement. - Author: Lena Dunham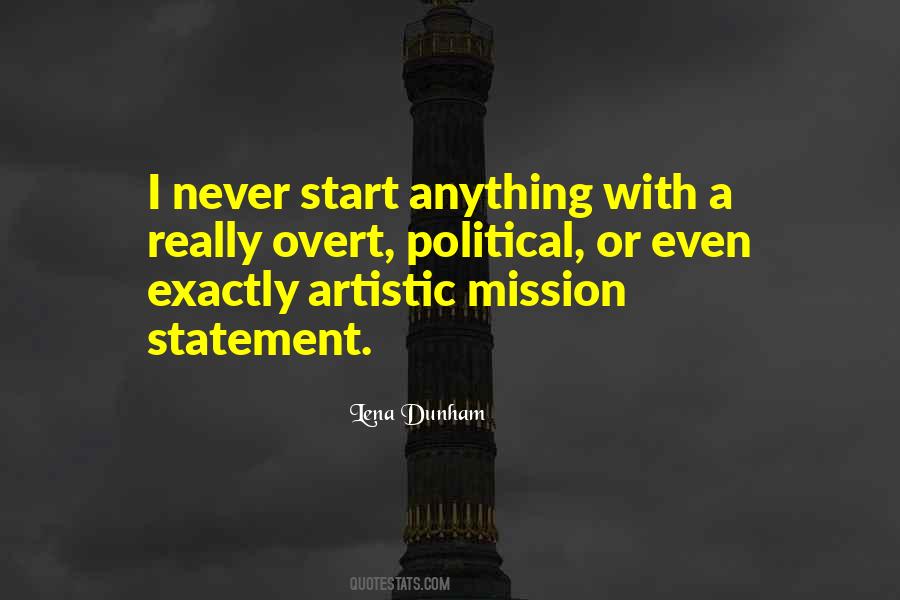 #47. I already feel that I am making a political statement by sticking around in music, when I am doing it so differently to everyone else. - Author: M.I.A.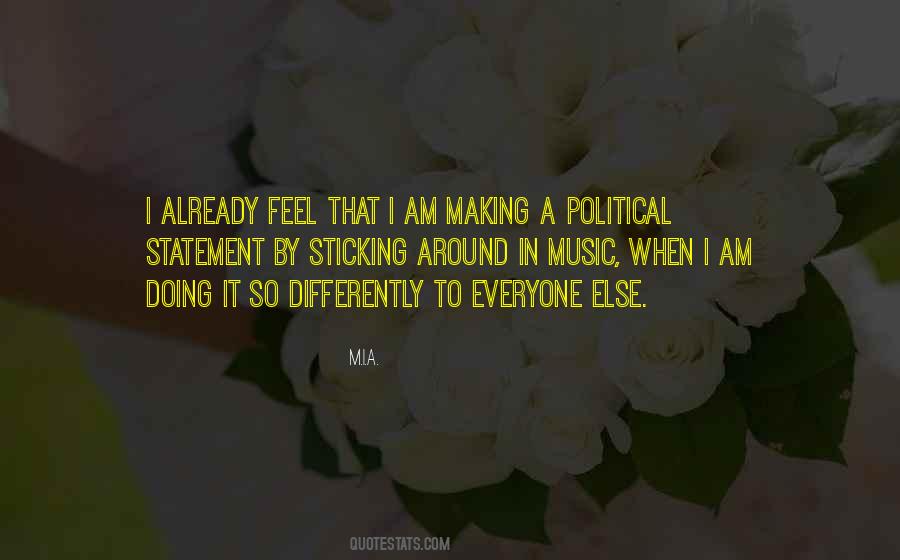 #48. Caricatures are an important part of our culture of debate. They should defuse political spats through humor and irony. It is about making a strong statement but softening it with a wink. So Danes do not get too upset about caricatures. None of us is interested in insulting Muslims. - Author: Anders Fogh Rasmussen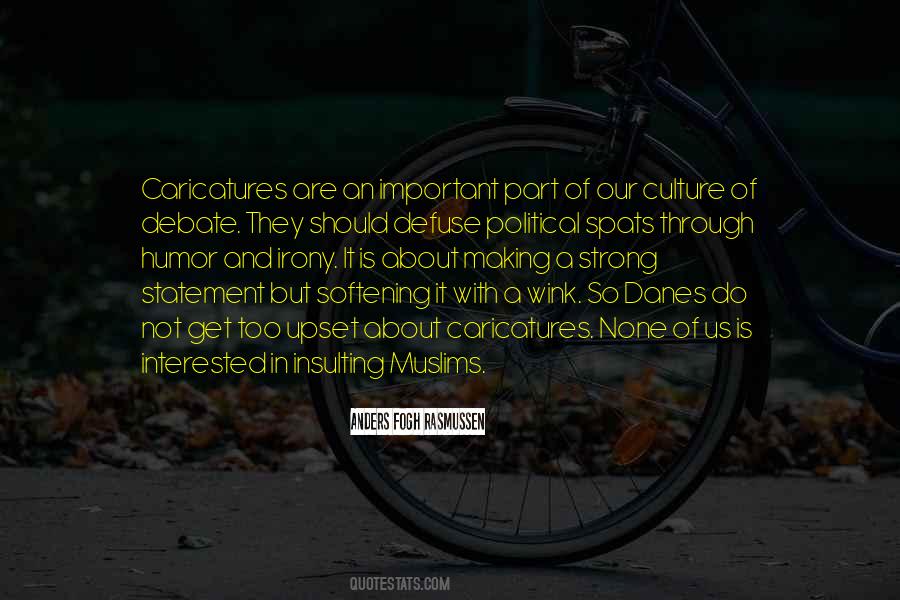 #49. I don't know that I will ever make a political speech again." Would he care to qualify that statement? one reporter queried. "Yes," Roosevelt laughingly said. "I won't say never. - Author: Doris Kearns Goodwin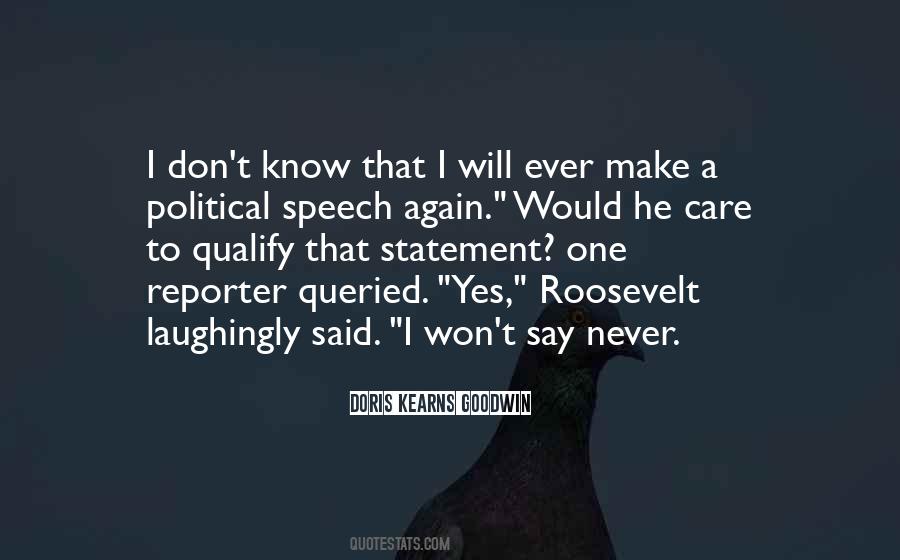 #50. We're all living blinkered lives, and we're not seeing what's going on and looking to change it. I'm not saying that everyone has to make a political statement, but we need to be more aware of what's happening and why. - Author: Samantha Morton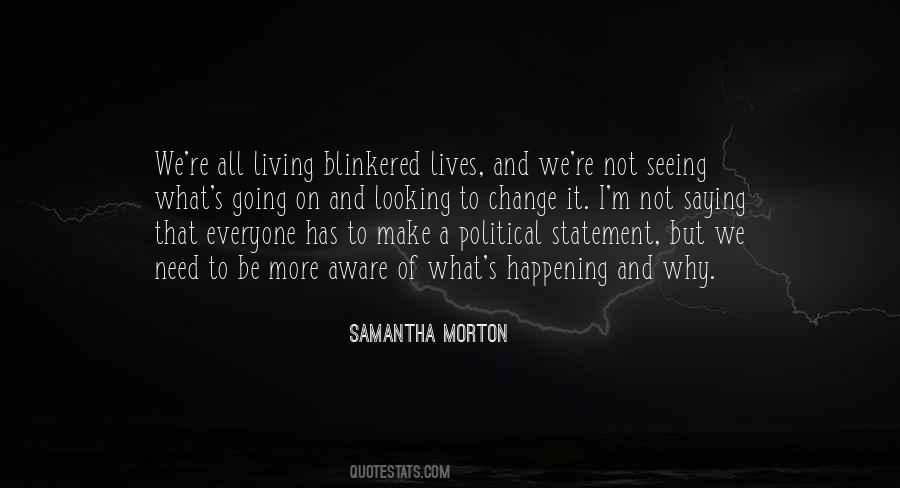 #51. It doesnt hurt to repeat here the statement, still rejected by many people in spite of its obviousness, that education is a political act. - Author: Paulo Freire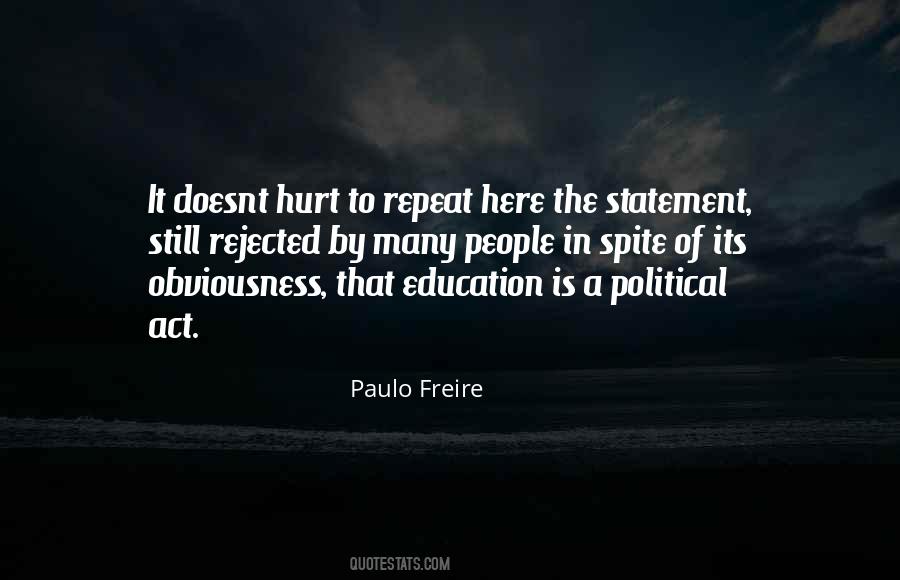 Famous Authors
Popular Topics