Part Of Family Famous Quotes & Sayings
List of top 100 famous quotes and sayings about part of family to read and share with friends on your Facebook, Twitter, blogs.
Top 100 Part Of Family Quotes
#1. They suppress the truth rather than take the consequence of telling it, and in so doing prove themselves a part of the human family. - Author: Frederick Douglass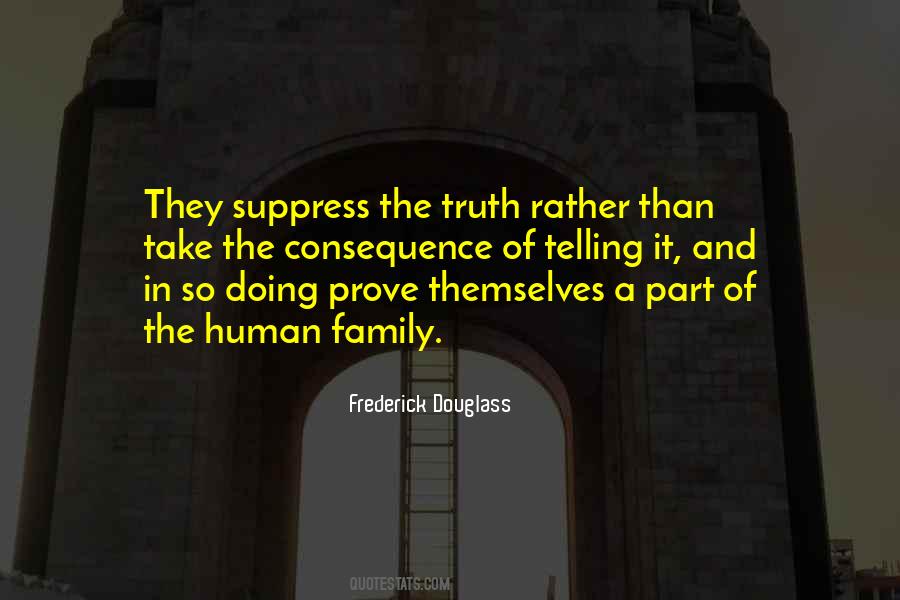 #2. How do people stay in love, anyway? Is it a choice? Or is it like those plants we studied in biology that mutate into something new and totally different but are still part of the same plant family? - Author: Libba Bray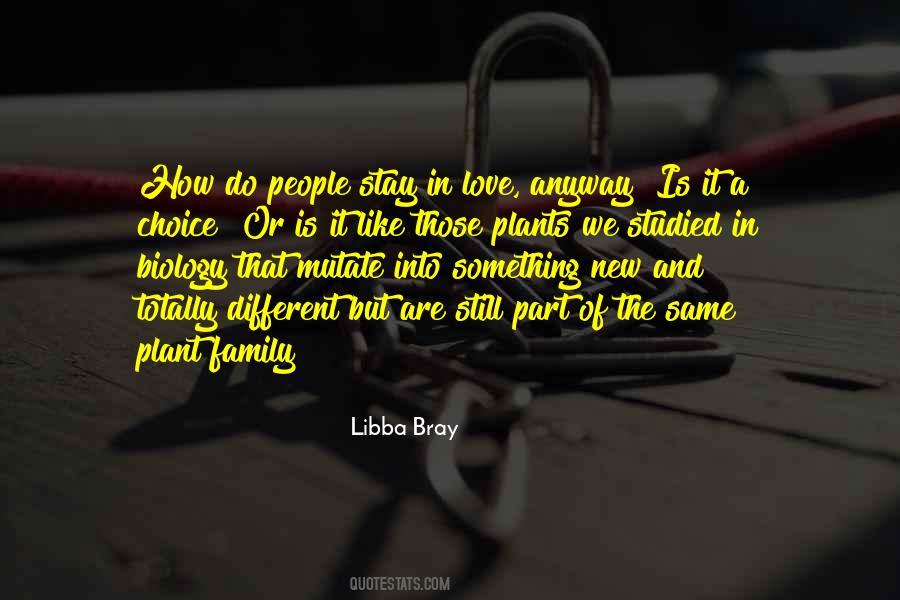 #3. I did a lot of gasoline commercials - Hess, Texaco. I was part of the family in the car, the little brat in the back. - Author: Ricky Schroder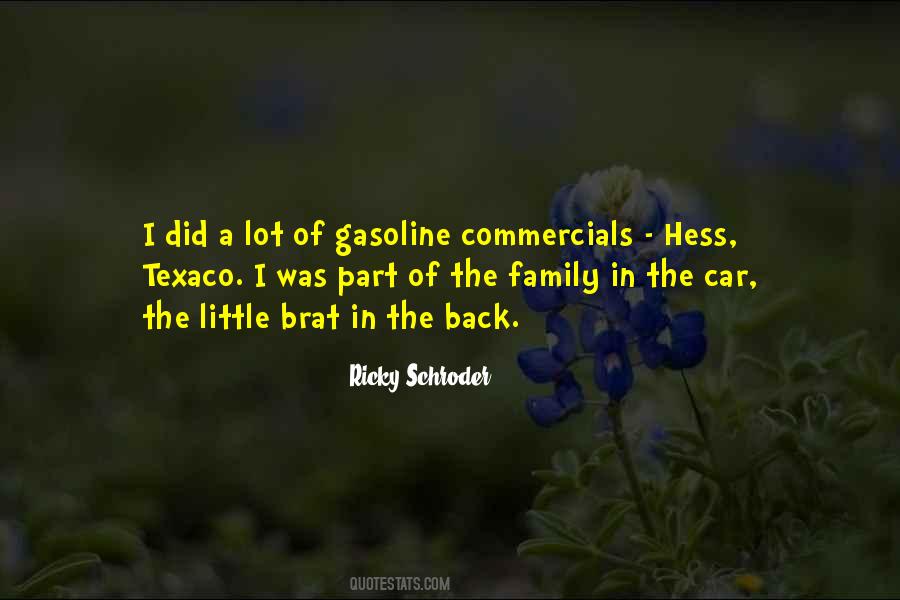 #4. If the parents are too busy to read, it's a safe bet the children will feel the same way. Set aside time for family reading each night. It doesn't matter so much what the kids read, as long as you provide them space for reading and a sense that it is a valuable part of your daily routine. - Author: Rick Riordan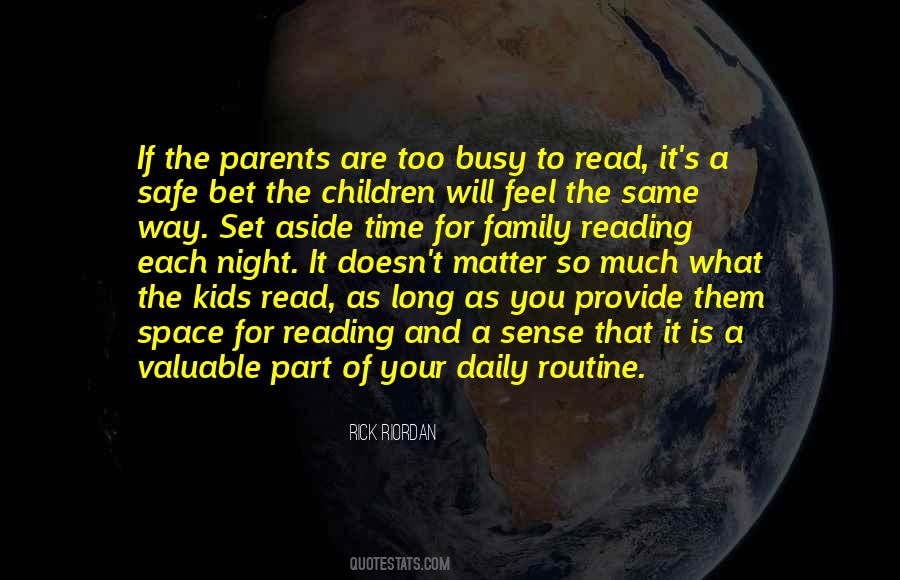 #5. Our extended family is an integral part of our daily lives and Connie and I welcome you with open arms. - Author: Frank Jordan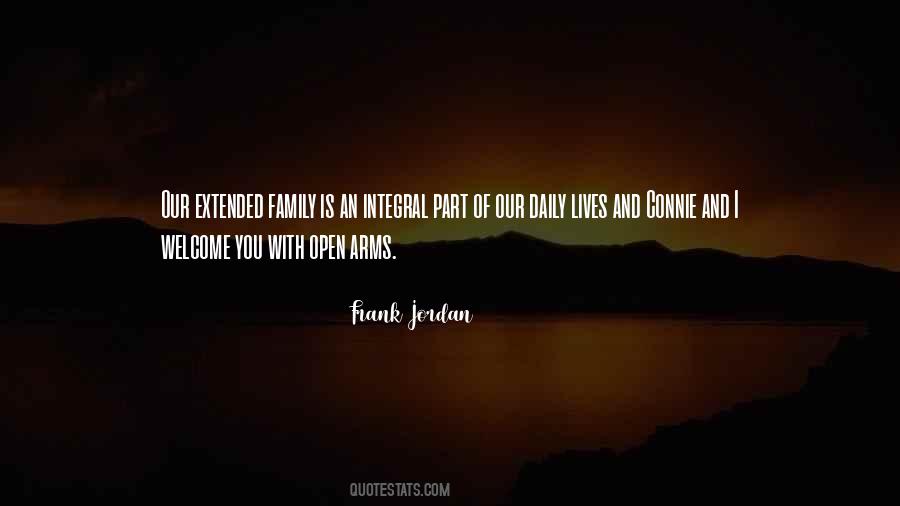 #6. What happens with any announcer when he comes into an area, if he stays four or five years and does a fairly decent job, people accept him and he becomes part of the family. - Author: Ernie Harwell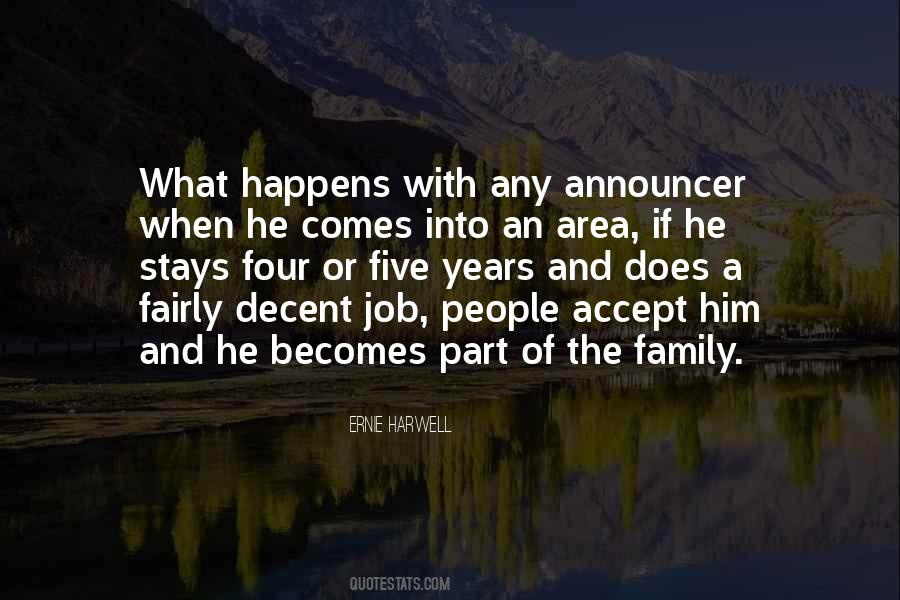 #7. ... part of the grief was that each member of the family was mourning his own mortality. - Author: Alan Lightman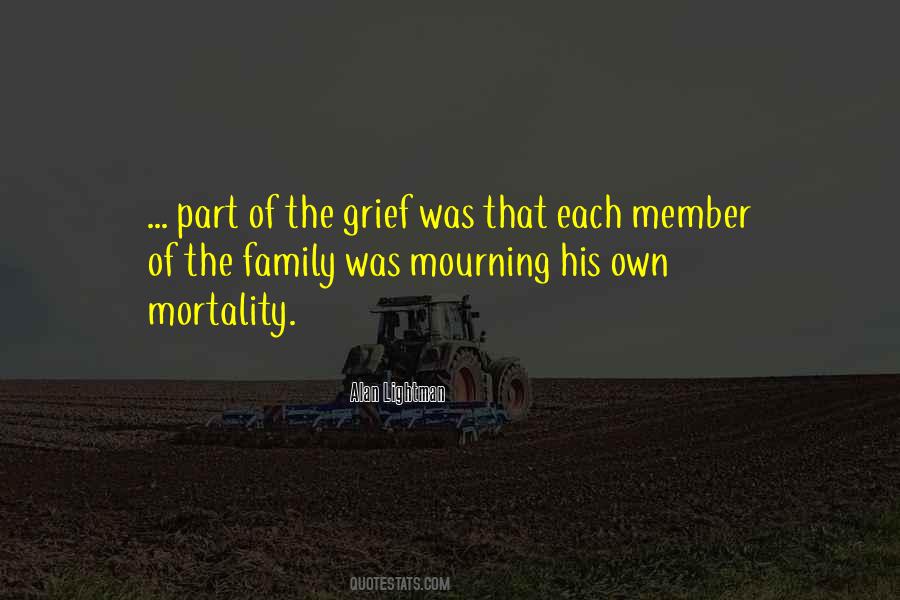 #8. Pack is for comfort when you hurt, I thought, putting my head back down. And for the first time in a long time, maybe the first time ever, I appreciated being a part of one. - Author: Patricia Briggs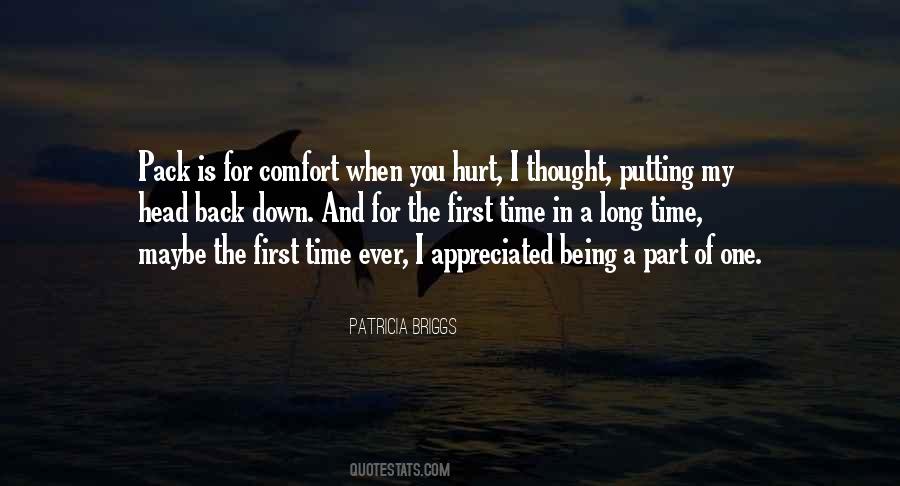 #9. The stress of making small talk with in-laws is called being part of a family. - Author: Judith Martin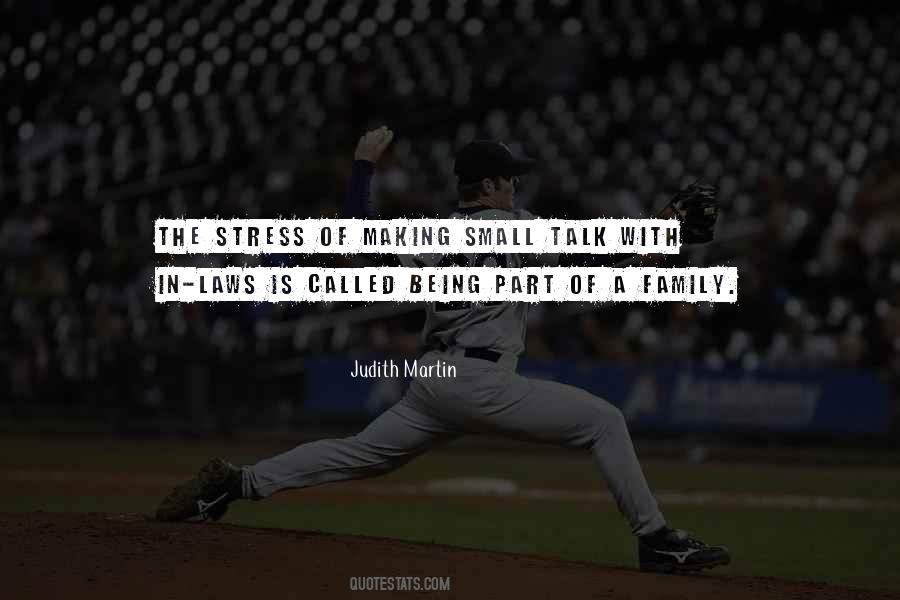 #10. I always thought of myself as being part of a family and sharing and, yes, leading, but not forcing people to do anything. - Author: Bill Gross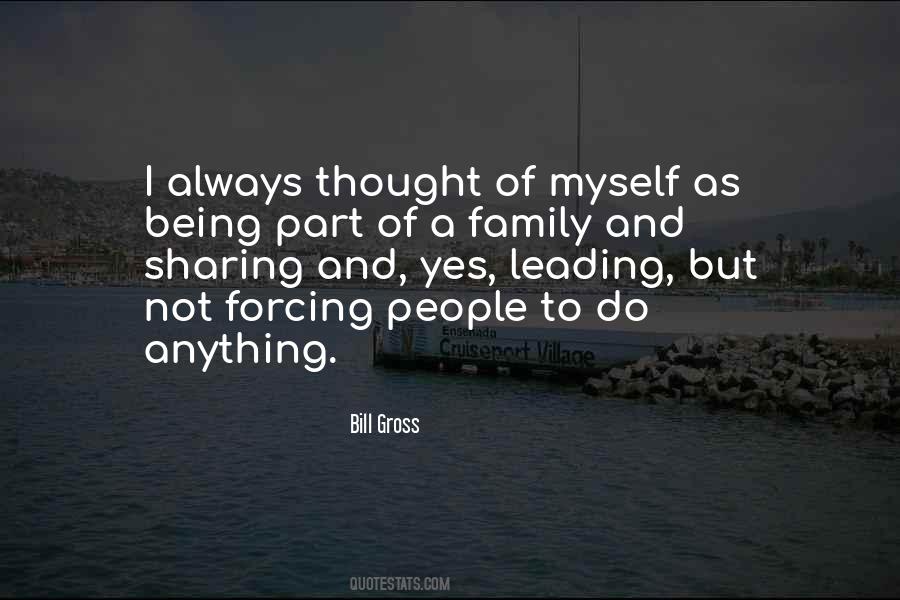 #11. In Brooklyn, it was as though you were in your own little bubble. You were all part of one big, but very close family, and the Dodgers were the main topic of everybody's conversations and you could sense the affection people had for you. I don't know that such a thing exists anymore. - Author: Don Drysdale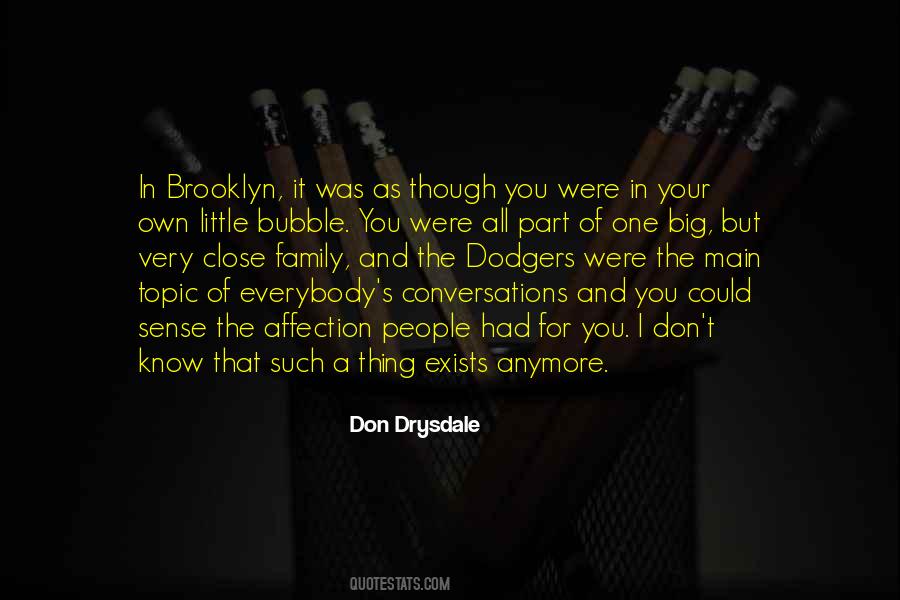 #12. My whole family is spiritual. My grandmother, grand aunt, cousins, they're all preachers and pastors. Spirituality is a part of my family, from generations ago. - Author: Ziggy Marley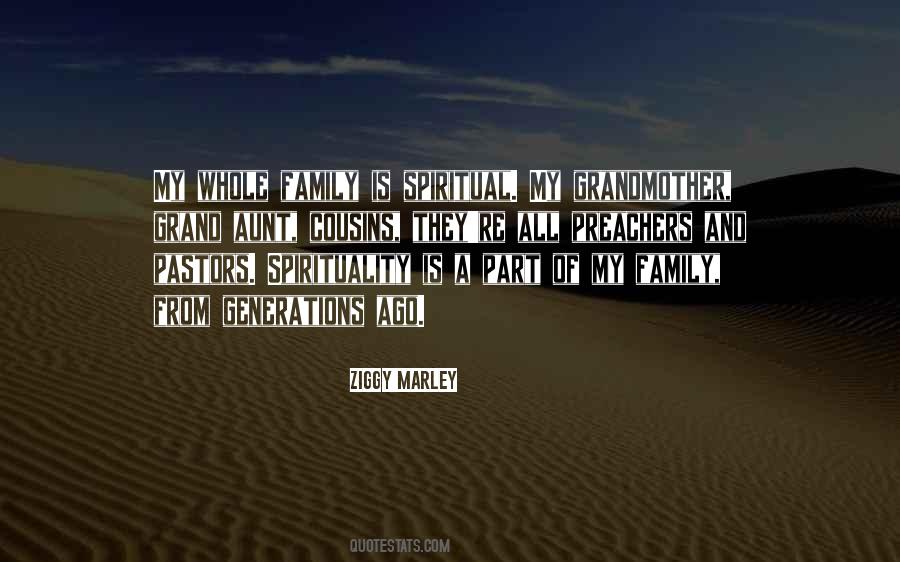 #13. The best part of being married is that now when we walk down the street, people won't just see two guys and a kid, they'll have to see a FAMILY. - Author: Patricia A. Gozemba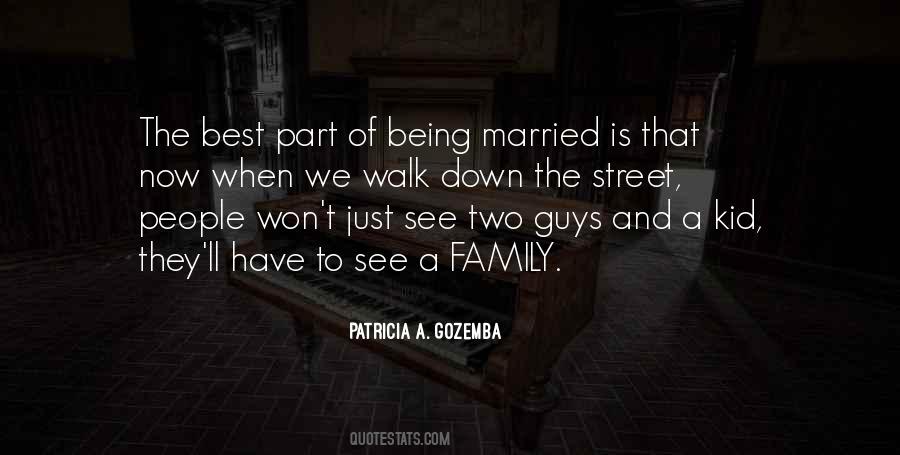 #14. I was sitting in a caf in London with my husband and baby daughter when my phone rang with the news! I feel so incredibly lucky and honored to be nominated, and so grateful to be part of the family that is The Killing. - Author: Mireille Enos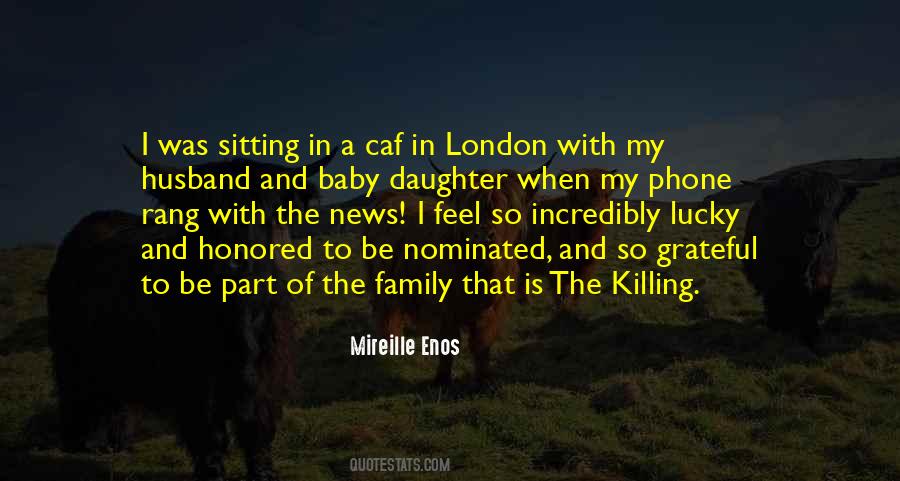 #15. I do have a family, and I do have friends, and so-called friends, and acquaintances, and many other people I see only around Christmas time. Maybe they could vouch for me. Maybe they could testify to my existence and save a part of me that thinks I'm no better than a bag of potato chips. - Author: Macaulay Culkin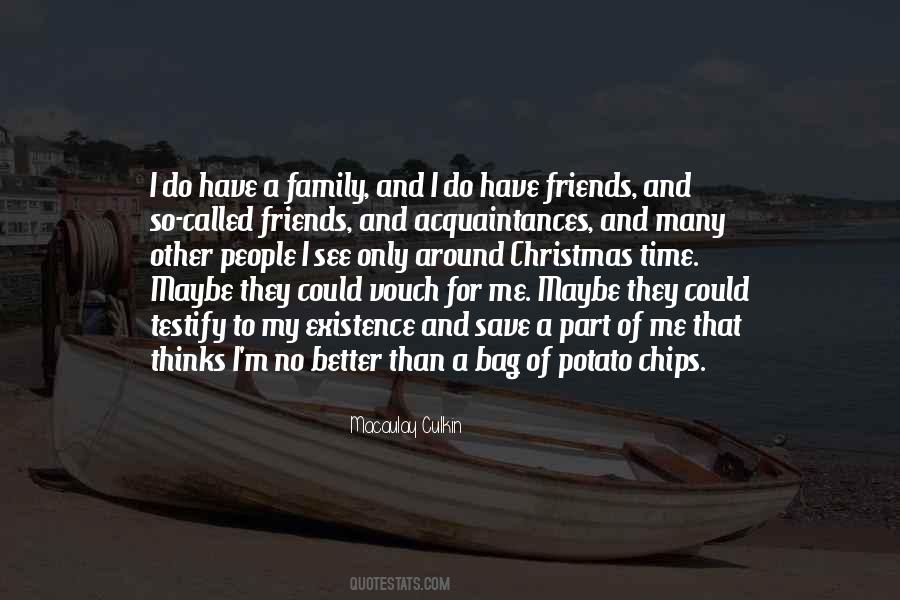 #16. When the question arose whether I, as a member of the royal family, should take part in active combat in the Falklands, there was no question in her mind, and it only took her two days to sort the issue. - Author: Prince Andrew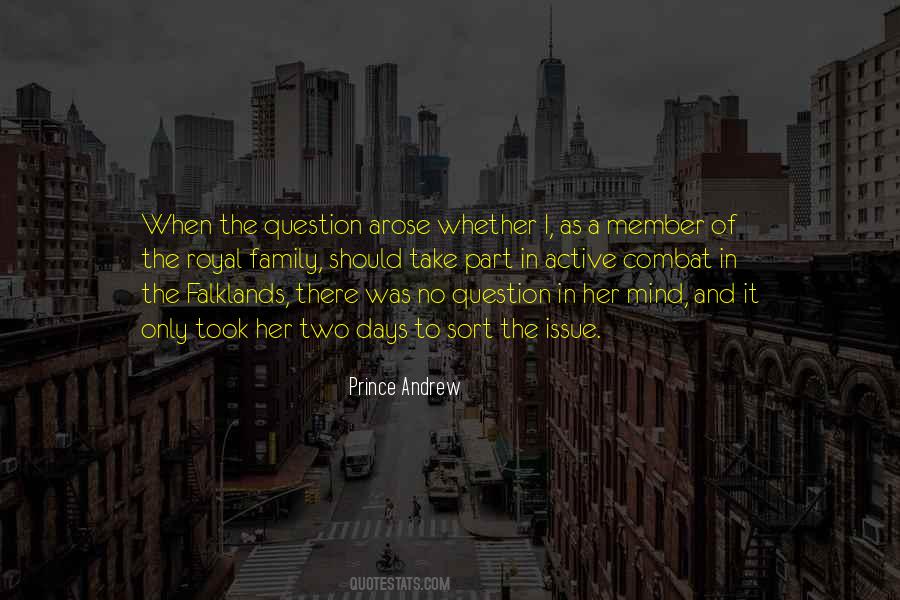 #17. Taking delight in my family, my time in nature, and in the chance to do work that I find endlessly fascinating and rewarding. My smile grows even bigger when I think about how lucky I am to have such delights be part of my everyday life. - Author: Barbara Fredrickson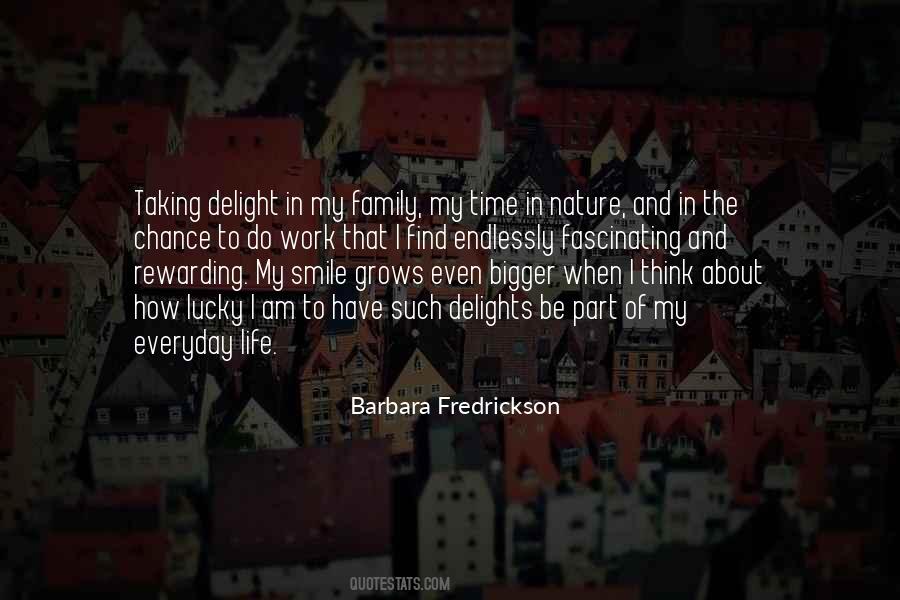 #18. I always had this put-together family, and I always identified as the outsider. And that's a position where I feel most comfortable, and yet I feel an incredible longing to belong. That is really a strong feeling from my childhood - a desire to be part of a group. - Author: Lily King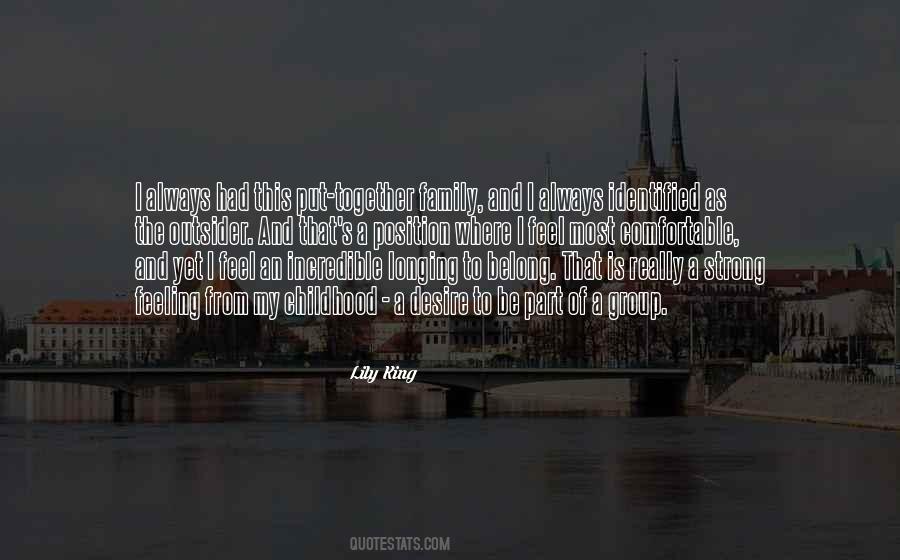 #19. Nut shrugged. Set had always been Set, for better or worse. But he is still part of our family. It is difficult to lose any member of your family ... is it not? - Author: Rick Riordan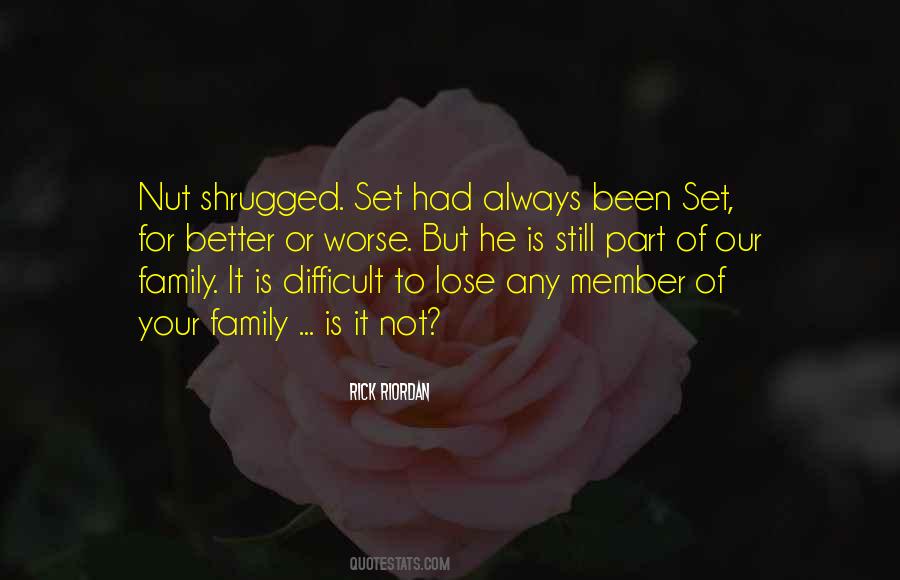 #20. My name is Kyran. You look like an honorable woman," he whispered, practicing what he would say to any prospective mate. "I have a home with my parents and my brother. There we will live and you will be part of our family. Would you like to give me many children? - Author: Michelle M. Pillow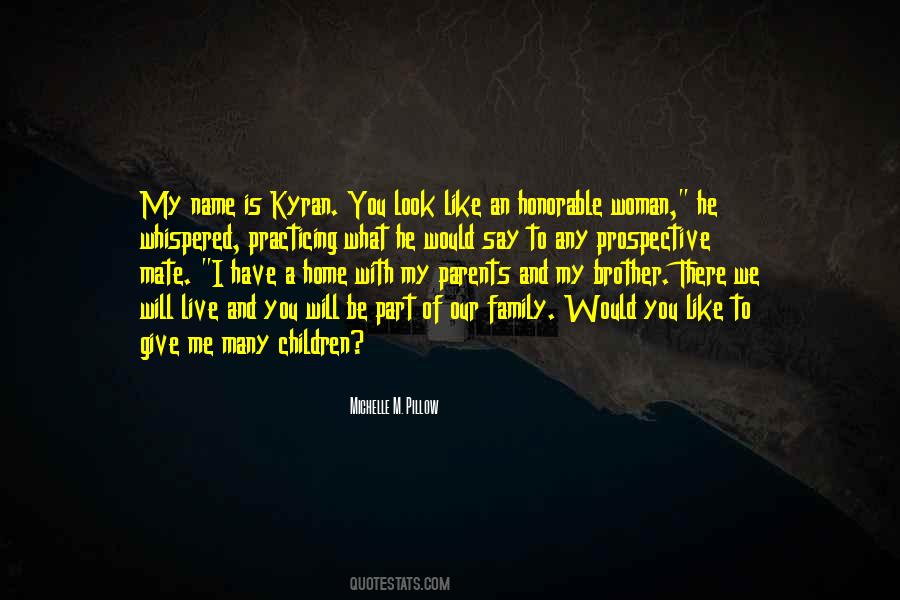 #21. I know this golf tournament has my name on it but it's not about me. It's about the Louisiana Tech family. There is nothing greater than being a part of the Bulldog family. - Author: Terry Bradshaw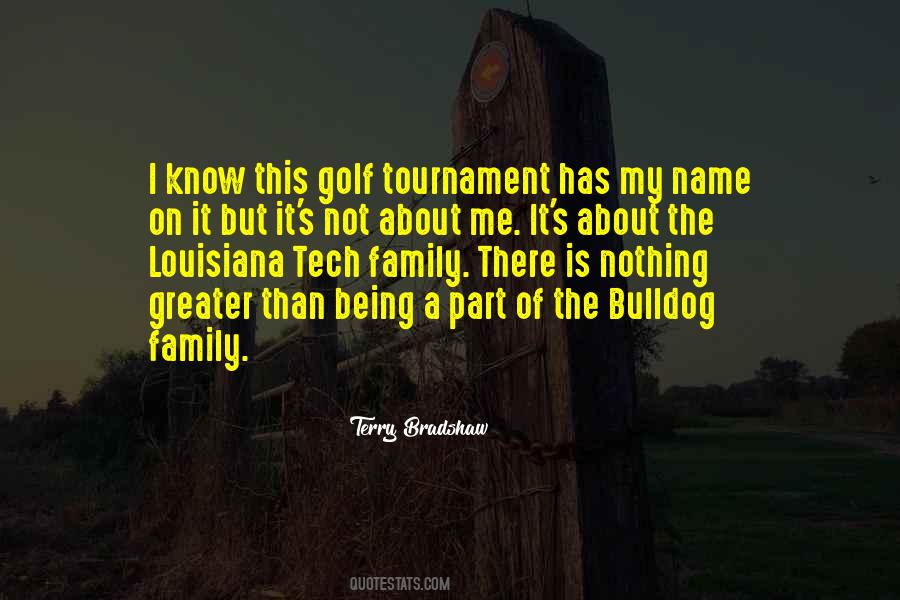 #22. It is rewarding beyond words to rescue a dog from the shelter and have that dog become part of your family. - Author: Jenna Morasca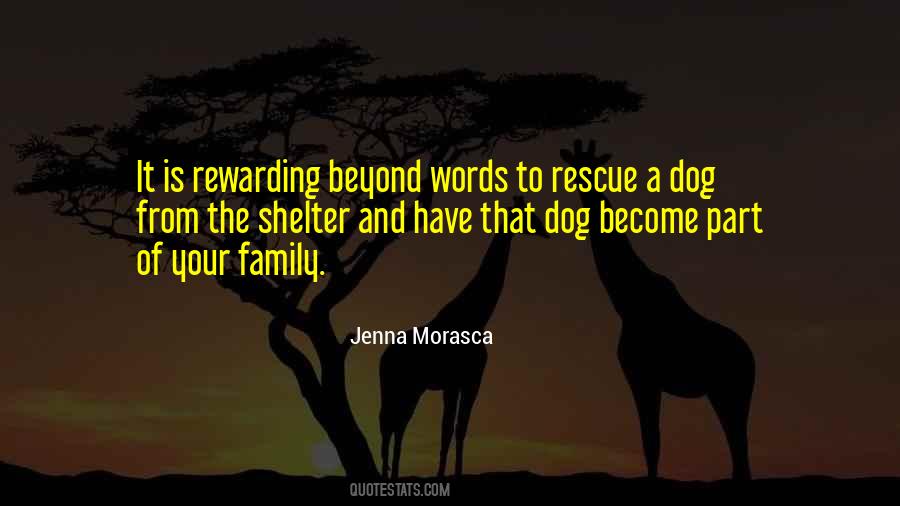 #23. Dismissing socialization and gender roles as piddling compared to this amorphous idea of 'maternal imperative' is part of the reason progress is stalled for family-friendly policies. - Author: Jessica Valenti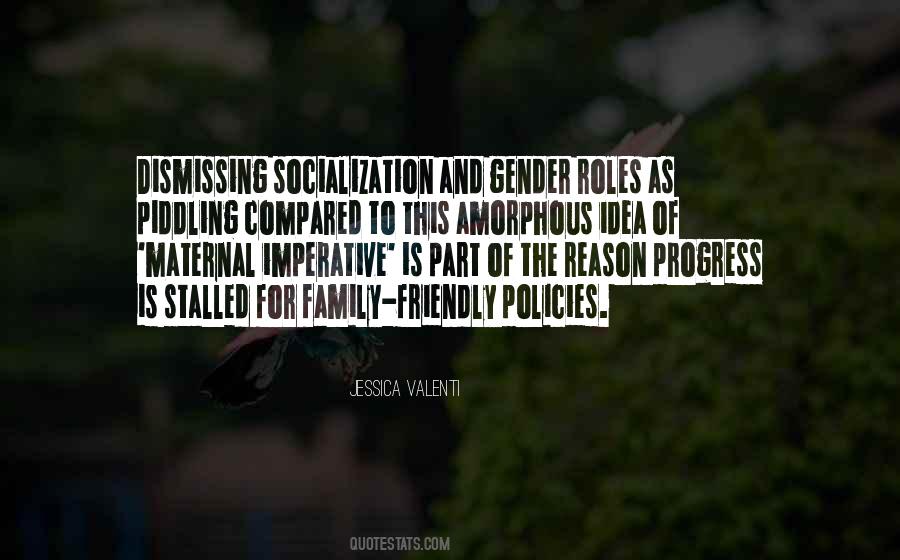 #24. I learned that it's super important to stay true to yourself and your family. I've also learned that I've got a lot to learn about life, but that's just part of growing up. - Author: Miley Cyrus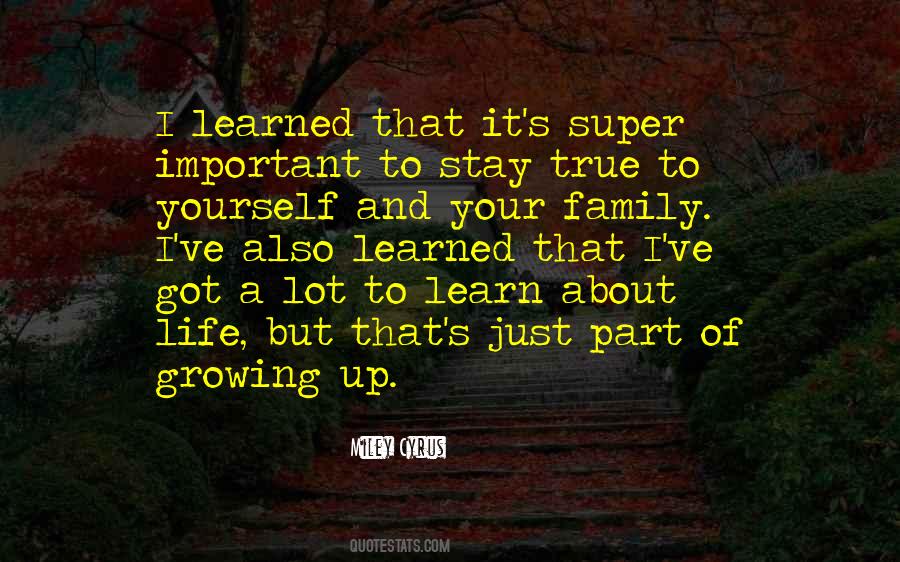 #25. I think the most emotional part in making the movie and discovering the movie - because it was a process of discovering - is all the scenes with the family. - Author: Oren Moverman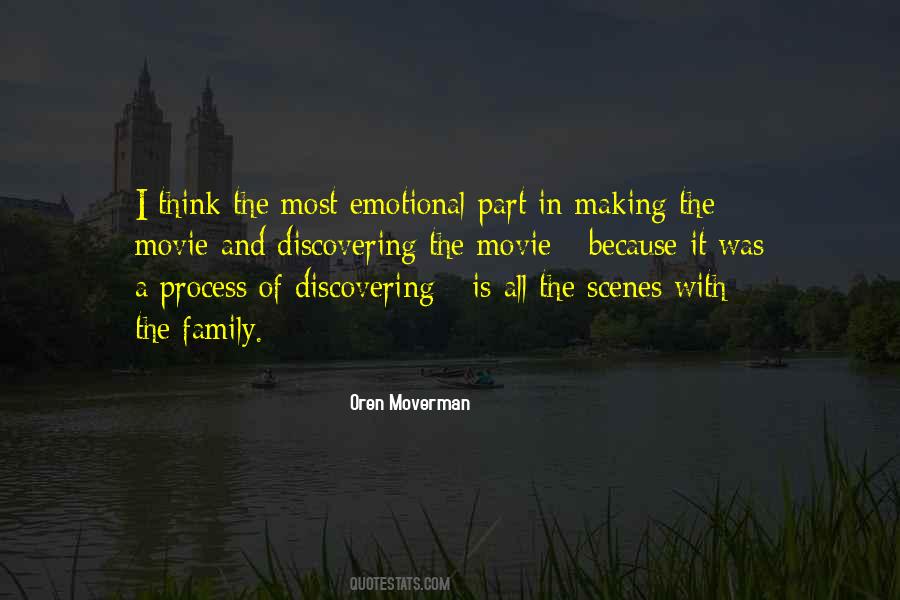 #26. Home, nowadays, is a place where part of the family waits till the rest of the family brings the car back. - Author: Earl Wilson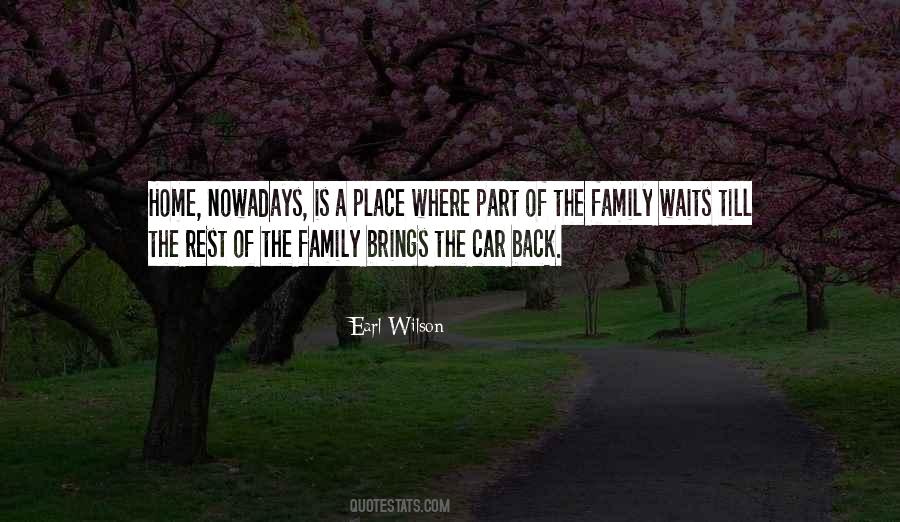 #27. [Today's left] would have left us with Slobodan Milosevic in power, Bosnia ethnically cleansed, Kosovo part of Greater Serbia, Afghanistan under the Taliban, and Iraq the property of a psychopathic crime family. Now, I'm sorry to say, I've no patience with that leftist mentality anymore. - Author: Christopher Hitchens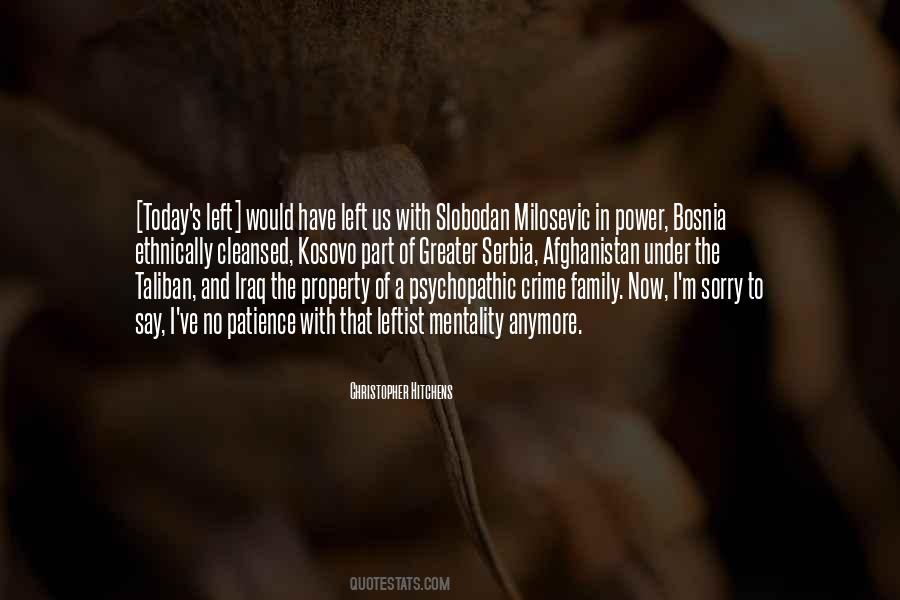 #28. It's wonderful to be part of a family that cares so much about others. - Author: Marta Kristen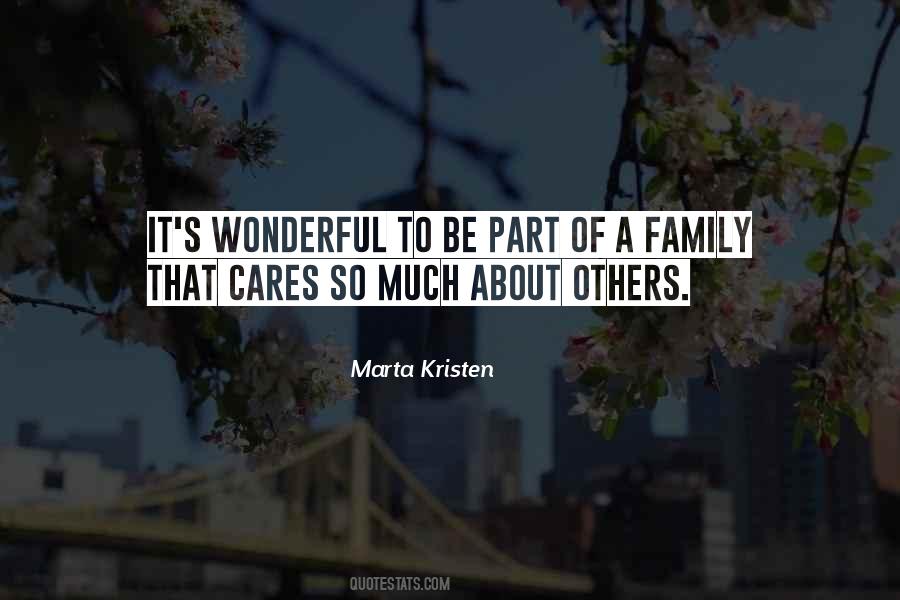 #29. It's easy to discount family. It's easy to take them for granted. But your family is your history. Your family is part of who you are. - Author: Sophie Kinsella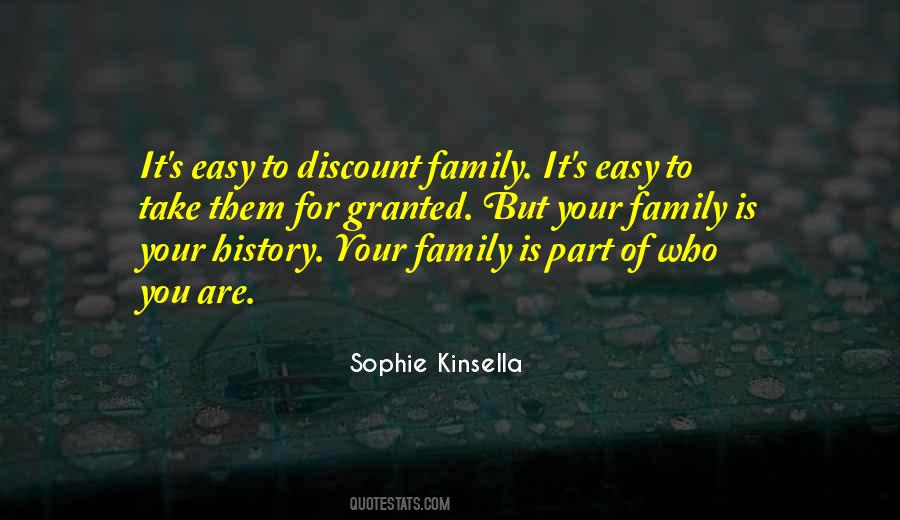 #30. I live in a high rise with my family part of the year in New York and I don't know three quarters of the people in the building. We live in the same square-footage and I wouldn't know who they were. - Author: Dan Aykroyd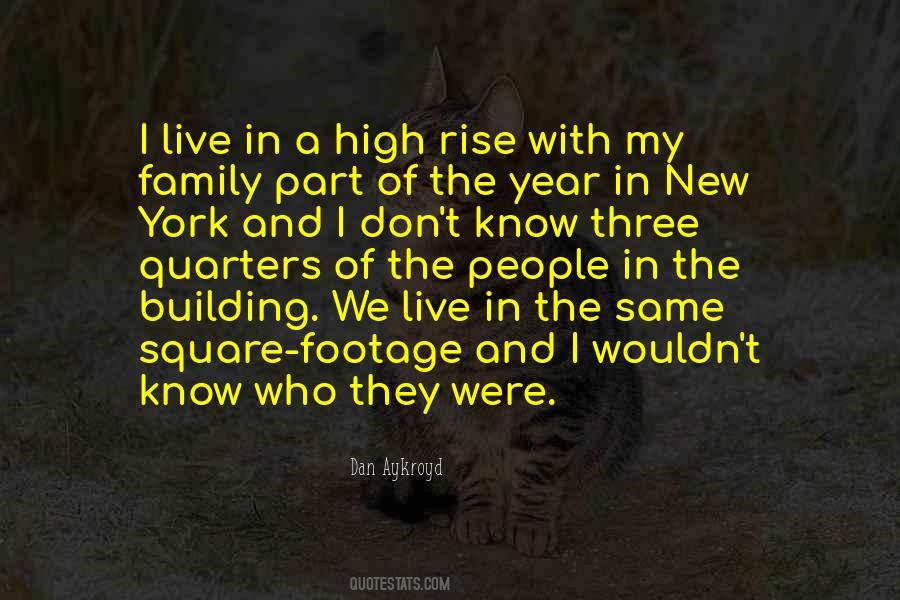 #31. I don't look at family and what I do for a living as separate things. They're all kind of one thing, and this is part of their life just like it's part of mine. - Author: Chris Stapleton
#32. The best part of aging in this business is losing that obsession about work and being able to spend a little more time with family. - Author: Clint Eastwood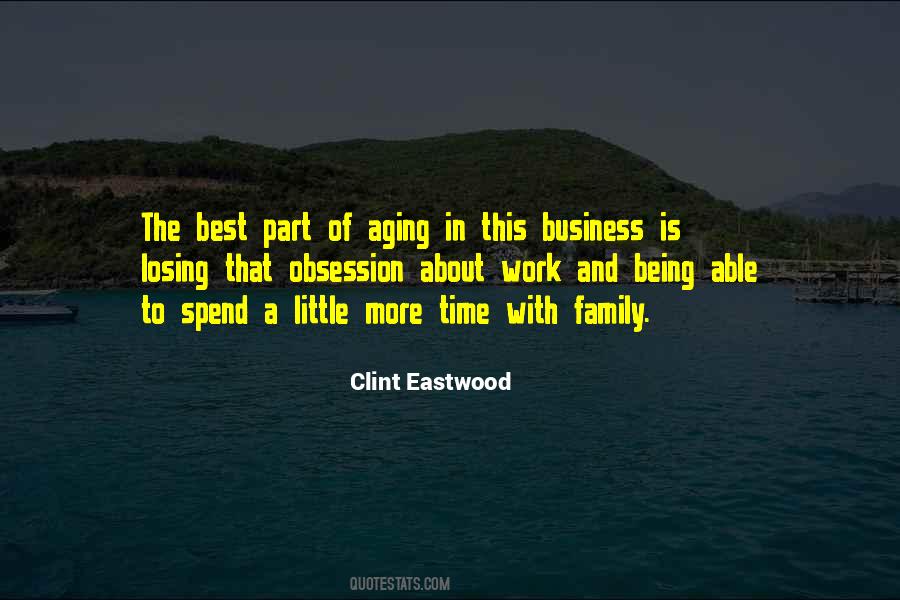 #33. You are God's child. His creation. Destined for heaven. You are a part of his family. - Author: Max Lucado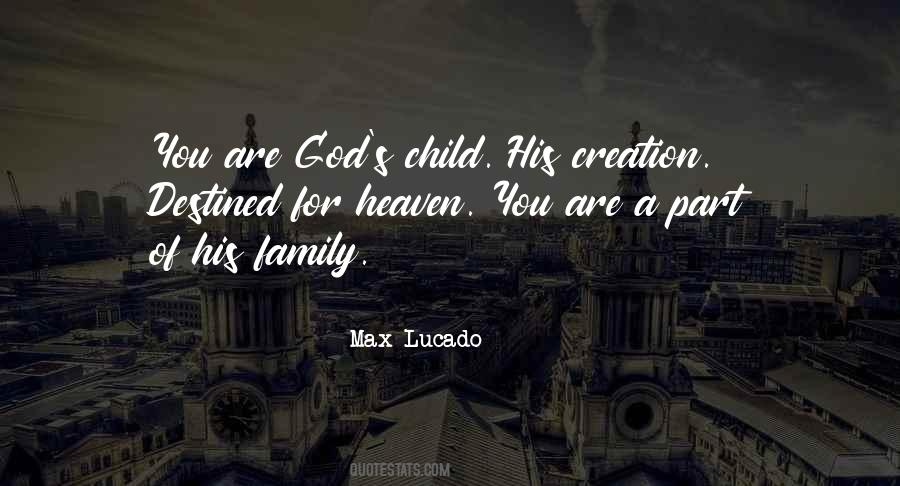 #34. Everyone in Denmark has at least two or three sailors in their family; sea travel is part of the DNA of our nation, and because of that, I'd always wanted to tell a story aboard a ship. - Author: Tobias Lindholm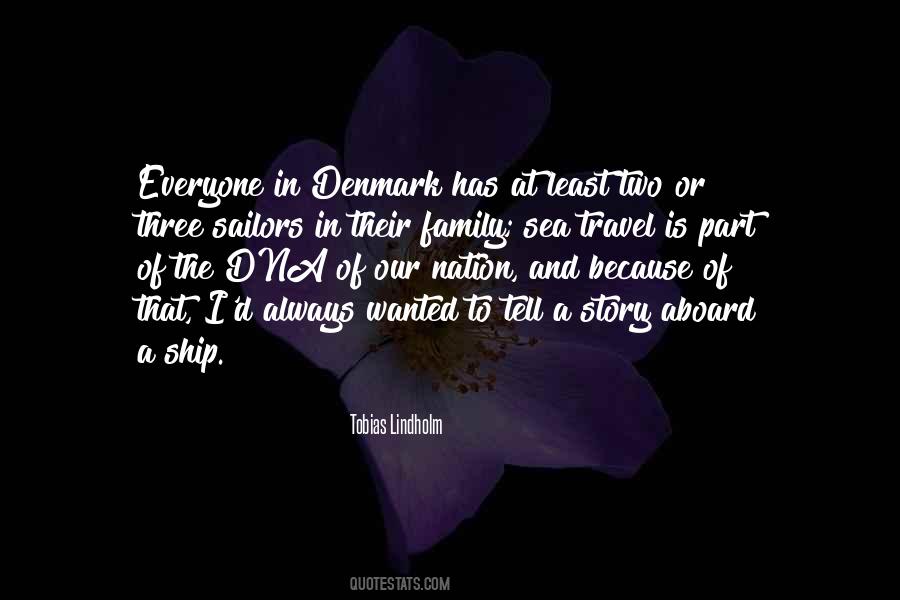 #35. Maybe she didn't know exactly how to be a consort, but she knew the members of a team functioned better with acknowledgment. And these people were all part of her team now - part of her family. - Author: Nalini Singh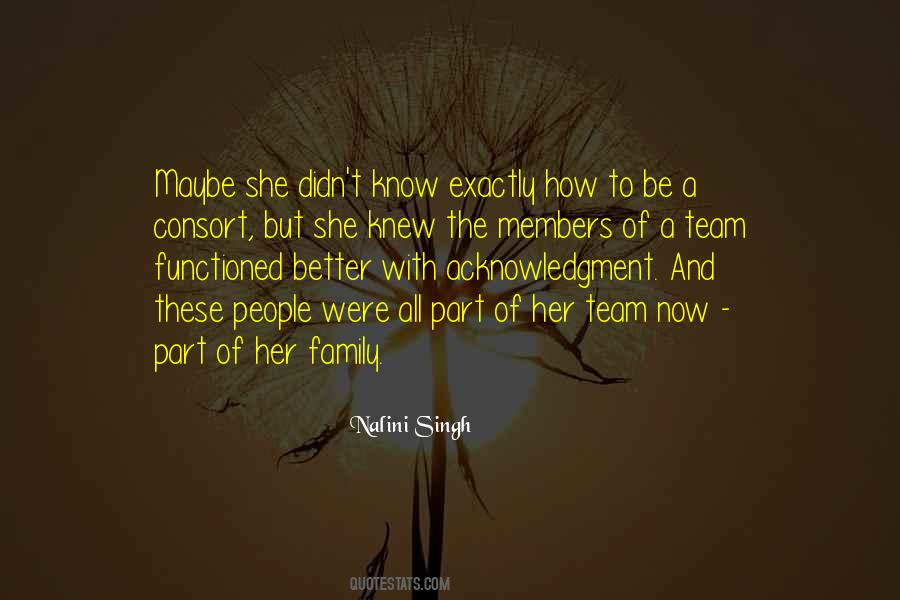 #36. If you remember yourself, you will remember me. I am always a part of you. I am your mother. - Author: Emma Michaels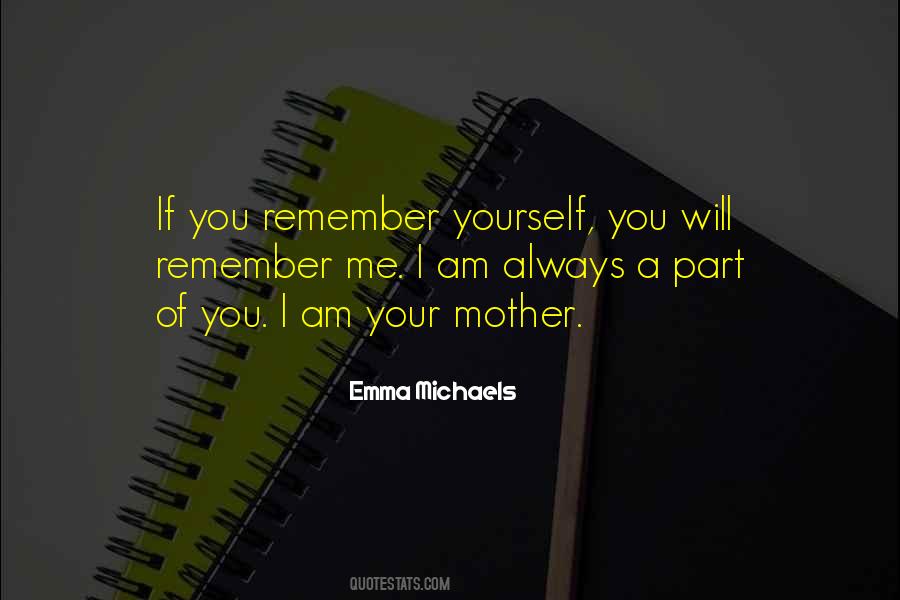 #37. Local television is still the No. 1 source for news and part of the family. - Author: Gordon Smith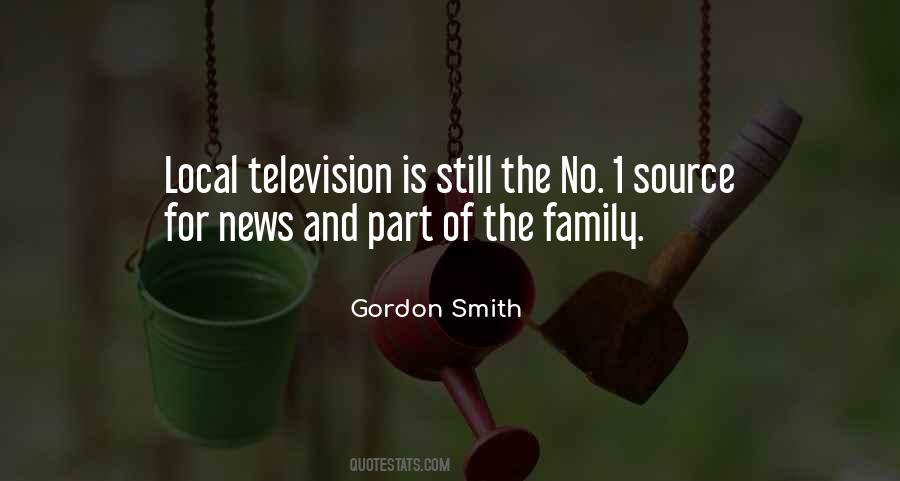 #38. No matter how American I become, I'm considered part of the Chinese community by my own family. - Author: Anchee Min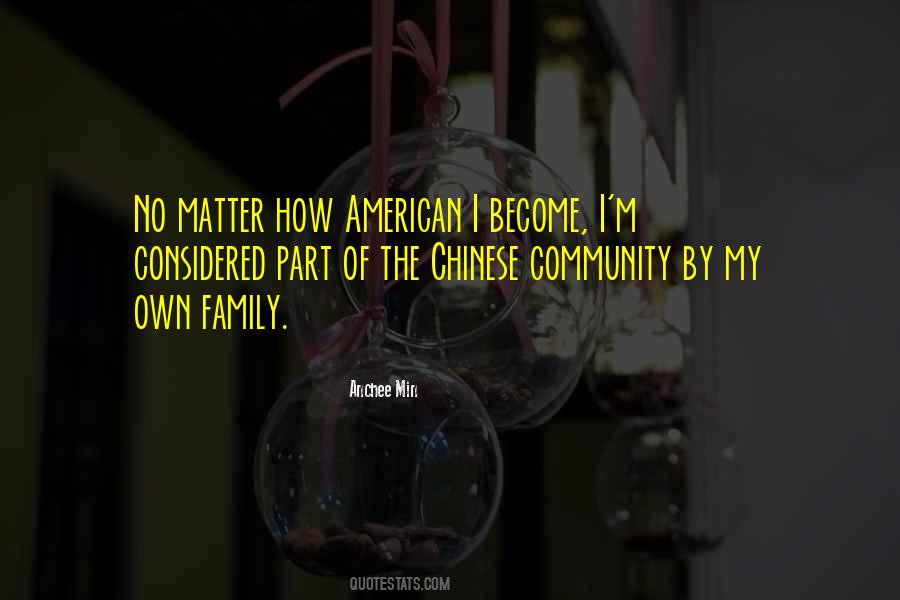 #39. When my family fell apart, it was such a troubled part of my life ... I think I could understand what I was going through, but I didn't have the vocabulary for it. - Author: Walter Dean Myers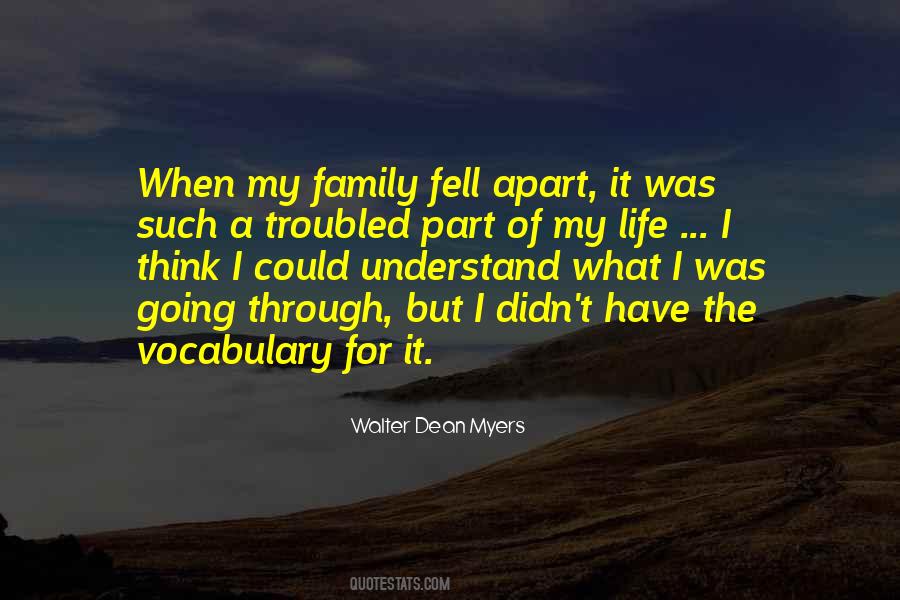 #40. I hope I will not be typecast as a Bond girl for the rest of my life. I'm very proud of being a part of the Bond family, but I don't want to be the sexy girl forever. I'm not meaning to complain, but I just want to be taken seriously. - Author: Eva Green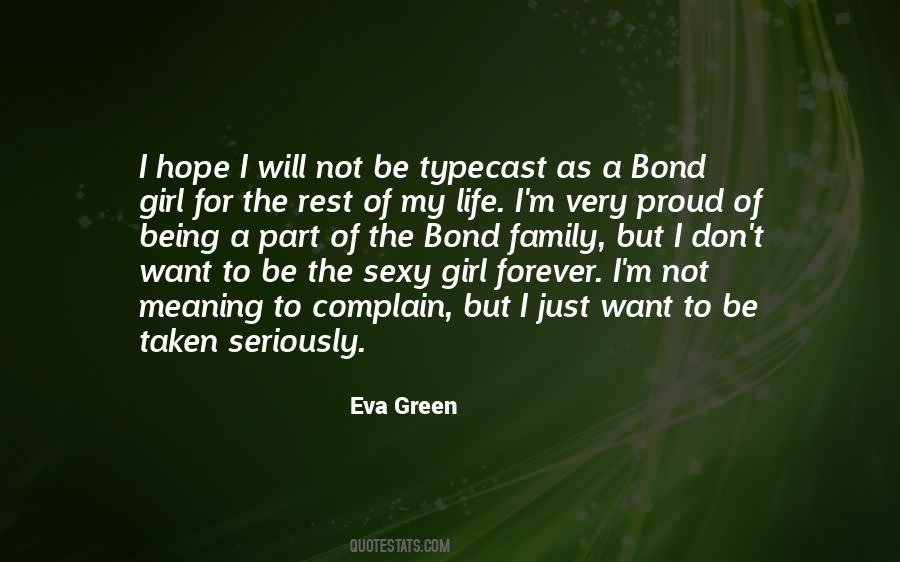 #41. The nicest part of the prize, perhaps, is the effect on my friends and family. Each of them feels proud and happy to have the relationship with me that they do. In a way, it's as though they received an award too, and I like that very much. - Author: Bruce Beutler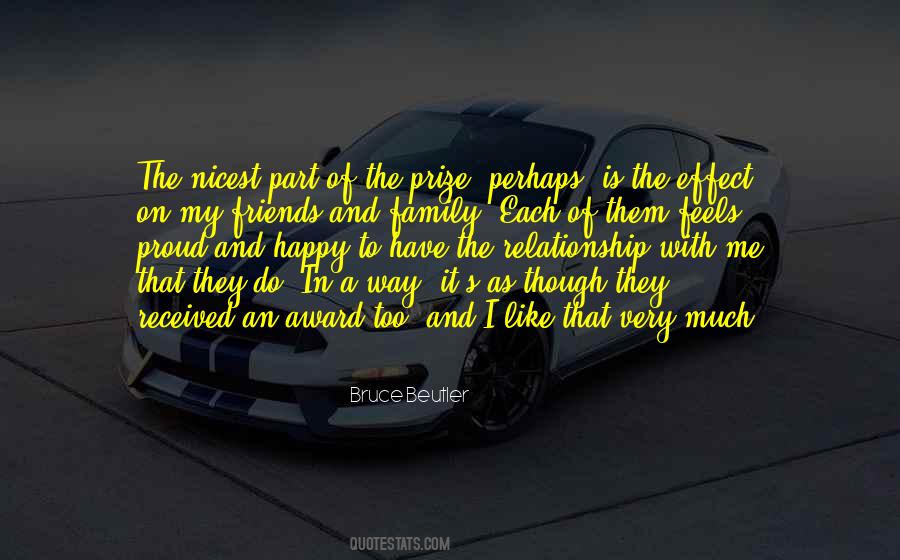 #42. Our family's fortune is growing faster than ever. We're a part of a small number of American families that own most of the country's wealth. But having so much in the hands of so few can't be good for America. - Author: Jamie Johnson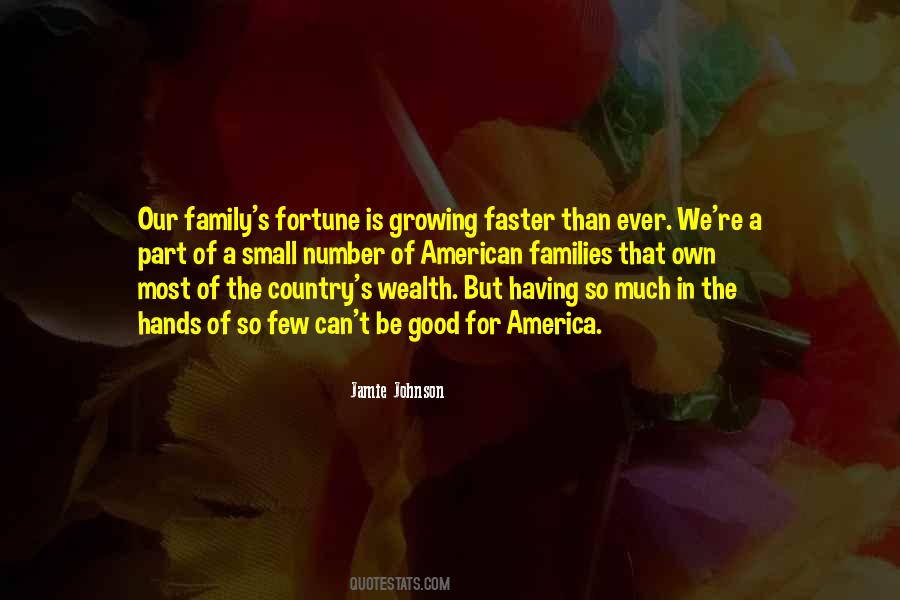 #43. Mental illness is the last frontier. The gay thing is part of everyday life now on a show like 'Modern Family,' but mental illness is still full of stigma. Maybe it is time for that to change. - Author: Eric McCormack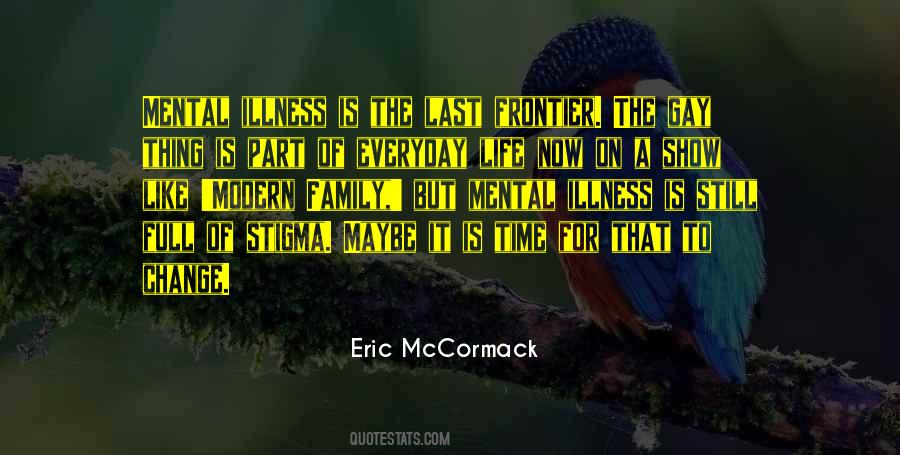 #44. Leadership is possible in all different ways, and in all different areas of life. Whether it is with friends or family, I expect them to set a great example for me, and hopefully I will do the same for them. And that is all part of being a leader. - Author: Steve Nash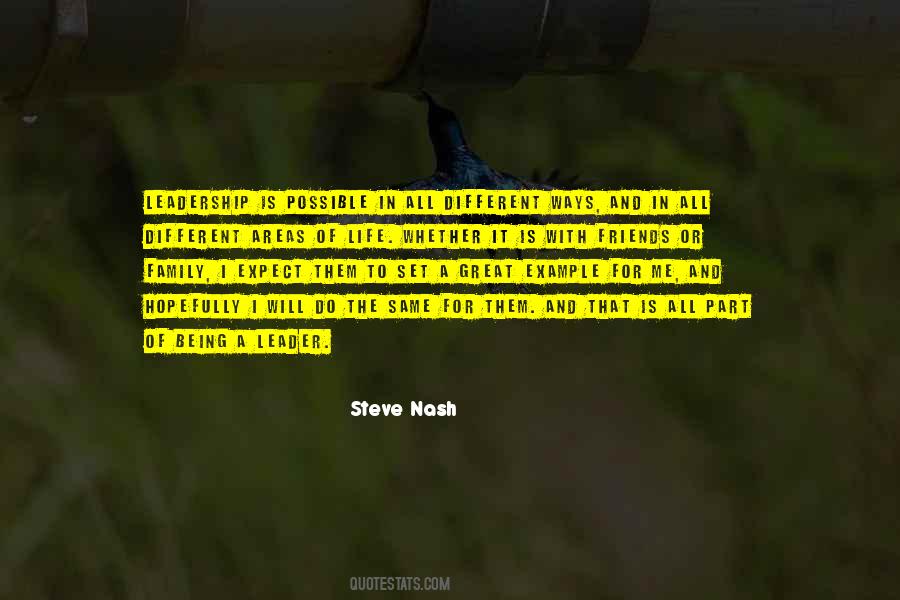 #45. When it gets to the part in life where you're more afraid of what your wife is going to do to you than if you box, say, Mike Tyson, you've got to get a new profession. You don't get to be a family. I know why boxers never quit, some of them. They don't have wives. - Author: George Foreman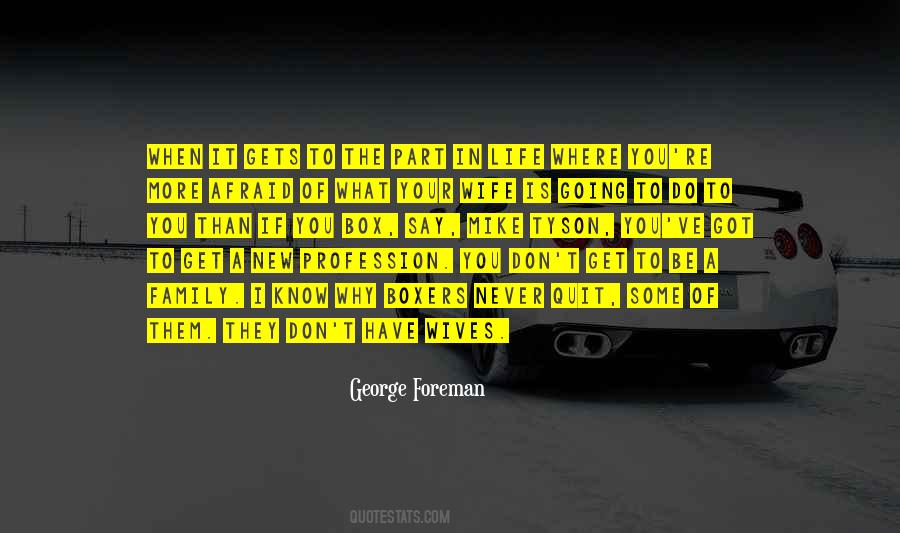 #46. I don't come from a famous family and don't have this detachment from everyday people and everyday life. I'm just doing my job and the attention that comes with it is part of the territory. - Author: Ed Westwick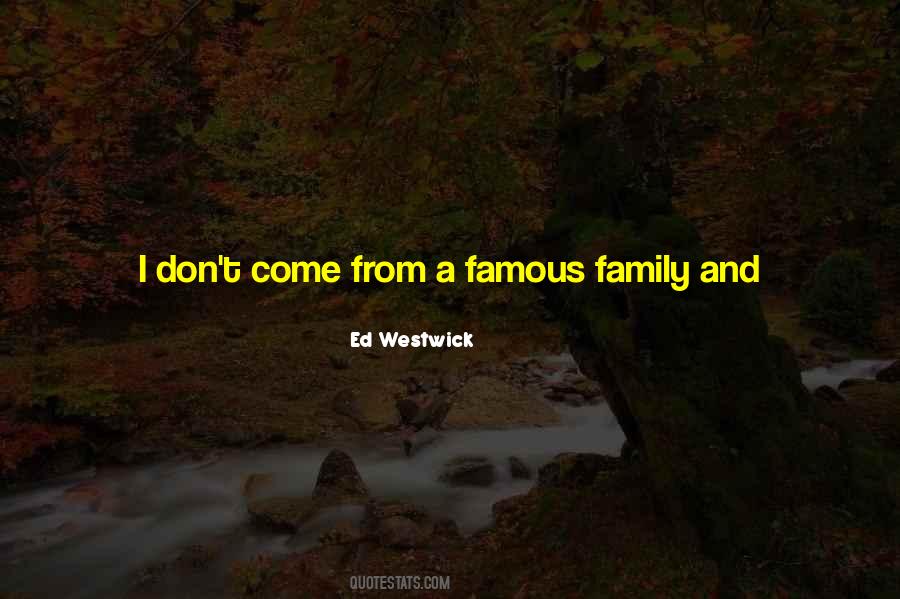 #47. In some ways, I am able to feel more like a part of my family while I am missing them. It's normal to feel lonely when you are away from your loved ones, but it's queer to feel lonely while surrounded by family. - Author: Rebecca Behrens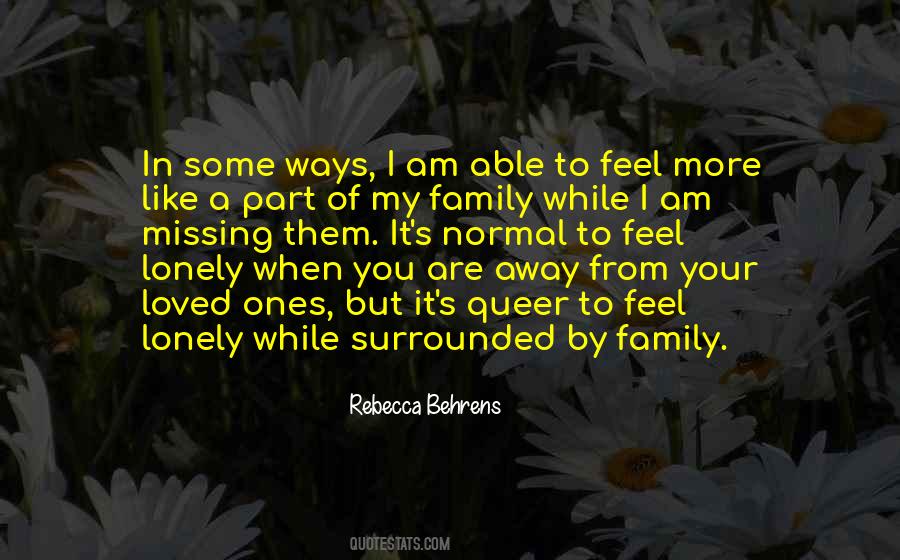 #48. While this has been a private part of my family's life, it is now clear a media story will soon emerge. My father tragically ended his life while battling terminal cancer in 1979. - Author: Bill De Blasio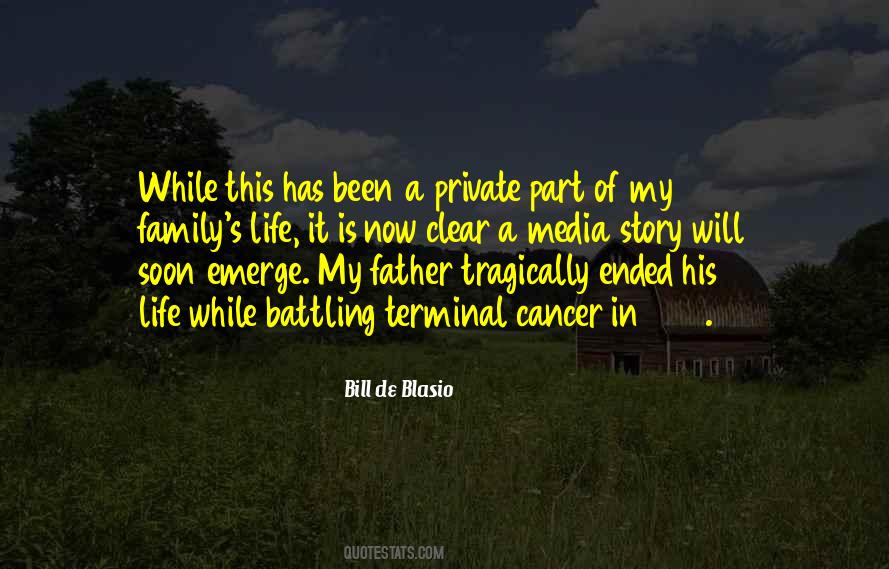 #49. A large part of crime is economics - if people are working and and have a home and family to support, then I believe you can reduce the crime rate. - Author: Vincent Frank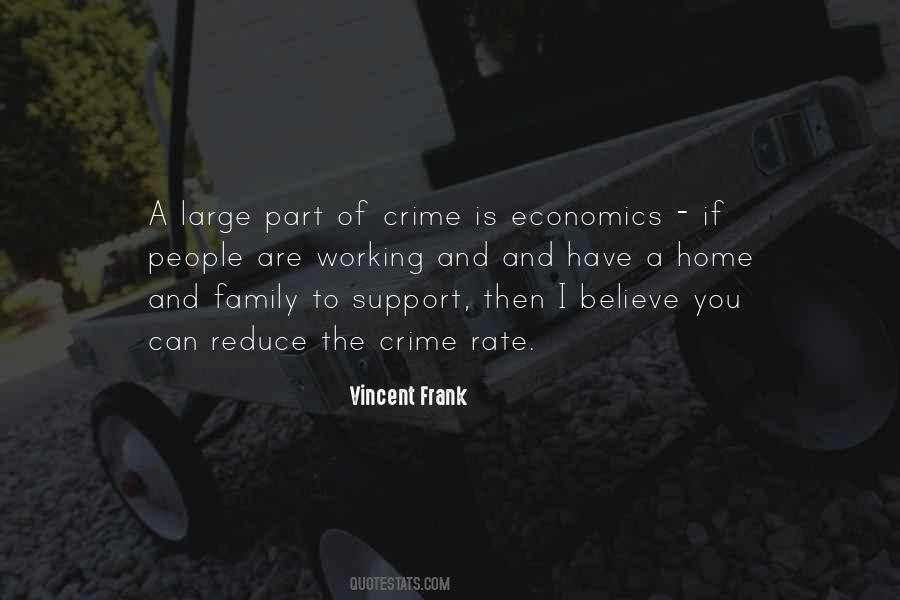 #50. Migration is an expression of the human aspiration for dignity, safety and a better future. It is part of the social fabric, part of our very make-up as a human family - Author: Ban Ki-moon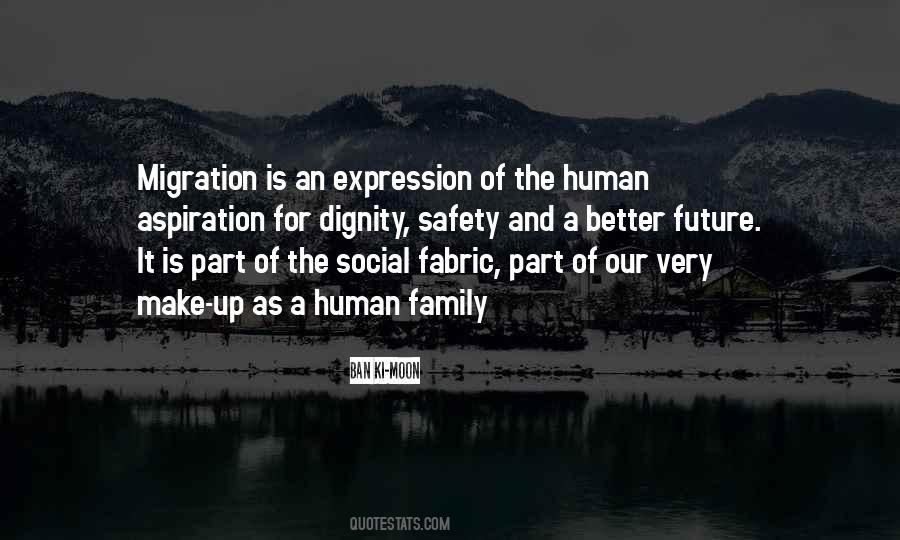 #51. While I didn't grow up in a family where there was domestic violence I knew of families in my neighbourhood where abuse was happening. I wanted to be part of the Women's Aid Real Man campaign to send out the message that real men don't abuse their partners or their children. - Author: Huey Morgan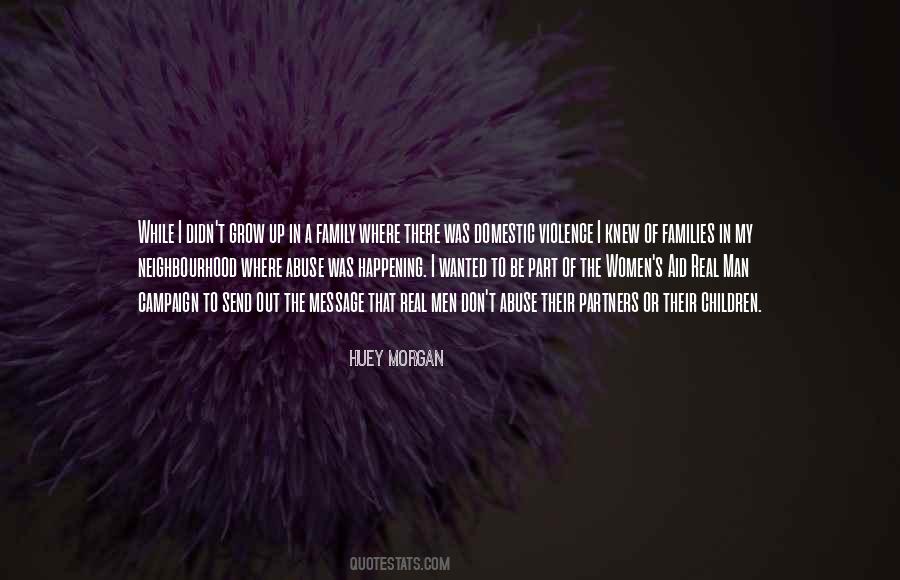 #52. Death by family silver, I thought, before I could turn off that part of my mind. - Author: Alan Bradley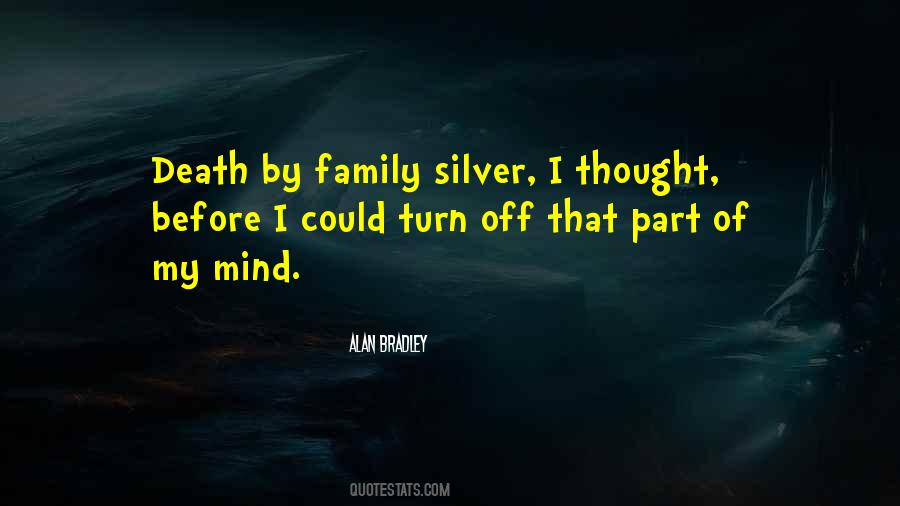 #53. Having experienced personally and through my family the tragedy of Chile is something always present in my memory. I do not want events of that nature ever to happen again, and I have dedicated an important part of my life to ensuring that and to the reunion of all Chileans. - Author: Michelle Bachelet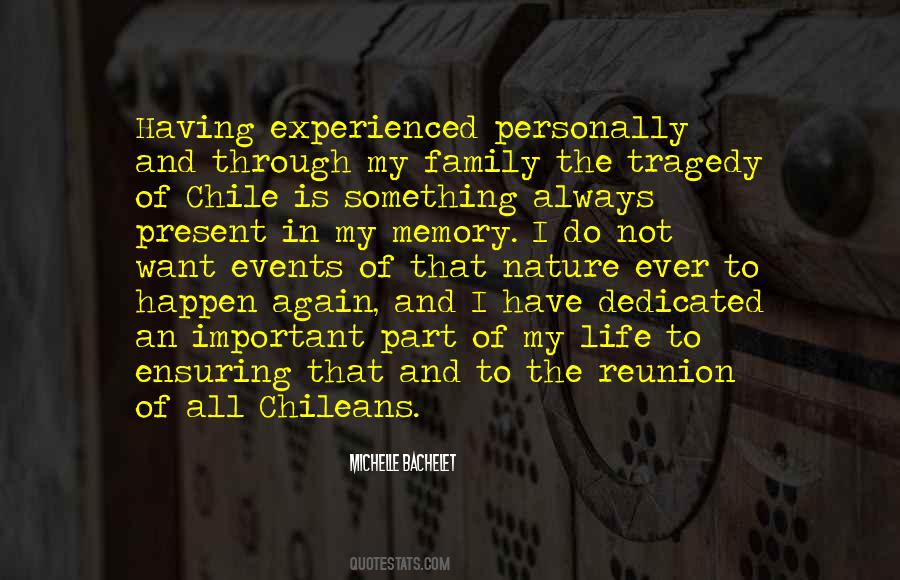 #54. When Jesus is truly our Lord, He directs our lives and we gladly obey Him. Indeed, we bring every part of our lives under His lordship - our home and family, our sexuality and marriage, our job or unemployment, our money and possessions, our ambitions and recreations. - Author: John Stott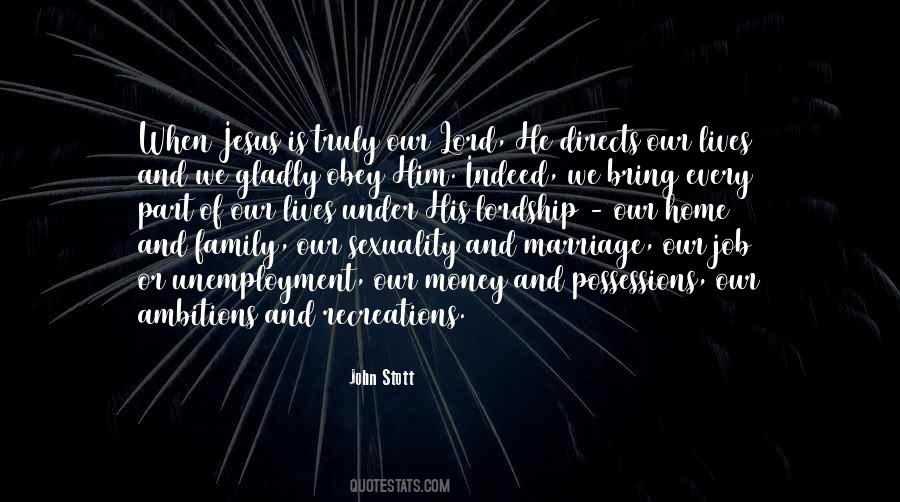 #55. By virtue of my traditions, and my community, I worked hard to ensure that I was accepted as part of the traditional family of America. - Author: James H. Douglas Jr.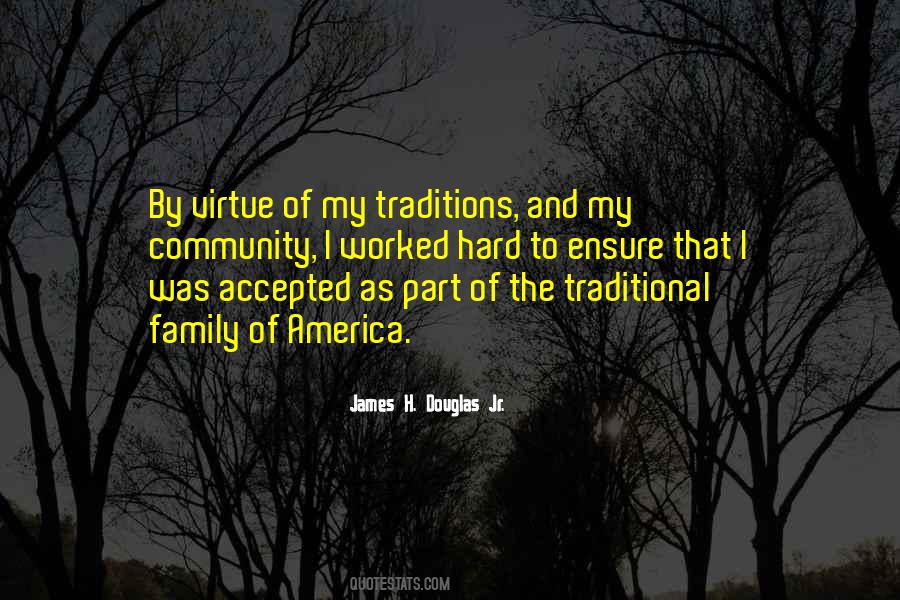 #56. It is important to value the individual, to have good health, a loving family and good relationships, to have community ties, leisure pursuits. These are all part of our lives. It is important to keep all of our parts in working order. - Author: Helen Lynch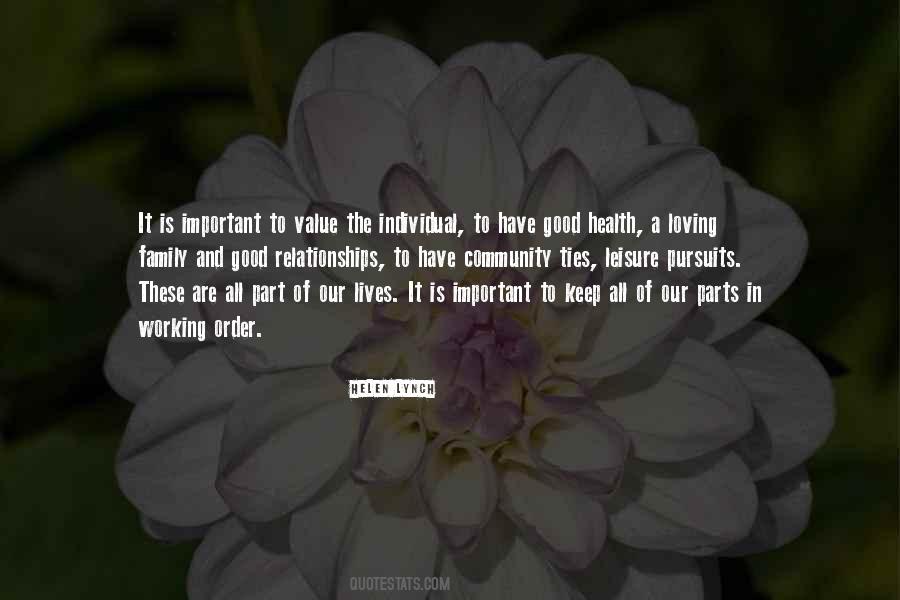 #57. Breast cancer, whether I like it or not, is part of my family's story. That's why I am so passionate about raising awareness, because I have seen firsthand how it can impact others. - Author: DeAngelo Williams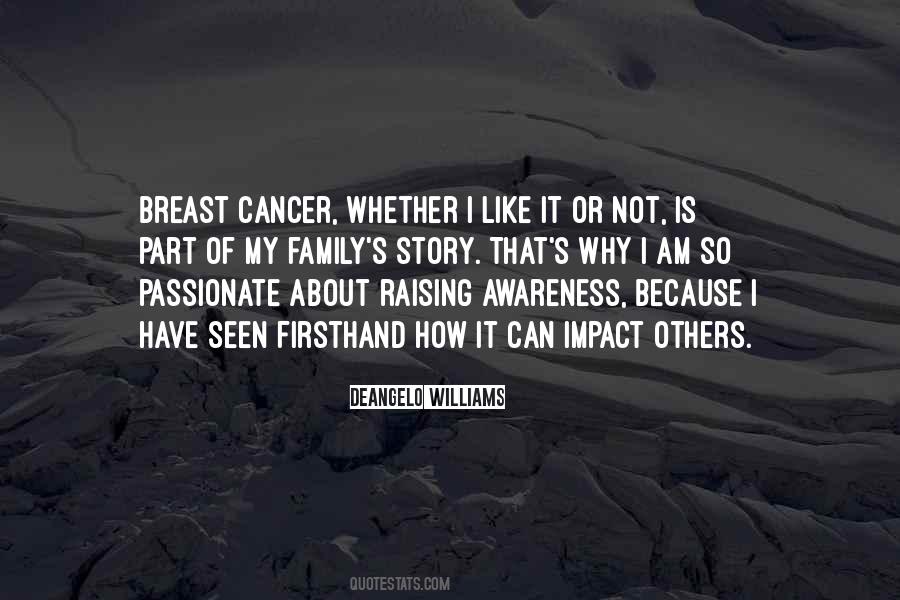 #58. Reading was a huge part of my life as a child - we were a family of storytellers. - Author: Sue Monk Kidd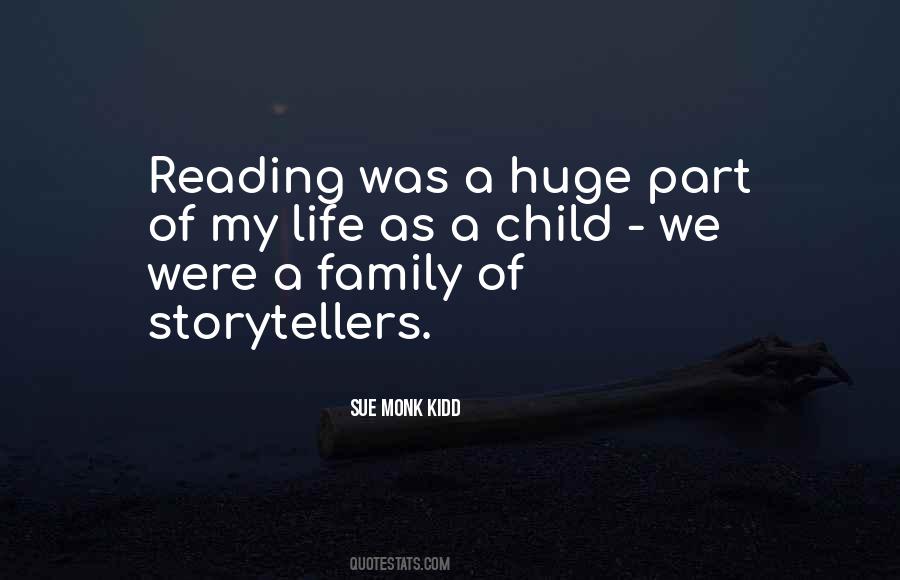 #59. The family you were raised in, the time period you were born in, and the part of the country you're in absolutely shape your view on sex, which shapes a huge part of anybody's personality. - Author: Lizzy Caplan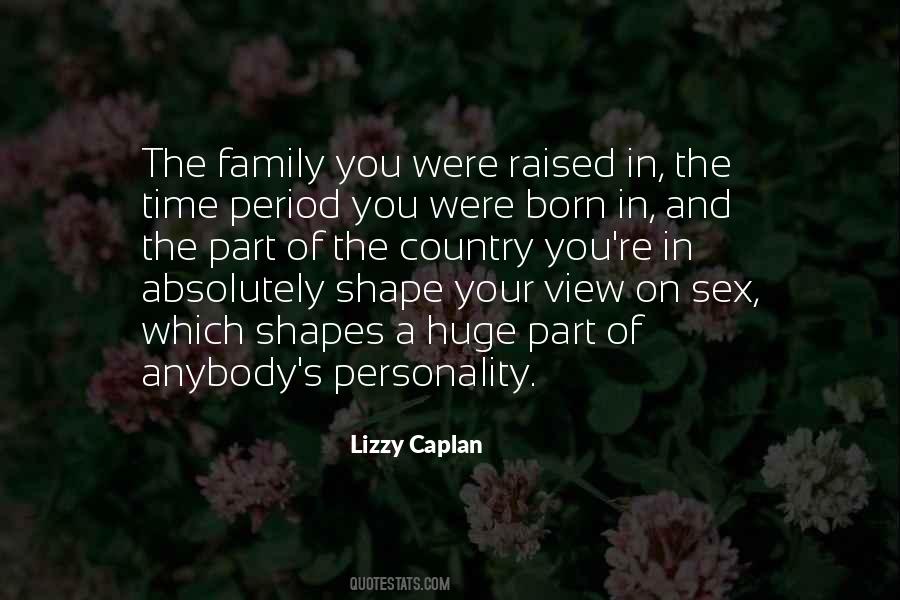 #60. I was aware of it, but I grew up in a very a-religious family. My mother never went to church, she never had any religious training or background. It was never a part of our social interaction. - Author: Donald Johanson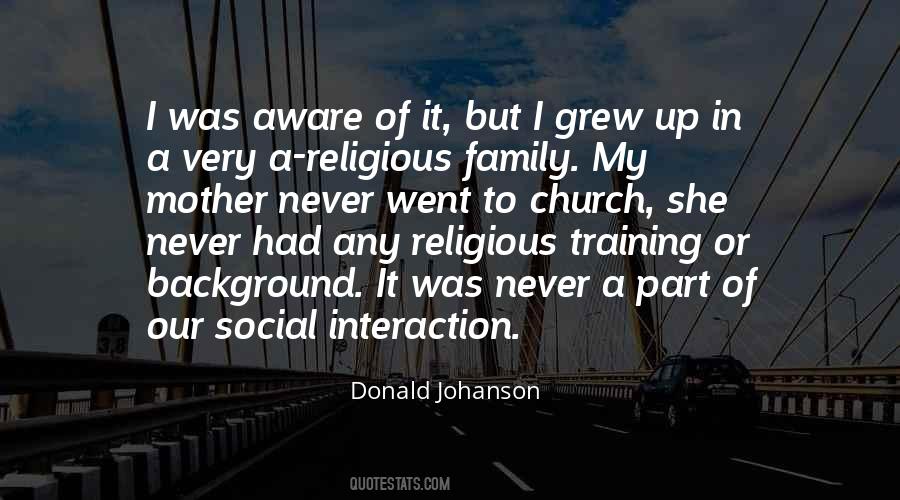 #61. My house has always been like everyone's house. You walk in, you're a part of the family, no matter who you are, what celebrity status you are, everyone is treated the same - with love from my mom. - Author: Vinny Guadagnino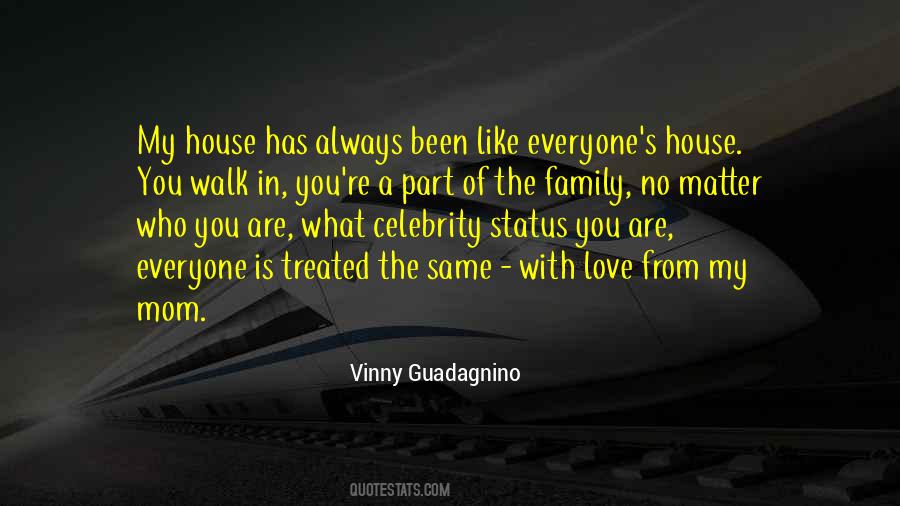 #62. I try to surround myself with a good support system. Whether that's other creators or my family or my friends, or even my viewers, who encourage me just as much as I might encourage them and they're just as much a part of my life as they let me be a part of theirs. - Author: Tyler Oakley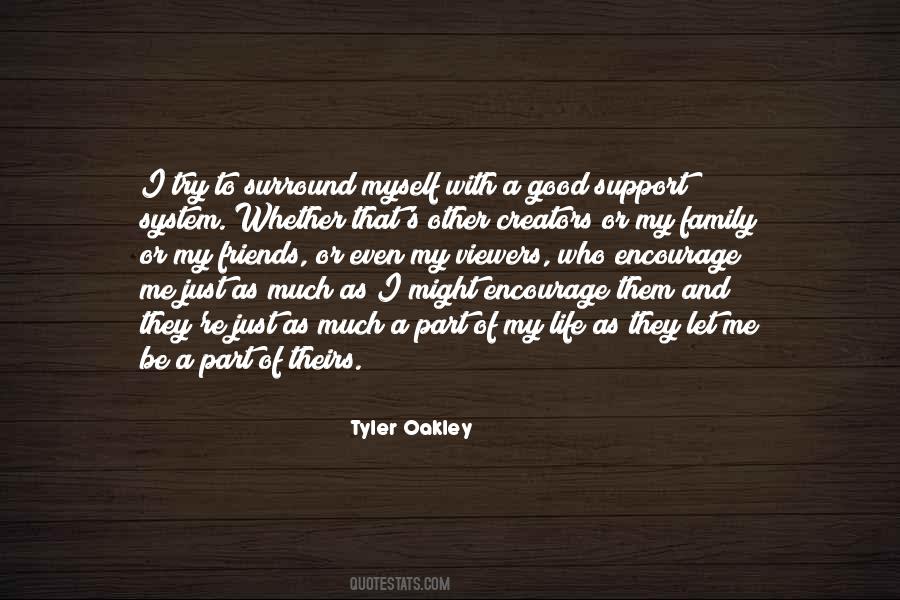 #63. I'm not part of the friends-and-family club; I'm not part of the pay-to-play club; I'm not looking to get re-elected. I'm not looking to go to another office and fill my campaign coffers. I don't need any friends in Albany except the people of the state. - Author: Carl Paladino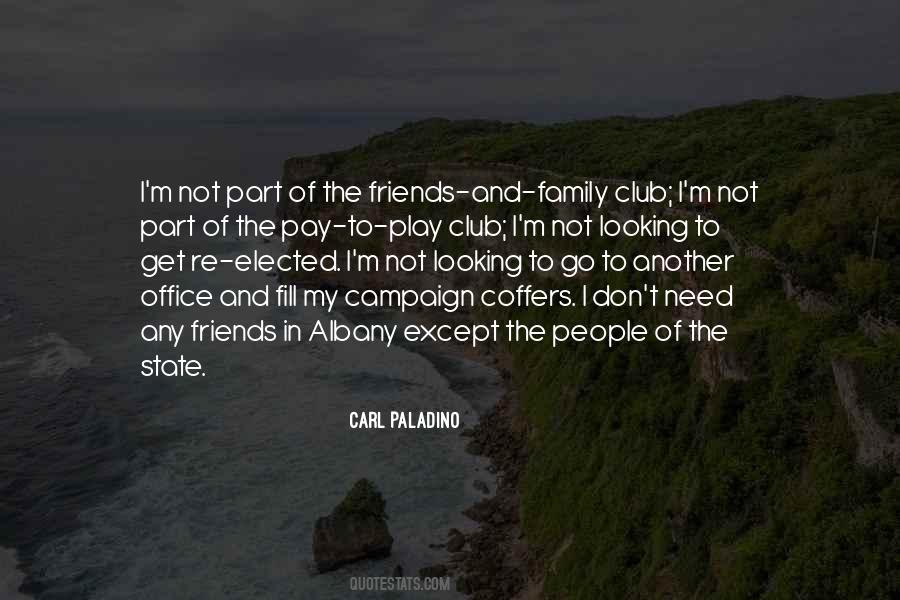 #64. The thing I love about television is that people watch you in their pajamas, and when they're eating dinner. You're part of the family. - Author: Barbara Feldon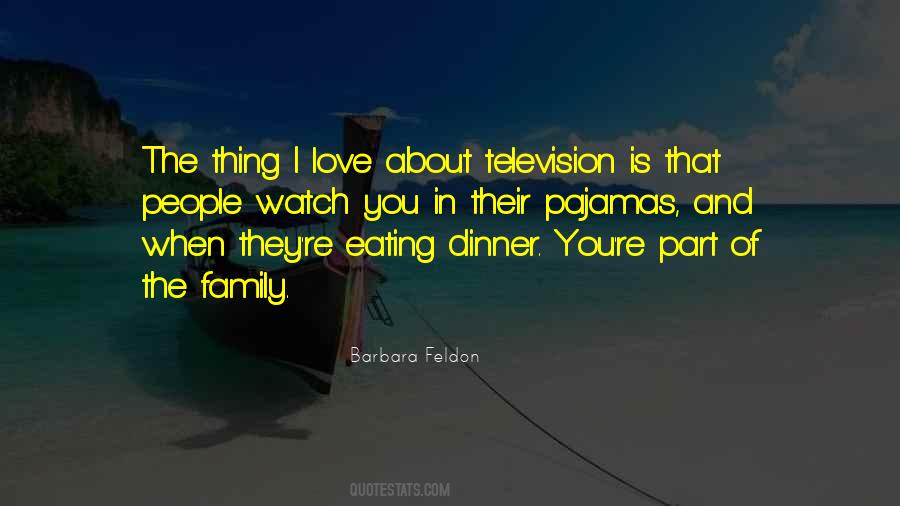 #65. After doing 'Firefly' and moving on, I always wanted to be part of a series again. I love doing films, too, but there's just something special about being part of the team and feeling like you're actually a part of the family, and I always look to re-create that. - Author: Summer Glau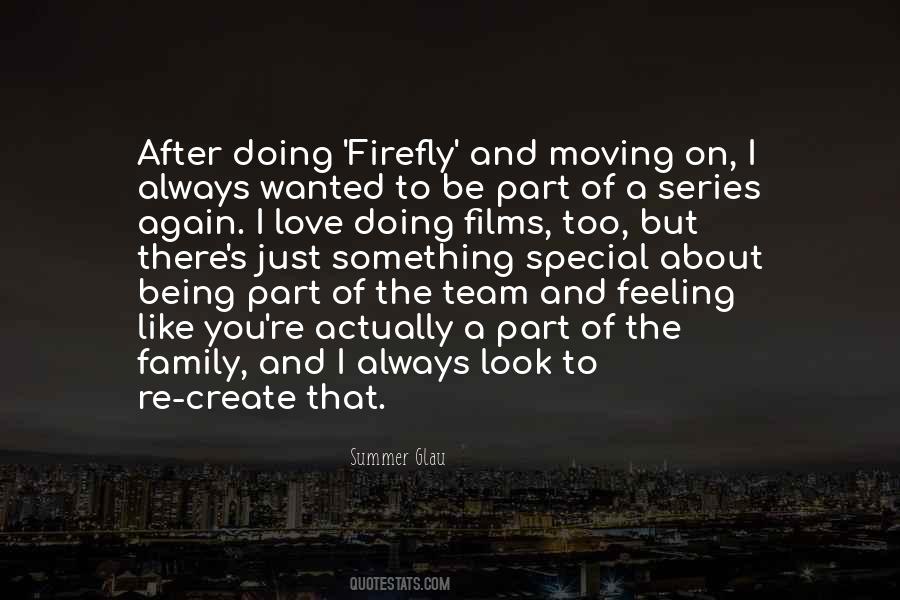 #66. I'm from a very politically and socially conscious family. My mother always made a point of making us look at what was going on around us and take stock of our part in it. - Author: Dave Matthews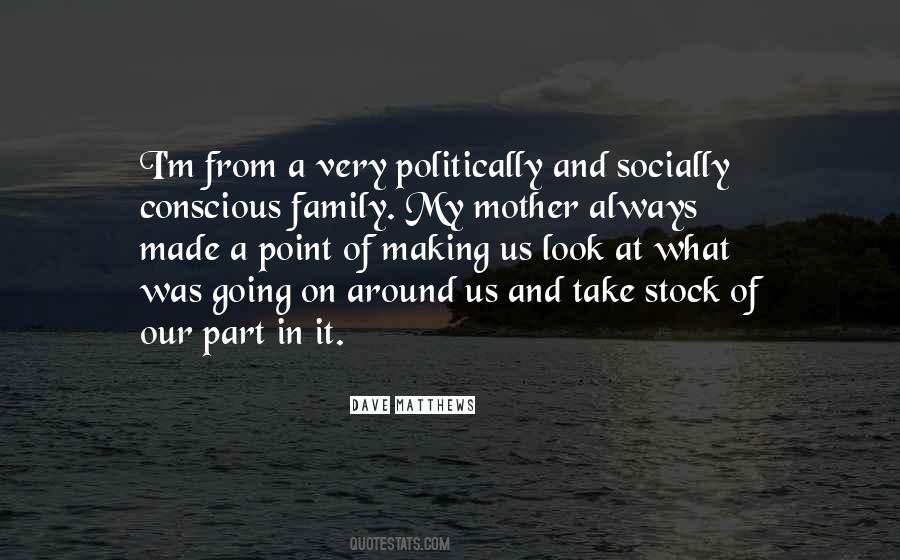 #67. If my son wants to be a pimp when he grows up, that's fine with me. I hope he's a good one and enjoys it and doesn't get caught. I'll support him in this. But if he wants to be a network administrator, he's out of the house and not part of my family. - Author: Steve Wozniak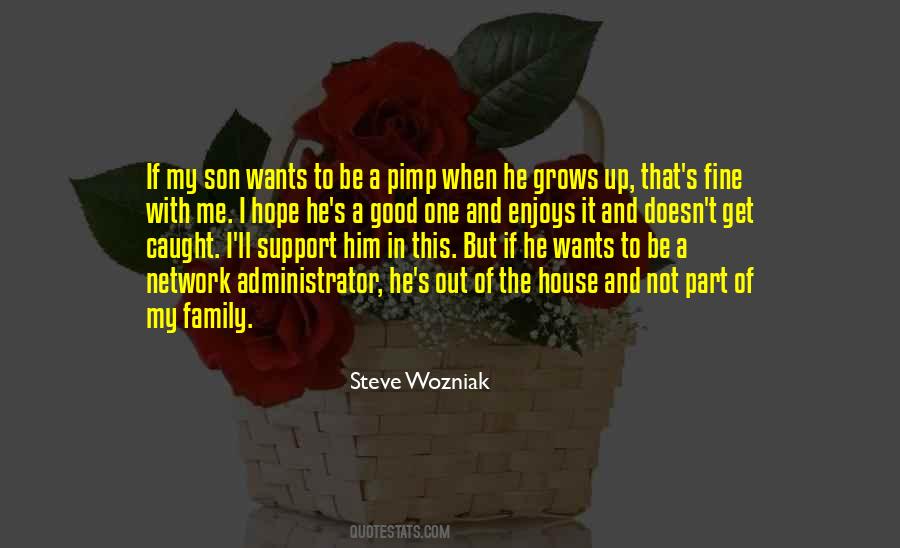 #68. I was born on April 1, 1933, in Constantine, Algeria, which was then part of France. My family, originally from Tangier, settled in Tunisia and then in Algeria in the 16th century after having fled Spain during the Inquisition. - Author: Claude Cohen-Tannoudji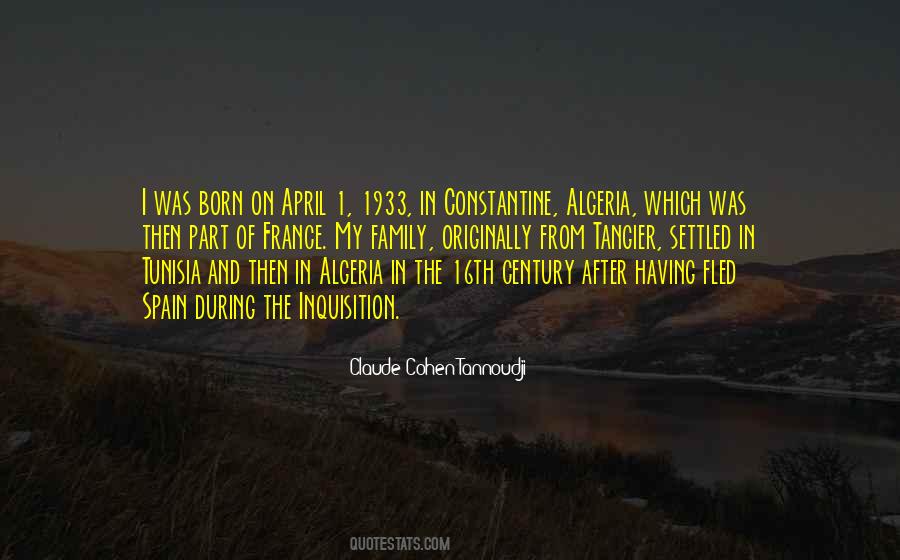 #69. Public service is a part of who I am, having grown up in a family of politicians. - Author: Harold Ford Jr.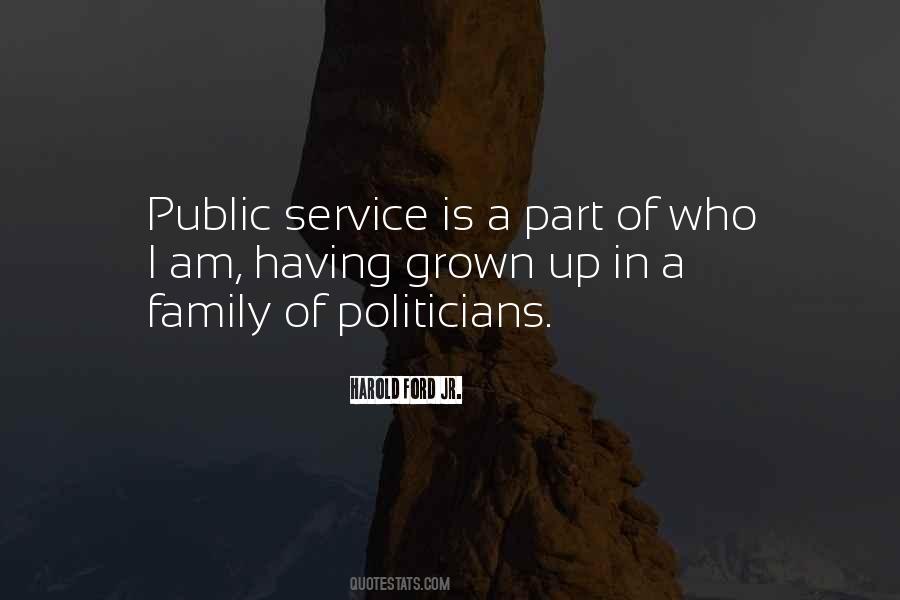 #70. I'm over the moon to be involved in the 'Doctor Who' Christmas special. I can't quite believe it as it's a part of the family tradition at the Jenkins household. I heard the news that I got the role on my 30th birthday and it was the best birthday present ever. - Author: Katherine Jenkins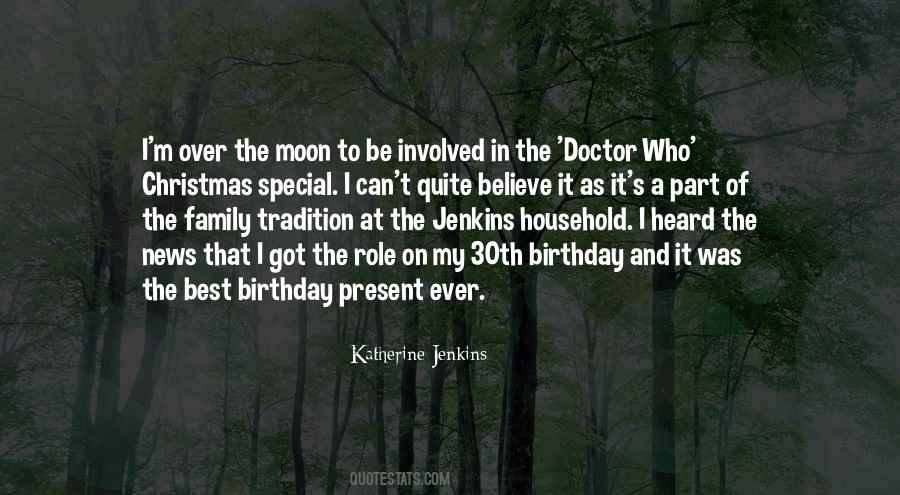 #71. This is part of what a family is about, not just love. It's knowing that your family will be there watching out for you. Nothing else will give you that. Not money. Not fame. Not work. - Author: Mitch Albom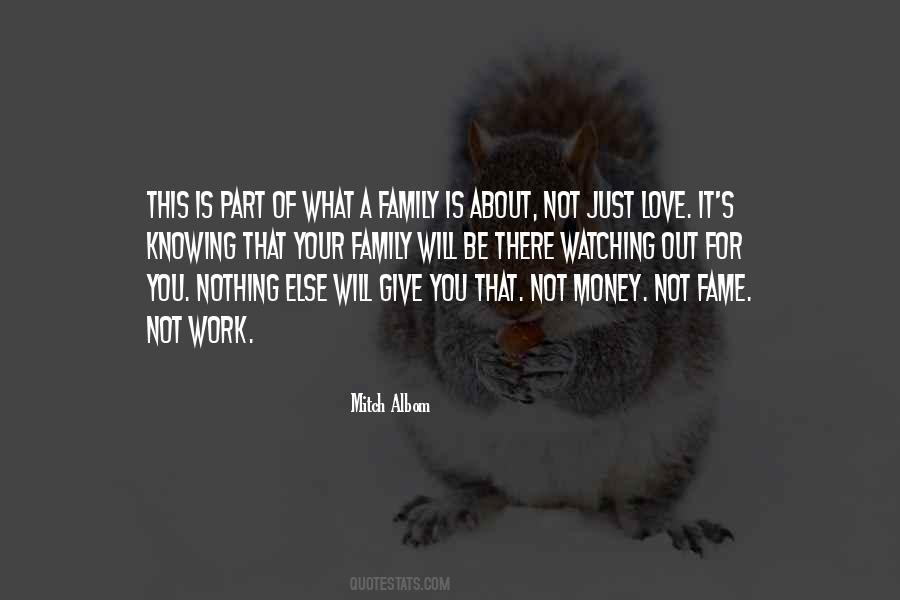 #72. Lucky enough, through the public school system, I had been able to have some music education, and that gave me something to focus on, and discipline - like a family to feel part of. There was a healthy family. - Author: Flea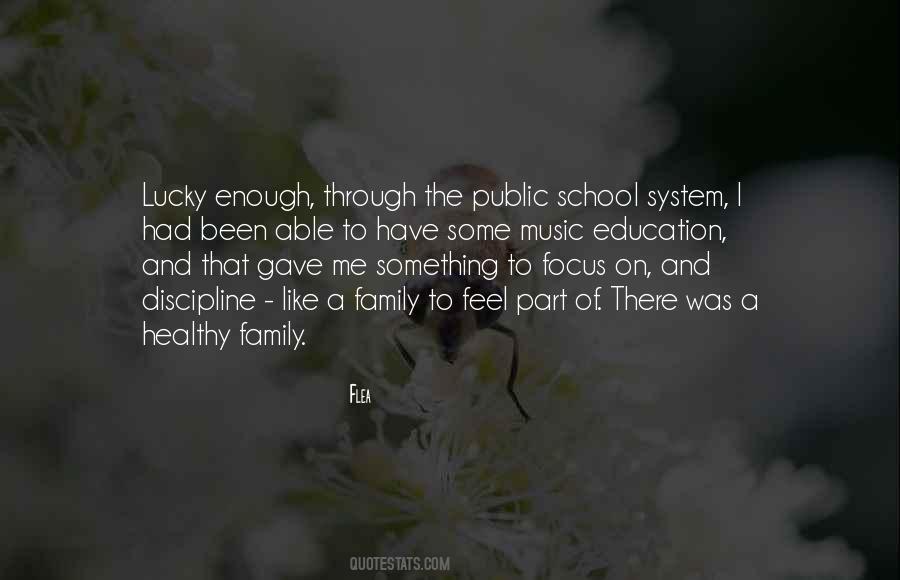 #73. My family has loved Minnesota and that was one of the big reasons we decided to come back. For me, family decisions were a big part to coming back to the Twins. - Author: Jim Thome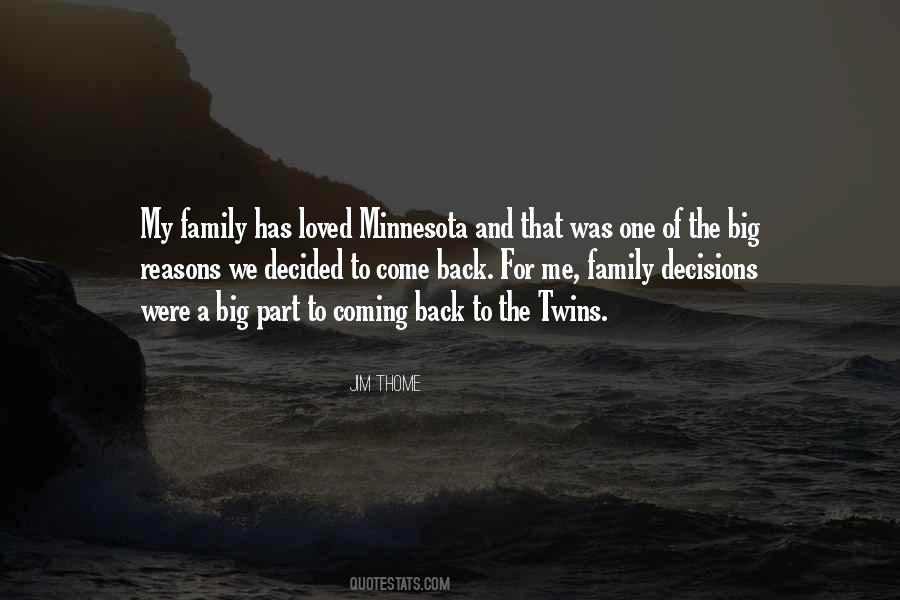 #74. The difference is that raving fans, unlike satisfied customers, become part of your sales force. They tell friends, family and co-workers about your services and your products. And, of course, good things will happen! - Author: Mac Anderson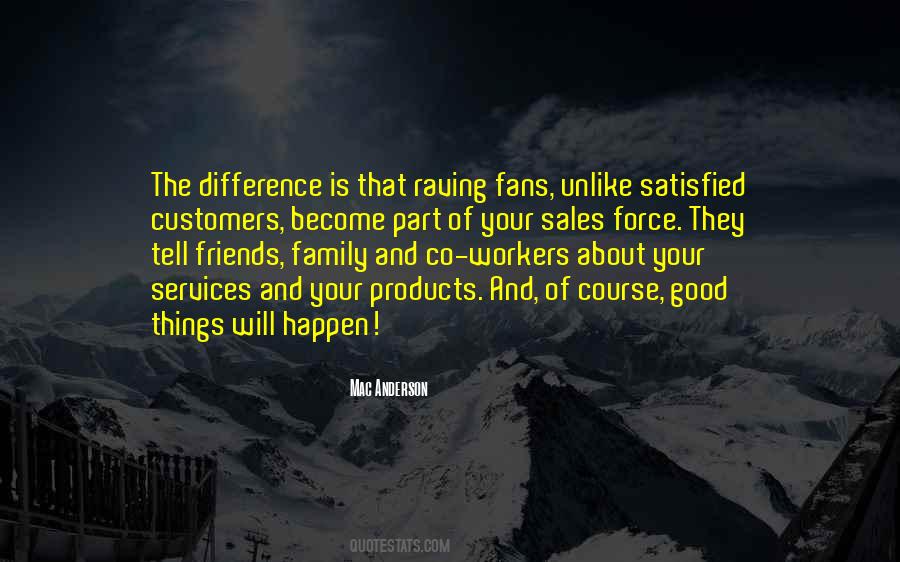 #75. I can't help smiling. He's the reminder of the best part of our family. He's me and not me. Better than me, because he sees me from afar and still loves me in a way that I can't always love myself. And who can do that? Stop judging themselves? - Author: Susan Conley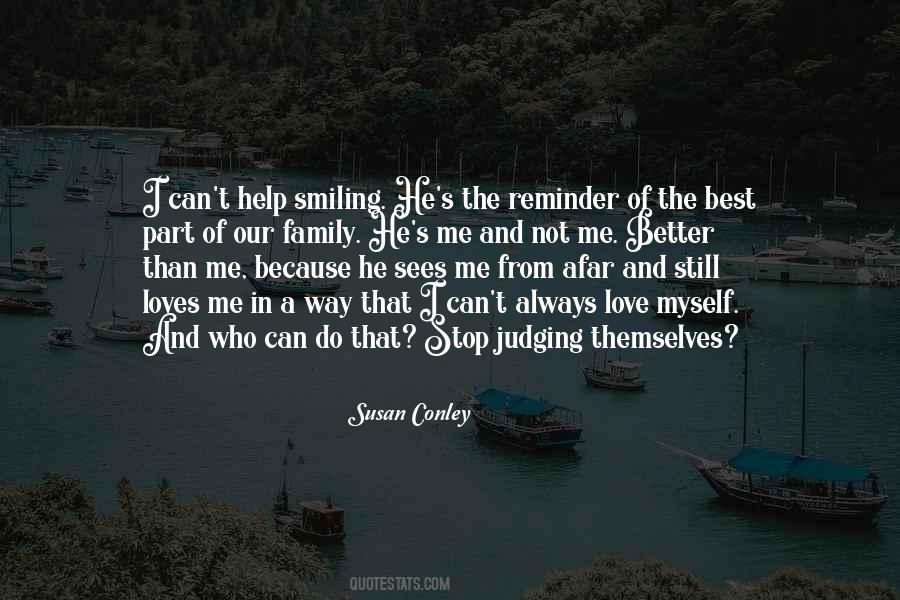 #76. Never kill yourself because you are too poor to feed your children or your family. You are a part of this world, and the country you live on it. It is your right to be happy, educated and with your children and family. You must fight for your rights, kill for your rights but never die for them. - Author: M.F. Moonzajer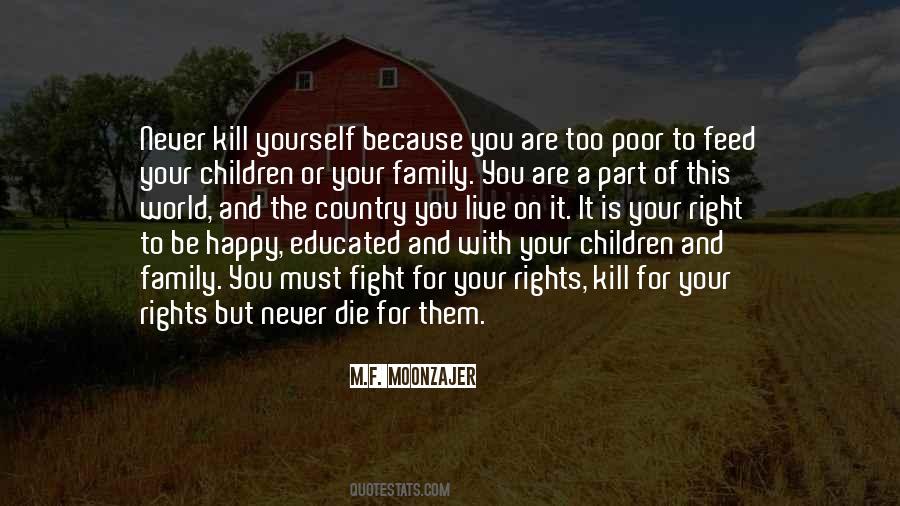 #77. I had worn that gold ring for nearly thirty years; token of vows taken, forsaken, renewed, and at last absolved. A token of marriage, of family; of a large part of my life. And the last trace of Frank - whom, in spite of everything, I had loved. Jamie - Author: Diana Gabaldon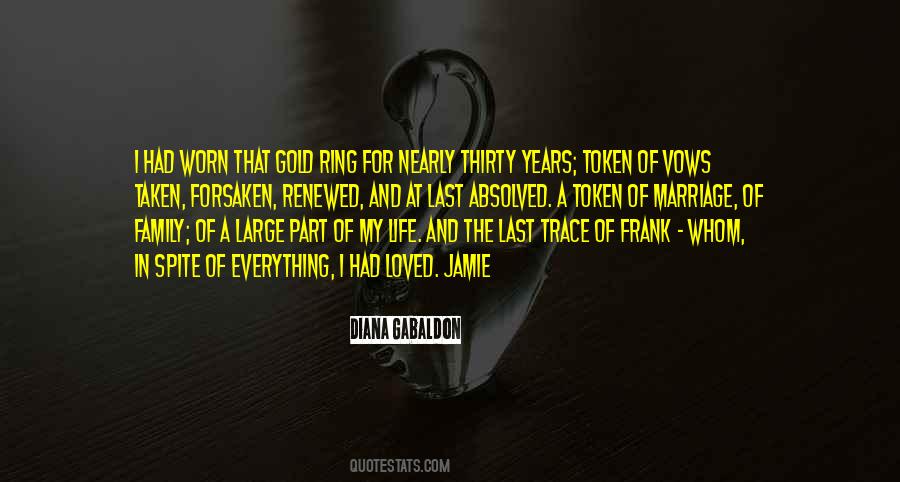 #78. I left the Pumpkins in 2010, and I just took a year off to hang with my family and be with my daughter and my son and my wife, and just get acclimatised to being off the road. Then I started looking at what was going to be the next part of my career/legacy, whatever you want to call it. - Author: Jimmy Chamberlin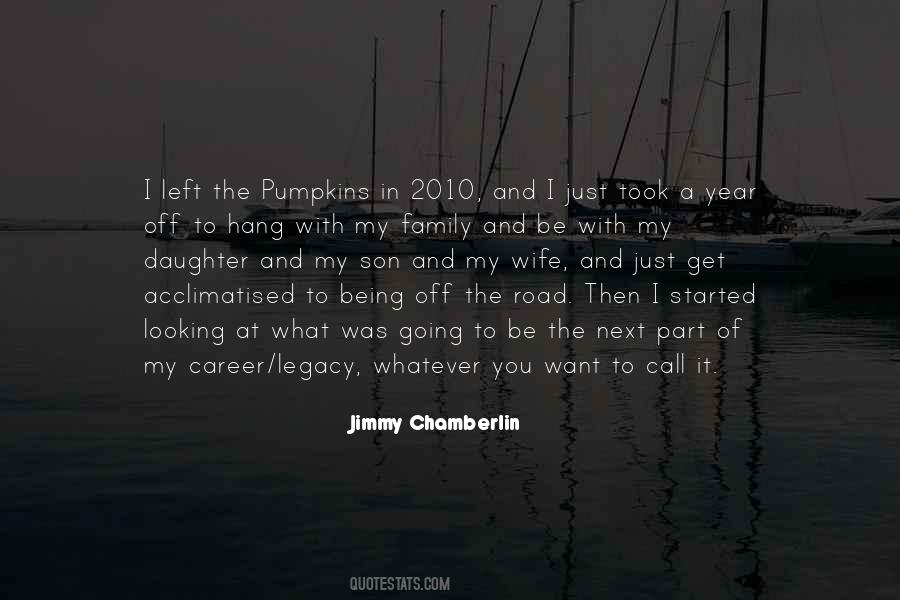 #79. No ... I mean, I'm sorry he ... You know, said those things to you."
"It's part of being a 'good' family. Everyone's got skeletons in their closet. - Author: Richelle Mead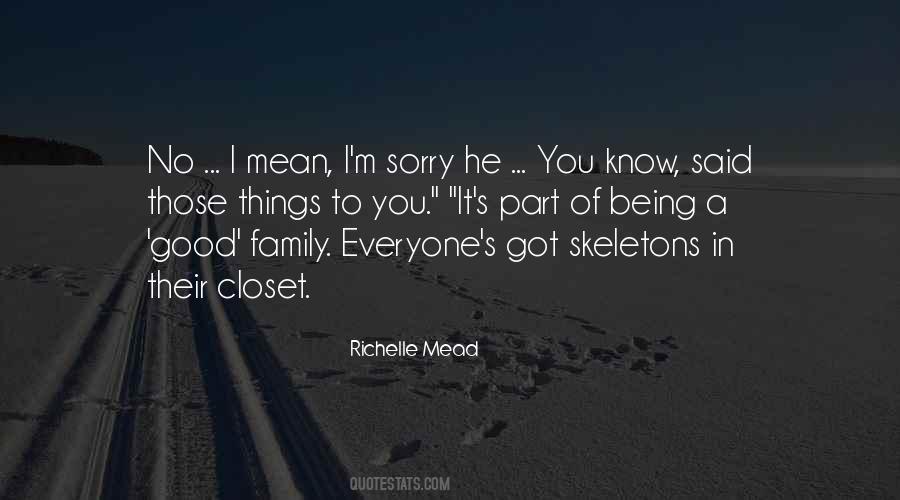 #80. I really appreciate the British part of my family. - Author: Helle Thorning-Schmidt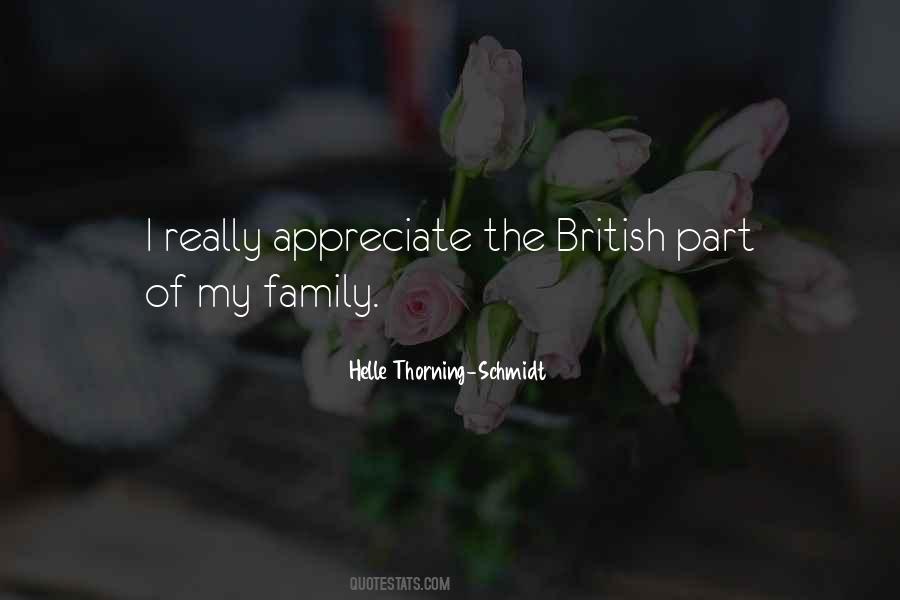 #81. They might not love Big Brother, but they knew he was part of the family now. - Author: Tim Weiner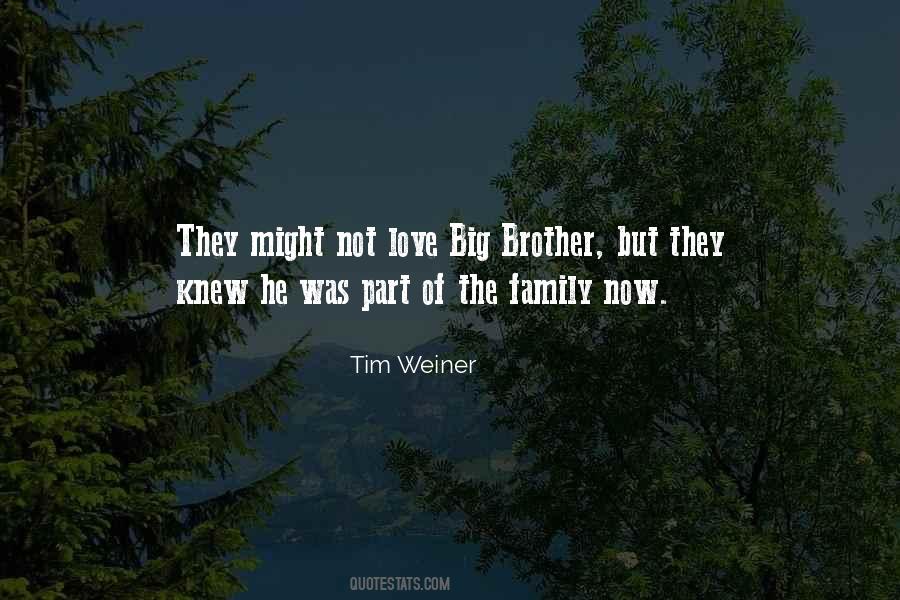 #82. My family of friends has kept me alive through lovers who have left, enterprises that have failed, and all too many stories that never got finished. That family has been part of remaking the world for me. - Author: Dorothy Allison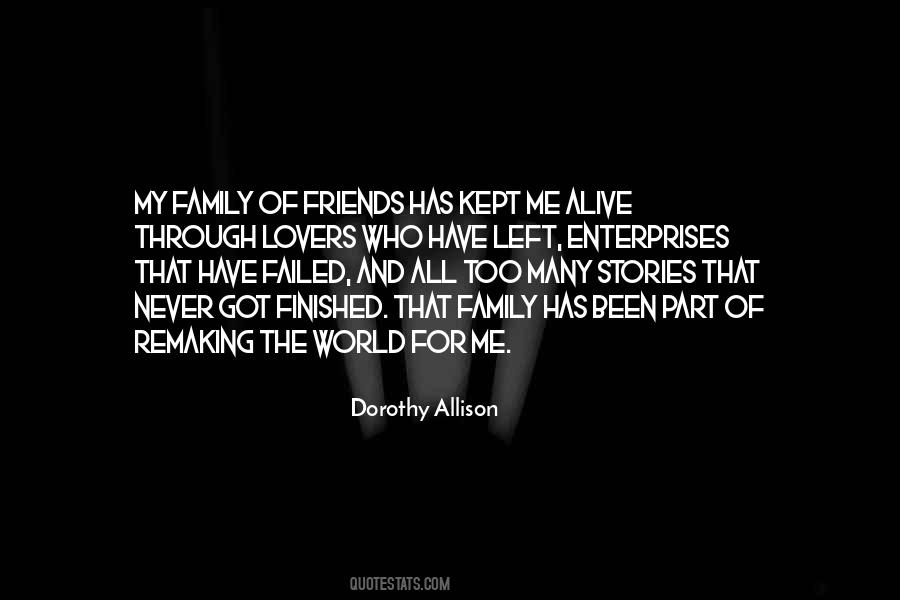 #83. There are certain families who absolutely incorporate their nanny as part of the family, and there are other people, and there are codes for this, when they call in, they say, 'I am really not looking for a friend.' It is clear they will not be members of the family. - Author: Robert Klein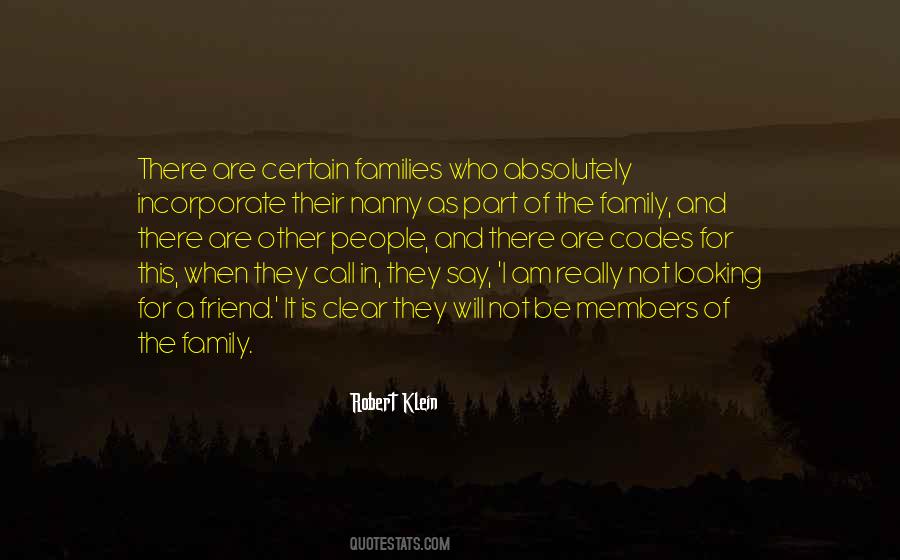 #84. The Royal Family have always had an interest in a number of different areas of society. We are a part of society. - Author: Prince Andrew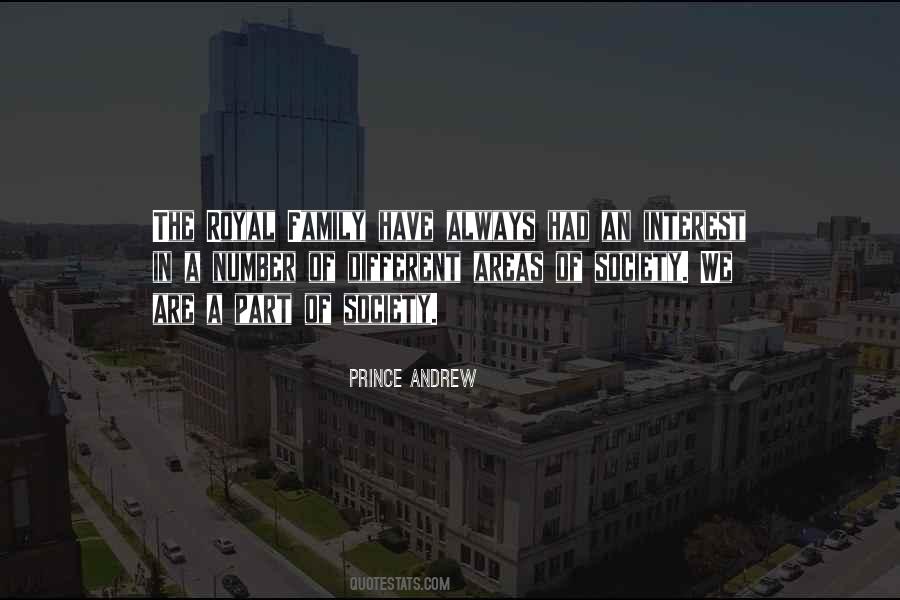 #85. The fans and supporters are also part of the Olympic family. - Author: Bill Toomey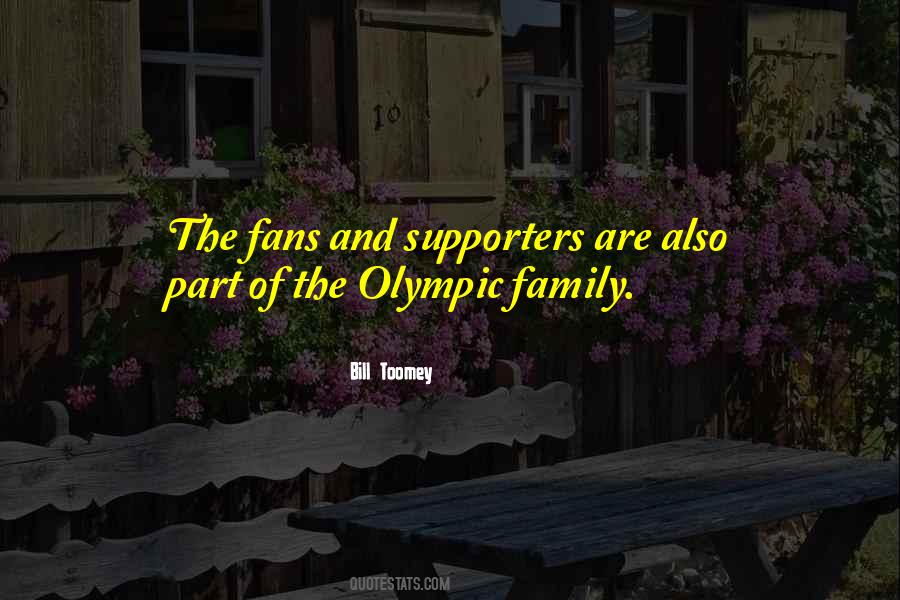 #86. It would be nice if I did have a good relationship with my family, and yes, part of me longs to have a mum and dad who love and accept me for who I am. But if they never do, it's OK. - Author: Heather Graham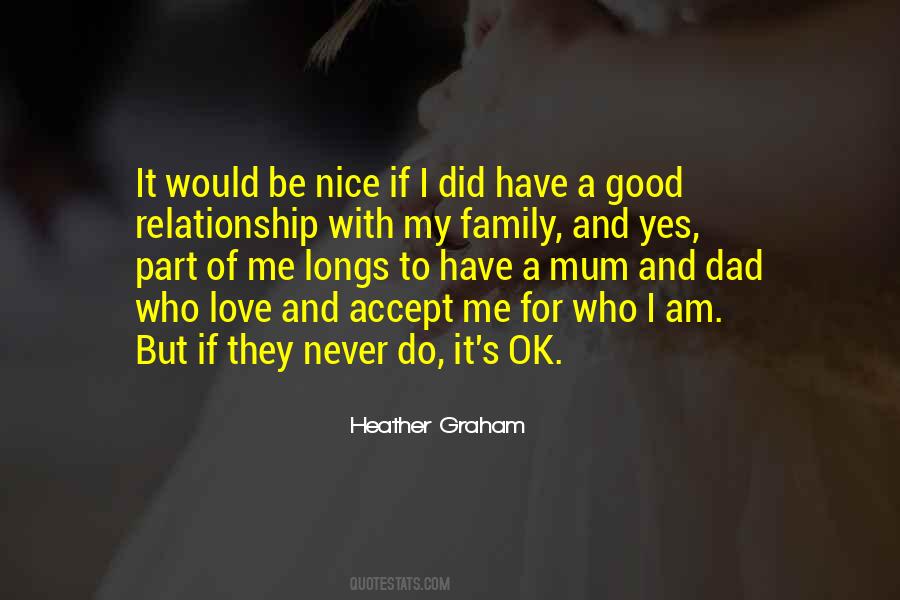 #87. As my intimacy with his family grew, I became part of the world which he sought to escape; I became one of the bonds which held him. - Author: Evelyn Waugh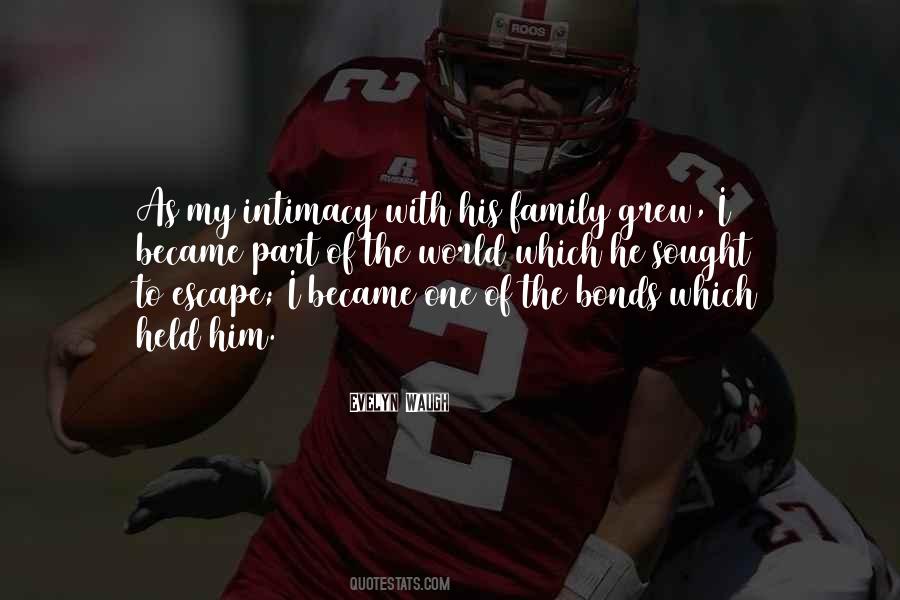 #88. Cooking is an important part of a good, stable family life. I like to get the family together; there's a huge nurturing element in it. - Author: Jade Jagger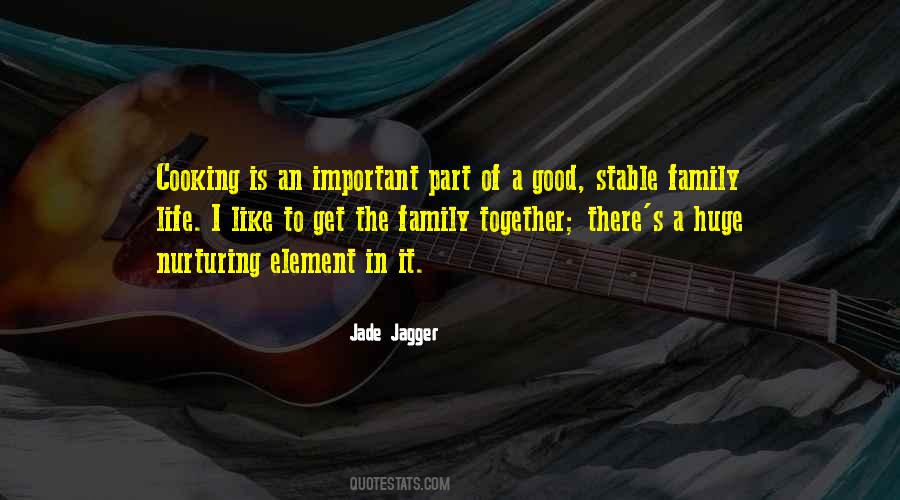 #89. When you don't have kids and you're in a Catholic family - one of my sisters had 10 children in 11 years - she's part rabbit - you feel kind of guilty about that. So, I want to do things for other people's children. - Author: Marge Schott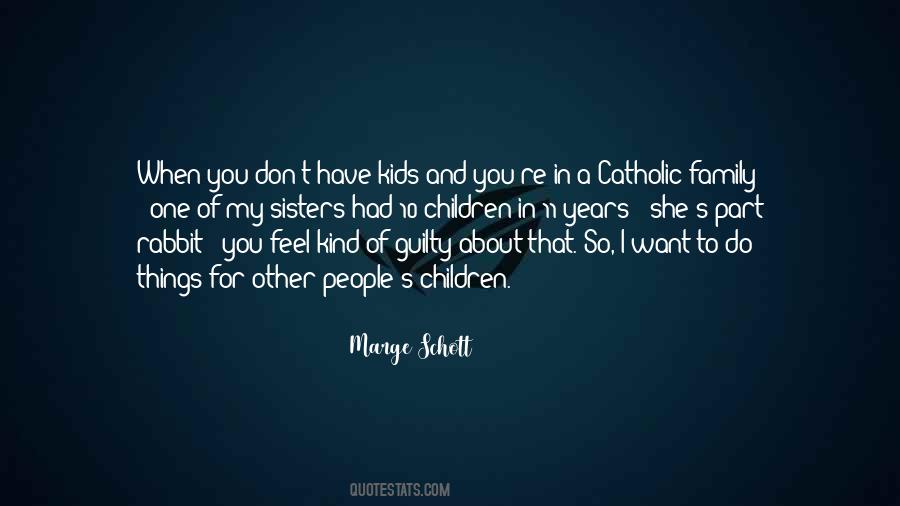 #90. The truth is, the personal ends up becoming part of your professional. As an actor, much of your work happens at home as you try things out on your family. Sometimes you stay in character unbeknownst to you and keep practicing. - Author: Terrence Howard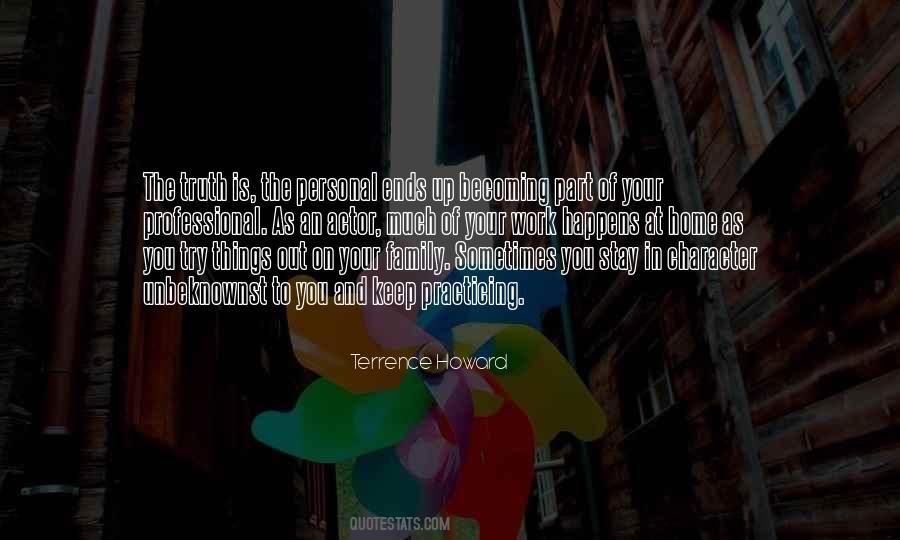 #91. The charity work is just a part of what I do. Like ... I make time to clean my house, to care for my pets, to visit my extended family, because those things are important to me. Same with helping others. - Author: Lori Foster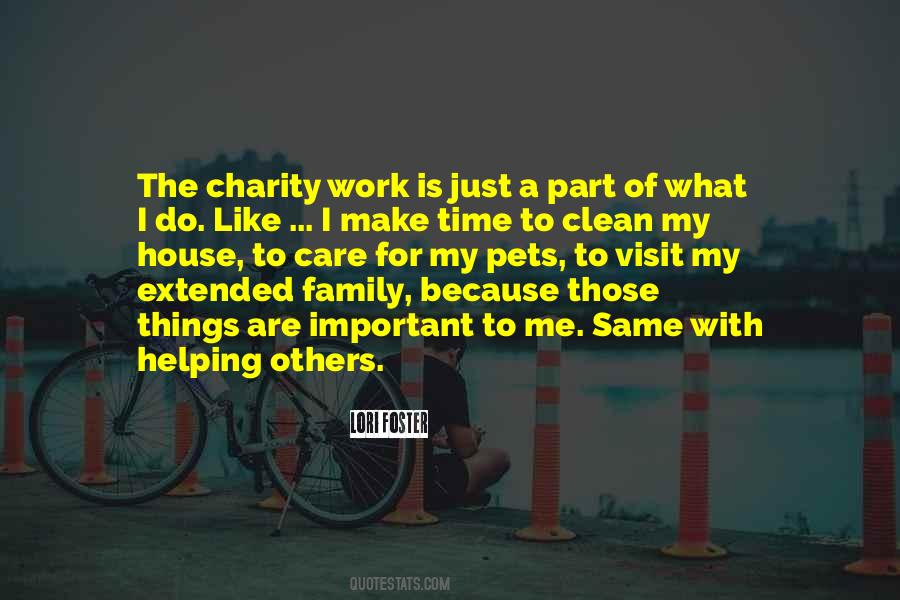 #92. I was much affected by the internal troubles of the Punch family; I thought that with a little more tact on the part of Mrs. Punch and some restraint held over a temper, naturally violent, by Mr. Punch, a great deal of this sad misunderstanding might have been prevented. - Author: Edmund Gosse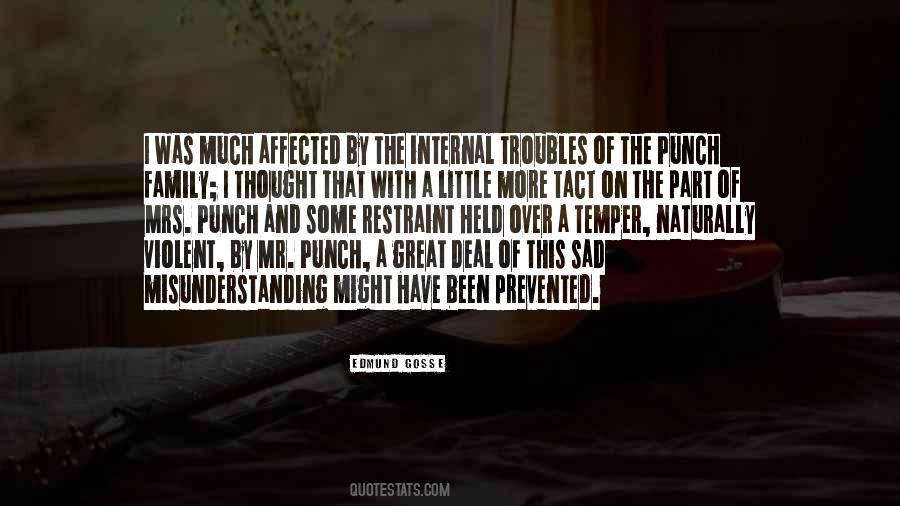 #93. I always wanted to be a filmmaker, but I started acting when I was 9 years old. I looked a certain part that I wasn't, really. I played, you know, a high school jock with a lot of attitude or a spoiled rich kid, and I was neither of those things. I was from a very working-class family in Van Nuys. - Author: Steve Antin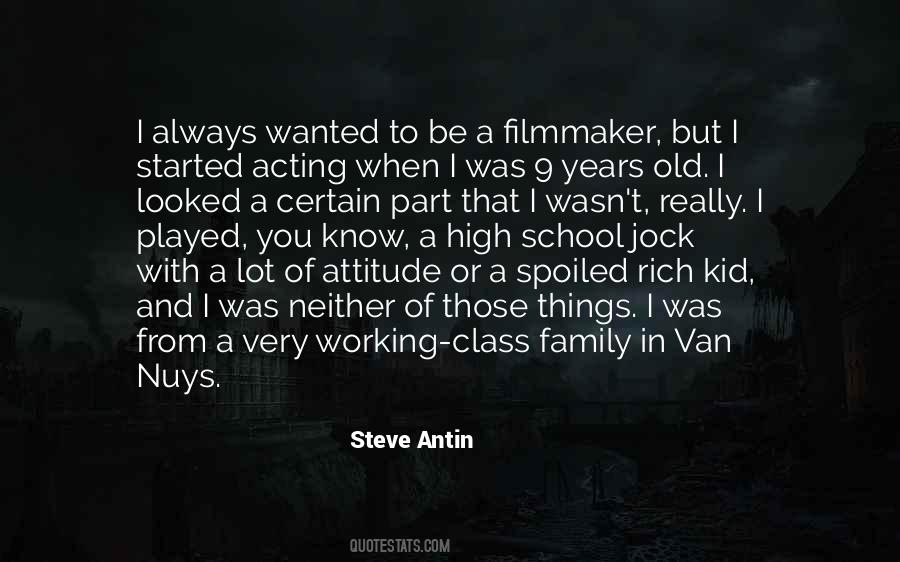 #94. The family we're born into is important, sure, but they're not all we have. They're not all we are. A part of life is making your own family. That's the beauty of it all." I smile softly. "Do you have a big family?" "I do," he says, "but most of us aren't blood related. - Author: J.M. Darhower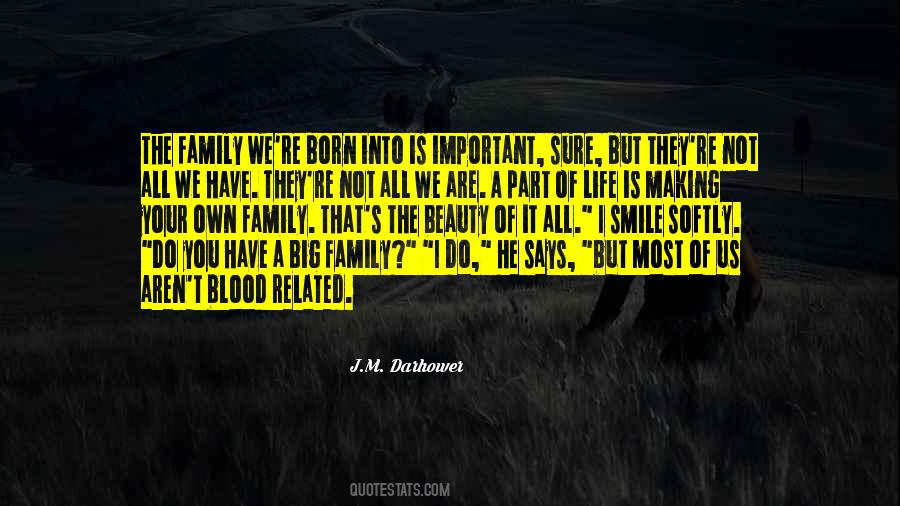 #95. I am a storyteller, and I grew up with a father who told big-fish stories, so storytelling is very much a part of me. It was a part of my family. - Author: Susan Stroman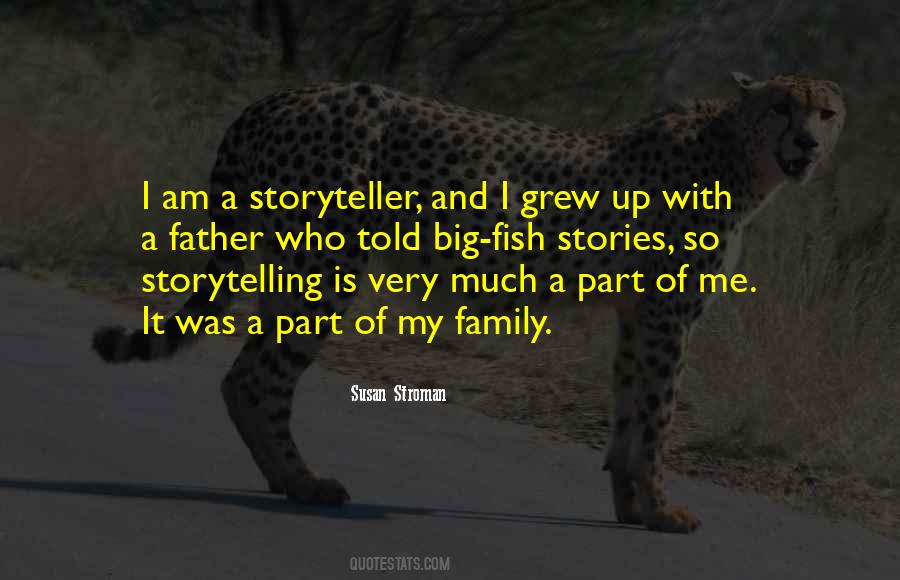 #96. It ultimately becomes an asset to be part of a theatrical family if, indeed, you're good at what you do. - Author: Kate Burton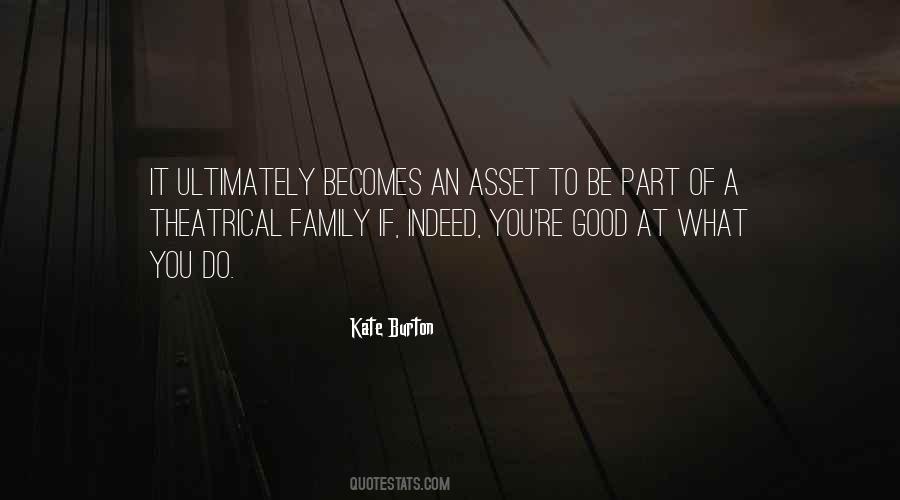 #97. I love that I live a creative life. It is in the work that I do - acting, writing, and directing. It's also in the mindfulness of every part of my life, from a meal that I prepare for family and friends to putting my imagination to work in a garden. - Author: Regina Taylor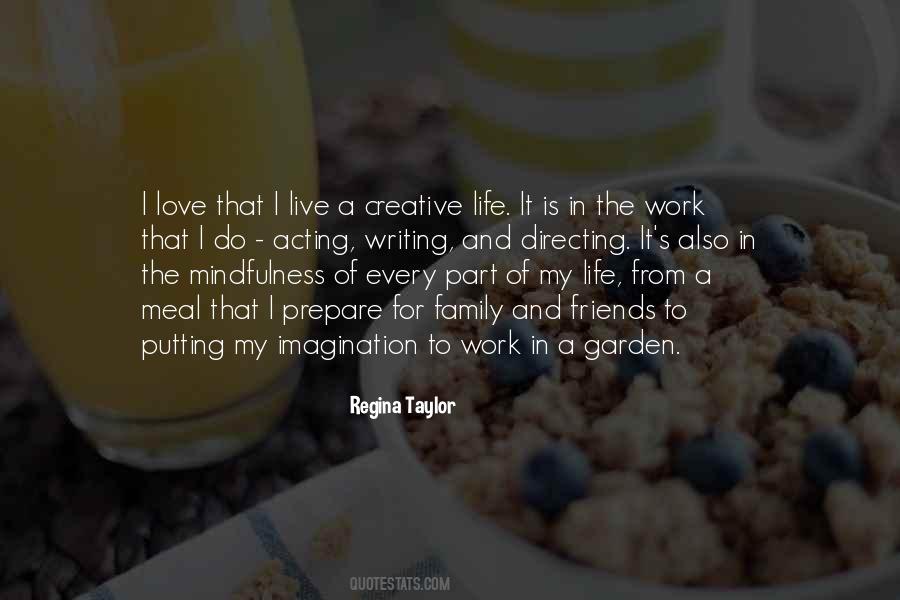 #98. Marriage was a goal. A family, for me as a young girl, was my image of what I hoped for. It was part of the big picture. - Author: Demi Moore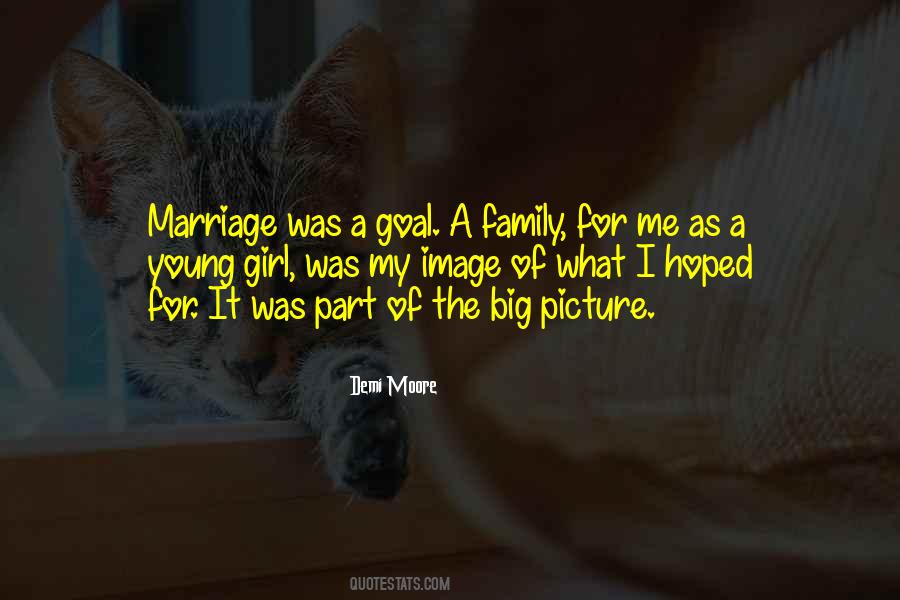 #99. What Robert was trying to do so intently was, in fact, no more than craft. He did no more than copy my tics and twitches - even to the point of staring at my family portrait, a very personal part of my disguise, for his character research - - Author: Jeff Lindsay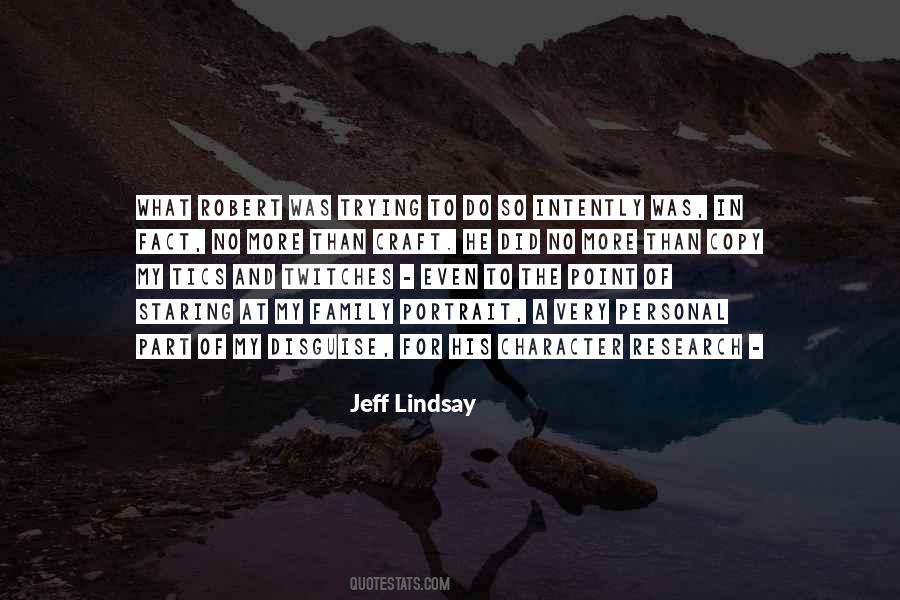 #100. This is a great country and requires a good deal of all of us, so I can imagine nothing more important than for all of you to continue to work in public affairs and be interested in them, not only to bring up a family, but also give part of your time to your community, your state, and your country. - Author: John F. Kennedy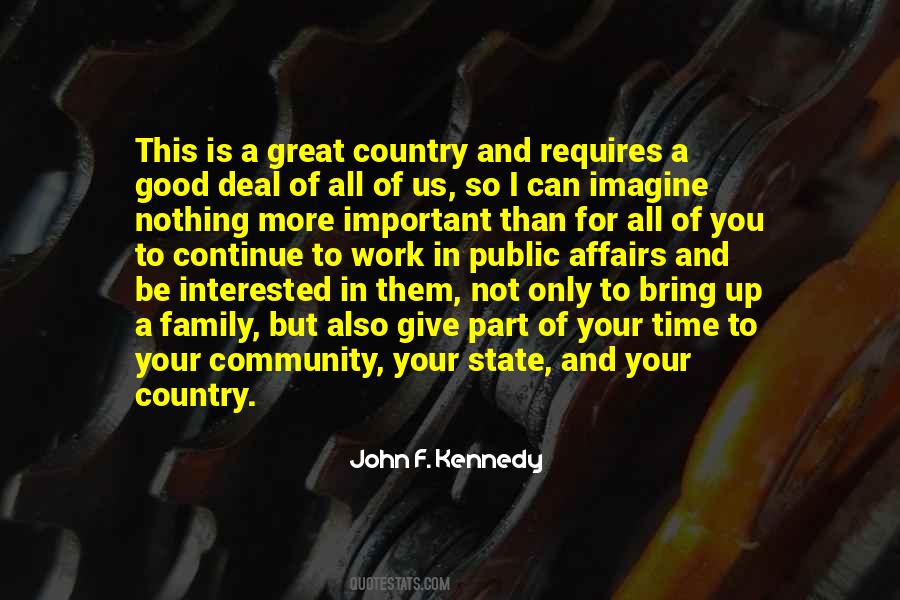 Famous Authors
Popular Topics