Overreact Famous Quotes & Sayings
List of top 33 famous quotes and sayings about overreact to read and share with friends on your Facebook, Twitter, blogs.
Top 33 Overreact Quotes
#1. I've always been fond of the saying that when it comes to oversight and reform, the federal government does two things well: nothing and overreact. - Author: Darrell Issa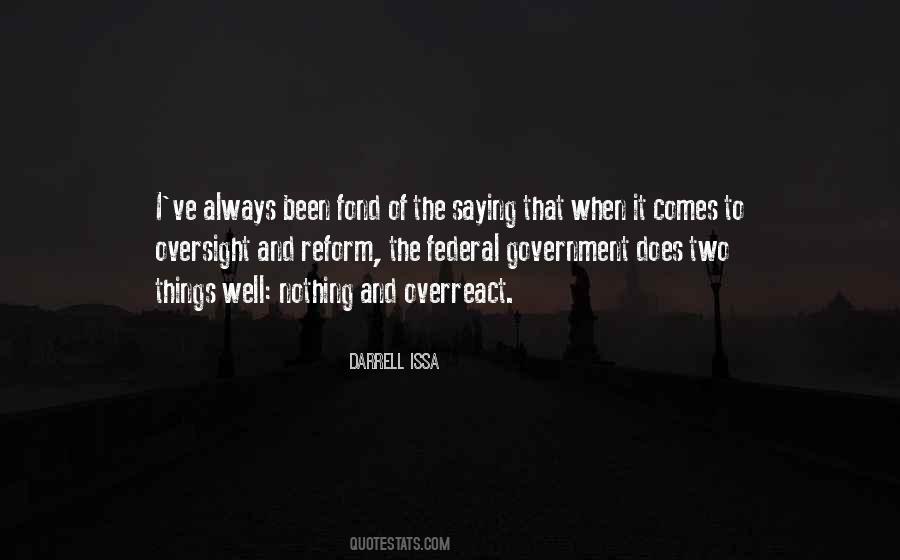 #2. Nervous people tend to overreact. - Author: Toba Beta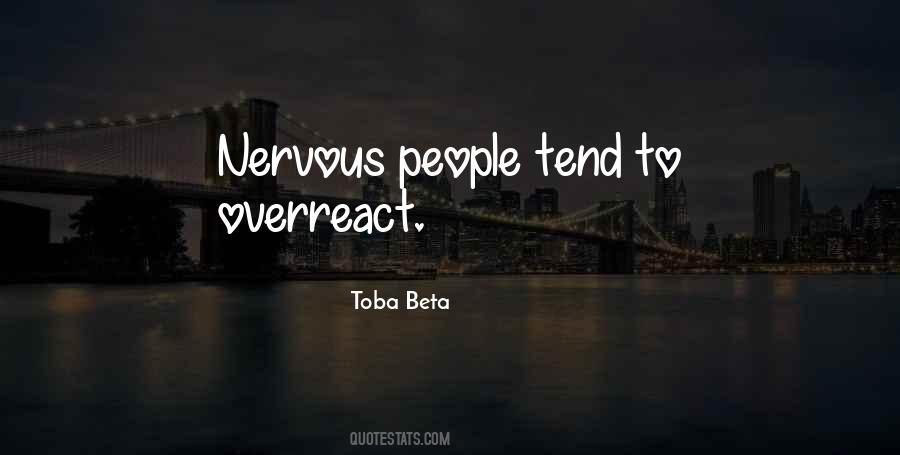 #3. Most people are so mind-bogglingly aggravating that it's impossible to overreact to them, even if that means killing yourself. - Author: Maija Haavisto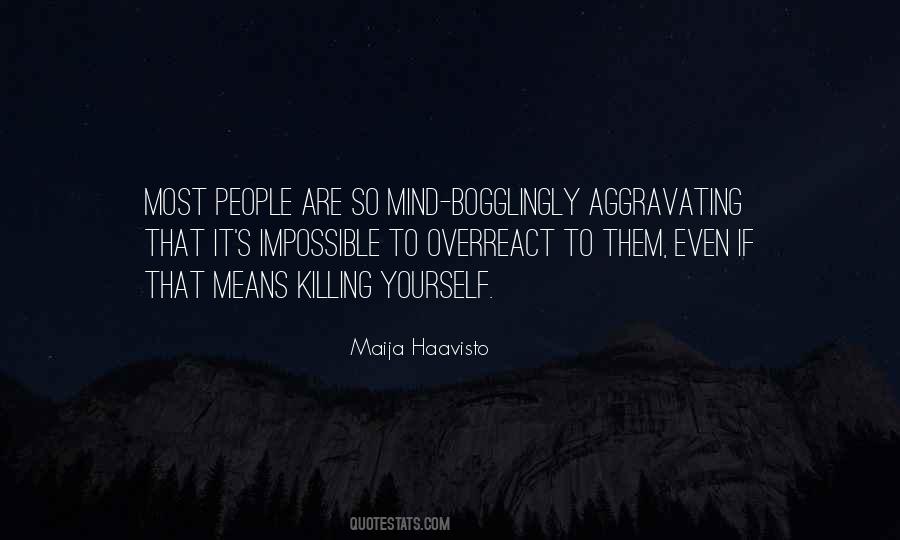 #4. In the past I've tended to overreact. I was sure I'd be a superstar by the time I was twenty-one. Baseball messed up my plan of life. When I fail I get upset. Sometimes I get upset too quickly, without thinking of consequences. - Author: Albert Belle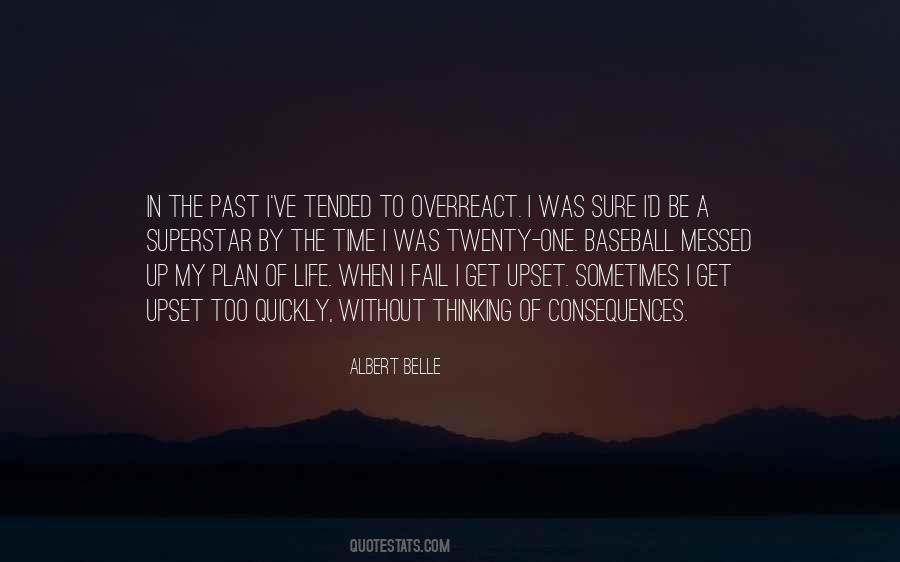 #5. I want people to see that I'm a real person, I overreact, I cry, I'm emotional. If I come across as perfect and in control, that wouldn't be who I really am. - Author: Tamara Ecclestone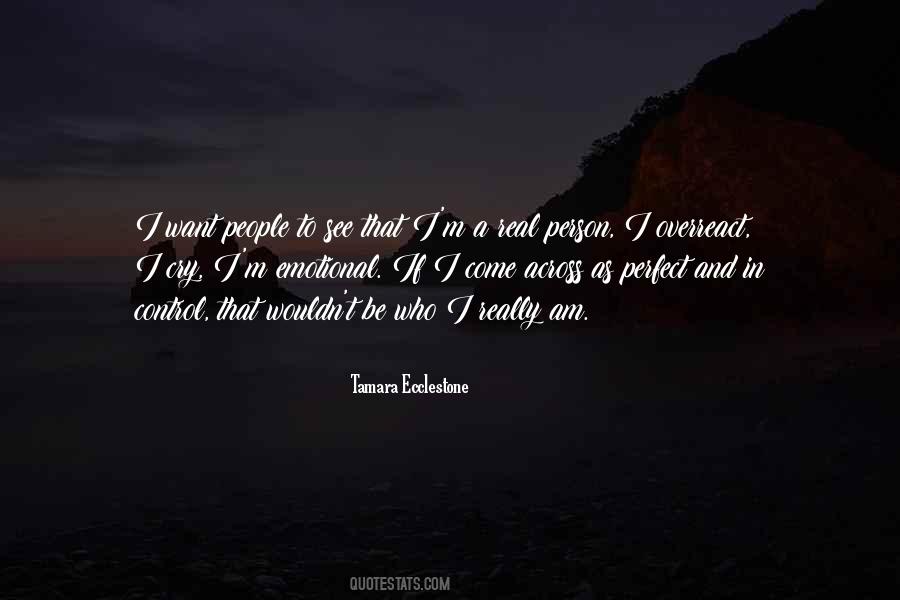 #6. In art, scandal is a false narrative, a smoke screen that camouflages rather than reveals. When we don't know what we're seeing, we overreact. - Author: Jerry Saltz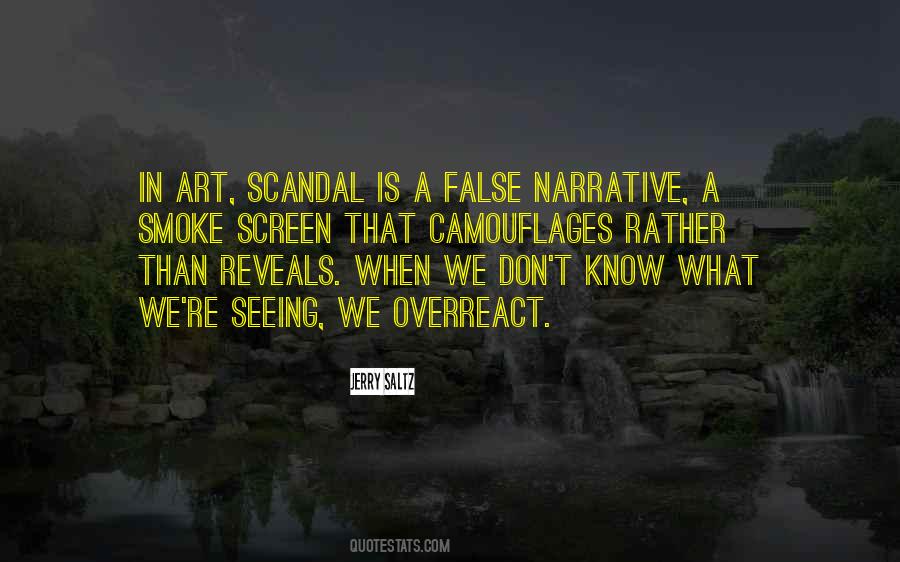 #7. Behaviorists tell us that we tend to overweight and overreact to the most recently received information. If we do, we will find that the information that we thought was so important becomes tempered, and reduced in significance, by new and related information that follows. - Author: Robert Haugen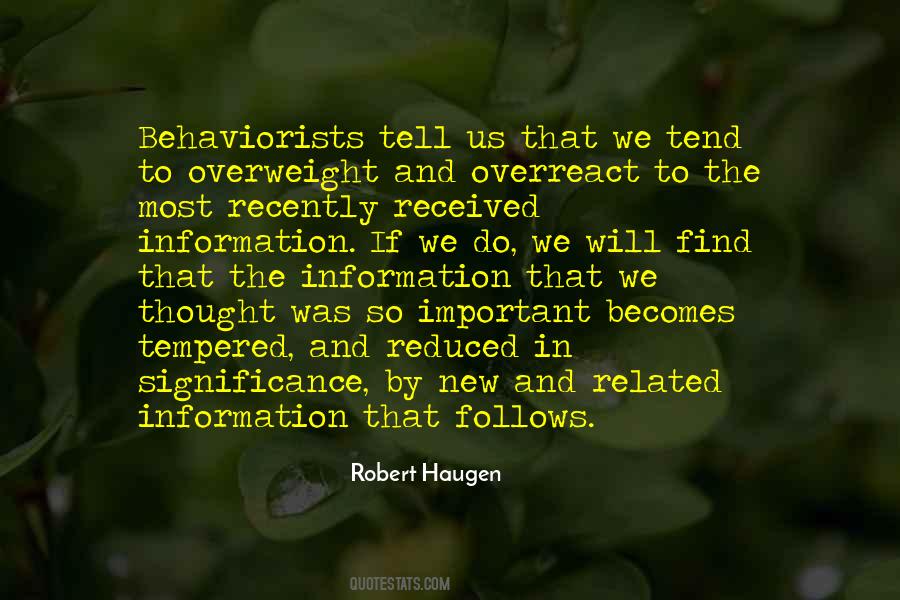 #8. In fighting scandal, the key is not to overreact. - Author: Dick Morris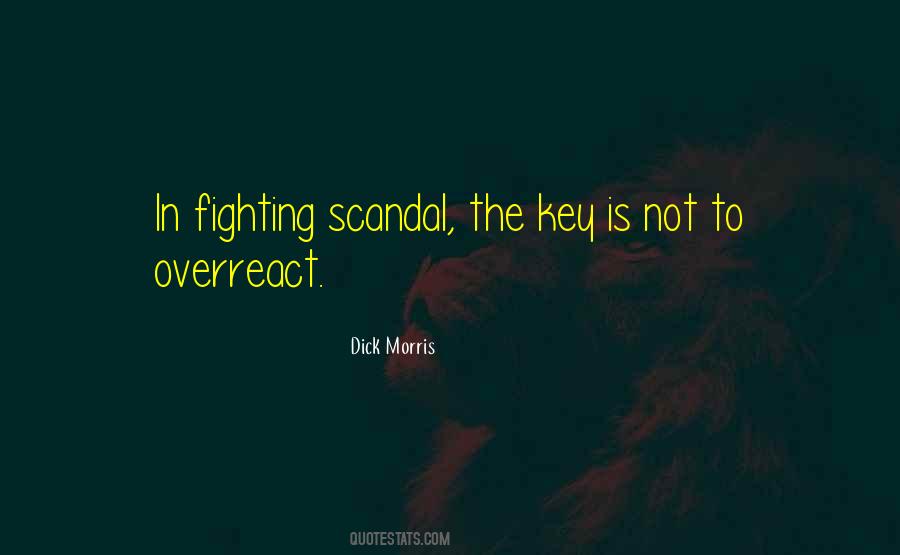 #9. Yes, people are busy every day creating new karma for themselves. The reason is they overreact to every slight ... Grace and respect are two signs of a mature spiritual individual, whatever his religion or belief. - Author: Harold Klemp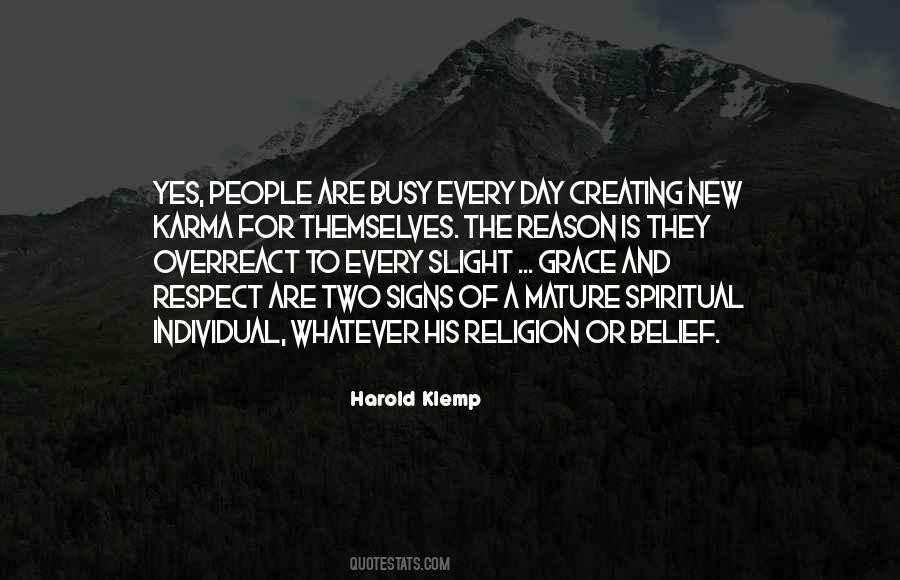 #10. Presented with a challenge to its power, an illegitimate regime will often overreact, driven by the knowledge that all they have is force. - Author: Chris Hayes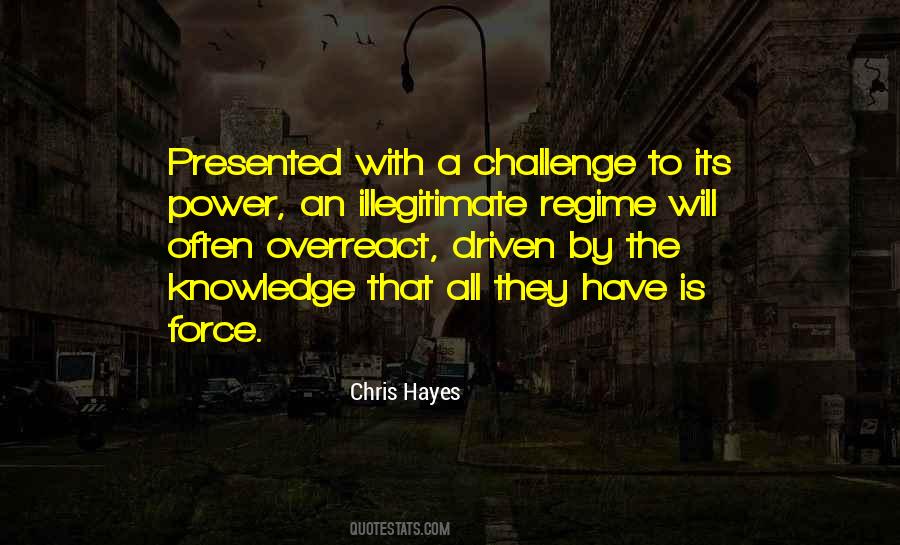 #11. Dali elbowed Jim in the ribs. "What he meant to say was he is sorry that duties of his office and his own paranoid nature caused him to overreact." Jim looked like someone had hit him on the nose with a rolled-up newspaper. "Yes." "And - Author: Ilona Andrews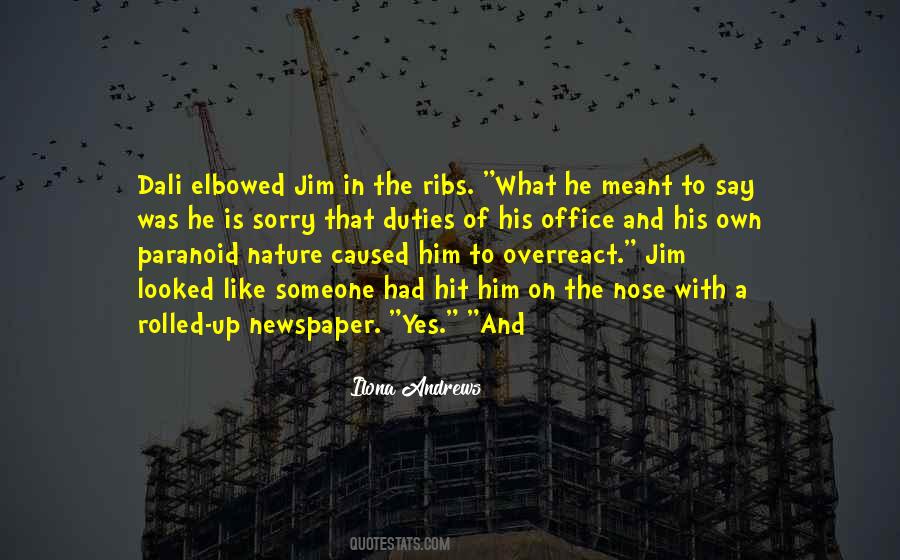 #12. You know, I told Dad not to tell you about that whole near-death thing. I said that you'd overreact, and I was right."
There was a long pause, and then the shouting got somewhat louder. - Author: Brittany Cavallaro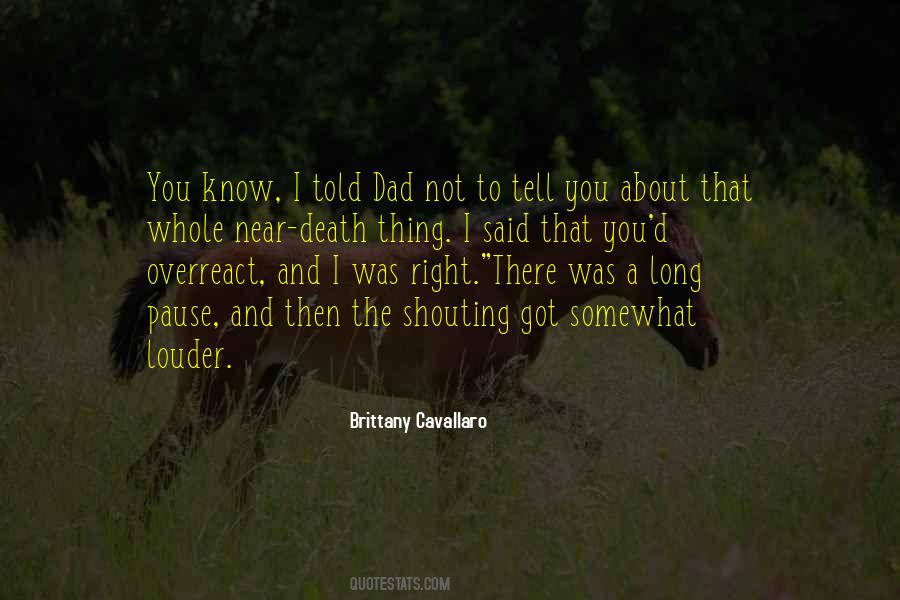 #13. There is no need to overreact. I'm certain there are worse things that could happen to a young lady than to be denied a voucher to Almack's." With a small smile, Amelia Bouchard folded up the letter that had delivered the bad news and tossed it into the fireplace. - Author: Rachel Pierson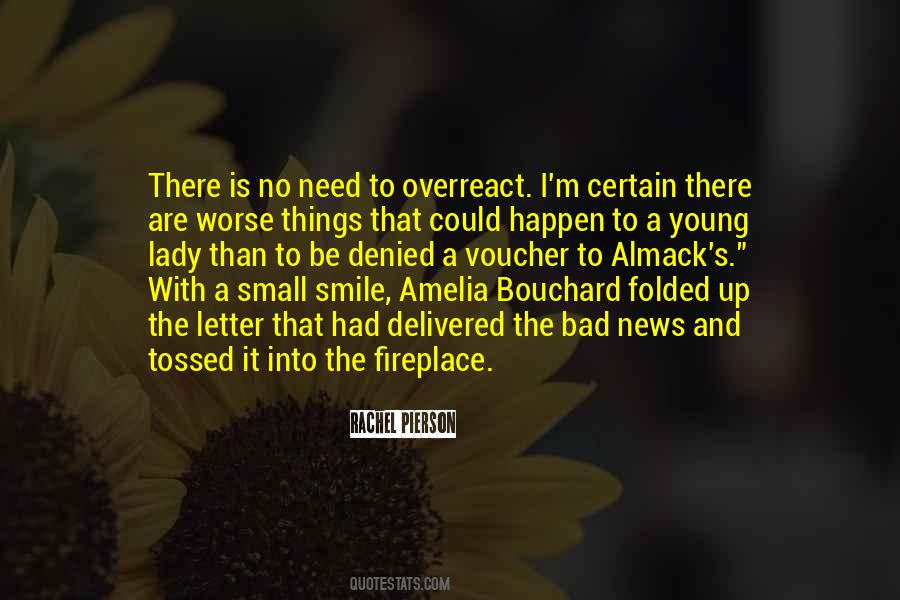 #14. If we are honest with ourselves, we have to admit that sometimes our assumptions and preconceived notions are wrong, and therefore, our interpretation of events is incorrect. This causes us to overreact, to take things personally, or to judge people unfairly. - Author: Elizabeth Thornton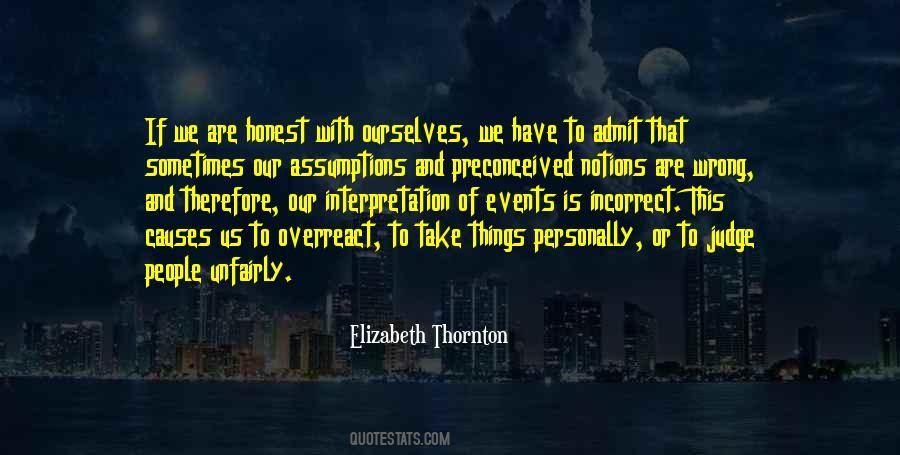 #15. Also, I think I felt something come loose back there. I'm not trying to overreact or anything but I think it was my uterus. Honest. I think my uterus jiggled free. My uterus is just going to come out between my legs and I'm going to look like I'm walking around with an enormous load in my pants. - Author: Meg Cabot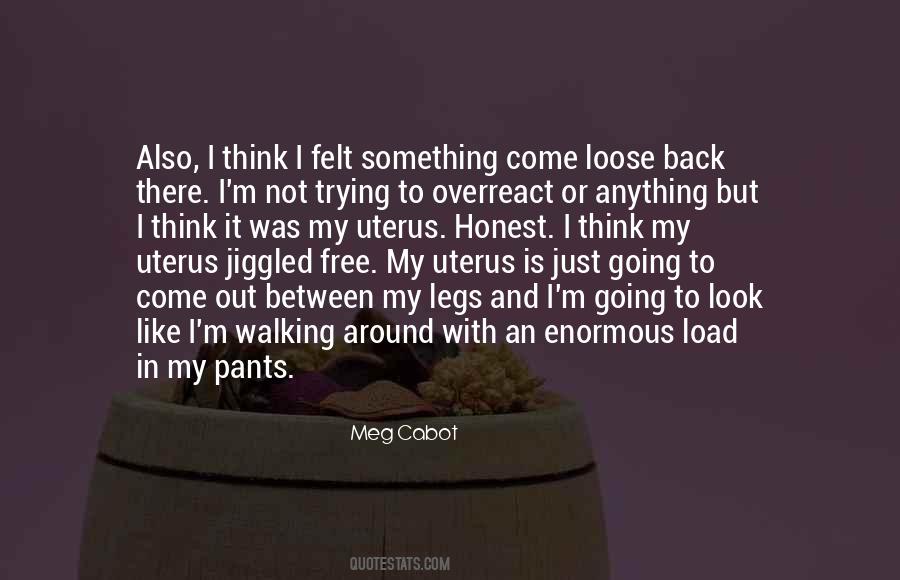 #16. We do tend to overreact when we feel threatened. Men, I mean. - Author: Keira Kroft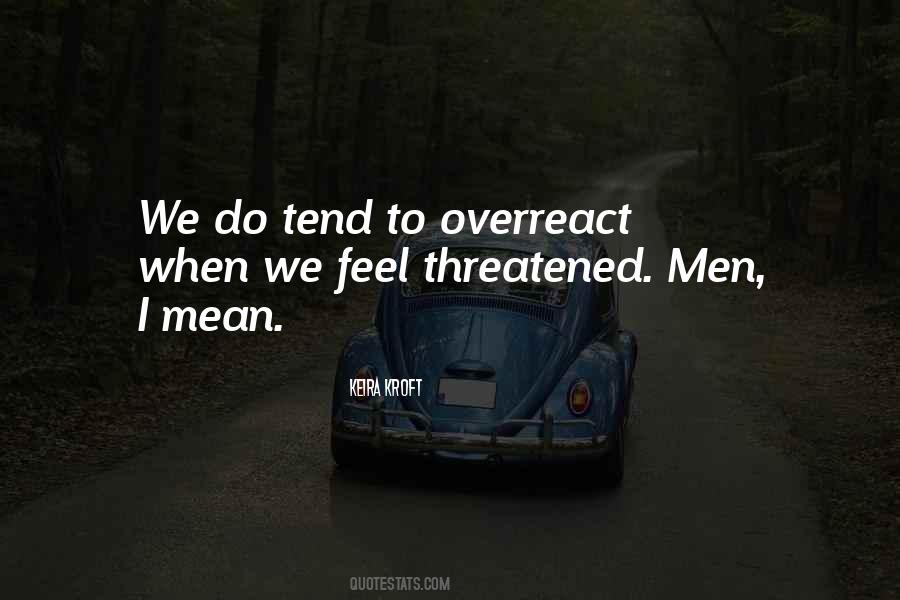 #17. Anything that causes you to overreact or underreact can control you, and often does. - Author: David Allen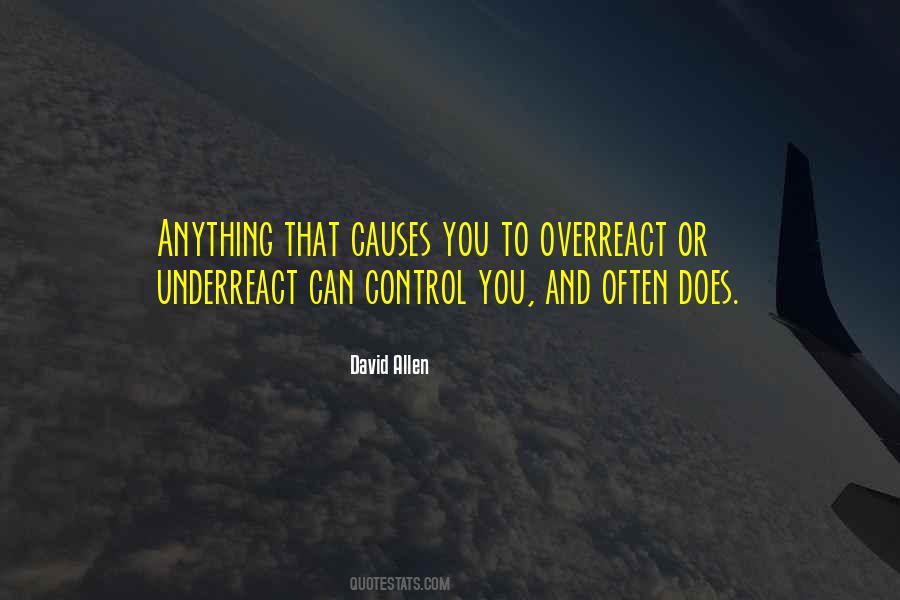 #18. Oversimplifying is the first grave mistake we make when confronted by complexity; overconfidence is the second. And there is a third: based on our overconfidence in our oversimplified conclusions, we overreact. - Author: Ted Cadsby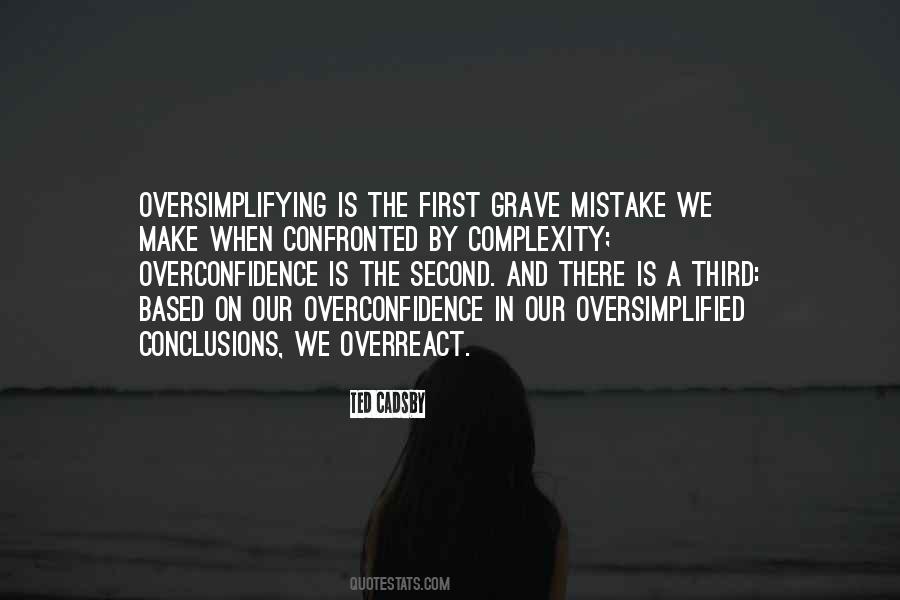 #19. Life is always full of drama and challenges, but you don't have to overreact to any of it if you choose not to. - Author: Sonia Choquette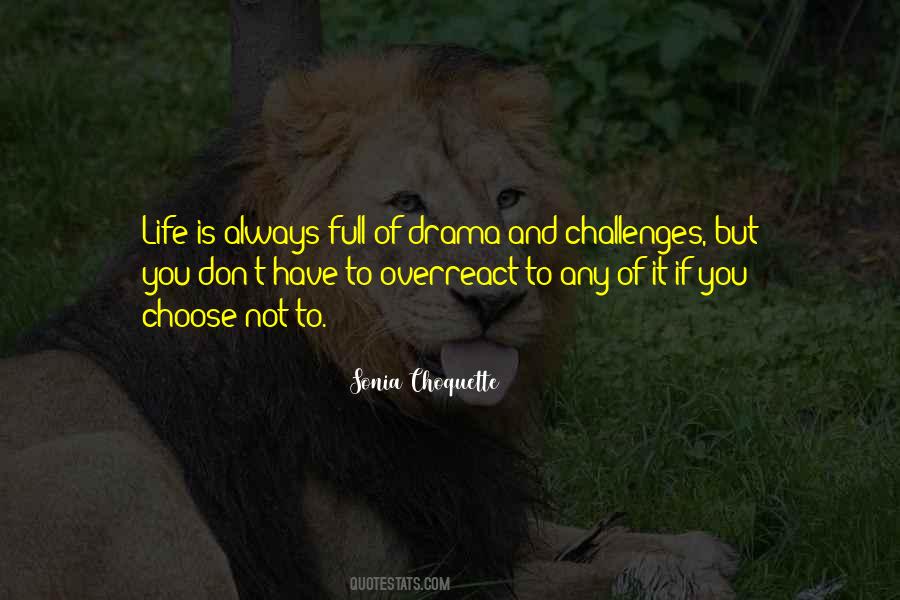 #20. I learned a lesson I'd never forget. The lesson was that, when you have setbacks and failures, you can't overreact to them. - Author: Angela Duckworth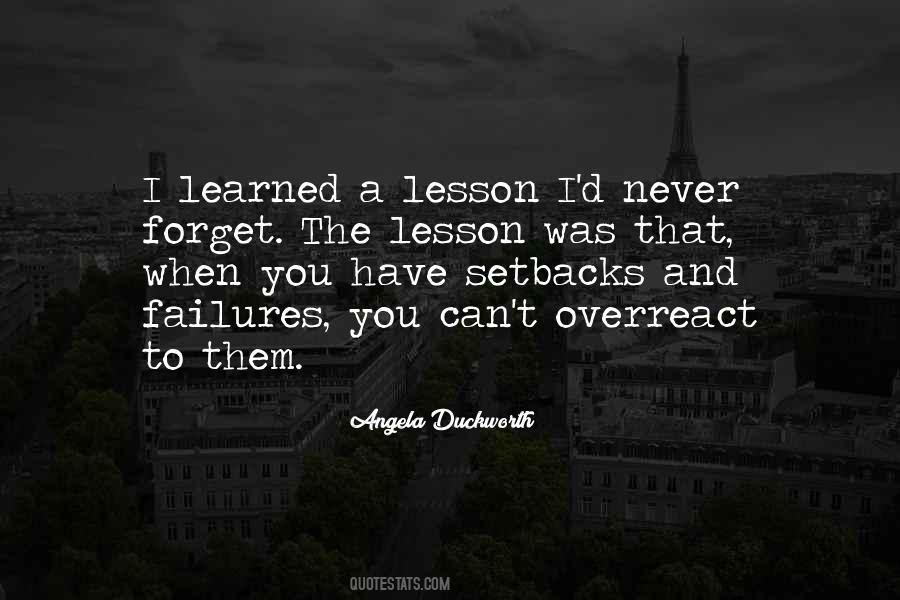 #21. Test pilots have a litmus test for evaluating problems. When something goes wrong, they ask, "Is this thing still flying?" If the answer is yes, then there's no immediate danger, no need to overreact. - Author: Alan Bean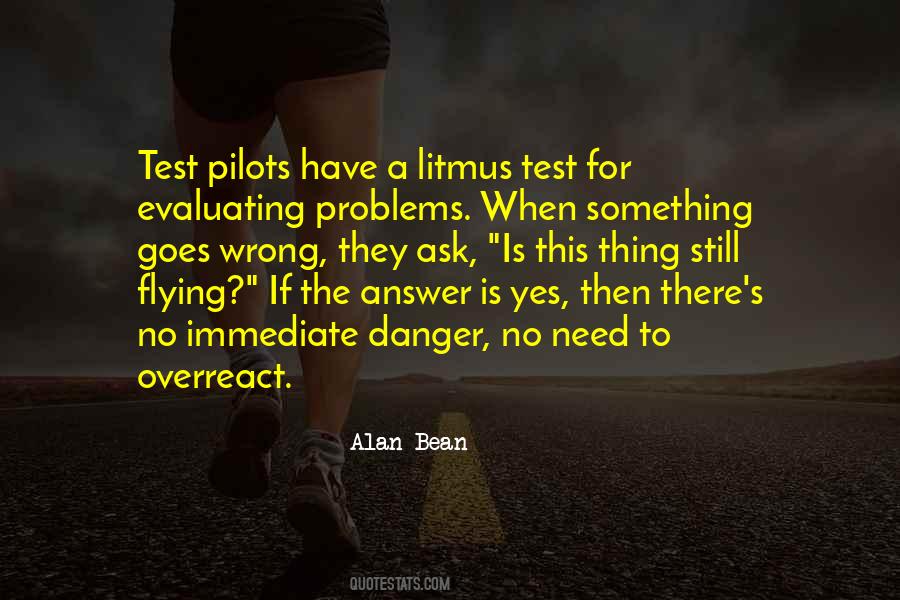 #22. I pray. I try to find space to process with a walk on the beach, a hike in the hills. Nature is restorative. I also try not to overreact. I grew up in Ireland, and we are big tea drinkers, and I think it's less about the tea itself and more about the ritual and the moment to prepare. - Author: Roma Downey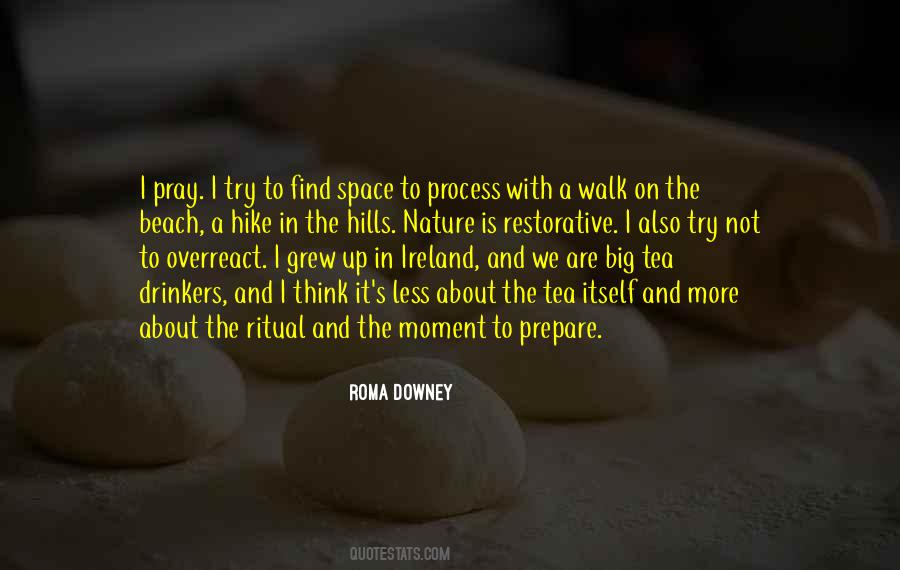 #23. It turns out to be eminently useful to have a disgrace in your past; Salem endures not only as a metaphor but as a vaccine and a taunt. It glares at us when fear paralyzes reason, when we overreact or overcorrect, when we hunt down or deliver up the alien or seditious. - Author: Stacy Schiff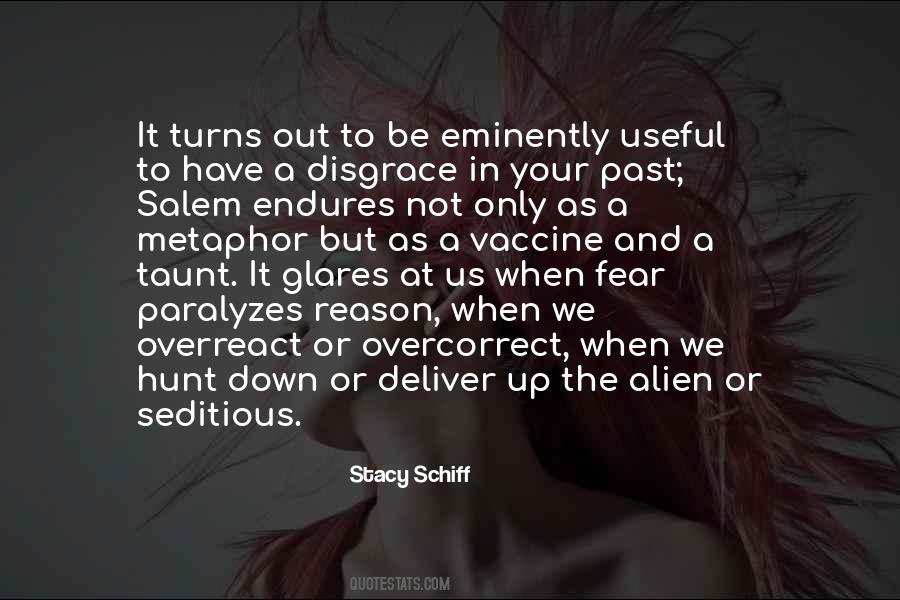 #24. Mutants are a community. We're a people and there's no way anybody can make us be what they want. We stick together and don't panic or overreact ... you'll see. We're stronger than this.
Miss Pryde ... are you a #&$%ing retard? - Author: Joss Whedon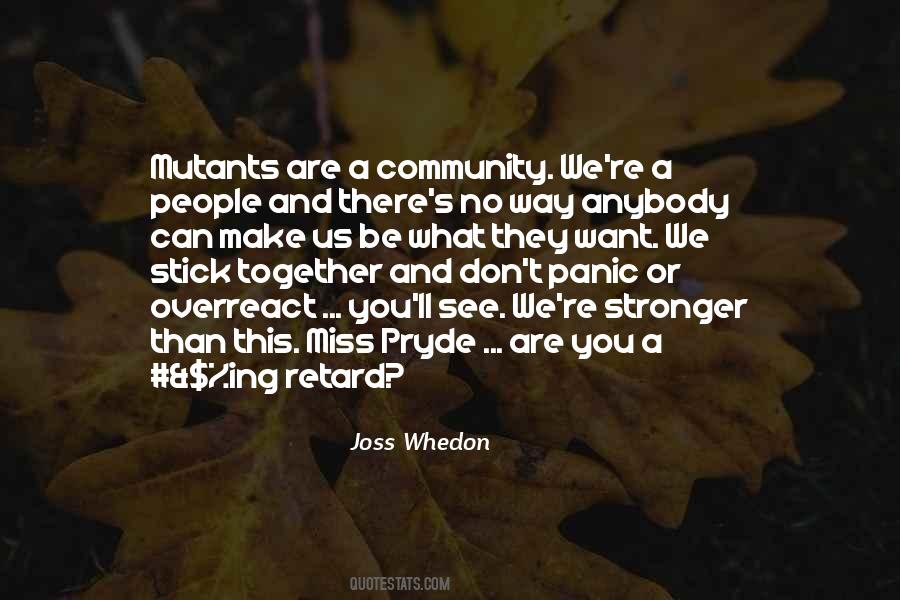 #25. He [Reagan] likes to tell jokes and that's why he told the ethnic joke that got him into some trouble. Perhaps if reporters didn't overreact to a politician's telling the very same joke they routinely hear and tell in the city room, we'd get more humor. - Author: Robert Scheer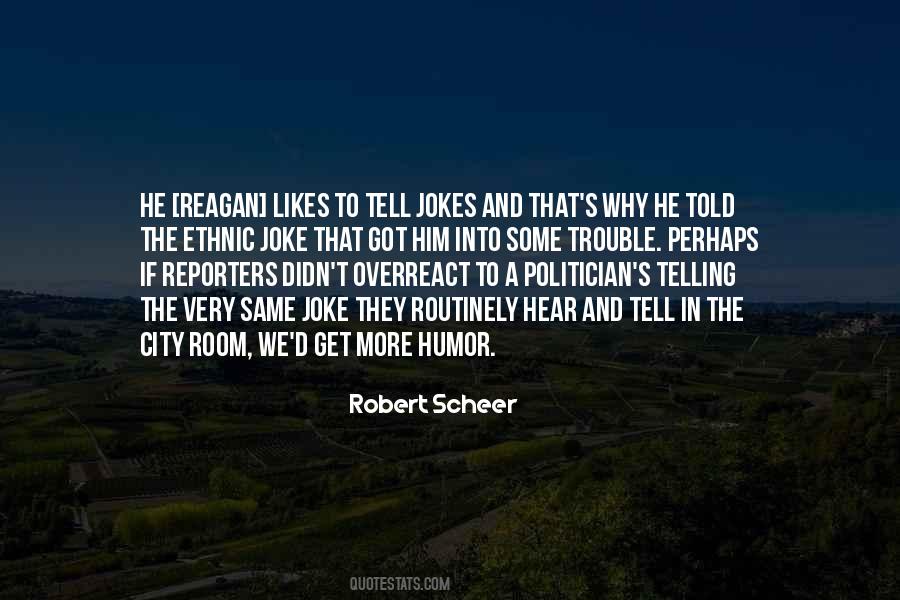 #26. I thought, Well if I'm gonna react might as well overreact! - Author: Alan Moore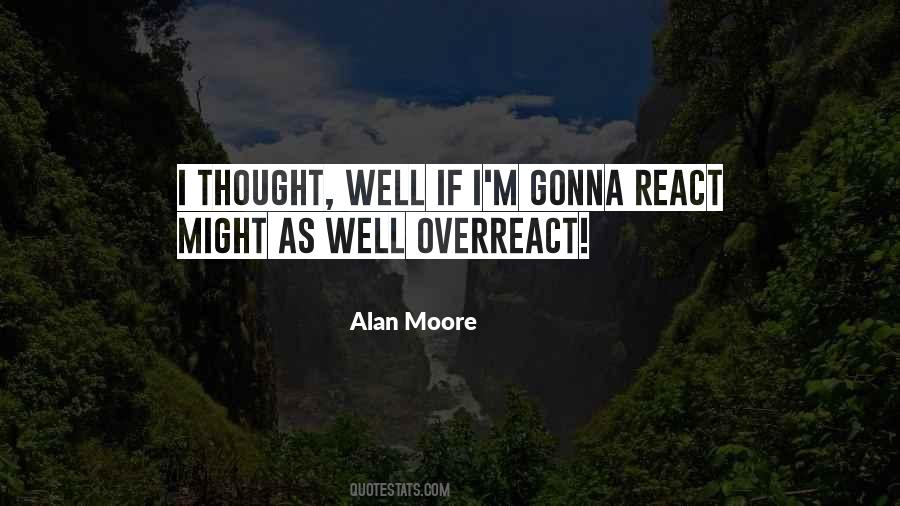 #27. I personally can't handle frivolous violence. I overreact to it. - Author: Alejandro Gonzalez Inarritu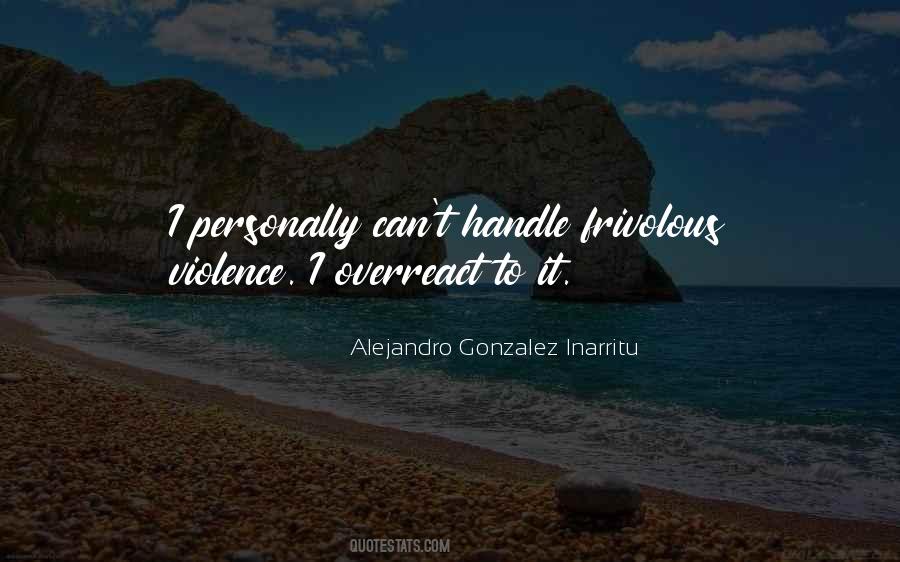 #28. I nod, and taking my tea, I head into the library. It's my refuge. I dig my BlackBerry out of my purse and contemplate calling Christian. I know it's a shock for him - but he really did overreact. When does he not overreact? - Author: E.L. James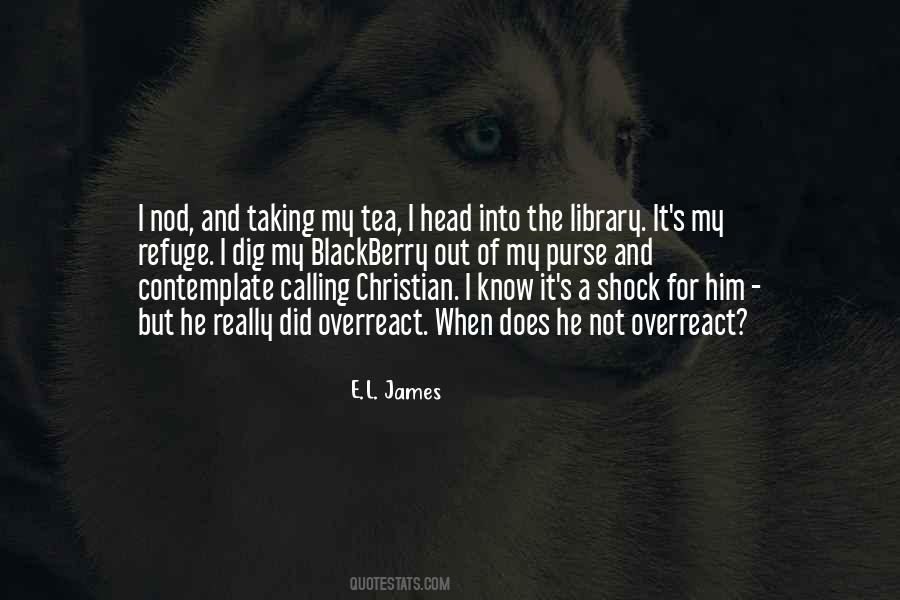 #29. Codependents are reactionaries. They overreact. They under-react. But rarely do they act. They react to the problems, pains, lives, and behaviors of others. They react to their own problems, pains, and behaviors. - Author: Melody Beattie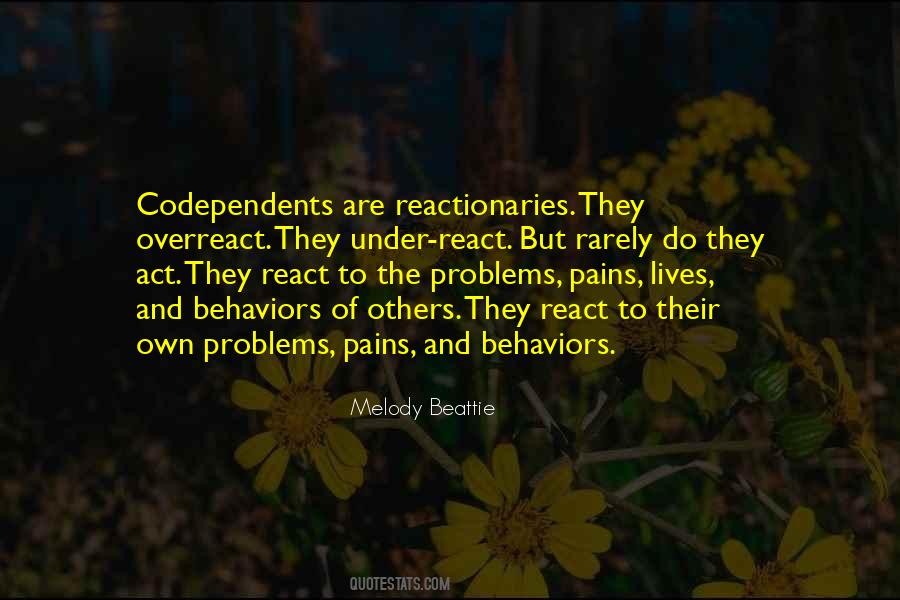 #30. Overreaction is one of the things that congress specializes in. I can't think of anything congress does better than overreact. - Author: Fred Barnes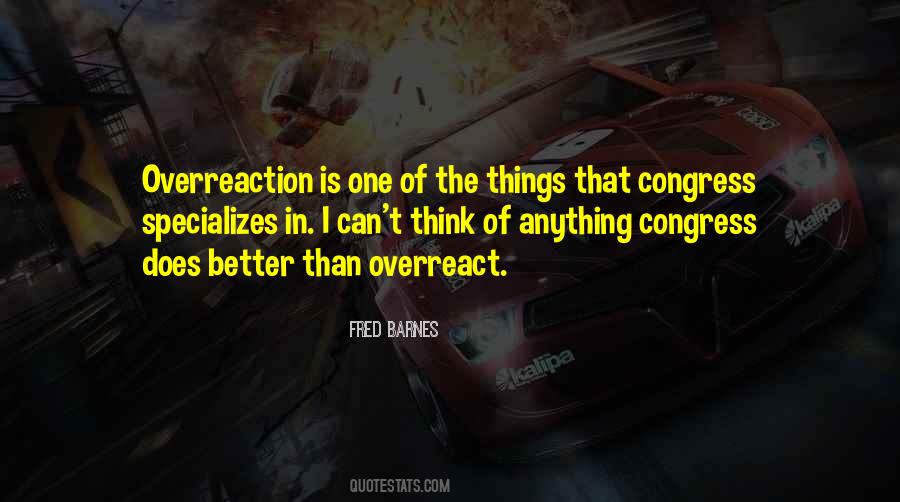 #31. The author points out that novices to total war, and this Hitler and the British press have in common, overreact to daily events and lose sight of overall strategy. - Author: William Manchester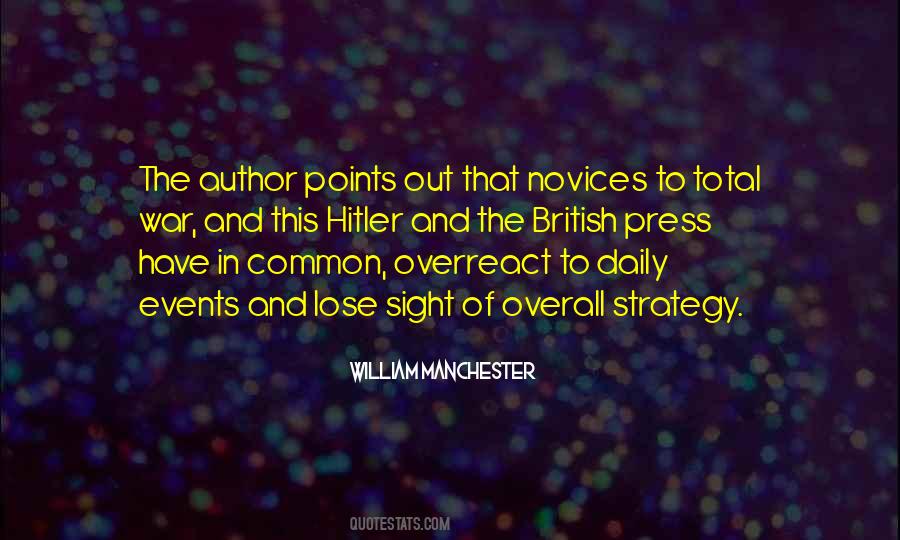 #32. If a teenage guy tends to overreact when he fails, there is a pretty good chance he thinks his significance is based on success. - Author: Andy Stanley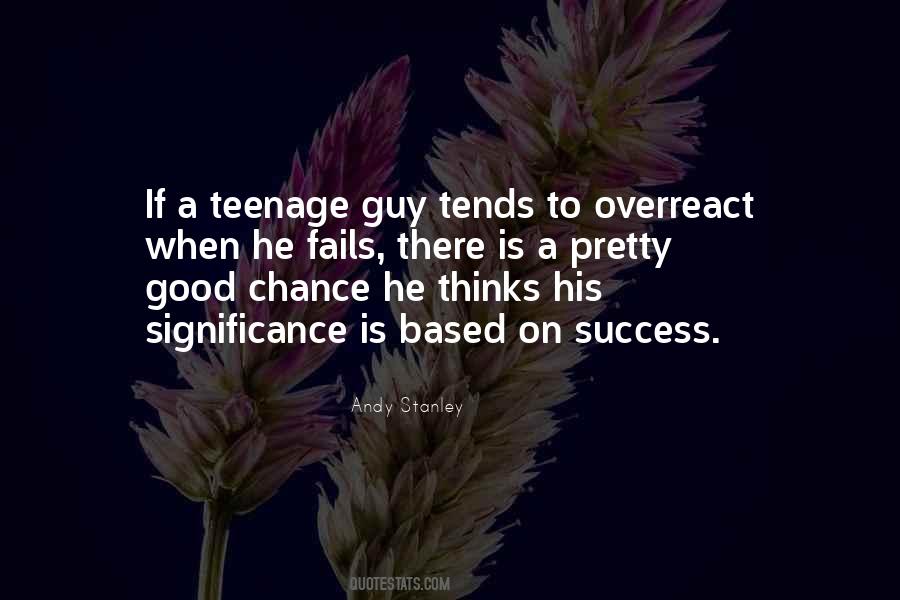 #33. Don't overreact. For example, if someone inadvertently embarrasses you in public, don't let anger get the best of you. It really isn't necessary to frame the person for a murder he/she didn't commit. Wouldn't it be enough to simply break up his or her marriage instead? - Author: Anthony Rubino Jr.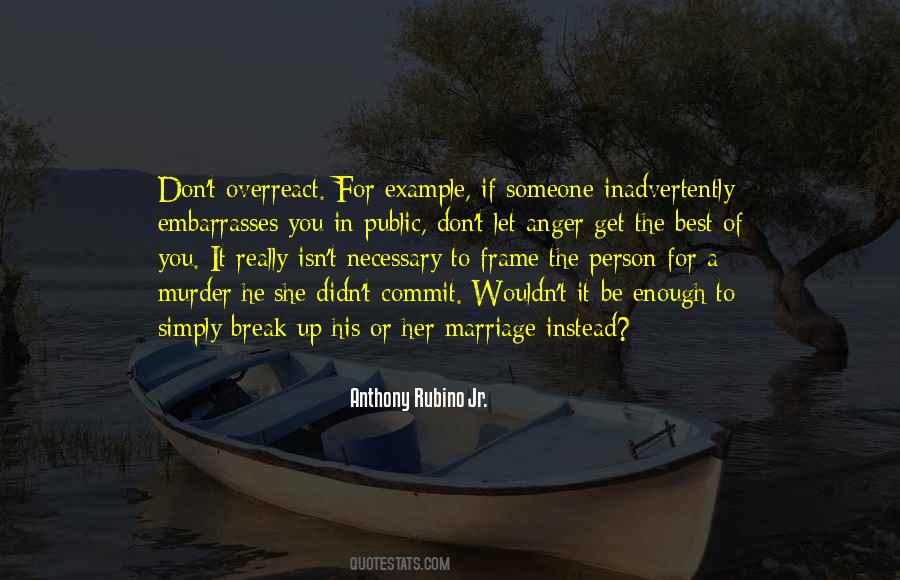 Famous Authors
Popular Topics