On The Page Famous Quotes & Sayings
List of top 100 famous quotes and sayings about on the page to read and share with friends on your Facebook, Twitter, blogs.
Top 100 On The Page Quotes
#1. A blank space on a form, the missing page, a void, a hole in your knowledge of someone--it's still some real thing. It exists. You don't get to fill it in with whatever you want. - Author: Barbara Kingsolver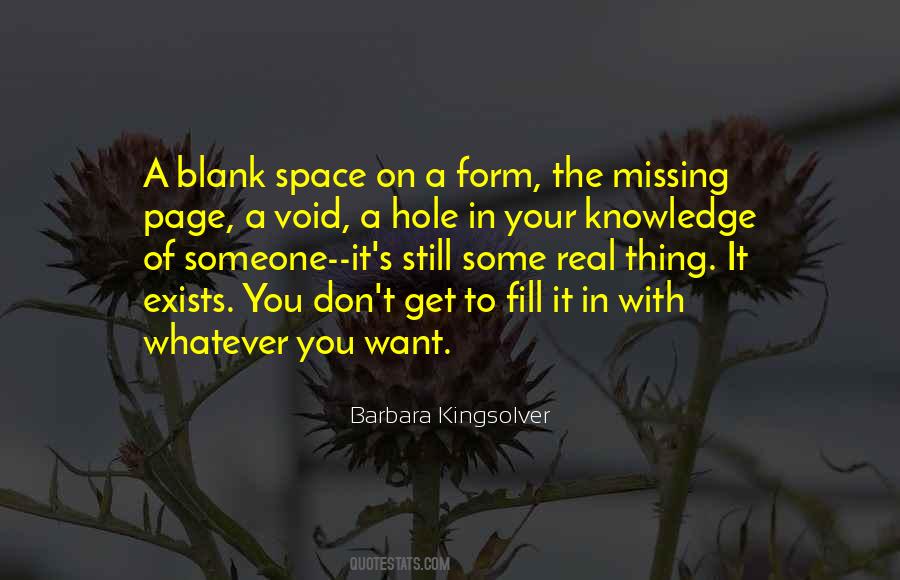 #2. I like the story about me being pregnant. It was in some Australian magazine, on the front page! I was like, 'Wow, that's just [insane].' And it's not even ironic. I don't even think the article [tried to justify it]; it was just a headline. The article was just like, nothing. - Author: Robert Pattinson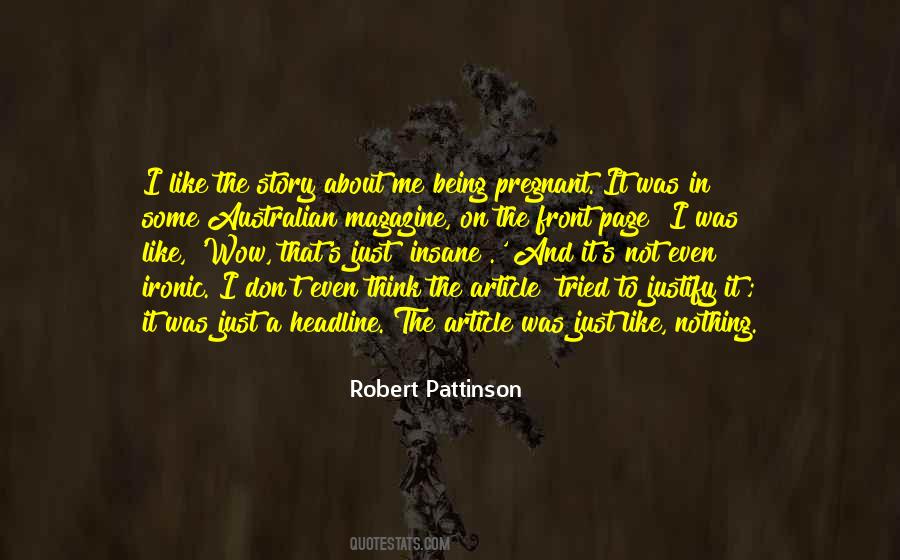 #3. The silences express so much and are so crucial in music, and prose does not allow for the creation of these silences, these white spaces on the page or the computer screen. - Author: Pattiann Rogers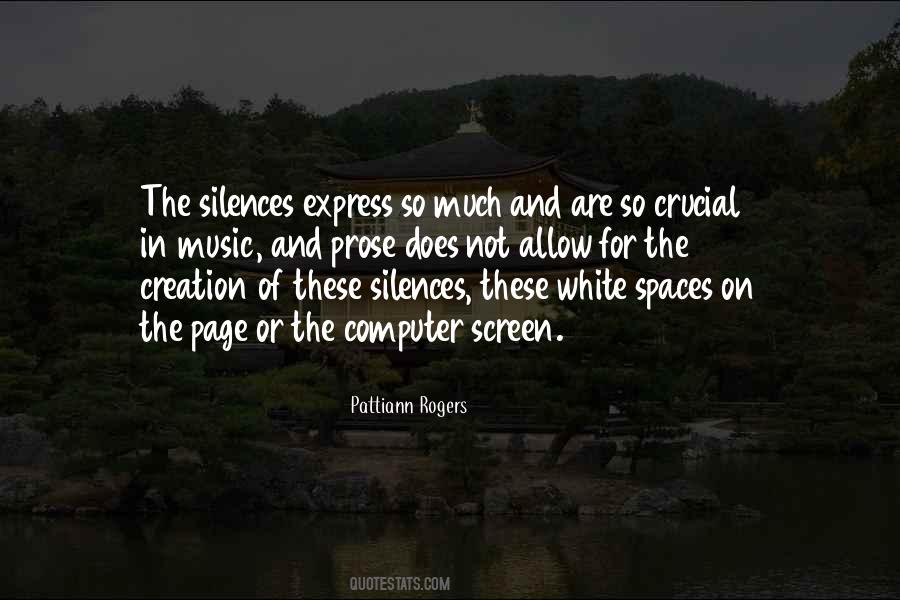 #4. People got such a charge from seeing their names in print. Proof of existence. I could picture a squabble of ghosts ripping through piles of newspapers. Pointing at a name on the page. See, there I am. I told you I lived. I told you I was. - Author: Gillian Flynn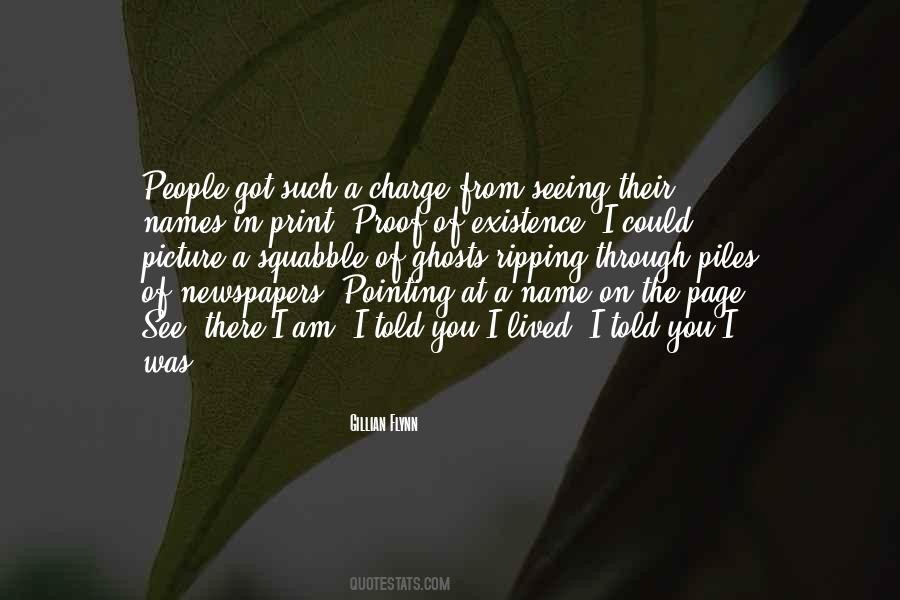 #5. 'It's not you, it's me.'
'Oh God. That's exactly what my last three boyfriends said when they dumped me. Is it in the Y-Chromosome User's Manual or something?'
He grinned. 'On page five. But, you know, don't tell anyone I told you.' - Author: Kim Fielding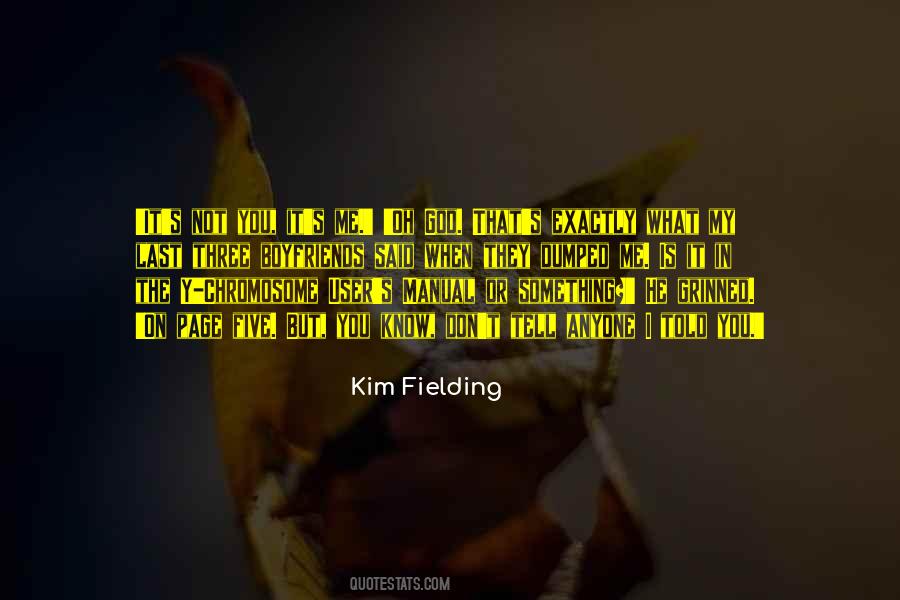 #6. You can meet somebody at a club. You can meet somebody at a restaurant. But maybe that person is not on the same page. Maybe that person is like, 'I'm starting out, I don't want to get married now.' Or, 'I don't want to have kids.' - Author: Juan Pablo Galavis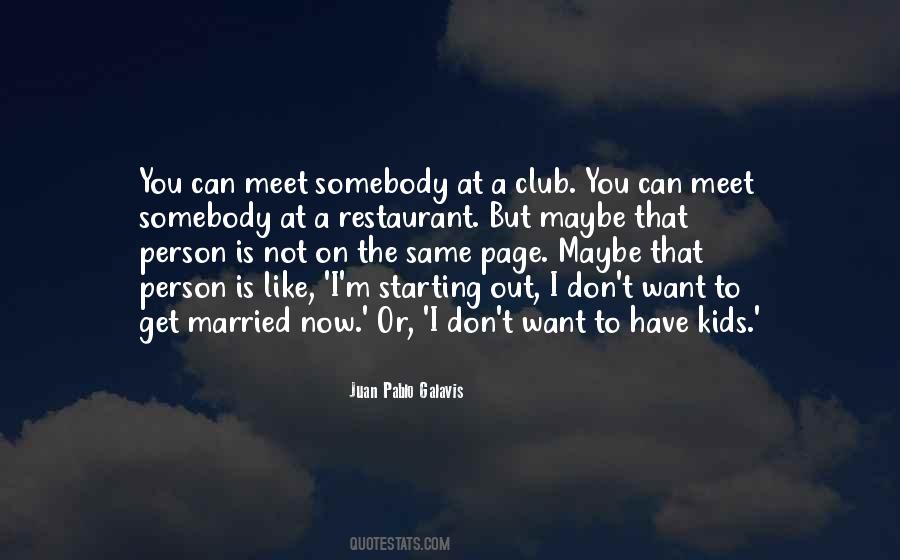 #7. If an idea seems to find its way towards a stage setting, that's the direction I take. I don't know if I'm trying to achieve anything other than to follow an idea on to the page. - Author: Don DeLillo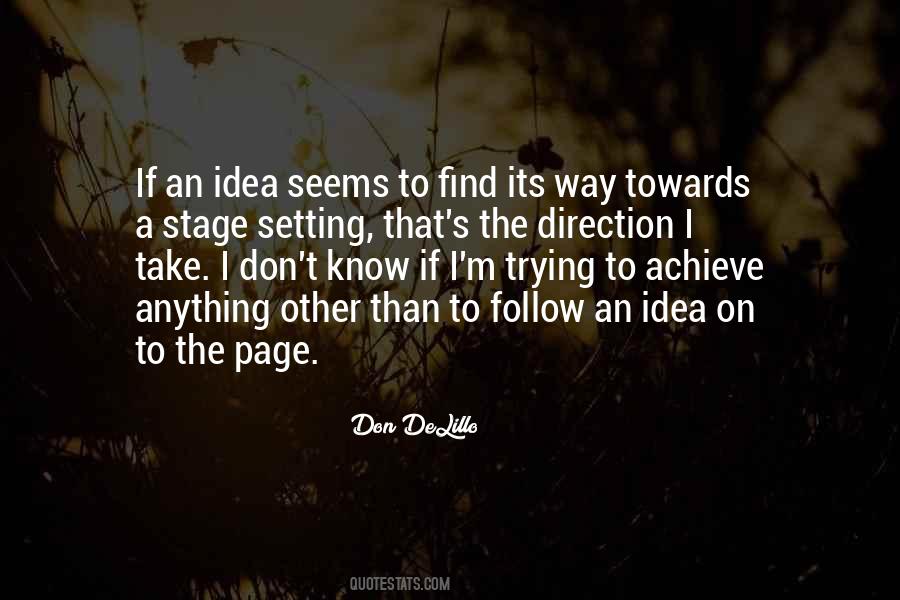 #8. When you're doing that you lose your focus on the discipline of the business, and how you train people at Hamburger University, and everybody gets on a bigger, different vision, and they're not on the same page. - Author: Jim Cantalupo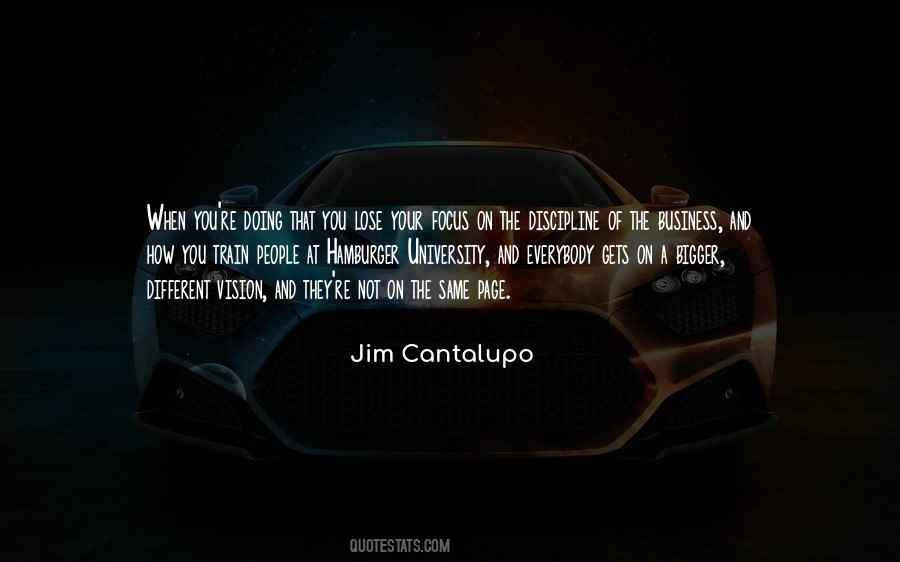 #9. I never - when I go into a project, I don't think too much about if there's a lot of other sci-fi books out there or horror books or whatever. I just tell the stories I want to tell, and I think that is evident on the page. - Author: Jeff Lemire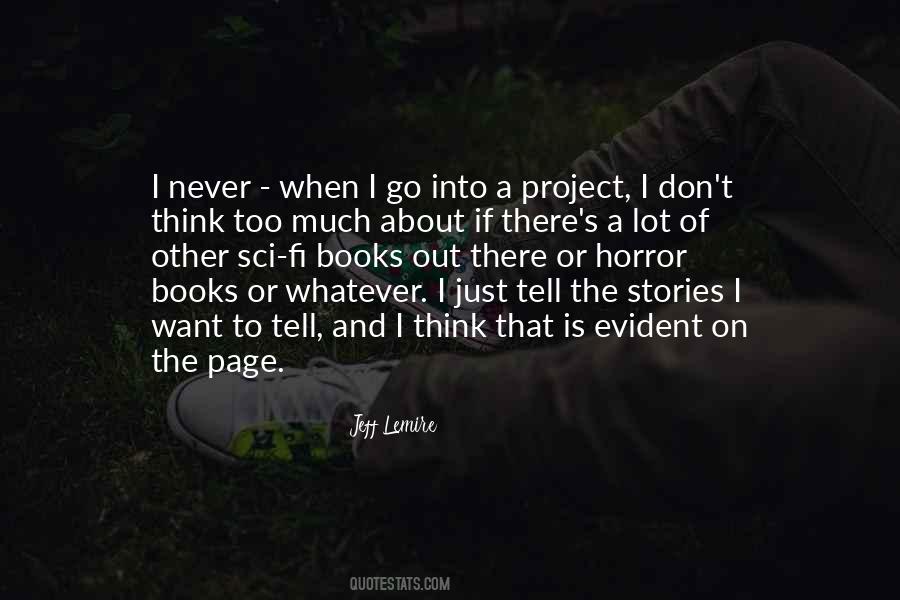 #10. My page is junk, because I hate putting anything to do with me on the site, it just feels wrong. - Author: Colin Greenwood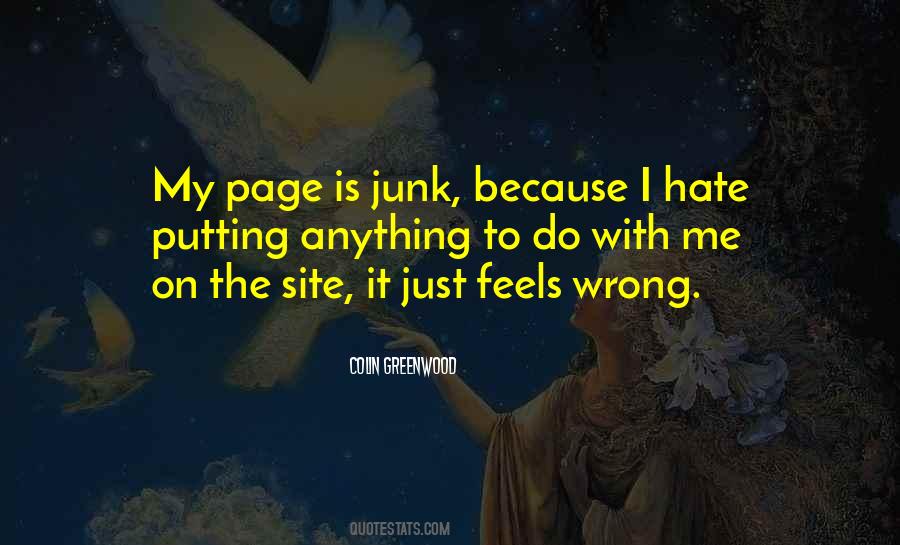 #11. Everybody is born with a little bit of writer in them. We all come with the desire to work hard to see our creations come to life on the page. But it is those who choose to do something about this passion that has been ignited inside of them that are true writers. - Author: Brian A. McBride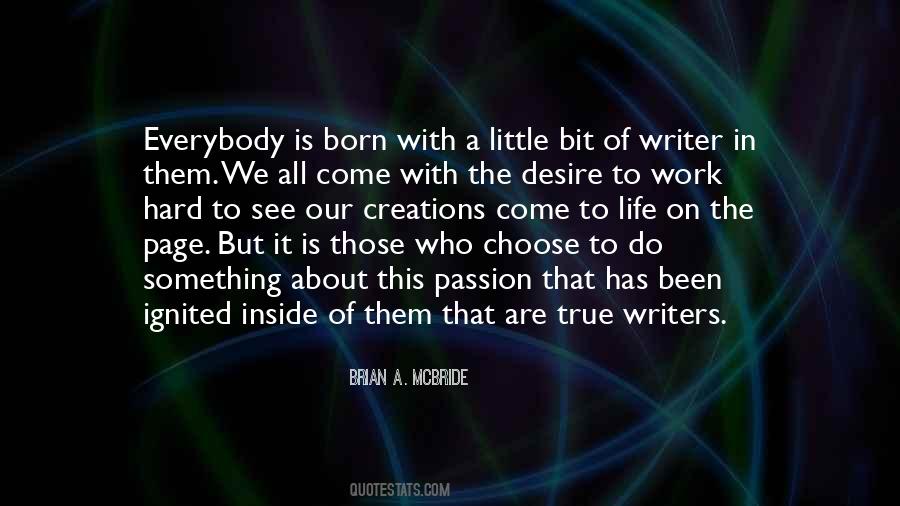 #12. On the plane was a Time magazine and there was a 30 page article on diabetes, and I read every page. By the time that plane landed, I had diabetes. - Author: Lewis Black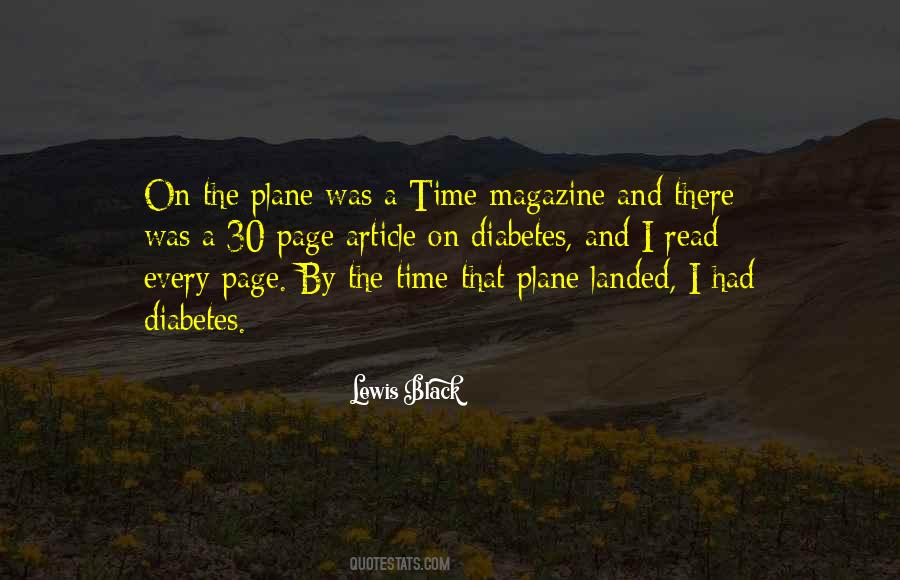 #13. When you deal with a comedian who has a specific act, you can't hold 'em back. You got to work with 'em, dude. What you think, I'm just gonna do what's on the page, say 'yes sir, no sir'? I'm creatively beyond that. - Author: Pauly Shore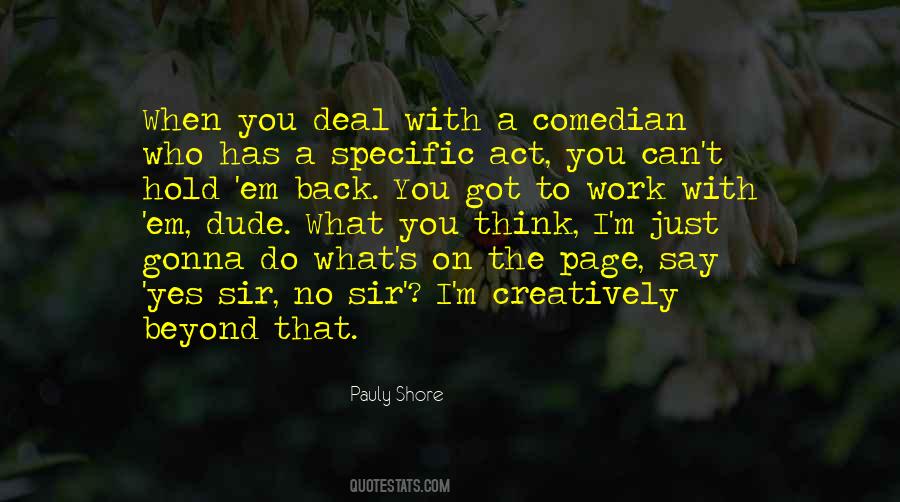 #14. She read and read and read, but she was stuffing herself with the letters on the page like an unhappy child stuffing itself with chocolate. They didn't taste bad, but she was still unhappy. - Author: Cornelia Funke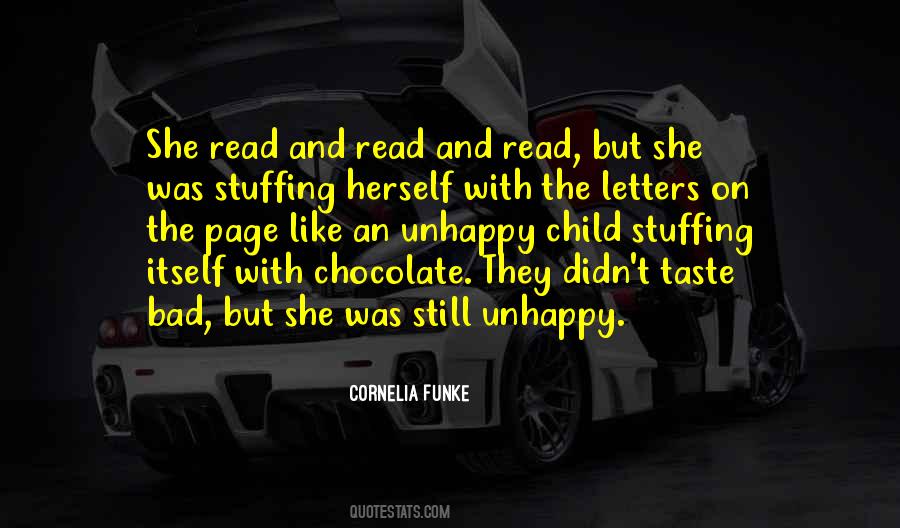 #15. I will say that comic books are not the easiest things to translate to film, number one. Even the most well meaning of filmmakers find what's acceptable on the printed page is very difficult to bring to film. - Author: Mark Hamill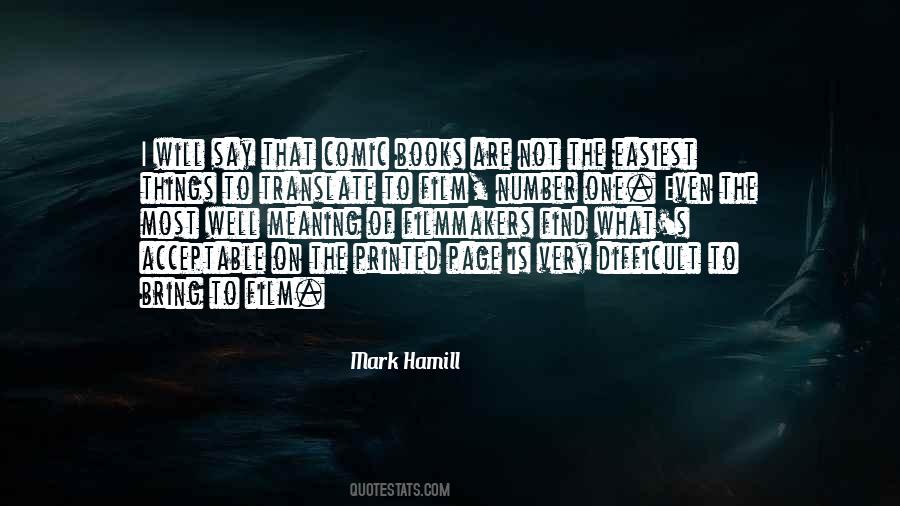 #16. My experiences always influence my writing, but usually only on an emotional level. I have experienced death of a family member and it's easy to dredge up those feelings and get them on the page. - Author: Kim Smith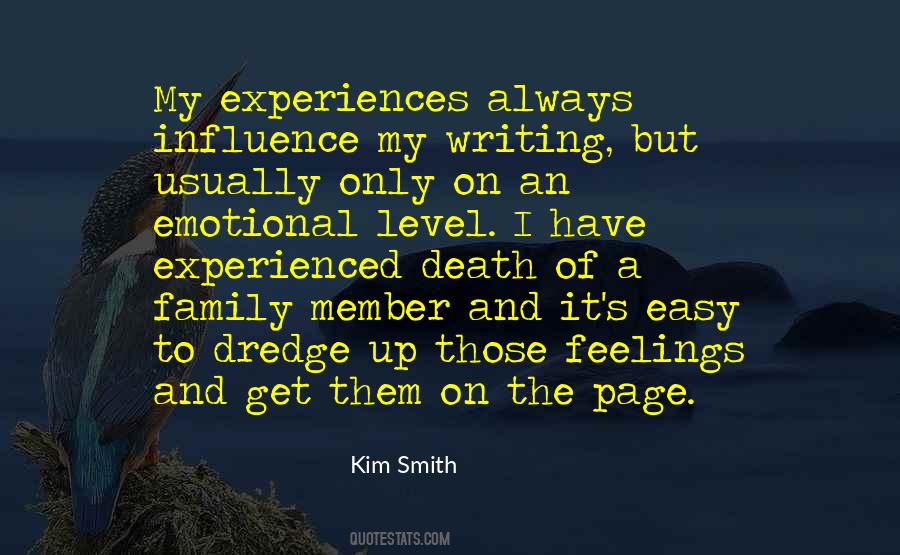 #17. All these perfect days, made of glass Put on the shelf where they can cast perfect shadows that stretch and grow on the imperfect days down below ... perfect shadows that shift and glow ... perfect shadows that shift and grow ... " "Sam singing on page 256 of Linger. - Author: Maggie Stiefvater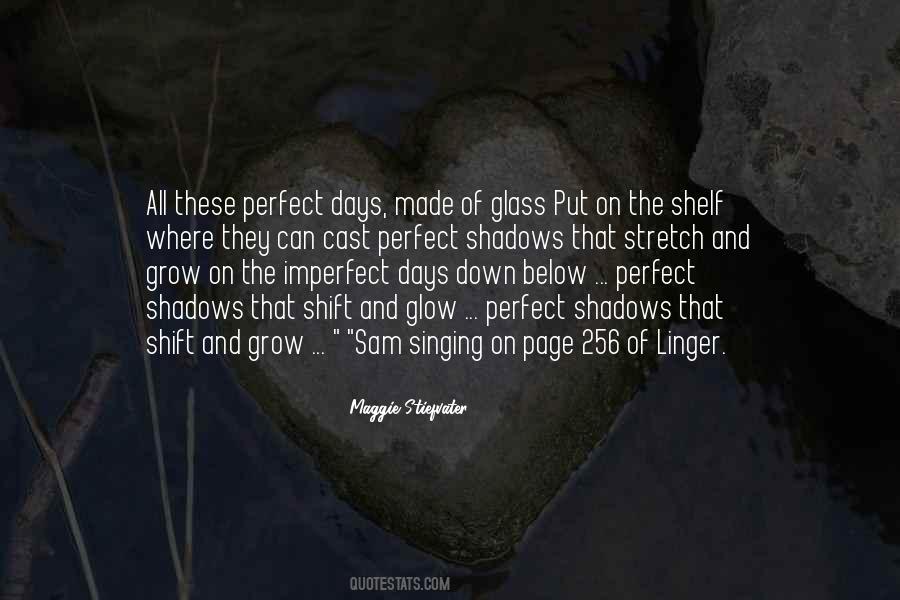 #18. He was smothered by dread. Fear. A horrible sense of being hunted.
And then one of the automaton lions turned its head toward him. The eyes shone red. Red like blood. Red like fire.
They could smell it on him, the illegal book. Or maybe just his fear - Author: Rachel Caine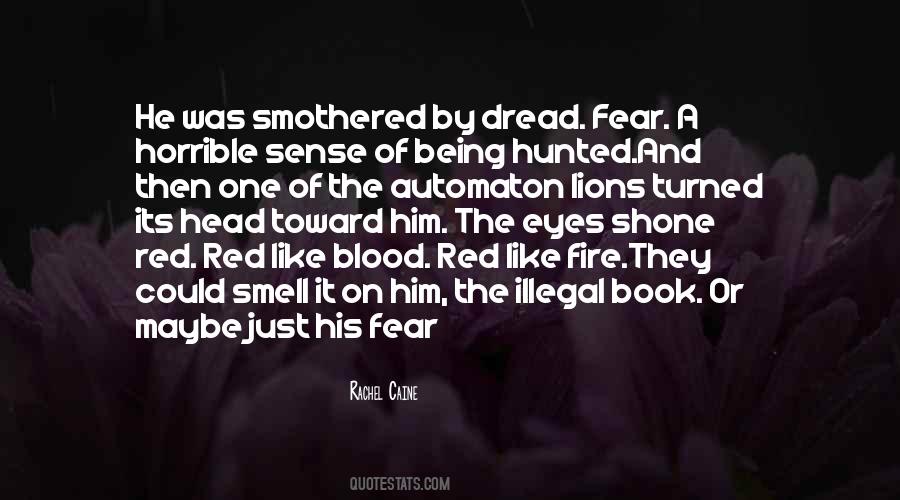 #19. Writers are cut open on the page. - Author: A.D. Posey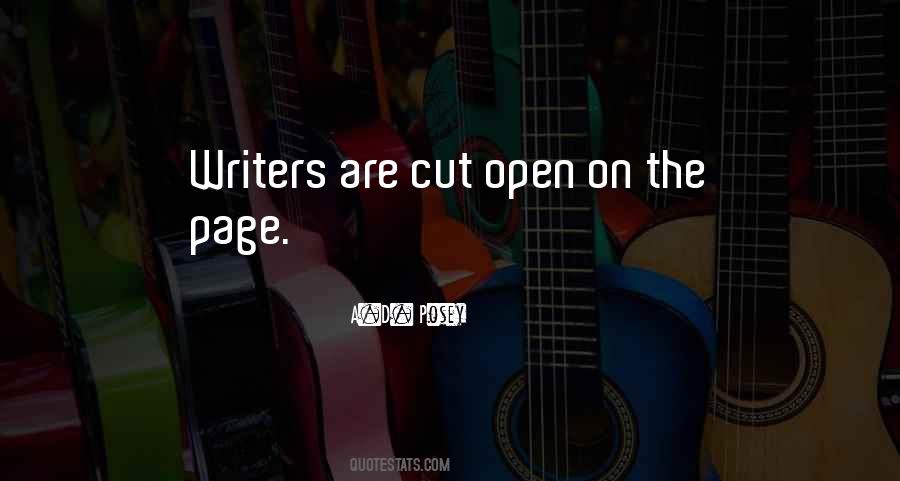 #20. The effects of human wickedness are written on the page of history in characters of blood: but the impression soon fades away; so more blood must be shed to renew it. - Author: Augustus William Hare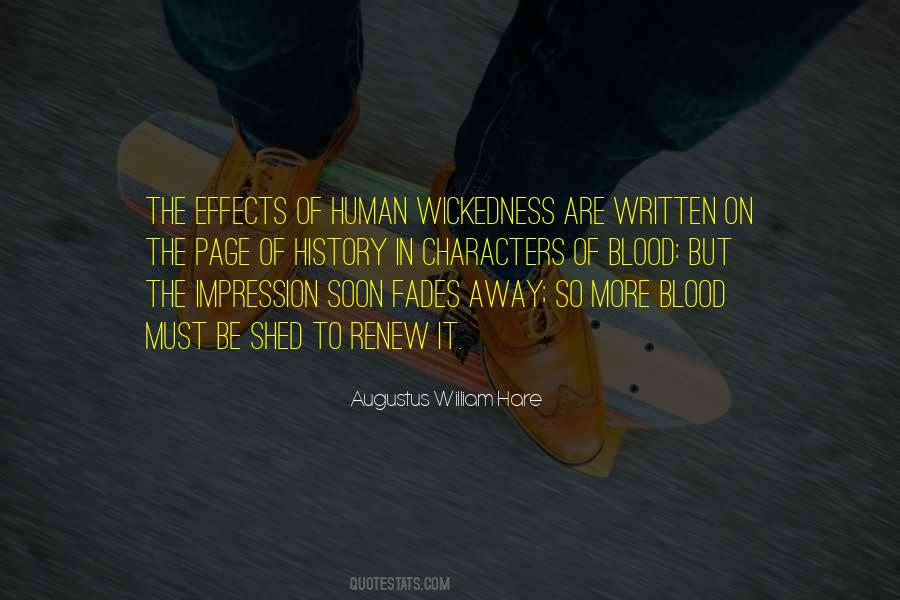 #21. You might ask why we cannot teach physics by just giving the basic laws on page one and then showing how they work in all possible circumstances, as we do in Euclidean geometry, where we state the axioms and then make all sorts of deductions. (So, - Author: Richard Feynman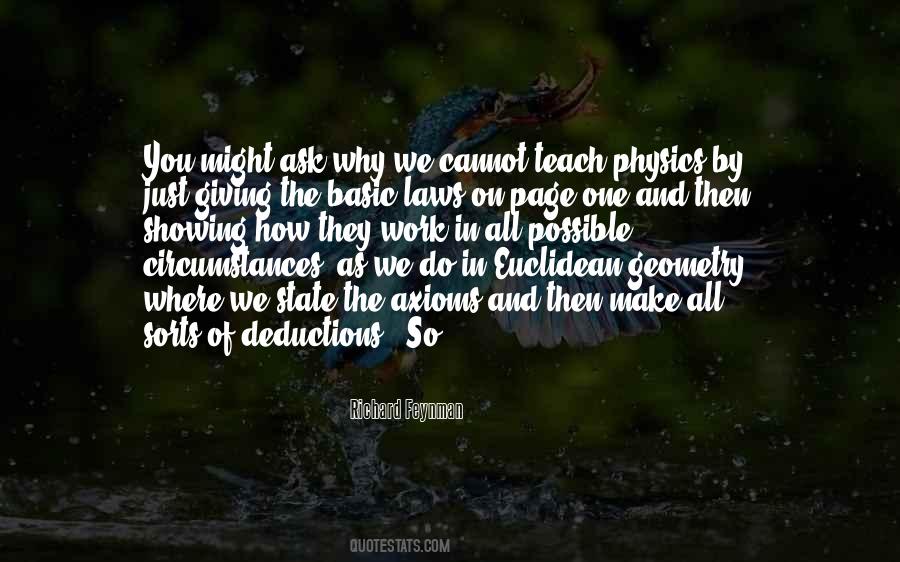 #22. I love words. I crave descriptions that overwhelm my imagination with vivid detail. I dwell on phrases that make my heart thrum. I cherish expressions that pierce my emotions and force the tears to spill over. In essence, I long for a writer's soul sealed in ink on the page. - Author: Richelle E. Goodrich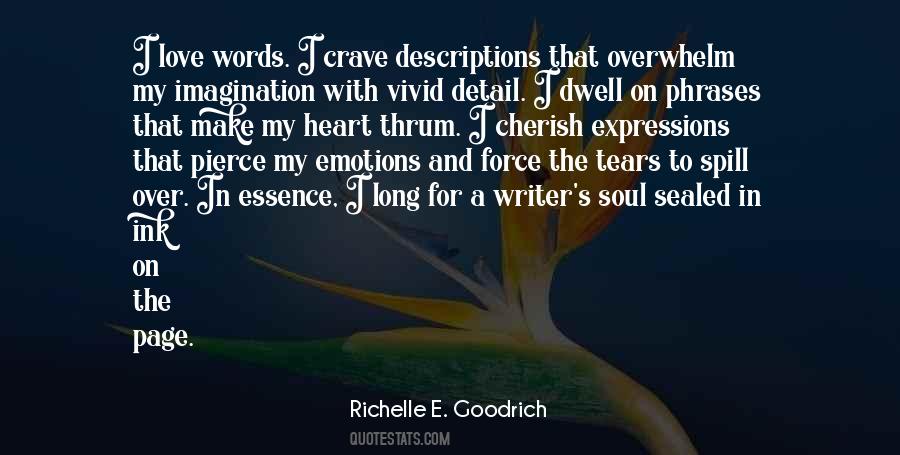 #23. Just as music comes alive in the performance of it, the same is true of mathematics. The symbols on the page have no more to do with mathematics than the notes on a page of music. They simply represent the experience. - Author: Keith Devlin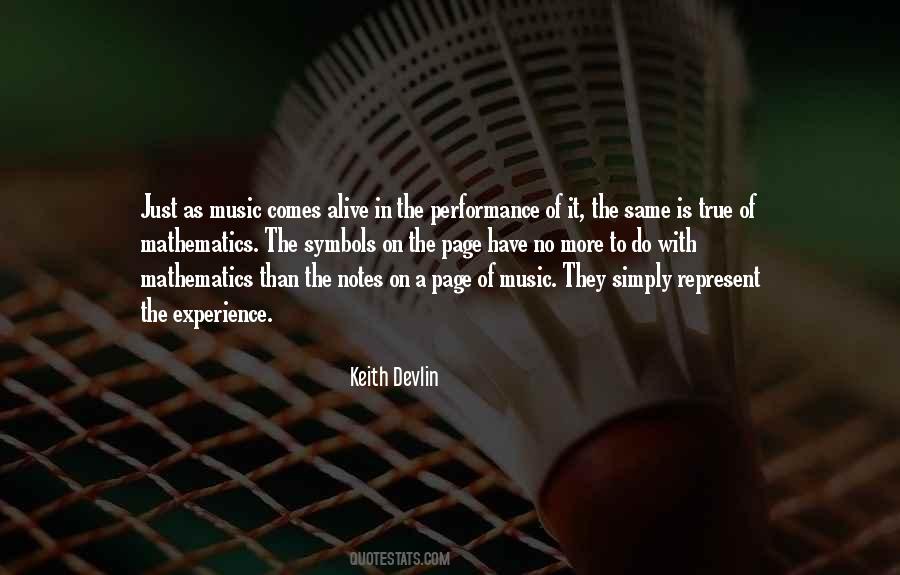 #24. One of the joys of a really good book is that you're so into the world of the book, you forget what you're looking at is words on a page. - Author: Rick Yancey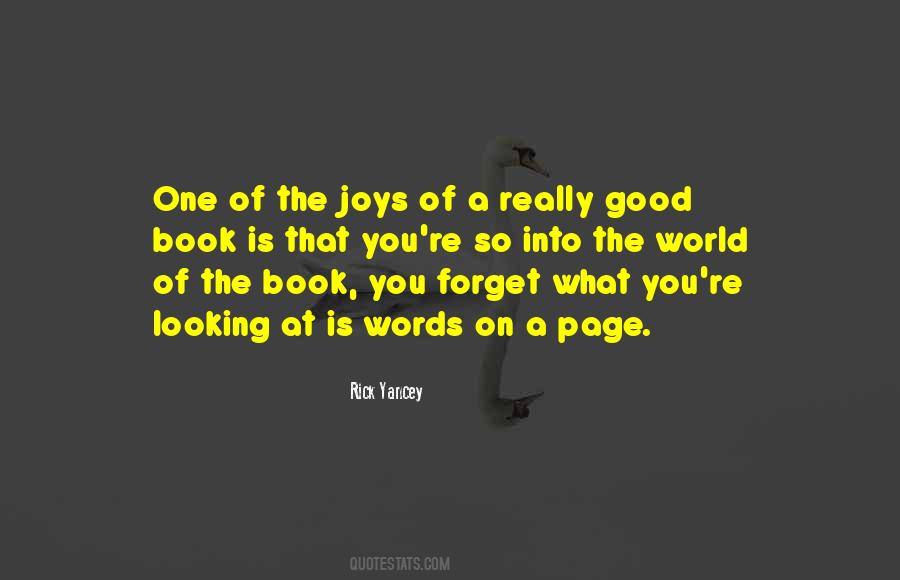 #25. With comedy, it's really hard to tell if something's working on the page - you really need the actors to bring it alive. The scariest part is if people will laugh or not. - Author: Maggie Carey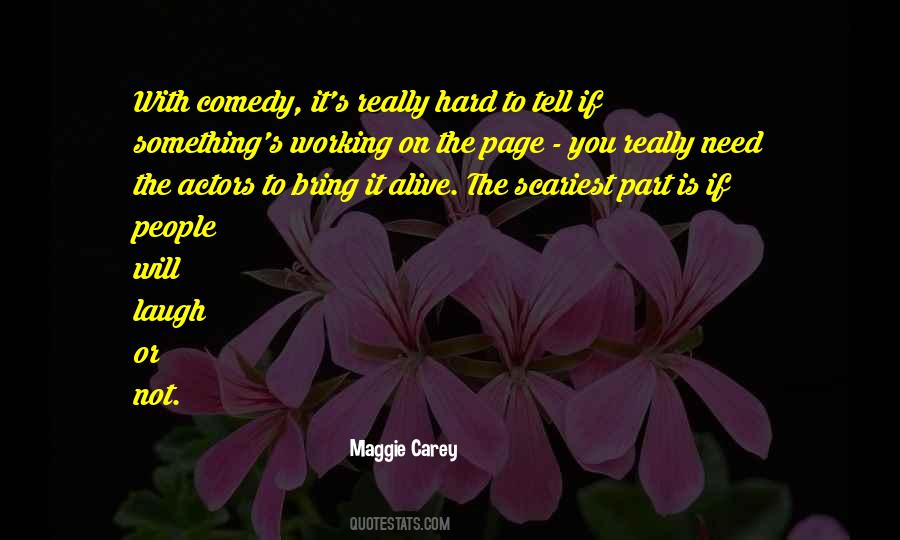 #26. Casting is so important, with any film you do. You have to get actors that you believe will fulfill the promise of the characters that are on the page. - Author: Jerry Bruckheimer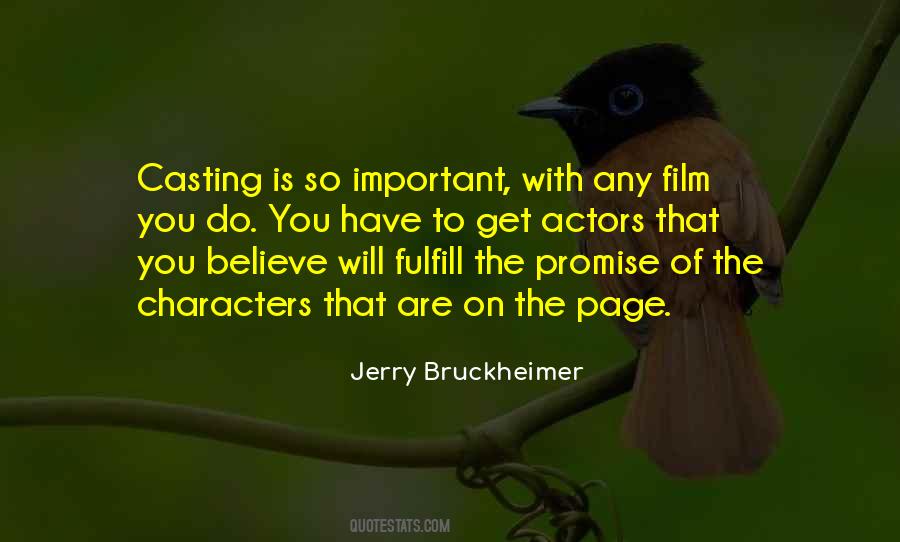 #27. It seems like people increasingly just can't be by themselves because they're so used to having an epicenter on the Internet that actually exists for other people. Until someone clicks onto your Facebook page, it doesn't mean anything. - Author: Cate Blanchett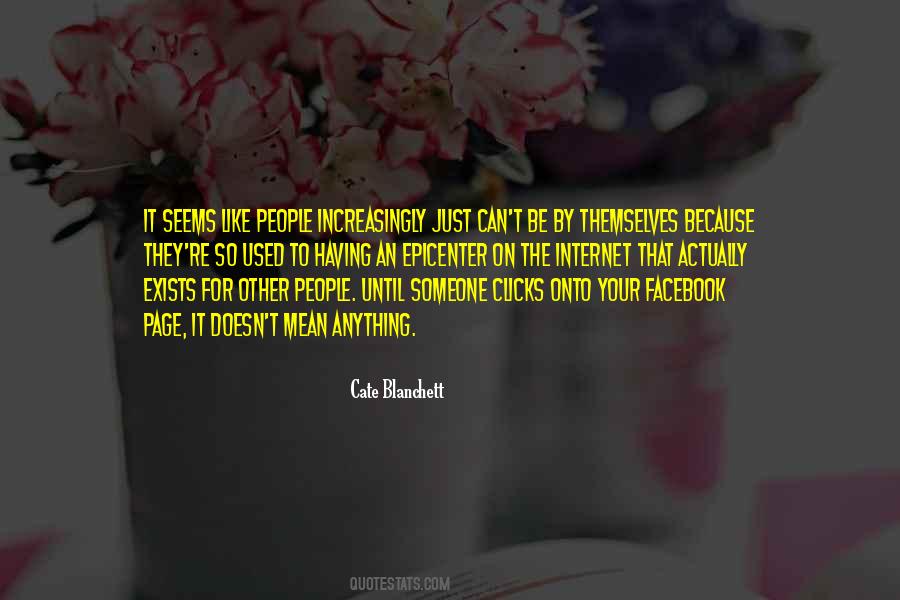 #28. love ridden
i searched for you
in corridors,
open doors
and in endless seas
of similes
and metaphors
but we never were
on the same page. - Author: K.Y. Robinson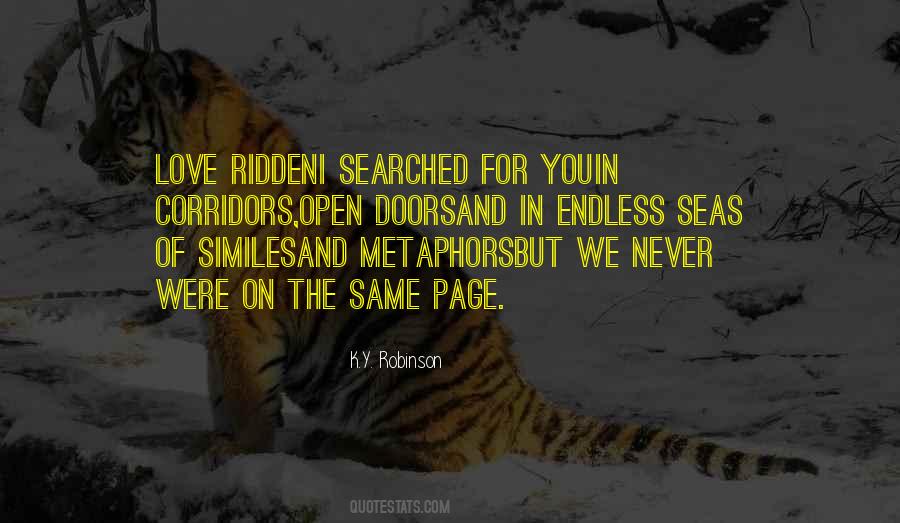 #29. TRIGGER CITY secures Sean Chercover's place as one of the best crime writers of his generation. It grabs you hard on the first page and doesn't let go, even after you've closed the book. - Author: Tasha Alexander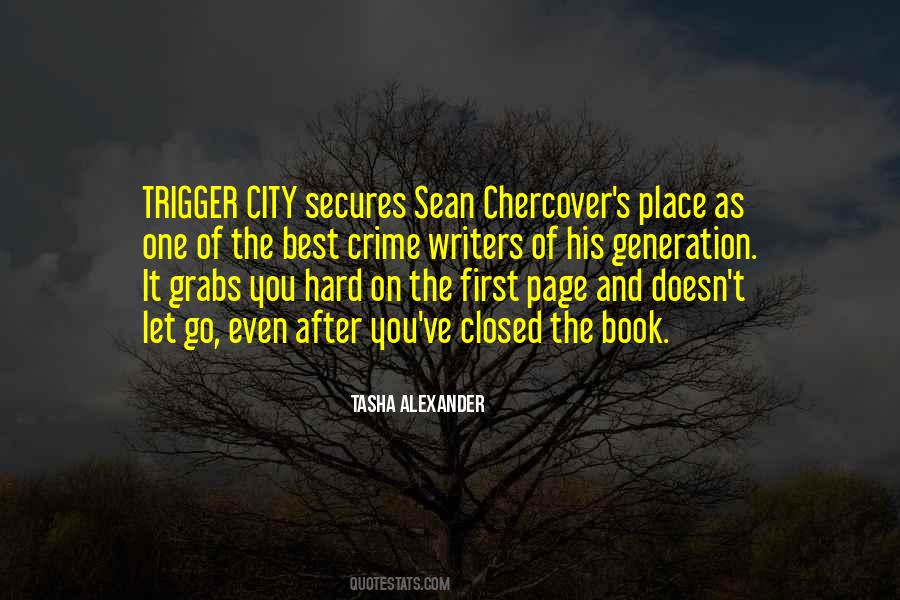 #30. I have always loved contemporary dance, but it has always been a bit of a mystery to me. But choreography is very much like what I do when you are putting characters in frame on the page. It's so impressive what they do with their bodies. It's like painting: an abstraction. - Author: Michael Leunig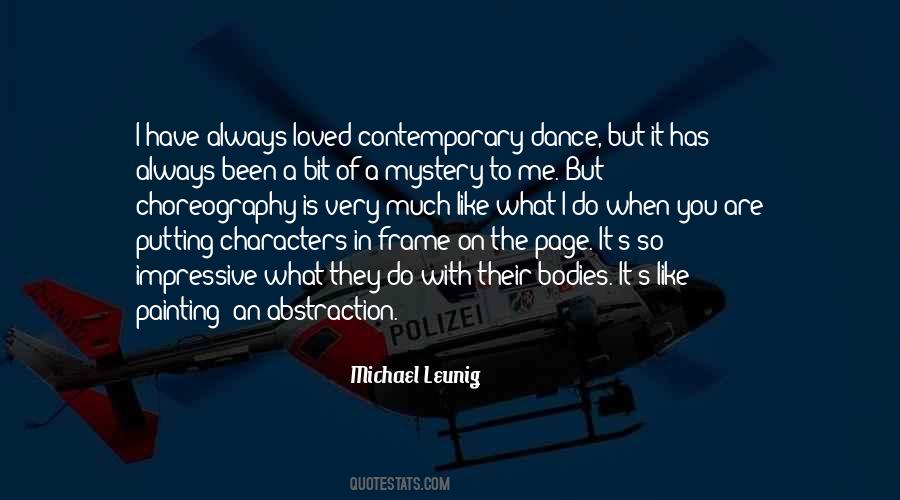 #31. Apparently he's known as the "King of Selfies," this Instagrammer takes some, um, interesting photos. You'll be laughing the second you land on his page. - Author: Don Blackwell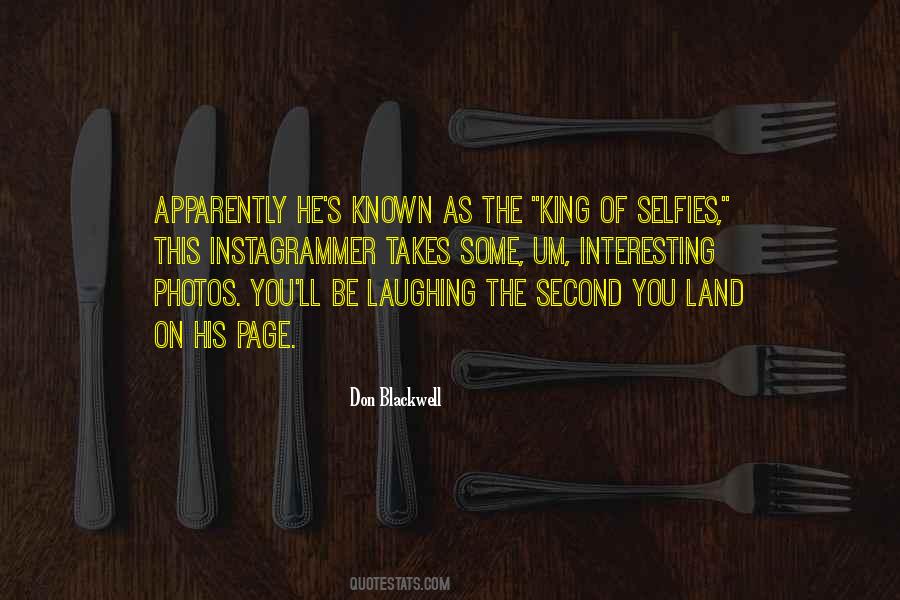 #32. I'd turned to writing because it offered few escape routes or hiding places; it's harder to lie to yourself on the page than in the world. - Author: Pico Iyer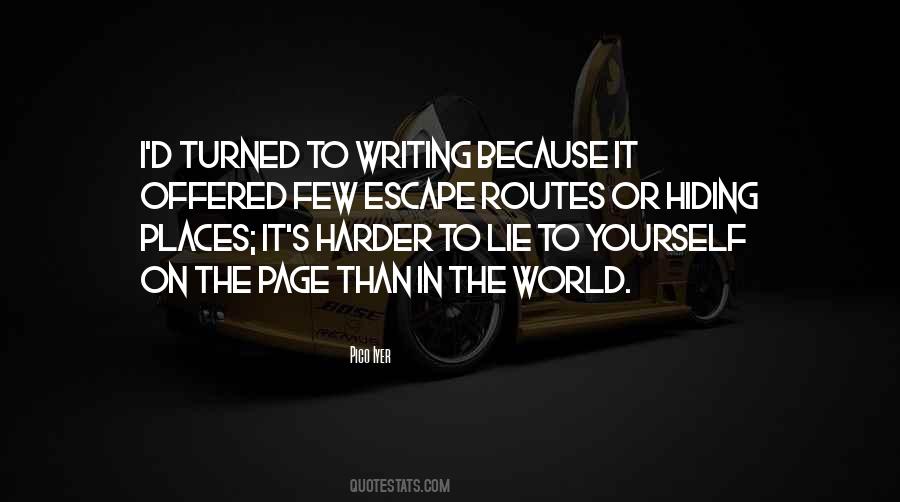 #33. I like a lot of modern art. I like Chuck Close a lot. It doesn't necessarily directly influence the work I draw on the page. - Author: Jim Lee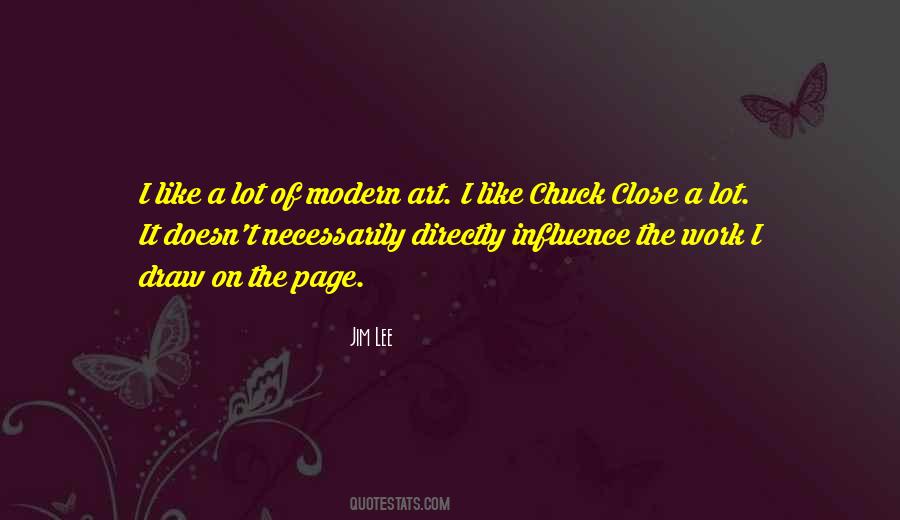 #34. If you can't summarize an issue on one page, you don't understand the issue well enough. - Author: Ronald Reagan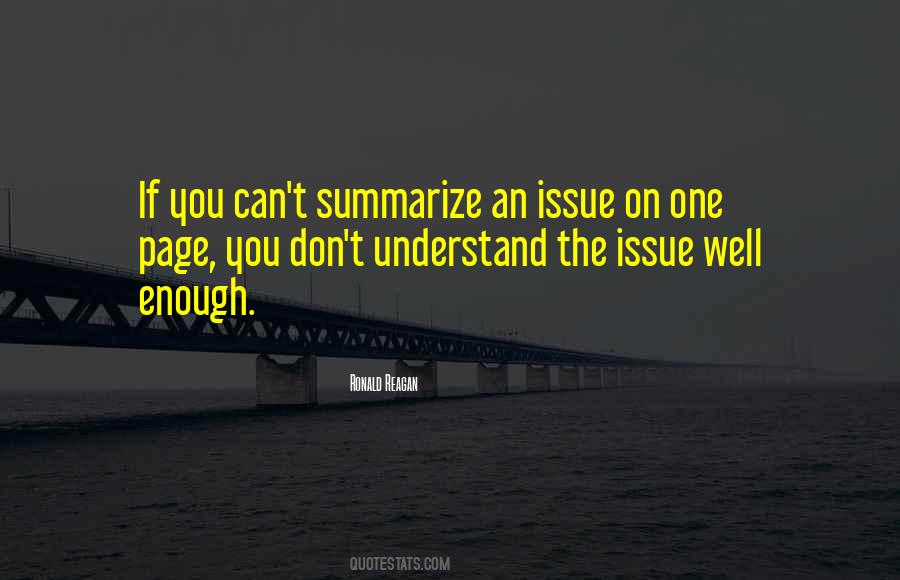 #35. The only thing worse than a social networking junkie who breaks out in a cold sweat if she hasn't updated her page in the past ten seconds is the person (usually it's a guy) who proudly refuses to join Facebook. You know, that same d-bag who held out on getting a cell phone until, like, 2002. - Author: Andrea Lavinthal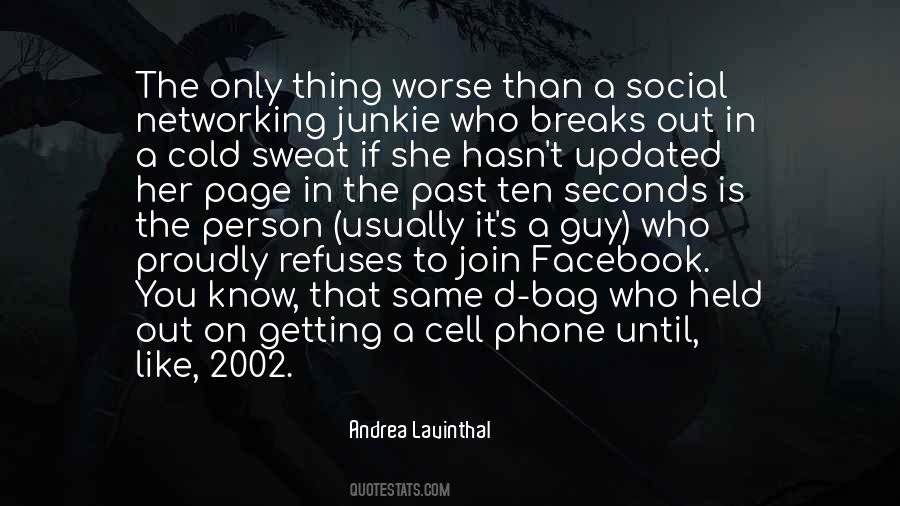 #36. I always remember writing a page of jokes for a comedian and handing it to him backstage at a club and he read it and then took his cigarette lighter and lit the page on. - Author: Garry Marshall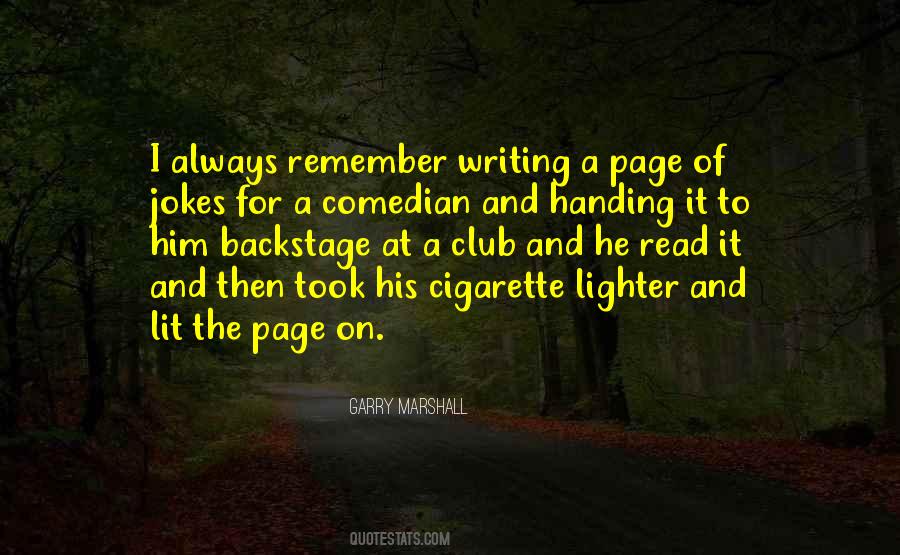 #37. Women are quoted as sources and appear on interview shows much less frequently than men ... But the by-product of such anonymity may be immortality, for women are also less likely to find themselves written up on the obituary page. - Author: Kathleen Hall Jamieson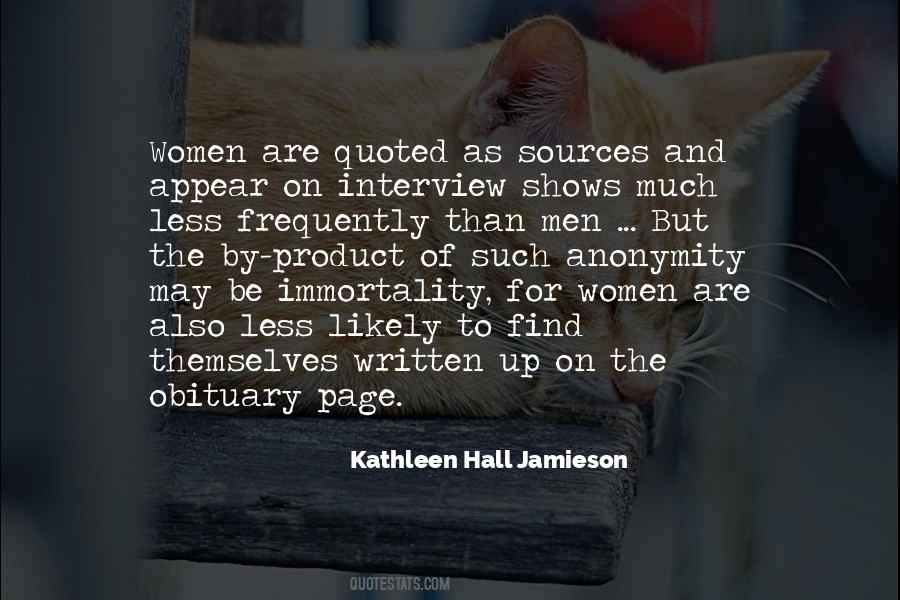 #38. On a couple of occasions I've shocked myself. Pet Sematery was appalling when it first came out on to the page. - Author: Stephen King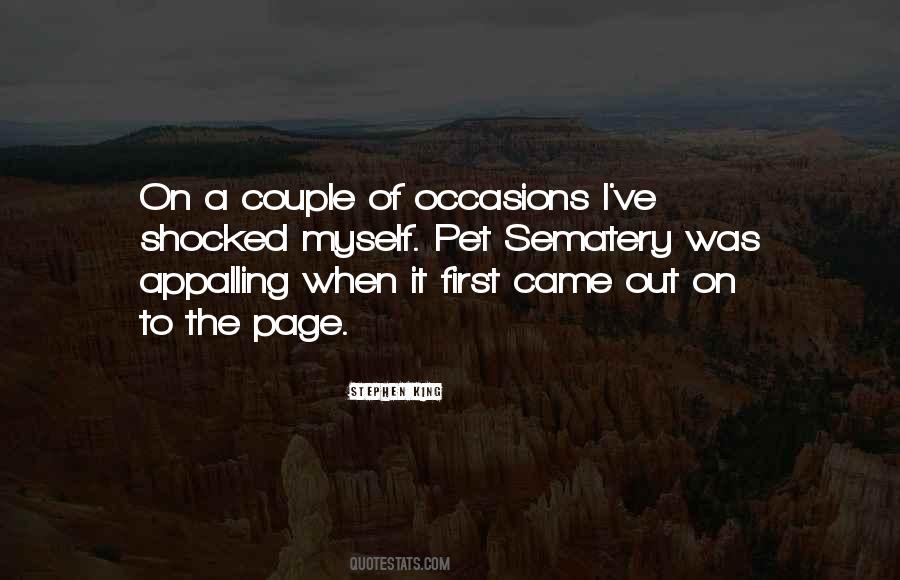 #39. Ensure that your script is watertight. If it's not on the page, it will never magically appear on the screen. - Author: Richard E. Grant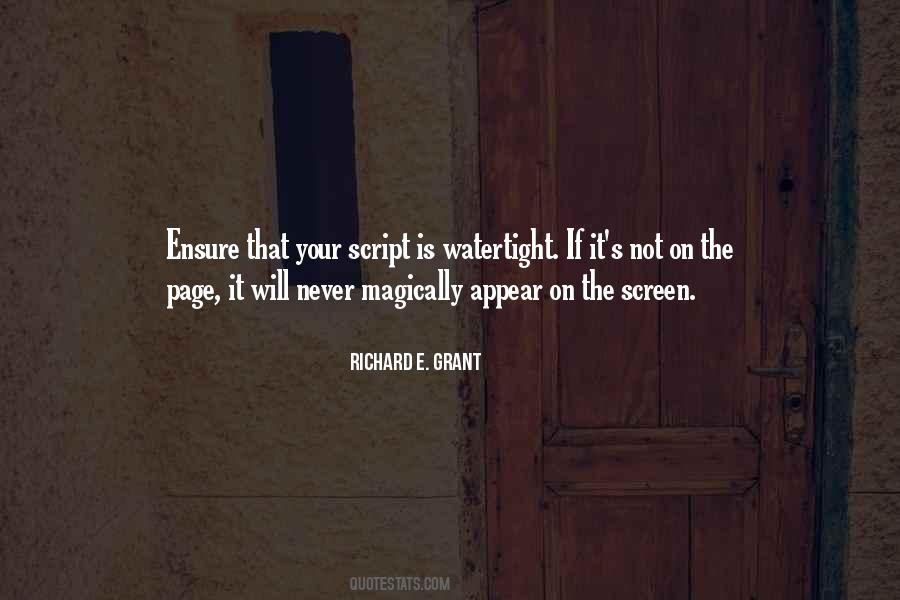 #40. When I was a playwright earlier in my career - my senior project in high school was my first produced play - I used to put on the title page: 'A tragedy with laughs.' - Author: Jeff Lindsay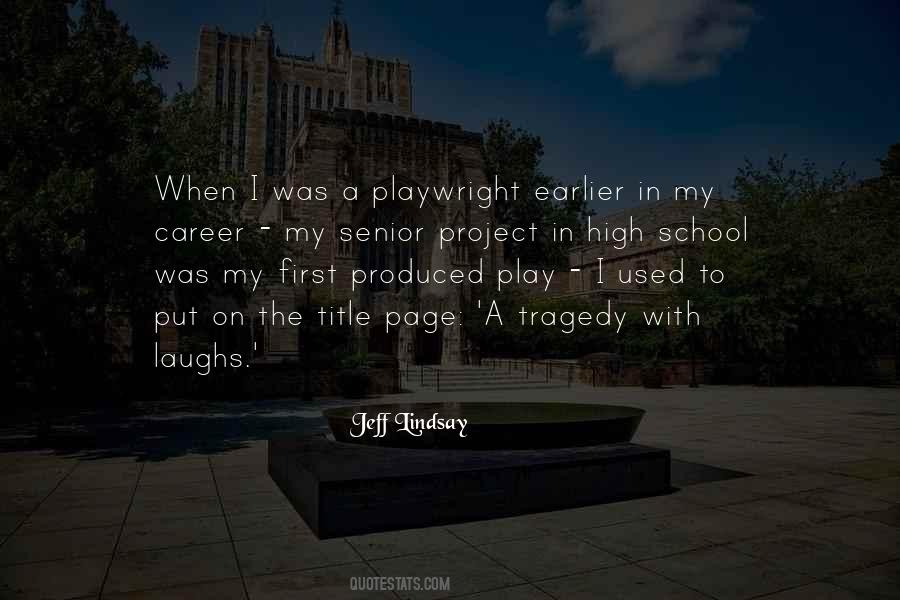 #41. All I knew about the word cyberspace when I coined it, was that it seemed like an effective buzzword. It seemed evocative and essentially meaningless. It was suggestive of something, but had no real semantic meaning, even for me, as I saw it emerge on the page. - Author: William Gibson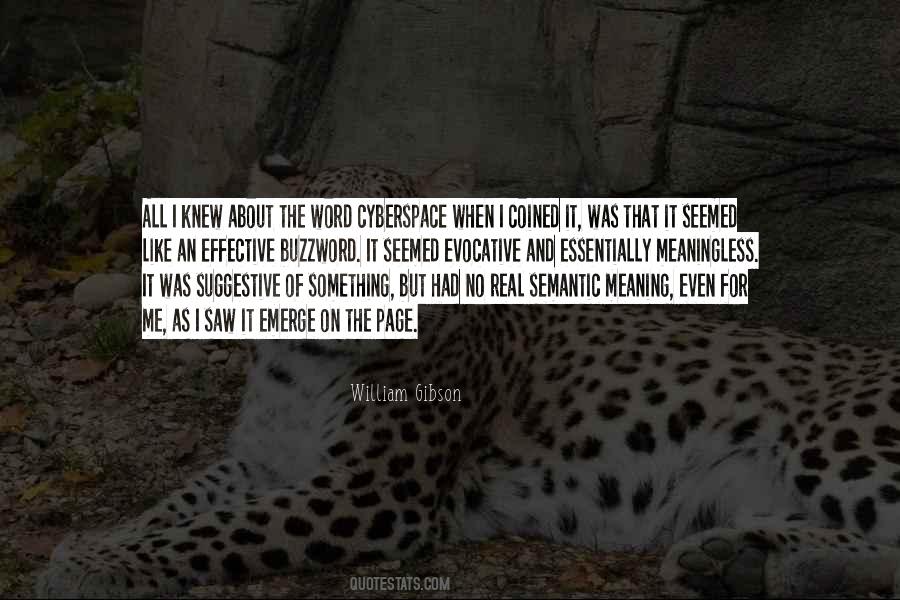 #42. I will look on the stars and look on thee, and read the page of thy destiny. - Author: Letitia Landon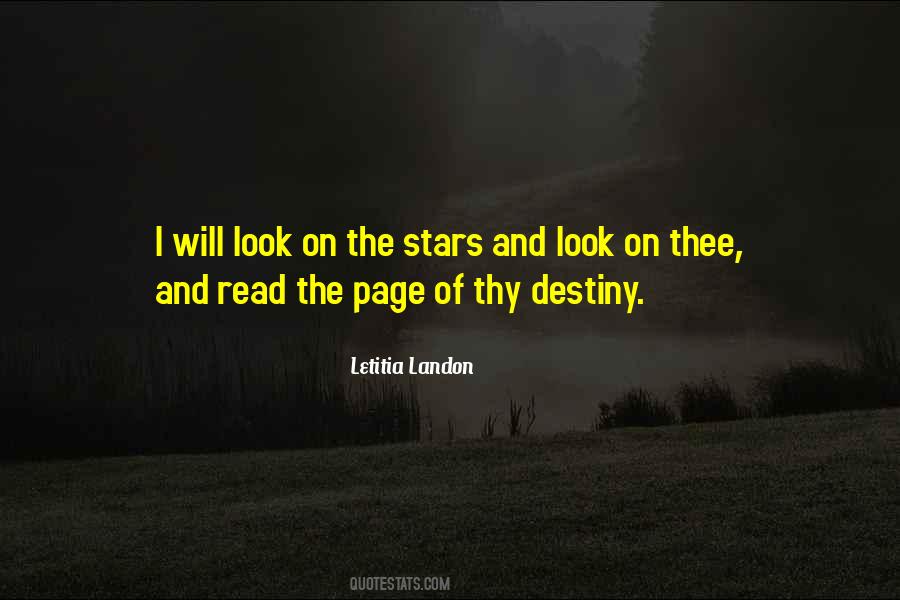 #43. It's always been my philosophy: Turn the page. If something falls through, turn the page. It's over with, get used to it, get on with it. Very simple. It's always worked for me. - Author: Merv Griffin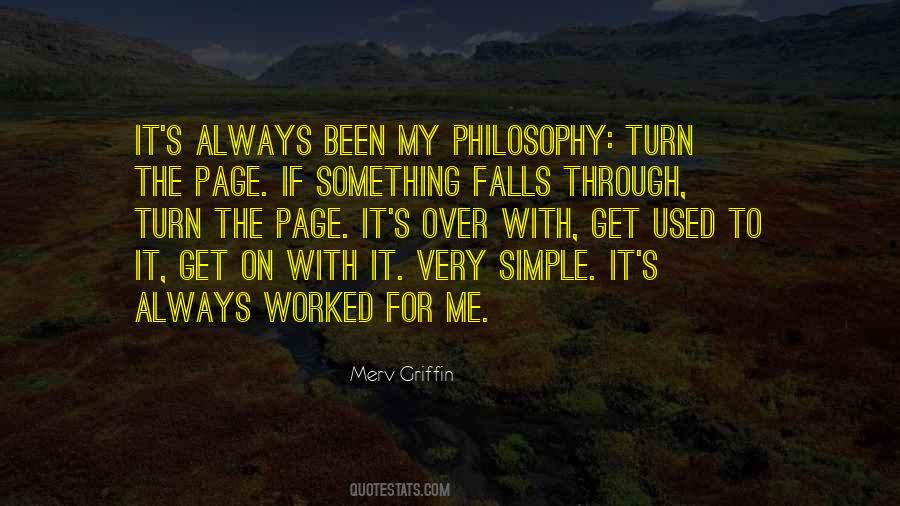 #44. I have to relearn how to walk again. It's not that you have to reteach yourself. But your mind and your foot have to get back on the same page, and remind yourself that it's OK to do this. You've done this before. It's reminding it what it's supposed to do again. - Author: Tony Stewart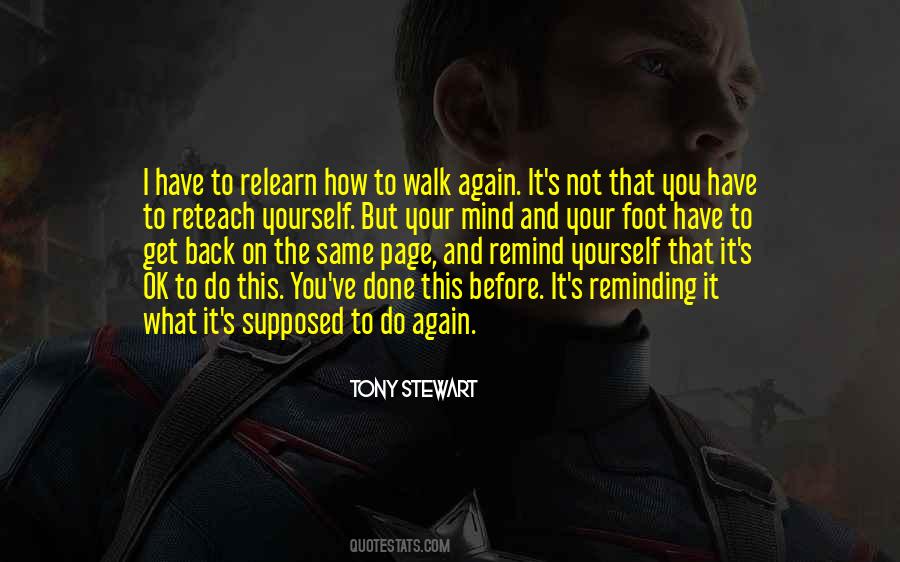 #45. The value of everybody depend on his or her PROFICIENCY and Wisdom. - Author: Hazrat Ali Ibn Abu-Talib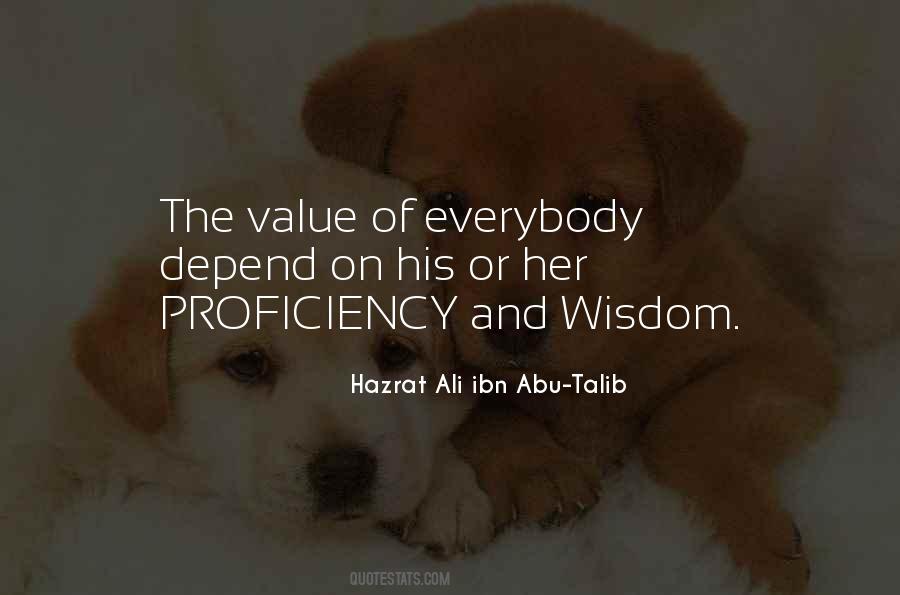 #46. All the really good guitar players - Jimi Hendrix, Jimmy Page, or even Bert Jansch or John Martin - I love all those people. But I didn't start out thinking that I would be a guitar player. In the beginning, I played the guitar so I could sing. I mainly concentrated on my voice. - Author: James Vincent McMorrow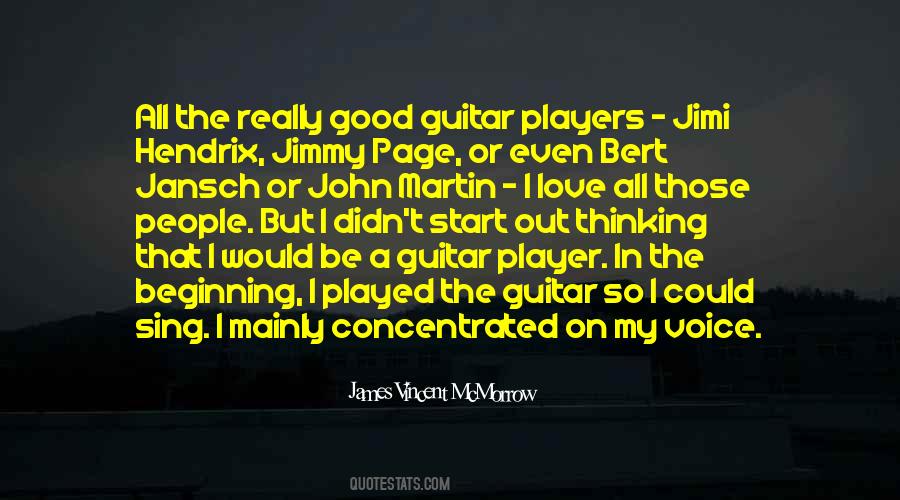 #47. I have to rely on Laurie to know that I wish he had been with me the last time I was on the roof. I have to trust that he knows I'm glad that I stayed. - Author: David Levithan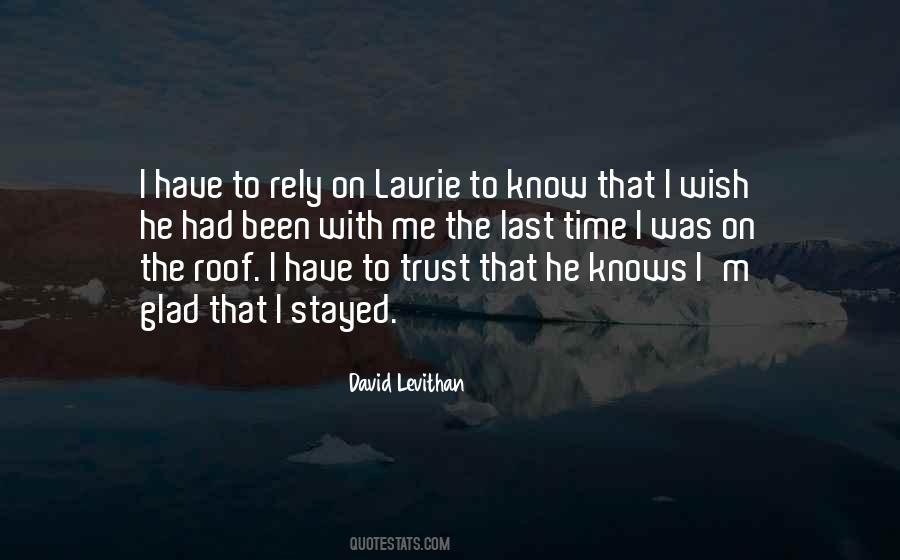 #48. I'd always envied actors who got to play real people or got to do research. I've always just had these scripts where, I mean not in a bad way, but it was right on the page. - Author: Luke Wilson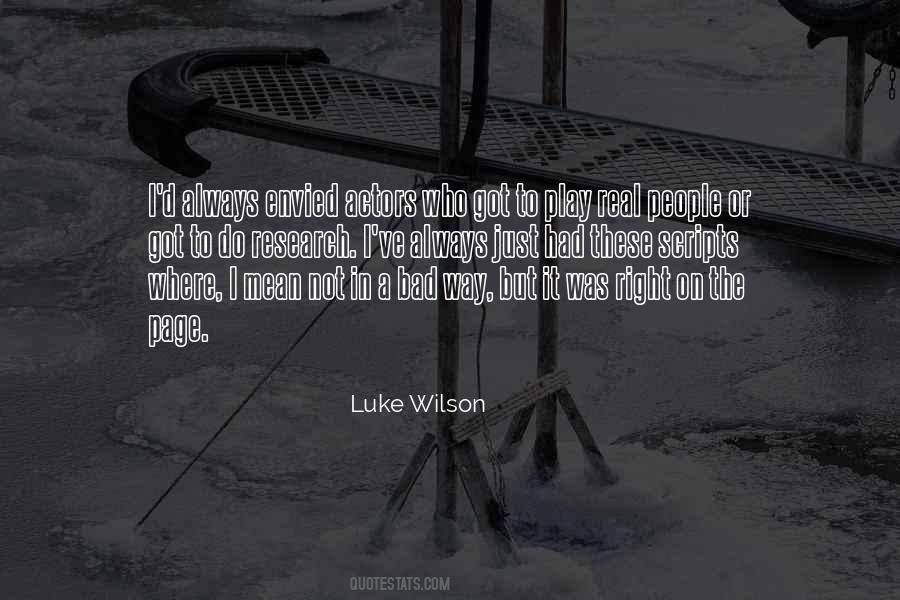 #49. That was a page read and turned over; I was busy now with this new page, and when the engine whistled on the grade, this page would be finished and another begun; and so the book of life goes on, page after page and pages without end - when one is young. - Author: Jack London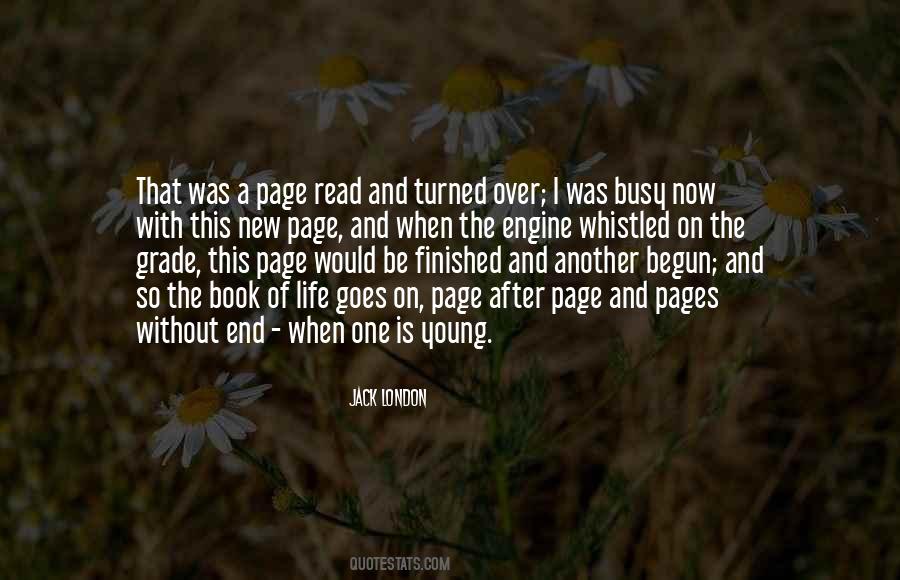 #50. I want to take some jams and really concentrate on hooking up with Page because, since he's the only one not next to me, and his sound is mainly coming from my monitor rather than through the air, it's a little harder for me to hook up with him. - Author: Mike Gordon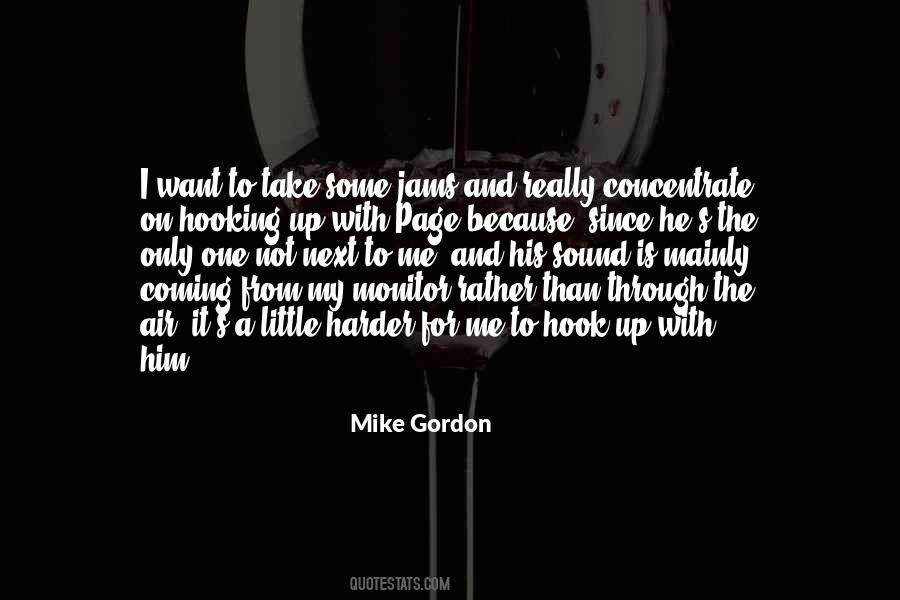 #51. I like the idea that every page in every book can have a gem on it. It's probably what I love most about writing - that words can be used in a way that's like a child playing in a sandpit, rearranging things, swapping them around. - Author: Markus Zusak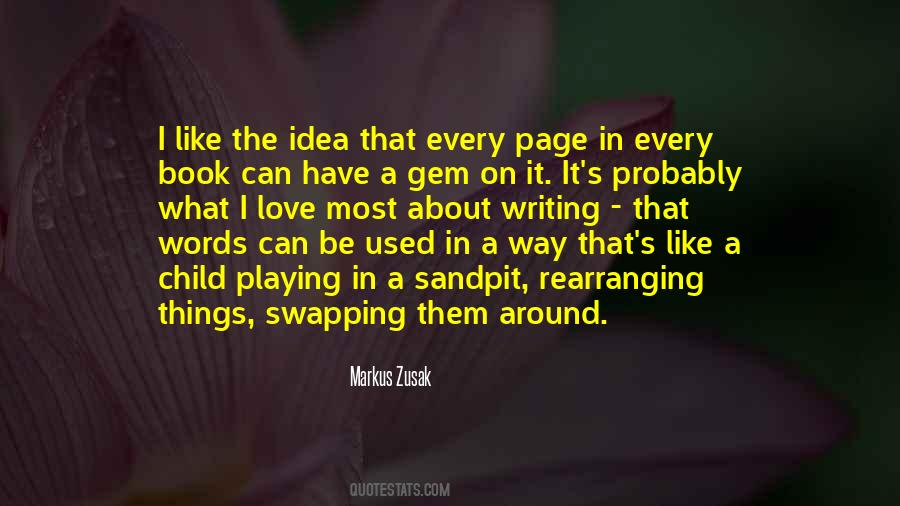 #52. I'm in a business where there's complete anarchy. You can't control it - you can only react to it. The control that people traditionally had over their message is gone. Look at Wikileaks: you have to approach everything you write on the basis it's going to be on the front page of the newspaper. - Author: Martin Sorrell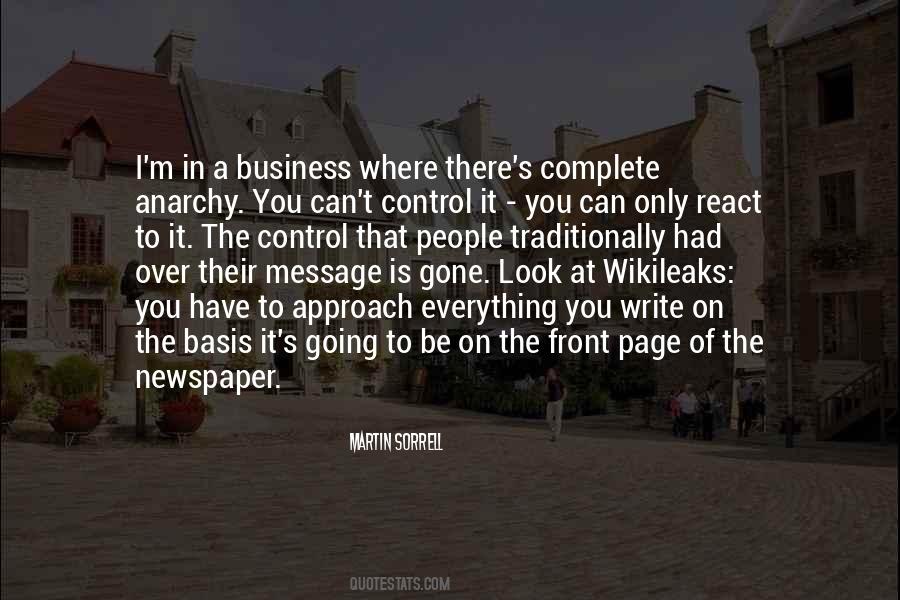 #53. It's hard having kids because it's boring ... It's just being with them on the floor while they be children. They read Clifford the Big Red Dog to you at a rate of 50 minutes a page, and you have to sit there and be horribly proud and bored at the same time. - Author: Louis C.K.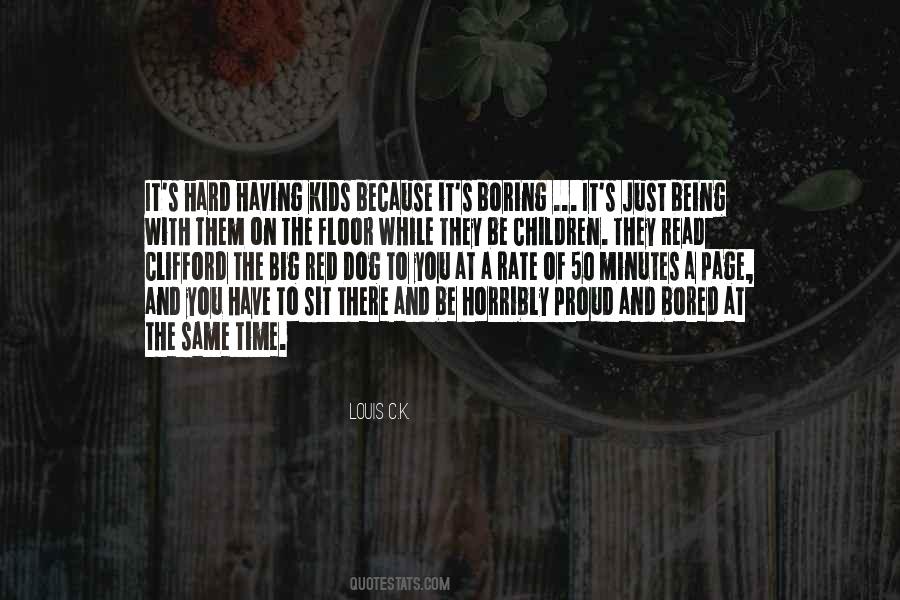 #54. I've always thought that one of the least successful encounters is meeting a writer one admires. For one thing, writers are generally much kinder, more empathetic, more generous people on the page than they are in person. - Author: Hanya Yanagihara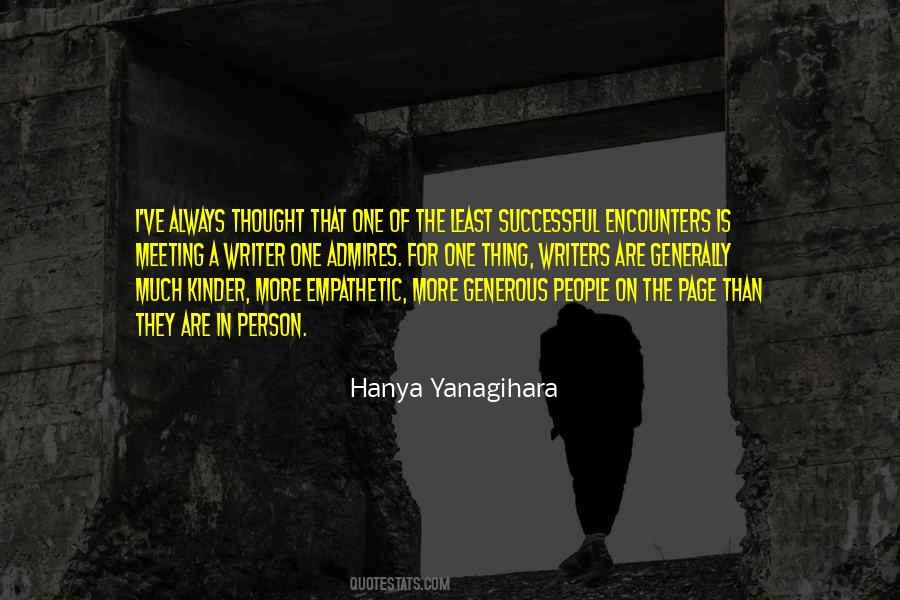 #55. Sharing the same vision for what's on the page is always a good idea. The director's job is to establish what that is and make sure that everyone sticks to it when it comes down to actually executing it. - Author: Thomas Jane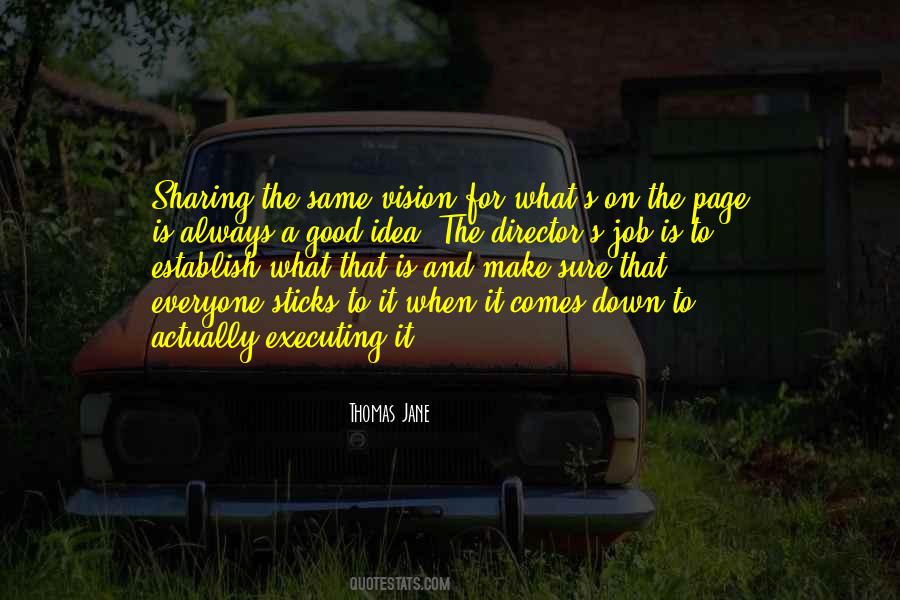 #56. It's just a matter of writing the kind of book I enjoy reading. Something better be happening at the beginning, and then on every page after, or I get irritated. - Author: Jonathan Franzen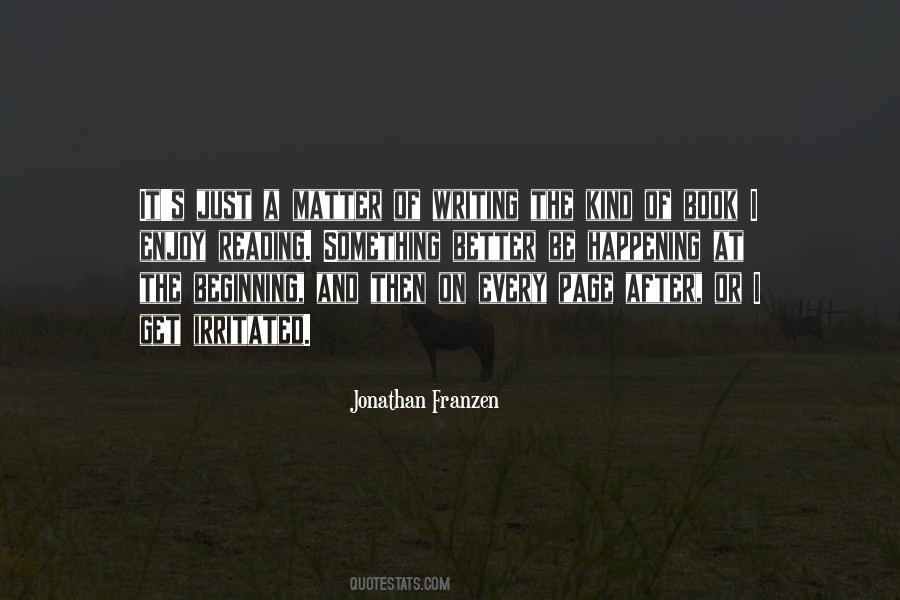 #57. I'm really very visually attracted to Wonder Woman. She just looks great on the page. - Author: David Finch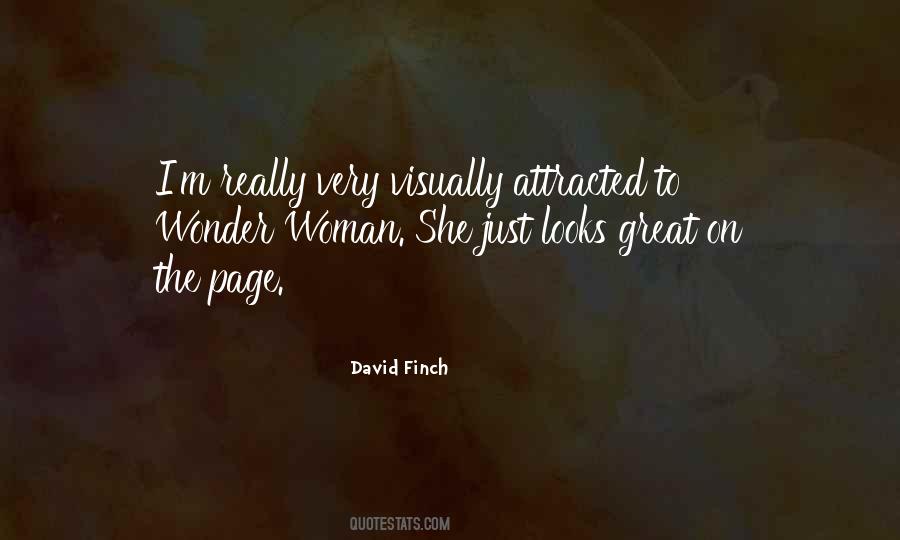 #58. It would absolutely suck if you paid a few bucks for a book only to find that on the first page it said, 'Once upon a time they all lived happily ever after' and the rest of the book was blank. - Author: Simon Travaglia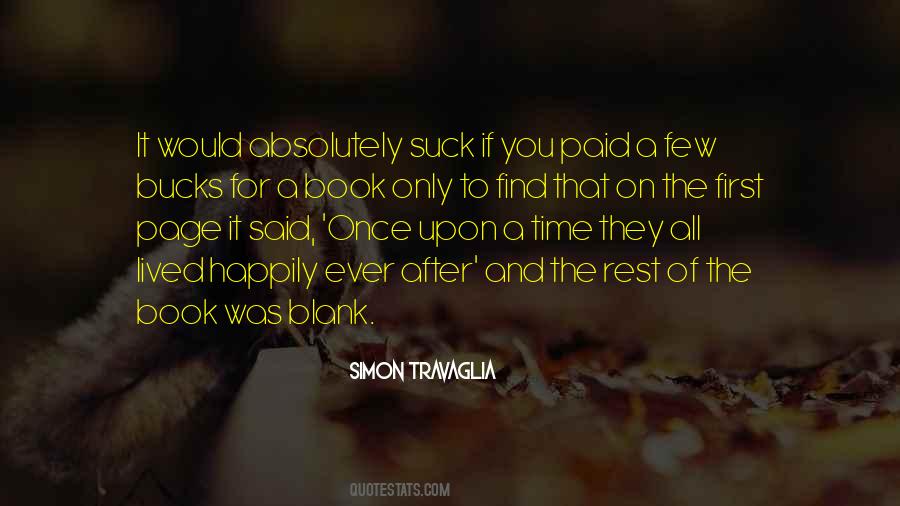 #59. There's a kind of ear music ... a rhythmic synchronicity which creates a kind of heartbeat on the page. - Author: Allan Gurganus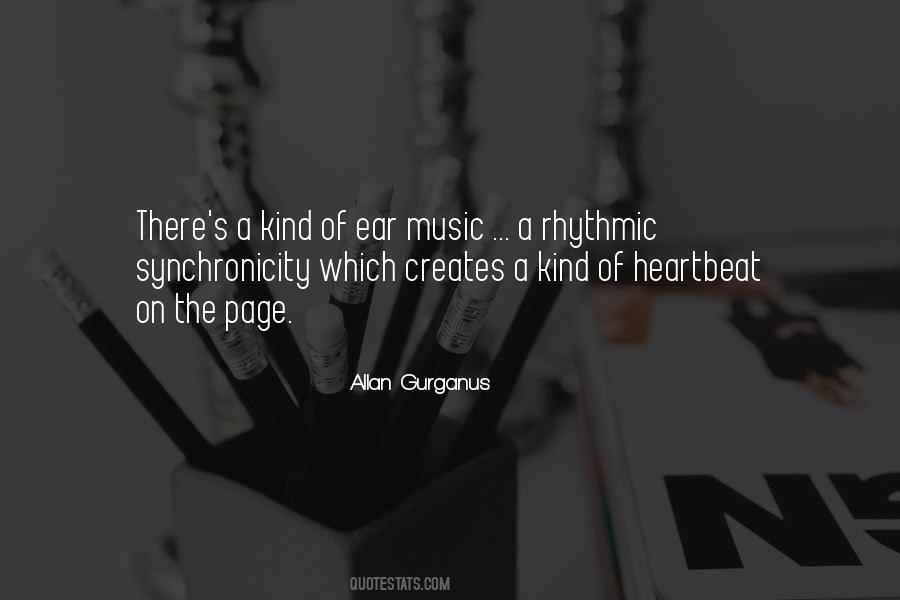 #60. And the reason you hate writing so much is because you start analyzing your work before you're done pouring it onto the page. Your Left-brain won't let your Right-brain do it's job ... Your Right-brain gets the words on the page. The Left-brain makes them sing. - Author: Jeff Bollow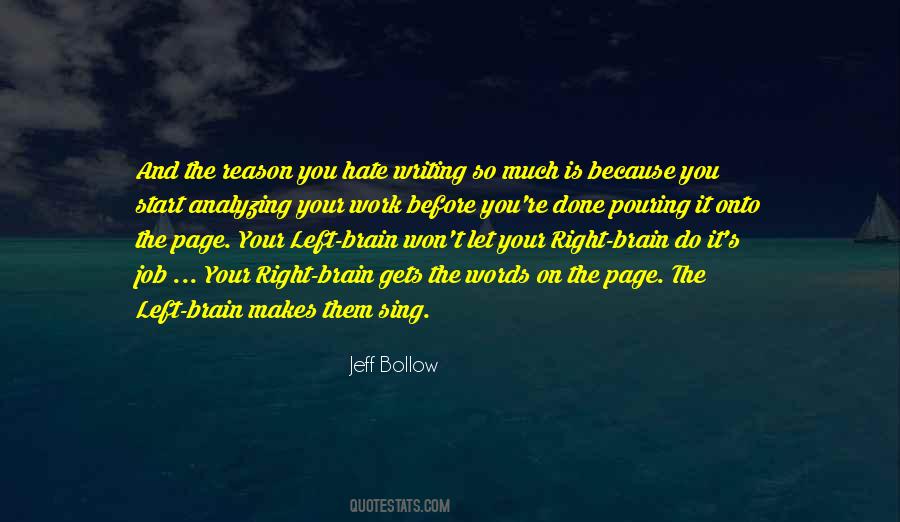 #61. What is the worst of woes that wait on age? What stamps the wrinkle deeper on the brow? To view each loved one blotted from life's page, And be alone on earth, as I am now. - Author: Lord Byron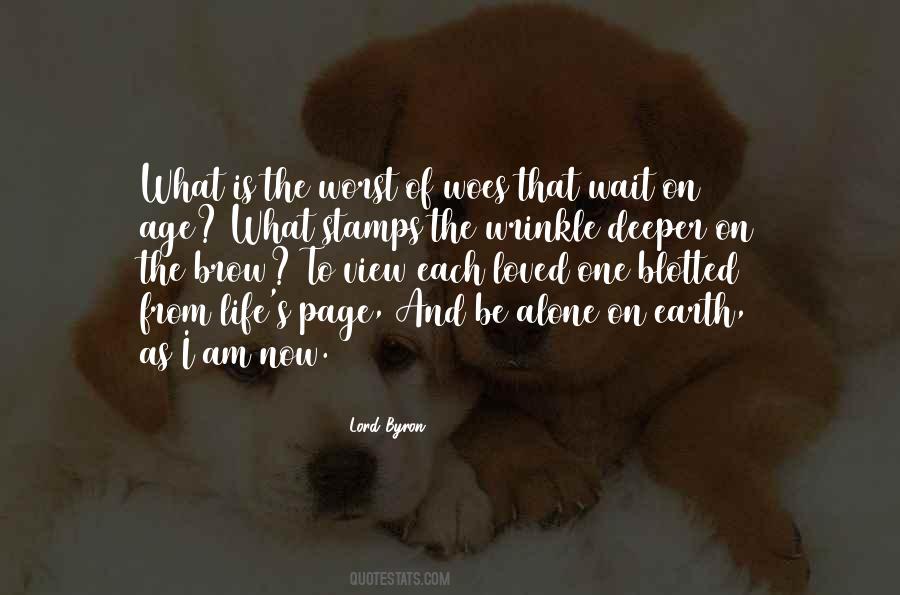 #62. From a really young age, I was reading like a writer. I was reading for the deep understanding of the literature; not simply to hear the story but to understand how the author got the story on the page. - Author: Jacqueline Woodson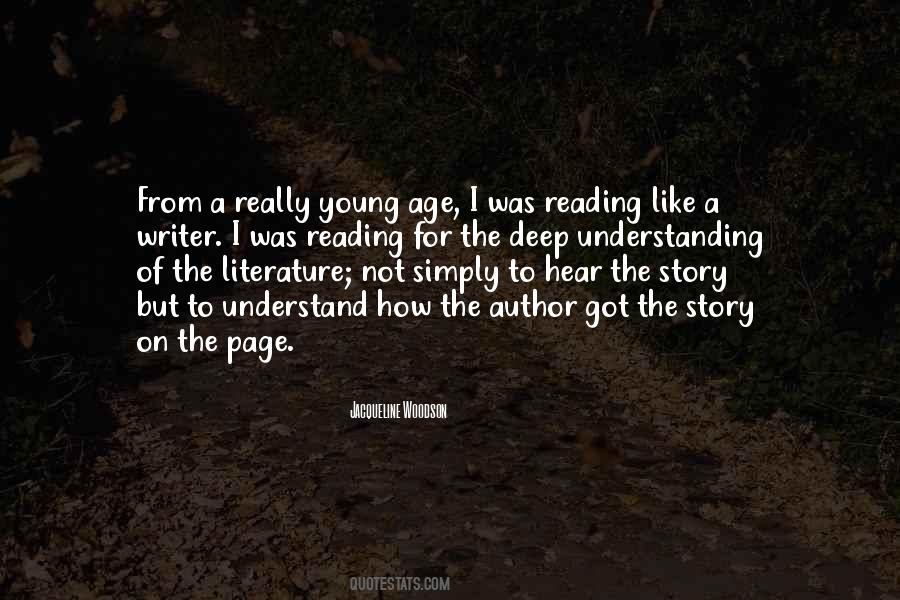 #63. The spouses of authors ought to really read their better halves books. What is found amidst those pages may enlighten them to knowing a side of their partner that can only be seen on the written page. - Author: Sai Marie Johnson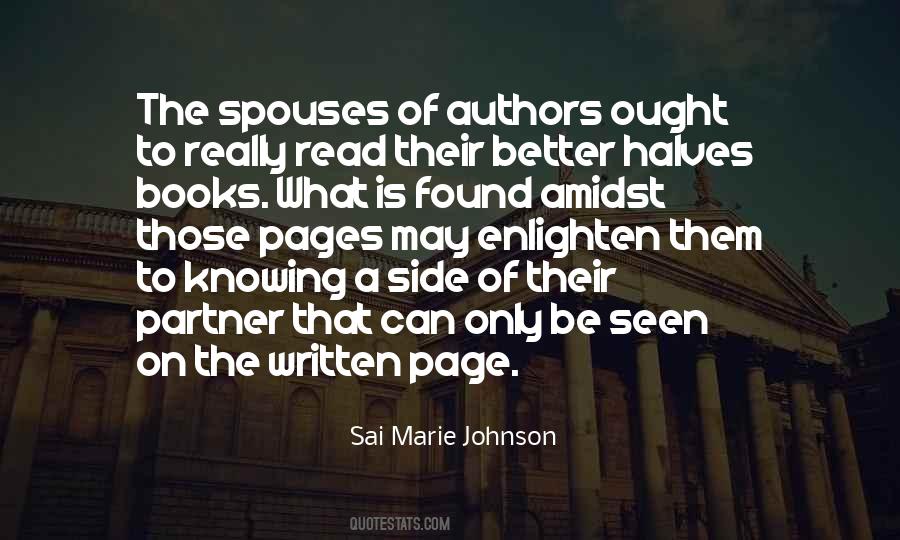 #64. Conrad placed on the title page an epigraph taken from Edmund Spenser's The Faerie Queene:
"Sleep after toyle, port after stormie seas,
Ease after warre, death after life, does greatly please"
This also became Conrad's epitaph. - Author: Joseph Conrad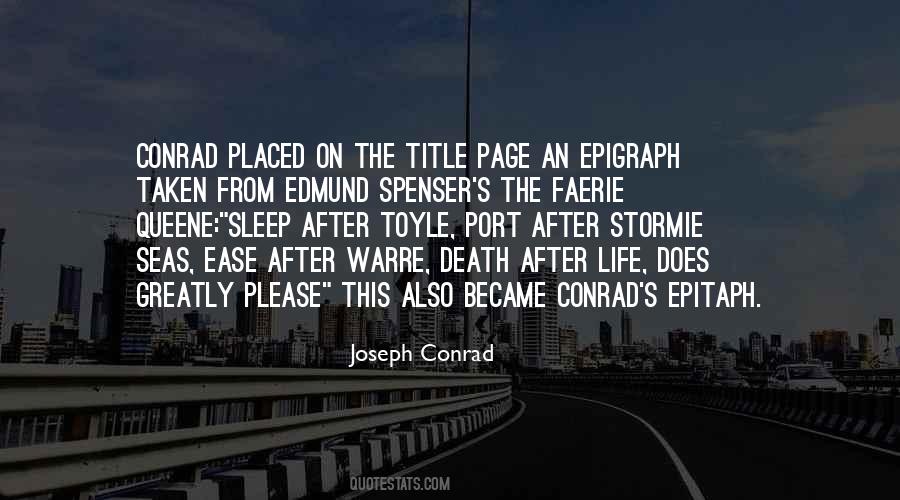 #65. I'm not so in with the prescriptive avant-garde agenda. I can do that sort of thing, but I feel that I'm still interested enough in song structure. When I look at a lyric on the page, the lyric is alive to me, looking like soldiers in a field. I can move it around, and it's very black-and-white. - Author: Scott Walker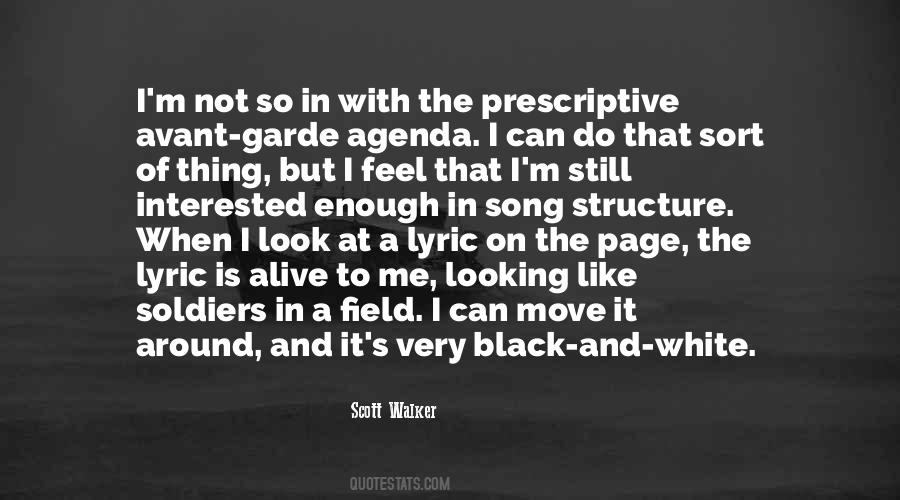 #66. Now suppose that at the end of the page you get another instruction: count all the commas in the next page. This will be harder, because you will have to overcome the newly acquired tendency to focus attention on the letter f. - Author: Daniel Kahneman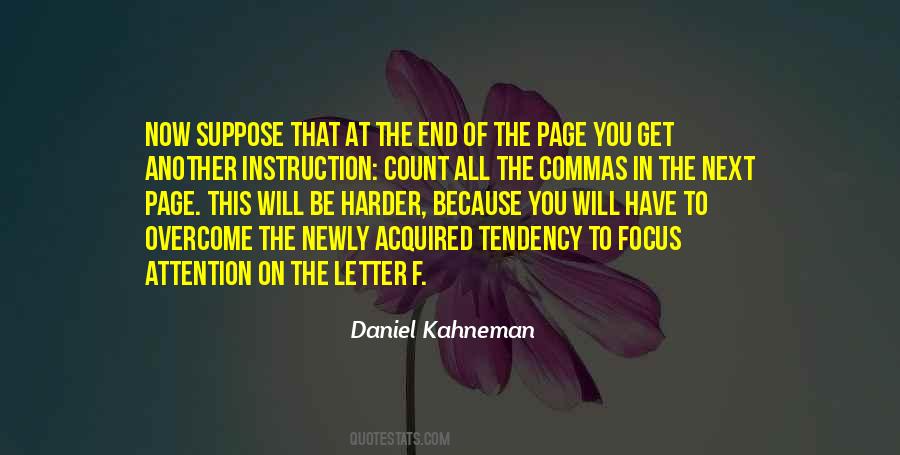 #67. The thrill of seeing my words on a printed page has never faded. Now I've found my niche, my passion. I want to do this every day for the rest of my life. - Author: Marion Smith Collins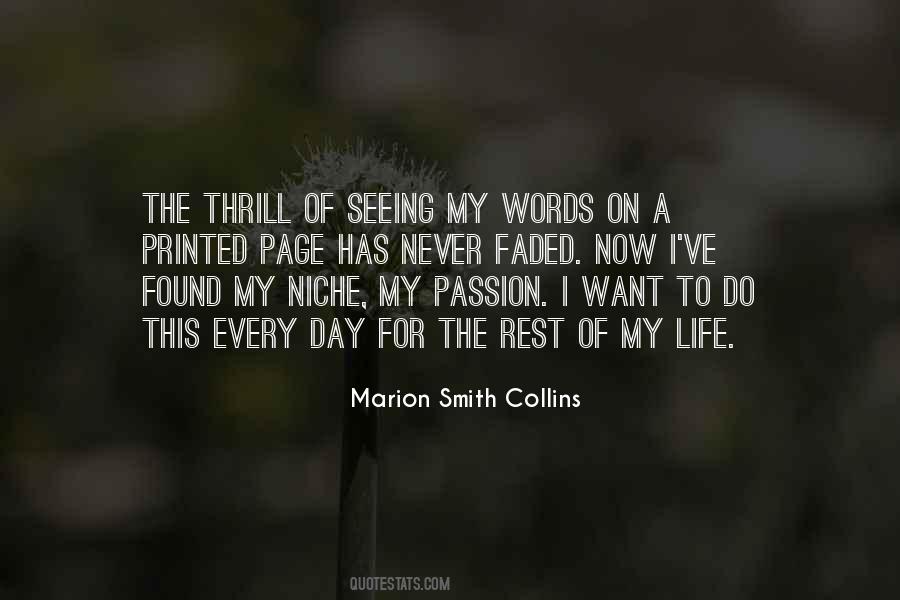 #68. Confront the page that taunts you with its whiteness. Face your enemy and fill it with words. You are bigger and stronger than a piece of paper. - Author: Fennel Hudson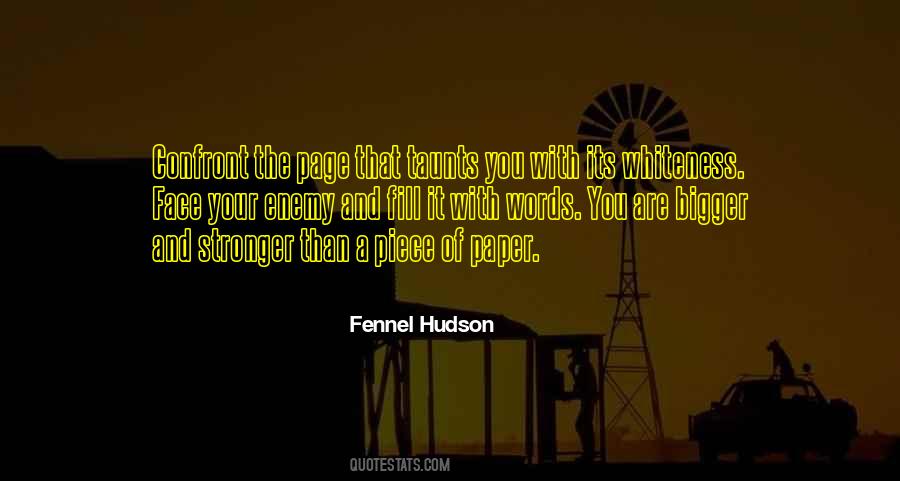 #69. Fictional characters exist in only two places, neither of which is on the printed page. They exist, first, in the mind of the writer and, second, in the mind of the reader. - Author: Maren Elwood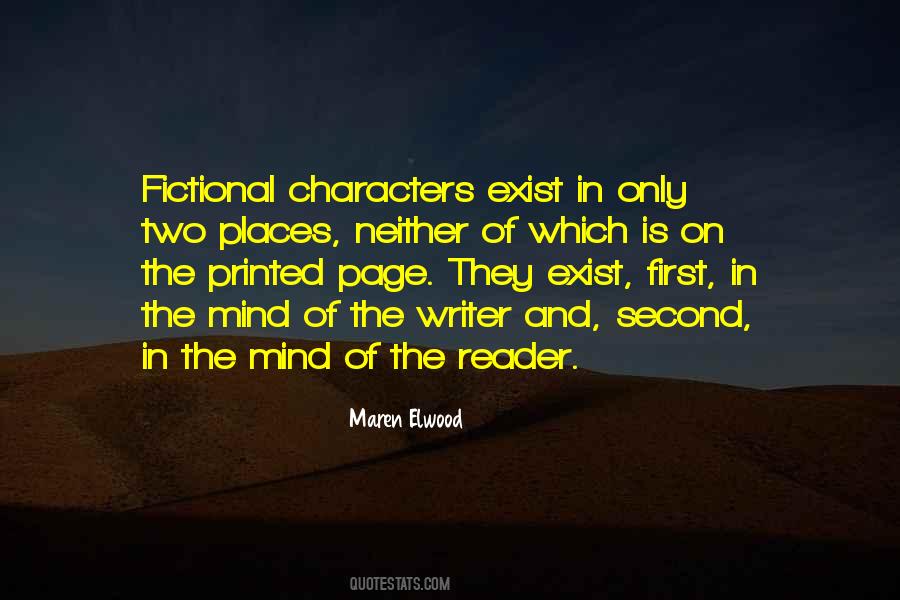 #70. We cannot stick our heads in the sand concerning the issue of hunger in America. Even though this subject seldom reaches the front page of our newspapers or is featured on news programs because of its lack of sensationalism, the problem exists in massive proportions and must be defeated. - Author: Bruce Davison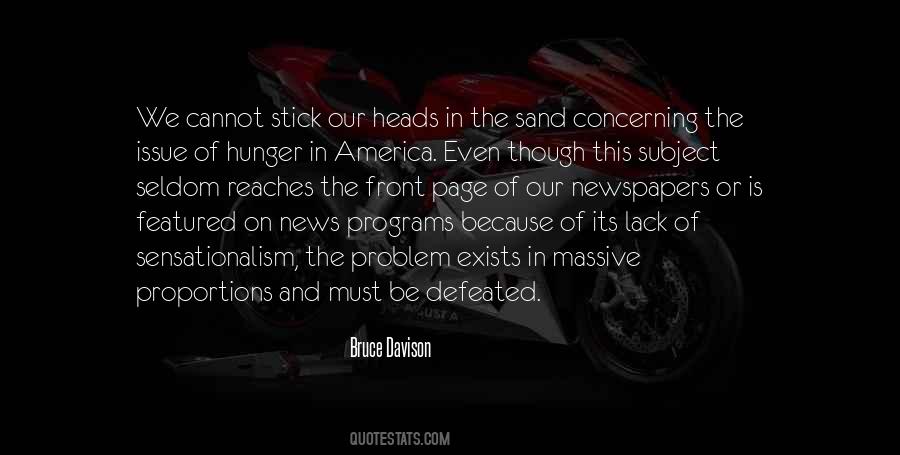 #71. I started on the opening page of my own book.
'I am a cheating, weak-spined, women-fearing coward, and i am the hero of your story. Because the woman I cheated on - my wife, Amy Elliott Dunne - is a sociopath and a murderer.'
Yes. I'd read that. - Author: Gillian Flynn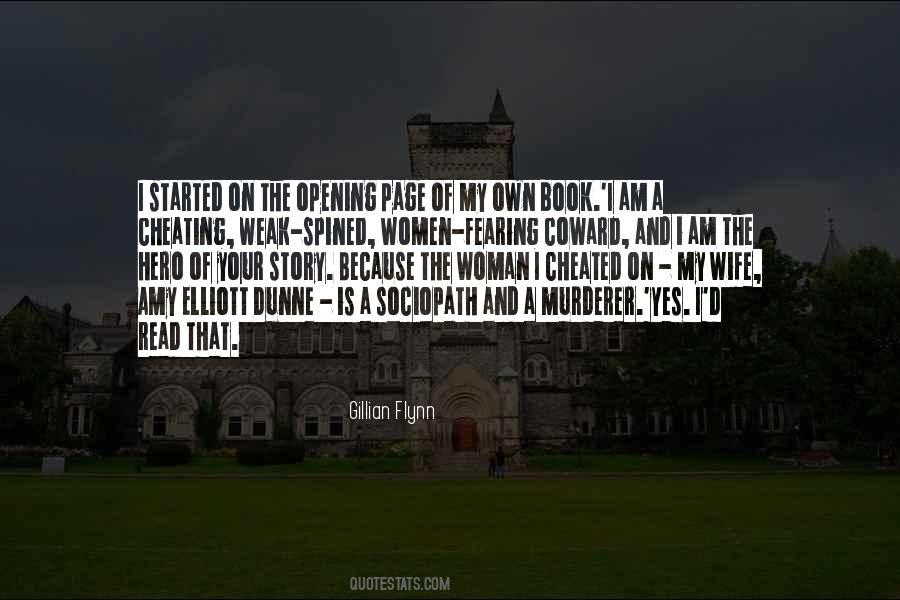 #72. Like waves, men and women exist only in motion, in change. Put them on the page, and you have already failed. And - Author: Brian Staveley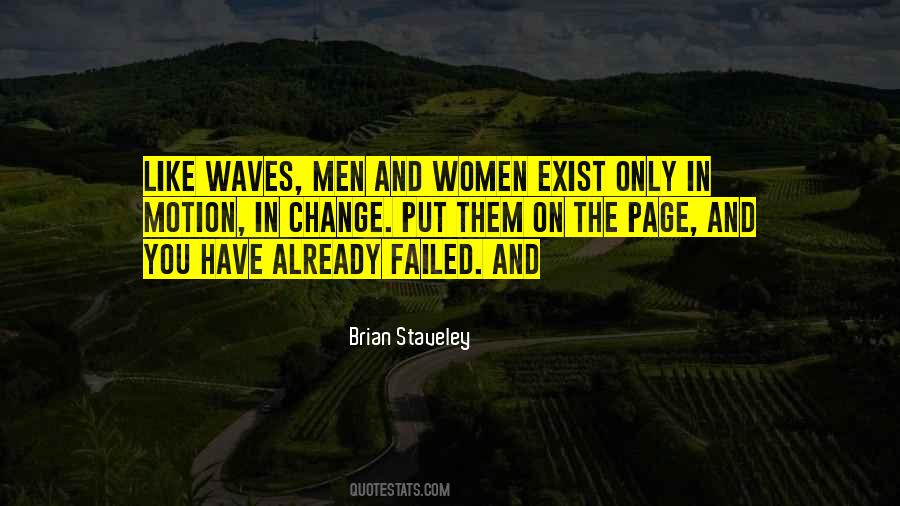 #73. If we could have somehow stayed away from the public and the press, it might have been different, but every private issue seemed to be played out on the front page. - Author: Marla Maples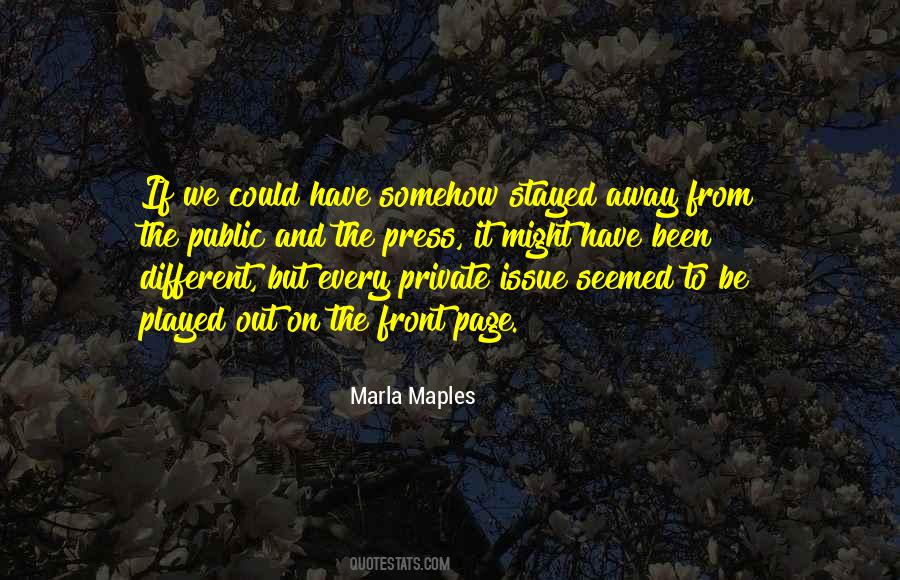 #74. I cannot think of a greater blessing than to die in one's own bed, without warning or discomfort, on the last page of a new book that we most wanted to read. - Author: John Russell, 1st Earl Russell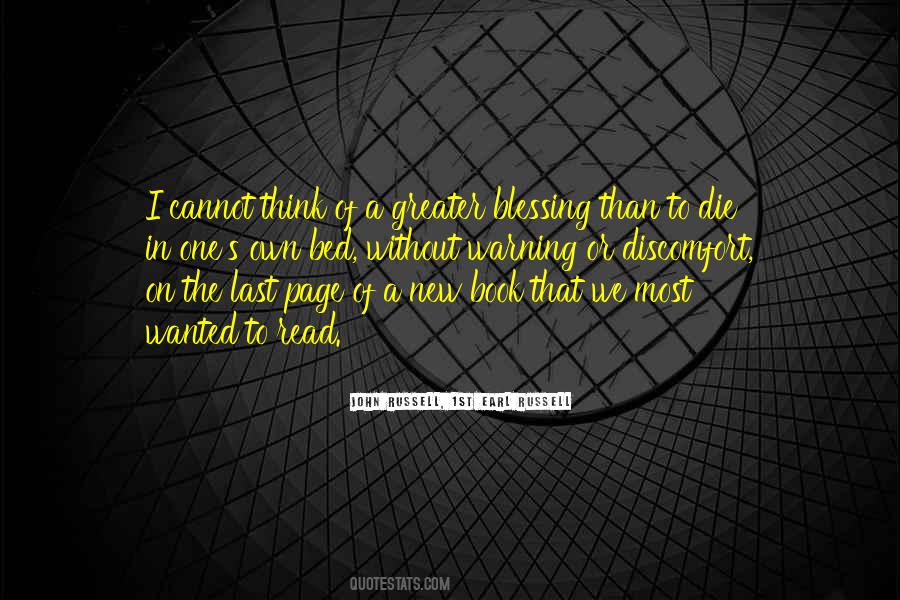 #75. I devote most of my day to writing, and try to turn out at least four pages a day. As for what triggers the creative process, it's a mystery to me! Characters often just walk on the page, and I wait to see what they do and say while I'm writing them. - Author: Tess Gerritsen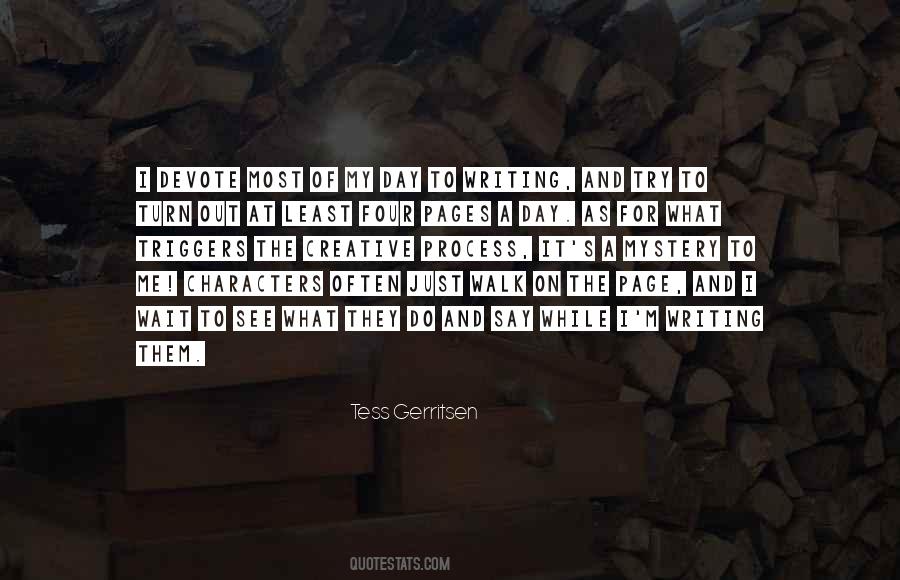 #76. While reading Emotionally Wounded Spiritually Strong washing clothes taday I got up to page 52-54 and I had to stop for a sech it brought tears to my eyes to think how the devil had a plan on my family from the beginning. How PPL thought we were the perfect family. Thank God for Jesus. - Author: Tarran Carter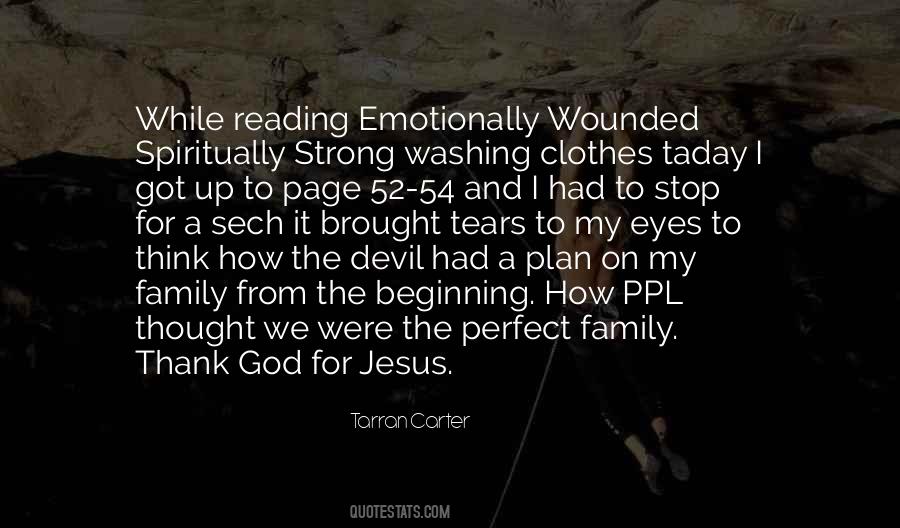 #77. The marks on our lives are like music notes on the page
they sing a song. - Author: Sarah McCoy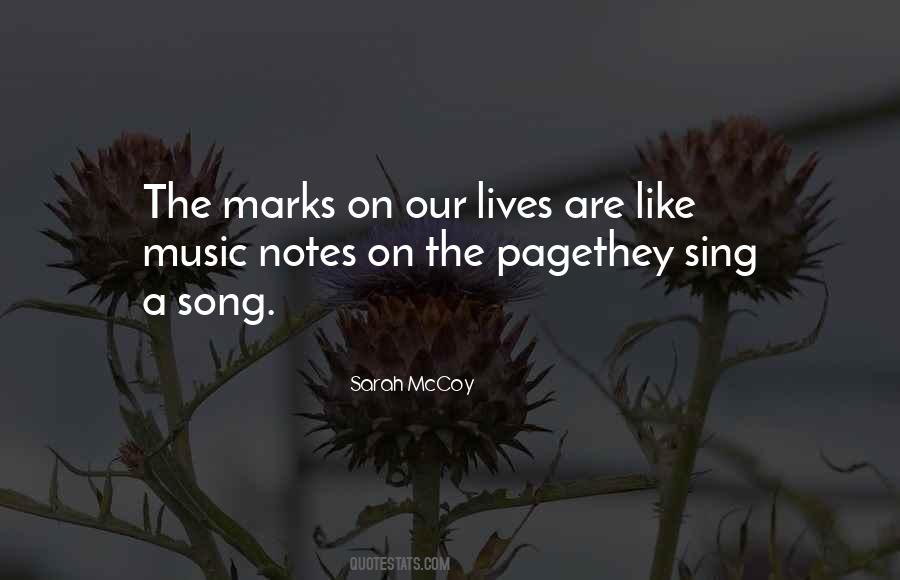 #78. Children can't help but create: they need to put their mind on the page, they want to paint, to sculpt, to write short stories. - Author: Jonah Lehrer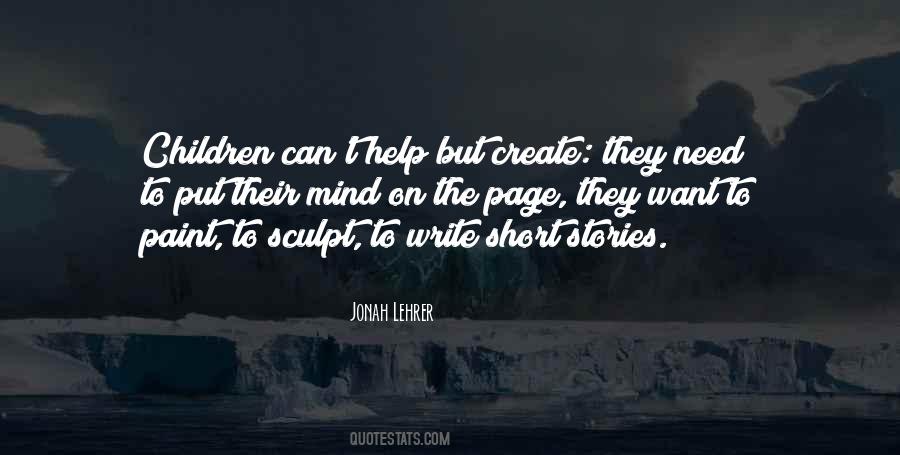 #79. What a difference from words on a page, or images on a video screen. Surrounding him was one of the oldest fortresses in England, where men had died defending the walls, and something was happening. - Author: Steve Berry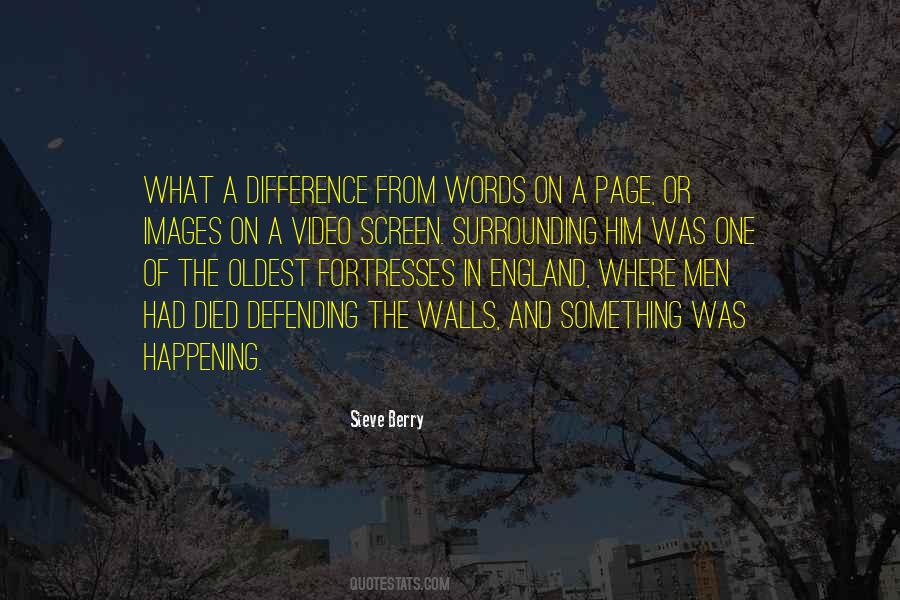 #80. I do like to work on a Marvel method, so if I've got the opportunity, and the writer is happy to do it, I like to have a writer detail what happens on a page, but not saying what happens in every scene. - Author: David Lloyd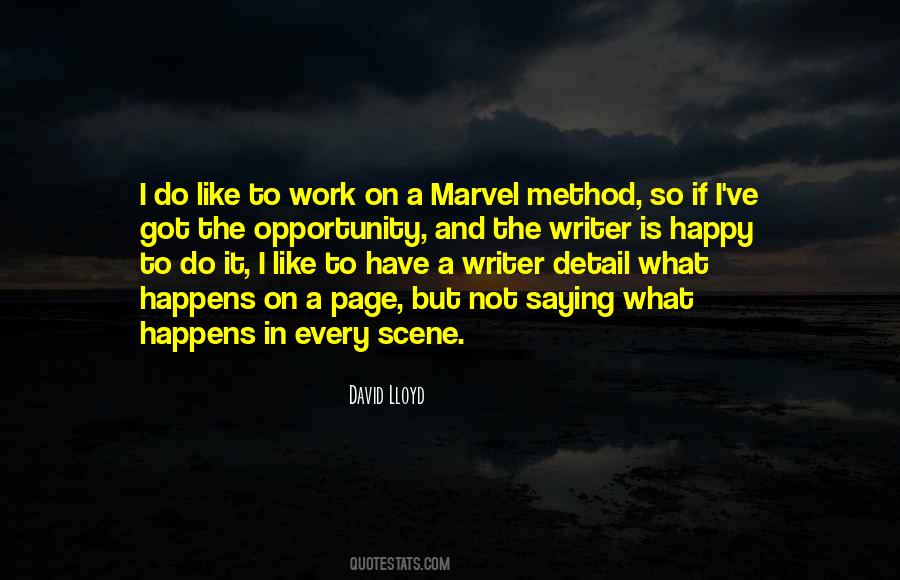 #81. You could see a man talking to himself as just plain crazy, or read about the criminal on the front page of the daily paper and ponder the corruption of the human heart, without having to think about whether the criminal or lunatic said something about your own fate. - Author: Barack Obama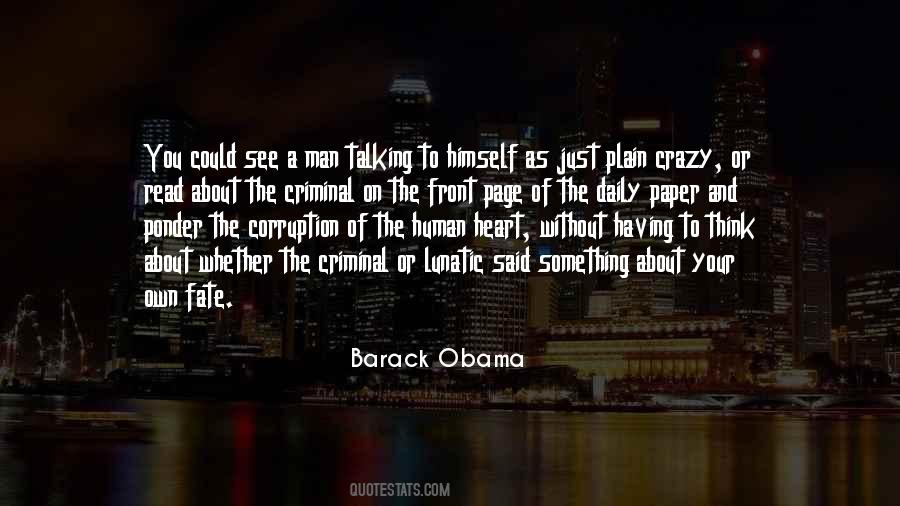 #82. Have regrets. They are fuel. On the page they flare into desire. - Author: Geoff Dyer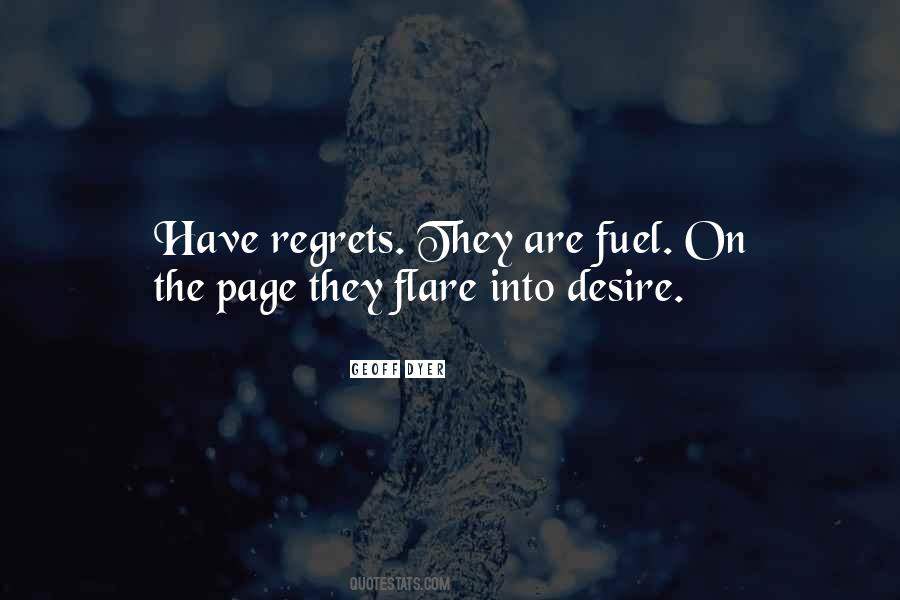 #83. Harry leaned forward. You put your penis on the page. - Author: Hanif Kureishi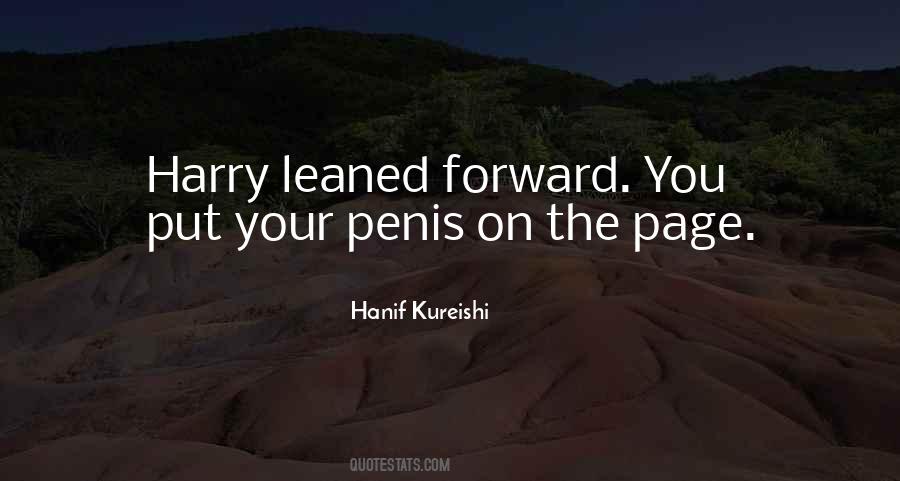 #84. The poet in prose or verse - the creator - can only stamp his images forcibly on the page in proportion as he has forcibly felt, ardently nursed, and long brooded over them. - Author: Edward Bulwer-Lytton, 1st Baron Lytton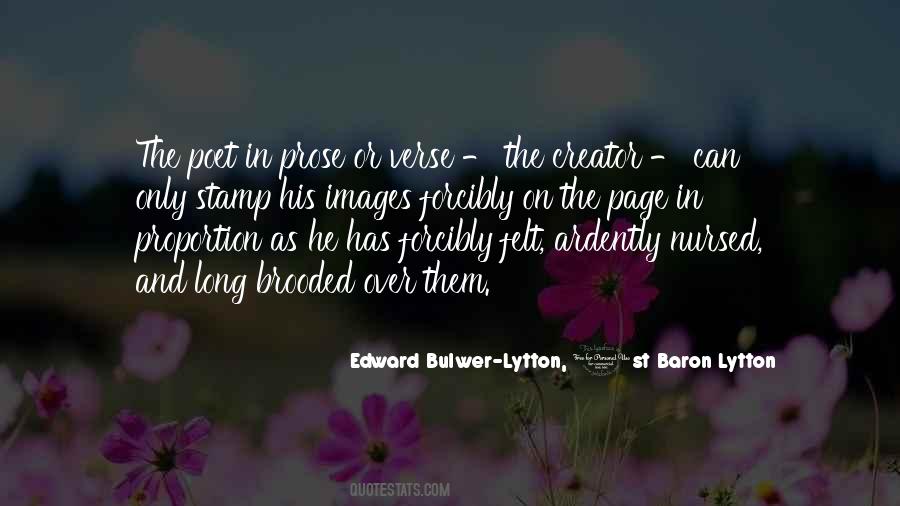 #85. I'm not much of a preparer. I think sometimes as an actor you need to go out and learn some skills, but in terms of preparation for understanding the character, it's all on the page, and if it's not on the page, you're in trouble. - Author: William H. Macy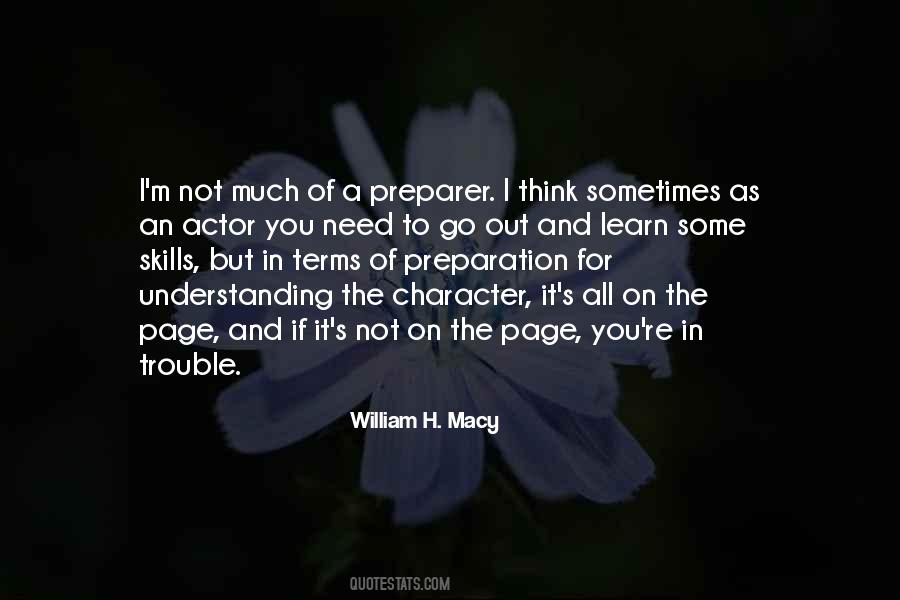 #86. People don't know what they want until you show it to them. That's why I never rely on marketing research. Our task is to read things that are not yet on the page. - Author: Steve Jobs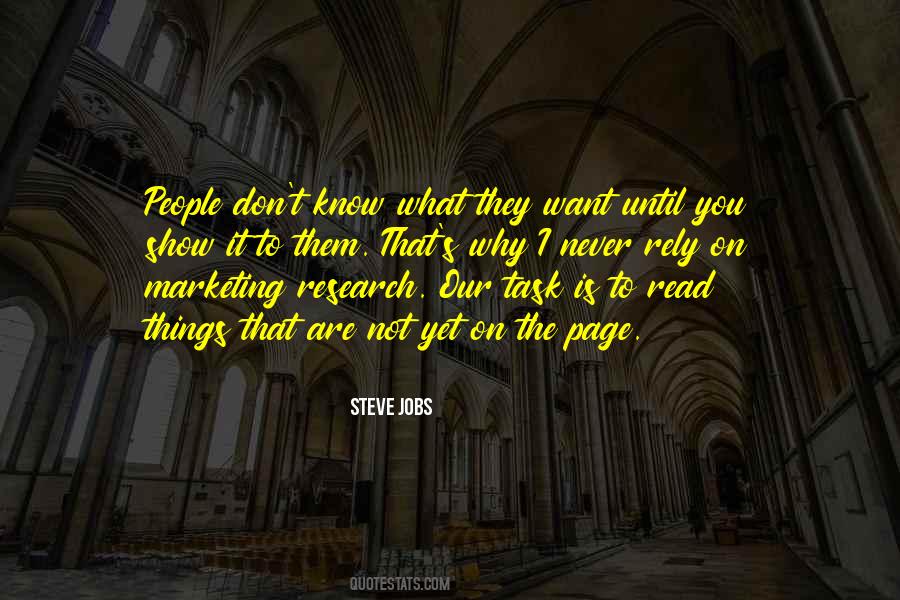 #87. A beautiful print is a thing in itself, not just a halfway house on the way to the page. - Author: Irving Penn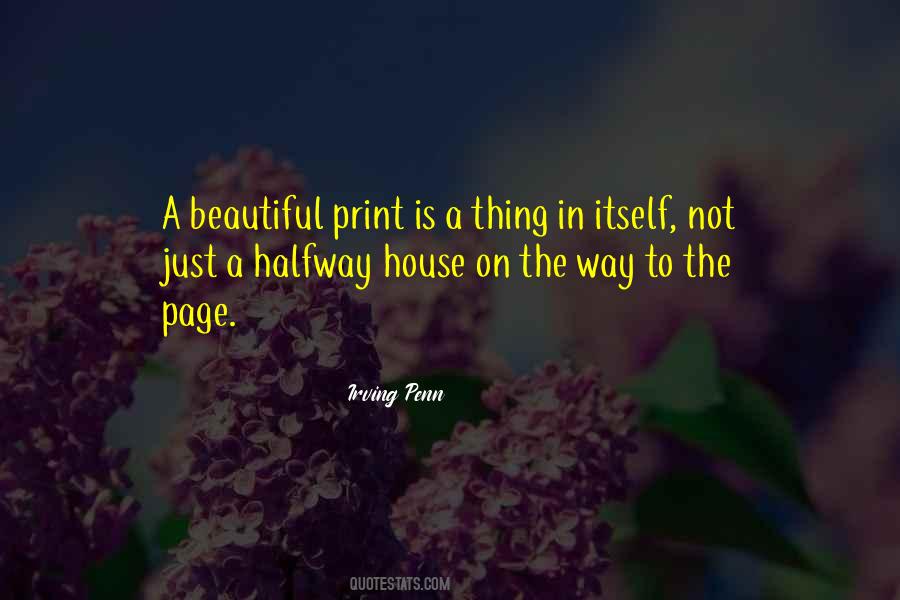 #88. If I have the power to post 'Happy Birthday' on someone's Facebook page and make them feel really good, it feels really good to make other people feel really good. I love it. I'm a huge Facebook and Twitter person. And I love talking to my fans. It's fun. - Author: Rebecca Mader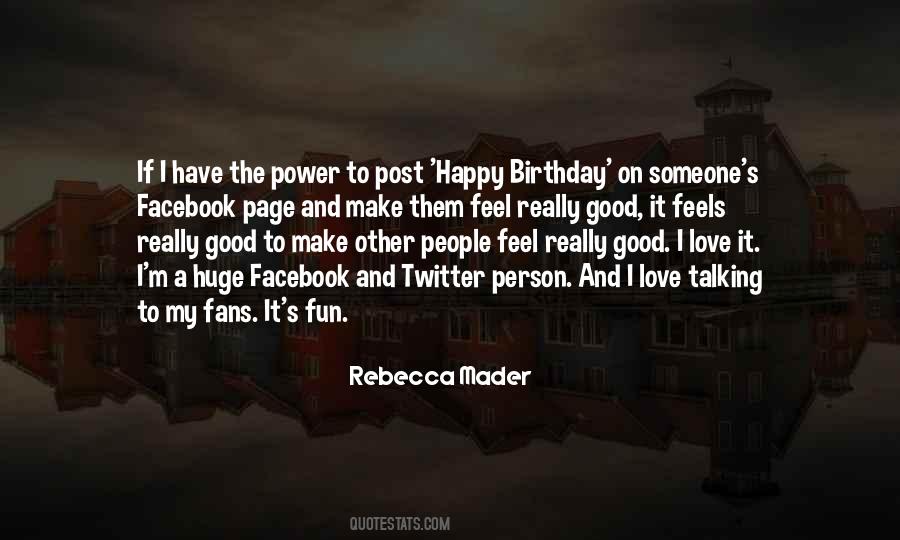 #89. Especially once those poetry events began, because, yeah, the stuff was still on the page, but the page was starting to spill into real space, spill into air, once you could hear it, once there was a typewriter, once there was a body of a typist, it was getting rid of the confines of the page. - Author: Vito Acconci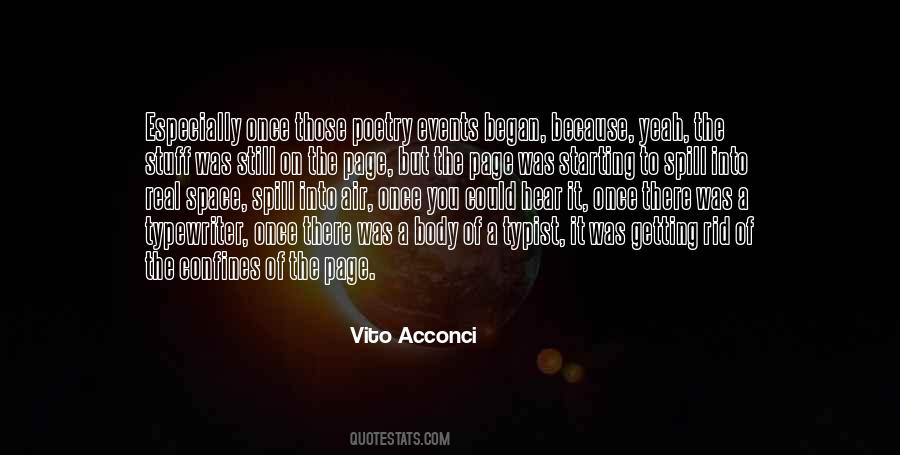 #90. Jerusalem, 61 AD Mariamne dipped her reed pen into the shallow wooden bowl of charcoal and olive oil ink and began writing her last entry on the parchment page in front of her. - Author: Jerry Harber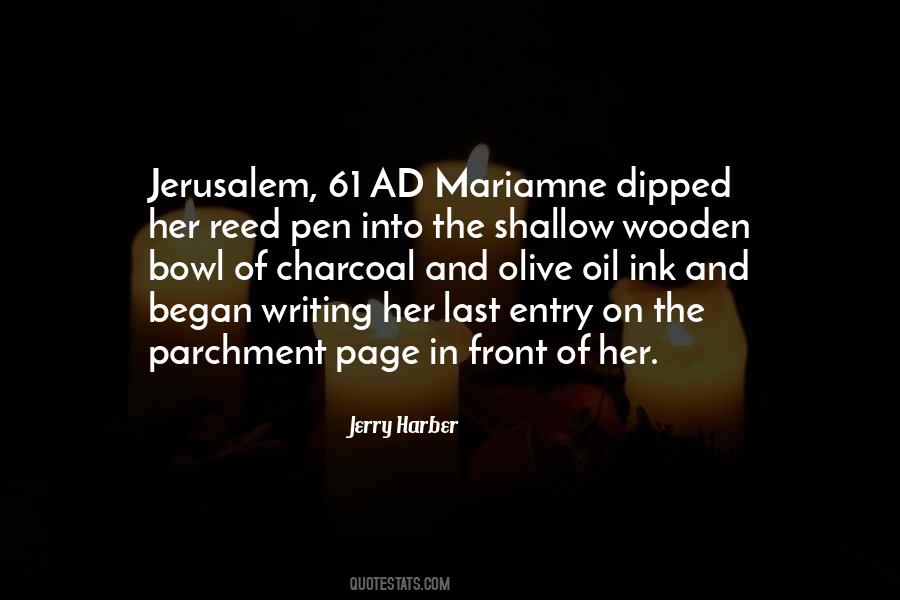 #91. You have not been placed on this earth to be the sole source of comfort for the black man's fragile ego. Page 221 - Author: Deborrah Cooper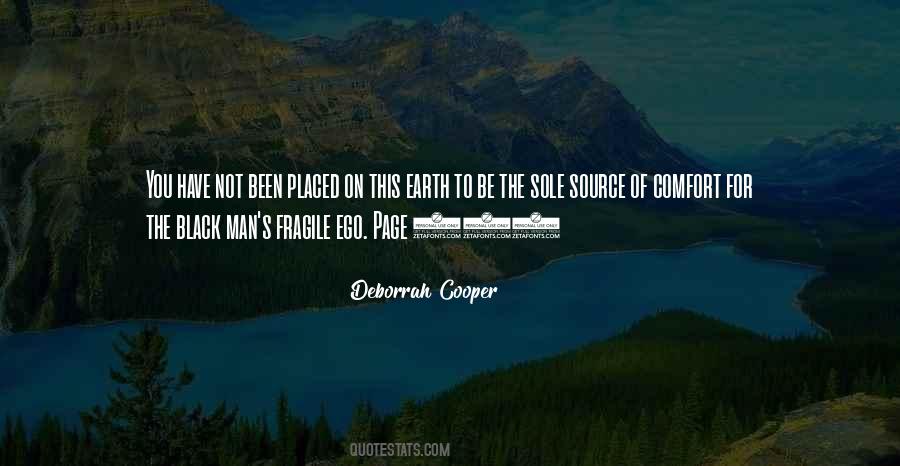 #92. I have a horror of the blank page. I simply cannot write on a blank page or screen. Because once I do, I start to fix it, and I never get past the first sentence. - Author: Charles Krauthammer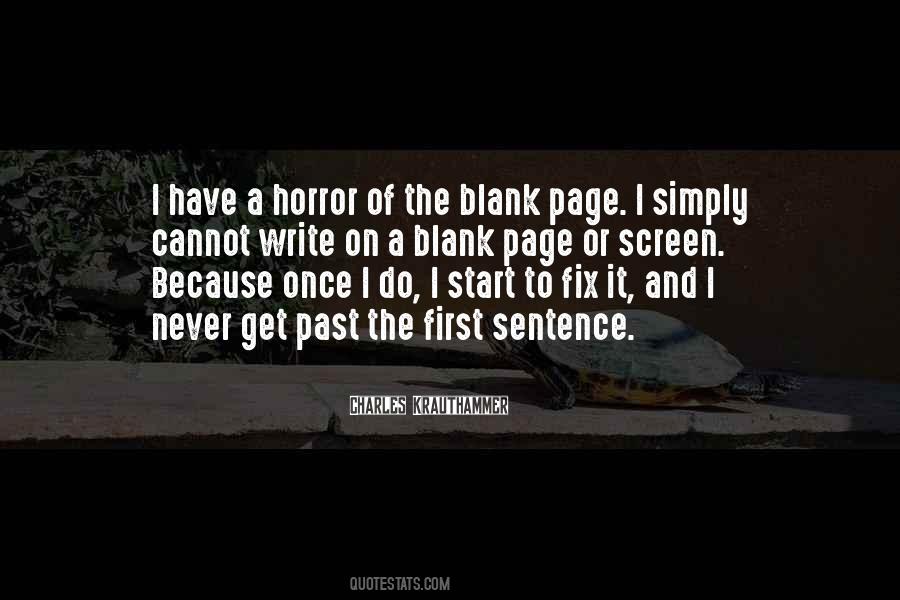 #93. My smile did not seem to be working. I used to have a good one. Now I get the feeling people regard it as something I just drop over my face, like a page on a flip chart. - Author: Walter Walker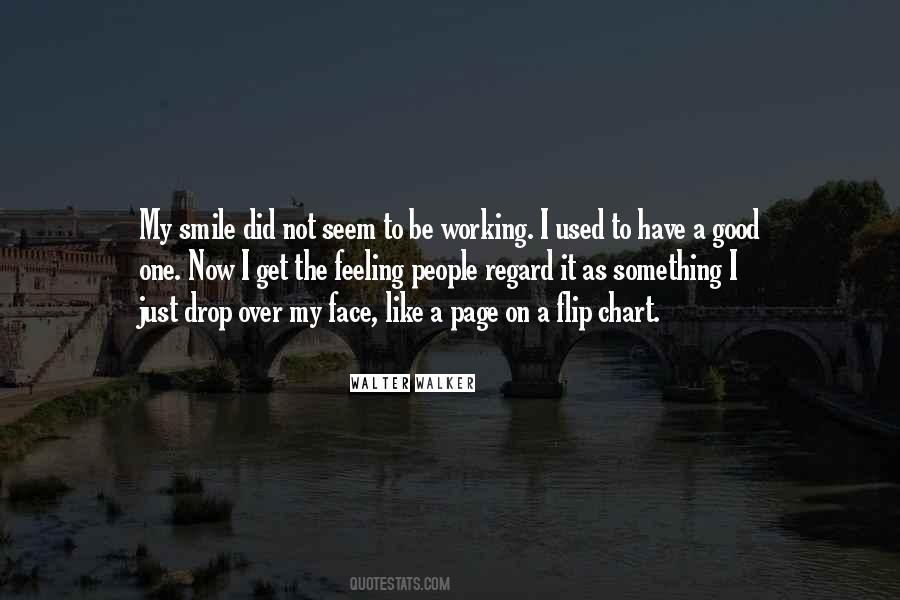 #94. Don't do or say things you would not like to see on the front page of The Washington Post. - Author: Donald Rumsfeld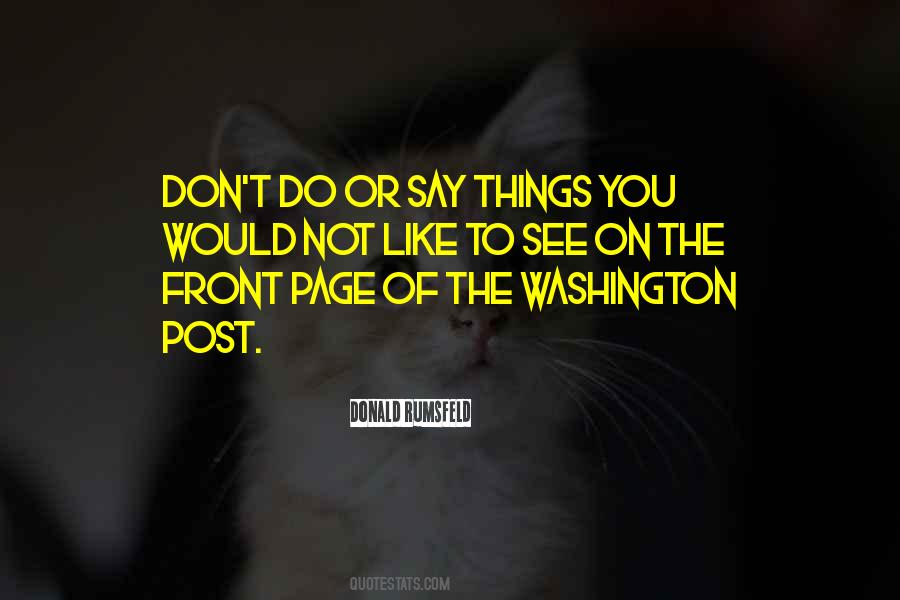 #95. Raising taxes is not a frivolous venture that you do on the editorial page of 'The New Republic,' for god sakes. It's something that you really have to think about and go through carefully. - Author: Arthur Laffer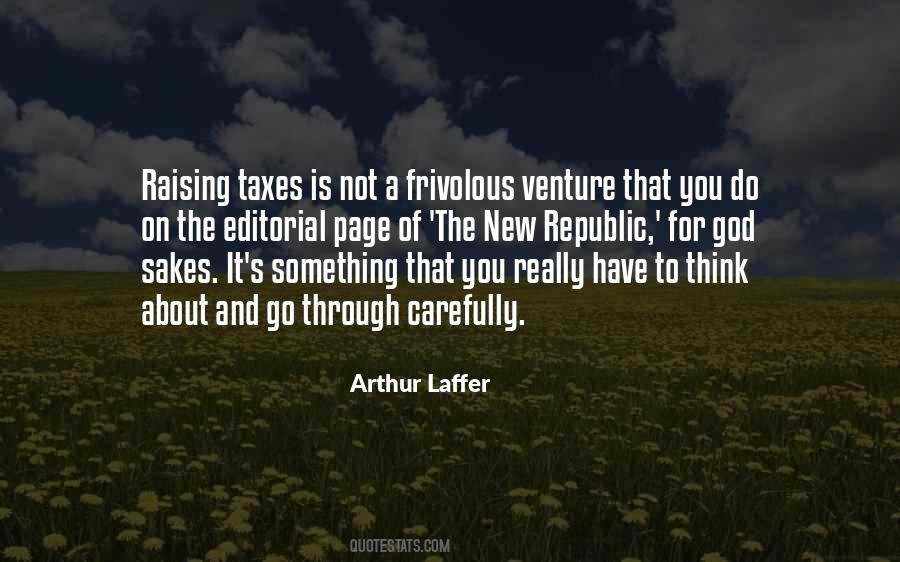 #96. God is the Master Author of your life. He has written every page of your life story in His eternal book. It's up to you to turn up the pages and move on with the next chapter or just get yourself stuck in the same content over and over again.- Elizabeth's Quotes - Author: Elizabeth E. Castillo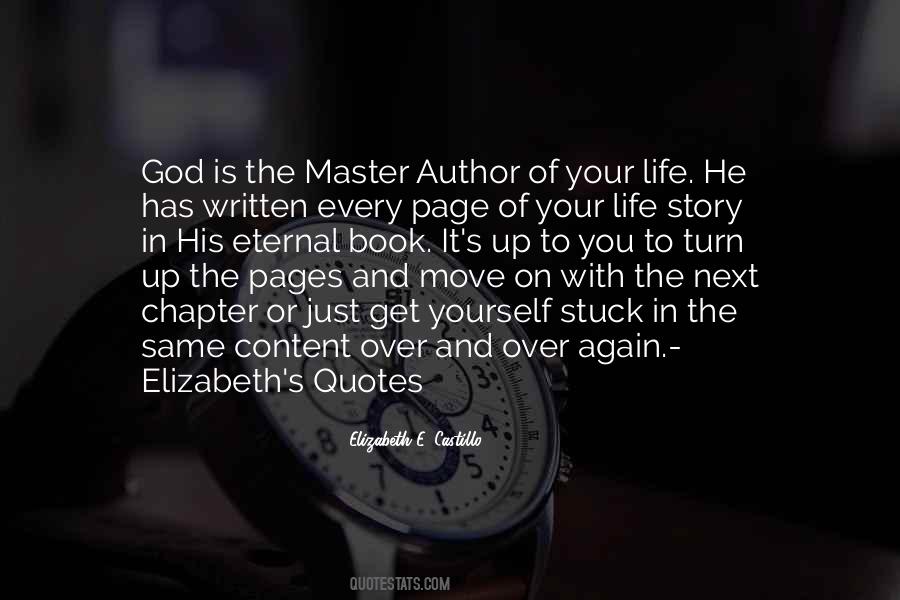 #97. My background is in tech. I studied computer science, and was working on TechTV, so the first thing I wanted to do was see my favorite motherboard stories hit the front page; you know, like, really geeky stuff. - Author: Kevin Rose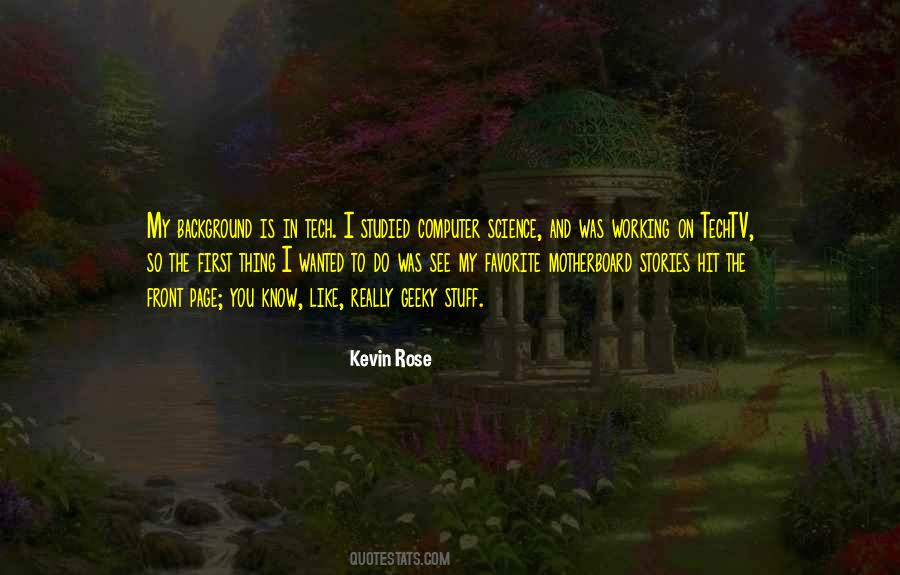 #98. Anything John Stott says is worth listening to. Anything he writes is worth reading. Basic Christianity is not only a classic must-read for every believer; it is truly a blessing preserved on the written page for the enrichment of this generation and those to come. - Author: Anne Graham Lotz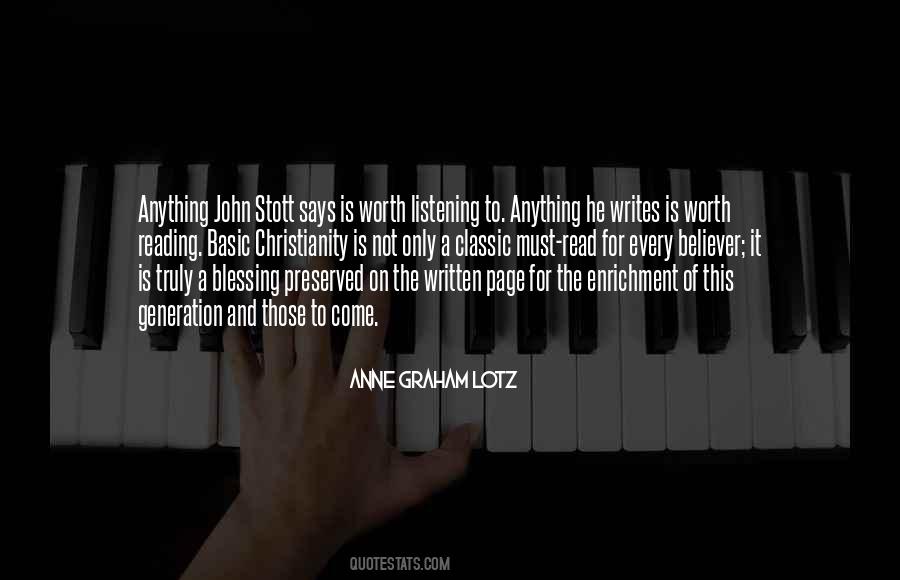 #99. It's always the end for now, and in real life, the only full stop is on the obituary page. - Author: Stephen King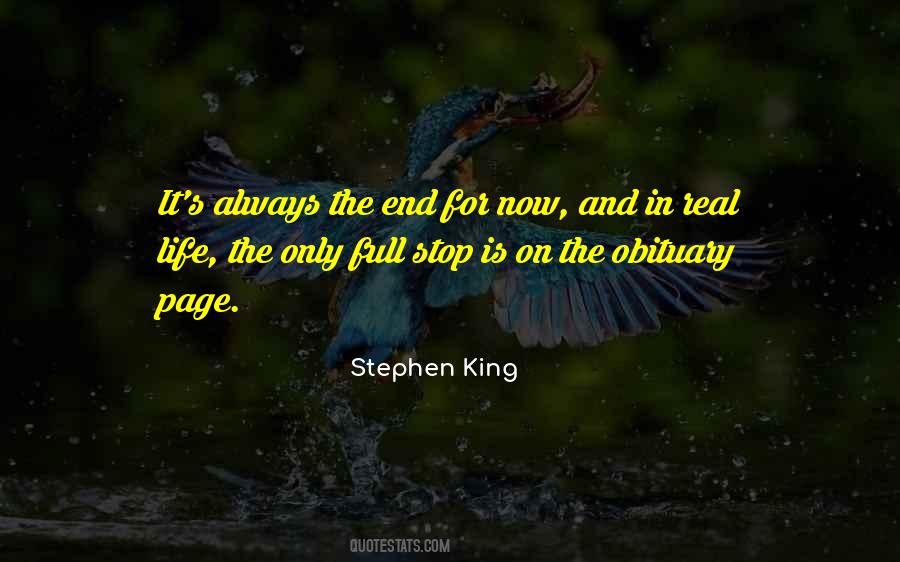 #100. Conclude not from all this that I have renounced the Christian religion ... Far from it. I see in every page something to recommend Christianity in its purity, and something to discredit its corruptions ... The ten commandments and the sermon on the mount contain my religion. - Author: John Adams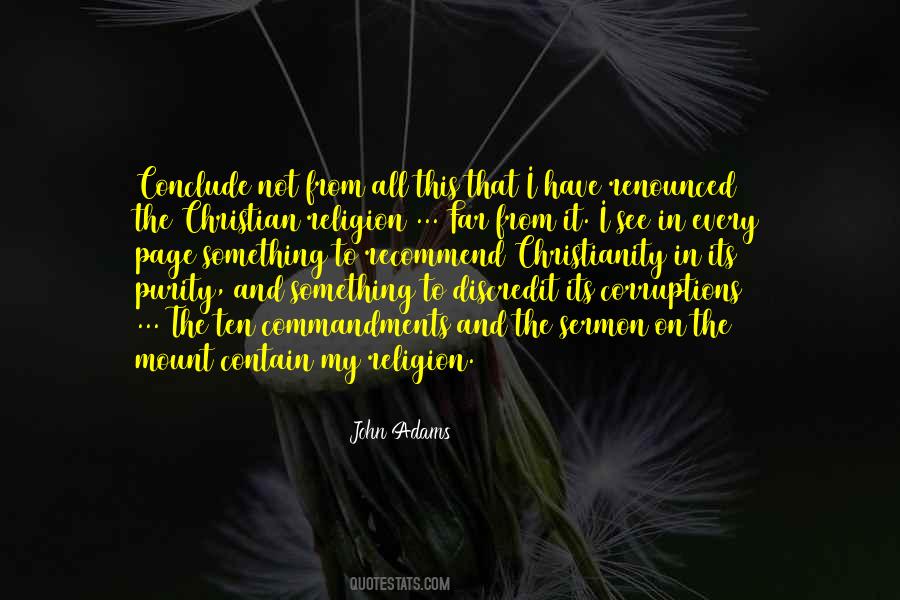 Famous Authors
Popular Topics