Not Knowing Everything Famous Quotes & Sayings
List of top 79 famous quotes and sayings about not knowing everything to read and share with friends on your Facebook, Twitter, blogs.
Top 79 Not Knowing Everything Quotes
#1. Knowing when you should weigh up your options, remain calm and not take everything at face value has certain benefits
Ending the day with with a peaceful soul is one... - Author: Virginia Alison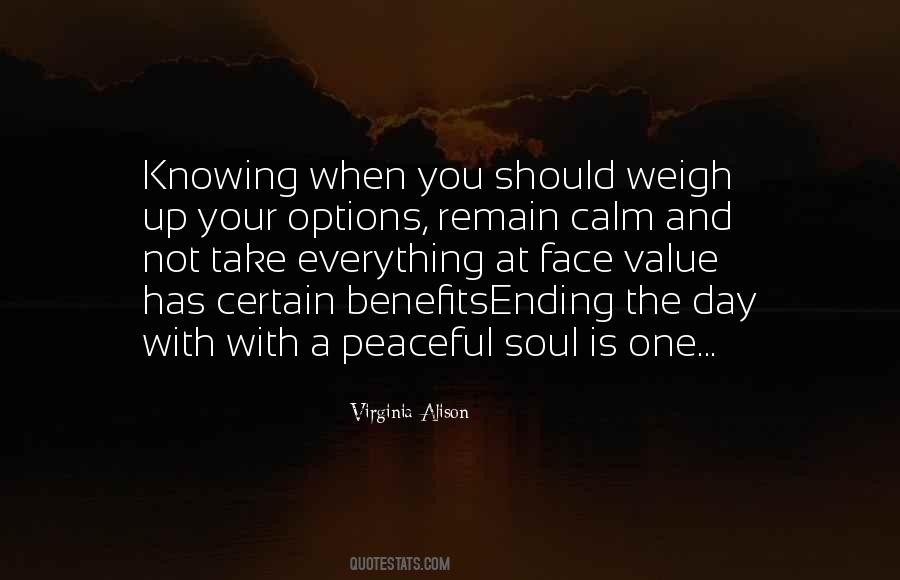 #2. The one theme of the Vedanta philosophy is the search after unity. The Hindu mind does not care for the particular; it is always after the general, nay, the universal. "what is it that by knowing which everything else is to be known." That is the one search. - Author: Swami Vivekananda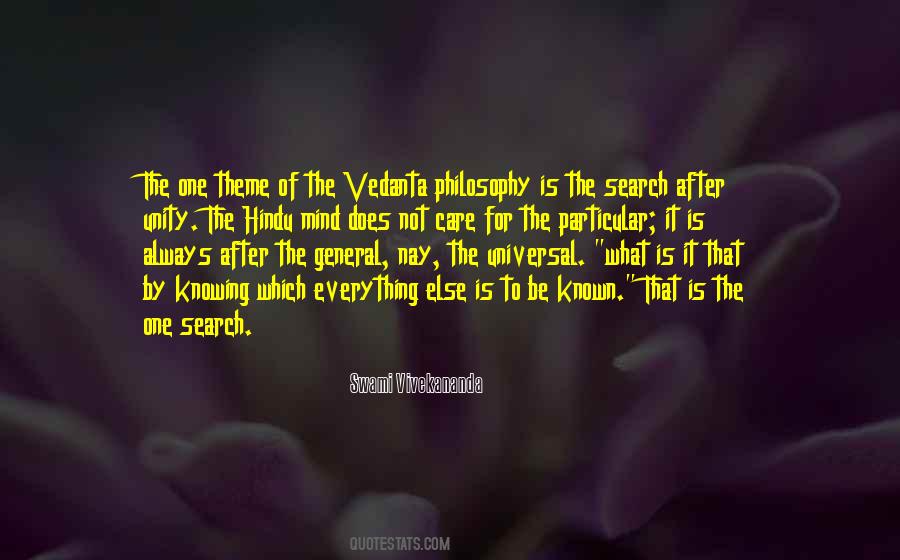 #3. Some mornings when I wake up, it takes a long time to remember who I am. Like, it takes a while for everything that's happened in last month to download into my brain. It's nice, not knowing. Even if it's just for five minutes. - Author: Scott Westerfeld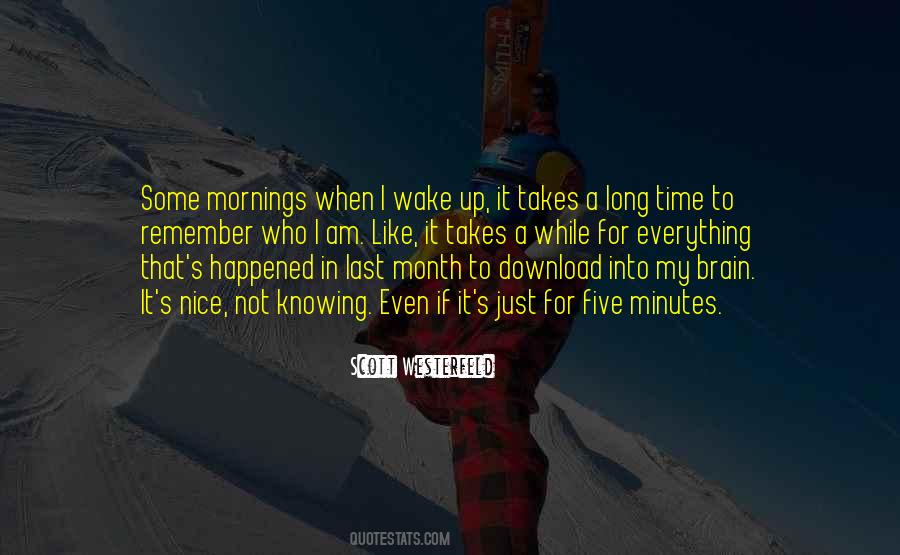 #4. Rich is not having more money. Rich is knowing the secret to getting everything you want in life. - Author: Thomas L. Pauley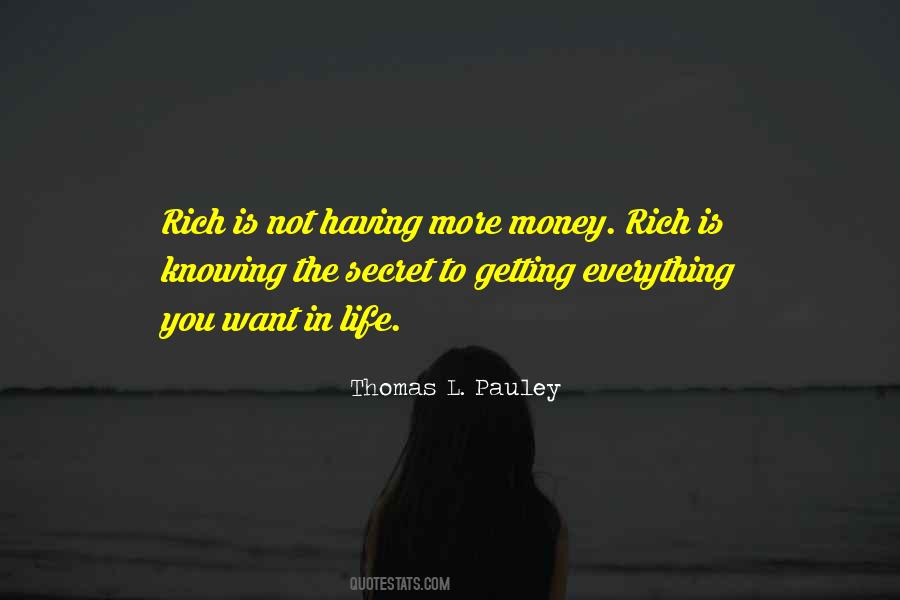 #5. Not knowing everything is all that makes it OK, sometimes ... - Author: Neil Gaiman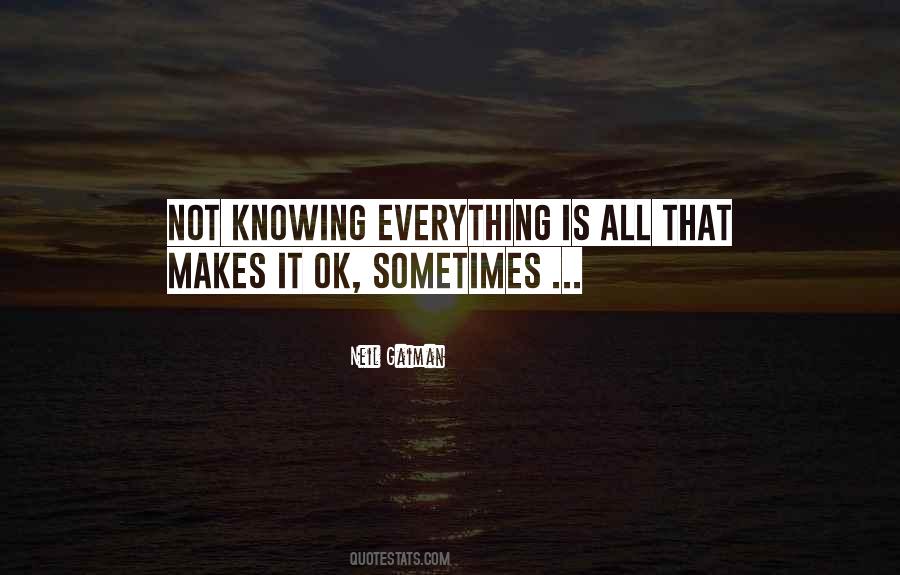 #6. It struck Harold afresh how life could change in an instant. You could be doing something so everyday - walking your partner's dog, putting on your shoes - and not knowing that everything you wanted you were about to lose. - Author: Rachel Joyce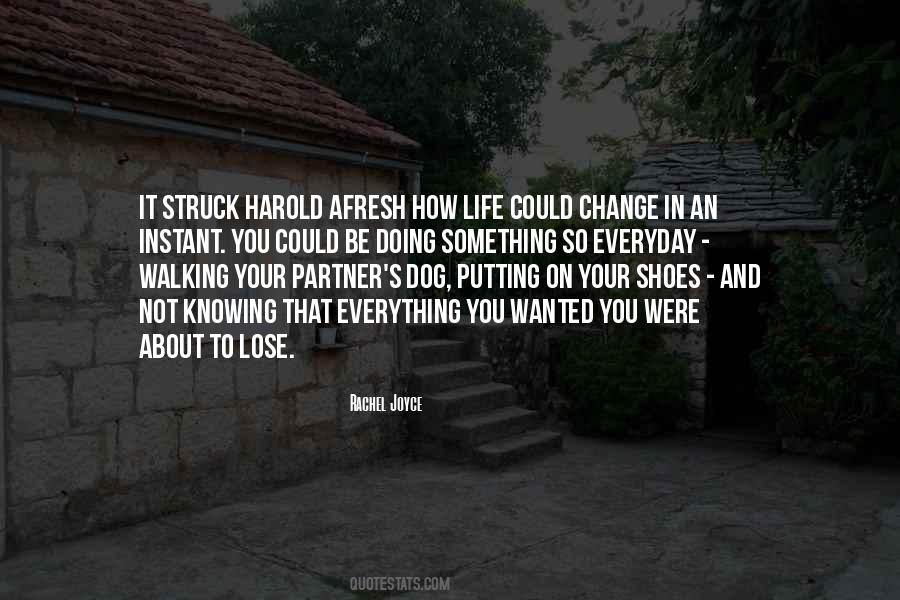 #7. And I said to him when you learn to read then you learn everything you didnt know before. But when you write you write only what you know allready so patientia Im better off not knowing how to write because the ass is the ass - Author: Umberto Eco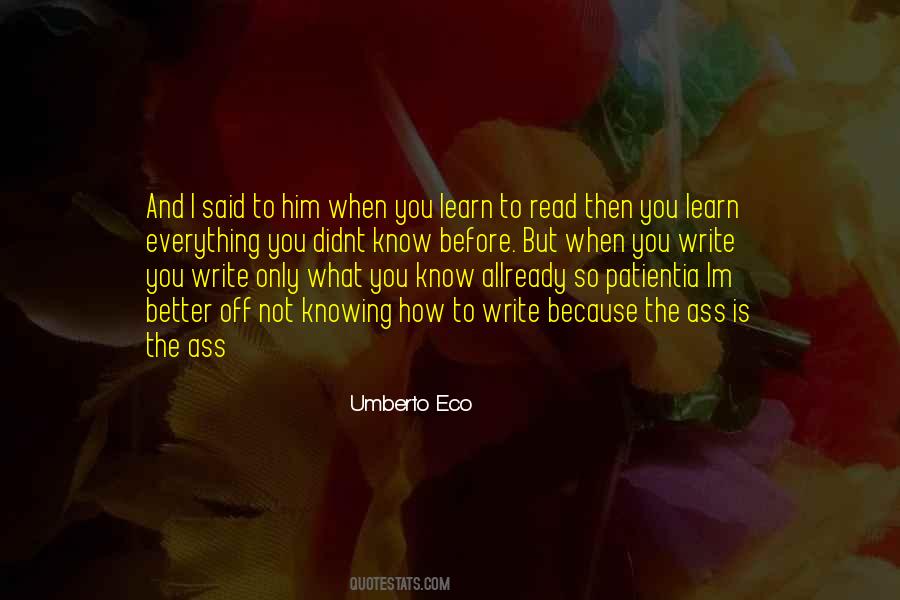 #8. ...the Word was with God, and the Word was God. That's where God is from, and knowing that changes everything. And, where am I from? I am from God. ...not easy to believe. - Author: Ken Untener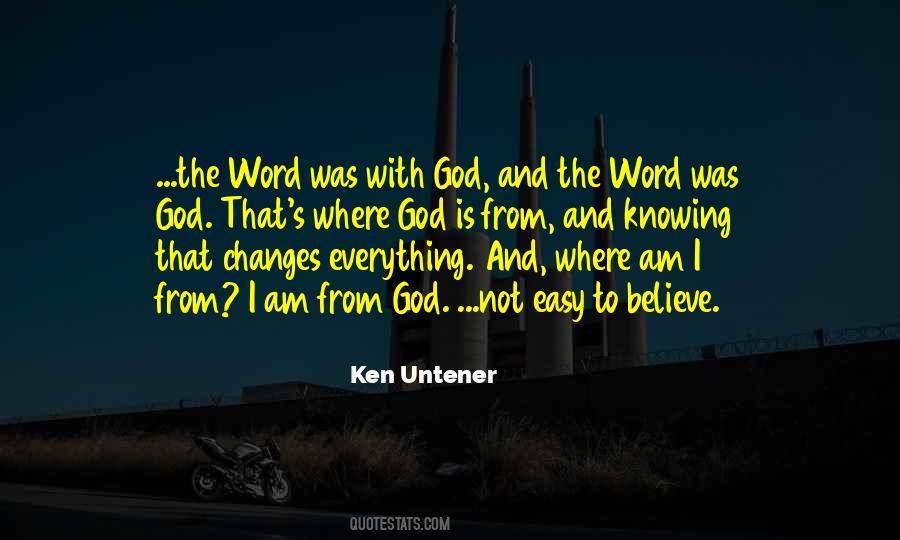 #9. When it is made to appear as though not knowing everything about everyone is an existential crisis, then you feel that bending the rules is okay. Once people hate you for bending those rules, breaking them becomes a matter of survival. - Author: Edward Snowden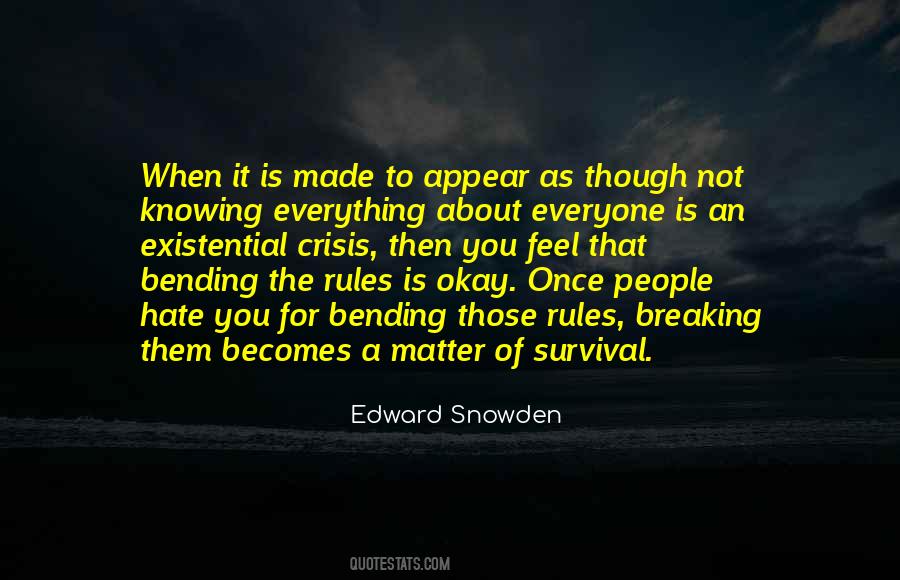 #10. Maturity, one discovers, has everything to do with the acceptance of 'not knowing. - Author: Mark Z. Danielewski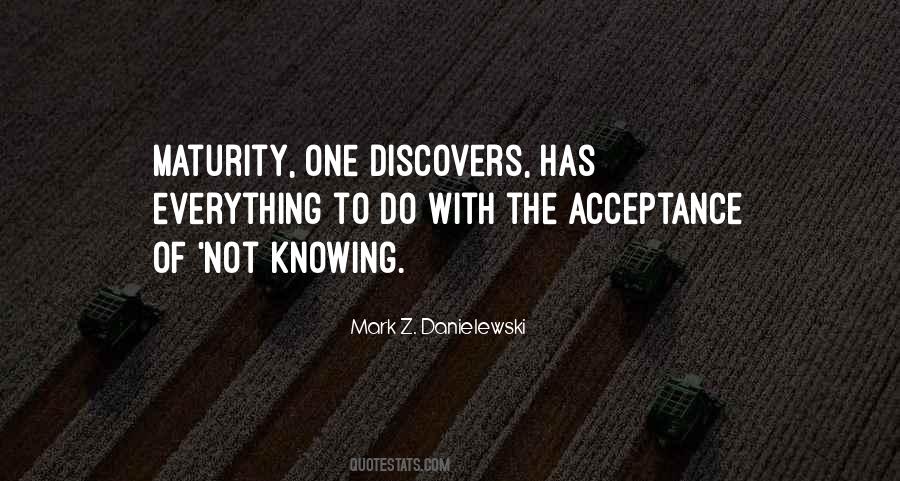 #11. I love the characters not knowing everything and the reader knowing more than them. There's more mischief in that and more room for seriousness, too. - Author: Anne Enright
#12. For me, happiness is knowing that I am strong, capable, confident, secure, loving and compassionate; it is knowing that within me is everything I need to handle whatever life sends my way, and that not only will I be okay, I will thrive. - Author: Barb Schmidt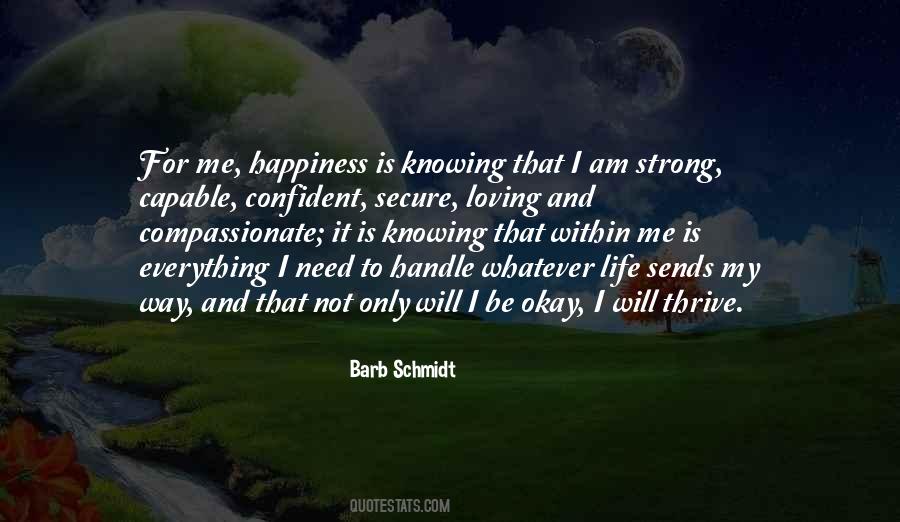 #13. Integrity is everything to me. I will not die ashamed. I will live on my deathbed knowing that I gave it my best shot, and everything else is meaningless to me. - Author: Lemmy Kilmister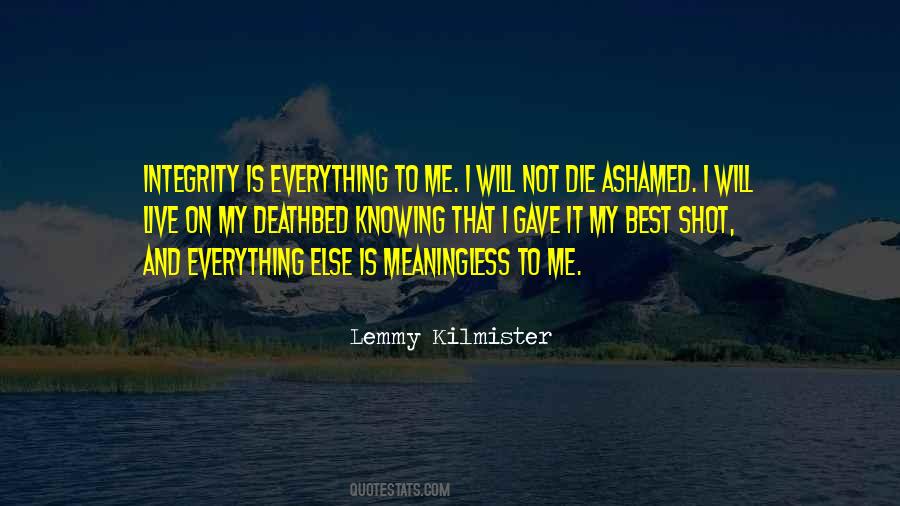 #14. Perhaps intimacy is not just loving everything about him, but knowing everything about him - and staying anyway. - Author: Kate Kerrigan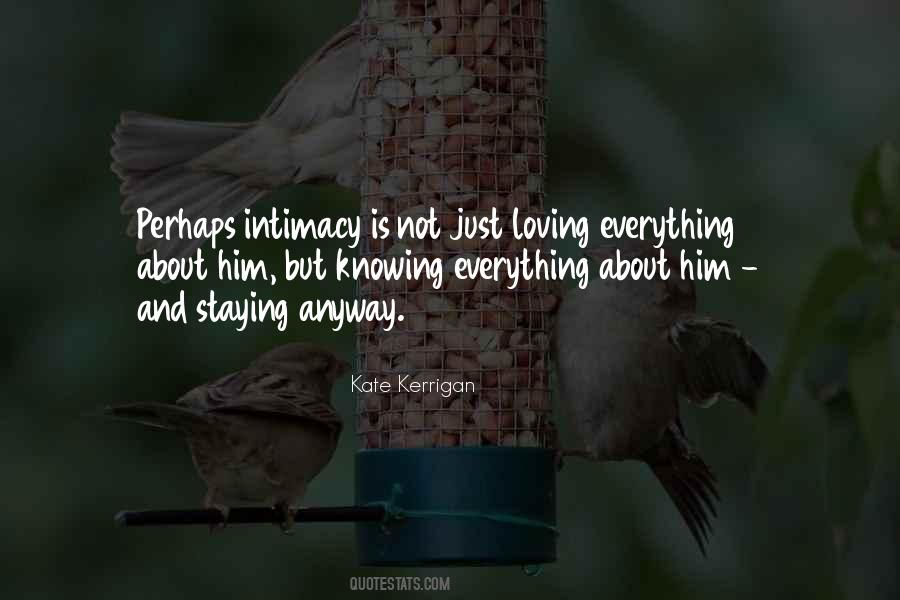 #15. There is something obscure which is complete before heaven and earth arose; tranquil, quiet, standing alone without change, moving without peril. It could be the mother of everything. Not knowing its name, I call it Tao. - Author: Laozi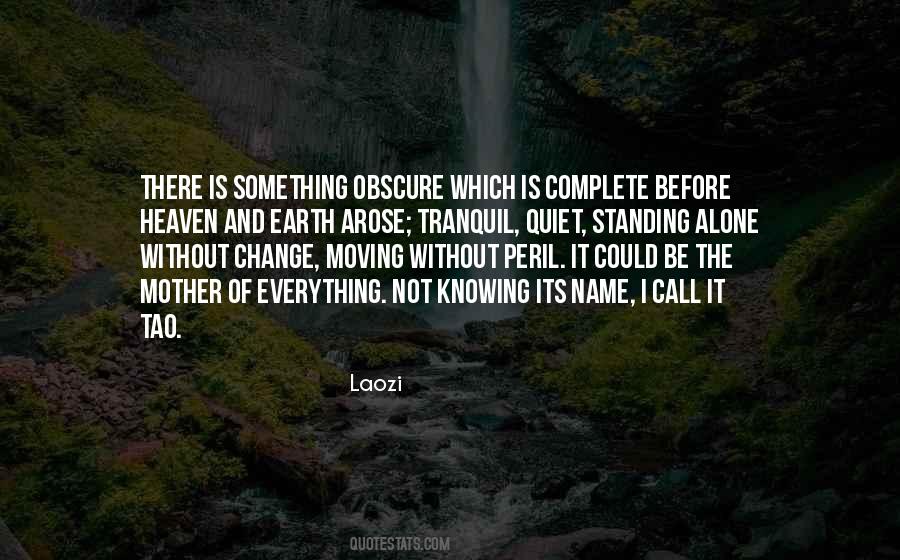 #16. I try to do everything as soon as possible, and not at the last moment. This ensures that, when I am overburdened with work, I will not face the added pressure of knowing that something is still to be done. - Author: Viktor E. Frankl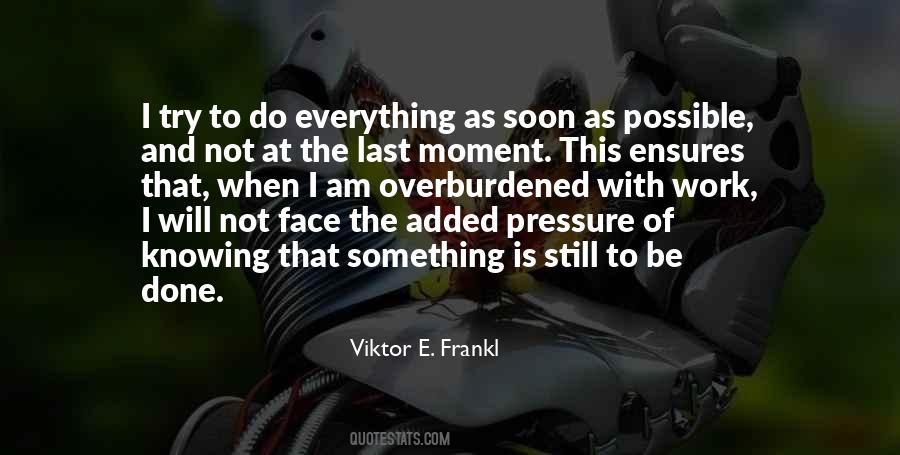 #17. I like not knowing everything. It makes things more interesting. - Author: Katherine Applegate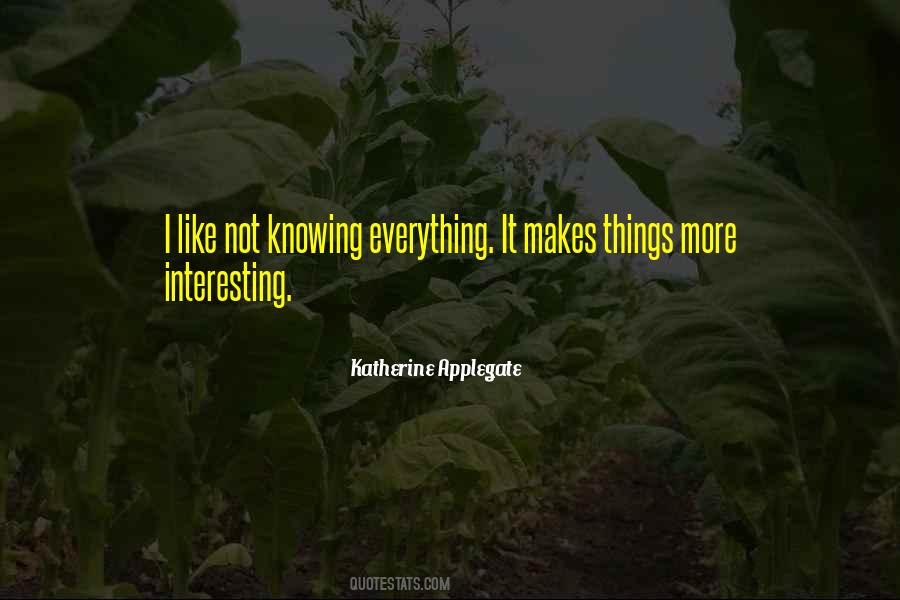 #18. Practice not wanting, desiring, judging, doing, fighting, knowing. Practice just being. Everything will fall into place. - Author: James Frey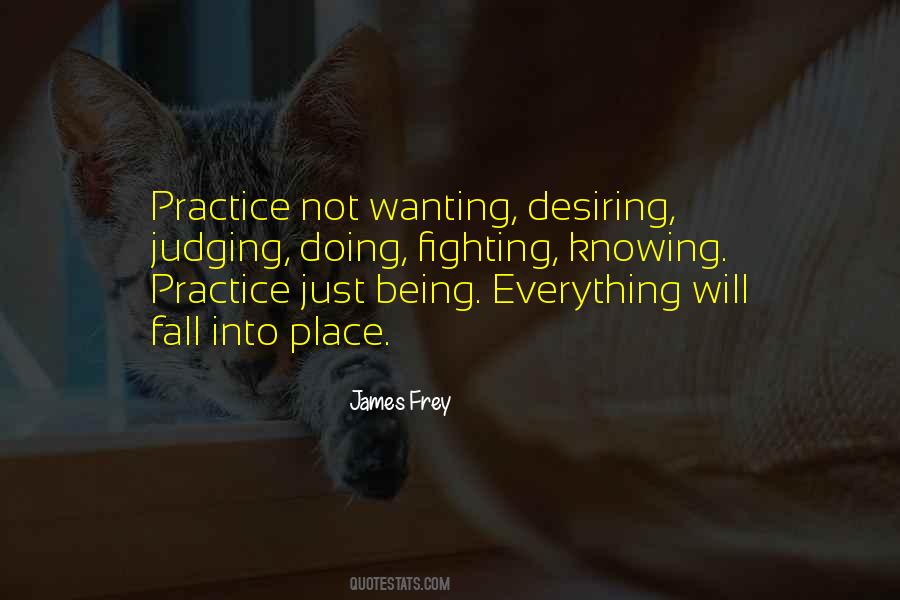 #19. I do not know much. But there are certain advantages in not knowing. Like virgin territory, the mind is free of preconceptions. Everything I do not know forms the greater part of me: This is my largesse. And with this I understand everything. The things I do not know constitute my truth. - Author: Clarice Lispector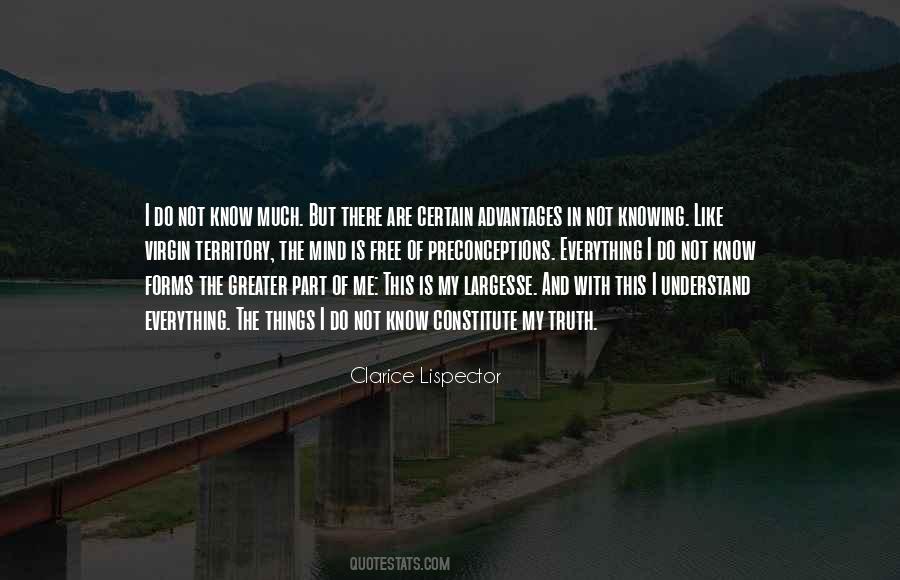 #20. It was never about you not being what I wanted. It was me not knowing that what I had was everything I needed. - Author: Corinne Michaels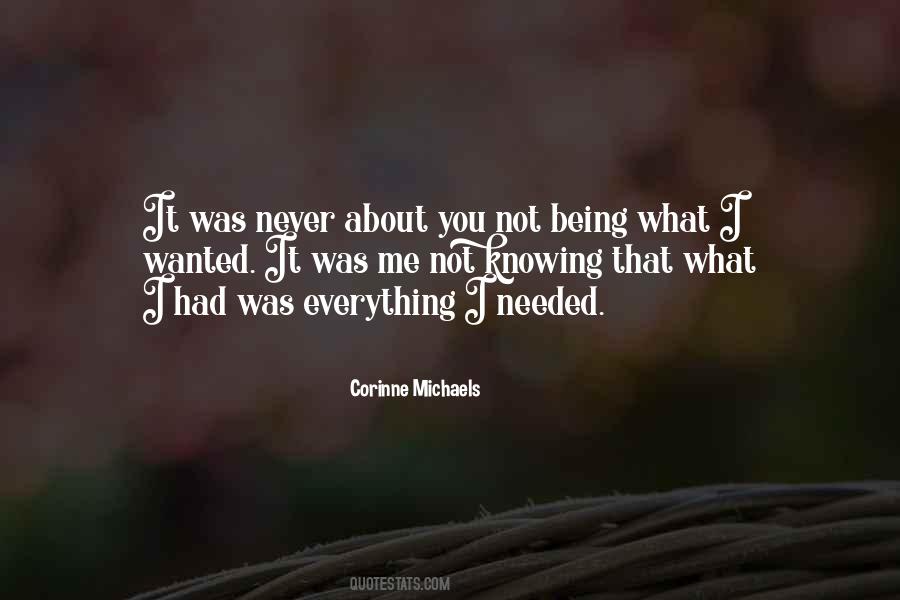 #21. There is no happiness without knowledge. But knowledge of happiness is unhappy; for knowing ourselves happy is knowing ourselves passing through happiness, and having to, immediatly at once, leave it behind. To know is to kill, in happiness as in everything. Not to know, though, is not to exist. - Author: Fernando Pessoa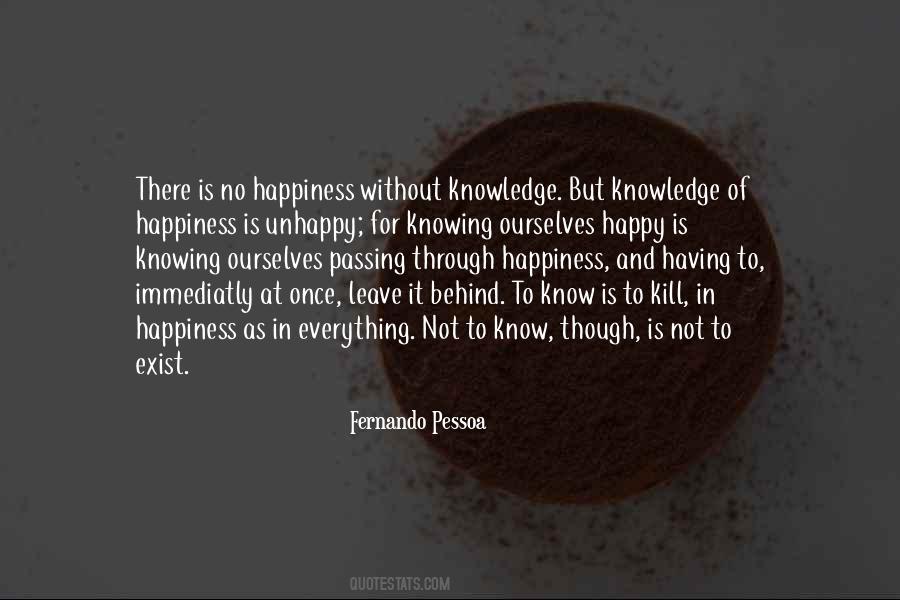 #22. But it is one thing to remember, another to know. Remembering is merely safeguarding something entrusted to the memory; knowing, however, means making everything your own; it means not depending upon the copy and not all the time glancing back at the master. - Author: Seneca.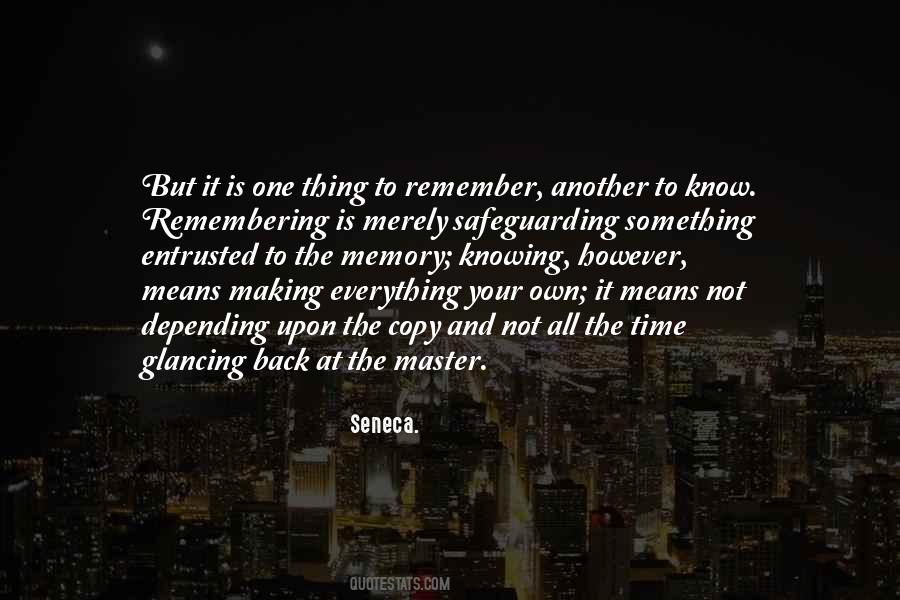 #23. I'm really trying hard not to do anything that has been done before. So knowing everything I can about the legacy of magic challenges my team and I to invent new illusions. - Author: David Copperfield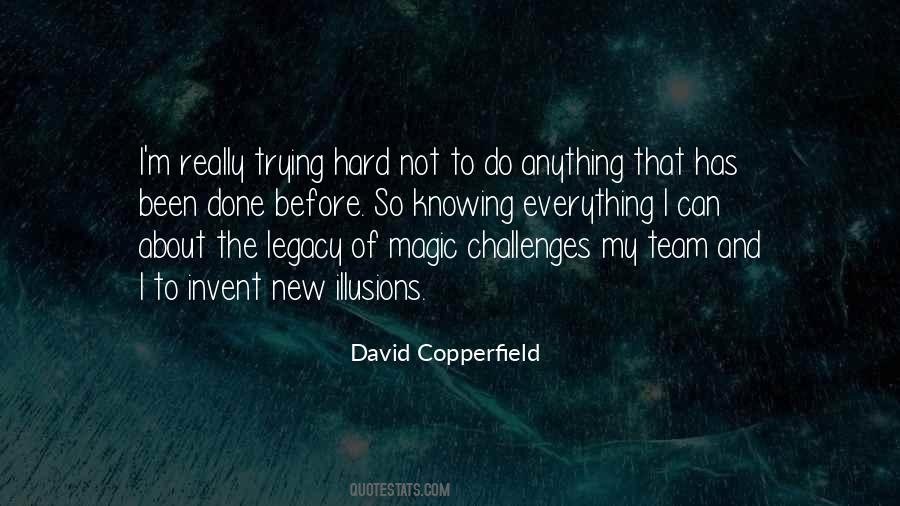 #24. Perfect life is a contradiction in terms. Therefore we must always expect to find things not up to our highest ideal. Knowing this, we are bound to make the best of everything. - Author: Swami Vivekananda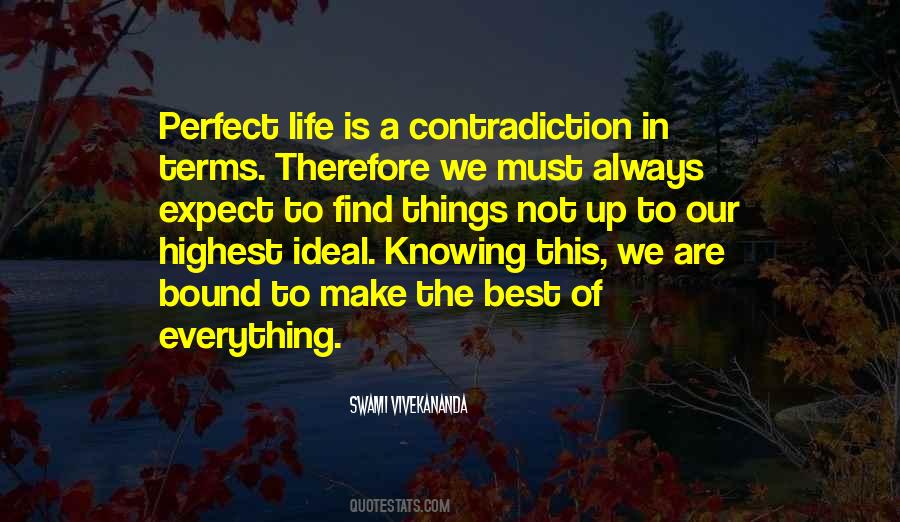 #25. You can study God through everything and everyone in the universe, because God is not confined in a mosque, synagogue or church. But if you are still in need of knowing where exactly His abode is, there is only one place to look for Him: in the heart of a true lover. - Author: Elif Shafak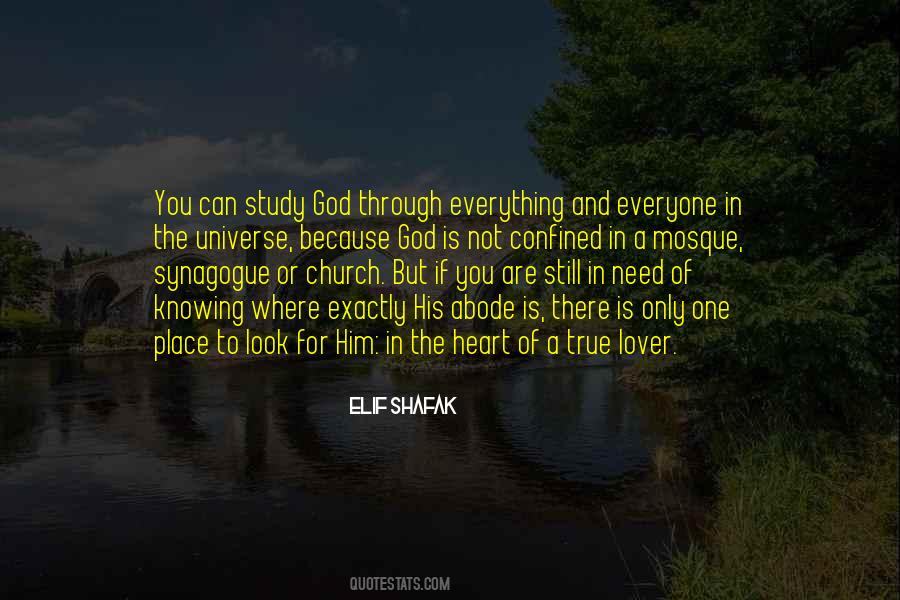 #26. I DECLARE I will experience God's faithfulness. I will not worry. I will not doubt. I will keep my trust in Him, knowing that He will not fail me. I will give birth to every promise God put in my heart and I will become everything God created me to be. This is my declaration. - Author: Joel Osteen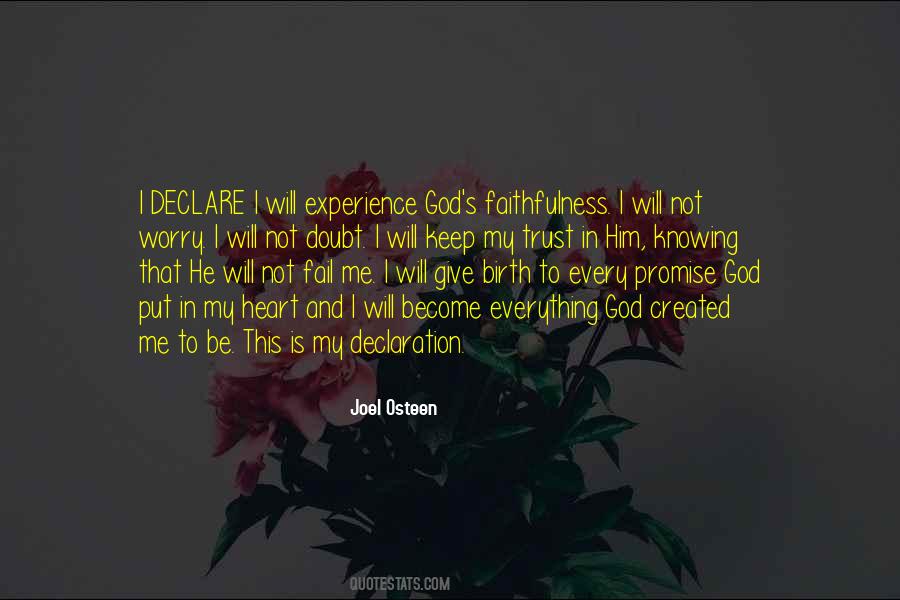 #27. Is letting our children watch TV a form of child abuse? If our children grow up knowing everything about Britney Spears and nothing about nature or faith, about anything, is that not a form of child abuse? - Author: Patch Adams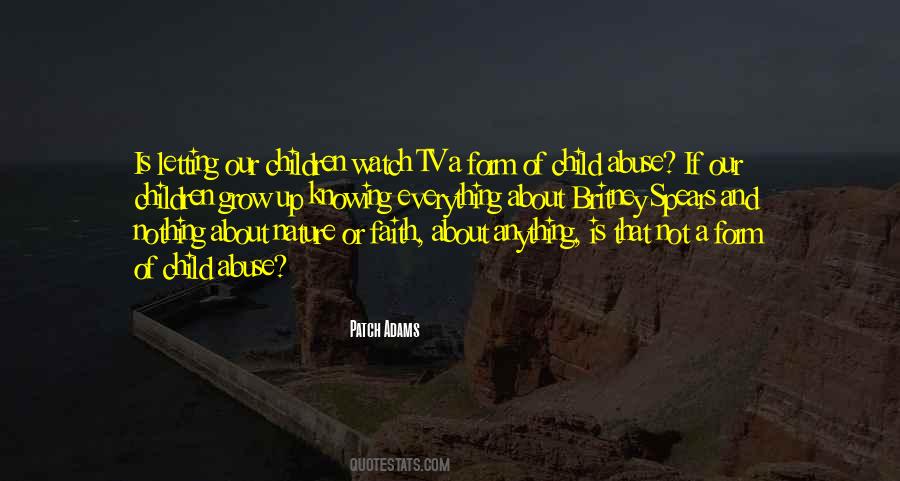 #28. I want to see everything. I guess the positive version of not seeing or not knowing would be preservation of fantasy. - Author: Taryn Simon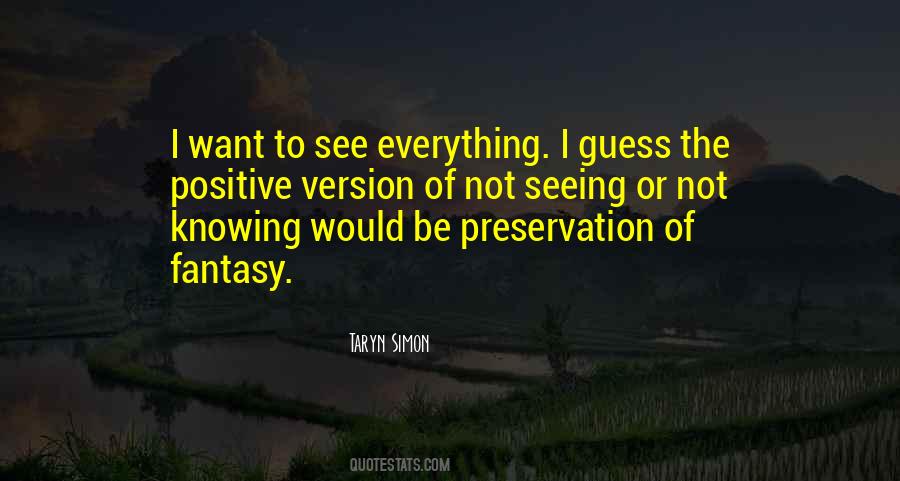 #29. We search for everything we believe we don't have, not knowing that everything we are looking for is already inside us. We are born with it. - Author: Miguel Angel Ruiz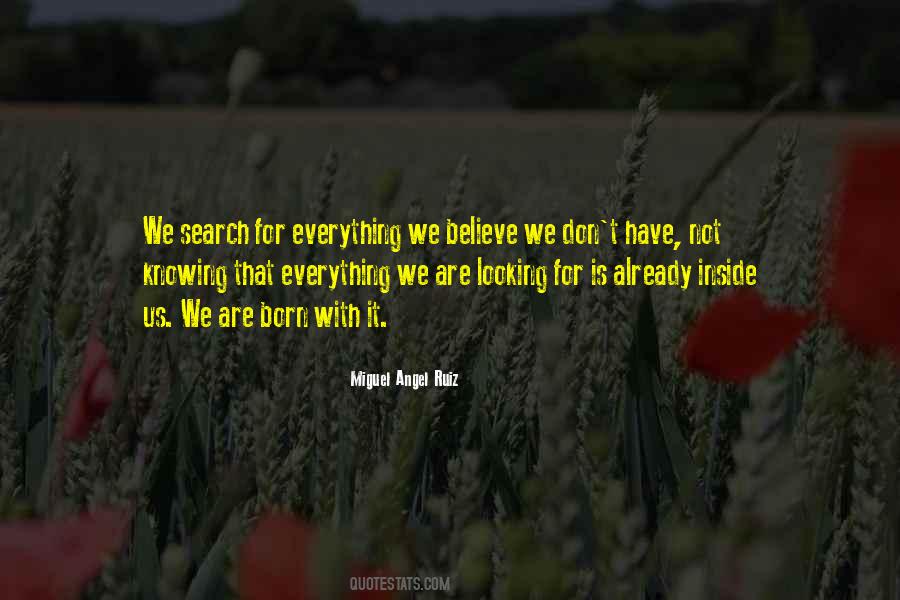 #30. I don't always have to be on what is the newest in music is. I'm slowly educating myself in music. For me, I feel more free in not knowing everything in what I'm doing. You can start making up too many rules for yourself. It should just be love and fun and feeling good. - Author: Erik Hassle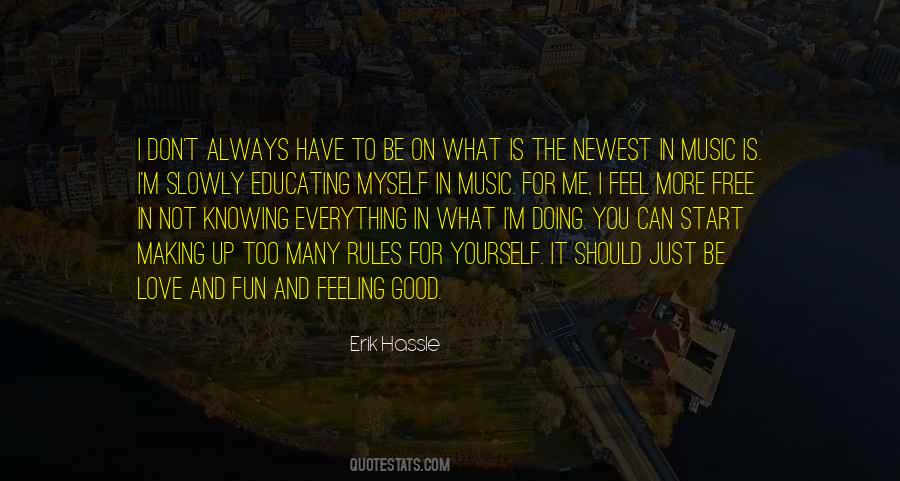 #31. Her face was slack with decay, the lower half slewed to one side, her grin wider than ever. It was a knowing grin, and why not? The dead understand everything. She was surrounded by her loyal court. - Author: Stephen King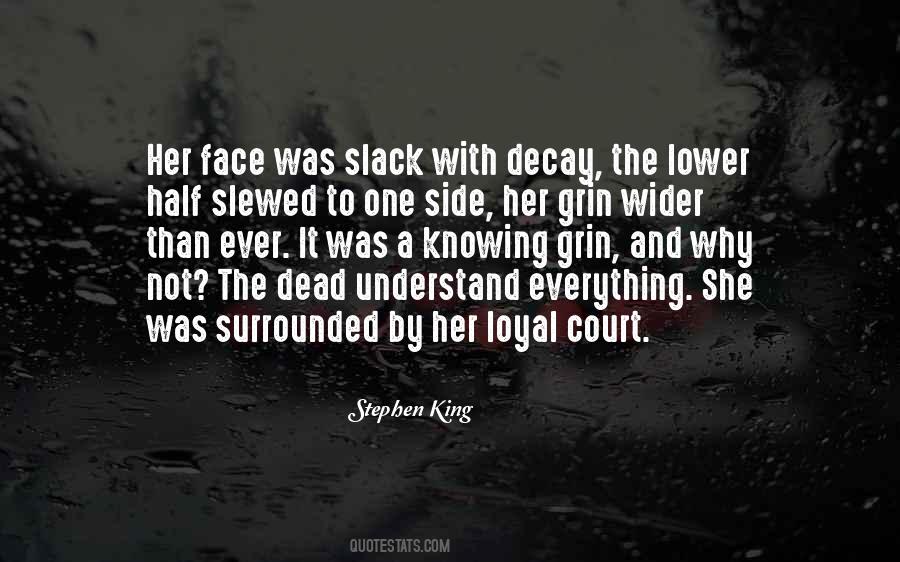 #32. Omnipotence is not knowing how everything is done; it's just doing it. - Author: Alan Watts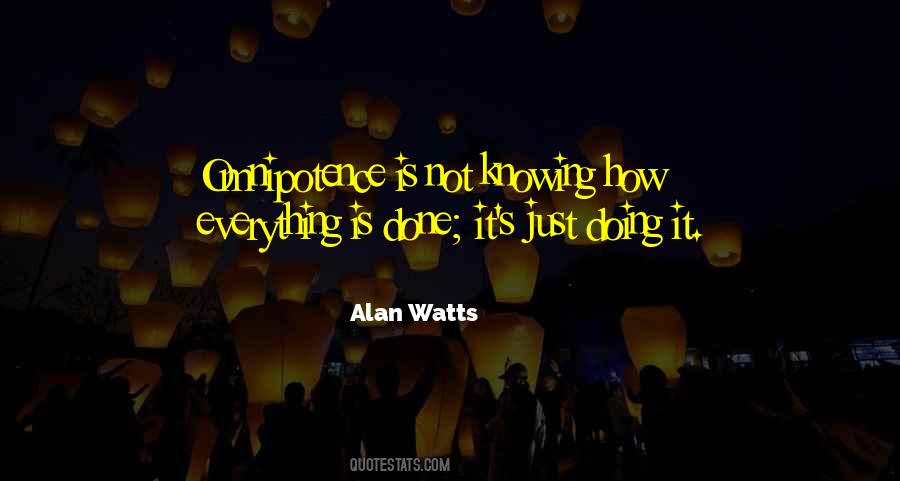 #33. Knowing that you are perfect as you are does not mean you will no longer grow. It means that everything you've experienced up to this moment has made you who you are, and that is perfection. Tomorrow, you will be an even more perfect version of yourself. - Author: Julie-Anne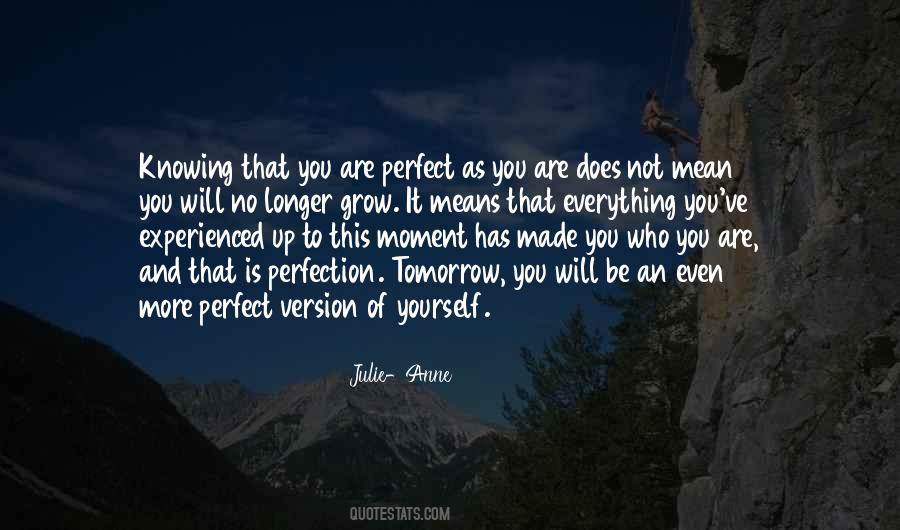 #34. I'm just not into trying to convince people like me. I always say to myself, 'It is what it is.' I walk into a situation knowing that people are either going to love me or they're not, and that's OK. I'm just going to be me. You can't be everything to everyone. - Author: NeNe Leakes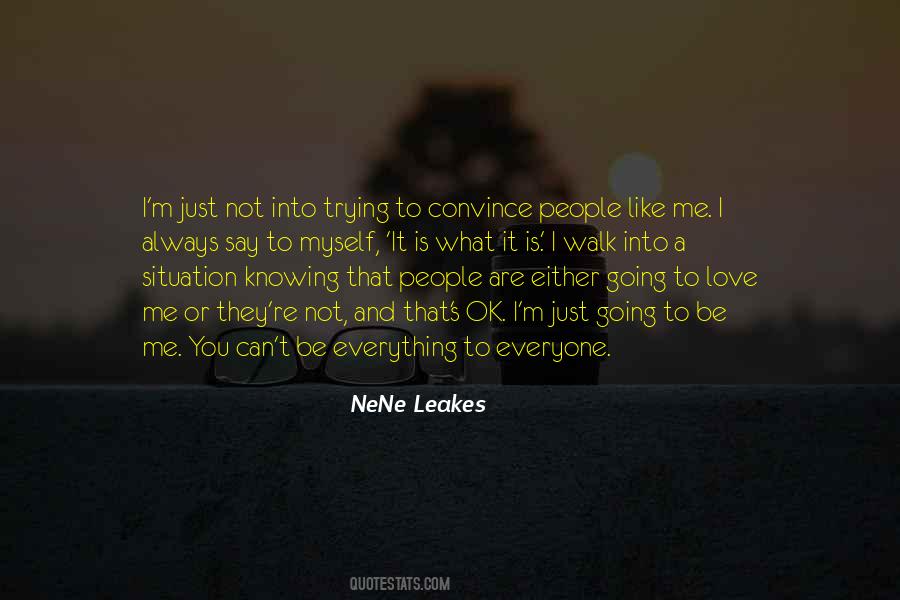 #35. Even though I had a fantastic family, I always felt lonely - not lonely in the melancholic way but knowing that, to really survive, I have to do everything for myself. I had to work and study, and I was out in the street really surviving, bringing food back home. - Author: Riccardo Tisci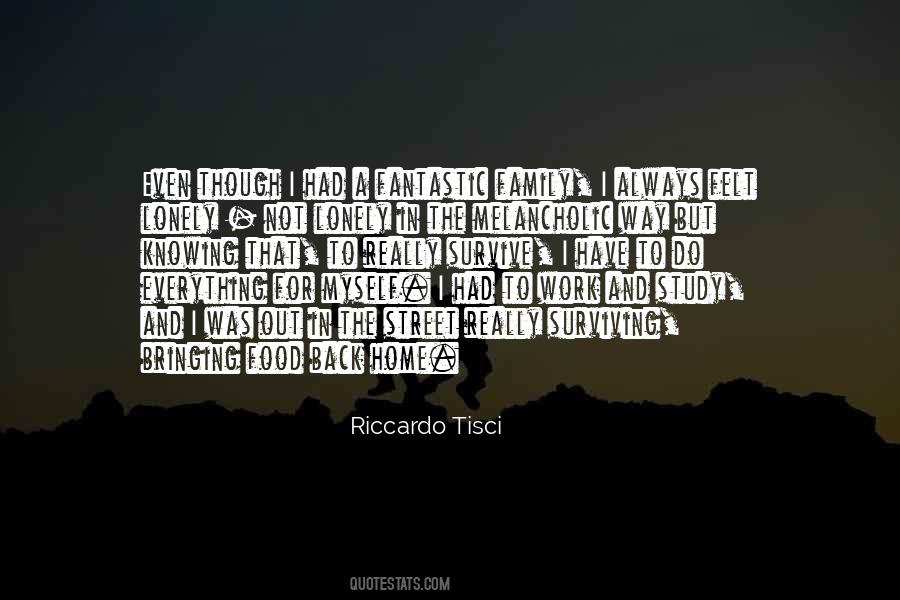 #36. I used to feel special, different and wonderful when I was very young, before the world showed me that everything I thought, said, or did was wrong. I lived in the blissfulness of youth without knowing how the world would not except me. - Author: Jeannie Davide-Rivera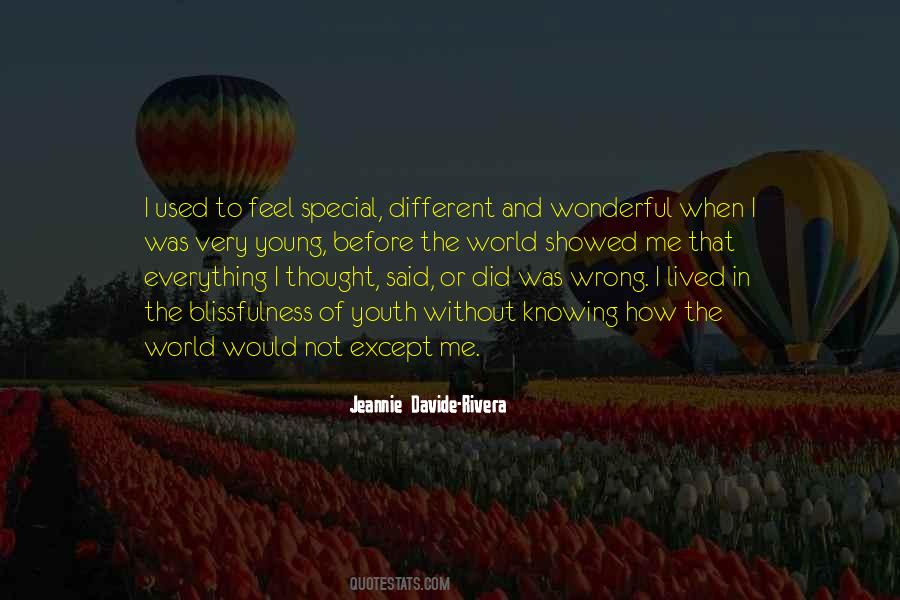 #37. I don't know everything. And I like not knowing everything. Because then I can learn it. - Author: Richard Gold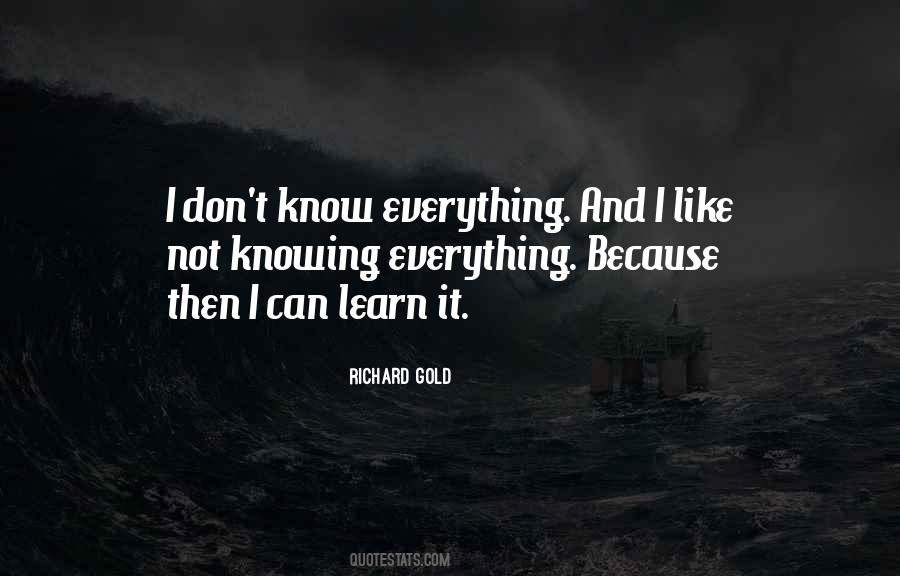 #38. I liked the way Walter Cronkite looked, with his black glasses and his voice that knew everything worth knowing. Here was a man who was not against books, that was plain. Take everything T. Ray was not, shape it into a person, and you would get Walter Cronkite. - Author: Sue Monk Kidd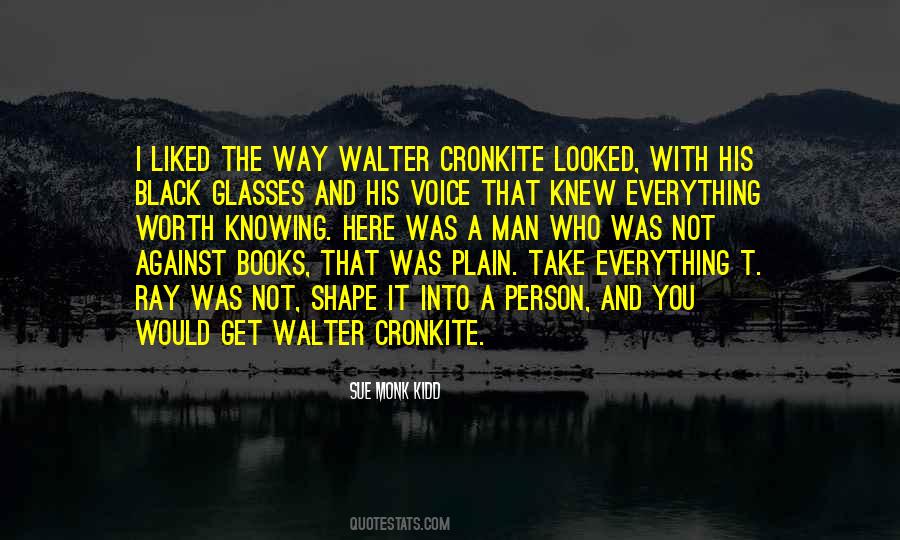 #39. Laurel: I don't need a ring or a license, or a spetacular white dress. It's not marriage so much, or at all really, that matters. It's the promise. It's the knowing someone wants me to be part of his life. Someone loves me, that I'm the one for him. That's not just enough, it's everything. - Author: Nora Roberts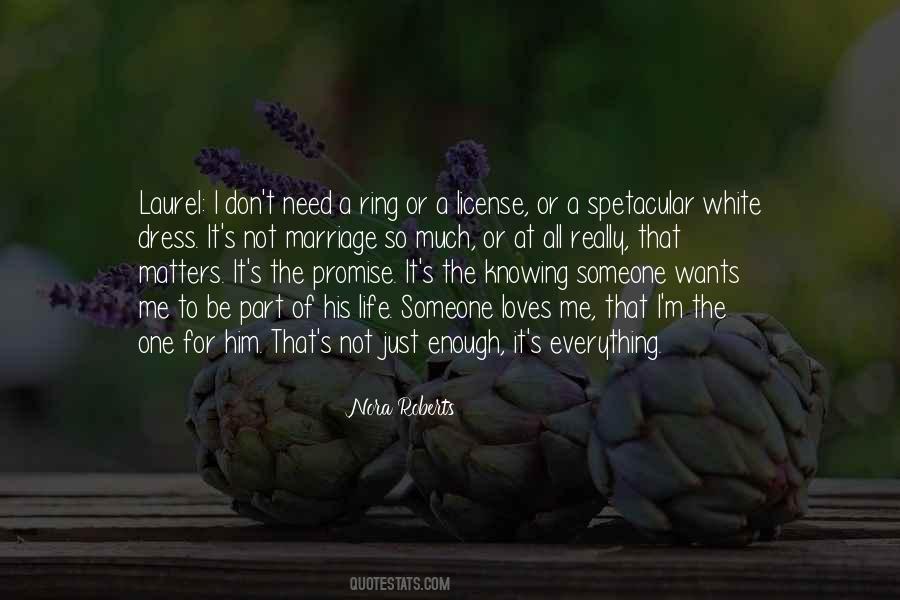 #40. Just having the internet is a weird and dangerous thing because people become accustomed to knowing things when they want to know them and not having to work for it. I definitely see the value in not knowing everything and having mystery in life and mystery in people. - Author: Adam Driver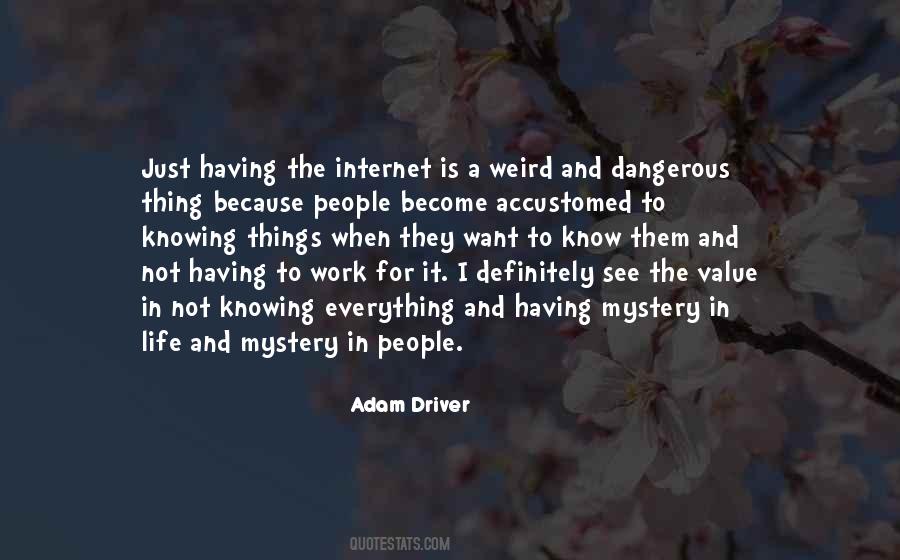 #41. Everything is unfolding perfectly. And as you relax and find ease in your attitude of trust, knowing that Well-Being is your birth-right, amazing things will happen. Things the likes of which you have not seen before. - Author: Esther Hicks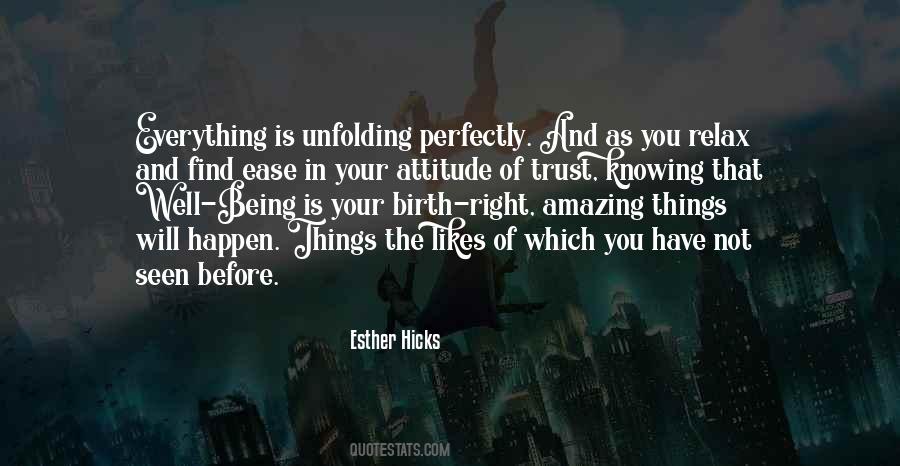 #42. Human vocabulary is still not capable, and probably never will be, of knowing, recognizing, and communicating everything that can be humanly experienced and felt. - Author: Jose Saramago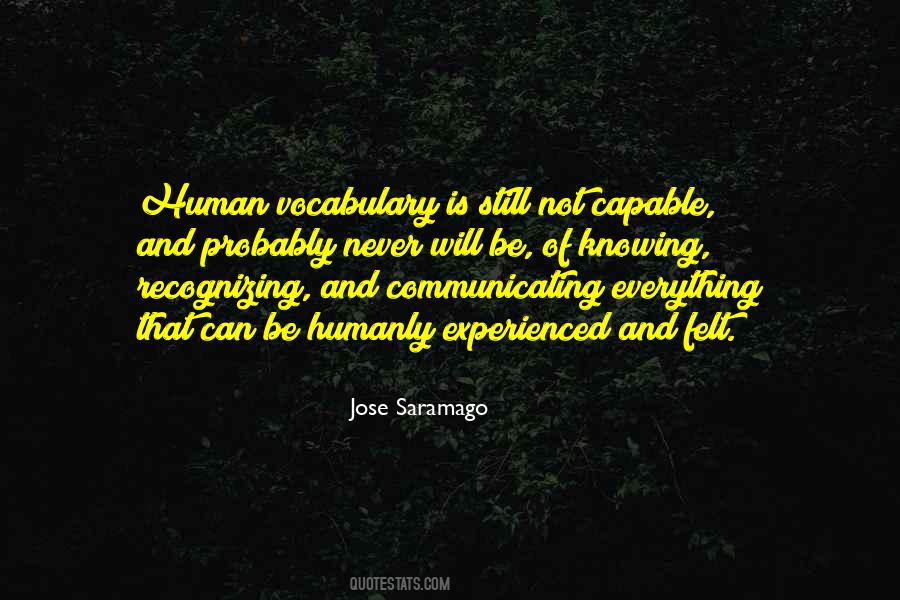 #43. It's a really scary thing, having your dreams come true and seeing everything you ever wanted happening, getting the attention for it and then not knowing how to handle it properly. - Author: Samaire Armstrong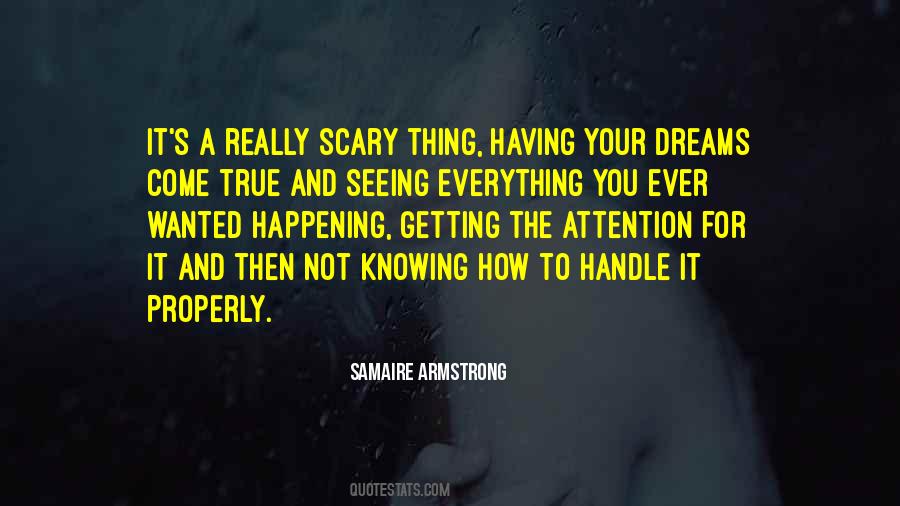 #44. I hate missing everything. That's why I want to marry well and be a grand lady. Then I can host all the parties, all the time, and see everything that is going on always. How can you stand not knowing? - Author: Gail Carriger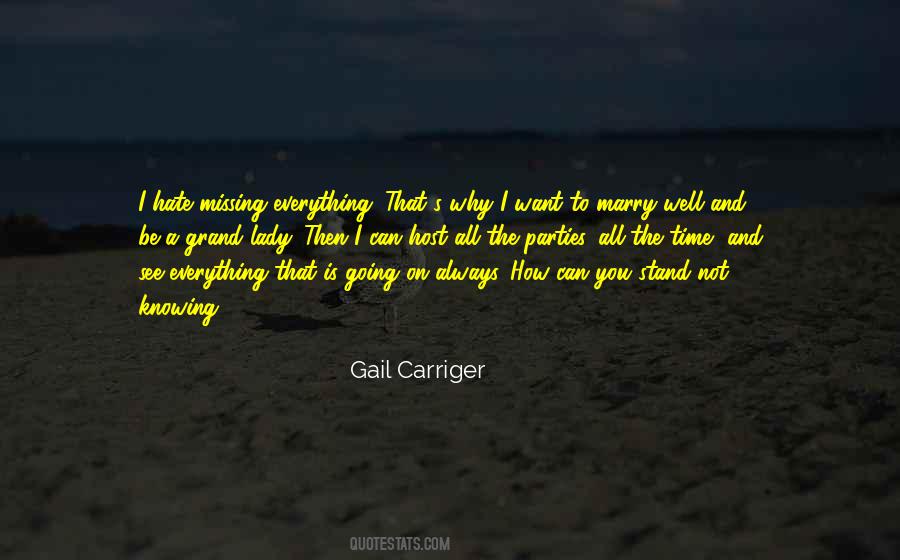 #45. What incensed him the most was the blatant jokes of the ones that passed it all off as a jest, pretending to understand everything and in reality not knowing their own minds. - Author: James Joyce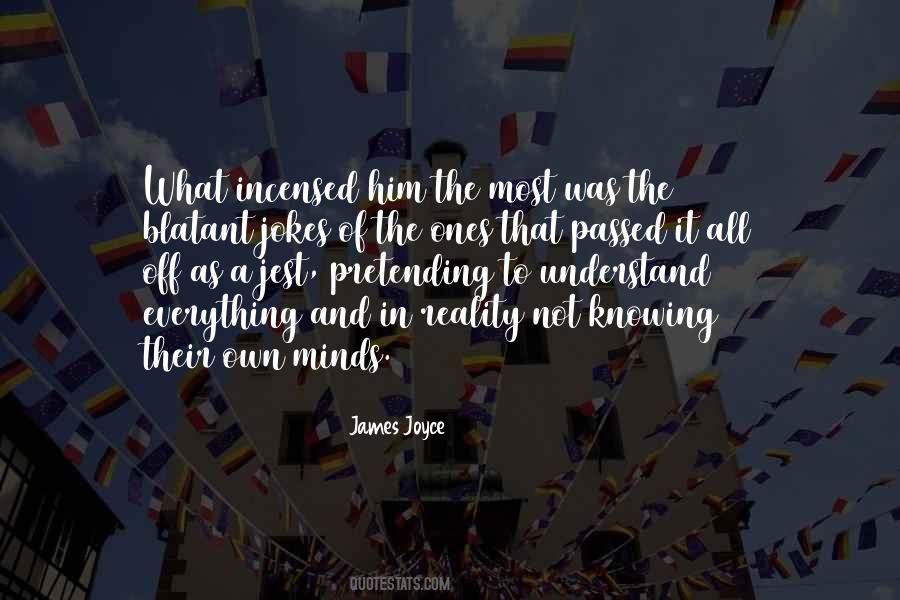 #46. I tell students that suspense comes, not from knowing almost nothing, but from knowing almost everything and caring very much about the small part still unknown. - Author: Orson Scott Card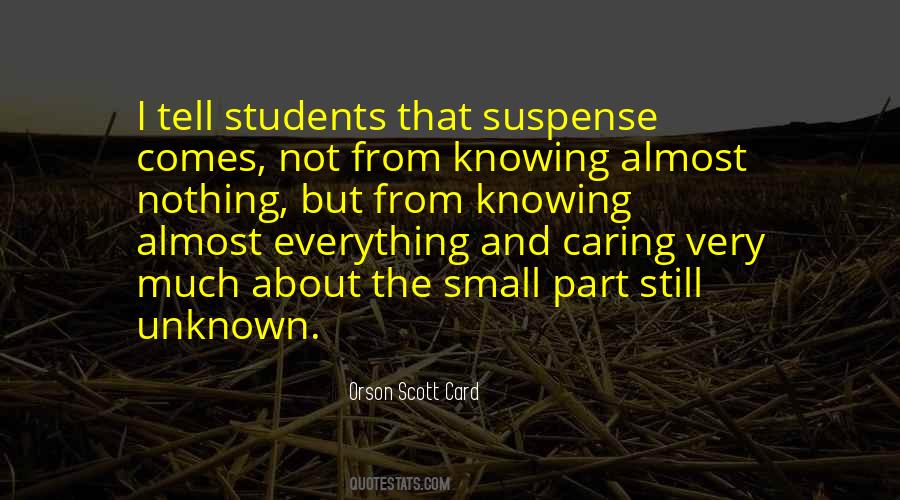 #47. Aristotle was famous for knowing everything. He taught that the brain exists merely to cool the blood and is not involved in the process of thinking. This is true only of certain persons. - Author: Will Cuppy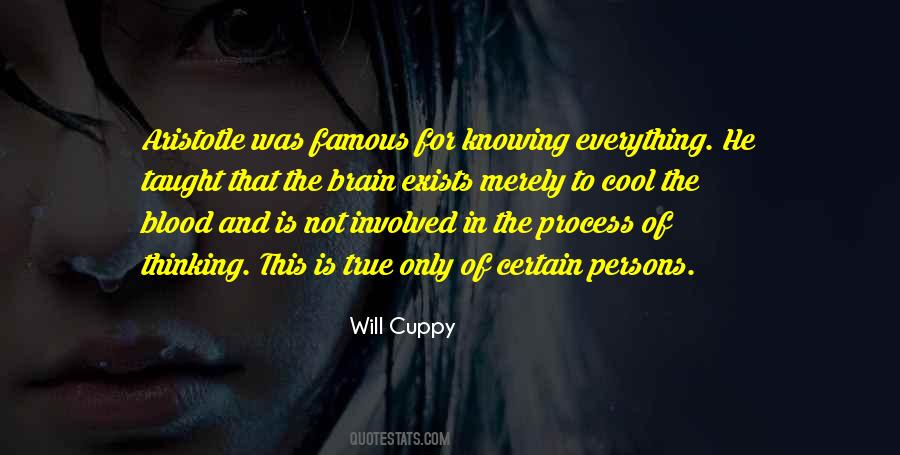 #48. We are born not knowing anything,
and then we die not knowing everything. - Author: Matshona Dhliwayo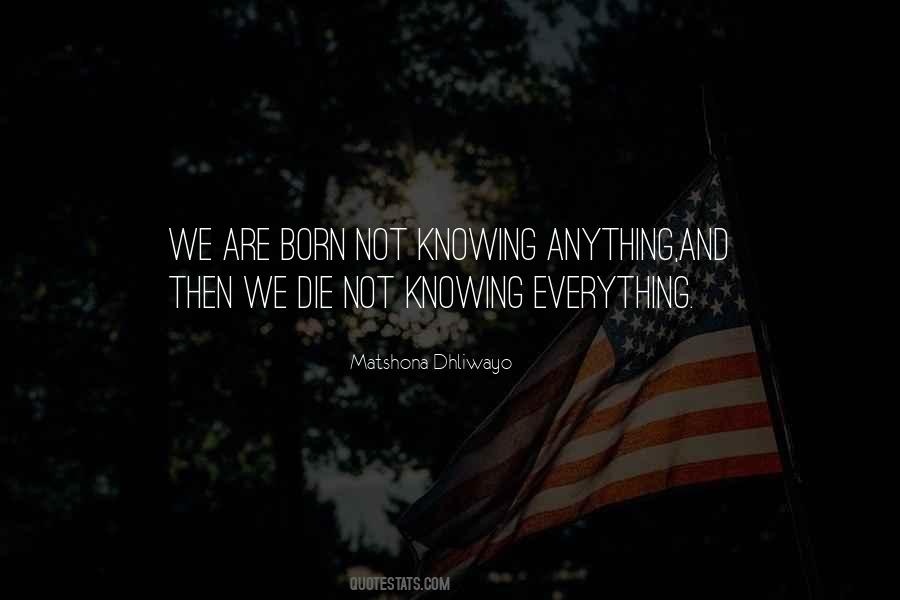 #49. Everything spiritual manifests itself visually, everything which is visual turns into spiritual energy, I don't think this is so difficult to grasp. After all, we are born knowing we have a body and a soul: why not understand that sex also has them? - Author: Paulo Coelho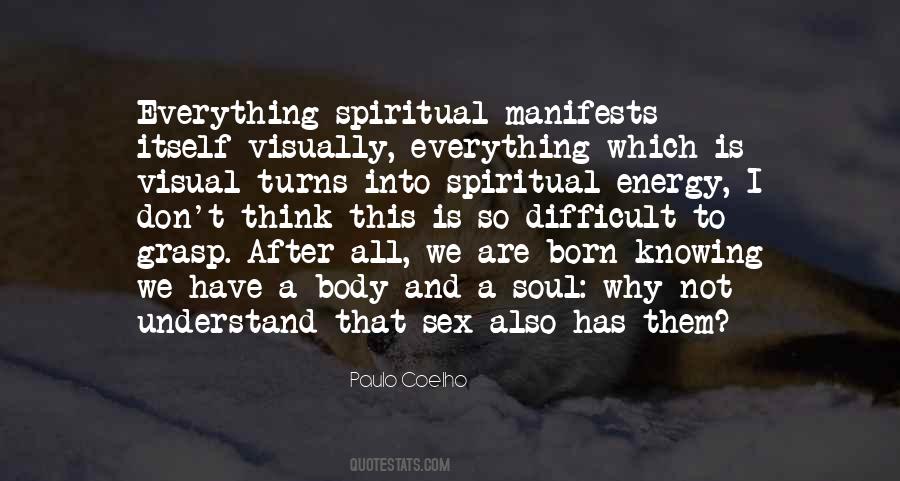 #50. Lohan and I talk about just things that happen. It's Lindsay. She's great. I went from not knowing who she was to not being able to get rid of her because she's everywhere. She's on everything. - Author: Jonathan Bennett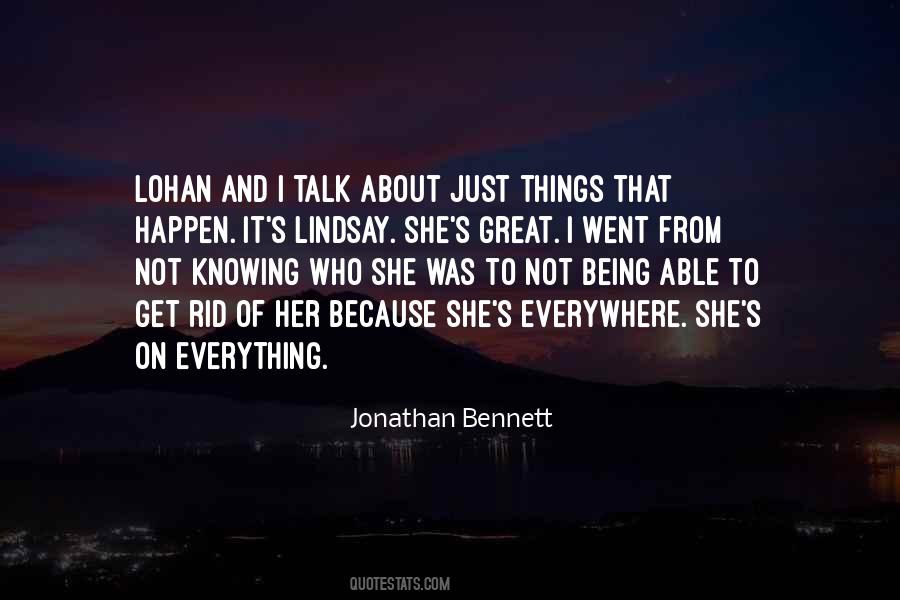 #51. Expect everything to happen for your benefit yet do not insist on how it must be experienced. Allow yourselves to be surprised. Remember that what you expect with your physical mind is the least you can be offered by your all-knowing-Self. - Author: Raphael Zernoff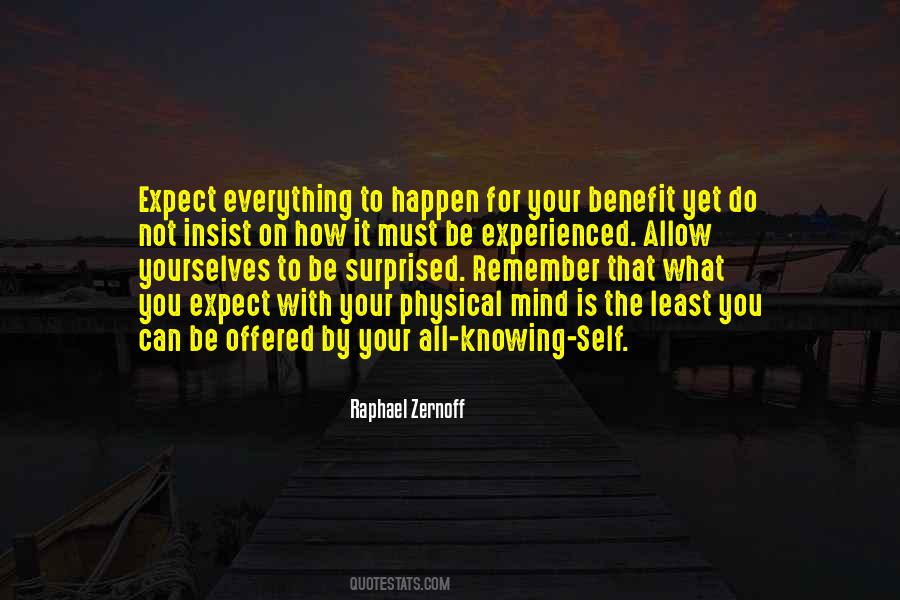 #52. Women want the fairytale. Not all women, of course, but most women grow up dreaming about the kind of man who would risk everything for them, even knowing they might get hurt. - Author: Nicholas Sparks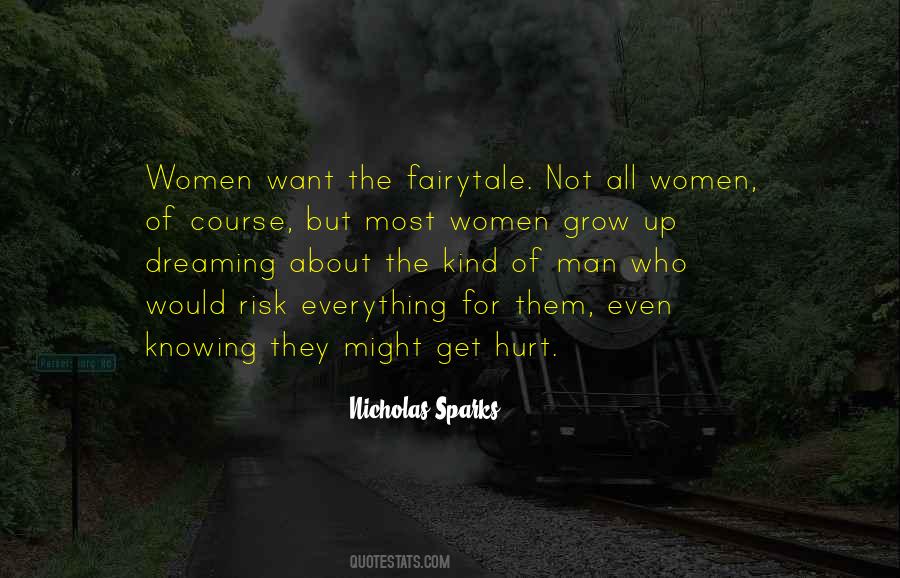 #53. Leaders wonder about everything, want to learn as much as they can, are willing to take risks, experiment, try new things. They do not worry about failure but embrace errors, knowing they will learn from them. - Author: Warren G. Bennis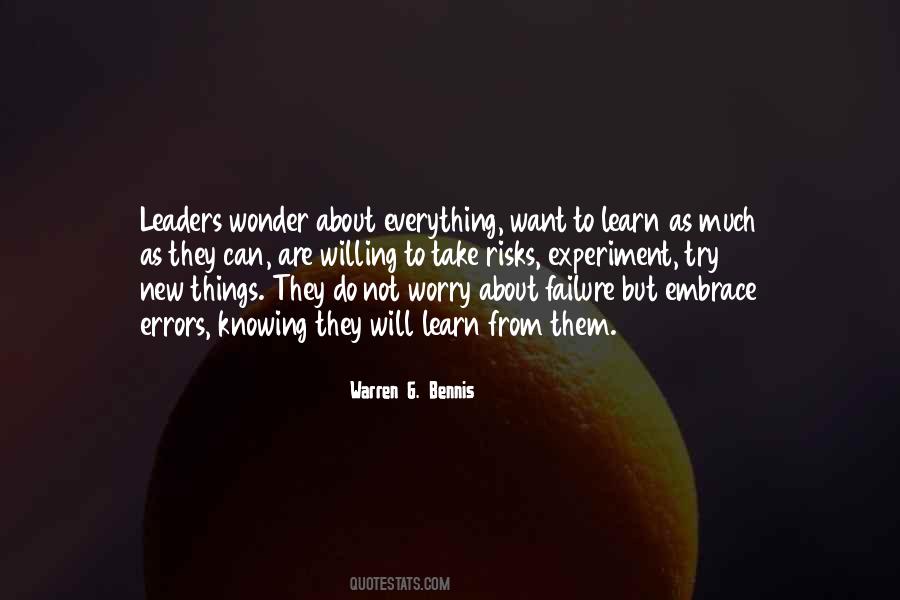 #54. When you read the poem, you wonder, what might Grendel have been? Could it have been a person that was turned away? Someone that was disfigured or deformed? Like everything else did, it came from somewhere. It's really exciting, and not knowing is part of the magic and mystery. - Author: Kieran Bew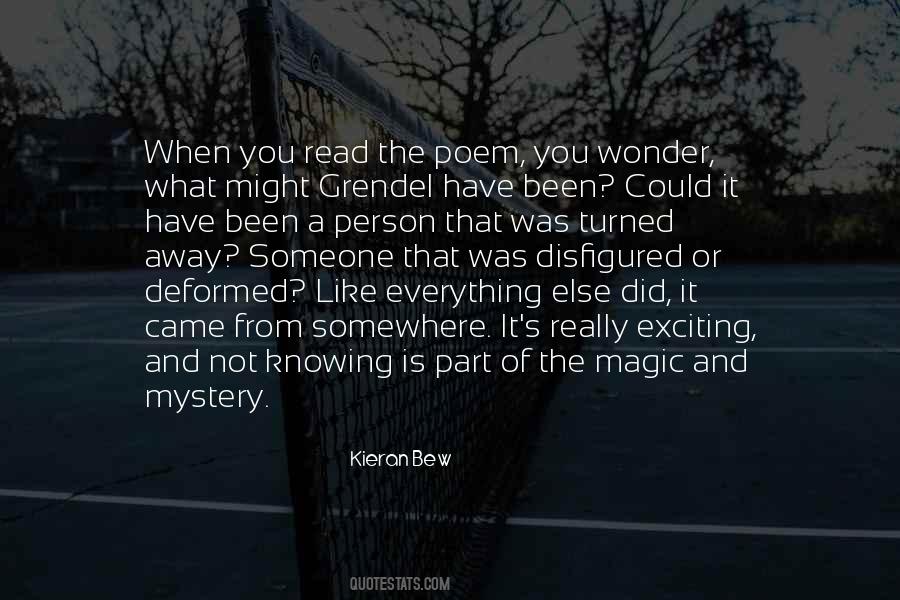 #55. The couple of years before I was declared bankrupt were the roughest. The bank letters, the pressure, the stress was awful. You're in this twilight zone of not knowing where your life is going, and yet you're in Westlife. Everything was great with the band. I was earning money, and it looked good. - Author: Shane Filan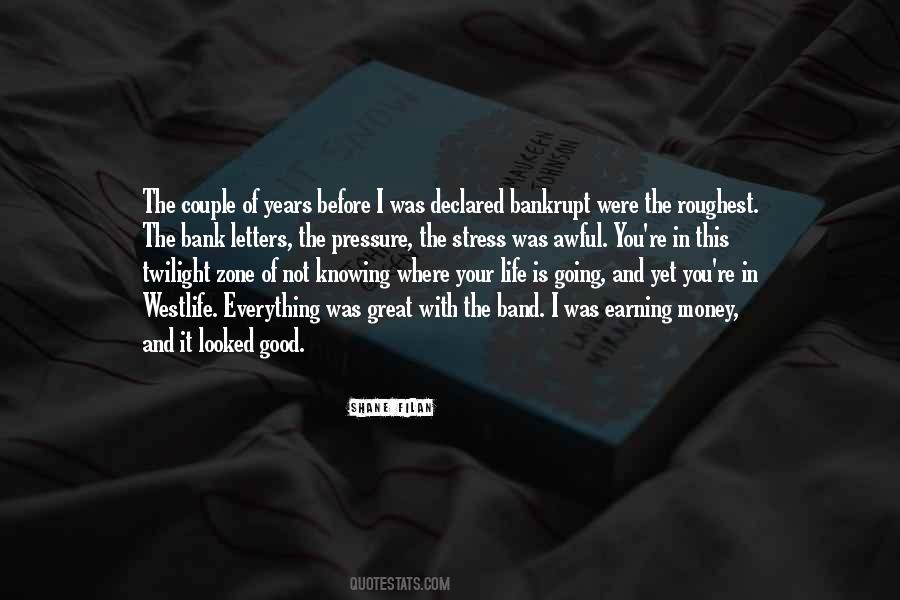 #56. I started at GM knowing very little about that particular business. Not being an expert means you have to learn everything, starting from the basics. - Author: Edward Whitacre Jr.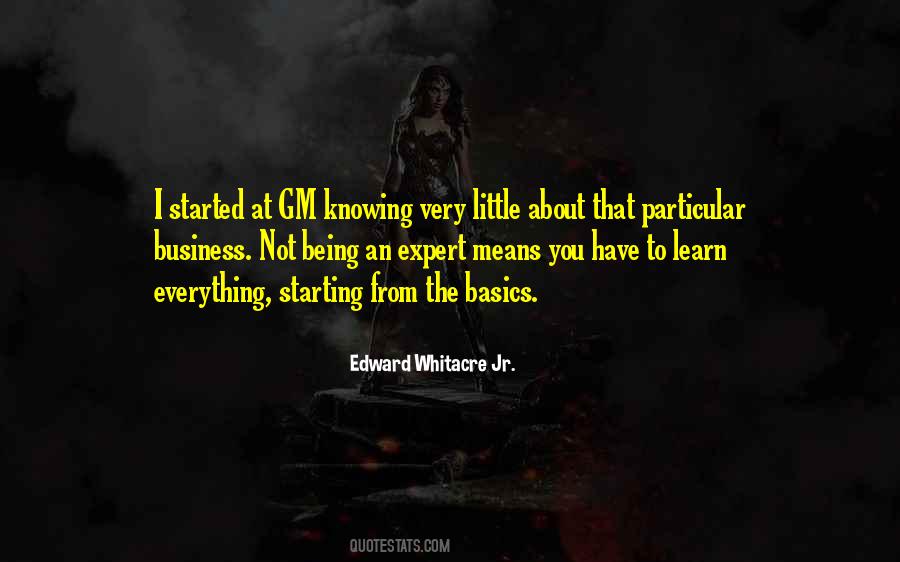 #57. In real life we don't know what's going to happen next. So how can you be that way on a stage? Being alive to the possibility of not knowing exactly how everything is going to happen next - if you can find places to have that happen onstage, it can resonate with an experience of living. - Author: Sam Shepard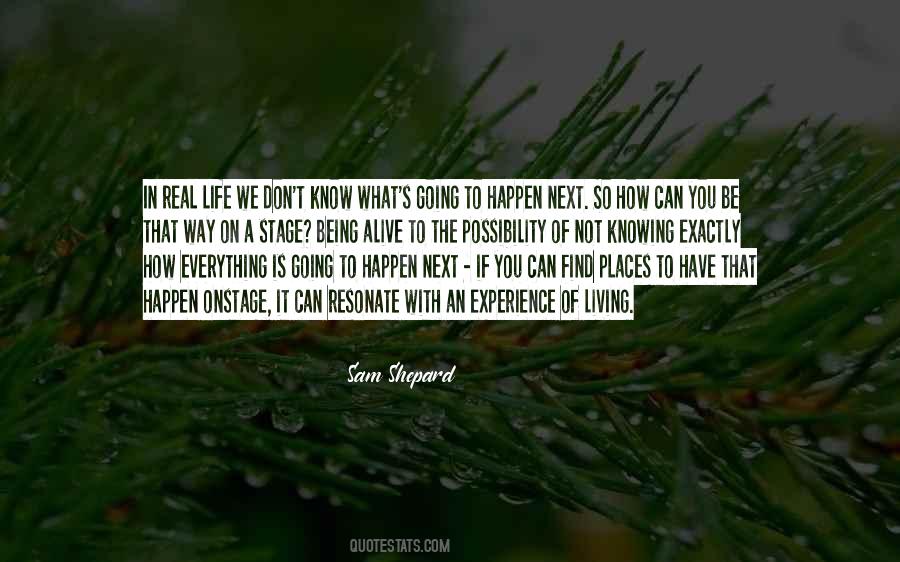 #58. Be comfortable with "Not getting to bottom of everything"

Sometimes unconsciously we must find out why this happened, who started what, how am I going to do this.
Have faith that things will work out, and be GOOD with knowing that some things are unexplainable. - Author: Matthew Donnelly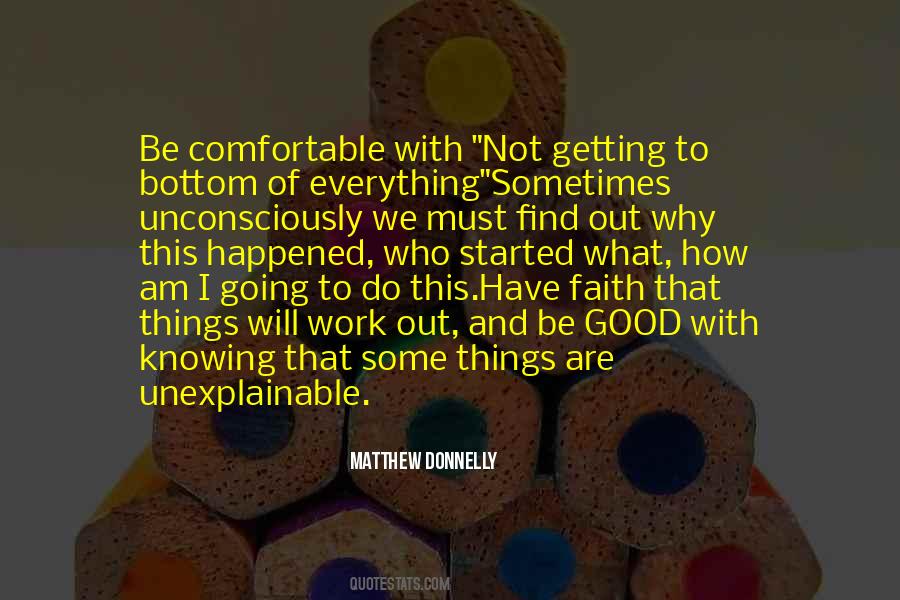 #59. The past was worth remembering and knowing in its own right. It was not behind us, never truly behind us, but under us, holding us up, a foundation for all that was to come and everything that had ever been. - Author: Laura Lippman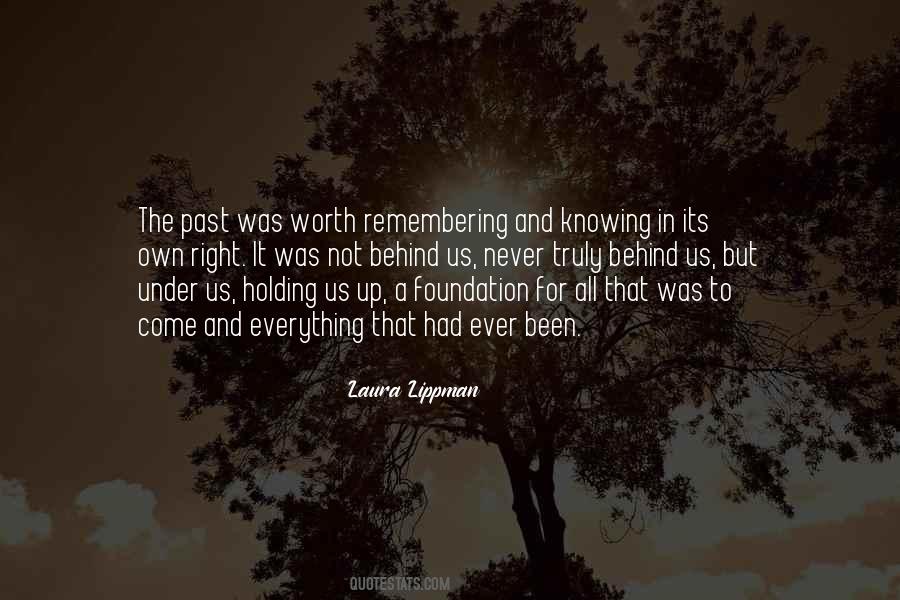 #60. To think that we might easily have gone through life not knowing each other, missing all this free flow of love and ideas and warmth and sharing ... We share really almost everything. (Avis DeVoto to Julia Child) - Author: Joan Reardon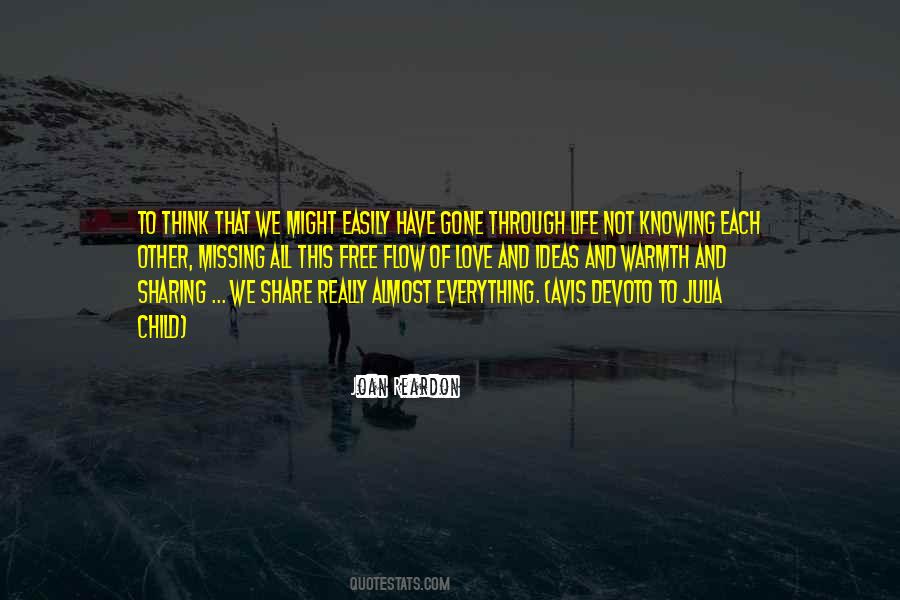 #61. There is something I do not know, the knowing of which could change everything. - Author: Werner Erhard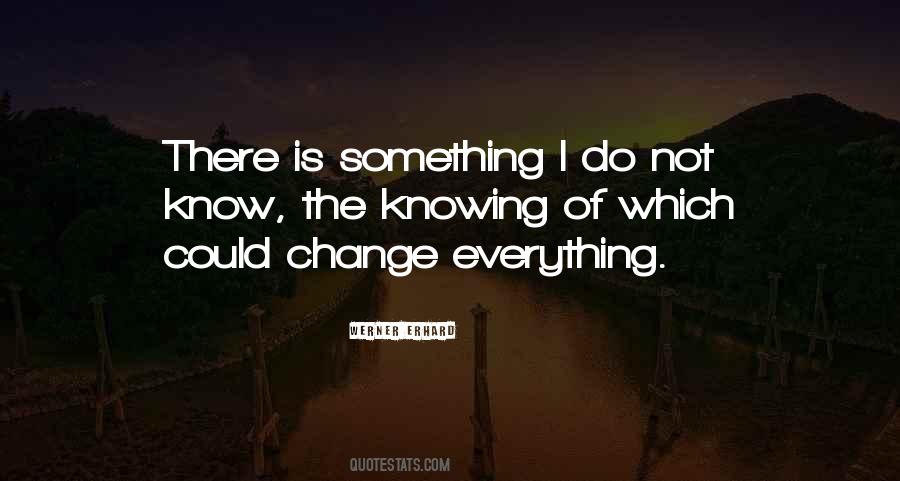 #62. Little fish risking everything for a piece of godhood ... and not knowing heaven from hell, even when they find it. - Author: Vernor Vinge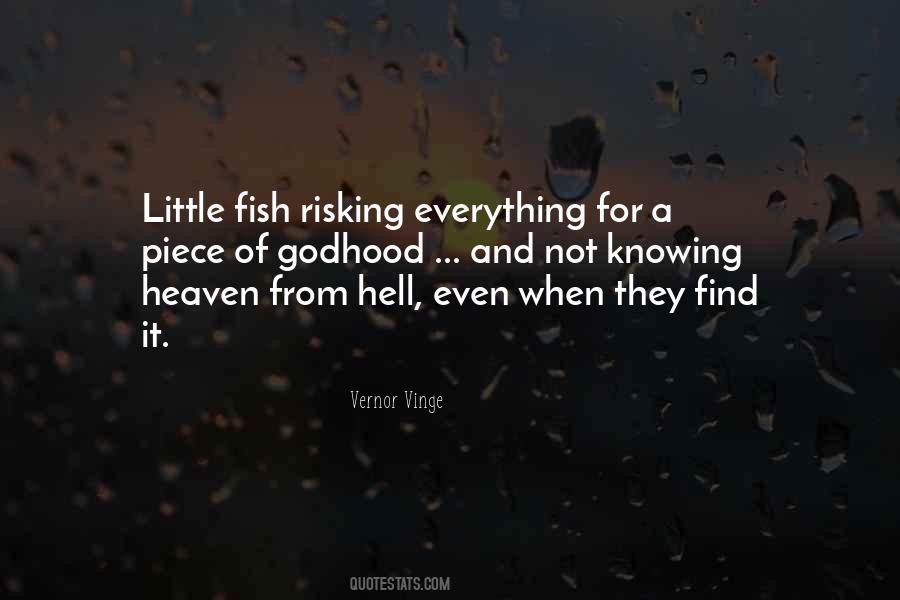 #63. The only way we could remember would be by constant re-reading, for knowledge unused tends to drop out of mind. Knowledge used does not need to be remembered; practice forms habits and habits make memory unnecessary. The rule is nothing; the application is everything. - Author: Henry Hazlitt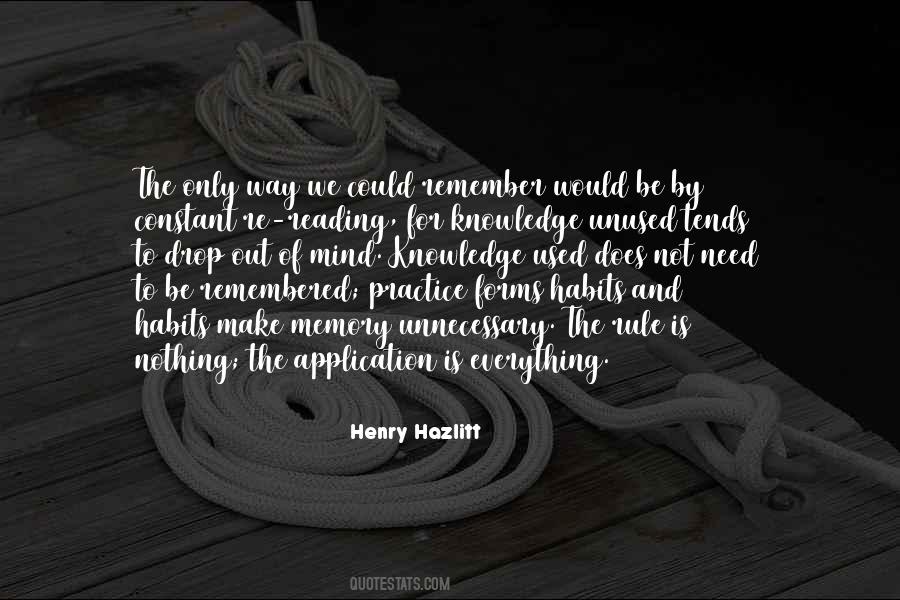 #64. There's a difference between knowing what to do when you're rehearsing it, and being able to do it once you're adrenalized and emotional. That's when the injuries occur. Actors all want to try to pretend that they're experts at everything, but we're not. - Author: Antony Starr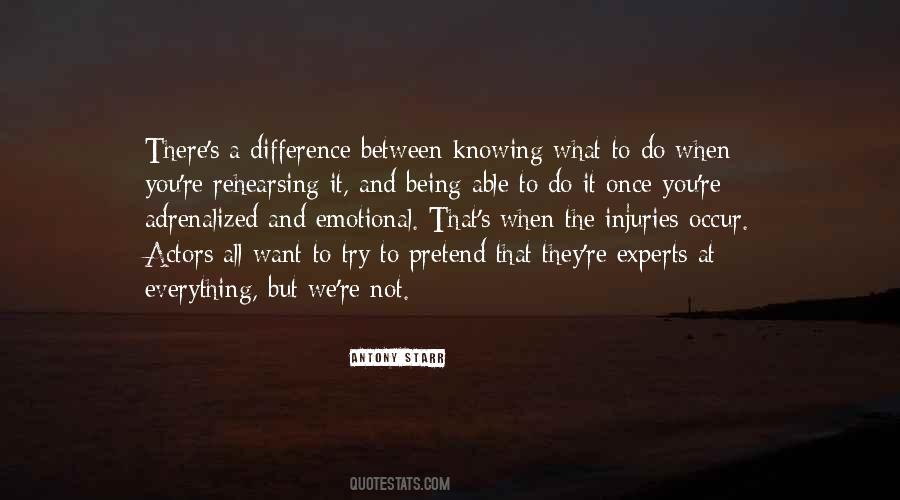 #65. it is hard not to count the hours
i have left with you.

it is hard to be here now--
knowing everything between us
will come to an end. - Author: AVA.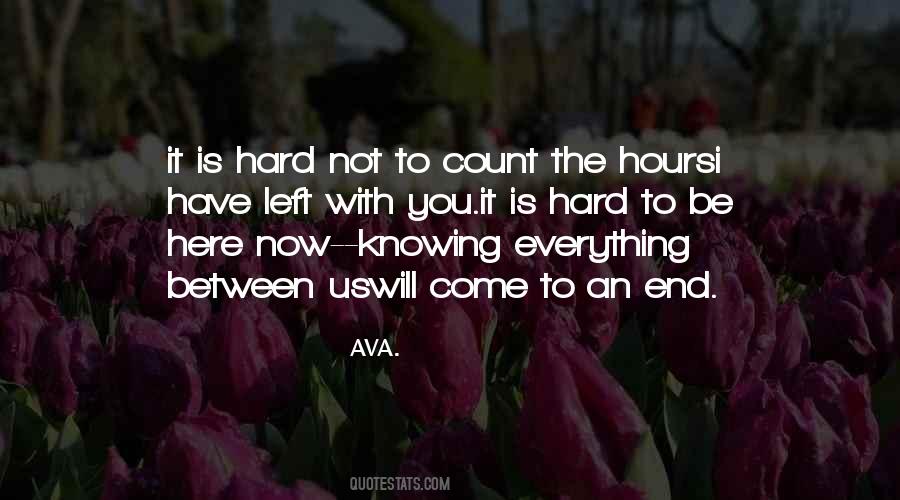 #66. This is the key to life: To expect everything to be given to you from above, yet to be genuinely surprised and forever grateful, when they are. Expecting all good things to be yours, while not knowing how to take anything for granted. If there may be a key in life, this is the key. - Author: C. JoyBell C.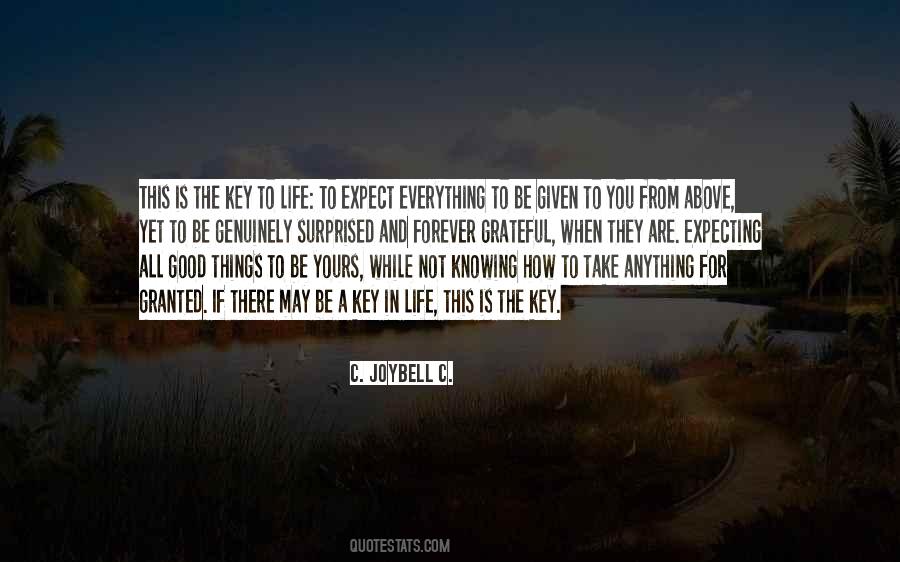 #67. I don't want anything now, Sarie thought, not a thing in the world. I have everything I want. Yesterday I wanted so much without knowing what. Today I've got everything... - Author: Peter Abrahams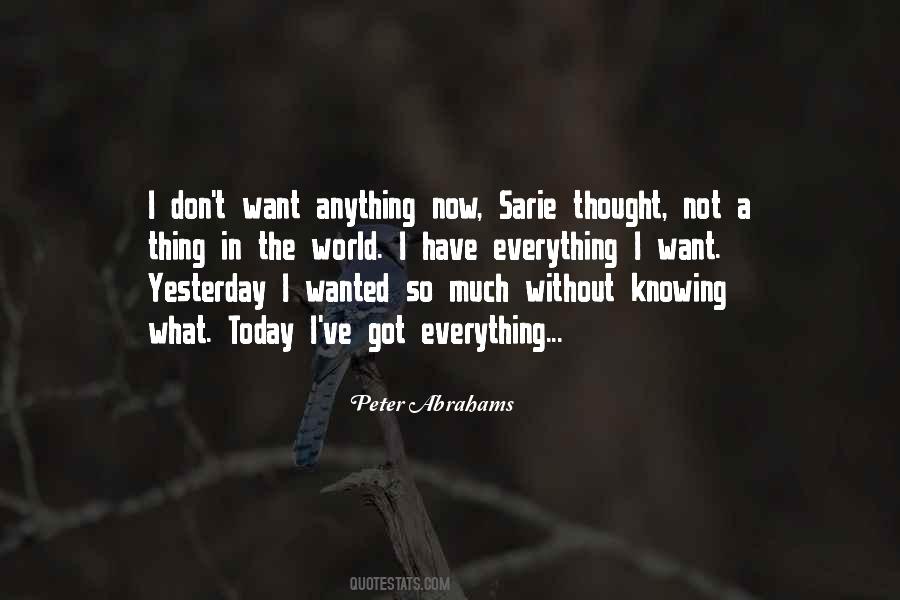 #68. With access to everything, we can dabble without really knowing. I am not bemoaning a diminishing awareness of references, but it's easier than ever to be divorced from both provenance and predecessors, to essentially be a cultural tease. The - Author: Carrie Brownstein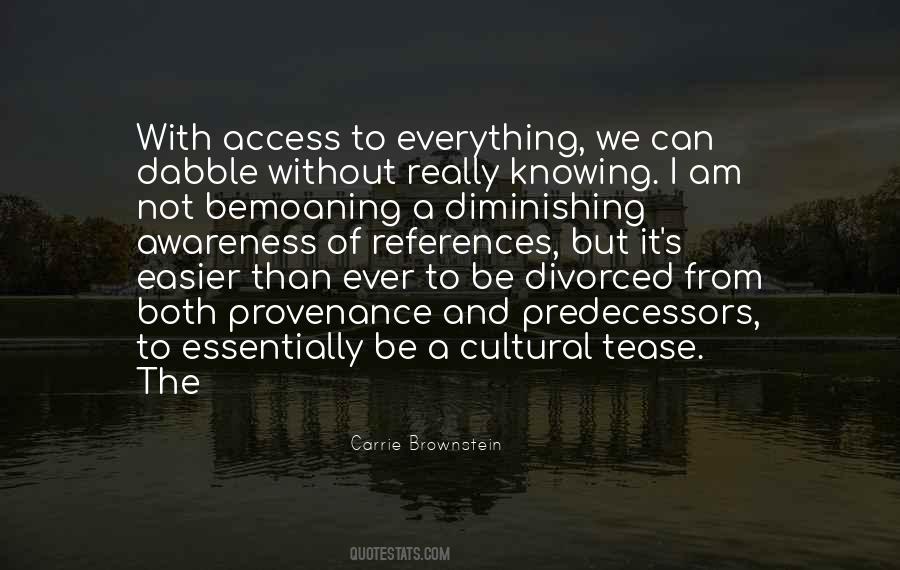 #69. I can't hate people for making judgment on me, or making a decision of liking me or not liking me. All I can do is try to better as a person. And I'm good with knowing everything isn't always going to be perfect. - Author: Chris Brown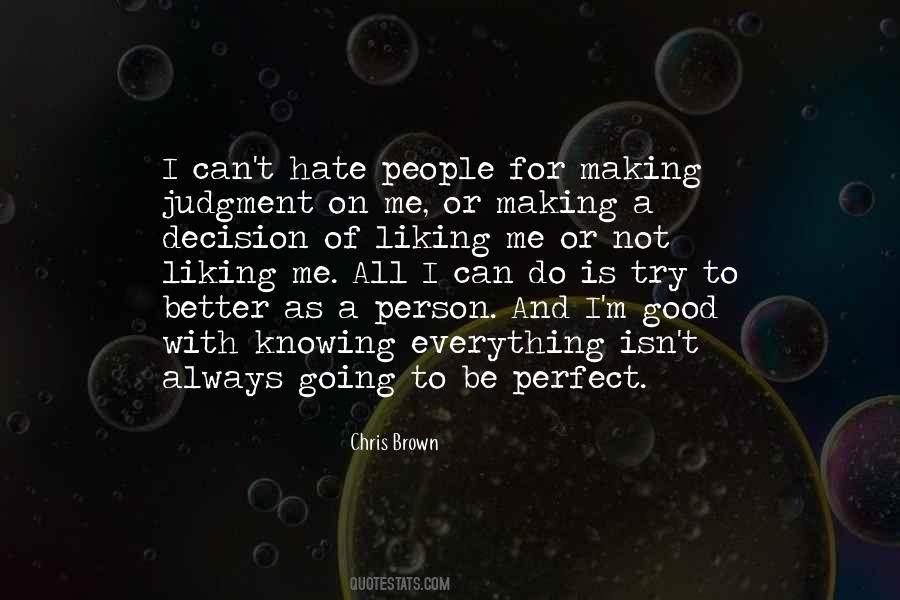 #70. There's nothing as significant as a human face. Nor as eloquent. We can never really know another person, except by our first glance at him. Because, in that glance, we know everything. Even though we're not always wise enough to unravel the knowledge. - Author: Ayn Rand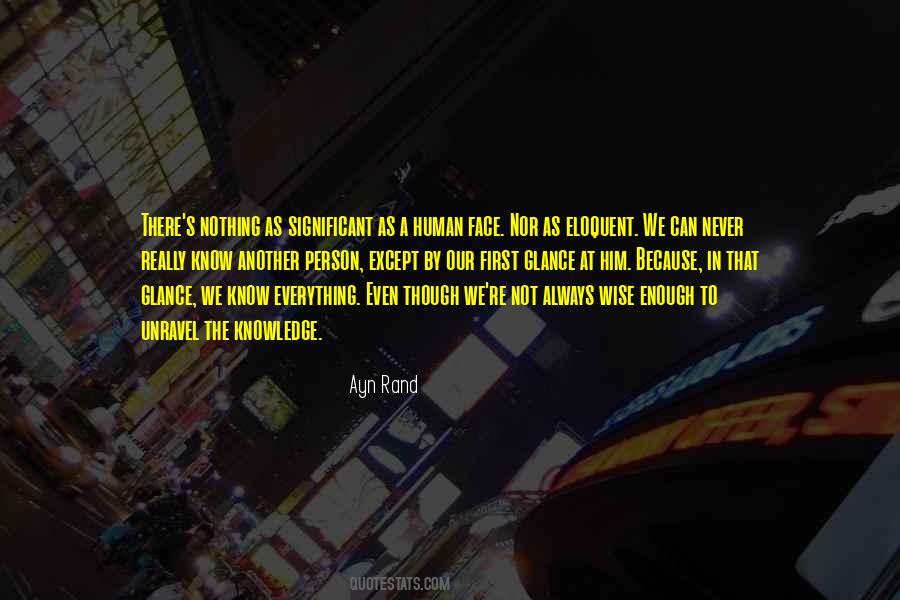 #71. Neither winning nor losing means as much to me as knowing the crowd has enjoyed my match. Some players feel that winning is everything and that losing is a disaster. Not me. I want the spectators to take home a good memory ... - Author: Evonne Goolagong Cawley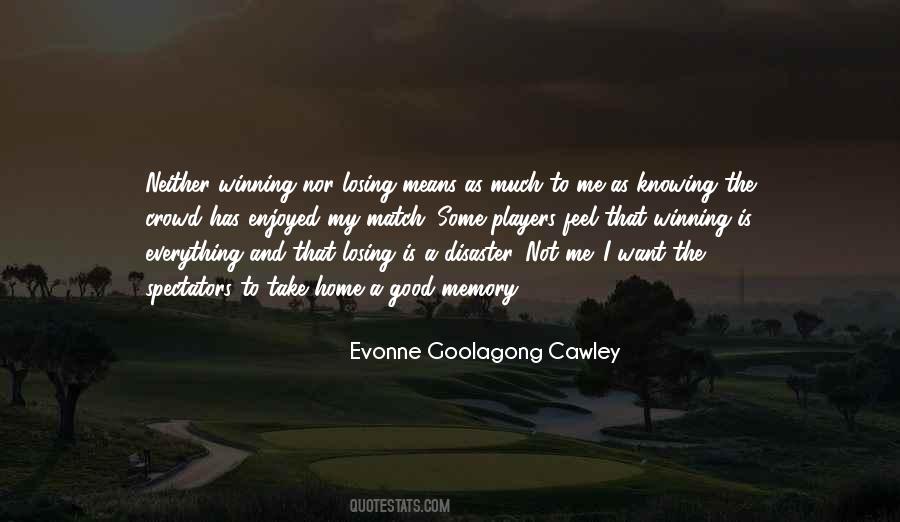 #72. When the mind is totally present, it is relaxed, nimble, and sensitive. It feels lighter and clearer. It notices everything, but it is not distracted by anything. It is the feeling of knowing exactly where you are and what you are doing. - Author: Sakyong Mipham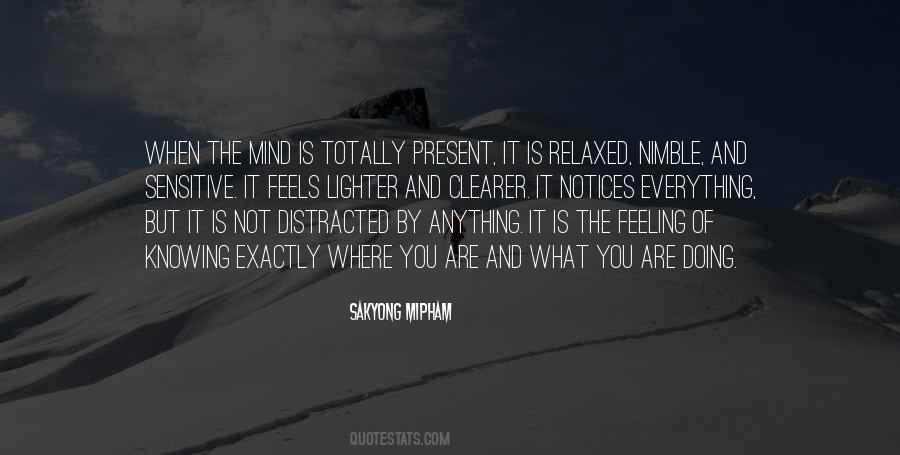 #73. All my parents do is drink. They hate me. Do you know what it's like waking up every morning knowing you're not good enough? there are only two things wrong with me-everything I do and everything I say. They'll never be happy until I'm dead - Author: Ben Mikaelsen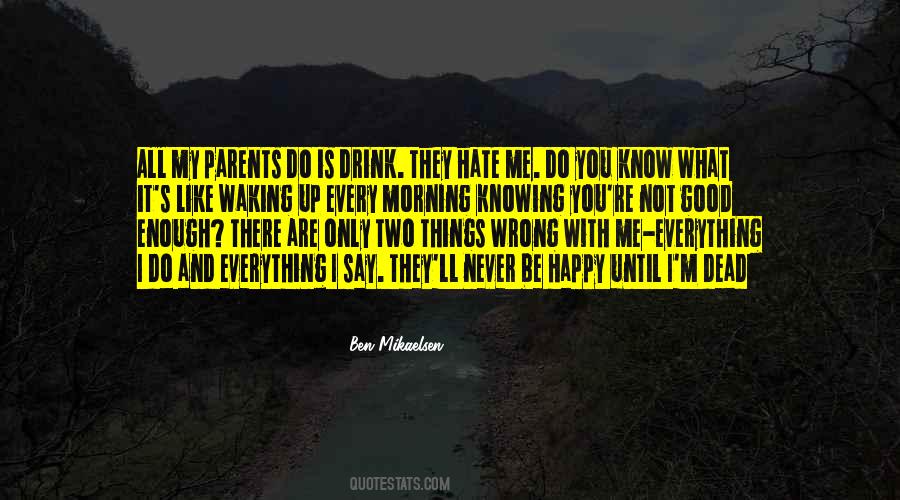 #74. She would not waste energy missing him, wishing he were here to talk everything through, or to just have the comfort of waking up beside him and knowing he existed. She swallowed - Author: Sarah J. Maas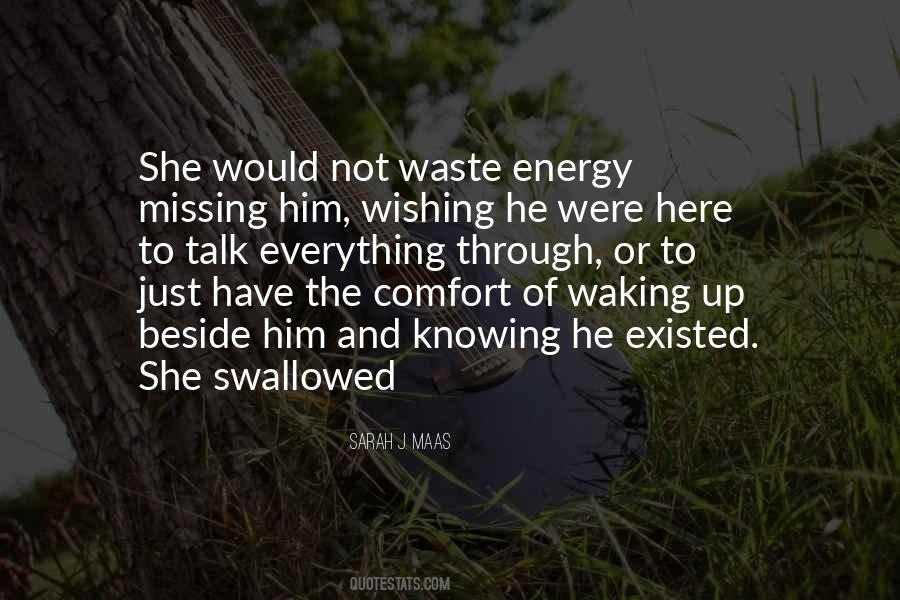 #75. In the most ordinary terms, egolessness is a flexible identity. It manifests as inquisitiveness, as adaptability, as humor, as playfulness. It is our capacity to relax with not knowing, not figuring everything out, with not being at all sure who we are, or who anyone else is, either. - Author: Pema Chodron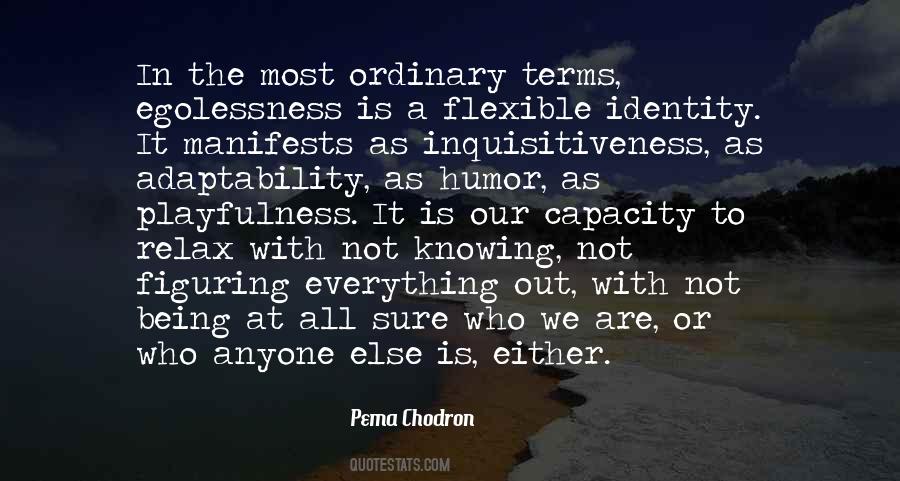 #76. Secrets are the blood of life. Every big thing is a secret, even when you know it, because you never know all of it. If you can know everything about anything, it is not worth knowing. - Author: Robertson Davies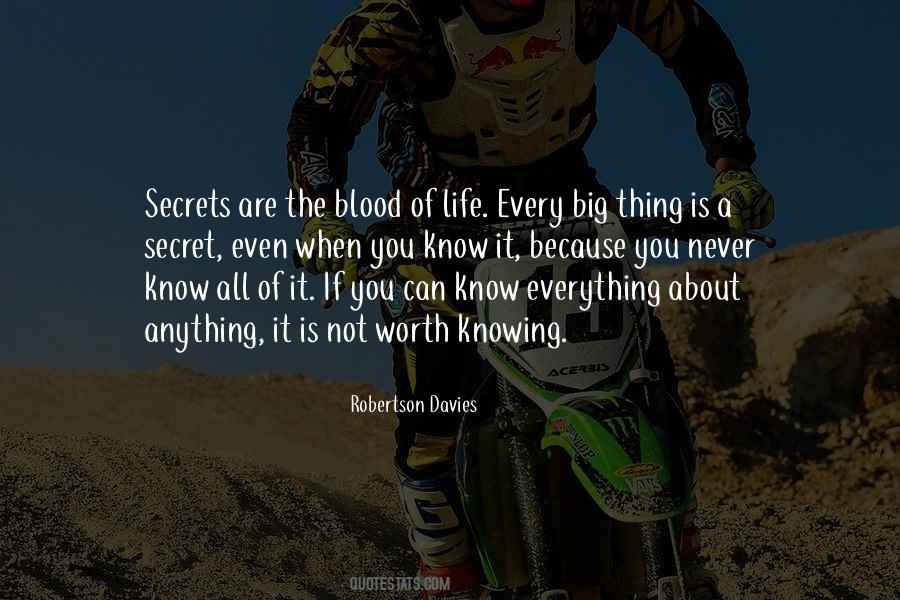 #77. We are not asking everyone to do everything. We are simply asking all members to pray, knowing that if every member, young and old, will reach out to just "one" between now and Christmas, millions will feel the love of the Lord Jesus Christ. And what a wonderful gift to the Savior. - Author: M. Russell Ballard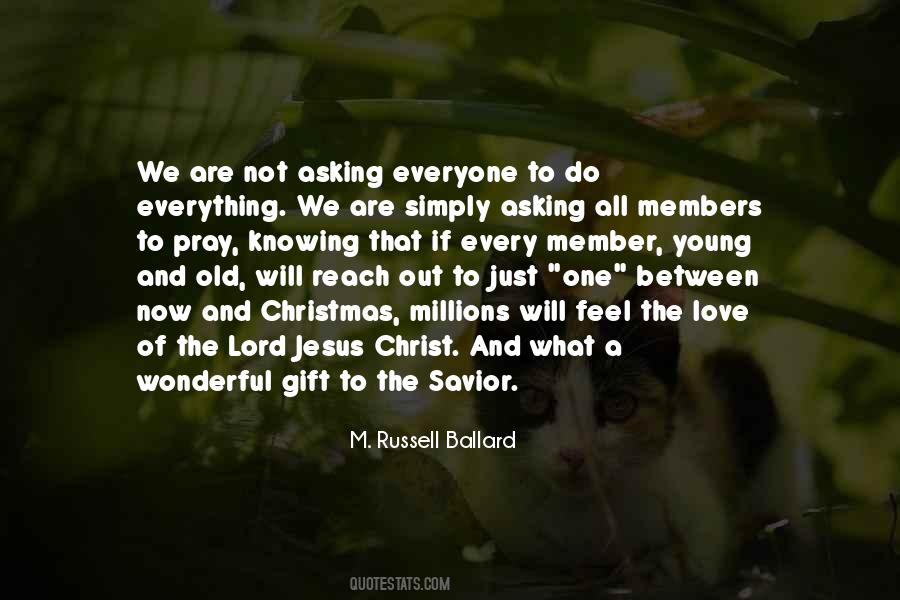 #78. A drug for everything is madness. Legal or not, prescribed or not, over-counter under-counter bought for blood on street-corners-every pill separates us from knowing our own completion and from being taught by what's true. - Author: Richard Bach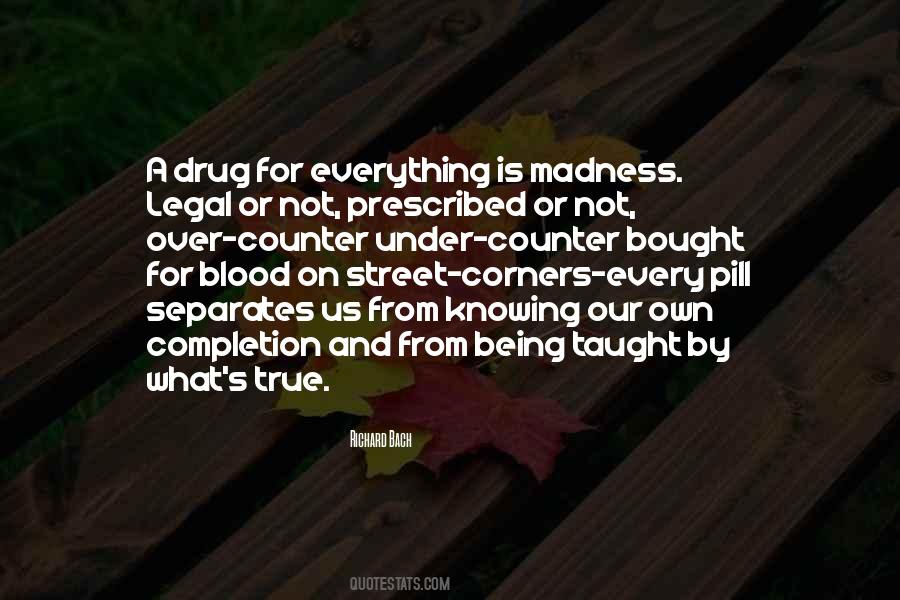 #79. Strength wasn't about being able to do everything alone. Strength was knowing when to ask for help and not being too proud to do it. - Author: Karen Marie Moning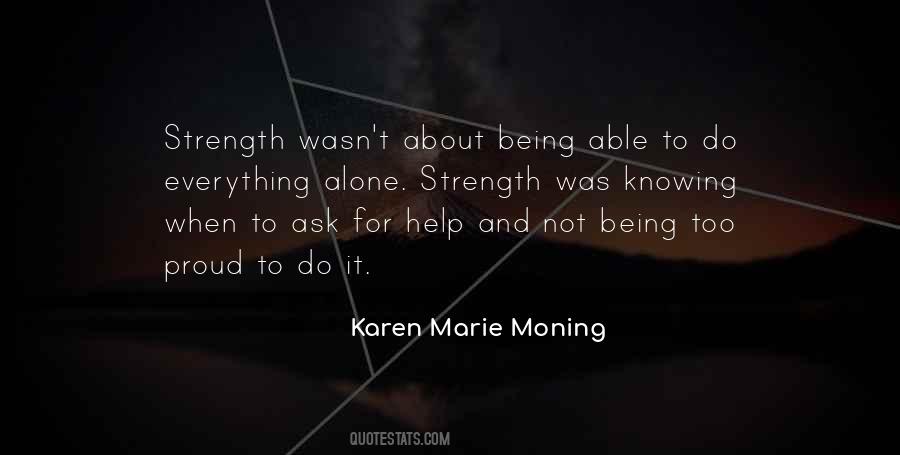 Famous Authors
Popular Topics