Non Profit Famous Quotes & Sayings
List of top 57 famous quotes and sayings about non profit to read and share with friends on your Facebook, Twitter, blogs.
Top 57 Non Profit Quotes
#1. Wikipedia is a non-profit. It was either the dumbest thing I ever did or the smartest thing I ever did. Communities can build amazing things, but you have to be part of that community and you can't abuse them. You have to be very respectful of what their needs are. - Author: Jimmy Wales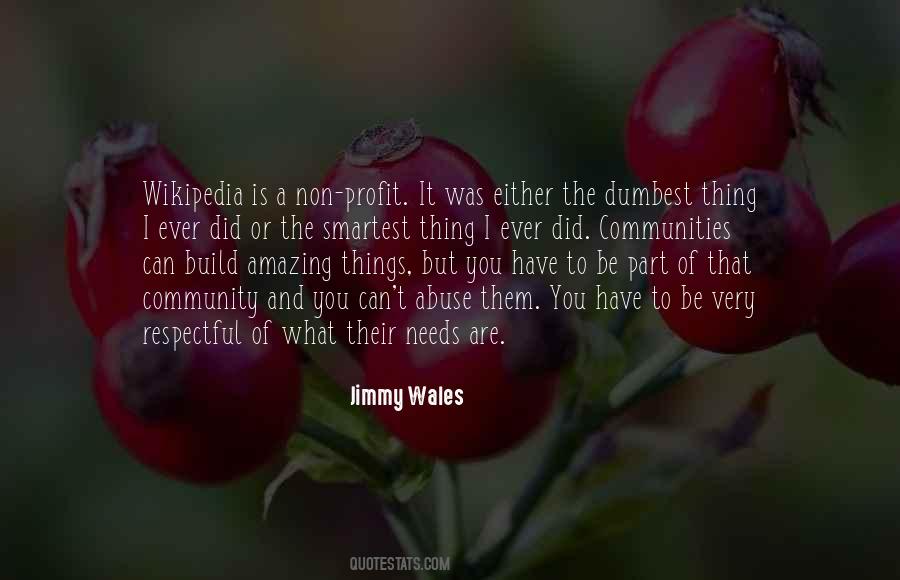 #2. And we're in the middle of a 'perfect storm.' These days, government social services are being bad-mouthed and defunded. The non-profit world is looking more and more like the for-profit world. The growing gap between rich and poor makes most of us very anxious about where we stand. - Author: Arlie Russell Hochschild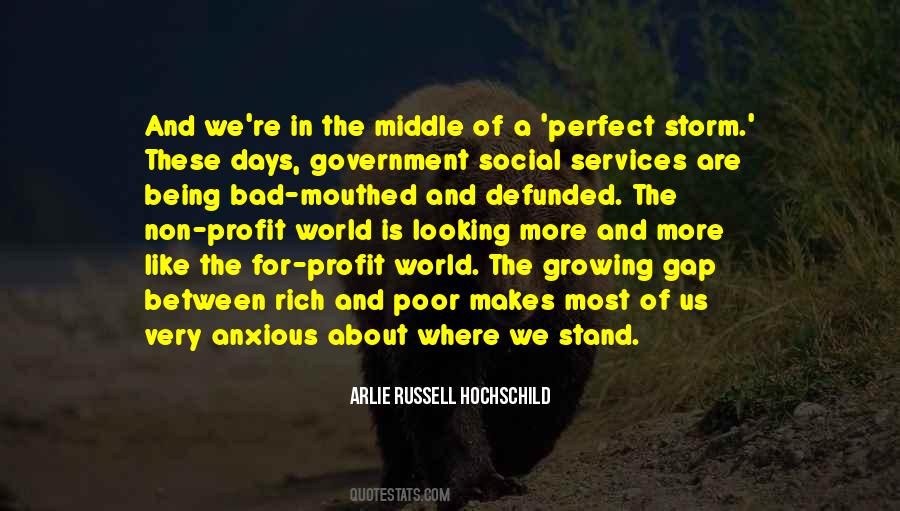 #3. My mom's a social worker, and my dad works in non-profit organisations. - Author: Seth Rogen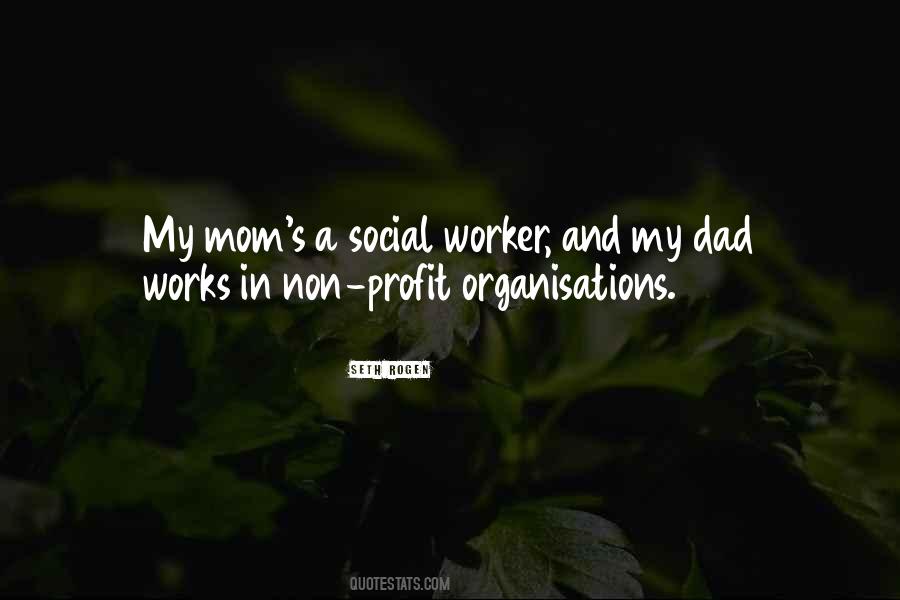 #4. I was working at a non-profit for five years. But I could always create music after work. All throughout those years, I was writing songs and recording music and performing around town. - Author: Jussie Smollett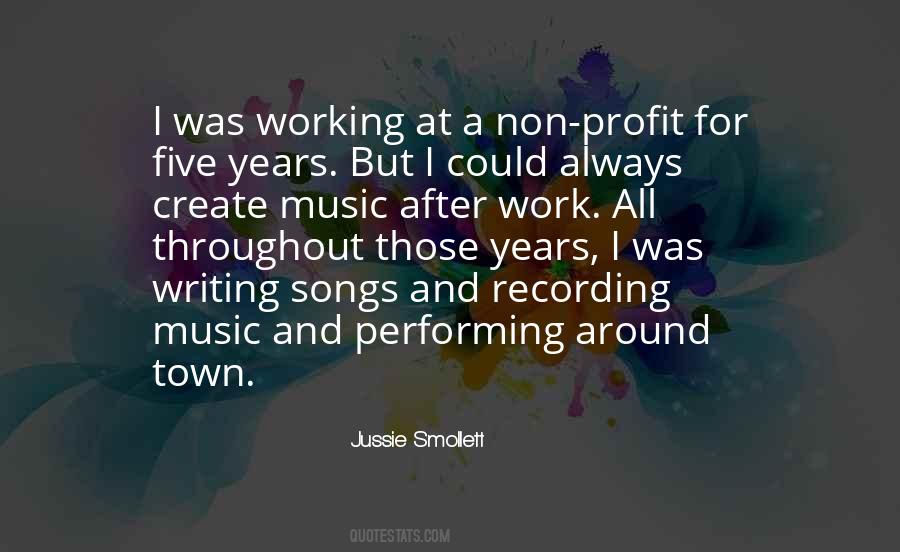 #5. I'm not a non-profit person. I think of myself as an entrepreneur who wants to work on global education. - Author: Adam Braun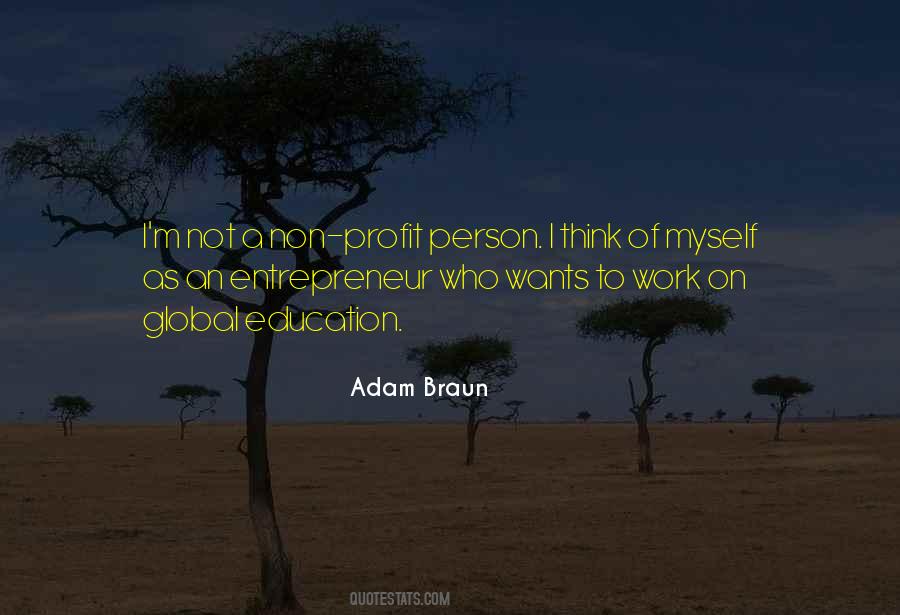 #6. I really admire the way the fans have joined me in social justice endeavours and the charitable work that I've been involved in. We've raised over $100,000 on Twitter for our non-profit in Uganda. - Author: Eliza Dushku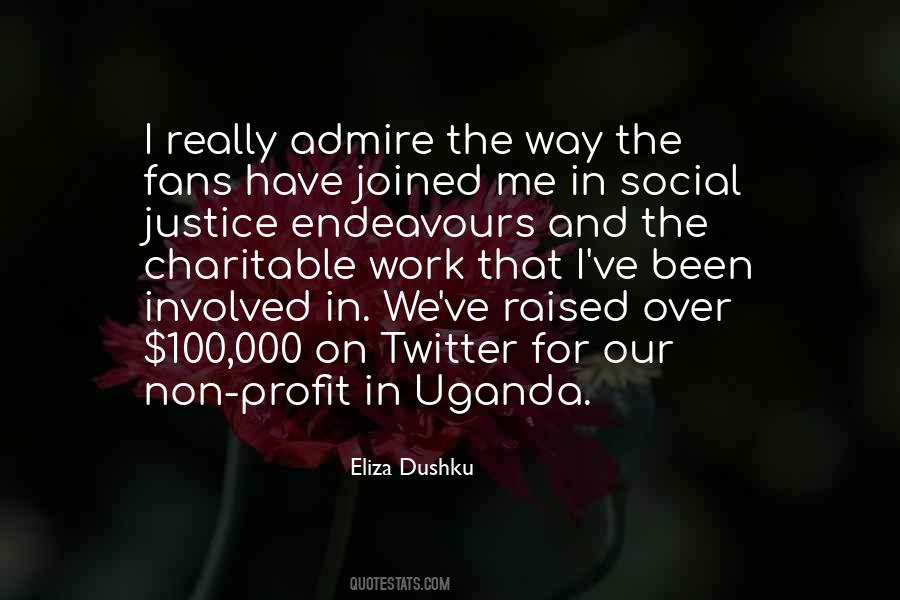 #7. The primary goal of publishing general fiction and non-fiction was never profit - though profit was essential to stay in the game. Publishing is a vocation in which the work is its own reward, an insufficient goal for today's conglomerates. - Author: Jason Epstein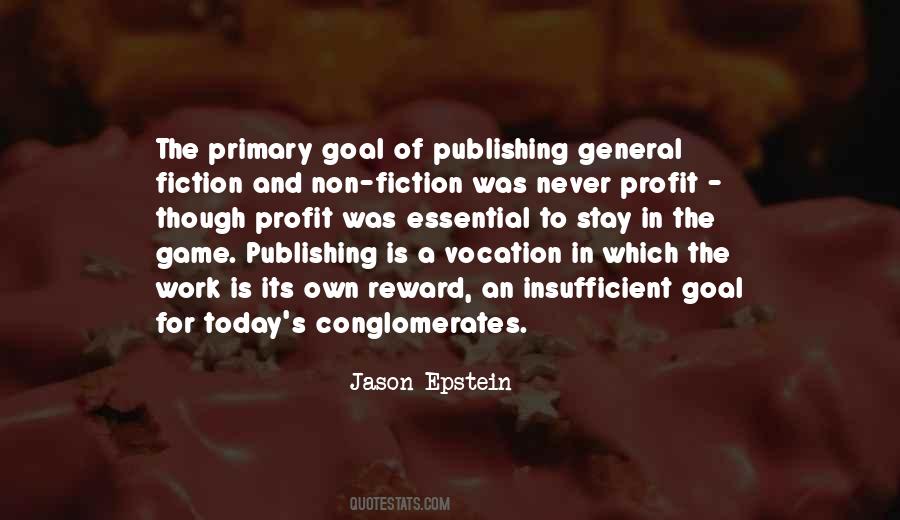 #8. In a nutshell, this United Nations non-profit organization [World Food Programme] feeds millions of starving children at schools in third world countries as an incentive for them to attend school, which in turn might better their futures. They do so much more but I was so struck by this story. - Author: Sheryl Crow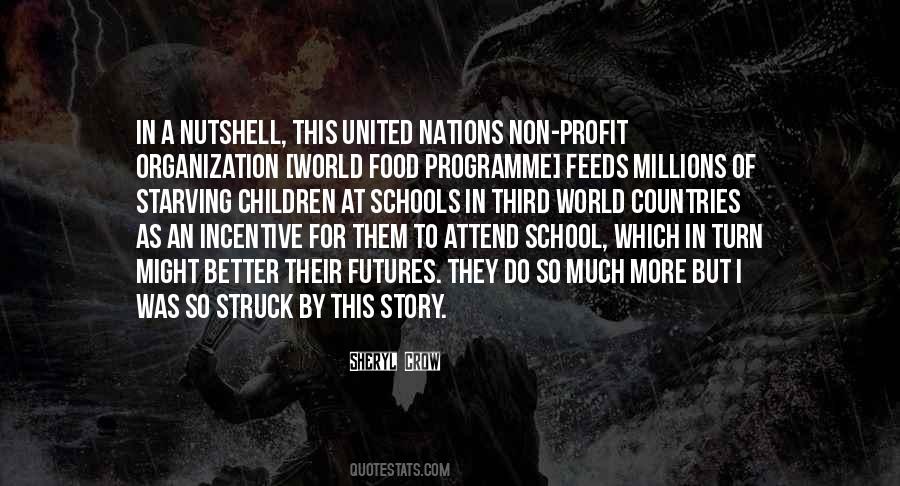 #9. I believe my business and non-profit investments are much more beneficial to societal well-being than sending more money to Washington. - Author: Charles Koch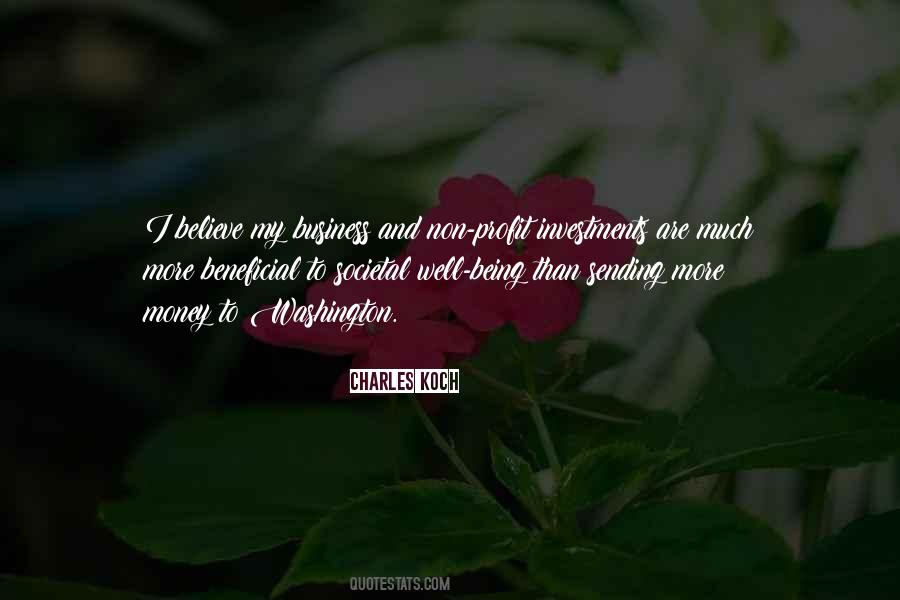 #10. A report by ArchCity Defenders, a non-profit group, found that the municipal court in Ferguson - a city of 21,135 people - issued 32,975 arrest warrants last year, mostly for traffic violations. These fines and fees were the second-biggest source of the city's $20m income. - Author: Anonymous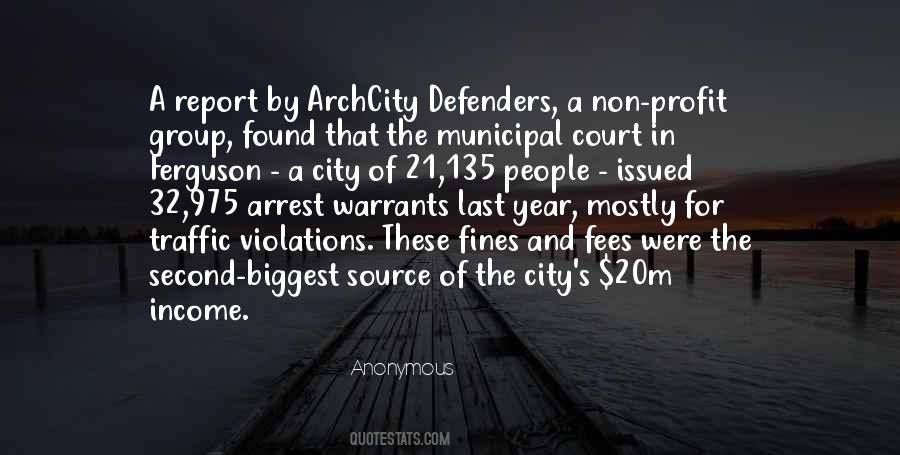 #11. The United States is at a critical juncture in time. Our government is riddled with historic debt, and the limited resources of philanthropic and non-profit efforts cannot meet the scale of social challenges we face with necessary force. - Author: Simon Mainwaring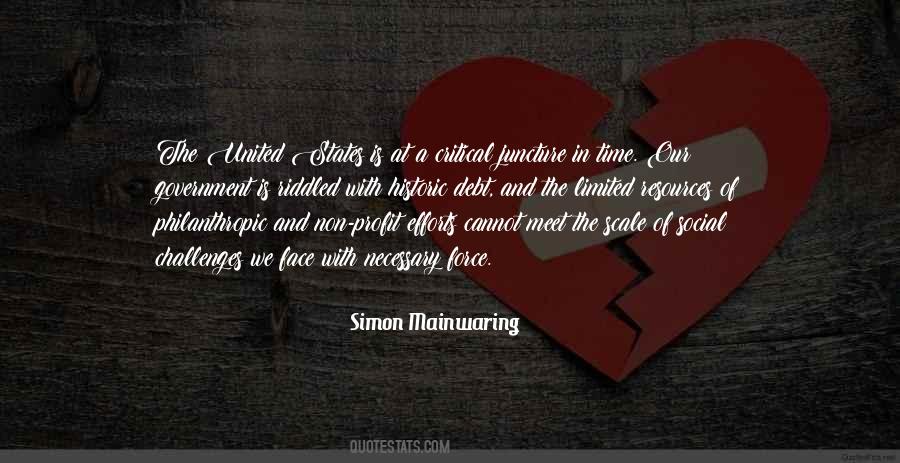 #12. The profit of the one is the profit of the other. - Author: Frederic Bastiat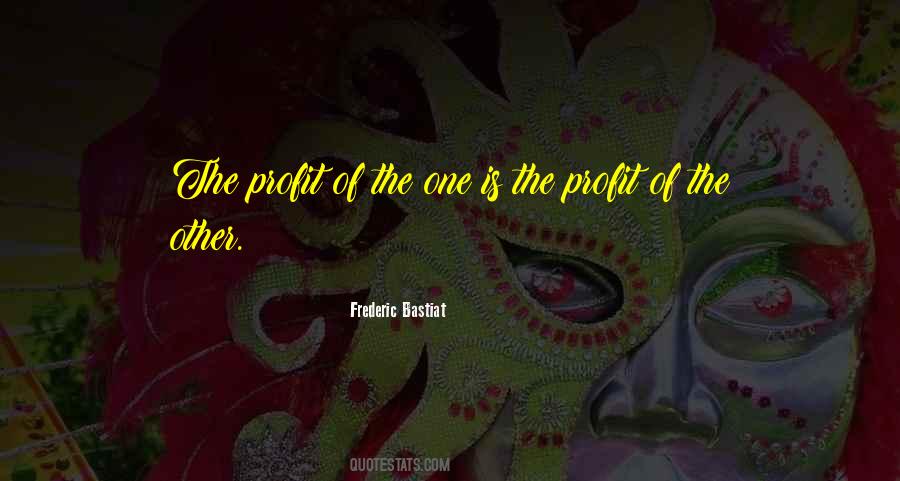 #13. Tim Tebow is one of my biggest inspirations. I actually want to be able to do some of the things that he does in terms of the amount of charity work and the non-profit work, and the way he impacts people off the field. I think that is what is most inspiring to me about him. - Author: Jeremy Lin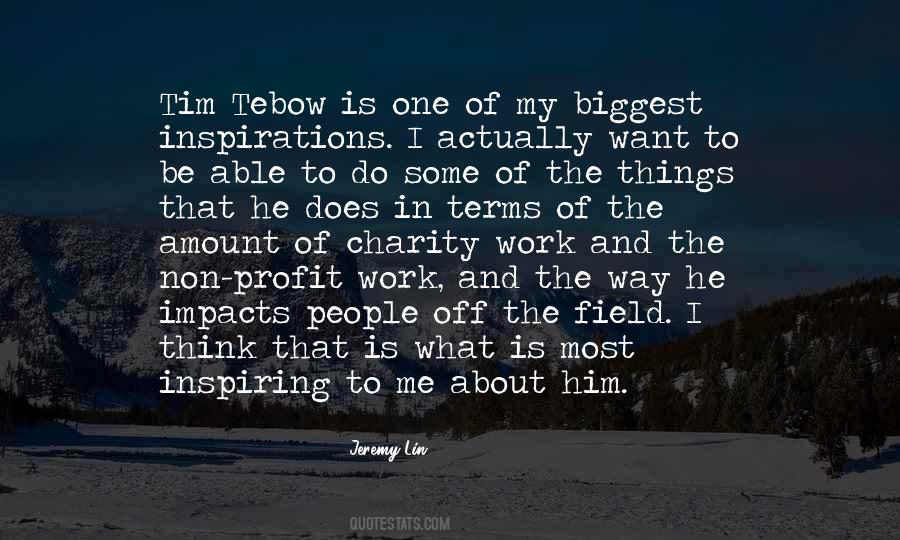 #14. My wife runs a non-profit that gives legal information online to victims of domestic violence. - Author: Marshall Curry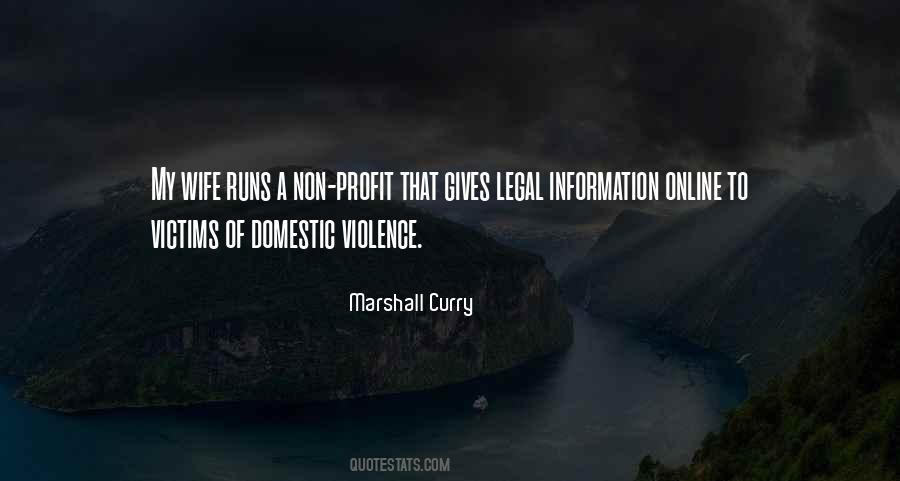 #15. The social business marketplace is effectively forcing brands to engage with consumers on the basis of something that is meaningful to them. More often than not, this takes the form of some core value that finds expression in a non-profit cause. - Author: Simon Mainwaring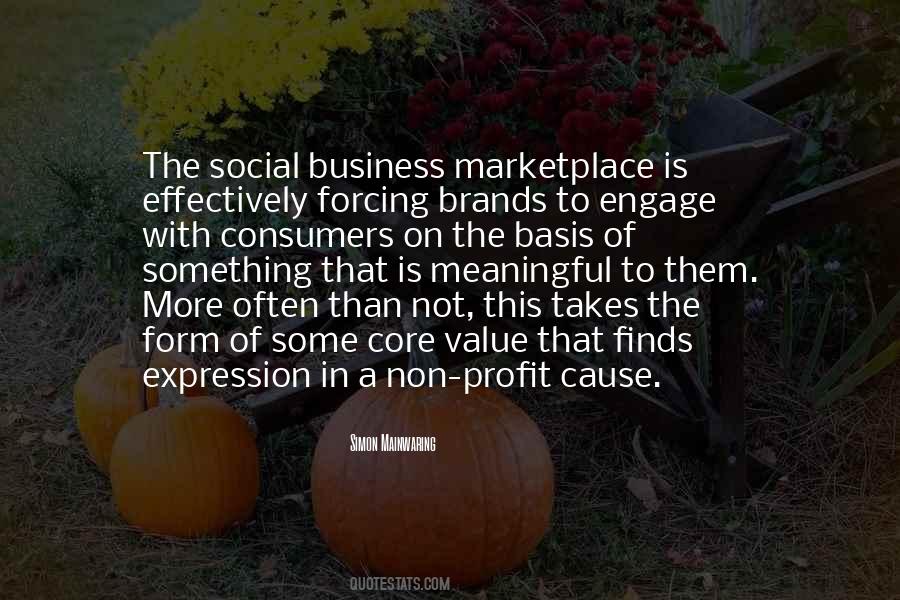 #16. And if I lost I would have gone back to 12 weeks of vacation, because I was successful enough that I was spending much more time on non-profit boards and traveling a lot. - Author: John Hickenlooper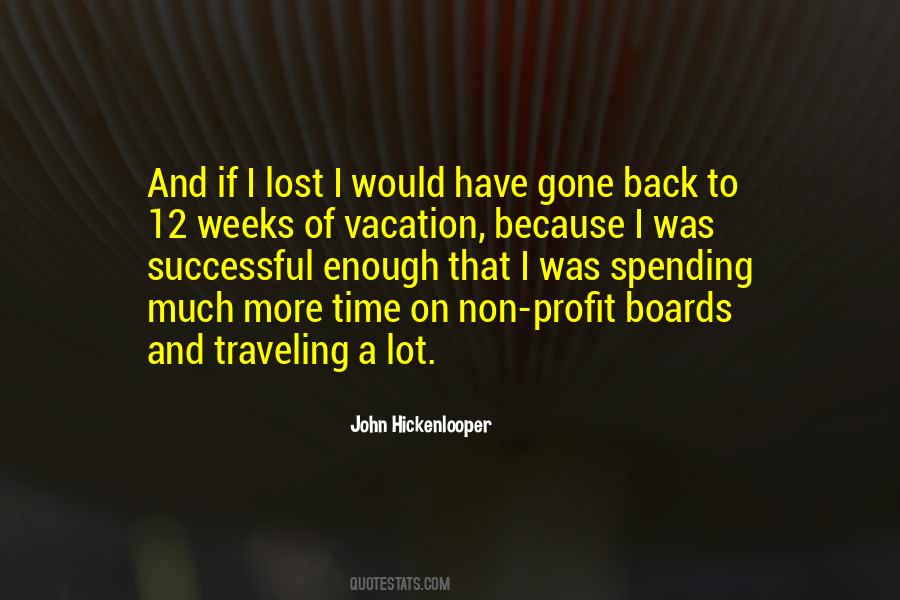 #17. To live in a state of liberty is not to live apart from law. It is, on the contrary, to live under the highest law, the only law that can really profit a man, the law which is consciously and deliberately imposed by himself on himself. - Author: Auberon Herbert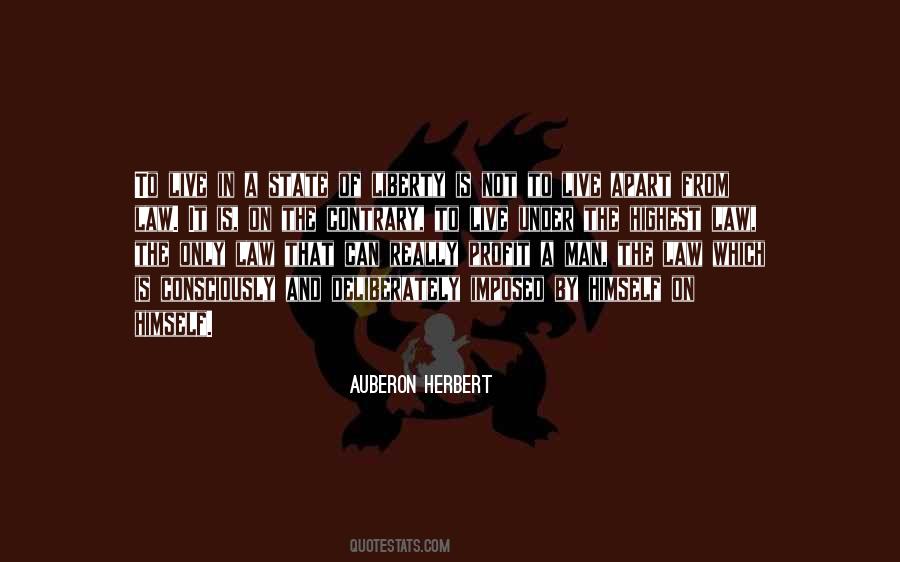 #18. I have spent many years working in education and media, from hosting documentaries to being a spokesperson for Discovery Education to revolutionizing youth environmental service through my non-profit, EarthEcho International. - Author: Philippe Cousteau Jr.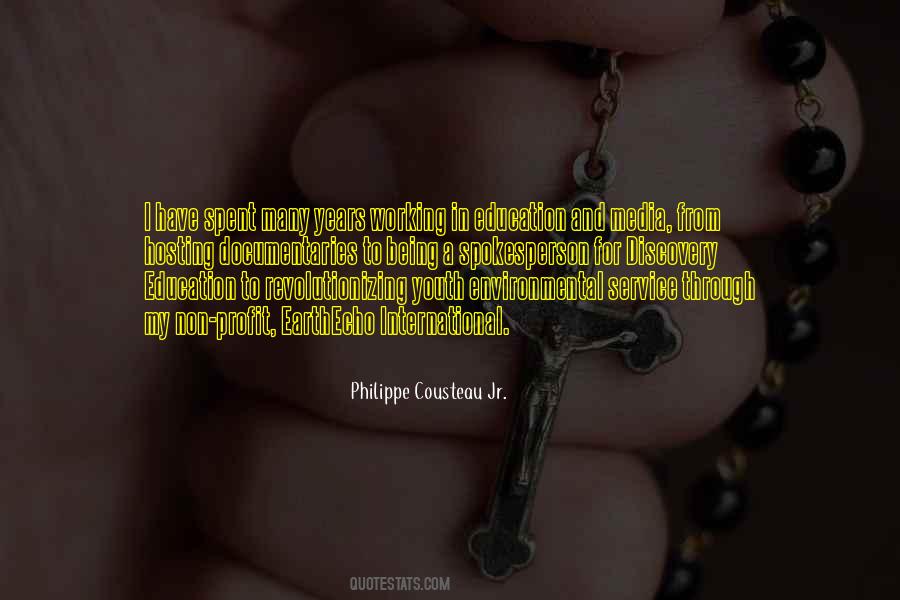 #19. If we only have great companies, we will merely have a prosperous society, not a great one. Economic growth and power are the means, not the definition, of a great nation. - Author: James C. Collins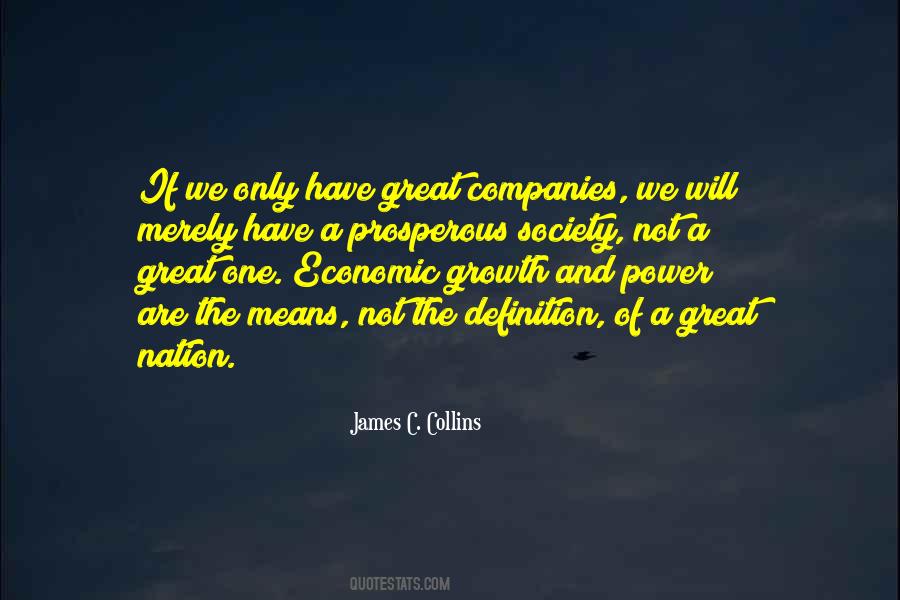 #20. While Financier George Soros was investing money in Kosovo's reconstruction, the George Soros Foundation for an Open Society had opened a branch office in Pristina establishing the Kosovo Foundation for an Open Society (KFOS) as part of the Soros' network of "non-profit foundations" in the Balkans. - Author: Michel Chossudovsky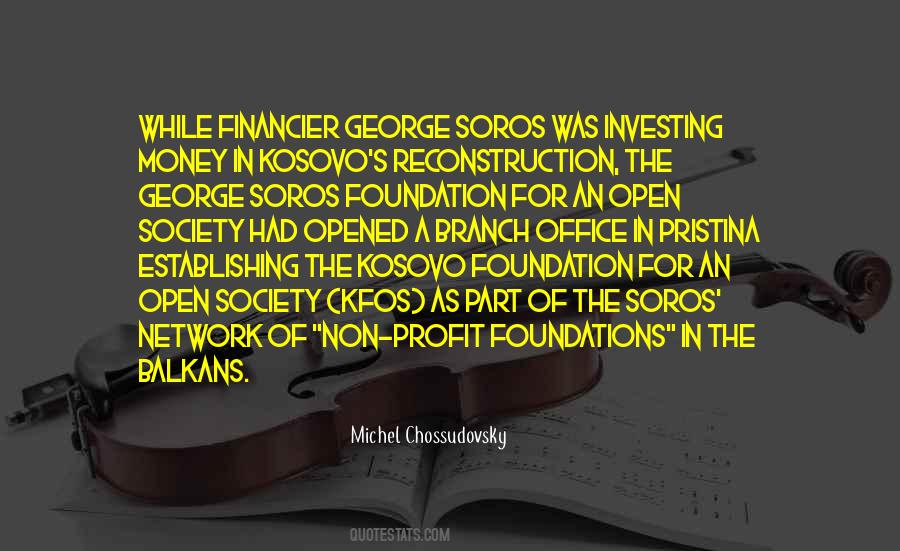 #21. I spent 28 years working in healthcare. I thought I'd retired from non-profit community health care. - Author: Glenn Thompson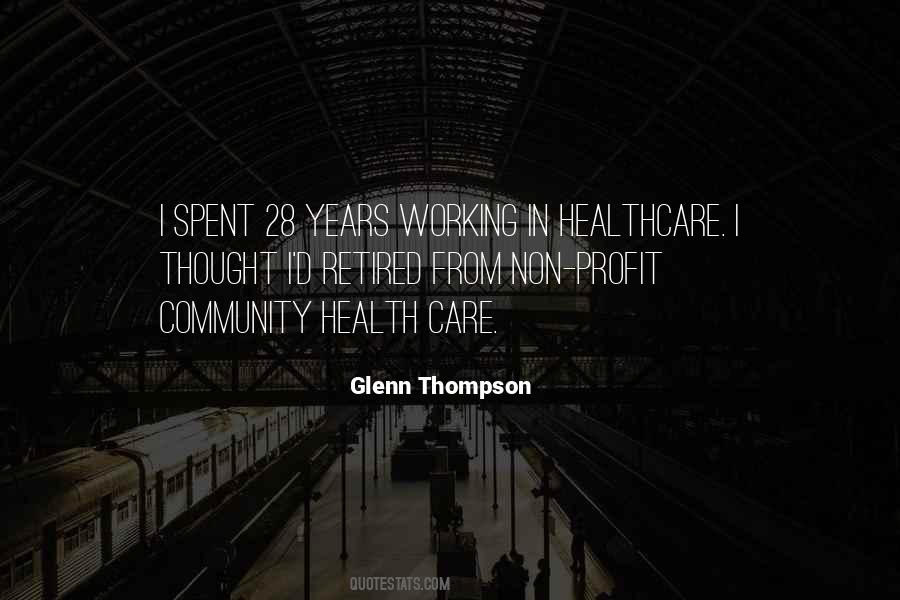 #22. The fifth member of my band is my non-profit work. - Author: Bonnie Raitt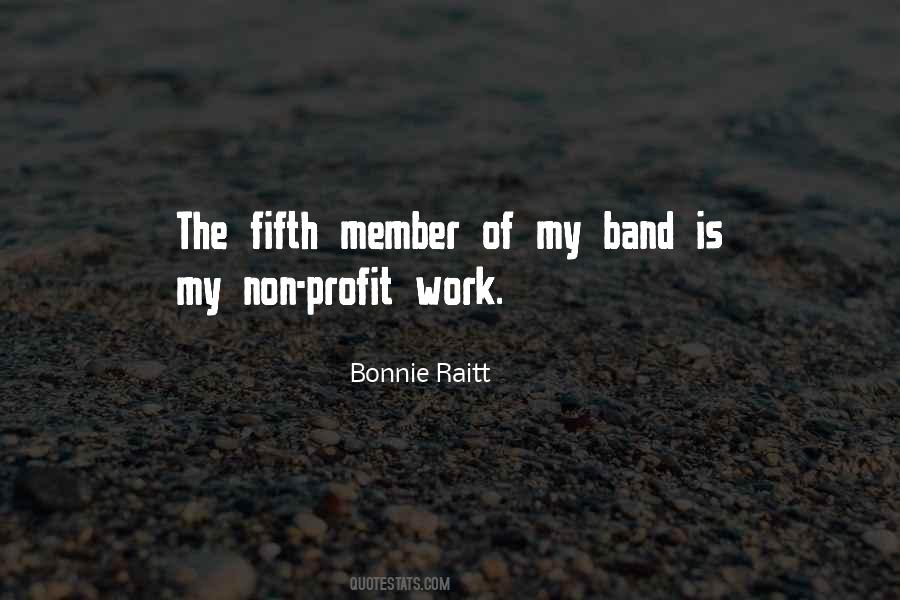 #23. It is not the government's purpose to make a profit the way a company does, because a company doesn't have to give a damn about the unemployed poor or provide services that are non-commercial by definition. - Author: Jean Chretien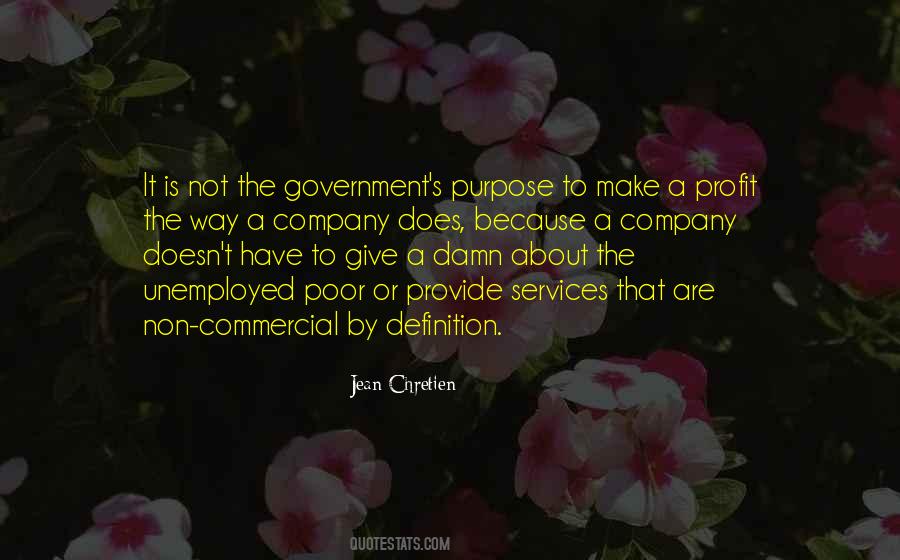 #24. When business leaders ask me what they can do for Indiana, I always reply: 'Make money. Go make money. That's the first act of corporate citizenship. If you do that, you'll have to hire someone else, and you'll have enough profit to help one of those non-profits we're so proud of.' - Author: Mitch Daniels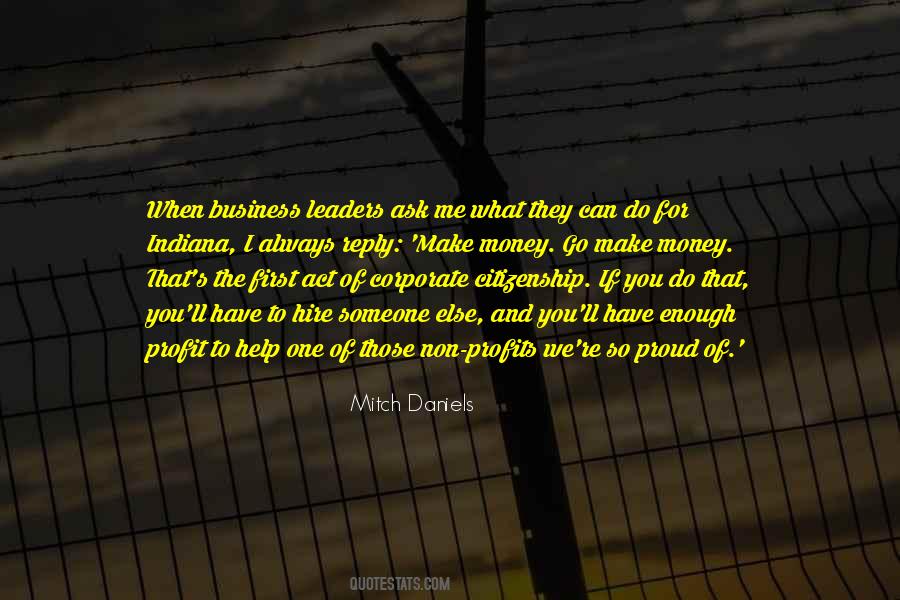 #25. What makes for a good marriage isn't necessarily what makes for a good romantic relationship. Marriage isn't a passion-fest; it's a partnership formed to run a very small, mundane and often boring non-profit business. And I mean this in a good way. - Author: Lori Gottlieb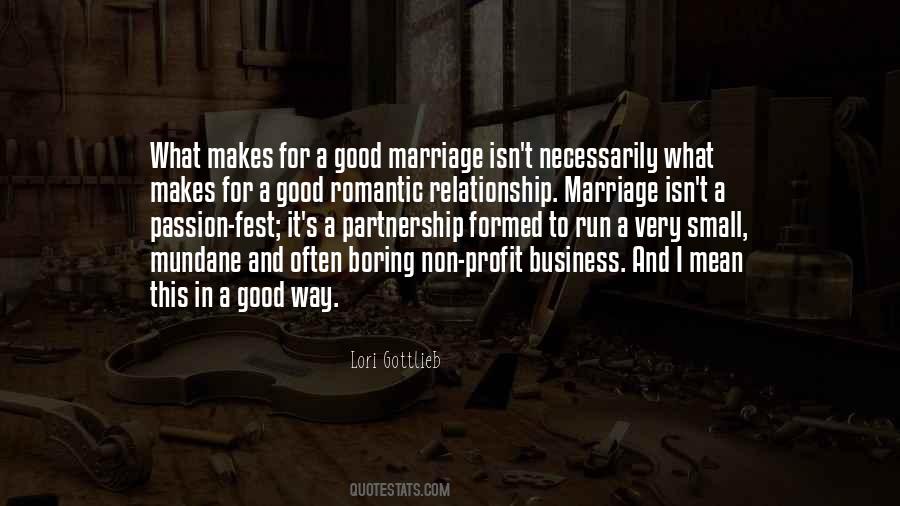 #26. The fastest surging woman leadership position is heading non-profit organizations. Women are not rejecting leadership positions
they're rejecting politics. - Author: Celinda Lake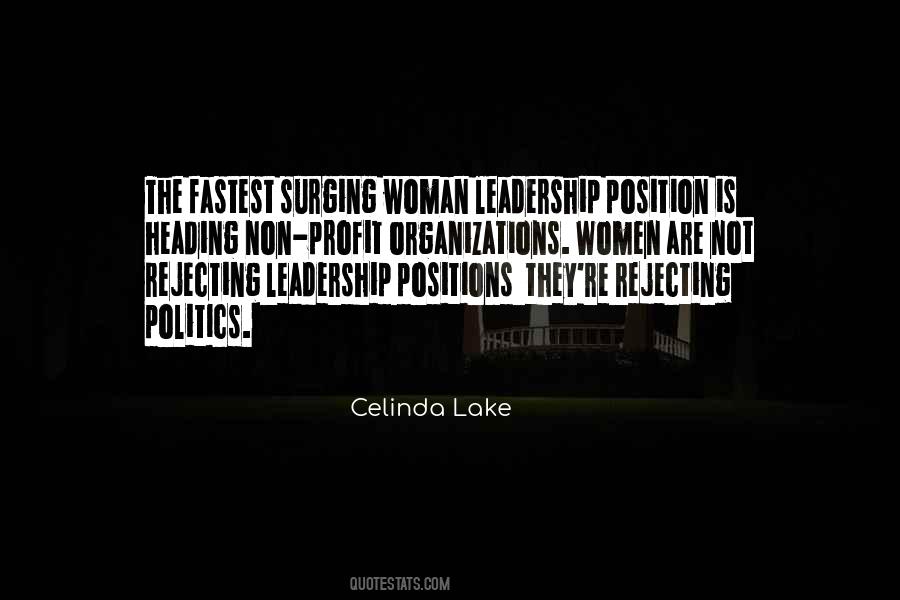 #27. Non-profit does not mean not for revenue. - Author: Holly Duckworth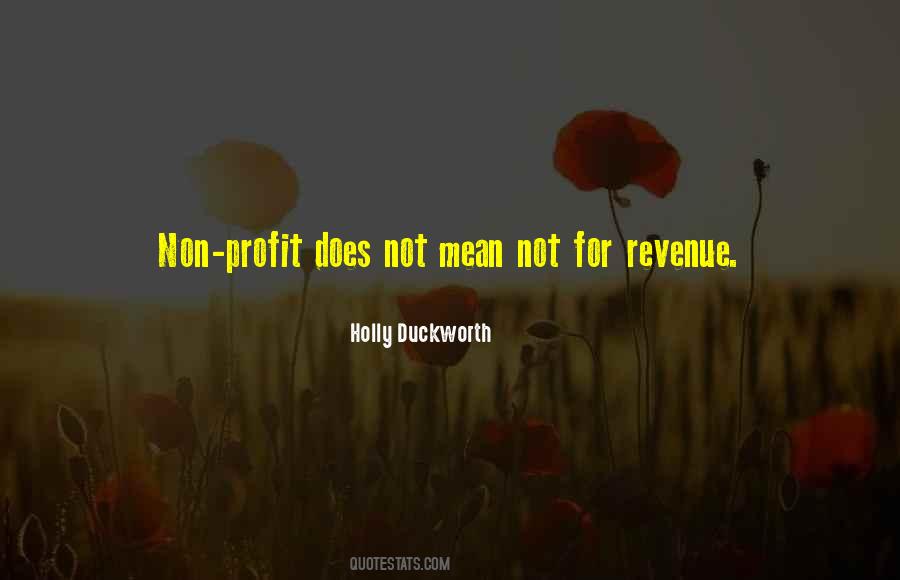 #28. The sisterhood of librarians is a non-profit organisation and our goal is to keep imagination alive, not make money. - Author: S.A. Tawks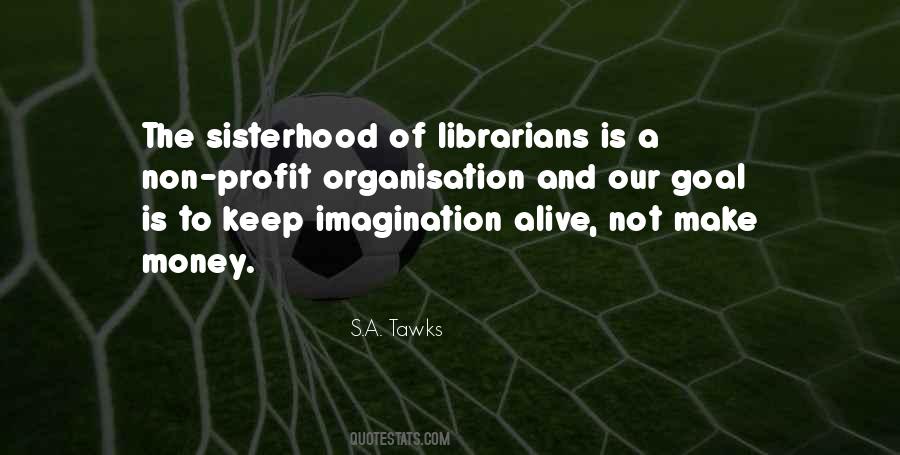 #29. The culture around here is much less cutthroat than it is in, say, Silicon Valley, or even within the non-profit culture in D.C.. - Author: Ethan Zuckerman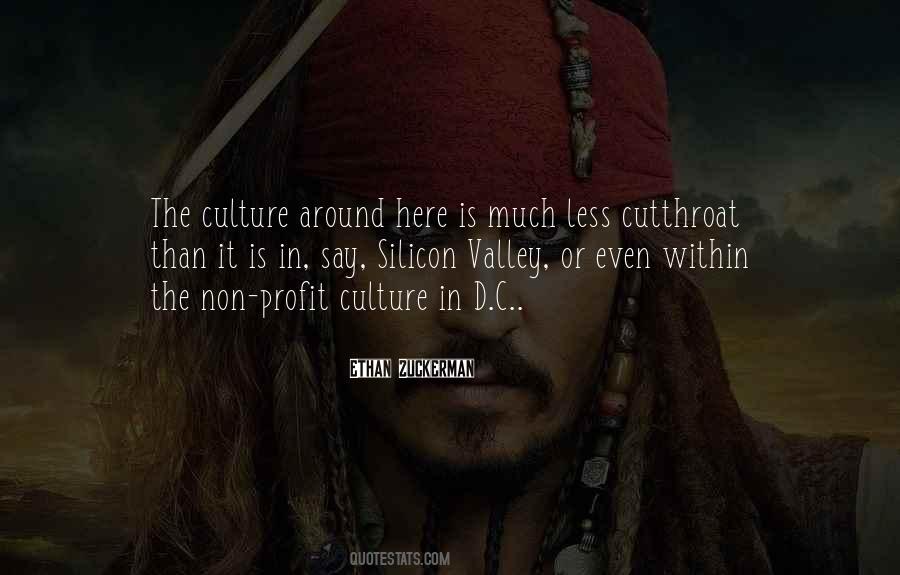 #30. If you are a local church or non-profit, you live and die with volunteers. - Author: Andy Stanley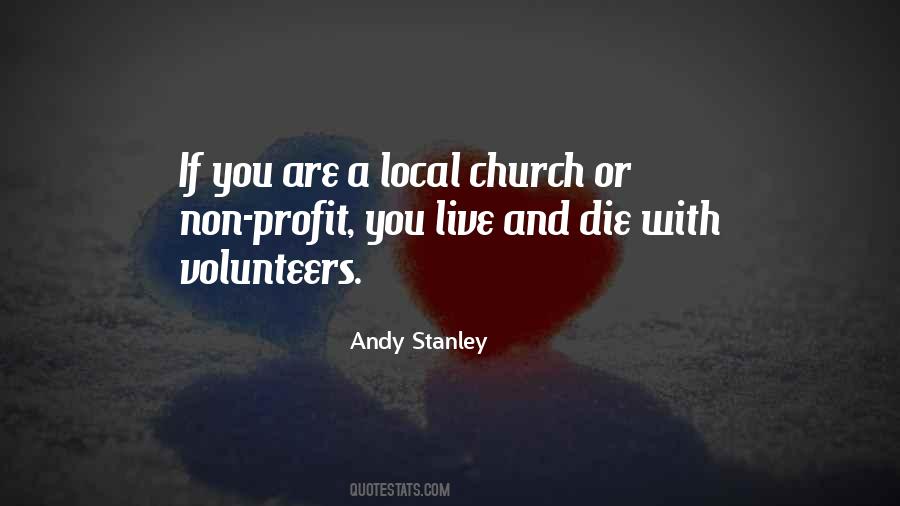 #31. It's hard to get money to support your [non-profit] organization if you have no evidence. It's very much like the acting business: You need an agent and manager so you can get a job to get resources, but you can't get an agent and a manager unless people see your work. - Author: Sonja Sohn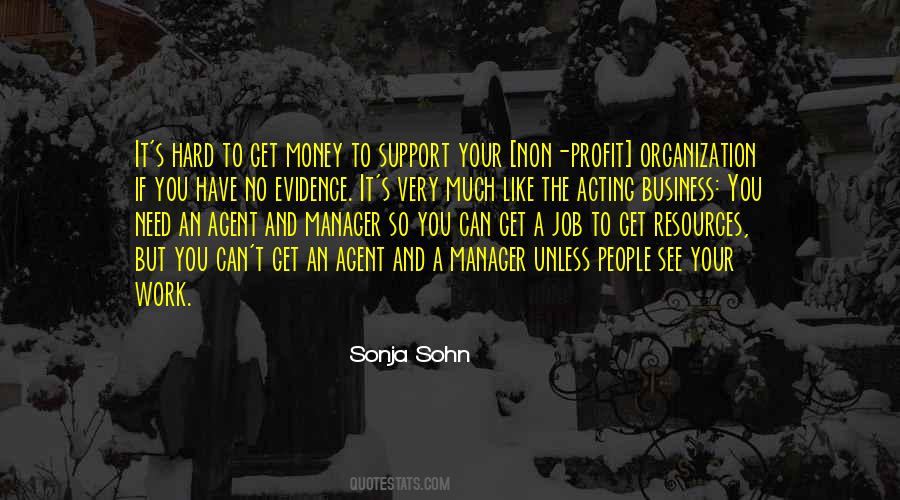 #32. I used to advise writers to just write their books and it will find a home, and suddenly that didn't seem as certain. I figured it was time to act. I considered a small press through RADAR, my literary non-profit. - Author: Michelle Tea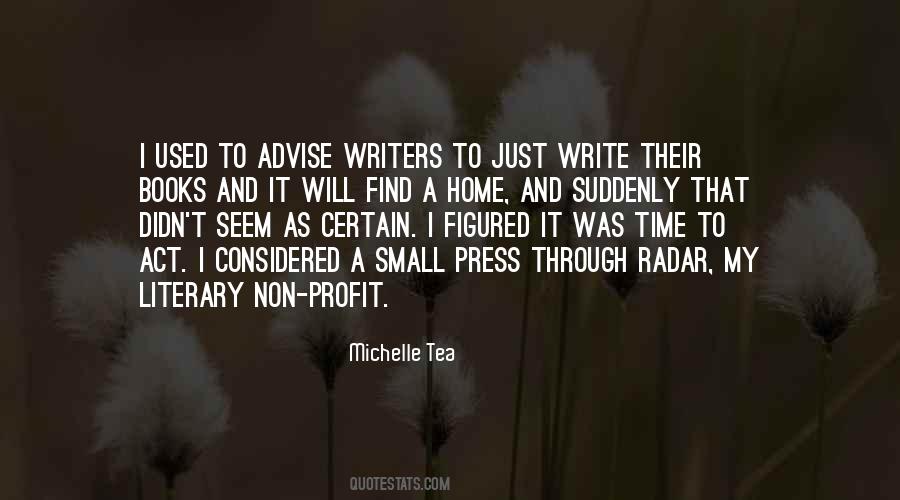 #33. As a 25 year director of a non-profit program I began to see the need to shift from only doing projects/programs to also doing policy work. - Author: Mark Winne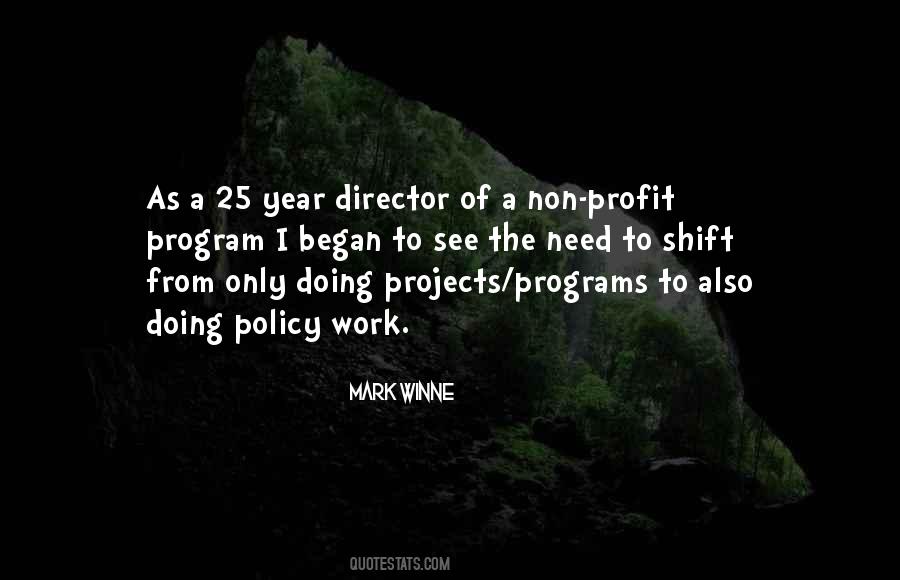 #34. When you have a celebrity who is willing to shine his personal spotlight on the non-profit and can also speak articulately about the mission, that's really the best of both worlds. - Author: Adam Braun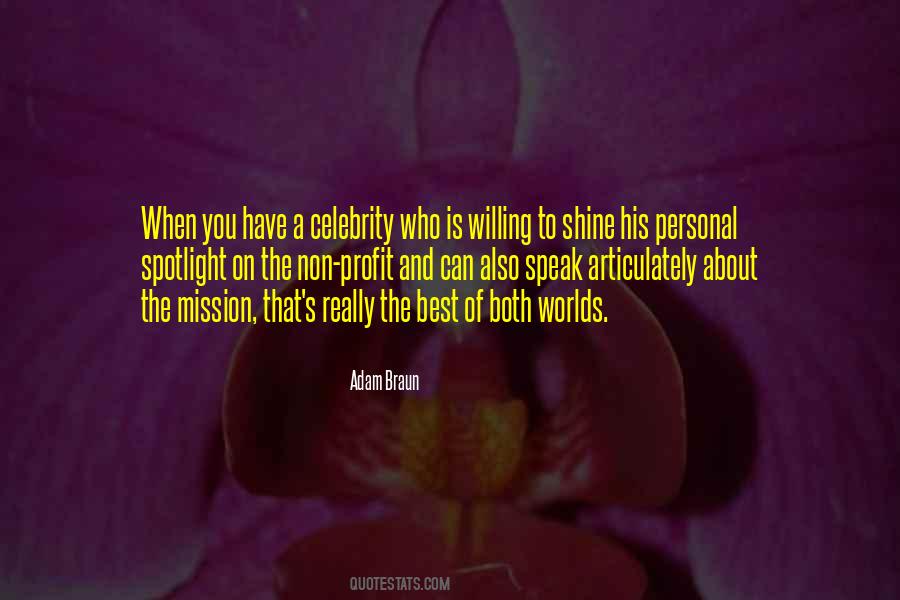 #35. I left Xerox for the non-profit sector because it was clear to me that only public/private partnerships can pull off a turnaround plan at the scale we need to tackle global poverty. - Author: Anne M. Mulcahy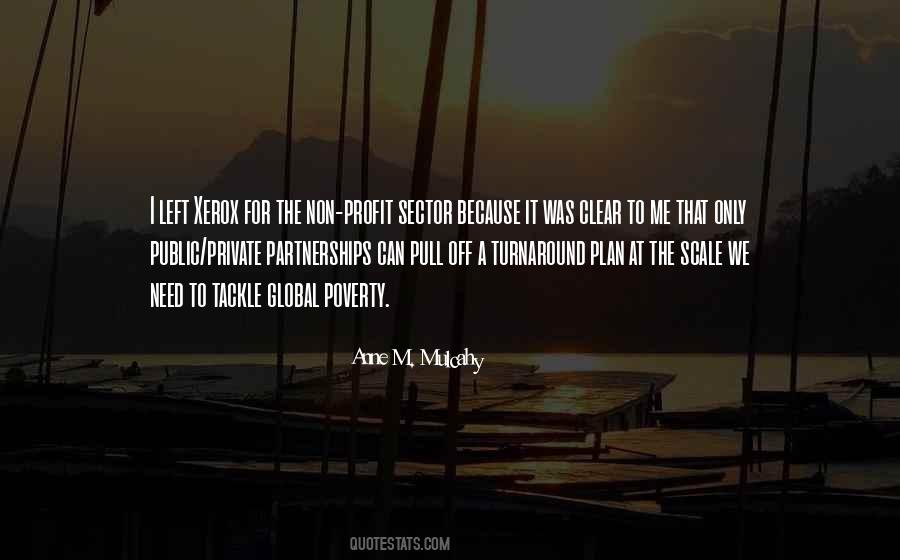 #36. I think somehow people should be encouraged to think about a very long time horizon and I think this is true for businesses, it's true for governments and it's true for people doing things in the non-profit sector. - Author: Peter Thiel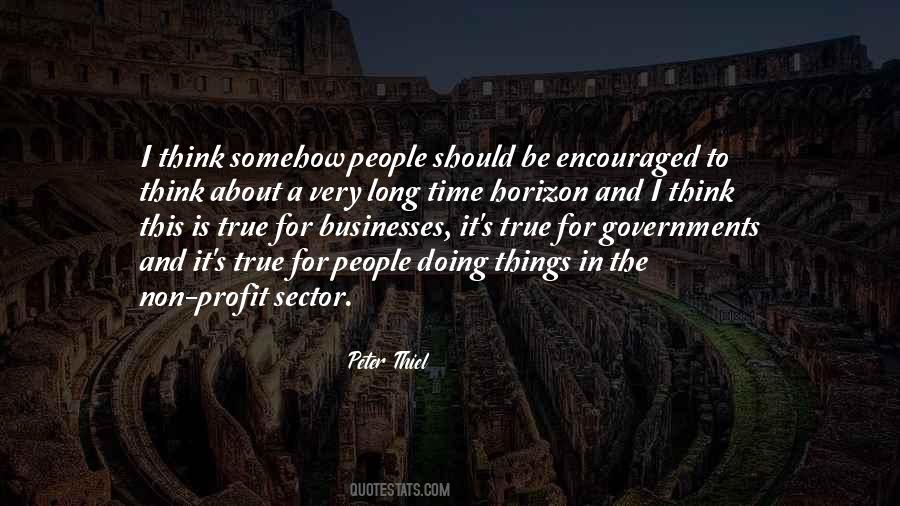 #37. The amount of work that a for-profit has to do to get real money is minimal compared to the amount of work it takes a non-profit to get even a very small grant. - Author: Leila Janah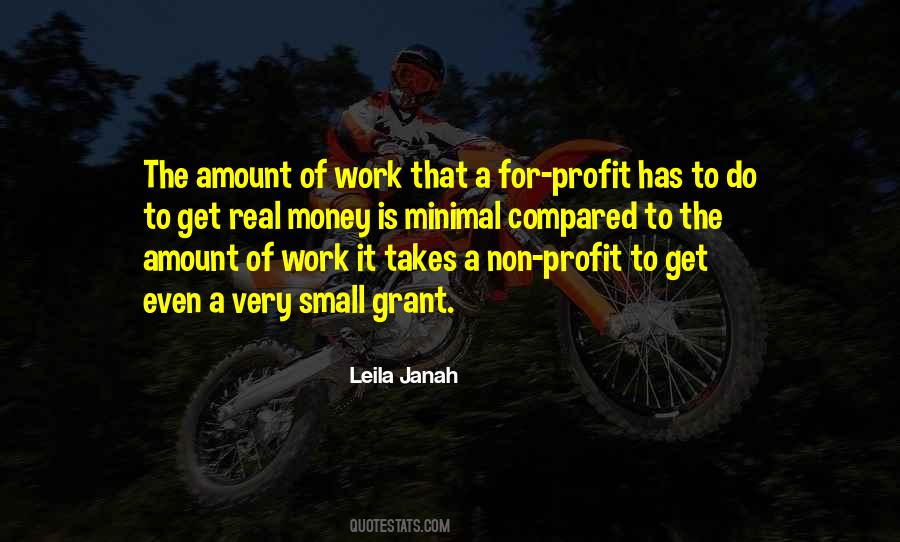 #38. The combination of a workable basic formula and the capacity to improve over time is what one hopes for in any aspect of society: business, government, the non-profit sector. - Author: Michael Spence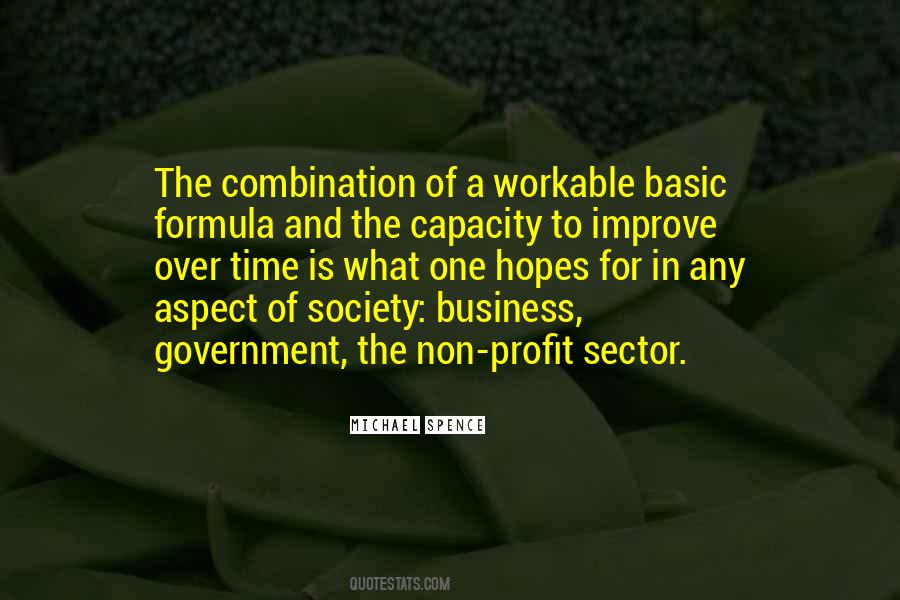 #39. Defend the church. Defend the family. Defend the non-profit community. Defend them against a government that wants to weaken them. - Author: Rick Santorum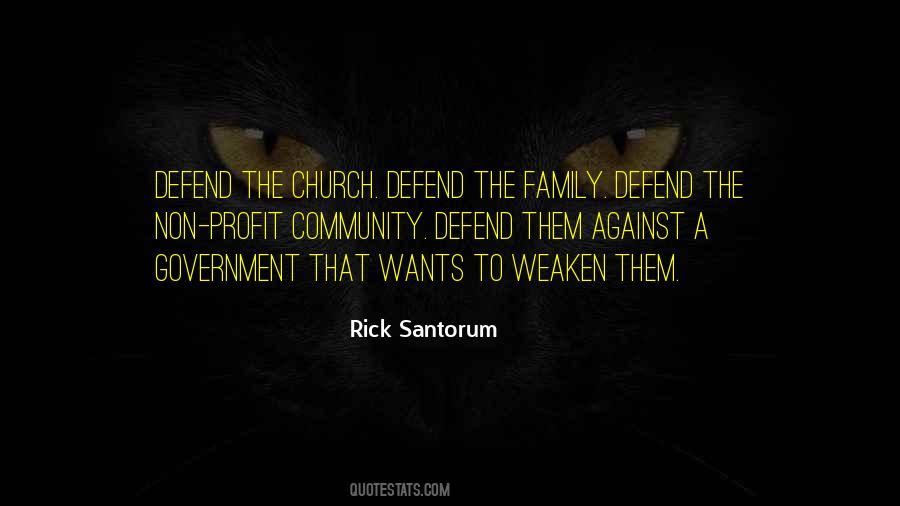 #40. In 2001, Texaco was bought by Chevron, and during deliberations concerning that sale, an 800 page document listing the problems and liabilities connected to Texaco was brought forward at their stockholder meeting by Amazon Watch, a non-profit dedicated to protecting the Amazon. - Author: Peter Coyote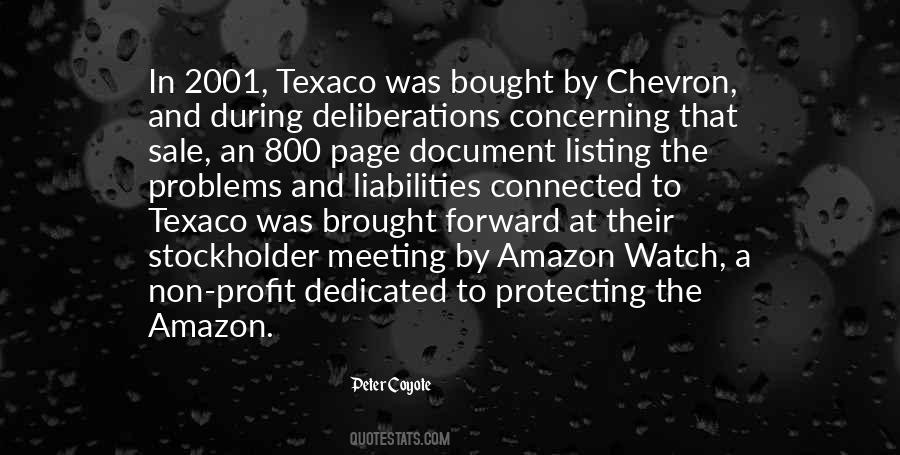 #41. By linking with friends and ultimately strangers and building those relationships, social media is reweaving the social fabric that can then be used to scale your non-profit efforts. - Author: Simon Mainwaring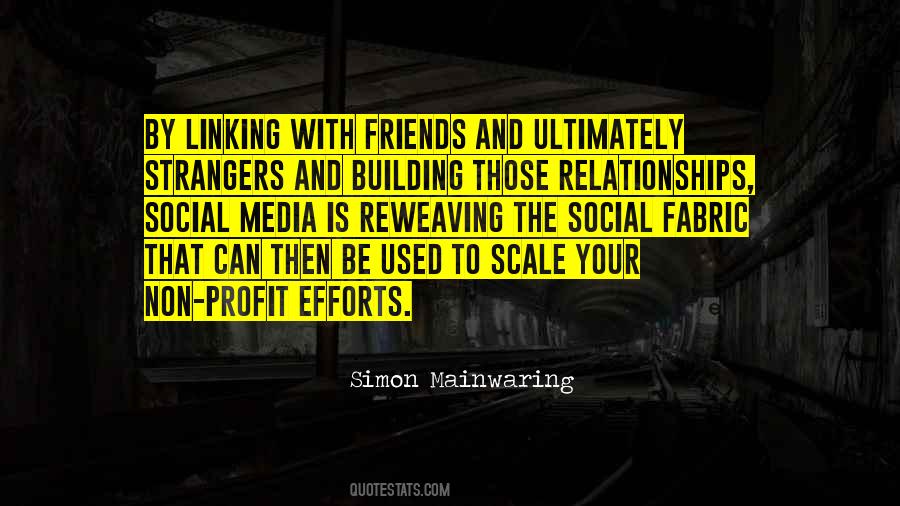 #42. Gov. Romney is a proven and effective leader with vast experience in the business world, in the non-profit world and in government. And in every capacity in which he has ever served, he has been effective as a leader. - Author: Jim Talent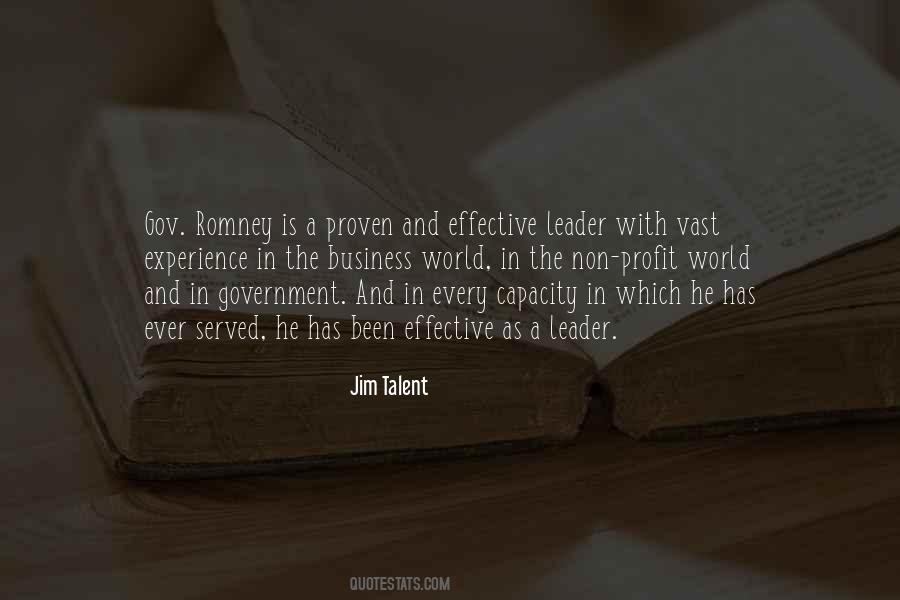 #43. The answer is the disruptive innovator, an outsider, who creates a product or service for the non-existing consumer in a non-existing market for almost no profit. - Author: Clayton Christensen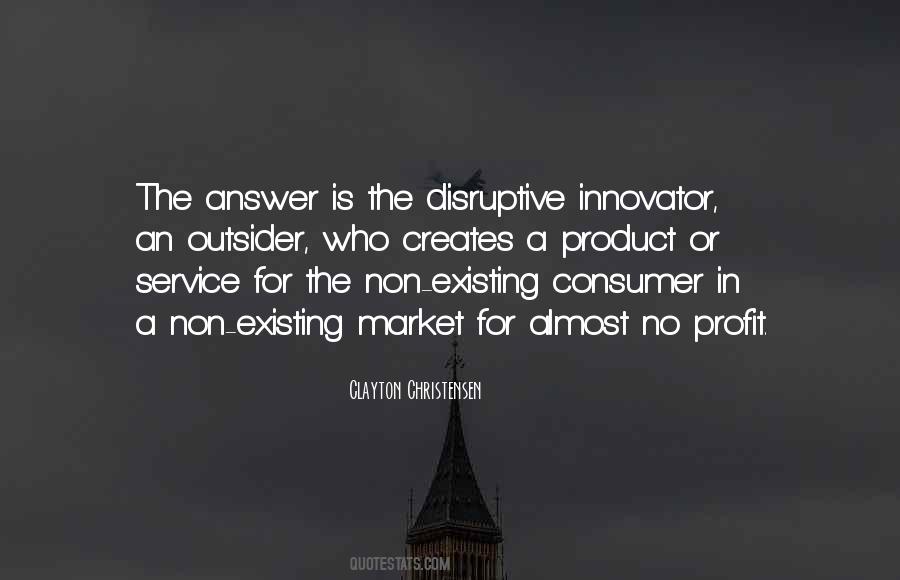 #44. There's nothing that can replace quality programs in a non-profit. - Author: Adam Braun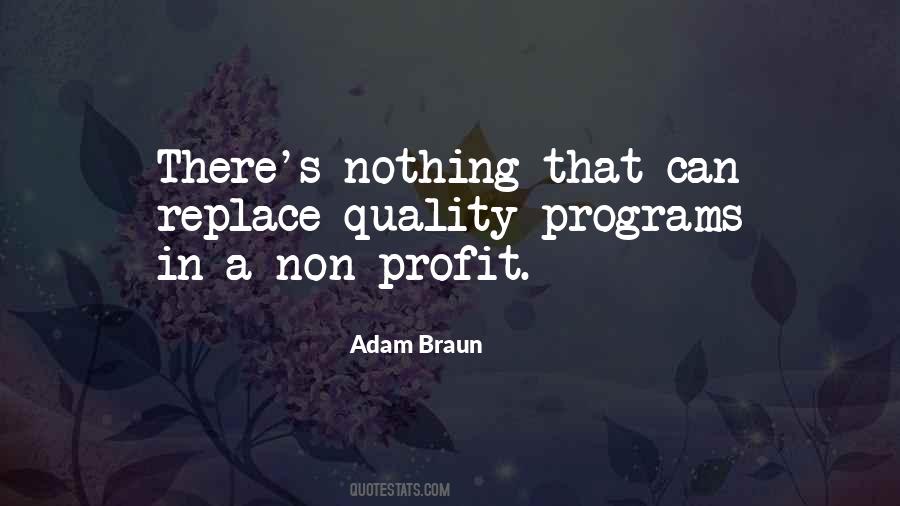 #45. When I started Milk! Records, it was a pretty non-profit making venture. - Author: Courtney Barnett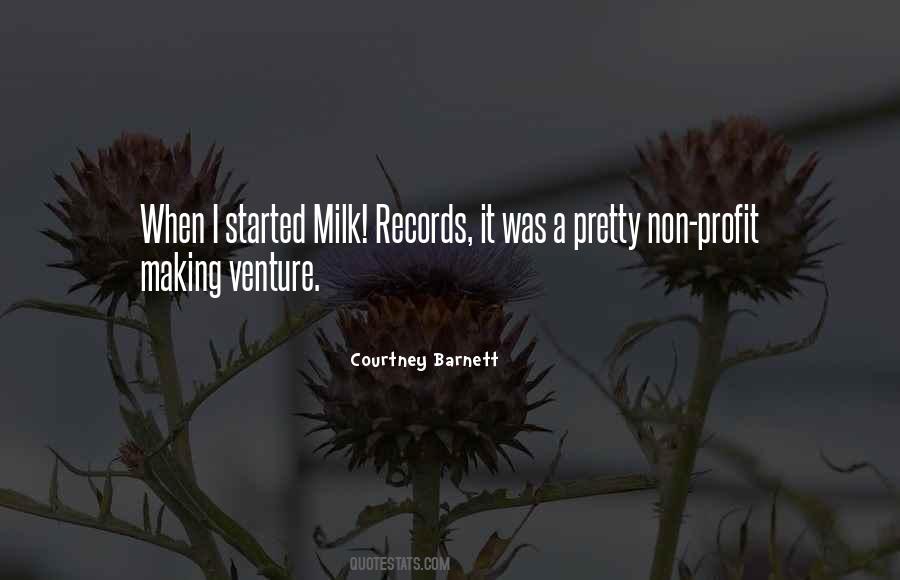 #46. Look at all of the out-of-wedlock births that are going on, particularly in our inner cities. I have been speaking at a lot of the non-profit organizations that support organizations that support these women so that they don't have an abortion, so that they have the baby. - Author: Benjamin Carson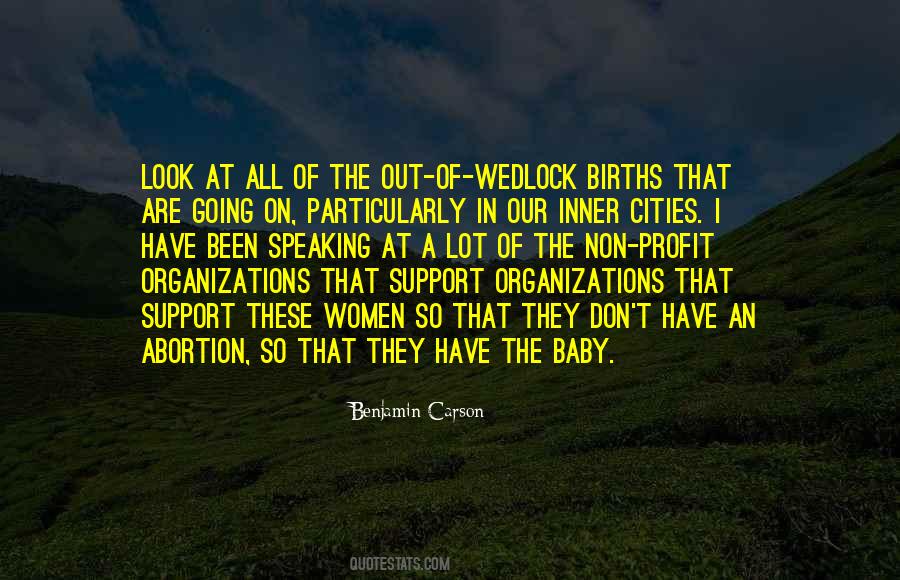 #47. The virtuous man is driven by responsibility, the non-virtuous man is driven by profit. - Author: Confucius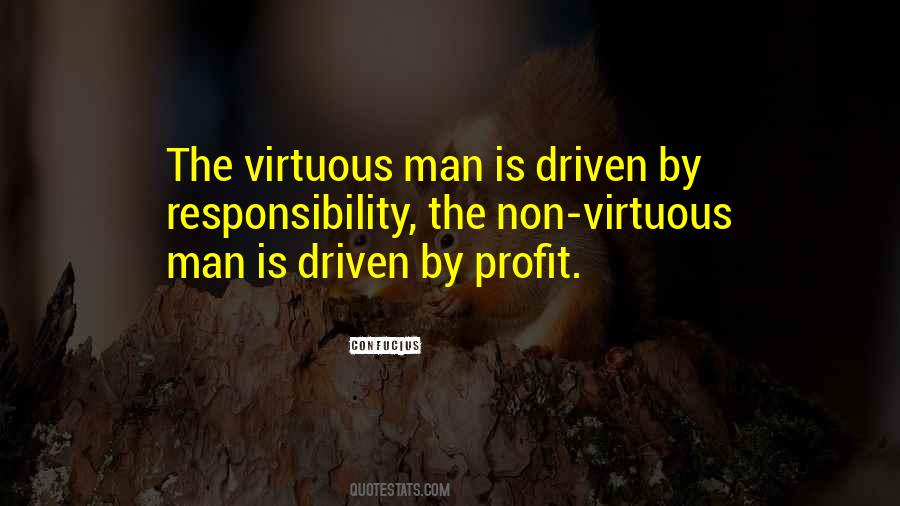 #48. Non-profit organizations think like non-profit organizations. That's the problem. - Author: Jeff Henderson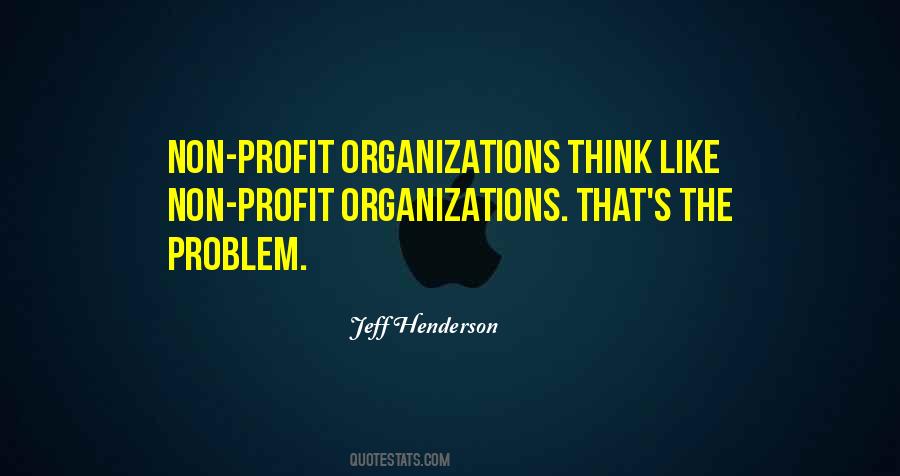 #49. I believe that it is the responsibility of everyone in corporate life to help with the funding of non-profit organizations. - Author: Frederick Lenz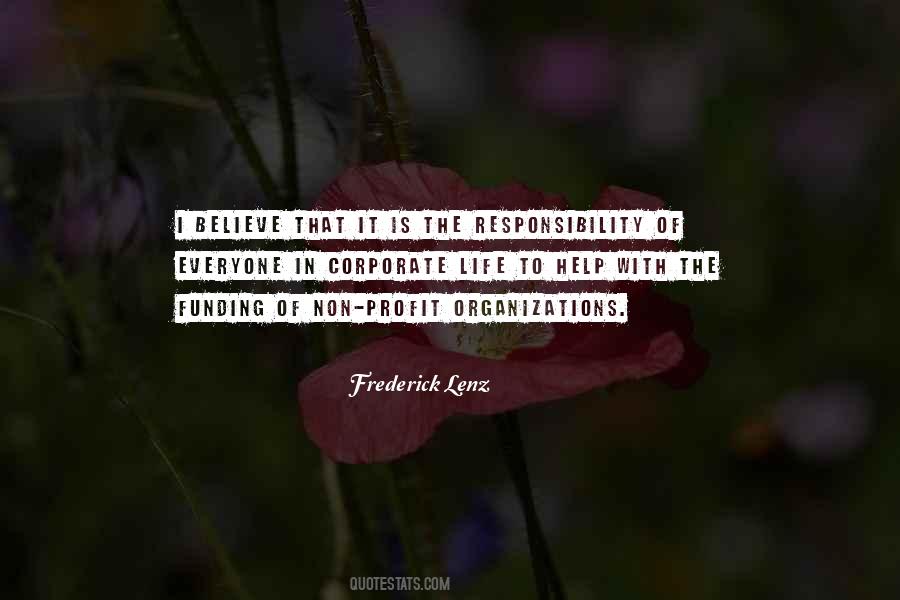 #50. War traumatizes soldier and civilian alike; warfare is a profit-making racket; warfare resolves nothing that negotiations can't resolve better; the weapons we have now make non-violence the only option to planetary annihilation. - Author: Madeline Taylor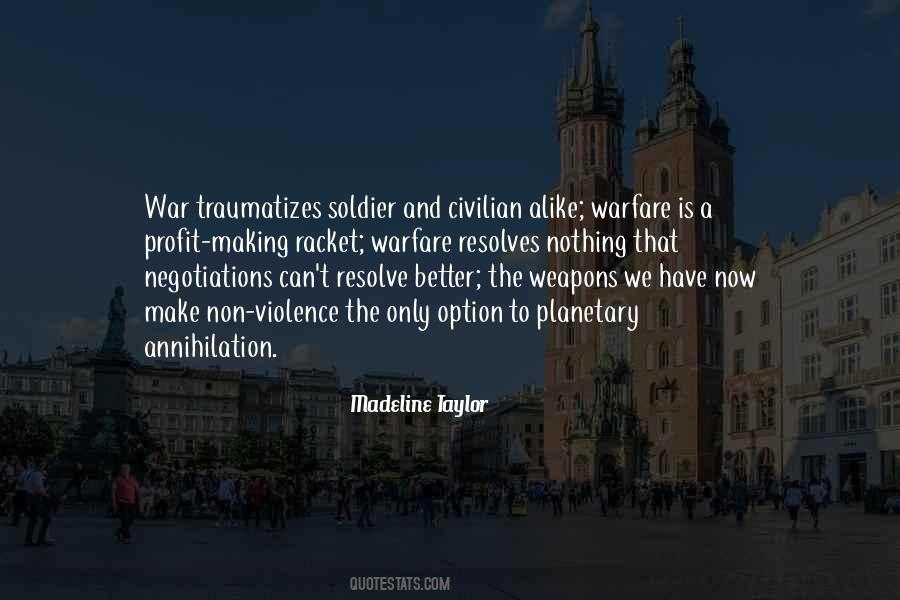 #51. A lot of my energy is going to Code for America, Jen Pahlka's non-profit startup. We're doing a lot of great work teaching government how to apply technology and changing the culture of government. - Author: Tim O'Reilly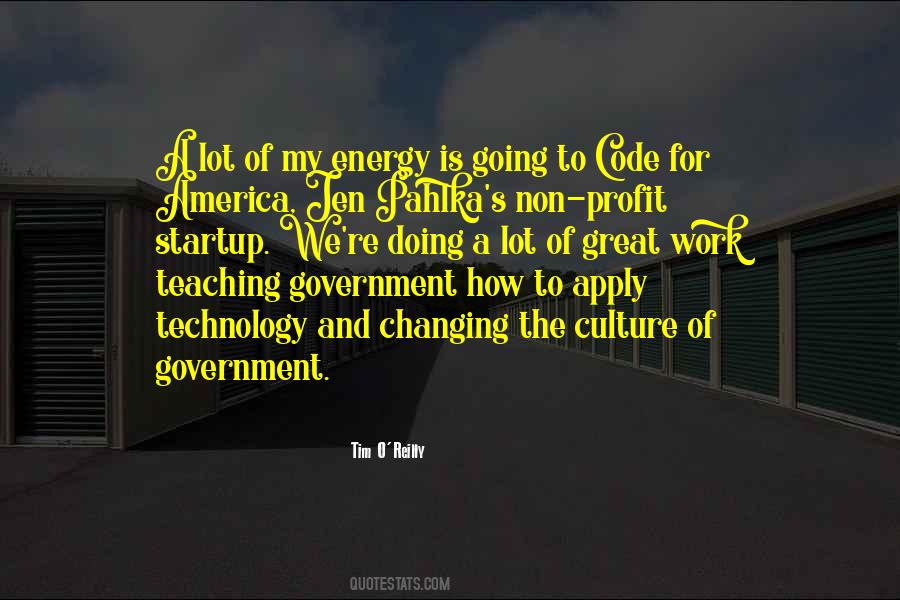 #52. No salesman can ever guarantee you a grant from any government or non-profit organization. - Author: Matthew Lesko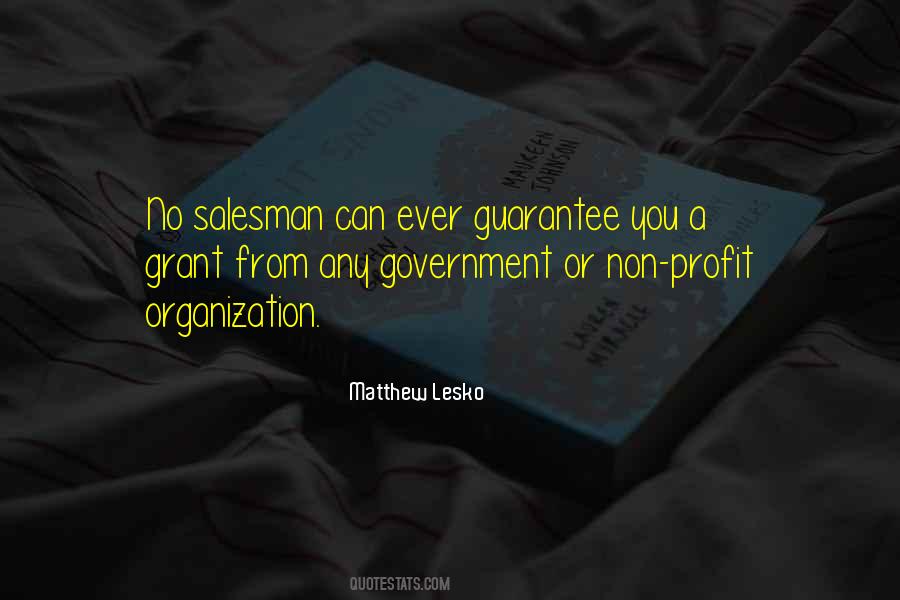 #53. We can ill afford to have activities conducted as "non-profit," that is, as activities that devour capital rather than form it, if they can be organized as activities that form capital, as activities that make a profit. - Author: Peter Drucker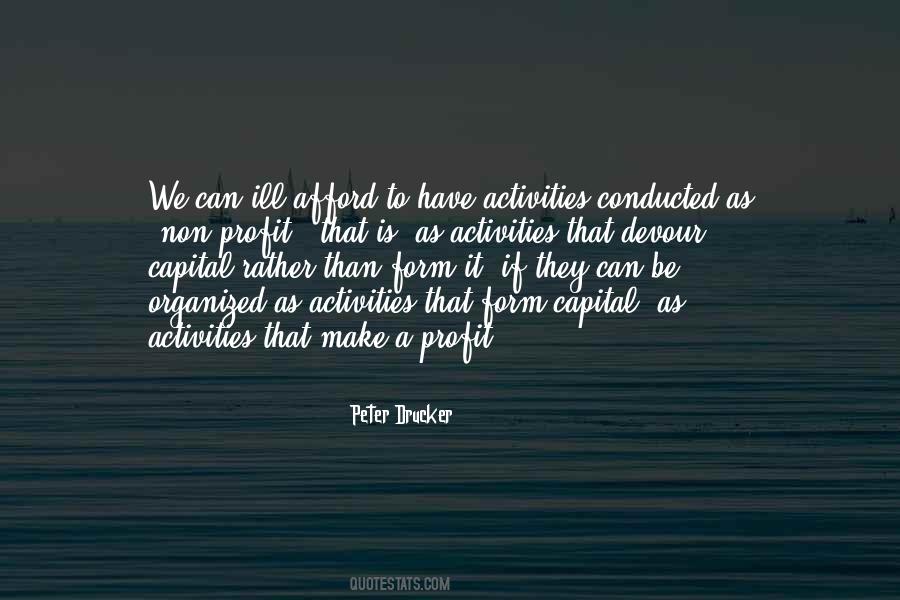 #54. My sister has a non-profit organization called Mission Change. It helps the homeless and kids. - Author: Phillip Phillips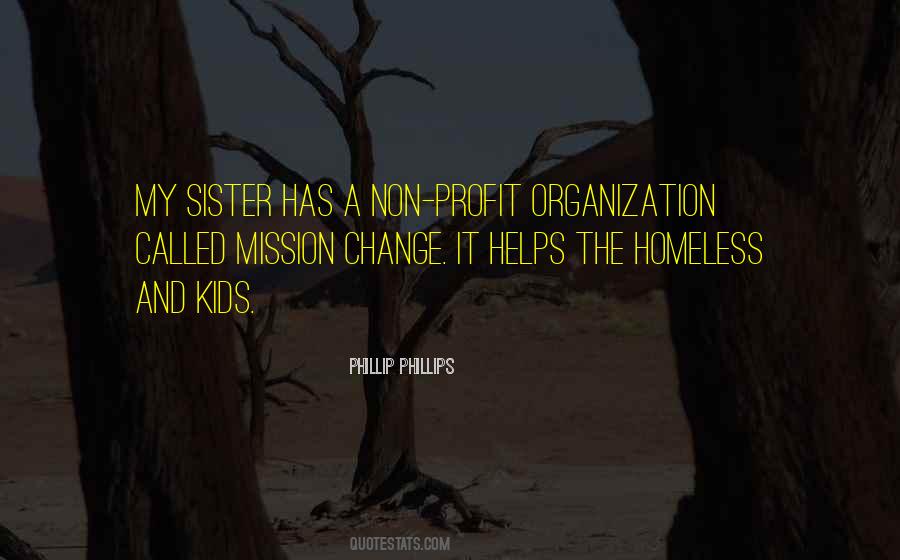 #55. You know, my background, I was at a non-profit for years. - Author: Elizabeth Emken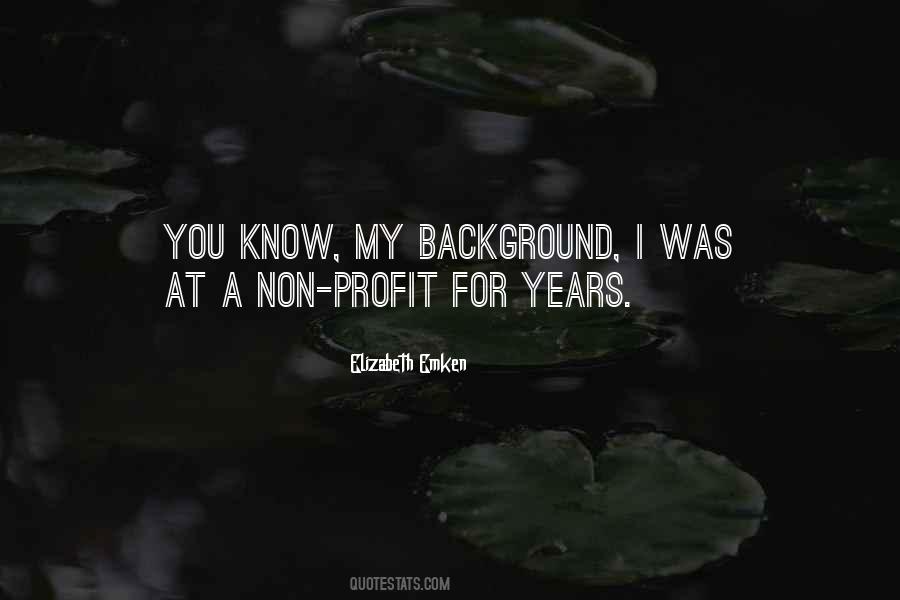 #56. I don't run a non-profit. There are lots of non-profits in America - in Detroit, parts of Wall Street, etc. I run a not for profit. We're a business. The only difference is that instead of selling soap or sneakers, we sell hope and leadership. - Author: Nancy Lublin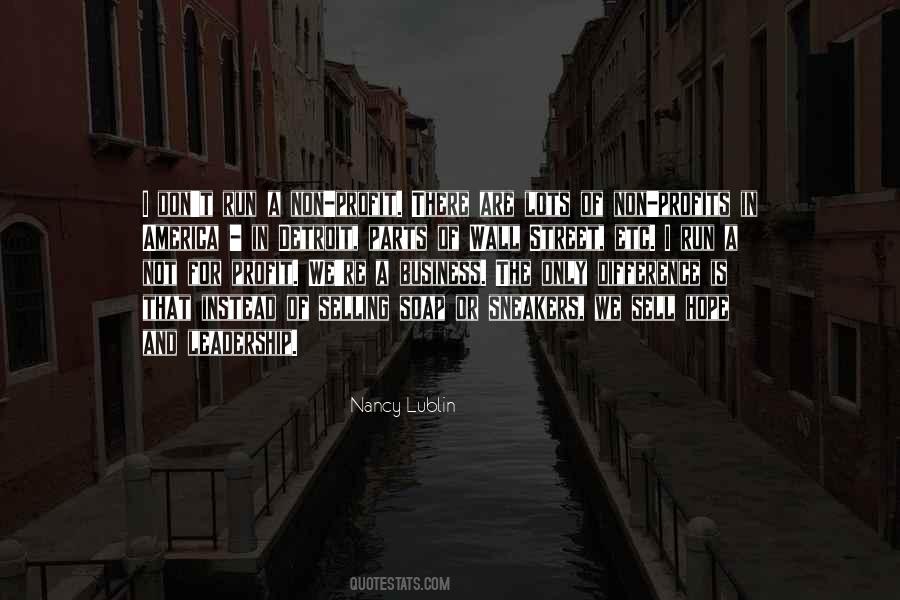 #57. In general, anyone who paid the long distance telephone tax will get the refund on their 2006 federal income tax return. This includes individuals, businesses and non-profit organizations. - Author: Virgil Goode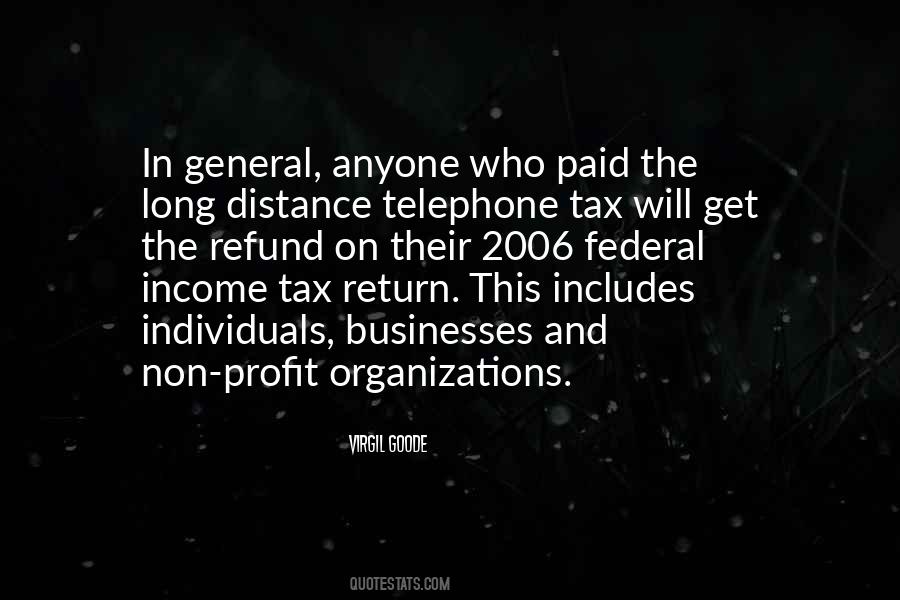 Famous Authors
Popular Topics