Nobody Can Understands Me Famous Quotes & Sayings
List of top 32 famous quotes and sayings about nobody can understands me to read and share with friends on your Facebook, Twitter, blogs.
Top 32 Nobody Can Understands Me Quotes
#1. The past five years had informed me about human sorrow. While no two griefs are the same, nobody understands suffering like those who've been there. - Author: Helen Brown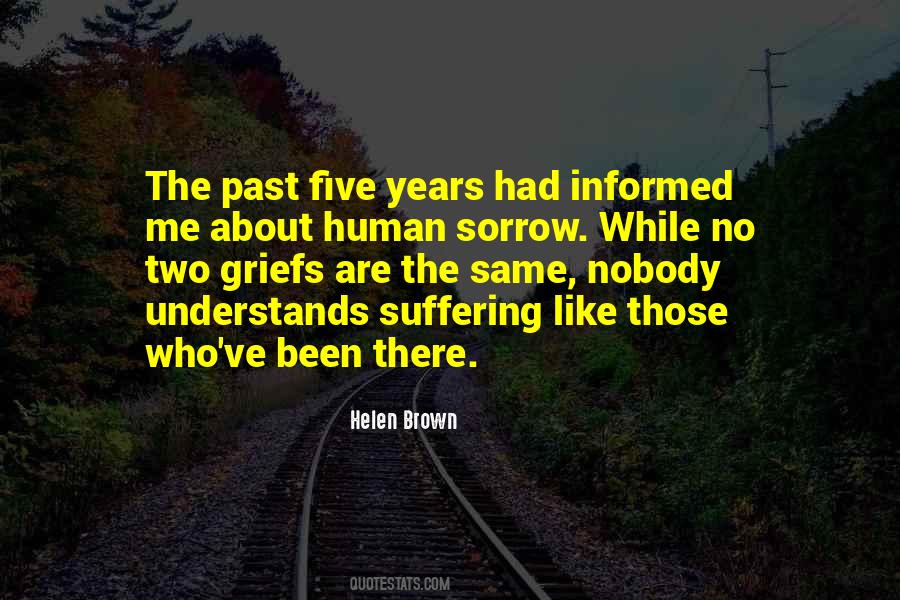 #2. I understand that nobody understands me, but I can't be someone I'm not. - Author: Audrey Tautou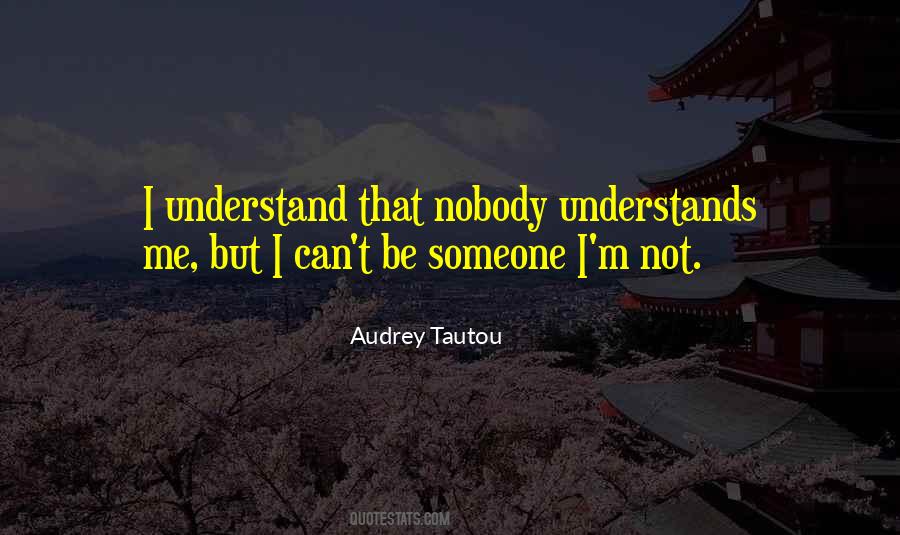 #3. We may explain faith till nobody understands it. - Author: Charles Haddon Spurgeon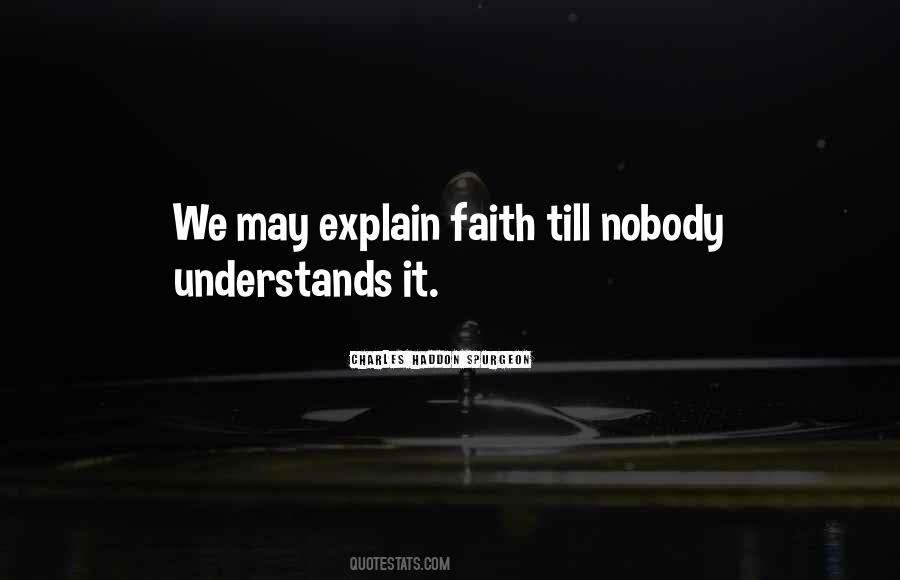 #4. Just because nobody understands you.....doesn't mean that you're deep. - Author: Life Lessons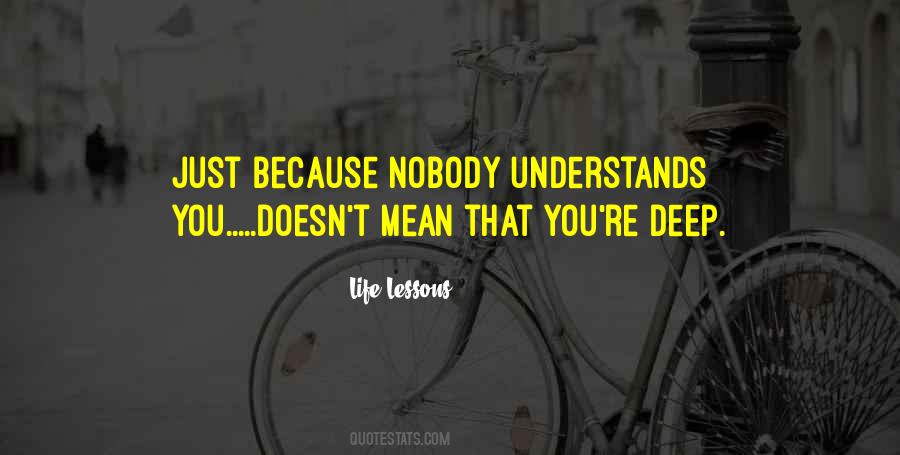 #5. Nobody understands the world they're in, but some people are better off at it than others. - Author: Richard Feynman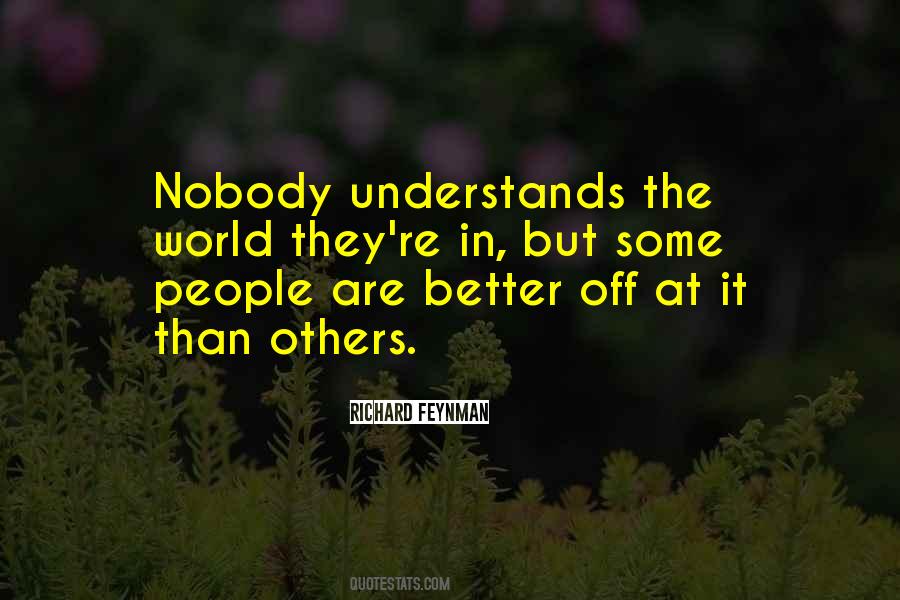 #6. Nobody understands the nature of the Church, or the ringing note of the creed descending from antiquity, who does not realize that the whole world once very nearly died of broadmindedness and the brotherhood of all religions. - Author: G.K. Chesterton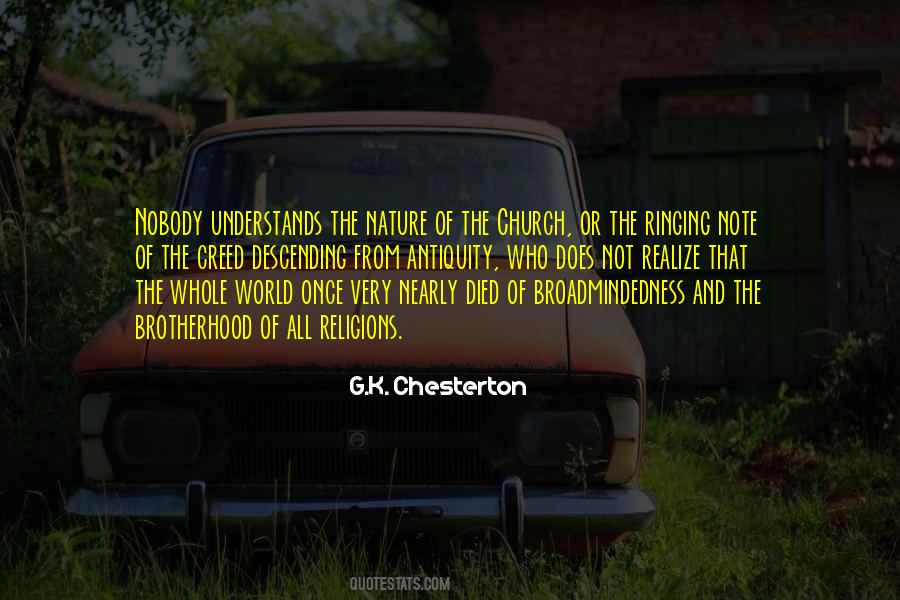 #7. Nobody tells us as little girls that we may fall in love and have moments of hating our beloved, or have ridiculous arguments at 2 AM over something that neither person understands. - Author: SARK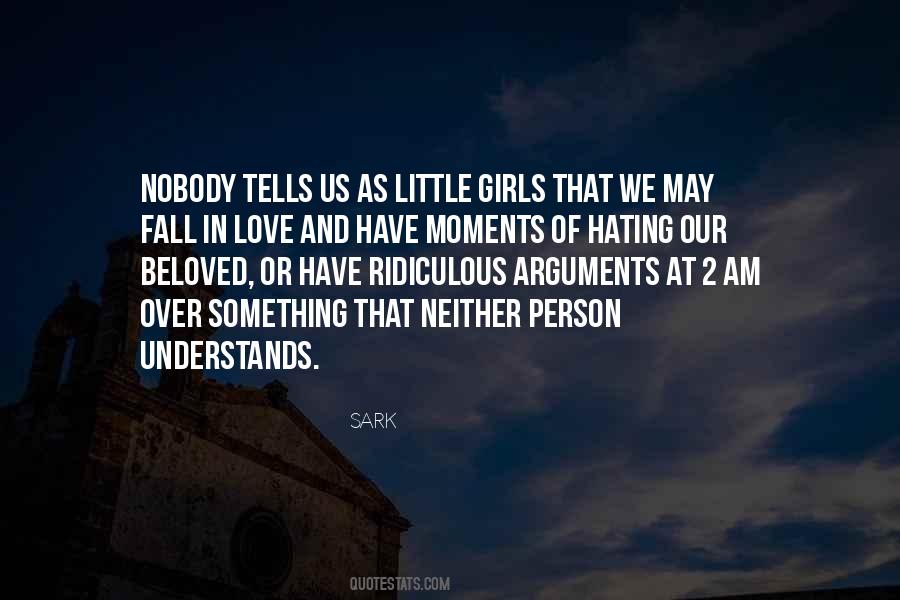 #8. Nobody really understands gold prices and I don't pretend to understand them either, - Author: Ben Bernanke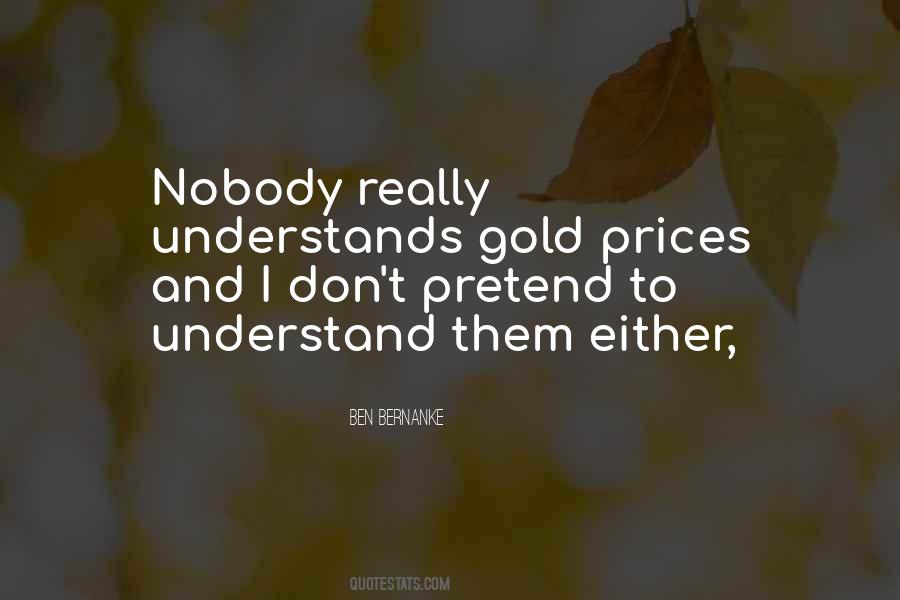 #9. I seemed to have spent the whole time either reading, which I loved, or laughing, which I love, or fooling about, which I loved. There was the usual teenage angst: "Nobody understands me" and "I'm the only genius in the world" and all that stuff. But that didn't get very deep. - Author: Philip Pullman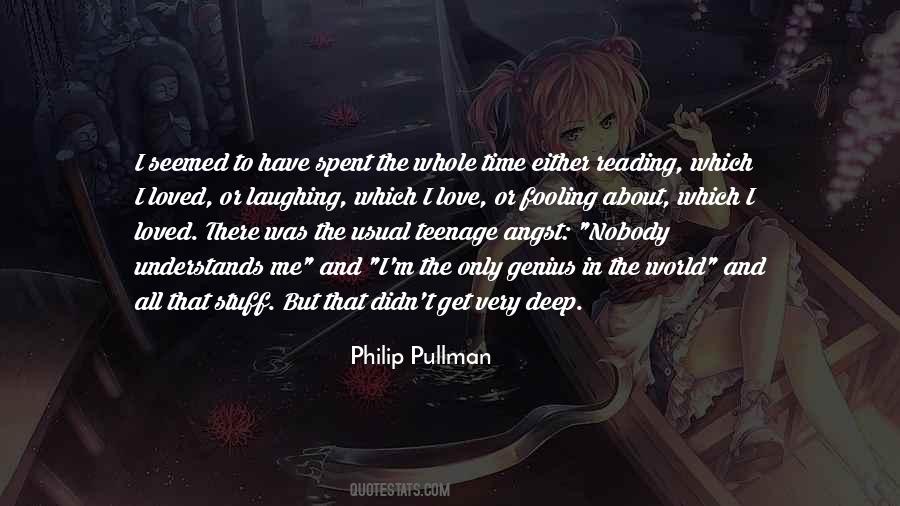 #10. The relationship between a dog and a human is always complicated. The two know each other in a way nobody else quite understands, a connection shrouded in personal history, temperament, experience, instinct, and love. - Author: Jon Katz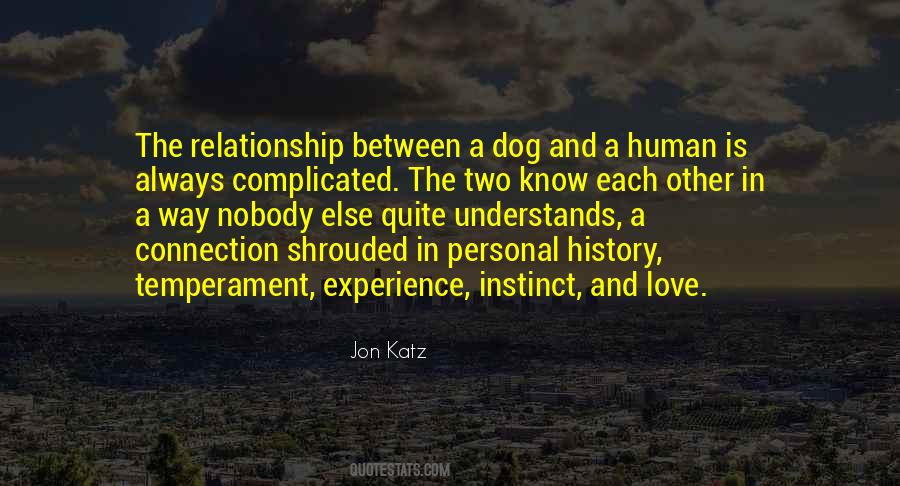 #11. The thing about Buffy and Spike is they understand each other on a level that nobody else understands her. - Author: Sarah Michelle Gellar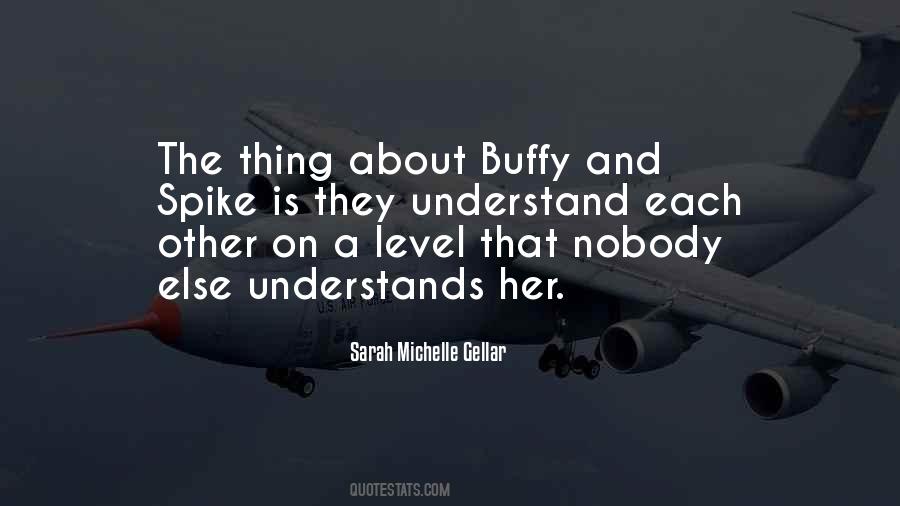 #12. Step out onto the Planet. Draw a circle a hundred feet round. Inside the circle are 300 things nobody understands, and, maybe nobody's ever really seen. How many can you find? - Author: Lew Welch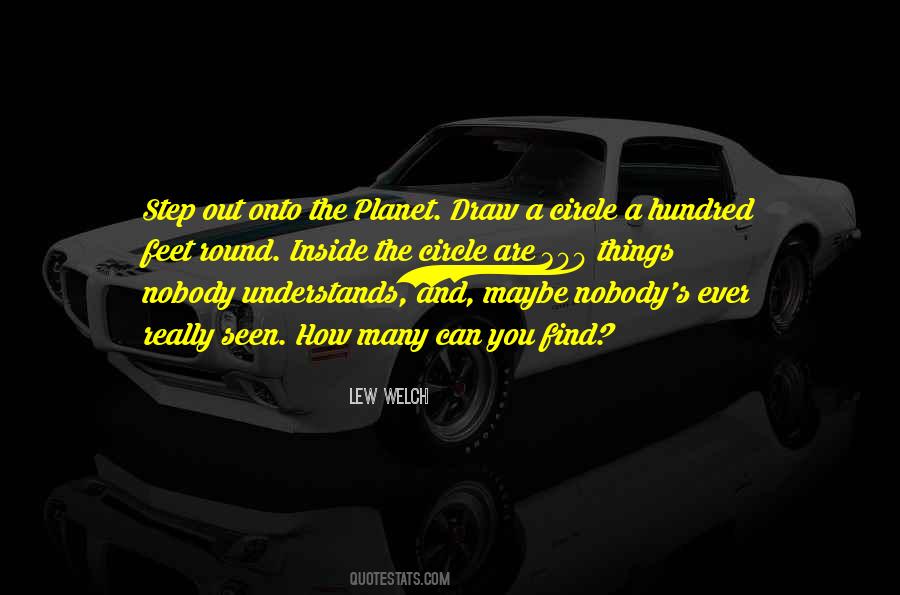 #13. Nobody understands me, I'm really sensitive. - Author: Iggy Pop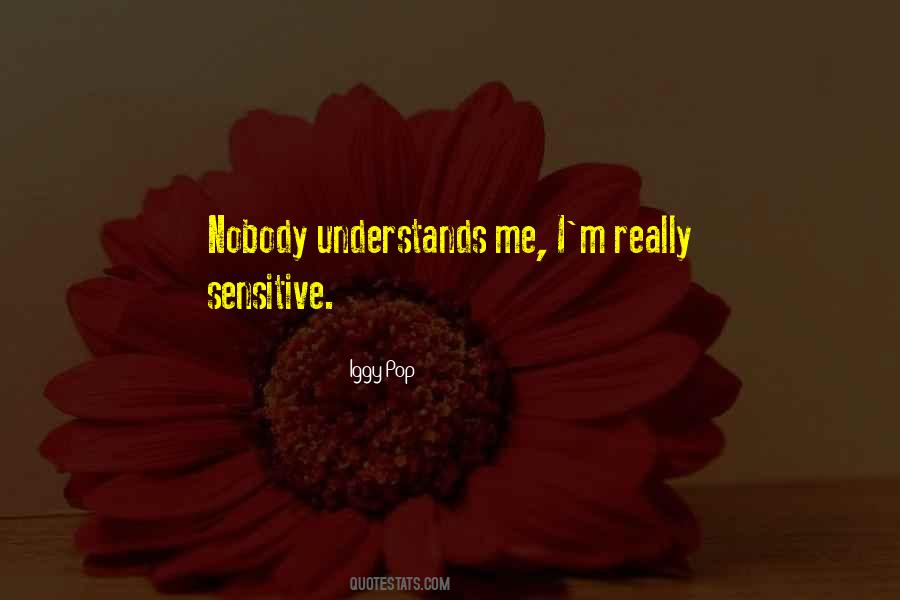 #14. Nobody ever understands what a pioneer is doing. - Author: Timothy Leary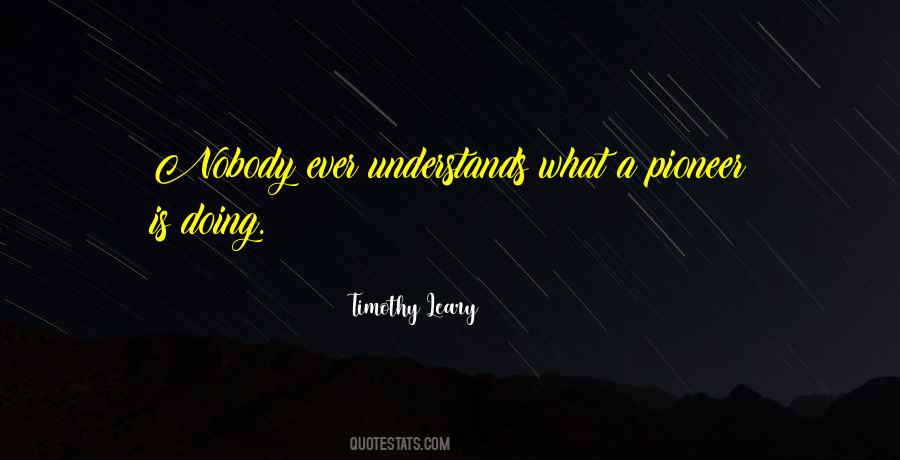 #15. Am I the only one who knows? I'll bet I am; nobody else really understands Grasshopper but me - they just imagine they do. - Author: Philip K. Dick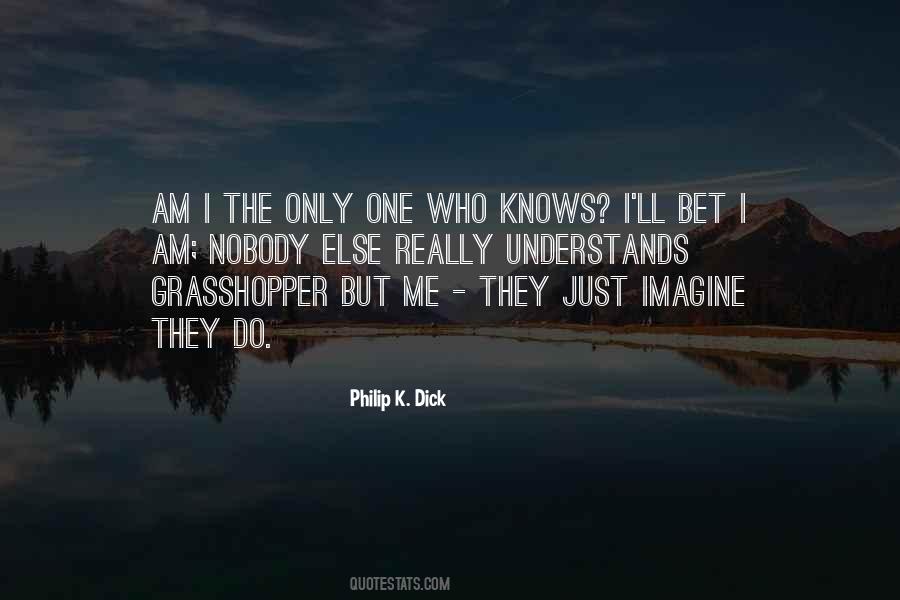 #16. There's probably no one who understands Method acting better academically than I do, or actually uses it more in his work. But it's funny - nobody really sees that. It's perception versus reality, I suppose. - Author: Jack Nicholson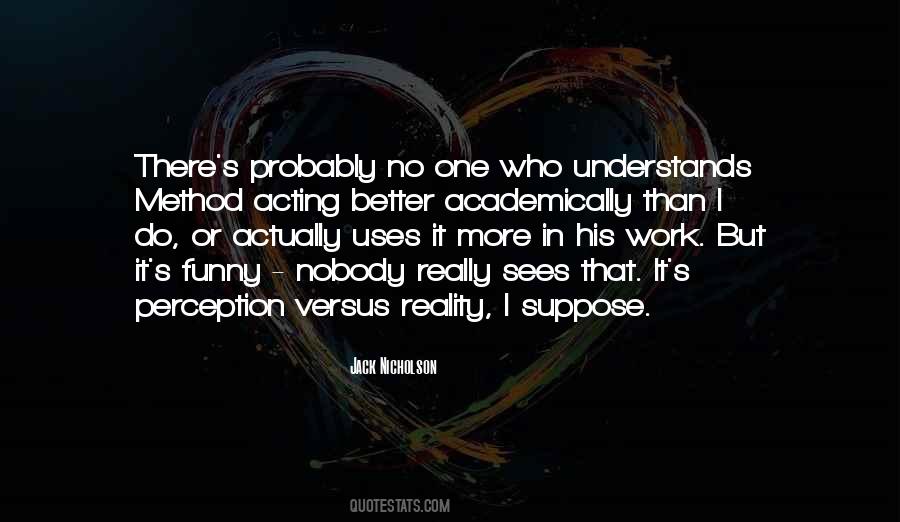 #17. Nobody who understands the free grace of God takes sin lightly. - Author: Timothy Keller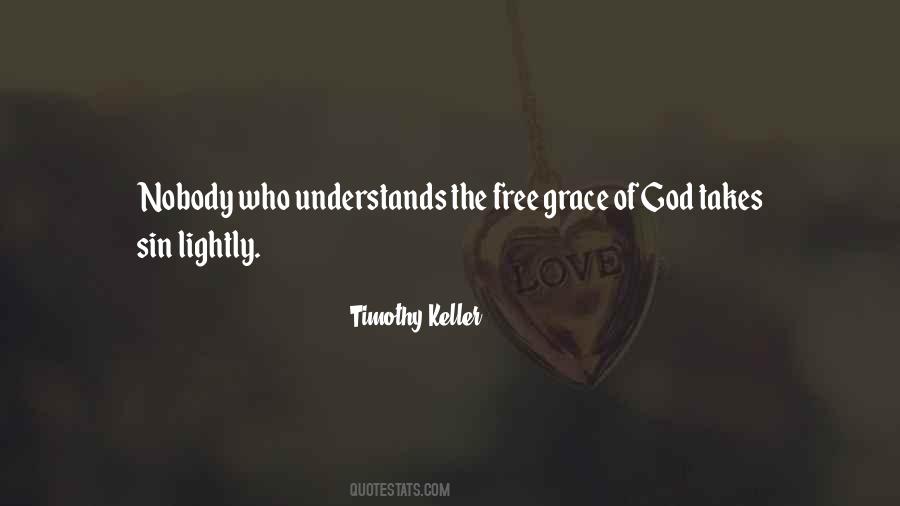 #18. Nobody understands you better than yourself, but if someone tries to do it is because he loves you. - Author: Jim Morrison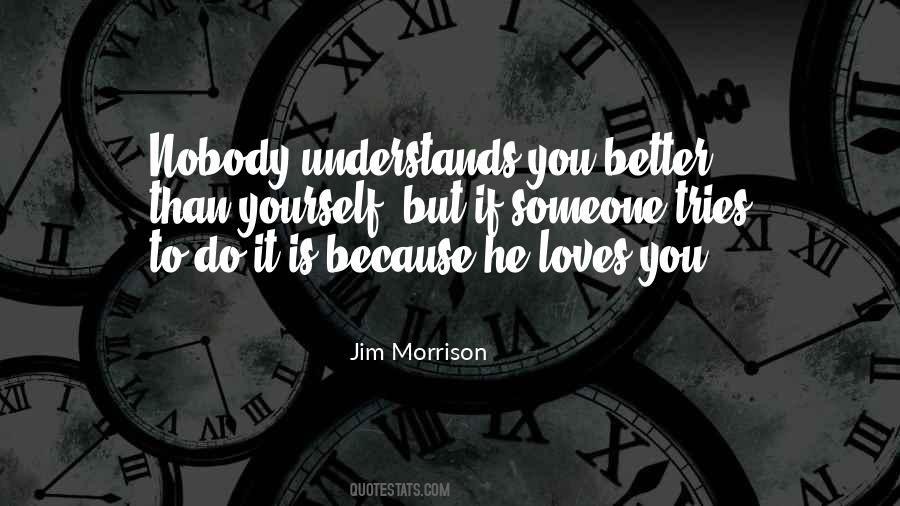 #19. Fine. Whatever. I don't. Nobody understands your pain, Mae. Because it is so unique! Nobody's ever loved something so much they would do anything to save it, except for you, Mae. You cornered that market! - Author: Amanda Hocking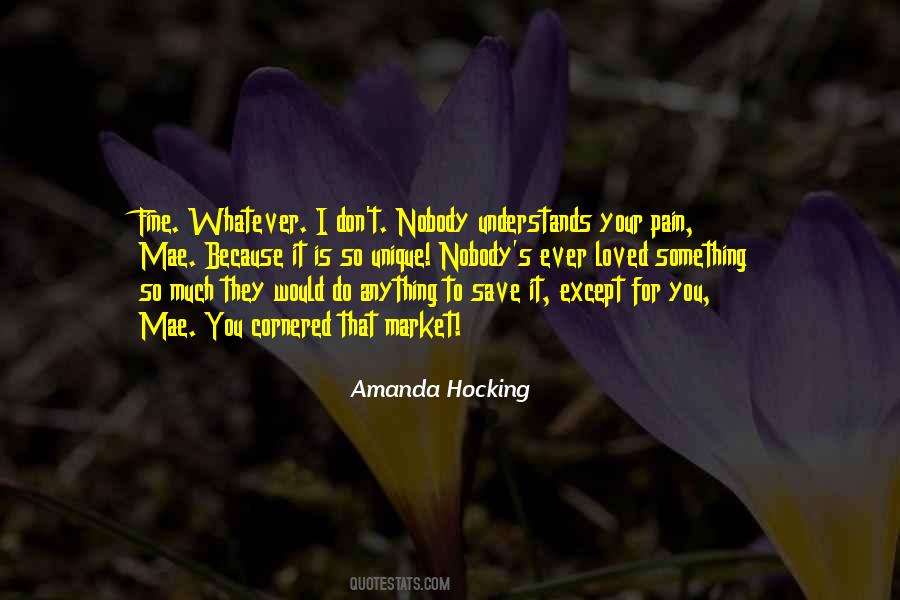 #20. I spent my next hour reshelving, and the next thirty minutes straightening out the Mc's and Mac's. Nobody on God's earth understands the Mc/Mac principle anymore. In order to do that, you have to be willing to think about something other than your genitals for a full minute. - Author: Jincy Willett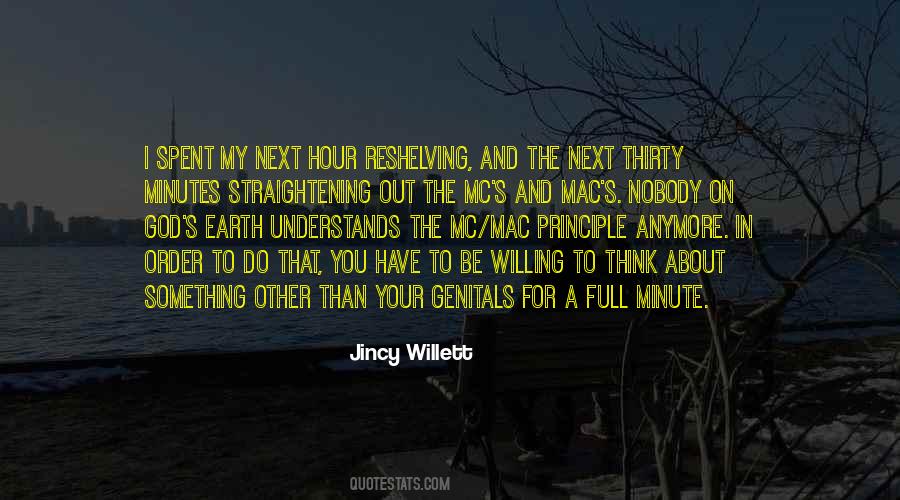 #21. Everyone likes me, yet nobody understands me. - Author: Albert Einstein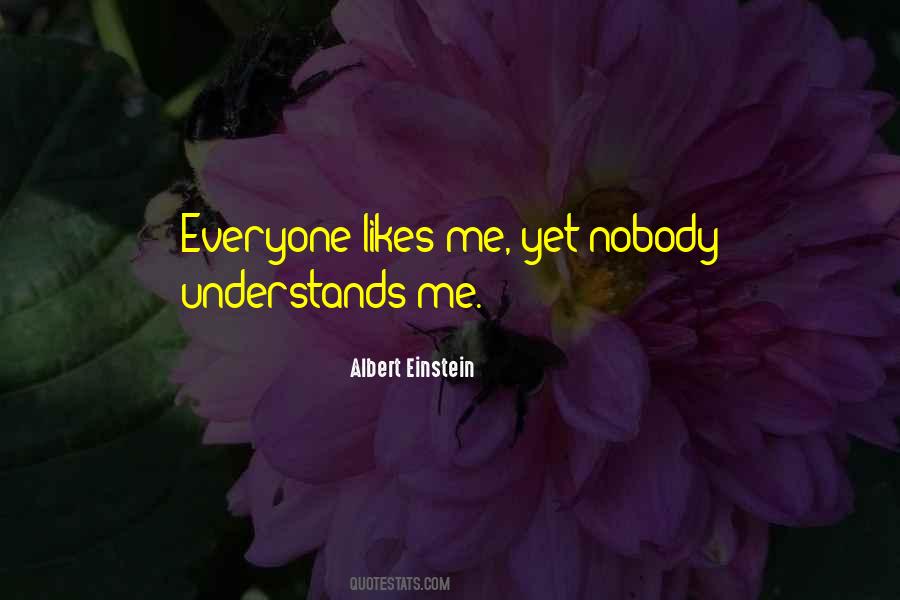 #22. But nobody else understands about the fire. If someone threw you a rope when you were drowning. If a doctor said take this because if you don't take you'll die - you would, wouldn't you? - Author: William Golding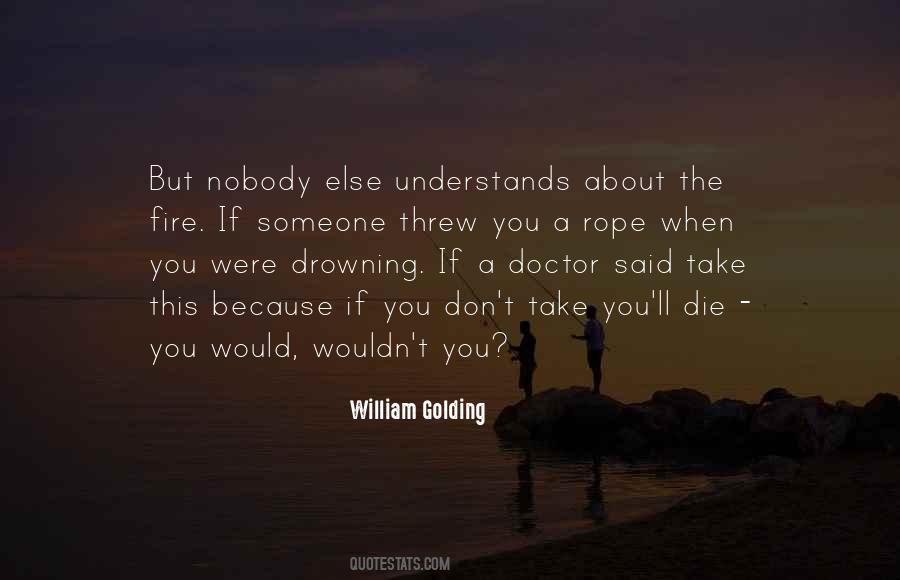 #23. Nobody understands another's sorrow, and nobody another's joy. - Author: Franz Schubert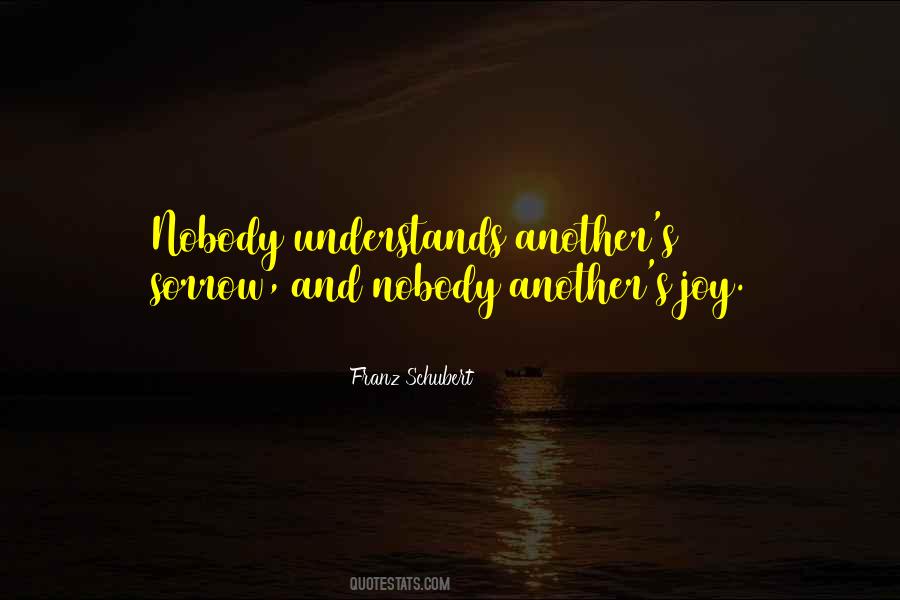 #24. Nobody knows, understands or can possibly explain why that preposterous creature does what he does. In fact there is no explanation - or better there is only one explanation: the person in question is stupid. - Author: Carlo M. Cipolla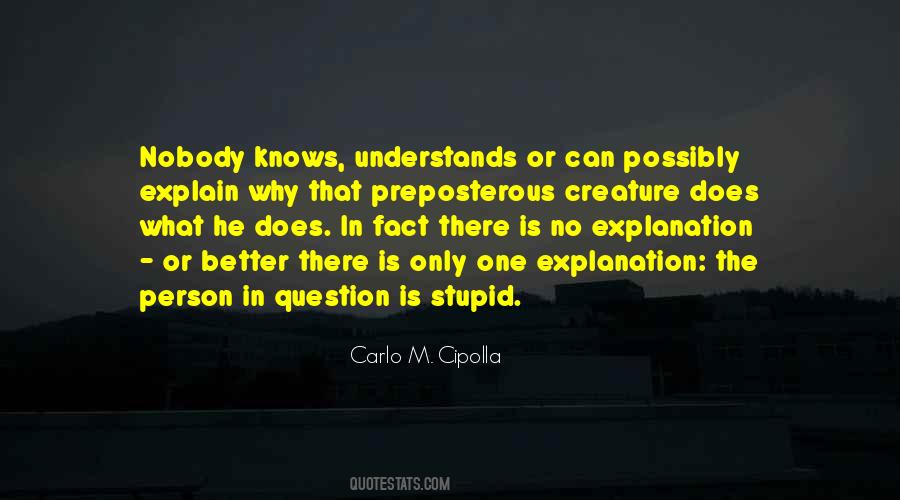 #25. While I am describing to you how Nature works, you won't understand why Nature works that way. But you see, nobody understands that. - Author: Richard P. Feynman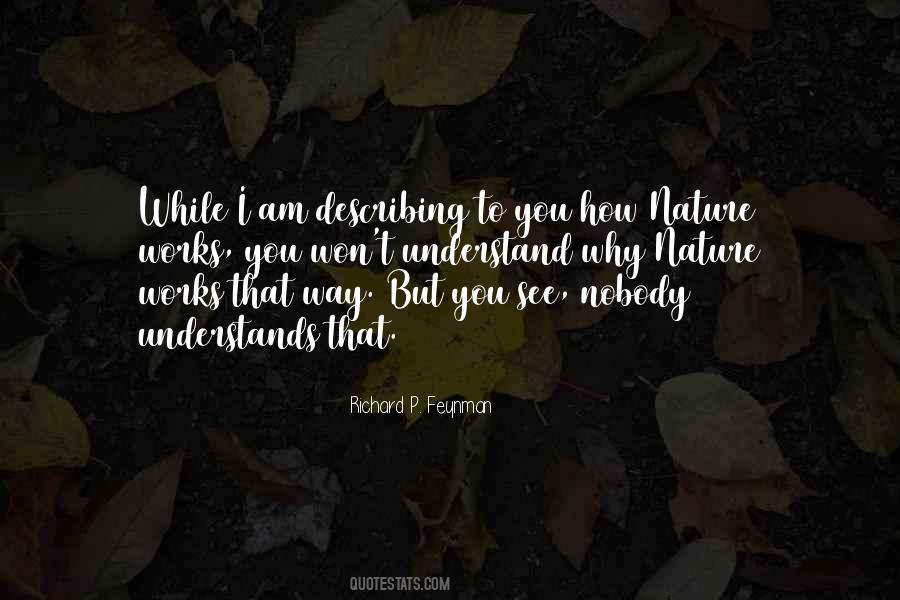 #26. When I wrote this song I felt pretty unoriginal because everybody writes love songs, and everybody feels like their love is the most important and when their love ends and they get their heart broken, that nobody understands. And ... that's ridiculous, but so am I. - Author: Tegan Quin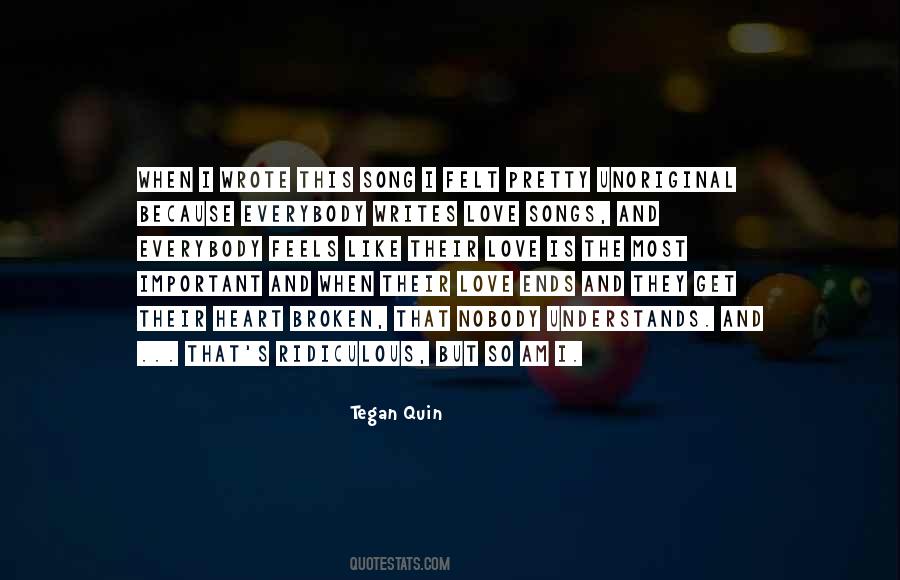 #27. The bedrock of doubt is the total nothingness of death. Death is a leveler, not because everybody dies, but because nobody understands what death means. - Author: Northrop Frye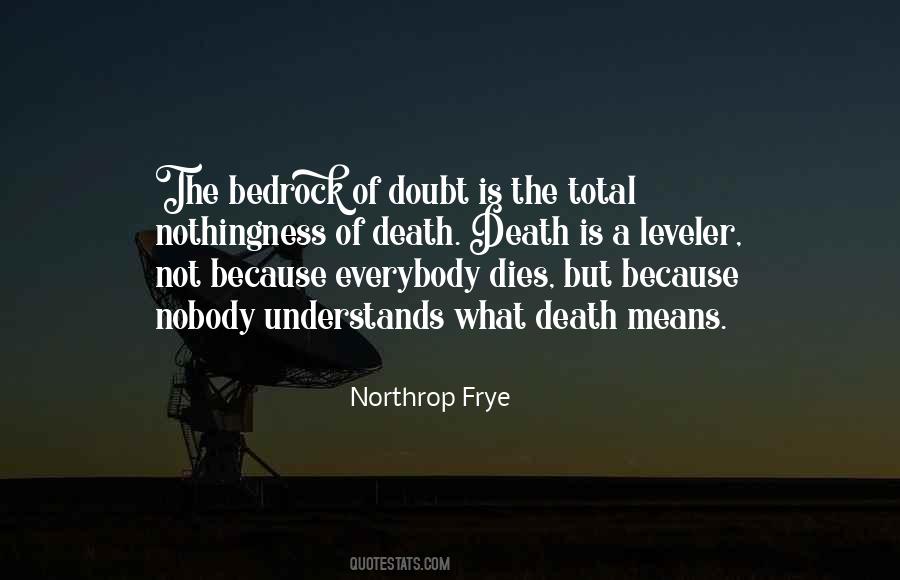 #28. Nobody understands anyone 18, including those who are 18. - Author: Jim Bishop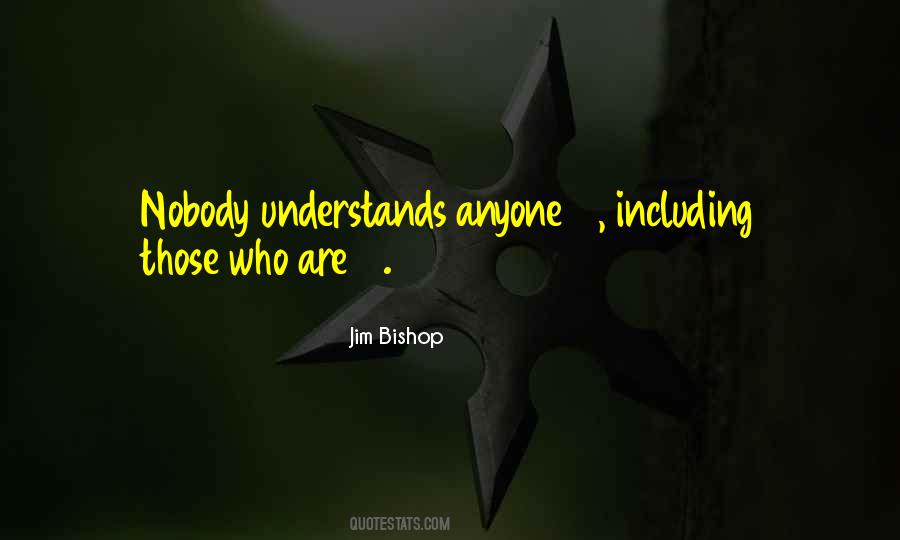 #29. No man has a right to expect to succeed in life unless he understands his business, and nobody can understand his business thoroughly unless he learns it by personal application and experience. - Author: P.T. Barnum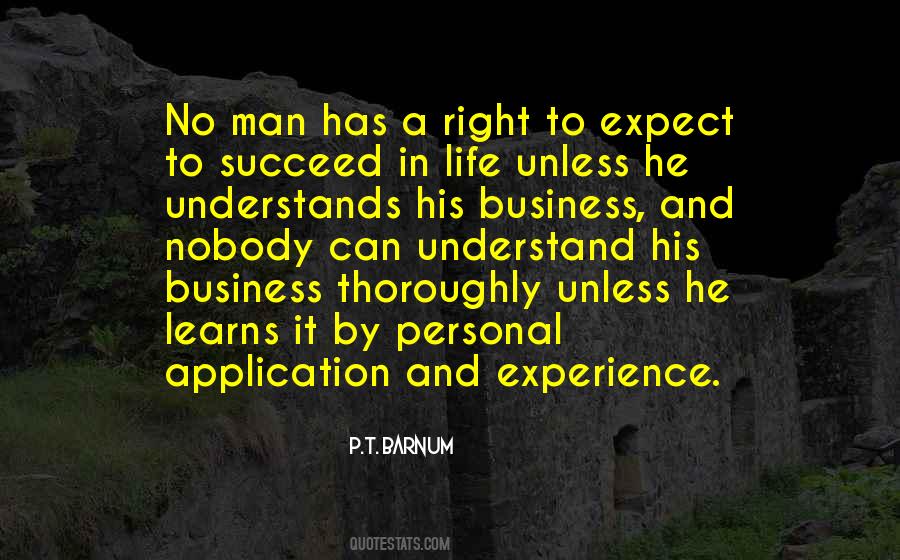 #30. Cricket? Nobody understands cricket! You gotta know what a crumpet is to understand cricket! - Author: Raphael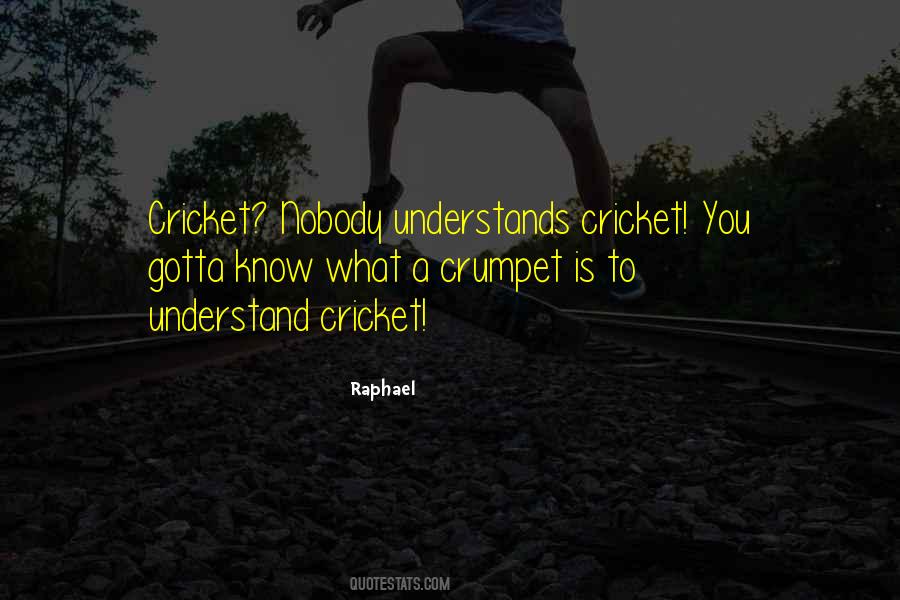 #31. Nothing ever really ends. That's the horrible part of being in the short-story business - you have to be a real expert on ends. Nothing in real life ends. 'Millicent at last understands.' Nobody ever understands. - Author: Kurt Vonnegut Jr.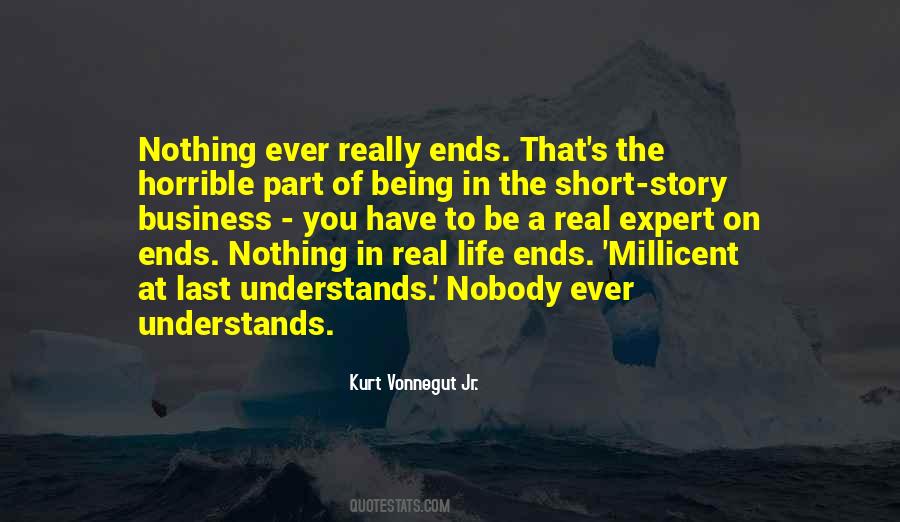 #32. Where Watanabe and I are alike is we don't give a damn if nobody understands us ... That's what makes us different from everybody else. They're all worried about whether the people around them understand them. But not me, and not Watanabe. We just don't give a damn. Self and others are separate. - Author: Haruki Murakami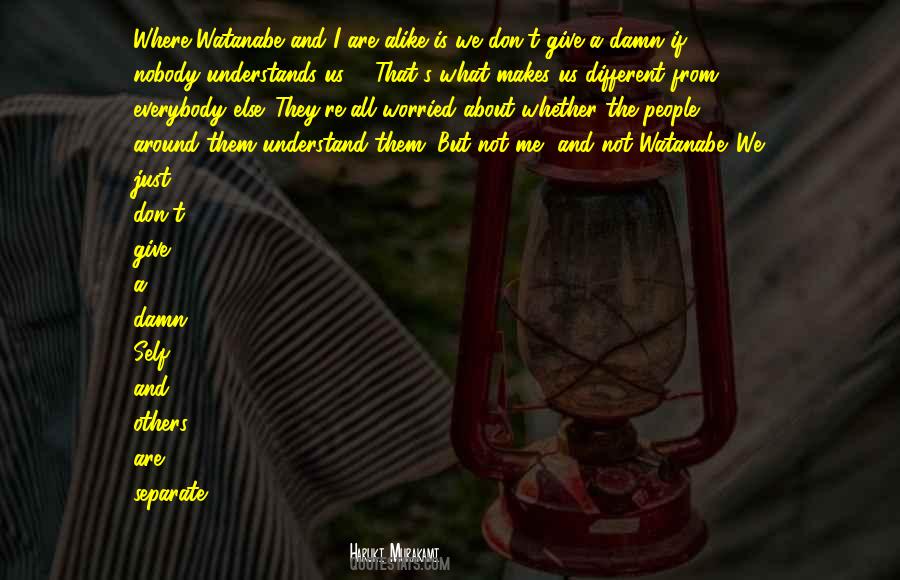 Famous Authors
Popular Topics