My Soul Cries Famous Quotes & Sayings
List of top 34 famous quotes and sayings about my soul cries to read and share with friends on your Facebook, Twitter, blogs.
Top 34 My Soul Cries Quotes
#1. Not everything has a name. Some things lead us into the realm beyond words ... It is like that small mirror in the fairy tales - you glance in it and what you see is not yourself; for an instant you glimpse the Inaccessible, where no horse or magic carpet can take you. And the soul cries out for it. - Author: Vernon Sproxton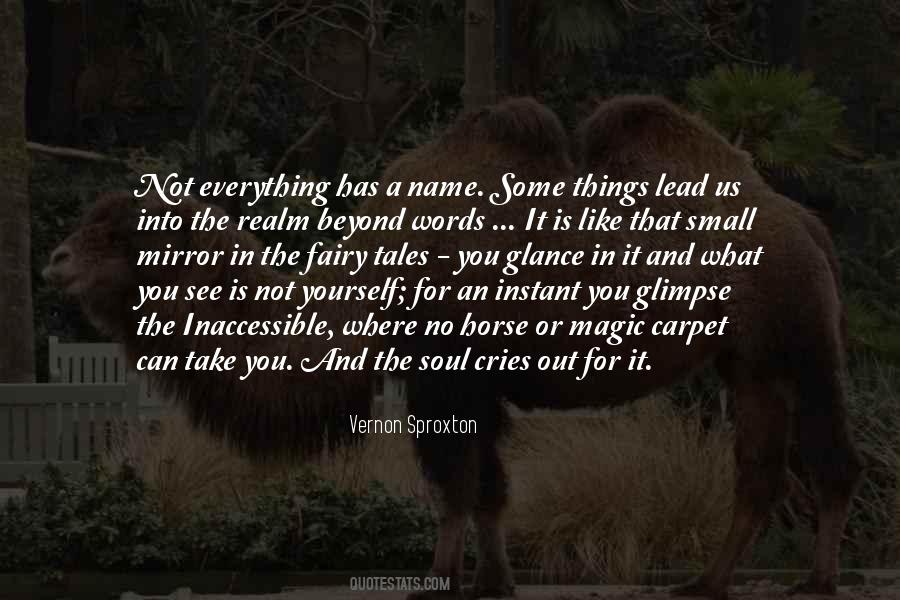 #2. The time when there is nothing at all in your soul except a cry for help may be just that time when God can't give it: you are like the drowning man who can't be helped because he clutches and grabs. Perhaps your own reiterated cries deafen you to the voice you hoped to hear. - Author: C.S. Lewis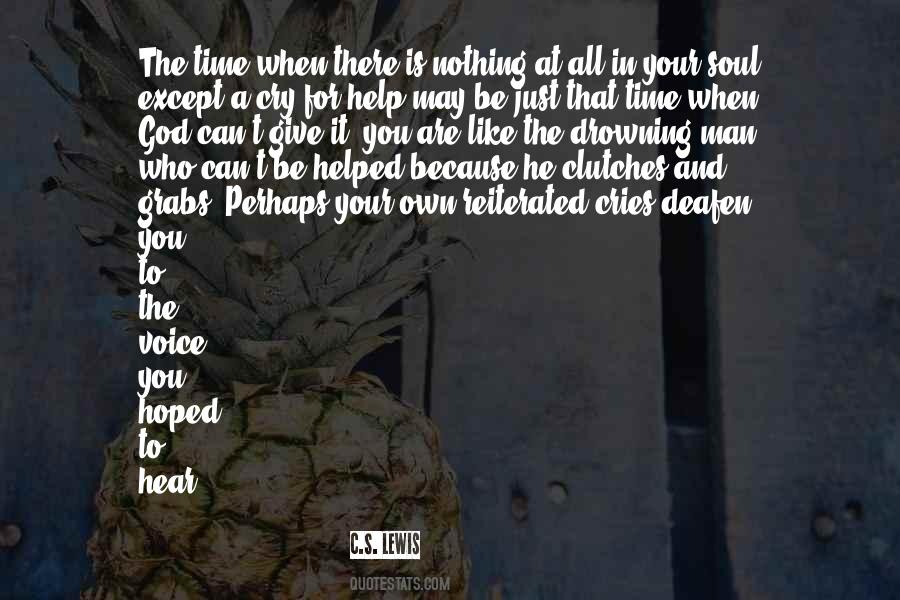 #3. Patience is hard when your very soul cries for freedom. - Author: Alan Kinross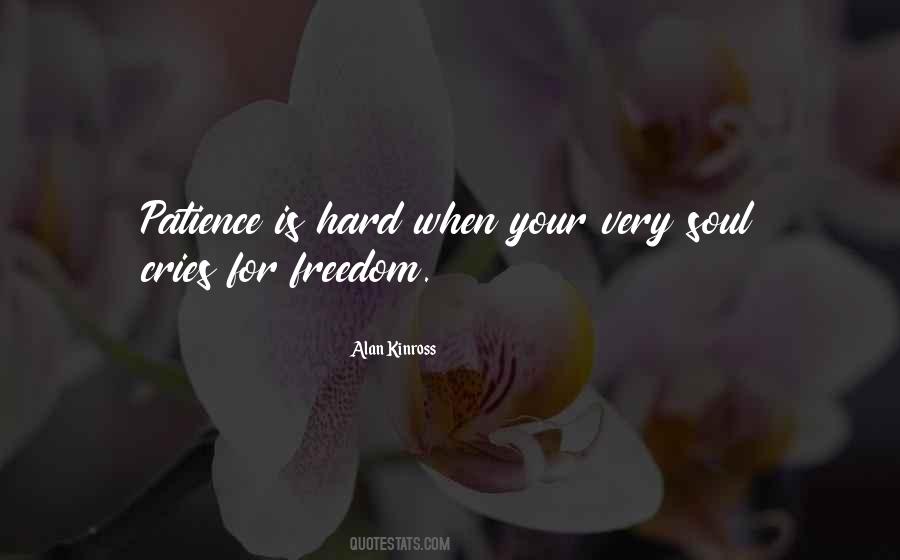 #4. The water in the pond inside my heart doesn't shine anymore. It has turned dark. Every ghost from my mind breaks all the barriers and take a dip there, making it darker. and every time it happens, my soul in the pond cries with pain. - Author: Akshay Vasu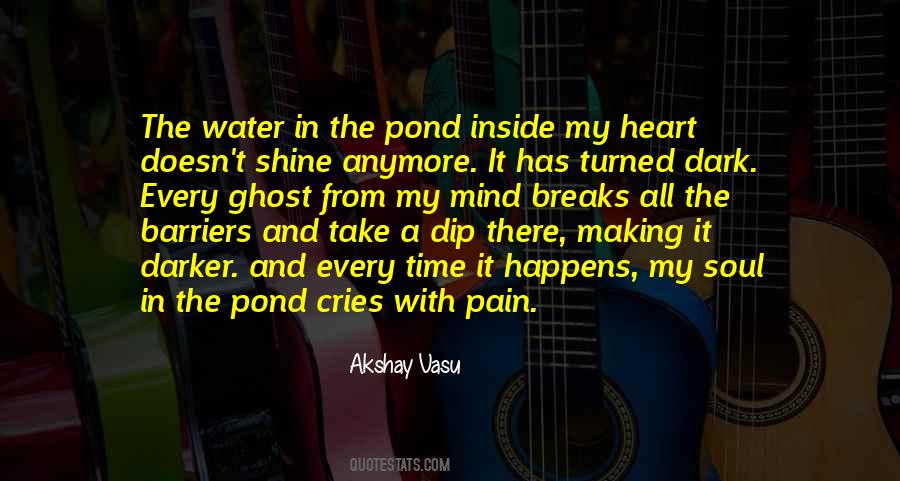 #5. The voice gets to the soul of a person more than any other instrument. Because it's the voice. It sings talks, it cries, it laughs, it squeals, it barks, it shouts it whispers, There is no other instrument that can do that. We're born with it. - Author: Bobby McFerrin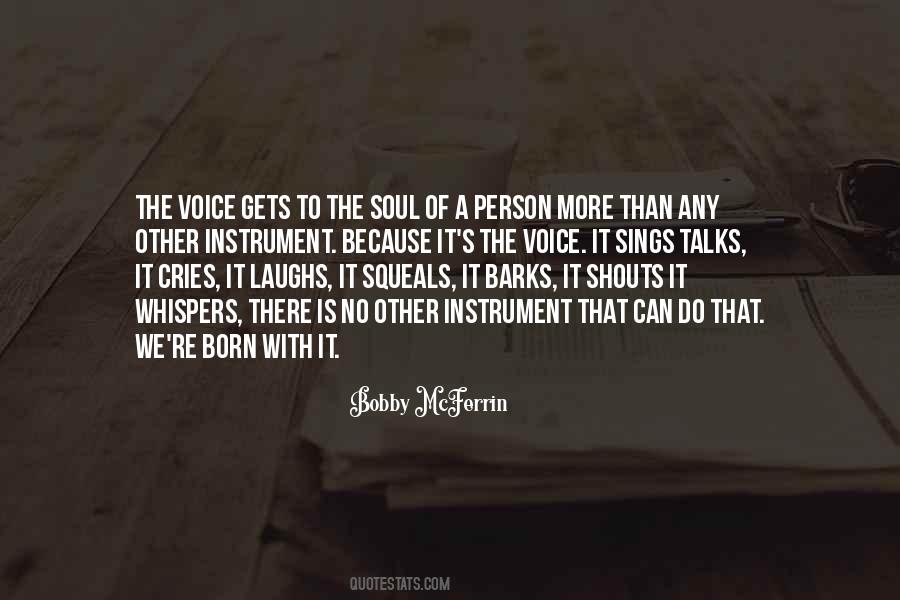 #6. This is all coming from someplace deeper, like when we make love my soul cries tears of joy because it comes together with its other half. - Author: Penelope Ward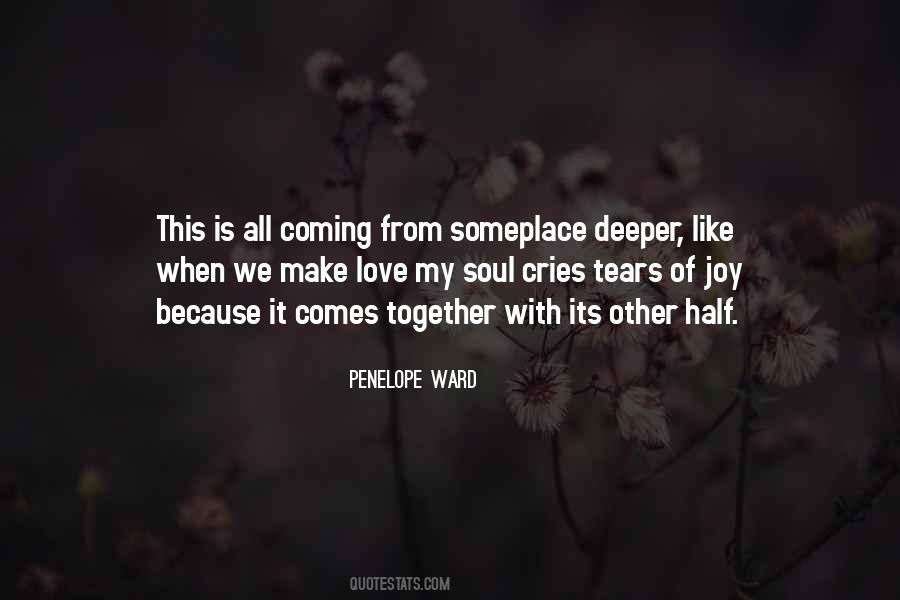 #7. The human heart cries out for help; the human soul implores us for deliverance; but we do not heed their cries, for we neither hear nor understand. But the man who hears and understands we call mad, and flee from him. - Author: Kahlil Gibran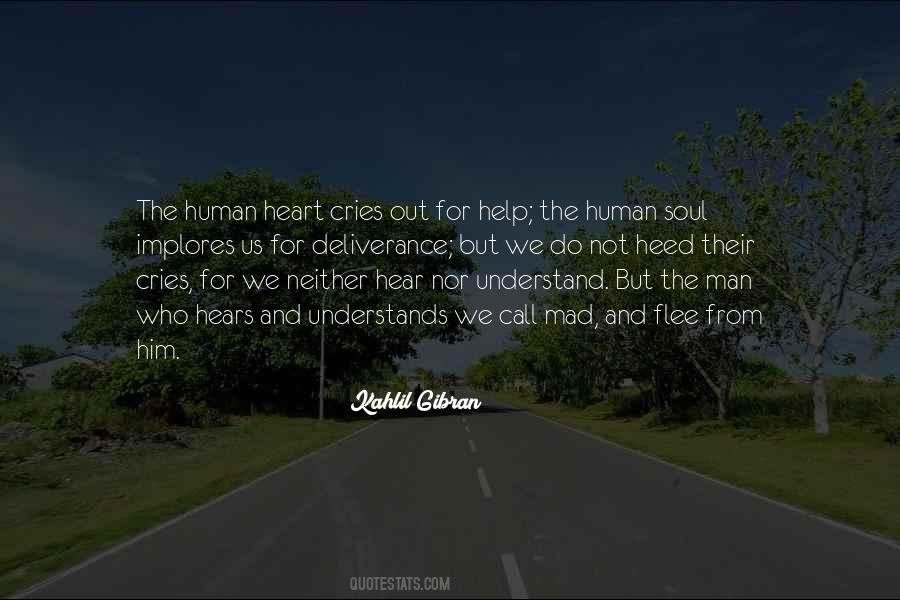 #8. Many people turn to alcohol to try to drown the [cries] and longings of the soul. Others attempt to quiet the longings of their souls in other ways. Nothing but God ever completely satisfies, because the soul is made for God. - Author: Billy Graham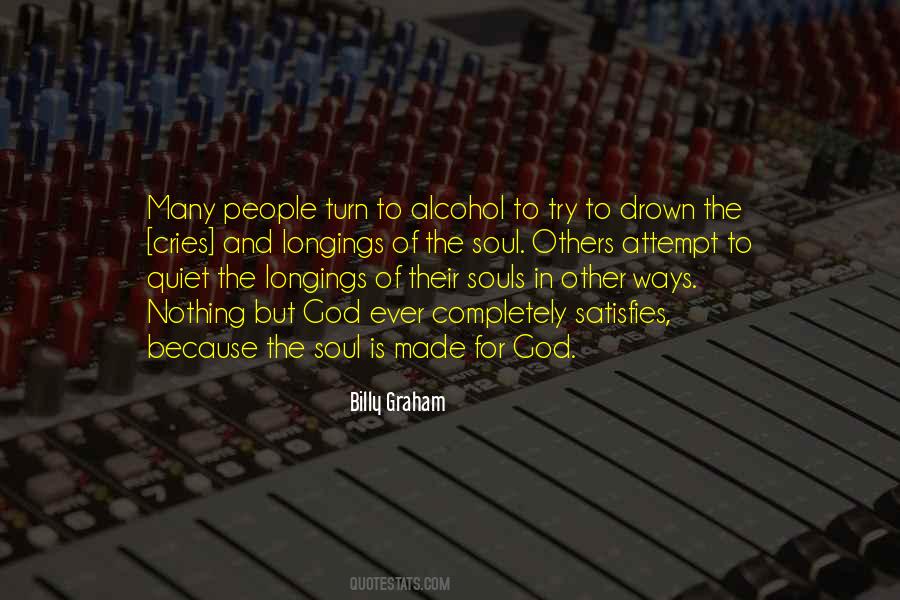 #9. Tears had poured from her eyes without any change in her facial expression. It's pure pain and pure surrender when your soul cries without any fight from your body and that's how I knew she was deeply affected. - Author: Renee Carlino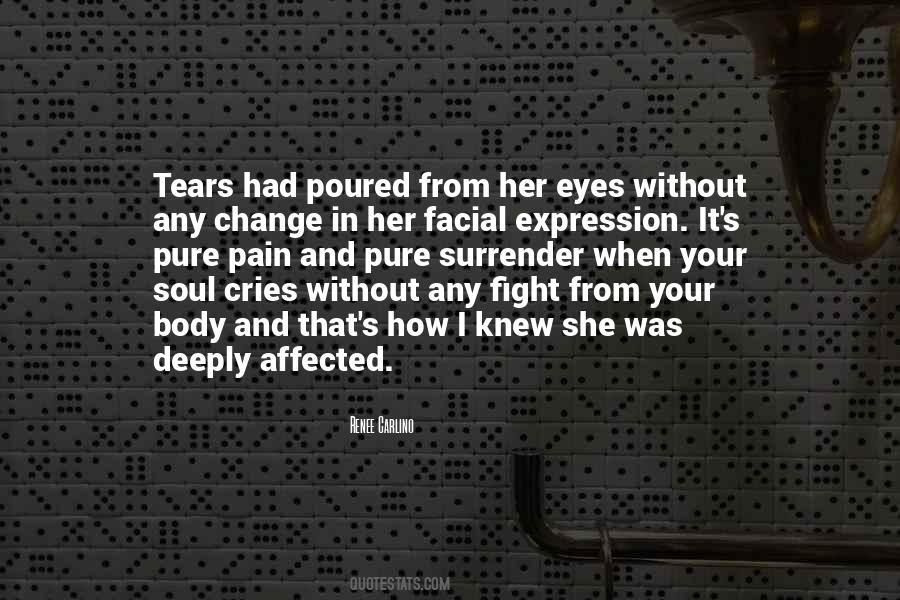 #10. There is something in the soul that cries out for freedom. - Author: Martin Luther King Jr.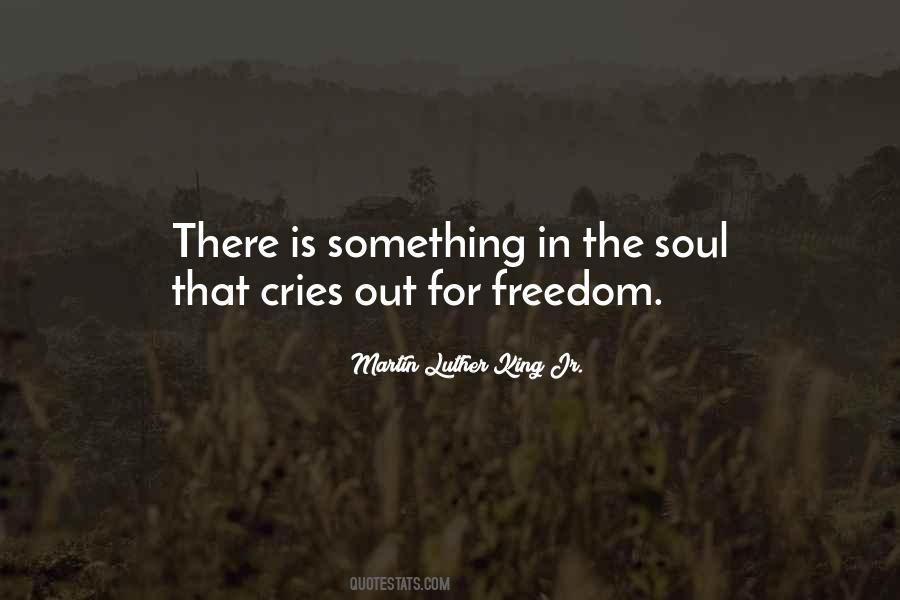 #11. I will not listen to your verse on an empty stomach!" declared the Vicomte.
"You have no soul," said Philippe sadly.
"But I have a stomach, and it cries aloud for sustenance."
"I weep for you," said Philip. "Why do I waste my poetic gems upon you? - Author: Georgette Heyer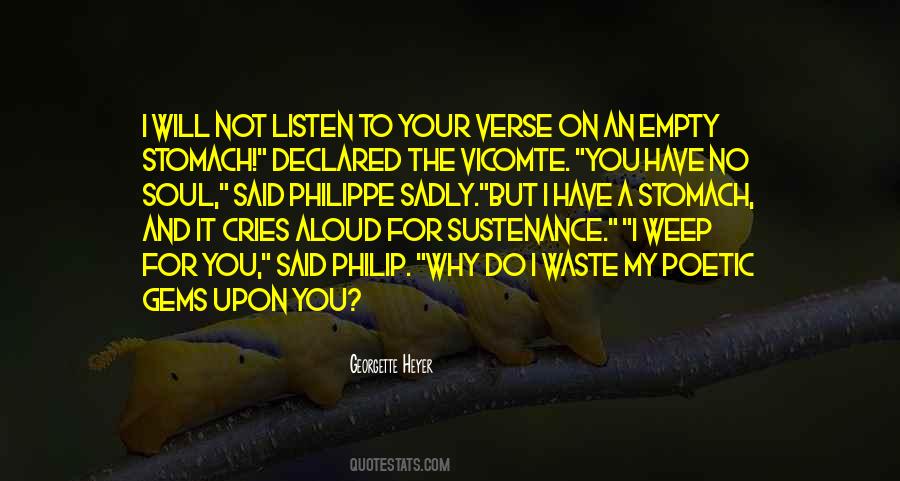 #12. My soul had found
All happiness in its own cause or ground.
Godhead on Godhead in sexual spasm begot
Godhead. Some shadow fell. My soul forgot
Those amorous cries that out of quiet come
And must the common round of day resume. - Author: William Butler Yeats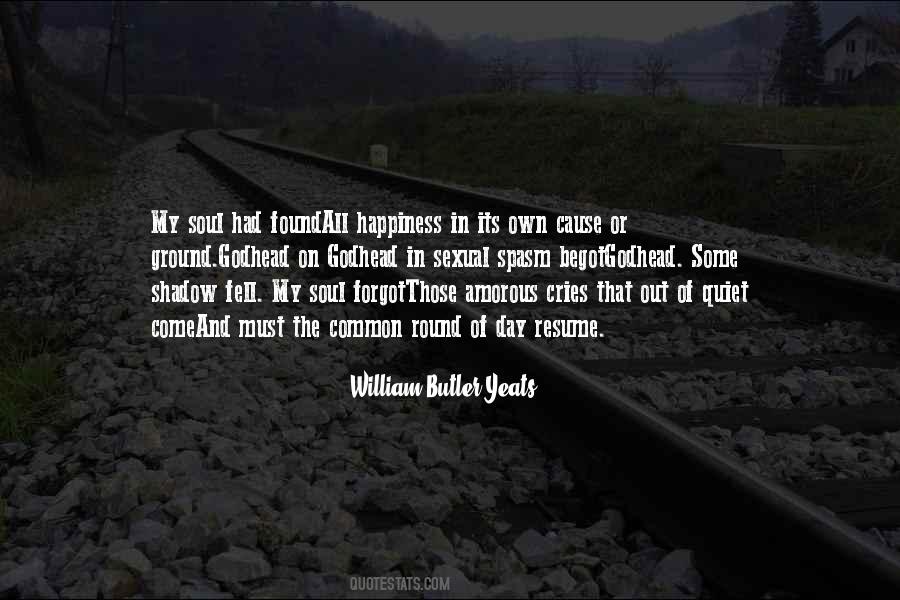 #13. Then Bony Lizzie walked right past me, knelt by General Stanton, and cut off his thumb bones. I had to remind myself that his cries of pain were just the after-effects of his body since his soul was long gone. - Author: Joseph Delaney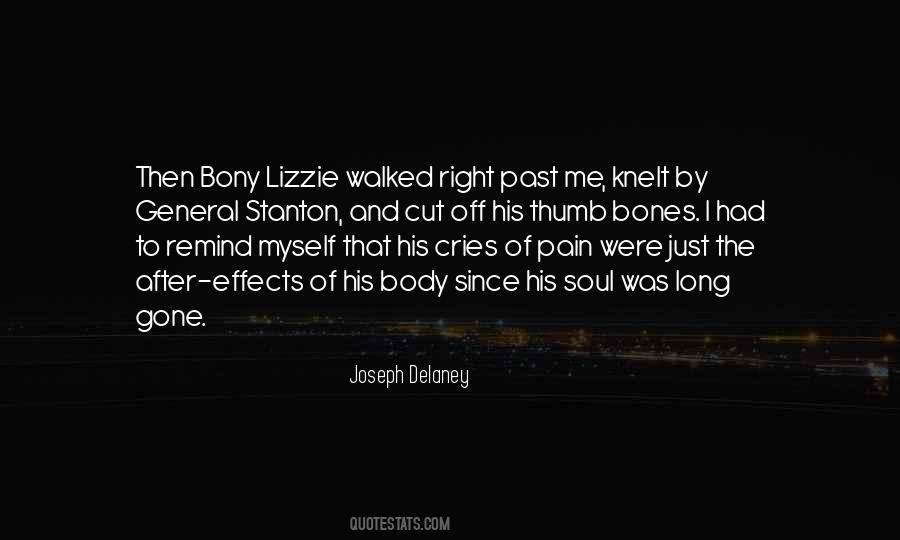 #14. Old soul cries through the tears of a newborn - Author: Munia Khan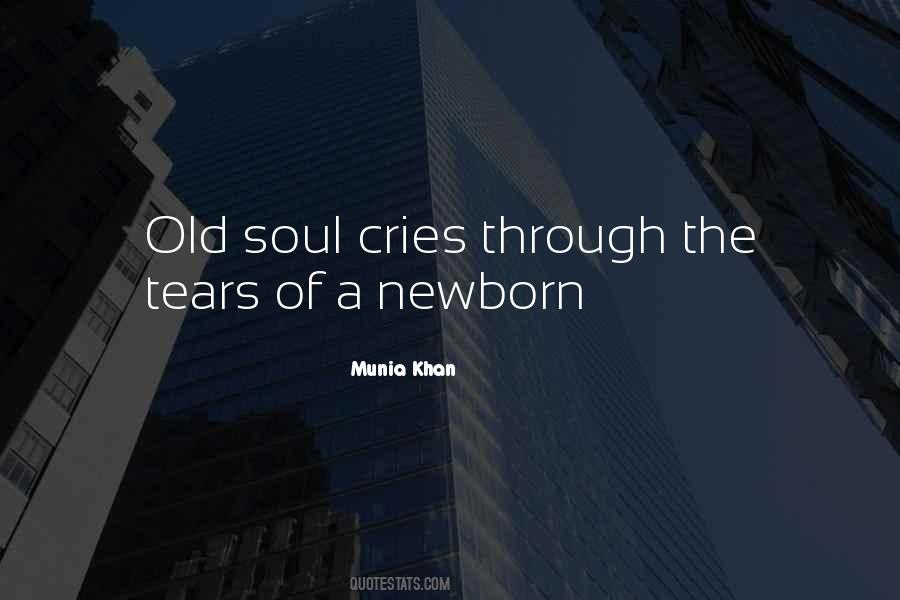 #15. Each stone, each bend cries welcome to him. He identifies with the mountains and the streams, he sees something of his own soul in the plants and the animals and the birds of the field. - Author: Paulo Coelho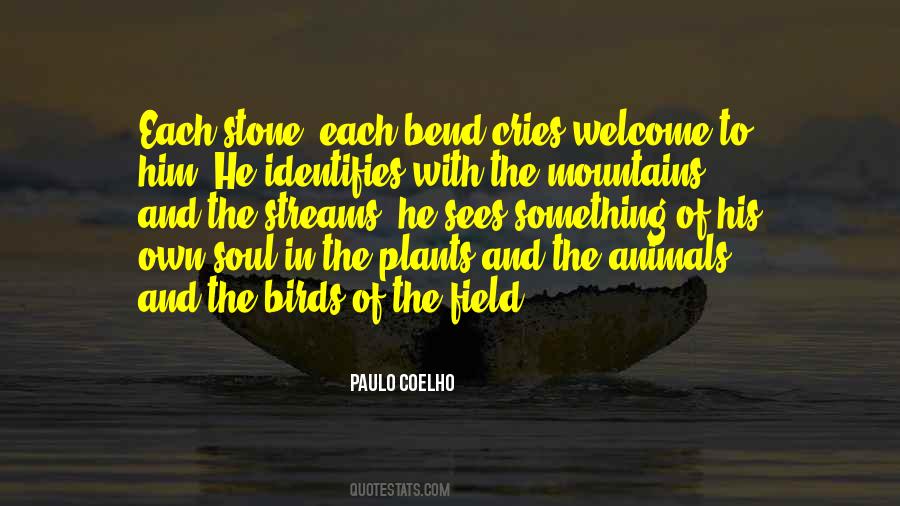 #16. What the soul cries out for is the resurrection of the senses. Even in this life, matter would be nothing to us if it were not the source of sensations. - Author: C.S. Lewis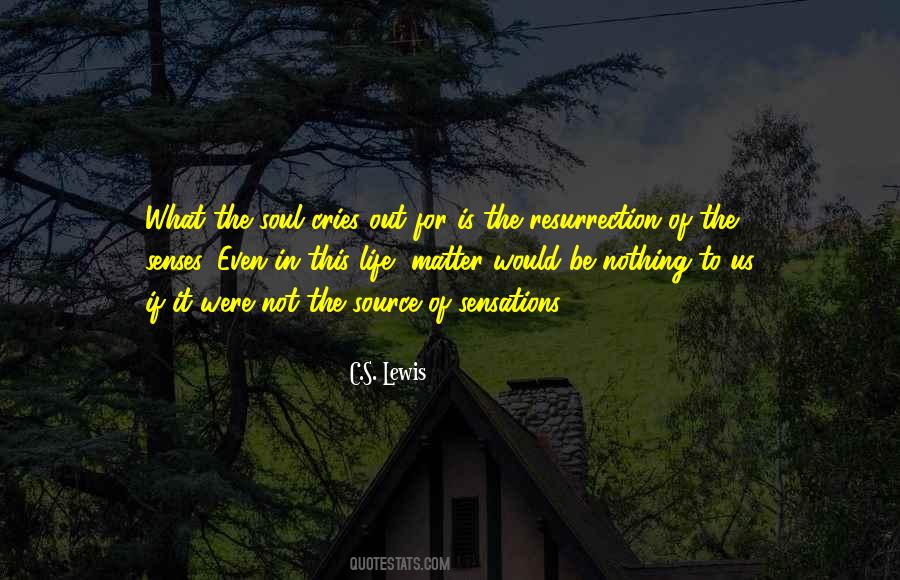 #17. Wasted tries, The many whys, Is it the soul of Compromise?
Lows and highs, Believing in lies, In life we have to improvise.
Frustration and cries, The last leg of sighs, You are the dreamer in disguise!
To the guilt say goodbyes, Open your eyes, Your soul - I do so recognize. - Author: Julieanne O'Connor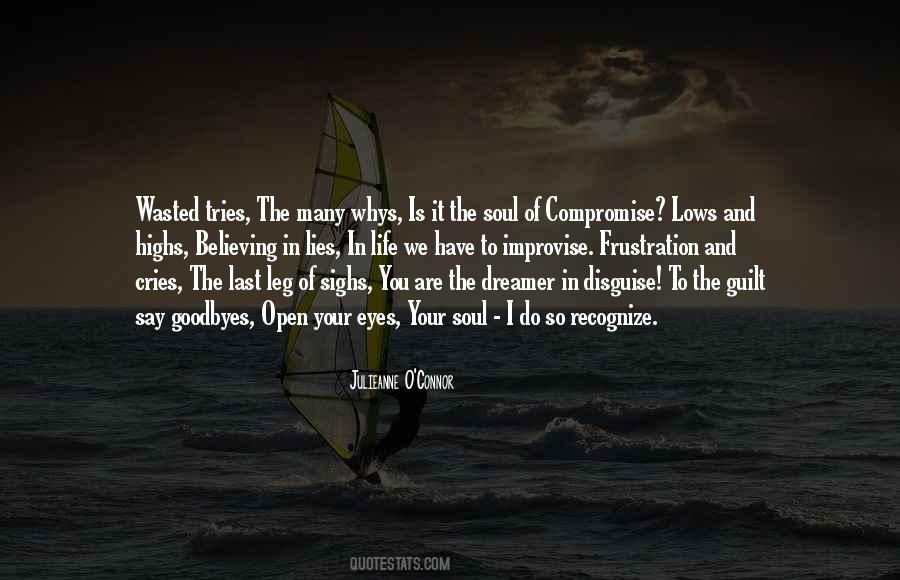 #18. Overstuffing ourselves with food or drinking until we get drunk or getting wrapped up in the affections of an adulterous relationship are all desperate attempts to silence the cries of a hungry soul. - Author: Lysa TerKeurst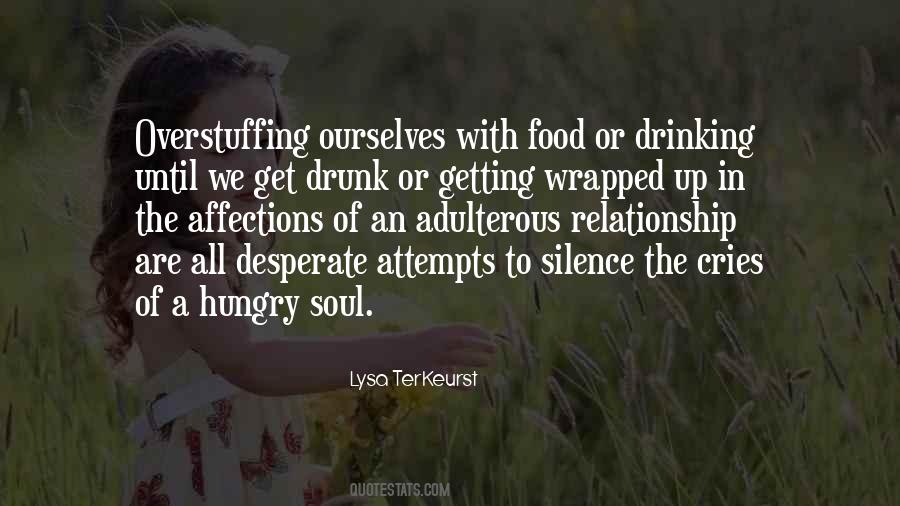 #19. Everywhere that we looked, were objects & artifacts reminiscent of a bygone age. of war & destruction, of mankind's determination to rule his neighbour, to prove how mighty he and his people are, yet a romance of days past that I am drawn to like a soul lost and hearing his lovers cries to him - Author: Rob Shepherd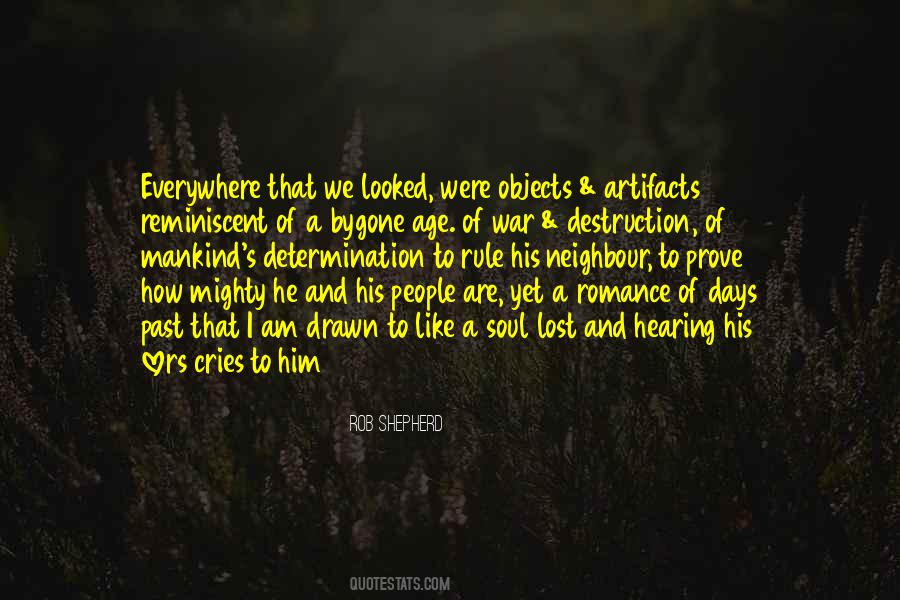 #20. You can't break my heart, she cries, breathy and furious. You can't own my soul. What I have, I made, what I have is mine. What I have I made, what I have is mine. - Author: Kathleen Glasgow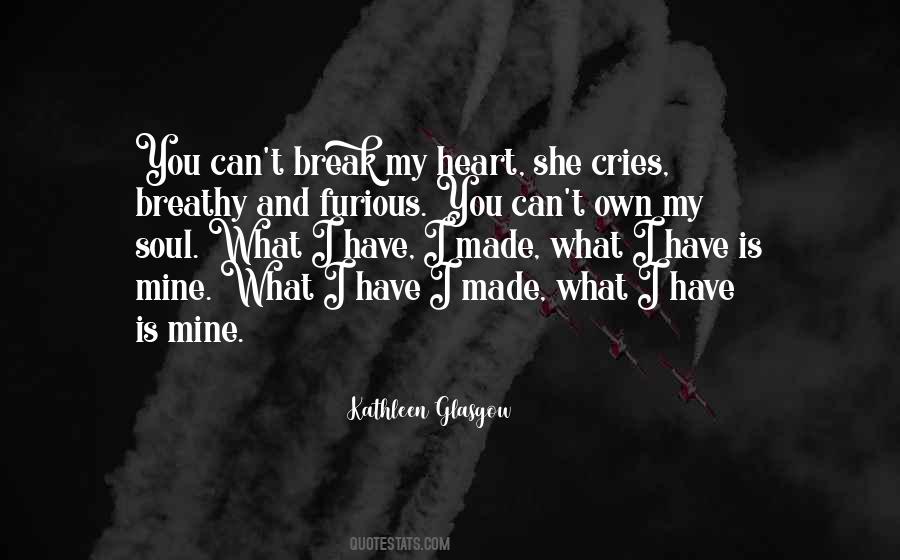 #21. Are farmers and they keep trying to breathe, keep the body moving to keep the soul from atrophying. Mama cries when she strings - Author: Ann Voskamp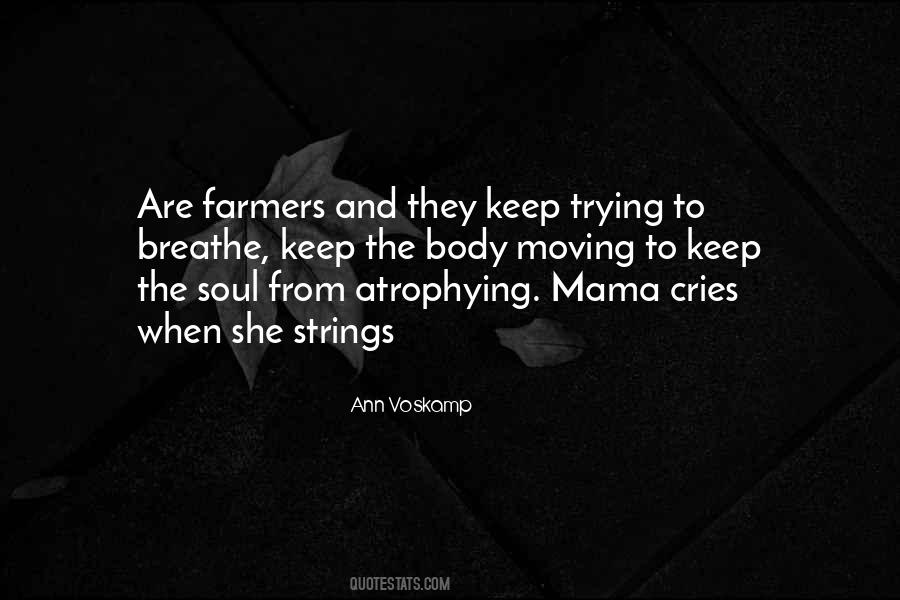 #22. The widow cries out at the door, The light of my mind has gone out, O my mother, with his death. So cry out, O soul brides of the Husband Lord, and dwell on the Glorious Praises of the True Lord. - Author: Guru Nanak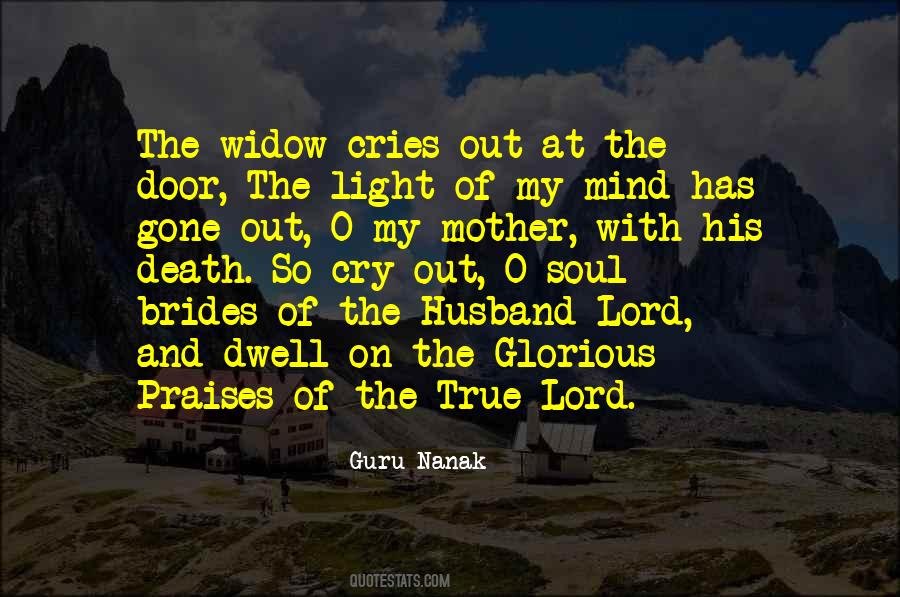 #23. Even when we're standing at the scariest precipice ever, our soul still cries out for joy. - Author: Sue Fitzmaurice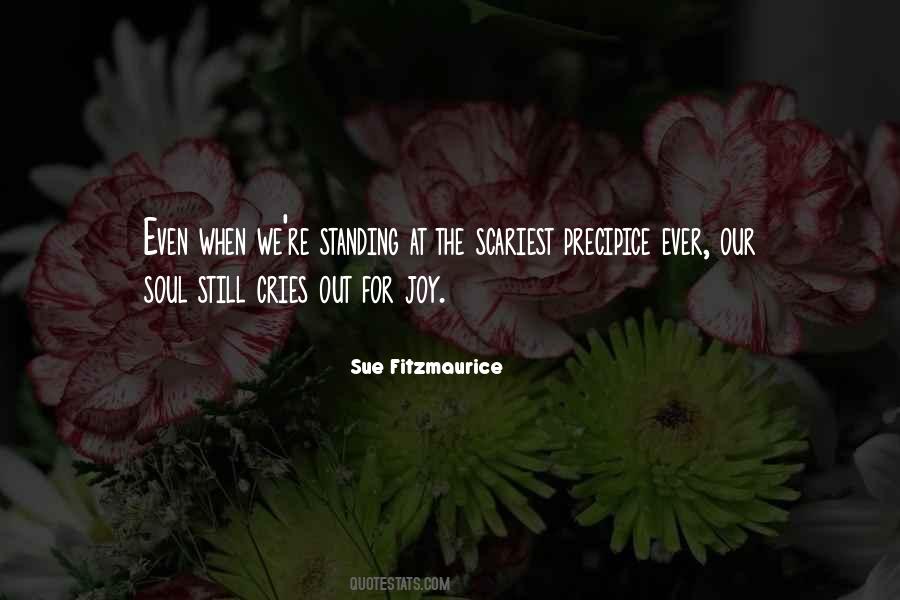 #24. In suffering, the soul cries out! - Author: Lailah Gifty Akita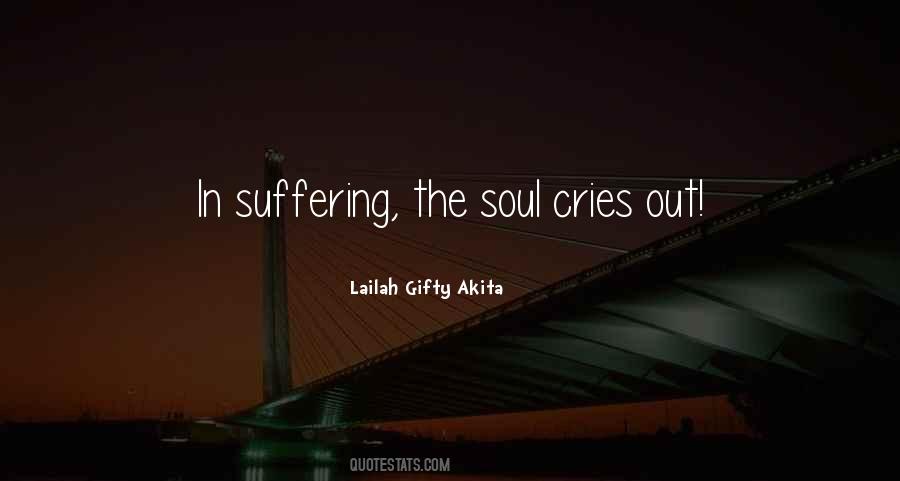 #25. Looking at my life
I see that only Love
Has been my soul's companion
From deep inside
My soul cries out:
Do not wait, surrender
For the sake of Love. - Author: Rumi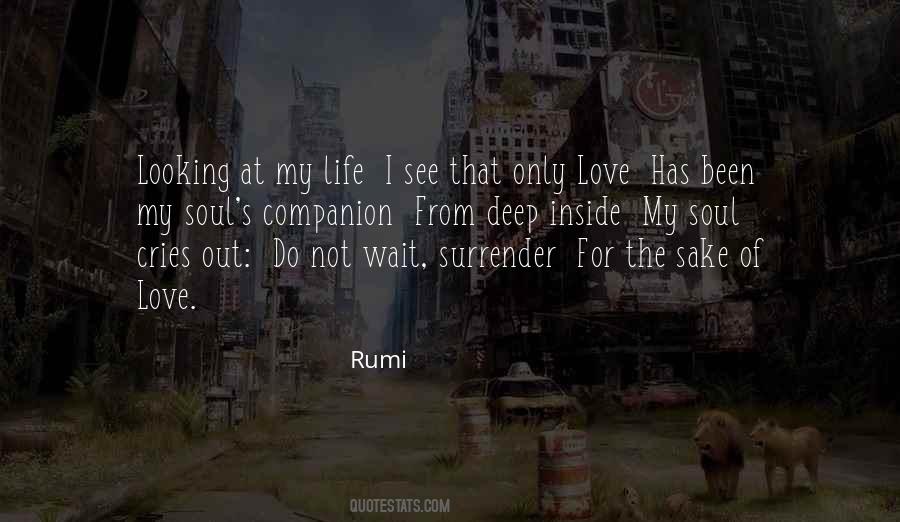 #26. It's the truth, Em. You do save me. I would still be lost if you hadn't come into my life, and I thank God everyday that you gave me another chance to show you how much my soul cries out for you. There will never be anyone else for me in the world. - Author: Katie Ashley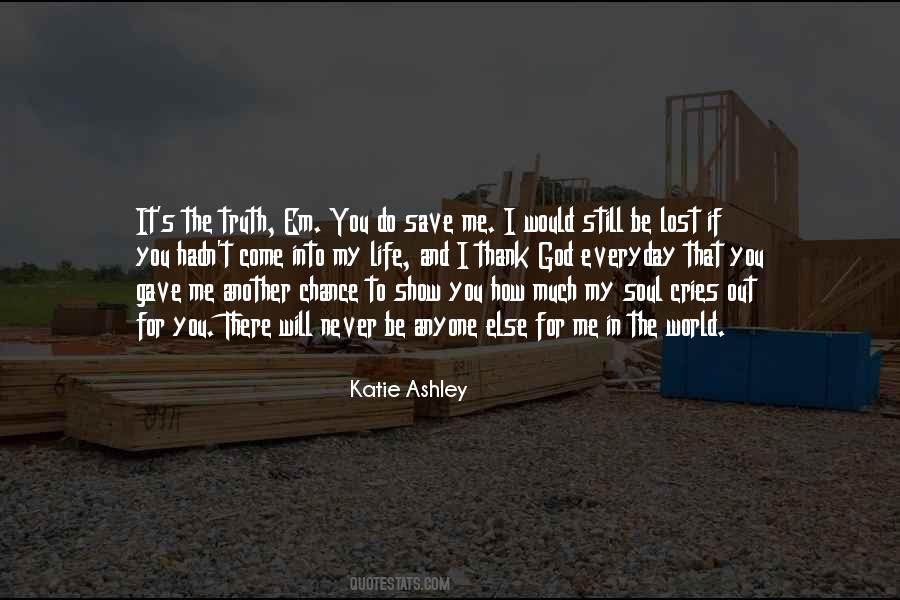 #27. You soak up my soul and mingle me. Each drop of my blood cries out to the earth. We are partners, blended as one. - Author: Rumi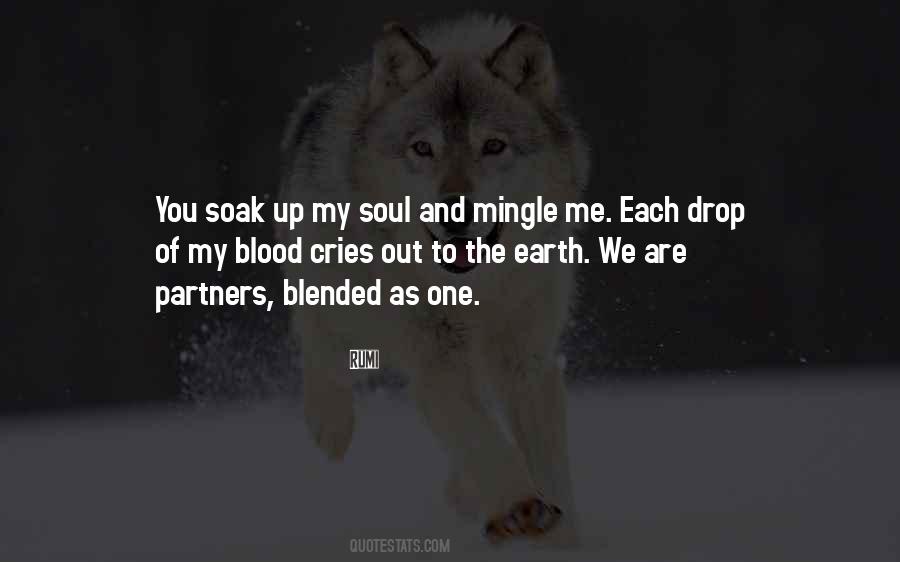 #28. God weighs souls on a pair of scales. In one of the dishes is the soul, and in the other, the tears of those who weep for it. If nobody cries, the soul goes straight down to hell. If there are enough tears and they are sufficiently heartfelt, it rises up to heaven. - Author: Jose Eduardo Agualusa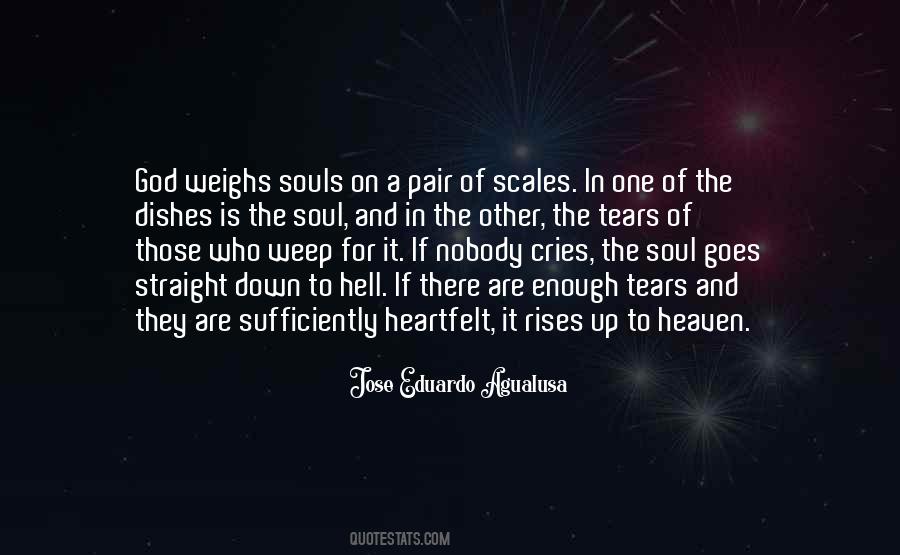 #29. Fierce in his soul was the struggle and tumult of passions contending; Love triumphant and crowned, and friendship wounded and bleeding, Passionate cries of desire, and importunate pleadings of duty! - Author: Henry Wadsworth Longfellow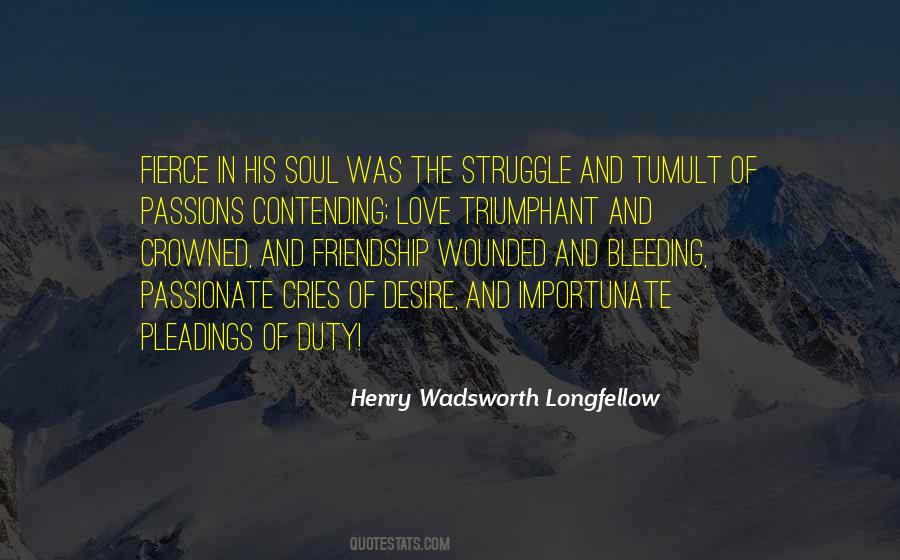 #30. Man's soul cries for the infinite in a finite world. That's why nothing ever satisfies us. - Author: Karan Bajaj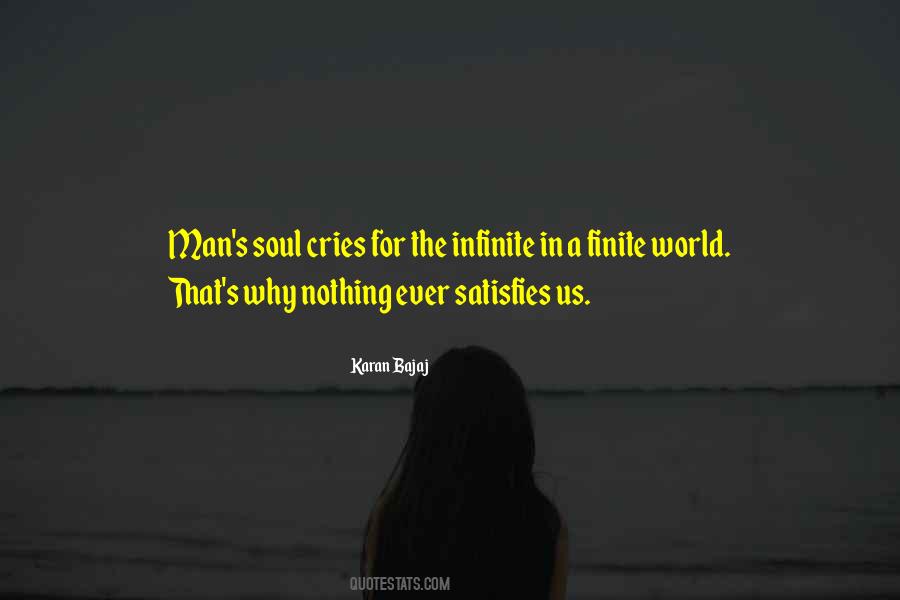 #31. As soon as I'd told him that Brennan had woken up, he'd wrapped his arms around me and cried. Gut-wrenching, soul-sucking cries. I'd - Author: Sloane Kennedy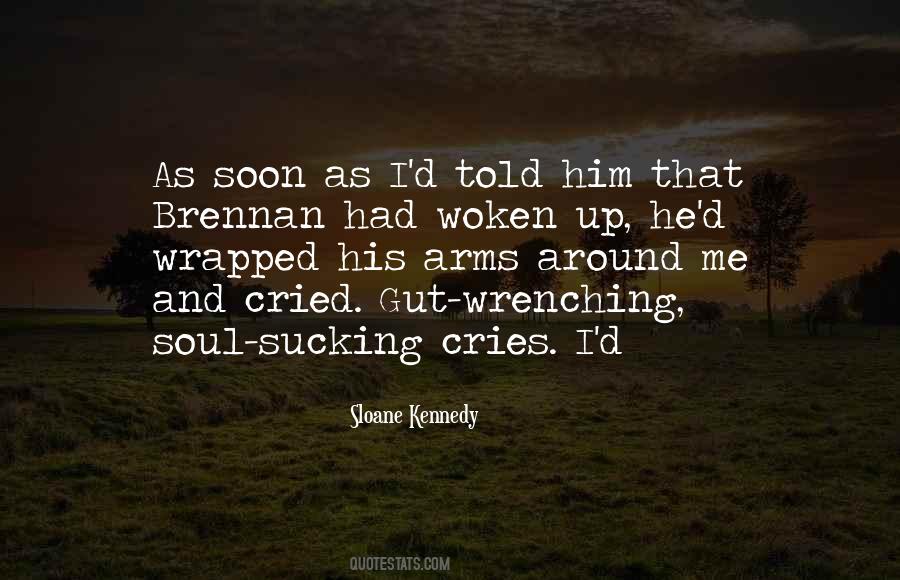 #32. When prayer is a struggle, do not worry about the prayers that you cannot pray. You yourself are a prayer to God at that moment. All that is within you cries out to Him, and He hears all the pleas that your suffering soul and body are making to Him with groanings which cannot be uttered. - Author: Ole Hallesby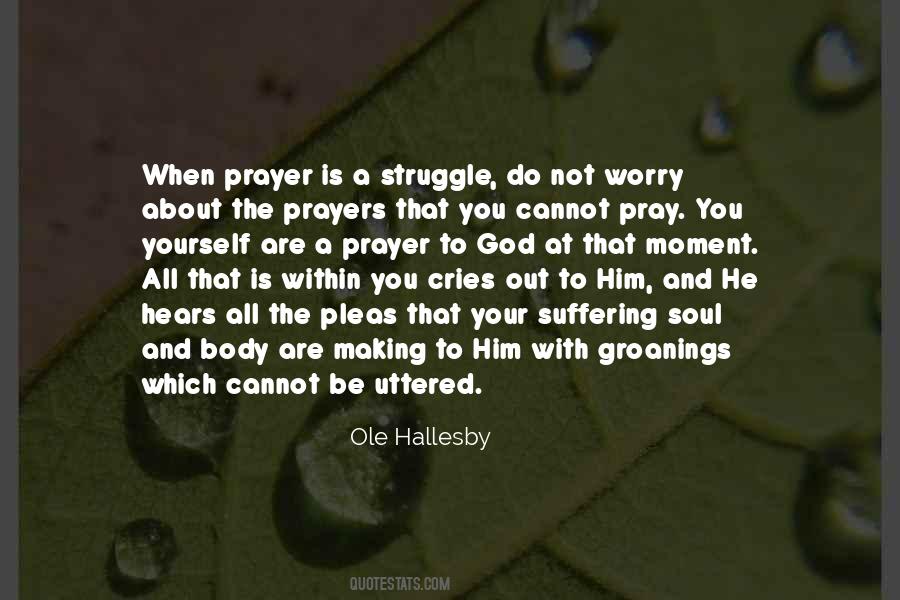 #33. Please believe me when I tell you that I picked up each soul that day as if it were newly born. I even kissed a few weary, poisoned cheeks. I listened to their last, gasping cries. Their vanishing words. I watched their love visions and freed them from their fear. - Author: Markus Zusak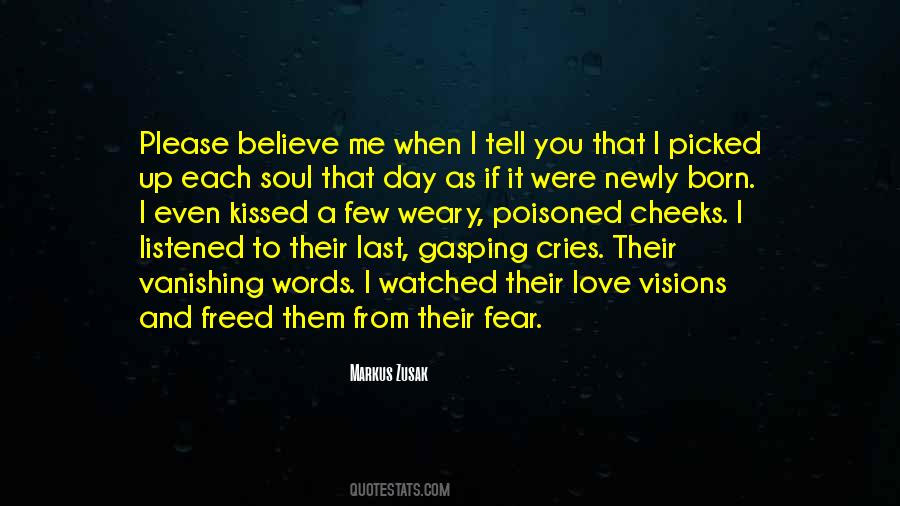 #34. I don't even know how long she sobs. Time ceases to pass, and she cries, cries, cries. Clutches me and makes these sounds of a soul being ripped in two, the grief so long denied taking its toll. Fermented grief is far more potent. - Author: Jasinda Wilder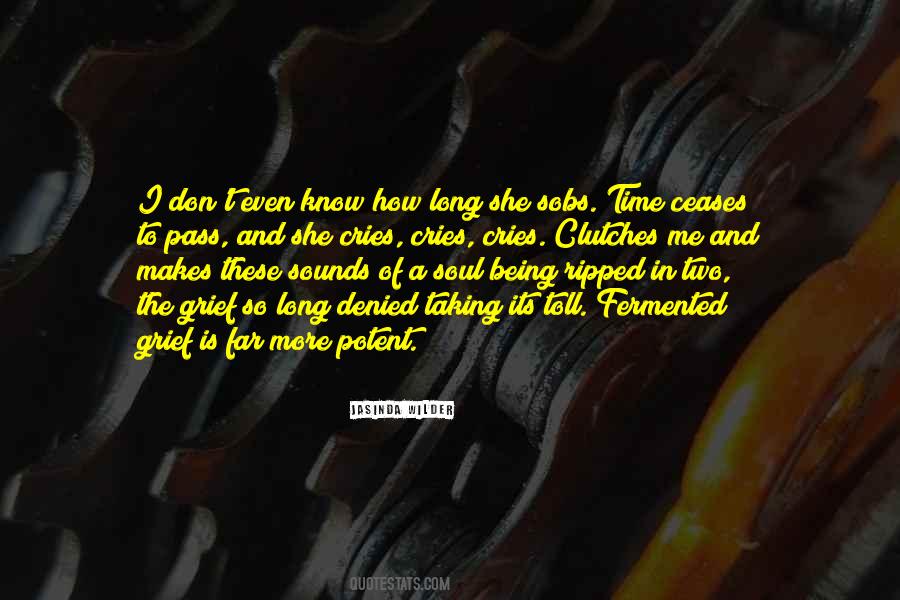 Famous Authors
Popular Topics