My Life Today Famous Quotes & Sayings
List of top 100 famous quotes and sayings about my life today to read and share with friends on your Facebook, Twitter, blogs.
Top 100 My Life Today Quotes
#1. Coming through the fire and through the storm of life with a strong man, my fiance Ashanti, whom I've been dating for eight months and two wonderful children beside me, I'm just so happy that I have been able to maintain my integrity and get to where I am today with the right energy around me. - Author: Angie Stone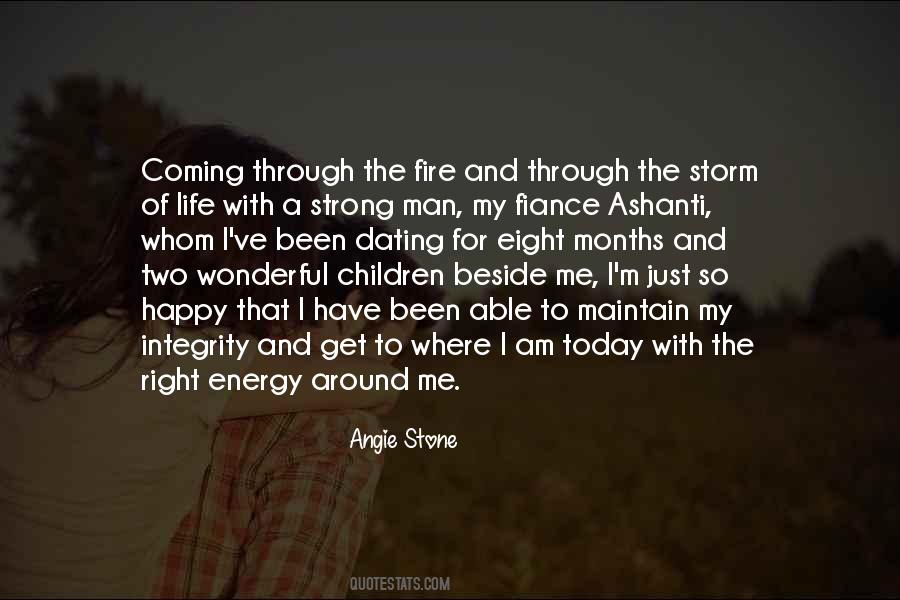 #2. In one generation, my family went from extermination simply because of how they pray to God to this ridiculously privileged life I live today. So how can I not love America? - Author: Jerry Springer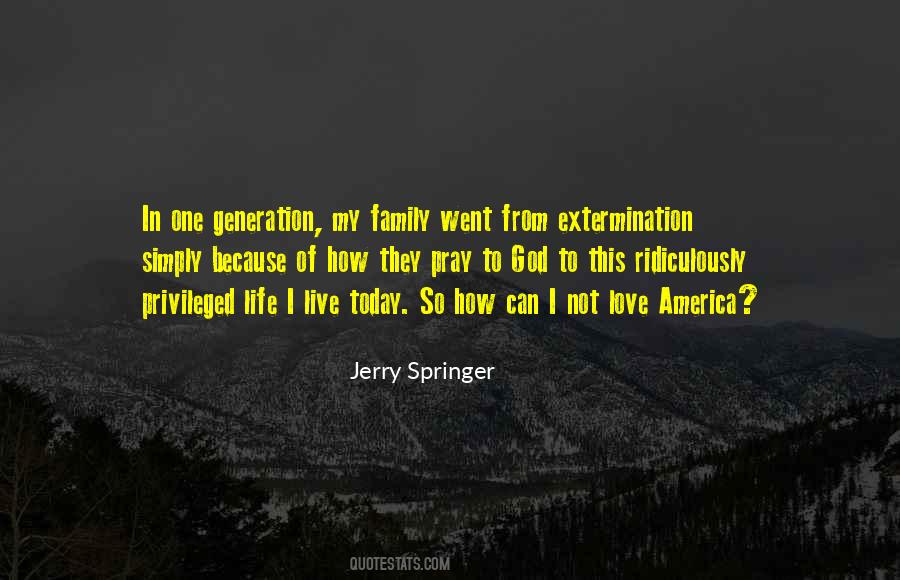 #3. My goal in writing for teens and tweens is to help my audience feel inspired and empowered today, to find their voice today, to believe that they can truly design the life of their dreams ... today. I mean seriously ... why wait? - Author: Deborah Reber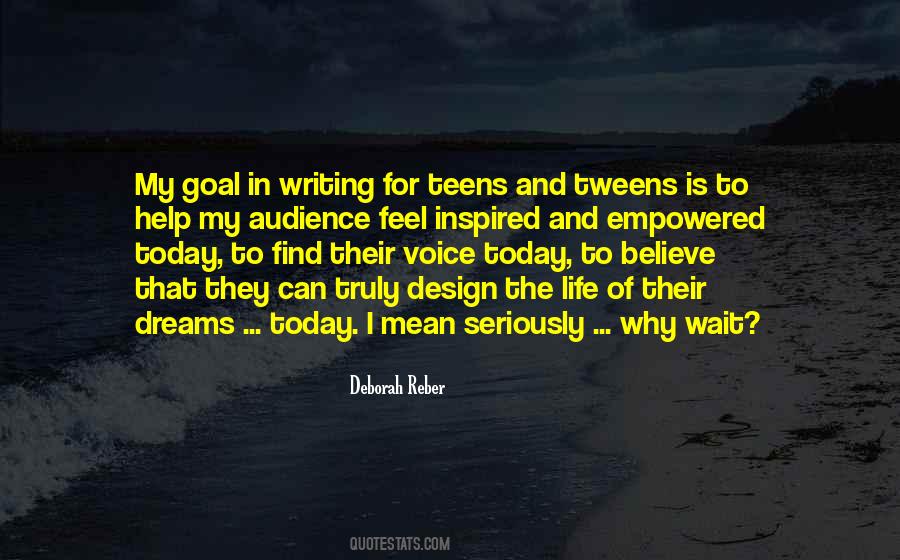 #4. Many things happened in my life, and I thought that they changed me. But in the end, nothing has changed since I was seventeen. If I could keep today's happiness I wouldn't worry about tomorrow. - Author: Ai Yazawa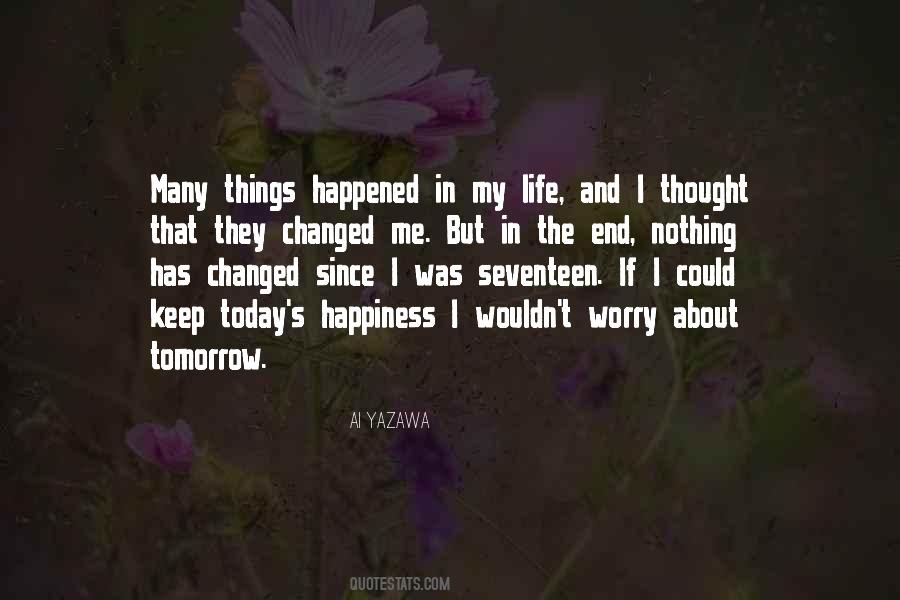 #5. Everything I have experienced in my life helps form who I am today, and I would not change or forget any of it. - Author: Dalia Mogahed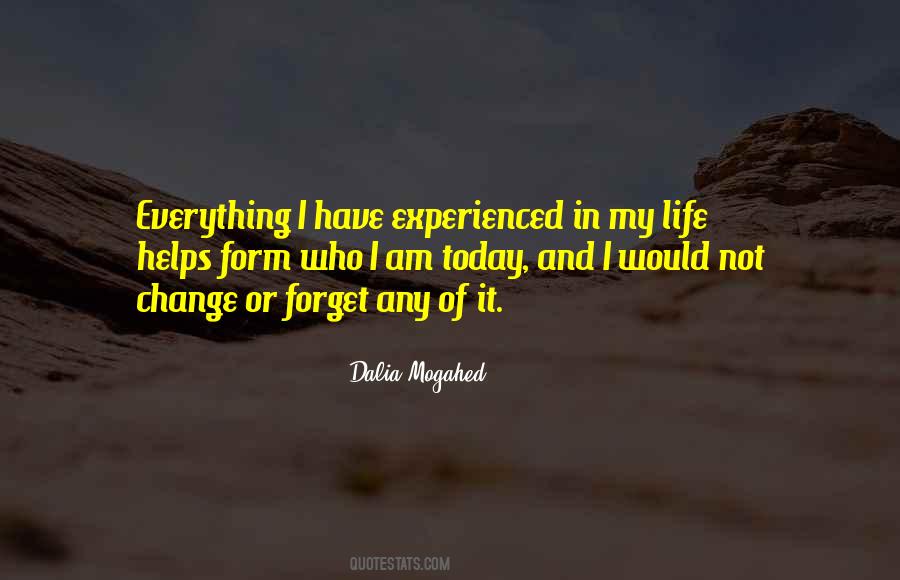 #6. The first thing I didn't understand was my life. It's a mystery. And today I don't understand economy or politics. I don't know why politics or economy are destroying the world, but I will understand after understanding. - Author: Alejandro Jodorowsky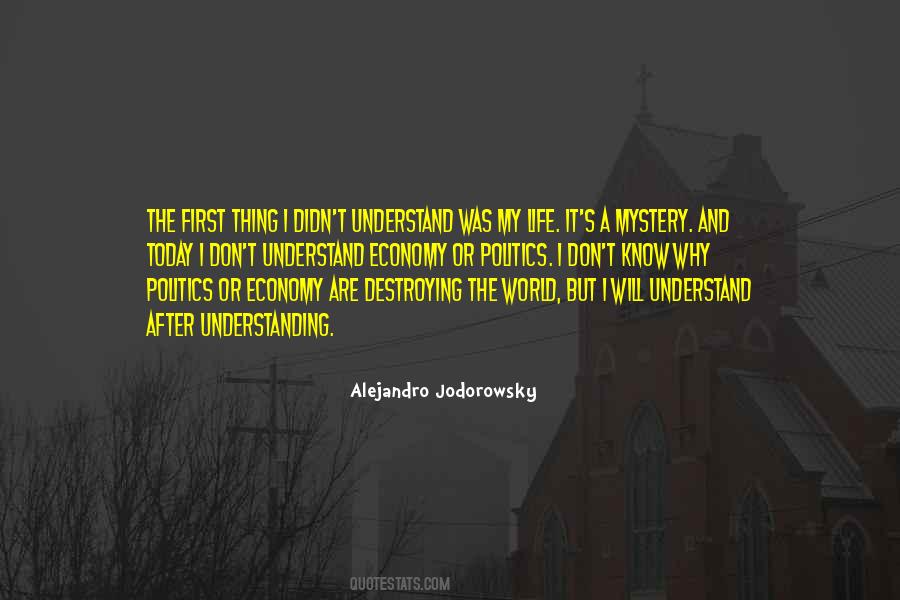 #7. If I look at the one thorn that is in my side, of all my life, it is my weight. I fret about it, I'm anxious about it, being an actor on television - it drives me insane. It just seems to be something that plays a central part in waking up in the morning and thinking, 'How am I with myself today?' - Author: Deborah Mailman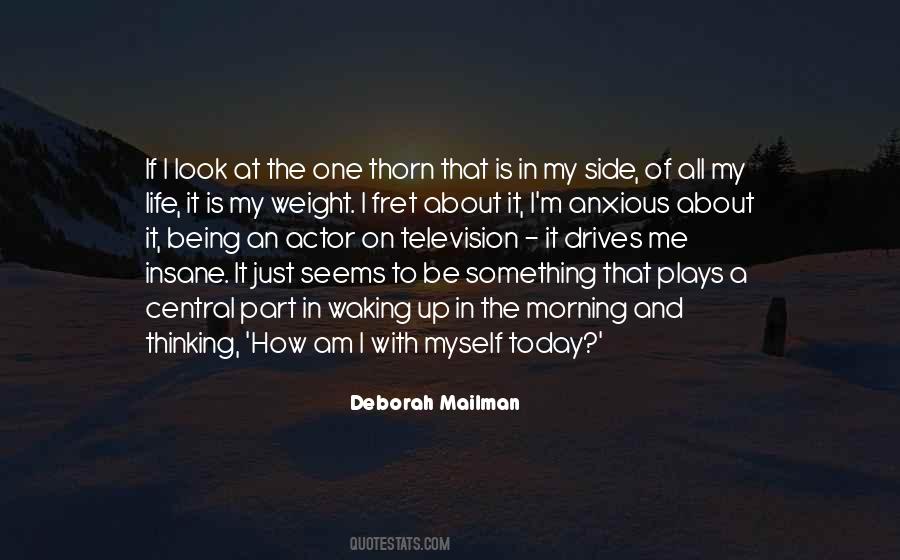 #8. I've spent my whole life worrying about the human-computer interface, so I don't want to suggest that what we have today is even close to acceptable. - Author: Nicholas Negroponte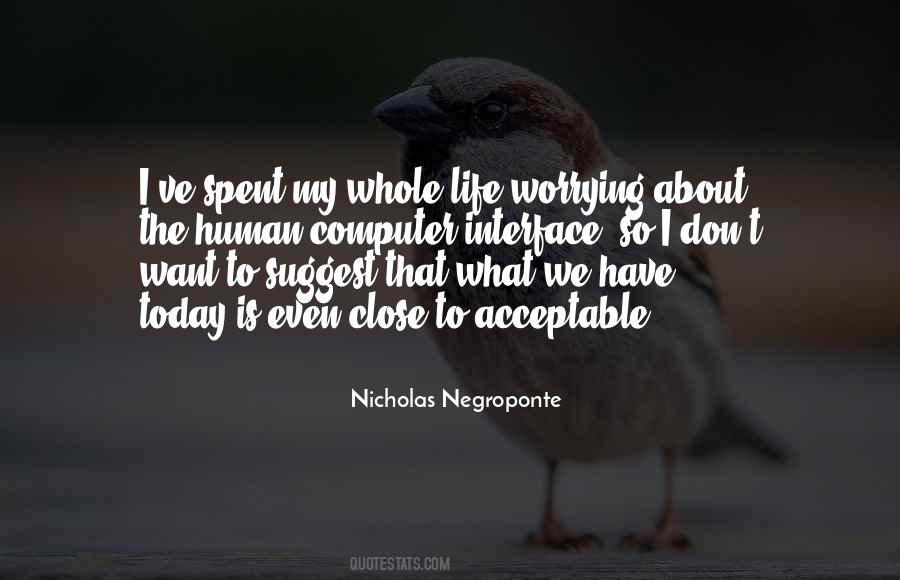 #9. If today were the last day of my life, would I want to do what I'm about to do today ? - Author: Steve Jobs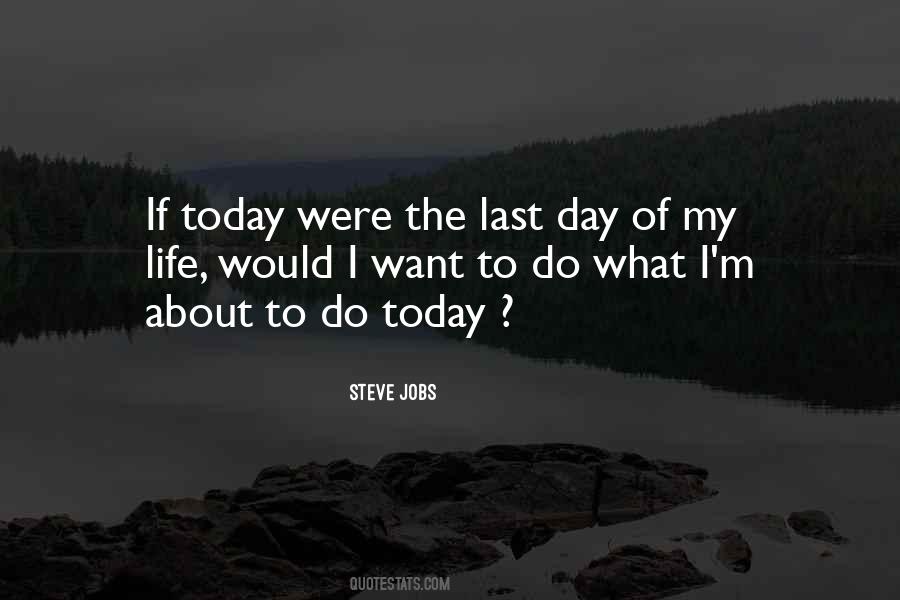 #10. All my life I have been intensely repelled by the idea of 'making an effort'. I hate this idea today as much as I did as a child. I don't know why I hate it so much; I just do. - Author: Raymond Smullyan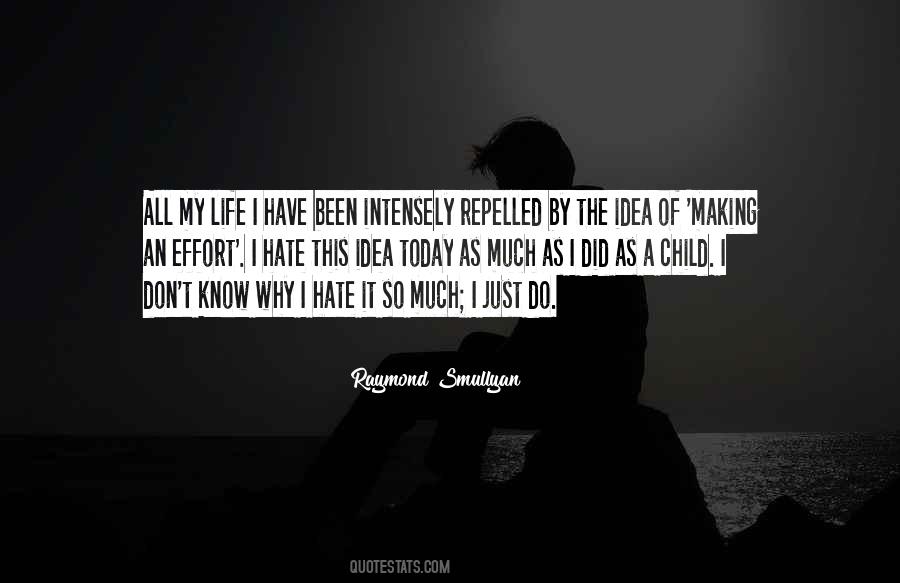 #11. I don't know when my time on earth will be up; but I DO know that today, I am one day closer. You can bet I'm going to make this day count! Will you? - Author: Steve Maraboli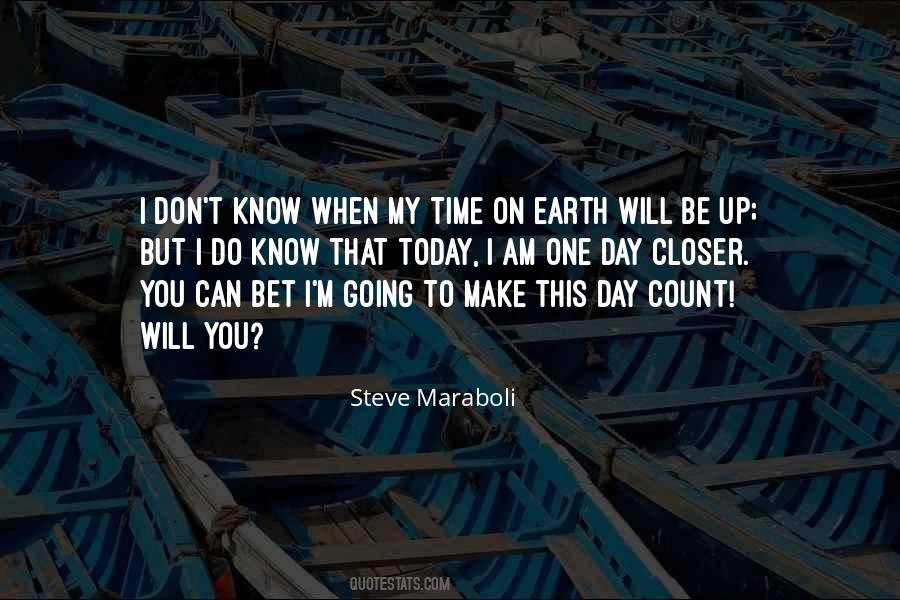 #12. If I waste today I destroy the last page of my life. - Author: Og Mandino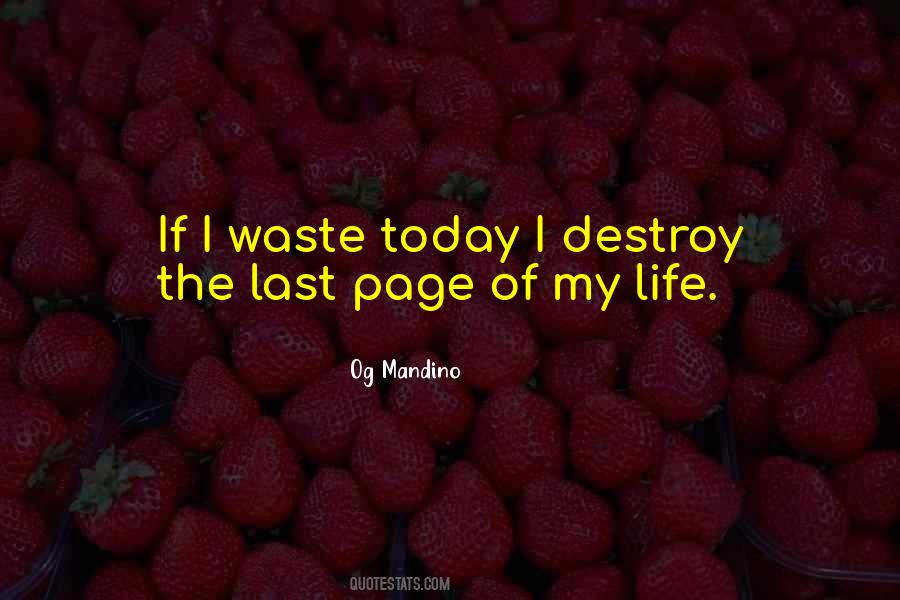 #13. Tears rolled down my cheeks as what happened today crashed into me. I kissed his head as I held him tight. "You saved my life," I whispered my voice warbling.
His words were thick with sleep, he told me, "I was returning the favor. - Author: S.C. Stephens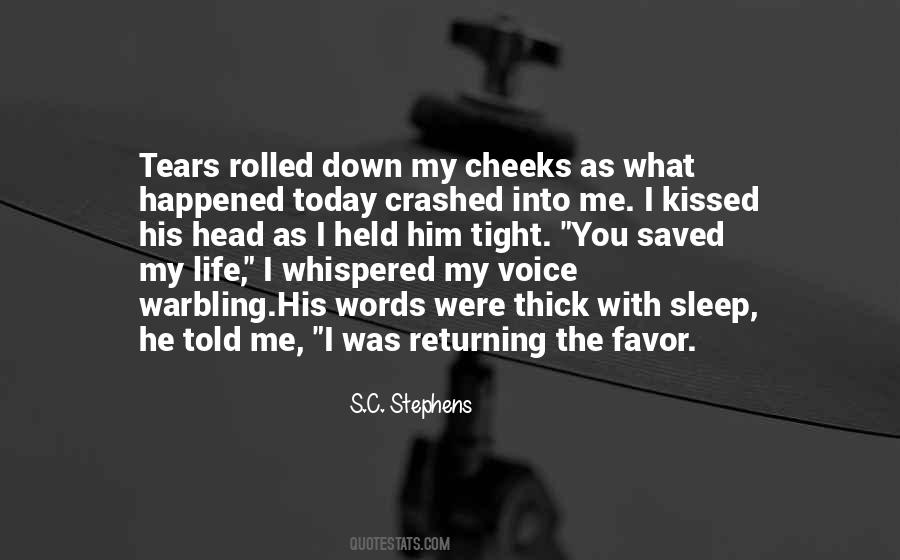 #14. Today you may not understand me and tomorrow you all think as you thought as yesterday; but i believe in my mind that one day you all will understand me; though there is no my presence. - Author: Khem Veasna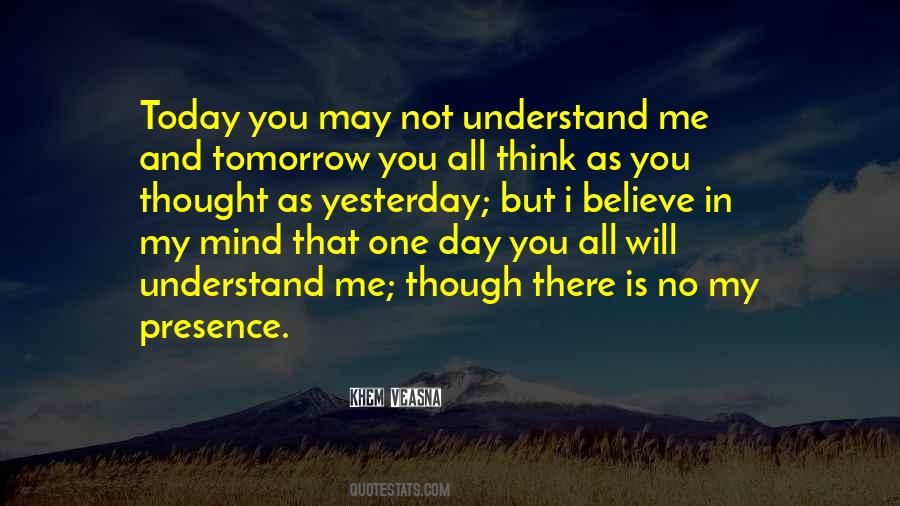 #15. Today, I am glad that I'm me - I'm glad that I was born who I am, that I've learned what I've learned, and that I've become who I am. I am happy and grateful for my life, and I shall not waste time comparing it with the lives of others, for I am I, and I am very glad of that fact! - Author: Tom Walsh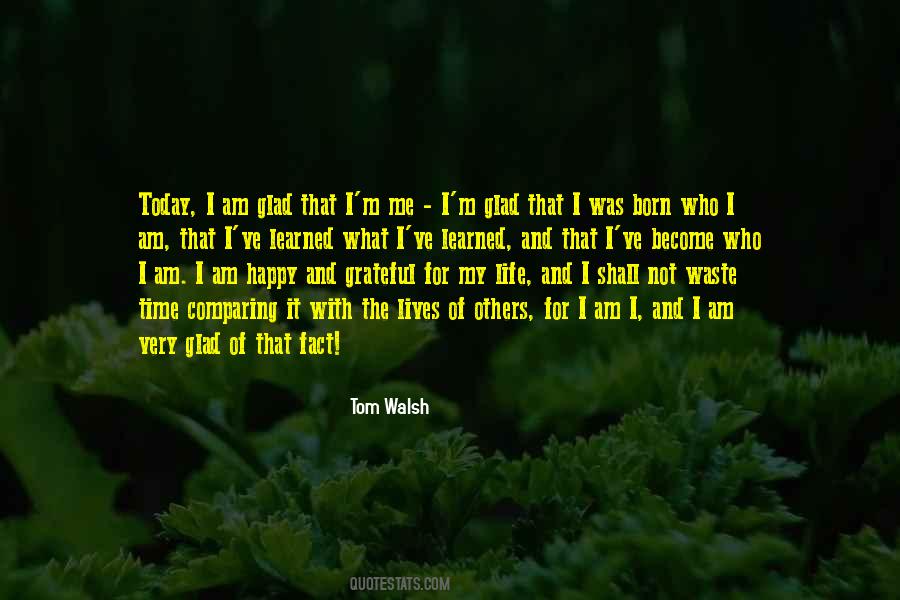 #16. Have we been guilty of declaring, 'I've been thinking about making some course corrections in my life. I plan to take the first step - tomorrow'? With such thinking, tomorrow is forever. Such tomorrows rarely come unless we do something about them today. - Author: Thomas S. Monson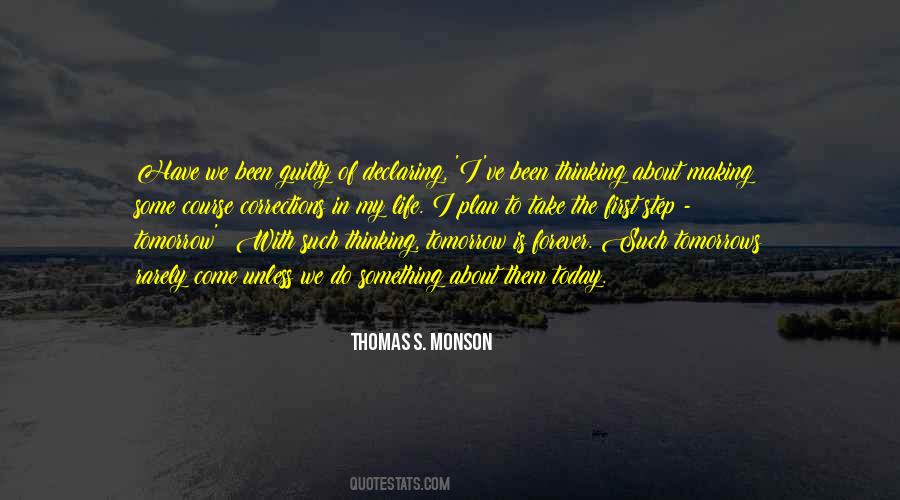 #17. Today there are paparazzi out, I'm doing a day of press, I'm in a hotel, I've just been on Radio 1. But when I'm in my day-to-day life people don't know who I am and I'm left to my own devices. - Author: Ed Westwick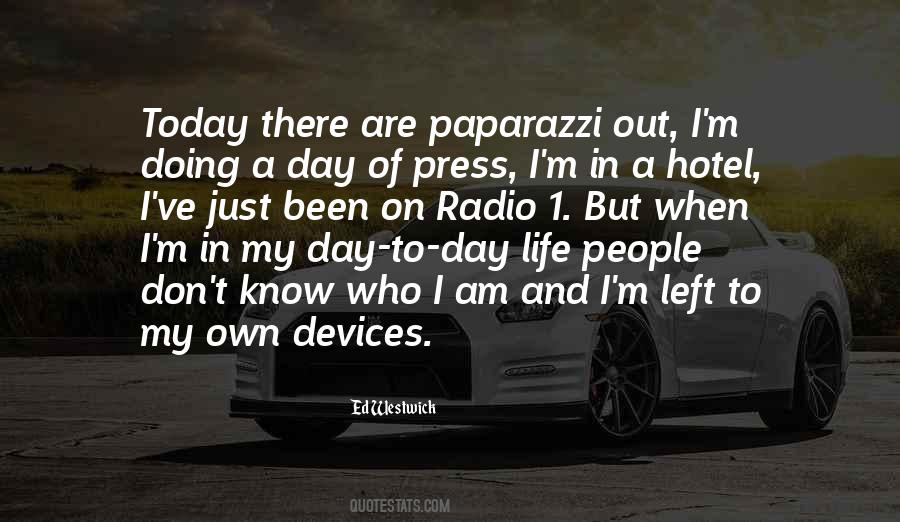 #18. May I speak each word as if my last word, and walk each step as my final one. If my life should end today, let this be my best day. - Author: Anonymous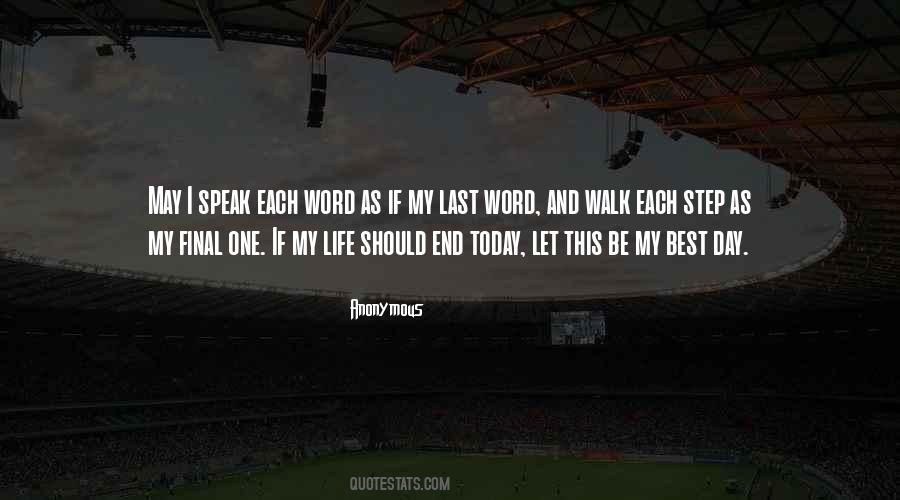 #19. From my old neighborhood, I learned nothing was guaranteed, not even life itself. You better get it today, because tomorrow is not promised. - Author: Junior Seau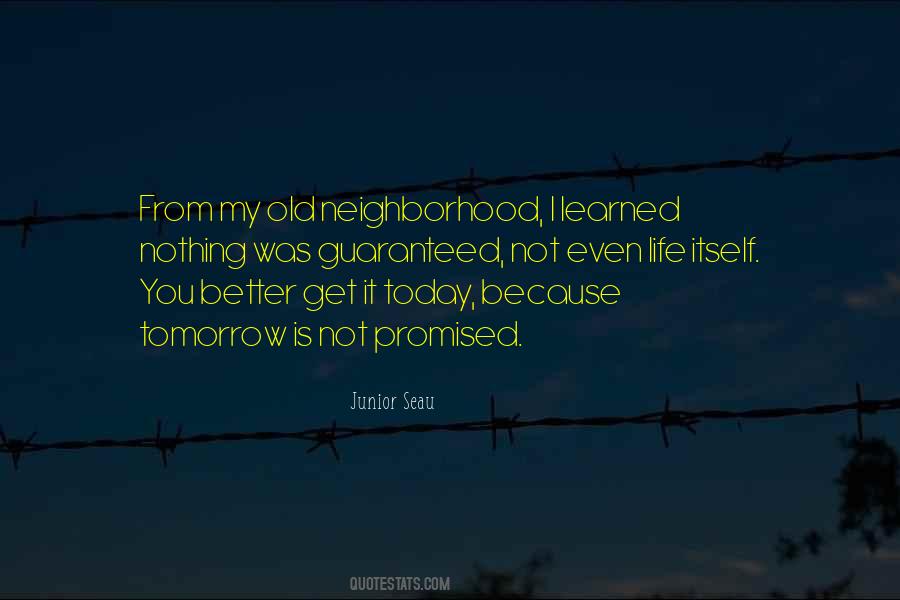 #20. If I could change the way I live my life today, I wouldn't change a single thing. - Author: Lisa Stansfield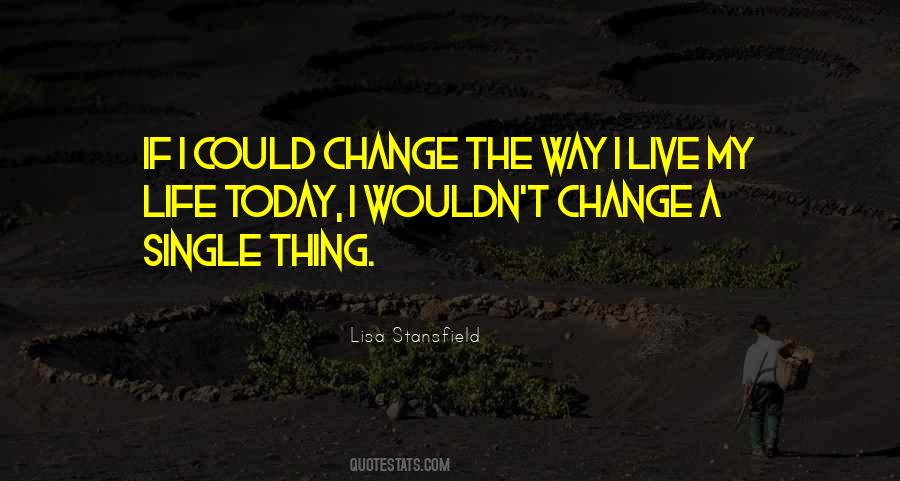 #21. I feel impelled to speak today in a language that in a sense is new-one which I, who have spent so much of my life in the military profession, would have preferred never to use. That new language is the language of atomic warfare. - Author: Dwight D. Eisenhower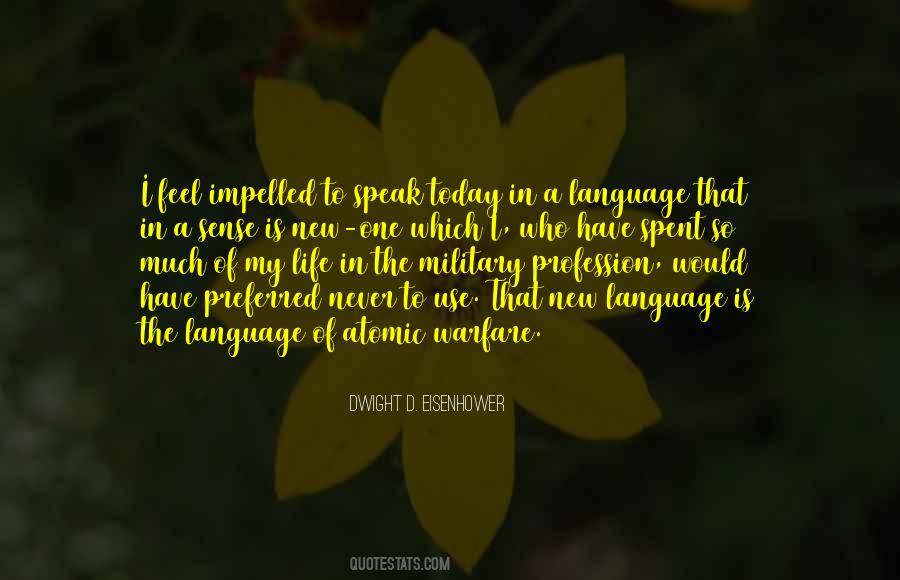 #22. I can honestly tell you that without God I would not be who I am today. He has done such an amazing work in my life and I want everyone to have the same freedom. - Author: Joyce Meyer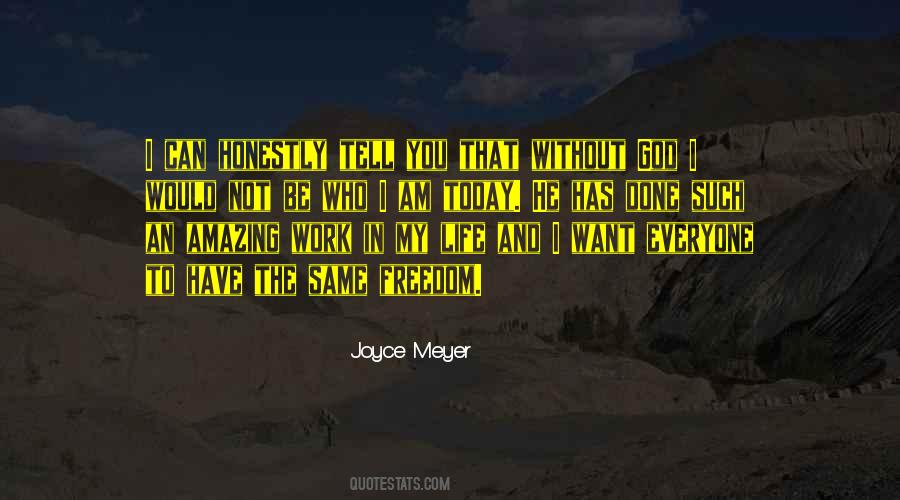 #23. Never in my life did I lend the unfortunate Dmitri Fyodorovich Karamazov (for he is unfortunate now, in any case) the sum of three thousand roubles today, or any other money, never, never! I swear to it by all that is holy in our world. Khokhlakov - Author: Fyodor Dostoyevsky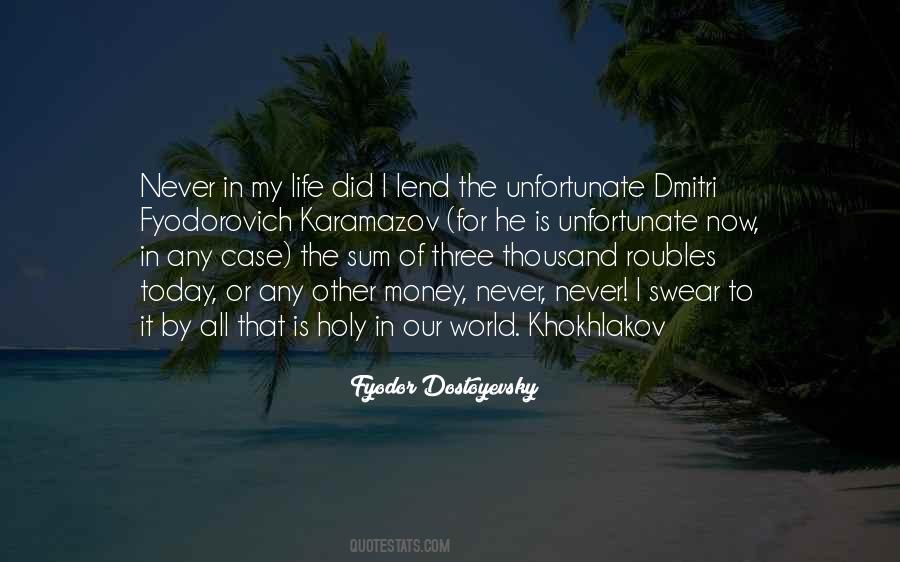 #24. You are here for today and come back never. Still you will live in my heart for now and forever. - Author: Debasish Mridha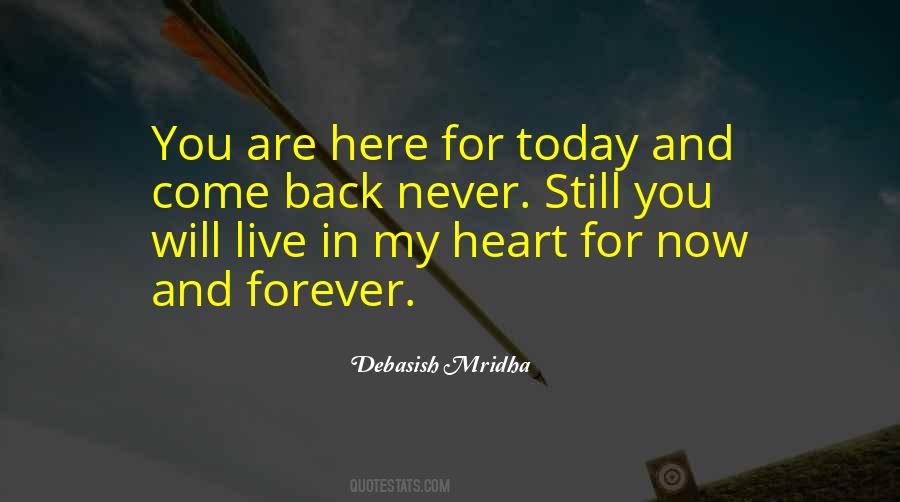 #25. Maybe not today. Or tomorrow. But someday," she said. "I'm not going to waste my life longing for the guy-that-almost-was. I'm going to move on and find the guy-to-be. - Author: Nicole Williams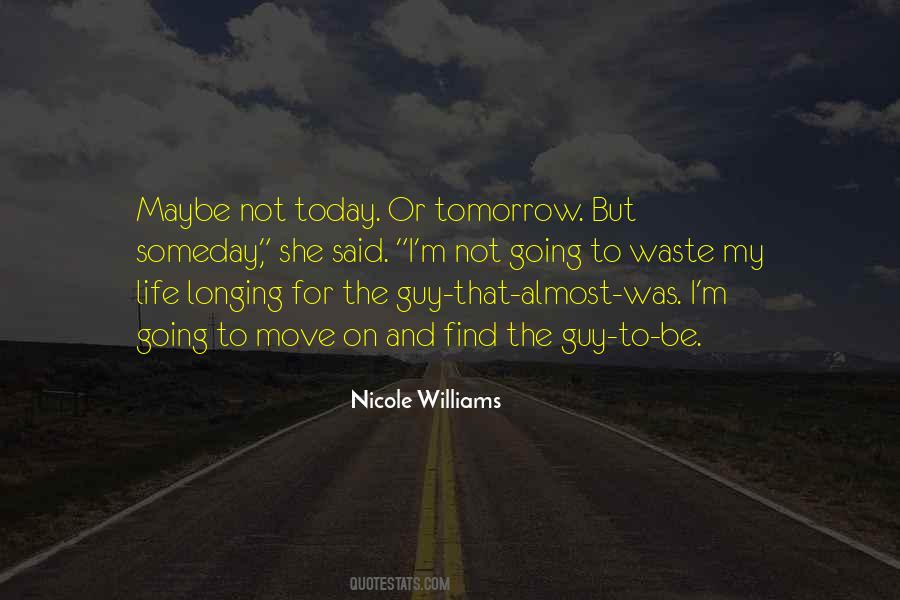 #26. I didn't want their tears. I didn't want them to think of me. I wanted nothing from them. That asshole Mitch Johnson saved my life today. What a prick. - Author: Tiffany King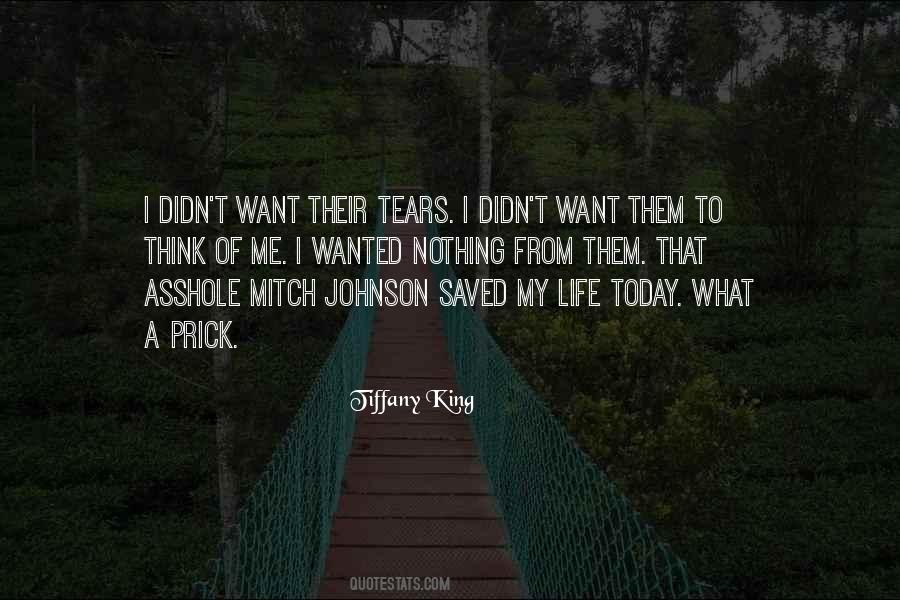 #27. Today was the first day of the rest of my life. It was okay, I think the second day of the rest of my life will be better - Author: Melissa Bank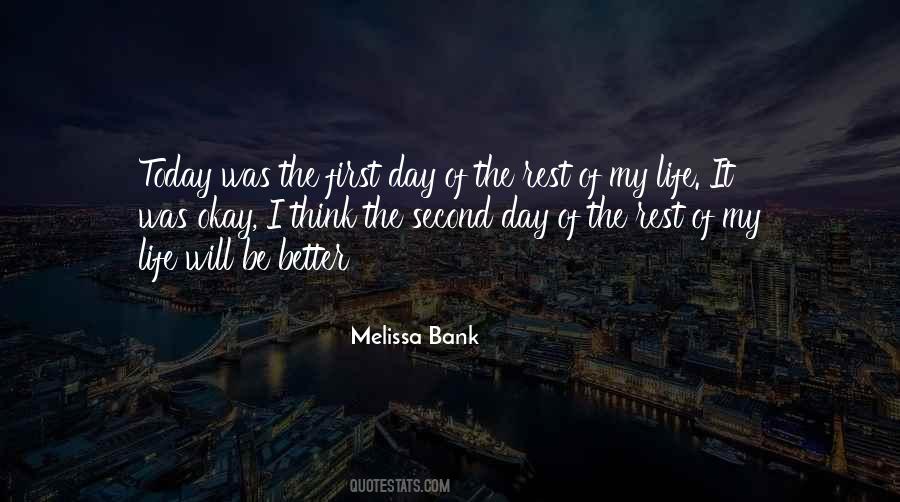 #28. I pastor a very large church in western Australia. We have about - over 2,000 people, which we have a Bible school, community services, a lot of things linked with it. So my life's very full today. Not enough days in the week. - Author: Margaret Smith Court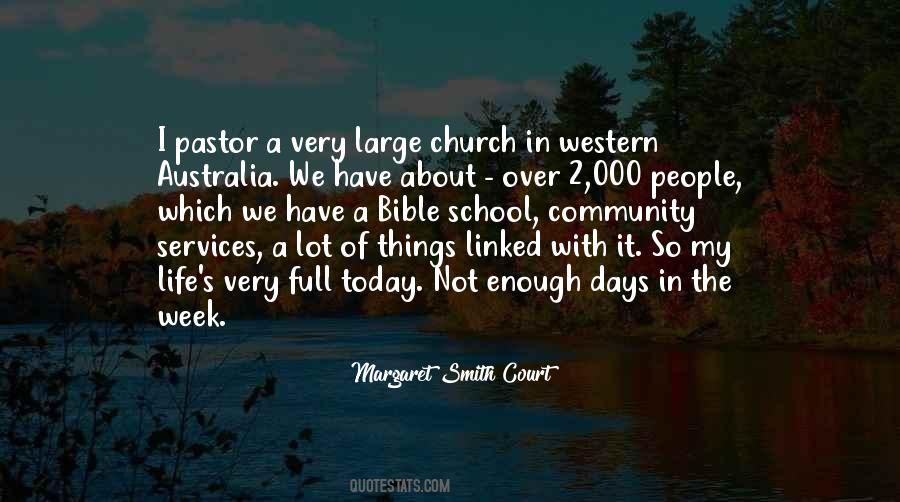 #29. My mother, who taught me how to read and write and home-schooled me for the first 12 years of my life, whose presence shaped me as much as her absence did, who imbibed in me the values of empathy and fearlessness and hard work, looks down on me today with great pride. - Author: Sharad Vivek Sagar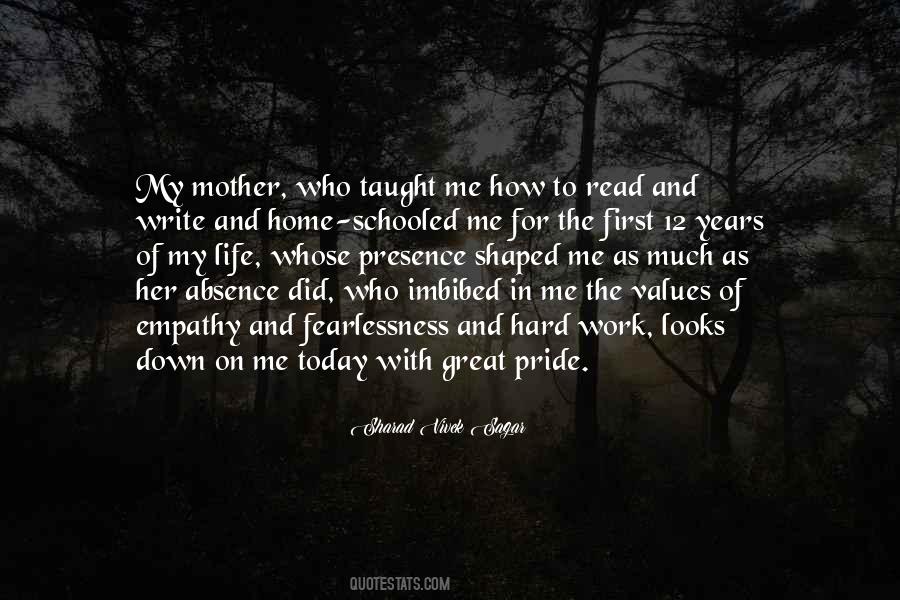 #30. From the beginning of my life
I have been looking for your face
but today I have seen it
Today I have seen
the charm, the beauty,
the unfathomable grace
of the face
that I was looking for - Author: Rumi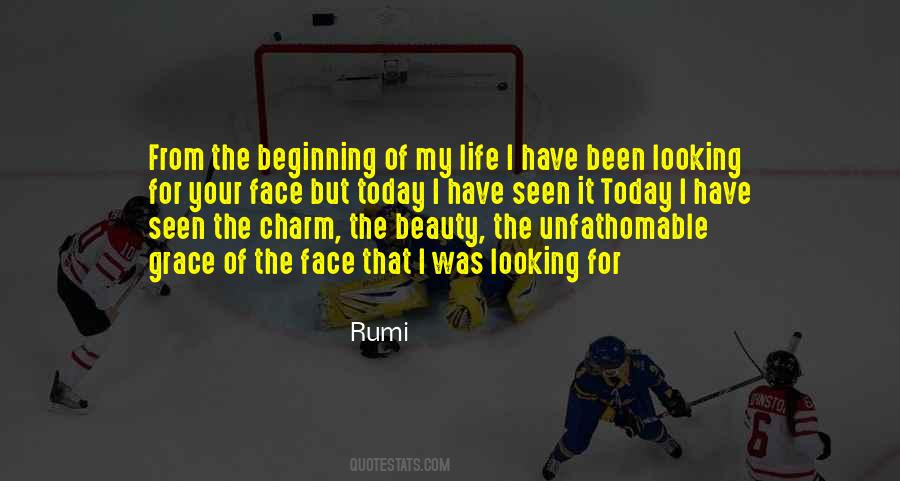 #31. I look upon my past with disgrace. I was herded and instructed. But I will be herded and instructed no more. Today I am born anew, and my life will become my own again. It will be different ever after. - Author: Patrick DeWitt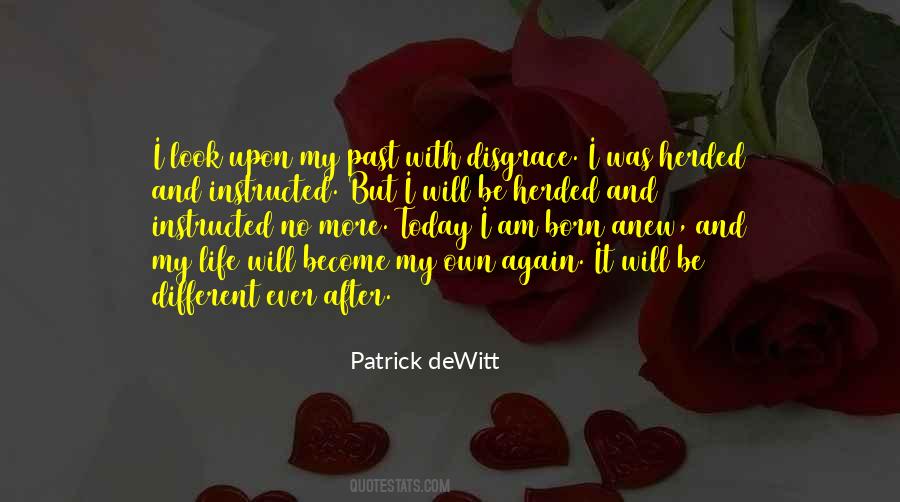 #32. Hot off the presses, today's headlines: The love of your life does not approve of my wanton flapper ways," Evie said in a voice of affected mystery. "Really, Mabesie. You might want to reconsider - he is a bit of a killjoy. - Author: Libba Bray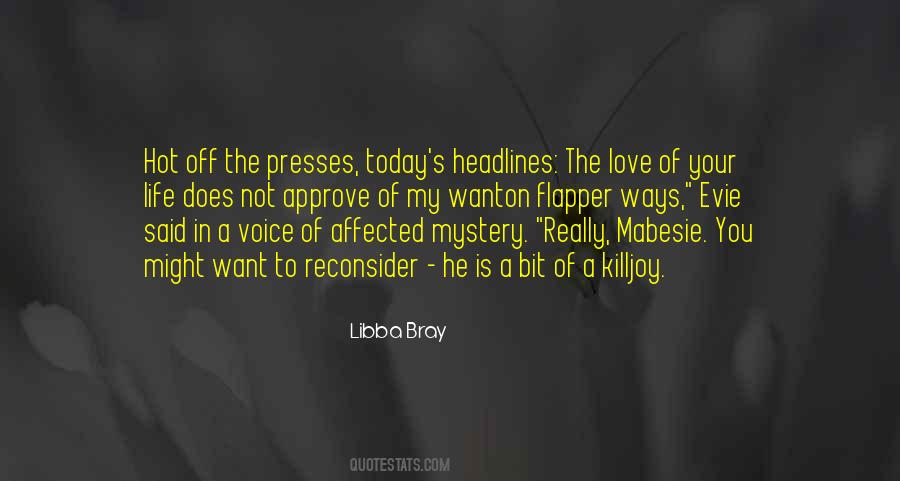 #33. I take up my own pen again - the pen of all my old unforgettable efforts and sacred struggles. To myself - today - I need say no more. Large and full and high the future still opens. It is now indeed that I may do the work of my life. And I will. - Author: Henry James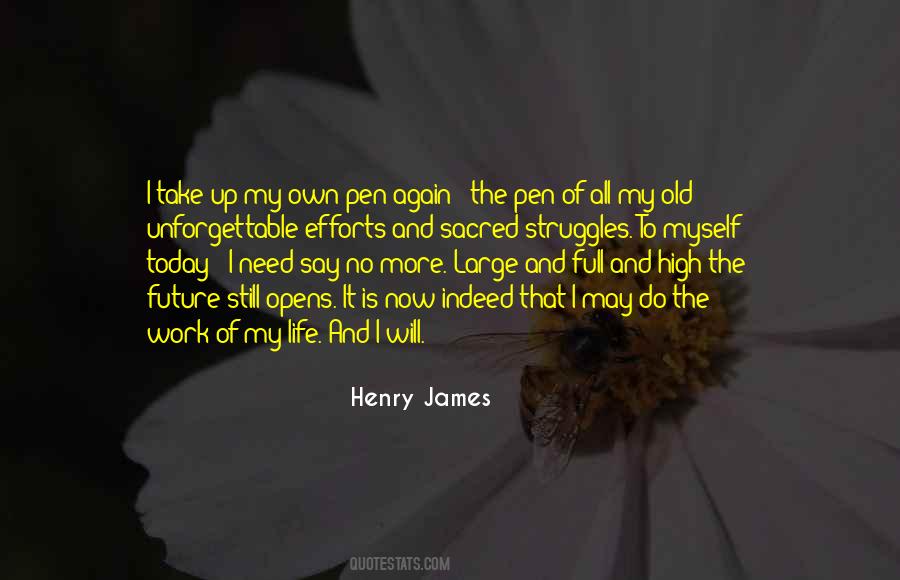 #34. I knew in that moment that things would be forever different- that today was gong to be the day that split my life into before and after. - Author: Morgan Matson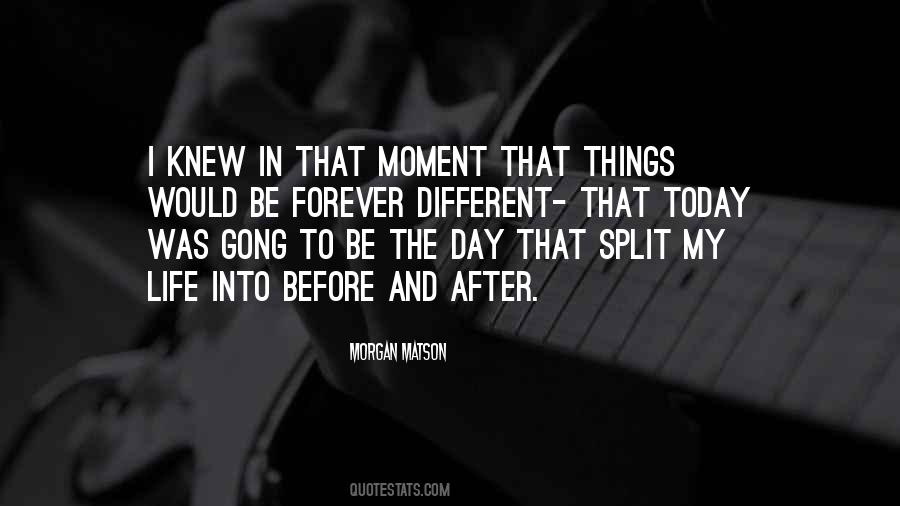 #35. I'm not saying I'm glad it happened. Not exactly. But I'm not sorry to be the person I am today, and to have the life I have now. Even though it's not what I thought I wanted for my future, a year ago, it is what I want now ... - Author: Nancy Werlin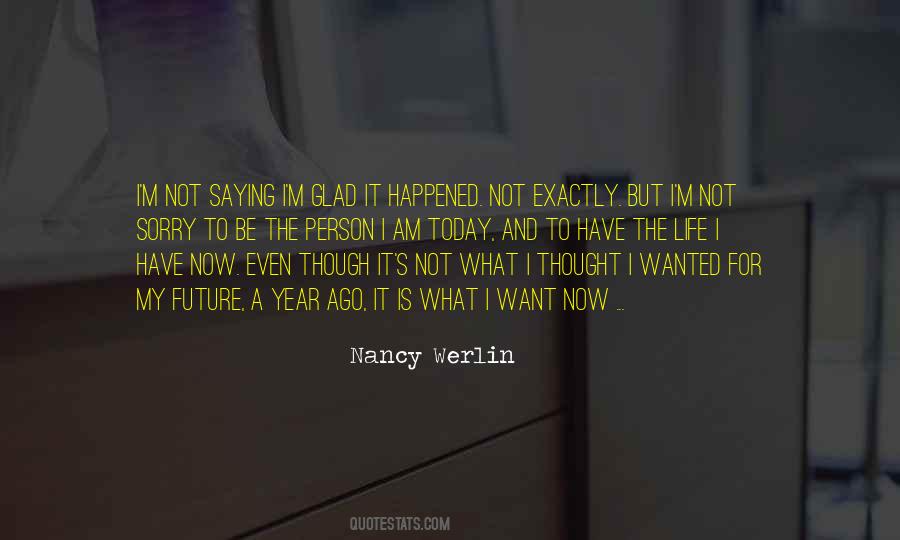 #36. Aledo will always be home to me because I spent the first 27 years of my life there - it's such a special place - and because of the experiences I had there, I've become the person I am today. - Author: Suzy Bogguss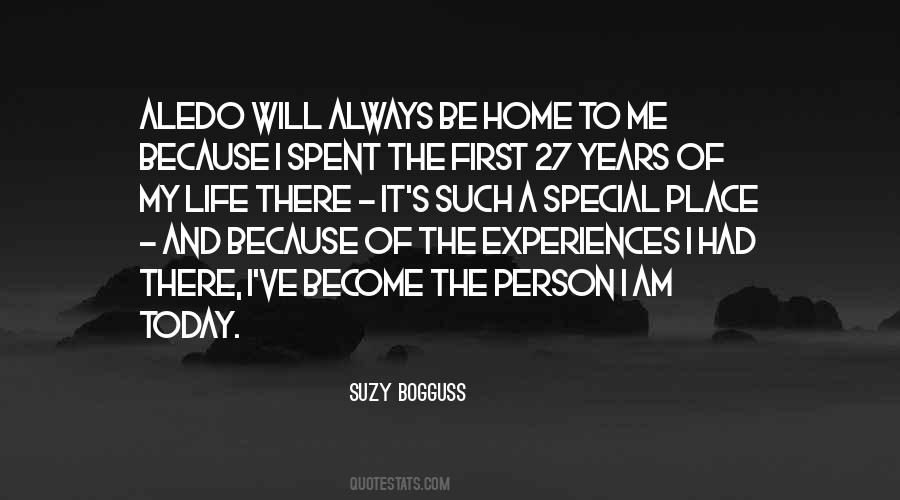 #37. I have not an ounce of regret. Every link is so valuable in forming the chain that is my life. Who I am today is because of those links, and I wouldn't change any of them. - Author: Alanis Morissette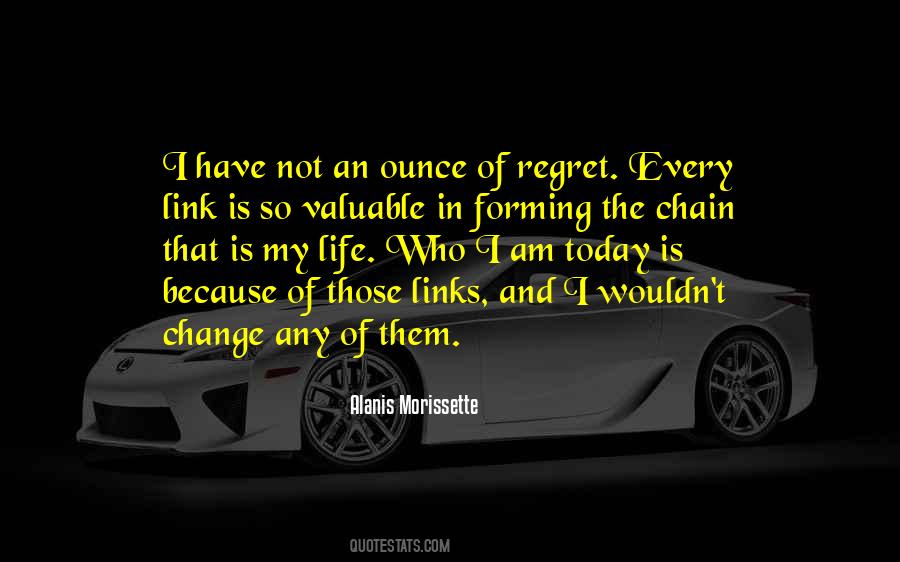 #38. Acting was just another part of my life, as it still is today. It's 1 of the 10 things I love doing. It's never just been my life. As cheesy as it sounds, all my eggs were never in just one basket. I had a thousand baskets going on. - Author: Kaley Cuoco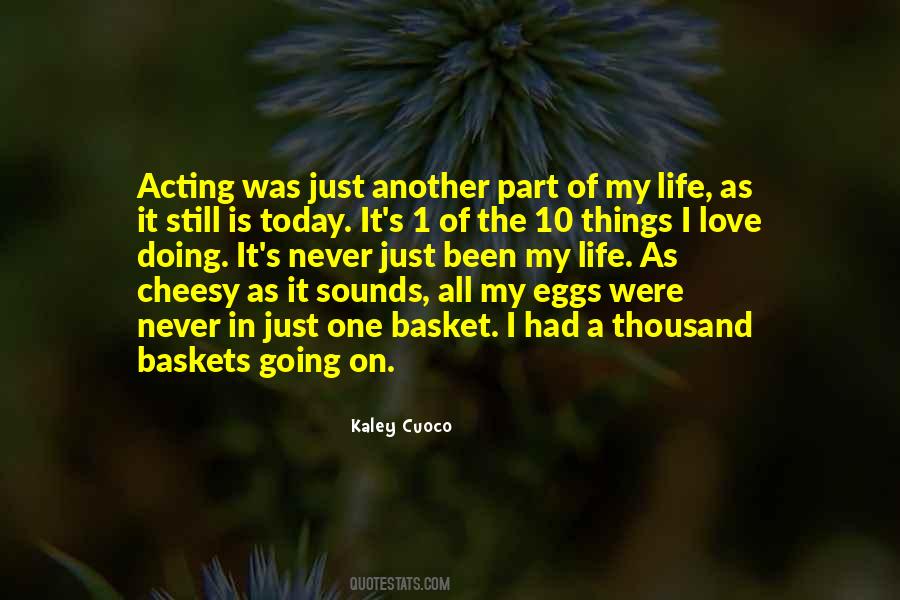 #39. The greatest thing about tomorrow is, I will be better than I am today. And that's how I look at my life. I will be a better golfer, I will be a better person, I will be a better father, I will be a better husband, I will be a better friend. That's the beauty of tomorrow. - Author: Tiger Woods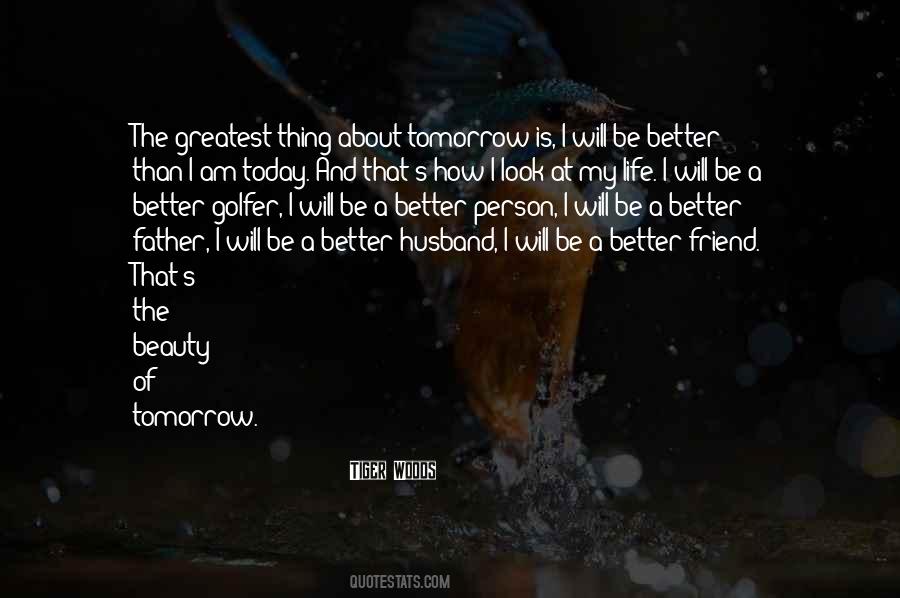 #40. This is Wall Street, and today is important. Because tomorrow, July 4th, I intended to make my first million dollars
an excitingday in a man's life. The enterprise was slightly illegal. - Author: Abraham Polonsky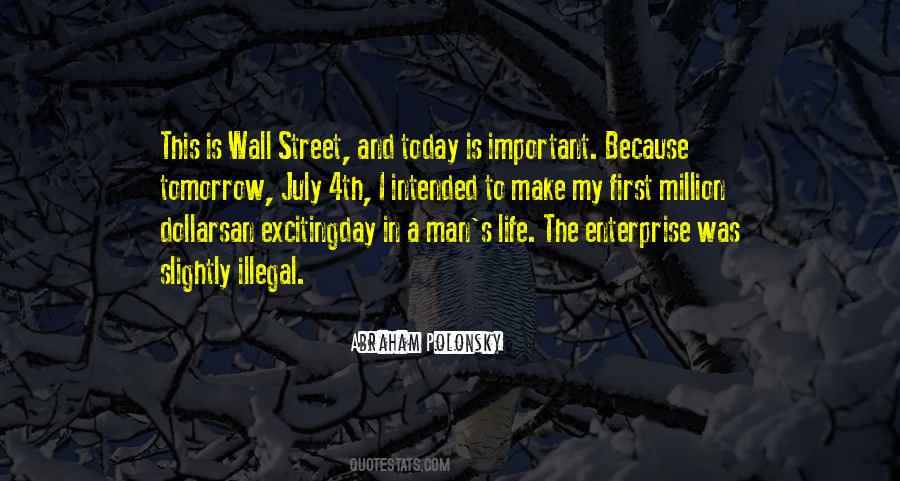 #41. I stare into my own eyes for a moment. Today is the day of the aptitude test that will show me which of the five factions I belong in. And tomorrow, at the Choosing Ceremony, I will decide on a faction; I will decide the rest of my life; I will decide to stay with my family or abandon them. - Author: Veronica Roth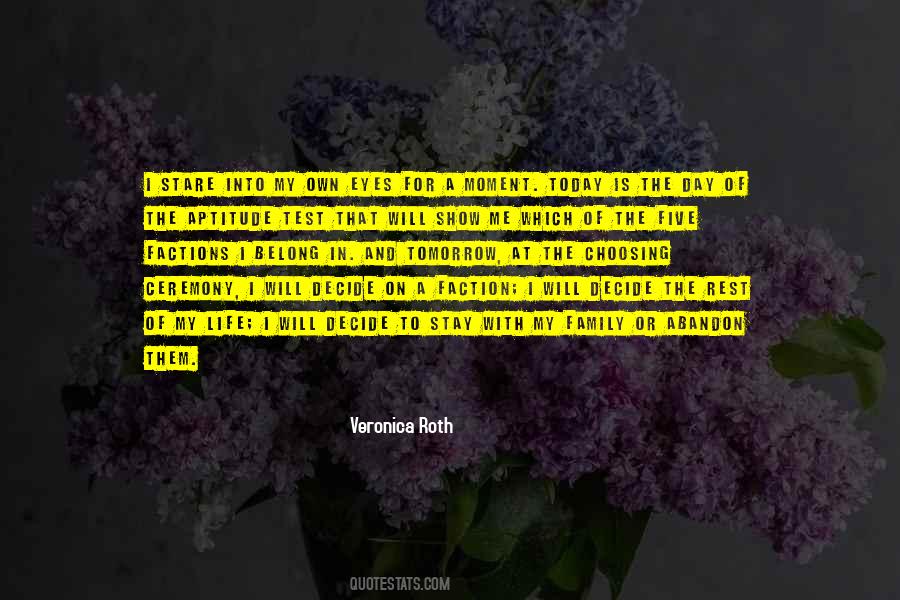 #42. Where I am today, it is my current destination, I was preparing for this my whole life. Today's decision and persistent action will take me my future destination. - Author: Debasish Mridha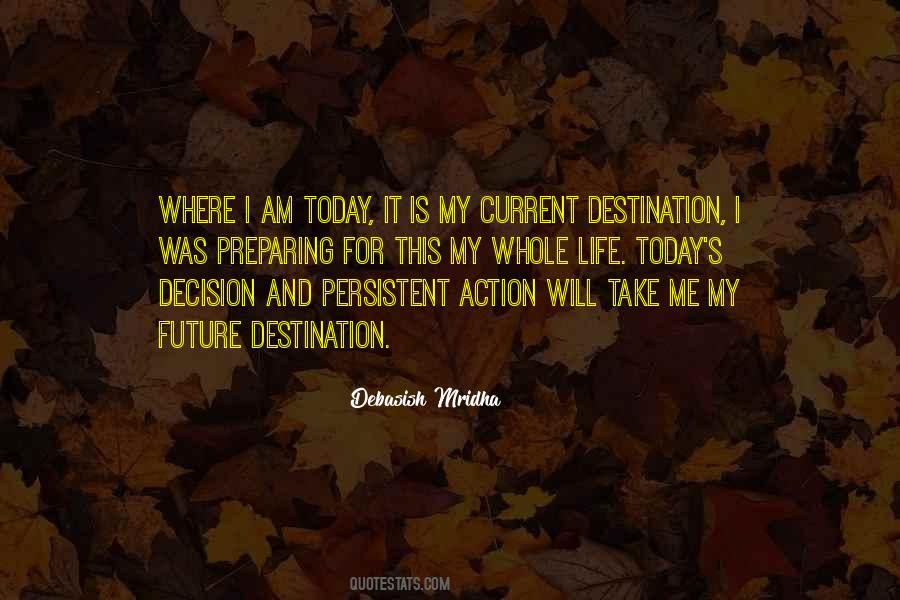 #43. RVM Thoughts for Today -
If only I had spent my life Smiling and Laughing rather than regretting and cursing , I would have been much Happier. - Author: R.v.m.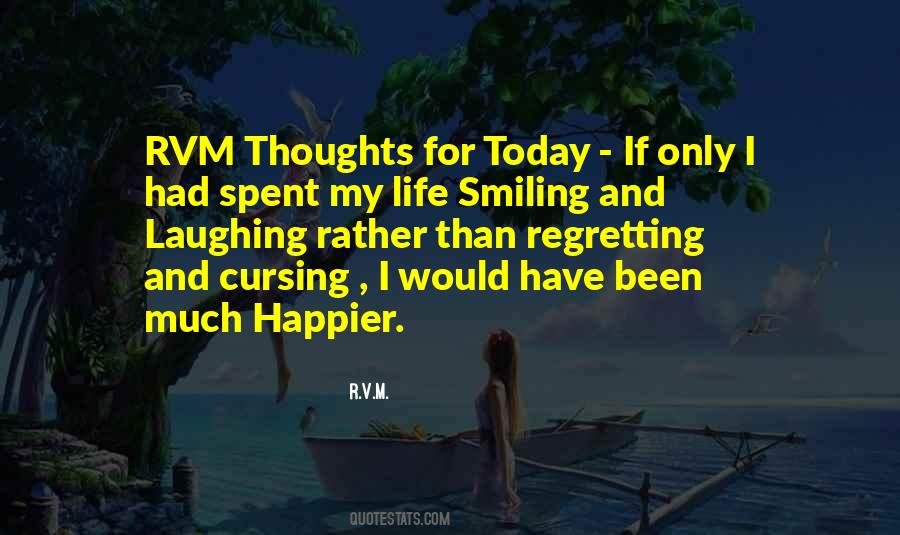 #44. Today I begin a new life. Today I shed my old skin which hath, too long, suffered the bruises of failure and the wounds of mediocrity. Today I am born anew and my birthplace is a vineyard where there is fruit for all. - Author: Og Mandino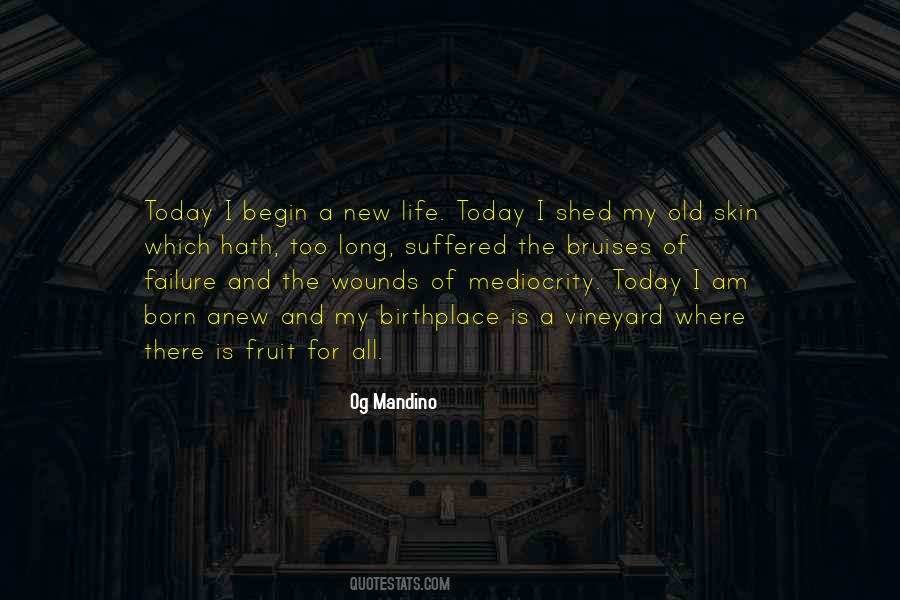 #45. What I've learned during my life is that the near future is 90% identical to the present - if you buy a new car today, it'll probably still be on the road in 2022. - Author: Charles Stross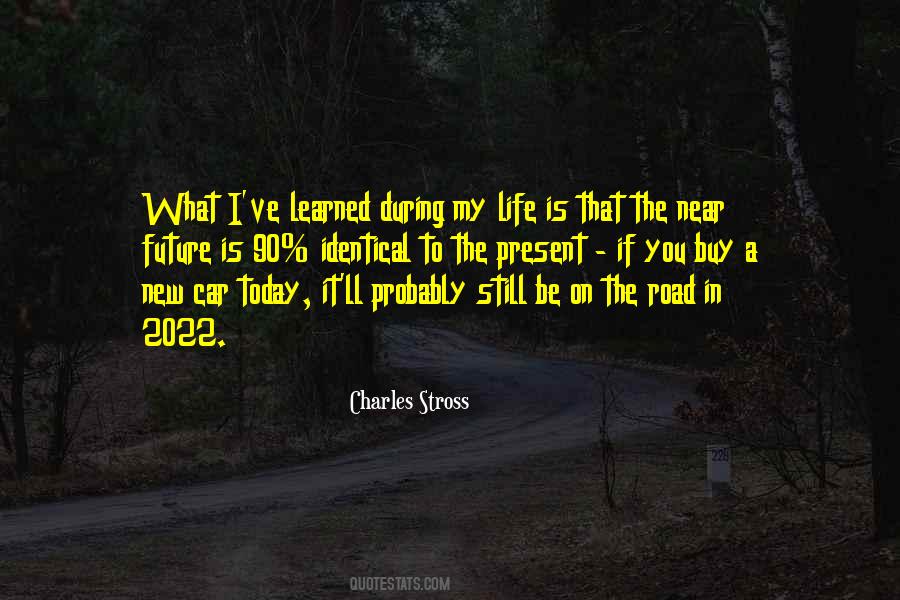 #46. A PRAYER FOR TODAY Lord God, my aim is to be a good and faithful servant of Yours. I surrender all of my life to You and to Your ends ... . Amen. - Author: Kurt Bjorklund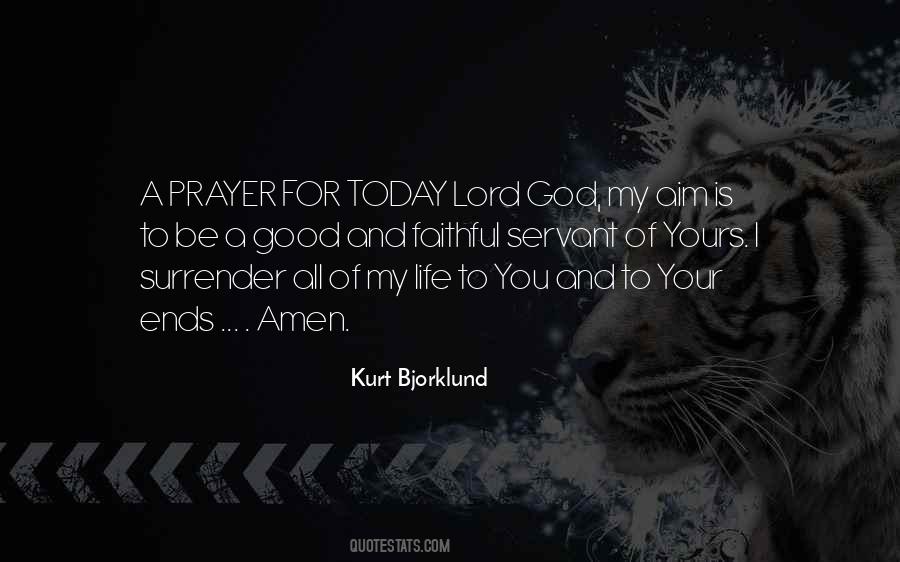 #47. As you begin this day, tell yourself, Today I am incarnated anew! I am released from the hypnosis of my old habits and mistakes! Everything that I have long dreamed of doing I will accomplish in this, my new life. - Author: Goswami Kriyananda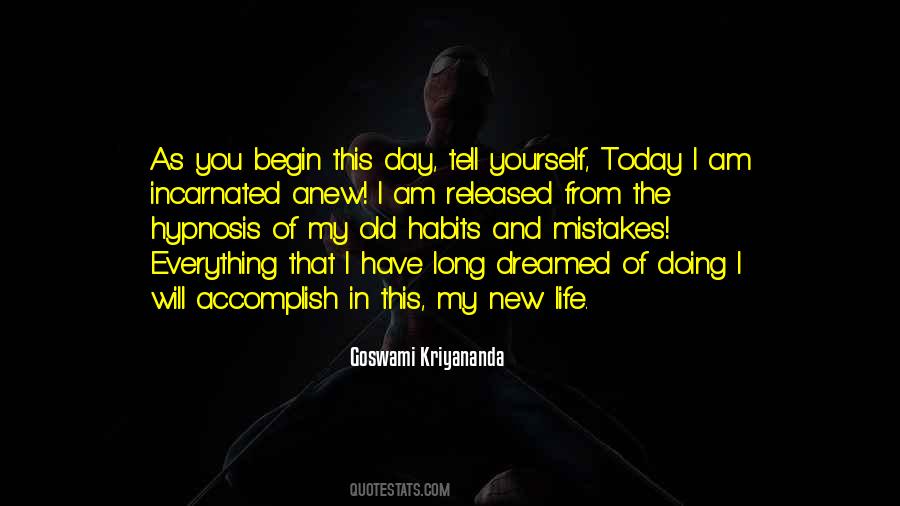 #48. There are a lot of people who helped make Queen Latifah who she is today. I don't forget, but a lot of people do and get big heads. My mom will make me walk the dogs or take out the trash when I go home. I'm not allowed to get a big head; I've still got to do the simple things in life. - Author: Queen Latifah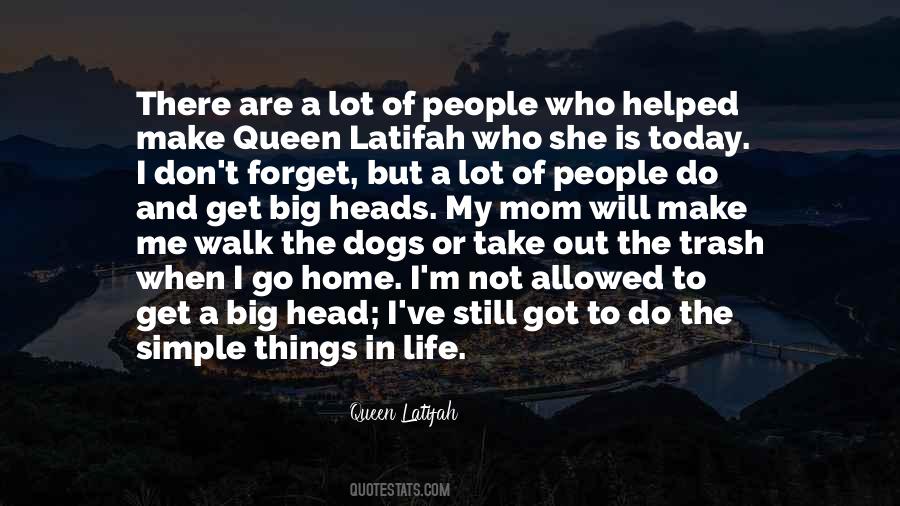 #49. I wasn't a smart kid and I still don't think I'm too smart when it comes to book smart, but I was very good with what I knew and with my craft and I think that was my calling in life. But even today I never went to college. - Author: Criss Angel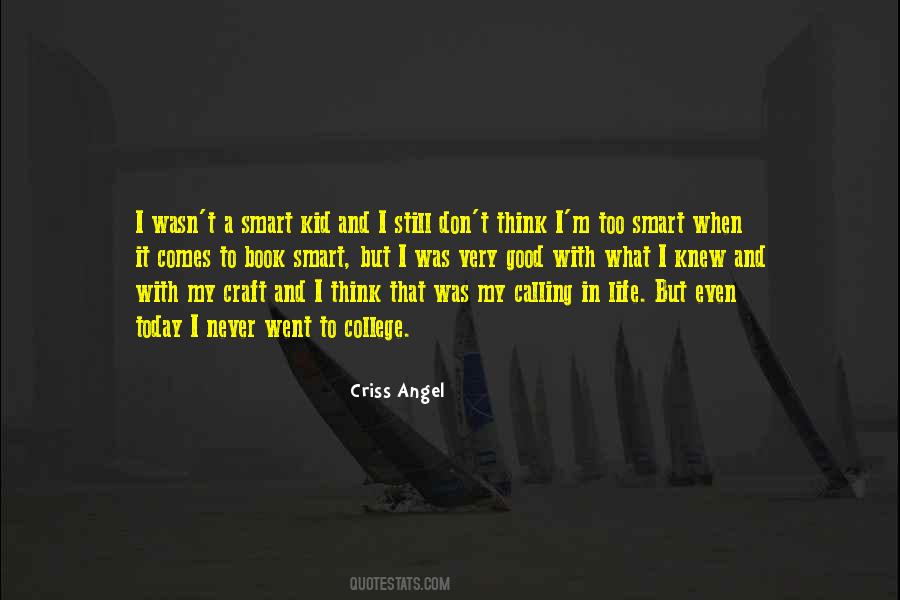 #50. It isn't in my nature to cry for very long. It is one of the blessings of my life that things that are past
are past. Yesterday's calamities are merely today's challenge. I can get down
but I can't stay there. - Author: Louella Parsons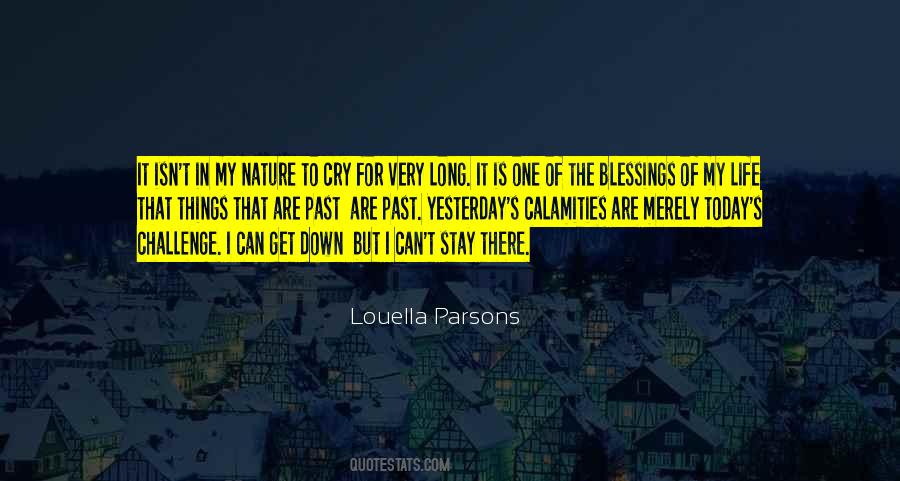 #51. Today I will exercise to build the power of my love. - Author: Debasish Mridha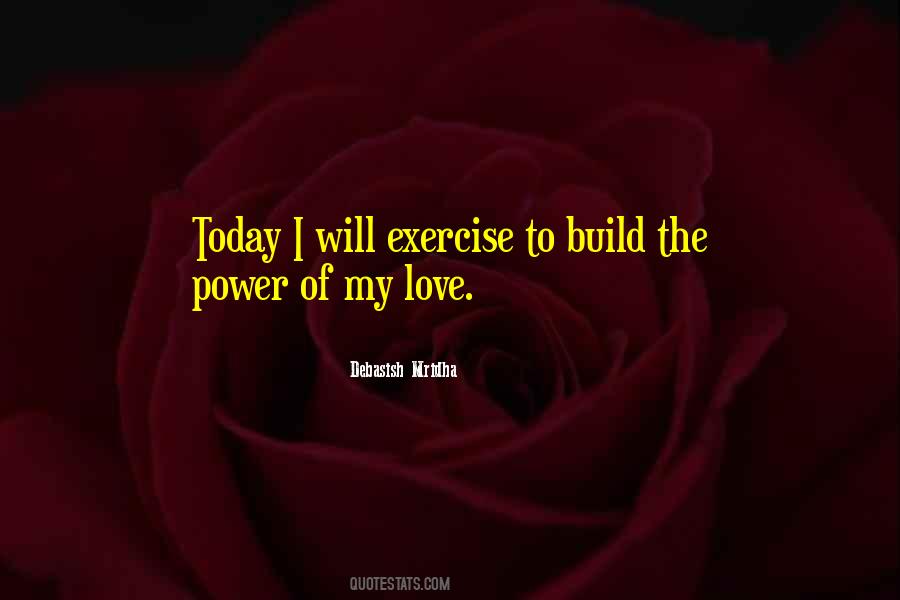 #52. Time is made of moments.
The present is today.
New day and new grace.
Today is my precious time on earth. - Author: Lailah Gifty Akita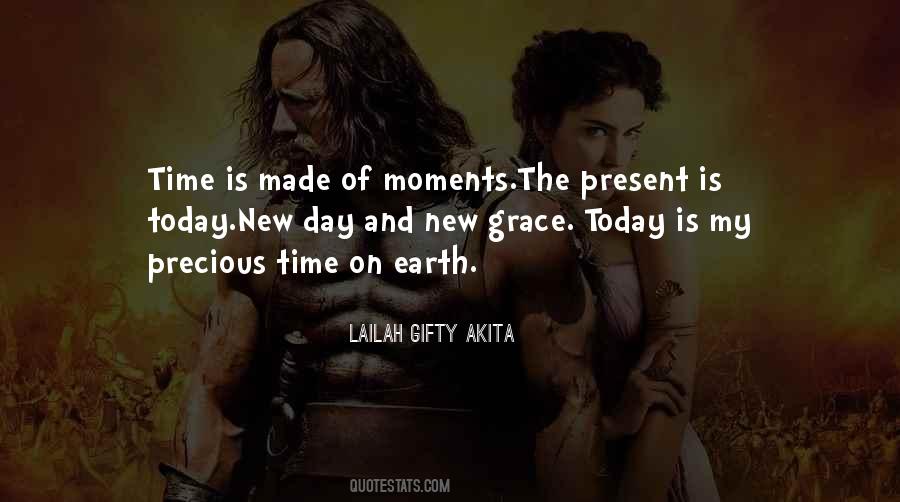 #53. I have written my life in small sketches, a little today, a little yesterday ... I look back on my life as a good day's work, it was done and I feel satisfied with it. I made the best out of what life offered. - Author: Grandma Moses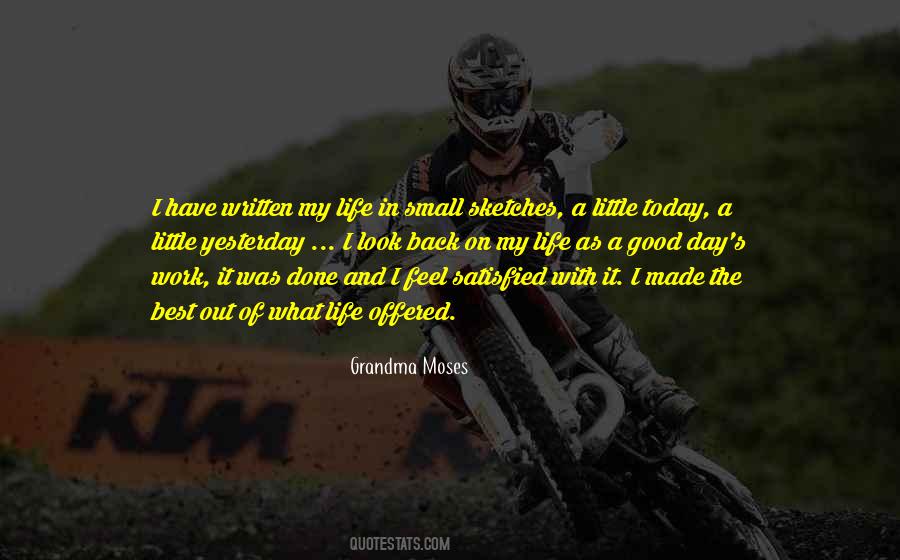 #54. ...you're dazzling. I'm dazzled, I'm upside down and inside out and...God, Vivian. I don't know what to say. There aren't words. I just want to crawl back under the blanket and spend my life doing that with you. And everything else we did today. - Author: Beatriz Williams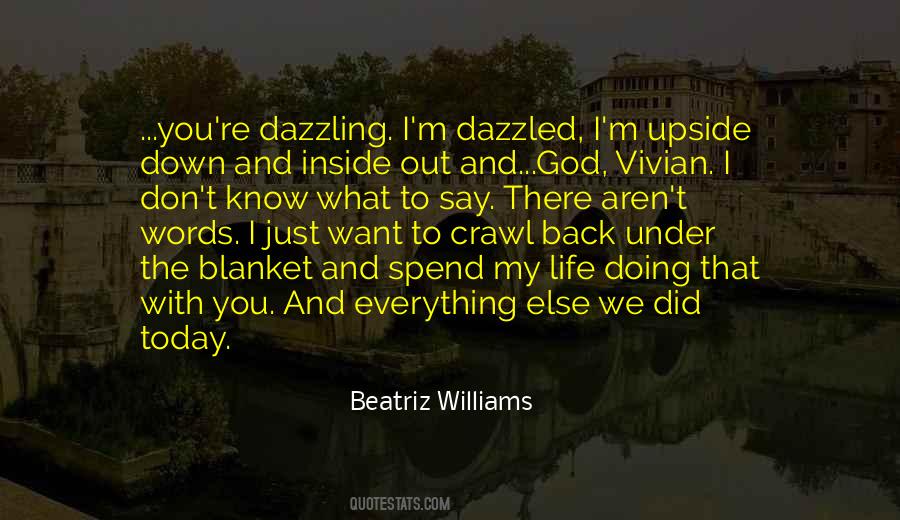 #55. For my life, I confess to you, feels to me today somewhat narrow and circumscribed. - Author: Kenneth Grahame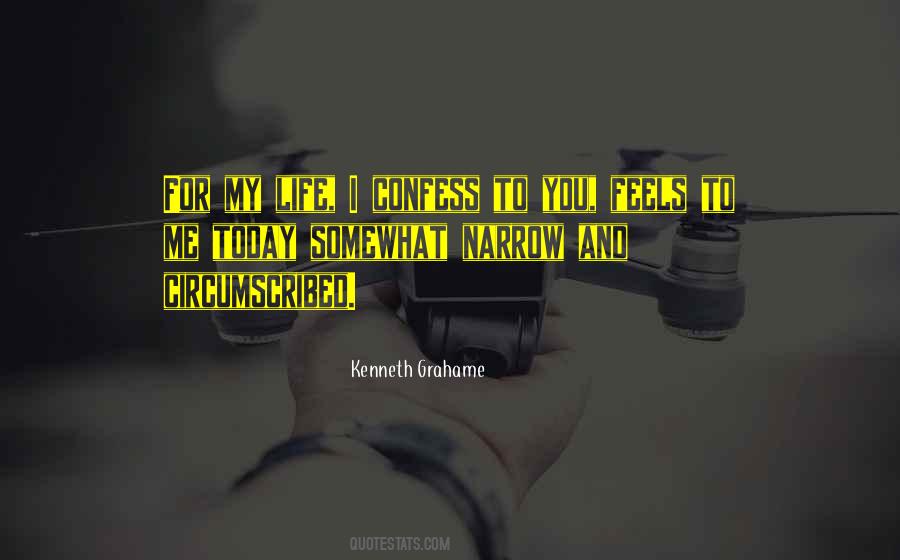 #56. All fear has ever done is hold me back. I have so many things I want to accomplish in my life. For myself and for the world. Fear is useless; it just gets in the way of accomplishing everything Overcome fear today and and confront one of your phobias. - Author: Demi Lovato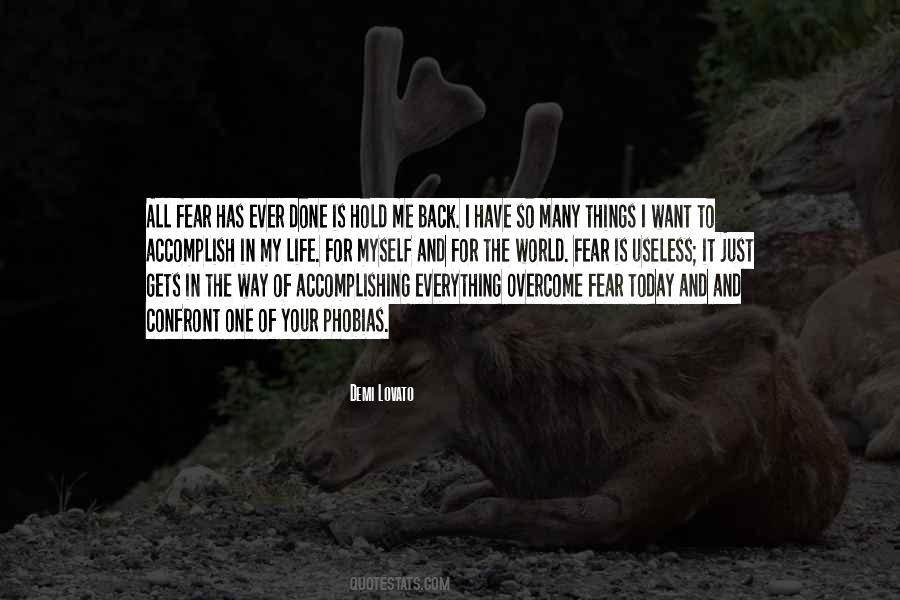 #57. If I was discovered by anyone, it would be Stephen O'Neil, who saw me in a play at Williamstown and introduced me to my team who I'm still with today. He was the first person to introduce me to the film and TV world. Other than that, I just assumed I would be a theater actor my whole life. - Author: Logan Marshall-Green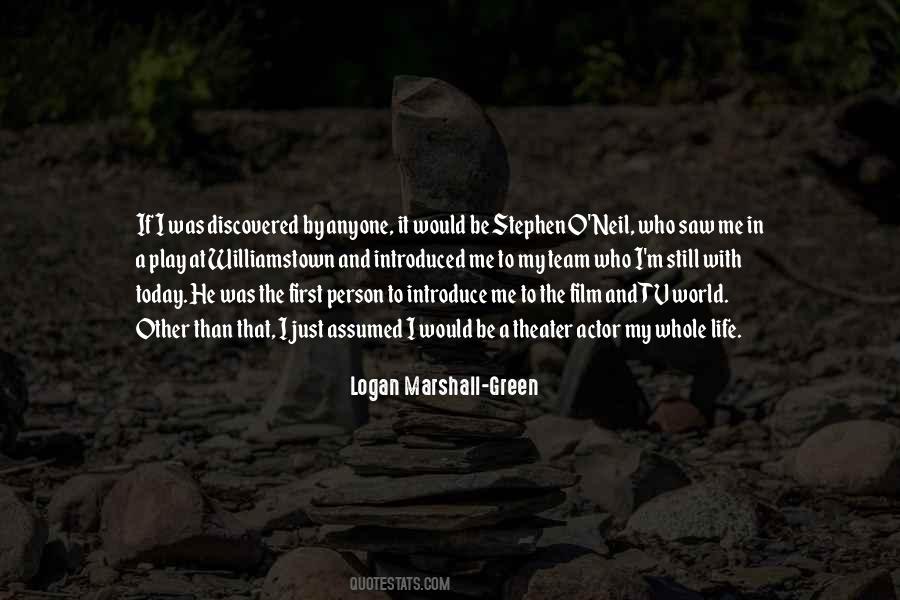 #58. Went to get coffee today-opened my change purse. Sea shells fell out. Barista goes "Sorry, we only take cash or credit." So there's that. - Author: Taylor Swift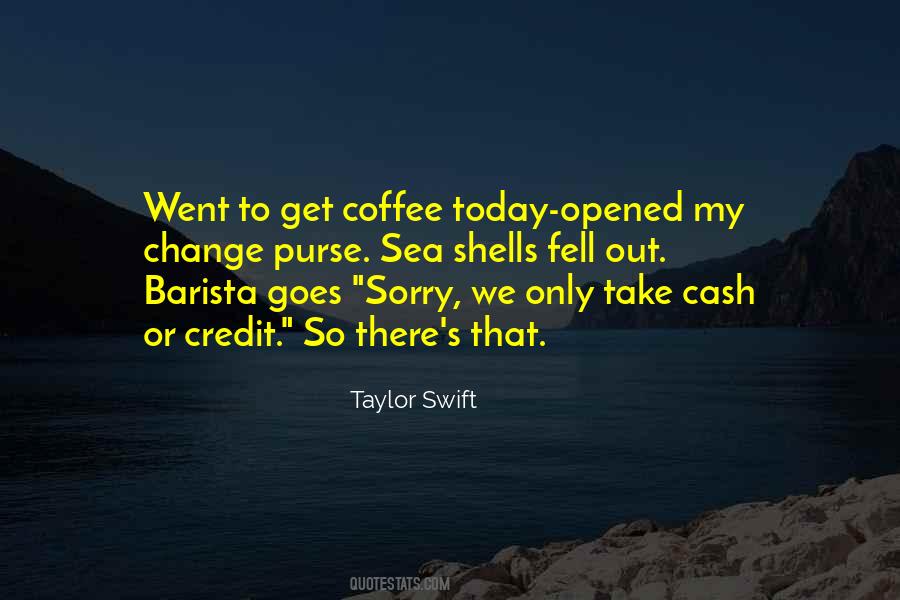 #59. No one thought of anything but themselves. My happiness, my future was the only thing you heard. Real love is to offer your life at the feet of another, and that's what people today are incapable of. - Author: John Ajvide Lindqvist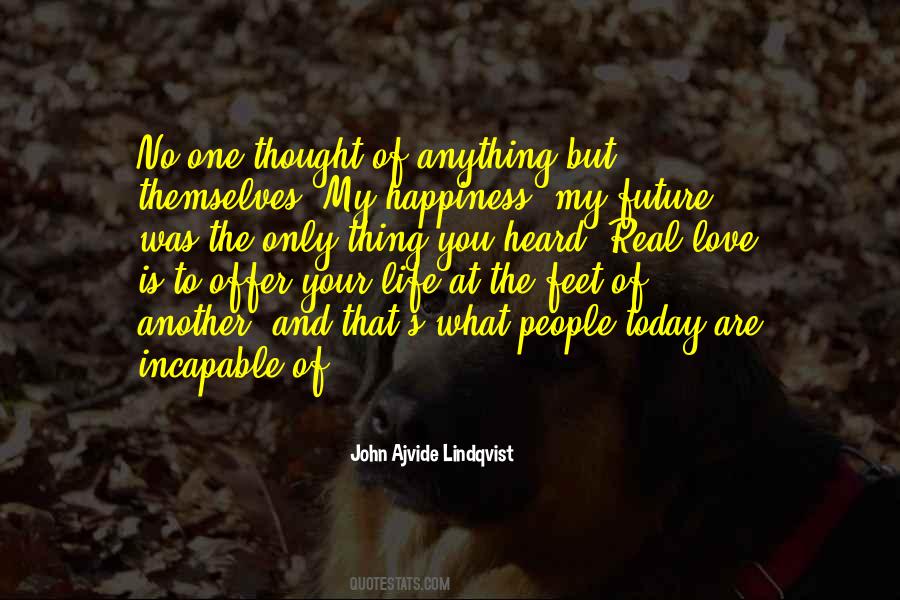 #60. Sparrow, if I stood in front of witnesses today, I would promise to love you and honour you and only you for the rest of my life, and I would mean every single word. - Author: Willow Aster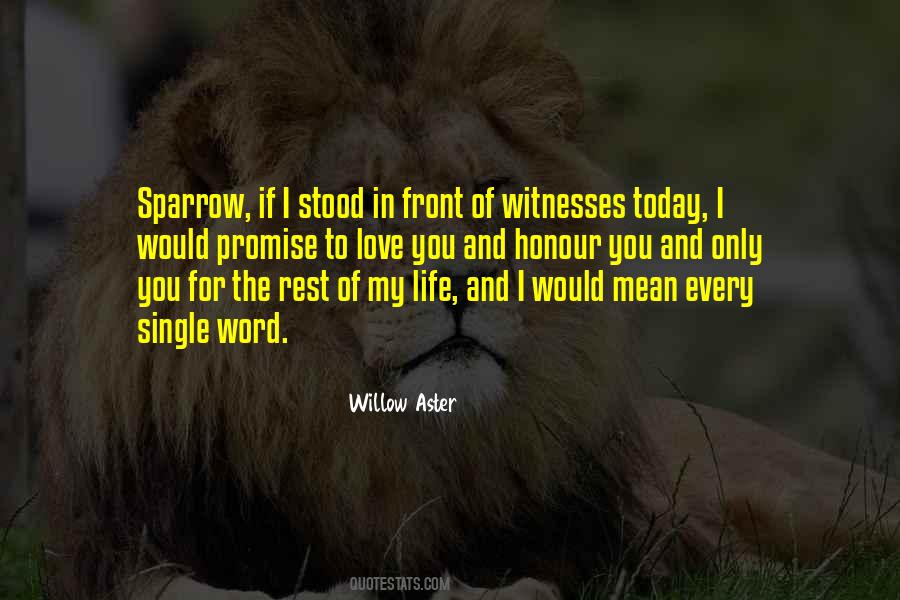 #61. Only for today, I will devote ten minutes of my time to some good reading, remembering that just as food is necessary to the life of the body, so good reading is necessary to the life of the soul - Author: Pope John XXII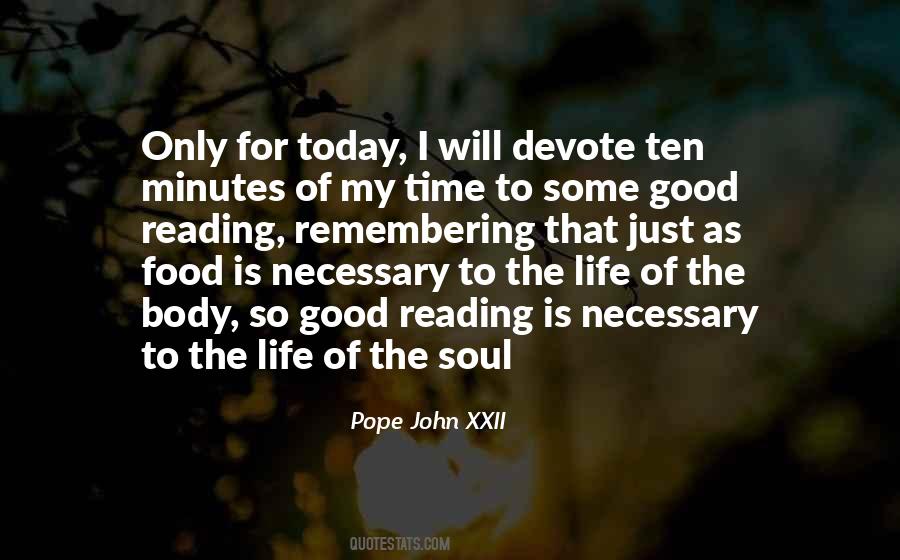 #62. Thank You, Lord, that You are with me in everything that I face. No matter what comes against me, You are greater and more powerful. I ask You to be with me in the things I face today. I praise You and Your greatness in the midst of all that seems large and looming in my life. - Author: Stormie O'martian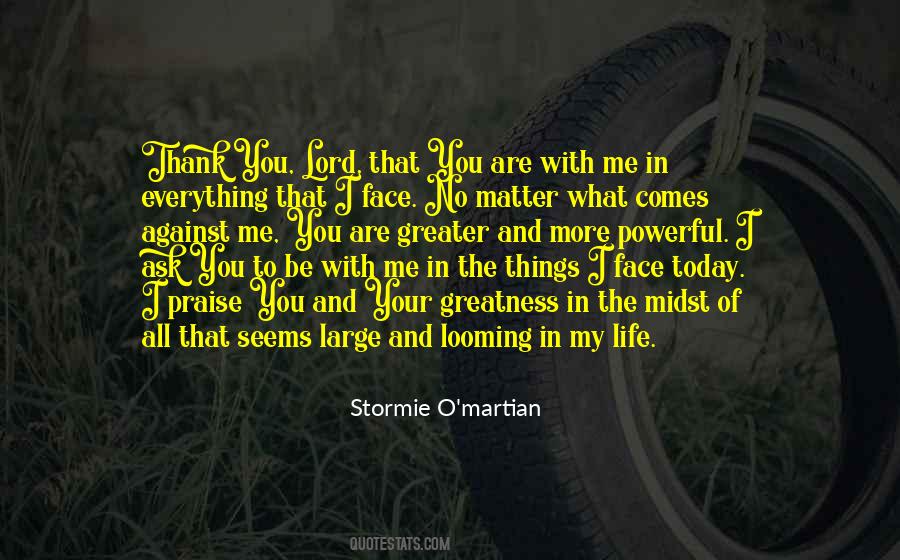 #63. To be totally honest, if I could be thinner without it causing a lot of pain and anxiety in my life, I would be. But today the reality is my life is more important to me than my weight - and thank God for that. - Author: Courtney Thorne-Smith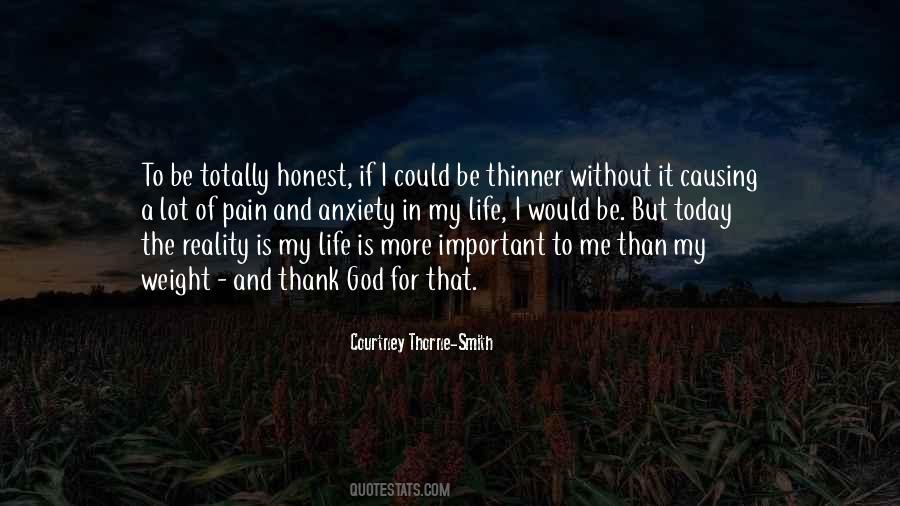 #64. I have looked in the mirror every morning and asked myself: "If today were the last day of my life, would I want to do what I am about to do today?" And whenever the answer has been "No" for too many days in a row, I know I need to change something. - Author: Steve Jobs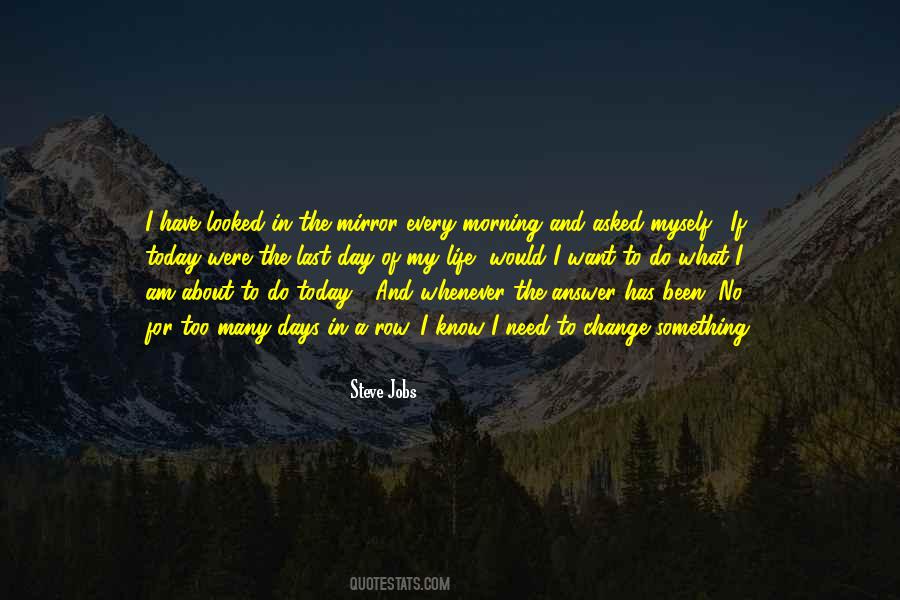 #65. I name you today, heart fears. I am small, but you are smaller. You will not stop me. You have a voice, fears, and I must listen, but then I will open my heart. I will love you right to death. - Author: Anna White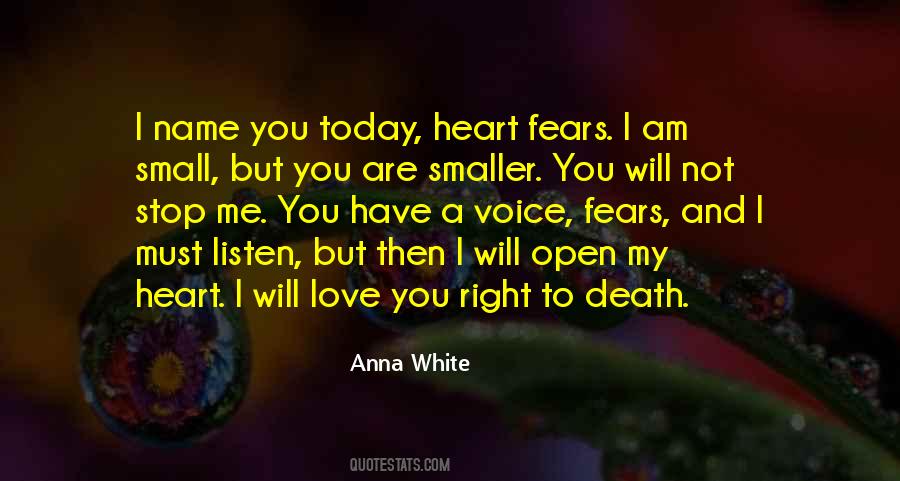 #66. I am planning my one woman show. It will be a showcase of my life. It starts at the beginning and ends where I am today. It will have every single inch of my life - as much as you can get into an hour. I will be touring everywhere. - Author: Britt Ekland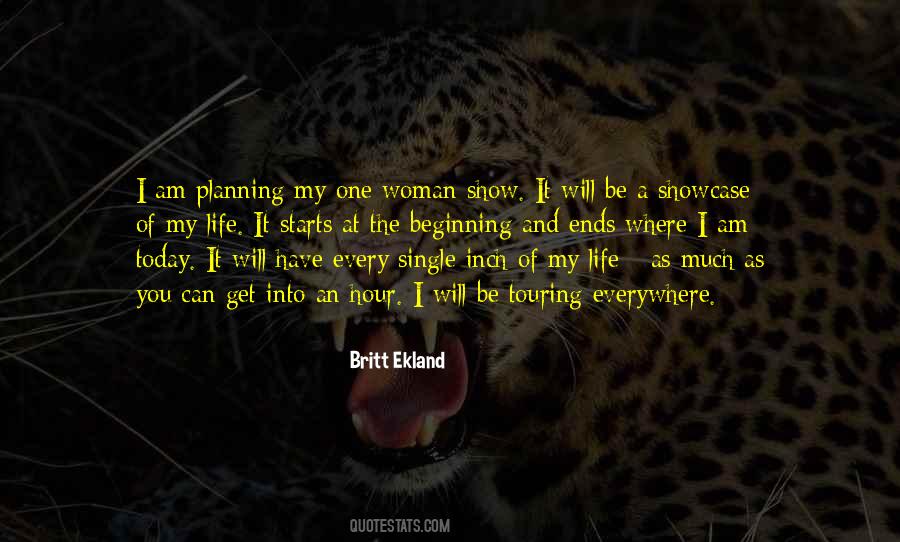 #67. MIKE WOULD LIKE TO THANK: Cus D'Amato, my mentor, friend, and general. Because of you, my life has reached heights I could never have imagined. Without you, I don't know where I would be today. My gratitude to you is immeasurable. - Author: Mike Tyson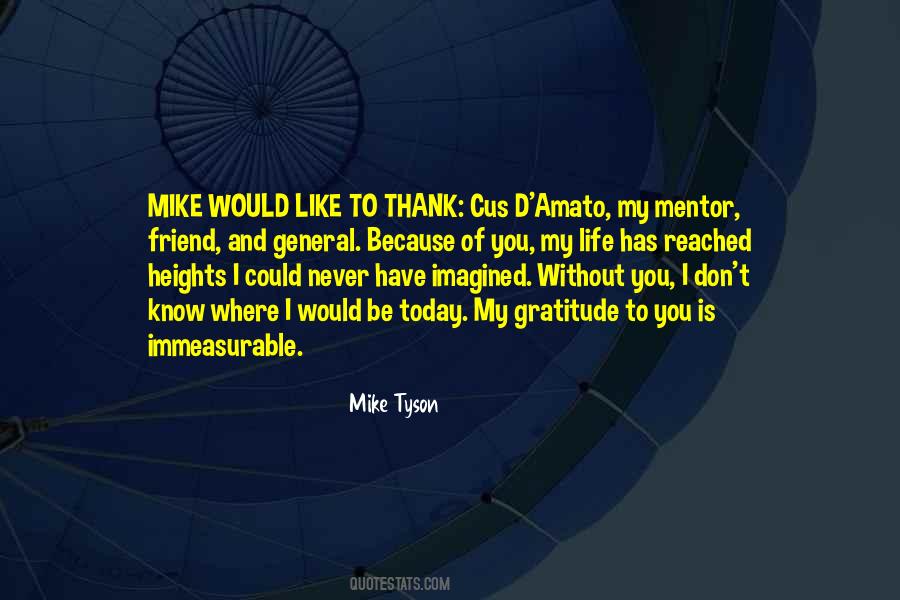 #68. If it weren't for Jesus, I would not be where I am today and my life would be without purpose. I've heard kids say they want to be just like me when they grow up. They should know I want to be just like Jesus. - Author: Albert Pujols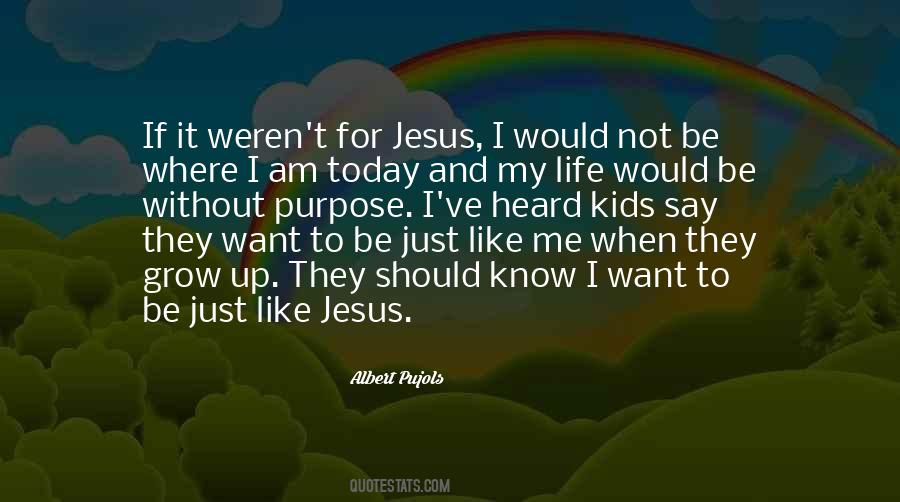 #69. I'm a big believer in personal responsibility. My life wasn't always peaches and roses. Where I am today is through a belief in hard work and never saying no. - Author: Steve Wilkos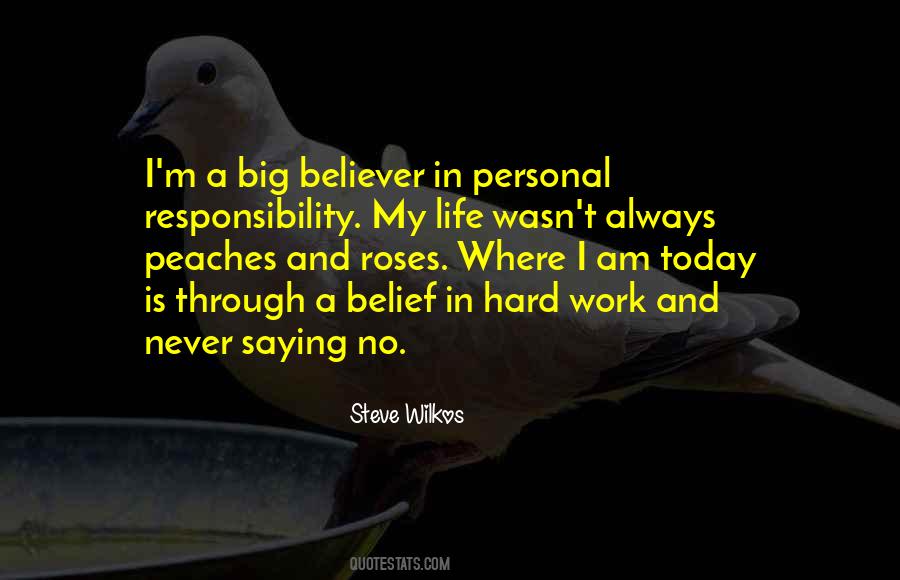 #70. Bipolar depression really got my life off track, but today I'm proud to say I am living proof that someone can live, love, and be well with bipolar disorder when they get the education, support and treatment they need. - Author: Demi Lovato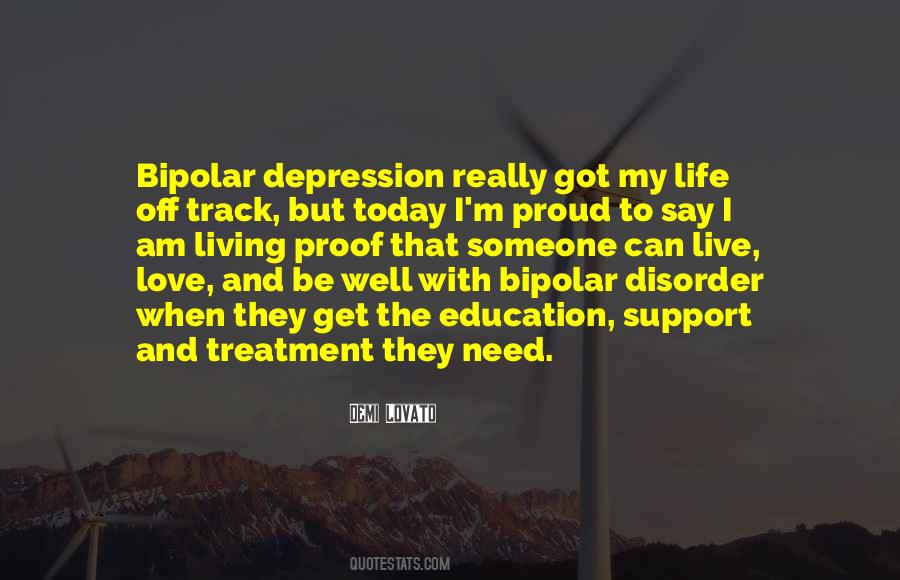 #71. Some Saian mountaineer
Struts today with my shield.
I threw it down by a bush and ran
When the fighting got hot.
Life seemed somehow more precious.
It was a beautiful shield.
I know where I can buy another
Exactly like it, just as round. - Author: Archilochos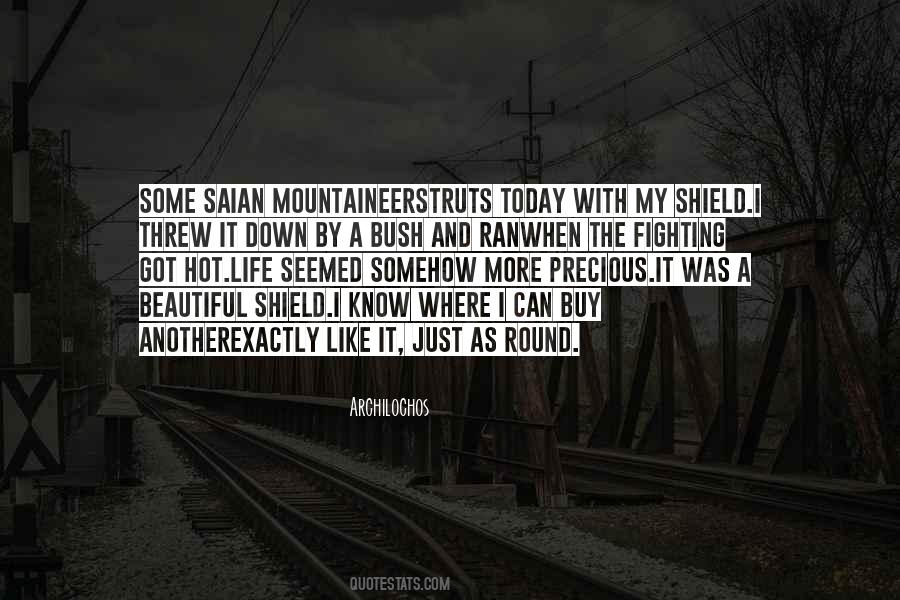 #72. My family life and my ideals, my commitment to the community and to other people - all people - has been improved. I think less about myself and more about my community today. - Author: Andre Braugher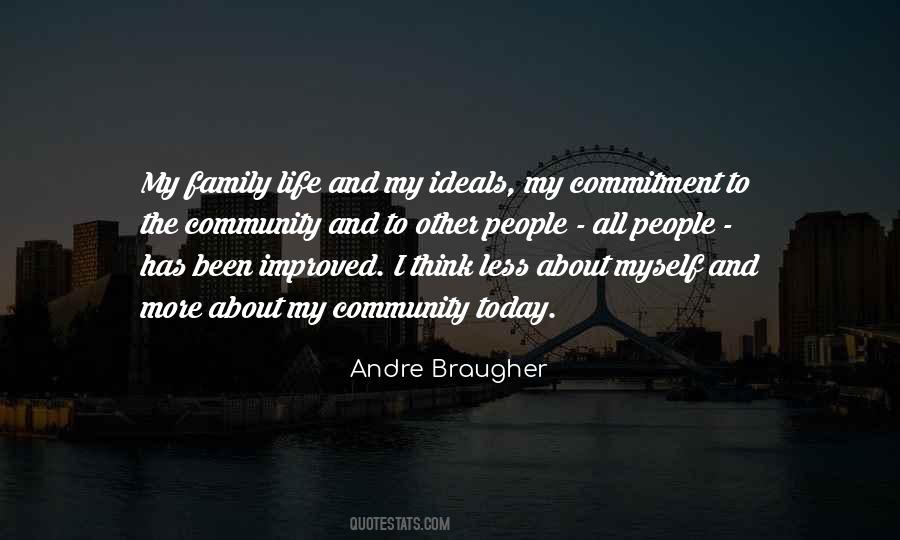 #73. I live my life based on 2 principles. One, I live as if today was my last day on earth. Two, I live today as if I am going to live forever. - Author: Osho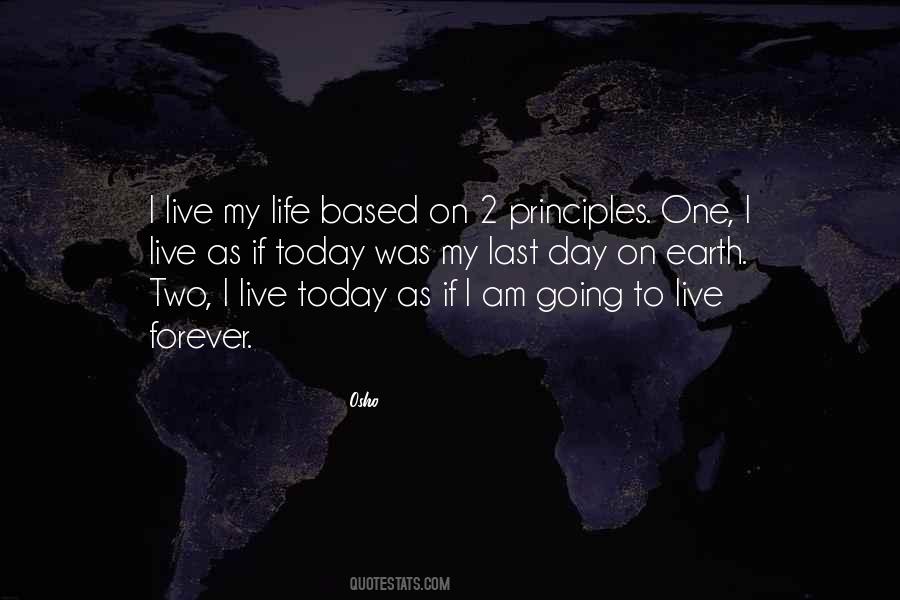 #74. I always say to my guys, 'The most important day of your life is today. This very minute is the most important of you life. You must win this minute. You must win this day. And tomorrow will take care of itself. - Author: John Chaney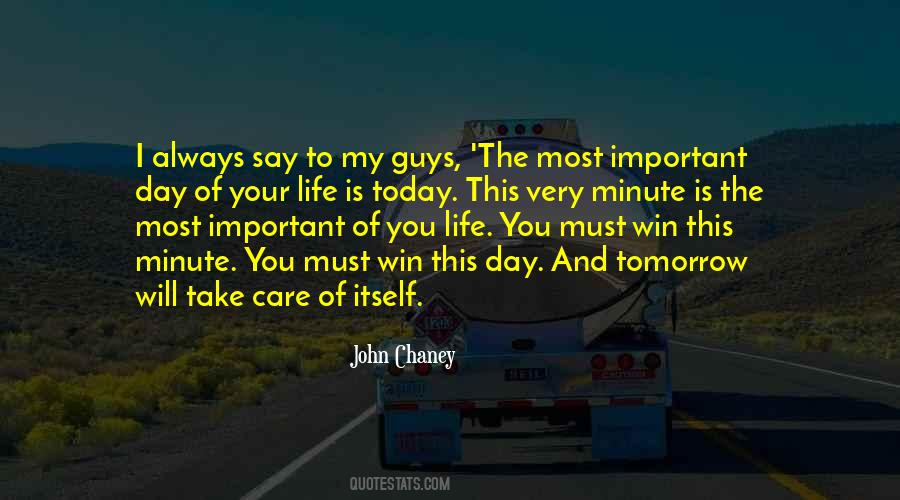 #75. I fail to find even one "Netaji" among the several thousand "Netas" of today. India needs our sacrifices once more and my entire life is and will remain dedicated to the service of my country. - Author: Sharad Vivek Sagar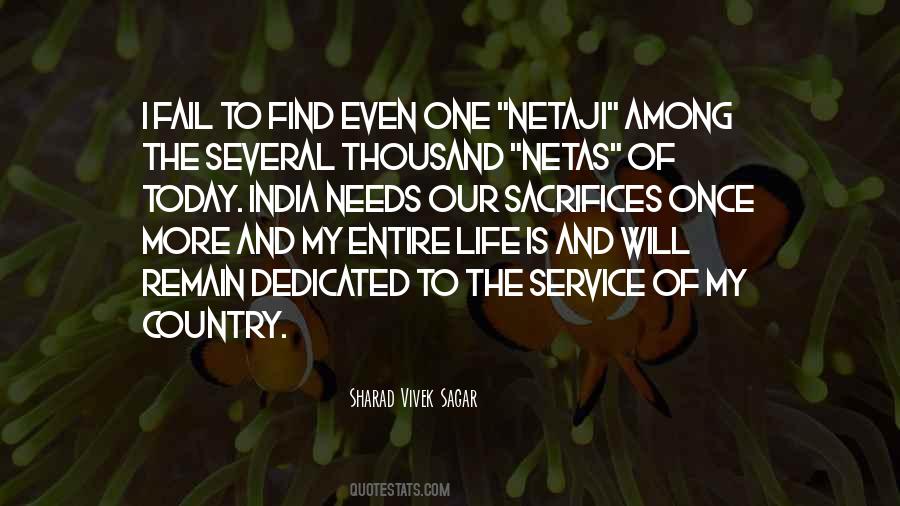 #76. Every breath, every step, every little sound that I hear, every person in my life I am thankful for - all of them have been a big part of who I am today. - Author: Kcat Yarza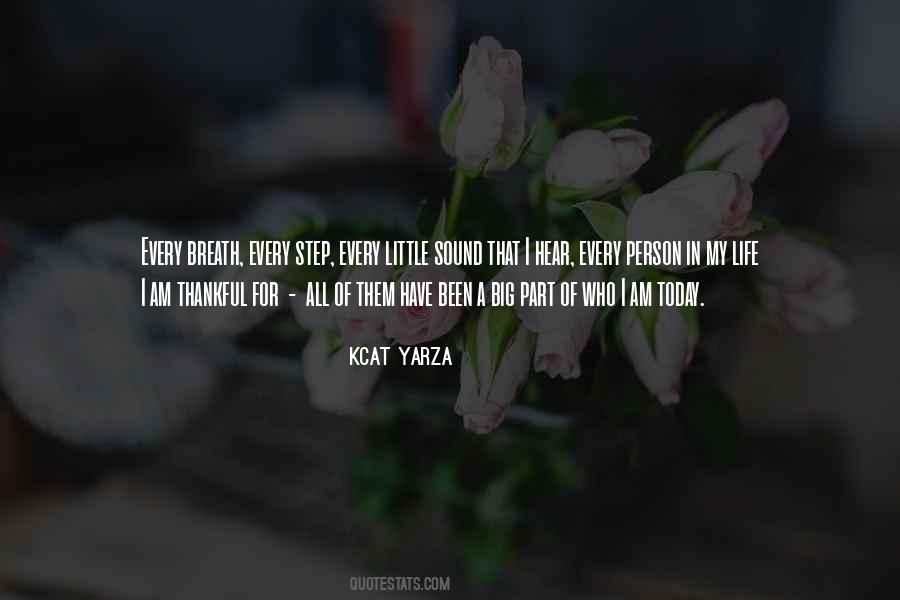 #77. Power Thought: I expect good things to happen in my life today. - Author: Joyce Meyer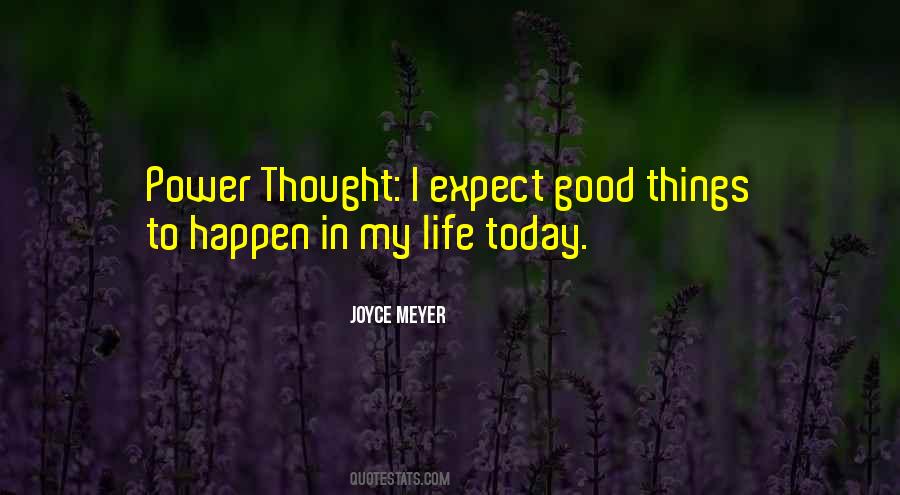 #78. I did not, like my children and people today, grow up with television as part of my life. - Author: Robert Redford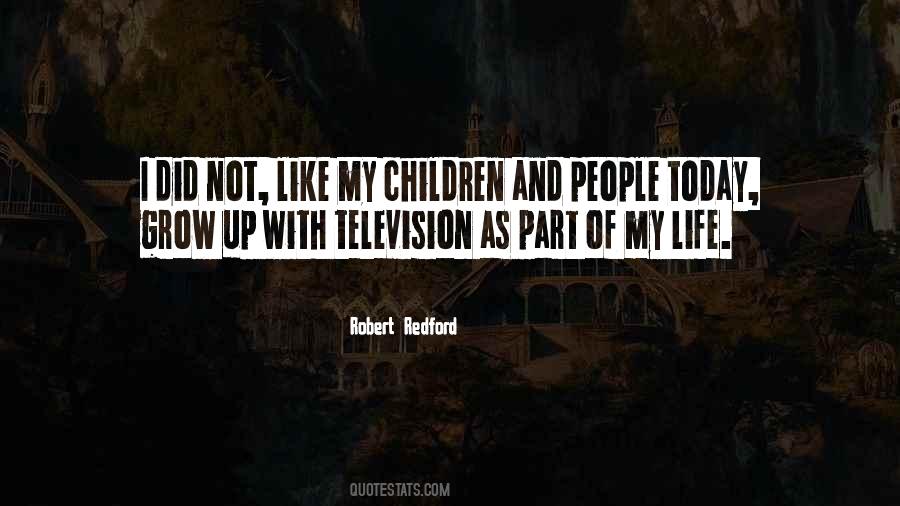 #79. You know I'll be
Your Life
Your Voice
Your Reason To Be
My Love
My Heart
Is Breathing For this
Moment in Time
I'll Find the words to say
Before You leave me Today - Author: One Direction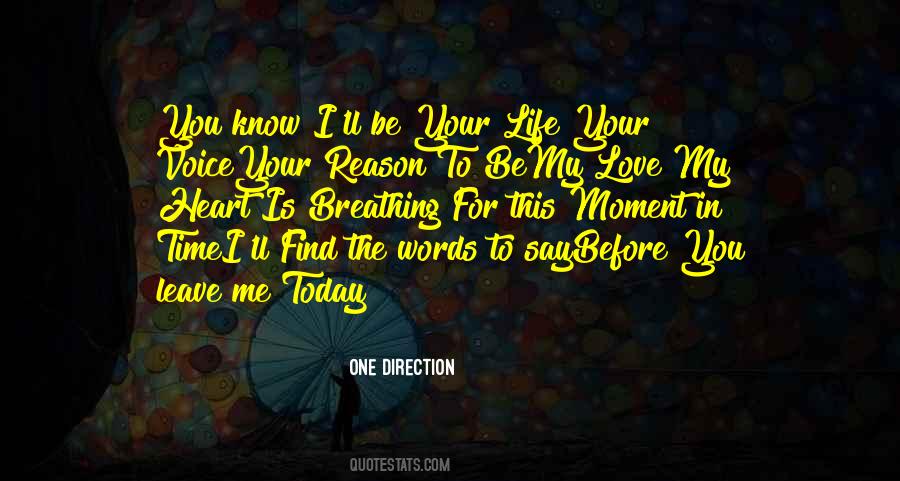 #80. Today I am devoted to addressing all the little things about me and in my life that I have not mastered! - Author: Iyanla Vanzant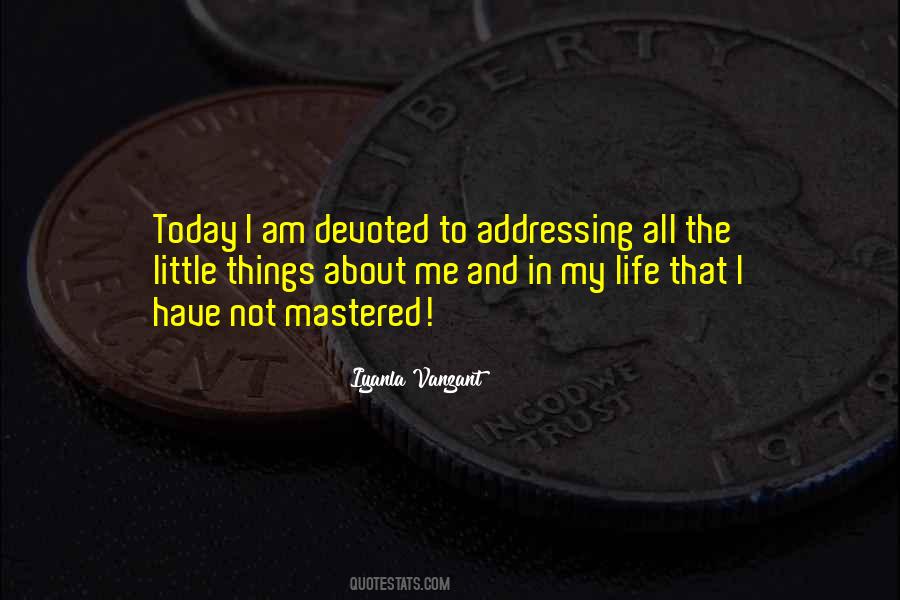 #81. Today, I accept divine timing. I allow the pacing of the Universe to be my own. I align myself with the tempo of my life precisely as it is unfolding. - Author: Julia Cameron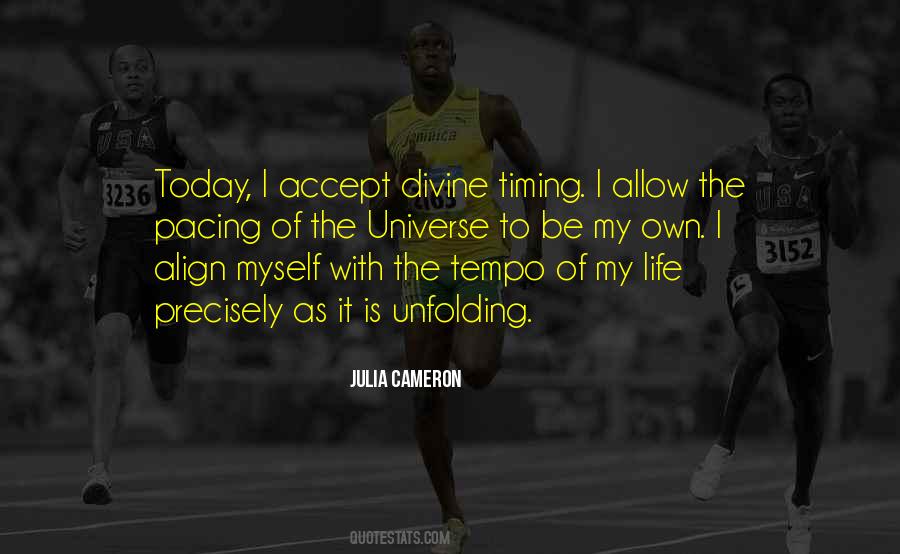 #82. The Socialists have found good the equality, and bad the inequality. Good the servants and bad the tyrants. I crossed the threshold of good and evil in order to live my life intensely. I live today and can not await tomorrow. The wait is of peoples and of humanity, so could not be my affair. - Author: Renzo Novatore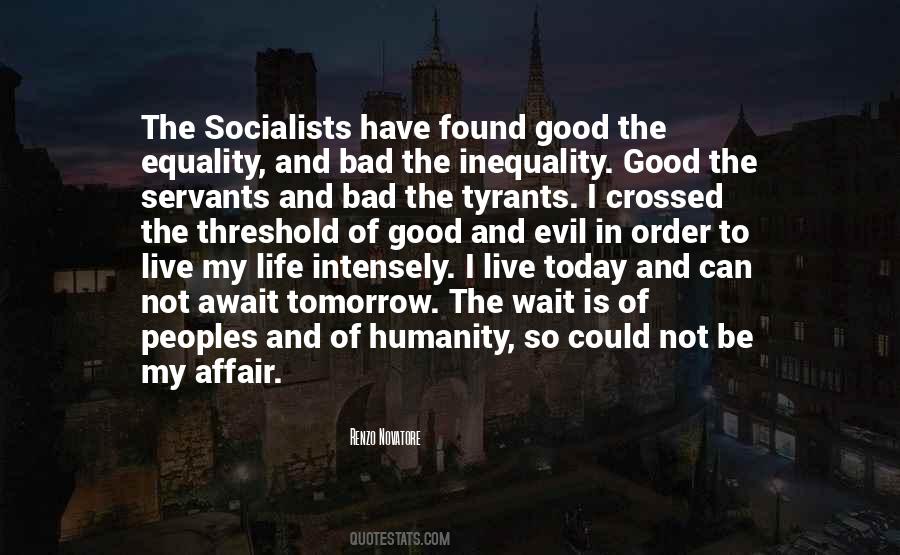 #83. I have found my today because my tomorrow has already come. - Author: Steven Cuoco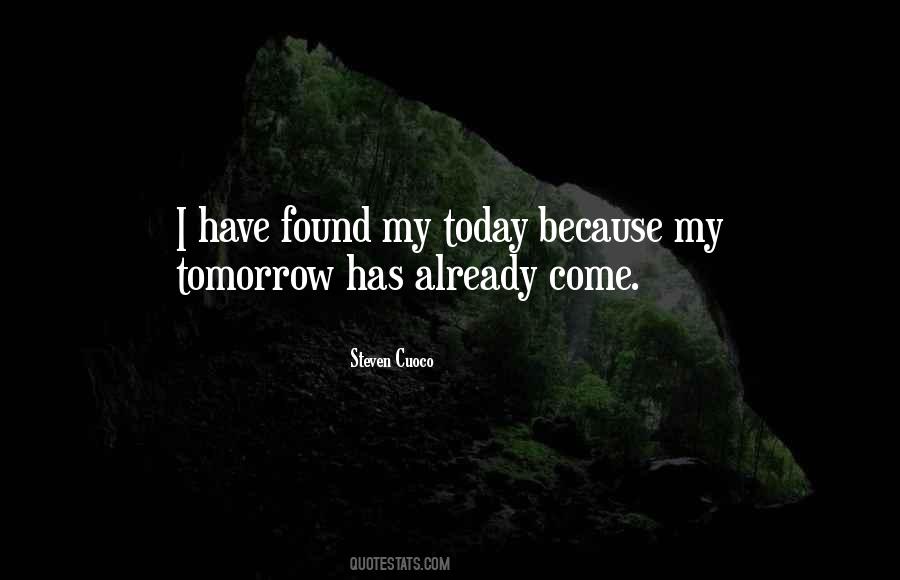 #84. You sometimes find something good in the lunatic fringe. In fact, we have got as part of our social and economic government today a whole lot of things which in my boyhood were considered lunatic fringe, and yet they are now part of everyday life. - Author: Franklin D. Roosevelt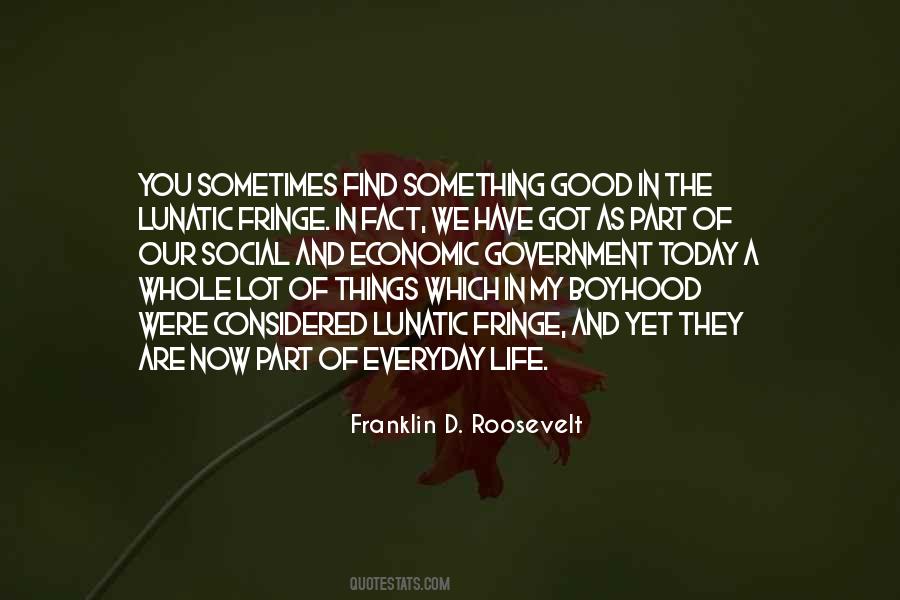 #85. If I had not passed through trial - through passion, one could say - through these years so painful and so rich, I don't believe I could take on my life and my career as I do today. - Author: Isabelle Adjani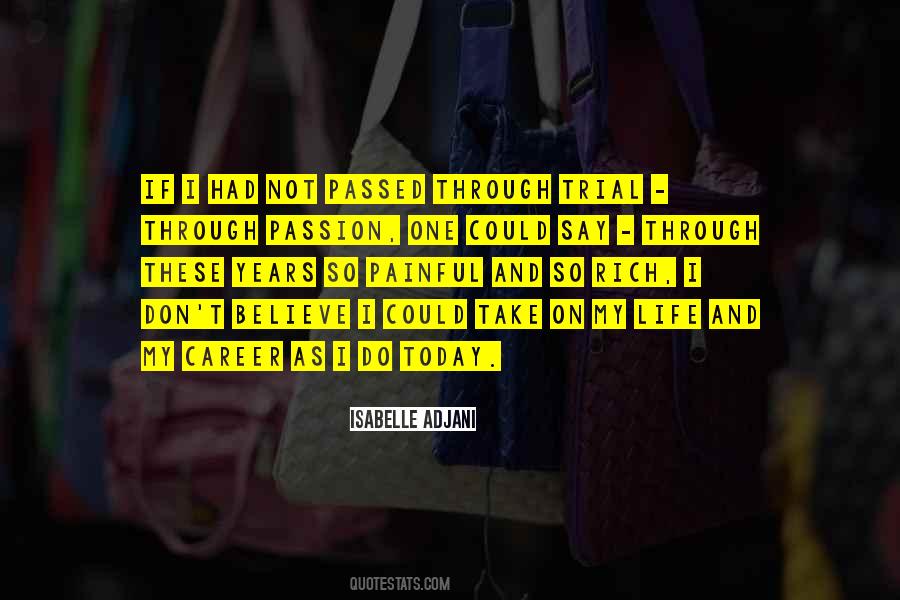 #86. In the past two years, I've started the process of becoming a new man. I am much chastened and profoundly remorseful over the reckless and hurtful things I have done in my life, especially those which have brought me before you today. - Author: Jack Abramoff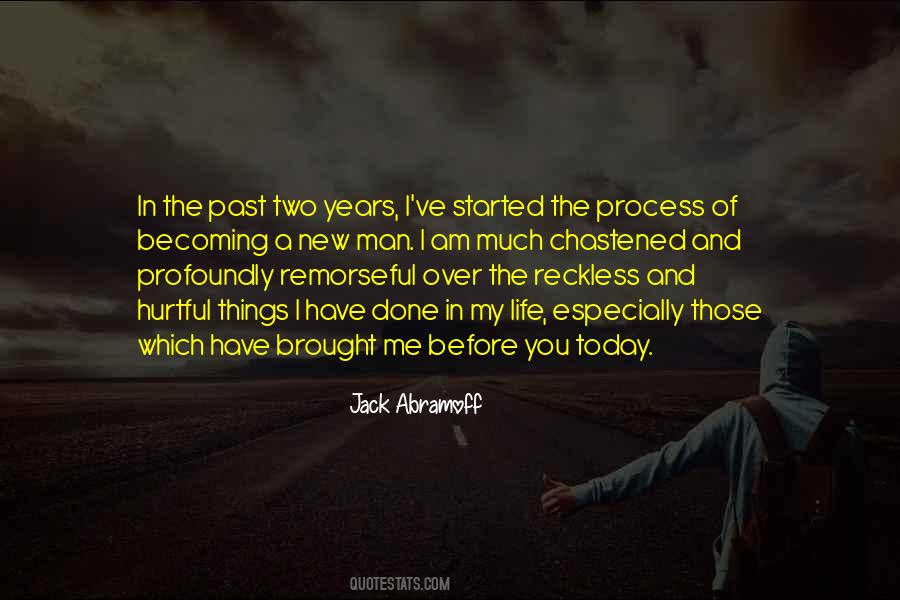 #87. But today, something begins to shift. I see that there might be some way I can take the raw material of my life and transform it into something that has order and structure. I can make sense of what, until now, has been senseless. - Author: Dani Shapiro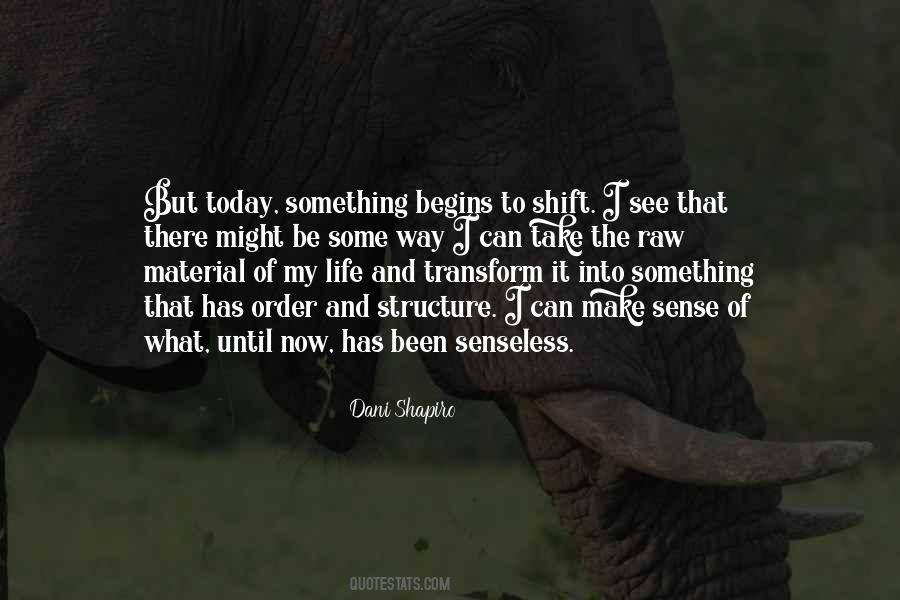 #88. At the end of the day, can you look back and say to yourself, "Today, my mother would be proud of me because I gave it all I had"? If you can, you will have had a very good day. And if you can do this every day, you will have a very good life. - Author: Patrick Henry Hughes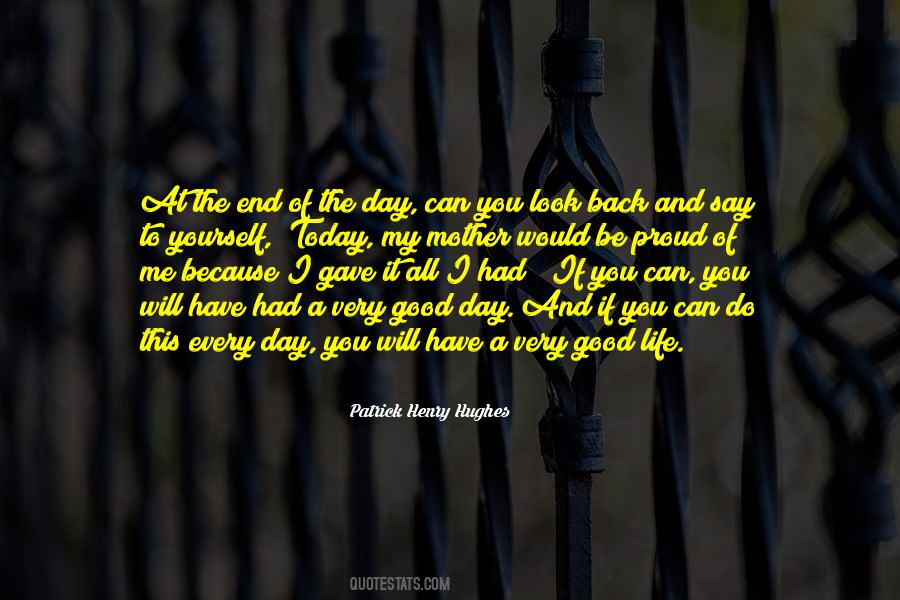 #89. It is always a foolish thing to contemplate suicide; for no matter how dark the future may appear today, tomorrow may hold for us that which will alter our whole life in an instant, revealing to us nothing but sunshine and happiness. So, for my part, I shall always wait for tomorrow. - Author: Edgar Rice Burroughs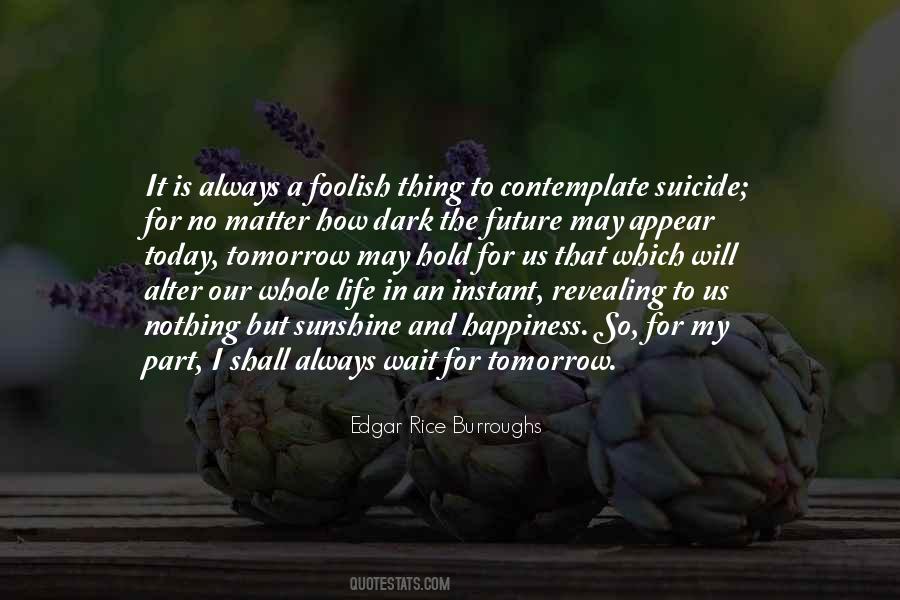 #90. So many times in today's society, we can put football No. 1. And I've done it in my life at certain times. You put football number one, this game is more important than anything else. Well, really, it's not. It's just a game. - Author: Tim Tebow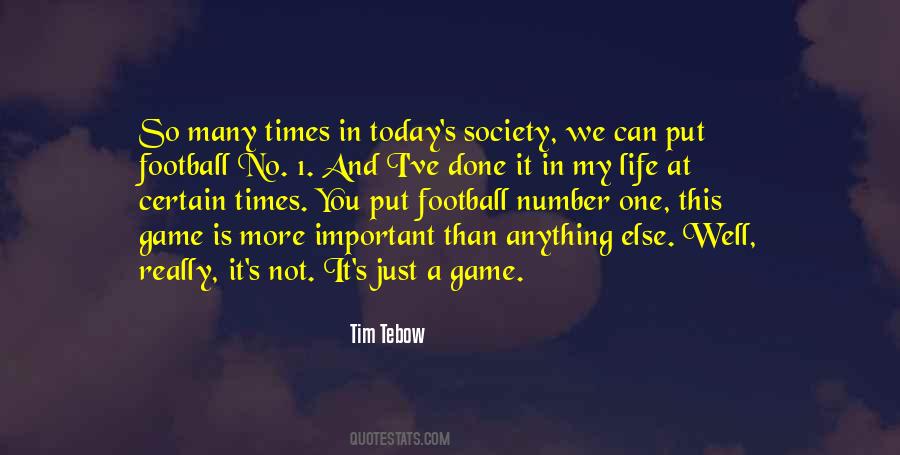 #91. I choose what sort of relationship I want to have with my family of origin today. - Author: Maureen Brady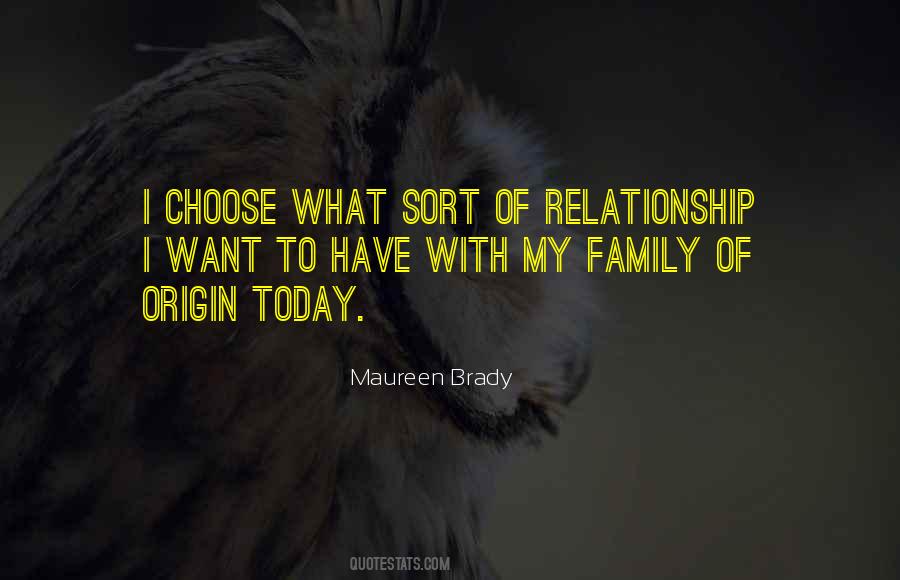 #92. I think that I'm so fortunate to have found classical ballet. It completely changed my life and it shaped the person that I am today, on and off the stage. - Author: Misty Copeland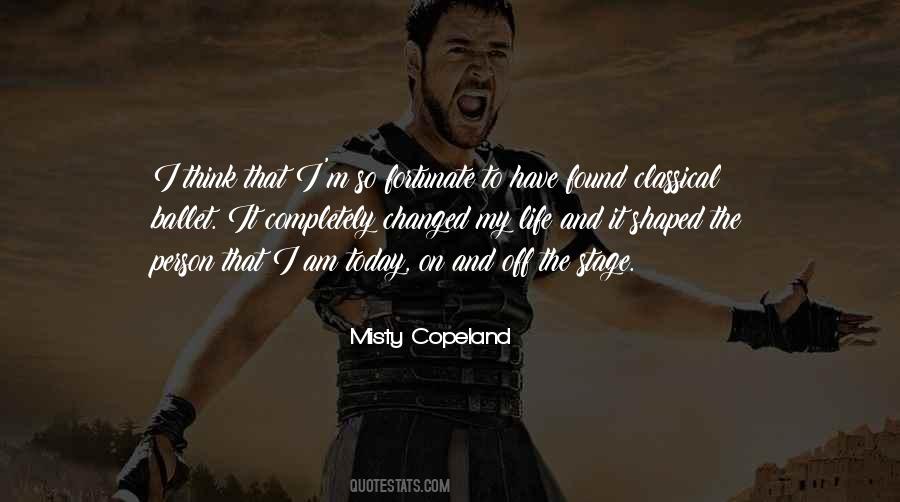 #93. Will today be the day you decide once and for all to make your life consistent with the quality of your spirit? Then start by proclaiming, This is what I am. This is what my life is about. And this is what I'm going to do. Nothing will stop me from achieving my destiny. I will not be denied! - Author: Tony Robbins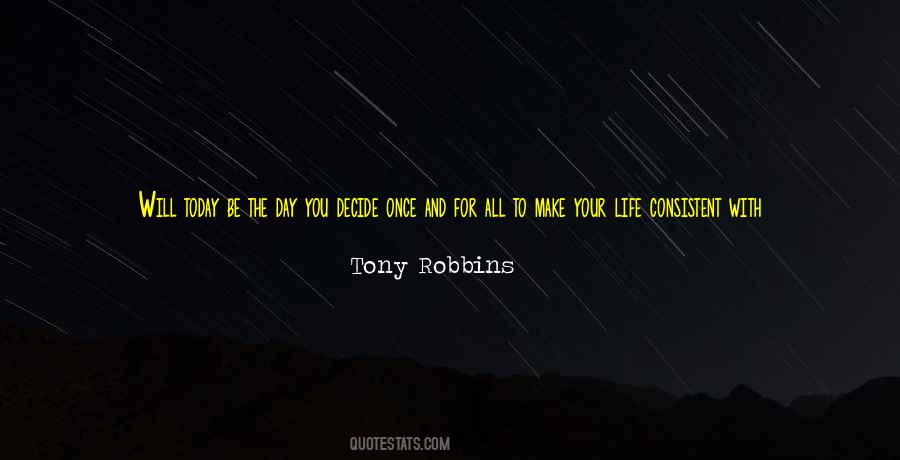 #94. Today I call upon my Higher Power to help me get through one more day. Help me have gratitude in the face of scarcity, strength in my private struggles and the wisdom to live a good life for myself and others. - Bryant McGill - Author: Bryant McGill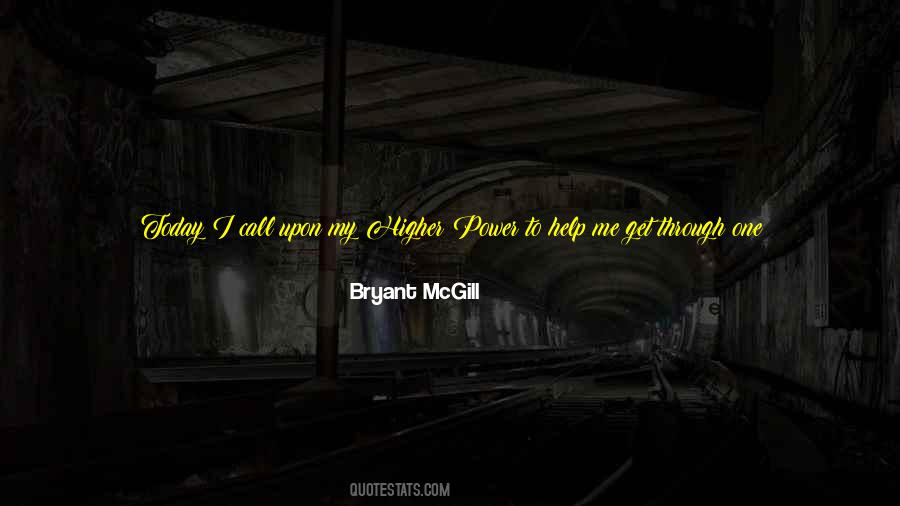 #95. Ignore me. I don't want to talk about my nonexistent love life today. - Author: Julie James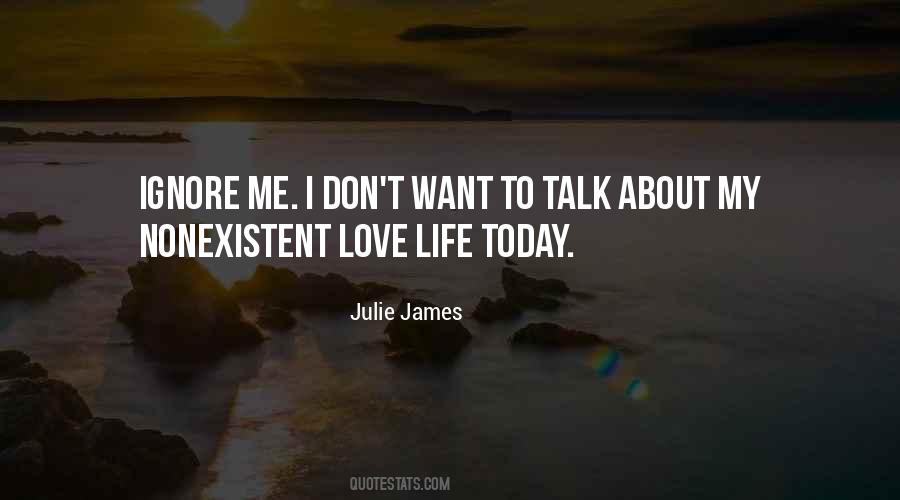 #96. I thought yesterday was the first day of the rest of my life but it turns out today is. - Author: Steve Martin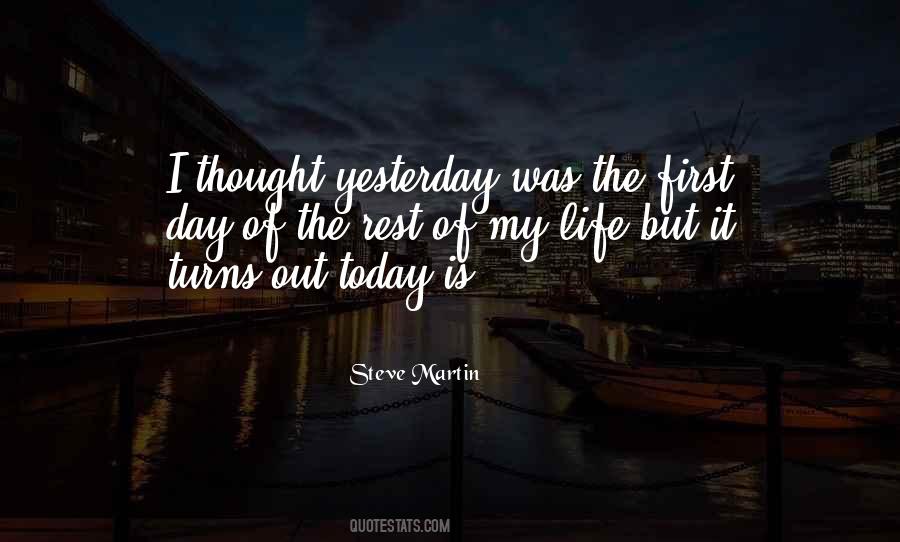 #97. My first psychedelic experience with Aldous still directs my life today. - Author: Laura Huxley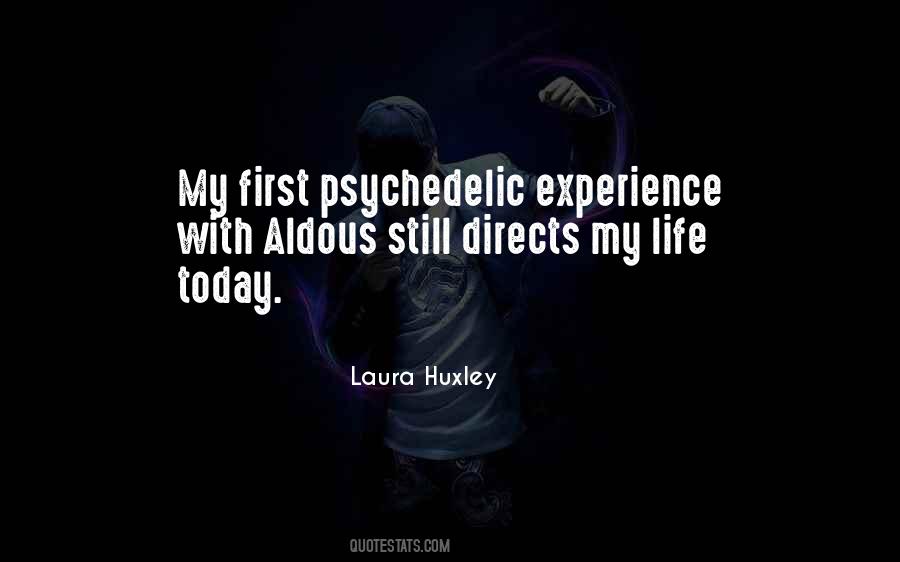 #98. My parents always encouraged me and I had a good home life. We were always taught to respect things and other people. It's so different today, because children are just not taught the right way. - Author: Betty Cuthbert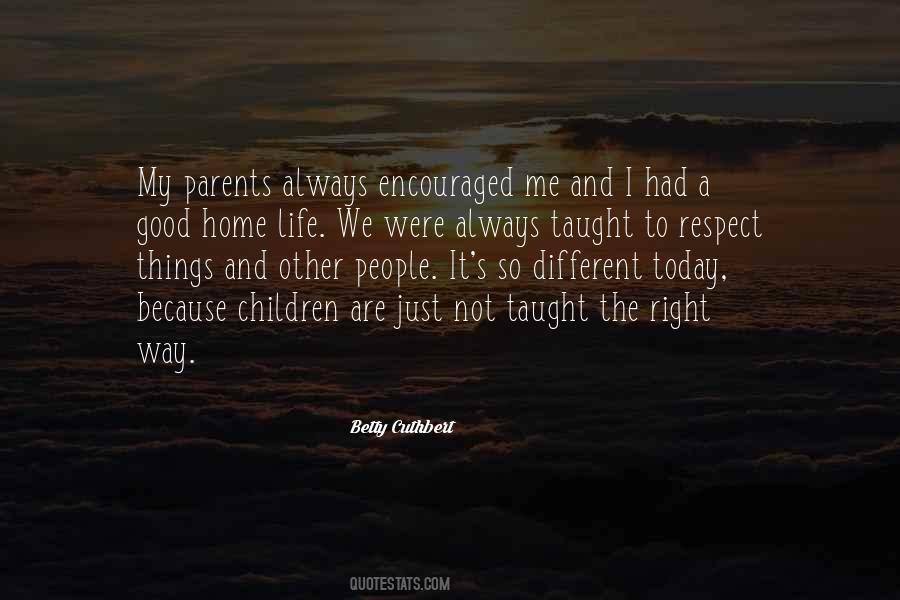 #99. I brewed potions in a vain search for life everlasting, I read books, I sang songs of history, And today I've come home to Cold Mountain To pillow my head on the stream and wash my ears. - Author: Hanshan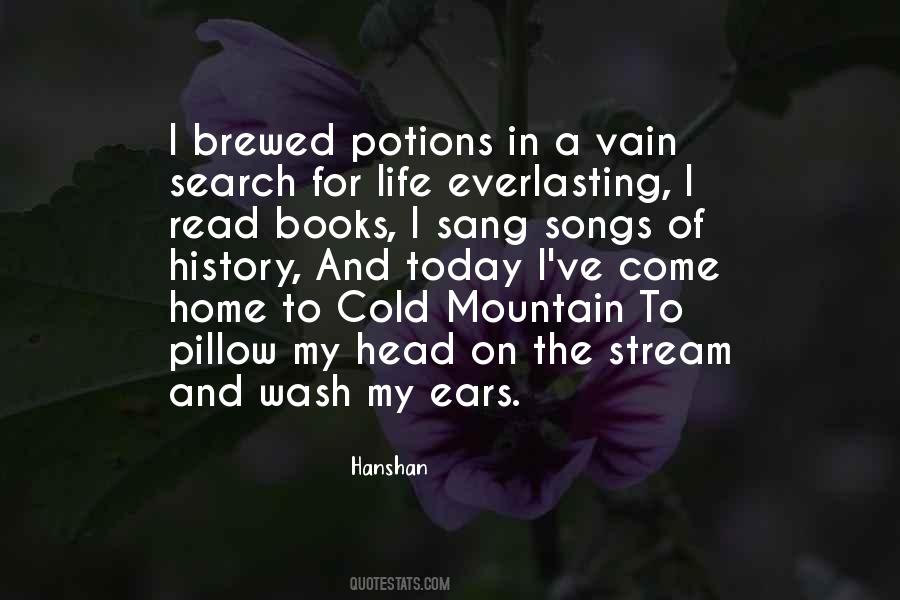 #100. I've had a blessed life. I've pulled back from trying to control my destiny and gone back to accepting whatever fate has in store for me. I live for today because I don't know what'll happen tomorrow. - Author: Cilla Black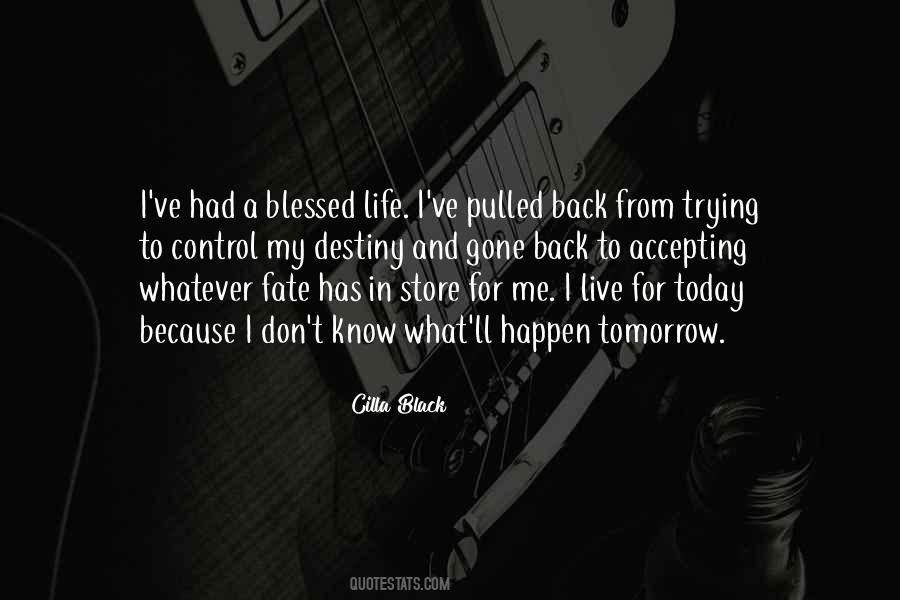 Famous Authors
Popular Topics