Music Is The Only Thing Famous Quotes & Sayings
List of top 64 famous quotes and sayings about music is the only thing to read and share with friends on your Facebook, Twitter, blogs.
Top 64 Music Is The Only Thing Quotes
#1. The only thing that can kill me is death, that's the only thing that can ever stop me, is death, and even then my music will live forever. - Author: Tupac Shakur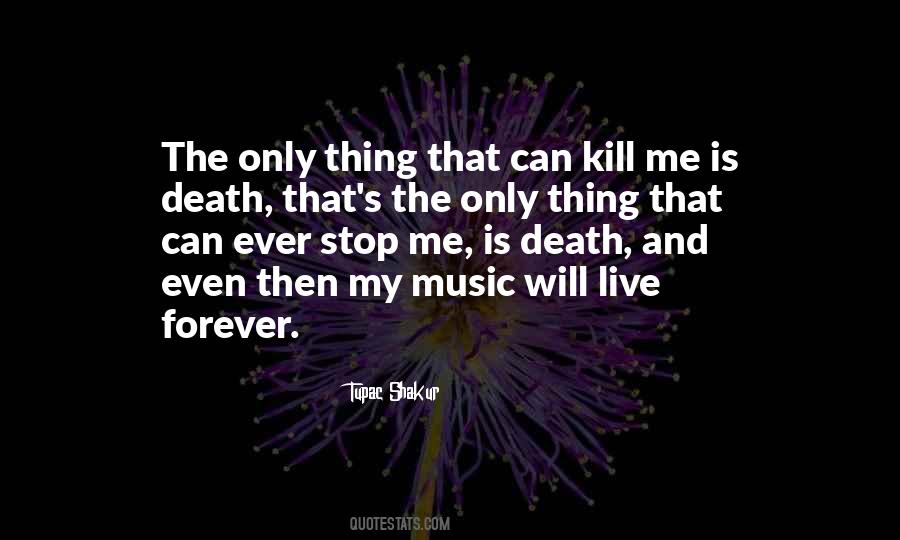 #2. I've always loved the music ... My favorite kind of music is Christmas music and the only thing I love better music is my wife and daughters. So, hanging out with my wife and daughters and cuddling them will be pretty cool. - Author: Keith Getty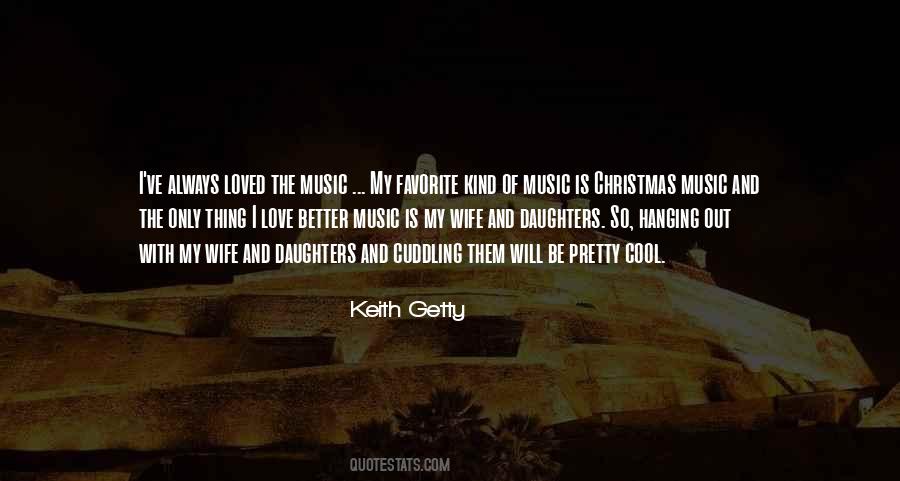 #3. Music is the only thing in this world, with the exception of sneezing and looking at the sunset, that takes you to a place that's above the mundane. Everything else is just bullshit. - Author: Stephan Jenkins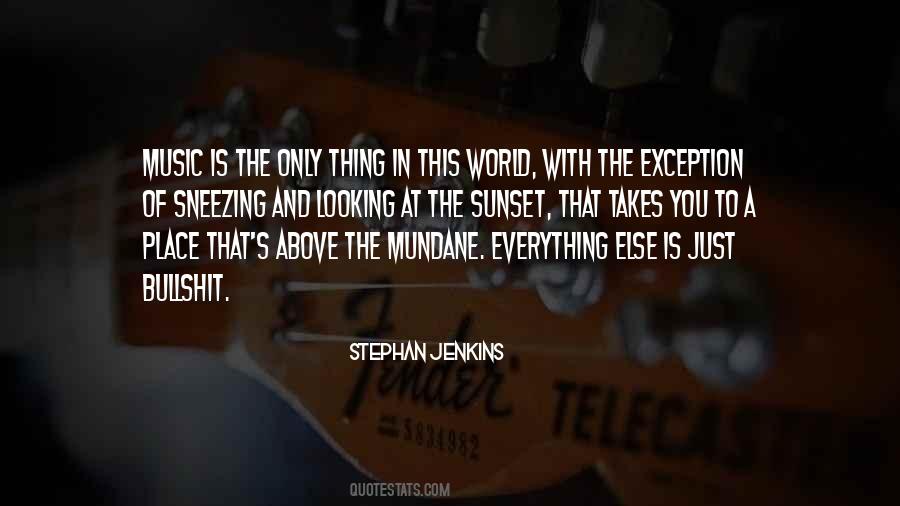 #4. Music is the only thing that you can share with a million million people and you don't lose, you gain. It helps you to get energy and to live long, because when your soul is very happy then you don't want to die. - Author: Ali Akbar Khan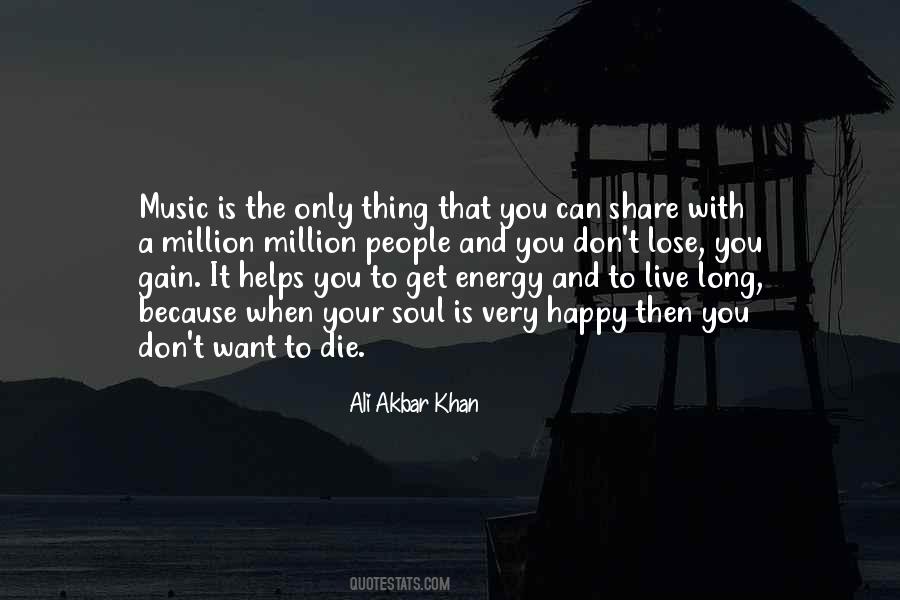 #5. For us the most important thing is to be visual, and for the cats watching us to have fun. This is all we want. We get very upset if people get bored when we're only half way through smashing the second set. - Author: Roger Waters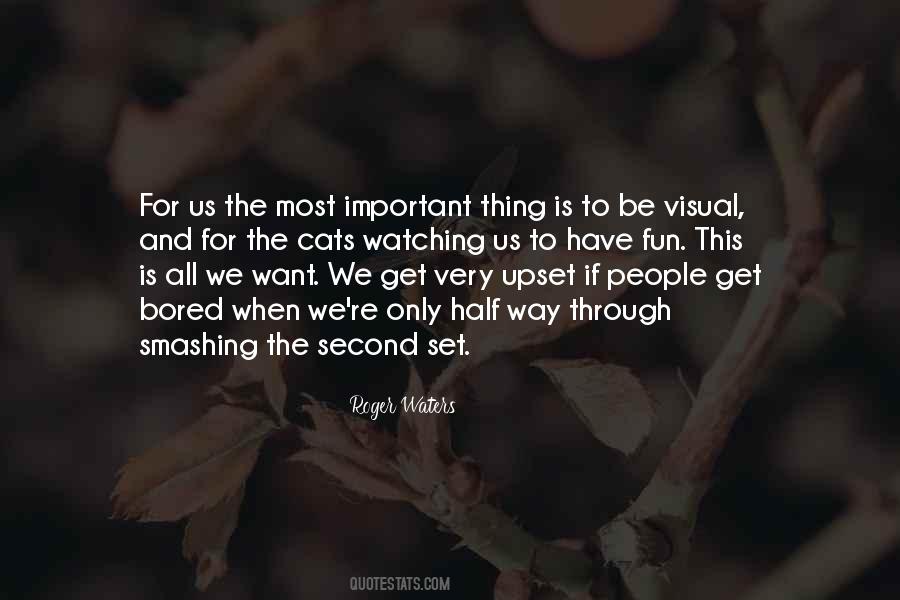 #6. As for music, where does it go? The only concrete thing in music is the instrument. - Author: Clarice Lispector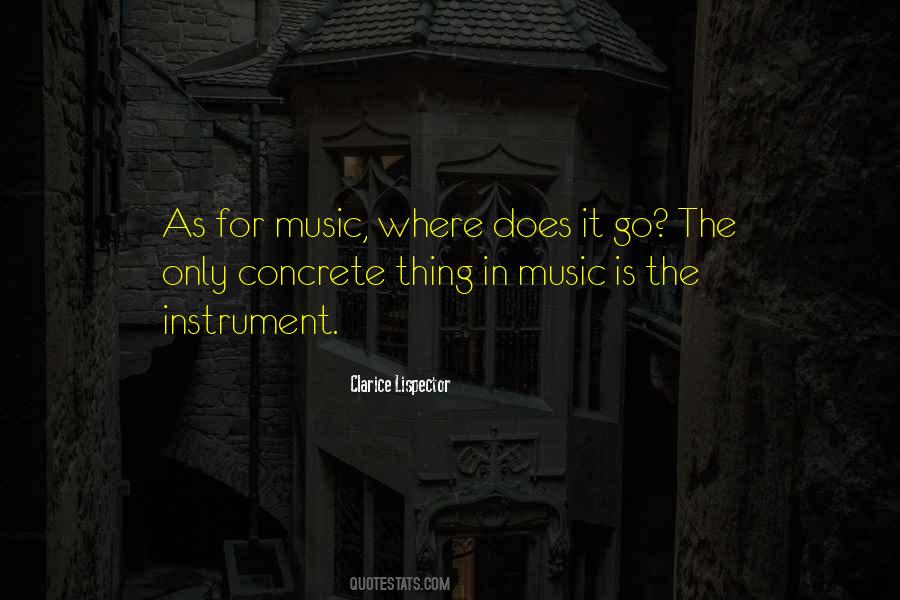 #7. Jazz should be recognized as music of the people, based in a lot of accents and melodies. What is jazz but music that people danced to? Jazz has the dynamic thing. I don't think you have to be playing only Charlie Parker licks on your horn or whatever the new version of that is. - Author: Al Jarreau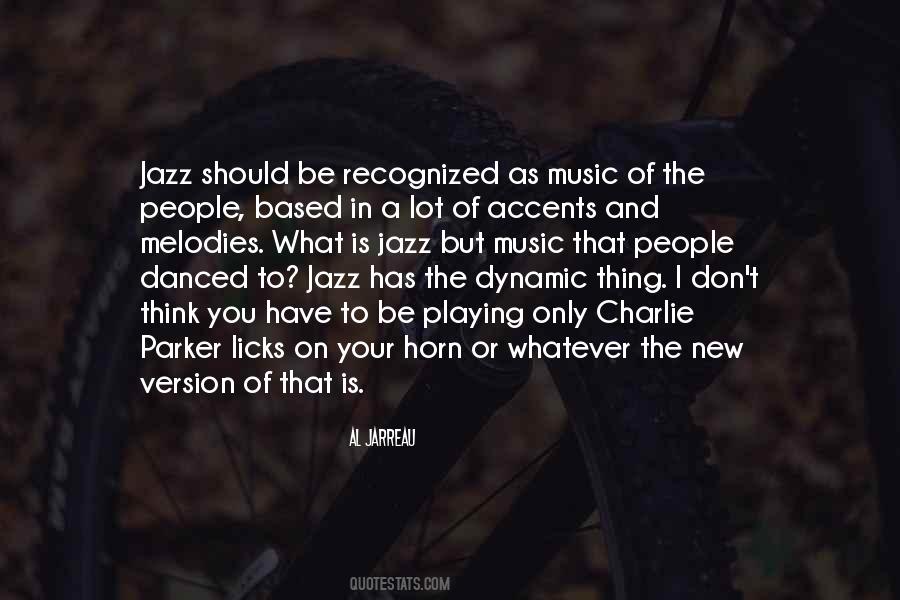 #8. I will keep playing as long as my body lets me, and as long as I'm wanted by my listeners. Because music is the only thing that keeps me going. - Author: Ravi Shankar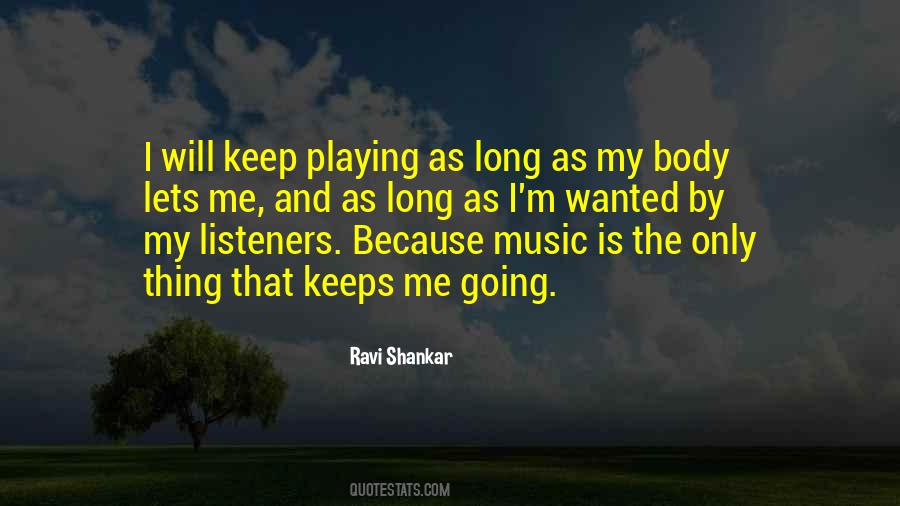 #9. I've always been shy, but every time that I sing or I perform, when music comes out of me, it is the only thing I can relate to, it's the only thing I can give. - Author: Benjamin Clementine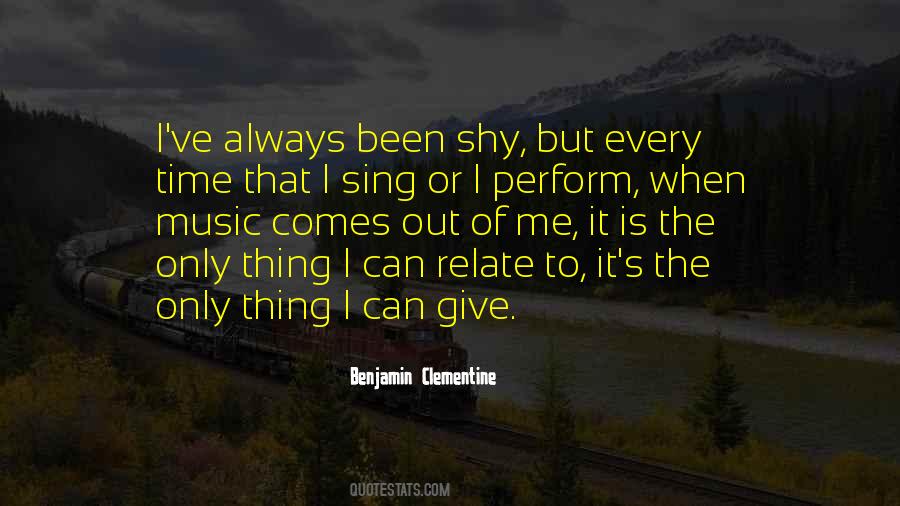 #10. For many people out there in the world, music is the only thing that gives them relief, so it's awesome to be a part of that tradition. - Author: Richard Patrick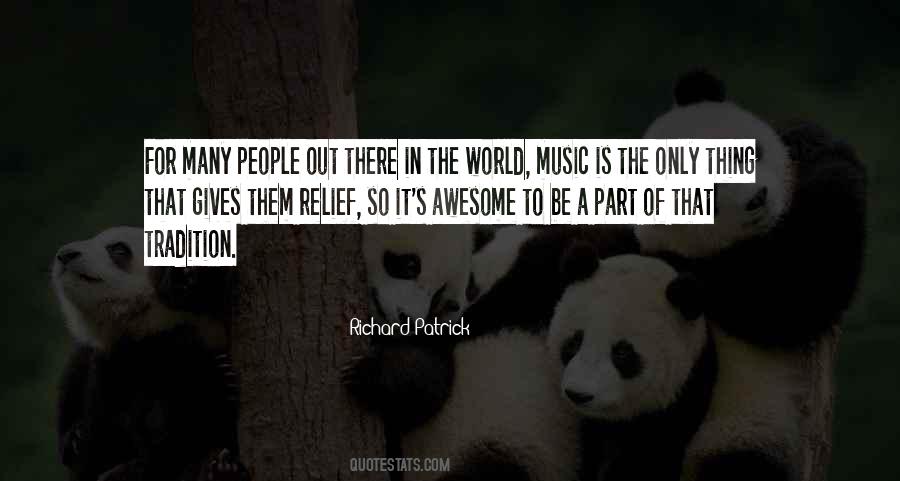 #11. The piece of music is nothing without the act of interpretation. That is the only way it can live, and it's a totally abstract thing. - Author: Helene Grimaud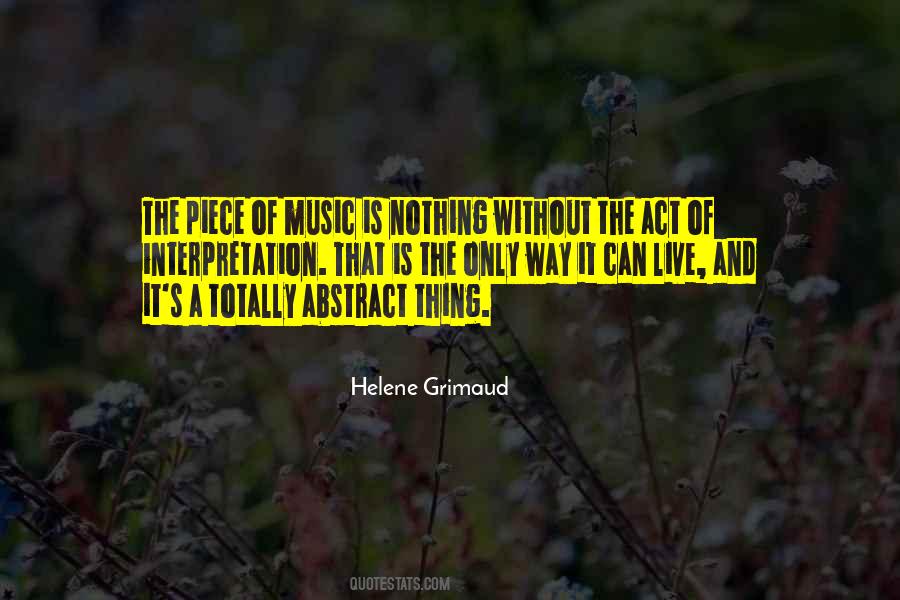 #12. The grand tune is the only thing in music that the great public really understands. - Author: Thomas Beecham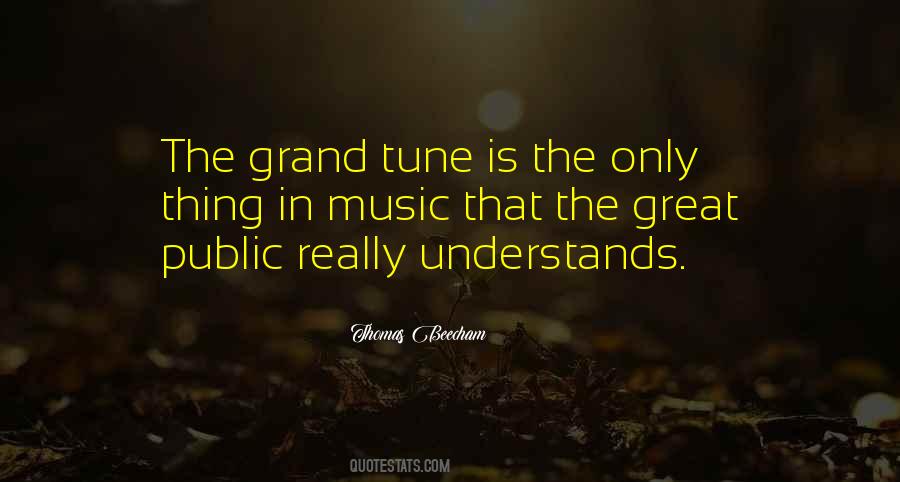 #13. The only thing that exists to me is commercial pop music. - Author: Barry Gibb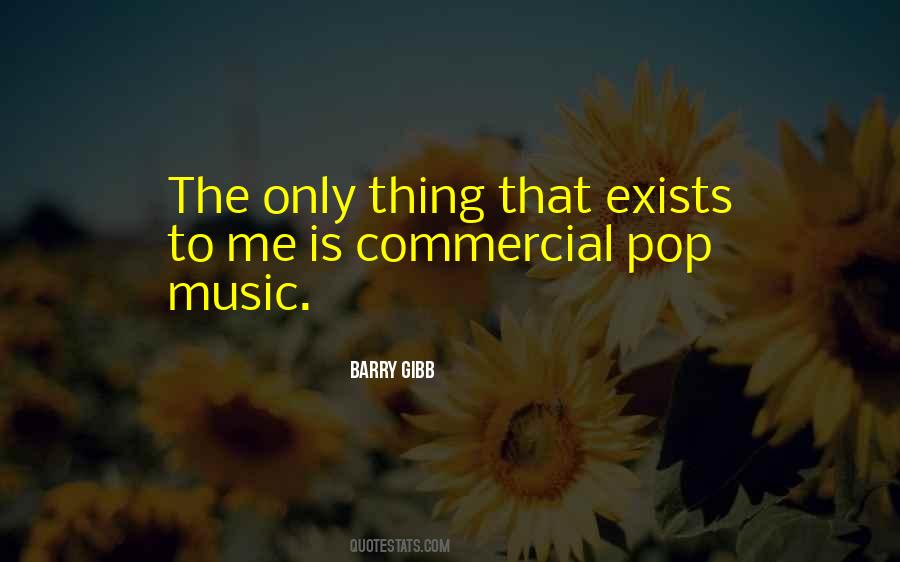 #14. The only thing I want to be defined by is my music and personality. - Author: Jessie J.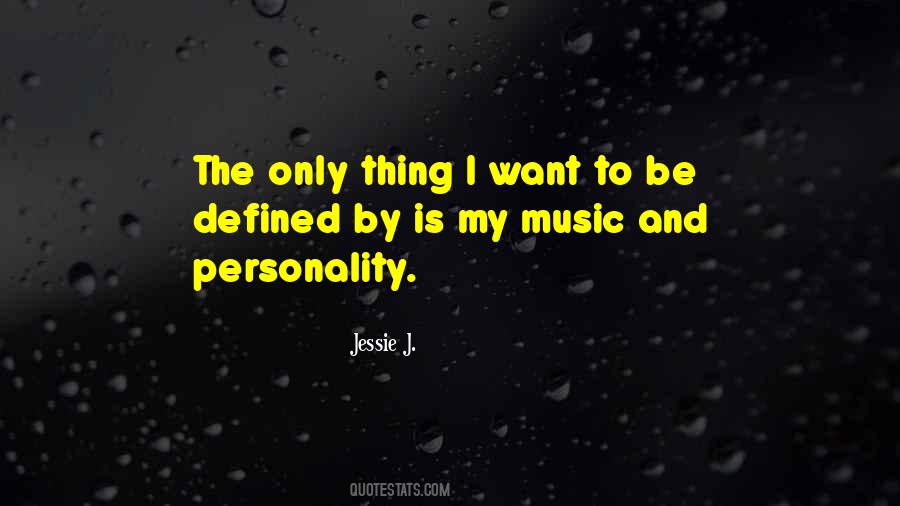 #15. Something about the music of nature and the dimming light loosened my tongue. "Music is my life. The only thing that made sense the last few years."
"I can't imagine you failing at anything. - Author: Jenny B. Jones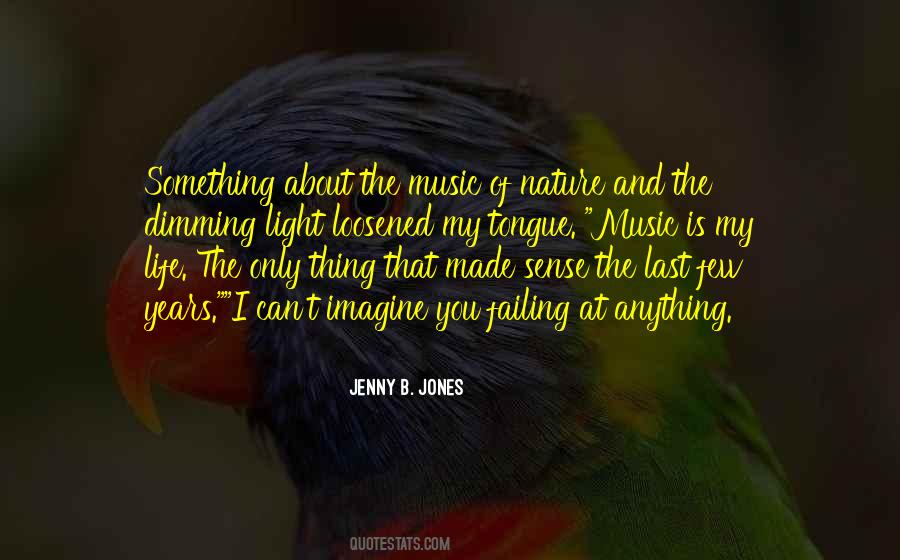 #16. What I like about Americans is if it's good music, that's the only thing that matters. - Author: Chet Faker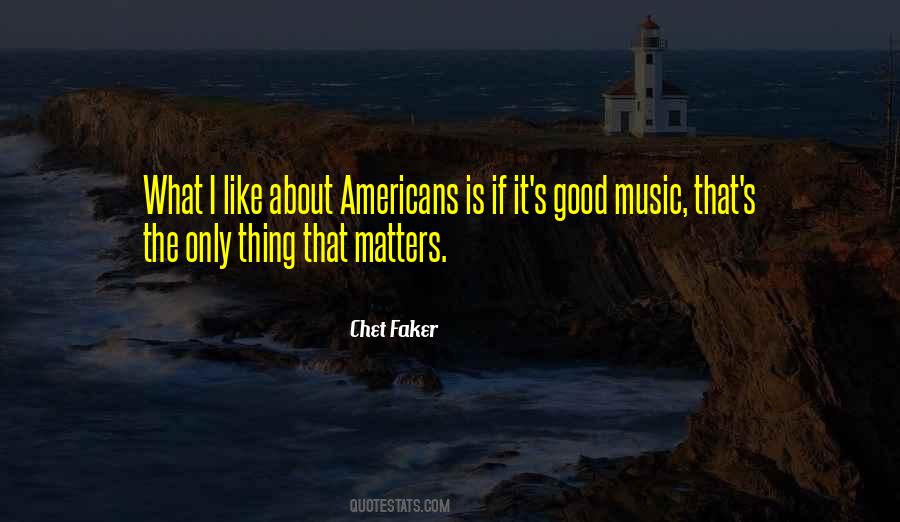 #17. Music is the only thing that will give and give and give and not take ... - Author: Amy Winehouse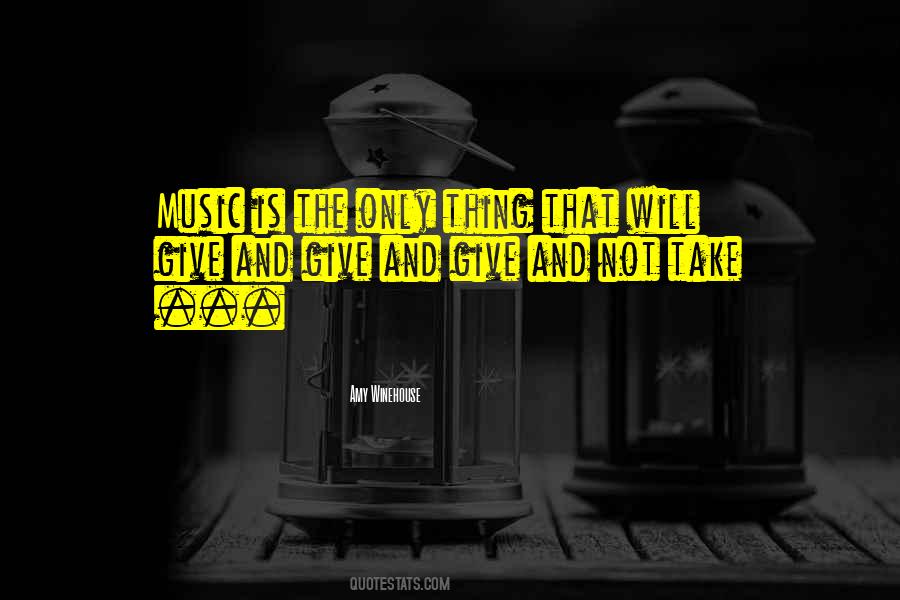 #18. Possibly the only thing we Notekillers place on a higher pedestal than music is laughs, so, of course, we also know that the idea of the title is a kind of humorous futility. - Author: David First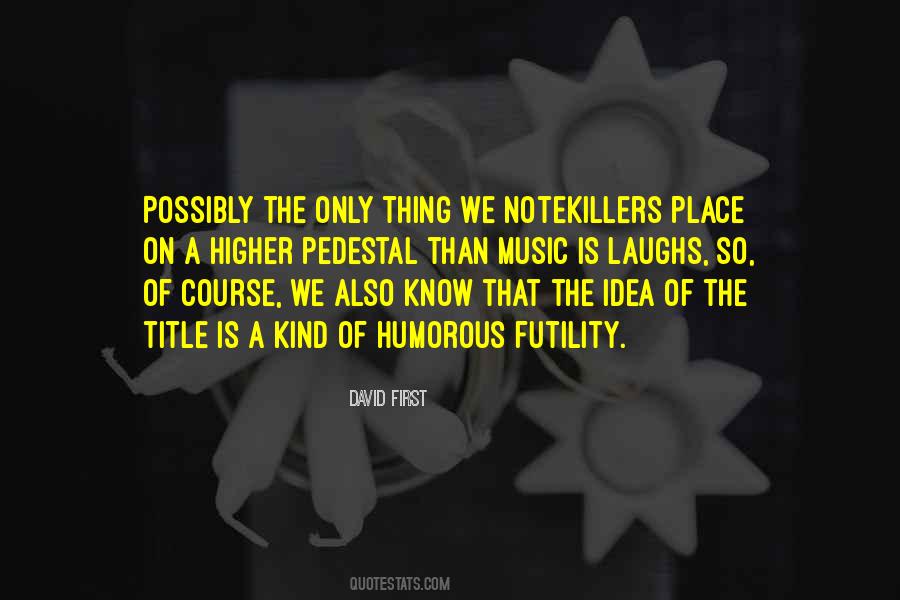 #19. Music is powerful. It is the only thing that can speak into your mind, your heart and your soul without your permission. - Author: Emmanuel Jal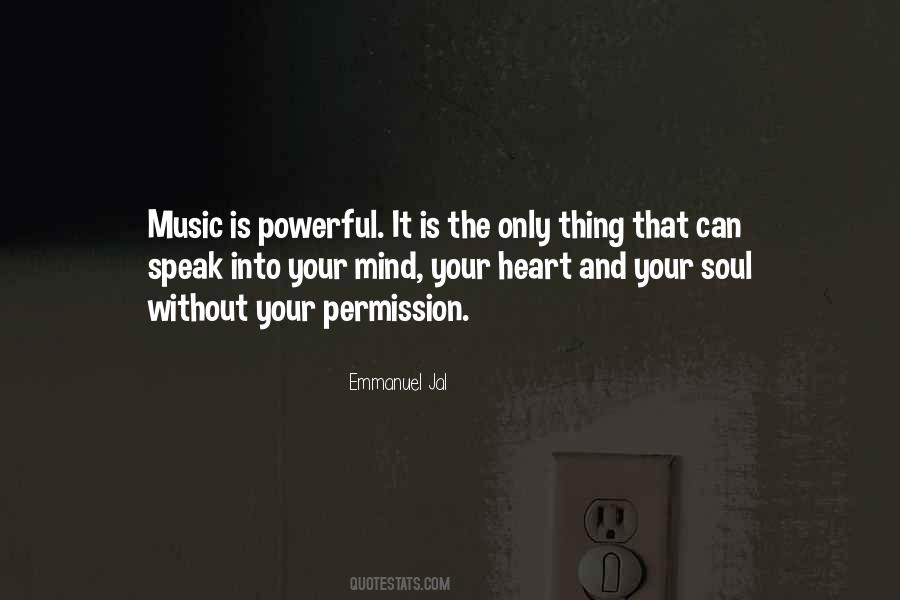 #20. Music is by no means something I was like, 'I'm going to make a career out of this!' It's the only thing I know how to do, so it was more like, 'I hope to God I can make a career out of this!' - Author: Hunter Hayes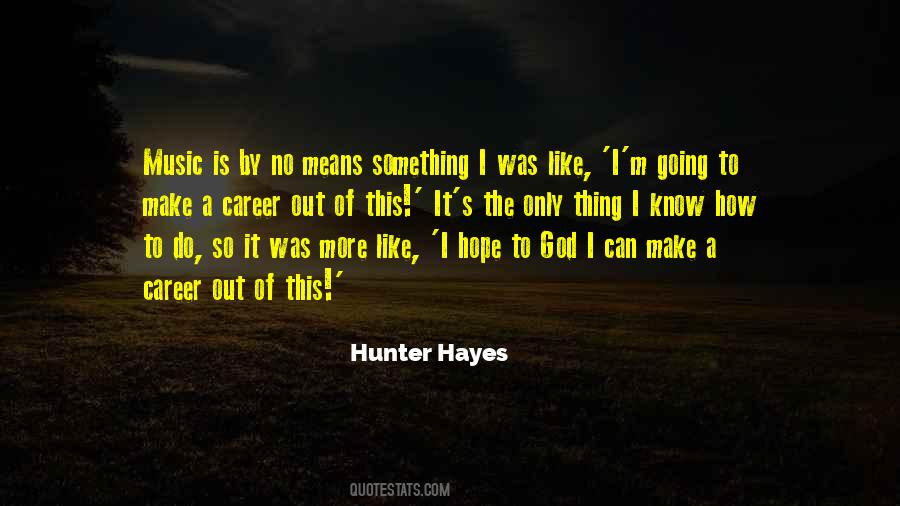 #21. Music is the only thing I've ever known that doesn't have any rules at all. - Author: Josh Homme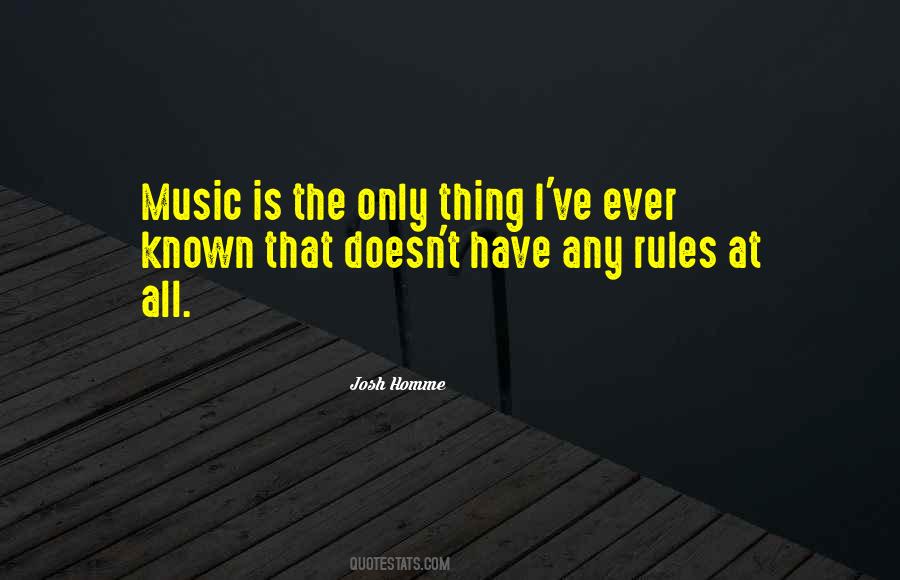 #22. The only thing constant is change, we keep going through it not only in Las Vegas but in every part of our business and culture - Author: Steve Lawrence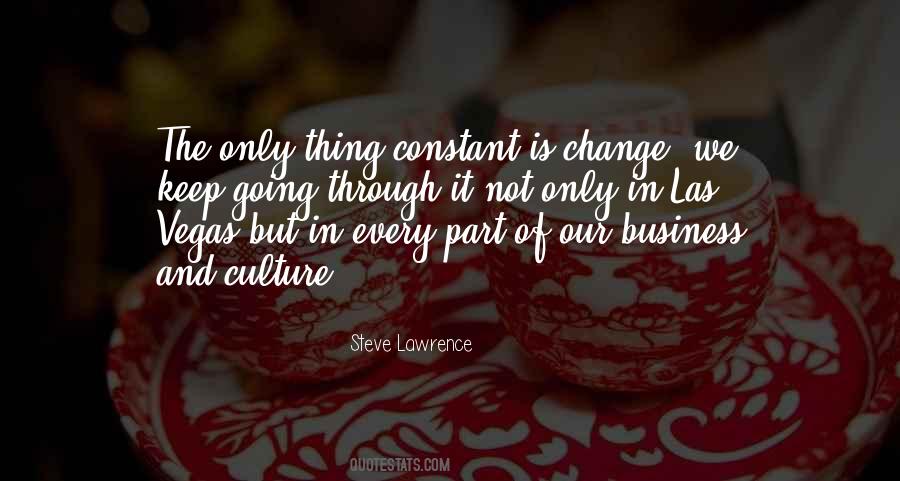 #23. I am adamant that we must not cut back on funding of the teaching of the arts in the schools: music, painting, theater, dance, all of it. The great thing about the arts is that the only way you learn how to do it is by doing it. - Author: David McCullough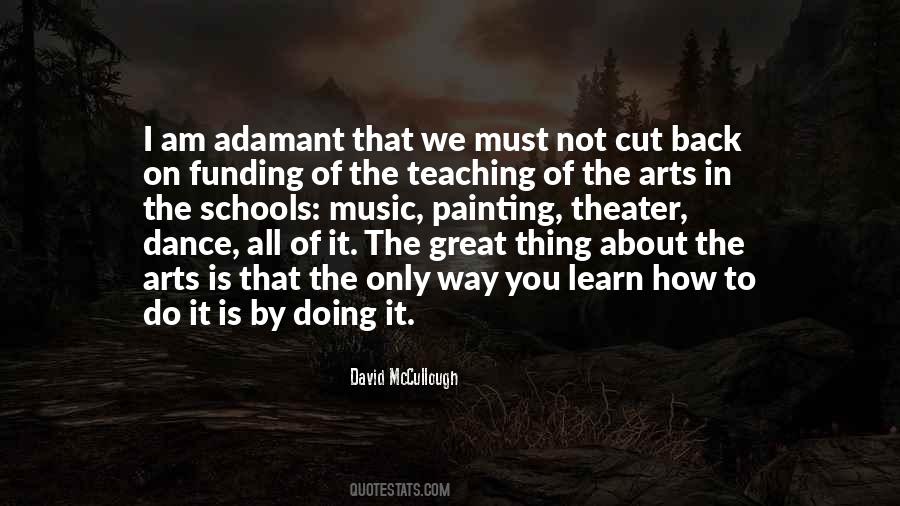 #24. The beautiful thing about hip-hop is it's like an audio collage. You can take any form of music and do it in a hip-hop way and it'll be a hip-hop song. That's the only music you can do that with. - Author: Talib Kweli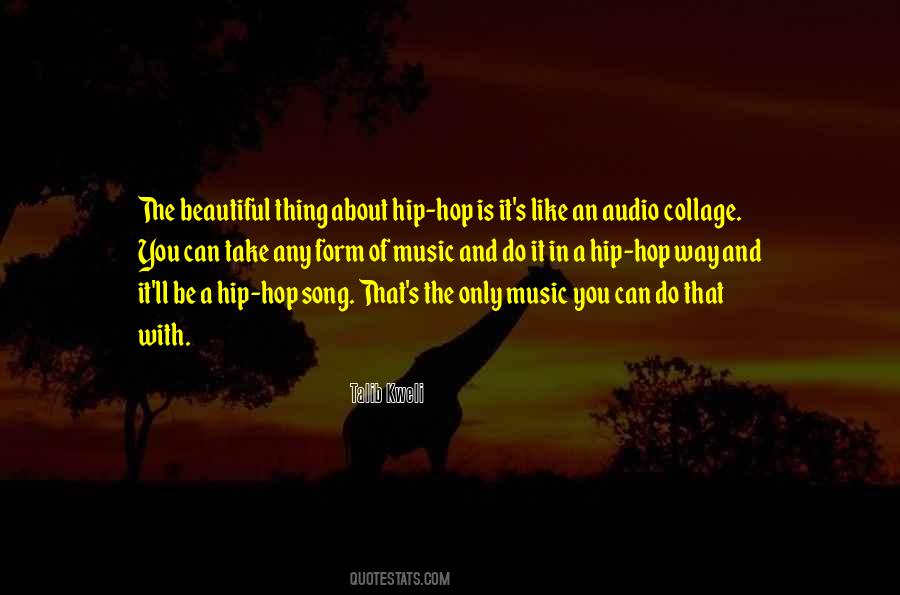 #25. I don't know if it's a movement, but the only thing new that's happening is that I think music and art and video and fashion are all kind of thrown into one big ball that's on television, and people see that all the time - you see a fusion of all those things. - Author: Stephen Sprouse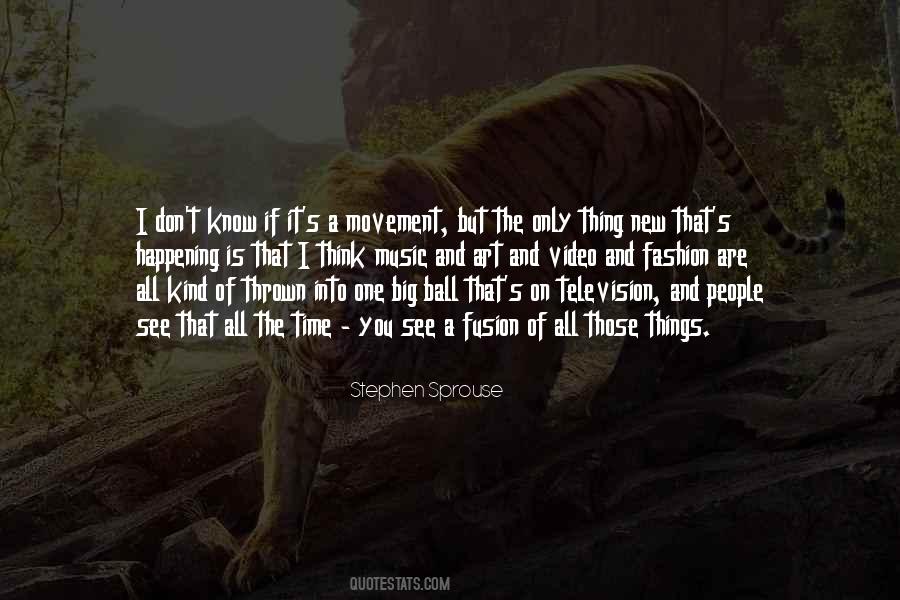 #26. Music is the only thing keeping the planet together - Author: Jaco Pastorius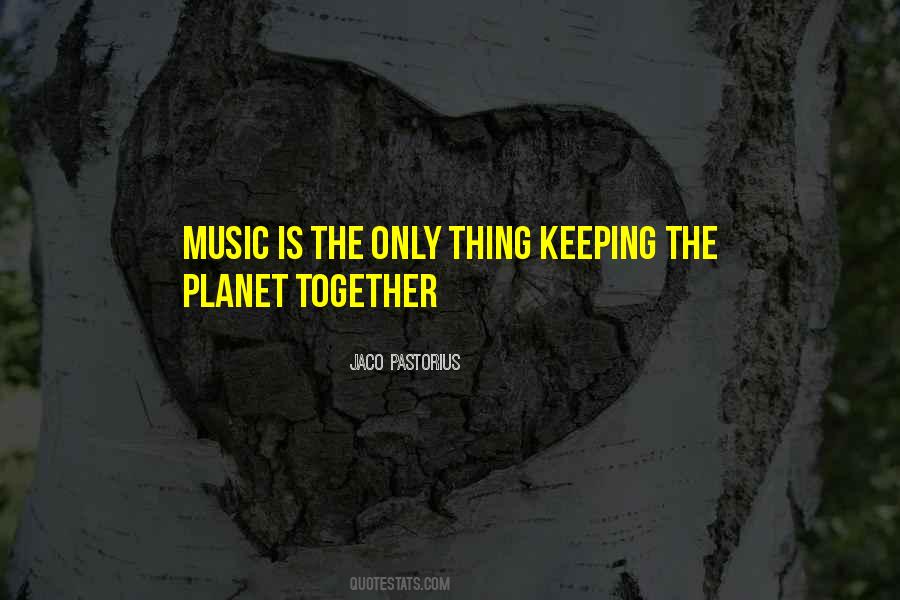 #27. The only thing that ever came close to tugging my heart strings is music. I know this because that is the only time I've felt them move. - Author: Hafsa Shah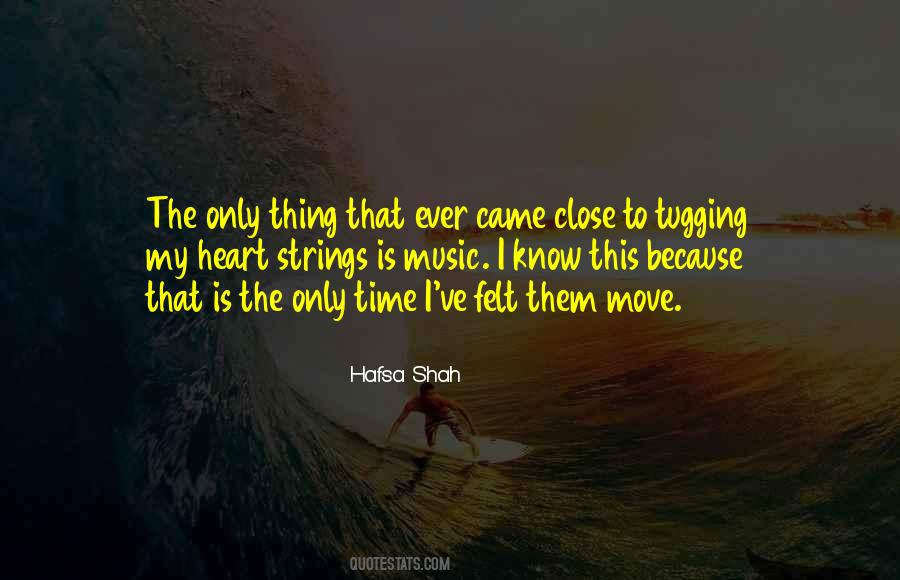 #28. I like to listen to sad music when I'm sad. It seems honest. It makes me cry, and sometimes a
good cry is the only thing that can make you feel better. - Author: Elizabeth Berg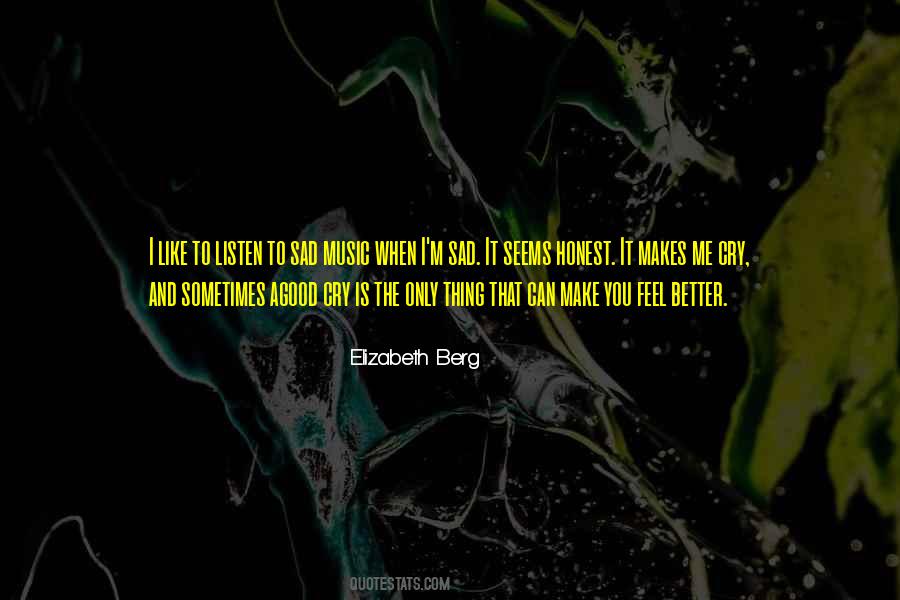 #29. That culture, of looking at catchy music as a negative thing, is weird. It has nothing to do with me, or the music I was into growing up. The Stones and the Beatles only tried to write hits. Every Motown song, every Credence Clearwater song - they were trying to write hits. - Author: Dan Auerbach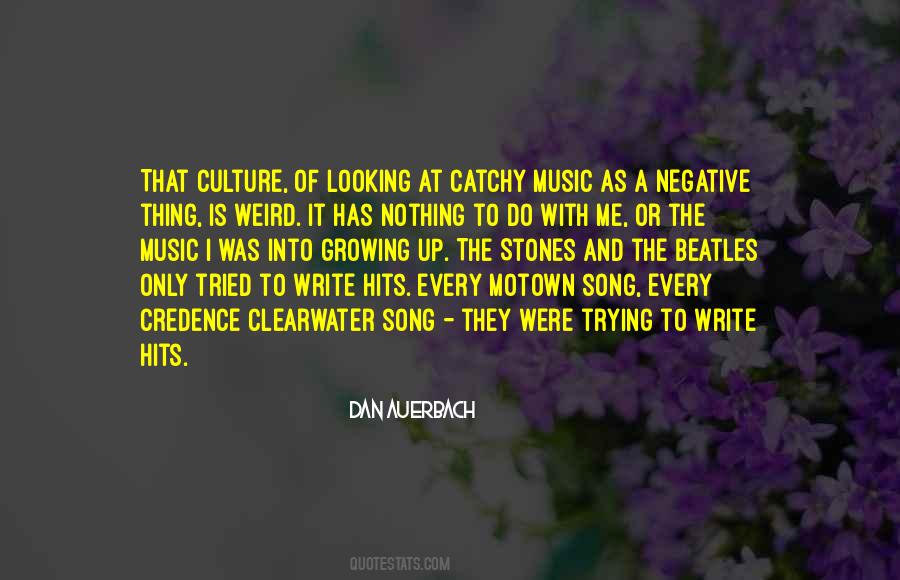 #30. The only thing you can ever ask for is that, like what I was saying with memories, that somehow my music can fit into somebody's memory. If it can be the soundtrack to somebody's happy days then that would be amazing. - Author: George Ezra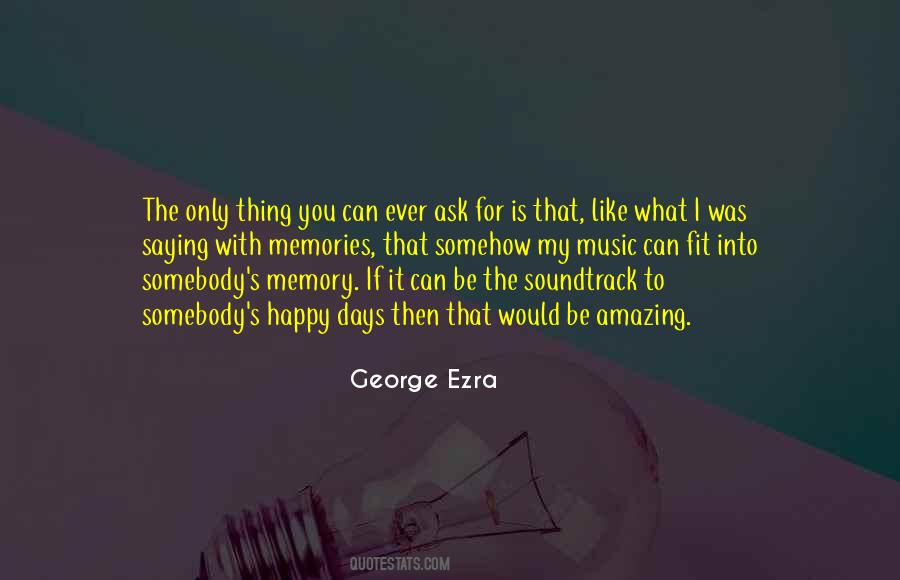 #31. Music is the only thing in the world that can block out madness, and can be consumed in the sadness, for it helps the soul survive even if only for a short time. - Author: Timothy Long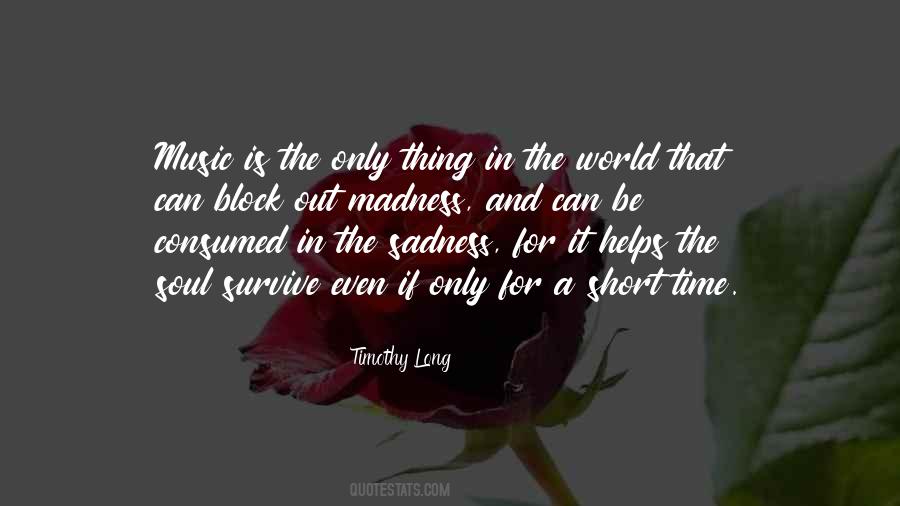 #32. My bulimia was my addiction. Hurting myself was my addiction ... The music is what saved me. That's the only thing I can trust. - Author: Nicole Scherzinger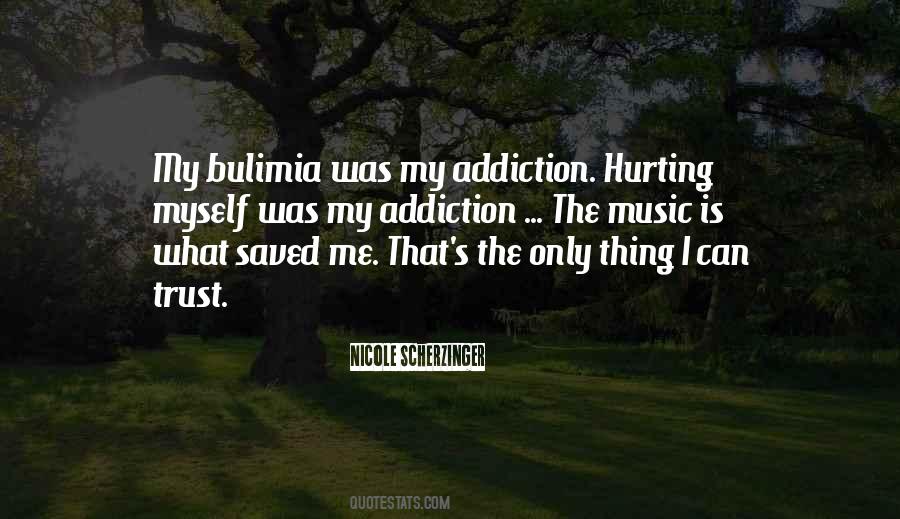 #33. My guitars, Cadillacs, and hillbilly music Is the only thing that keeps me hanging on. - Author: Dwight Yoakam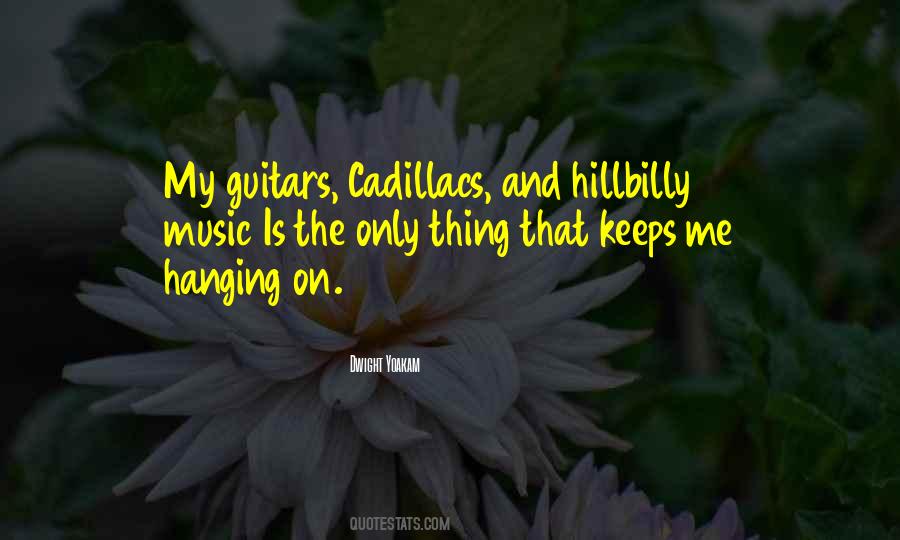 #34. Country music is different because we [musicians] are all actually happy for each other. We're all friends. It's a little family. So if you don't win [an award], usually one of your friends does. So it's kind of a cool thing. I think it's the only genre of music to have that camaraderie. - Author: Miranda Lambert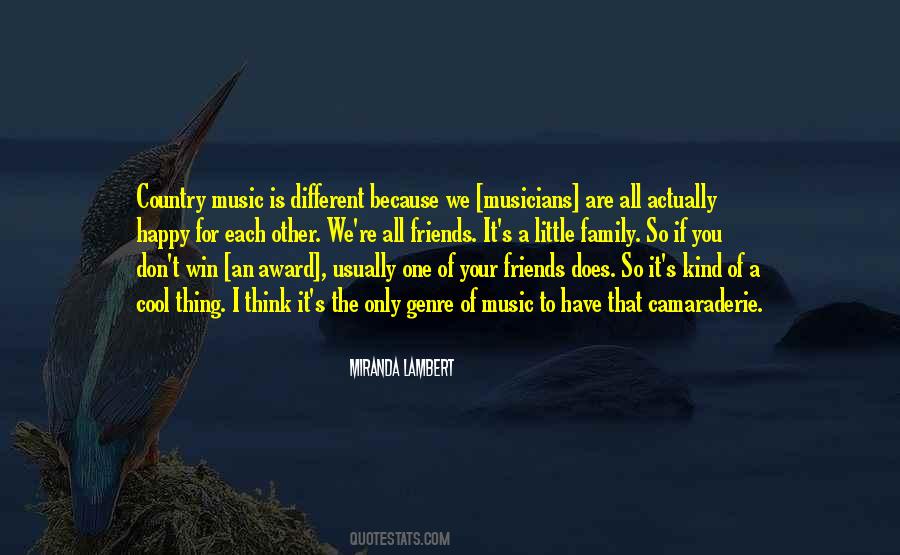 #35. I think music is the only thing that I'll ever really have. - Author: Duffy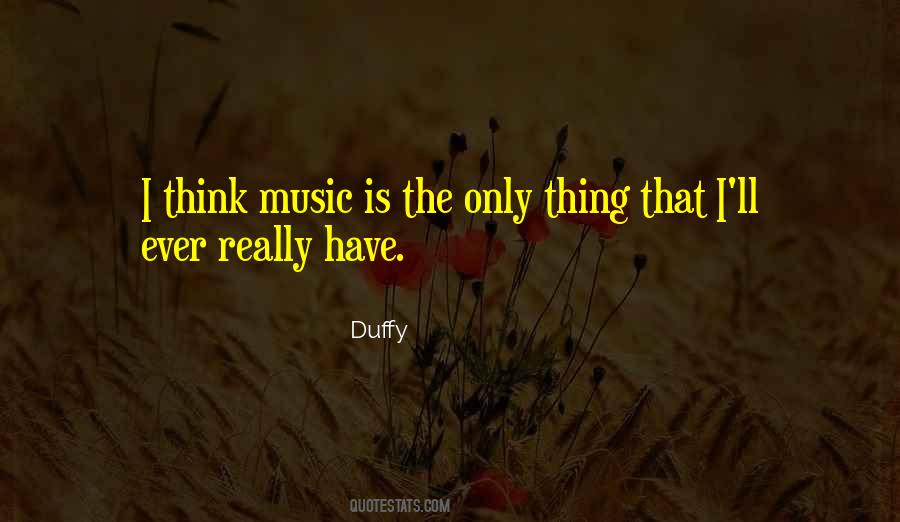 #36. Art is not great. Music is not great. It's just that they tickle us. When one steadfastly refuses greatness - then and then only can the wonderful thing we call art be created. - Author: John Marin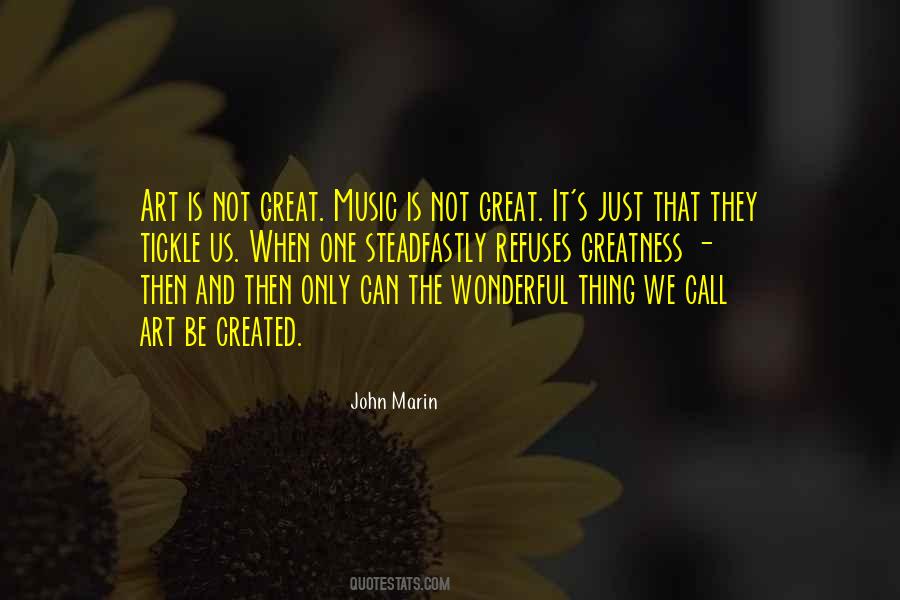 #37. When I was governor, I was looking for a way to unify our state. I realized music is about the only thing that unifies Tennessee. - Author: Lamar Alexander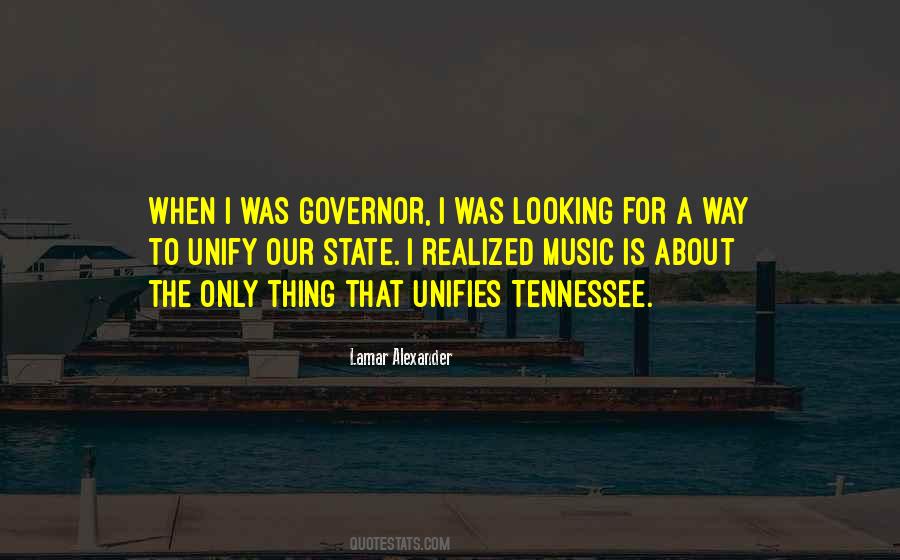 #38. The only thing I could see myself doing is music - songwriting or producing or something. I've never seen myself being in any other business, I've been working in this one since I was 5 years old! I could do other things, but I wouldn't want to! - Author: Demi Lovato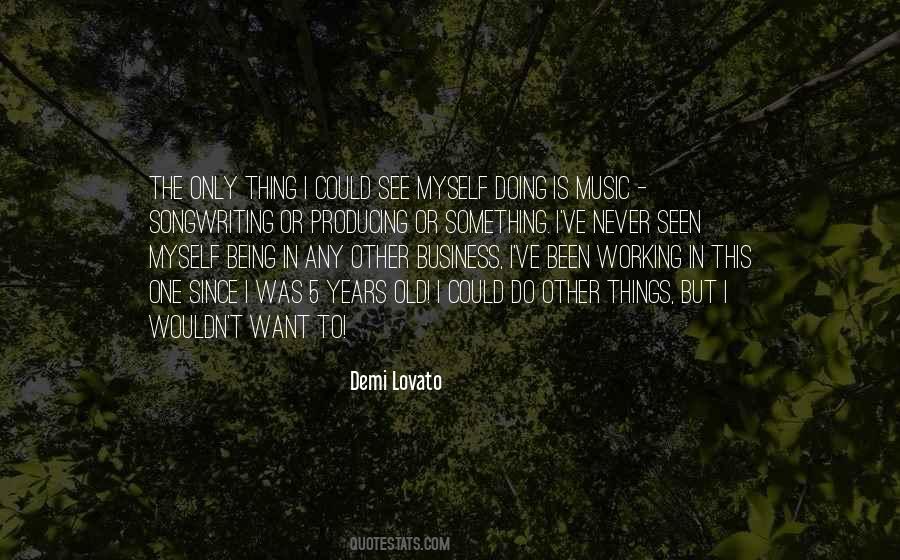 #39. Records are only one-dimensional. Even film is only one-dimensional. That's why music and live theatre is so important, because it's not the same thing. A recording is just a record of part of the experience, but it's not the whole experience. - Author: Steve Earle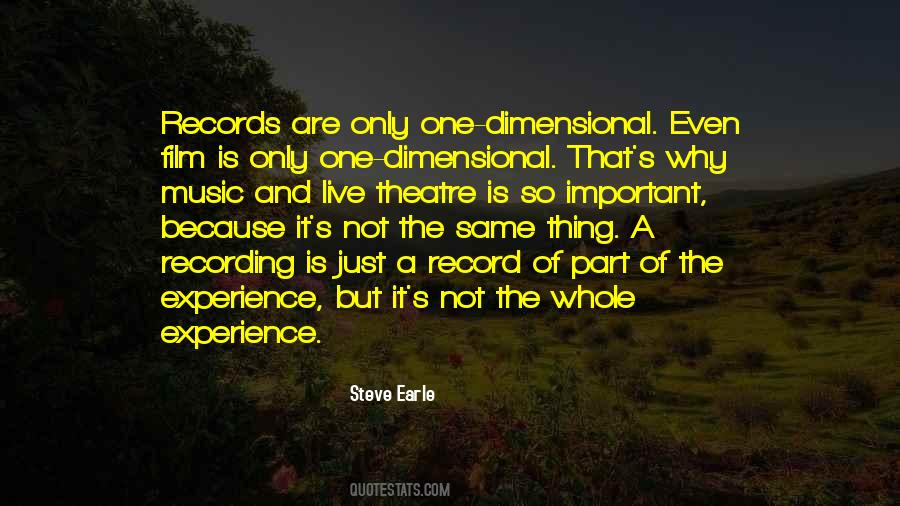 #40. Quite simply I've distilled my mission down to the essence. The only thing I'm really here to do is shine light on people's lives through music, through laughter and to simply enjoy being with people. - Author: Jason Mraz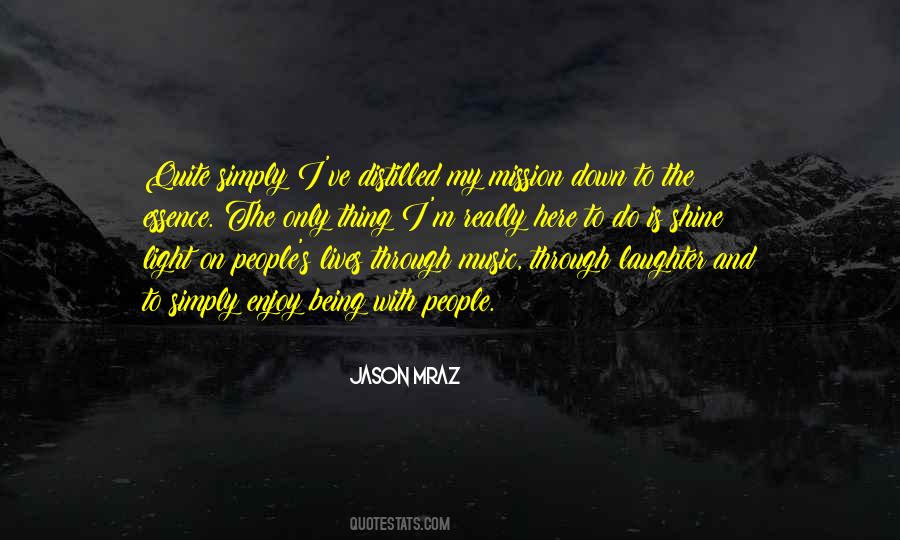 #41. The only thing that I really want to do is just be respected in the music industry ... And whether that means selling albums or winning Grammys or people just liking your music, thats what I really want to do. - Author: Kris Allen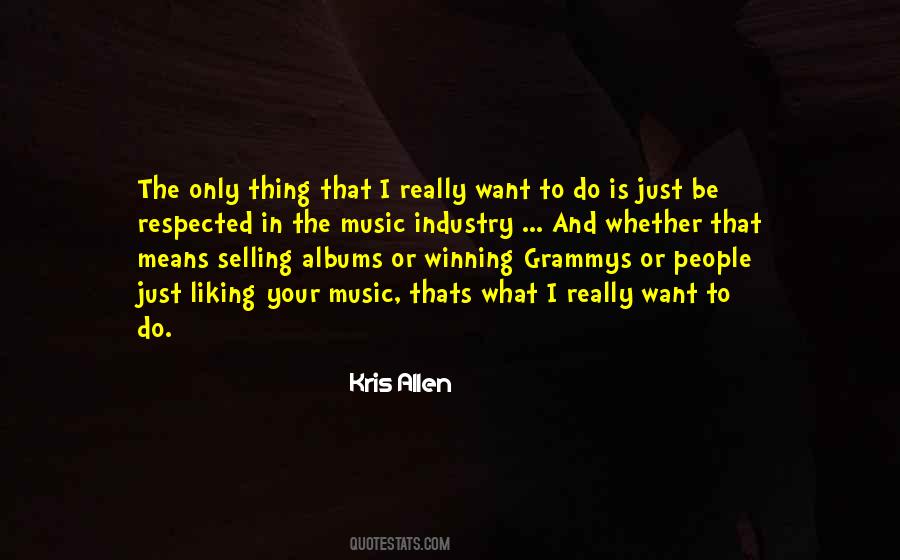 #42. That's what Proust calls it. On those rare occasions when the miracle of an analogy had made me escape from the present. That's the only real life, the only thing that makes you know you're alive - the backward ache. That's what music is. - Author: Adam Haslett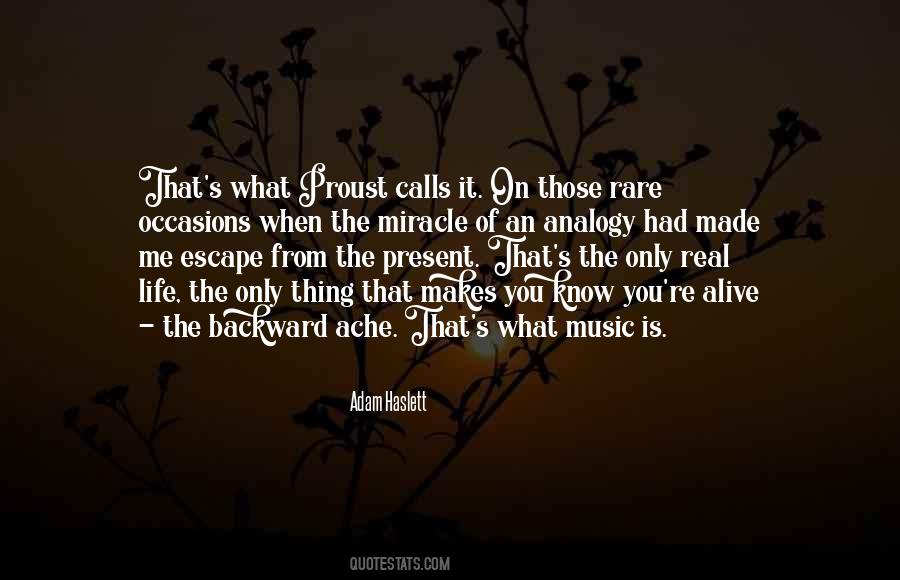 #43. That's what a DJ is at the end of the day - someone who leads where the music goes. The only thing that's changed is that in America, people have woken up in the last few years and realized it. - Author: A-Trak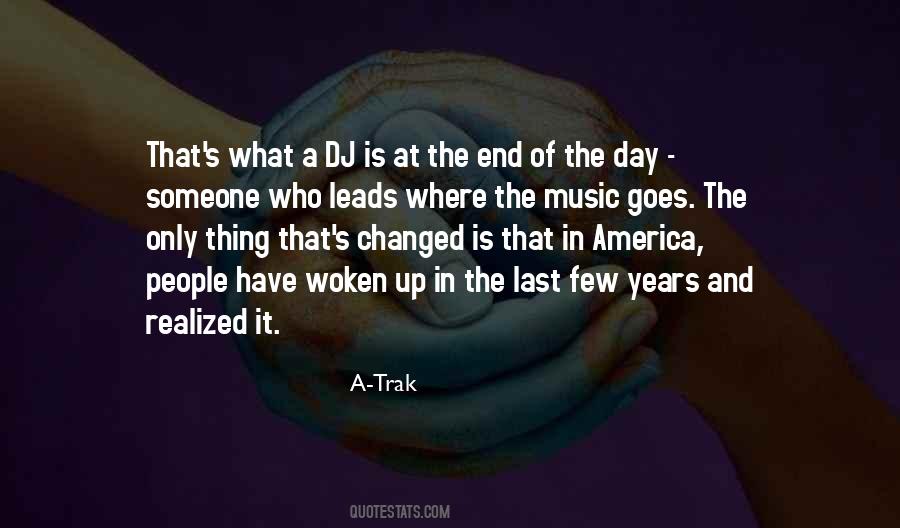 #44. Sometimes there are no gigs, but the main thing is the music. You can't take that away. The only person who can take that away from you is you. - Author: Mike Stern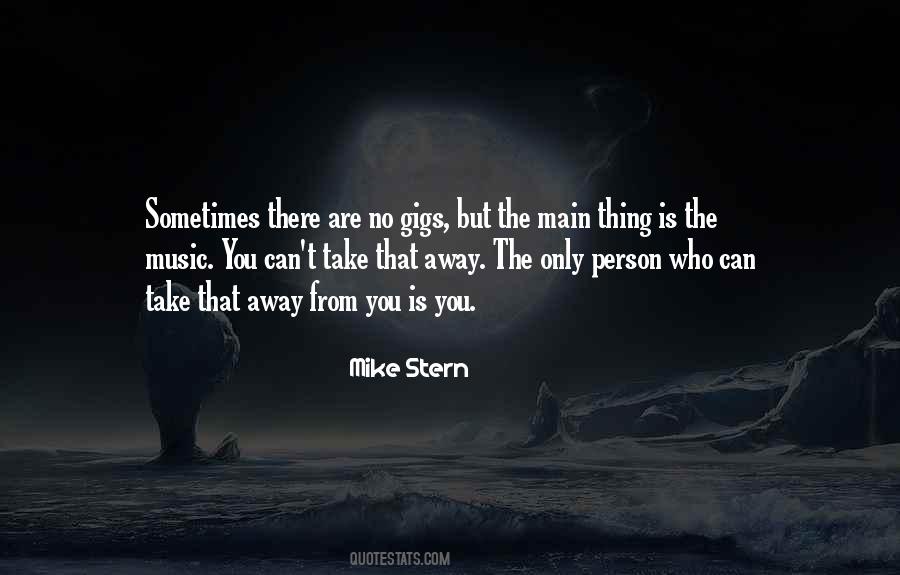 #45. Once the music starts he goes right into the Jimmy-verse, banging against his washboard and letting it all hang out in a piercing falsetto that's surprisingly on key. The thing is, he doesn't sing "I Shot the Sheriff." He sings only one phrase: "How sweet it is! - Author: Ned Vizzini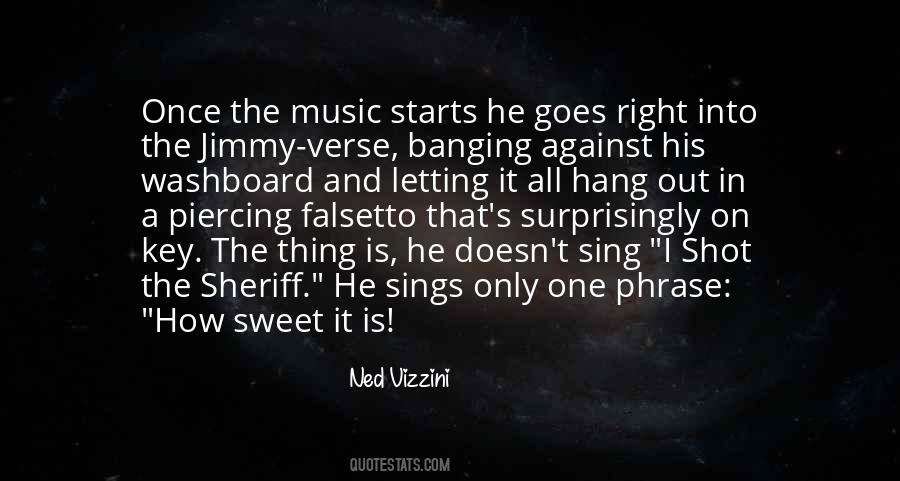 #46. The only thing that interests me in music is to be able to reach into the, let's call it, 'collective unconscious' of what is noblest in the human spirit, the way you find in the music of Mozart and Beethoven and Verdi that wonderful quality that not a note can be changed. - Author: Gian Carlo Menotti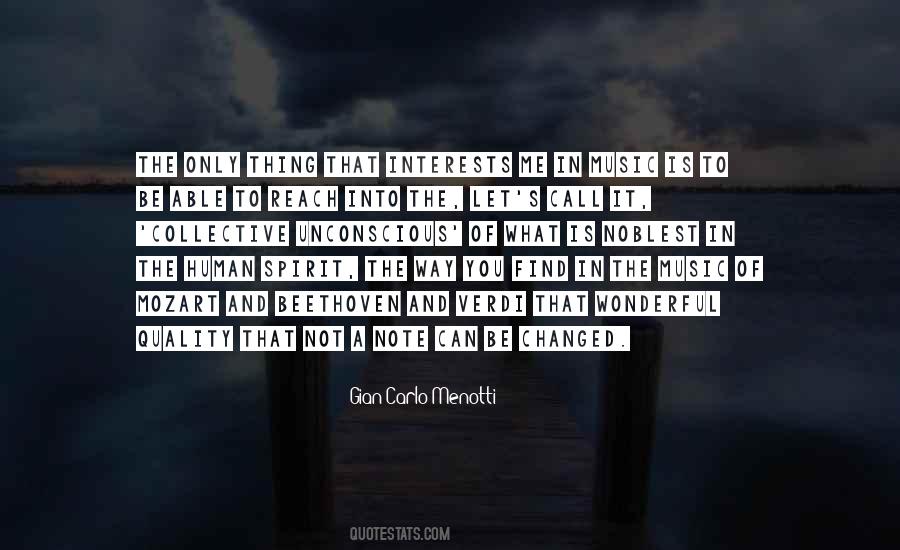 #47. The only thing I'm really, truly good at is music - I just love it. - Author: Alessia Cara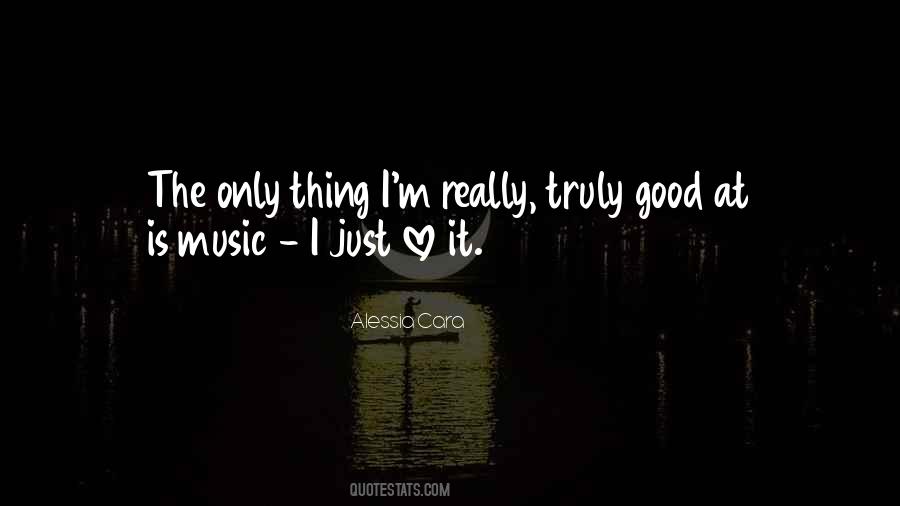 #48. Ultimately, I'm not the most prolific person, but I've been doing this for a long time, and I keep on putting out music. The only thing that drives music is the people who are making it. - Author: Ian MacKaye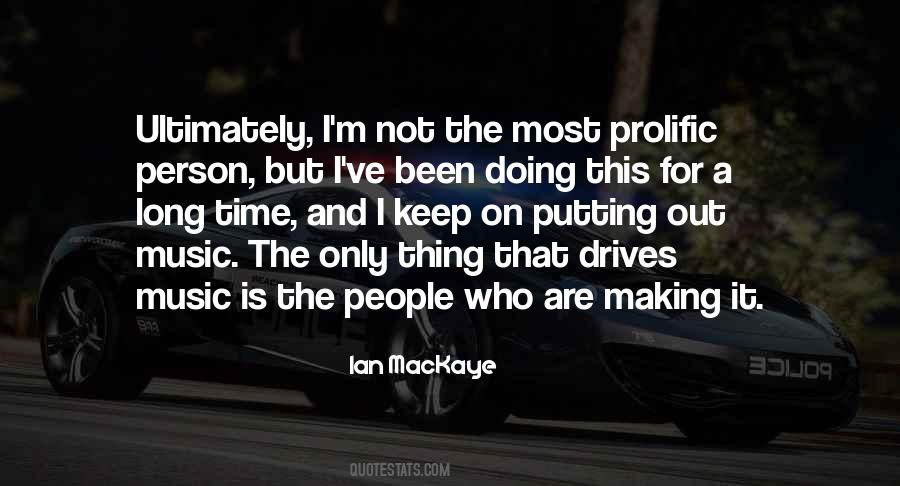 #49. Over the past decade, American youth are spending much more time watching TV, listening to music, using a computer and playing video games
a total of 7 1/2 hours every day in front of a screen. The only thing they are spending less time on is reading! - Author: Thomas L. Friedman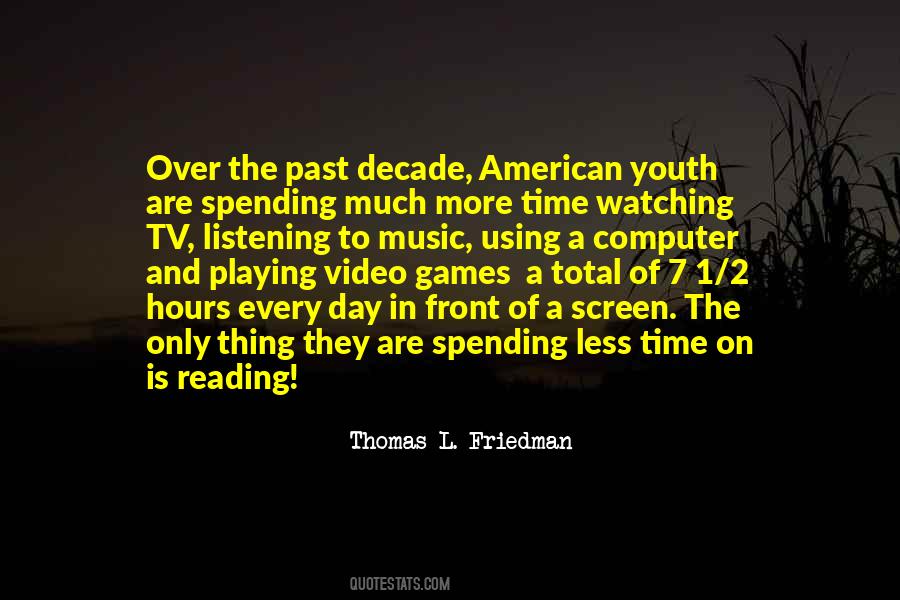 #50. Ornette Coleman is doing the only really new thing in jazz since the innovations in the mid-forties of Dizzy Gillespie, Charlie Parker, and those of Thelonious Monk - Author: John Lewis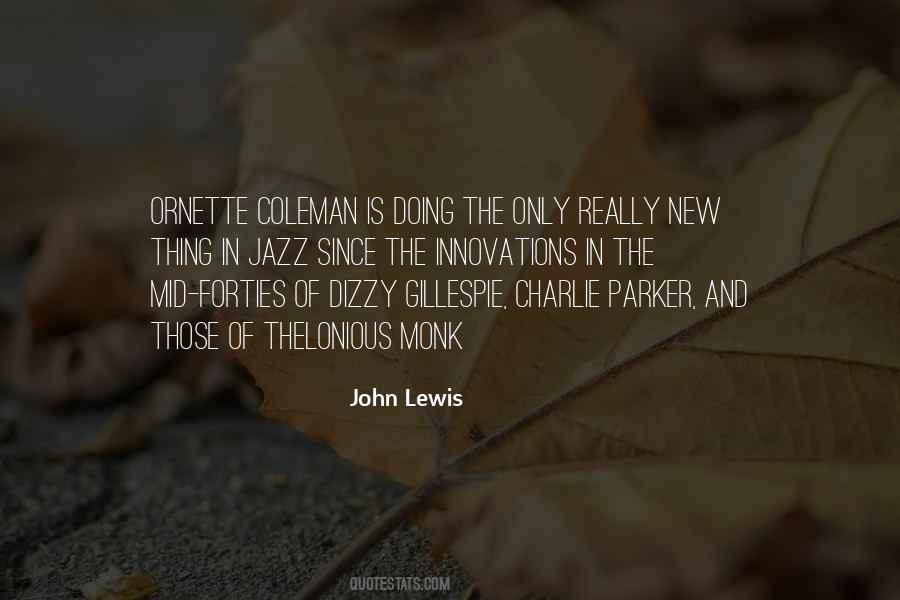 #51. I want to go beyond the restrictions of language, religion and caste, and music is the only thing that allows me to do that. - Author: A.R. Rahman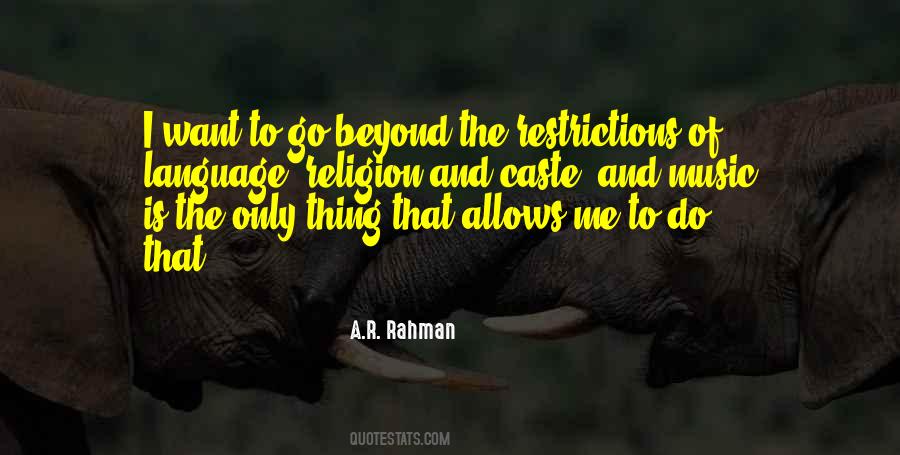 #52. To be whole and harmonious, man must also know the music of the beaches and the woods. He must find the thing of which he is only an infinitesimal part and nurture it and love it, if he is to live. - Author: William O. Douglas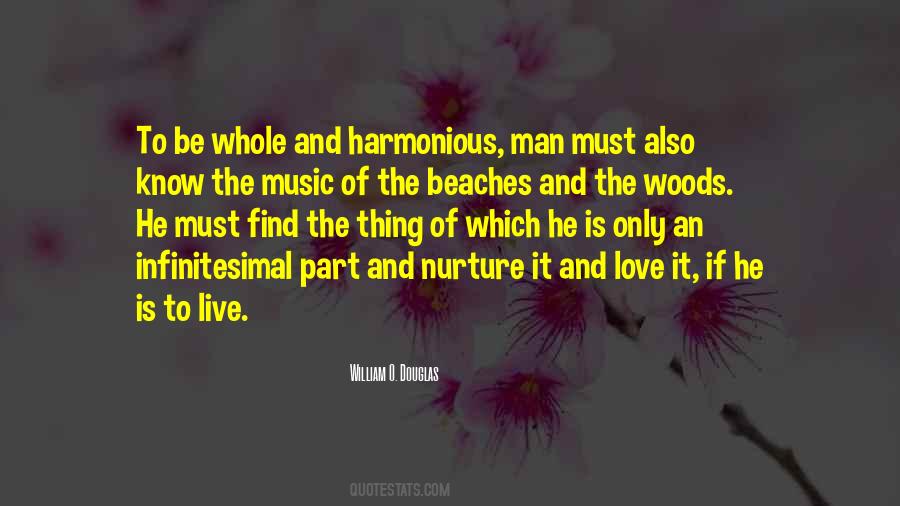 #53. Music is about the only thing left that people don't fight over. - Author: Ray Charles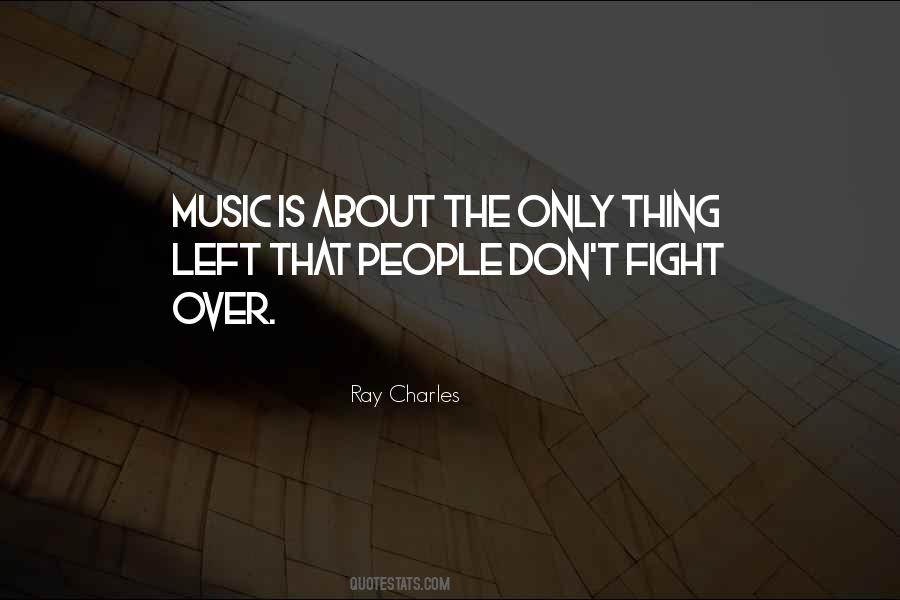 #54. The only thing that I miss lately in all music is somebody that will put out a melody that you can whistle. It doesn't seem like there's anything happening like that. - Author: Merle Haggard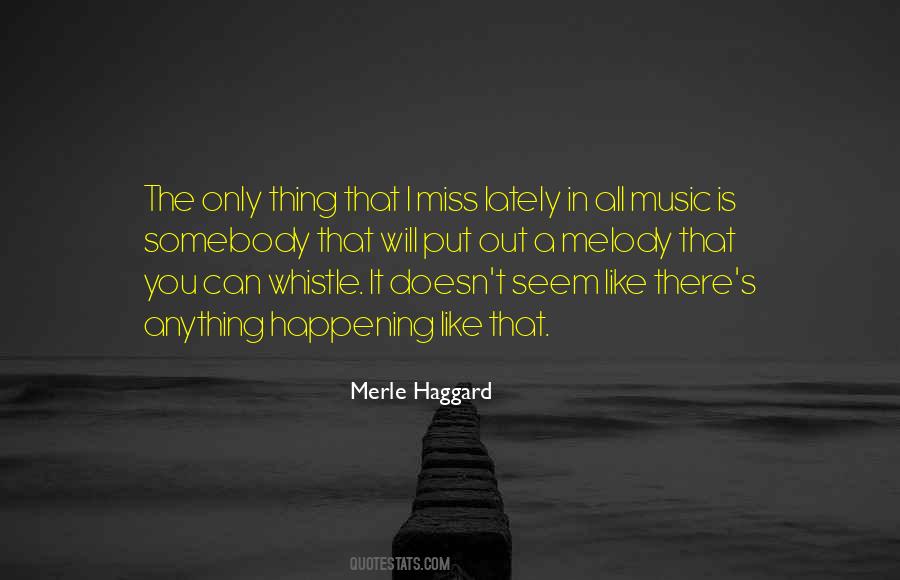 #55. Music is my religion. Music is the only thing that has never failed me. People let you down, music won't. - Author: Gary Bartz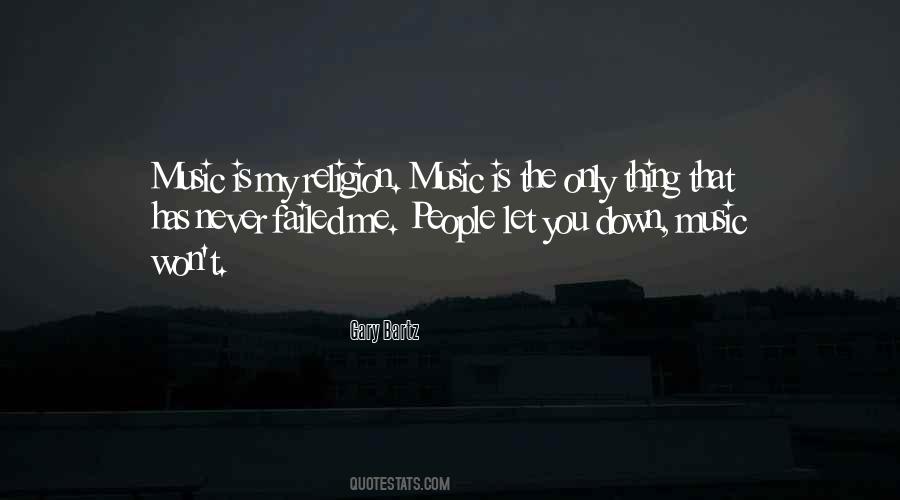 #56. Universality is the distinguishing mark of genius. There is no such thing as a special genius, a genius for mathematics, or for music, or even for chess, but only a universal genius. The genius is a man who knows everything without having learned it. - Author: Otto Weininger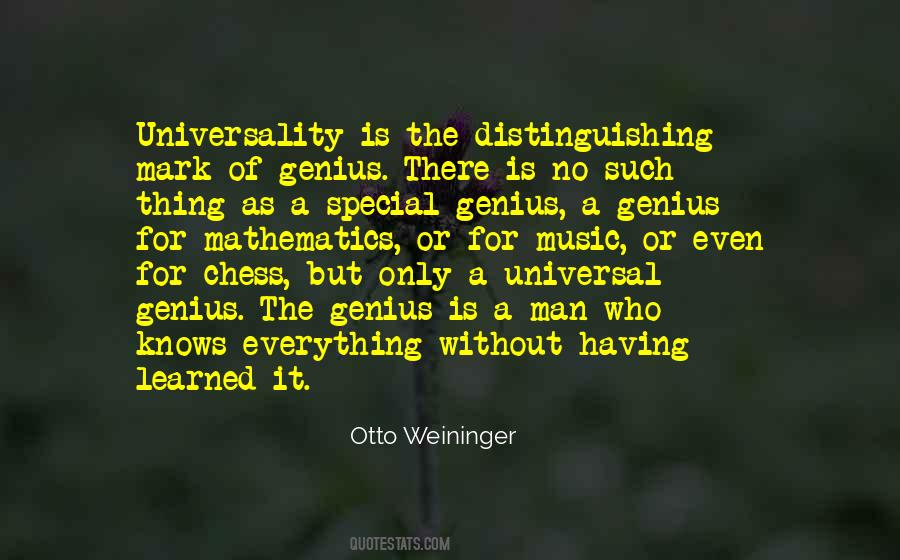 #57. I think the amazing thing about gospel music is that not only does it lift up the death and resurrection of our Lord, which is consistent with the Gospel, but it is uniquely communicated depending upon the generation. - Author: T.D. Jakes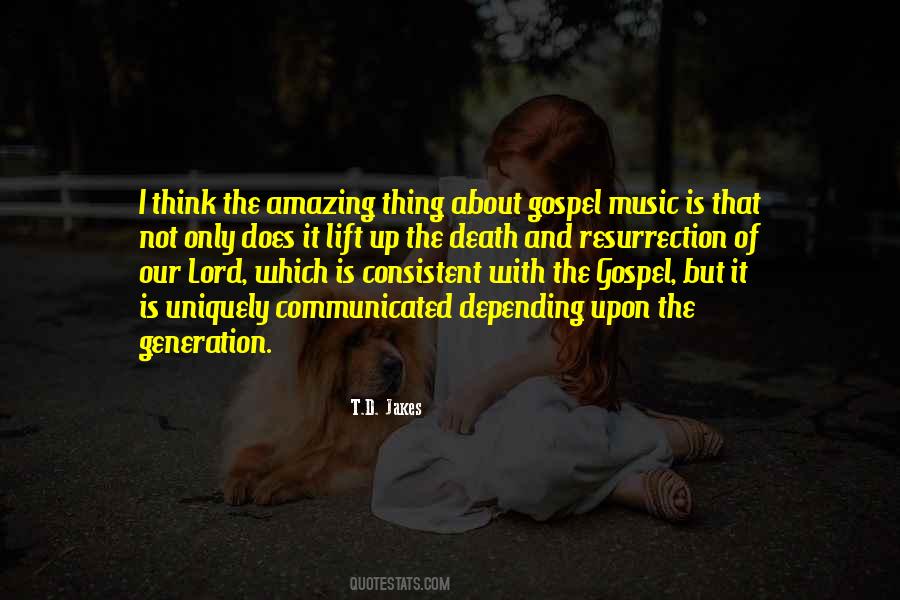 #58. Music is the only language in which you cannot say a mean or sarcastic thing. - Author: John Erskine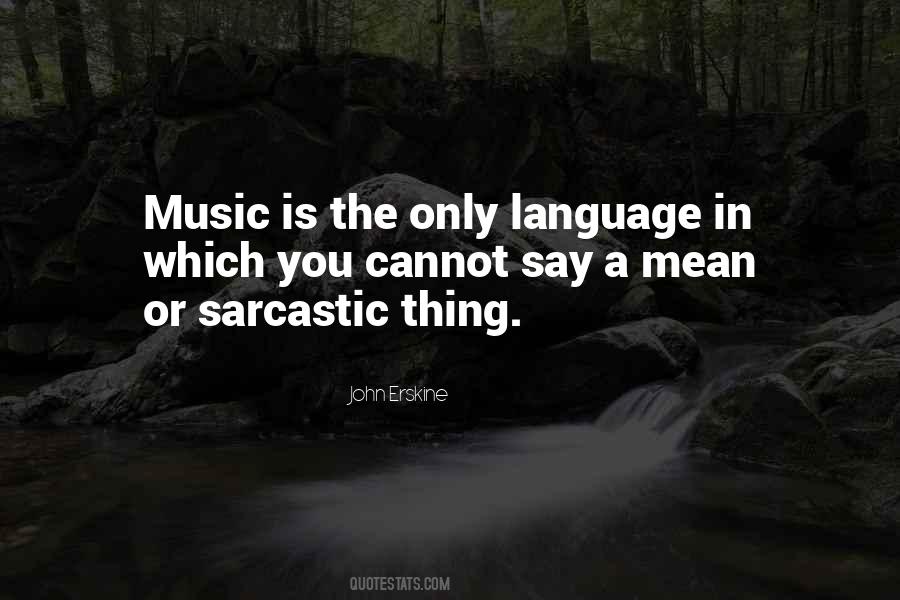 #59. Music is my life. The only other thing I've done is office work in different places. But no real professional career other than singing. - Author: Gloria Gaynor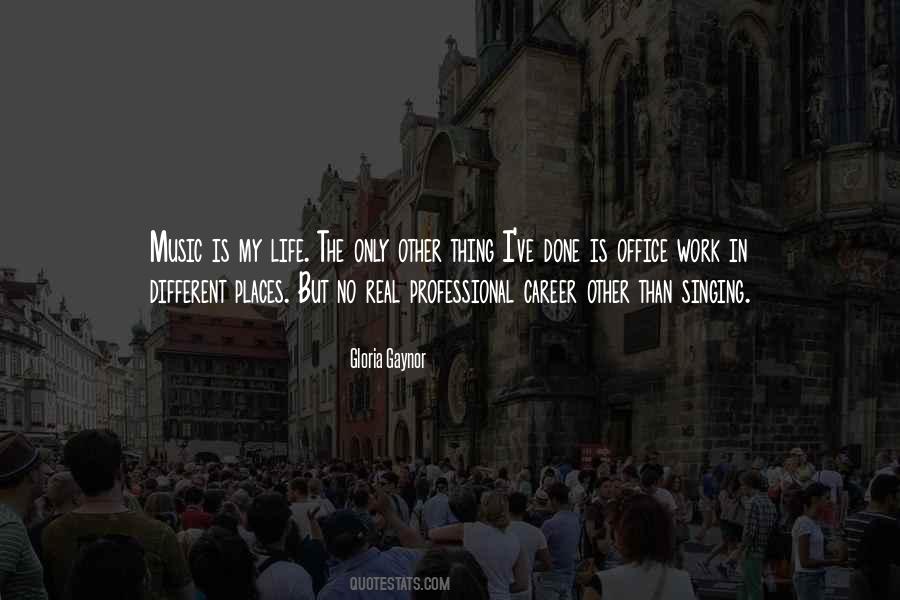 #60. The only thing I've ever wanted to do is really make people happy, offer some sort of positivity with music that I've written. The Chili Peppers do that for people. They're already established. I still want something that came out of me, and out of my heart. - Author: Josh Klinghoffer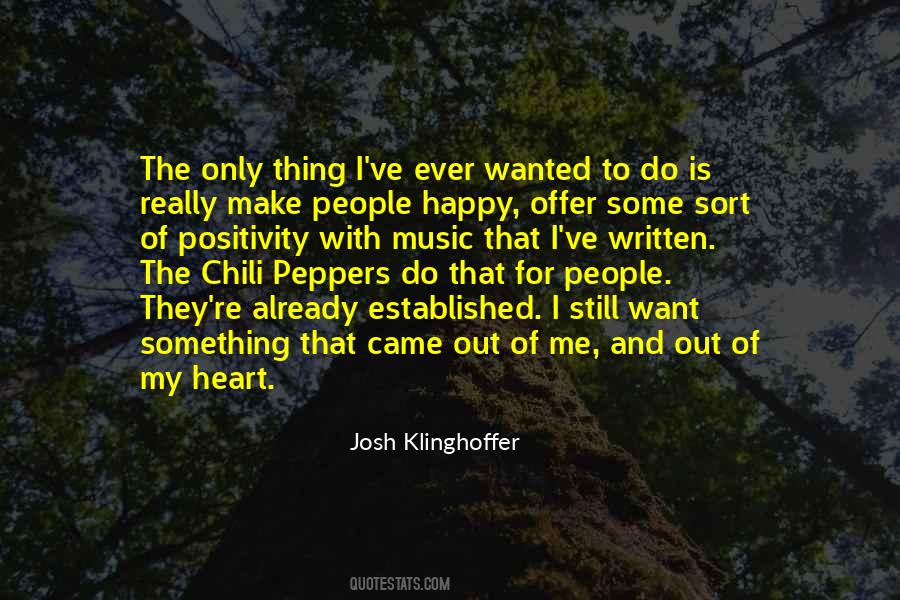 #61. Music is the only thing that doesn't hurt when it hits you. - Author: Bob Marley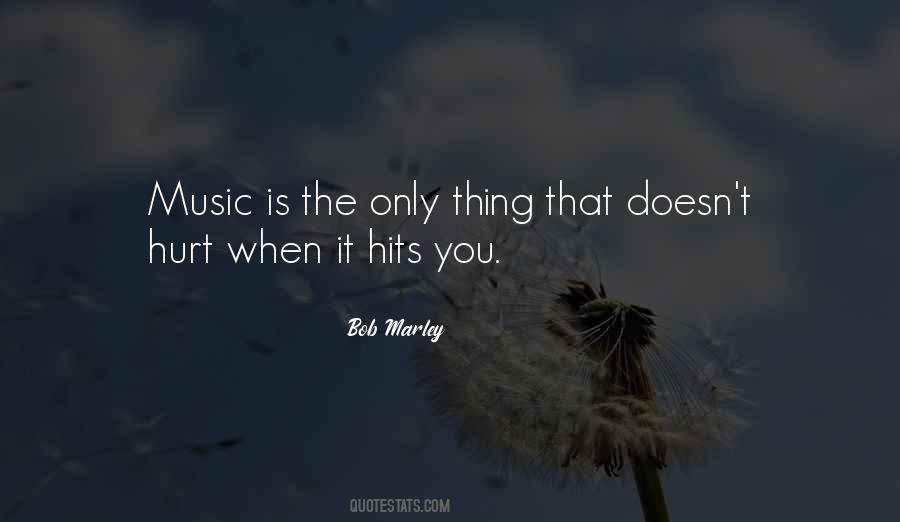 #62. For me, I think the only danger is being too much in love with guitar playing.
The MUSIC is the most important thing, and the guitar is only the instrument. - Author: Jerry Garcia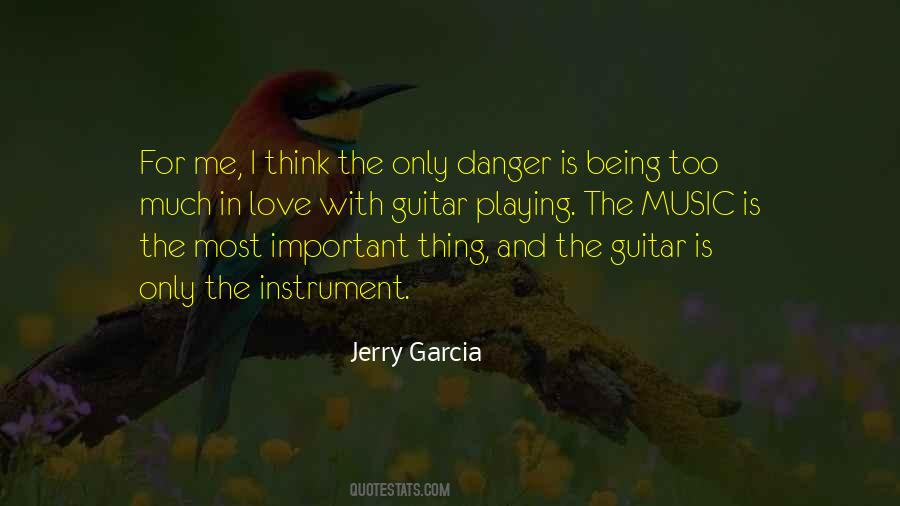 #63. I felt that this is the only thing which helps me to have hope ... a sort of religion, actually. Music is God. - Author: Alice Herz-Sommer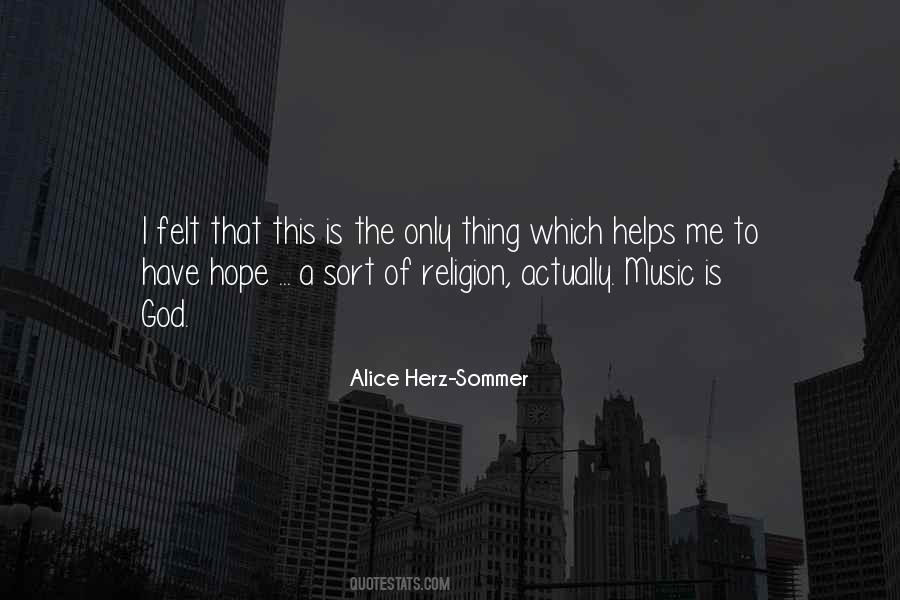 #64. I'm very shy and awkward. I think the best thing is to embrace it. It's about accepting who you are and what you want to become and knowing all that you've got to work with, whether it's good or bad. My music was the only place I could be me for the longest time. - Author: Hunter Hayes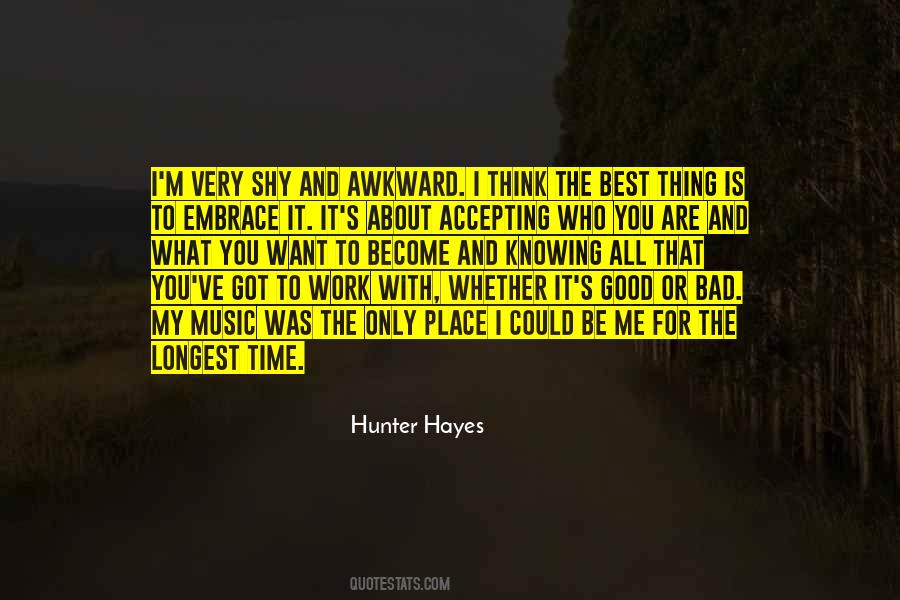 Famous Authors
Popular Topics