Movie Scenes Famous Quotes & Sayings
List of top 62 famous quotes and sayings about movie scenes to read and share with friends on your Facebook, Twitter, blogs.
Top 62 Movie Scenes Quotes
#1. I've been campaigning like anything for restoring these changes. For 27 years. I wrote a book about it, well, a portion of the book was devoted to these scenes and why they should have been in the movie. - Author: William Peter Blatty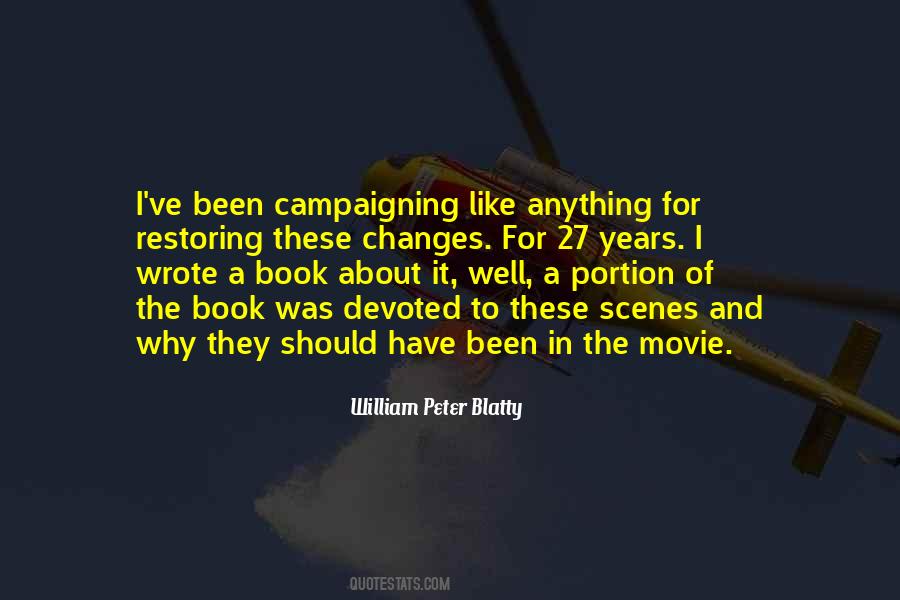 #2. The newly released movie 'Noah' features a retelling of the creation story that clearly depicts Darwinian evolution transforming a single-cell organism into a monkey. The movie also seems to show magic in scenes more reminiscent of the occult than of the Bible story. - Author: Aaron Klein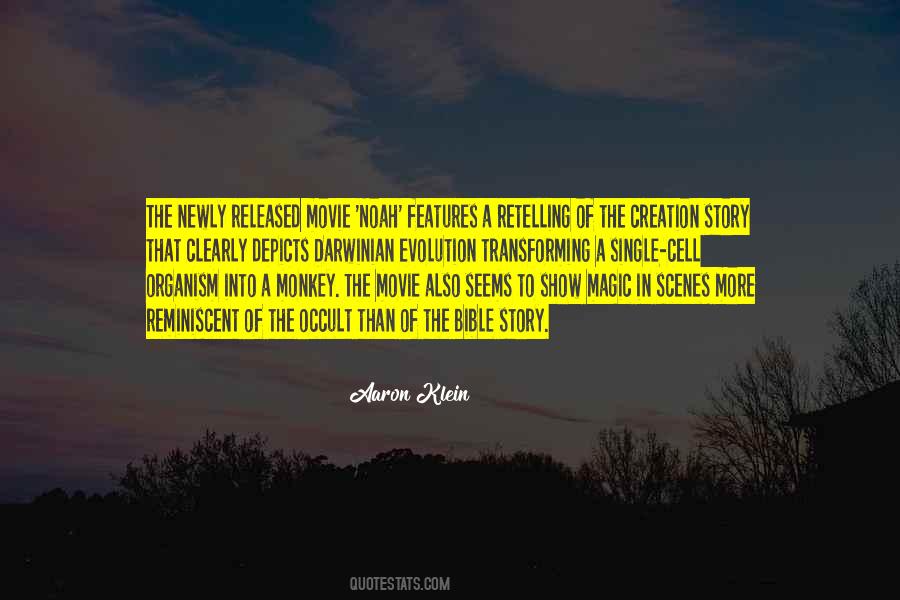 #3. I'm not opposed to nude scenes, if they're appropriate. I'm not against them morally. But I personally no longer find movie nudity to be worth my while. - Author: Amber Heard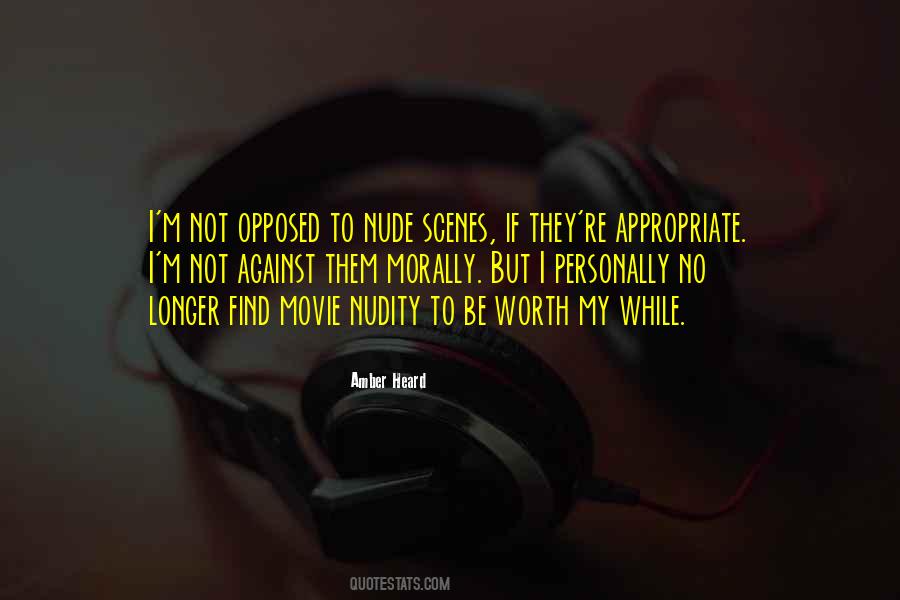 #4. The creative process of making a movie really turned me on. I'd started getting behind the scenes with a camcorder and VHS tape when making music videos. - Author: Ice Cube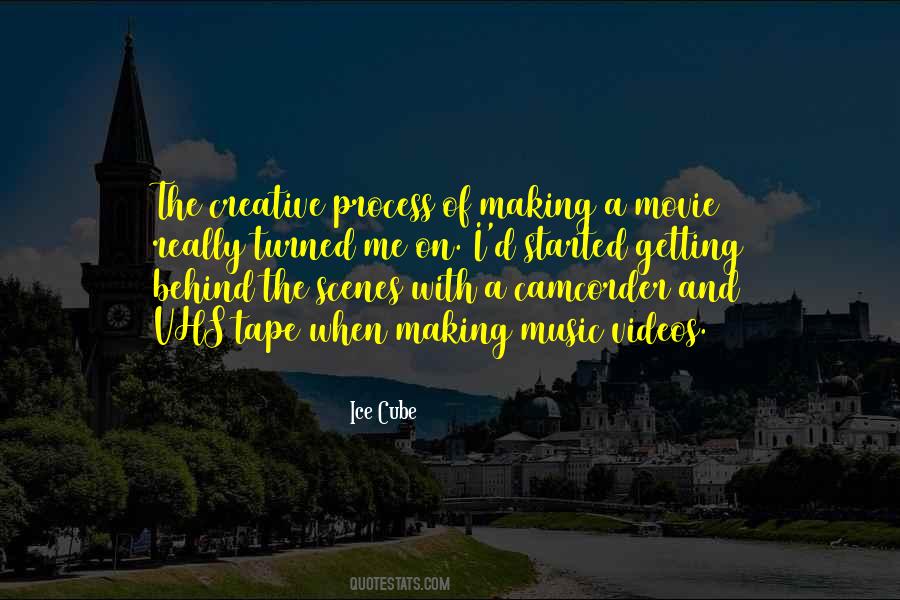 #5. Food was supposed to be a slightly bigger part of 'Heartburn,' and it actually didn't turn out to be because of me. I just didn't find a way to make it a bigger part of the movie as I should have, and we cut several scenes in which food was a major character. - Author: Nora Ephron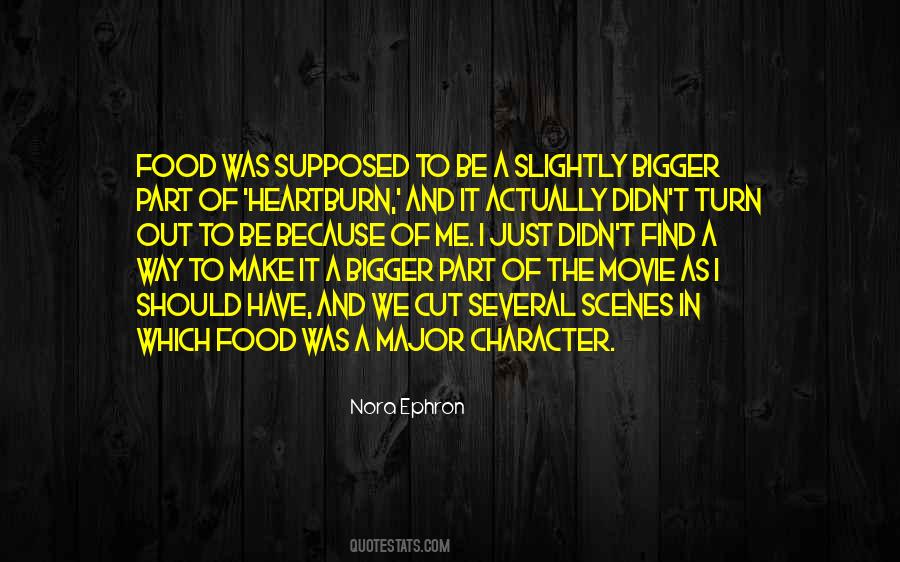 #6. And there's so much extra material. I mean, I've certainly read as you asked about do I read reviews and stuff, like people are like none of the jokes in the trailers are like in the movie. And it's like and we have whole sequences and scenes that weren't in the movie. - Author: Nicholas Stoller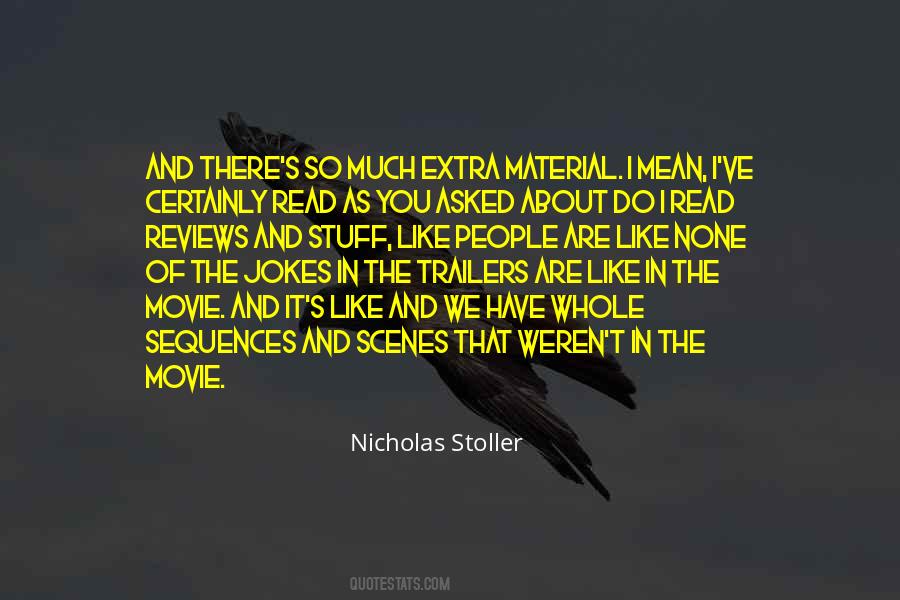 #7. Let us say in the pocket of one of my old coats I find a movie ticket from many years ago. Once I see the ticket, not only do I remember that I saw this movie, but also scenes from this movie, which I think I have entirely forgotten, come back to me. Objects have this power, and I like it. - Author: Orhan Pamuk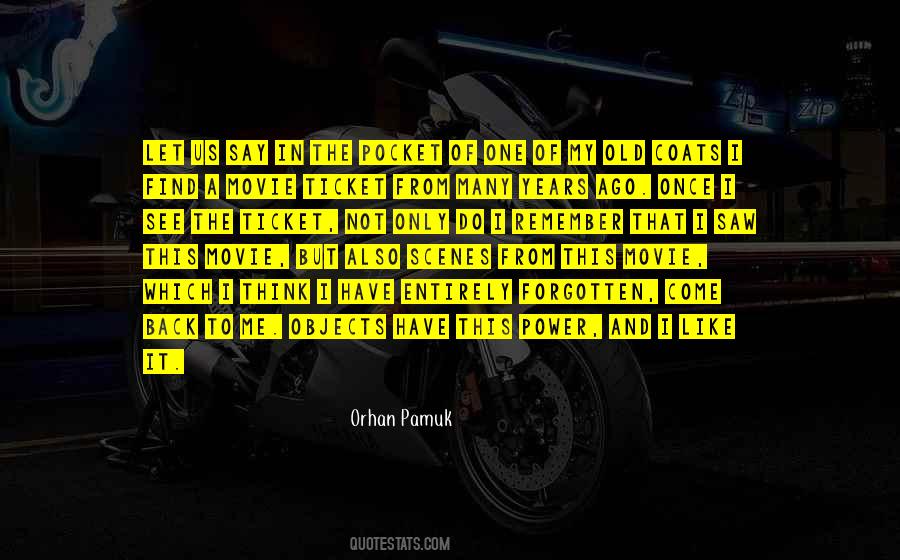 #8. I'm not trying to force something but I do enjoy working behind the scenes and I do enjoy bringing all of the ingredients to the kitchen so that we can make the movie. - Author: Stephen Kendrick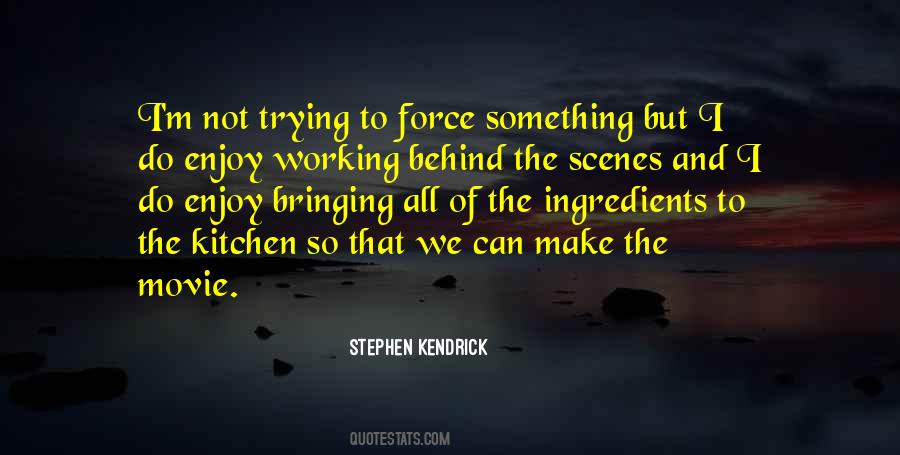 #9. A good movie is three good scenes and no bad scenes. - Author: Howard Hawks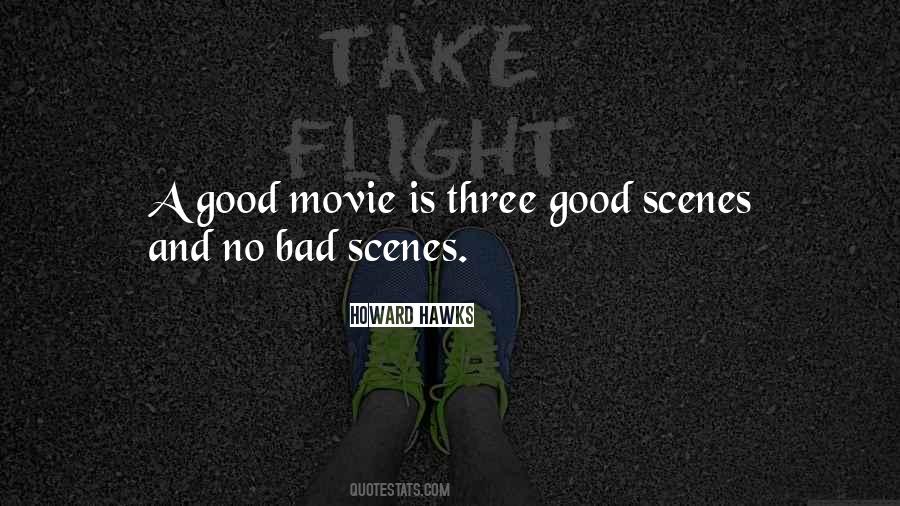 #10. There's a behind-the-scenes show that Oprah is doing that follows the final season of 'The Oprah Winfrey Show.' I find behind-the-scenes stuff fascinating. Like, whenever I watch a DVD, I always watch the special features and listen to the commentary first, before I even watch the movie. - Author: Brendan Robinson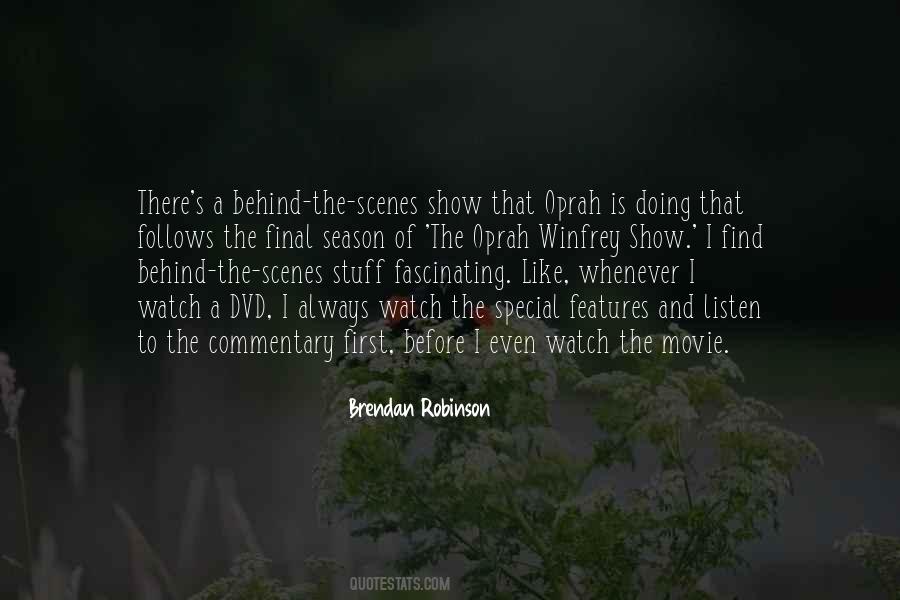 #11. I love David Fincher - even though it was just two scenes, I loved the way we worked and could tell by the way he was shooting it that this was going to be an affective movie to say the least. - Author: Richard Schiff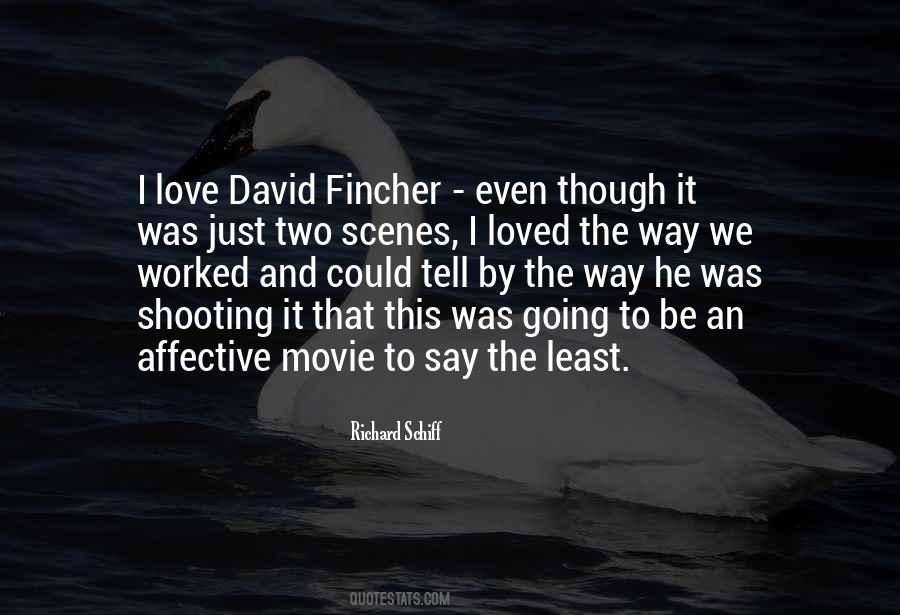 #12. The challenge, and also what I like most about a big ensemble movie, is that all actors have completely different processes and all of them prefer scenes to be done a different way. - Author: Jamie Linden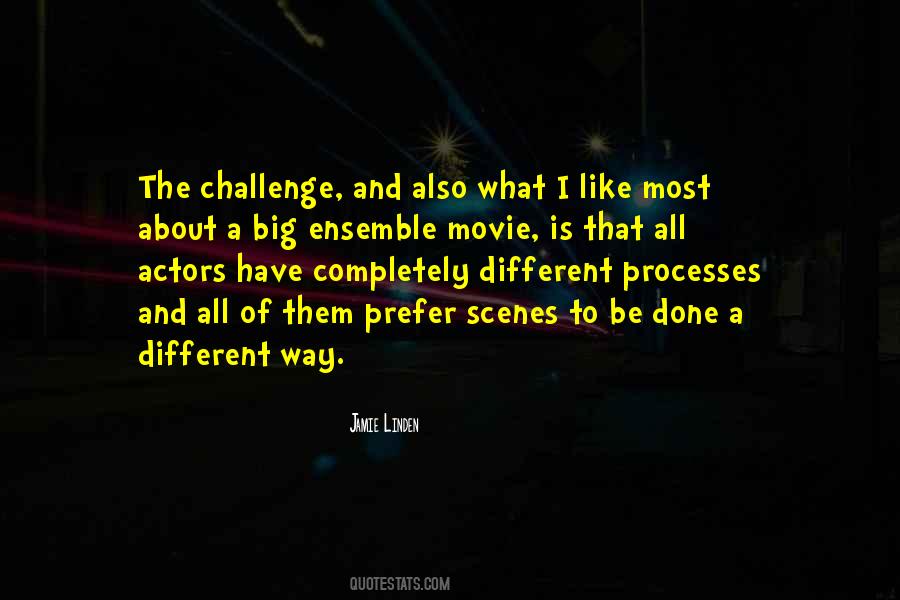 #13. It was really an experience, being my first time directing a movie. The scenes that I was in, Brooke really directed me all the time. And the scenes that both of us were in, Brooke directed those. Come to think of it, Brooke directed most of the scenes. - Author: Tony Shalhoub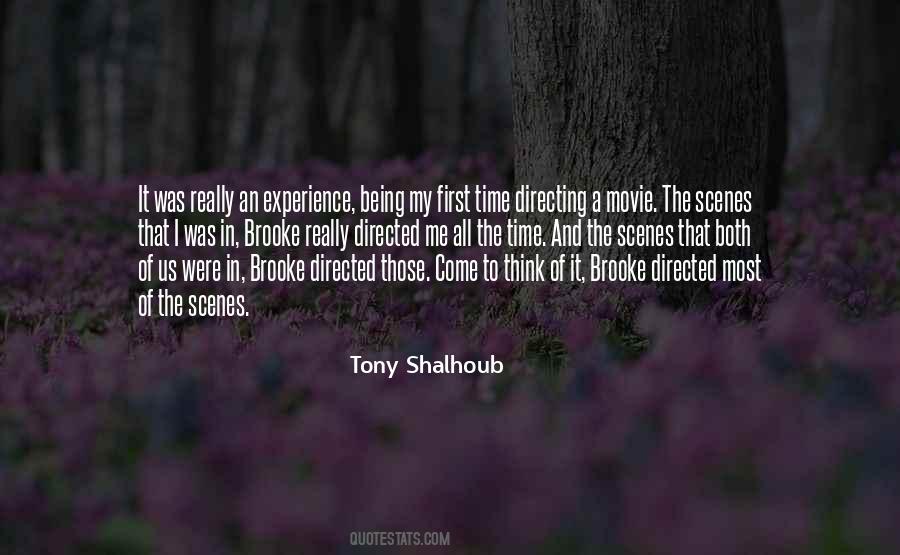 #14. I find that most of my scripts have a lot more scenes than most films, so the average movie might have 100 scenes, my average script has 300 scenes. - Author: Steven Zaillian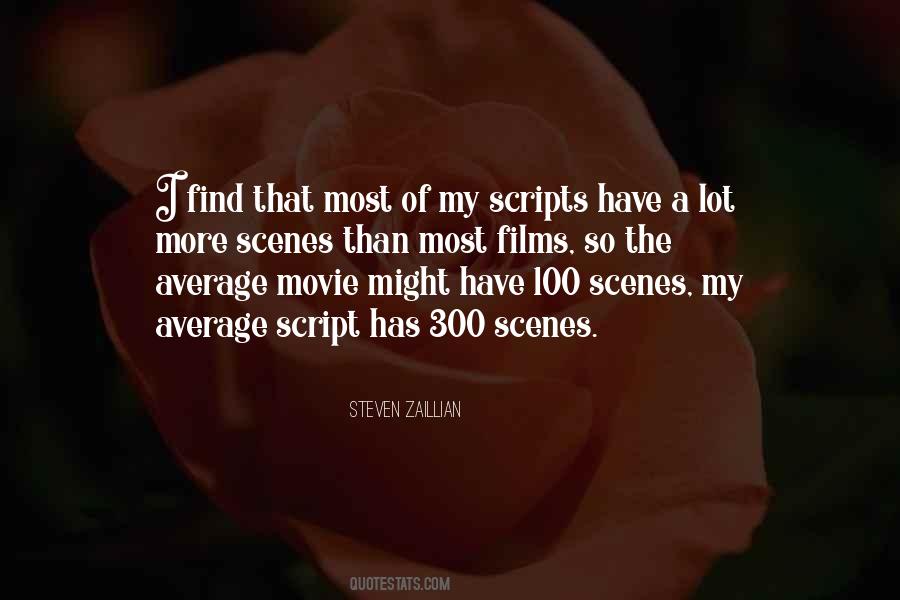 #15. I've had people ask me to come and work for them. I went to Vienna and did three scenes in a movie for a guy that I met at a retrospective of Cassavetes films. It's a great way to travel, to meet people, to see different countries and cultures. - Author: Seymour Cassel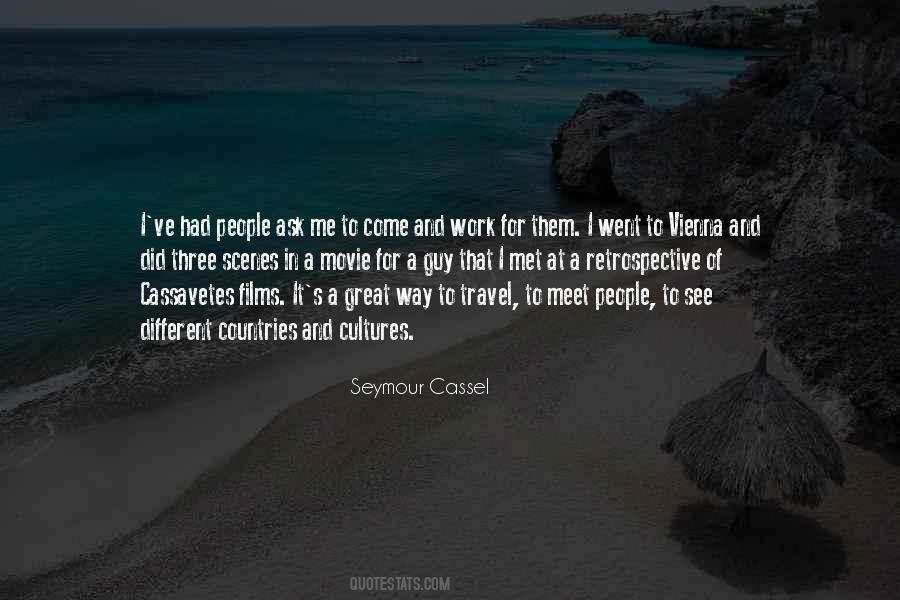 #16. There's only one movie in my career I've had regrets with cutting it shorter, and I think some scenes maybe I shouldn't have cut. - Author: Ang Lee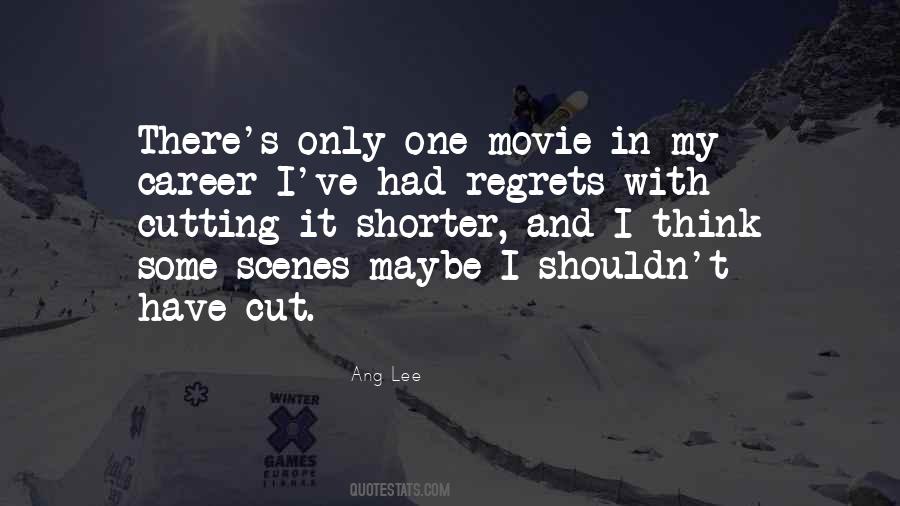 #17. I didn't know how to write a novel, so I sort of let it happen in waves. The only way I could write it was to think like scenes in a movie. - Author: Eileen Myles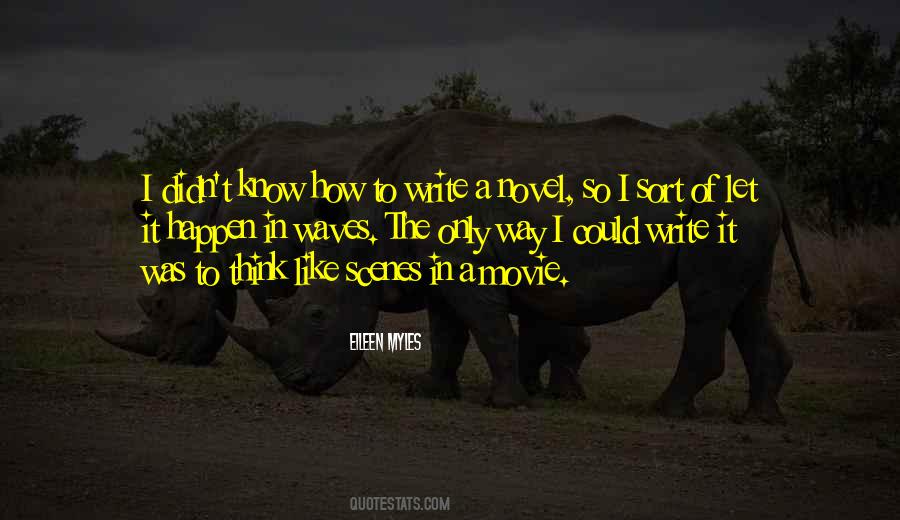 #18. I don't believe in director's cuts and I also don't really believe in deleted scenes because the movie that is in theaters, that's what the director made. - Author: Neill Blomkamp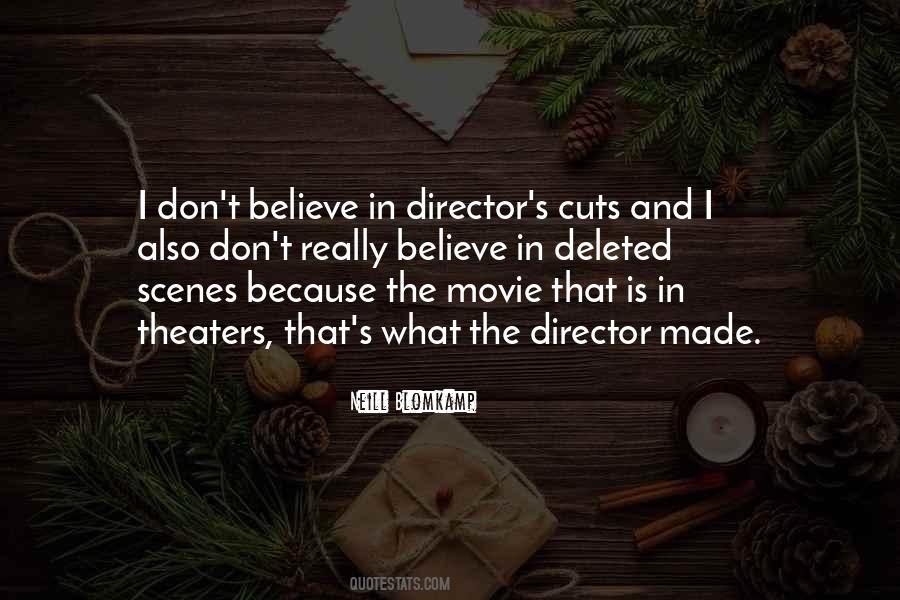 #19. I don't like when you necessarily know that this is the end of the movie. I like when a movie ends abruptly. You go through this, and some of the scenes are uncomfortable, and some are funny - and then suddenly it's over. - Author: Noah Baumbach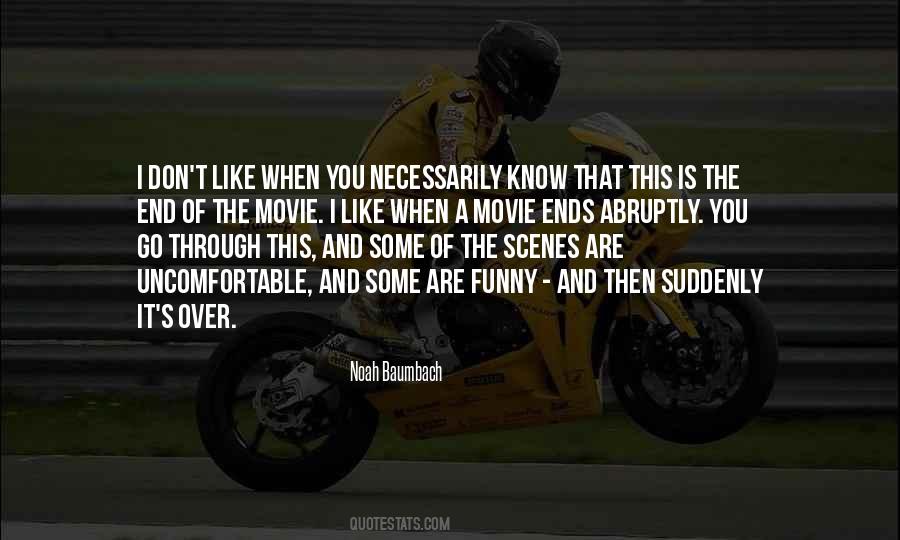 #20. I actually enjoy working with green screen, because I can imagine all that stuff happening, and I really cut my teeth on a movie I made called "Adaptation" where I had to imagine four-page dialogue scenes with my twin brother, who was nothing more than a tennis ball and a gas stand. - Author: Nicolas Cage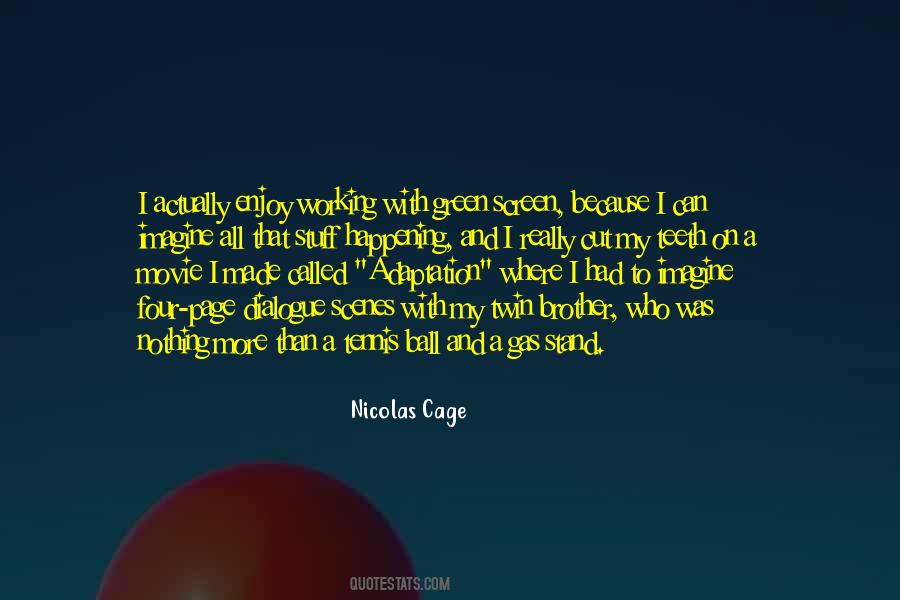 #21. I love just seeing shots of New York inside of a fictional movie that are not controlled. I do not like shots with extras, I have to say. I don't mind extras in other scenes, but I love New York City streets just as they look. I don't even care if someone looks at the camera. It doesn't bother me. - Author: Greta Gerwig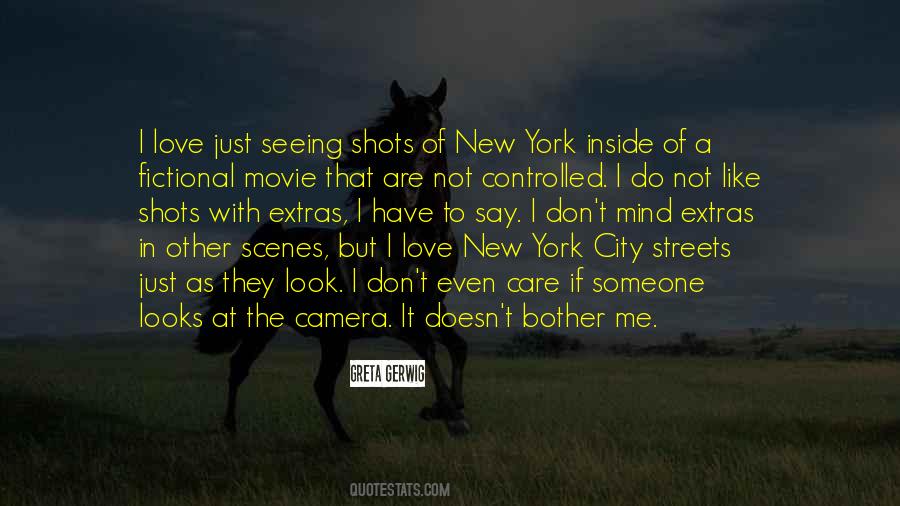 #22. It's like one of those scenes from a feel-good Hollywood movie. Where everybody is happy and nobody's hair fizzes in the wind. Where it doesn't rain, your shoes stay comfortable all day, and everybody's jokes are funny. - Author: Randa Abdel-Fattah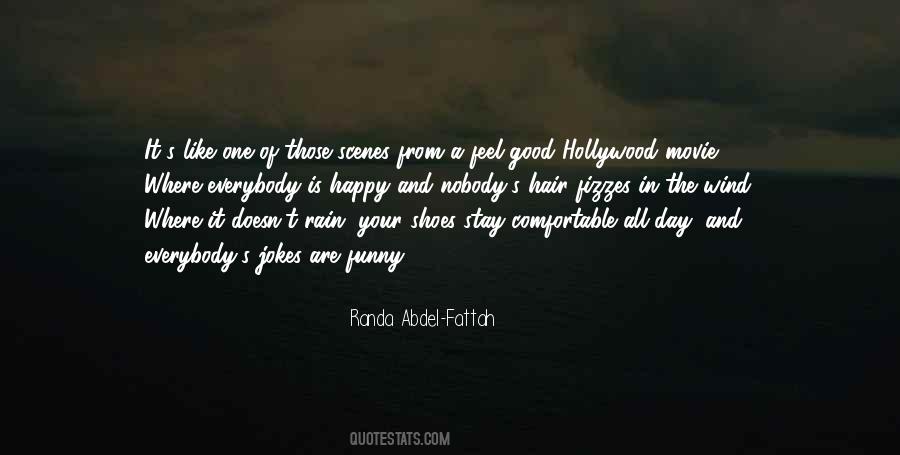 #23. All I can say is that with 'The Golden Compass,' I didn't get to make the movie I had planned to make. When I look at the film, at the casting and certain scenes, I'm very happy. As for the final product, I can't vouch for that. - Author: Chris Weitz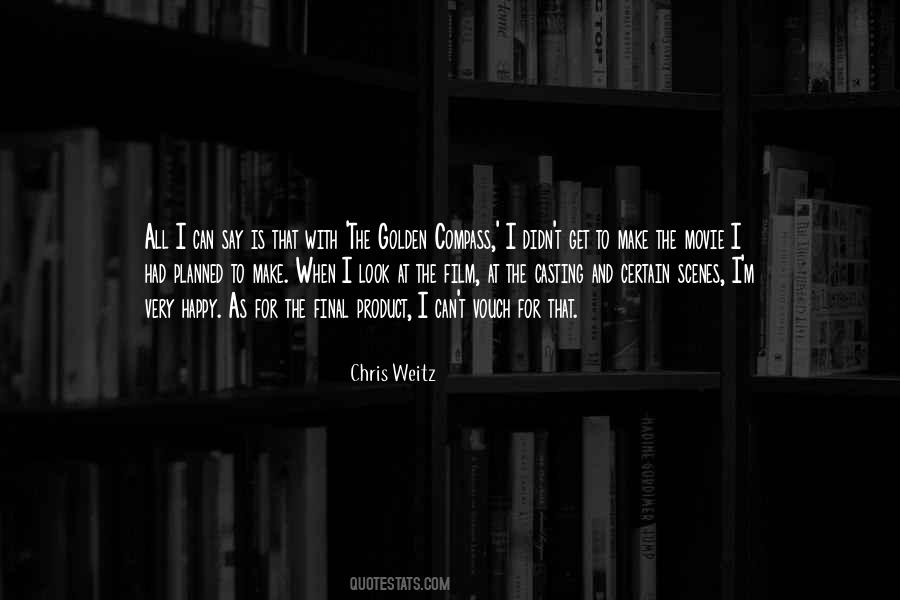 #24. I don't want to show deleted scenes. I don't like an audience looking at what the movie might have been - if it's in the movie, it's in the movie. - Author: Kevin Spacey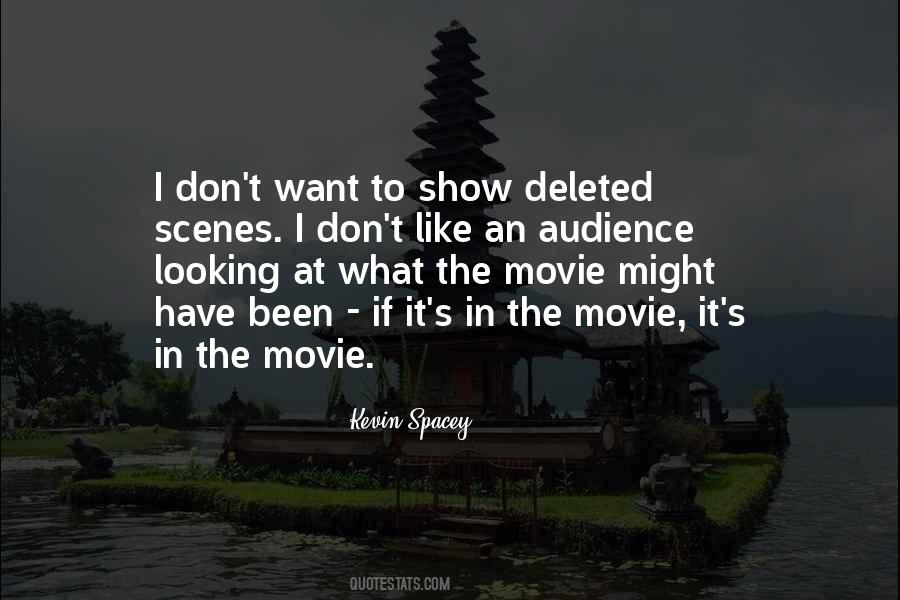 #25. I think all movie love scenes are hard because you can't truly be as intimate as you would be with anyone you're truly with, and everyone's watching you. - Author: Vinessa Shaw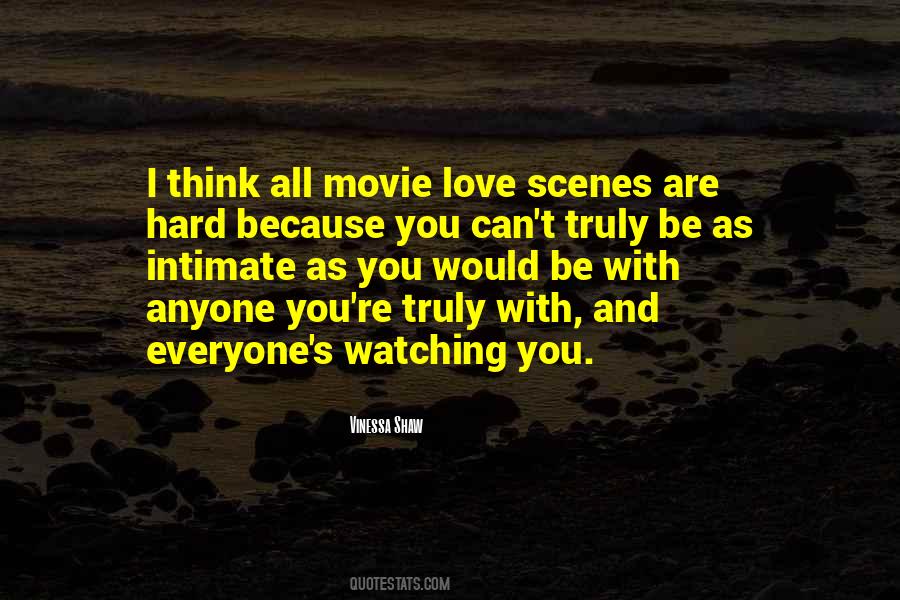 #26. Few people in one's life ever go quite away. They turn up again like characters in a Simon Raven novel. It is as if Fate is a movie producer who cannot afford to keep introducing new characters into the script but must get as many scenes out of every actor as possible. - Author: Stephen Fry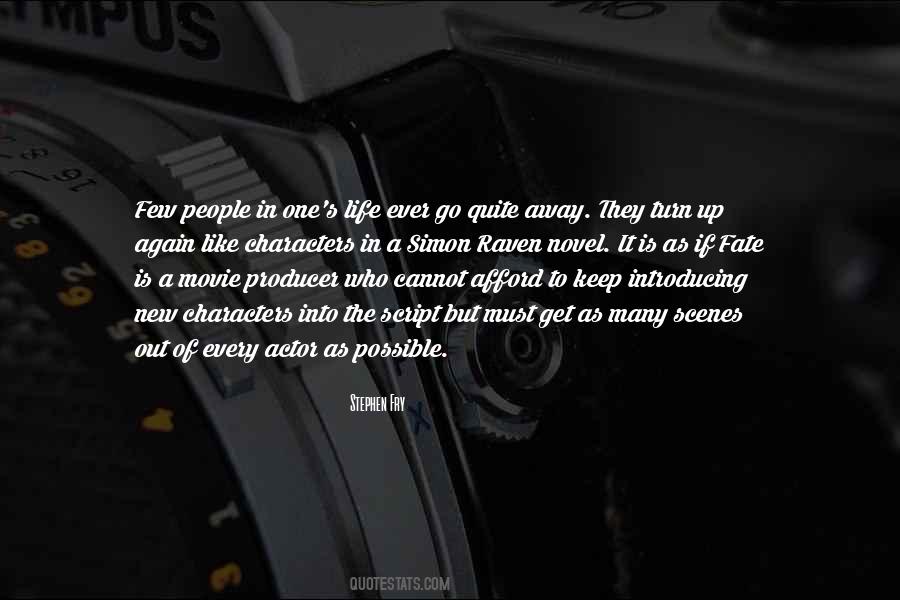 #27. Usually when I'm making a movie, what I have in mind first, for the visuals, is how we can stage the scenes to bring them more to life in the most interesting way, and then how we can make a world for the story that the audience hasn't quite been in before. - Author: Wes Anderson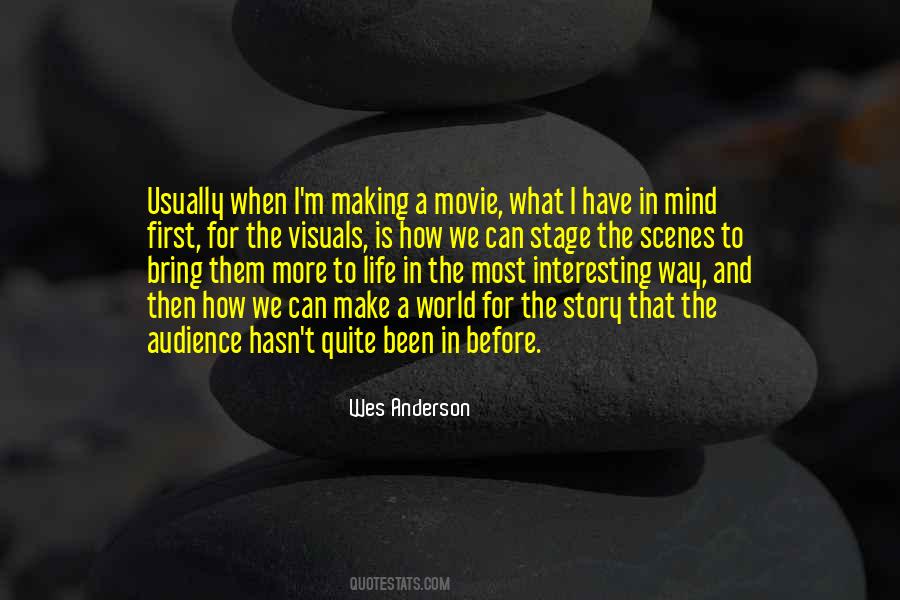 #28. She'd made him watch every Alien movie. Most of the goriest scenes were accompanied by his dialogue: 'Ach, that's no' - that's just no' right ... Bloody hell, this canna be right. - Author: Kresley Cole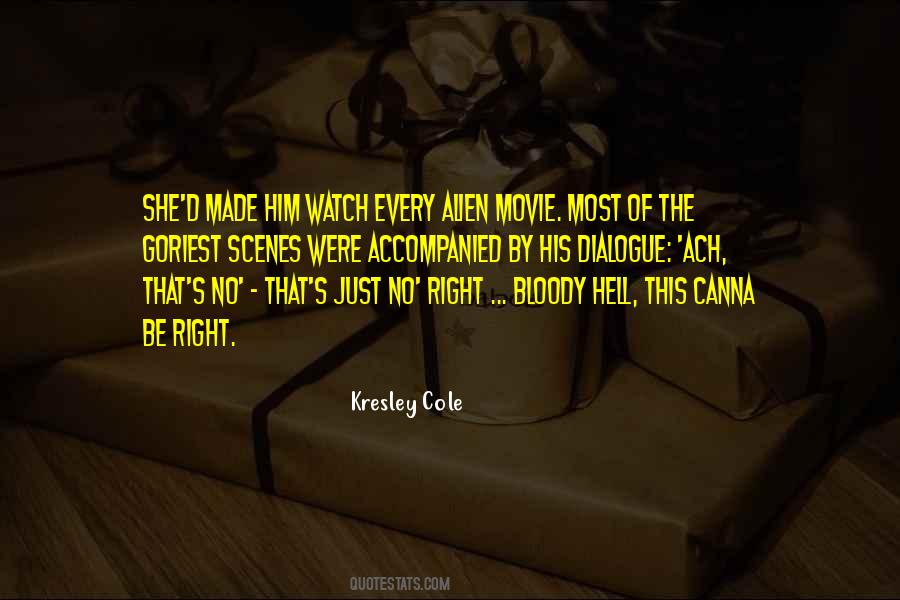 #29. The process of making a movie has expanded in terms of effort and time for the director, doing commentaries for the DVD for example, finishing deleted scenes so they could be on the DVD, and doing things like a web blog. - Author: David Cronenberg
#30. But at a certain point you've gotta be ruthless with the movie because you can have these great scenes, but they aren't specifically building the story that needs to be built at that moment. - Author: Neil Burger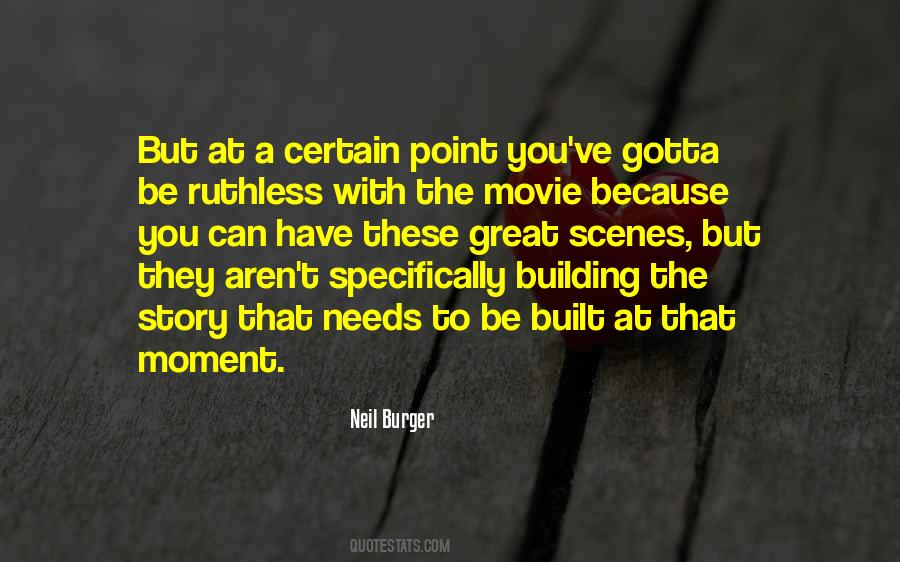 #31. For me, certain shots or scenes are keys in the movie. - Author: Sam Mendes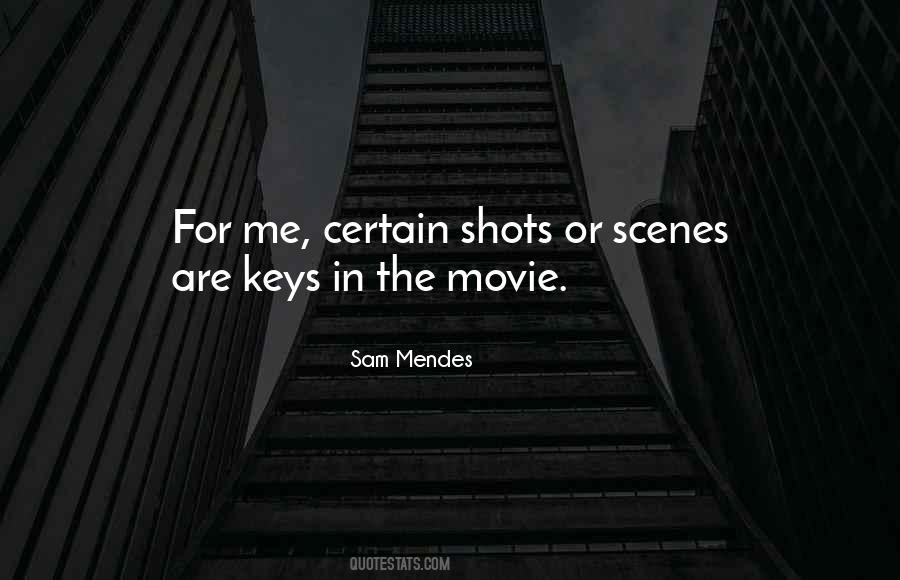 #32. Intimate scenes on a movie set are just dry, bizarre things; people standing around. - Author: Daniel Craig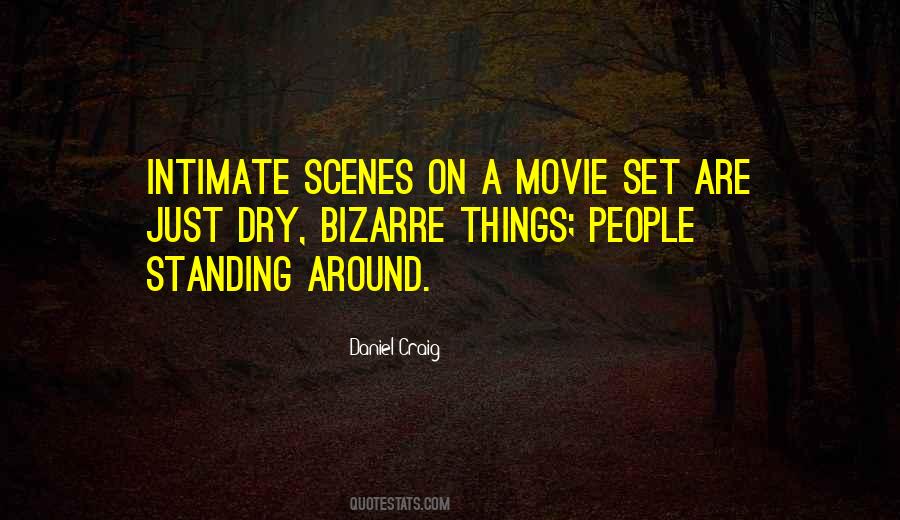 #33. I think the most emotional part in making the movie and discovering the movie - because it was a process of discovering - is all the scenes with the family. - Author: Oren Moverman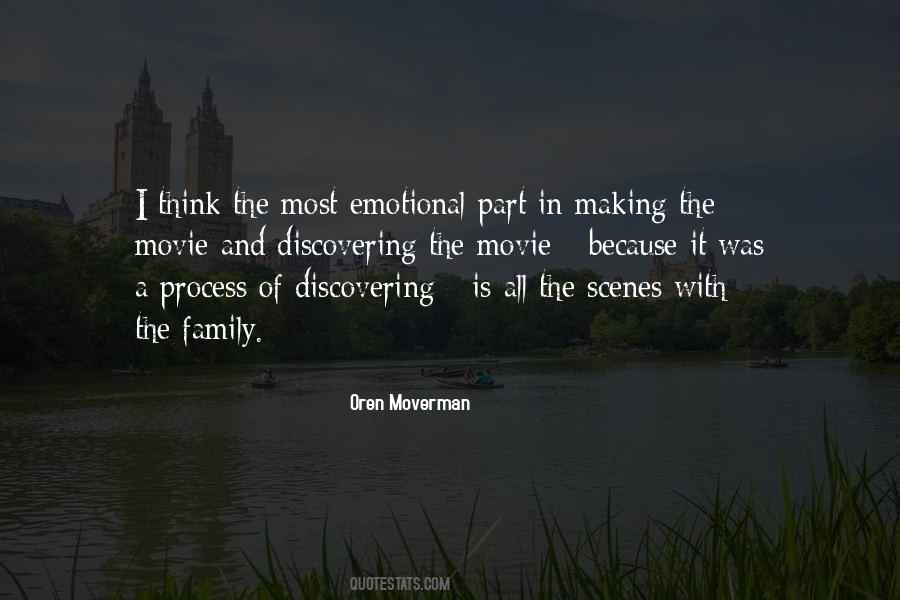 #34. There's something about seeing a movie that you like, and being able to see the scenes that didn't make it, just as a window into the process of how choices are made and how a movie is made. To me, the idea of getting to have the scenes on the DVD is very exciting. - Author: Matt Reeves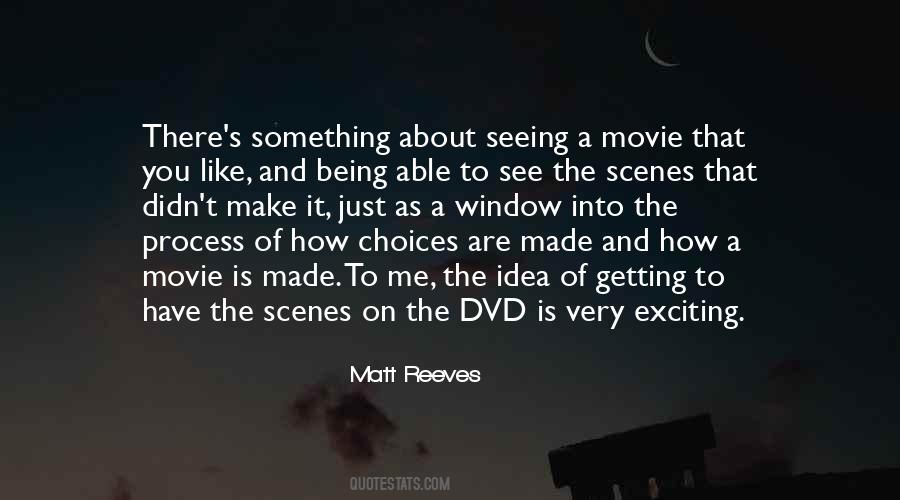 #35. The movie was always something that was always kind of like a dream. From the start of making my YouTube videos, I've always been sharing my thoughts or opinions or just updating people on my life, but the movie is more of a behind-the-scenes look at what actually goes into my life. - Author: Tyler Oakley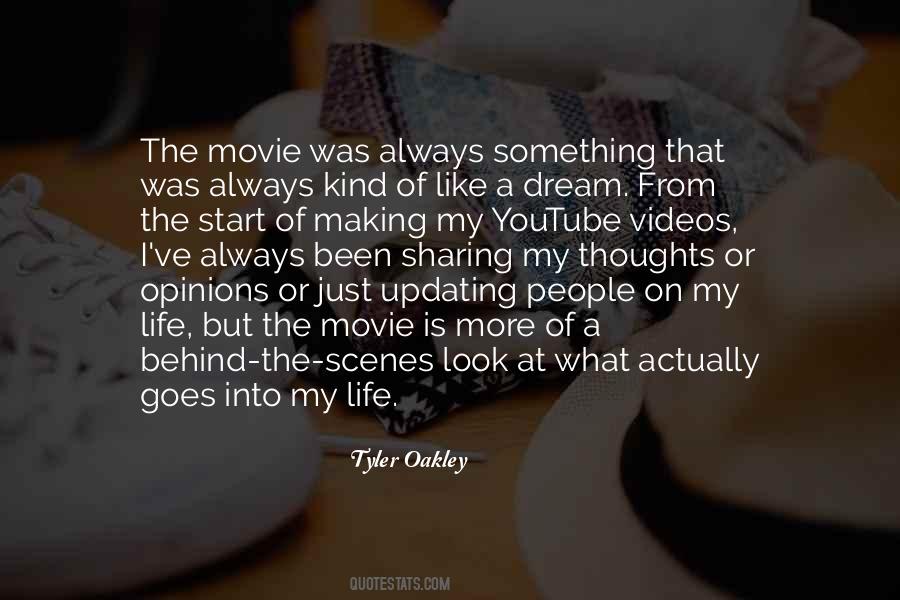 #36. It's nice to create a character, not just within two scenes, but within the journey of a whole movie. It's fun to do that. - Author: Oscar Isaac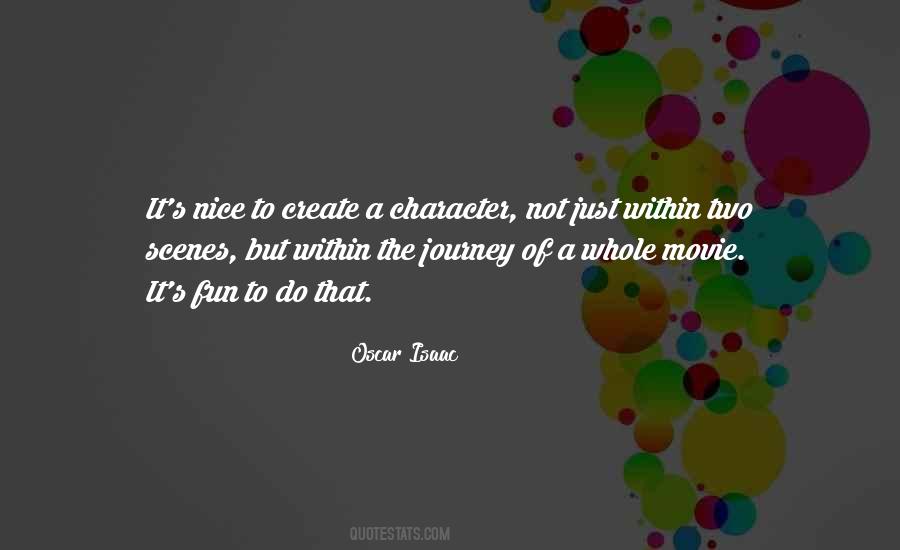 #37. [On refusing to do nude movie scenes:] There are certain people who should know what you look like naked. I just don't think your high-school algebra teacher should be one of them. - Author: Julia Roberts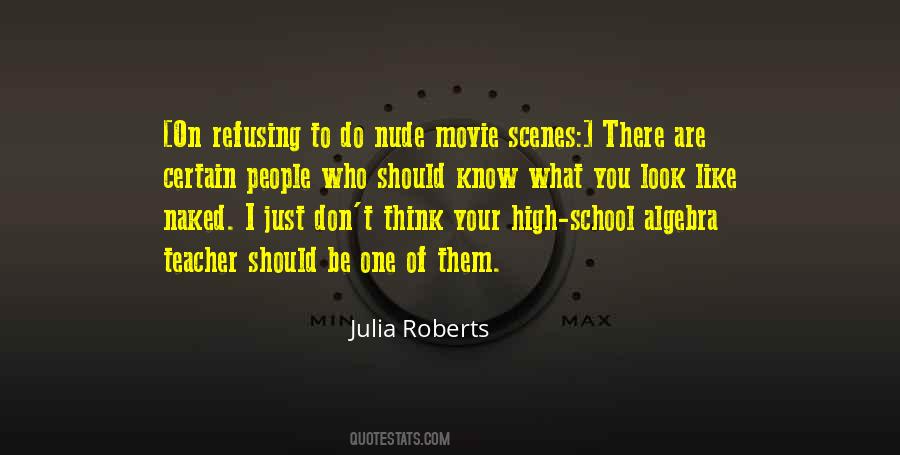 #38. I love making movies, and being in any that I can be in. I'd like to be in those giant movies, as the fifth or sixth lead, and have three or four killer scenes. You don't have the responsibility of the entire movie being on you. I like those roles. I'm shooting for the middle. - Author: Bill Burr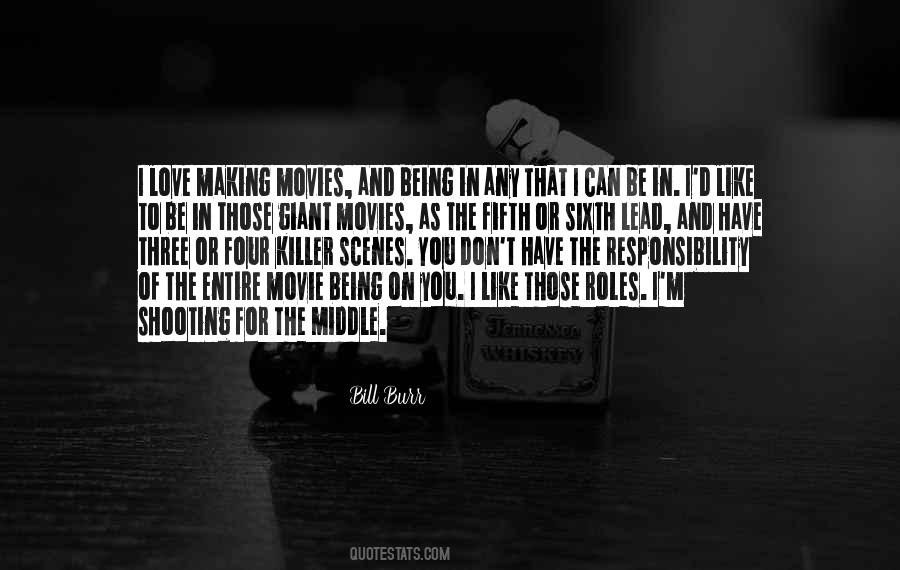 #39. The thing is, you never know with any movie how it's going to turn out. It's always a mystery - you'll do pages and pages of scenes that will never make it onto the screen. - Author: Harland Williams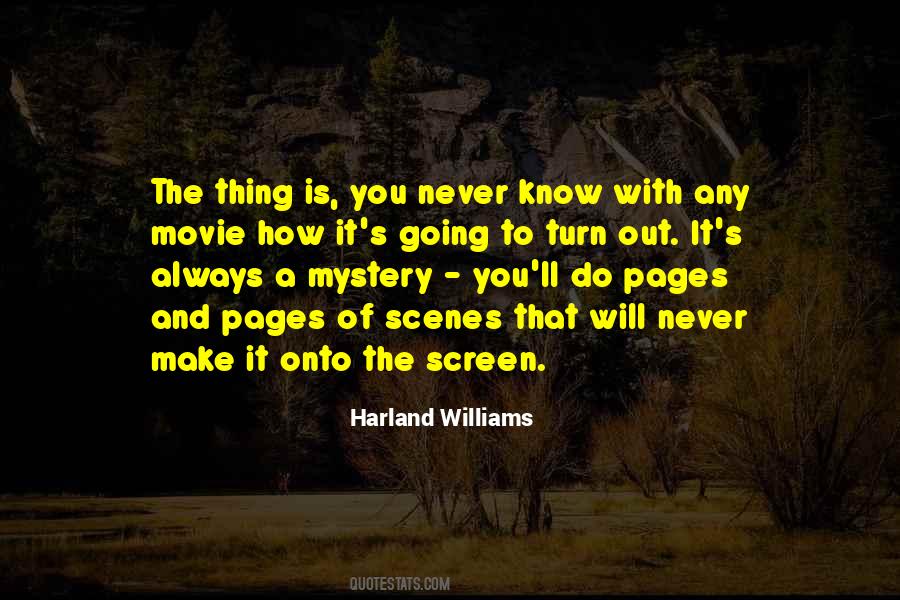 #40. I took myself out of the business to study film at NYU and the School of Visual Arts. I grew up on movie sets and was fascinated with the camera and behind-the-scenes work. I felt it would help my career as an actor if I knew all aspects of film. - Author: Devin Ratray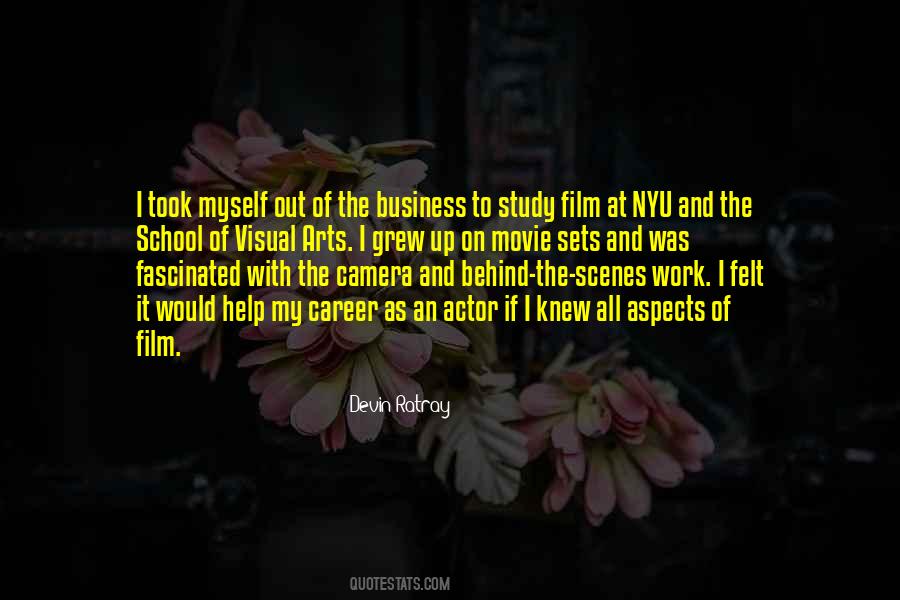 #41. Deleted scenes are like in a middle gray zone. It's like, well, they're deleted because they're not good or you lost the battle and you couldn't put them in the movie. - Author: Neill Blomkamp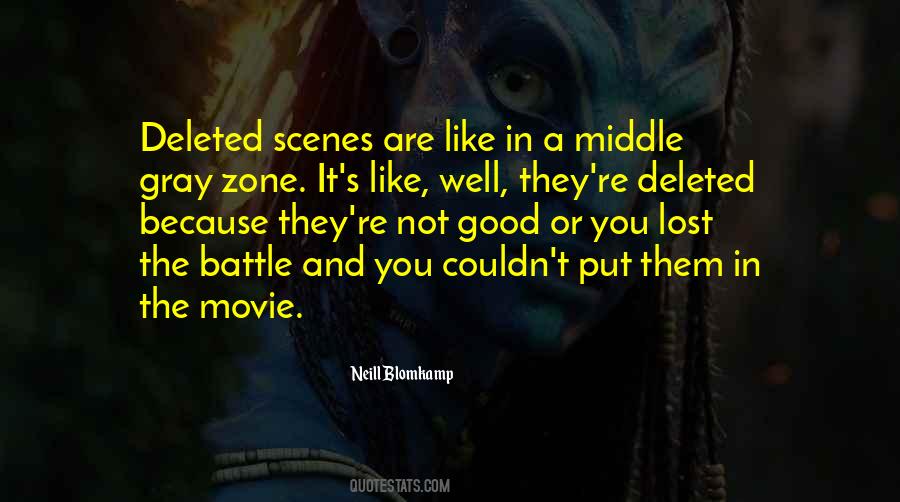 #42. I've cut myself out ... I've cut scenes out that I was in and that's when you realize that you've got to make the best movie you can. - Author: Jon Favreau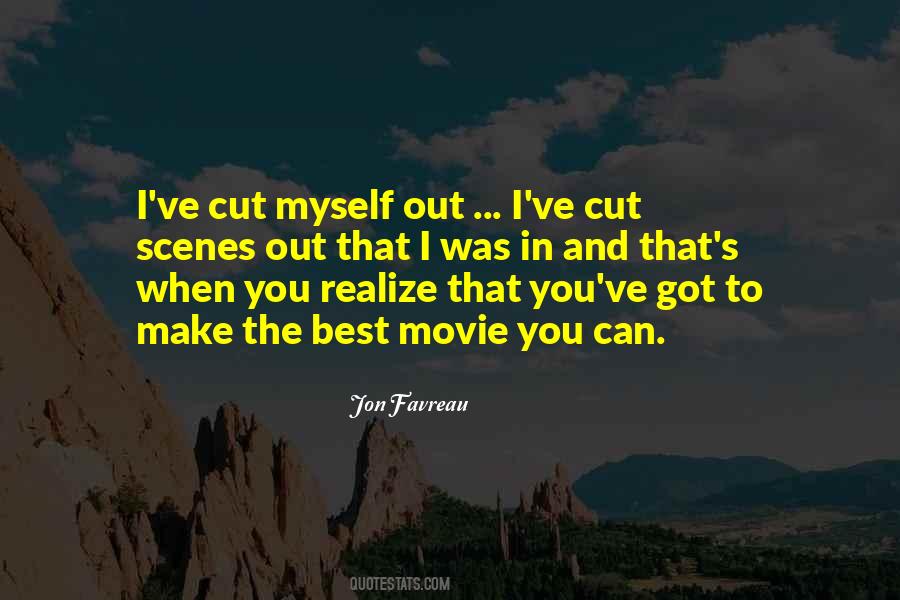 #43. I love when scenes are intentionally and meticulously planned so we feel like this is a handcrafted scene that only works in this moment and this movie, and that's the way I approach my films. - Author: Justin Simien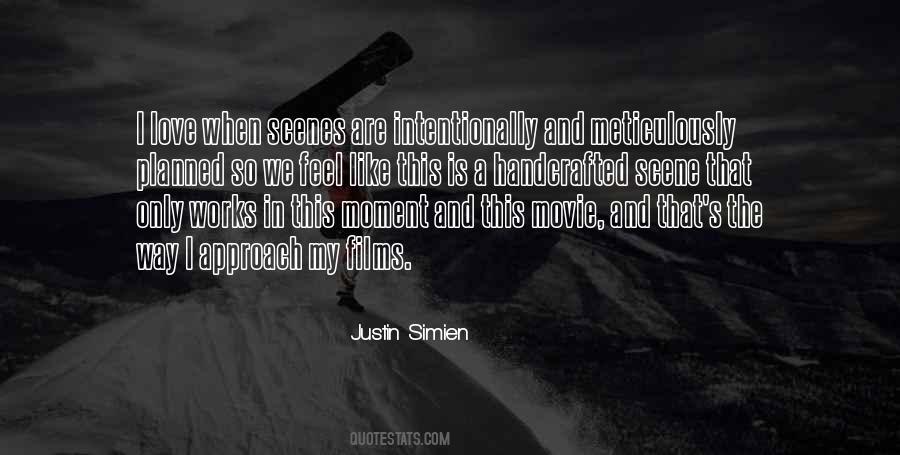 #44. OK, I love 'The King and I.' I'm a huge Yul Brynner fan. I love the scene where they danced after the big banquet; that's one of my favorite scenes in a movie of all time. It's romantic and sweet and wonderful. - Author: Tina Majorino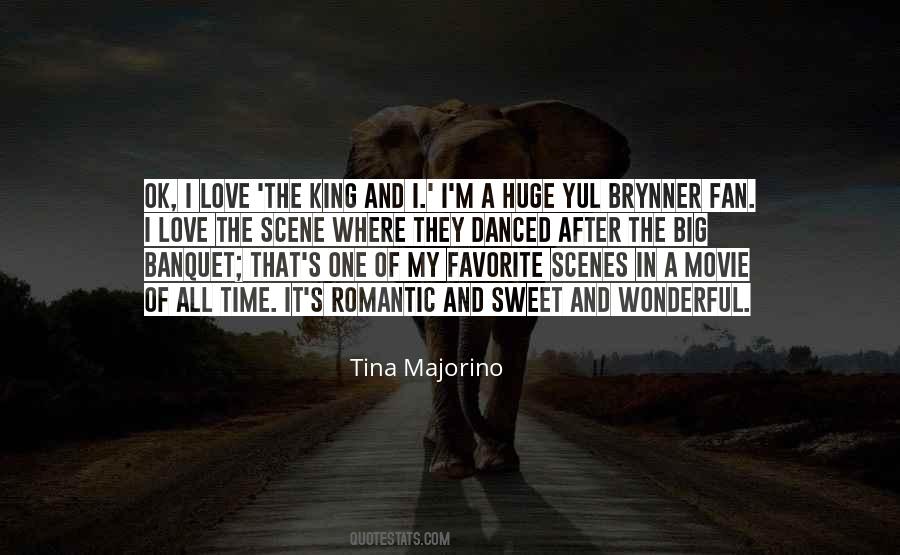 #45. Obviously, 'Lincoln' is not about the telegraph operator. There's a whole other movie before and after the two isolated scenes that I'm in. - Author: Adam Driver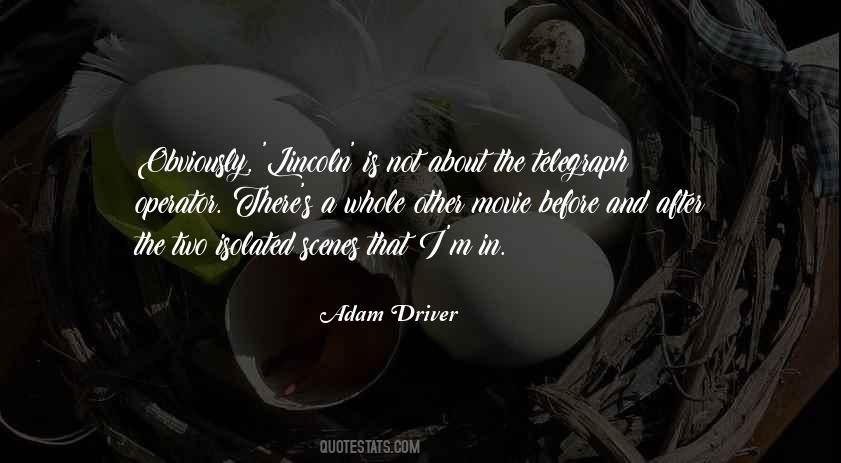 #46. Scenes change while shooting. Nowadays, while you're shooting the movie, you're cutting at the same time. - Author: Matthijs Van Heijningen Jr.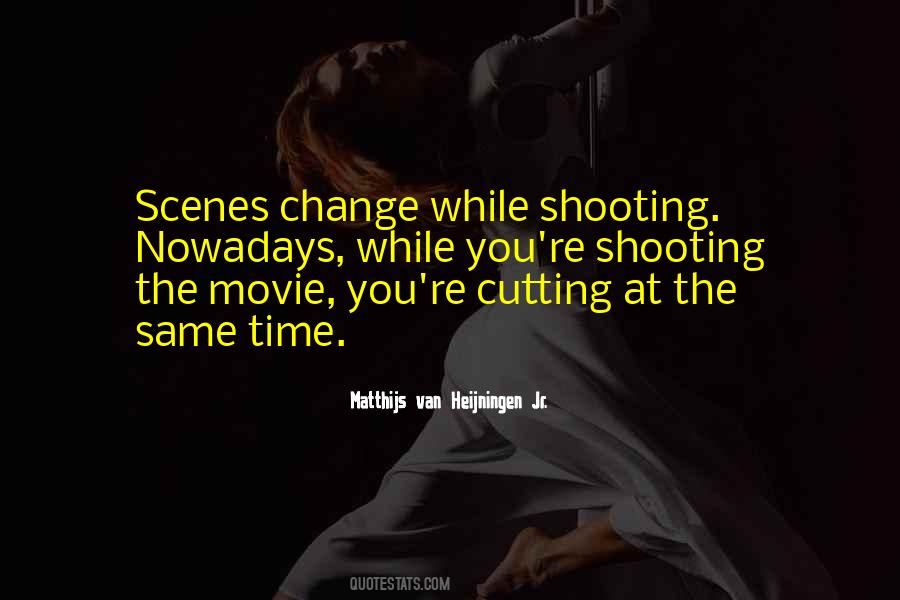 #47. Some of my favorite scenes aren't in the movie. Because you, at some point, realize that your responsibility as director is purely to the story. It's not to your pleasure. - Author: Mark Ruffalo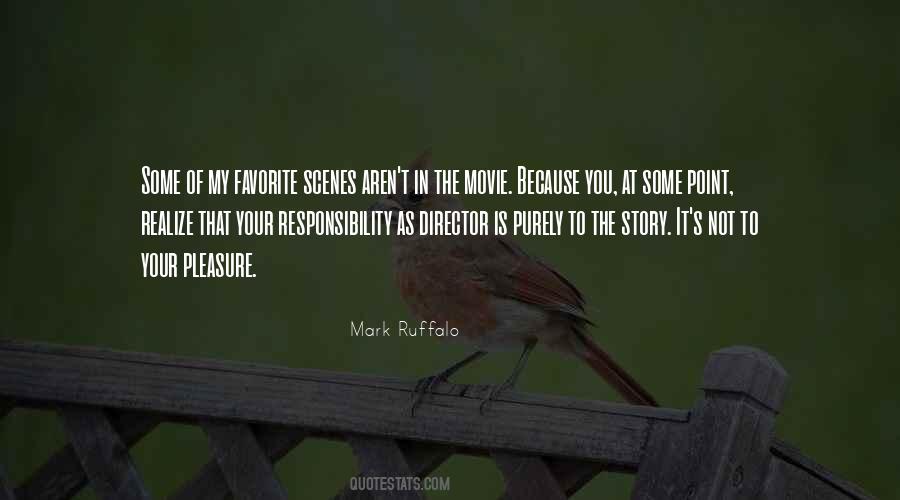 #48. I will promise you that if I can give you two good scenes
which is what I always try to do in every movie
then I feel like I'm doing my job. - Author: Nicolas Cage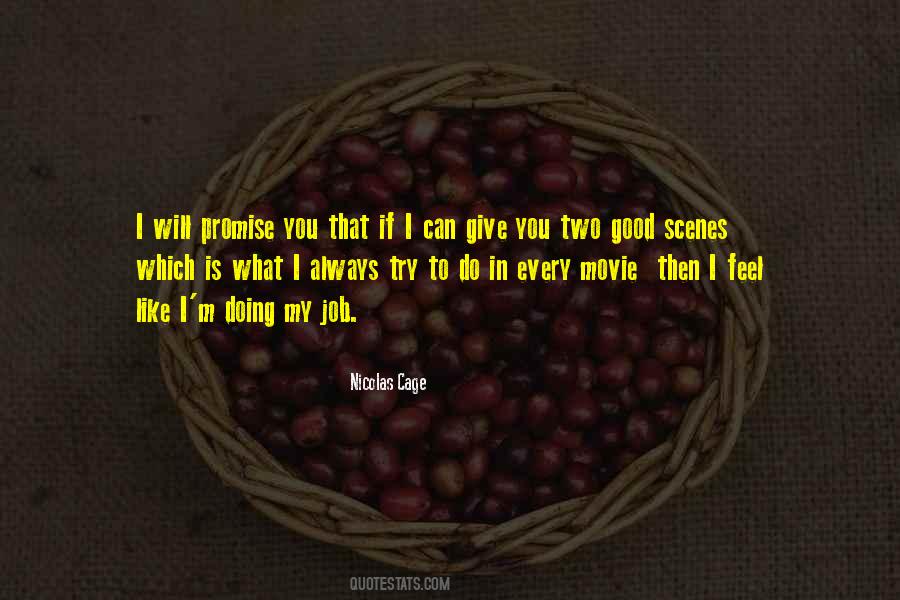 #49. He tried not to love that she could recite scenes from Ghostbusters, that she liked kung fu movies and could name all of the original X-Men - because those seemed like reasons a guy would fall for a girl in a Kevin Smith movie. - Author: Rainbow Rowell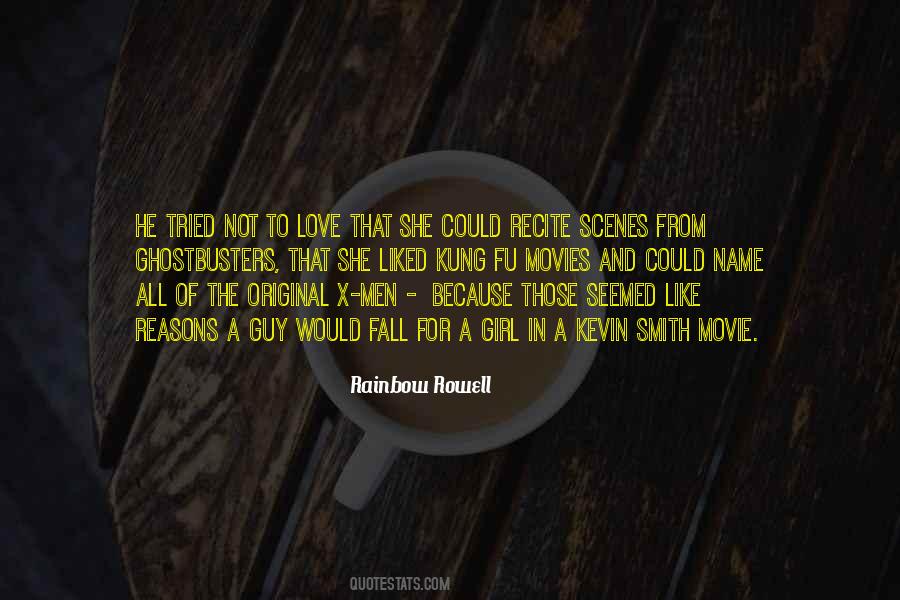 #50. We went through all the scenes and they became kind of funny and they expanded a little bit and because it seemed to be working so well in the movie, they added a couple of things later on in the movie and that's how it turned out. - Author: Eugene Levy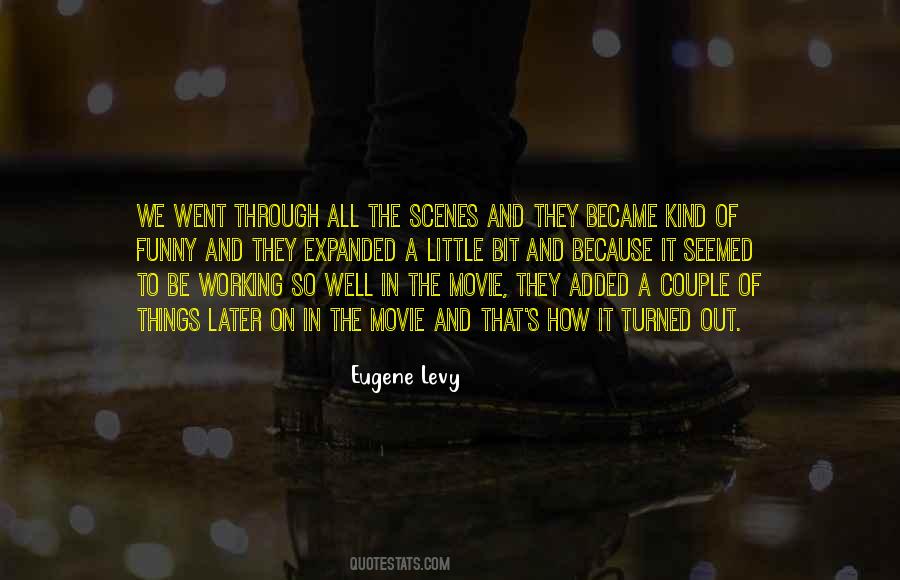 #51. Then we just took it and ran with it, and then just wrote as many scenes as we could with the Minions. Now we have Minions falling in love in this new movie and there's the fire scene in Gru's office. - Author: Cinco Paul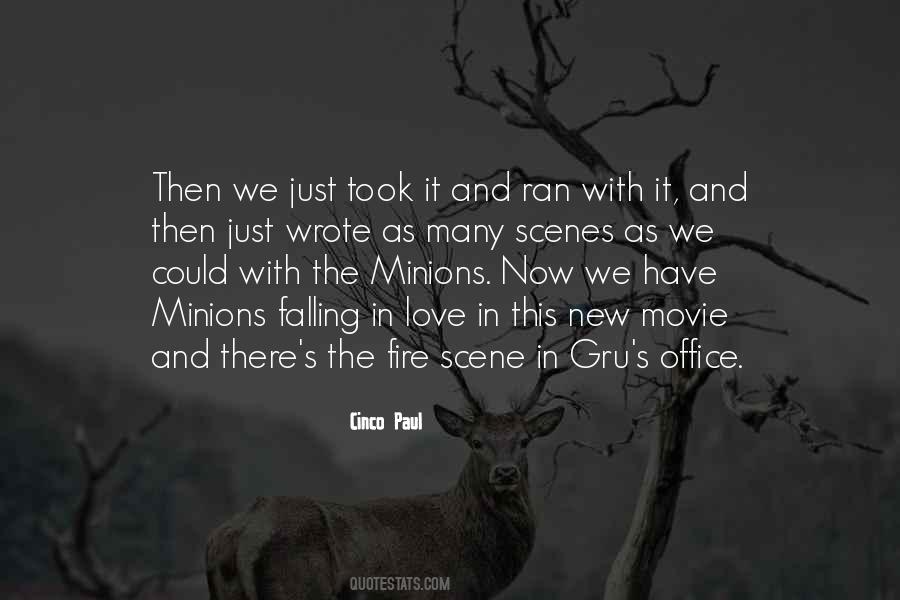 #52. In a way, the whole notion of a blueprint of a building is not that different from a script for a movie. A sequence of spaces, which is what you do as an architect, is really the same as a sequence of scenes. - Author: Susanne Bier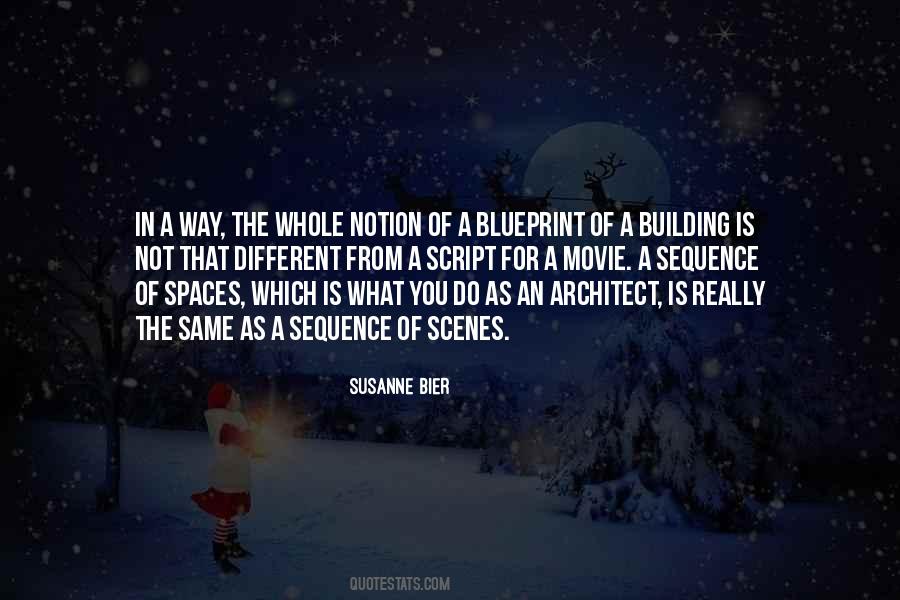 #53. I tend to stay in character between scenes ... to be rather serious on set, but here's why, and I think people will find it surprising. I'm one of the worst 'corpses' on a movie set, which means you can't keep a straight face. You start to get the giggles and you can't stop. - Author: Christian Bale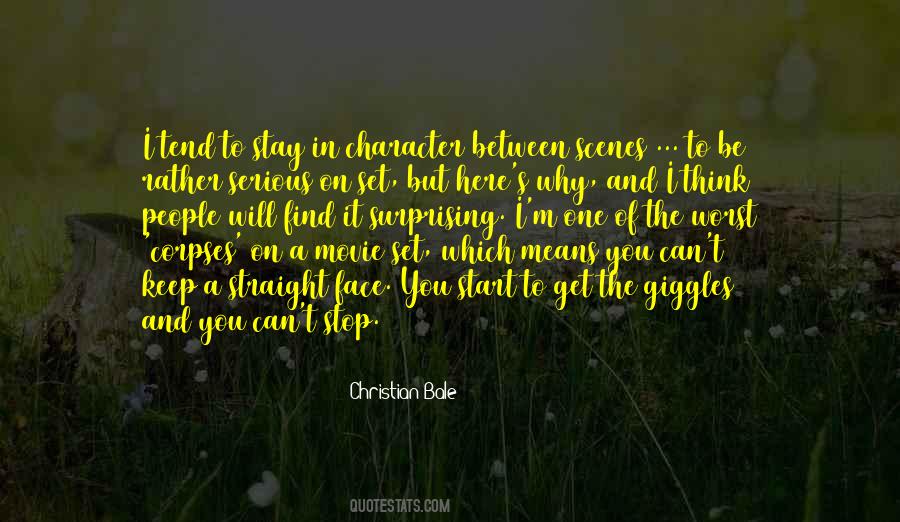 #54. In 'There's Something About Mary' and 'Dumb & Dumber,' I ended up improvising quite a bit of my scenes, and later I didn't even remember what I'd said because I just winged it. When I went and saw the movie, I was as stunned as everyone else was. - Author: Harland Williams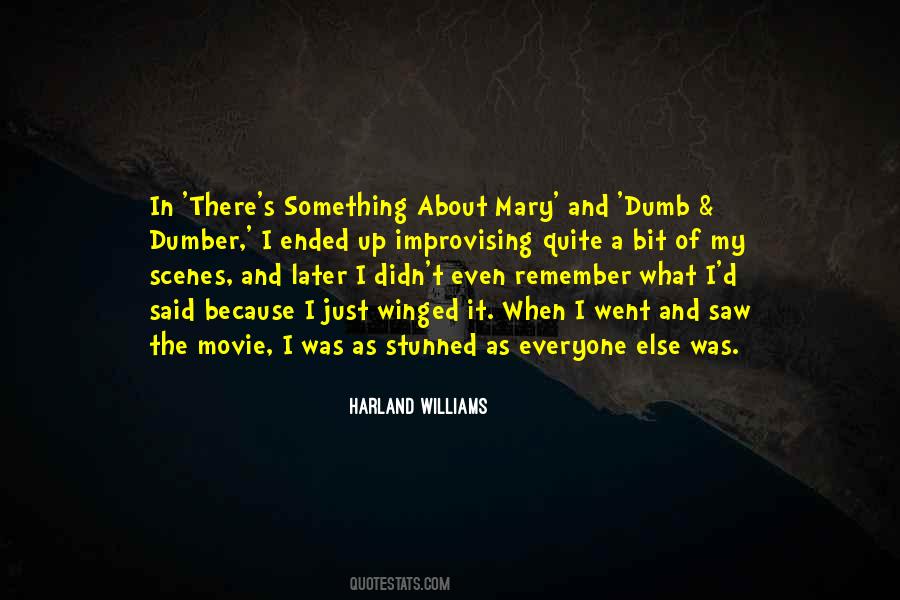 #55. If my life were still a movie, this is the part that would end up on the cutting room floor. We were all just fill-ins for a long-running soap opera. The actors changed, but the story seldom did. Certainly not the action. - Author: Charles Martin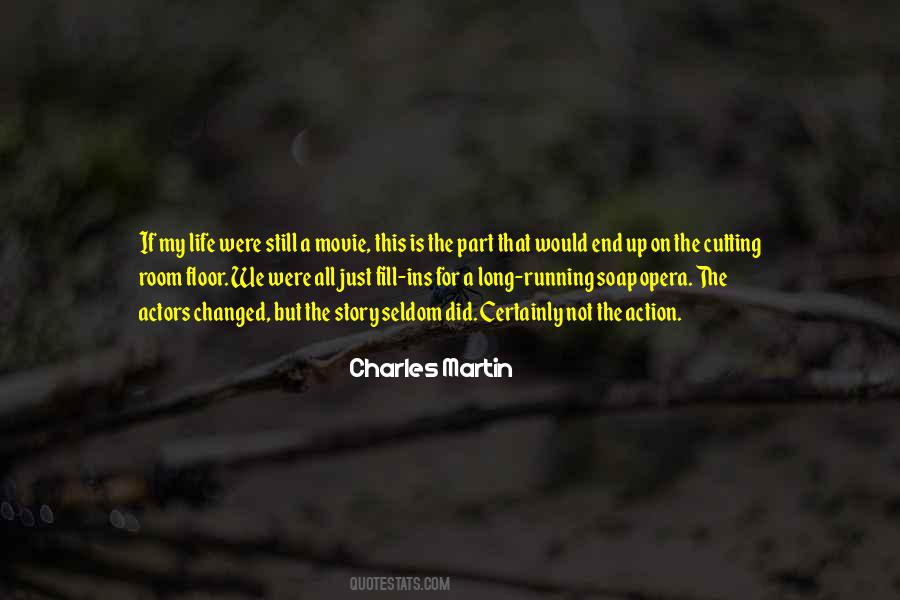 #56. Well first of all, it's hard to shoot a movie and break for a long time and then come back and do, in a sense, one of the biggest scenes that each character had. - Author: Dustin Hoffman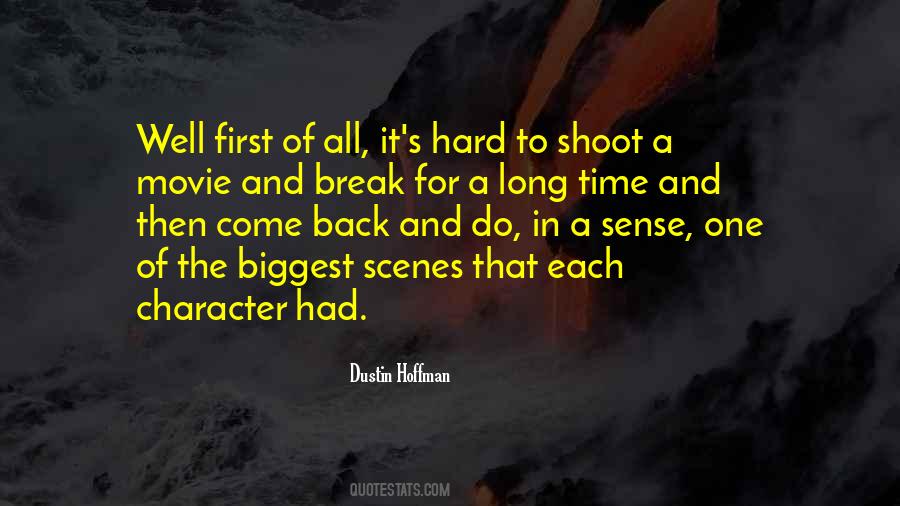 #57. But see, that's the thing about movies. Nothing is left to the imagination. You read a book, and you see a picture of the characters and the scenes in your mind. You don't have that with a movie. It's all either up there on the screen laid out for you, or it isn't there at all. - Author: Laurie Viera Rigler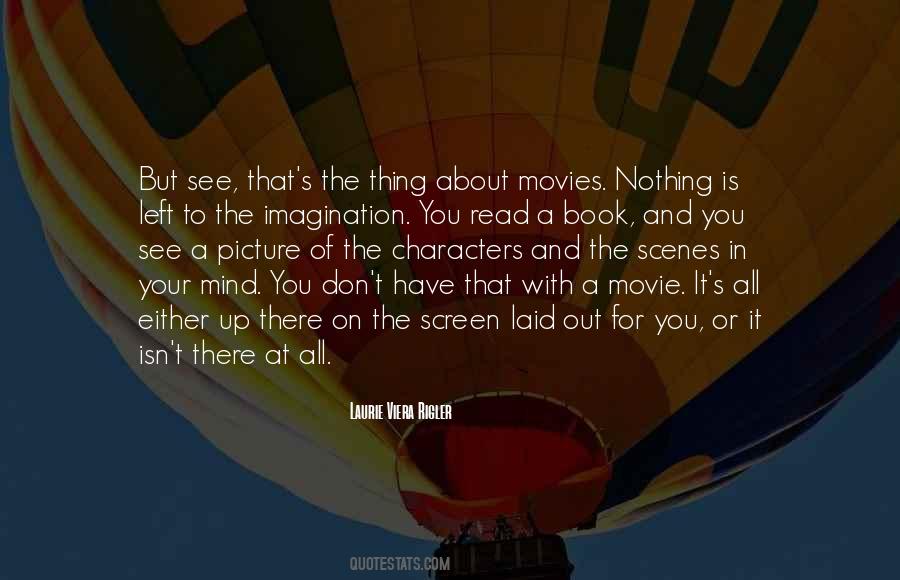 #58. I loved the movie for the simple reason that I saw the scenes and I saw Muhammad working with these guys. - Author: Angelo Dundee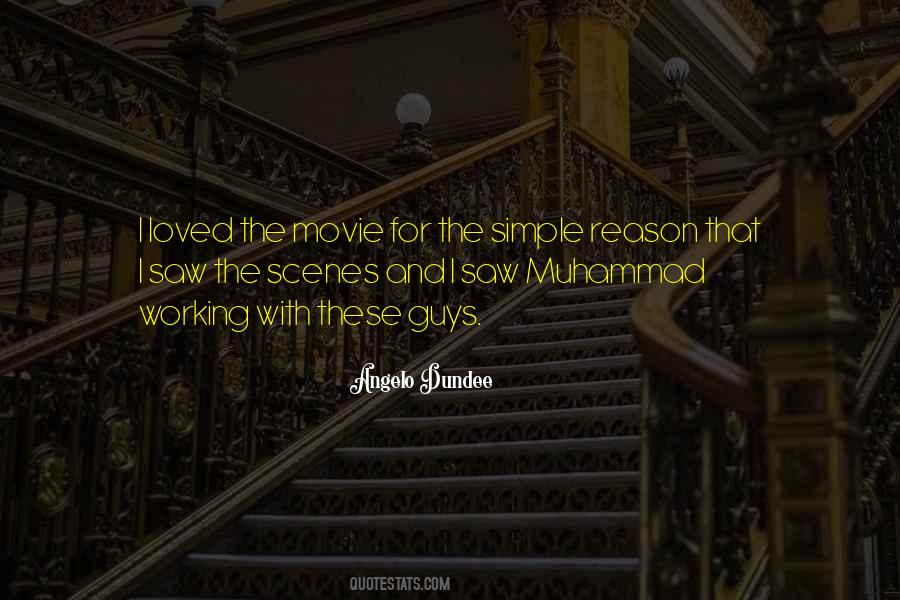 #59. I wouldn't say I see things visually first, but what I do think is important, for a lot of screenwriters, is to not just think about the words on the page, but also the world as a whole and the vibe of the movie, rather than a sequence of scenes written on the page. - Author: Evan Daugherty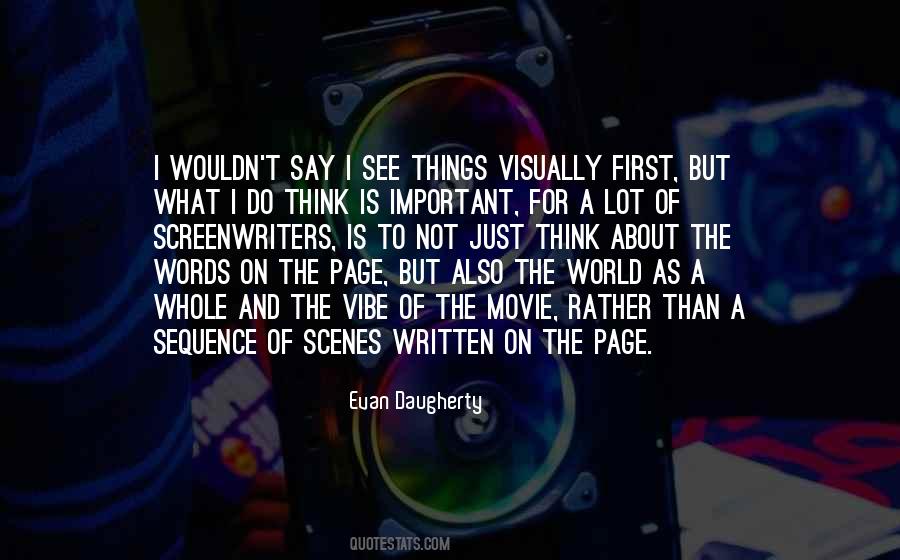 #60. I use to watch like maybe three or four movies, five days out of the week. I was a movie buff, but I really didn't know what it was like behind the scenes, or the whole political process of it. - Author: Michelle Rodriguez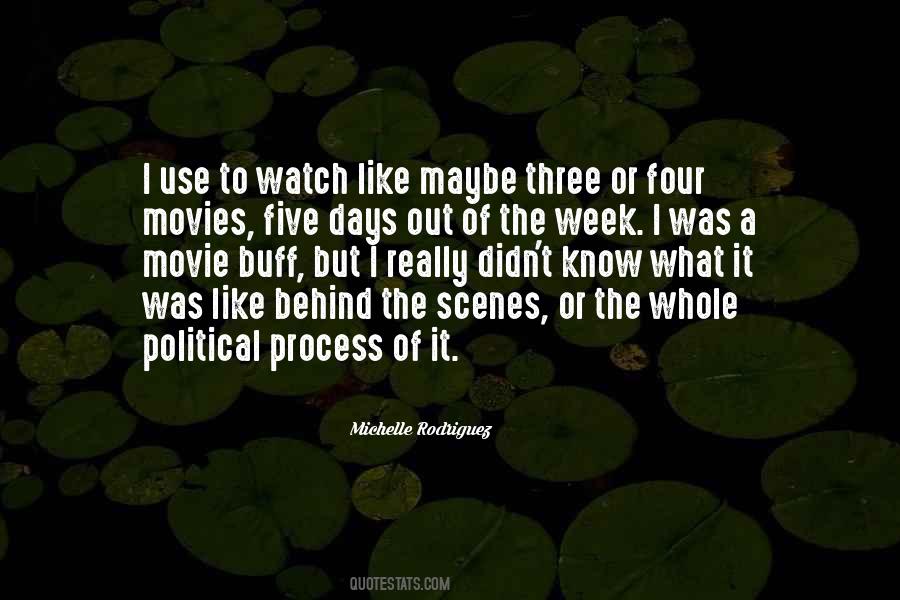 #61. The pageant movie I'm obsessed with is 'Miss Congeniality', hands down! I could quote everything from that movie. I love so many scenes, but I always find myself quoting the scene when Sandra Bullock goes, 'I really do just want world peace!' - Author: Olivia Culpo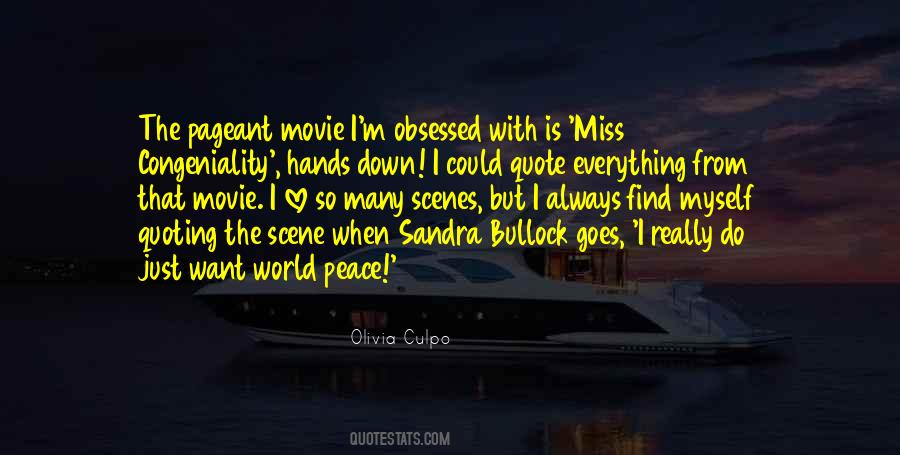 #62. I used to watch 'Coming to America' every day after school. I have full-on long-running inside jokes with friends and family about different scenes in that movie alone. Also, my brother and I loved 'The Golden Child,' so, yeah: I was a huge fan of Eddie Murphy growing up. - Author: Gabourey Sidibe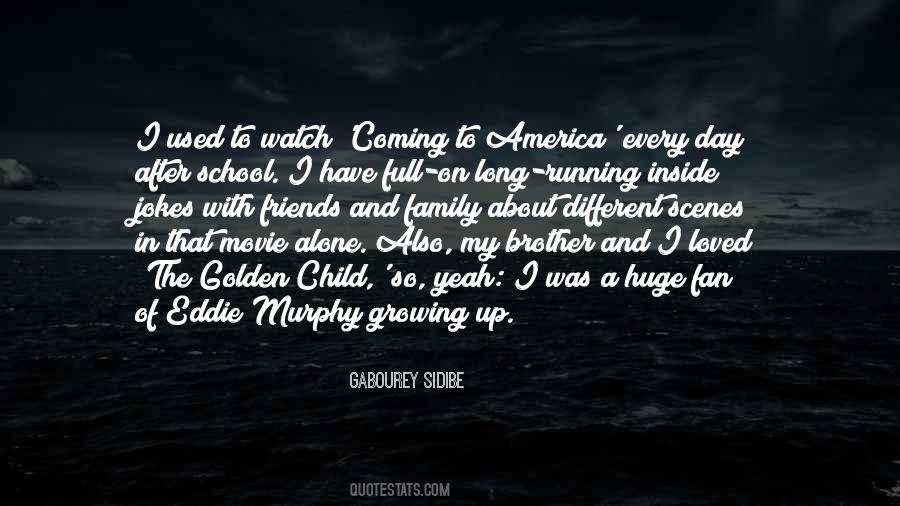 Famous Authors
Popular Topics