Marvel Comic Famous Quotes & Sayings
List of top 36 famous quotes and sayings about marvel comic to read and share with friends on your Facebook, Twitter, blogs.
Top 36 Marvel Comic Sayings
#1. The Daredevil comic book was the first comic book Marvel had ever put out that was an adult R-rated book, so I started with that. When I was creating the series, I just started with that tone, and that edge, and it just kept going. - Author: Melissa Rosenberg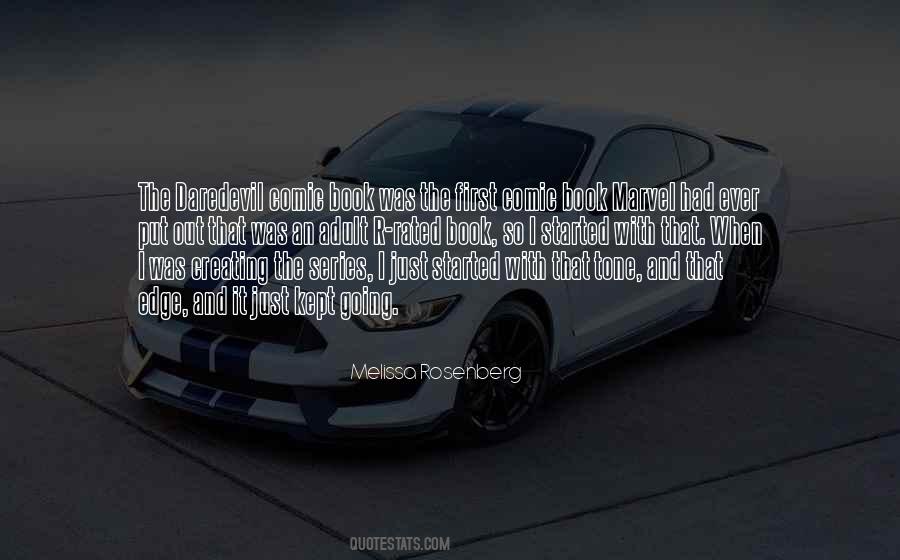 #2. I'm a huge comic book collector. When I was a kid, I had both Marvel and DC. I was my own librarian. I made card files. I had origin stories of all the characters, and cross-referenced when they appeared in other comic books. I was full on. - Author: James Mangold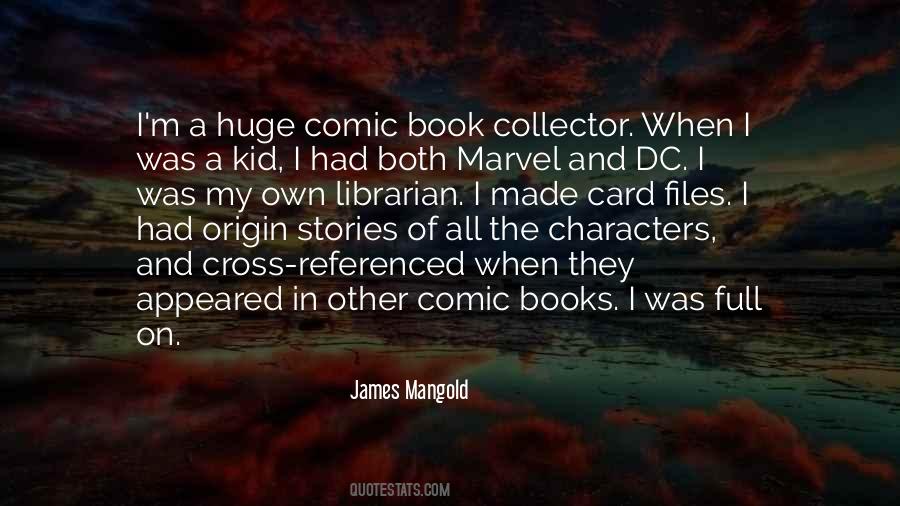 #3. It was a community of scholars just outside of adolescence, a sort of Marvel comic where every hero represented a different arm of the humanities. - Author: Maggie Stiefvater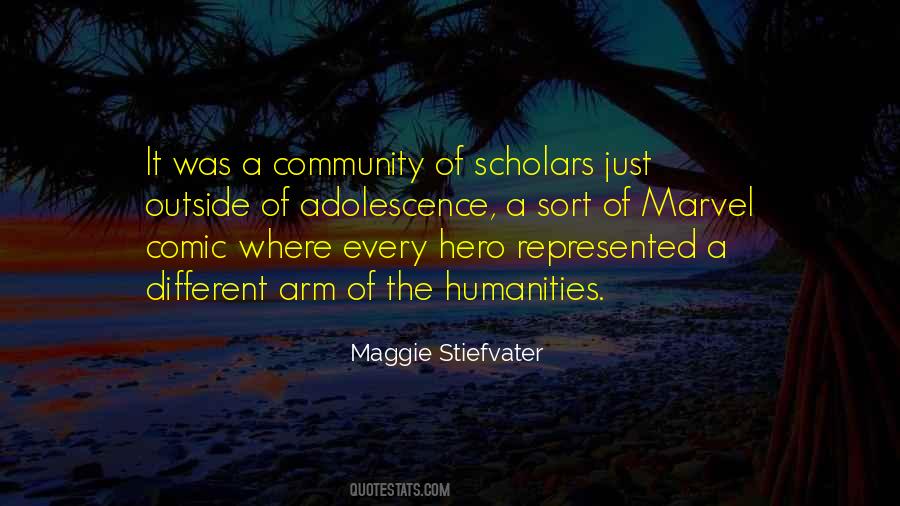 #4. As a comic book artist, once you become a master, you end up a slave. In fine art you're always free ... since I couldn't make it at Marvel, I made my life a carnival. - Author: Mark Kostabi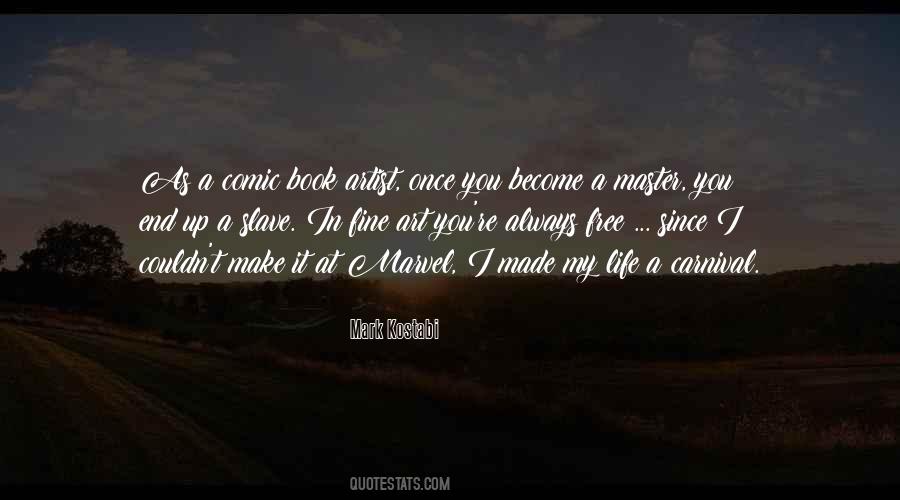 #5. I guess people might be surprised to know I read comic books. I'm a Marvel girl, as opposed to DC. - Author: Chelsea Cain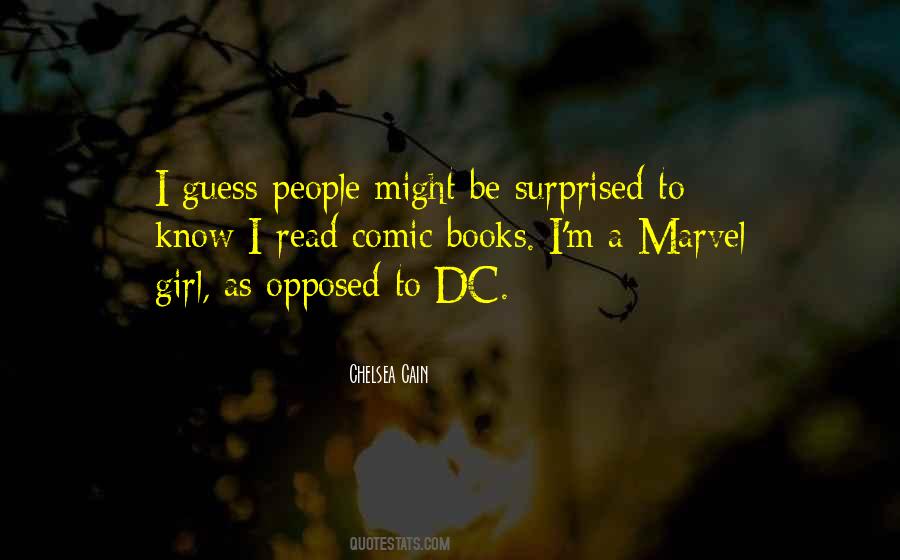 #6. I had never seen a Marvel comic. - Author: Rene Russo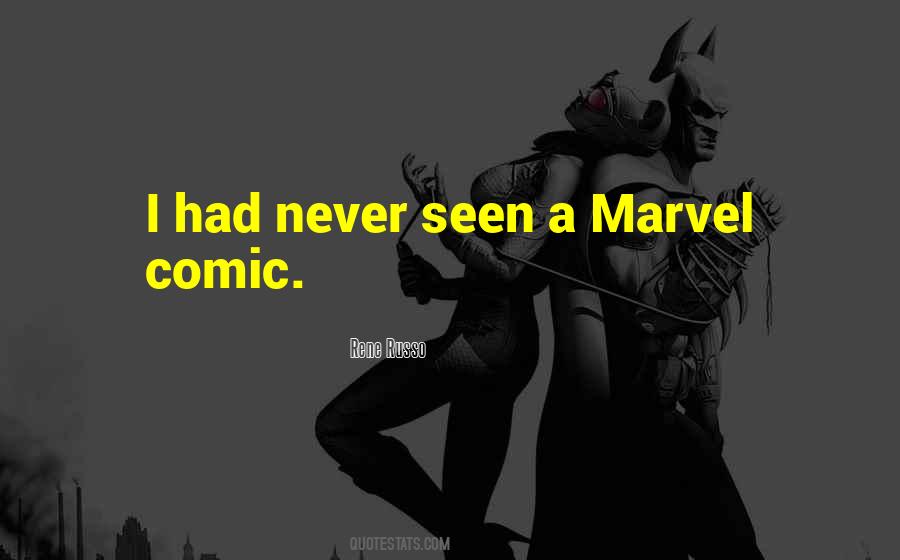 #7. Oh yeah, I was one of the first guys writing comic books, I wrote Captain America, with guys like Stan Lee, who became famous later on with Marvel Comics. - Author: Mickey Spillane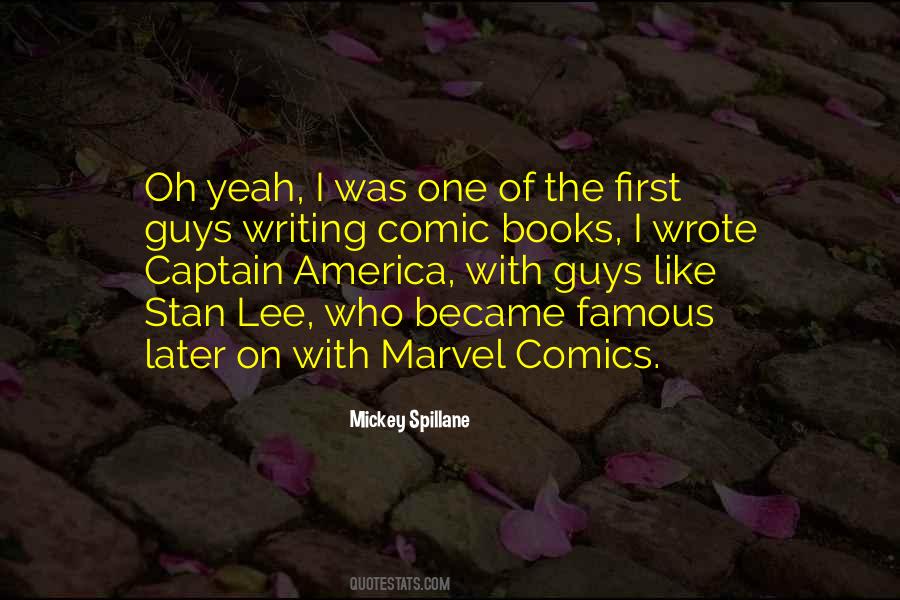 #8. Wouldn't want to write the X-Men, and I suppose the X-Men is the ultimate Marvel comic, and I really wouldn't want to go anywhere near it at all, although on the other had I wouldn't mind having a crack at something like the Punisher. - Author: Garth Ennis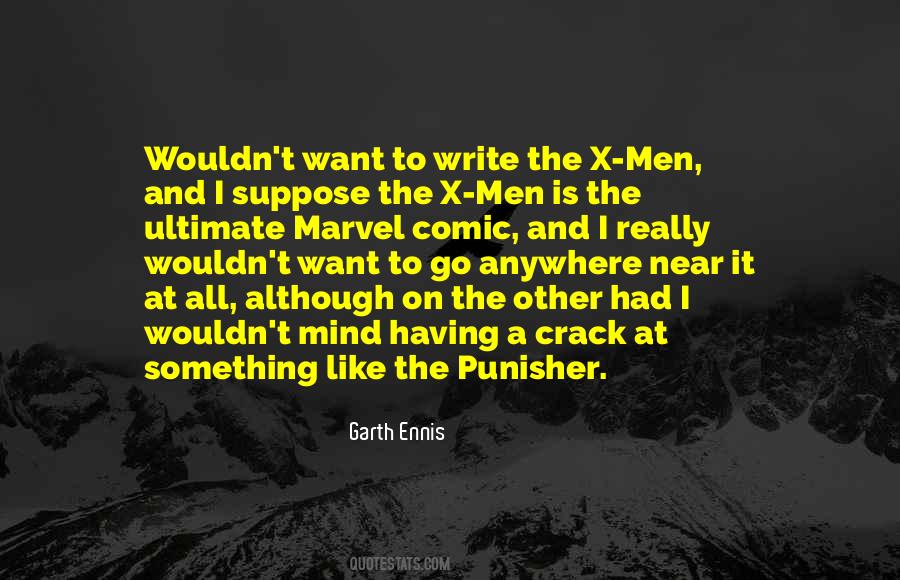 #9. I grew up with six brothers, and I'm from Chicago, so princesses and Barbie dolls were not around the house. It was more like sports and comic books, so getting to work for Marvel is like my version of being able to be a princess. - Author: Chloe Bennet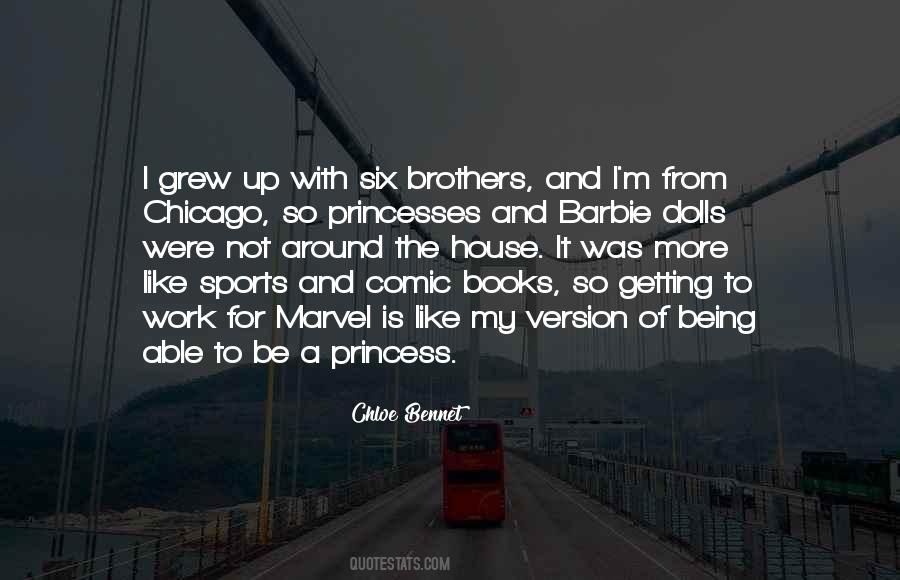 #10. You and what army of snaggled toothed wine sots? - Author: Marvel Comics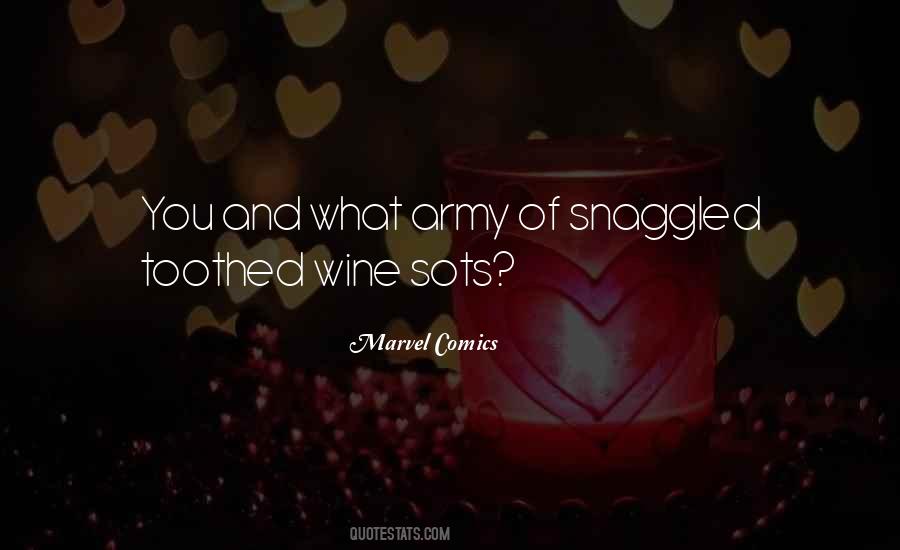 #11. Spider-Man initially made me want to come to New York and work for Marvel; I wanted to be a comic book artist. - Author: Chris Columbus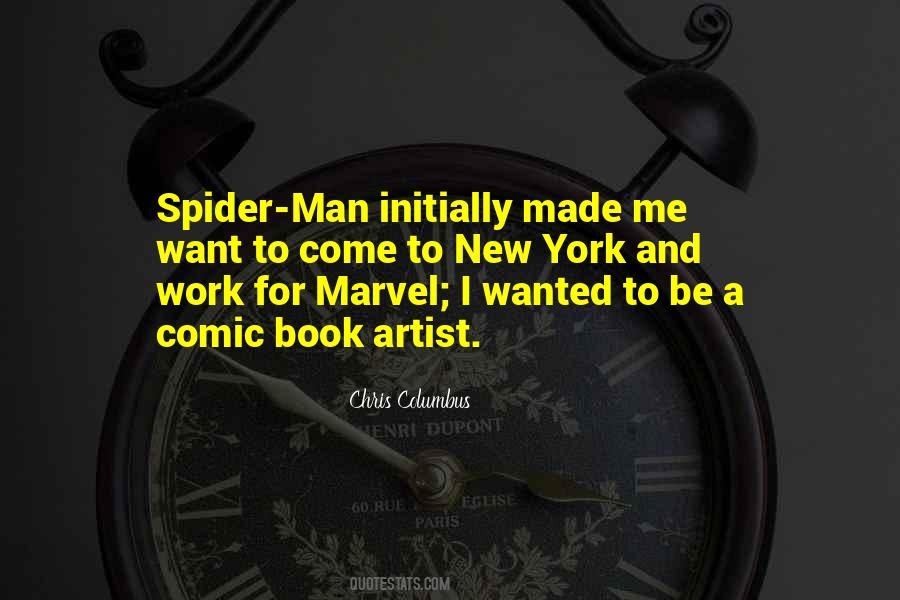 #12. My favorite comic book growing up was 'Thor.' It was one of my three, favorite comic books. Obviously, Marvel is such a huge name, but for me, to book a role in a Marvel movie, and for it to be 'Thor.' When my manager told me I booked 'Thor,' I literally didn't know what to say. - Author: Joseph Gatt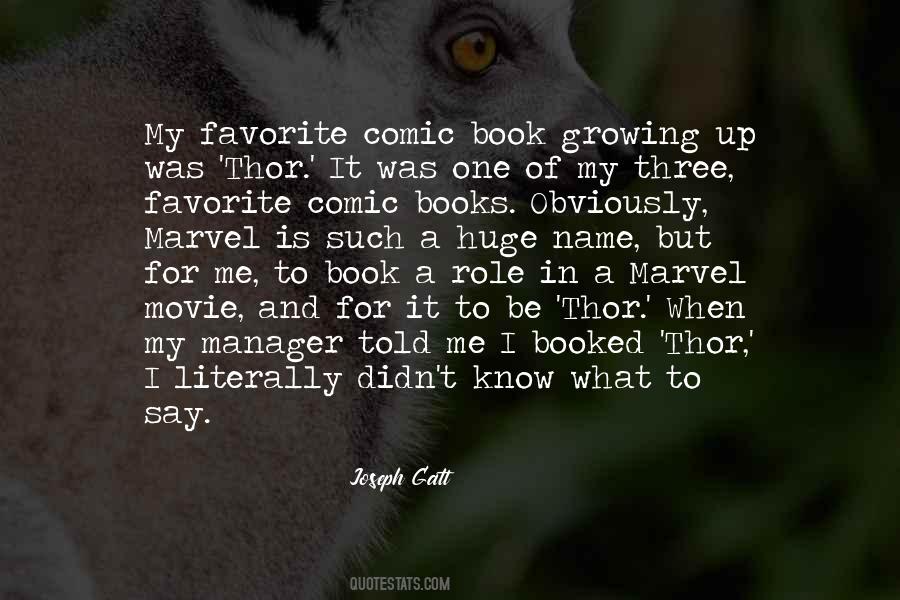 #13. Once I found out that I was playing 'Deathlok,' I unearthed my old comic book collection. I was going home for Christmas, and I have a collection of thousands of comics. I was surprised to see that 90% of them were Marvel. So, I wanted to go through my collection and start there. - Author: J. August Richards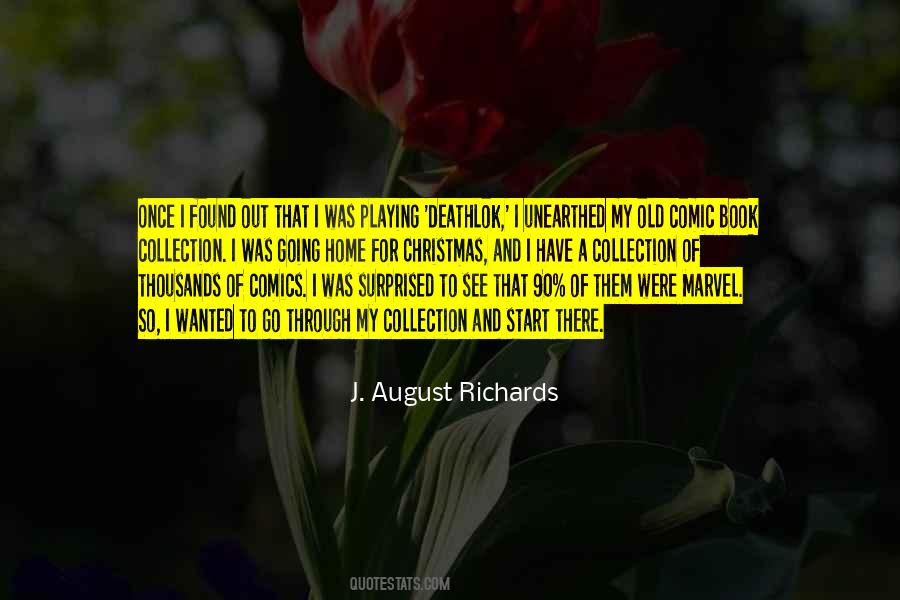 #14. When a snore loud enough to do a man proud fills the room, I can't hold my laughter back. It's the comic relief I desperately need. She does it again, and I marvel that such a tiny thing can make such a loud noise. Dear God, this woman may need sinus surgery along with everything else. - Author: Sydney Landon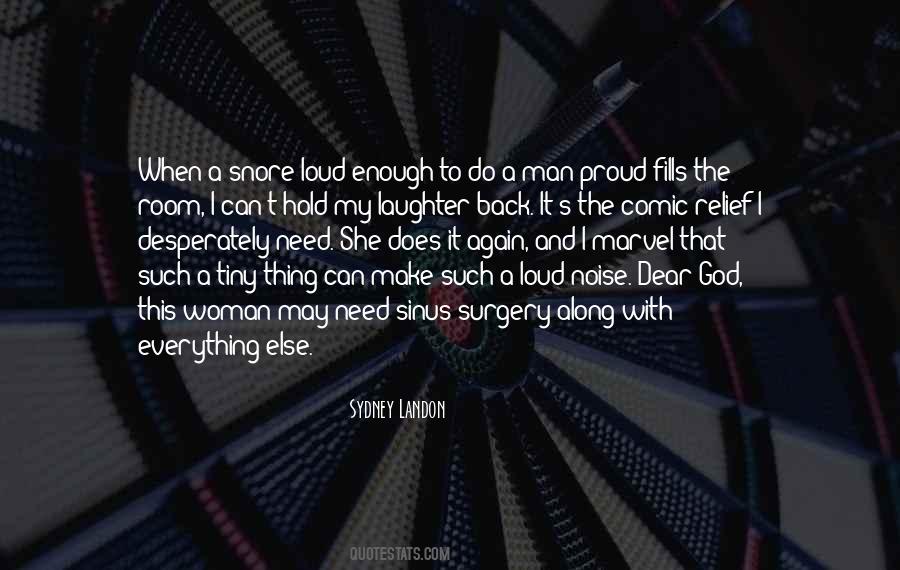 #15. I'm a huge Marvel Comics fan, and I'm a huge 'Wolverine' fan, I like the 'X-Men' comic book. - Author: Jason David Frank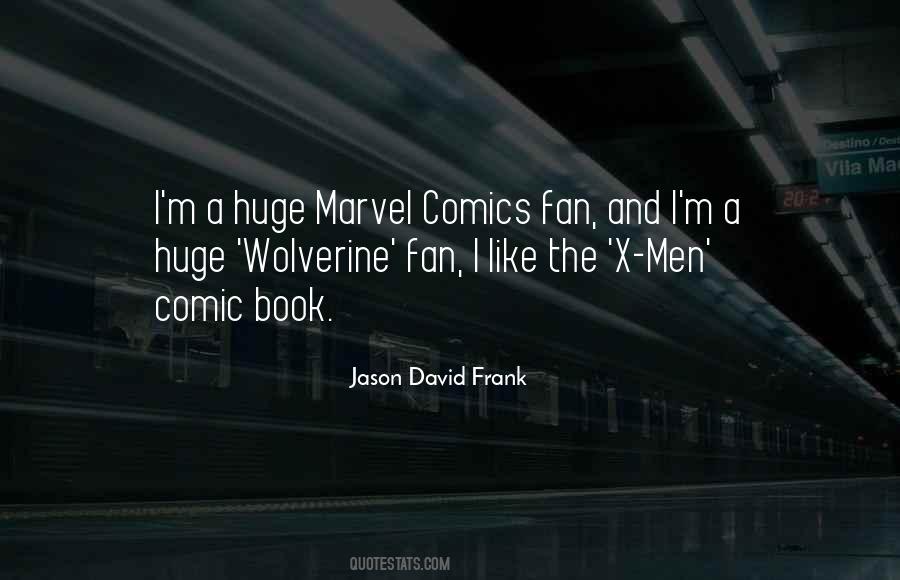 #16. DeadPool reminds me for some other films which are sci-fi, like Selflessness and Mr.Nobody....But the speech is awful it must be fixed! - Author: Deyth Banger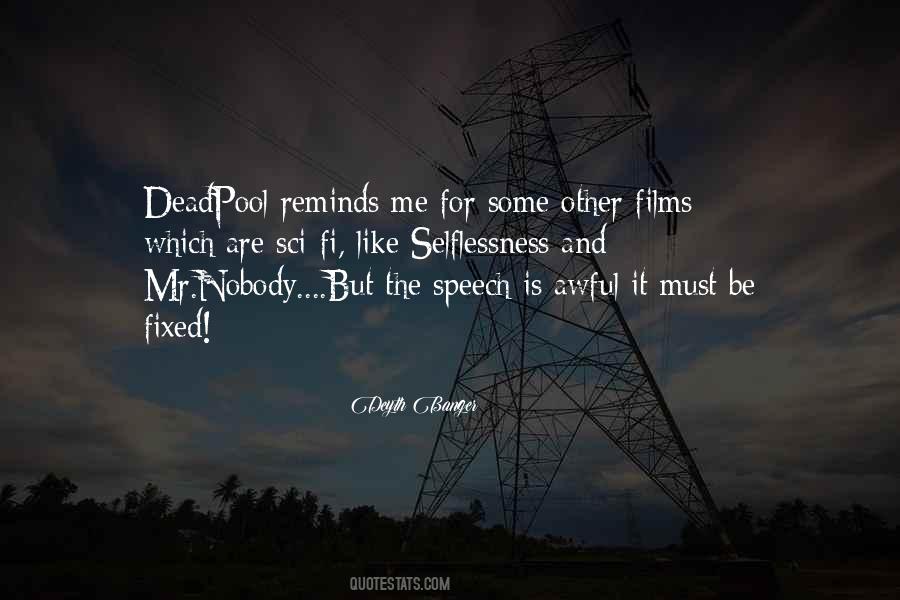 #17. My hero in comic books is Jack Kirby: 'Spider-Man,' 'Fantastic Four,' 'Captain America,' Marvel Comics. He was really the basis for Marvel Comics. - Author: Walter Mosley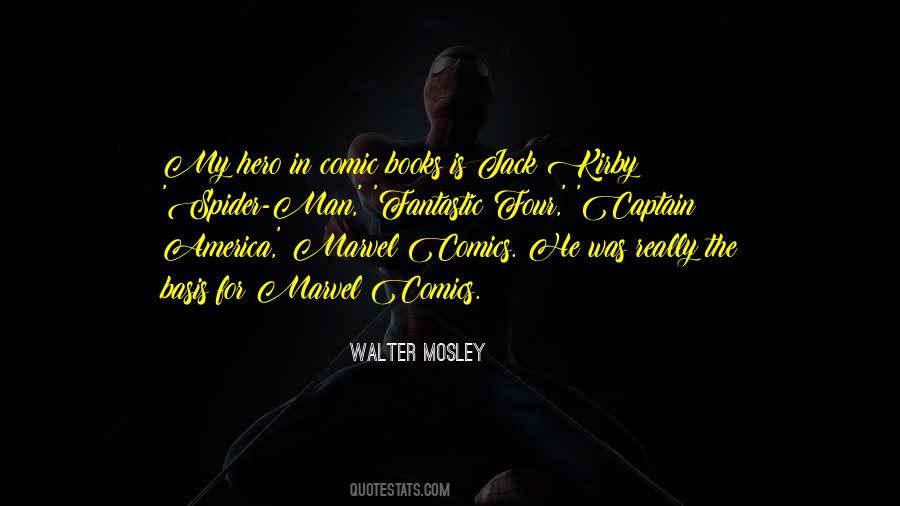 #18. My enlightened racial consciousness demands that I reject the so-called greatness of William Faulkner and William Shakespeare. I don't have time for any of that Hamlet jive -- but Marvel superheroes are super cool. - Author: Ta-Nehisi Coates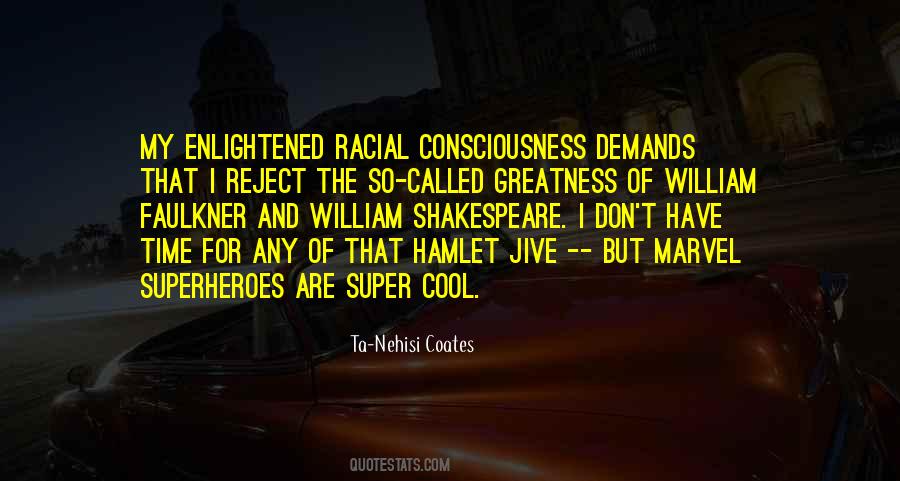 #19. The latest spin on the Marvel comic-book hero delivers the popcorn goods. - Author: Peter Travers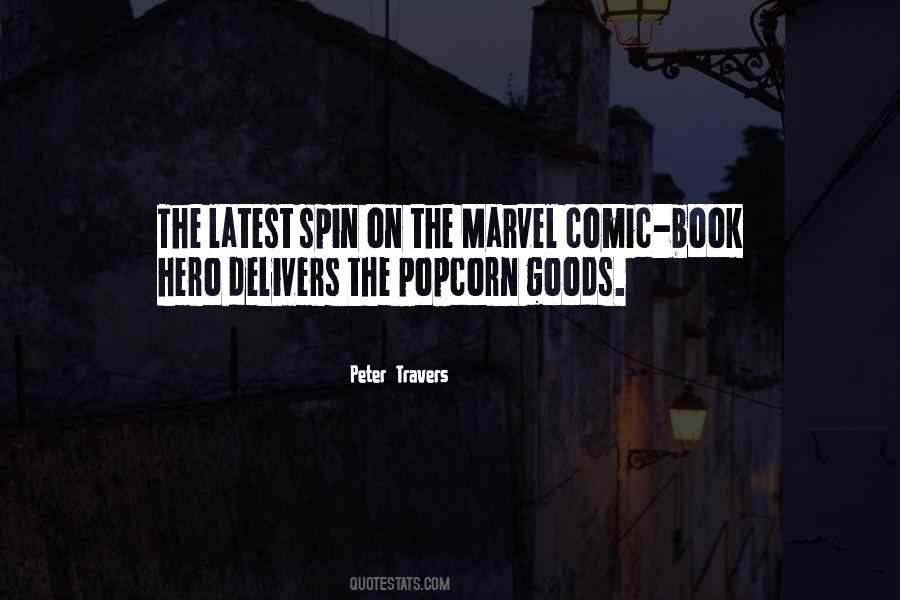 #20. Everything I've done is an old Marvel comic in its' own way. - Author: Rob Walton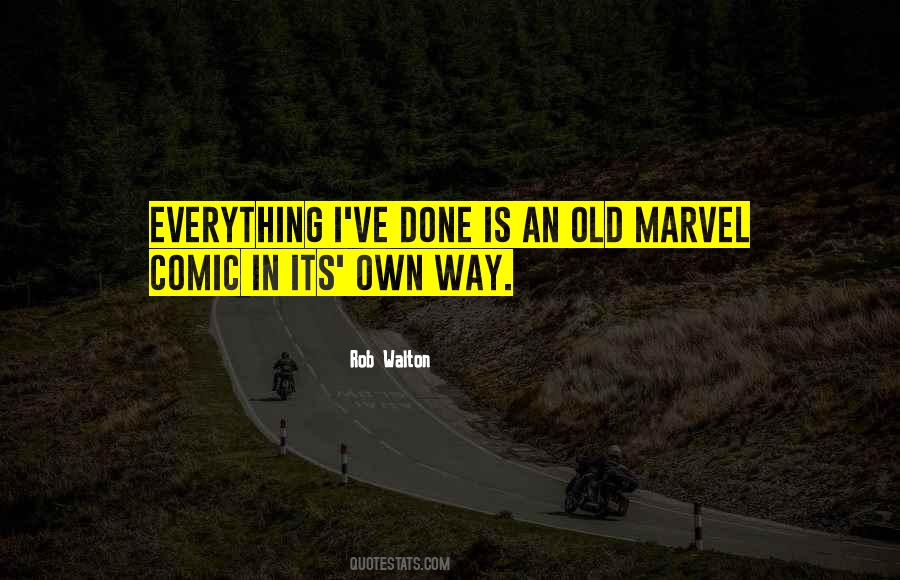 #21. One of the weapons Marvel used in its climb to comic-book dominance was a willingness to invent new characters at a dizzying speed. There are so many Marvel universes, indeed, that some superheroes do not even exist in one another's worlds, preventing gridlock. - Author: Roger Ebert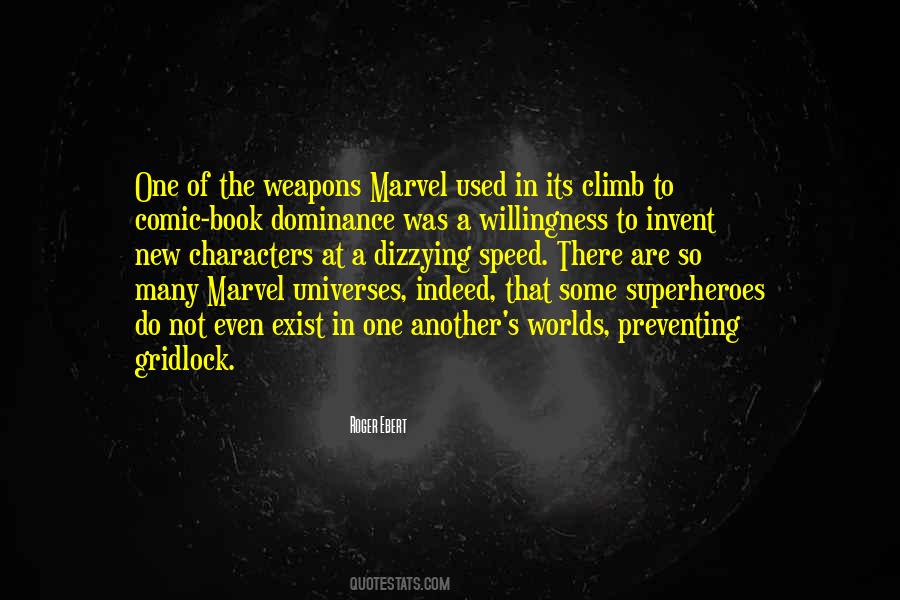 #22. As a fan, I want all of the Marvel TV projects to be successful. I am a comic book fan. - Author: Marc Guggenheim
#23. The Marvel cinematic universe and the Marvel animation universe are things that are very true, in terms of the DNA of what it is. But if, at the end of the day, all we're doing is telling stories that have appeared in the comic books already, then we're not really challenging anybody. - Author: Jeph Loeb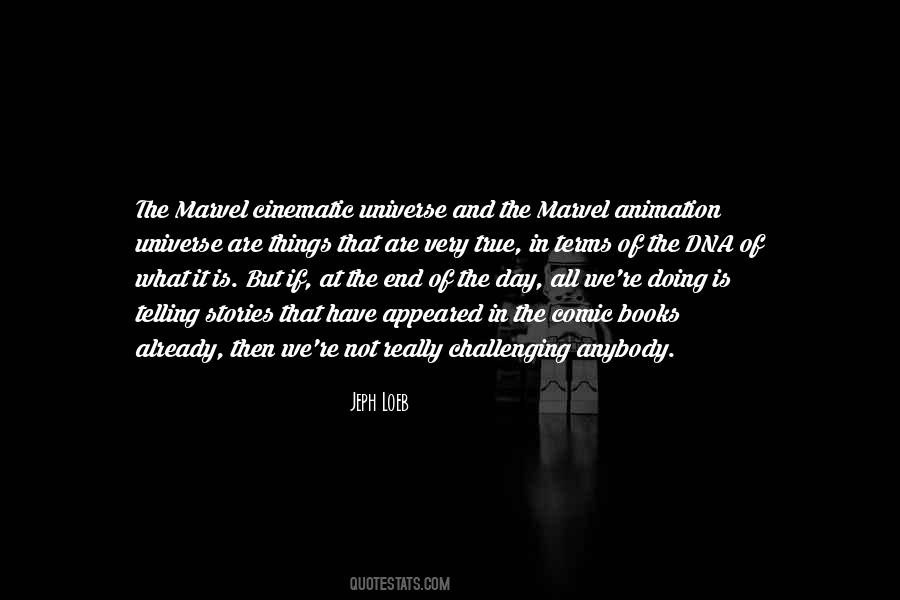 #24. Thanks to the comic book publishers. Batman and Captain Marvel were responsible for my learning to read at least a year before I showed up at school. They got me interested in writing. Started my first novel at about eight. The title: 'The Canals of Mars.' - Author: Jack McDevitt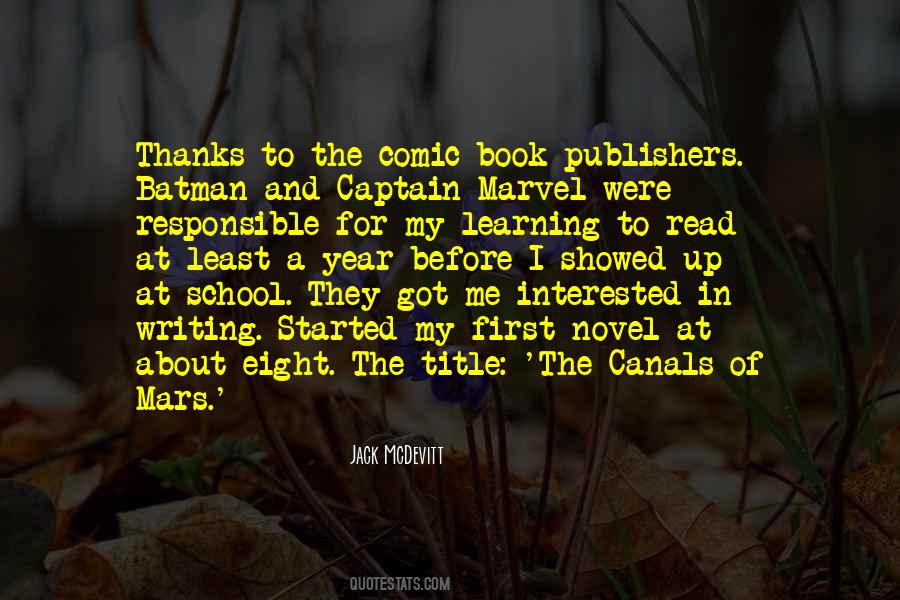 #25. It feels to me like 'Shazam' will have a tone unto itself. It's a DC comic, but it's not a Justice League character, and it's not a Marvel comic. The tone and the feeling of the movie will be different from the other range of comic book movies. - Author: Toby Emmerich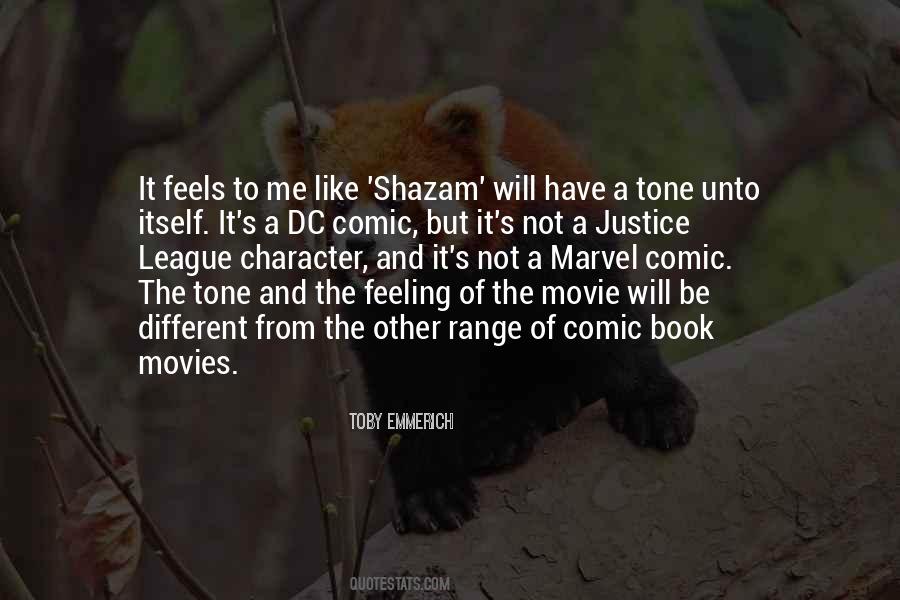 #26. I loved comic books. I loved Miss Marvel. I talk about Harley Quinn all the time because I think playing villains is so much more fun than playing the good guy because who wouldn't want to go to work and just be crazy? - Author: Katee Sackhoff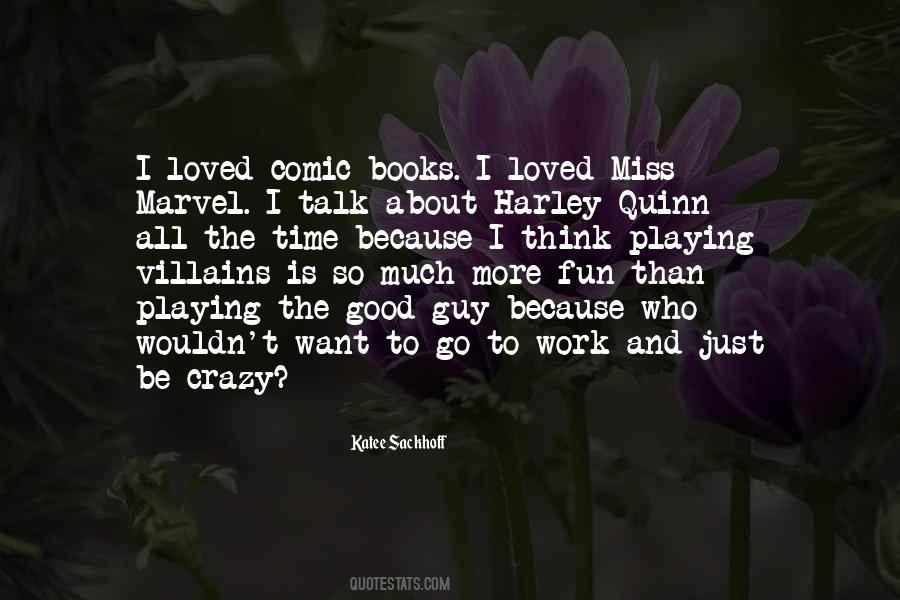 #27. There's almost a universe as big as the Marvel Universe with X-Men. I mean, Deadpool is something I think everybody was taken surprise by, except for the people who read the comic book. - Author: Mark Millar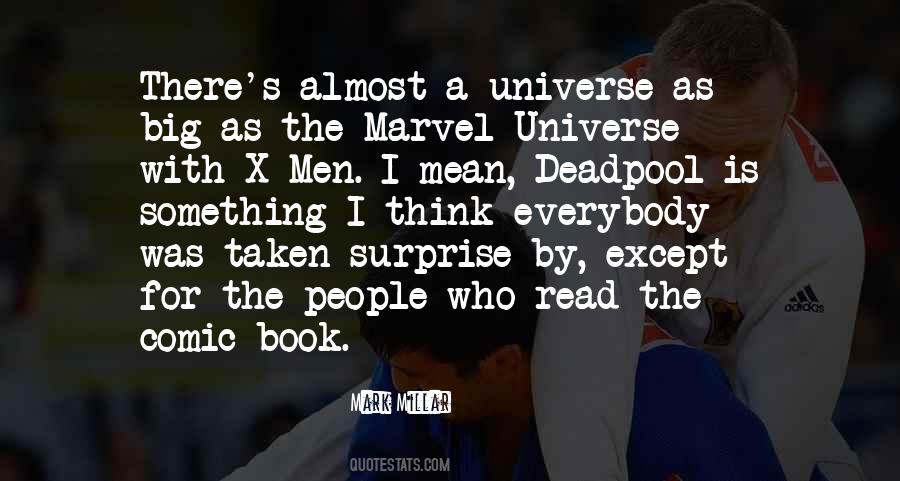 #28. For me, one of the really cool things about this is that throughout these movies, there have been - and I enjoyed it this way - hints at what S.H.I.E.L.D. is and how they function within this Marvel movie universe which, as you know, is deeply based in the comic books. - Author: Clark Gregg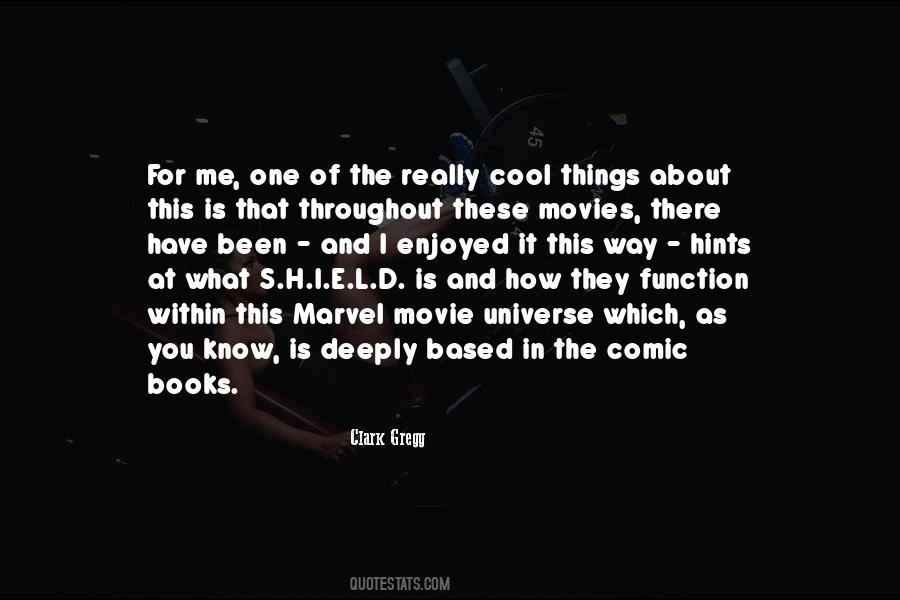 #29. I'm a big comic book person. I love Captain America. I like John Henry. I'm hoping to play one of the superhero characters that's coming from Marvel. - Author: Tom Lister Jr.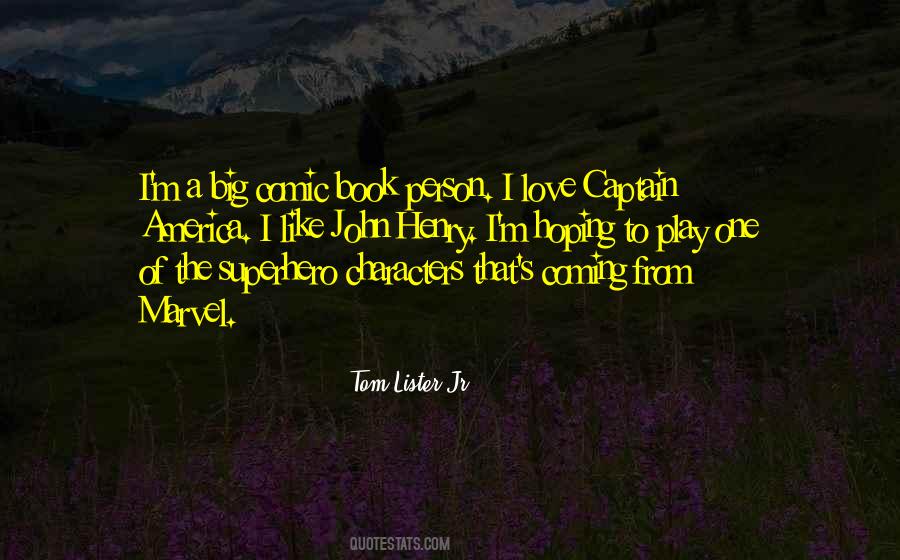 #30. And one of our vocabulary words was nonconformist. I just dug that word. I heard the explanation, the definition, and I felt like I had just learned about a new hero in a kick-ass Marvel comic book. - Author: Nick Offerman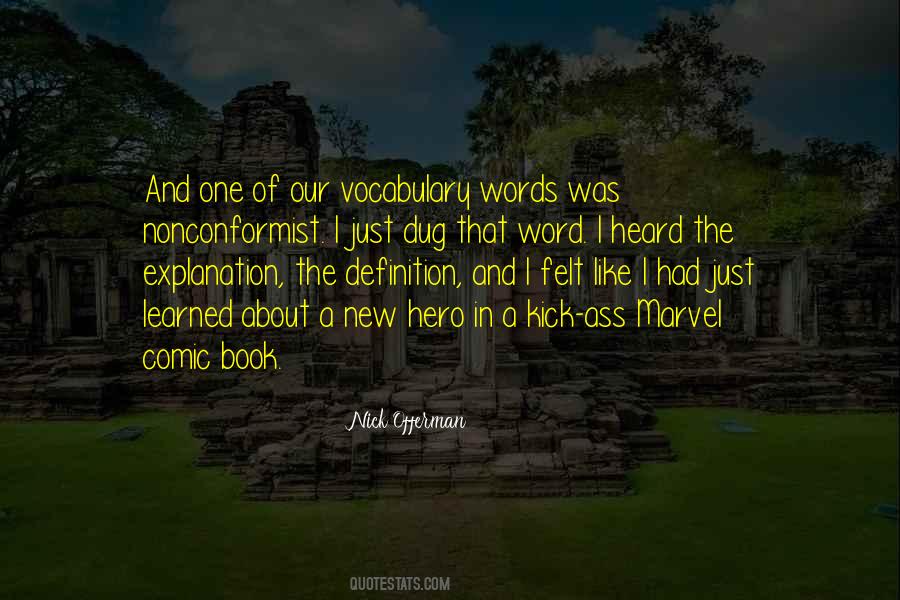 #31. You're not a true fan if you only like the Marvel movies; you can't be in the anime community unless you speak fluent Japanese; you're not allowed to dress up as Ms. Marvel unless you've read every Ms. Marvel comic, ever. - Author: Sam Maggs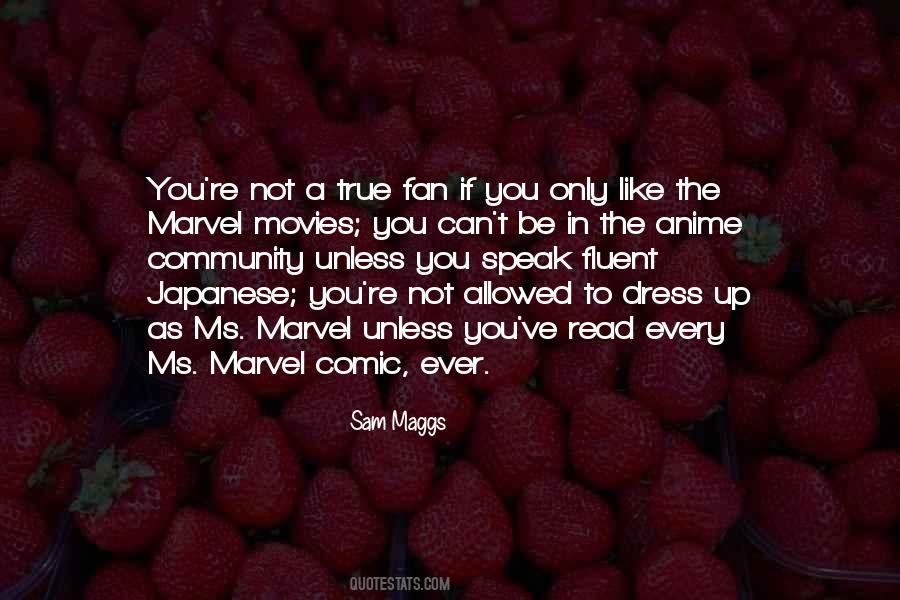 #32. I love comic book movies, and Marvel Comics obviously are the best. - Author: Maria Menounos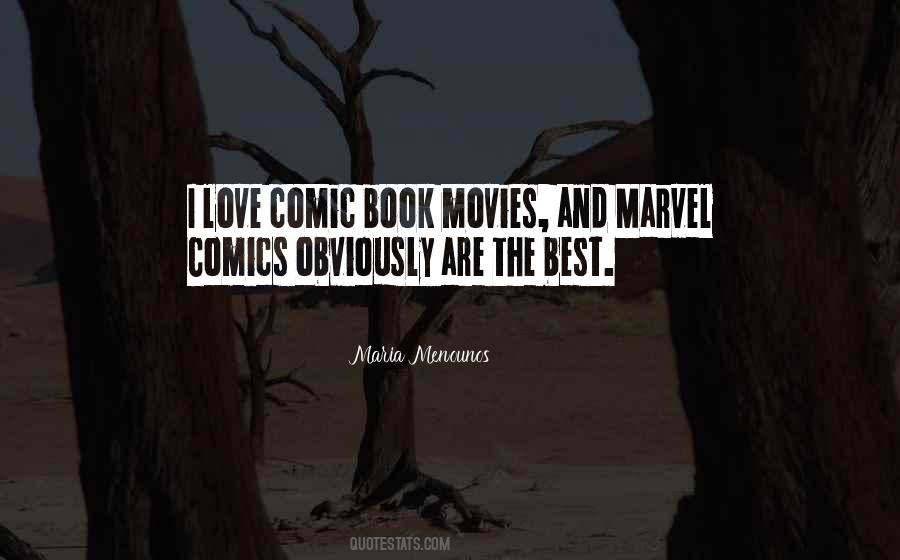 #33. Some books don't answer the inside, I read one comic called Ms.Marvel!
Under Marvel can be understand that this person is powerful and can handle a lot of stuff, but reality this wasn't a powerful one or one strong. This guy was a guy who just called the Avengers like Iron Man for help! - Author: Deyth Banger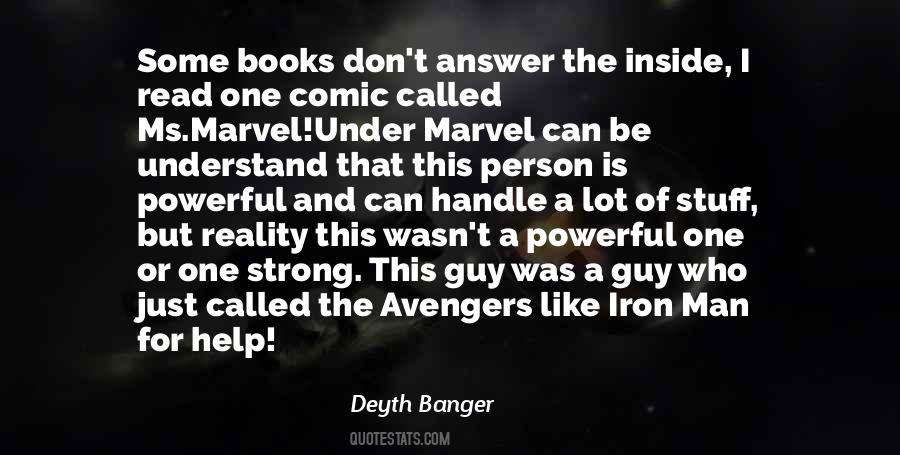 #34. I'm not a huge comic book fan, but I'm a closet fan of certain Marvel heroes, two of those being Iron Man, and the other being Guardians of the Galaxy, which I'm looking forward to. - Author: Kevin Feige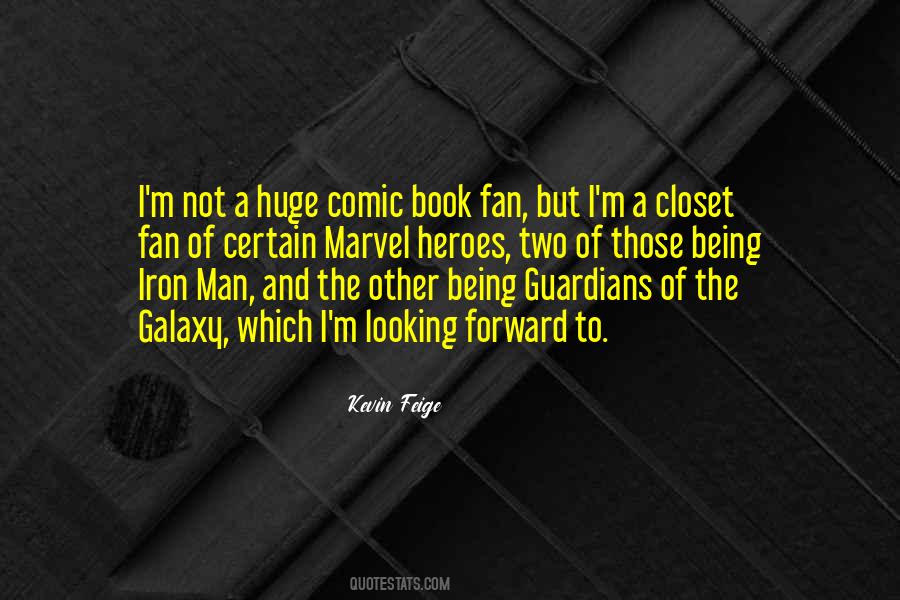 #35. I was a huge comic book fan. It's weird because the era of 'Marvel' I was into turns out to be very important in the long run, but it's not the one that anybody romanticizes. - Author: John Darnielle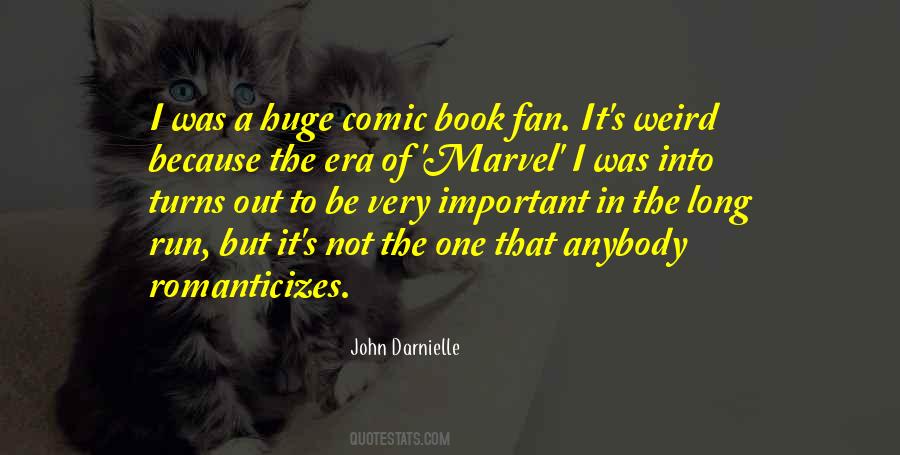 #36. Remember, America ... not Wind like a watch, but Wind ... like the air ... - Author: Frank Miller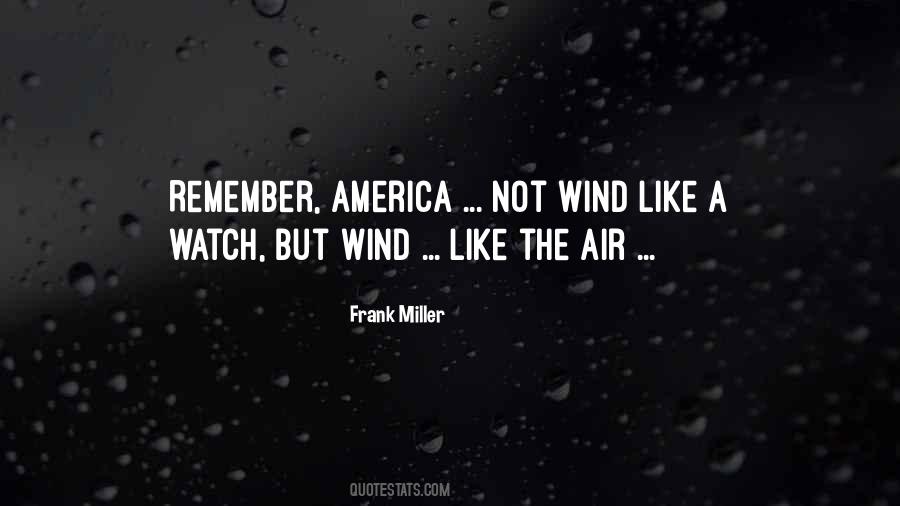 Famous Authors
Popular Topics