Love Those Who Hate You Famous Quotes & Sayings
List of top 68 famous quotes and sayings about love those who hate you to read and share with friends on your Facebook, Twitter, blogs.
Top 68 Love Those Who Hate You Quotes
#1. You can quickly go from having passion and love to passion and hate when an act of betrayal happens. - Author: Robert Sternberg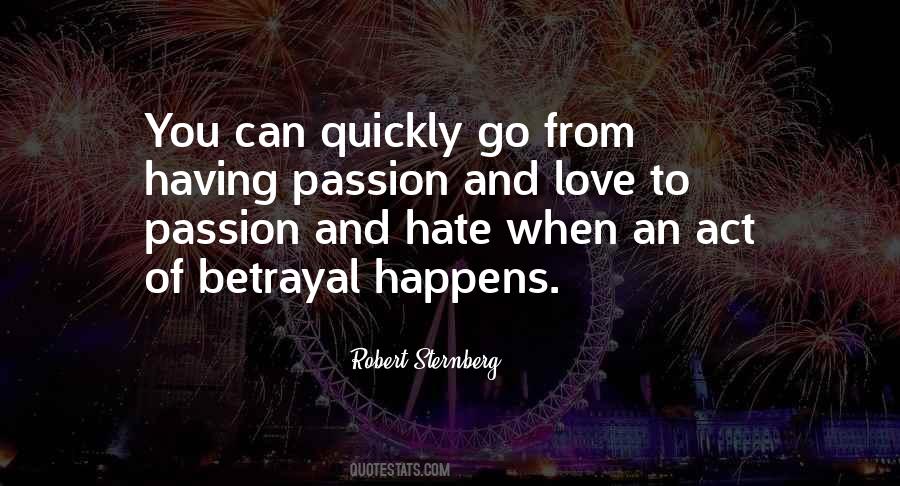 #2. But to you who are listening I say: Love your enemies, do good to those who hate you, bless those who curse you, pray for those who mistreat you ... . Do to others as you would have them do to you. If you love those who love you, what credit is that to you? Even sinners love those who love them. - Author: Gary Chapman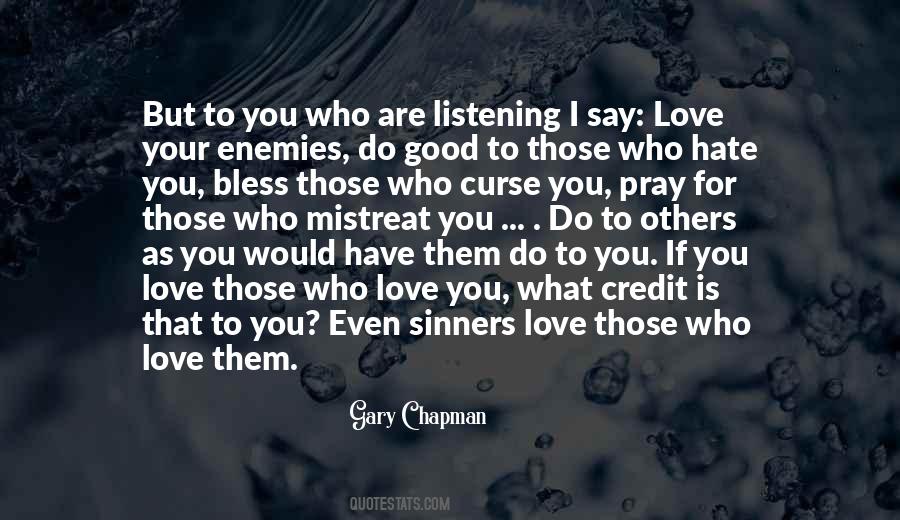 #3. Probably the most profound thing in the Bible is 'Love your enemies, do good to those who hate you.' This is what, to me, is the essence of Christianity. - Author: Dave Brubeck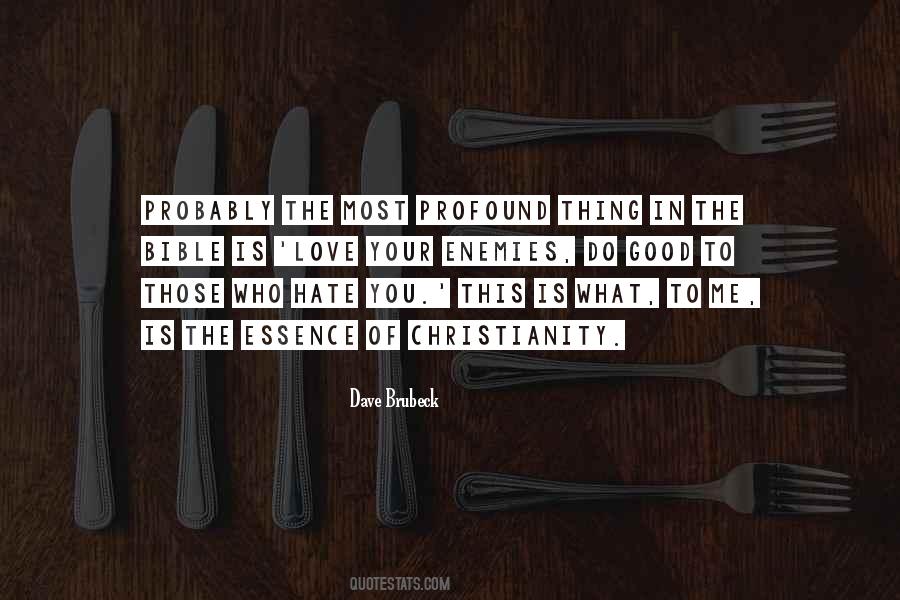 #4. I got ice in my veins
Blood in my eyes/Hate in my heart
Love in my mind - Author: Lil' Wayne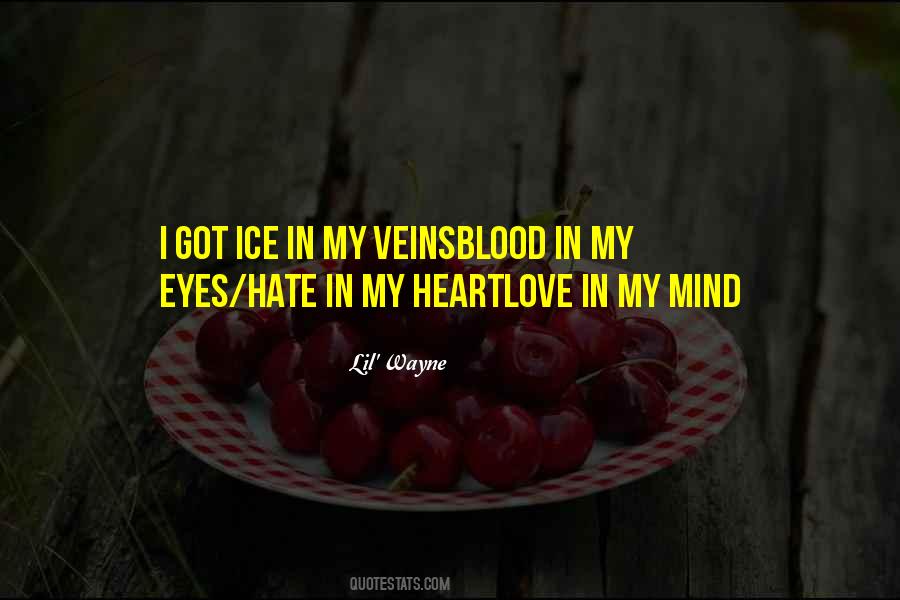 #5. O serpent heart hid with a flowering face!
Did ever a dragon keep so fair a cave?
Beautiful tyrant, feind angelical, dove feather raven, wolvish-ravening lamb! Despised substance of devinest show, just opposite to what thou justly seemest - A dammed saint, an honourable villain! - Author: William Shakespeare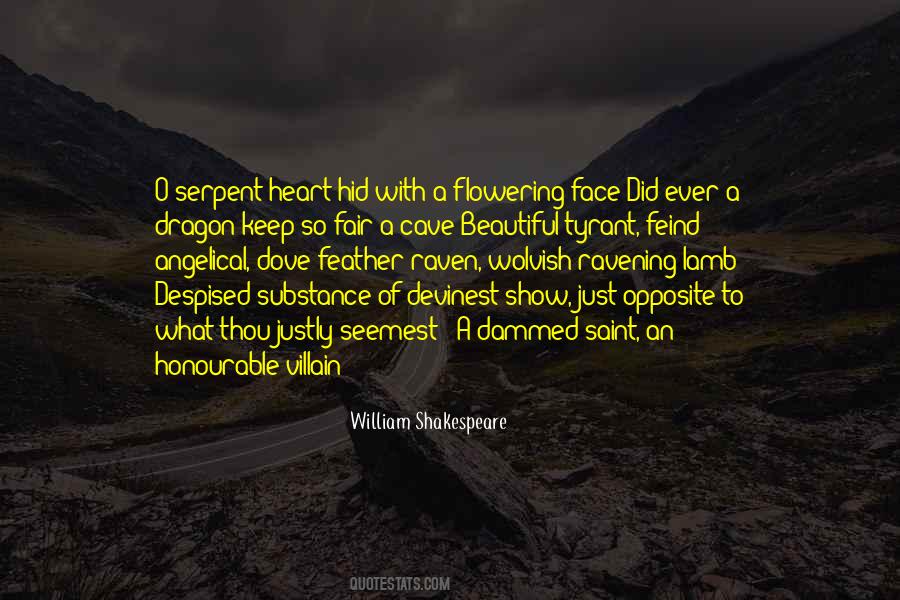 #6. The point about L-O-V-E is that we hate the word. Because we vulgarize it. It should be taboo, forbidden from utterance for many years, till we've found a new and a better idea. - Author: Larry Kramer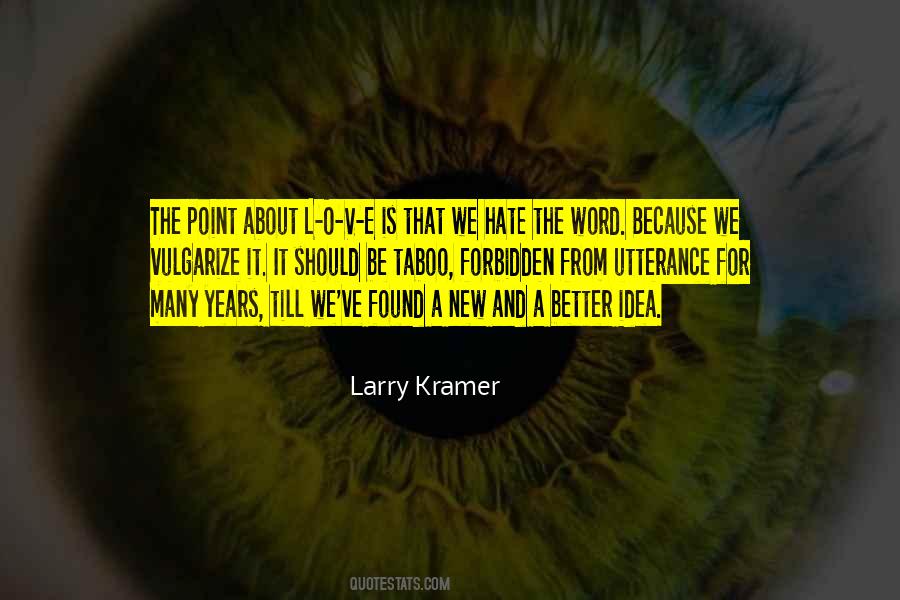 #7. Children would struggle desperately to feel love for their parents. Rather than hate a parent, in fact, they'd choose to hate themselves. Love and violence became so intertwined for them that when they grew up and got into relationships, only hysteria could set their hearts at ease. - Author: Ryu Murakami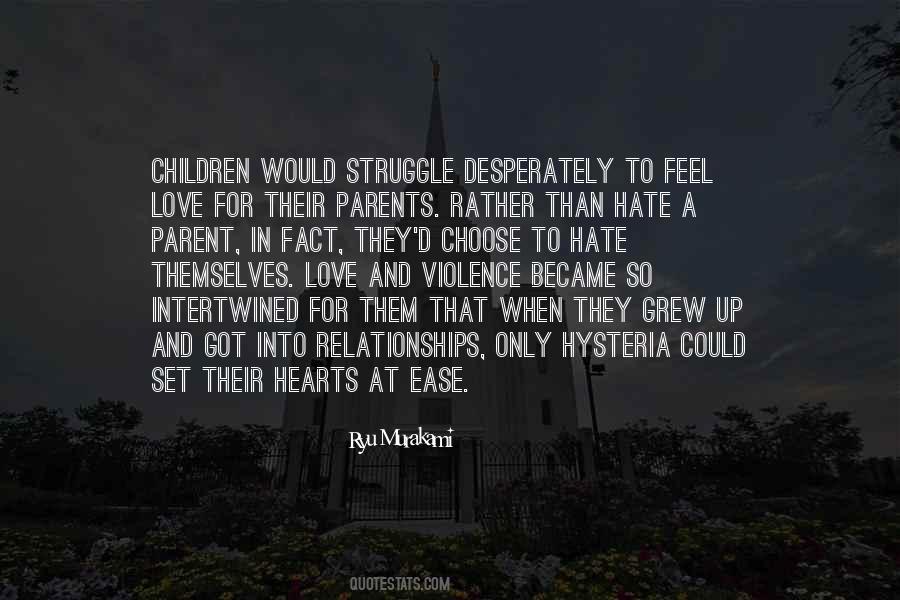 #8. We play a tough game. If people want to whinge, they can go to a different sport. It's part of the game, it's what I love about it ... and I'd hate to see it go. - Author: Ben Hannant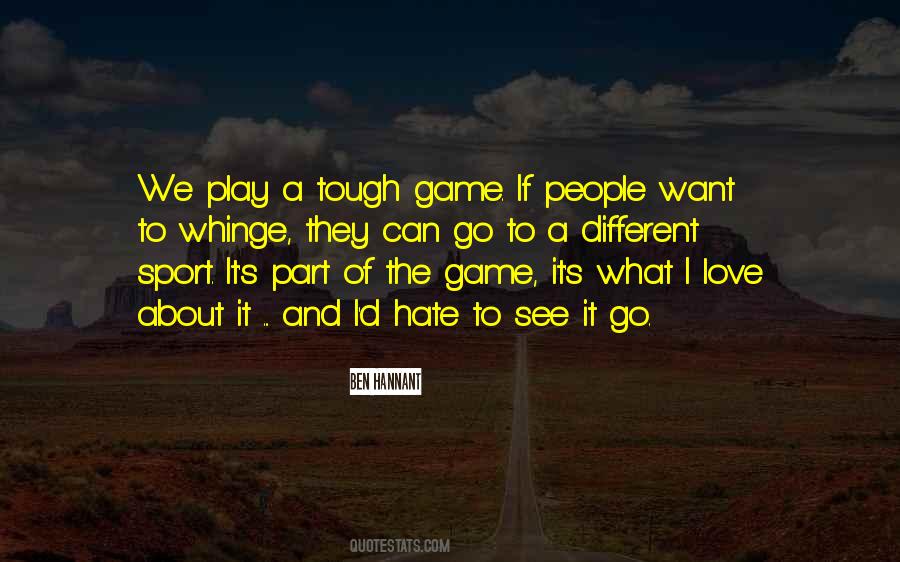 #9. Blessings upon all that hate contention, and love quietnesse, and vertue, and Angling. - Author: Izaak Walton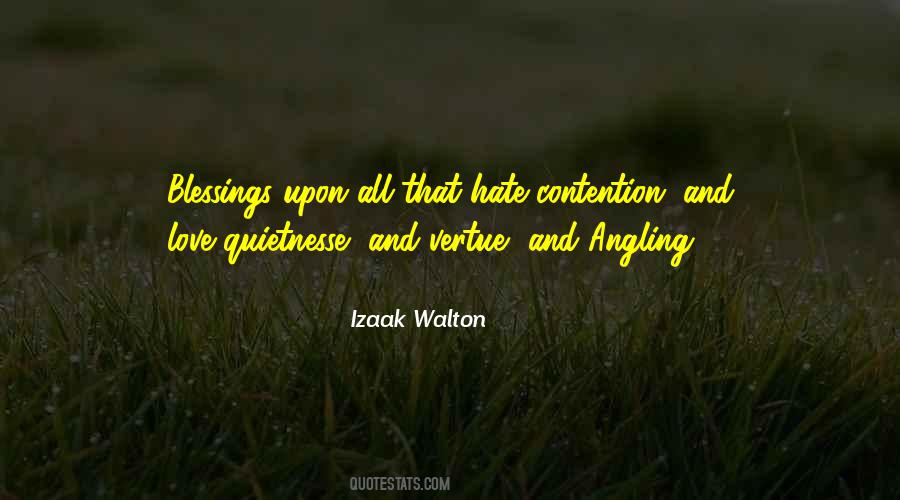 #10. Then there's those wizards on it, who must all be gifted hydrophobes - " "You mean they hate water?" said Twoflower. "No, that wouldn't work," said Rincewind. "Hate is an attracting force, just like love. They really loathe it, the very idea of it revolts them. - Author: Terry Pratchett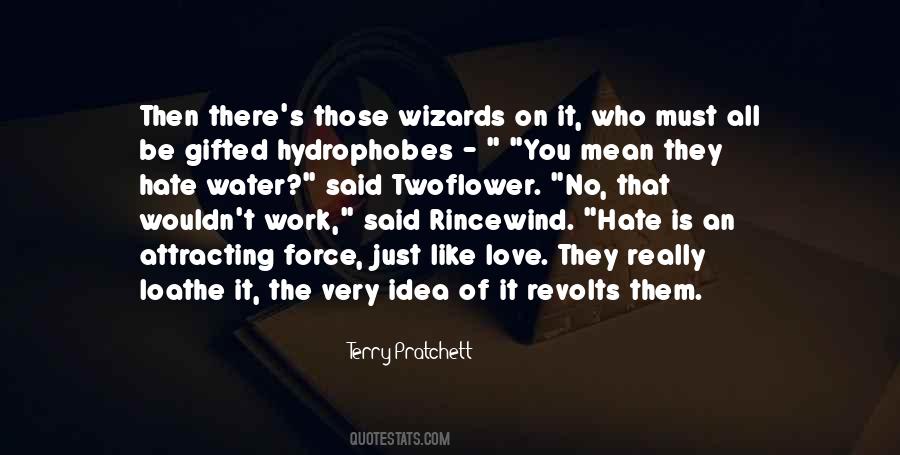 #11. Love is my sin, and thy dear virtue hate,
Hate of my sin, grounded on sinful loving, - Author: William Shakespeare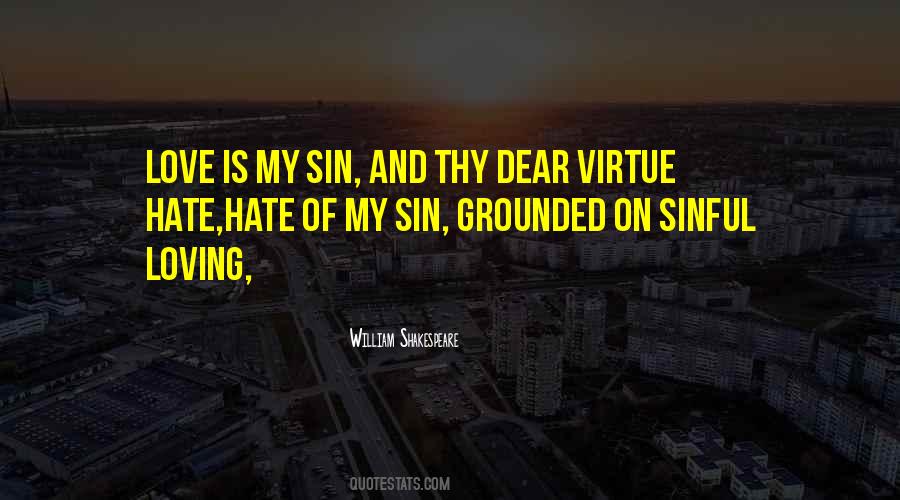 #12. I don't hate you, Cyndi. You're blood. I have to love you. You just annoy the hell out of me. He put one
arm around her thin shoulders. - Author: Jez Morrow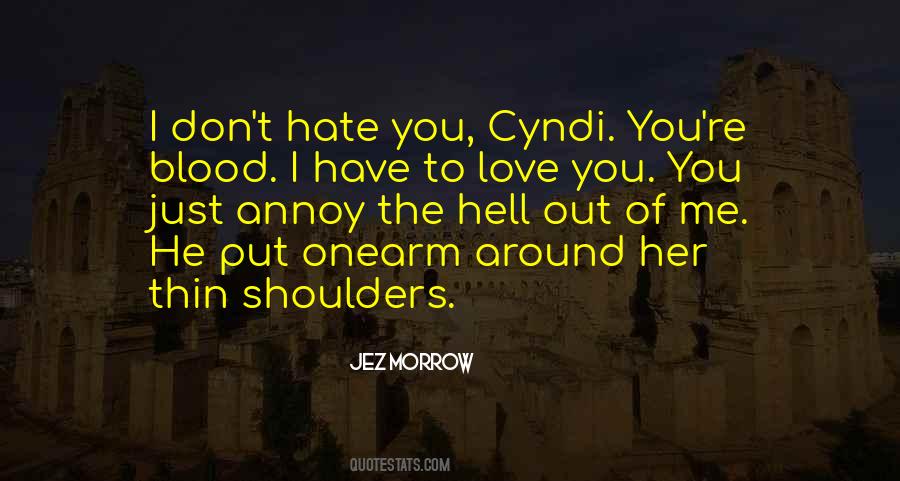 #13. I love Allah: I have no time left in which to hate the devil. - Author: Rabia Basri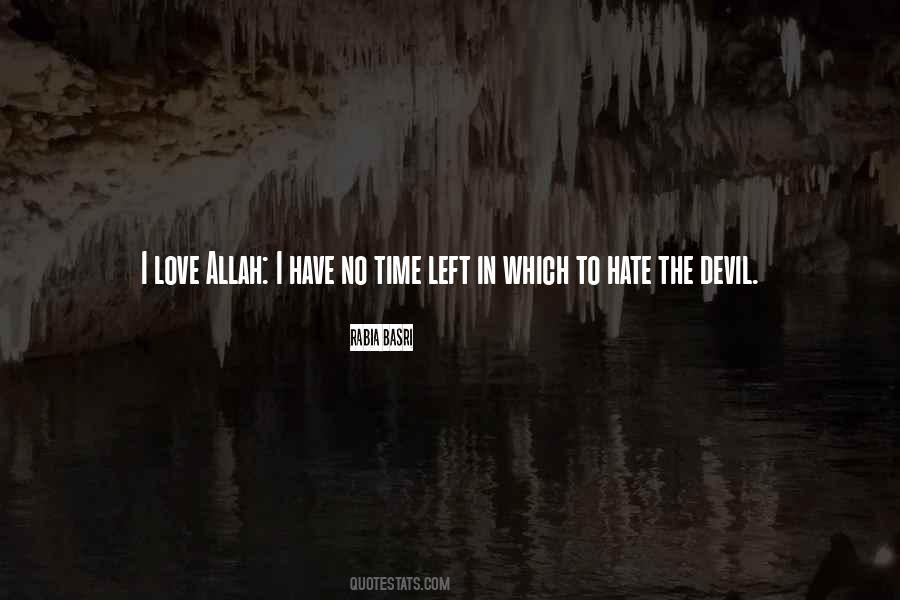 #14. Pain withheld becomes hate, pain shared becomes love. - Author: Seekerohan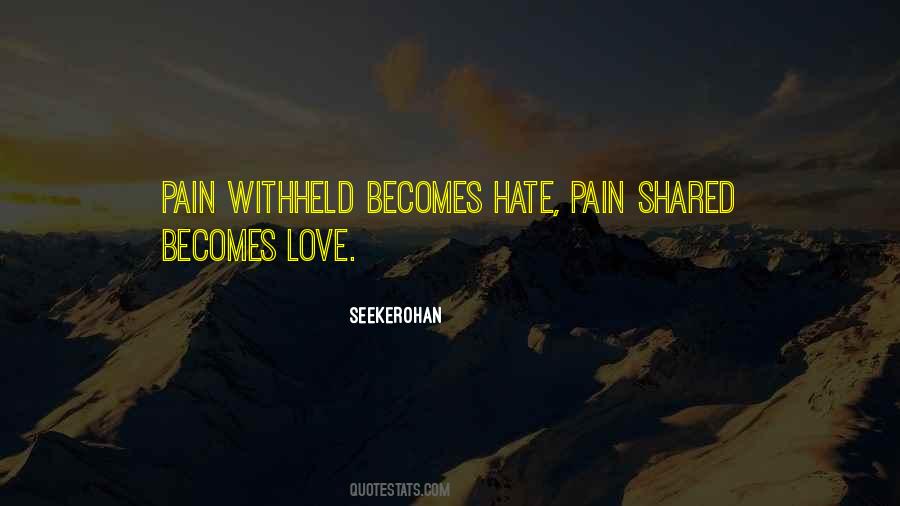 #15. People hate you for 1 of 3 reasons. 1) They hate themselves 2) They want to be you 3) They see you as a threat When you love yourself you are incapable of hating anyone no matter what they've done. - Author: Tony Gaskins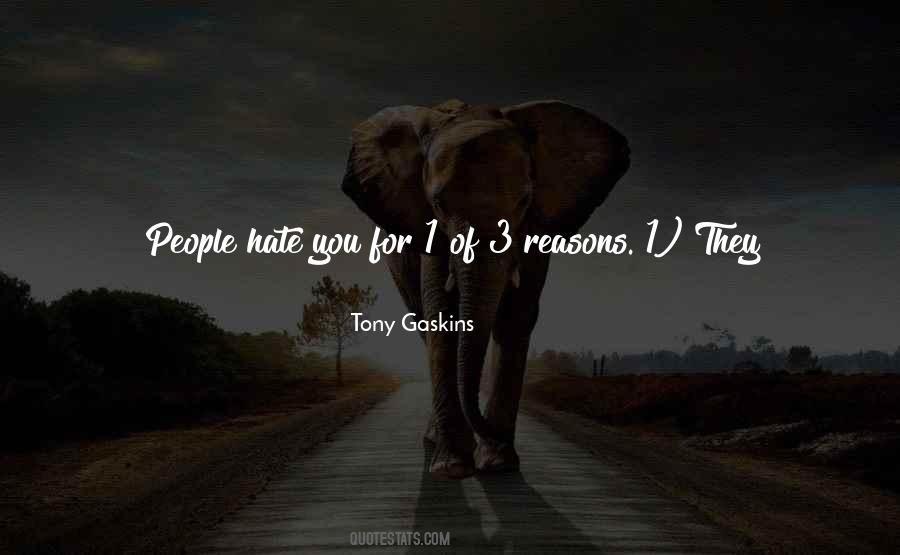 #16. Sharpened by hate. Strengthened by love. - Author: Pierce Brown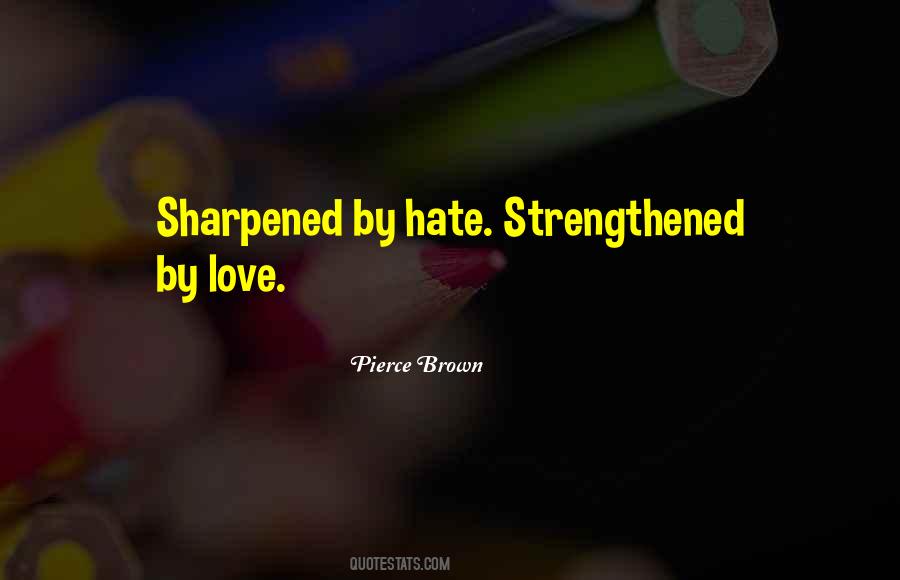 #17. Hate grows and victors where love is afraid to share its bloom. - Author: Donald E. Williams Jr.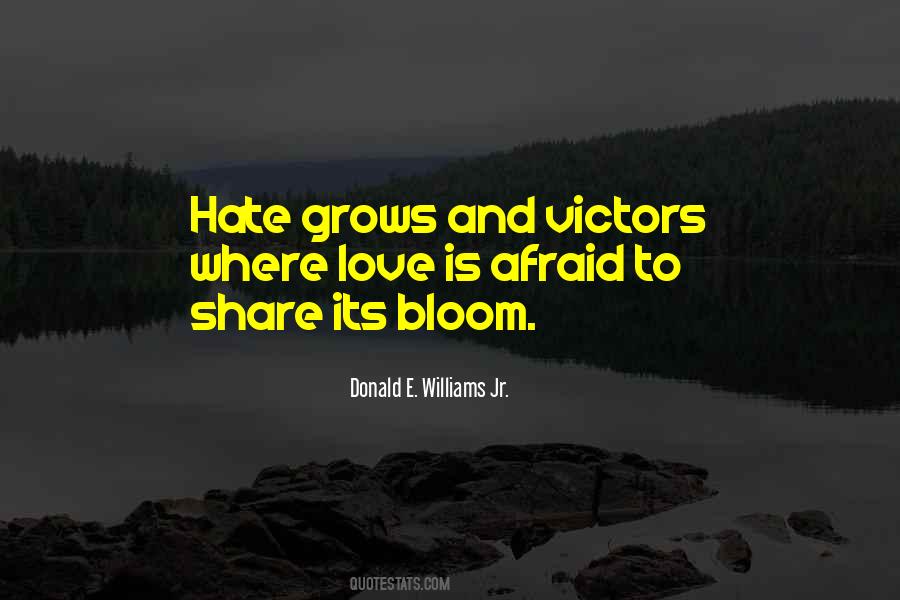 #18. For a long time, I operated under the Chinese proverb that there are four kinds of leaders: those who you laugh at, those who you hate, those who you love and those who you don't even know that they're leaders. - Author: Bill Bradley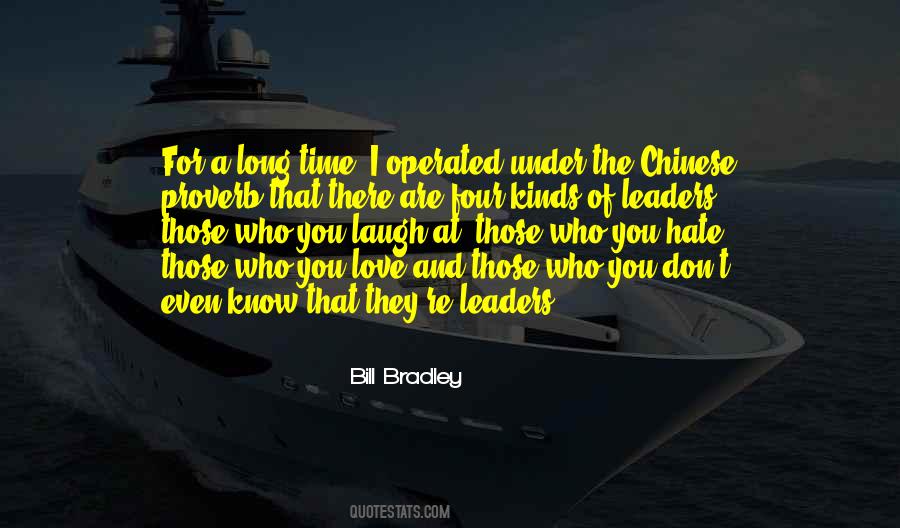 #19. Even though everybody hates you, you'll always have a friend who protects you and wishes to uplift you from pain, misery and suffering and that will always turn and remain the hardest blow to those who hate you. - Author: Auliq Ice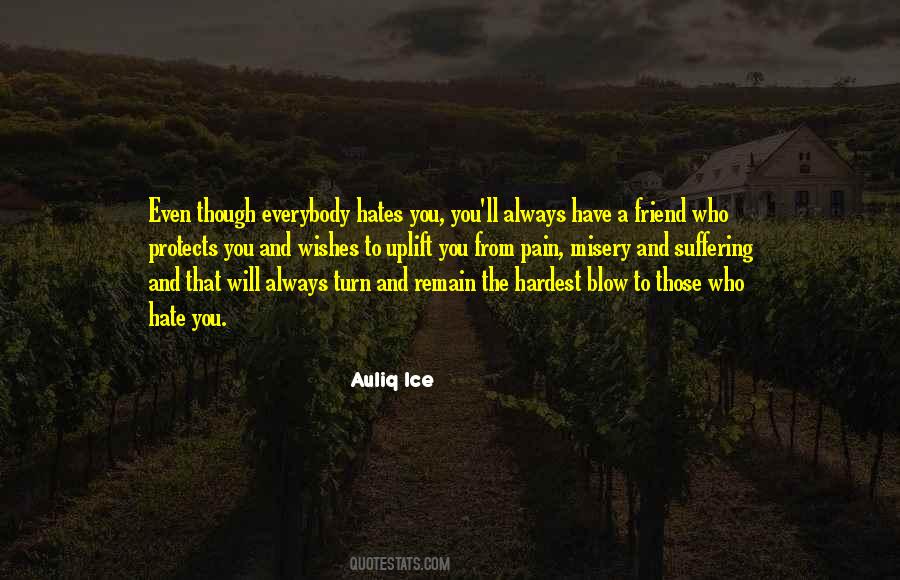 #20. How would your life be different if instead of spending your energy and focus on hating those who hate you, you spent your energy and focus on loving those who love you? - Author: Steve Maraboli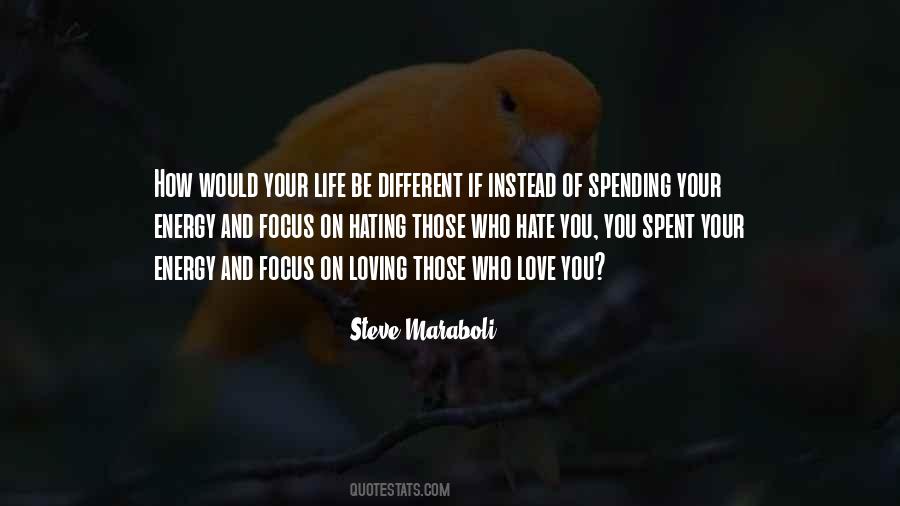 #21. I cannot, I cannot,' cried Marianne; 'leave me, leave me, if I distress you; leave me, hate me, forget me! But do not torture me so. Oh! how easy for those who have no sorrow of their own to talk of extertion! - Author: Jane Austen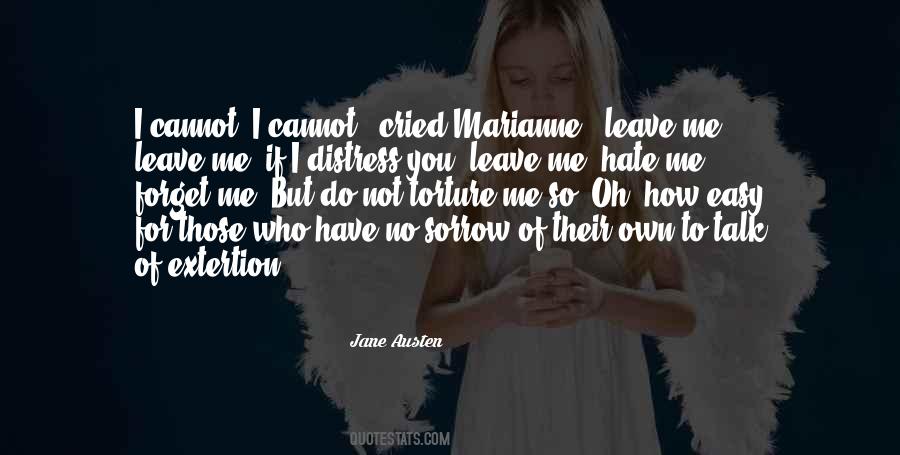 #22. Pay great attention to those who love you, and love those who hate you. - Author: Debasish Mridha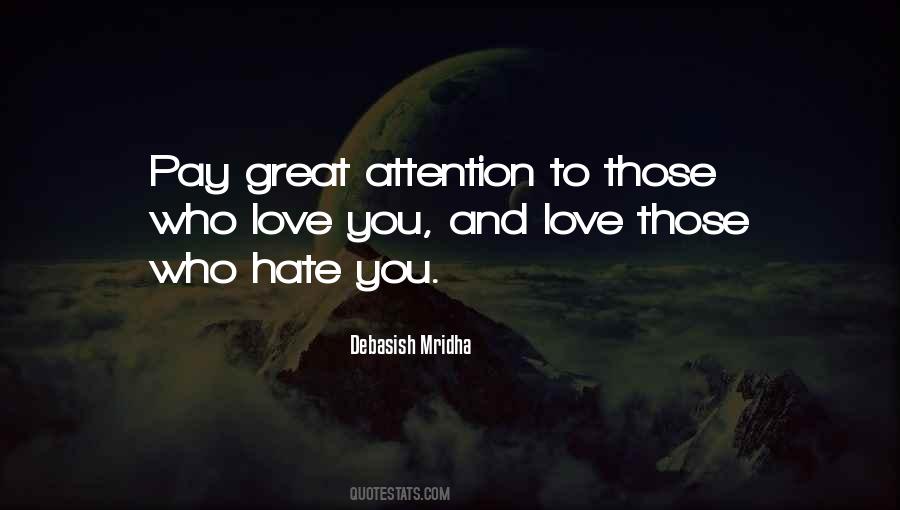 #23. Those of you who love the Lord should hate evil - Author: Dennis Prager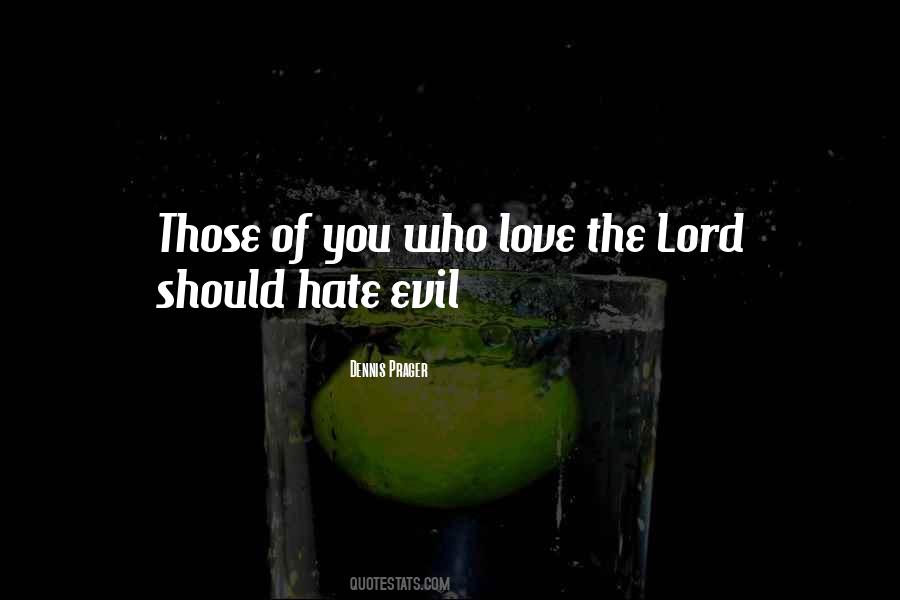 #24. Hate is such a strong emotion. Much more powerful than indifference. But those who burn with hate can also love just as intensely. Can't they? When you hate
or love
do you do so with all your heart? So much that it feels as if you might die from it? - Author: Morgan Rhodes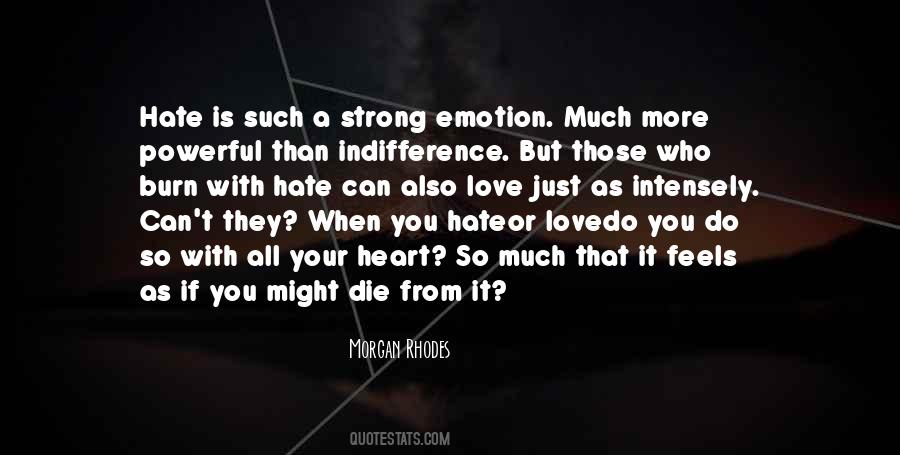 #25. Those who love you, you are living in their love. Those who hate you, them, you have to love. - Author: Debasish Mridha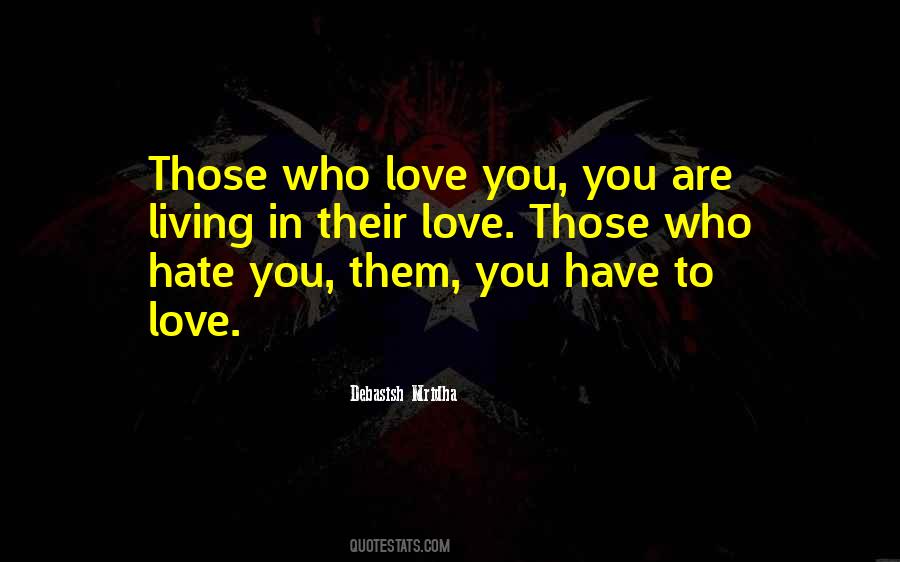 #26. I curate my life in a way. It's always playing on my mind, kind of a love-hate relationship. I'm not one of those people who's, like, 'I wish Facebook wasn't around,' because, you know, it is what it is. - Author: Lorde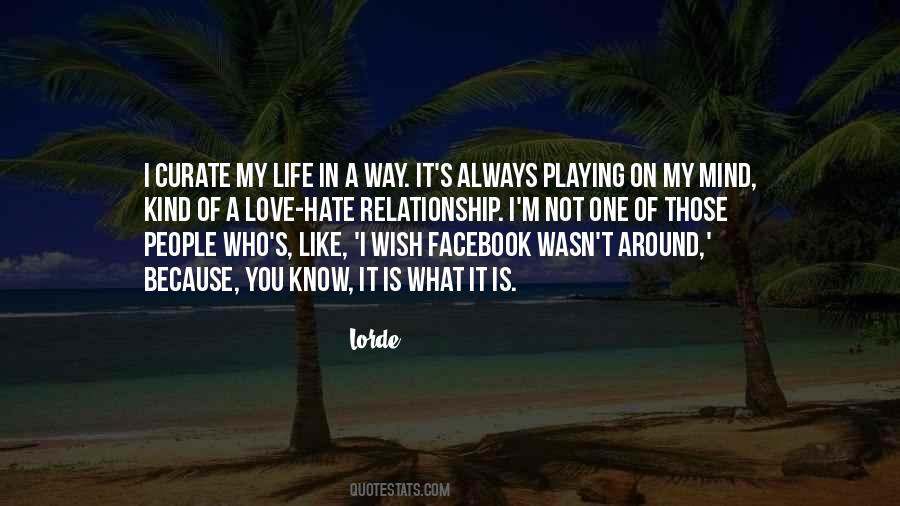 #27. Some people love you for a reason, some people hate you for no reason ... Yet I am still me and you are still you. - Author: Adam Aksara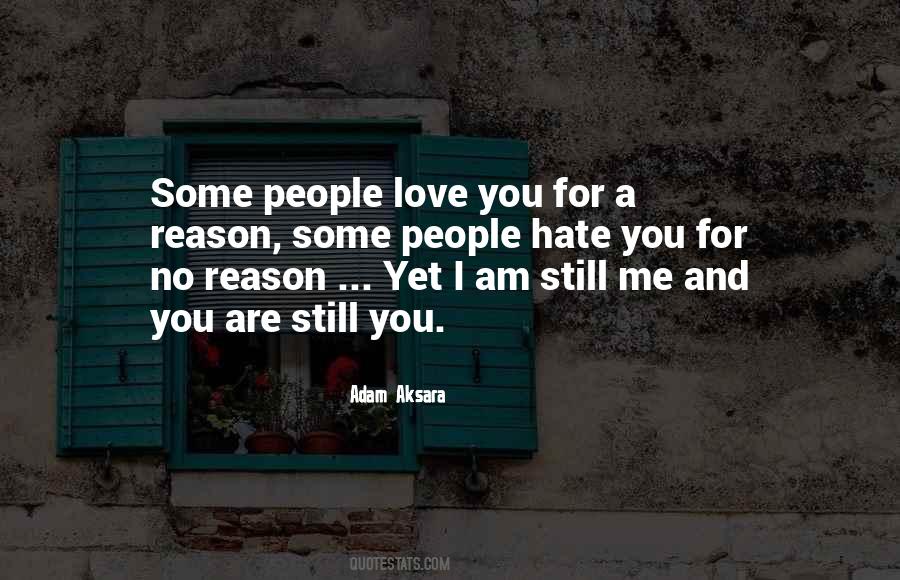 #28. DUMAH "Love your enemies and do what is wonderful to those who hate you. Bless those who curse you and pray over those who take you away by force." Yeshua - Author: Ted Dekker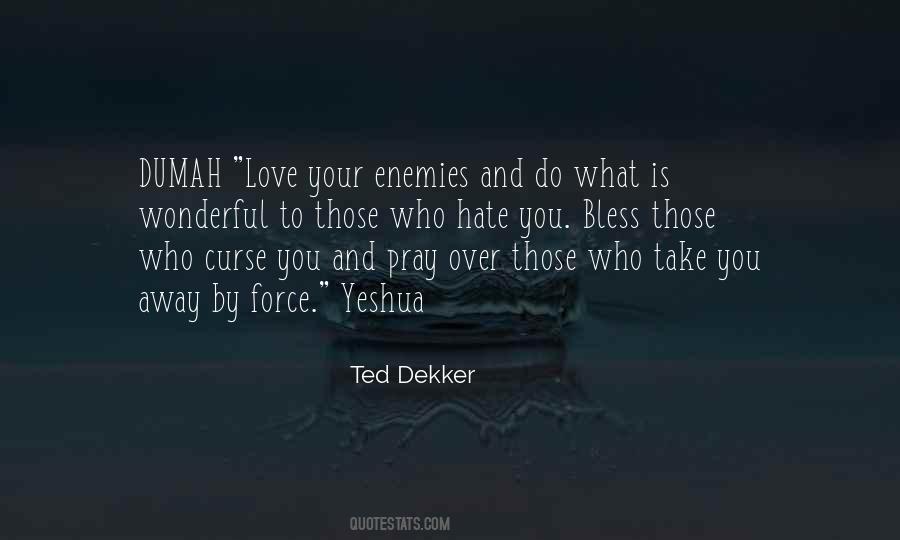 #29. Then I read this: "You have heard that it was said, 'Love your neighbor and hate your enemy.' But I tell you: Love your enemies and pray for those who persecute you, that you may be sons of your Father in heaven" (Matthew 5:43-45). That's it! I was thunderstruck - Author: Mosab Hassan Yousef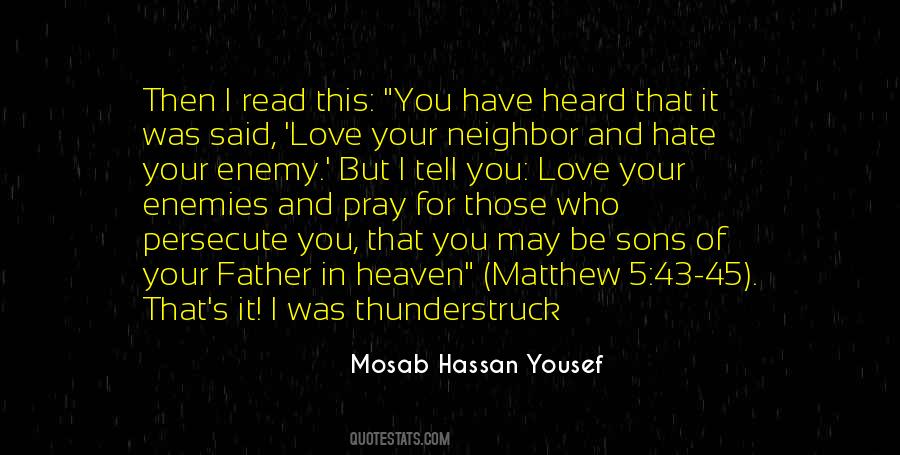 #30. Love those who love you. Love those who love you not. Love those who hate you. Love those who hate you not. Love them all until they love you back, and when they love you back, LOVE THEM MORE! - Author: Abhishek Kumar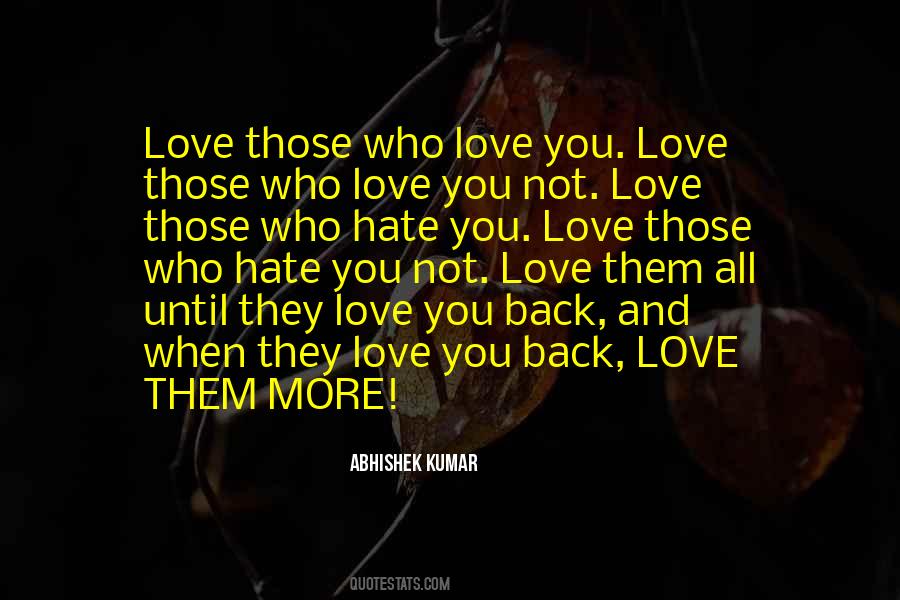 #31. I think we get the world we deserve. People who love get love back, and people who hate, or fear, they get those back too."
"Huh. Which kind of person are you?"
"Both. We all are, at different times. - Author: Jeri Smith-Ready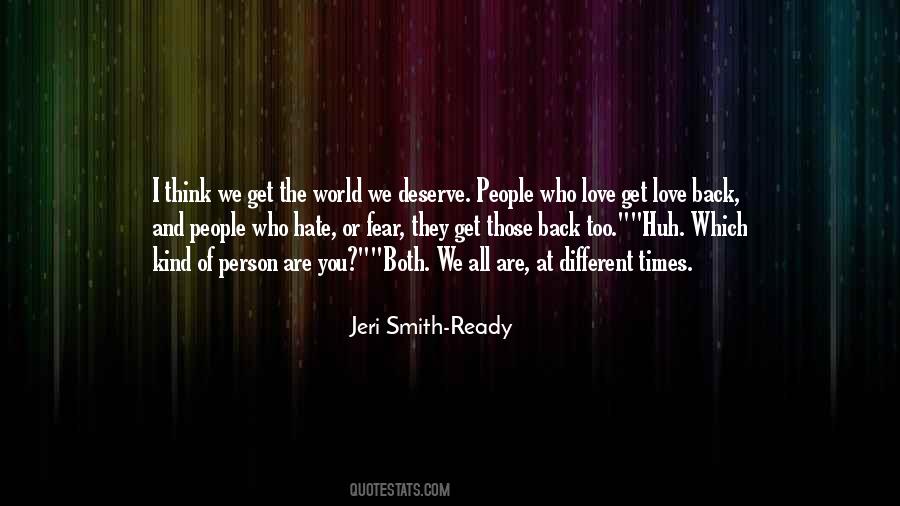 #32. All the souls to explore! - It's not so necessary to love, really, as it is to settle something deep with all of those who really matter. Love and hate are the same things, differently sifted through personal ... pride, or what have you ... personal pride or even just personal-ness. - Author: Jack Kerouac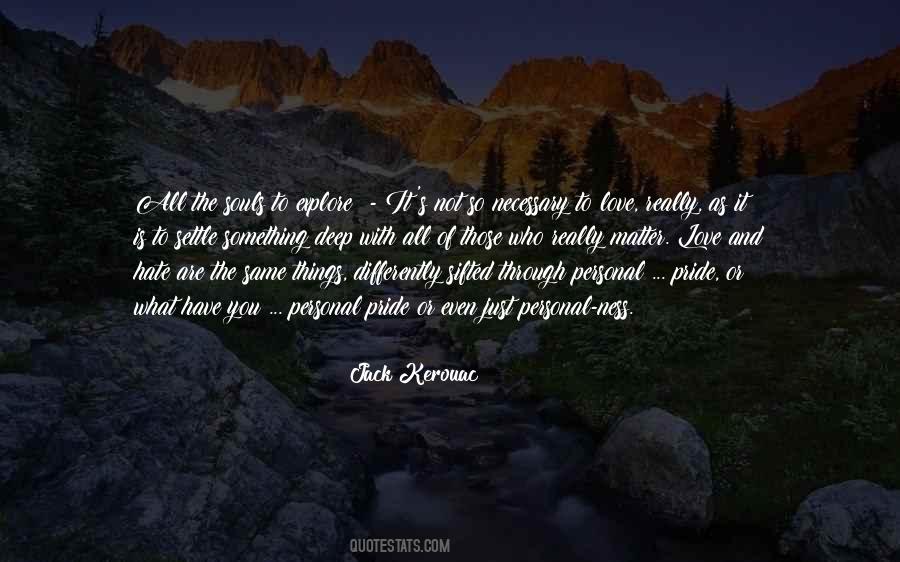 #33. Proactive people show you what they love, what they want, what they purpose, and what they stand for. These people are very different from those who are known by what they hate, what they don't like, what they stand against, and what they will not do. - Author: Henry Cloud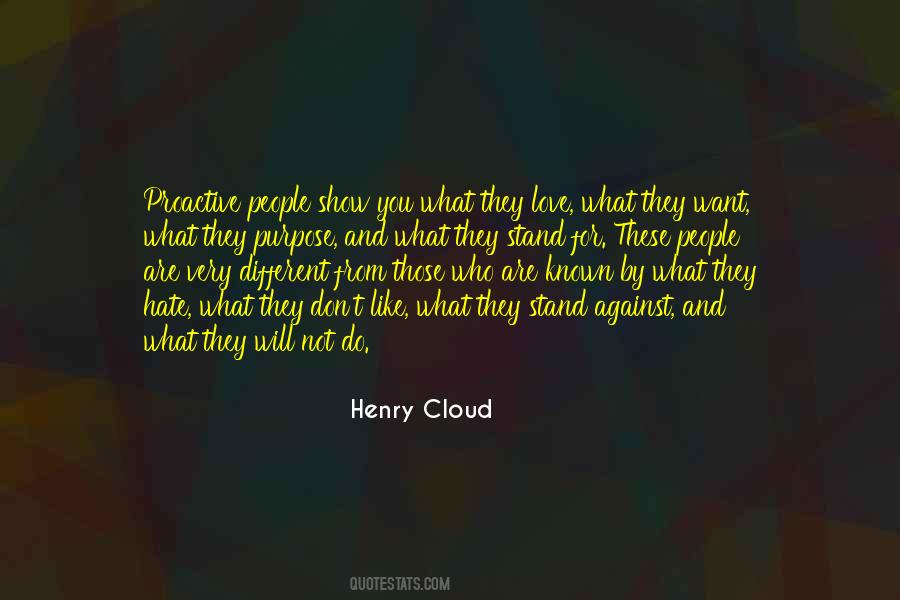 #34. Even though we are deceived, still believe. Though we are betrayed, still forgive. Love completely even those who hate you. - Author: Sun Myung Moon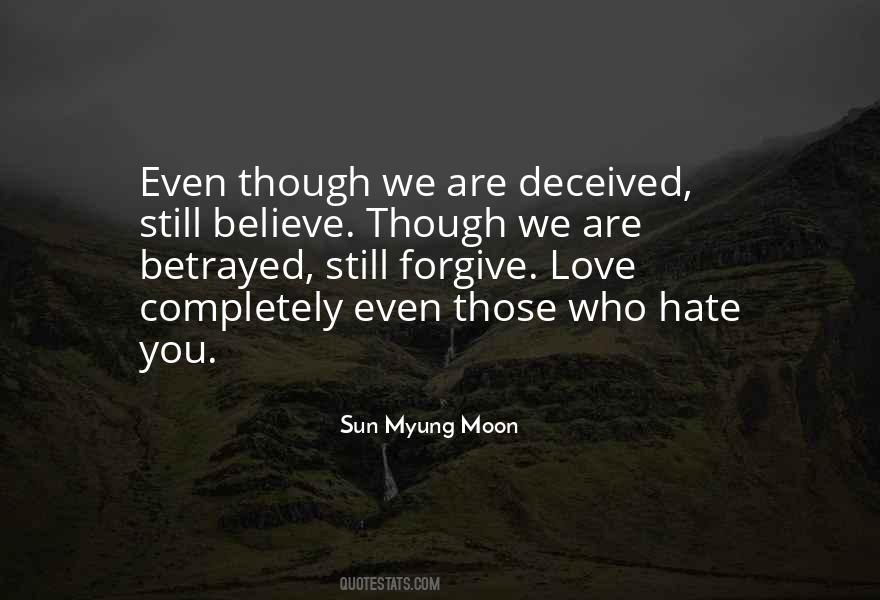 #35. His entire presence was like gravity, impossible to forget, possible to believe in, a theory merged into a law. - Author: Shannon A. Thompson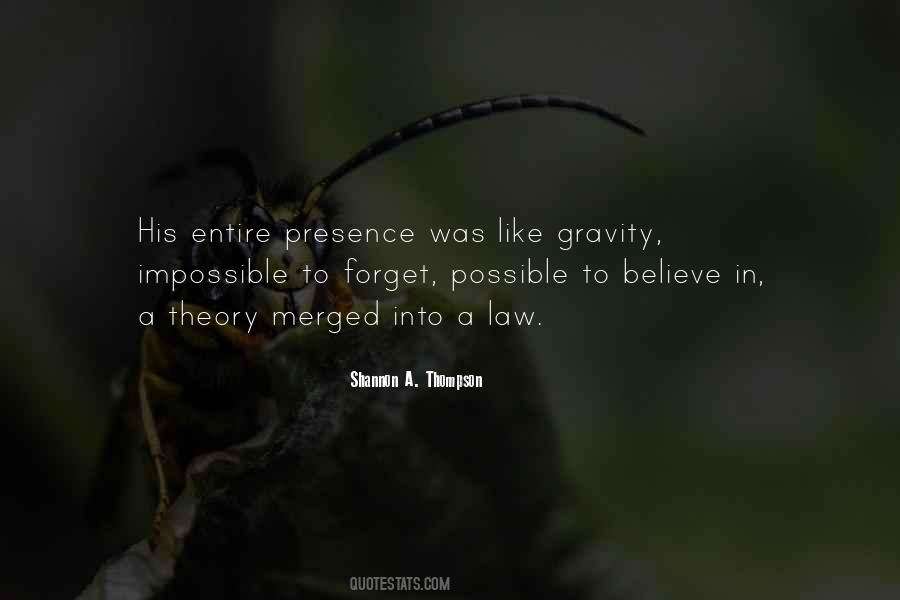 #36. I think people love each other a little more than they hate each other ... Love has a slim hold on the human corporation, like fifty-one per cent, but it's enough. - Author: Peter De Vries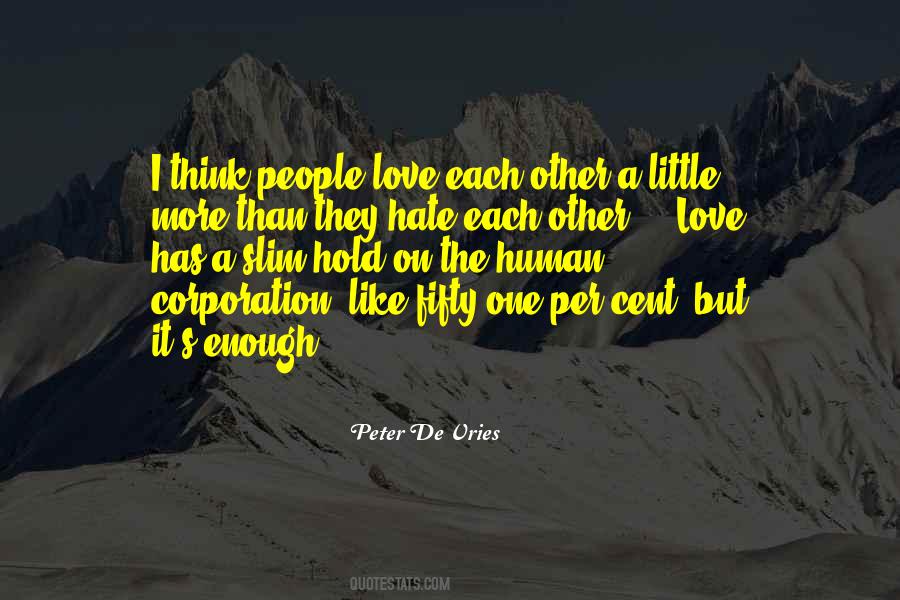 #37. You can look forward with love or backward with hate, and people have to make that choice for themselves. But holding on to bitterness is like drinking poison and waiting for someone else to die, and she by God wasn't going to waste her time like that. - Author: Abigail Strom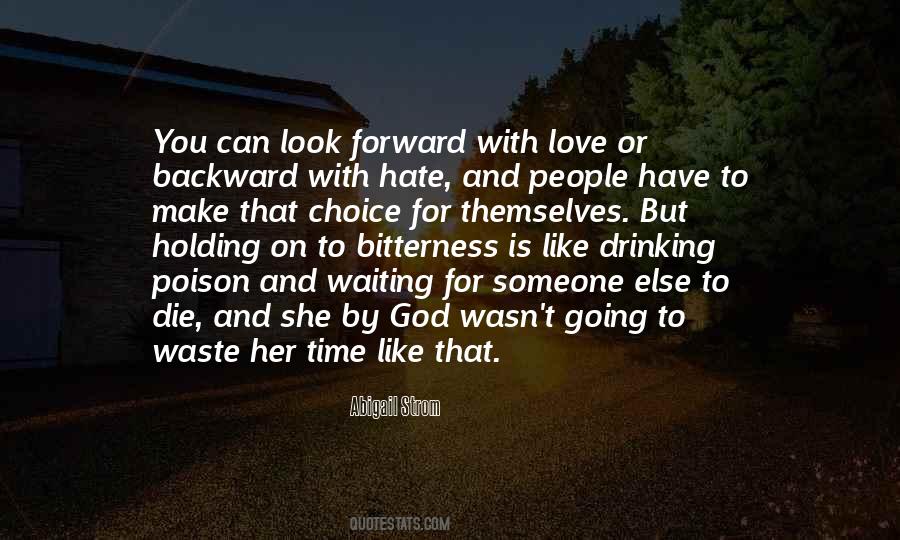 #38. While we are focusing on fear, worry, or hate, it is not possible for us to be experiencing happiness, enthusiasm or love. - Author: Bo Bennett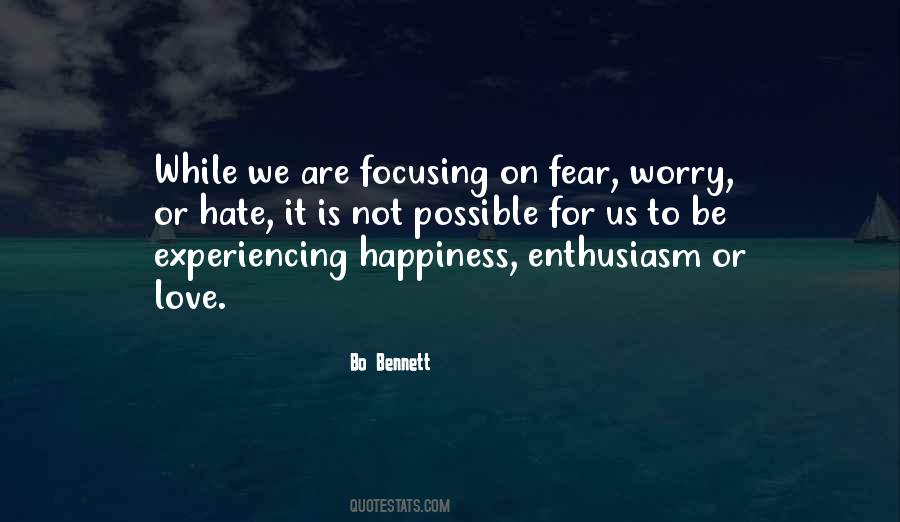 #39. Words spoken in deep love or deep hate set things in motion in the human heart that can never be reversed - Author: Frederick Buechner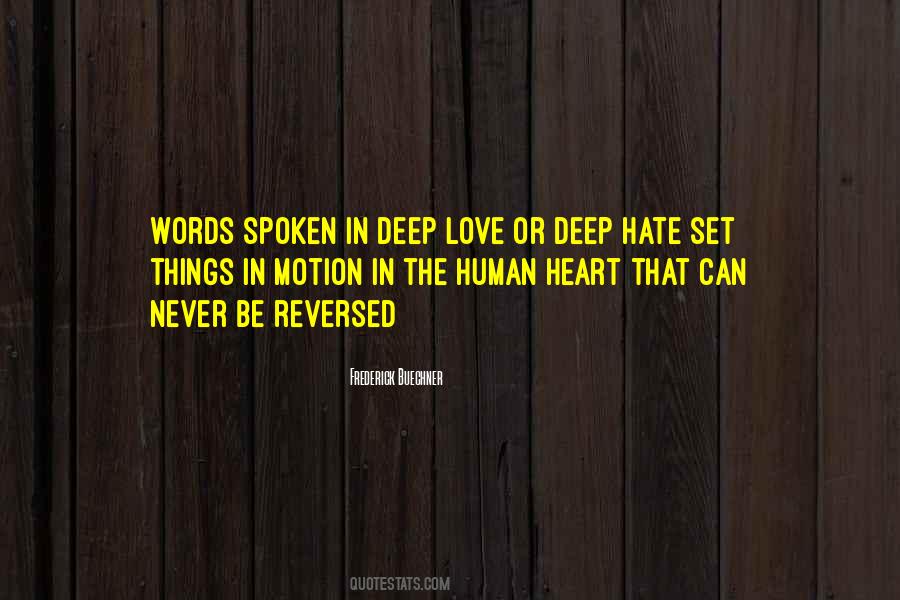 #40. I could deal with hate and fear, but for the love of all that's right in the world, don't fake like me. Life was too short to waste energy faking anything. - Author: Donna Augustine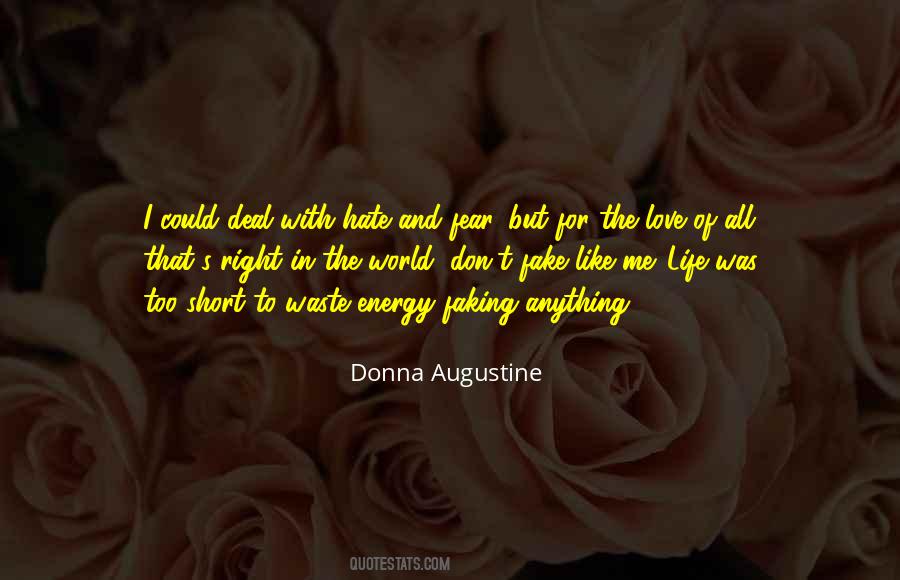 #41. It's hard to hate you, but It's even harder to love you. - Author: Unknown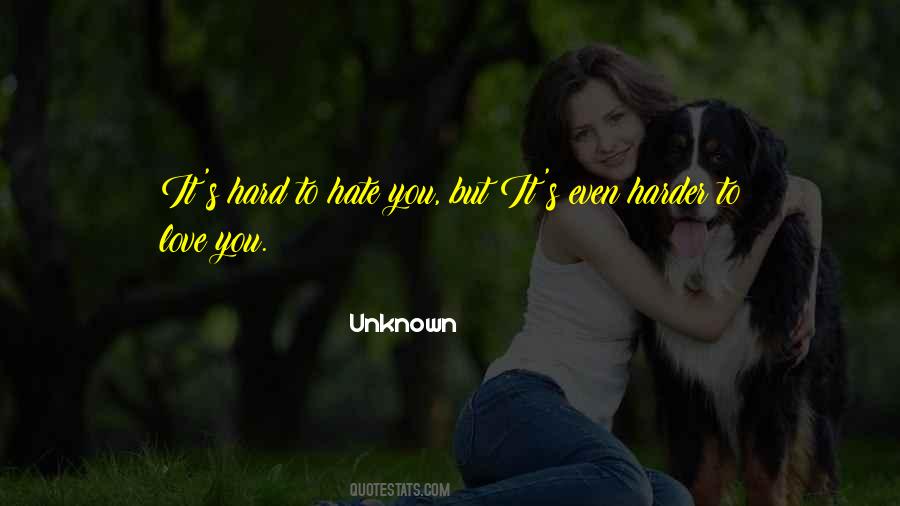 #42. I just wish you could love me more than you hate him,
-Lo to Ryke - Author: Krista Ritchie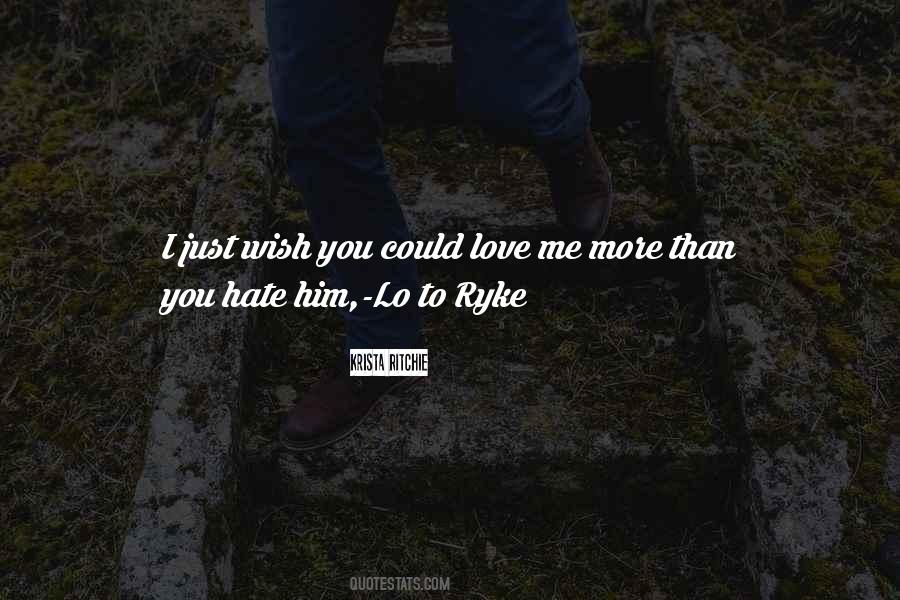 #43. He thinks men like me weak. He thinks me dumb, feeble, subhuman. I was not raised in palaces. I did not ride horses through meadows and eat meals of hummingbird tongues. I was forged in the bowels of this hard world. Sharpened by hate. Strengthened by love. He is wrong. None of them will survive. - Author: Pierce Brown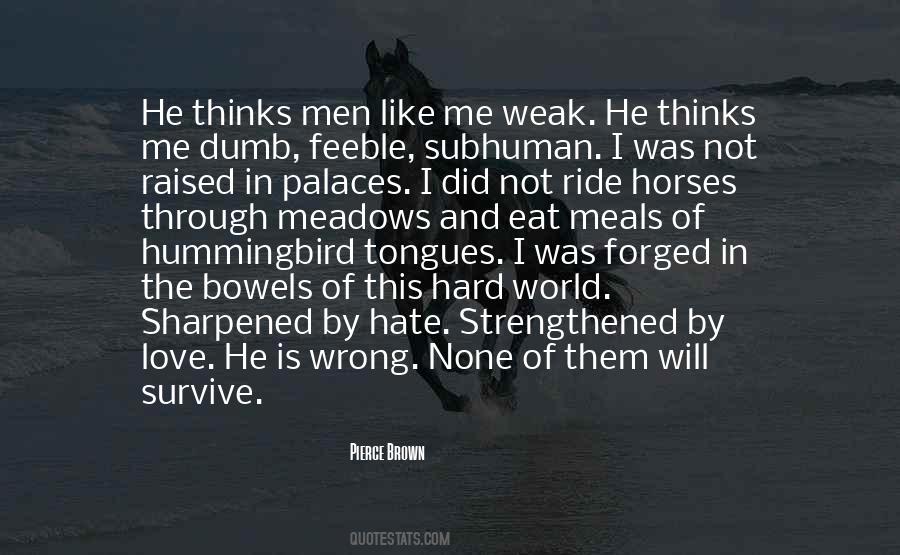 #44. I love the passions. They create such sensation! Anger, grief, fear, love, hate, excitement. The fierce emotions make one feel. Such are a gift, so one knows one is alive. To live without passion is to have no life at all. - Author: Nikki Sex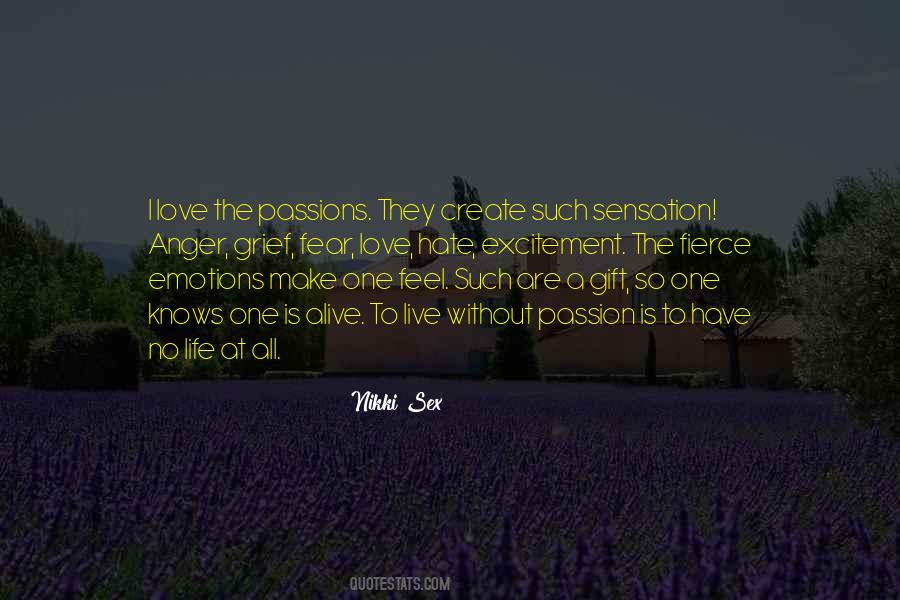 #45. Hate isn't like love, it doesn't end. It goes on forever. You can never get to the bottom of it. And it's so pure, so unconditional! - Author: Lev Grossman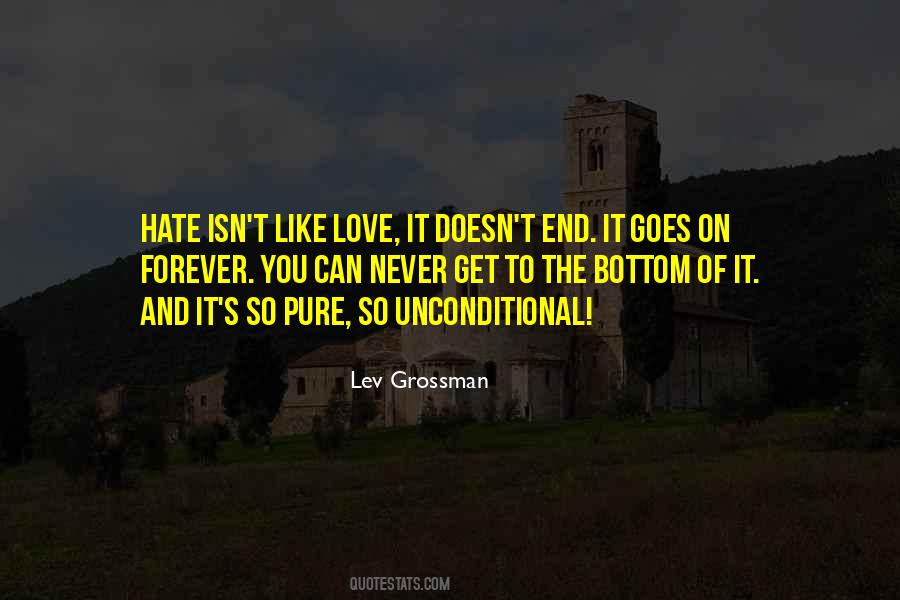 #46. The greatest flood has the soonest ebb; the sorest tempest the most sudden calm; the hottest love the coldest end; and from the deepest desire oftentimes ensues the deadliest hate. - Author: Socrates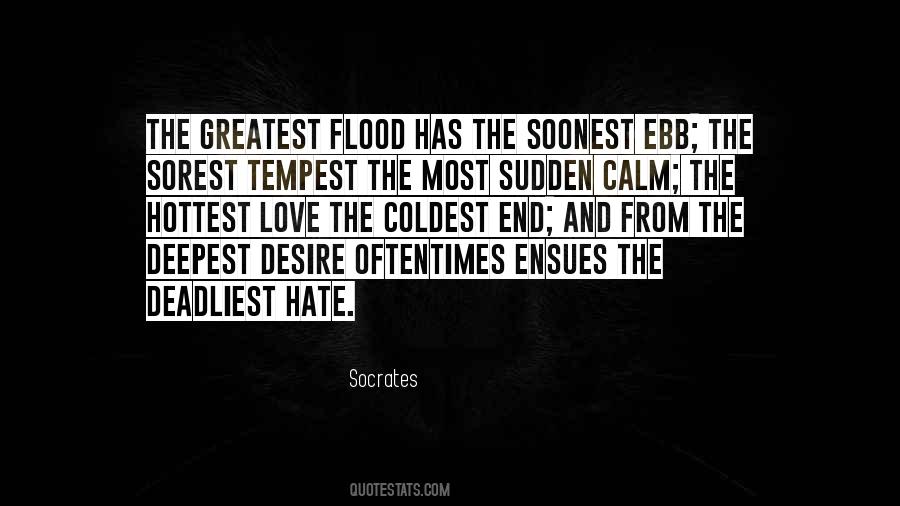 #47. Love is wonderful. Hate is not. Man seeks woman to love. They do not when they hate. What makes this so? Perhaps no one knows. Man will continue to love and hate. - Author: Lao Chang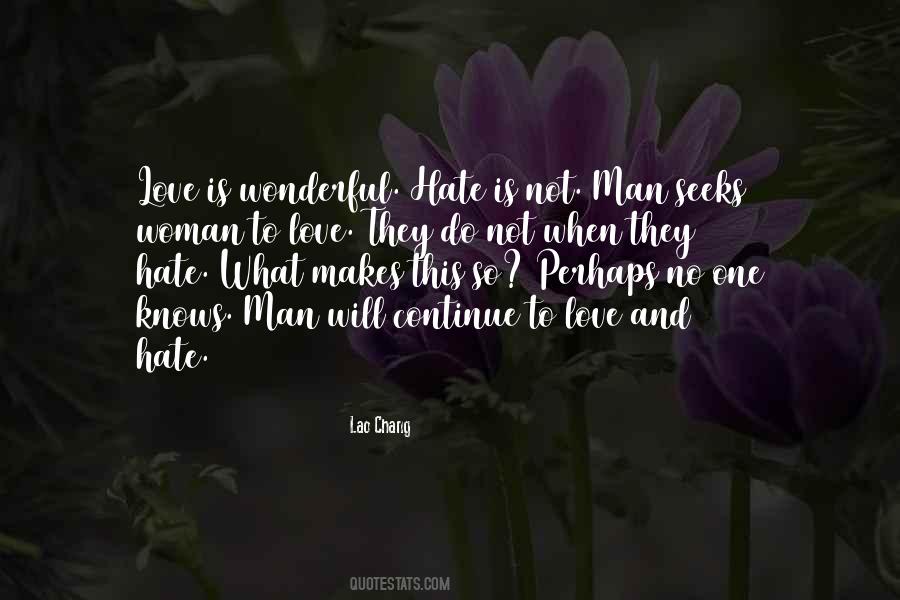 #48. The opposite of love is apathy, and hate is really the same as love-if your so consumed with hatred for someone, you might as well be loving them because your thinking about them for the same amount of time. - Author: Marilyn Manson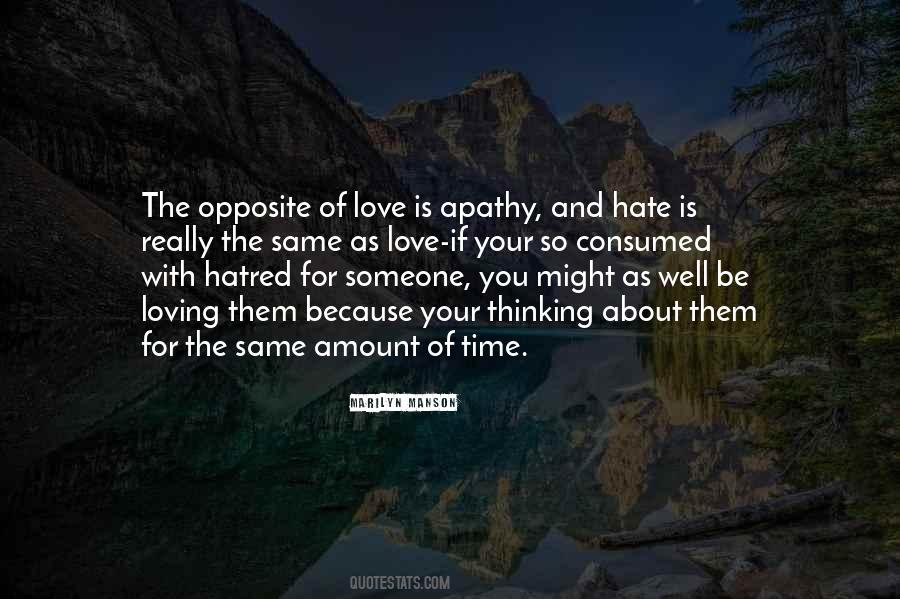 #49. You are not exactly my first pick either. - Author: Rachel E. Carter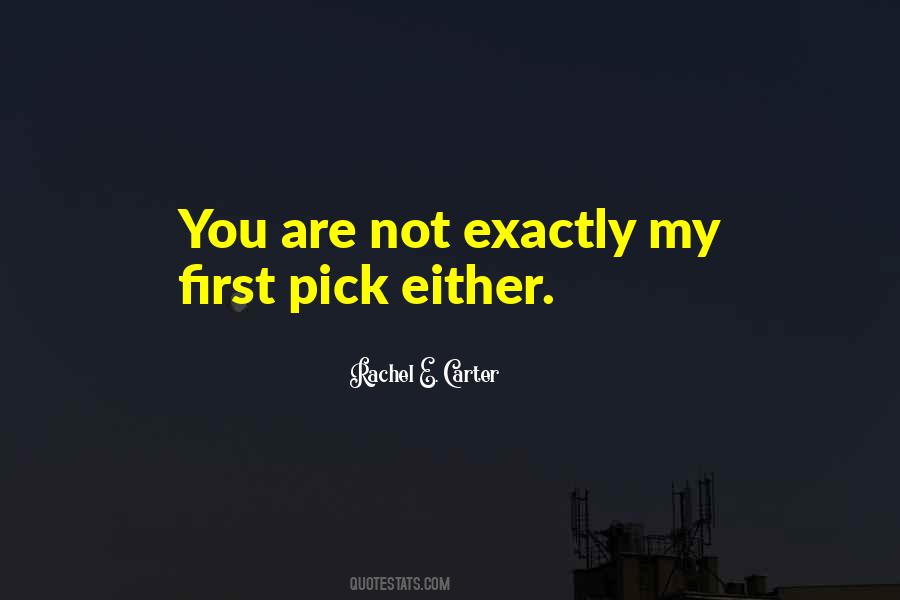 #50. Hate is only conquered by love. - Author: Gautama Buddha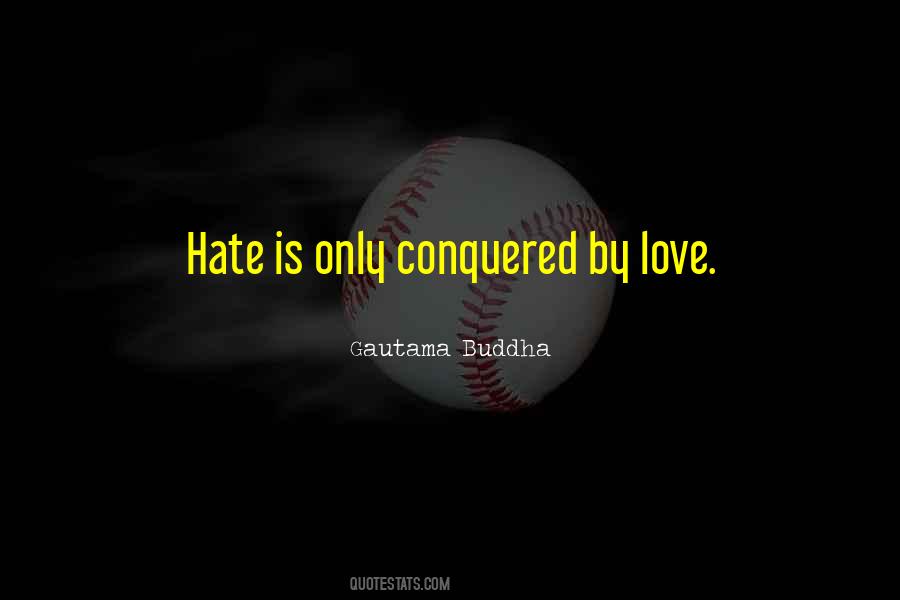 #51. sometime hate is just confused love! - Author: Omar Tyree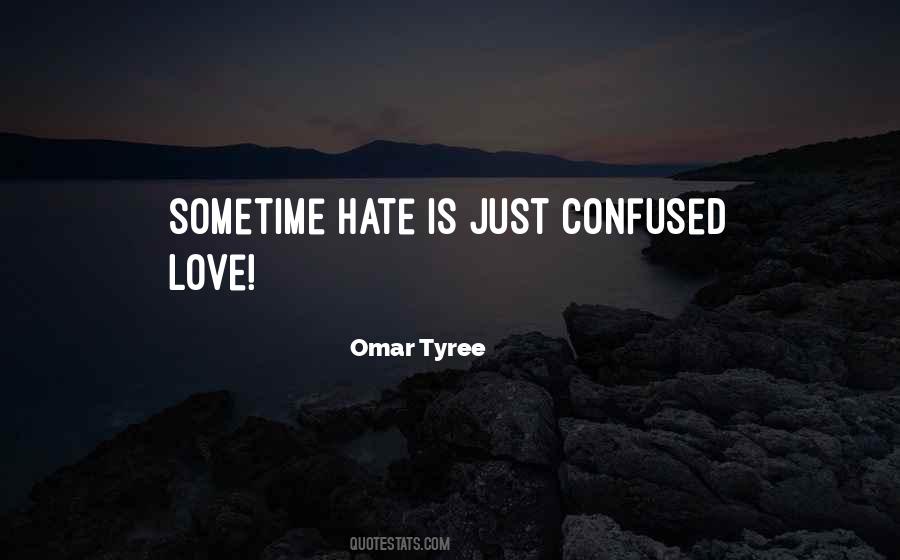 #52. It may be important to great thinkers to examine the world, to explain and despise it. But I think it is only important to love the world, not to despise it, not for us to hate each other, but to be able to regard the world and ourselves and all beings with love, admiration and respect. - Author: Hermann Hesse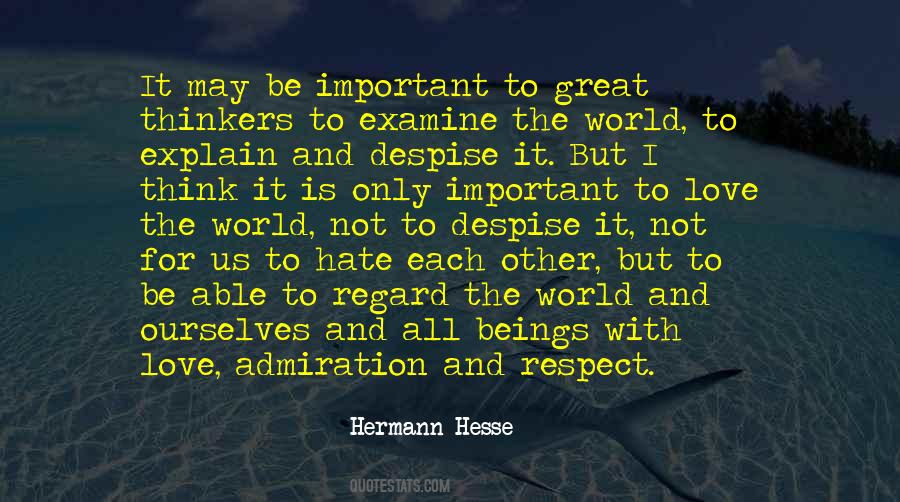 #53. The sun weeps because it can no longer caress your skin or warm your lips." He sifted his fingers through my hair. "I do not envy the sun, Eva. But I truly hate the moon, because its light touches you in all the ways I cannot. - Author: Michele Bardsley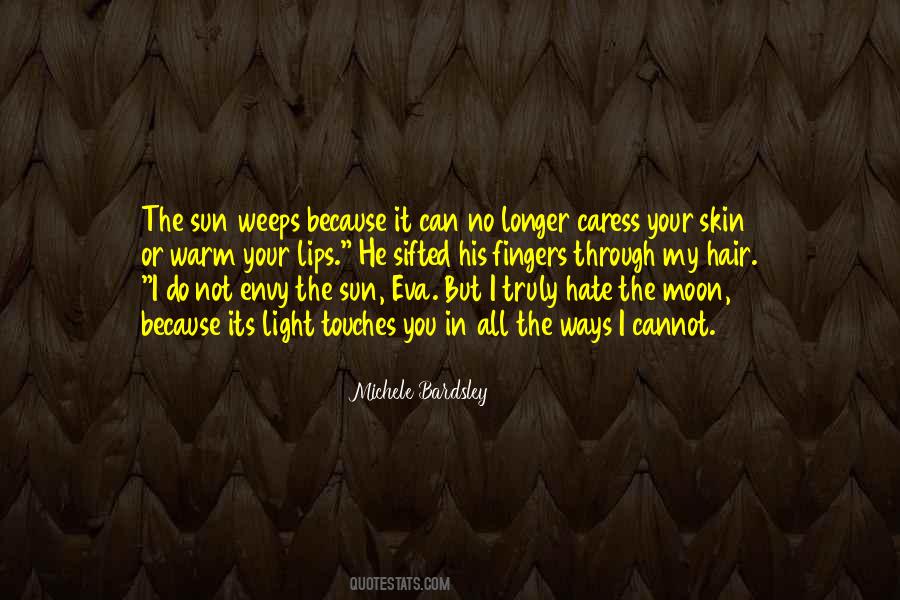 #54. [ ... ] falling in love with someone beautiful and intelligent and the rest of it, then feeling like a blank twit put you at something of a disadvantage. - Author: Nick Hornby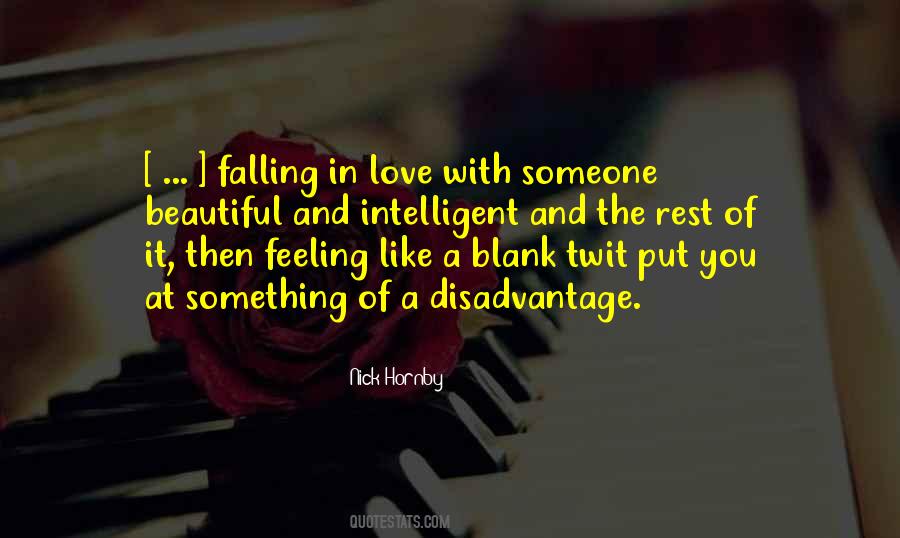 #55. Someone who could love so hard and so well could also hate, and hurt, as deeply - Author: Jodi Picoult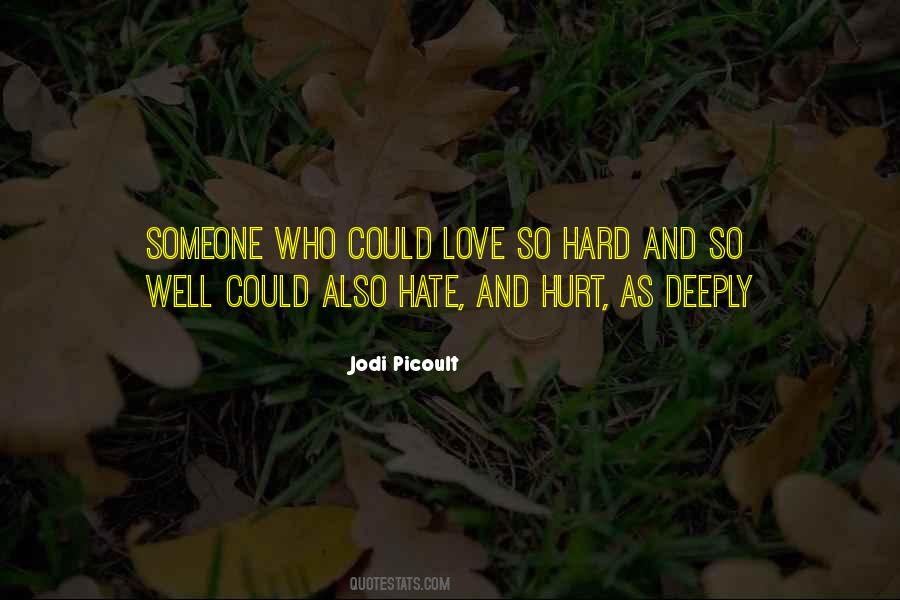 #56. I am right at the bottom compared to everybody else with press kits and demos and trying to get meetings. That's what I love about music and hate about it. That's why I respect people that are successful in the music business because you really have to build it from the ground up. - Author: Drake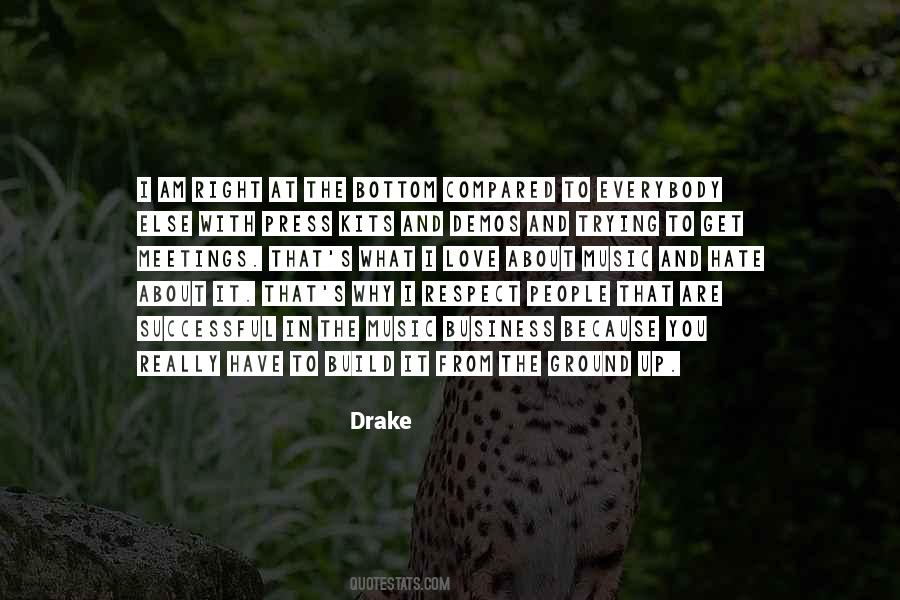 #57. Hate is love without enough data. - Author: Richard Bach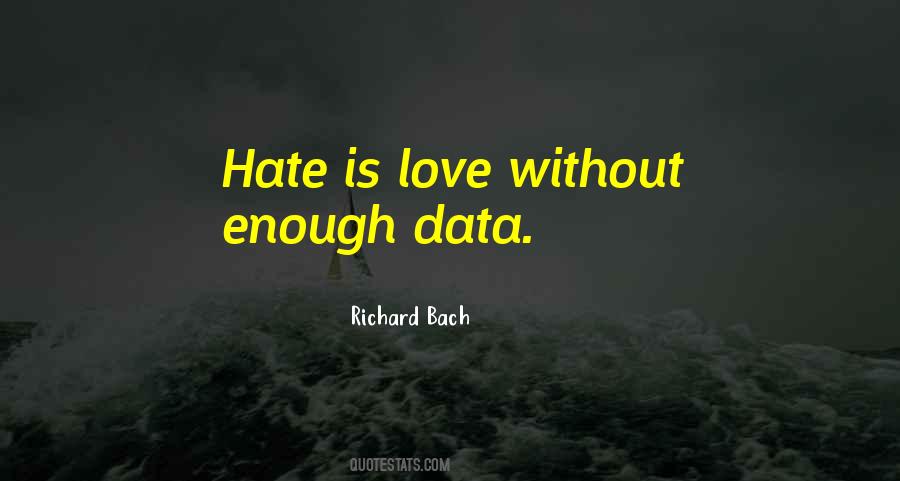 #58. Another reason why we must love our enemies is that hate scars the soul and distorts the personality. - Author: Martin Luther King Jr.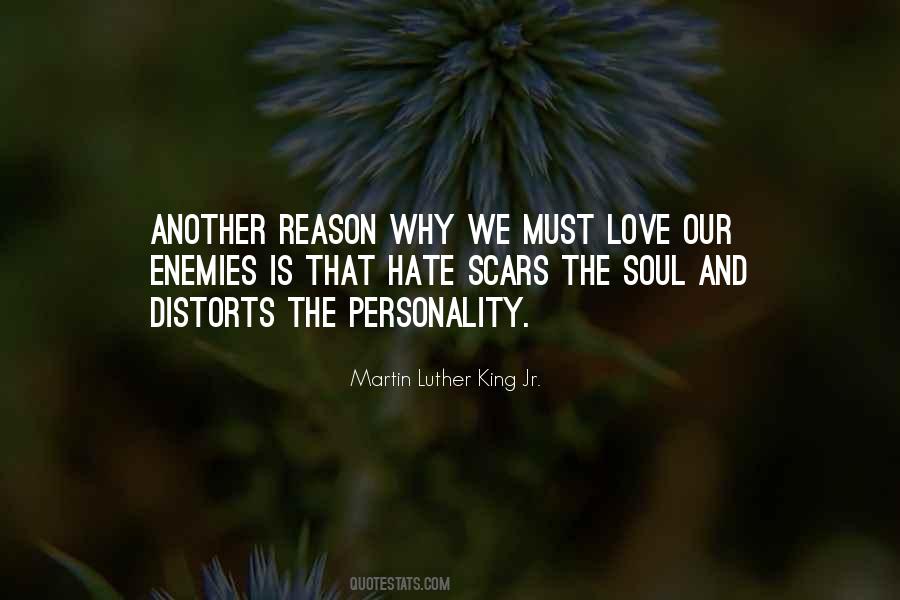 #59. The dark side is emotion, Bane. Anger, hate, love, lust. These are what make us strong, Peace is a lie. There is only passion. Your passion is still there, Bane. Seek it out. Reclaim it. - Author: Drew Karpyshyn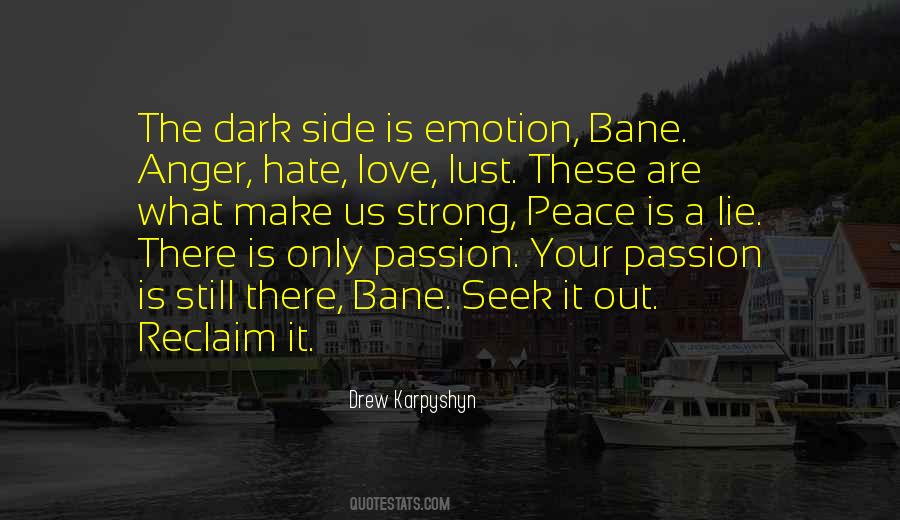 #60. One word can change your life forever.
I love you
I hate you
Think about it - Author: Alan Macmillan Orr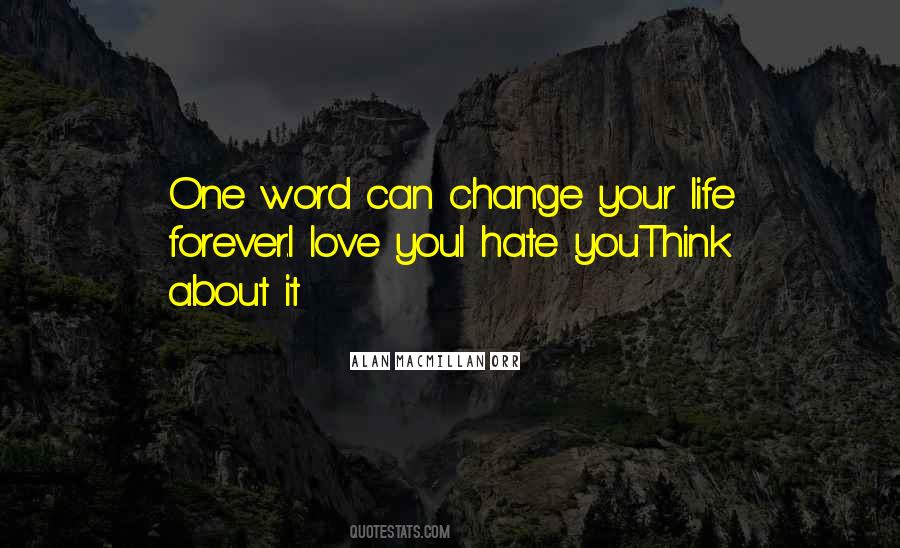 #61. Fear can't be reasoned with. Neither can hate. They're like love. They're almost identical emotions. - Author: Rick Riordan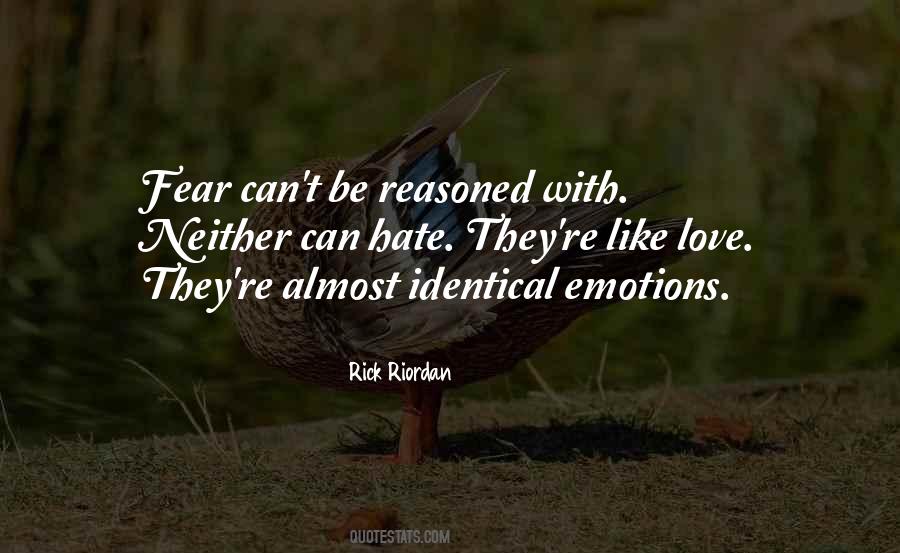 #62. Well he could hate too, hate was easy, hate would fuel him if his mother's love could not. Loyalty is our strength. He snorted a silent laughed of derision. Let loyalty be your strength, Father. My hate for you will be mine. - Author: Anthony Ryan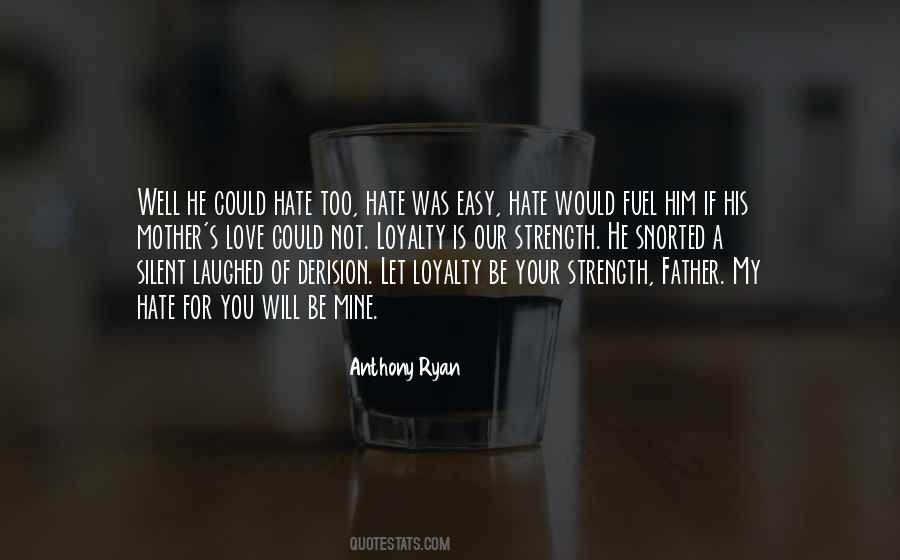 #63. Shaunee was digging in her purse like she'd misplaced a tube of one of MAC's seasonal lipsticks that you buy and fall in love with AND THEN THEY DISCONTINUE IT BECAUSE THEY REALLY HATE US AND WANT US TO BE CRAZY. - Author: P.C. Cast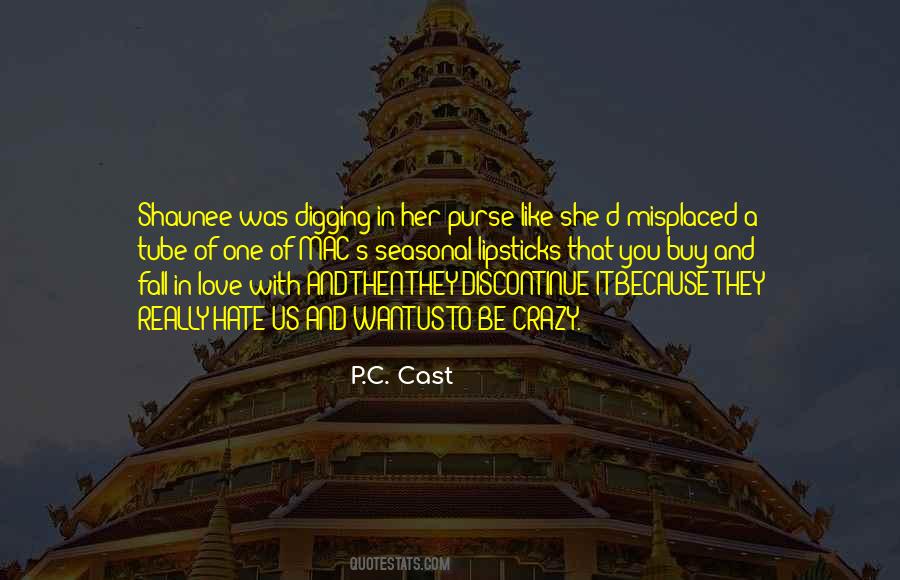 #64. You promised me you would never cheat on me, that you'd love me forever and we would never get a divorce." "I still love you, and I hate that I cheated on you, and I wish we'd never gotten divorced. - Author: Terry McMillan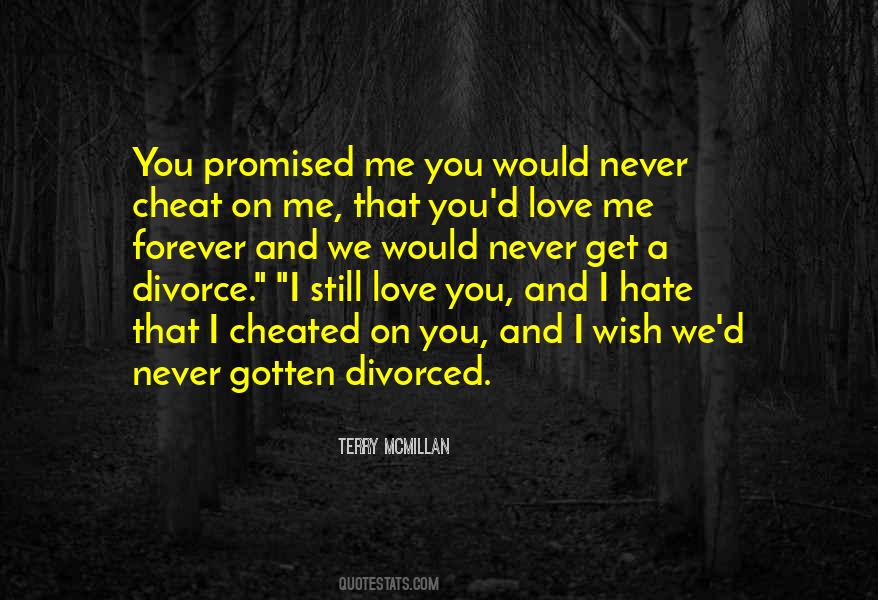 #65. Just as extreme love, in a marriage, for example, can turn to hate. They're the same coin, just different sides. - Author: William Kuhn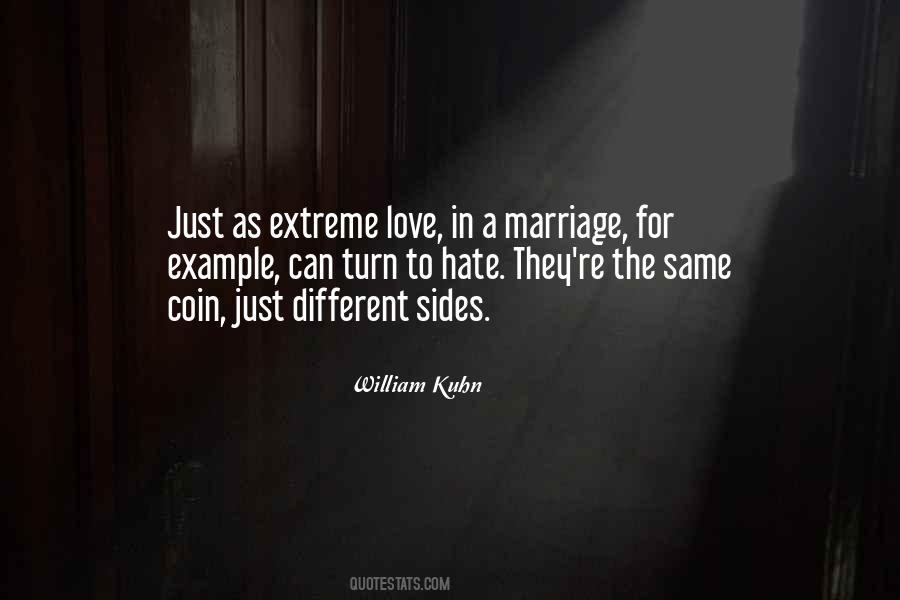 #66. You have to love somebody that much to also hate them that much, too. (191) - Author: Sherman Alexie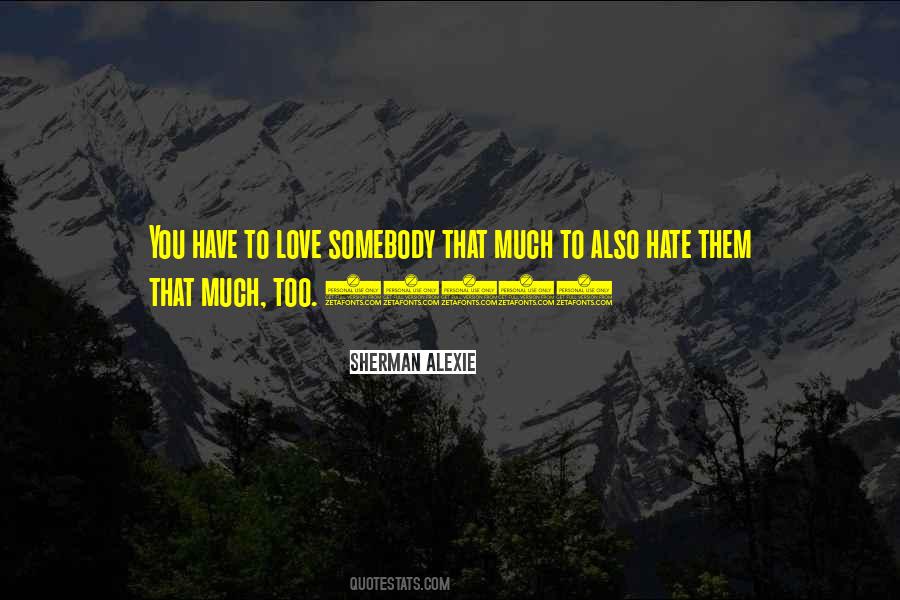 #67. Churchill - "Love to learn - hate to be taught. - Author: Winston Churchill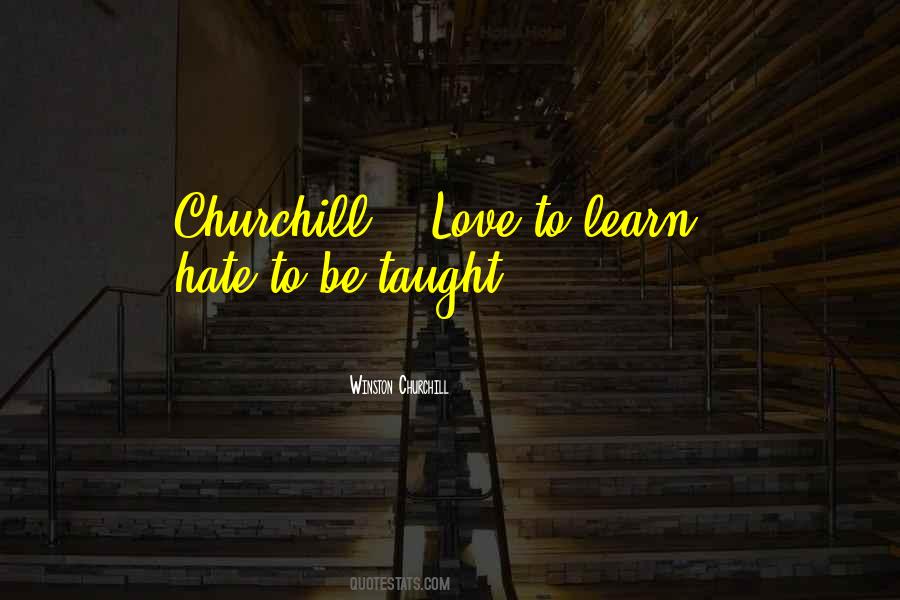 #68. Love me or hate me, Scary Spice is back. - Author: Melanie Brown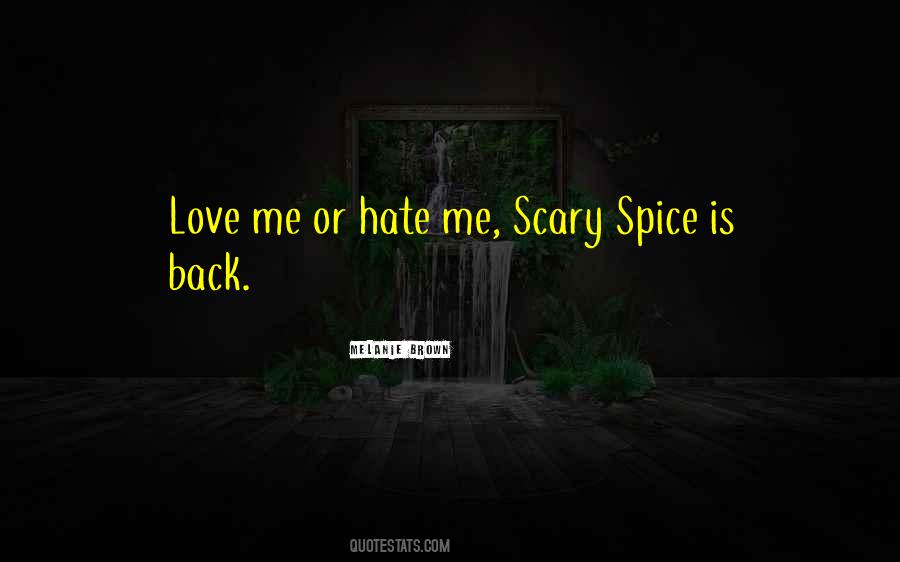 Famous Authors
Popular Topics