Love The Person Who Loves You Famous Quotes & Sayings
List of top 64 famous quotes and sayings about love the person who loves you to read and share with friends on your Facebook, Twitter, blogs.
Top 64 Love The Person Who Loves You Quotes
#1. To suffer with the other and for others; to suffer for the sake of truth and justice; to suffer out of love and in order to become a person who truly loves these are fundamental elements of humanity, and to abandon them would destroy man himself. - Author: Pope Benedict XVI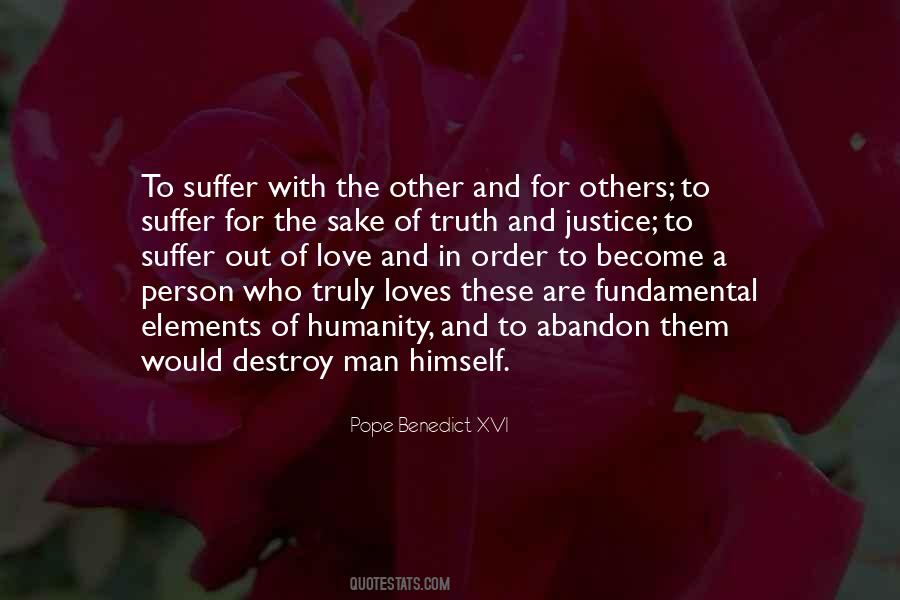 #2. My dad is a loving person. He would never disown me. At some point we will be together again. I love my father, and he loves me. - Author: Mosab Hassan Yousef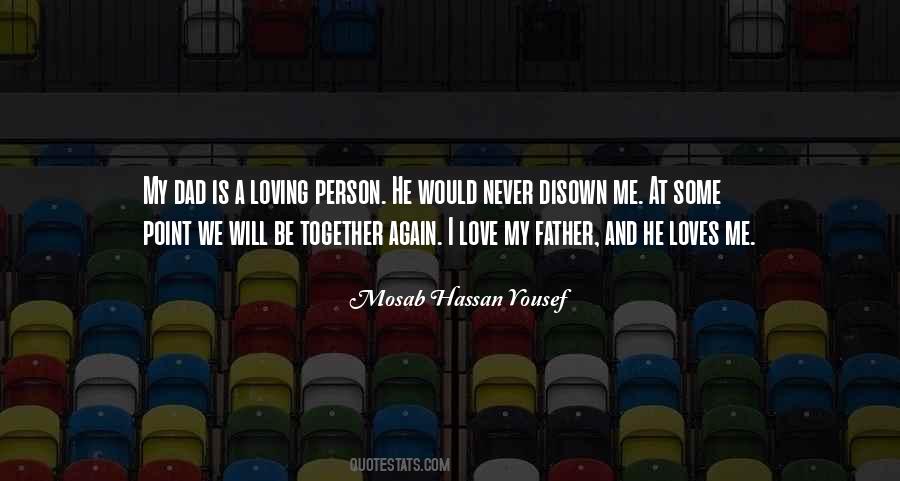 #3. She satisfies my ideal." Every person carries within his heart a blueprint of the one he loves; what appears to be "love at first sight" is often the fulfillment of a desire and the realization of a dream. - Author: Fulton J. Sheen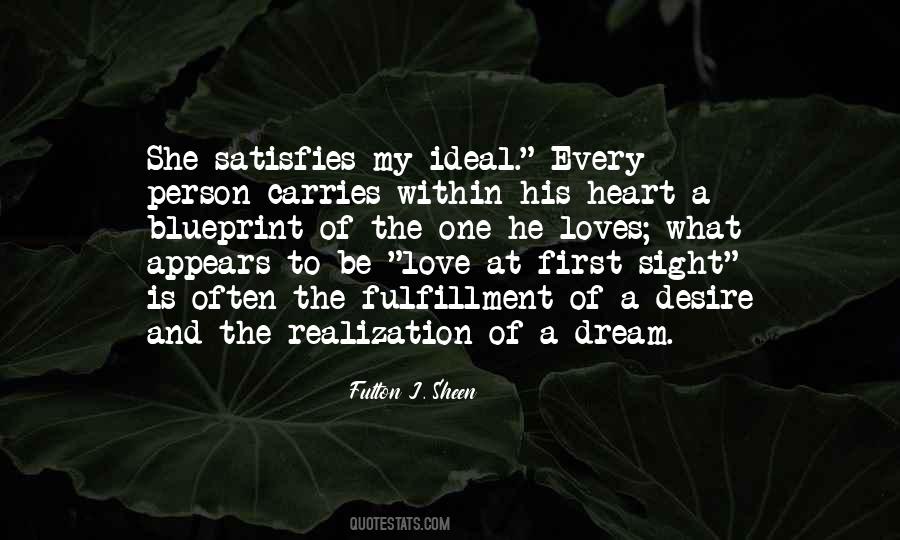 #4. Never disregard a person who u really loves u cause in todays world true love is hard to find ... Things come and go but once u loose a person u shall never find the same place in his heart u once had .. - Author: Sucher Chaturvedi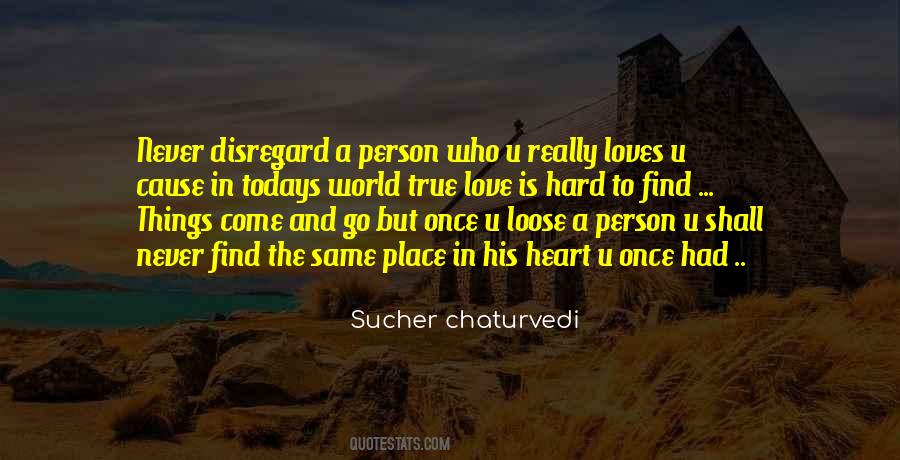 #5. When we boldly seek love, love reveals itself to us, and we end up attracting more love. If one person loves us, everybody loves us. - Author: Paulo Coelho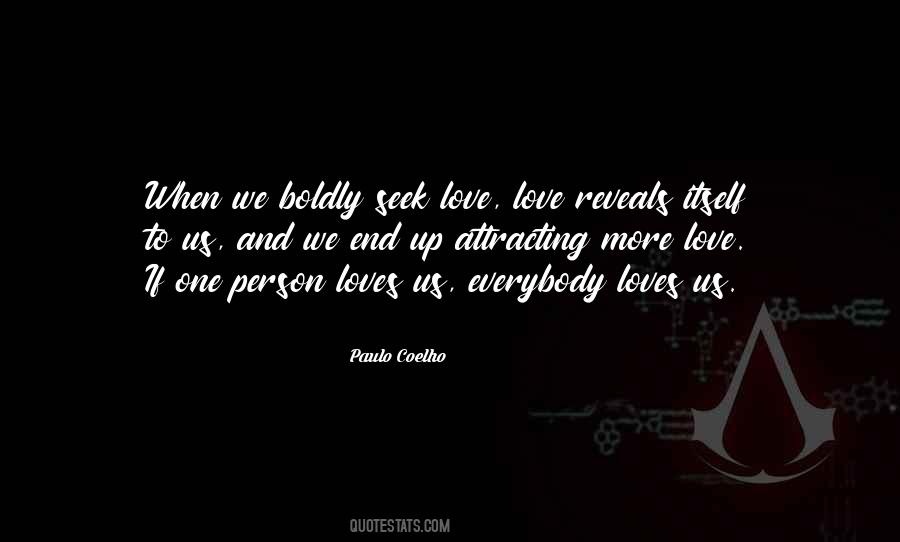 #6. Now he discovered that secret from which one never quite recovers, that even in the most perfect love one person loves less profoundly than the other. There may be two equally good, equally gifted, equally beautiful, but there may never be two that love one another equally well. - Author: Thornton Wilder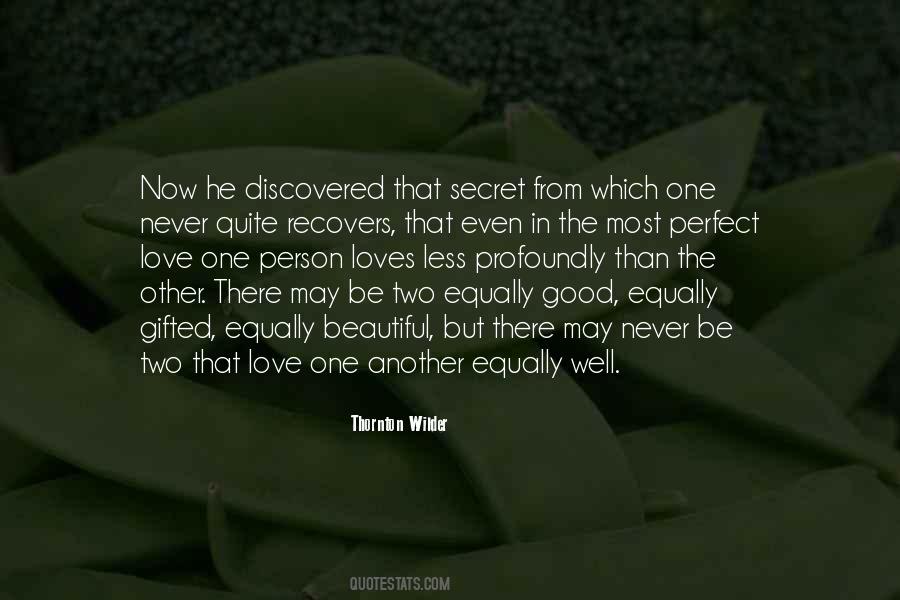 #7. Your Heavenly Father knows that you will make mistakes. He knows that you will stumble-perhaps many times. This saddens Him, but He loves you. He does not wish to break your spirit. On the contrary, He desires that you rise up and become the person you were designed to be. - Author: Dieter F. Uchtdorf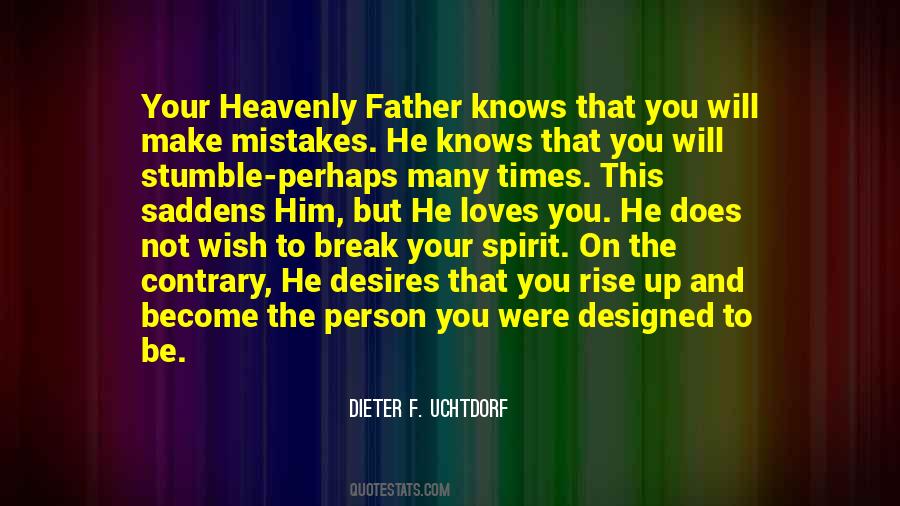 #8. Real love doesn't die. It's the physical body that dies. Genuine, authentic love has no expectations whatsoever; it doesn't even need the physical presence of a person ... Even when he is dead and buried that part of you that loves the person will always live. - Author: Elisabeth Kubler-Ross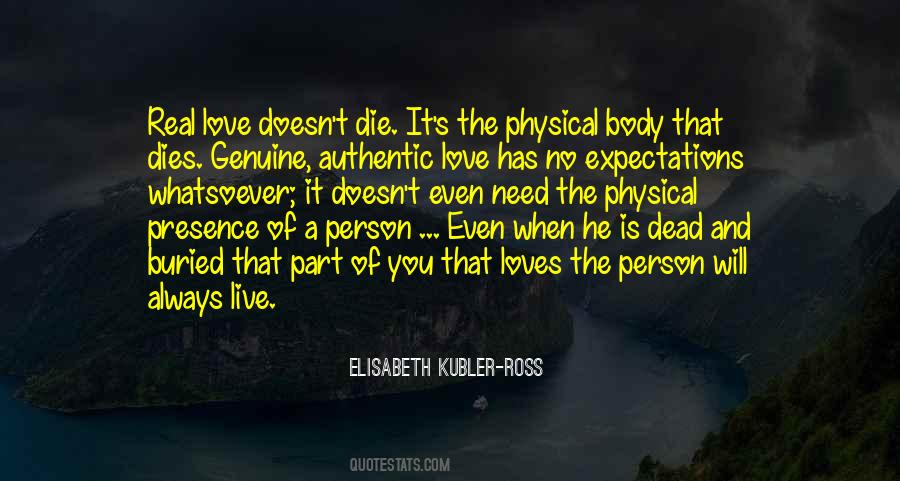 #9. One gains a profoundly personal, selfish joy from the mere existence of the person one loves. It is one's own personal, selfish happiness that one seeks, earns and derives from love. - Author: Ayn Rand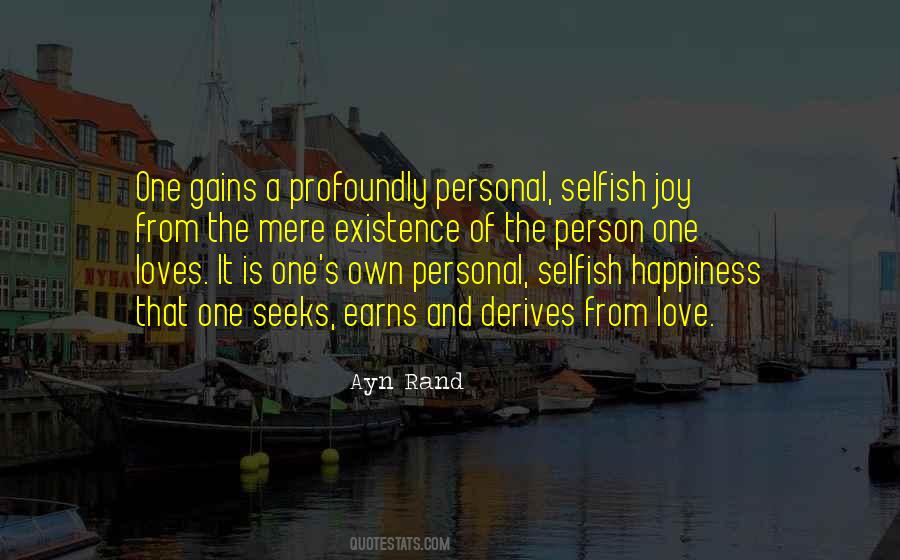 #10. He must love such a handsome, noble, witty, accomplished lady; and probably she loves him, or, if not his person, at least his purse - Author: Charlotte Bronte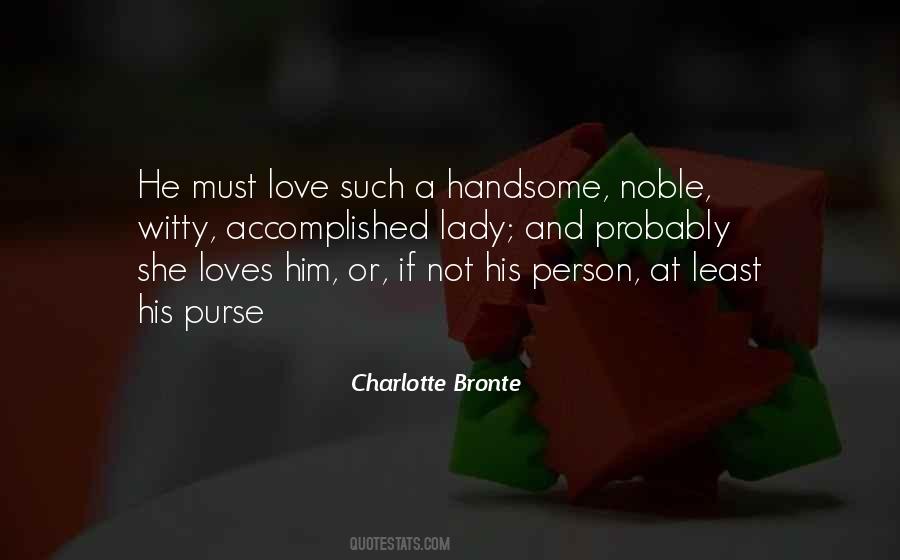 #11. When everyone hates a person, you should investigate thoroughly, and when everyone loves a person, you should also investigate thoroughly. - Author: Confucius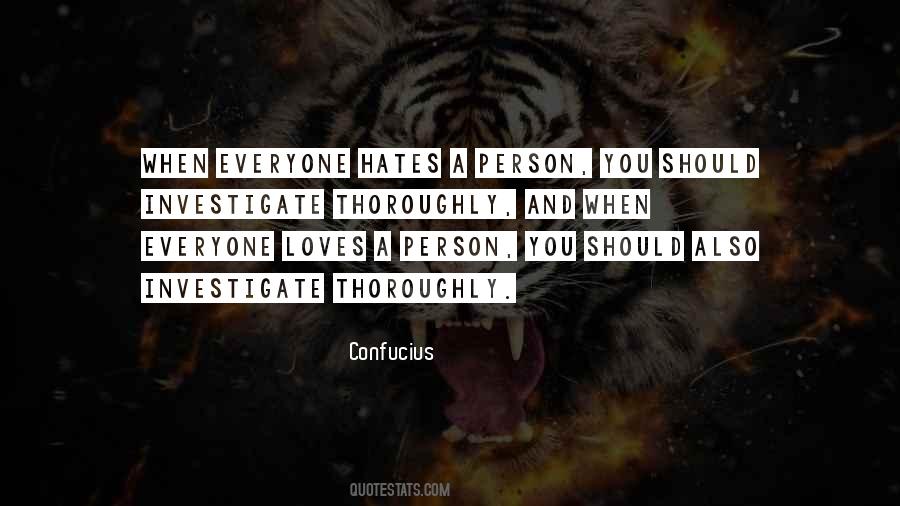 #12. Trouble is a part of your life
if you don't share it, you don't give the person who loves you a chance to love you enough. - Author: Dinah Shore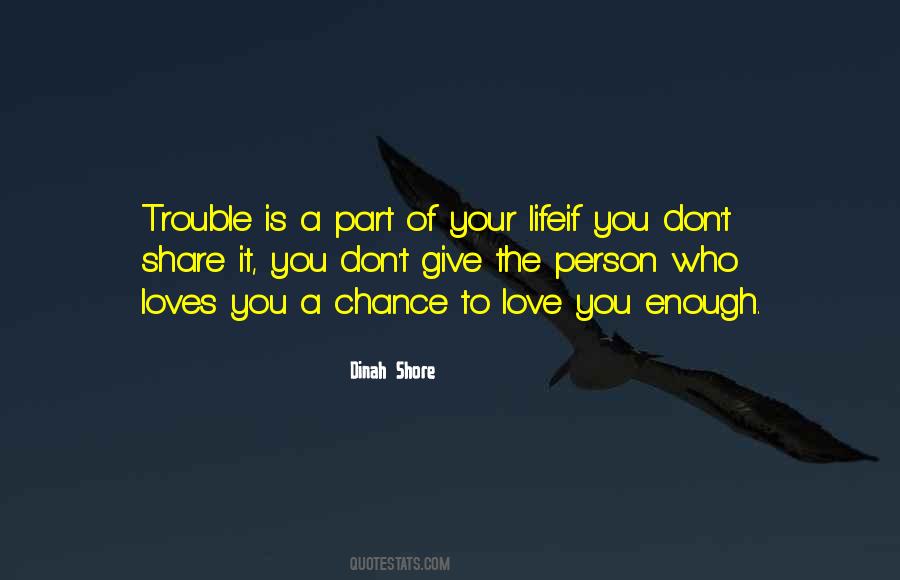 #13. Love is just such a crucial, wonderful thing, and if you are lucky enough to find somebody who genuinely loves you, grab that person and hold on to that person, and nothing else matters. - Author: Randall Kennedy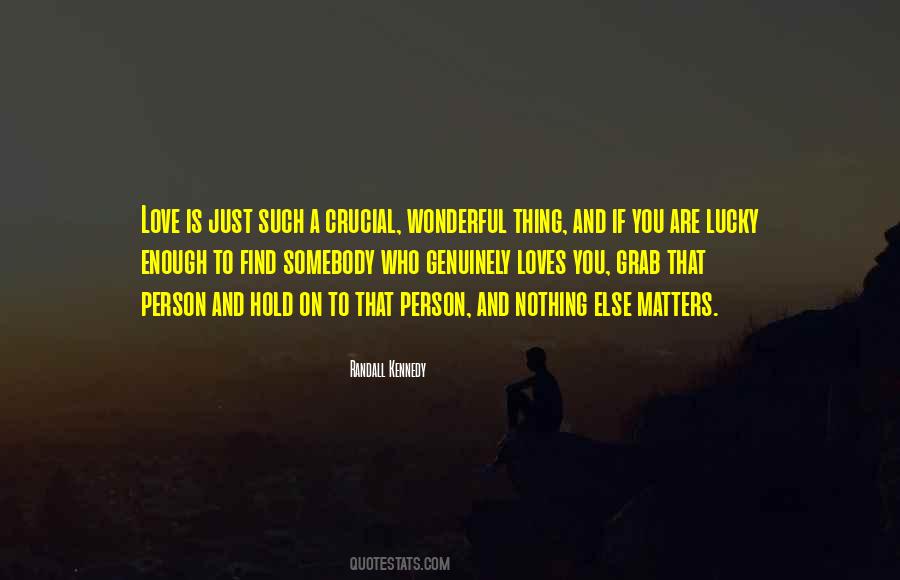 #14. I can love a person in this life only insofar as he tries to advance in the praise and service of God our Lord; for the man who loves anything for itself and not for the sake of God, does not love God with his whole heart. - Author: Saint Ignatius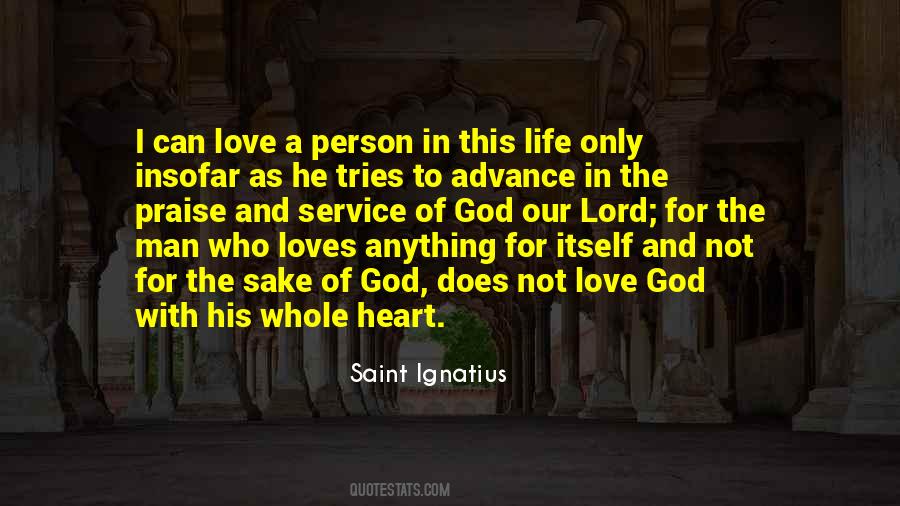 #15. Magnus loves you. He wouldn't love you if you were the sort of person who could abandon someone helpless - Author: Cassandra Clare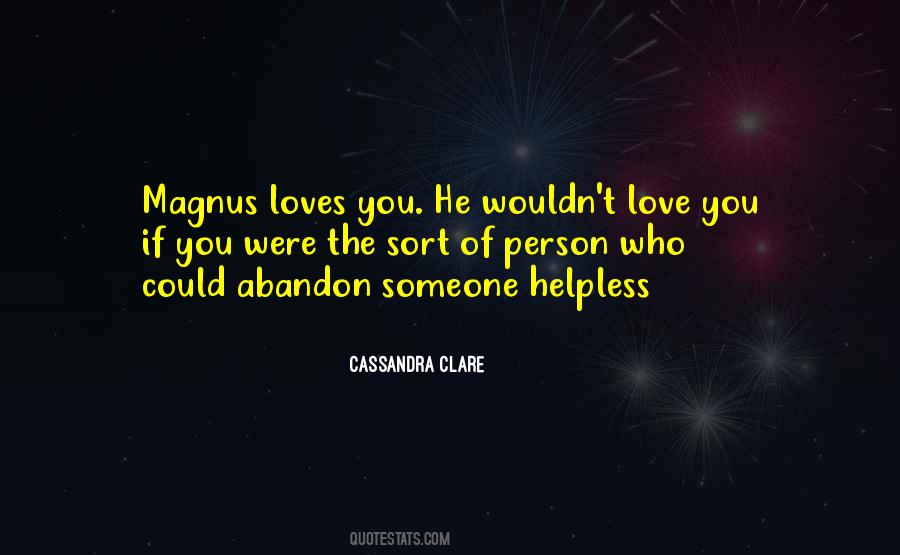 #16. In a narcissistic cathexis, you invest more energy into your ideas about another person than in the actual, objective, external person.
So the man who falls in love with beauty is quite different from the man who loves a girl and feels she is beautiful and can see what is beautiful about her. - Author: Alison Bechdel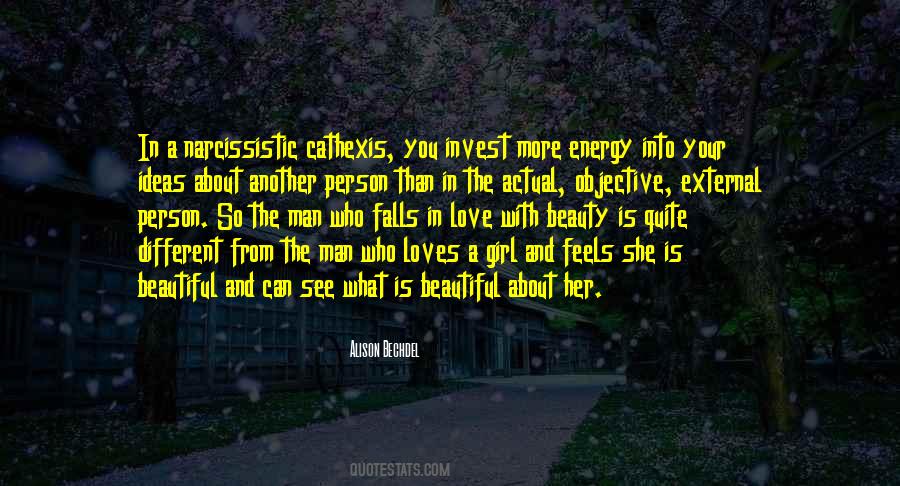 #17. No boy is worth your teenage years!." "For me to be in love with someone means that I have to accept who I am, and not allow another person to define me. And if someone loves me in spite of all that, then that's a start. - Author: Hayley Williams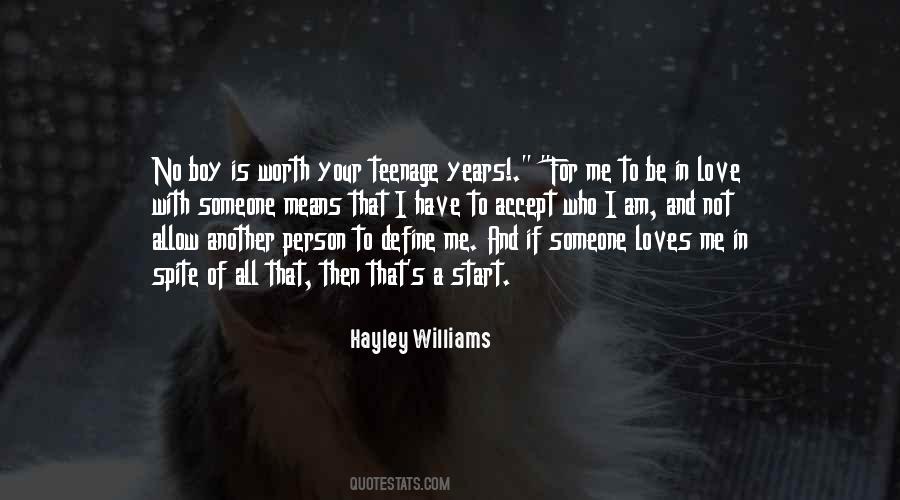 #18. An inconstant woman is one who is no longer in love; a false woman is one who is already in love with another person; a fickle woman is she who neither knows whom she loves nor whether she loves or not; and the indifferent woman, one who does not love at all. - Author: Jean De La Bruyere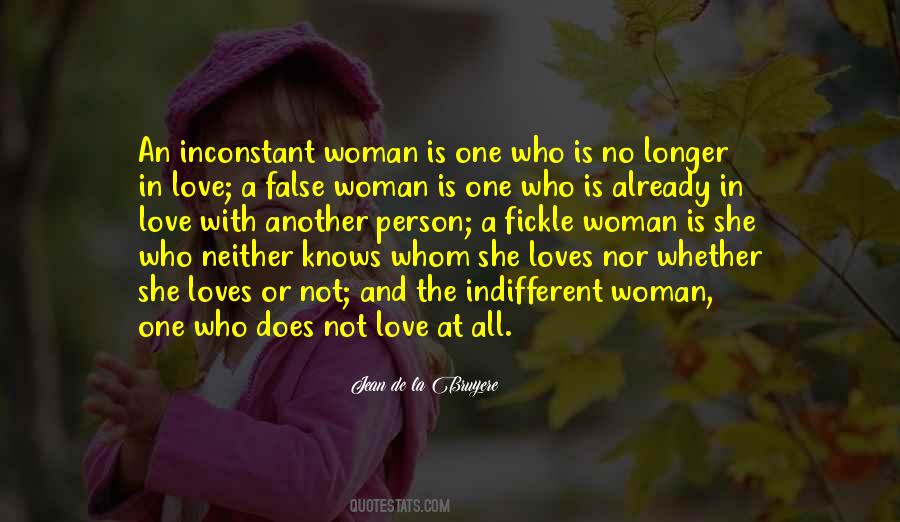 #19. All my life, I thought of love as some kind of voluntary enslavement. Well, that's a lie: freedom only exists when love is present. The person who gives him or herself wholly, the person who feels freest, is the person who loves most wholeheartedly. - Author: Paulo Coelho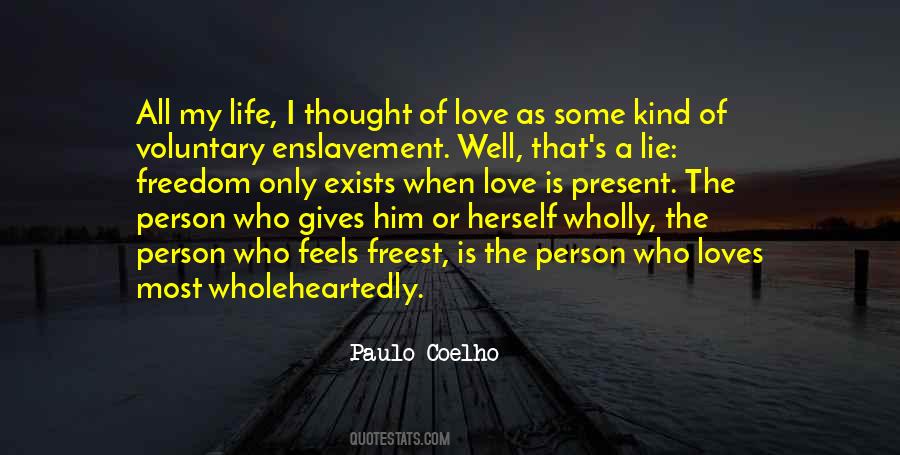 #20. Getting even with the person that broke your heart will never give you peace. The only thing that will heal your wounds is believing that God loves you enough to bring someone else into your life to respect you and love you in the way you deserve! - Author: Shannon L. Alder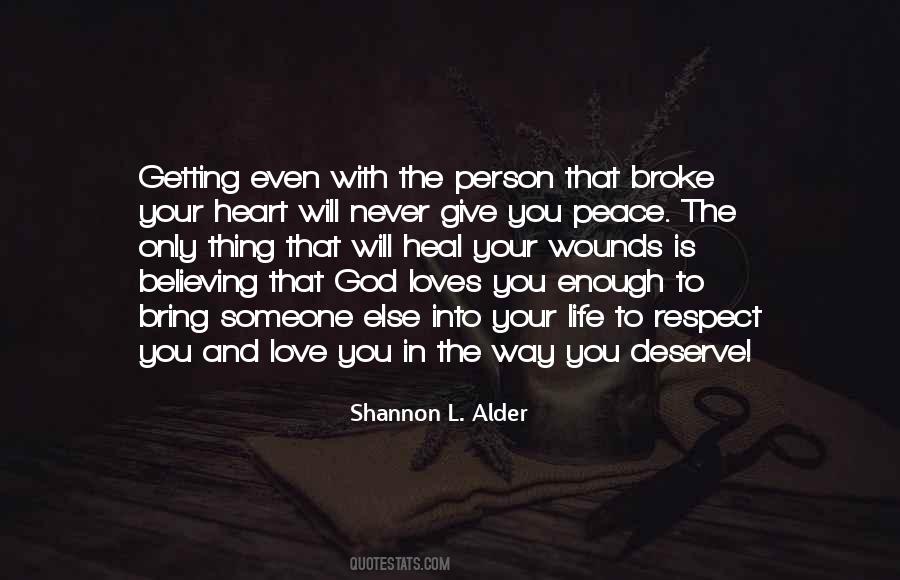 #21. The person who's in love with their vision of community will destroy community. But the person who loves the people around them will create community everywhere they go. - Author: Dietrich Bonhoeffer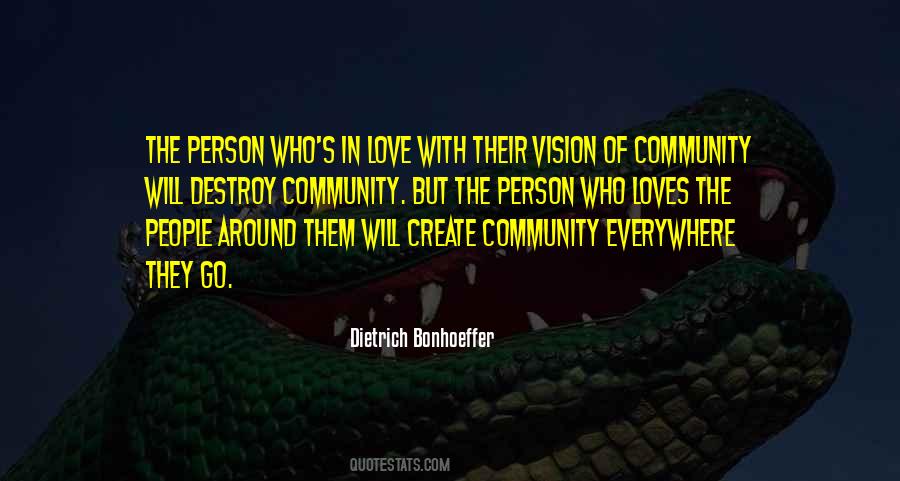 #22. It's a good sign but rare instance when, in a relationship, you find that the more you learn about the other person, the more you continue to desire them. A sturdy bond delights in that degree of youthful intrigue. Love loves its youth. - Author: Criss Jami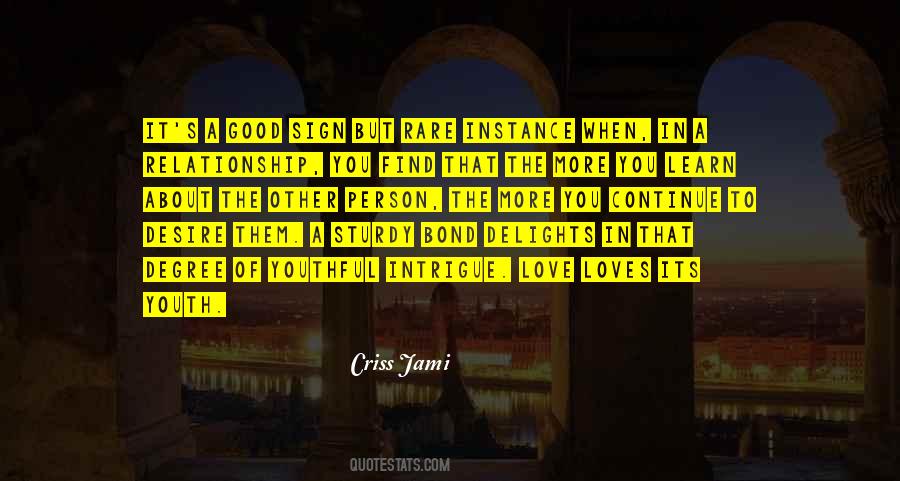 #23. But when a person loves you so much that he asks for nothing in return, it's only to be expected that that's about what he gets. It's like a Law of Nature. - Author: Jenny Wingfield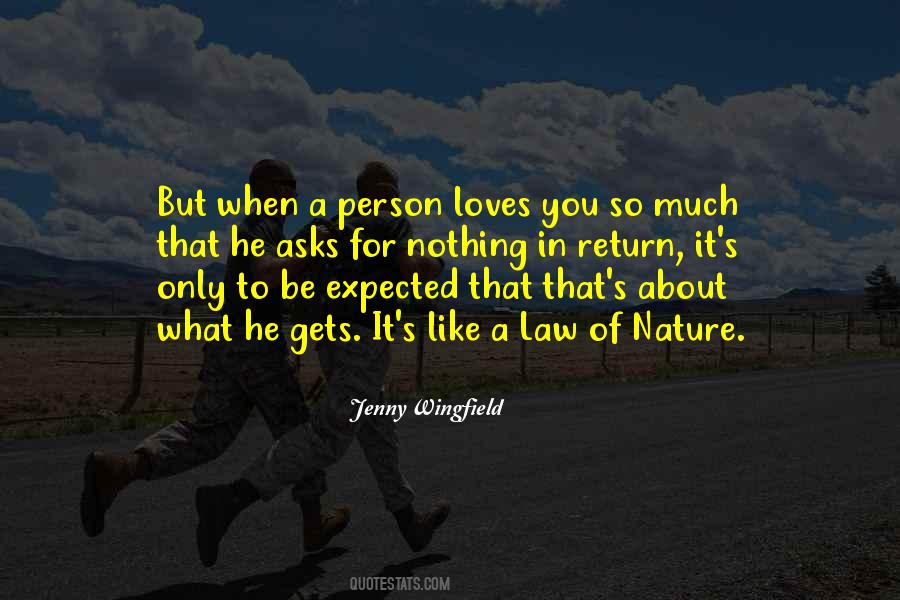 #24. I wondered if the person who really loves you is the person who knows all your stories, the person who WANTS to know all your stories. - Author: Gabrielle Zevin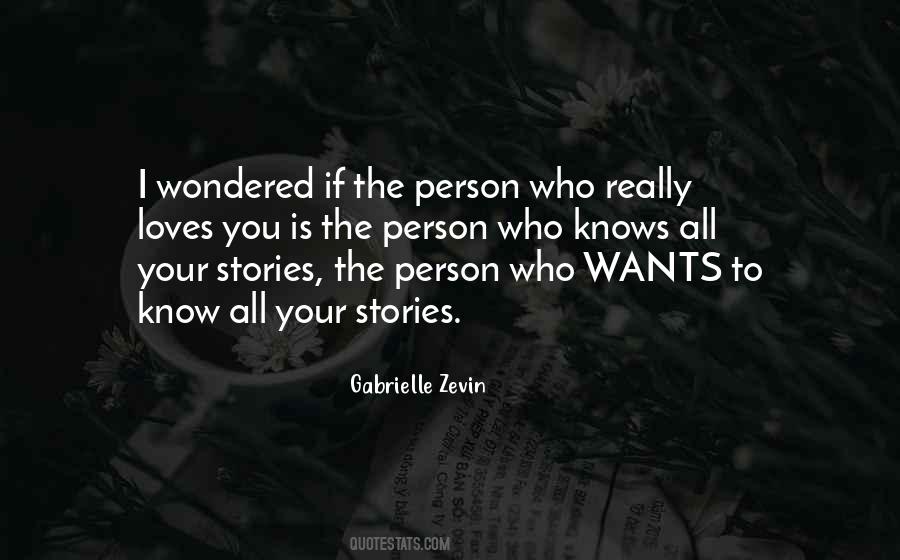 #25. Romantic love is a beautiful thing under the right circumstances. But those circumstances are so specific and rare, aren't they?

It's rare that you love the person who loves you, that you love only the person who loves only you. Otherwise, somebody's heartbroken. - Author: Taylor Jenkins Reid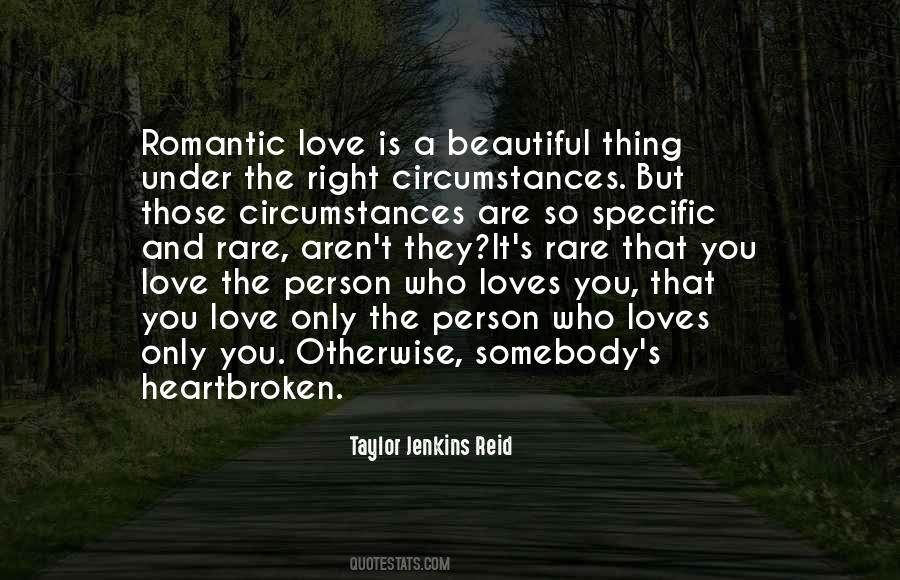 #26. I just kind of wonder what it would be like to find someone who loves you the same amount that you love them. You know, that person who you see looking your way and smiling because they are just as wild for you as you are for them. - Author: Brittainy C. Cherry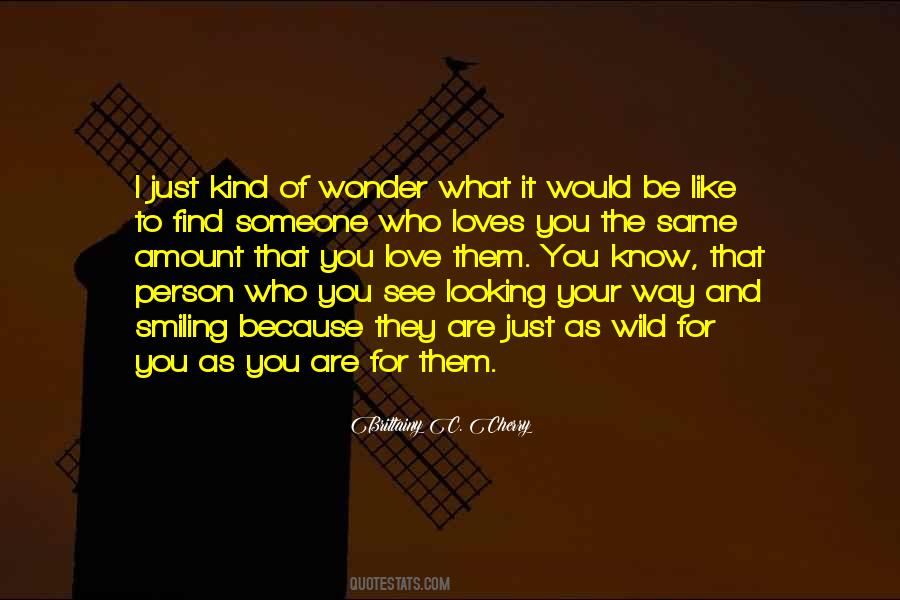 #27. The one you love and the one who loves you are never, ever the same person. - Author: Chuck Palahniuk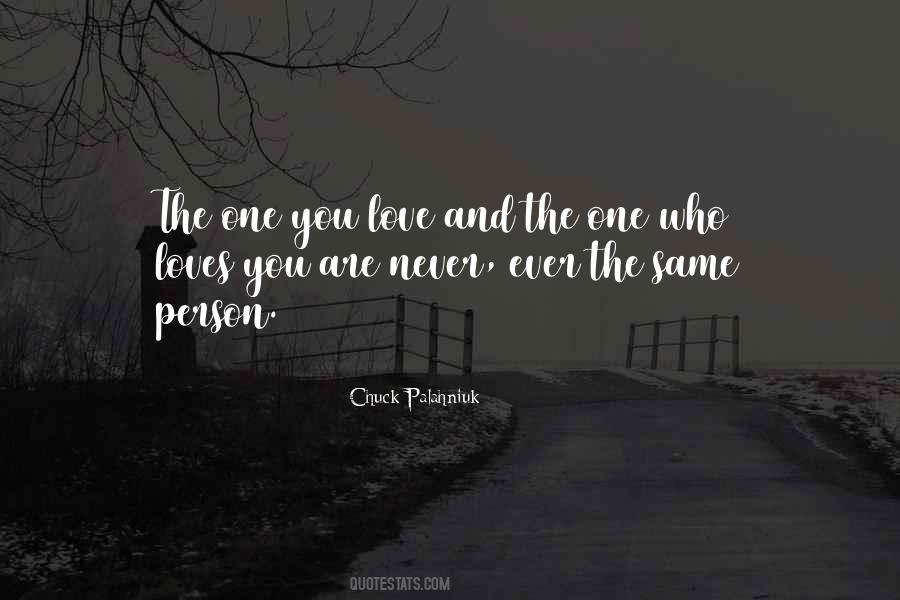 #28. If your best friend truly is the person who knows you completely and loves you anyway, wouldn't that be your mother? - Author: Richelle E. Goodrich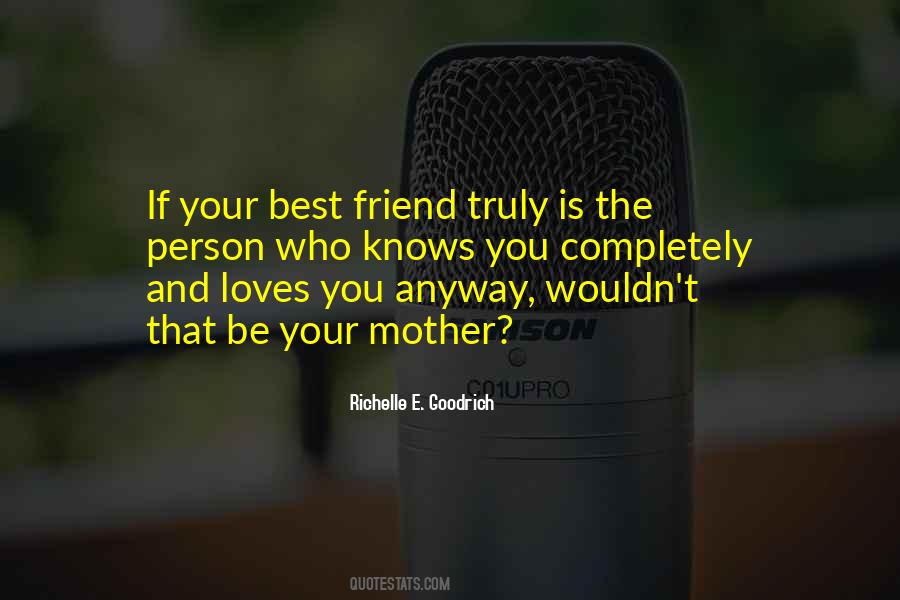 #29. People in love don't see gender, colour or religion. Or age. It's about the other person, the one that you love and who loves you. You don't think of them in terms of a label. You just go with your heart. - Author: Sam Taylor-Wood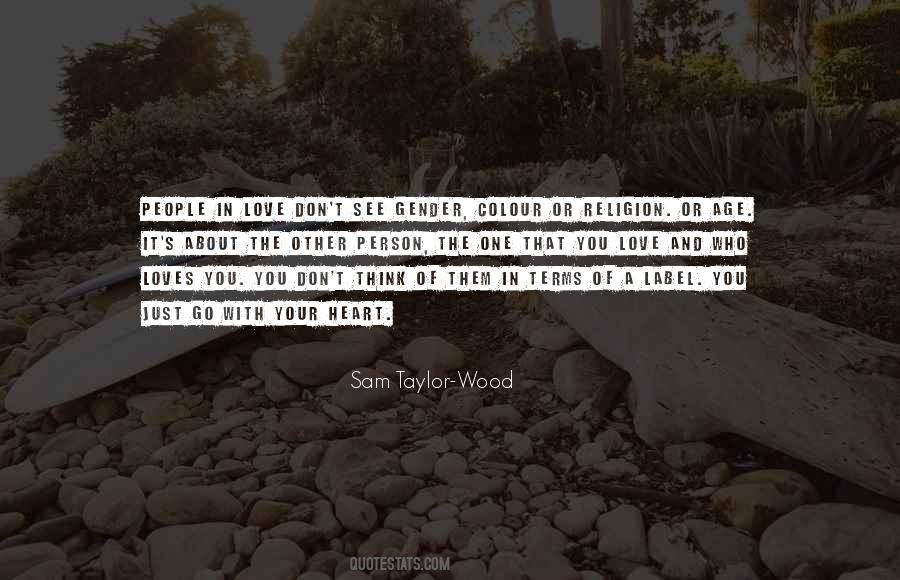 #30. It is very difficult to bear the pain of ignorance of the person whom you love and who loves you, more than anything in the world.. - Author: Vennela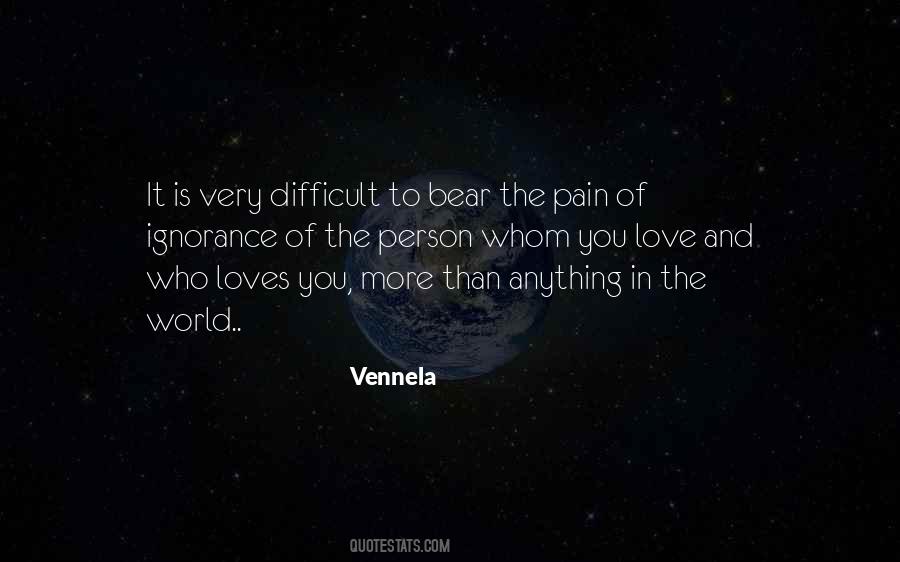 #31. That amazing moment when your crush has a crush on you. It's a wonderful feeling knowing that the person who you want to be in a relationship with likes or loves you back. - Author: Piers Morgan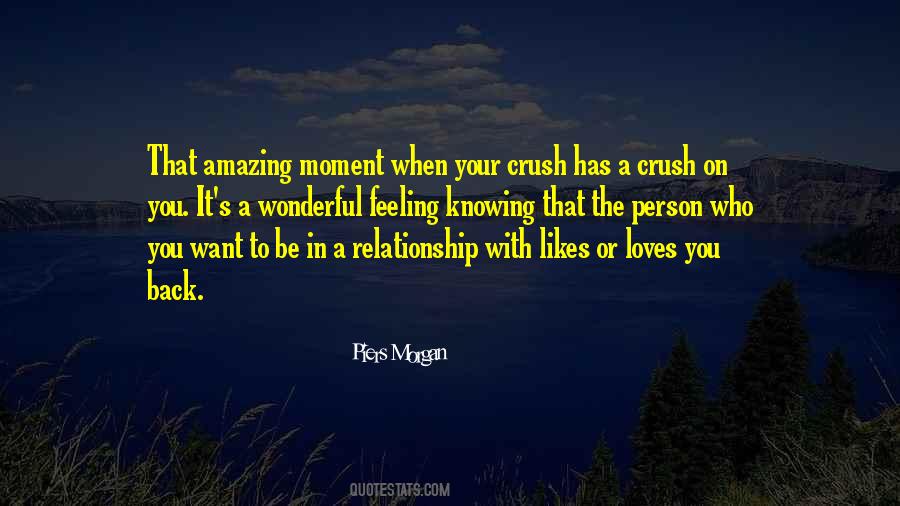 #32. When caught under the weather of love, always choose the person who loves you unconditionally, and abandon the one who only loves you under favorable conditions. - Author: Suzy Kassem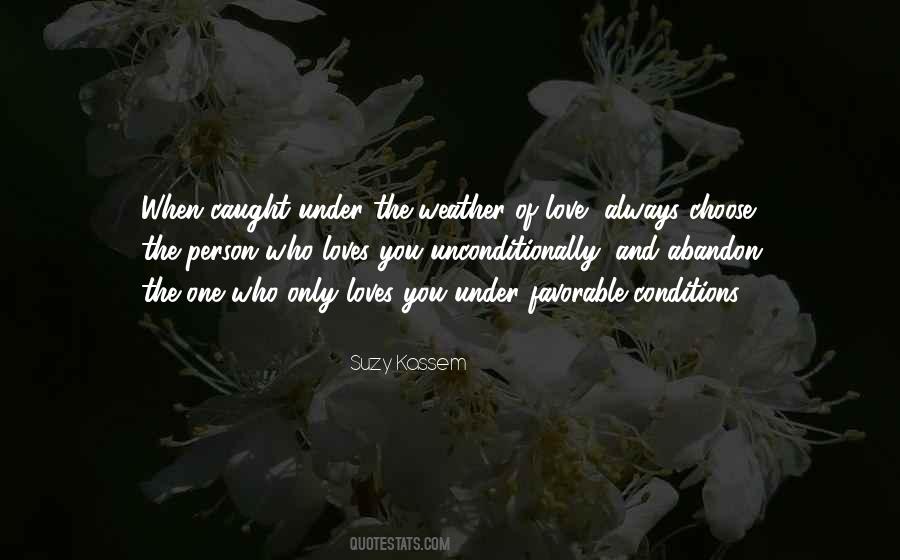 #33. Even in an argument, a person who loves more won't keep down the phone first. - Author: Subhasis Das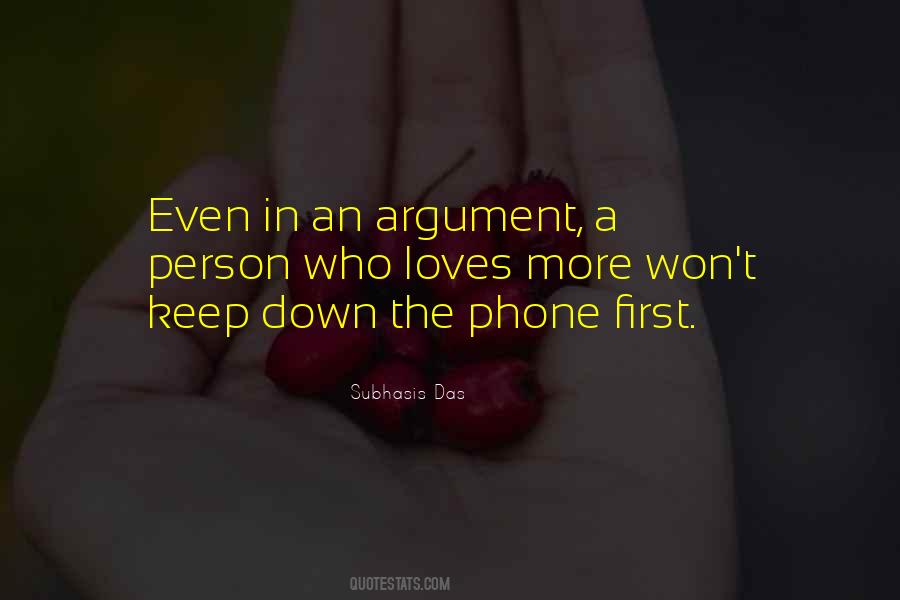 #34. The person one loves never really exists, but is a projection focused through the lens of the mind onto whatever screen it fits with least distortion. - Author: Arthur C. Clarke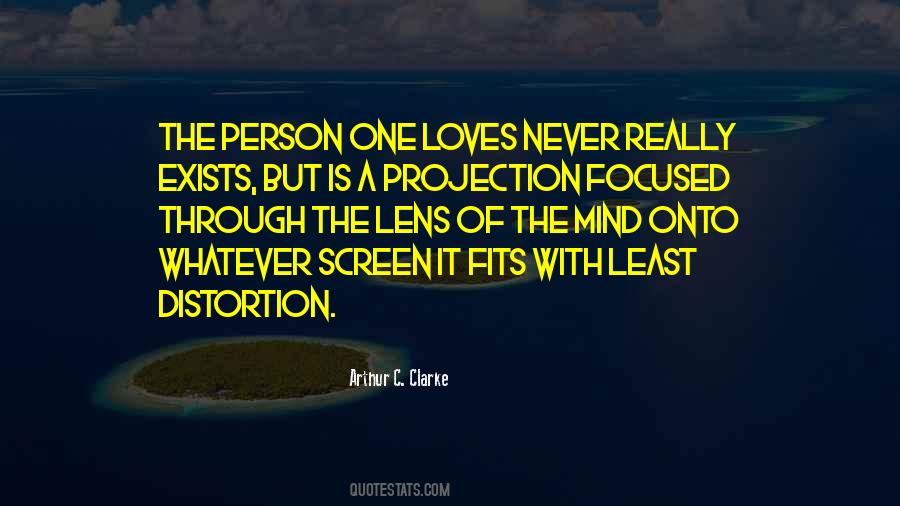 #35. I have defined love as the will to extend oneself for the purpose of nurturing one's own or another's spiritual growth. Genuine love is volitional rather than emotional. The person who truly loves does so because of a decision to love. - Author: M. Scott Peck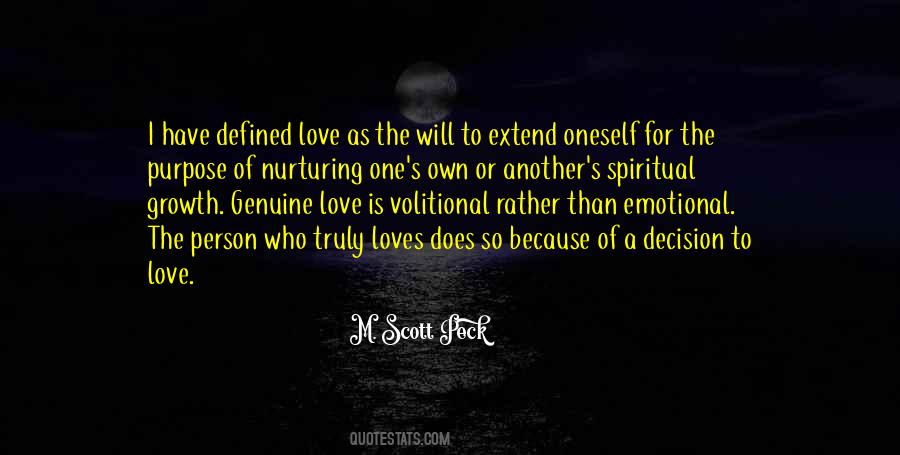 #36. Leo Tolstoy wrote: "One can live magnificently in this world, if one knows how to work and how to love, to work for the person one loves and to love one's work."19 - Author: Jonathan Haidt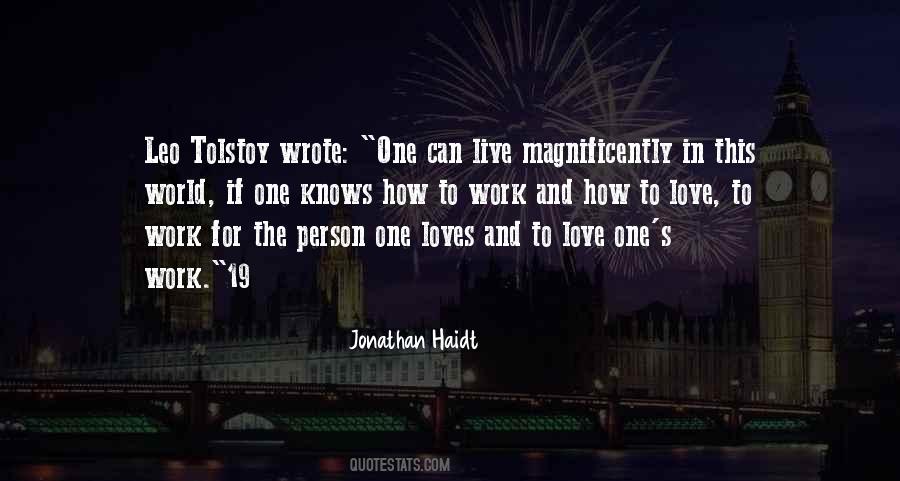 #37. If love is blind, then maybe a blind person that loves has a greater understanding of it. - Author: Criss Jami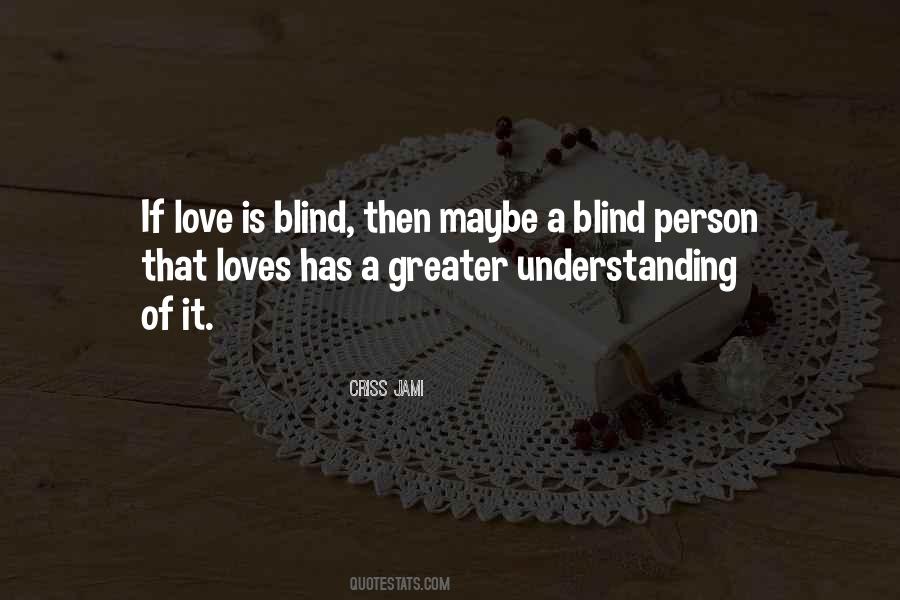 #38. Don't try and perfect yourself for one person. Wait for the one who loves your imperfections and make you feel perfect. - Author: Atul Purohit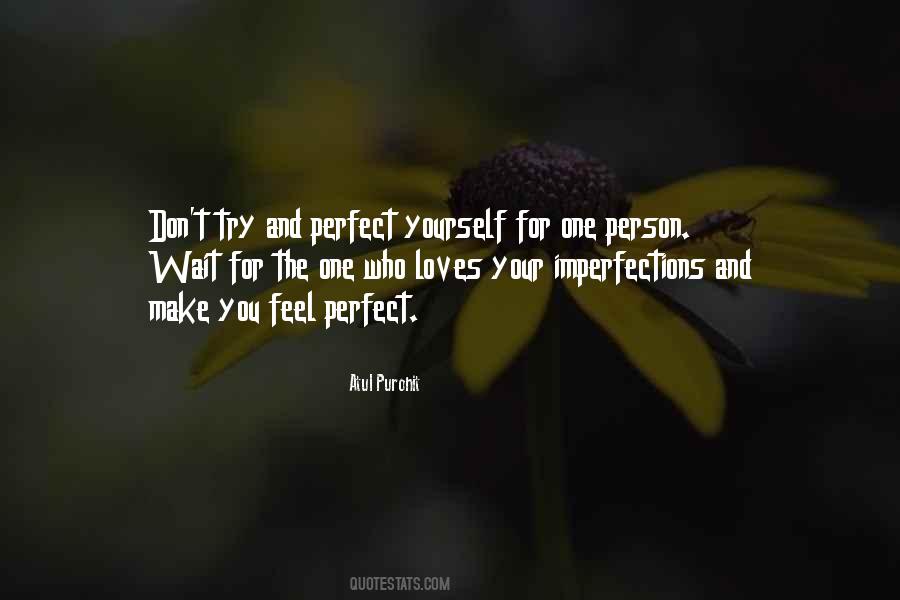 #39. An average American loves his family. If he has any love left over for some other person, he generally selects Mark Twain. - Author: Thomas A. Edison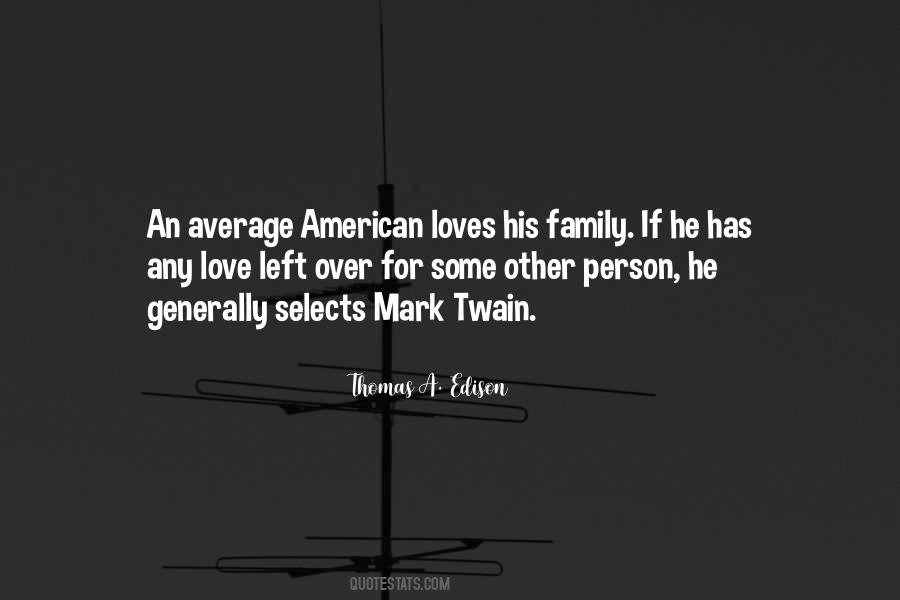 #40. Money can't buy true love. Those promises. A real person who loves you, loves you from the heart. - Author: Auliq Ice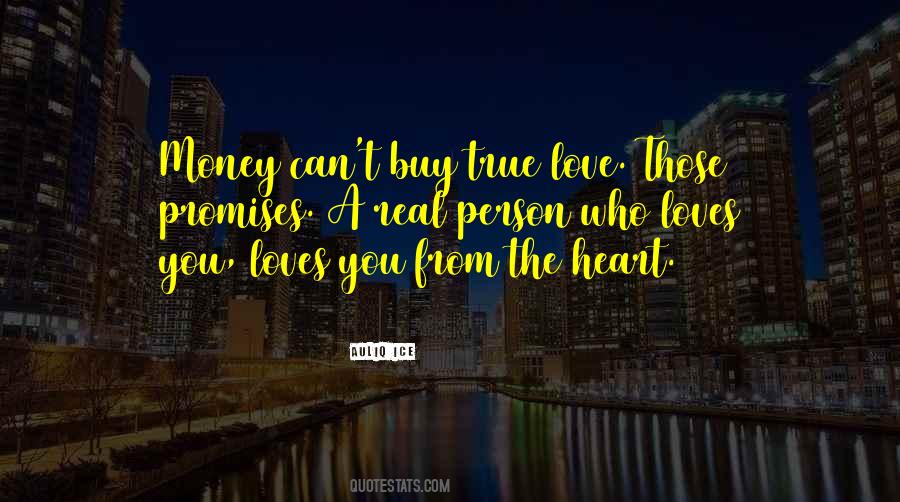 #41. It's love. Love makes us beautiful. Do you know a single person who loves and is loved, who is loved unconditionally and who, at the same time, is ugly? There's no need to ponder the question. - Author: Jan-Philipp Sendker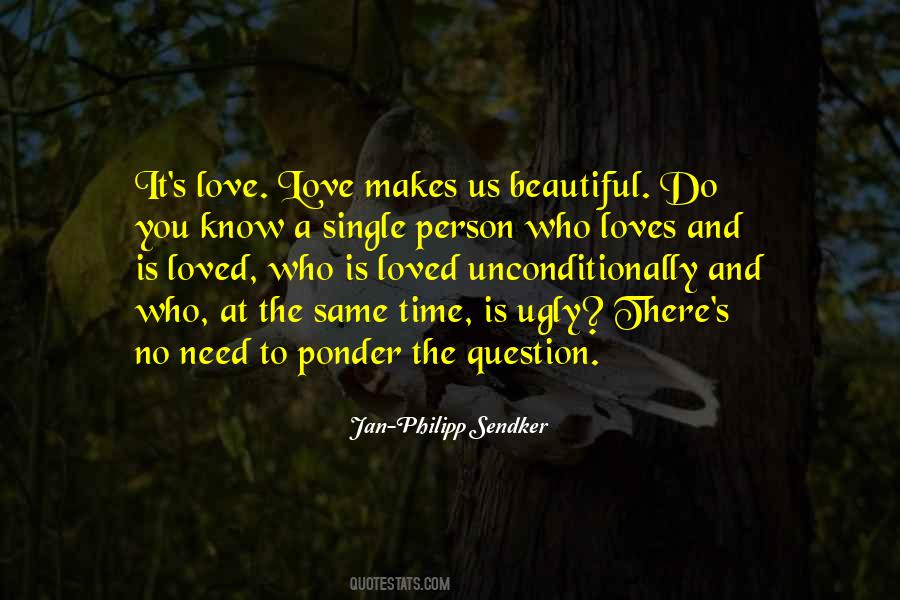 #42. We're totally different people from when we first met, but I still love her and she loves me, after all this time.

And this weekend I'm going to meet her in person. - Author: Hannah Moskowitz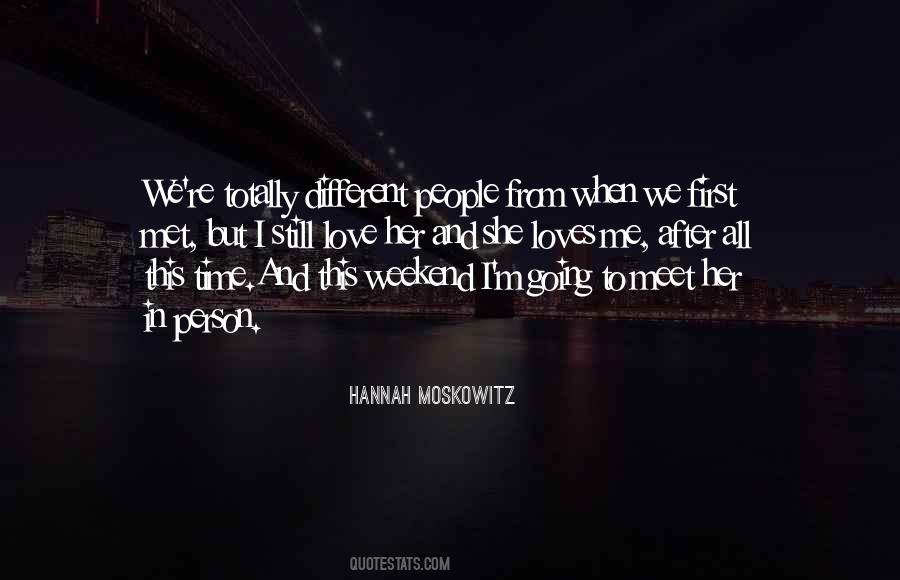 #43. If you love yourself, you will be surprised: others will love you. Nobody loves a person who does not love himself. - Author: Rajneesh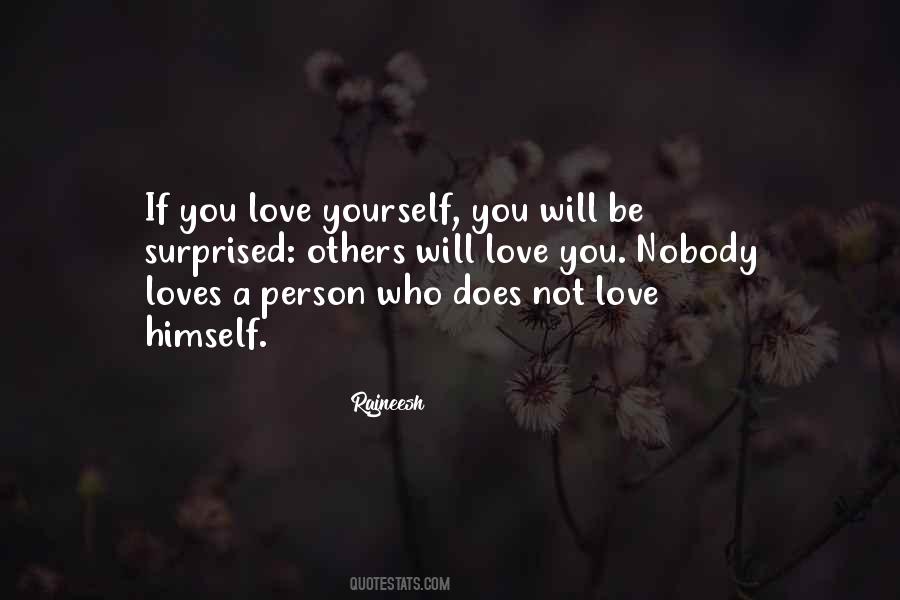 #44. Dear God, I surrender this relationship to you," means, "Dear God, let me see this person through your eyes." In accepting the Atonement, we are asking to see as God sees, think as God thinks, love as God loves. We are asking for help in seeing someone's innocence. - Author: Marianne Williamson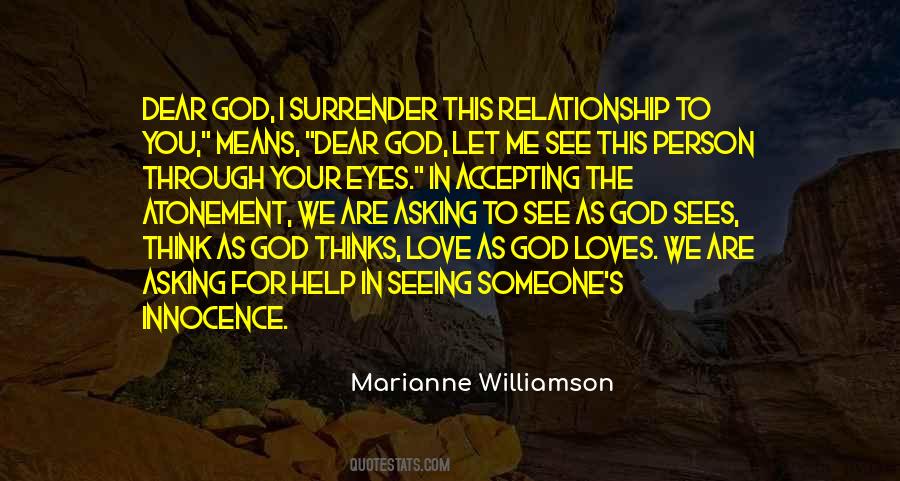 #45. Life loves the person who dares to live it. - Author: Maya Angelou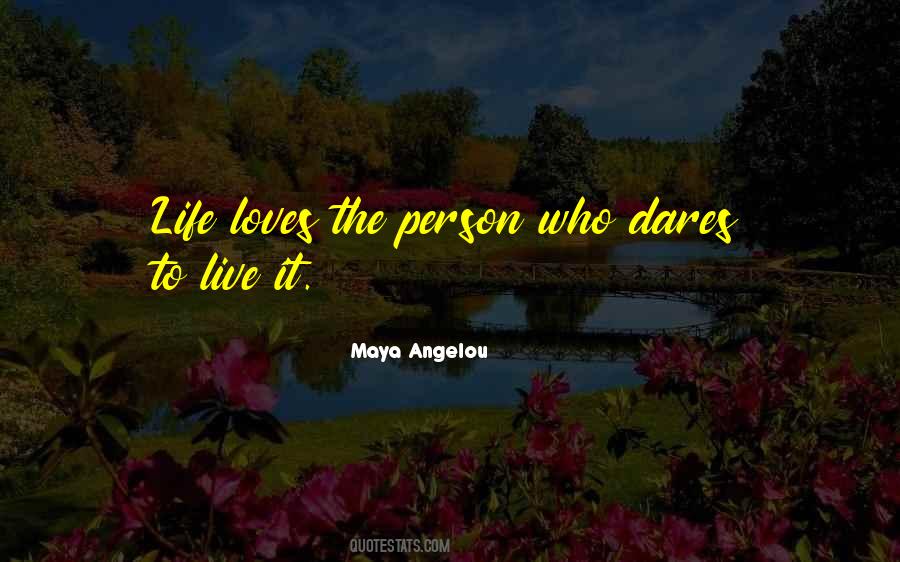 #46. As for the decorum at the time of a campaign, one must be mindful that he is a samurai. A person who loves beautification where it is unnecessary is fit for punishment. - Author: Kato Kiyomasa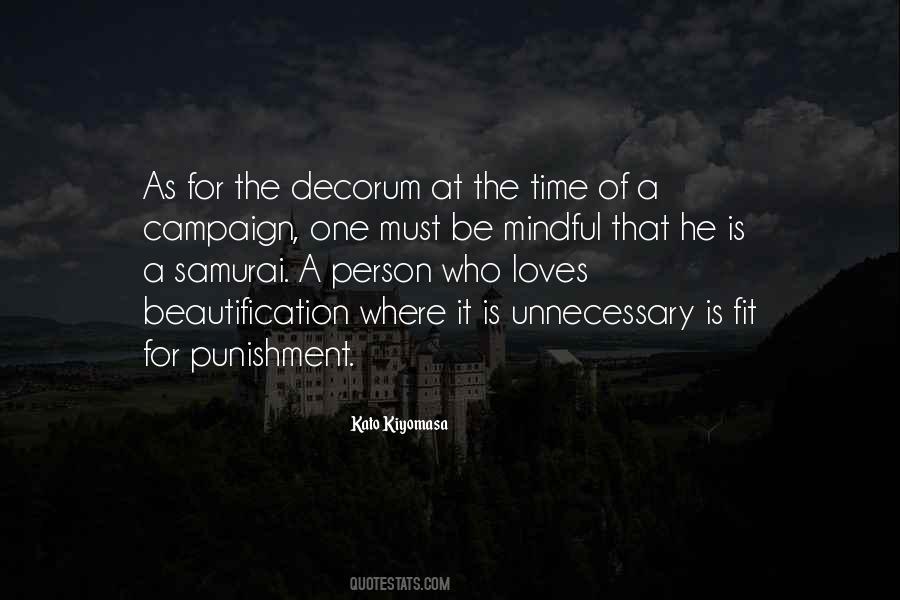 #47. Person who loves you is never the same person who you love. That's the reason why love is always sad feeling. - Author: Amer Jaganjac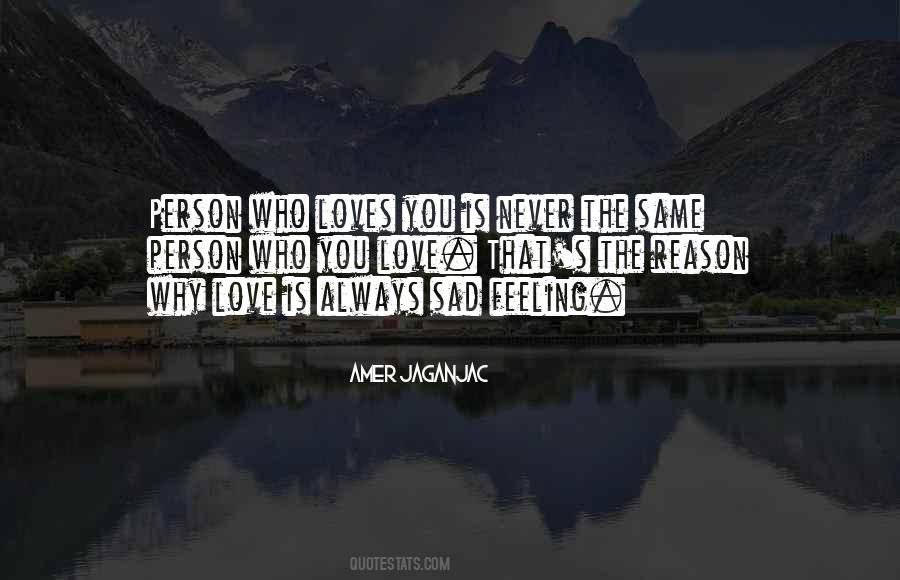 #48. A person who loves himself can never feel himself completely lonely! - Author: Mehmet Murat Ildan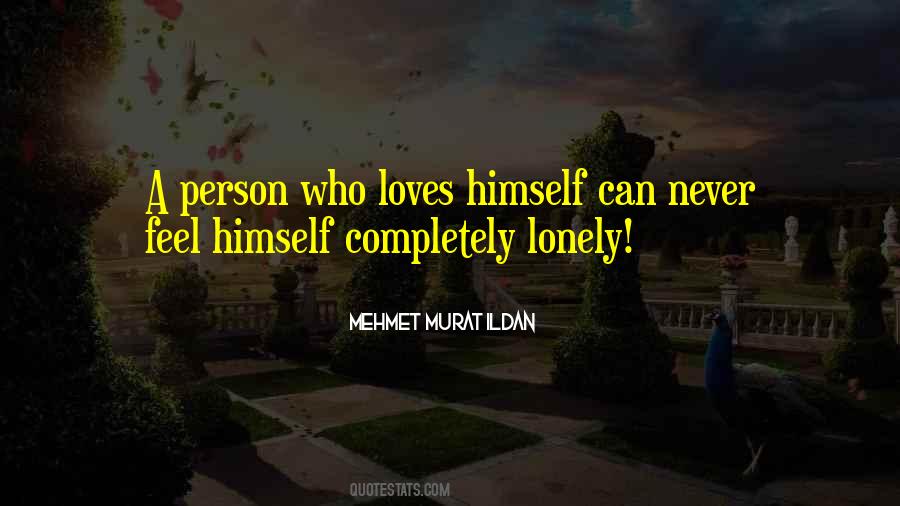 #49. Don't be afraid to be the person who loves the most - Author: Seth Adam Smith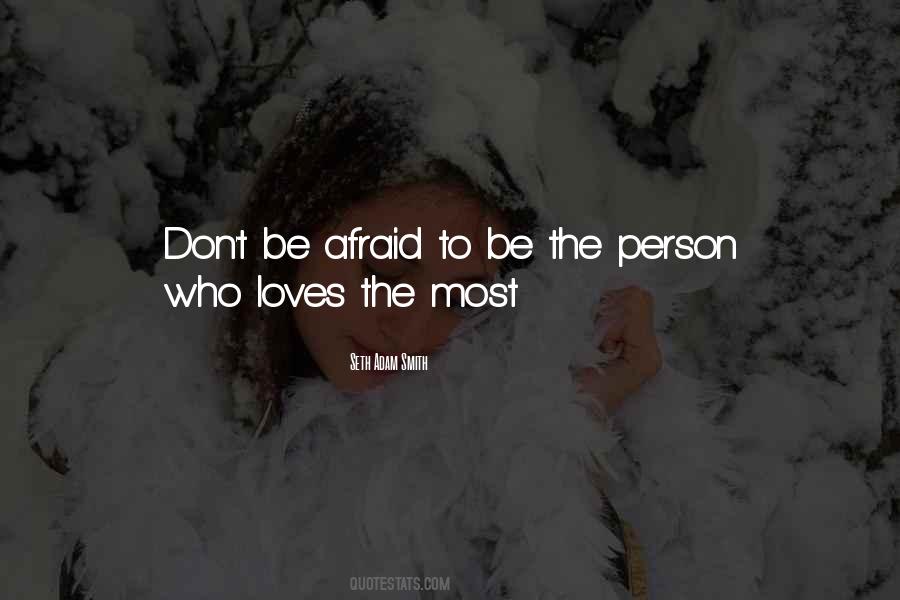 #50. I love my wife and I know she loves me. We're best friends. We're just lucky to have found each other. It takes a lot of work but I just feel very blessed that I found the right person. It's a very fortunate situation and not everyone has that. - Author: Harry Connick Jr.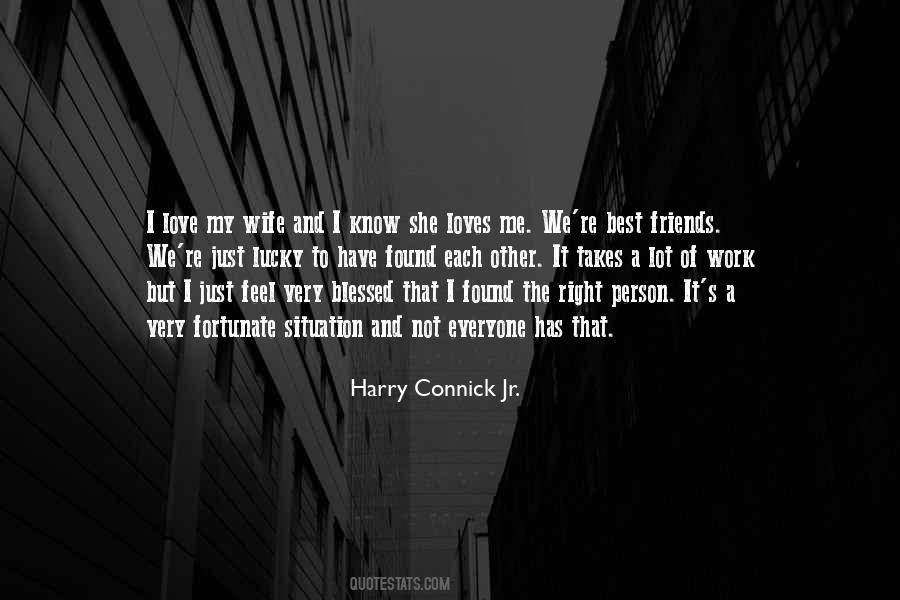 #51. Yet it is awful to love a person who is a torture to you. And a fascinating person who loves you and won't hear of anything but your loving him and living right by his side through all eternity! - Author: Agnes Smedley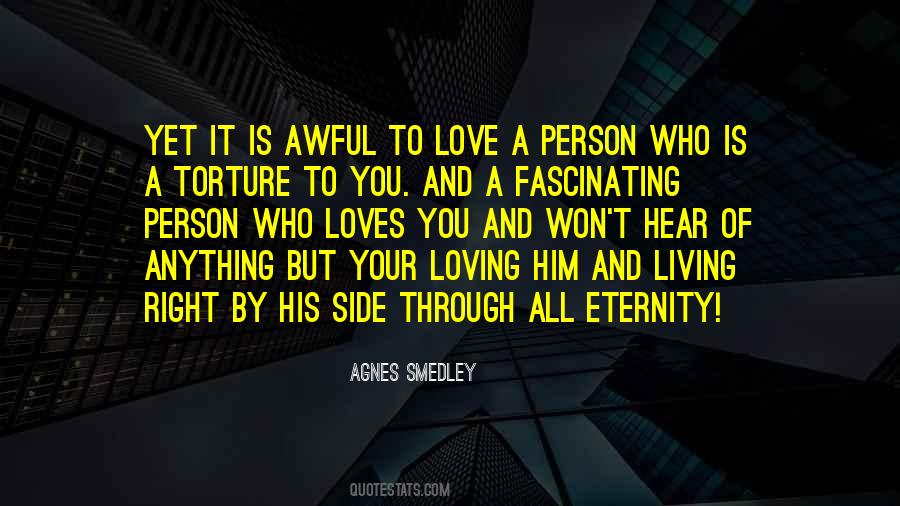 #52. First loves were powerful and private,and they stayed with you for a very long time. A lifetime.( ... ) There would always be a small,intimate piece of your heart tucked away for the person you loved first. - Author: Lauren Weisberger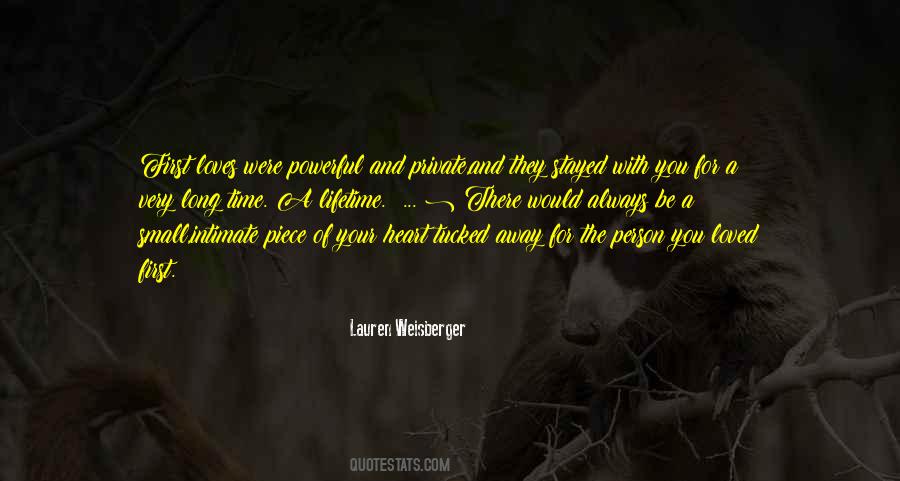 #53. When you've found out that the person you love loves you, you can't
delay. You have to hurry. - Author: Alex Flinn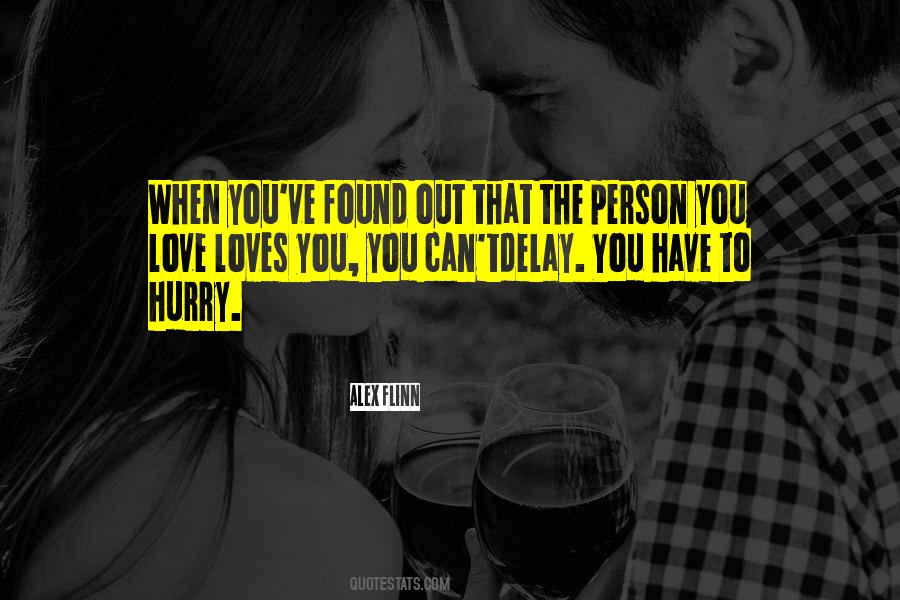 #54. [Lear] is the universal image of the unwisdom and destructiveness of paternal love at its most ineffectual, implacably persuaded of its own benignity, totally devoid of self-knowledge, and careening onward until it brings down the person it loves best, and its world as well. - Author: Harold Bloom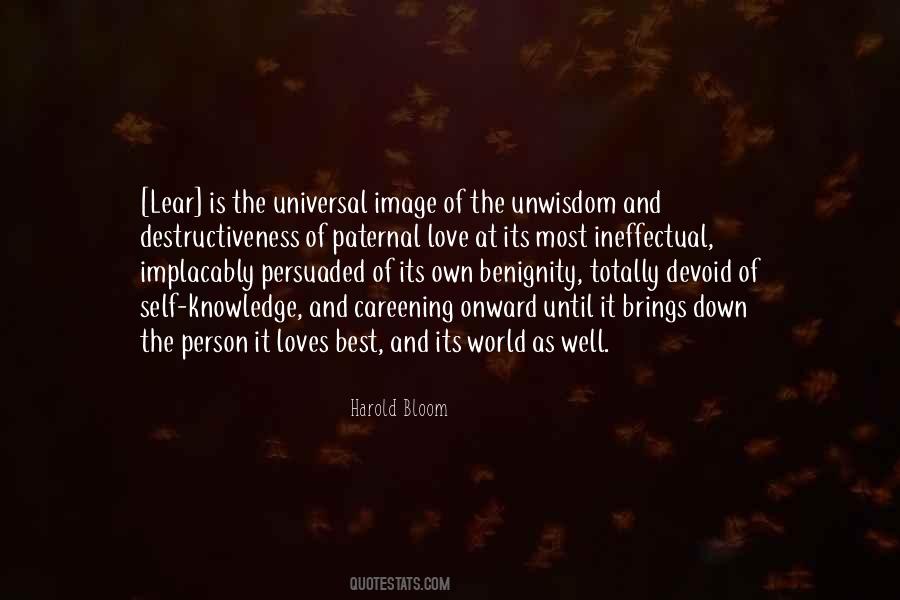 #55. Dancing is a part of my life where when I don't dance I feel like there's something missing because I'm such a physical person who loves to express myself through dance, but I love to act. I love to sing. I love to entertain so if I'm passionate about a certain project, I wanna do it. - Author: Julianne Hough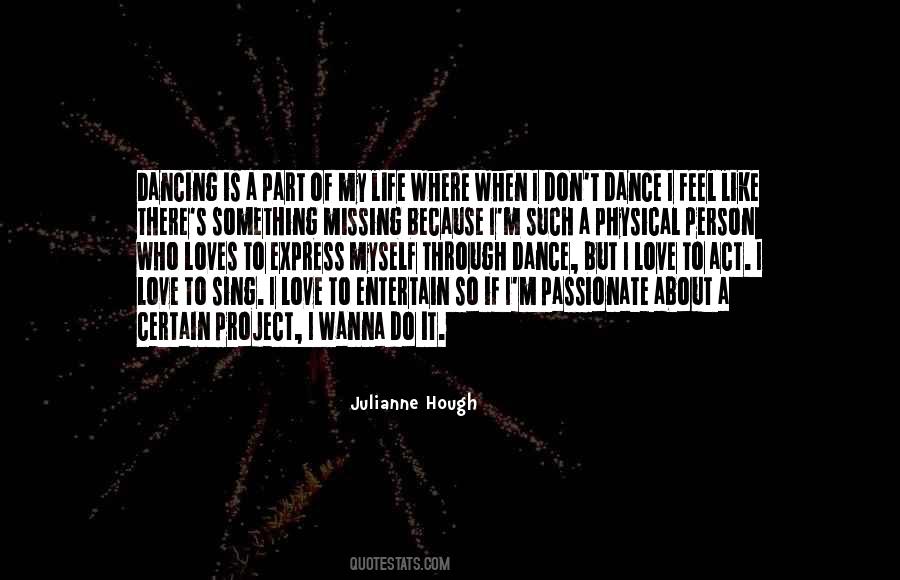 #56. The love of a wife to her husband may begin from the supply of her necessities, but afterwards she may love him also for the sweetness of his person; so the soul first loves Christ for salvation but when she is brought to Him and finds what sweetness there is in Him then she loves Him for Himself. - Author: Richard Sibbes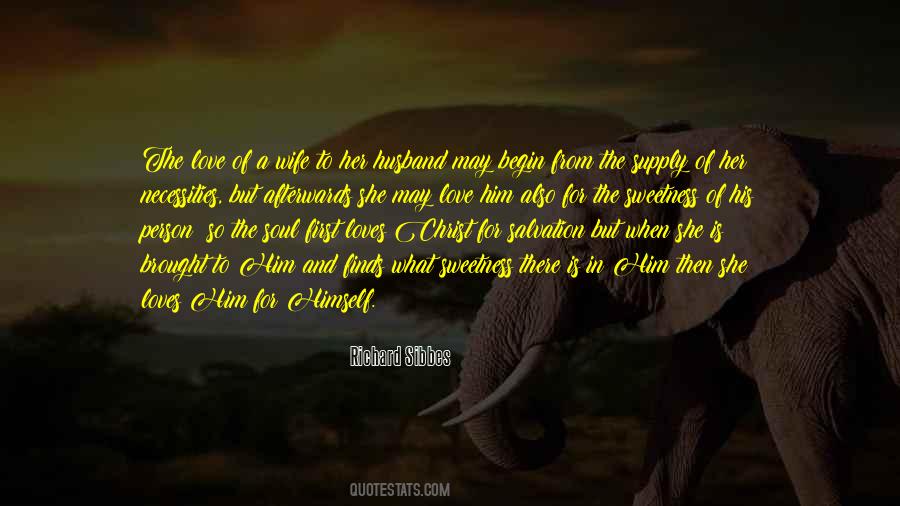 #57. Trouble is a part of life, and if you don't share it, you don't give the person who loves you enough chance to love you enough. - Author: Dinah Shore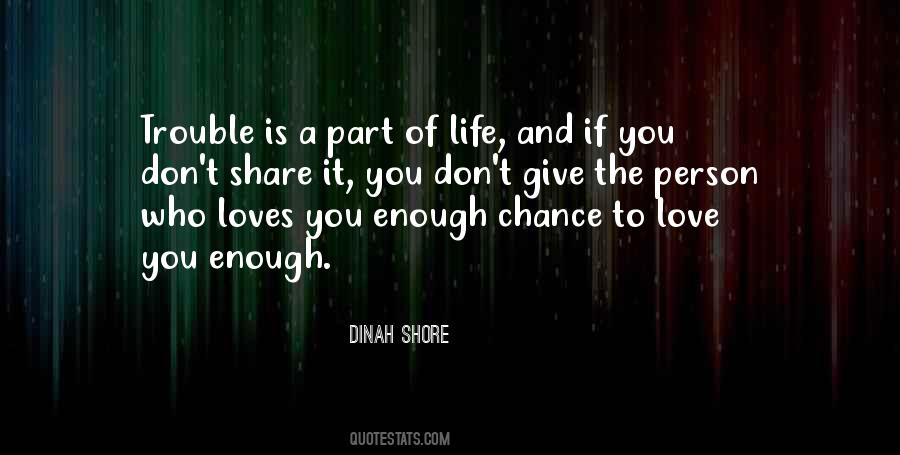 #58. I have my faith and my principles, and this is what makes me who I am. If the person loves me, he'll love my God too, - Author: Shamcey Supsup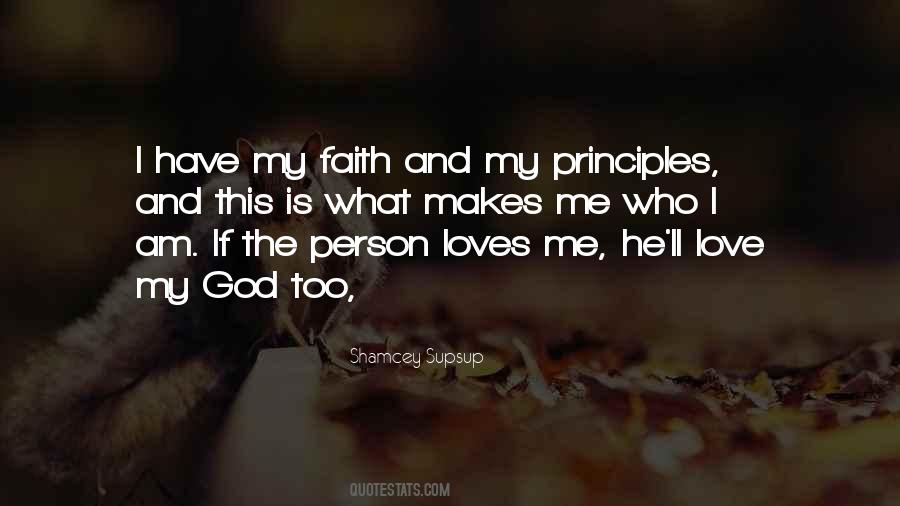 #59. Everything that we've been through makes me realize that love is about finding the right person in this cold, oppressive world that loves all the wrong things about you. Everything you try to hide, they accept. And I know he accepts me. - Author: Calia Read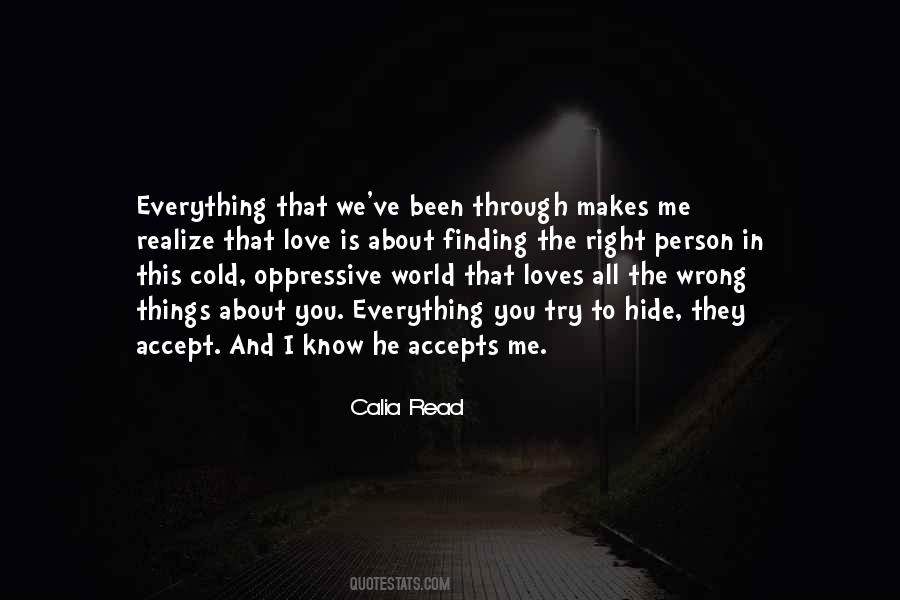 #60. Narcissist: psychoanalytic term for the person who loves himself more than his analyst; considered to be the manifestation of a dire mental disease whose successful treatment depends on the patient learning to love the analyst more and himself less. - Author: Thomas Szasz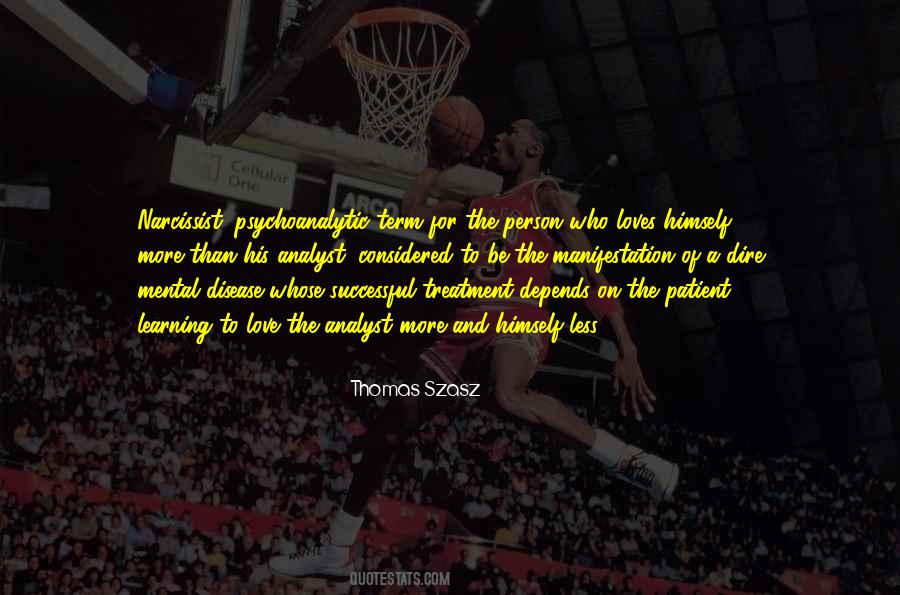 #61. Every time you take someone figuratively by the hand and introduce him or her to Jesus Christ, you will feel how deeply our Savior loves you and loves the person whose hand is in yours. - Author: Clayton Christensen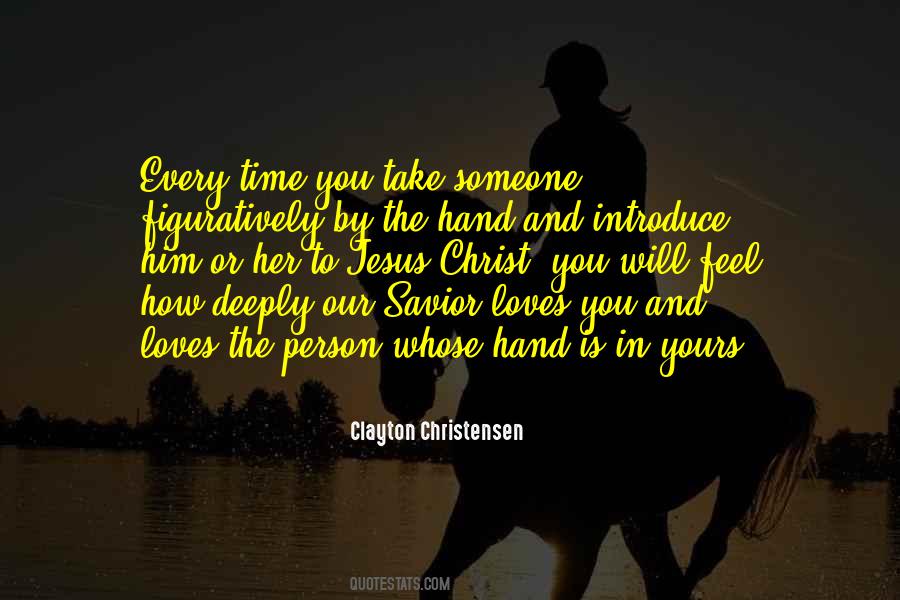 #62. I'm much more interested in shows that maybe not everybody loves, but a lot of people REALLY love. That's how I am as a person. I'm as extreme as the roles in the shows that I like to be on. - Author: Felicia Day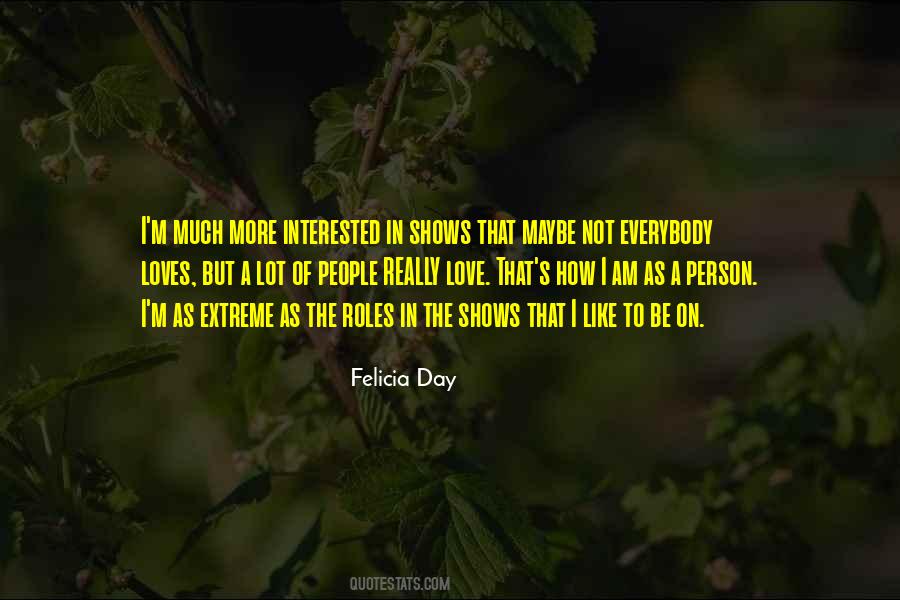 #63. Since our peace lies in loving as God loves, we must strive to love everyone. Our desire to find one "special person," one part of the Sonship who will complete us, is hurtful because it is delusional. It means we're seeking salvation in separation rather than in oneness. The - Author: Marianne Williamson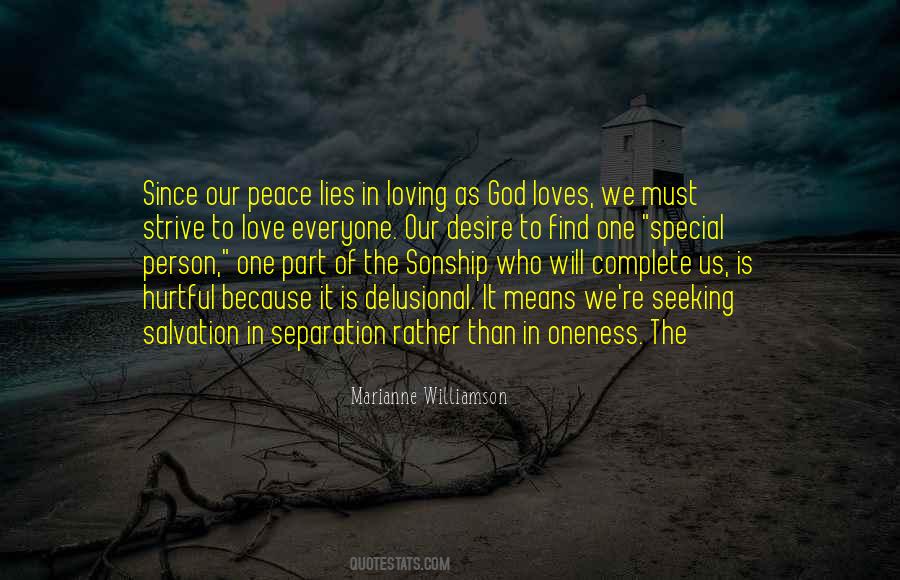 #64. He keeps wishing for impossible things to happen. Like to see the stars while it's raining and for the person he loves to love him back. - Author: Anonymous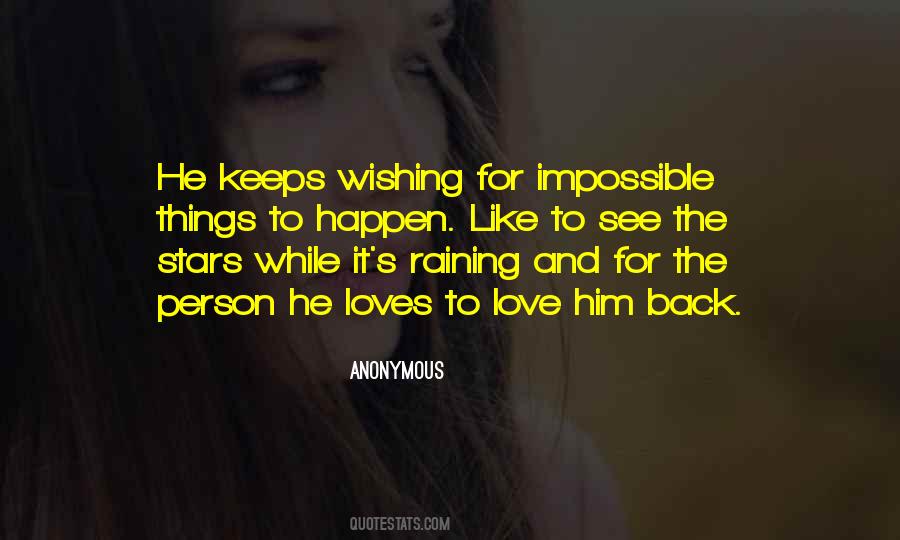 Famous Authors
Popular Topics