Love Path Famous Quotes & Sayings
List of top 100 famous quotes and sayings about love path to read and share with friends on your Facebook, Twitter, blogs.
Top 100 Love Path Quotes
#1. Amber leaned into Gavin. Could it be that simple? Could love be the glue that keeps us on the path of righteousness?

"Love is always the answer. - Author: Catherine Bybee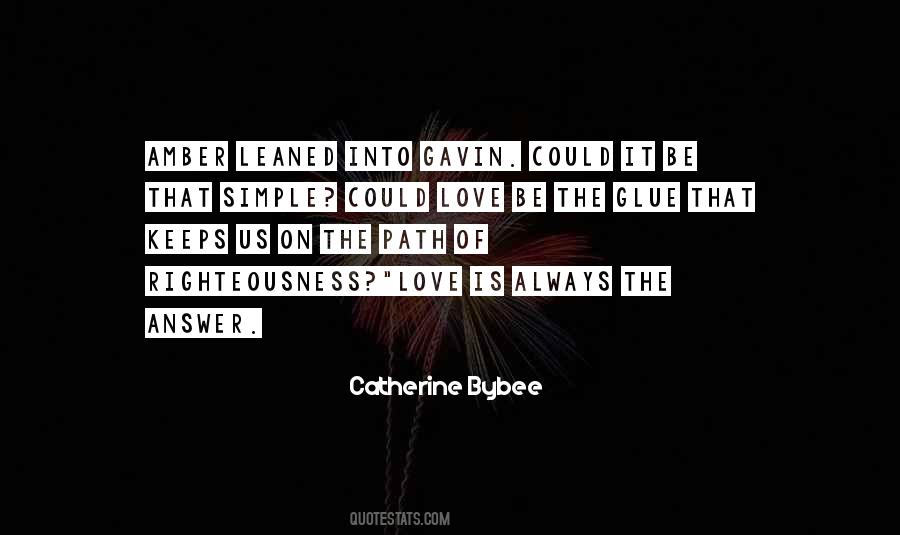 #2. On the path of love we feel that if we love today, it's only because God is loving through us, because there is a special grace present with which we can love. - Author: Frederick Lenz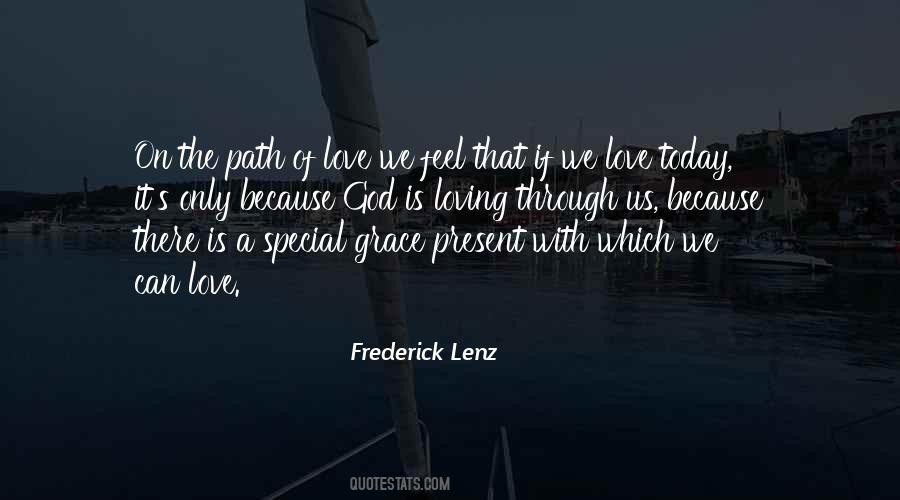 #3. I realize now, I was learning how to walk as well. I haven't mastered the steps, I fall too. But im on my path, my path ... and one day that path ... will take me to her. - Author: Makoto Shinkai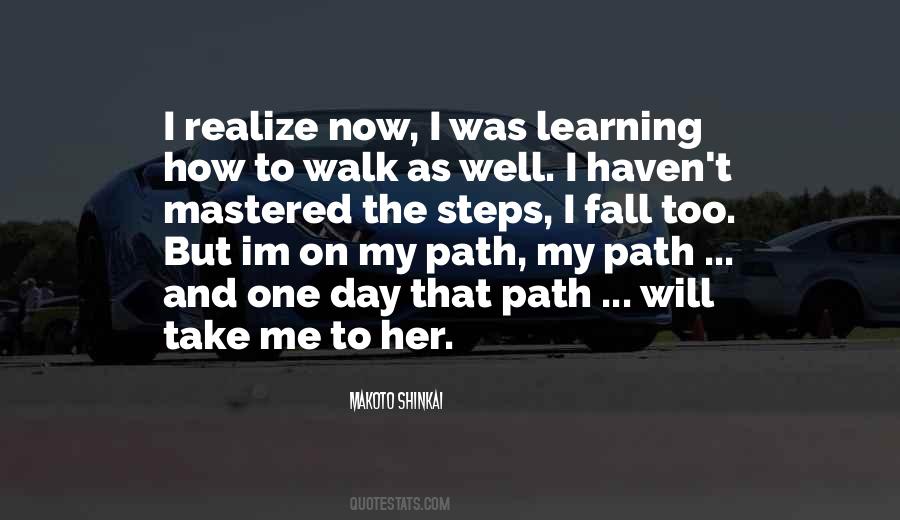 #4. As with all my children, you must find your own path, and through that discovery, you will decide what each earth child must ultimately decide-whether she chooses chaos or love. - Author: P.C. Cast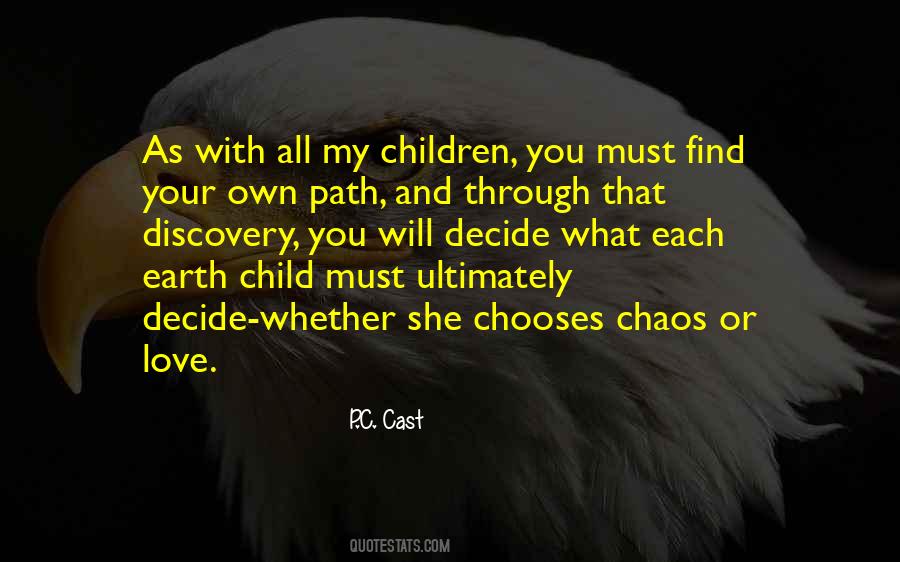 #5. When you are having trouble making a decision or are at a crossroads in your life and are confused about which path to take, cry out to God and ask for His guidance. - Author: Jacklyn Zeman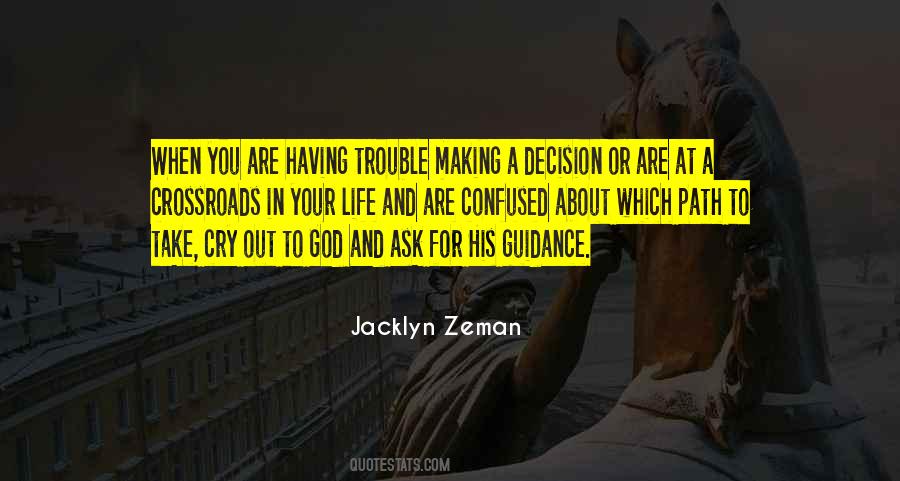 #6. I know God loves me. I tell people all the time I'm one of his favorite childs. I had to believe in something bigger than me - bigger than man. I had to believe that God would send somebody across my path to keep my dreams alive. - Author: Darlene Love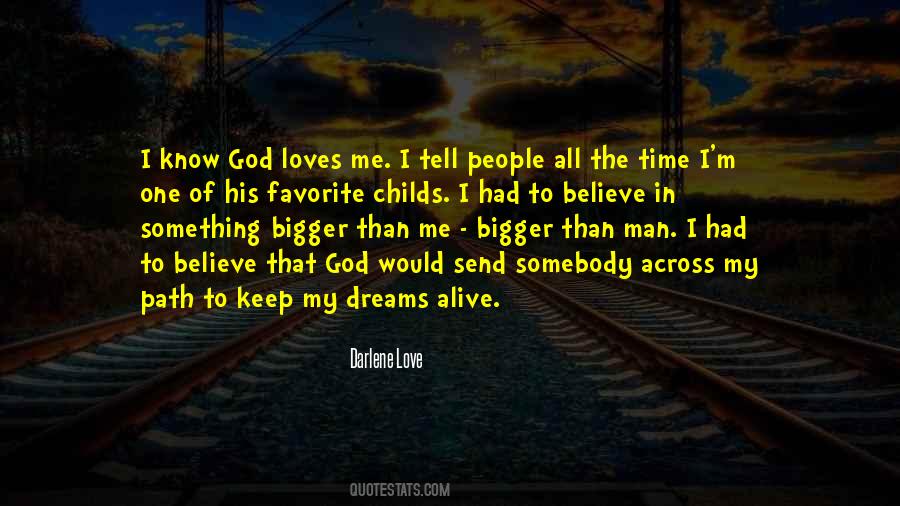 #7. The love to Wisdom is getting closer to the own bright path. - Author: Confucius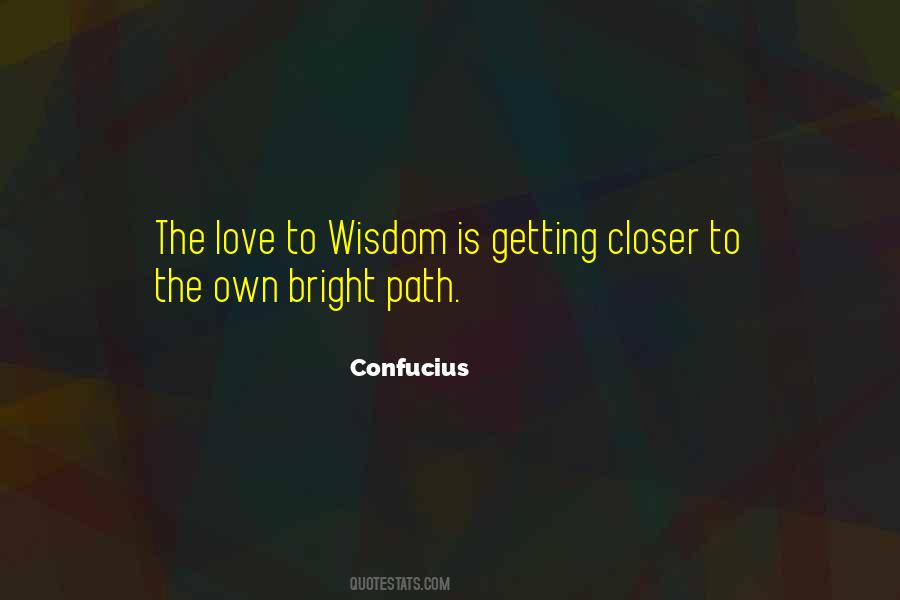 #8. Never deviate from the path unless you are going to make love in the bushes ... - Author: Truth Devour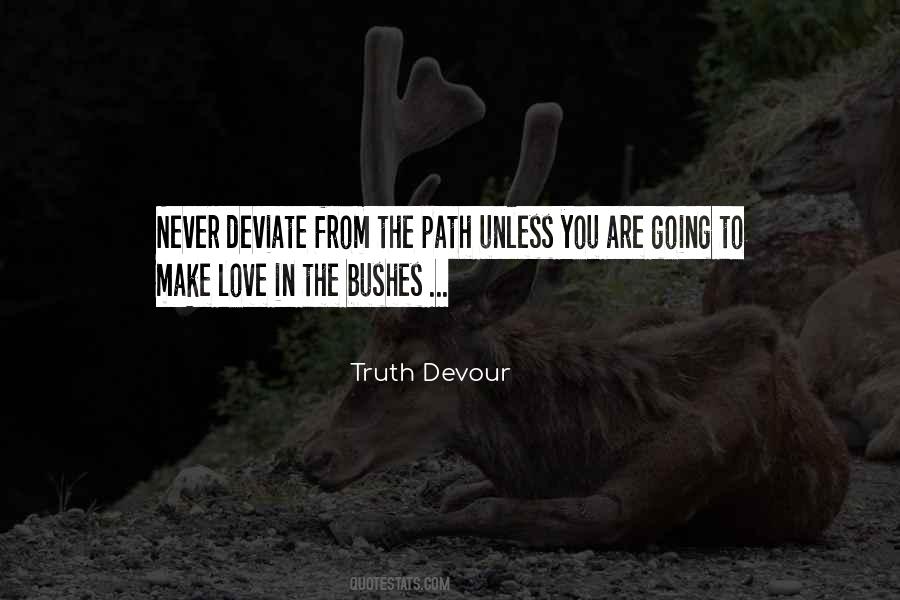 #9. I love to learn. But just going back into school because of what I do I'm so set in this path that I'm on right now and I'm so excited about it and I love doing it so much that I like to focus myself on one thing at a time. - Author: Hayden Panettiere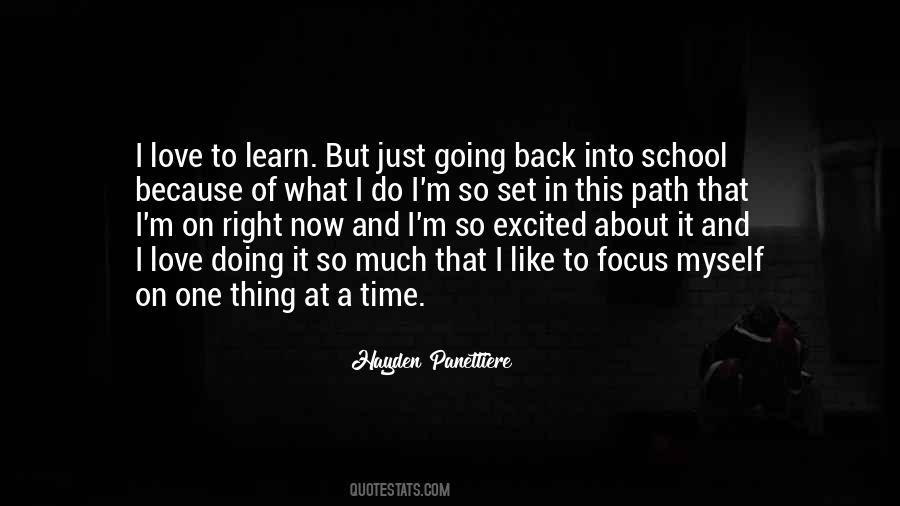 #10. When you follow the path of love you should feel that each one is perfect in their own right. While you can love others, never, ever, ever judge them. - Author: Frederick Lenz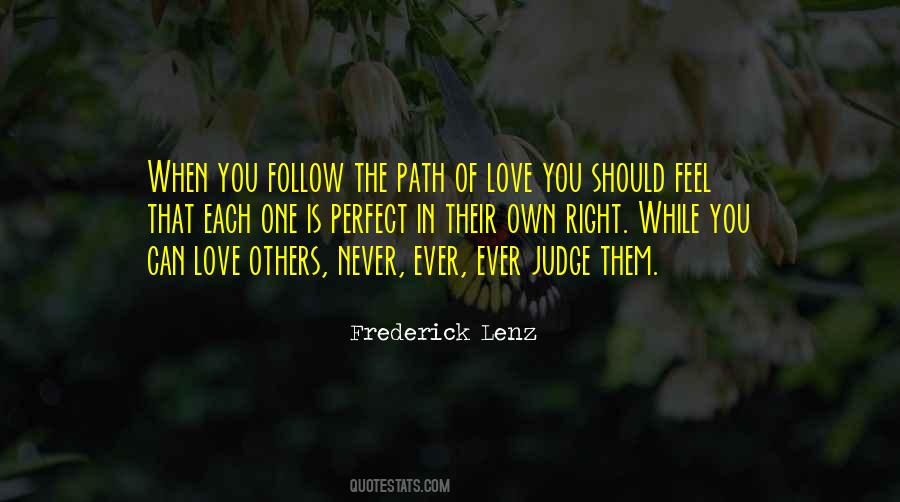 #11. We will not build a peaceful world by following a negative path. It is not enough to say we will not wage war. It is necessary to love peace and sacrifice for it. We must concentrate not merely on the negative expulsion of war, but on the positive affirmation of peace - Author: Martin Luther King Jr.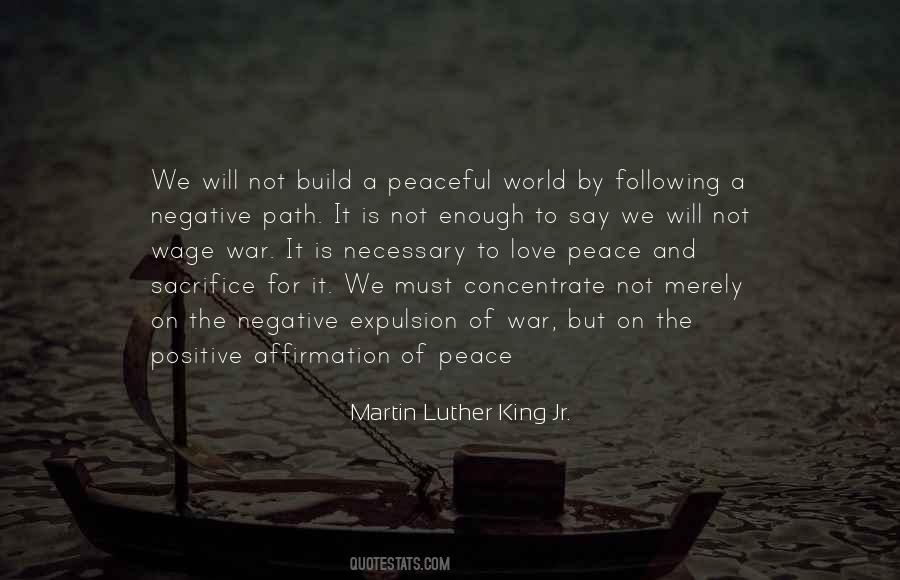 #12. I will never give up on what I love. I will never back down. I will never let go of anything that is important to me. I will hold my course steady and my God will help me see it through. This is my promise, my anthem and my path. This is my future and I own it. - Author: Shannon L. Alder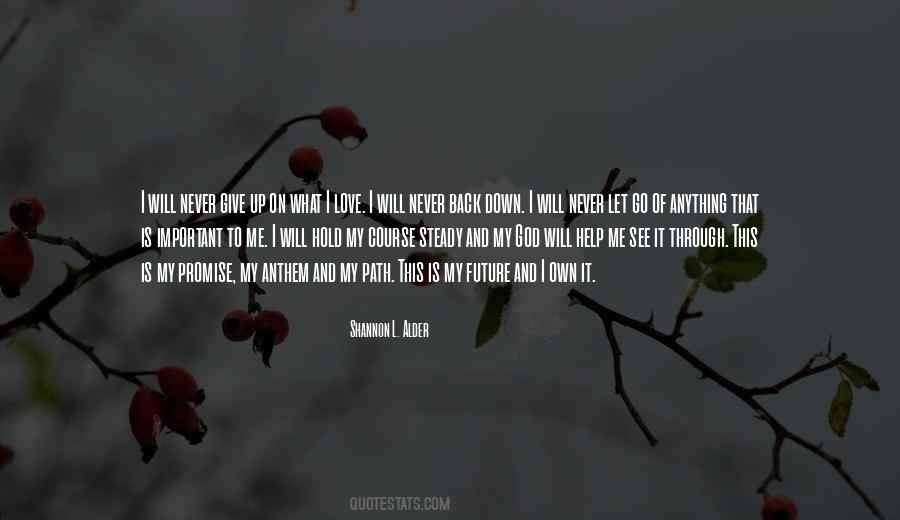 #13. As parents, the most important thing we can do
is read to our children early and often. Reading
is the path to success in school and life. When
children learn to love books, they learn to love
learning. - Author: Laura Bush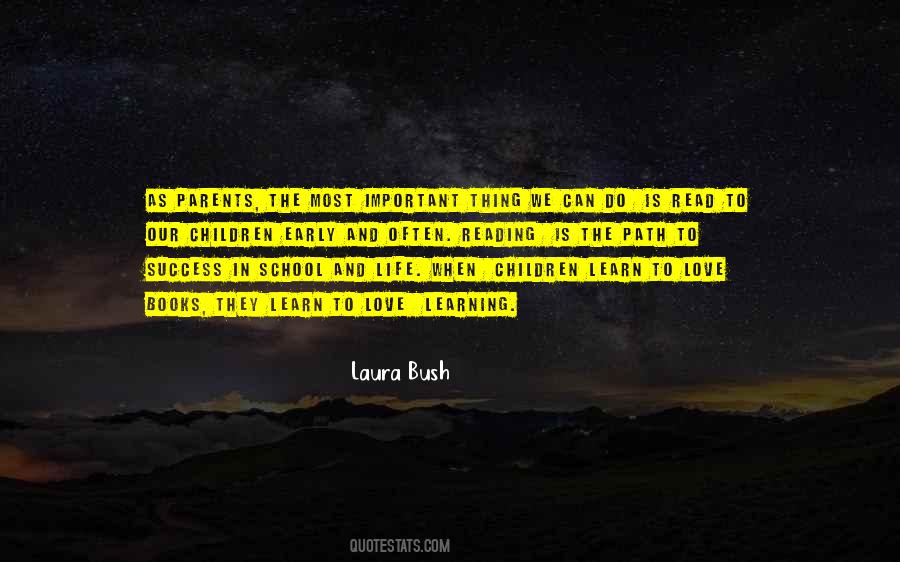 #14. Repentance is the first step on the path back to your relationship with God. - Author: Jim George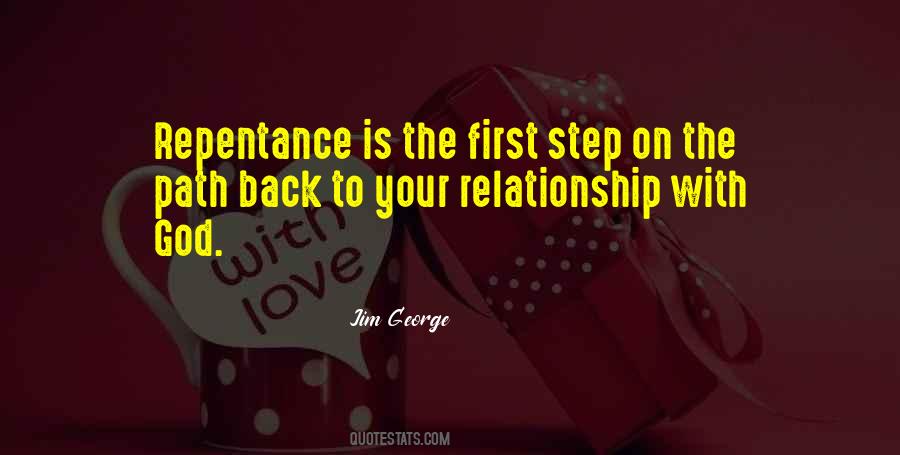 #15. I am well aware that for some, love and passion do not always follow the traditional path - Author: Amanda Quick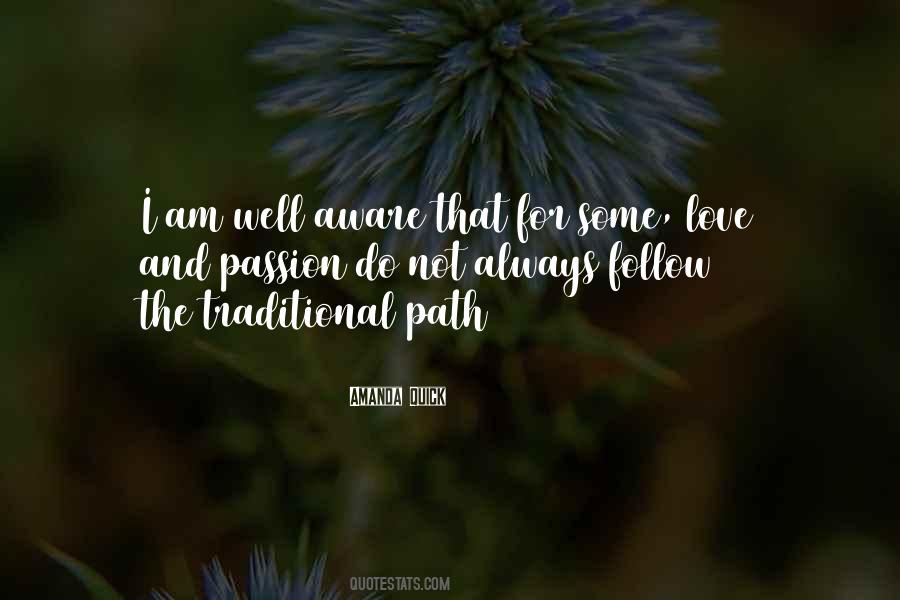 #16. The path of love. Good luck. May your love guide you through the bardo to eternity. - Author: Frederick Lenz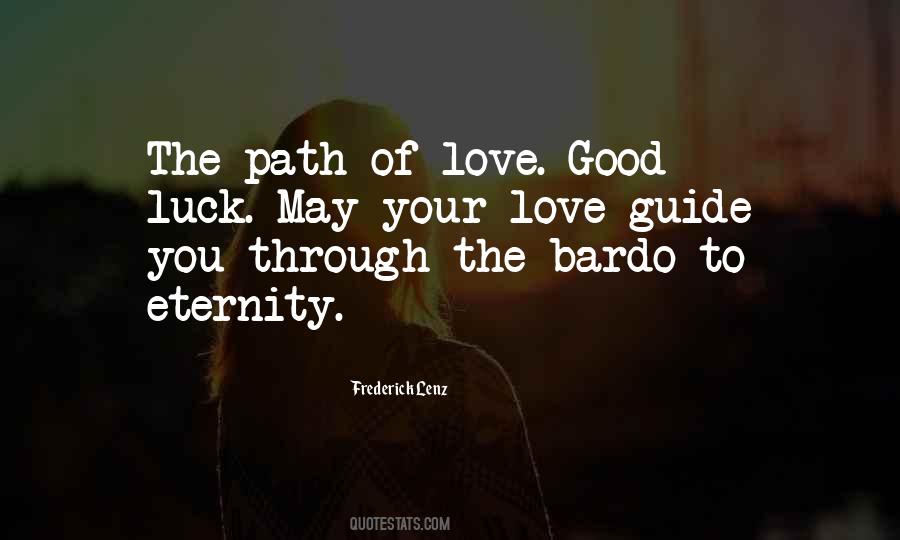 #17. Love is the path that guides the men to the fields of infinite LIGHT! - Author: Dave Zebian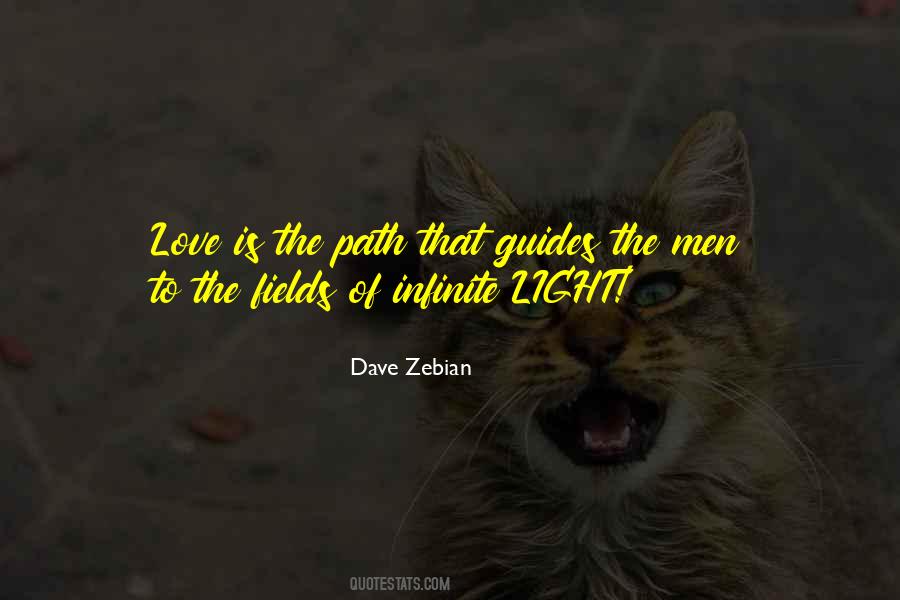 #18. I look at the Chrissy Teigens of the world, who I absolutely love, and I wish that I could say some of the stuff that she says. But I know where I want to go in my career path and I know that there are some things I can't say. - Author: Charissa Thompson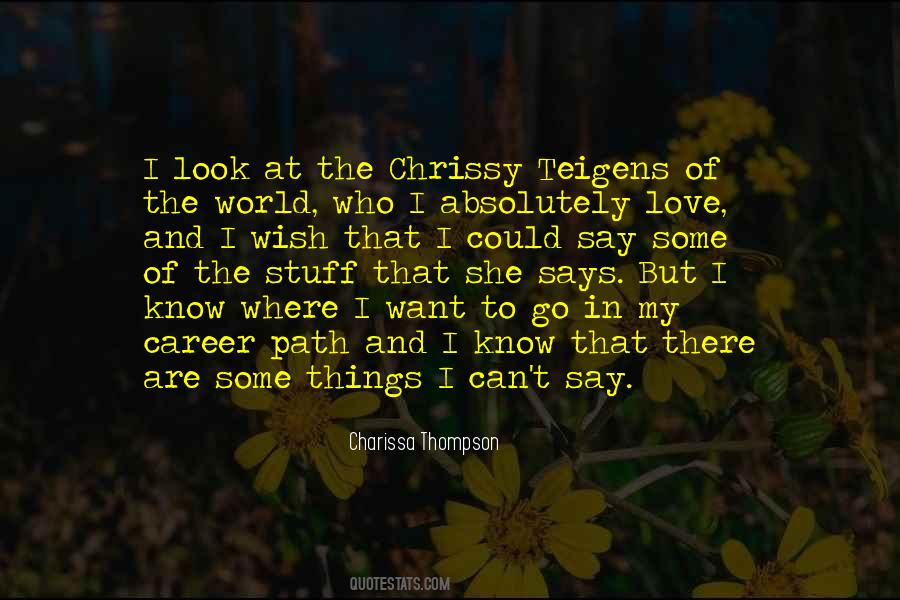 #19. Thus it is said:
The path into light seems dark,
the path forward seems to go back,
the direct path seems long,
true power seems weak ...
the greatest love seems indifferent,
the greatest wisdom seems childish. - Author: Lao-Tzu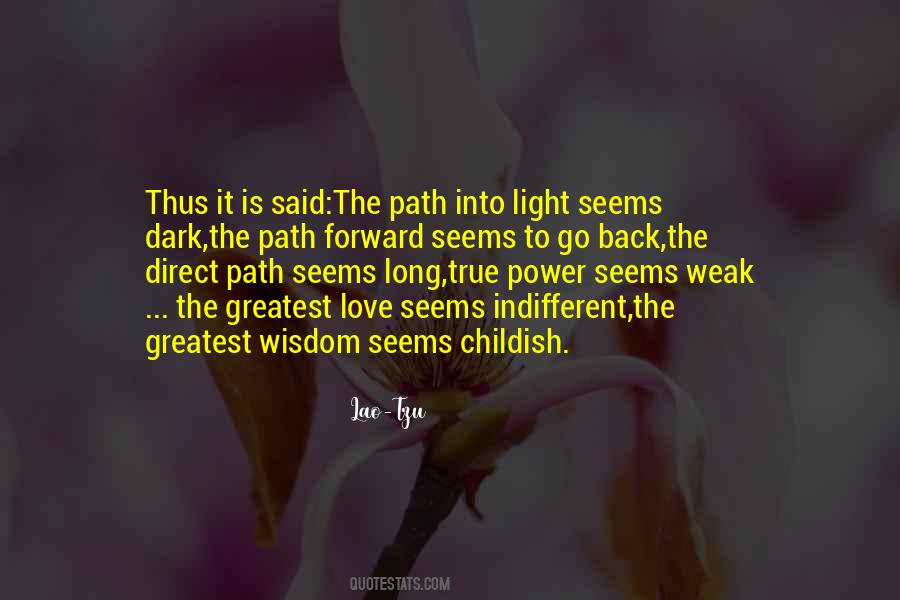 #20. Let there be love. There will be light to show you the path of life. - Author: Debasish Mridha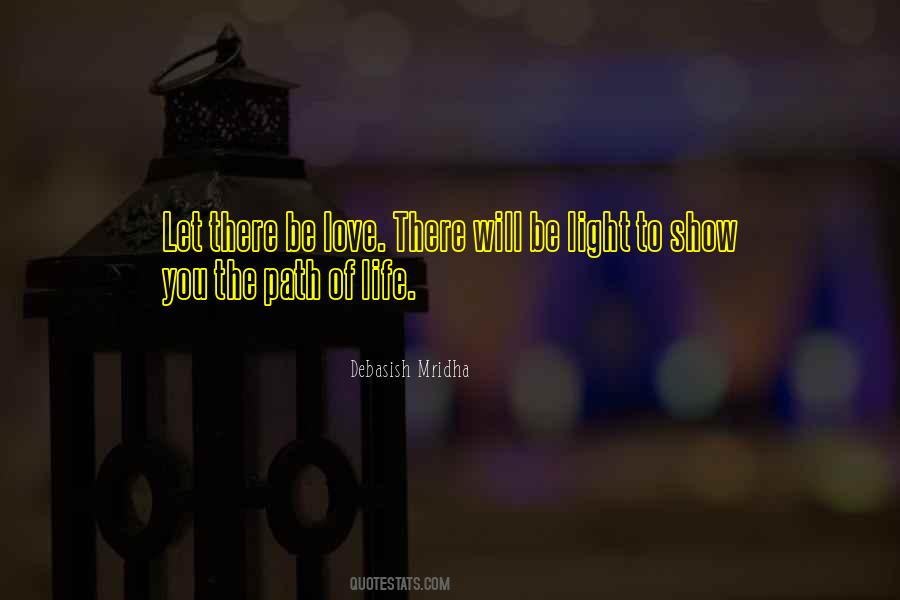 #21. Life is full of confusion. Confusion of love, passion, and romance. Confusion of family and friends. Confusion with life itself. What path we take, what turns we make. How we roll our dice. - Author: Matthew Underwood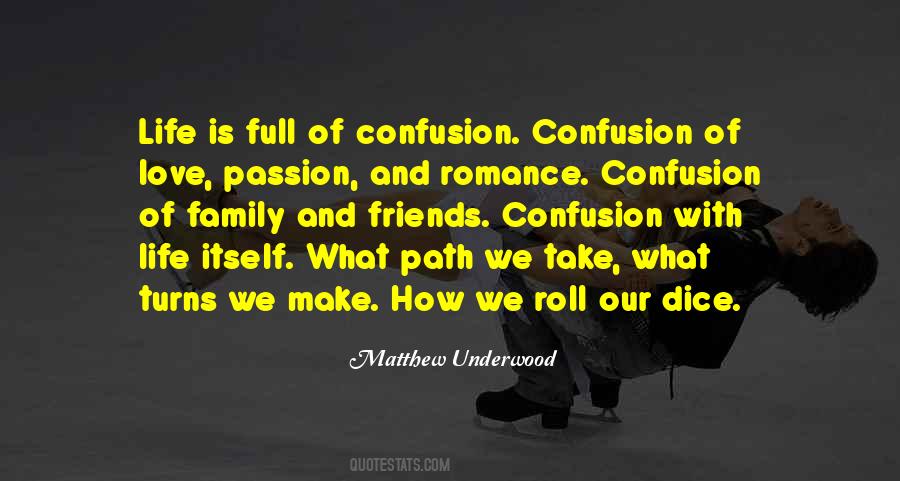 #22. You have the body of a god and the smile of a demon. I walk towards you, barefoot, a believer walking a religious path. I wrap my arms around your neck, a priest hugging his crucifix.
I offer you my all. Burn me like incense.
Let's make all the church bells in hell ring just for us. - Author: Malak El Halabi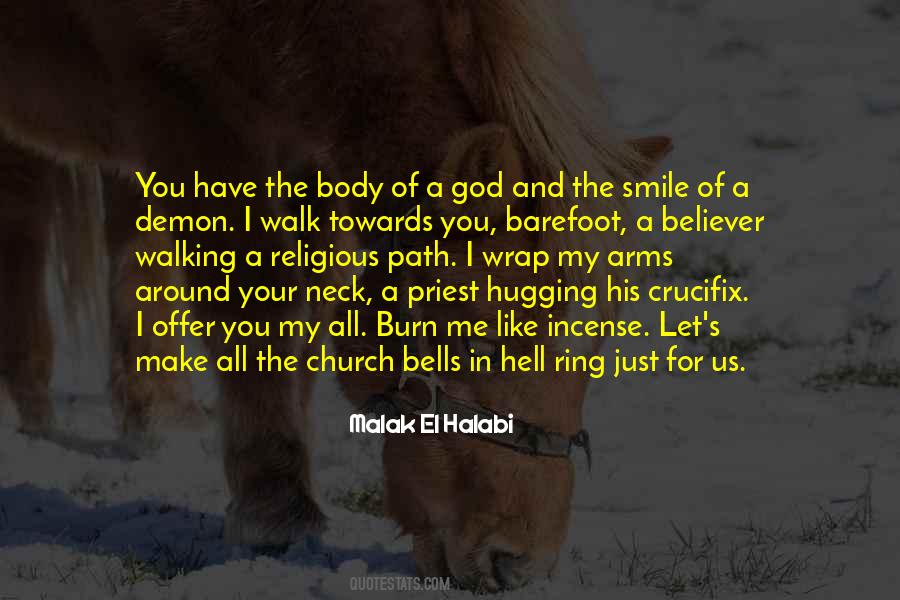 #23. Beautiful irony. Fall in love with yourself. Let your love express itself and the world will beat a path to your door to fall in love with you. - Author: Kamal Ravikant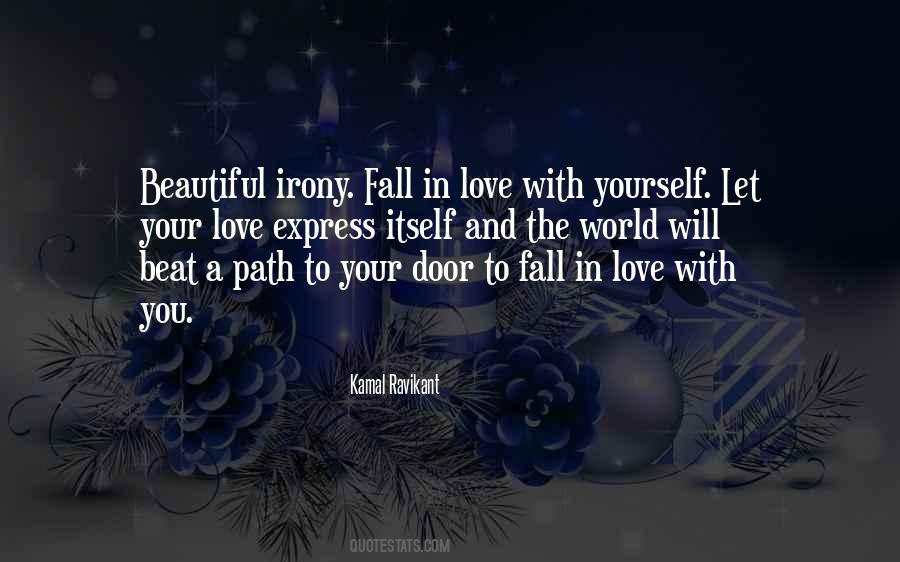 #24. Thousands and thousands of incarnations and nothing to show for it. You must choose whether to follow the path of love or the path of attachment. - Author: Frederick Lenz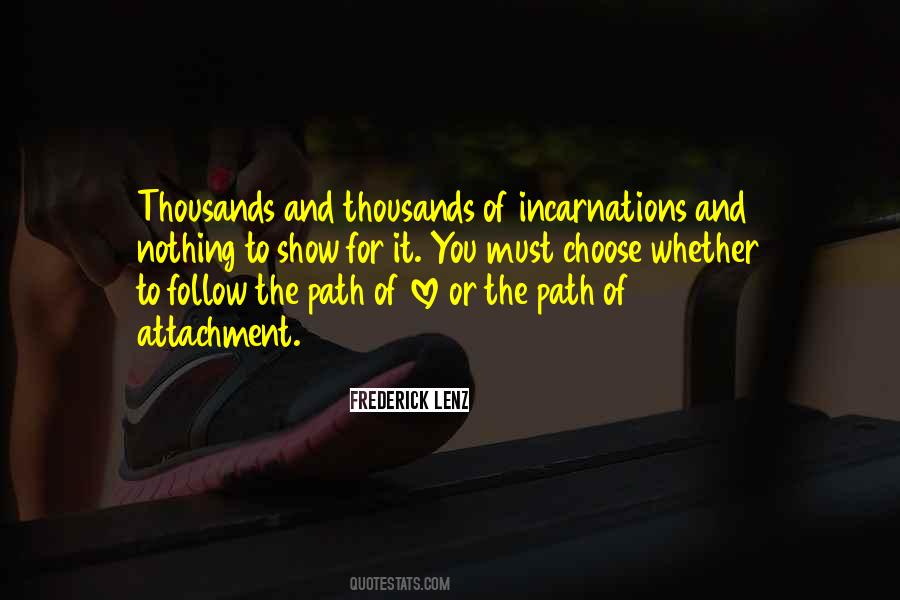 #25. The path of love is not for the faint of heart. It is tested and pushed over and over again. - Author: Lisa Bloom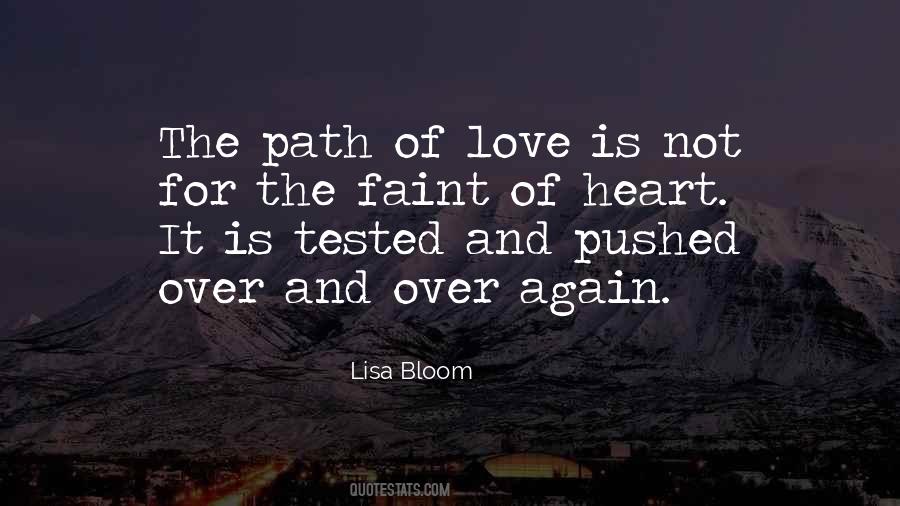 #26. Self-love is extremely important. Love yourself enough to be unique; forge your own path. Stand out if you must! - Author: Apryl L Yates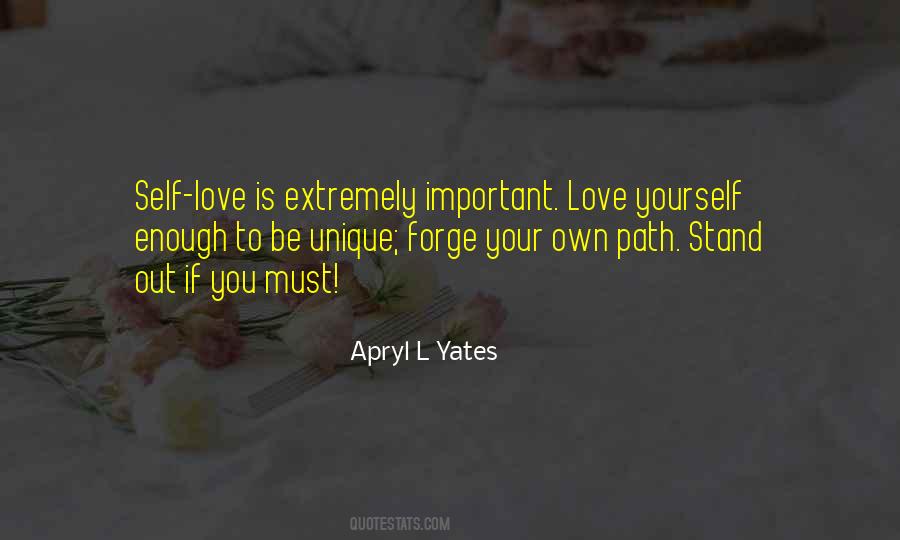 #27. God's love is a costly love. It never takes the easy path away from relationships. Instead, it plots how to move towards other people. It thinks creatively of ways to surprise them with love. - Author: Edward T. Welch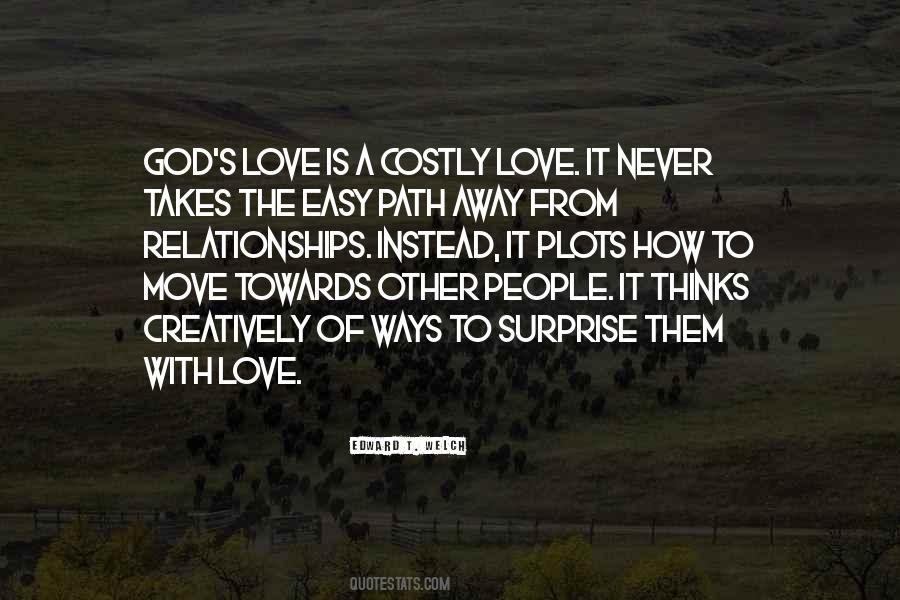 #28. This proves the significance of individualism; being able to face the music, to embrace it, and then create something beautiful from it. You can't truly be happy unless you're unhappy sometimes and the pinnacle of life can only be reached when one can carve their own path. - Author: Nadege Richards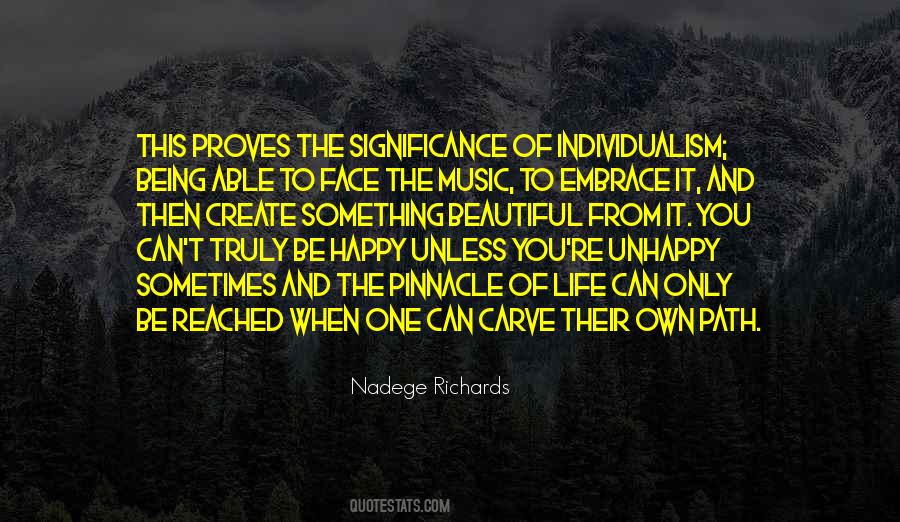 #29. He perched the bat on his shoulder, giving a nod that he understood I needed his help. With one loud yell and a couple swings of the bat, he cleared me another path. - Author: Holly Hood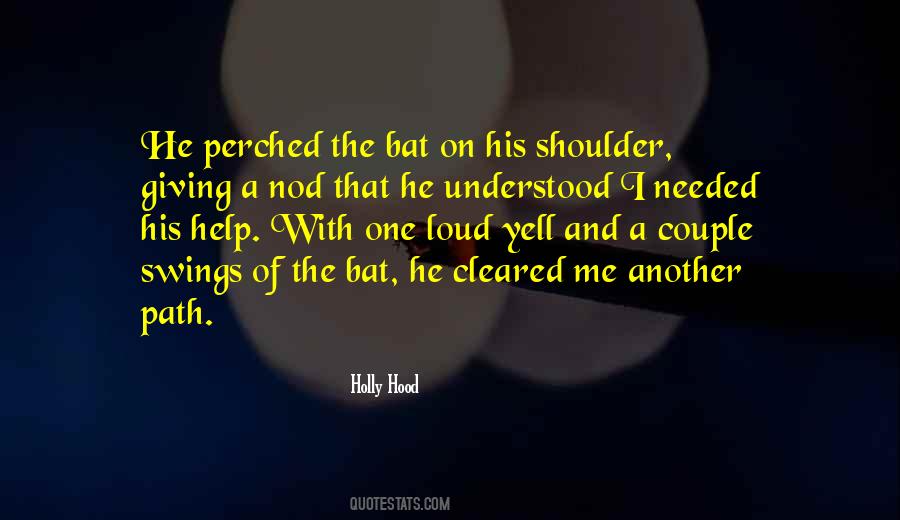 #30. No matter your past or your future, the depth of your sin or the mistakes that you've made, the weariness of your soul or the obstacles in your path, you can experience God's love right here, right now, right where you are. And that's the beauty of grace. - Author: Dawn Camp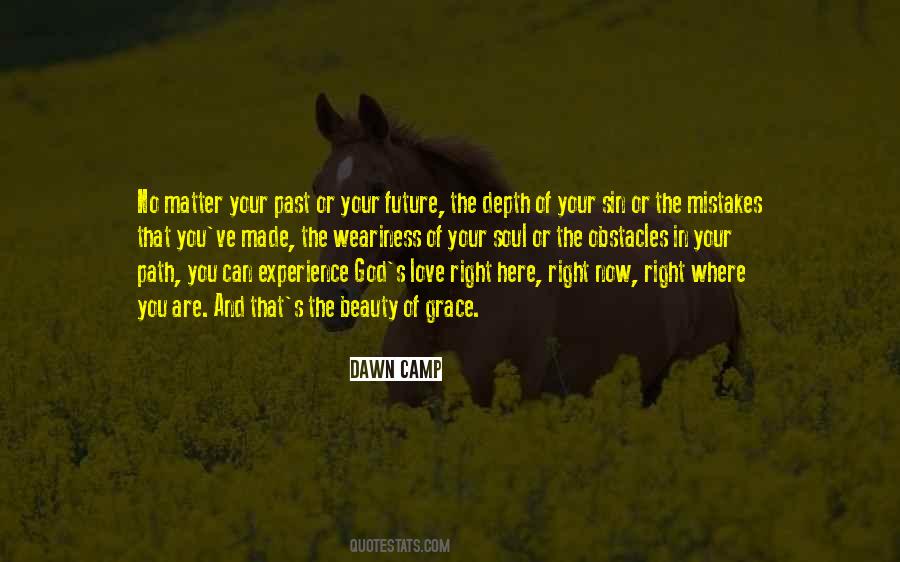 #31. I wish you wouldn't have given the sundial bracelet to Terease"

"Why?" I question and press my head onto his chest, pushing my arms back into his open jacket and around his back.

"If I had it to lead me to my deepest desire, I know it would always be a direct path to you. - Author: Michelle Warren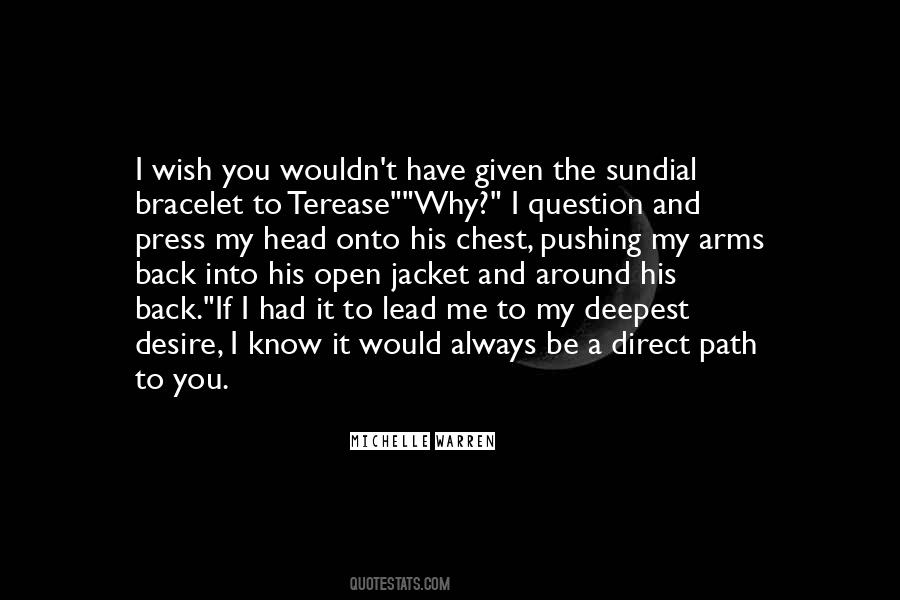 #32. When you have a purpose of life it becomes the light to show you the path toward your destination. - Author: Debasish Mridha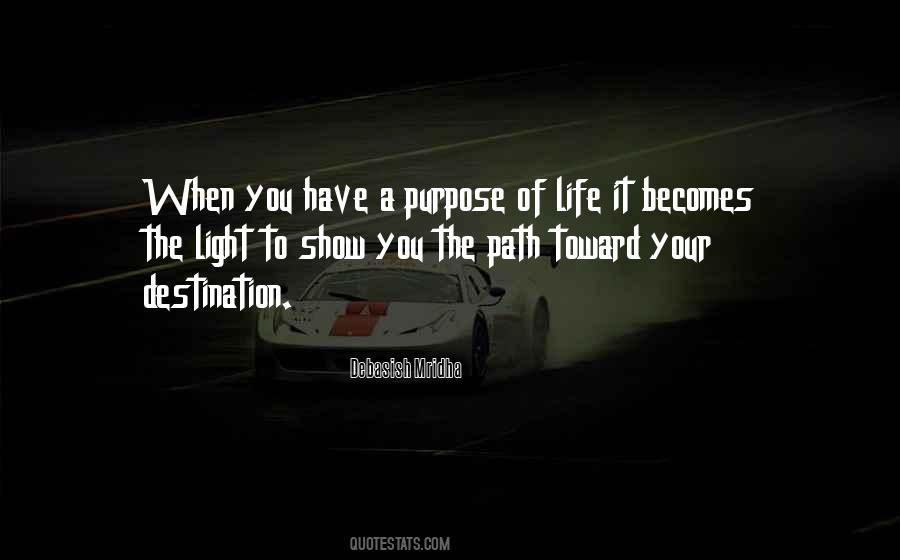 #33. To walk alone through life is a challenge; it sometime means adrenaline and a path full of surprises, but being with somebody means a lot more. And being with the right person means everything. - Author: Andres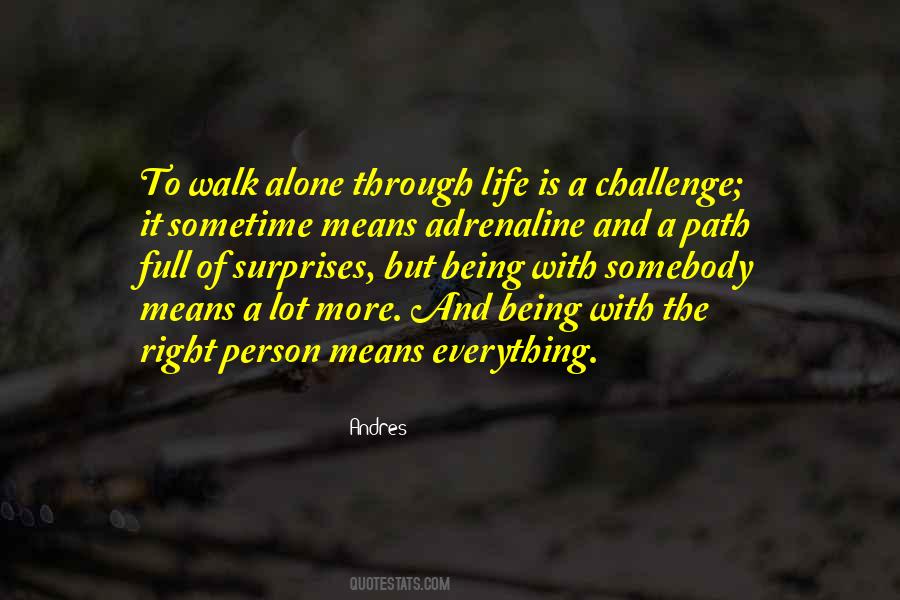 #34. Probably having fallen in love with music and movies at a young age and then first learning about writing by kind of following the path of writers like Dave Marsh and Lester Bangs and being a rock journalist. - Author: Cameron Crowe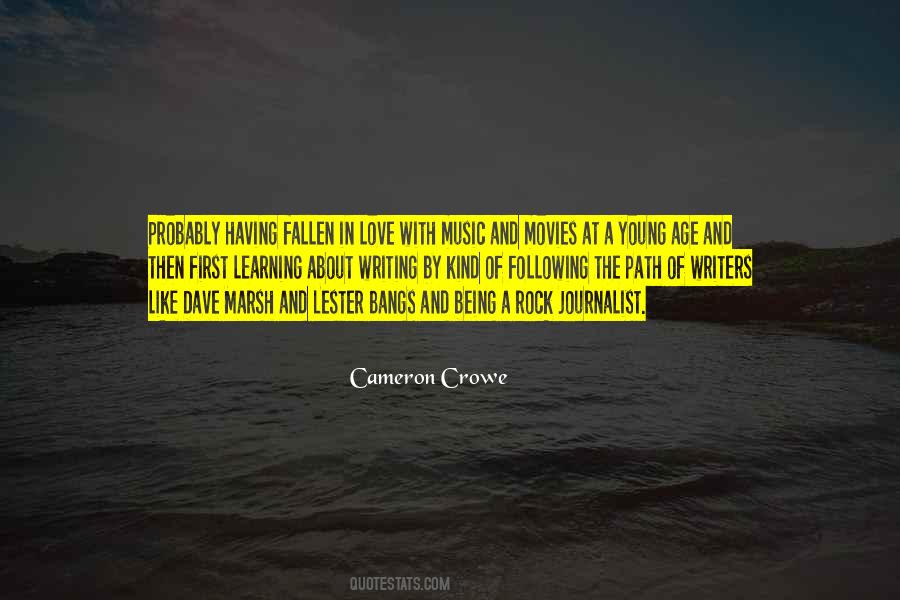 #35. All along this path I tread, my heart betrays my weary head, with nothing but my love to save, from the cradle to the grave ... - Author: Eric Clapton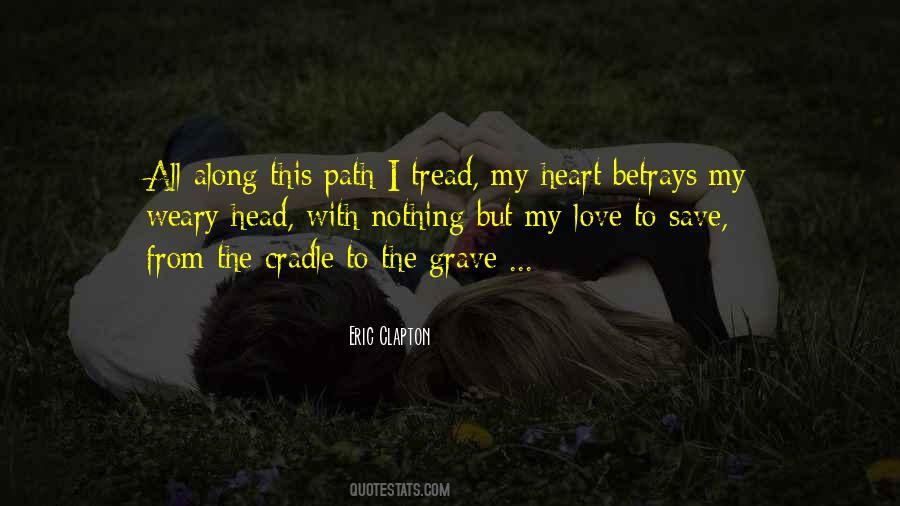 #36. To find true peace, forgive those who fill your mind with hatred and instead show them the path of love. - Author: Debasish Mridha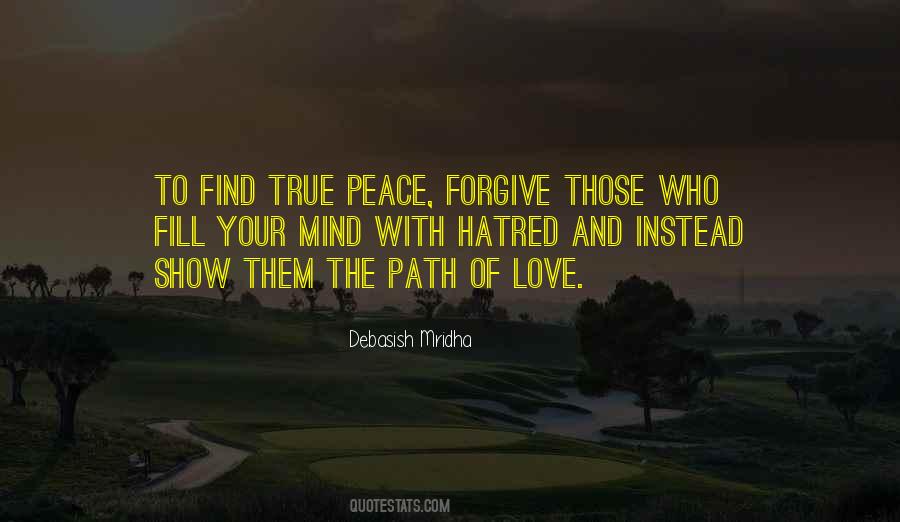 #37. The world has lost a visionary leader, a courageous voice for justice, and a clear moral compass. By showing us that the path to freedom and human dignity lies in love, wisdom and compassion for one another, Nelson Mandela stands as an inspiration to us all. - Author: Kofi Annan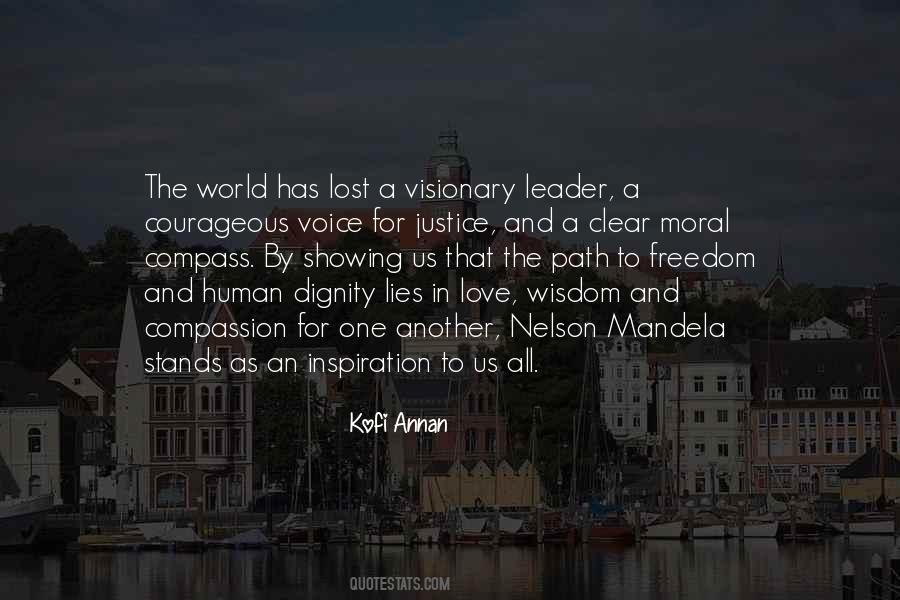 #38. Virtue is the path to God,
faith is the highway,
and love is the staircase. - Author: Matshona Dhliwayo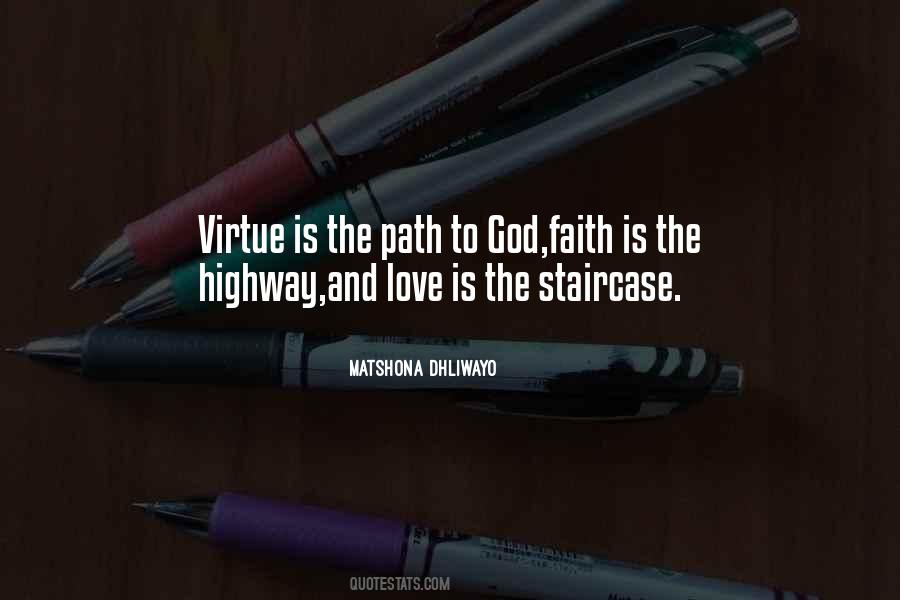 #39. My life had become a puzzle - its pieces scattered about like paper in the wind, with no one there to chase them but me. - Author: Meredith T. Taylor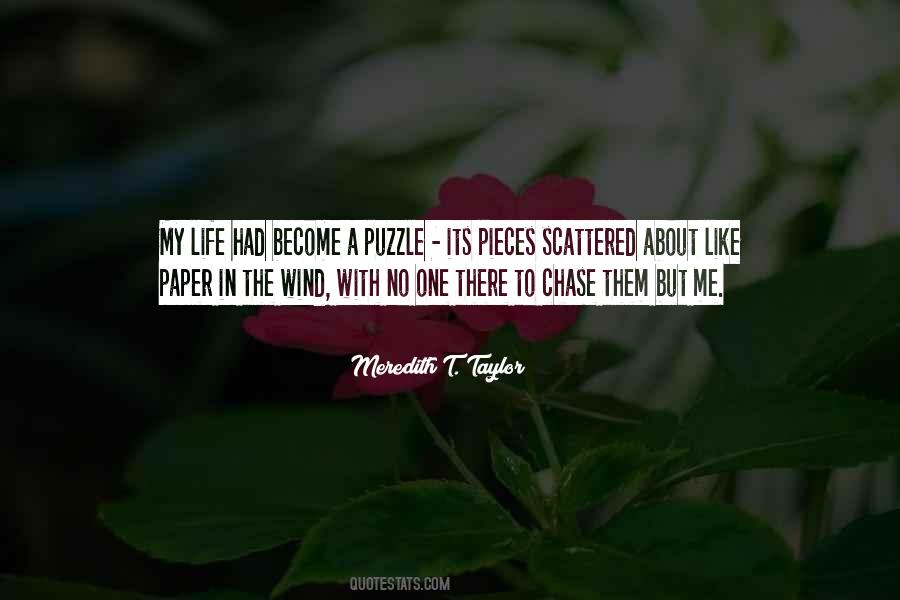 #40. 'Made' is about opening your heart to people who deserve your love and not trying to turn other people into something that they're not: not trying to save people who don't want to be saved. If you go down that dark path, you're not going to end up doing any good. - Author: Jon Favreau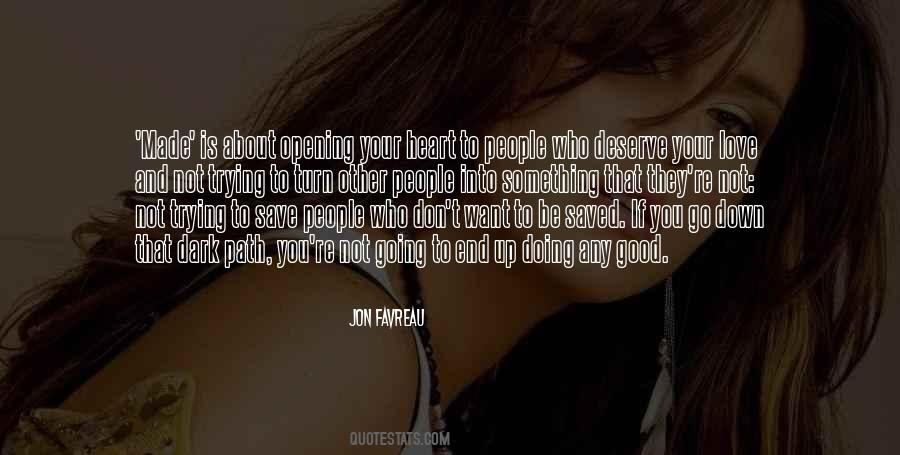 #41. The path may not be left for an instant. If it could be left, it would not be the path. - Author: Confucius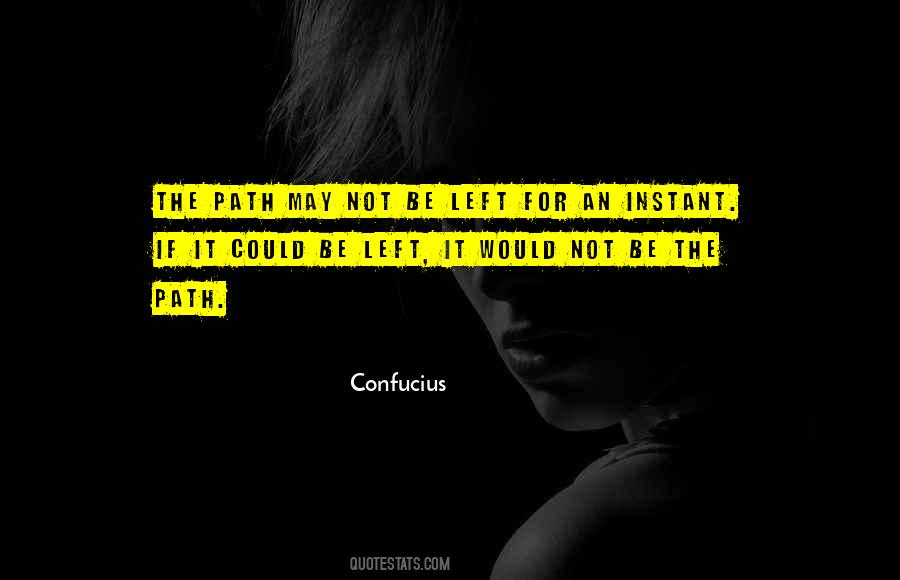 #42. The greatest stories ever told trace a path through the charred and exalted landscape of romantic love. - Author: Elizabeth Lesser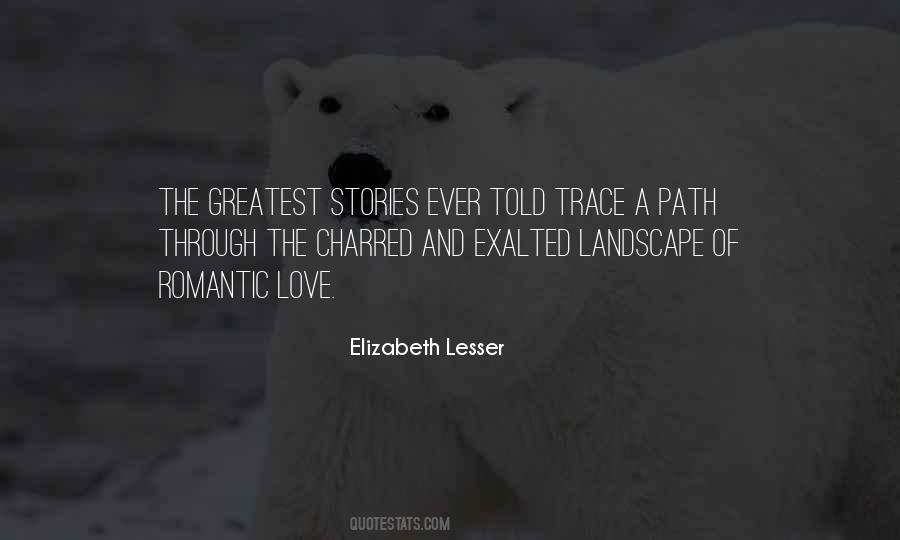 #43. I'm on a constant path of self-discovery and change. I'm trying to become a better person, a nicer person. I love therapy - it's brilliant. - Author: Julia Sawalha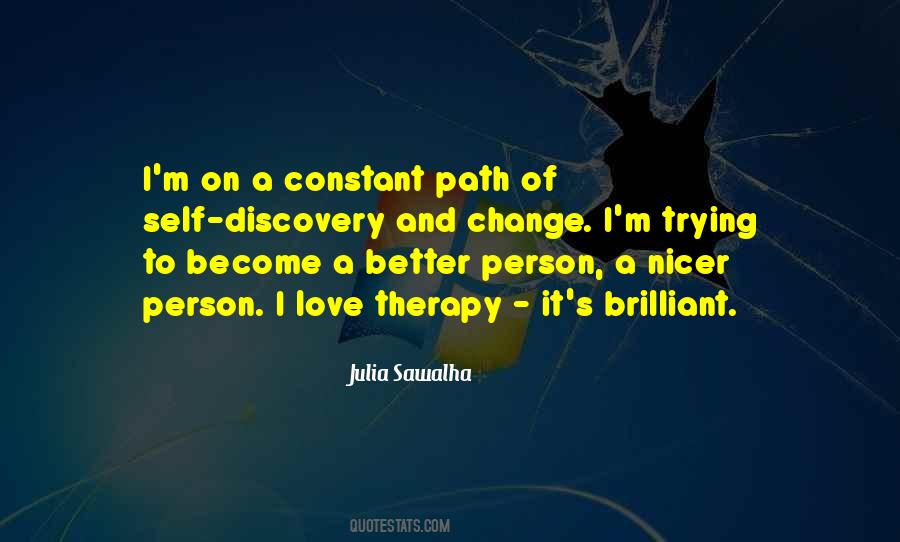 #44. Turn away from the world this year and begin to listen. Listen to the whispers of your heart. Look within. Your silent companion has lit lanterns of love to illuminate the path to Wholeness. At long last, the journey you were destined to take has begun. - Author: Sarah Ban Breathnach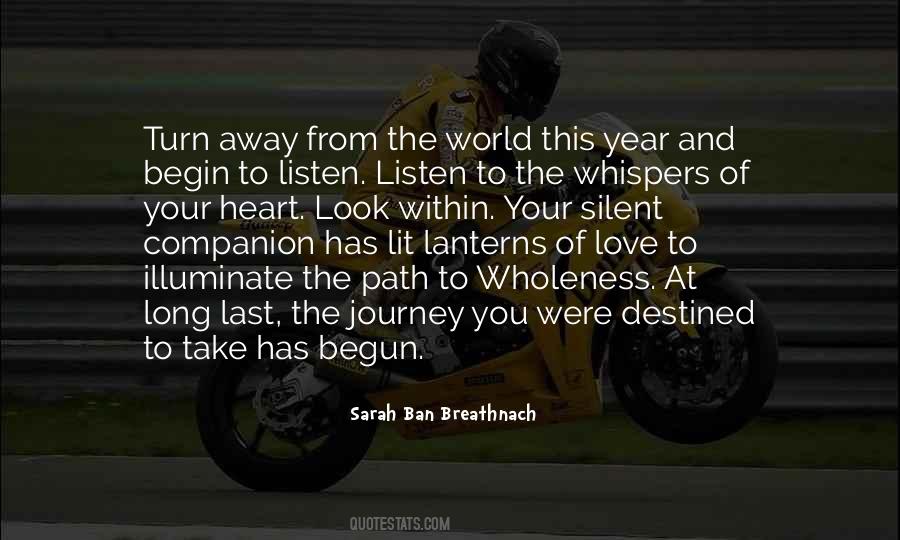 #45. Your life is nothing more than a love story. Between you and God. Nothing more. Every person, every experience, every gift, every loss, every pain is sent to your path for one reason and one reason only: to bring you back to Him. - Author: Yasmin Mogahed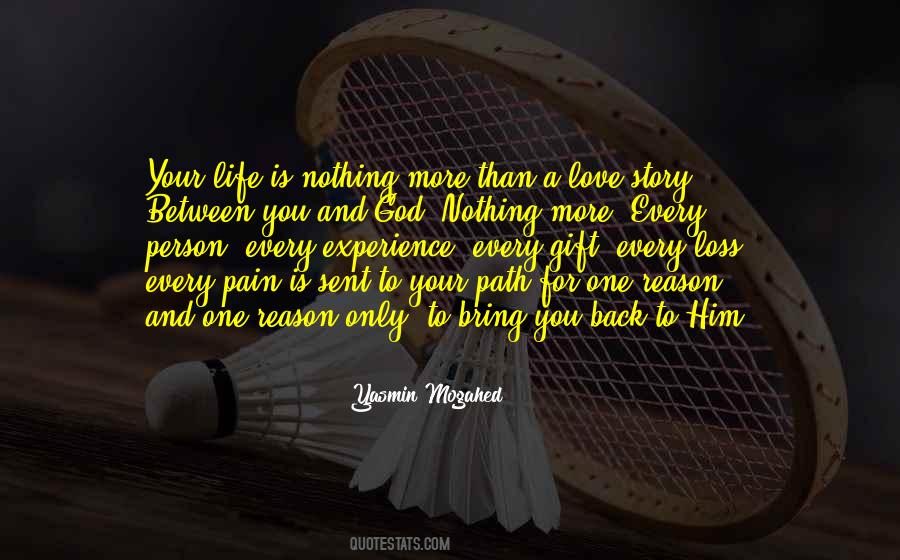 #46. Running in Central Park is my favorite thing to wake up and do. I have my own specific path that I have to run every single time. There's a little bit of OCD involved, but I love it. - Author: Nate Ruess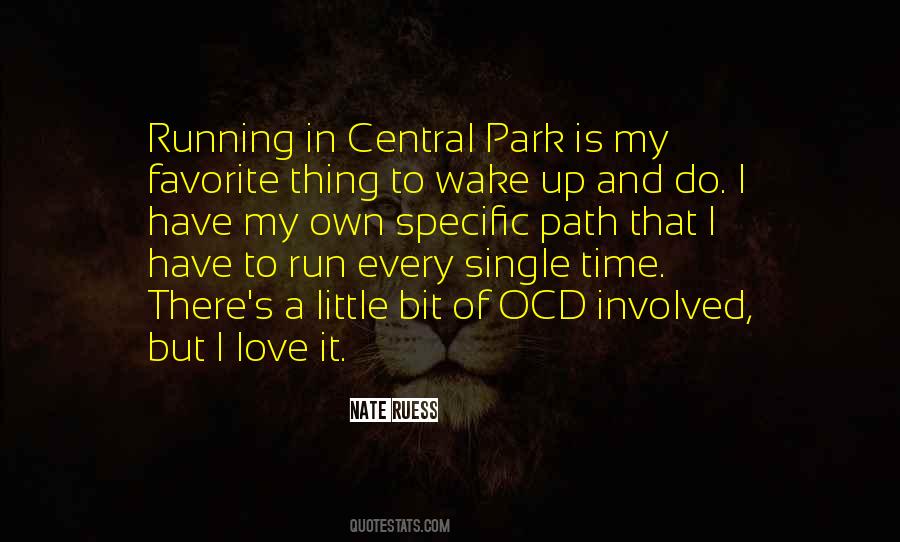 #47. ...about a spiritual path, seeing the validity in all paths, and knowing that religion can help or hamper the path. The teachings in every religion are valuable. It is humanity that has bogged down in dogma and rules. Loving and practicing the teachings that ring true is the key. - Author: Lynne Cockrum-Murphy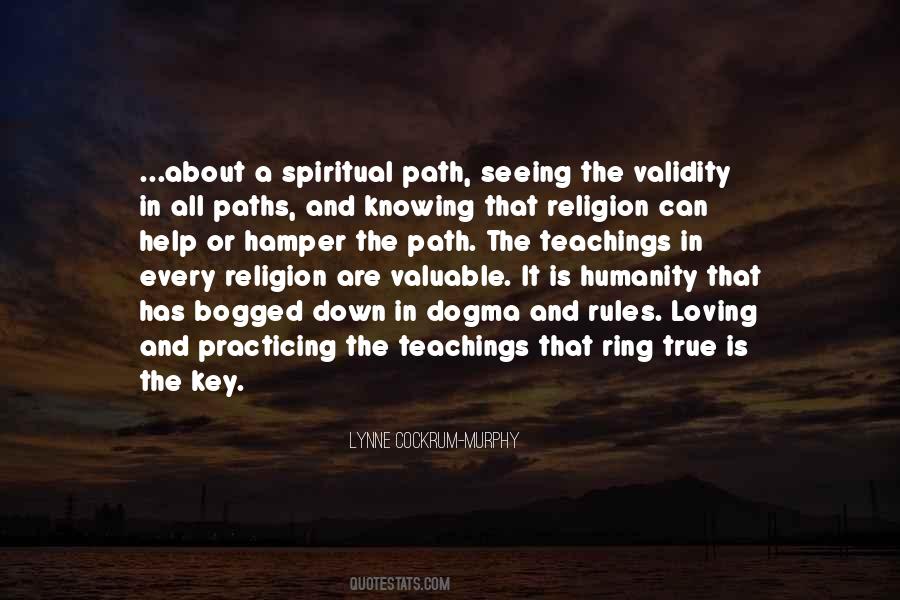 #48. When was it I realized that, on this truly dark and solitary path we all walk, the only way we can light is our own? Although I was raised with love, I was always lonely.
Someday, without fail, everyone will disappear, scattered into the blackness of time. - Author: Banana Yoshimoto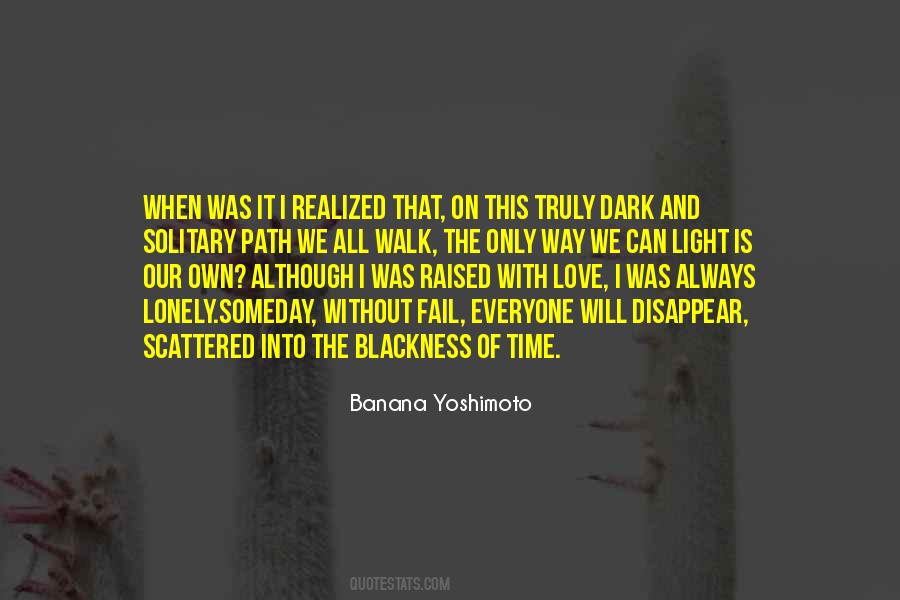 #49. I'd love to step off this well-trodden straight and boring path. To somehow live differently, think different thoughts, feel different feelings than others. It wouldn't bother me to be as alone as a tree on the plains. My leaves would be like no other tree's. - Author: Gyula Krudy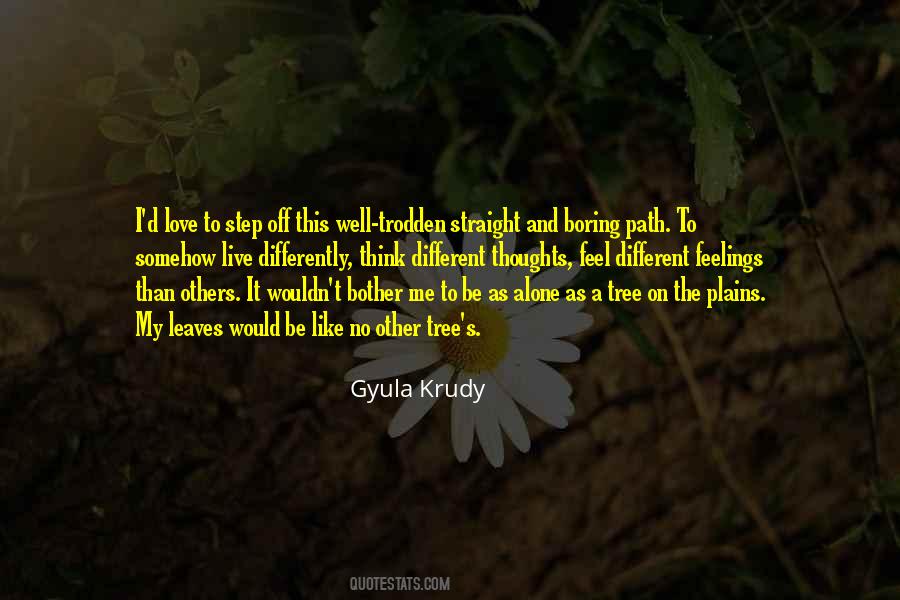 #50. Travel on your define path. - Author: Lailah Gifty Akita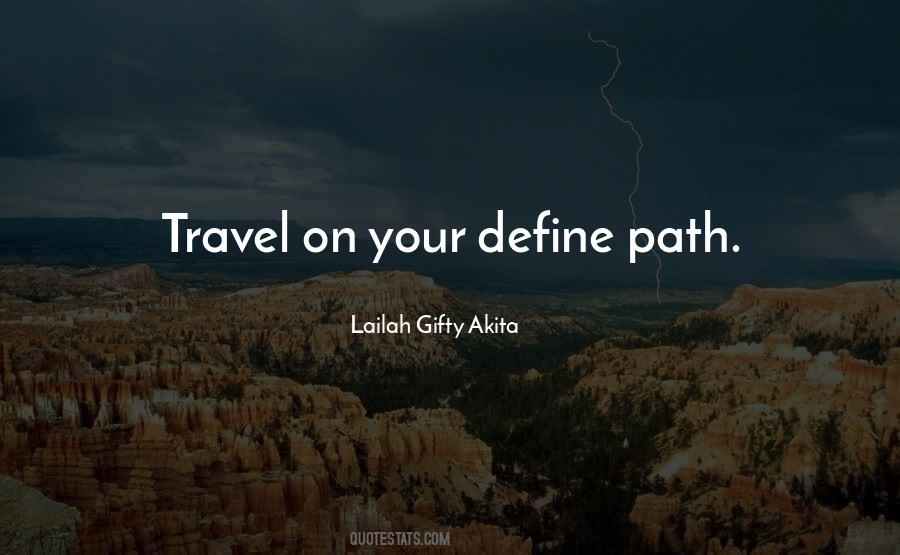 #51. I longed to return to that bloody riverbank, to throw myself in the path of the final arrow, to die ignorant, and so, in love. Better to be killed by an arrow than by the words of the one I most trusted. - Author: Robin Wasserman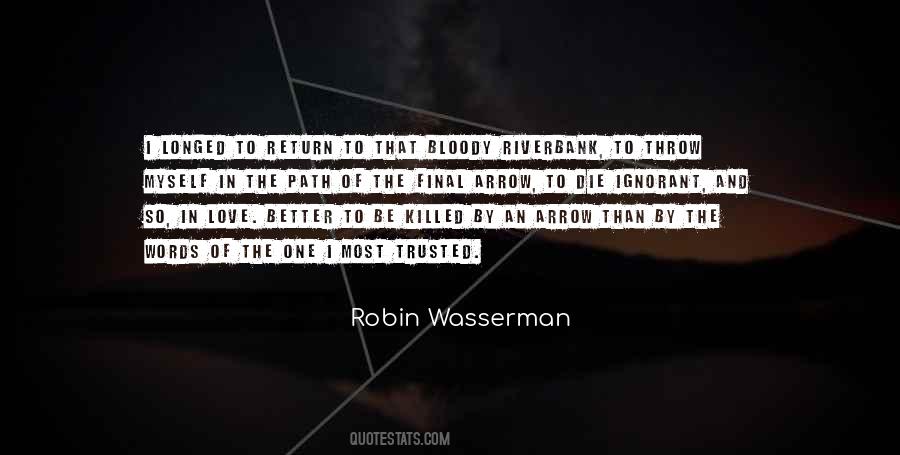 #52. Men who fear God will walk on a righteous path; however, men who Love God will not only walk on the righteous path, but will also want the world to know of his wonderful message of hope and salvation. - Author: Ivan King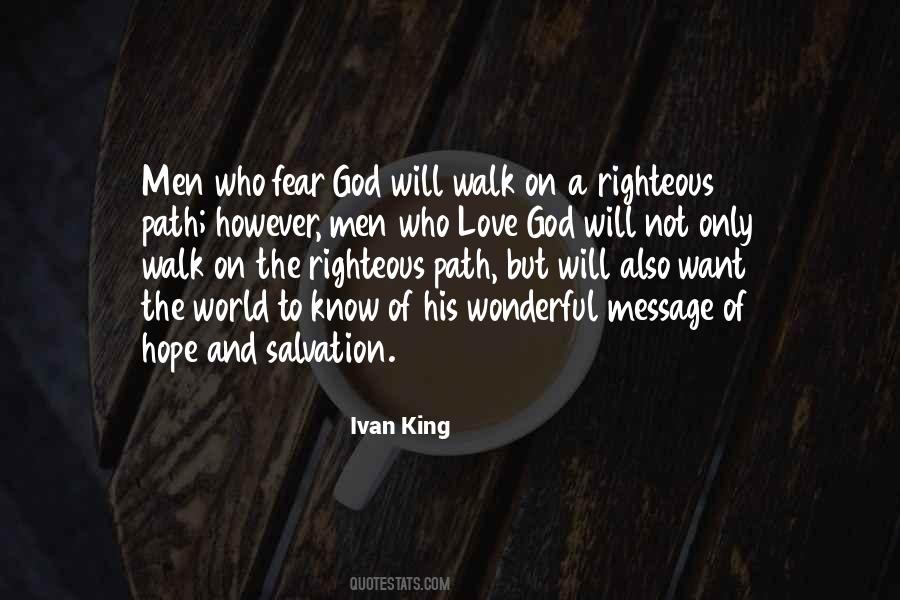 #53. Walk with me, memory to memory, the shared path, the mutual view. Walk with me. The past lies in wait. It is not behind. It seems to be in front. How else could it trip me as as I start to run? - Author: Jeanette Winterson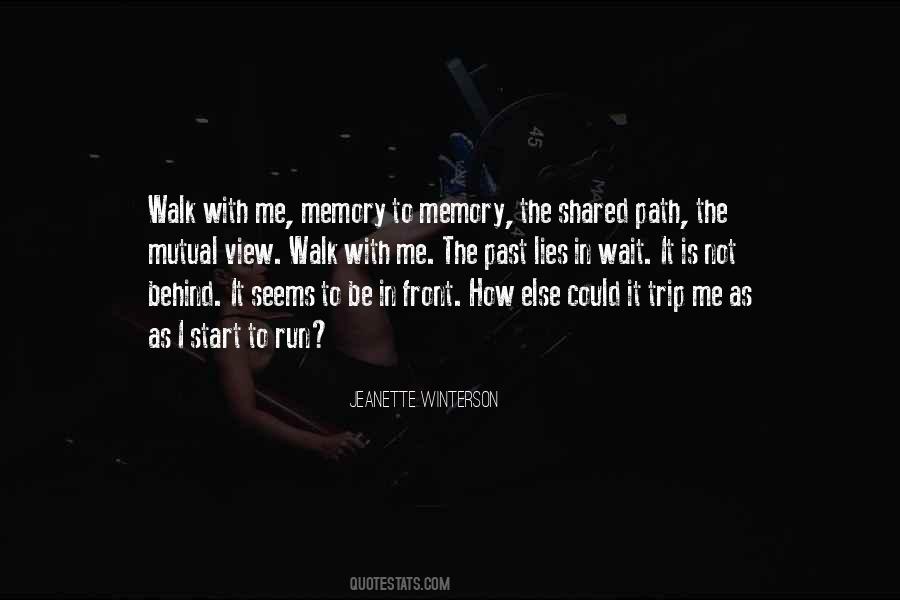 #54. I follow the Way of Love,
and where Love's caravan takes its path,
there is my religion, my faith. - Author: Ibn Arabi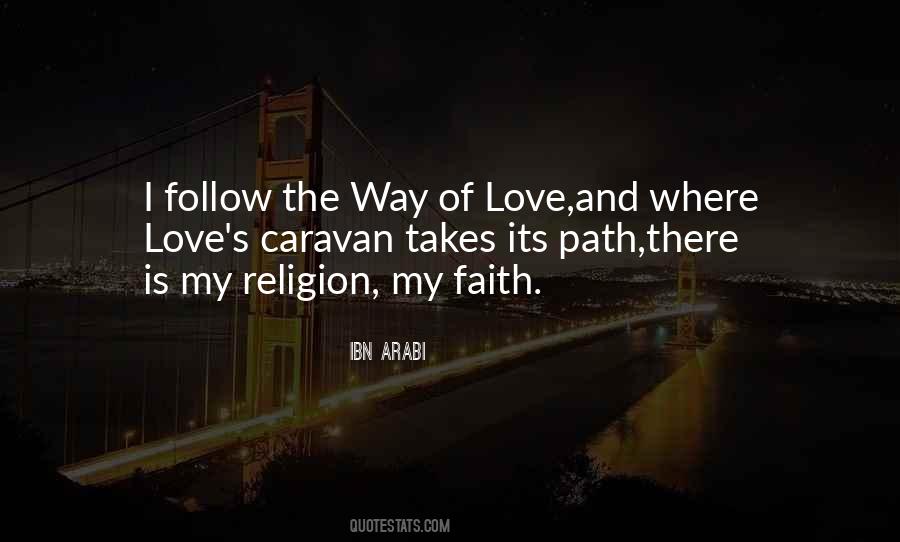 #55. He doesn't move a muscle except for his eyes that follow her path as though somehow he can see her contrails. His whole existence revolves around a girl who left his orbit, and he was the one who spun her off her axis. - Author: Kat Kruger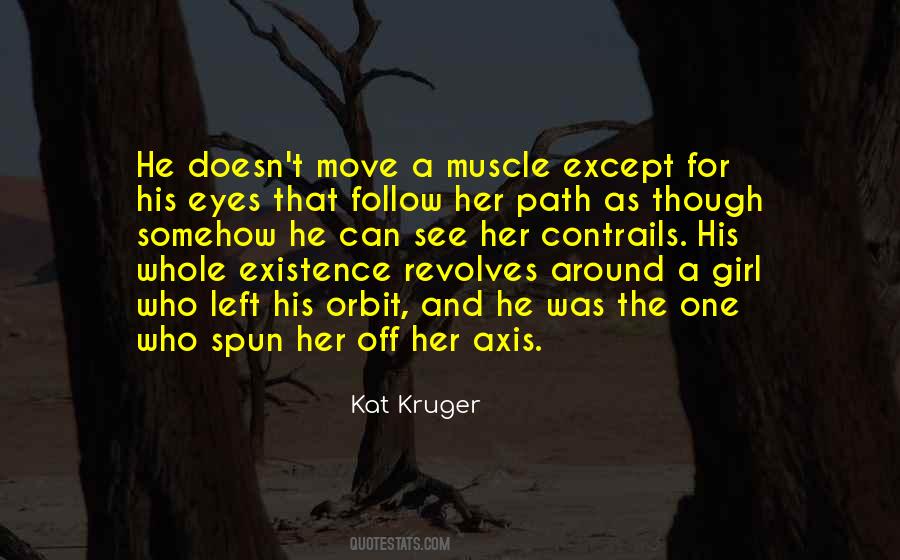 #56. Trust your feelings. If the path you're on isn't providing you joy, satisfaction, creativity, love, and caring, that's not it. - Author: Susan Jeffers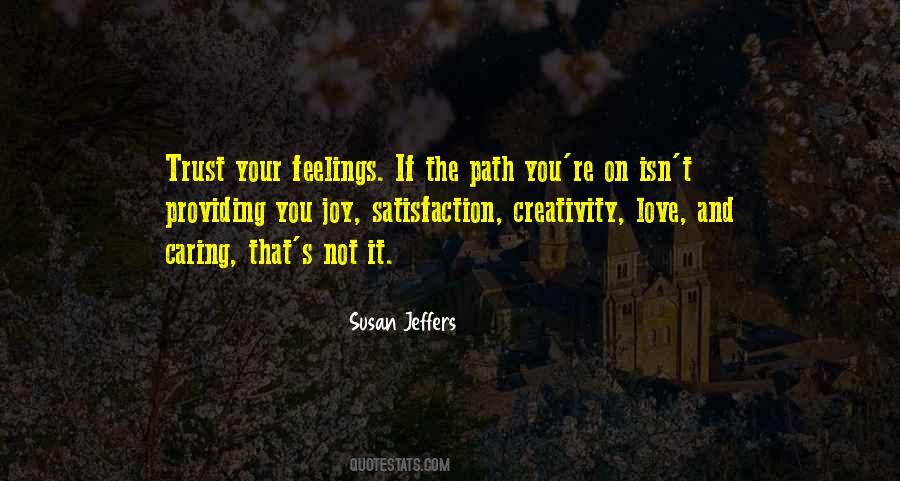 #57. The path which we believe in is the path of love; it has all the goodness of God in it-calmness and kindness. - Author: Harbhajan Singh Yogi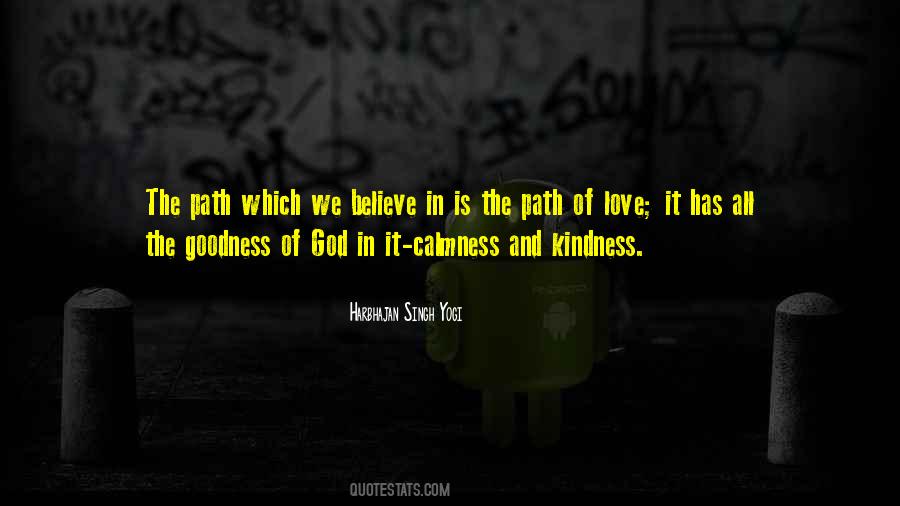 #58. Love to love, connection to connection, you carve your complicated path through life; leave one love behind, and the next one always seems out of reach. What can buoy you up in the meantime. What can underlie love, but love. - Author: Michael Davidow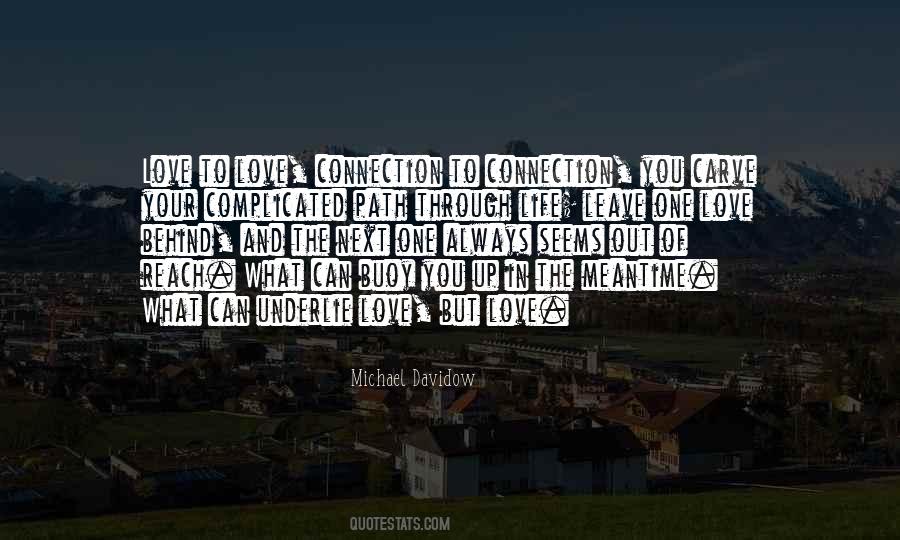 #59. I see poetry as a path toward new understanding and transformation, and so I've looked at specific poems I love, and at poetry's gestures in the broadest sense, in an effort to feel and learn what they offer from the inside. - Author: Jane Hirshfield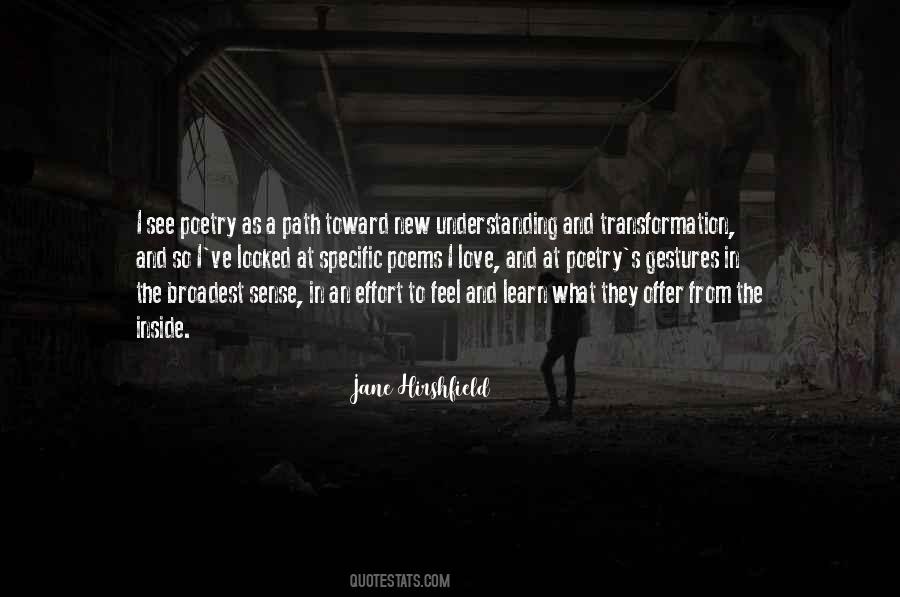 #60. Love is the real work of your life. It is your spiritual path. It is the key to your growth and evolution. - Author: Robert Holden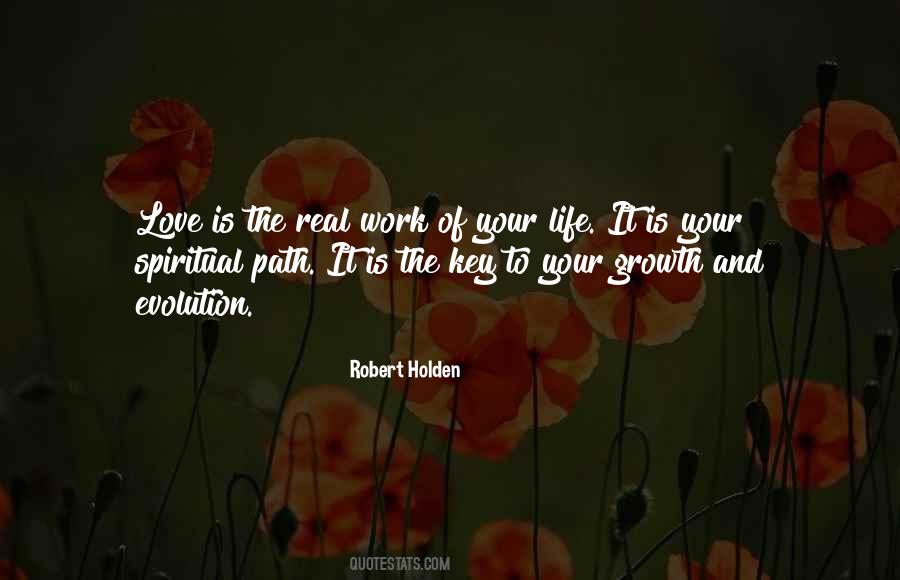 #61. Walk on your sacred path. - Author: Lailah Gifty Akita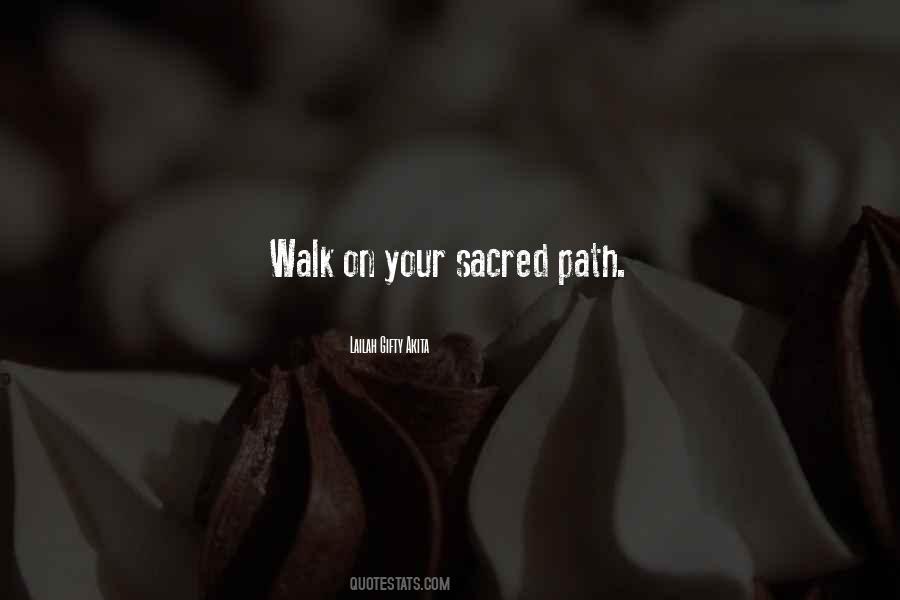 #62. Sometimes what we call love is just a settling of old scores, or a seeking of forbidden pain, or a circuitous path to the kingdom of cruelty, or she may simply have confused lack of capital with heroism while searching for rescue without knowing from what. - Author: Anne Roiphe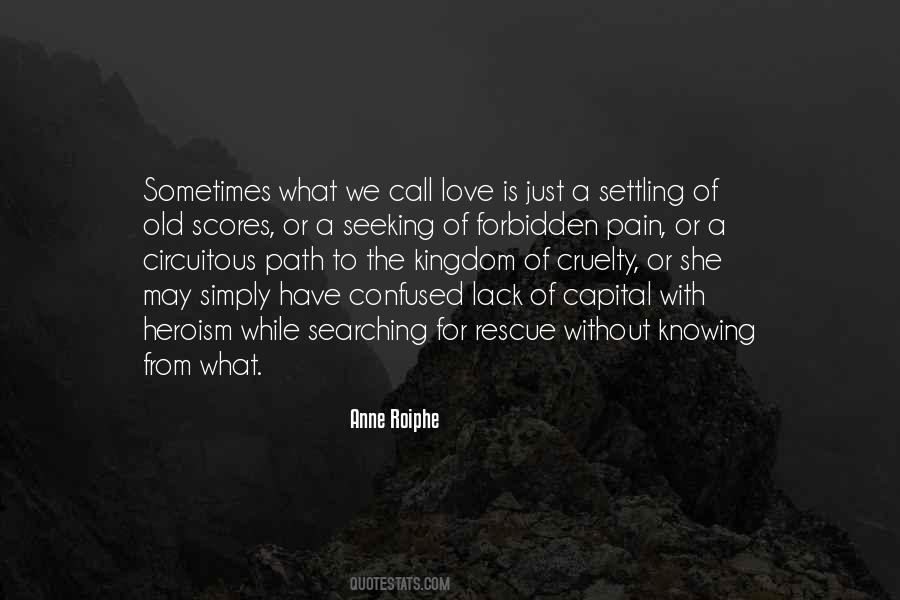 #63. I would love to be like Justin Bieber or Selena Gomez. They were catapulted into stardom when they were so young - like I was - and they still haven't gone down the wrong path and I hope neither or them will. I find that really inspiring. - Author: Rebecca Black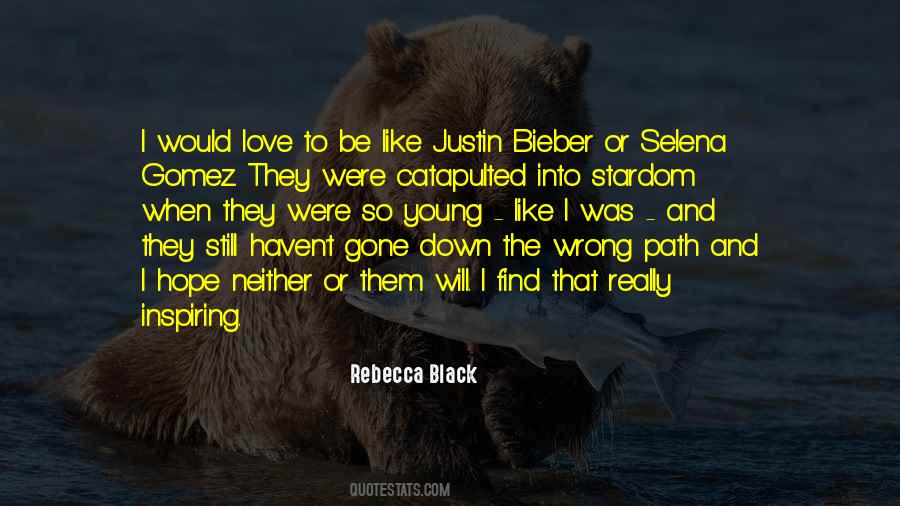 #64. Feel it all, feel it all, leave it all behind. Love it and let it go. Let the living live, maybe that's the lesson, my lesson, and maybe within that awareness, ta-da, the path I need to the light of peace will be revealed. - Author: Stephanie Gangi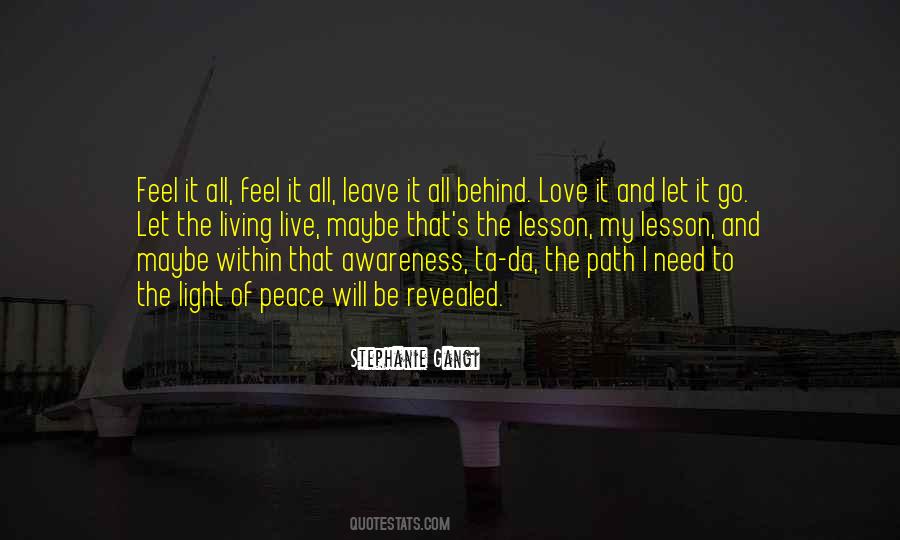 #65. No love, no friendship, can cross the path of our destiny without leaving some mark on it forever. - Author: Francois Mauriac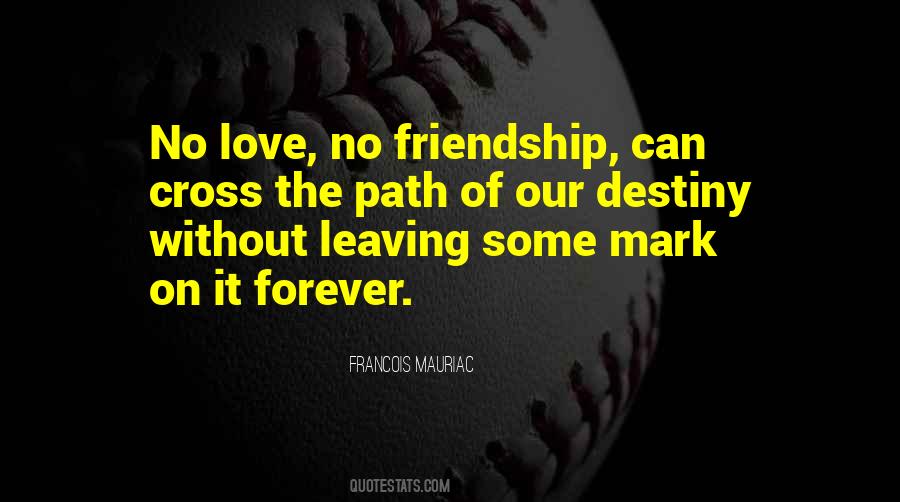 #66. There is no sudden entrance into Heaven.
Slow is the ascent by the path of Love. - Author: Ella Wheeler Wilcox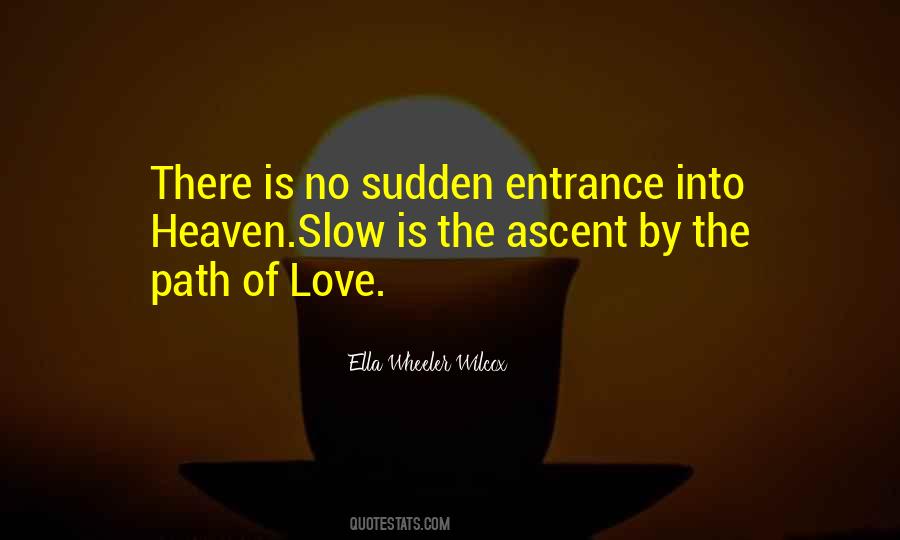 #67. Oh, in the entire path of love, the steps that lead up to sex are the most slippery, one false step and it could make man slip out of woman's favor, forever. - Author: BS Murthy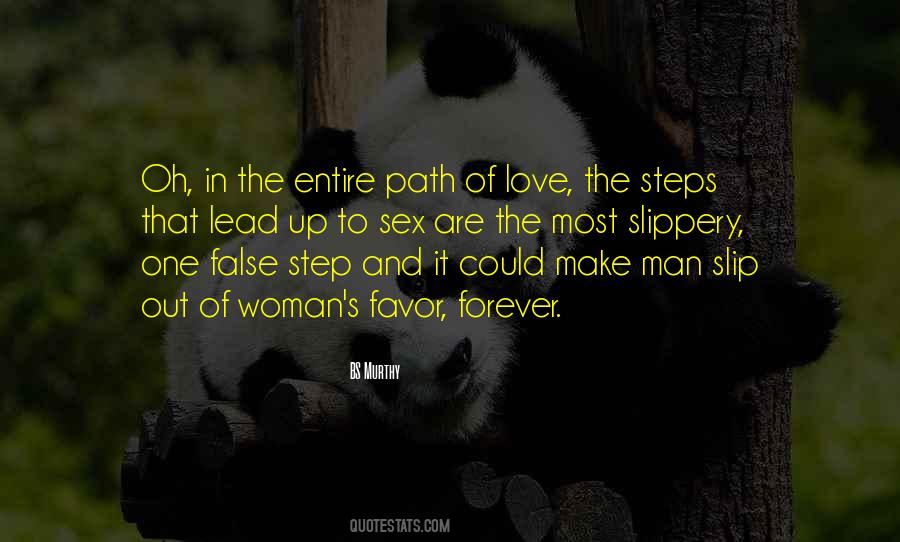 #68. The way of love is as true as the way of knowledge. All paths ultimately lead to the same Truth. But as long as God keeps the feeling of ego in us, it is easier to follow the path of love. - Author: Ramakrishna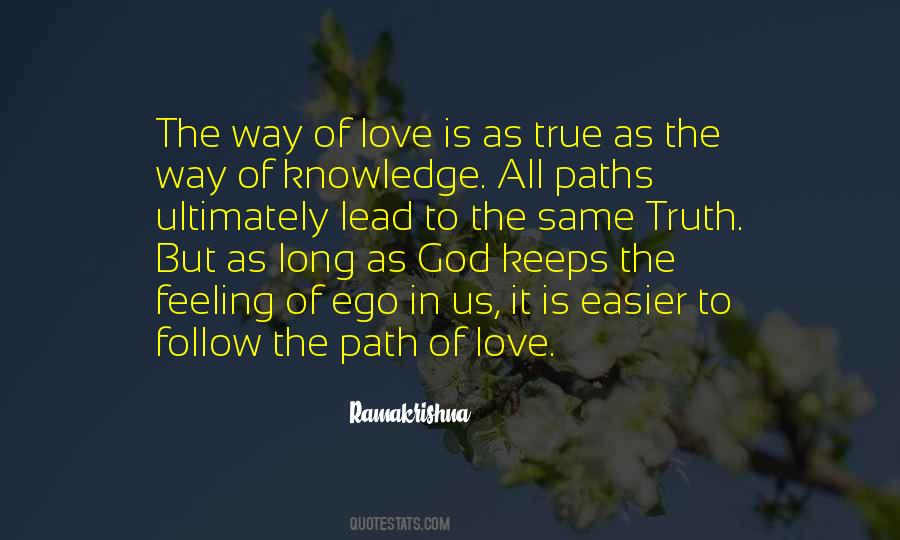 #69. Abram: .. One [Sentient] often believes it best to choose the higher path over the companionship of another. But, this circumstance draws to mind a point which Seers might forget to easily.
Lily: What's that?
Abram: That Love is the higher path - Author: Jennifer DeLucy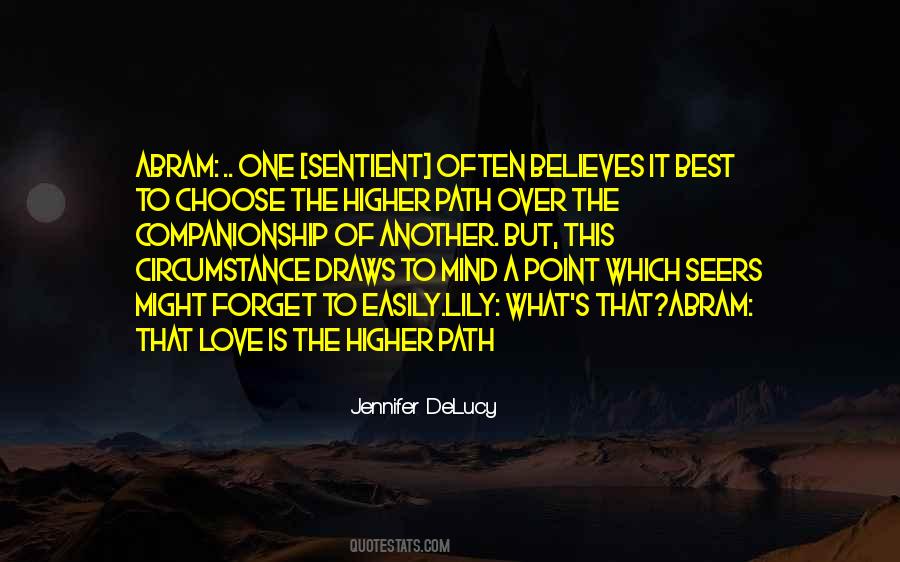 #70. You wake from dreams of doom and
for a moment
you know: beyond all the noise and the gestures, the only real thing, love's calm unwavering flame in the half-light of an early dawn. - Author: Dag Hammarskjold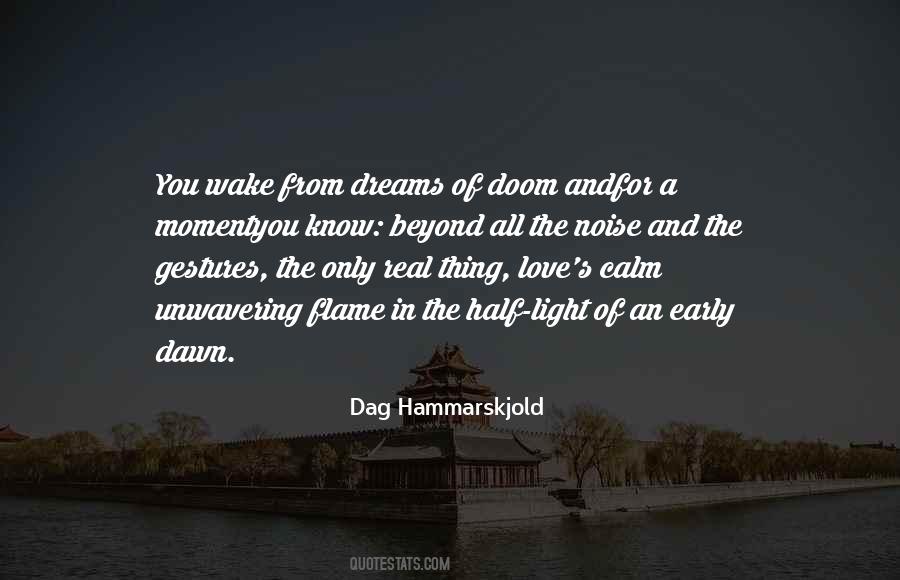 #71. But the path of self-purification is hard and steep. To attain to perfect purity one has to become absolutely passion-free in thought, speech and action; to rise above the opposing currents of love and hatred, attachment and repulsion. I - Author: Mahatma Gandhi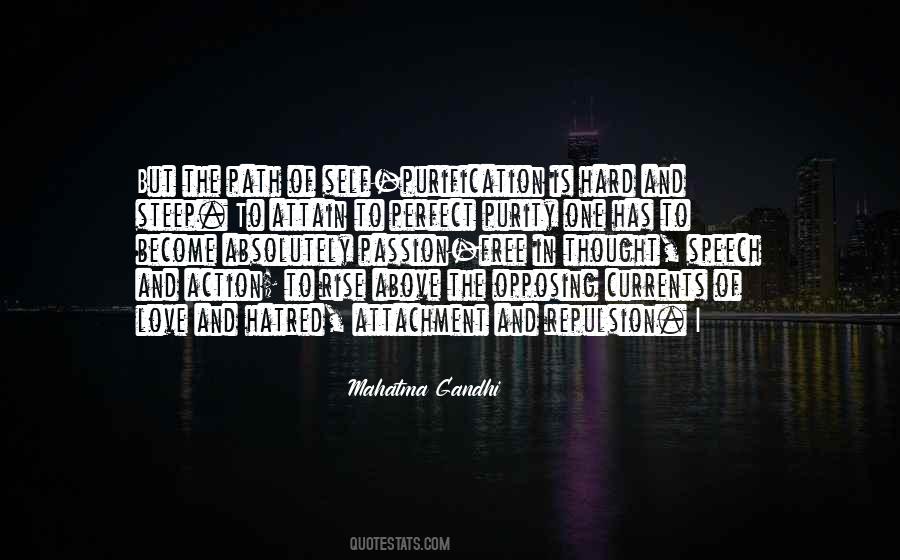 #72. The golden glory of love's light Has never dawned on my way My path has always led through night To some deserted by way But though life's greatest joy I miss There lies a greater strength than this I have been worthy of it.29 - Author: Colin Grant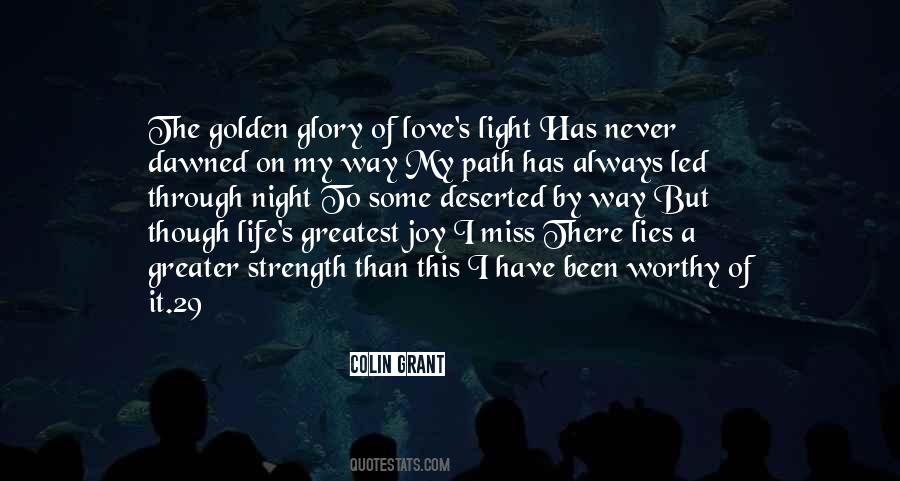 #73. The Simple Path
Silence is Prayer
Prayer is Faith
Faith is Love
Love is Service
The Fruit of Service is Peace - Author: Mother Teresa
#74. On the way to discovering what we love we find what we hate and everything that blocks are path to what we desire - Author: John O'Callaghan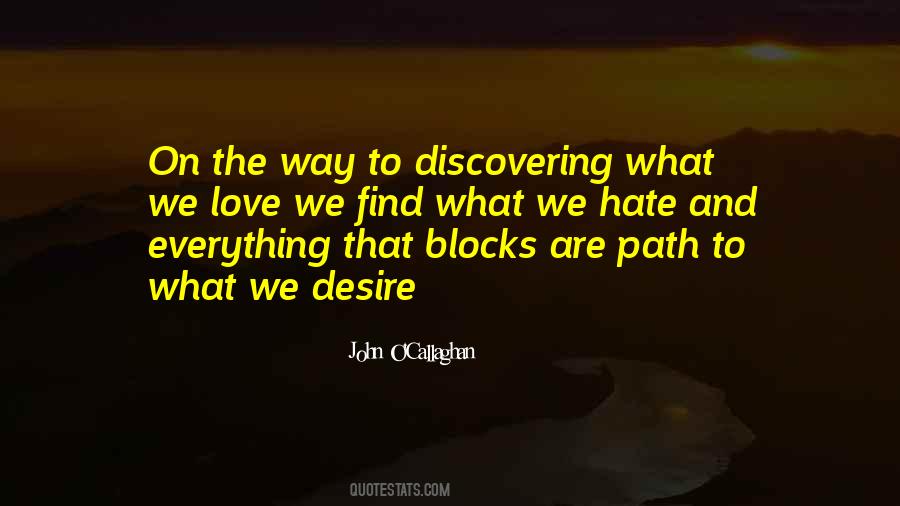 #75. I think our animals are angels, earth-angels, pointing out for us the steadfast path of love, loyalty, optimism, faith, joy, hope. They teach us everything important about life. - Author: Sophy Burnham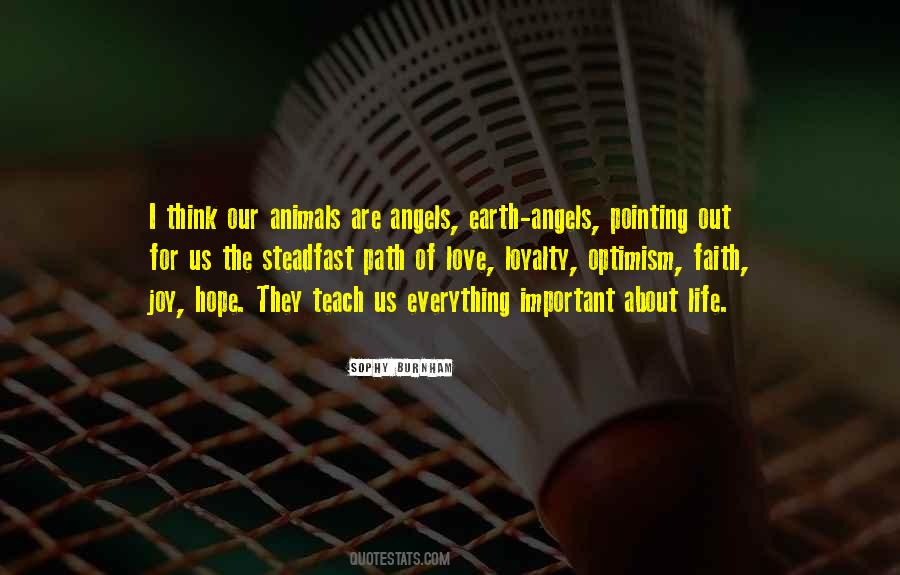 #76. Journey becomes difficult when we know the destination but not aware of the right path, may be the supreme power testing your moral and physical stamina. - Author: Durgesh Satpathy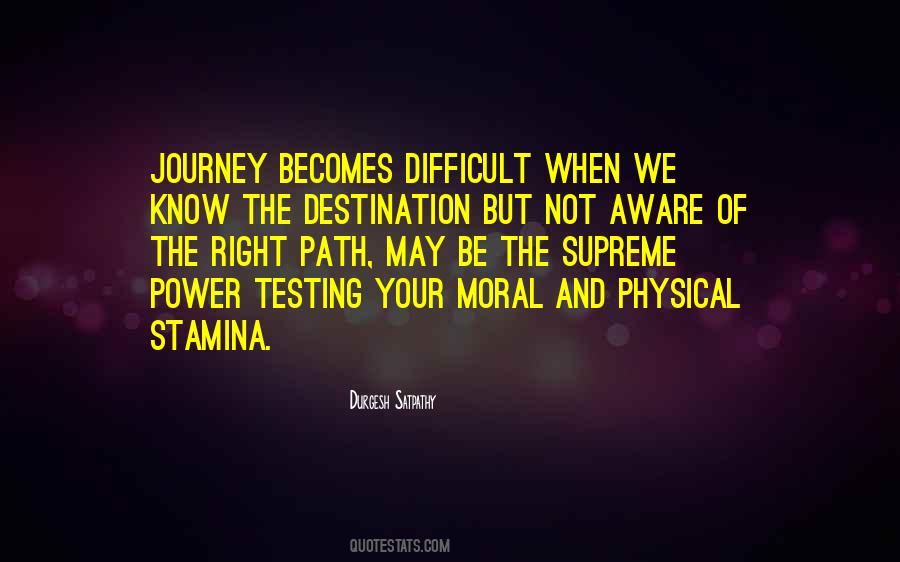 #77. Death is not an ending, but a symbol of movement along the path upon which we are all traveling. As it may be painful to lose contact with the physical aspect of one we love, the Spirit can never be lost. We have been and always will be a part of each other. - Author: John Denver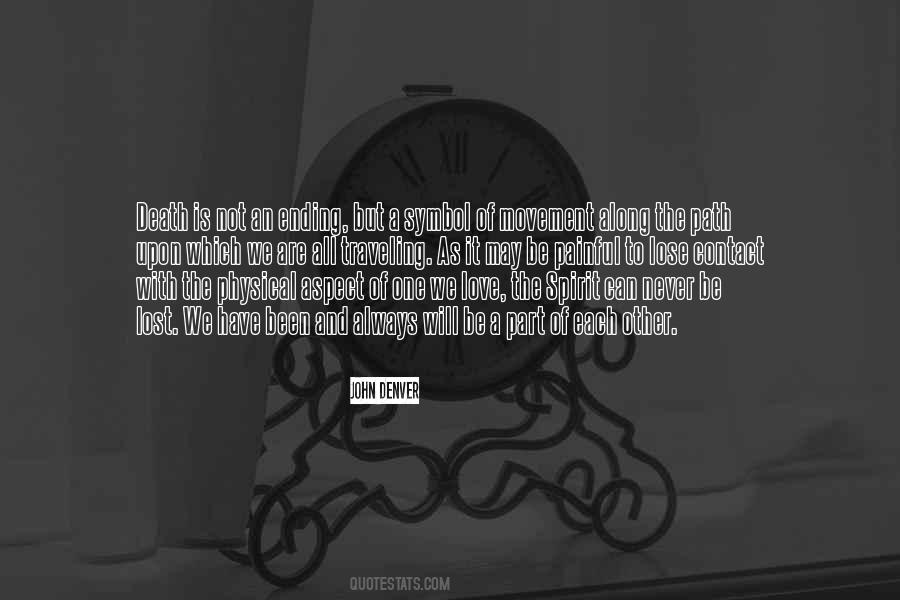 #78. We are traveling down a path with no happy ending, and it's too late to turn around. - Author: Mandy Hubbard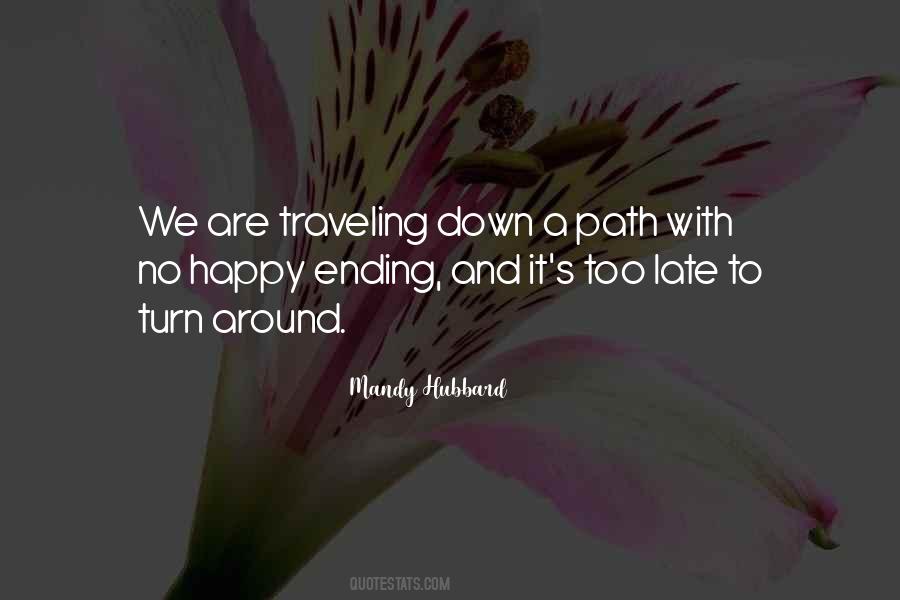 #79. Awakening into love is a lifelong path. - Author: David Simon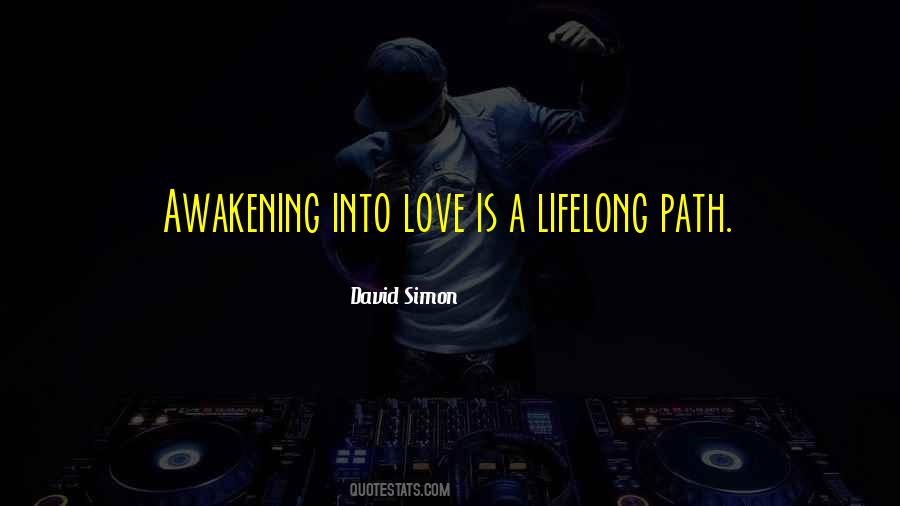 #80. It's your words that gave me courage. It became my light that would guide me towards the right path again. -Jellal Fernandes - Author: Hiro Mashima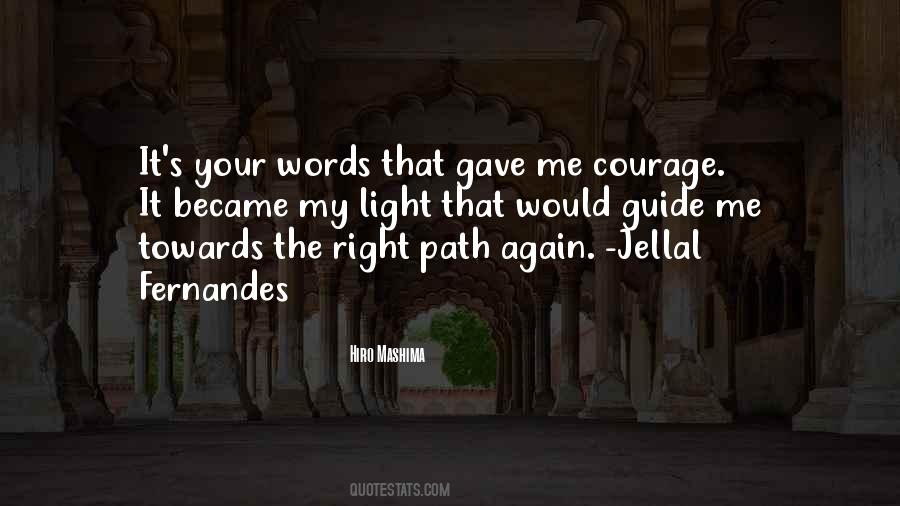 #81. While each of us must walk this path alone, we need not do so without the empathy, the encouragement and the love of others who are travelling, or have travelled, this terrain - or those who having lived life long and deep and can meet us there, with wisdom and compassion. - Author: Meryn G. Callander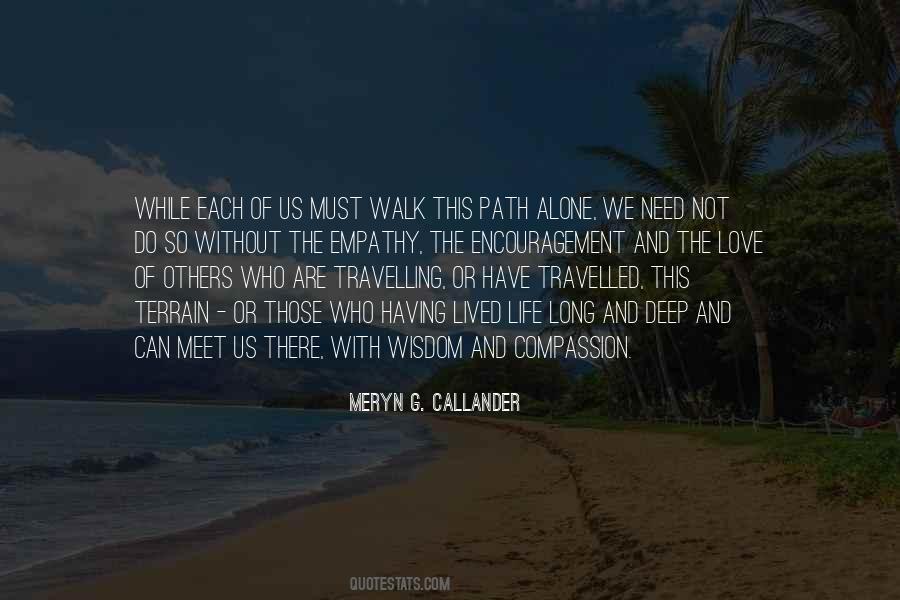 #82. if you have never trodden the path of love, go away and fall in love;
then come back and see us. - Author: Jami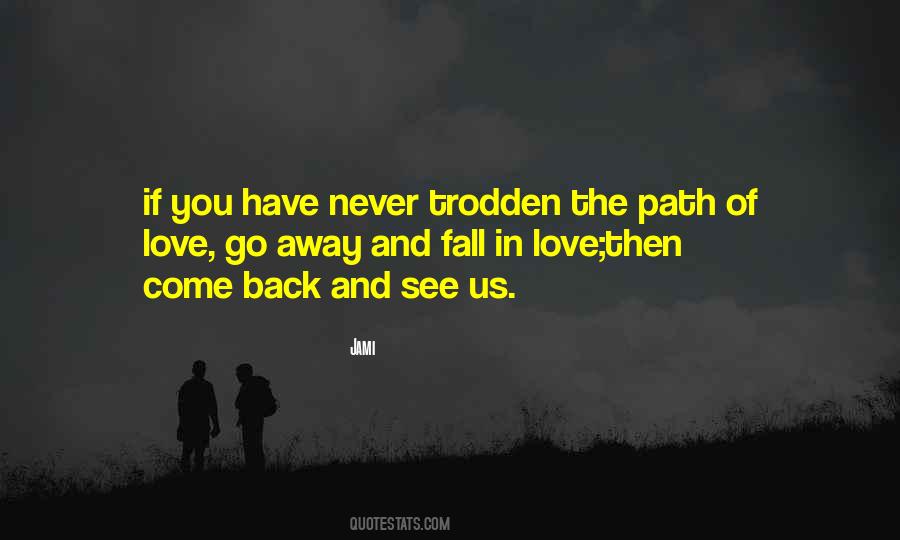 #83. The path of light is the path of love. - Author: Lailah Gifty Akita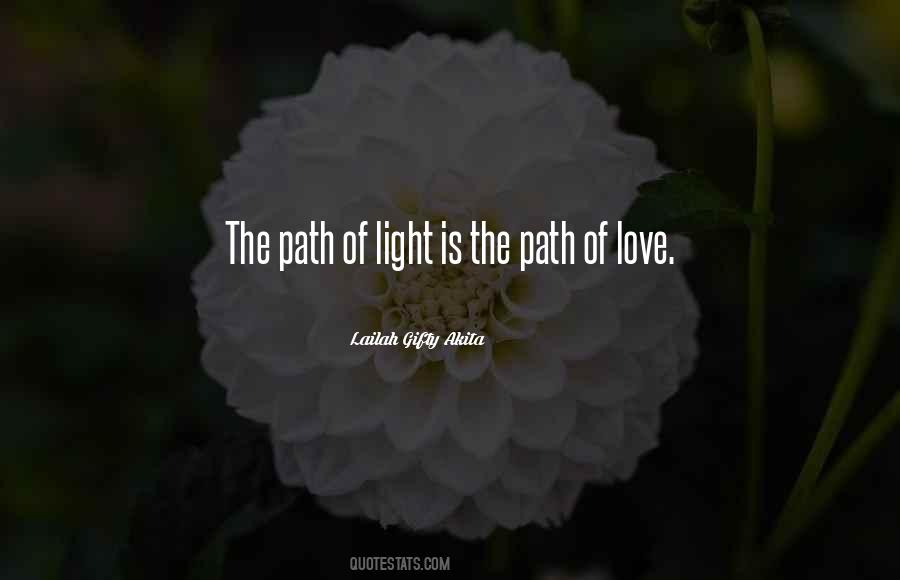 #84. When all else fails ... Love will always prevail! Shine your peace light of LOVE on all who may cross your path in life. You will make a difference! - Author: Timothy Pina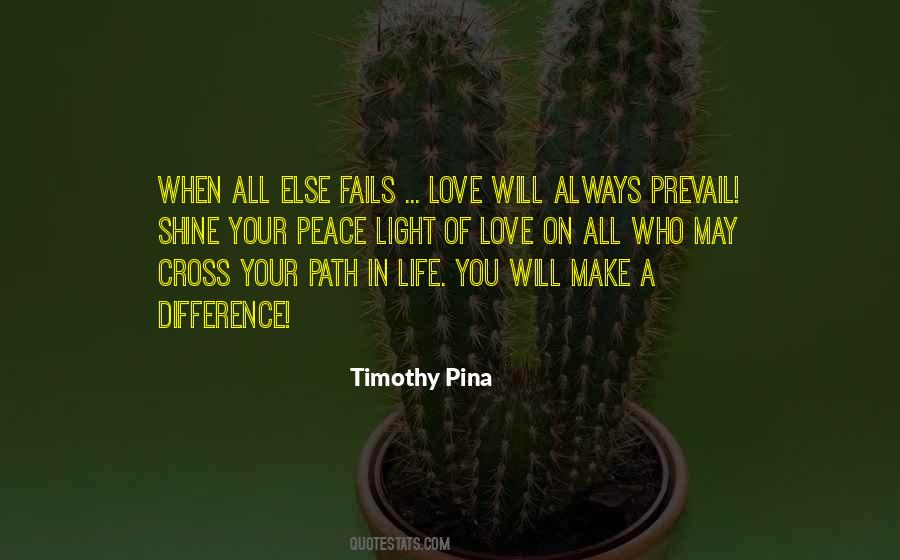 #85. I wept in self-pity, and because I knew you could never go back. You chose your path, and that was it. - Author: Juliet Marillier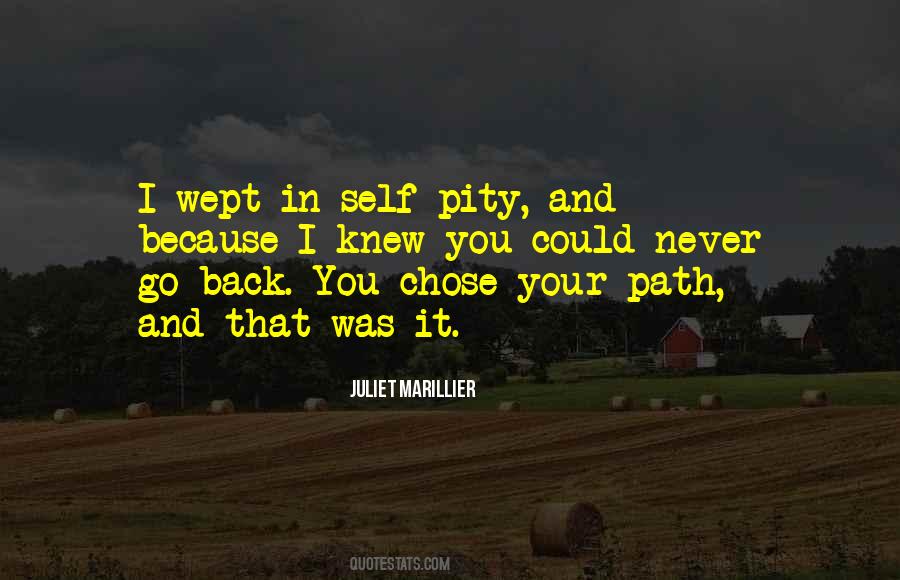 #86. You make me thank god for every mistake I ever made, Because each one led me down the path that brought me to you. - Author: Pablo Neruda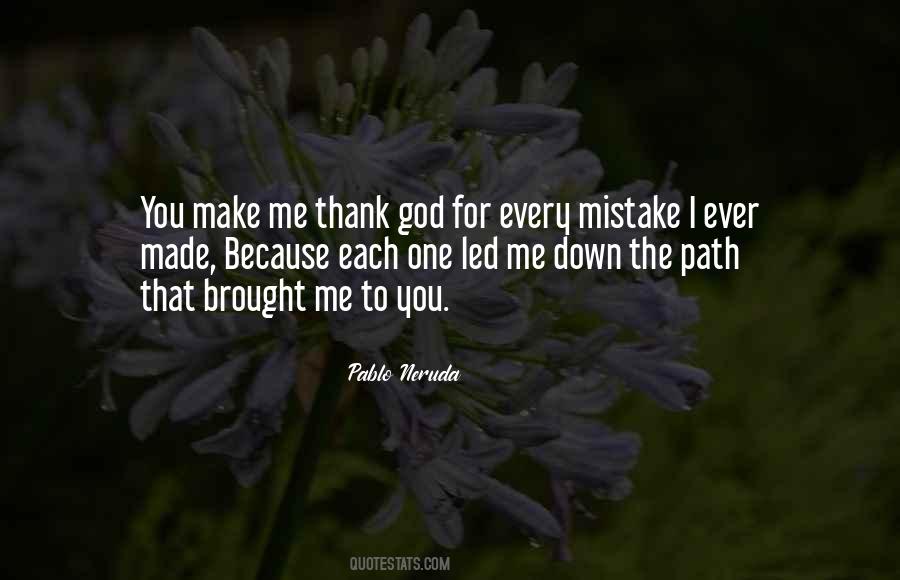 #87. When you live your life by poor standards, you inflict damage on everyone who crosses your path, especially those you love. - Author: Jordan Belfort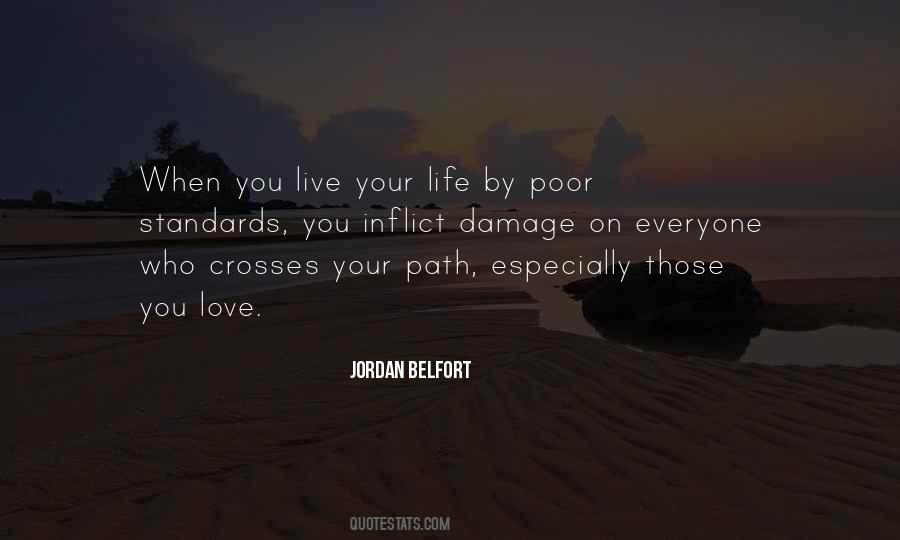 #88. I left smiles on your wordless lips
The night roads- dismal and narrow,
dream's path remains shadowy wide
as our lone hearts felt that arrow

From the Poem 'My Tomorrow - Author: Munia Khan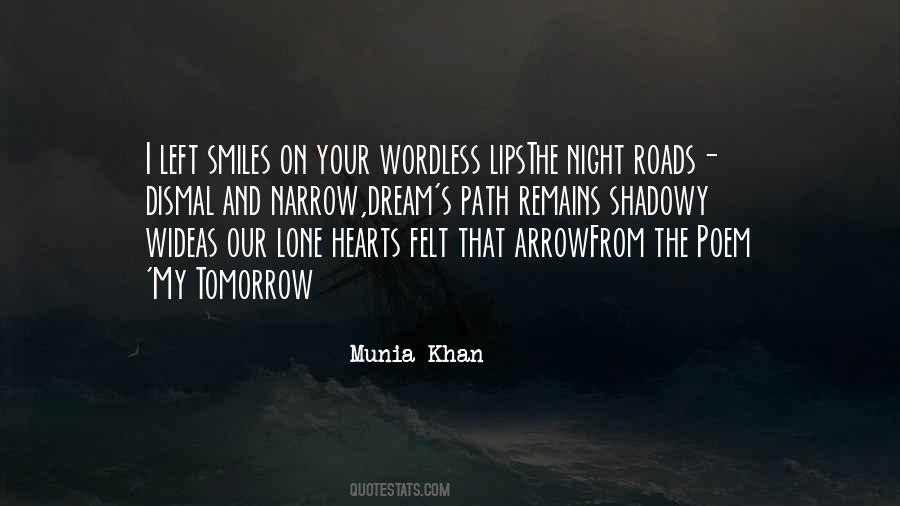 #89. When you are doing things for the right reasons, you do not need to play by the rules, because there are no rules for a creator walking the path of love. - Author: Bryant McGill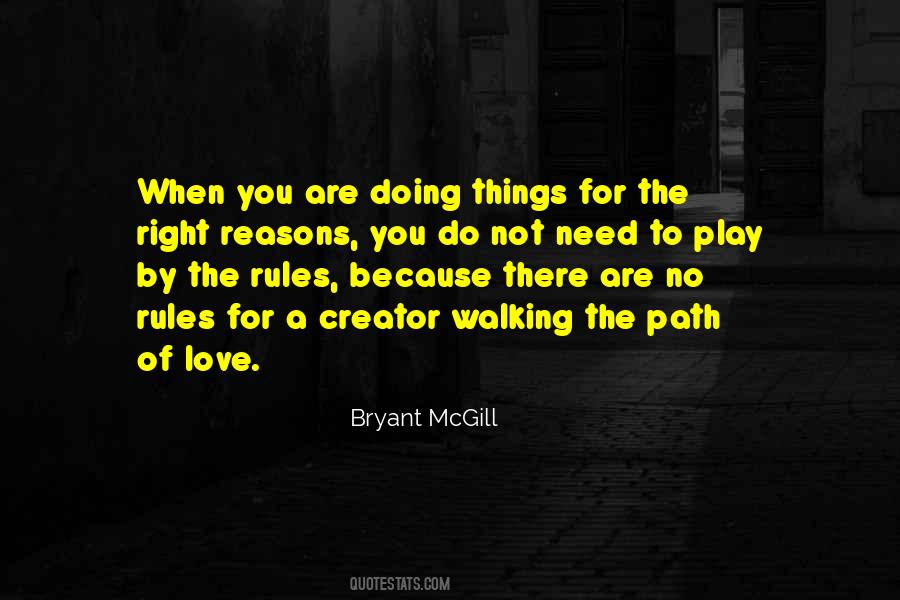 #90. Will you share that path with me always?"
"Nothing would please me more. - Author: Sarah Holman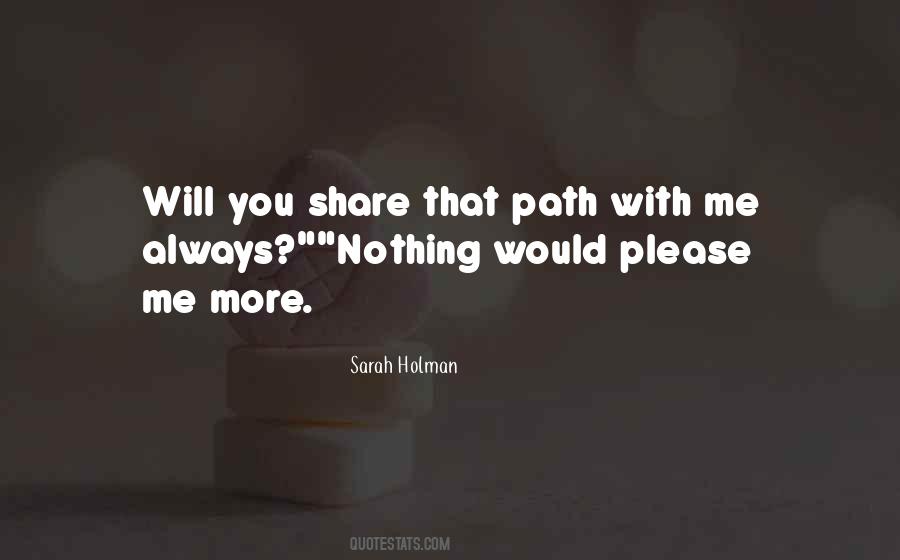 #91. Those who get in the way of love's path will be kicked by horses.
~Kyoya - Author: Bisco Hatori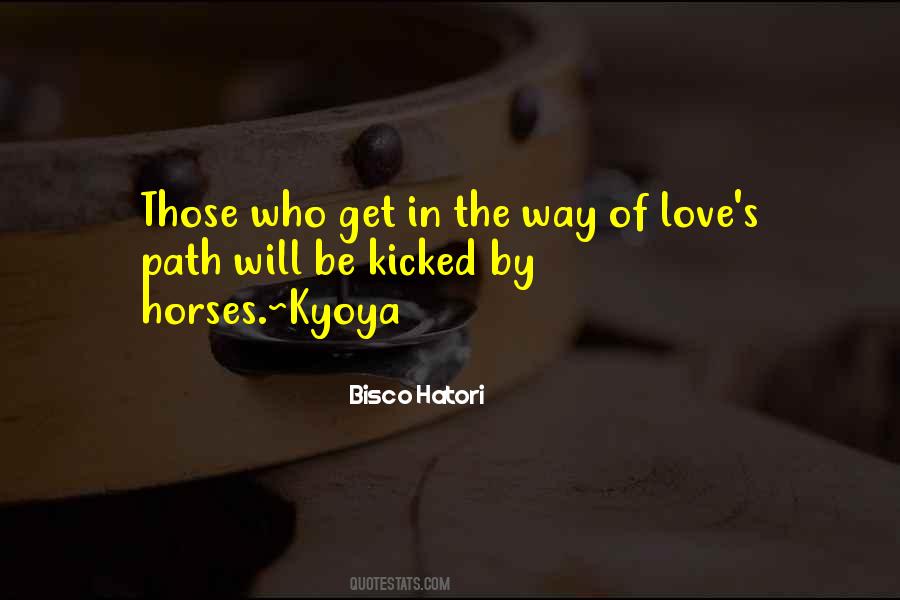 #92. There's only now, there's only here
Give in to love, or live in fear
No other path
No other way
No day but today - Author: Jonathan Larson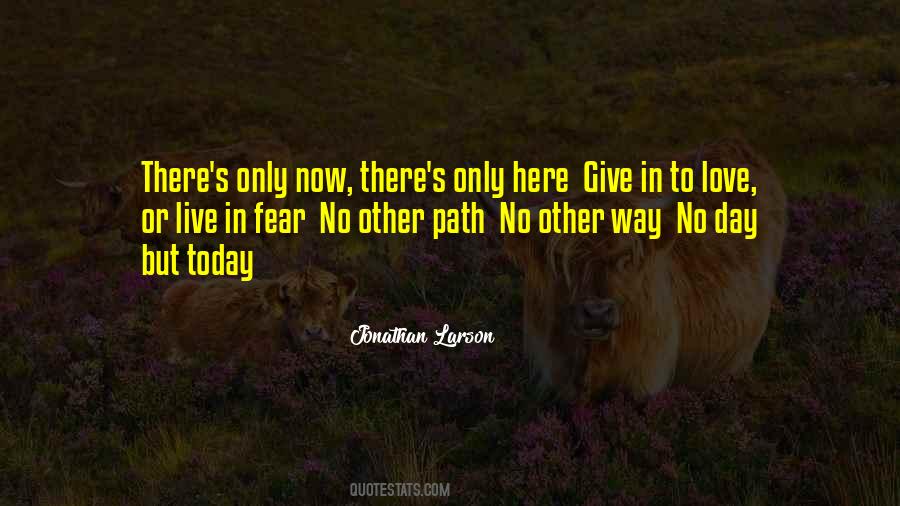 #93. I think my parents gave me a love of learning; from there you set out on your own path. - Author: Gore Verbinski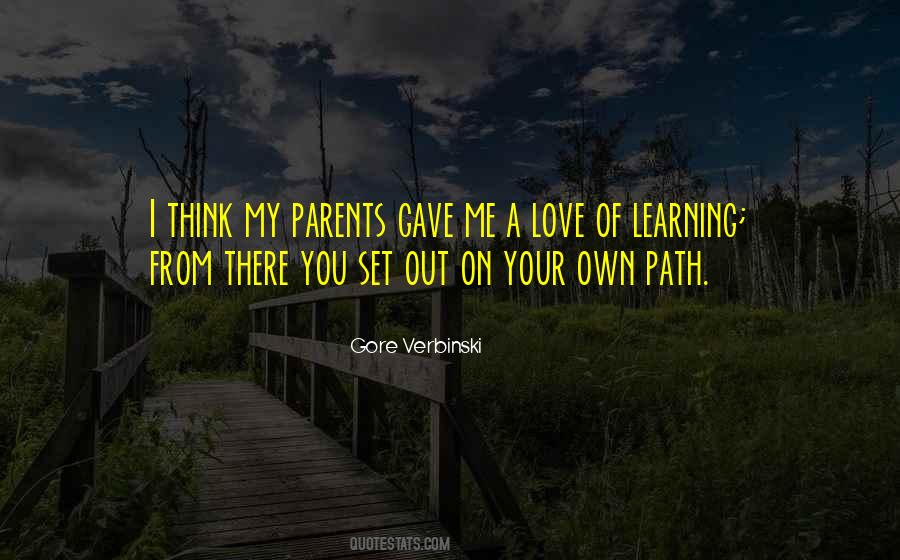 #94. All life is created in love, and thus in the depths of every human being lies a good heart. Some have lost their path from this love, so it up to us to show them the way. - Author: Julia Butterfly Hill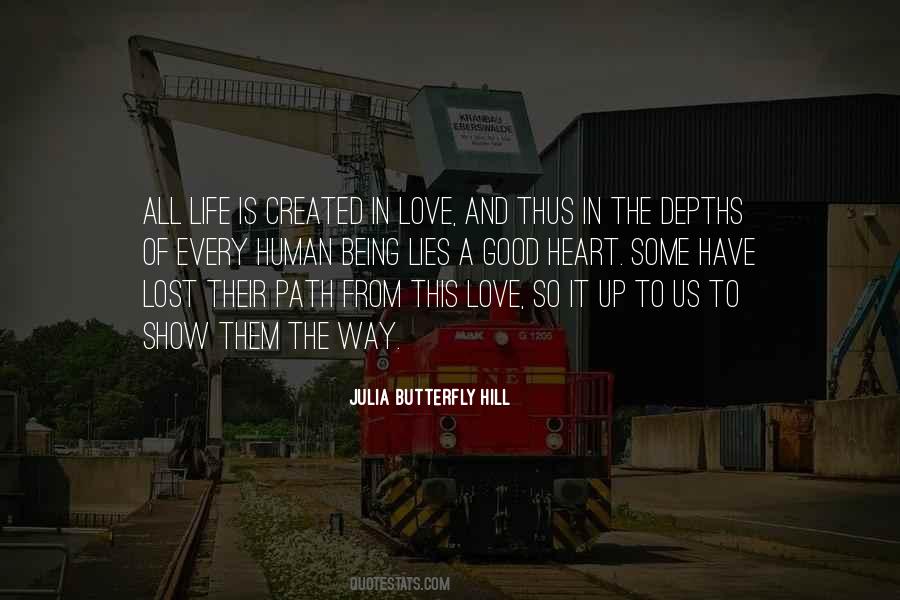 #95. Listen close and you can hear, Please, bless us and forgive us, and make us good here and strong here. Let us get along here. Let those we love and left behind be blessed. Let us find the proper path and keep to it. Help us act harmoniously, and find work pleasing in the sight of god and man. - Author: Janet Morris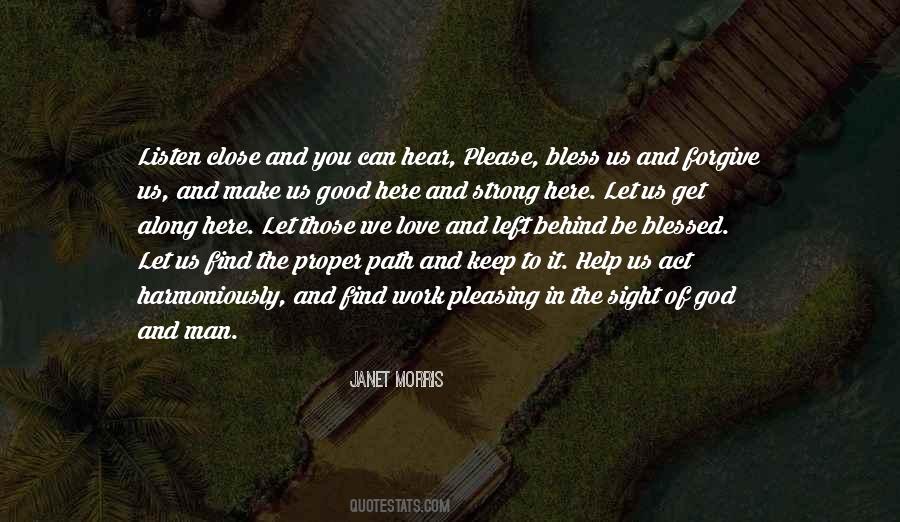 #96. In his late quartets, Beethoven introduces an element that shouldn't be there, that should be left for meditation, though I love them. I can see that through them came Wagner and Mahler and Schoenberg and Berg. And then came Tracey Emin. And I can see it all as one downward path. - Author: John Tavener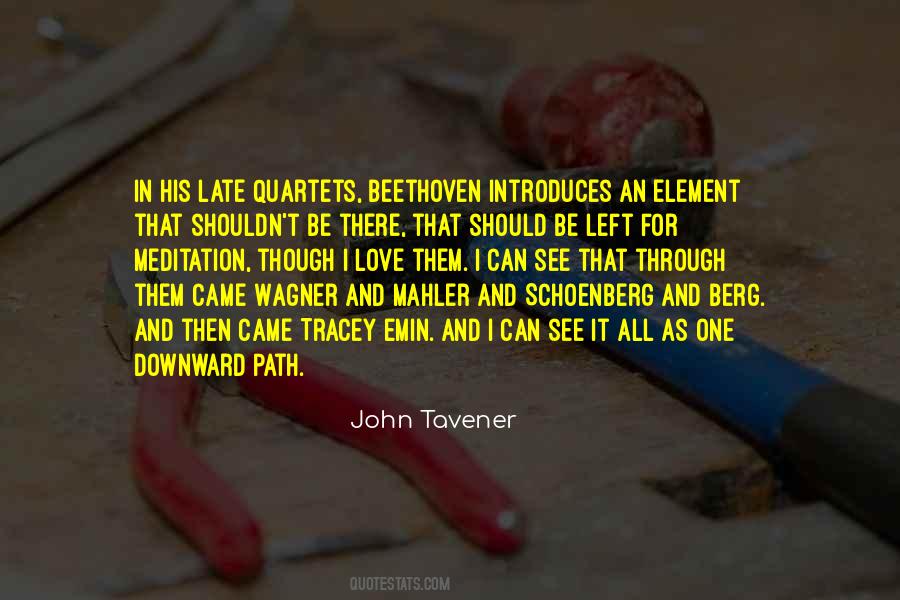 #97. I think my entire career path was determined for me when I was 6 years old, watching reruns of 'I Love Lucy' on TV and thinking about making people laugh. - Author: Paul Reubens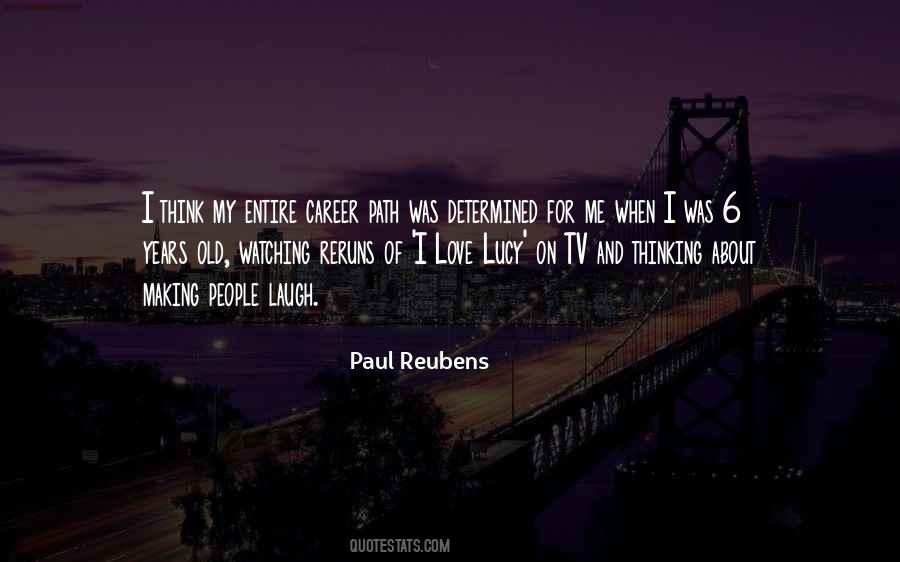 #98. This time they would find the path to love and to acceptance. This time, she would know and understand the secrets of his heart as well as those of her own. - Author: Janelle Taylor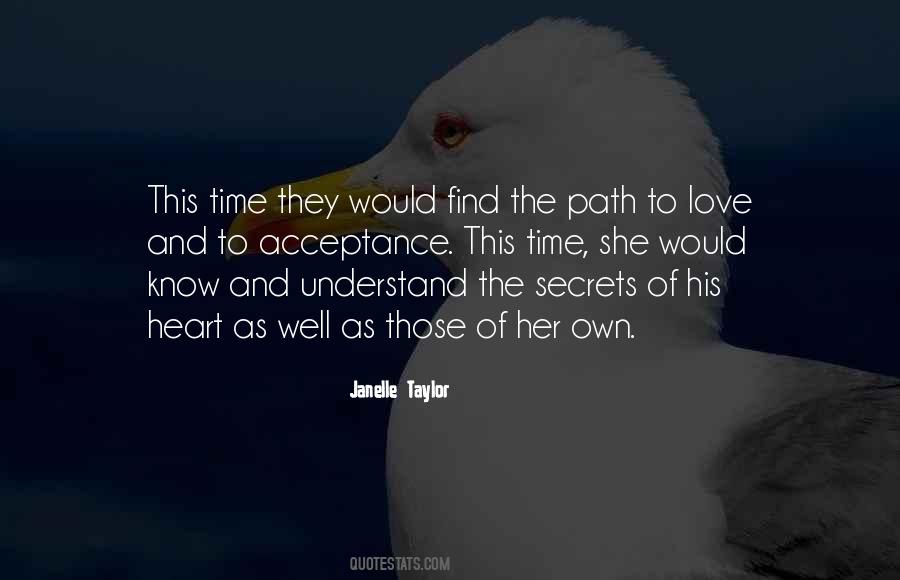 #99. She got a long pointed nose and big fleshy mouth. Lips look like black plum. Eyes big, glossy. Feverish. And mean. Like, sick as she is, if a snake cross her path, she kill it - Author: Alice Walker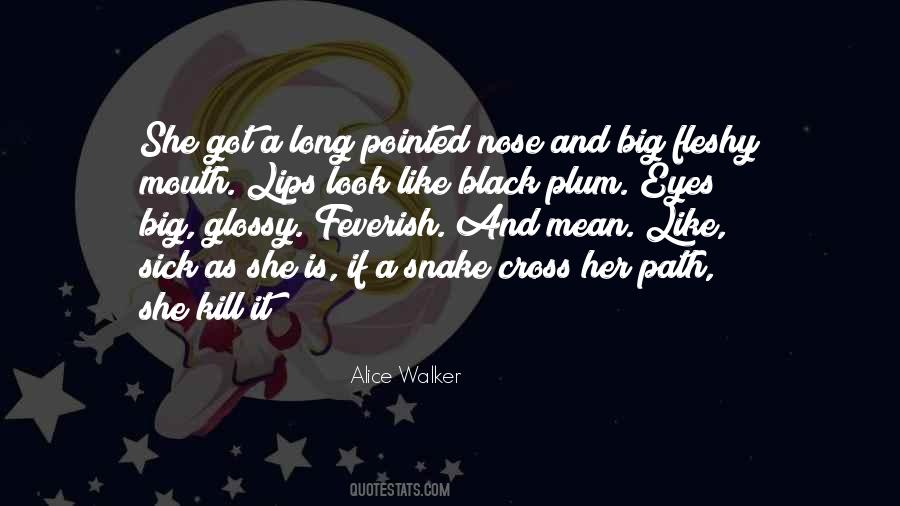 #100. Love is the only path to anything worth doing, creating or pursuing. - Author: Rasheed Ogunlaru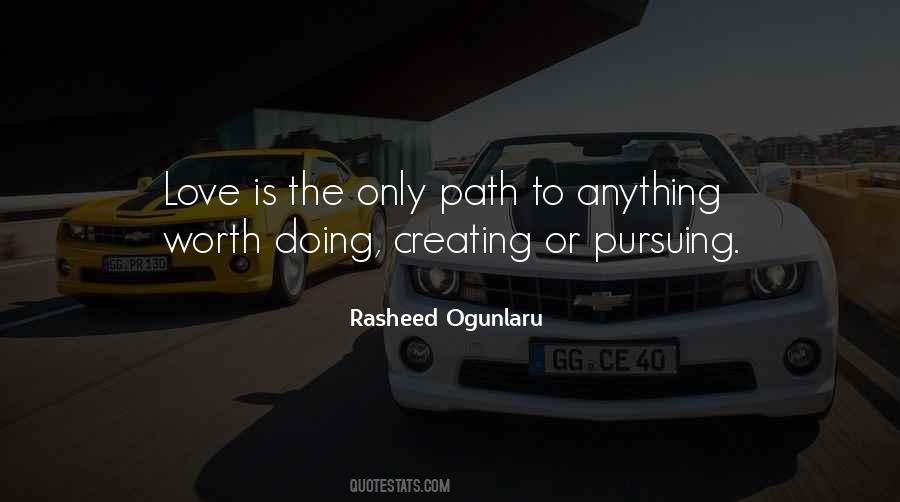 Famous Authors
Popular Topics