Love Above All Famous Quotes & Sayings
List of top 100 famous quotes and sayings about love above all to read and share with friends on your Facebook, Twitter, blogs.
Top 100 Love Above All Quotes
#1. I wanted to do London Boulevard because I saw the potential of a story about two people who need each other desperately, who love at first sight, as one does, and above all a story in which no one is what they appear to be. - Author: William Monahan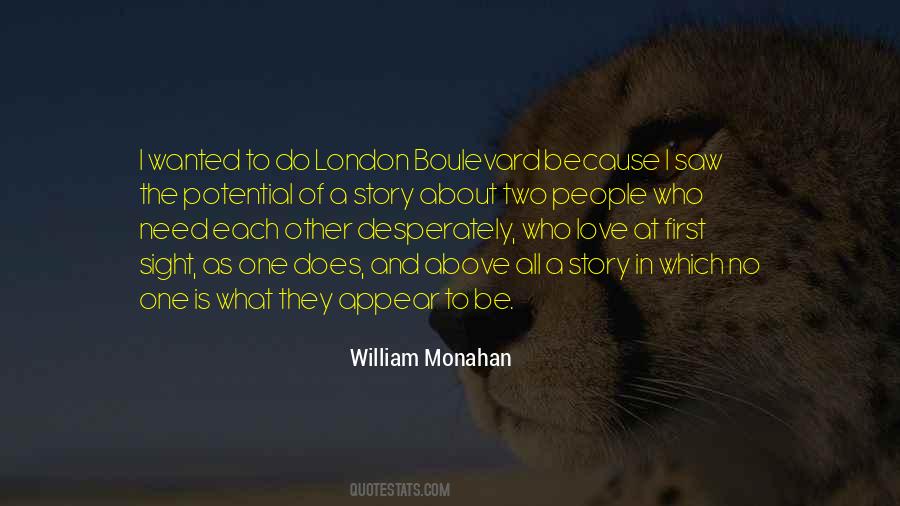 #2. The very beautiful rarely love at all; those precious images are placed above the reach of the passions: Time alone is permitted to efface them. - Author: Walter Savage Landor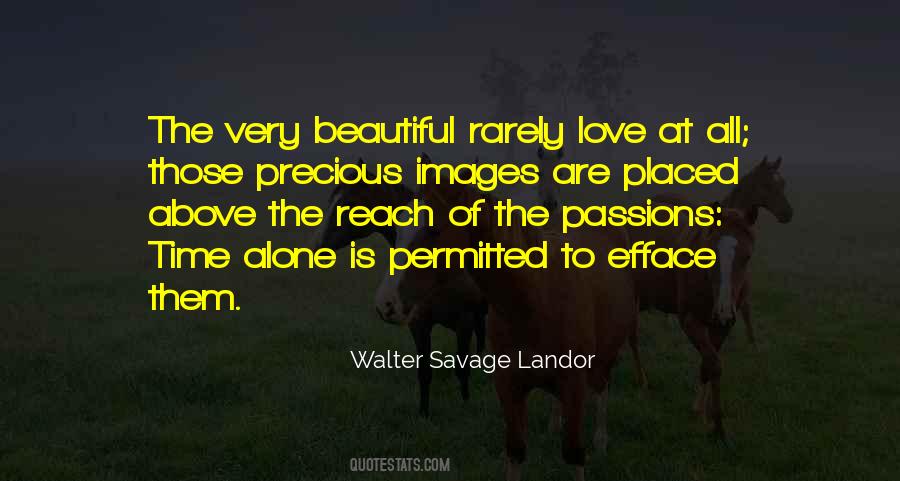 #3. In bed above, we're deep asleep.
While greater love lies further deep.
This dream must end,
The world must know,
We all depend on the beat below. - Author: Steven Moffat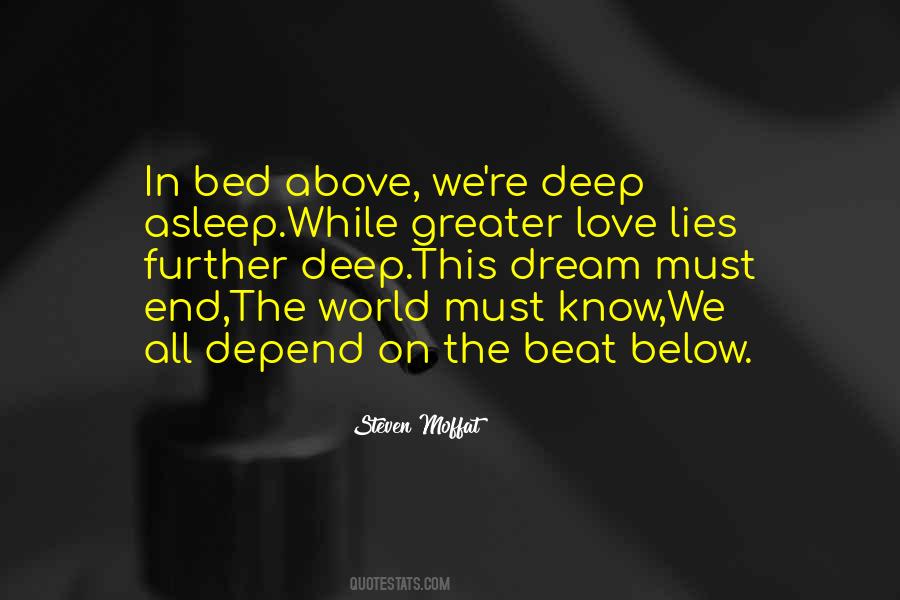 #4. I have never felt salvation in nature. I love cities above all. - Author: Michelangelo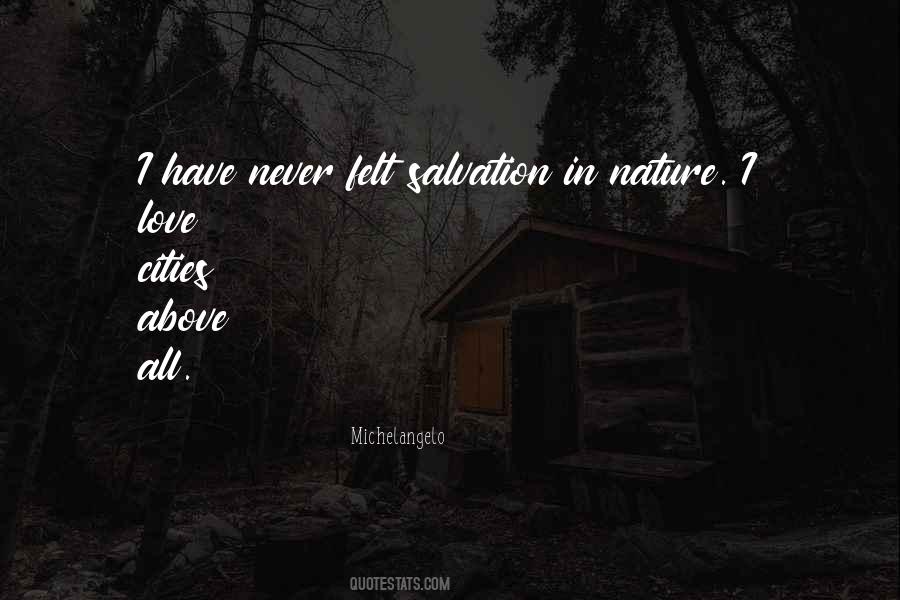 #5. I am (obviously) much in love with plants and above all trees, and always have been; and I find human maltreatment of them as hard to bear as some find ill-treatment of animals. - Author: J.R.R. Tolkien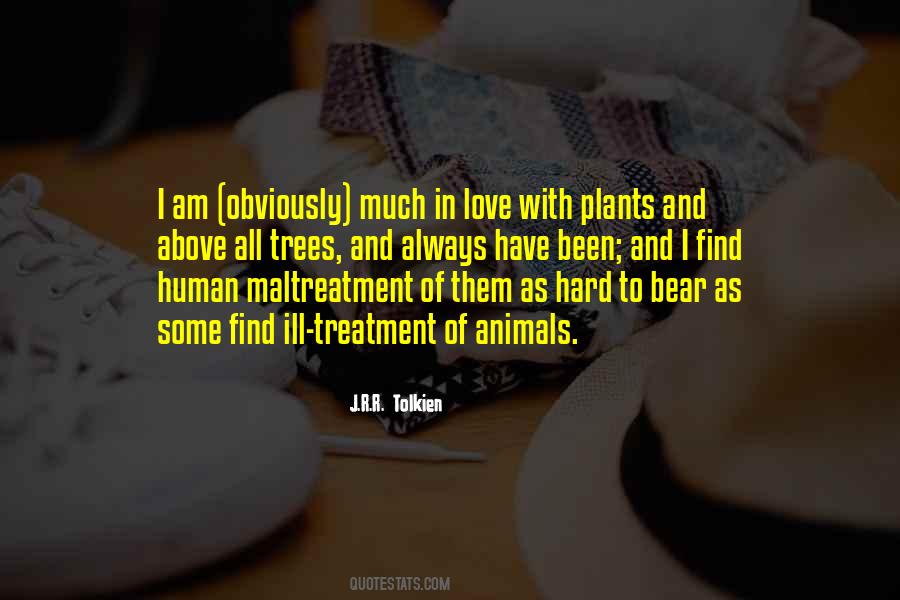 #6. I used to love stage above all, but that was when I was a single man. As I get older, the time commitment gets harder for theatre. - Author: Seamus Dever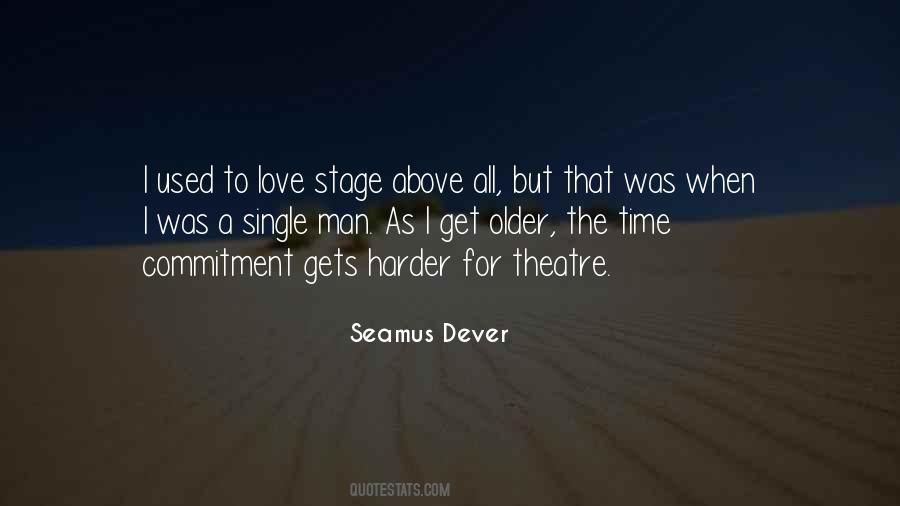 #7. I'm impressed you left to keep everyone safe." He tenderly massaged the area above my hipbone with his right thumb.
"I've seen vampire men cry and piss their pants after one hour in the sewers by themselves. You've been walking most of the day and all alone. - Author: Kenya Wright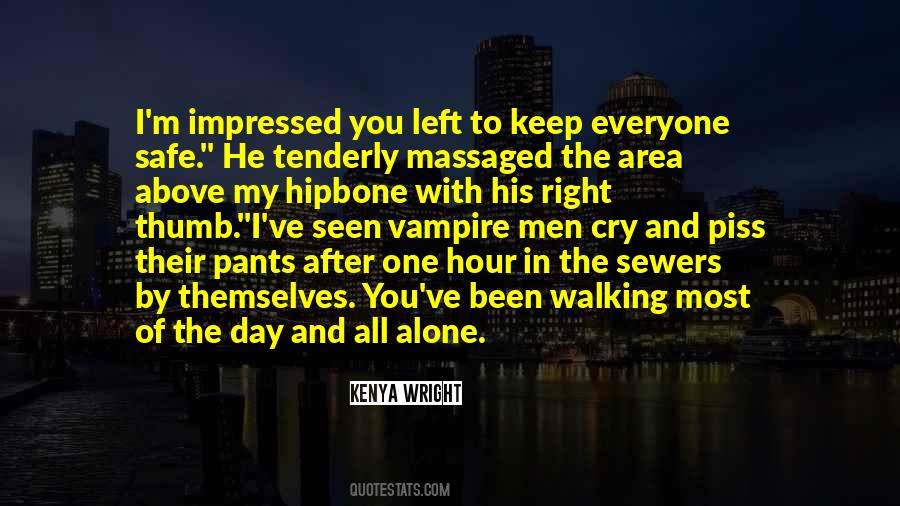 #8. There are many faces to war. There is the face of courage, of bravery, of fellowship.There is the face of fear. Above all, there is love of country. - Author: Barbara Boxer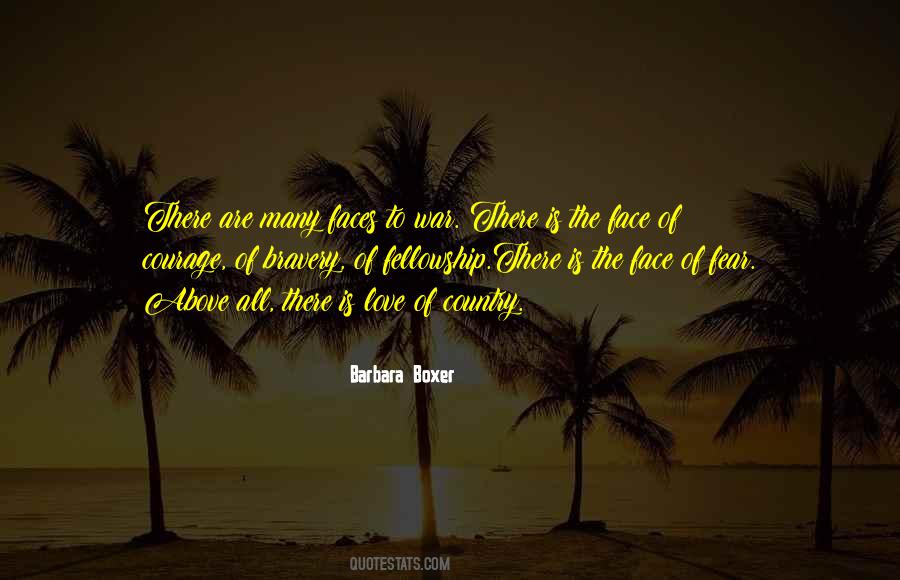 #9. PAVILIONS OF SUN
Swans do fly
High above you
All the time
Prince of Sun
From his pavilion
Makes you shine
Come, come, come into my garden, lady love
Maybe I can hold your gold hand
Glide within my gold grove, lady love
Know the earth and you'll understand - Author: Marc Bolan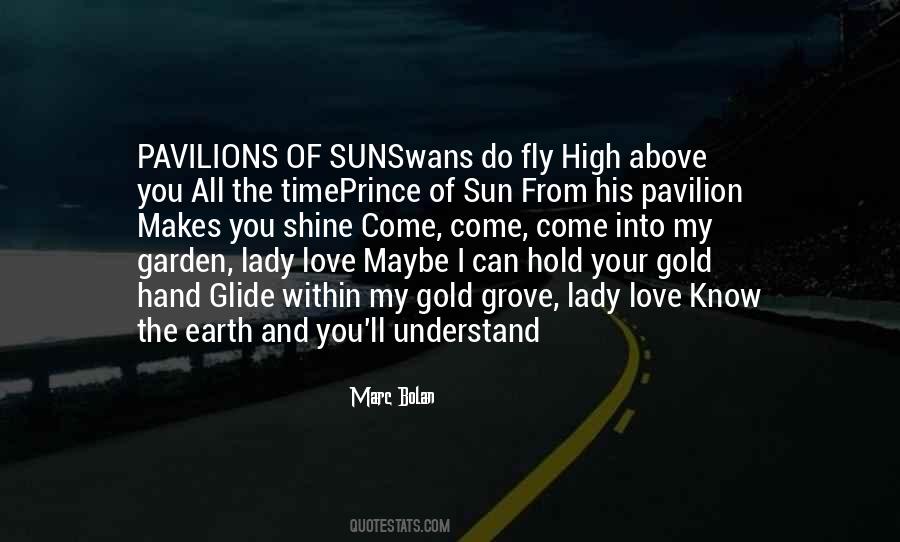 #10. Love is complicated, love can be hidden, love, above all else, is loyalty. - Author: Alice Hoffman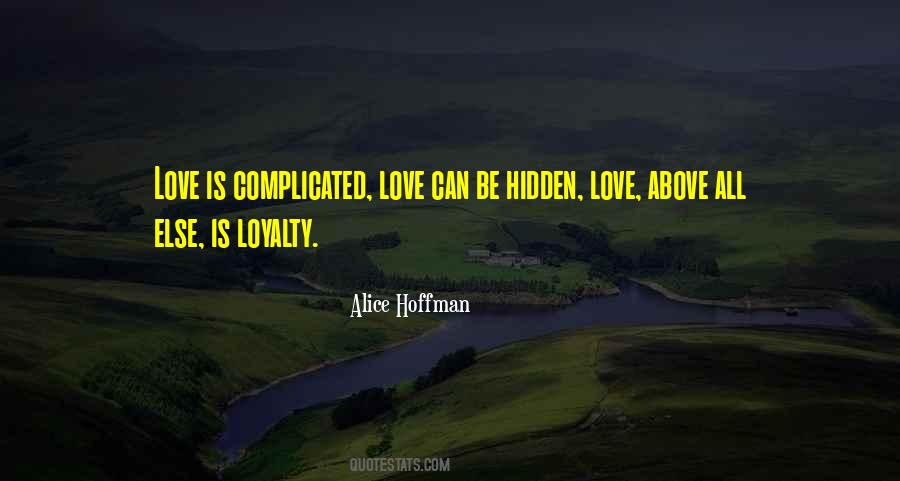 #11. Above all else, it is about leaving a mark that I existed: I was here. I was hungry. I was defeated. I was happy. I was sad. I was in love. I was afraid. I was hopeful. I had an idea and I had a good purpose and that's why I made works of art. - Author: Felix Gonzalez-Torres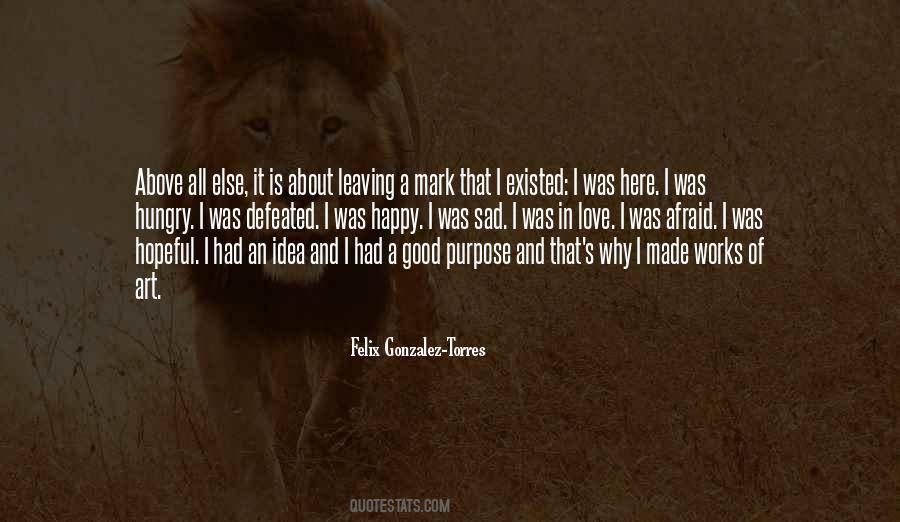 #12. Love is, above all, insanity. - Author: Giovanni Frazzetto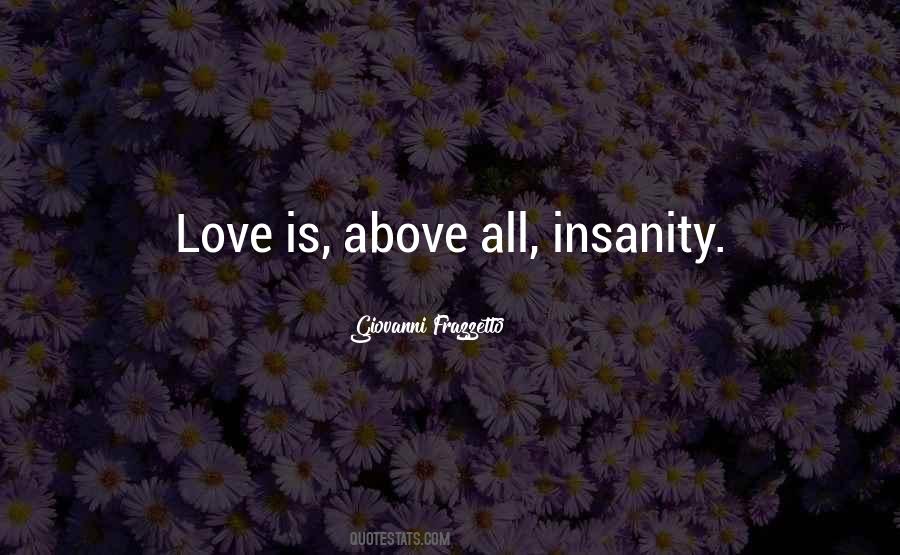 #13. People need a parental divine love which will attend to them above all else, no matter what happens - Author: Masahisa Goi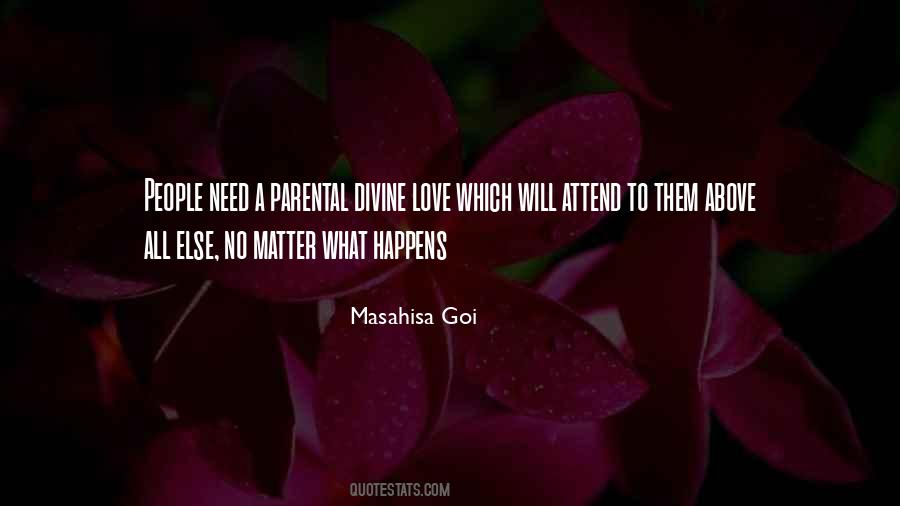 #14. When we choose to love people and the wonderful things around us, it always puts us one step above the people who choose not too. There's a peace we'll carry in our hearts. A feeling of being worthy of all situations. - Author: Ron Baratono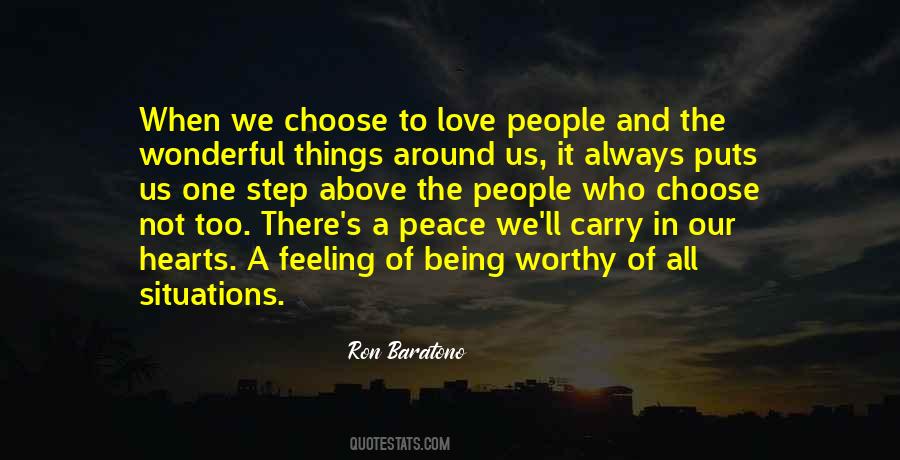 #15. Divine love does not weigh down, nor carry his servant captive and enslaved to the lowest depths, but raises him, supports him and magnifies him above all liberty whatsoever. - Author: Giordano Bruno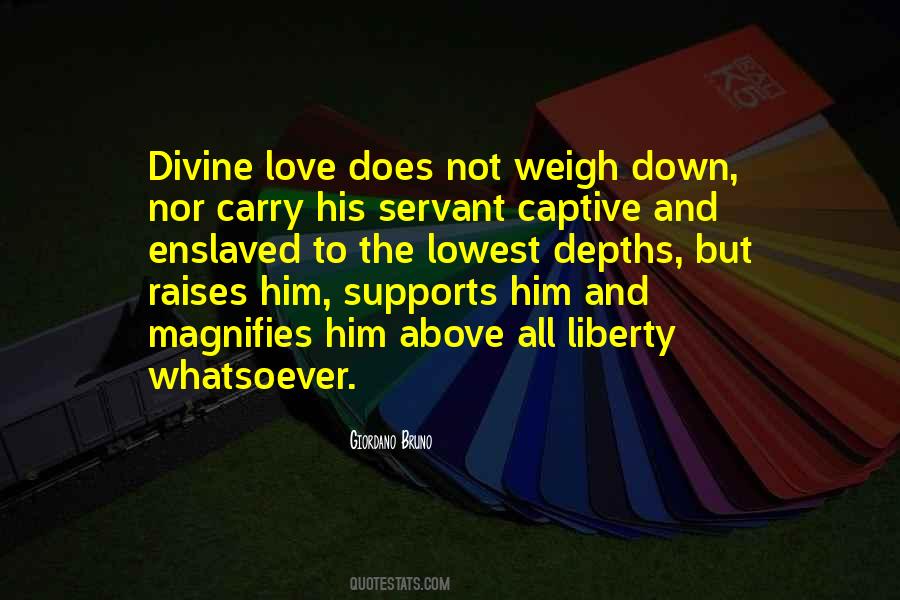 #16. My heroes are, above all, the great 19th-century Americans: Emerson, Whitman, Dickinson and the others. I love the way they think. - Author: Marilynne Robinson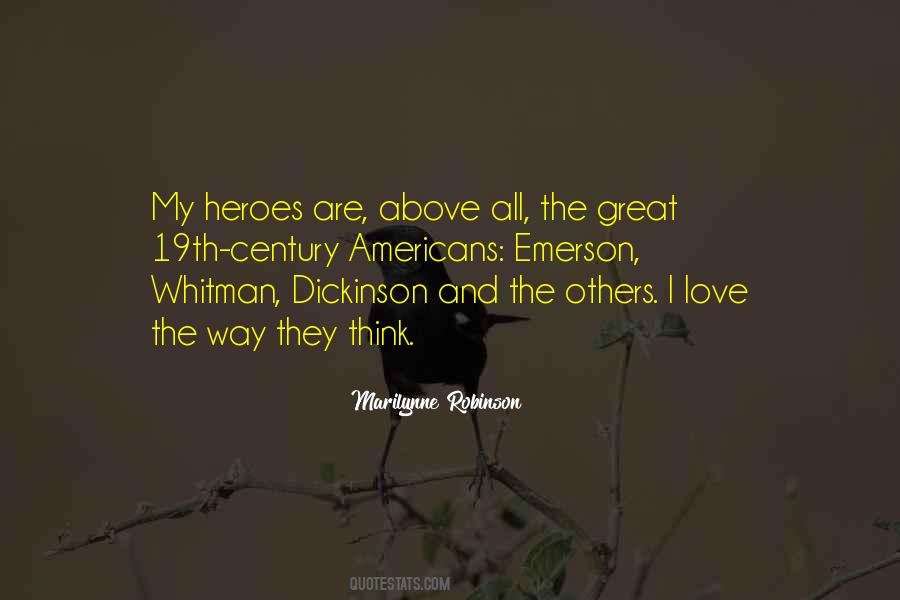 #17. She must express life, death, happiness, sorrow, love and anger, but above all she must have dignity. - Author: Taheyya Kariokka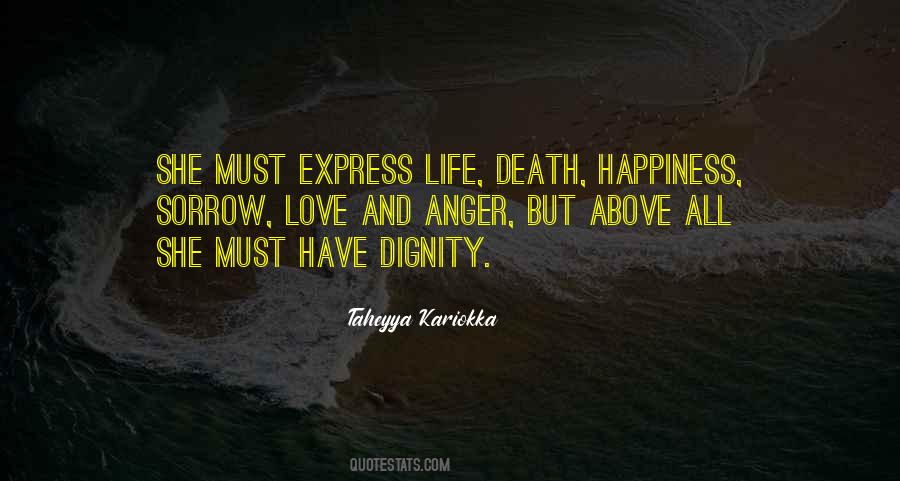 #18. Love, my lads! And above all, love pretty, charming girls; they are the remedy for evil, they give a sweet smell to rottenness, they exchange life for death ... Love, my lads! - Author: Machado De Assis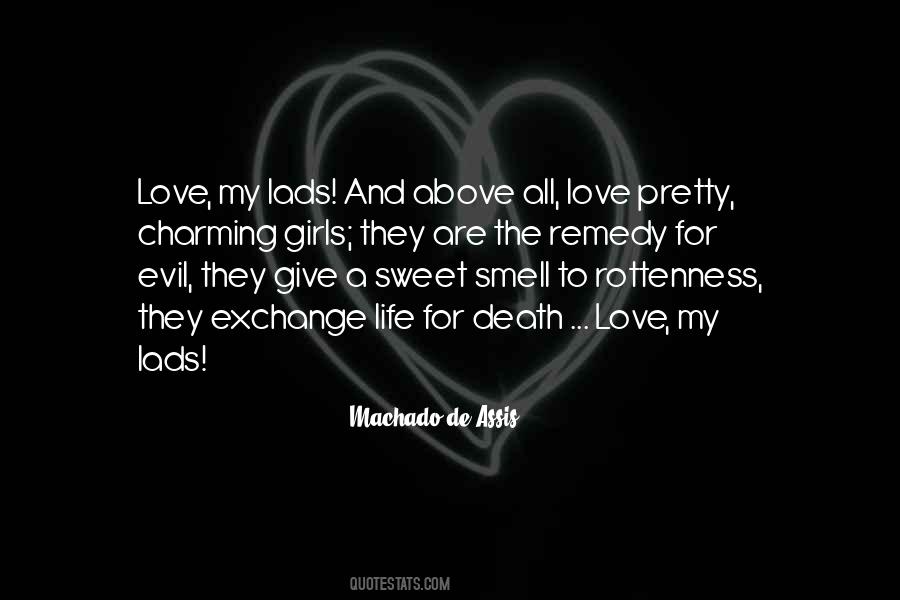 #19. I'm in love with football, but I just needed to recapture that strength to train and play. So many people helped me along the way that I'm afraid to leave anyone out. Above all, though, I want to mention the help of my medical team that has been working alongside me for the past two years. - Author: Cristiano Ronaldo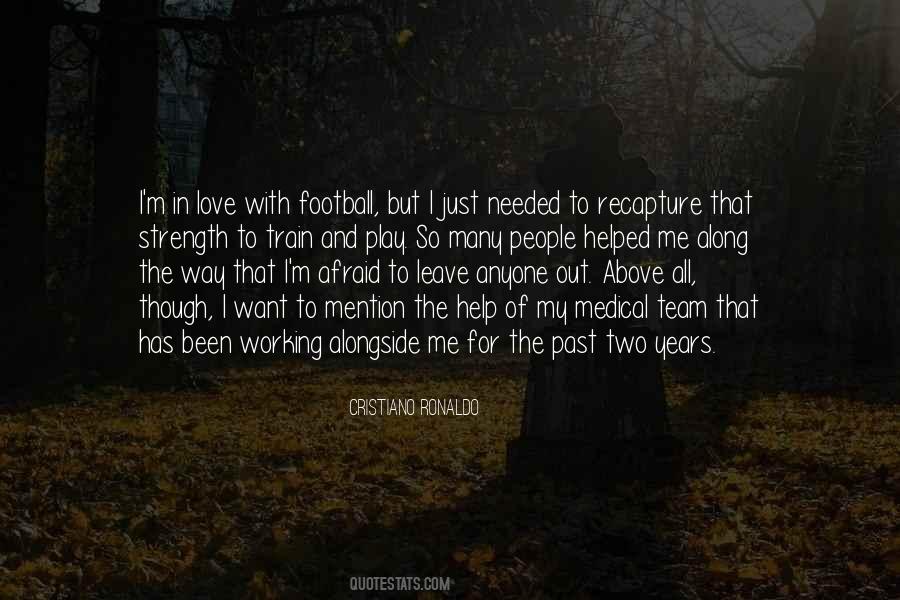 #20. One religion, one civilisation, above all is Love and Humanity, respectively. - Author: Vikrmn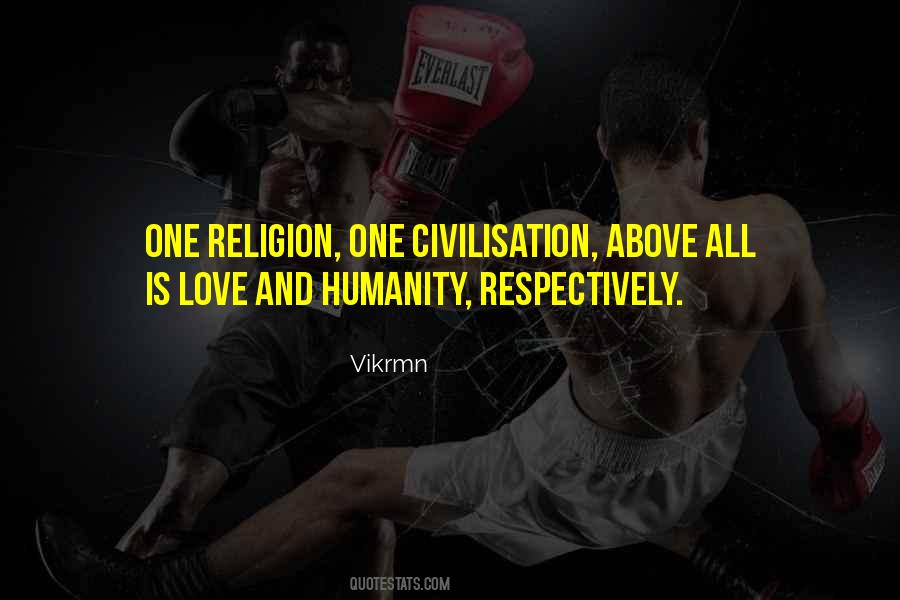 #21. I want to feel you up like we're sixteen in the backseat of a car. On the outside of your clothes," he said just above a whisper. "Touch you all over, then slide my hands up under your shirt. - Author: Rachel Gibson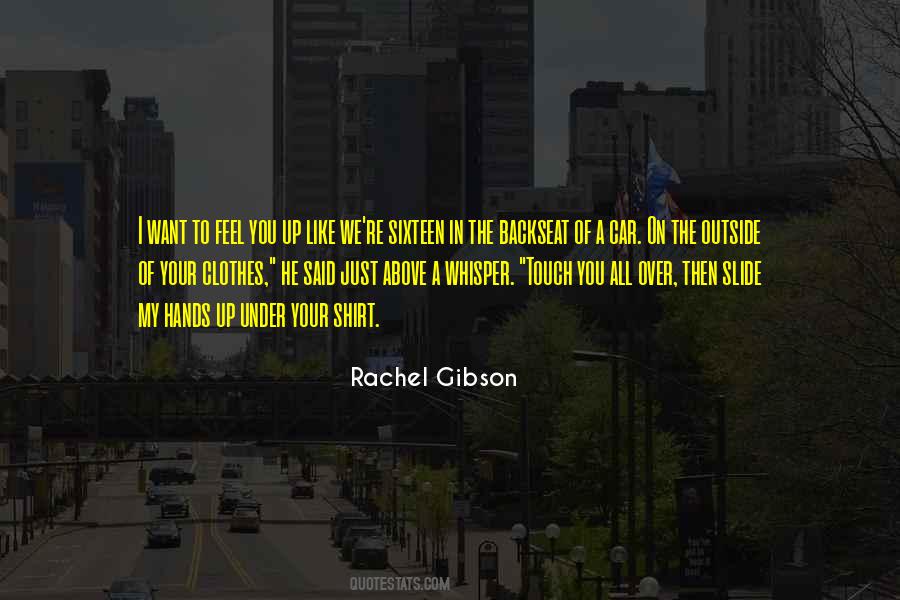 #22. For above all things Love means sweetness, and truth, and measure; yea, loyalty to the loved one and to your word. - Author: Marie De France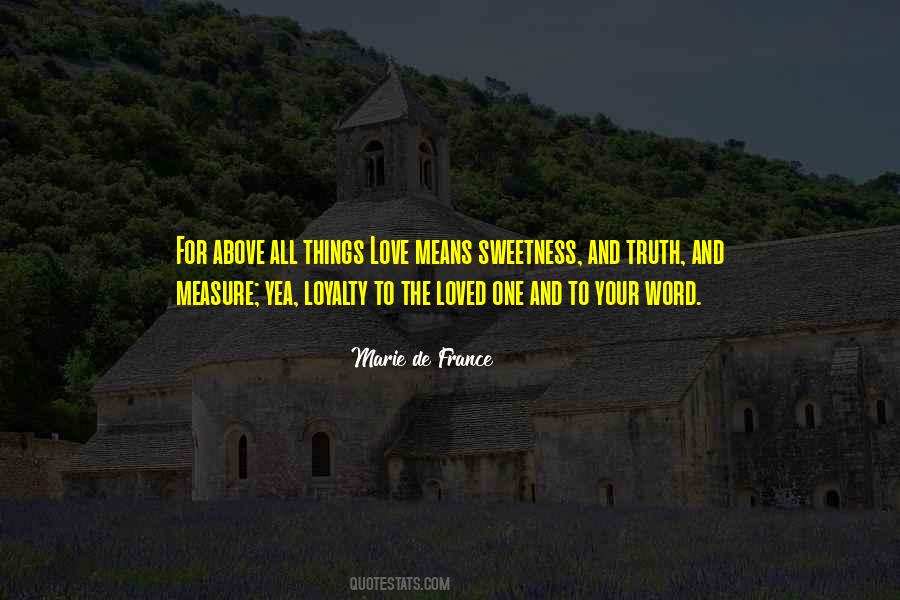 #23. Don't live in the world as if you were renting or here only for the summer, but act as if it was your father's house ... Believe in seeds, earth, and the sea, but people above all. Love clouds, machines, and books, but people above all. Nazim Hikmet, 20th century Turkish poet - Author: Nahid Rachlin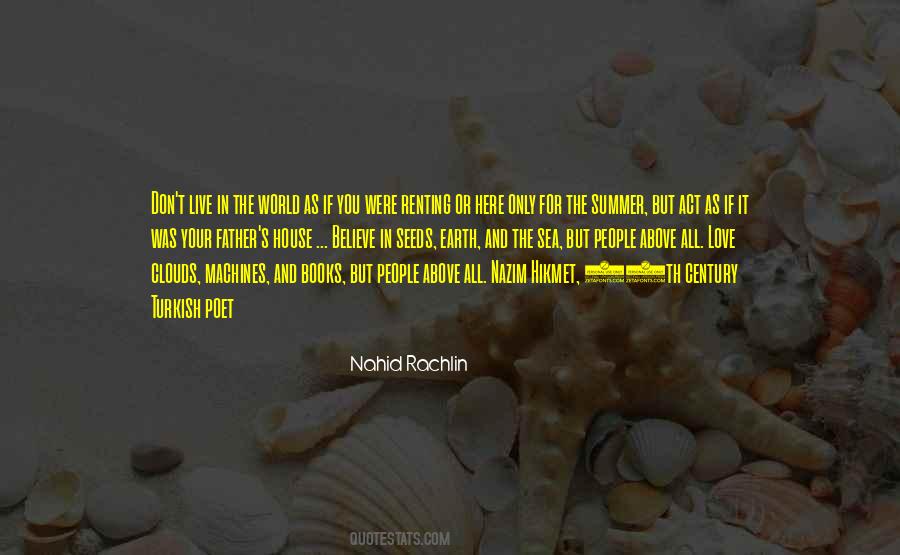 #24. There are boys and girls, there is night and day, but above all there is love. - Author: Dries Van Noten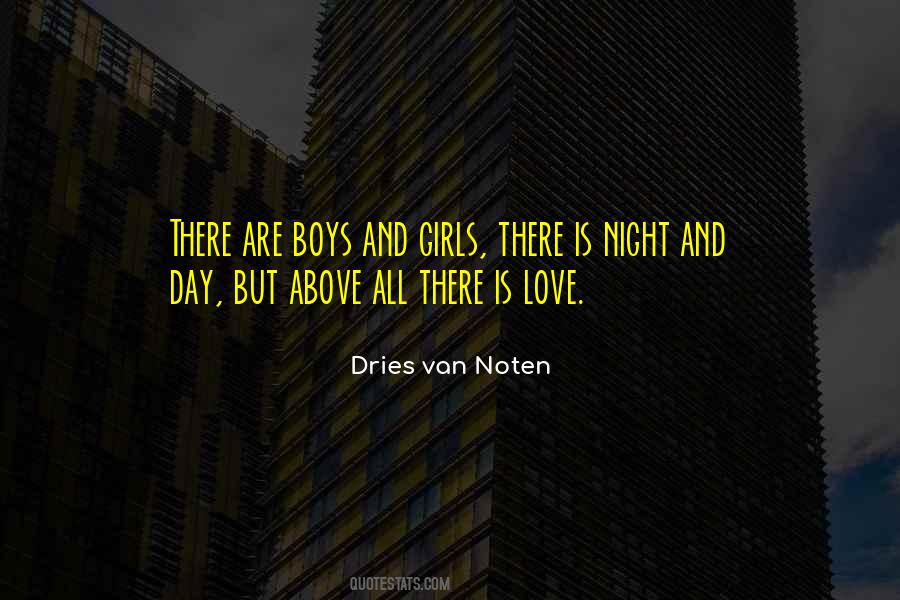 #25. Above all we need, particularly as children, the reassuring presence of a visible community, an intimate group that enfolds us with understanding and love, and that becomes an object of our spontaneous loyalty, as a criterion and point of reference for the rest of the human race. - Author: Lewis Mumford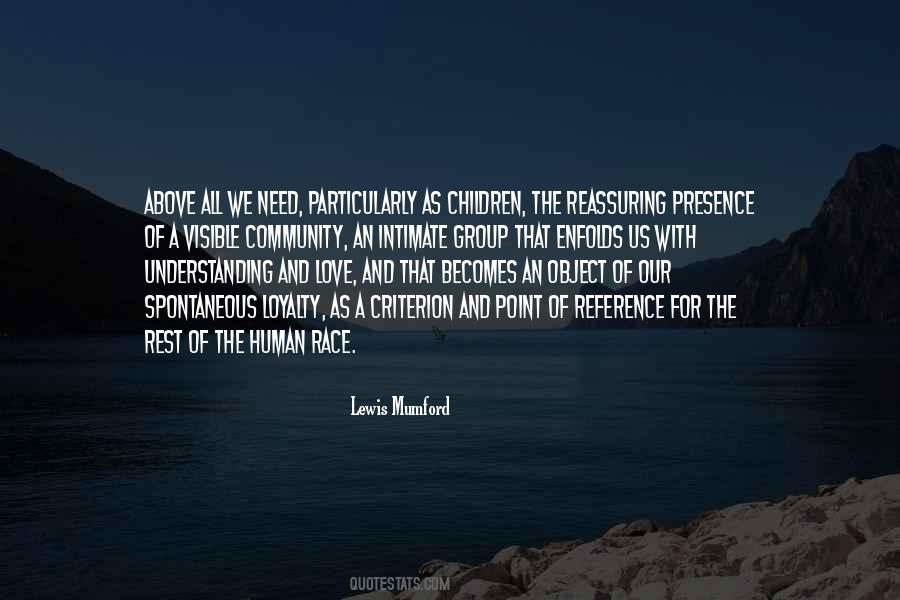 #26. And I hope above all you give your heart to someone again no matter how many broken promises you have recieved. - Author: Nikki Rowe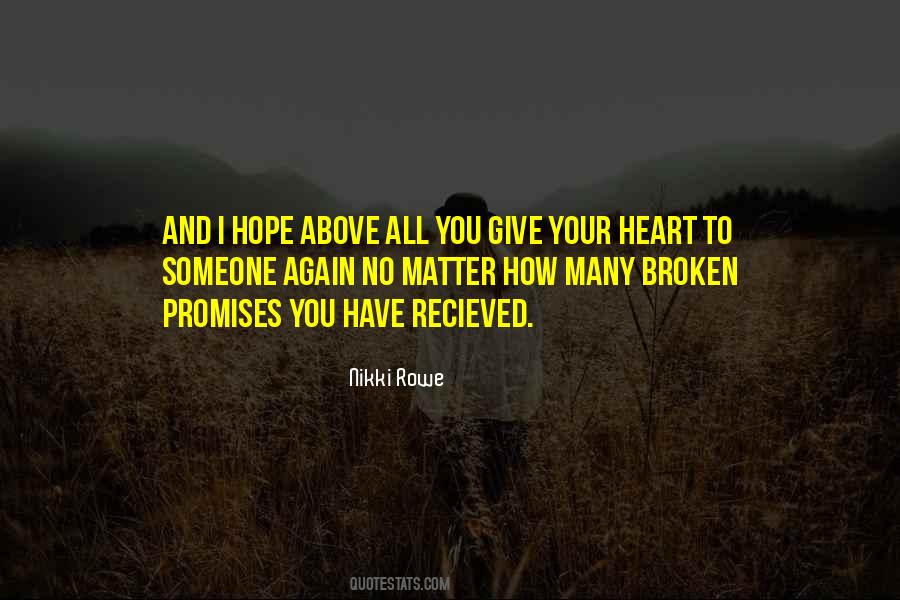 #27. All you who sleep tonight Far from the ones you love, No hand to left or right, An emptiness above
Know that you aren't alone. The whole world shares your tears, Some for two nights or one, And some for all your years. - Author: Vikram Seth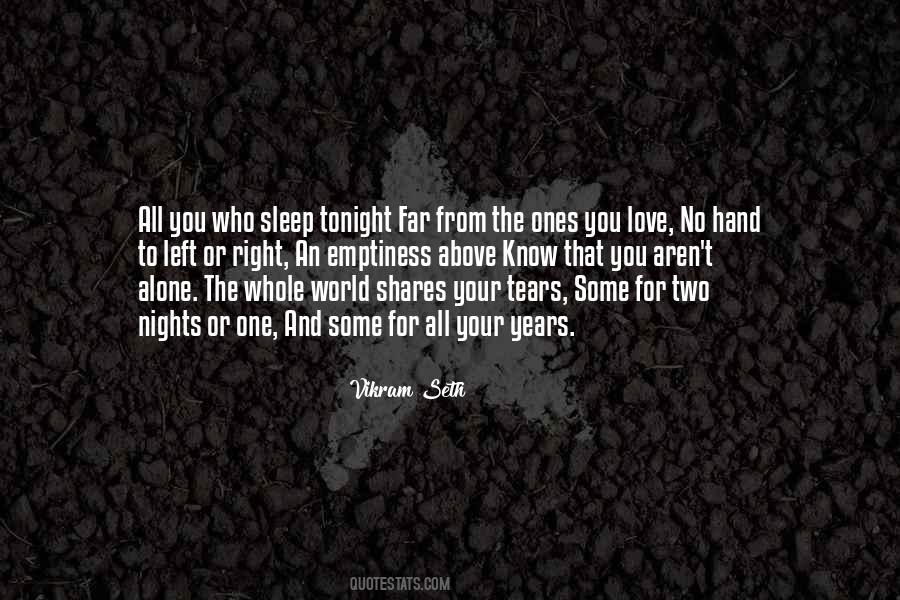 #28. Our God is an awesome God, he reigns from Heaven above, the most high God of all time. - Author: Werley Nortreus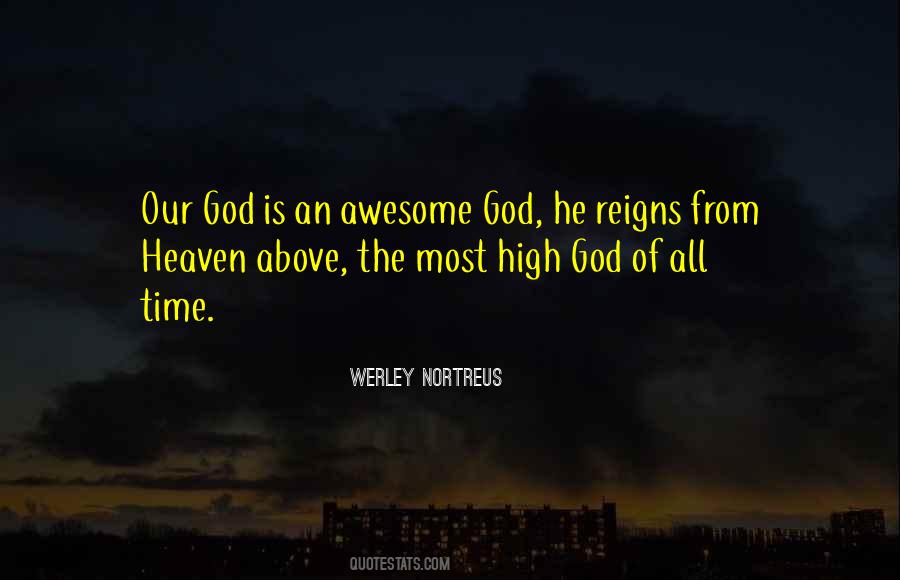 #29. Let the disciple cultivate love without measure towards all beings. Let him cultivate towards the whole world, above, below, around, a heart of love unstinted ... For in all the world this state of heart is best. - Author: Gautama Buddha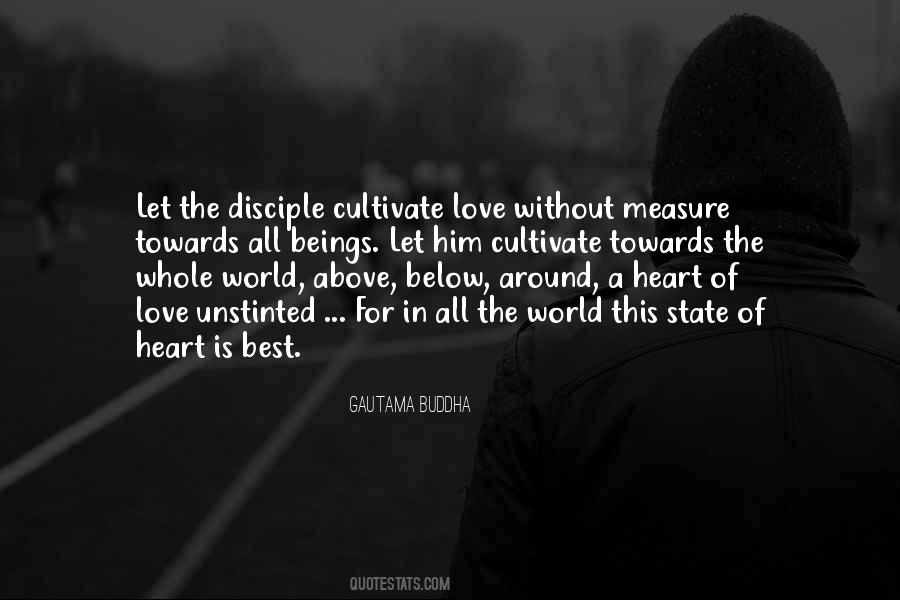 #30. I guess all the time I spend on social media has made me believe that love exists above the surface, that it's supposed to be light all of the time. - Author: Shannon Mullen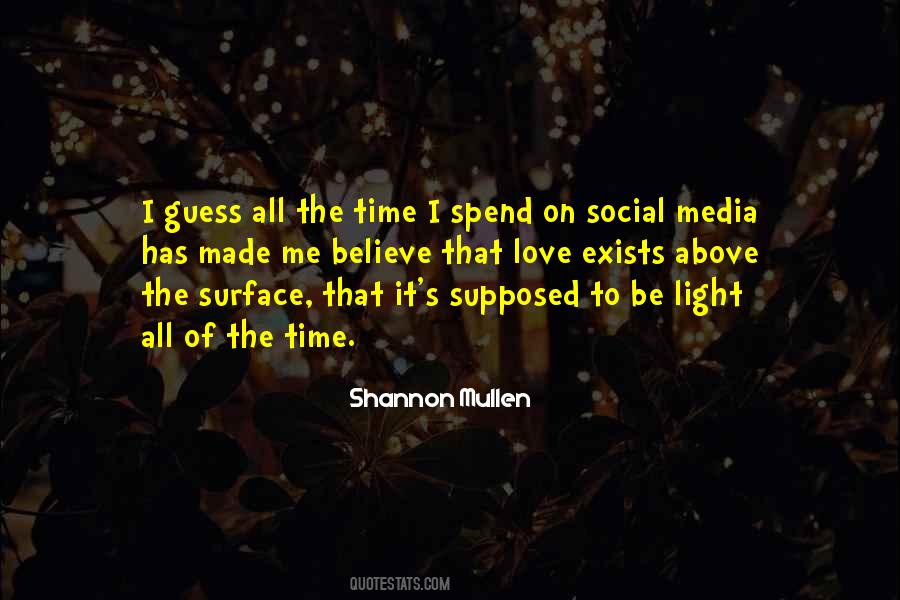 #31. The main motive for "nonattachment" is a desire to escape from the pain of living, and above all from love, which, sexual or non-sexual, is hard work. - Author: George Orwell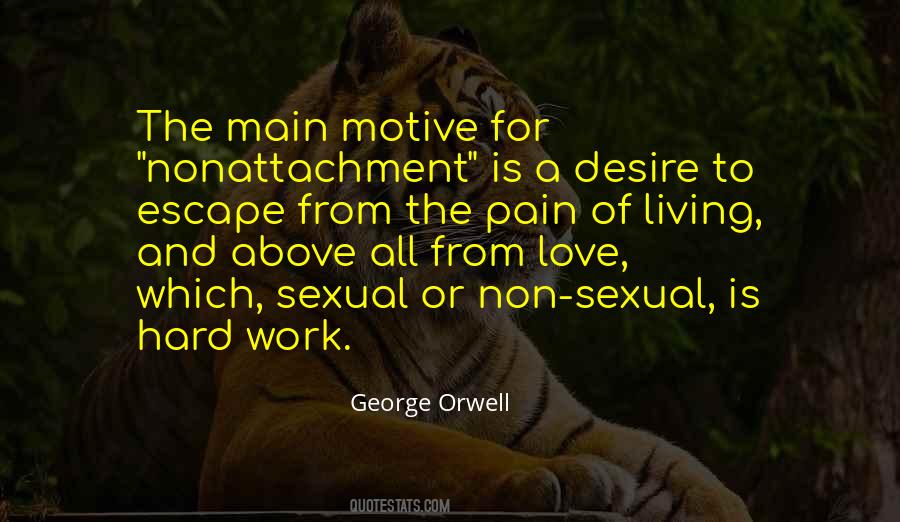 #32. Life without you? Actually I can't imagine what it would be, because you are always with me, you're like my guardian angel and above all a very fun and responsible friend. I love you. - Author: Auliq Ice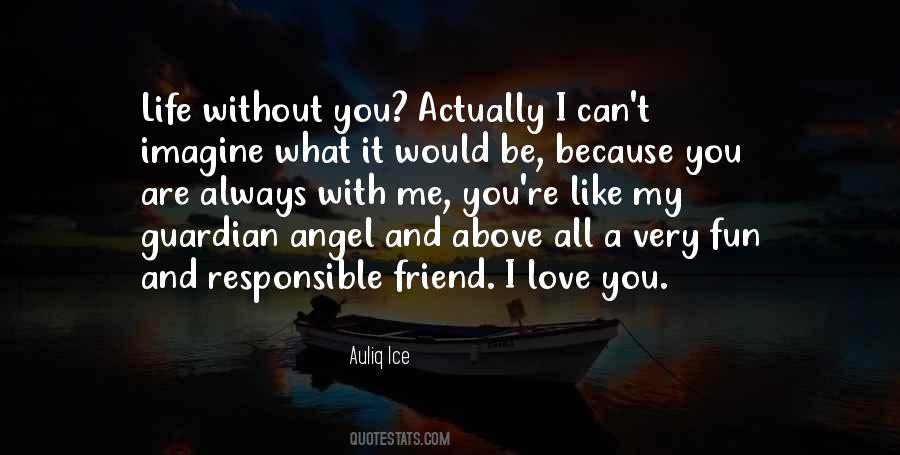 #33. You should have a kind heart because you are not just a so and so person,you are also an identity who is part of the almighty god,who above all likes kindness because,he is the bestower of all desired attributes but is benevolently looking for kindness from his creation - Author: Jaspreet Kaur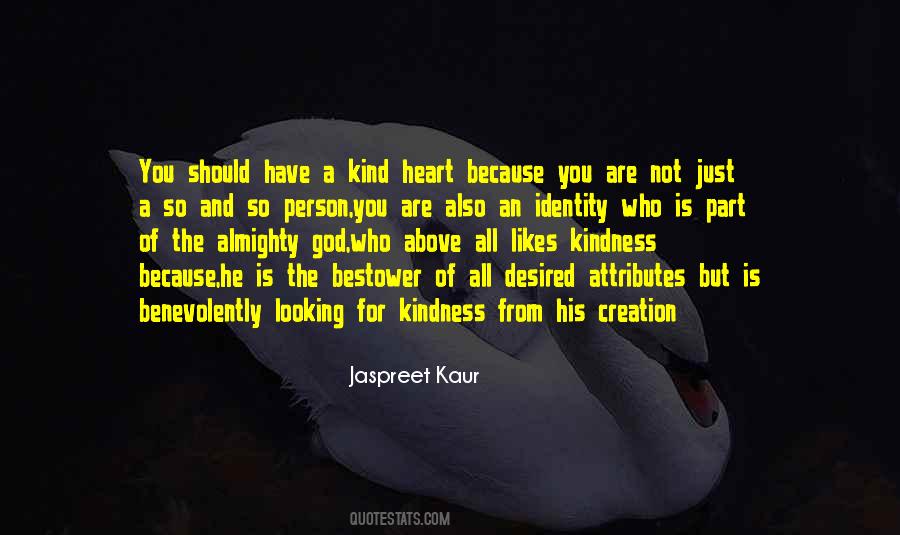 #34. A single mom tries when things are hard. She never gives up. She believes in her family, even when things are tough. She knows that above all things ... a mother's love is more than enough. - Author: Deniece Williams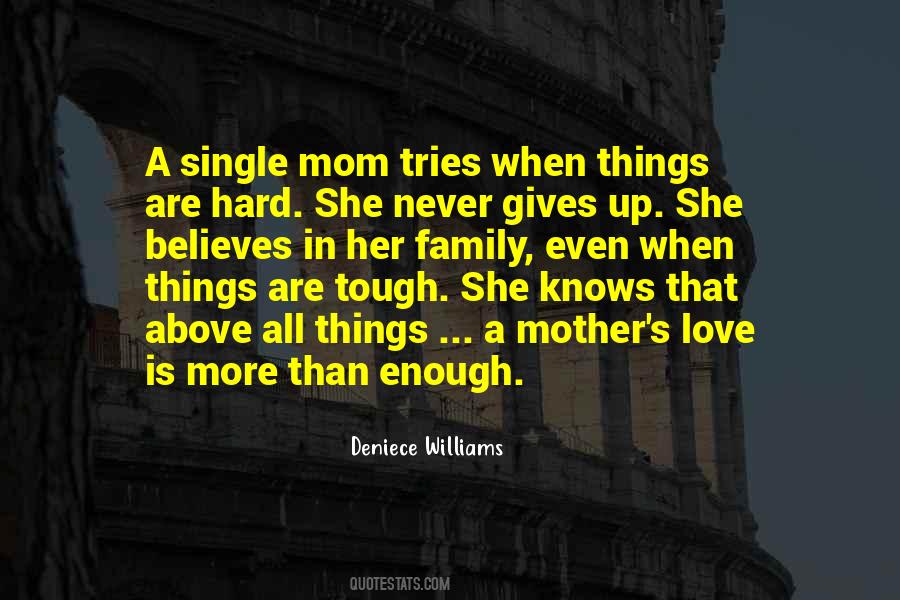 #35. Truth Is ... We All Search For LOVE In Our Lives That Will Last. Often It Doesn't And Send Us In Despair. Real Unfailing LOVE Comes From The Heavens Above. No Matter What Your religion Is ... We Are All Taught That God's LOVE Is Perfect, Undying And Last Forever! - Author: Timothy Pina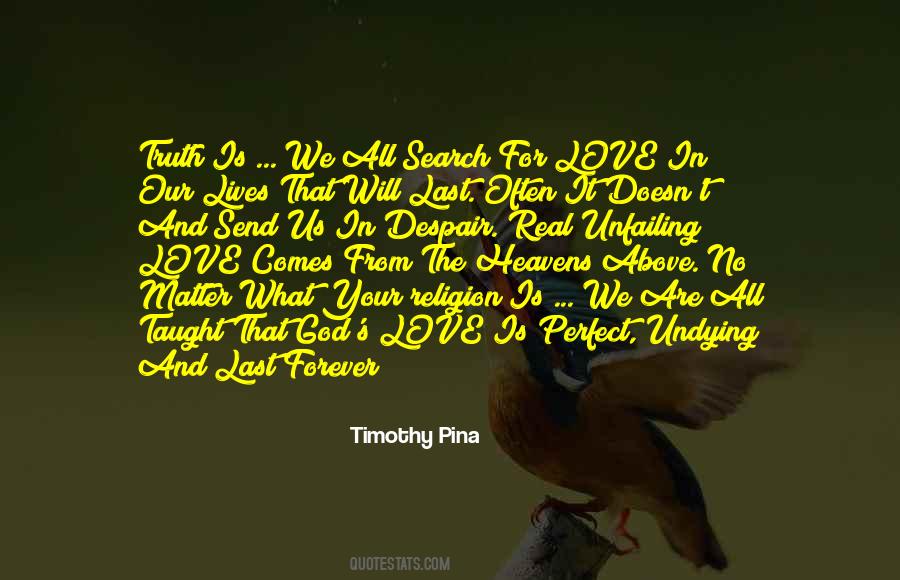 #36. People always tell me either A. you love him. B. you hate him. My usual answer? C. All of the above. - Author: Anne Roiphe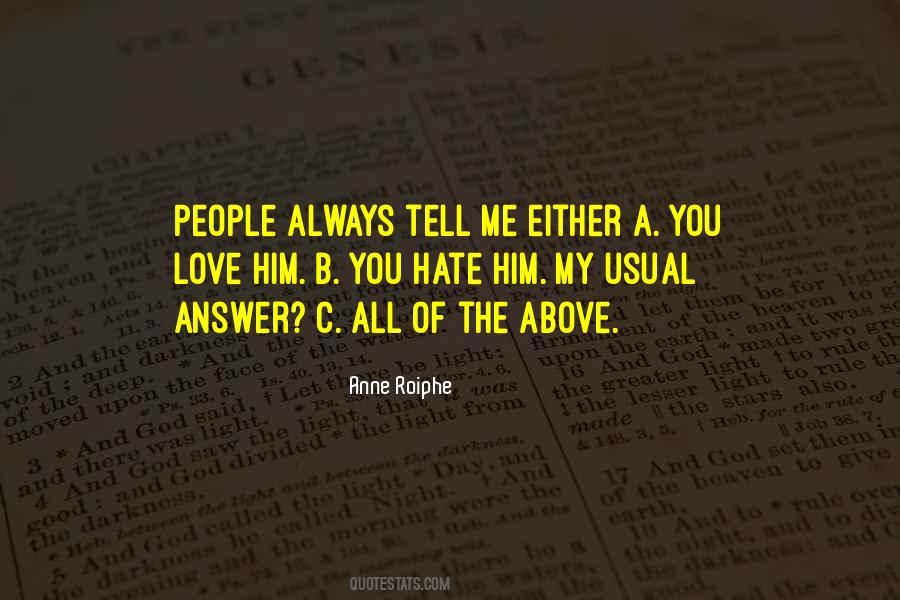 #37. Wherever you are, be loving, caring, kind, and above all, be happy. - Author: Debasish Mridha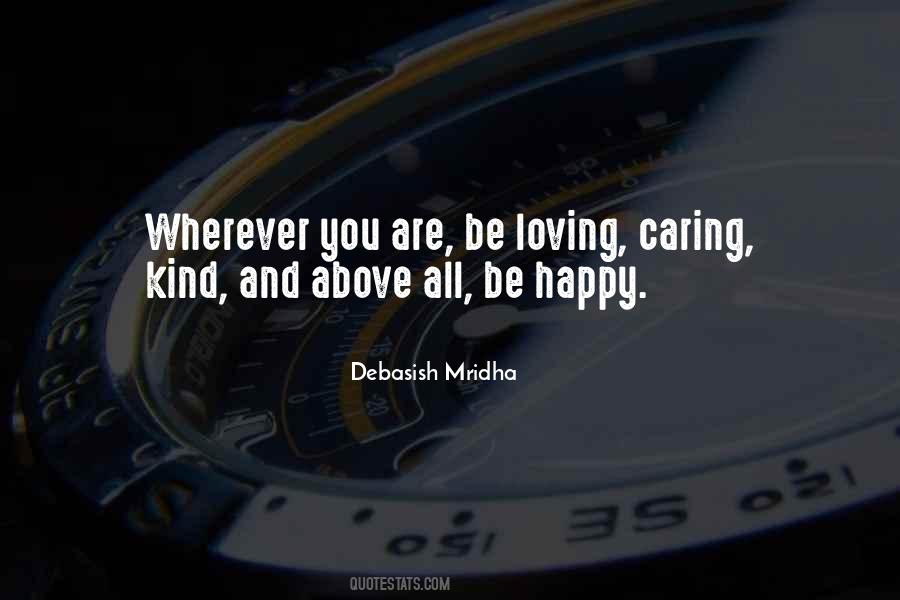 #38. Love is kind, love is patient but also, mainly, above all - yes - Love is perverted. - Author: Caroline Kepnes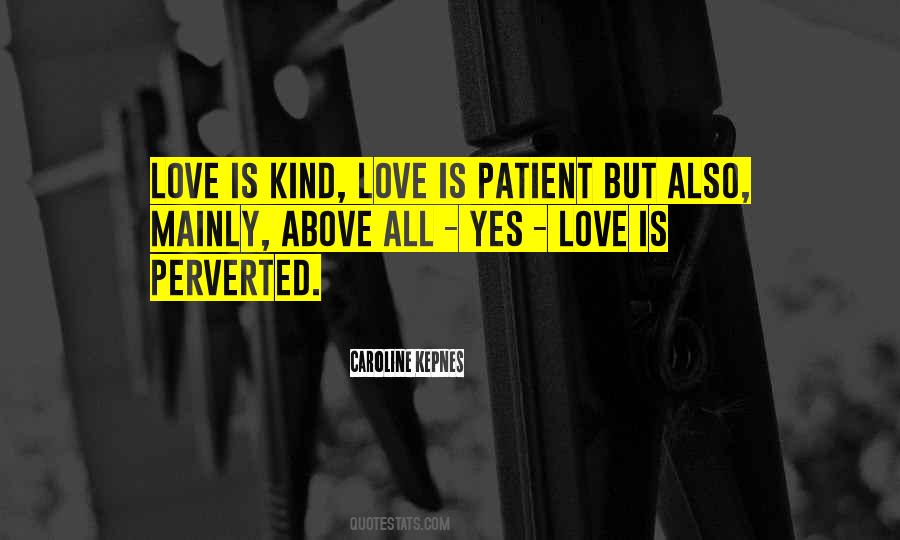 #39. As every lord giveth a certain livery to his servants, charity is the very livery of Christ. Our Saviour, Who is the Lord above all lords, would have His servants known their badge, which is love. - Author: Hugh Latimer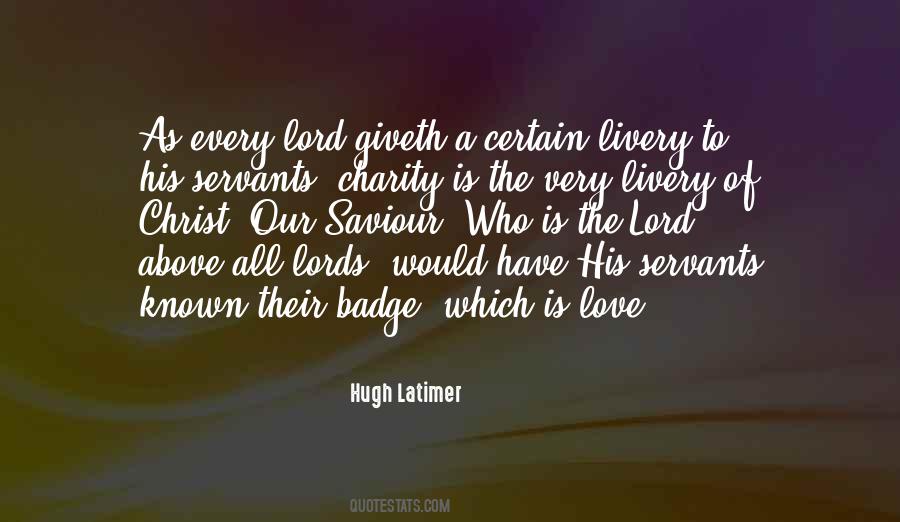 #40. Children don't need beating. They need love and encouragement. They need fathers to whom they can look with respect rather than fear. Above all, they need example. - Author: Gordon B. Hinckley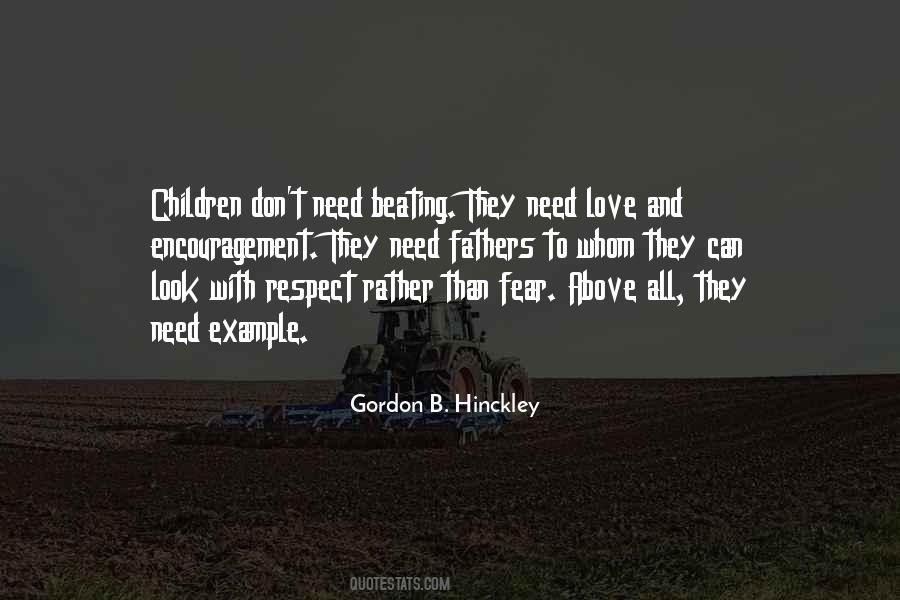 #41. Humans seek connection above all else, and we are willing to destroy things to attain it. - Author: Tarryn Fisher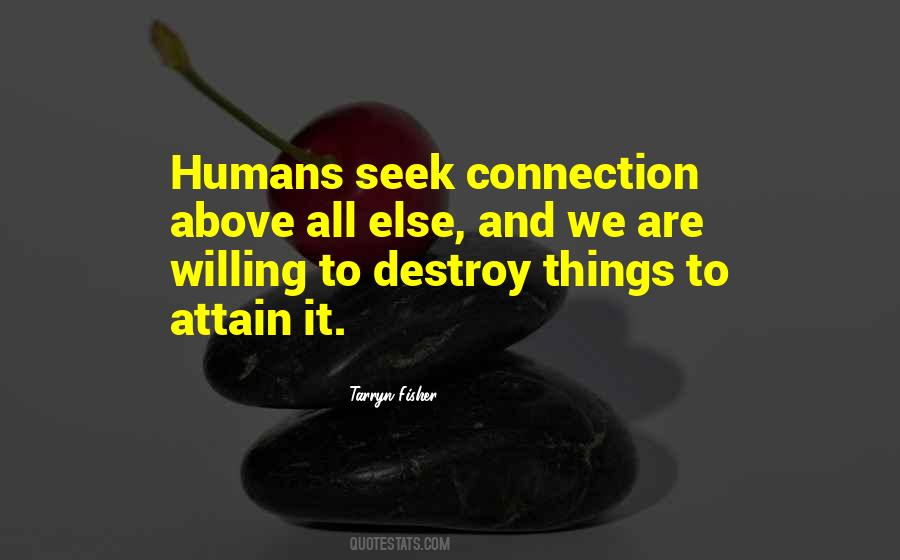 #42. And above all, clothe yourself with love, which binds us all in perfect harmony. - Author: Colossians 3 14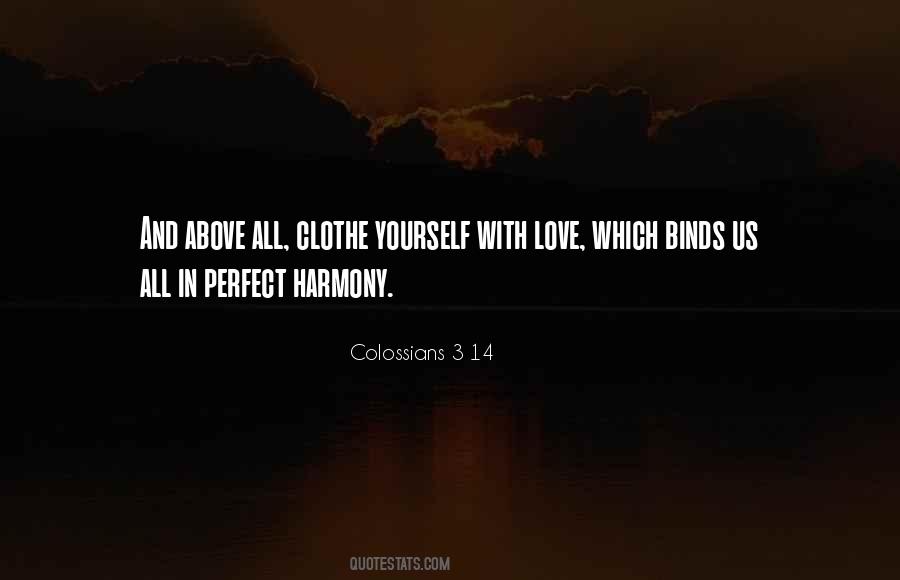 #43. She was few inches taller than him and when for the first time her promising eyes met with his, he knew it would be more than friendship. He was too young to name that feeling then. But love...above all relationships knows no age. - Author: Viraj J. Mahajan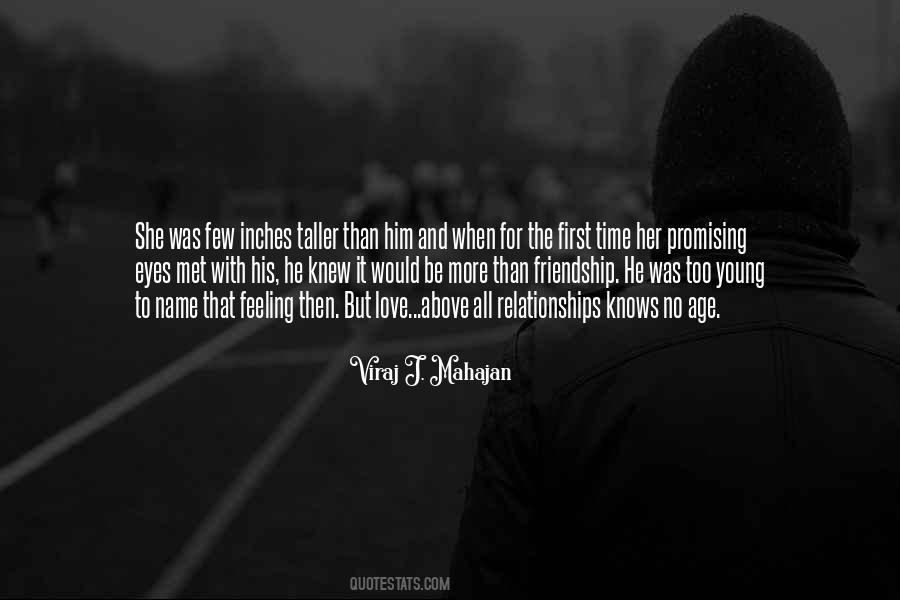 #44. In my life, the one thing I have learned above all is that no individual can reach the height of their potential without the love of others - Author: Renee Ahdieh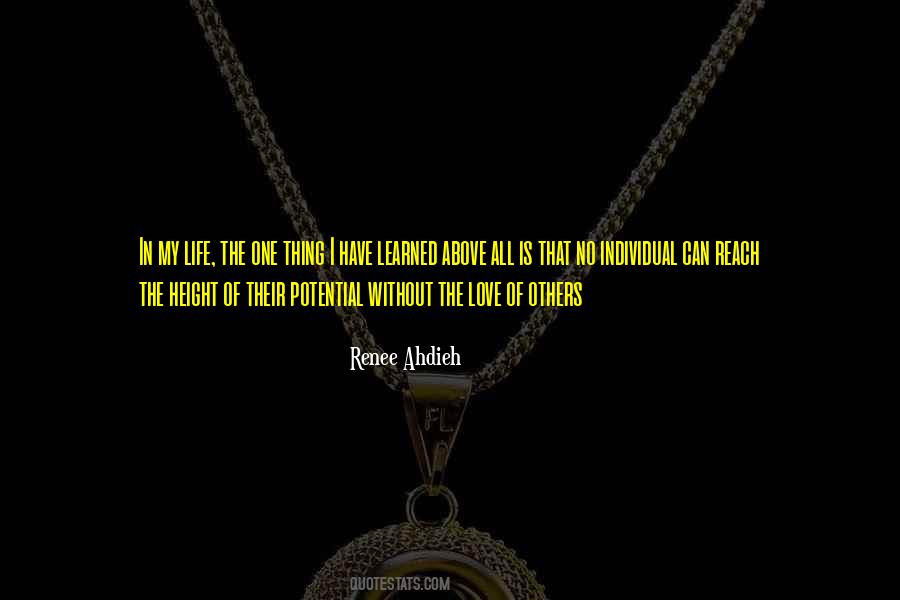 #45. Though God may be Love, God is Truth above all. - Author: Mahatma Gandhi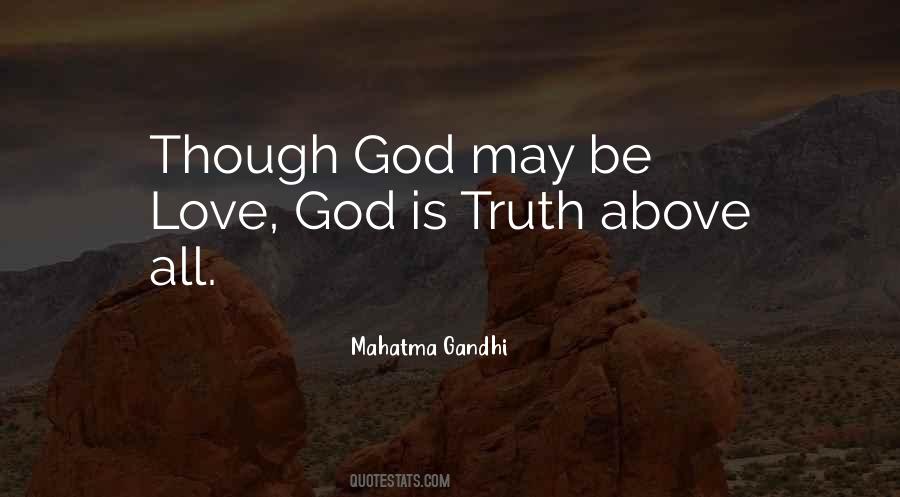 #46. From private flood. / Drama of each season / plots doom from above, / yet all allergic reason / moves to our minor love - Author: Sylvia Plath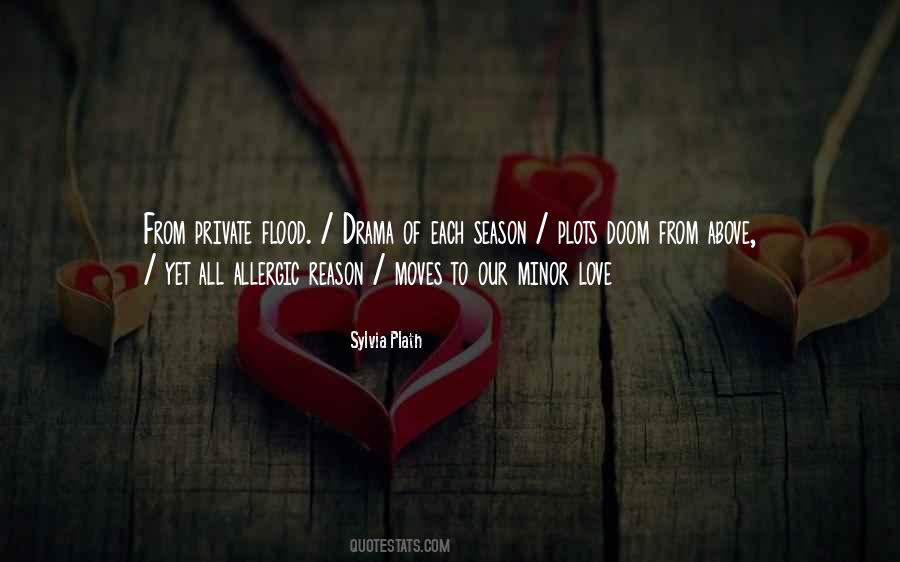 #47. Above all, trust your instincts. If she's the right one, you'll know. If she's not, let her go and be thankful that she was an almost. - Author: Rich Marcello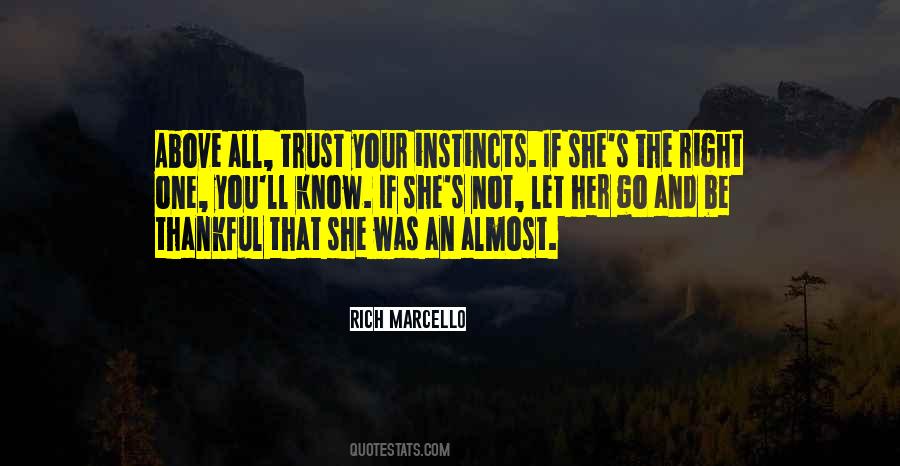 #48. And finally, and above all love will conquer. - Author: Kristian Goldmund Aumann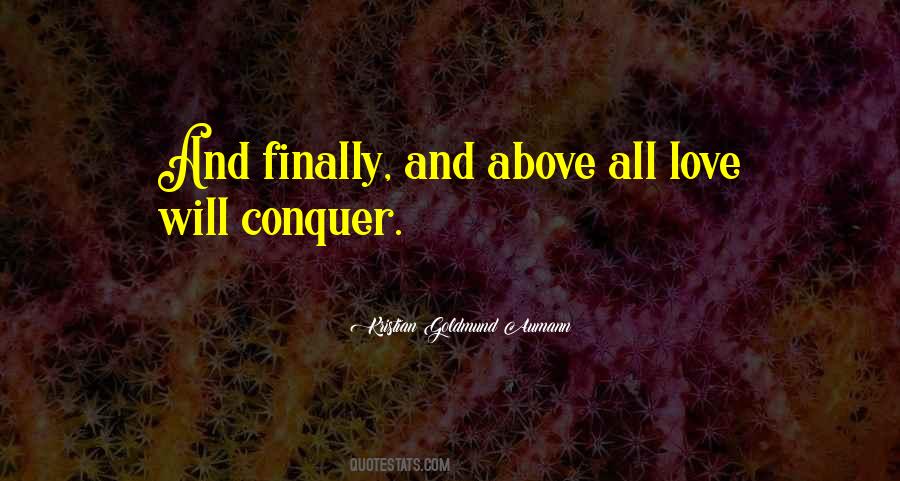 #49. For me a work of art must be an elevated interpretation of nature. The search for the ideal has been the purpose of my life. In landscape or seascape, I love above all the poetic motif. - Author: William-Adolphe Bouguereau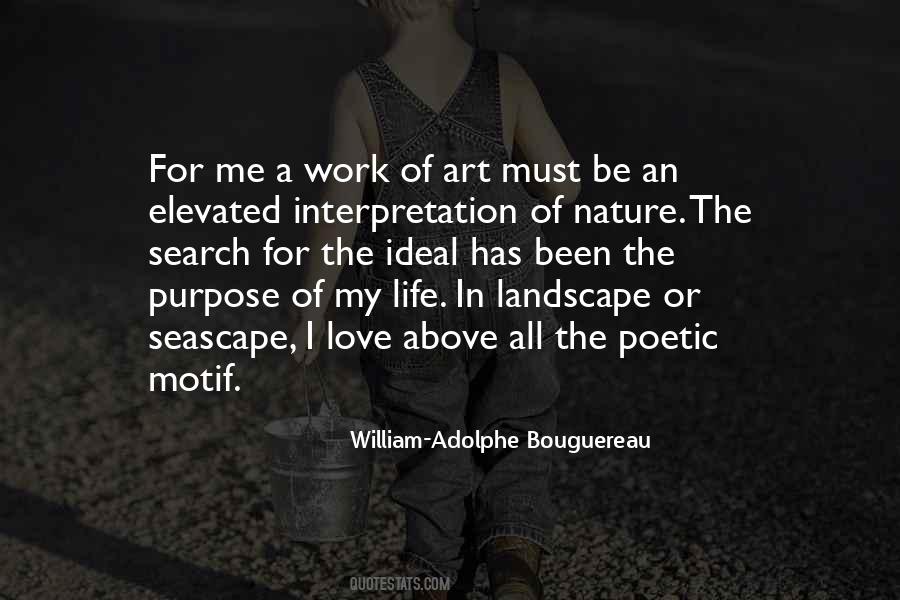 #50. Love is the essence of all religion, mysticism, and philosophy, and for the one who has learned this, love fulfills the purpose of religion, ethics, and philosophy, and the lover is raised above all diversities of faiths and beliefs. - Author: Hazrat Inayat Khan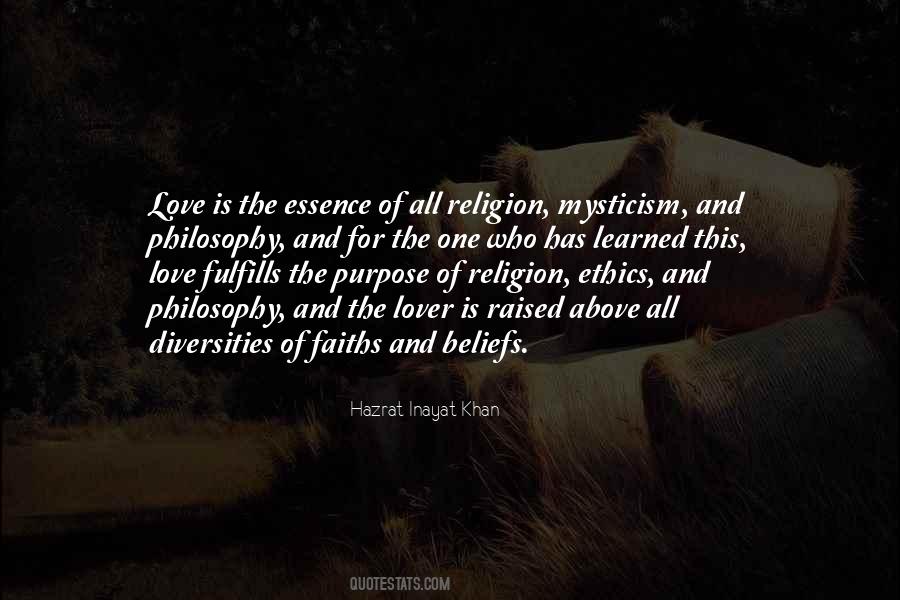 #51. We must never forget that spiritual experience is above all a practical experience of love. And with love, there are no rules. - Author: Paulo Coelho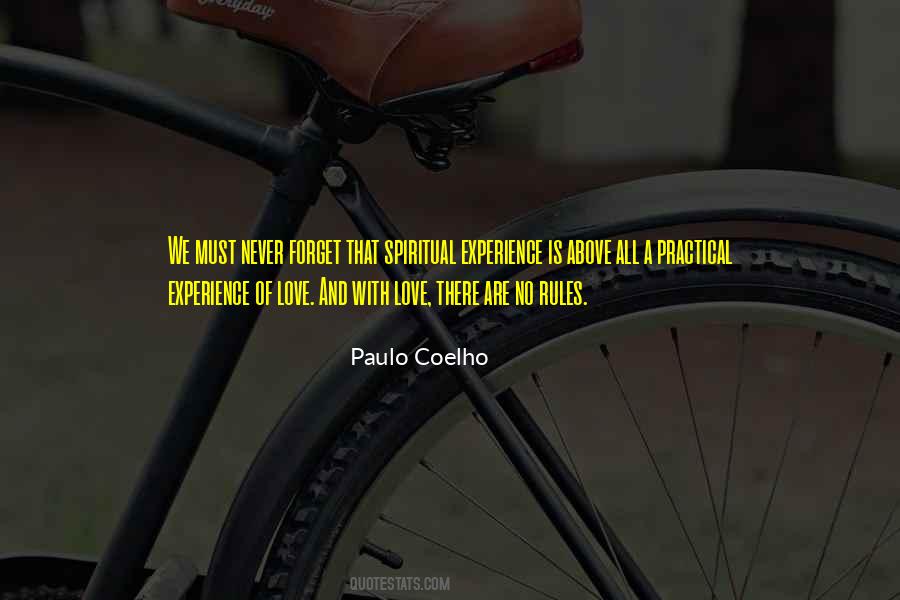 #52. Just as God, above all, is free of every need and self-interest, the spiritual man who has the Spirit struggles and becomes perfected in the love according to Christ, love that is delivered of all need and self-interest. - Author: John Romanides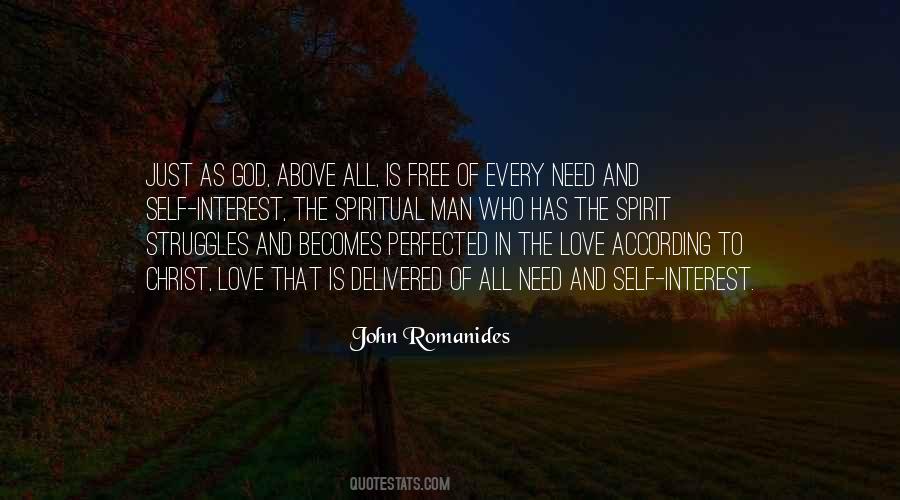 #53. I have not sought during my life to amass wealth and to adorn my body, but I have sought to adorn my soul with the jewels of wisdom, patience, and above all with a love of liberty. - Author: Socrates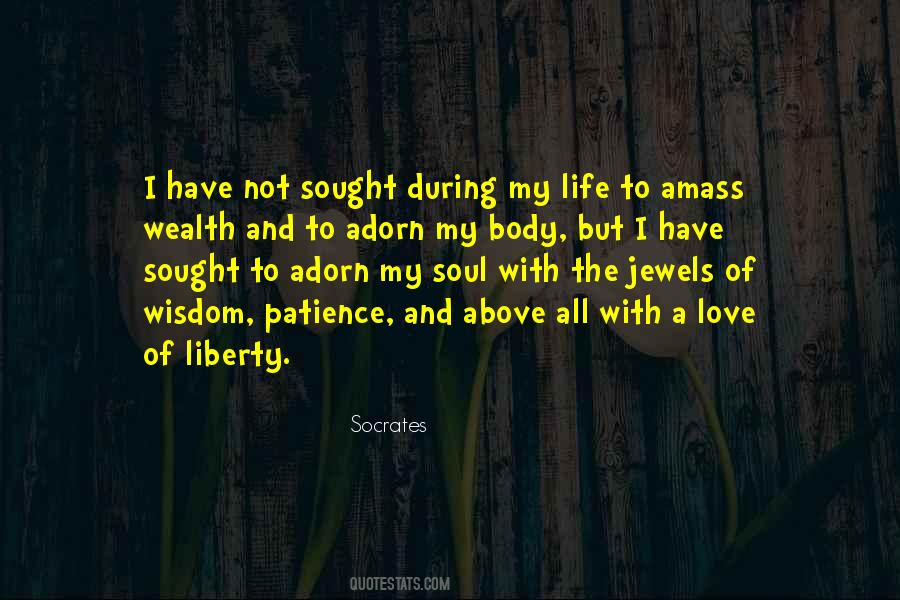 #54. You don't know what would have happened if I hadn't pushed. Nobody knows. I did it the way I did it, and it worked. Above all, it worked. - Author: Orson Scott Card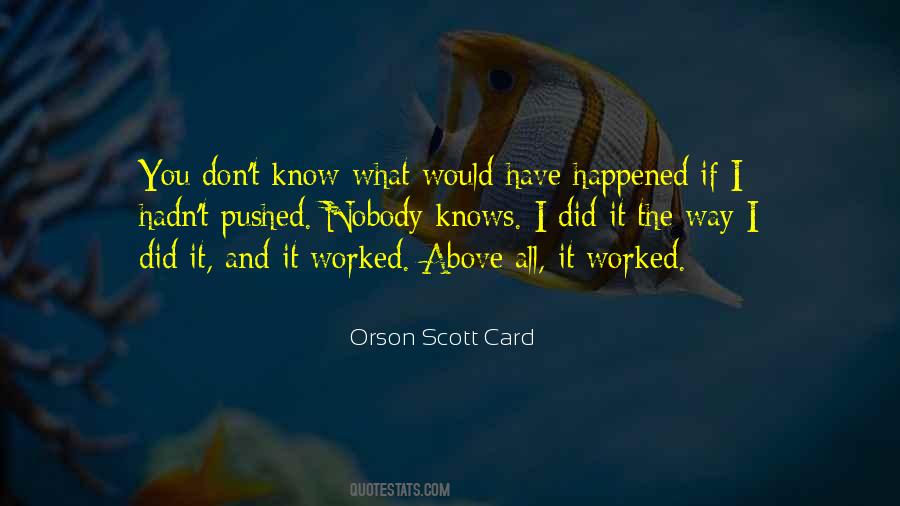 #55. Above all, there is Mother. She taught me how to love, how to have respect for other people. - Author: Joe Greene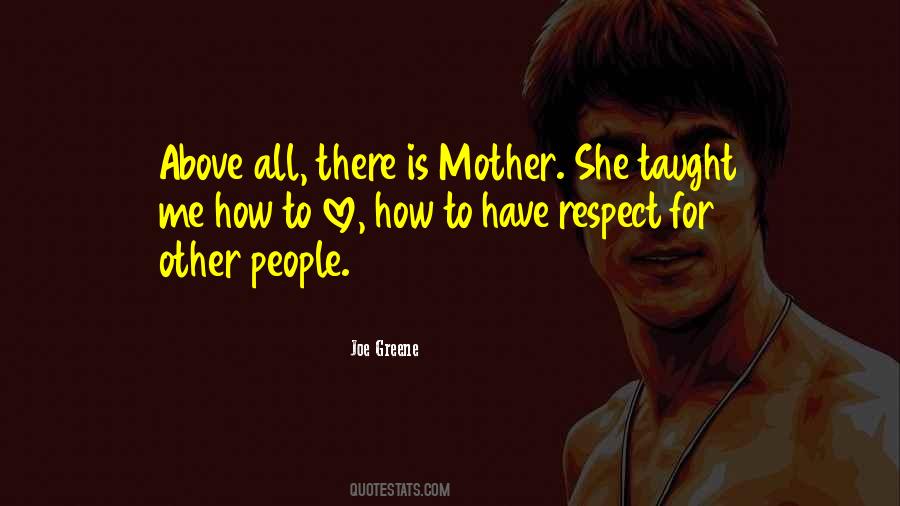 #56. In my dreams
I'll always see you soar
Above the sky
In my heart
There always be a place
For you for all my life
I'll keep a part
Of you with me
And everywhere I am
There you'll be - Author: Faith Hill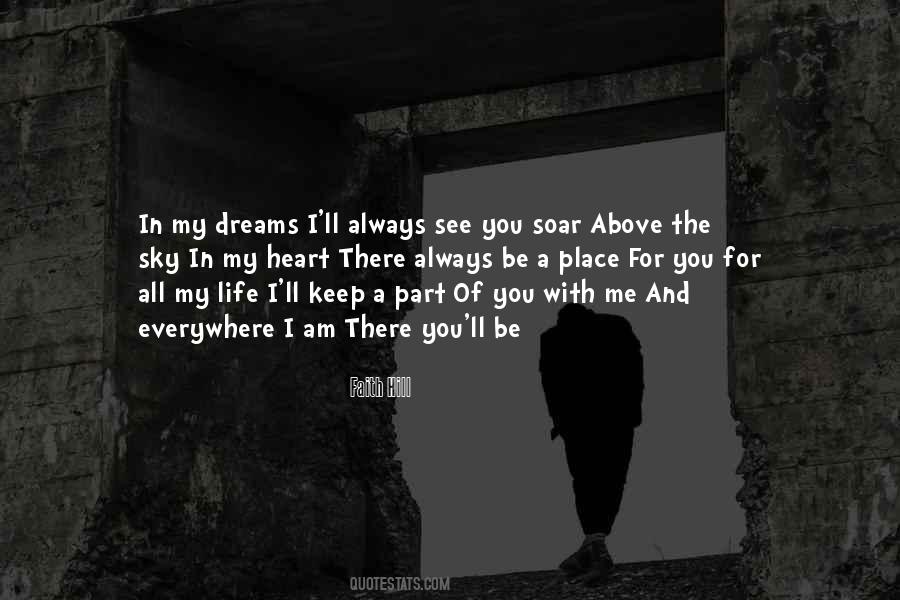 #57. What knowing the Mother means above all is daring to put love into action. The Mother herself is love-in-action, love acting everywhere and in everything to make creation possible. - Author: Andrew Harvey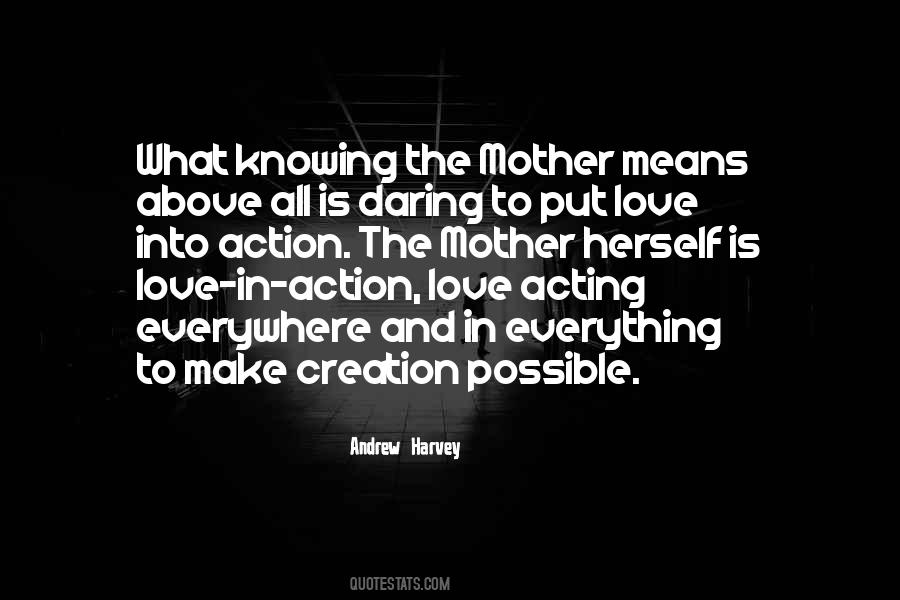 #58. He left His Father's throne above, (So free, so infinite His grace!) Emptied Himself of all but love, And bled for Adam's helpless race. - Author: Charles Wesley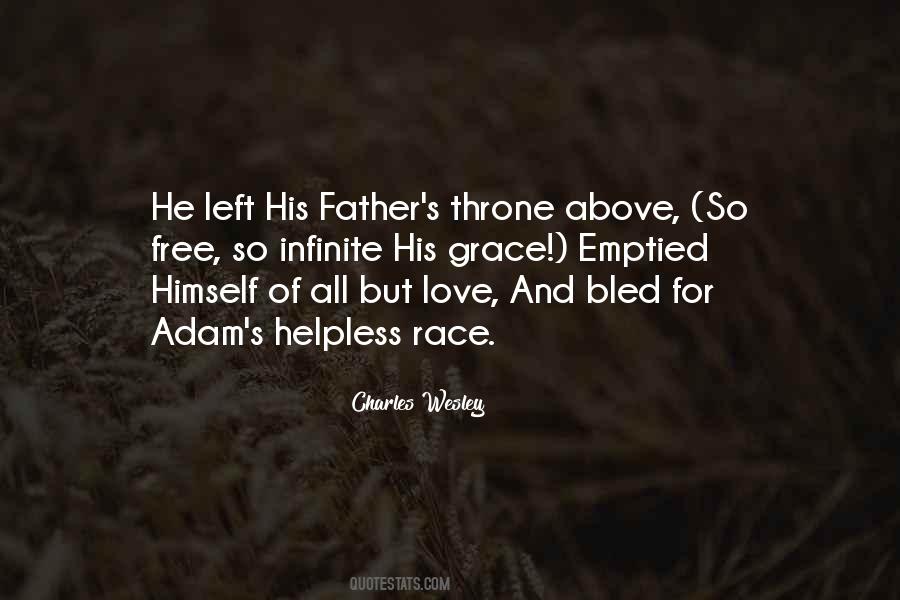 #59. Infinitely more important than sharing one's material wealth is sharing the wealth of ourselves - our time and energy, our passion and commitment, and, above all, our love. - Author: William E. Simon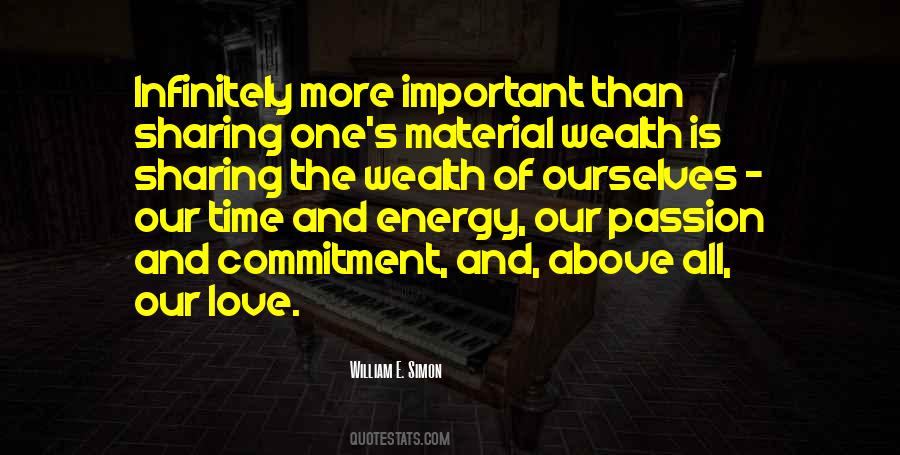 #60. Love is a sickness. Some kind of a pathogen existing above all explanation. - Author: Craig Davidson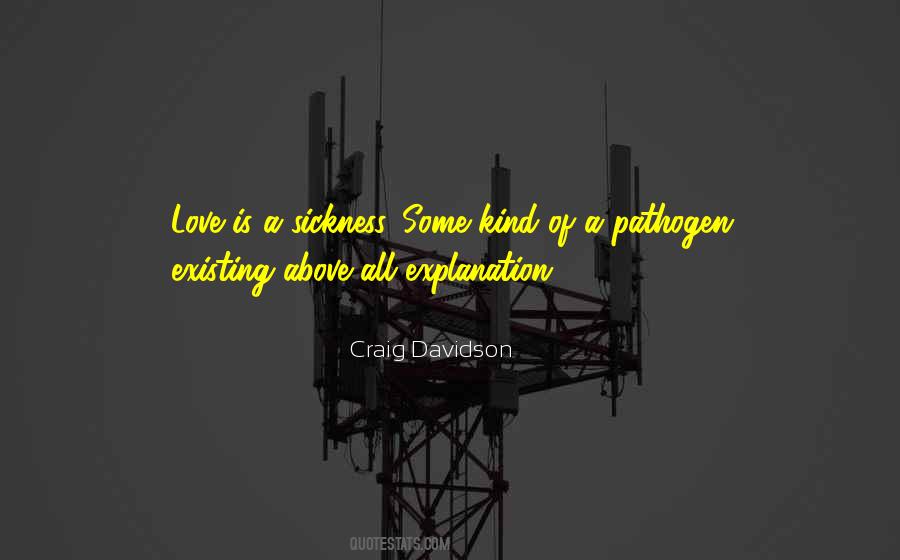 #61. The human body is something that I truly love, above all else. - Author: Giorgio Armani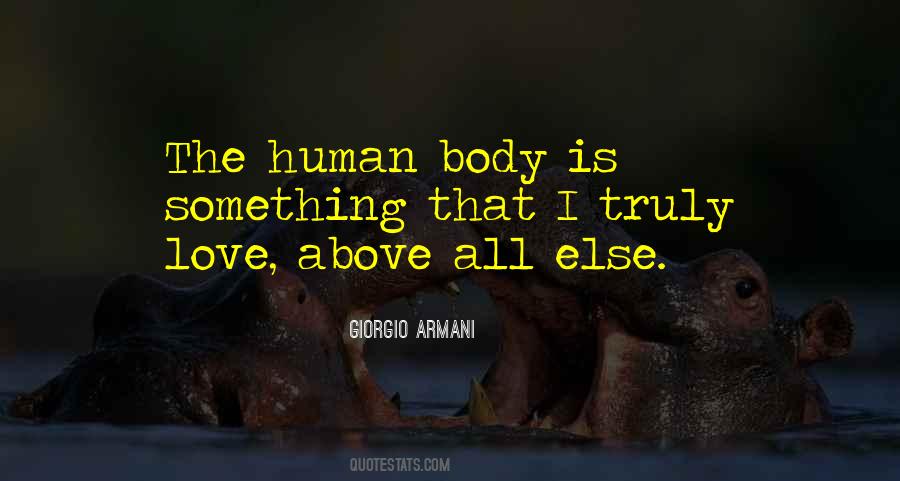 #62. Rostov was not listening to the soldier. He looked at the snowflakes dancing above the fire and remembered the Russian winter with a warm, bright house, a fluffy fur coat, swift sleighs, a healthy body, and all the love and care of a family. "And why did I come here?" he wondered. - Author: Leo Tolstoy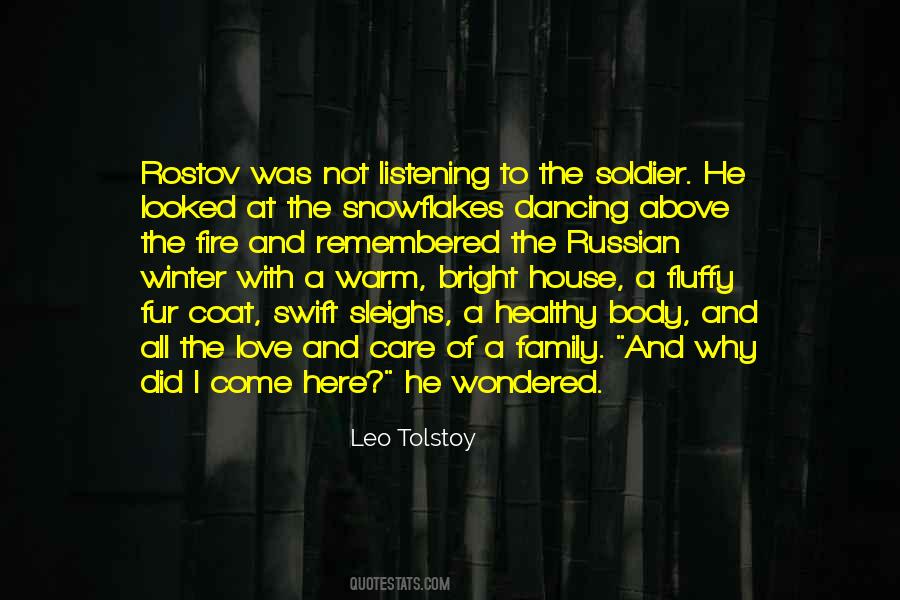 #63. Love - is when you wish all the best to the people you love, when you put their interests and well-being above their own. Always. - Author: Angelina Jolie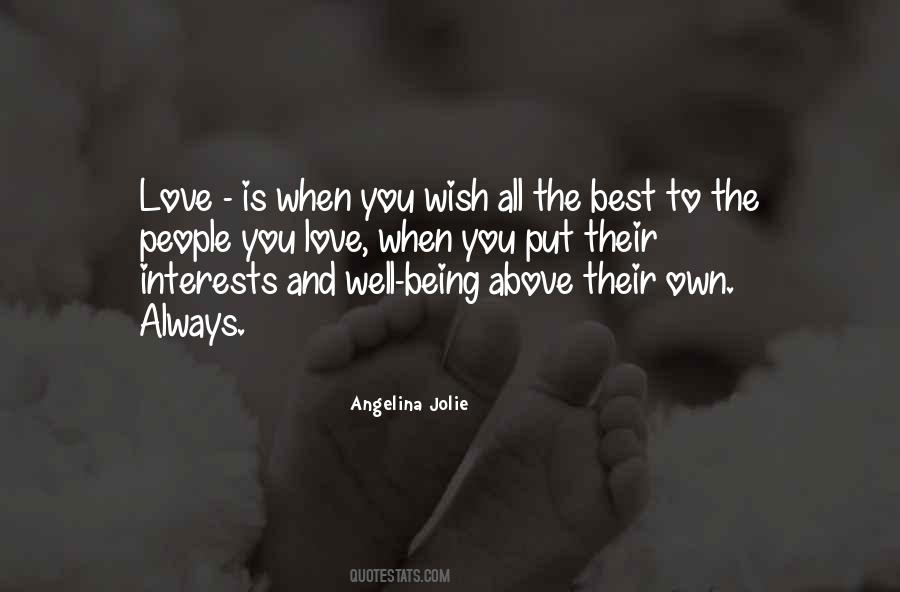 #64. Above all, the divine love is salvific: It seeks the lost, suffers with the afflicted, and redeems the fallen. - Author: Stanley J. Grenz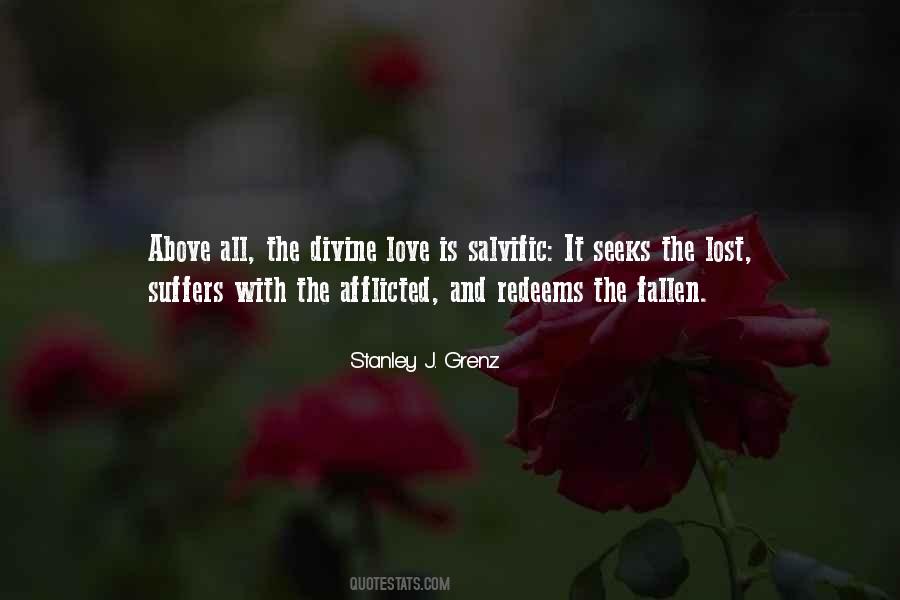 #65. All that is necessary is a heart dedicated entirely and solely to Him out of love for Him above all others. - Author: Brother Lawrence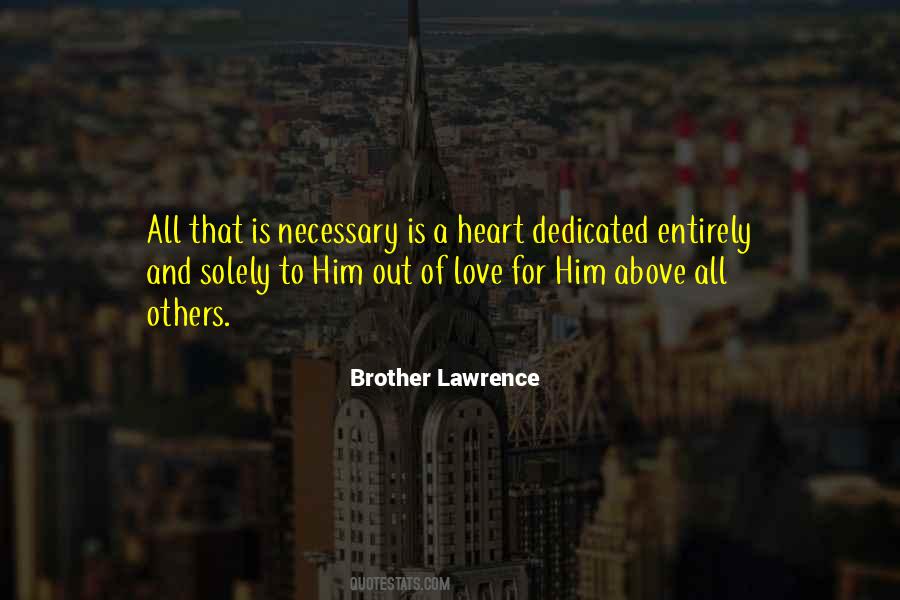 #66. Friendship is above all the art of allowing the soft light of love to fall upon even our darkest sides." - Anne Lamott - Author: Erica Miles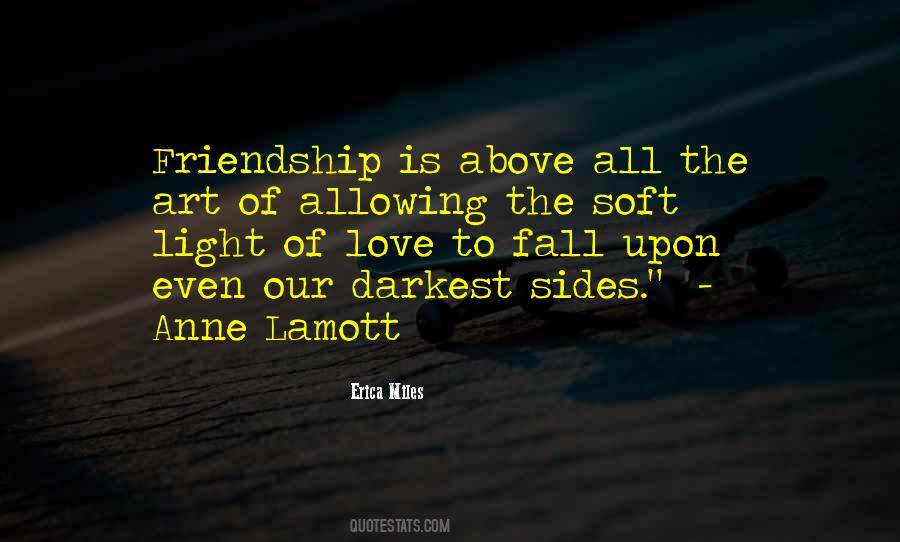 #67. Lastly, do I vow, that mine eyes desire you above all things. - Author: Catherine Of Aragon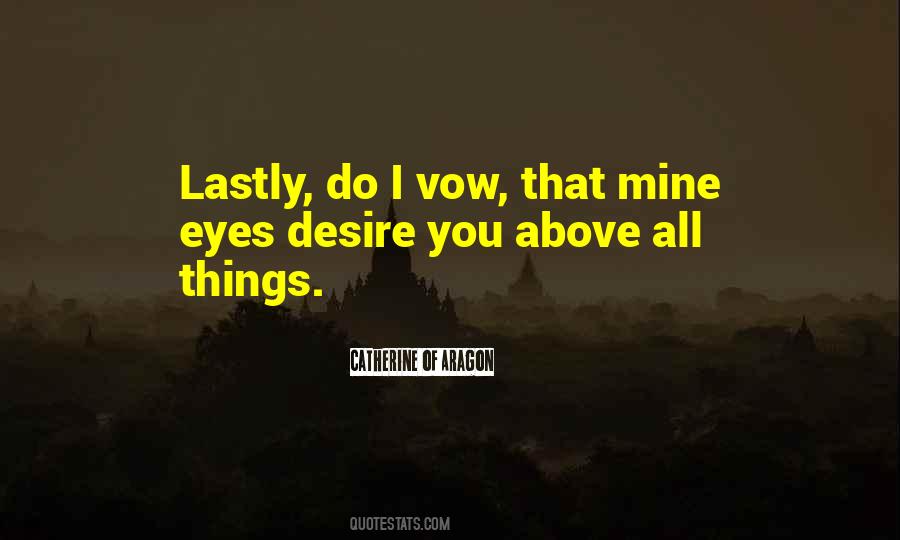 #68. The highest ideals are human intelligence, creativity and love. Respect these above all. - Author: Penn Jillette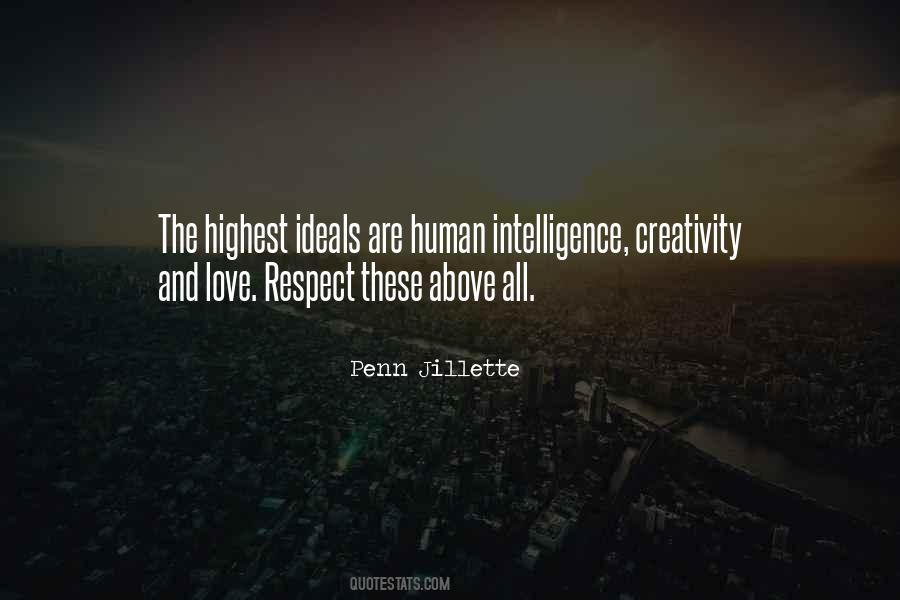 #69. choose your words well
(be honest, be true)
but
above all else,
be kind - Author: Bryonie Wise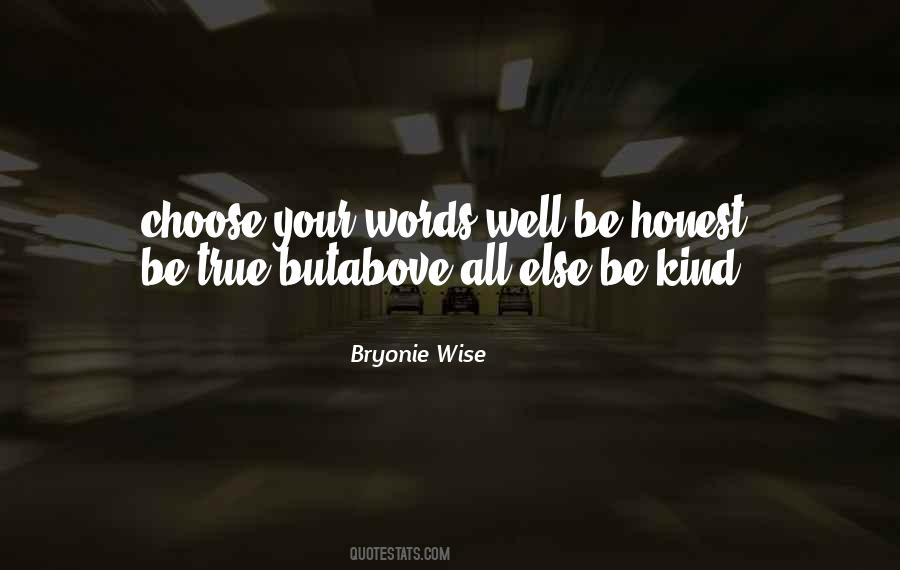 #70. To do good whenever one can, to love liberty above all else, never to deny the truth, even though it be before the throne. - Author: Ludwig Van Beethoven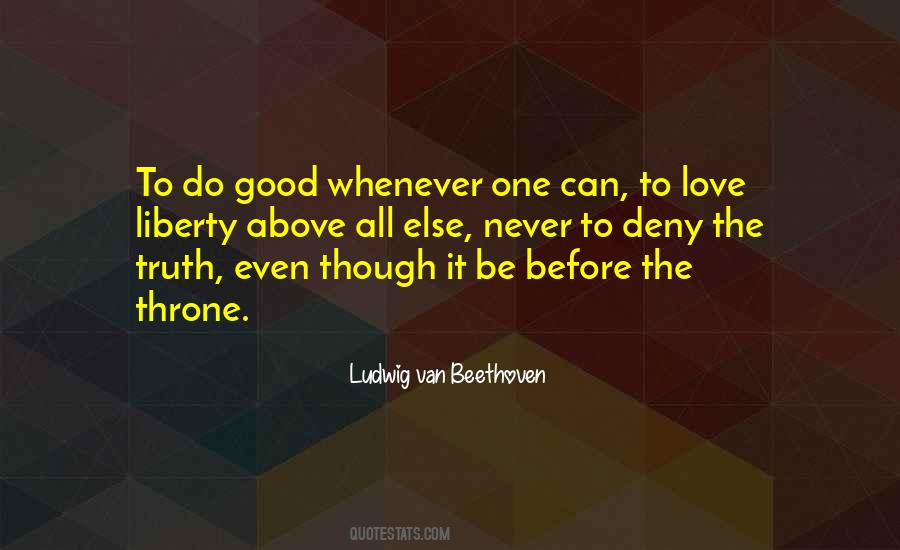 #71. Love is, above all, the gift of oneself. - Author: Jean Anouilh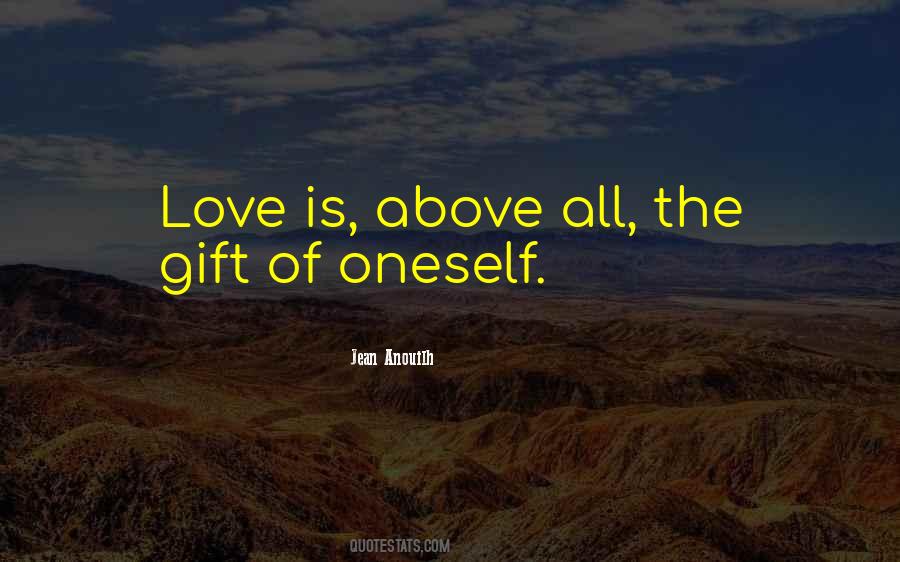 #72. Thousands of channels there are through which the beauty of your soul may sail even unto our thoughts. Above all is there the wonderful, central channel of love. - Author: Maurice Maeterlinck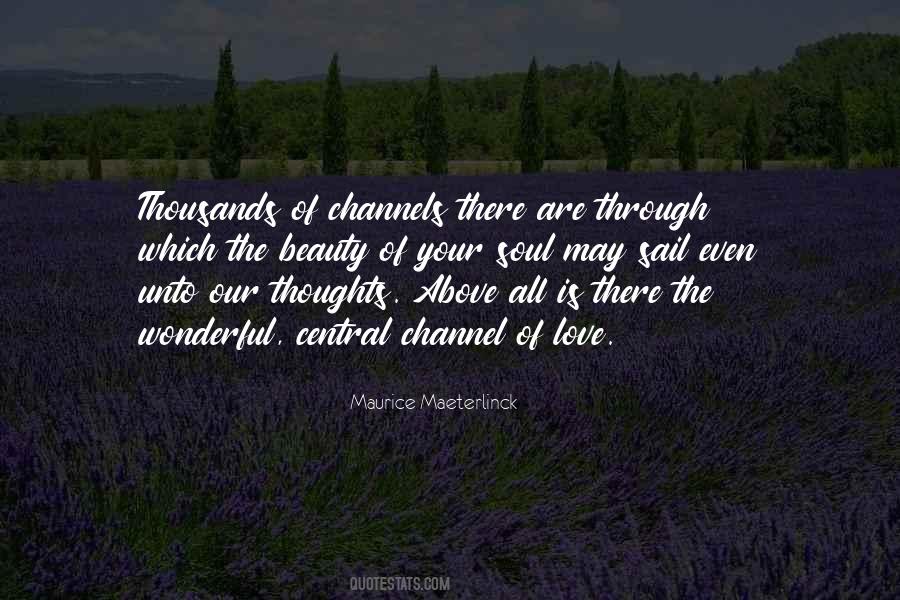 #73. Strive to be the best you can be ... focus, watch, listen, and learn. Try never to be satisfied with 'good enough' ... and above all, love what you do-share that passion with others, and always stay humble. Nobody likes a 'big head' no matter how good you are. - Author: Robby Naish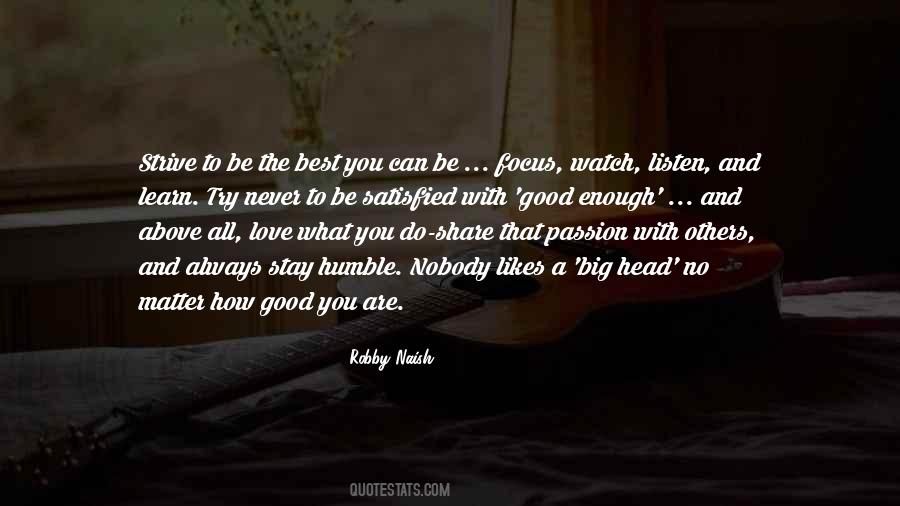 #74. I shall have poetry in my life. And adventure. And love, love, love, above all. Love as there has never been in a play. Unbiddable, ungovernable, like a riot in the heart and nothing to be done, come ruin or rapture. - Author: Tom Stoppard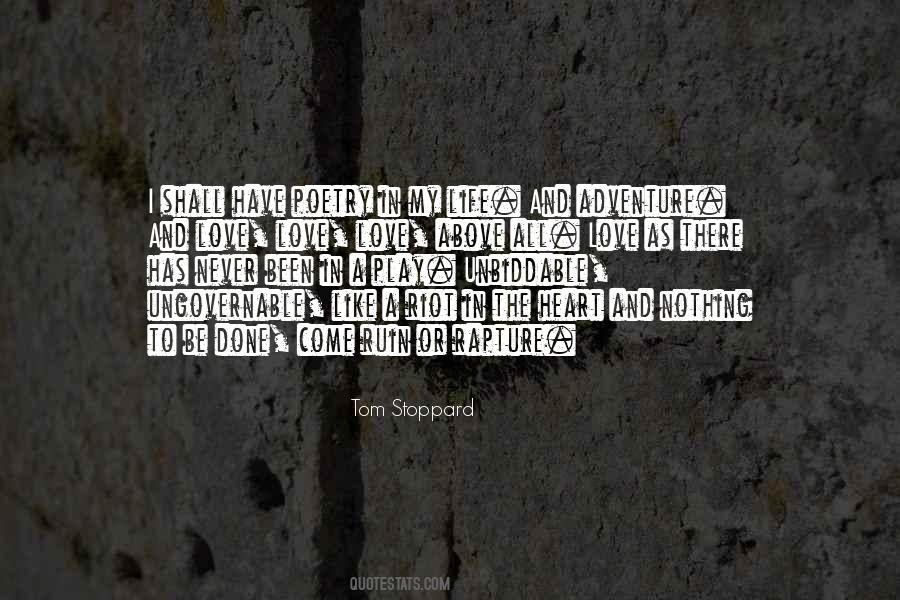 #75. That Love is Supreme which is above all the attributes of a Person. - Author: Rajasaraswathii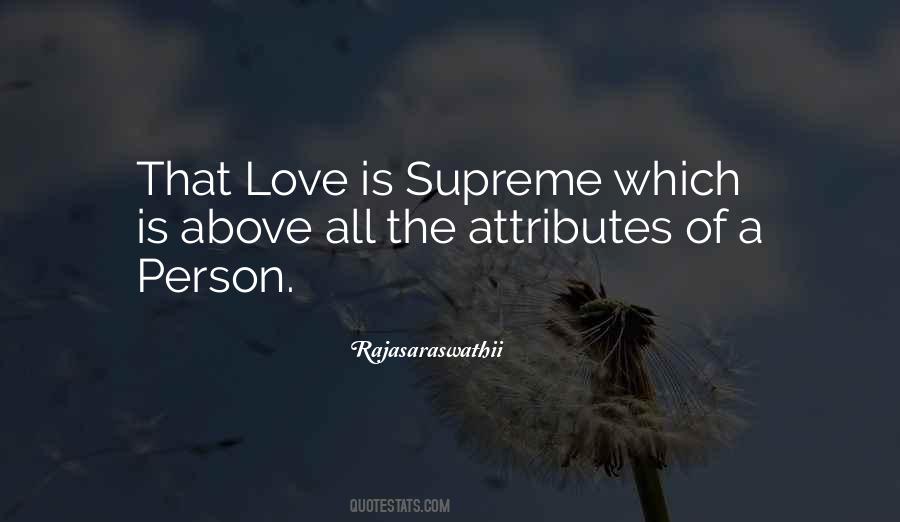 #76. A song was heard at Christmas
To wake the midnight sky:
A saviour's birth, and peace on earth,
And praise to God on high.
The angels sang at Christmas
With all the hosts above,
And still we sing the newborn King
His glory and his love. - Author: Timothy Dudley-Smith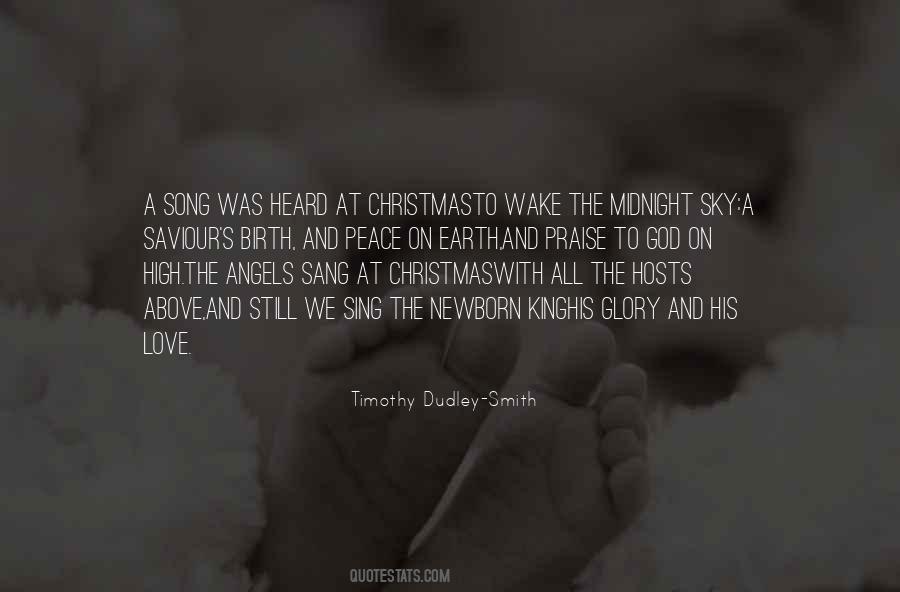 #77. Above all, I am motivated by the most mysterious drive we ever experience -that of love - I don't think there's any influence on my life that compares with love. - Author: R. Buckminster Fuller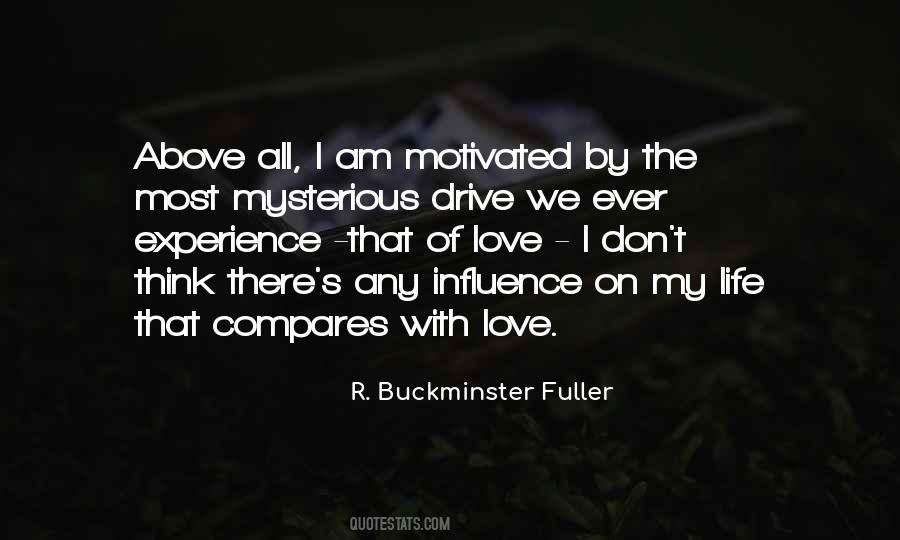 #78. The things you have done for me - to help me, support me, surprise me, and make me happy - go above and beyond what any person deserves. You are all I need. I love you and I like you. - Author: Amy Poehler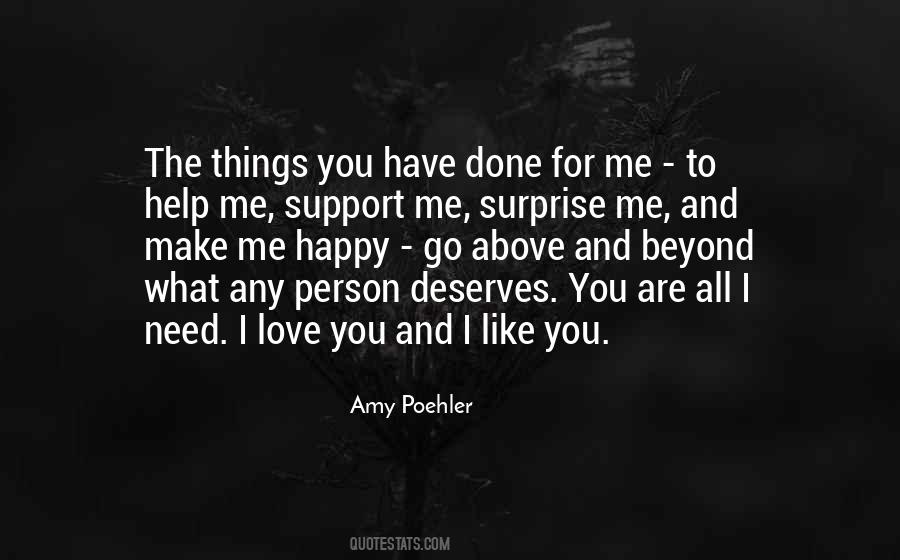 #79. What I learned on the road. Above all else - to love my native land. - Author: Charles Kuralt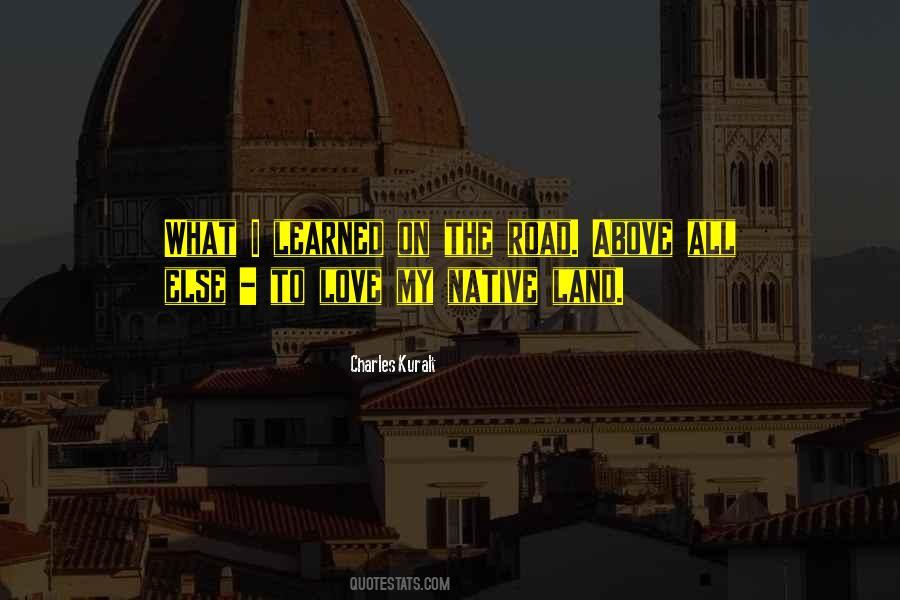 #80. Cursed be he above all others Who's enslaved by love of money. Money takes the place of brothers, Money takes the place of parents, Money brings us war and slaughter. - Author: Anacreon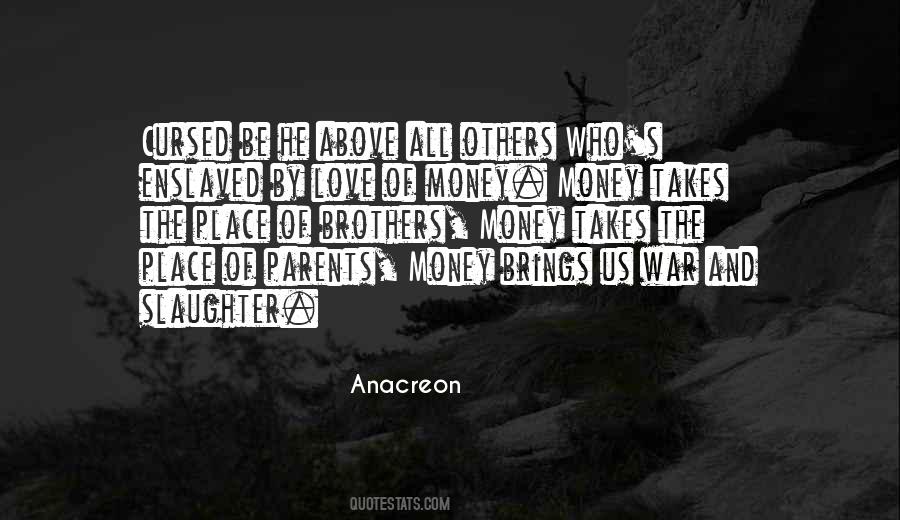 #81. Love is a certain inborn suffering derived from the sight of and excessive meditation upon the beauty of the opposite sex, which causes each one to wish above all things the embraces of the other and by common desire to carry out all of love's precepts in the other's embrace. - Author: Andreas Capellanus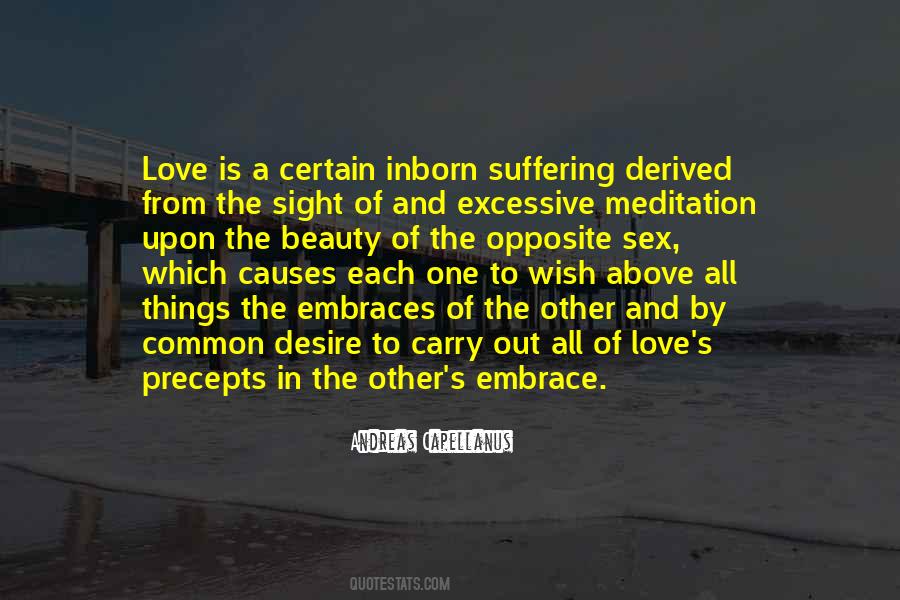 #82. Religion is fundamentally opposed to everything I hold in veneration - courage, clear thinking, honesty, fairness, and, above all, love of the truth. - Author: H.L. Mencken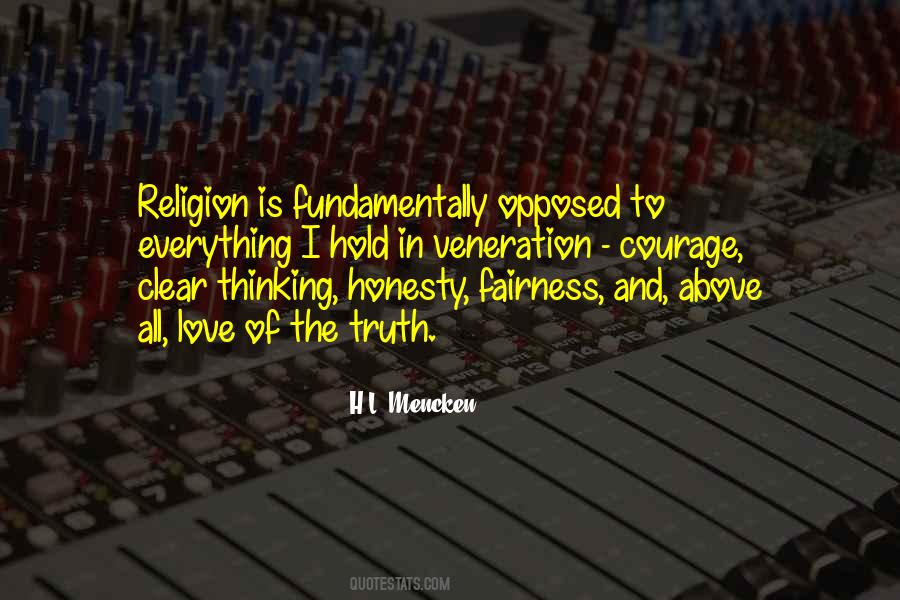 #83. The culture of drink endures because it offers so many rewards: confidence for the shy, clarity for the uncertain, solace to the wounded and lonely, and above all, the elusive promises of friendship and love. - Author: Pete Hamill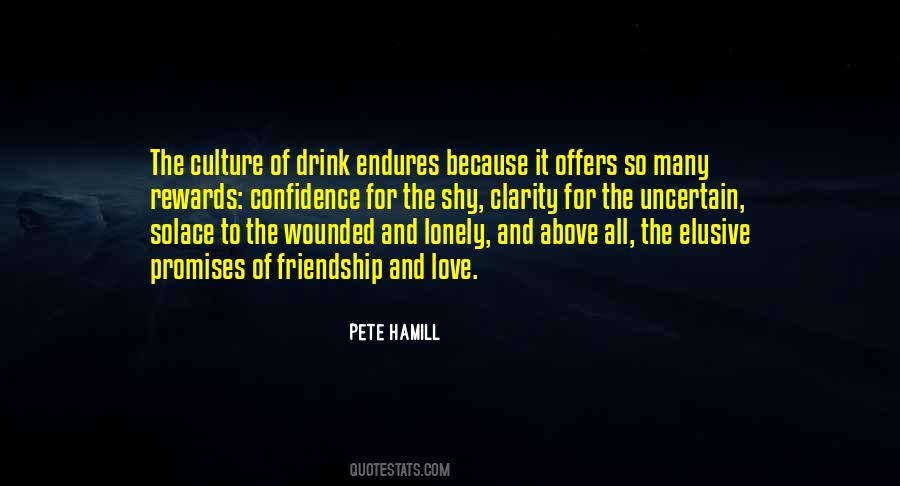 #84. Be hopeful at all times and walk in faith, but above all seek love an walk in it. God is love, and when we walk in love we show Him to those we come in contact with. - Author: Joyce Meyer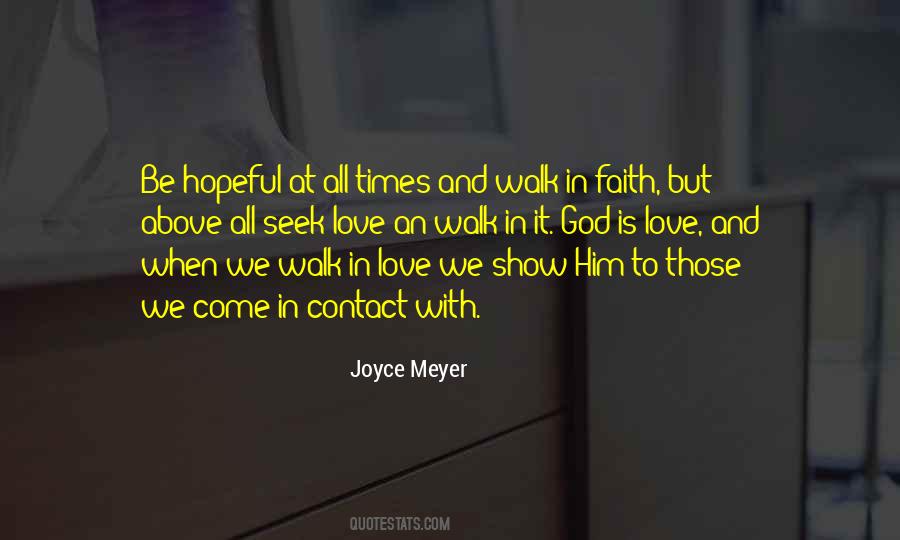 #85. Capital punishment is against the best judgment of modern criminology and, above all, against the highest expression of love in the nature of God. - Author: Martin Luther King Jr.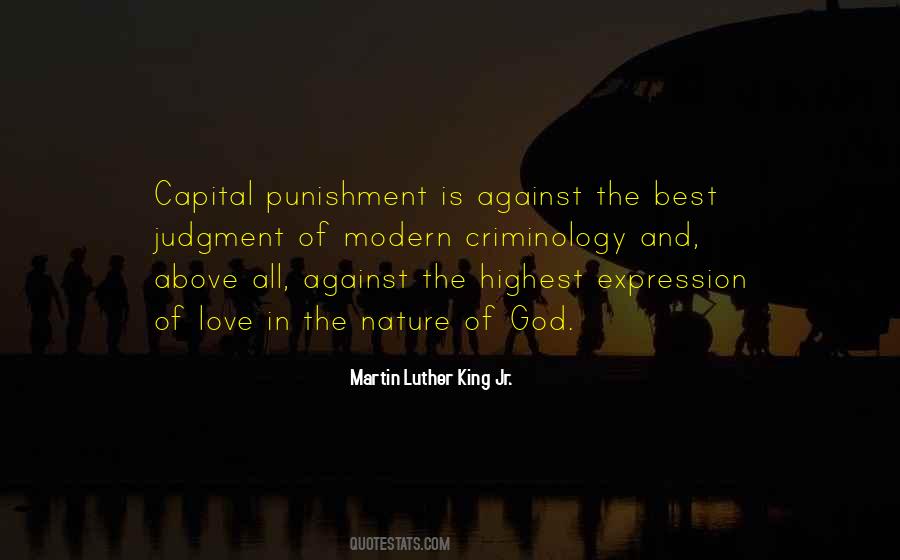 #86. Do not pity the dead, Harry. Pity the living, and, above all those who live without love. - Author: J.K. Rowling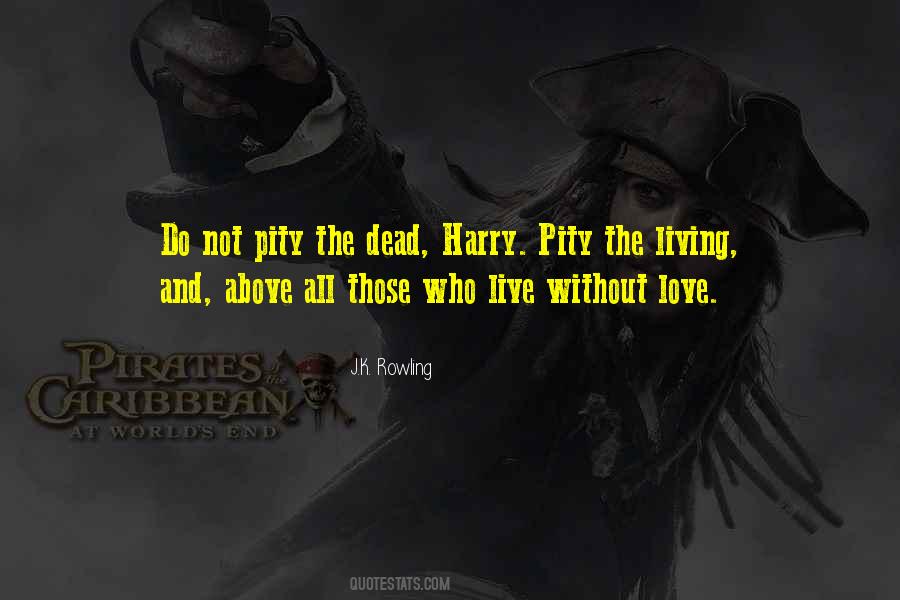 #87. If you go against growth, you go against yourself. How ready are we to face, accept and deal with the situations that comes to us unexpectedly in our partners. It takes a big heart to face situations but above all it takes simplicity, humility and self denial to show true love and care. - Author: William Pious Akakpo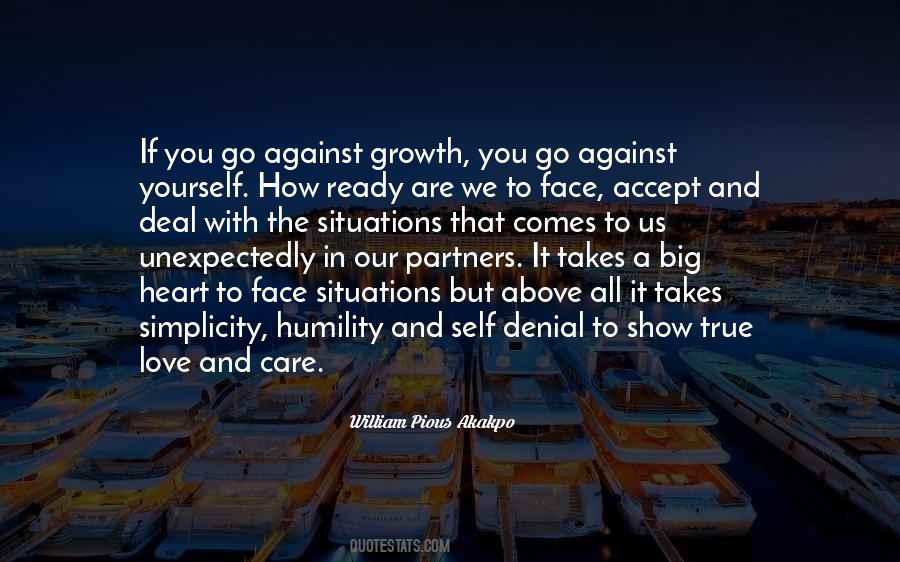 #88. Every time I gaze at stars above, I feel small, big, infinite and connected all at the same time, and tonight on the Amazon is no different. - Author: Michael Sanders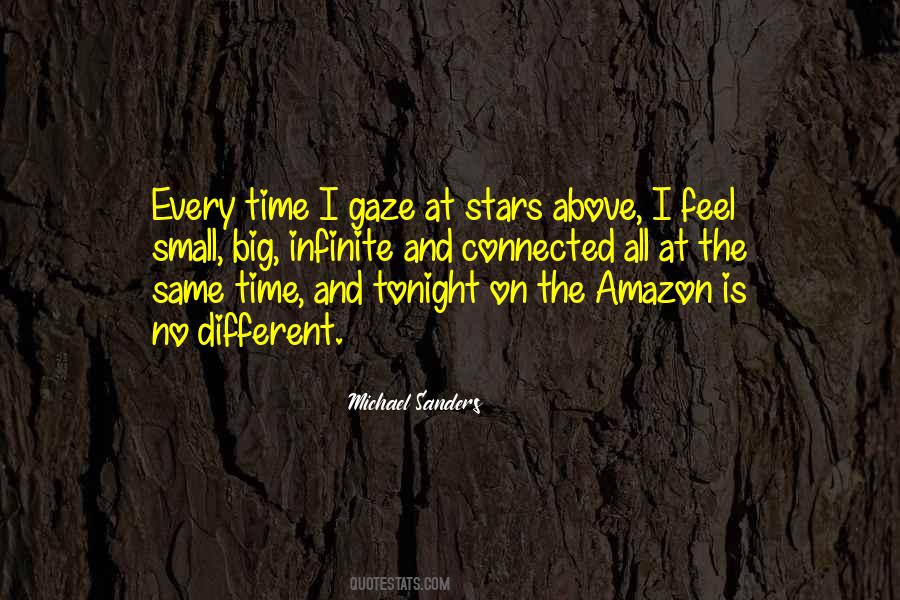 #89. For all we know Of what the blessed do above Is, that they sing, and that they love. While I listen to thy Voice. - Author: Edmund Waller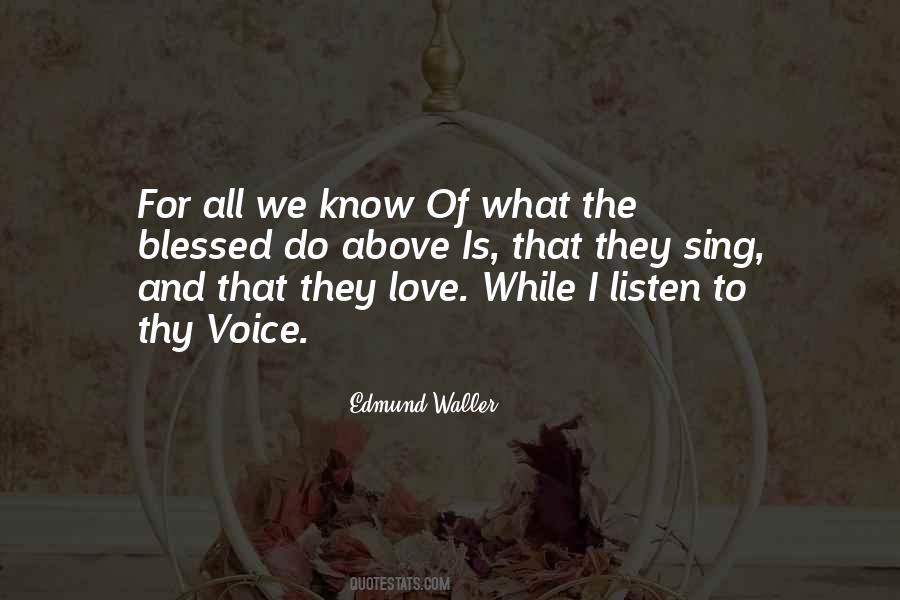 #90. Have I told you lately that I love you, have I told you lately there's no one above you. Fill my heart with gladness, take away all my sadness, ease my troubles, that's what you do. - Author: Van Morrison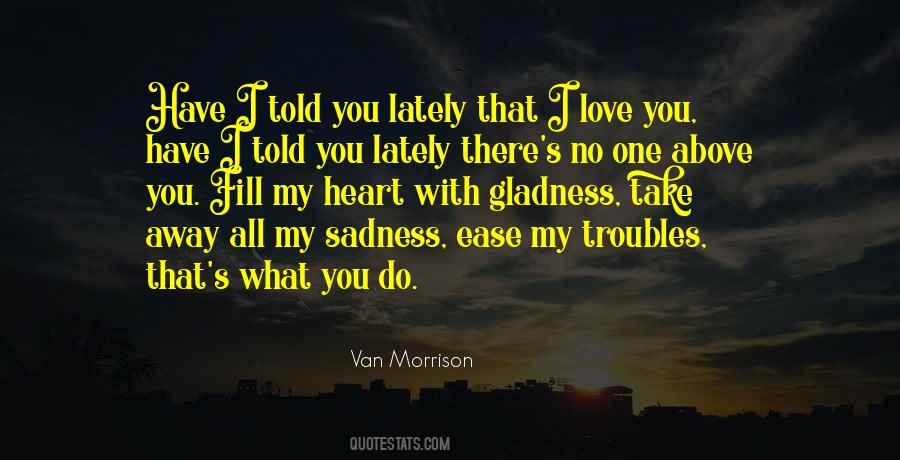 #91. Treasure the love you receive above all. It will survive long after your good health has vanished. - Author: Og Mandino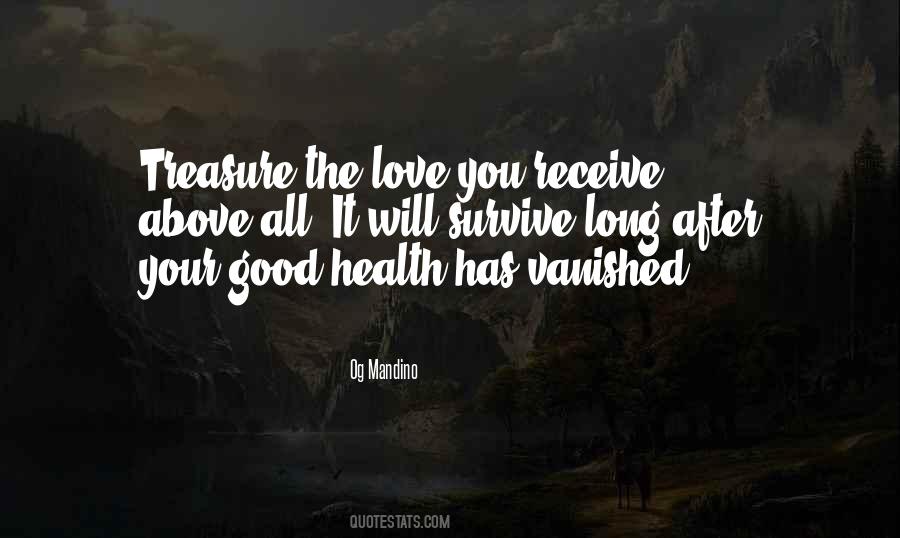 #92. My life has been filled with countless mistakes, but also success. I have been a coward at some points but brave at others. I have loved and been loved; I have failed to love and to accept love. Above all else I have tried my best, every step of the way. - Author: Carolyn Lee Adams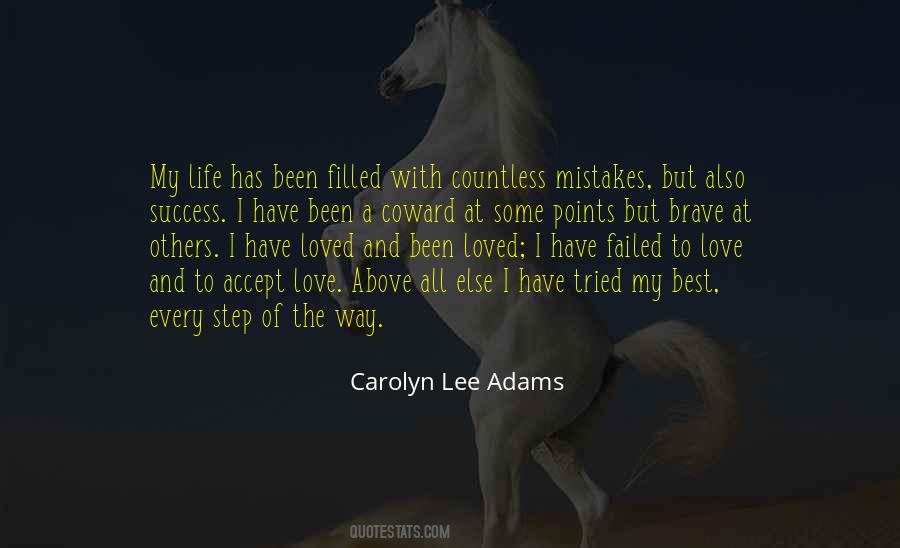 #93. I love you above all things, even pie. - Author: Christopher Moore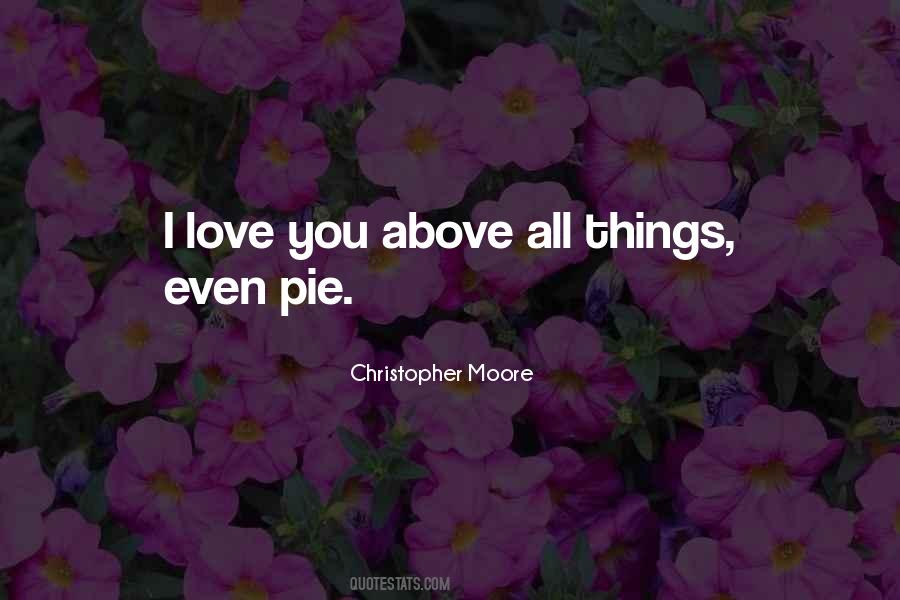 #94. But beautiful girl above all beautiful girls,' he wrote back, 'This is my home. - Author: Junot Diaz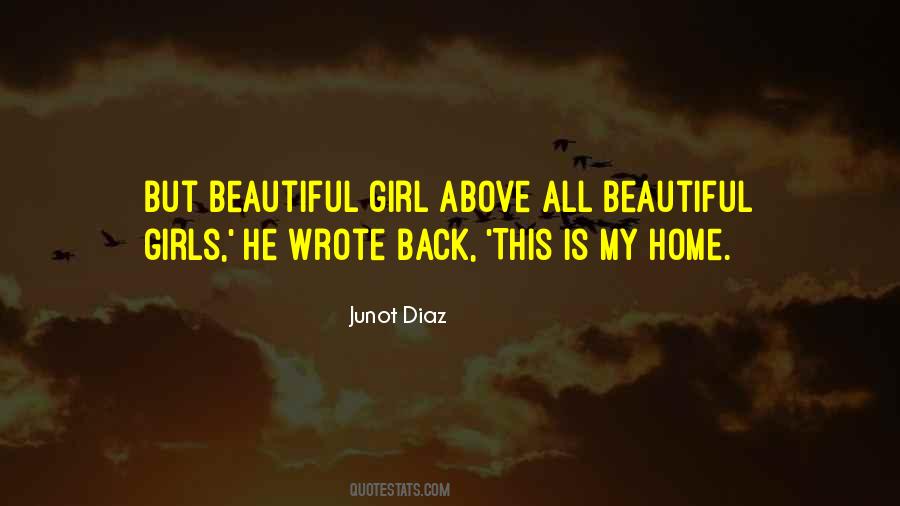 #95. The praise of the praiseworthy is above all rewards. - Author: J.R.R. Tolkien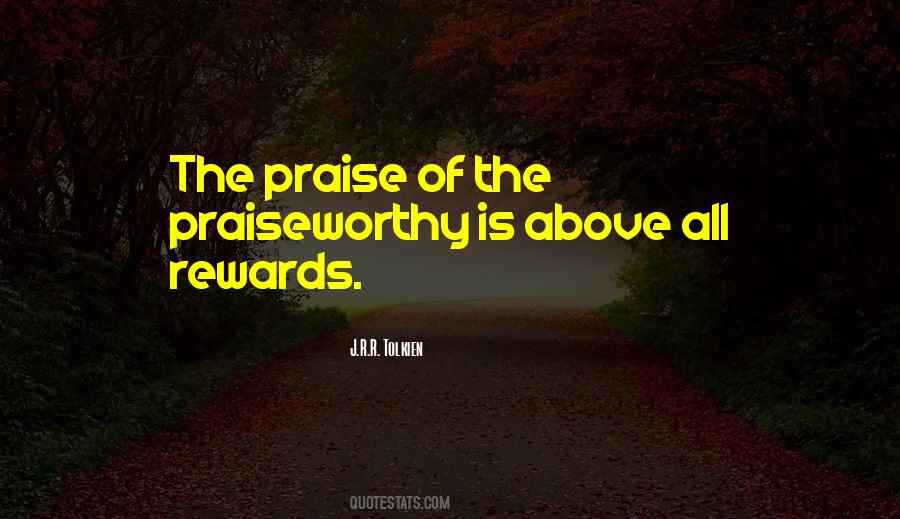 #96. Above all, put yourself in partnership with higher power and make love the center of your life. - Author: Rosemary Ellen Guiley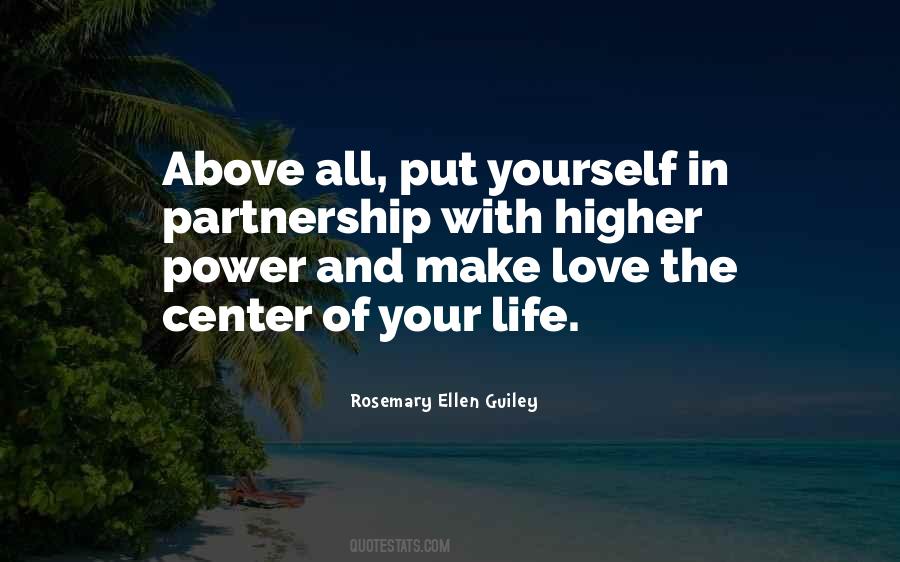 #97. Sure, love vincit omnia; is immeasurably above all ambition, more precious than wealth, more noble than name. He knows not life who knows not that: he hath not felt the highest faculty of the soul who hath not enjoyed it. - Author: William Makepeace Thackeray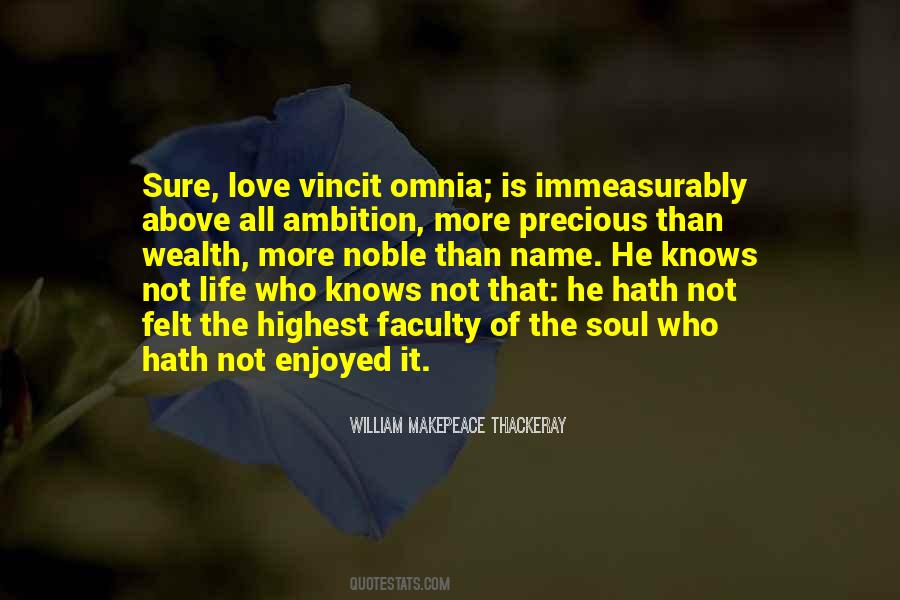 #98. The art of love is like your painting, it requires technique, patience, and above all, practice by the couple. It requires boldness, the courage to go beyond what people conventionally call making love. - Author: Paulo Coelho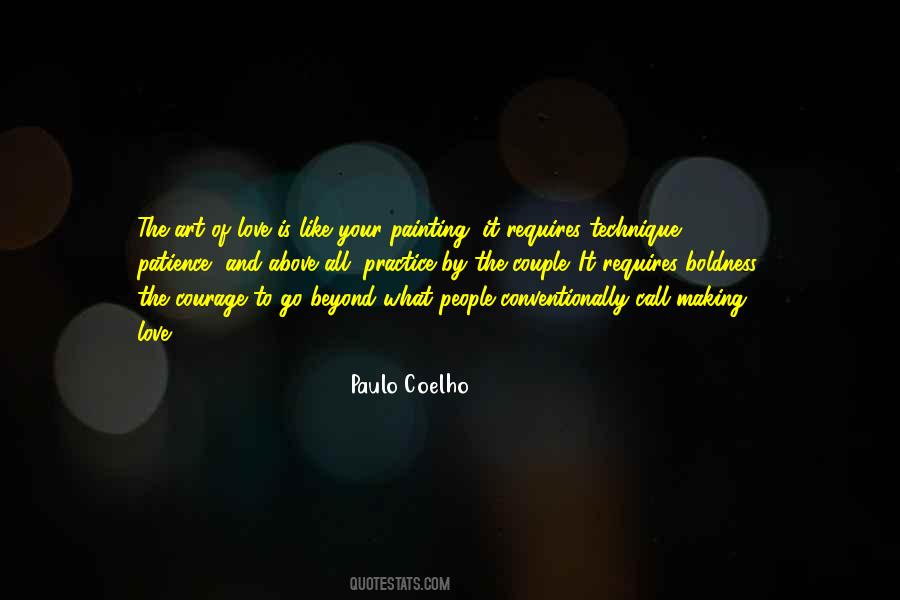 #99. Peace above all, even above love. - Author: Laure Lacornette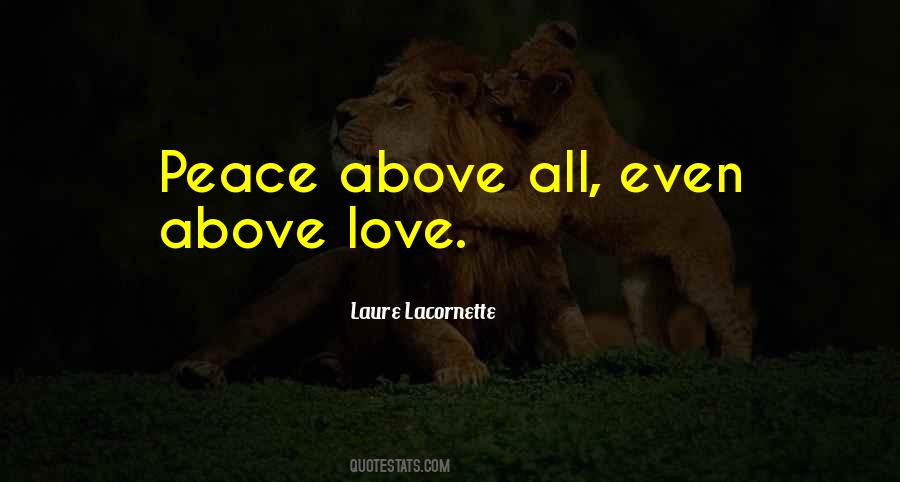 #100. Even when there were no more options for the body, the heart's wishes find a way out, and as with all warmth, love rises. Besides, the will to fly was in the nature of the soul, so its home had to be up above - Author: J.R. Ward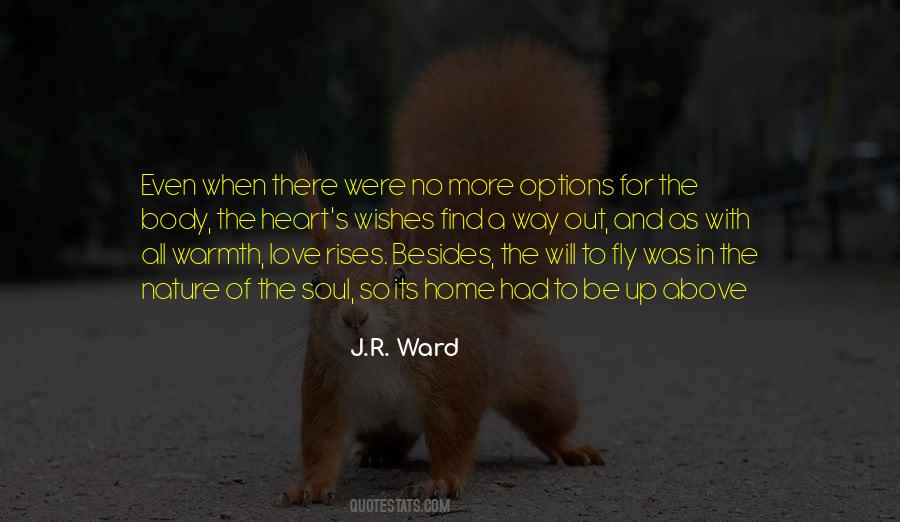 Famous Authors
Popular Topics