Live In Peace Famous Quotes & Sayings
List of top 100 famous quotes and sayings about live in peace to read and share with friends on your Facebook, Twitter, blogs.
Top 100 Live In Peace Quotes
#1. If any dust of imperfection cling to your heart, be not troubled, but consume it immediately in the fire of divine love, and, sorrowfully asking forgiveness, continue to live in peace. - Author: Paul Of The Cross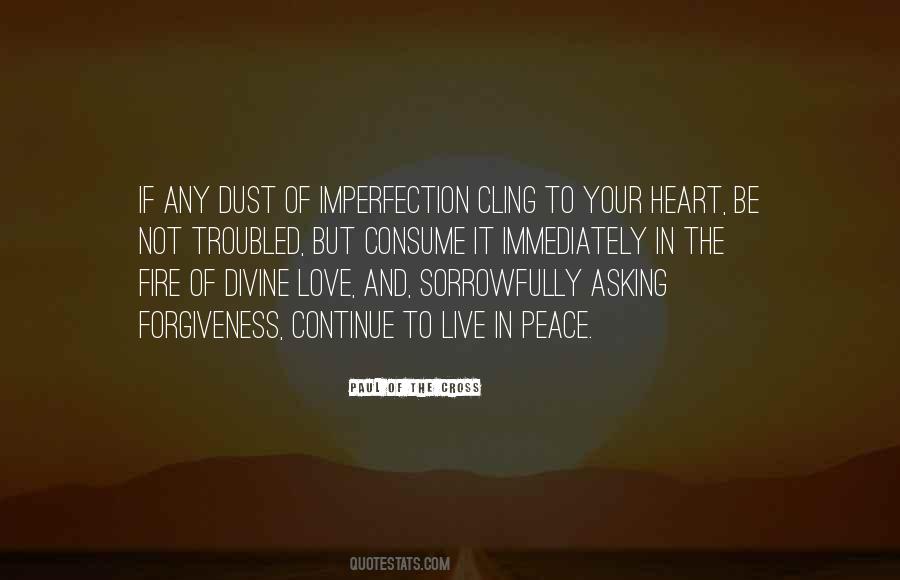 #2. And let the peace that comes from Christ rule in your hearts. For as members of one body you are called to live in peace. - Colossians 3:15 - Author: Gary Chapman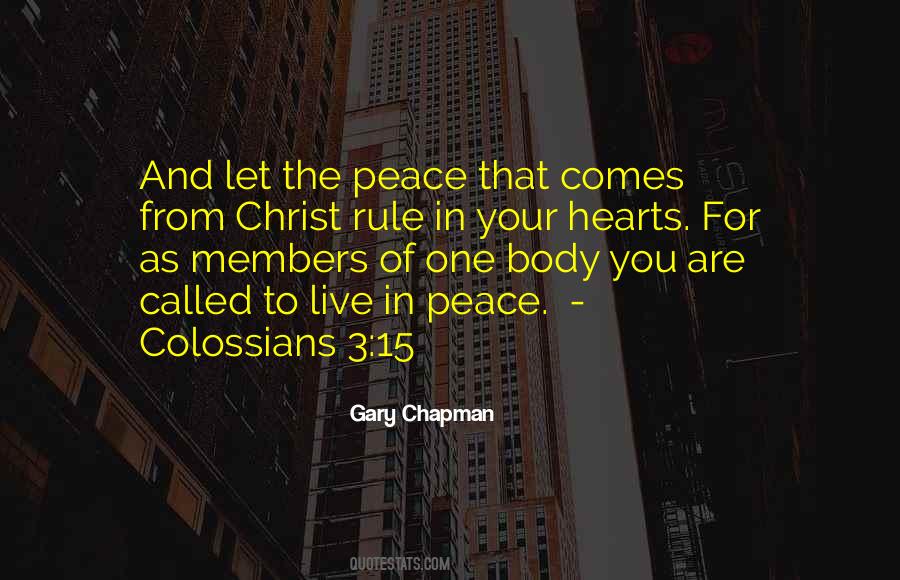 #3. Good words will not give my people good health and stop them from dying. Good words will not get my people a home where they can live in peace and take care of themselves. I am tired of talk that comes to nothing. It makes my heart sick when I remember all the good words and broken promises. - Author: Chief Joseph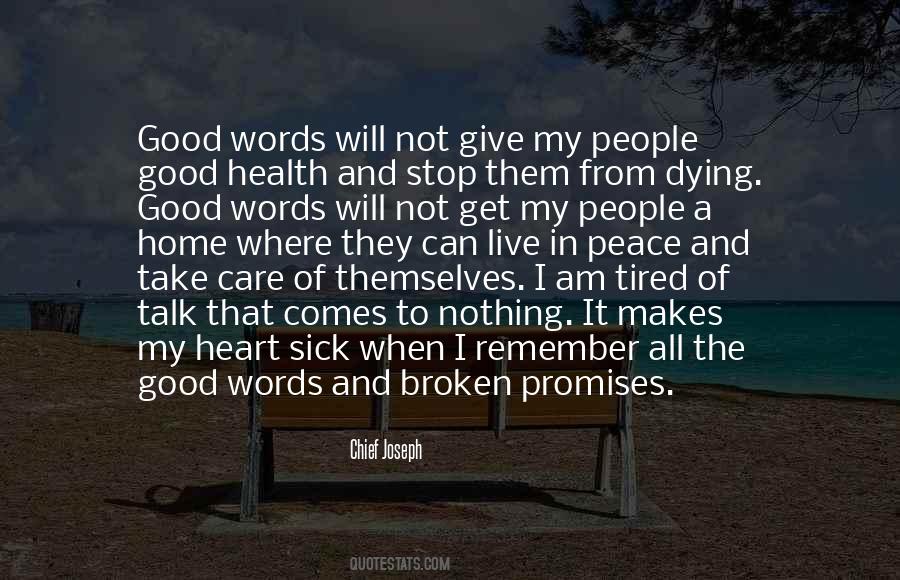 #4. An ethnic minority can live in peace with an ethnic majority as long as the majority does not use its preponderance to turn the institutions of the state into an instrument of ethnic favoritism or ethnic justice. - Author: Michael Ignatieff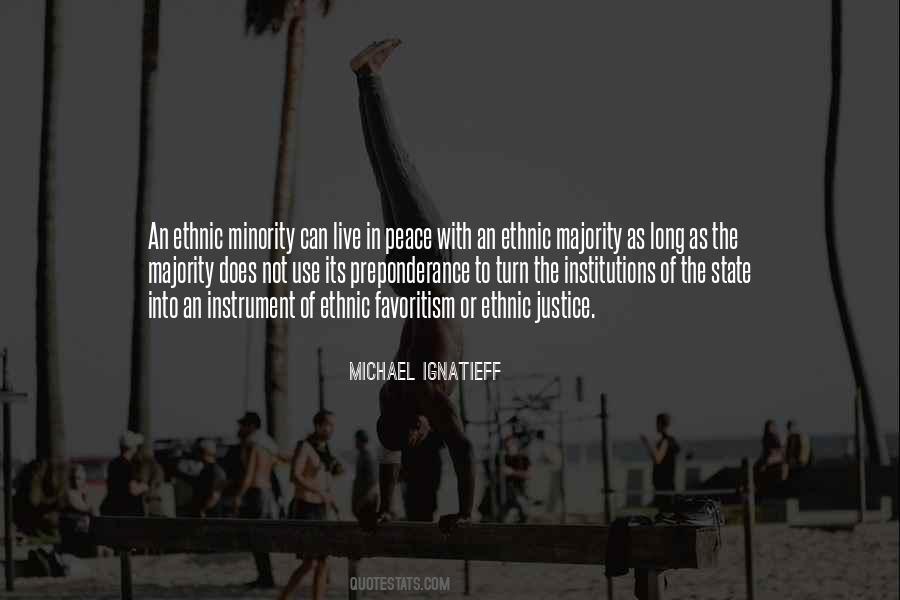 #5. Only as He is faithful will His covenants stand and His promises be honored. Only as we have complete assurance that He is faithful may we live in peace and look forward with assurance to the life to come. - Author: Aiden Wilson Tozer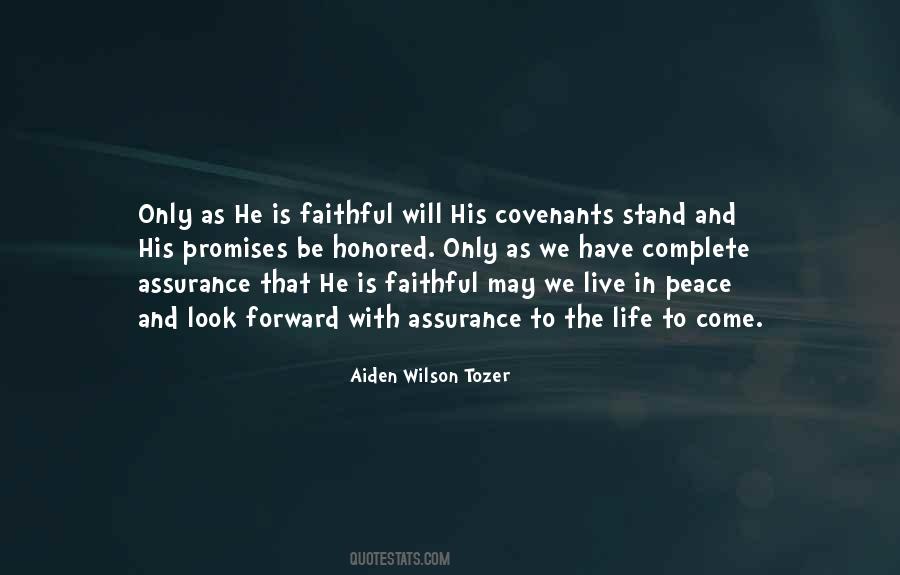 #6. Each day is another learning experience for me. The more I live ... the more I realise: There is so much more in life that I need to know . - Author: Timothy Pina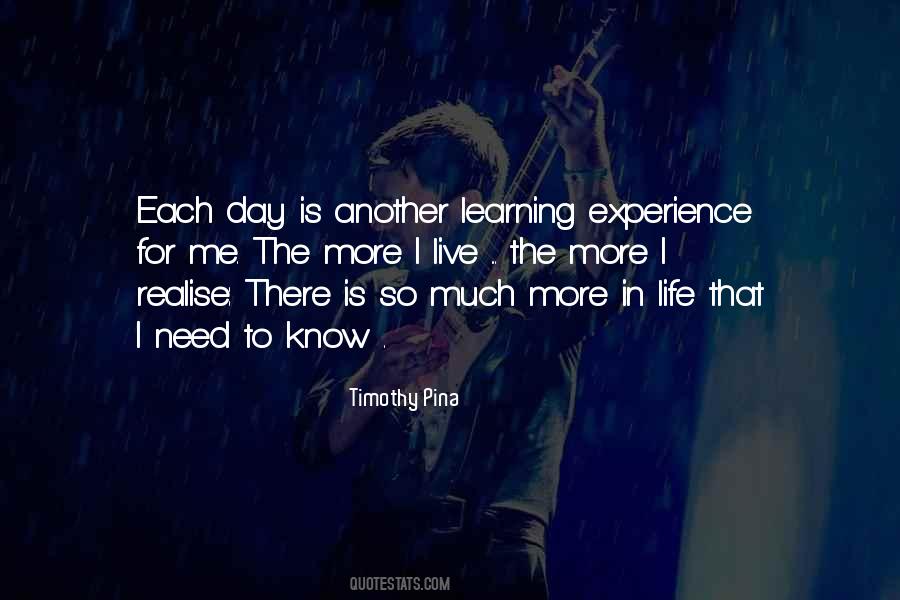 #7. I believe that the abolition of private ownership of land and capital is a necessary step toward any world in which the nations are to live at peace with one another. - Author: Bertrand Russell
#8. World, death, devil, hell, away and leave me in peace! You have no hold on me. If you will not let me live, then I will die. But you won't succeed in that. Chop my head off, and it won't harm me. I have a God who will give me a new one. - Author: Martin Luther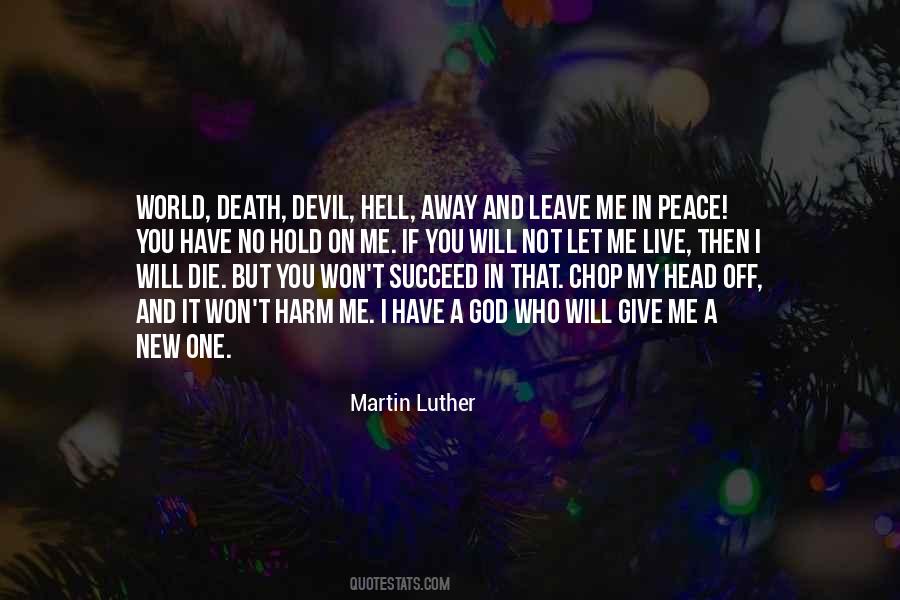 #9. All the nations and peoples are too closely knit together today for any one of them to imagine that it can live apart. Peace has been said to be indivisible, so is freedom, so is prosperity now, and so also is disaster in this one world that can no longer be split into isolated fragments. - Author: Jawaharlal Nehru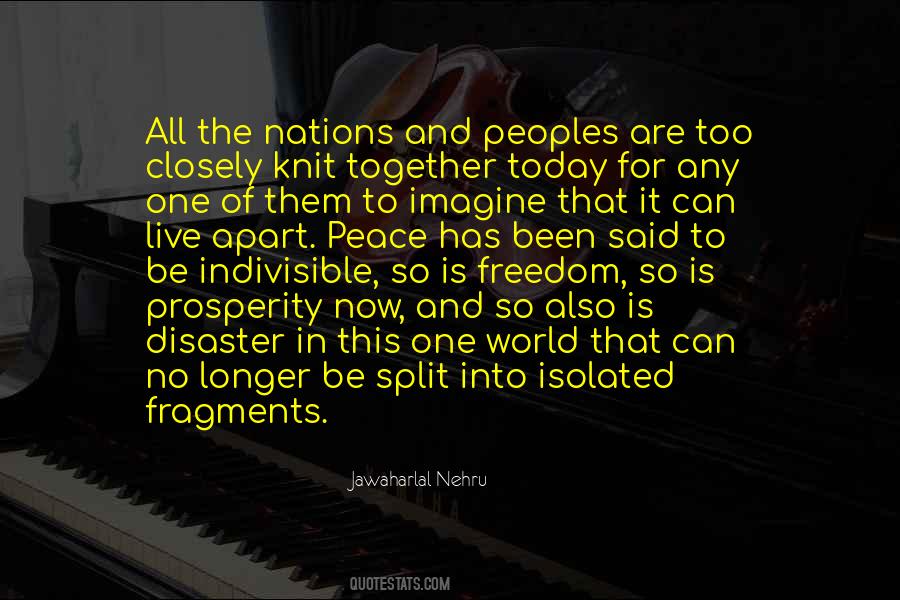 #10. Live in the mysterious. Accepting and being fully at peace with not knowing what's going to happen in the future will allow us to be fully present and more peaceful in the present. - Author: Matthew Donnelly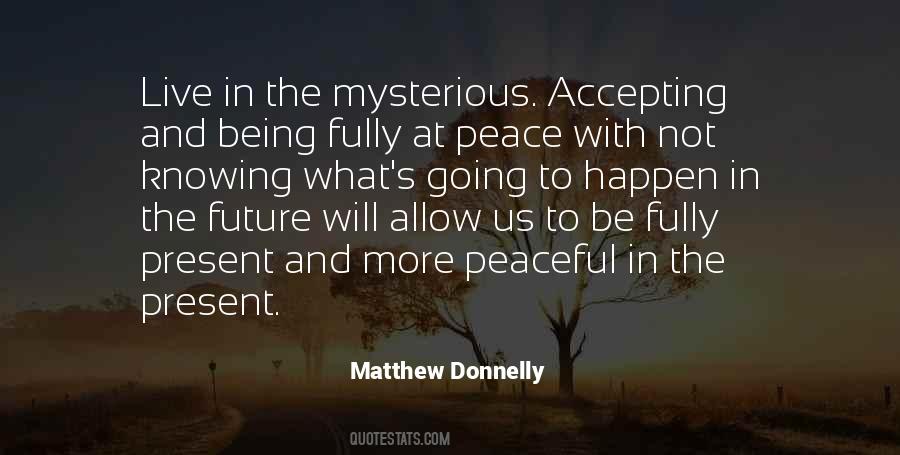 #11. The people who live on the land - Israelis and Palestinians - have a right to live in security and peace. - Author: Noam Chomsky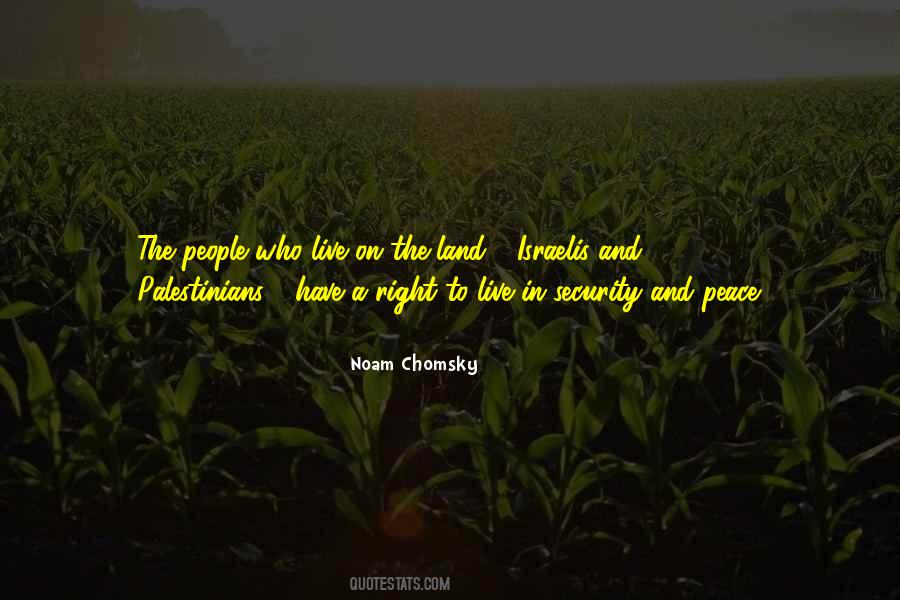 #12. Lord, Bless our enemies; have mercy upon them, may they turn their course and let us alone, and let us live in peace at our homes in our own native land. - Author: William Pennington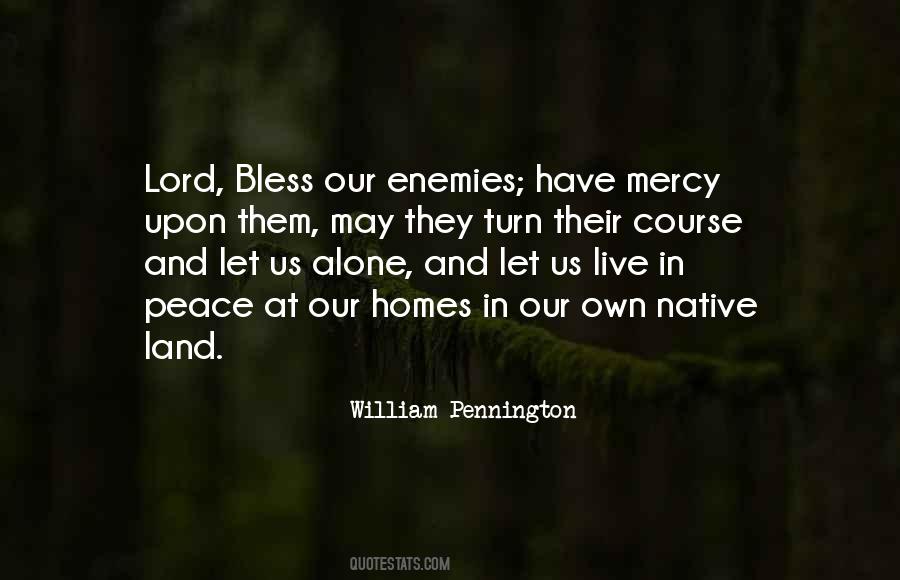 #13. The Dalai Lama. He is a very wise man of great inner peace who believes that happiness is the purpose of our lives. Through his teachings and leadership, he continues to make this world a better place in which to live. - Author: Sidney Sheldon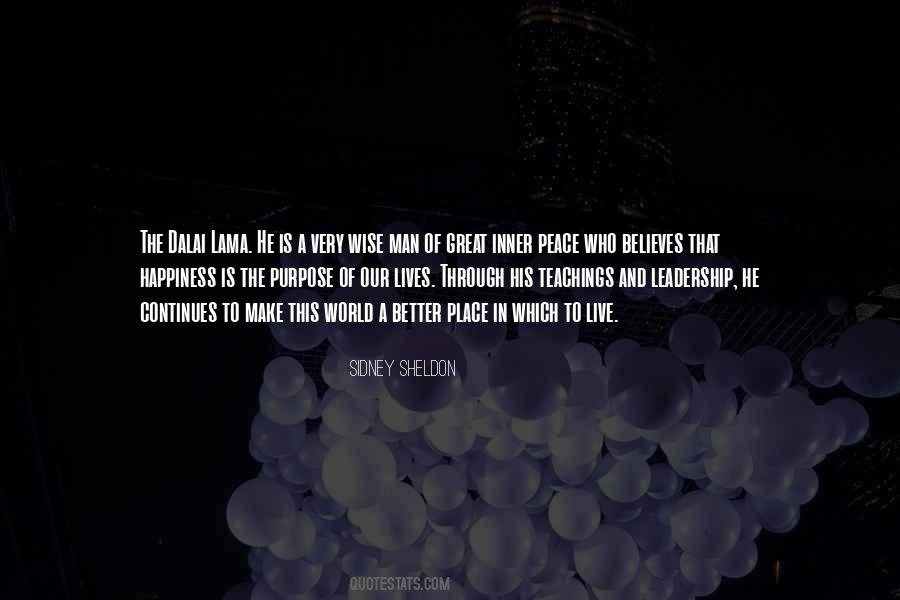 #14. Live in peace with all mankind. - Author: Lailah Gifty Akita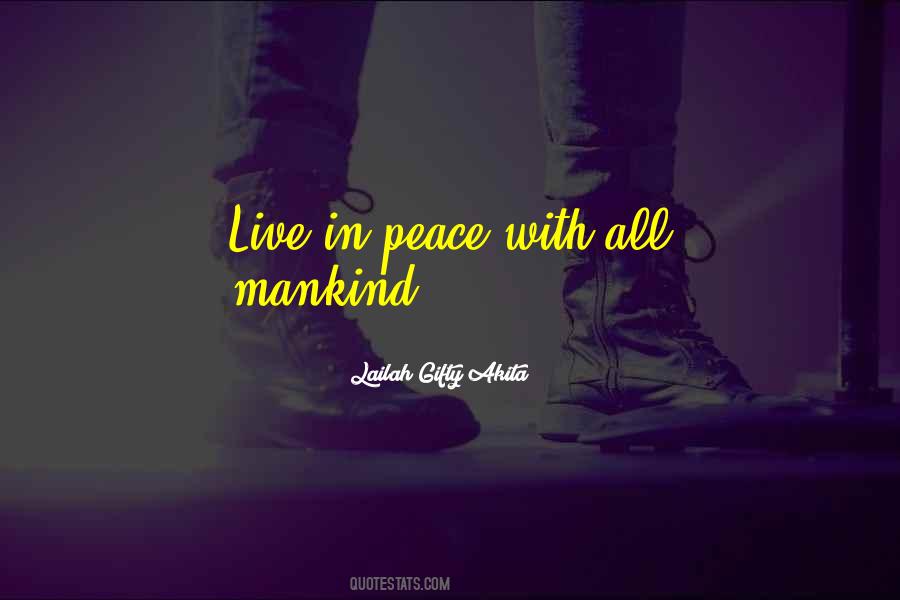 #15. War can not be avoided until the physical cause for its recurrence is removed and this, in the last analysis, is the vast extent of the planet on which we live. - Author: Nikola Tesla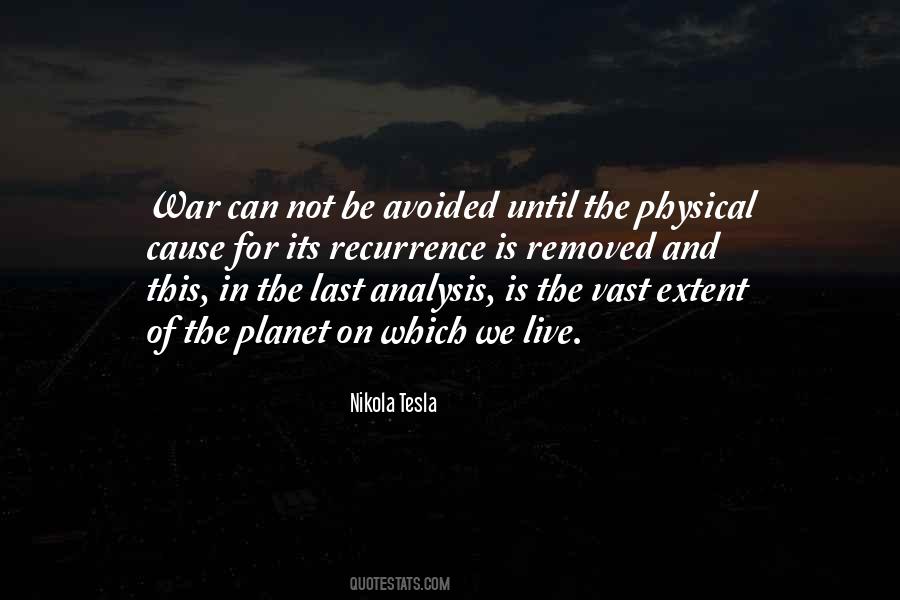 #16. That's how they manage to live together, a billion of them, in reasonable peace. They are not perfect, of course. They know how to fight and lie and cheat each other, and all the things that all of us do. But more than any other people in the world, the Indians know how to love one another. - Author: Gregory David Roberts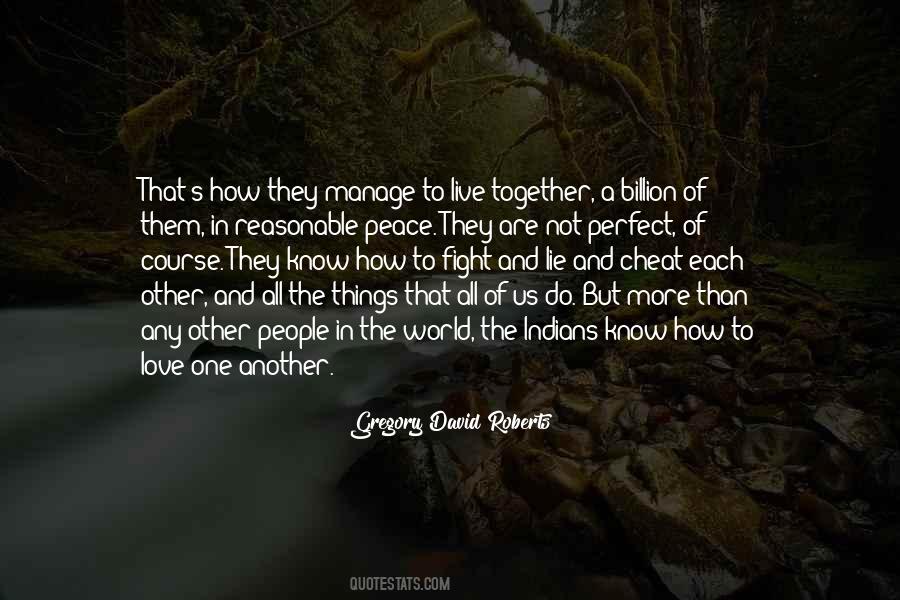 #17. If I want to live in a peaceful world, then it is up to me to make sure that I am a peaceful person. No matter how others behave, I keep peace in my heart. I declare peace in the midst of chaos or madness. I surround all difficult situations with peace and love. - Author: Louise Hay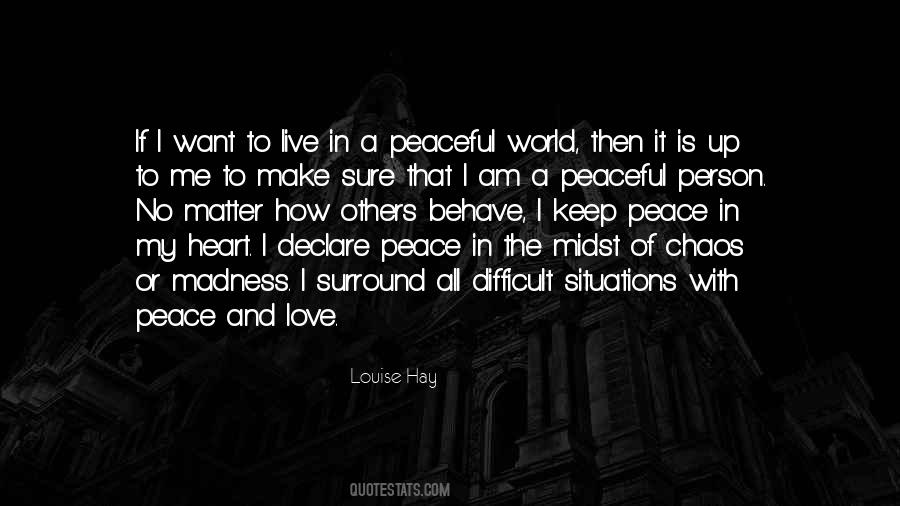 #18. I shouldn't have stayed so long away. Every time I come here, I get so supercharged with energy. I truly believe that Israel is the energy centre of the world. And I also believe that if we can all live together in harmony in this place, then we can live in peace all over the world. - Author: Madonna Ciccone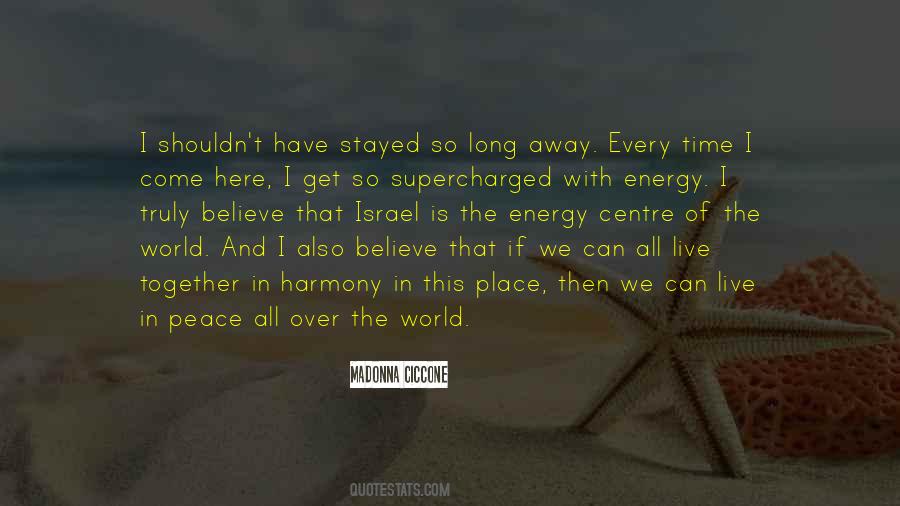 #19. Meditate on the unique relationship between Christians. Psalm 133:1 proclaims the goodness and pleasantness of dwelling together in unity; there are some things in the world that are good but not pleasant and others that are pleasant but not good. But to live in peace is both pleasant and good. - Author: Thomas Brooks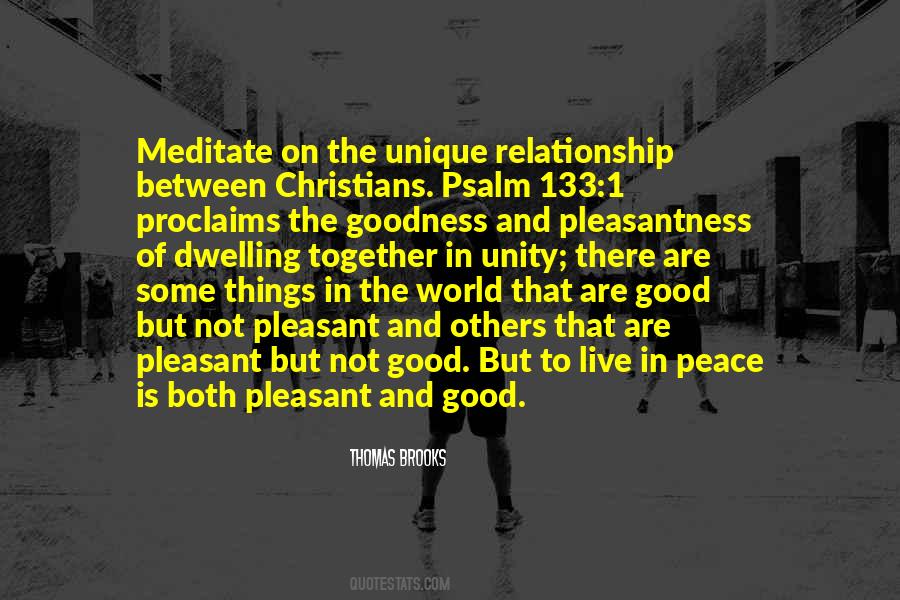 #20. You heard me cry long before I knew my voice. - Author: A.D. Posey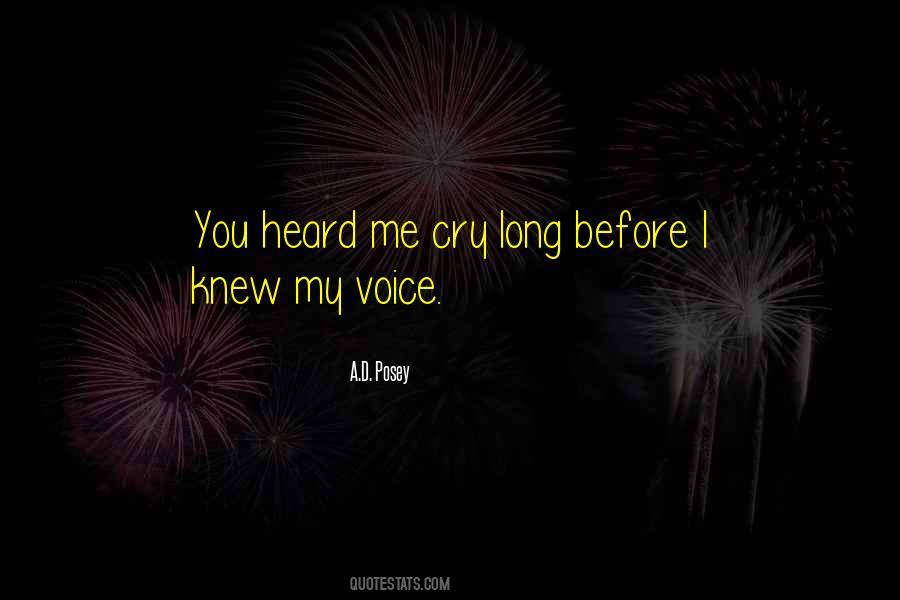 #21. It's great to be self confident, but some people are very egotistical. Once you realize the world doesn't revolve around you and change your attitude, you'll truly walk in your purpose. - Author: Amaka Imani Nkosazana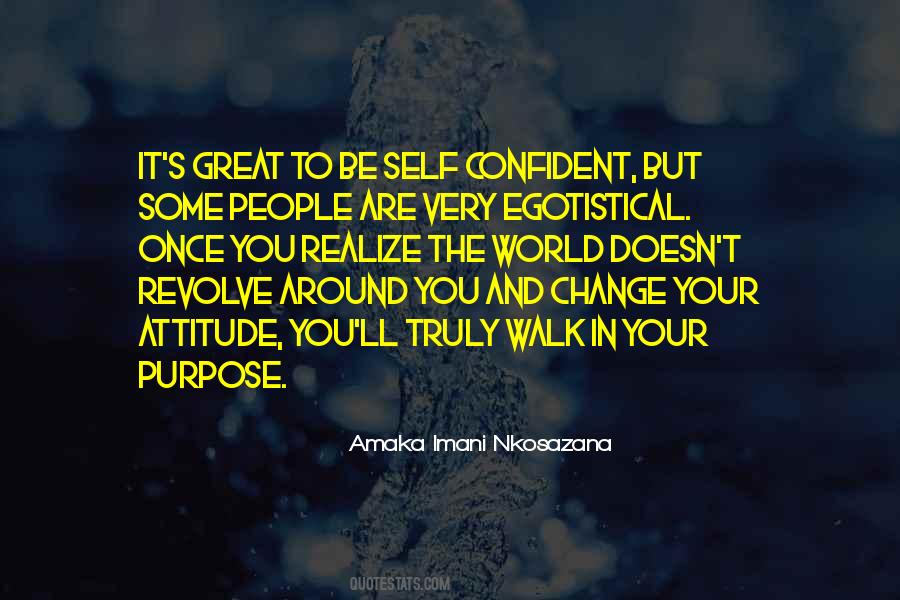 #22. For Pleasure, Delight, Peace and Felicity live in method and temperance. - Author: Margaret Cavendish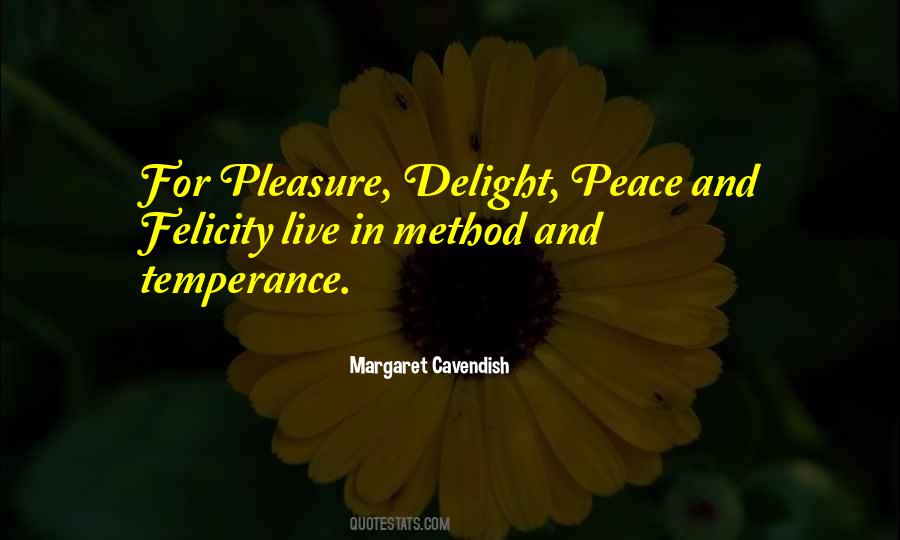 #23. I think that the great trick in life, wherever you are in the journey, is to do what you love and let the universe support it. When we do what we love, every day is a holiday. - Author: Robert Moss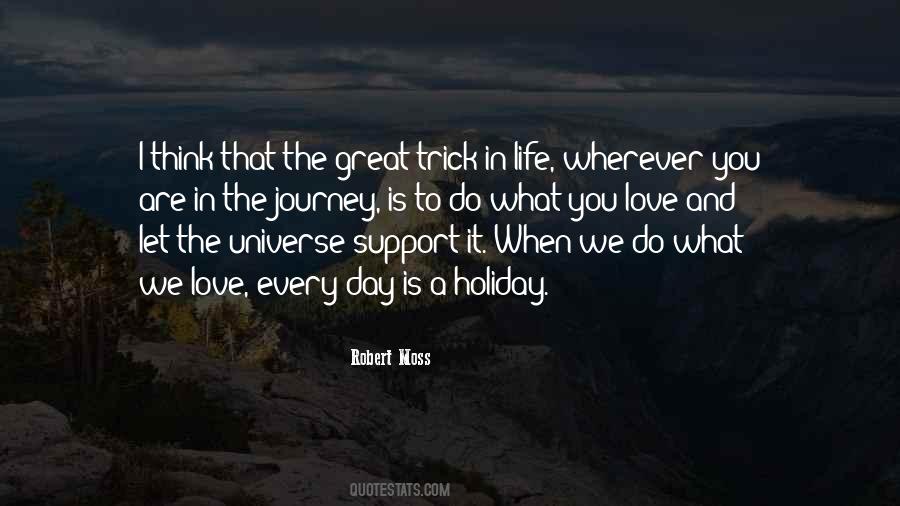 #24. I think it's naive to pray for world peace if we're not going to change the form in which we live. - Author: Godfrey Reggio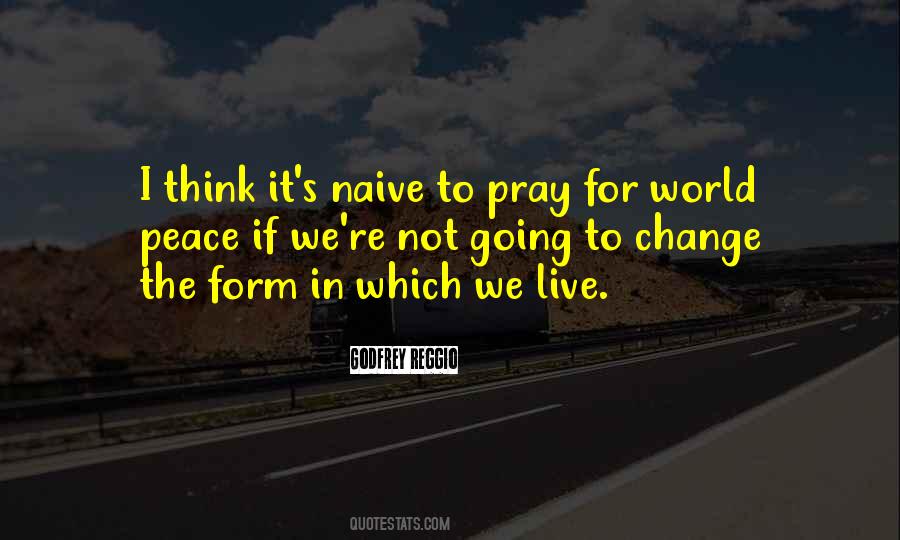 #25. Love is a place & through this place of love move (with brightness of peace) all places yes is a world & in this world of yes live (skillfully curled) all worlds - Author: E. E. Cummings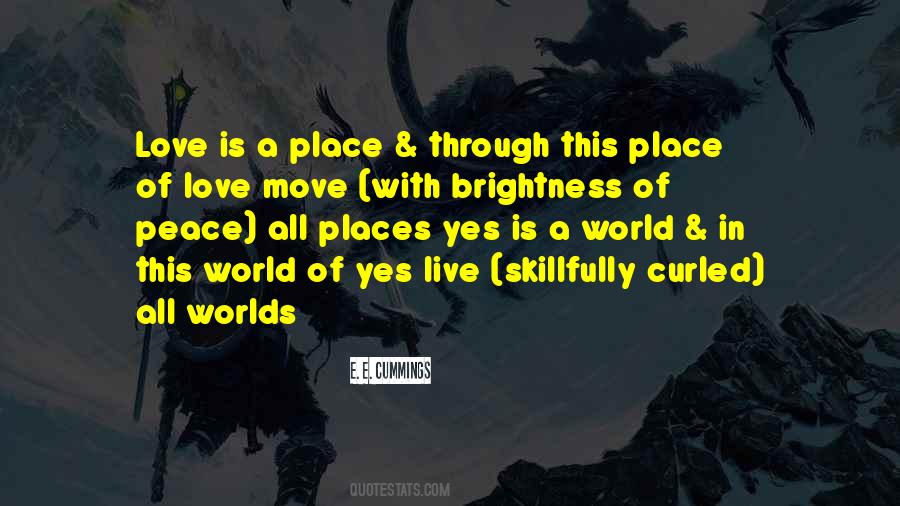 #26. What I consider to be peace [is] a sustainable peace in which the majority of people on this planet have access to enough resources to live dignified lives. - Author: Jody Williams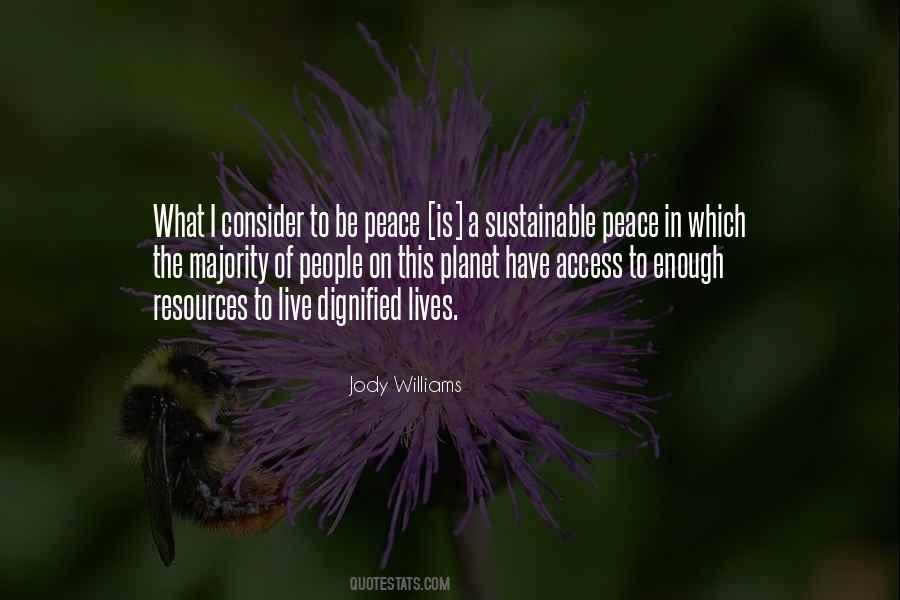 #27. Have patience with everything that remains unsolved in your heart.
... live in the question. - Author: Rainer Maria Rilke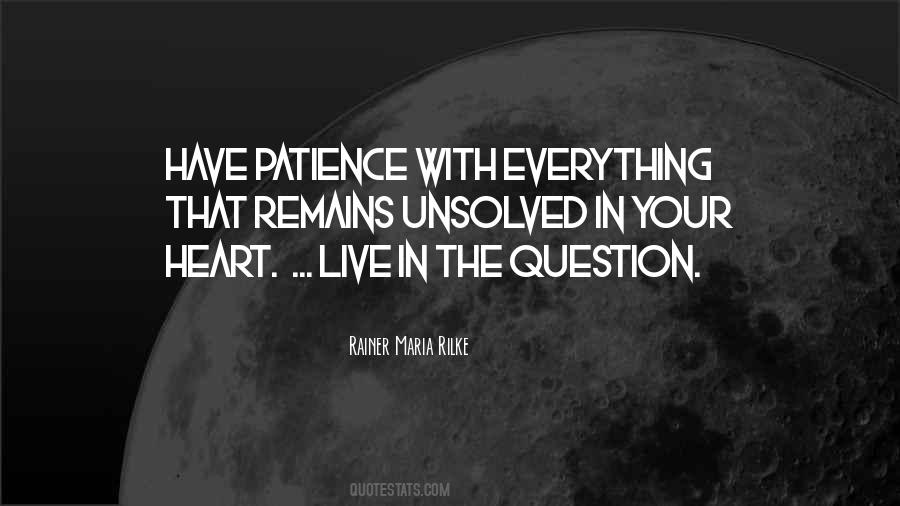 #28. The idea that all people can and should live together in peace is not really a new one - but yet in practice it is very young indeed. - Author: Christina Engela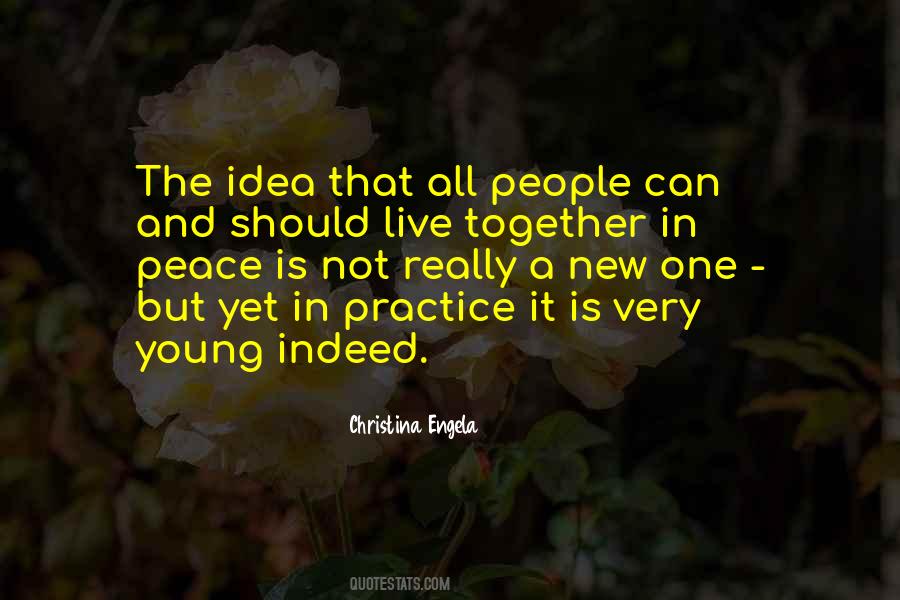 #29. To live a happy & peaceful life...you must first find it inside you. Bring it forth & advocate it in your life. - Author: Timothy Pina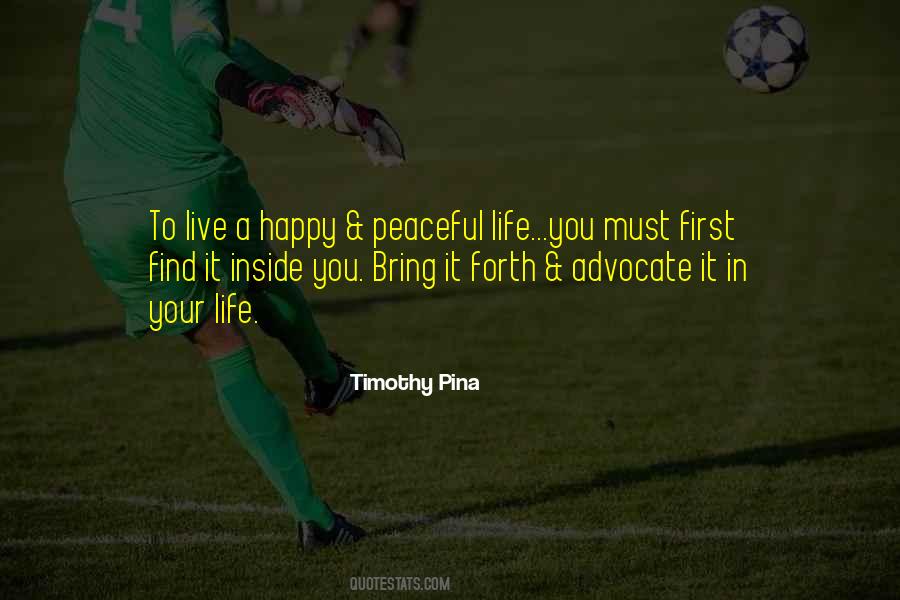 #30. Secularism must be applied everywhere, because that is how everyone will be able to live in peace with each other. - Author: Manuel Valls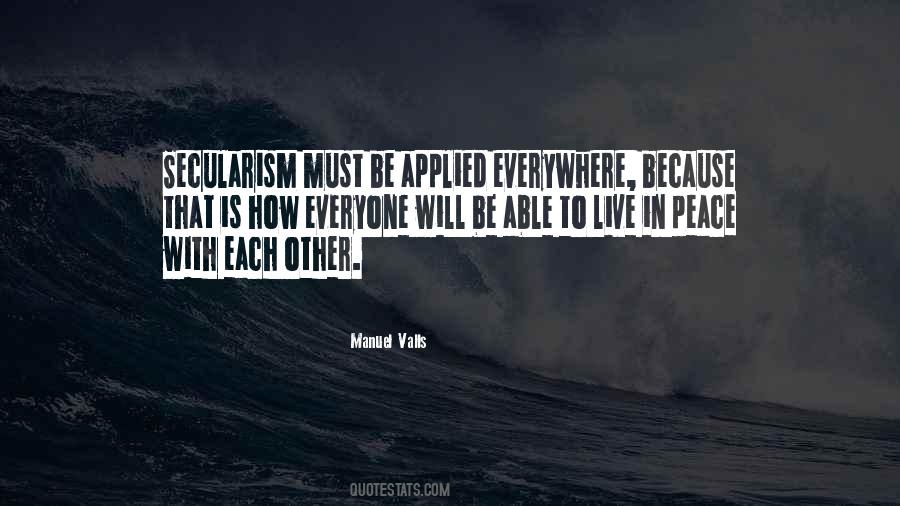 #31. Psalm 37:4
4 Delight thyself also in the LORD: and he shall give thee the desires of thine heart. - Author: LaNina King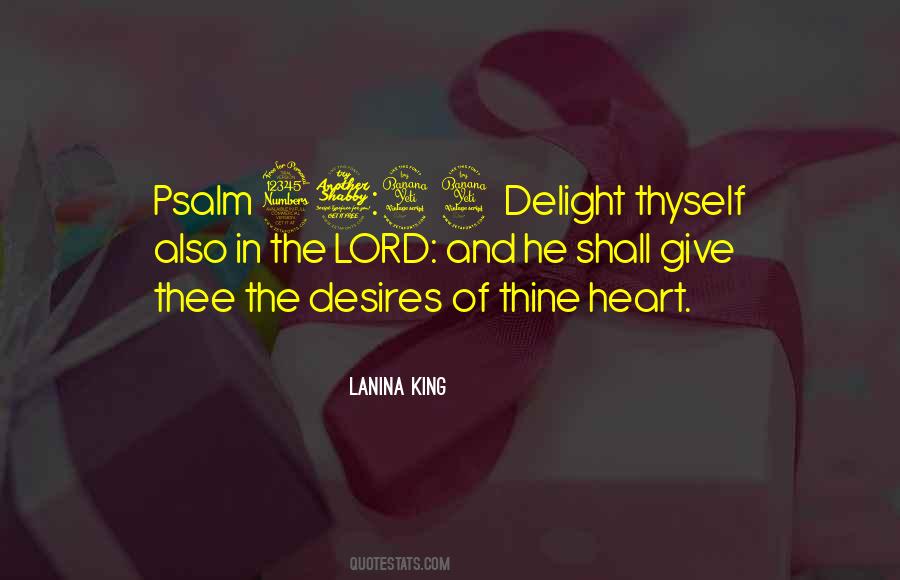 #32. And maybe there's no peace in this world, for us or for anyone else, I don't know. But I do know that, as long as we live, we must remain true to ourselves. - Author: Spartacus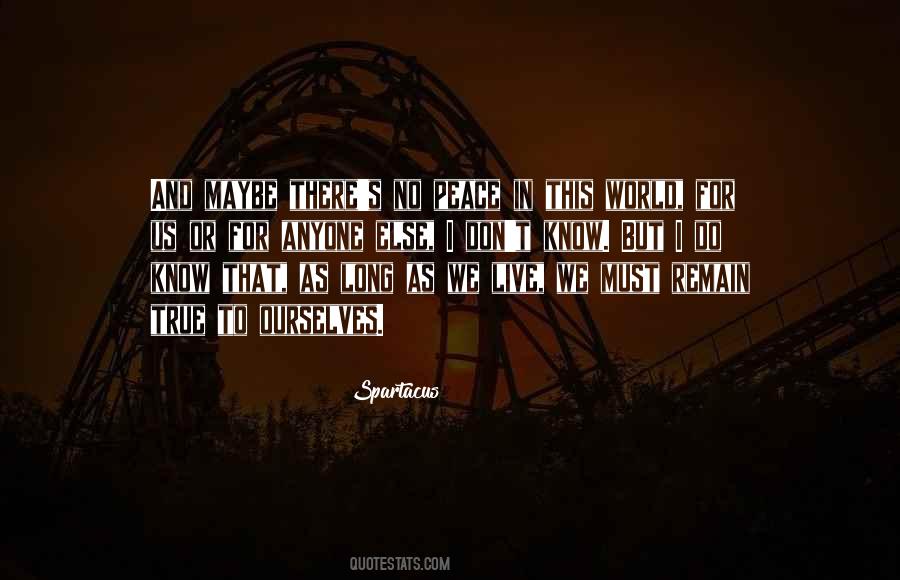 #33. Dare To Dream Big, Think Big, Live Big And Believe Big In Your Life. Now Focus On That Spectacular Sunset ... Because Destiny Is Calling You! - Author: Timothy Pina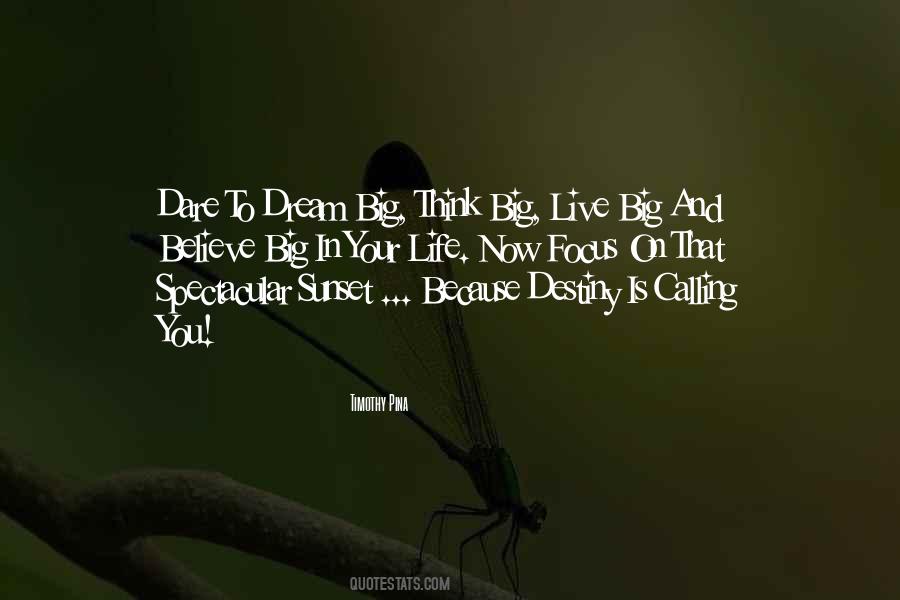 #34. I hope the Great Heavenly Father, who will look down upon us, will give all the tribes his blessing, that we may go forth in peace, and live in peace all our days, and that He will look down upon our children and finally lift us far above this earth. - Author: Red Cloud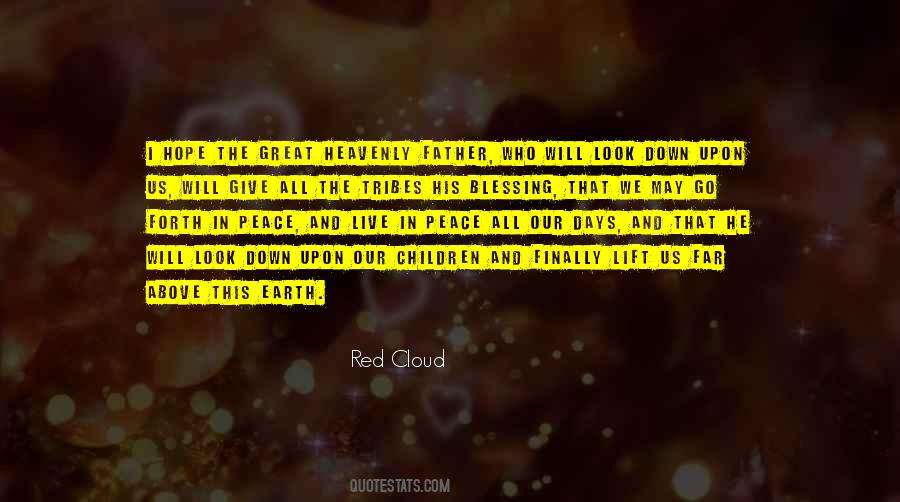 #35. Nearly always, so as to live at peace with ourselves, we disguise our own impotence and weakness as calculation and policy; it is our way of placating that half of our being which is in a sense a spectator of the other. - Author: Benjamin Constant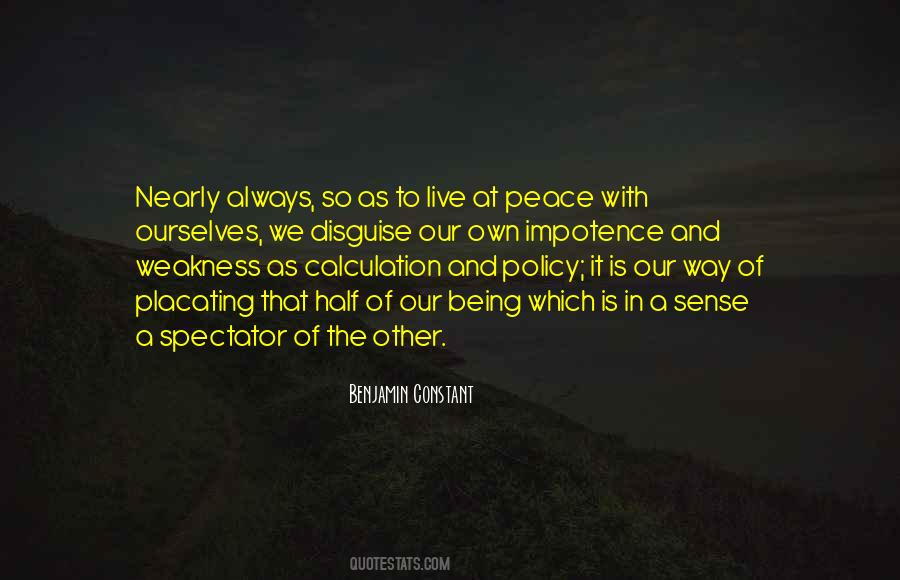 #36. I'd like to live in great comfort. And peace.' And then she added, quite to her surprise, 'With no one to tell me what to do or how to do it. - Author: Kathleen Tessaro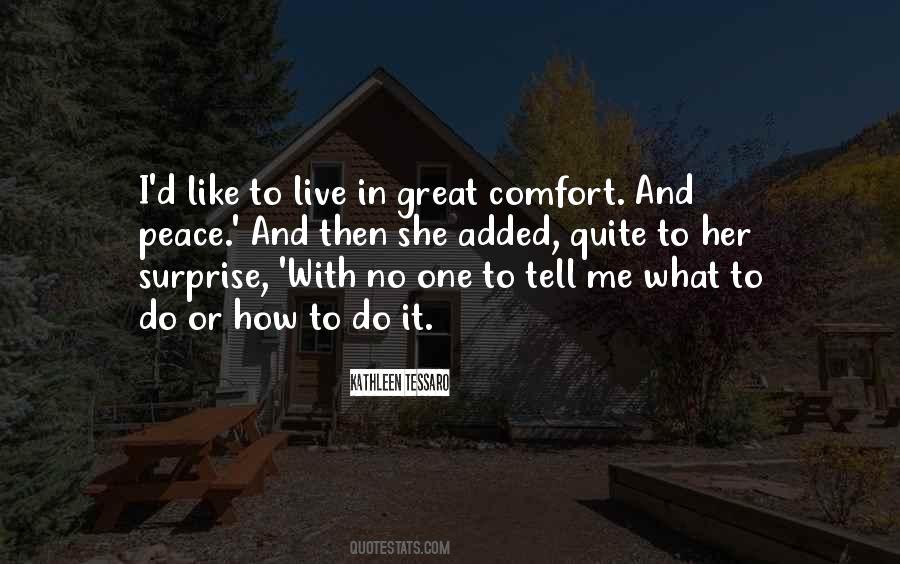 #37. Every day, I take steps to resolve all my karmic ties, live with intention, smile and laugh often, express my love, and act on what brings me fulfillment. Why wait until we have one foot in the grave to suddenly become spiritual, forgiving, and at peace with the world? - Author: Alaric Hutchinson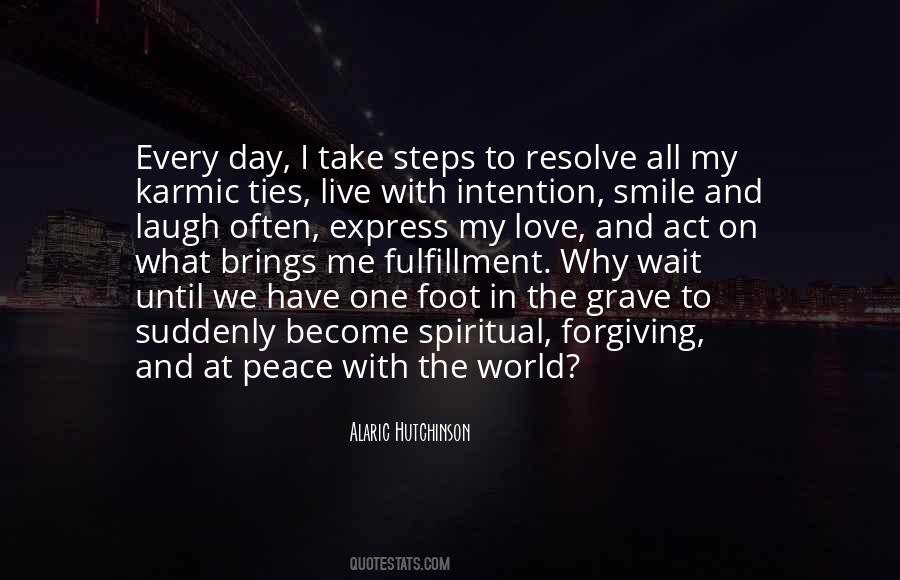 #38. Live in the present. Do the things that need to be done. Do all the good you can each day. The future will unfold - Author: Peace Pilgrim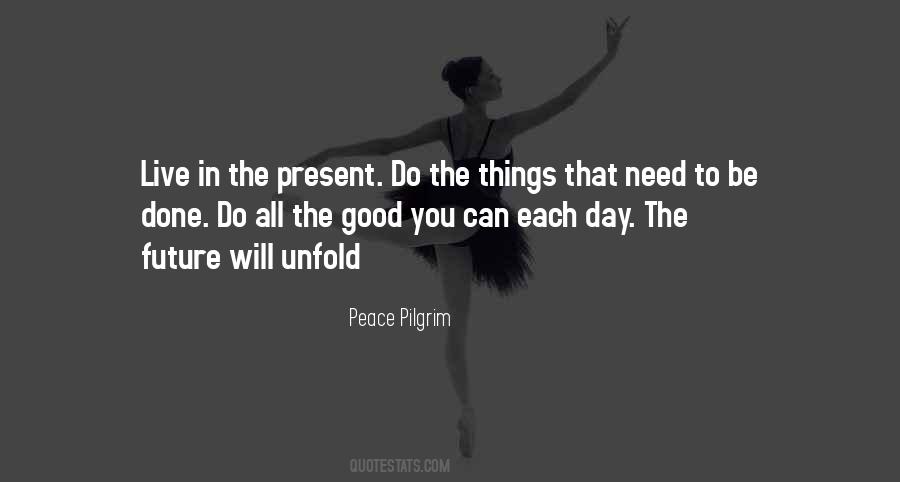 #39. Half of the confusion in the world comes from not knowing how little we need. I live more simply now, and with more peace. - Author: Richard E. Byrd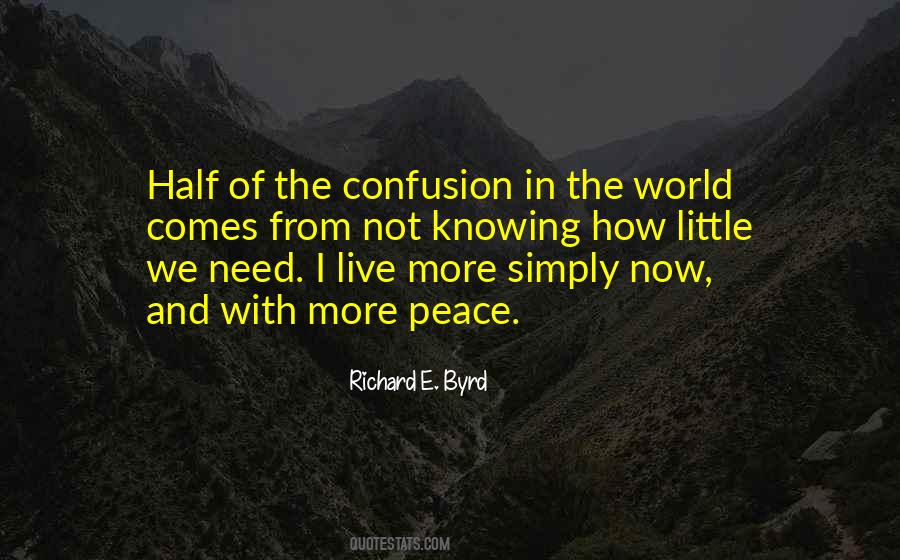 #40. Peace and union are the most necessary of all things for men who live in common, and nothing serves so well to establish and maintain these as the forbearing charity whereby we put up with one another's defects. - Author: Robert Bellarmine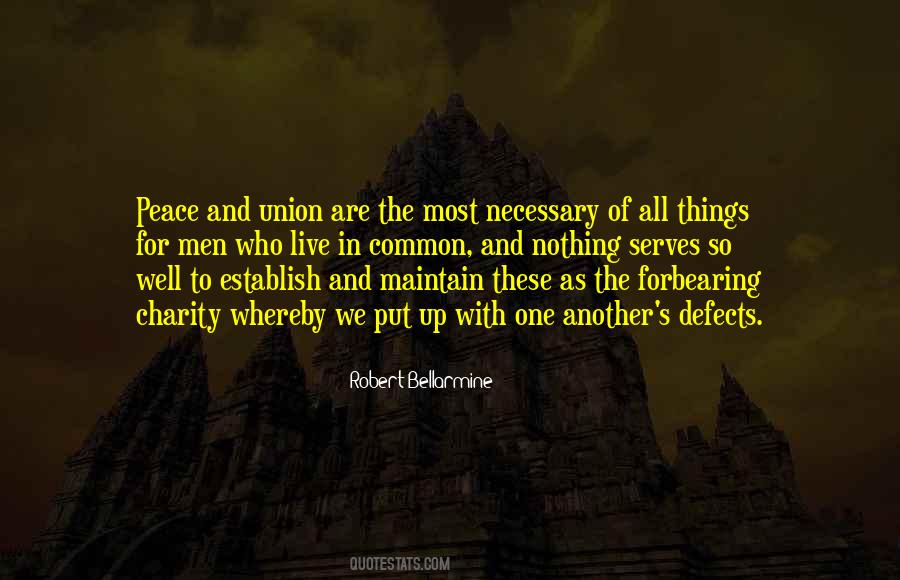 #41. If your vision is limited your life is Limited' So open up those windows in your mind and live life to the fullest. - Author: Timothy Pina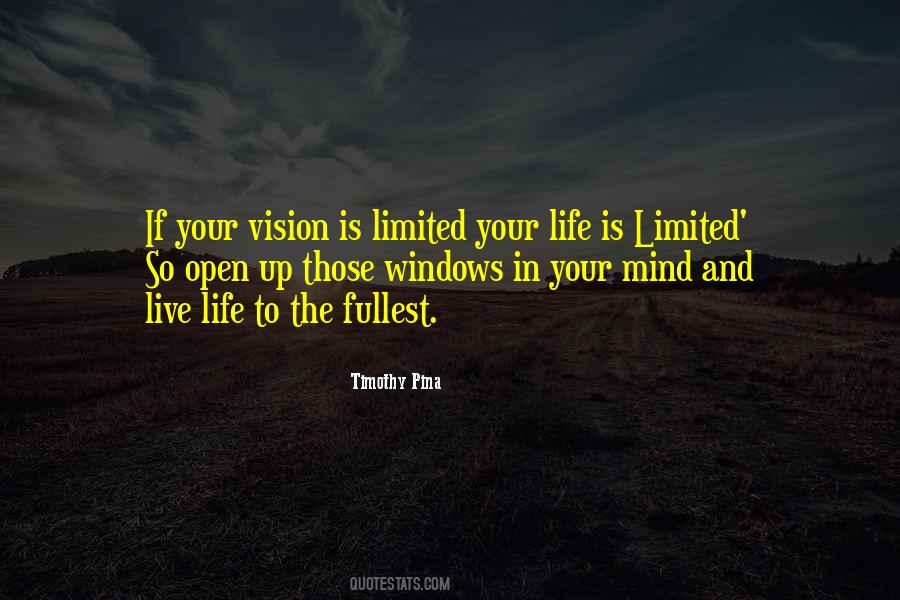 #42. We can die by it, if not live by love, And if unfit for tombs and hearse Our legend be, it will be fit for verse; And if no peace of chronicle we prove, We'll build in sonnet pretty rooms; As well a well wrought urne becomes The greatest ashes, as half-acre tombs. - Author: John Donne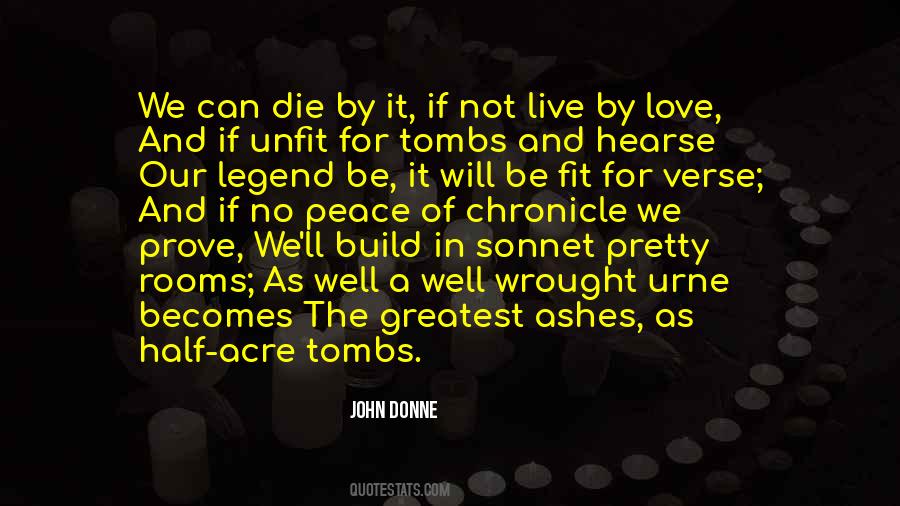 #43. Make every effort to live in peace with all men. - Author: Lailah Gifty Akita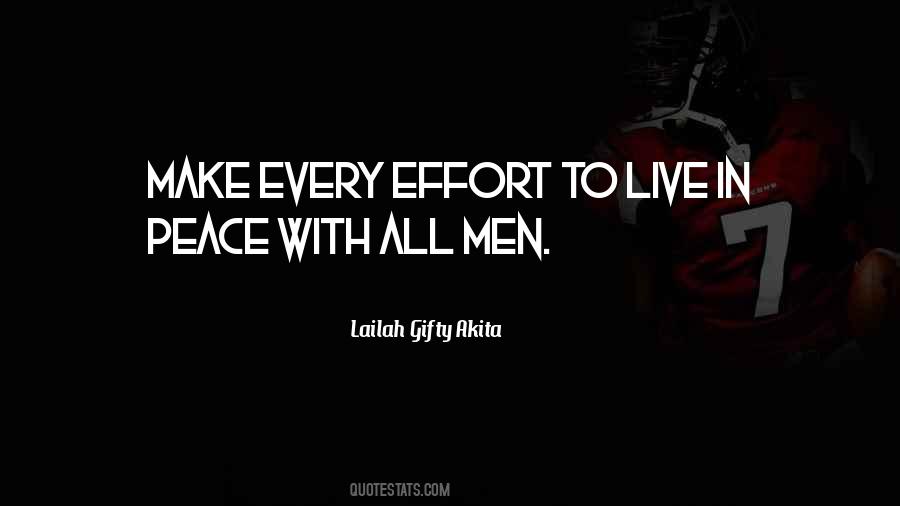 #44. Hope for peace!
Dream for peace!
Act for peace!
Live in peace!
Life is for peace! - Author: Debasish Mridha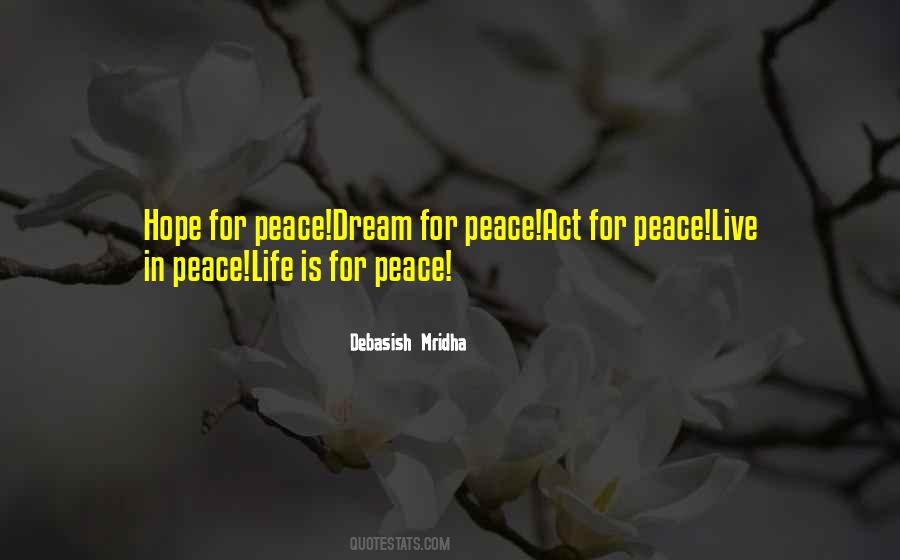 #45. If we do not want to die together in war, we must learn to live together in peace. - Author: Harry S. Truman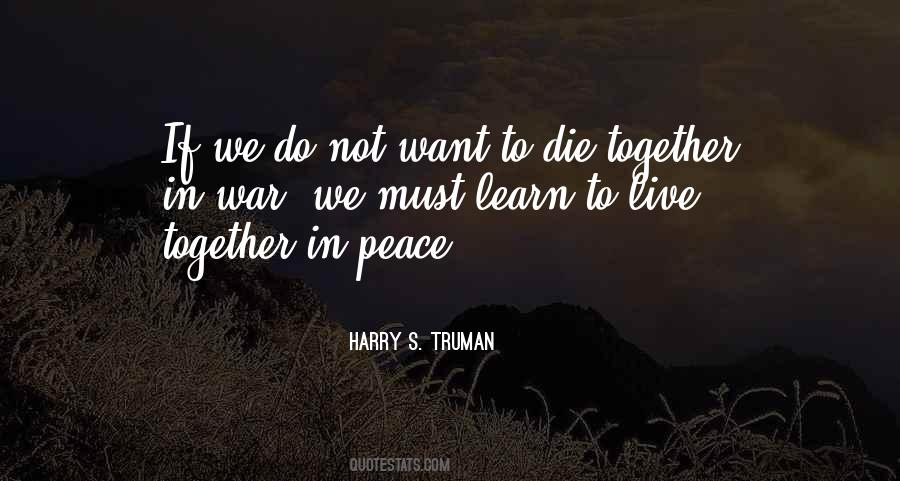 #46. We have soul contracts with every person in our lives to live in the vibration of truth. - Author: Molly Friedenfeld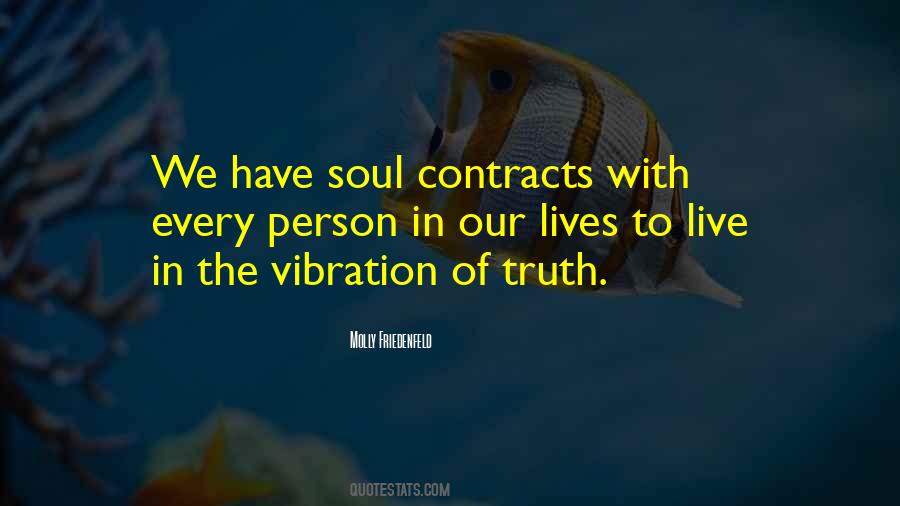 #47. And if we are honest we have to make a distinction between a democratic Israel that wants to live in peace and the terrorists who want Israel wiped out. The Israelis were told to give up land for peace; they gave up the land, but got no peace. - Author: J. D. Hayworth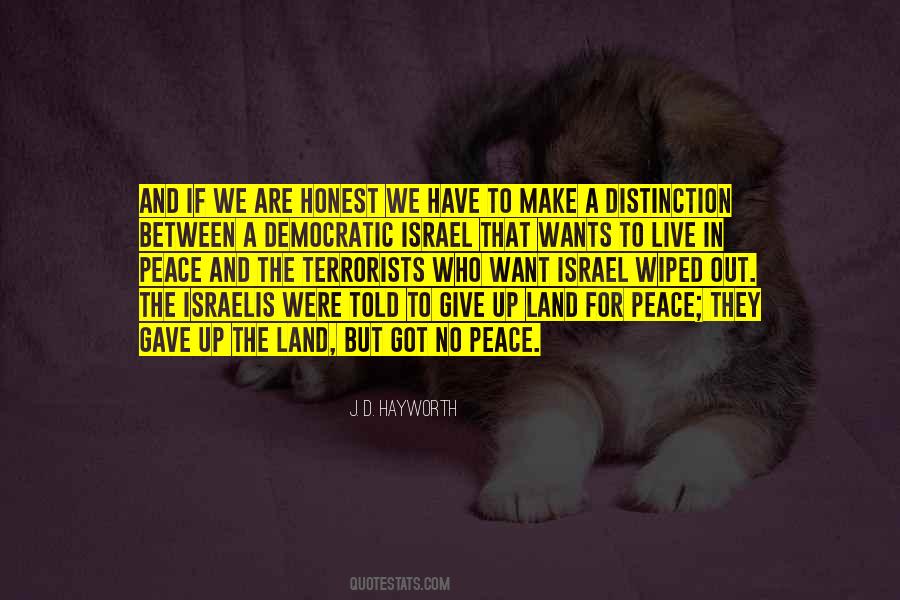 #48. As there are silent depths in the ocean which the fiercest storm cannot reach, so there are silent, holy depths of the hearts of people which the storm of sin and sorrow can never disturb. To reach this silence and to live consciously in it is peace. - Author: James Allen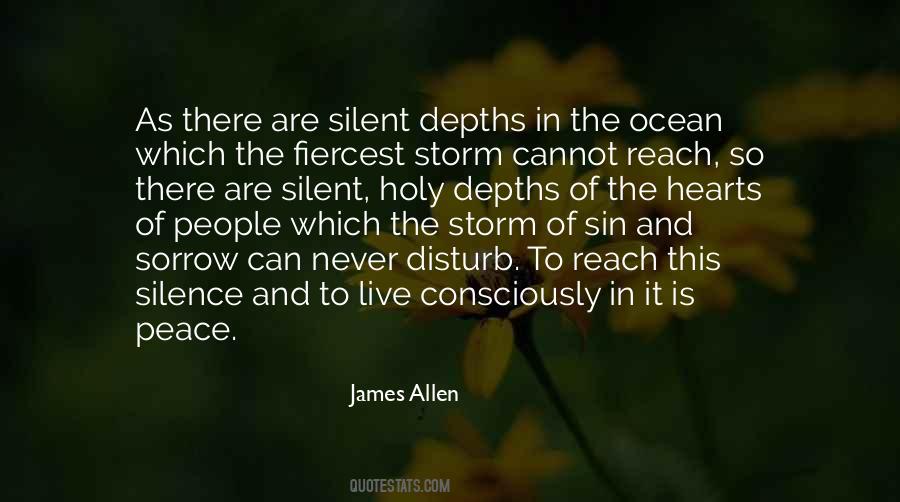 #49. I believe it is wrong to undermine public safety, and indeed public confidence in the concept of human rights, by allowing highly dangerous criminals and terrorists to trump the rights of the people of Britain to live in security and peace - Author: David Cameron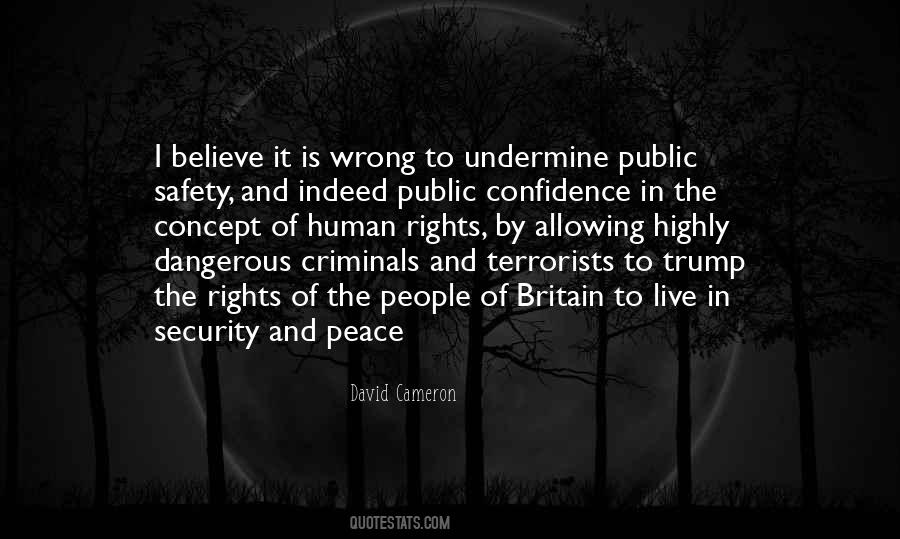 #50. Live in the present moment and find your interest and happiness in the things of today. - Author: Emmet Fox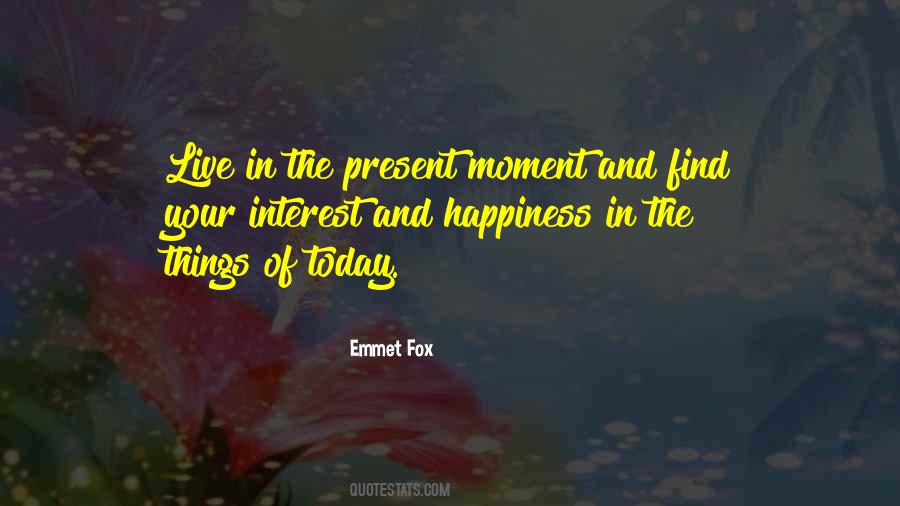 #51. Better to live vigorously, better to fight, than to simply wait for the end...in peace. - Author: Jack Donovan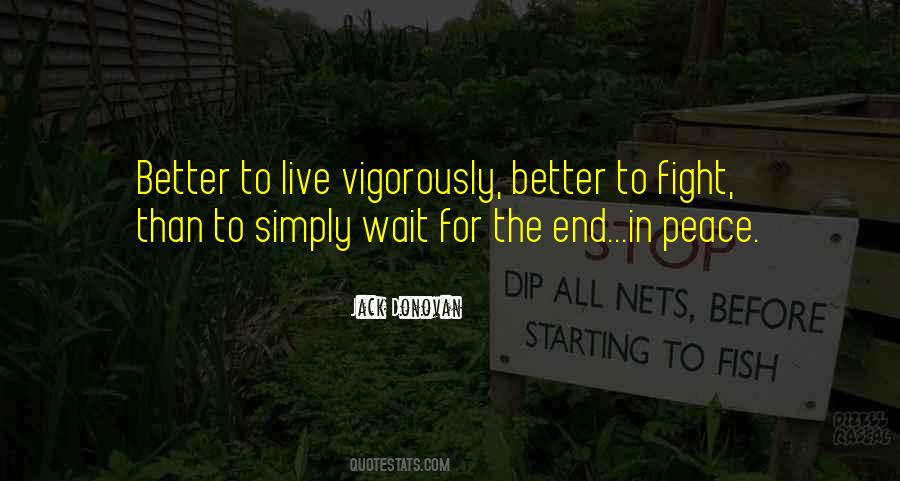 #52. Feminist politics aims to end domination, to free us to be who we are - to live lives where we love justice, where we can live in peace. Feminism is for everybody. - Author: Bell Hooks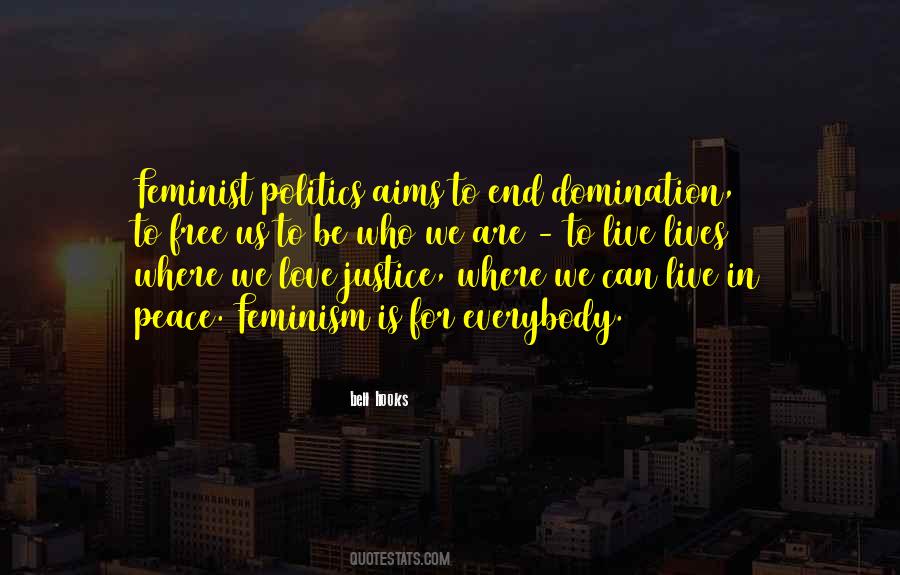 #53. I can hardly believe that the South and North can live in peace, unless we can get rid of the negroes ... I believe that it would be better to export them all to some fertile country with a good climate, which they could have to themselves. - Author: Abraham Lincoln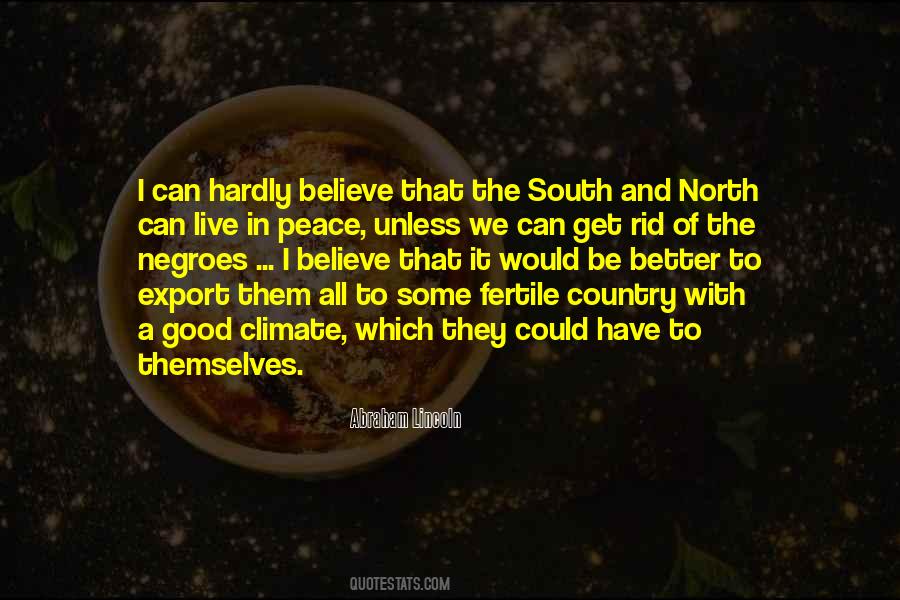 #54. I just want to live in peace and quiet. - Author: Agnetha Faltskog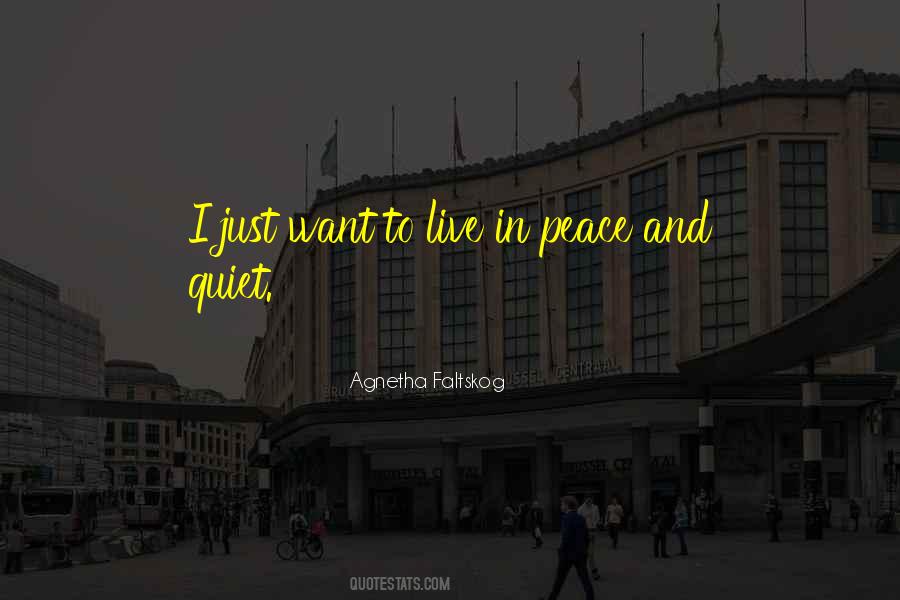 #55. Today, clean our hearts of any emotional poison that we have, free our minds from any judgment so that we can live in complete peace and complete love. - Author: Miguel Ruiz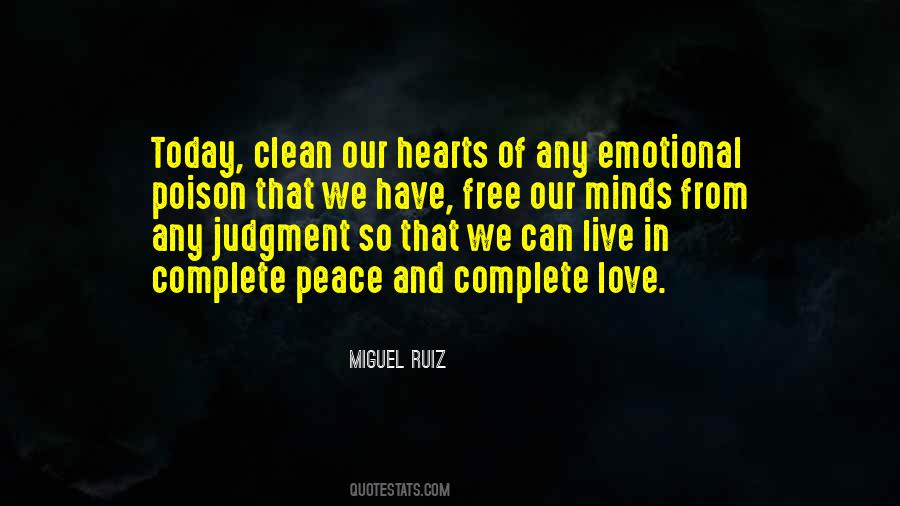 #56. It's good to be successful and have financial status but if you're only gonna live for the money, you're only gonna reach a certain status and I'm in there for greatness and peace of mind. - Author: Mike Tyson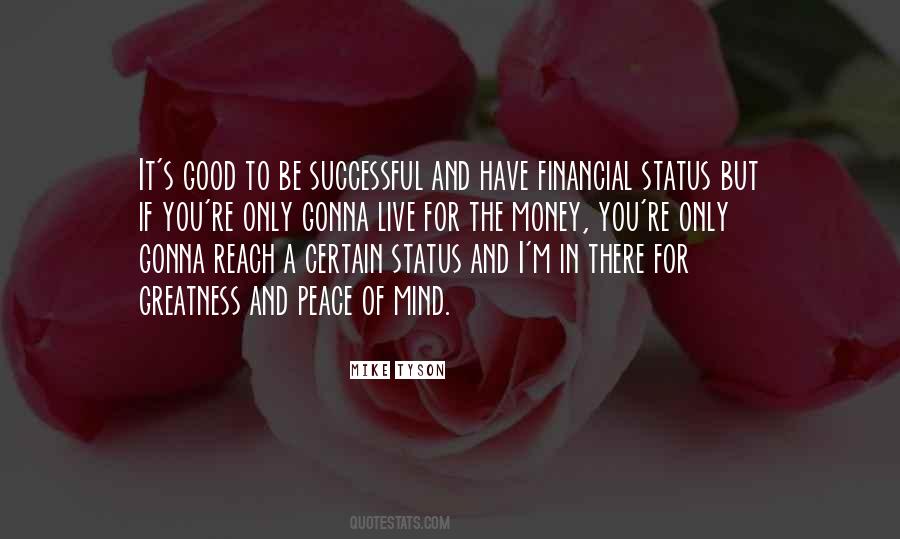 #57. We merely want to live in peace with all the world, to trade with them, to commune with them, to learn from their culture as they may learn from ours, so that the products of our toil may be used for our schools and our roads and our churches and not for guns and planes and tanks and ships of war. - Author: Dwight D. Eisenhower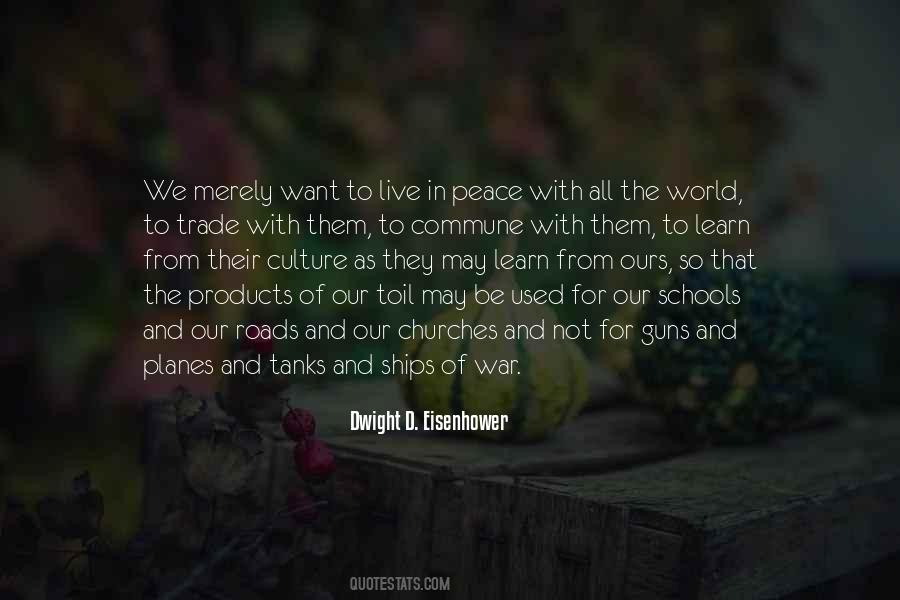 #58. Why can't people just learn to live together in peace and harmony?" said Arthur. Ford gave a loud, very hollow laugh. "Forty-two!" he said with a malicious grin. "No, doesn't work. Never mind. - Author: Douglas Adams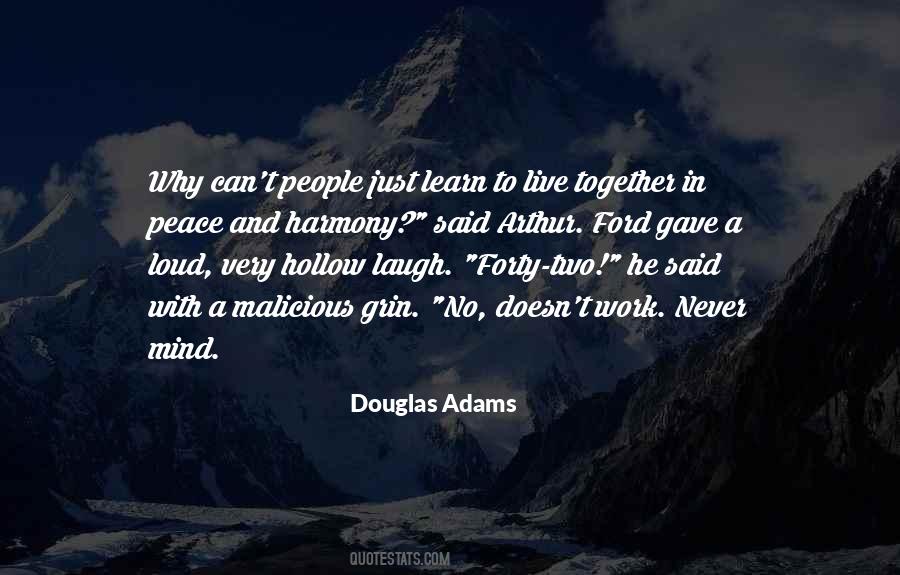 #59. If you are required to kill someone today, on the promise of a political leader that someone else shall live in peace tomorrow, believe me, you are not only a double murderer, you are a suicide, too. - Author: Katherine Anne Porter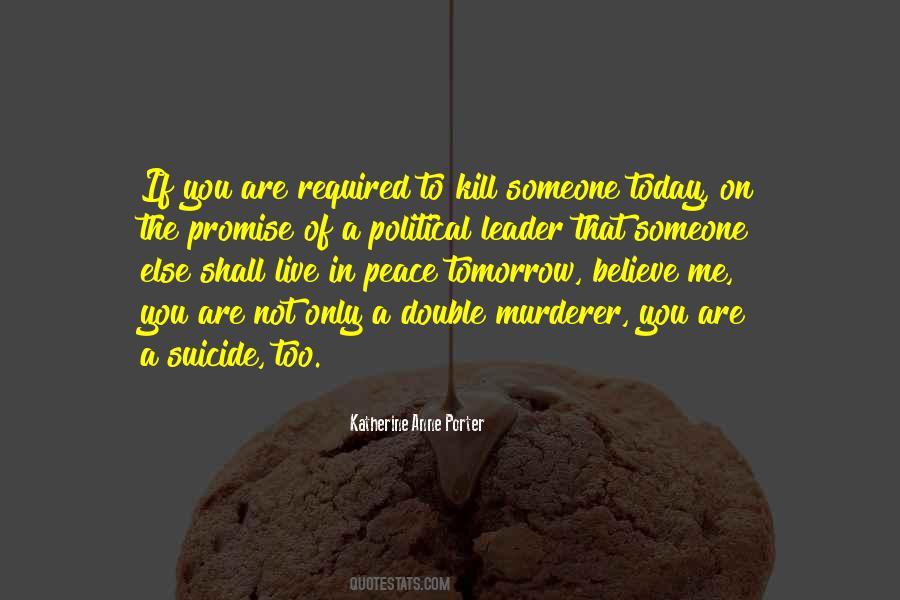 #60. In a speedy and aggressive culture, we need different principles to live by-bravery and insight. The first moment of bravery is building trust in the mind, which we do in meditation. When we know how to create peace in our own mind, we can transform the world. - Author: Sakyong Mipham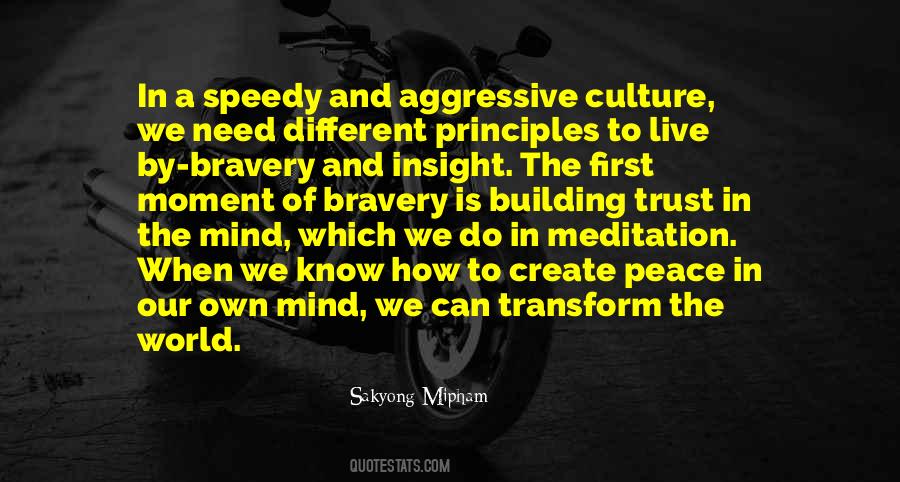 #61. Humanity ... Let Us Pray For PEACE. Peace In Our World and Peace Deep With in Our Souls. Now May We Try And Live That PEACE Each Day. - Author: Timothy Pina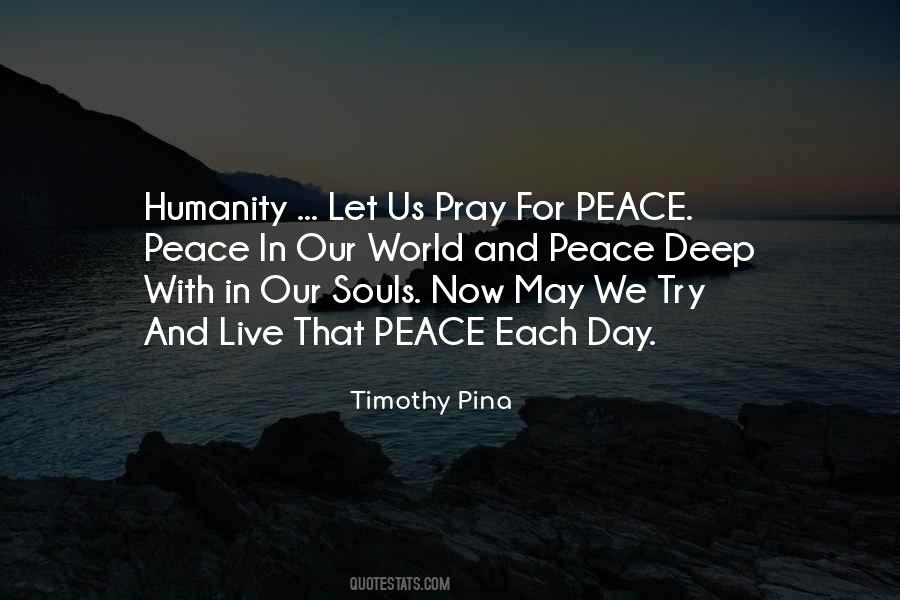 #62. The perfect life: to live in a world of peace in a lake district where the magistrate is good and honest, and to have an understanding wife and bright children. - Author: Zhang Zhao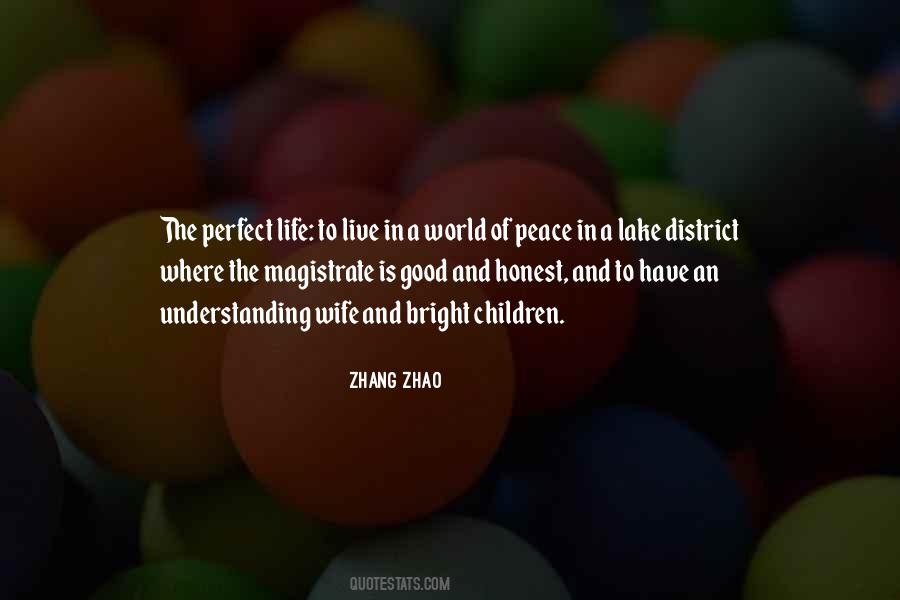 #63. The stronger the ties that bind us to God, the more likely we are to live, react, and behave in harmony with ... greater joy, peace, and happiness. - Author: Jimmy Carter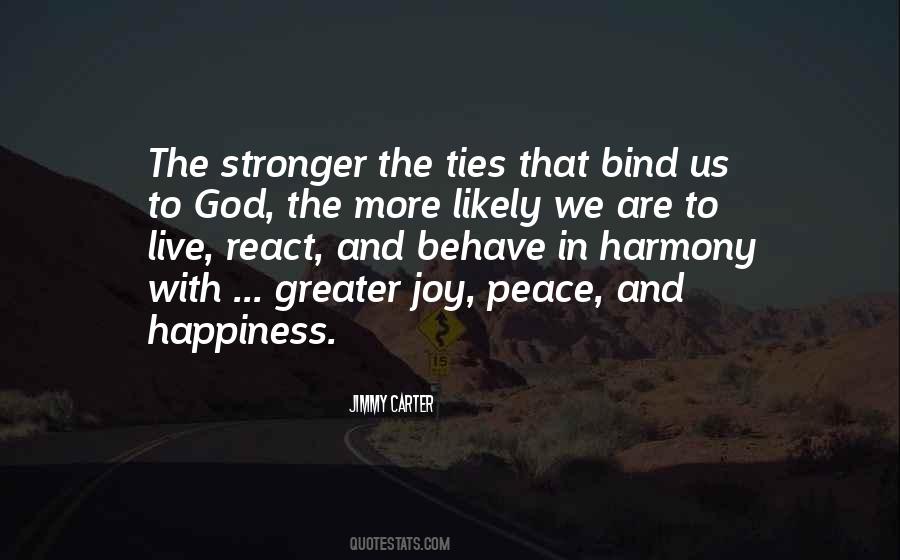 #64. Love is alive when there's music in your heart. - Author: A.D. Posey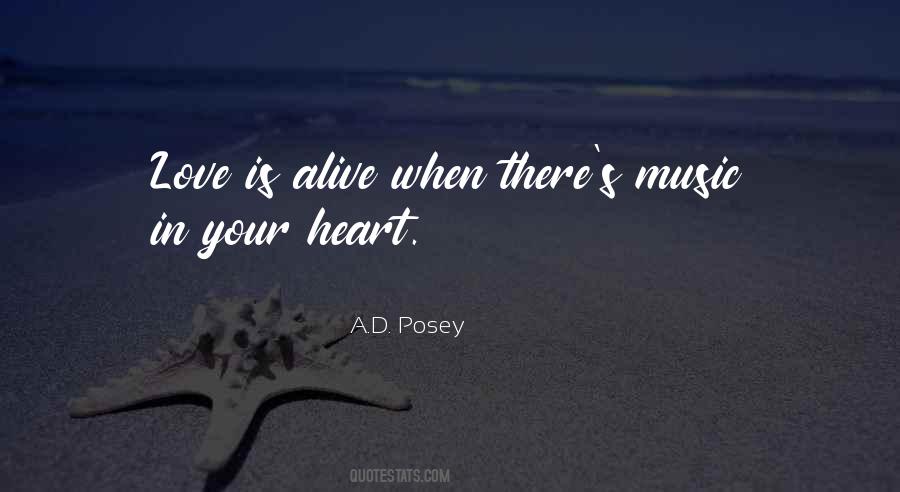 #65. All my life, I have maintained that the people of the world can learn to live together in peace if they are not brought up in prejudice. - Author: Josephine Baker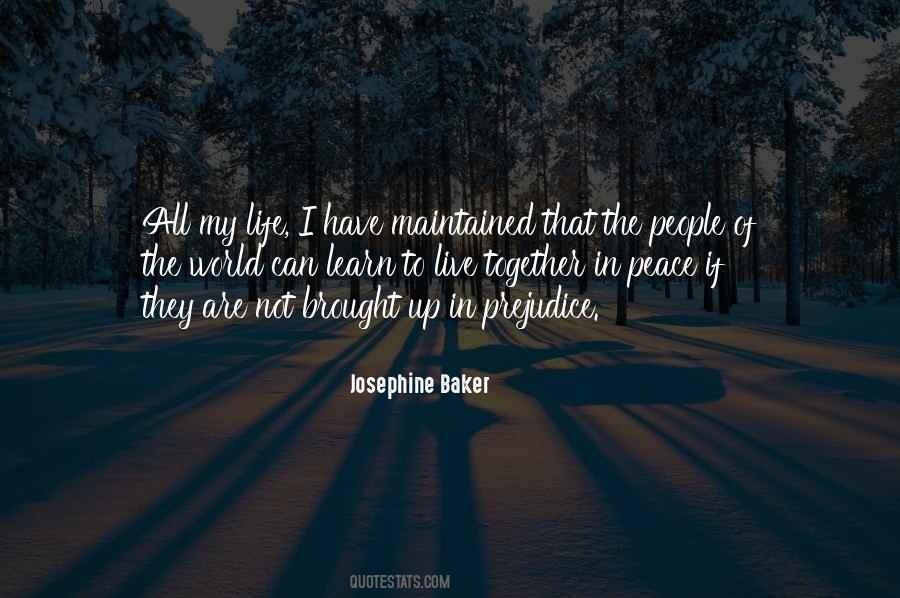 #66. When I ache to live, my mind loves to stay with the peaceful whiteness of a pigeon's care...in boundless amity.. - Author: Munia Khan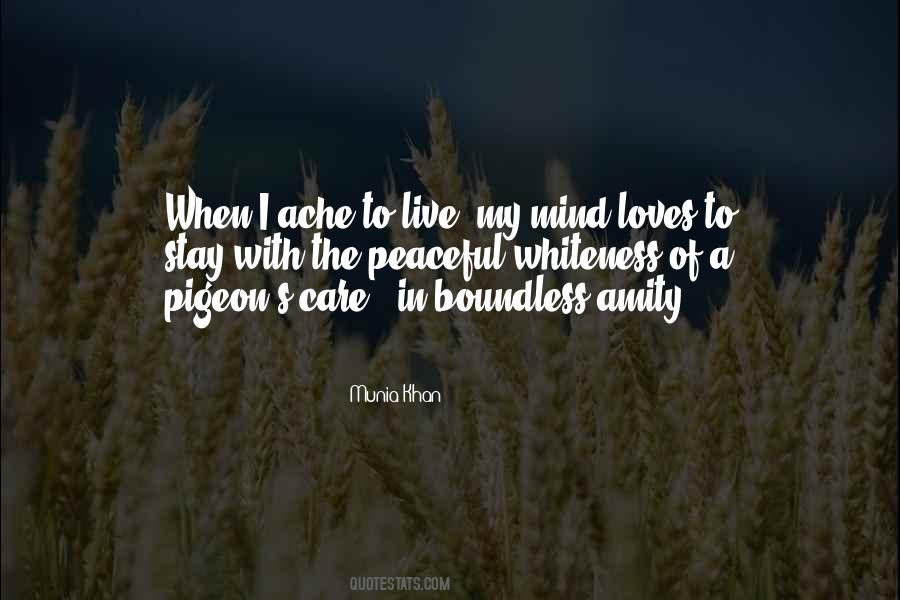 #67. May we live happily together in harmony. - Author: Lailah Gifty Akita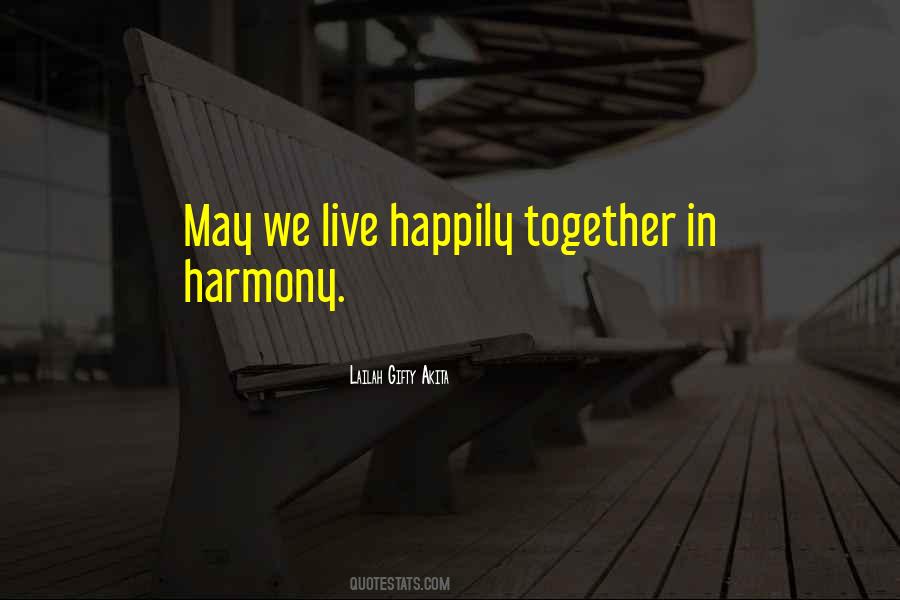 #68. I have always dislike people who live by the motto "It's my way or the highway" We live in a free nation called America and not some freaking dictatorship! - Author: Timothy Pina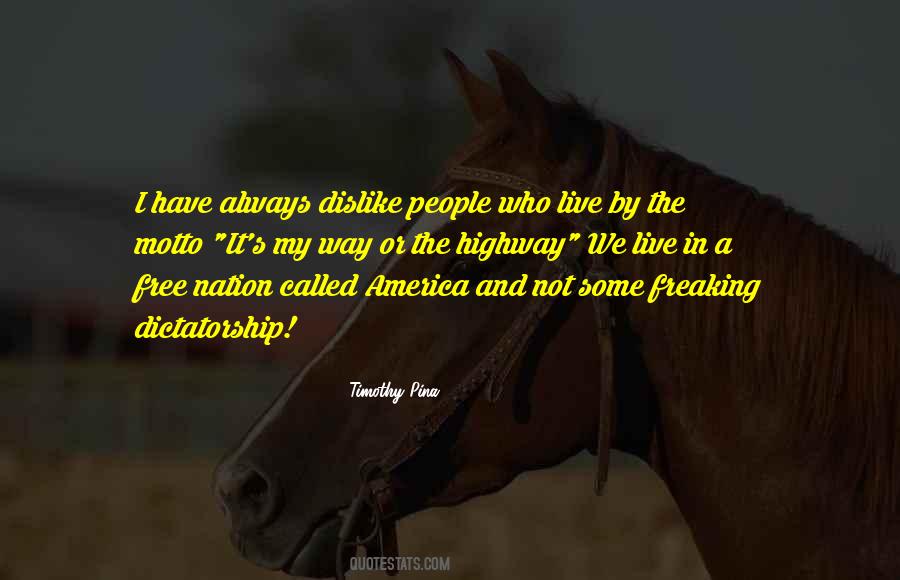 #69. You must live in peace," he told us. "We are only in this world for a short period of vivid and wonderful waking in an eternity of dreamless dark. - Author: David Almond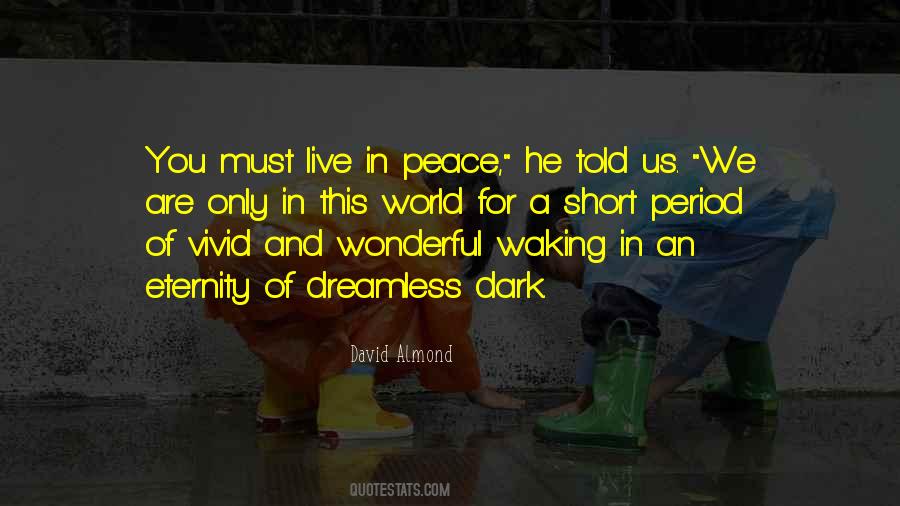 #70. If world peace was as important to people as getting tweeted back by their favorite celebrity, we'd live in a blissful Utopia. - Author: Adam Levine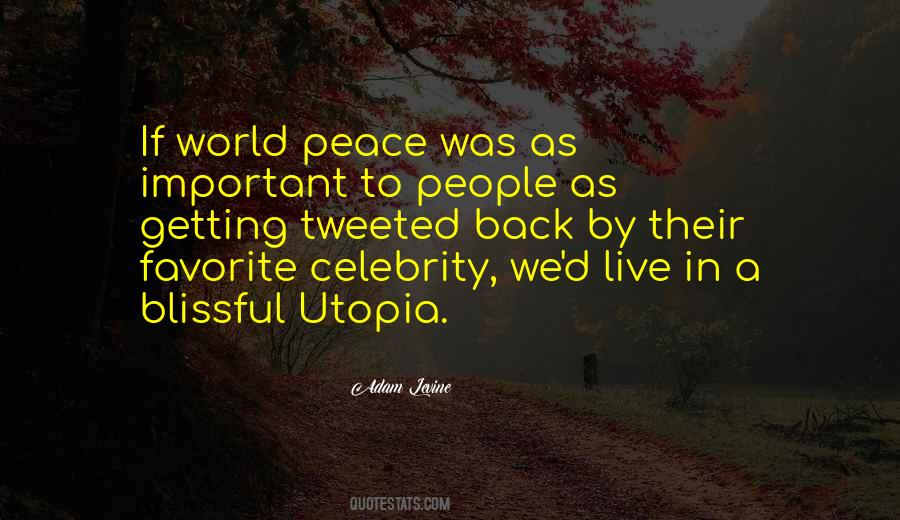 #71. Happiness seems to depend on leisure, because we work to have leisure, and wage war to live in peace. - Author: Aristotle.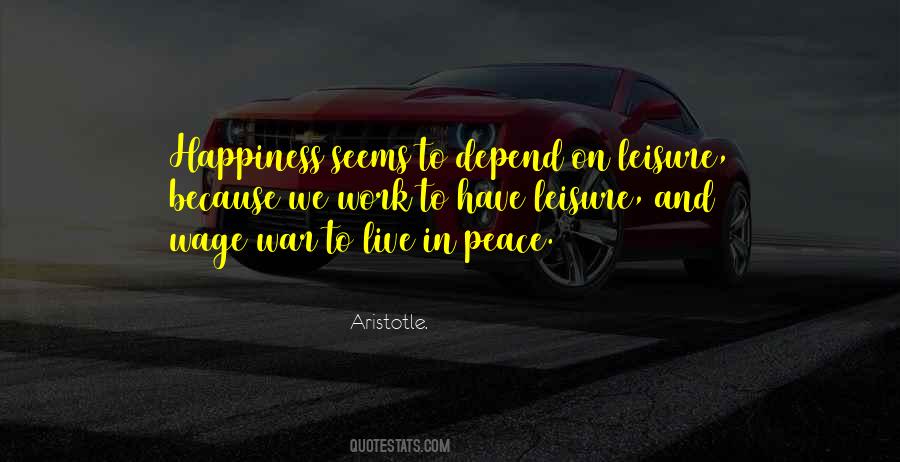 #72. All the nations of the earth must learn to live together in peace. Why be prejudiced against anyone because of their race, nationality, or creed? When there's so many real reasons to hate others. - Author: Emo Philips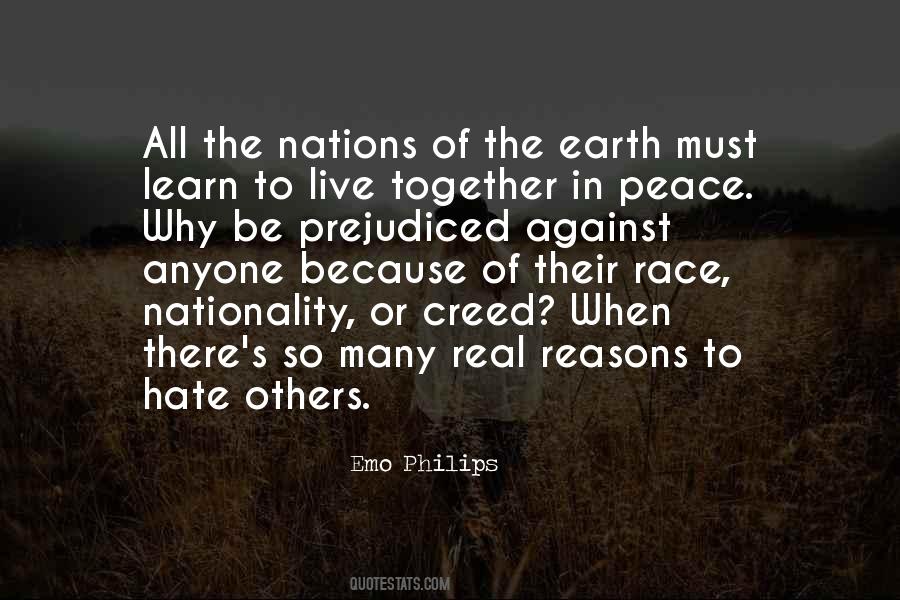 #73. Vice foments war; it is virtue which actually fights. If there were no virtue, we would live in peace forever. - Author: Luc De Clapiers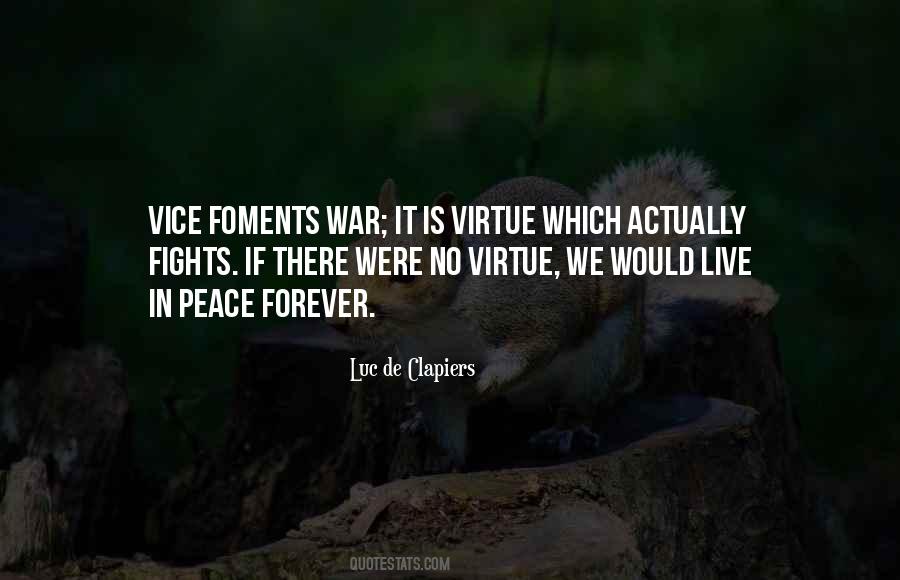 #74. We have found that it is easier for men to die together on the field of battle than it is for them to live together at home in peace. - Author: Harry S. Truman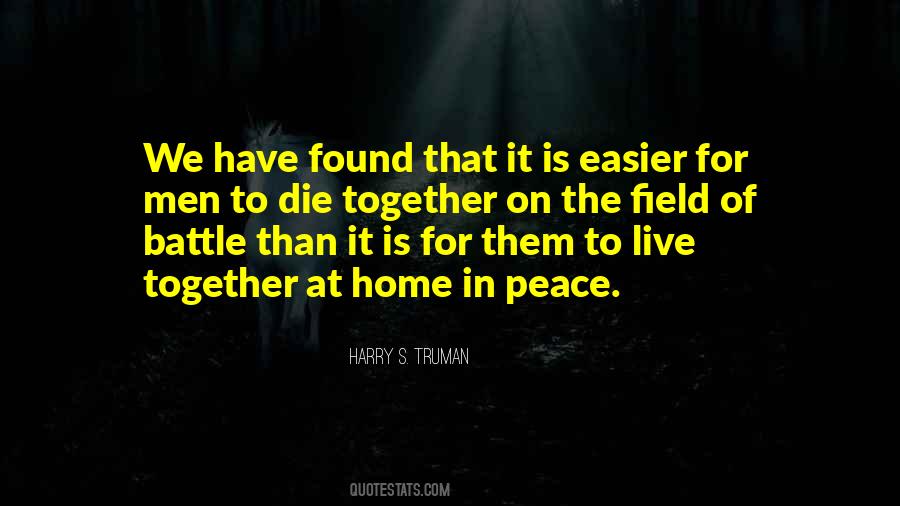 #75. It is not enough to live together in peace, with one race on its knees. - Author: Daniel H. Wilson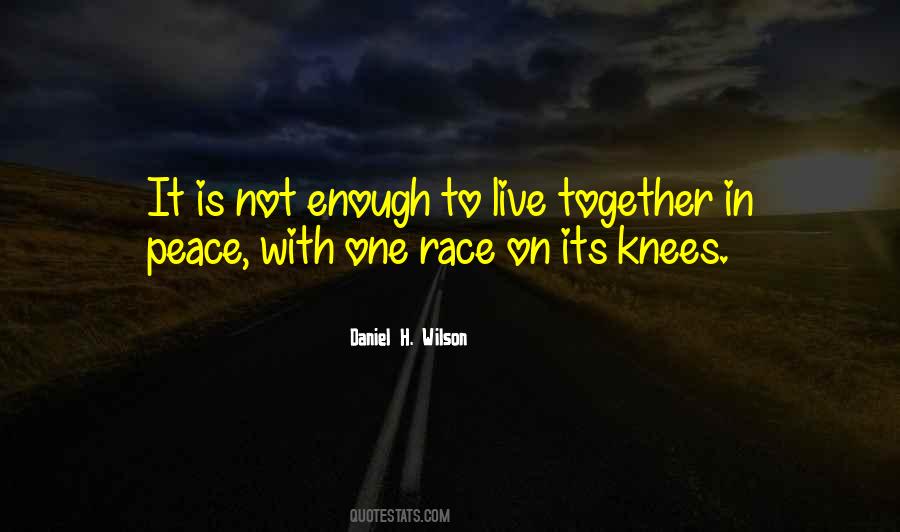 #76. If civilization is to survive, we must cultivate the science of human relationships - the ability of all peoples, of all kinds, to live together, in the same world at peace. - Author: Franklin D. Roosevelt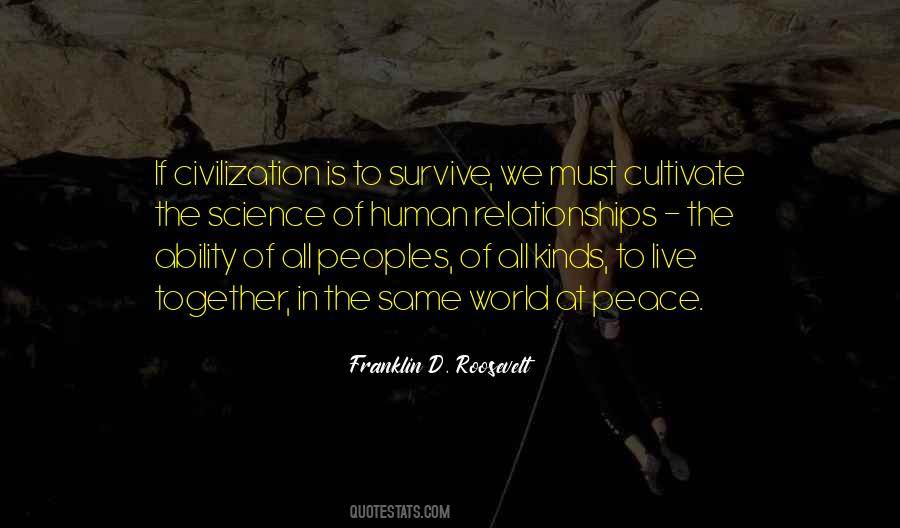 #77. If we are to live together in peace, we must come to know each other better. - Author: Lyndon B. Johnson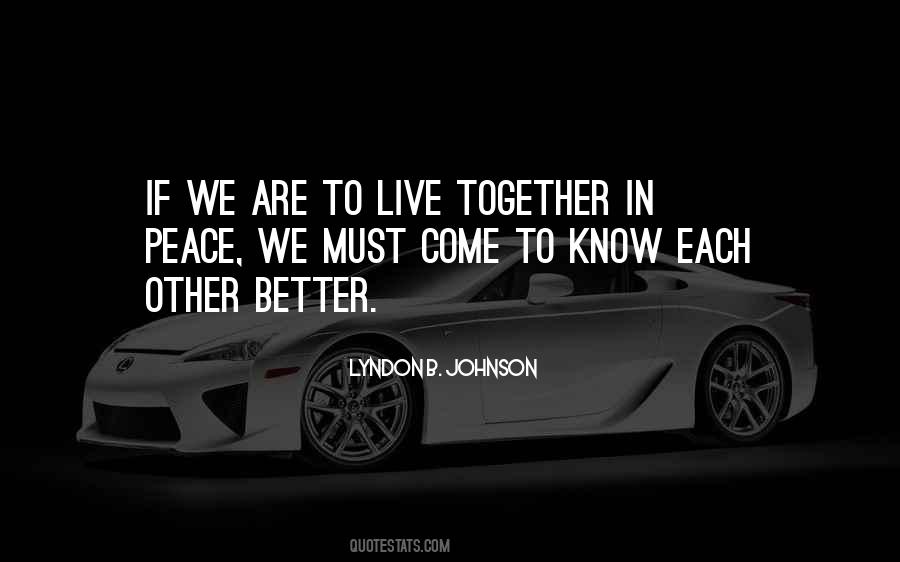 #78. Again and again, faith in a possible satisfaction of the human race breaks through at the very moments of most zealous discord because humankind will never be able to live and work without this consoling delusion of its ascent into morality, without this dream of final and ultimate accord. - Author: Stefan Zweig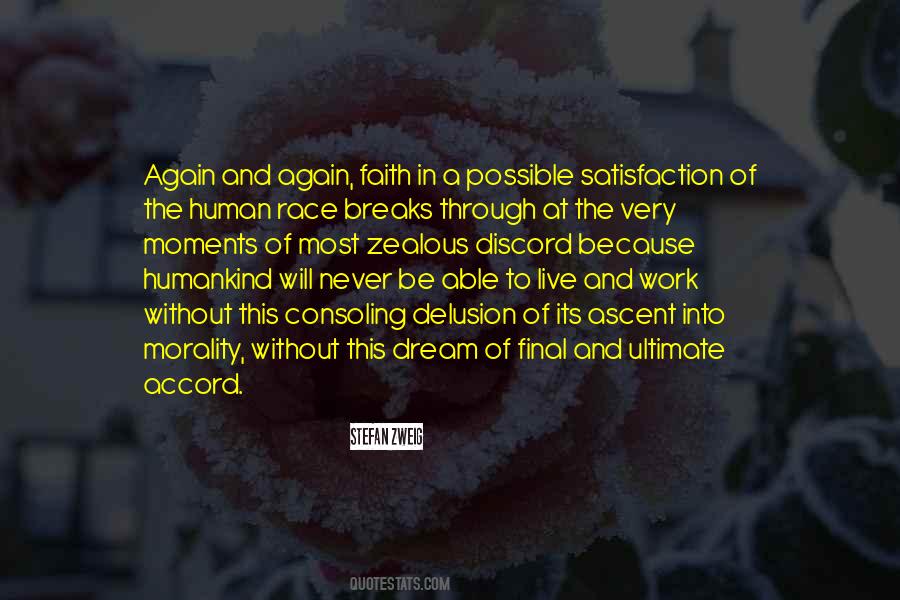 #79. We live in a world where terrorism has a more familiar meaning than peace. - Author: Keely Barton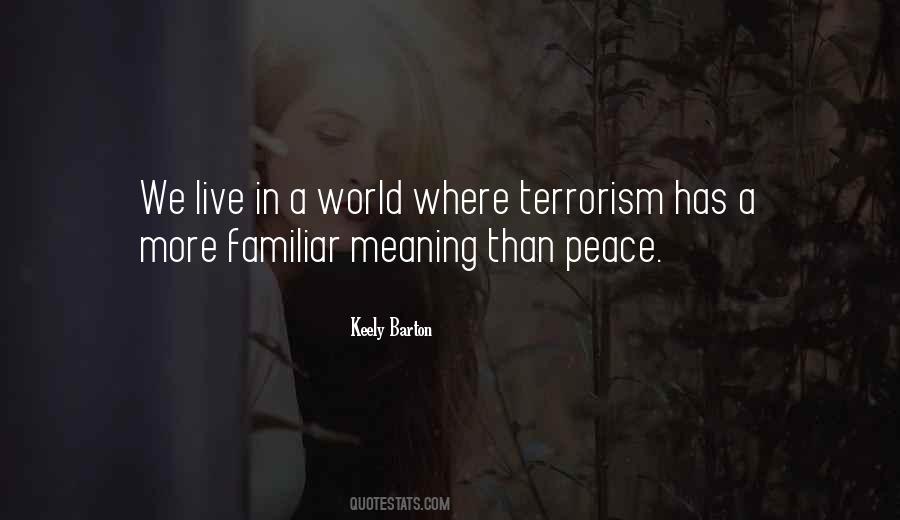 #80. Love is not a doctrine, Peace is not an international agreement. Love and peace are beings who live as possibilities in us. - Author: Mary Caroline Richards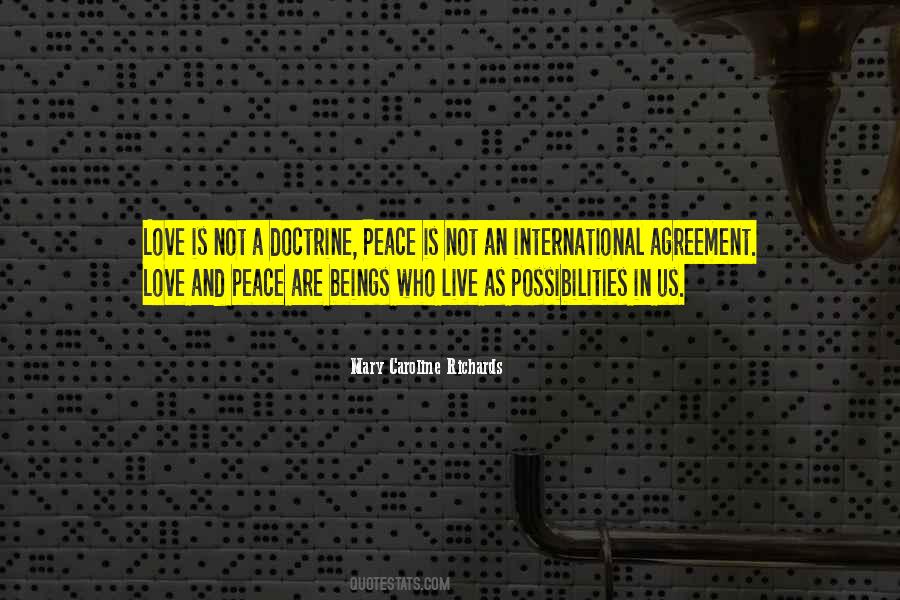 #81. I most sincerely wish that the world in which we live be free from the threat of a nuclear holocaust and from the ruinous arms race. It is my cherished desire that peace be not separated from freedom which is the right of every nation. This I desire and for this I pray. - Author: Lech Walesa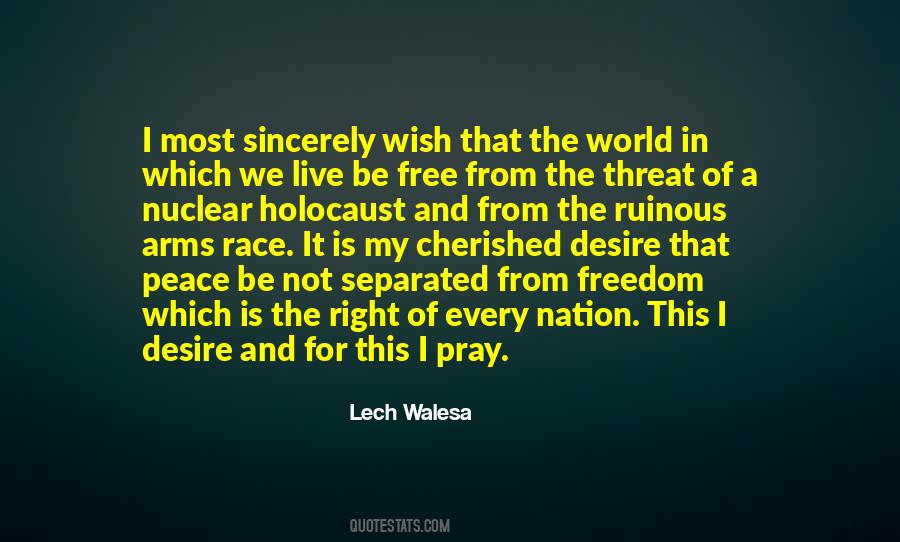 #82. The Dove
Fly your flight my dear dove
Sing your song, make it reach the ocean
I want my freedom
I want to live in peace
I want to sing your song
To have your wings
To be able to fly
I want my destiny to leave the path that it is taking now. - Author: Eduardo Carrasco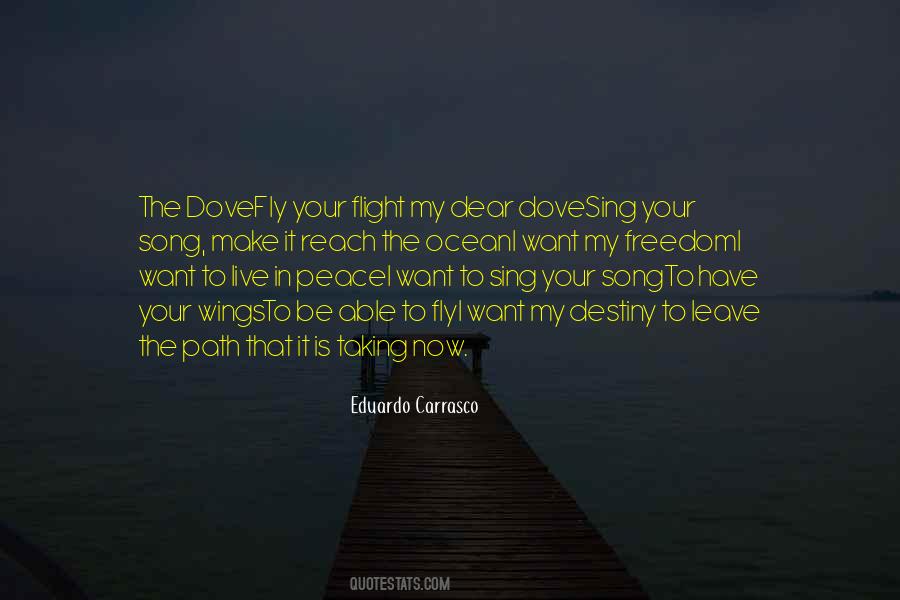 #83. So here I stand, one girl among many. I speak not for myself, but so those without a voice can be heard. Those who have fought for their rights. Their right to live in peace. Their right to be treated with dignity. Their right to equality of opportunity. Their right to be educated. - Author: Malala Yousafzai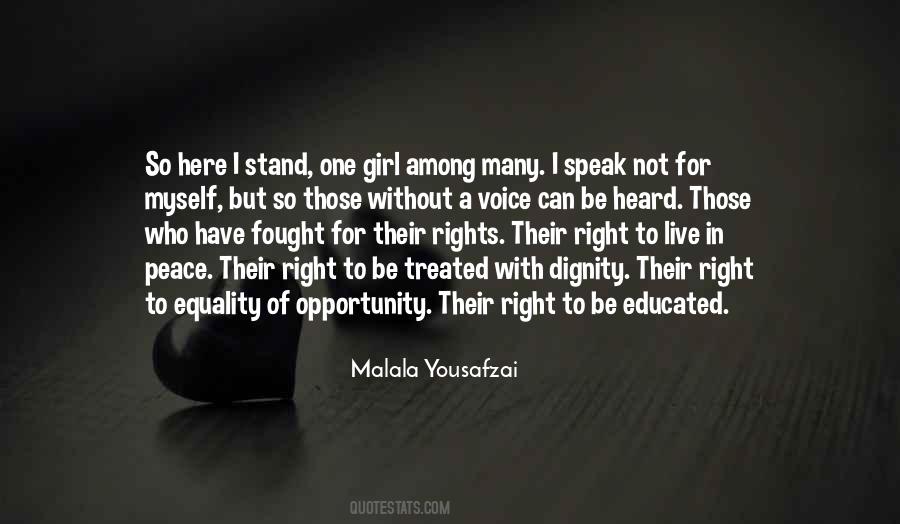 #84. Normally seven minutes of another person's company was enough to give her a headache so she set things up to live as a recluse. She was perfectly content as long as people left her in peace. Unfortunately society was not very smart or understanding. - Author: Stieg Larsson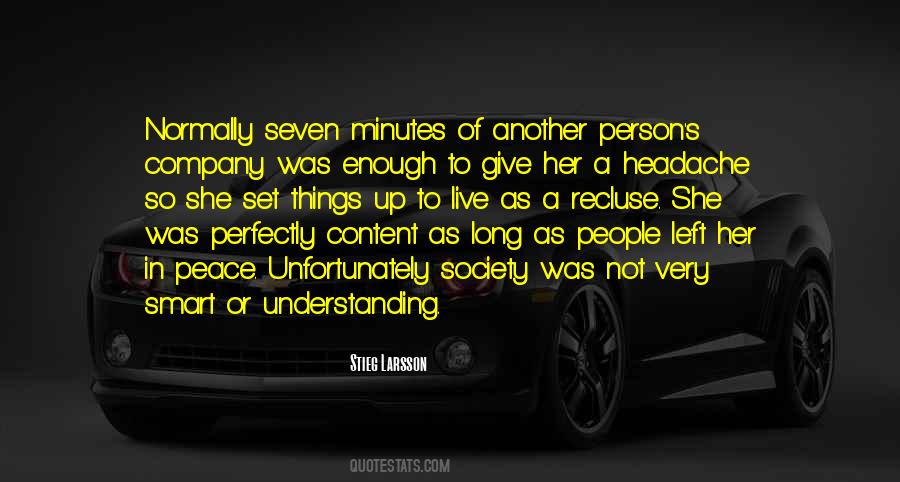 #85. Crime must be brought under control ... Freedom without civility, freedom without the ability to live in peace, was not true freedom at all. - Author: Nelson Mandela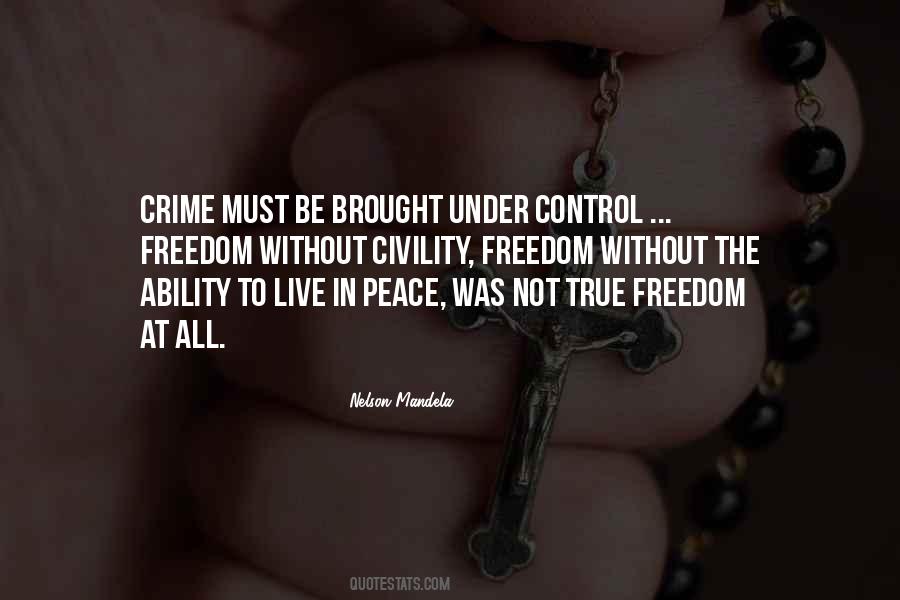 #86. Maybe there is no peace in this world. I don't know ... But I know as long as we live we must stay true to ourselves. - Author: Kirk Douglas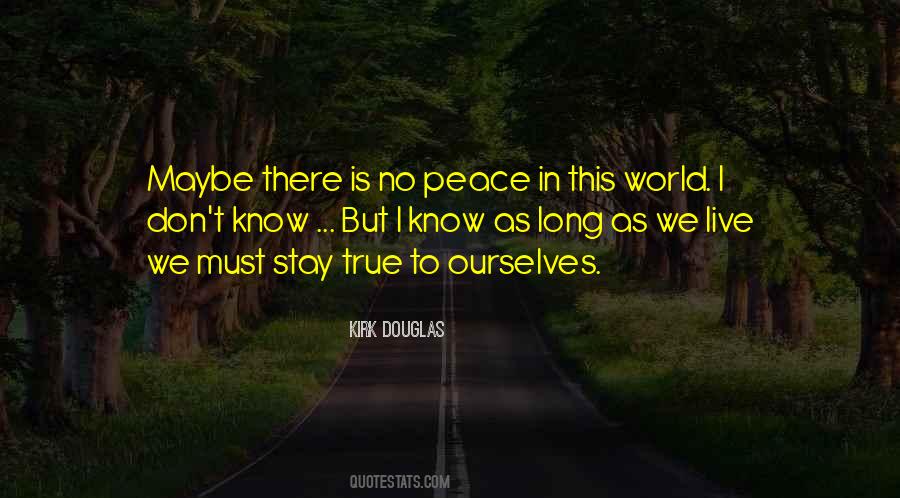 #87. What would you like to do with it?' he pressed. Grace thought a moment. 'Live, Monsieur Tissot. I'd like to live in great comfort. And peace.' And then she added, quite to her surprise, 'With no one to tell me what to do or how to do it.' He - Author: Kathleen Tessaro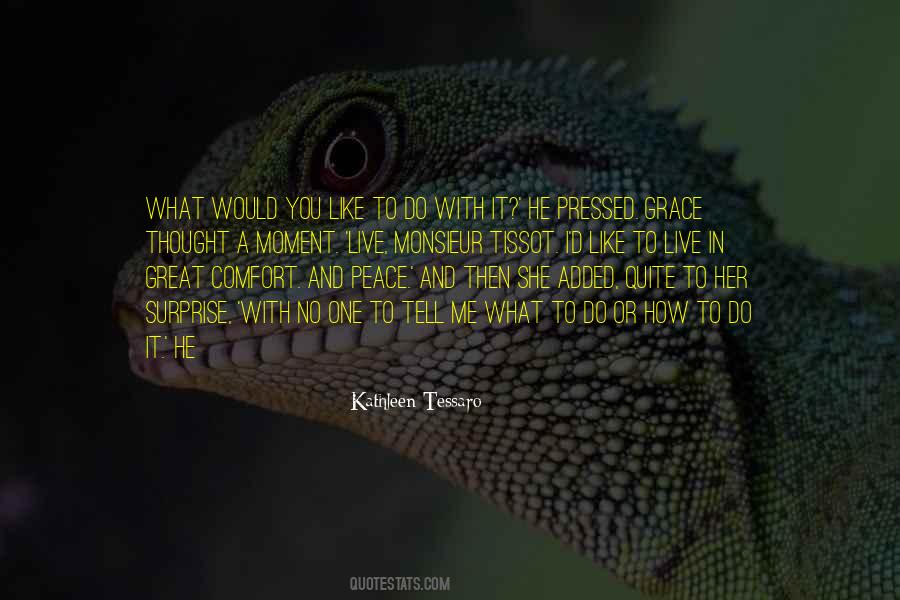 #88. He came to the conclusion that you cannot depend on people, and that you can live in peace only if you keep them at arm's length. - Author: Patrick Suskind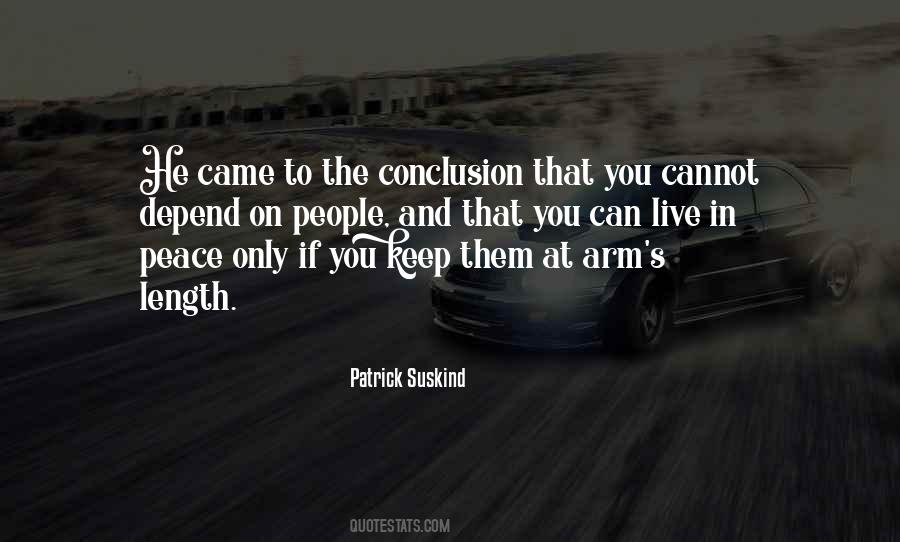 #89. Withdrawn into the peace of this desert, along with some books, few but wise, I live in conversation with the deceased, and listen to the dead with my eyes - Author: Francisco De Quevedo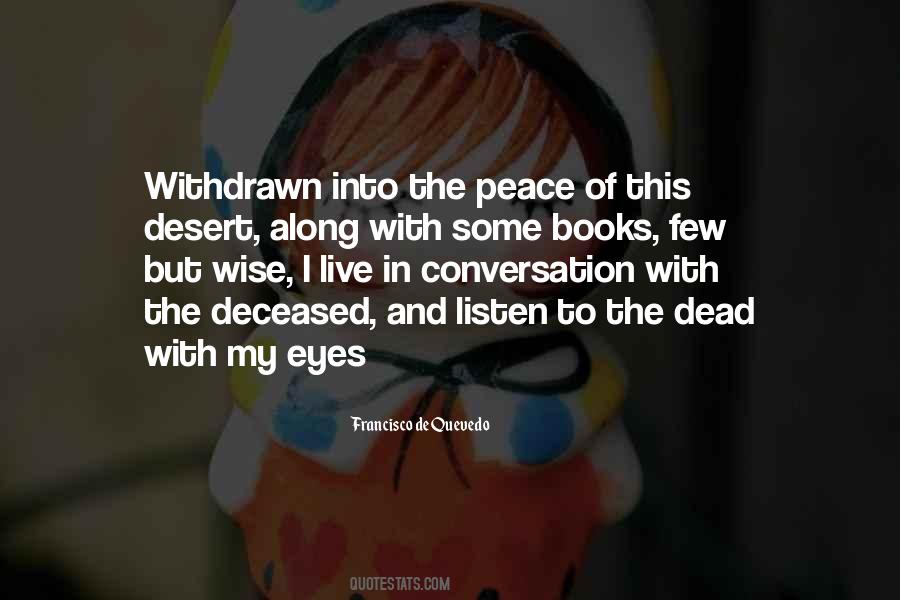 #90. We tell the dead to rest in peace, when we should worry about the living to live in peace. - Author: Anthony Liccione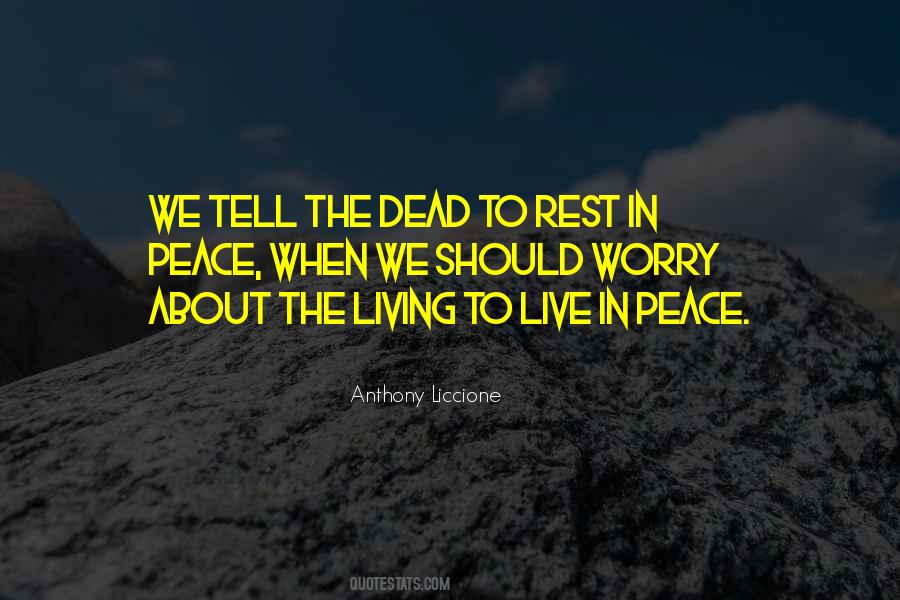 #91. I have in the past declared that in order to achieve a real, just and durable peace, I would be willing to make painful compromises. But we cannot make any compromise on the security of our citizens and their right to live without the threat of terrorism and violence. - Author: Ariel Sharon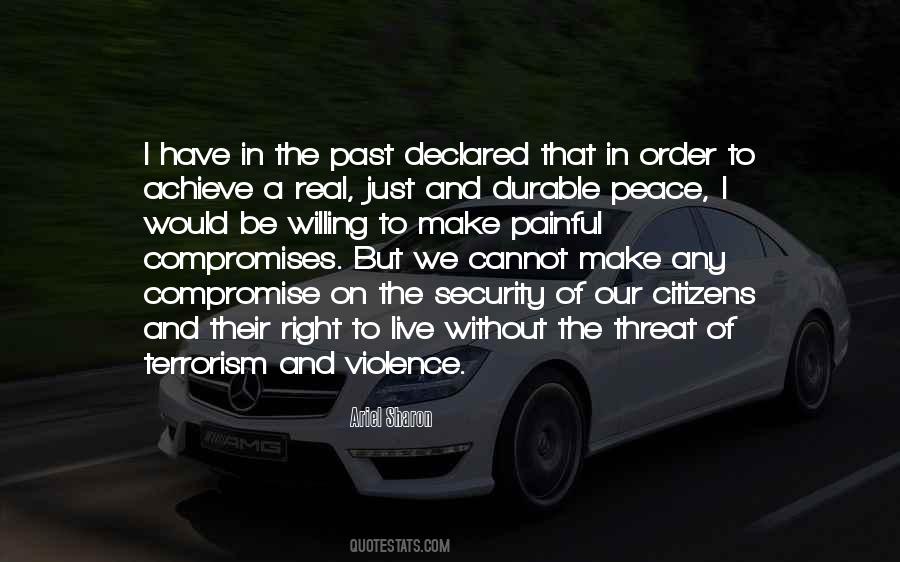 #92. I find myself more at peace when I live in Europe. - Author: Norman Granz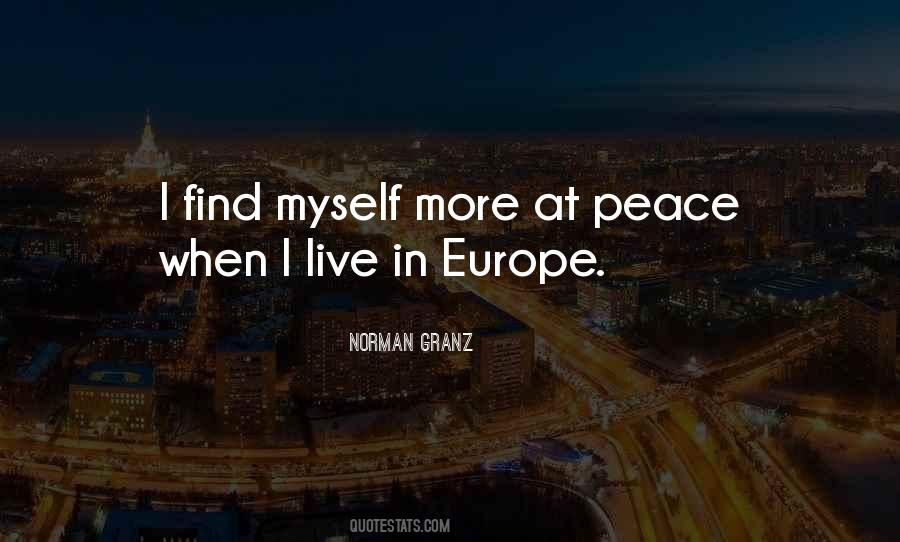 #93. Modern civilisation is complicated and artificial. Simple folk live in a world of love and peace. Let no one hate another or harm another. - Author: Sivananda Saraswati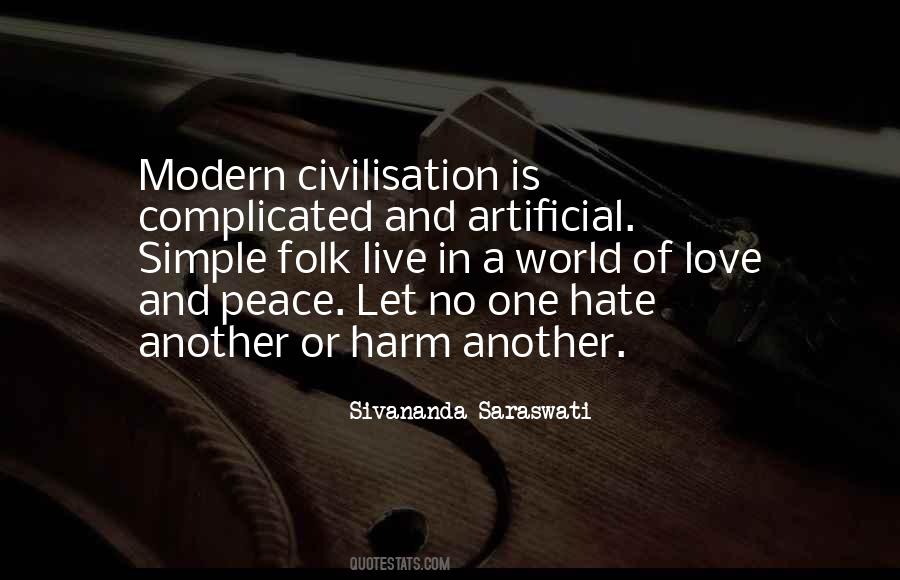 #94. We can't control what happens around us but we can control what happens inside us. Walk in positive energy...live in peace. - Author: Timothy Pina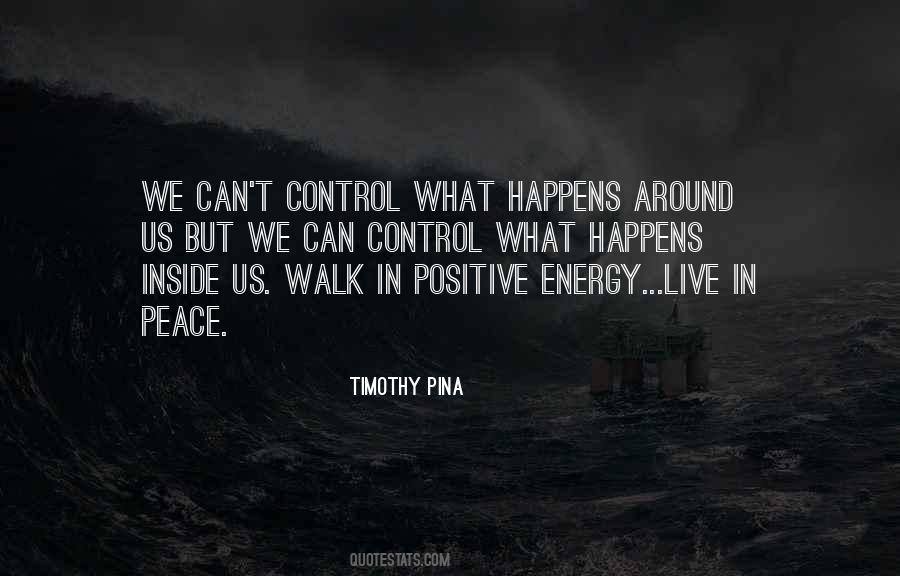 #95. In a world where very few people care if you live or die, there is a light that shines in the distance. It has a name that they call hope and it carries with it people that never stop caring. They learned long ago that extending mercy was not a choice, but a place where God lives. - Author: Shannon L. Alder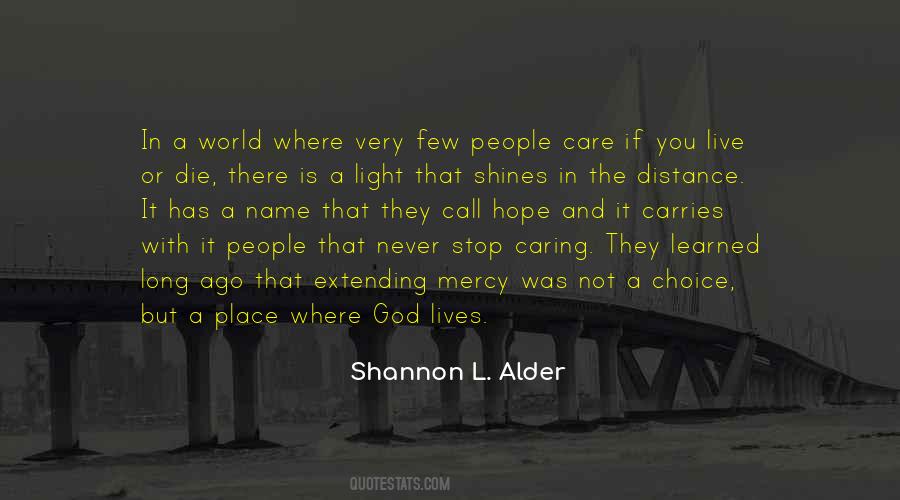 #96. It is possible for us to live in the very sense of the Lord's presence, under even the most difficult circumstances. If you and I are going to enjoy the peace of paradise during this life we must become accustomed to a familiar, humble, and very affectionate conversation with the Lord Jesus. - Author: Brother Lawrence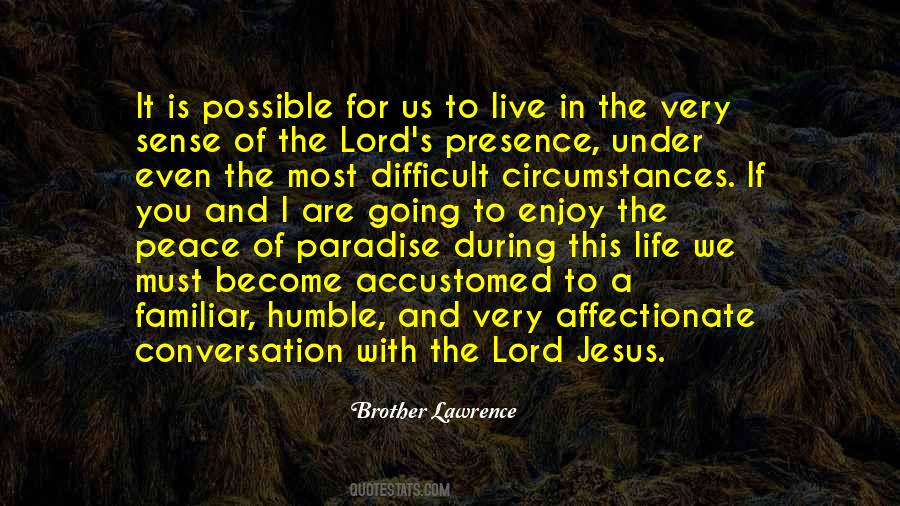 #97. To live in peace, love peace. - Author: Debasish Mridha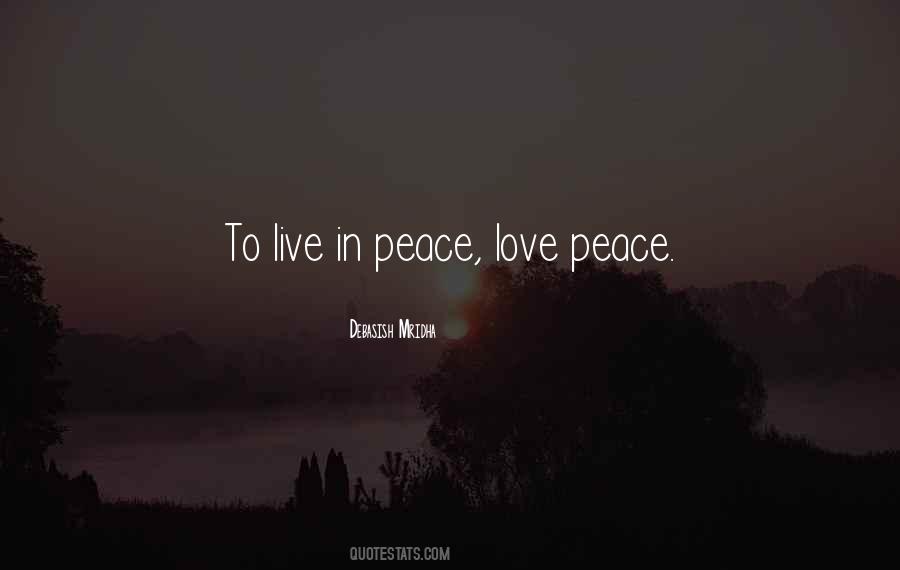 #98. Sometimes you need to swallow hard and recognise your enemy as a fellow human being like who has the same rights as you and accept that you need to live in same space. - Author: Bangambiki Habyarimana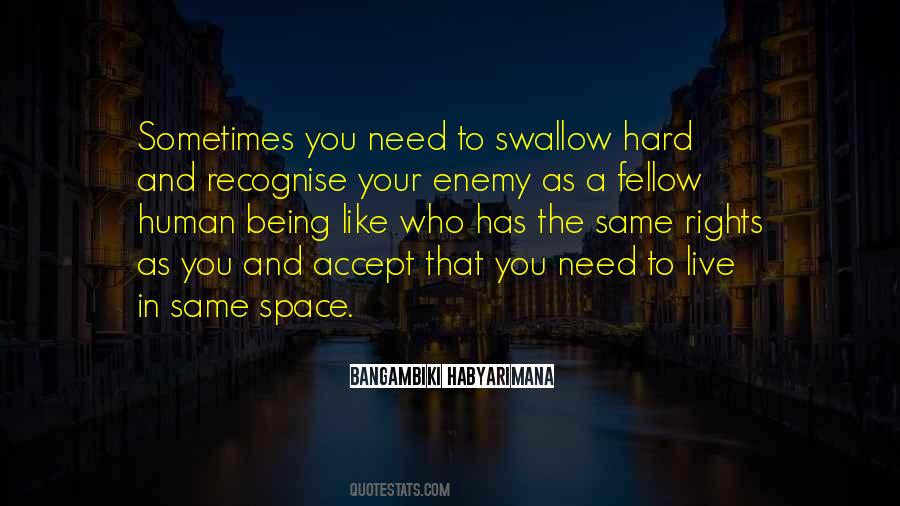 #99. Make us worthy, Lord, to serve those people throughout the world who live and die in poverty and hunger. Give them through our hands, this day, their daily bread, and by our understanding love,give them peace and joy. - Author: Mother Teresa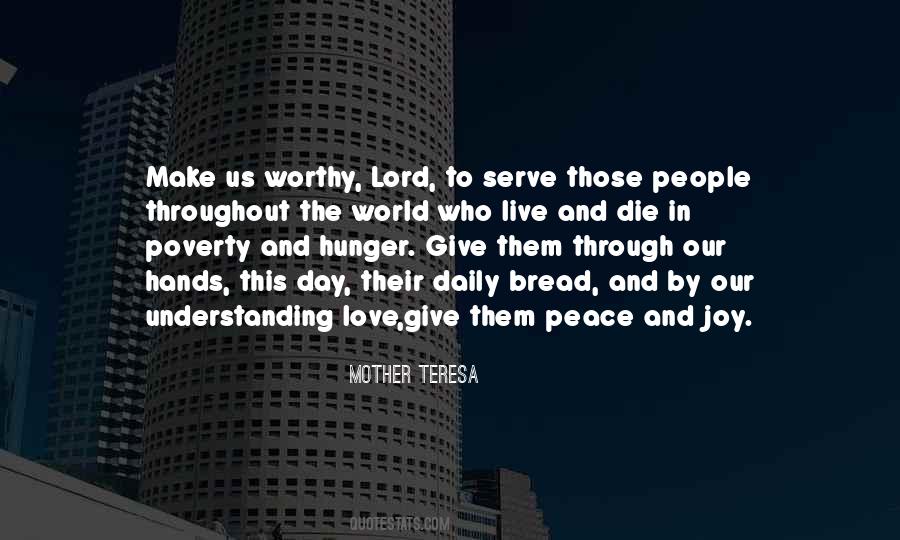 #100. When the mind is truly at peace,
wherever you are is pleasant,

Whether you live in a marketplace
or in a mountain hermitage. - Author: Baisao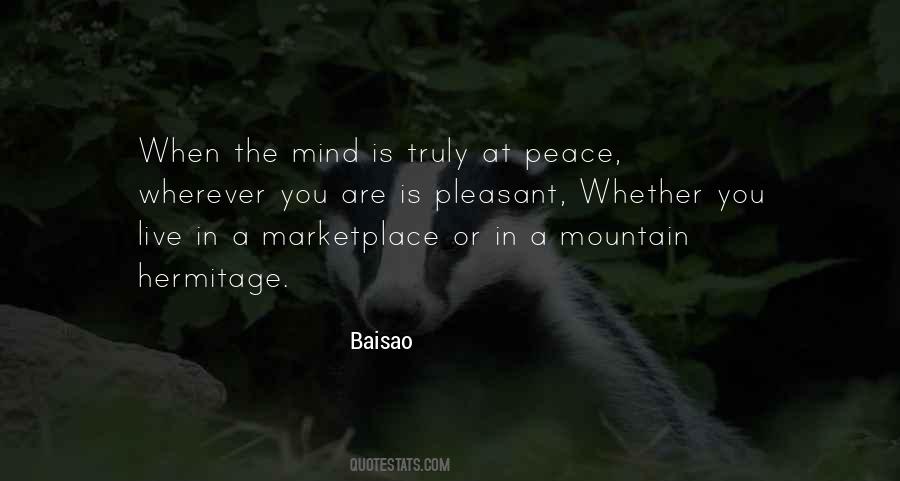 Famous Authors
Popular Topics