Life Pray Famous Quotes & Sayings
List of top 100 famous quotes and sayings about life pray to read and share with friends on your Facebook, Twitter, blogs.
Top 100 Life Pray Quotes
#1. Life is going to give you just what you put in it. Put your whole heart in everything you do, and pray, then you can wait. - Author: Maya Angelou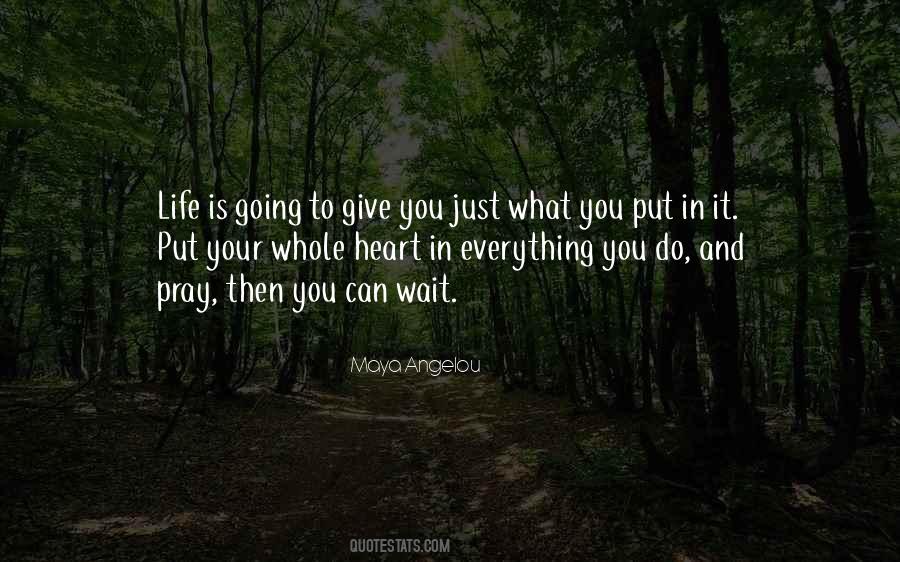 #2. We must give each other the chance to change. - Author: Lailah Gifty Akita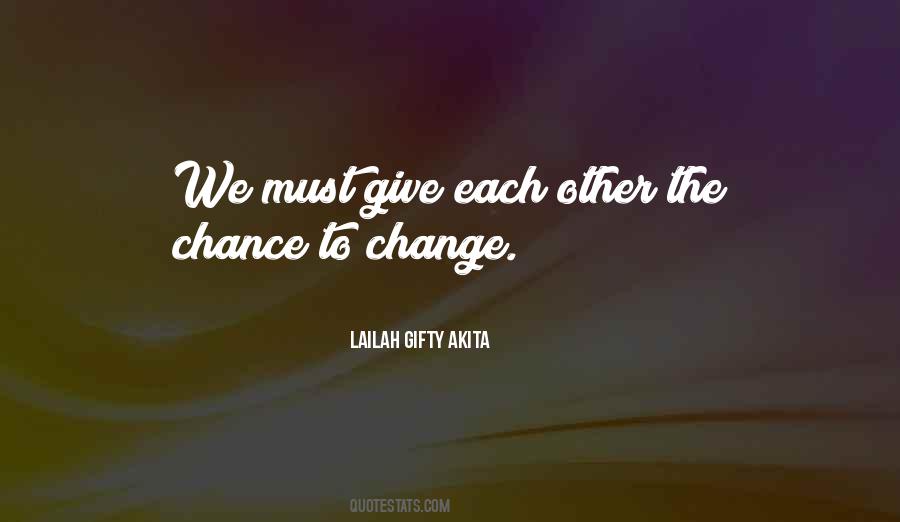 #3. You need to learn how to select your thoughts just the same way you select your clothes every day. This is a power you can cultivate. If you want to control things in your life so bad, work on the mind. That's the only thing you should be trying to control. - Author: Elizabeth Gilbert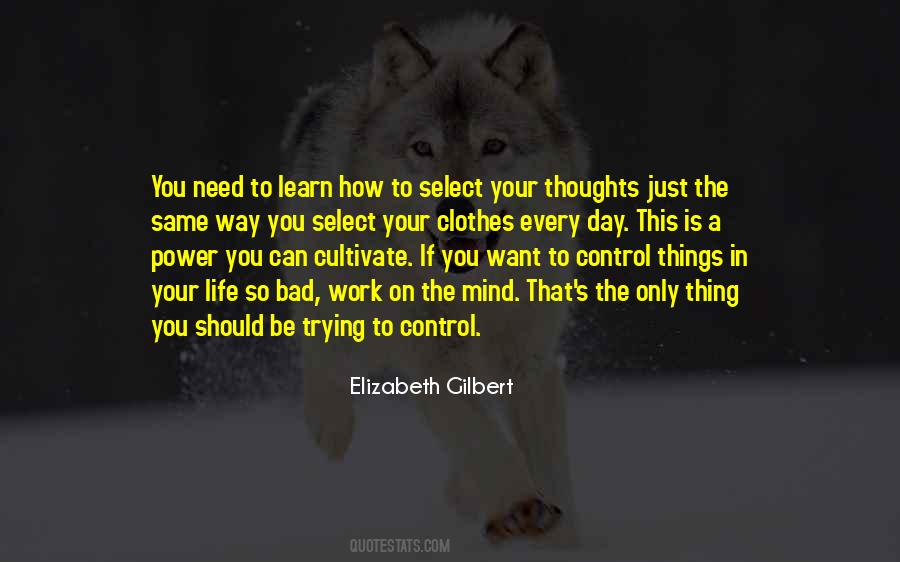 #4. Gabe, did you pray?'
'Sort of.'
'Me too. Do you believe?'
'No. Do you?'
'No.'
'I don't believe,' said Gabriel, 'But I have faith, if you know what I mean.'
'What in?'
'I don't know, life, carrying on, I suppose.'
'Yes. - Author: Monica Ali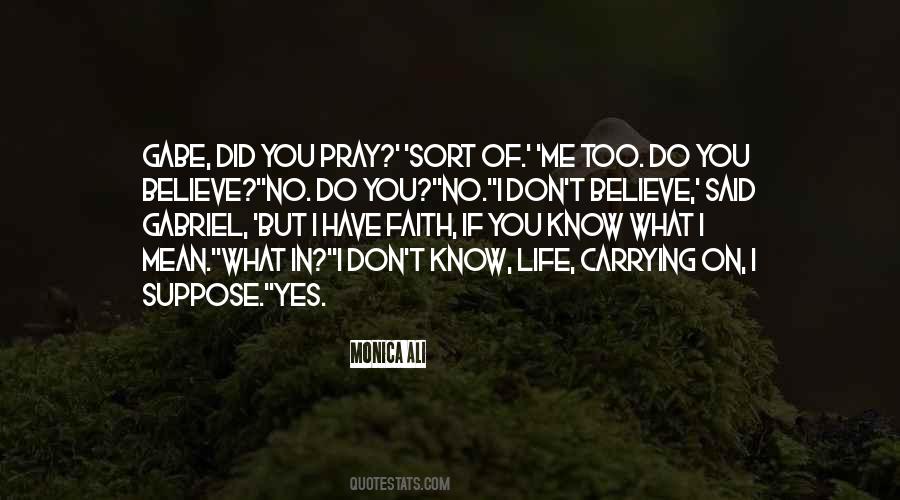 #5. Prayer, divine act.
Pray always. - Author: Lailah Gifty Akita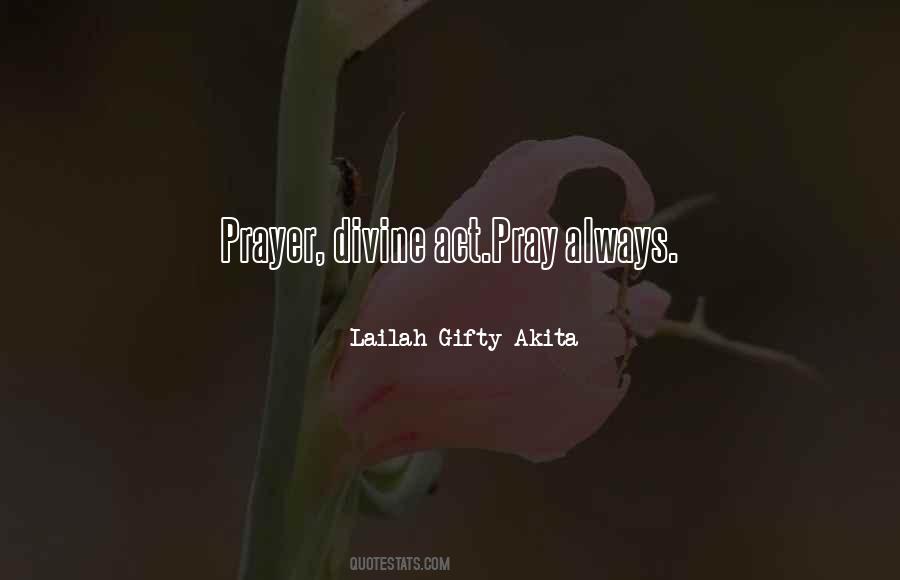 #6. Prayer is the breath of life. - Author: Lailah Gifty Akita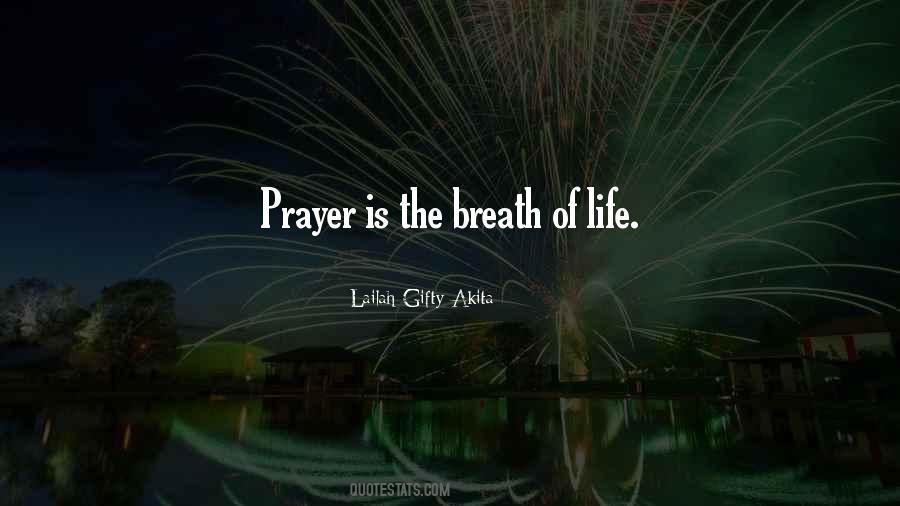 #7. I am thankful for a new day, to live, to love, to talk, to smile, to laugh to walk, to dream, to share, to write, to hope, to pray, to praise God and to fulfill my purpose of life. - Author: Lailah Gifty Akita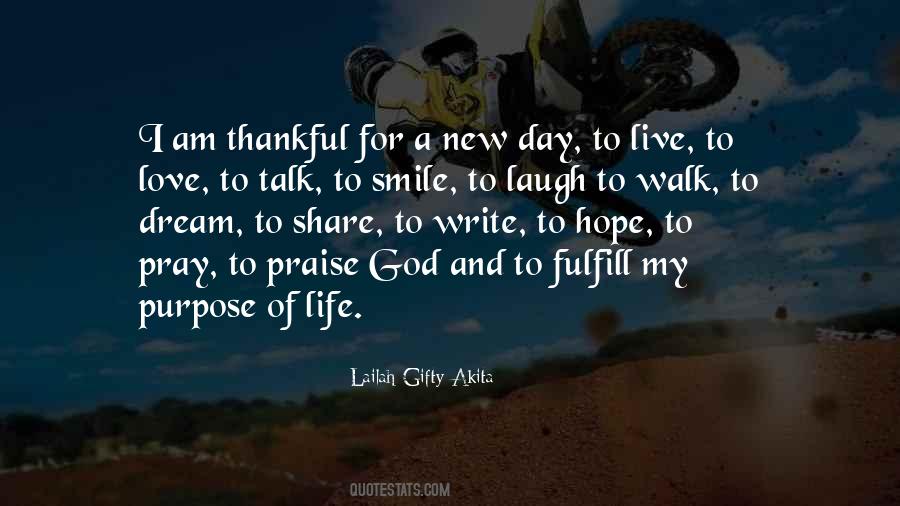 #8. Whom man kill, God restores to life; whom the brothers pursue the Father redeems. Pray and believe and go onward into life. You Father is there. - Author: Victor Hugo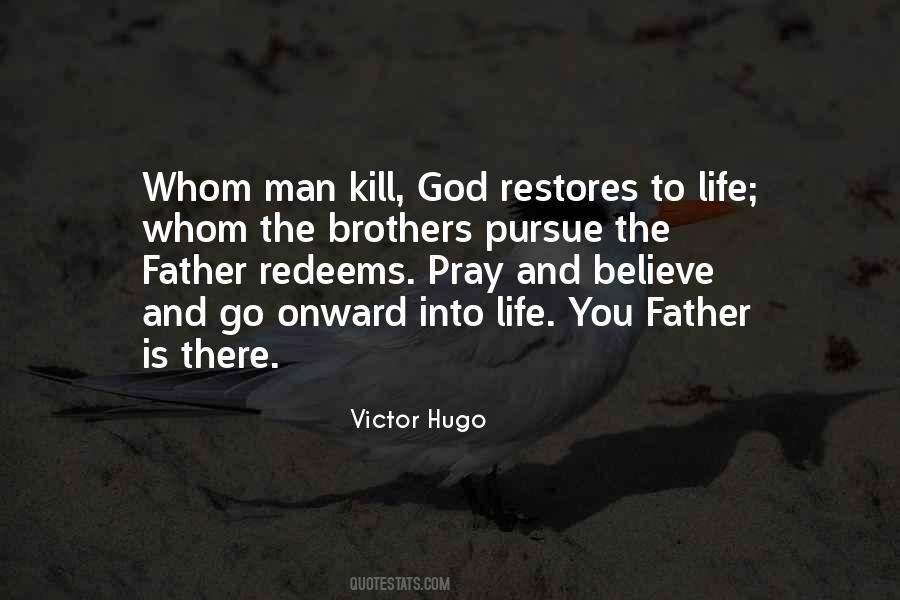 #9. I like Dancing of Indian girls more than my parents' prayers . Because they dance with love and passion . But my parents just say their prayers because they got used to it . - Author: Ali Shariati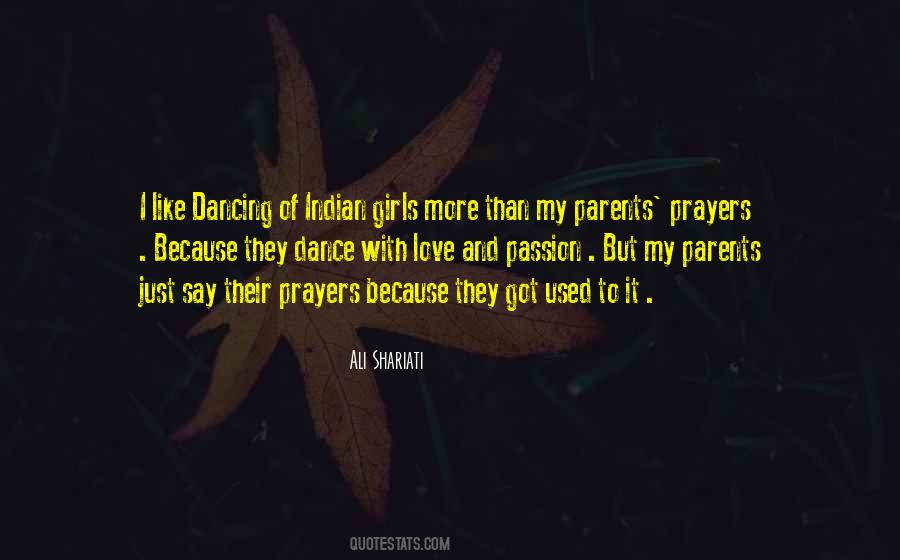 #10. Let's pray for grace to live heavenly on earth. - Author: Lailah Gifty Akita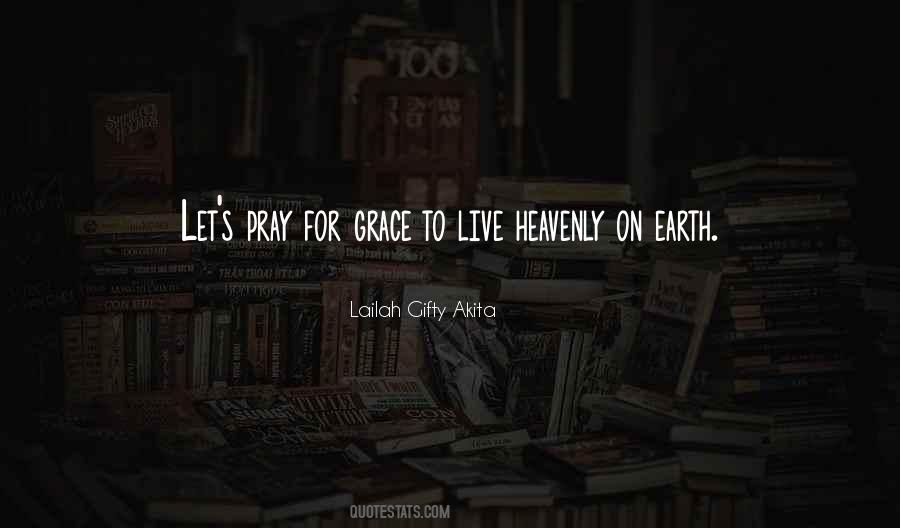 #11. Enjoy your life ... everyday. When trouble comes don't panic. Be still and pray. It's a test so pass it. Be obedient to your faith. - Author: Michael Barbarulo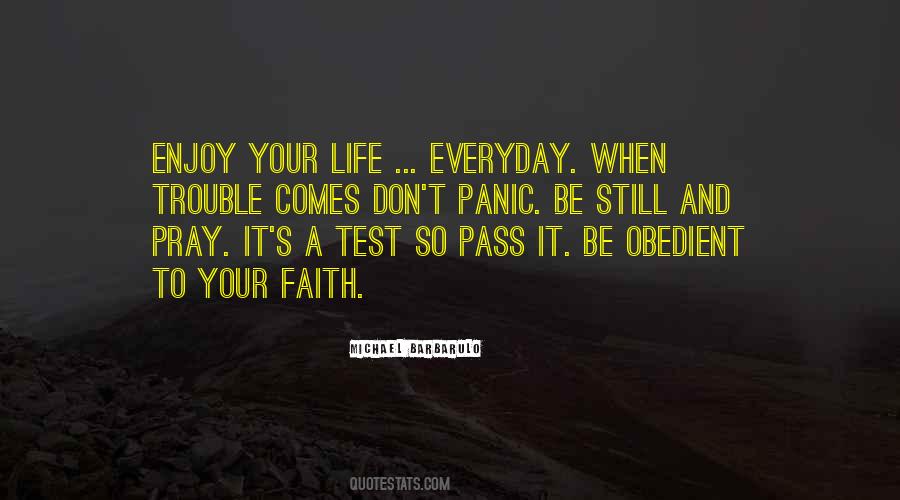 #12. My dearest Eden, I suppose, someday, after I have passed, you will dig through my journals and happen upon this letter. I pray that it finds you as amazed at the life God has gifted to you as I was when I discovered a daughter - Author: Susan May Warren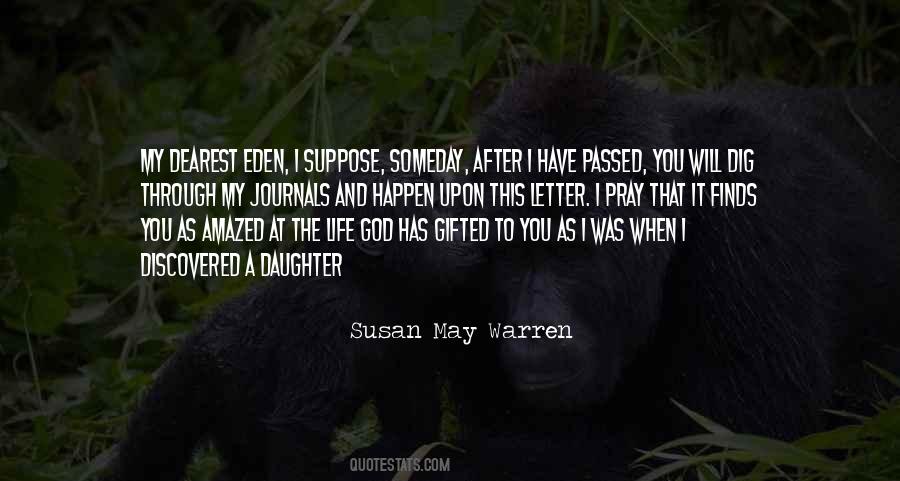 #13. I was always spiritual, even as a child. I was taught to pray, show gratitude. We had an attitude of gratitude. Even if life was ugly, bad or sad - we prayed. - Author: Shilpa Shetty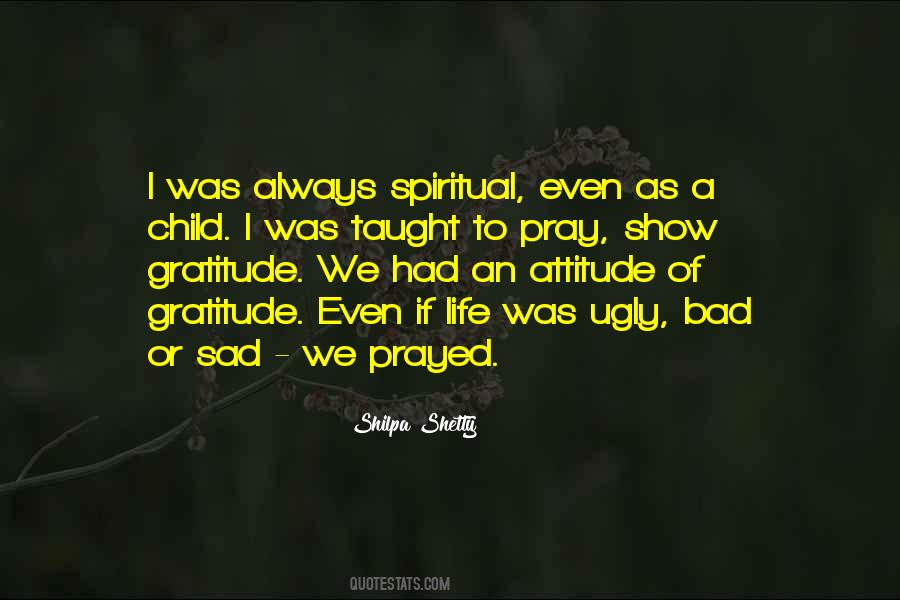 #14. I ended up getting on my knees right there in my bedroom. I didn't have a tract that had, you know, 'here's how you pray to receive Christ' on it. I had never seen a tract in my life. I had never read a Bible. - Author: Jim Hamilton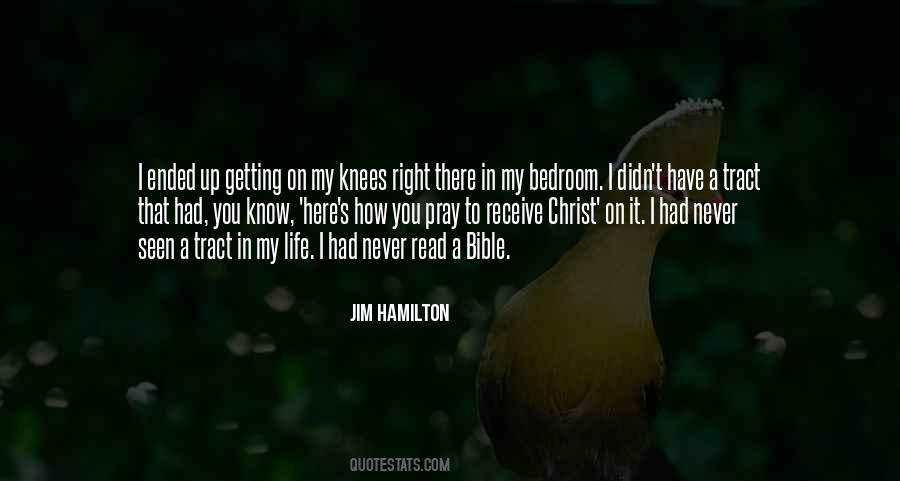 #15. Pray about everything you want. - Author: Lailah Gifty Akita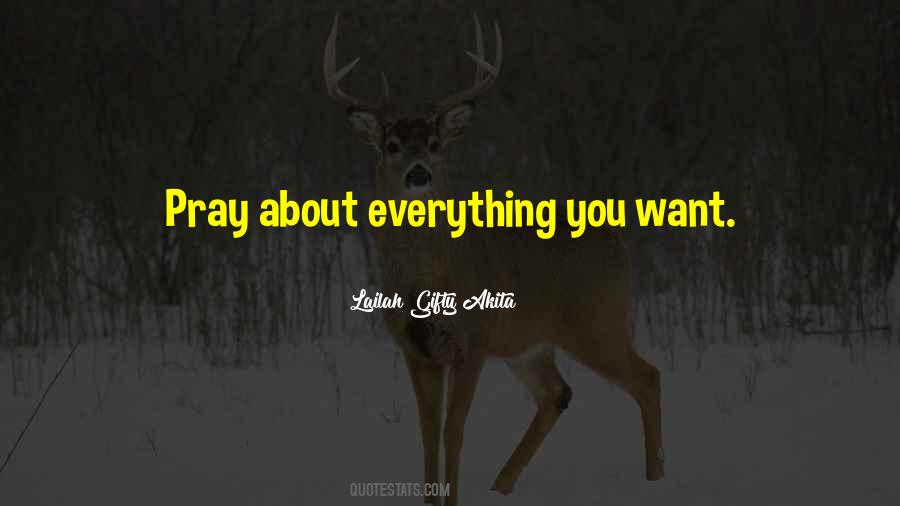 #16. During that time, The Mouth came by to pray with us, and my dad began to spend his evenings sitting in the yellow lawn chair and staring at the highway, or down in the basement with his isotope material, finding comfort in the stability that's created from decay. - Author: Miriam Toews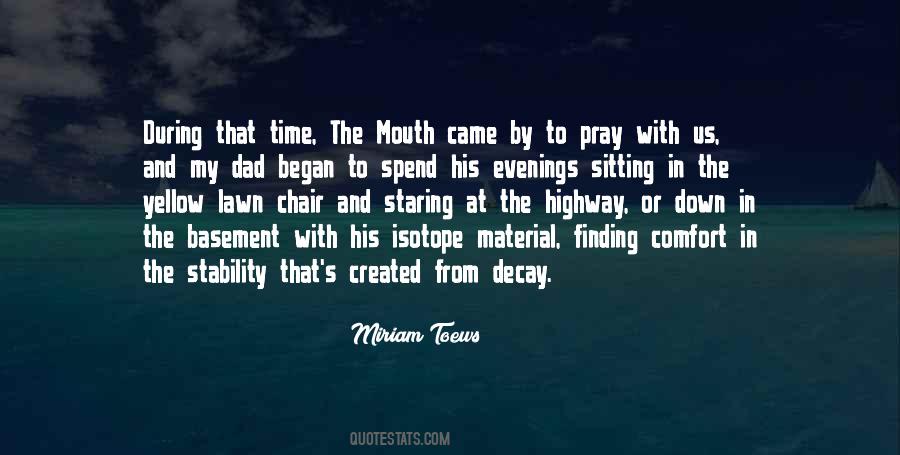 #17. One thing I've learned in my life is that we can teach and hope and pray, but in the end, each person controls their own actions. - Author: Melissa Foster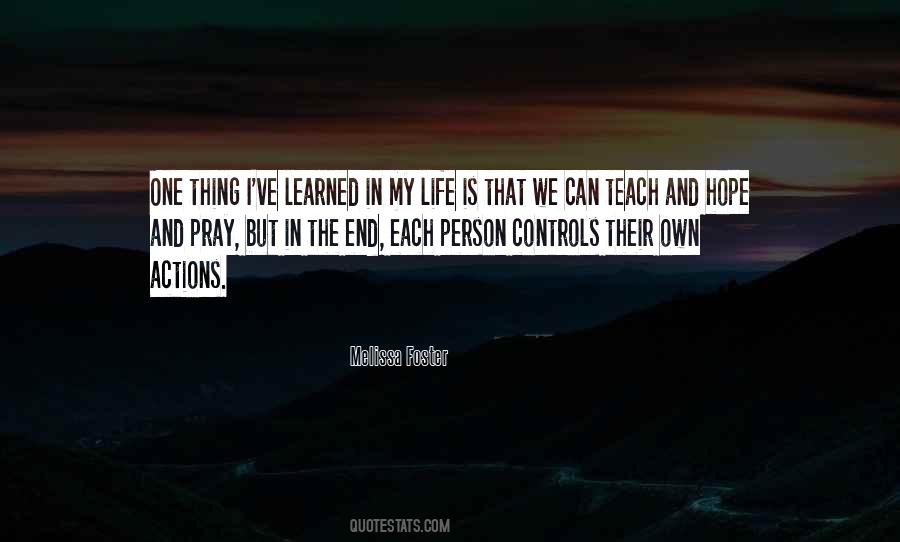 #18. Learning to pray is dress rehearsal for eternal life. - Author: Peter Kreeft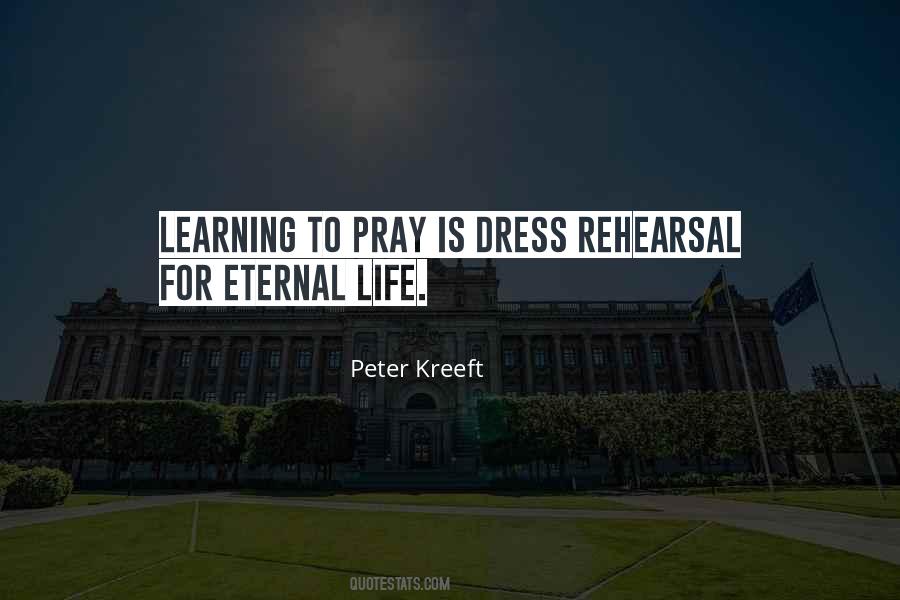 #19. As a subconscious attempt to add meaning or purpose to their life: The unemployed pray for a job; the retired pray for grandchildren. - Author: Mokokoma Mokhonoana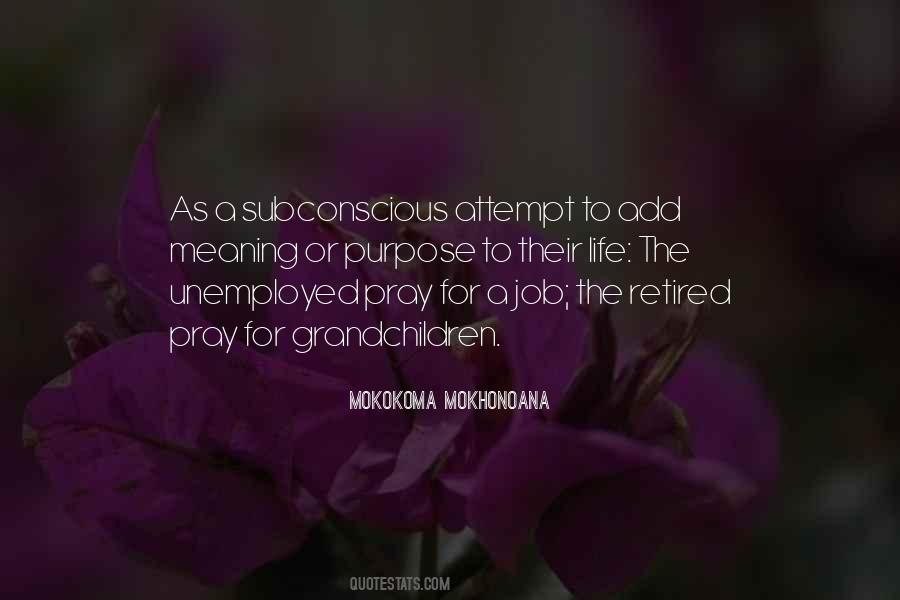 #20. It's a loathsome tale, yet I'm proof of God's love. He seeks us out to be His very own. My life had been so horrible, but it all changed when I surrendered to Him. It's the most important decision you'll ever make, and I pray you will soon understand the power of God's unconditional love. - Author: DiAnn Mills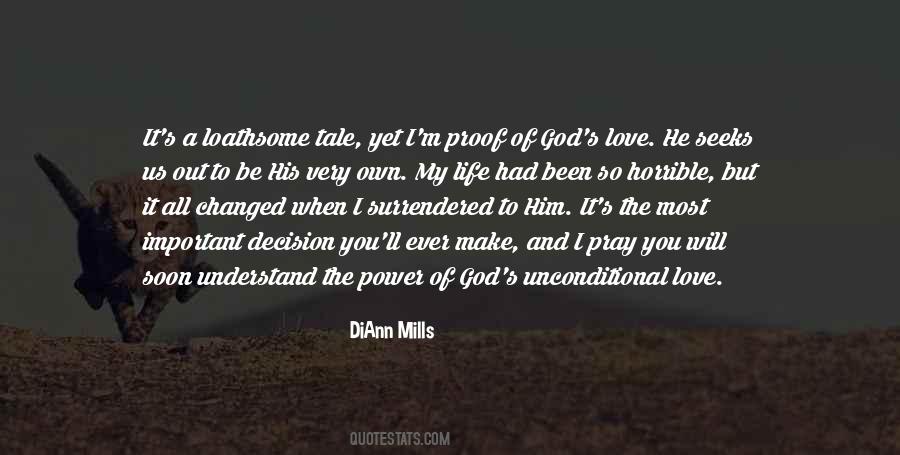 #21. What we need now for quickening is not so much money and wisdom as the spirit of supplication. Pray for yourself until the new life is infused. When that new life comes, it will lead you to pray for others. - Author: A.C. Dixon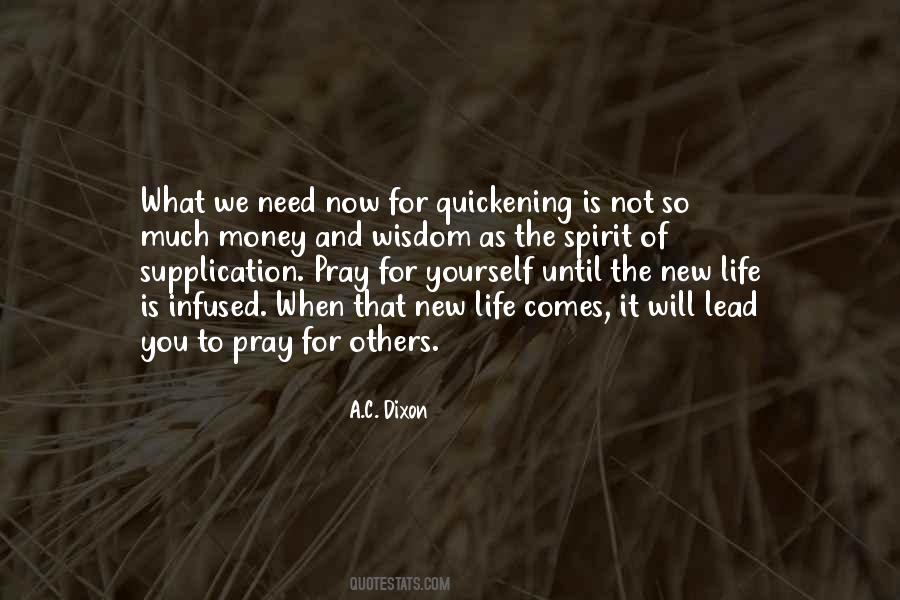 #22. Pray and mediate on the Scriptures. - Author: Lailah Gifty Akita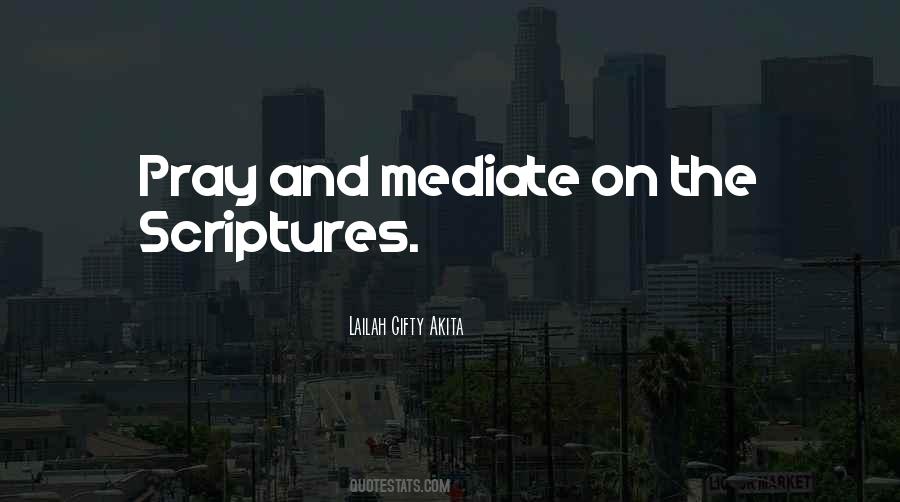 #23. I knelt in front of life, folded my hands and prayed for some more time; there couldn't be any. My heart bled and so did my tearful eyes.
Time, they say, flies, but I saw it slowly passing by taking each of my tardy breaths with it as it walked out of my life ... - Author: Sanhita Baruah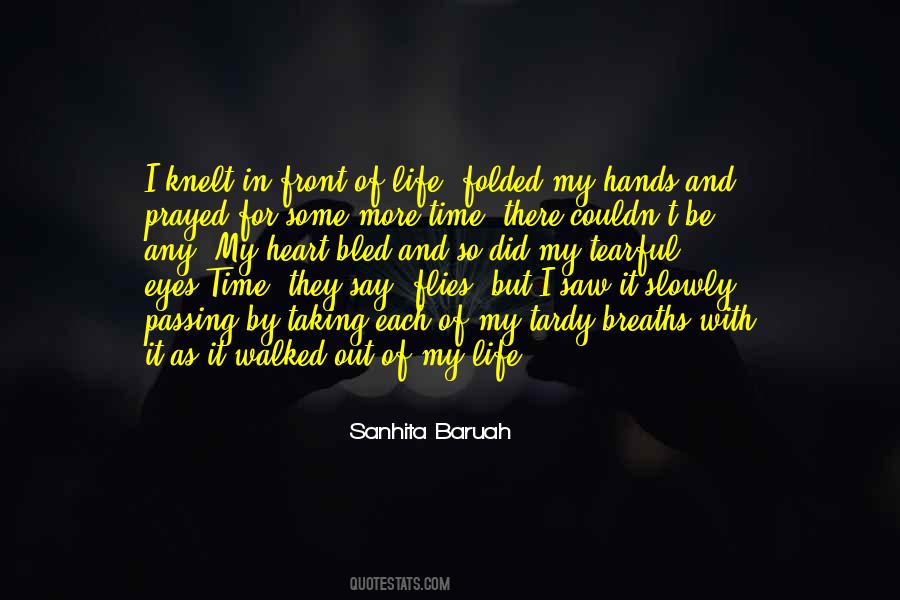 #24. My mother was suffering every day of her life, and what right did I have to be happy if she was suffering? So whenever I got happy about something, I felt the need to cut it off, and the only way to cut it off was to pray. 'Forgive me Lord.' For what, I didn't know. - Author: Gene Wilder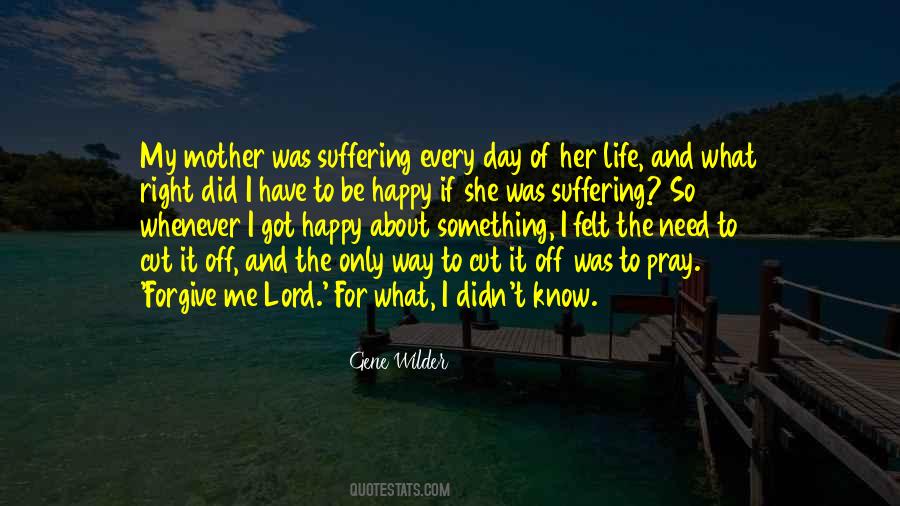 #25. Pray that you are in the right place, at the right time, to meet the right person, that together you may help one another. - Author: Don Polson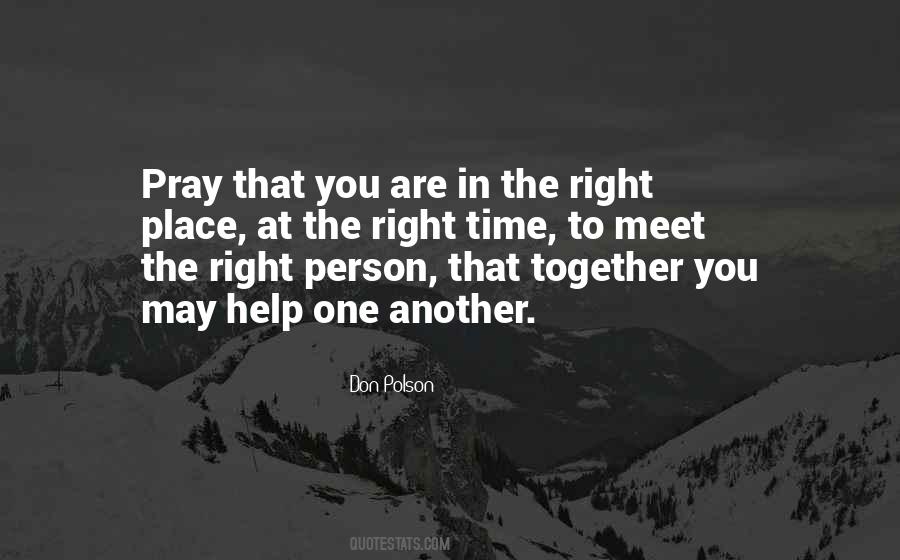 #26. Sometimes, just be. Do not think or worry, do not get angry under stress. Just pray and keep your faith in the Lord. Keep patience and see how well things will work out for you! - Author: Sanchita Pandey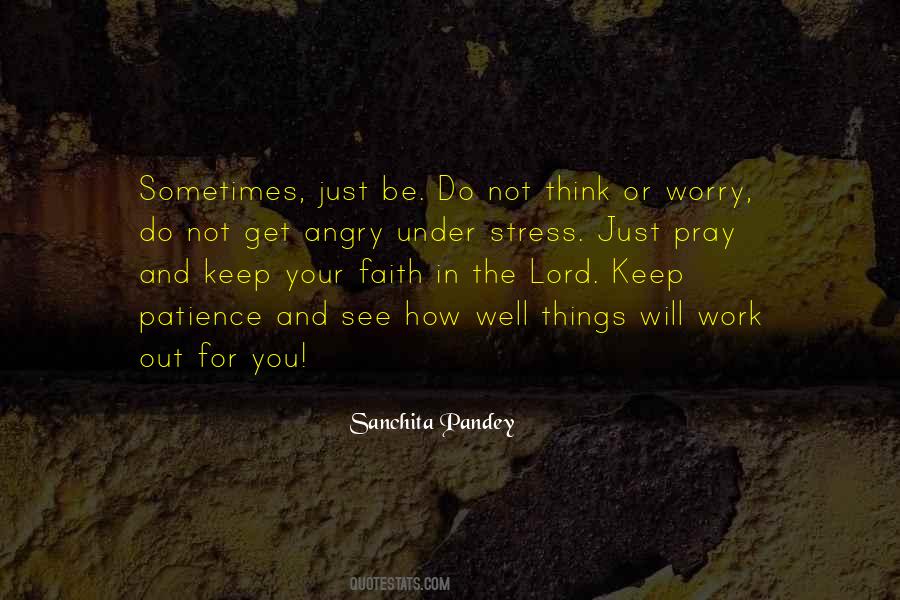 #27. Pray, meditate and the Almighty will bless you in the name of Jesus Christ - Author: Sunday Adelaja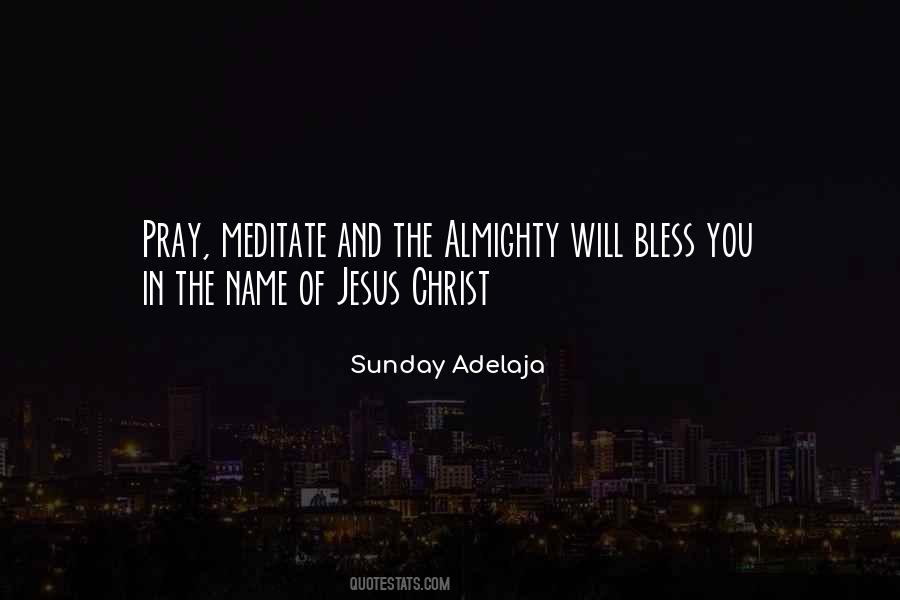 #28. I bow my knees and pray to God. - Author: Lailah Gifty Akita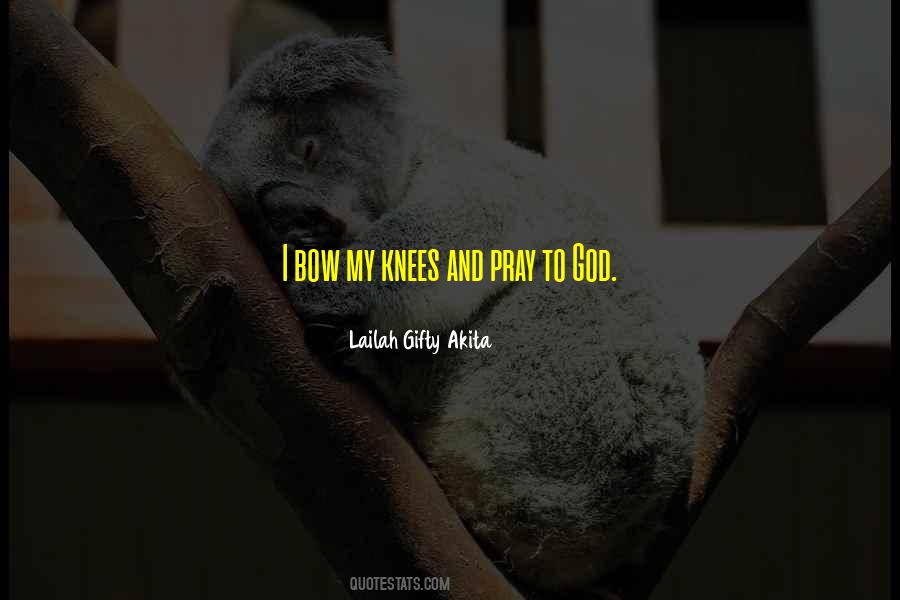 #29. Father, your Son taught us to pray, "Hallowed be thy name" before "Give us this day our daily bread." Help me pray not "You've got to do this, God!" but "Be glorified in my life." That is hard at first; then it is freedom itself. Amen. - Author: Timothy J. Keller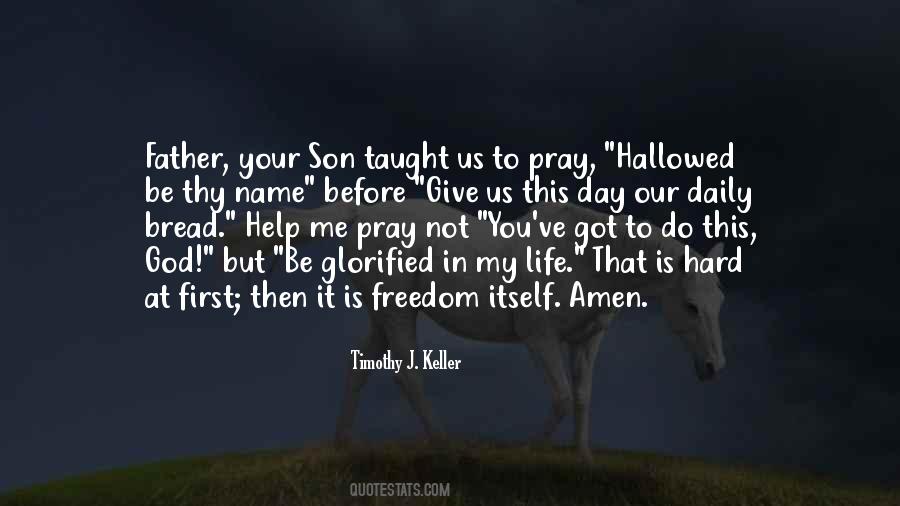 #30. It is absolutely imperative at the outset that you come to terms with this simple yet life-changing truth: God is for you. If you don't believe that, then you'll pray small timid prayers; if you do believe it, then you'll pray big audacious prayers. - Author: Mark Batterson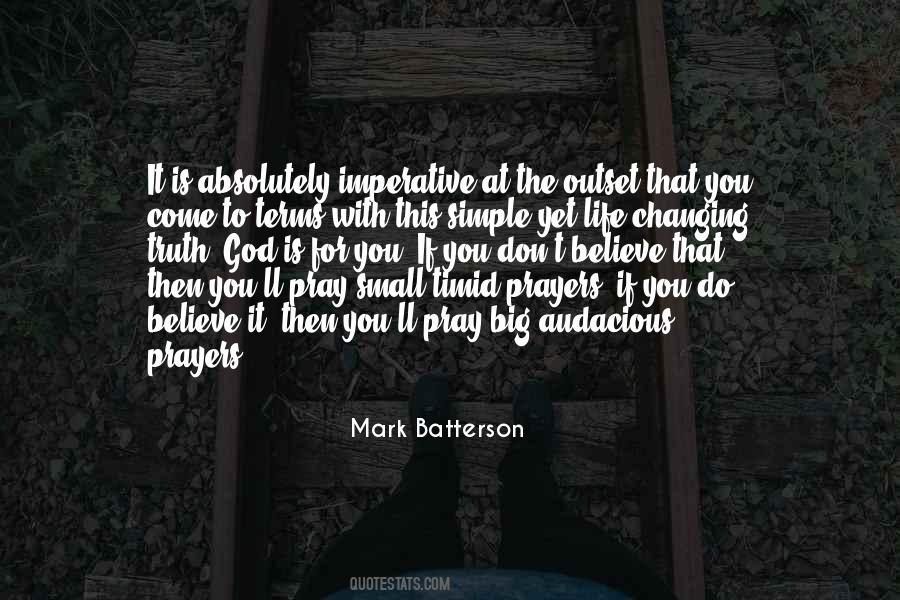 #31. For the life of me, I still don't understand why humans pray. - Author: Vincent Bugliosi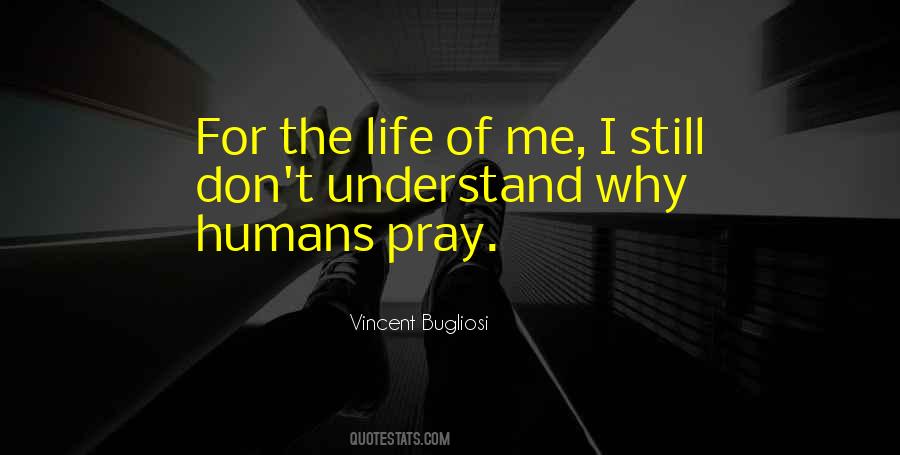 #32. When asked, 'What is more important: praying or reading the Bible?' I ask, 'What is more important: breathing in or breathing out? - Author: Russ Scalzo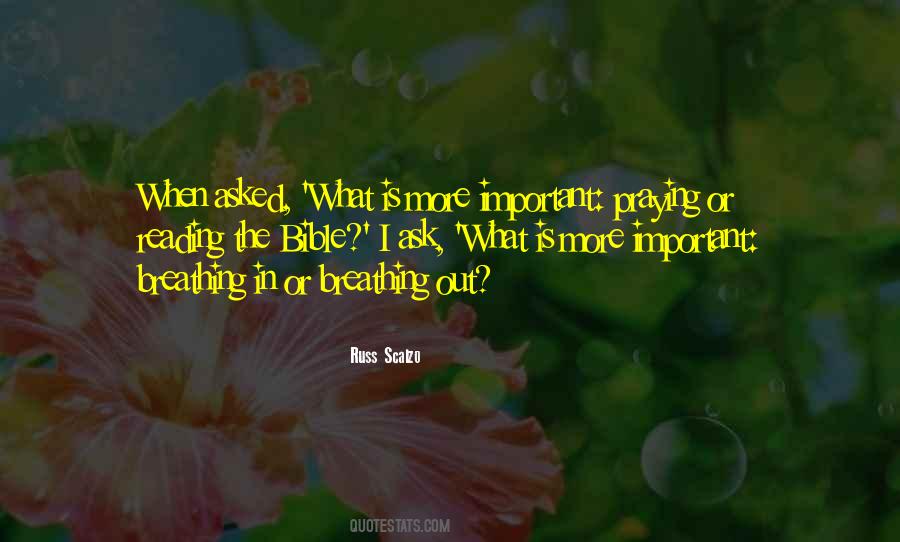 #33. No more; unless the next word that thou speak'st
Have some malignant power upon my life:
If so, I pray thee breathe it in mine ear,
As ending anthem of my endless dolour. - Author: William Shakespeare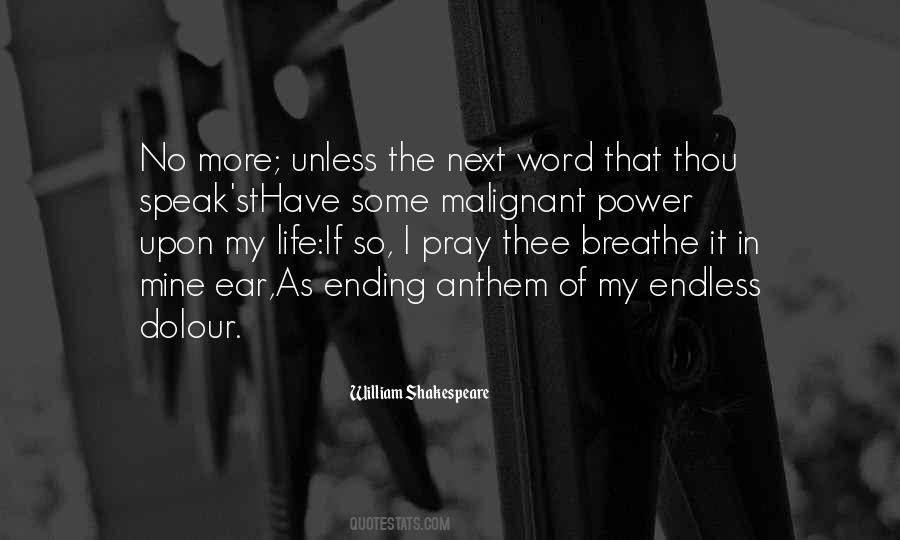 #34. Father Gregory laid a hand on his shoulder. "Sometimes life knocks us to our knees." His hand tightened briefly. "But that's a damn good position to pray from. - Author: Laura Oliva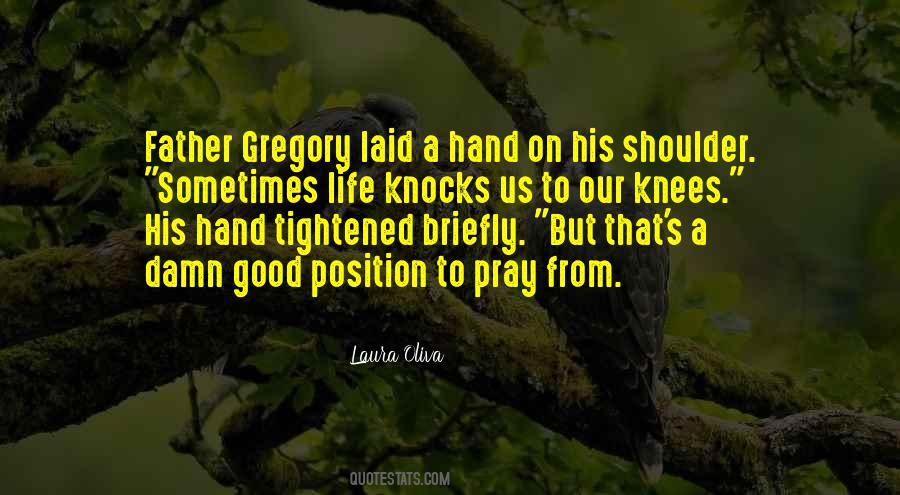 #35. Prayers are prophecies. They are the best predictors of your spiritual future. Who you become is determined by how you pray. Ultimately, the transcript of your prayers becomes the script of your life. - Author: Mark Batterson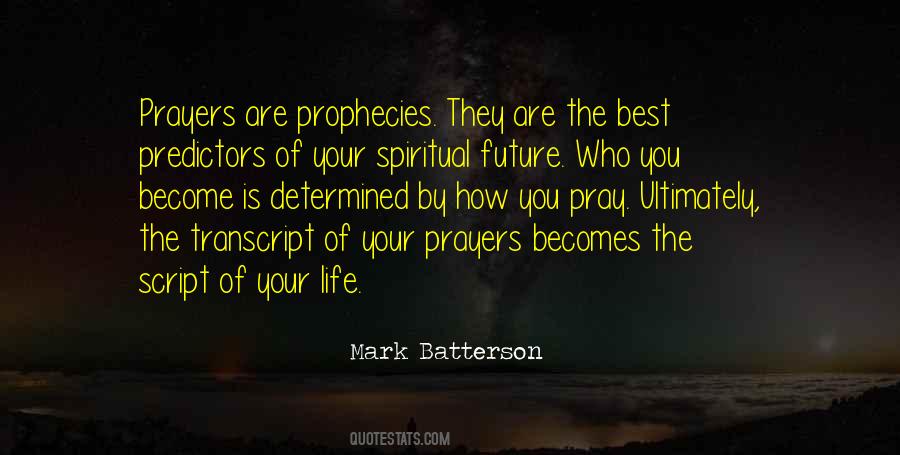 #36. Real life is messy and hard and never turns out like I've imagined. Usually it's better. So, I try not to dream but rather to pray. If there is one thing I know, it's that I have no clue what I want. I'm fickle. I'm picky. And I'm scared of a lot of things. Especially commitment. - Author: Katie Kiesler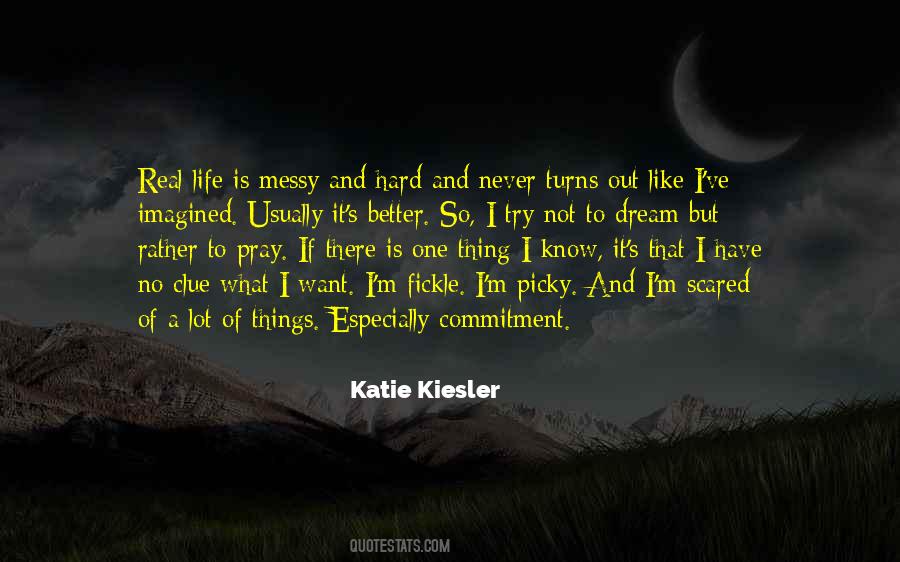 #37. The reason so many people do not pray is because of its cost. The cost is not so much in the sweat of agonizing supplication as in the daily fidelity to the life of prayer. - Author: Samuel Chadwick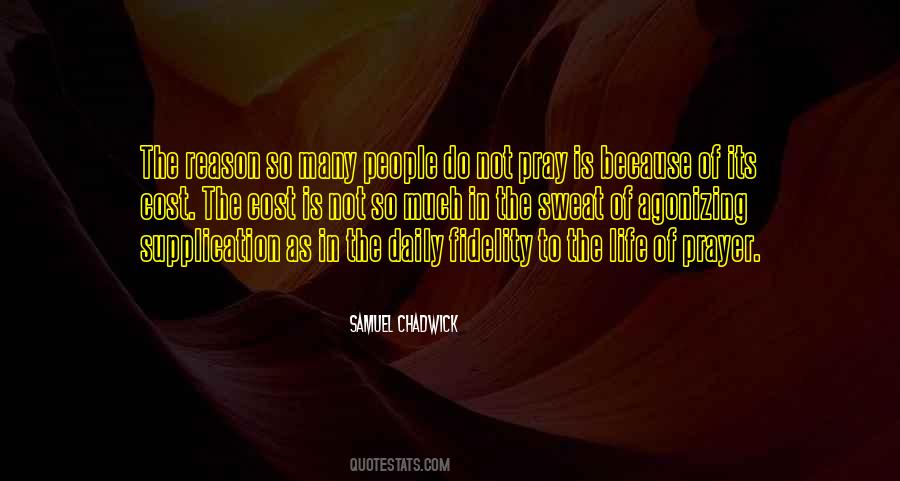 #38. The homosexual community wants me to be gay. The heterosexual community wants me to be straight. Every writer thinks, I'm the journalist who's going to make him talk. I pray for them. I pray that they get a life and stop living mine! - Author: Ricky Martin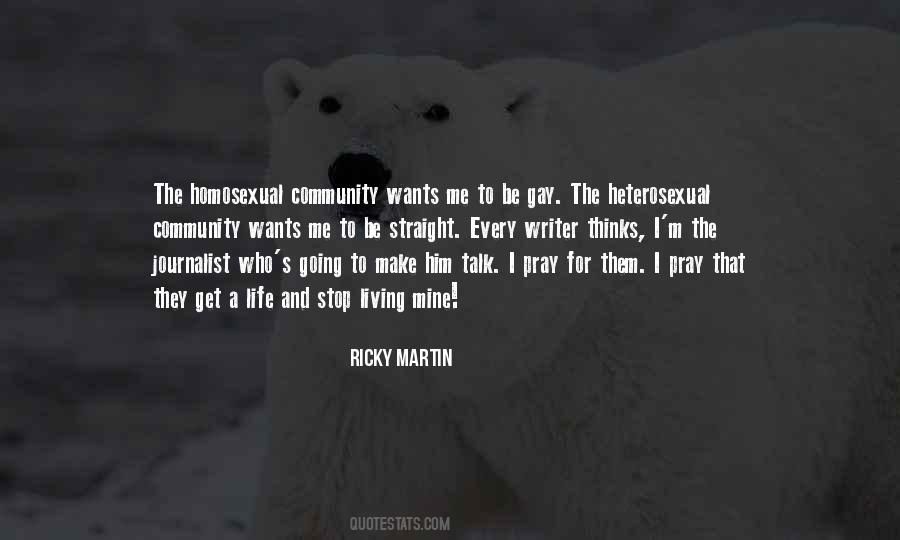 #39. Some people are so foolish that they think they can go through life without the help of the Blessed Mother. Love the Madonna and pray the rosary, for her Rosary is the weapon against the evils of the world today. All graces given by God pass through the Blessed Mother. - Author: Pio Of Pietrelcina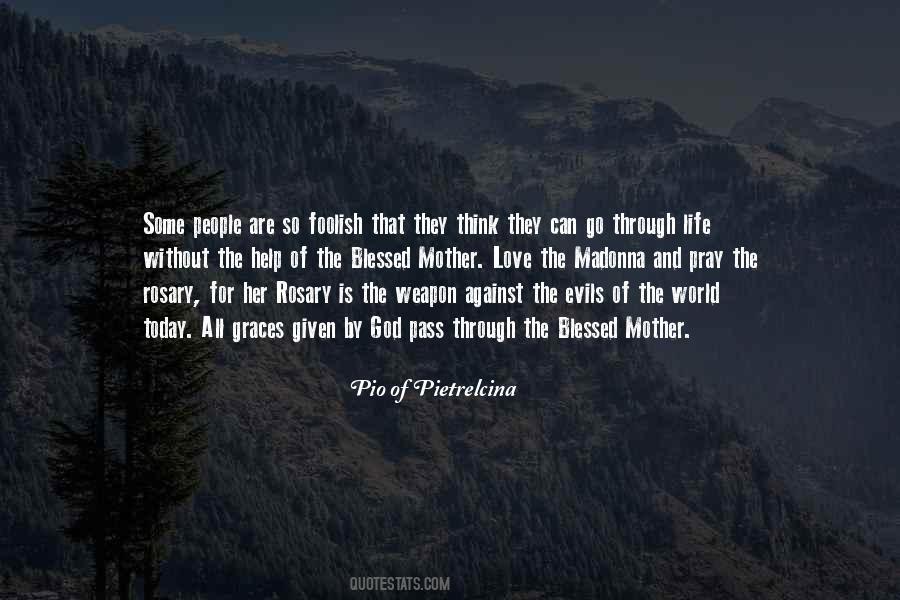 #40. The first priority of the Leader is to Pray for and be concerned for the welfare of your flock. The key to the rest of our life and ministry will be the investment of prayer we make in the lives of others. - Author: W. A. Criswell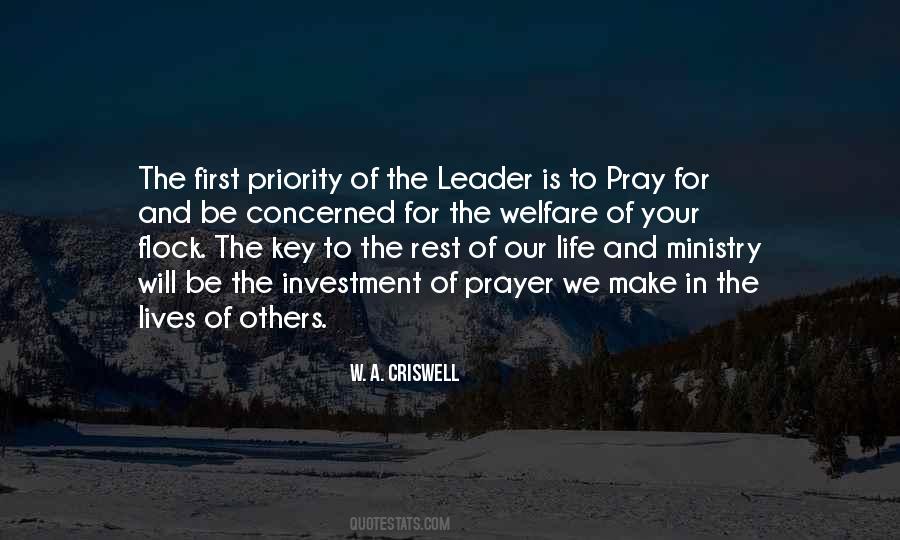 #41. Life is not meant to be easy, child. That is why we pray for God's strength to help us bear it. - Author: Patricia Davids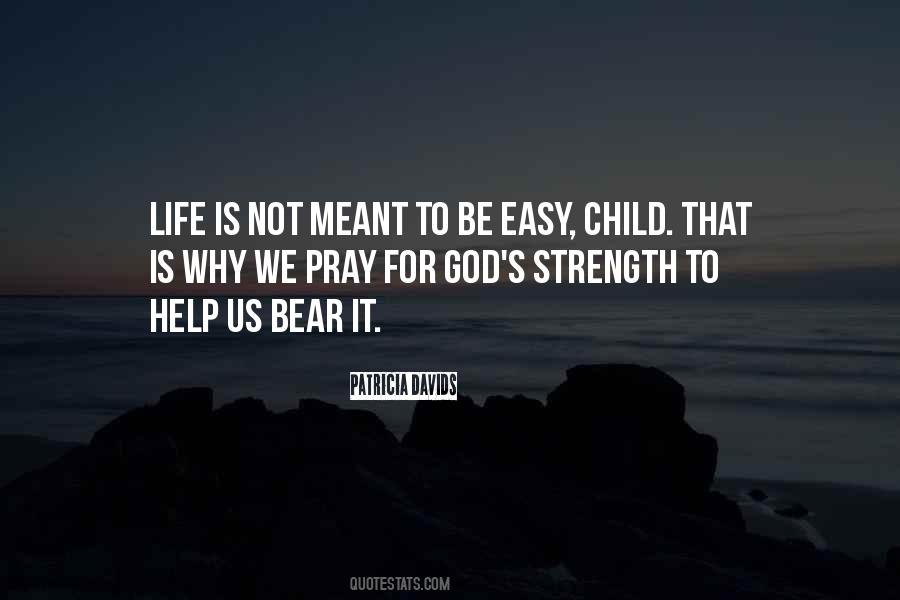 #42. The normal Christian life is a life of regular, daily answer to prayer. In the model prayer Jesus taught His disciples to pray daily for bread, and expect to get it, and to ask daily for forgiveness, for deliverance from the evil one, and for other needs, and daily to get the answers they sought. - Author: John R. Rice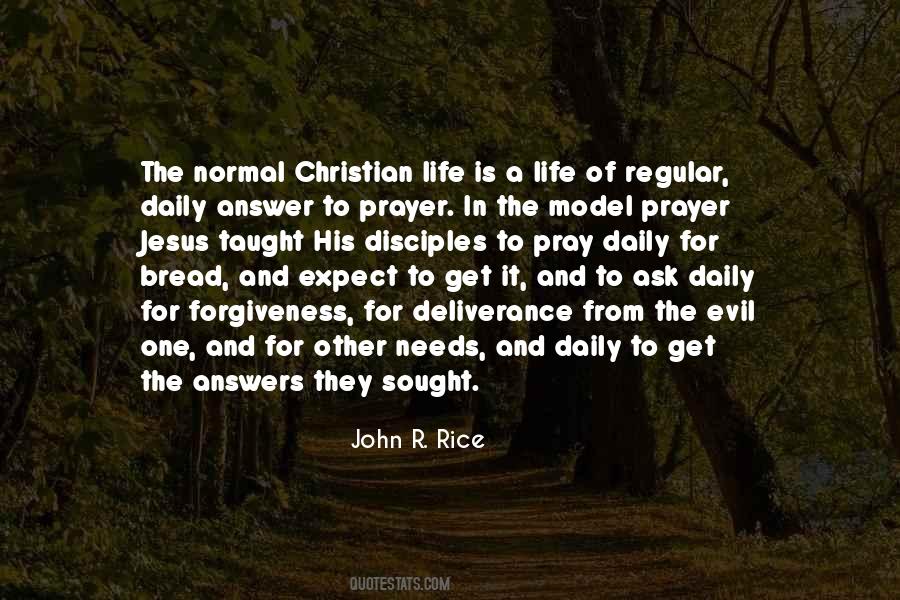 #43. I don't think you should spend your life praying for things, but I do believe you should thank God for what He's given you ... but I think the scripture teaches us that we can pray for our dreams, pray for the big things ... he's not a small God; this God is incredible. - Author: Joel Osteen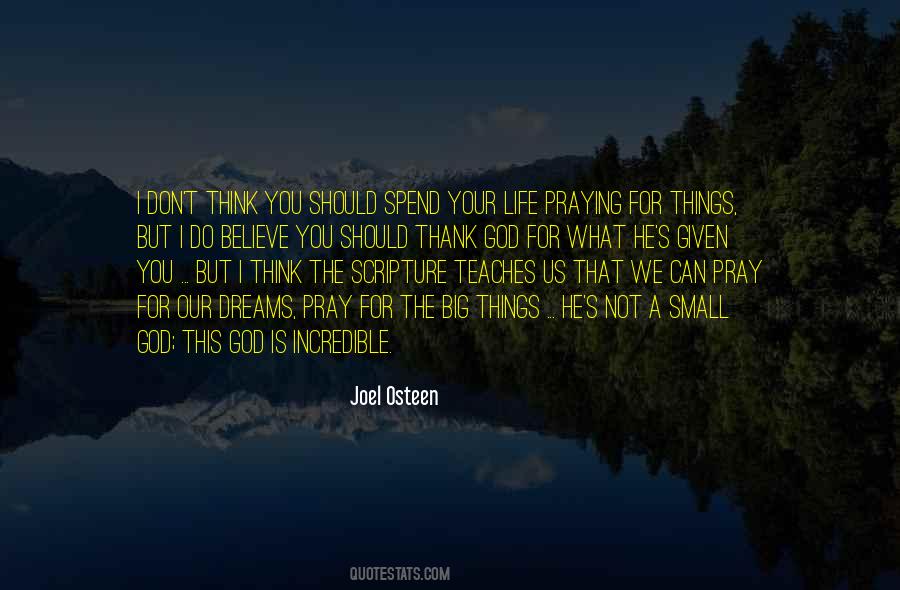 #44. When life brings you to your knees, you are in the perfect position to pray. - Author: Taya Kyle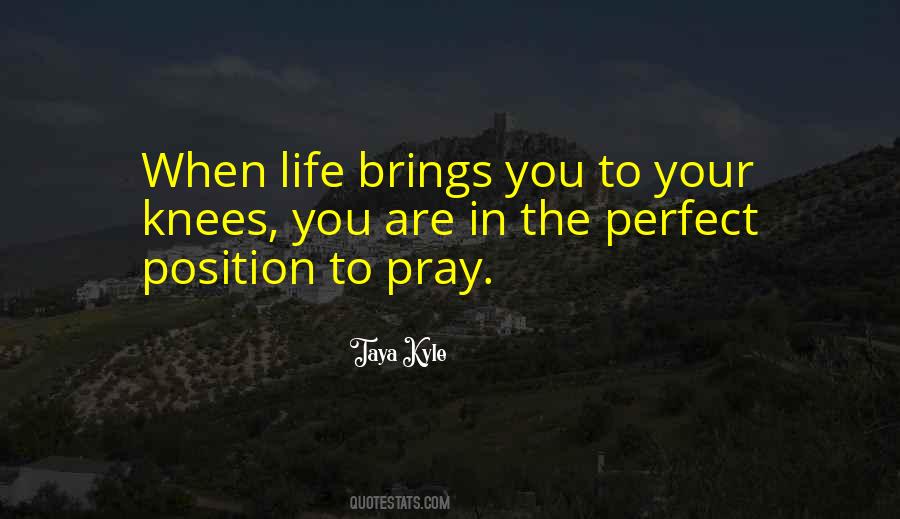 #45. To pray together, in whatever tongue or ritual, is the most tender brotherhood of hope and sympathy that man can contract in this life. - Author: Madame De Stael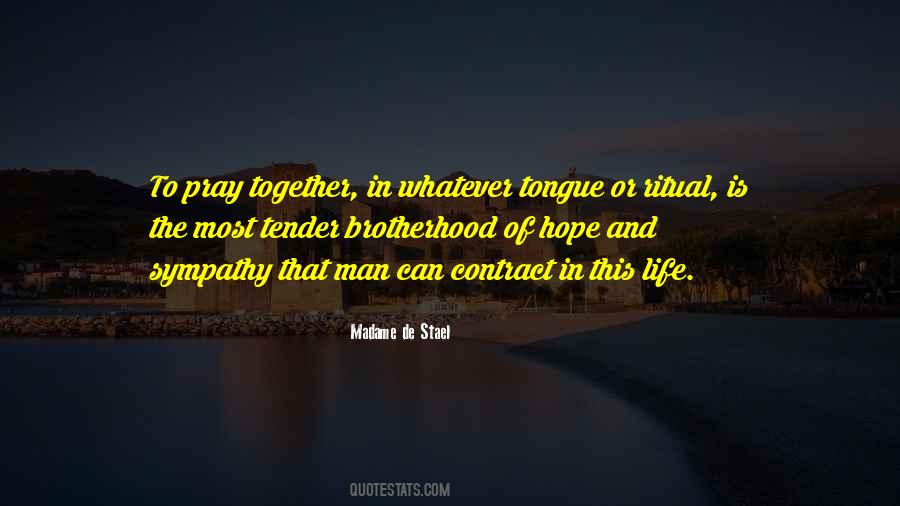 #46. God, I pray light these idle sticks of my life and may I burn up for thee. - Author: Jim Elliot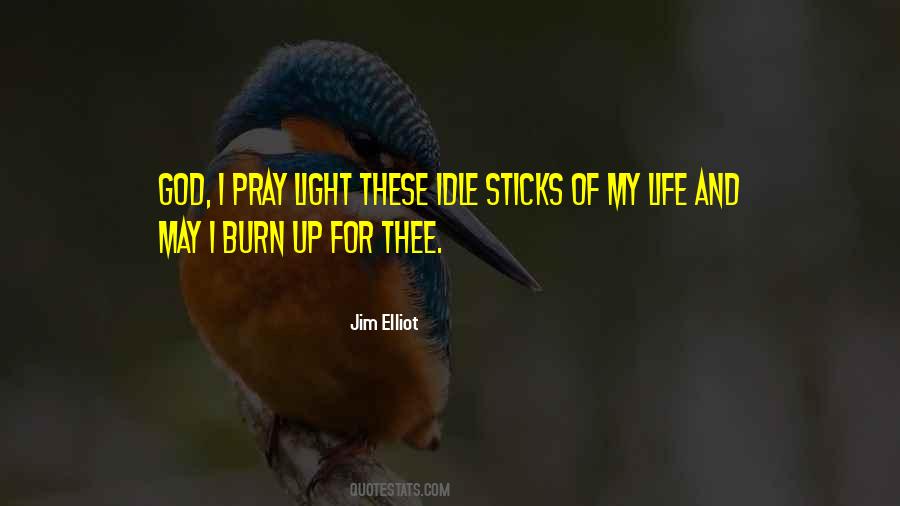 #47. I am amazed that people want to ask me questions about God's work in my life. The interviews are a great way to share God's life-changing message and I pray that God continues to open this door for Christians. - Author: Joyce Meyer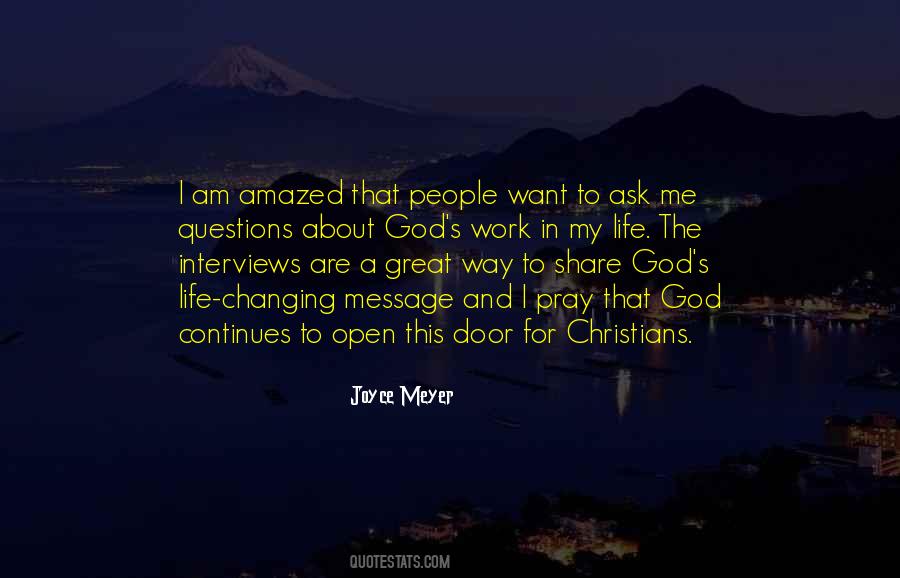 #48. Don't just read the Bible. Start circling the promises. Don't just make a wish. Write down a list of God-glorifying life goals. Don't just pray. Keep a prayer journal. Define your dream. Claim your promise. Spell your miracle. - Author: Mark Batterson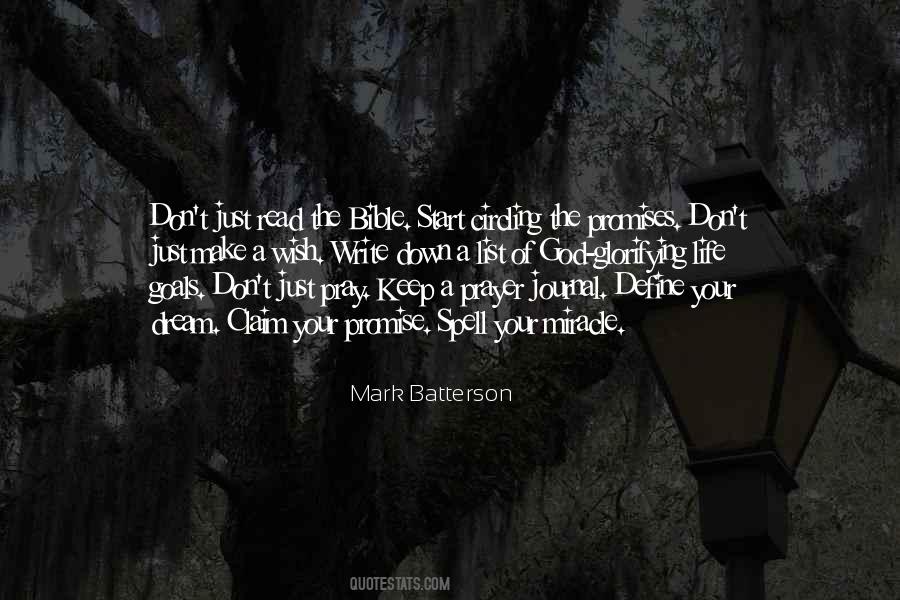 #49. Life is a free fall parachute jump. Pray all the way down and hope for a safe landing. - Author: Robert G. Allen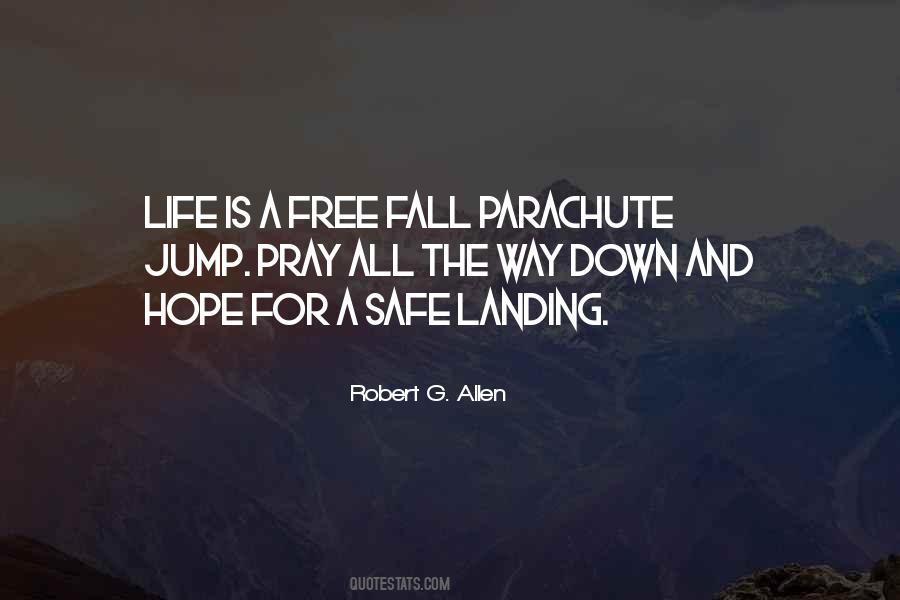 #50. Pray not while you can work. Hope is the least of what life can afford you, never the best. Hope is a plague, never a blessing, especially when the answer is sought not from us but from others. It is unqualified burden to expect something from nothing. - Author: Dew Platt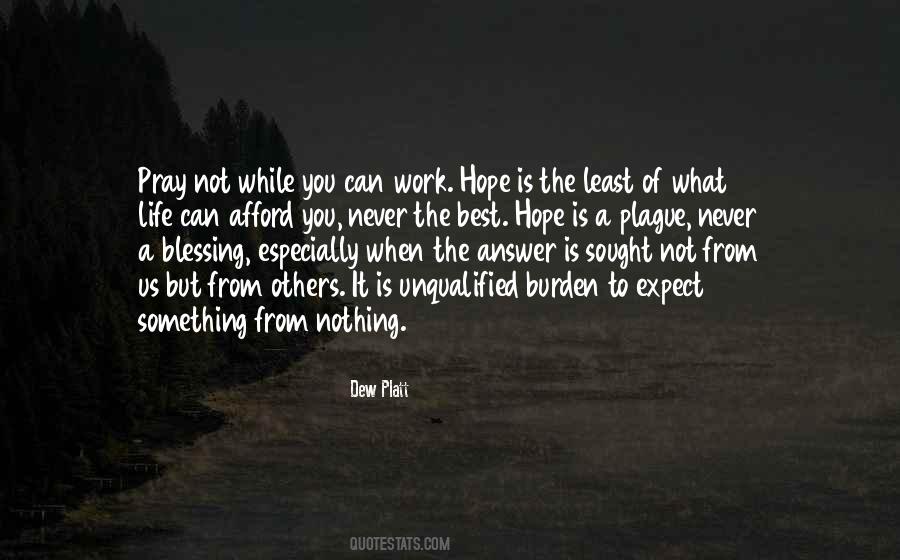 #51. Oh, how strenuous is life! I know a little of it. Men "ought always to pray, and not to faint." How fierce the battle! I know something of the conflict, but I ought not to faint, because I can pray. - Author: G. Campbell Morgan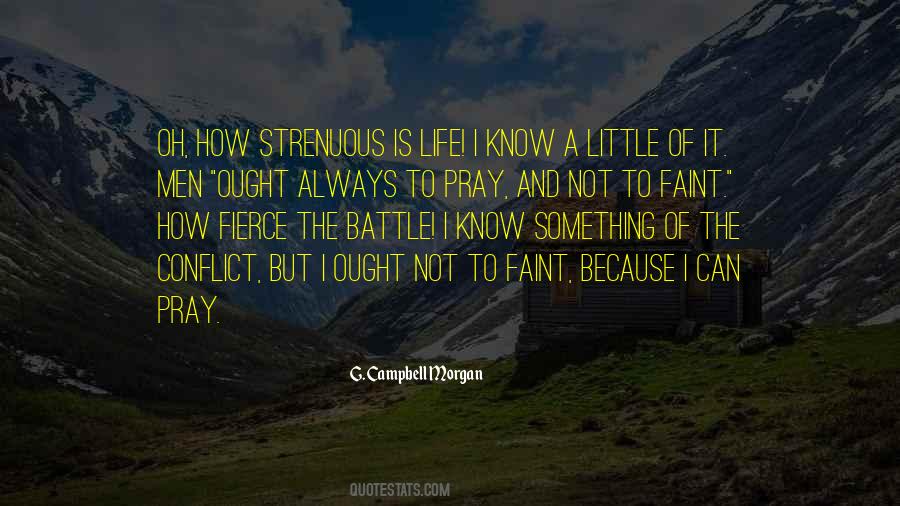 #52. It is important to abide in the word of God, pray ceaselessly, and fast regularly - Author: Sunday Adelaja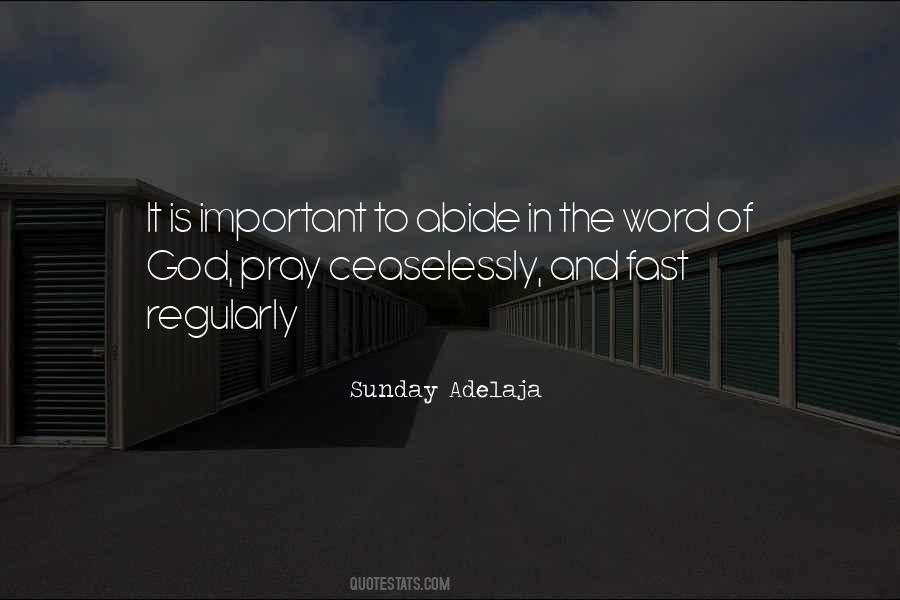 #53. The more I pray, the more I feel God's comfort. - Author: Lailah Gifty Akita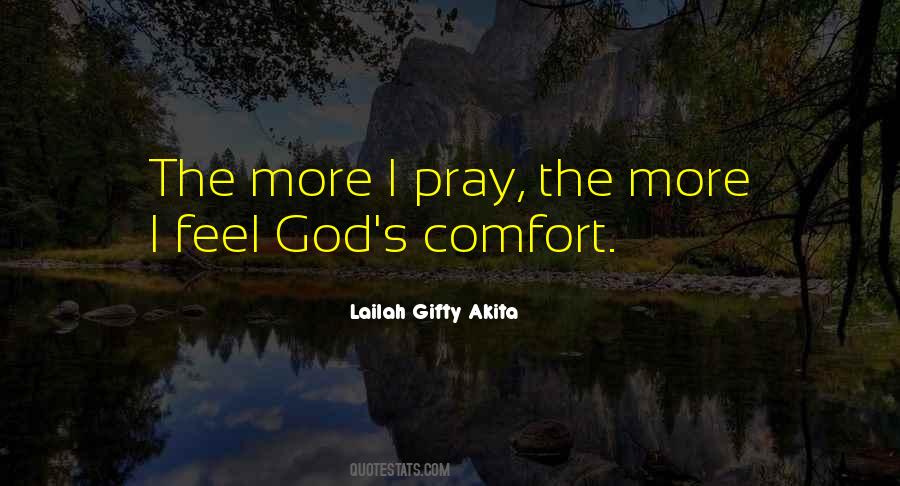 #54. Pray with a pure heart and pray from where you are. He will answer your prayers. There is no need to abandon the world or retreat to a jungle - Author: Radhe Maa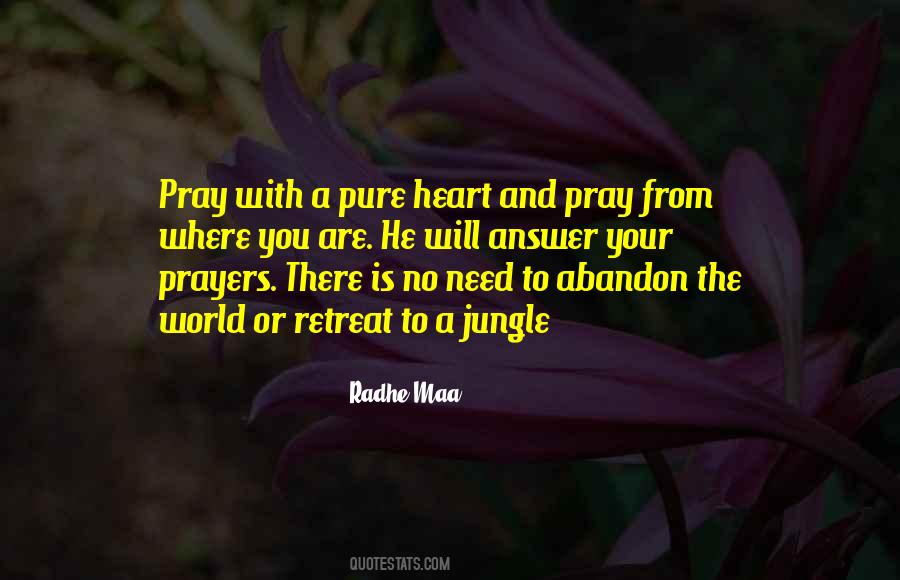 #55. We waste our lives when we do not pray and think and dream and plan and work toward magnifying God in all spheres of life. God created us for this: to live our lives in a way that makes him look more like the greatness and the beauty and the infinite worth that he really is. - Author: John Piper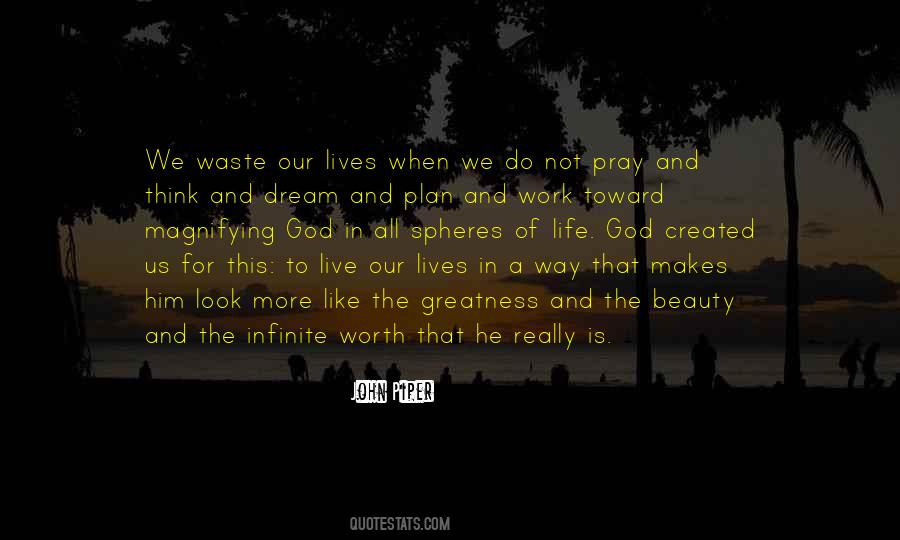 #56. Pray for and work for fullness of life above every thing; full red blood in the body; full honesty and truth in the mind; and the fullness of a grateful love for the Saviour in your heart. - Author: Phillips Brooks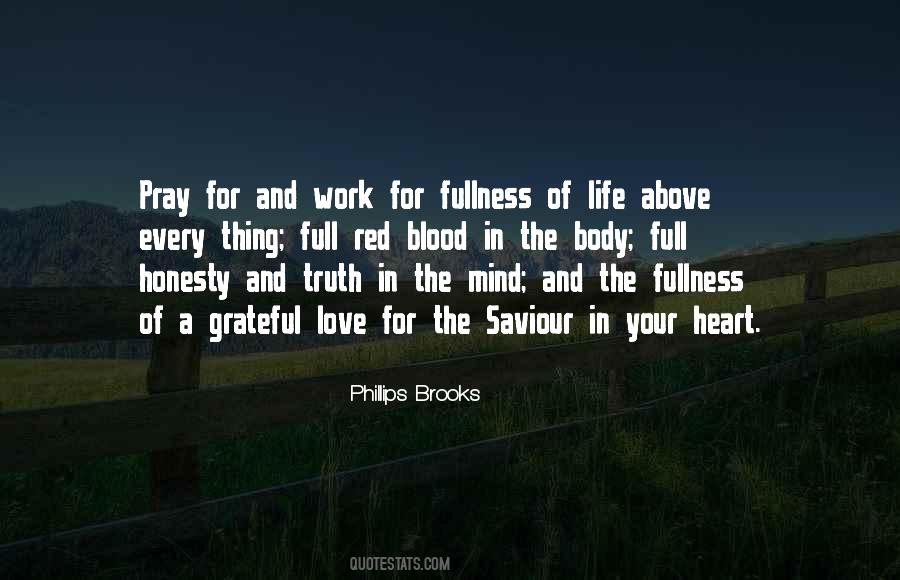 #57. Tis' better to live your own life imperfectly than to imitate someone else's perfectly. - Author: Elizabeth Gilbert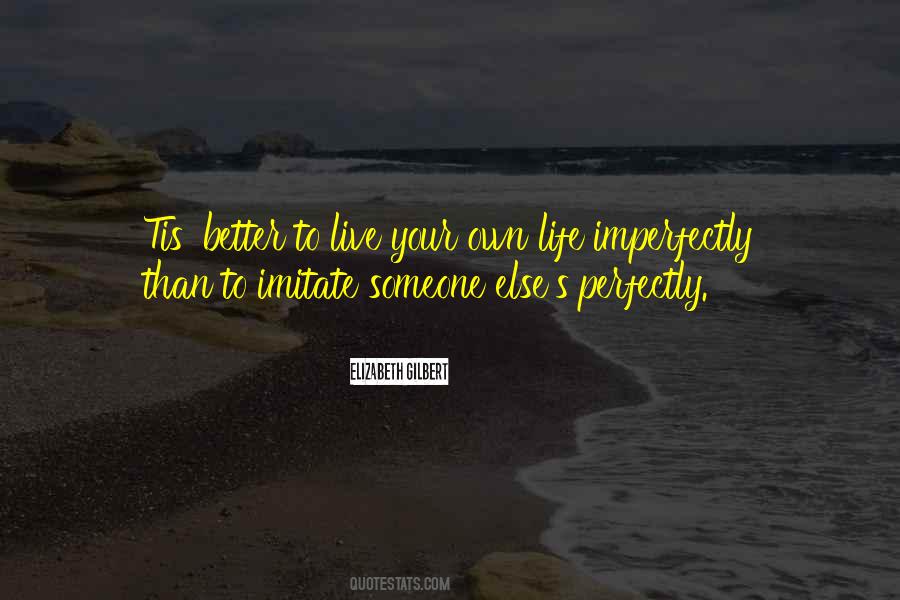 #58. Be careful what you wish for or pray for, because whatever you wish for or pray for, you will have to take care of. - Author: Lisa Bedrick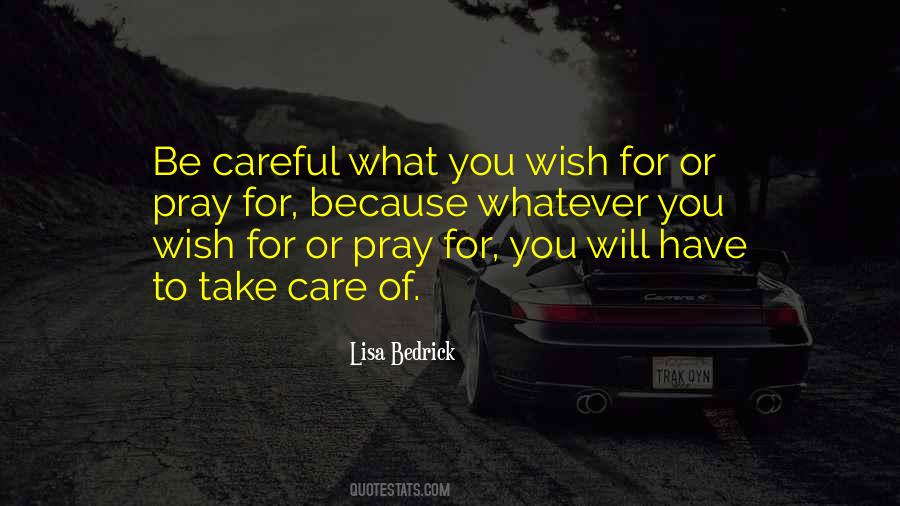 #59. Leader discover themselves through a continuous fellowship and relationship with their sources of their life and wisdom. Self-discovery is the key to true leadership! - Author: Israelmore Ayivor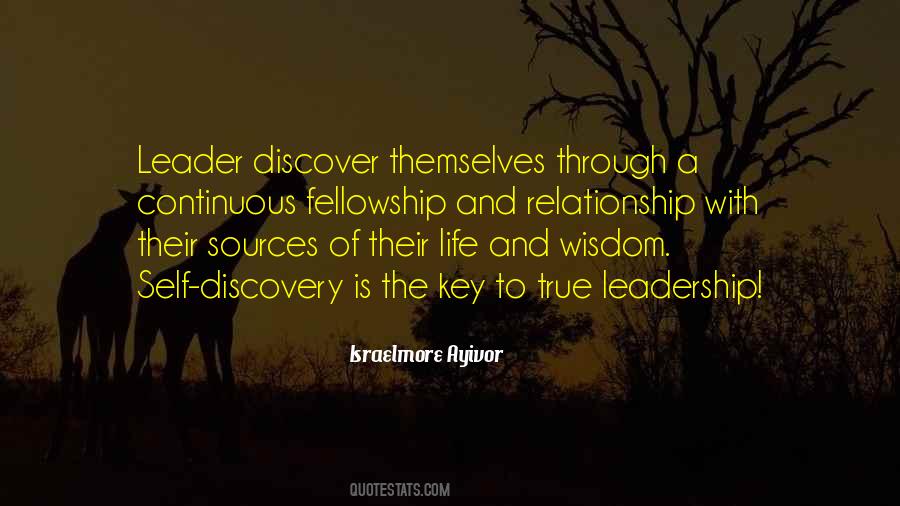 #60. Do I pray for her life or mine? They're one in the same ... Be this soul in Thine hands ... I stop, unable to pray for her ascension. I cannot let her go, I think in agony. I try again, May this soul in Thine hands be with me ... always. - Author: Amy A. Bartol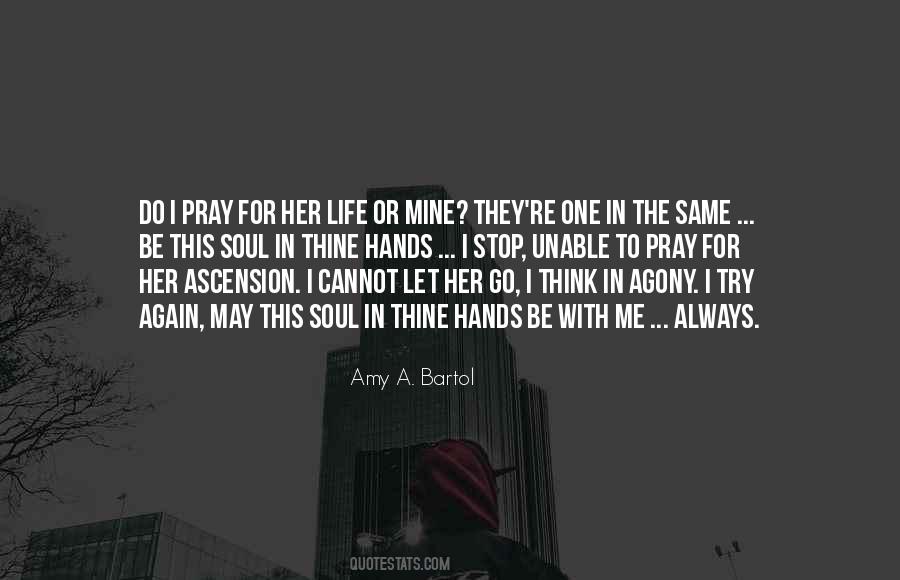 #61. Never pray for life to be easier, but pray for courage to go on and still enjoy every moment of beauty. - Author: Debasish Mridha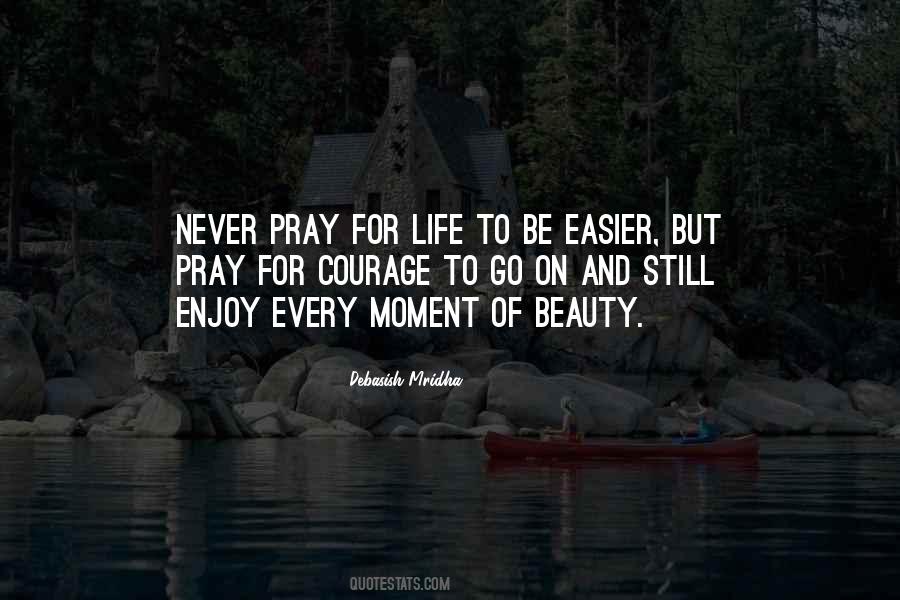 #62. I pray that the life of this spring and summer may ever lie fair in my memory. - Author: Henry David Thoreau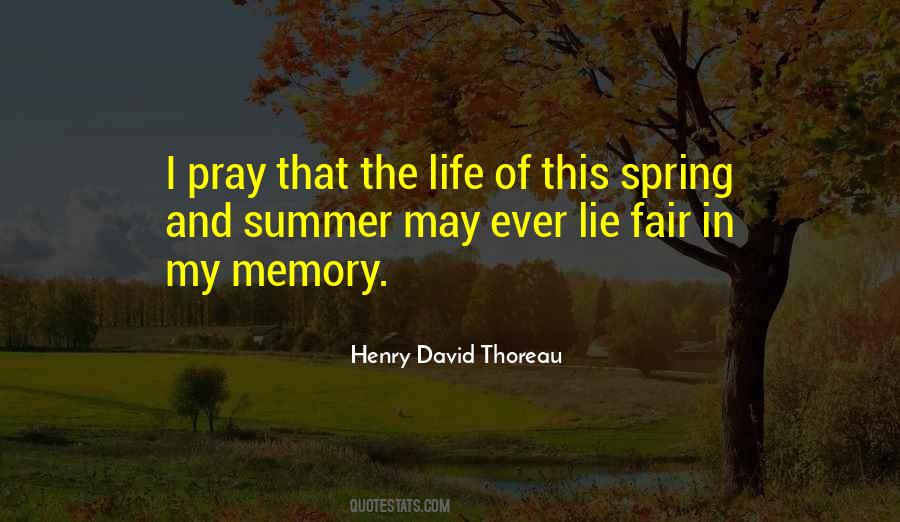 #63. When ppl say they got ur back. Is like saying I'll pray for u. They don't actually do it. It just sounds good at the moment. Depend on self. - Author: J. Wrice Sr.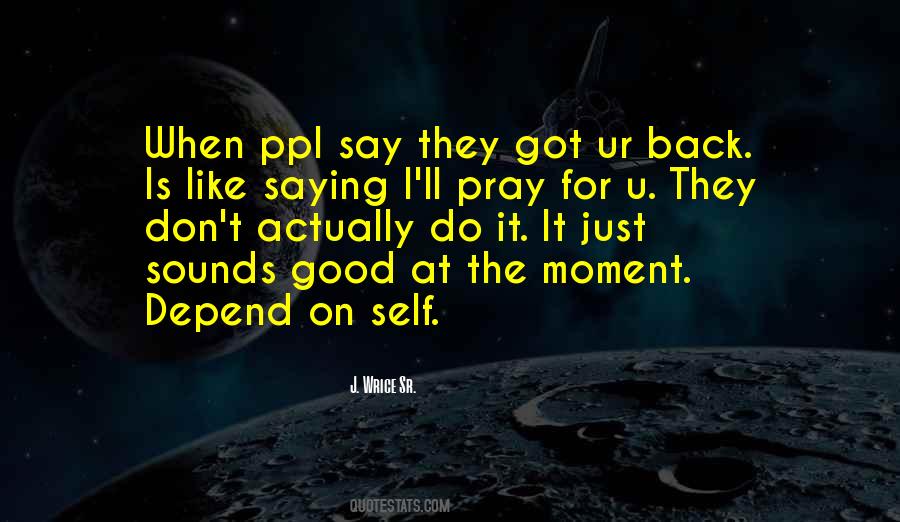 #64. He who has learned to pray has learned the greatest secret of a holy and happy life. - Author: William Law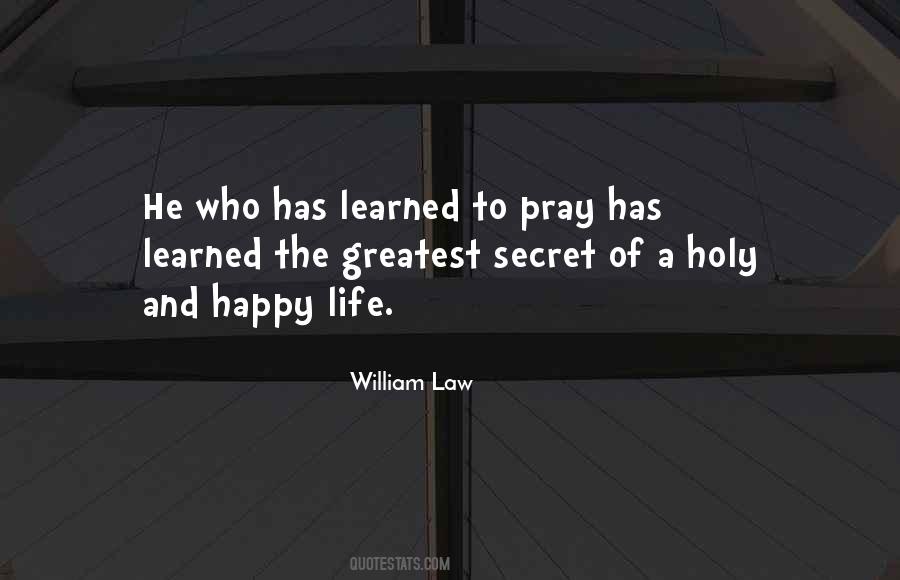 #65. The empty spaces of your soul are the ones you search for, pray for and want so desperately to be filled. They are also the spaces that will never be filled, until you are ready to do something you have never done. - Author: Shannon L. Alder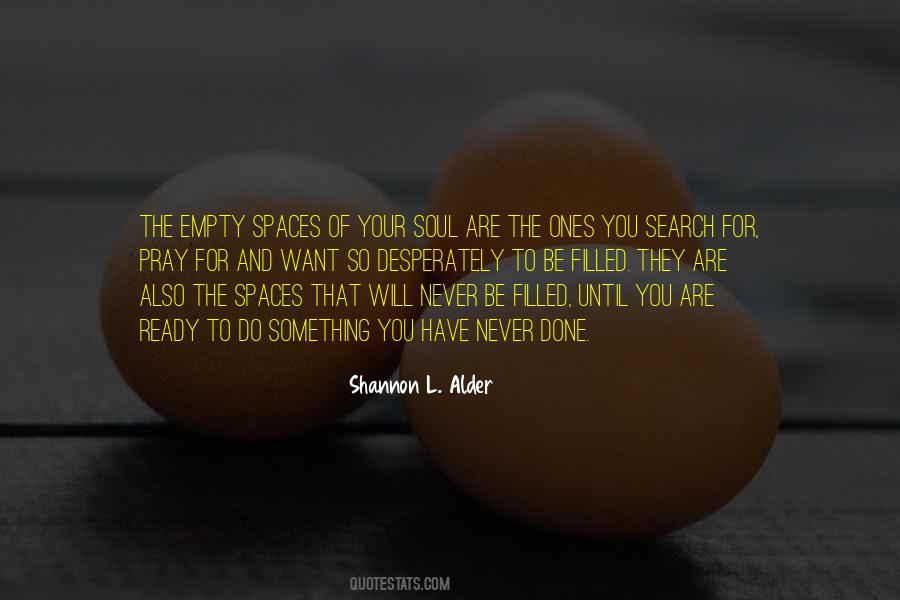 #66. Pray always for grace and strength. - Author: Lailah Gifty Akita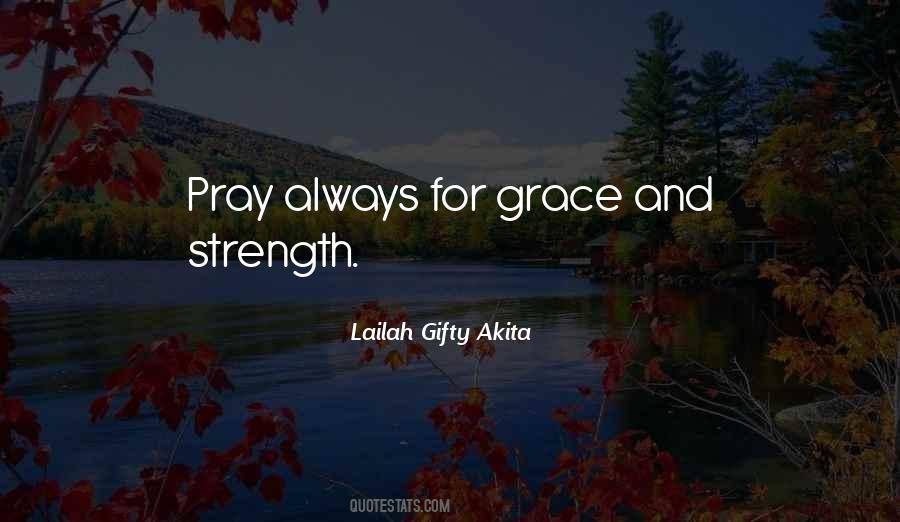 #67. God, show me how to pray in a way that will make a difference in this child's life. - Author: Stormie O'martian
#68. Many people pray to be kept out of unexpected problems.
Some people pray to be able to confront and overcome them. - Author: Toba Beta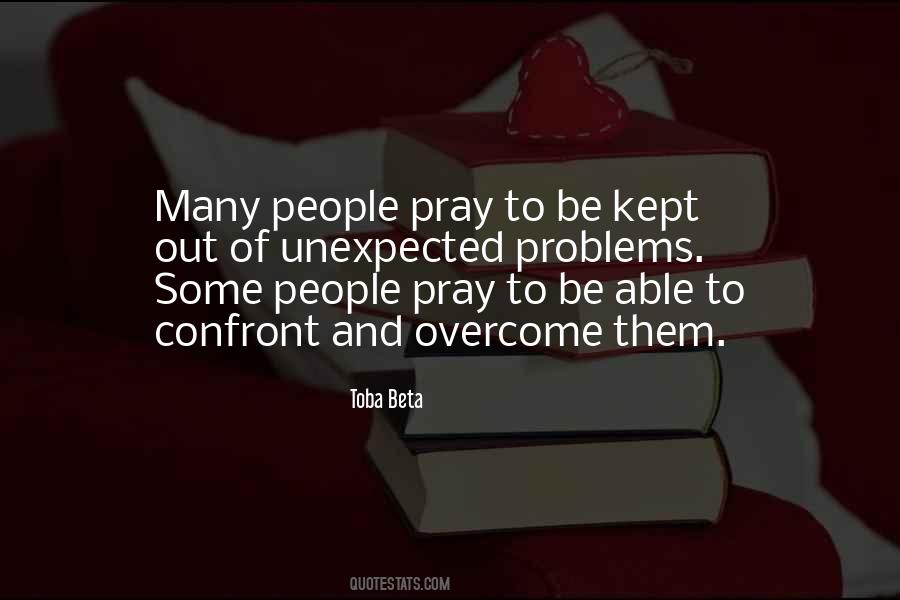 #69. Well, to the people who pray for me to not only have an agonising death, but then be reborn to have an agonising and horrible eternal life of torture, I say, 'Well, good on you. See you there.' - Author: Christopher Hitchens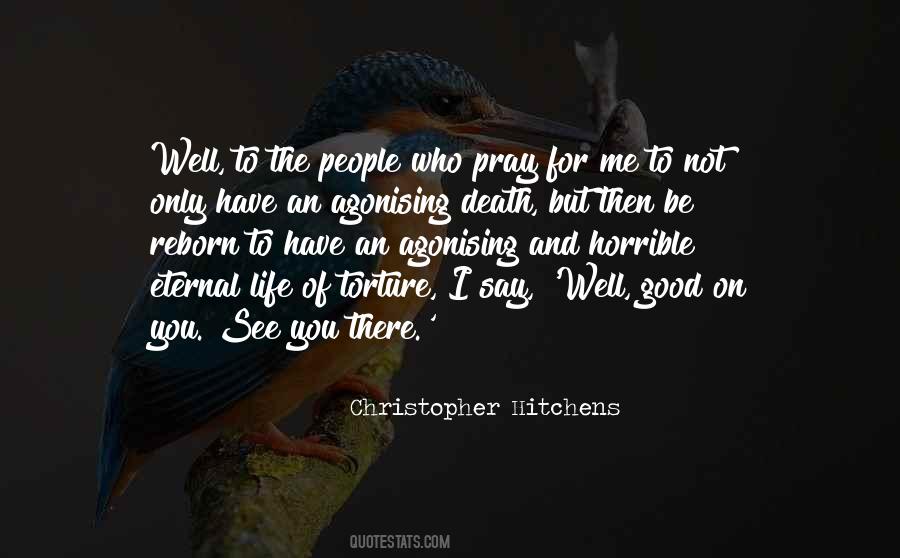 #70. Pray to Him for forgiveness and, by faith, receive Jesus Christ into your life. Then you will have assurance that your name has been written in the Book of Life which God Himself will open and read someday. Nothing will bring us greater joy than hearing the Savior call our names. - Author: Billy Graham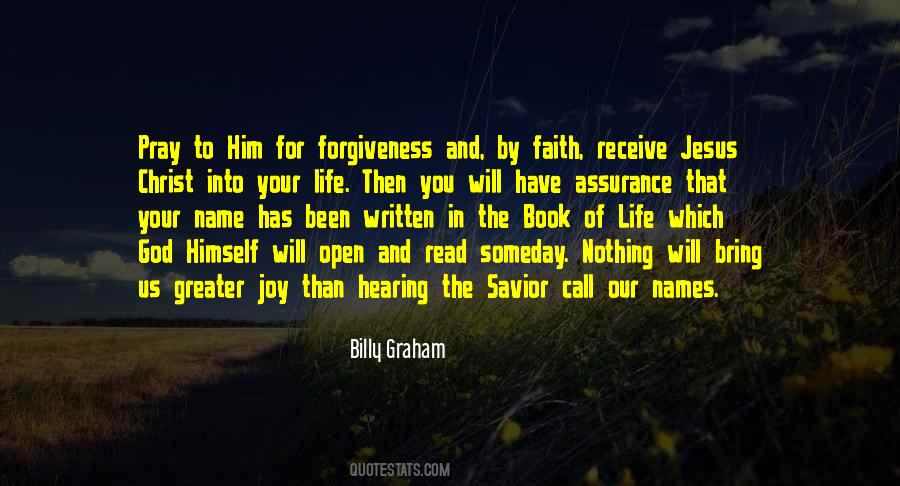 #71. Ask the Creator to direct your path. - Author: Lailah Gifty Akita
#72. Pray five times a day for peace. Peace in your life, peace in your spirit, peace in your family, peace in your community, in your city but most importantly peace in this world. - Author: Cathy Hughes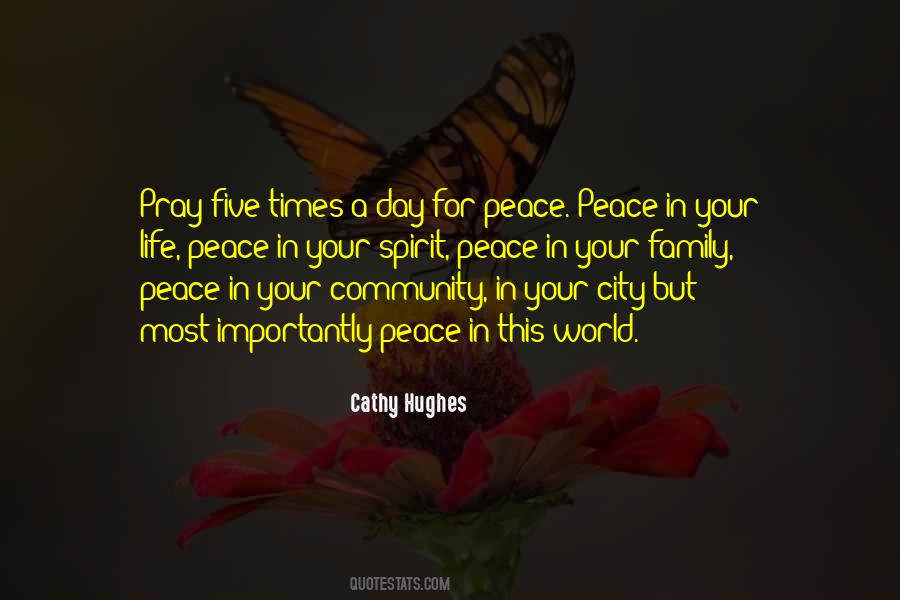 #73. I don't think that God says, "Go to church and pray all day and everything will be fine." No. For me God says, "Go out and make the changes that need to be made, and I'll be there to help you. - Author: Elvia Alvarado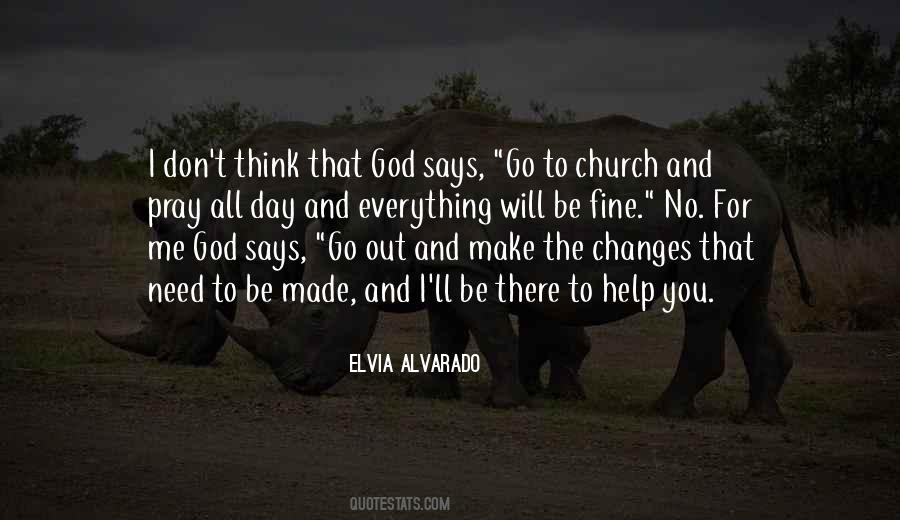 #74. Pray as though everything depends on God. And work as if everything depends on you. - Author: Augustine Of Hippo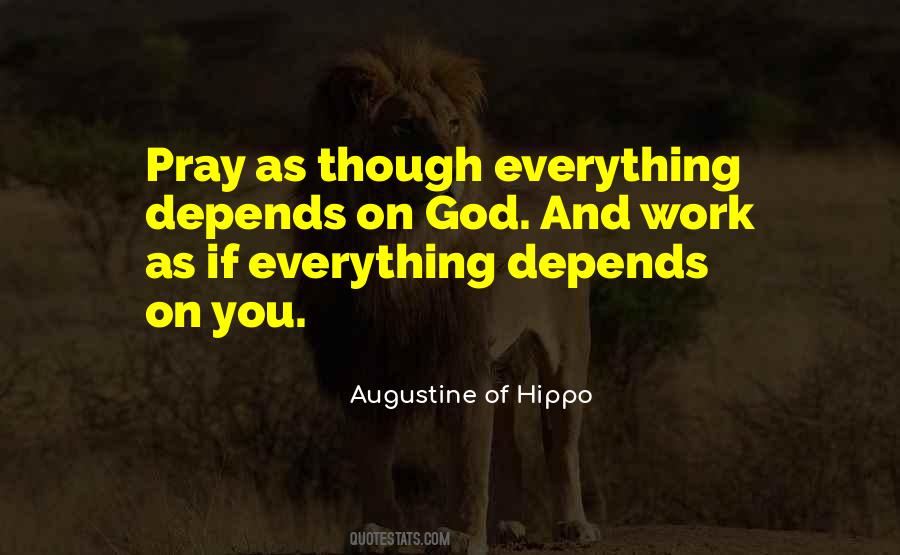 #75. We need to touch the fountain of life to draw in living lasting strength. - Author: Ikechukwu Joseph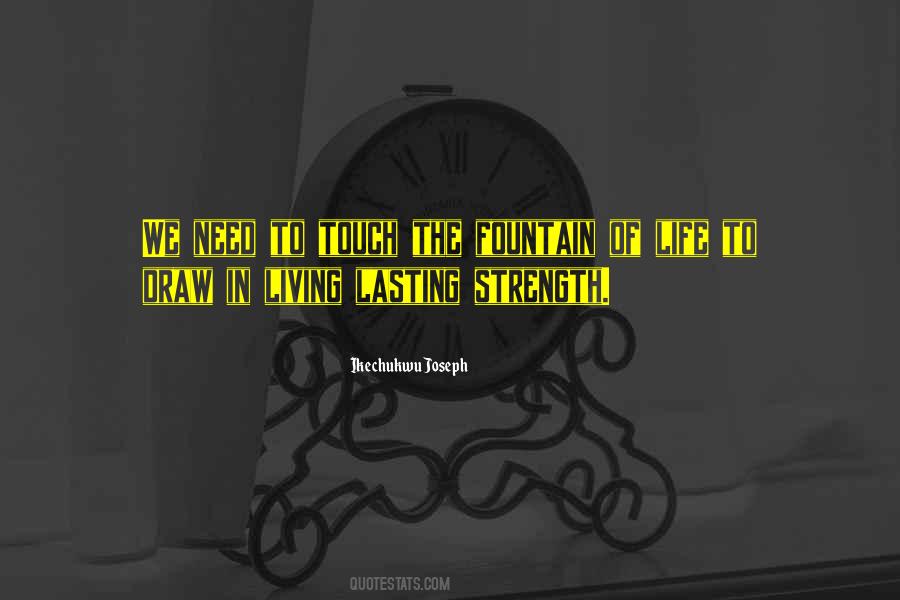 #76. God is a great healer. - Author: Lailah Gifty Akita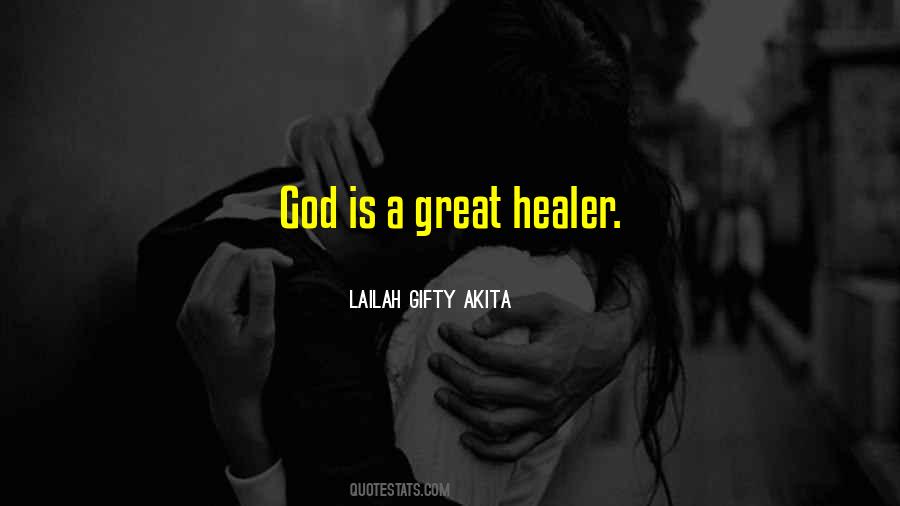 #77. Let every soul revive in Jesus Name. Amen. - Author: Lailah Gifty Akita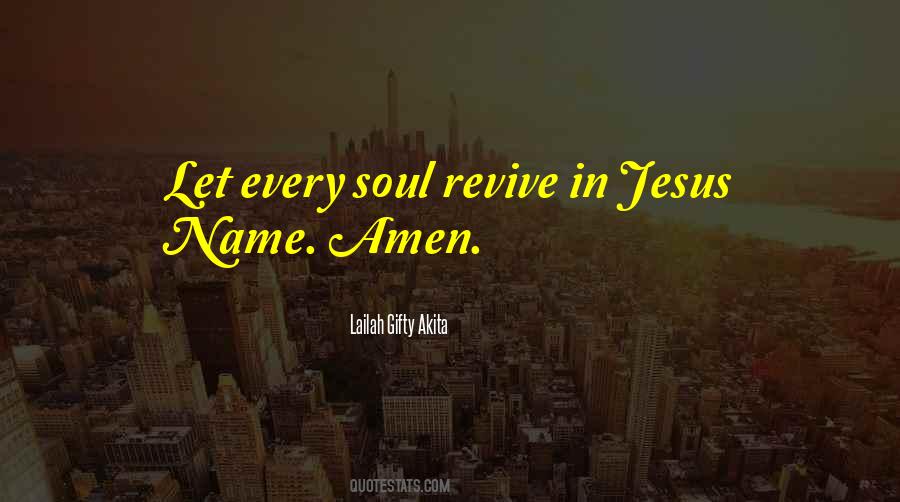 #78. Don't wait until the moment of crisis. Plan ahead, hide God's Word in your heart, and pray in advance for victory, holiness, and a life pleasing to God. - Author: David Jeremiah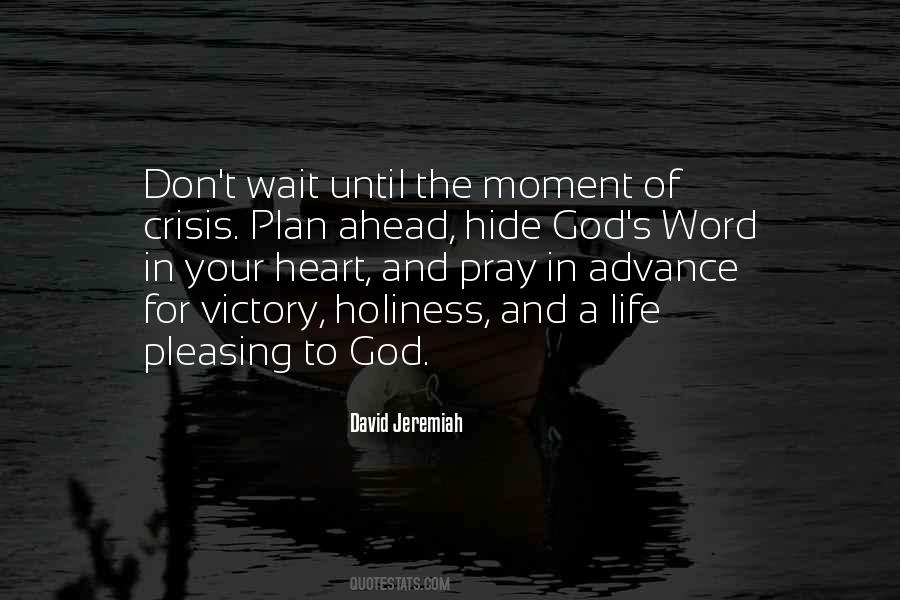 #79. What's happening? How can the value of life seem so little to so many? - Author: Eric Christopher Jackson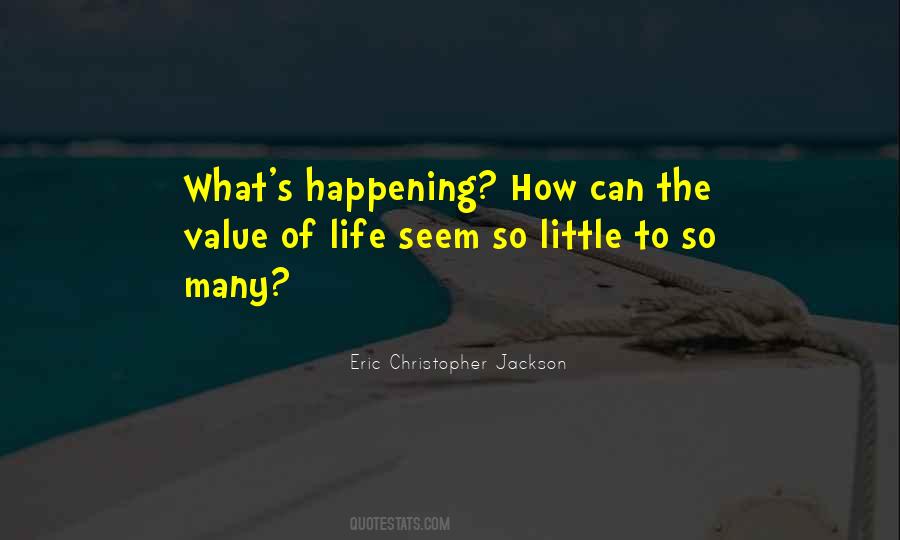 #80. Your love for me should be a passionate desire to pray for me daily. - Author: Lailah Gifty Akita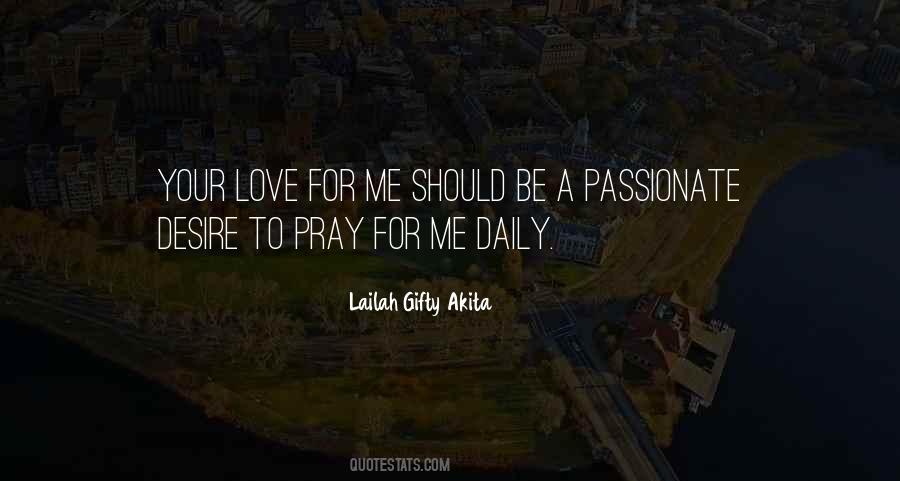 #81. At your most daring moments you believe that what is going on is the ultimate human work the shaping of a soul. The power of life comes from within; go there; pray; meditate. Reach for those luminous places in yourself. - Author: Jean Shinoda Bolen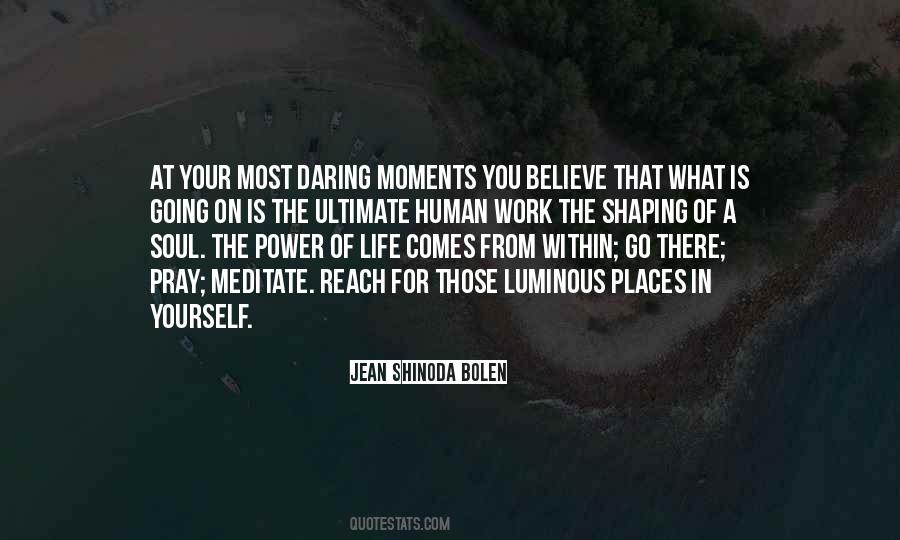 #82. All changes pass me like a dream,
I neither sing nor pray;
And thou art like the poisonous tree
That stole my life away. - Author: Elizabeth Siddal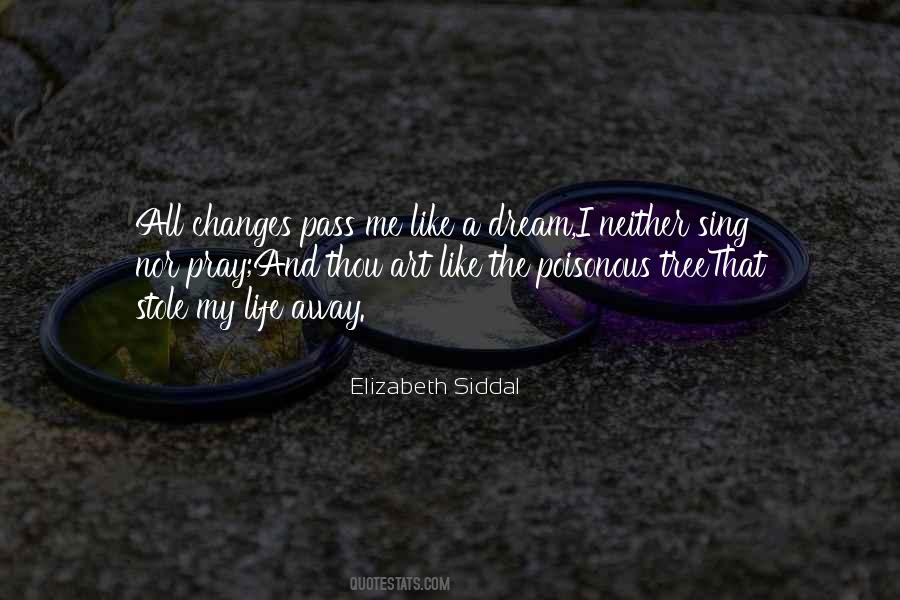 #83. Some parts of life are lived in the shadows where the only sunlight you feel is the light you pray for. - Author: Richelle E. Goodrich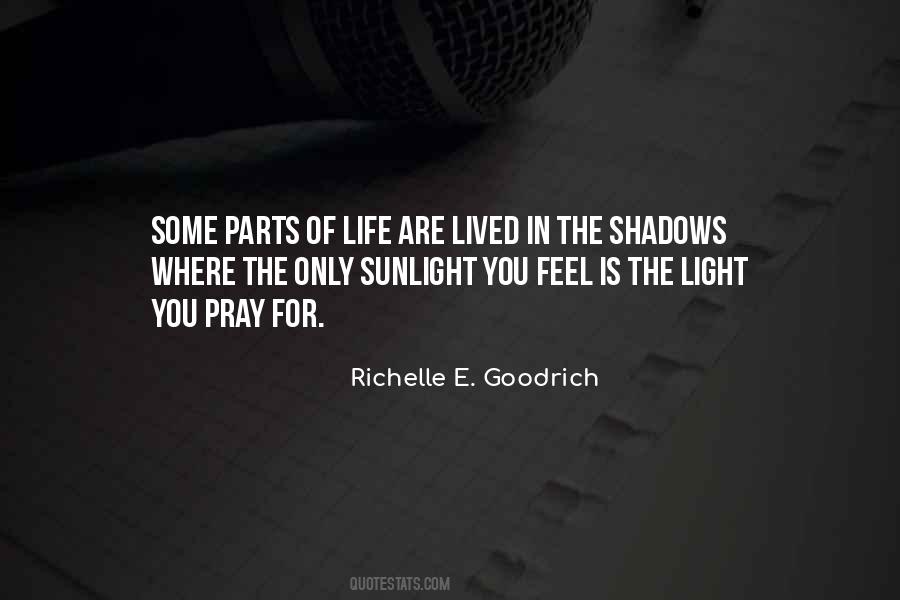 #84. Sing, fight, cry, pray, laugh, work and admire. - Author: Ramses Shaffy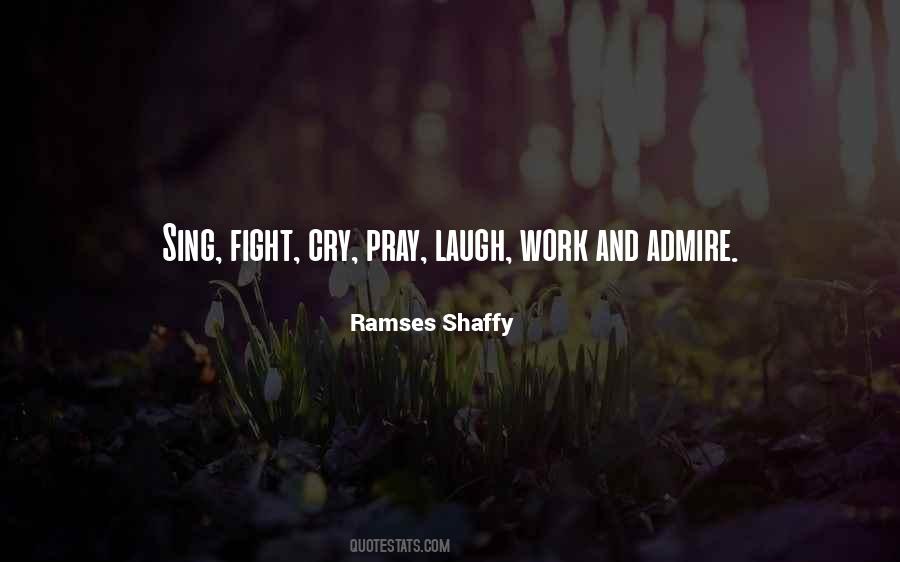 #85. I can only hope and pray for God to supply my every need! - Author: Lailah Gifty Akita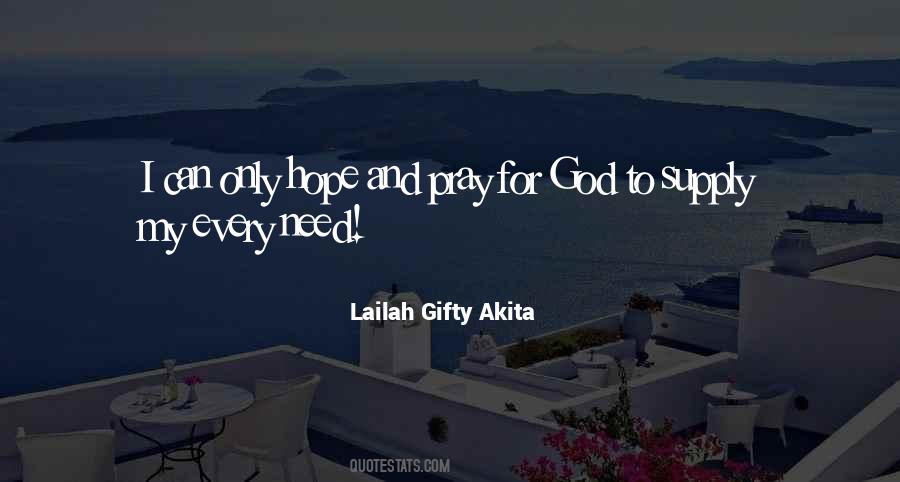 #86. When life knocks you down and you land on your knees, you are in the best position to pray. - Author: Mitch Kynock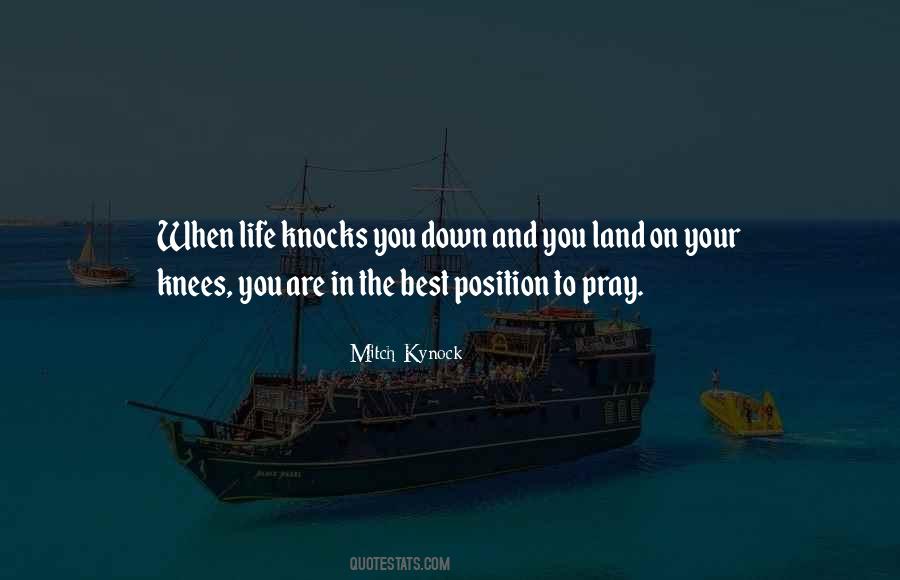 #87. To pray is to communicate with the essence. Praying is calling home. - Author: J.R. Rim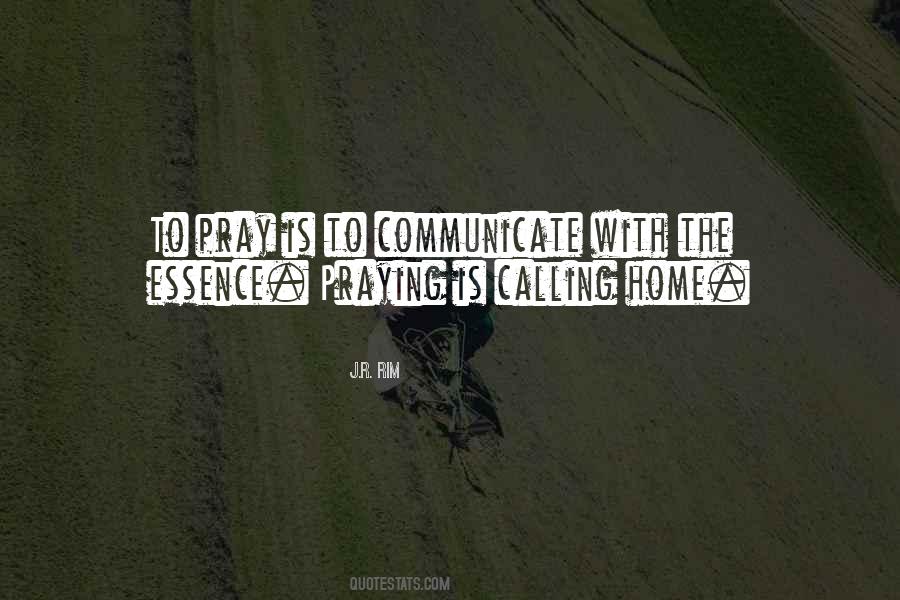 #88. In one generation, my family went from extermination simply because of how they pray to God to this ridiculously privileged life I live today. So how can I not love America? - Author: Jerry Springer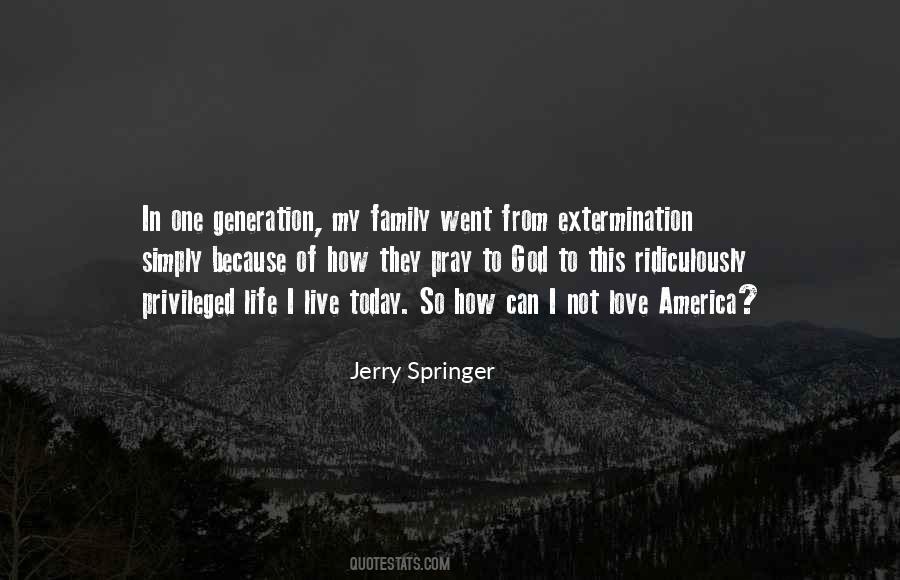 #89. If you want to save your child from polio, you can pray or you can inoculate ... Choose science. - Author: Carl Sagan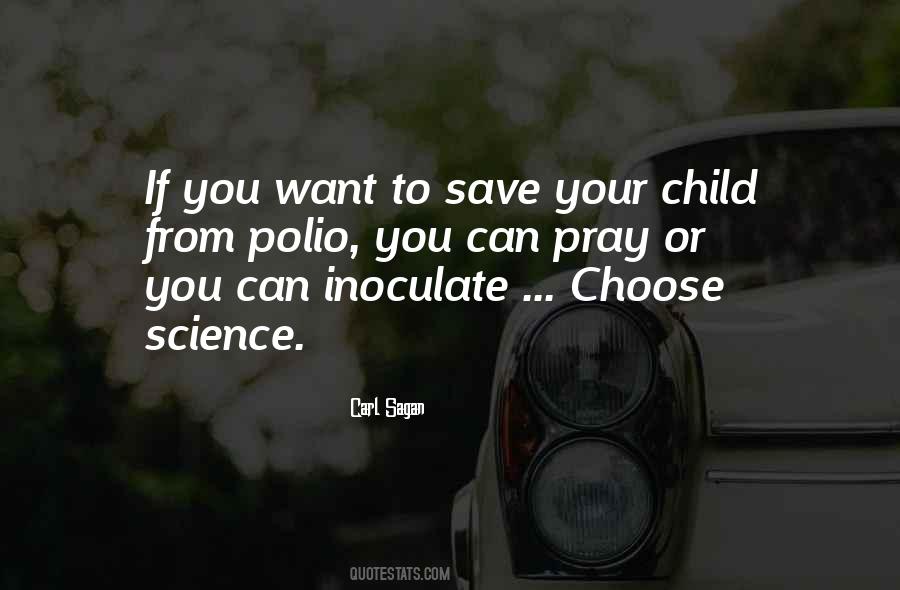 #90. We joyfully pray with grateful heart to welcome blessings in New Year. - Author: Lailah Gifty Akita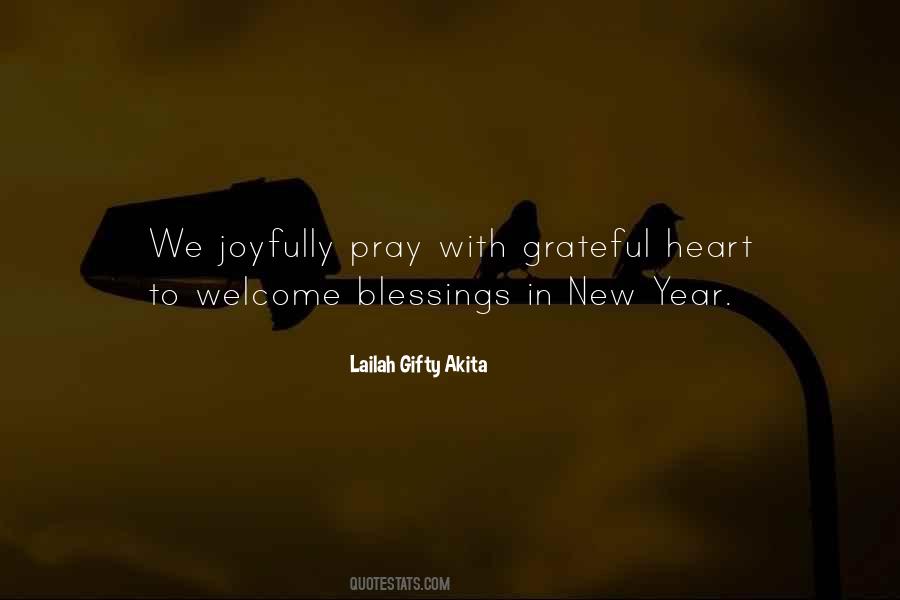 #91. Faith is to the soul what life is to the body. Prayer is to faith what breath is to life. How a man can live and not breathe is past my comprehension, and how a man can believe and not pray is past my comprehension too. - Author: J.C. Ryle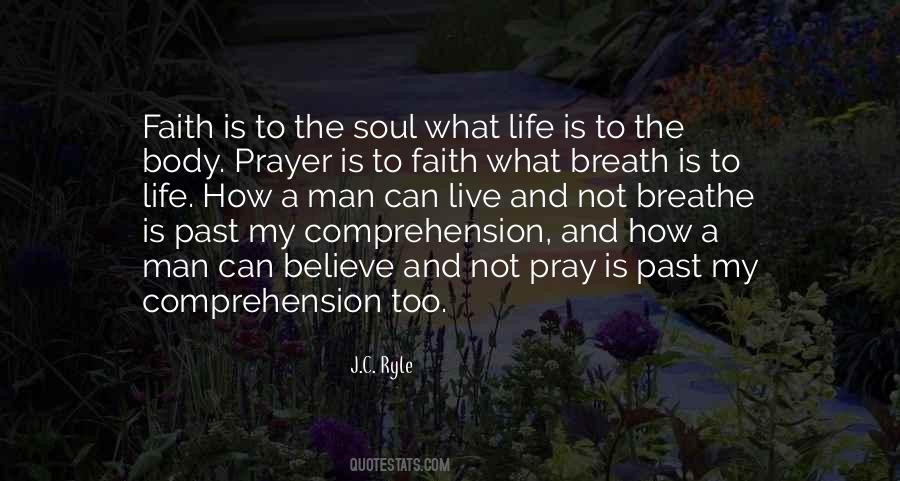 #92. When in doubt pray. - Author: Amanda Penland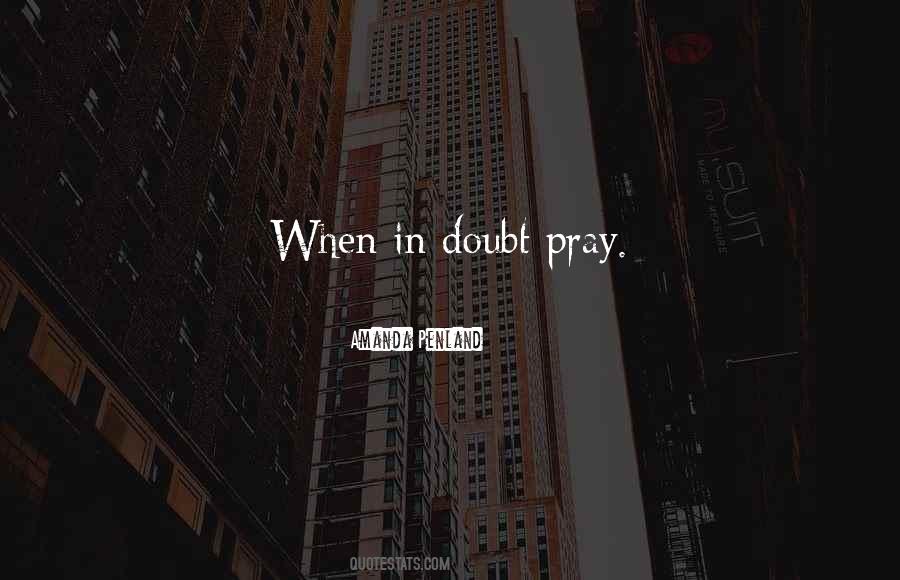 #93. Don't worry, pray! - Author: Lailah Gifty Akita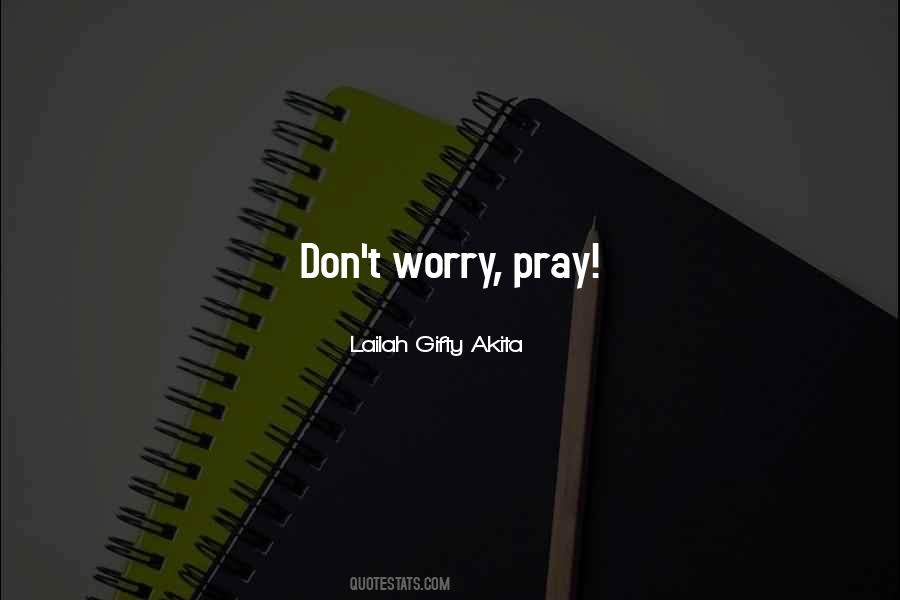 #94. Why do we close our eyes when we pray, cry, kiss, or dream? Because the most beautiful things in life are not seen but felt by the heart. - Author: Denzel Washington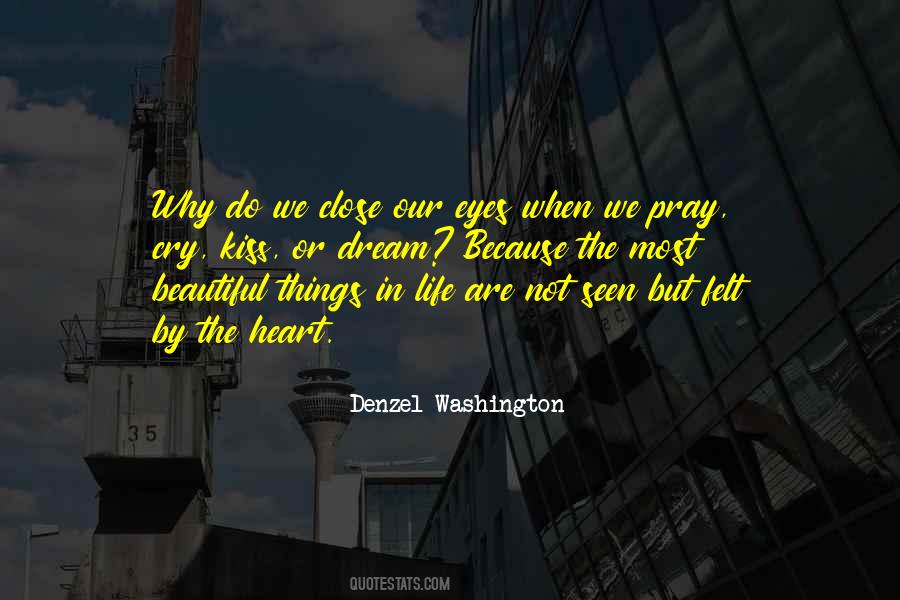 #95. Act like you care. Pray like you care. Speak, smile, reach out, and live like you care. The point is to make sure those in your life know beyond doubt that you do care. - Author: Richelle E. Goodrich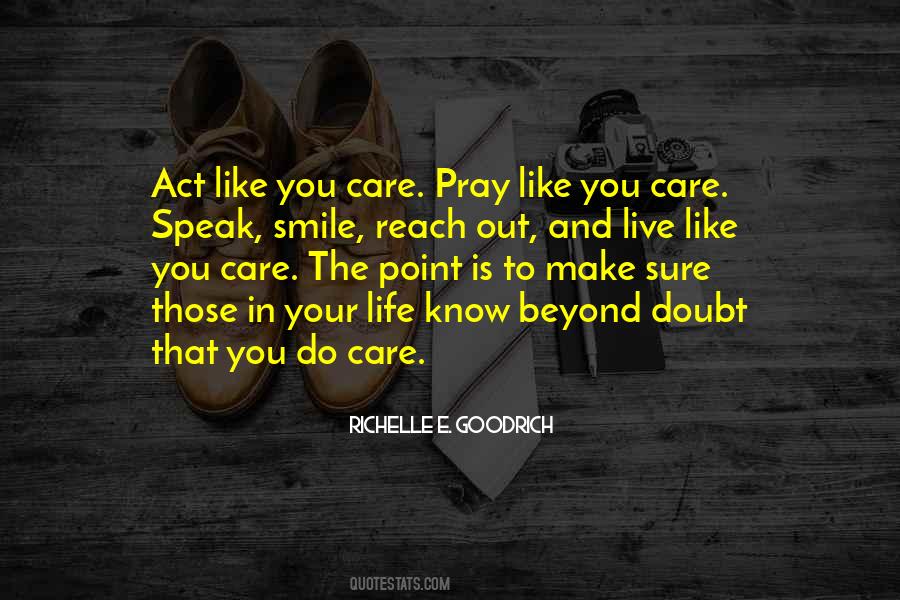 #96. In the last few moments before dawn, Vianne sat near the mound of fresh-turned earth. She wanted to pray, but her faith felt far away, the remnant of another woman's life. - Author: Kristin Hannah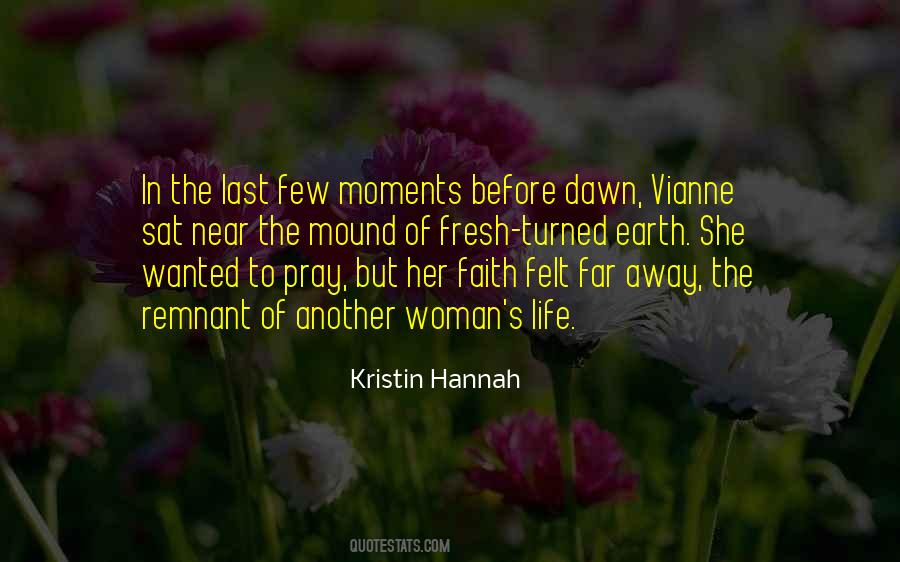 #97. Life is neither a party nor pain. But a prayer. - Author: Lailah Gifty Akita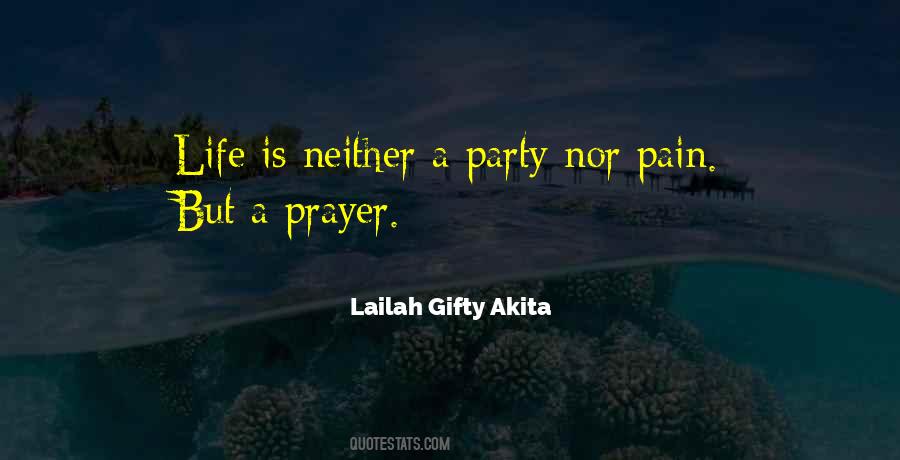 #98. Pray that God is the most important thing in your life, so much so that hurting him wold hurt you. When that happens, and your choices line up with his, it produces an amazing ripple effect of blessings
in your life, that of your family, and for the man you eventually marry. - Author: Julie Lessman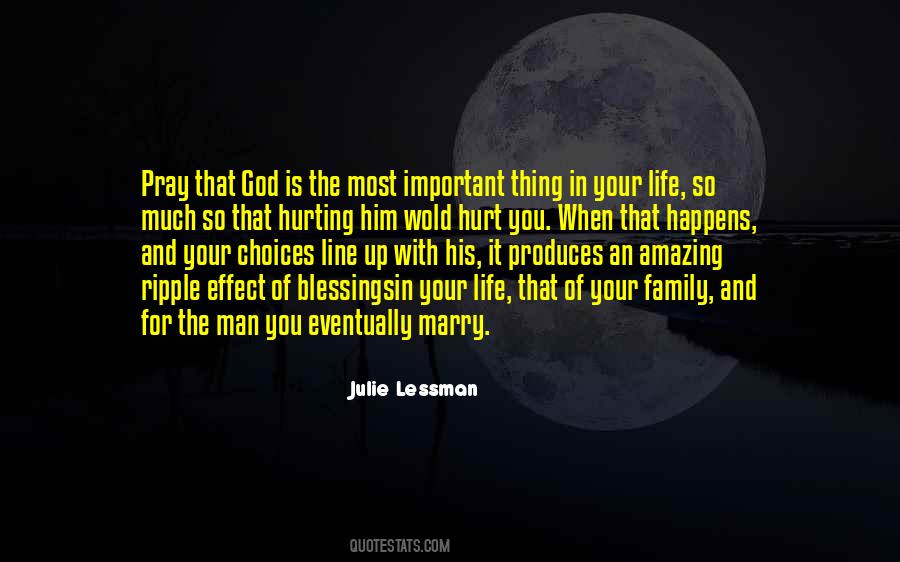 #99. Dear God, let me find calm in every situation. Let me look at others with pity instead of anger. Let me pray they make it through life's fog they've created for themselves and find you. In Jesus's name, amen. - Author: Ron Baratono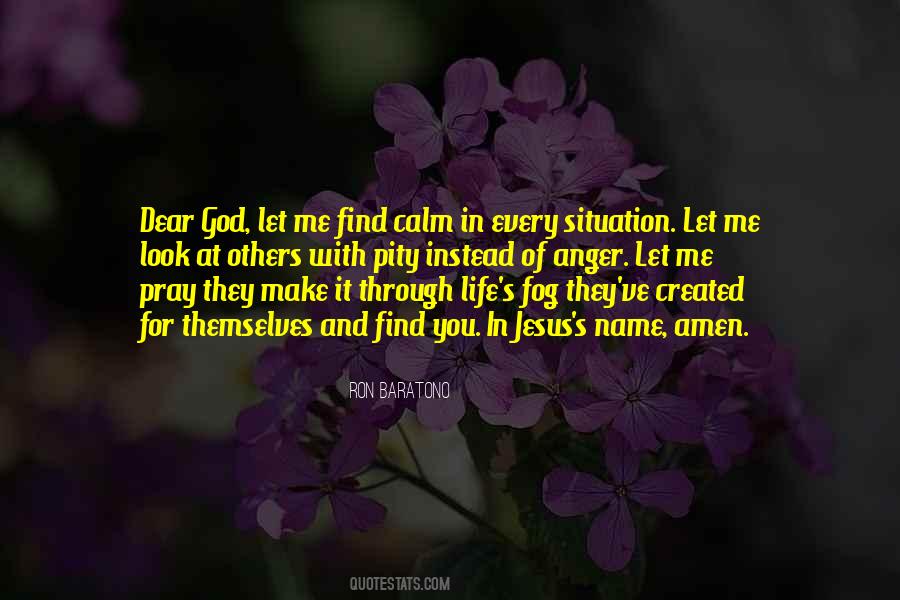 #100. If necessary, I cry. I pray. I rest. I'm fortunate to have quite a few strong, independent, loving, and unbiased women in my life that I can talk things through with. - Author: Grace Gealey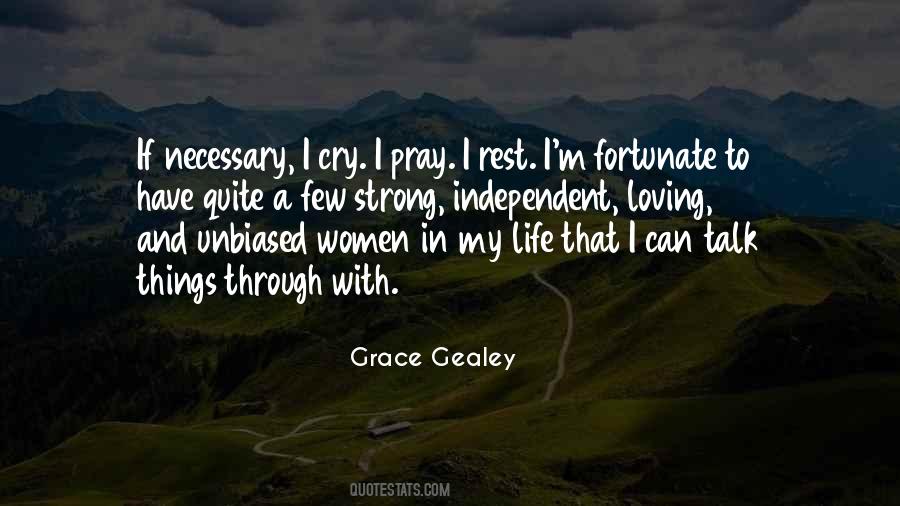 Famous Authors
Popular Topics