Life Of Music Famous Quotes & Sayings
List of top 100 famous quotes and sayings about life of music to read and share with friends on your Facebook, Twitter, blogs.
Top 100 Life Of Music Quotes
#1. I find it very, very hard. He was part of the fabric of my life. We were kids together, and teenagers. We spent the whole of our lives with each other because of our music. - Author: Robin Gibb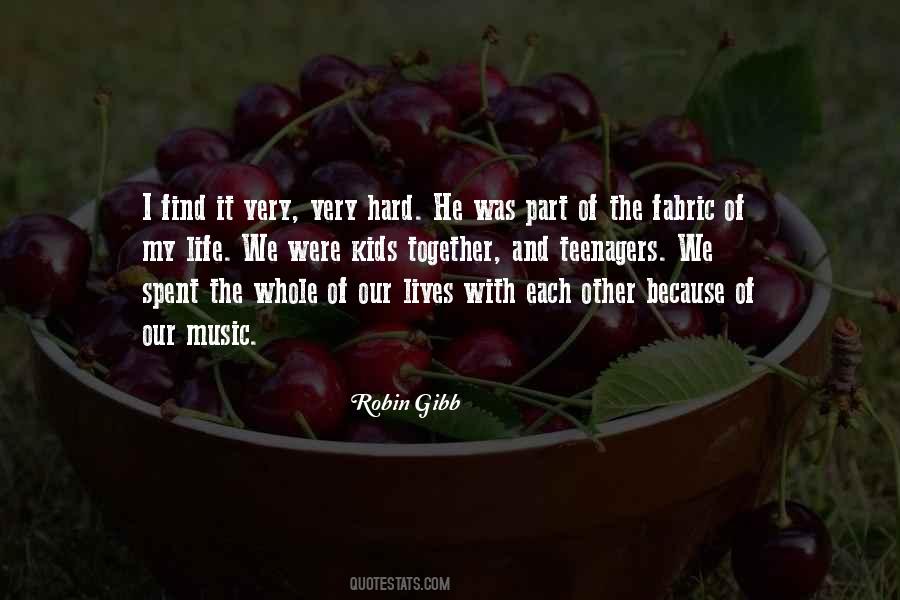 #2. I didn't think at all as a young child that music would be my profession. It was just something that one did along with going to Brownies or going to church or going to school or anything else that one did in sort of one's very young life. - Author: Jessye Norman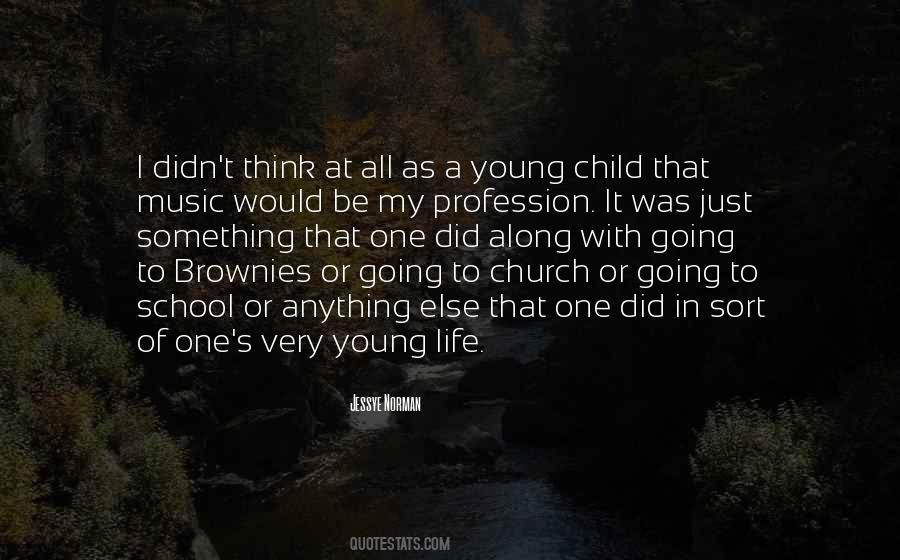 #3. I'm quite sure that all true professional artists, of every description, in all walks of life, whether their craft is painting, music, sculpture, medicine or anything, have one primary concern - mankind. - Author: Chico Hamilton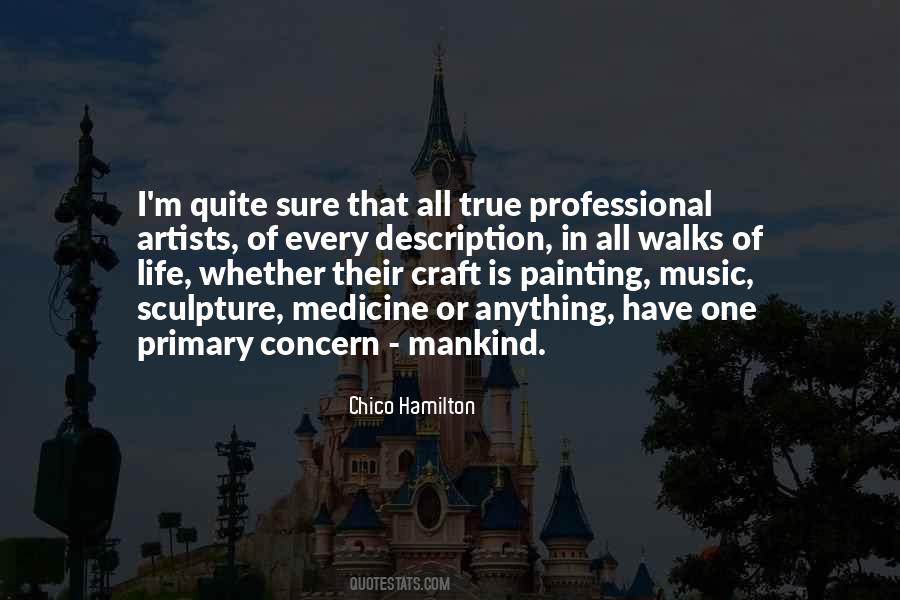 #4. If I were not a physicist, I would probably be a musician. I often think in music. I live my daydreams in music. I see my life in terms of music. - Author: Albert Einstein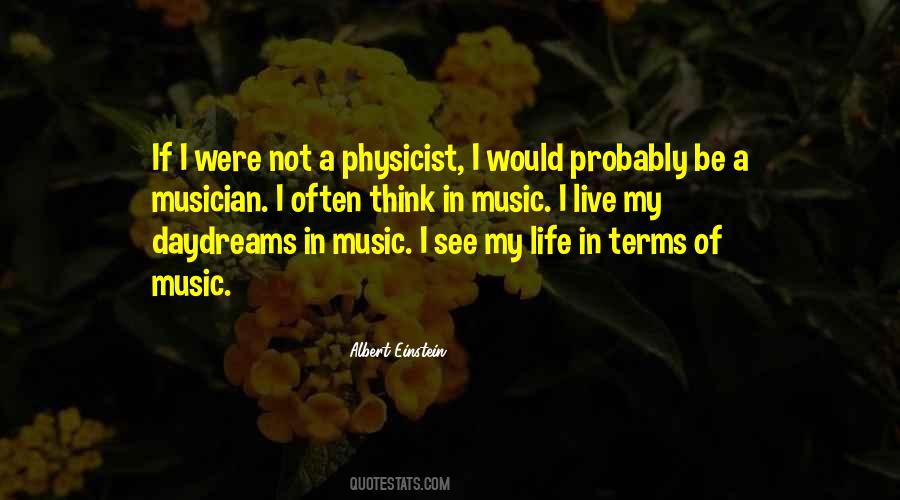 #5. We are a spectacular, splendid manifestation of life. We have language ... We have affection. We have genes for usefulness, and usefulness is about as close to a 'common goal' of nature as I can guess at. - Author: Lewis Thomas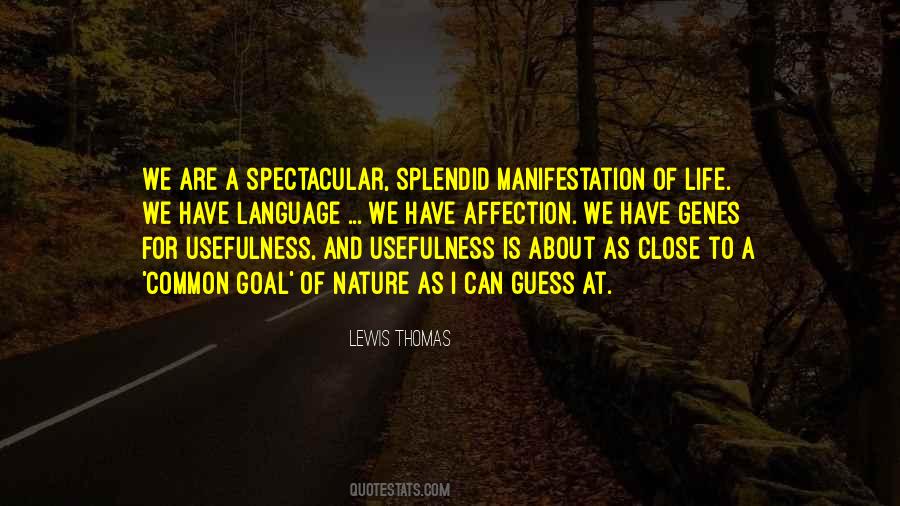 #6. Music; joy of the heart. - Author: Lailah Gifty Akita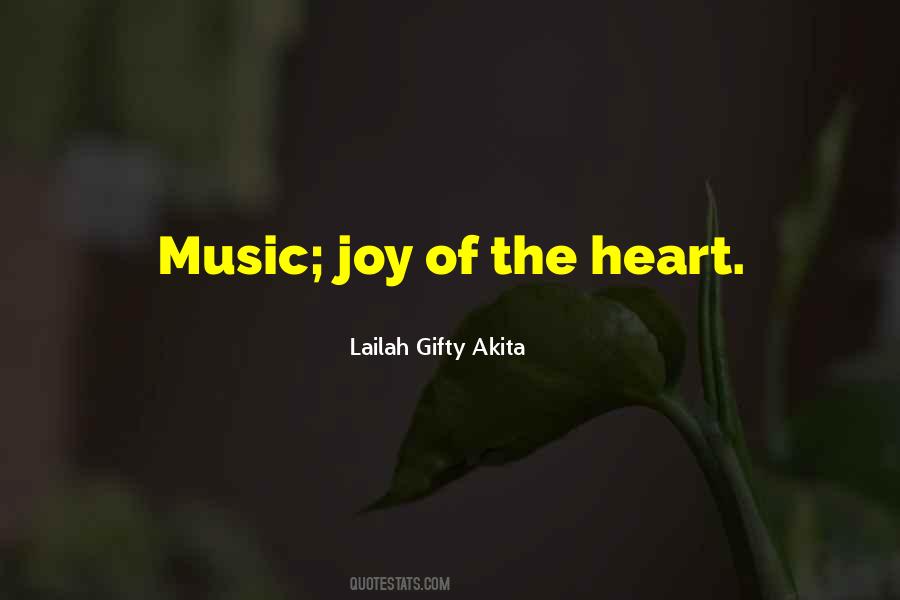 #7. Music is one of the highest art forms there is. It can define a life, change a life, or even safe a life, in just three short minutes. - Author: Alyson Noel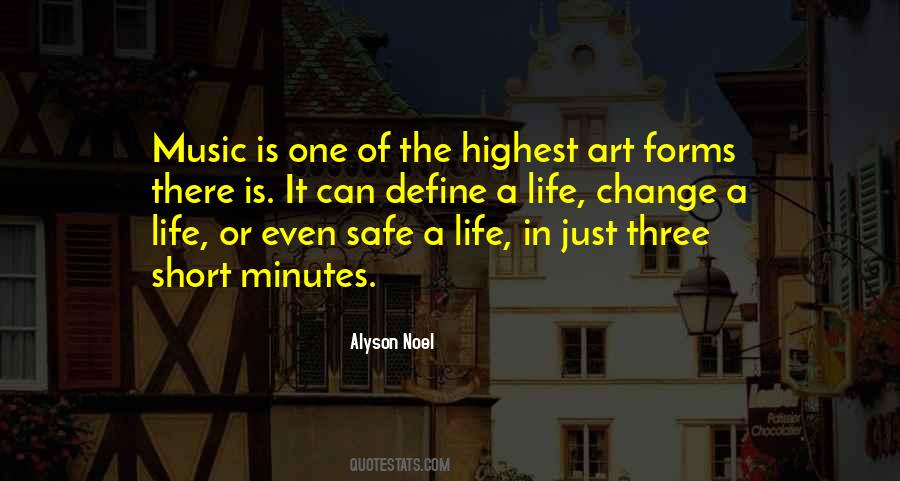 #8. What's the point of getting up in the morning unless you're gonna have an adventure? As the moments of our life are ticking away you have to be aware that it needs to be an adventure - Author: Hans Zimmer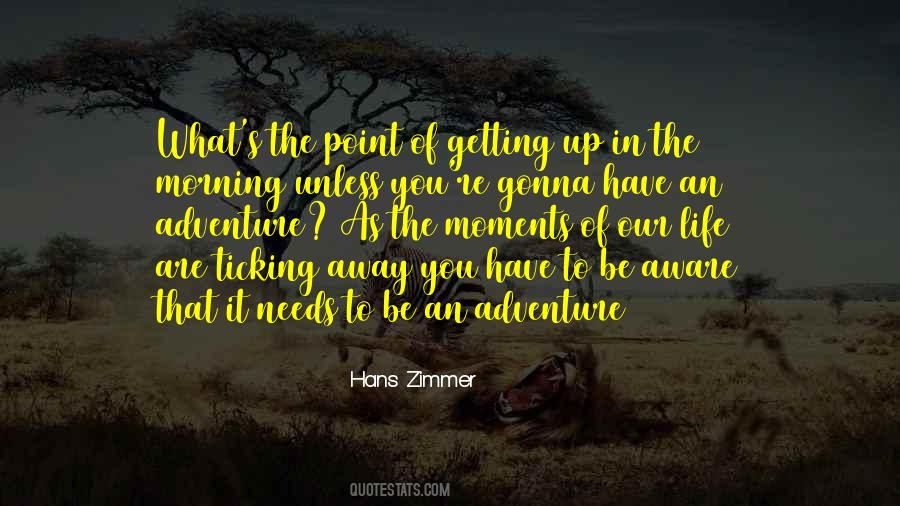 #9. I was always taught as a kid that if there's anything you want in life, you've got to work towards it. I guess that sort of stayed with me, really. But also, for me, from the time I was, like, 10 years old, all I ever wanted to do was be in a band and make music. - Author: Paul Weller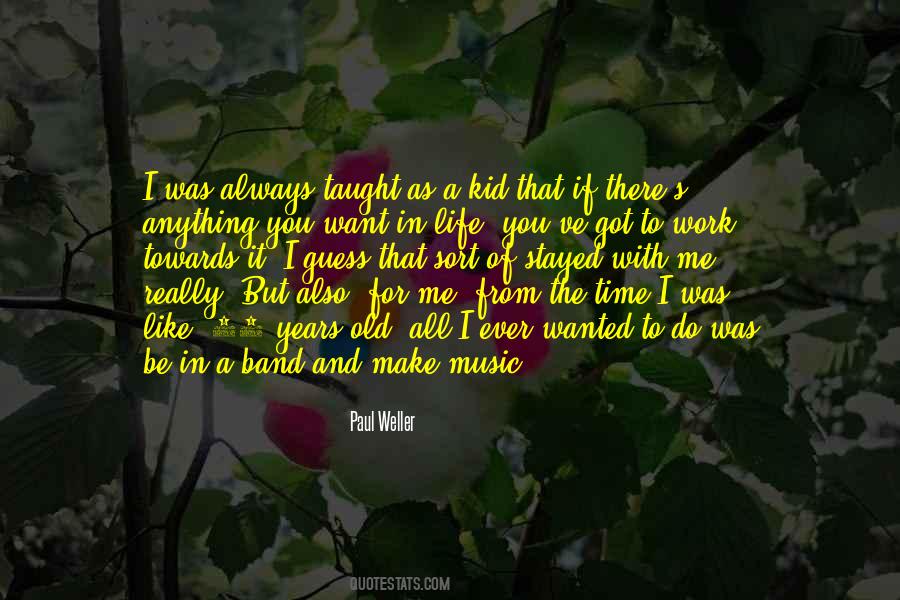 #10. Bob Marley performed the 'One Love Peace' concert in Jamaica with the two different warring political sides. There's always been that in black music and culture in general. It's no surprise because black music is such a reflection of what's going on in black life. It's not unusual for hip-hop. - Author: Mos Def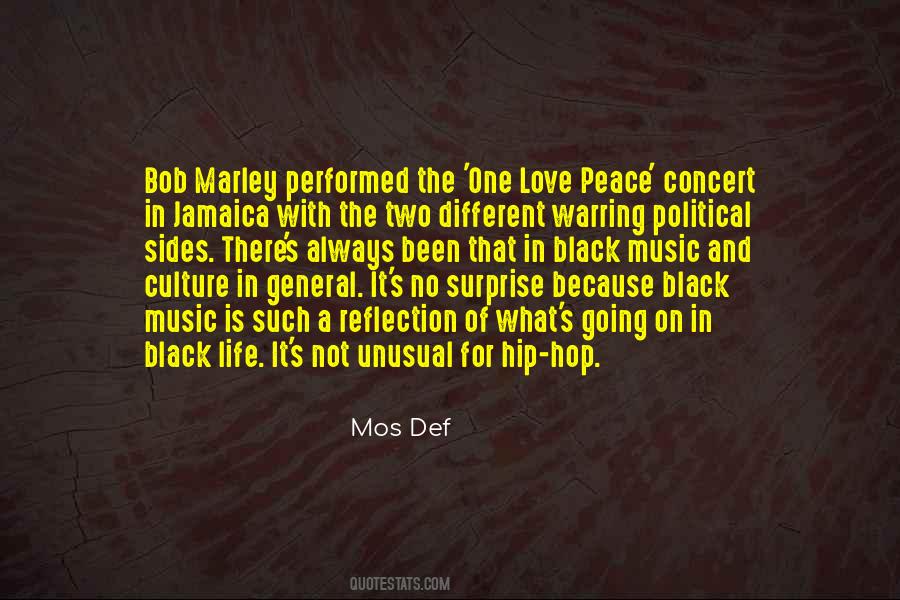 #11. The song of thrush and blackbird, joy that falls so gently on the ears to celebrate another day of life and living, flying free. - Author: John McLeod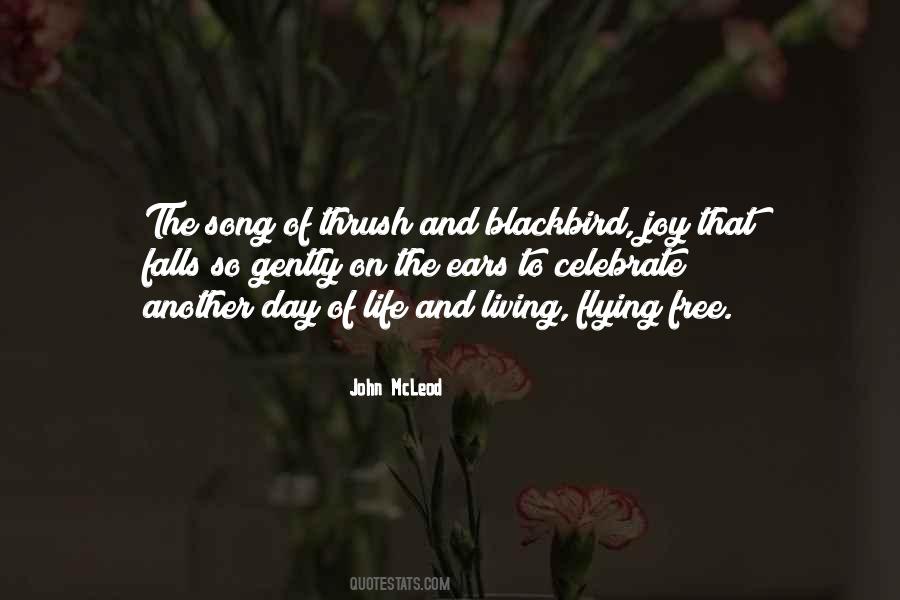 #12. Aenea heard the music of the spheres. She resonated with the Void Which Binds, which resonates in turn to sentient life and thought, and then she used the almost illimitable energy of the Void to ... to take the first step. - Author: Dan Simmons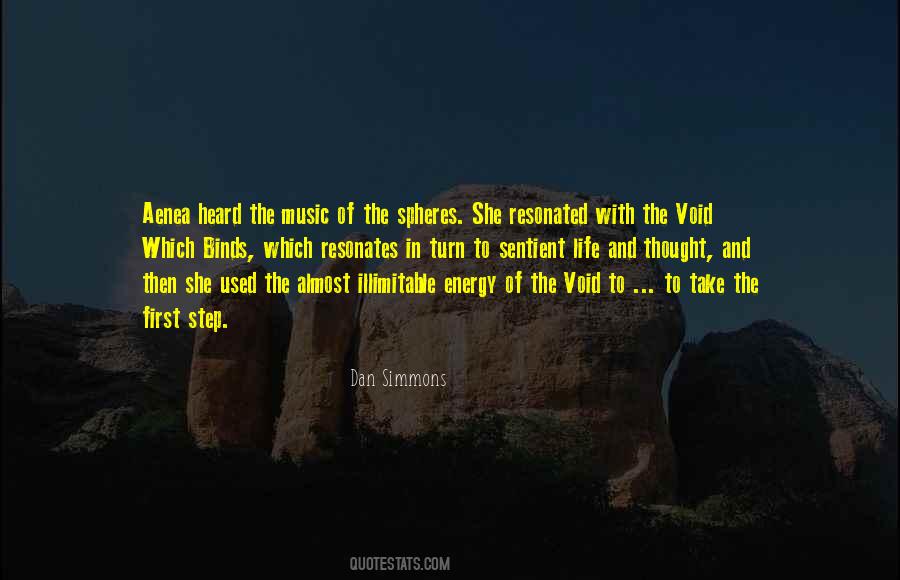 #13. Don't forget that in the midst of all your pain and heartache, you are surrounded by beauty, the wonder of creation, art, your music and culture, the sounds of laughter and love, of whispered hopes and celebrations, of new life and transformation, of reconciliation and forgiveness. - Author: Wm. Paul Young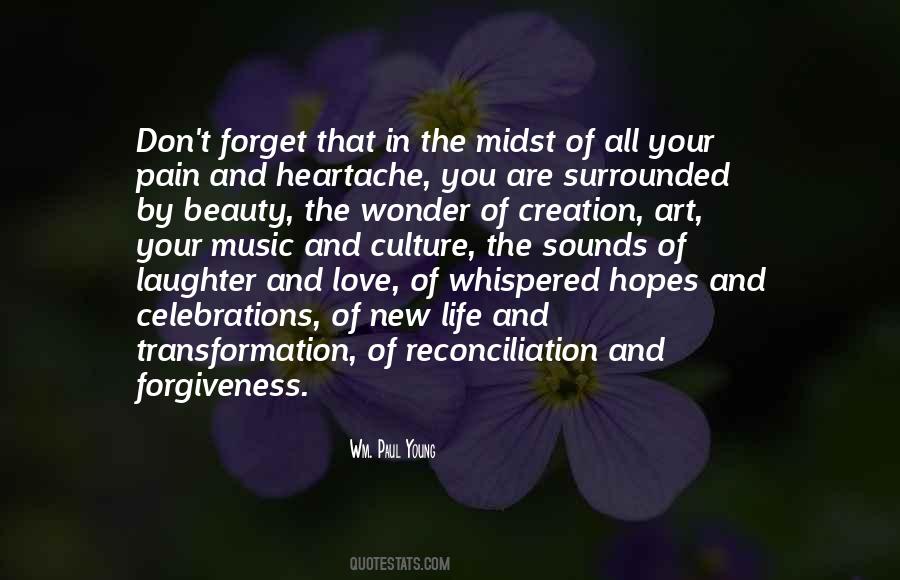 #14. I've been doing this sort of thing my entire life. It's my love, it's my passion, it's what I do day in and day out. I eat, sleep, and breathe music and singing. - Author: Diana DeGarmo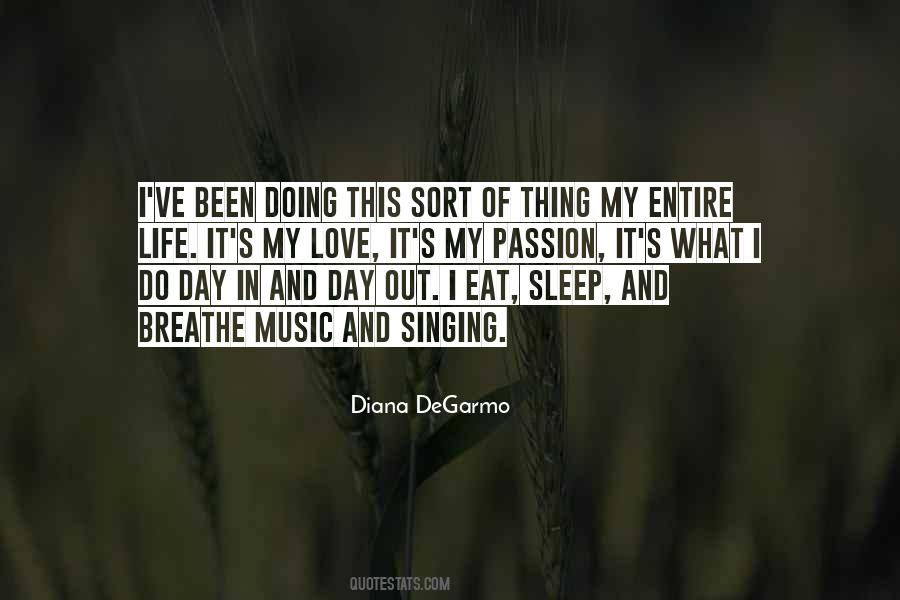 #15. The life of music is bigger than all of us. - Author: Cindy Blackman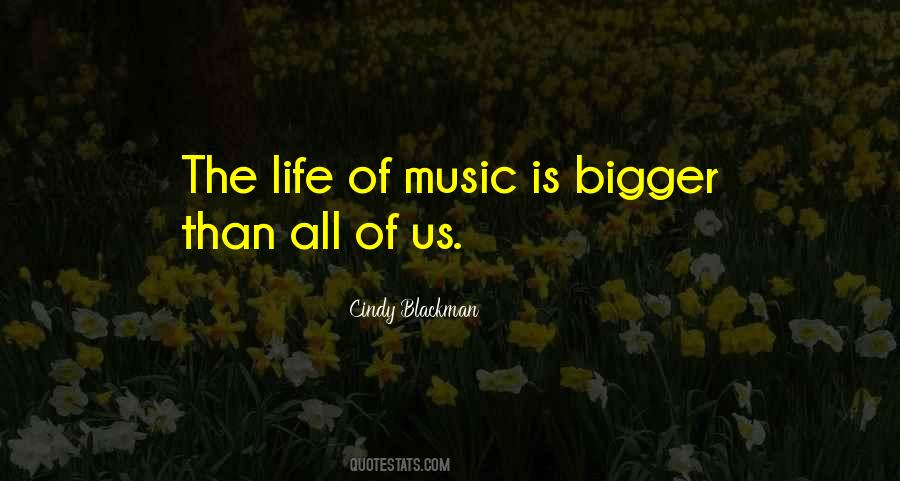 #16. Laughter is the greatest music in the world and audiences come to my shows to escape the cares of life. They don't want to be embarrassed or insulted. They want to laugh and so do I - which is probably why it works. - Author: Ken Dodd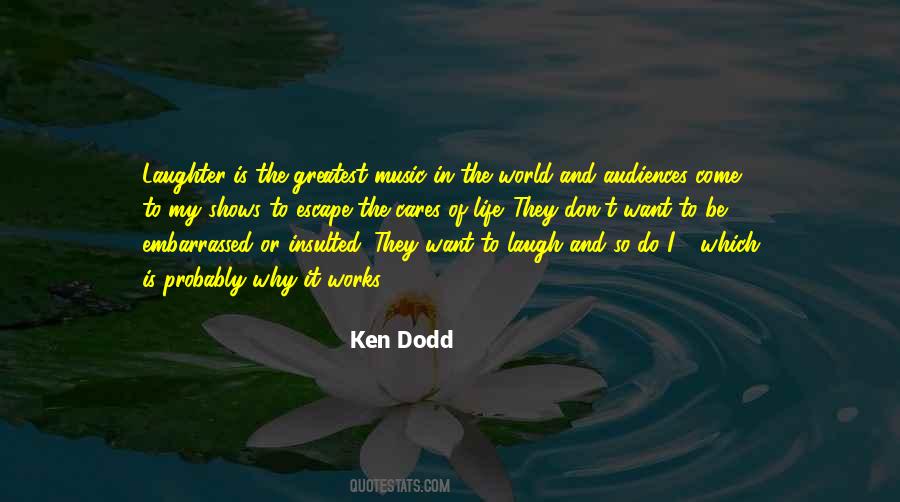 #17. Inside, I've got a real purist desire and dream about the music. I like the idea of being able to carve out a kind of magical, colourful, artistic, inspirational life. And the reality just turns out to be quite different, working with the business to bring this thing you have created into the world. - Author: Damien Rice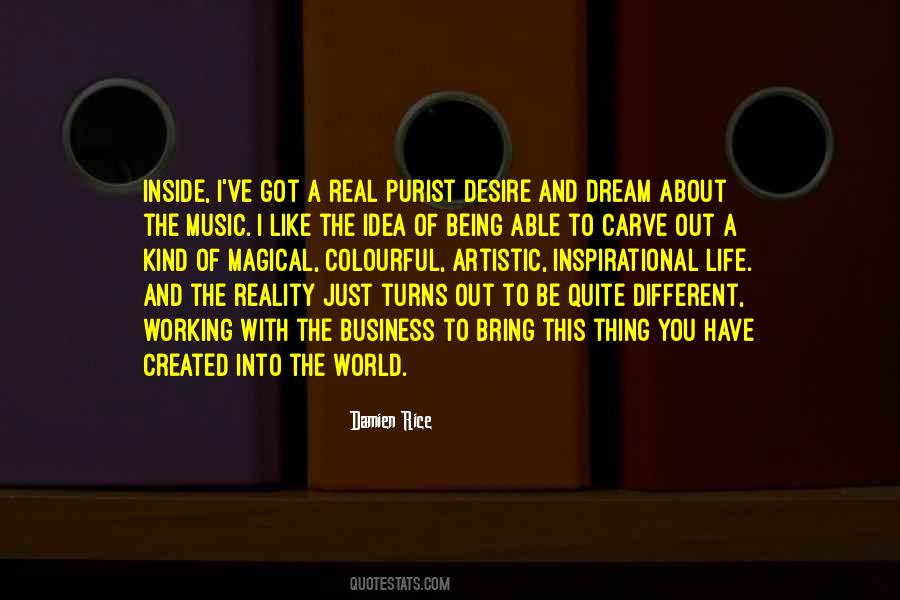 #18. Death is never more than a breath away from the act of playing music. Each note on a guitar represents a small curve: birth, life, and death-and then you start over. - Author: Andy Summers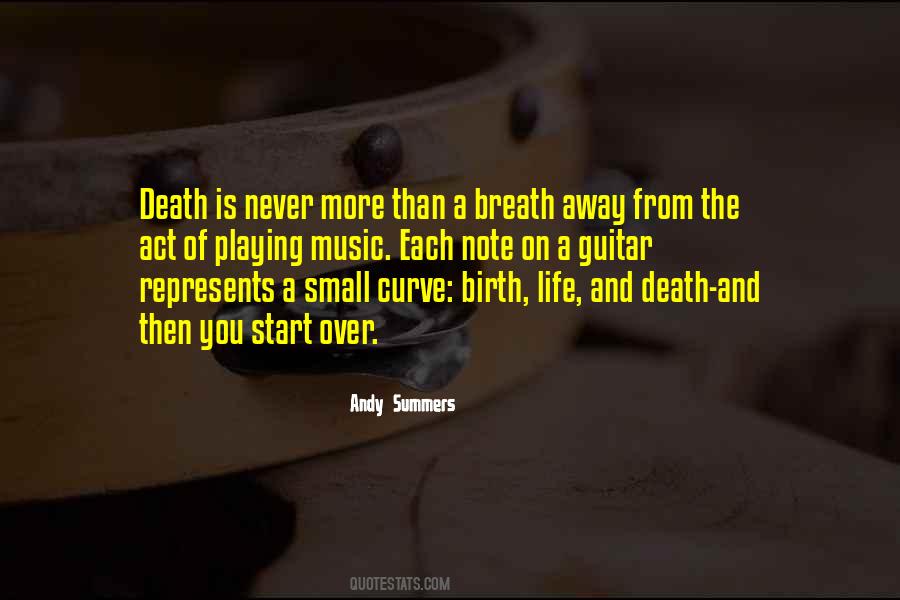 #19. Every musician, their goal in life is to play music that people love, and I've accomplished my goal. I was inducted into the Rock and Roll Hall of Fame and left that chapter of my life and those people in the past. Good and bad, I've loved and am thankful for that chapter. - Author: Steven Adler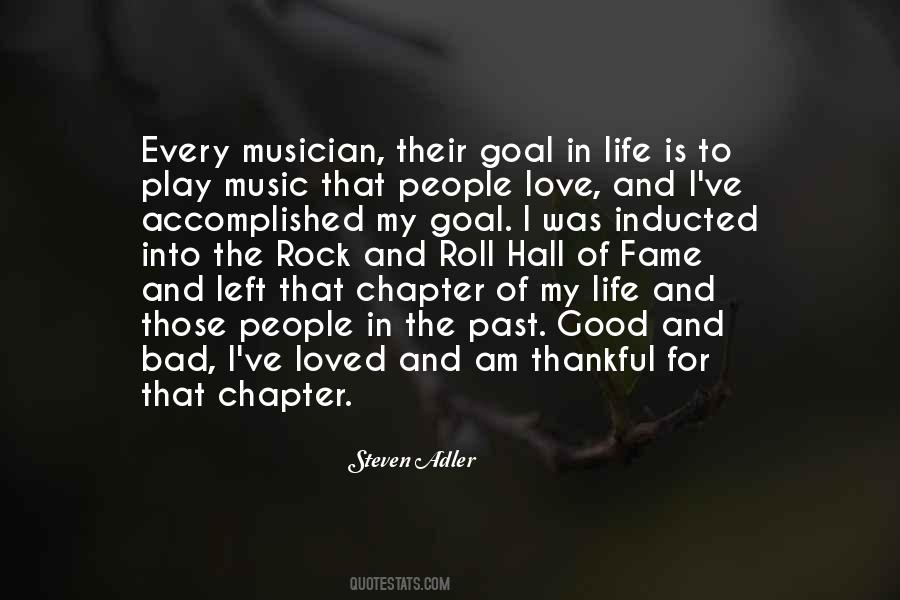 #20. I think of my life as a kind of music, not always good music but still having form and melody. - Author: John Steinbeck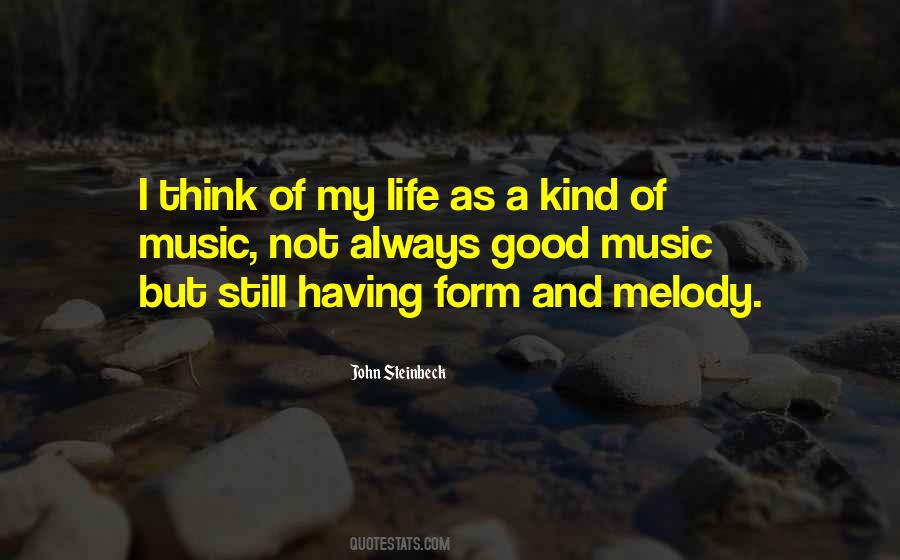 #21. Three films a day, three books a week and records of great music would be enough to make me happy to the day I die. - Author: Francois Truffaut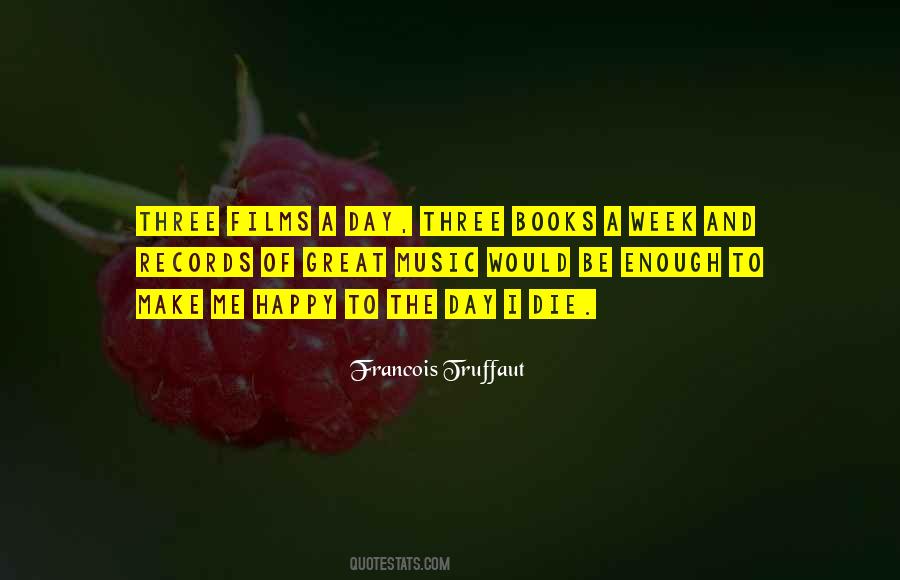 #22. In my life, looking at other women who have been pregnant while writing, I always feel like it's kind of their most musical or the closest to themselves. I think for me it's such a validating moment, you know. I always knew I wanted to have kids, and I've been making music all my life. - Author: Kelis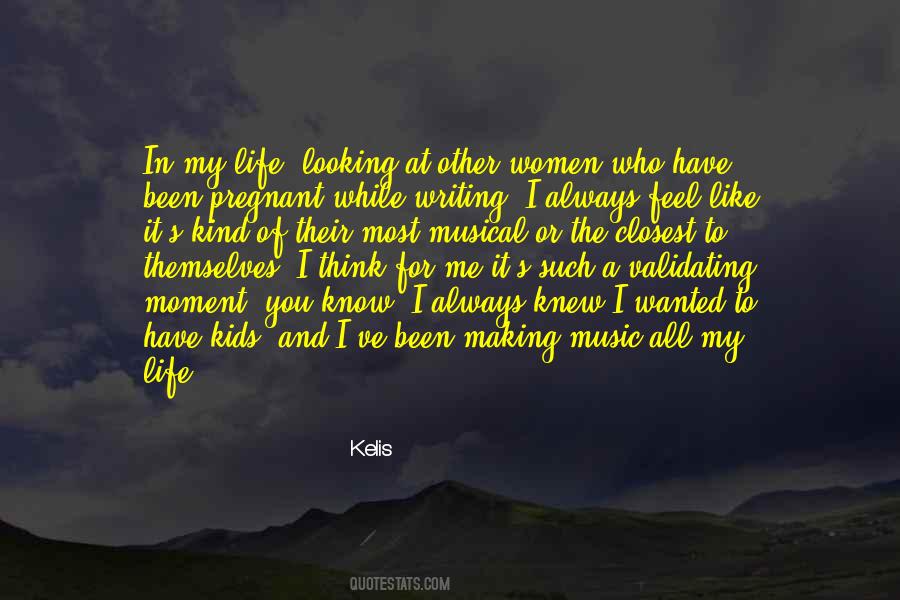 #23. Smiles are the dance of our soul,
with the music of love,
to express the beauty of mind,
for the happiness of spirit,
and for the joy of the world. - Author: Debasish Mridha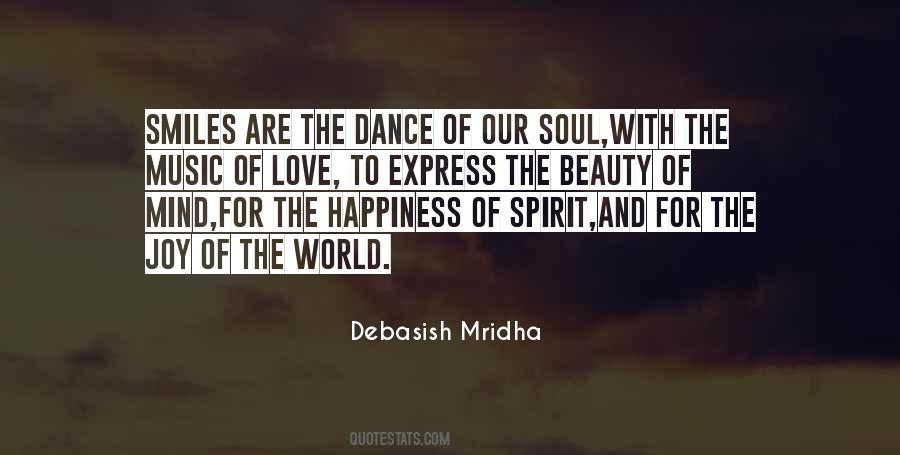 #24. Music opens the window of the soul to let the nectar of life come in. - Author: Debasish Mridha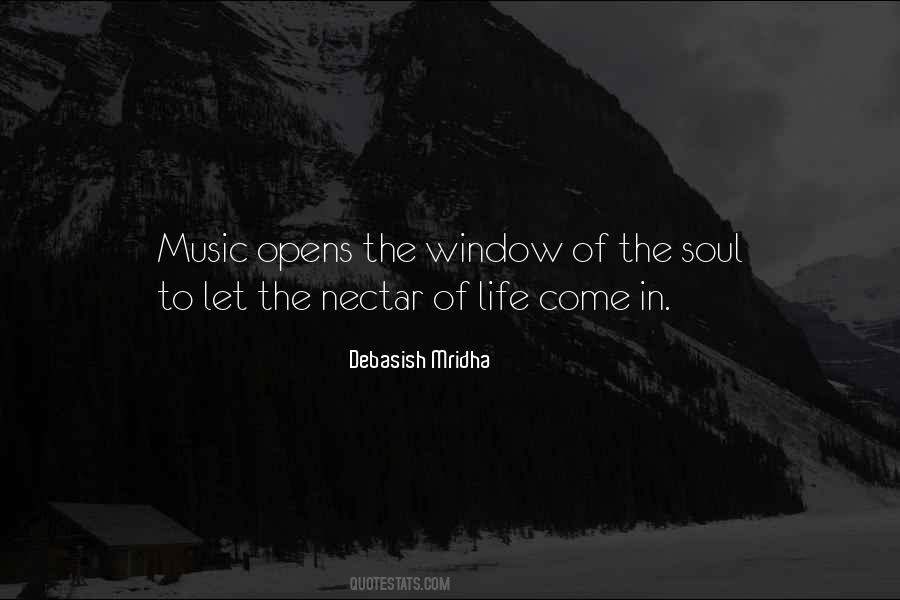 #25. A life that partakes even a little of friendship, love, irony, humor, parenthood, literature, and music, and the chance to take part in battles for the liberation of others cannot be called 'meaningless' ... - Author: Christopher Hitchens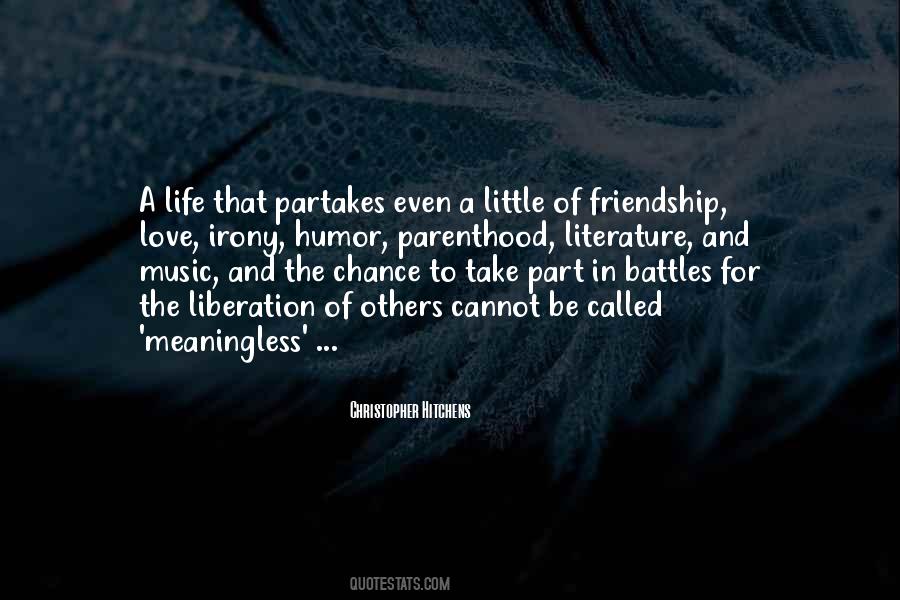 #26. There is no one who has ever created music with the combination of intelligence, intuition, depth, creativity, and humor that Jerry Garcia has. His work and life will continue to be a limitless source of inspiration for all of us. - Author: Bruce Hornsby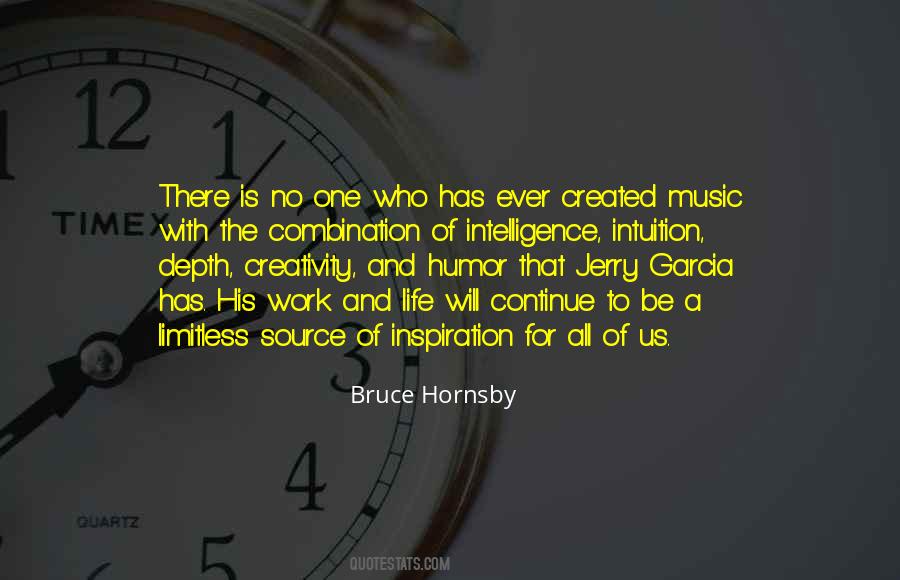 #27. Music is an essential part of my life and I'm completely lost without a good album to listen to or my iPod in my pocket! - Author: Alfred Molina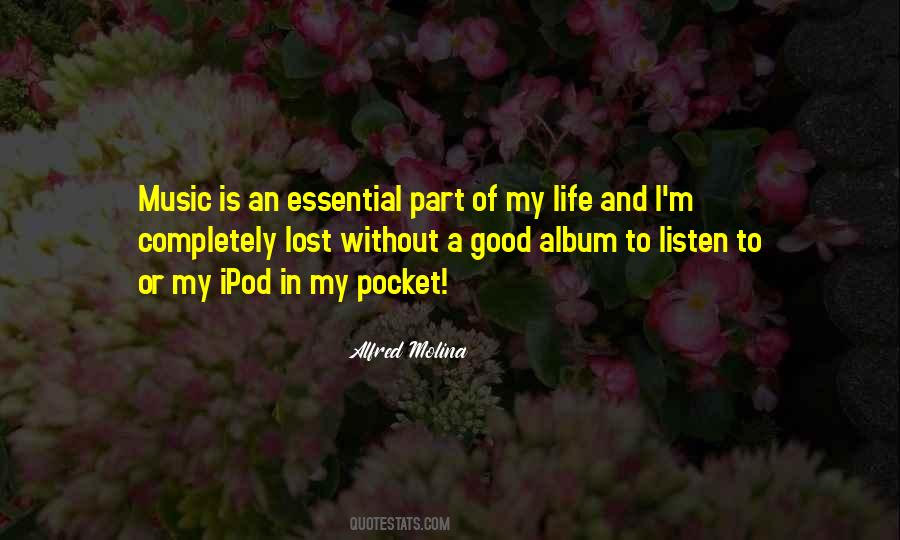 #28. Swing is so much more than a dance, it's a way of life. The music gets stuck in your mind and the dance is in your heart and the whole scene is engraved on your soul. You can fly. - Author: Nicholas Hope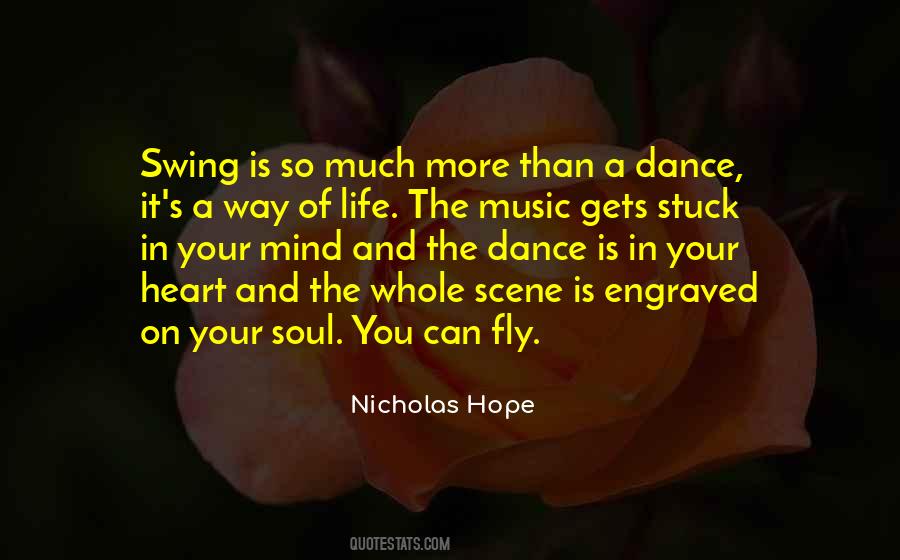 #29. I enjoy the healing music and touch of love, touching my heart and soul when I give it away. - Author: Debasish Mridha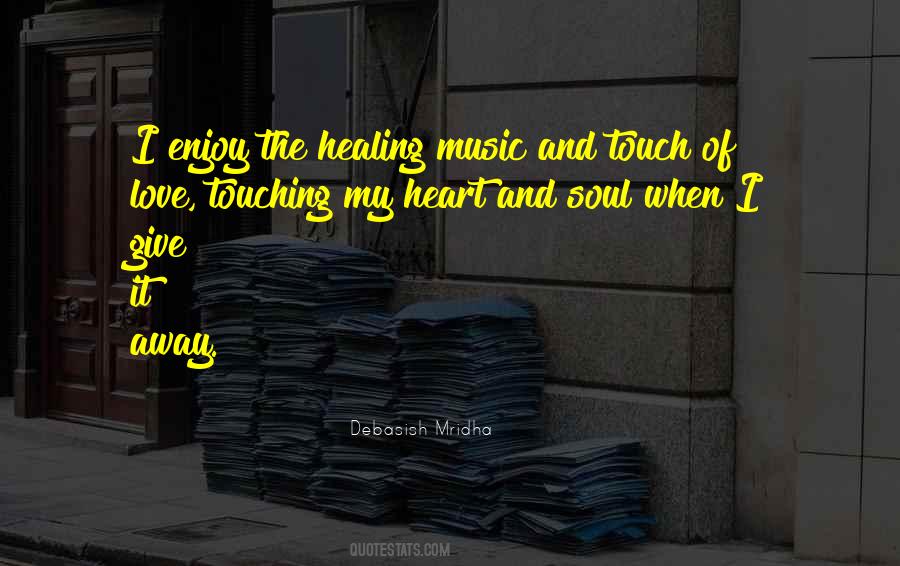 #30. The more transparent you are about, you know, the not so happy times, or the happy times, or the things that you're embarrassed or ashamed of or proud of, it's all in Kicker, and all in my music. I'm just inspired by life in general and what it's bringing to me. - Author: Zella Day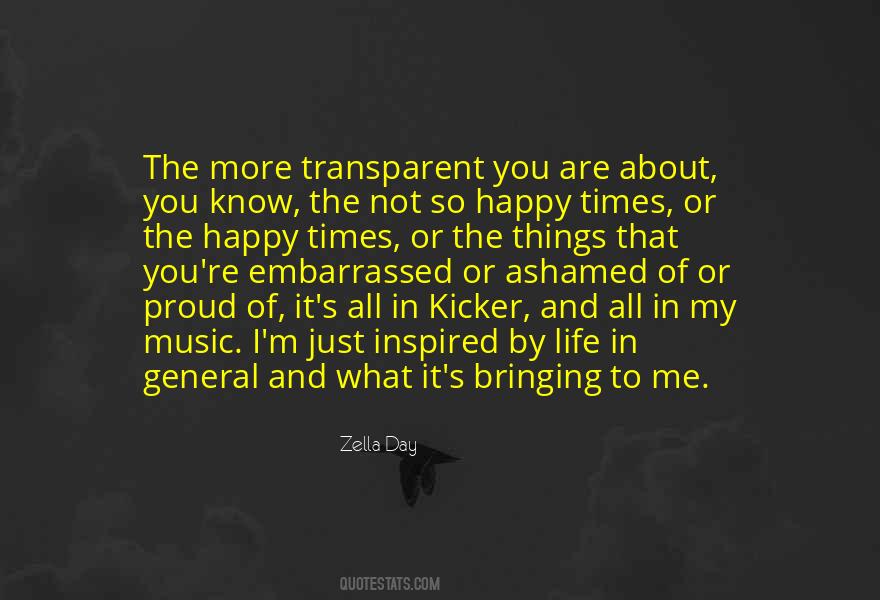 #31. I just think that with music, it's kind of like life, and so the people you work with, you generally develop a relationship. You don't have to try to explain things. You just know. It's like you're in the band together and striving for the same goal. - Author: Ariel Rechtshaid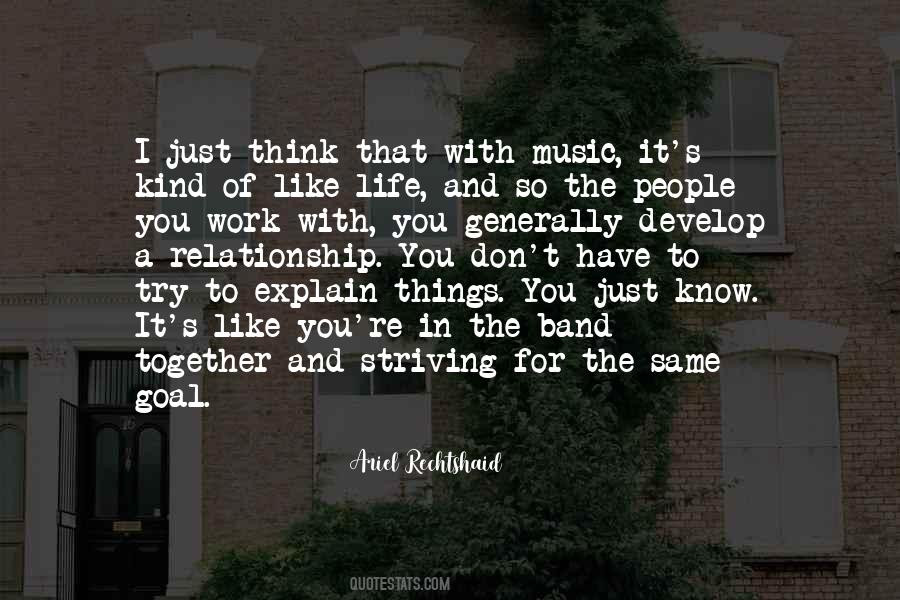 #32. I started to find that music was something that really brought a lot of joy into my life, and it was sort of cool because I discovered that I had a gift for it, too. So the stuff I would listen to I could play along, I could sing along. - Author: Corey Taylor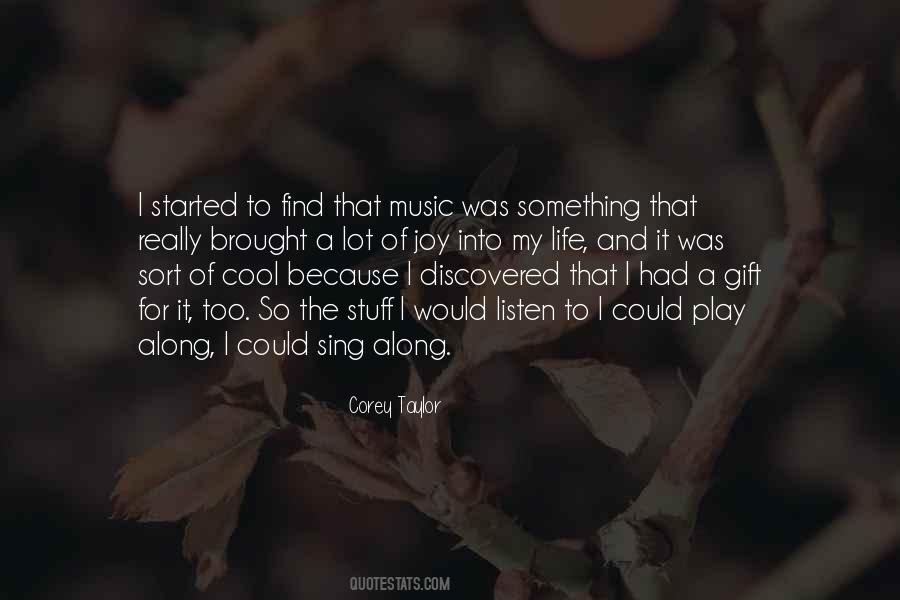 #33. I fucking love you. I don't deserve to love you, but I will spend the rest of my life earning that right. You are my music, do you understand? - Author: Pam Godwin
#34. For some reason I can't explain, artist and musicians tend to look younger than our age. Being in music, you need this youthful sense of discovery and wonder for what you're doing and keep your imagination open. That's a youthful way of looking at life and I think that reflects in how you age. - Author: Joshua Bell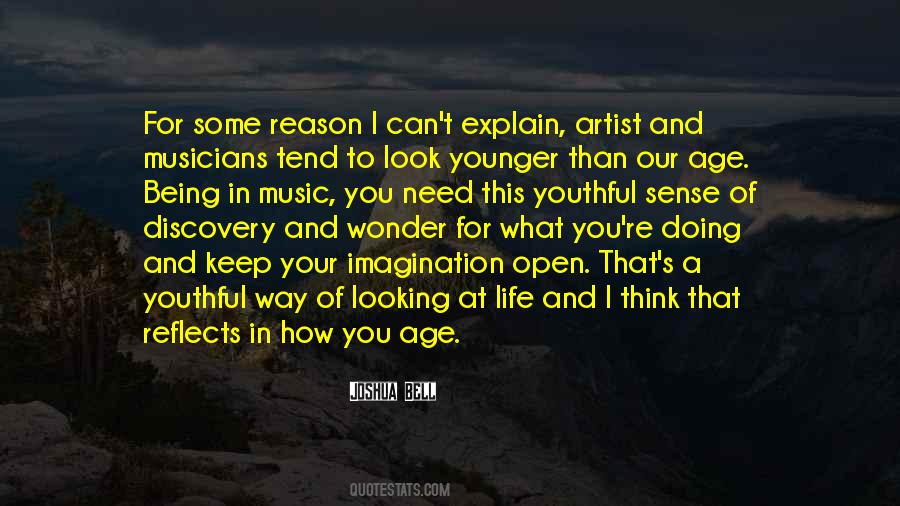 #35. Growing up in Nashville, especially in a music business family, means growing up with knowledge that seems like common sense until later in life when you realize people spend thousands of dollars a semester trying to learn or pretending to learn while looking for some intern job on music row. - Author: Caitlin Rose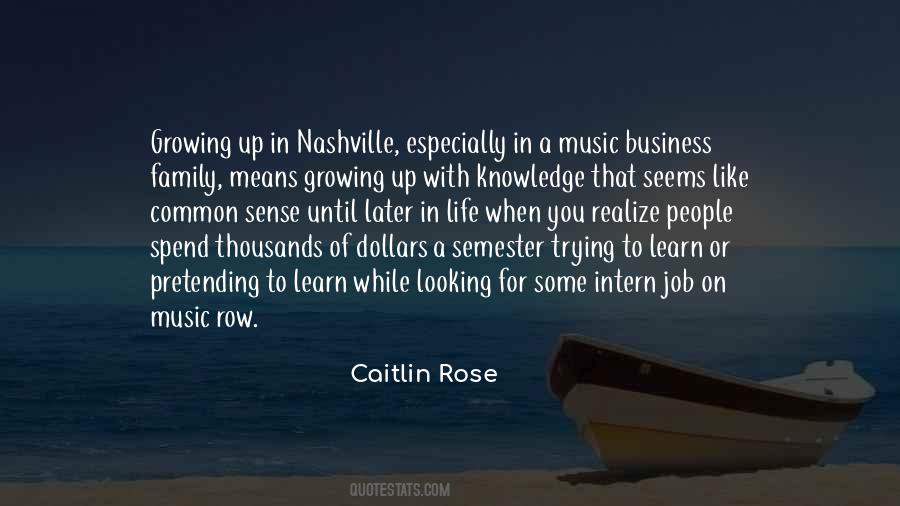 #36. I happen to have a certain fondness for existing
soda wouldn't have that lovely fizzy feeling if you were dead. Think of all the things you would miss: Cartoons, music, movies, video games, music, art, fingernail growth, sex ... well, perhaps not sex, depending on how weird your mortician is. - Author: Jhonen Vasquez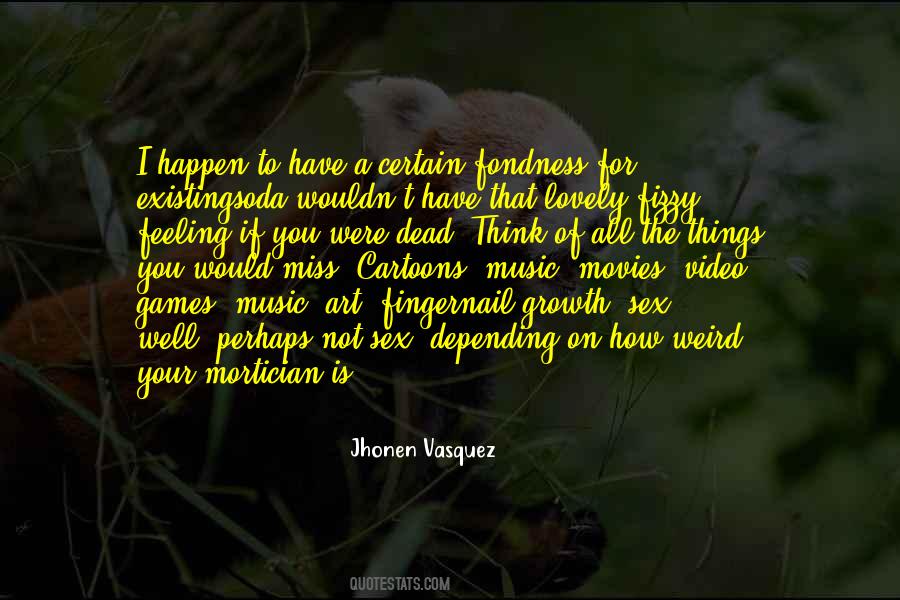 #37. I was in acting classes from the age of 9, dance classes, music classes - my mom put a lot of energy and attention into me, so no matter what happened in my life, I always had this basis of discipline. So I really worked hard for everything I had from a very early age. - Author: Milla Jovovich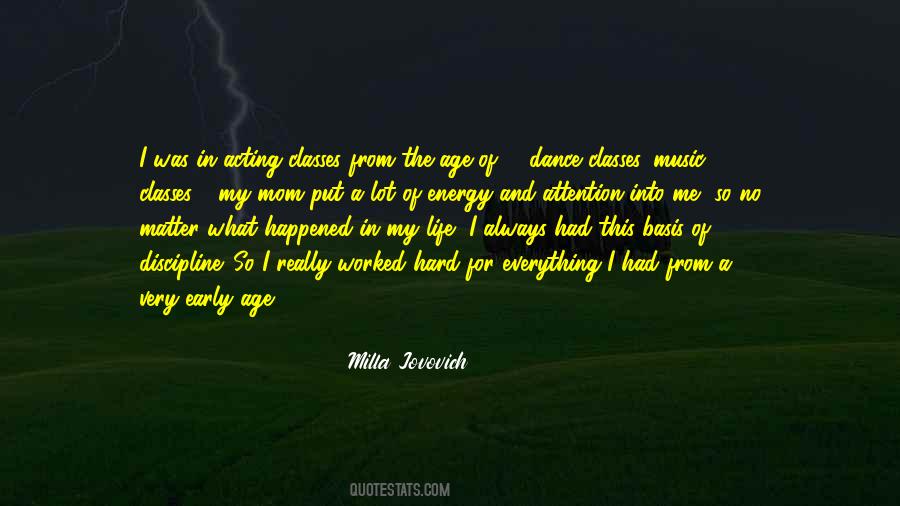 #38. Jazz music celebrates life! Human life; the range of it, the absurdity of it, the ignorance of it, the greatness of it, the intelligence of it, the sexuality of it, the profundity of it. And it deals with it. In all of its ... It deals with it! - Author: Wynton Marsalis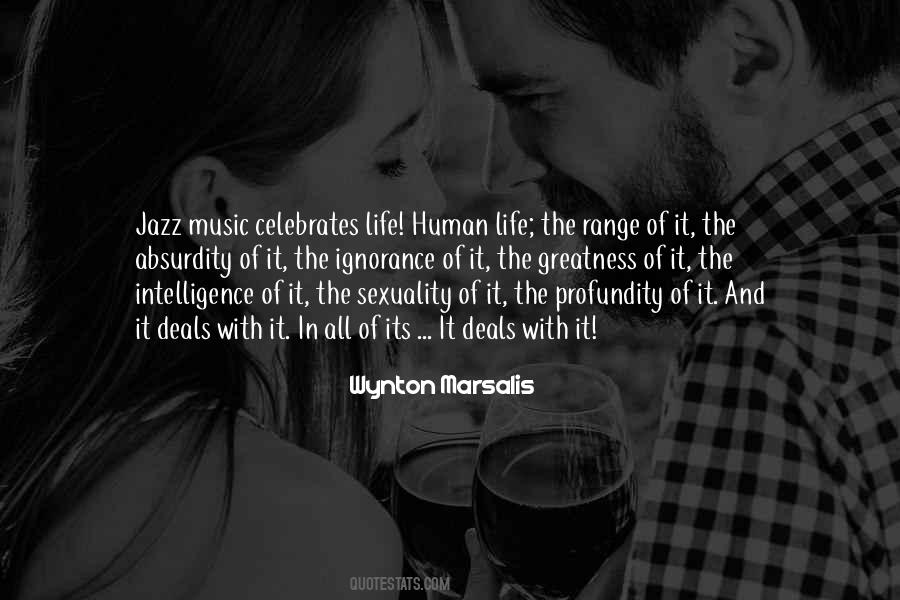 #39. This proves the significance of individualism; being able to face the music, to embrace it, and then create something beautiful from it. You can't truly be happy unless you're unhappy sometimes and the pinnacle of life can only be reached when one can carve their own path. - Author: Nadege Richards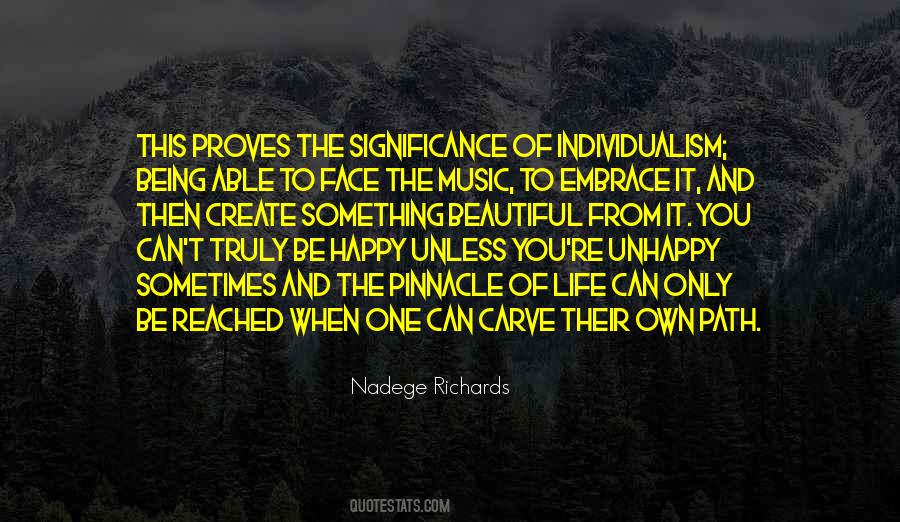 #40. Fortunately I've got a weak character, so I never did decide to dedicate myself to only one of my professions. And I'm very glad. After all, if I'd rejected chess or music then my life wouldn't have been two times, but a hundred times less interesting. - Author: Mark Taimanov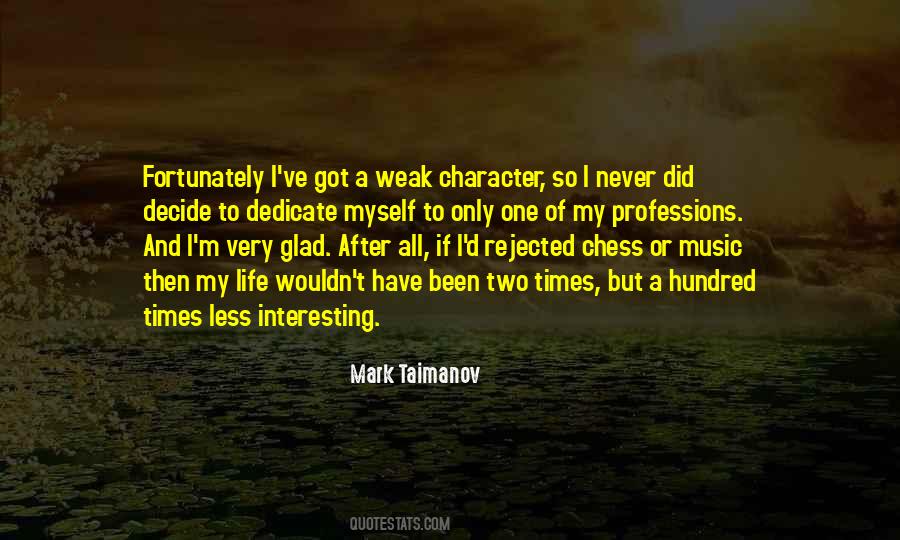 #41. Dizzy Gillespie, the jazz trumpet player, once said, "It's taken me all my life to learn what not to play." He was one of my special ones. And he was quite correct. Silence enhances music. What you do not play can sweeten what you do. But - Author: Mitch Albom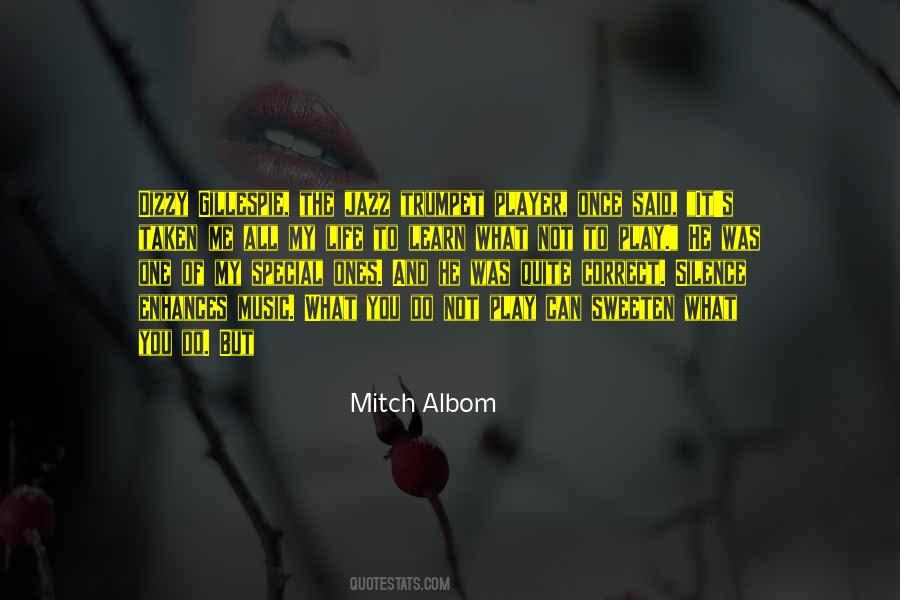 #42. Music touches our innermost being, and in that way produces new life, a life that gives exaltation to the whole being, raising it to that perfection in which lies the fulfillment of man's life. - Author: Hazrat Inayat Khan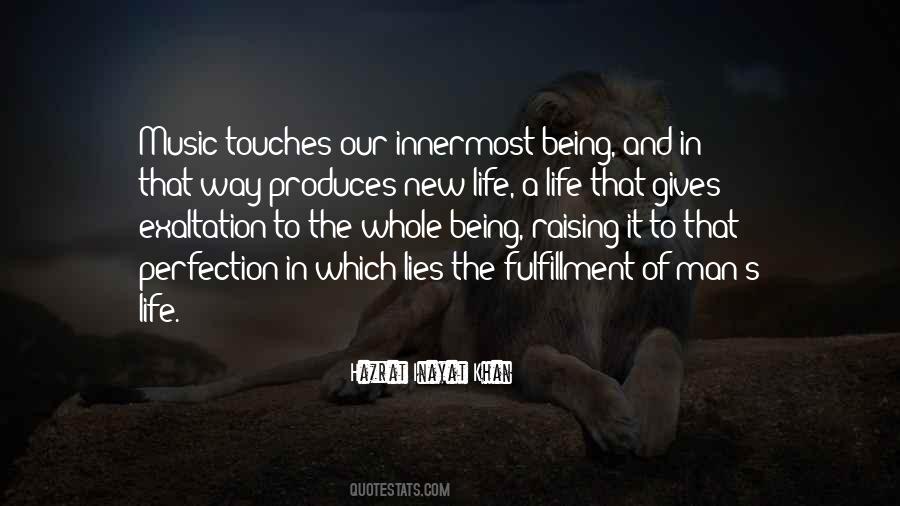 #43. I was thrilled to support the Teenage Cancer Trust while celebrating the music of The Who - a band that changed my life. - Author: Geddy Lee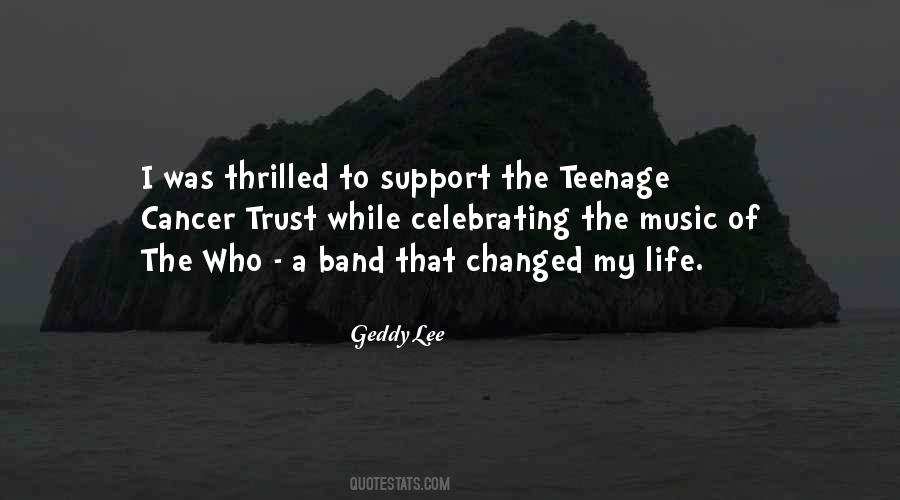 #44. I don't need to sell tons of records, but I want longevity. I want to make music for the rest of my life. - Author: Laura Marling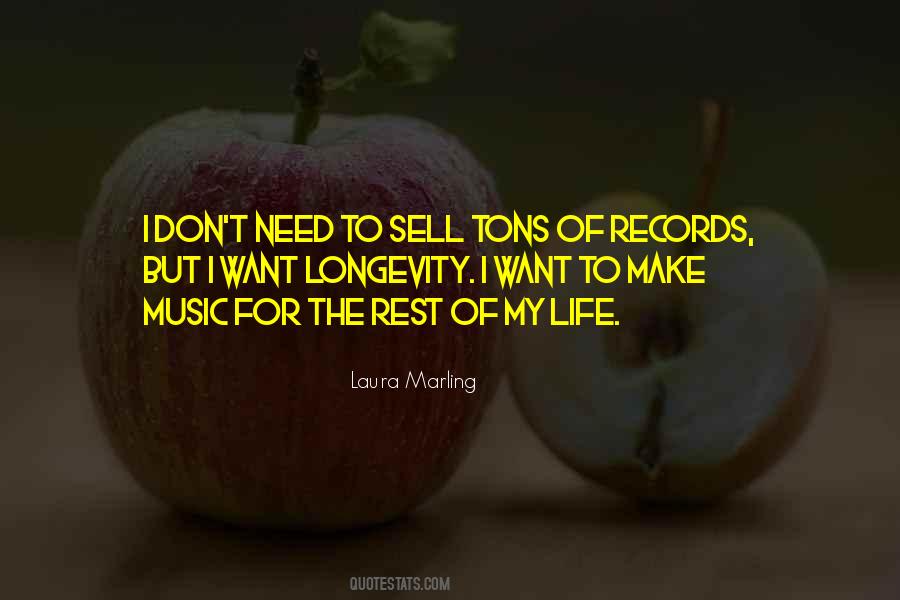 #45. Music overwhelmed me, soaked into my skin like water. I didn't have words for the squiggles and dashes across the pages, or the way his fingers stretched across the keys to make my heart race. If I could hear only one thing for the rest of my life, this was what I wanted. - Author: Jodi Meadows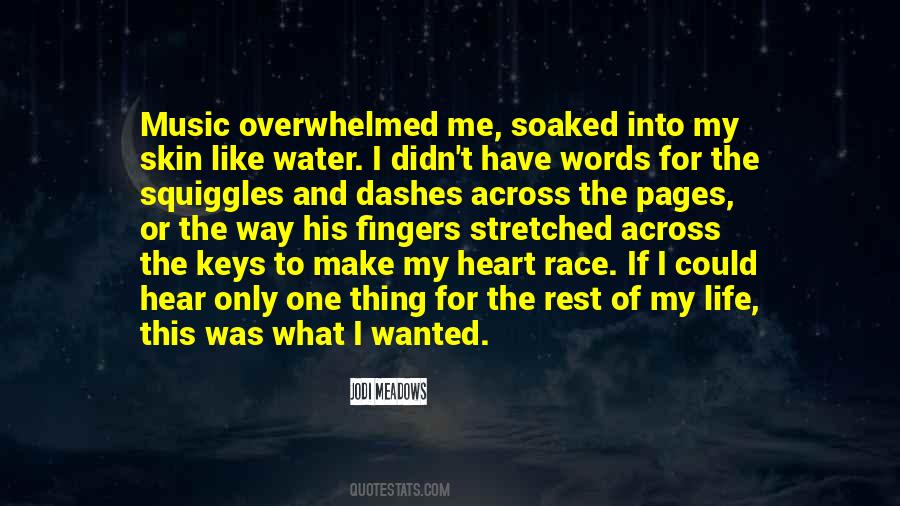 #46. And of course, in my writing, there is the constant theme of music, love of, preoccupation with, music. Music is the single thread making my life into a coherency. - Author: Philip K. Dick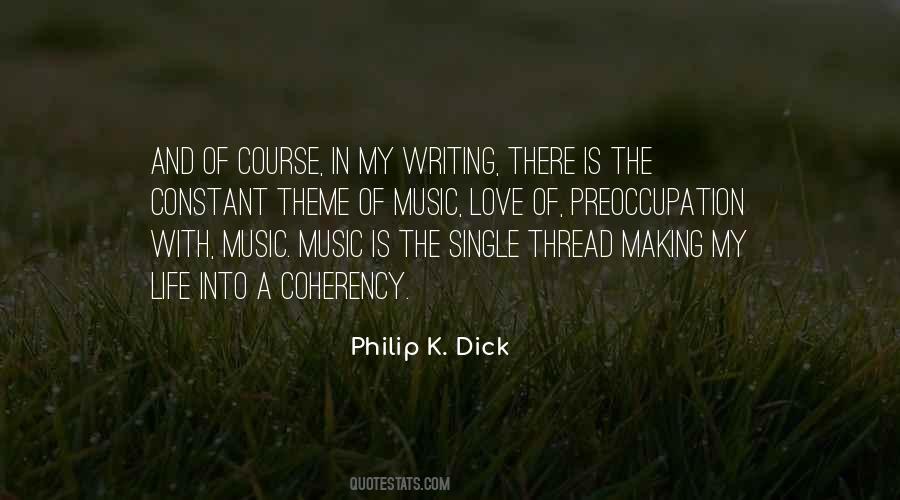 #47. Life is all about dancing freely while the music is still playing, but remaining optimistic about the next song. If you're lucky, someone will expectantly join in and mimic your moves in perfect timing as if the two of you had been dancing together all of your live. - Author: Carl Henegan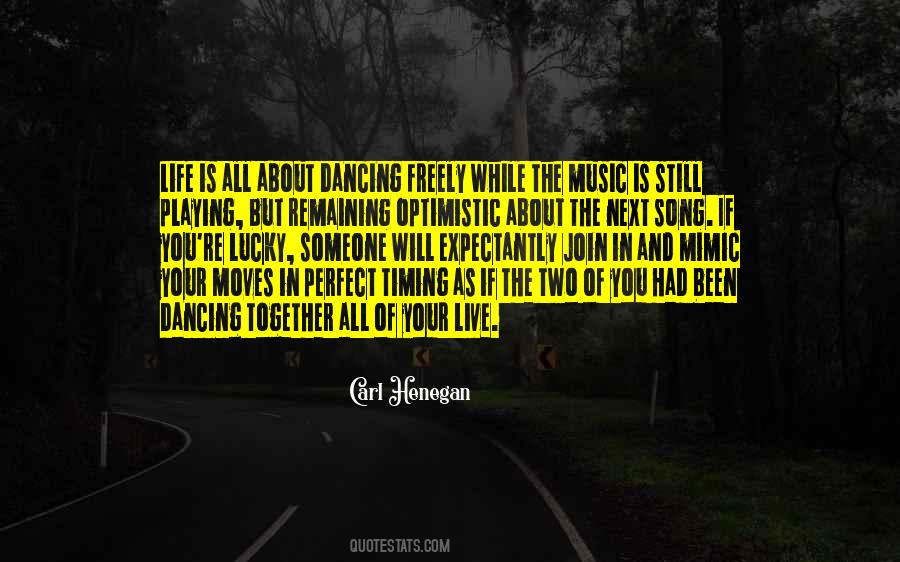 #48. Dancing was a big part of my life, but I would never consider myself a dancer. I adore singing, and music has always been a huge part of my life, but I also enjoy acting. - Author: Vanessa Hudgens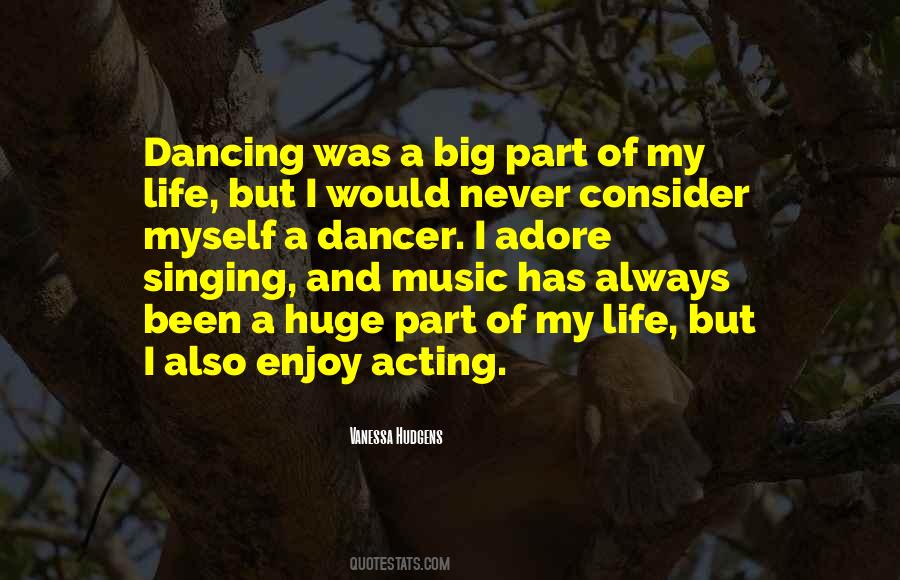 #49. If the student truly absorbs the concept of free inquiry in the field of music, unimpeded by blind adherence to doctrine and tradition, he will bring something of this approach not only to other fields of knowledge but to the conduct of his daily life, - Author: William Howard Schuman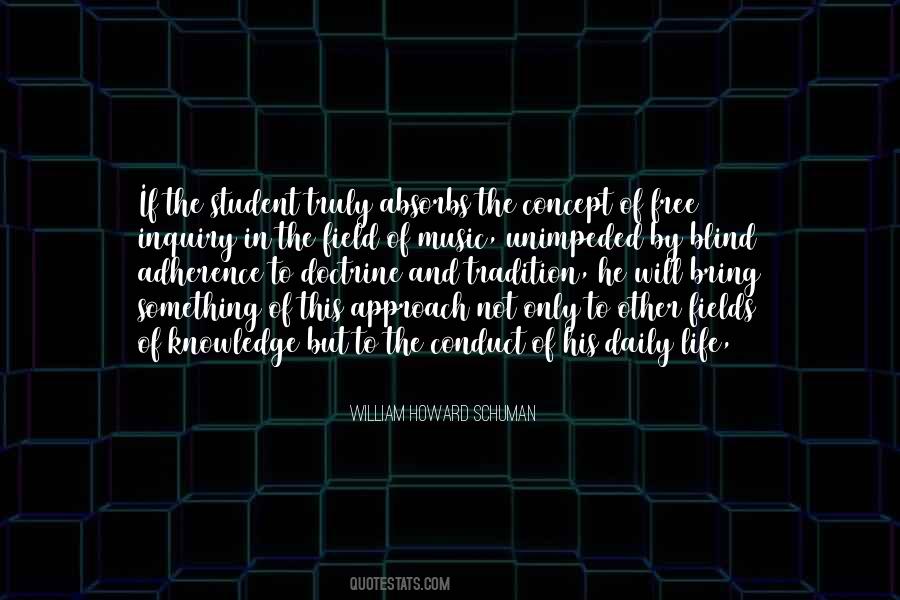 #50. I'm sure we all have dreams of leaving at some time in our lives, but when we reach the bottom, most of us go running home. - Author: Deborah Curtis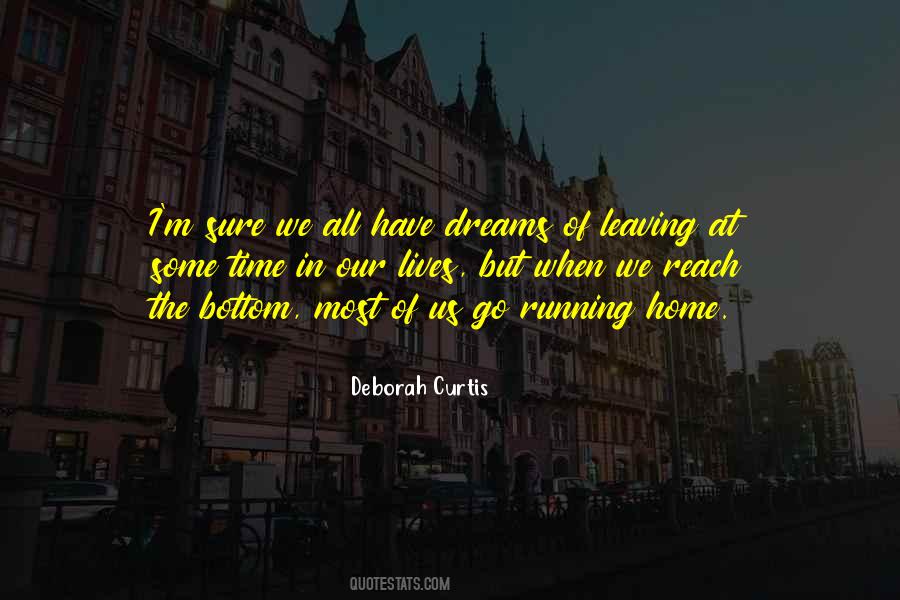 #51. I'm gonna go put my earplugs in and practice piano for hours until my fingers bleed. I practice the piano with the focus of Helen Keller - and nothing can distract me from the scent of the music.
-Karen Quan and Jarod Kintz - Author: Karen Quan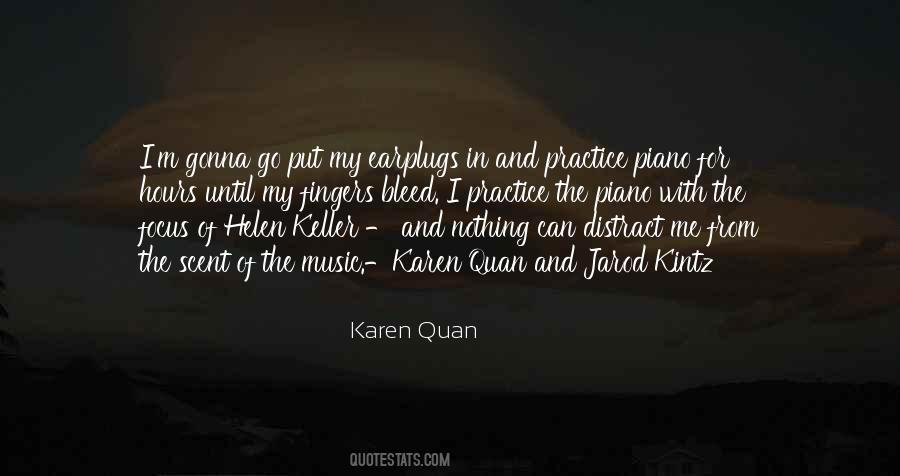 #52. If anybody had a sense of history, it wasn't me, I'll tell you that. I, I was just enjoying life and, and making a living and, and, you know, listening to all this good music. No, there was never in my mind any kind of sense of history, nothing. - Author: Cosimo Matassa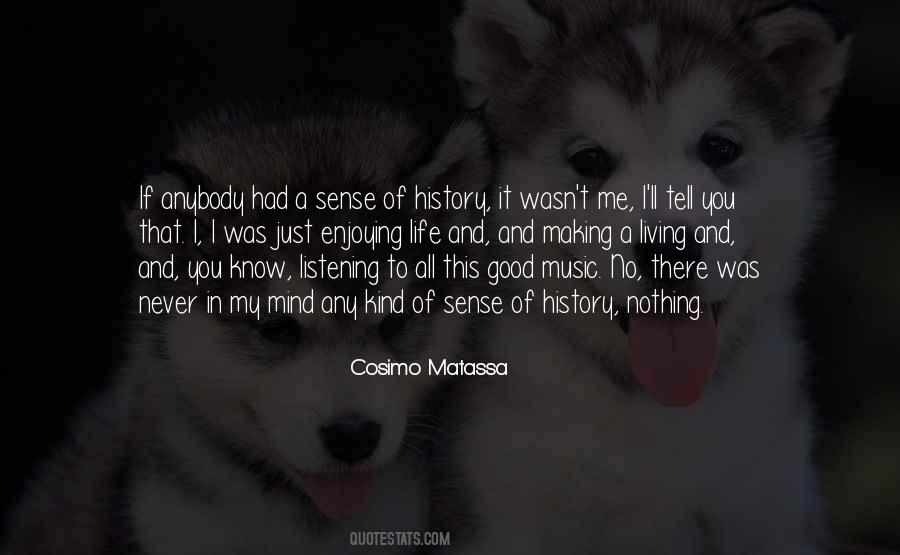 #53. At the start of our together you were the prelude to a vast orchestration. at the end of it all you will have been the most profound and enduring music of my life. - Author: Mary Anne Radmacher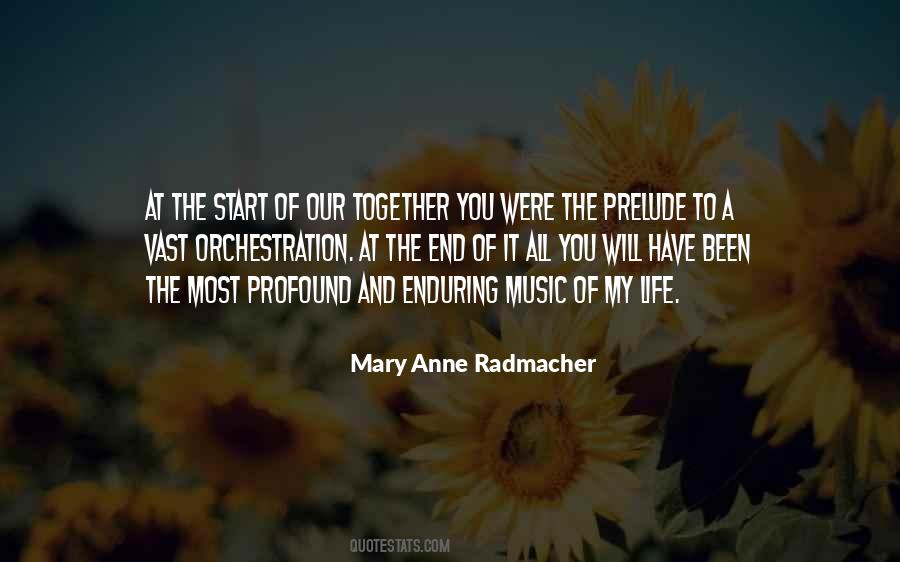 #54. music has, quite literally, saved my life and, I believe, the lives of countless others. It provides company when there is none, understanding where there is confusion, comfort where there is distress, and sheer, unpolluted energy where there is a hollow shell of brokenness and fatigue. And - Author: James Rhodes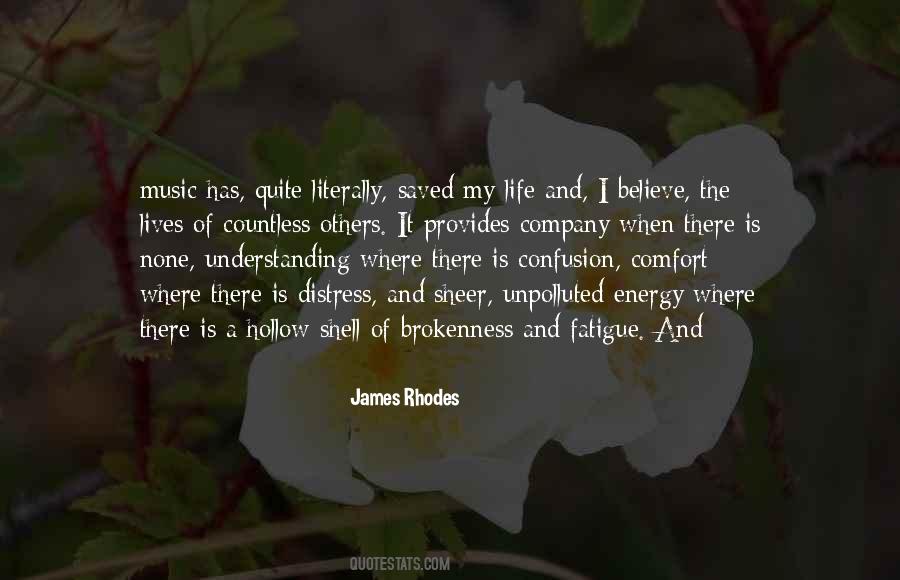 #55. I make writing as much a part of my life as I do eating or listening to music. - Author: Maya Angelou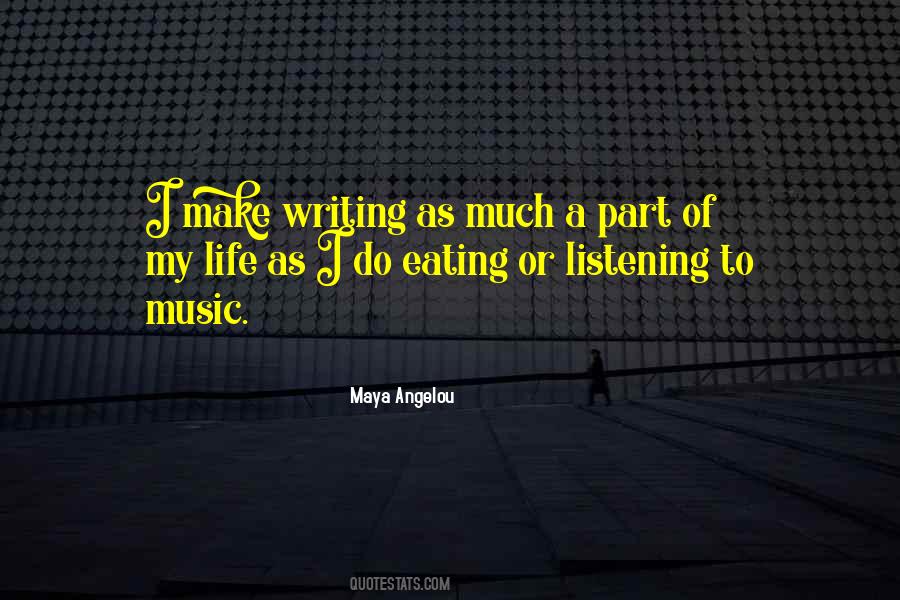 #56. From a very early period of my life I have derived the highest enjoyment from listening to music, especially to melody, which is to me the most pleasing form of composition. - Author: James Nasmyth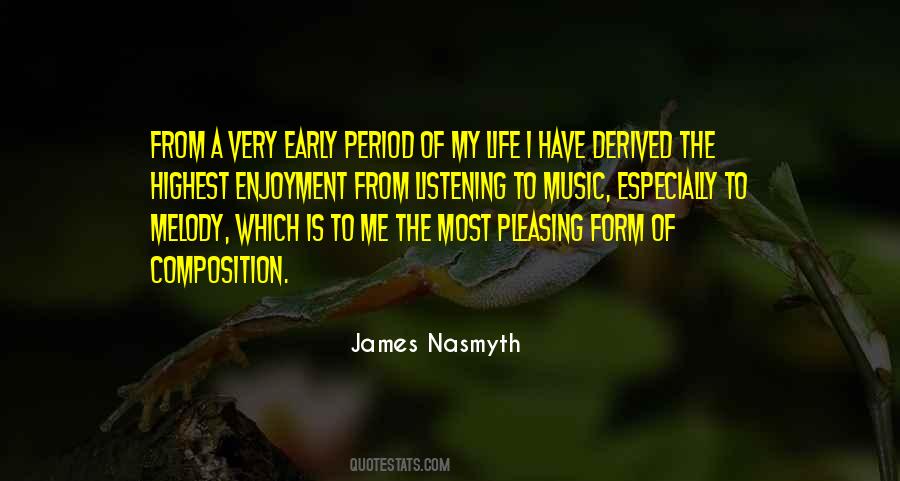 #57. The Best Music you can ever hear in your Life is Silence
silence of yourself, silence of your loved ones - Author: Vinay Kumar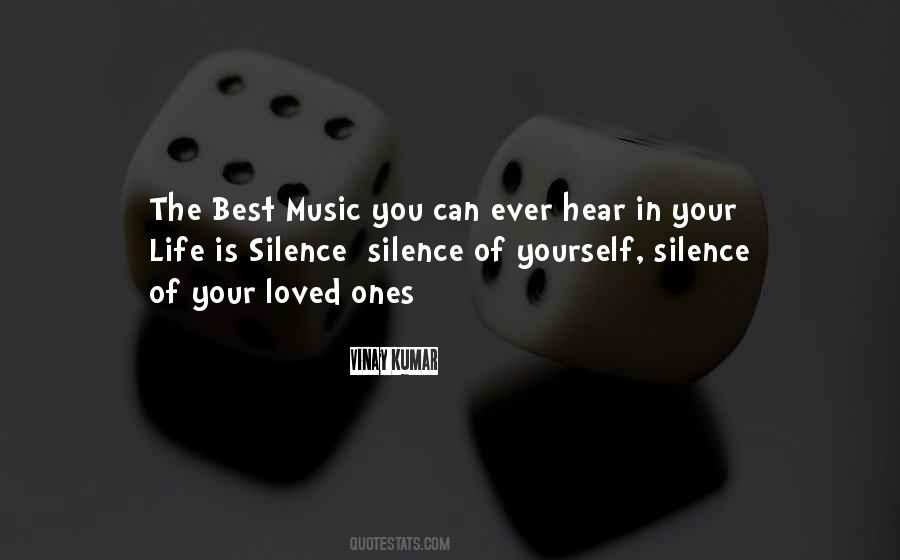 #58. Music's always been a big part of my life, but it kind of all happened in one big ball of storytelling rather than splitting acting and singing apart. - Author: Clare Bowen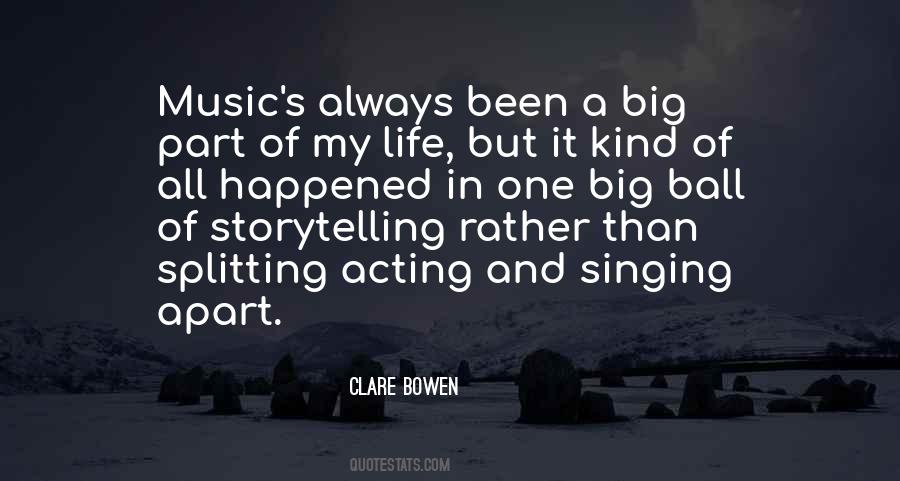 #59. My goal in life is to give to the world what I was lucky to receive: the ecstasy of divine union through my music and my dance. - Author: Michael Jackson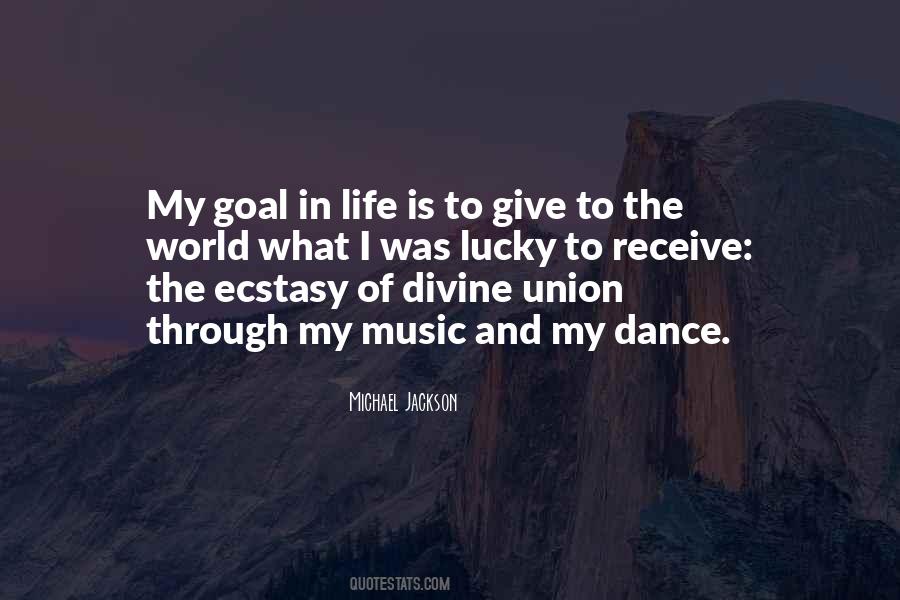 #60. Love is the music of the heart, which you can feel but can't hear. - Author: Debasish Mridha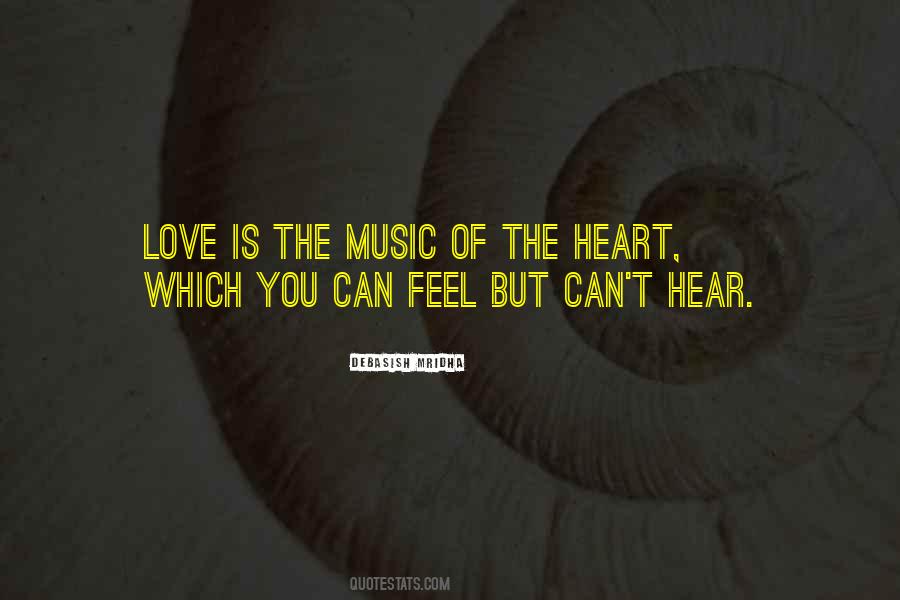 #61. Retire? Not on your life. I have no plans to stop singing. What are you going to do when you love music? It's a terrible disease. You can't stop. Of course, I'd like to get off the road. - Author: Peggy Lee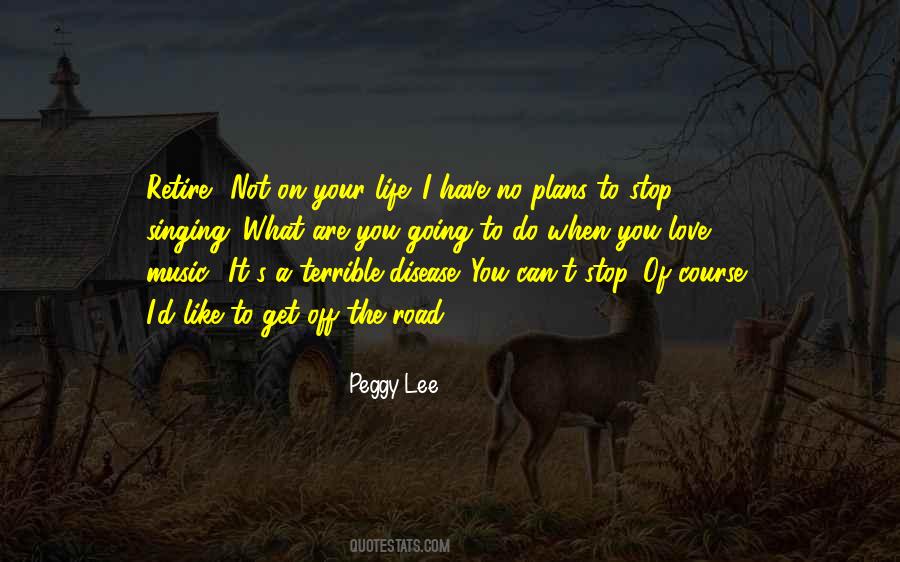 #62. A flower is symbol of beauty for eyes, but music is the expression of beauty for ears. - Author: Debasish Mridha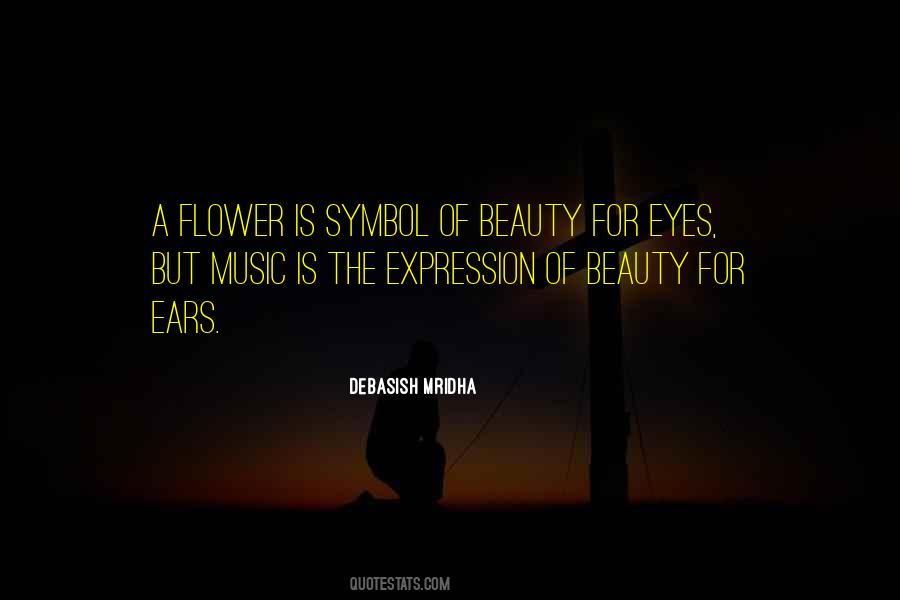 #63. There was a time I desperately needed for the world to know that I was no category guy. My whole goal in life was to reach that certain success where people will say, 'Hey, that guy can do anything. He's the Evel Knievel of music. He's jumping over 15 buses!' - Author: R. Kelly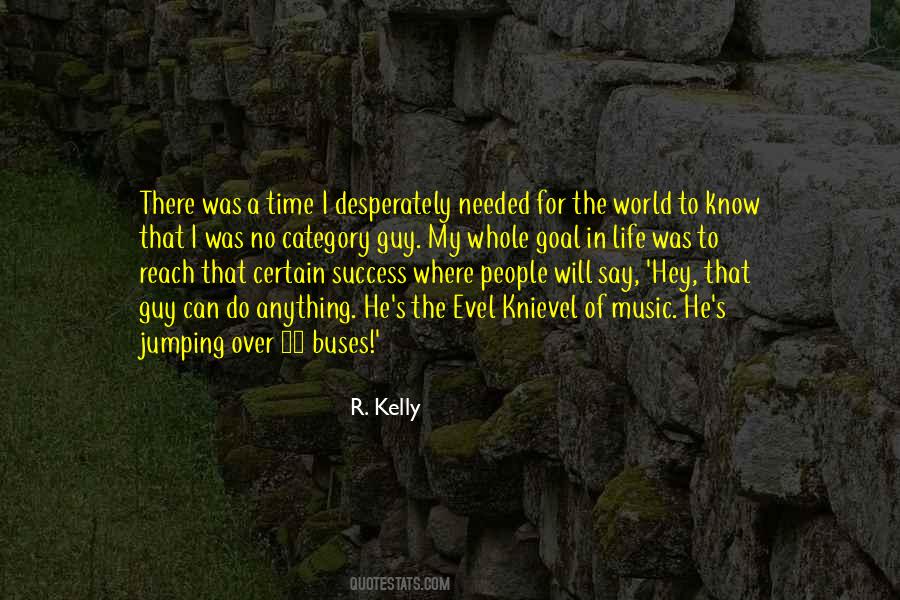 #64. Baby, you must dance to the music of your soul! - Author: Lailah Gifty Akita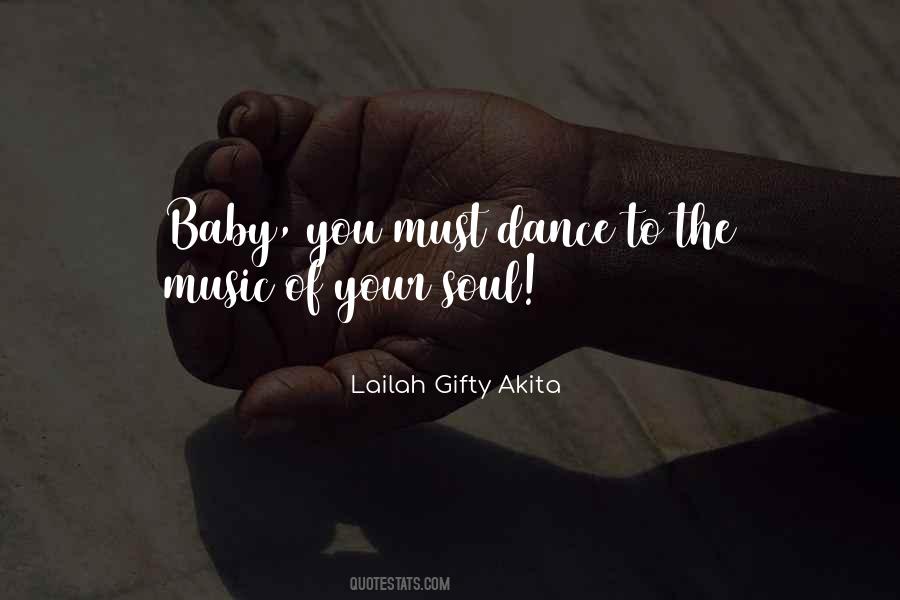 #65. You won't get eternal life by just feeling the presence of God in flowers or music. - Author: C.S. Lewis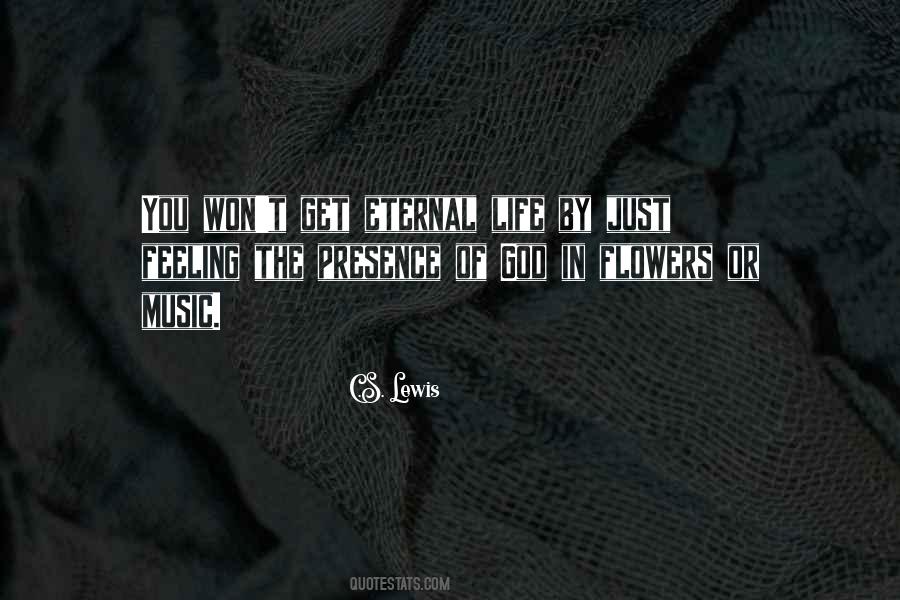 #66. The further jazz moves away from the stark blue continuum and the collective realities of Afro-American and American life, the more it moves into academic concert-hall lifelessness, which can be replicated by any middle class showing off its music lessons. - Author: Amiri Baraka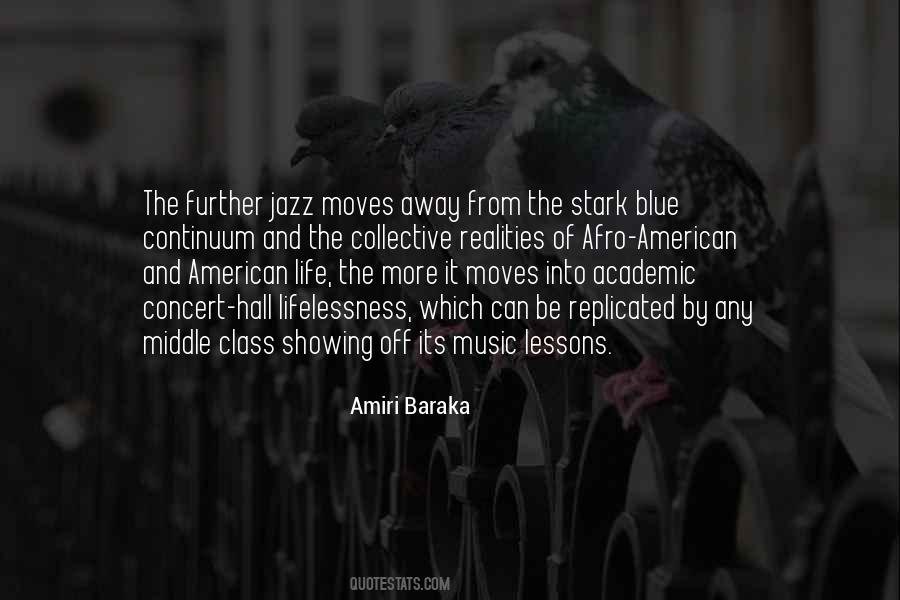 #67. Music is the mediator between the life of the senses and the life of the spirit. - Author: Ludwig Van Beethoven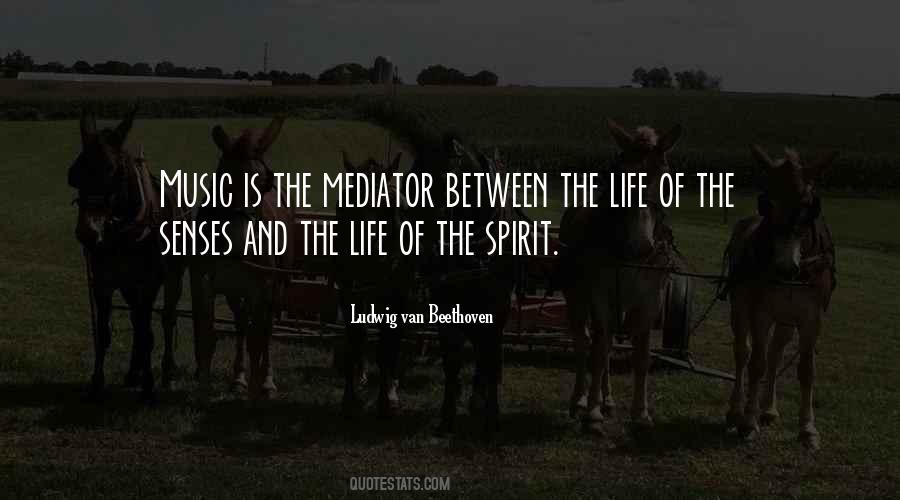 #68. Our house is a constant mayhem of music, noise, socializing and business. It vibrates life, as a house should. - Author: Dan Hill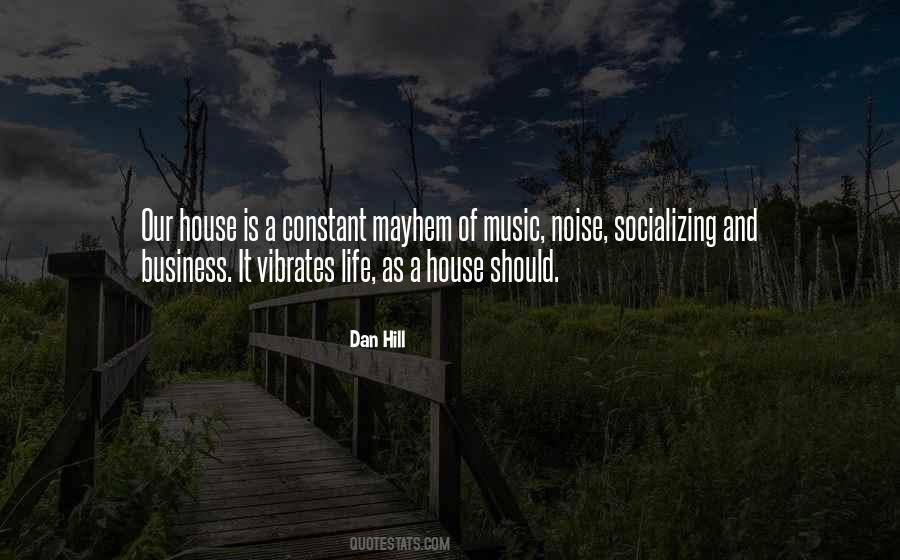 #69. The Christian community latched onto a lot of my music, because there were a lot of things about my struggle they related to. But I didn't really want to come out and be identified as a Christian, because I didn't want to be a hypocrite, because my life wasn't right. - Author: Scott Stapp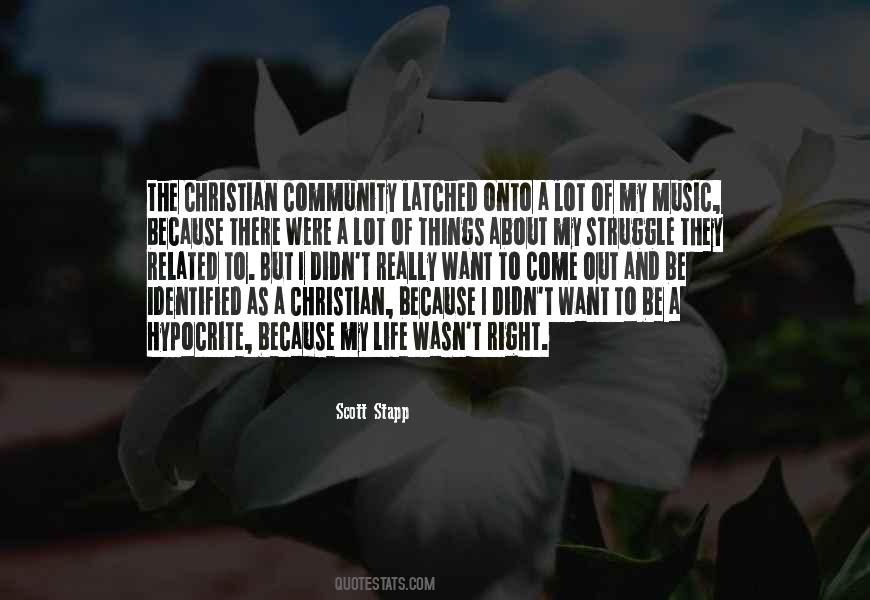 #70. Music is another great pleasure of life. I like all sorts. - Author: Karolina Kurkova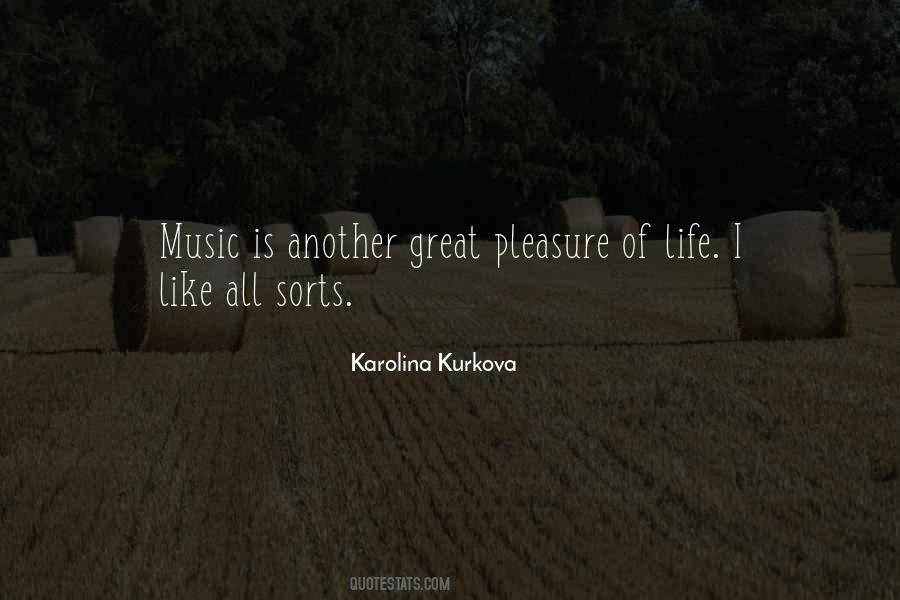 #71. In a phone interview in 1994, Celia Powell stressed two sentiments: music was her father's life; it was the driving force of his existence, in her opinion. And she thought the music industry had very much taken advantage of him.121 - Author: Guthrie P. Ramsey Jr.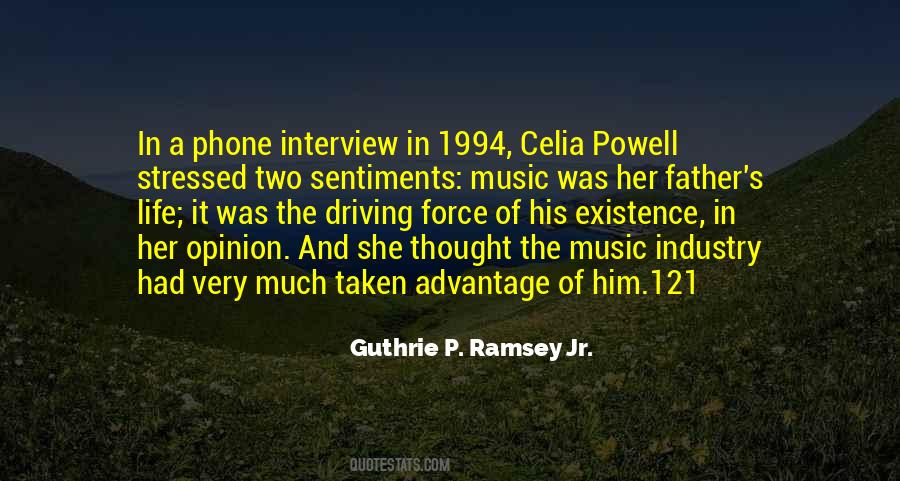 #72. Any saxophone player will have those influences come through in their music in a very different way. I can listen to the same 10 sax players as someone else for my entire life, and we'll both play completely differently. That's the beauty of being a musician. - Author: Kenny G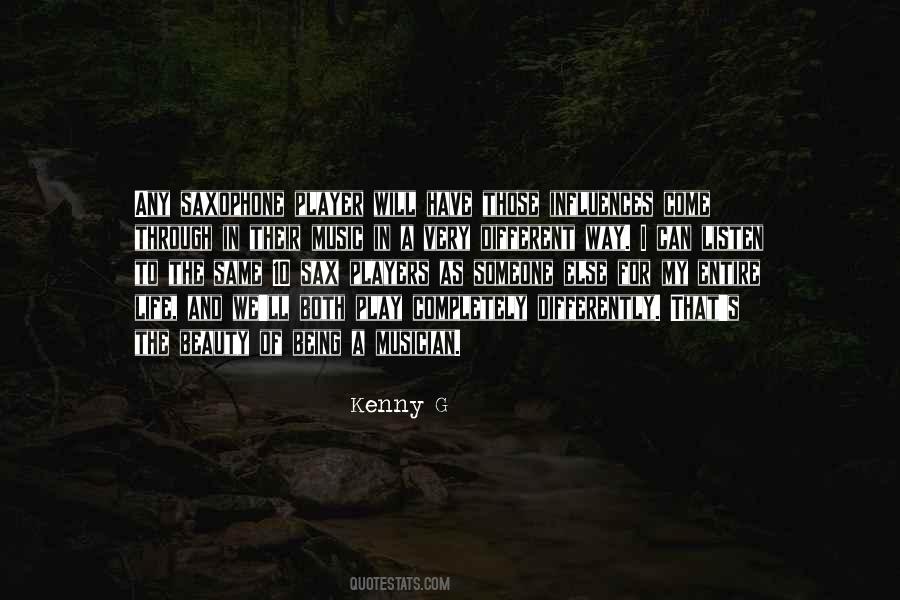 #73. I encourage the study of music. And the immersion. 'Cause my life has been so enriched by being involved in music as I have. - Author: Clive Davis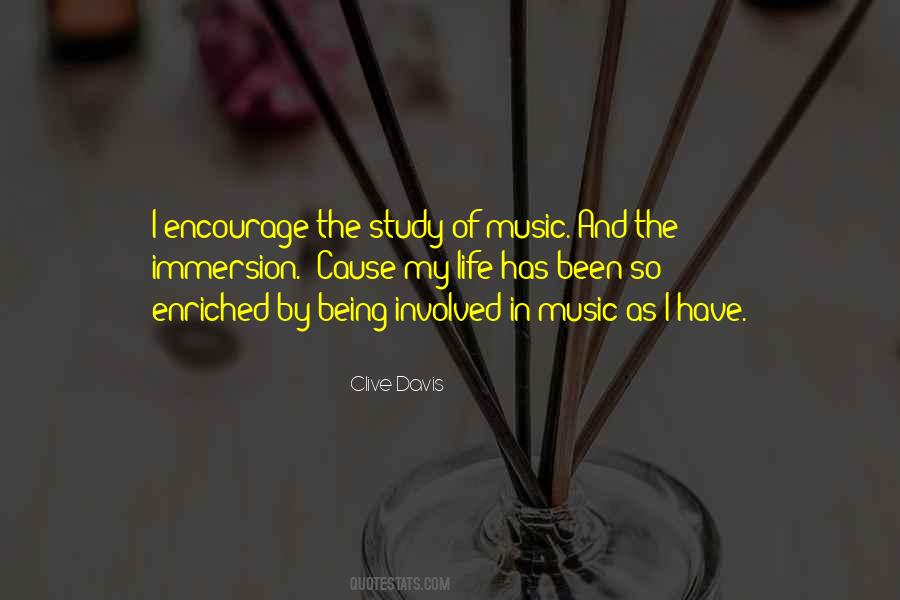 #74. If you're in the middle of the ocean with no flippers and no life preserver and you hear a helicopter, this is music. You have to adjust to your needs at the moment. - Author: Tom Waits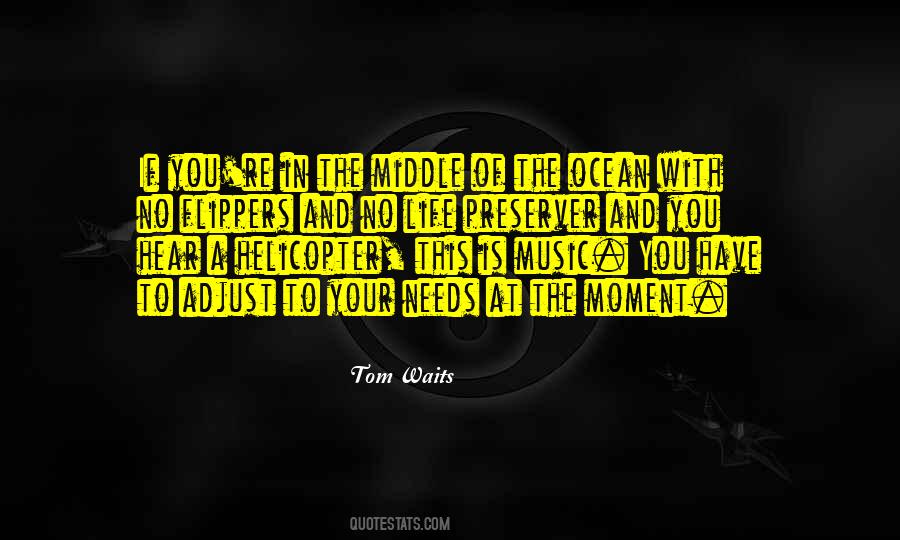 #75. I get the most joy in life out of music. - Author: Albert Einstein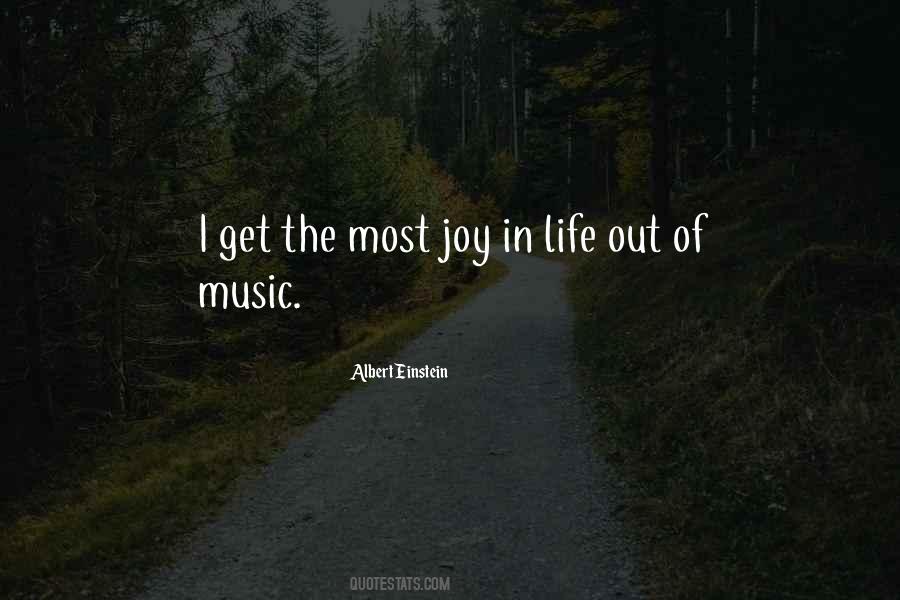 #76. I'm really very glad that I had skating to be my love and my escape. I think that it always gave me something that made me feel good, and it was music, and it was peaceful, and not a lot of the other stresses of life. - Author: Dorothy Hamill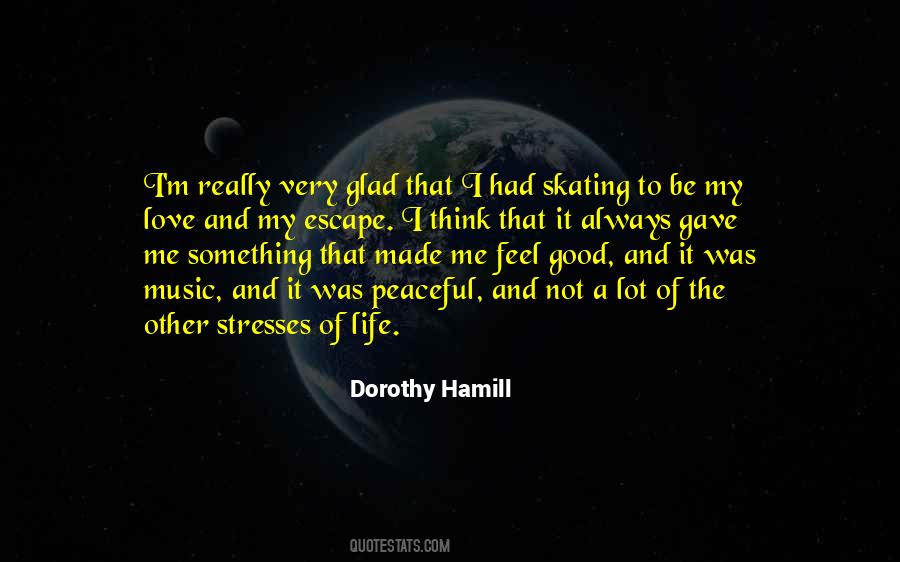 #77. A billion hours ago, human life appeared on earth. A billion minutes ago, Christianity emerged. A billion seconds ago, the Beatles changed music. A billion Coca-Colas ago was yesterday morning. - Robert Goizueta, chief executive of the Coca-Cola Company, April 1997 - Author: Tom Standage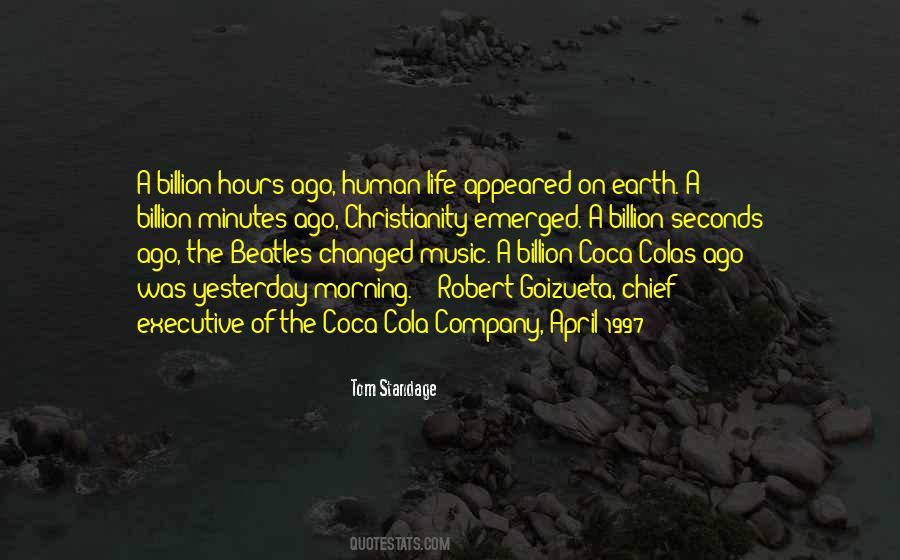 #78. There is no dark side of the moon really. As a matter of fact it's all dark. - Author: Pink Floyd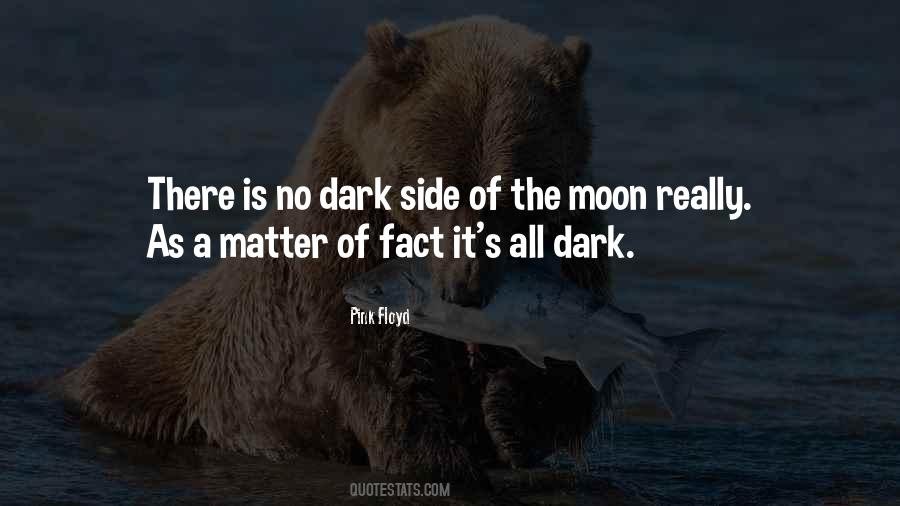 #79. To get nostalgic about other people's music, or even about your own, makes a terrible statement about the condition of your life and your prospects for the future. I have no patience with that kind of attitude, whether it's on radio or among friends. - Author: Neil Peart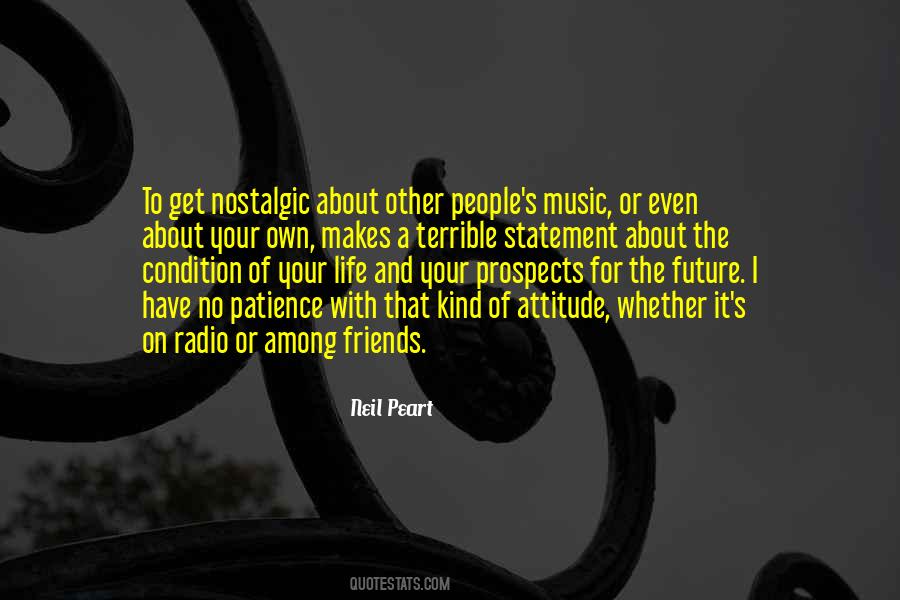 #80. The life that I live and the experiences that I have always affect what comes out of me creatively. I think that's what makes music real. - Author: Josh Turner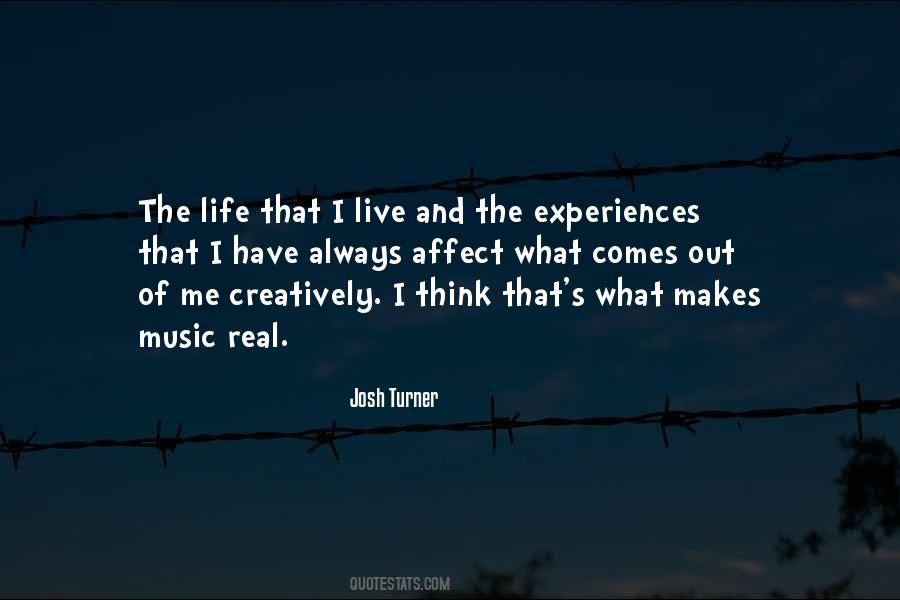 #81. Country fans are the best fans out there because of the loyalty, and the way that they apply your music to every aspect of their life. - Author: Eric Church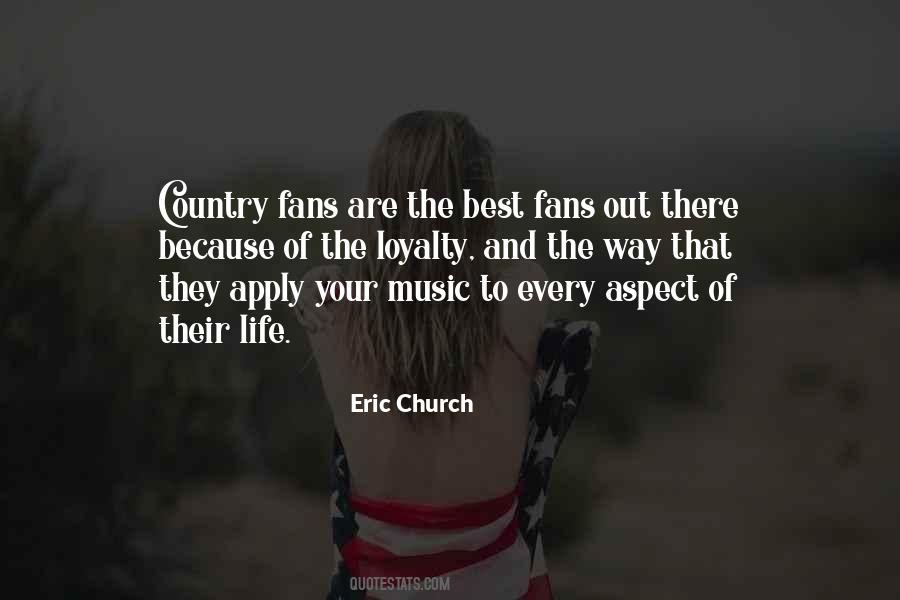 #82. If you're going to keep the music in you, Jonah, you've got to play a little bit every day purely for pleasure. Otherwise, you'll lose the joy of it, and if you lose the joy, you won't sound good to those who know piano - or to yourself. - Author: Dean Koontz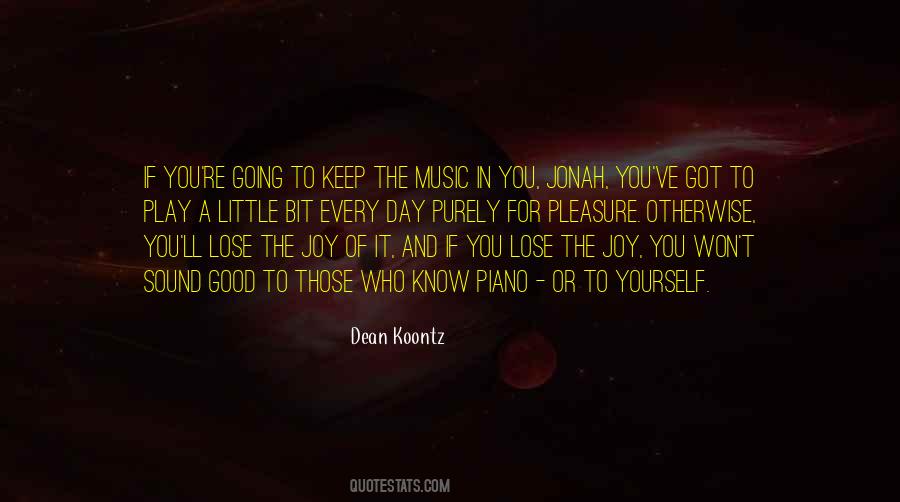 #83. In my music, I'm trying to play the truth of what I am. - Author: Charles Mingus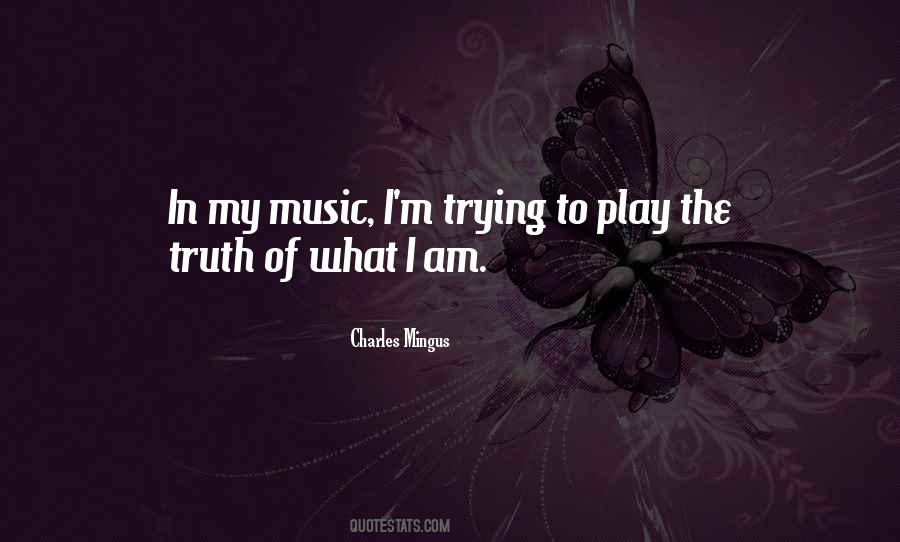 #84. Sometimes I'll write a song. When I've gone through something really hard in my life, sometimes it's other people's music. Other times it's actually writing the songs and getting out of mind and into the song. - Author: Jack Johnson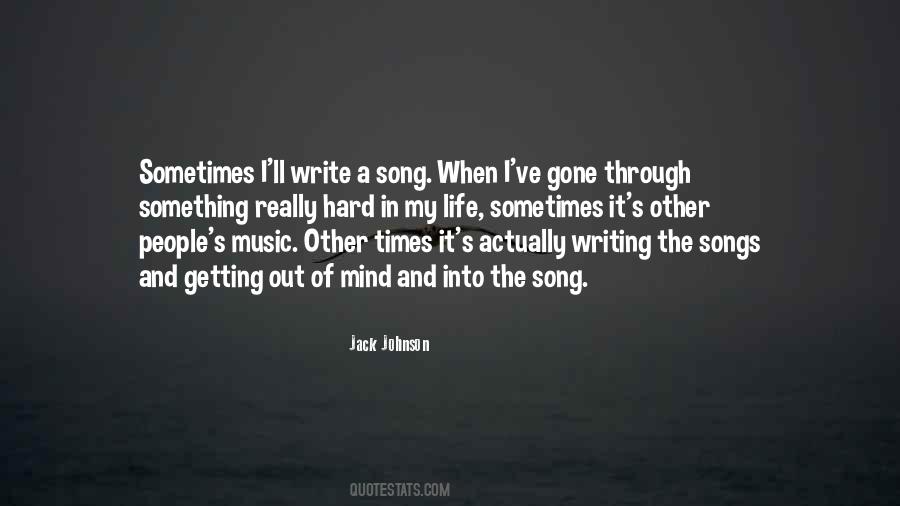 #85. Because I love you," I said. "Because you are in my life like the music at the edge of silence. - Author: Robert B. Parker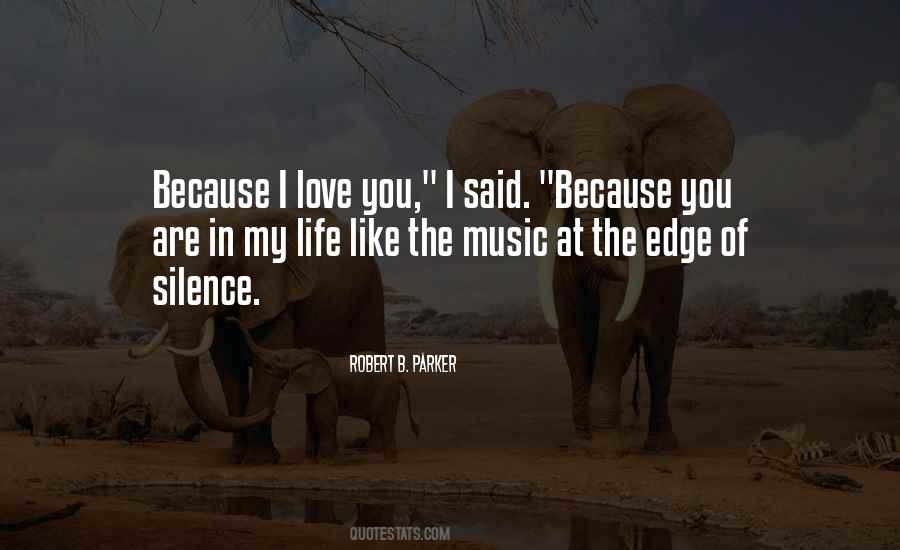 #86. From my perspective, music allows me to escape from the world of what is happening right in front of me ... to the world of my thoughts, my dreams, my hopes and ideas - for the world, for my own life, for the day, even for the moment. - Author: Danielle De Niese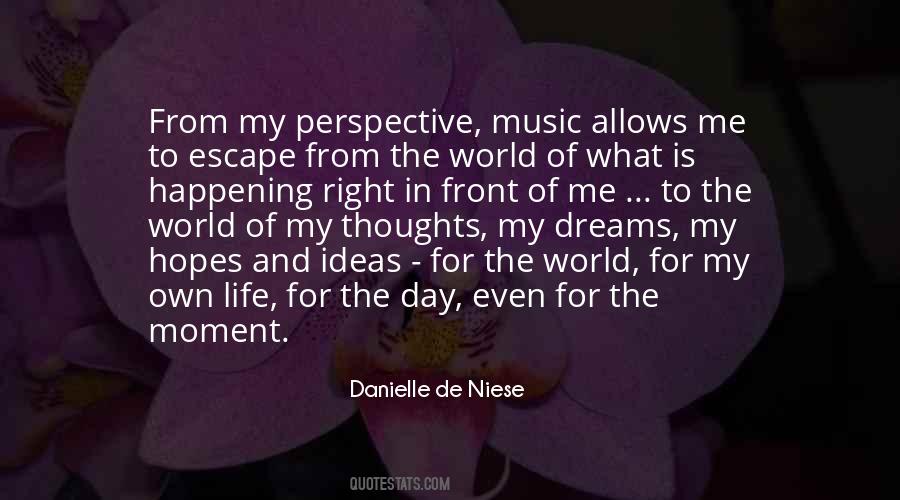 #87. Dancing daily is a good physical activity. - Author: Lailah Gifty Akita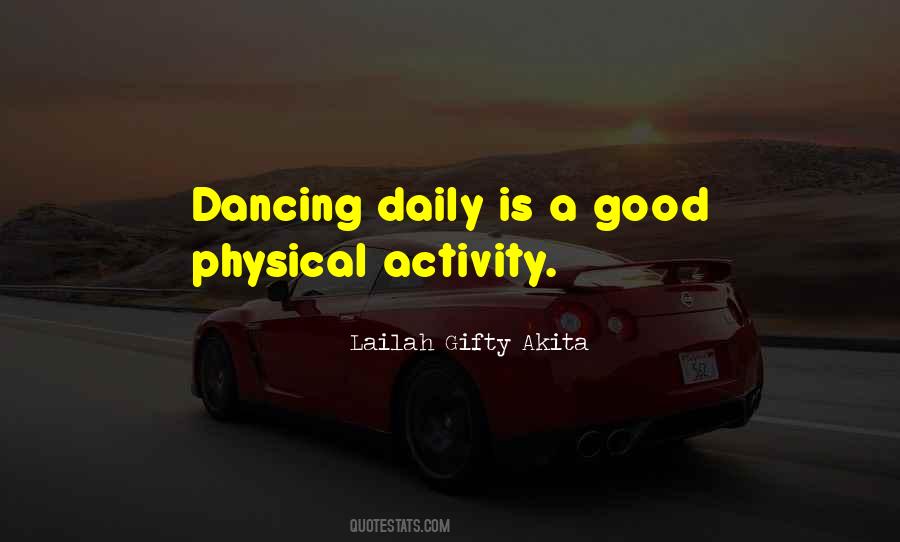 #88. Rap music came along and saved my life. I started to tell the stories of the streets and that was my way out. - Author: Ice-T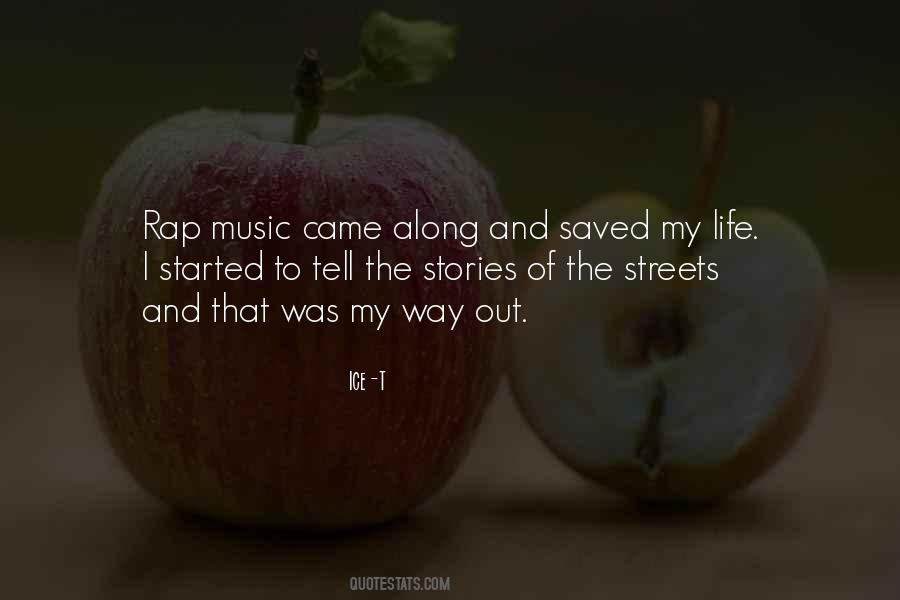 #89. One of the biggest obstacles I've overcome in my life was thinking I didn't deserve to be successful. Artistically I'm not as much of a heavyweight as someone like Paul Simon or Joni Mitchell, because I'm not a creator of original music, and I worried about that for years. - Author: Bonnie Raitt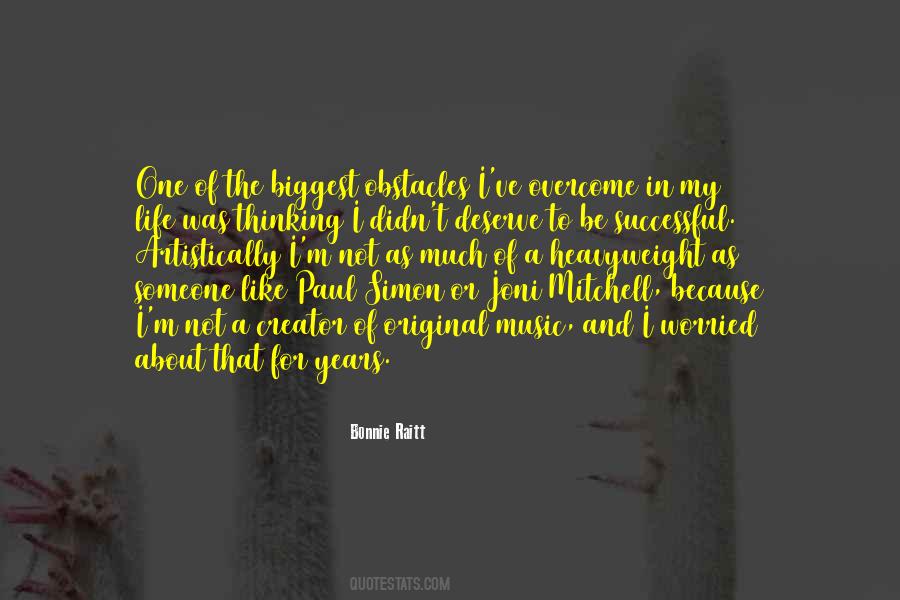 #90. It's very strange what happens when I start working for a film. In my life I've done a lot of stuff - I did a lot of dance music, a lot of TV shows and lots of different types of films - and every time it is a new experience. - Author: Claudio Simonetti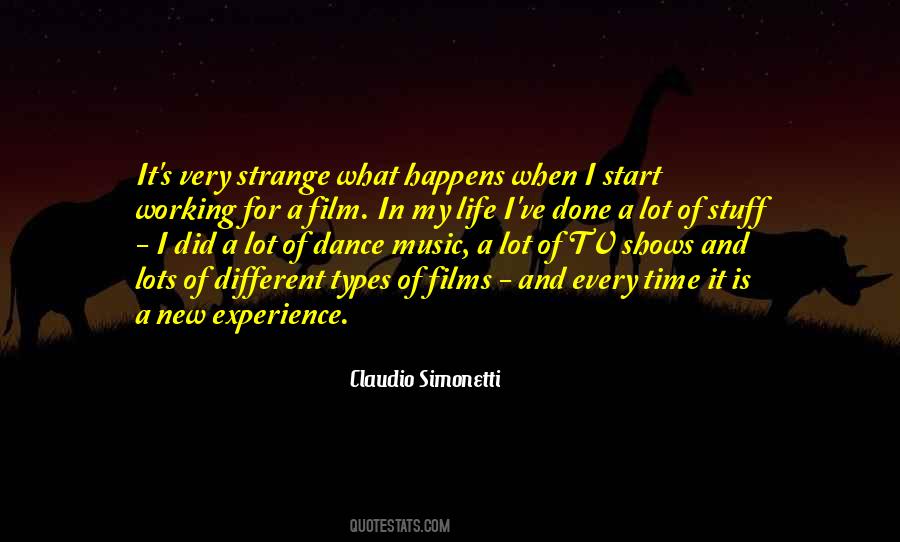 #91. The blues are just a heightened sense of awareness of life's ups and downs, and things that a guy sees after a couple hits of Jack Daniels. - Author: Steven Tyler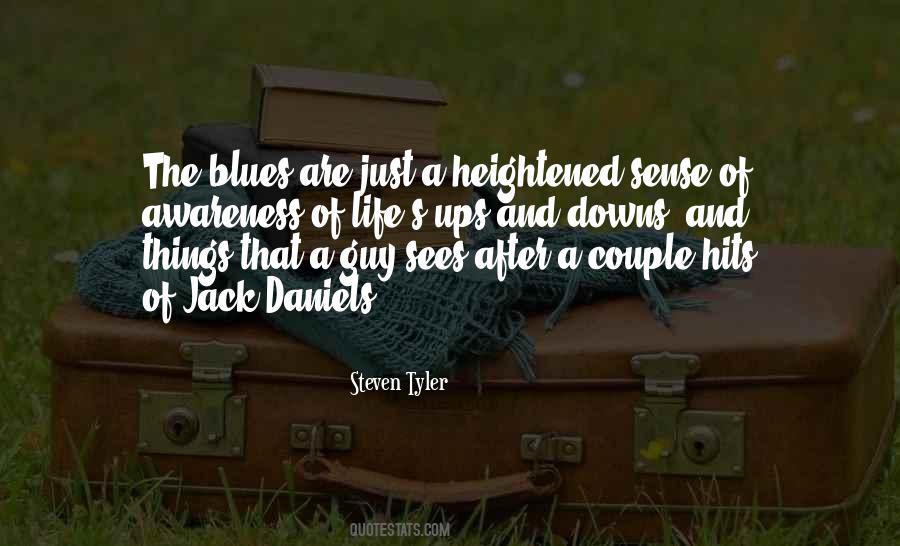 #92. Interspirituality is the world music of religion; borrowing, fusing, blending and bouncing rhythms and riffs off one another not to create a homogenized spirituality, but to birth a radical new sound embedded in the ancient and timeless silence. This doesn't impact or deepen my life-it is my life. - Author: Rami M. Shapiro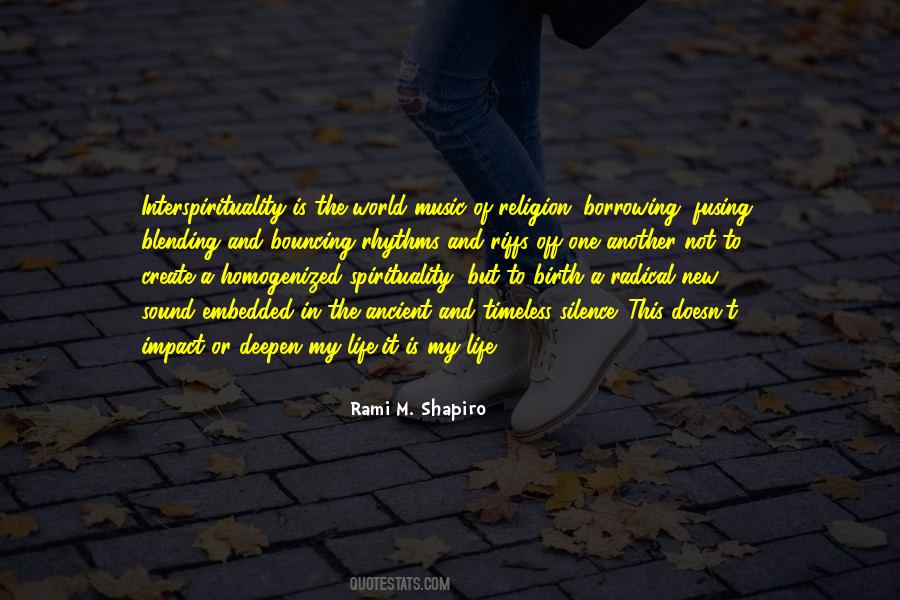 #93. yet to be moved by music is essentially human; it reflects sensitivity. The life Gregor led as a human being left no room for this kind of appreciation. But, regressing into an animal, his sensibility has become refined rather than coarsened. - Author: Franz Kafka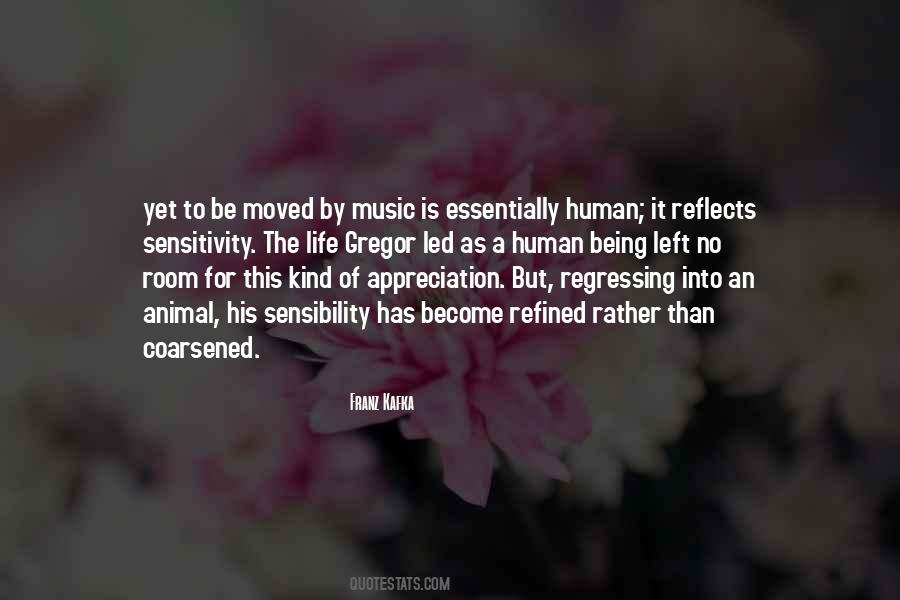 #94. Every now and then when I feel the doubt, I look inside myself and I see the way. The whole world full of possibilities. So you could be you and I could be me. - Author: Jonathan Anthony Burkett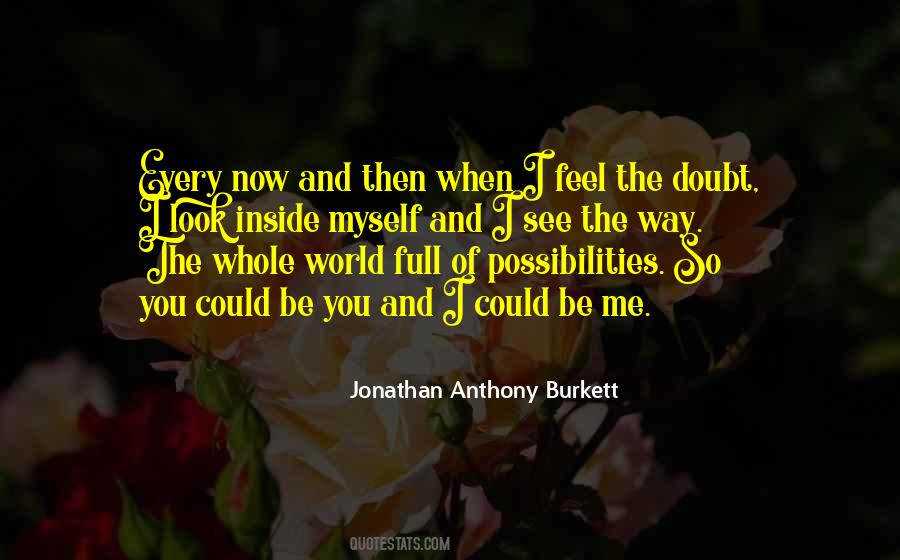 #95. He heard the sound of waves striking the shore, and it was as though the surging of his young blood was keeping time with the movement of the sea's great tides. It was doubtless because nature itself satisfied his need that Shinji felt no particular lack of music in his everyday life. - Author: Yukio Mishima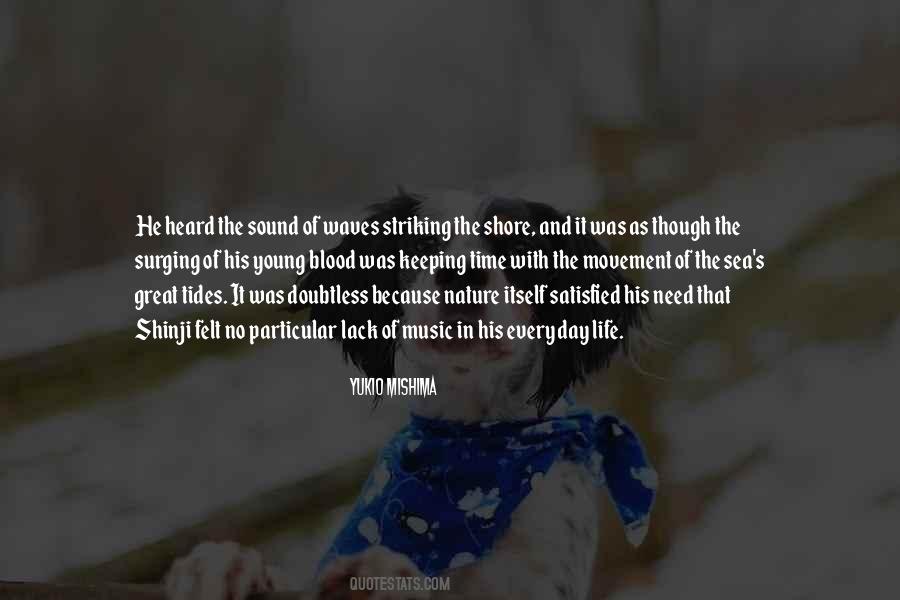 #96. Music is the language of the universe, which everyone, including all animals, can understand. - Author: Debasish Mridha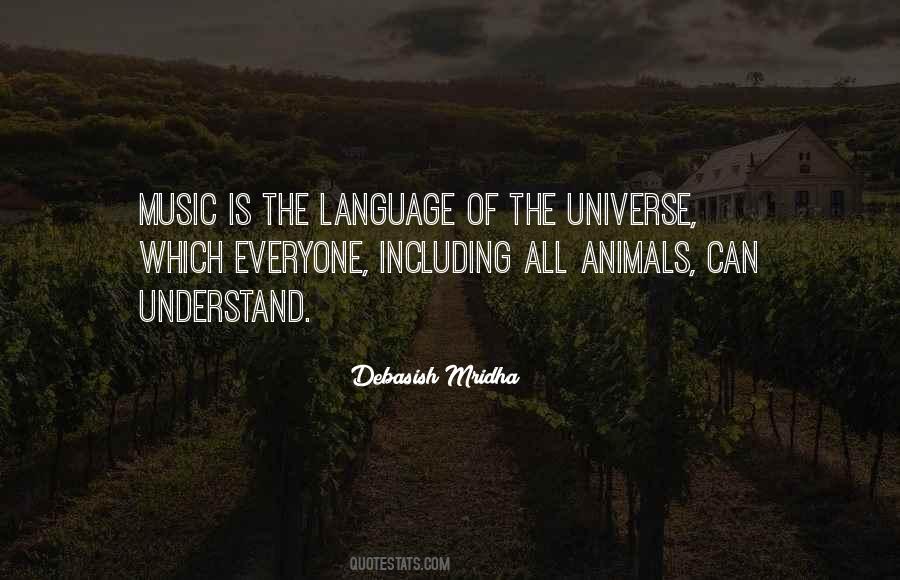 #97. I worked hard all my life as far as this music business. I dreamed of the day when I could go to New York and feel comfortable and they could come out here and be comfortable. - Author: Tupac Shakur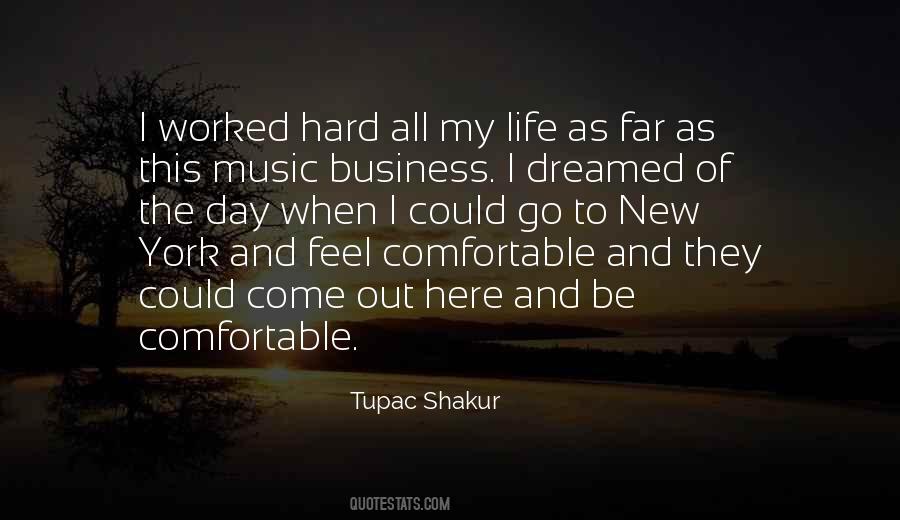 #98. Music is not technique and melody, but the meaning of life itself, infinitely sorrowful and unbearably beautiful. - Author: Pearl S. Buck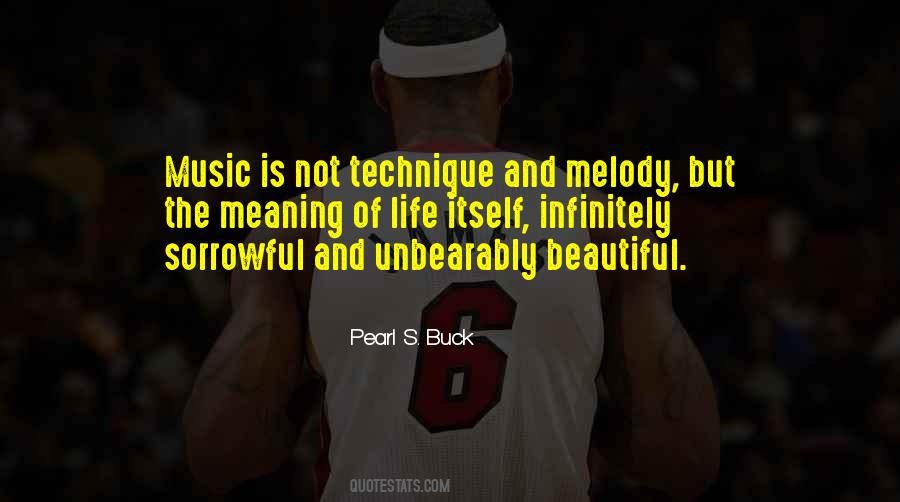 #99. I've been writing music since I was 9. I took harmony and counterpoint classes when I was studying the clarinet. So, I've been writing for an awfully long time. It just became part of everyday life. - Author: Howard Shore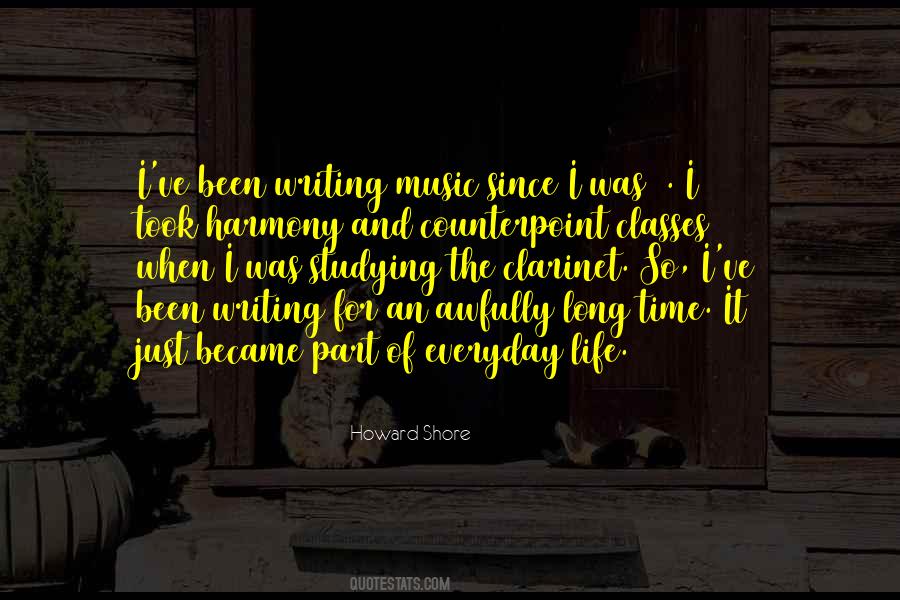 #100. What is classical music if not the epitome of sensuality, passion, and understated erotica that popular music, even with all of its energy and life, cannot even begin to touch? - Author: Lara St. John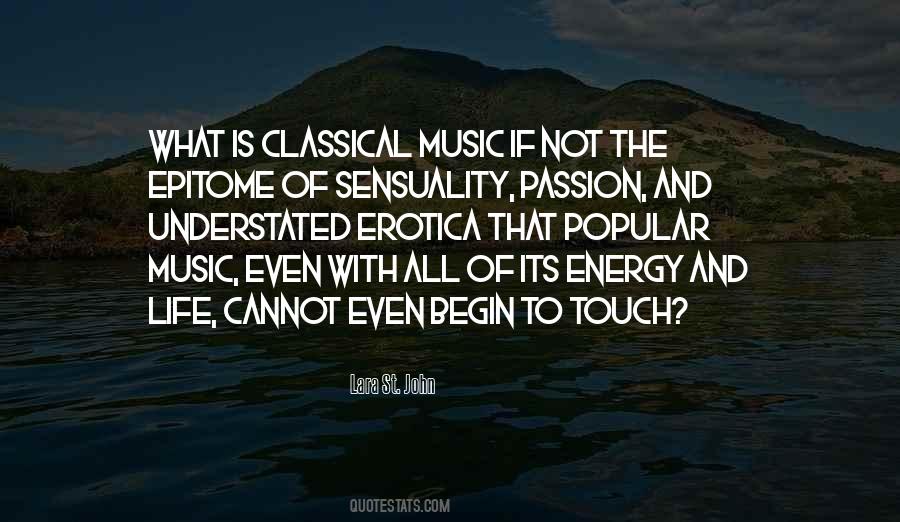 Famous Authors
Popular Topics