Keep On Learning Famous Quotes & Sayings
List of top 49 famous quotes and sayings about keep on learning to read and share with friends on your Facebook, Twitter, blogs.
Top 49 Keep On Learning Quotes
#1. We are in the school [or mortality] and keep learning and we do not expect to cease learning while we live on earth; and when we pass through the veil, we expect still to continue to learn and increase our fund of information. - Author: David A. Bednar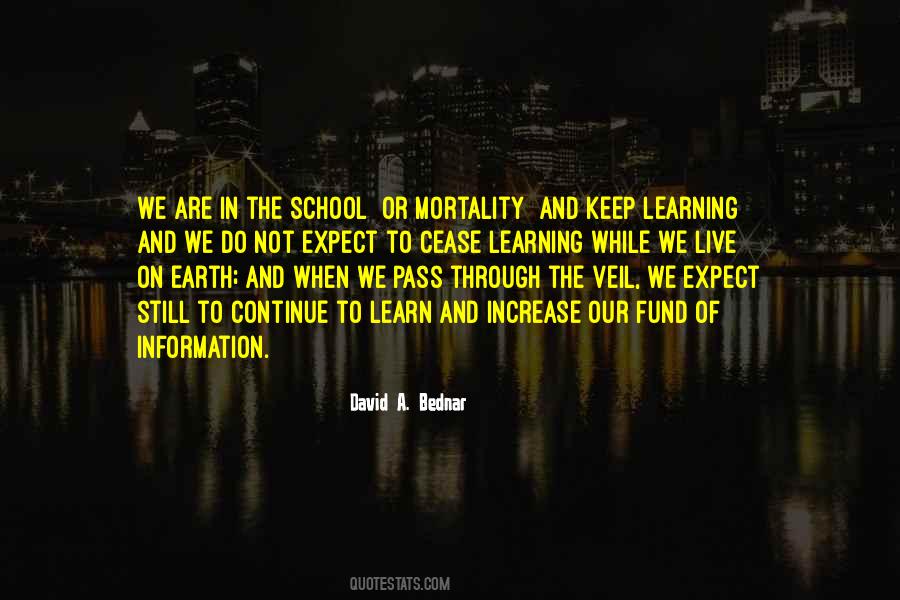 #2. Every day is an opportunity to learn something or discover something or someplace. Be curious, play, go out on a limb, walk a different way to work, try a new food at dinner and keep learning and growing. - Author: Sandra Magsamen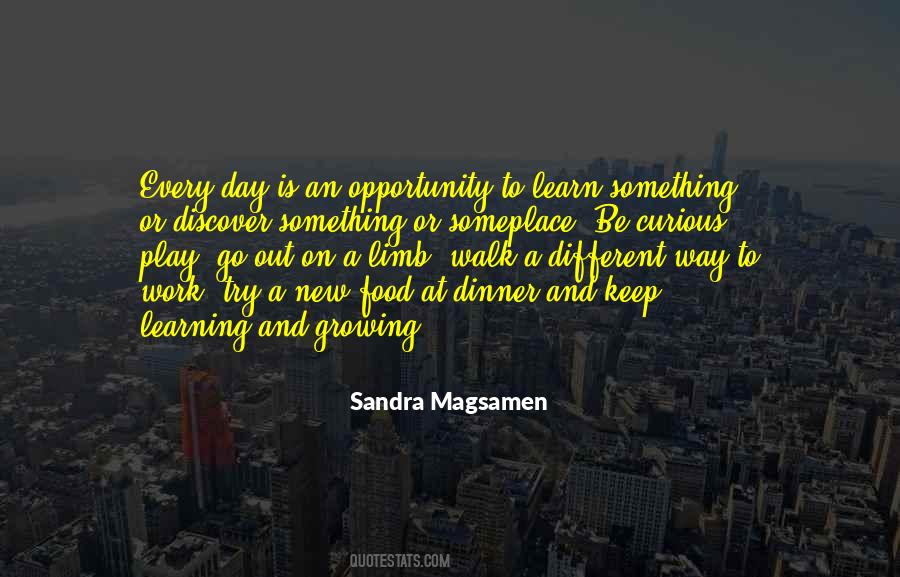 #3. The "more" of Christianity is a myth; a deceitful illusion designed to keep you busy and running in circles, always seeking but never finding, always learning but never coming to the knowledge of the Truth - a carrot on a stick, if you will. - Author: D.R. Silva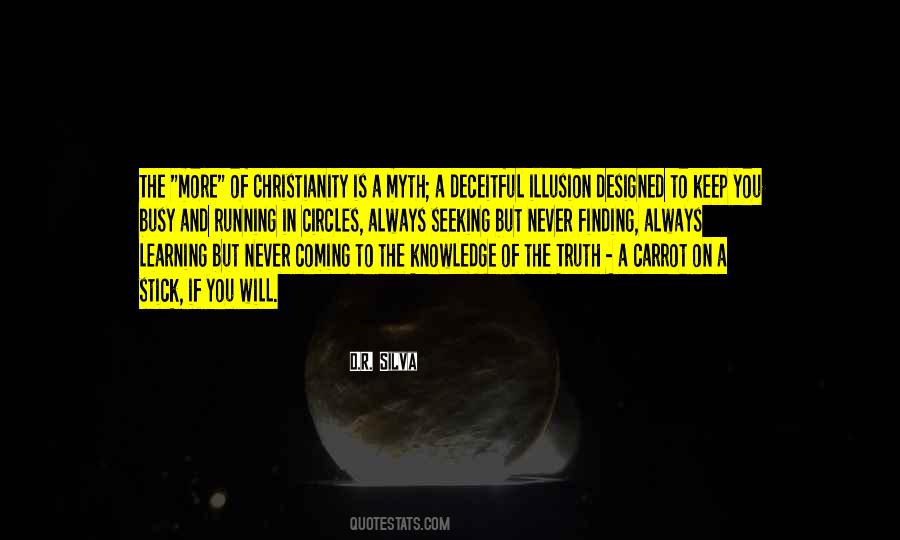 #4. The best thing parents can do is to teach their children to love challenges, be intrigued by mistakes, enjoy effort, and keep on learning. - Author: Carol S. Dweck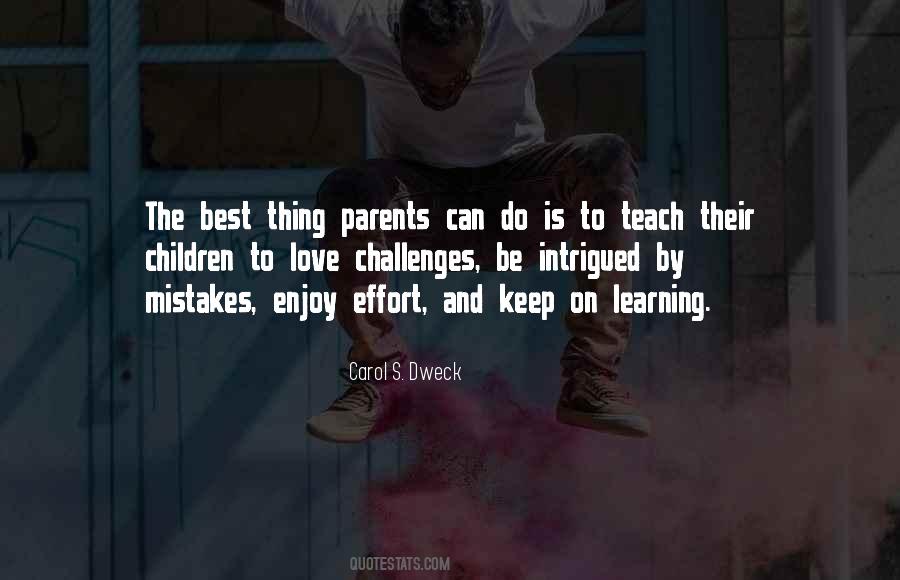 #5. I have always preferred to keep things to myself rather than sharing them with anyone, but I am learning that if you let it go, you feel better for it. Don't keep it all bottled up inside; don't take it all on alone. - Author: Luis Suarez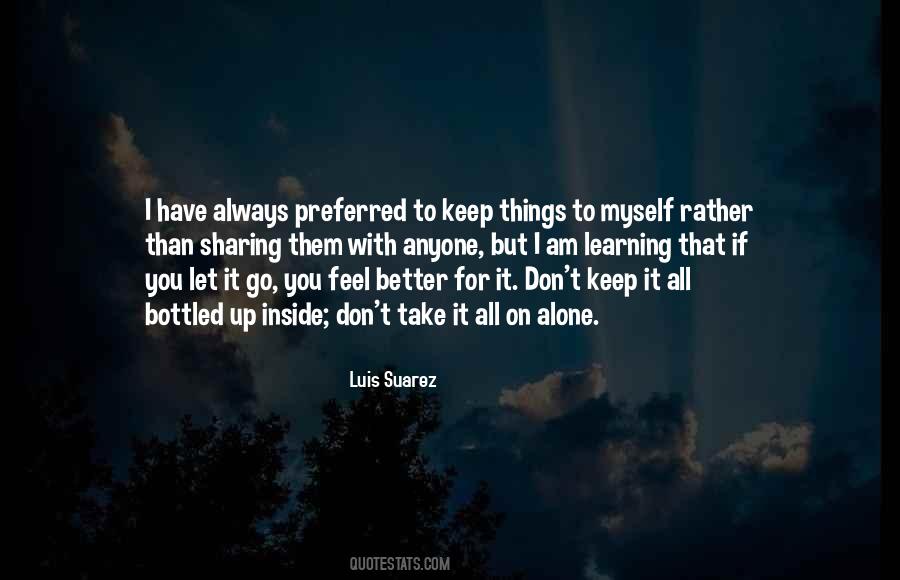 #6. Keeping what you have is hard like searching for what you've lost. - Author: Auliq Ice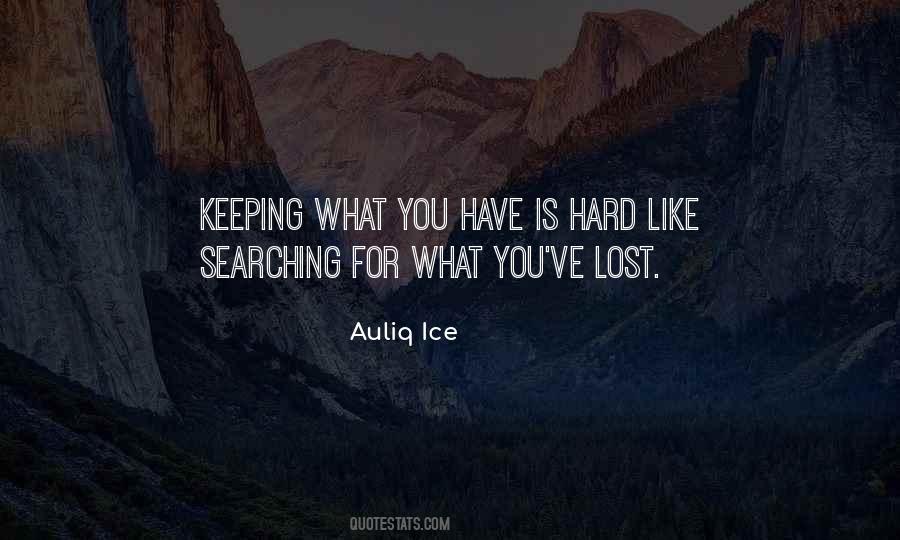 #7. When you start learning how to give when you're young, when you get older it is second nature. Just like stealing. Start young and you keep on stealing forever. Ask my politicians. - Author: Mechai Viravaidya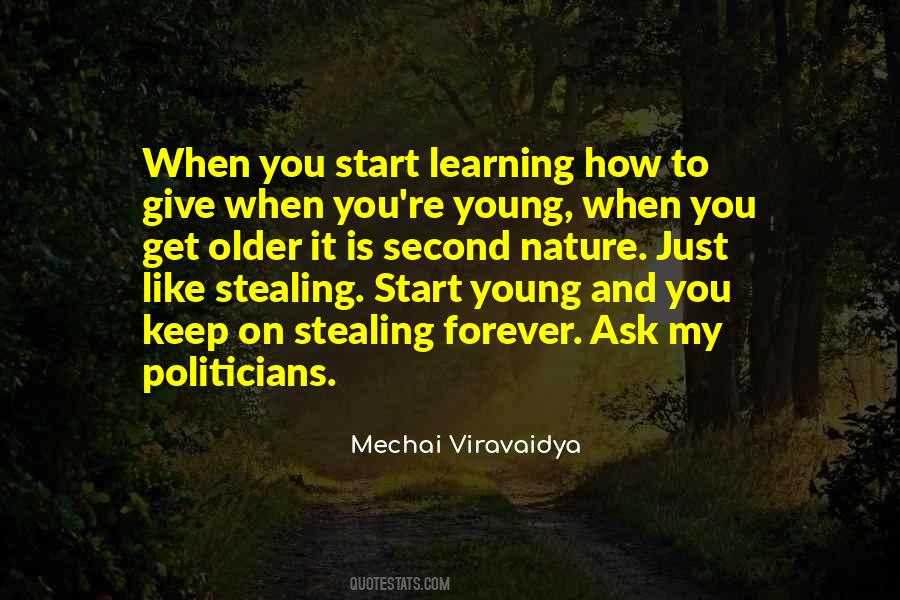 #8. I can look back at stuff I wrote in my early days and squirm at some of the mistakes I made. But we're all learning every day; we never stop. I just hope people keep on liking what I do. That gives me such a kick. - Author: Paul Kane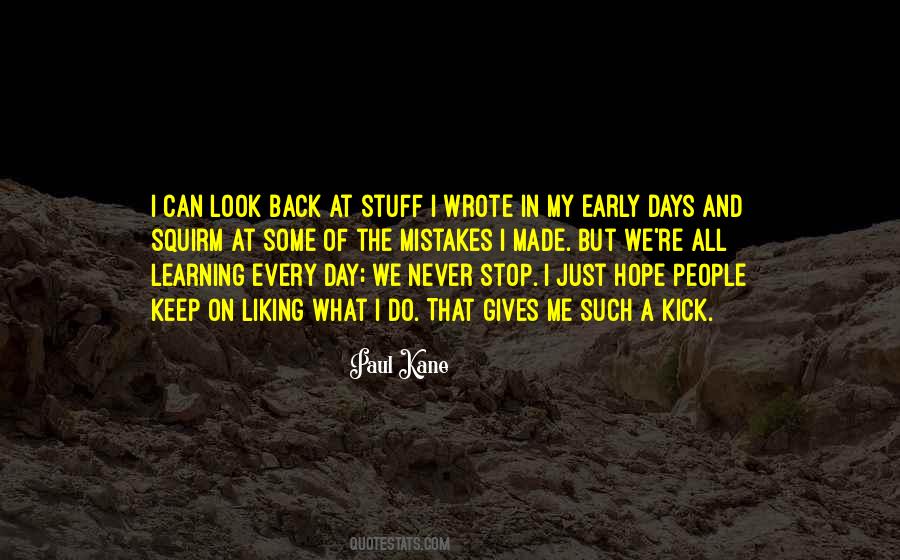 #9. All these people keep waxing sentimental about how fabulously well I am doing as a mother, how competent I am, but I feel inside like when you're first learning to put nail polish on your right hand with your left. You can do it, but it doesn't look all that great around the cuticles. - Author: Anne Lamott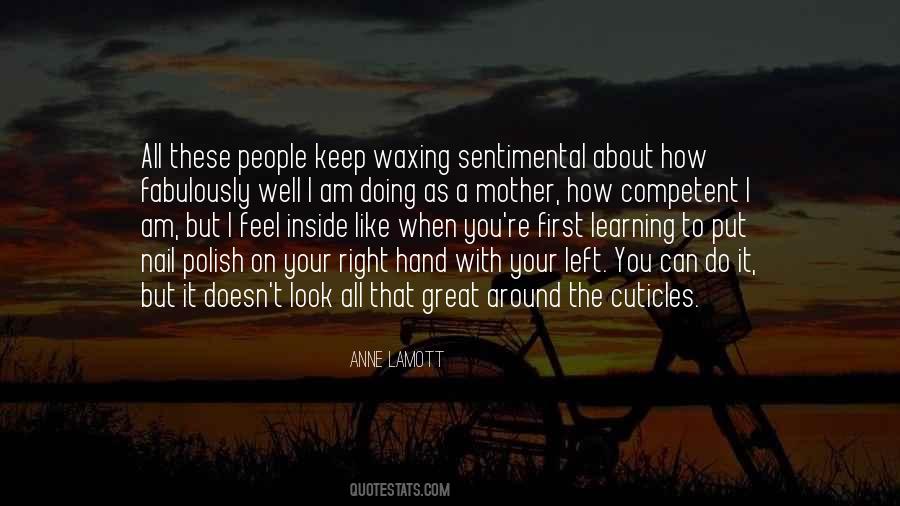 #10. Jesus taught that spiritual maturity is never an end in itself. Maturity is for ministry! We grow up in order to give out. It is not enough to keep learning more and more. We must act on what we know and practice what we claim to believe. - Author: Rick Warren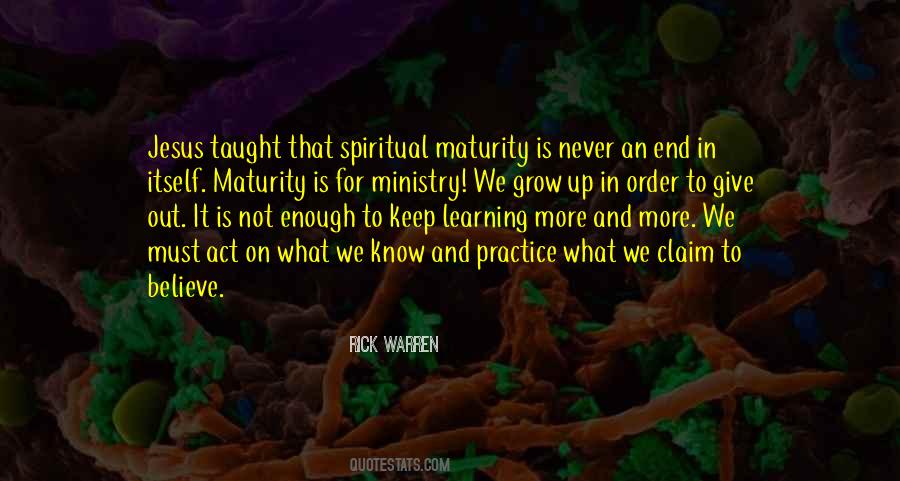 #11. There is nothing earthly that lasts so well, as money. A man's learning dies with him, as does his virtues fade out of remembrance, but the dividends on the stocks he bequeaths to his children live and keep his memory green. - Author: Oliver Wendell Holmes Jr.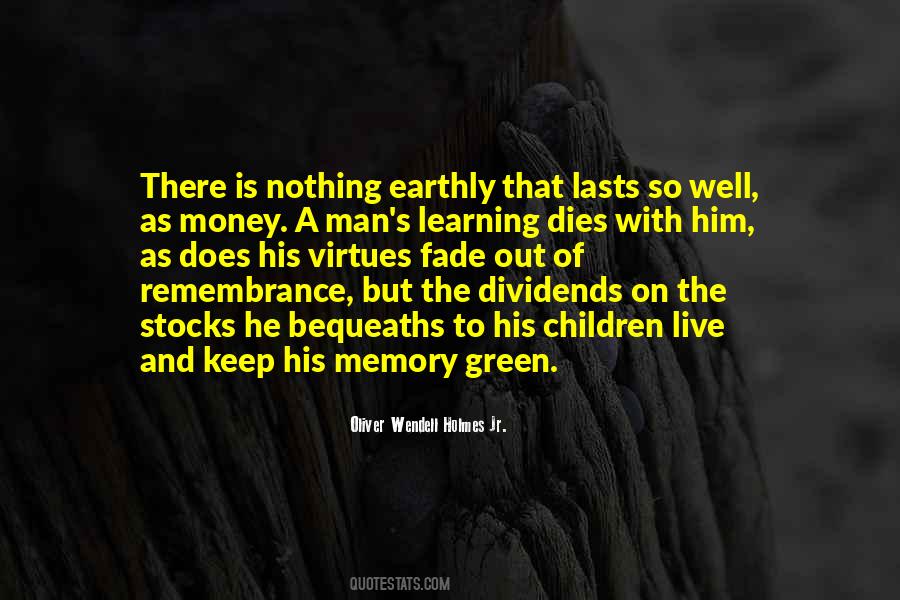 #12. Okay, so it's like each of these books is a mystery. Every book is a mystery. And if you read all of the books ever written, it's like you've read one giant mystery. And no matter how much you learn, you keep on learning so much more you need to learn. - Author: Sherman Alexie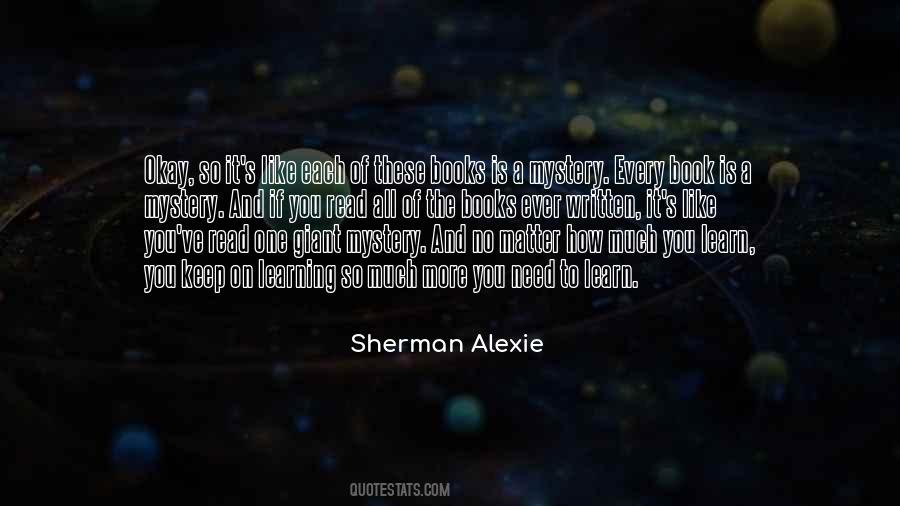 #13. I will be the first to say, when I started, I was the worst on the runway ever. I feel like I try to keep learning every time I step off a runway; I try to get better with each one. I hope that I'm getting better as I go - it takes a few seasons to get your Karlie Kloss walk on. - Author: Gigi Hadid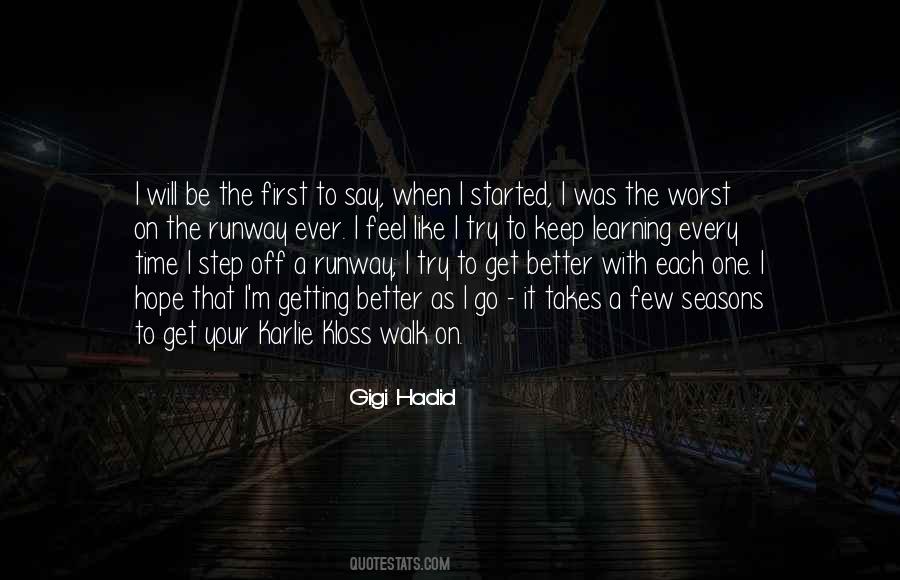 #14. I only need to survive on tea, bread and fruits. I can keep working. - Author: Lailah Gifty Akita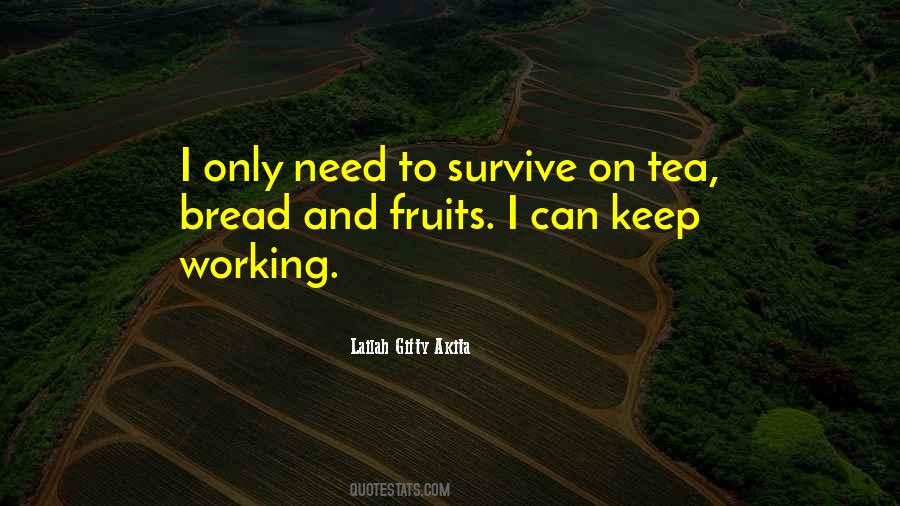 #15. Learning lines is on my mind until I do know them. I'll read the paper or paint the house to keep from starting to memorize. I've never found an easy way. - Author: Paul Lynde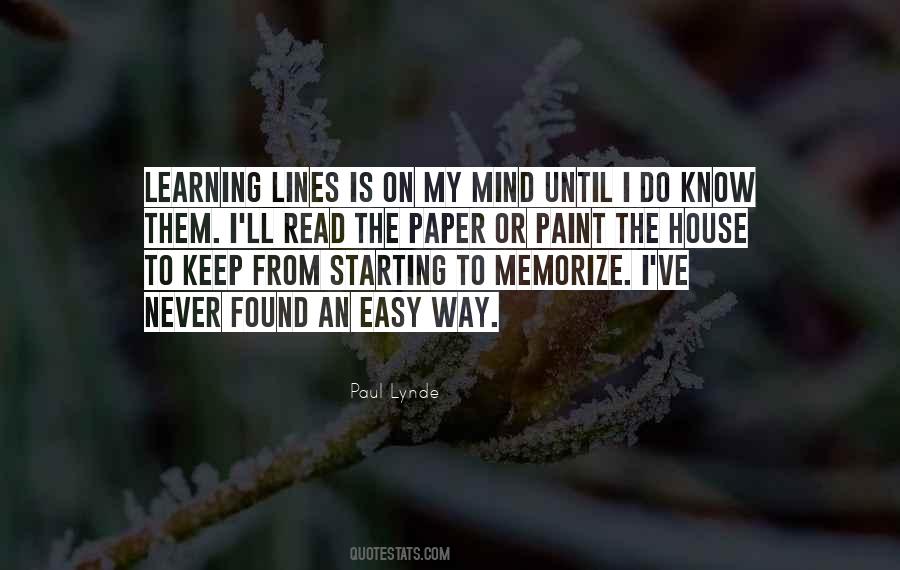 #16. There's no real manual on being a parent. There's no real manual on being a wife. I keep reminding myself, My mother did all this, only she never got to leave the house. OK, I can do this. We're all learning on our own learning curve. - Author: Kelly Ripa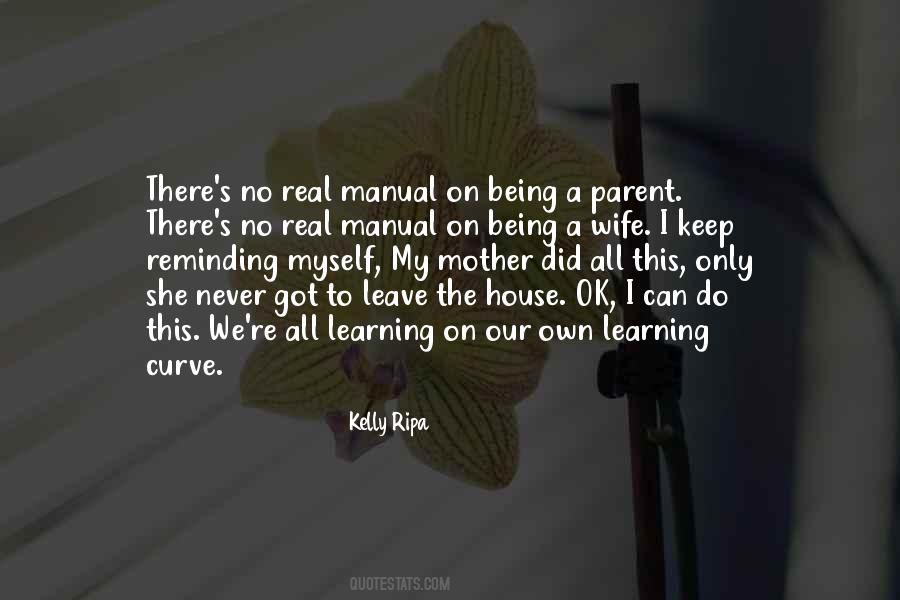 #17. It is not learning we need at all. Individuals need learning but the culture needs something else, the pulse of light on the sea, the warm urge of huddling together to keep out the cold. We need empathy, we need the eyes that still can weep. - Author: Lydia Millet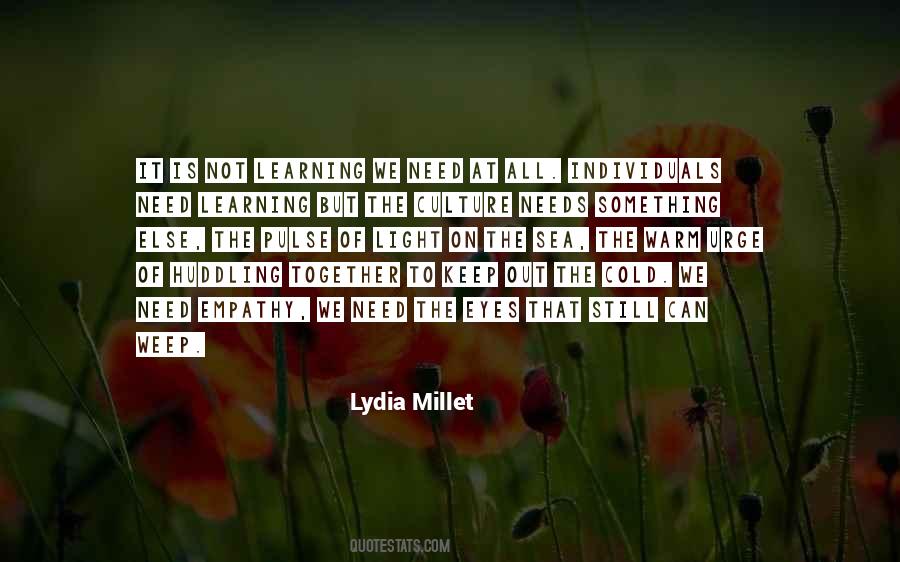 #18. You should keep on learning as long as there is something you do not know. - Author: Seneca The Younger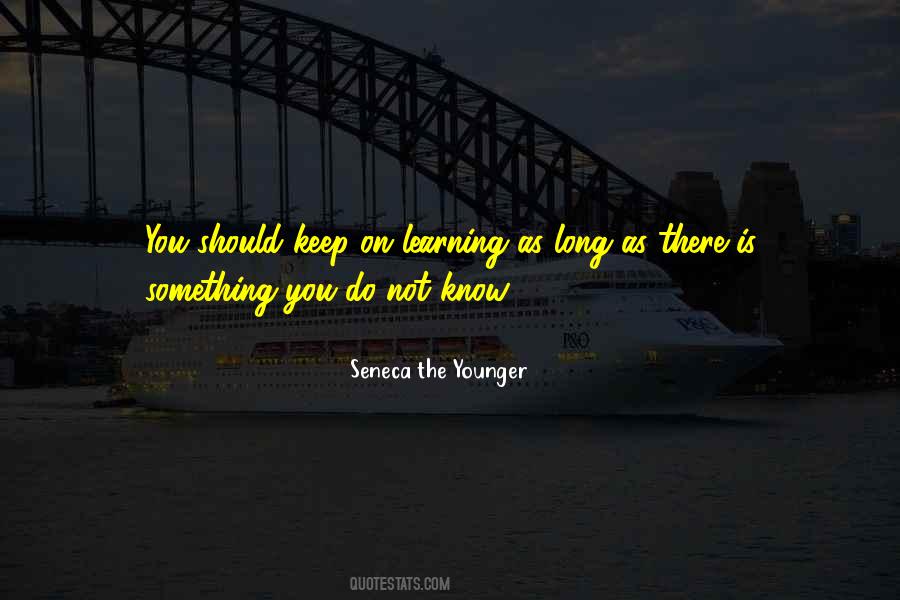 #19. The close and thoughtful observer more and more learns to recognize his limitations. He realizes that with the steady growth of knowledge more and more new problems keep on emerging. - Author: Johann Wolfgang Von Goethe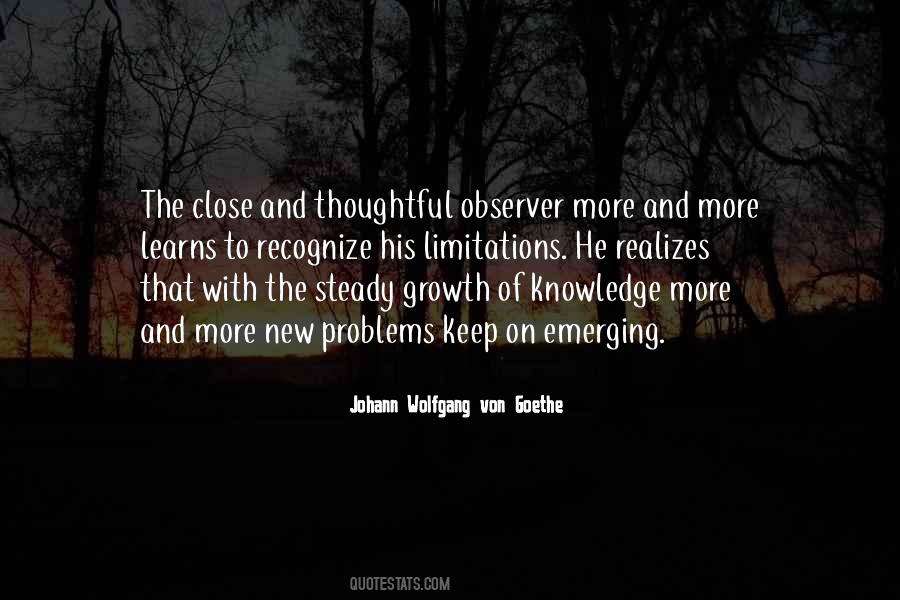 #20. I'm an actor, and I keep observing people and their reactions to figure out what they are thinking. There's only so much you can do on your own, so you have to keep learning. Art imitates life. - Author: Preity Zinta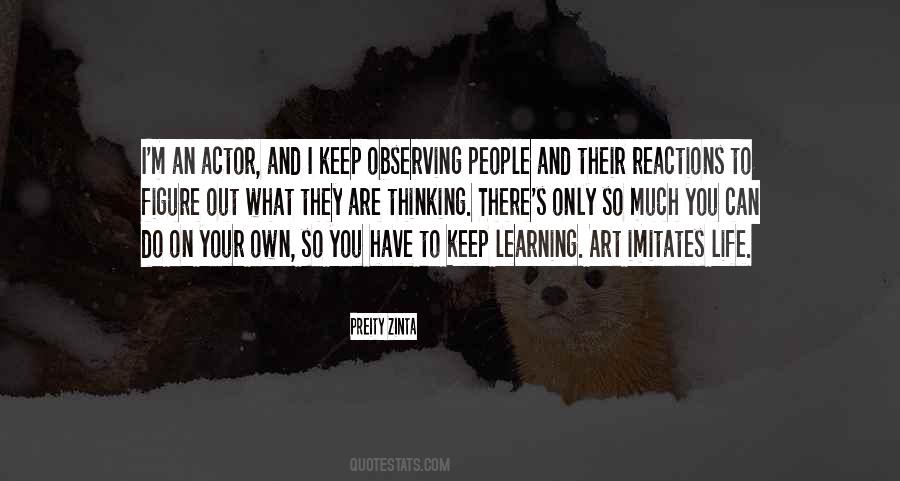 #21. People screw up. People screw up a lot. We allow our own selfishness to overpower us at times. It happens. But you can't allow that to tear you down. You can't keep dwelling on your past choices, and your past actions, or else you'll never learn from them. - Author: Nicole Sobon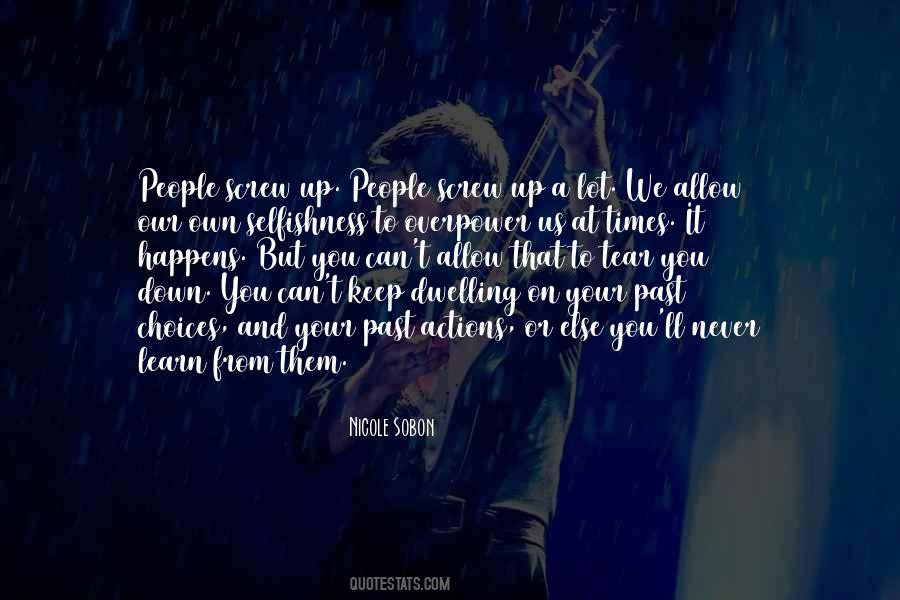 #22. growing older is all about learning and passing it on, otherwise there is no reason for biological evolution to keep us alive after our reproductive years are over. - Author: Twinkle Khanna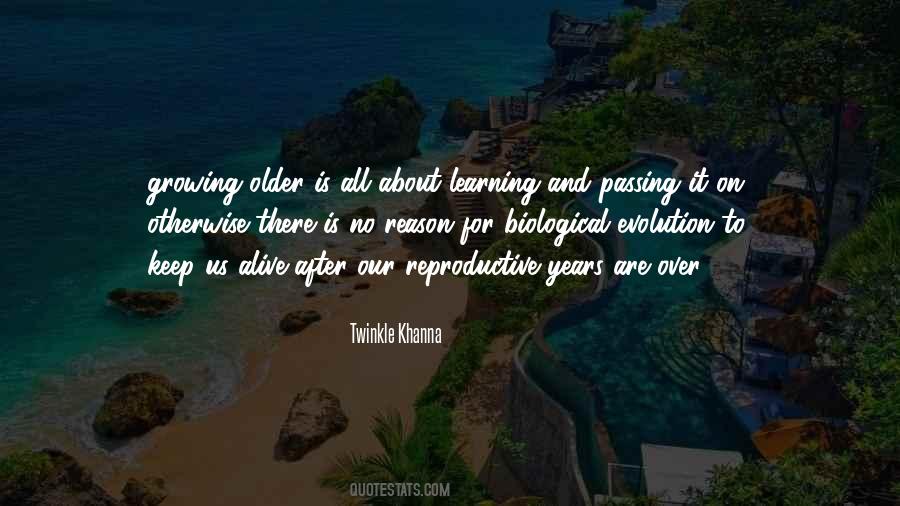 #23. There are some aspects of work you need to keep working on and no matter what environment you are in. Continuous learning is very important. It's what I call 'competitive tension', which is about having a competition around. - Author: Viswanathan Anand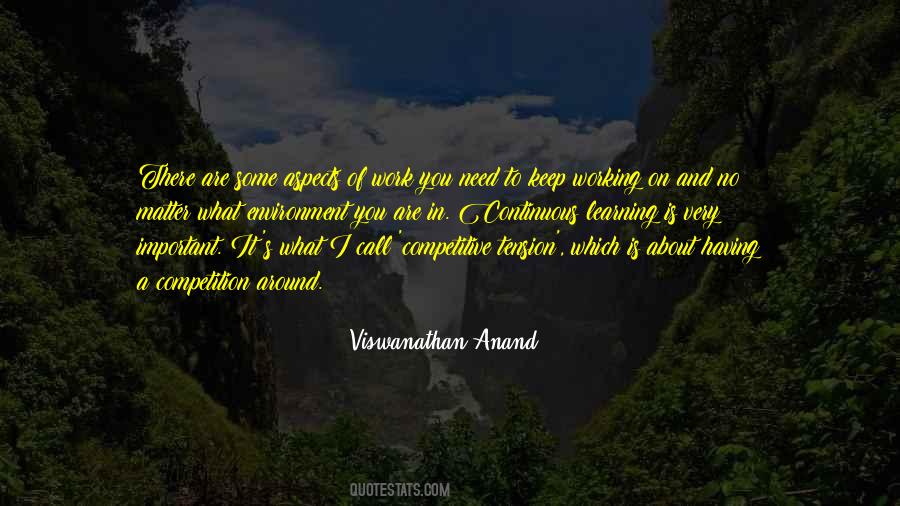 #24. I'd definitely like to study other things and keep on learning all the time, but I wouldn't want to do anything else. Ultimately, acting is my craft. I've always been interested in psychology and nutrition, but I don't know that I'd go and make that my profession. - Author: Cindy Busby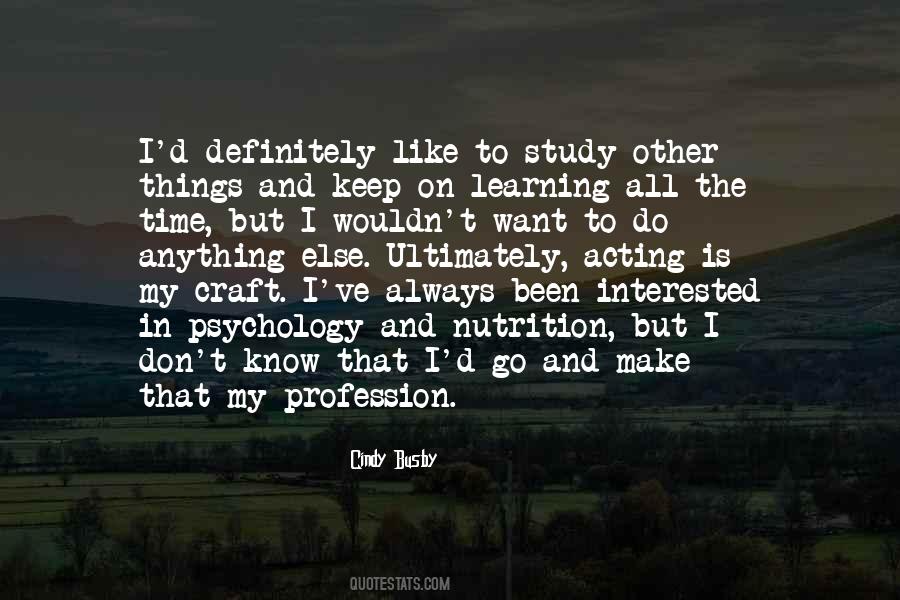 #25. It's learning how to negotiate to keep both sides happy - whether it's for a multi-million dollar contract or just which show to watch on TV, that determines the quality and enjoyment of our lives. - Author: Leigh Steinberg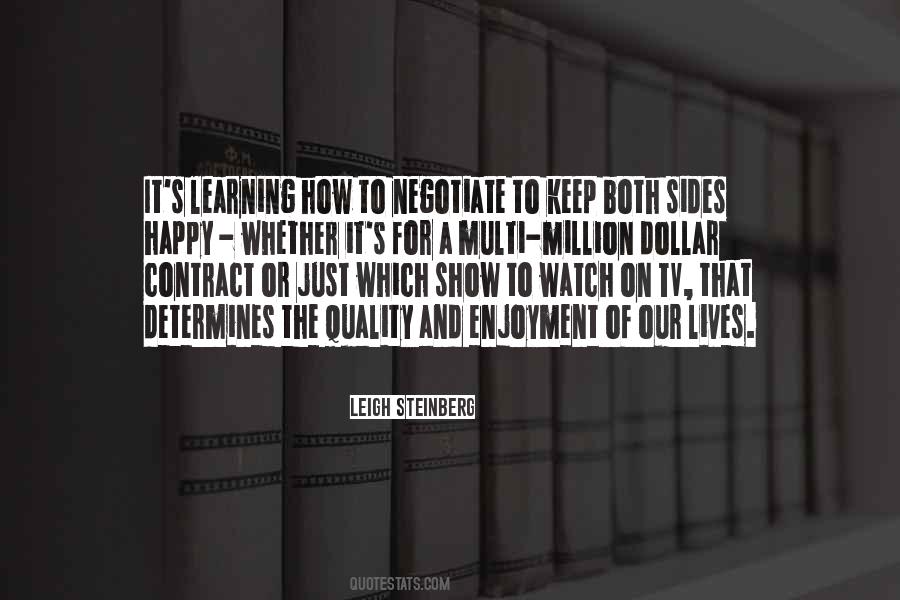 #26. You can make almost anything a learning or positive experience. I think I offer a good example of how to make the most out of what life gives you and how to keep moving on. - Author: Augusten Burroughs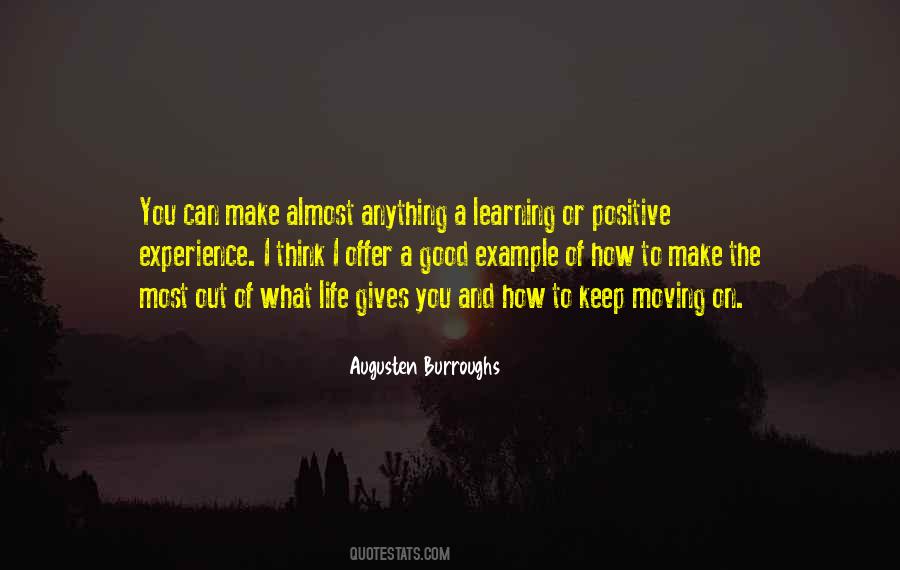 #27. AI does not keep me up at night. Almost no one is working on conscious machines. Deep learning algorithms, or Google search, or Facebook personalization, or Siri or self driving cars or Watson, those have the same relationship to conscious machines as a toaster does to a chess-playing computer. - Author: Ramez Naam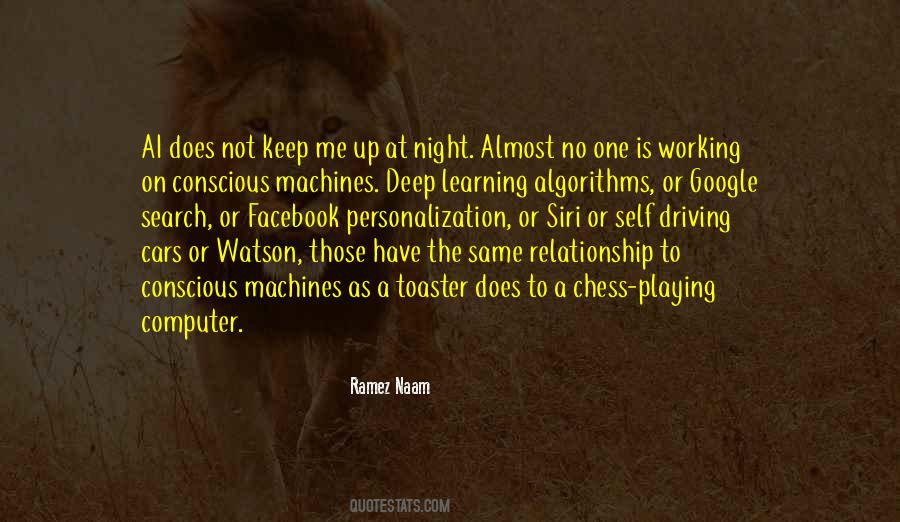 #28. Don't climb a single rung up the entitlement ladder. Demanding something you haven't truly earned is a great way to get stuck in the land of Learning for decades, even an entire lifetime. Kick those ladders over and keep on walking. - Author: Jon Acuff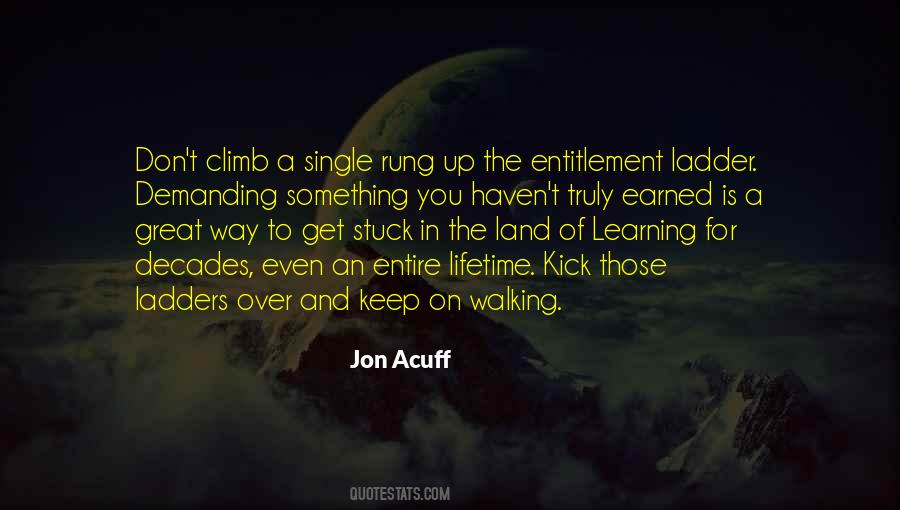 #29. Jesus used the carefree attitude of the birds to underscore the fact that worrying is unnatural. I am learning in my own life, day by day, to keep my mind centered on Christ. - Author: Billy Graham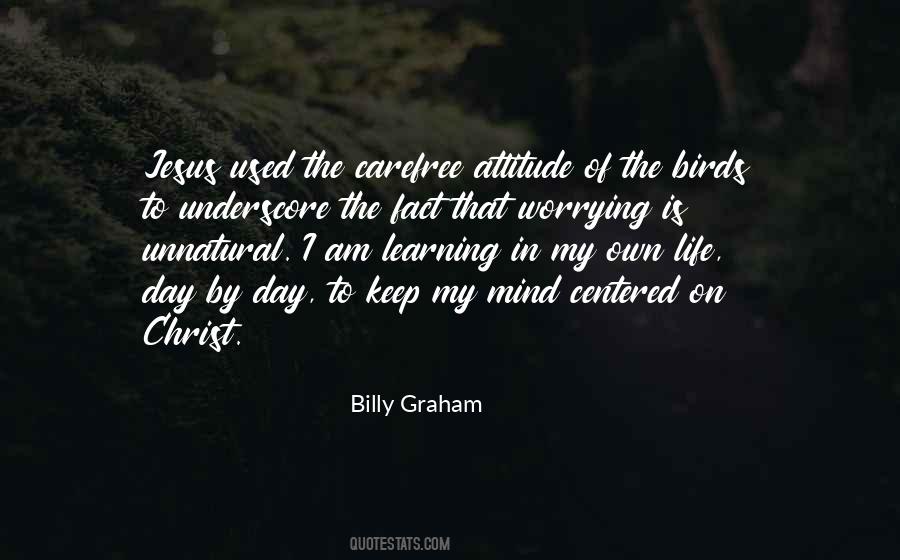 #30. The critical question about regret is whether experience led to growth and new learning. Some people seem to keep on making the same mistakes, while others at least make new ones. Regret and remorse can be either paralyzing or inspiring. [p. 199] - Author: Mary Catherine Bateson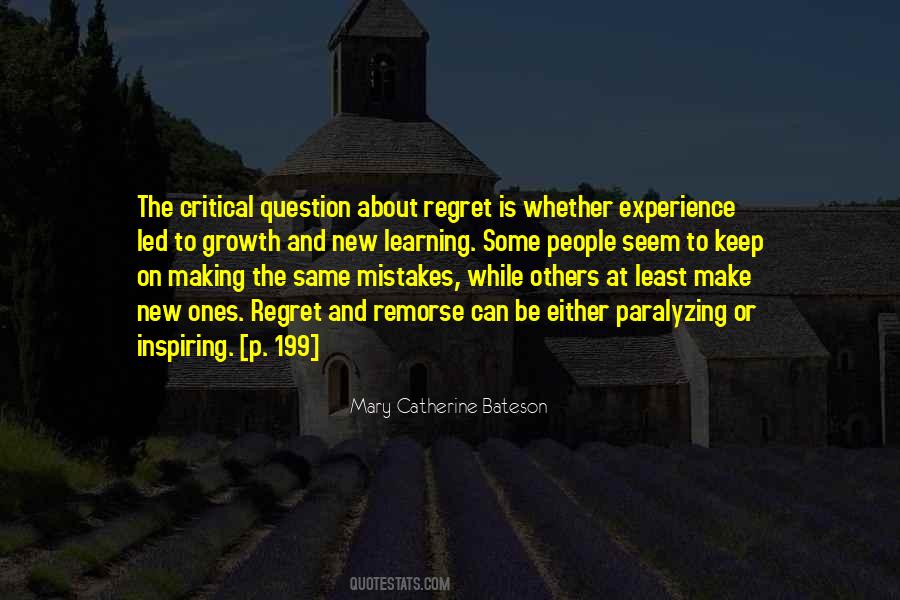 #31. I enjoyed learning the poems, but I didn't understand of what use they might possibly be. 'They'll keep you company on the day you have no books to read,' my teacher said. - Author: Alberto Manguel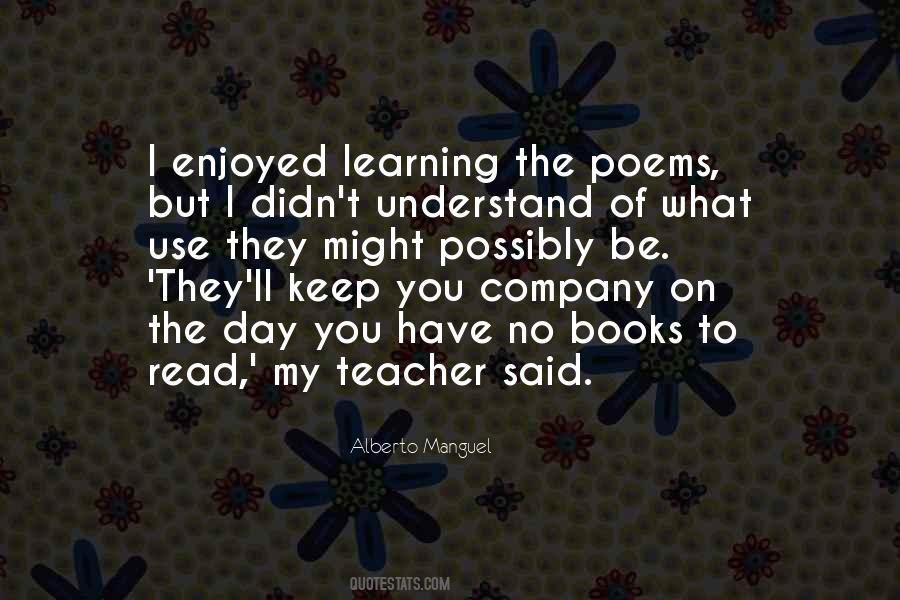 #32. Nothing is perfect and this is the perfect reason for men to keep on learning, understanding and discovering. - Author: Dee Dee Artner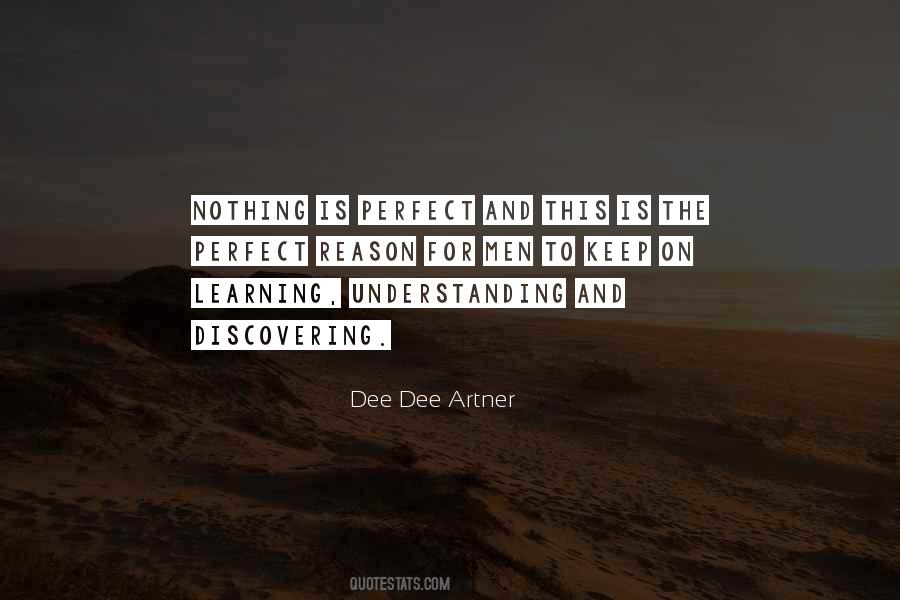 #33. The first stair to failure is ignorance. Keep learning by leaning on the lap of information and you'll take the lead! - Author: Israelmore Ayivor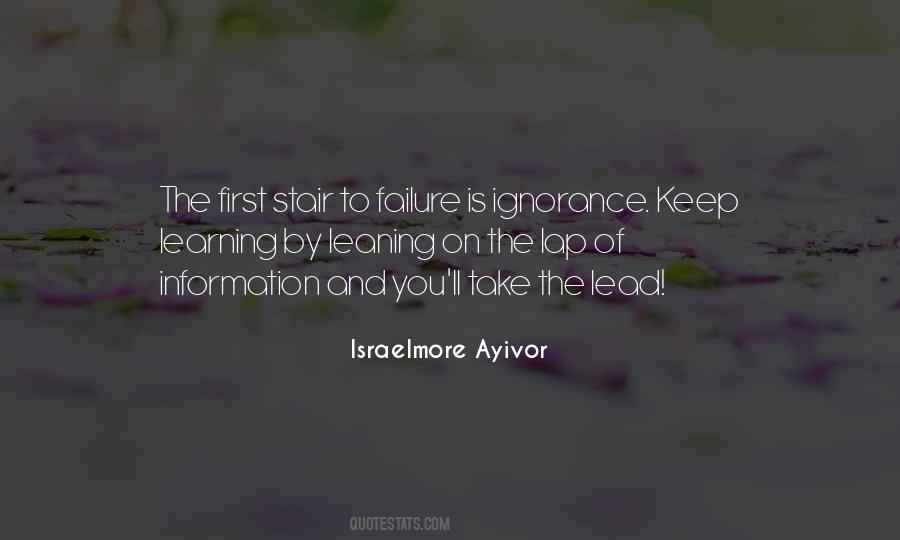 #34. Every book is a mystery. And if you read all the books ever written, it's like you've read one giant mystery. And no matter how much you learn, you just keep on learning there is so much more you need to learn. - Author: Sherman Alexie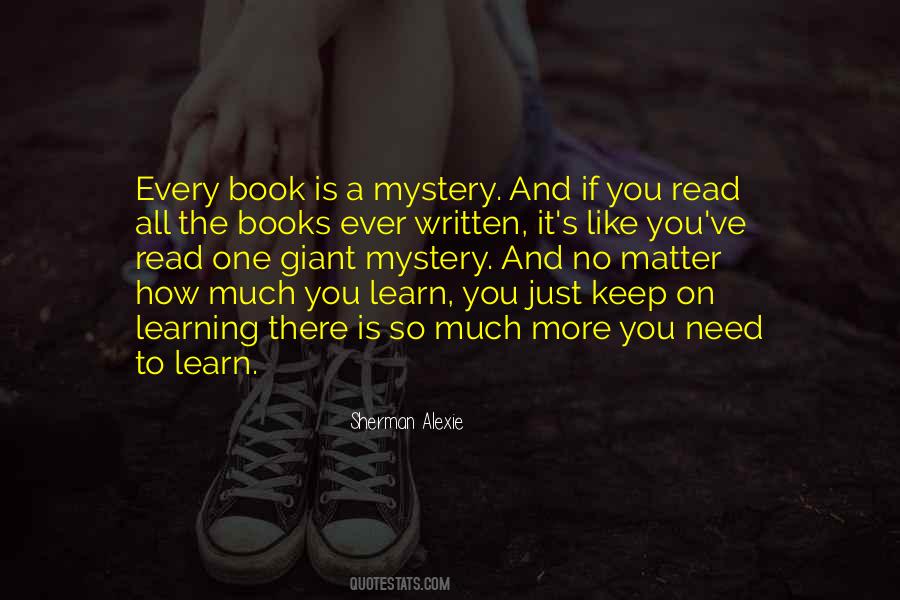 #35. As a leader, you have to take responsibility for your own failures as well as successes. That's the only way you'll learn.
If you keep learning, you'll improve.
If you improve, your leadership will get better.
And in time, you will earn the right to lead on the level you deserve. - Author: John C. Maxwell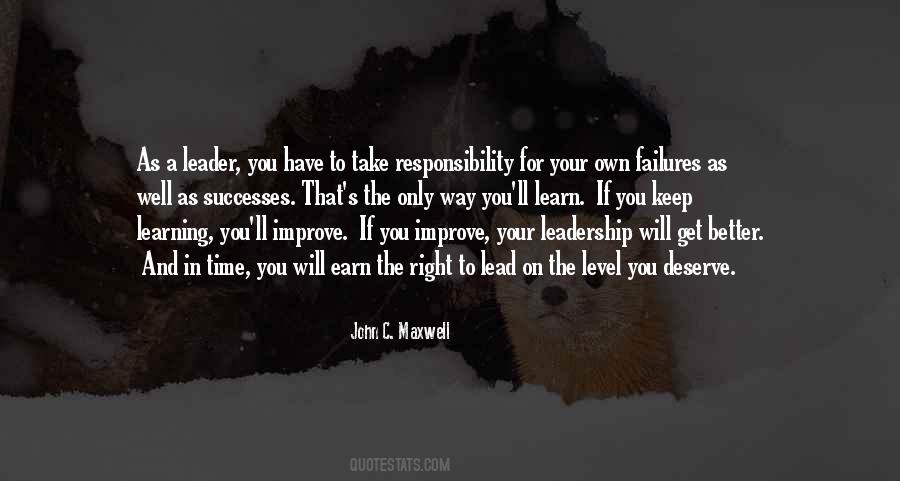 #36. Be passionate and bold. Always keep learning. You stop doing useful things if you don't learn. So the last part to me is the key, especially if you have had some initial success. It becomes even more critical that you have the learning 'bit' always switched on. - Author: Satya Nadella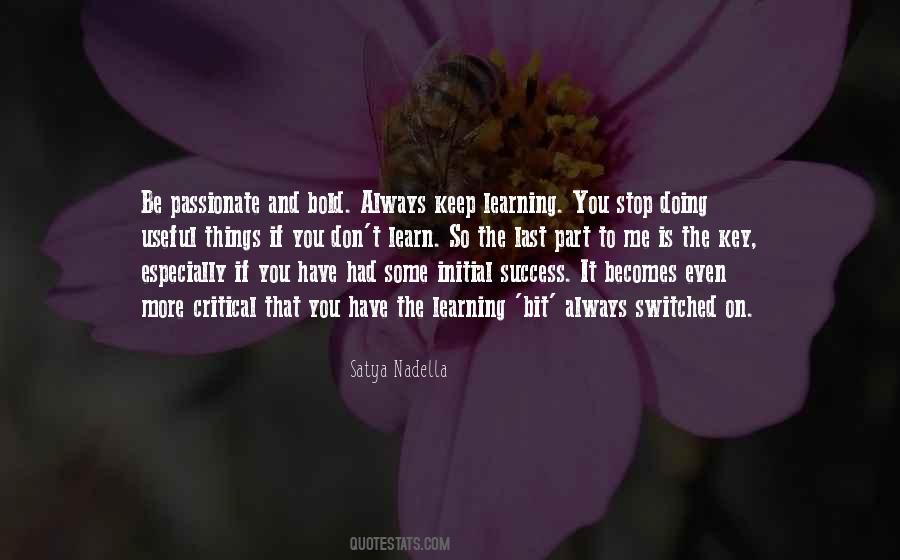 #37. Write every day. Make writing a part of your life, but also don't be afraid of learning from others because I think you can. I still try to think of myself as a beginner because that way I can keep on learning. - Author: Kimberly Willis Holt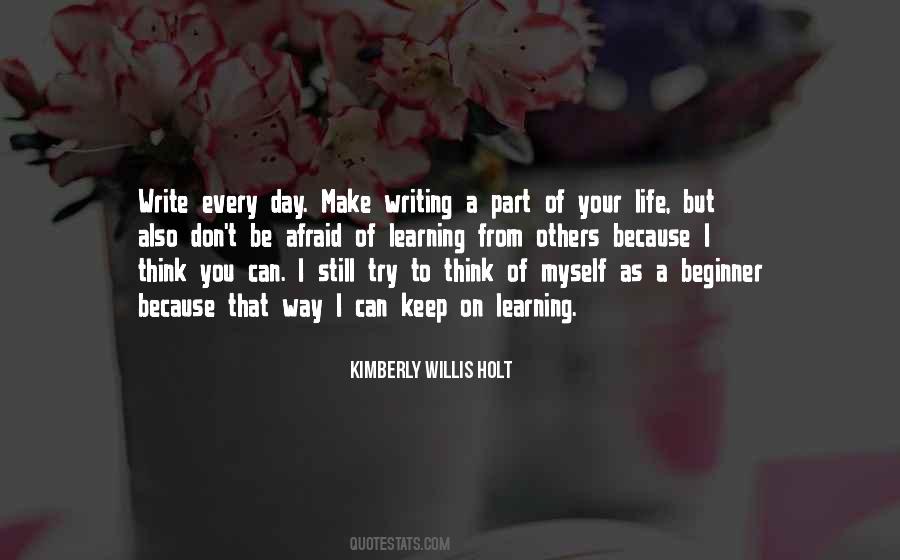 #38. You cannot have a learning organisation without a shared vision ... A shared vision provides a compass to keep learning on course when stress develops. - Author: Peter Senge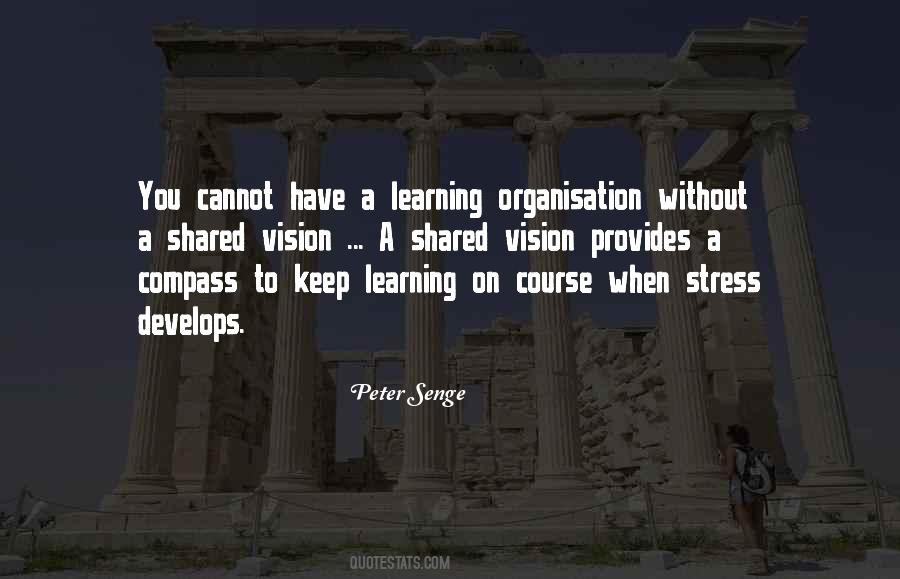 #39. It's my birthday today. I'm not 17 anymore. The 17 Janis Ian sang about where one learns the truth. But what she failed to mention is that you keep on learning truths after 17 and I want to keep on learning truths till the day I die. - Author: Melina Marchetta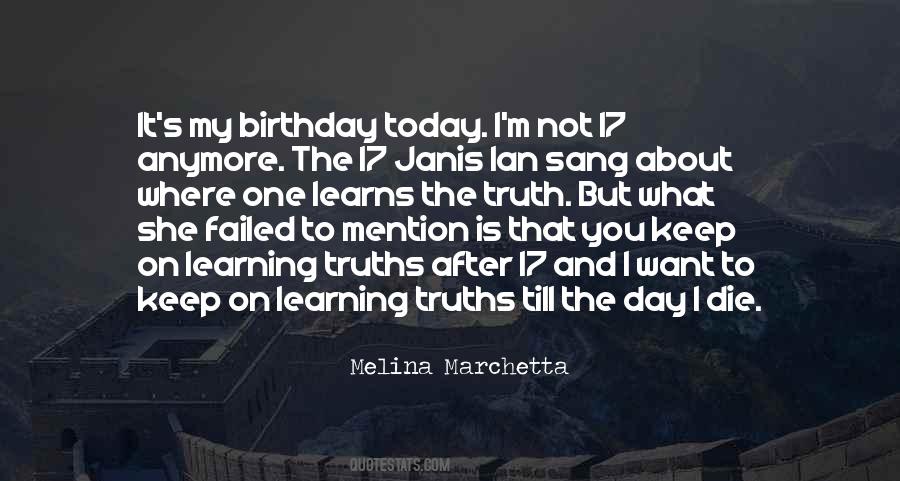 #40. As entrepreneurs, we must continue to ask ourselves 'What's next?' It takes humility to realize that we don't know everything, not to rest on our laurels and know that we must keep learning and observing. - Author: Cher Wang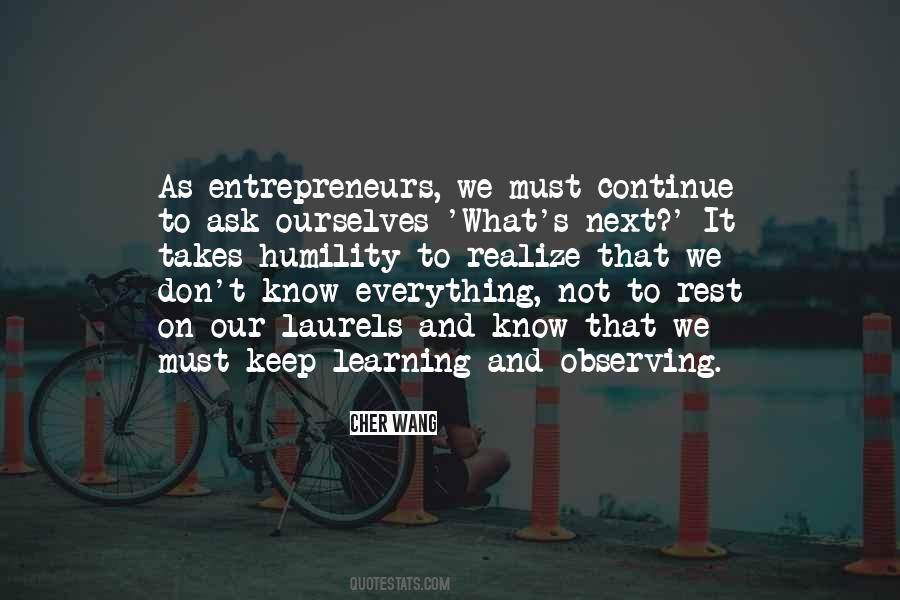 #41. Believing there's no God stops me from being solipsistic. I can read ideas from all different people from all different cultures. Without God, we can agree on reality, and I can keep learning where I'm wrong. We can all keep adjusting, so we can really communicate. - Author: Penn Jillette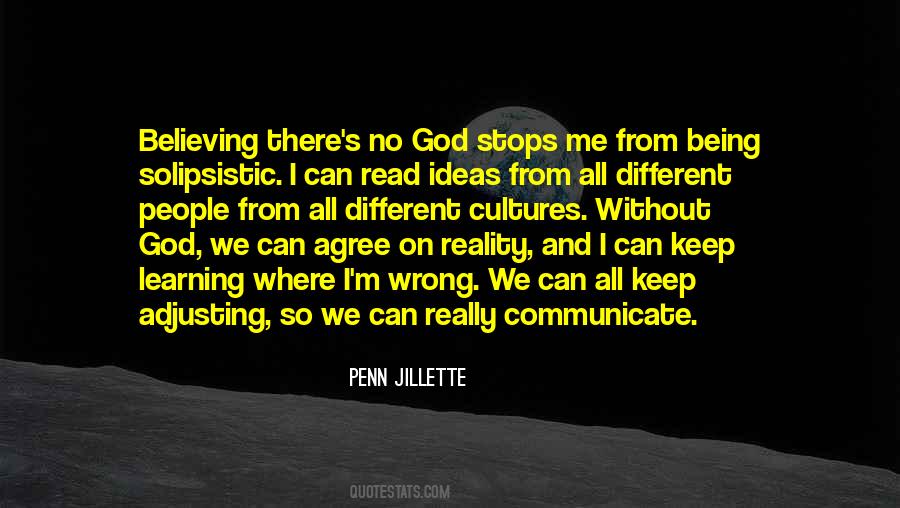 #42. It used to be thought that you stopped making new neural connections in your youth and from then on your brain was fixed and it was downhill all the way. But in fact as we know from our own experience we can keep on learning and learning means changing our brain on a physical level. - Author: Philippa Perry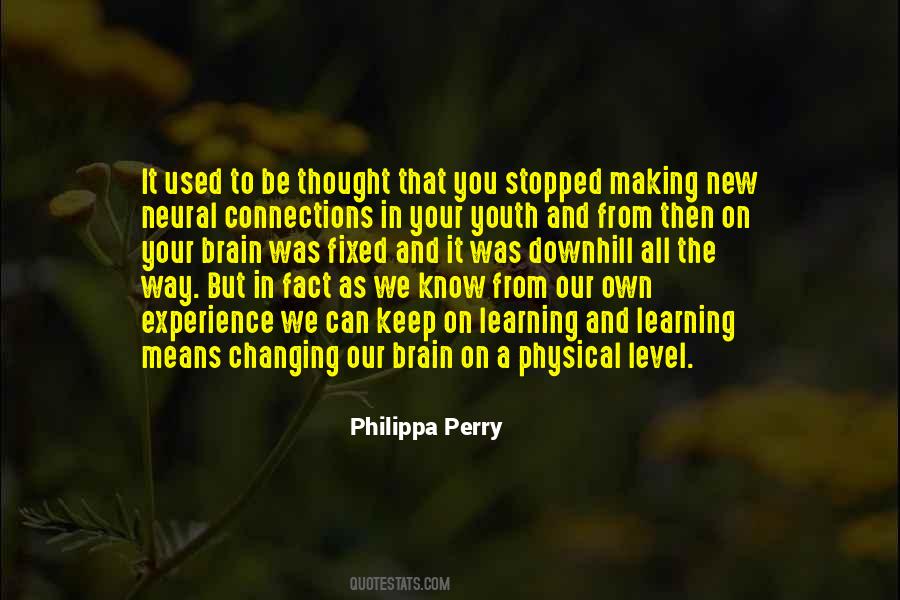 #43. Whether it's 18 years old or 40 years old, we think we know what's going on. But if you're lucky enough to continue the journey, its amazing how we keep learning how much we didn't know. - Author: Joe Namath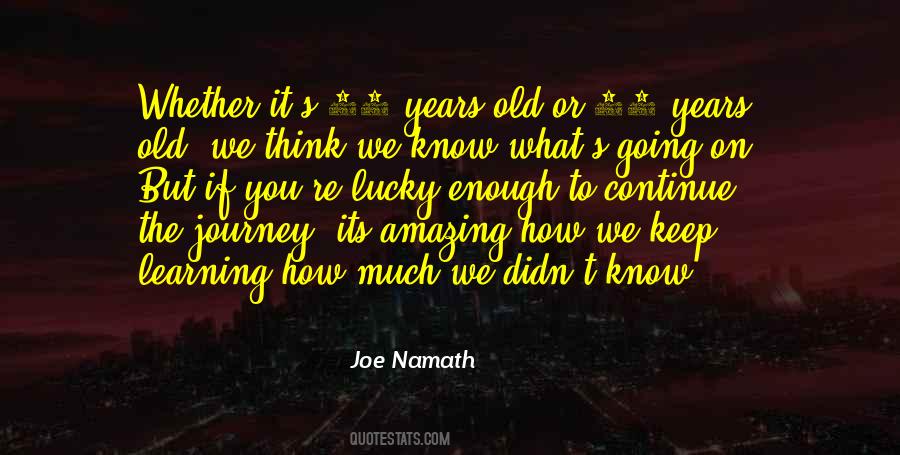 #44. Let me keep my mind on what matters, which is my work, which is mostly standing still and learning to be astonished. - Author: Mary Oliver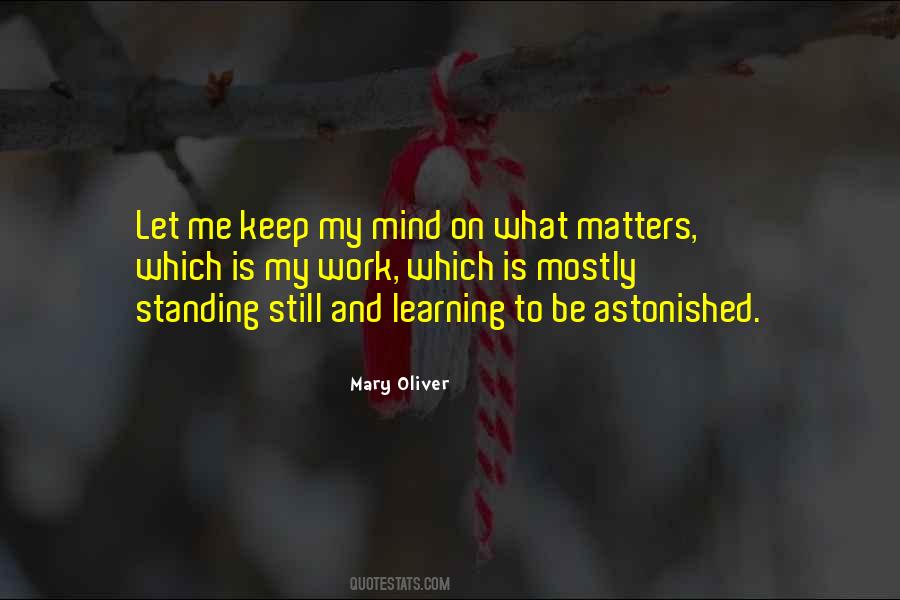 #45. Keep learning; don't be arrogant by assuming that you know it all, that you have a monopoly on the truth; always assume that you can learn something from someone else. - Author: Jack Welch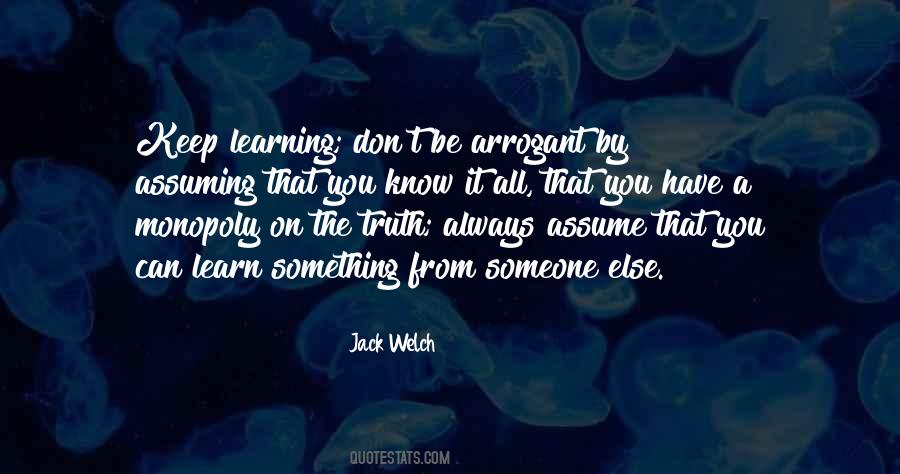 #46. Such individuals lead vigorous lives, are open to a variety of experiences, keep on learning until the day they die, and have strong ties and commitments to other people and to the environment in which they live. They enjoy whatever they do, even if tedious or difficult; they are hardly ever bored, - Author: Mihaly Csikszentmihalyi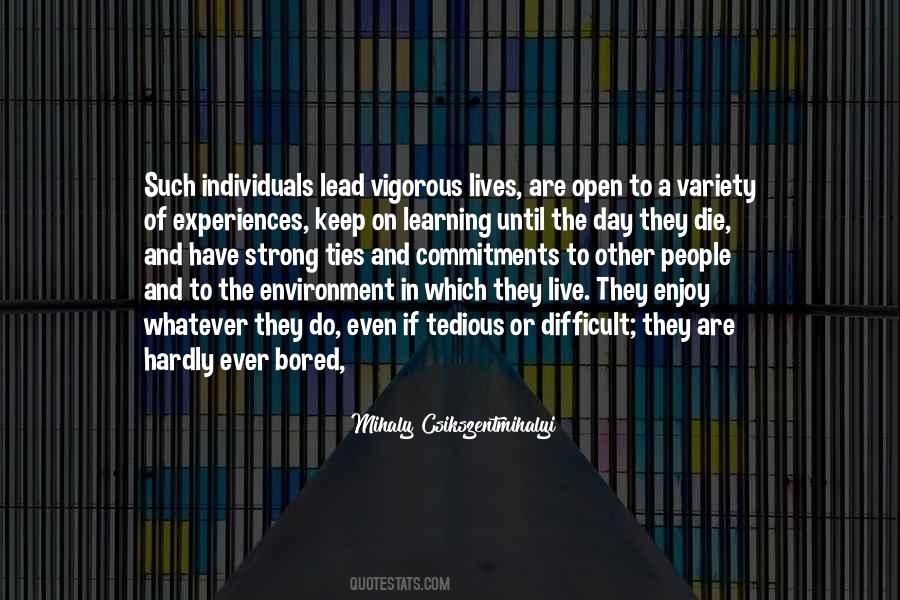 #47. I'm just trying to do whatever is asked of me. I've been thrown into many different positions. Sometimes I'm on the left. Sometimes I'm in the middle. Sometimes I'm up top. So you always have to be prepared. I'm learning a lot so hopefully I can keep getting better and better. - Author: Freddy Adu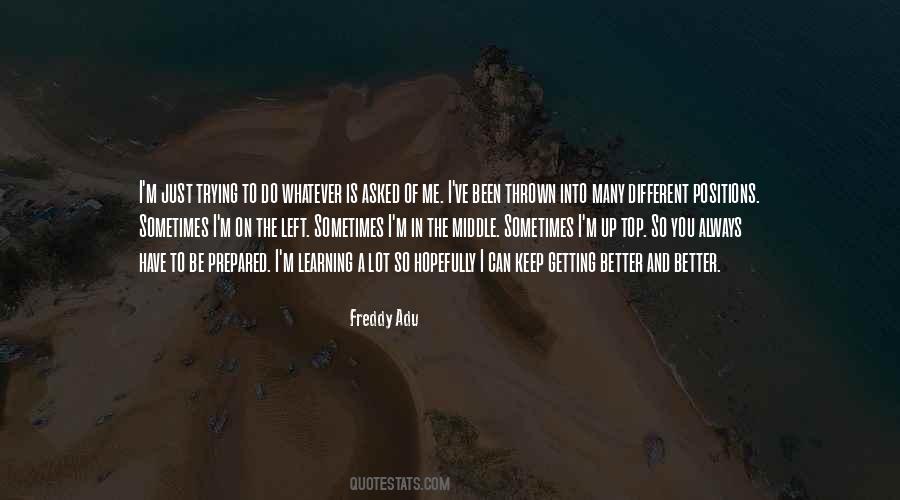 #48. The director's job is full of all sorts of annoyances and details - like how many cars are on the street. Ugh. I don't want it. I like my gig. And I feel that for the next 30 years or so I can keep learning more about it. - Author: Tyne Daly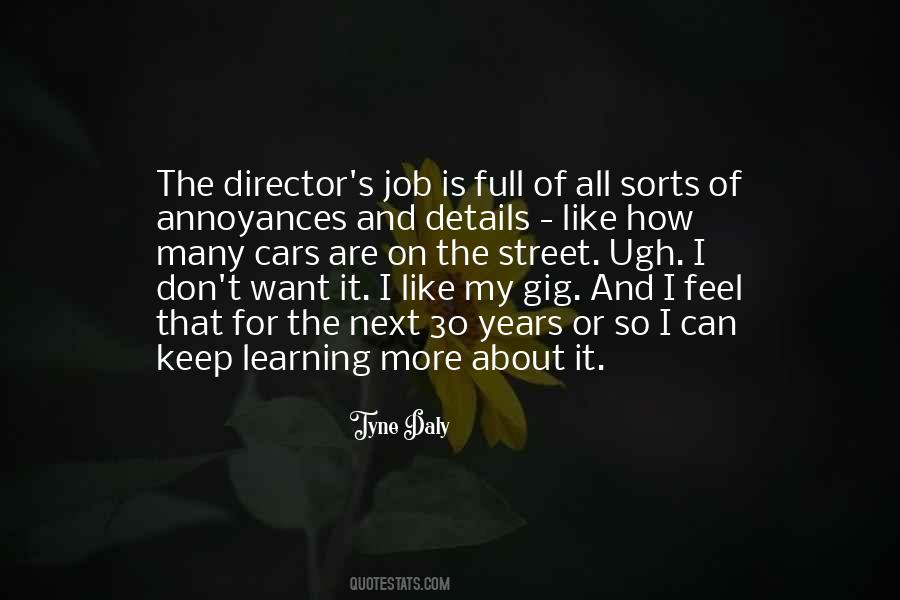 #49. Touch is the most fundamental sense. A baby experiences it, all over, before he is born and long before he learns to use sight, hearing, or taste, and no human ever ceases to need it. Keep your children short on pocket money but long on hugs - Author: Robert A. Heinlein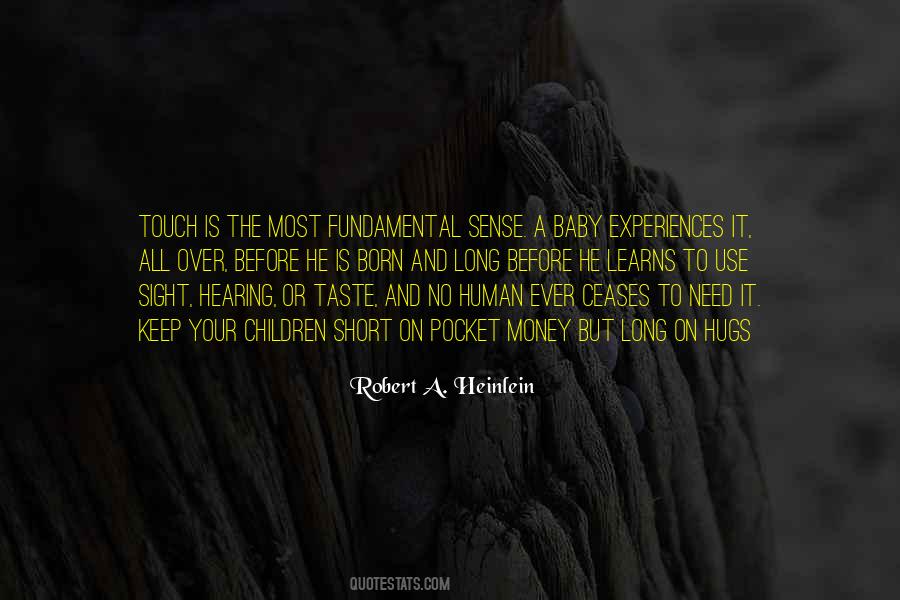 Famous Authors
Popular Topics