Job Position Famous Quotes & Sayings
List of top 76 famous quotes and sayings about job position to read and share with friends on your Facebook, Twitter, blogs.
Top 76 Job Position Quotes
#1. One of the secrets to advancing in any job is to make yourself more valuable than what your position calls for. - Author: Idowu Koyenikan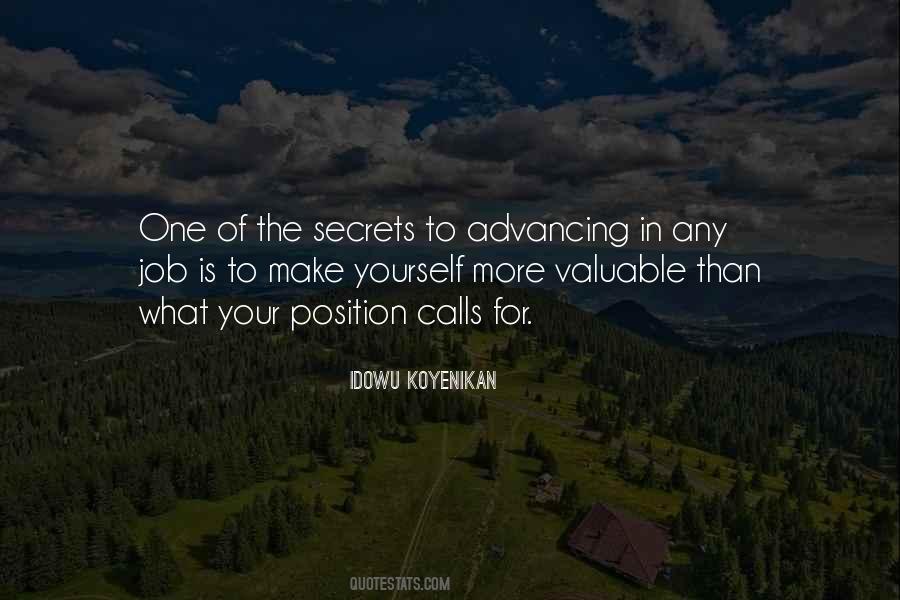 #2. I apply for a new job twice a week, every week. I am applying for the position of millionaire but so far my numbers haven't come up. - Author: Brian Randleas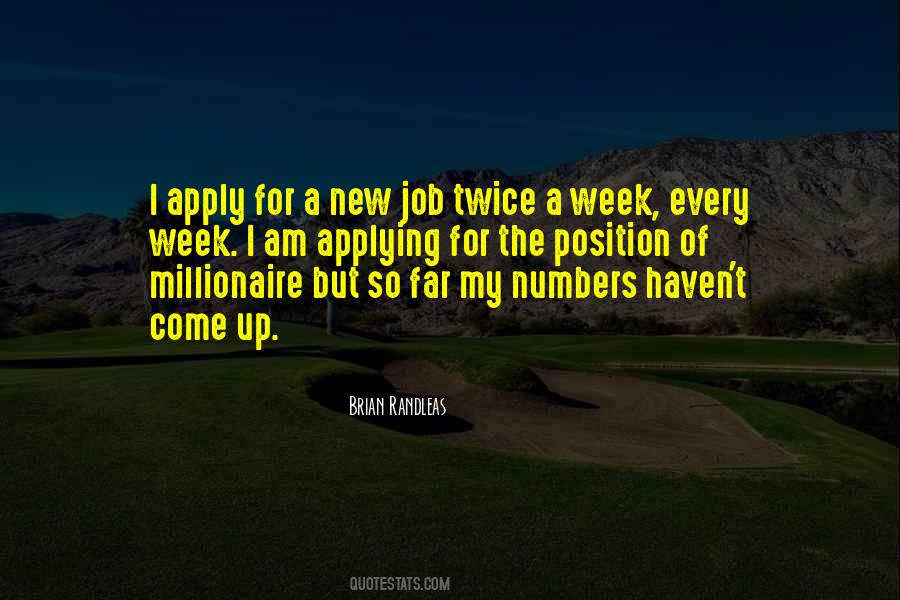 #3. The only advice I give to acting students is, 'Be nice to your underclassmen. You never know who might be in a position to help you get a job one day.' - Author: John Benjamin Hickey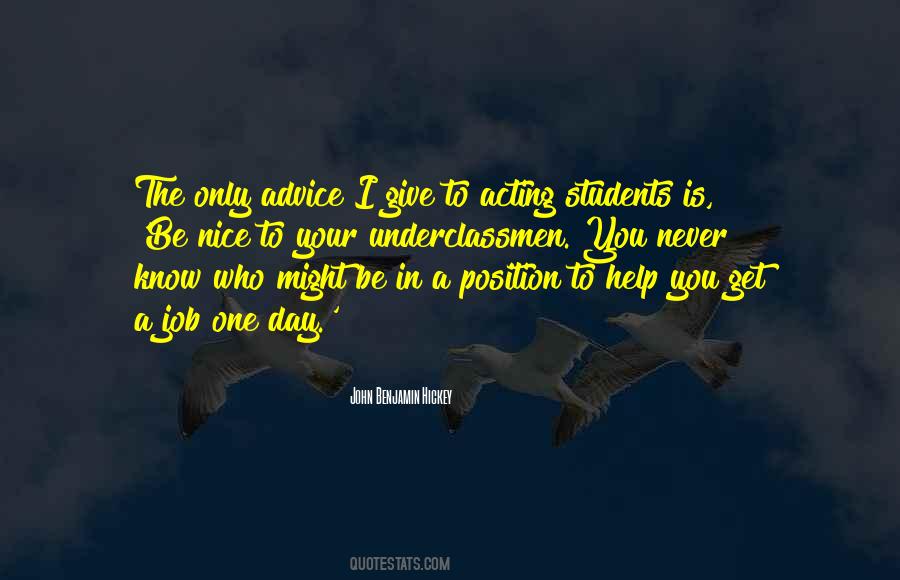 #4. With being an Avenger there's not really a hierarchy. Everybody gets to make decisions, everybody's put in a position to save the day as opposed to standing there while one person flies in and saves the day and you're like, "Good job!" Avengers is really a team effort. - Author: Anthony Mackie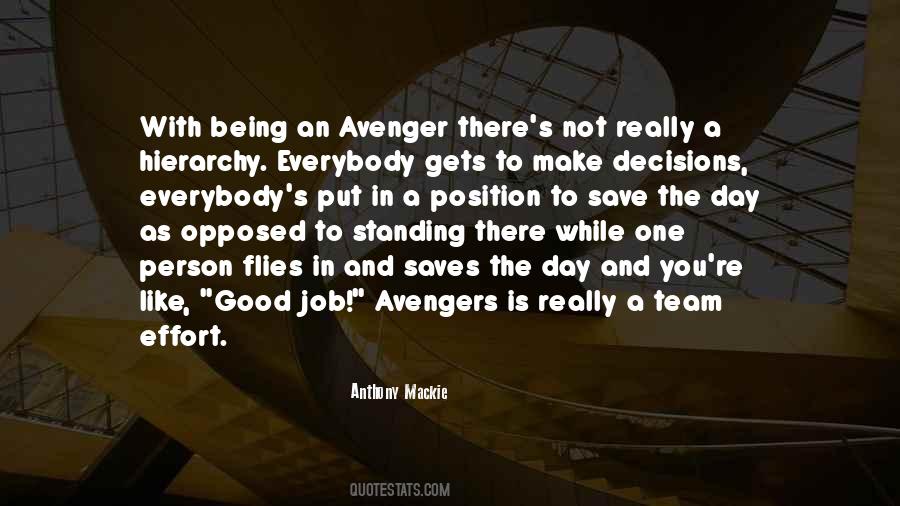 #5. One candidate who considered applying for the position explained his change of heart: That job is like unprotected sex. It feels amazing at the time, but there is a good chance you will pay for it later. None of the benefits are worth the pleasure. - Author: Taona Dumisani Chiveneko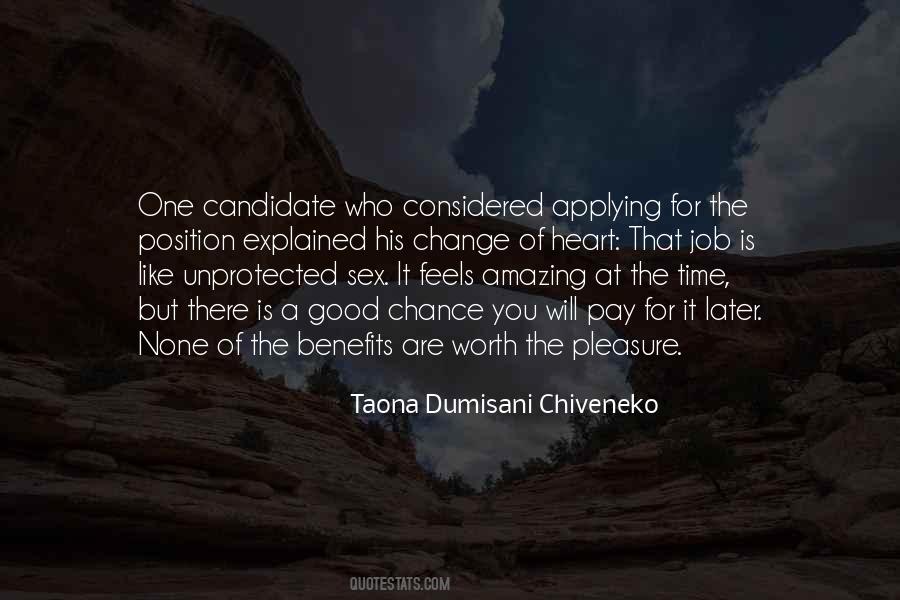 #6. You can't dominate a network with old-style leadership.

But, you can emerge, with the network's consent, as one of its leaders, regardless of your formal position or job title. - Author: Phil Dourado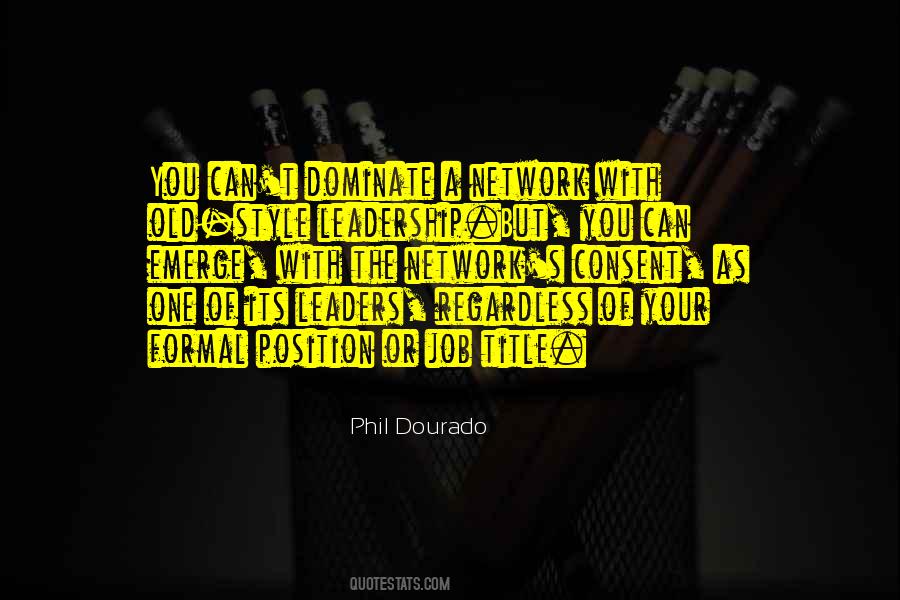 #7. By the way, if you do your job on behalf of your country, you have meetings where you put your position forward strongly, and the other side does the same thing. And I've had plenty of meetings in my career that really were heated, people yelling at each other. - Author: Richard Holbrooke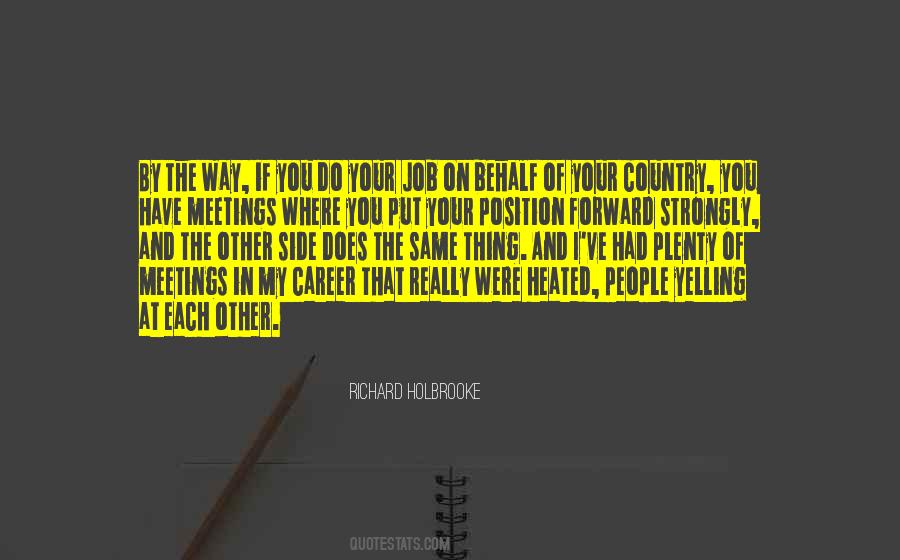 #8. Do not complain about two things; your job and your position, because you can always change them. - Author: M.F. Moonzajer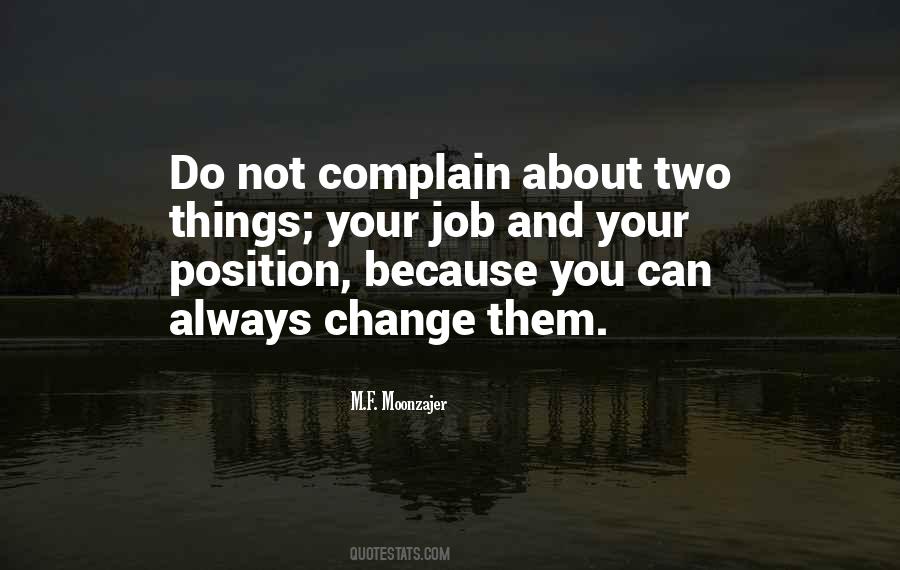 #9. Up or out greatly magnified the careerist emphasis on holding a position rather than doing a job. - Author: James Fallows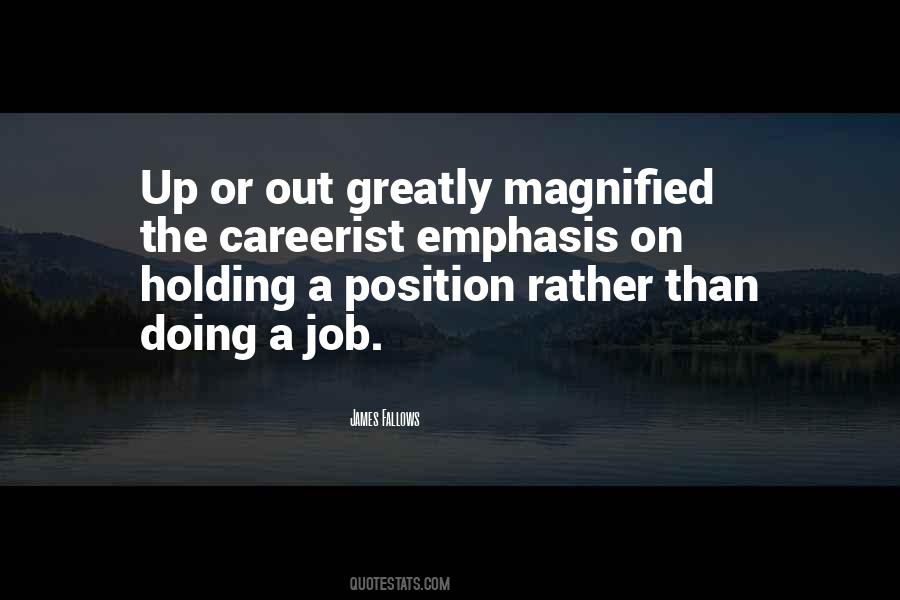 #10. It's a real job" I said. "Getting promoted to martyrdom is not the top position. - Author: Sam Wazan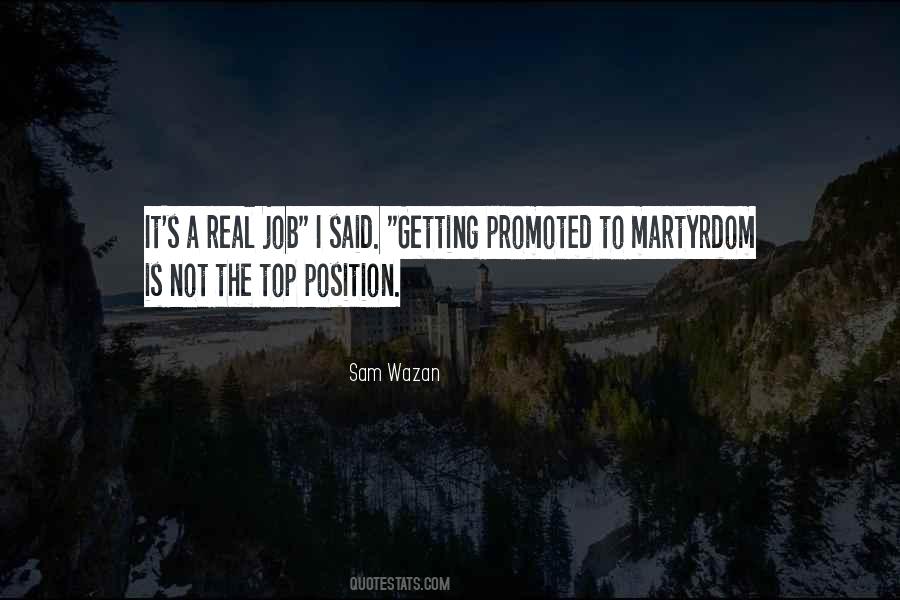 #11. In the world's most dangerous country, the job of going after Pablo was the most dangerous position of all. - Author: Mark Bowden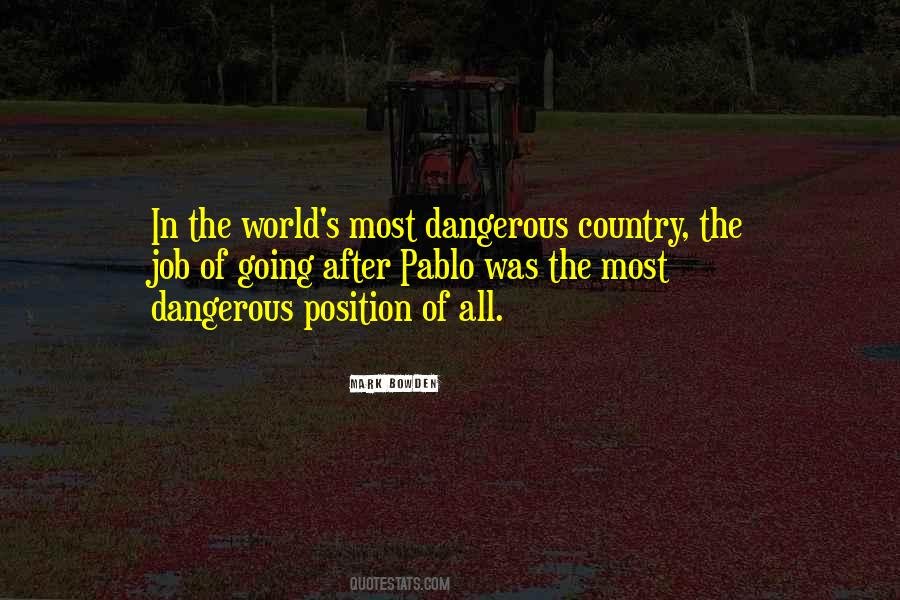 #12. When I look back on my career - if that's what it is - it looks a bit like a crazy quilt, and I think it's just really because, when one job has finished, I've never really been in a position where I had three or four options. - Author: Alfred Molina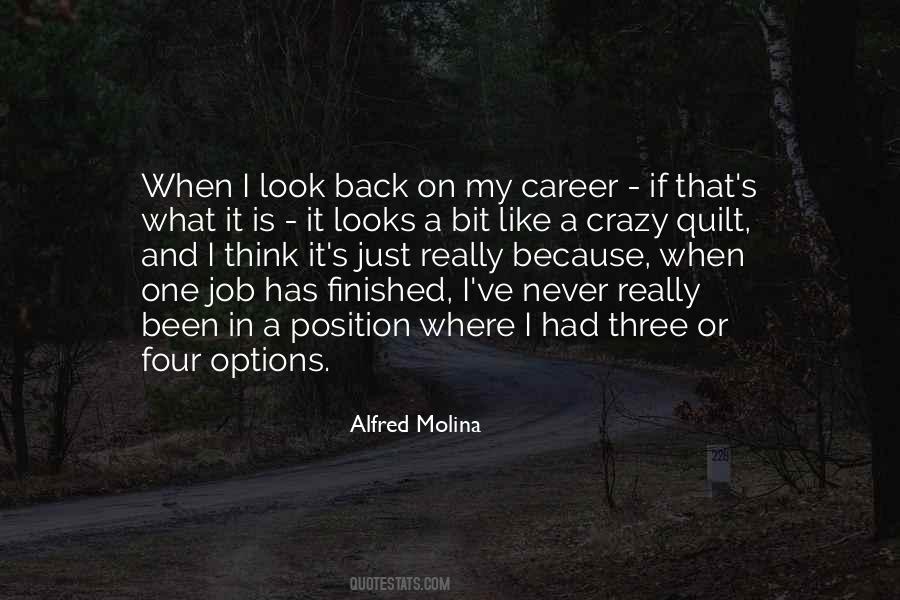 #13. But it's true, it's nothing new that decisions about what movies are to be made, and how they're to be made, and who's to be hired to do what, and whether you hire somebody to do their job, or whether you hire somebody to fill a position and you tell them what to do. - Author: Jeffrey Jones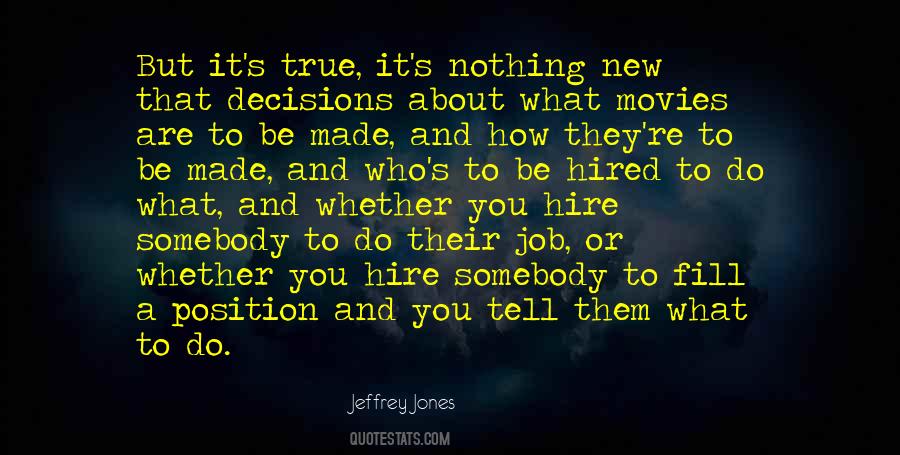 #14. There's always someone out there training for your spot. For my scholarship at the University of Florida, for my job with the Denver Broncos, for my position with the New York Jets. And that's the reason to get up earlier or stay up later. - Author: Tim Tebow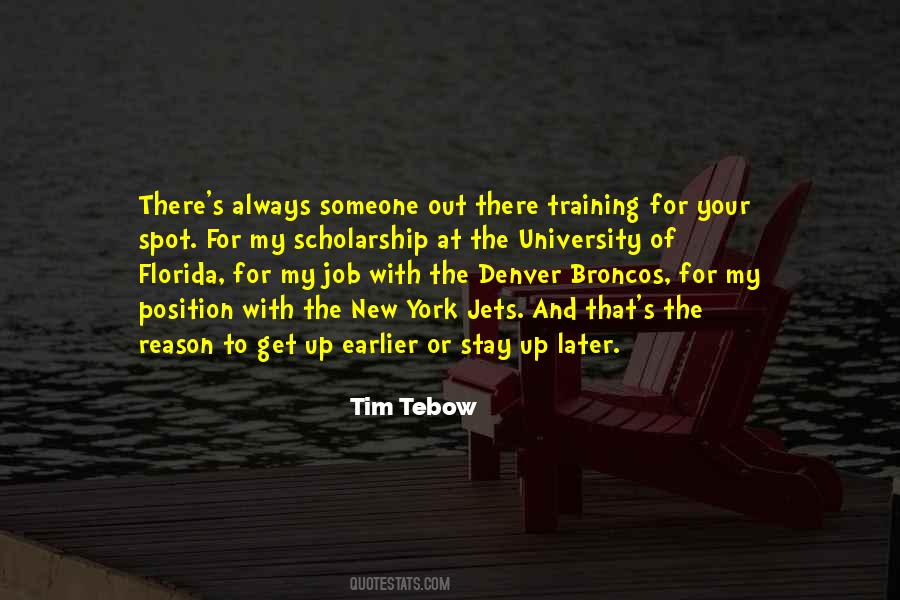 #15. I'm a self motivated person, that's what got me to the point I'm at today. I don't take anybody lightly because this is what I do, this is my job. The day that I stop taking it seriously is the day I have to stop boxing. I would never put myself into a position where I go into the ring not prepared. - Author: Danny Garcia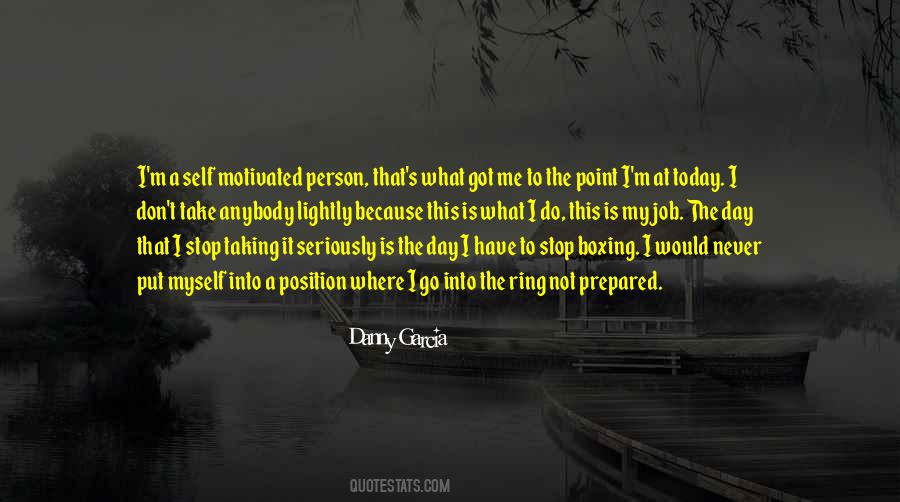 #16. Our job is to get on the road and win one game now. It's a great position to be in. We were lucky to get home ice [advantage] this year. For some reason, we pulled it off at the end and we took advantage early in the series. Now, it's up to us to do our thing on the road. - Author: Martin Brodeur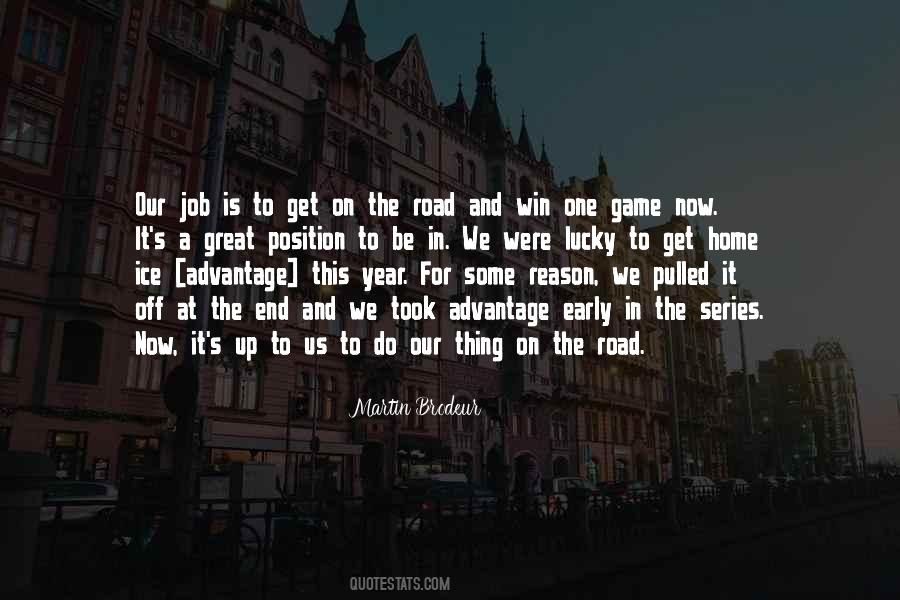 #17. There's nothing that I love to do more than act and I feel really lucky to be in the position that I'm in, being able to do it as my job! If I ever do anything other than act, it will be in show business. - Author: Sophia Bush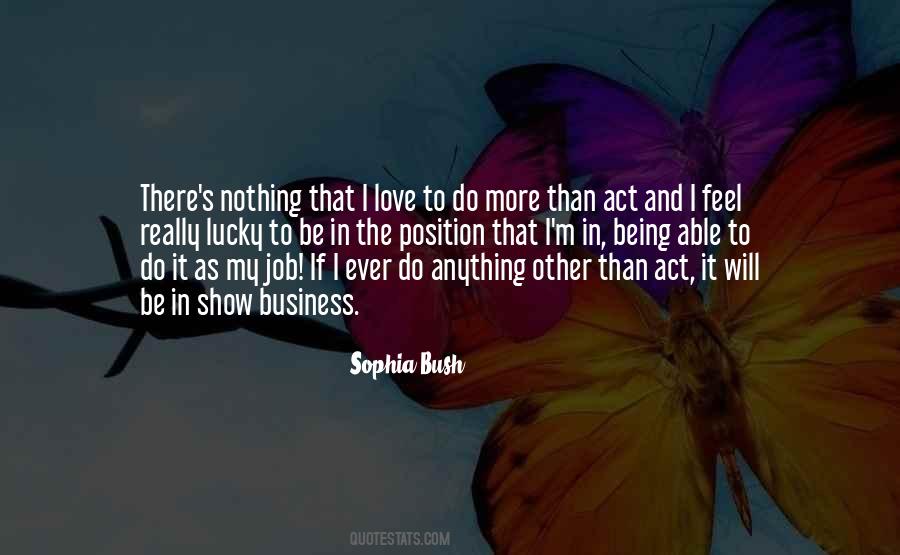 #18. Visit to Africa reshaped my point-of-view of colonialism. It reshaped my point-of-view of my own sense of source, and my own place of birth. It made it more organic inside of me, because it placed me in a position where my job was to understand and to become more African. - Author: Forest Whitaker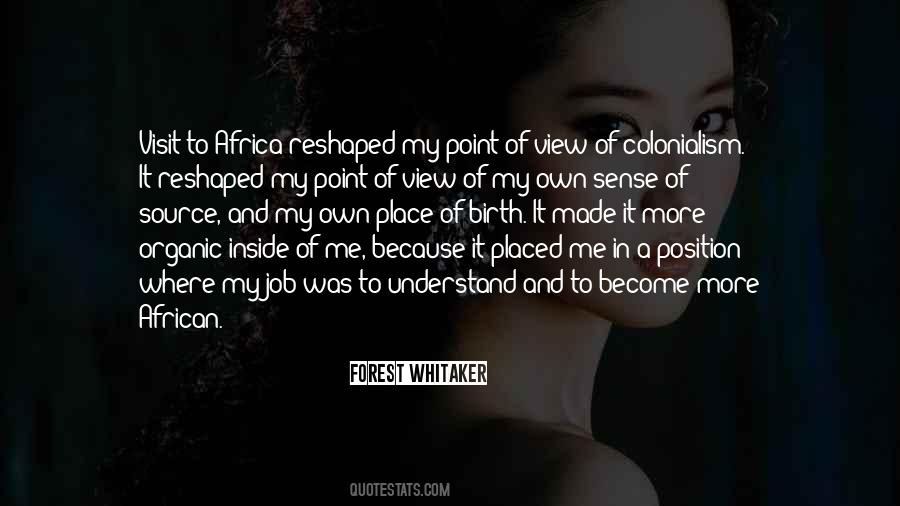 #19. You would think that when someone accepts a position with a company, they would assume that their life will be better off because they have that job rather than a different one. - Author: Tom Rath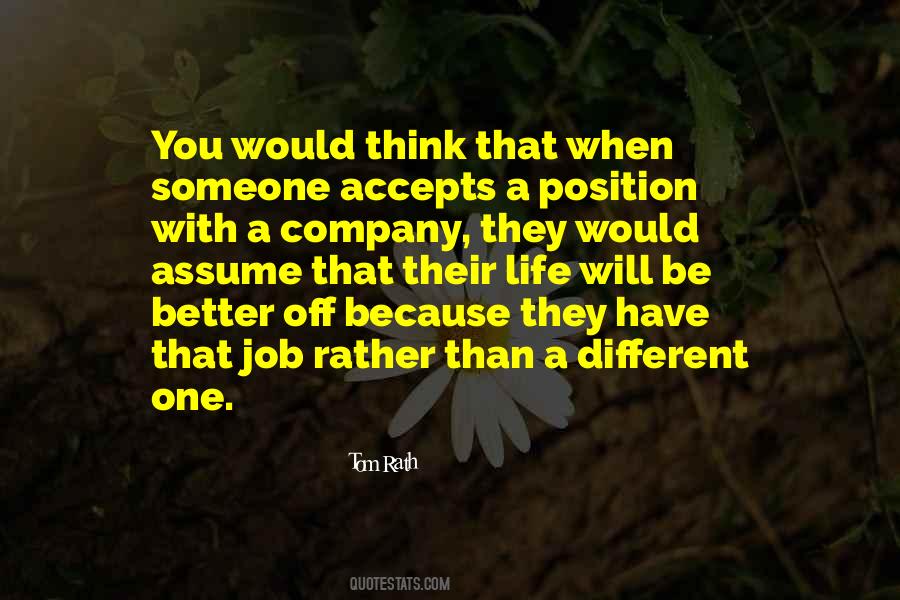 #20. Regardless of age, regardless of position, regardless of the business we happen to be in, all of us need to understand the importance of branding. We are CEOs of our own companies: Me, Inc. To be in business today, our most important job is to be head marketer for the brand called You. - Author: Tom Peters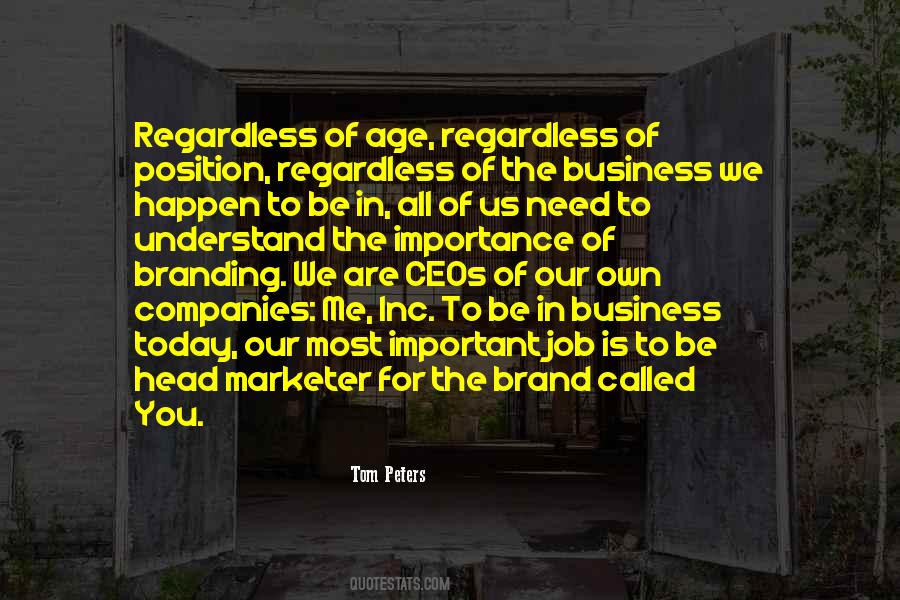 #21. Has no prospects of being either, then you don't just need a remote position - you need a new job. Only the office can be secure Companies often go to great lengths to make employees - Author: Jason Fried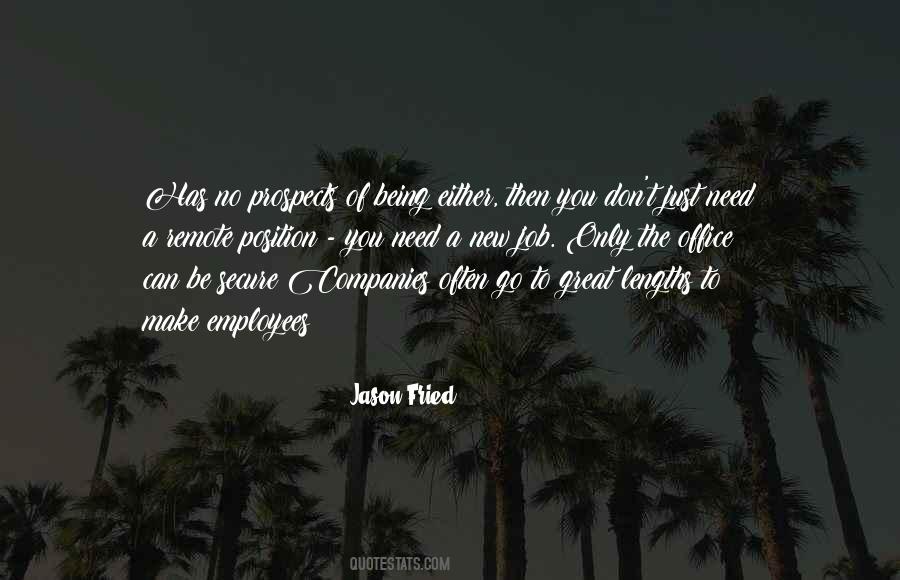 #22. No matter the job or position you have, you have the power to create positive or negative experiences for your customers. Where do you lean? - Author: TJ Hoisington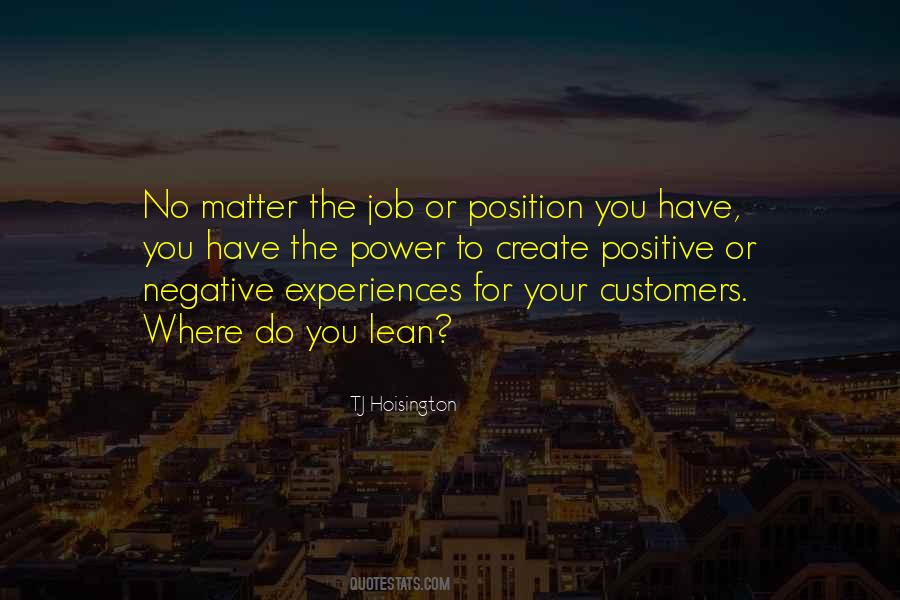 #23. When you accepted your job, you were not chosen solely to fill a position on the organization chart; you were chosen to fill a responsibility. - Author: David Cottrell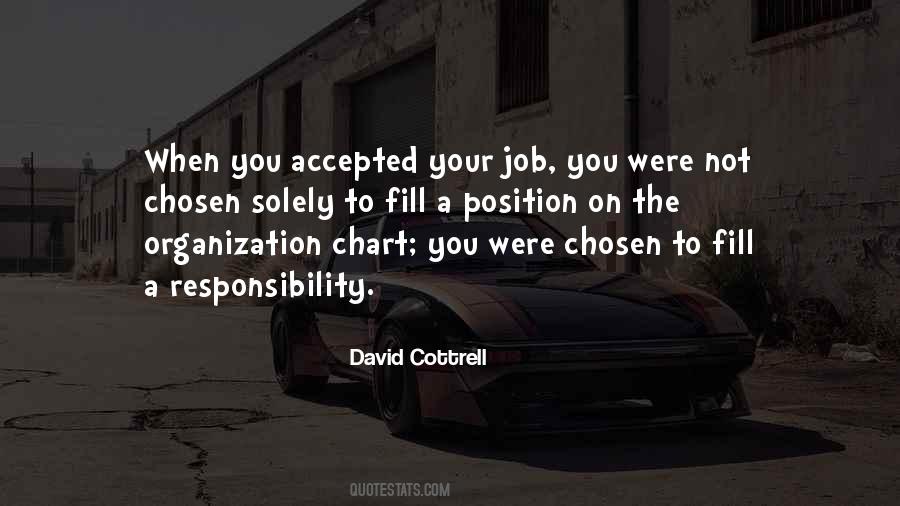 #24. It doesn't matter what job you do or what position you obtain; you will have limits. That's just the way life is. When - Author: John C. Maxwell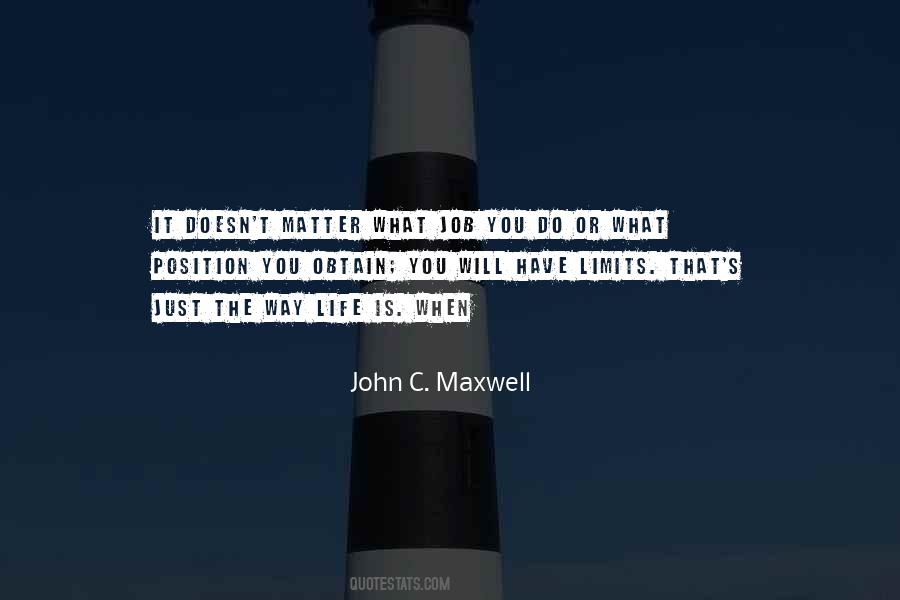 #25. I think that my job is to observe people and the world, and not to judge them. I always hope to position myself away from so-called conclusions. I would like to leave everything wide open to all the possibilities in the world. - Author: Haruki Murakami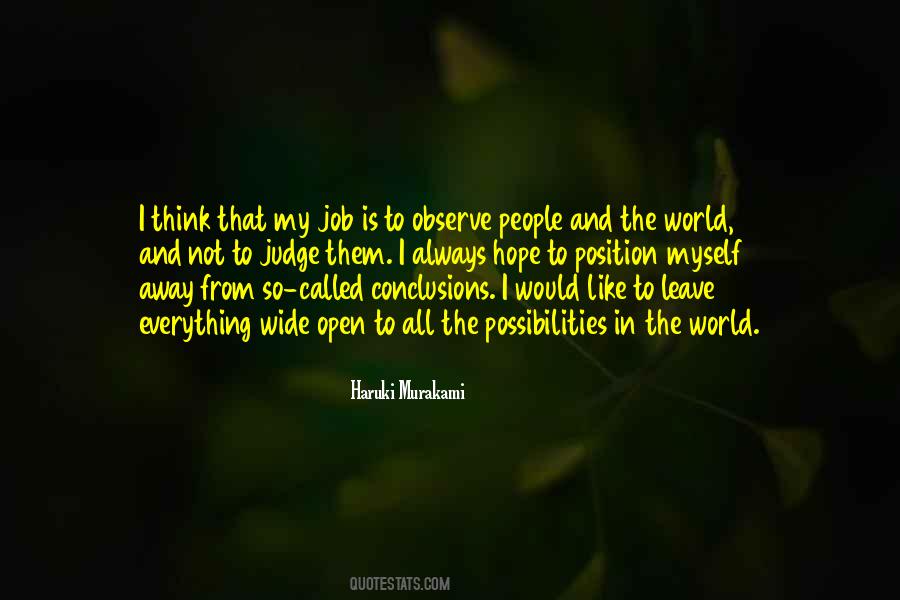 #26. Take bigger leaps. Yes, quit your job if it's holding you back. Put yourself in a position where failure can't be an option. In order to do that, you have to have something that truly moves and motivates you. - Author: Benjamin P. Hardy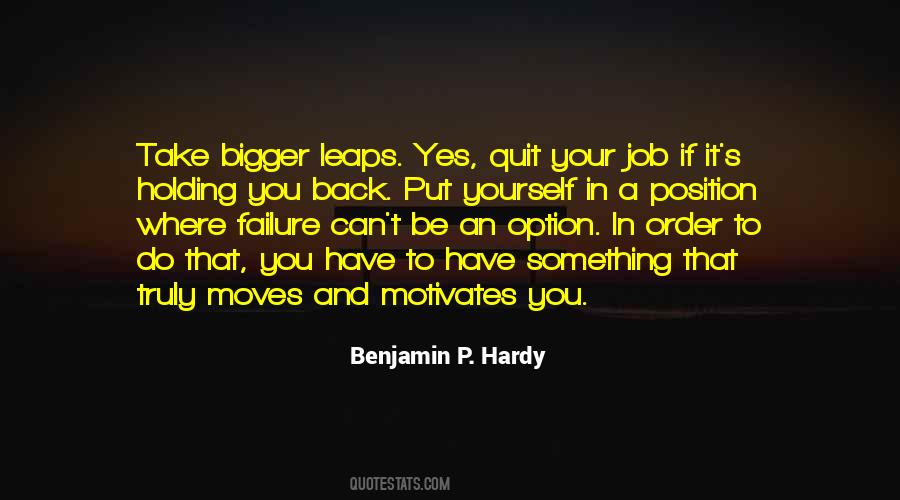 #27. When we're not a party, we sometimes file as amicus, as friend of the court, 25, 30 times a term, sometimes more. And in each of those cases, we've got to decide what position the government's going to take. And that is the solicitor general's job to make that decision. - Author: Donald Verrilli Jr.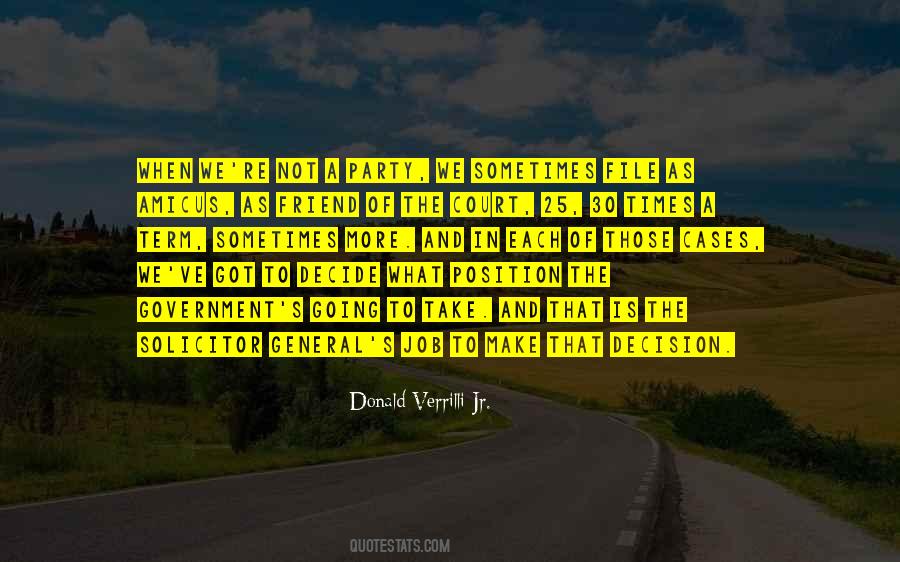 #28. People who are in a position of finding out that they're at risk for some illness, whether it's breast cancer, or heart disease, are afraid to get that information - even though it might be useful to them - because of fears that they'll lose their health insurance or their job. - Author: Francis Collins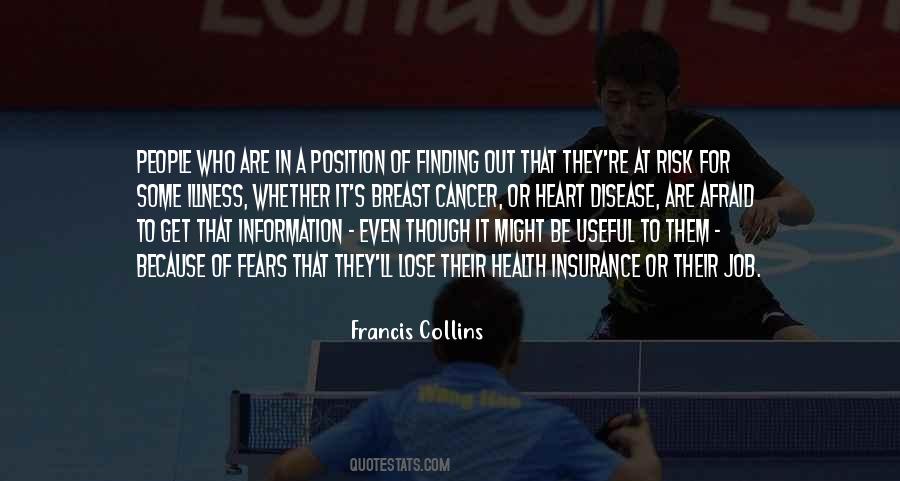 #29. If your position or job is on the liability side of the balance sheet, you can be looked at as a risk rather than an asset to your employer. Another reason to be an entrepreneur. - Chris Lutz, Modular Career Design - Author: Chris Lutz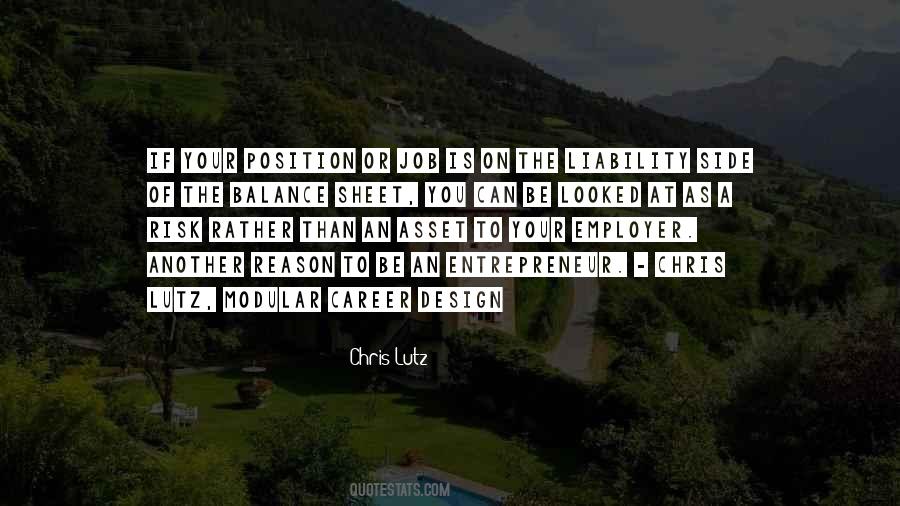 #30. I would like to believe I would not have behaved differently had I not made a term limits pledge, but my own frailties and human desire for prestige and position tell me my term limits pledge did make a difference in how I approached my job in Congress. - Author: Tom Coburn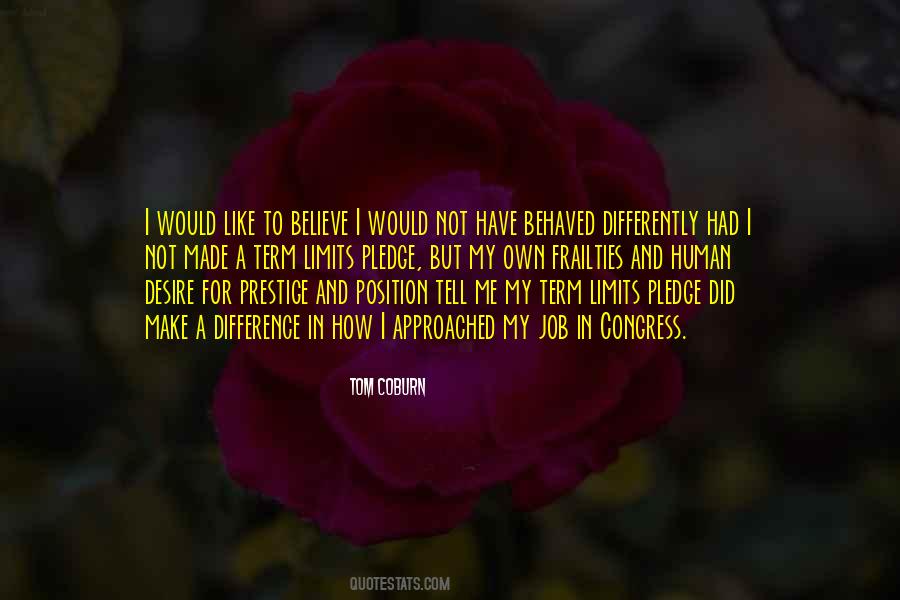 #31. From my point of view, my job is just to work hard for our franchisees, so they can maintain the position they're in, and to grow market share. - Author: Fred DeLuca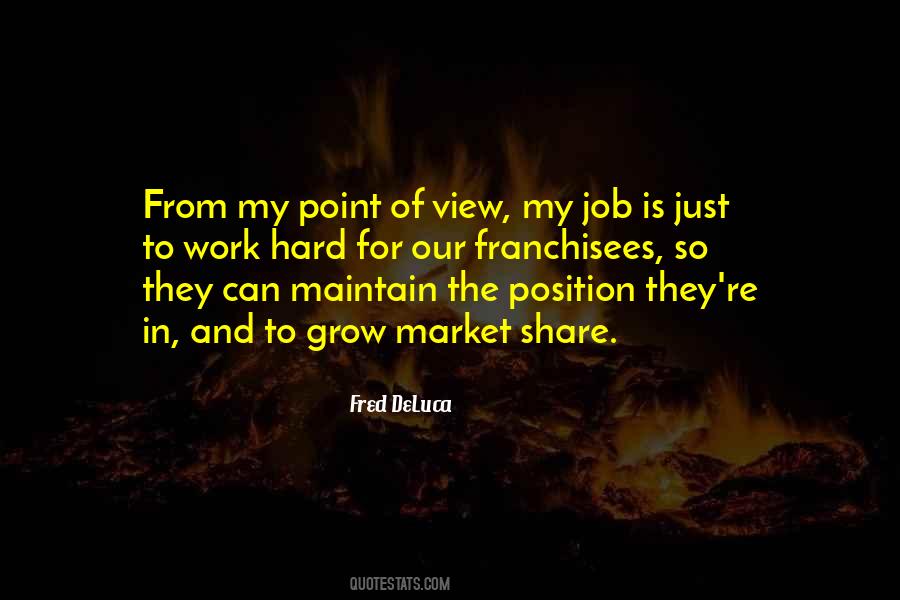 #32. The job of elected leaders is to deliver results that represent the interests of the citizens who placed them in a position of authority with their voice, their vote. But these days, money talks louder. - Author: Mark McKinnon
#33. When interviewing for any job, you of course want to dress appropriately for the position, but you also want to stay true to who you are. - Author: Nina Garcia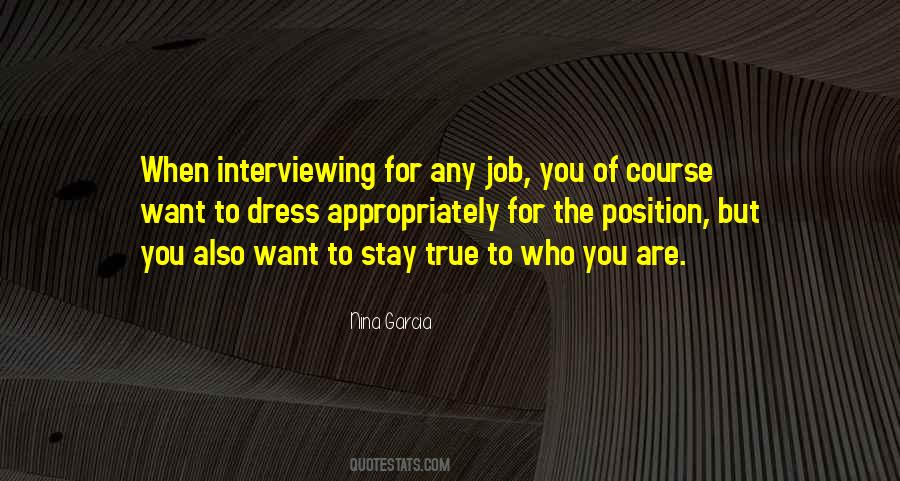 #34. In Japan, a company worker's position is secure. He is retrained for another job if his present job is eliminated by productivity improvement. - Author: W. Edwards Deming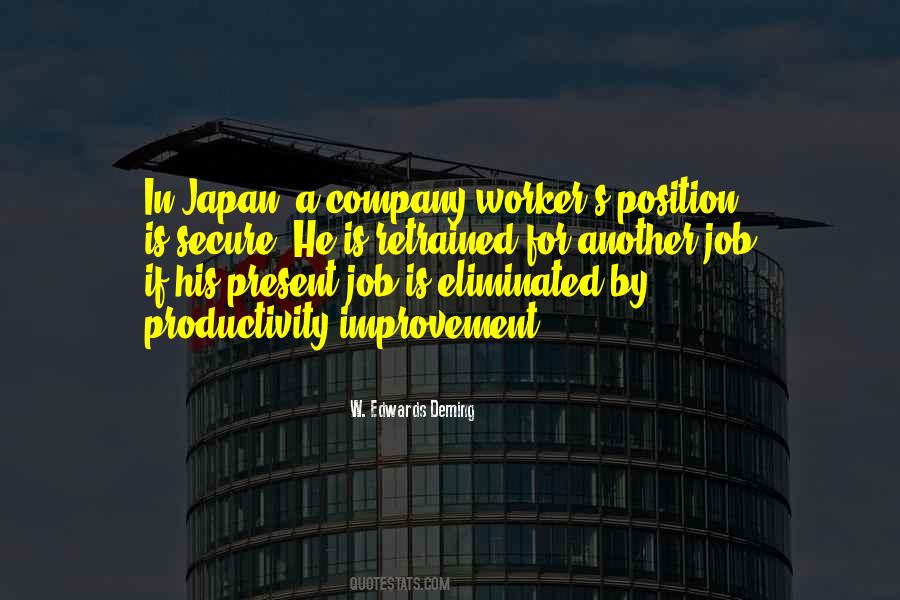 #35. Adrian: "I've made my position clear, Mr. Skerry. It's not my job to protect people from their own stupidity."
Resonator: "And I like to give hand granades to babies ... let's be friends!? - Author: Jesse Hajicek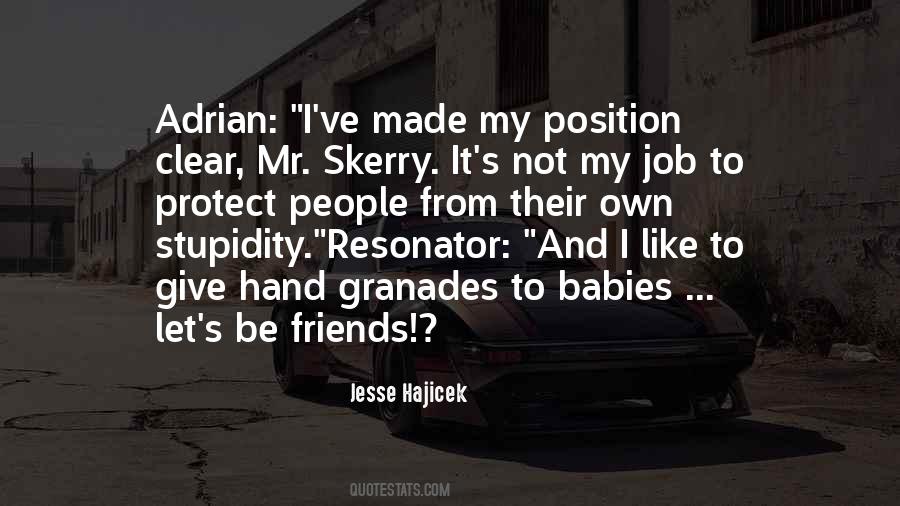 #36. Your Mission starts where you are,
Not where you think you should be.
Sometimes we're tempted to think that our current position/job/situation is a barrier to our mission, but, in fact, it is where it starts. - Author: John Ortberg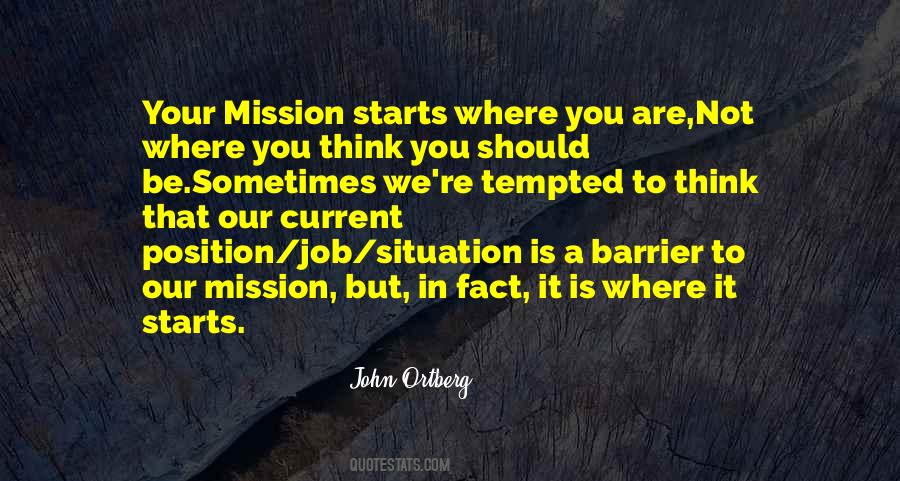 #37. I blinked, pushing myself up into a sitting position. I felt less like a truck had run over me and then backed up to make sure the job was done properly. Now it felt as if the truck had hit me only once. - Author: Alyxandra Harvey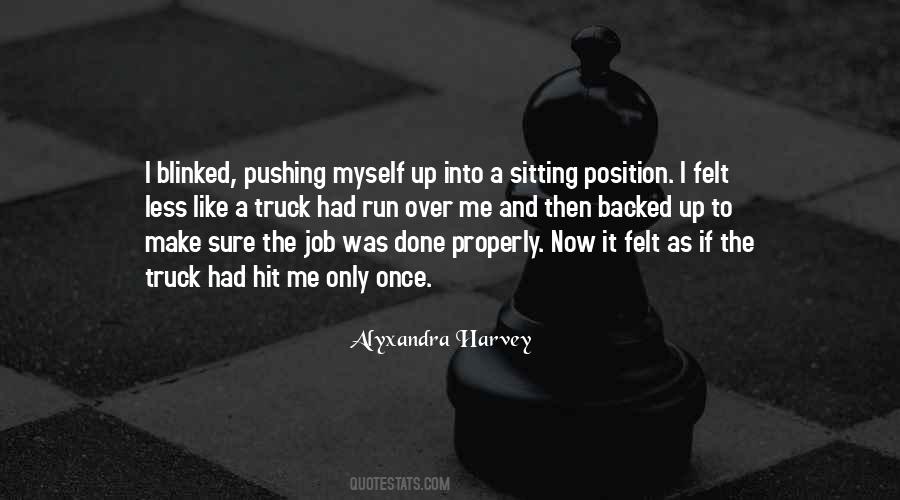 #38. It's a very tough job to host a show and a very tough job to produce a show, and you're in a no-win position. - Author: Neil Meron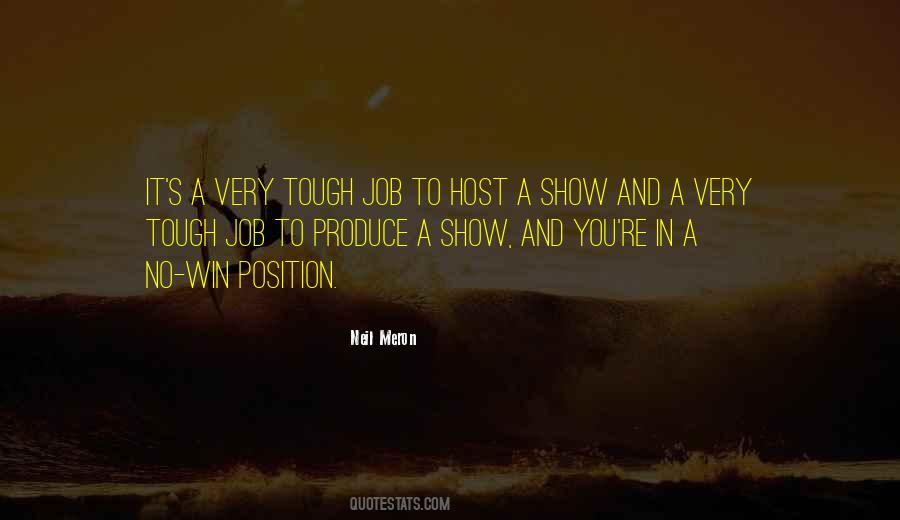 #39. My position on immigration has been clear for a long time. I believe the federal government ought to do their job. You know, secure our borders. Come up with an immigration policy that Americans understand and people who want to come to this country understand. - Author: Rick Scott
#40. We all have a divine light within us," Hayes says, breaking the moment, his hands in a prayer position at the center of his chest. "But it's our job to seek that divine light and let it shine. To take what's on the inside and show it on the outside. It is the only way to true enlightenment." As - Author: Rebekah Crane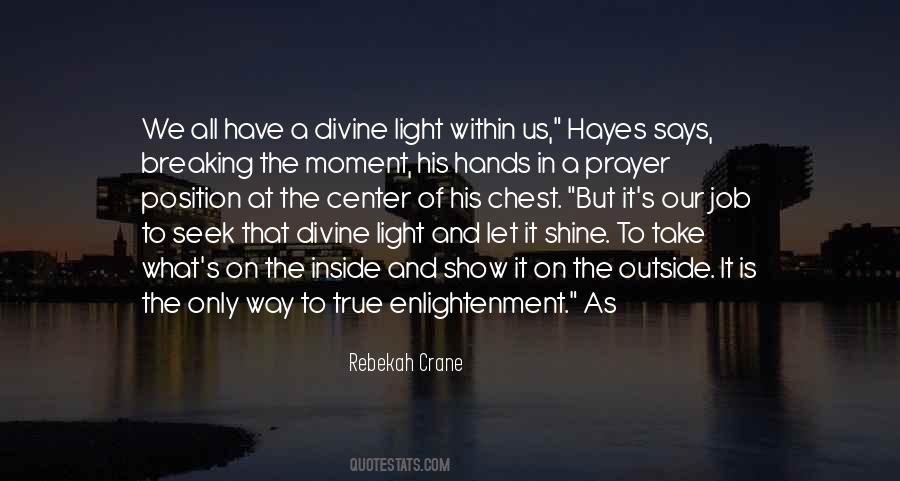 #41. As far as work goes, maybe instead of changing jobs, I should be changing the way I am doing my job. I'd probably have a better position by now if I did. - Author: Spencer Johnson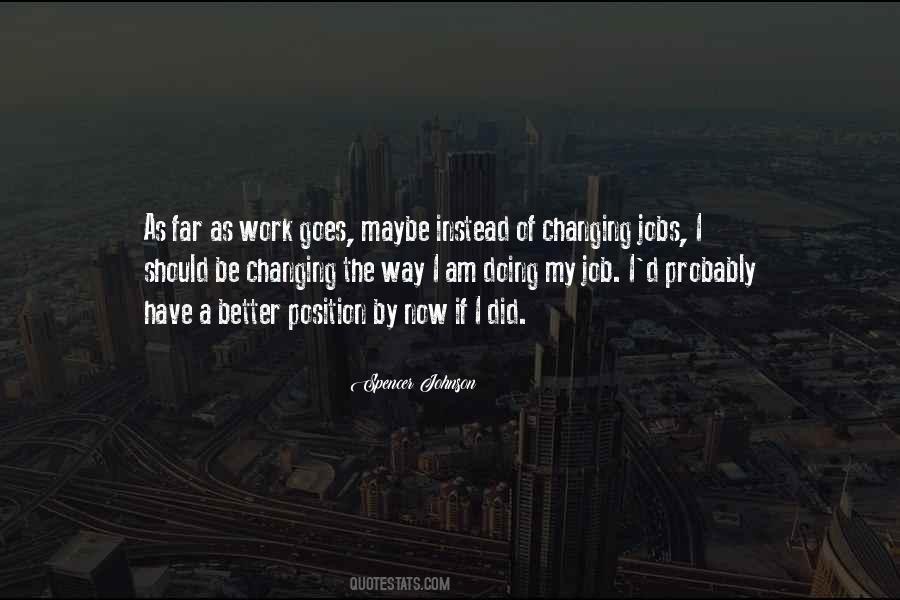 #42. You should never be so involved with your position/job that when the position is gone your entire self image is gone with it. - Author: Colin Powell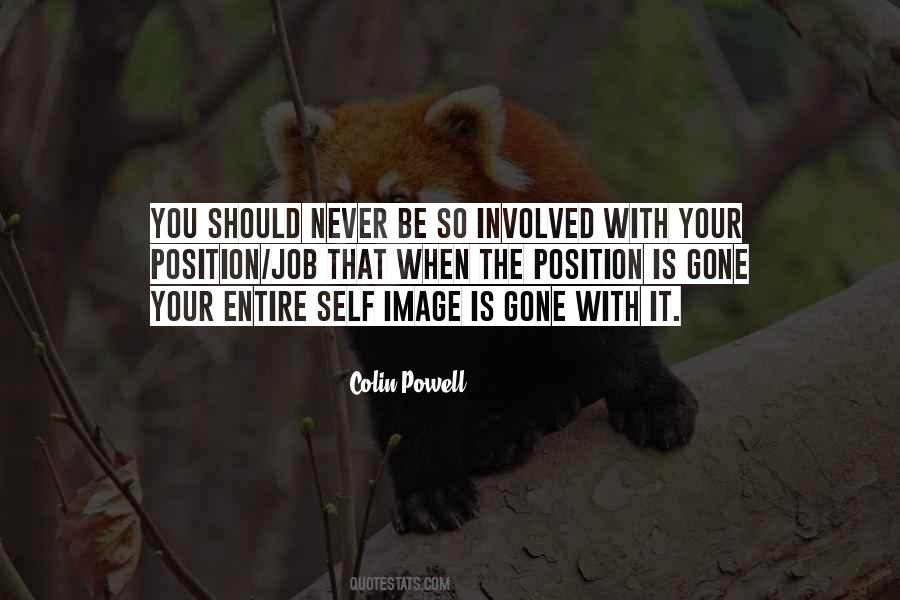 #43. Being a movie star is a rare job. Nobody gives you any guarantees that you'll get to do it forever. It's a very lucky and privileged position to be in. - Author: Diane Keaton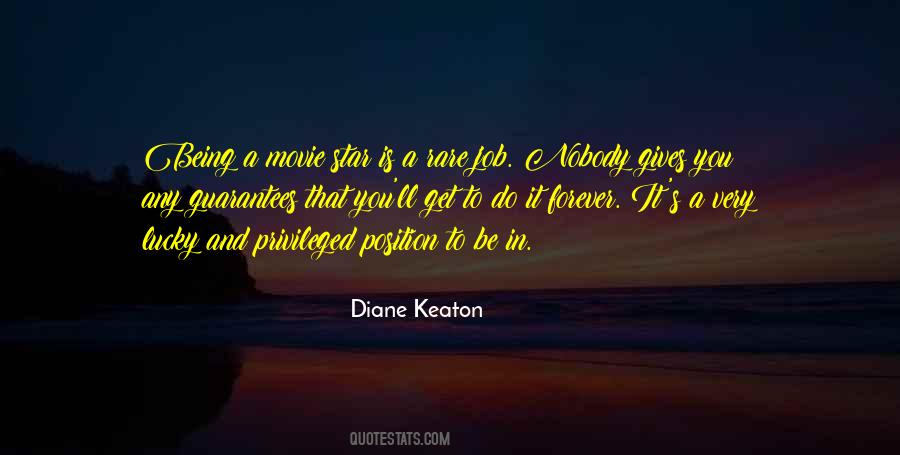 #44. My position is that it isn't government's job to mandate patriotism. To me, mandating a pledge of allegiance to a government is something Saddam Hussein would do. - Author: Jesse Ventura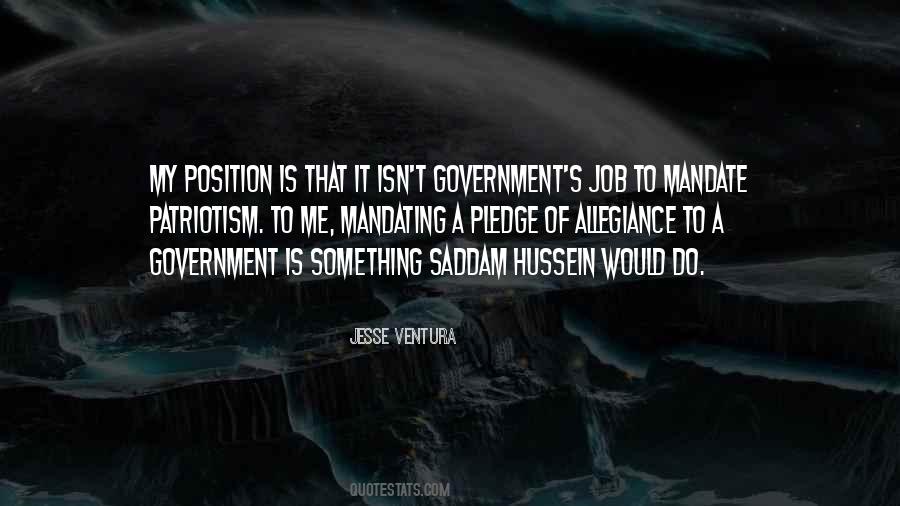 #45. I'm really comfortable in a stressful, leadership position. I need this job. I need to do this. This fits my personality. This is the best thing for me, short of playing. - Author: Avery Johnson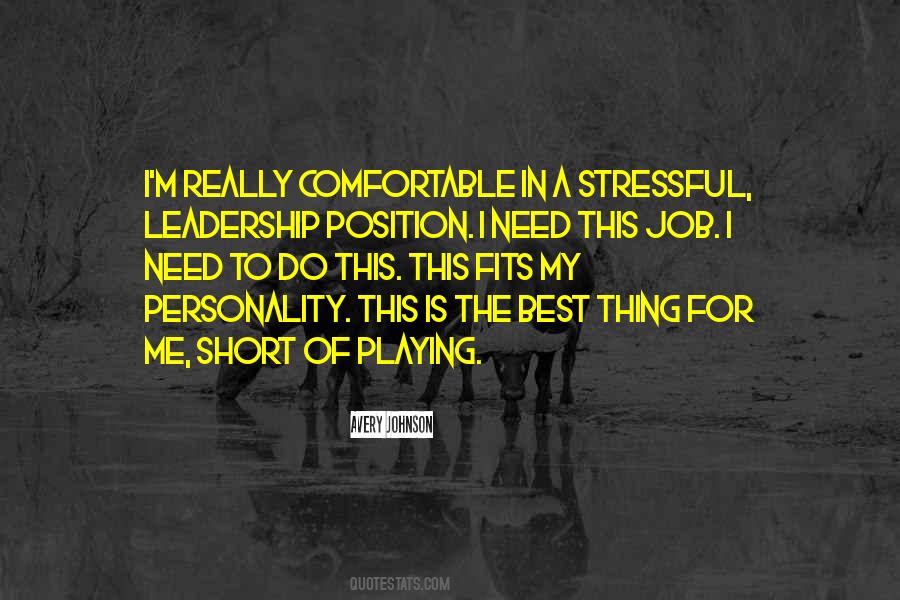 #46. It is only when there is the supervision and critical oversight from the people that the government will be in a position to do an even better job, and employees of government departments will be the true public servants of the people. - Author: Wen Jiabao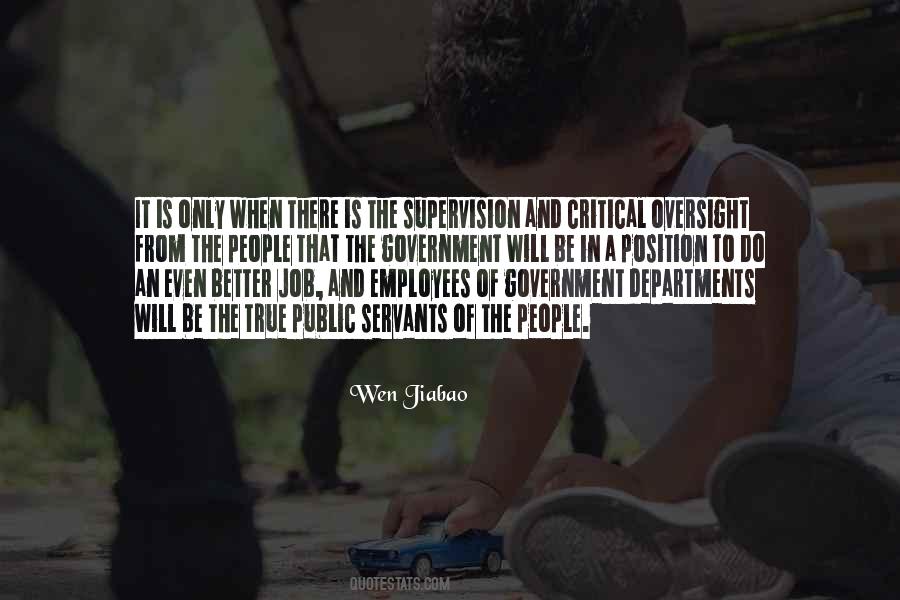 #47. I can't believe they even bothered filling that faculty position again. They might as well rename the class Defense Against the Dark Arts. I mean, seriously, who would answer an ad for this job? - Author: Rachel Vincent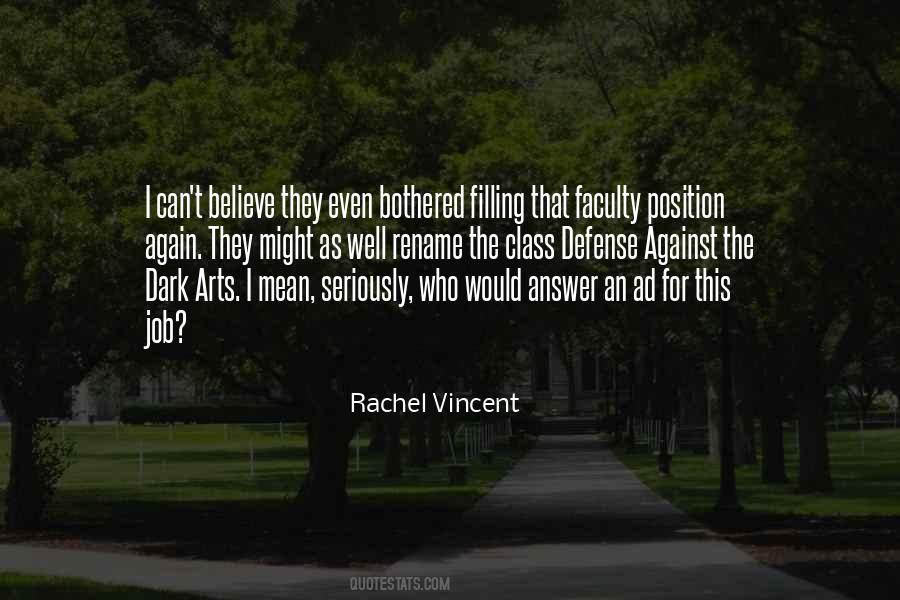 #48. Reason is not one tool of thought among many, it is the entire toolbox. To advocate that reason be discarded in some circumstances is to advocate that thinking be discarded - which leaves one in the position of attempting to do a job after throwing away the required instrument. - Author: George H. Smith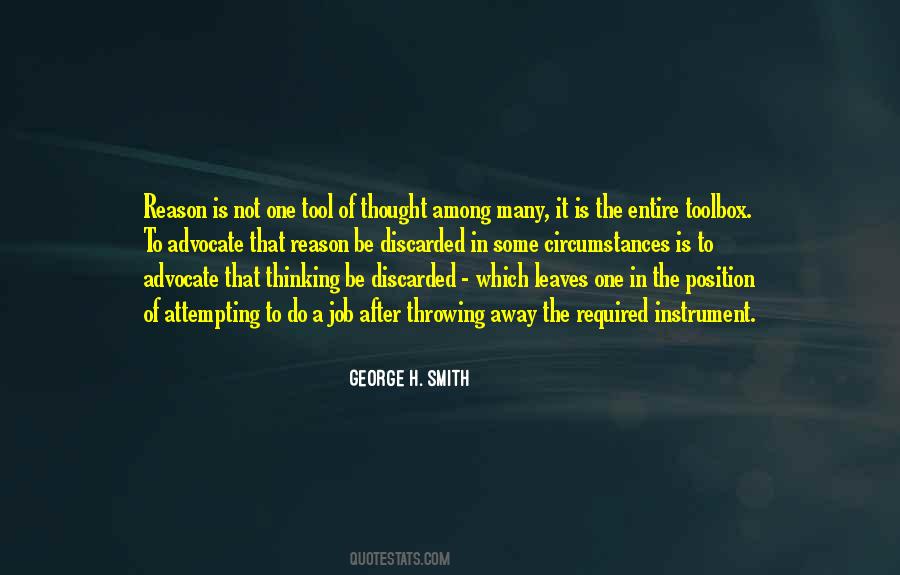 #49. I have great respect for the Taiwanese. They have done an extraordinary job. But it was not a sustainable position to say that the legitimate government of China resides in Taiwan, which at that time didn't have much contact with the mainland. - Author: Henry A. Kissinger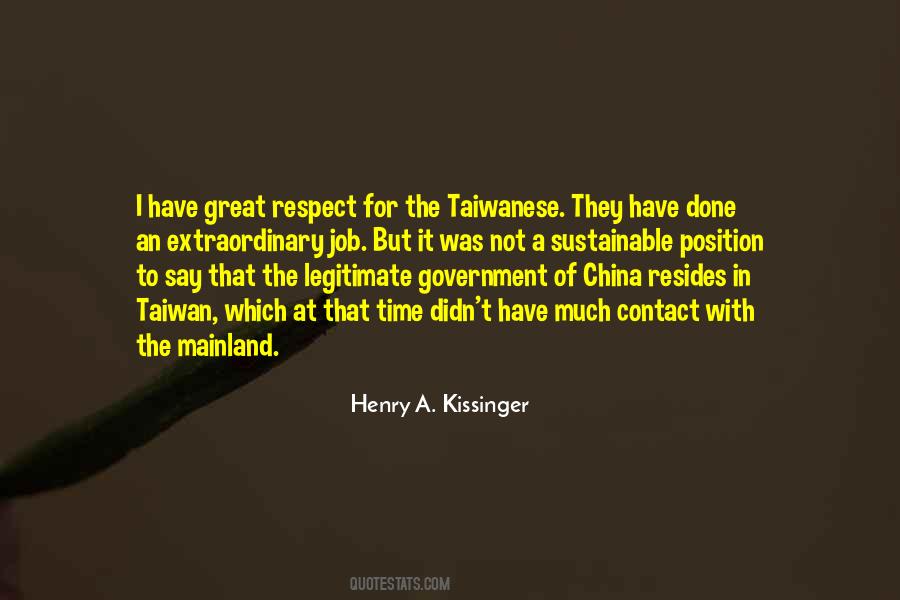 #50. My first job was to run a concessions cart. Later, I found a position at the Pacific Film Archive. Thus began a long series of jobs, each one slightly better than the last, that continued for a decade, until I sold my first novel, and still goes on, even now. - Author: Mona Simpson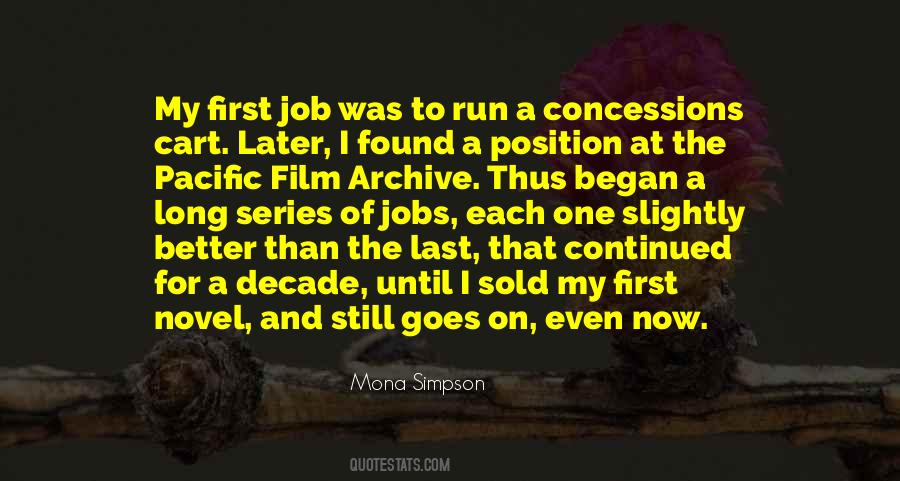 #51. I need to develop a car and engineer a car in a position that feels comfortable for me, and I don't think anyone can do a better job than I can in that position. The problem for me is if I can't get the car there I do struggle more than some. - Author: Jenson Button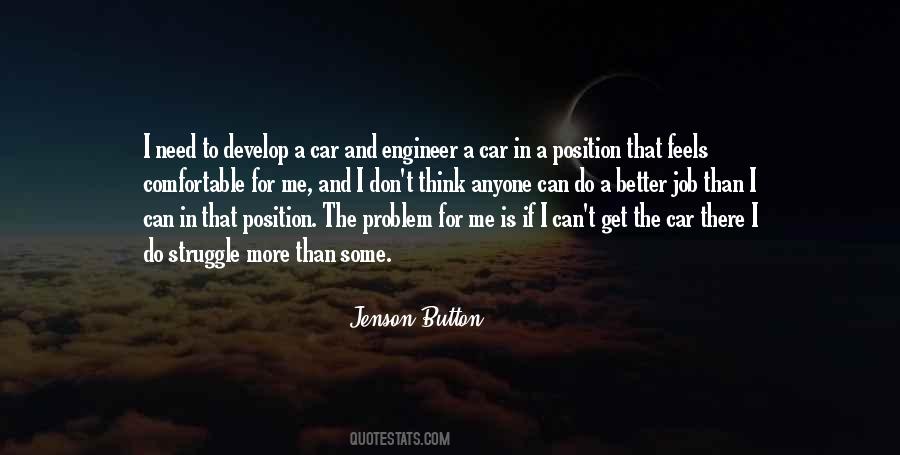 #52. Often, the pressure of the business and fear of having an open position encourages us to hire people who are either not right for the job or not ready to take on the responsibility. - Author: Maureen Chiquet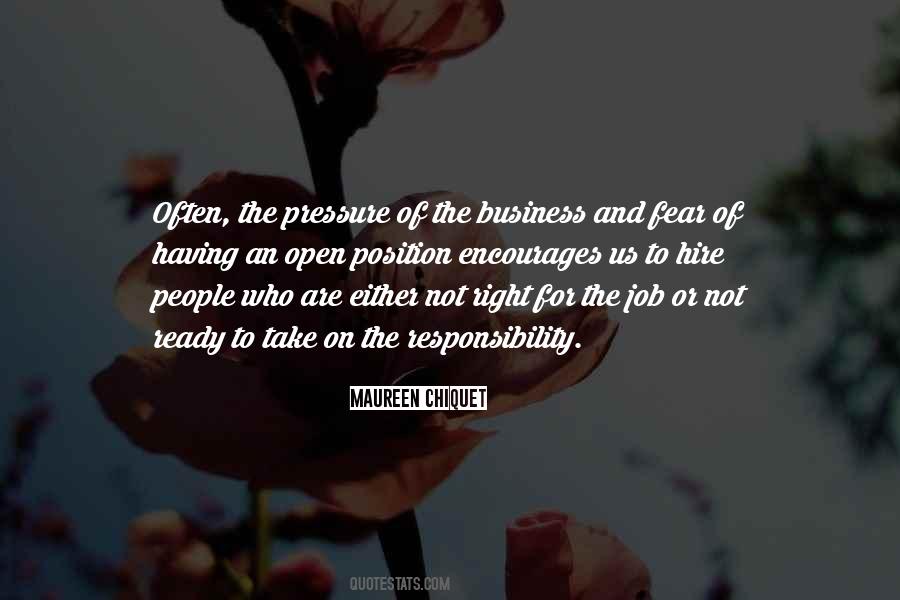 #53. A fast food job, for most people, should be an entry level position. If you see no path for advancement beyond that, it's time to take a real fast look at your human capital and learn a skill that will make you more money. - Author: William J. Bernstein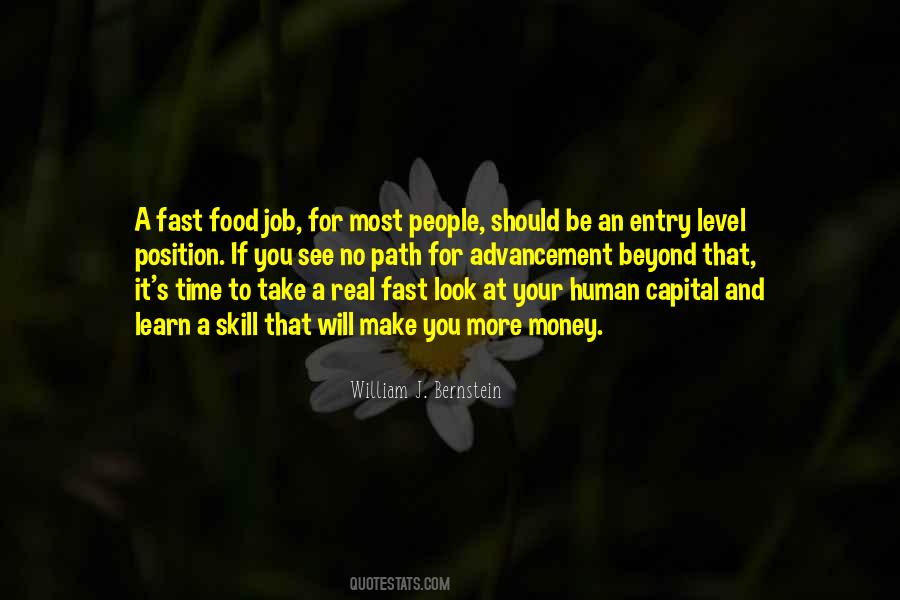 #54. I did something a lot of people will have to do in this economy if they want to eventually land their dream job. I turned down an offer to take a high-paying position in another field because it wouldn't fulfill me. - Author: Mika Brzezinski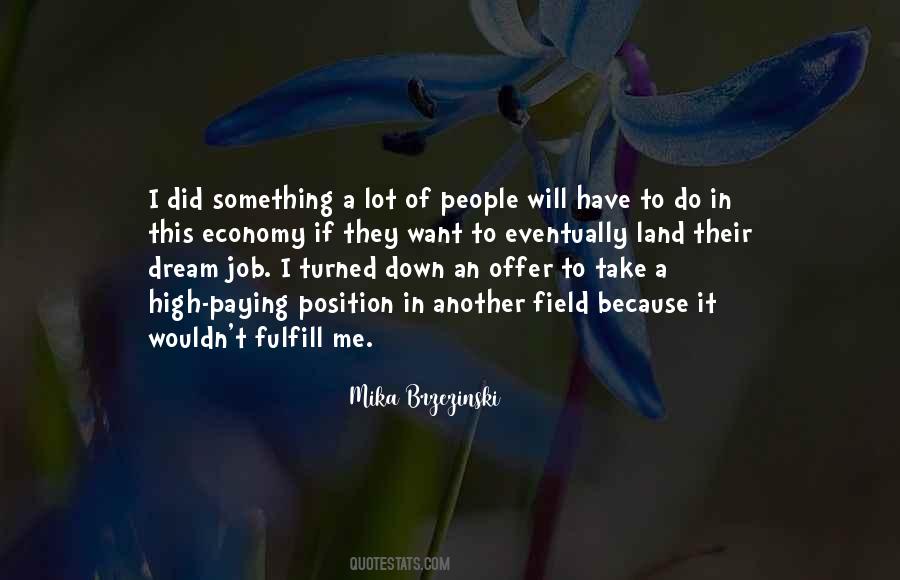 #55. I've been fortunate to be short my entire life. There's only one position I've ever had to play, and that's point guard. So I've always had to be that leader. And that was my job: you know, to talk. - Author: Chris Paul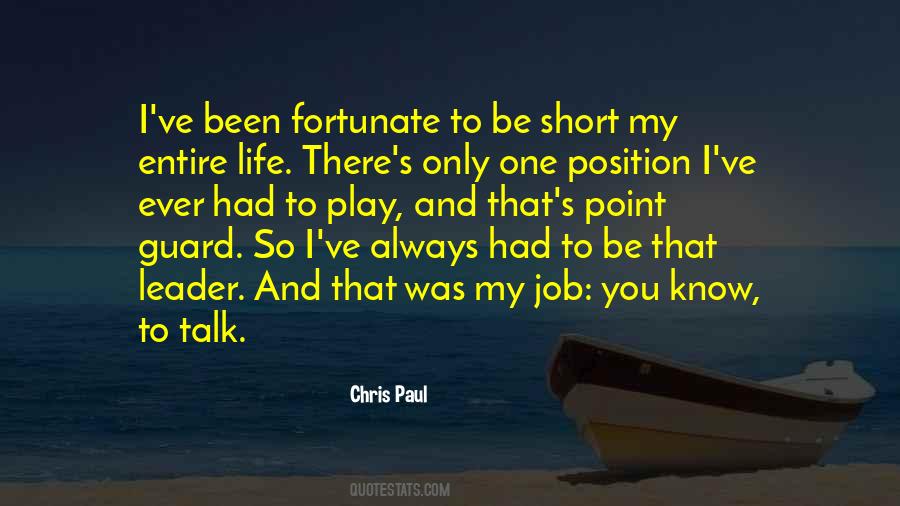 #56. I'm in the very fortunate position as a young actor to not have to take the first job that comes along. I'm not motivated by money at this stage in my life, I'm motivated by work. - Author: Martin Compston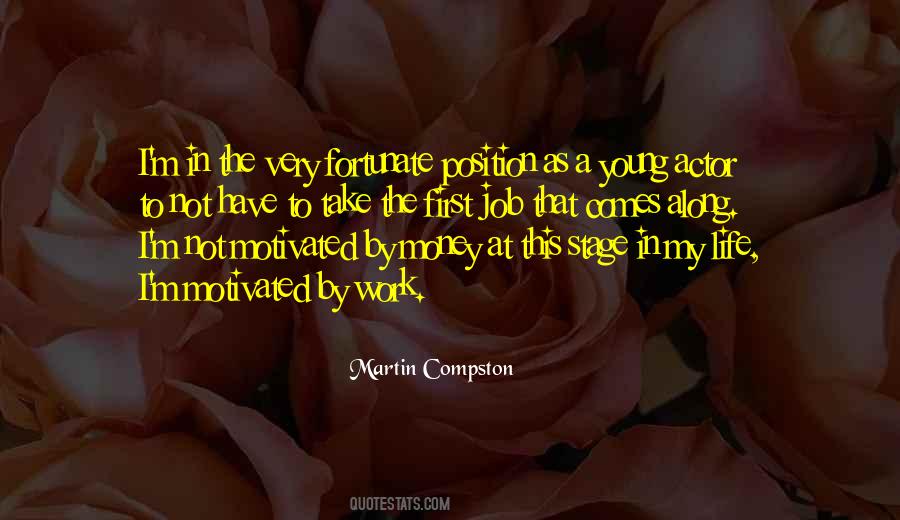 #57. This teaching job did not pay a lot of money, because, let's face it, nobody gives a flying fuck about education, but it was a temporary position. - Author: Daniel Handler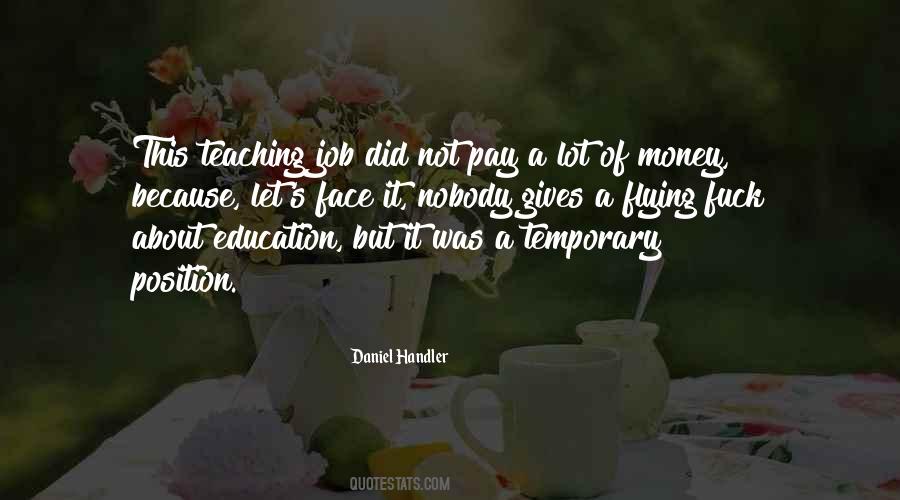 #58. I have been ... moved to wonder whether my job is a job or a racket, whether economists, and particularly economic theorists, may not be in the position that Cicero, citing Cato, ascribed to the augurs of Rome-that they should cover their faces or burst into laugher when they met on the street. - Author: Frank Knight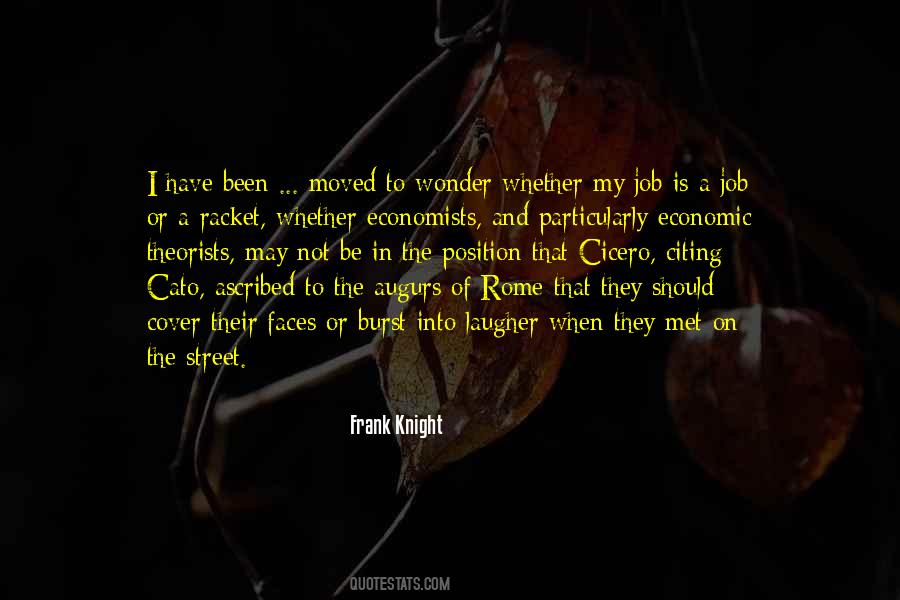 #59. Chief security officer on an OPA ship was a half-assed kind of position, one part cop, one part efficiency expert, and pretty much all den mother to a crew of a thousand people with their own agendas and petty power struggles and opinions on how he should be doing his job better. - Author: James S.A. Corey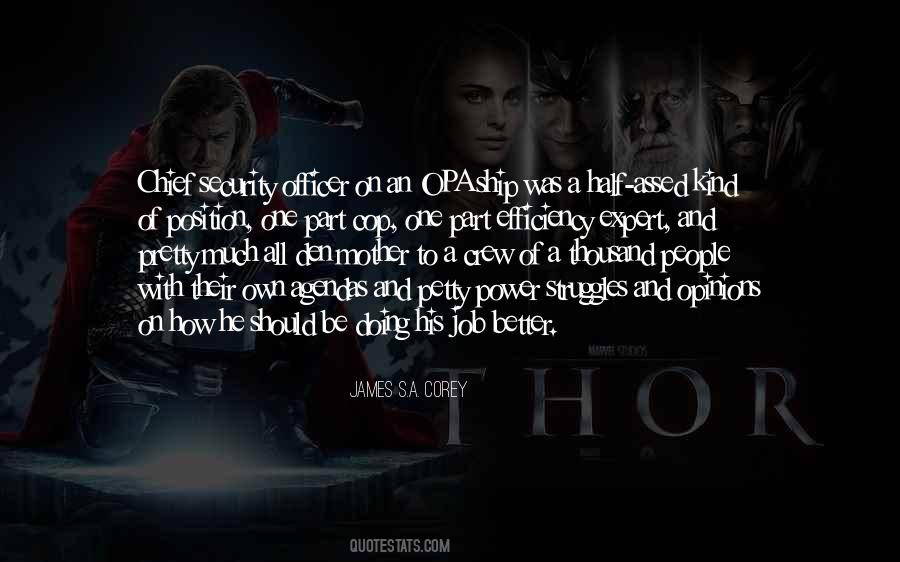 #60. Jay Townsend has offered, and I have accepted, his resignation from his position with my campaign. Now let's return to talking about issues that really matter to families: job creation, spending restraint and economic development. - Author: Nan Hayworth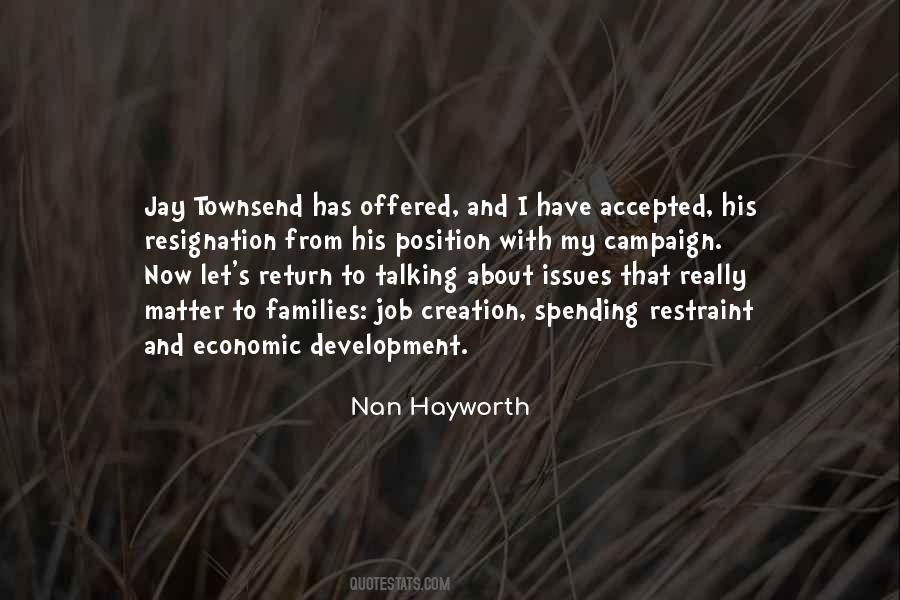 #61. She was in a difficult position being the widow of a great American hero, a role that carried high expectations but she did a credible job of continuing Dr King's dream especially in the face of a changing and often hostile American public. - Author: Morris Dees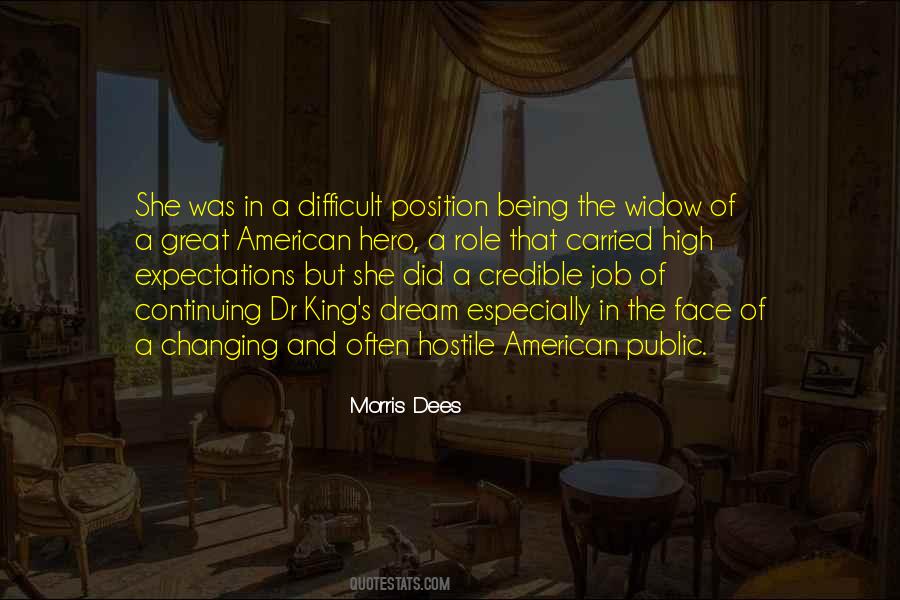 #62. Most people who want to get ahead do it backward. They think, 'I'll get a bigger job, then I'll learn how to be a leader.' But showing leadership skill is how you get the bigger job in the first place. Leadership isn't a position, it's a process. - Author: John C. Maxwell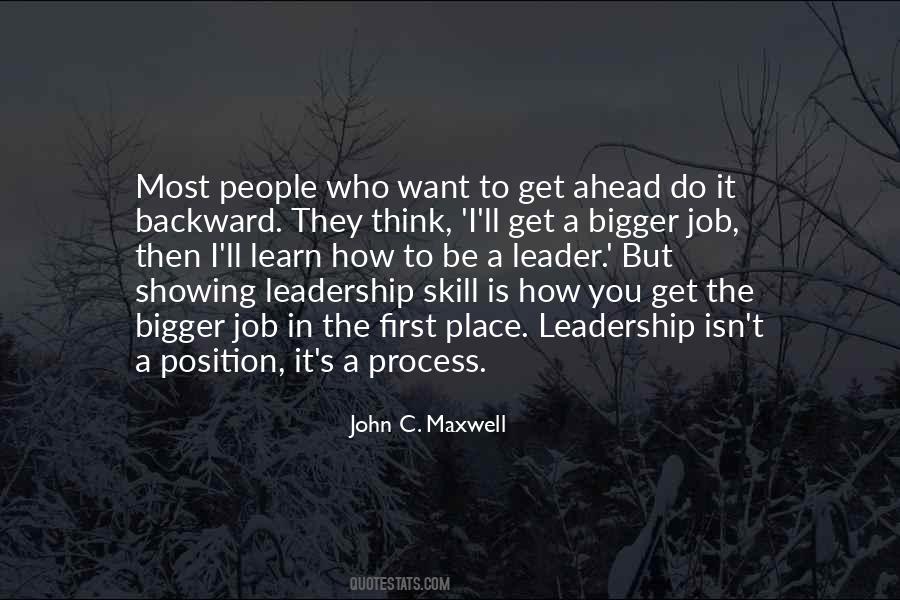 #63. Come right out and say you want it: It's been great hearing you talk about the position. I'd love to work here, and I think I could do a terrific job for you. - Author: Kate White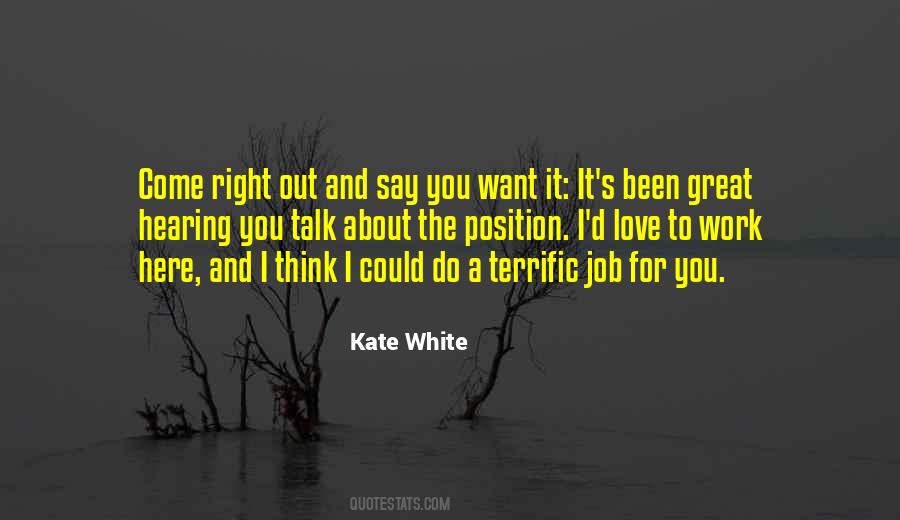 #64. If you accept the position of governor, part of your job is to make sure all your people have a decent shot at making something good out of their lives. - Author: Timothy Zahn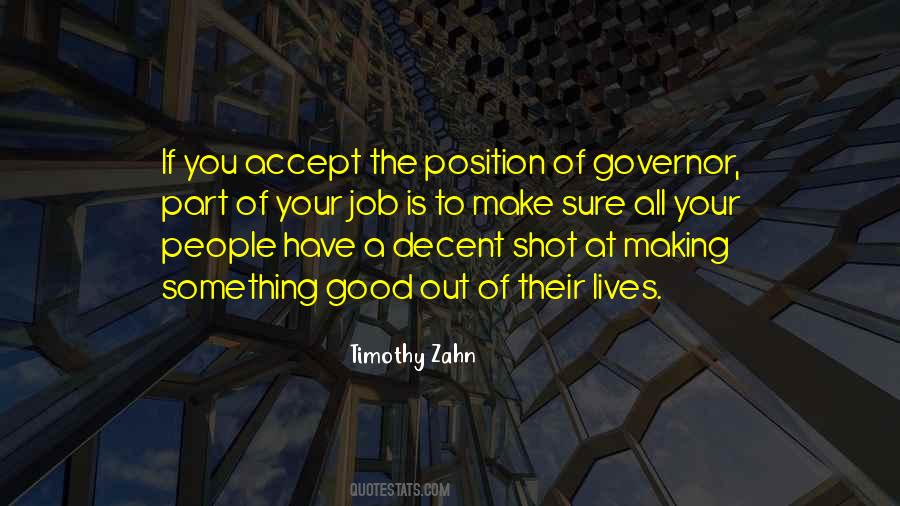 #65. The job of the poet (a job which can't be learned) consists of placing those objects of the visible world which have become invisible due to the glue of habit, in an unusual position which strikes the soul and gives them a tragic force. - Author: Jean Cocteau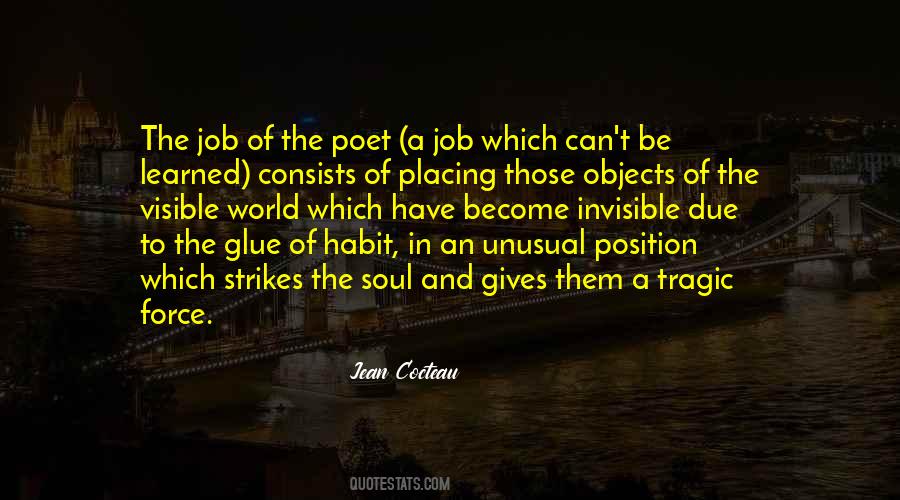 #66. Page one of the script, I launch into, "How would I feel if I were in this position?" That's an actor's job. - Author: Dermot Mulroney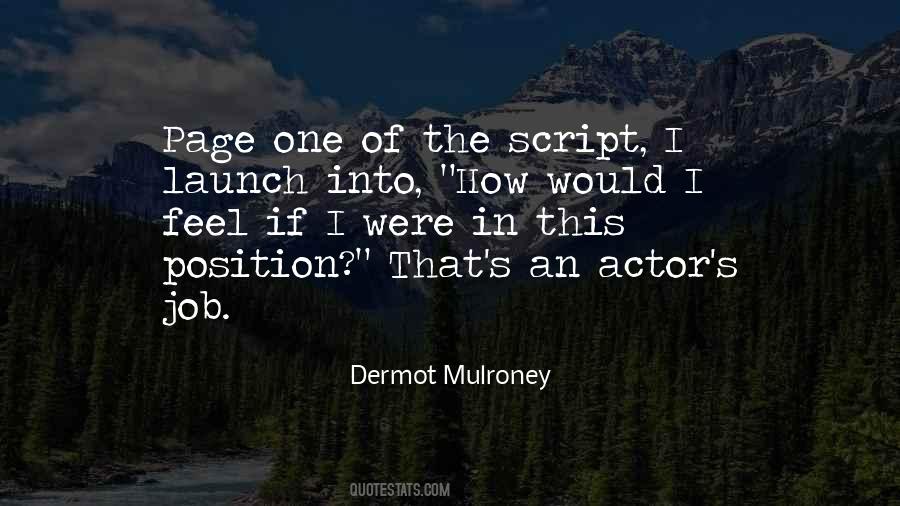 #67. The position was offered at the last minute, when the scheduled professor found a better-paying job delivering pizza. - Author: David Sedaris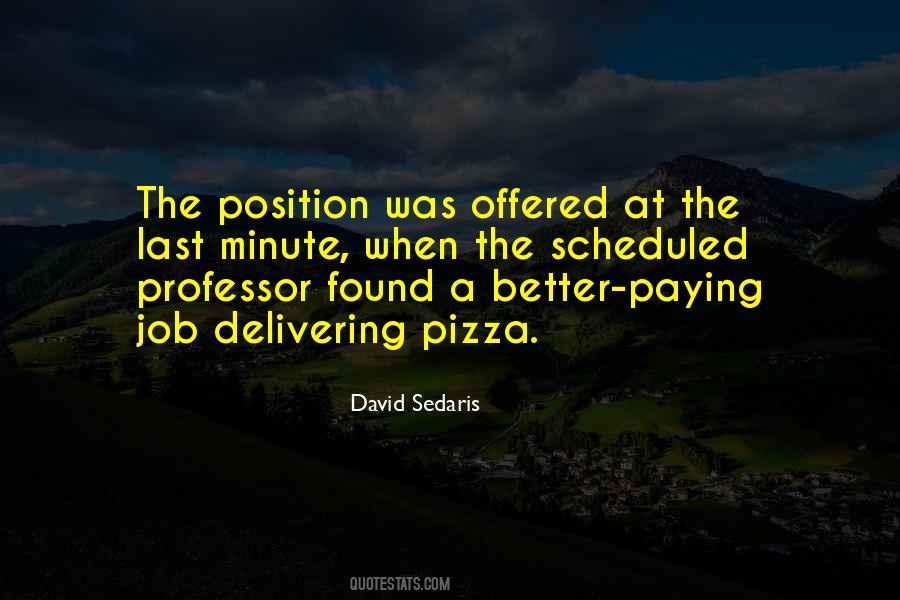 #68. Many people confuse a Dom personality with a Dom's position of authority. The two are not exactly the same or interchangeable. A true Dom dominates. Plain and simple. And by dominate, we mean does what it takes to get a job done. Even if that means submit. - Author: Lucian Bane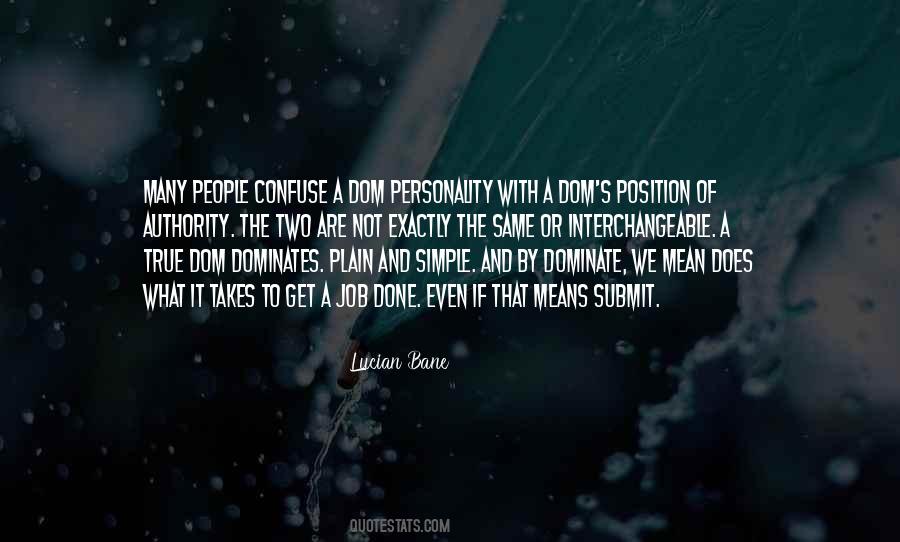 #69. Your LinkedIn profile should leave no room for doubt about the kind of job you're looking for and why you're the best person for that position. - Author: Melanie Pinola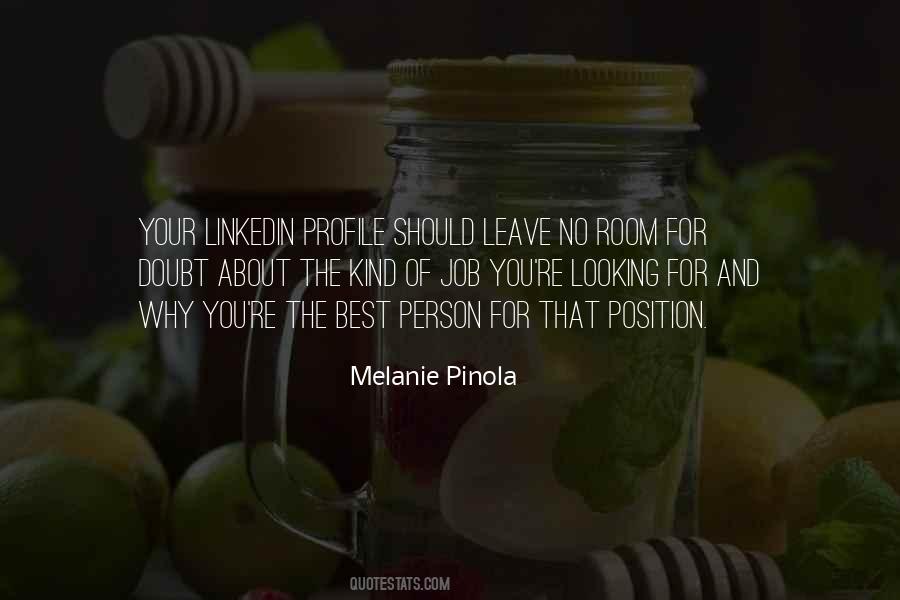 #70. When you are on the ground, only one of you two can be comfortable at any one time. Either you are comfortable or the opponent is. Your job is to transfer the comfortable from him to you in every position - Author: Rickson Gracie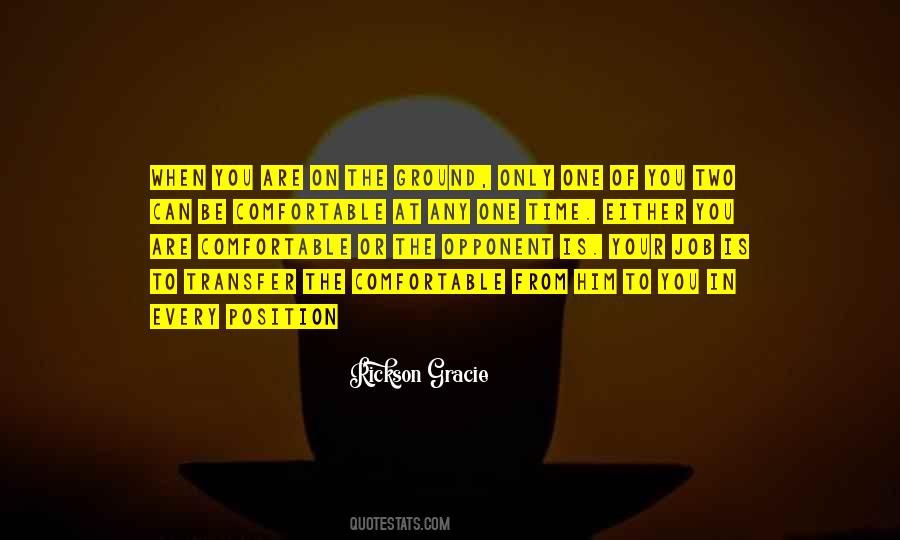 #71. I play in a position that demands hard work and generosity and little glamour, but I like it. It's my job and I like it. I would rather intercept and steal 10 balls than shoot. That's what I'm here for, to make everyone else's jobs easier. - Author: Sergio Busquets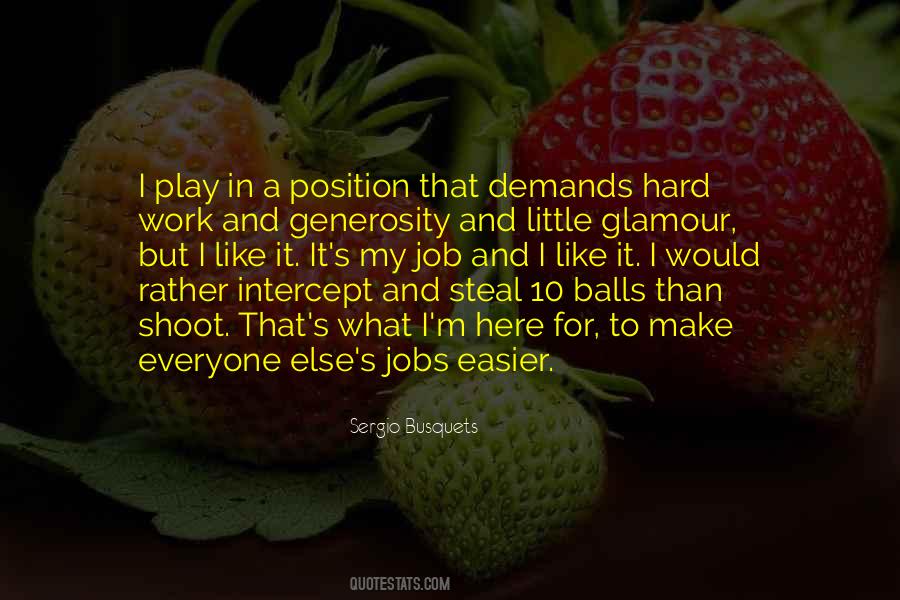 #72. Did you ever stop and ask God if your current position is the one He has chosen for you, if where you are now is where He wants you to be? It makes no difference what the salary or working conditions are like; what really matters is, has God called you to that job and place? - Author: Terry Nance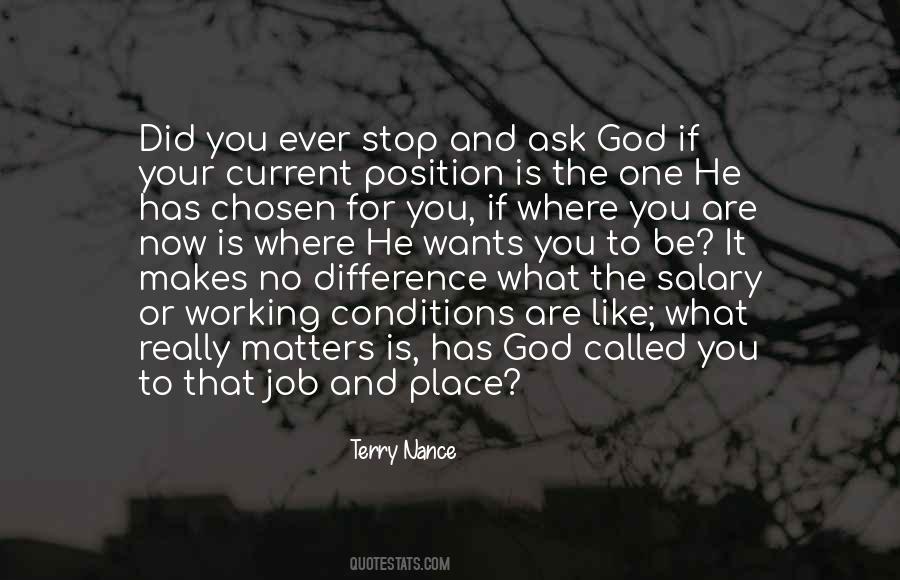 #73. There's a lot of criticism in this job and what we do. It's in front of everybody and for everybody to have their own opinion about what we do. Don't be in this position if you can't handle that criticism. - Author: Holly Holm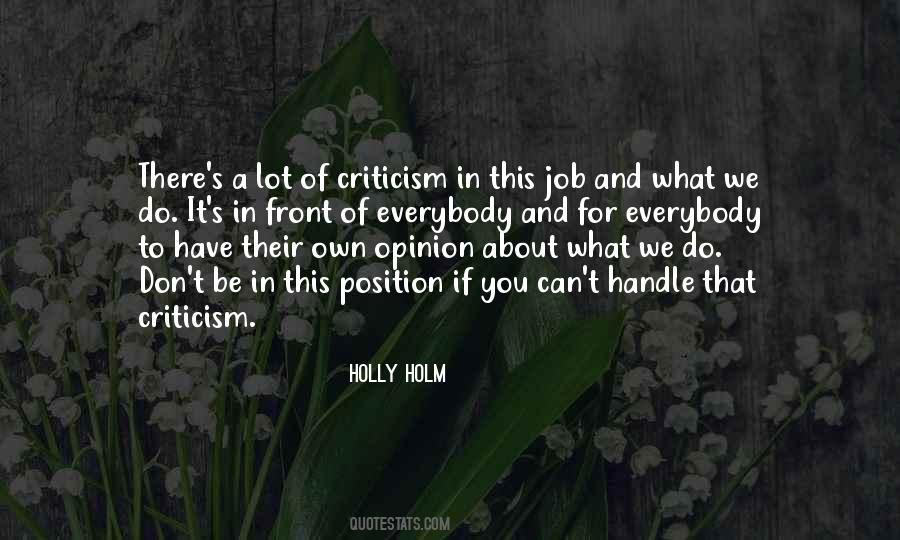 #74. One of the most common mistakes for an entry-level job interview is to take the position: 'What is this job going to do for me?' You should be saying 'Here's what I can do and here's what I want to do to help you.' - Author: Norah O'Donnell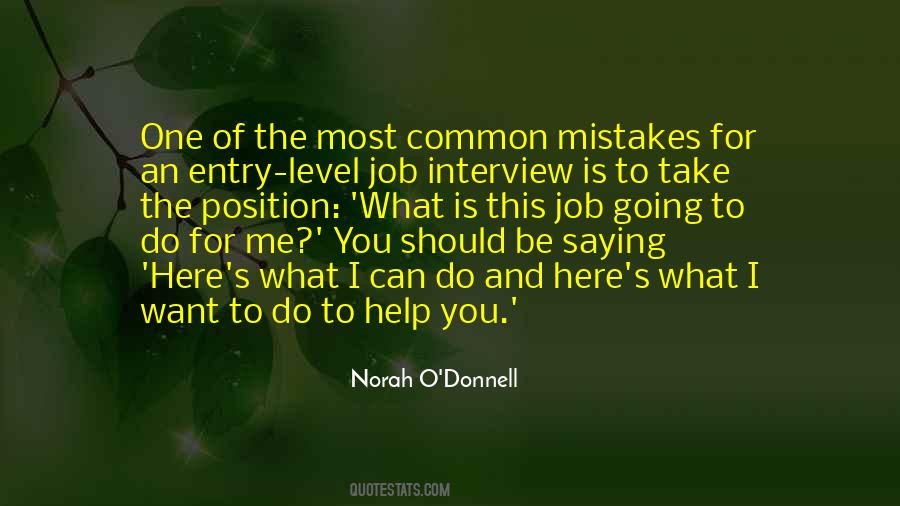 #75. When you make the decision to start something new, first figure out the jobs you want to do. Then position yourself to play where no one else is playing. - Author: Whitney Johnson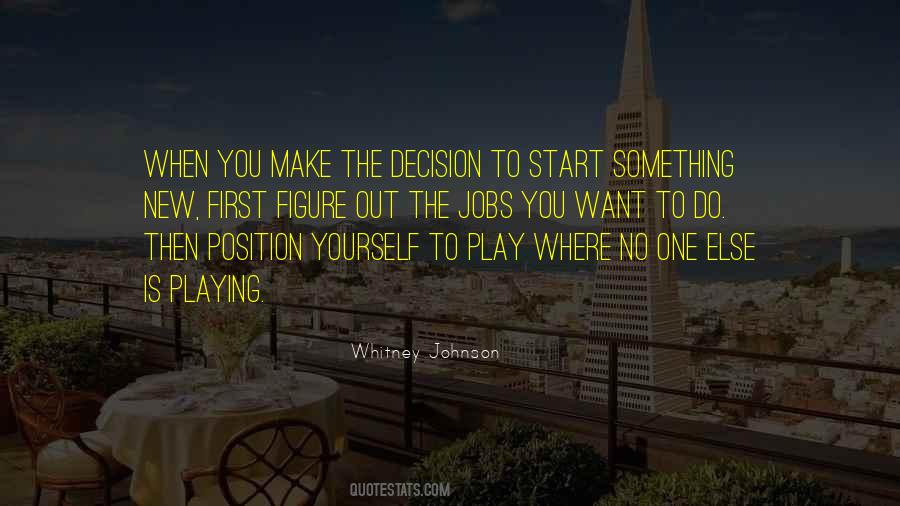 #76. Do I ever get tired of being the first female everything? Not really, I just happened to be in a position where the job that I wanted was not really there for me. I had to create an opportunity instead of waiting for an opportunity. - Author: Ronda Rousey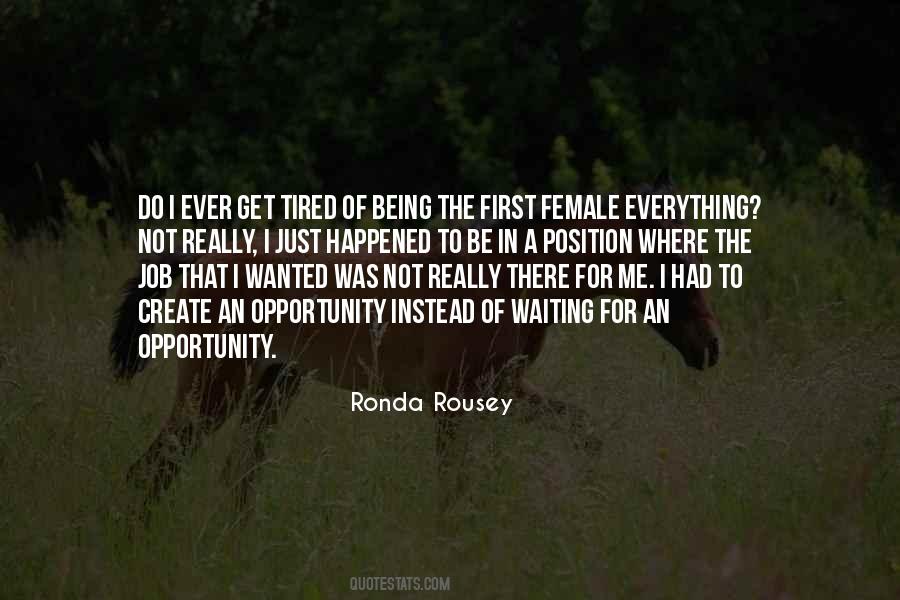 Famous Authors
Popular Topics