It Is Time For Change Famous Quotes & Sayings
List of top 100 famous quotes and sayings about it is time for change to read and share with friends on your Facebook, Twitter, blogs.
Top 100 It Is Time For Change Quotes
#1. President Bush said it's now time for a change in Iraq and he wants them to have a Western-style democracy like ours. So right now in Iraq, the economy is collapsing, businessmen are corrupt, and Hussein wants his son to take over as president. Sounds like mission accomplished. - Author: Jay Leno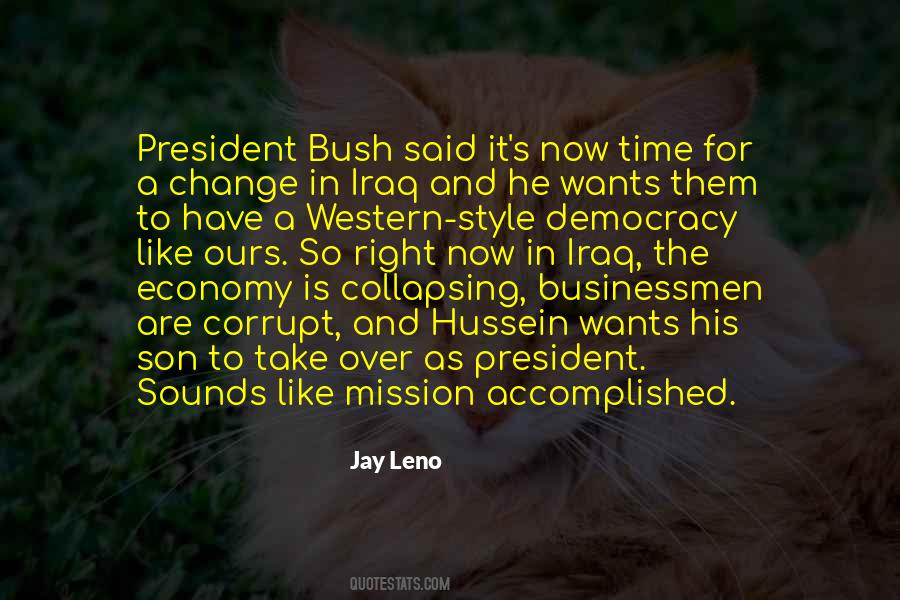 #2. I can say for the first time that I am not afraid, and while this is a feeling that can undoubtedly change with time, I feel cradled by this universe and the immense love that comes from it. - Author: Andrew McMahon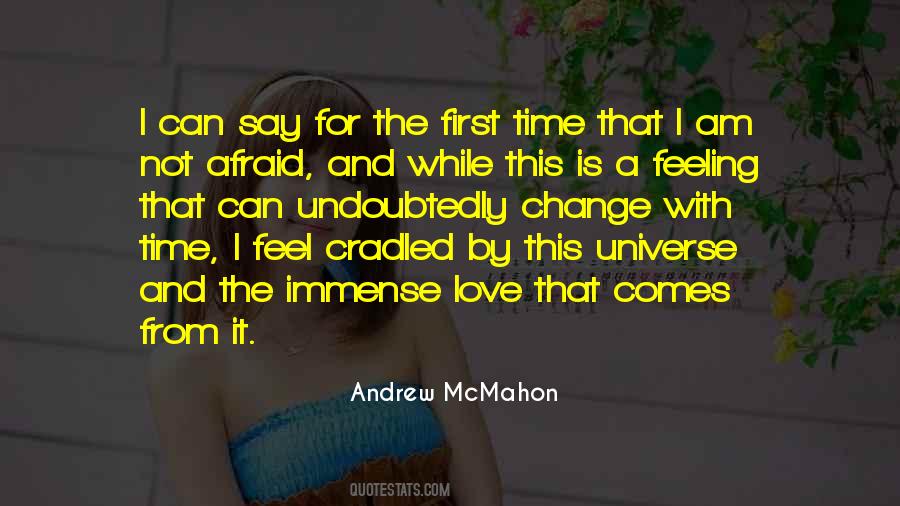 #3. I have enjoyed anchoring at 'Headline News' but have decided that it is time for me to make a change in my daily professional life. - Author: Andrea Thompson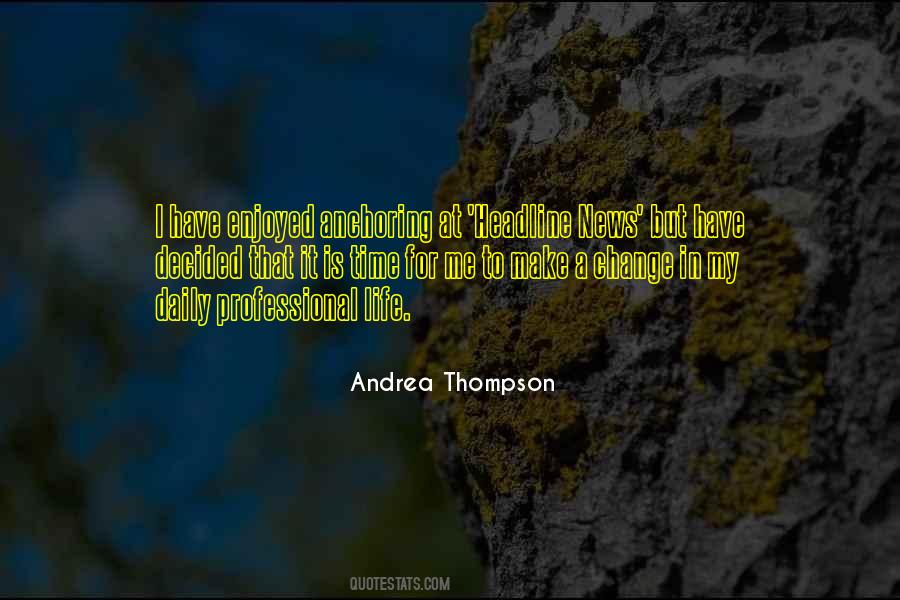 #4. Change is a pesky notion. For many folks, the biggest challenge in changing their eating habits isn't money, time, or education; it's reframing their connection between food and love. - Author: Kris Carr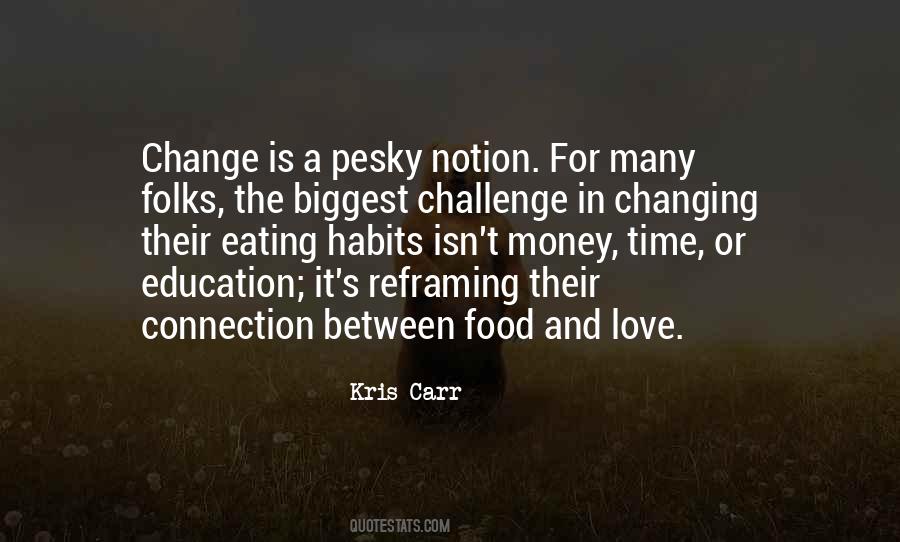 #5. In a city of illusion, where change is what the city does, it's no wonder Las Vegas is the court of last resort, the last place to start over, to reinvent yourself in the same way that the city does, time after time. For some it works; for some it doesn't, but they keep coming and trying. - Author: Hal Rothman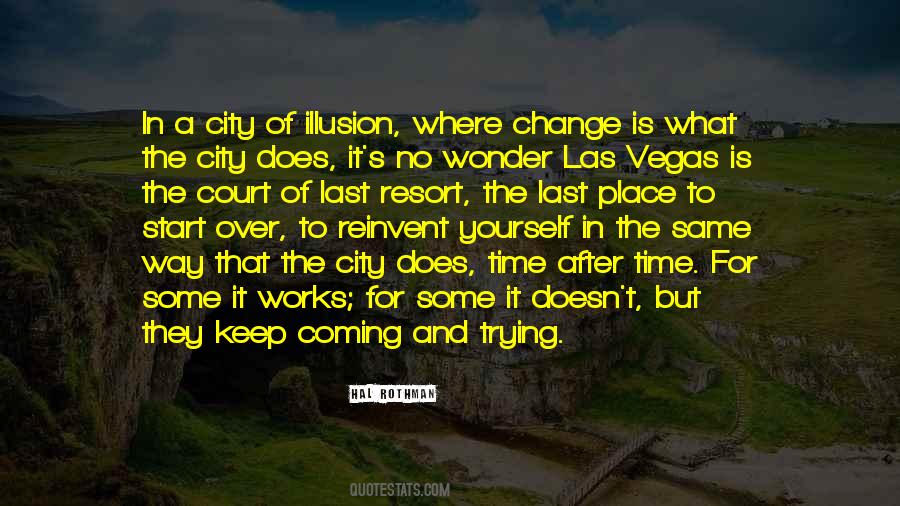 #6. Let's face it: we live at a time when government is less and less powerful, less and less effective, and the agent of social change, at least for the immediate future, is the corporation. - Author: Tibor Kalman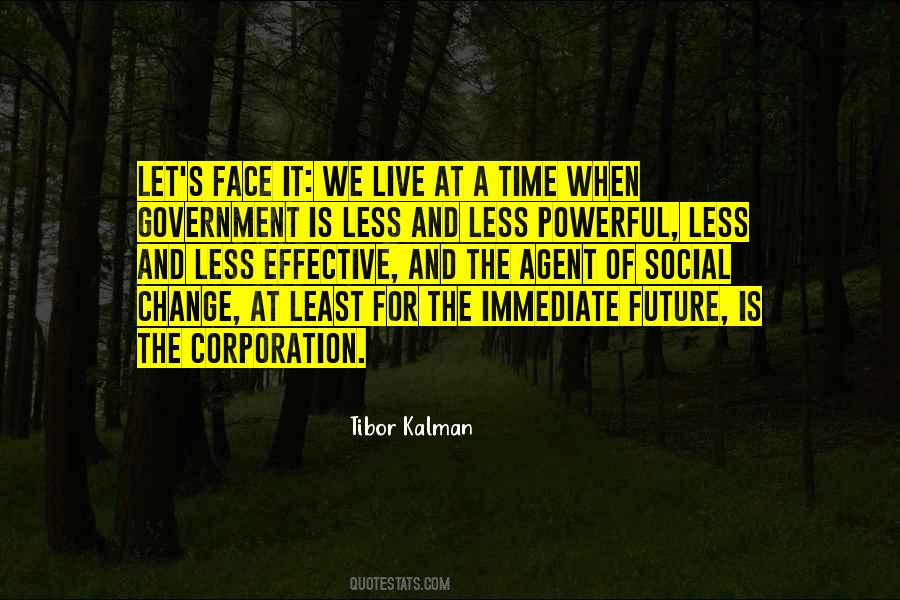 #7. Adapting to climate change: It really is time for action ... we are on a never-ending road; this is with us for the rest of our natural lives - Author: Joan Ruddock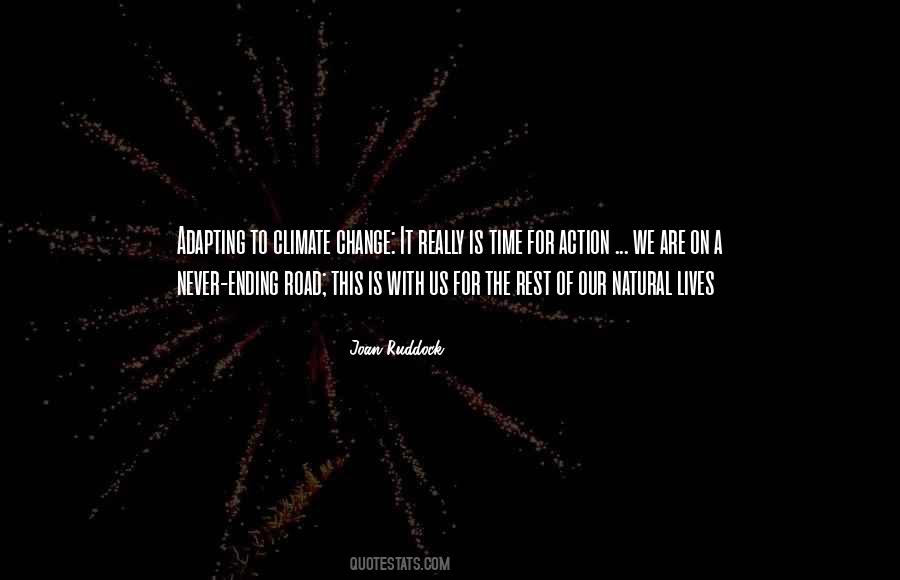 #8. The problem with Ebola is that it makes mistakes while it copies itself. The mistakes are actually good for Ebola because they help Ebola change, and as a result of this, as it jumps from one human body to the next, roughly half the time, it's got a mutation. - Author: Richard Preston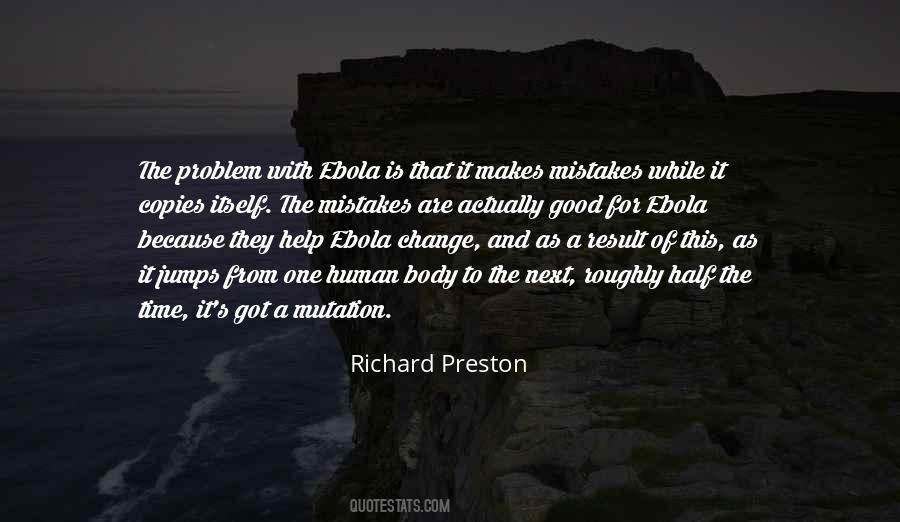 #9. The virtue of a democratic system with a [constitutionally guaranteed right to free speech] is that it readily enables the people, over time, to be persuaded that what they took for granted is not so, and to change their laws accordingly. - Author: Antonin Scalia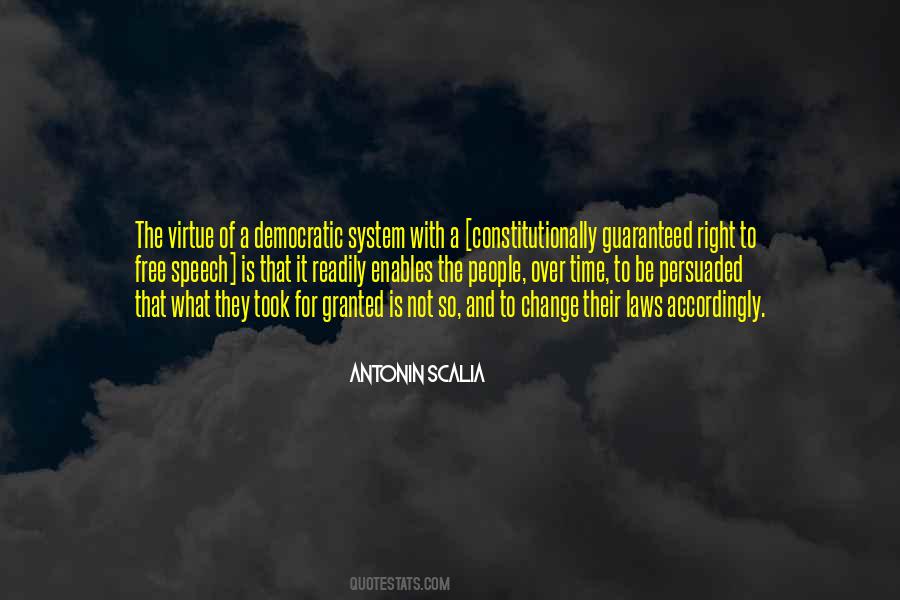 #10. MOTHER TIME: The past is always with us, dear, for better or worse. It is what it is and you can't change it. All you can do is learn how to live with it in the present. - Author: Hillary DePiano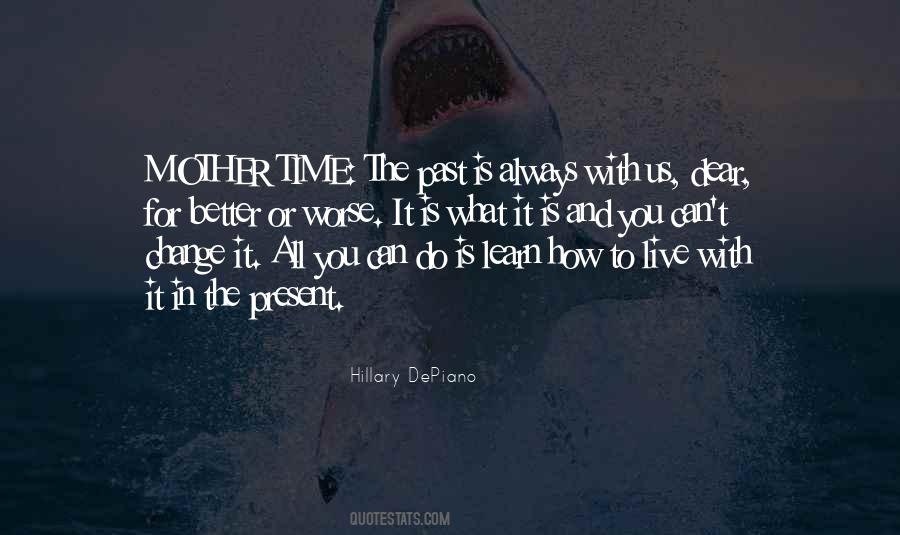 #11. But it is not our place to punish a father for his political beliefs or where he wants to raise his child. Indeed, if we were to start judging parents on the basis of their political beliefs, we would change the concept of family for the rest of time. - Author: Janet Reno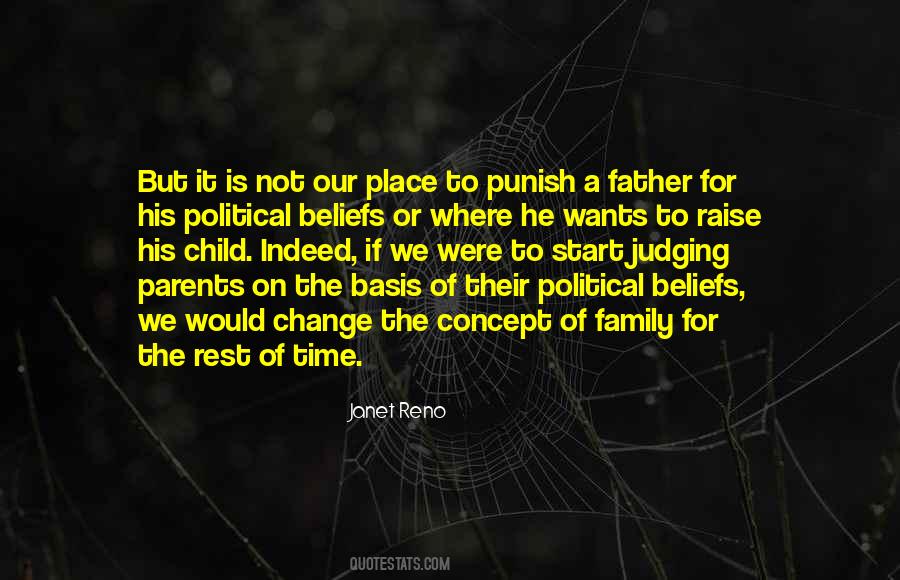 #12. We will face some problems we cannot solve, some situations we cannot change. That's when we may feel like panicking, but it is the time to stand still and wait for the Lord's deliverance. - Author: Mark Batterson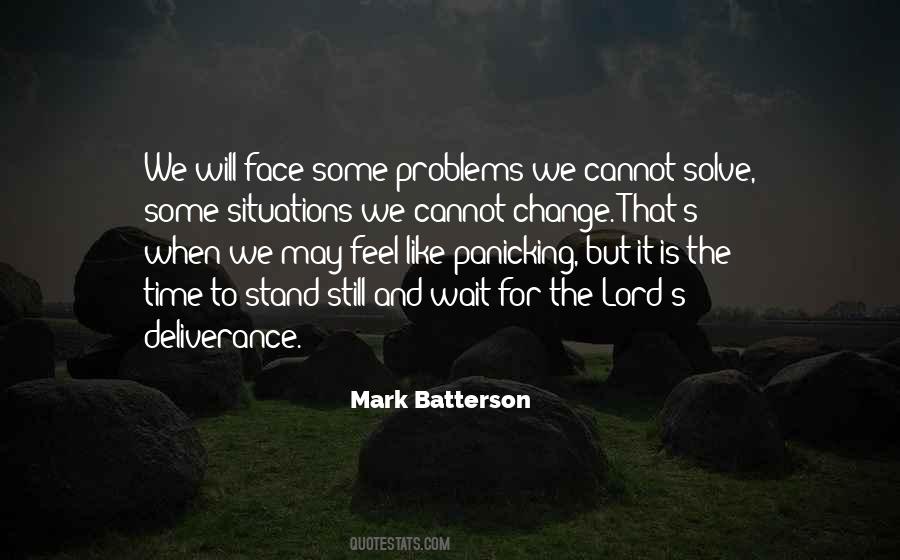 #13. As the time goes by, you change, your learn new things, your attitude is different. For the moment, I'm still enjoying ski racing so much that it would be difficult for me to think about ending my career. - Author: Hermann Maier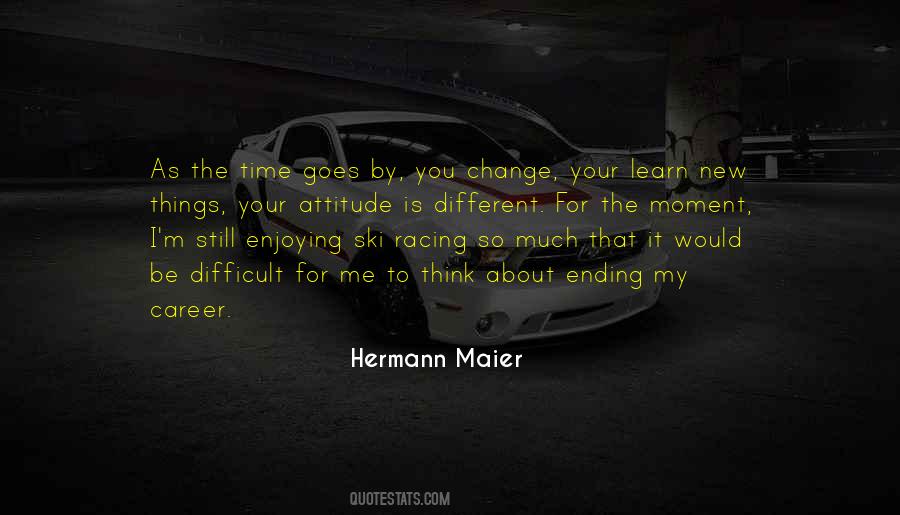 #14. Enough is enough and it's time for a change. - Author: Owen Hart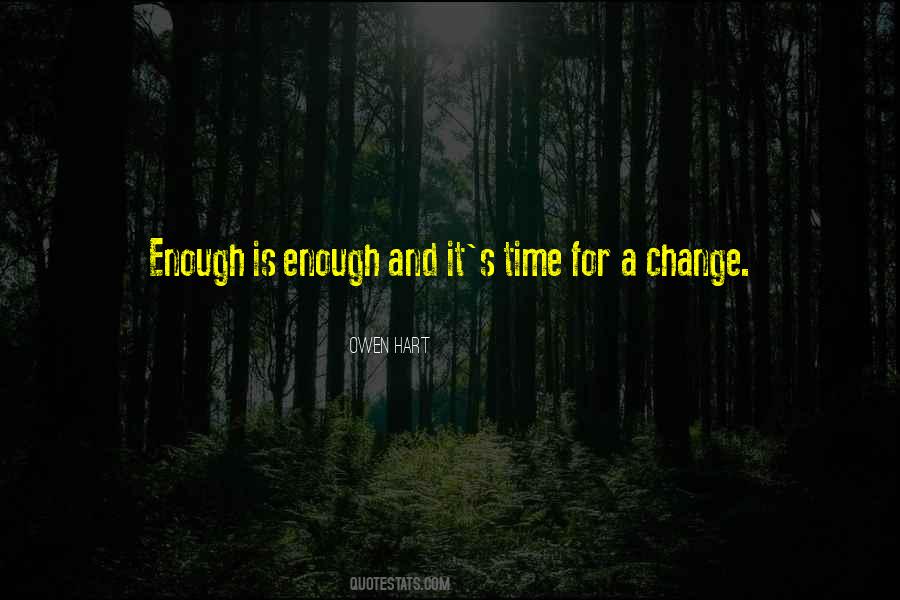 #15. We keep waiting for another Mahatma to make a difference in our society and nation. Well it is time to stop waiting. The mantra is "I change to change India". Which means each of us is the Mahatma and has the power to change this nation. Failing which we shall never change for the better. - Author: Jeroninio Almeida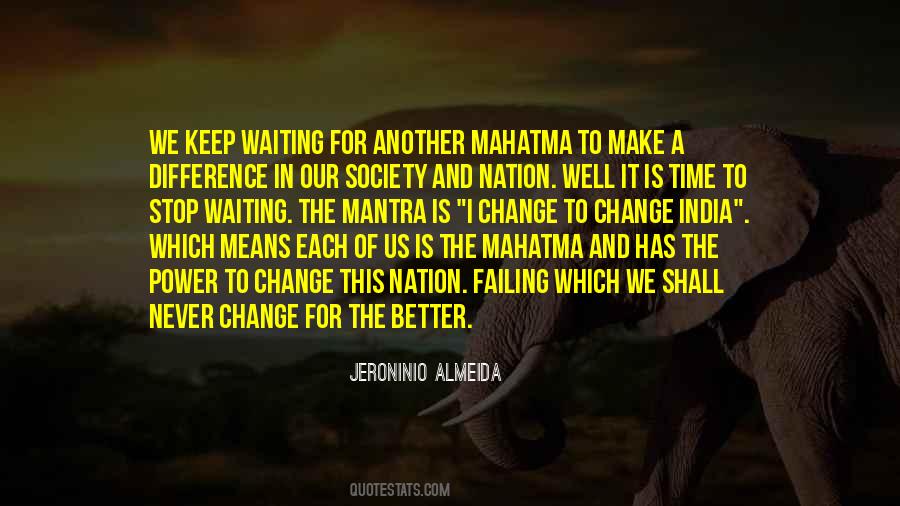 #16. Time does not expand."
"But time is actually expanding, isn't it? You yourself said that time adds up."
"That's only because time needed for transit has decreased. The sum total of time doesn't change. It's only that you can see more movies. - Author: Haruki Murakami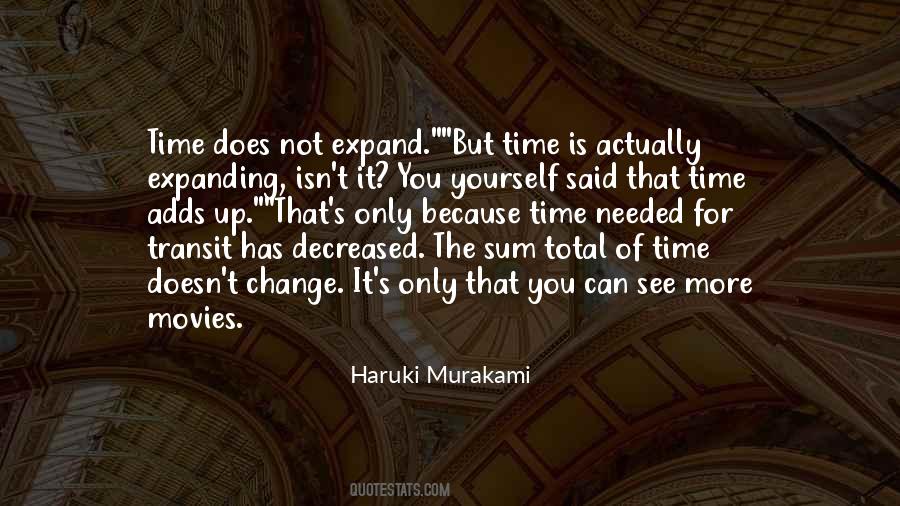 #17. If we really want to make progress and achieve greater fairness as a society, it is time for elemental change. And we should start by looking at the Constitution, with the goal of holding a new Constitutional Convention. - Author: Larry J. Sabato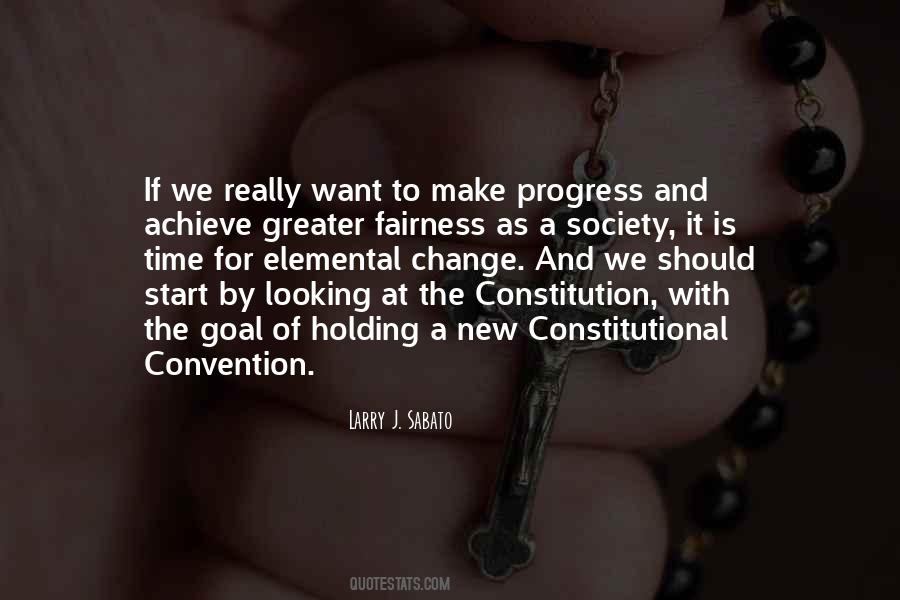 #18. Mom says,'What are you going to do when it's time to go to college?' I choose not to think about that yet. That is years away. For now, I just watn things all safe and familiar. My life may not be perfect, but it is what I have known.
~pg 16; Hattie on change - Author: Ann M. Martin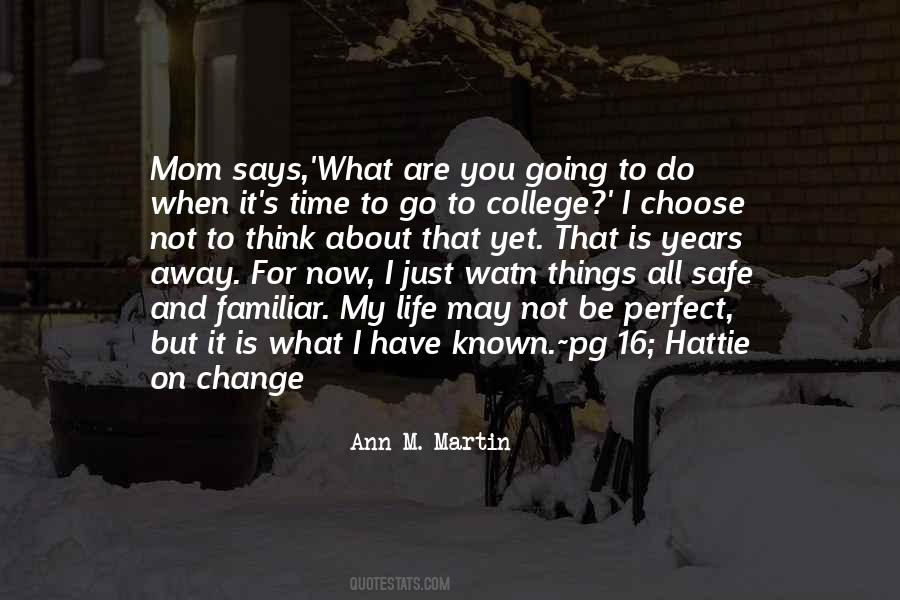 #19. It's really not possible for someone to imagine himself/herself as a subject in the process of becoming without having at the same time a disposition for change. And change of which she/he is not merely the victim but the subject. - Author: Paulo Freire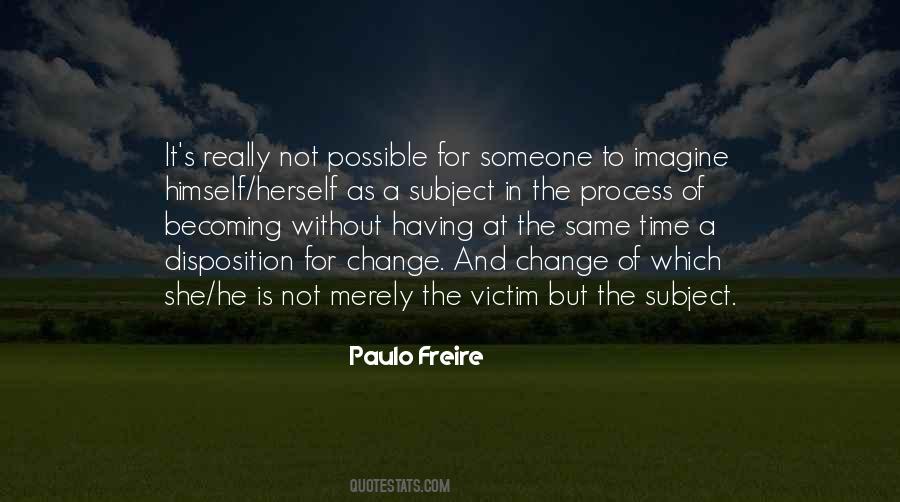 #20. I loved you for a long, long time
I know this love is real
It don't matter how it all went wrong
That don't change the way I feel
And I can't believe that time's
Gonna heal this wound I'm speaking of
There ain't no cure for love - Author: Leonard Cohen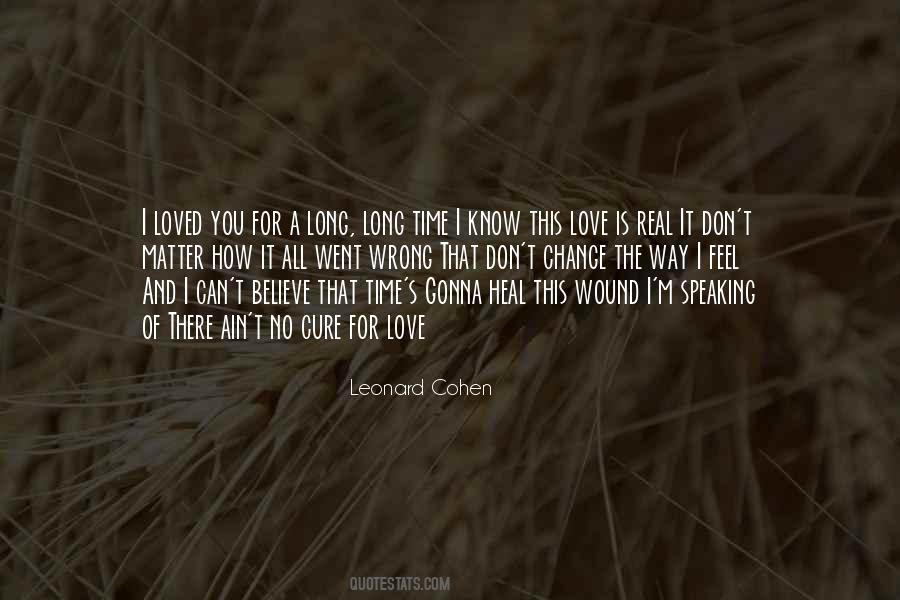 #21. Mental illness is the last frontier. The gay thing is part of everyday life now on a show like 'Modern Family,' but mental illness is still full of stigma. Maybe it is time for that to change. - Author: Eric McCormack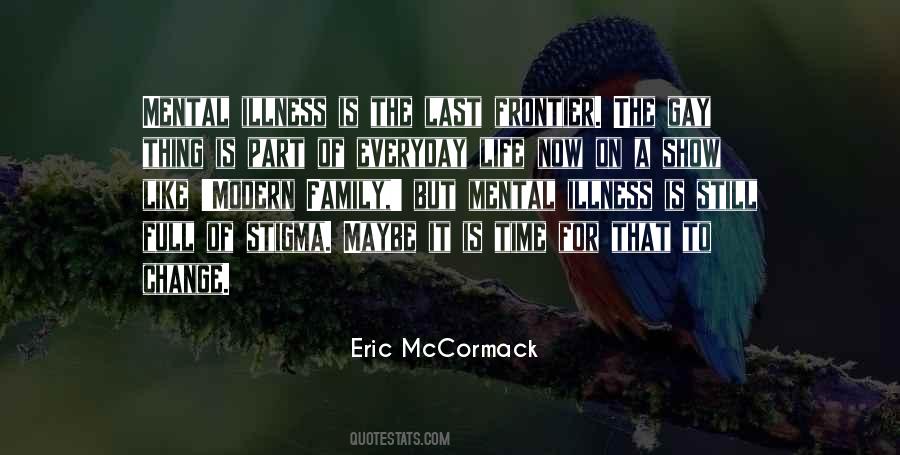 #22. I have liv'd long enough for others, like the Dog in the Wheel, and it is now the Season to begin for myself: I cannot change that Thing call'd Time, but I can alter its Posture and, as Boys do turn a looking-glass against the Sunne, so I will dazzle you all. - Author: Peter Ackroyd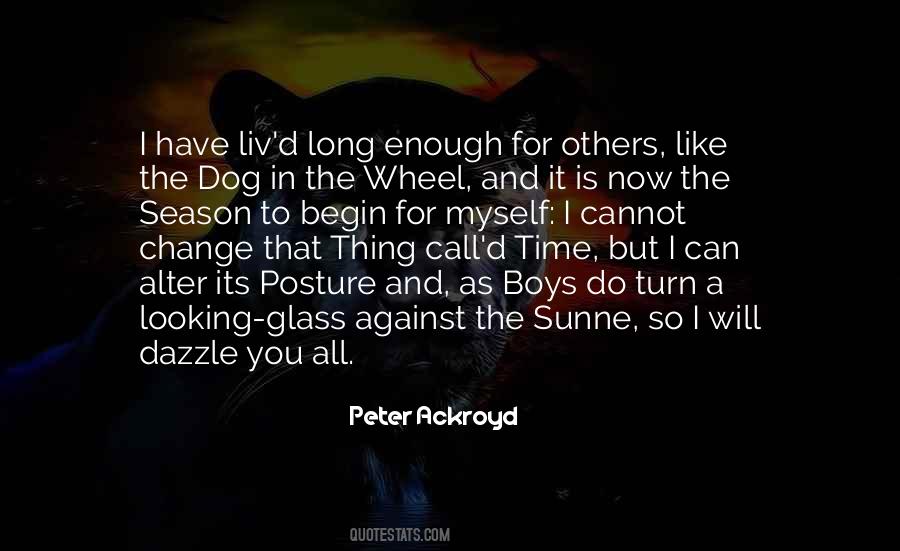 #23. His view of time, and of change, has become that of most elderly people: he hates change, since for him - for his body - any change is for the worse. And if there is to be change, then he wants it to happen quickly, so it does not use up too much of the time remaining to him. - Author: Susan Sontag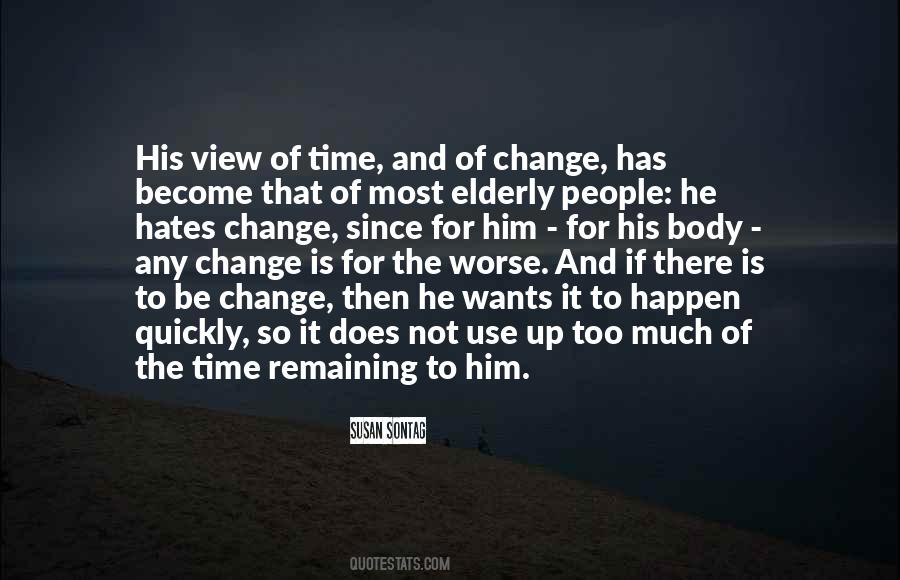 #24. I change my life when I change my thinking.
I am Light. I am Spirit.
I am a wonderful, capable being.
And it is time for me to acknowledge
that I create my own reality with my thoughts.
If I want to change my reality,
then it is time for me to change my mind. - Author: Louise L. Hay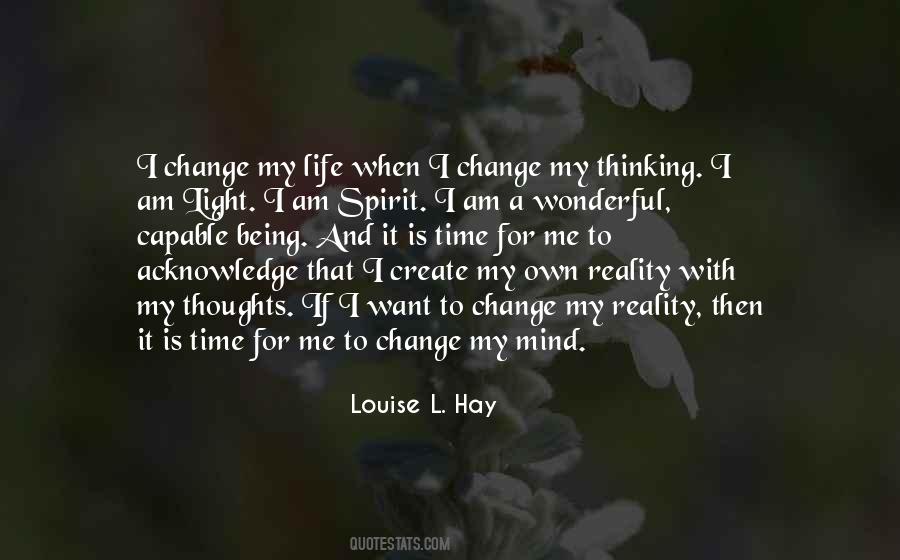 #25. Don't want to discuss it, I think it's time for a change You may get disgusted, some think that I'm strange In that case I'll go underground, get some heavy rest Never have to worry, about what is worst and what is best. - Author: Van Morrison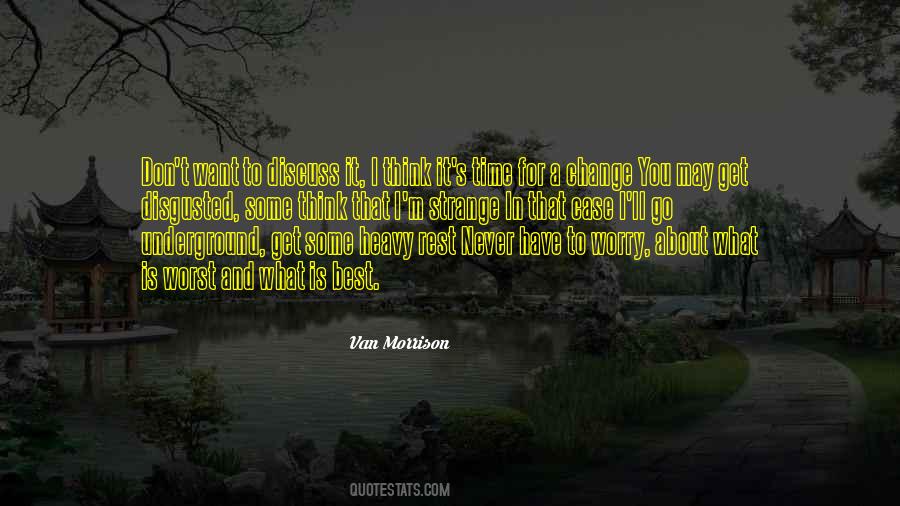 #26. There are periods in history when change is necessary, and other periods when it is better to keep everything for the time as it is. The art of life is to be in the rhythm of your age. - Author: Oswald Mosley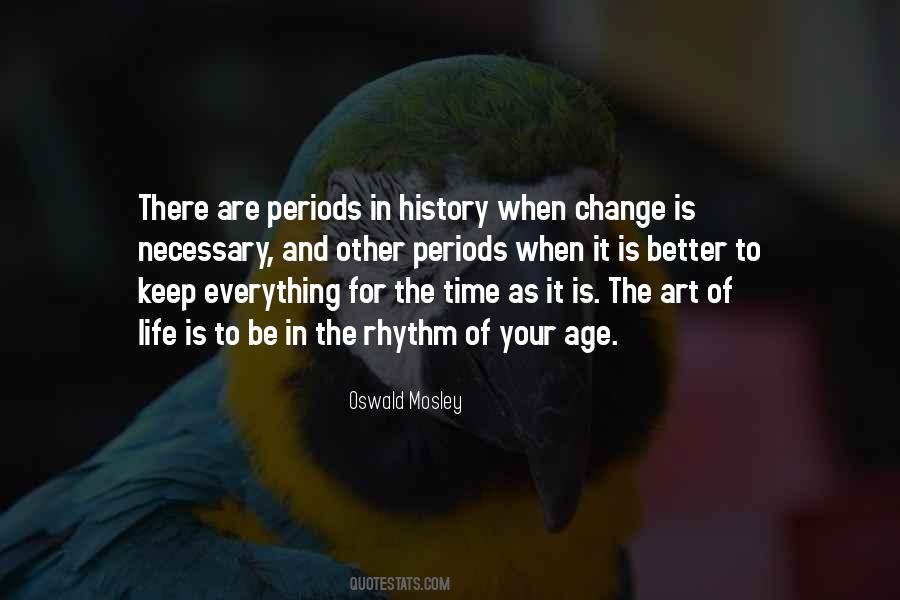 #27. The flow of time is always cruel... its speed seems different for each person, but no one can change it... A thing that does not change with time is a memory of younger days... - Author: Sheik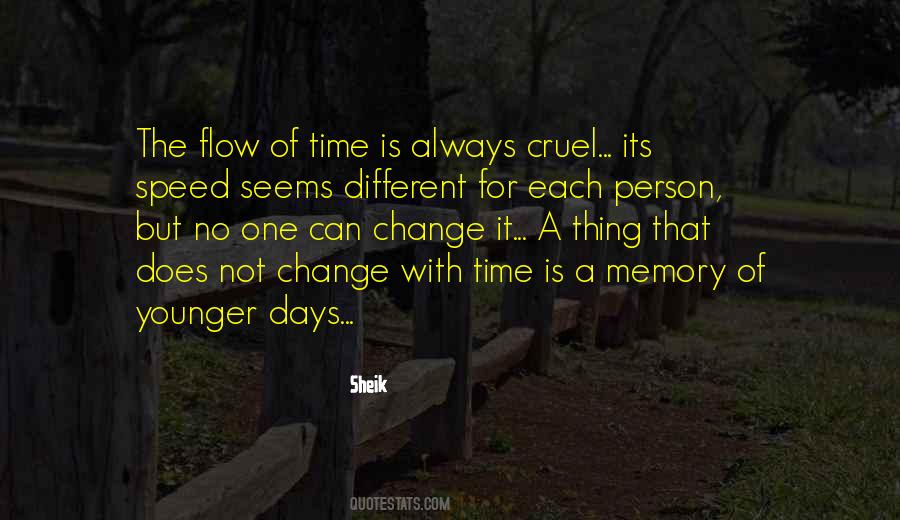 #28. Five is for five heartbeats, the length of time it takes to breathe in or out. For that is how quickly a life may change, for better or for ill. The time it takes to make up, or change, your mind. - Author: Cameron Dokey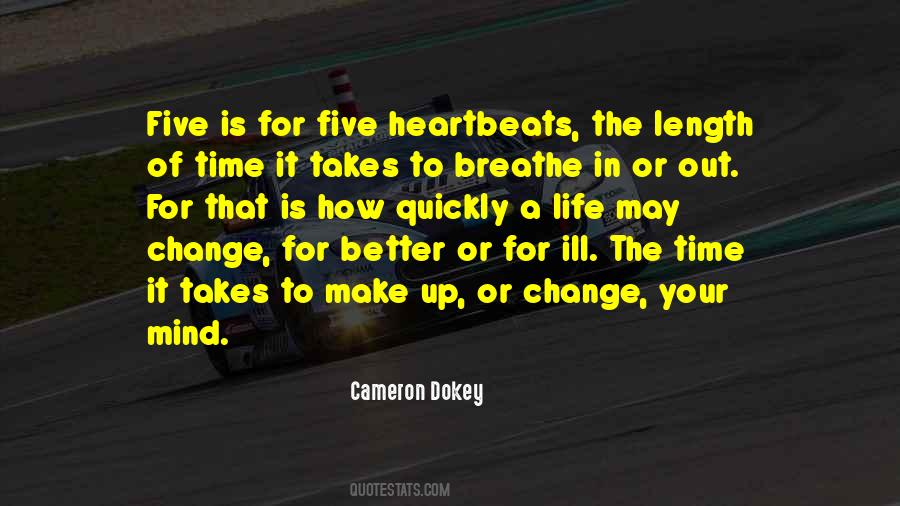 #29. A time is one's own, Eva, when oneself and one's peers take the same things for granted, without thinking about it. Likewise, a man is ruined when the times change but he does not. Permit me to add, empires fall for the same reason. - Author: David Mitchell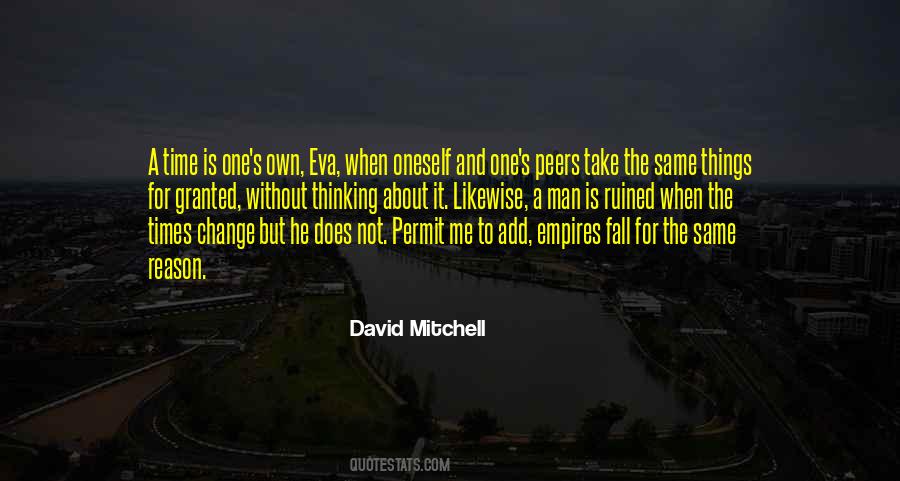 #30. I don't know what that word really means, Sydney," he said after a time. "You can't change the truth, that's for sure. But you can change whatever it is that you've resigned yourself to accept. - Author: Madison Adler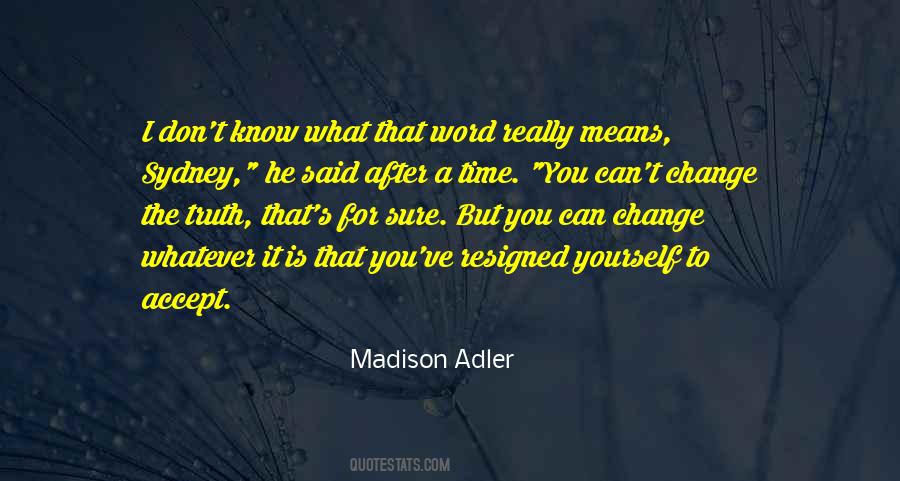 #31. Whenever, you face challenge, it is time for a change. - Author: Lailah Gifty Akita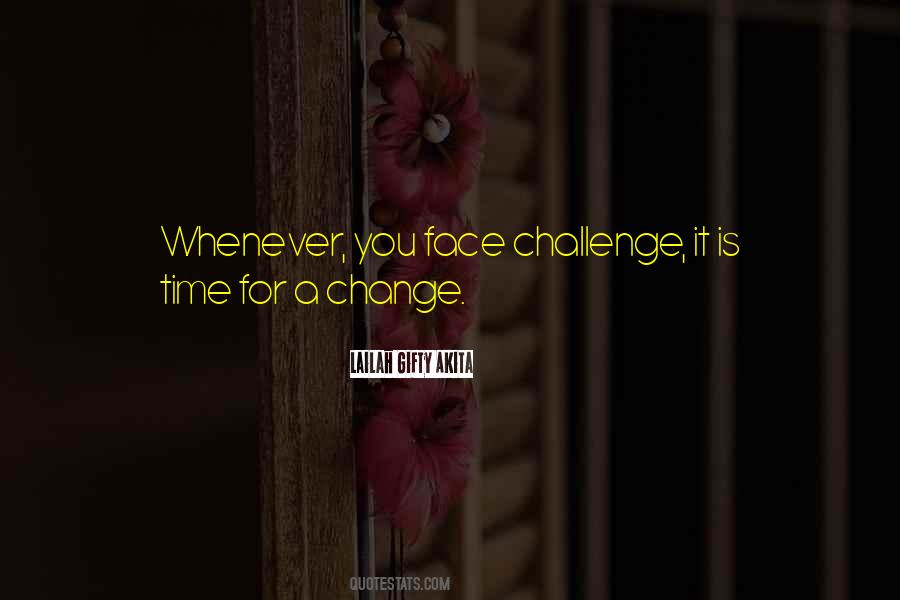 #32. In a time when society is drowning in tsunamis of misinformation, it is possible to change the world for the better if we repeat the truth often and loud enough. - Author: Alberto Cairo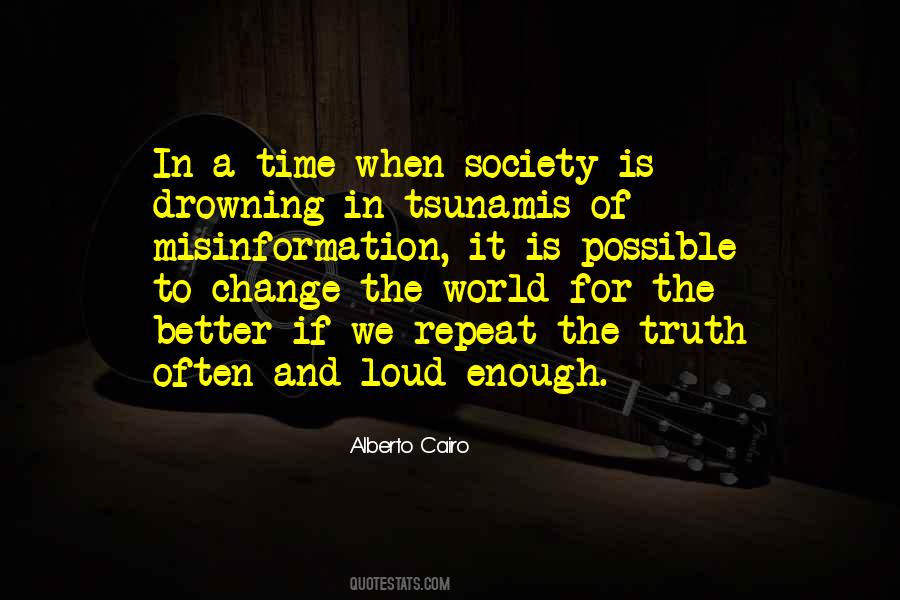 #33. Sometimes, take a moment and ponder; yes, take a moment and stir your life just as you stir that delicious stew! Taste it to know how delicious or the otherwise it is! And if there be a need for a change, be swift and tactical. - Author: Ernest Agyemang Yeboah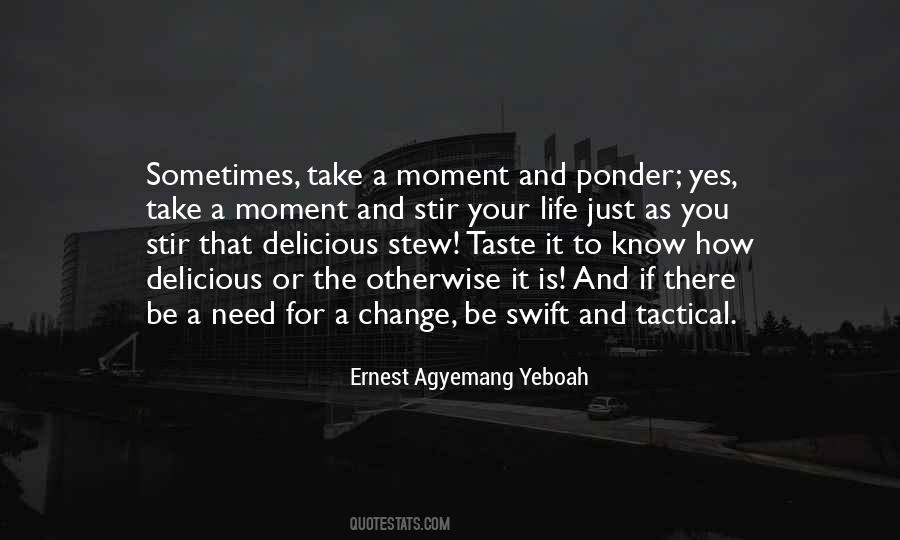 #34. It is time for us to breathe and build margin into our lives for God. Sabbath was intended as a gift, and it is still a gift to us today. If you are weary, worn out, and exhausted the concept of Sabbath will change your life. - Author: Priscilla Shirer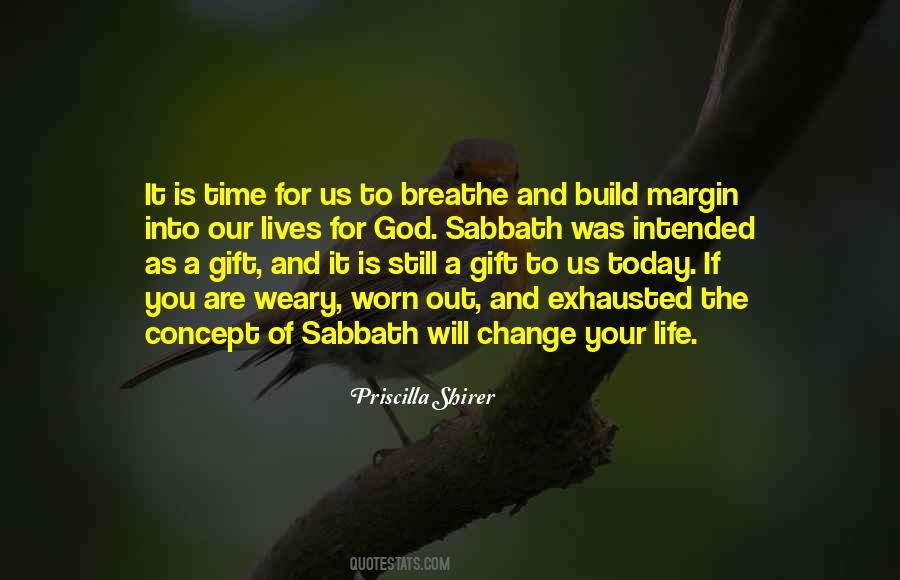 #35. Time is not tinder for any flame. It will not gather a spark; it will not smolder. It will not change. - Author: Dan Groat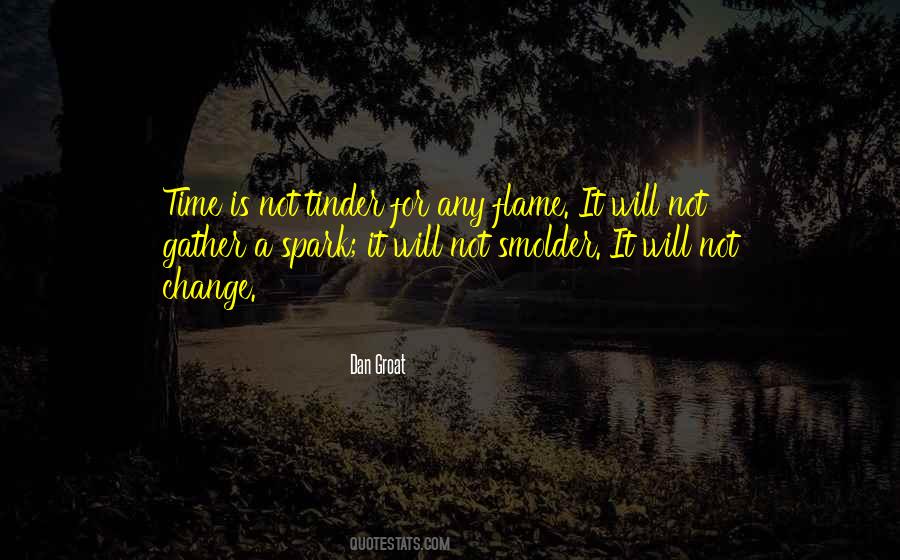 #36. People perceive games as being for kids, and I think that perception is going to change. Time is going to take care of that. I mean, we've already won. Games have won; it's inevitable. - Author: Warren Spector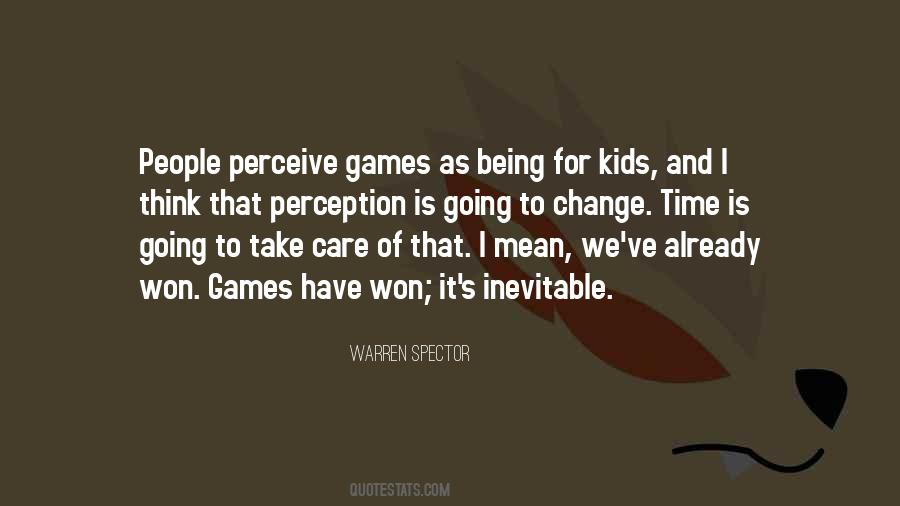 #37. The key thing to keep in mind is that people do change, but they do it in their own time, for their own reasons. That's why you can hope for change, you can encourage change, you can communicate that you want change, but there are never any guarantees that it will happen. - Author: John Hawkins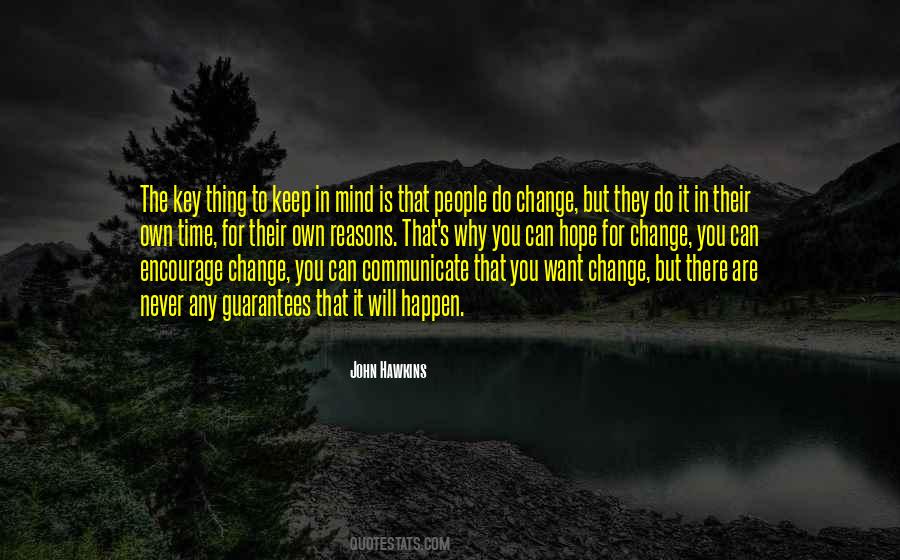 #38. We loved our homeland for thousands of years which cost us climate change and environmental degradation because we were too selfish to care about the nature, now it is time that we must love our world at least for a little time. - Author: M.F. Moonzajer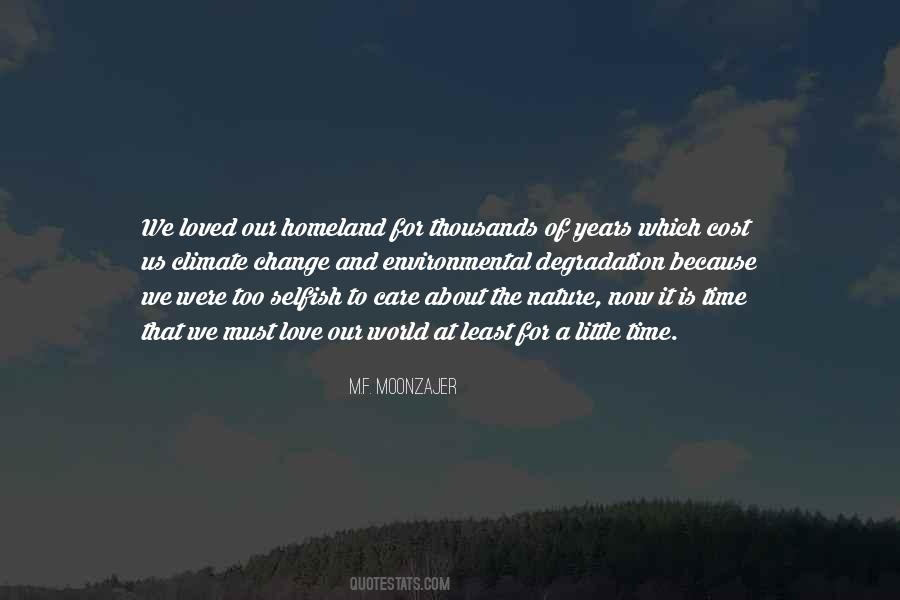 #39. But the real focus should be on people who are buying today because the base is so big it will take a long time for any change materialize on an overall basis. - Author: Sanjay Kumar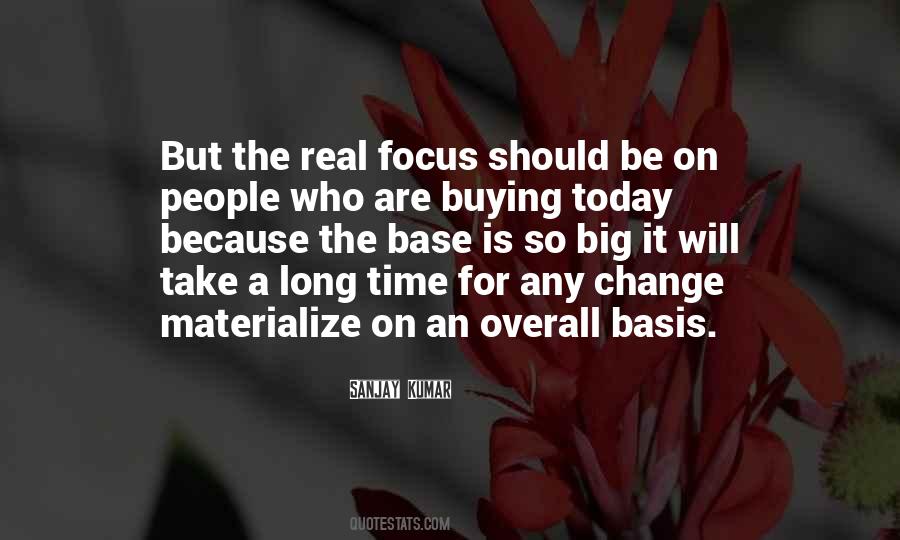 #40. It is often said that we are just a moment in time! In that case, here is the best challenge for man: To change this! To be two moments in time; three moments in time; four moments in time; to be in the whole of the time! - Author: Mehmet Murat Ildan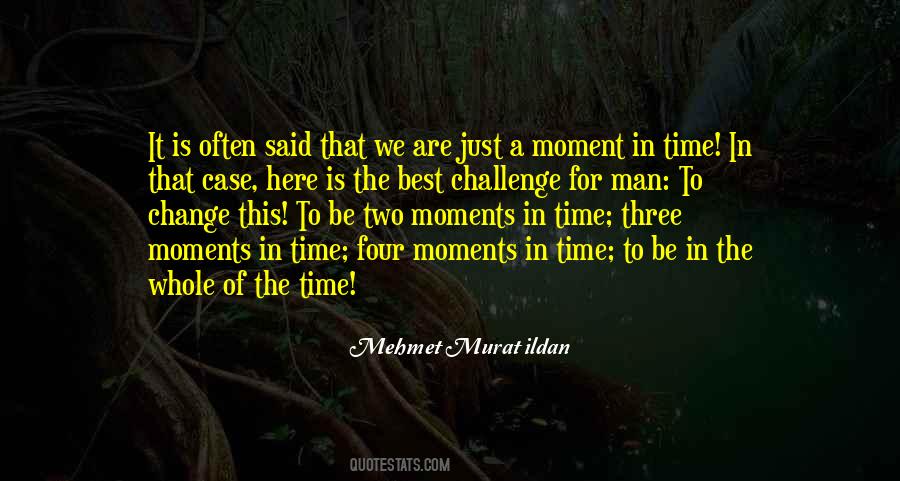 #41. It sounds so weird, but I'm totally pro-aging. If you look at the film industry, it's so funny how it's so much more accepted that actors begin their prime in their forties or fifties, and for women it's so different. I think it's time to change that. Aging is a beautiful thing. - Author: Michiel Huisman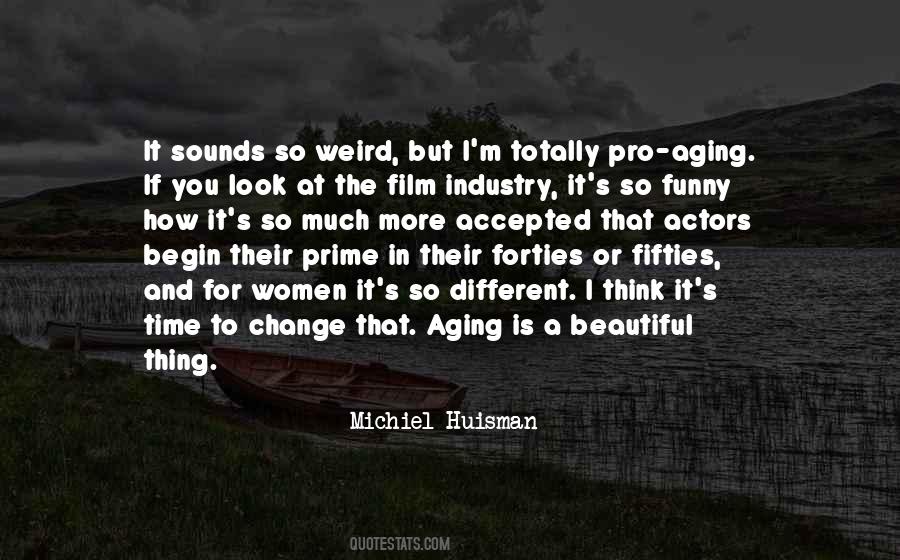 #42. Now all you can do is wait. It must be hard for you, but there is a right time for everything. Like the ebb and flow of tides. No one can do anything to change them. When it is time to wait, you must wait. - Author: Haruki Murakami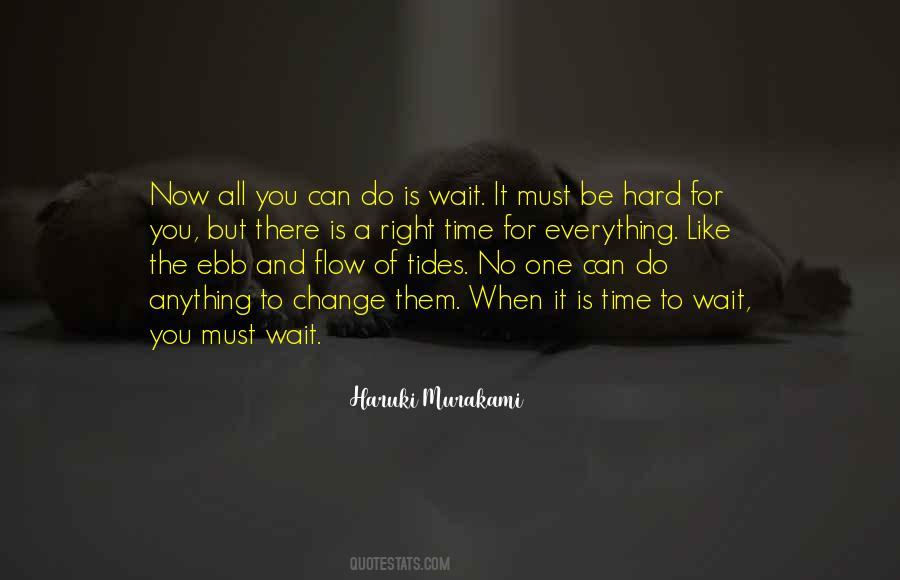 #43. You can't help but change when you have a kid, and for me it was just a sense of I didn't feel like anything was missing in my life and it wasn't. It all came at just the right time, and now if I am absent from my son, I do feel like something is missing. - Author: Chris Pratt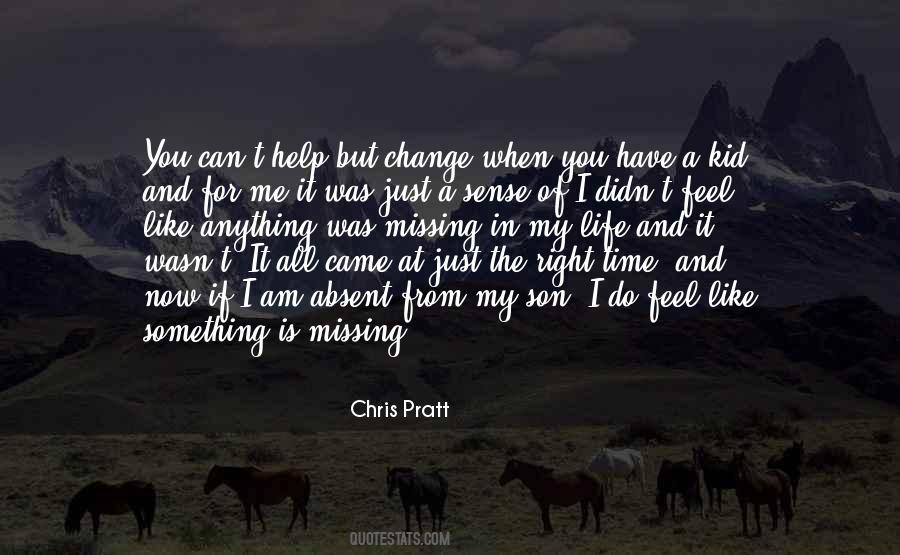 #44. If nothing happened, if nothing changed, time would stop. For time is nothing but change. It is change we see occurring all around us, not time. In fact, time doesn't exist. - Author: Julian Barbour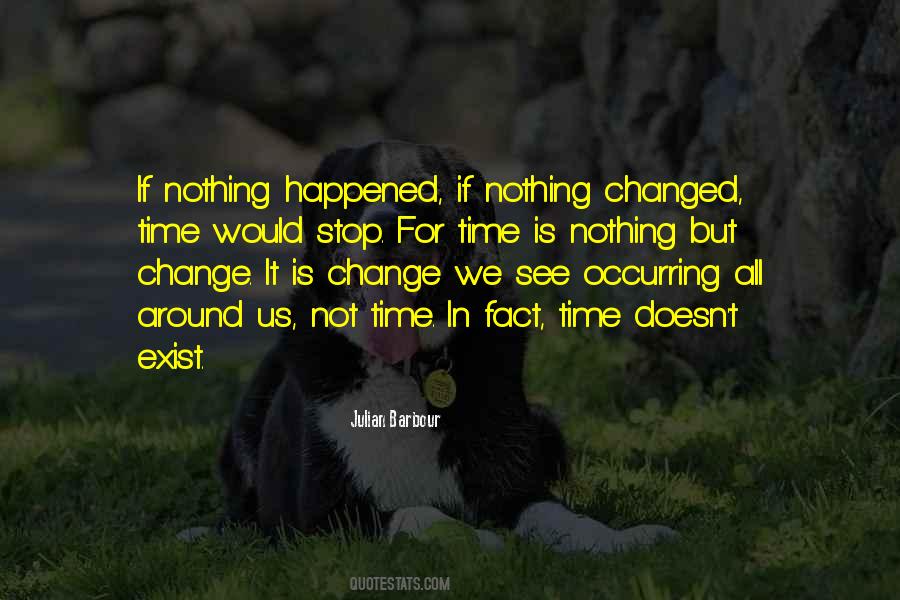 #45. Mobile technology is here to stay, along with all the wonders it brings. Yet it is time for us to consider how it may get in the way of other things we hold dear - and how once we recognize this, we can take action: We can both redesign technology and change how we bring it into our lives. A - Author: Sherry Turkle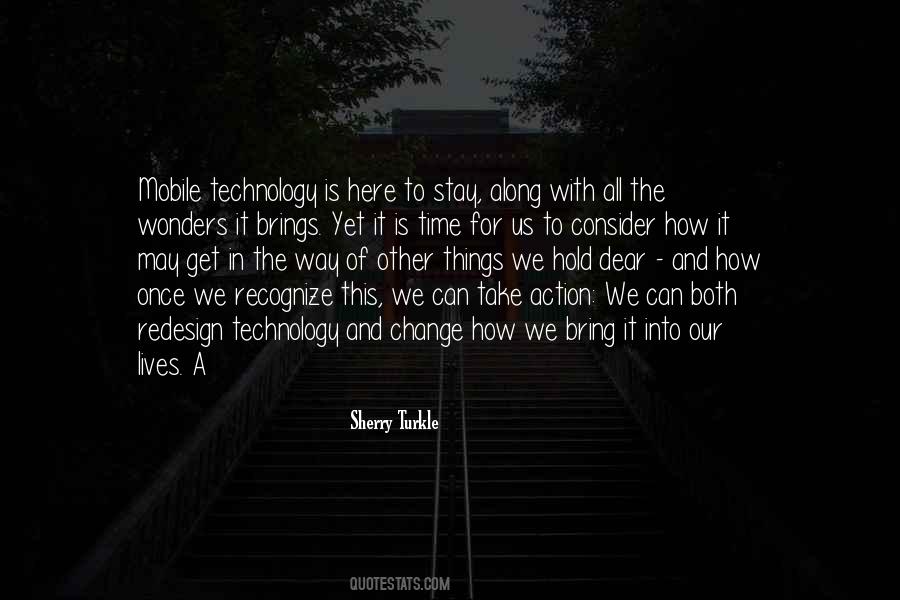 #46. I have an arrow living inside my chest that shoots straight toward you - even though I know the sky is falling for us. Even though I know all we're destined for is dust. I can't make it change course. It leads me to you every time I've tried to turn away - Author: Emalynne Wilder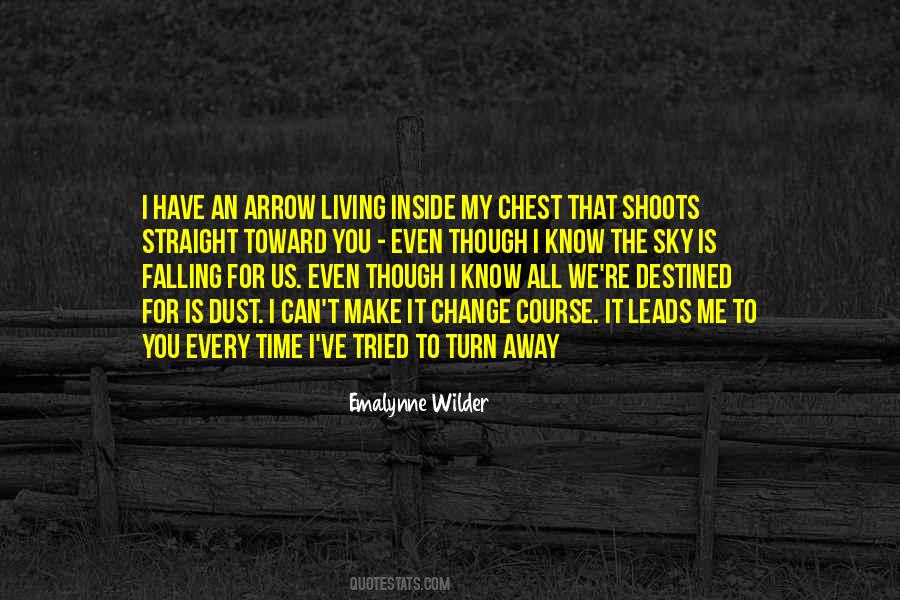 #47. The status quo is not your friend; in a competitive, down economy, the absence of change means death. Those who coast with current best practices may enjoy a period of time where it works. But if you don't reinvent yourself, your competitors will do it for you. - Author: Anonymous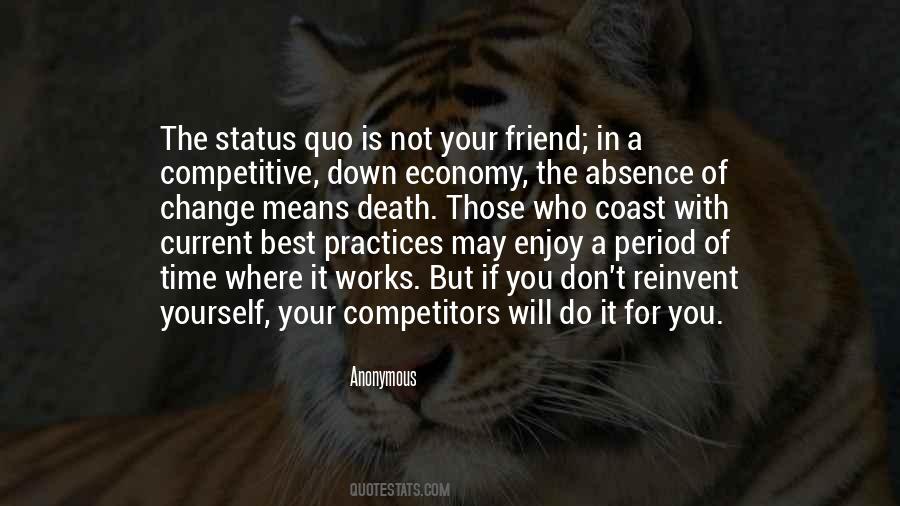 #48. Hell is where time has stopped, where there's no more innovation. No horizon. No change. I sometimes think Hell would suit the British down to the ground, and that, given the chance, they'd vote for it. - Author: Paul Cornell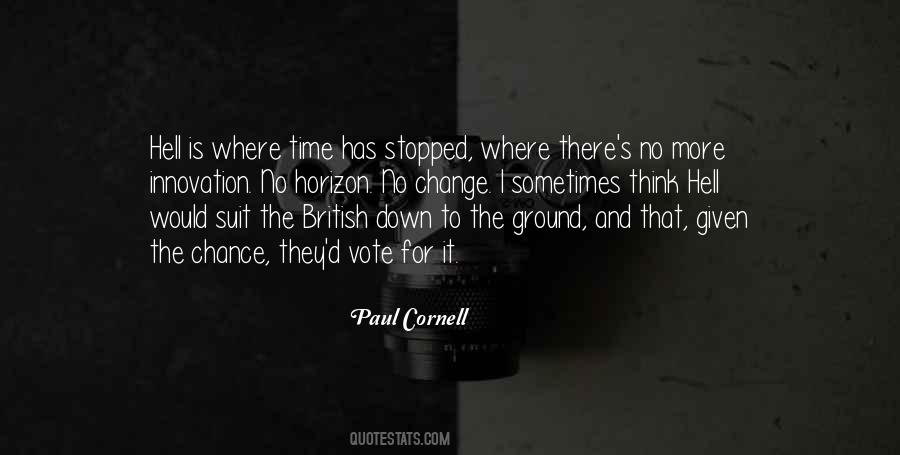 #49. Delirium: Um. What's the name of the word for things not being the same always. You know. I'm sure there is one. Isn't there? There must be a word for it ... the thing that lets you know time is happening. Is there a word?
Dream: Change.
Delirium: ... I was afraid of that. - Author: Neil Gaiman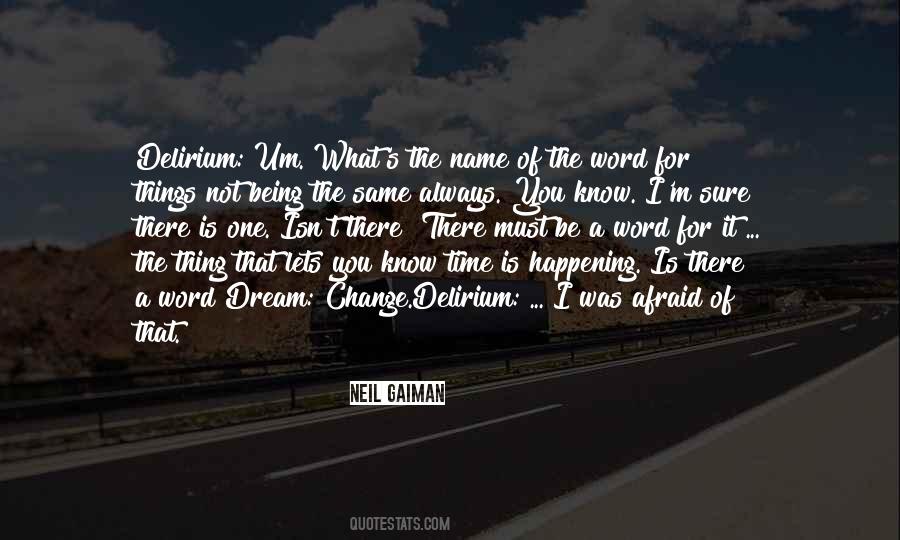 #50. Progress however slow is still progress, but be it for the better if sped up quicker. - Author: Solange Nicole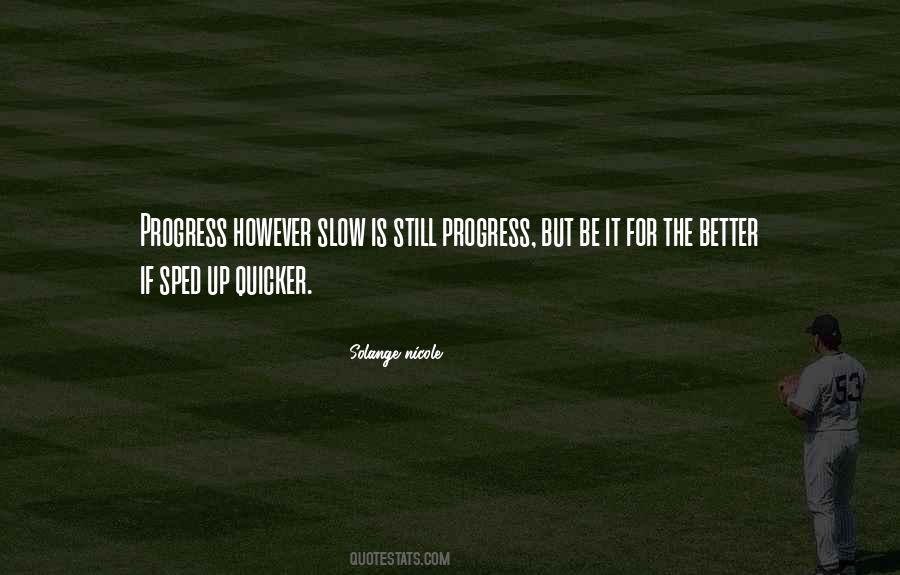 #51. There are those who stay at home and those who go away, and it has always been so. Everyone can choose for himself, but he must choose while there is still time and never change his mind. - Author: Tove Jansson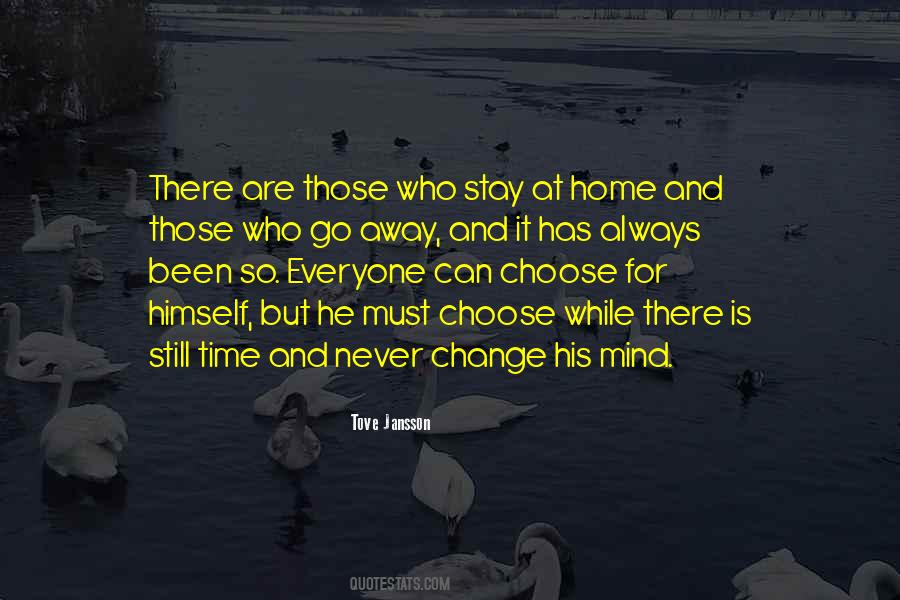 #52. We tend to think that it's up to others to respect our needs and fill them for us. But that doesn't ever work, and for the following reason:
If you have a hard time knowing what it is you really need, then how on earth can you logically expect someone else to know? - Author: Amanda Butterworth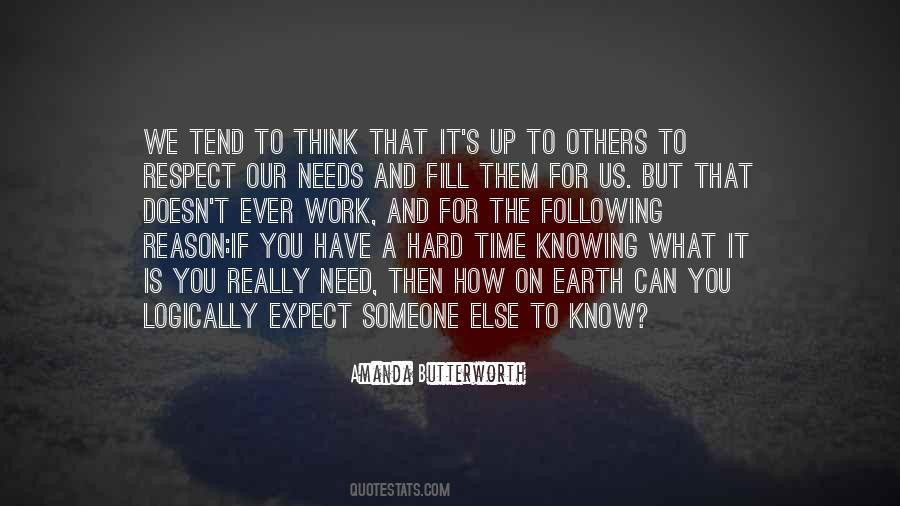 #53. Time when learning how to learn (and unlearn) is central to success. Instead of hiding from change, let's embrace it. Each time we try something new, we get better at getting better. Experience builds competence and confidence, so we're ready for the big changes, like re-thinking what we do. - Author: Peter Morville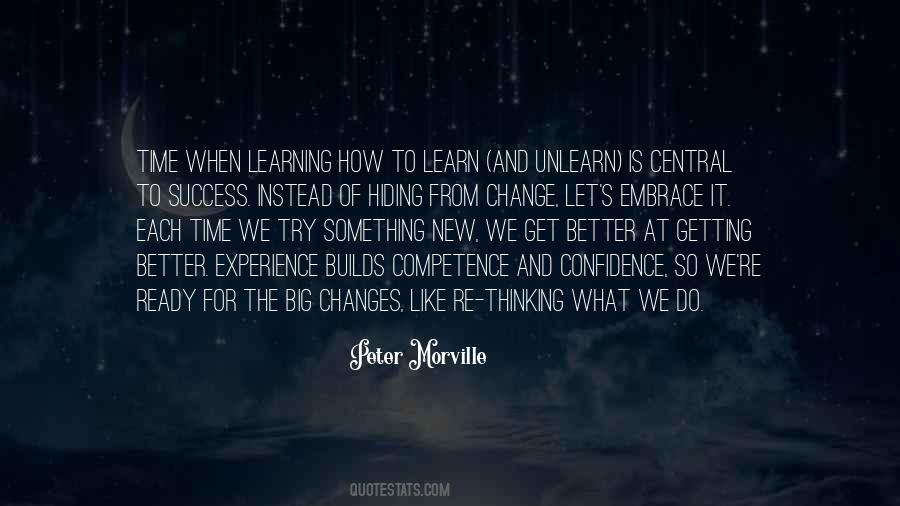 #54. One of the secrets to life is saying yes to change and allowing things to transition, but I also think you have to mark the time and give thanks for all that it gave you. - Author: Josh Radnor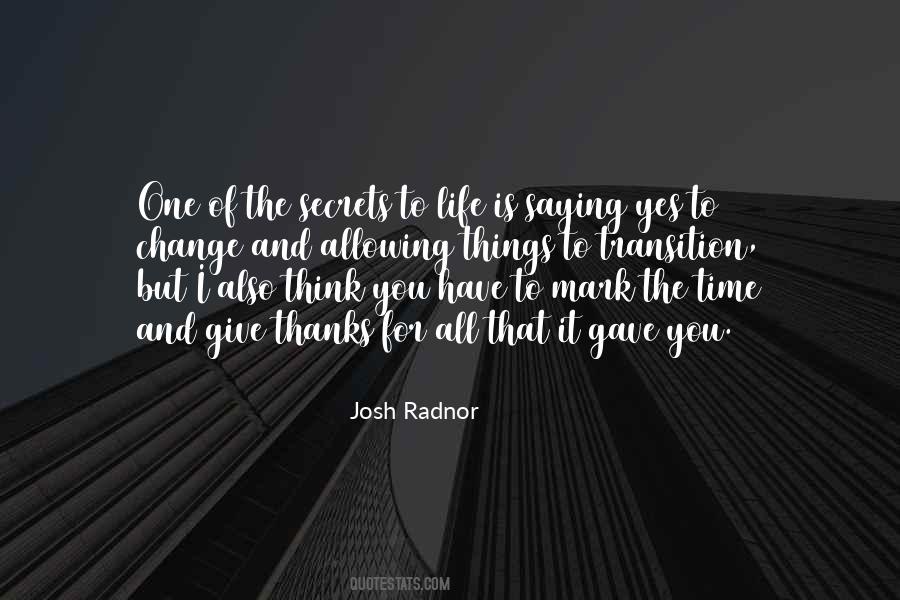 #55. Names of regions and countries change over time, and it is sometimes common to refer to ancient lands using names assigned to them later in history. However, this linguistic custom has typically been practiced only in the absence of other known and acceptable names for the places in question. - Author: Shlomo Sand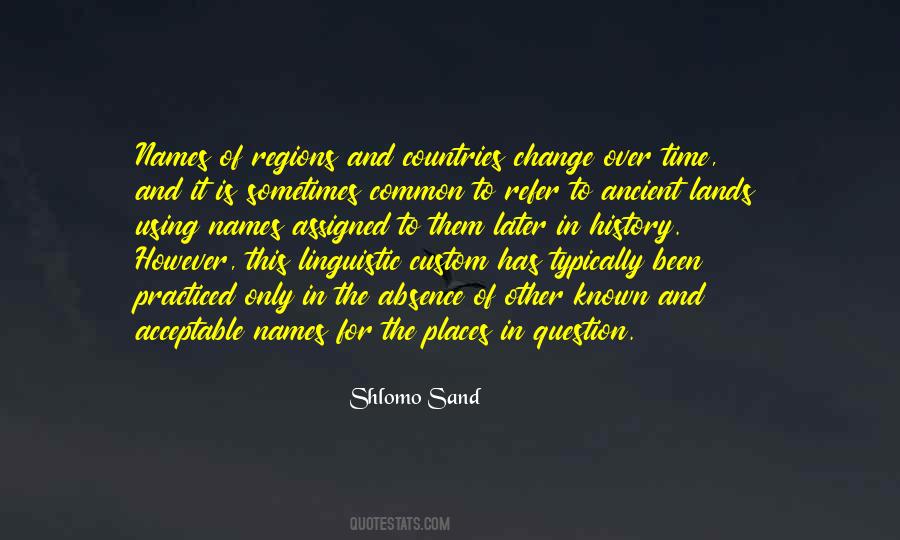 #56. My love for Linton is like the foliage in the woods. Time will change it, I'm well aware, as winter changes the trees - my love for Heathcliff resembles the eternal rocks beneath - a source of little visible delight, but necessary. - Author: Emily Bronte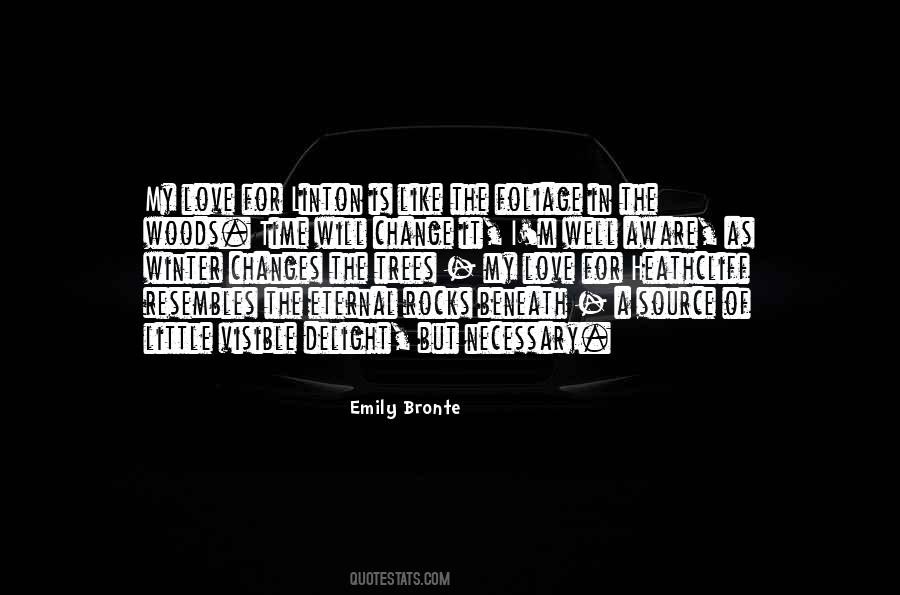 #57. One day, this Establishment will fall. It will not do so on its own terms or of its own accord, but because it has been removed by a movement with a credible alternative that inspires. For those of us who want a different sort of society, it is surely time to get our act together. - Author: Owen Jones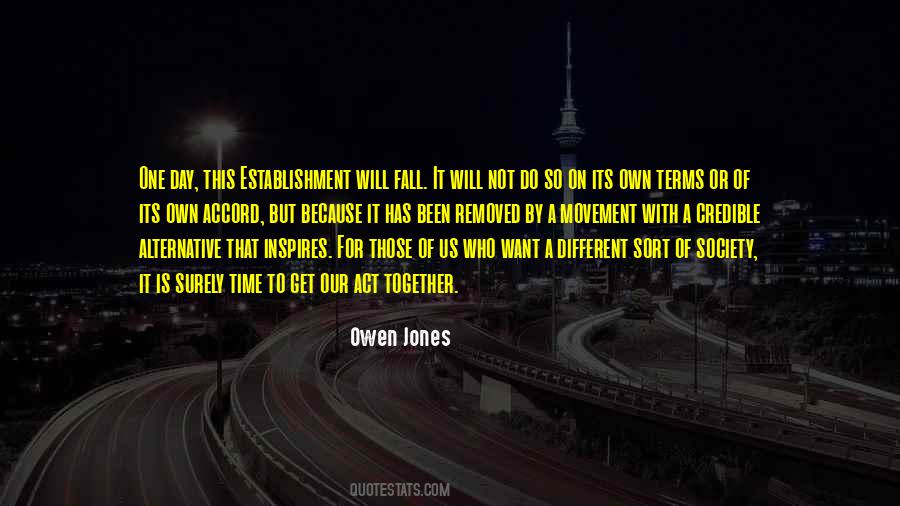 #58. Sometimes a man must stand for what is right and sometimes you must simply walk away and suffer the babblings of weak-minded fools or try to change their minds. It's like teachin' a pig to sing. It is a waste of your time and it annoys the pig. - Author: John William Tuohy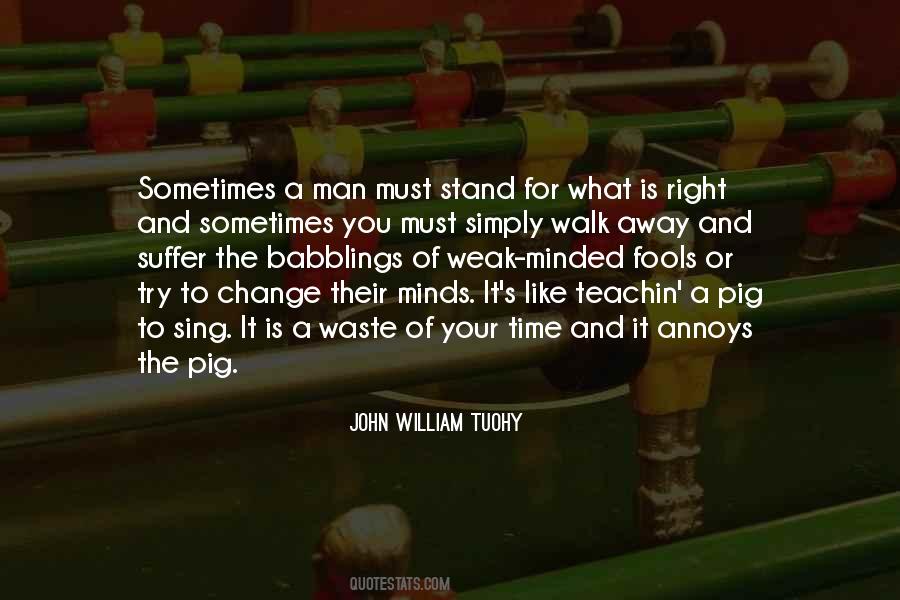 #59. The men that will change the colleges and seminaries here represented are the men that will spend the most time alone with God ... It takes time for the fires to burn. It takes time for God to draw near and for us to know that He is there. It takes time to assimilate His truth. - Author: John Mott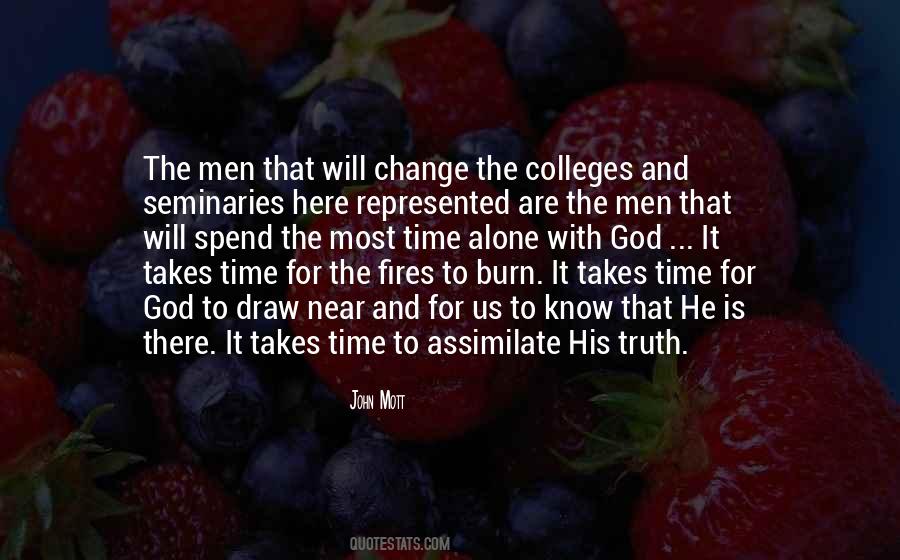 #60. As I grow older, I have a growing curiosity about my other half. My dad did a wonderful job raising me, and I wouldn't change it for the world, but at the same time there is a growing curiosity about my other half. - Author: Apolo Ohno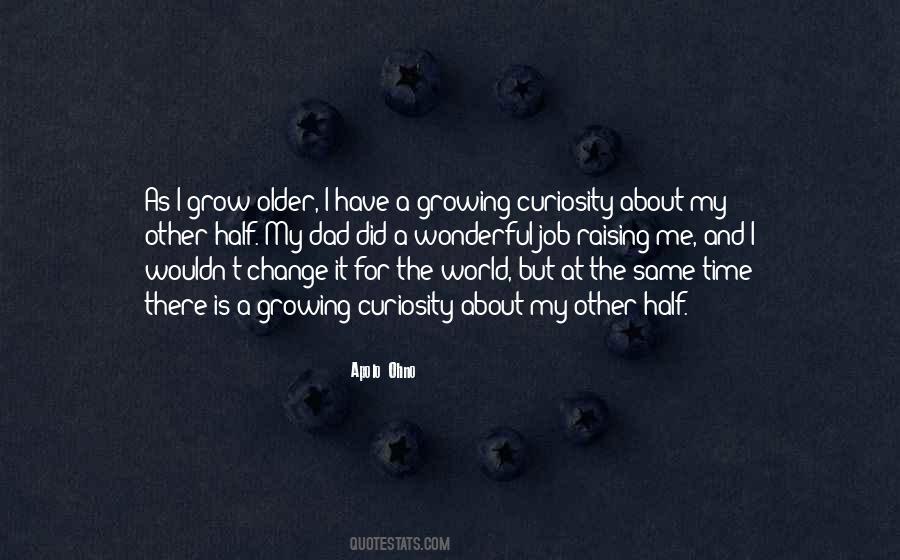 #61. The storm came. Lives were washed away. Ancient pains resurfaced. Now it is time for a sea of change. - Author: Tavis Smiley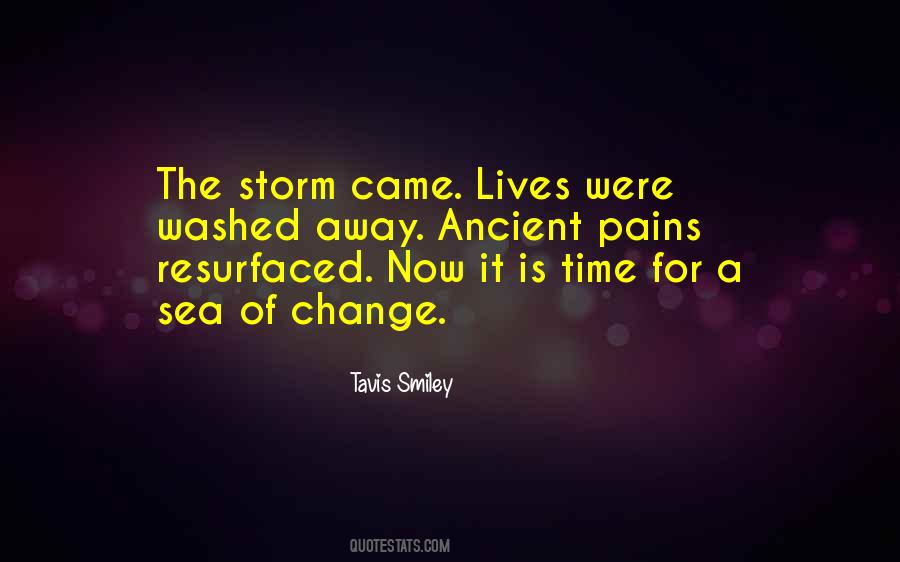 #62. If you really want to focus on something, says Castellanos, the optimum amount of time to spend on it is ninety minutes. Then change tasks. And watch out for interruptions once you're really concentrating, because it will take you twenty minutes to recover. - Author: Winifred Gallagher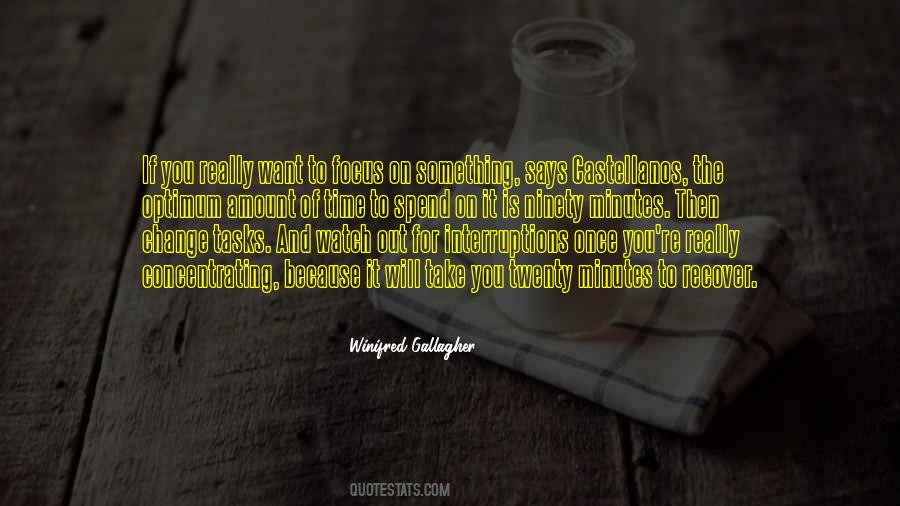 #63. Time travel may be achieved one day, or it may not. But if it is, it should not require any fundamental change in world-view, at least for those who broadly share the world view I am presenting in this book. - Author: David Deutsch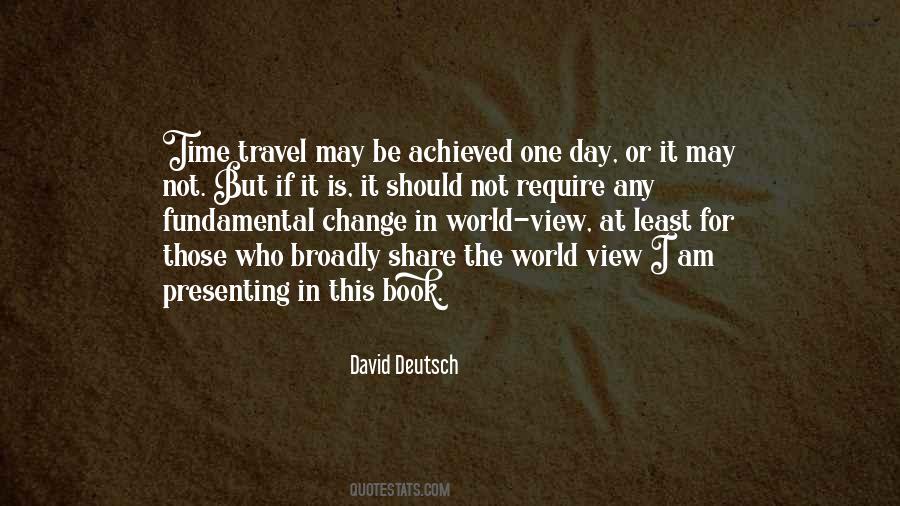 #64. It's all right to change your mind about a situation, even if it's in mid-course without fear that you're missing something. You know, if you're not there, it's not happening for you at that time. All you're doing is changing direction. - Author: Art Hochberg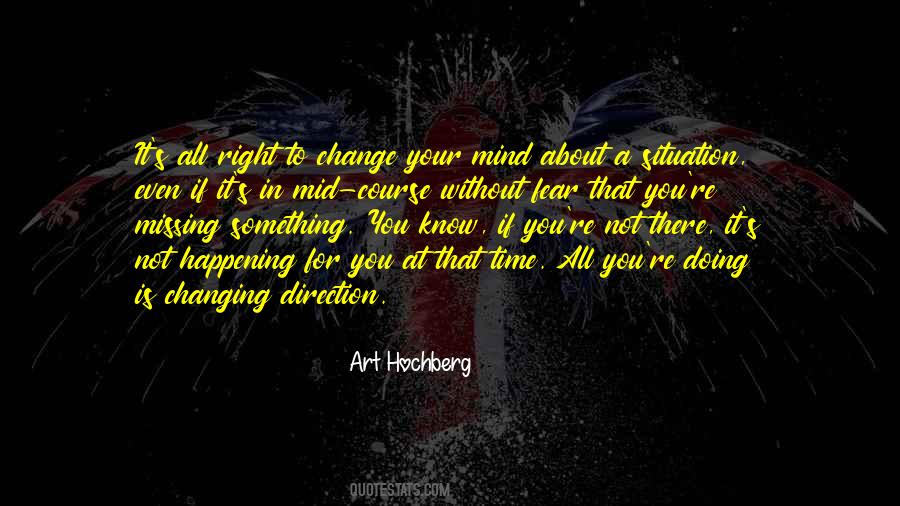 #65. There was a change in Boldwood's exterior from its former impassibleness; and his face showed that he was now living outside his defences for the first time, and with a fearful sense of exposure. It is the usual experience of strong natures when they love. - Author: Thomas Hardy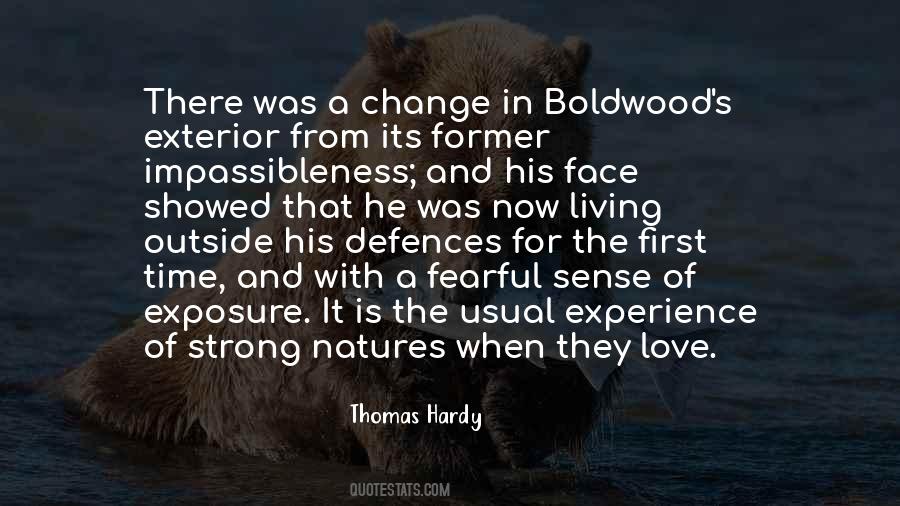 #66. The rules of the world are changing. It is time for the rules of teaching and teachers' work to change with them. - Author: Andy Hargreaves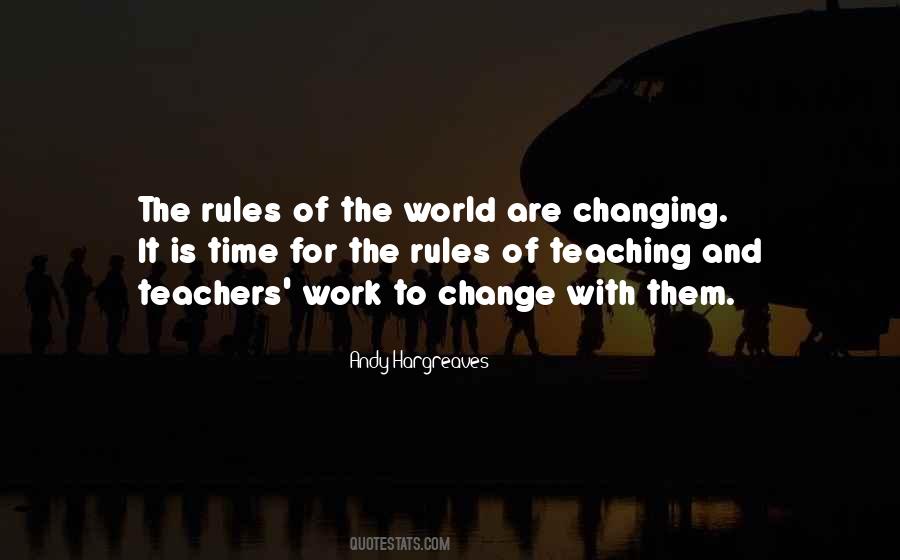 #67. The time for change is when it can no longer be resisted. In other words, when you have a man by the balls and are pulling hard, he will invariably follow in your footsteps. - Author: Michael Dobbs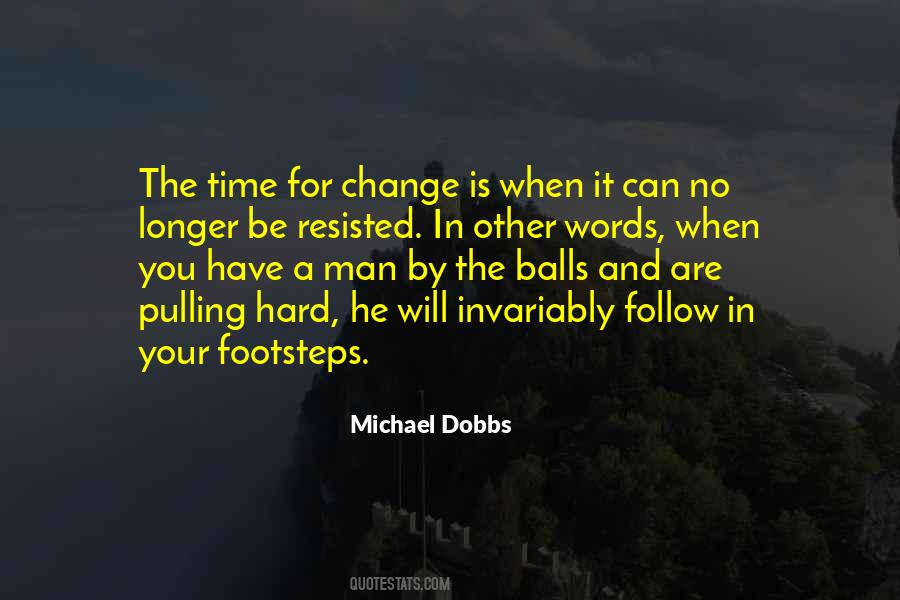 #68. I think Putin has changed, for sure. He has changed over time and he has been emboldened by, whether it's true or not, the perception is that we've pulled back, so people do change and this is an example of that. - Author: Jeb Bush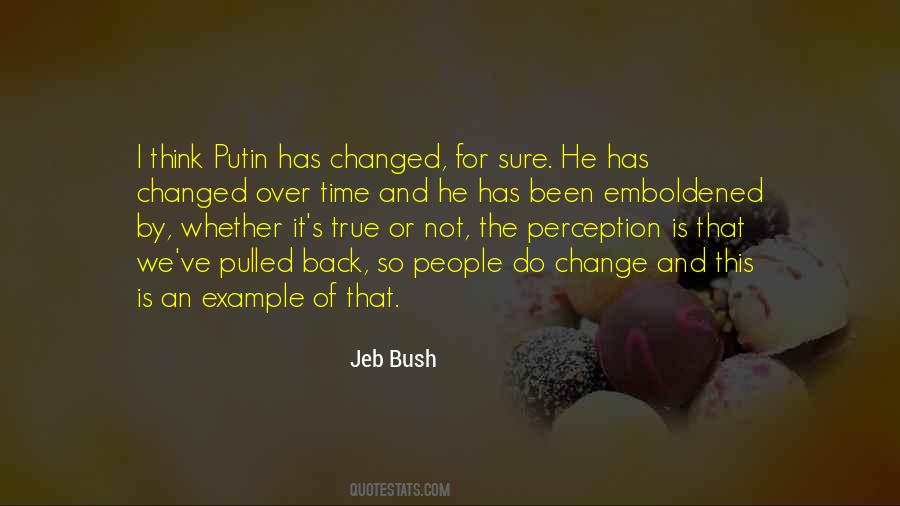 #69. Your love for her belongs to you. It's yours. Even if she refuses it, she cannot change it. She isn't benefiting from it, thats all. What you give, Momo, is yours forever. What you keep is lost for all time!"-Monsieur Ibrahim - Author: Eric-Emmanuel Schmitt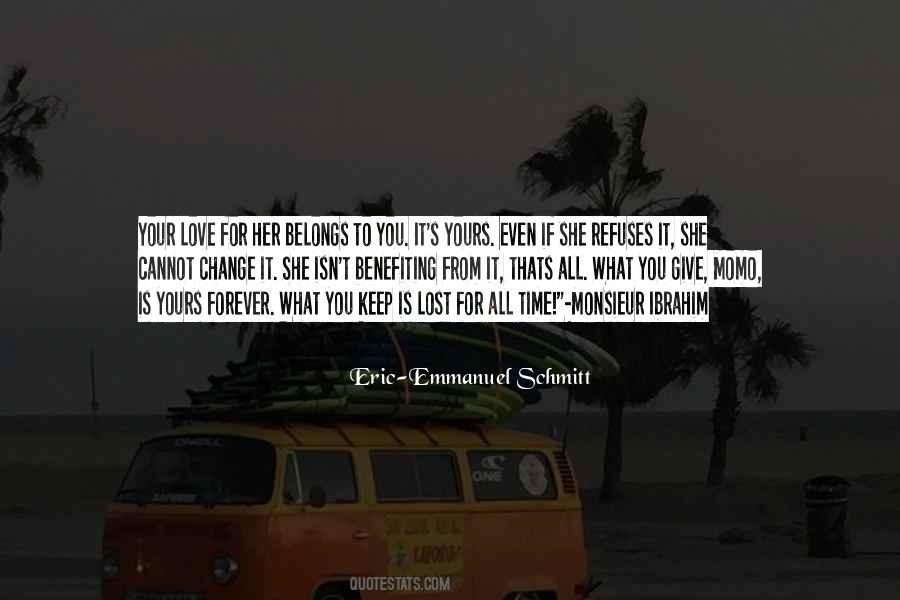 #70. Whenever, you face a challenge, it is time for a change. - Author: Lailah Gifty Akita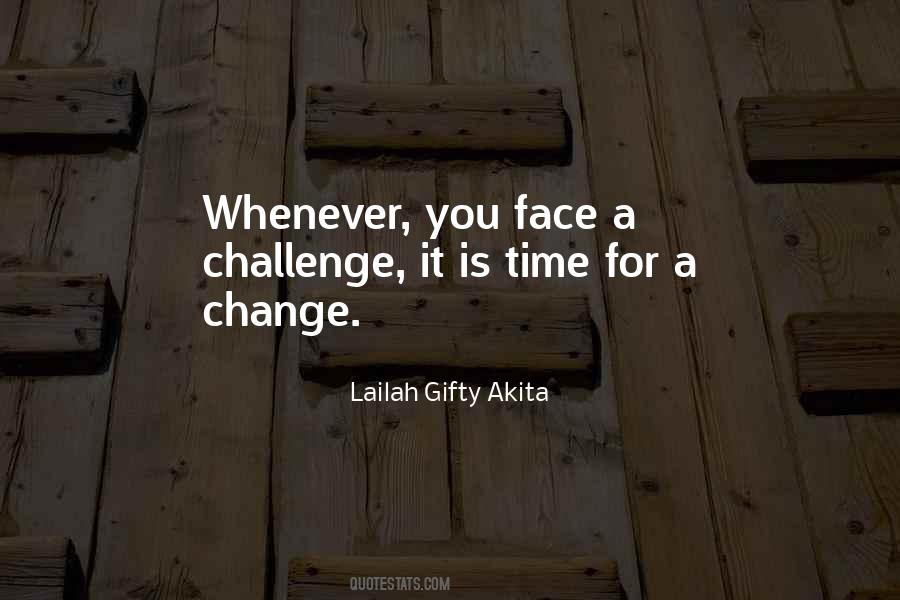 #71. The telephone is a 100-year-old technology. It's time for a change. Charging for phone calls is something you did last century. - Author: Niklas Zennstrom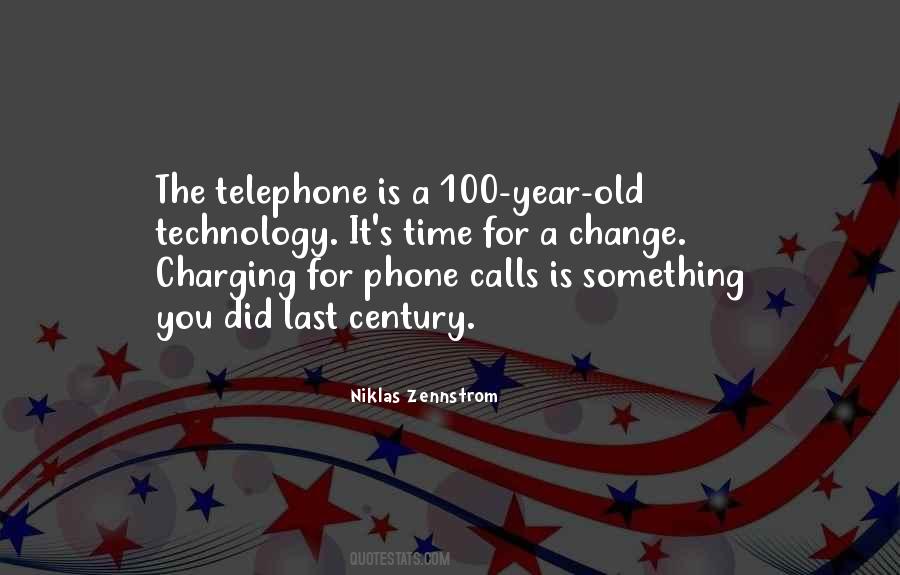 #72. Each and every time, a new generation has risen up and done what's needed to be done. Today we are called once more - and it is time for our generation to answer that call. For that is our unyielding faith - that in the face of impossible odds, people who love their country can change it. - Author: Barack Obama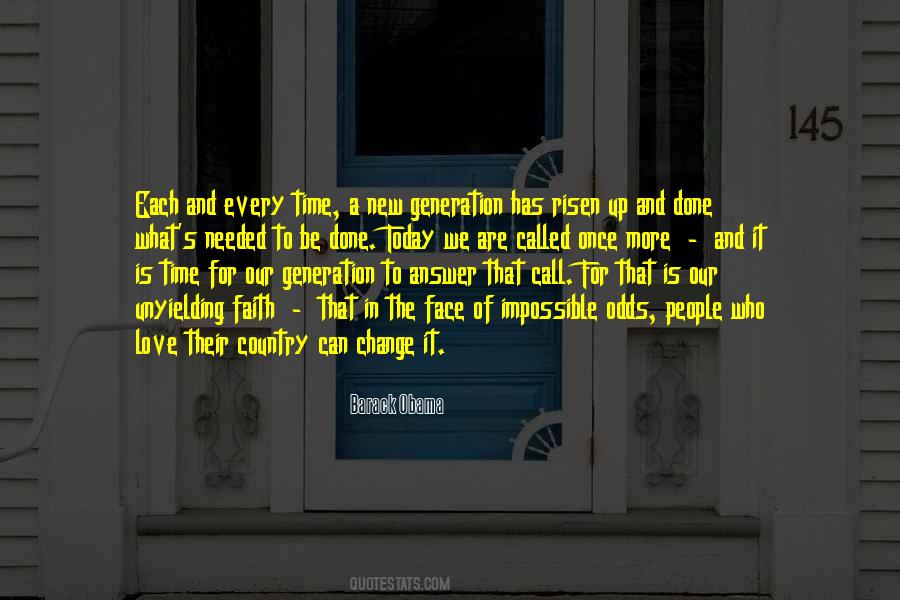 #73. Washington is a dirty diaper. It's time for a change. - Author: James Carville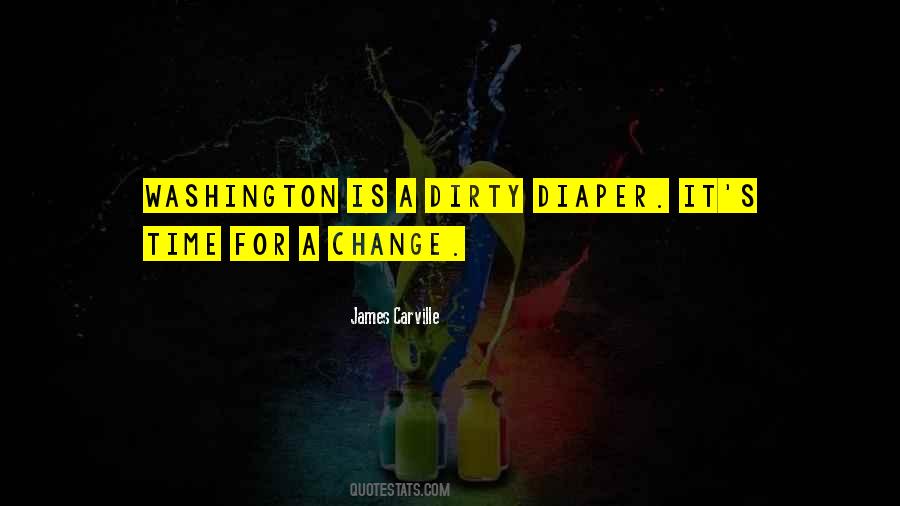 #74. I think a firm grip helps you control the club and prevents it from turning in your hands. Another thing about feel is, if you make a change in your grip, it takes time for your brain to adapt. - Author: Arnold Palmer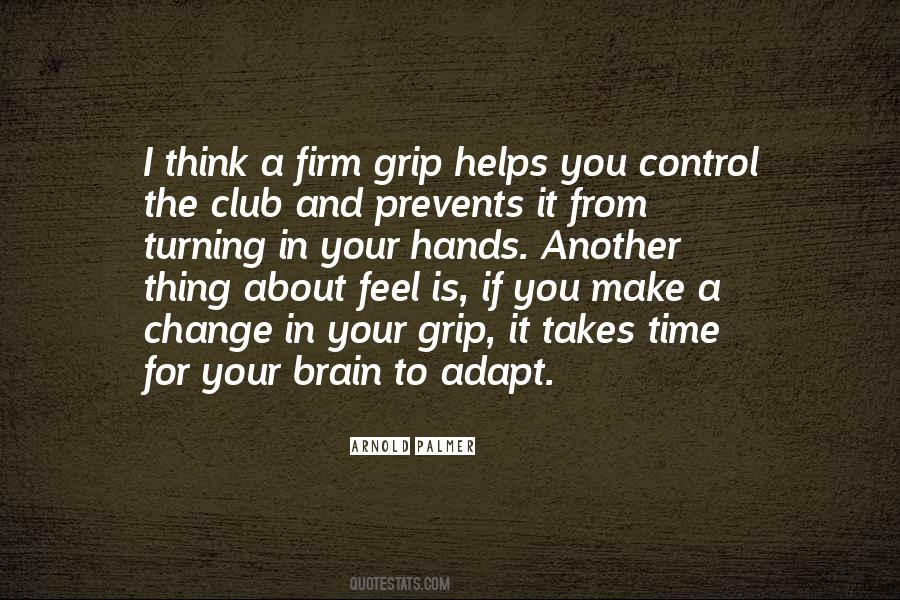 #75. I have a few other films in my life where I'm not attached and for a long time it was too complicated. Now it's starting to change because other actresses actually want to work with me, which is great. - Author: Julie Delpy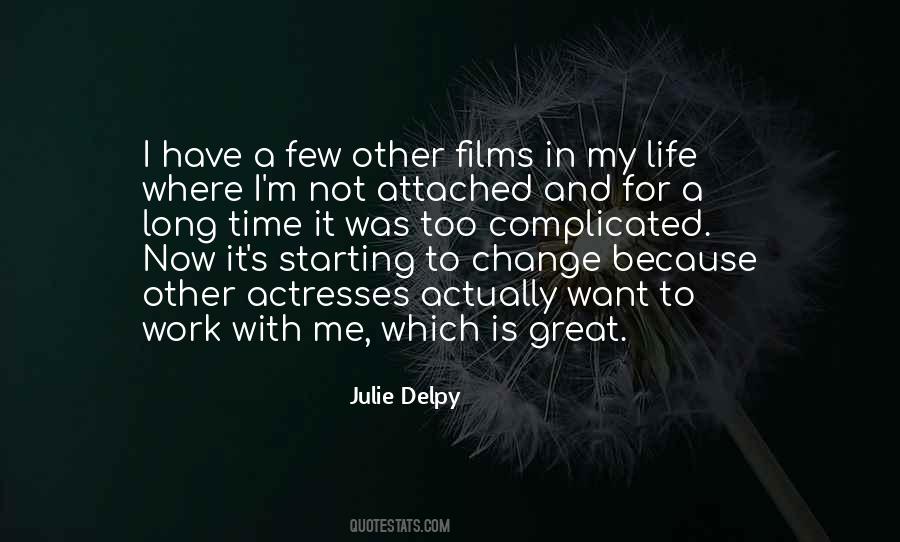 #76. I guess what they say is true - sometimes you have to smack up against a brick wall before you can admit it's time to change or die. For me the death was an emotional one. It's taken me this long to figure out I was killing myself by shutting off my true feelings and desires. - Author: Claire Thompson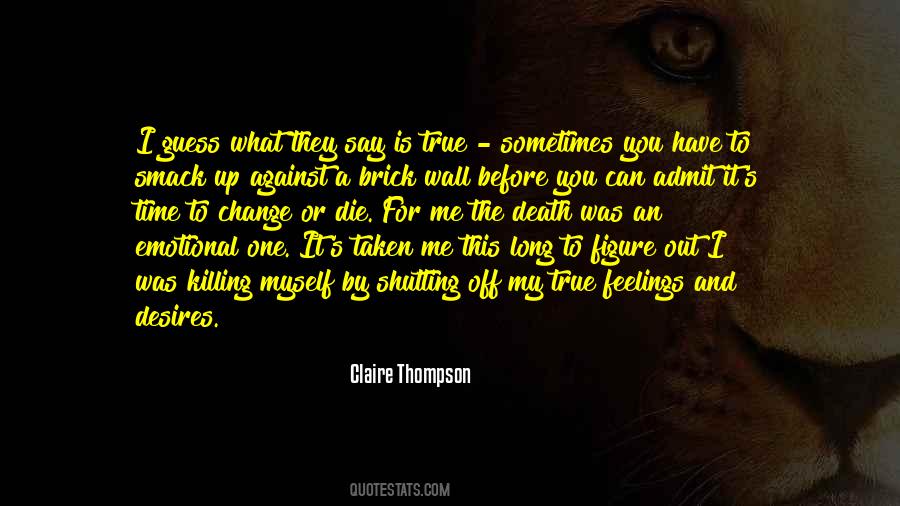 #77. For some time now she has had the conviction that life is about to change if only because it must ... - Author: David Nicholls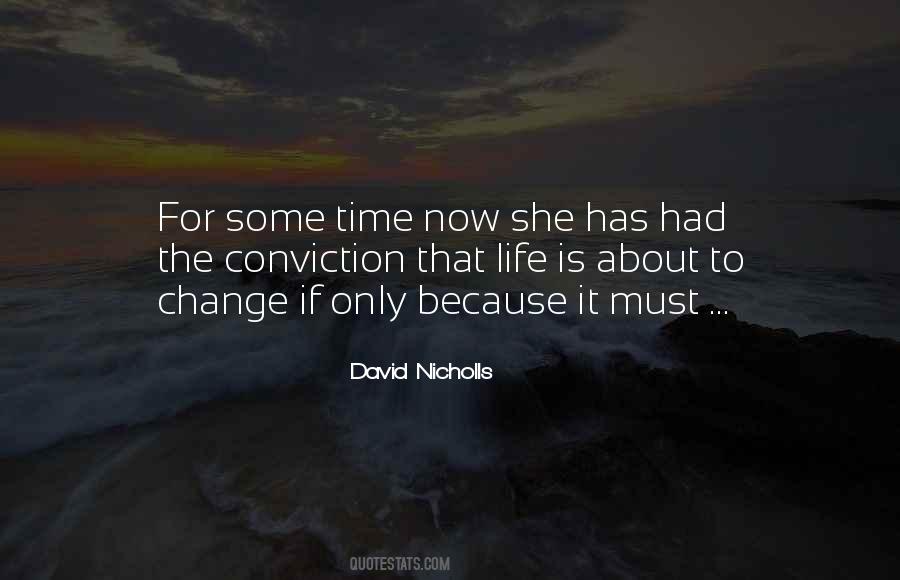 #78. California is an island, and New York's an island. Maybe it's time for me to change islands. - Author: Paul Mazursky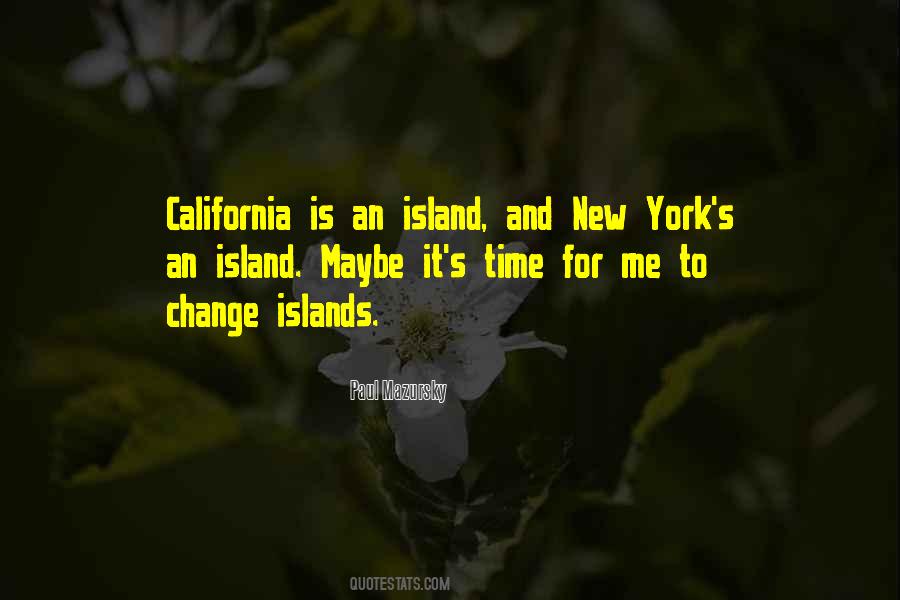 #79. It is the nature of a man as he grows older, a small bridge in time, to protest against change, particularly change for the better. But it is true that we have exchanged corpulence for starvation, and either one will kill us. - Author: John Steinbeck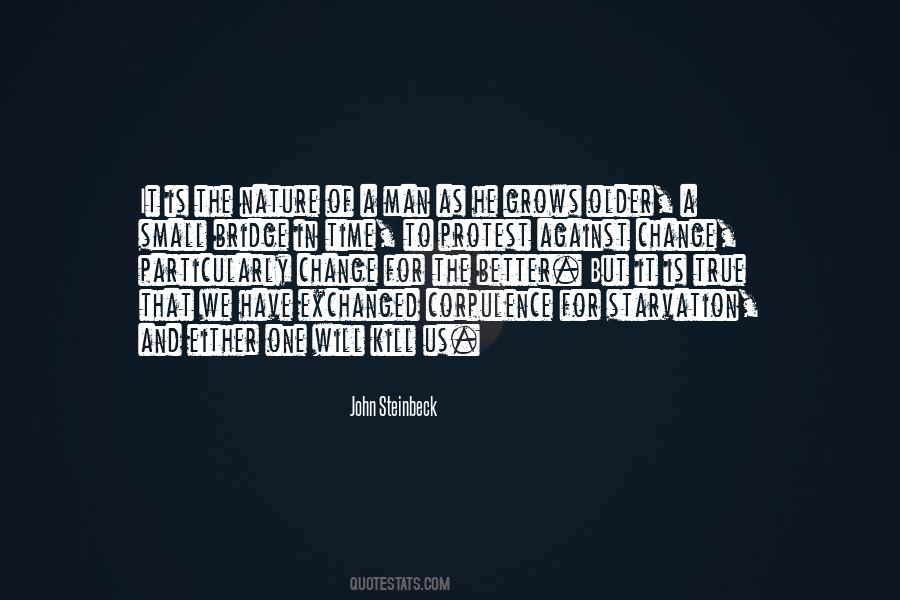 #80. It suits my own attitude toward the world and its people to believe that the Raven is this completely self-centered, uninvolved bringer of change, through inadvertence and accident, and so on ... It's a version of the Raven myth for today, not for the time when it was created. - Author: Bill Reid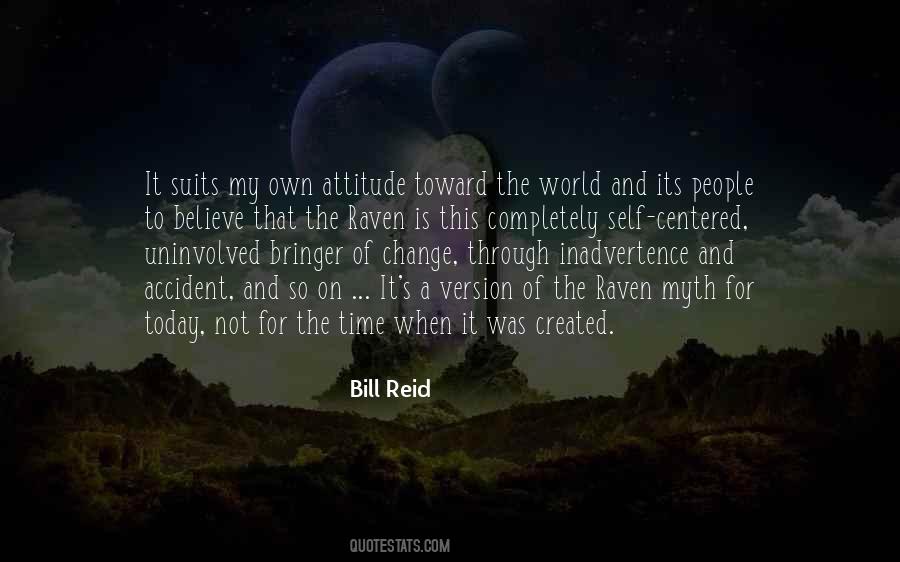 #81. Our family has made its livelihood from the land, digging trenches for hundreds of miles cross-country. You could say this is a real paradox, to destroy the land, yet love it at the same time. This is a typical story of Westerners, how we build community through change. - Author: Terry Tempest Williams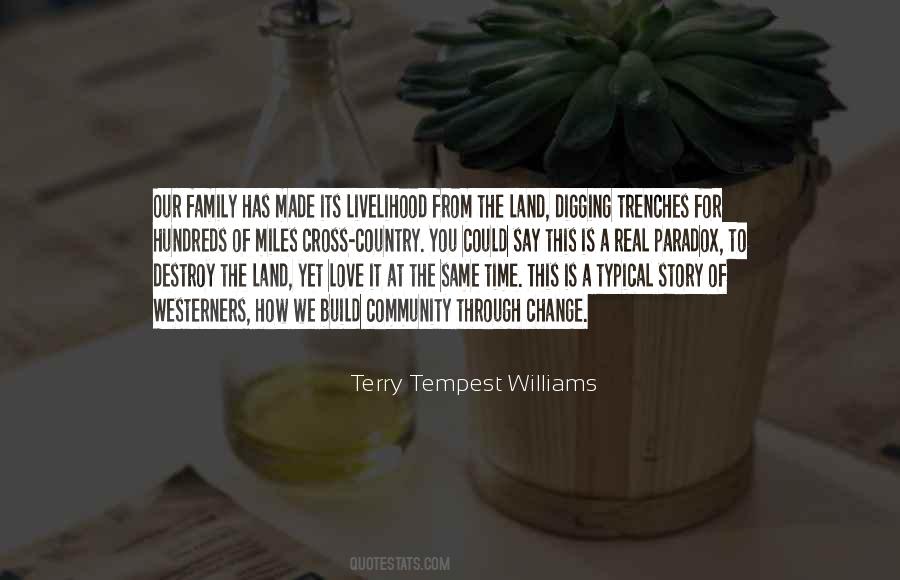 #82. Campaign season is the only time of public debate about what we want for the future. It can change consciousness even more than who gets elected. In short, campaigns may be the closest thing we have to democracy itself. - Author: Gloria Steinem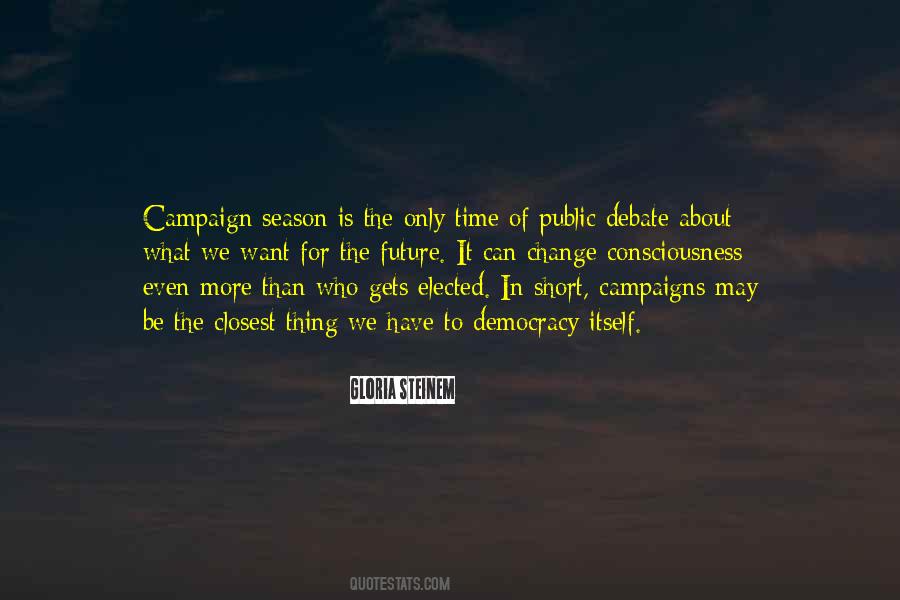 #83. But if nothing but soul, or in soul mind, is qualified to count, it is impossible for there to be time unless there is soul, but only that of which time is an attribute, i.e. if change can exist without soul. - Author: Aristotle.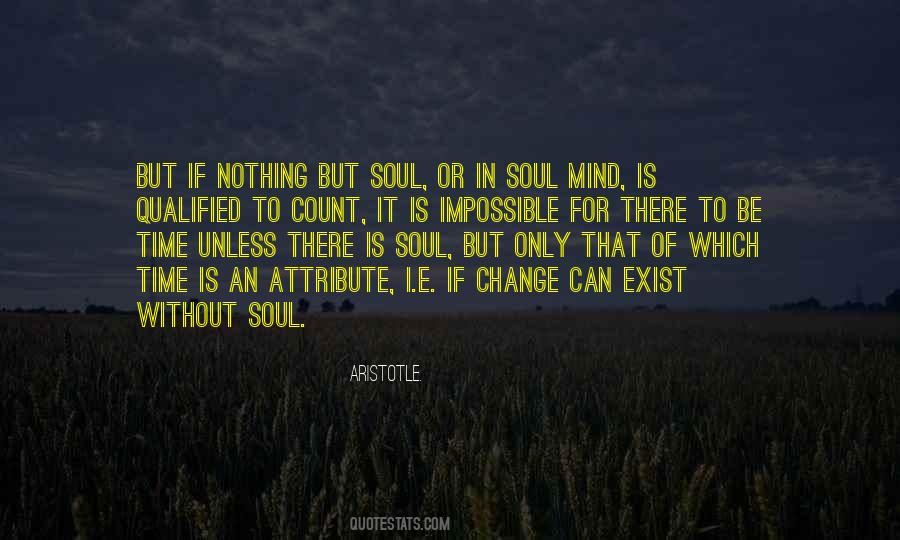 #84. I think there is an enormous sea change happening in the global workforce. It has a lot to do with globalization. I think that people used to have a hope for a career or meaningful employment, and its been reduced to internships, part-time work or just grossly underpaid work. - Author: Dan Gilroy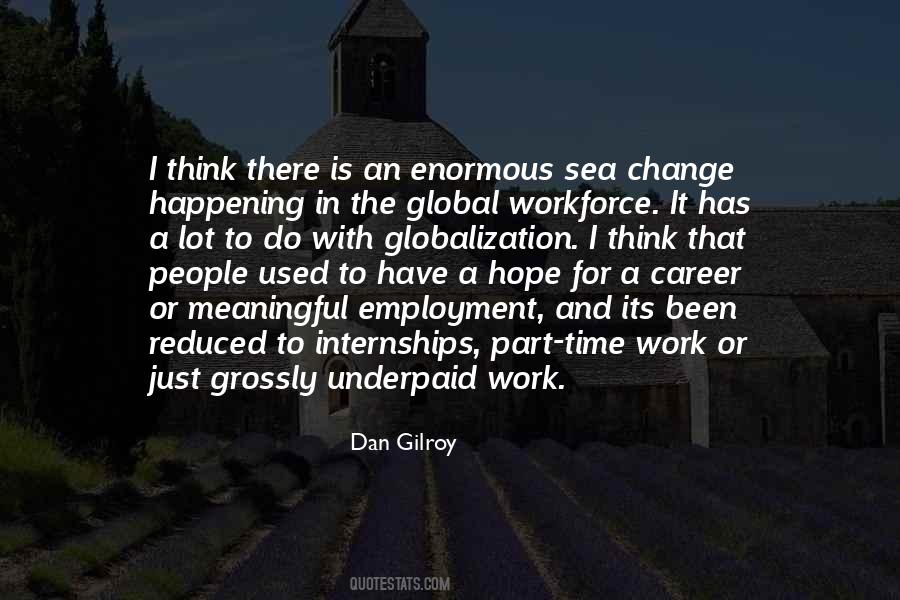 #85. We would grow tired of it, Grandpa, if it were beautiful all the time. A little change from night to night is good for us.'

'For you, because you're young, Wanda. You have many, many evenings ahead of you. I don't. I want more good ones. - Author: Isaac Asimov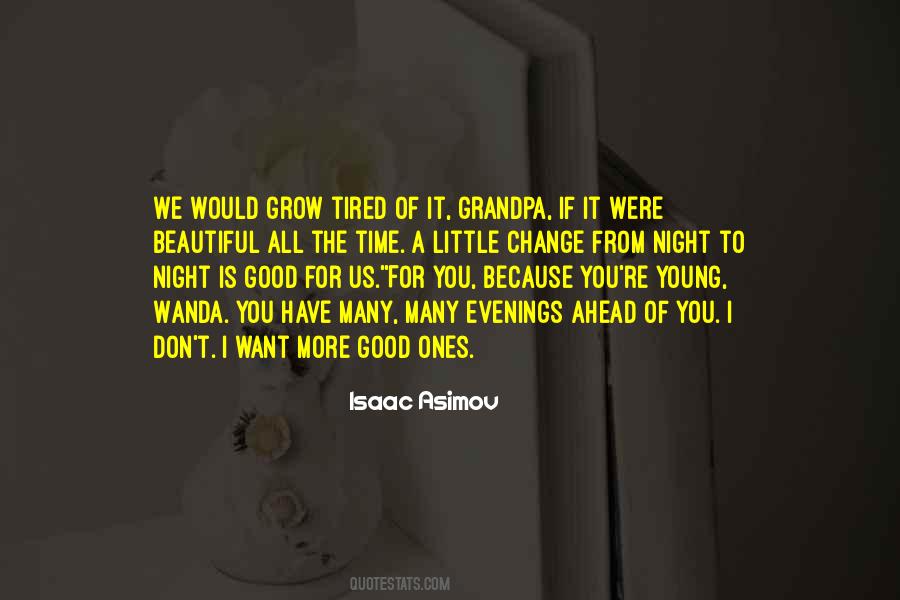 #86. For many people, myself included, the end of the world is happening all the time! It is a form of criticality that paradoxically gives us hope for change and improvement. - Author: Douglas Coupland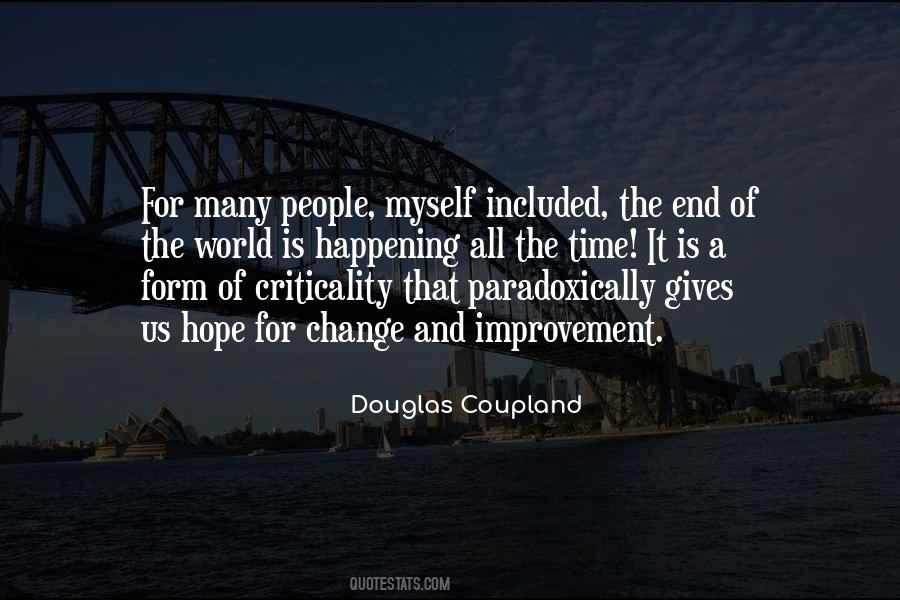 #87. It's a long journey - the change can only be measured in increments of five years at a time. For every two steps forward, there is one step back. Don't let that discourage you, because you can play a big part in ensuring that measurable change takes place in the coming decade. - Author: Jack Norris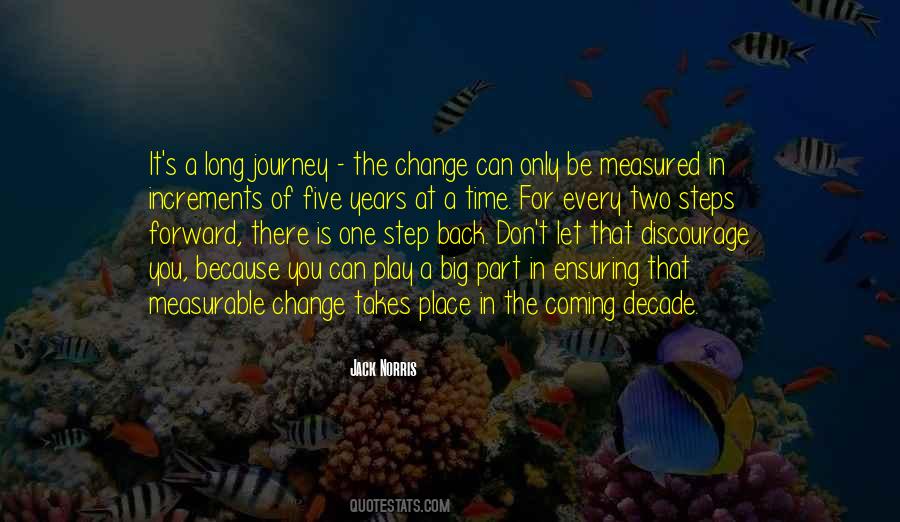 #88. One candidate who considered applying for the position explained his change of heart: That job is like unprotected sex. It feels amazing at the time, but there is a good chance you will pay for it later. None of the benefits are worth the pleasure. - Author: Taona Dumisani Chiveneko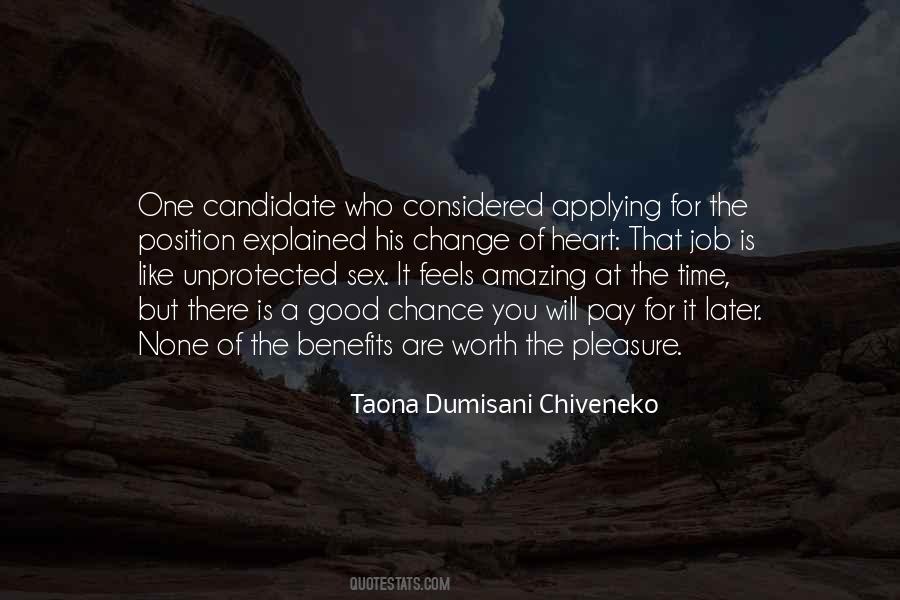 #89. The extraction of deep wisdom can be done at any age, and if we are to love the time of our life, it must be. Imbedded within us is the deeper story we came to live, and the core issue at every age for any awakened human being is the extent to which we are living that story in the present moment. - Author: Carolyn Baker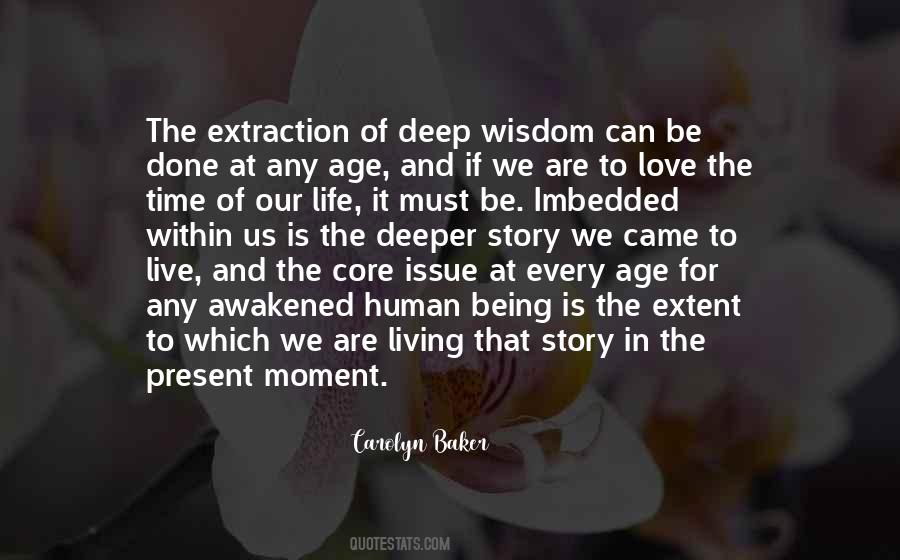 #90. As long as we, in the United States, continue to insist that our politicians have to spend all of their time raising millions of dollars for television ads, it will be corrupt. If we leave it up to the politicians to clean up lobbying and finance reform, nothing is going to change. - Author: Kevin Spacey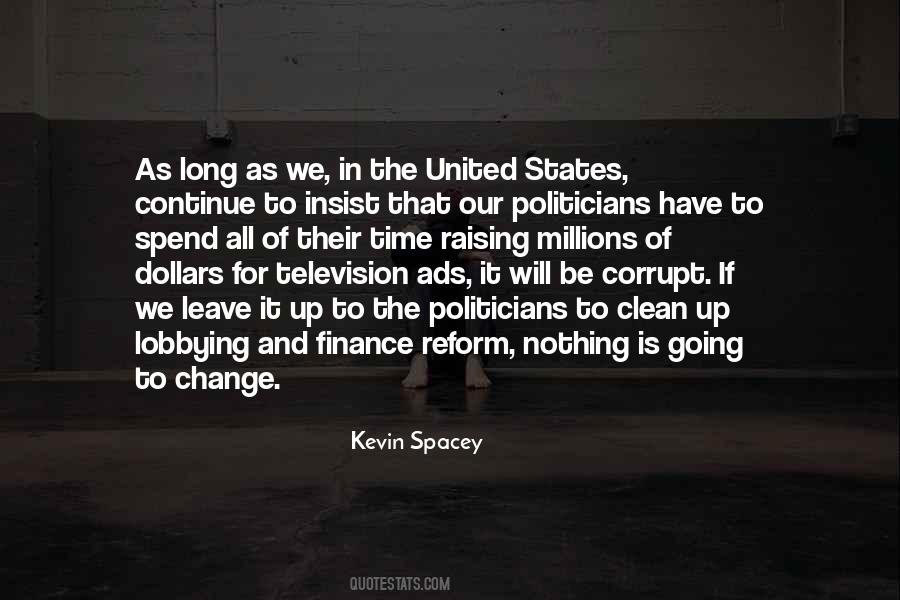 #91. Never fear what people will say ... Never think you can't do it because it was never done before! You can be the source of change that is suspending for quite a long period now! You too can fly! - Author: Israelmore Ayivor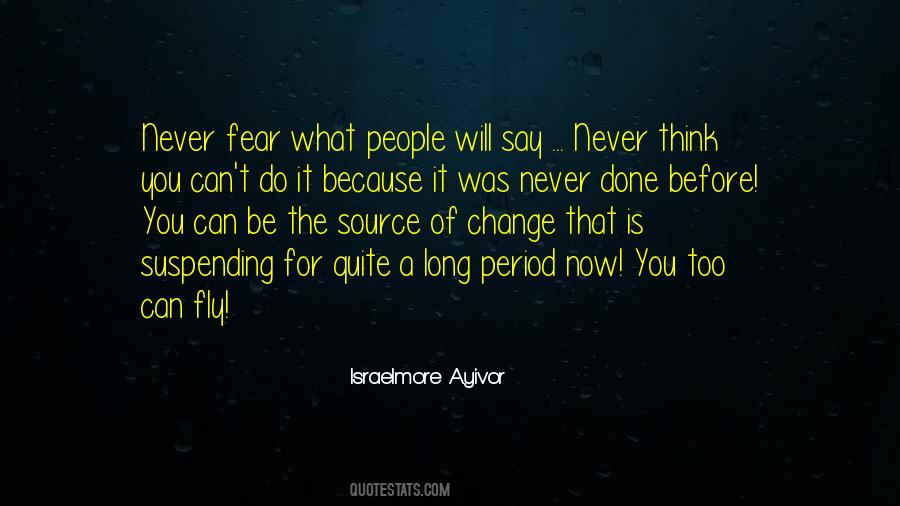 #92. Designing and implementing a strategy for change is a waste of time until you have discovered and embraced the current reality. If you don't know where you really are, it is impossible to get where you need to be. - Author: Andy Stanley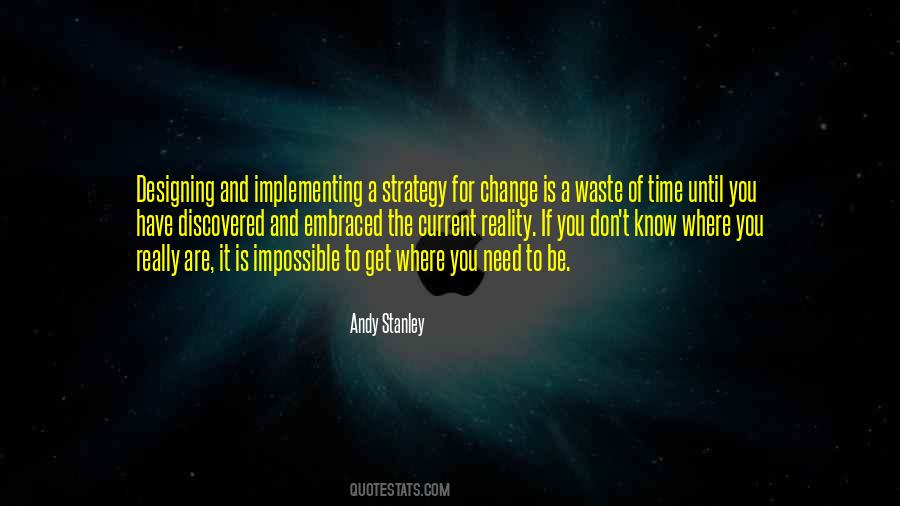 #93. I know my name gets used illegally all the time all over the internet. You know, it is a trademarked name, so it will be something that we always have to deal with. I never needed to change it. It was always fine with me. It is a strange name; that's for sure. - Author: Dweezil Zappa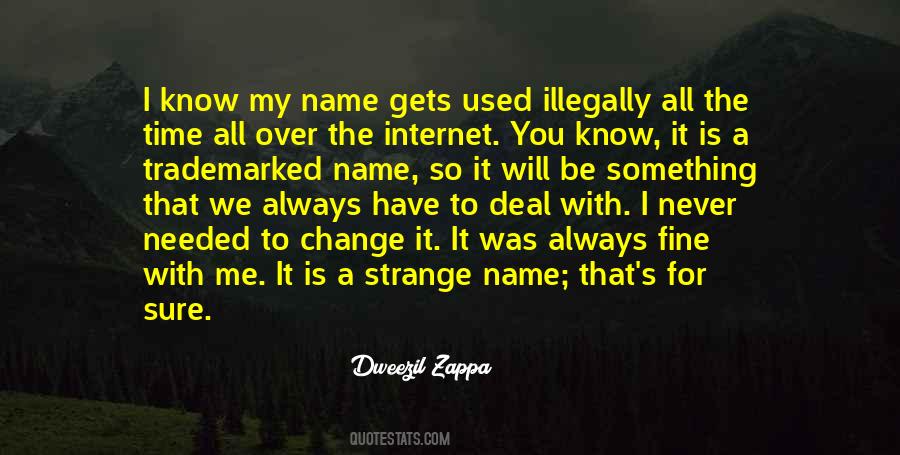 #94. Mental illness is by far the most misunderstood, and stigmatized, of all afflictions. Statistically, one in three families in the U.S. deals with mental illness, and yet it's rarely discussed in the open. It's time for that to change. - Author: Neal Shusterman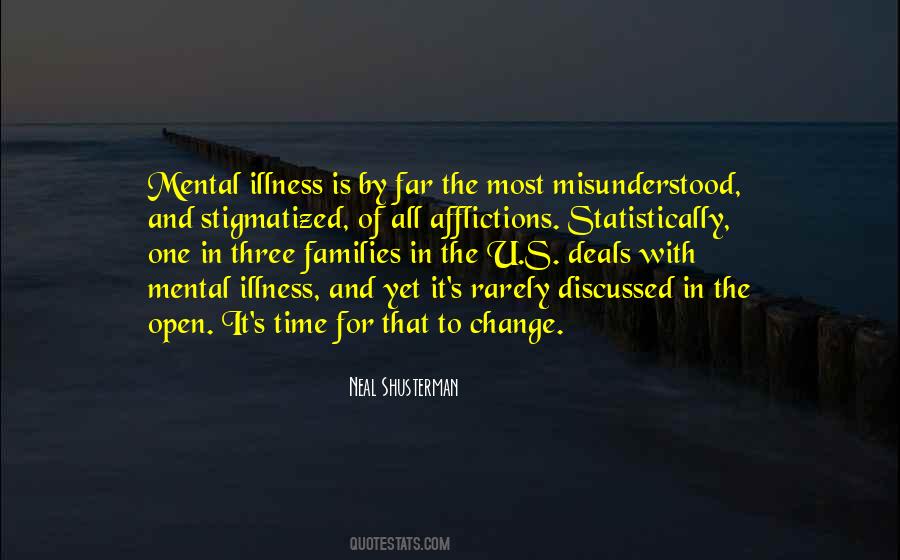 #95. [Fighting Climate Change] is important for every single person on the planet, which is why it has to be the greatest grassroots movement of all time. This is the battle of our lives. We're fighting for our children. - Author: Emma Thompson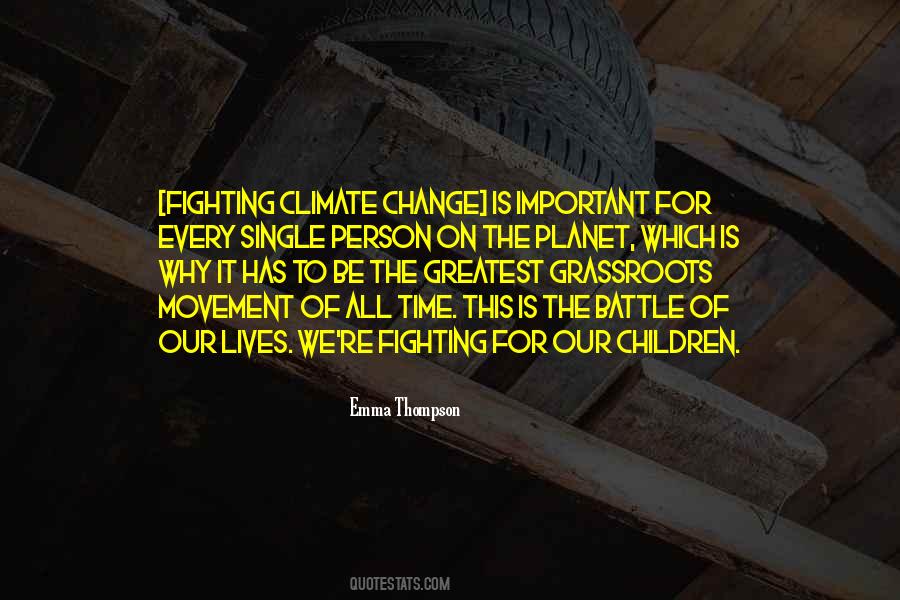 #96. Our dilemma is that we hate change and love it at the same time; what we really want is for things to reamin the same but get better ... - Author: Sydney J. Harris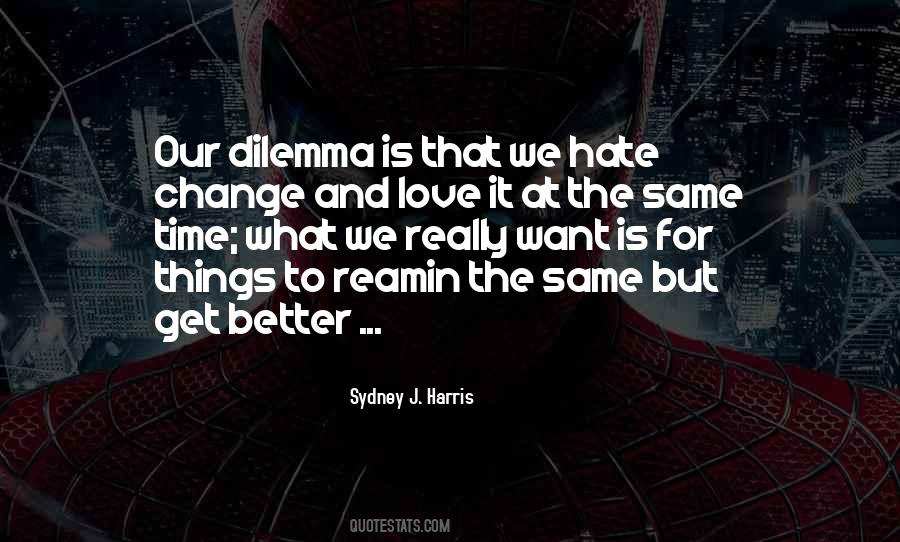 #97. As a nation, we are on a path of rapid and deep systemic change to our health system, and it's going to unfold for some time to come. It is already transforming the fundamental nature of the U.S. medical care delivery system. - Author: John E. McDonough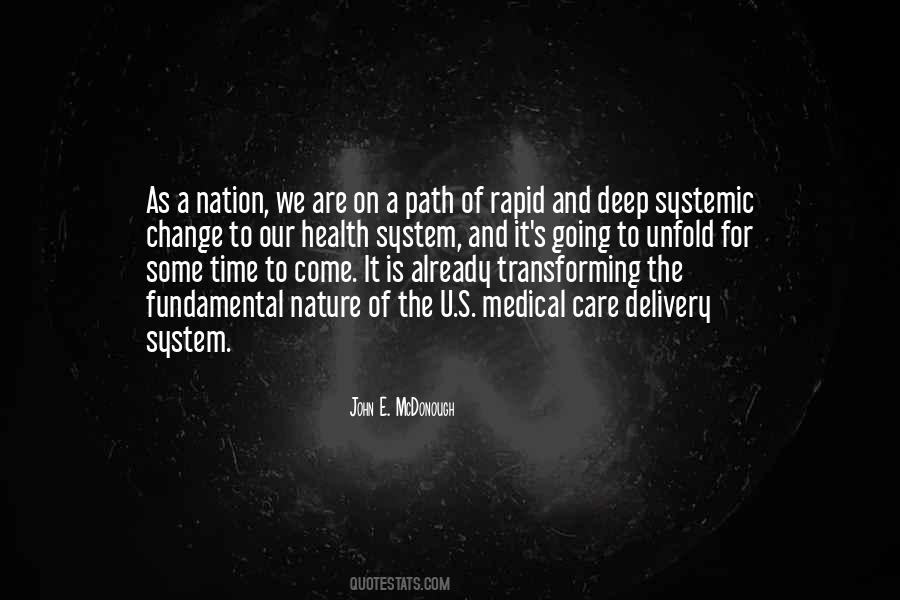 #98. There been times when I thought I couldn't last for long But now I think I'm able to carry on It's been a long, been a long time coming But I know a change is gonna come, oh yes it will - Author: Sam Cooke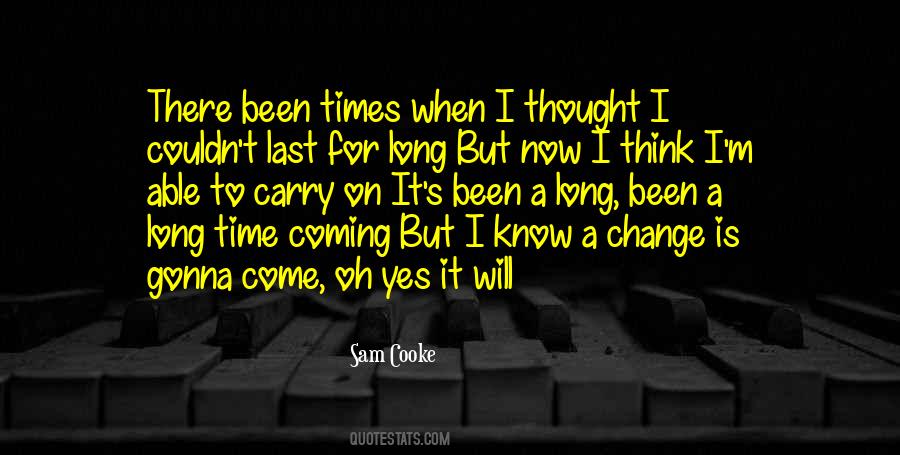 #99. I know that there is a reason for everything. Perhaps at the moment that an event occurs we have neither the insight or the foresight to comprehend the reason, but with time and patience it will come to light. - Author: Brian Weiss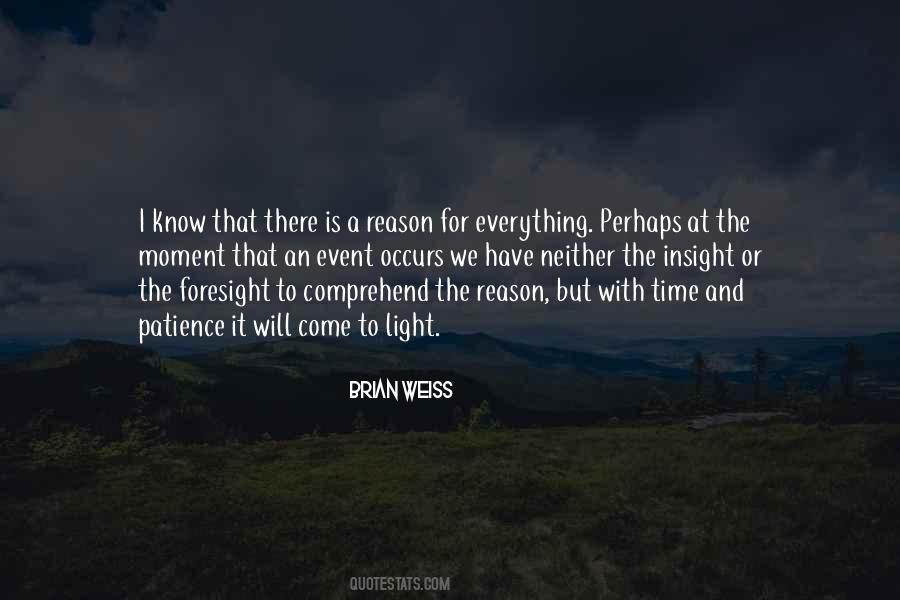 #100. 'Middle school' is used as shorthand for a time when things change. It's a time a lot of kids feel like they don't even have one good friend. - Author: Rebecca Stead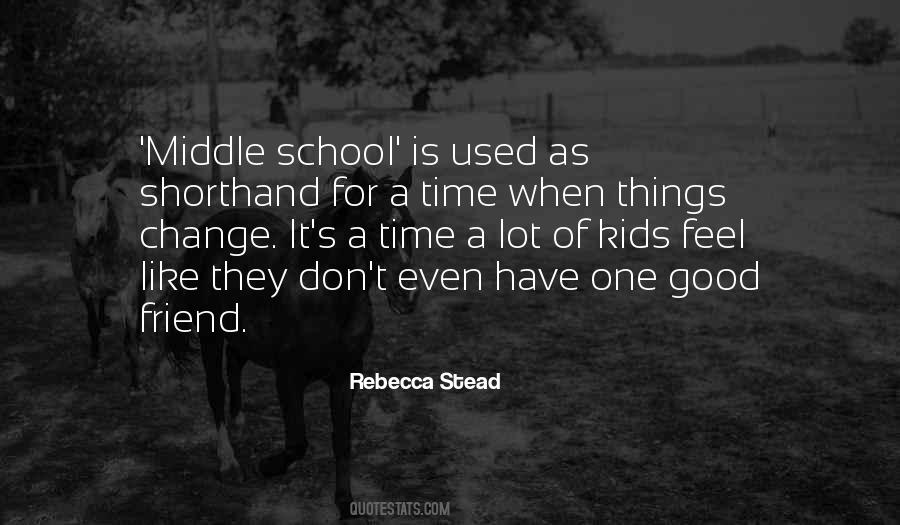 Famous Authors
Popular Topics