Internet Cable Famous Quotes & Sayings
List of top 31 famous quotes and sayings about internet cable to read and share with friends on your Facebook, Twitter, blogs.
Top 31 Internet Cable Quotes
#1. I grew up in New York City in the '80s, and it was the epicenter of hip-hop. There was no Internet. Cable television wasn't as broad. I would listen to the radio, hear cars pass by playing a song, or tape songs off of the radio. At that time, there was such an excitement around hip-hop music. - Author: Michael Rapaport
#2. Times change. Cable news and the Internet alone have transformed the way outreach to the American people can be accomplished. - Author: Elliott Abrams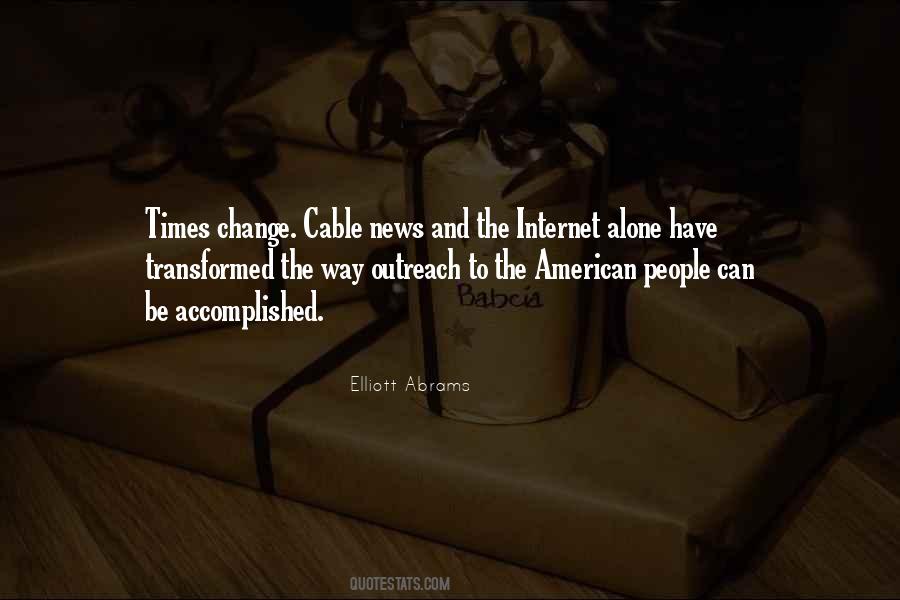 #3. Any 'network neutrality' rule should be designed to forbid phone or cable companies from controlling the Internet. - Author: Marvin Ammori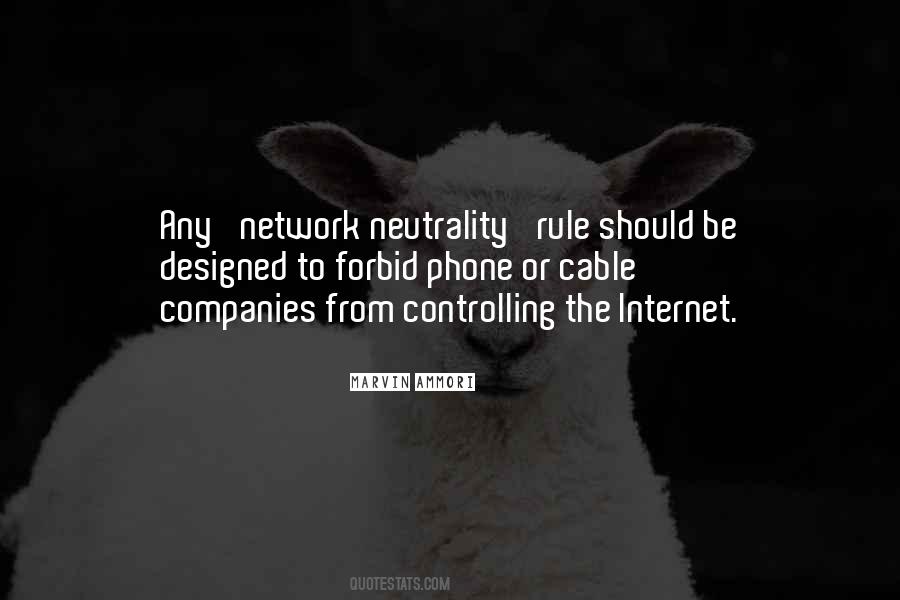 #4. I don't sit down to write a song, per se. - Author: Creed Bratton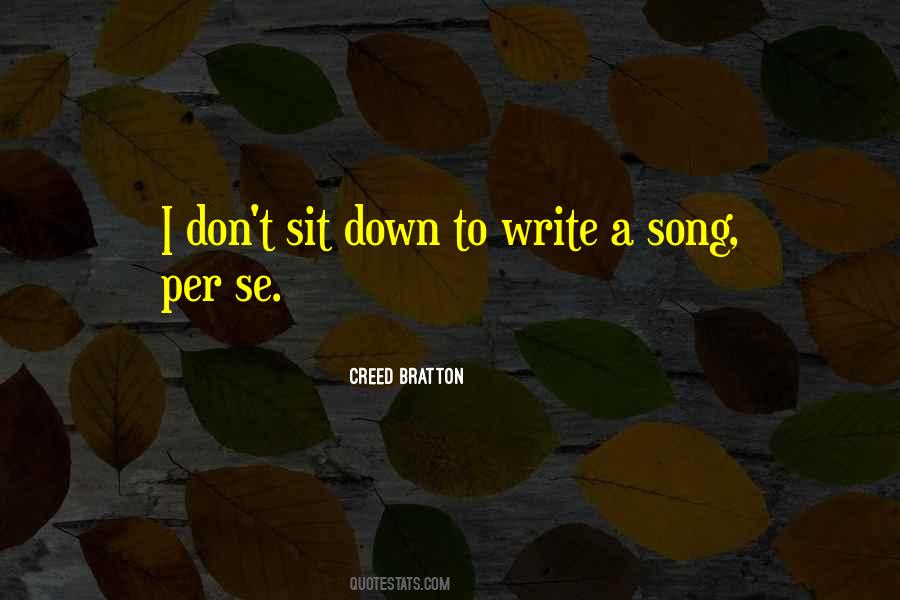 #5. 'Network neutrality' is sometimes called 'Internet freedom' or 'Internet openness' and is a legal principle that would forbid cable and phone companies like AT&T, Verizon, and Comcast from blocking some websites or providing special priority to others. - Author: Marvin Ammori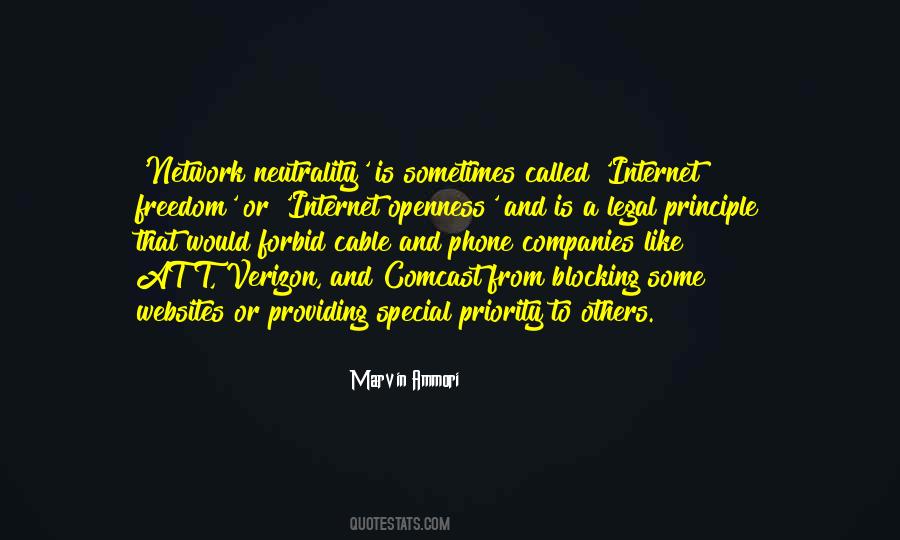 #6. Comedy has been crossing the country with remarkable speed way before the Internet, social media, even cable TV. - Author: Chris Bliss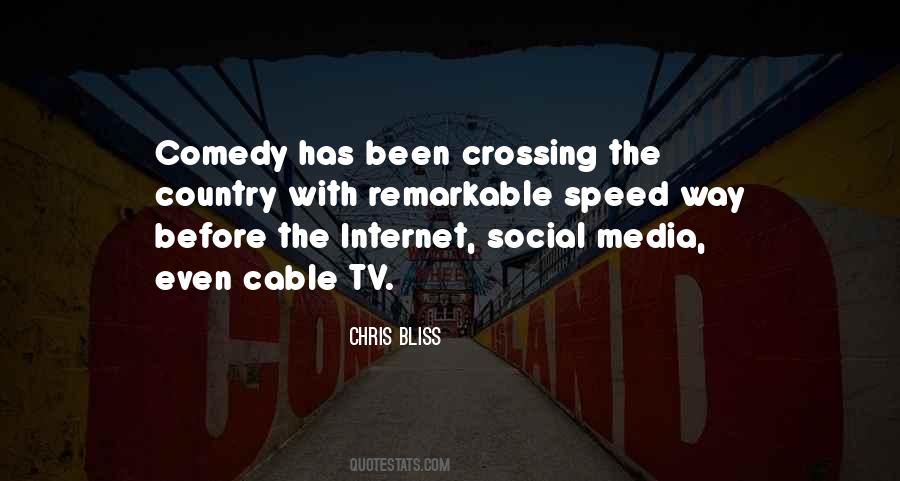 #7. by the FCC's own reckoning, the cable companies will soon enjoy an uncontested monopoly over broadband Internet in much of the United States beyond the East Coast, and they are also seeking control of more Hollywood studios and television networks. - Author: Tim Wu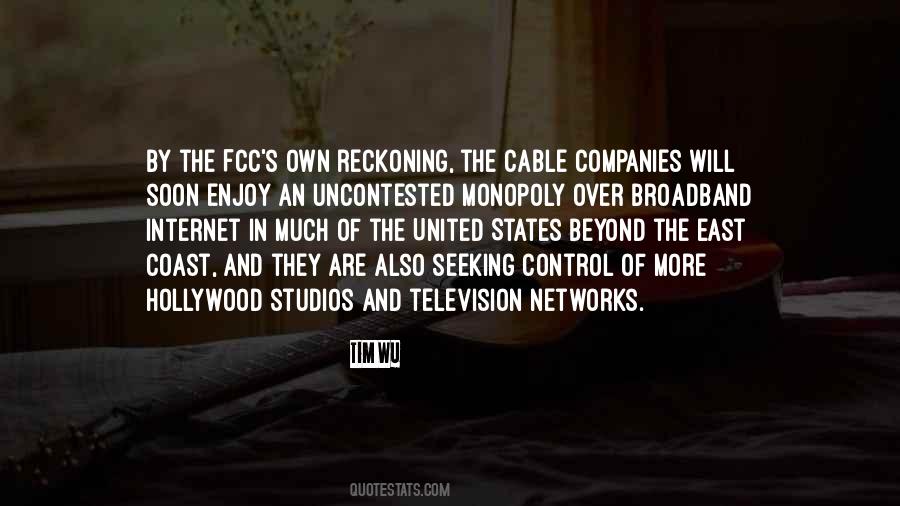 #8. The stories about broadcast dying or it being overtaken by cable have stopped. Same goes for the stories about the Internet hurting our business. - Author: Leslie Moonves
#9. Cable television and the Internet have created an unending demand for information, and there simply isn't enough truth to go around. - Author: Timothy Noah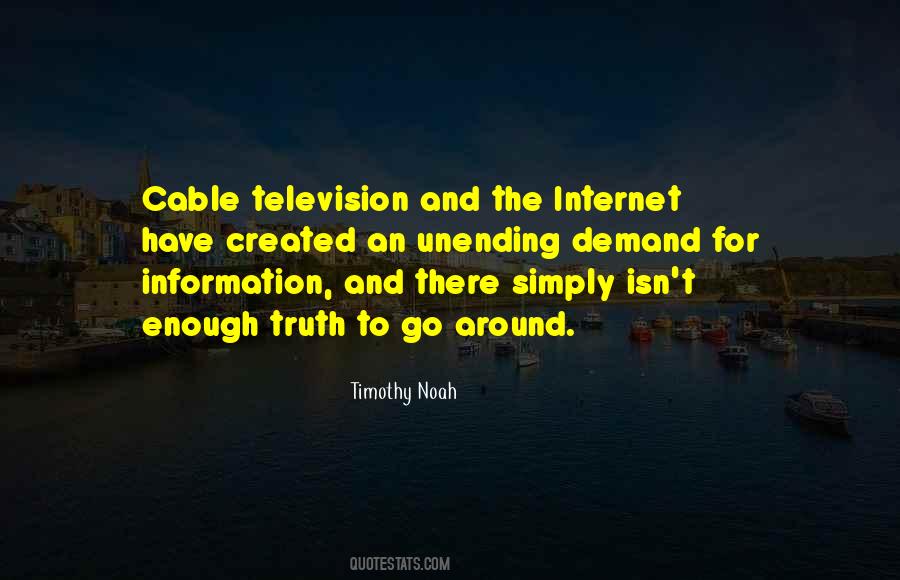 #10. The justices have constitutionally protected obscenity in libraries, filth over cable television, and now unlimited internet pornography. - Author: Phyllis Schlafly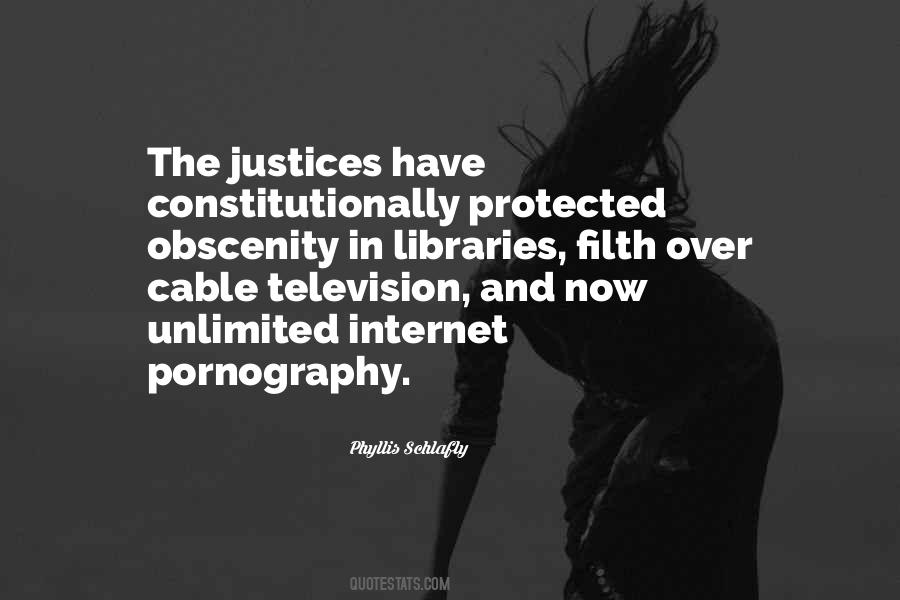 #11. Everyone loves the idea of internet fast enough that HD movies download in seconds, but if only the telecoms or their partners get to use the high speeds, it's not the internet: It's glorified cable. - Author: Damian Kulash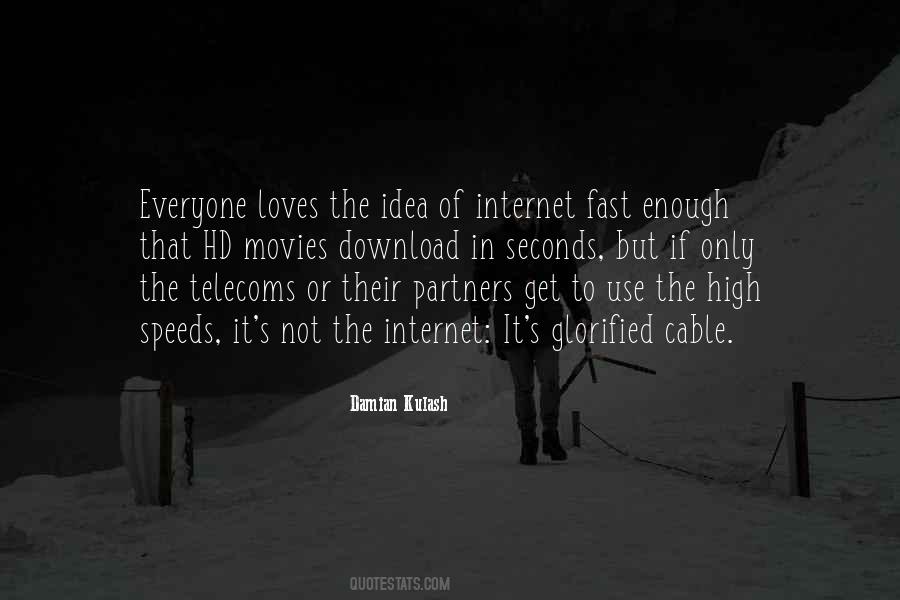 #12. I don't have terrible taste in women. I'm mad about you, aren't I?"
"Are you?"
"Yes, Blue. I am. I am completely gone on you. - Author: Amy Harmon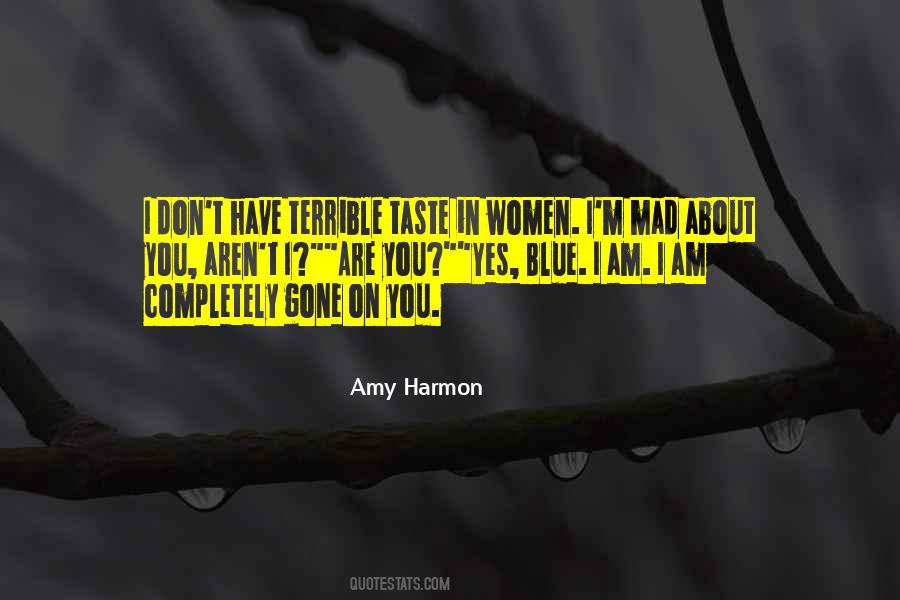 #13. A rule against paid fast lanes would encourage additional capacity; a rule permitting paid fast lanes would simply encourage cable companies to create congested slow lanes on the Internet so they could make money by selling fast lanes to big companies. - Author: Marvin Ammori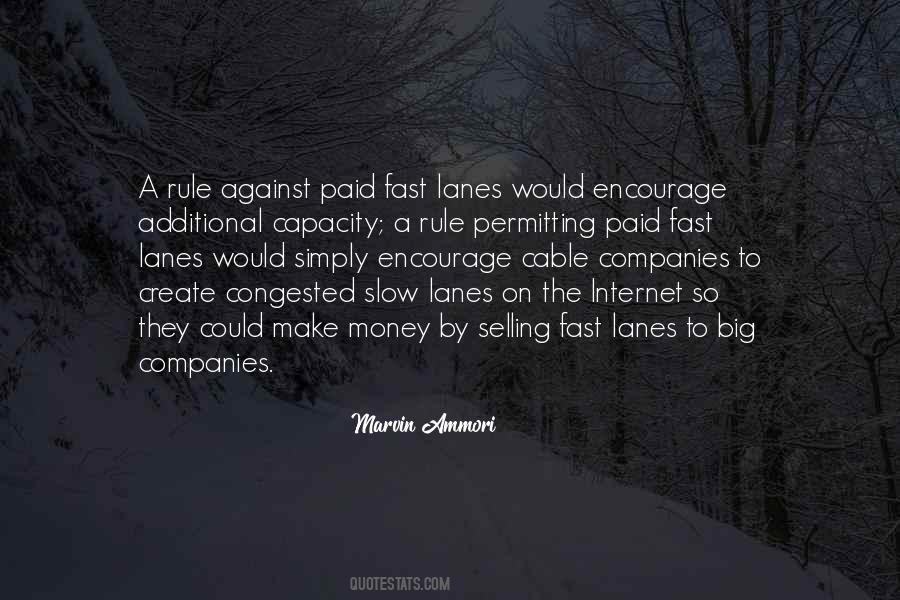 #14. We now assume that when people turn on the evening news, they basically already know what the news is. They've heard it on the radio. They've seen it on the Internet. They've seen it on one of the cable companies. So that makes our job a bit different. - Author: Bob Schieffer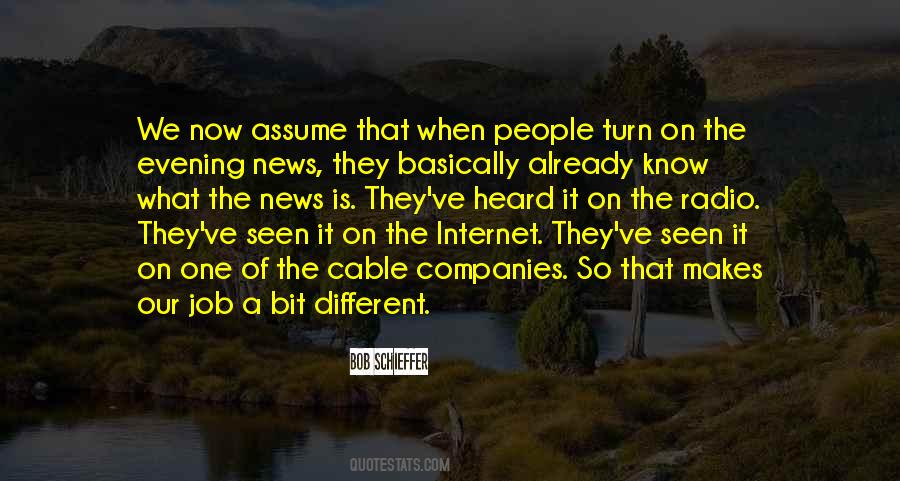 #15. I think Ronald Reagan is what happened ... The age of Reagan brought conservatism into the mainstream ... It also brought us the beginning of the new media-talk radio, the internet, cable television. - Author: Douglas Brinkley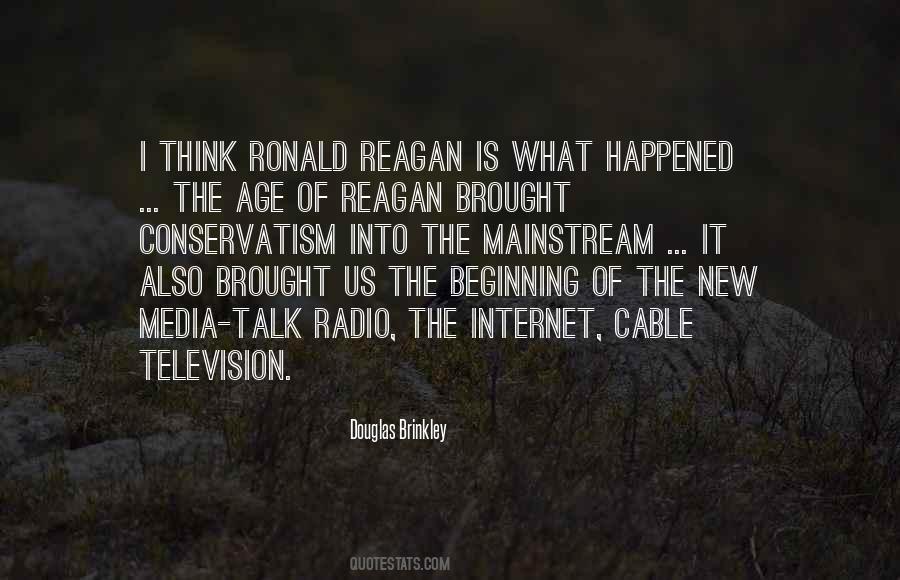 #16. Whatever she might become she would never be static. - Author: Sinclair Lewis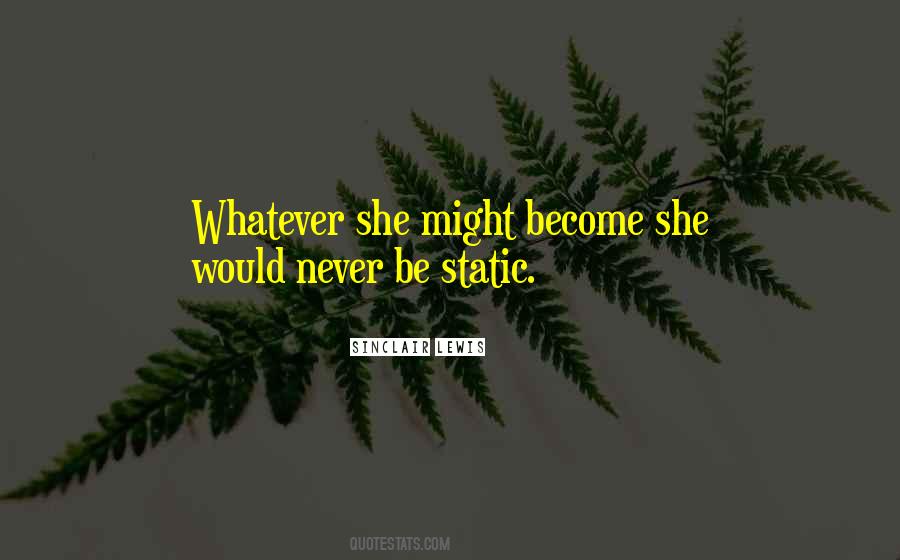 #17. I graduated from high school in 1963. There were no computers, cell phones, Internet, credit cards, cassette tapes or cable TV. - Author: Jeffrey Gitomer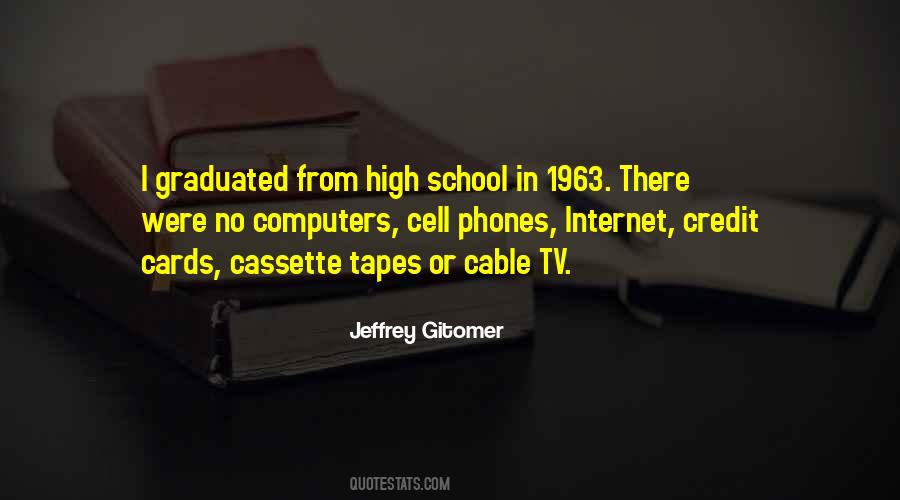 #18. All three networks have always had a morning show but now cable of course is taking some of that audience away and a variety of other things, probably the Internet as well. - Author: Katie Couric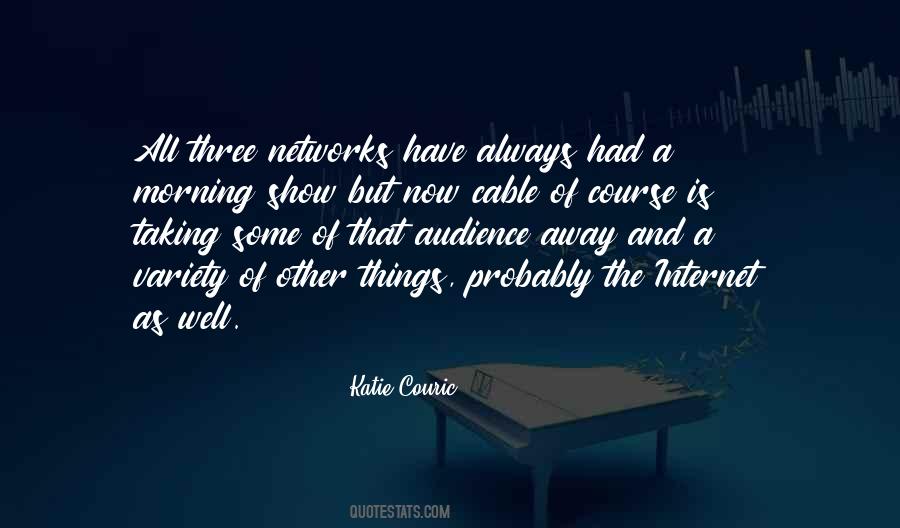 #19. Just as our kids don't understand the difference between broadcast and cable, the line between TV and Internet TV is about to disappear. - Author: Jeff Jarvis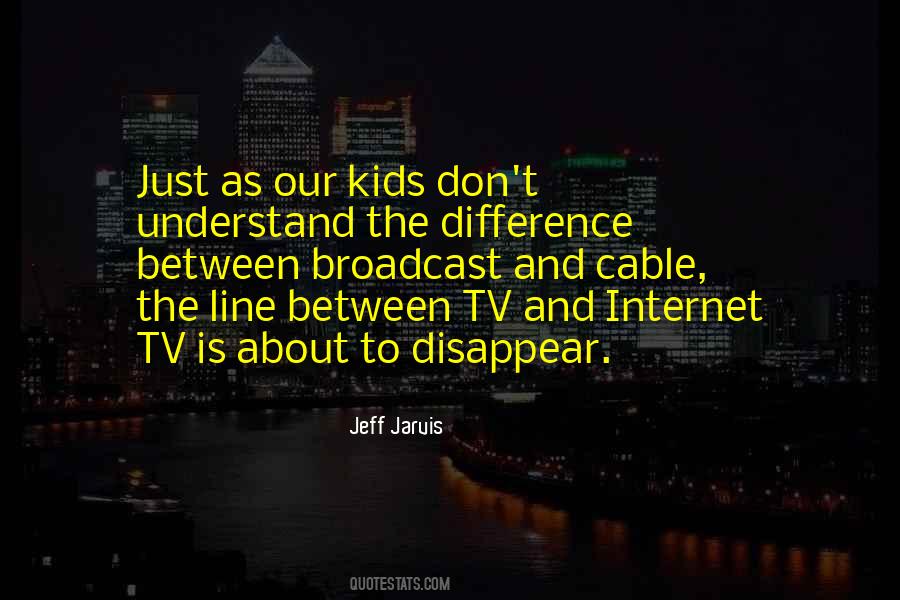 #20. Everything is relative. Is the Internet fast? Not for most people. Is it always on? Yes, for cable modem and DSL users but that represents a tiny percentage of users. - Author: John Patrick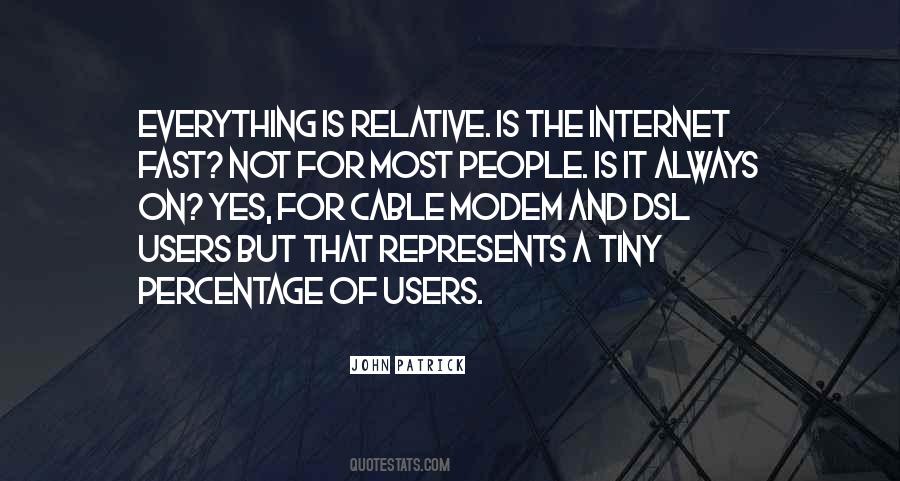 #21. I moved recently and I moved my cable and Internet and phone service which was all provided by Time Warner Cable. And you know, I made a plan with them where they'd come sometime between summer solstice and winter solstice and I would wait. - Author: Eugene Mirman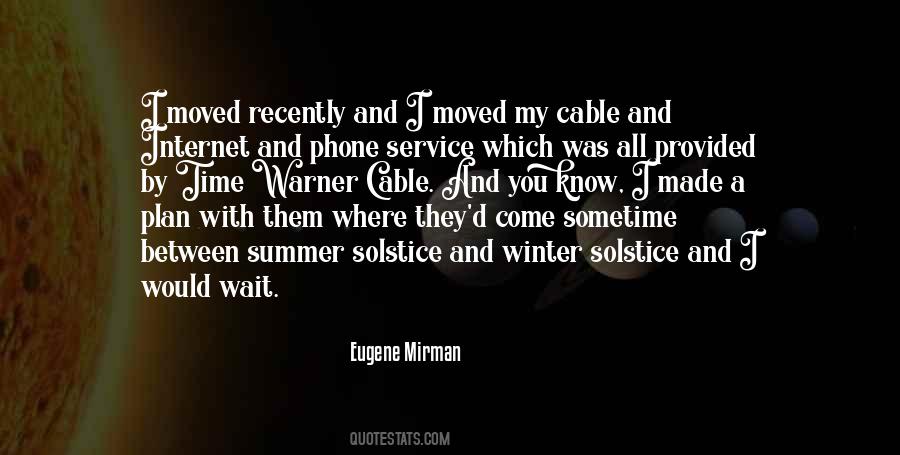 #22. Charter's merger sales pitch is pretty straightforward: it argues that it has always been too small to bully Internet companies, TV makers, and its own customers, so it has'un-cable' practices they hope to extend. - Author: Marvin Ammori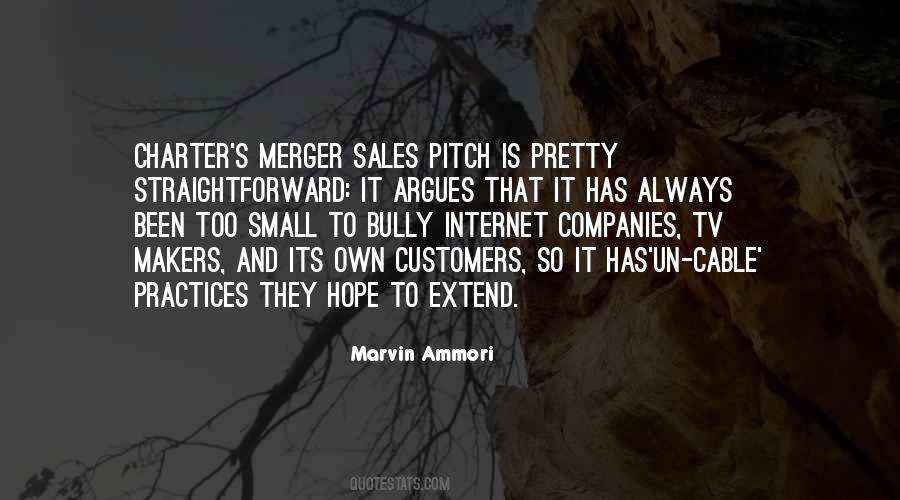 #23. Net neutrality sounds wonky and technical but is actually quite simple. It would keep the Internet as it has always been - cable and phone companies would remain mere gateways to all sites, rather than gatekeepers determining where users can go and what innovators can offer them. - Author: Marvin Ammori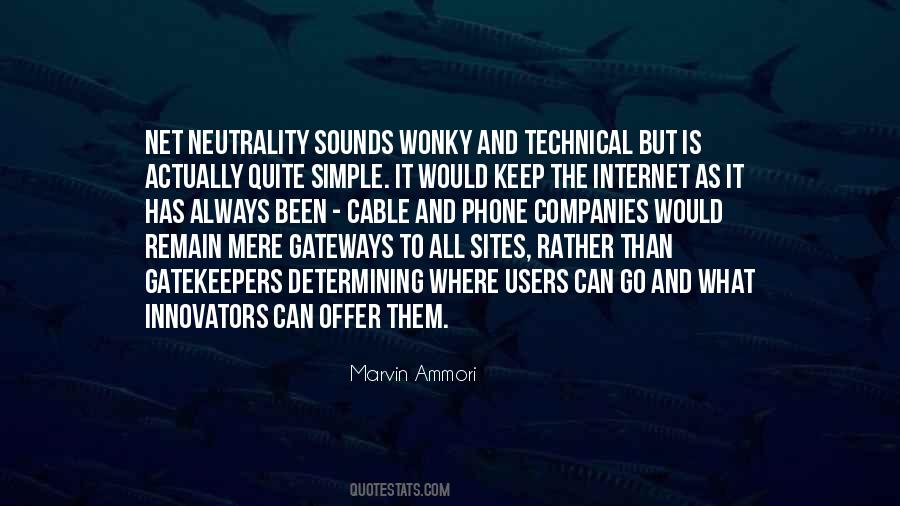 #24. How on Earth did you do that with the same 24 hours a day that everyone else gets? - Author: Lin-Manuel Miranda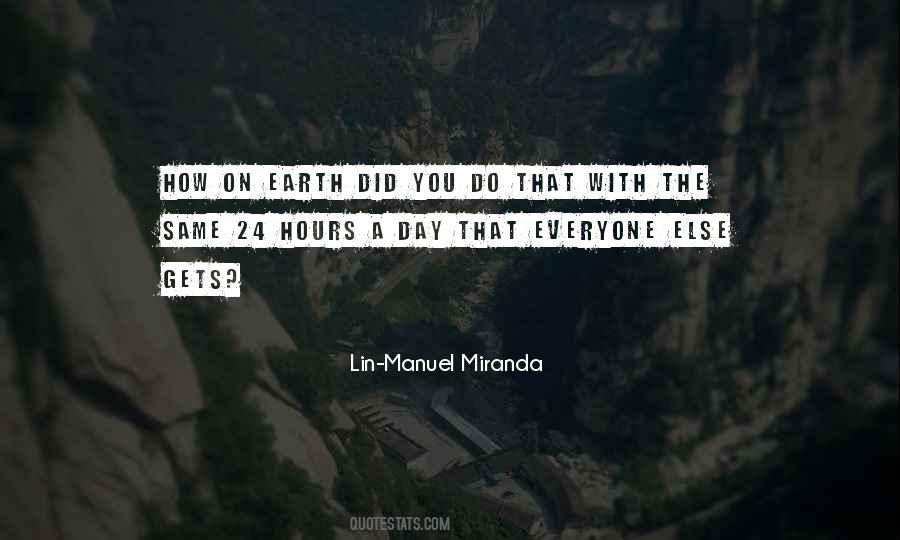 #25. Television is very much like the motion picture; you need high-end product that will first go on broadcast or cable and eventually on the Internet, and then the lifespan of this content being distributed worldwide. - Author: Michael Eisner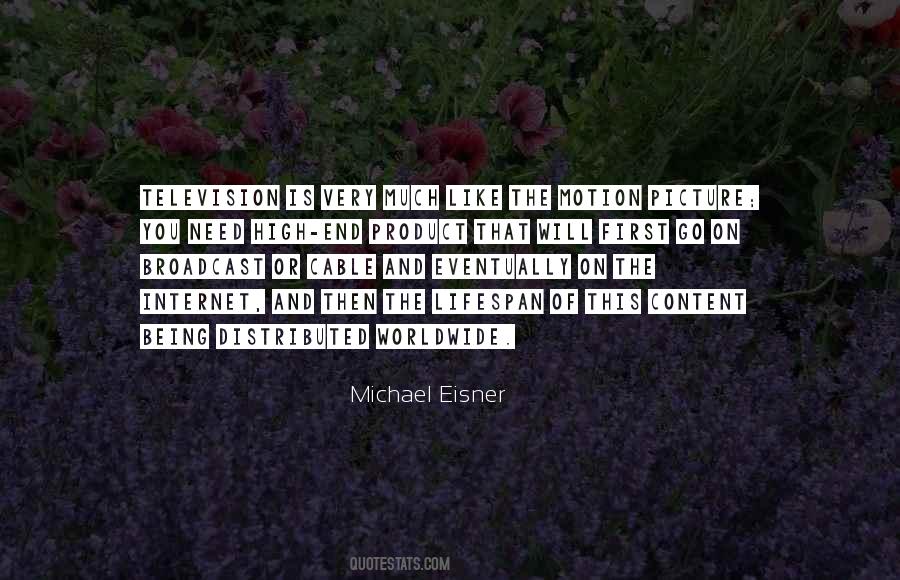 #26. When feminism and gay activism set themselves against organized religion, they have the obligation to put something better in its place. - Author: Camille Paglia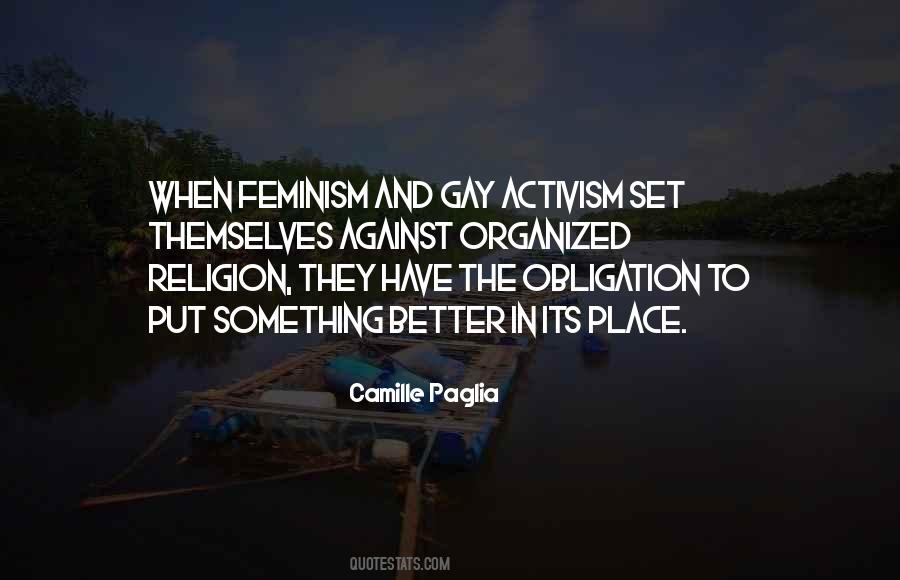 #27. Magazines that depend on photography, and design, and long reads, and quality stuff, are going to do just fine despite the Internet and cable news. - Author: Jann Wenner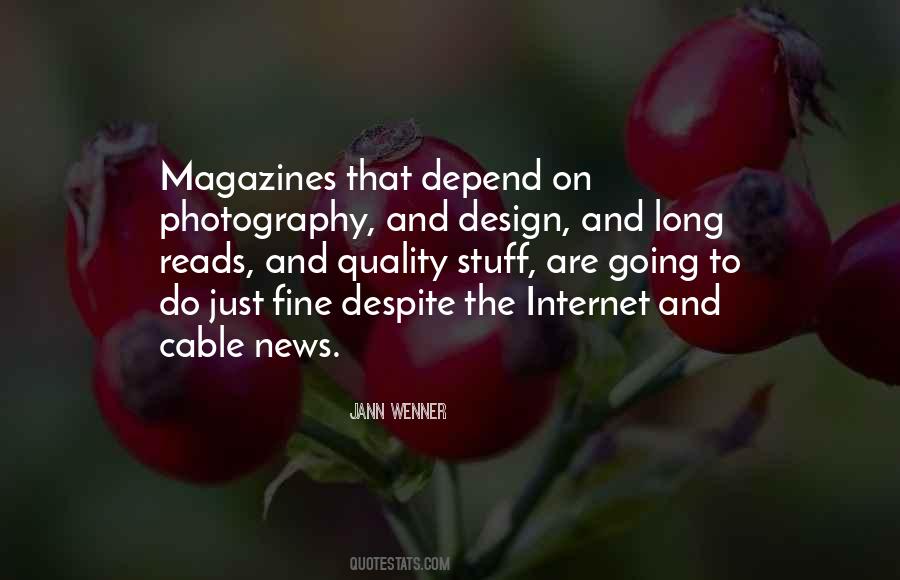 #28. Evidence and economic theory suggests that control of the Internet by the phone and cable companies would lead to blocking of competing technologies. - Author: Marvin Ammori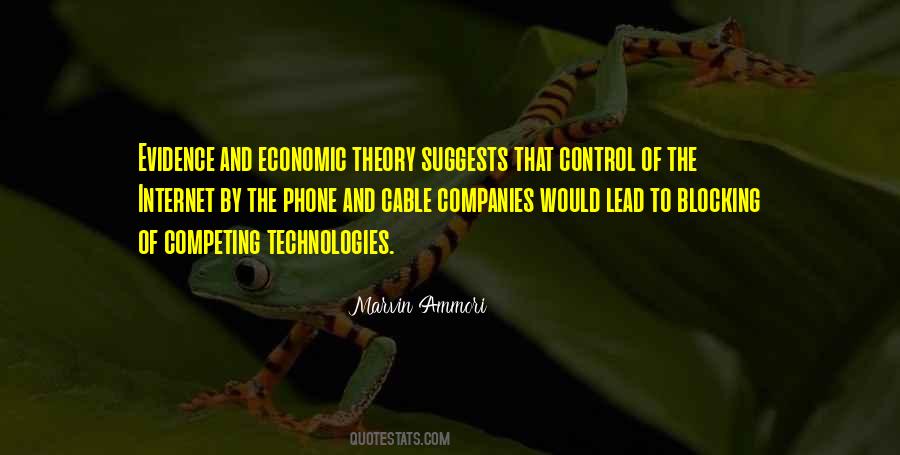 #29. The brutal regime of the dictator fell ... the regime that ruled Iraq for decades, the decades of darkness. The decades that were of tyranny. - Author: Jalal Talabani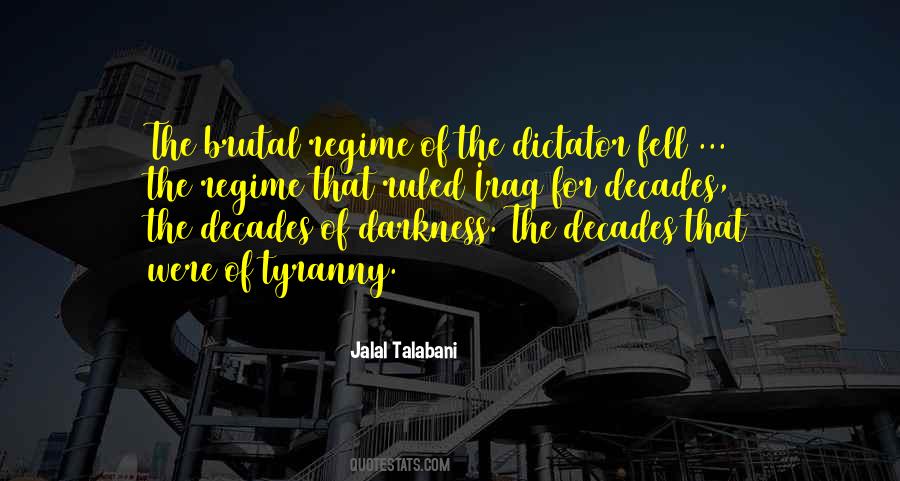 #30. But not having cable or the Internet turns out to be cheaper than having them. And nature is still technically free, even if human beings have tried to make access to it expensive. Time and quiet should not be luxury items. - Author: Timothy Ferriss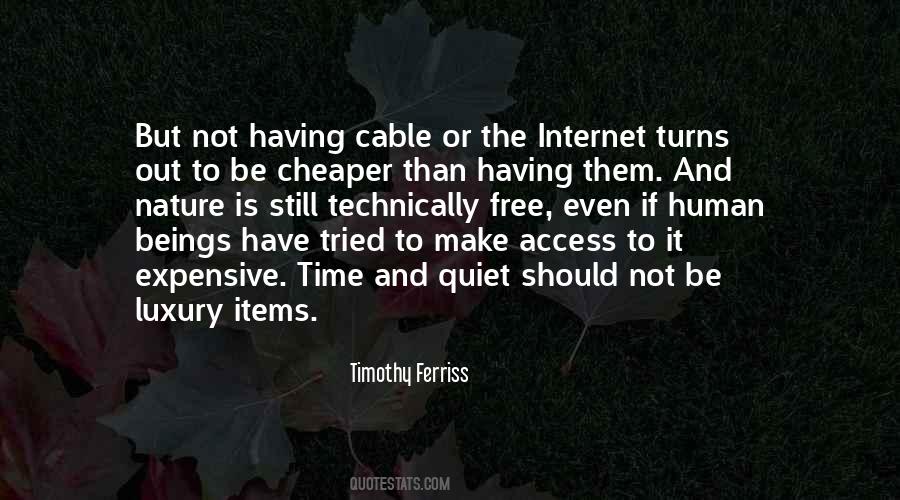 #31. If you don't have the support and love and caring and concern that you get from a family, you don't have much at all. - Author: Morrie Schwartz.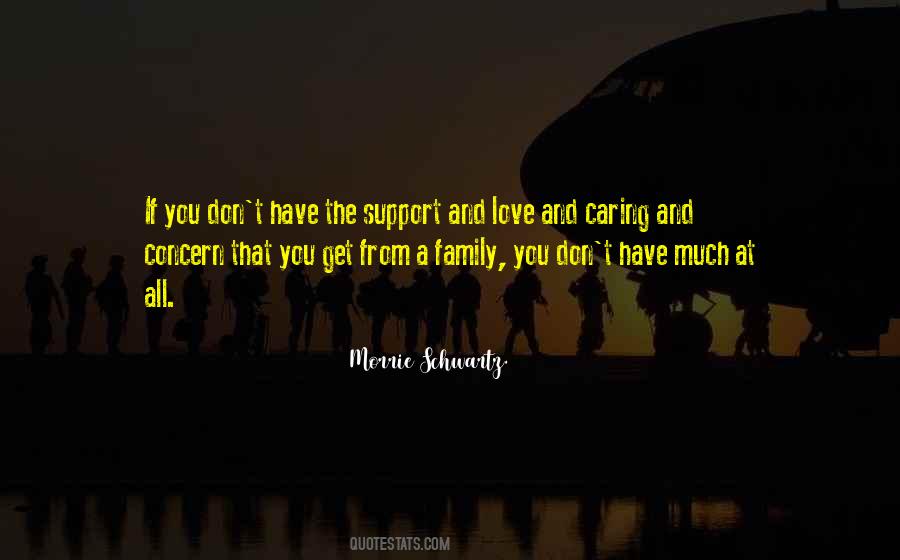 Famous Authors
Popular Topics