If You Can't Forgive Famous Quotes & Sayings
List of top 87 famous quotes and sayings about if you can't forgive to read and share with friends on your Facebook, Twitter, blogs.
Top 87 If You Can't Forgive Quotes
#1. If you can't forgive and forget, pick one. - Author: Robert Breault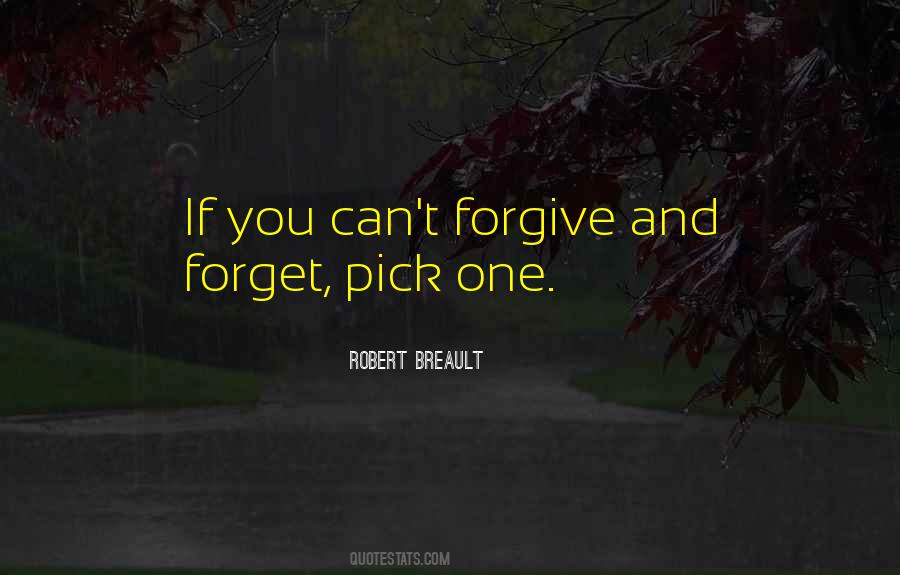 #2. If you love someone enough, you find you can forgive them for just about anything, because living without them is more miserable than any grudge you could hold. - Author: Linda Kage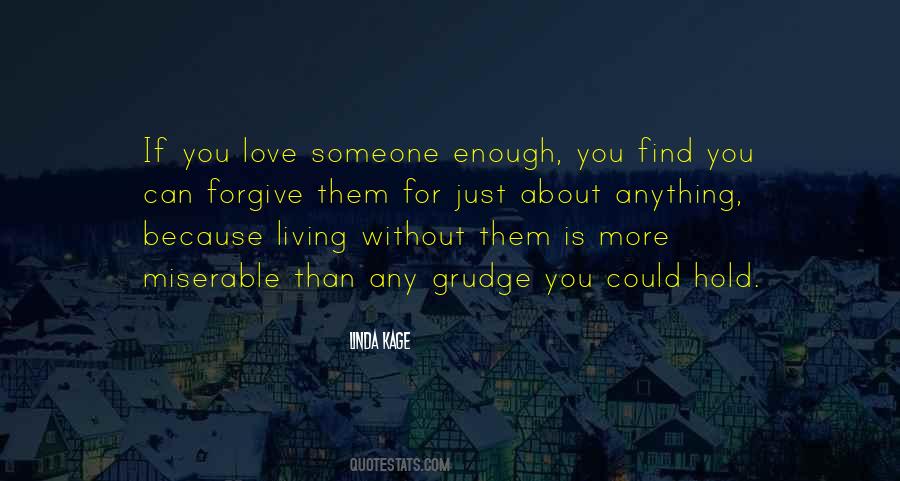 #3. It's hard to move on if you don't forgive," he said. "It's like trying to dance with a lead weight on your shoulders. The anger can weigh you down forever. - Author: Diane Chamberlain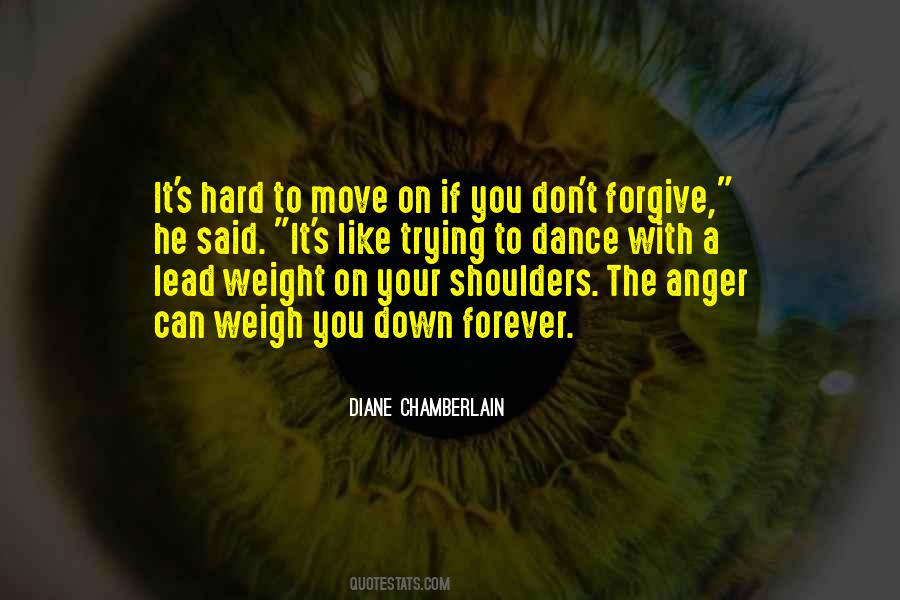 #4. Americans can't stand any stranger looking them in the face. They take it as an insult. It's something they don't forgive. And every American carries a gun. If they catch you, a stranger, looking them in the face, they will shoot. - Author: Okey Ndibe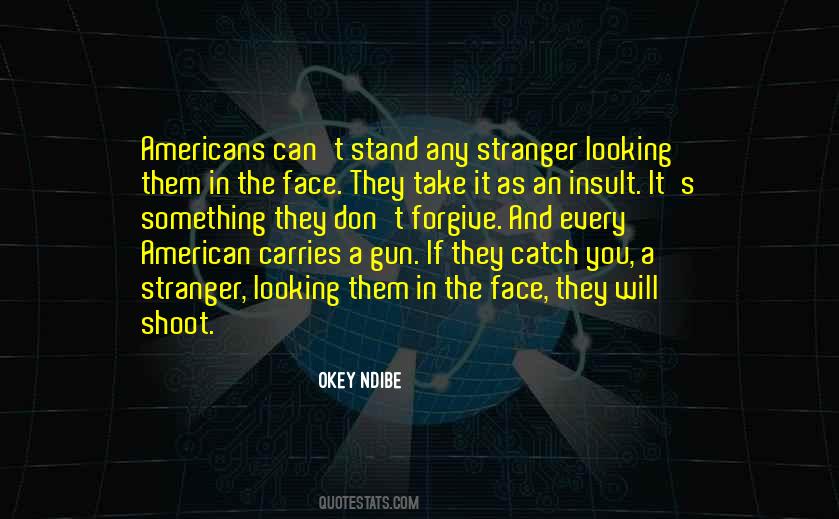 #5. If you can forgive the person you were, accept the person you are, and believe in the person you will become, you are headed for joy. So celebrate your life. - Author: Barbara Johnson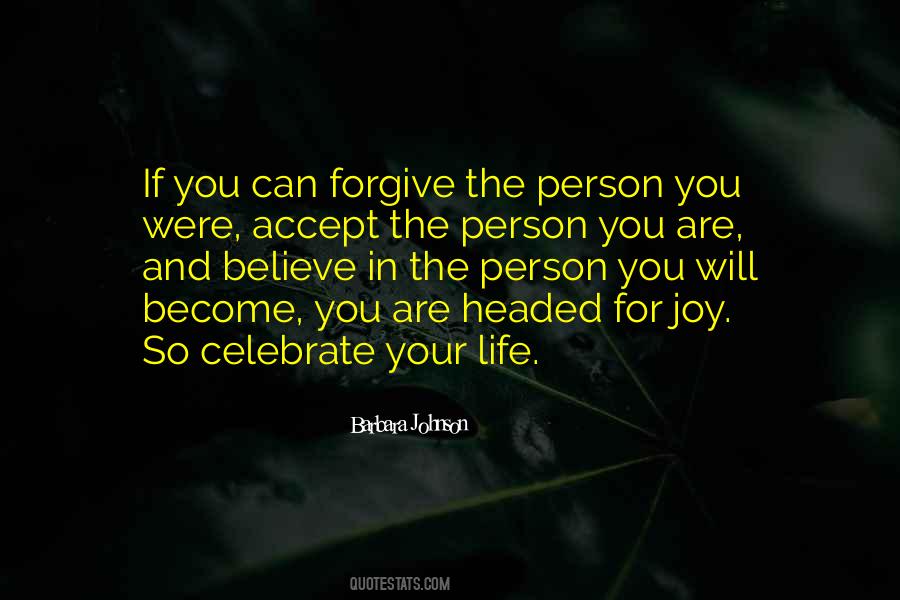 #6. If you love someone, you will forgive him or her all the wrongs. You can make it right
and love again. - Author: Lailah Gifty Akita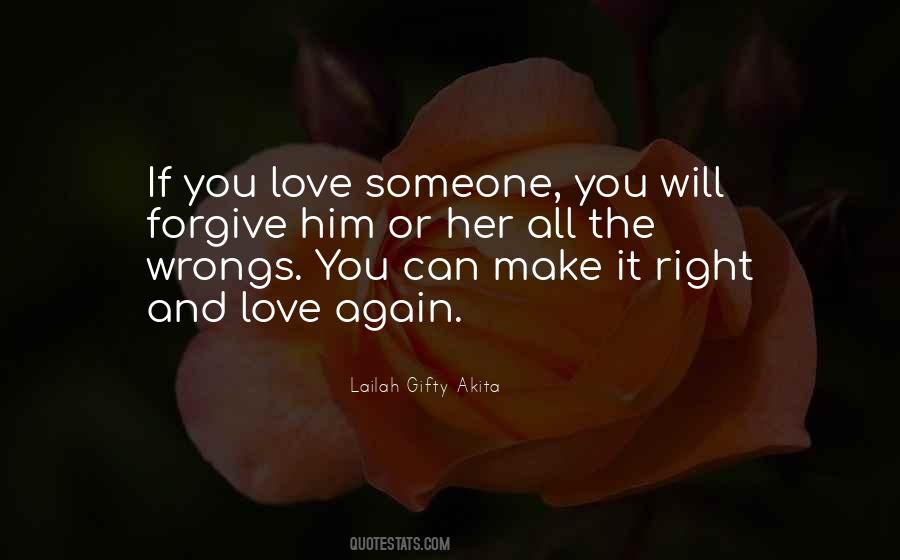 #7. no matter what you feel in your heart, no matter what situation you're put through, you can't make exceptions for God's Word. If Jesus tells us to forgive, we forgive. He never tells us to trust that person again or make ourselves vulnerable to their attacks. He only tells us to forgive. - Author: Ashley Williams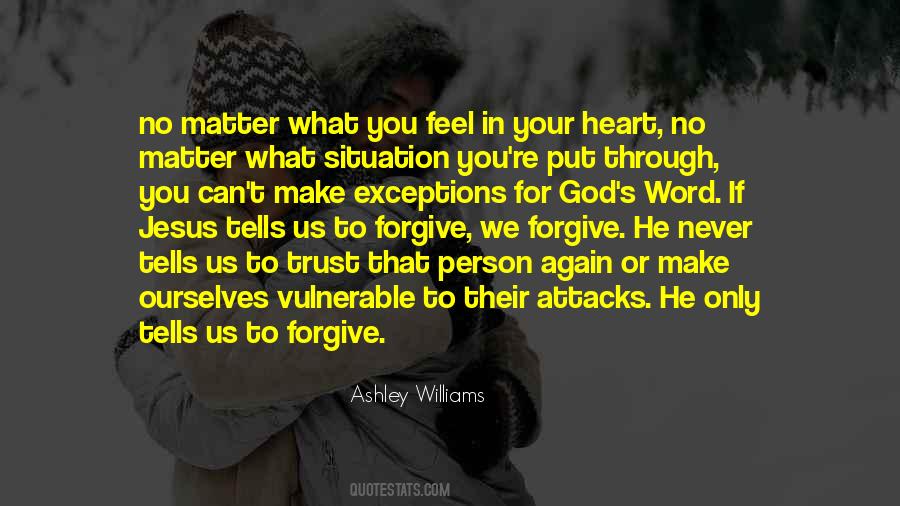 #8. Forgiveness is the most powerful thing you can do for yourself. If you can't learn to forgive, you can forget about achieving true success in your life. - Author: Wayne Dyer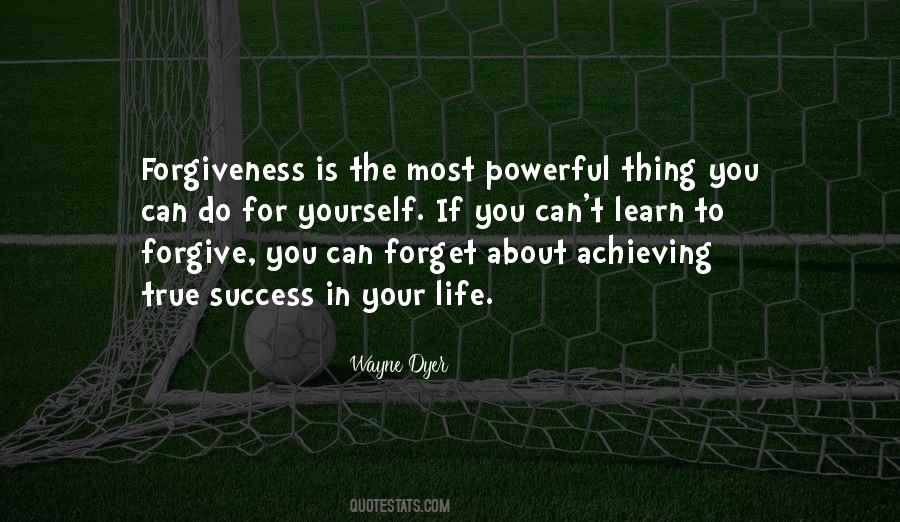 #9. Sydney to Grant: If I can forgive you for turning my life upside down, then can't you forgive me for one stupid moment of confusion? - Author: Brynna Gabrielson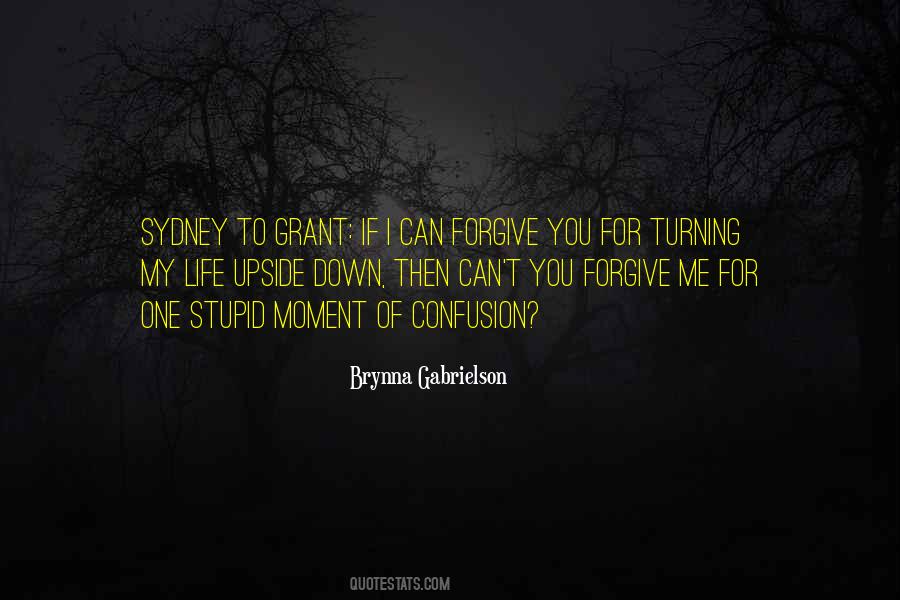 #10. You can't forgive if you don't acknowledge the offense. - Author: Jenna Brooks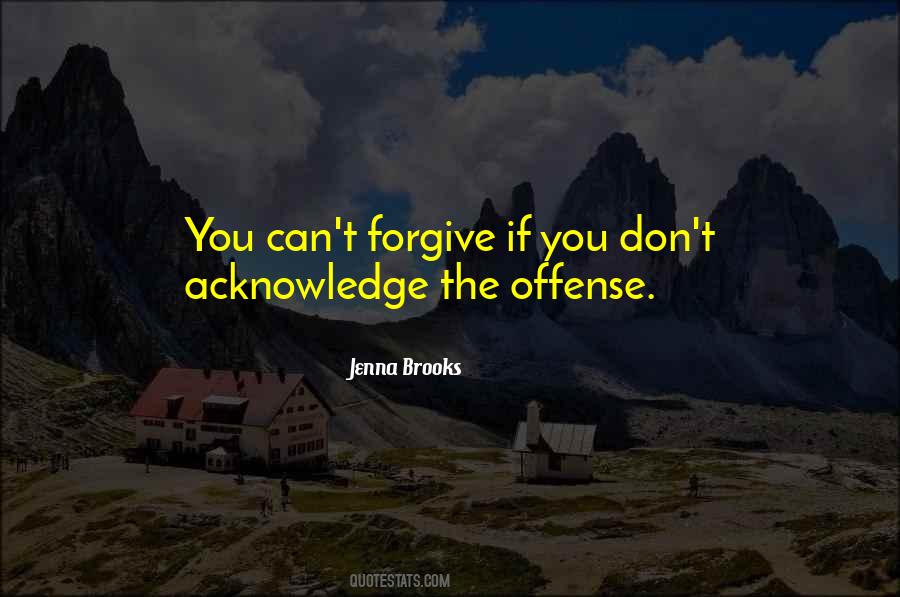 #11. My deepest belief is that to live as if we're dying can set us free. Dying people teach you to pay attention and to forgive and not to sweat the small things. - Author: Anne Lamott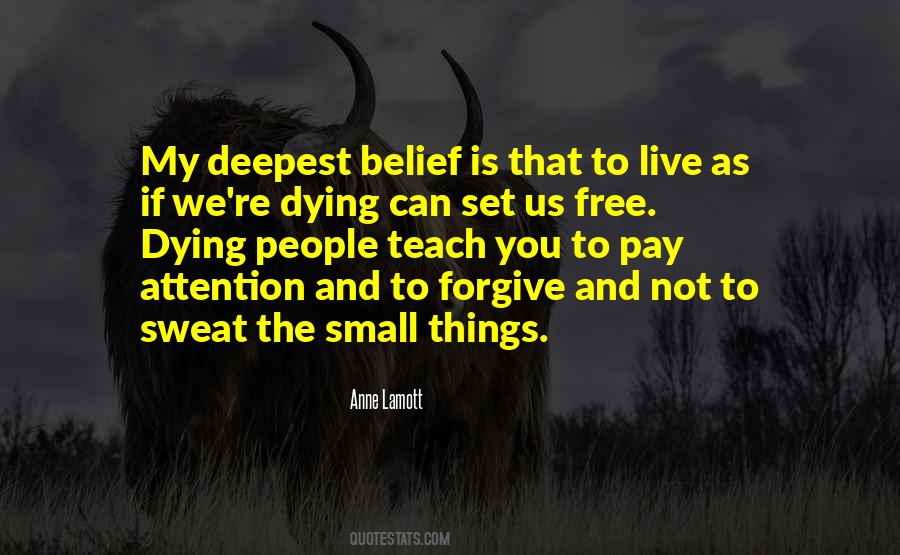 #12. I don't want to forgive myself. That's why I hate psychoanalysis I think if you're guilty of something you should live with it. Get rid of it - how can you get rid of a real guilt? I think people should live with it, face up to it. - Author: Orson Welles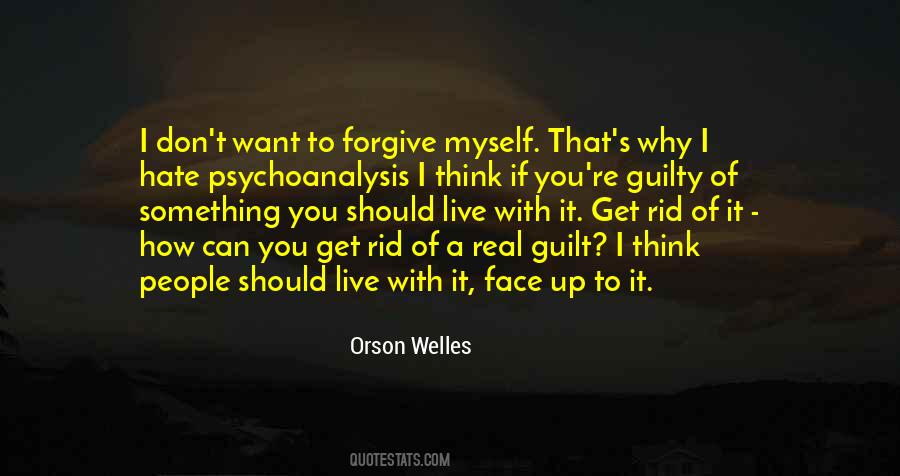 #13. You can't move on, if you haven't forgiven yourself, yet. - Author: Basma Salem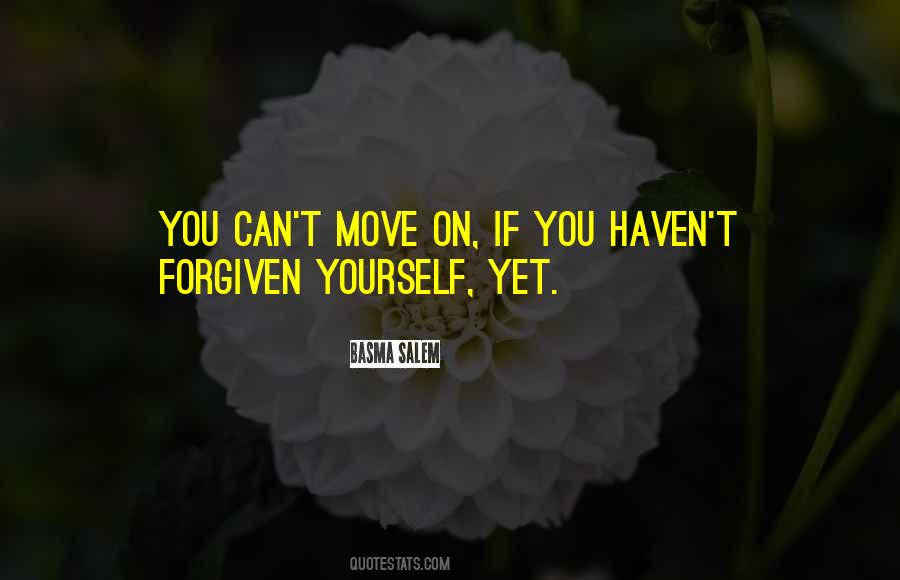 #14. If you think that trusting someone - allowing them to help you by performing their own duties honorably - somehow makes you less, then it might be time to reexamine yourself. Start asking why you need to do everything. How can you really be close to someone if you never let them in?" "Forgive - Author: Jodi Meadows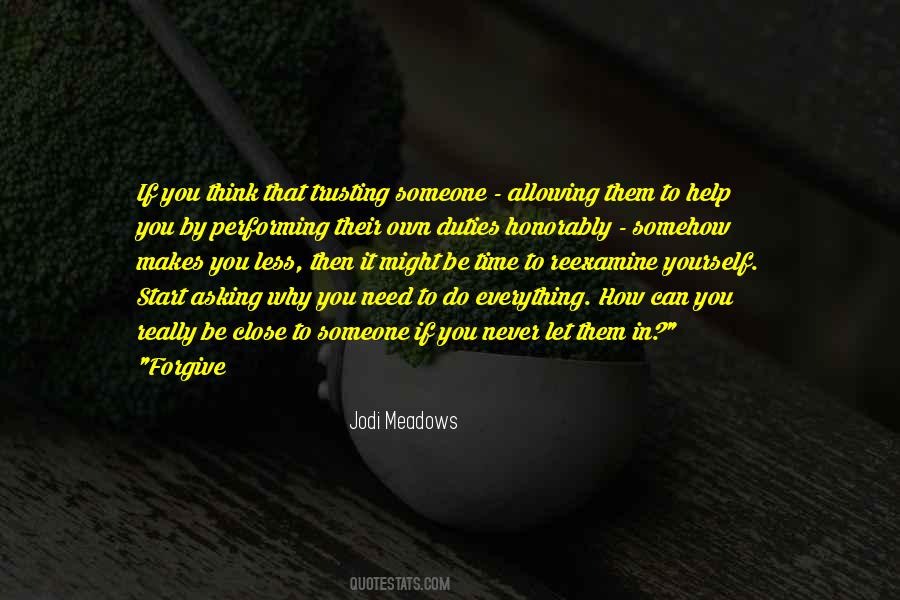 #15. You can forgive if the shot is not right, or the lighting is a bit off, but not if the writing is bad. - Author: Moran Atias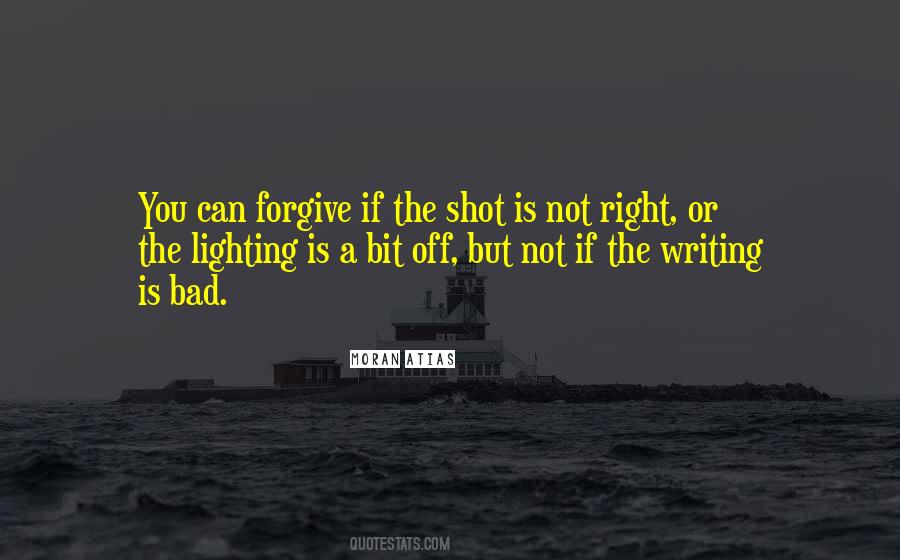 #16. Yet, should our feeble efforts nought avail, Should, after all, our best endeavours fail; Still, let some mercy in your bosoms live, And, if you can't applaud, at least forgive. - Author: George Gordon Byron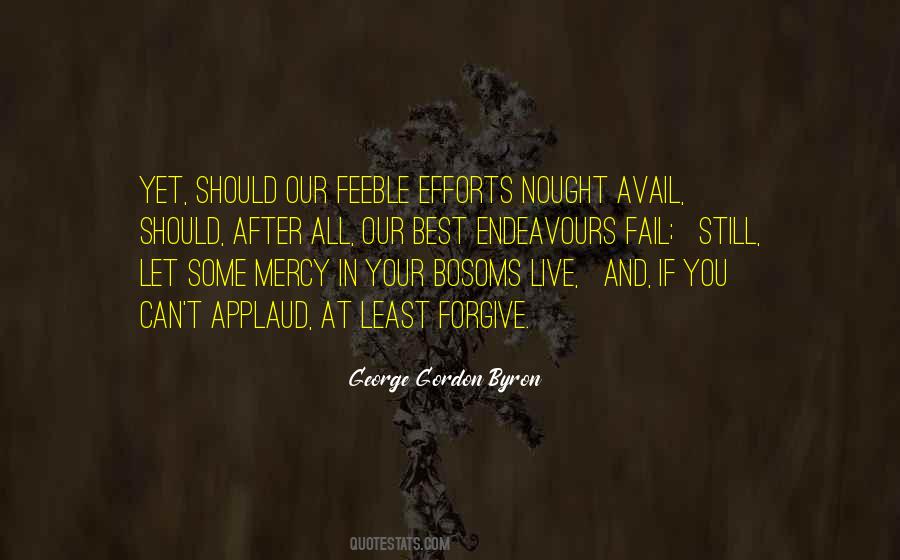 #17. The second tool is a question: Can you reverse X and get the same results? ... If the answer is yes, then your choosing to forgive him can be a feminist choice because it is not shaped by a gender inequality. - Author: Chimamanda Ngozi Adichie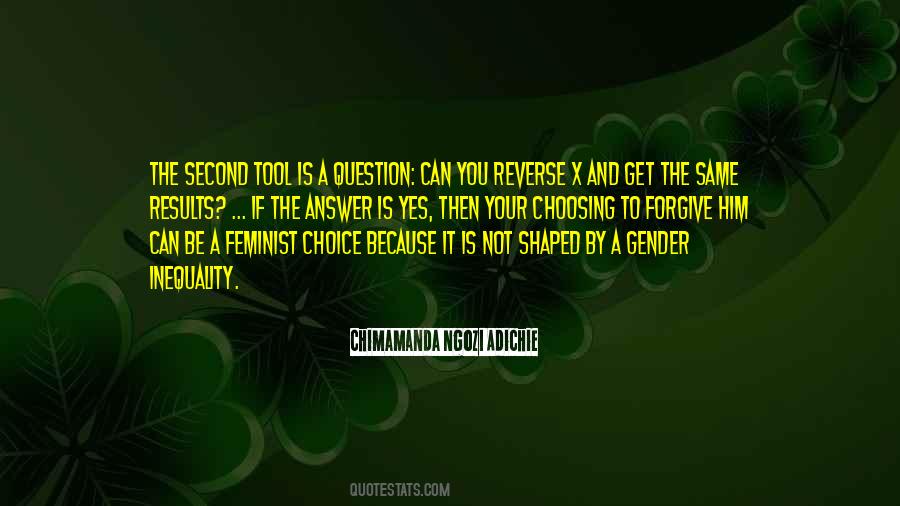 #18. Then forgive him. And if you can't forgive, at least forget, for he meant you no harm, however rash that act was. - Author: Christopher Paolini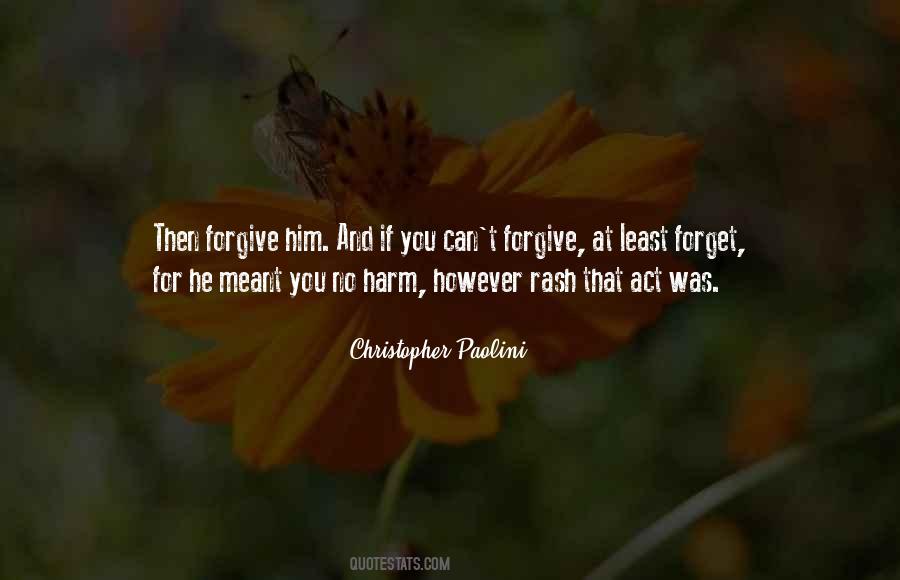 #19. But remember please, the Law by which we live, we are not built to comprehend a lie, we can neither love nor pity nor forgive. If you make a slip in handling us you die. - Author: Rudyard Kipling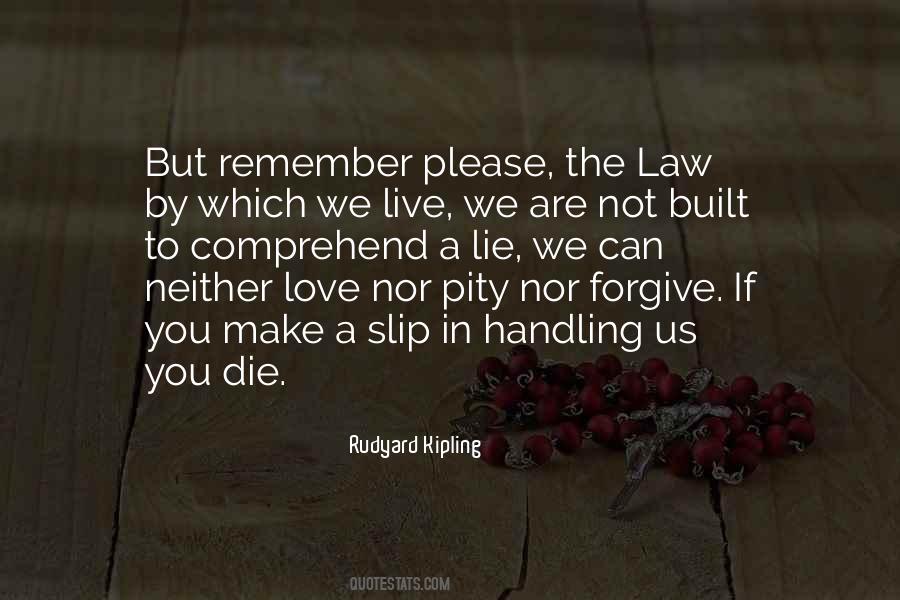 #20. I don't like this, he said. I don't like knowing you can't forgive me, Claire. Please, I said I was sorry, what do you want me to do? Beg?I will. I'll get on my knees right here if you want. - Author: Rachel Caine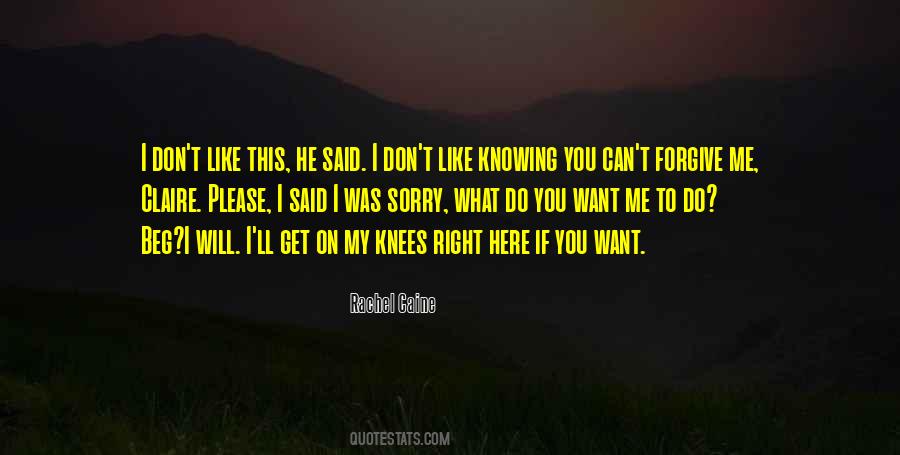 #21. Forgive me. Sometimes an answer can vary with a context, if you follow me - Author: John Le Carre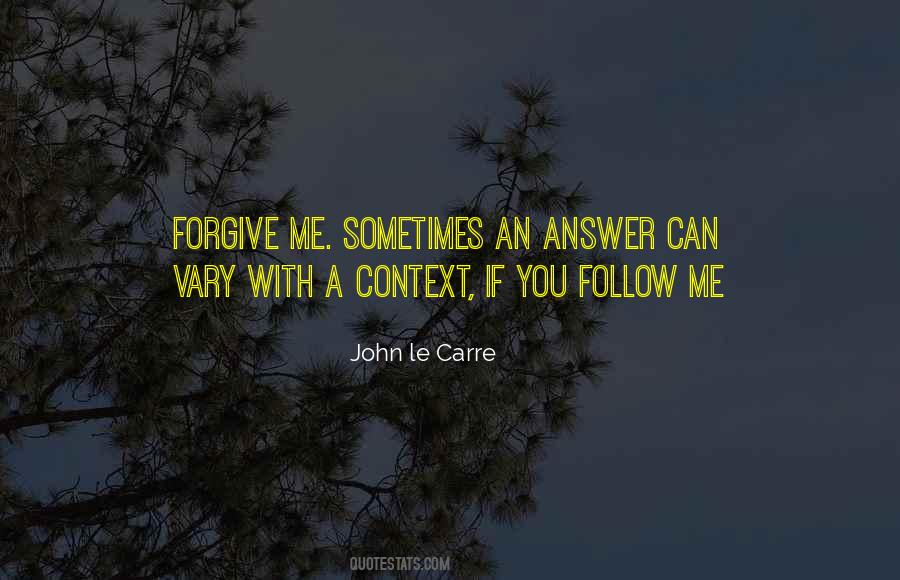 #22. It matters not if we fail, but I need you to at least try, because then you can forgive yourself. Regrets will keep you chasing demons for the rest of your life. - Author: O.E. Boroni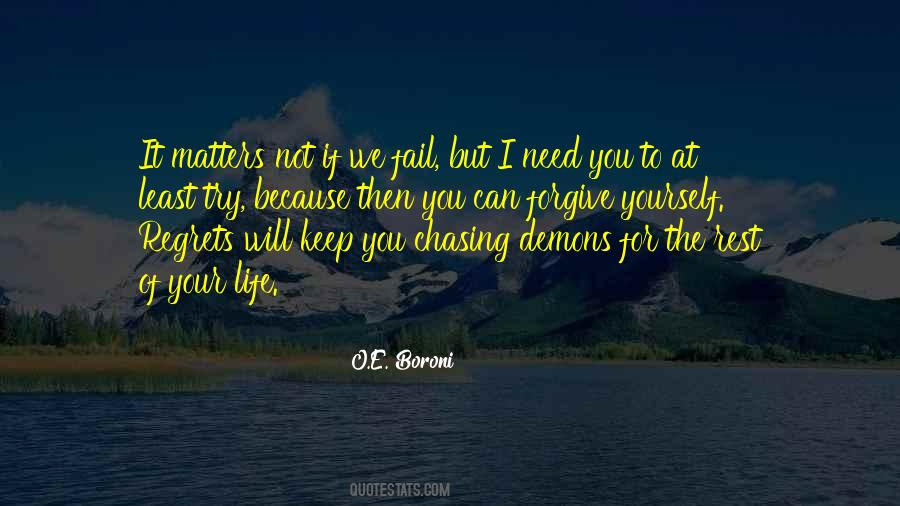 #23. I don't know what happened between the two of you. I don't know if it can be forgiven. The hardest thing always is to forgive yourself. - Author: Antonia Michaelis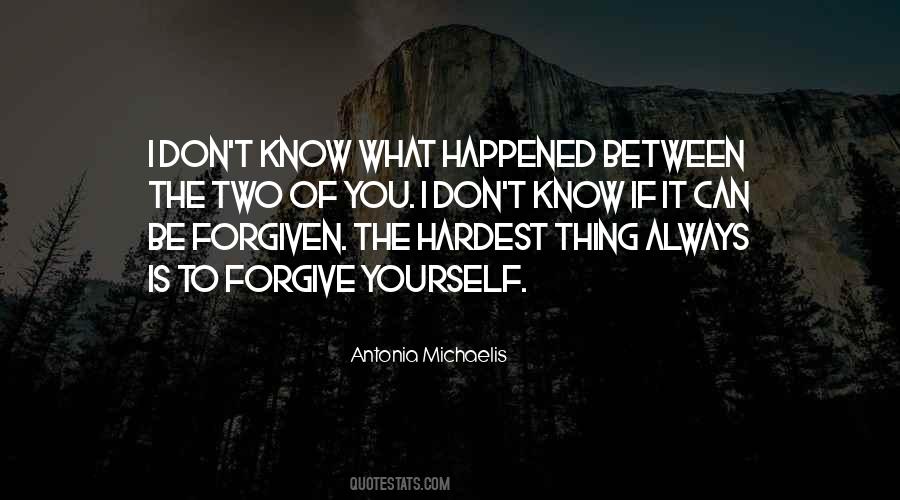 #24. If you cannot forgive others, how can you forgive yourself? - Author: Debasish Mridha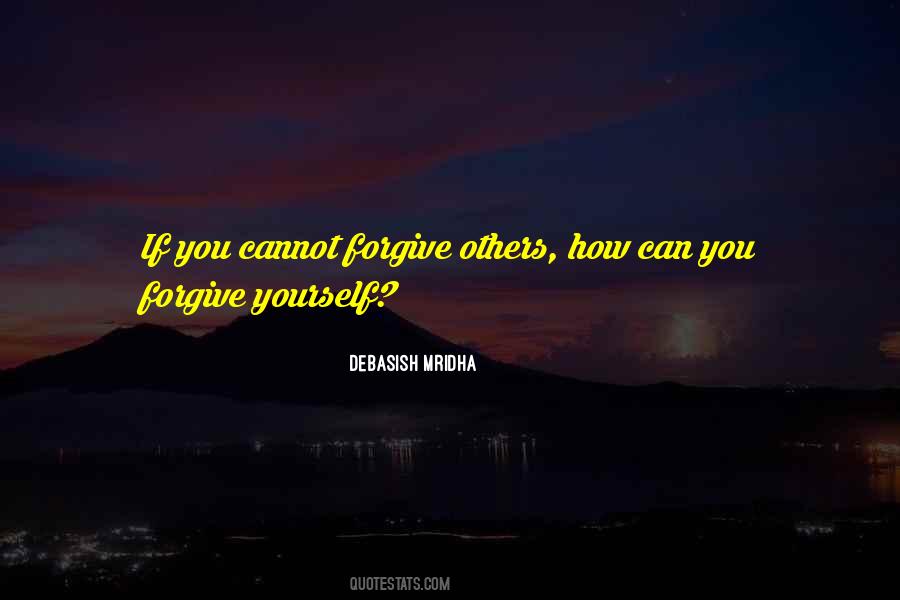 #25. And then the petty jealousy of these small prunes-and-prisms places - if you do anything the people you went to school with can't do some of them will never forgive you. - Author: L.M. Montgomery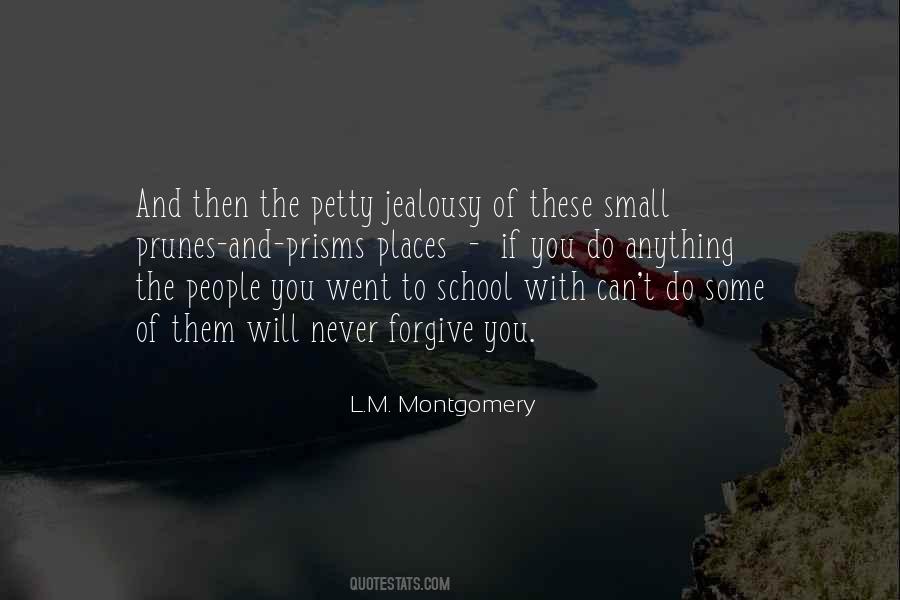 #26. I miss breathing in your scent, the feel of your body next to mine. I miss you, Elizabeth, so much I hurt with it sometimes. So forgive me if I can't be happy about this venture of yours at Payne Industries. - Author: Magda Alexander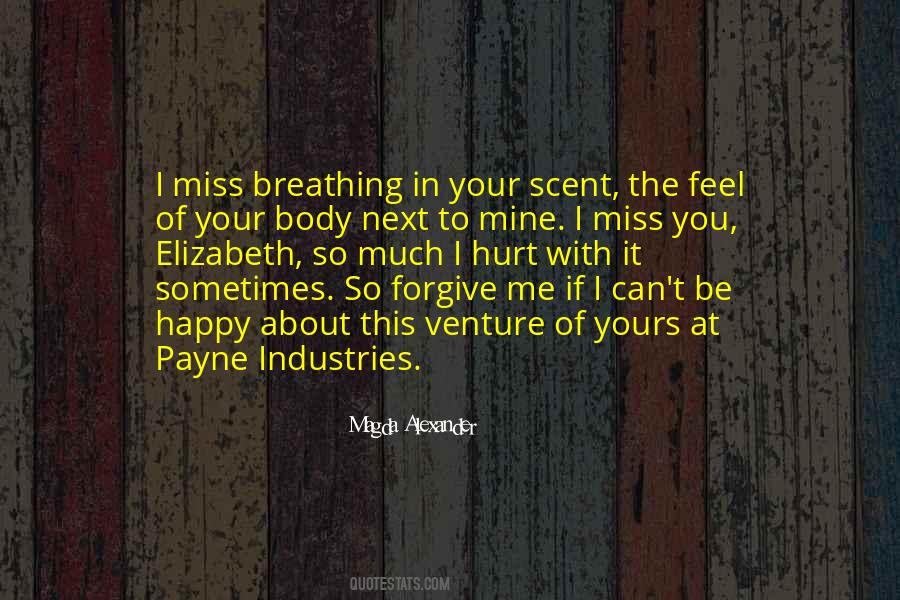 #27. If you forgive more than you can afford, you may find yourself impoverished in emotion afterward, with a lowered resistance to whatever happens after that. - Author: Glenway Wescott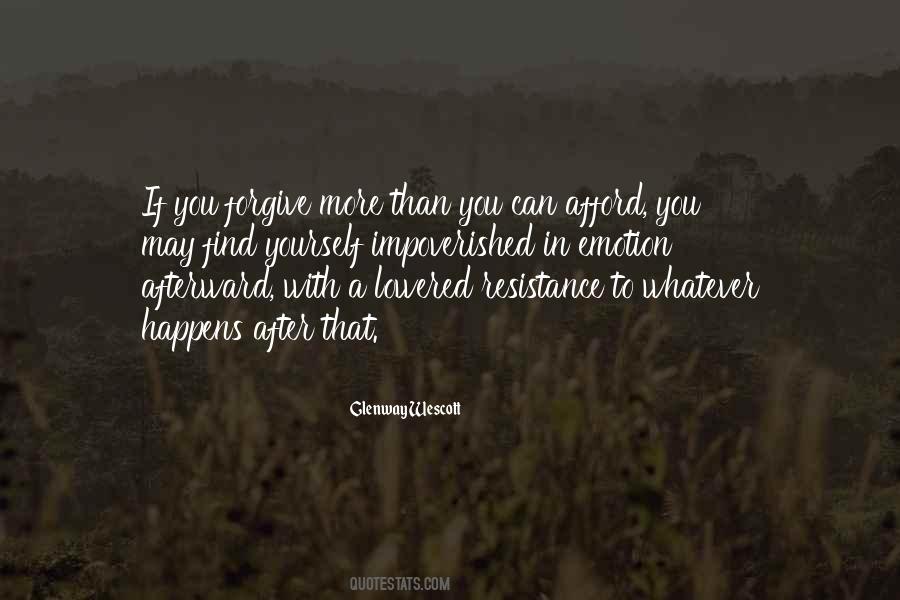 #28. If you can't forgive yourself, how can you expect me to? - Author: E.C. Myers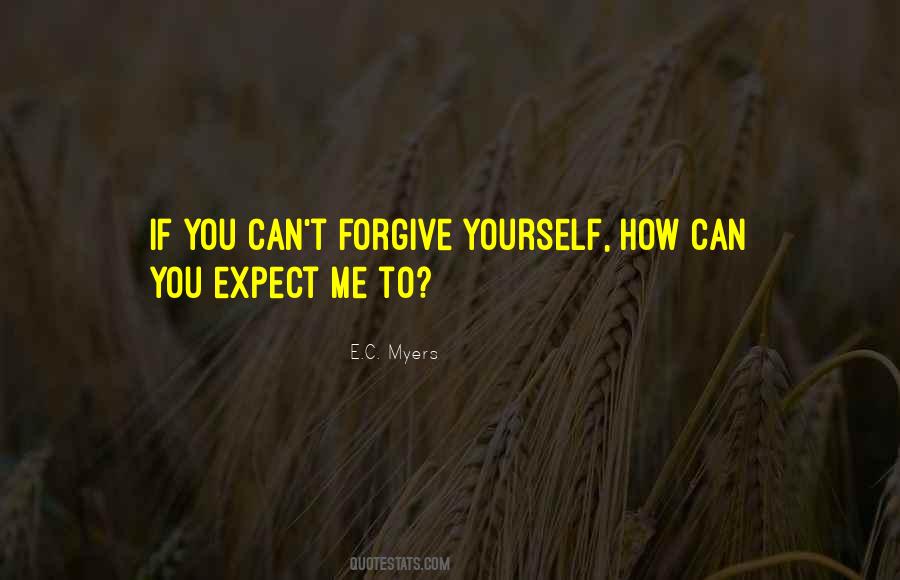 #29. If someone chooses not to forgive others, they are actually hurting themselves. The only way to free yourself from that is to forgive others so you can be free from your past. - Author: Abdulazeez Henry Musa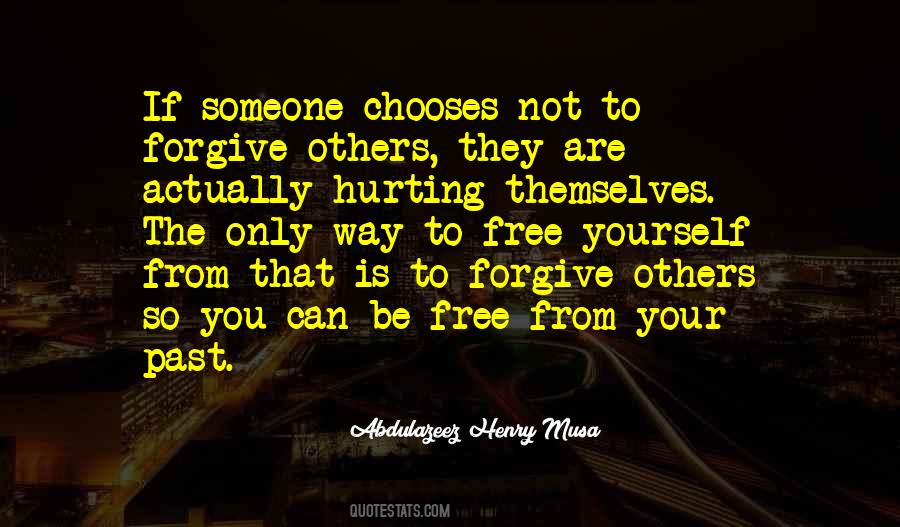 #30. When someone judges you for something you can't help, try to forgive them. They don't understand. And if they keep doing it, knock their fucking teeth in. - Author: Seanan McGuire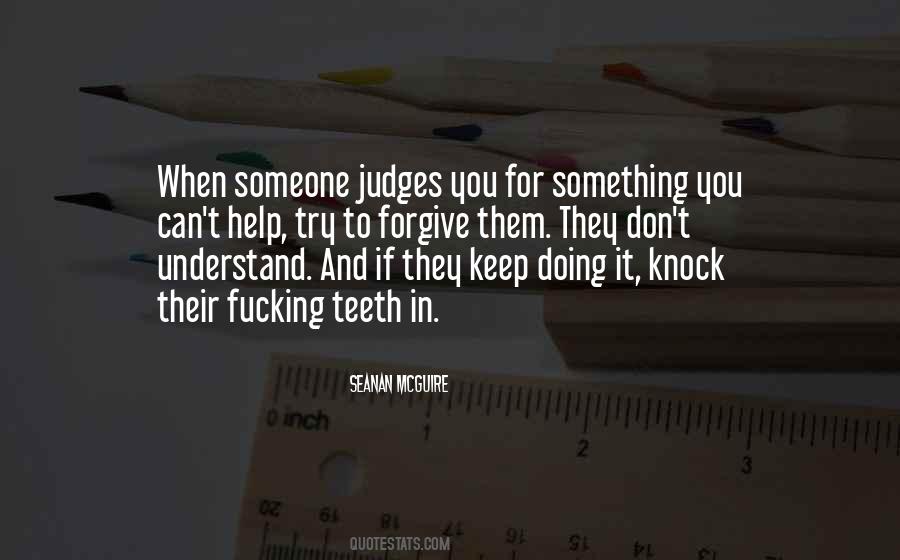 #31. How can you forgive if you can't remember to forget? - Author: Jonathan Nolan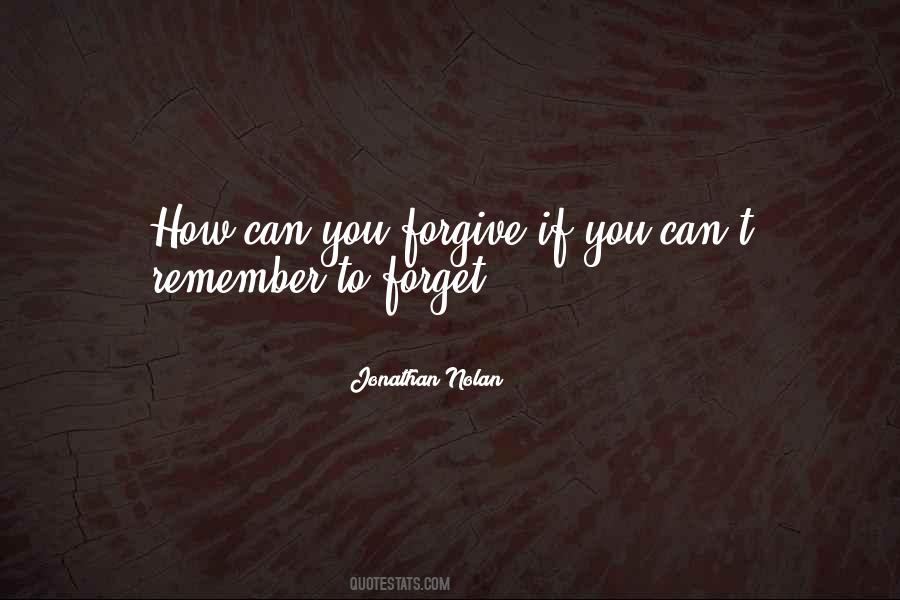 #32. I'm not a natural researcher, and I don't get bogged down in it, but I think if you get it right in the first half, people will forgive you, and then you can move on with the story. - Author: Sarah Pinborough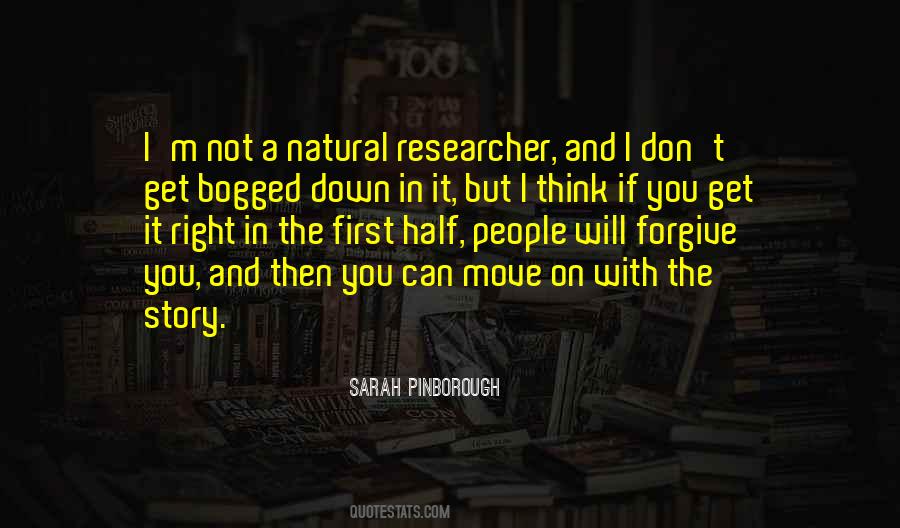 #33. If you learn how to forgive others for not being strong, then people can learn how to forgive you for your own issues. - Author: T.D. Jakes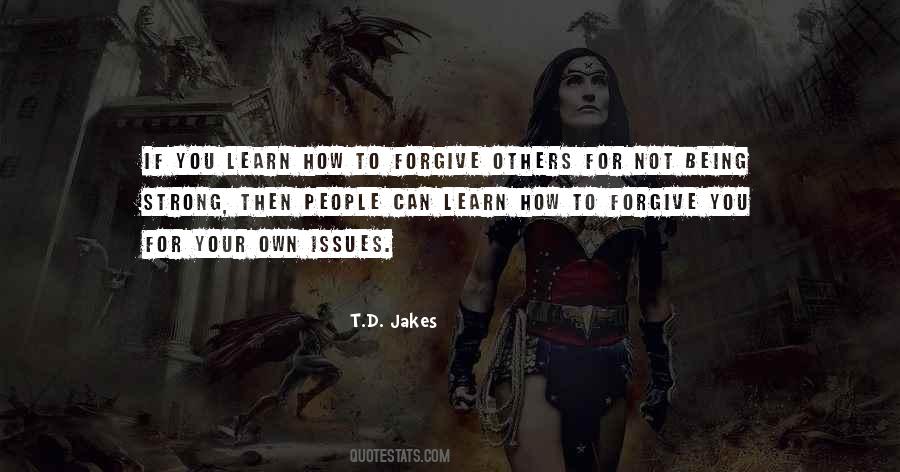 #34. Can you forgive her? Can you do that?
There was no response.
Because if you can start to forgive, then it will become easier.
And?
And then you will be able to forgive yourself - and ask others to forgive you. - Author: Alexander McCall Smith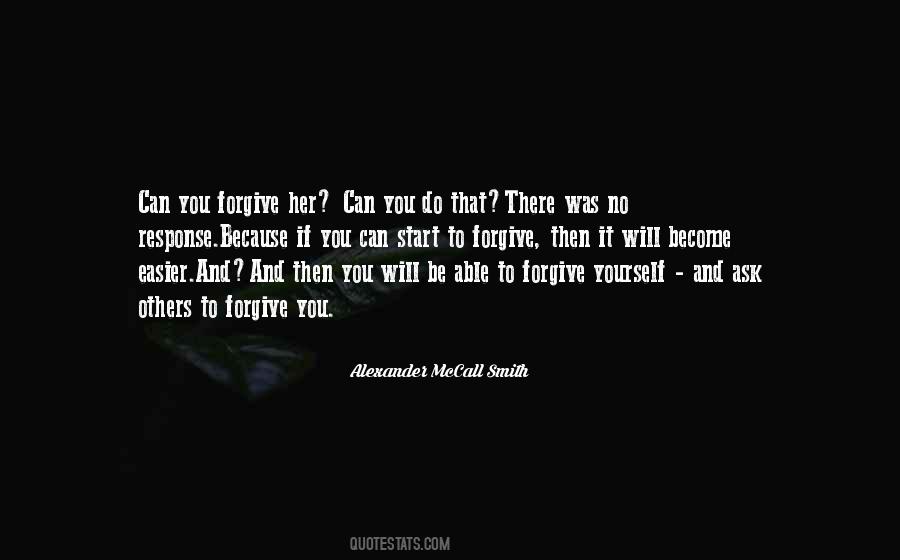 #35. If I have the strength to leave,
It'd be the greatest gift that I could give.
The greatest gift that I can give,
I want you to truly live."
[...]
"I love you. Forgive me. - Author: Christine Anderson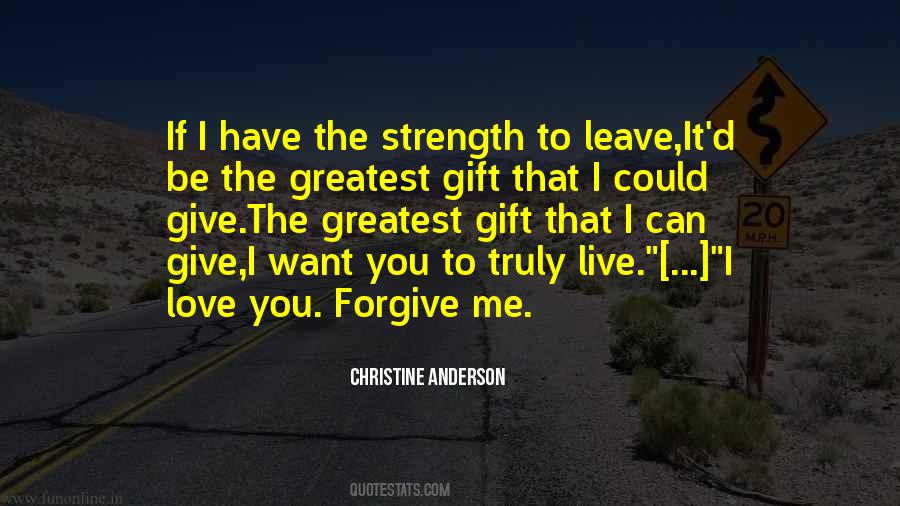 #36. I can't make you forgive me. I don't deserve your forgiveness. I can't change the past. All I can do is give you what you want. If this is what you want, I'll walk away, Blaire. It'll kill me but I'll do it. - Author: Abbi Glines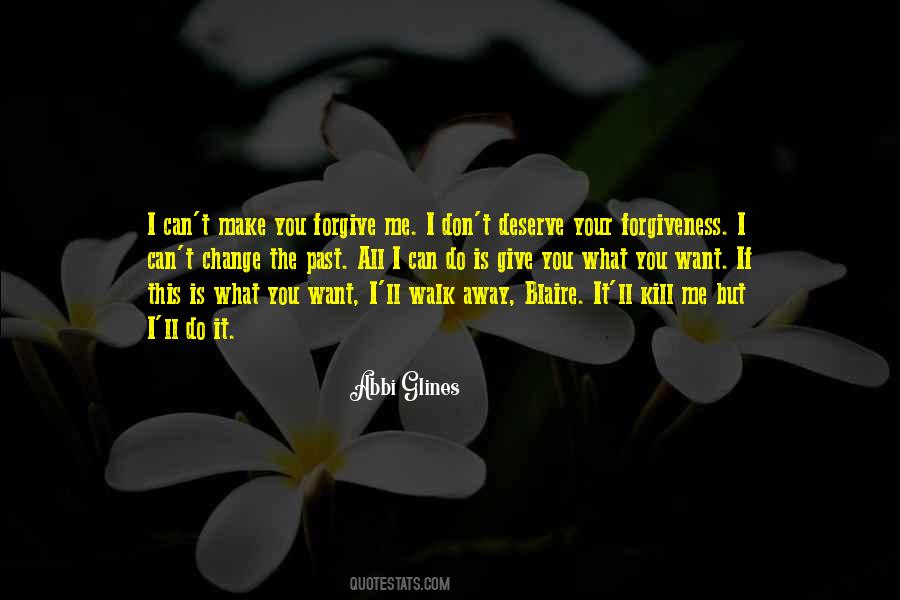 #37. There's only two choices with a man. Forgive him or forget him. If you can't do the latter, then you need to forgive him because he's already stolen your heart. - Author: Vi Keeland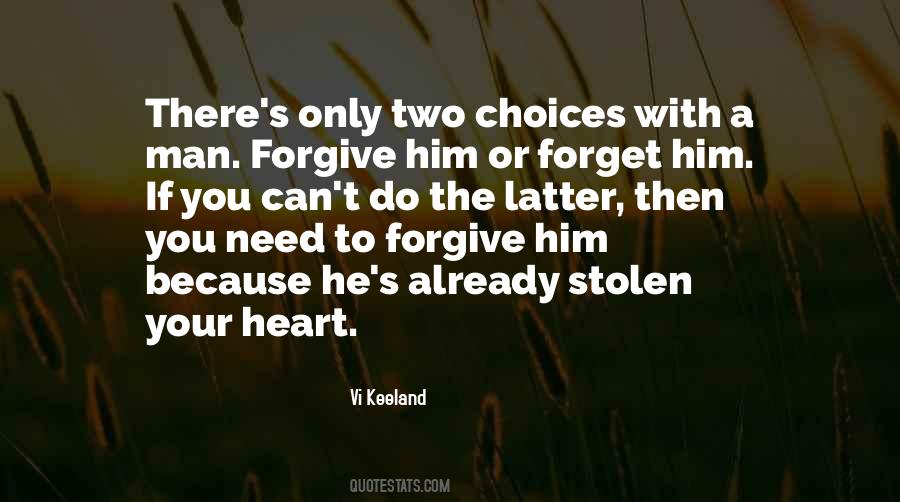 #38. That's the thing with relationships, I understood: it doesn't mean we don't hurt one another; how can we help it sometimes, we're only human. But if you love someone, you get hurt and you manage to forgive. And be forgiven. - Author: Marian Keyes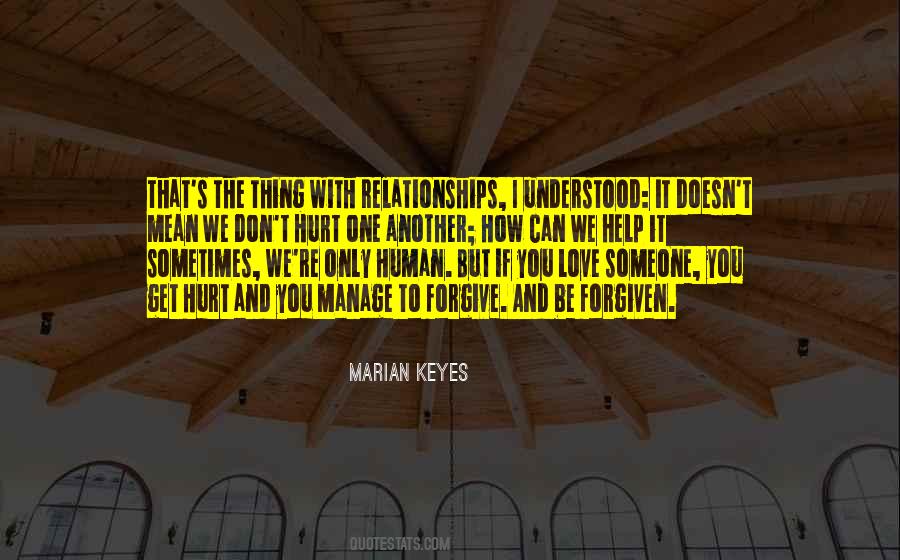 #39. If you can't forgive and move on, then your feelings will grow and fester and they will eat you alive. - Author: T.M. Gaouette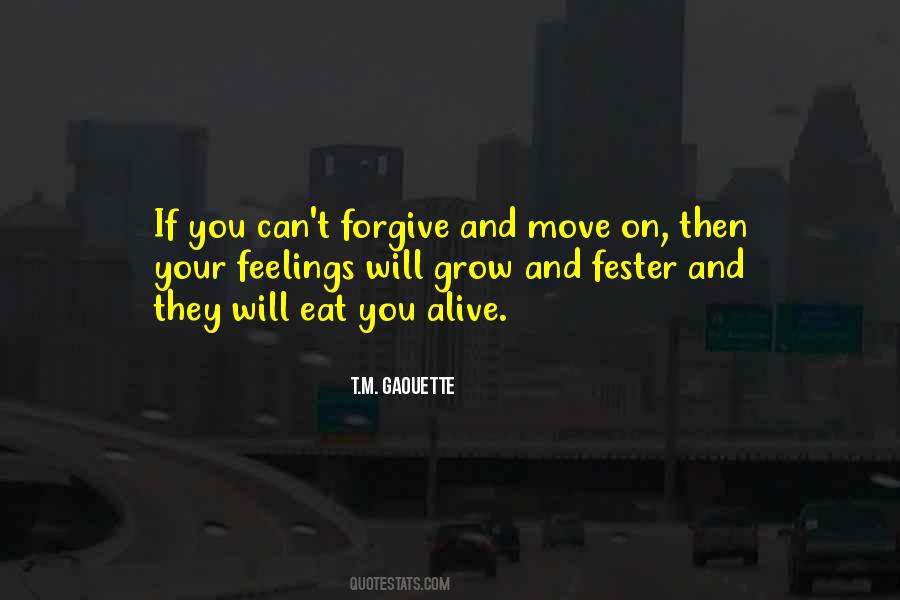 #40. Can you really forgive if you can't forget? - Author: Sarah Jessica Parker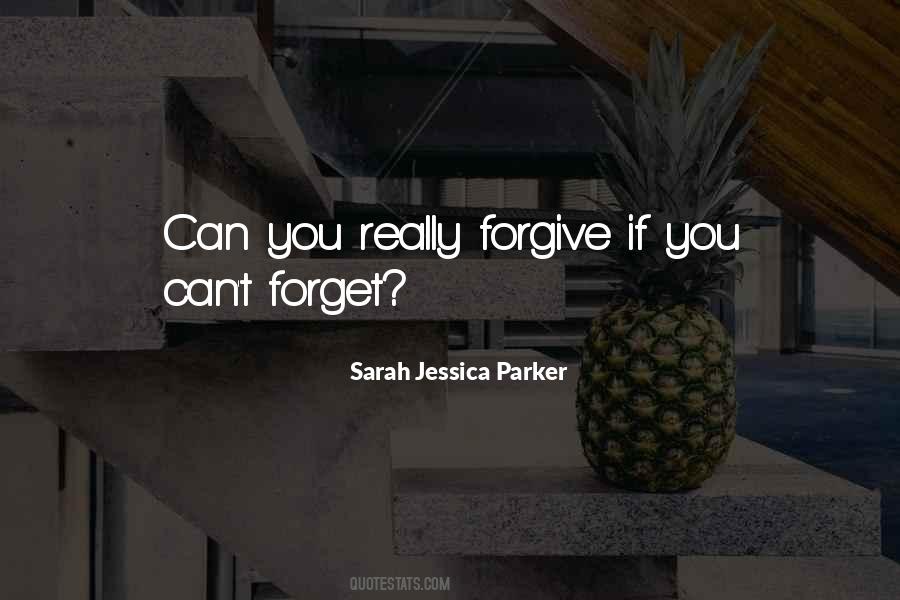 #41. Forgive but don't forget, girl keep your head up. And when he tells you you ain't nothing, don't believe him. And if he can't learn to love you, you should leave him. - Author: Tupac Shakur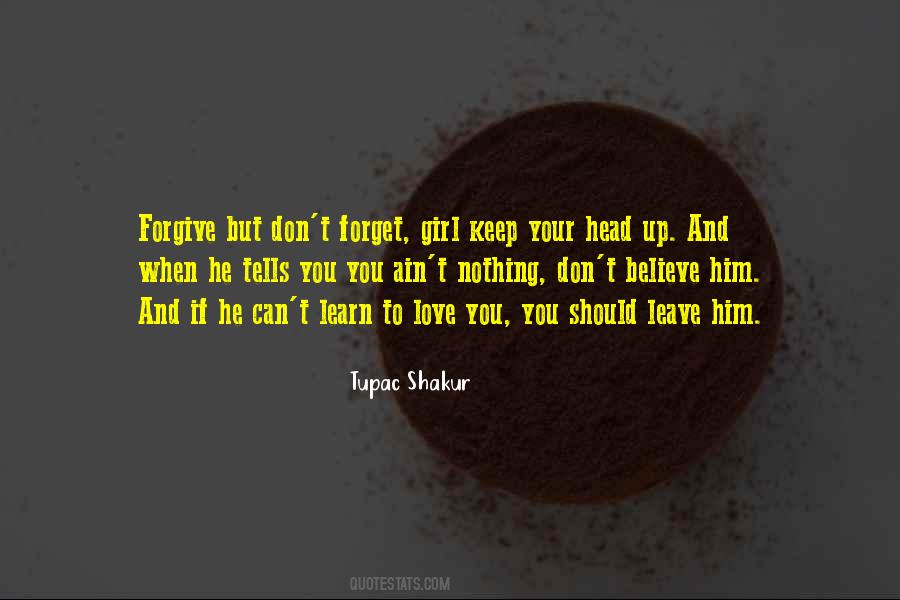 #42. We all make mistakes, don't we? But if you can't forgive yourself, you'll always be an exile in your own life. - Author: Curtis Sittenfeld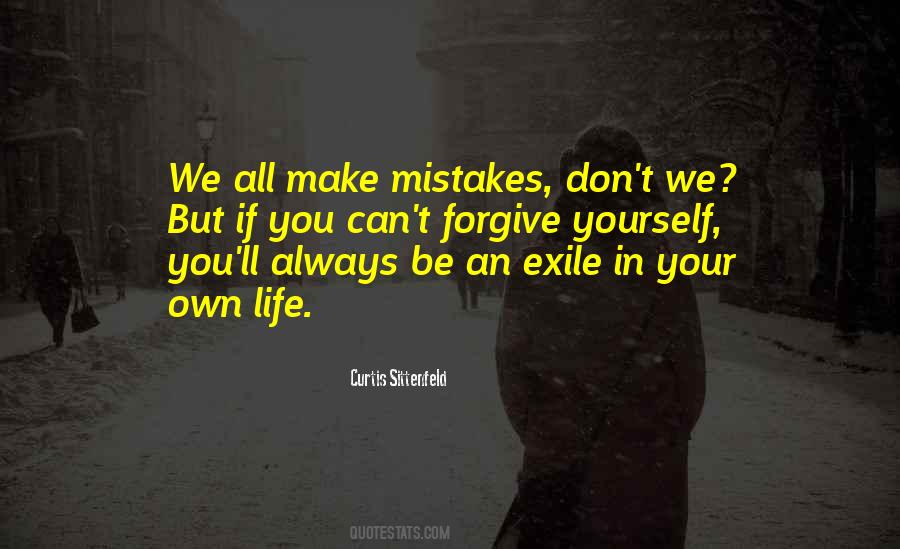 #43. Yeah, life is complicated. But it's also very fucking short.
If you find someone who can forgive all your bullshit ... the least you can do is try to forgive them. - Author: Brian K. Vaughan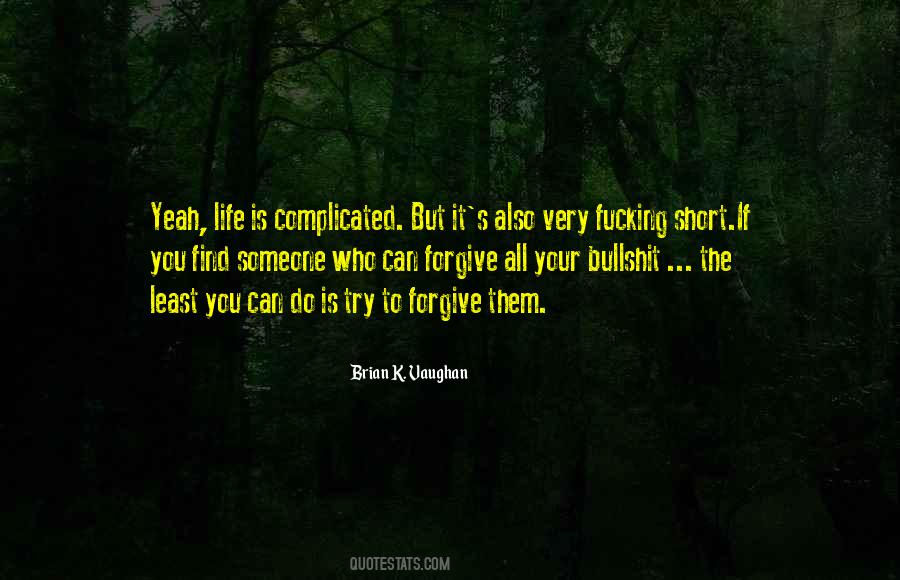 #44. You can tell the people that if they succeed in killing me, that I forgive and bless those who do it. Hopefully, they will realize they are wasting their time. A bishop will die, but the church of God, which is the people, will never perish. - Author: Oscar Romero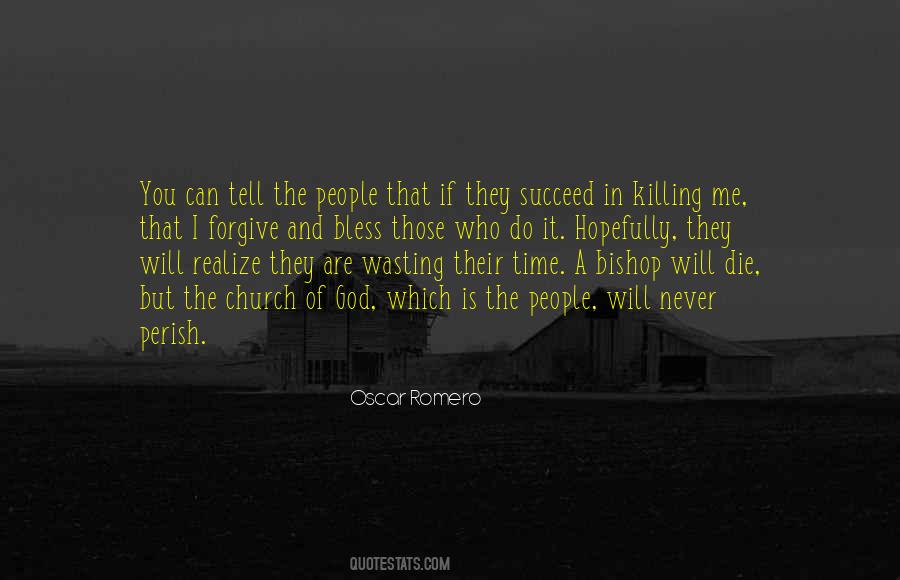 #45. If you still accept the idea of regret, it means you can't yet accept nor forgive your past laxity. - Author: Toba Beta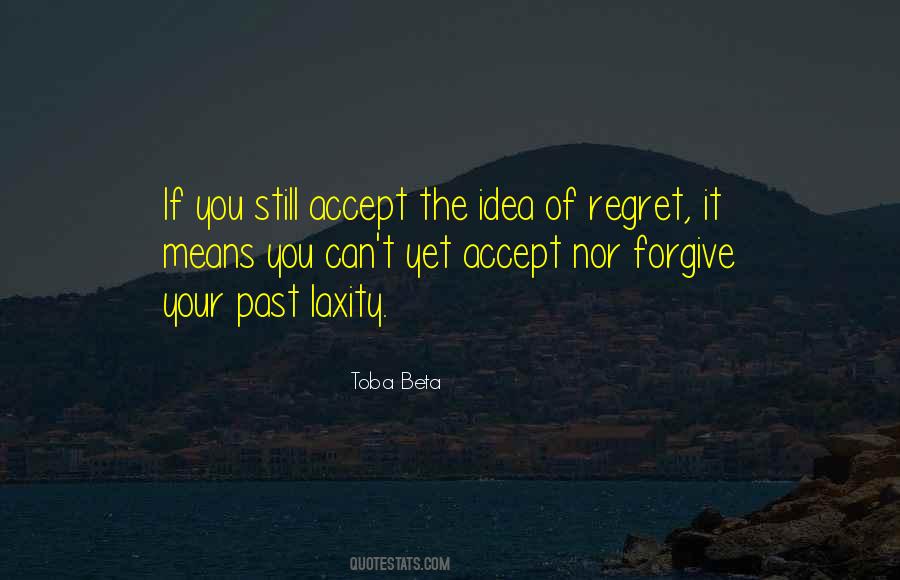 #46. If you can forgive me, forgive
me,' said her eyes, 'I am so happy.'
'I hate them all, and you, and myself,' his eyes
responded. - Author: Leo Tolstoy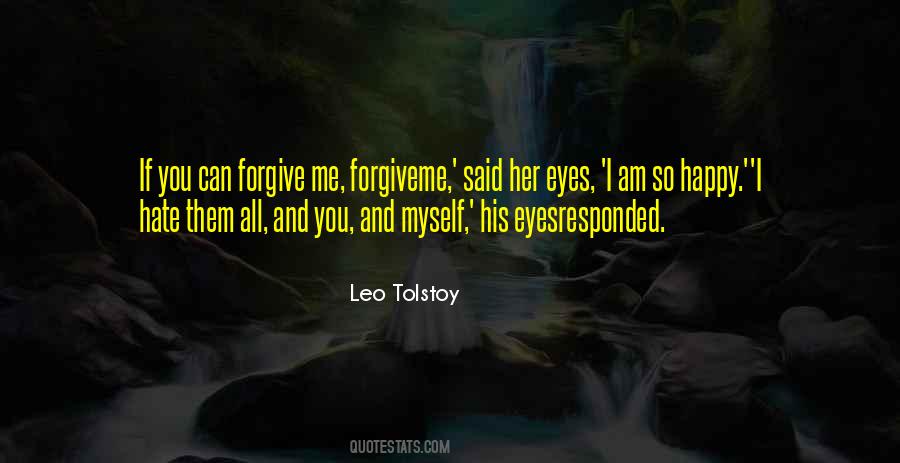 #47. How can I forgive if you are not ready to give up that which caused you to stumble? - Author: Chitra Banerjee Divakaruni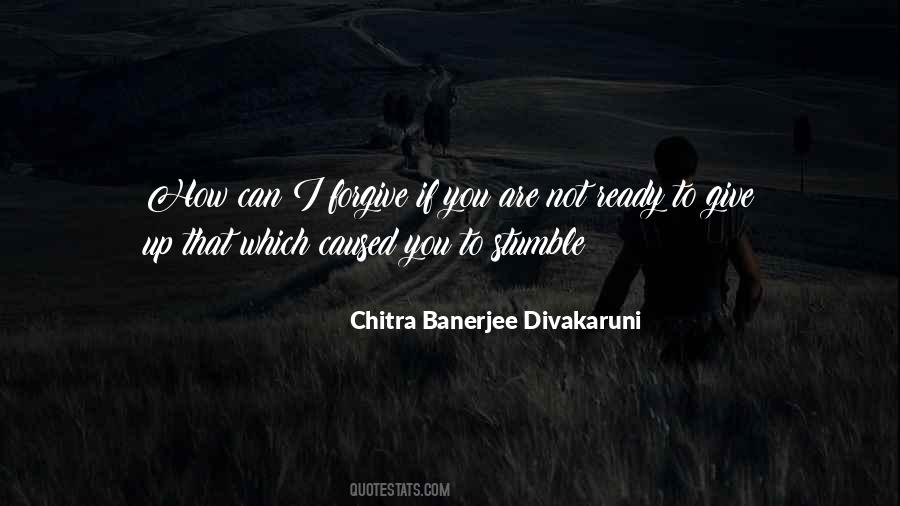 #48. One of the most wonderful things you can do in this world is forgive others. We are designed to have flaws and make mistakes. If we emulate God, we are led to forgive. Giving someone the ability to recapture their dignity can transform lives. Do it often. - Author: John Fairclough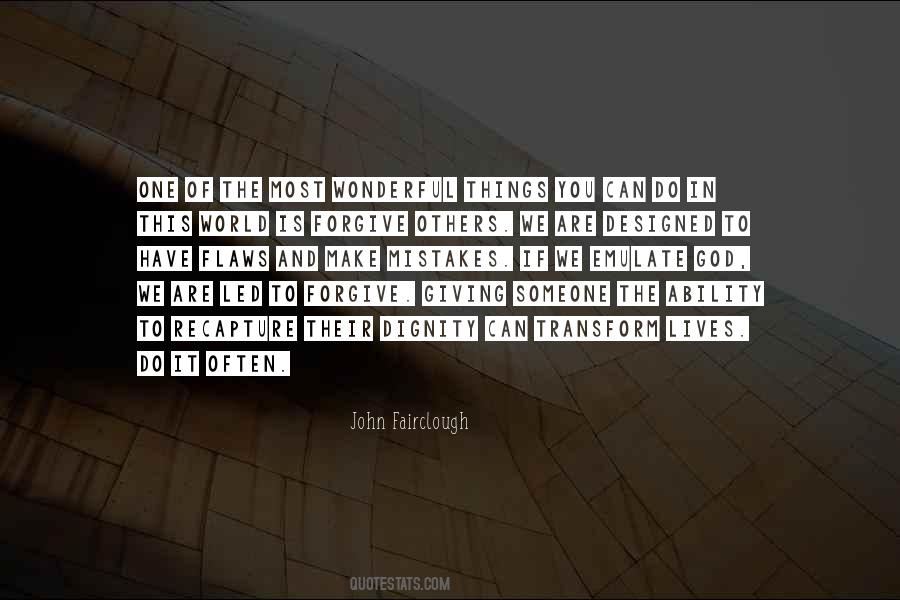 #49. What's so cool about God and our government is that you can make a mistake, and they will forgive you if you just a good person and doing right. - Author: Tom Lister Jr.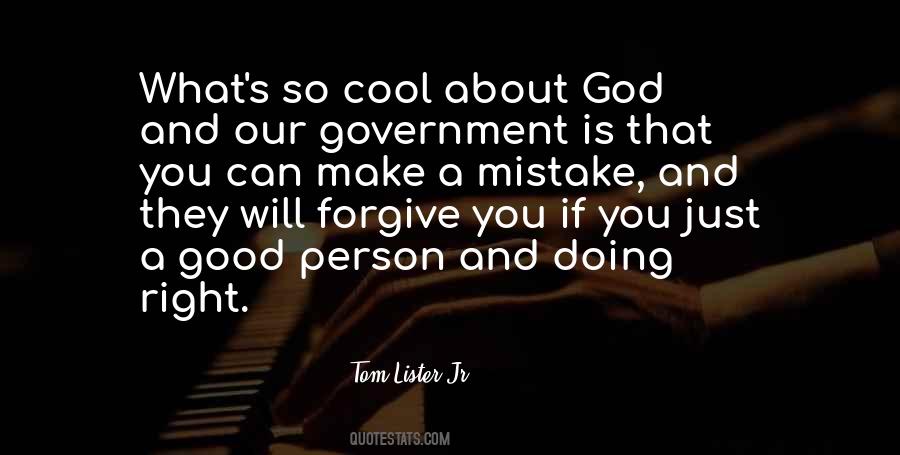 #50. And if your friend does evil to you, say to him, 'I forgive you for what you did to me, but how can I forgive you for what you did to yourself? - Author: Friedrich Nietzsche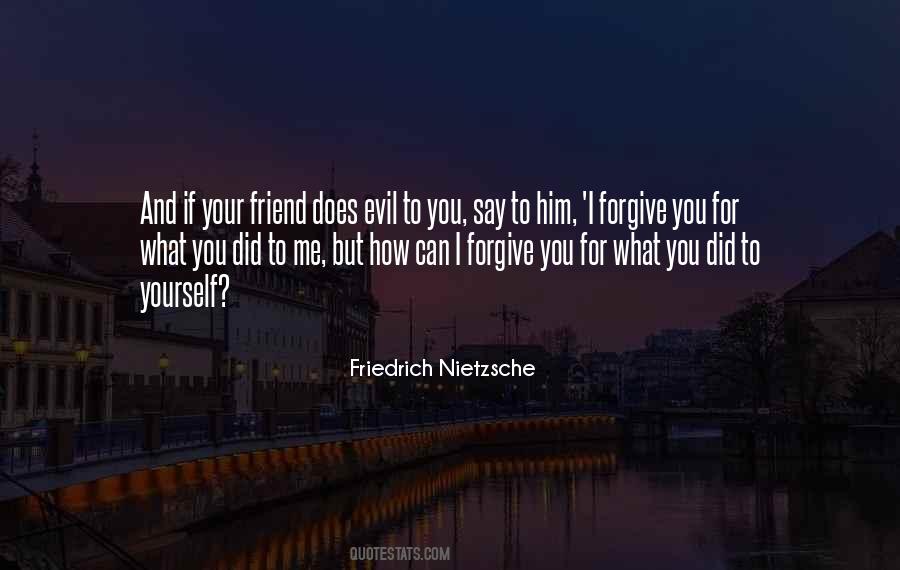 #51. If priest is closed to forgiveness, he won't receive it, because he locked the door from the inside. And what remains is to pray for the Lord to open that door. To forgive you must be willing. But not everyone can receive or know how to receive it, or are just not willing to receive it. - Author: Pope Francis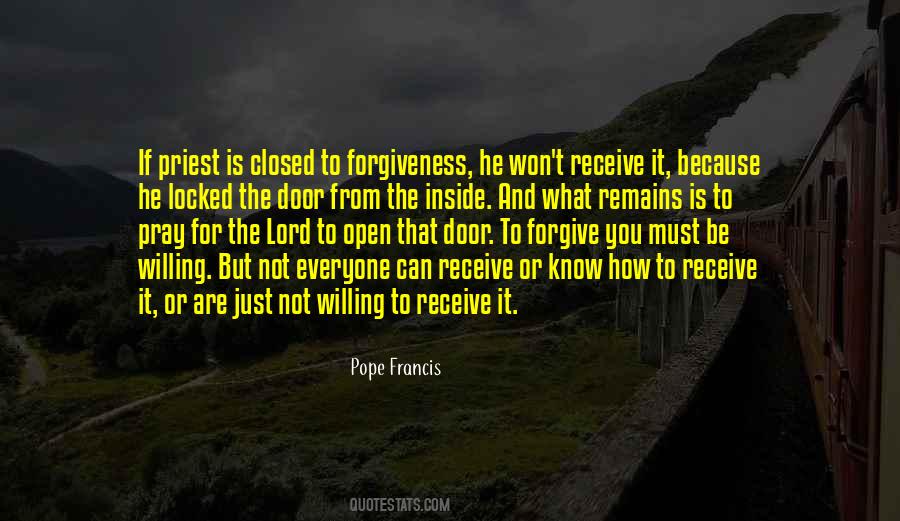 #52. If you want to see the brave, look at those who can forgive. If you want to see the heroic, look at those who can love in return for hatred. - Author: Krishna Dharma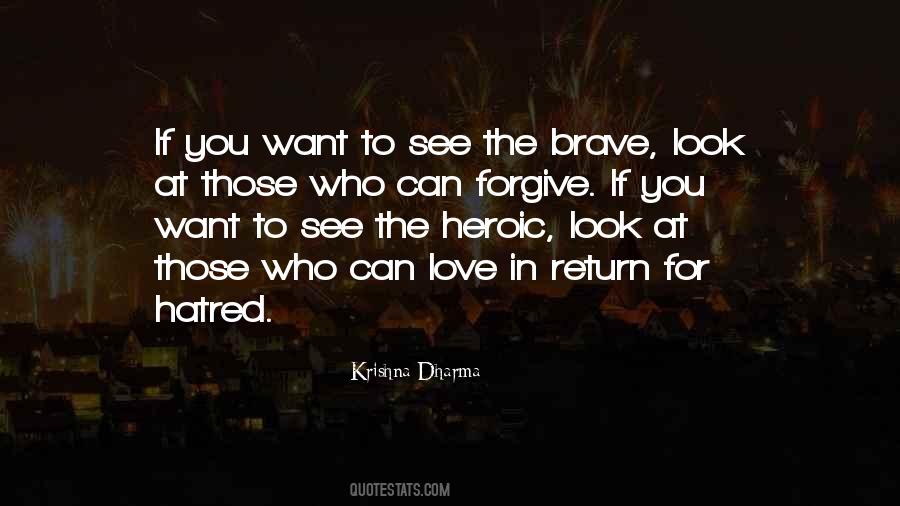 #53. I have this theory: If you forgive someone, they can't hurt you anymore. - Author: Candace Bushnell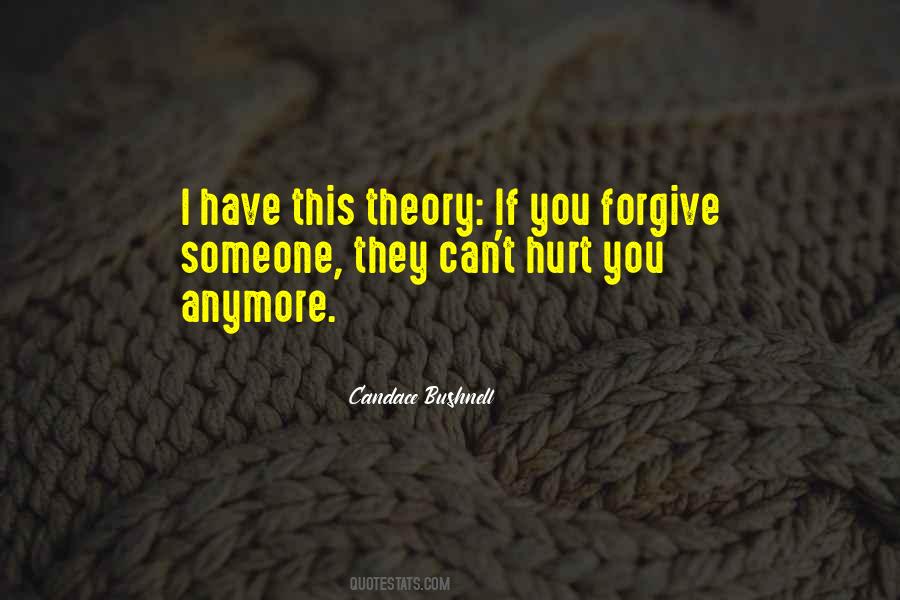 #54. If you can't forgive yourself, you think you're never going to be able to forgive yourself, and you repeat the same behavior. - Author: Bill Hader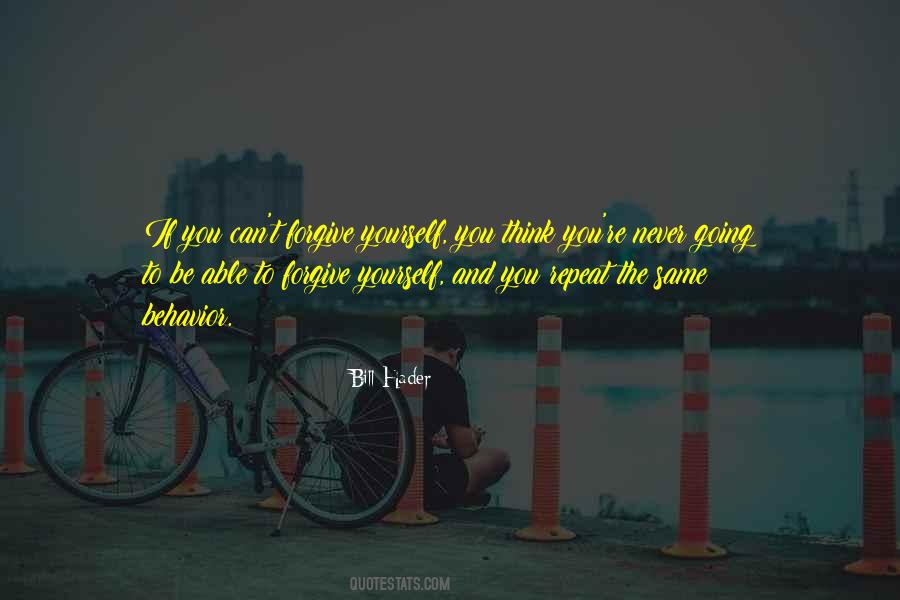 #55. If you think you don't have any time for prayer, and can't find any time, then ask God to forgive you ... The Pope isn't too busy for his daily rosary; if you're busier than the Pope, you're too busy. - Author: James Peterson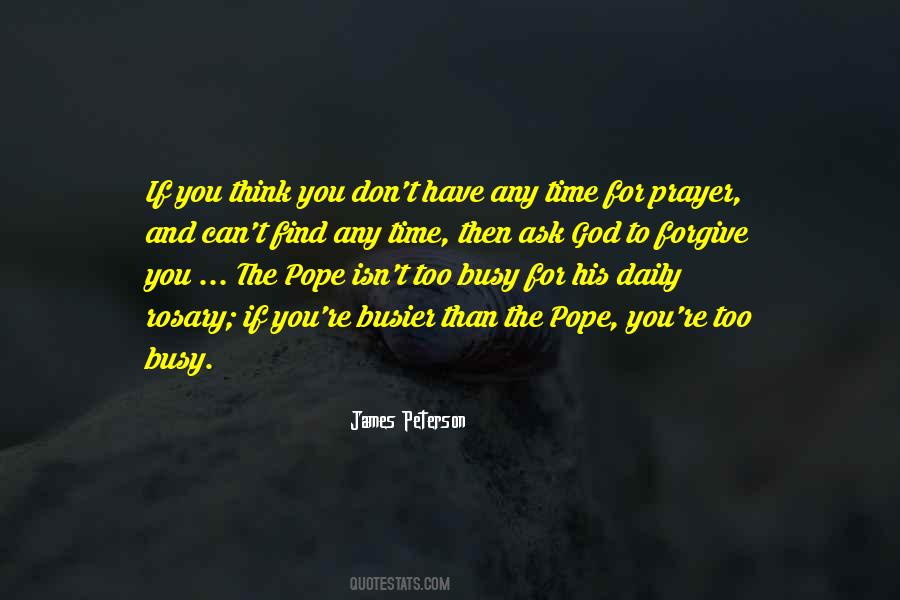 #56. The only way to free ourselves from the destructive influence of counterfeit gods is to turn back to the true one. The living God, who revealed himself both at Mount Sinai and on the Cross, is the only Lord who, if you find him, can truly fulfill you, and, if you fail him, can truly forgive you. - Author: Timothy Keller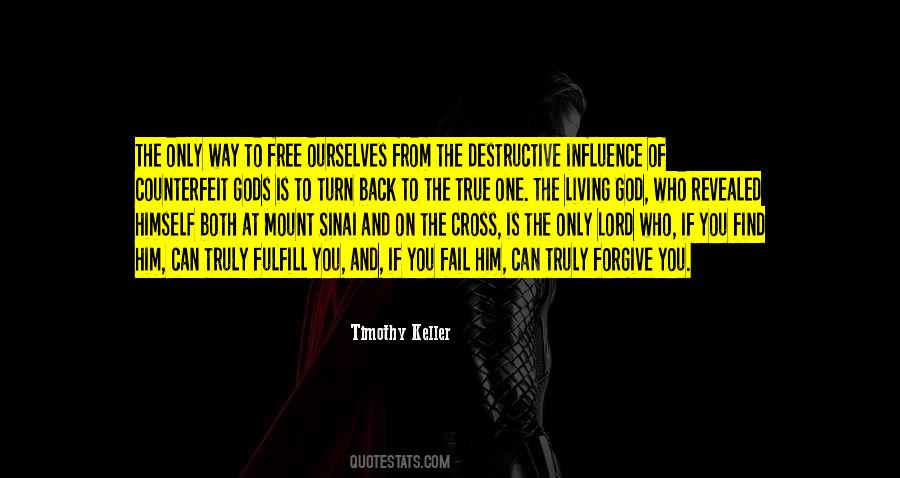 #57. As an old acquaintance of mine used to say, "If you can't duck it, fuck it." I'm pretty sure he knew it was duct and not duck, but I'll forgive him for the sake of the rhyme. - Author: Cherie Priest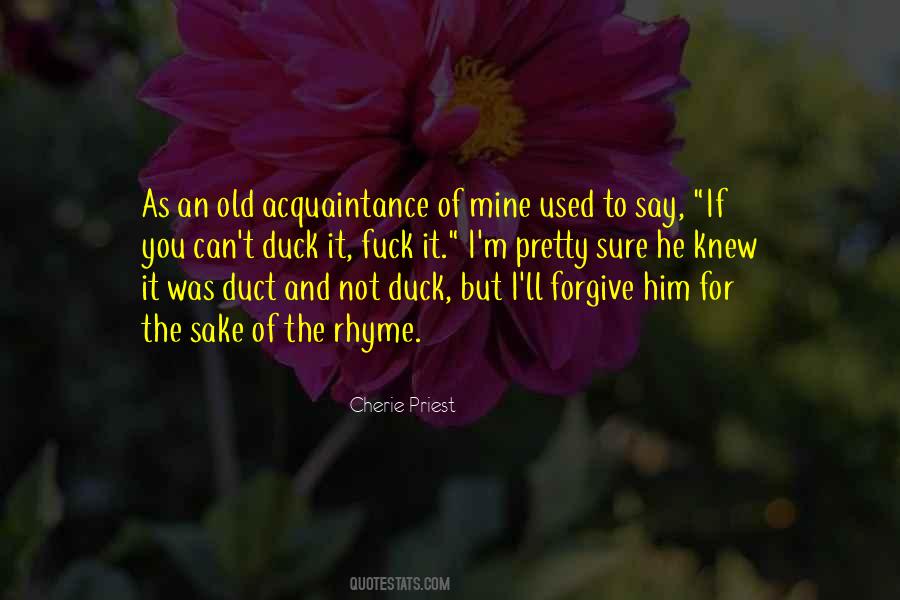 #58. When you hate someone so much, a part of you wants desperately to forgive them. But you can't decide if it's because you really want, or if you just want to stop hating. I still don't know if forgiveness is generous or selfish. Maybe both. - Author: Miguel Syjuco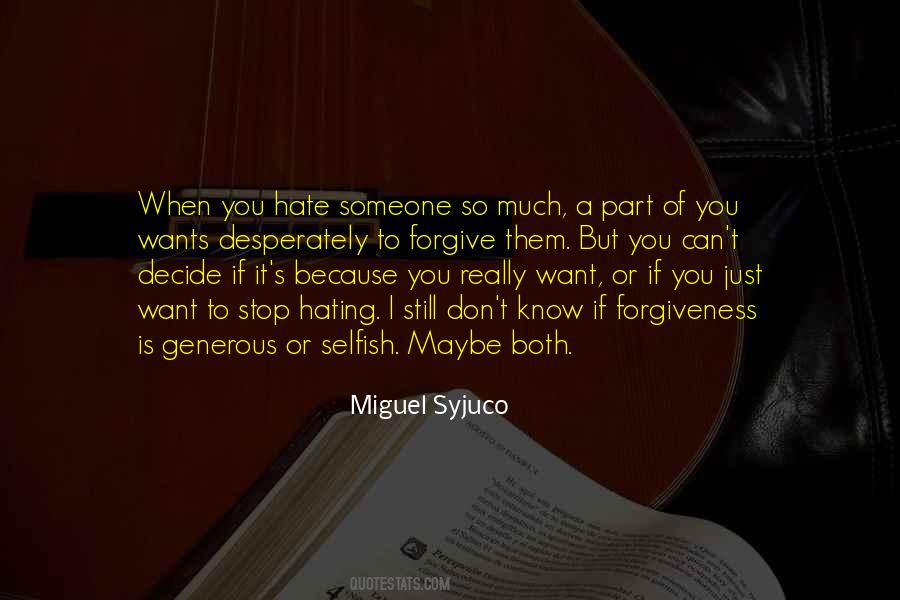 #59. If you can't forgive and forget, then pick one and do it ... - Author: Jim Brault
#60. If you haven't forgiven yourself something, how can you forgive others. - Author: Dolores Huerta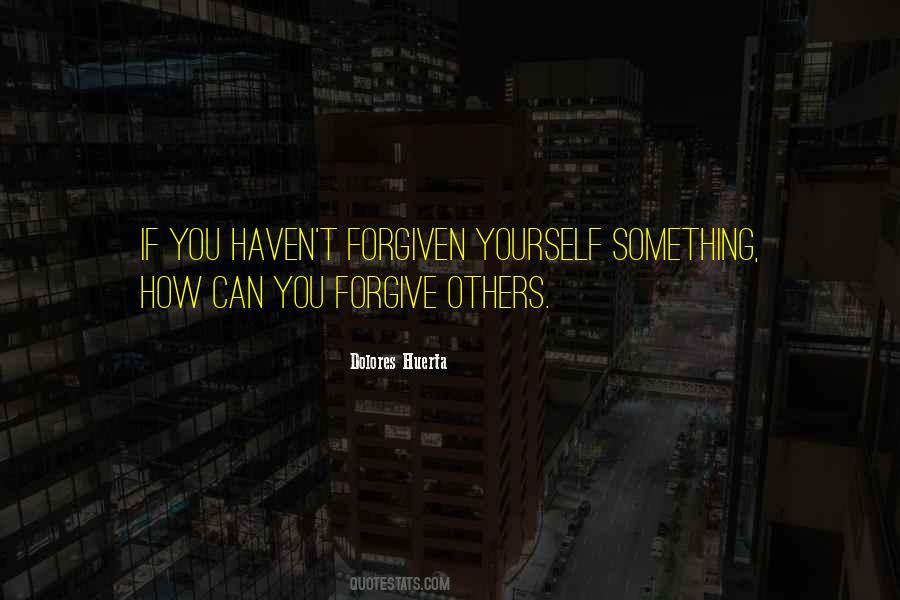 #61. You can spill drinks on me, even spit on me. I'll just laugh about it. But If you dare to hurt my friends ... I WON'T FORGIVE YOU! - Author: Eiichiro Oda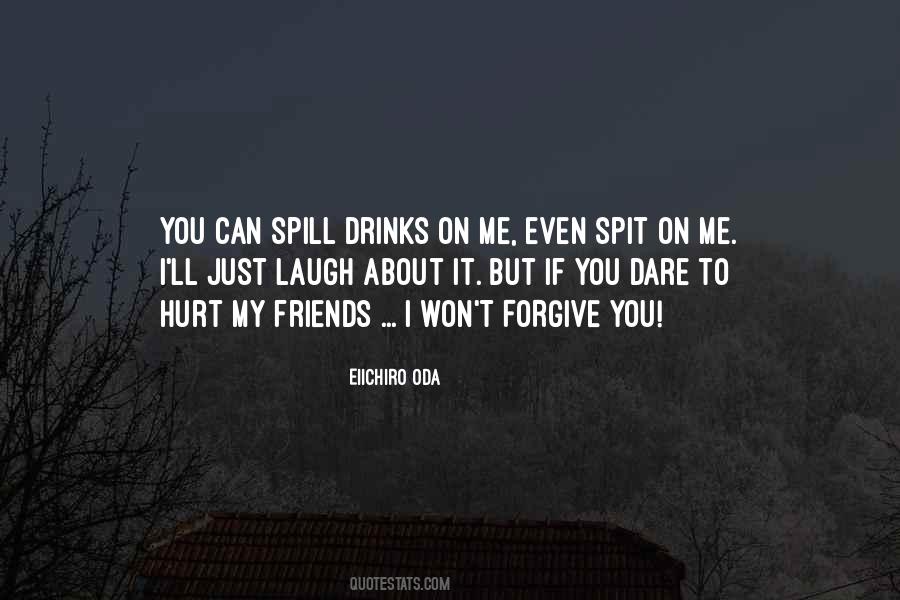 #62. If you can't forgive yourself ... doesn't matters if others do - Author: Swetha Dhanagari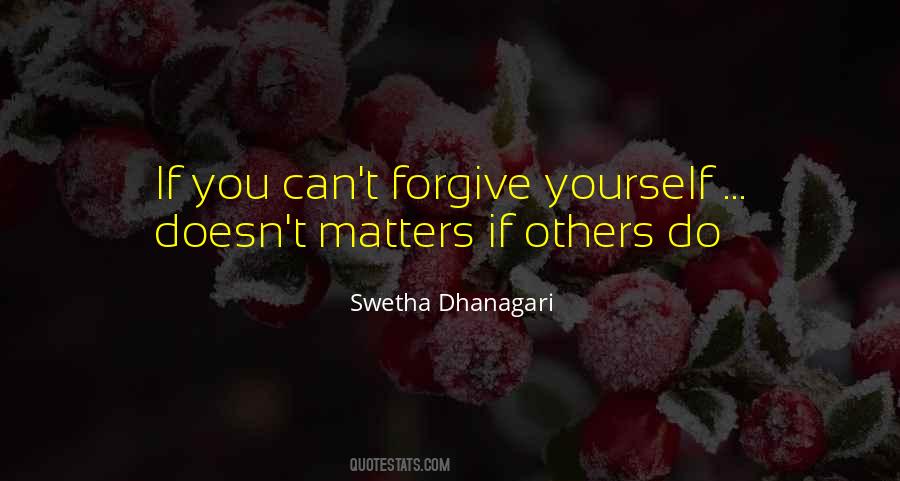 #63. He knows about sacrificing himself for the good of the whole.That's what soldiers do.It's not the torture he can't forgive me for. Nor deceiving him about his people. It's because I put you in harm's way he is so angry" Then she said, very calmly, "If I could kill you, I would" - Mrsilia - Author: Patricia Briggs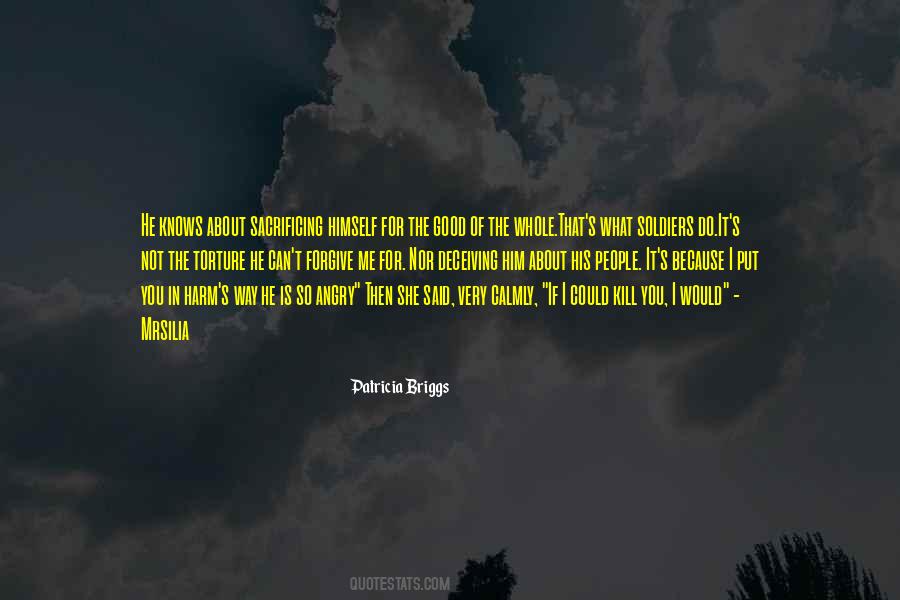 #64. If it helps you. I forgive you. But i have learned in recent weekd that seeking forgiveness from others is meaningless unless you can forgive yourself. - Author: Maya Banks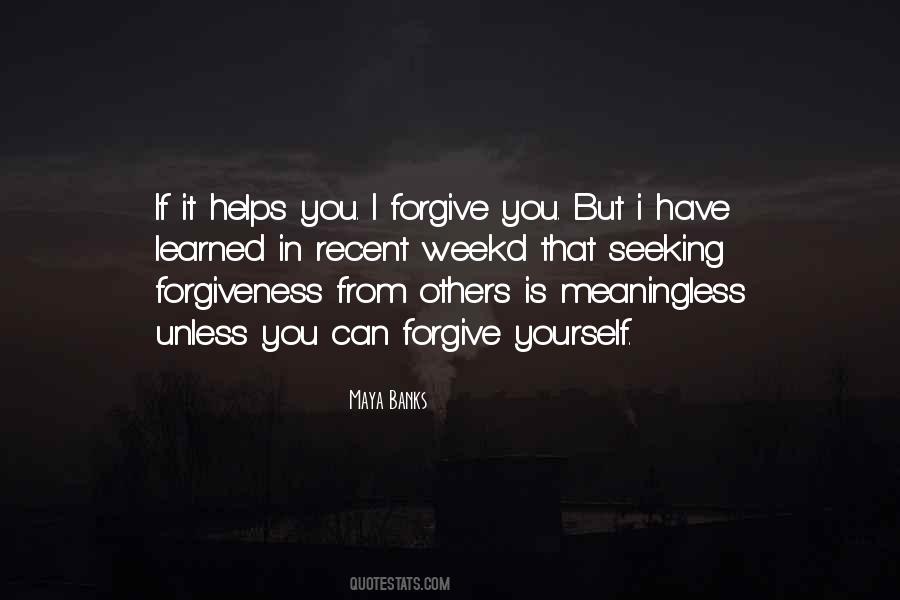 #65. Learn to forgive. First others, then yourself - mostly yourself. But you have to forgive. "Get rid of the negativity. So much of your life can go down this dark drain if you let it. Every negative feeling makes you sicker. Every positive feeling makes you better. - Author: Lionel Fisher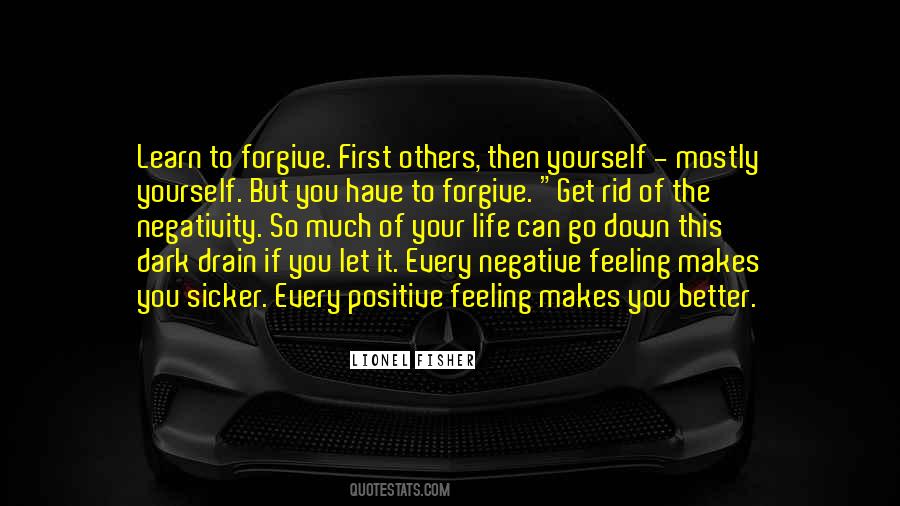 #66. Before making a snap judgment, ask yourself if it really is something that has hurt you or simply just made you angry at yourself for allowing it to happen. It's amazing what 'sleeping on it' can do. A new day sees a new beginning. - Author: Stephen Richards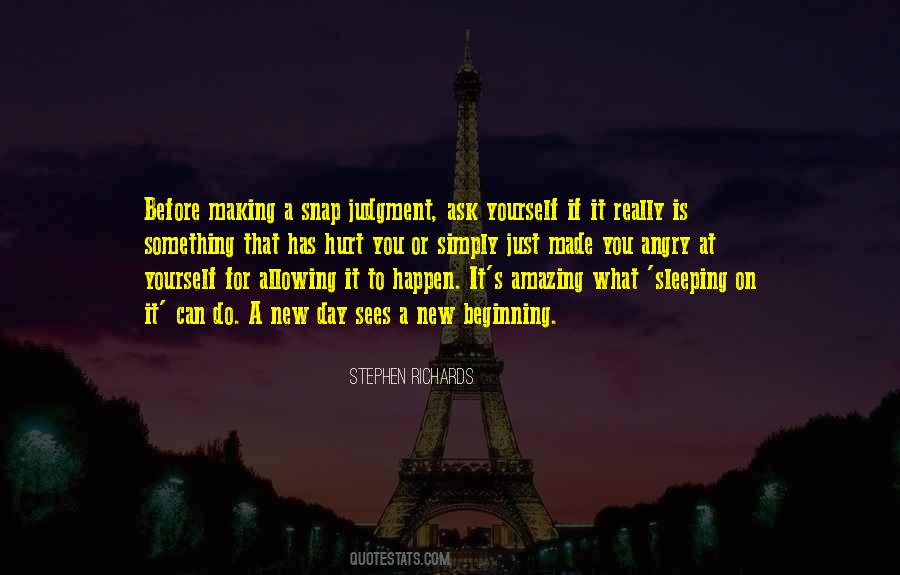 #67. So before you decide you can't forgive her, ask yourself if you want to live without her. We're only here for a short time, man. Don't waste it. - Author: K.J. Bell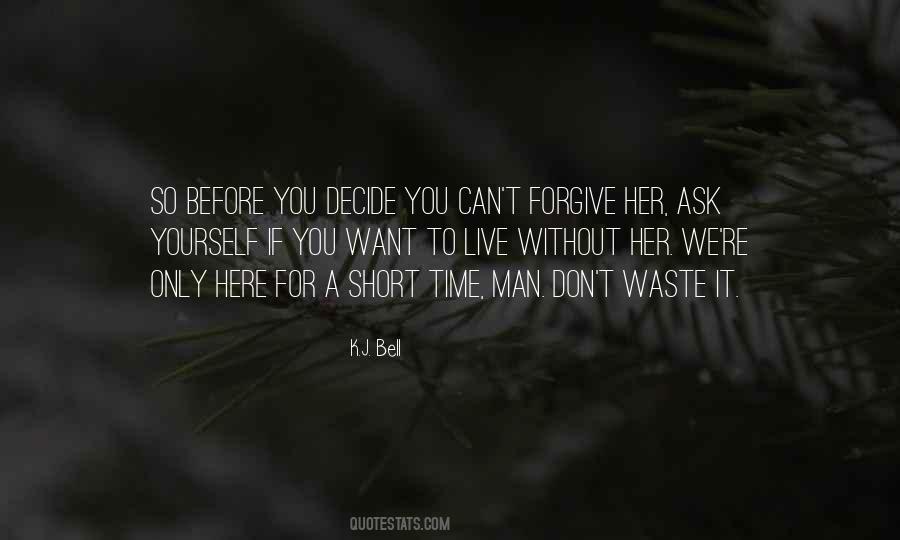 #68. If you can't forgive, don't ask to be forgiven. - Author: Napoleon Hill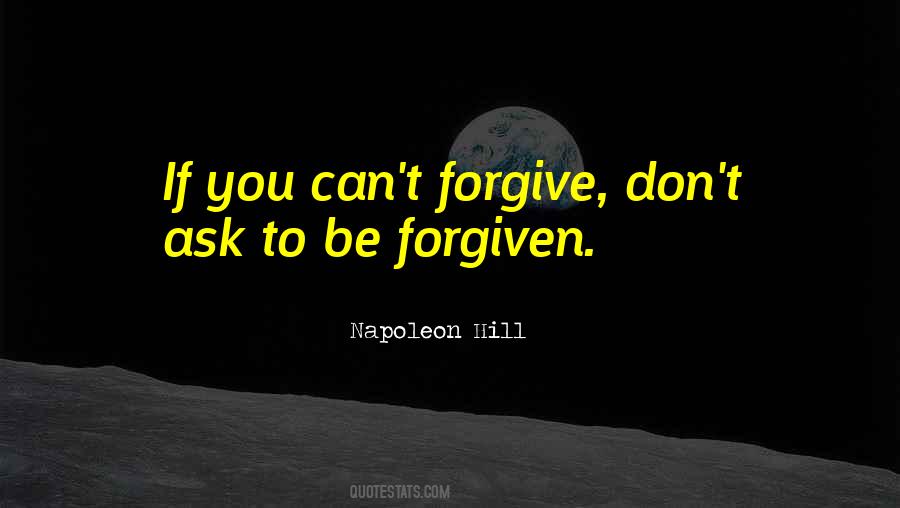 #69. If you could make them feel as you can make me feel, then perhaps they could forgive you. - Author: Orson Scott Card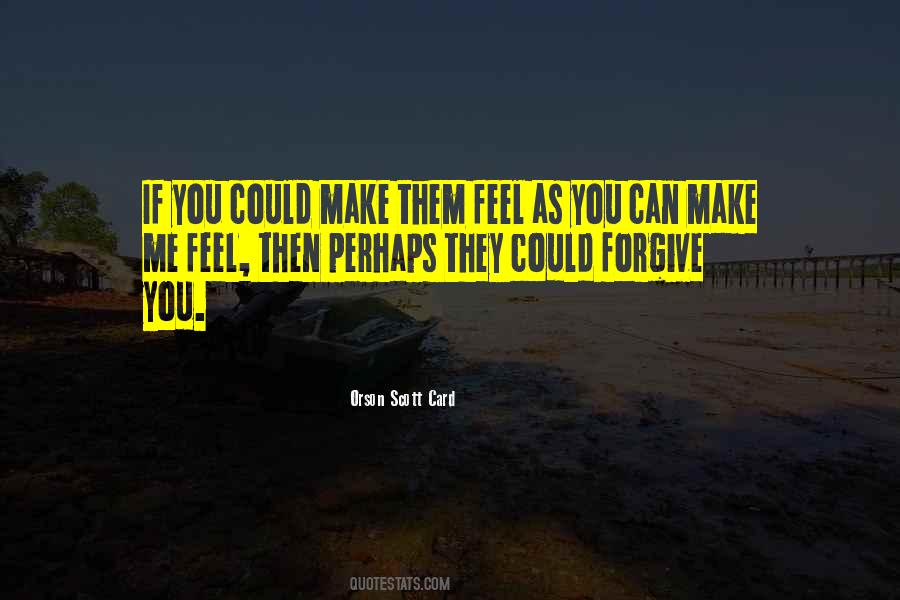 #70. God will forgive you if you forgive others. Forgiving those who cause offence or injury is often exceedingly difficult. And yet, forgiveness is one of the most beautiful and important teachings of Jesus Christ. It is central to the gospel because, without it, you can't go to heaven. - Author: Patrick Madrid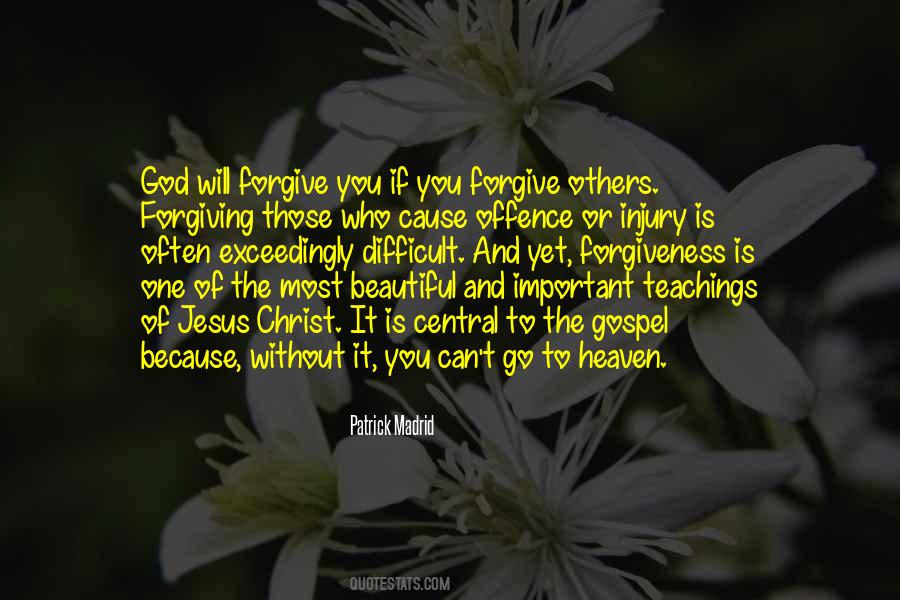 #71. So I will just say it. I cannot love you as a man loves a woman. I am so sorry if I have presumed what is not true or have taken liberties with your sentiments. I hope you can forgive me. - Author: Shannon Hale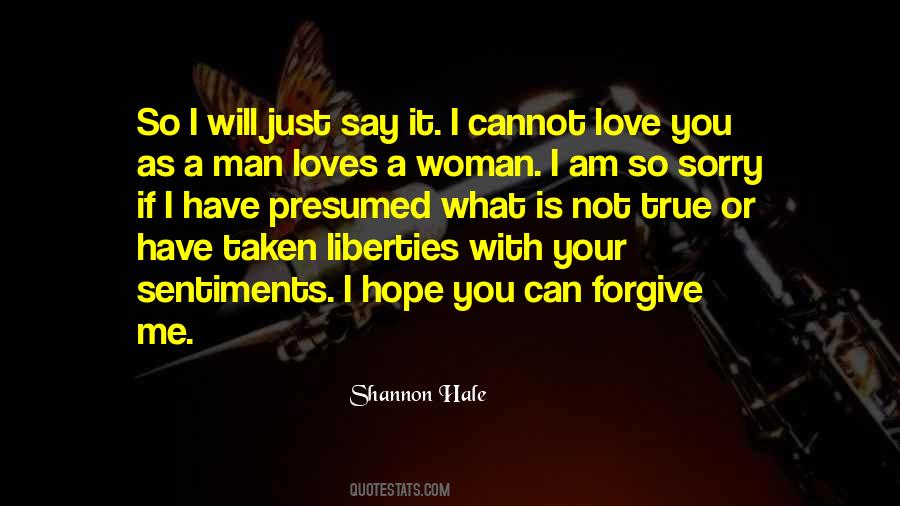 #72. of course you understand why he can't forgive you because you can't forgive yourself. You don't even believe God forgave you...if you did you'd shove off that shame. Jesus forgave you. Why can't you? Why can't Jack? - Author: Sarah Sundin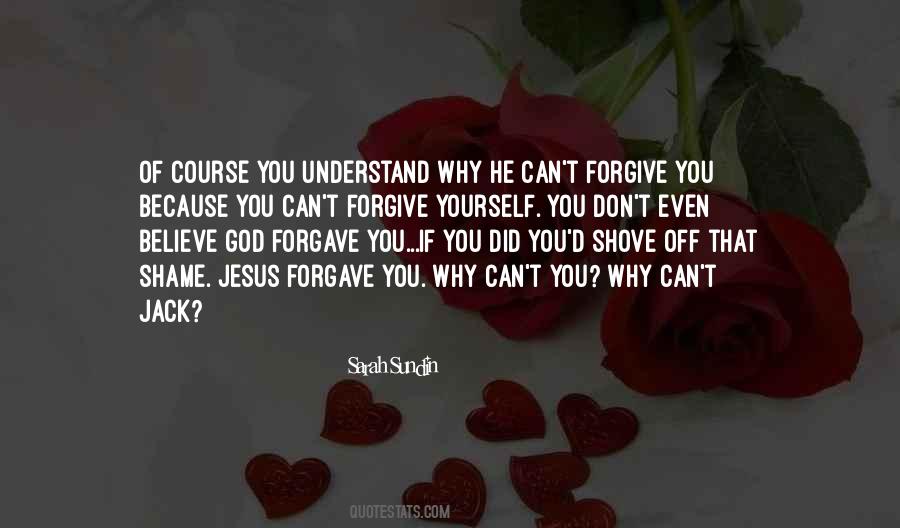 #73. Don't you think that if God can supposedly forgive you, it's kind of egotistical for you not to forgive yourself? - Author: Richelle Mead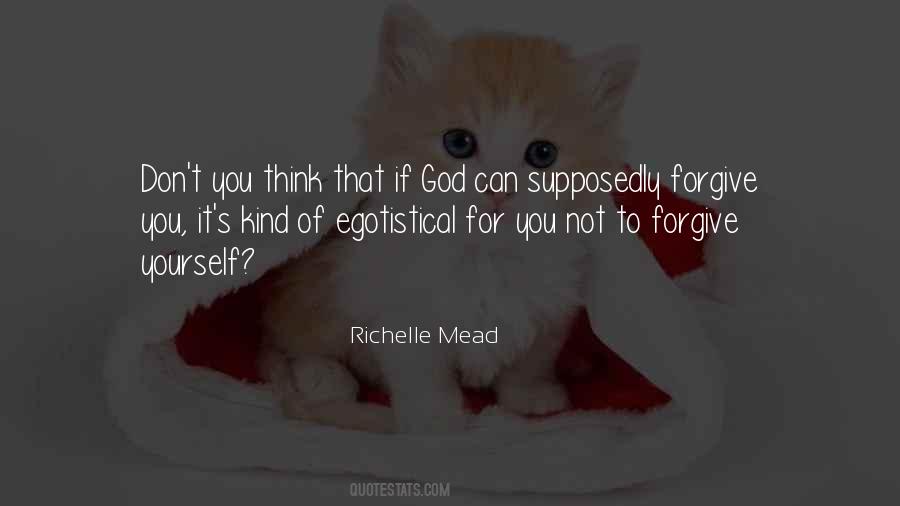 #74. Forgive me, Magnus.'
'I don't know if I can.'
'You must.'
Still looking into the distance, he said, 'You need my forgiveness?'
'No. I'm dead. You can do nothing for me. You need to forgive me so you can live. - Author: Raymond E. Feist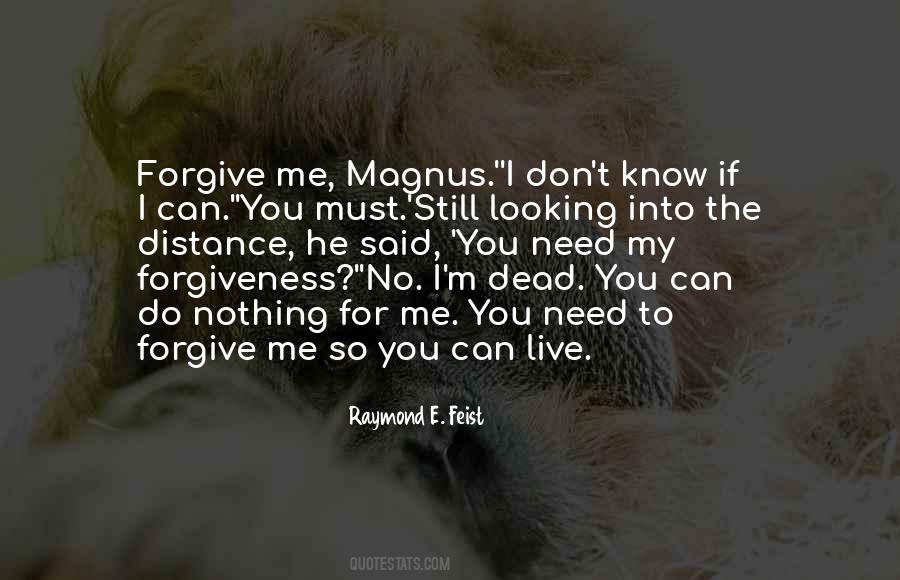 #75. Africa can stun you in an instant. It can throw floods and drought and disease at you, sometimes all at the same time. In the next moment, it will tease you with its magnificent beauty, so even if you don't forget, you can find a way to forgive. Ultimately, it keeps you coming back for more. - Author: Jacqueline Novogratz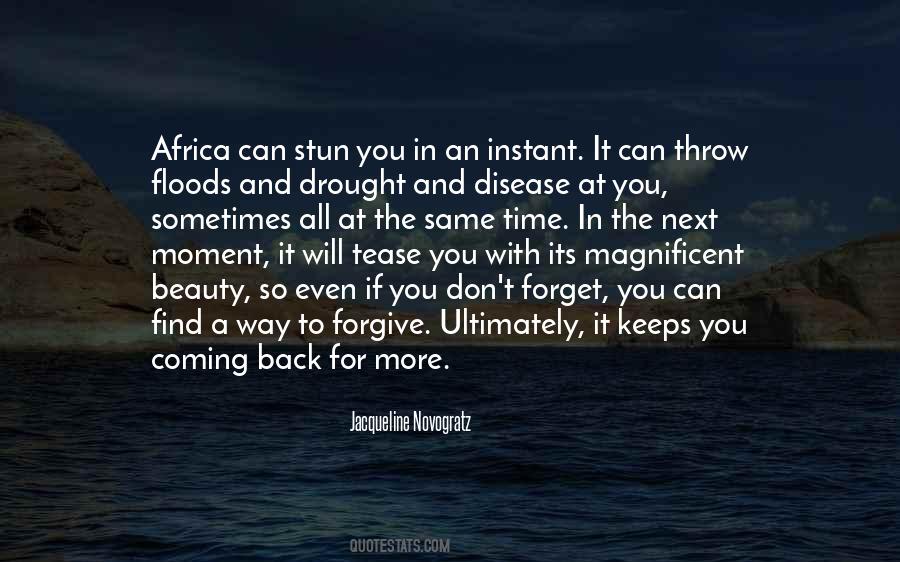 #76. If I could go back to do some things over, I would in a heartbeat. But that ain't reality. It ain't life. You got to forgive yourself before you can move on. When you forgive yourself the regret gets lighter and lighter and you manage to keep going. - Author: Joe Hart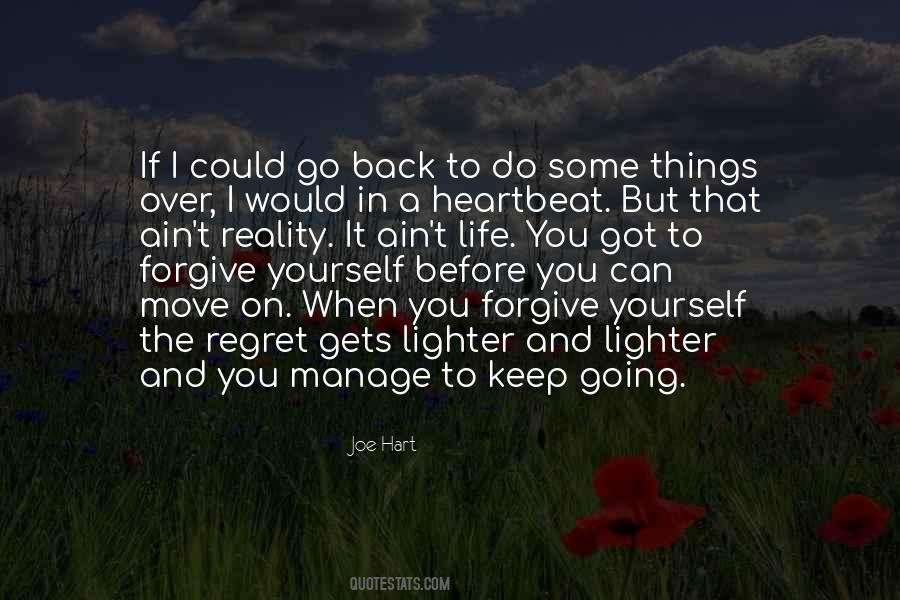 #77. I wonder if it's meant to be punishment for something one can't forgive oneself for. Or an external expression, Lady Queen, of an internal pain? Or perhaps it's a way to realise that you actually do want to stay alive. - Author: Kristin Cashore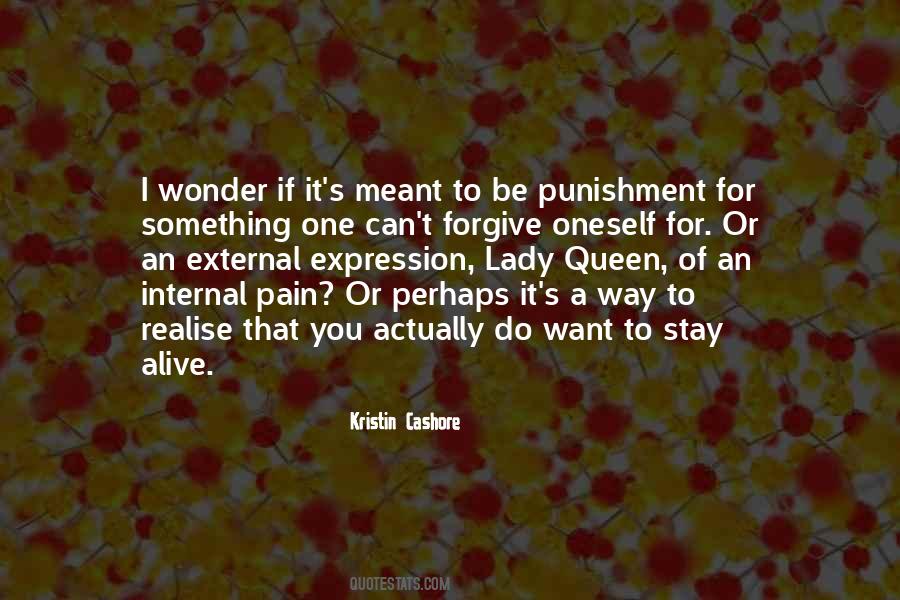 #78. You're damned if you can't forgive, Jude. - Author: Clive Barker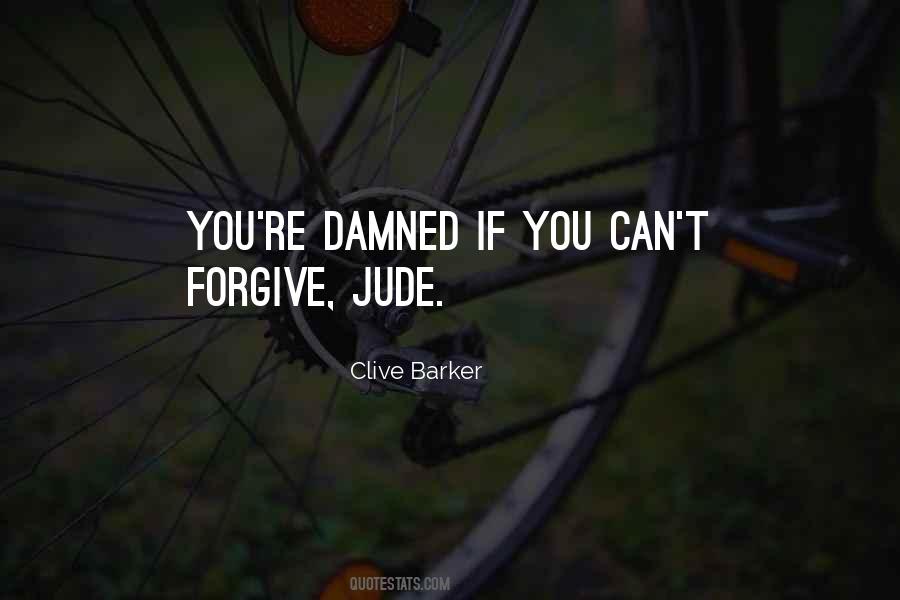 #79. if a man hurts you, and you show that hurt, and your eyes lock with his, he will never forgive you. For always you will be the girl he has hurt, which means you are the girl he can always hurt again. Mr. - Author: Joyce Carol Oates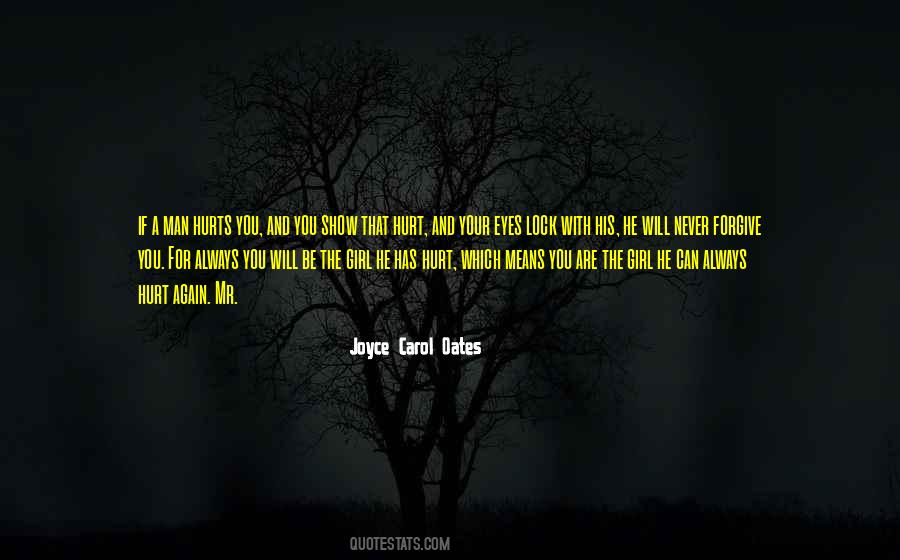 #80. And if you're lucky enough to survive going crazy and get back to the point where you can pass for normal, it builds a question into the rest of your life. You have to forgive people for wondering, 'How all right can he be?' - Author: Mark Vonnegut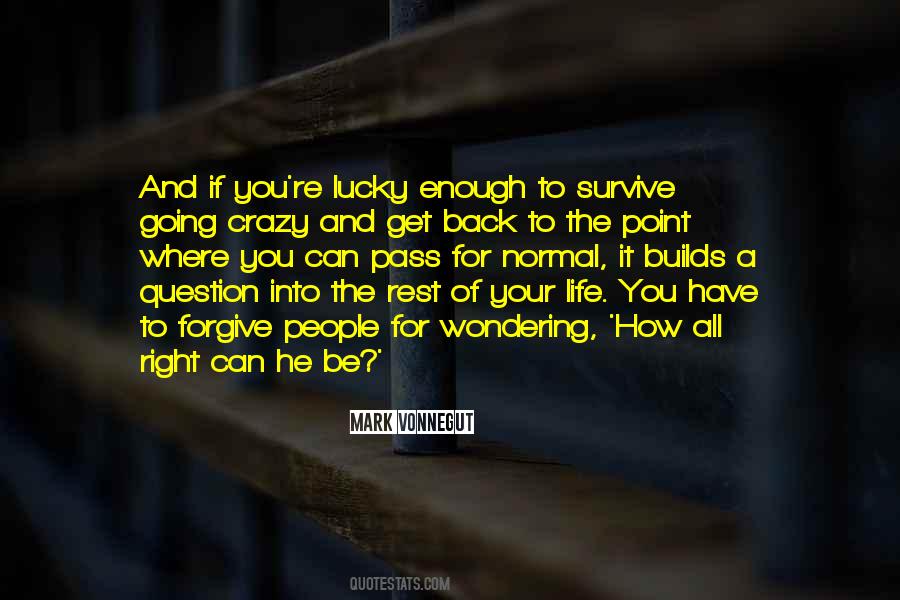 #81. I guess what everyone wants more than anything else is to be loved. And to know that you loved me for my singing is too much for me. Forgive me if I don't have all the words. Maybe I can sing it and you'll understand. - Author: Ella Fitzgerald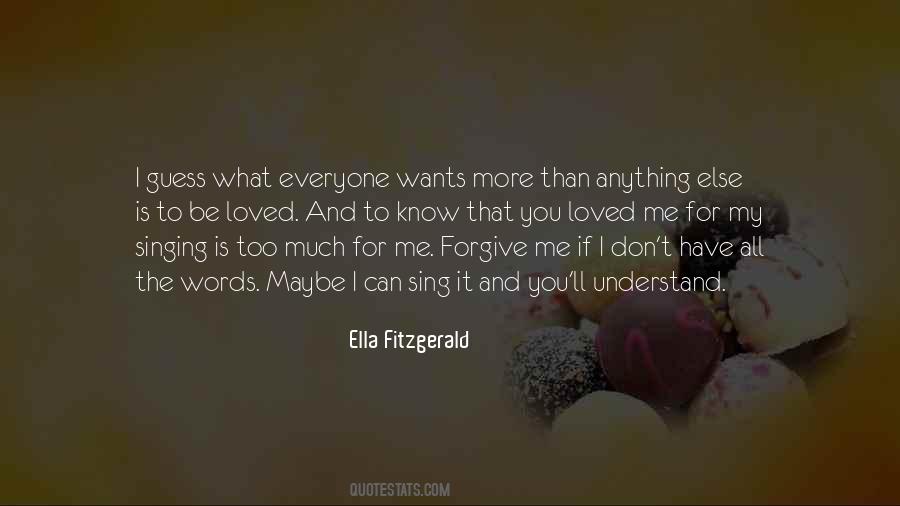 #82. Learn to forgive fully and completely. If you want health, wealth, and happiness, you can't afford the luxury of lugging around all those unforgiven, unforgotten past events. Let them go. - Author: Peter McWilliams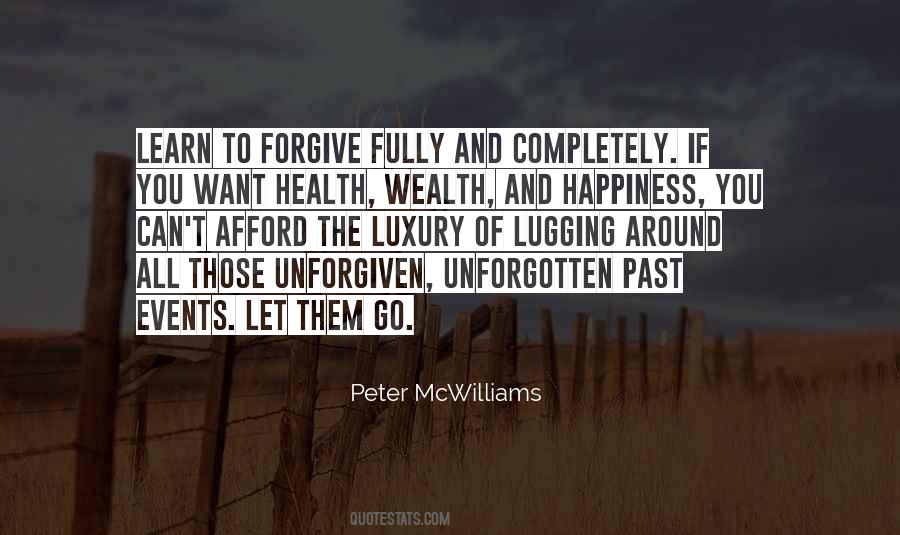 #83. You ask me if I can forgive myself? I can forgive myself for many things. - Author: Neil Gaiman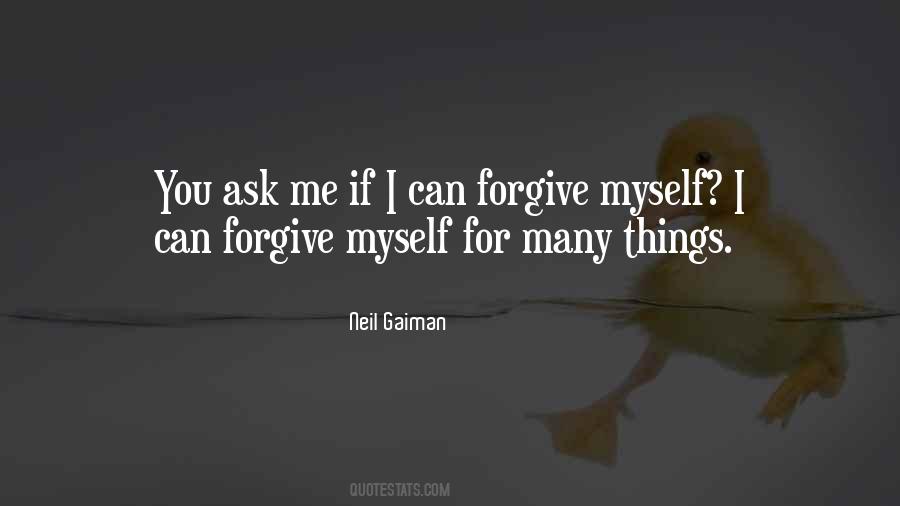 #84. If you find someone who can forgive all your bullshit ... the least you can so is try to forgive them. - Author: Brian K. Vaughan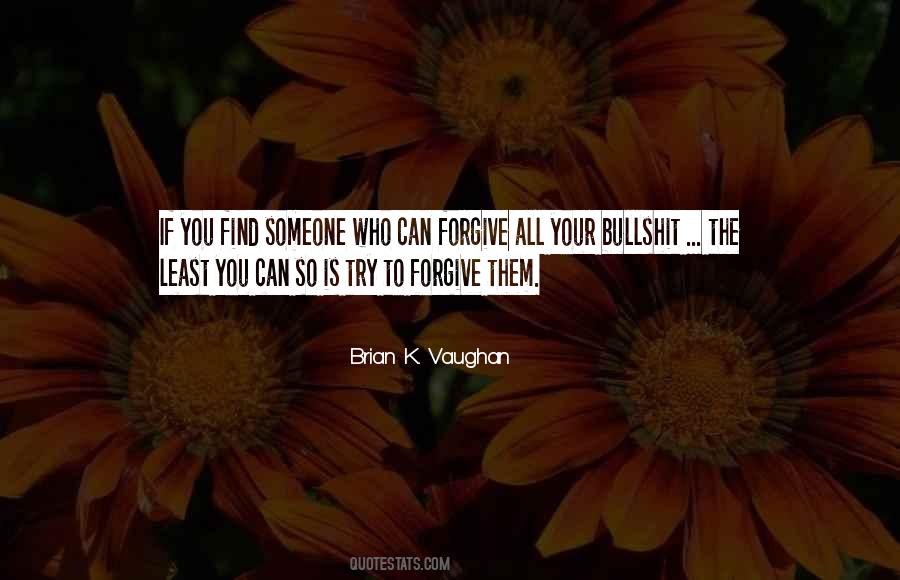 #85. I know that in the end, God will forgive me. He will forgive your father, me, and you too. I hope you can do the same. Forgive your father if you can. Forgive me if you wish. But most important, forgive yourself. - Author: Khaled Hosseini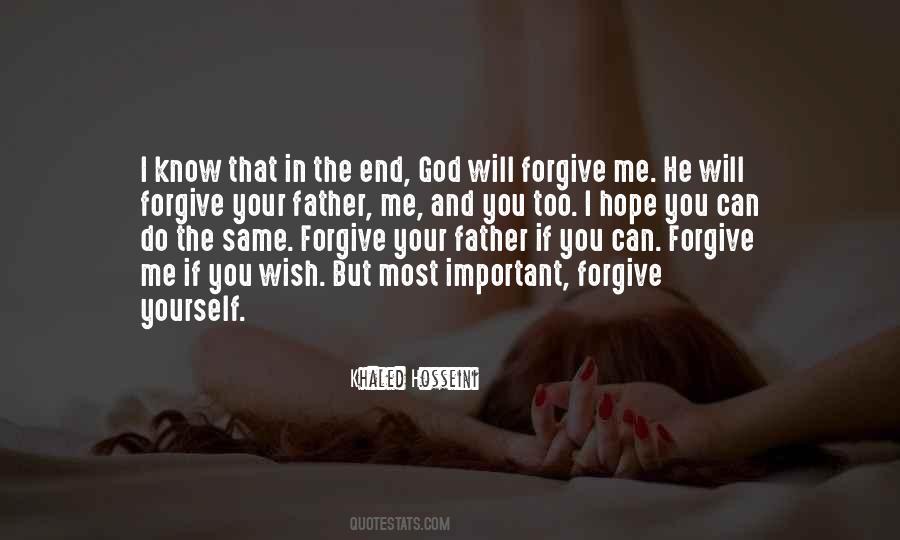 #86. If you love a person, you can forgive anything. - Author: Herbert Marshall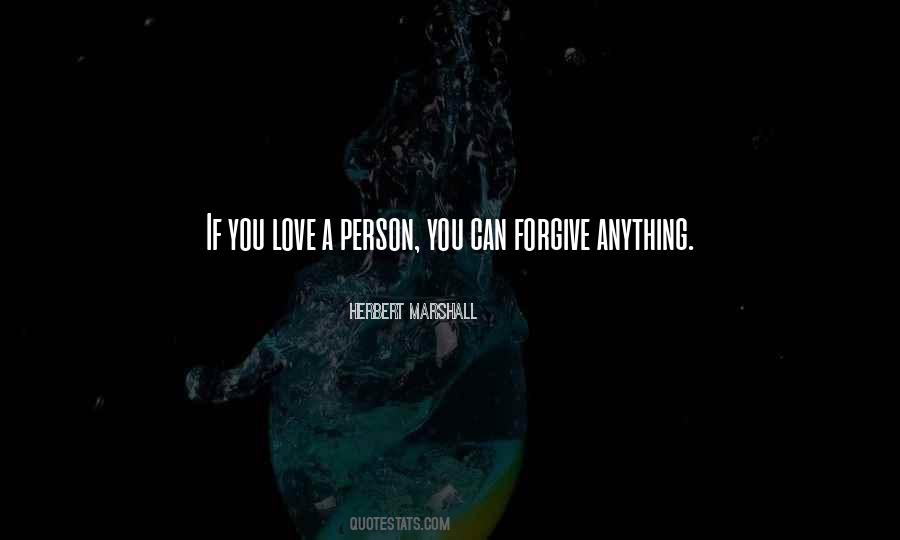 #87. There's no operation where you can have your anger cut out. But if you work on yourself, as you get better, you'll be more capable of seeing others as flawed human beings. That makes it easier to forgive. - Author: Robin Quivers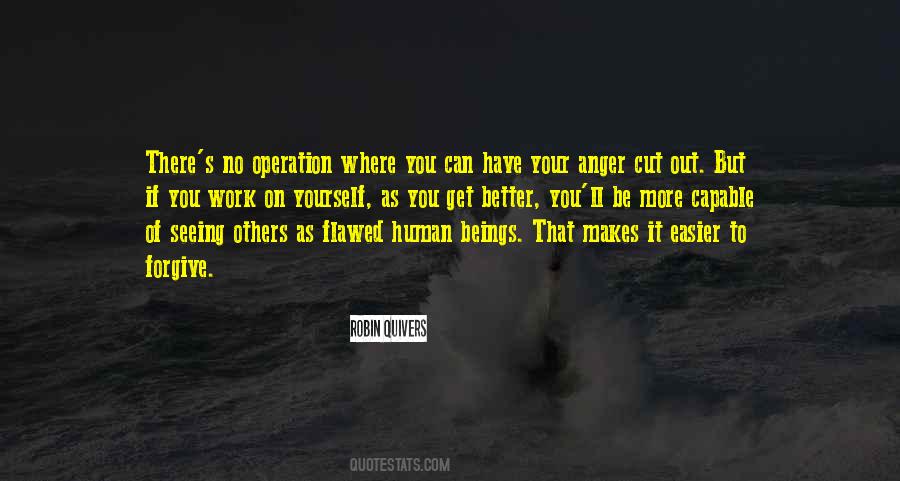 Famous Authors
Popular Topics