I Know I Am Ugly Famous Quotes & Sayings
List of top 52 famous quotes and sayings about i know i am ugly to read and share with friends on your Facebook, Twitter, blogs.
Top 52 I Know I Am Ugly Quotes
#1. Given the choice between someone saying I was handsome in a role or ugly but good, I know which I'd choose. - Author: Rufus Sewell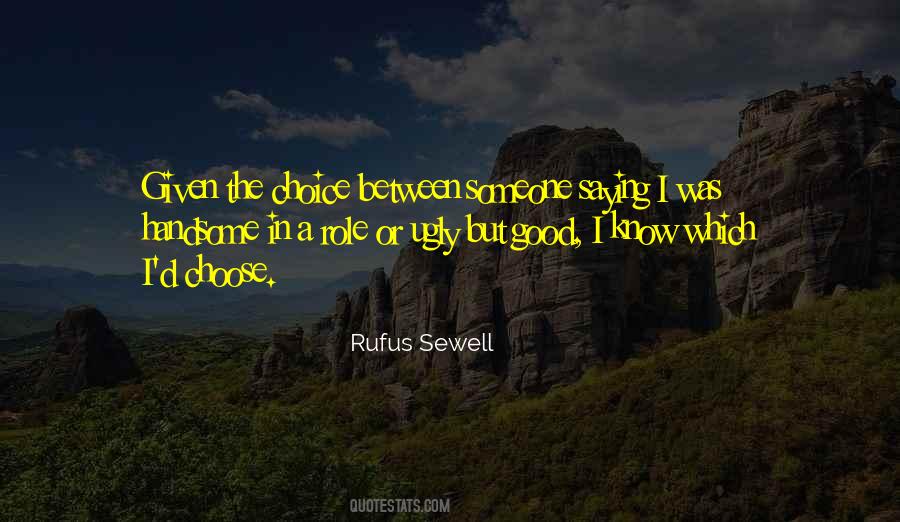 #2. I may know that the world is an ugly place, I still don't want to see it. - Author: Muriel Barbery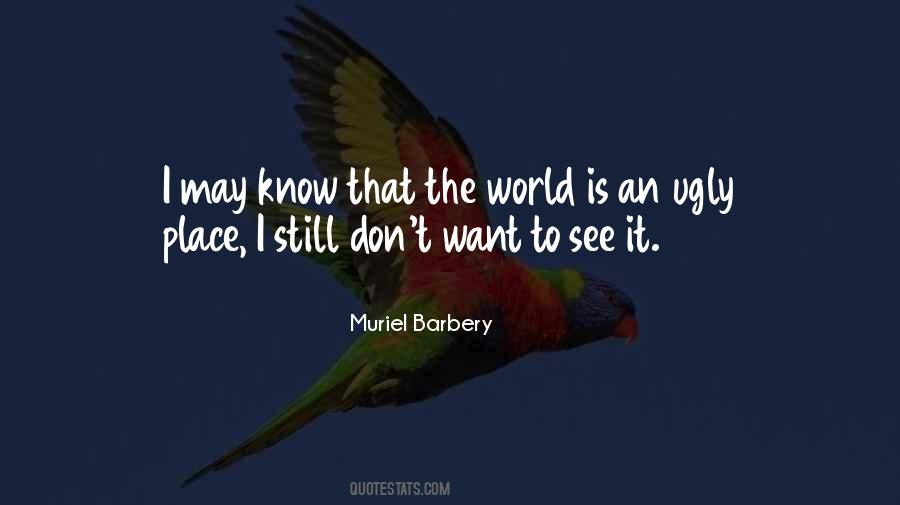 #3. Mother: "I couldn't stand his friends from medical school. They were all pompous and awkward. They knew how to memorize but they didn't know how to be human. Rochester was cold and ugly. Everything there was the same color. I was incredibly lonely." She - Author: Eula Biss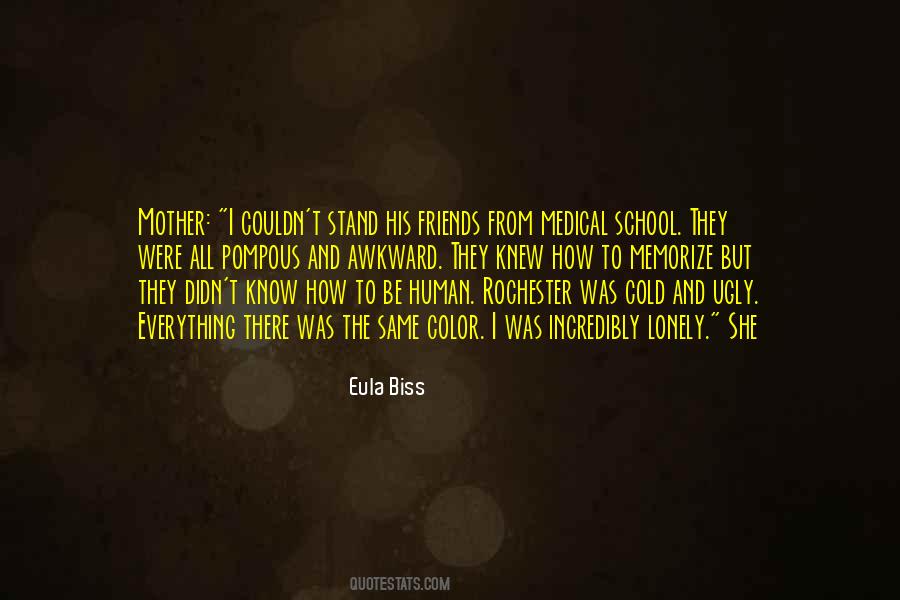 #4. Women must know themselves better than anyone. If you have ugly legs, wear long dresses. If you have long, great legs, show them. - Author: Azzedine Alaia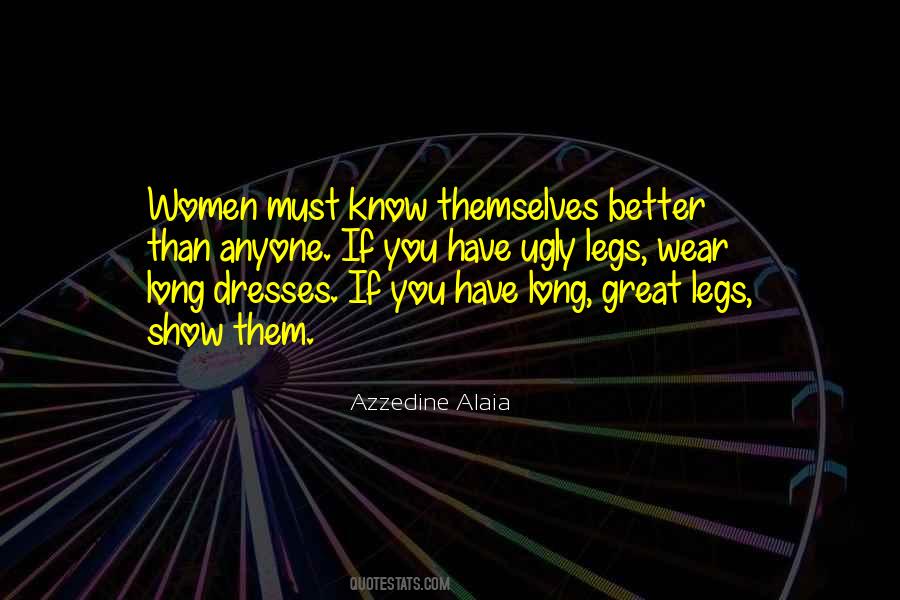 #5. But I'm a bad priest, you see. I know
from experience
how much beauty Satan carried down with him when he fell. Nobody ever said the fallen angels were the ugly ones. Oh, no, they were just as quick and light and ... - Author: Graham Greene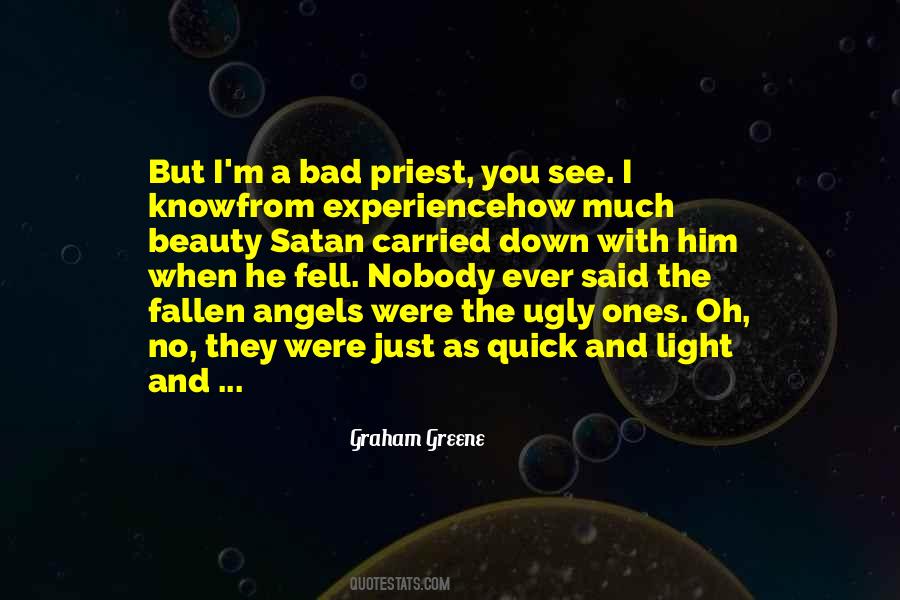 #6. It's love. Love makes us beautiful. Do you know a single person who loves and is loved, who is loved unconditionally and who, at the same time, is ugly? There's no need to ponder the question. - Author: Jan-Philipp Sendker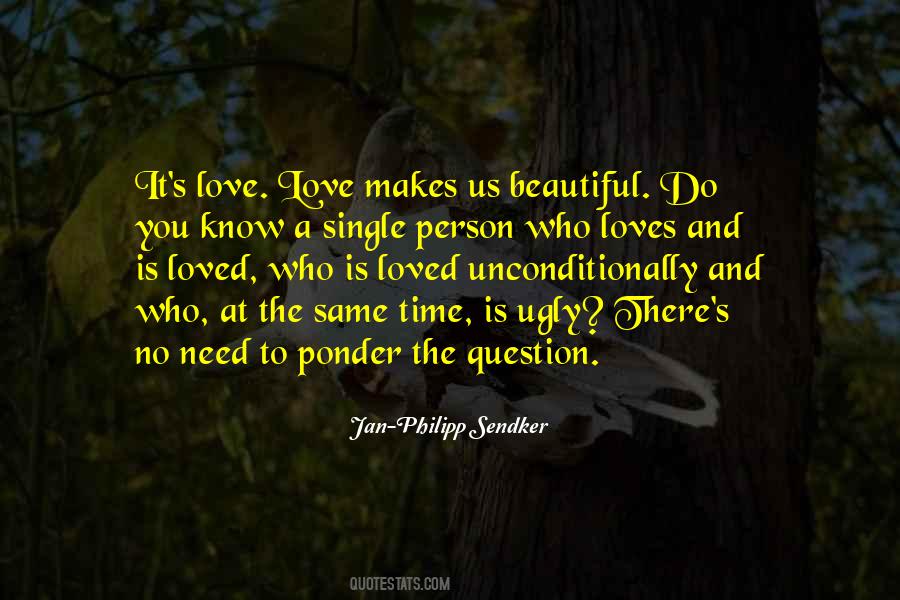 #7. Whenever someone calls me ugly I get super sad and hug them, because I know how tough life is for the visually impaired. - Author: Will Ferrell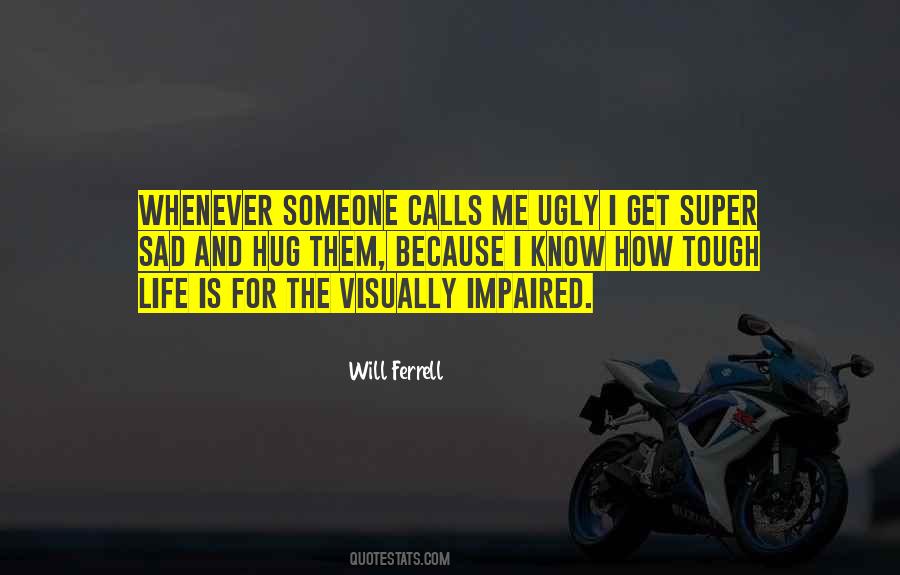 #8. I'm pissed because I already know I'll be going with him. - Author: Colleen Hoover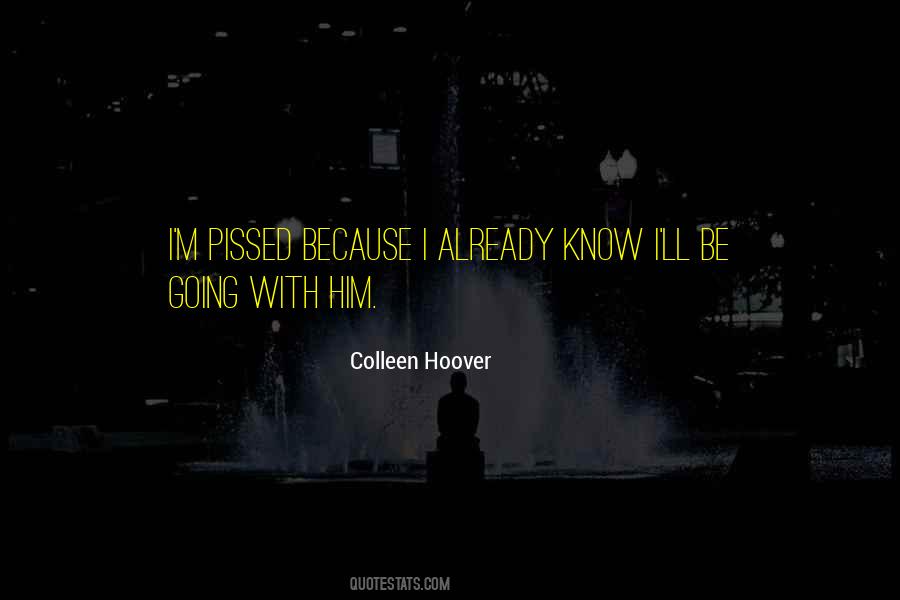 #9. I have not know a worthy son to whom his mother appeared ugly. - Author: Mahatma Gandhi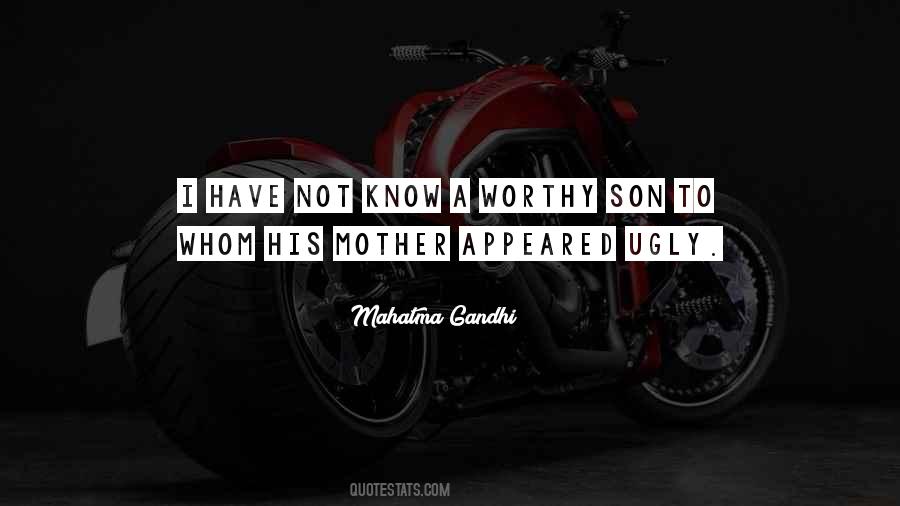 #10. When I'm with you, I don't feel self-conscious or like I'm crippled or ugly. I don't know how you do that, but it's nice. - Author: Sue Grafton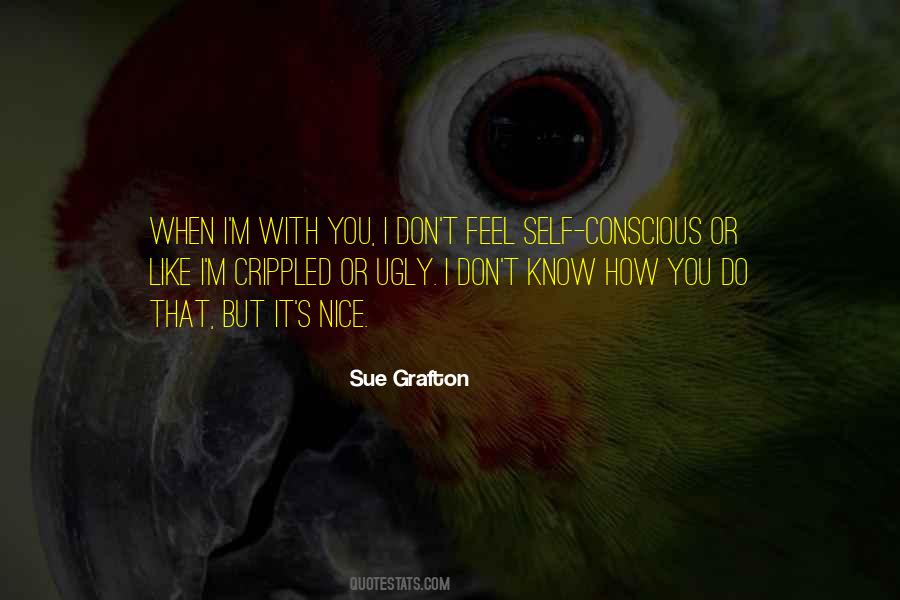 #11. But there are higher secrets of culture, which are not for the apprentices, but for proficients. These are lessons only for the brave. We must know our friends under ugly masks. The calamities are our friends. - Author: Ralph Waldo Emerson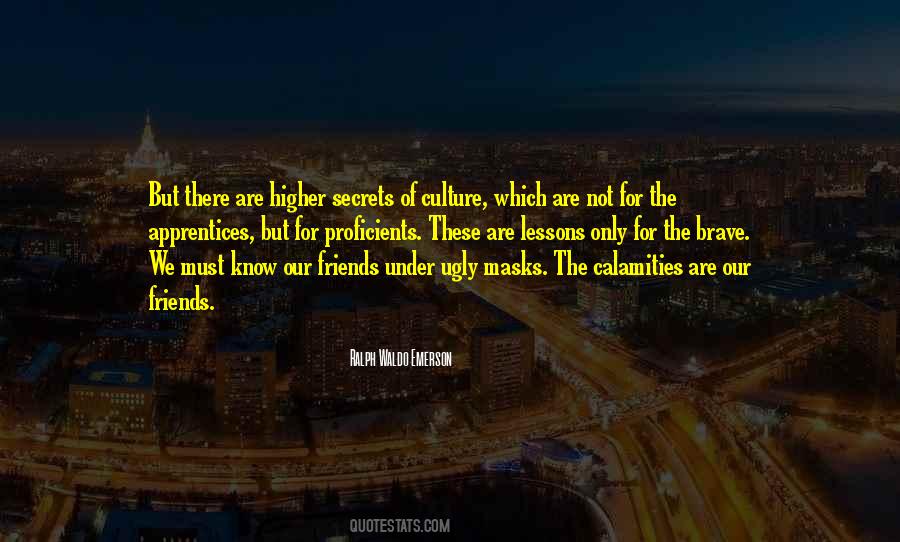 #12. We younger Negro artists who create now intend to express our individual dark-skinned selves without fear or shame. If white people are pleased, we are glad. If they are not, it doesn't matter. We know we are beautiful. And ugly too. - Author: Langston Hughes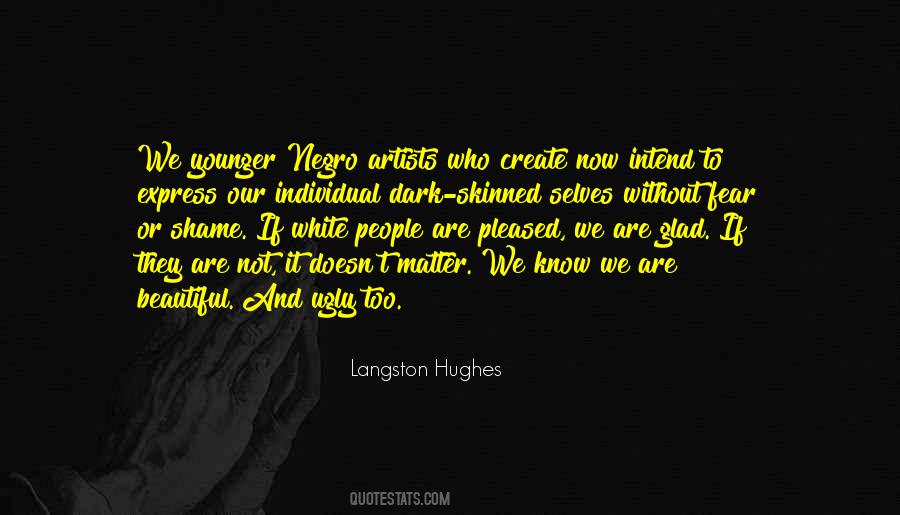 #13. Why is it that beautiful women never seem to have curiosity?
Is it because they know they're classical? With classical things the Lord finished the job. Ordinary ugly people know they're deficient and they go on looking for the pieces. - Author: Penelope Gilliatt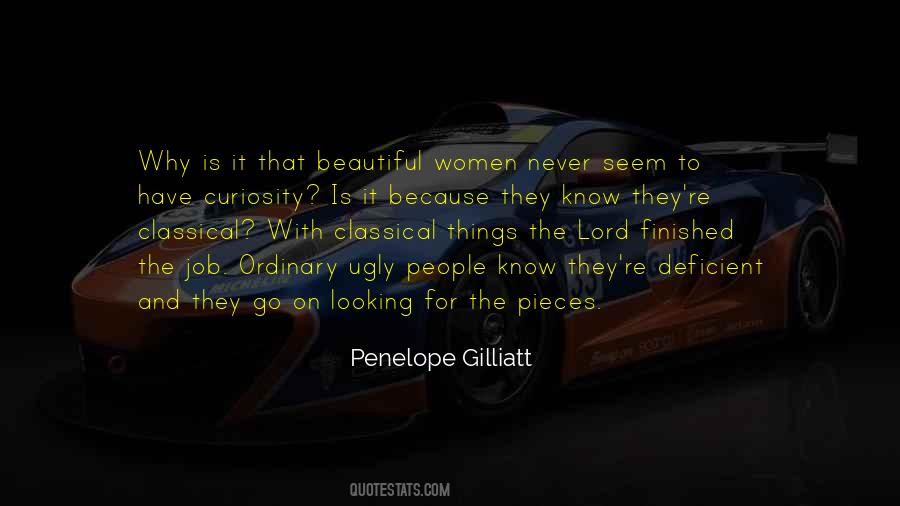 #14. How is it you're so beautiful and so fucking ugly inside!
You know it wouldn't take much to make your outside look like your inside!!
I could just chop your brain out!
It doesn't deserve such a pretty body ... - Author: Jhonen Vasquez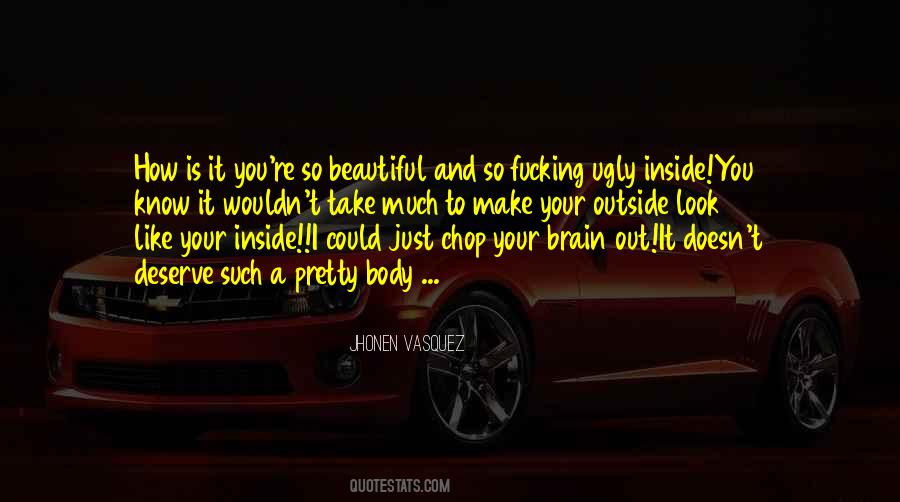 #15. The only ugly girls are the ones that don't know beauty comes from within. - Author: Dan Howell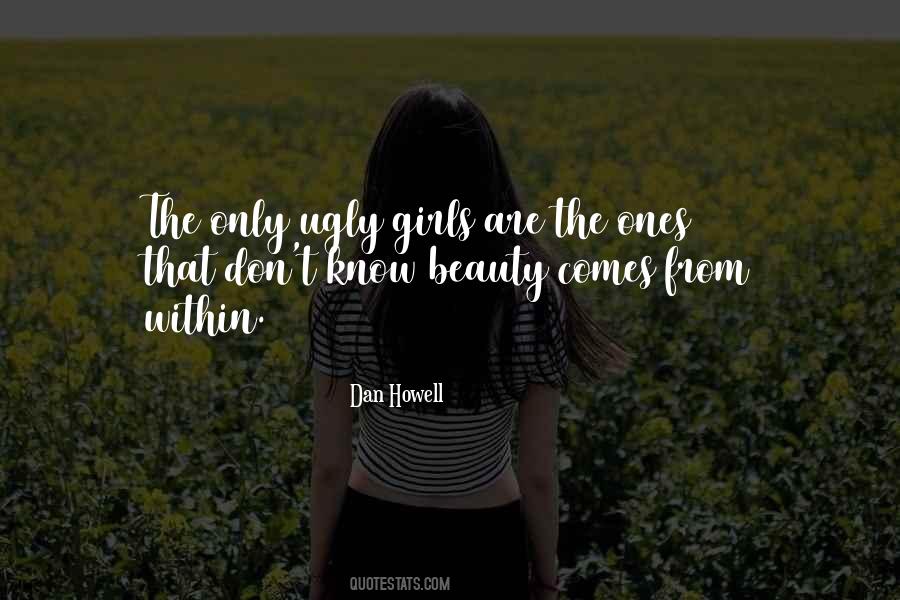 #16. Unspoken questions shine from her eyes, but I don't have the answers she wants to hear. All I have is the truth, the why, and it's ugly. She might've thought she liked it dirty, but she doesn't know dirty. She can't know it, unless she has lived it. Unless she is it. - Author: J.M. Darhower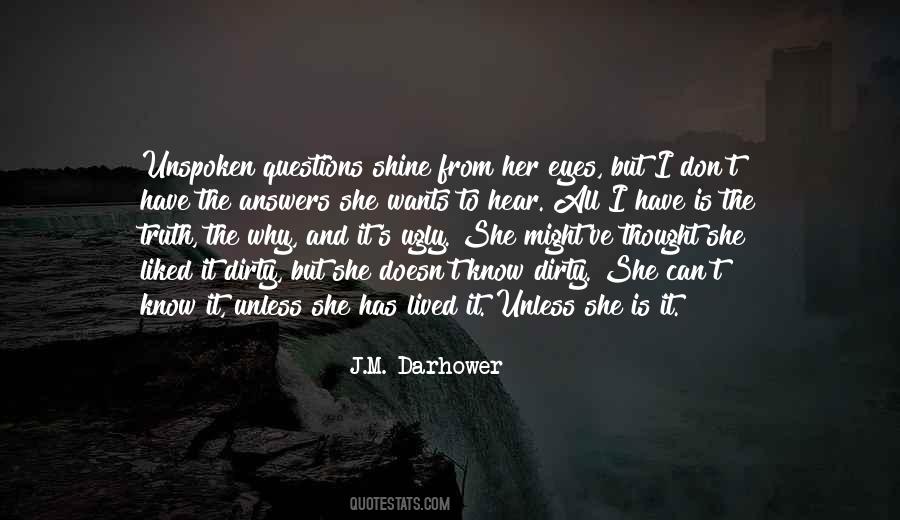 #17. If I were old, fat and ugly, I don't know if anybody would be interested in me. - Author: Georgette Mosbacher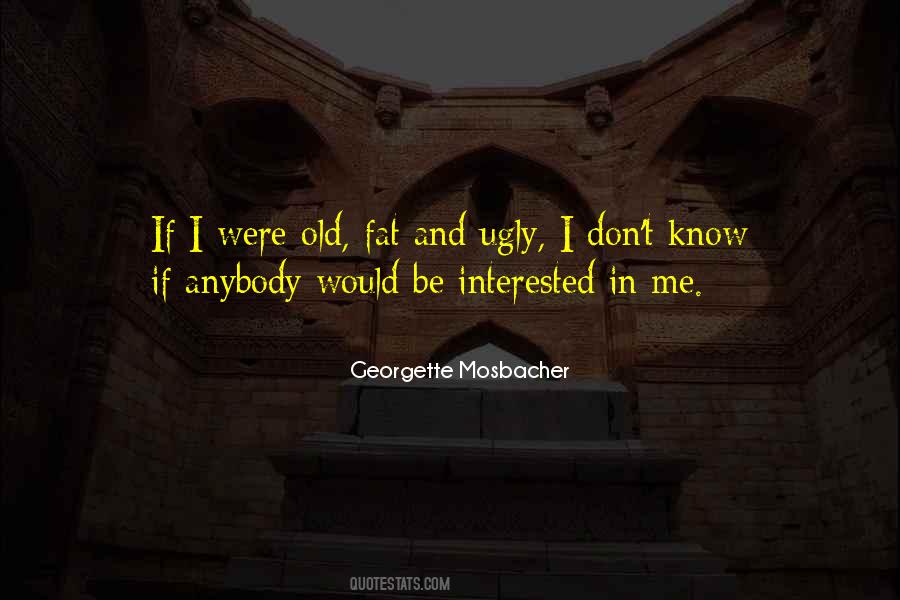 #18. When we do get to the point where things aren't good, we know how to smarten up and fix it before it gets ugly. - Author: Margo Timmins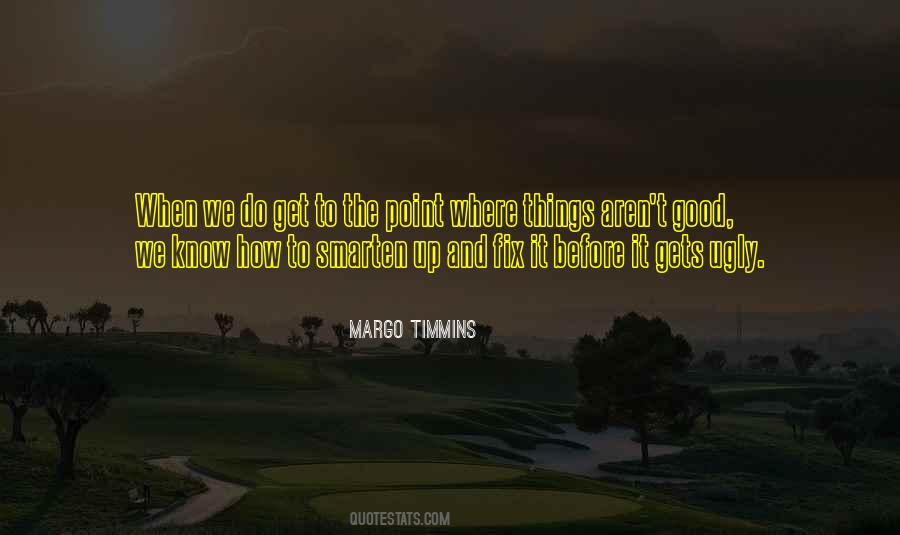 #19. Lord, What a terrible shame. You're so attractive!'
I know, I want to tell her. It should have happened to someone really ugly. And then it wouldn't have mattered. - Author: Liz Jensen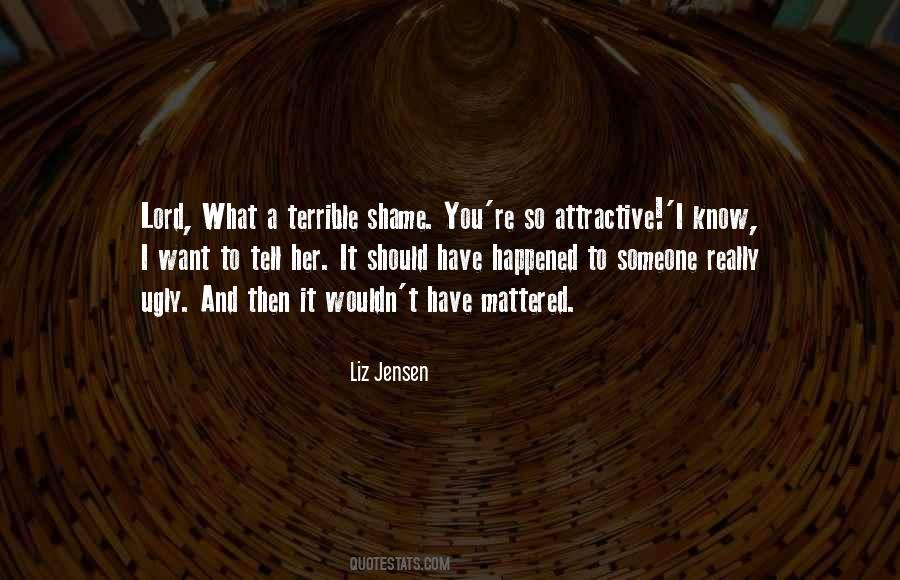 #20. I tell you of my loss, child, so you will listen, slowly, and know that in life every emotion is fated to rear itself within your being. Don't judge it proper or ugly. It's simply there and yours. - Author: Thanhha Lai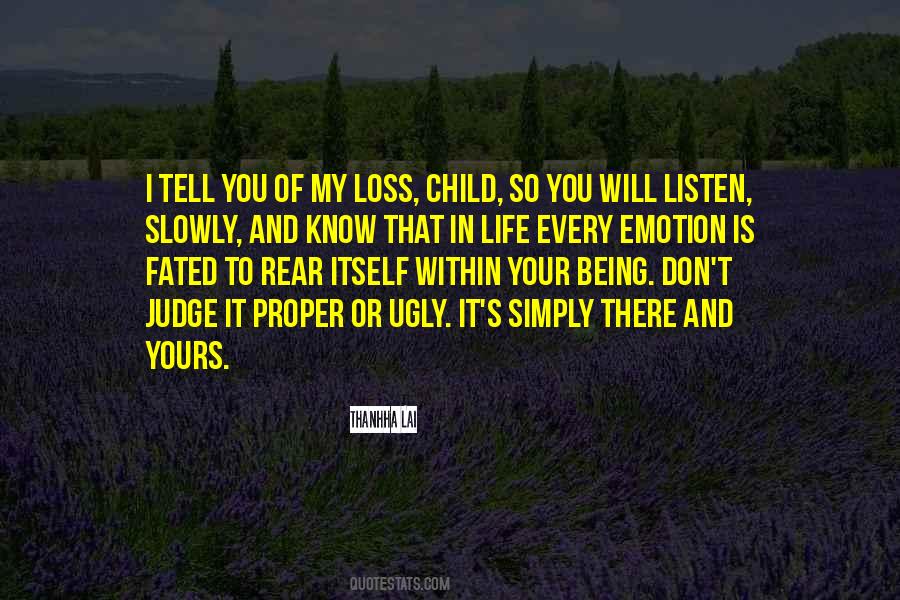 #21. Malone is surly, scary and ugly," I say. "So I'm gonna pass on him, if you don't mind." "I don't know," Chantal says. She looks past me. "What do you say, Malone? Want to go out with Maggie? - Author: Kristan Higgins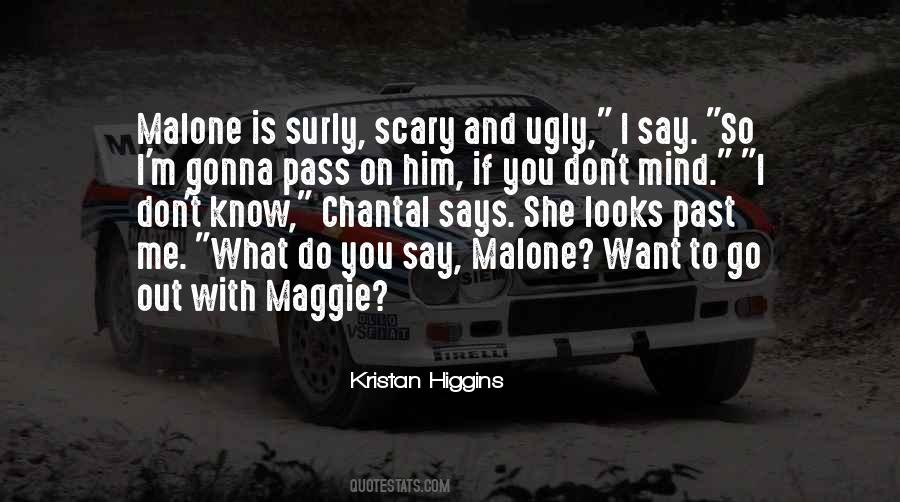 #22. But romantic vision can also lead one away from certain very hard, ugly truths about life that are important to know. - Author: Donna Tartt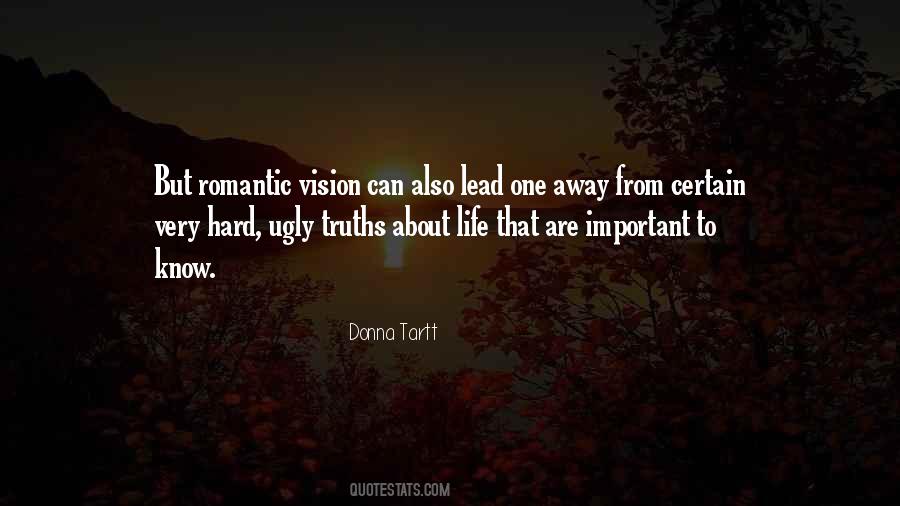 #23. I know nothing sadder than a hunchback in love or an ugly woman full of romantic ideals. - Author: Emile Zola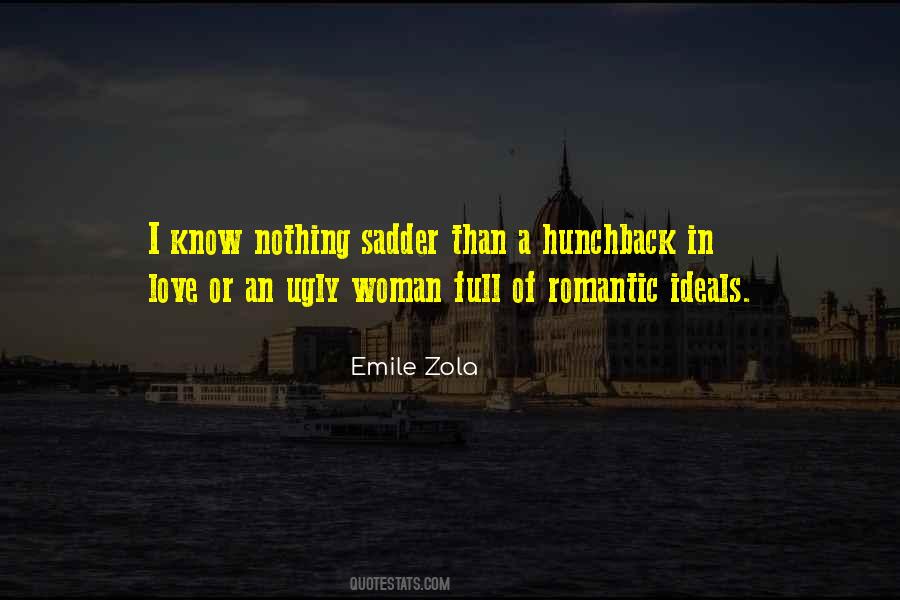 #24. You know how many stunning women told me they can't stand a good-looking man? ... Women feel secure with an ugly guy because a man in bad shape isn't gonna cheat. - Author: Jackie Mason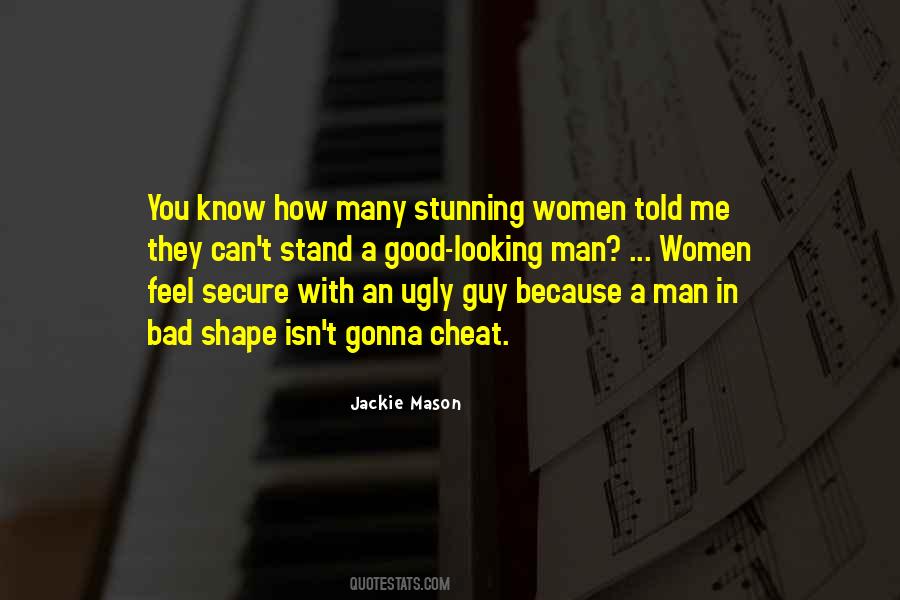 #25. How ugly adults could be, how weak. So used to getting what they wanted that they didn't know the first thing about being brave. - Author: Kate Morton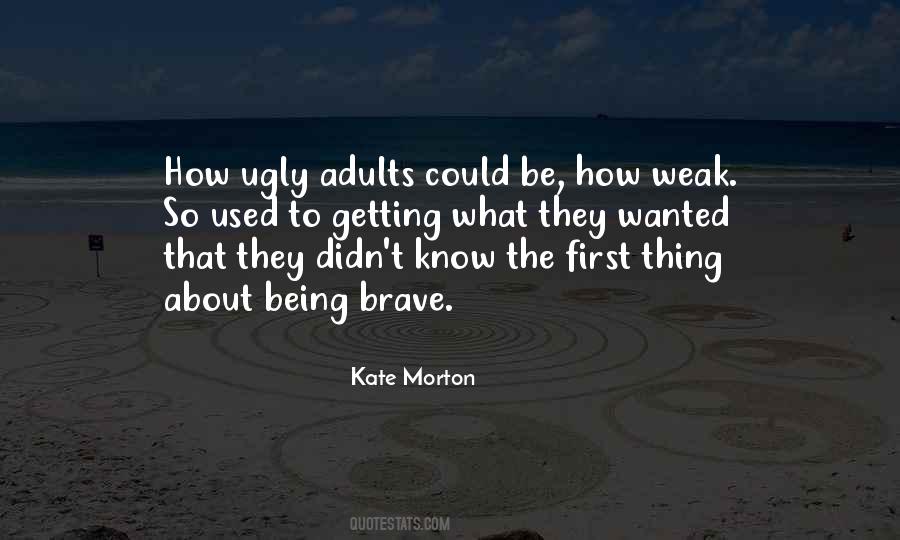 #26. There are no ugly women; there are only women who do not know how to look pretty. - Author: Diana Polska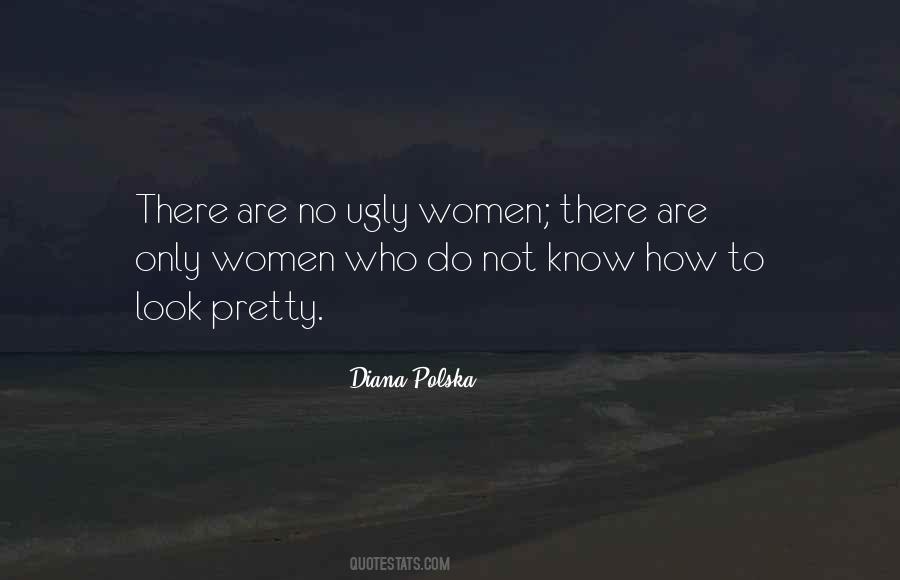 #27. I know many of you thought that I would be retiring today, but if I was ever going to announce my retirement it would not be in a downtown Los Angeles hotel with this fairly ugly carpet. - Author: Maria Sharapova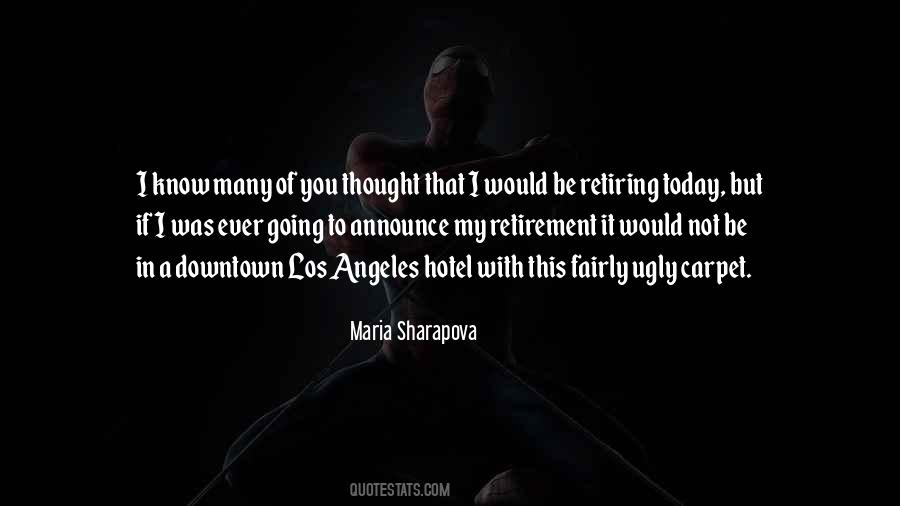 #28. It is quite simple really. Being always transcends appearance-that which only seems to be. Once you begin to know the being behind the very pretty or very ugly face, as determined by your bias, the surface appearances fade away util they simply no longer matter. -pg. 114. - Author: Wm. Paul Young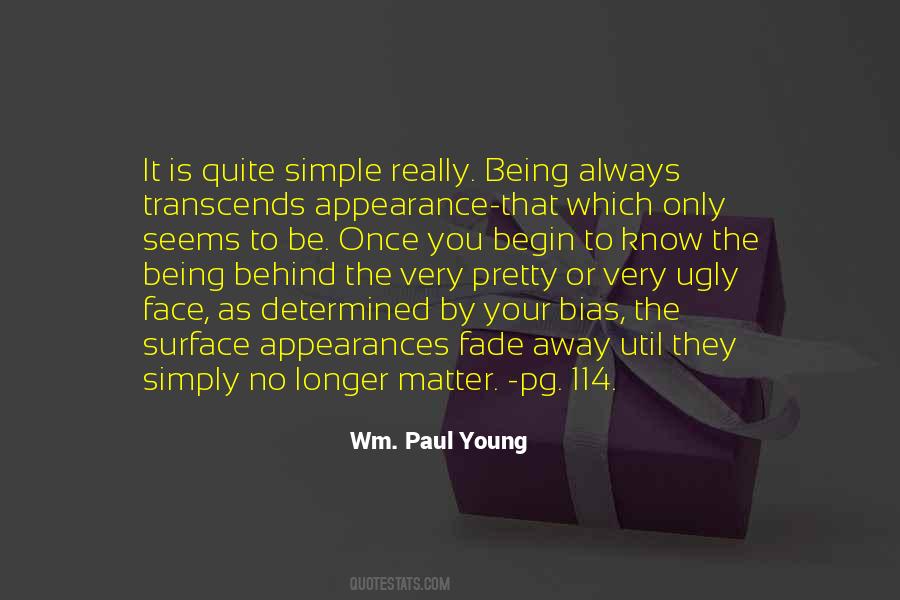 #29. You know, I'm a fan of Laurie Anderson. One of my favorite records is 'The Ugly One With the Jewels,' a spoken-word record. It's an extraordinary album. - Author: Emmylou Harris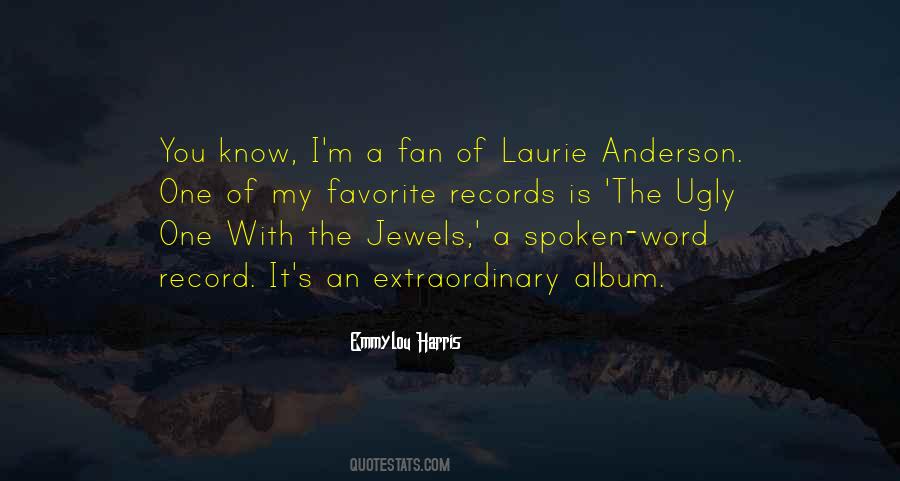 #30. I like actors who are themselves. I know in America you like actors who change their nose or wear a lot of wigs, and they like to take pretty girls and make them super ugly. - Author: Audrey Tautou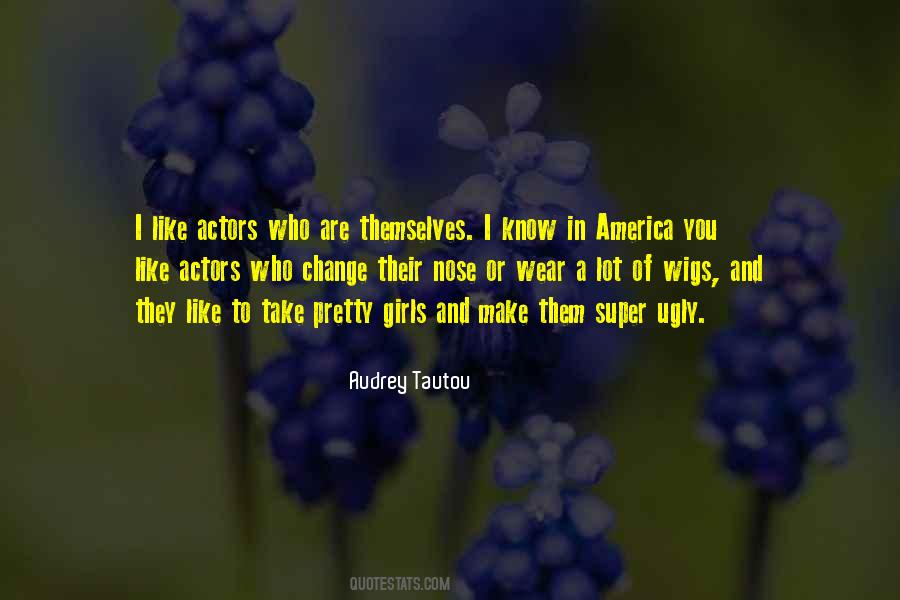 #31. You're not ugly. Sky, you're
You know when you first came to the reservation, and everyone was like, 'Holy crap, it's a white boy'? My thoughts were more like, 'Holy crap, why can't I stop looking at him?' And it wasn't because you were ugly. - Author: Rose Christo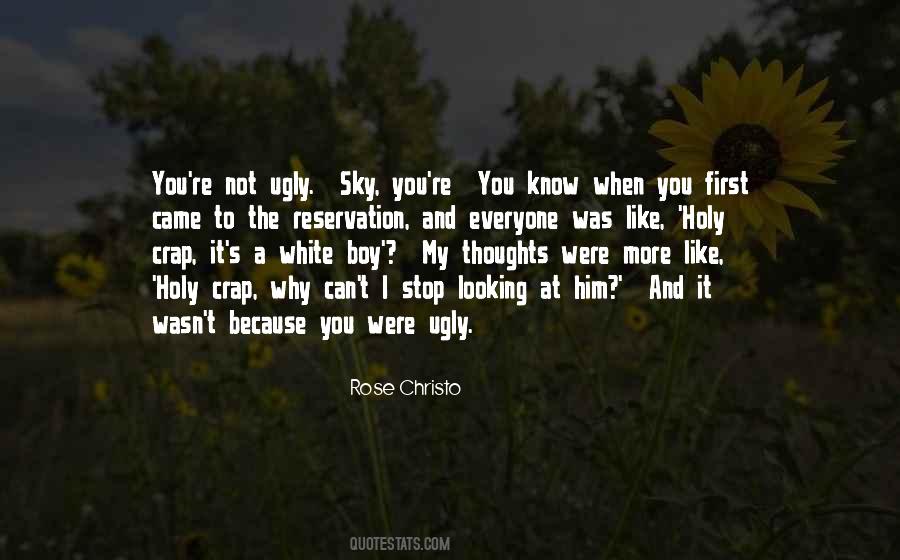 #32. You know how some people are unlucky in love? I was always unlucky in exercise. I'd get into a relationship with a workout program or guru, we'd go steady for a few intense months, and then we'd have a really ugly breakup. - Author: Alissa Nutting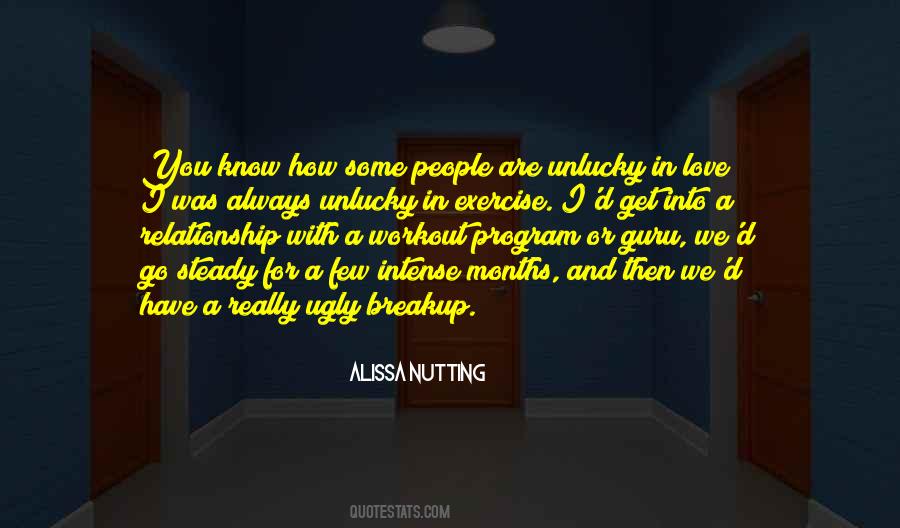 #33. Nate and me ... we aren't built for truces, for good times, for light jokes and giggles. We're meant for the shadows. For the dirty, ugly, secret parts of our souls, the parts we can't hide because we know each other too well. - Author: Julie Johnson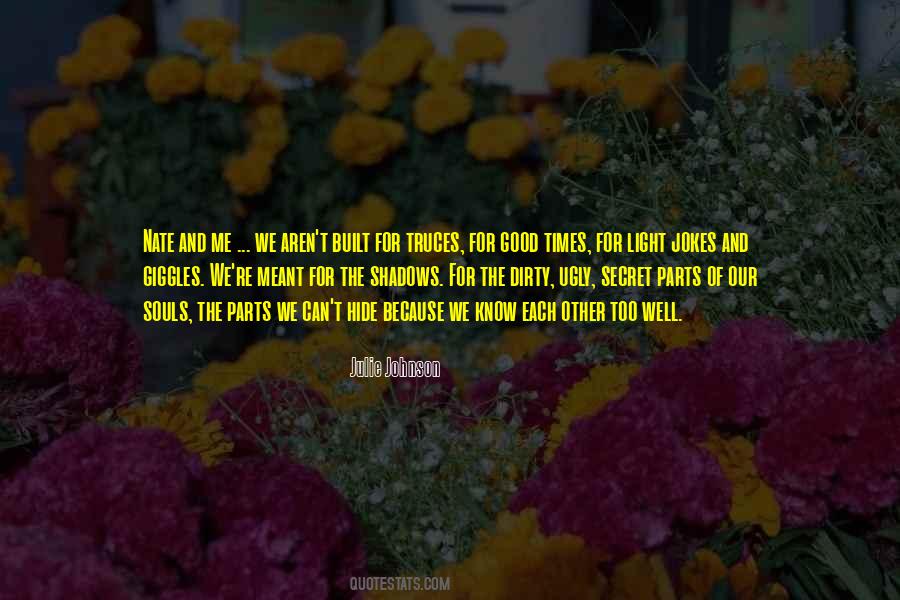 #34. I was always told I was ugly. I still think I am ugly. I know I've got an odd face and you can't tell me otherwise. - Author: Mika.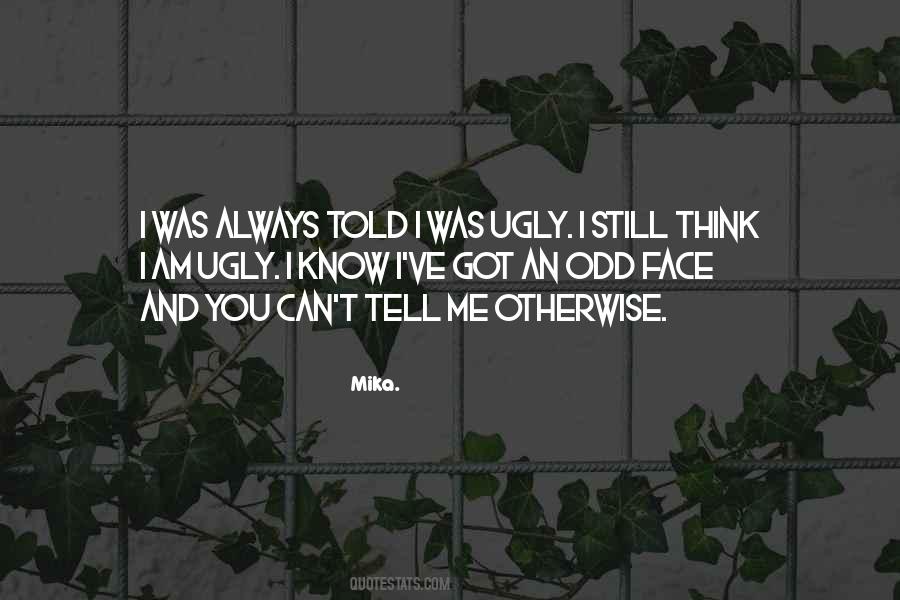 #35. I do not know if she was virtuous, but she was ugly, and with a woman that is half the battle. - Author: Heinrich Heine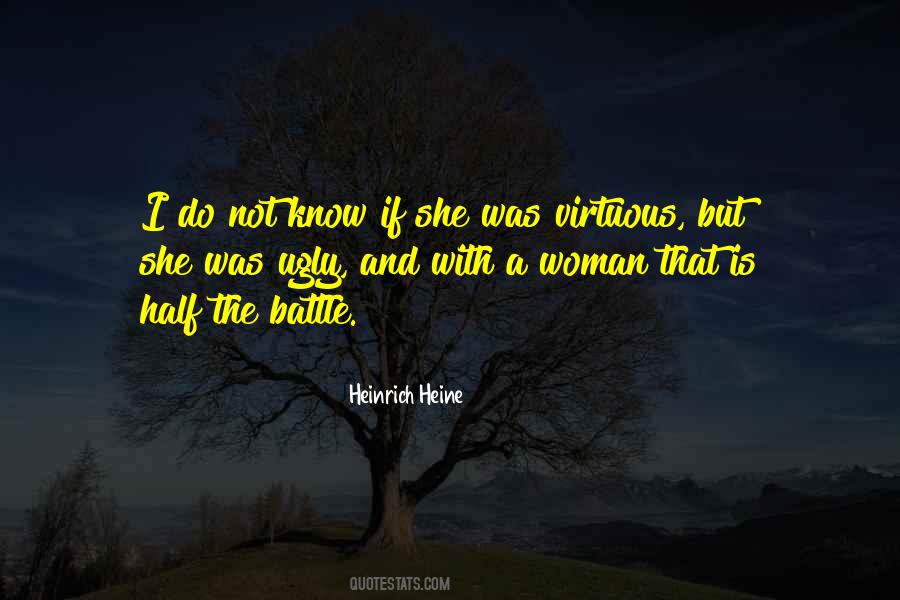 #36. It's great if a pilot starts off great and if it doesn't start off so great it's not that big a deal: everybody's baby is born ugly. But you want to know, if given the opportunity: Where are we going? What's the story we're trying to tell? - Author: Timothy Olyphant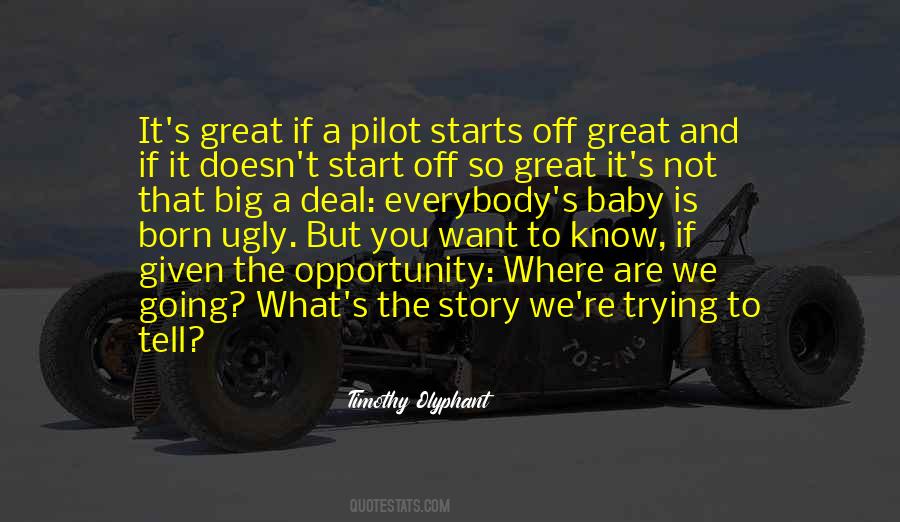 #37. You know, one of these days, I'm actually going to take offense if people keep throwing out these slurs. And then things are going to get rather ugly. When we Skandians do take offense, we do it with a battleax. - Author: John Flanagan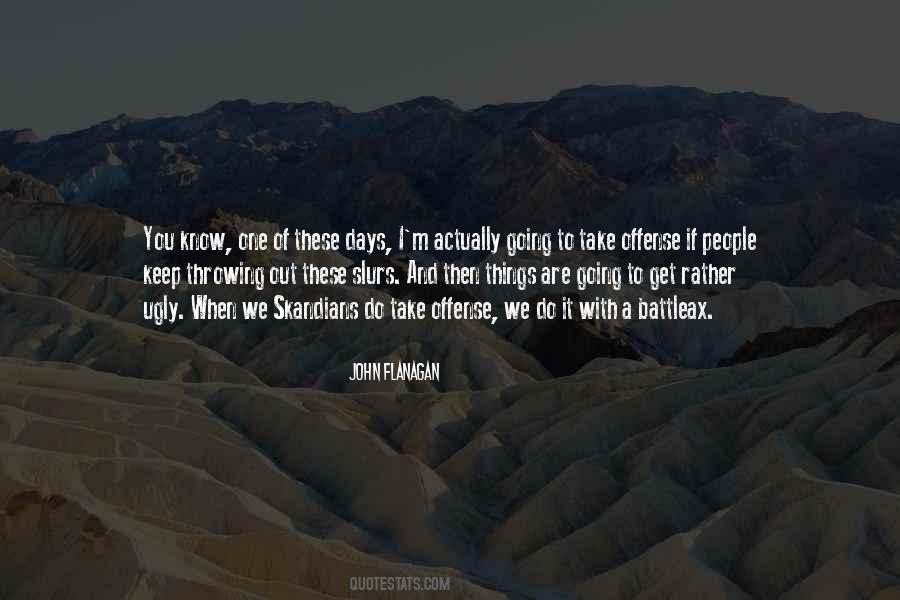 #38. I don't know much about auctions. I sometimes go to previews and see art sardined into ugly rooms. I've gawked at the gaudy prices, and gaped at well-clad crowds of happy white people conspicuously spending hundreds of millions of dollars. - Author: Jerry Saltz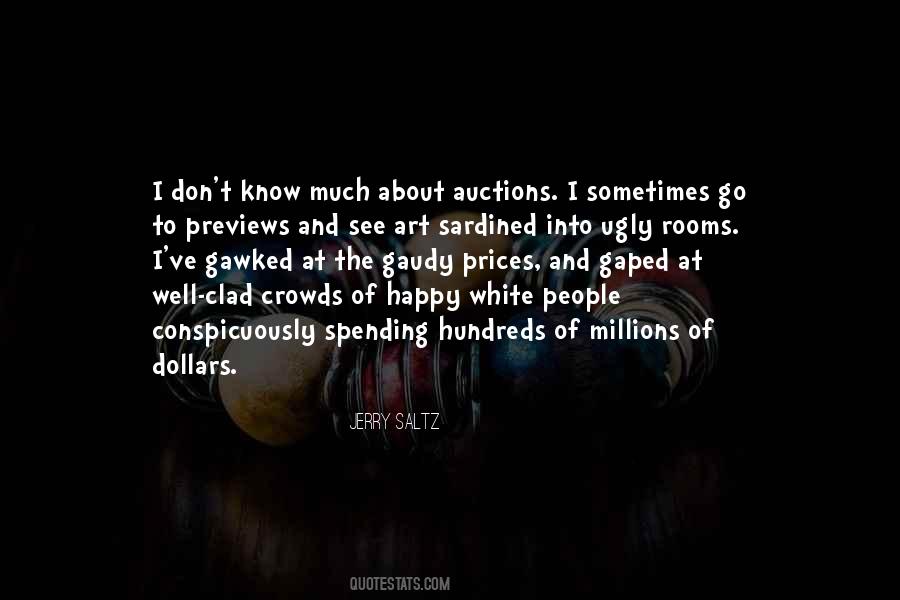 #39. They know that tragedy is not glamorous. They know it doesn't play out in life as it does on a stage or between the pages of a book. It is neither a punishment meted out nor a lesson conferred. Its horrors are not attributable to one single person. Tragedy is ugly and tangled, stupid and confusing. - Author: E. Lockhart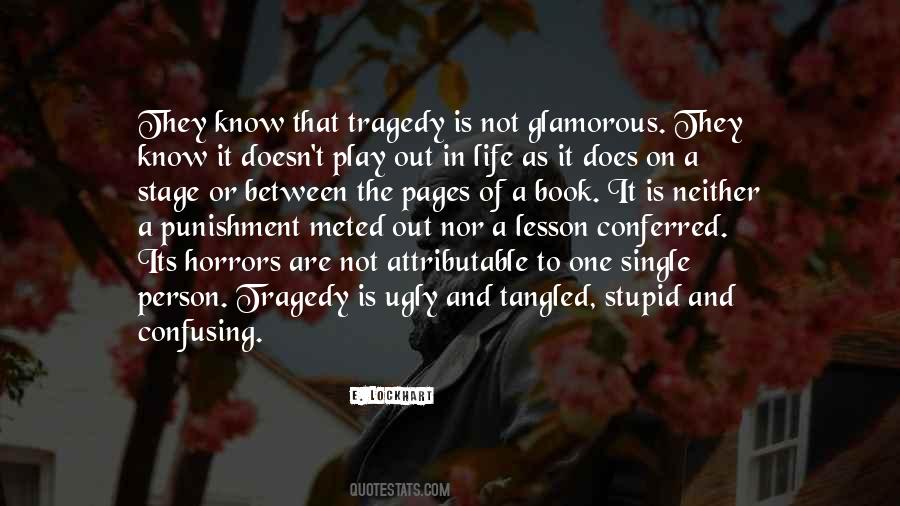 #40. Yeah, me and Q-Tip is cool outside of the business, but you know, within the business sometimes it can get ugly, you know what I mean? - Author: Phife Dawg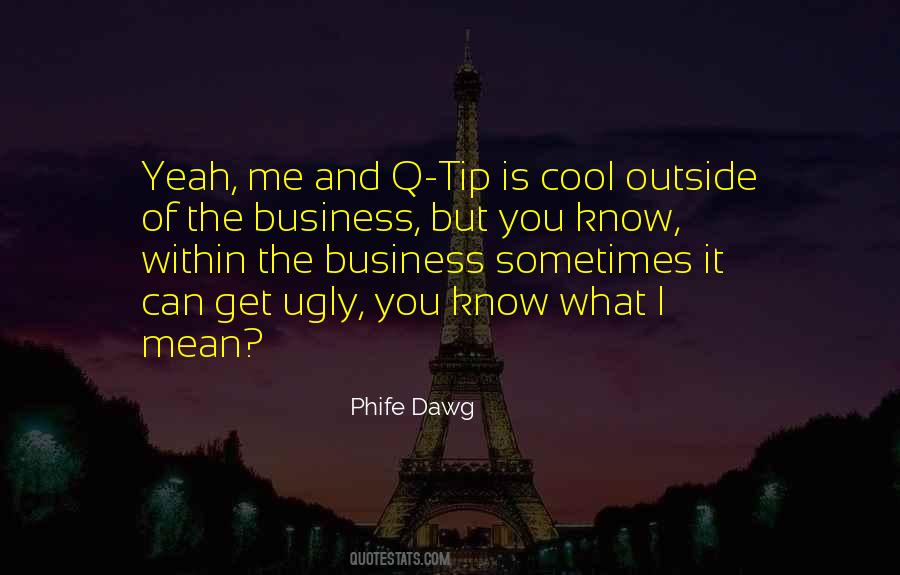 #41. I saw your wife the other day and she is ugly. I know, but she sure can cook. - Author: Jimmy Soul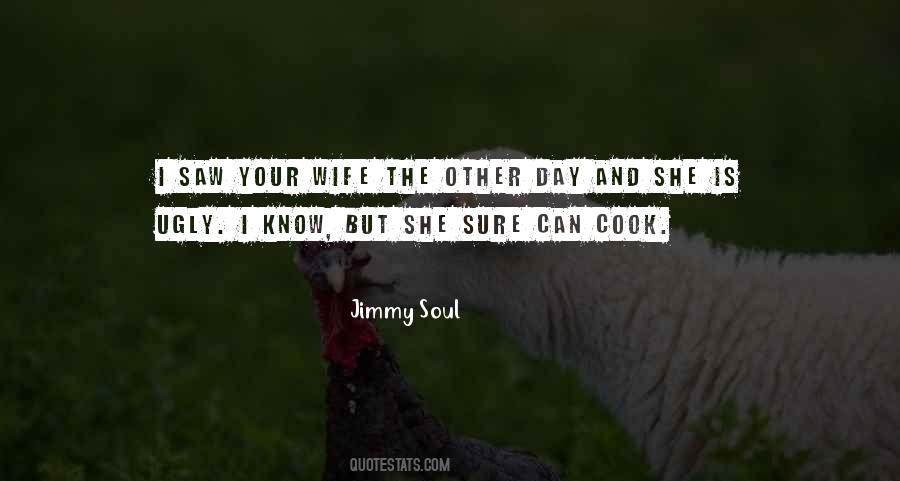 #42. If you consulted your business experiences instead of your ugly individualistic philosophy, you would know that believing in himself is one of the commonest signs of a rotter. - Author: G.K. Chesterton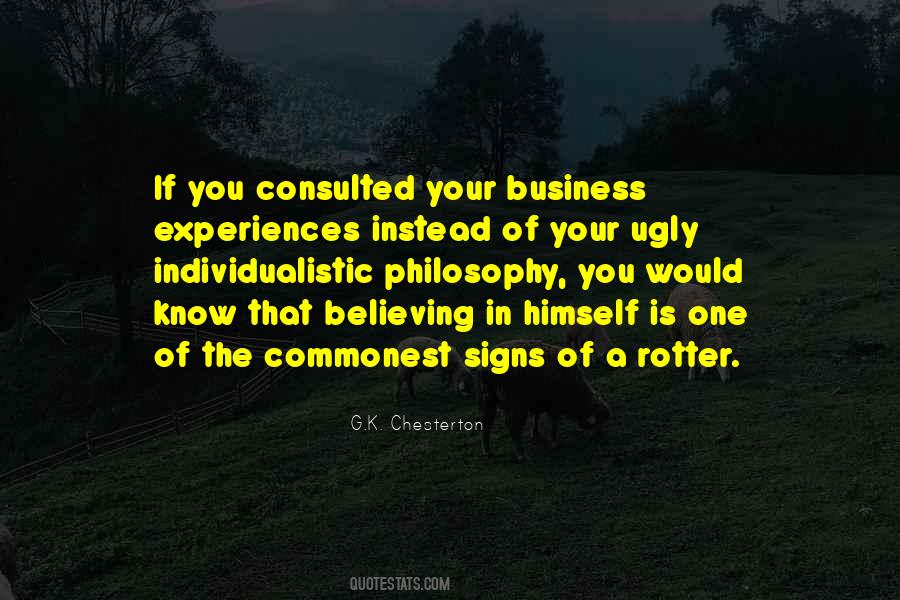 #43. Well I know I am ugly and cannot be loved - - Author: Pearl S. Buck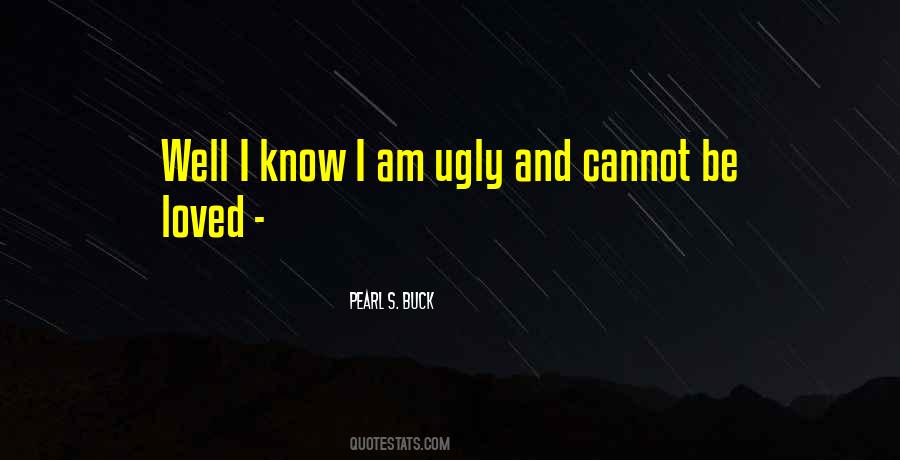 #44. With proper acting, I don't know what I would play - I got sent a script for a play, and it said in the notes that my proposed character was 'hideously fat and ugly'. That made my day. I mean, I do know I am no oil painting. - Author: Jo Brand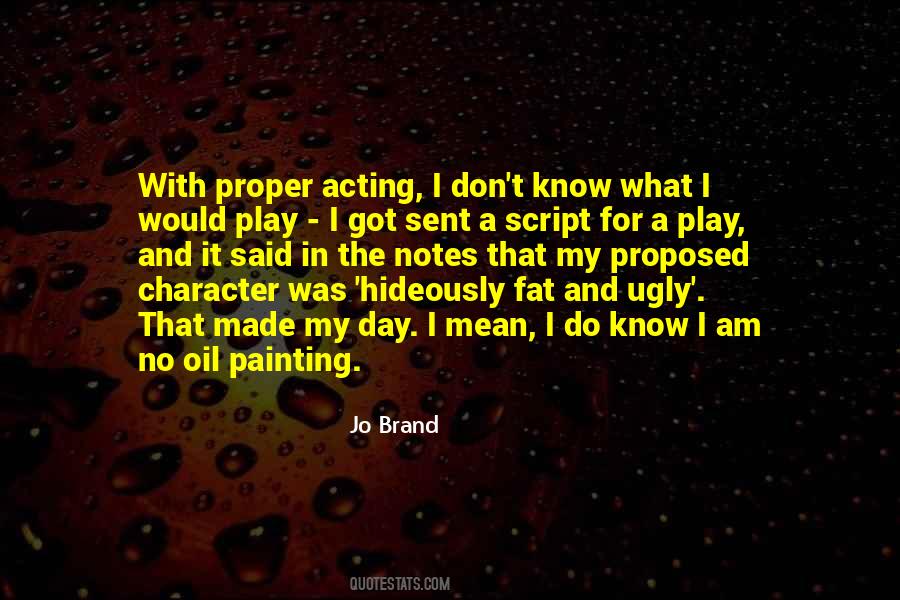 #45. And here I am, bravely risking the fallout of wounding your fragile, pudding-like soul - because real, forever friends don't let each other wear ugly hats. I've wanted to say it for a month now, and I can bear it no longer. I know my witch is showing, but please take that thing off your head. - Author: Emm Cole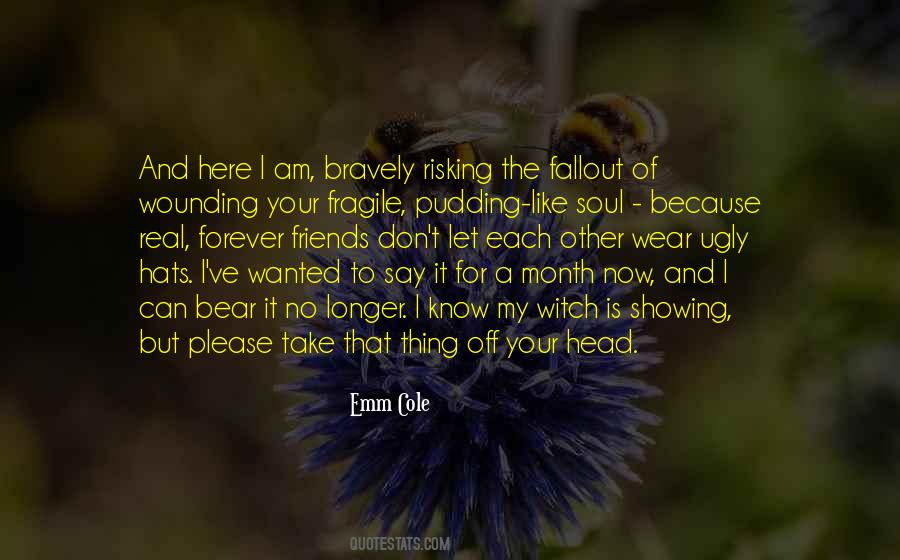 #46. The woman's face was grimly drawn, an ugly expression on an indescribably beautiful face. "This is the Shadowdun. You know who I am, but I wish to know you more. What is your name?" Her voice was rich; it sounded sweet and smooth in Athena's ears, like soft honey. She hated every last word. - Author: Kendra Sunderson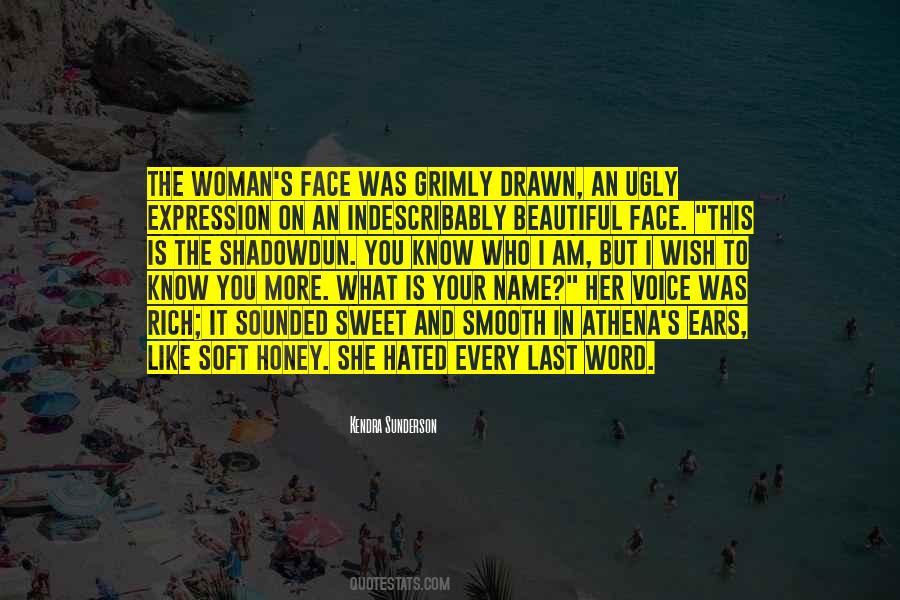 #47. I have moments where I feel incredibly ugly or fat, and it sucks, you know? I'll usually try to keep a positive attitude because I'm really so grateful for where I am and the life I get to live, but I definitely have to work hard not to feel insecure. - Author: Charlotte McKinney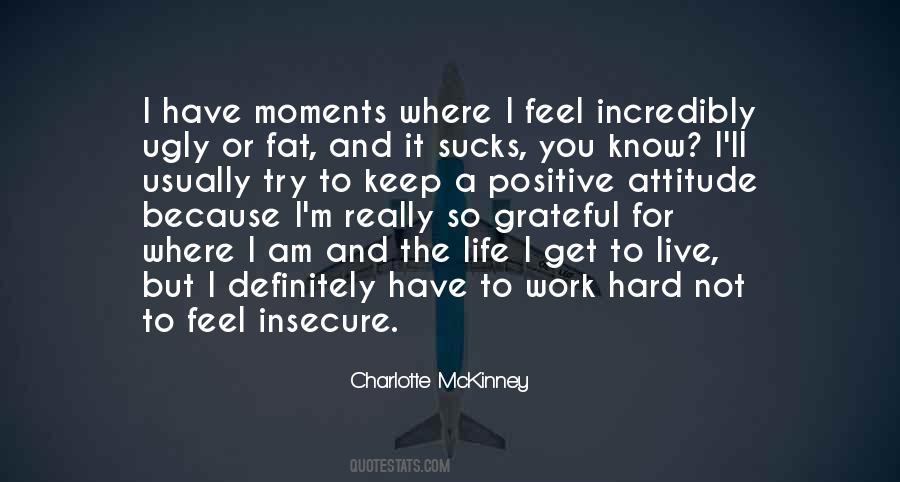 #48. I want to hate you, but I can't even stay mad at you. (Jericho)
You know, I think you're more in need of lessons on how to seduce than I am. Why don't you call me fat and ugly while you're at it? (Delphine) - Author: Sherrilyn Kenyon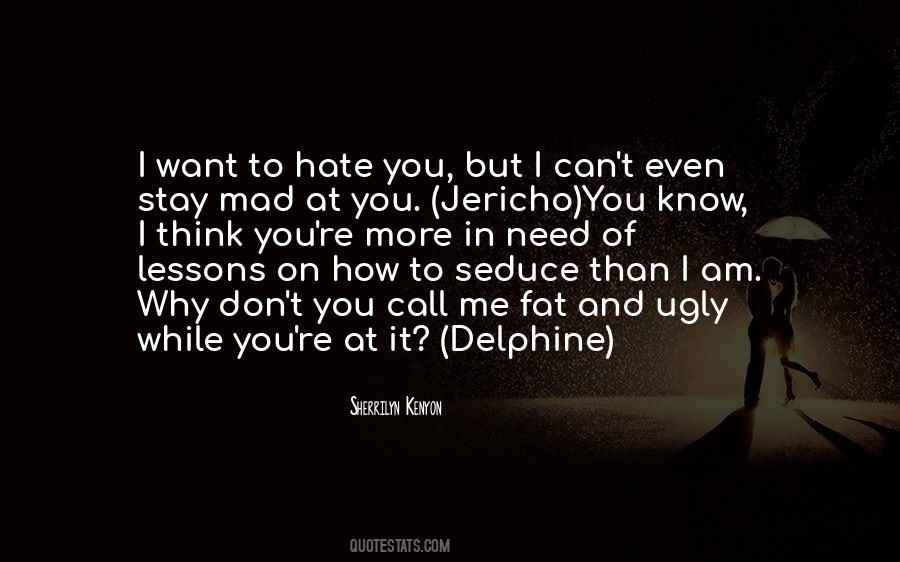 #49. You know I am done lying. Obscuring the truth is no longer something I have any interest in doing. I want it all to come out. The good, the bad, the ugly. - Author: Jayson Blair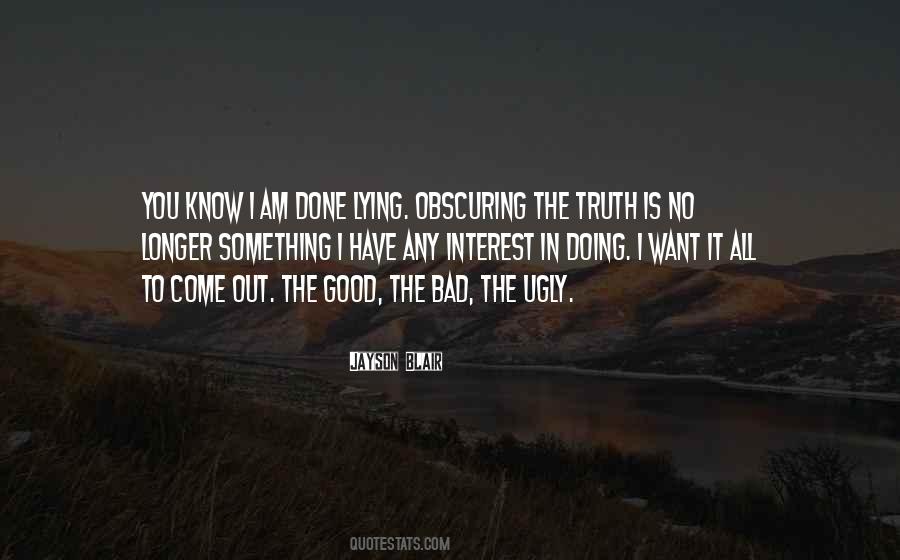 #50. You're made to feel ugly, and I made ugly beautiful. Just by sheer persistence. Nobody has the right to say that I am ugly, and I will not be a professional victim, you know. Sorry! - Author: John Lydon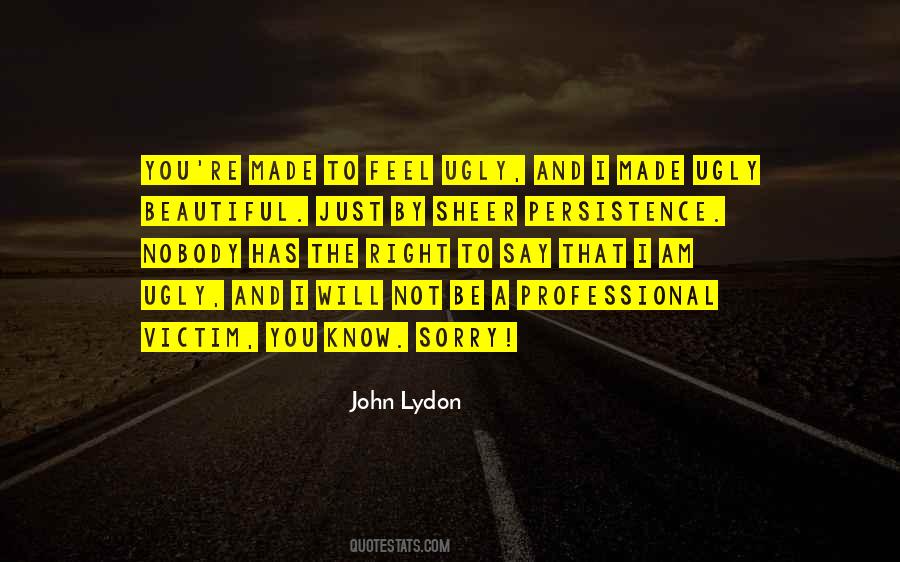 #51. I am not beautiful, so I don't know why I'm making myself ugly. But the mustache stays. - Author: John Hodgman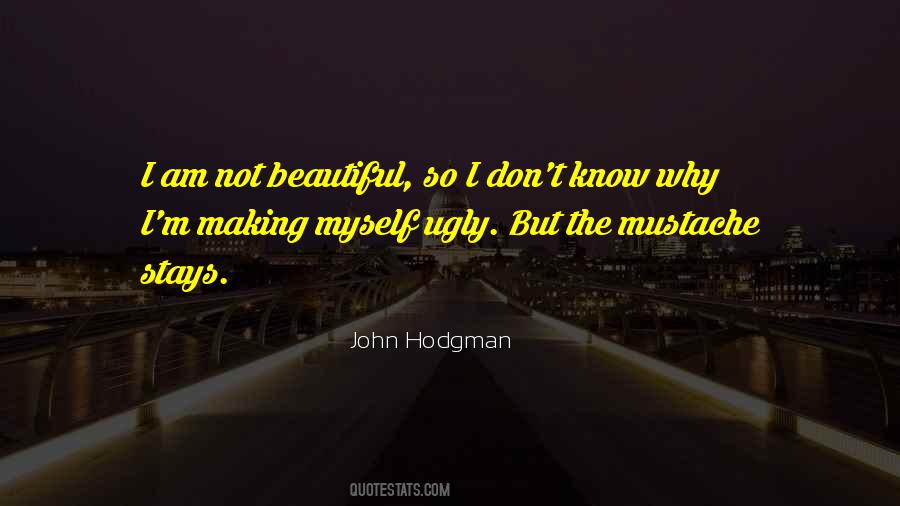 #52. Don't pretend", I say Breathily. "You know I'm not. I'm not ugly, but I am certainly not pretty."
"Fine. You're not pretty. So?" He kisses my cheek. "I like how you look. You're deadly smart. You're brave. - Author: Veronica Roth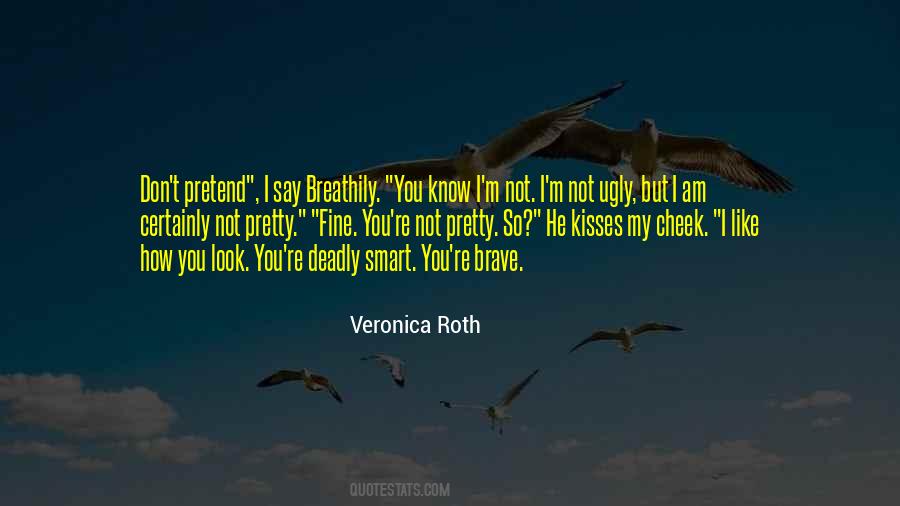 Famous Authors
Popular Topics