I Hope You Suffer Famous Quotes & Sayings
List of top 42 famous quotes and sayings about i hope you suffer to read and share with friends on your Facebook, Twitter, blogs.
Top 42 I Hope You Suffer Quotes
#1. I shall not, as far as I am concerned, try to pass myself off as a Christian in your presence. I share with you the same revulsion from evil. But I do not share your hope, and I continue to struggle against this universe in which children suffer and die. - Author: Albert Camus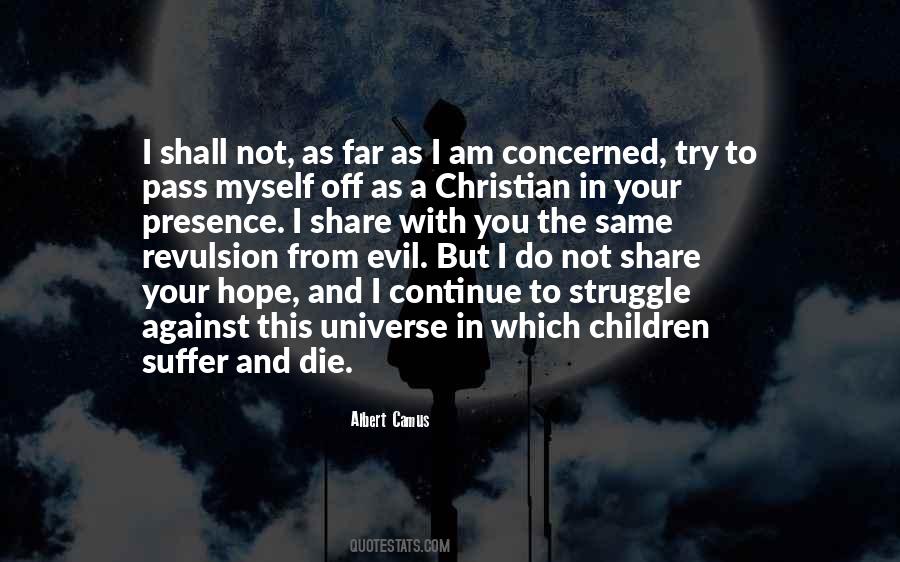 #2. I hope he remembers everyday why he lost his future. He may spend the rest of his life in prison, but at least his heart is still beating, he can still breathe. He made this choice. He should have to suffer the consequences of it. - Lilianna Gregor - Author: H.R. Willaston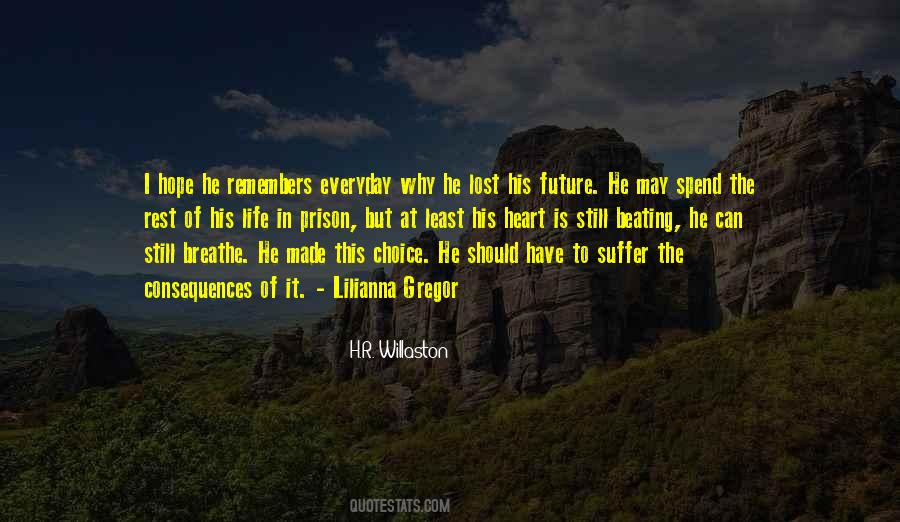 #3. I hope that we will learn from each other, but most of all that we would learn from God's Word, which equips us for every good work, including our calling to suffer for the glory of God and for the building of His kingdom. - Author: R.C. Sproul Jr.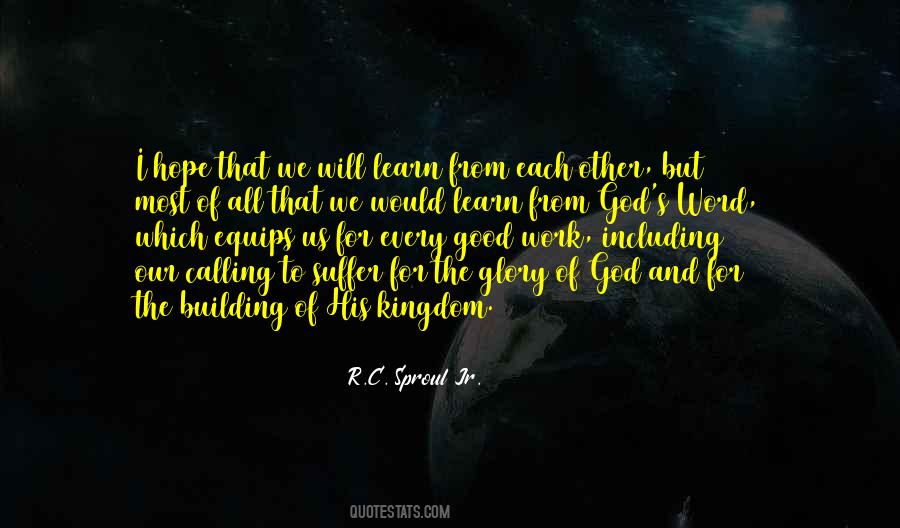 #4. So Jesus in the throes of his Passion is an image of hope: God is on the side of those who suffer. - Author: Pope Benedict XVI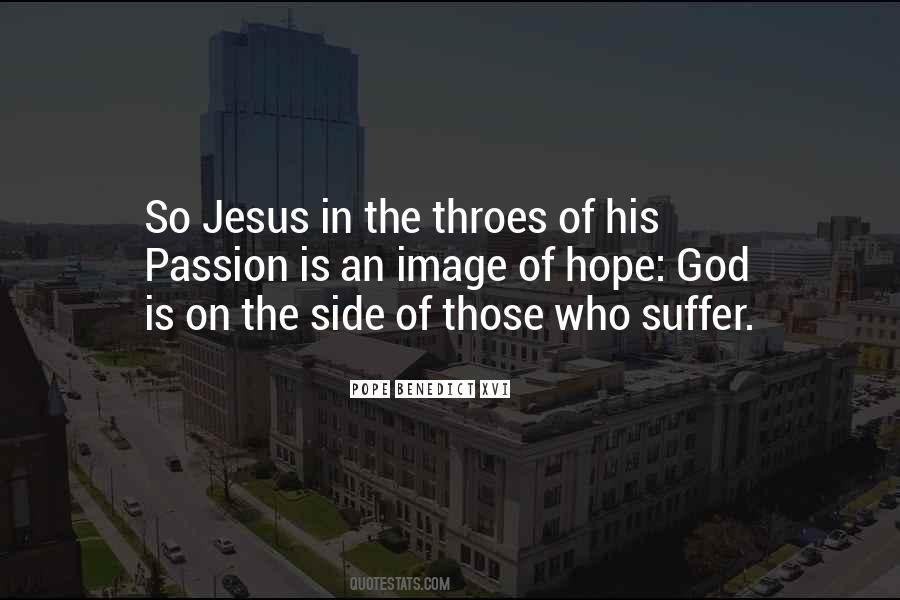 #5. It's easy to thank God and to be happy when you live a sheltered life and have no concept of suffering; Suffer and then do all of the above. - Author: Donna Lynn Hope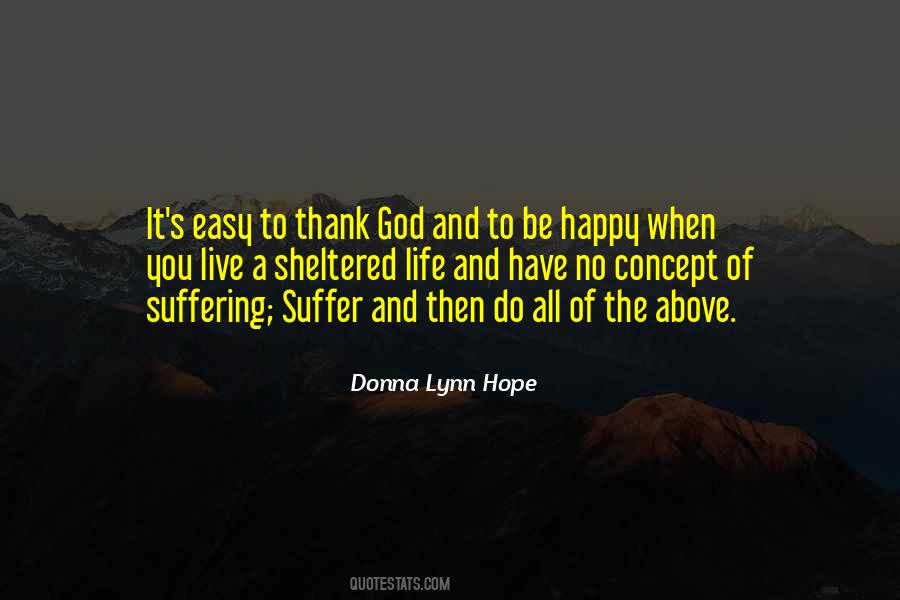 #6. Mothers observe all, absorb all,
give all, forgive all,
offer all, suffer all,
feel all, heal all,
hope for all, pray for all.
But most of all,
Mothers love always. - Author: Richelle E. Goodrich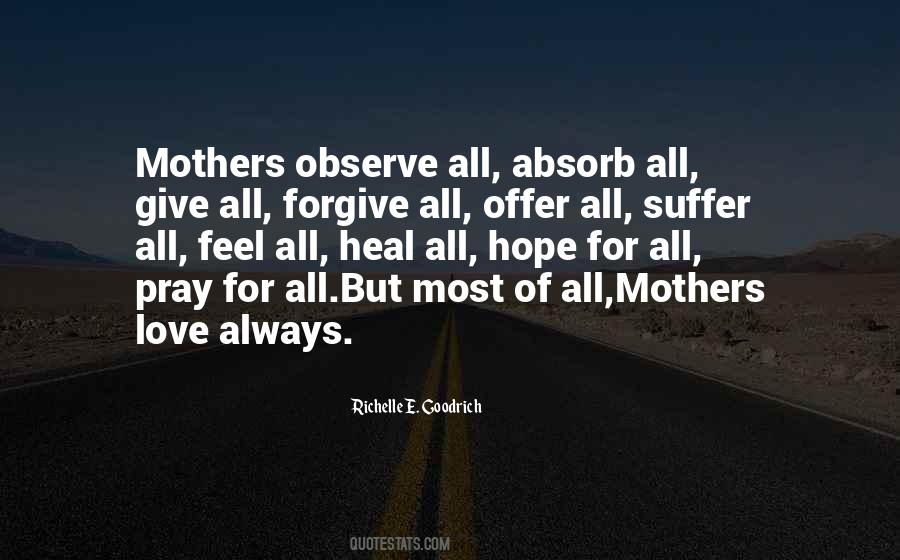 #7. We suffer pain, we hang tight to hope, we nurture expectations, we are plagued occasionally by fears, we are haunted by defeats and unrealized hopes ... The hoplessness of which I speak is not limited. - Author: Sidney Poitier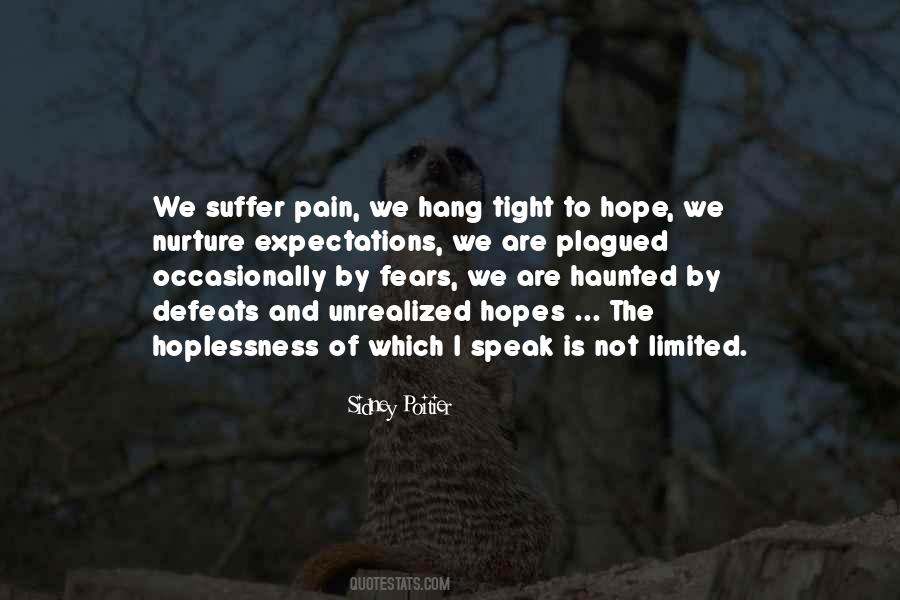 #8. Life is a suffering. We suffer because we exist. So enjoy the sufferings with love to make life worthwhile to suffer for. - Author: Debasish Mridha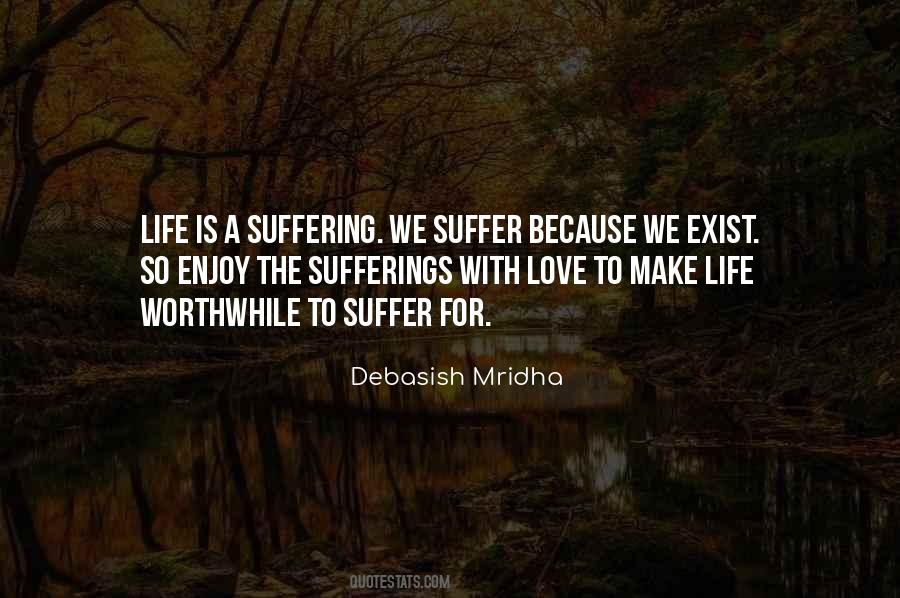 #9. You must either suffer in this life or give up the hope of seeing God in Heaven. Sufferings and persecutions are of the greatest avail to us, because we can find therein a very efficient means to make atonement for our sins, since we are bound to suffer for them either in this world or in the next. - Author: Jean-Marie Le Pen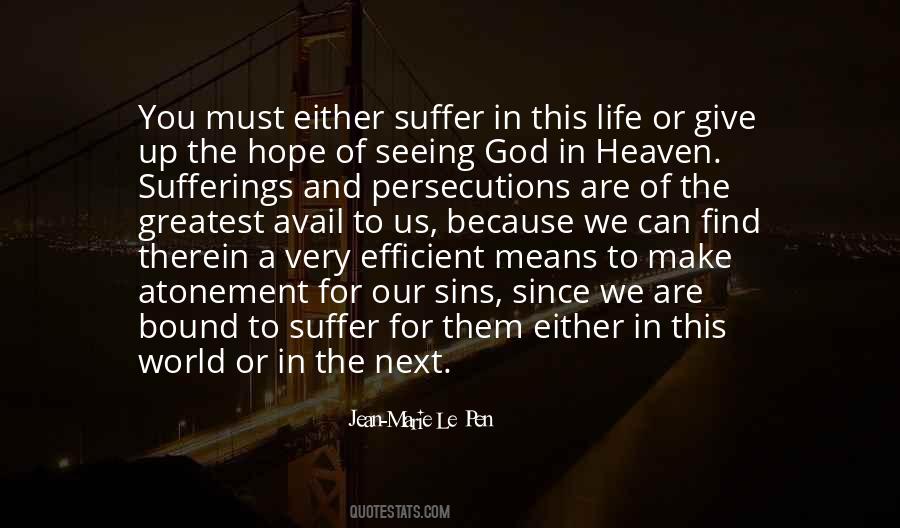 #10. The hope of all who suffer, The dread of all who wrong. - Author: John Greenleaf Whittier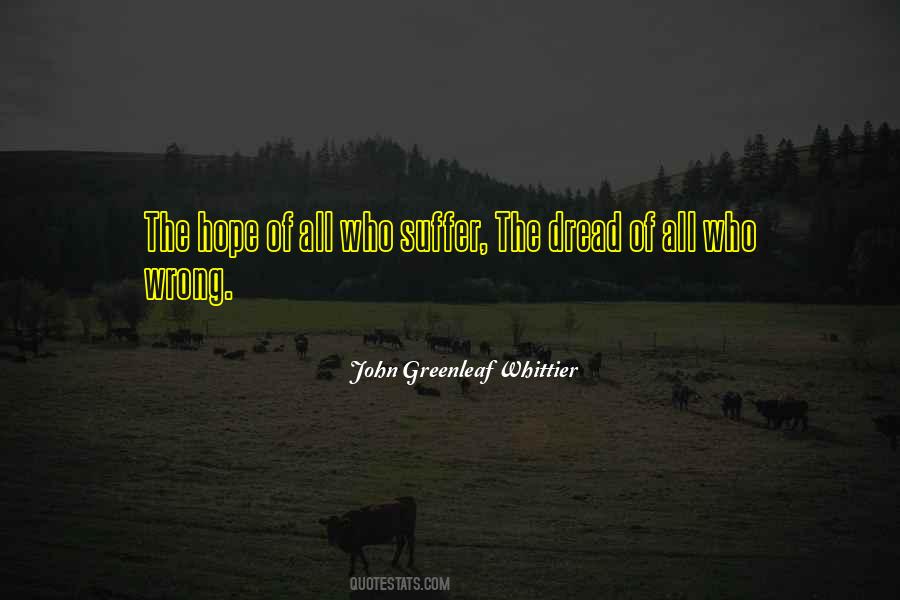 #11. Love is so complicated. I'm glad I don't suffer from it and hope I never do. It's amazing how smart, strong people turn into frail, frightened idiots once their hearts are involved. - Author: Laurann Dohner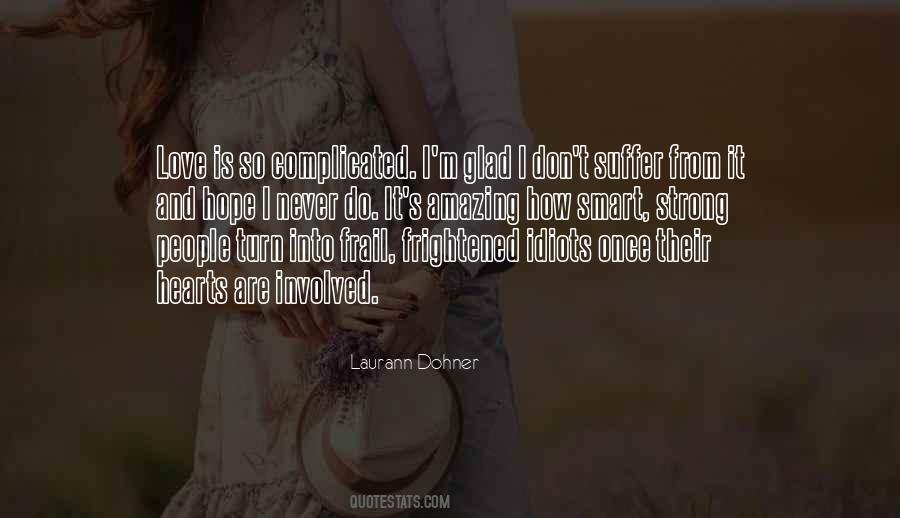 #12. We plan, we toil, we suffer - in the hope of what? A camel-load of idol's eyes? The title deeds of Radio City? The empire of Asia? A trip to the moon? No, no, no, no. Simply to wake just in time to smell coffee and bacon and eggs. - Author: J.B. Priestley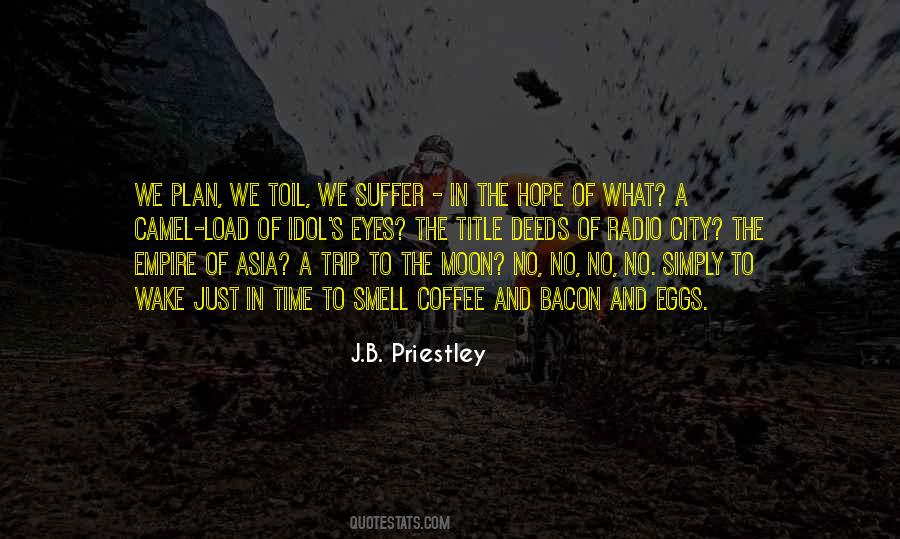 #13. Surely among the many outlandish successes of AMRV is that it has eradicated from human beings our original sin: hope. But I don't have AMRV, which means I still suffer from the cruelest disease of our species, terminal aspiration. - Author: John Green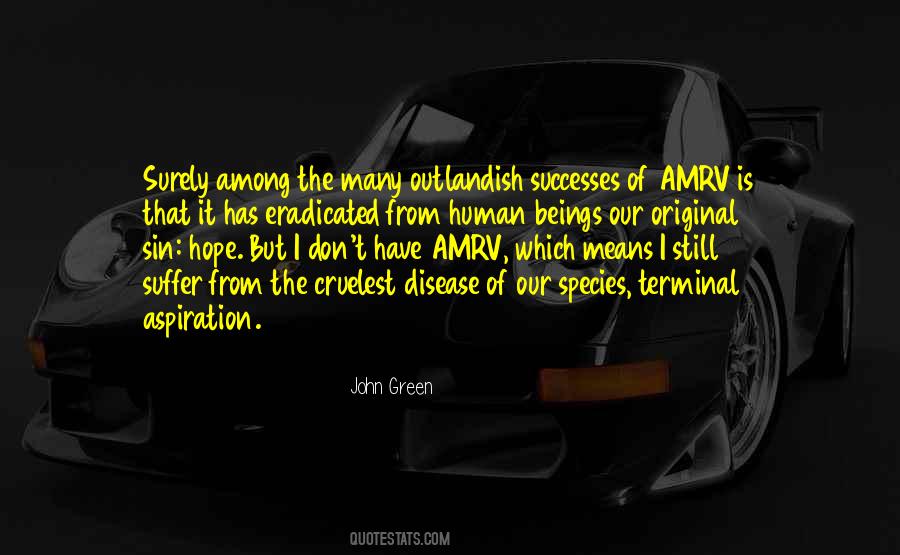 #14. Making a film is like raising a child. You have to be there every step of the way, guide it, provide for it, and finally let it go into the real world and hope you have done a good job. If you don't absolutely love your film then you will loss interest in it and the movie will suffer. - Author: Nicholas Ozeki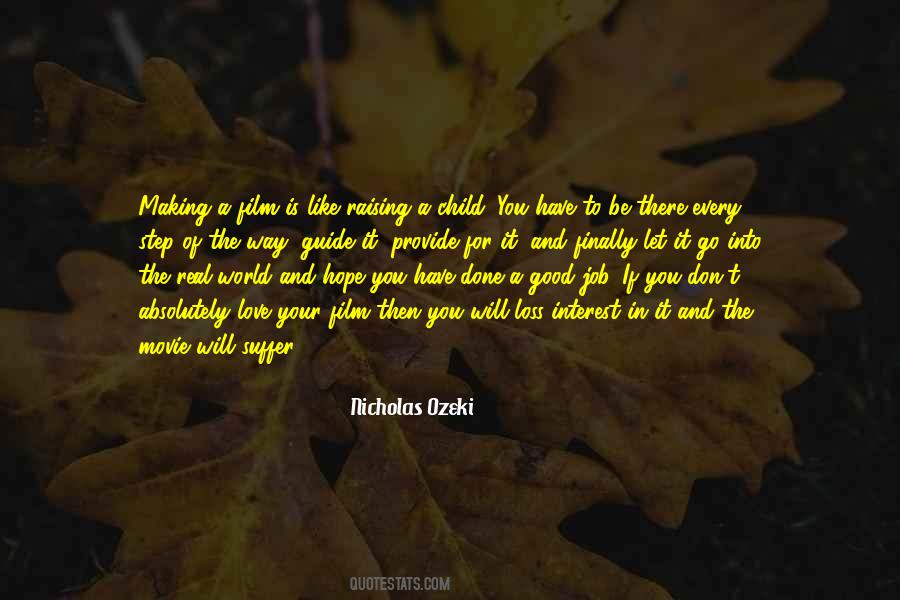 #15. I hope you don't suffer forever from keeping love from your heart - Author: Amy Tan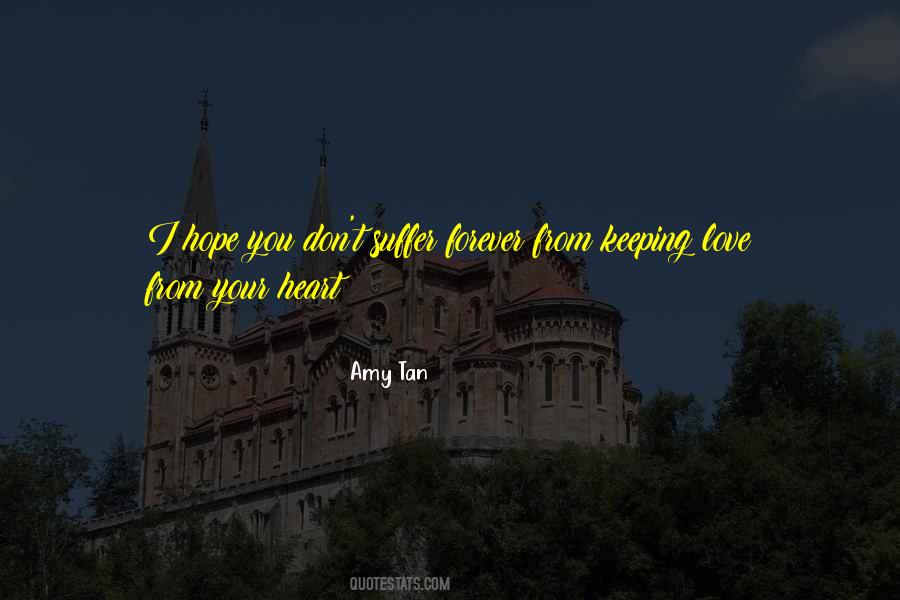 #16. I ask only one thing: I ask the right to hope and suffer as I do now; but if even that is impossible, command me to disappear and I will do it.
-Vronsky - Author: Leo Tolstoy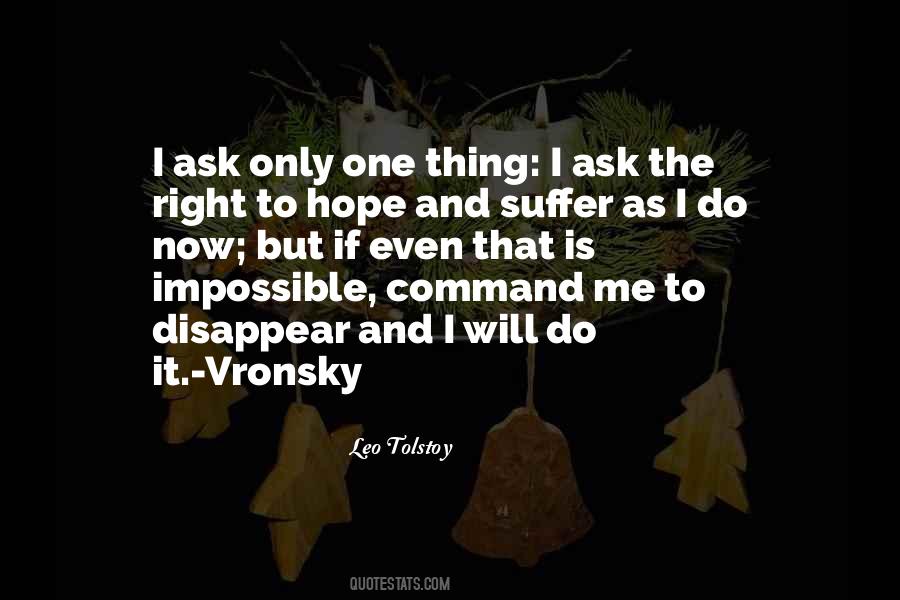 #17. Not without hope we suffer and we mourn. - Author: William Wordsworth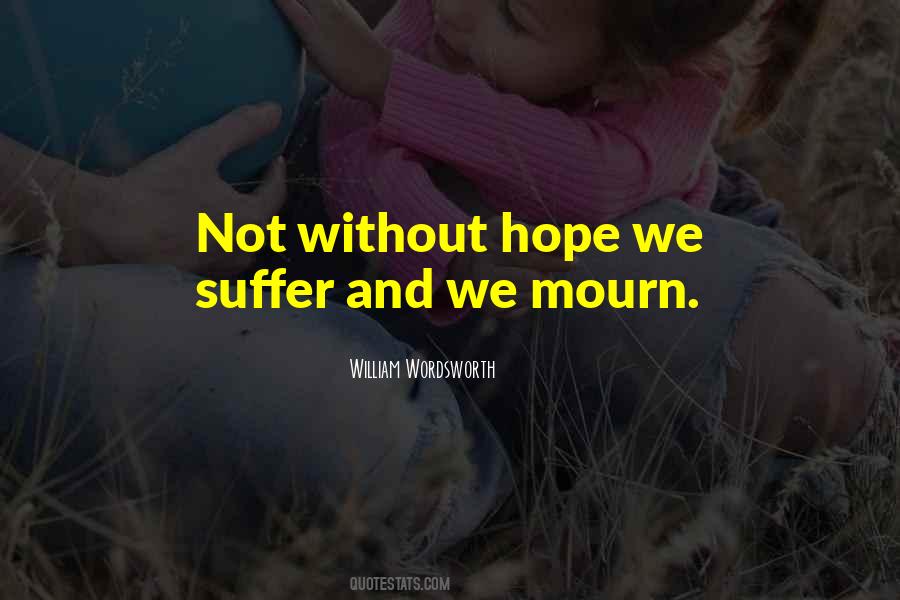 #18. Give humanity hope and it will dare and suffer joyfully, not counting the cost - hope with laughter on her banner and on her face the fresh beauty of morning. - Author: John Elof Boodin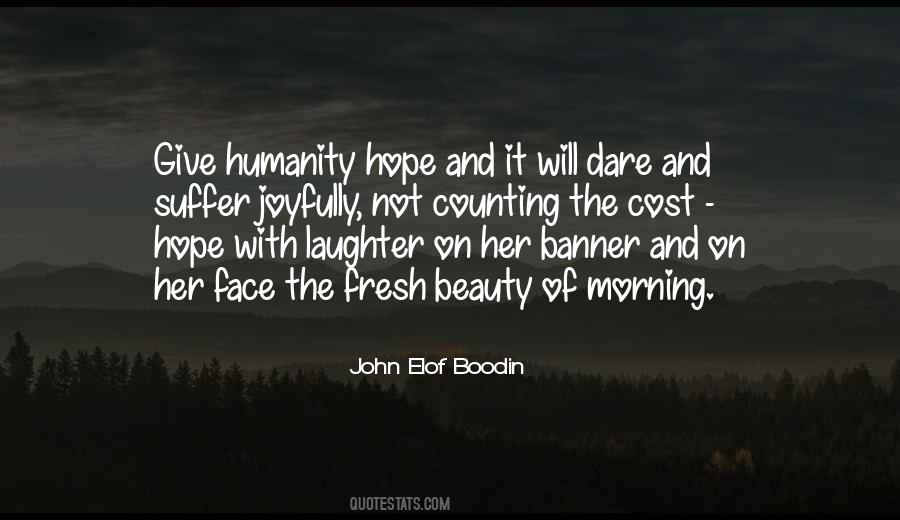 #19. Therefore, to be unhappy one must love, or love to suffer, or suffer from too much happiness. I hope you're getting this down. - Author: Woody Allen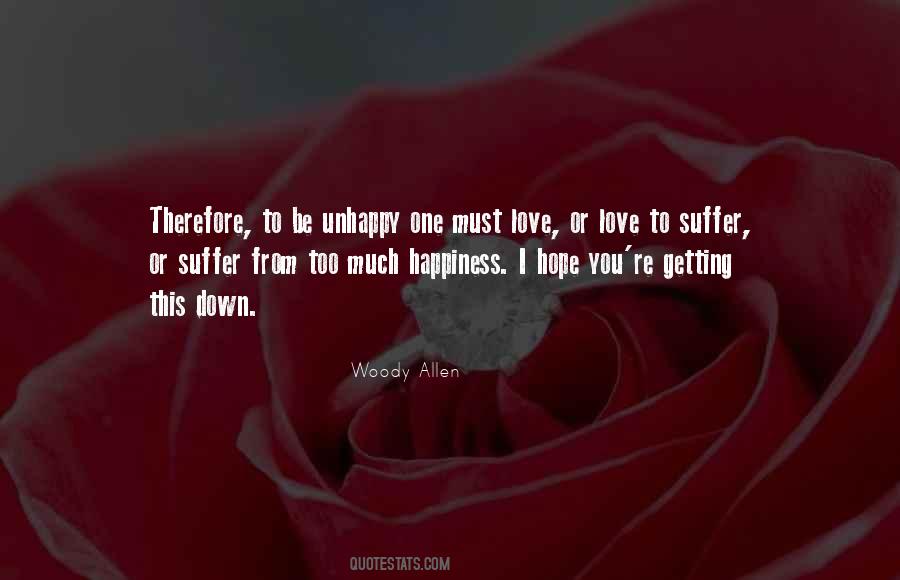 #20. You couldn't fight the injustice of fate; you could only suffer it and hope that one day it might be different. - Author: Jodi Picoult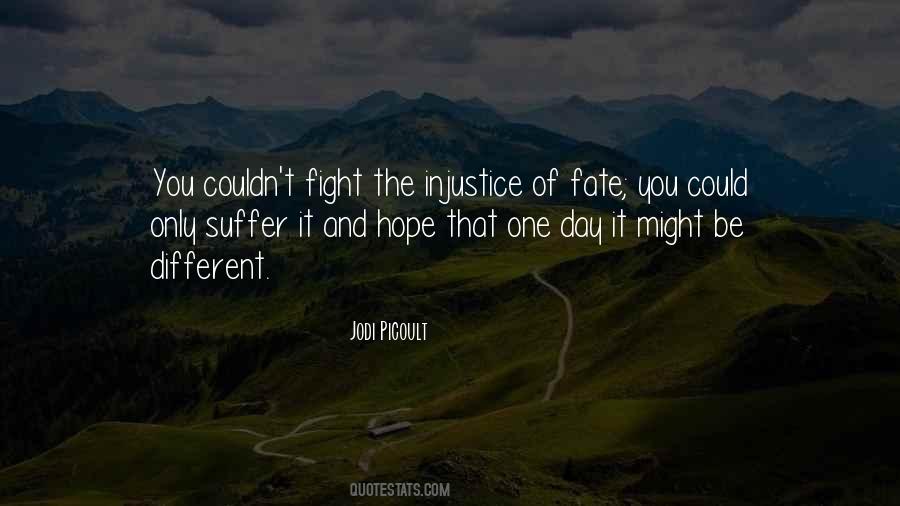 #21. I stopped trying to rank sorrow, realized that the world has sorrow enough for all of us, and when some of it falls to you the best hope you have is letting yourself suffer through it. - Author: Beth Ann Fennelly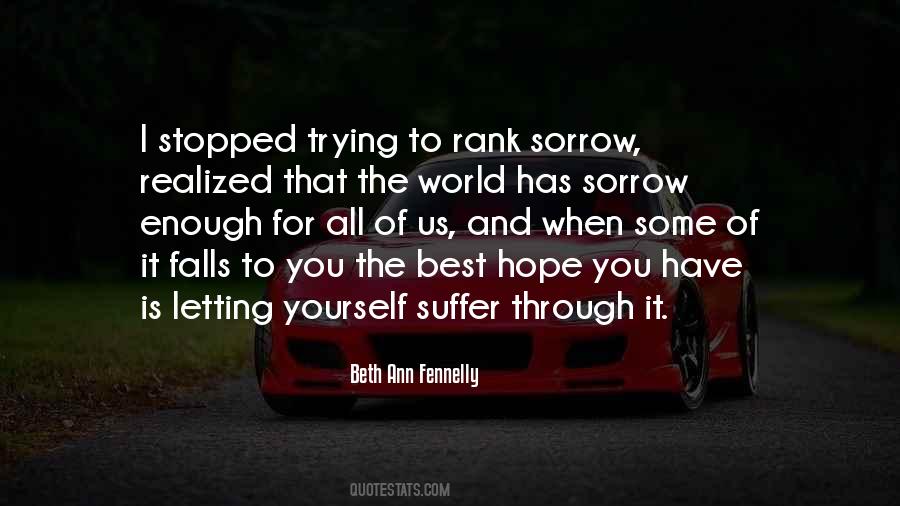 #22. They knew, though, she would not suffer as they had suffered. She was perfect. They were scarred. - Author: Francesca Lia Block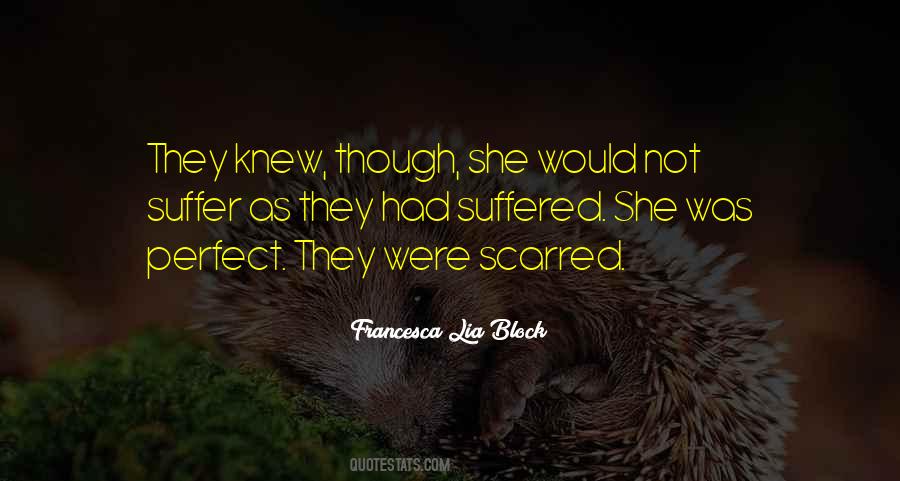 #23. I have found there to be little distance between the unlatching of a chain and the spreading of a woman's legs. As if they can never unbar only a single entrance. It's a disease called hope. Women suffer from it greatly. - Author: Karen Marie Moning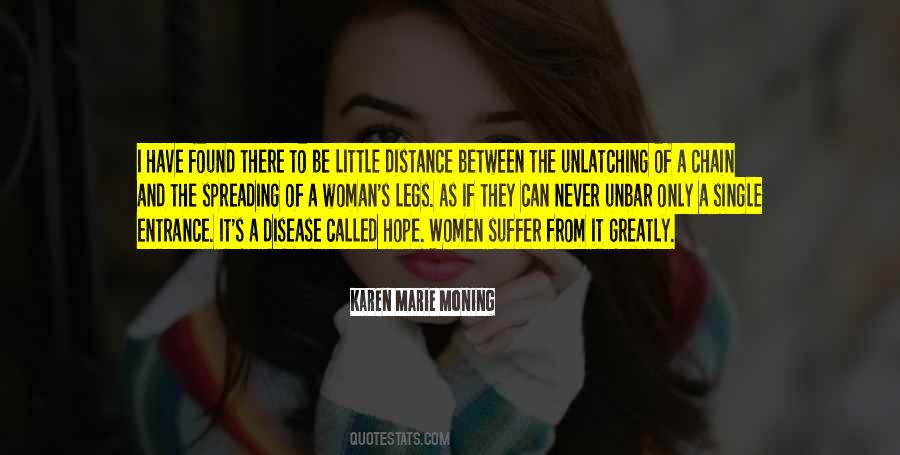 #24. We all suffer from dreams. - Author: Bernard Cornwell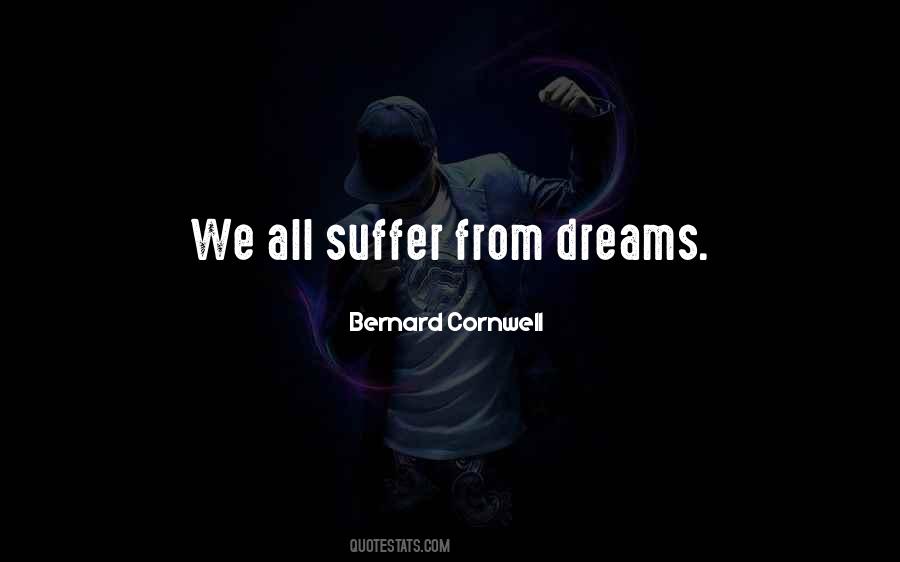 #25. I hope, by God's grace, that I am truly a Christian, not deviating from the faith, and that I would rather suffer the penalty of a terrible death than wish to affirm anything outside of the faith or transgress the commandments of our Lord Jesus Christ. - Author: Jan Hus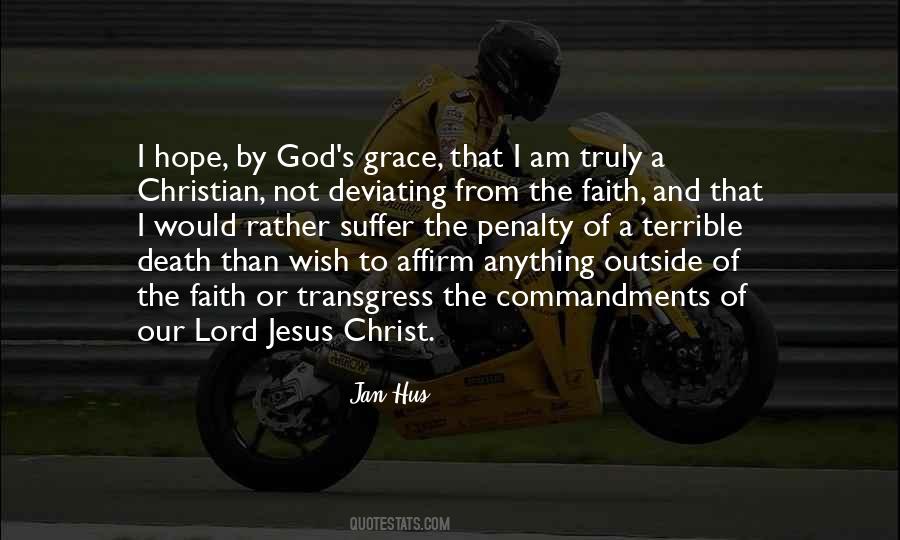 #26. If you can create a bright future, the past will dance with joy in your mind for the experience and to let you suffer. - Author: Debasish Mridha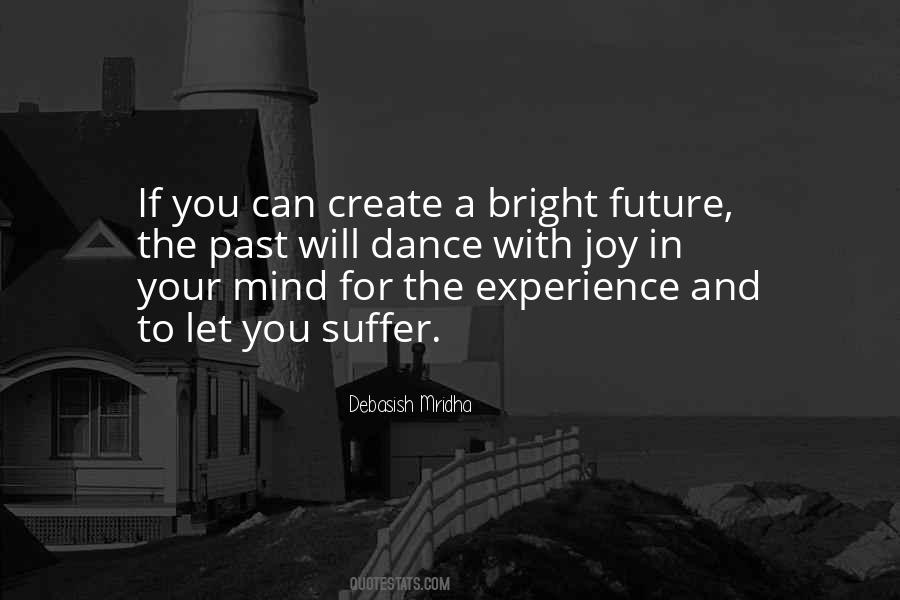 #27. I ask one thing only: I ask for the right to hope, to suffer as I do. But if even that cannot be, command me to disappear, and I disappear. You shall not see me if my presence is distasteful to you. - Author: Leo Tolstoy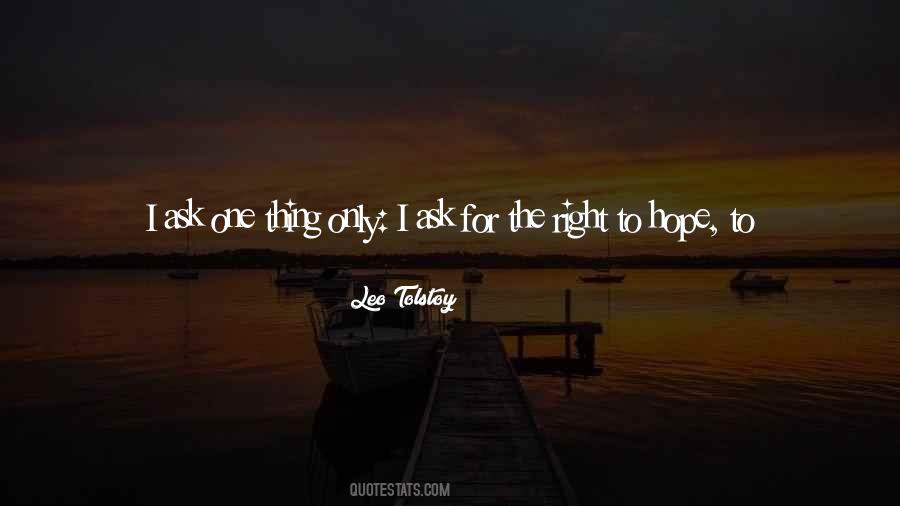 #28. When you are in love, you have to be ready to suffer and find out the meaning of love. - Author: Debasish Mridha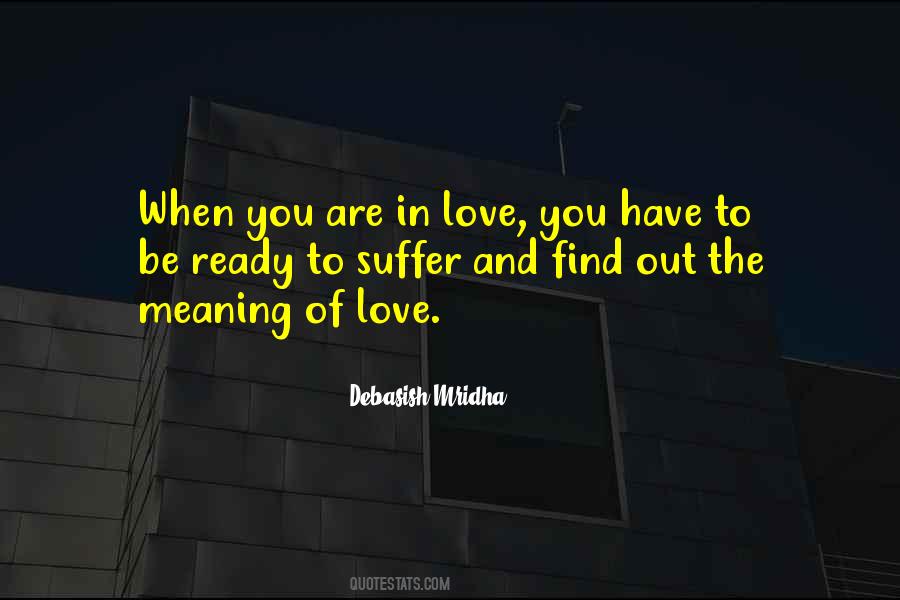 #29. Suffer" he commanded seductively. "With me ... or because of me. - Author: Donna Lynn Hope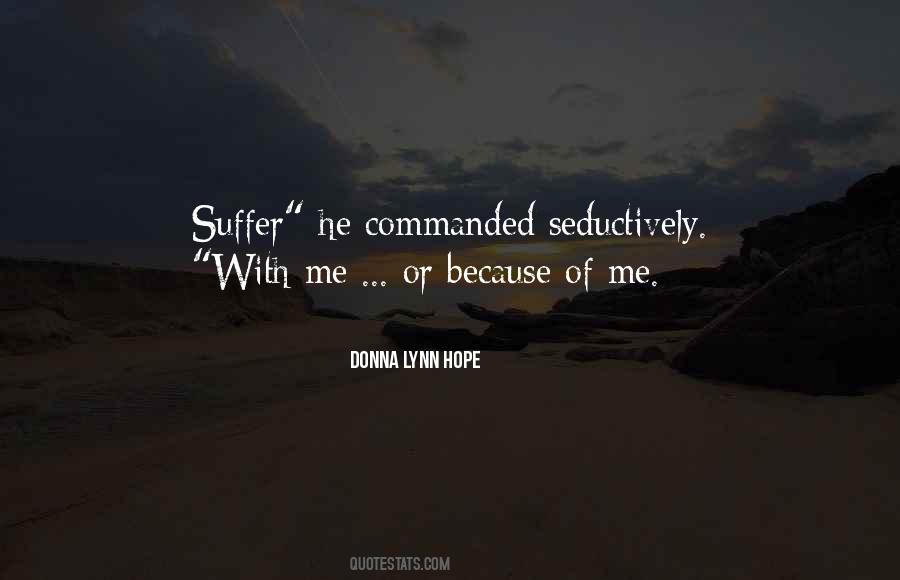 #30. As long as there are groupings, there will be disharmony and humanity will suffer. Grouping will be there always, but leaders have to be better to find the harmony. - Author: Debasish Mridha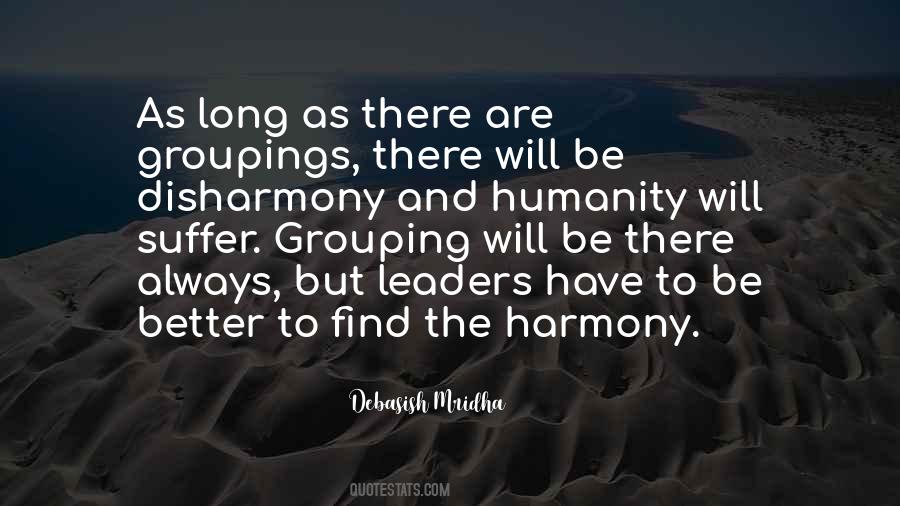 #31. There is nothing more majestic than the determined courage of individuals willing to suffer and sacrifice for their freedom and dignity. - Author: Martin Luther King Jr.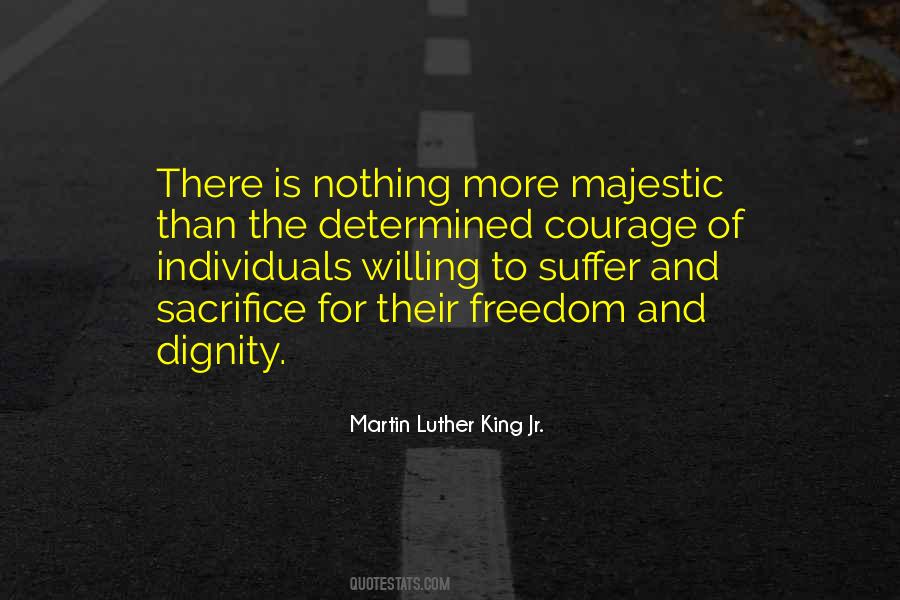 #32. I ask one thing: I ask the right to hope and suffer as I do now.
Vronsky - Author: Leo Tolstoy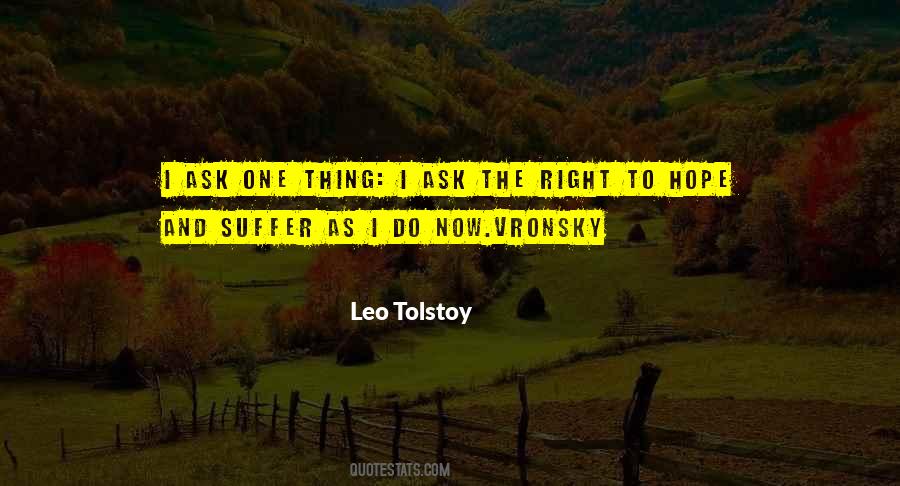 #33. The hope of being relieved gives him the courage to suffer. - Author: Marcel Proust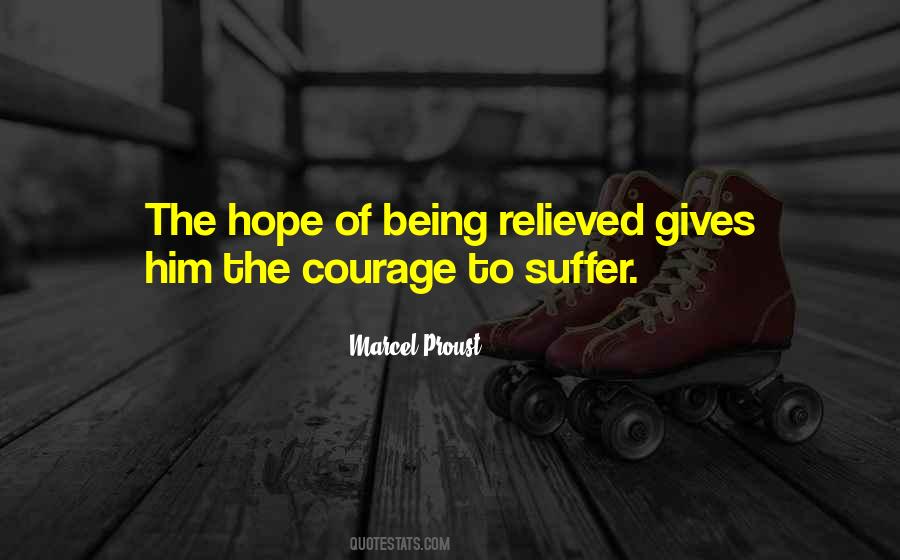 #34. When flash of hope scans through your dreams. When news of goodness skims the surface of your expectations and bravery abates, break not, keep pressing less the dreams of your fingers suffer extinction. - Author: Darmie Orem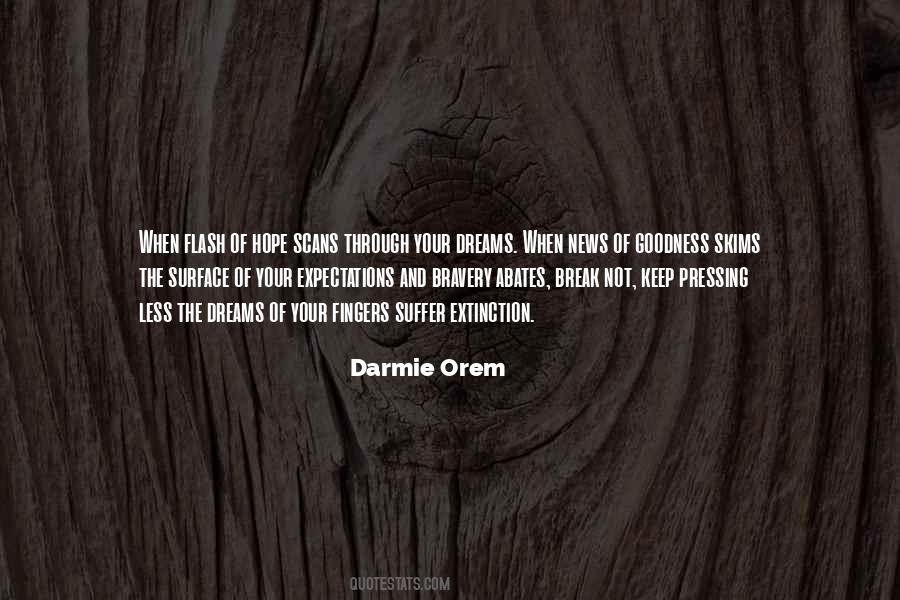 #35. Do not mistake me. I am not yet weak enough to yield to fearful imaginings, which are almost as absurd as illusions of hope, and are certainly harder to bear. If I must deceive myself, I should prefer to stay on the side of confidence, for I shall lose no more there and shall suffer less. - Author: Marguerite Yourcenar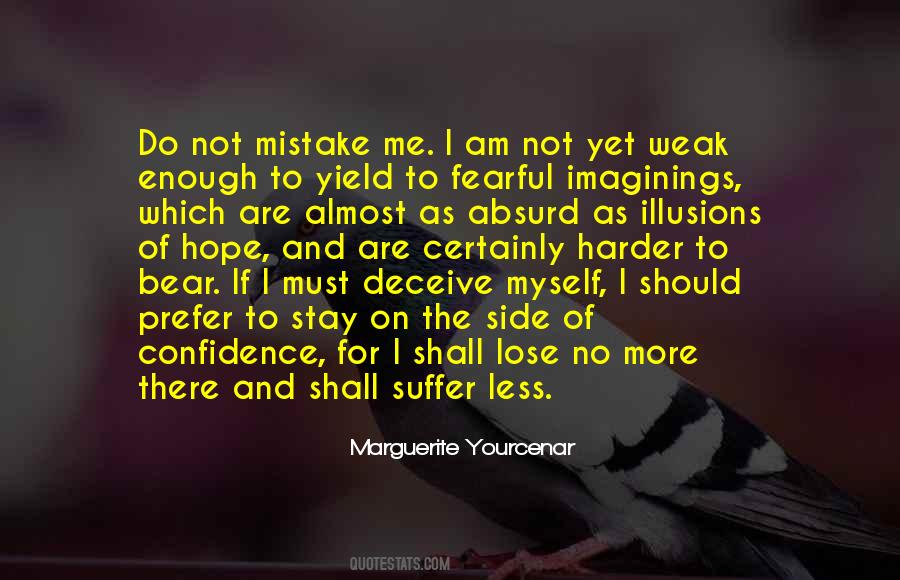 #36. We suffer from an incurable malady: Hope. - Author: Mahmoud Darwish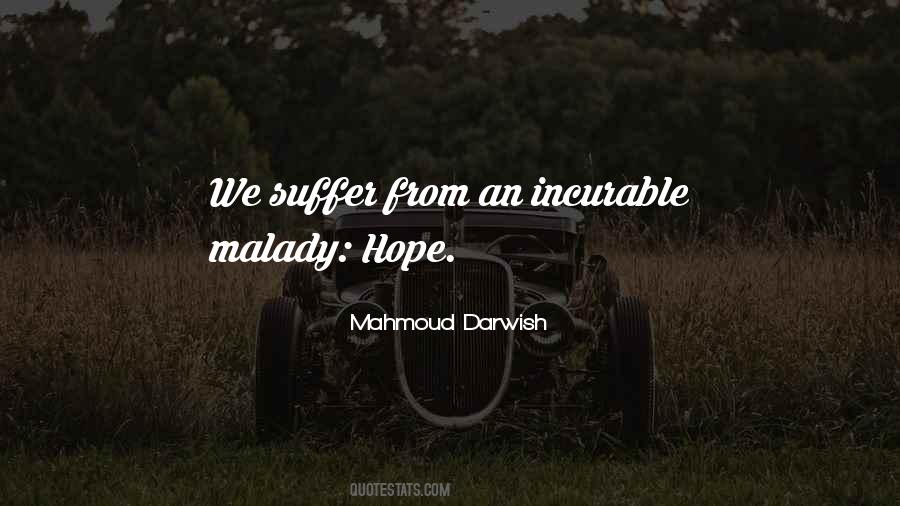 #37. I think Dr. Leslie's in love with me.
I certainly hope so.
Not that I want him to suffer. But I figure that if my gynecologist's in love with me, I must have a very interesting mind. - Author: J.D. Landis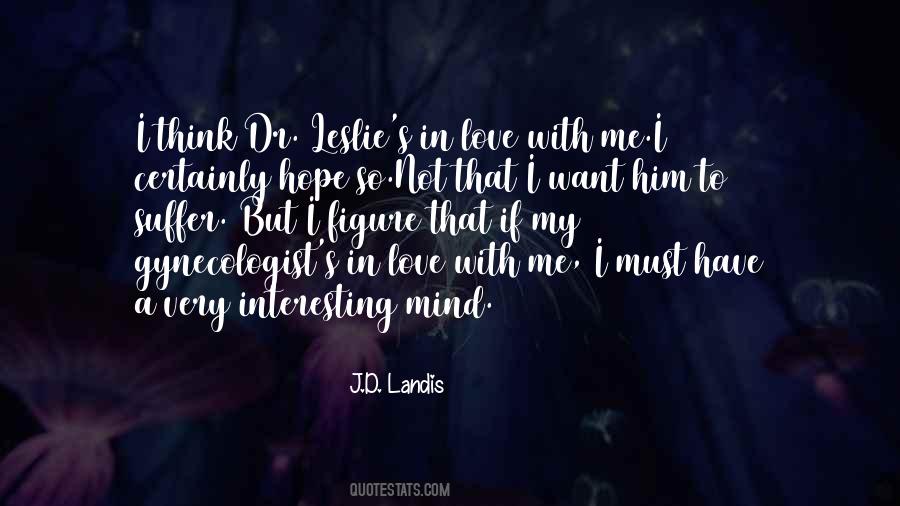 #38. Cleverness is egocentric, dramatic, gives you an illusion of success. We are always running behind it and ultimately suffer. Whereas simplicity is spiritual, blissful, not dramatic, simple but joyful and gives inner peace. Which is our ultimate goal. - Author: Debasish Mridha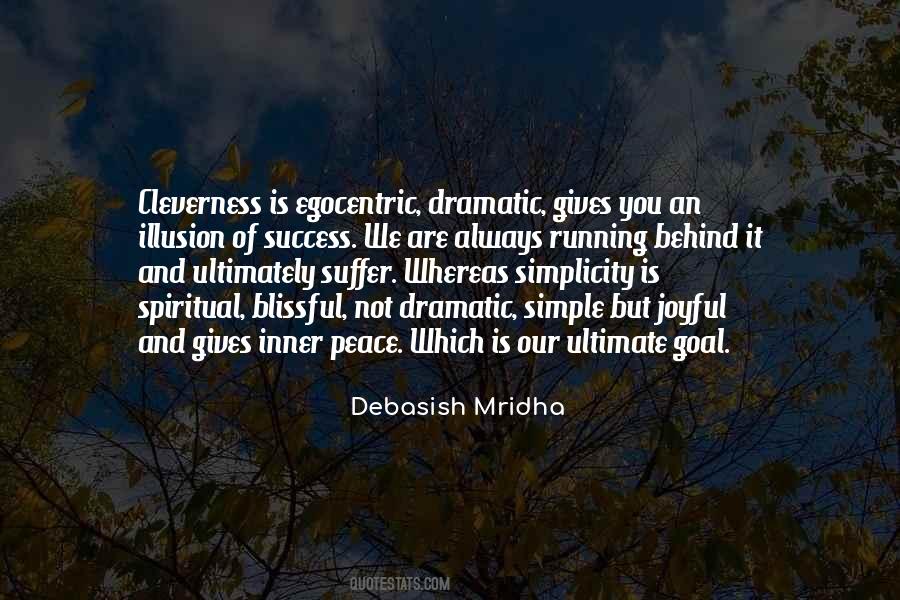 #39. If it's danger you seek you can go to war, blow the whistle on someone powerful, piss off someone unhinged, walk in a field during a lightning storm, tease a rattlesnake, or lose yourself in the right embrace. Some people live for it, others suffer in spite of it. - Author: Donna Lynn Hope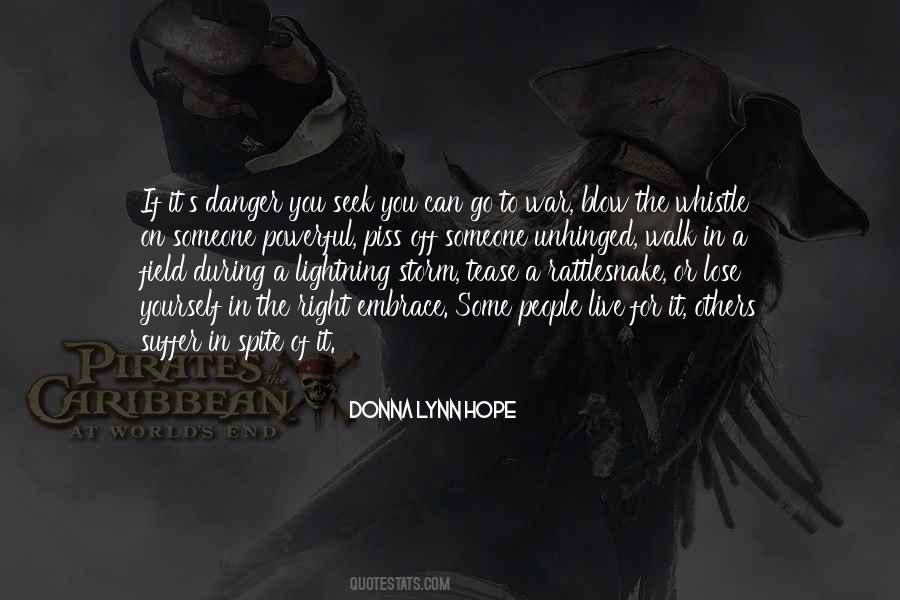 #40. It hurts, so much, to love. To love people only to watch them suffer. - Author: K.I. Hope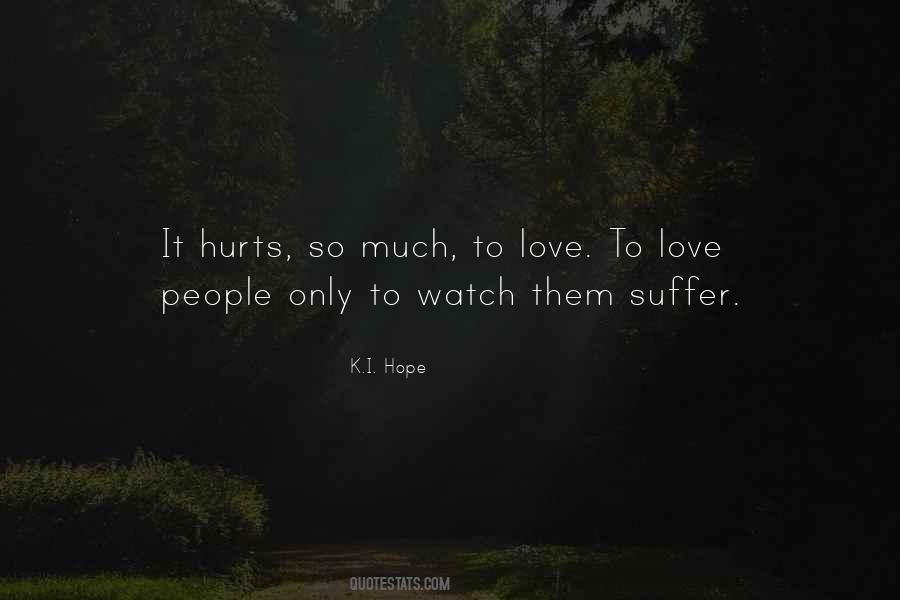 #41. I can suffer alone, or I can hold on to God in my pain. I can be meek and trust Him to make something good out of it. Only Jesus can heal the wounds, only Jesus can fill up those dark places with light, with understanding. Only He can quench our thirst for hope. - Author: Susan May Warren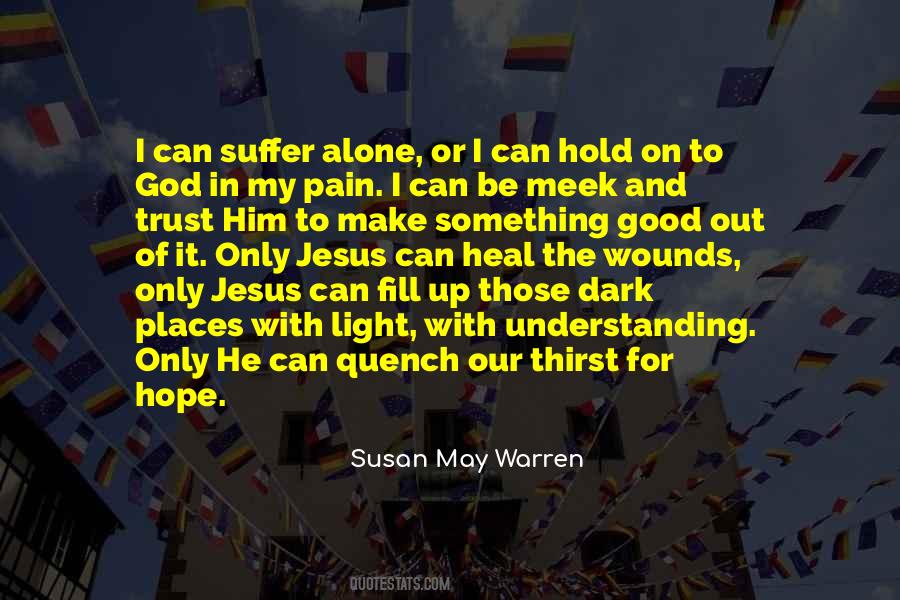 #42. I don't know who you people are, but I hope you're happy. I hope you get a real buggin' kick out of watching us suffer. And then you can die and go to hell. This is on you. - Author: James Dashner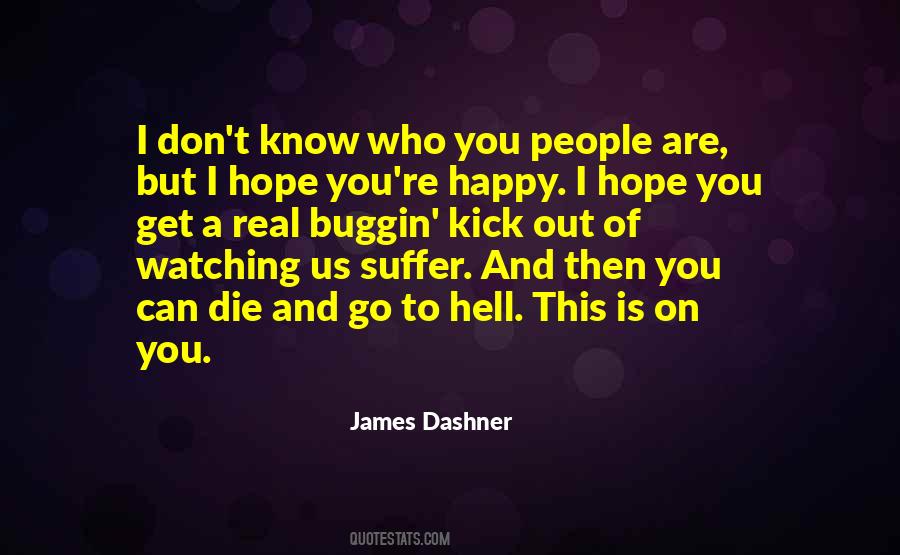 Famous Authors
Popular Topics