I Can't Tell You My Feelings Famous Quotes & Sayings
List of top 38 famous quotes and sayings about i can't tell you my feelings to read and share with friends on your Facebook, Twitter, blogs.
Top 38 I Can't Tell You My Feelings Quotes
#1. My gut feelings and my faith tell me that until God shuts a door, no human can shut it. - Author: Olusegun Obasanjo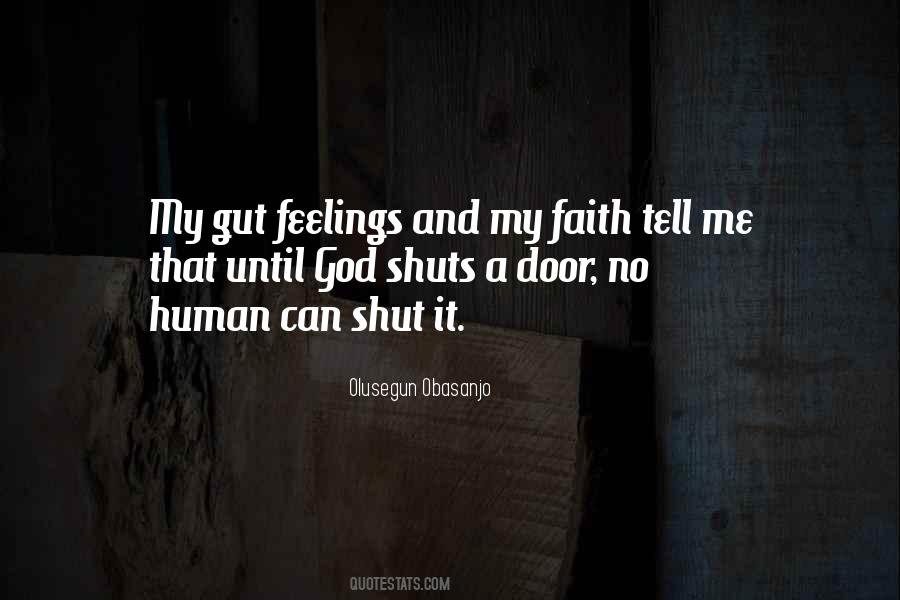 #2. You like me." "I do not," she lied. "But I didn't mean to hurt your feelings." He was undaunted. "Aye, you like me, lass. I can tell. You called me by my given name and you are frowning, with dewy eyes. I forgive you for being cruel and thoughtless. - Author: Karen Marie Moning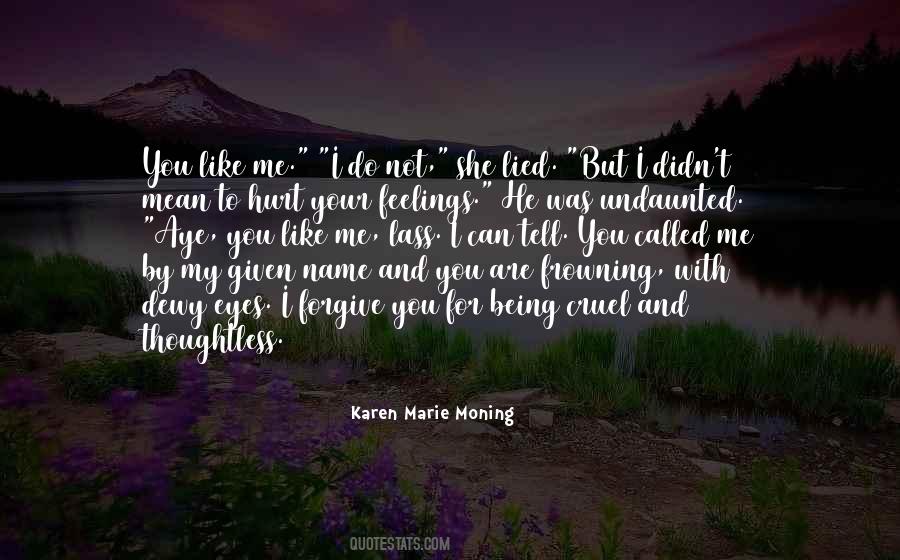 #3. When I go speak to these kids through my foundation and am able to sit down and tell them some of the things that I've been through, they can look up and relate to me, and they can understand the feelings I had that are similar to what they're going through and feeling. - Author: Marshawn Lynch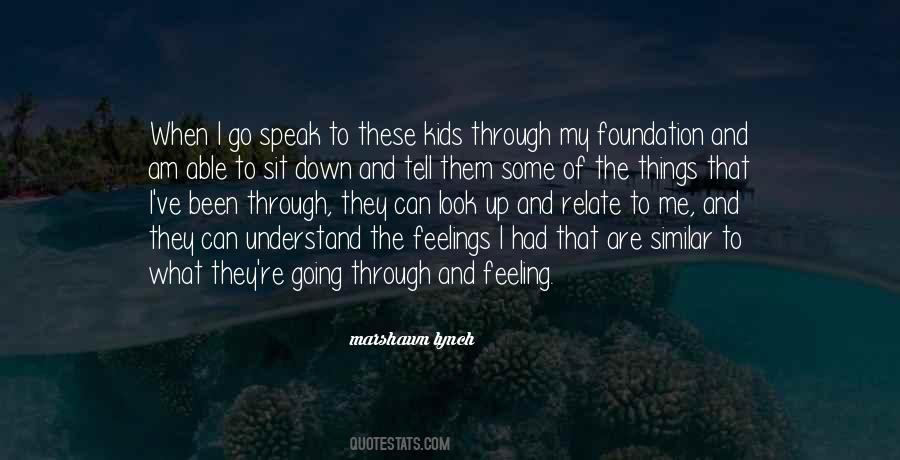 #4. I wish not to tell you how I feel,
I choose silence so that you leave,
Kiss me goodbye and set me free... - Author: Sanhita Baruah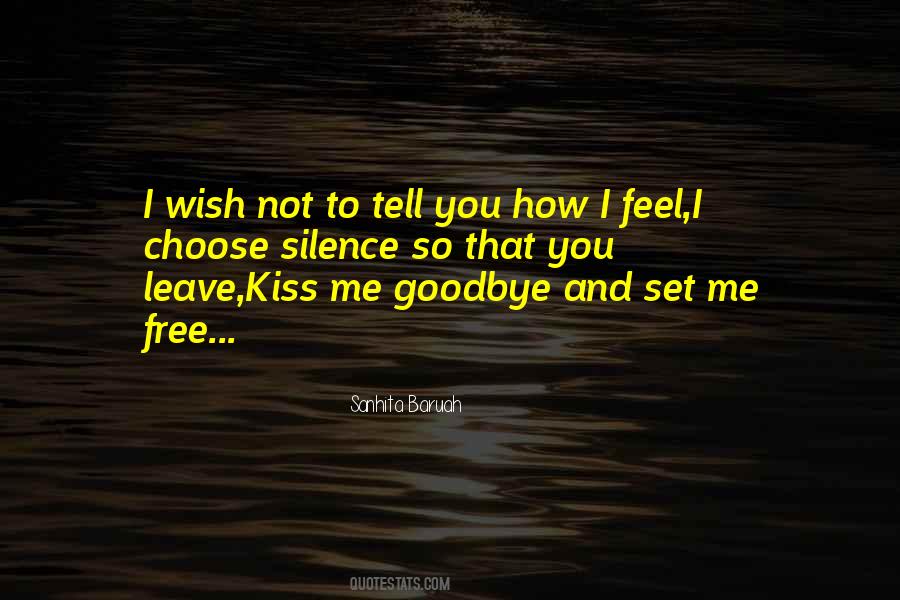 #5. Tell me about Gang Starr,' said Nishant, in an effort to start a conversation I'd be interested in.
'One MC, one DJ ... '
'Classic combo,' Anand affirmed.
'No hype man?'
'No.'
'What do we need Anand for?' Nishant shrugged, ever the pragmatist, never the catcher of feelings. - Author: Nikesh Shukla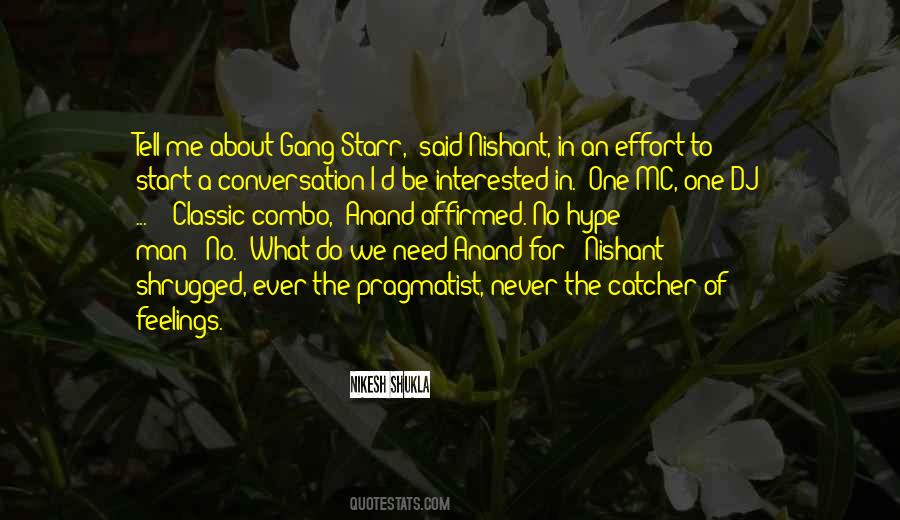 #6. We don't tell everything we know about ourselves. We tell those things that we feel have a chance poetically of fitting back into life and that means fitting back into the feelings of other people. - Author: Emmet Gowin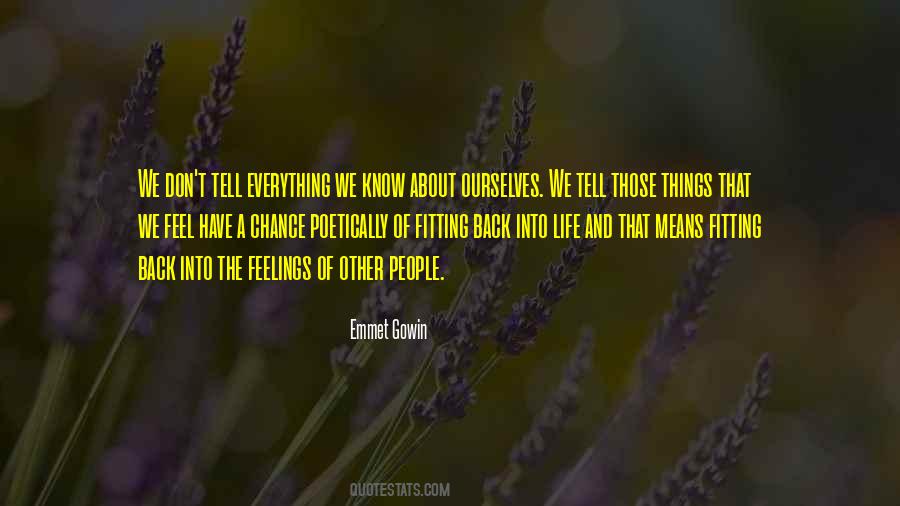 #7. I want you to tell me that you feel the same way for me. And I'd like you to tell me those feelings are worth it. I'd like you to say I'm worth it. - Author: Nessie Q.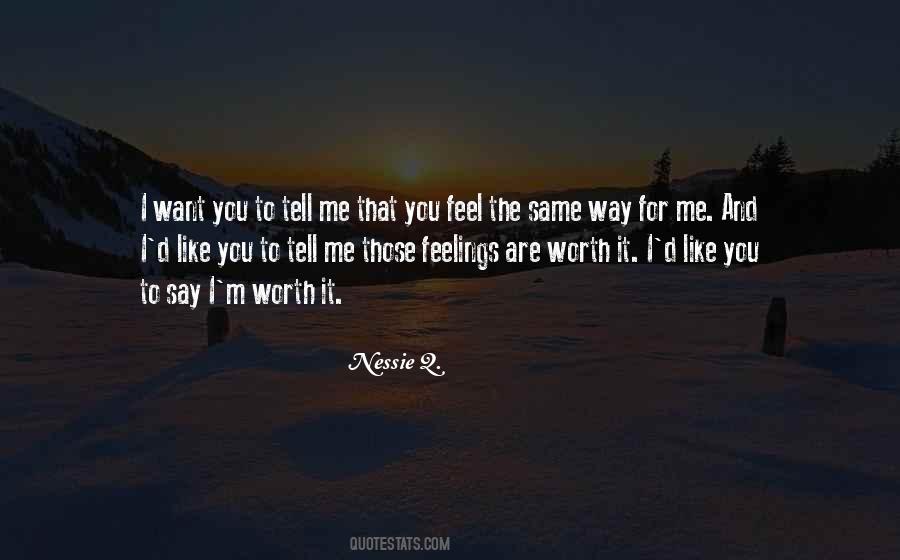 #8. Sit down and tell me everything, child. Hurt feelings and hopeless despair are no match for tea and biscuits. - Author: Elizabeth Jane Howard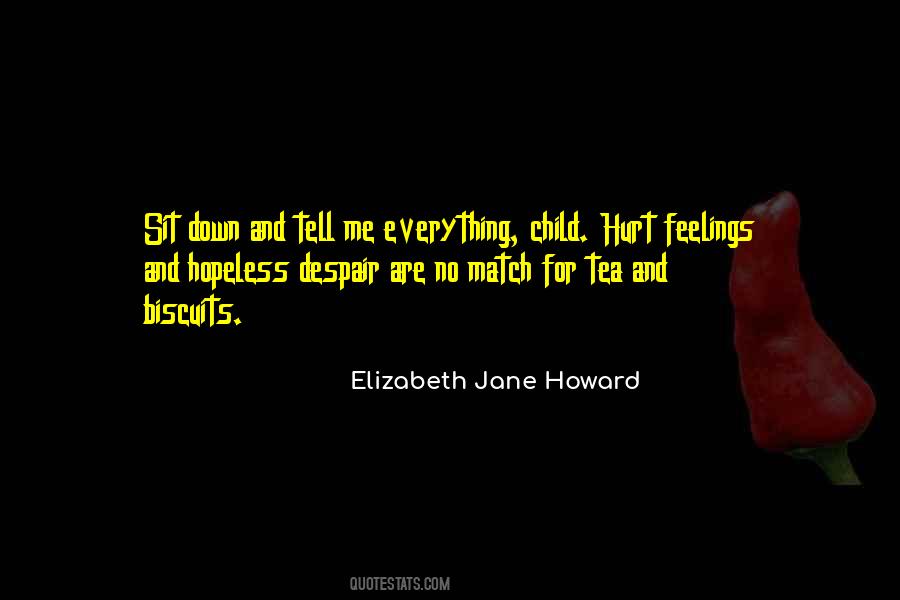 #9. I love that I can stay connected with my fans and be able to tell them what's going on - their opinions are so important to me. But at the same time, it's very weird. I think the Internet can be a great thing but also really evil. Something can instantly hurt your feelings. - Author: Selena Gomez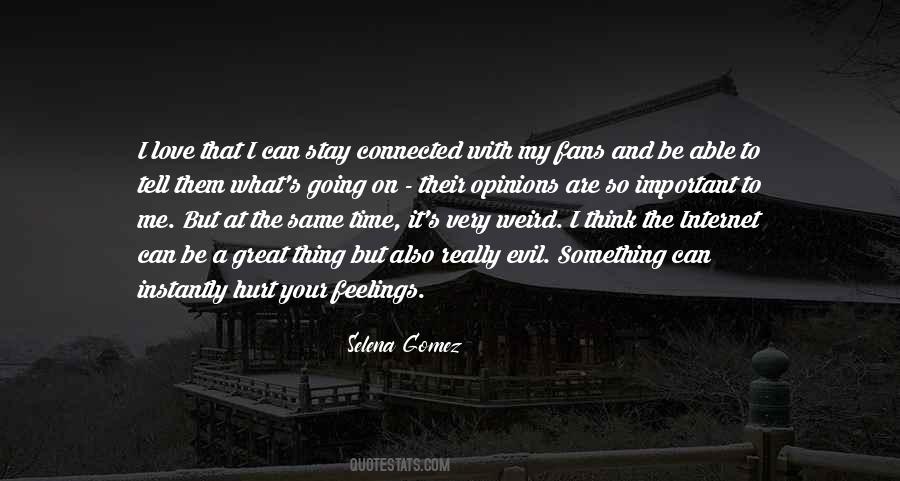 #10. One of the coolest moments for me is still when Kenny G came back to a venue to find me and personally tell me that he loved my song "Void of a Legend" and had watched the video several times. It's the ultimate feeling to get feedback like that from an artist you look up to - Author: Antoniette Costa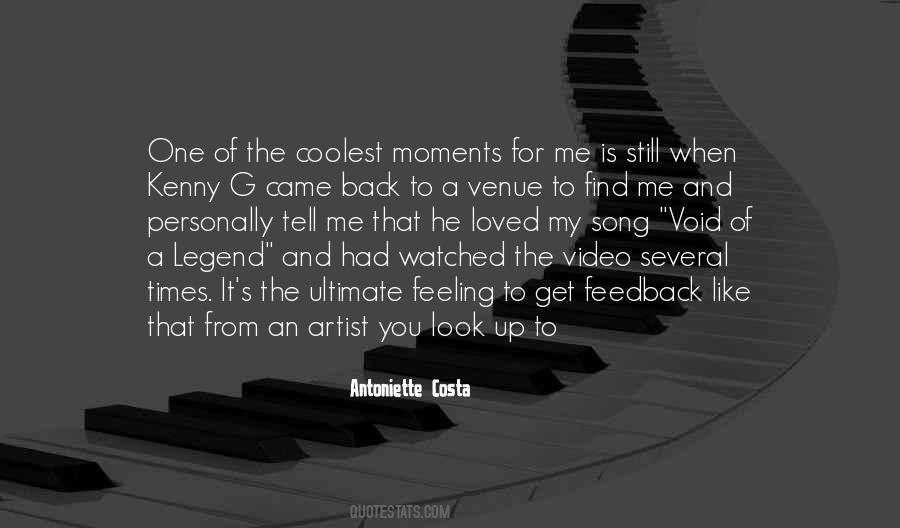 #11. Don't tell me anymore. You should have your dream, as the old woman told you to. I understand how you feel, but if you put those feelings into words they will turn into lies. (from Thailand) - Author: Haruki Murakami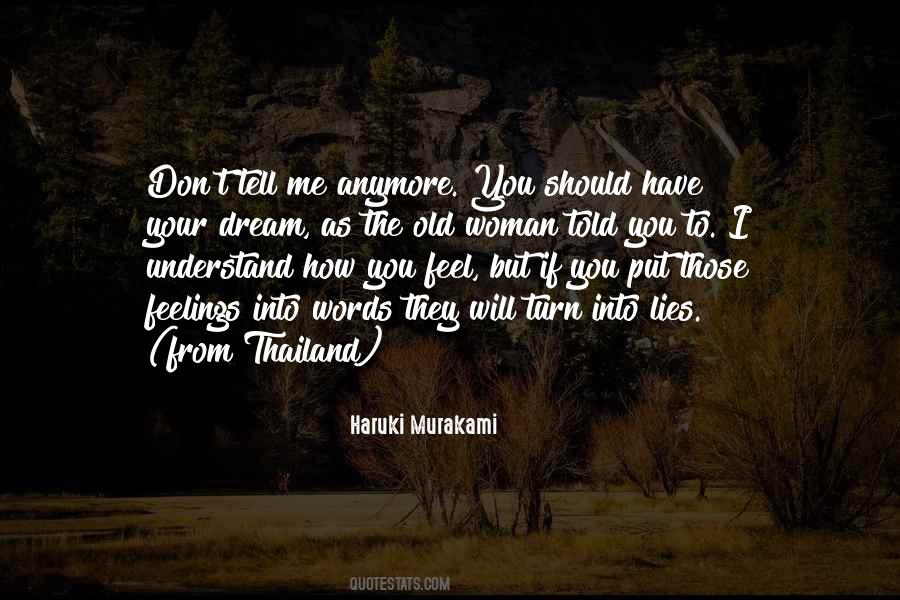 #12. It's a lot easier to be angry at someone than it is to tell them you're hurt. - Author: Tom Gates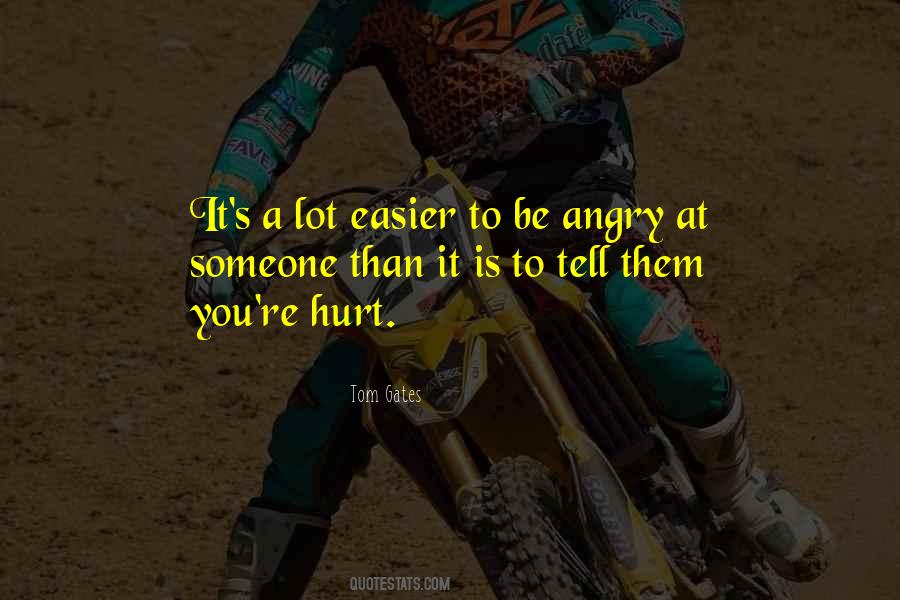 #13. Lying is wrong. When you tell a lie for the sake of sparing someone's feelings it is not suddenly right, but it is compassionate. And is not compassion a form of love? Love - the greatest of all virtues! So, my darling, I do wrong for you. I lie that you might feel loved. - Author: Richelle E. Goodrich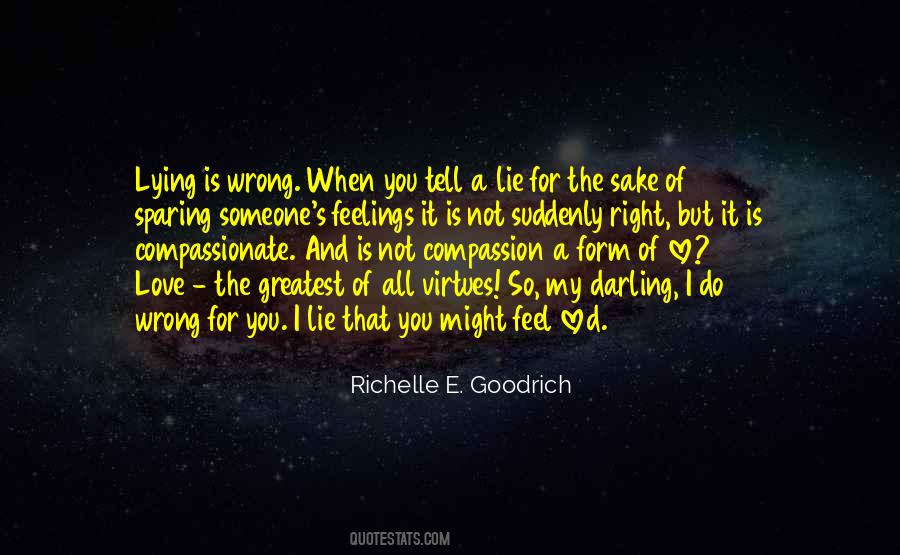 #14. Once again Matthew was taken unaware by the extent of the feelings she inspired in him, his own limitless desire to fill her with happiness. "Whatever you need," he whispered, "Whatever you want, I'll get it for you. Just tell me. - Author: Lisa Kleypas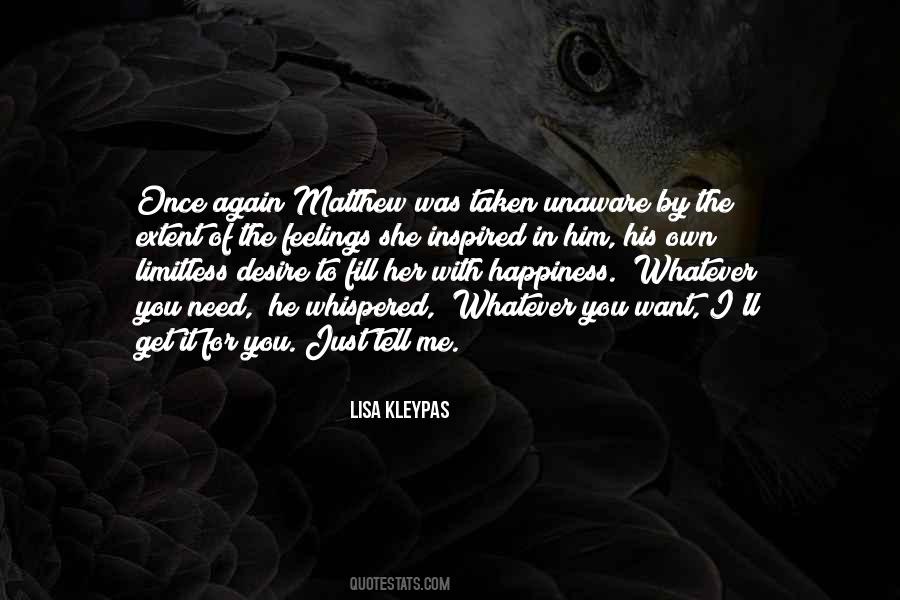 #15. Marty used to tell her she had the world's worst poker face: her feelings floated across her features like reflections on a still pond. - Author: Jojo Moyes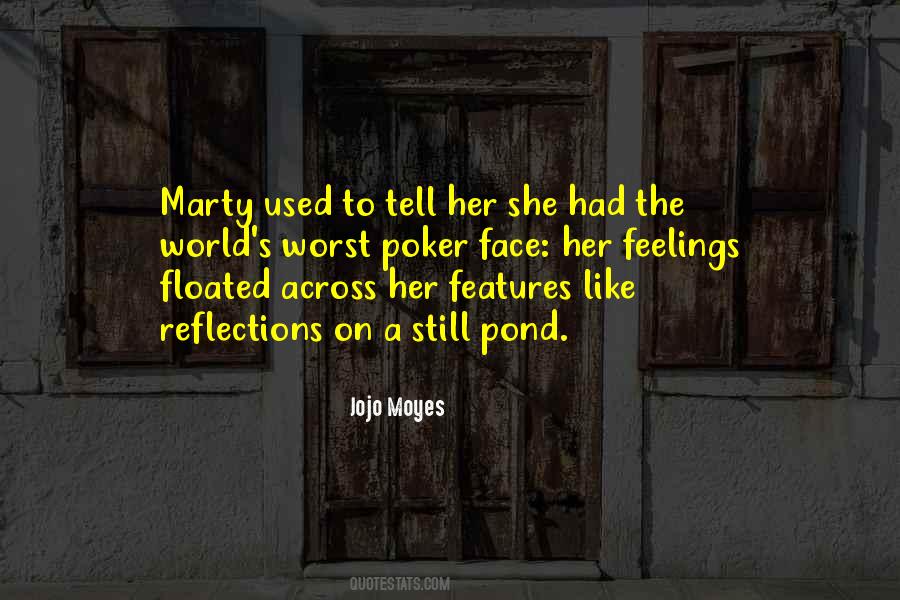 #16. You tell me I have to crush a field of babies to keep breathing? Sure. You say people who rely on me aren't going to live unless I turn someone's head into a bowl of gravy? I'm there. I don't feel bad about it. I don't think about it. It just is what it is. It's survival. - Author: Robert Kirkman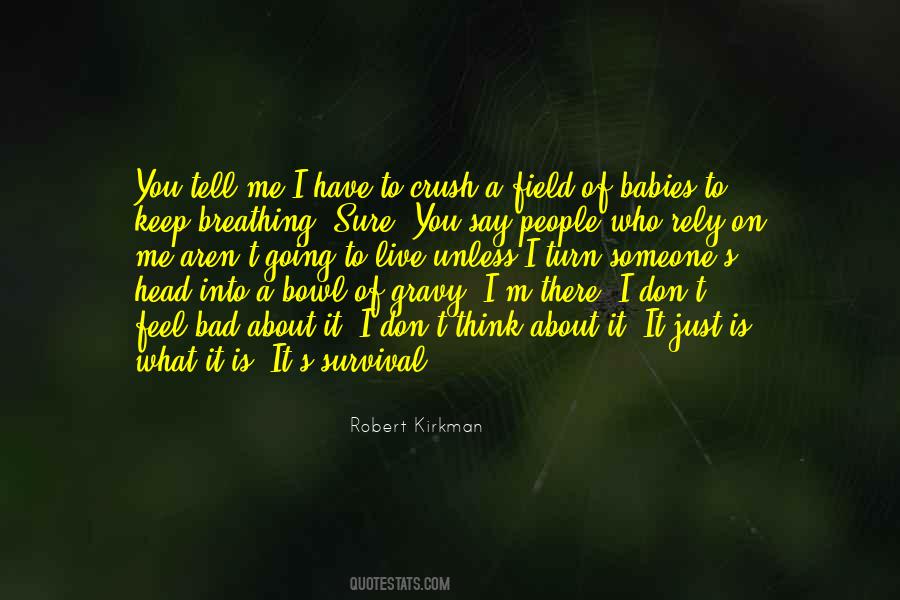 #17. Life is too damn short to not tell someone how you feel. Don't let someone because you're afraid or you'll lose them forever. - Author: Benjamin Bayani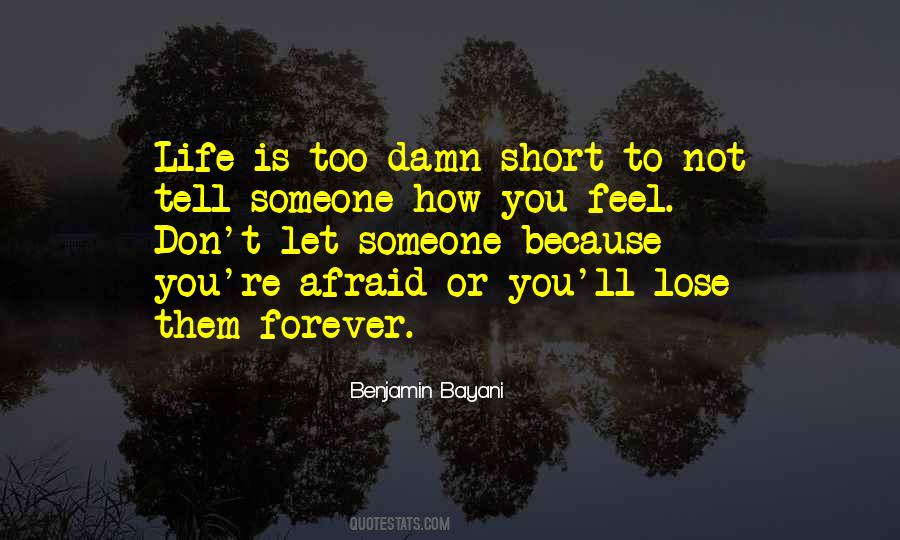 #18. We don't lie to protect the other person. We lie to protect ourselves from the consequences. We lie because we don't want to deal with our own feelings. We lie because we don't want things to change. Not by our hand. So a wall starts to build. - Author: Elisa Marie Hopkins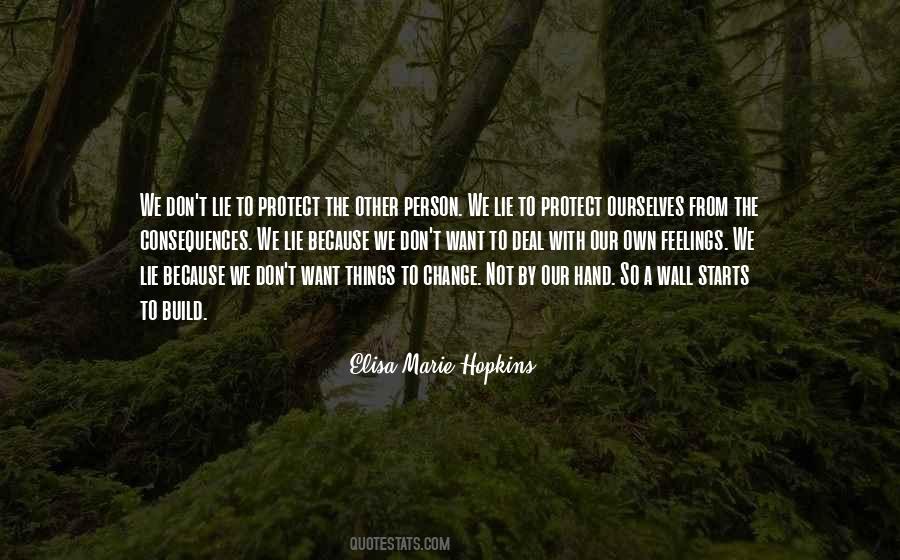 #19. I'm thinking the reason I've been so quiet all those years is only because Brian wasn't around yet for me to tell everything to. - Author: Jandy Nelson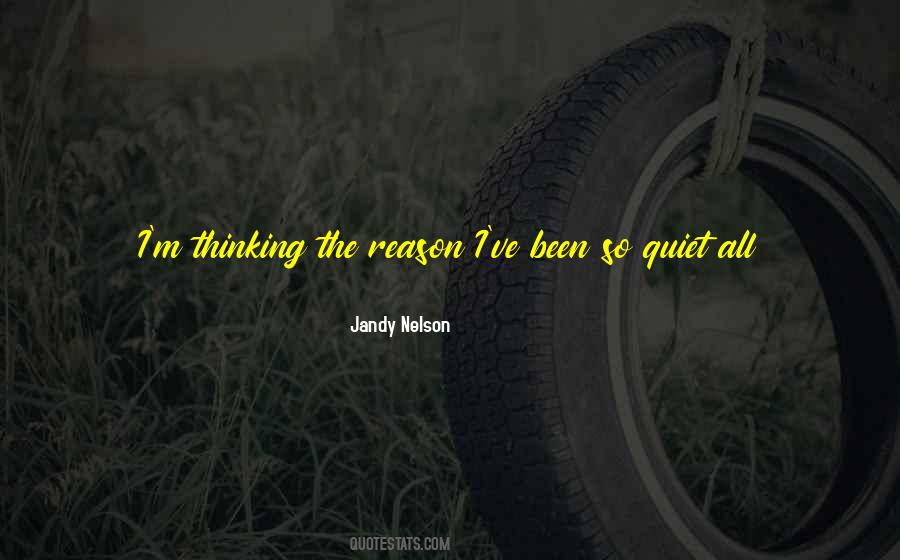 #20. How can you lose something you never had, I tell myself when I'm feeling sad. - Author: Elvis Presley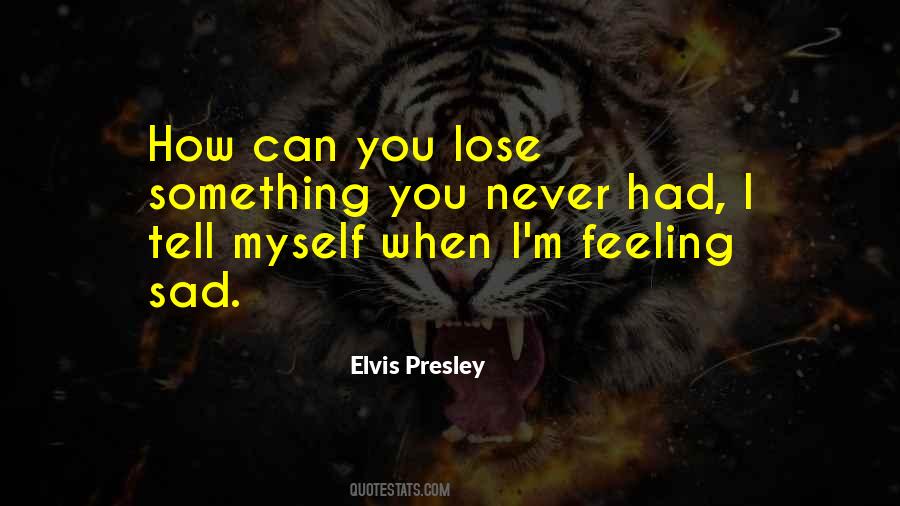 #21. I could see her toughening up, working hard to put all those emotions away because she thought that's what it meant to
be strong. I wanted to tell her that strength wasn't about hiding your feelings, that it was okay for her to feel this way after what she'd been through. - Author: Richelle Mead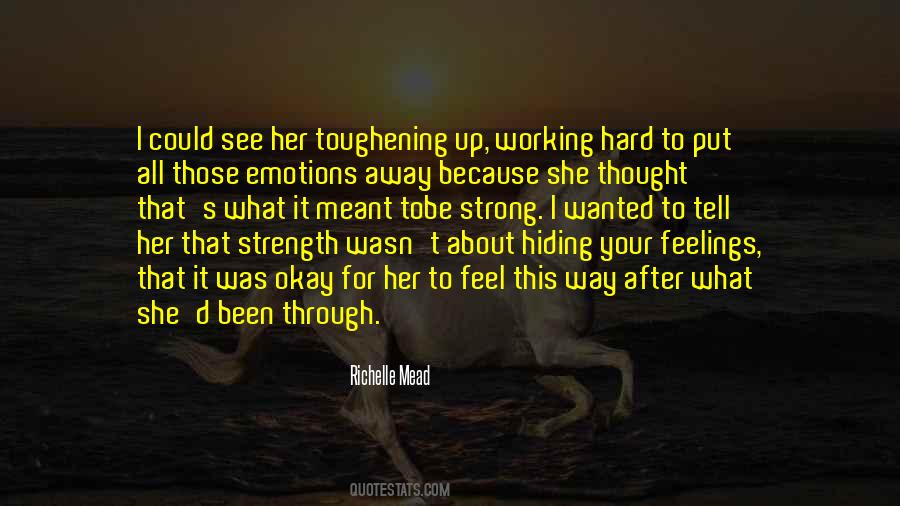 #22. I will do almost anything for the sake of a joke or for the sake of someone's real belief in something to help tell a story. I will not do something shocking for the sake of being nasty. If it's not hurting anyone's feelings, I'm in on the joke. - Author: Selma Blair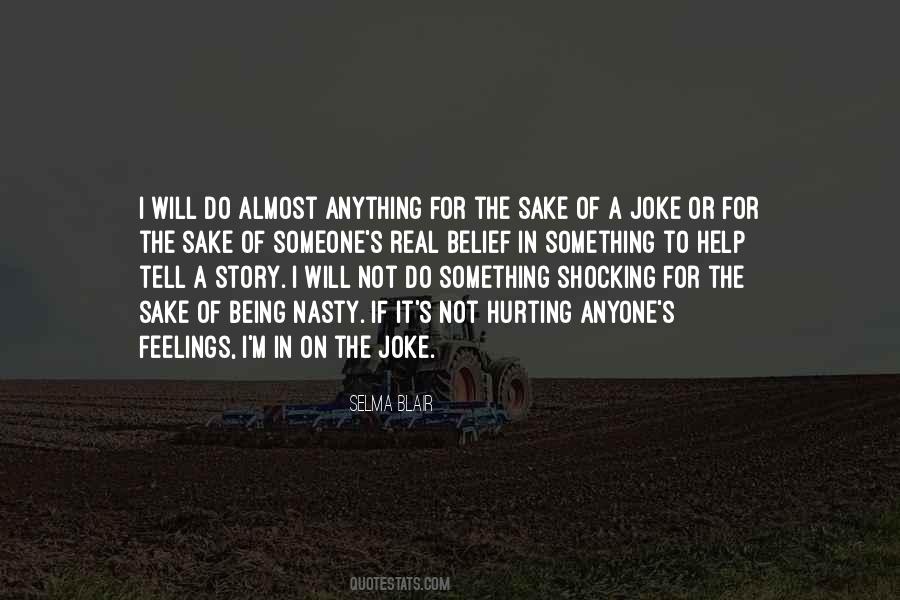 #23. Why not share with the world the way it is and tell them my feelings about my cat, and how I played with my kids, and how addicted to Christmas time I am, and the smell of pine needles and hearing my kids laugh. - Author: Steven Tyler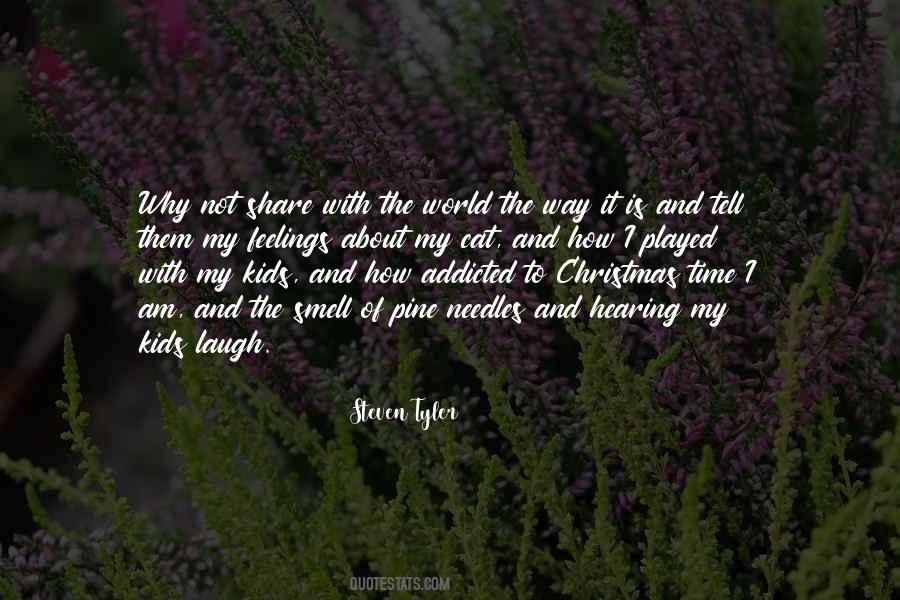 #24. The problem with pursuing bad feelings was that it was always difficult to tell if one was running towards a problem to fix it, or running to a problem to create it. - Author: Maggie Stiefvater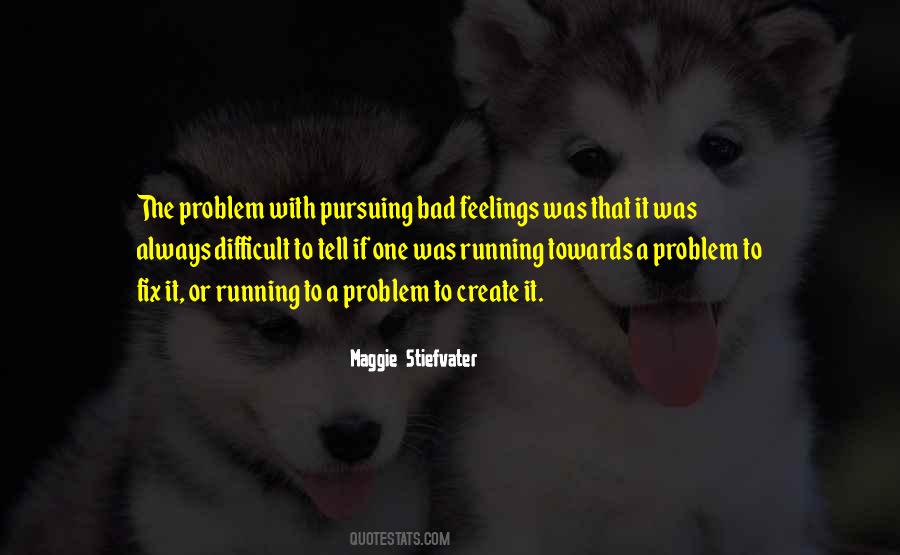 #25. I was feeling that I was the in the dead-end circuit from 1980 to 1983, and I didn't know what else to do. I remember doing a show in some college town, in a tiny club, and afterward some fans came back. I thought I had done good gig and they were going to tell me that. - Author: Iggy Pop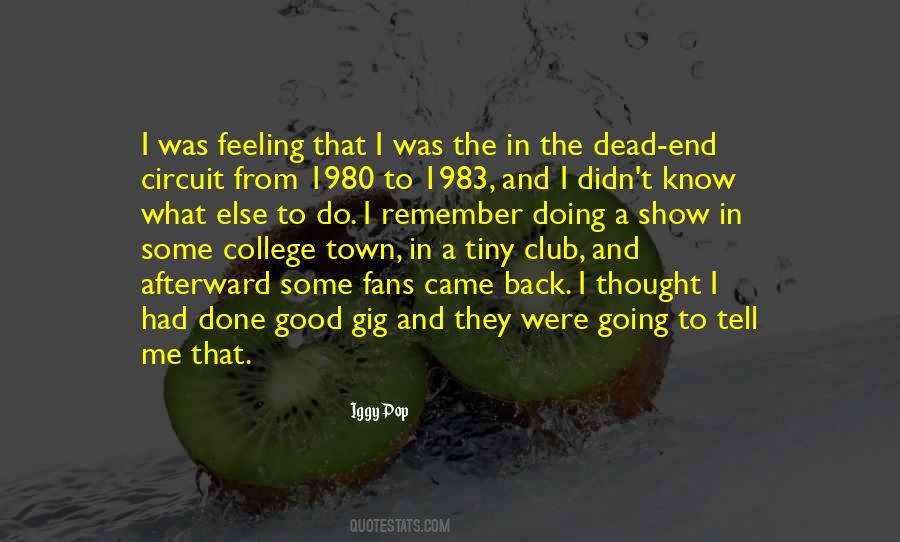 #26. Tell me not that I am too late. That such precious feelings are gone forever...Dare not say man forgets sooner than woman, that his love has an earlier death. I have loved none but you. - Author: Jane Austen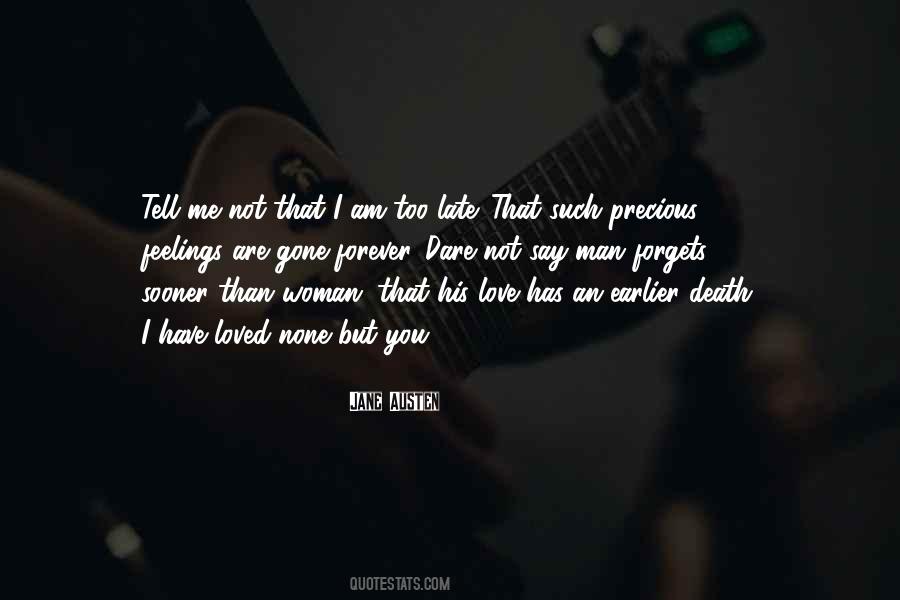 #27. I realize I'm trying to work out the boundaries. How to love her without interfering. How to step back and let her have her private world and yet still be an intimate part of it. When she talks about her feelings, I have to consciously tell myself she wants me to receive them, not fix them. - Author: Sue Monk Kidd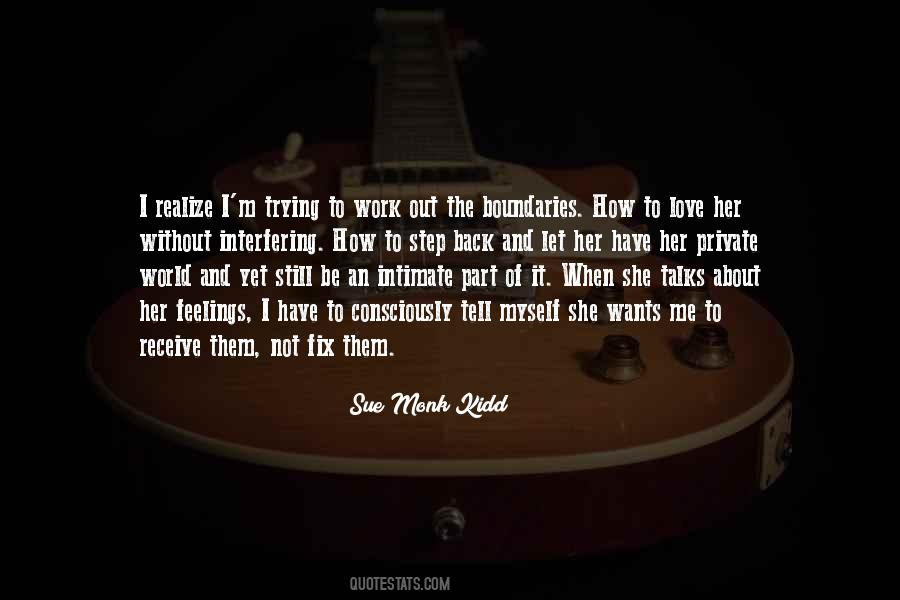 #28. In vain I have struggled. It will not do. My feelings will not be repressed. You must allow me to tell you how ardently I admire and love you." Elizabeth's astonishment was beyond expression. - Author: Jane Austen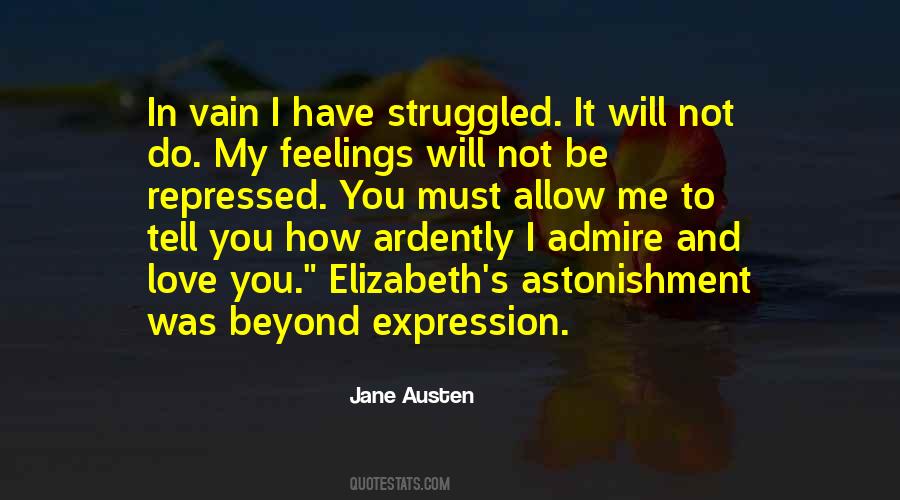 #29. As with all gut feelings, only time will tell whether this it is pathetic self-delusion. - Author: Neal Stephenson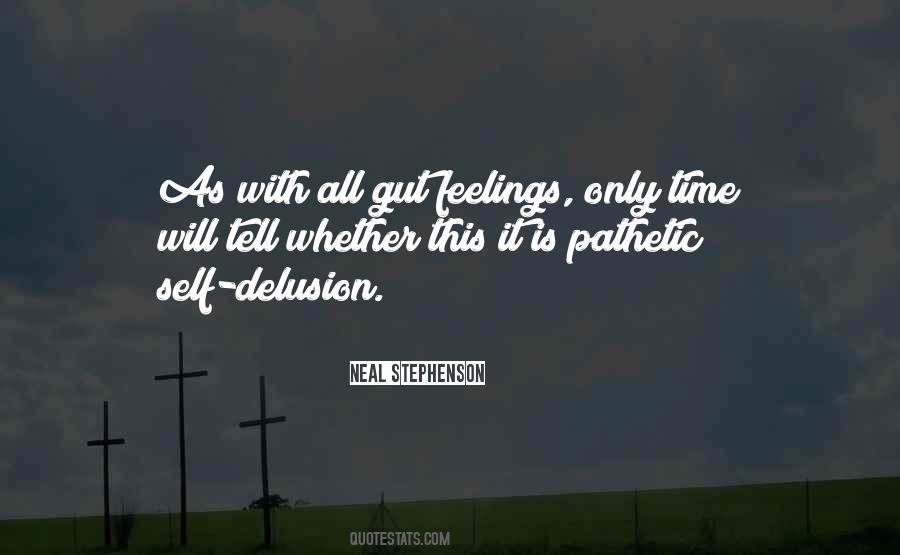 #30. It's simply impossible for me to filter my thoughts and feelings. I tell it from my point of view. I'm an open book. - Author: Lori Lesko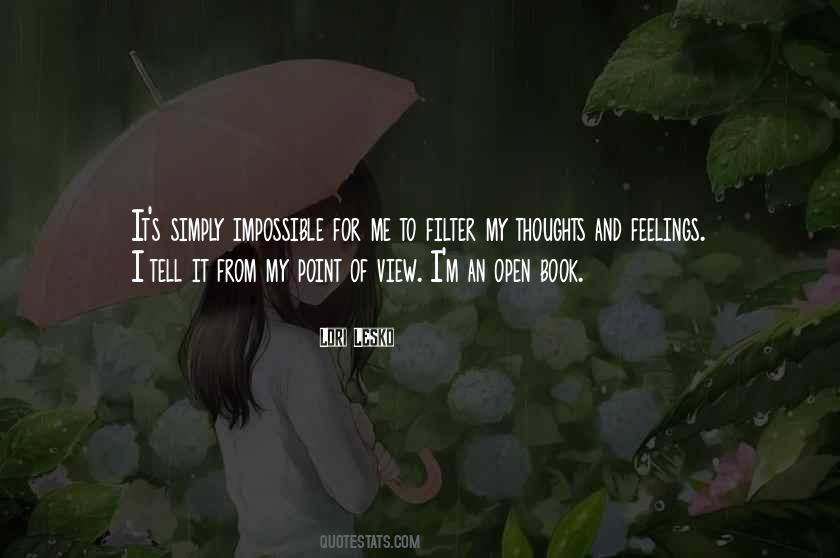 #31. There are people, radio talk show hosts, those kind of people, it's their job to only have one opinion, they can't tell you about their feelings. They have to go with what pays their bills. - Author: Danny Bonaduce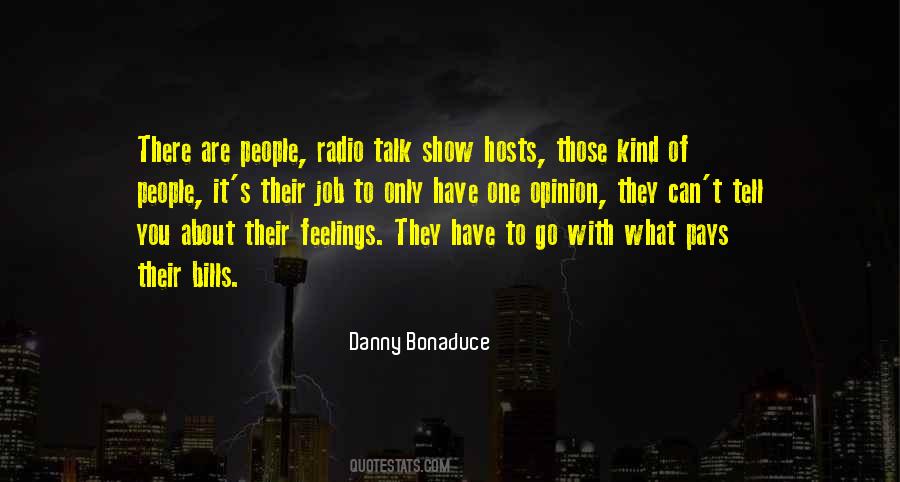 #32. Communication feels like it should be the simplest thing, but it's not. Sometimes you don't even understand what you're feeling. You don't know how to put that into words, so how are you suppose to tell the person you love that you're upset. - Author: Taissa Farmiga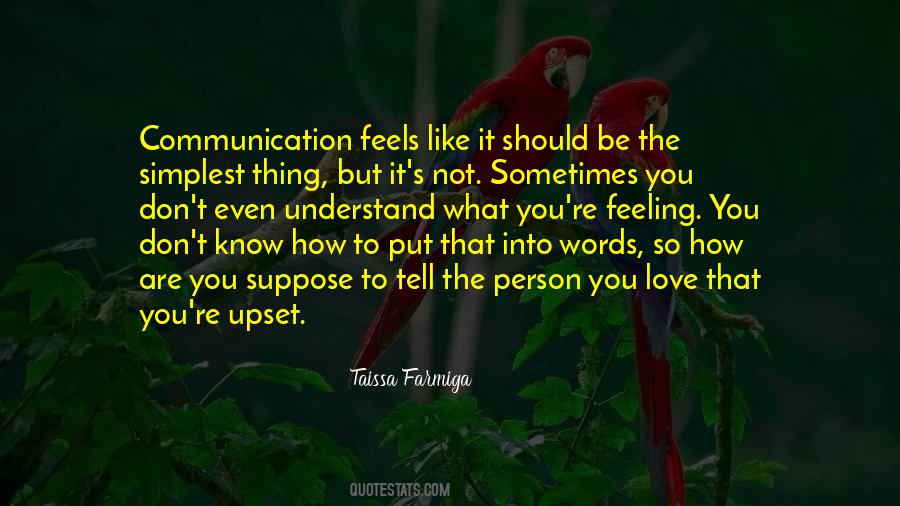 #33. Keep to the 'I-statements' and discuss your feelings, she lectured herself. I think, I feel. Don't be accusatory. Don't tell him that he is an insecure prick who should back off before you deck him. Instead, say, 'I feel you are acting like an insecure prick who should back off before I deck you. - Author: Thomm Quackenbush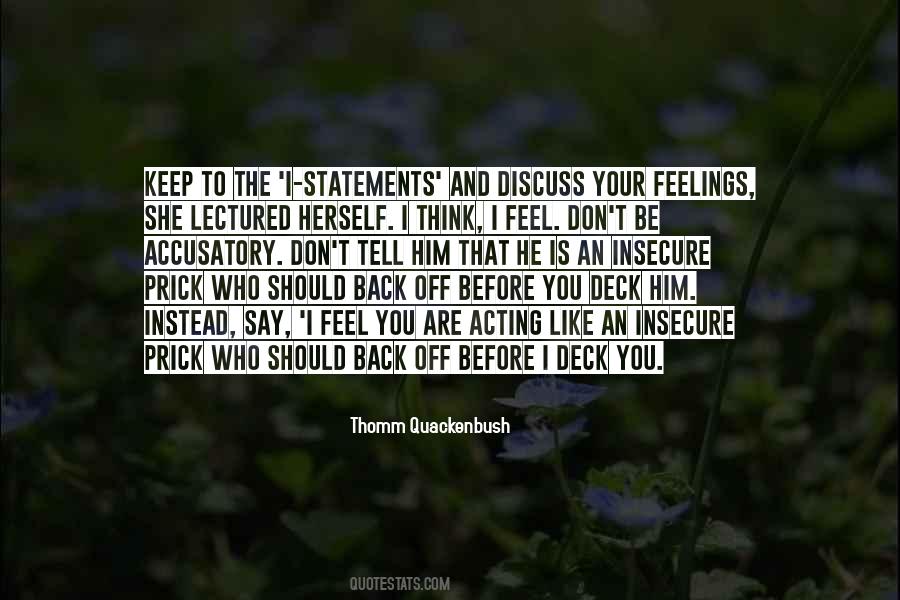 #34. I'll not be lyin' if I tell ya that I fancy ya a bit myself."
"The fancy feelings are mutual."
A grin curved her lips right before Declan pressed a kiss to them. - Author: Sara Humphreys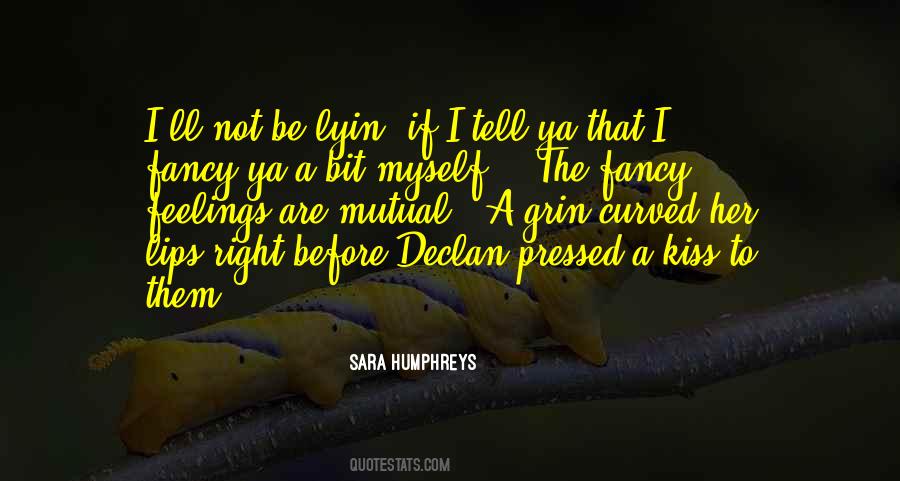 #35. My feelings are a fact, not a personal delusion. They are valid for me. What business have you got trying to tell me how I ought to feel? - Author: Elizabeth Peters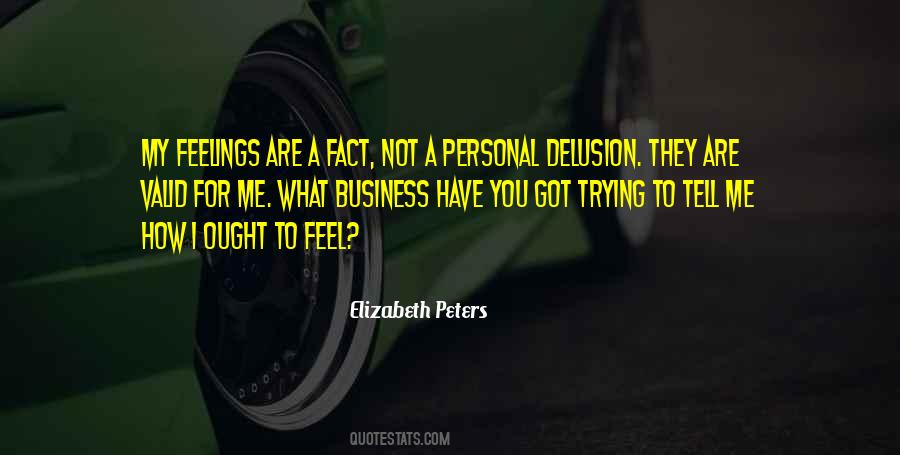 #36. You can tell I'm not too bashful about some of my feelings. - Author: Buzz Aldrin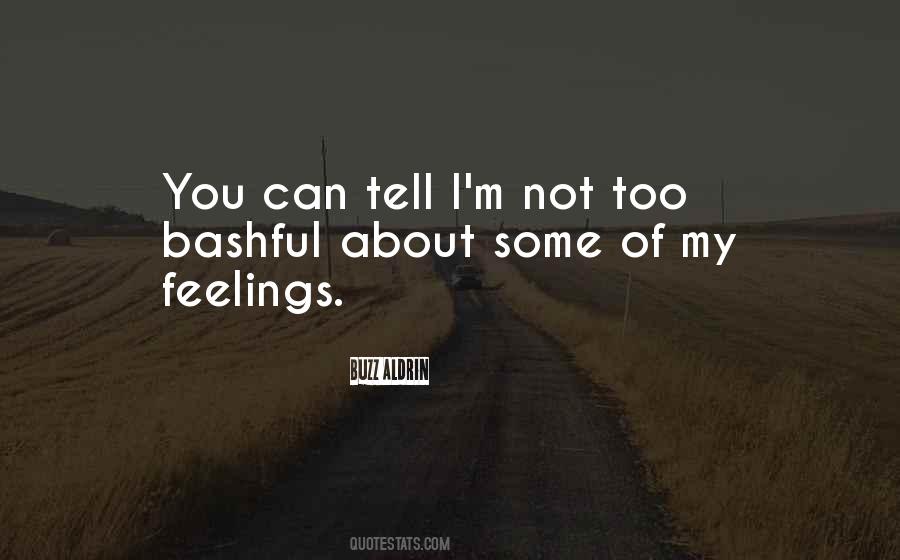 #37. I find it really offensive when people say that the emotional experiences of teenagers are less real or less important than those of adults. I am an adult, and I used to be a teenager, and so I can tell you with some authority that my feelings then were as real as my feelings are now. - Author: John Green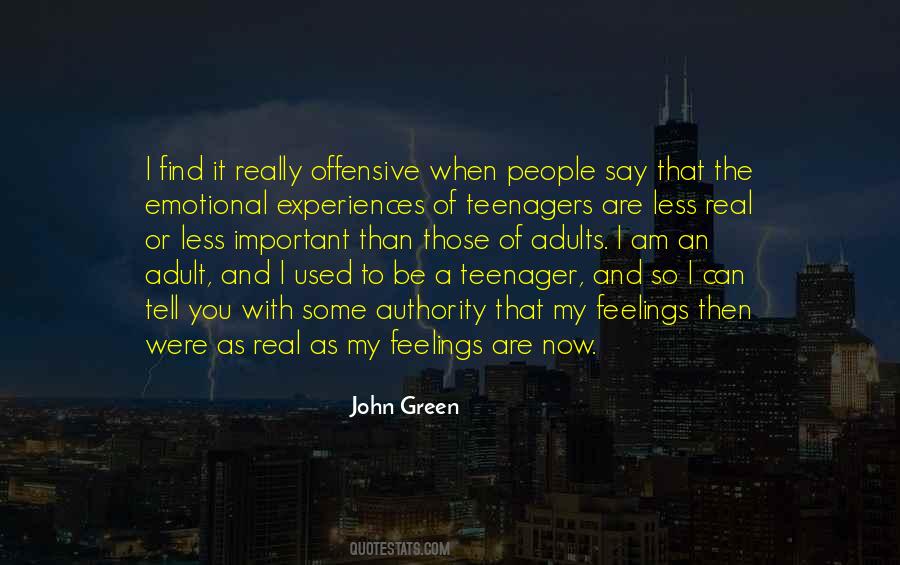 #38. I can tell you my feelings were hurt, - Author: Martin O'Malley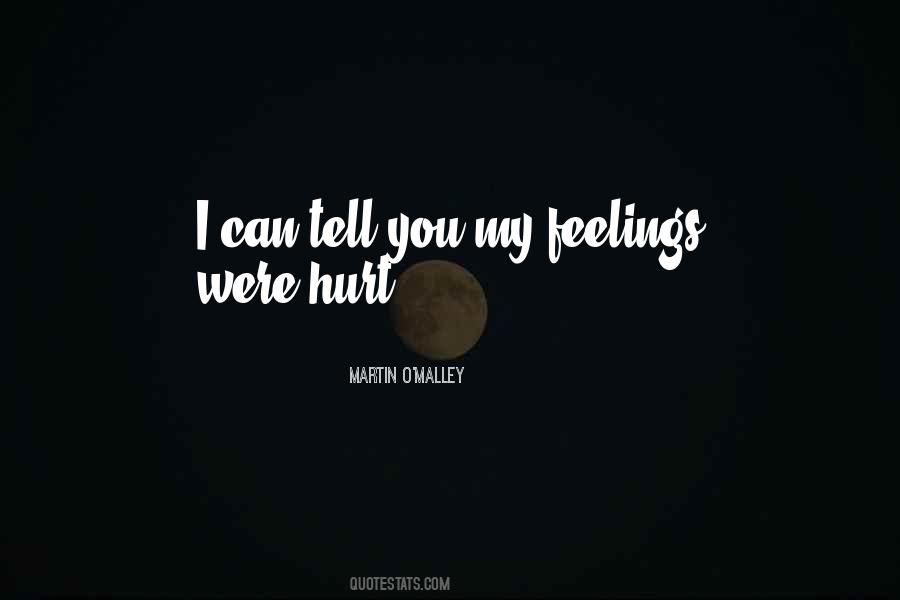 Famous Authors
Popular Topics