I Can Relate Famous Quotes & Sayings
List of top 100 famous quotes and sayings about i can relate to read and share with friends on your Facebook, Twitter, blogs.
Top 100 I Can Relate Quotes
#1. 'RPM' is basically about my pace in life, and I think a lot of people can relate to that. Our video is going to involve a really nice car with some fast driving. It's going to be really cool. I'm excited for people to see it! - Author: Sasha Pieterse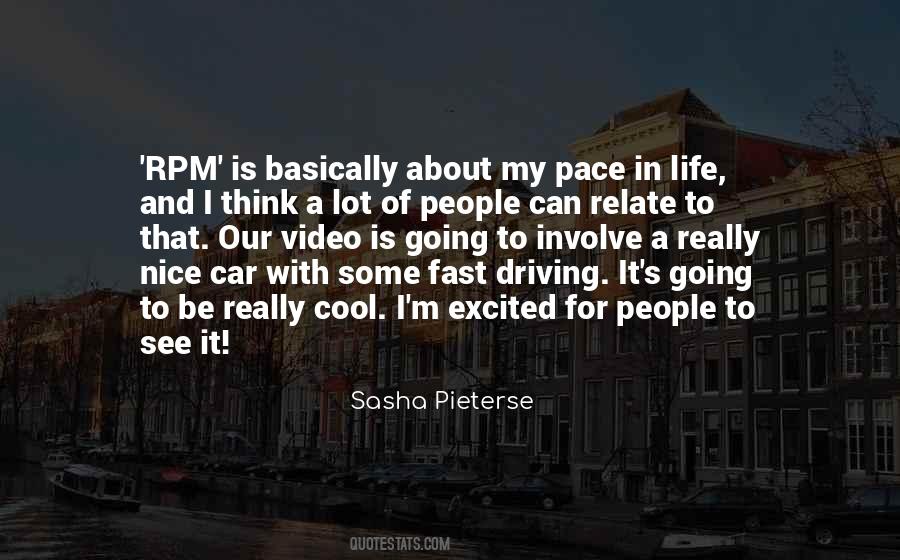 #2. I think emotion is just anything that is emotional, you know, people can feel with music. Music is already so emotional, like the strings, the chords, and the notes and the melodies and stuff. And then you throw on a topic that everyone can relate to. That's gonna be real music. - Author: Sam McCandless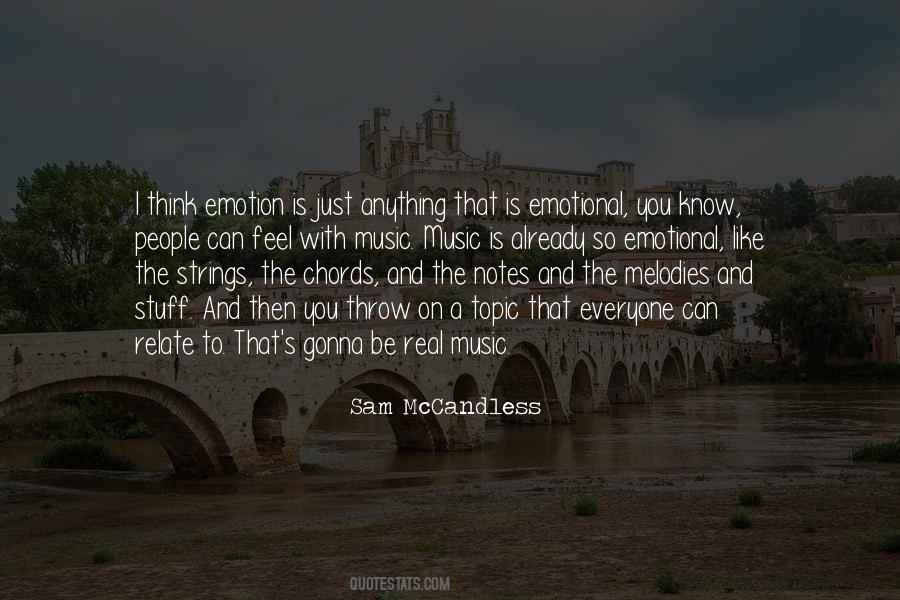 #3. I related to his disillusionment. Thinking that he was going for this big dream. Then he kind of saw through it all at one point and went back home. Then he started a bender, which I can relate to of course. - Author: Woody Harrelson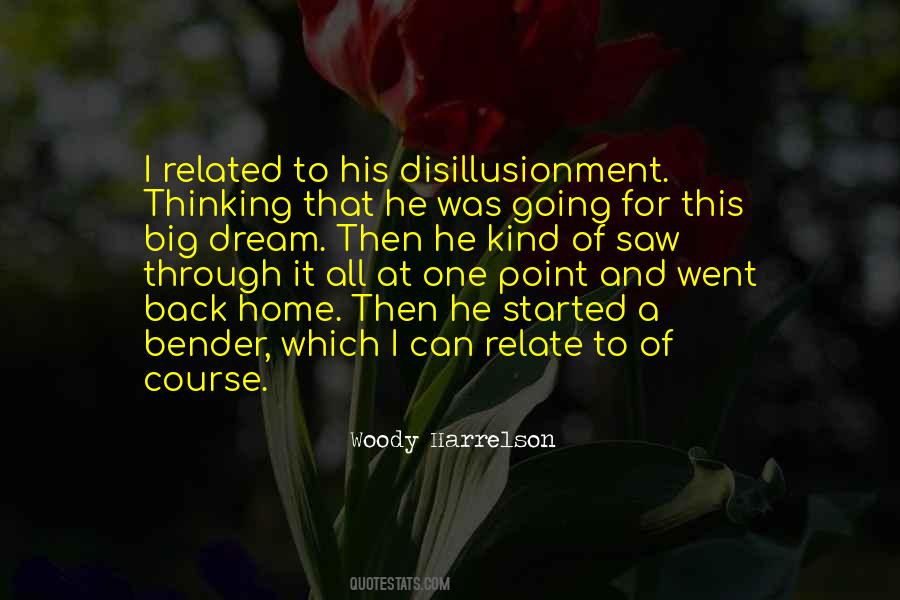 #4. I can relate to historical characters or imaginary ones. It doesn't matter if a story takes place in the future or in the present, as long as the story is compelling. - Author: Eric Stoltz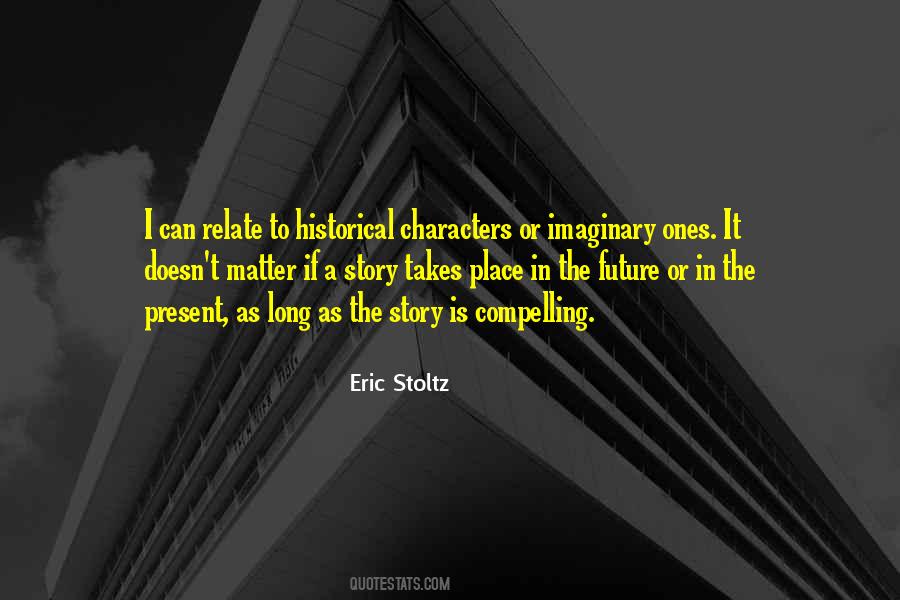 #5. To this day I over prepare. I draw storyboards for every scene - chicken scratches so crude that they amuse and horrify the crew. I send out shot lists, act out the scenes, and search for a theme that I can relate to. It's my favorite time of the process. - Author: Eric Stoltz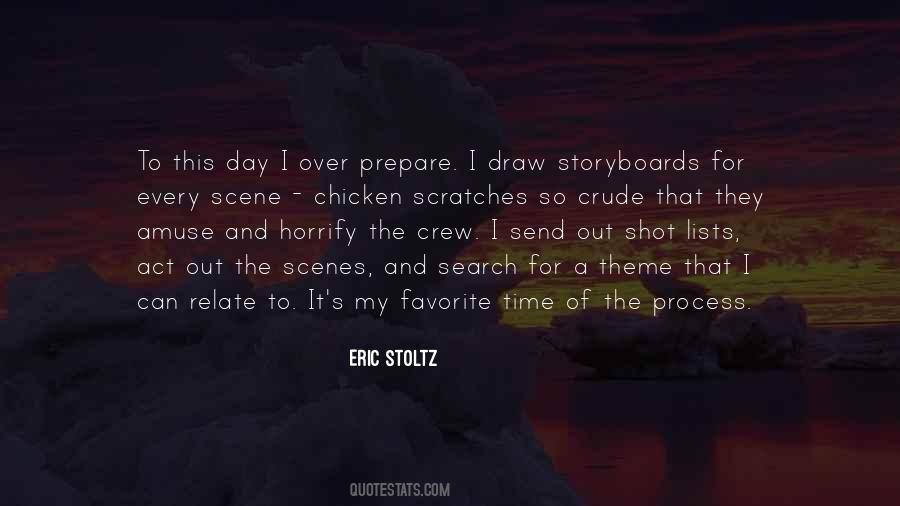 #6. I'm getting fatter by the moment."

If you can relate to this expression, and the holidays are looming before you, than this book may be just what you've been looking for.

From: Thanksgiving to Christmas Diet - Author: Heidi White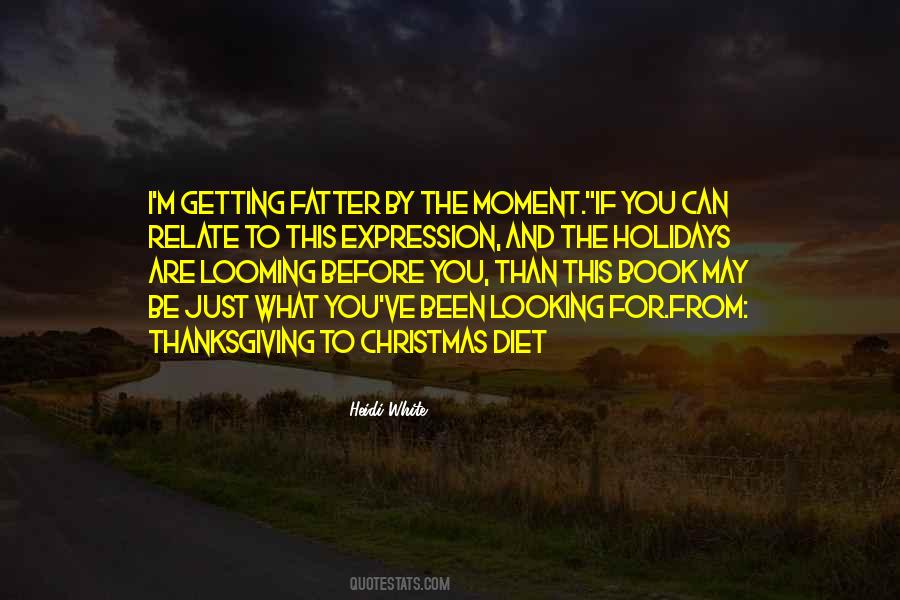 #7. The thing is, I really can't relate to anyone my own age. Not in a superior way - an inferior way, if anything. Socially, I have no idea what my friends are talking about. I don't listen to any new music. I feel very secluded. - Author: Michael Cera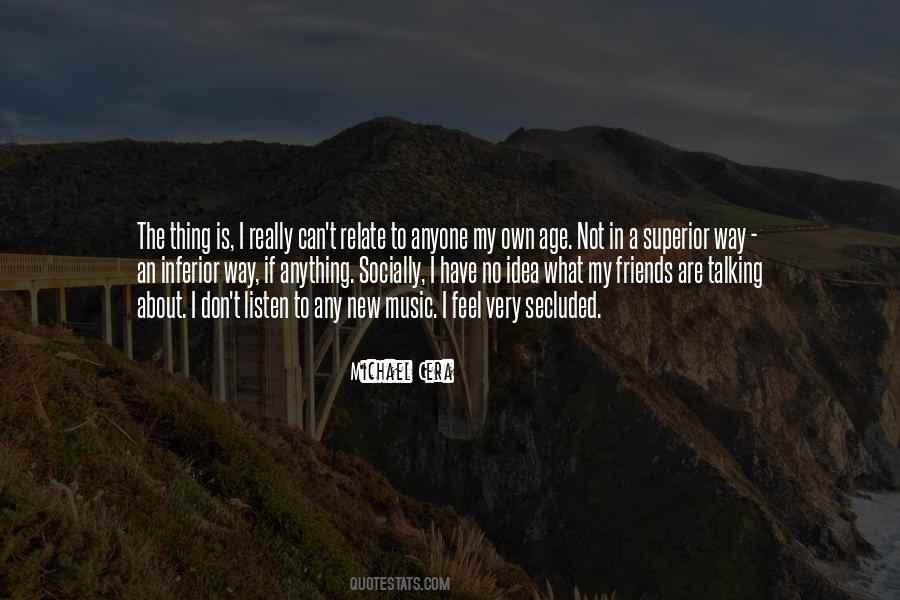 #8. I've never done anything but what I wanted to do with my life. I don't think too many people can say that. I wrote the songs I wanted to write, for me. I had no idea that 'American Pie' would relate to anybody. - Author: Don McLean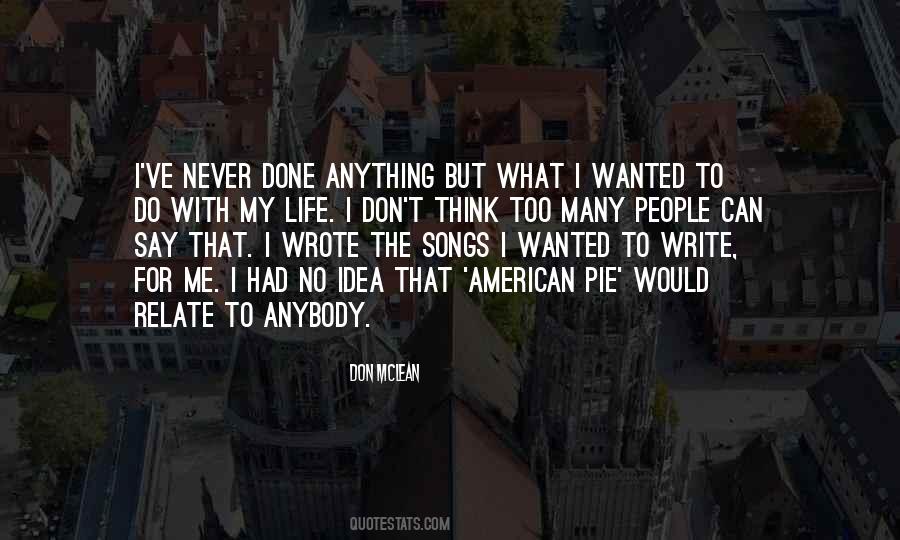 #9. Oddly enough, I think that everybody can relate to revenge, on some level. Everyone has wanted to exact it, at some point, and everybody has tampered with the idea, even if they didn't actually go through with it. - Author: Emily VanCamp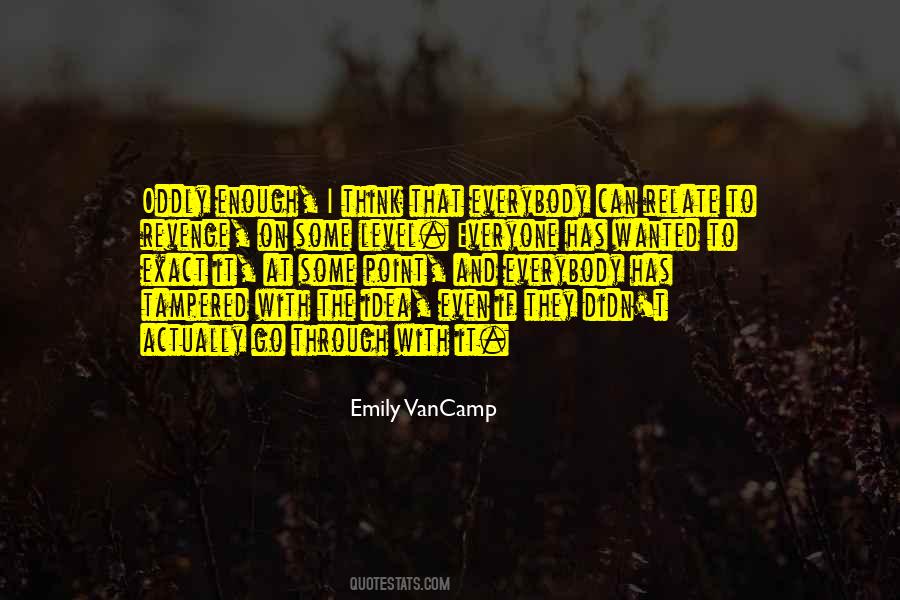 #10. I think it's always easier to play parts that you have something concrete that you can relate to. - Author: Hayley Atwell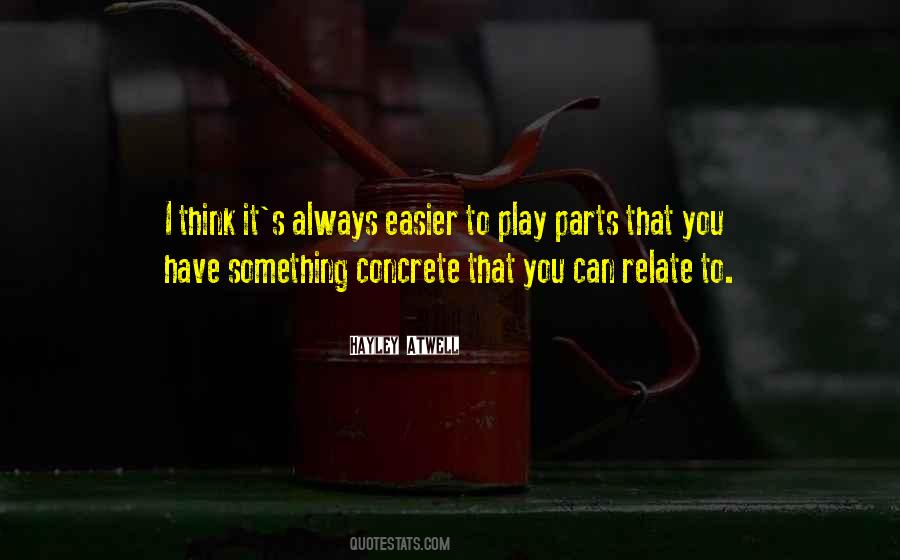 #11. I have an extremely strong, masculine mind and a feminine sensibility level, which is kind of an unusual combination. Both men and women tell me things and I can relate on two levels simultaneously. - Author: Truman Capote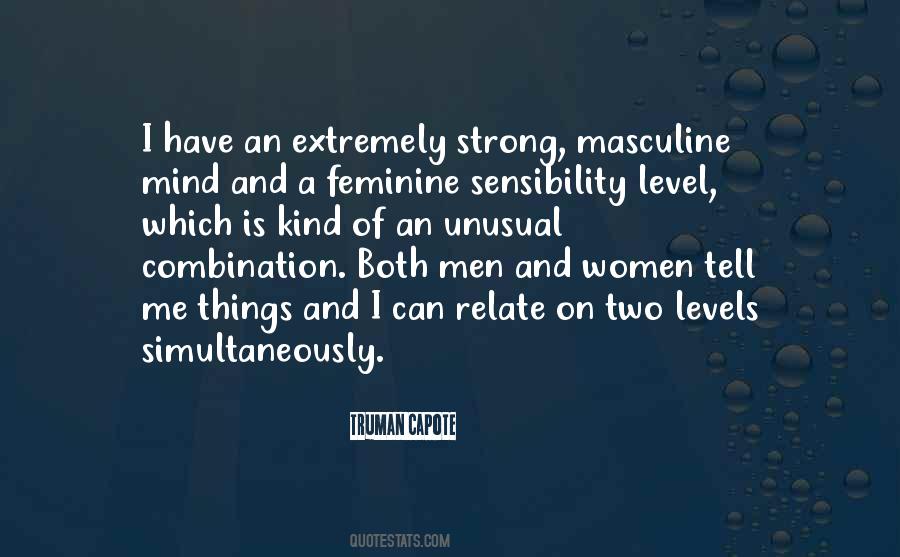 #12. I can relate to somebody wanting to have something to believe in. - Author: Terry O'Quinn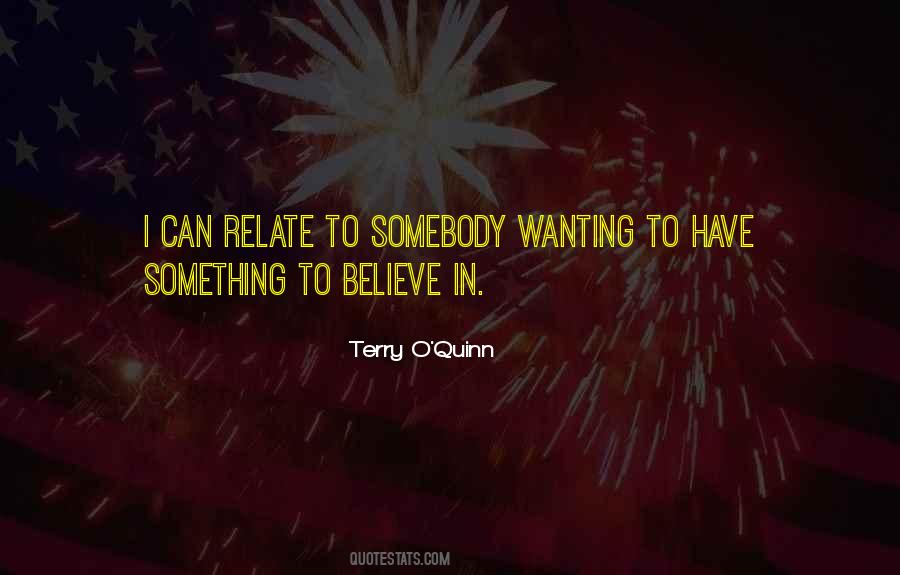 #13. It's the journey of self, I guess. You start with this kind of loner, outside guy, which a lot of people can relate to, and he goes out into the world. - Author: Keanu Reeves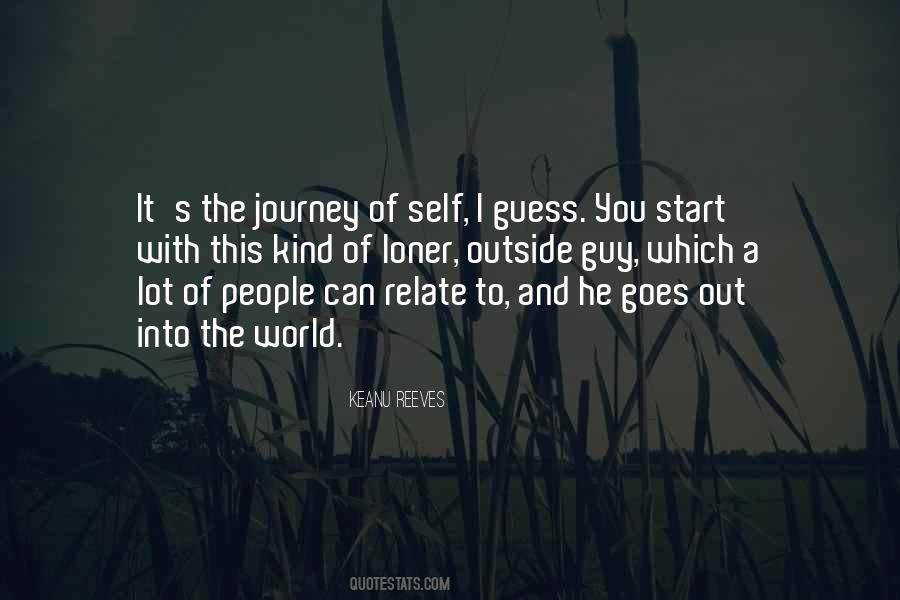 #14. I seem to be able to disassociate my insecurities. I know a lot of actors - some of the best actors in the world - can't bear to watch themselves and I have to say I can't relate to that. - Author: David Oyelowo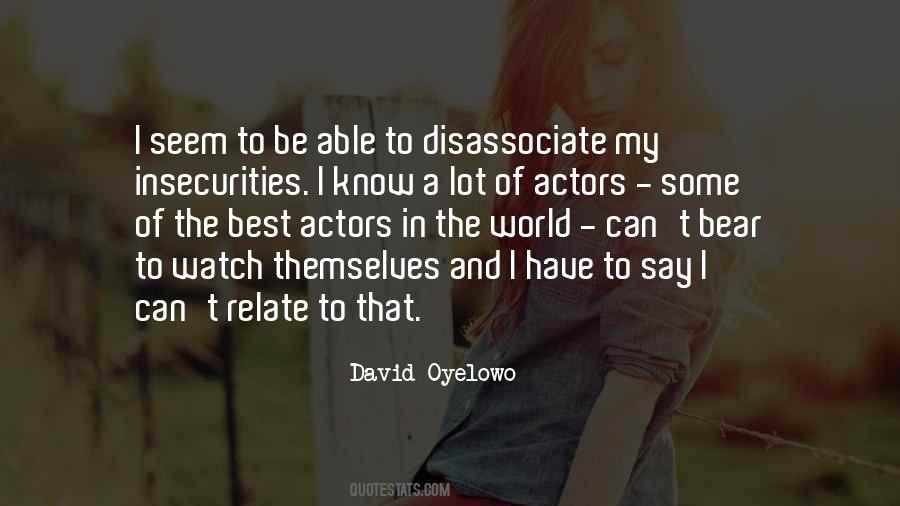 #15. I think audiences can relate to the guys I'm playing, those large-and-in-charge idiots. Or maybe I just make them feel better about who they are, or who they're dating. - Author: Rob Riggle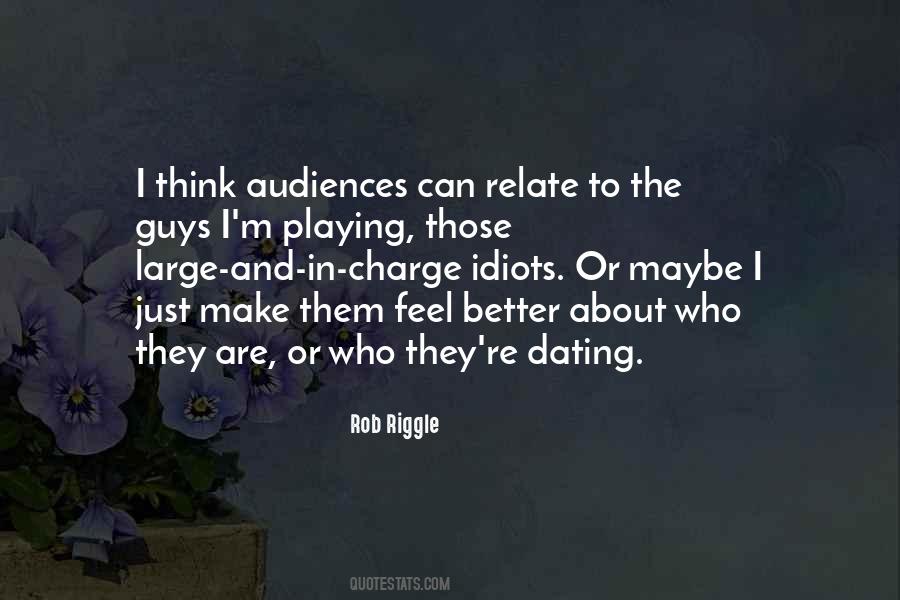 #16. I've found a woman I can relate to. That's something - and I don't even feel sappy saying it - that, if anyone has that, don't lose it, because it's probably the only thing that you can ever really find any satisfaction from. - Author: Marilyn Manson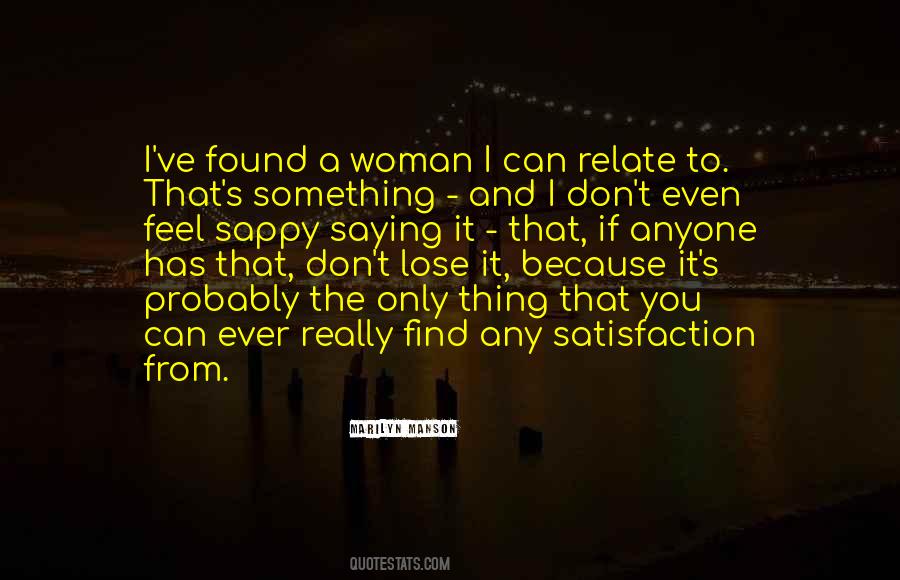 #17. I think the girls are attracted to me because they can relate to me. The girls are nice when you're in my situation, but since I'm in here [in jail] I spend more time writing to them about the relationship, rather than living it, but there are good friendships formed never-the-less. - Author: Richard Ramirez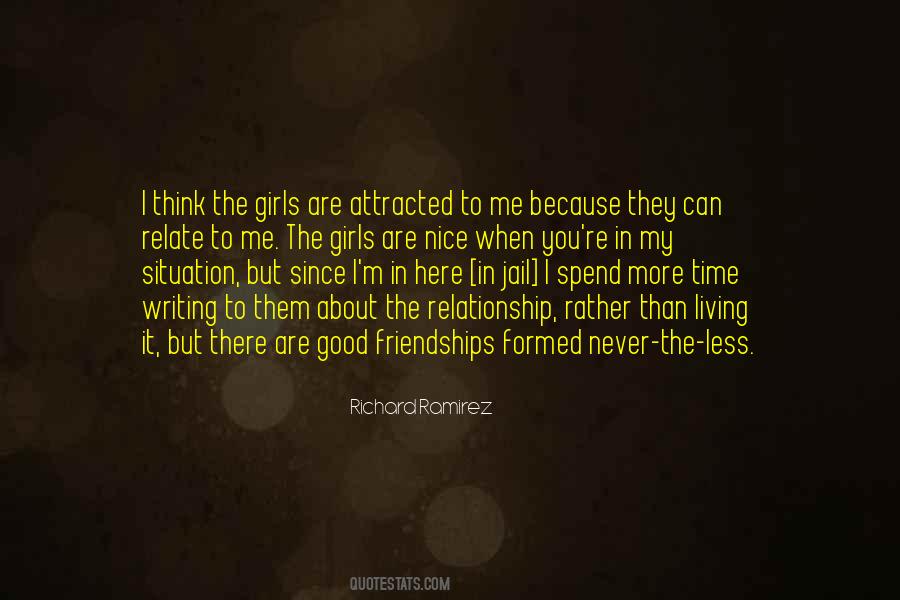 #18. I feel like there are things I can relate to in every character. But I feel like when you read a script, you don't get to see the definition behind someone, you just get to read what the person goes through and find a place to come from to make it real. - Author: Martin Starr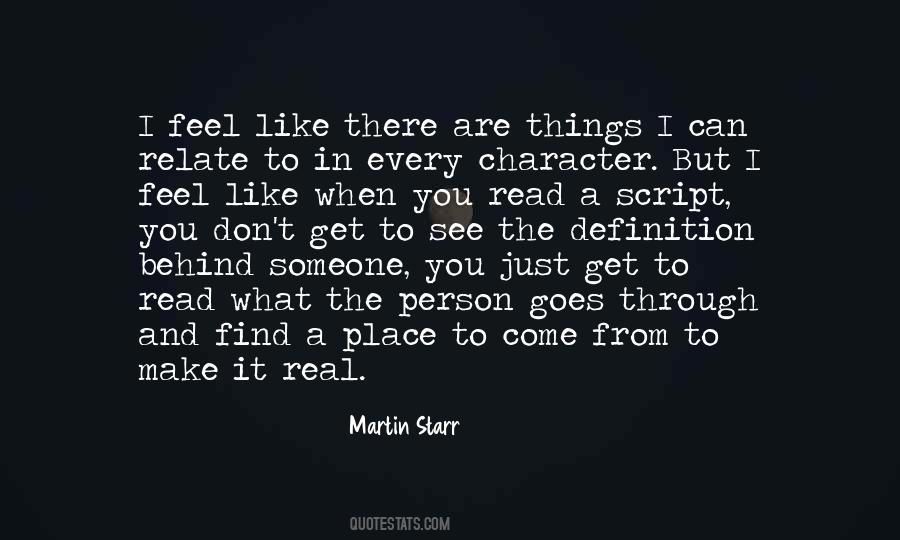 #19. I've always been shy, but every time that I sing or I perform, when music comes out of me, it is the only thing I can relate to, it's the only thing I can give. - Author: Benjamin Clementine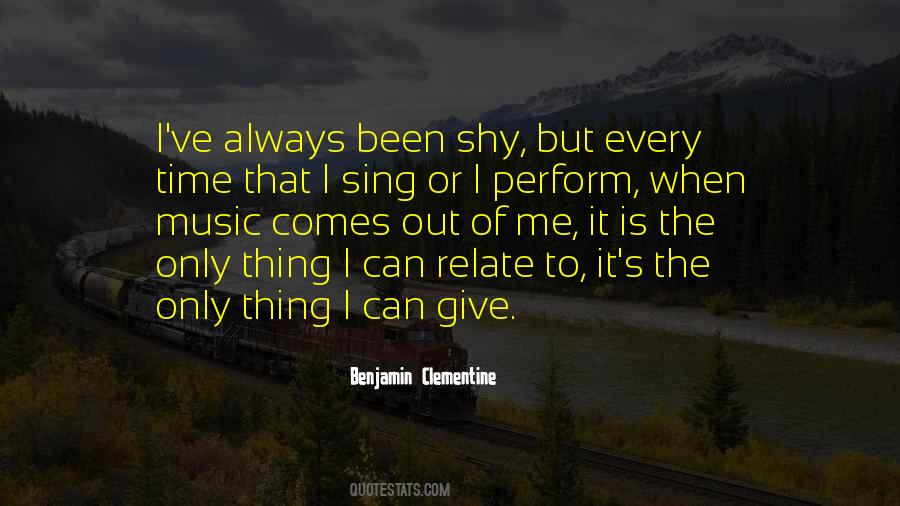 #20. I've had soccer moms come up and tell me they can relate when I say that I want to throw my baby in the trash. - Author: Louis C.K.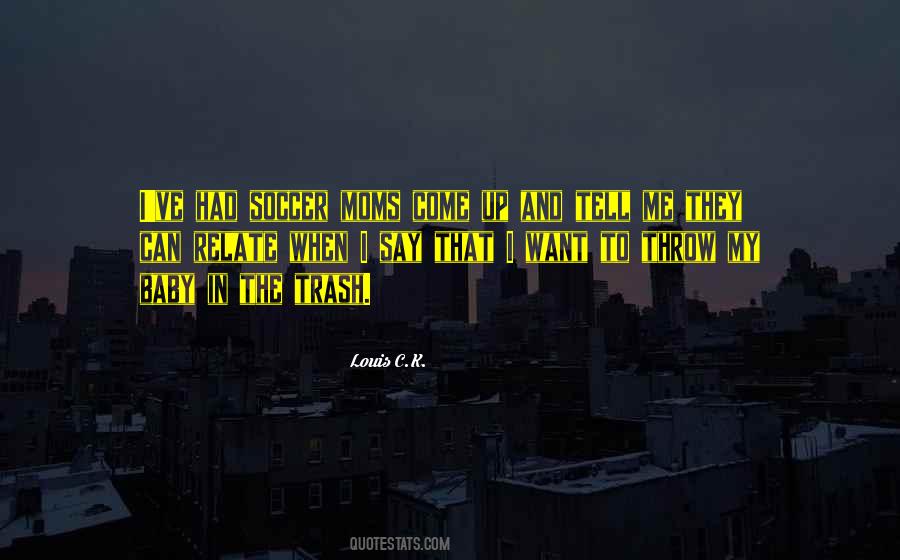 #21. The more I learn, the less I know: the less I know, the less I understand: the less I understand, the less I can relate; I know you're crazy. - Author: Al Diaz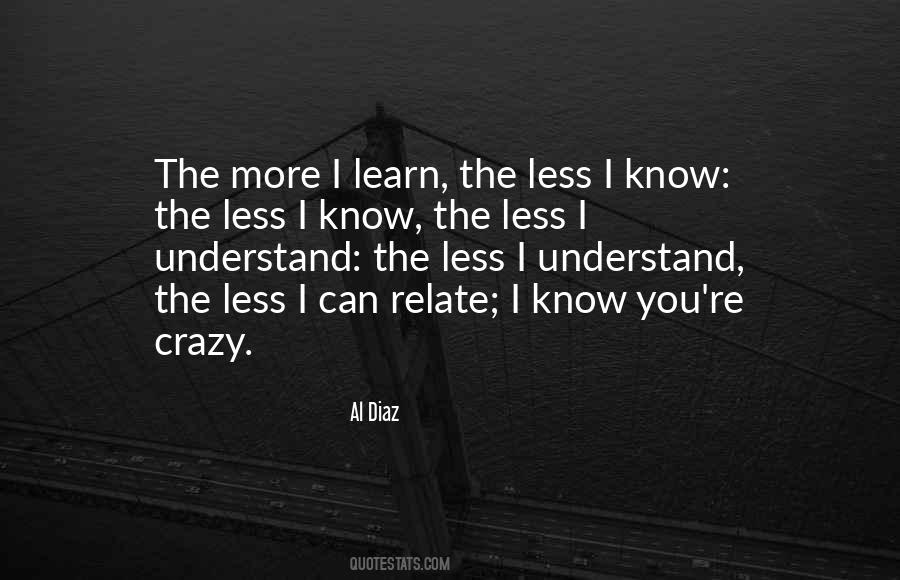 #22. I always used to say hybrids would rule the world - people who have an understanding of many cultures and can relate to them with ease. And then along came Obama. - Author: Danai Gurira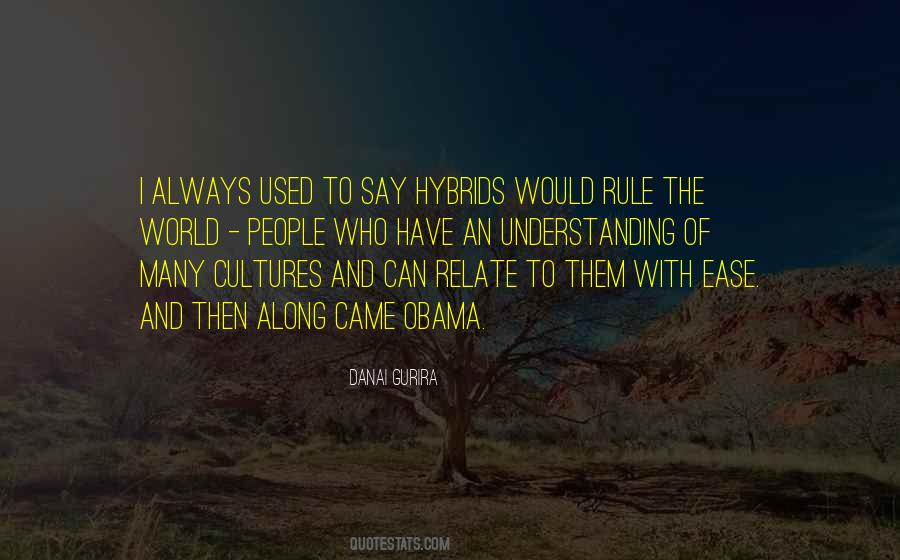 #23. I think hand-drawn animation can be something really special. If the character design is quite simple it has the ability to allow people to easily relate to the characters in a special manner. - Author: Tomm Moore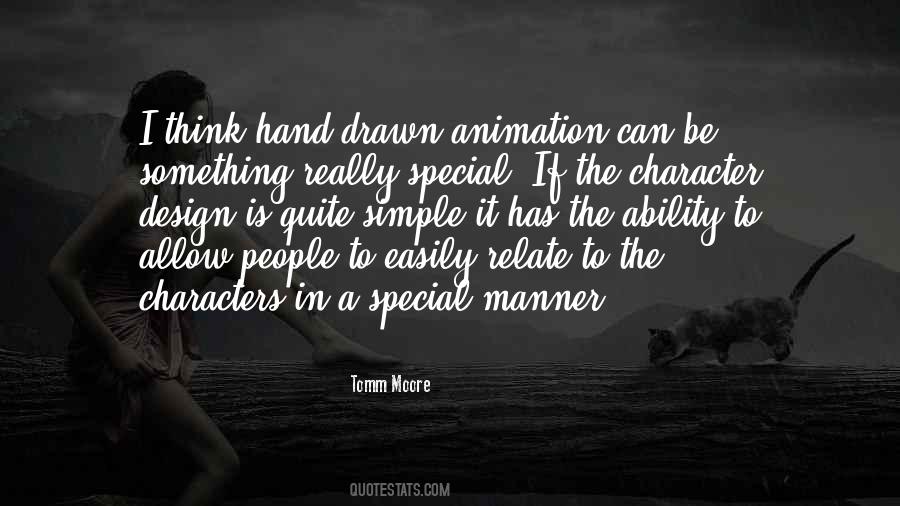 #24. I've never written poetry. I'm not a poet, but I think the nearest you get is either the short story or the novella, in that you can't waste a word. There is no hiding place: everything's got to be seen to relate, and the prose counts. - Author: Susan Hill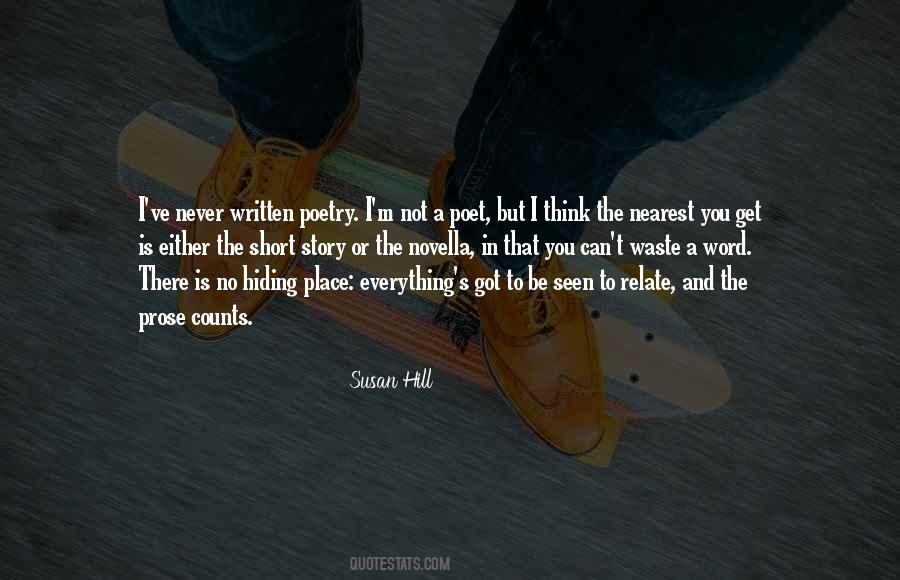 #25. I love being a part of something so many people can relate to and enjoy. - Author: Karlie Kloss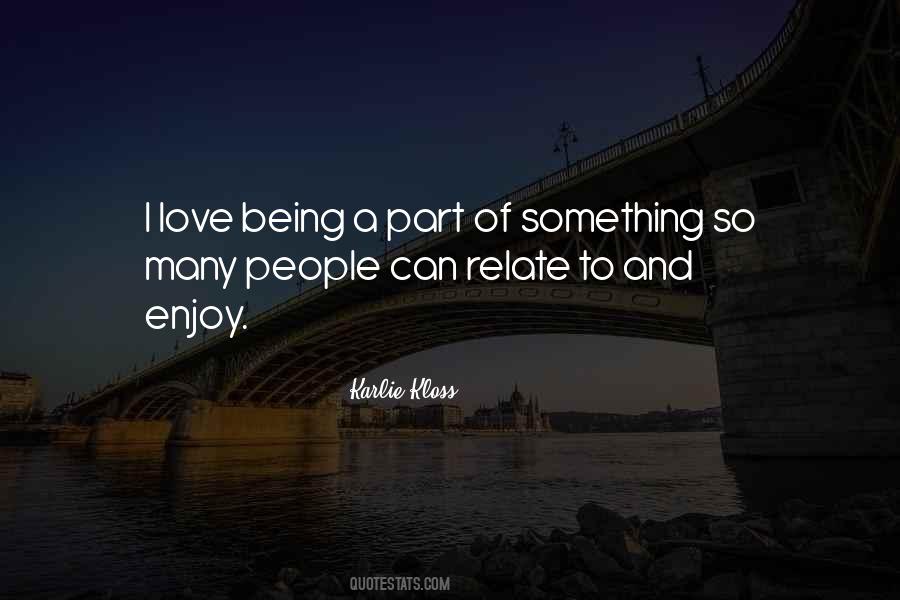 #26. Let's face it songs are about love, which is, I love you, I don't love you, come here, go away, I miss you, I don't miss you. I'm lonely. I'm not lonely. It's, it's all about affairs of the heart. And we can all relate to those. - Author: Jeff Barry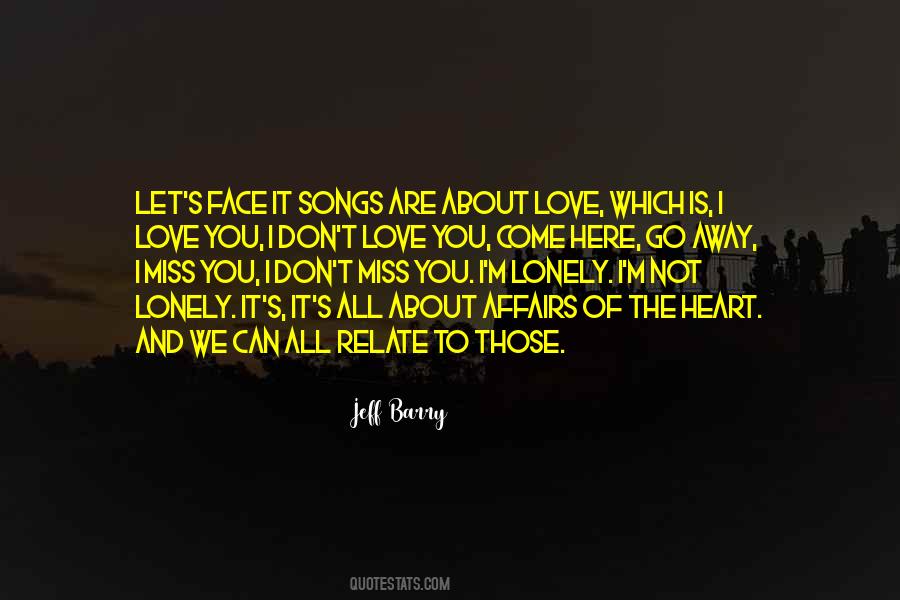 #27. I can't relate to the process of just disappearing and writing a record, all at the same time, followed by the sort of drudgery of going out on tour and trying to recreate the record, playing the same 12 songs every night. - Author: Andrew Bird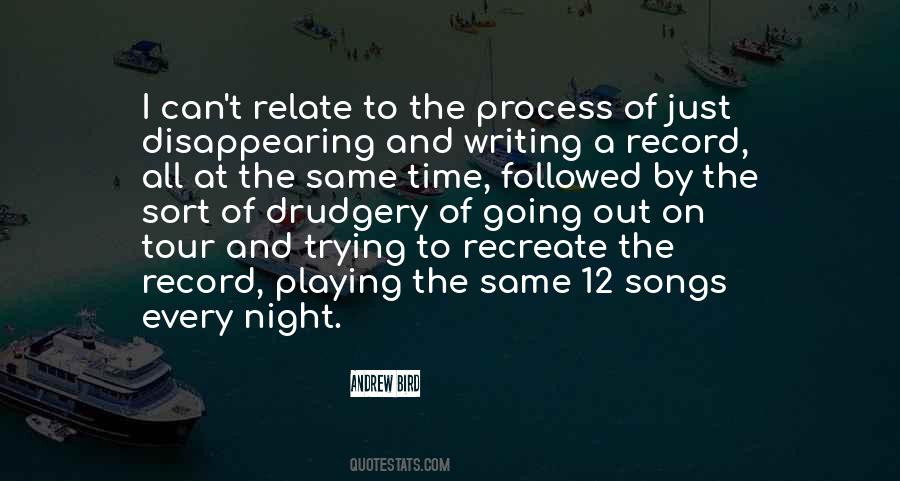 #28. Part of me can't understand how Mom could do this. But there's that other part of me that can readily relate. Because I feel a pull in two different directions too. - Author: Siobhan Davis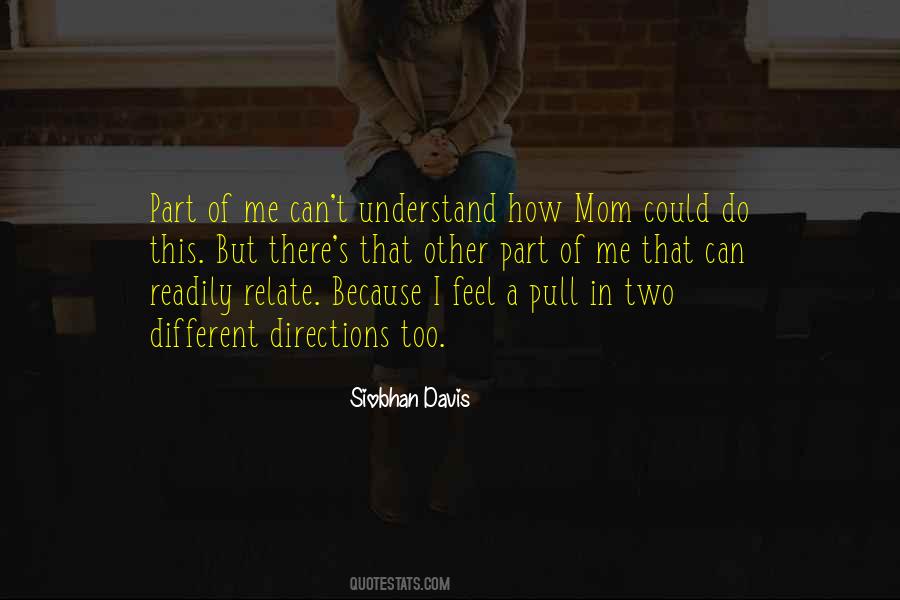 #29. I can't ever lose what I just felt." He kissed my cheek. "I'm afraid if I did, I'd come looking for you too. I'm afraid I can relate ... to him. - Author: Karina Halle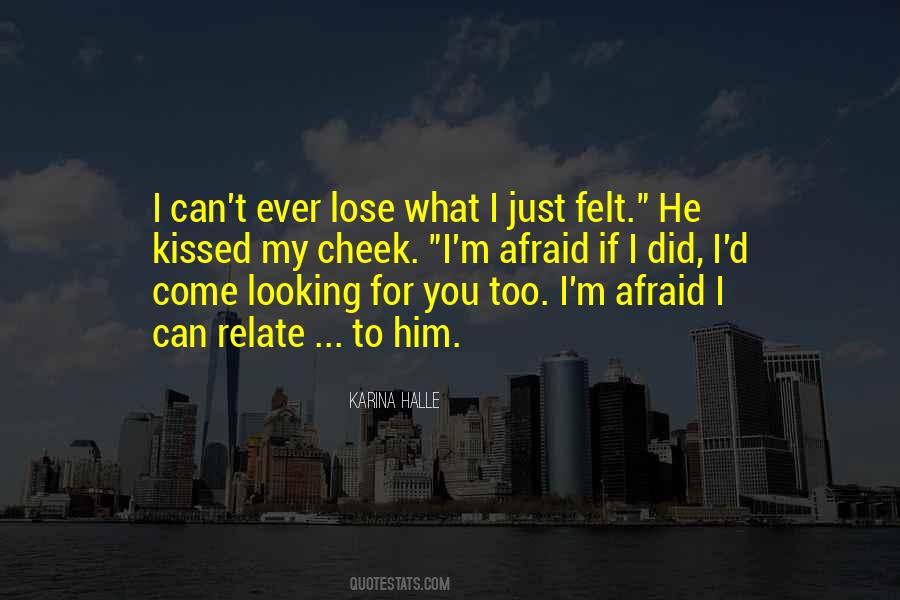 #30. I think the issue of female friendship really resonates well with women, ... So many women have a friend like Darcy or can relate to the feeling of being second-fiddle to a friend. - Author: Emily Giffin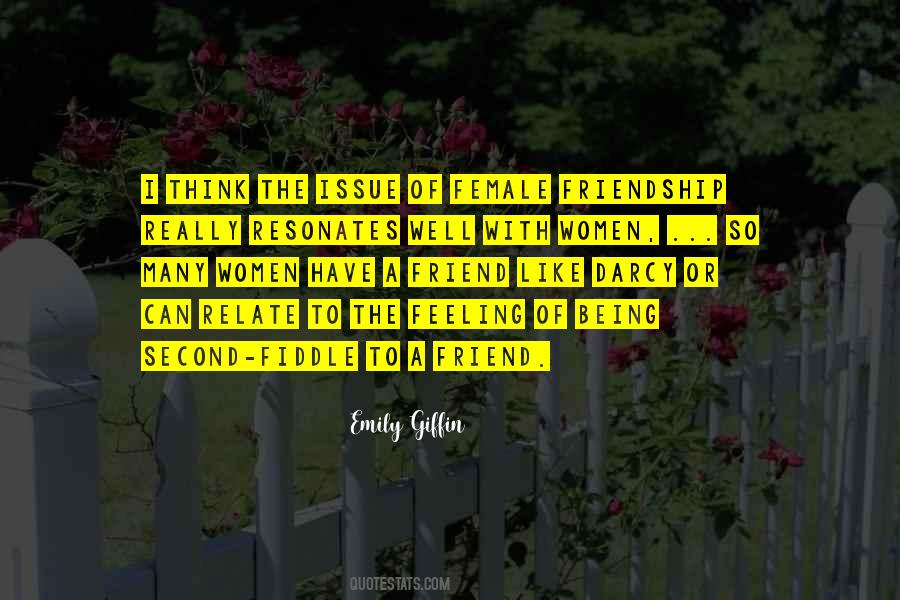 #31. I'm just doing what I do best and that's what makes good music, and that's how you can relate to people. - Author: Snoop Dogg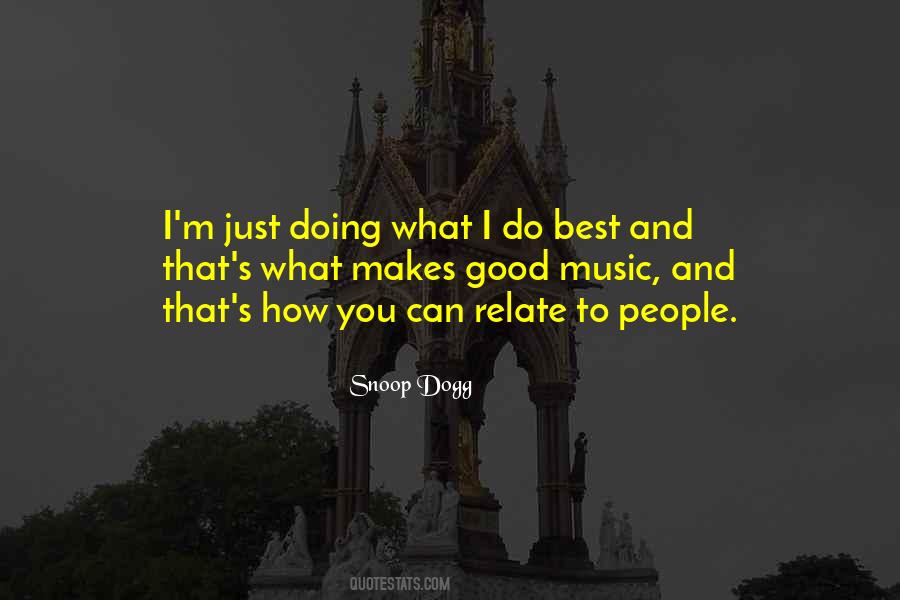 #32. Sure, there are times when the guys talk about playing football in school and I can't relate to that, but I can relate to being a female athlete. And as long as you are prepared, work hard and know your stuff, you will be fine. - Author: Megan Alexander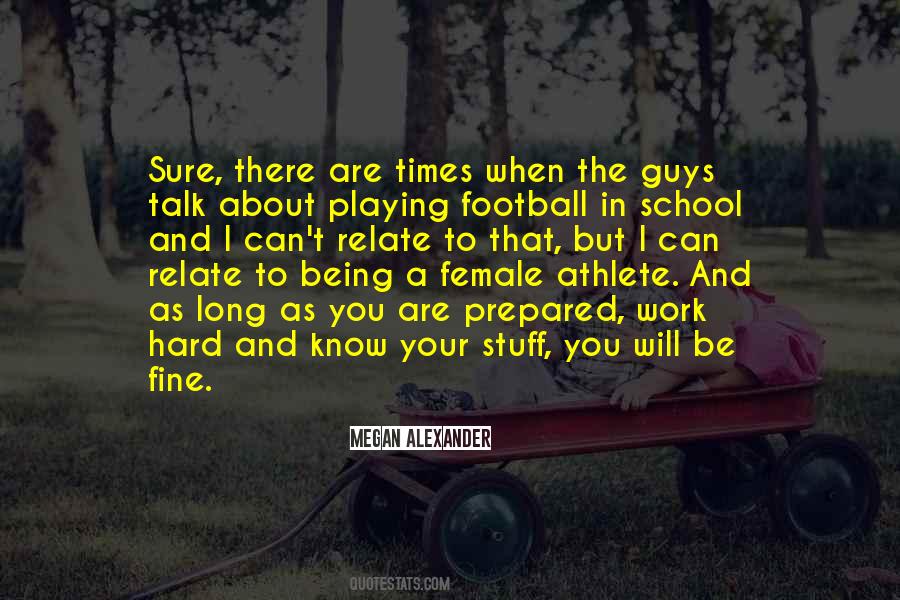 #33. I can relate to having those people in your life that you feel are moving on to this great, big, normal life and you're like, 'What's wrong with me?' - Author: Kristen Wiig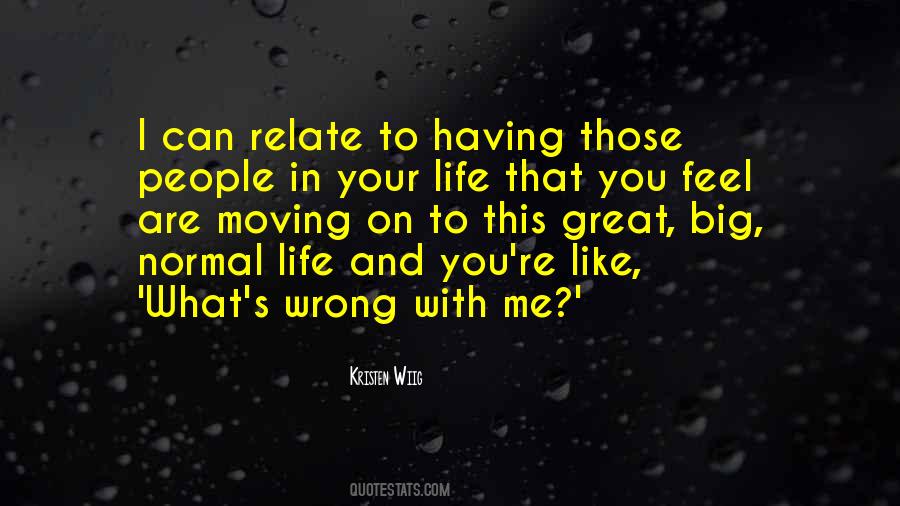 #34. I think sports are a wonderful diversion. People can relate to sports very easily. It's a quick study. - Author: William Clay Ford, Sr.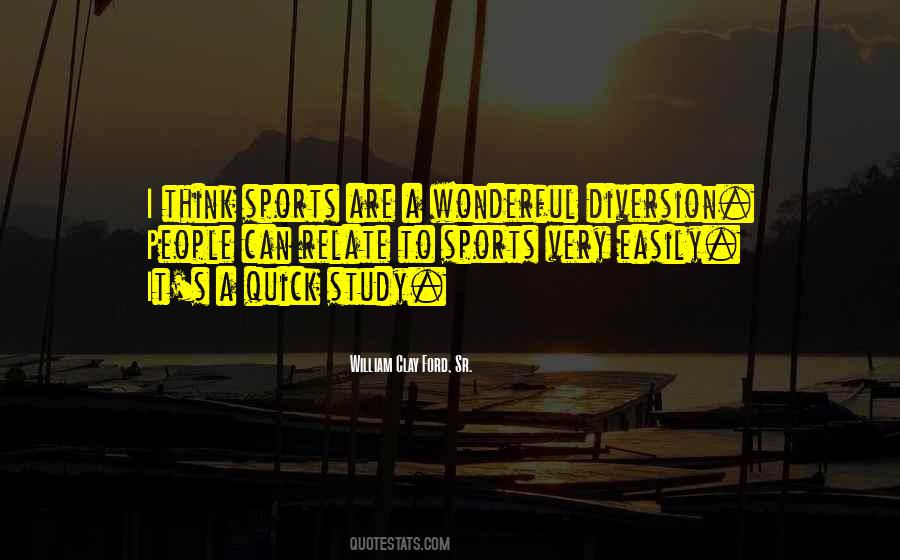 #35. One reason I relate to 'Veronica Mars' fans is because I can totally geek out about shows. I mean, I write Vince Gilligan fan mail every year. - Author: Rob Thomas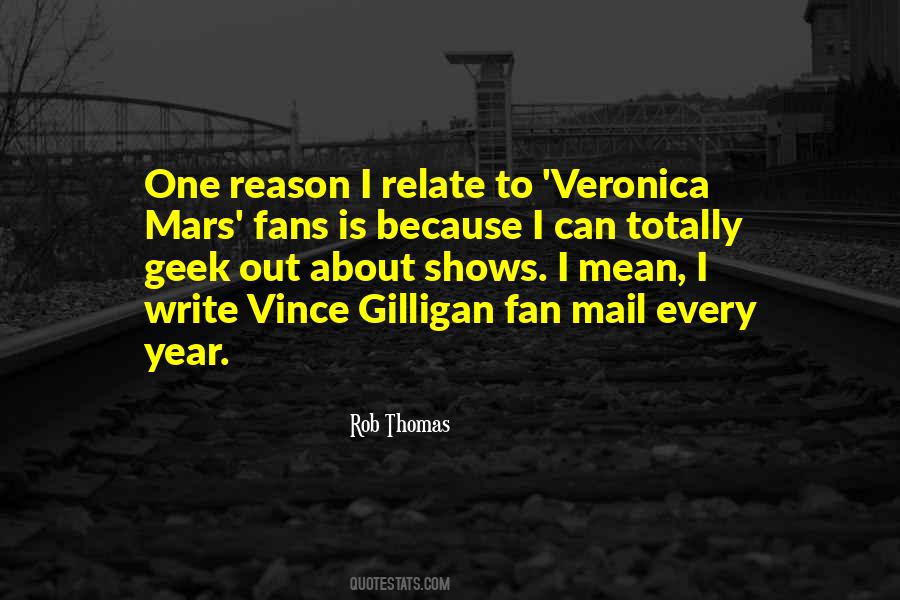 #36. I don't like the idea that fame could mean that people can no longer relate to me. - Author: Jessica Chastain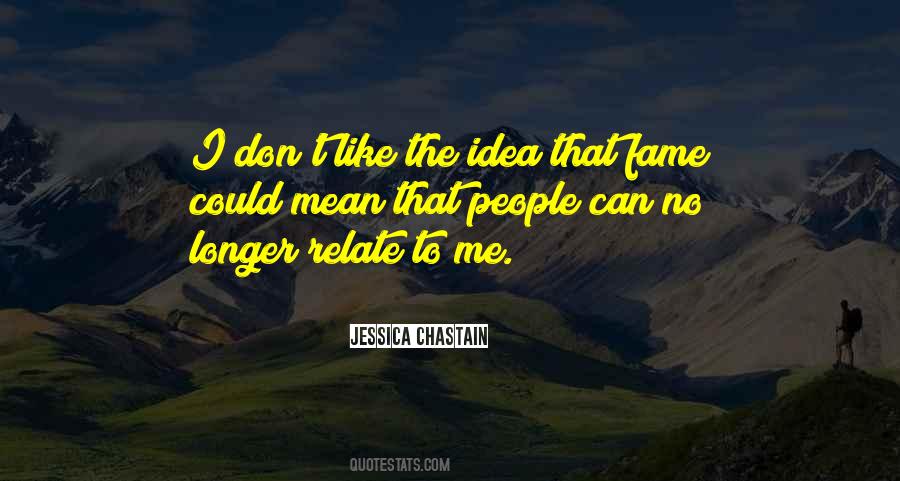 #37. I hope that people can relate to my music, it's very relatable, it's very fun, it's very honest. - Author: Ariana Grande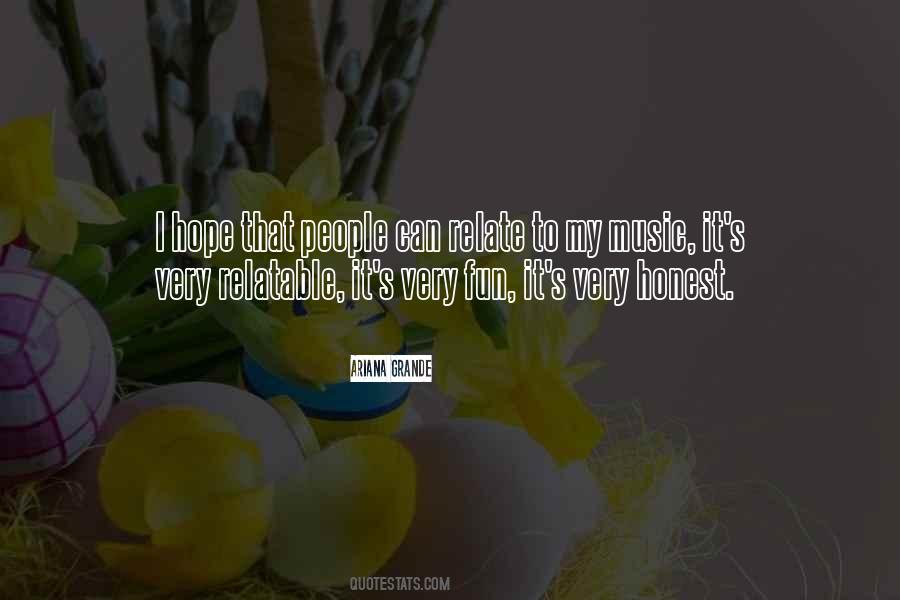 #38. That's great because I know as a teenager, I didn't relate to a TV series where all people do is cheerlead and drink sodas on the weekend. So I think it'll be great if it can be seen by a few people at least. - Author: Caroline Dhavernas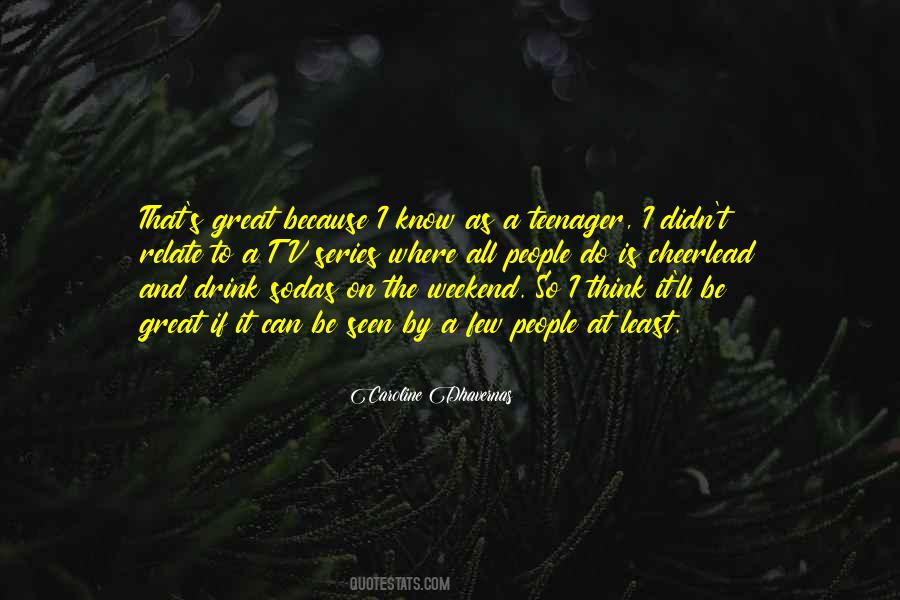 #39. I like making stories and characters that people can relate to. I also like giving the audience a departure from whatever they're thinking about in their life and enjoying a show or a movie. - Author: Haylie Duff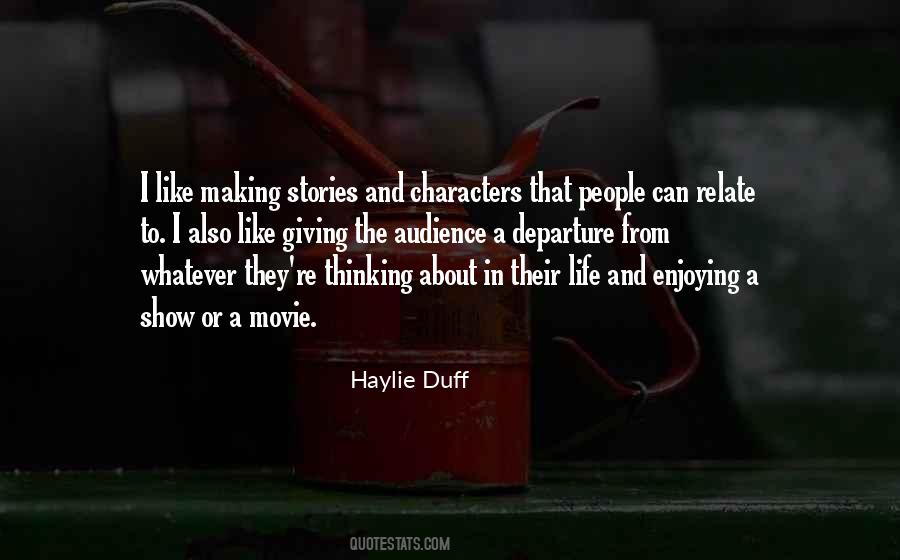 #40. I always say African American history is the quintessential American story. It's about perseverance and resilience - something everyone can relate to. - Author: Philip Freelon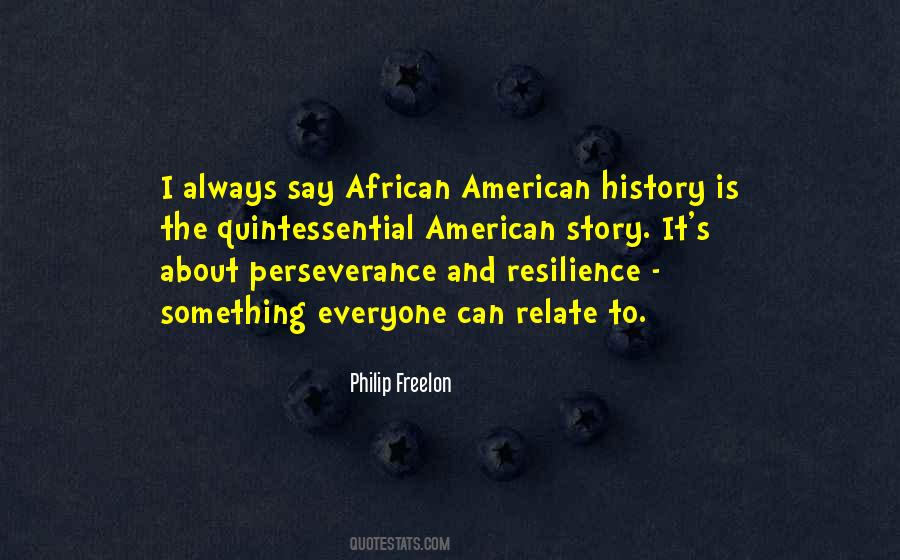 #41. I didn't write those songs, but I can relate to every one of them ... I have. - Author: Joss Stone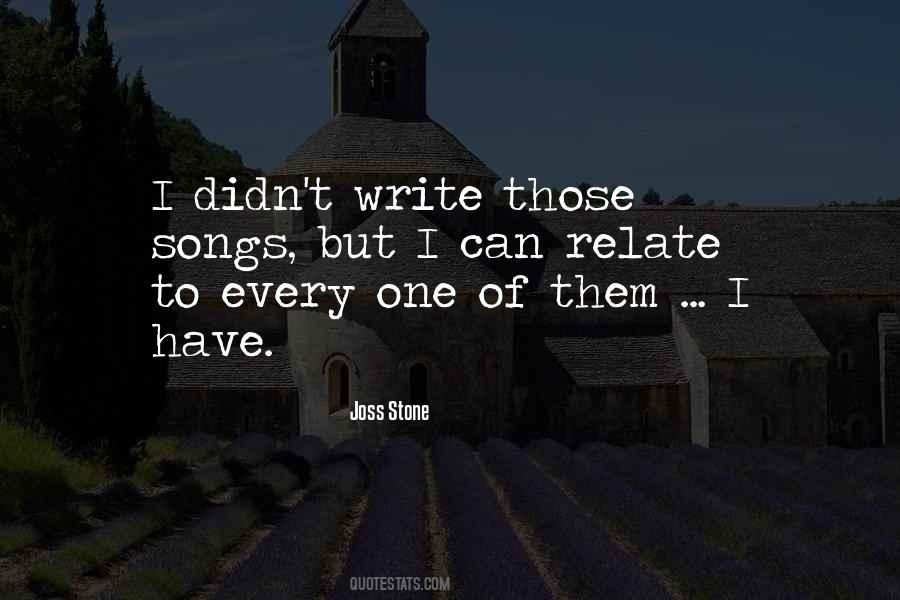 #42. When you write a character and their dialogue, you can't help imagining how you would be acting if you were them. You kind of have to relate to all of them. It's the most personal thing I've ever done. - Author: Tom Ford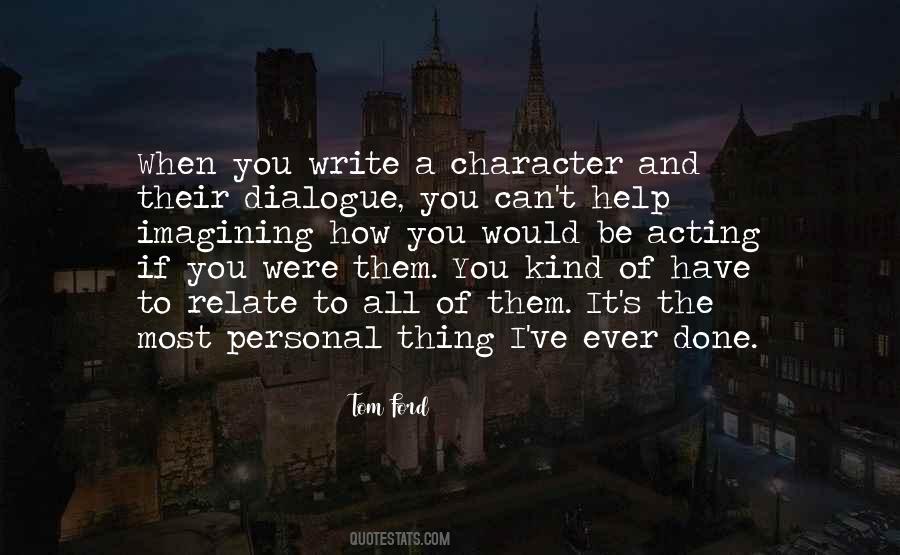 #43. While it is challenging working with a kid, because they're so of the moment all the time. My acting style is to try to take something from my life that the character can relate to and that I can relate the character to. - Author: Kyra Sedgwick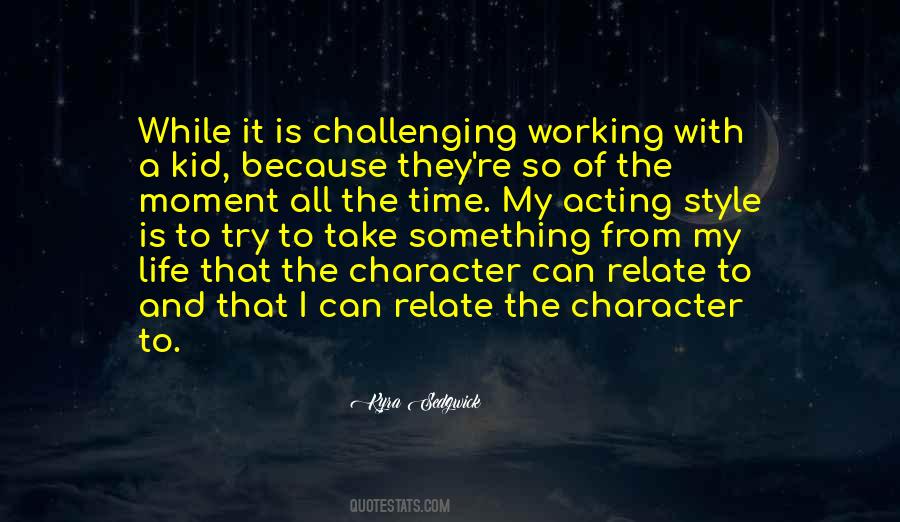 #44. I feel L.A. is unlike anything I've experienced. It's nice when I can relate to people, but that's not very often. I know they're out there, but I feel that there's a very big pressure here to be seen as being gorgeous and special. I don't think there's the same pressure in Australia. - Author: Jocelyn Moorhouse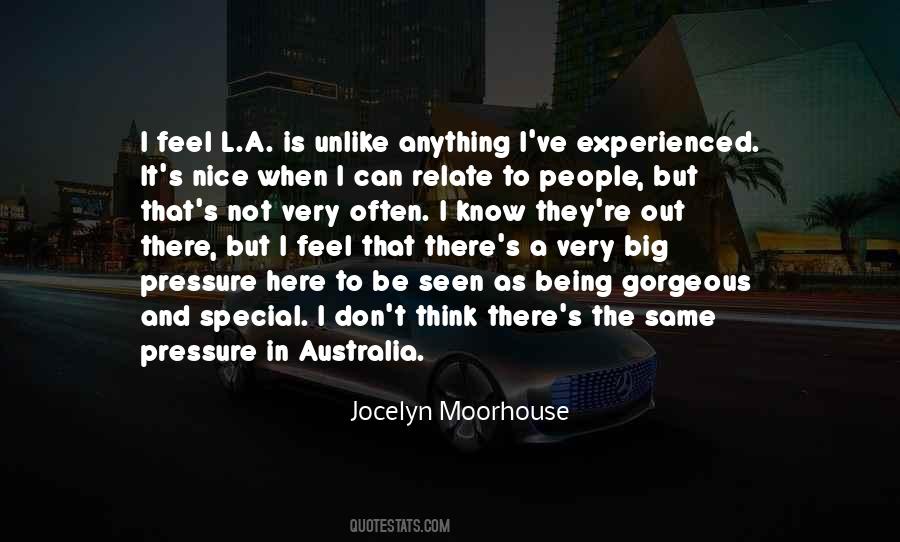 #45. I want to suggest a feeling. It's ridiculous to assume you can state an opinion. Somebody else can never relate to the lyric in the same way because their whole experience is different. You can only suggest, then people add their own history and experience to the lyrics. - Author: Danielle Dax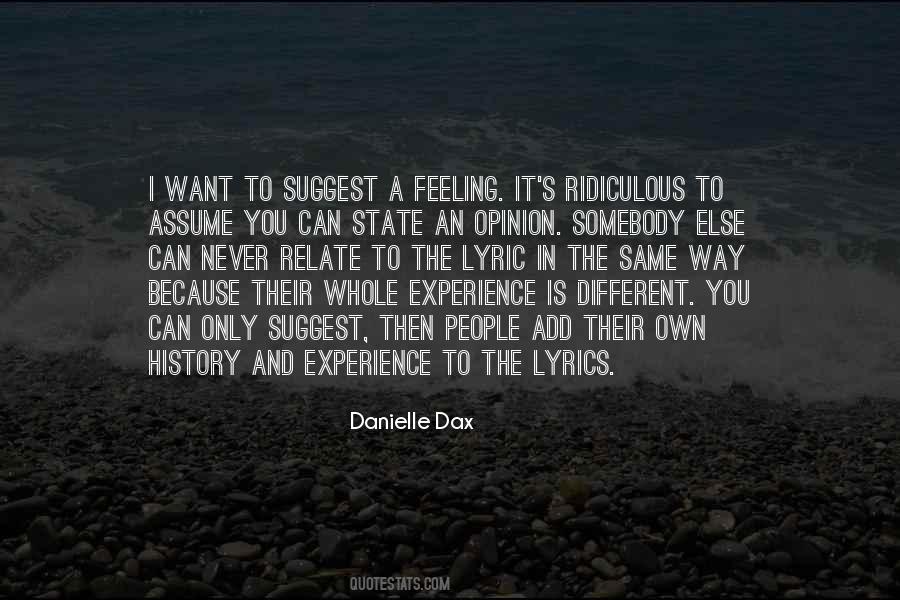 #46. I have a pretty diverse audience, and that makes me happy - laughter is universal, and I don't differentiate between people at all. Why should I? People are people. There's no reason why one person can't relate to any other person on this planet in some way or another. - Author: Tracy Morgan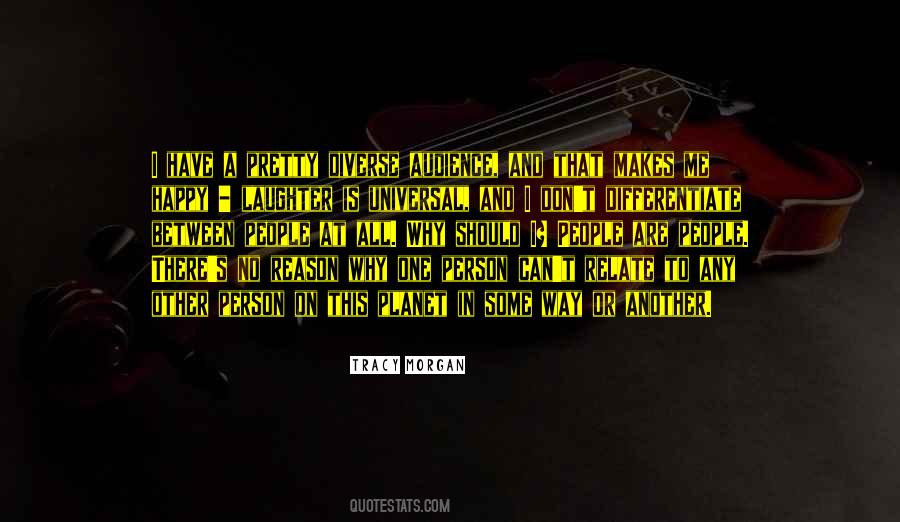 #47. I've certainly had periods when I felt like life was winning and I was losing, so I think everybody can relate to that quandary - the temptation to give in, to give up, and then what It takes to keep going. - Author: Malcolm Gets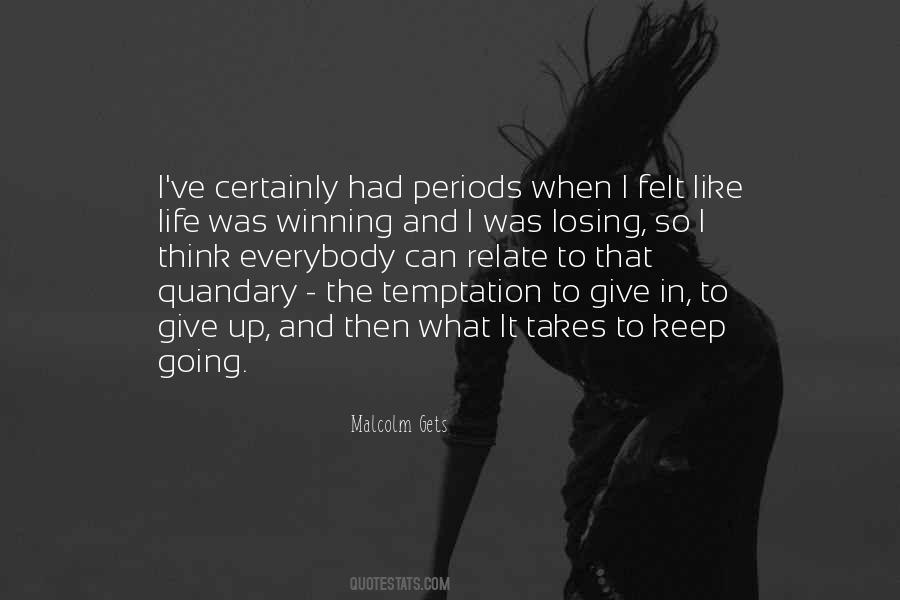 #48. I guess that's what art is: Turning something painful into something people can relate to. - Author: Maria Semple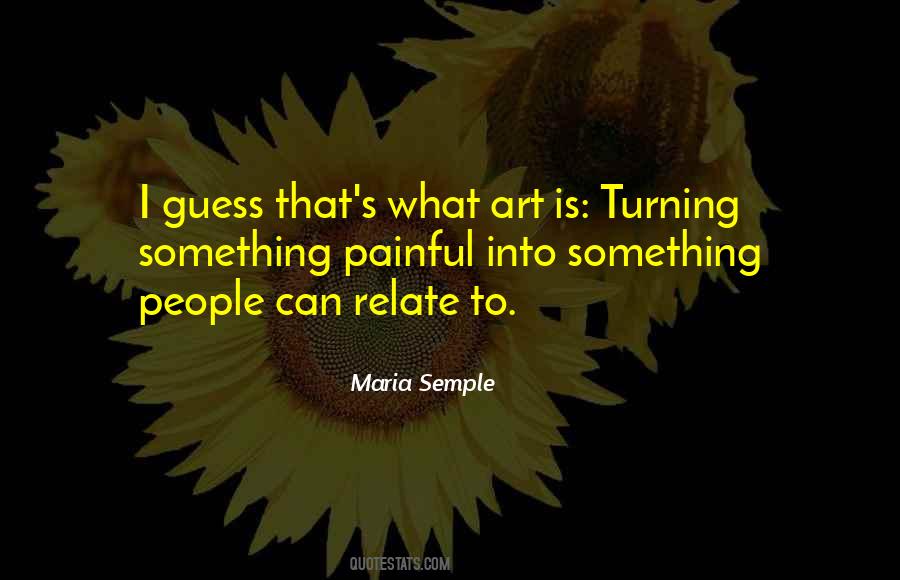 #49. When Lonnie Mack came out with the guitar instrumental "Memphis" I thought, Oh God, finally somebody we guitar players can relate to ! - Author: Richard Betts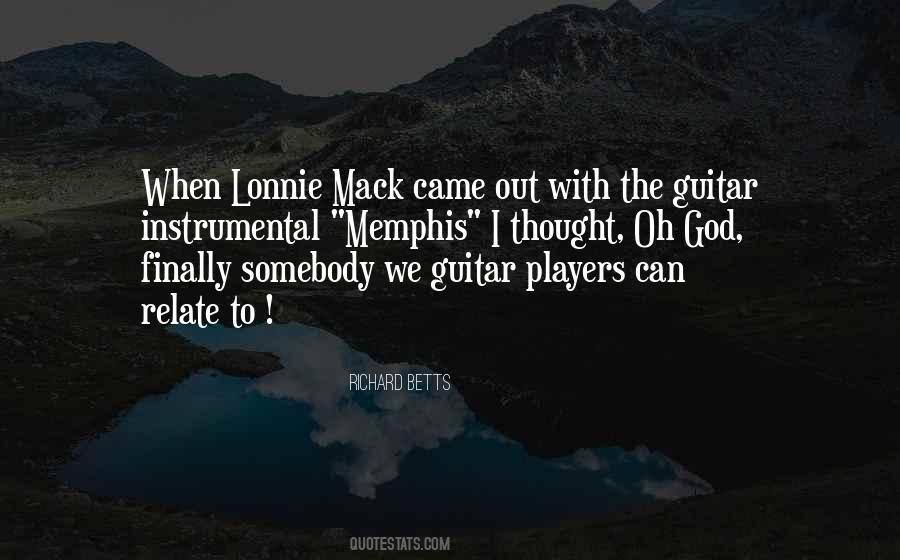 #50. I think one of the most wonderful things we can do as performers is to remind audiences that they can still relate to the emotions and feelings, as though the music had been written yesterday. - Author: David Finckel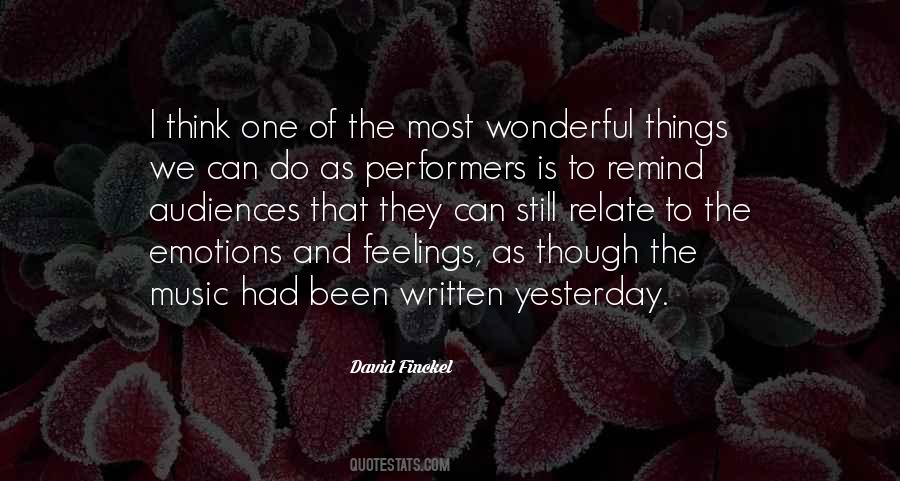 #51. I love the idea of doing comedy, whether it's action comedy or just straight comedy. It's such a big, new world for me that I'm starting to realize that any character that I relate to, in any way, shape or form, or that I have any appreciation for, given enough preparation, I can find that person. - Author: Zoe Bell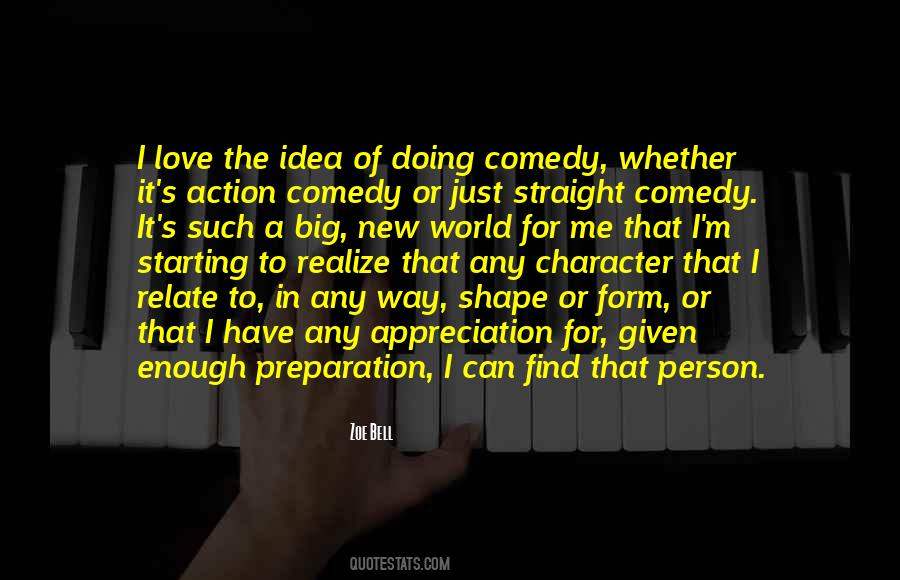 #52. I'm glad I went through all the normal teenage dramas that a lot of people go through. I can really relate to 'Secret Life' because I witnessed those similar struggles. - Author: Francia Raisa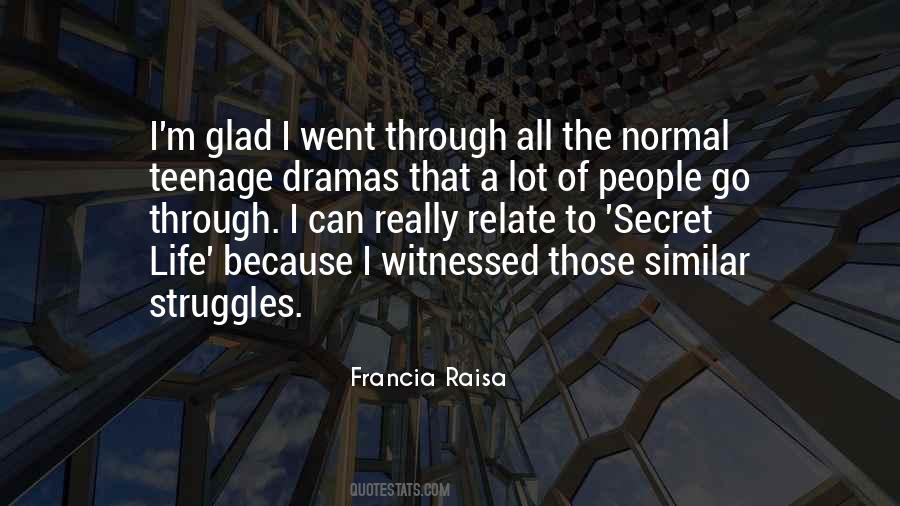 #53. With my aunt, I definitely can relate to how she makes a movie because she does it with her own demeanor, which isn't this loud presence. - Author: Gia Coppola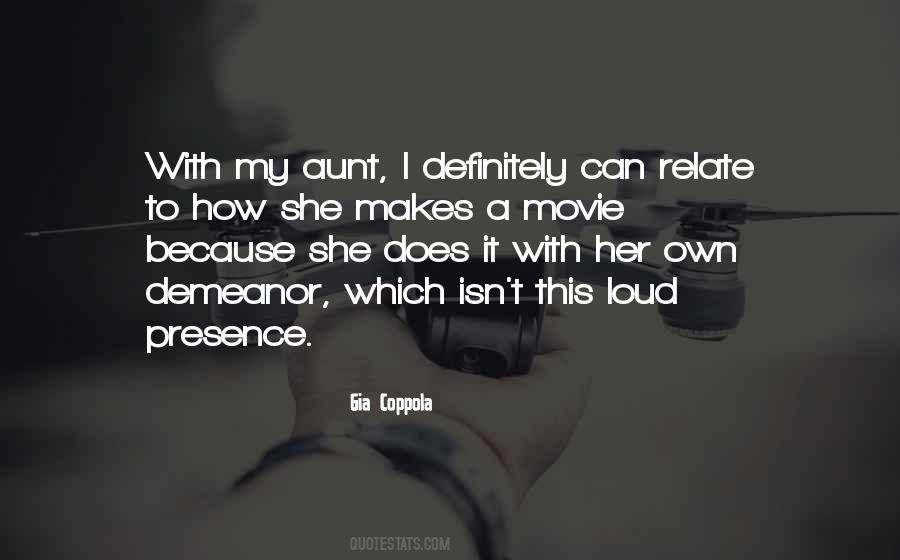 #54. I understand people, and I think that my life and my history and what I represent can relate to a lot of the women, the independents, the moderate voters. - Author: Mia Love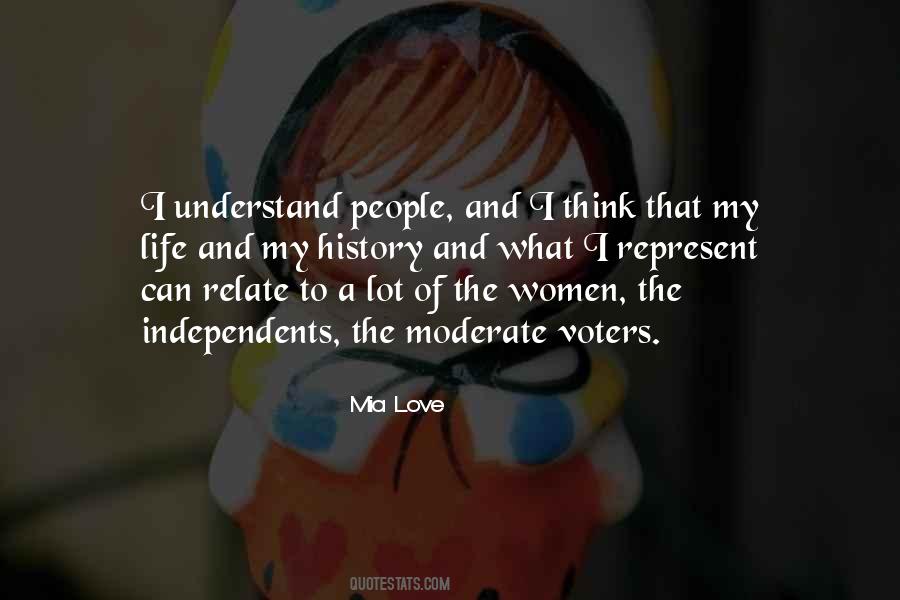 #55. I also don't have a desire to be on the A-list. I feel more people can relate to the D-list than the A-list. - Author: Kathy Griffin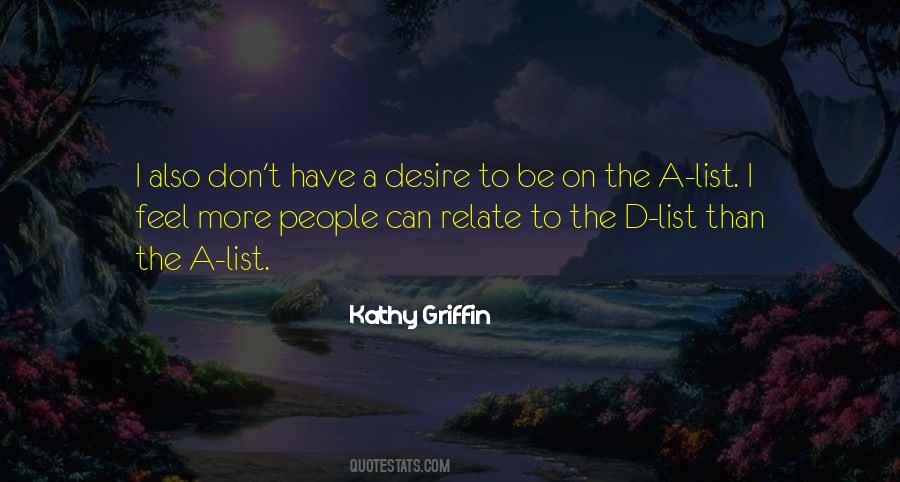 #56. I think that the reason for my success is that I am really not aspirational. I am inspirational in that the people at home feel like they can really relate to me. - Author: Rosie O'Donnell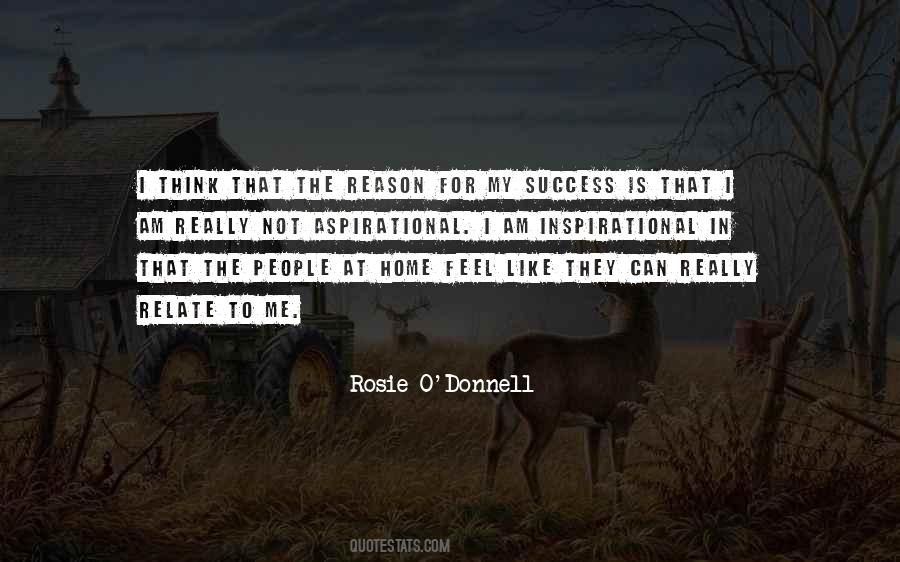 #57. I always tend to write about outsiders. And what's been fun for me is, as I travel around and visit schools, is that other kids that feel the same way relate to some of my characters, and so I hope in some way that's helping them when they want to read about somebody that they can relate to. - Author: Kimberly Willis Holt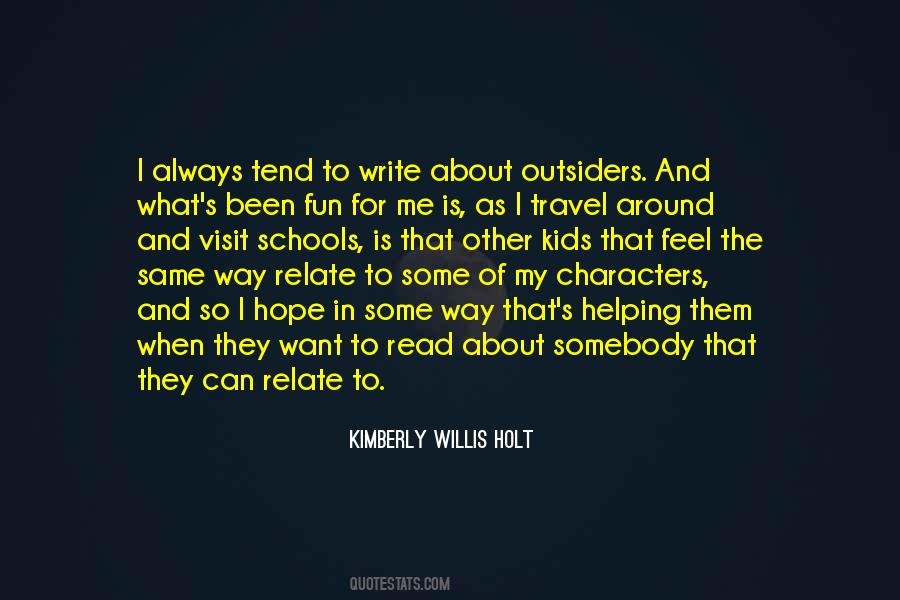 #58. I can't impress enough upon people that if you tell an honest story that people relate to and people believe and invest in, you can do anything. - Author: Paul Feig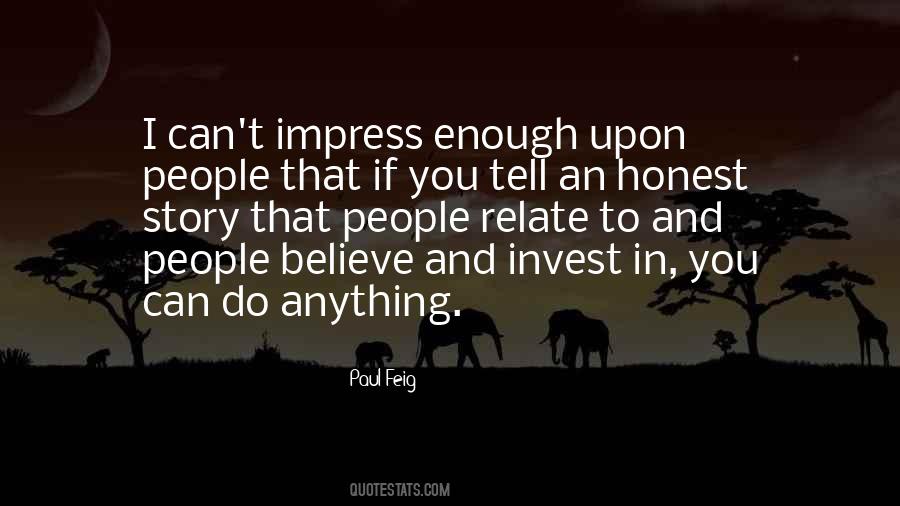 #59. I want to be an artist that everyone can relate to, that's young, happy and fun. - Author: Britney Spears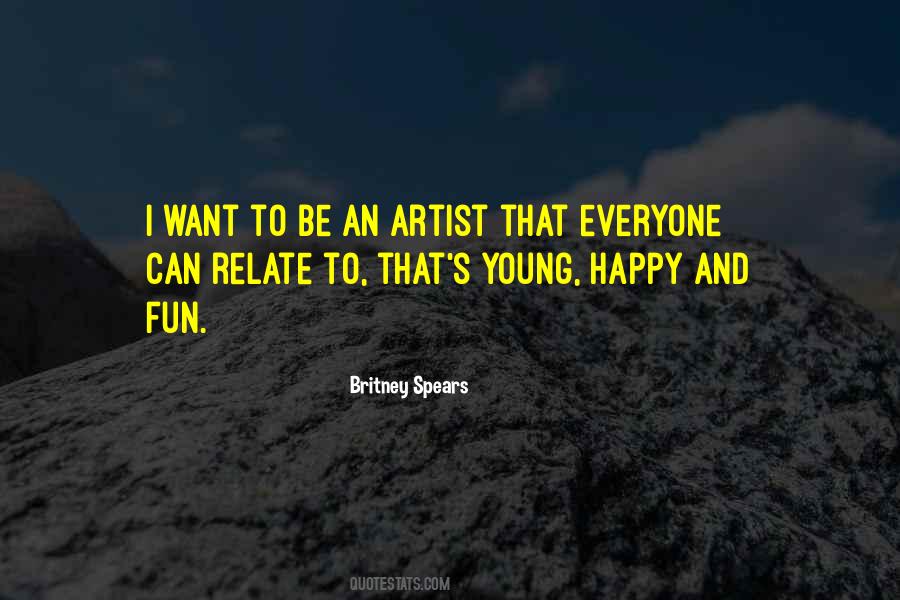 #60. But you could also look at it the other way. Like you're saying no matter how bad things are for you, I can still relate. - Author: Sarah Dessen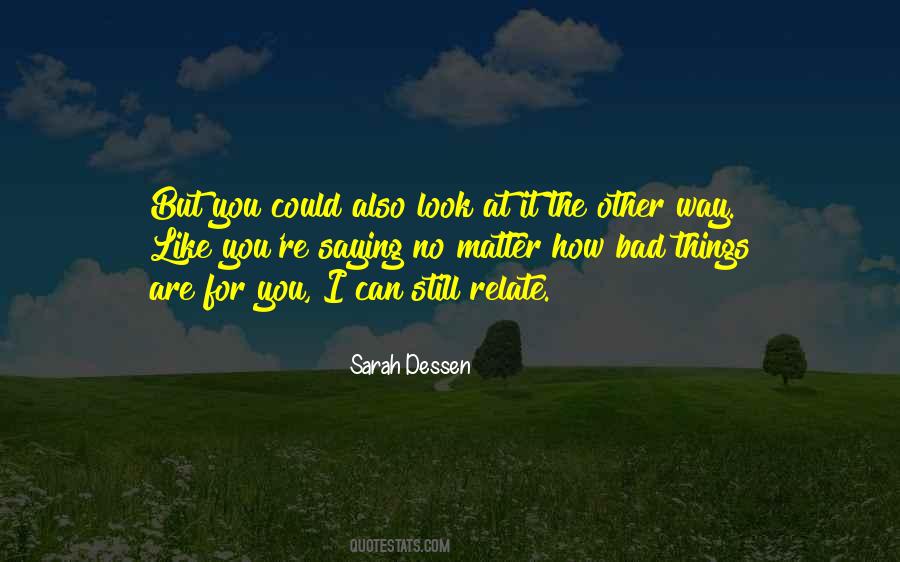 #61. I've just looked for ideas and great characters that I relate to and that I think I can offer something to the audience, and I no longer look at them as experiments or genre exercises at all. - Author: Ron Howard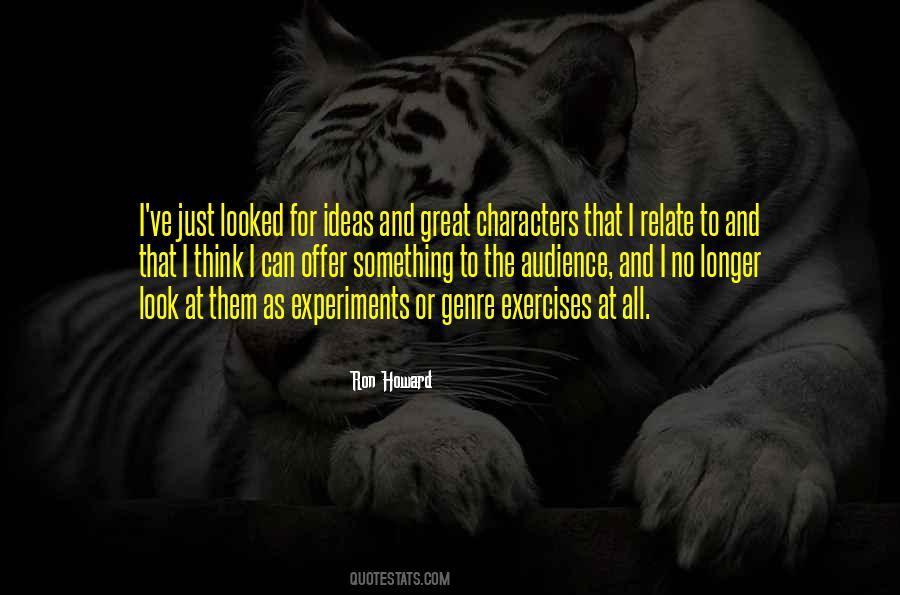 #62. Whenever you can relate to the population of the team that you play for, I think it makes it that much more special. - Author: Robert Griffin III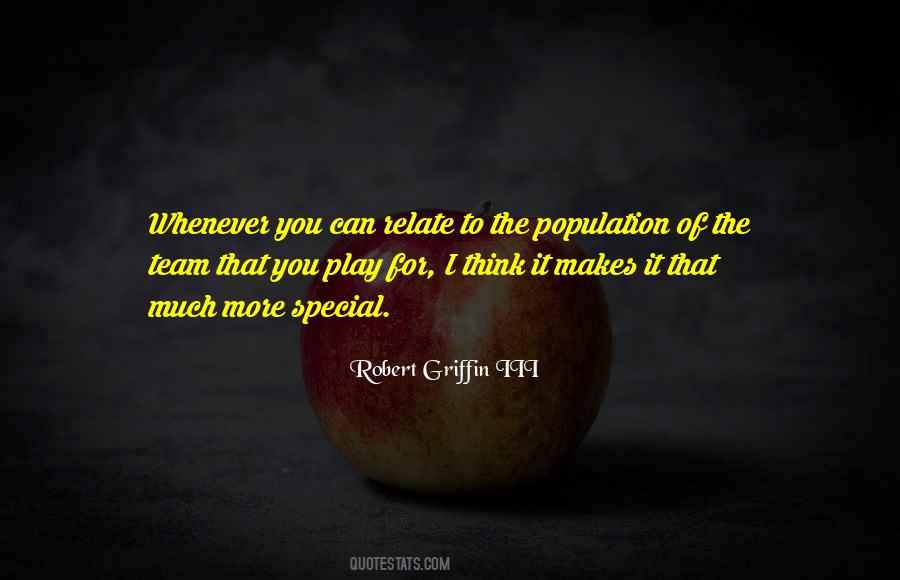 #63. When I go speak to these kids through my foundation and am able to sit down and tell them some of the things that I've been through, they can look up and relate to me, and they can understand the feelings I had that are similar to what they're going through and feeling. - Author: Marshawn Lynch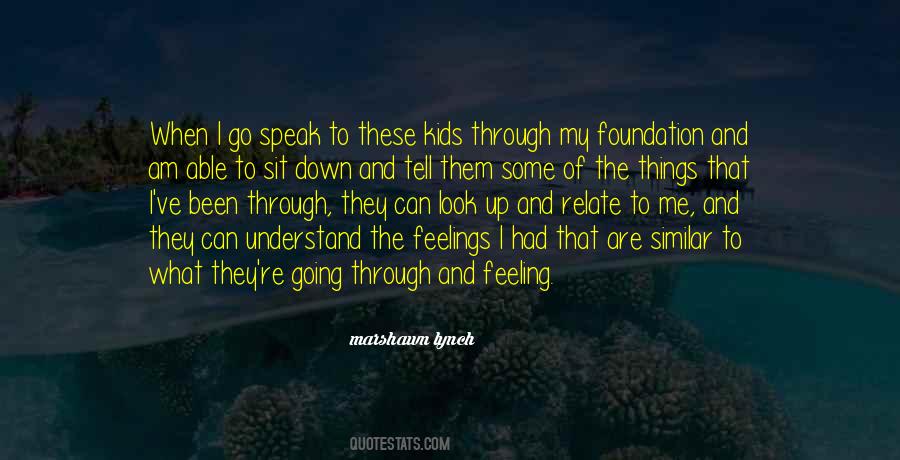 #64. As an actor, I need to get excited about something that I can actually relate to. - Author: Mike Colter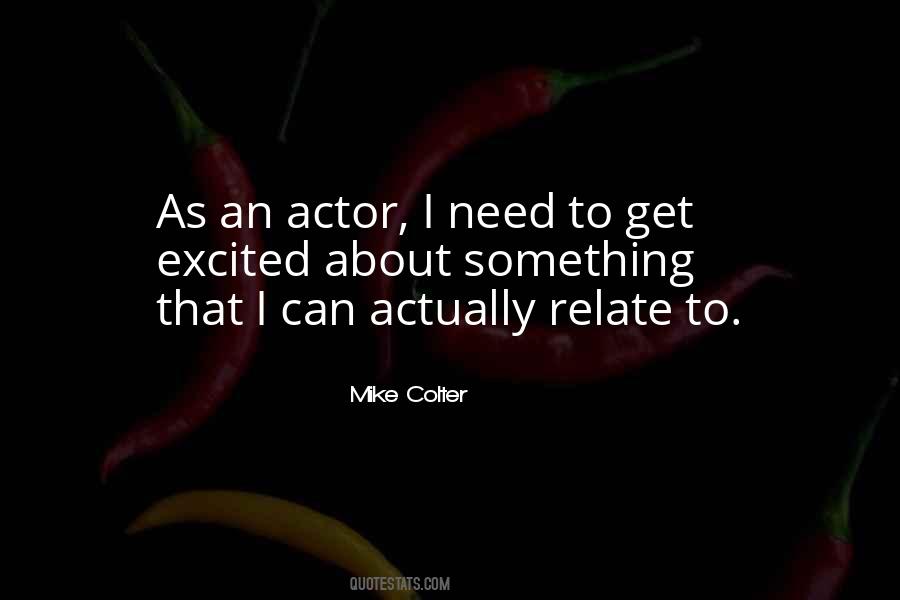 #65. I think we all suffer from guilt at some point in our lives, but for the most part I never really regret, and I try to always remain positive. Yes, I think that those issues are very interesting to play in a character, and they're prominent issues in life, and I think people can relate to them. - Author: Channing Tatum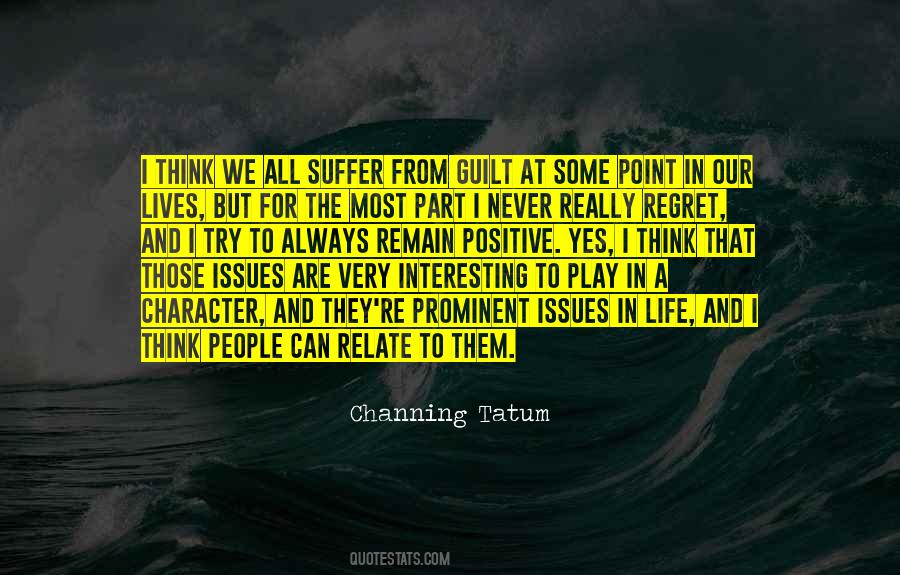 #66. I'd rather have sung one of Elektra's solos. I can relate to her anger." "You - Author: Anna Adams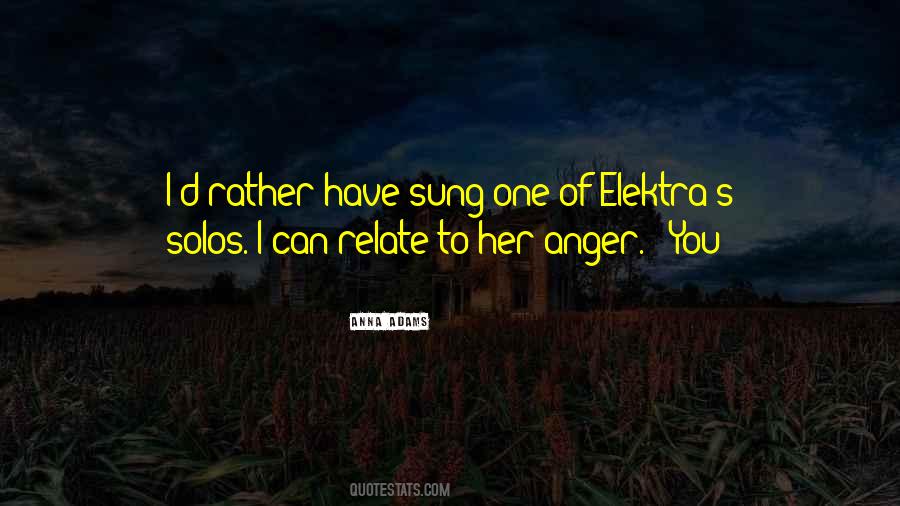 #67. One of my favorite things is when I'm listening to a song and I find my own meaning in it that I can relate to and I can create my own relationship and bond with the song. - Author: Ed Droste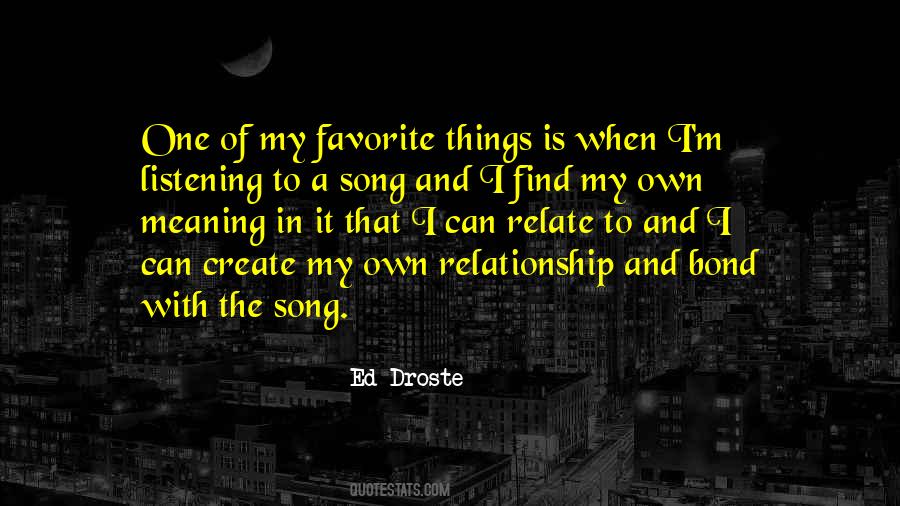 #68. You want to have a song that people will listen to and go, 'Oh, yeah! That reminds me of something in my life,' or, 'something I'm currently going through,' or maybe something happens later and you hear the song and go, 'Wow! That really was telling a story that I can relate to now.' That's my hope. - Author: Pegi Young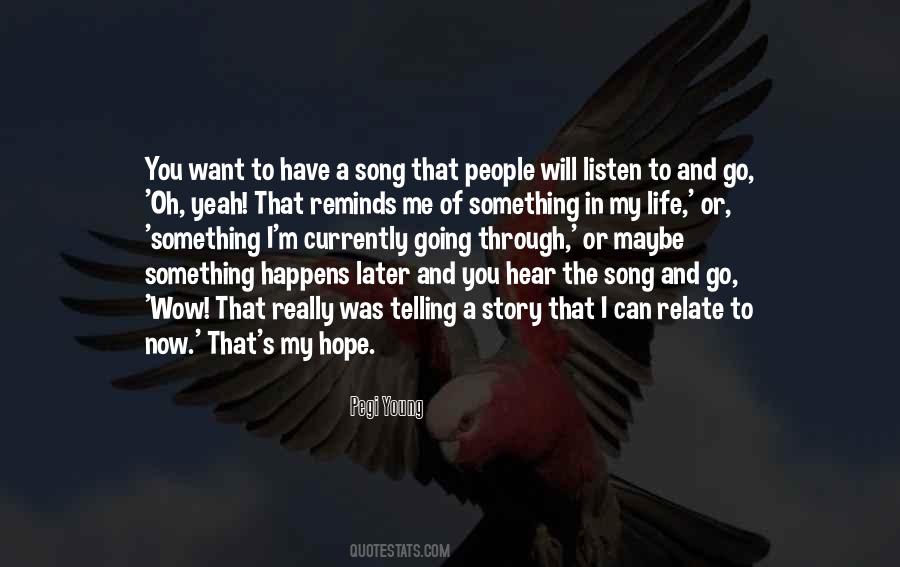 #69. I hate women who say they can eat whatever they want, because I don't relate to that at all. It isn't fair! I absolutely live for food. - Author: Drew Barrymore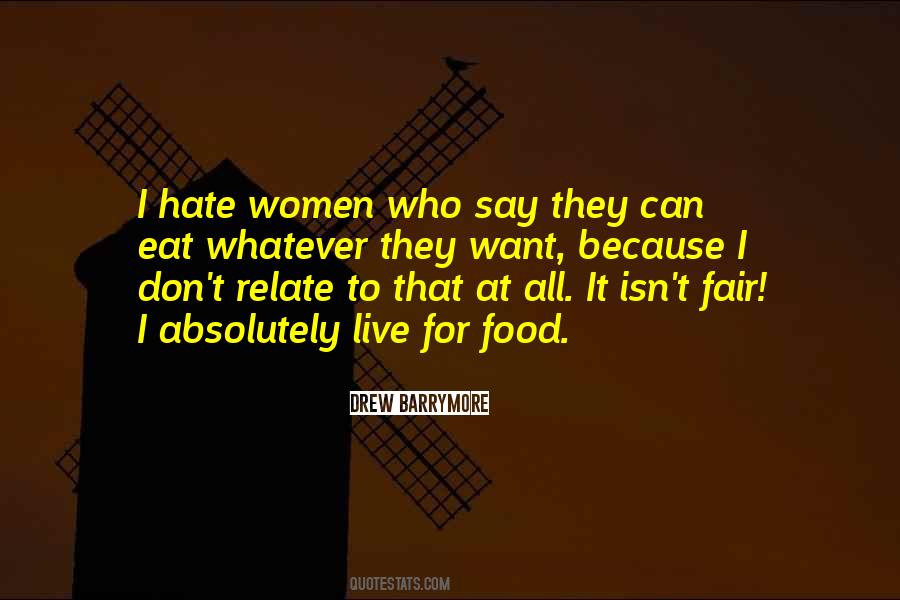 #70. I've said this a lot - I'm afraid to have girls! I've worked with kids before, and I just relate to boys better. I like their competitiveness and aggression: that's more my style. I'm still dead set on doing whatever I can to make sure I only have boys! - Author: Derek Theler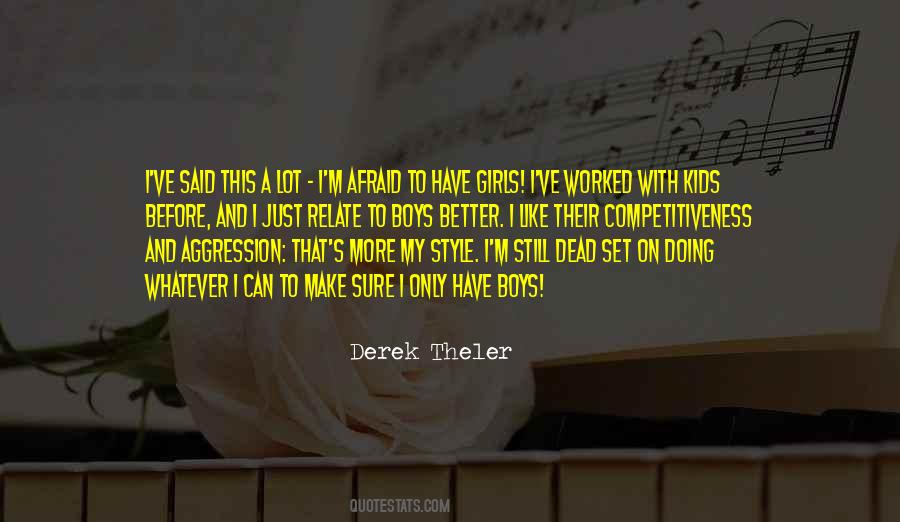 #71. This is about how you relate to the world,' C said.

'Maybe it's about how the world relates to me,' I said back. - Author: Alexandra Kleeman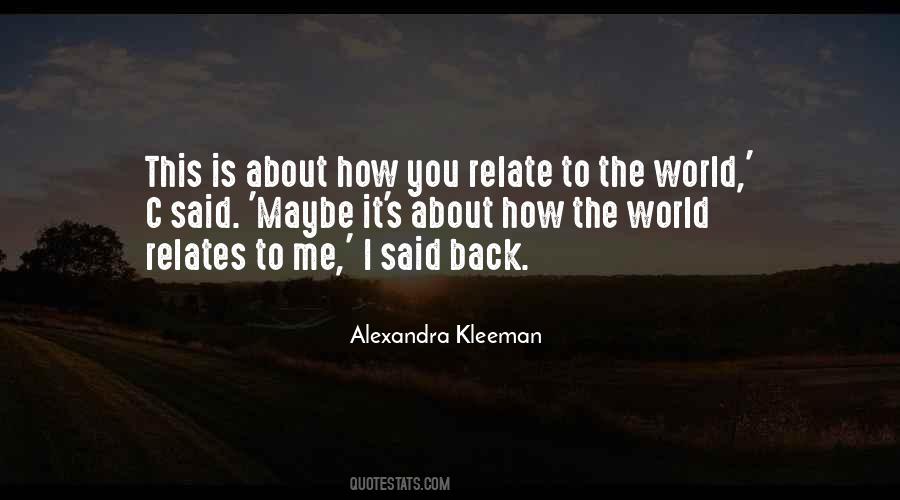 #72. It's amazing when I do a gig how many people of different ages come up to me afterwards and chat to me about songs. The emotions I feel are what any person can relate to. Sometimes I'm just a narrator. - Author: Ella Henderson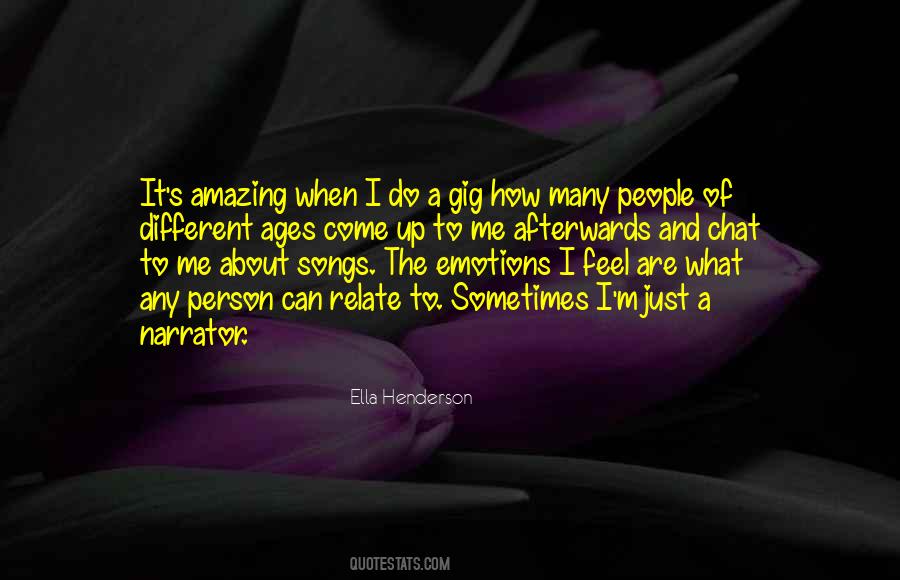 #73. My husband doesn't have to try to add to my comedy he just does being himself and saying & doing the things he does. We have a good friendship & I think couples can relate to our dynamic and sometimes out lack of dynamics too. - Author: Heather McDonald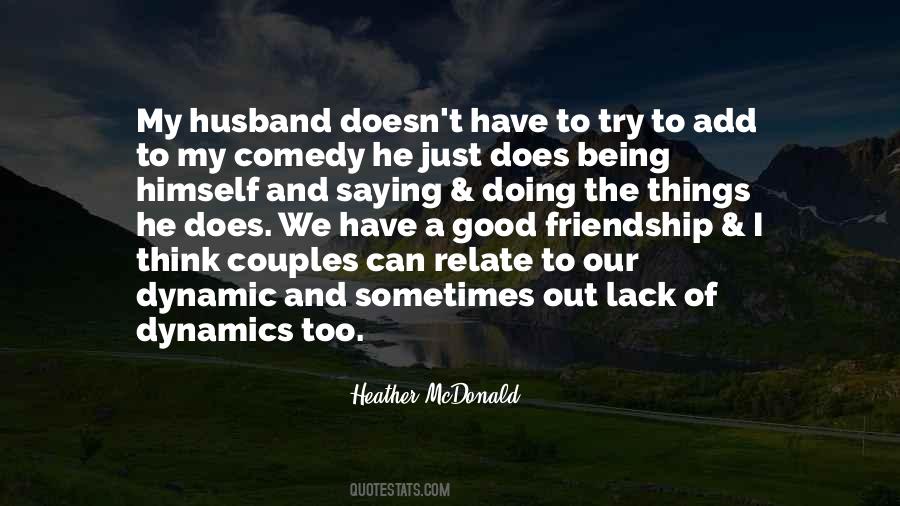 #74. I find most modern country virtually unlistenable. I can't relate to the music or the lyrics. - Author: Jenny Lewis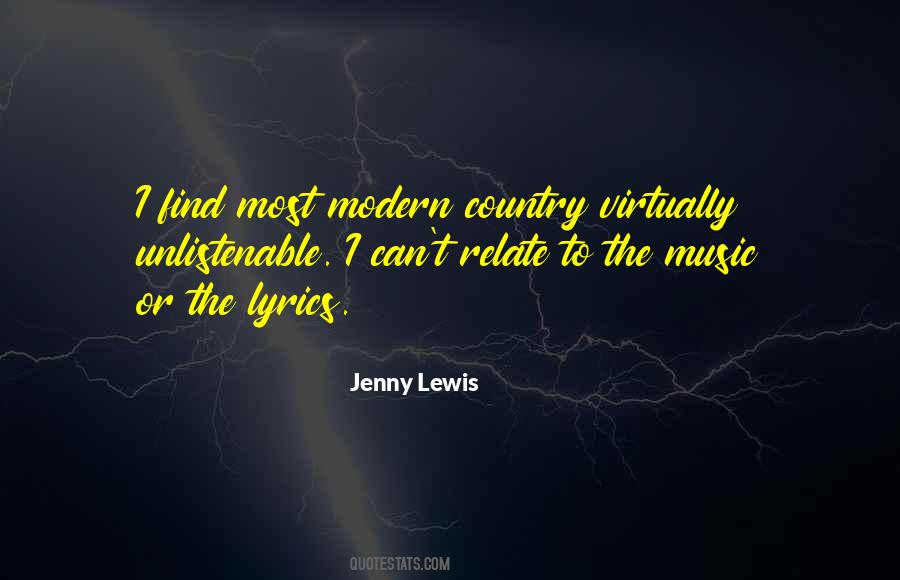 #75. I'm not a militant lesbian. I carry myself in a way that makes it easier for women to relate to. I can be your best girlfriend. - Author: Jackie Warner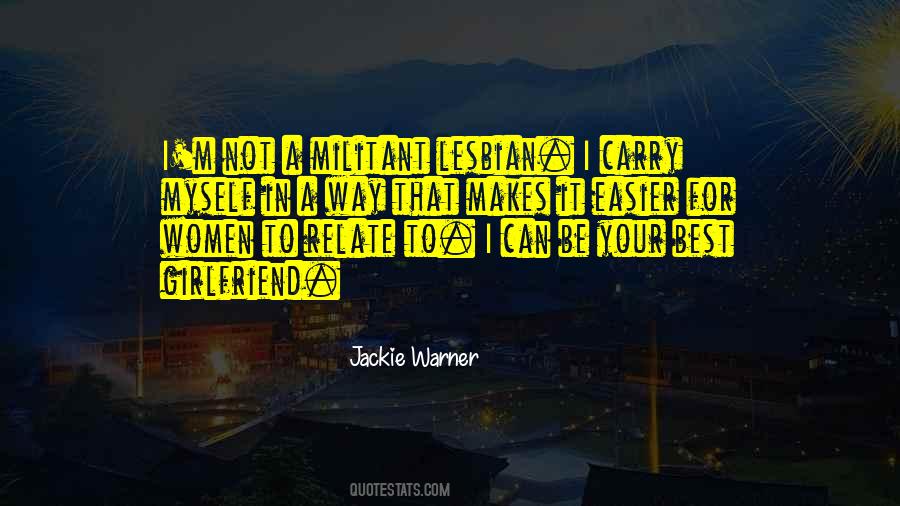 #76. That I can't relate to today's music or morals doesn't make either necessarily bad. Just different. I leave the judgements to others. - Author: Perry Como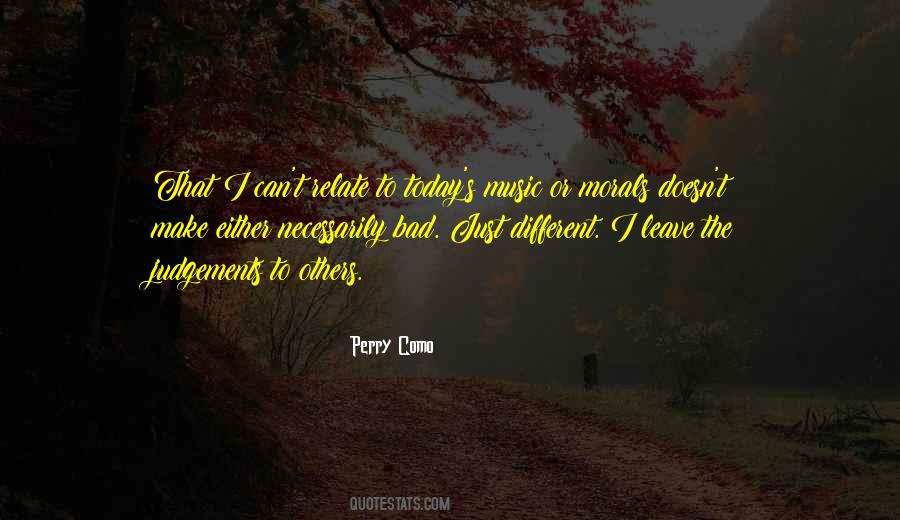 #77. When I am happy at work, I tend to be happy in life. And when my work is a struggle, it negatively taints my entire outlook and existence. Anyone can relate to being miserable at work, and each of us can stand to improve his or her relationship with work. - Author: Julie Clow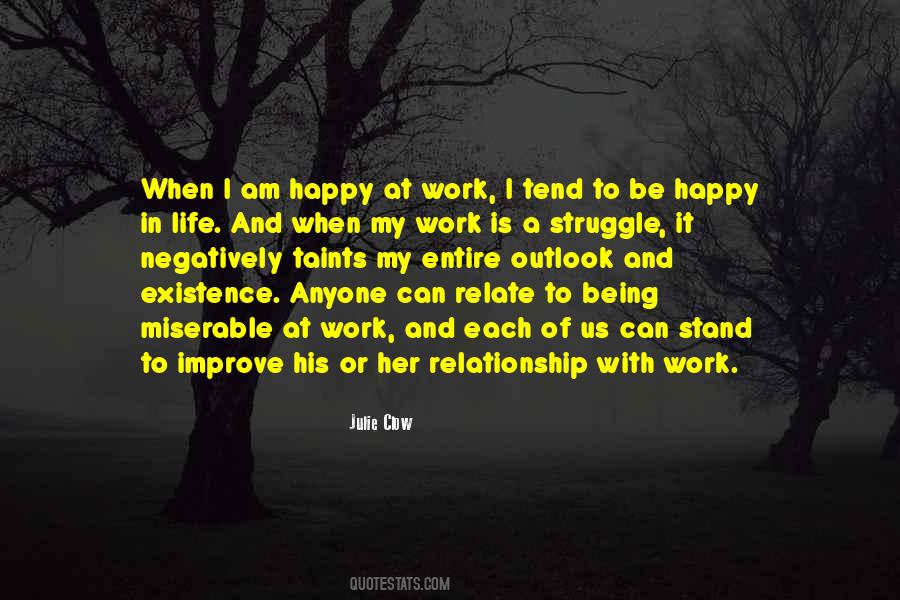 #78. What I don't like about Guinevere is the fact that she can't control her passions and urges. She gets herself into quite a love triangle, and quite a web. Personally, I find that very difficult to relate to. But, it wouldn't be interesting, if she did everything right. - Author: Tamsin Egerton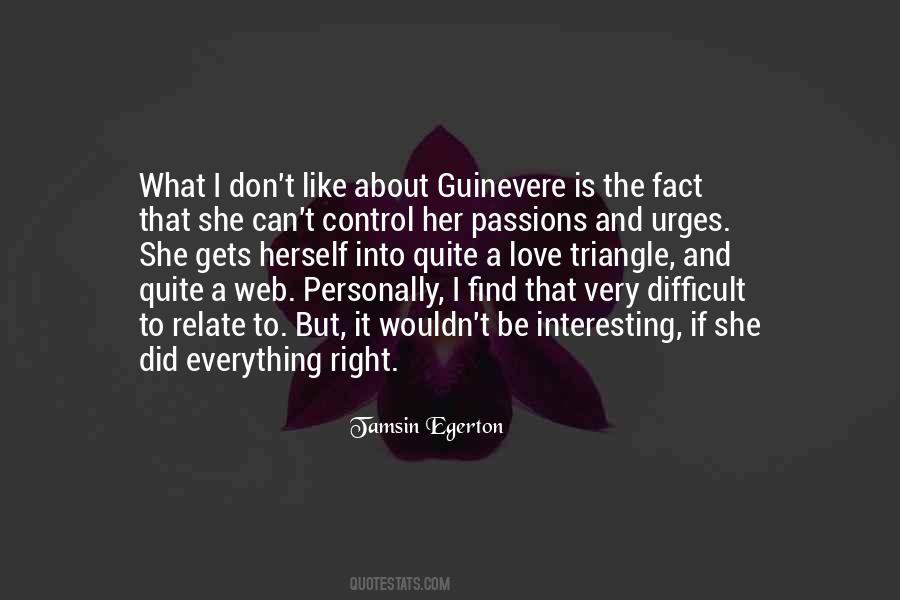 #79. I hang out with dudes a lot. I can relate to being the guys girl. - Author: Alexis Knapp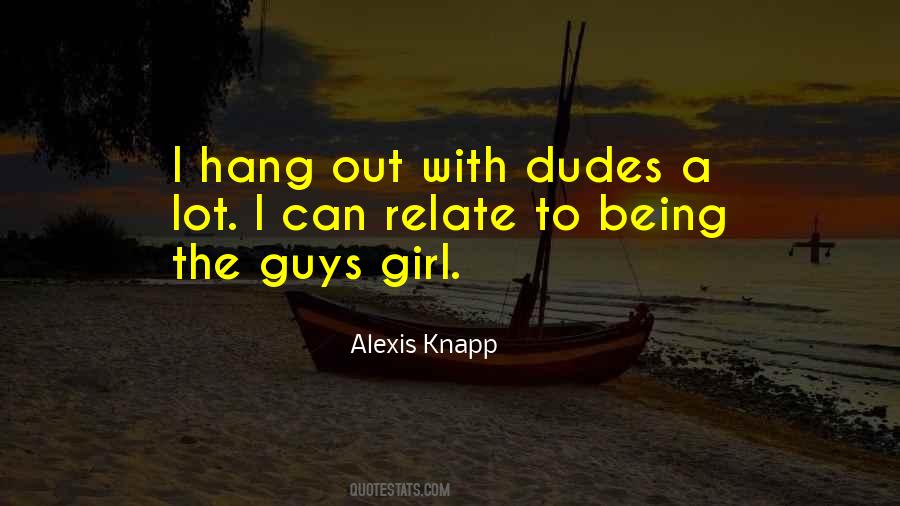 #80. I think 'Sex and the City' is a chapter that will never close. In a wonderful way, it's always going to be an open chapter because it seems like new generations discover the show and relate to it, which is amazing, and you can't hope for that. - Author: Darren Star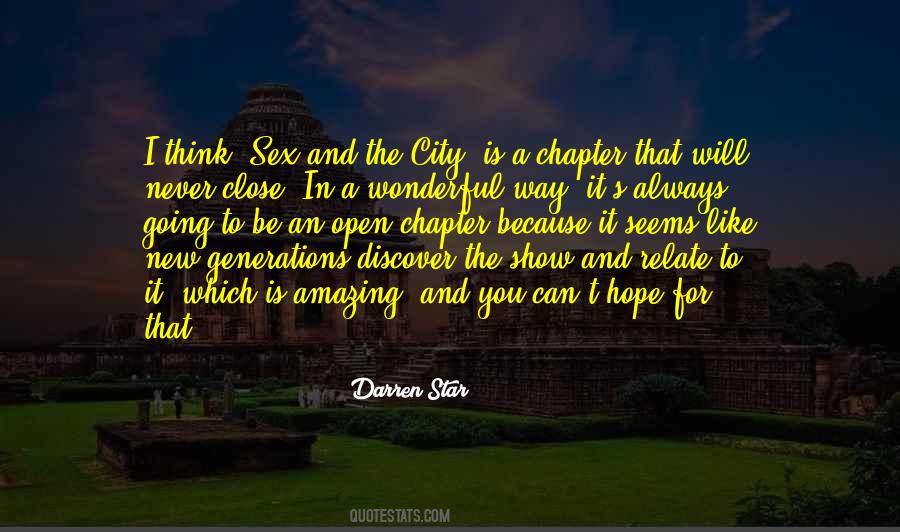 #81. I think anybody can relate to the reluctance to have to lead sometimes. - Author: Geoff Stults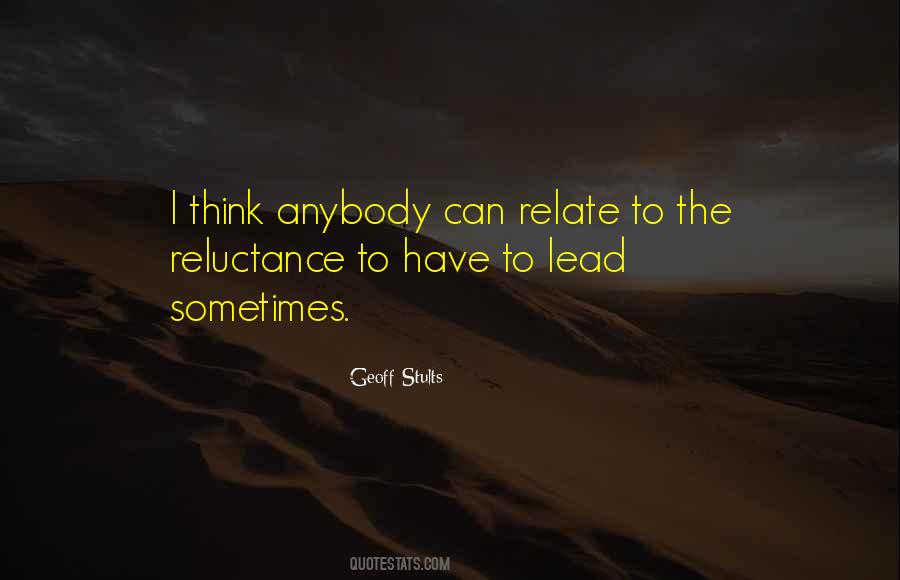 #82. When I go to galleries in New York, I feel like I'm in school. I know that there's good contemporary conceptual art, but I have a really hard time caring about it. I'd rather look at images of people and things I can relate to. Then again, I didn't go to art school. - Author: Kyp Malone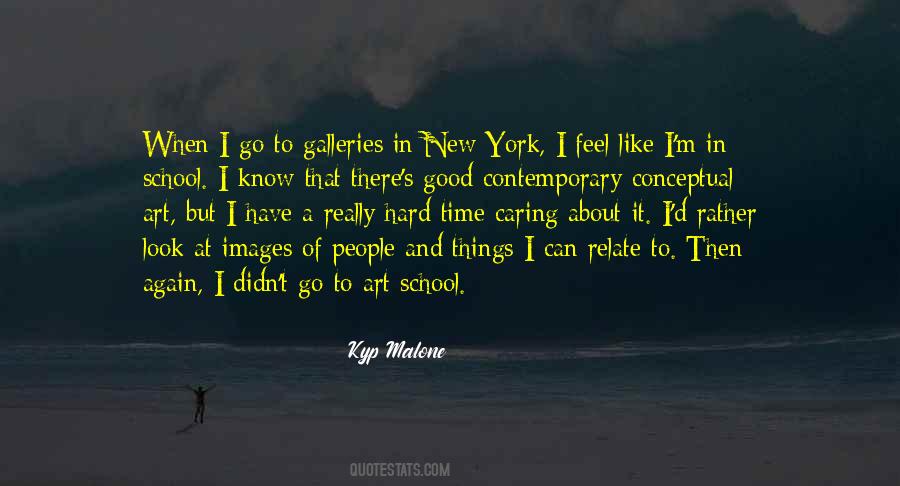 #83. I draw a younger crowd who can relate to me. Some of the girl fans will message me online, saying, 'You're the reason I watch golf.' - Author: Rickie Fowler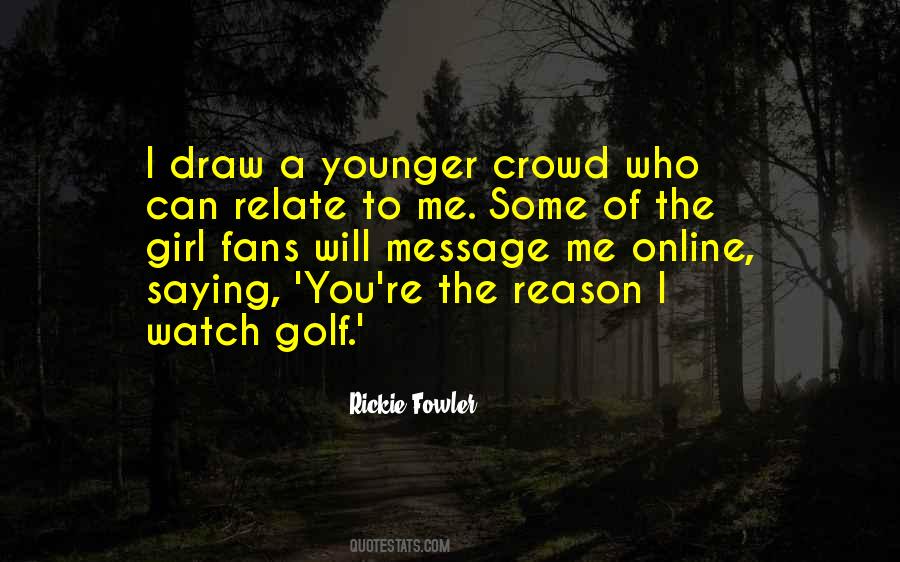 #84. Every song you're trying to find something that going to connect in different ways but for me the songs that I'm really drawn to are inspirational, songs that lift you and that everybody can relate to no matter where you're from. - Author: Rodney Atkins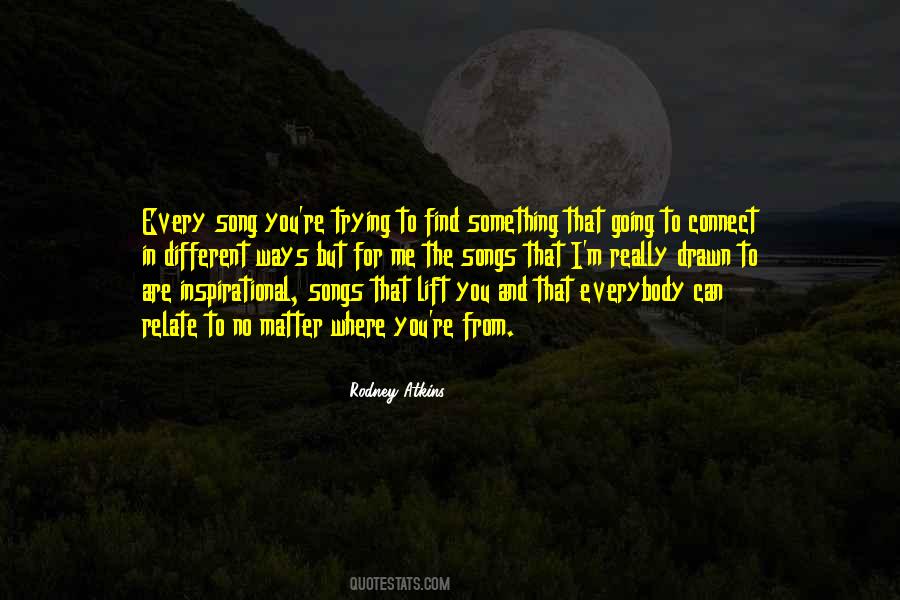 #85. I think you can feel the pain I've experienced in my music. It's something that a lot of people can relate to. - Author: Blu Cantrell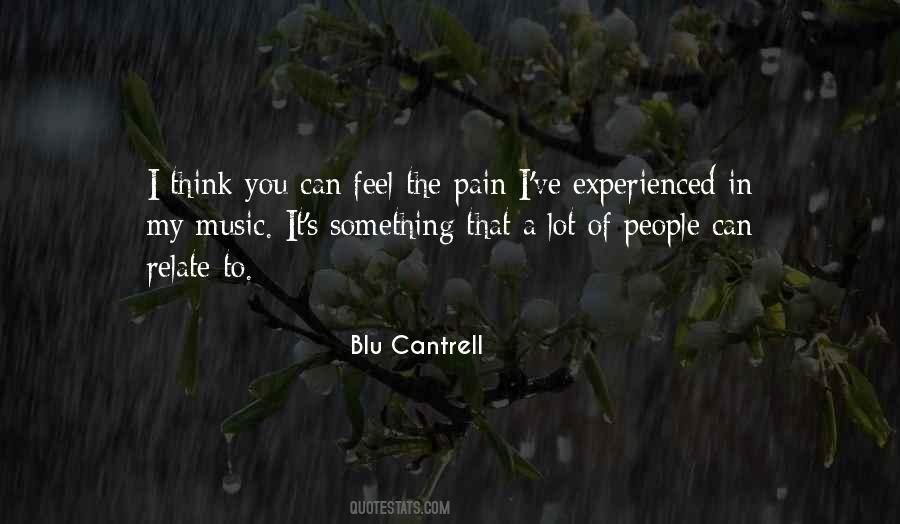 #86. I'm single. I just moved to a new city. I'm sort of starting over. I'm in Los Angeles. I don't really know what my life is right now. It's not what I thought it'd be at 37, and I think a lot of people can relate to that. - Author: Sutton Foster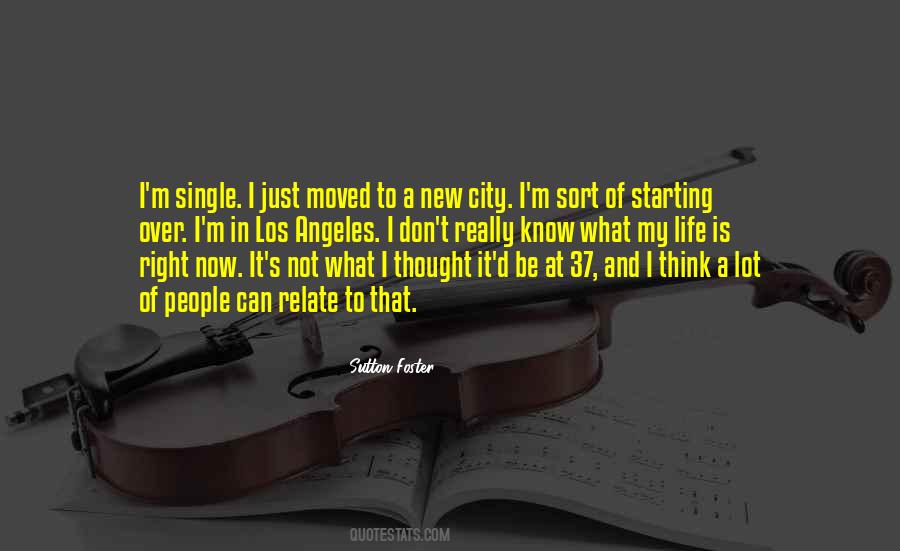 #87. I can't relate to livin' less than great. - Author: Extra P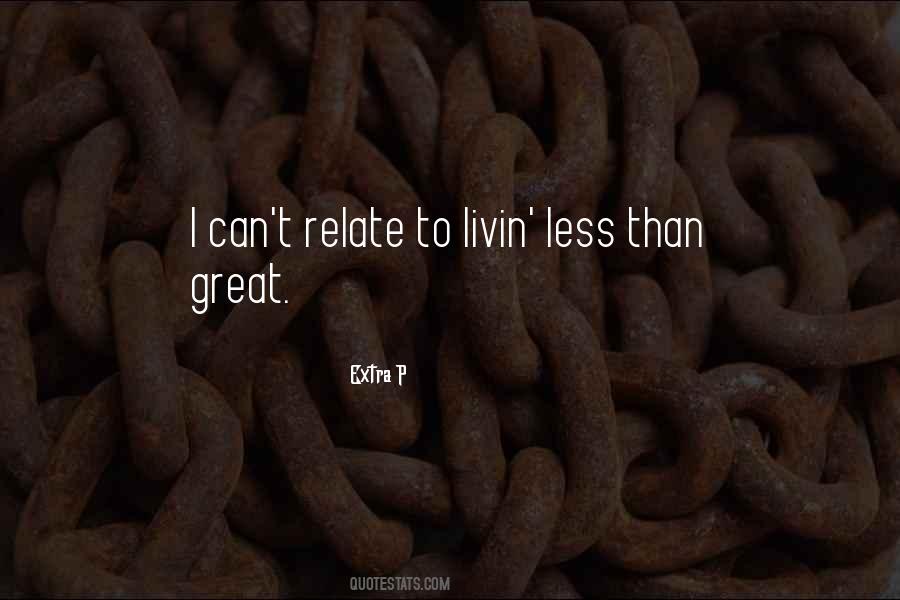 #88. I tell children from all over the country that it's good to eat healthy and nothing to be ashamed about. They know me from the Subway commercials and can relate to what I'm saying. - Author: Jared Fogle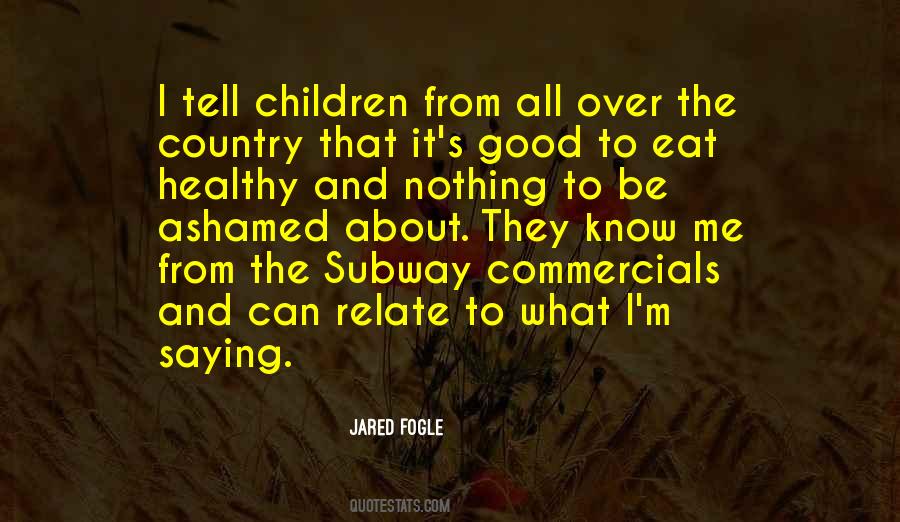 #89. I think I can relate to this guy [Psycho Sam] that ended up ... This desire to go off the grid and live on his own and didn't trust anyone or anything and I guess the thing that saved him in my head was that he had a great sense of humor. - Author: Rhys Darby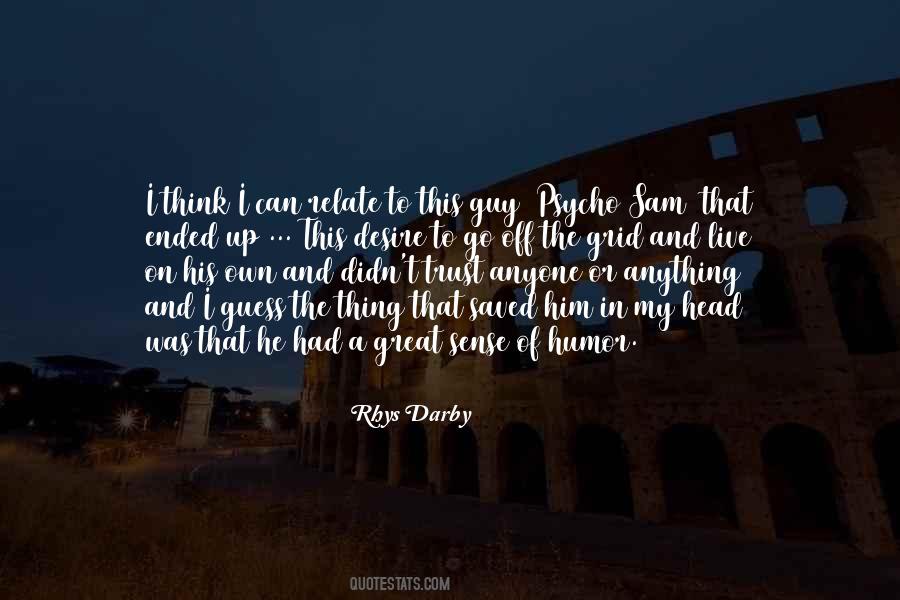 #90. I can obviously relate to a character who is an artist, because the creative process is a big part of my life. - Author: Paul Dano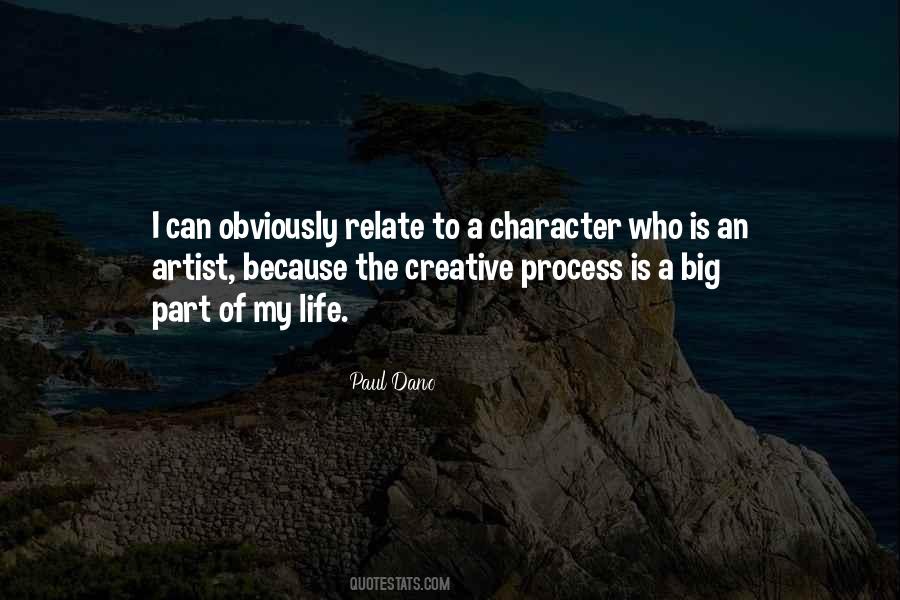 #91. I think that idea of being far away from the people that you love is something that everyone can relate to. - Author: Duncan Jones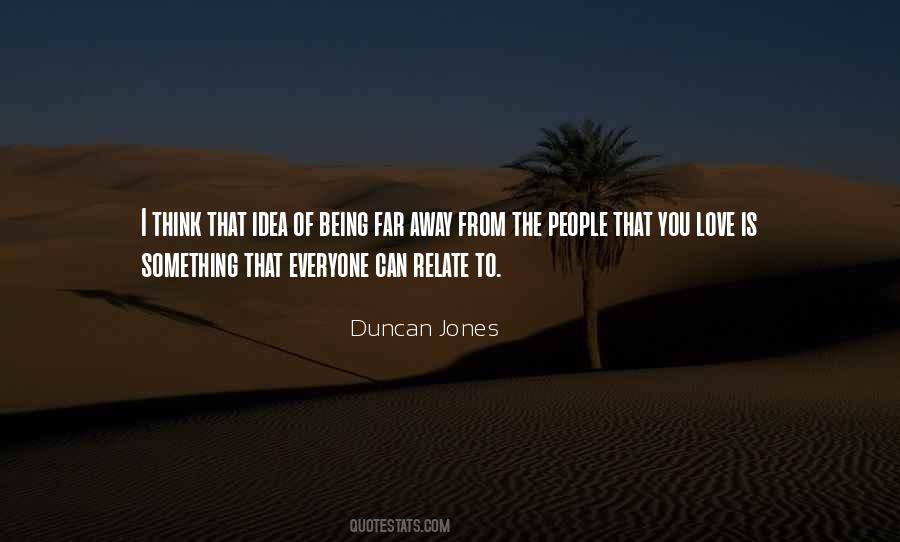 #92. Kevin Hart. He's the man! I like his style. He's short, so I can relate. All the stories he tells are real. I respect that, and he's just a really funny dude - great comedy instincts. To do stand-up on a stage for an hour and tell stories and make people laugh is incredible. - Author: Cameron Boyce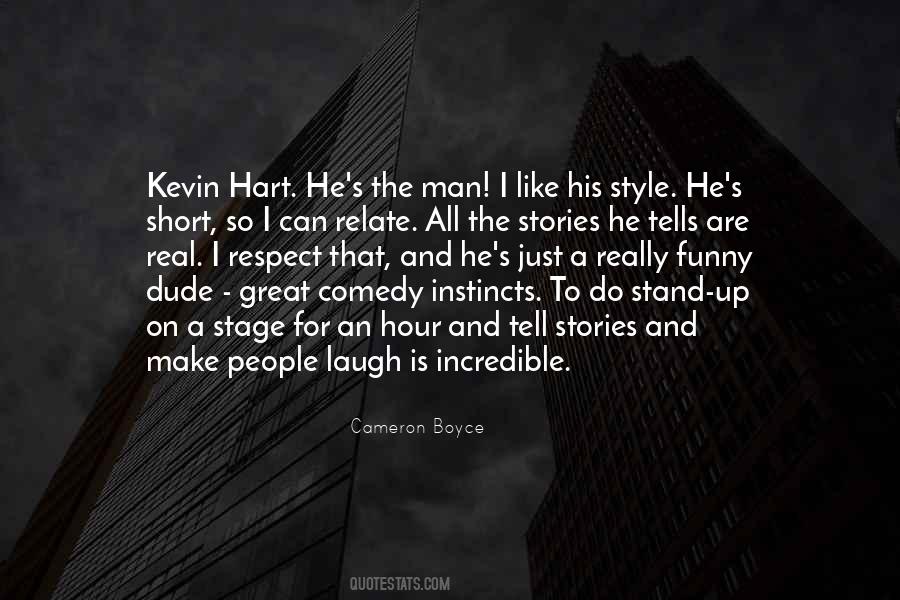 #93. When I'm creating characters, I just want to create characters that I can relate to, and be as honest about them as people as I can be. That's what I want to see when I go to the movies. - Author: Nicole Holofcener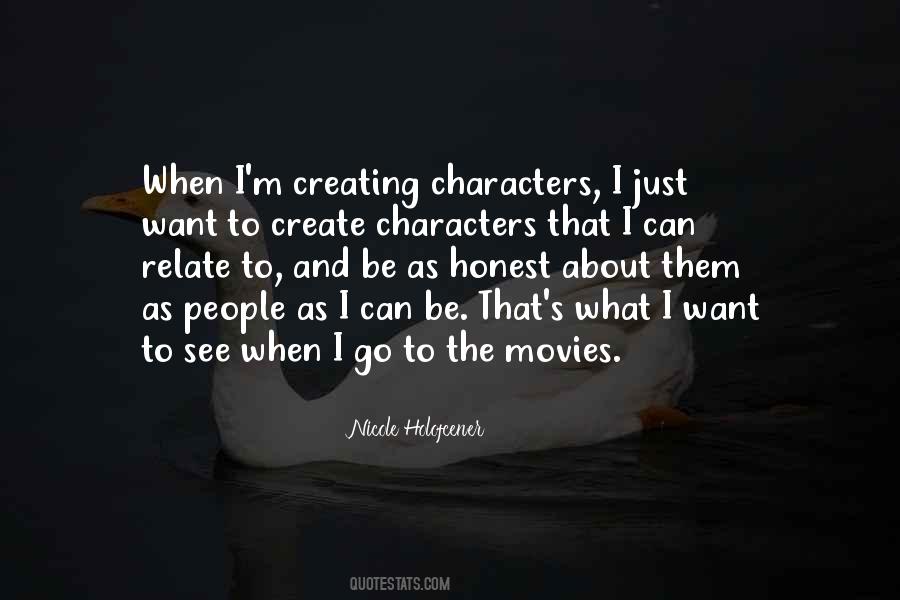 #94. I am well aware that many will say that no one can possibly speak with spirits and angels so long as he lives in the body; and many will say that it is all fancy, others that I relate such things in order to gain credence, and others will make other objections. - Author: Emanuel Swedenborg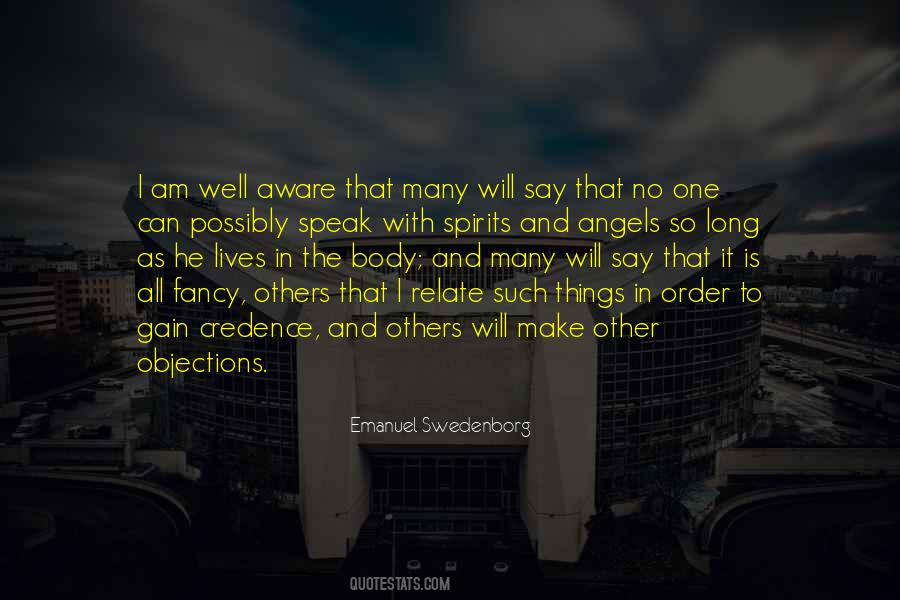 #95. So Thomas Pynchon wants a private life and no photographs and nobody to know his home address. I can dig it, I can relate to that (but, like, he should try it when it's compulsory instead of a free-choice option). - Author: Salman Rushdie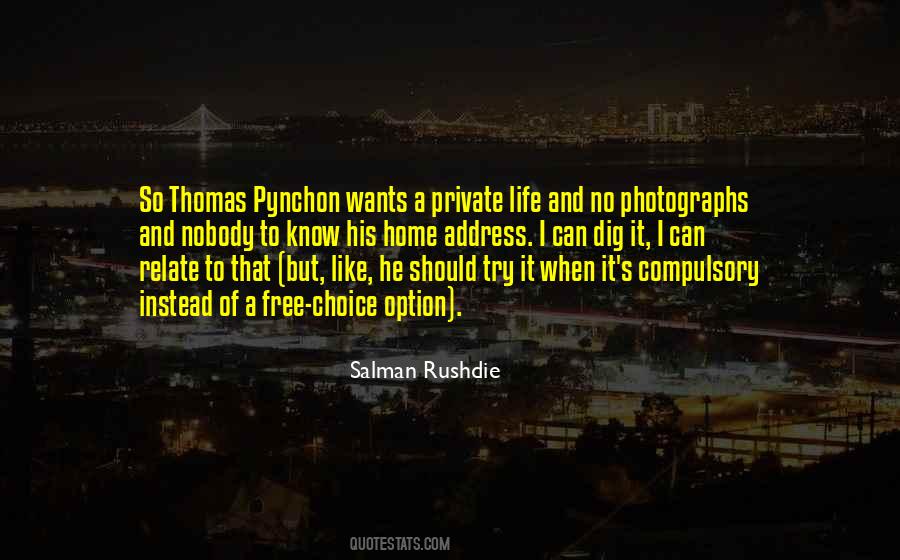 #96. I feel I can really relate to a lot of young people. - Author: Big Sean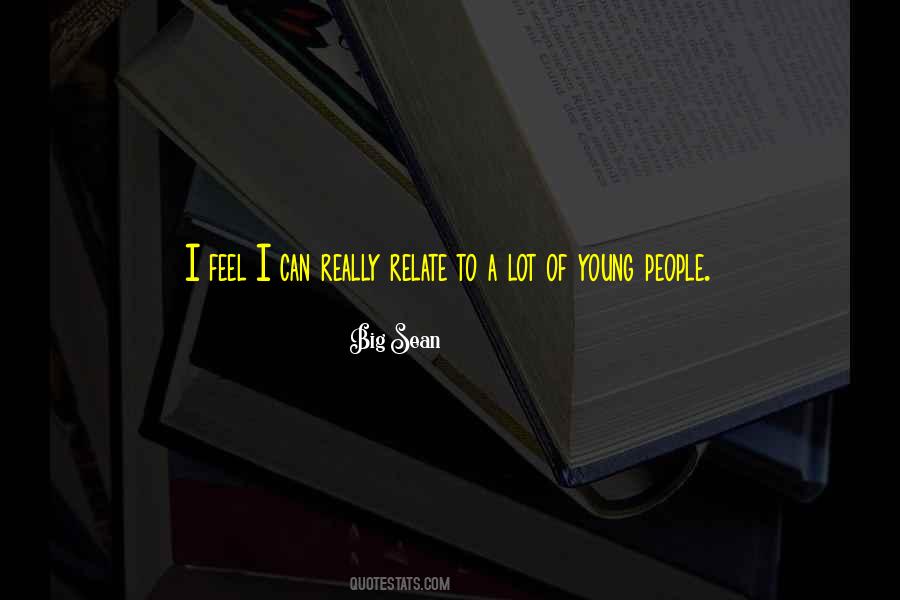 #97. I think escapism is something artists write about pretty frequently - it's something everyone can relate to, the concept of wanting something more, wanting to find solace, wanting to have something better. - Author: Halsey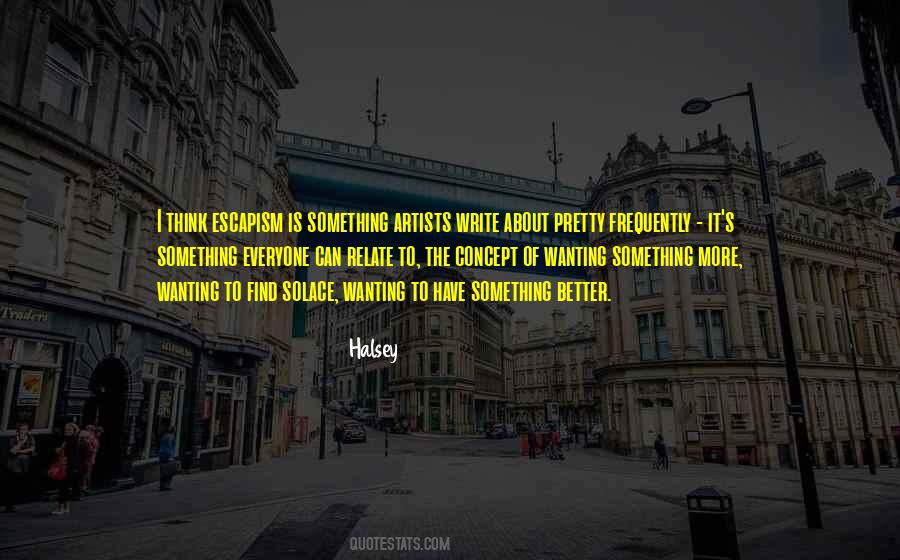 #98. I think that the best way you can get honesty across in your music to connect and relate to people is to be motivated by personal emotions, stories and feelings. - Author: Christina Aguilera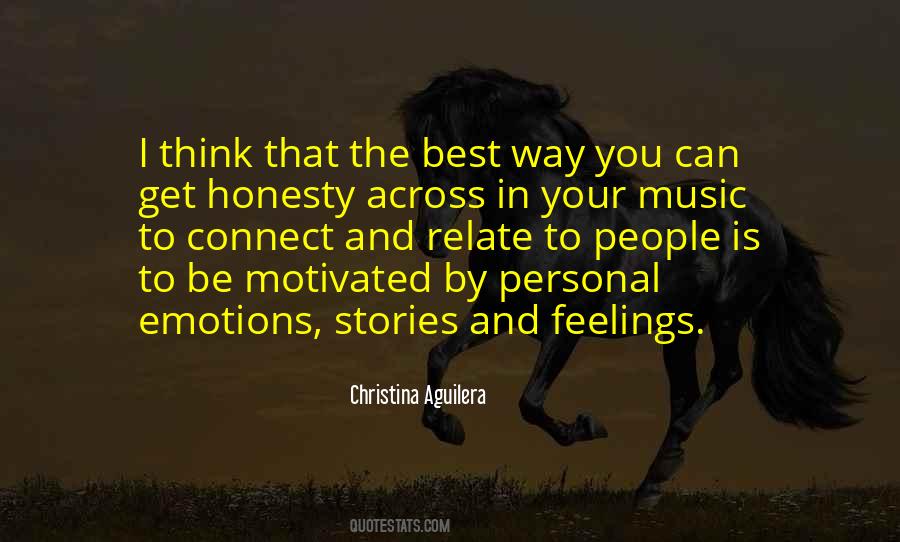 #99. I think everyone can relate to the idea of making a bad choice - and knowing it's a bad choice - but doing it anyway. - Author: Kathleen Robertson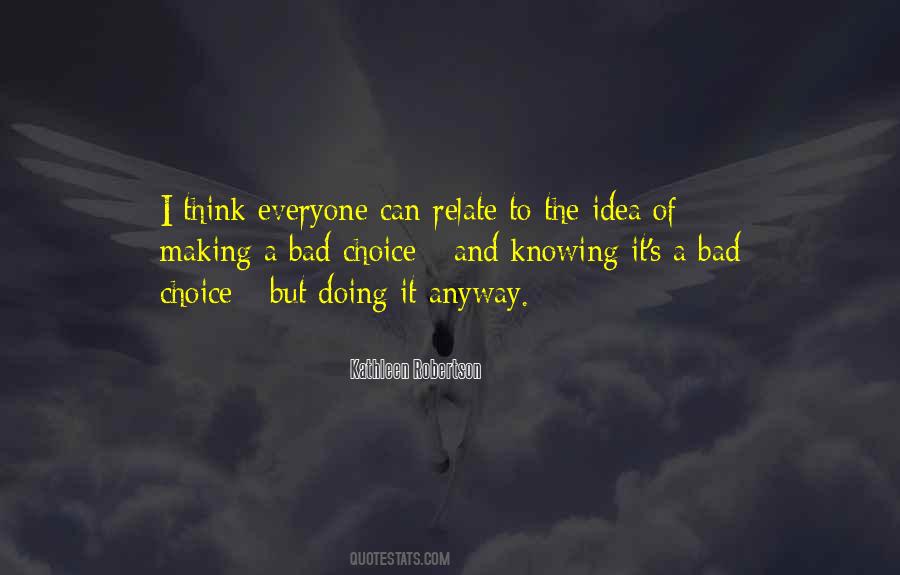 #100. You know, how much order is good? And when does order become too restrictive? Is a little bit of chaos okay, or is chaos always an evil force? I mean, these are questions that any kid who's ever been in a school cafeteria can relate to. - Author: Rick Riordan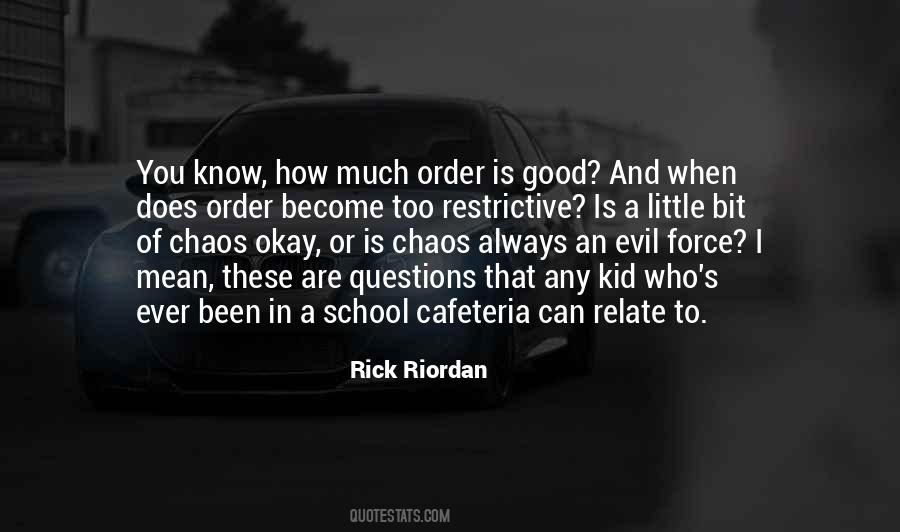 Famous Authors
Popular Topics