I Am Feeling Like Famous Quotes & Sayings
List of top 75 famous quotes and sayings about i am feeling like to read and share with friends on your Facebook, Twitter, blogs.
Top 75 I Am Feeling Like Quotes
#1. I might not be a psychiatrist, but I am convinced that sex is not as important as we tend to make it. First there is that little feeling, that little red flame, called love. Blow on the flame and make it get bigger like a fire, don't blow it out like a candle. - Author: Xaviera Hollander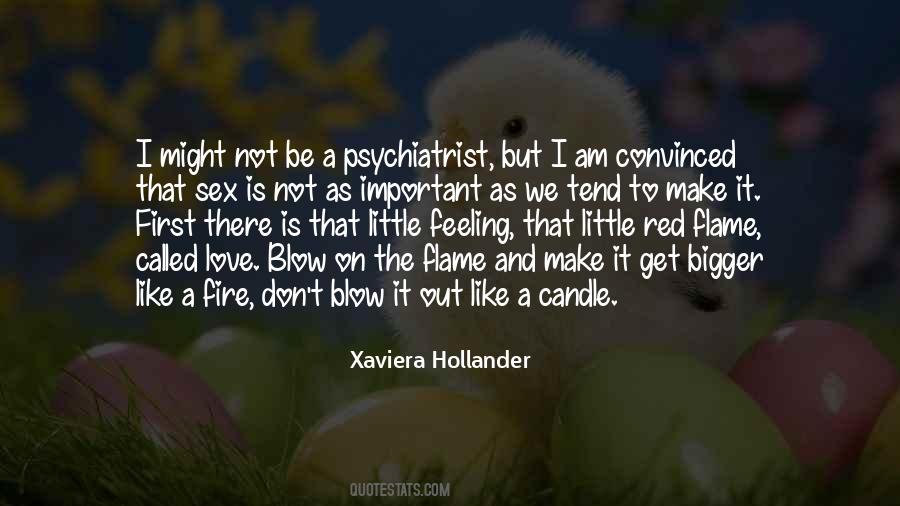 #2. I am tired of men dying because they feel alone, feeling like they are destined for prison or monotony or gender role-playing or anything less than their most divine of dreams. - Author: Carlos Andres Gomez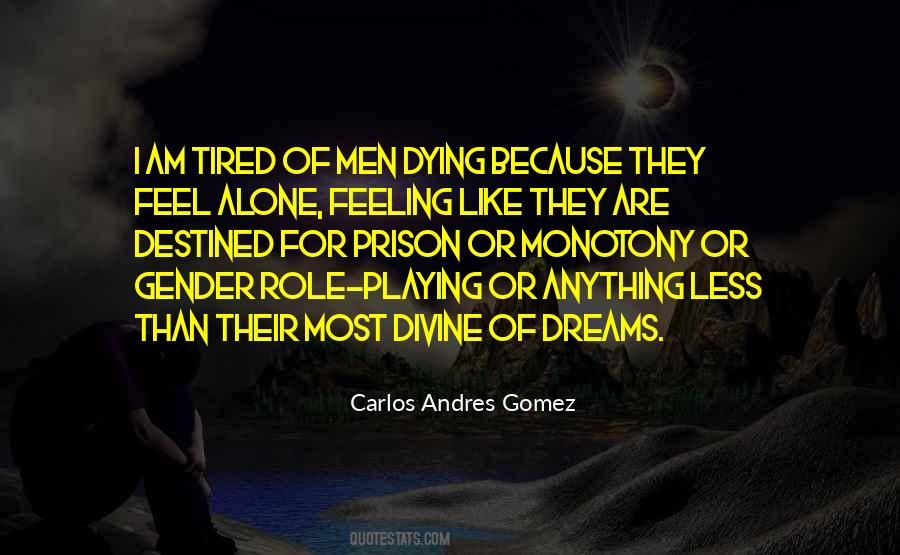 #3. I think Chris Martin is younger than I am, but when I met him, I felt like I was talking to my father. It's so strange, that feeling when someone is that famous - you assume that they are either older or better. - Author: Jenny Lewis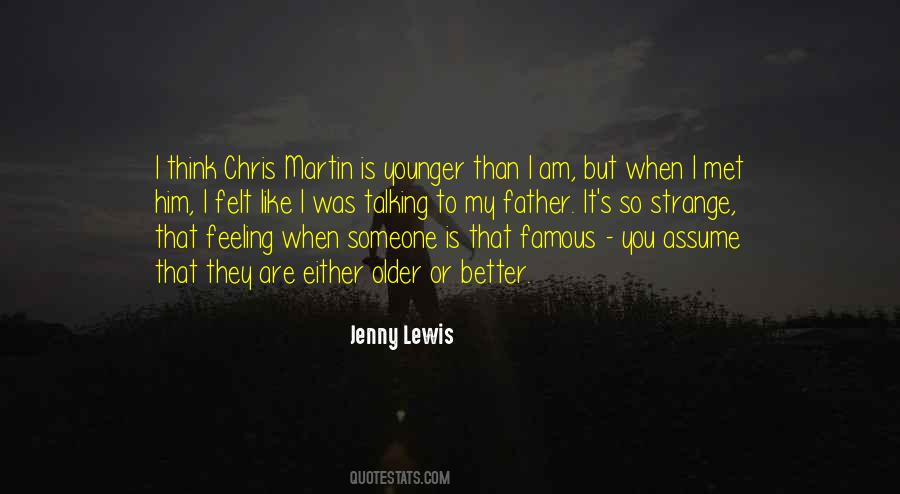 #4. Whenever I am feeling blue, I like to go to the Balzar and watch a waiter gravely transfer a steak au poivre and its accompaniments from an oval platter to a plate, item by item. It reaffirms my faith in the sanity of superfluous civilization. - Author: Adam Gopnik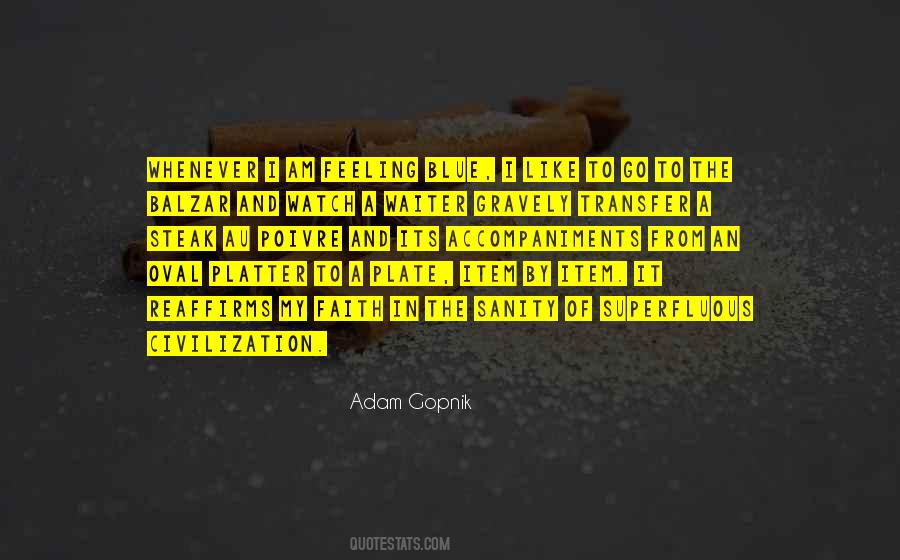 #5. Flying is absolute freedom. I know the feeling of flying from various aircraft. But there was always something surrounding me that I had to control. As Fusion Man, it's like I am naked, I only have the wings that carry me. It's like a dream. - Author: Yves Rossy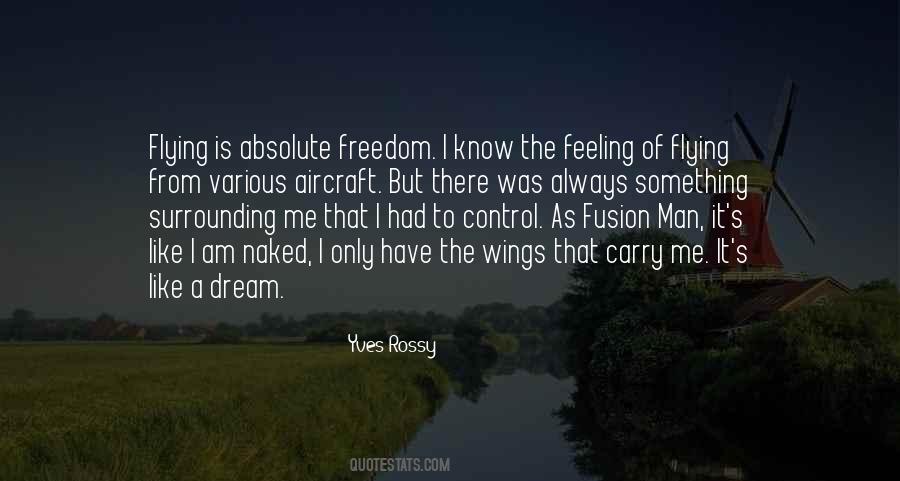 #6. Many people have told me that my books read like novels. Perhaps this is because, when I write, I feel I am really there, so strong is my feeling for my subject. On occasion, I have been so moved by the events I have been describing that I have felt like crying. - Author: Alison Weir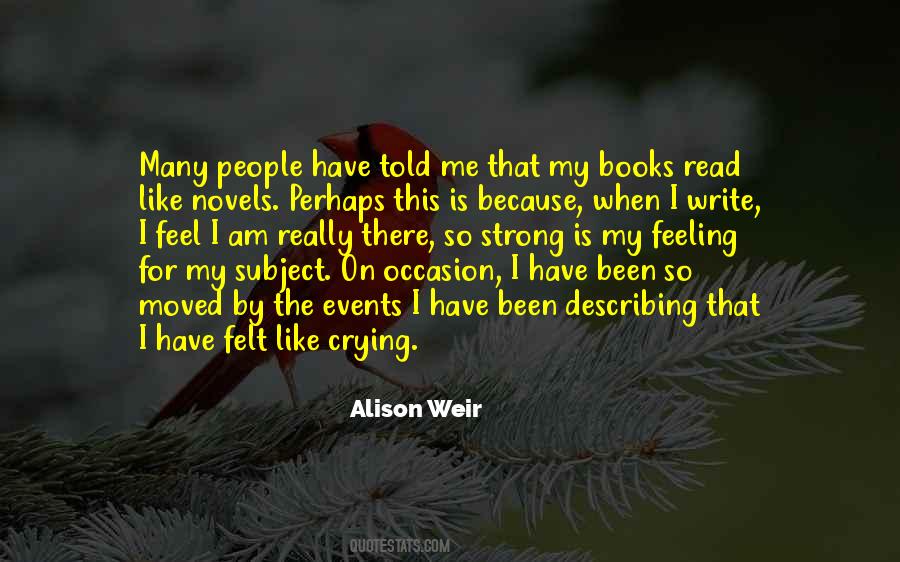 #7. When I look at the galaxies on a clear night - when I look at the incredible brilliance of creation, and think that this is what God is like, then instead of feeling intimidated and diminished by it, I am enlarged ... I rejoice that I am a part of it. - Author: Madeleine L'Engle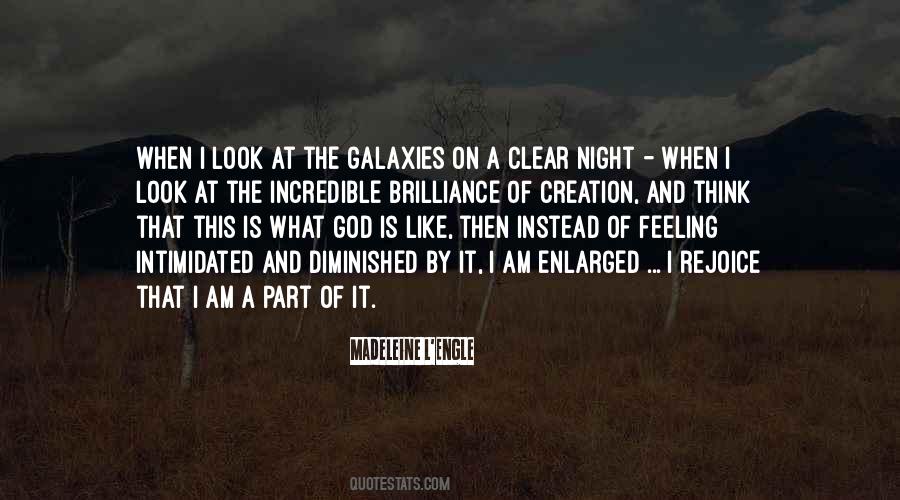 #8. The test in life nowadays is just trying to keep yourself charged up with enough good feeling. It's like, "OK what am I going to do to feel really good today?" Not like, some chick or a drink ... - Author: Mos Def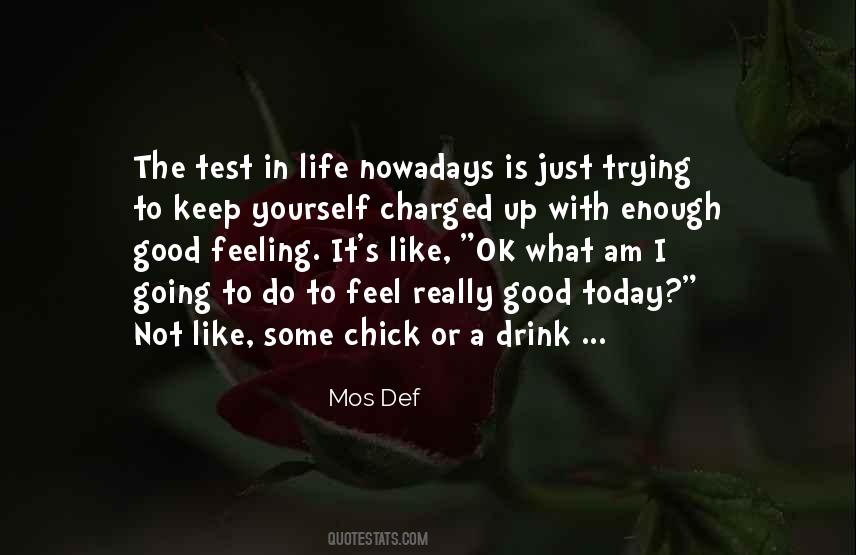 #9. Everything was okay today, but I am not feeling okay. I think that when the things you like go away, you die a little bit inside, and I think that it takes a long time for you to feel okay again. - Author: Abraham M. Alghanem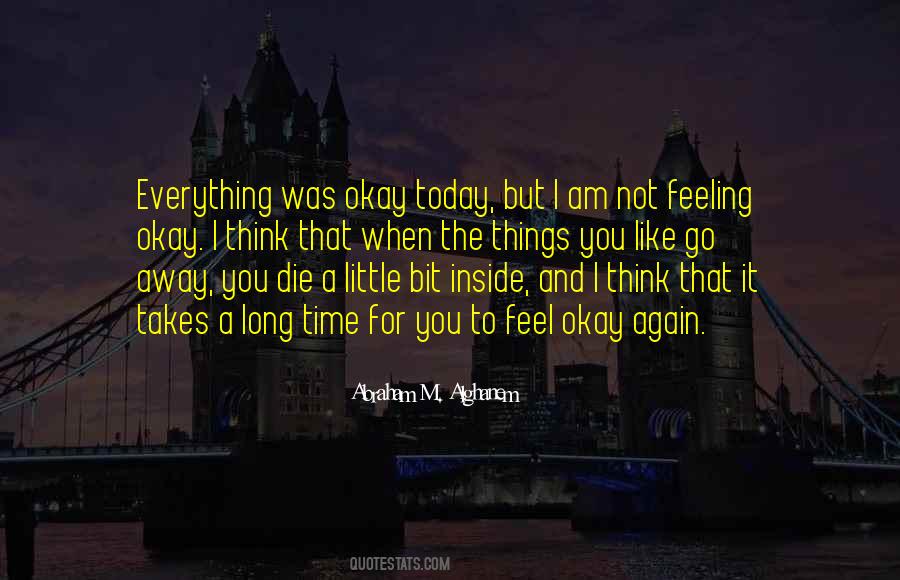 #10. You can't imagine how hard I am on myself. Nothing pummels me like my own doubts, the feeling of how far I still have to go. - Author: Nicole Krauss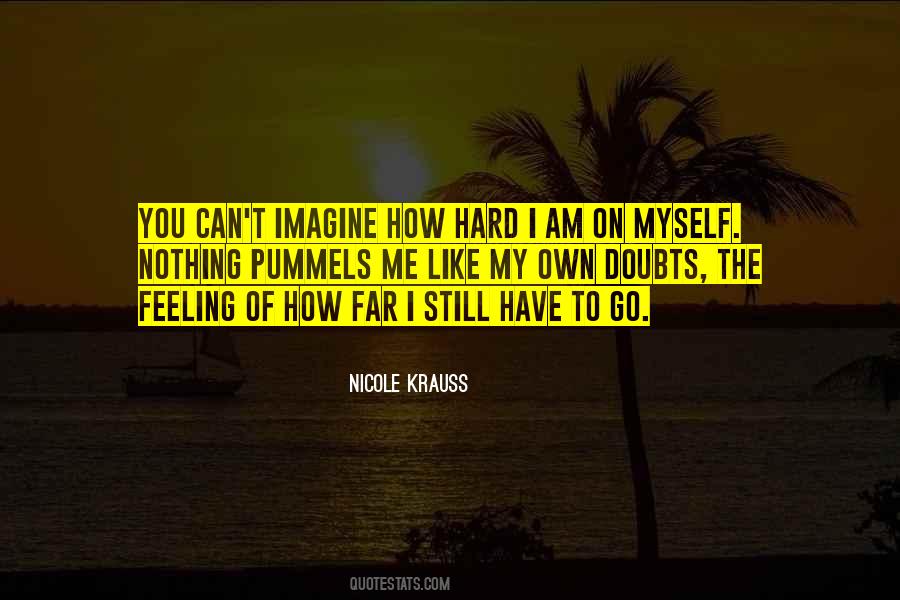 #11. The surface below your feet is so special. It is not like a boxing ring, not like a wrestling mat, it's its own thing, and when I am there, I am floating, I am moving with total freedom, I am free. And when you know, when you just know you are going to win, like I do, there is no better feeling. - Author: Conor McGregor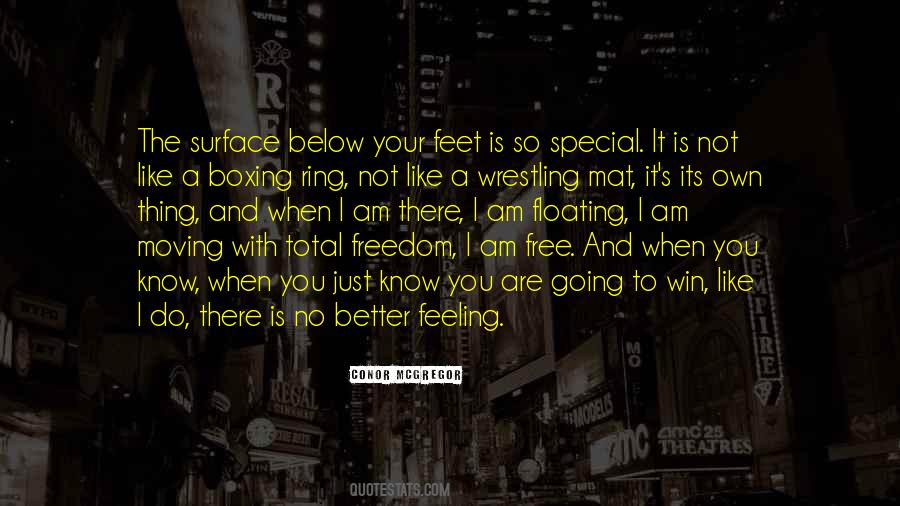 #12. She's everything I'm not. I'm comfortable with who I am, what I am, but when you come up against someone like that, it's a kick-in-the-butt reminder of what you're never going to be, never going to have. I don't like feeling inadequate or stupid. - Author: Nora Roberts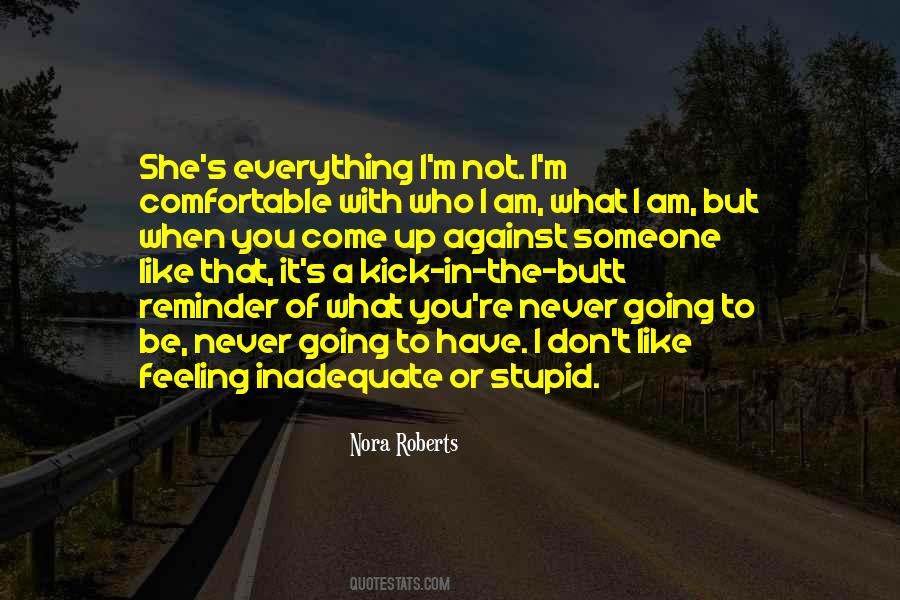 #13. I do like to hit people-I like the explosion of power and energy, and the feeling that I am untouchable because I can hurt people. But I hate that part of myself, because it is the part of me that is the most broken - Author: Veronica Roth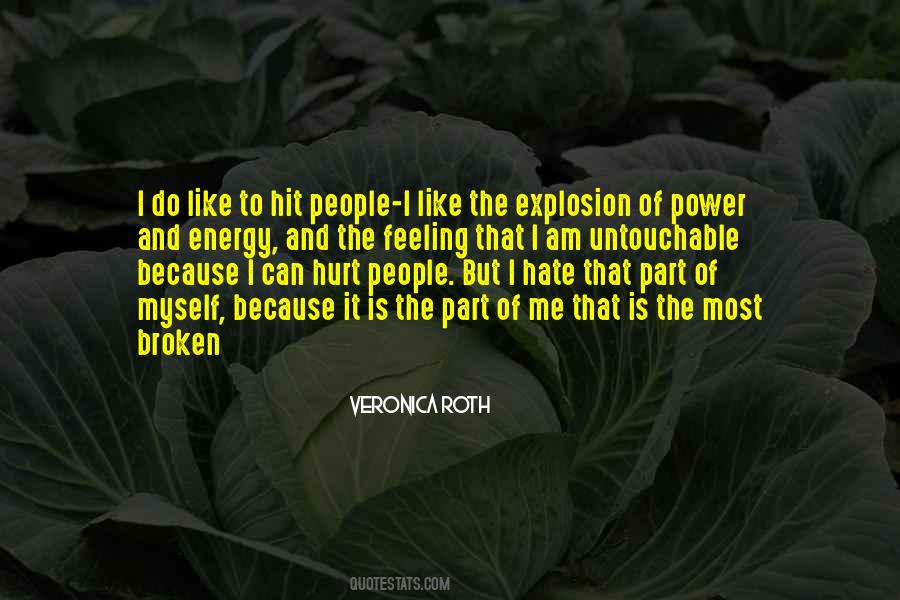 #14. And then finally, I'm the commander, so I am fundamentally responsible for the lives of the other people on board and the health and longevity of the space station. I need to bring six people back happy, healthy and feeling like they've had the best six months of their life. - Author: Chris Hadfield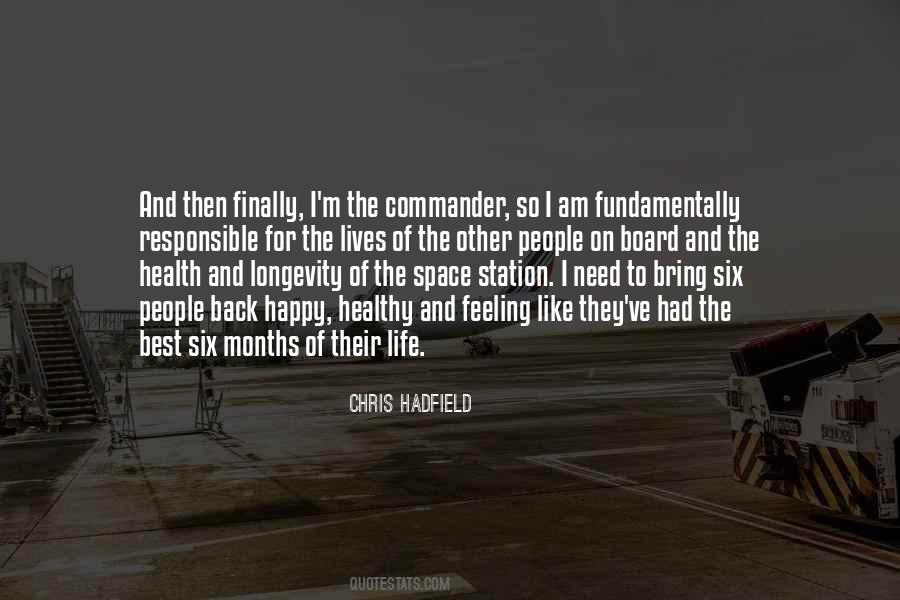 #15. I enjoy being healthy and I enjoy feeling healthy, and I know the difference when I don't take of myself. It's not like I am aiming for any particular goal or anything. It's more like it's a result of having balanced, healthy meals and just exercising. - Author: Nathalie Emmanuel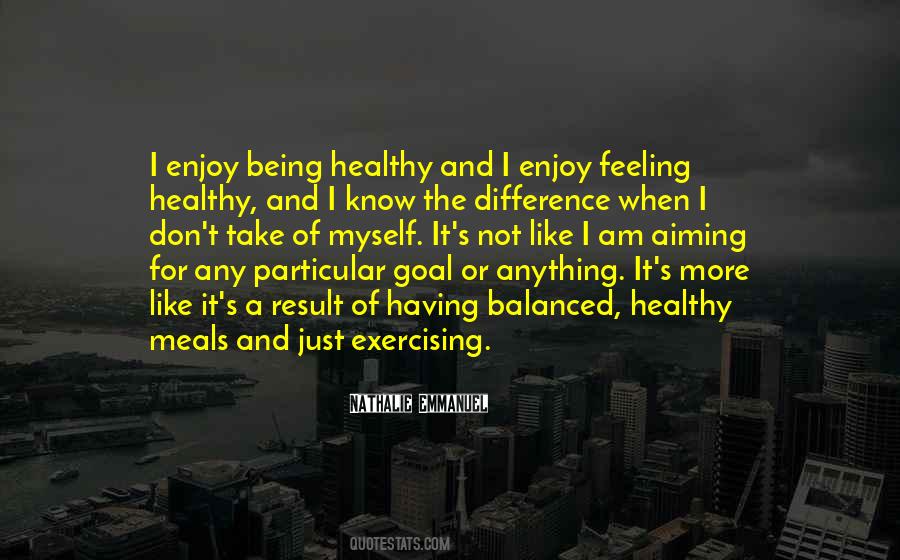 #16. We don't like it when women get uppity."
"Well," she said, "that is a bit of a problem, as I am feeling quite uppity. - Author: Sarah MacLean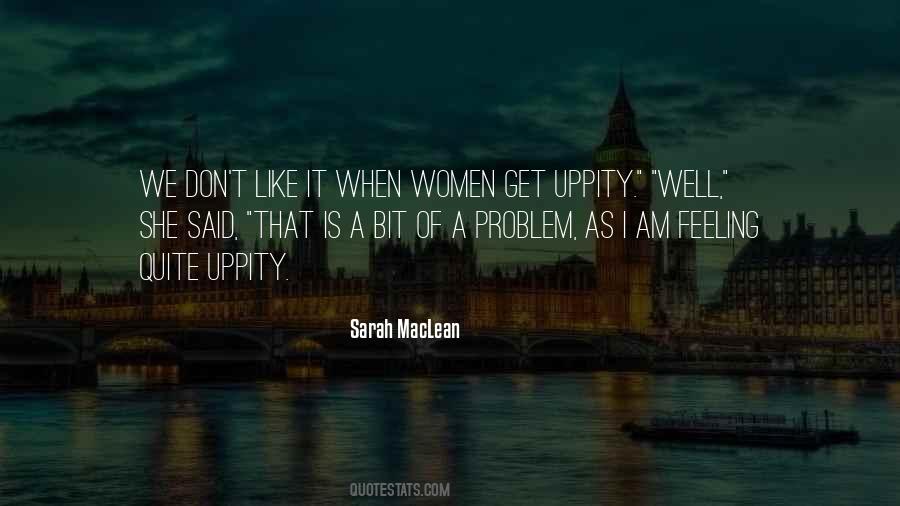 #17. I get the most gratification in life by feeling like I'm doing something purposeful and meaningful and makes a difference to other people, and that comes with its pros and cons. I've accepted this is the kind of person that I am, and this is the path I've chosen in life - and I'm stickin' with it. - Author: Steve Grand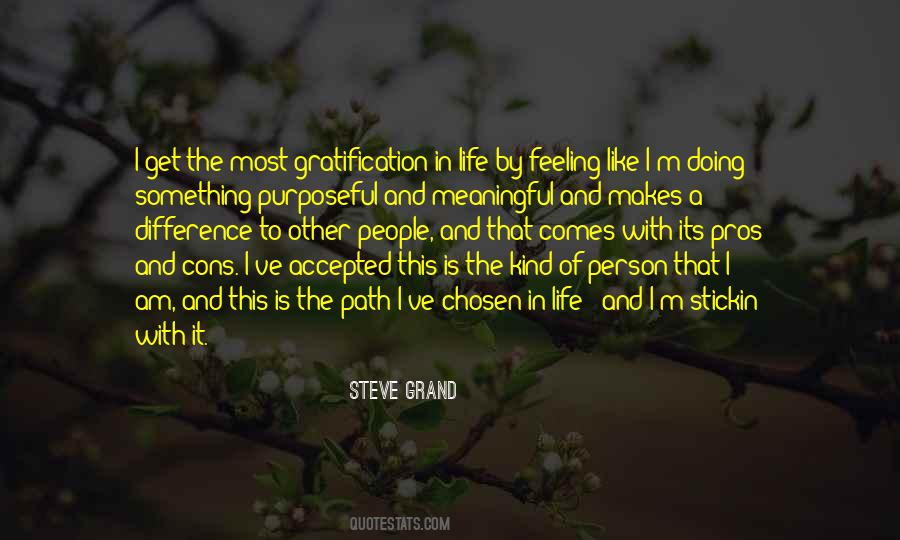 #18. I am not somebody who just says let's beat up on the bad guys. No. I want to summon the good guys and give people the incentives and opportunities to actually grow this economy, put more people to work, get the middle class really feeling like they're back in business. - Author: Hillary Clinton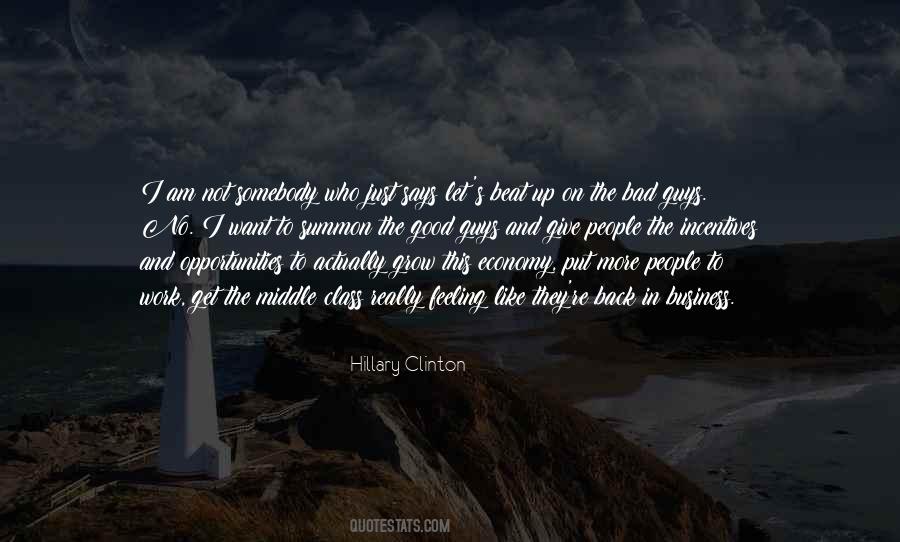 #19. In my big group of girlfriends at home, I am definitely not the best looking. I did not grow up feeling like I was particularly attractive. - Author: Margot Robbie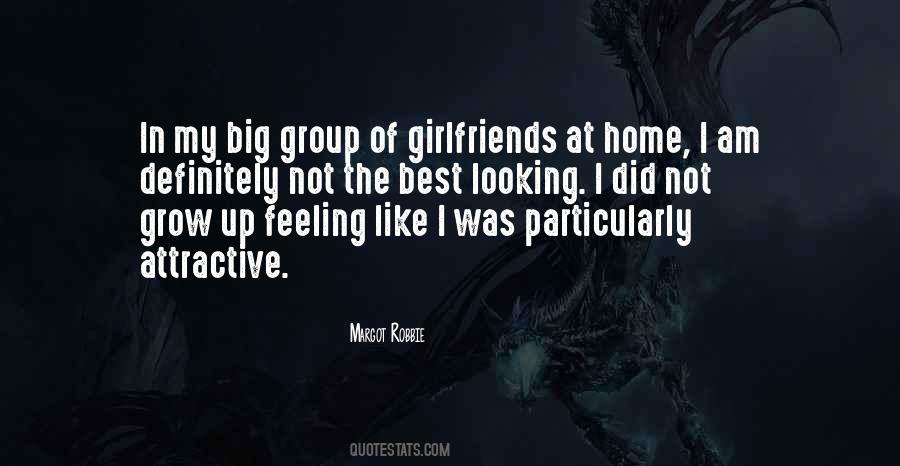 #20. I am 18 years old, that's for sure, OFFICIALLY... no need to hide anymore my age or to try to fake it for one reason or another... but still somehow I miss 16,17 being years old. Somehow feeling like trash now... doesn't makes anything better. - Author: Deyth Banger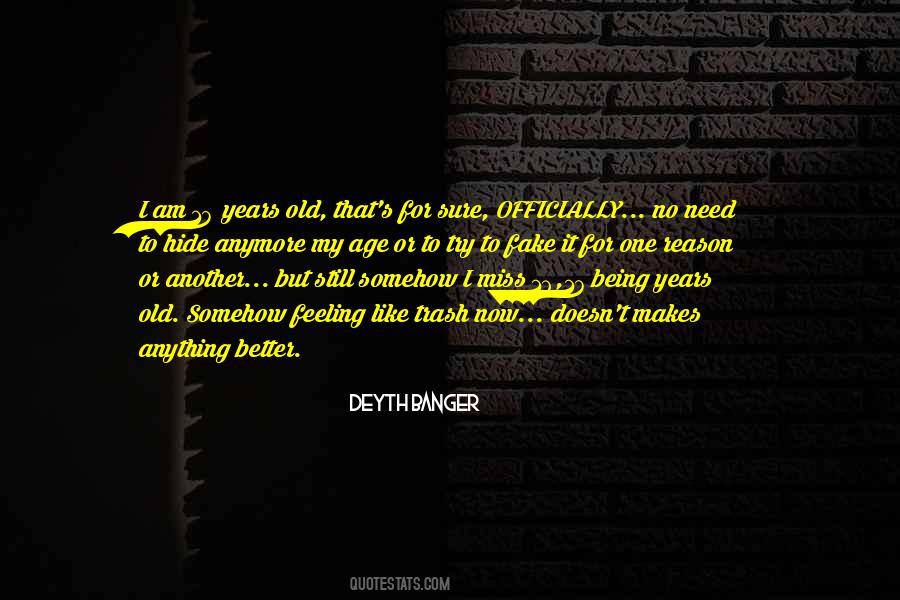 #21. I have a quite feeling of pity for all those who don't know chess; almost like I am sorry for those who never learned to love. Chess, like love and music, has the ability of making people happy. - Author: Siegbert Tarrasch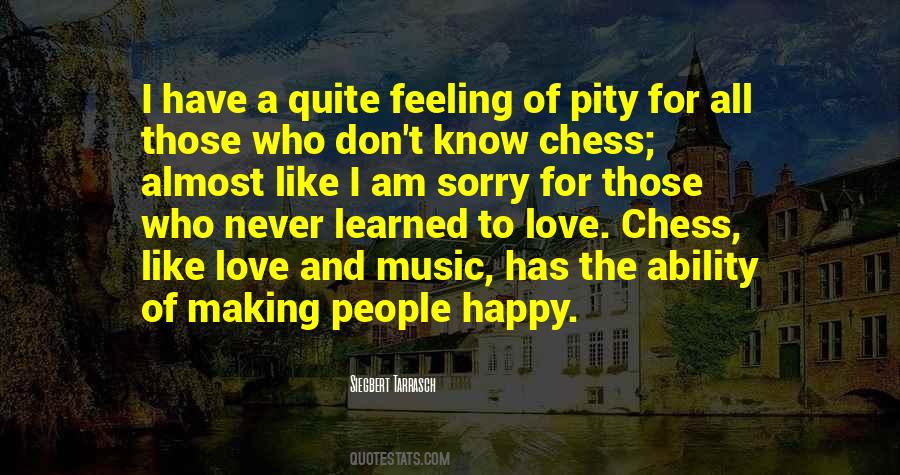 #22. I just love feeling myself, and moving, flexing, jumping, expressing, dancing and doing movement. I'm in tune with it. I like to express myself with my body, more so than intellectually. But, I am a geek. - Author: Michelle Rodriguez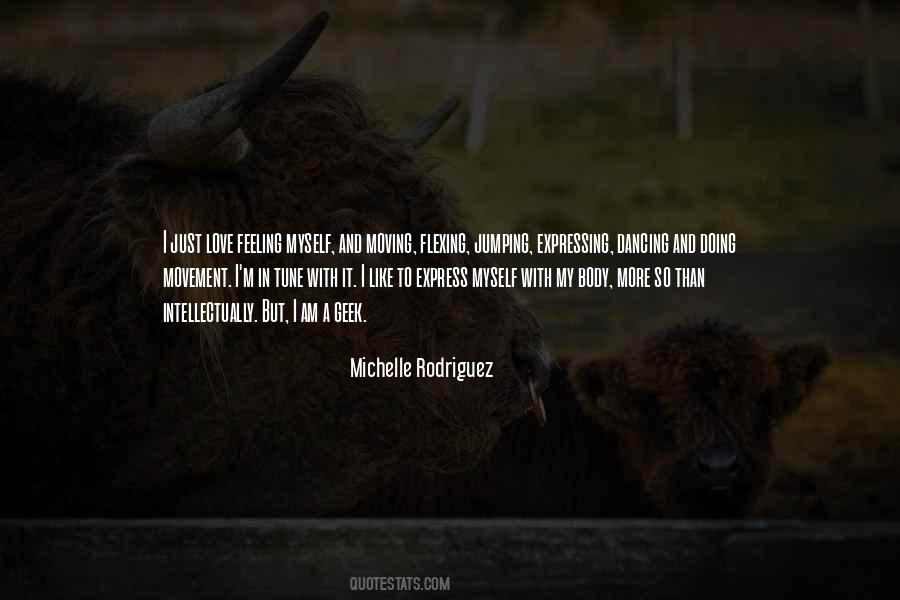 #23. Really, I want you to finish this book feeling like we could become friends, if the timing was right. That's it. Oh, and by the way, you should drink while you're reading this book. If you want to play a drinking game, I suggest you take a shot when you feel like I am abusing commas. - Author: Alida Nugent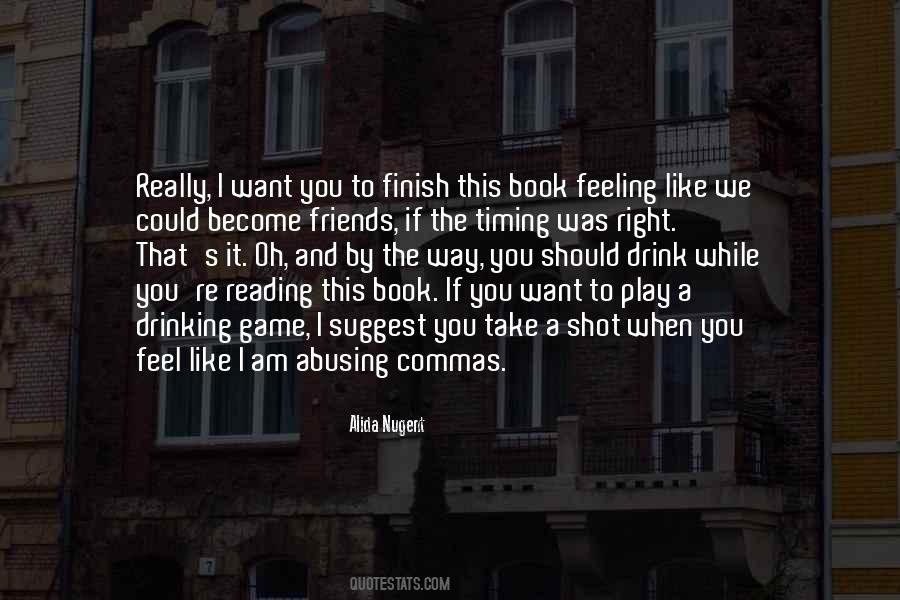 #24. Life's not clear like that, Sienna. It's not a collection of straight-line paths to your objectives. People don't yell out, 'Ha ha! I am betraying you!' just before they break your heart. In spite of how you're feeling, not everyone's a bad guy. - Author: Robert J. Crane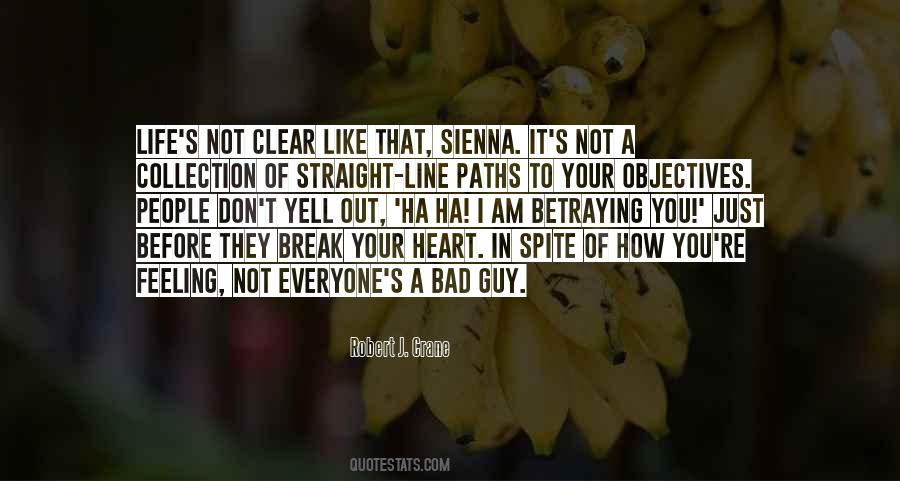 #25. The casino seemed like a good idea at first - right off the highway, filled with drunks and elderly, neither of whom are known for eyesight. But I am feeling crowded and fidgety, aware of the cameras in every corner, the doors that could snap shut. - Author: Gillian Flynn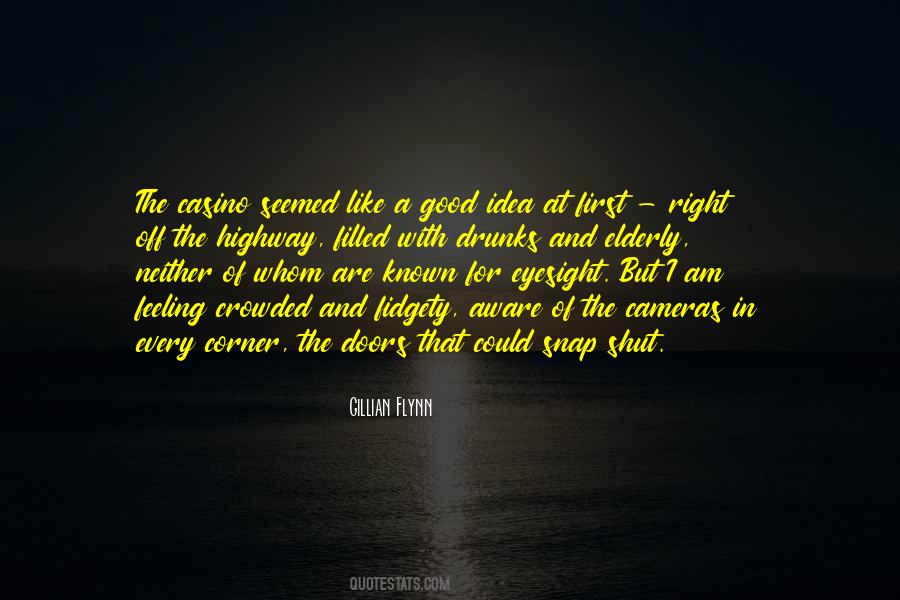 #26. It's a really big struggle for me to write a song. Songs take either 30 seconds for me to write or a year or two to piece together, depending on the song and how I'm feeling on any given day. I don't really like to write music at all unless I am completely unbothered by touring. - Author: Adam Levine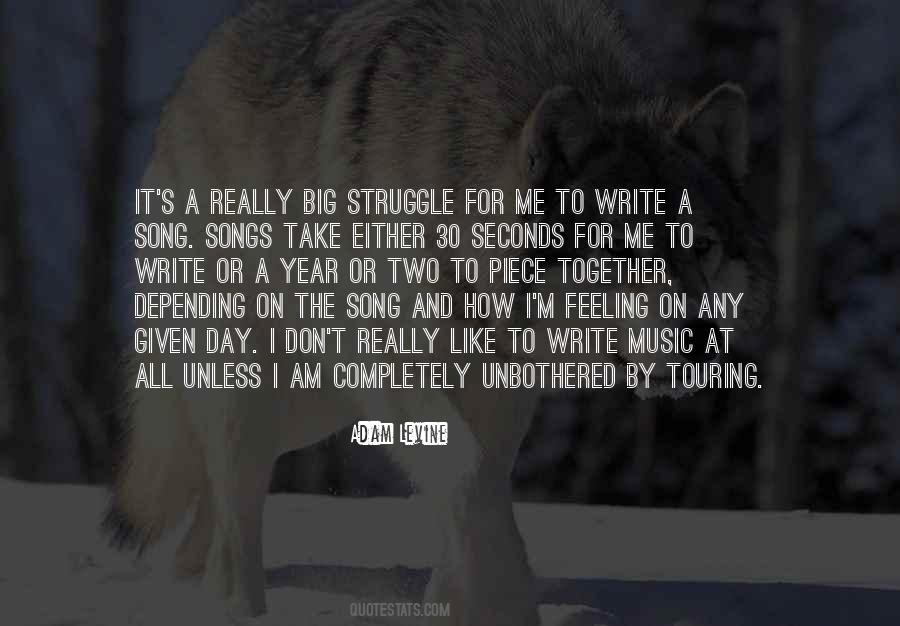 #27. I like not thinking when I am working. I thrive on that feeling of attempting to move on total instinct and inner feelings ... that to me is "soul"; soul music. Almost everyone else uses a great deal of thought processes ... they are idea men. - Author: Howe Gelb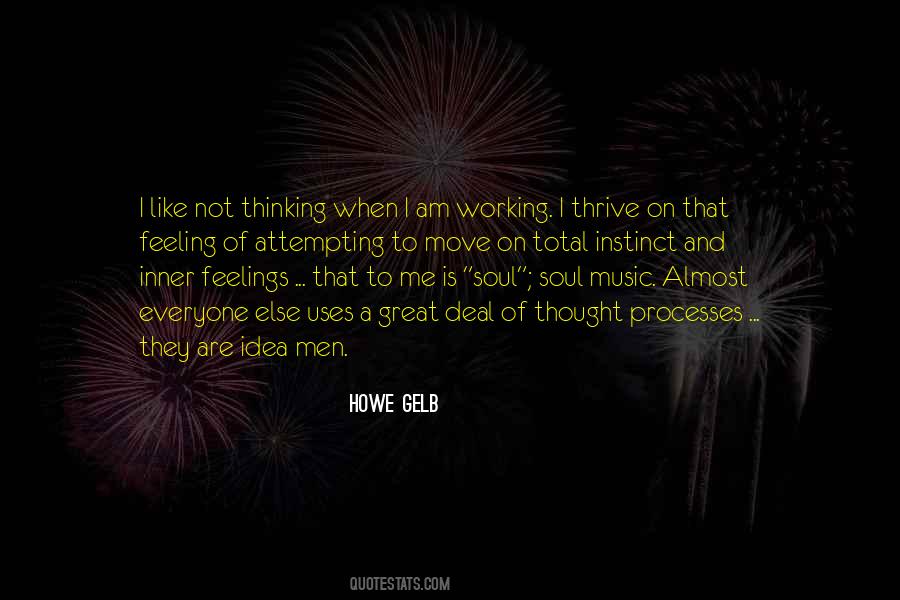 #28. In that moment, I felt differently to myself yet the essence of who I really was.
Like a perfect state of balance. - Author: Tim Relf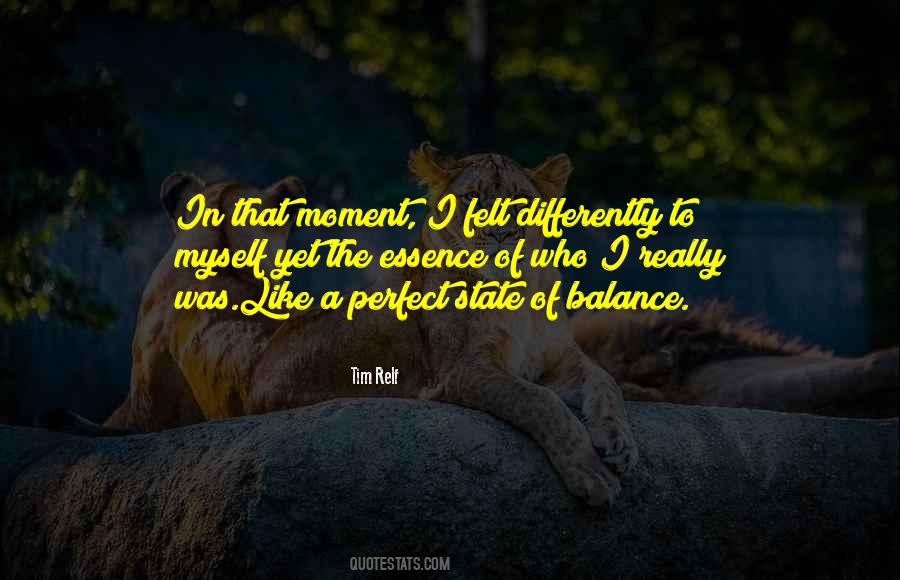 #29. I like the responsive, quick feeling I get out of the Proton, and I am excited to have this board as my model. - Author: Dane Reynolds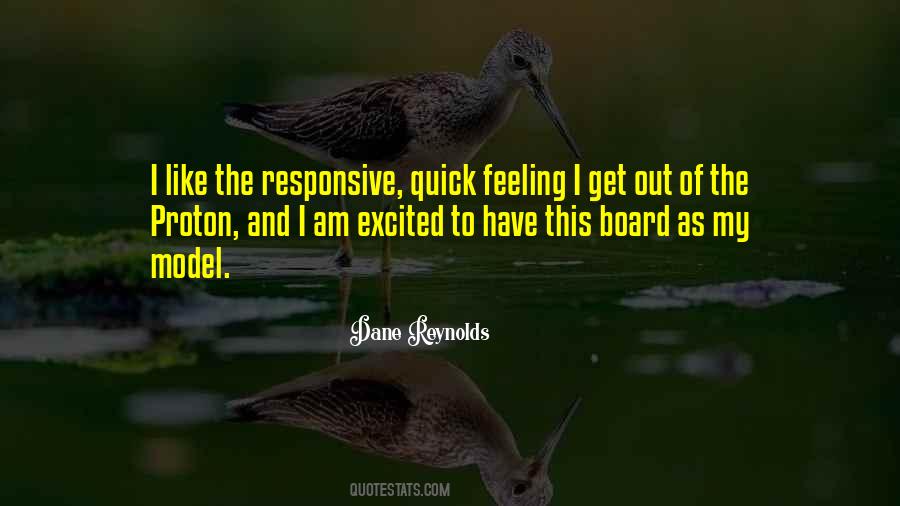 #30. I think that I've been trying for a long time to feel like I am supposed to, instead of what I actually am. - Author: Ava Dellaira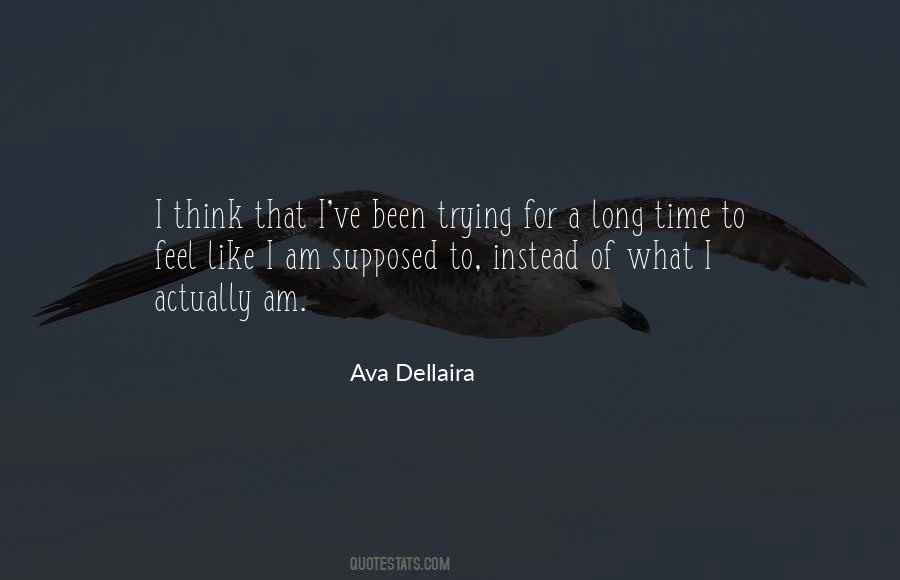 #31. When I am feeling rotten, I like to walk. When you walk, there's a kind of rhythm. Your mind slows down to match your body. Your thoughts start to go in lazy, comfortable circles. - Author: M T Anderson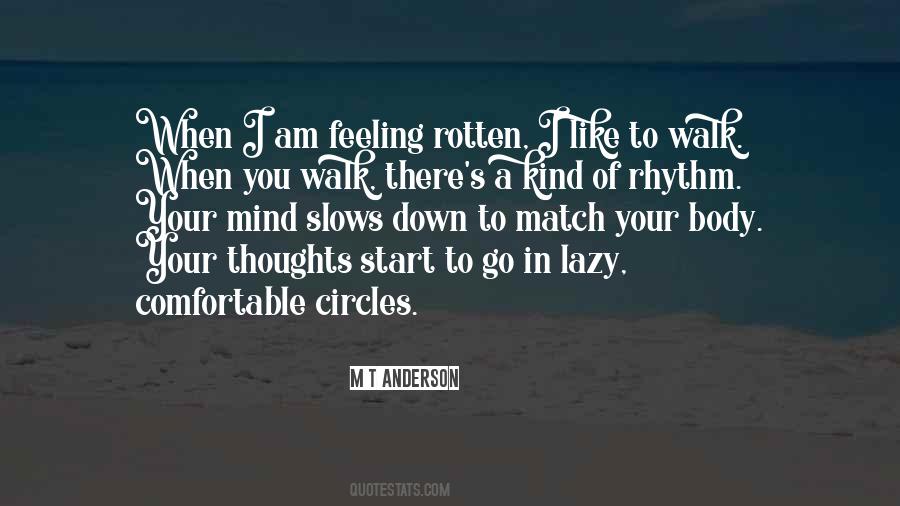 #32. I'm not used to feeling like I belong where I am. - Author: Robert Downey Jr.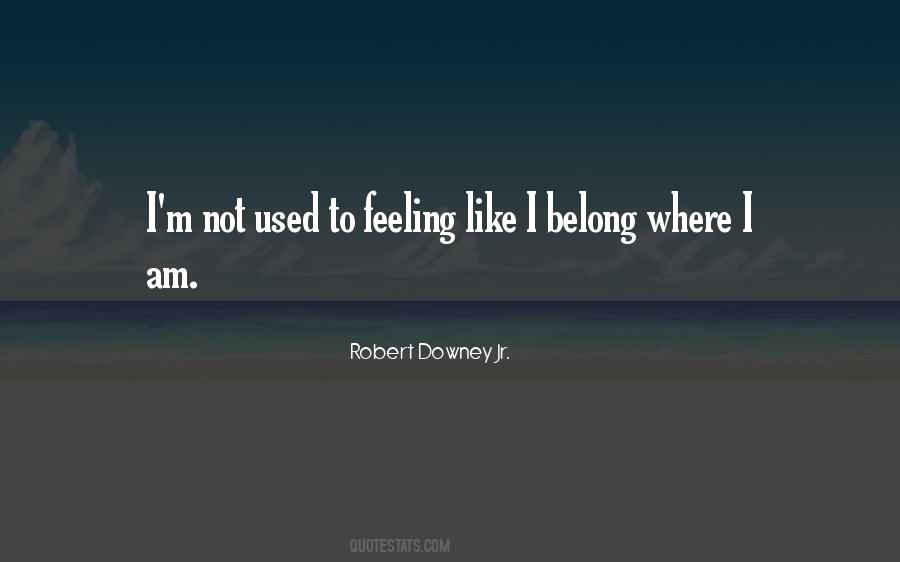 #33. I am drawn to writing and directing as it is most like the feeling I had when I was a teenager with my puppet theatre. You are more in control of everything and involved in every aspect of production, so more challenged and fulfilled. - Author: Richard E. Grant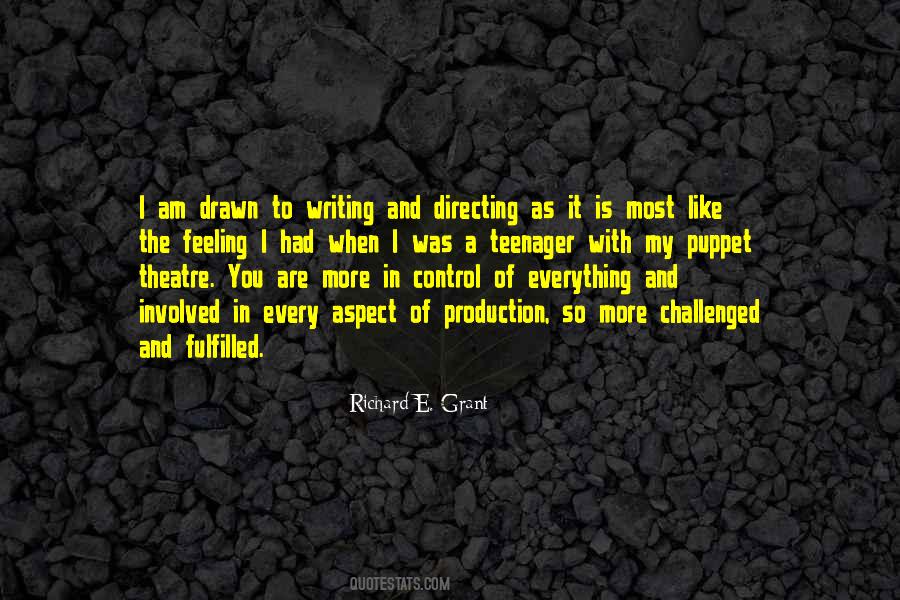 #34. At school, everything feels weird. No one looks at me or pays attention to me, no one says hi, no one asks how I am feeling, and everyone is so quite. It's like I don't even exist. - Author: Abraham M. Alghanem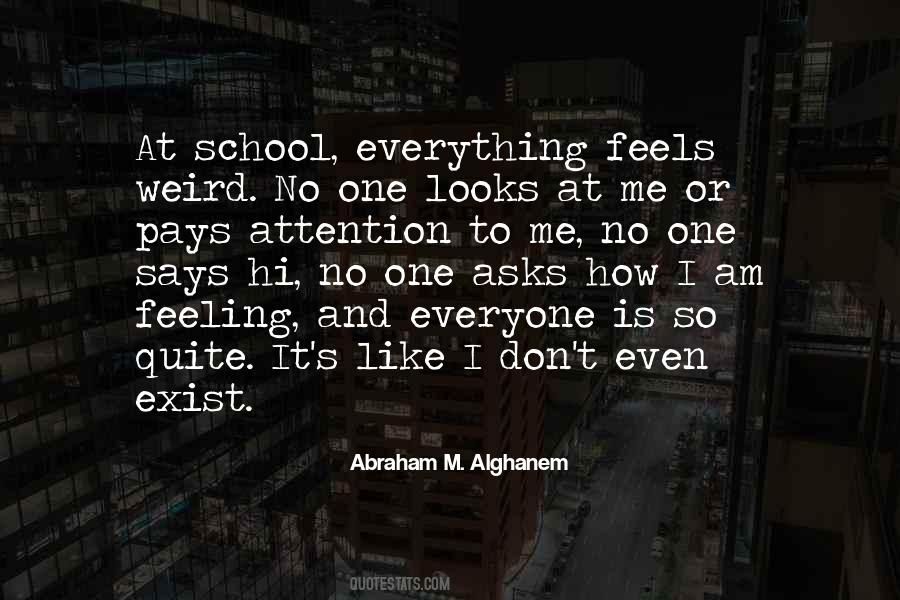 #35. I'm always feeling like I don't belong, no matter where I am. So I'm just searching for a family nonstop, and sometimes I find it in the mosh pit, sometimes I find it when I'm doing some French TV show with the president's wife. - Author: James Hetfield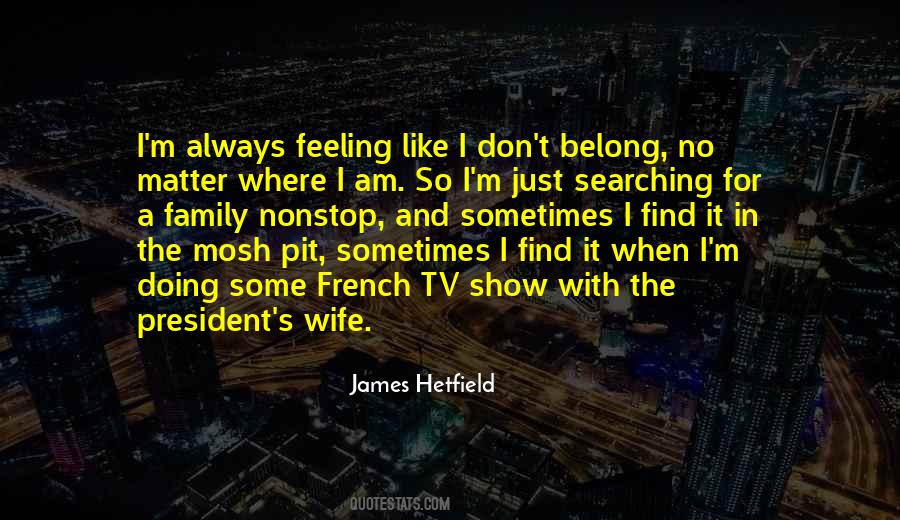 #36. The feeling of pain never leaves. With every beat of my heart, I am reminded that it remains. It festers within me like an infection. Life's antibiotic for pain associated with how we feel is communication. - Author: Scott Hildreth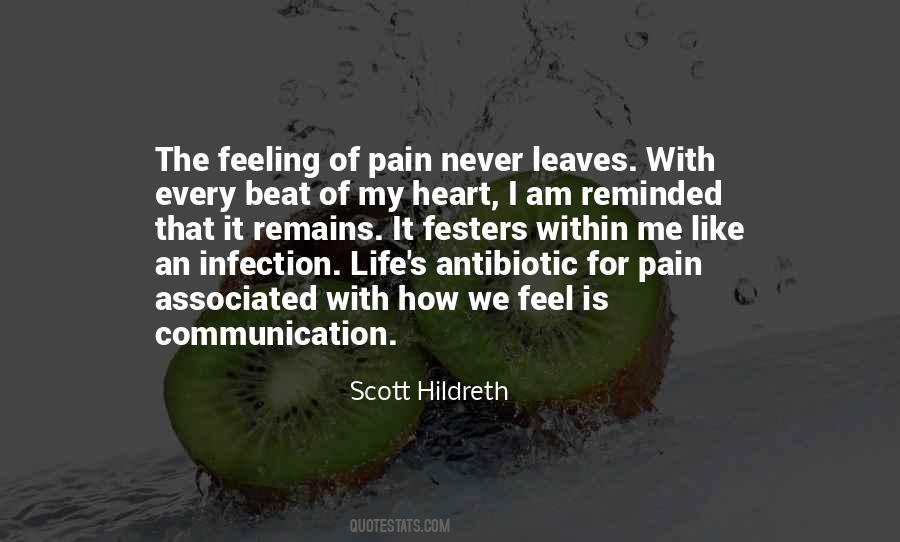 #37. If I'm feeling desperate, I'll go out image-hunting. I'll go to news agents and stand at the rack flicking through magazines or go to second-hand bookshops. And then, bit by bit, like concrete poetry, I start to realise that I am drawn to particular things, and then I start wondering why that is. - Author: Gary Hume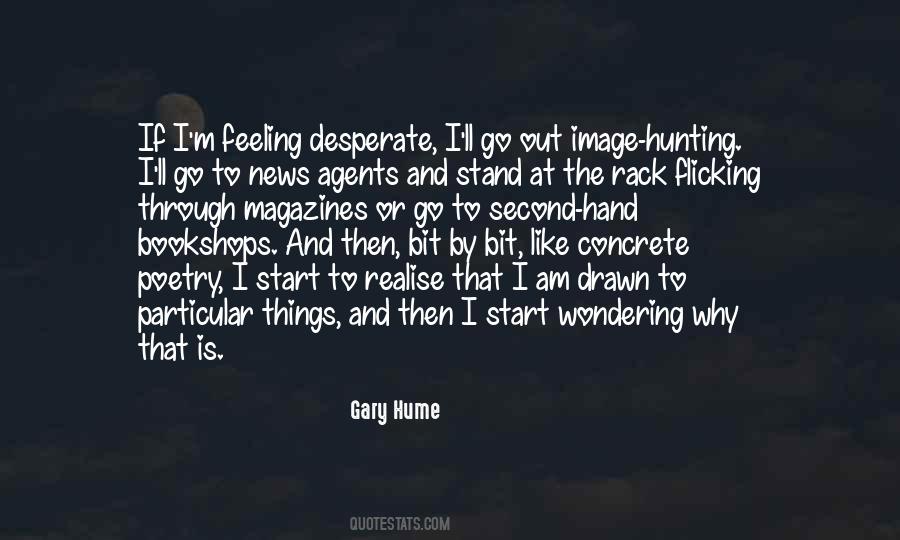 #38. I am still capable of feeling used. I am still capable of having a sexual experience that makes me feel like my entire life has been a mean joke. - Author: Charlotte Shane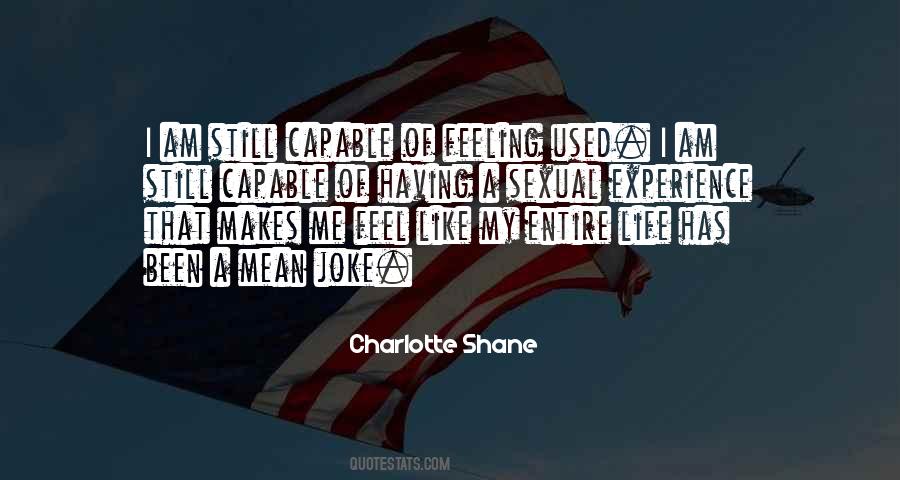 #39. I was conveniently bisexual for a long time, and then I went, 'Come on, who am I kidding?' And I have to say, it was the single biggest step I took toward emotional well-being, to stop feeling like I had to hide who I am. - Author: Alan Ball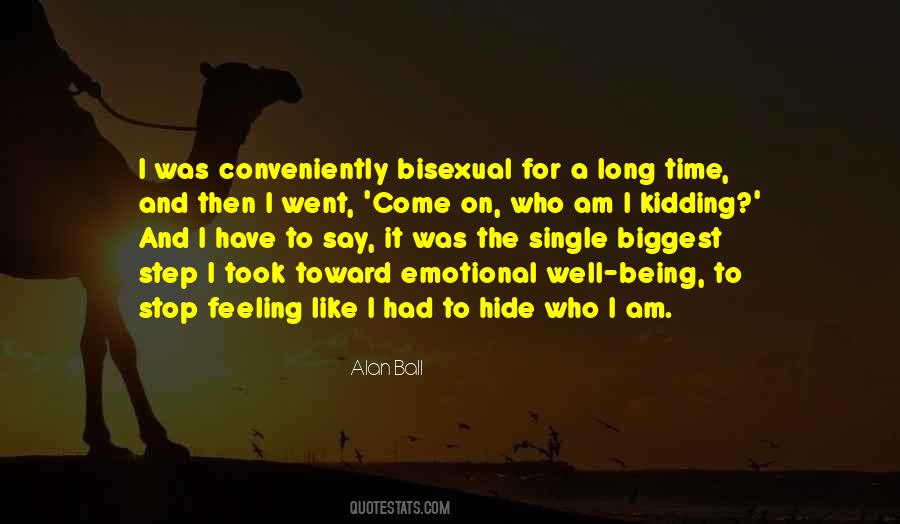 #40. I am comfortable with who I am as a person. I've never felt that pressure of feeling like I need to fit into something else or be something else because that's not me. I work out and I'm healthy, but that's not to lose weight; that's just to feel good. - Author: Hayley Hasselhoff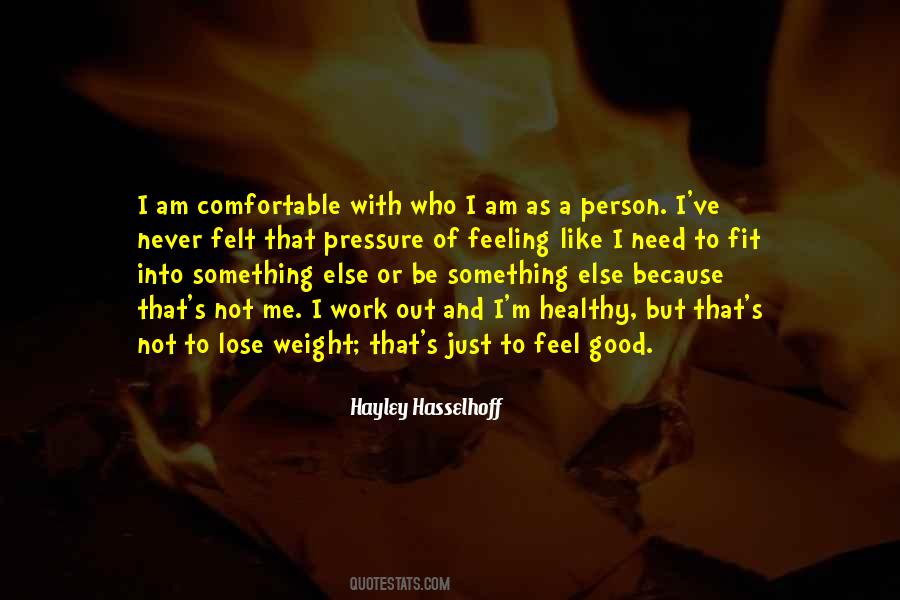 #41. I feel kinda happy. I discover that you were not leaving or disappearing. It is like you are here, there and everywhere. Just in the air. You taught me about time. I am now learning about space. It seems that both just vanish. It is awesome. Maybe the closest feeling to love. - Author: Daul Kim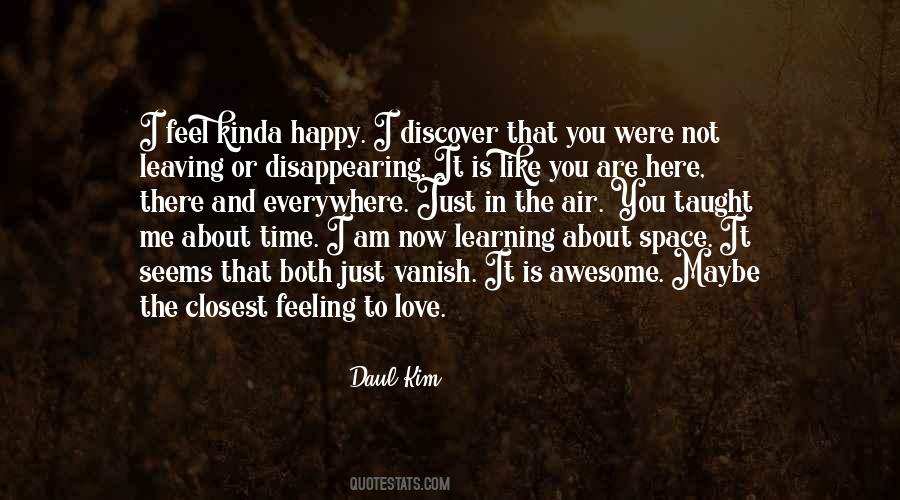 #42. Feeling like I am now lighting up the hall. I was used to standing in the shadow of a damaged heart. - Author: Sara Quin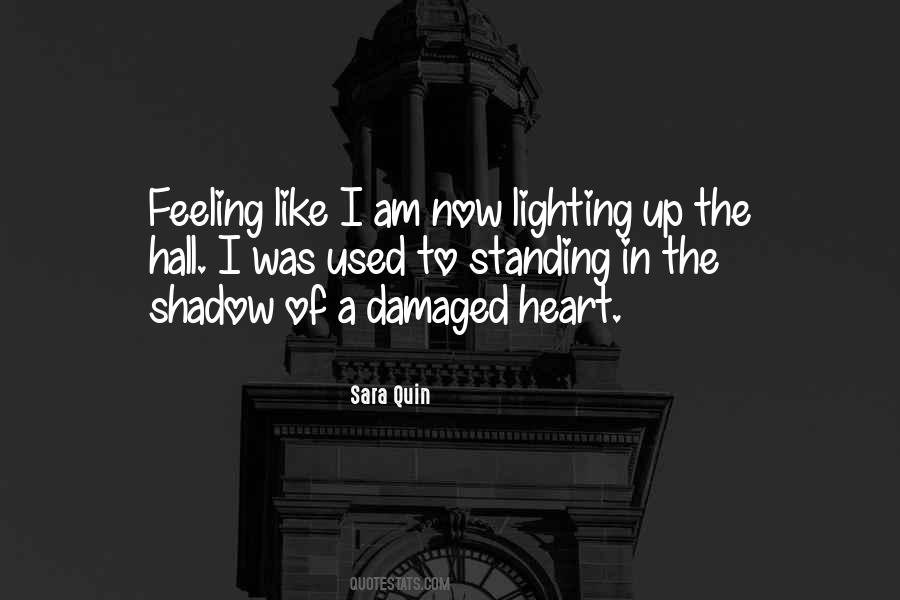 #43. I hate feeling so weak and vulnerable.
I hate that I miss him.
I hate that I am alone, and I always was.
I hate that I made him into a superhero, he was not.
I hate that he doesn't want to kiss me.
I hate that every time I cry over one boy it's like crying over all of them again. - Author: Bill Shapiro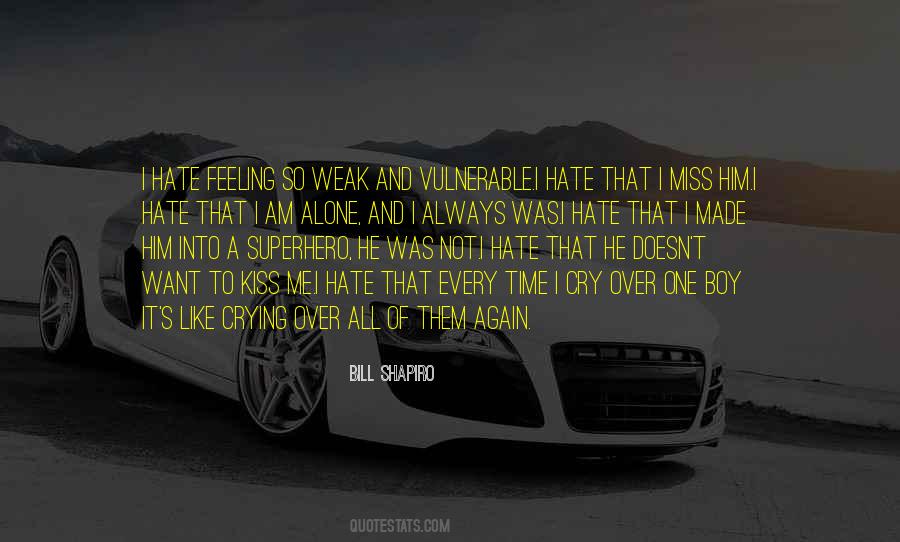 #44. I am sitting here at thirty-six feeling like I am responsible for the holocaust for all that is toxic and wrong. Maybe it's because I eat meat, and I stepped on three ants last Tuesday. - Author: Amber Garibay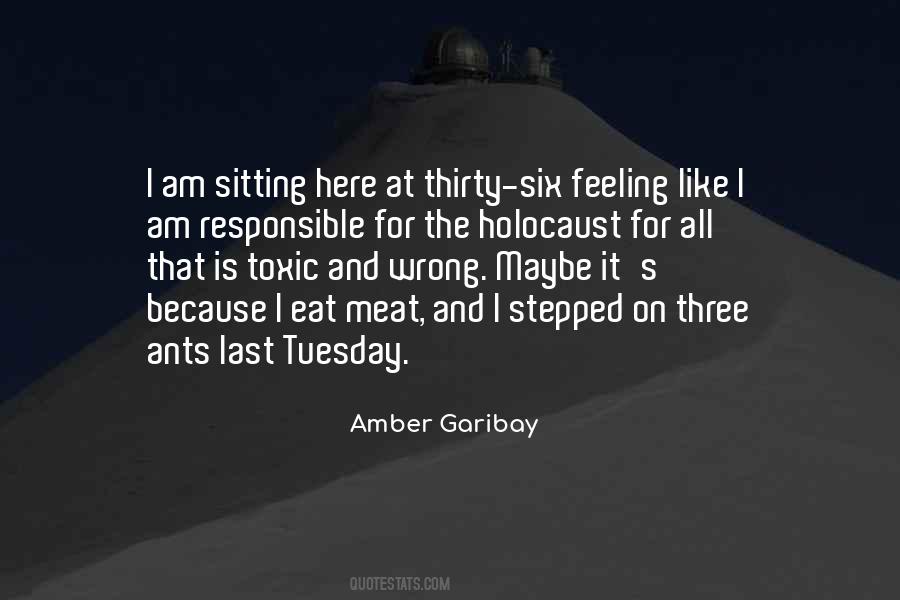 #45. I love clothes so much. I feel like whatever I wear is an insight for other people to get to see who I am, or for me to portray how I'm feeling. - Author: Dakota Johnson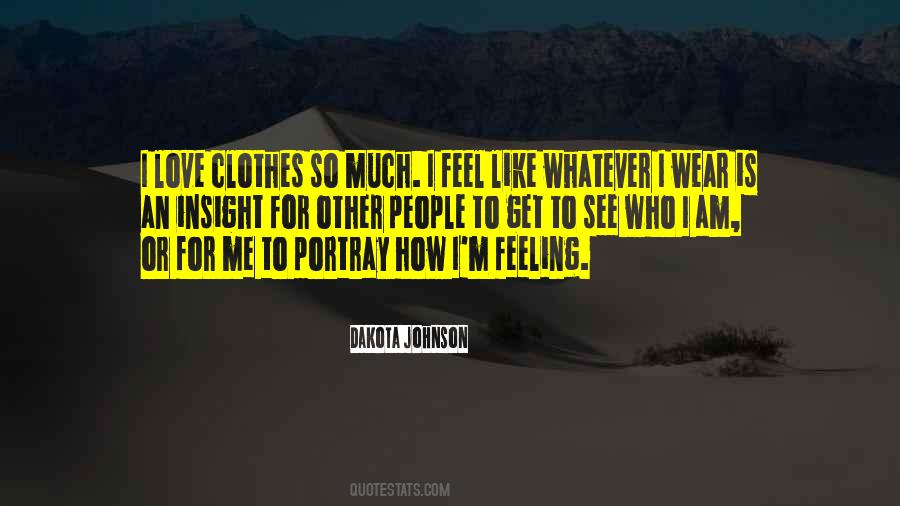 #46. I say I'm in love with her. What does that mean?
It means I review my future and my past in the light of this feeling. It is as though I wrote in a foreign language that I am suddenly able to read. Wordlessly, she explains me to myself. LIke genius she is ignorant of what she does. - Author: Jeanette Winterson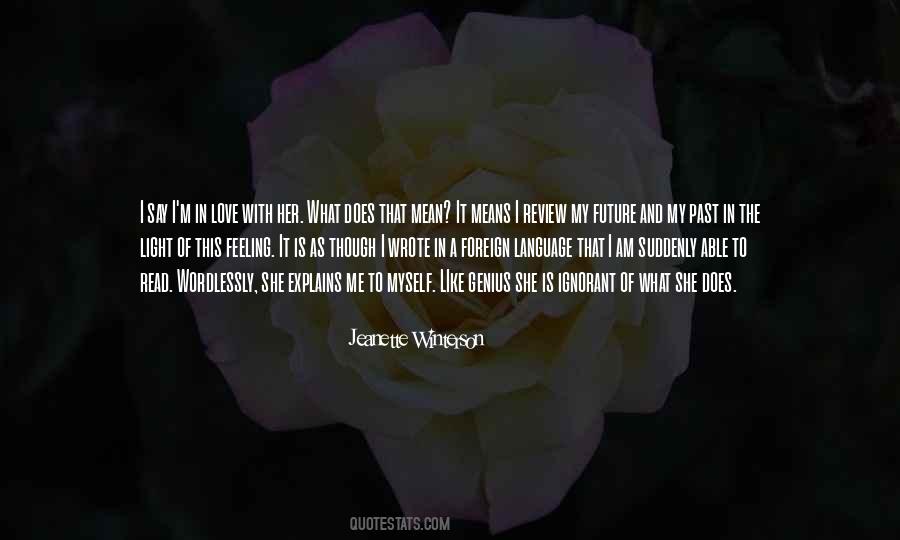 #47. There's a difference between feeling like I don't need to explain and deliberately confusing you. If the impression is that I'm deliberately confusing you, that is not what I am trying to do at all. - Author: Kelly Sue DeConnick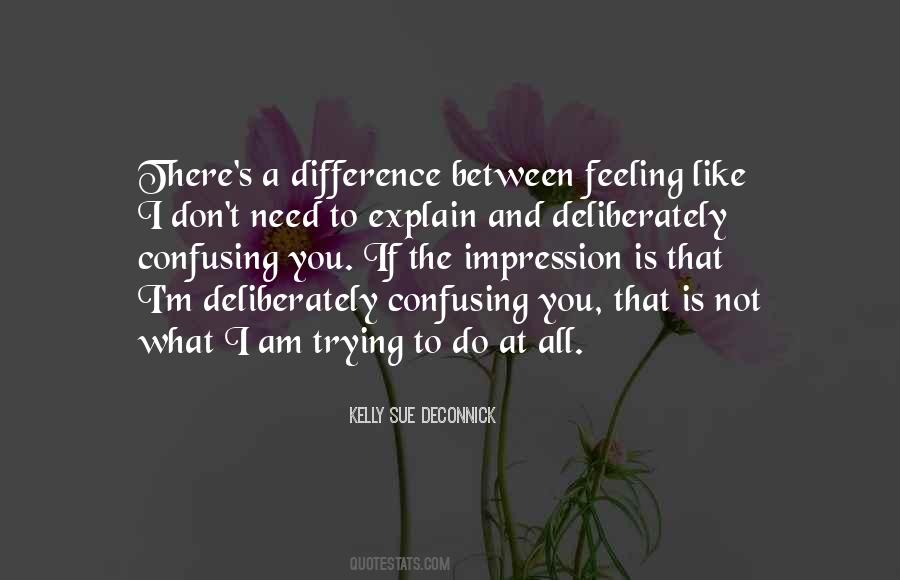 #48. I am remembering the soldier who are coming to my village and I am holding my machete closer. I am liking how it is feeling in my hand, like it is almost part of my body. - Author: Uzodinma Iweala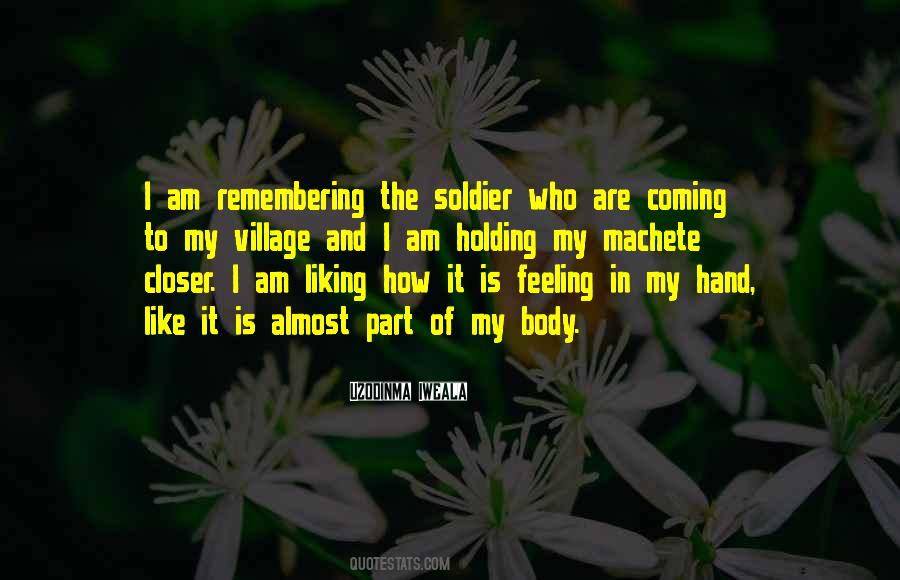 #49. I too am a poet who has found some favour with the Muse. I too have written songs. I too have heard the shepherds call me bard. But I take it from them with a grain of salt: I have the feeling that I cannot yet compare with Varius or Cinna, but cackle like a goose among melodious swans. - Author: Virgil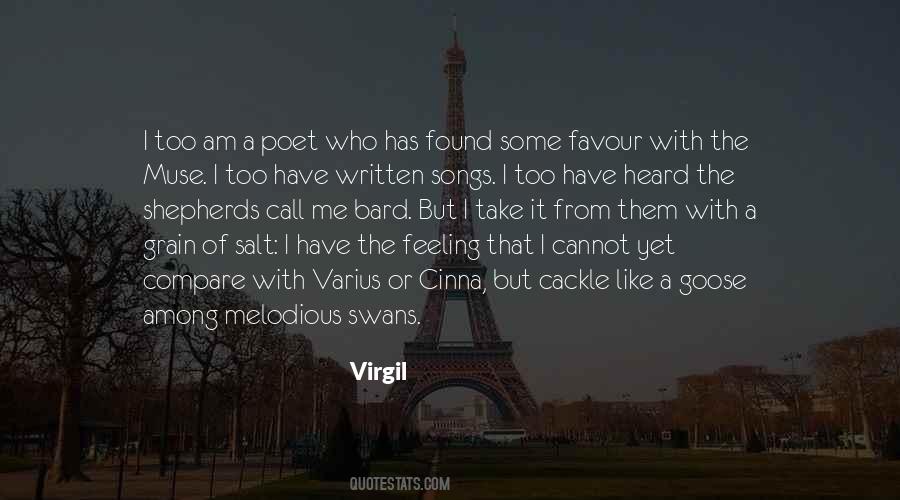 #50. Because I know if I sit down and start to write out how it feels ... . it all becomes too real ... the pain becomes too much. But that's the weird part because I feel so empty, like there no longer is a heart living where there used to be one, so why am I feeling pain? - Author: Chriselle Ravadilla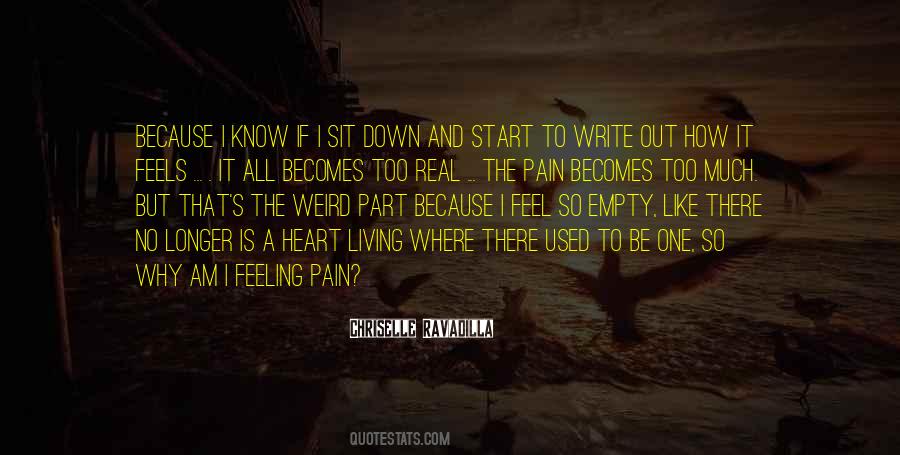 #51. No drug or drink can match the high/kick that a Sale gives you! Though the feeling can never be expressed in words but I feel like I am the king and on top of this world! - Author: Honeya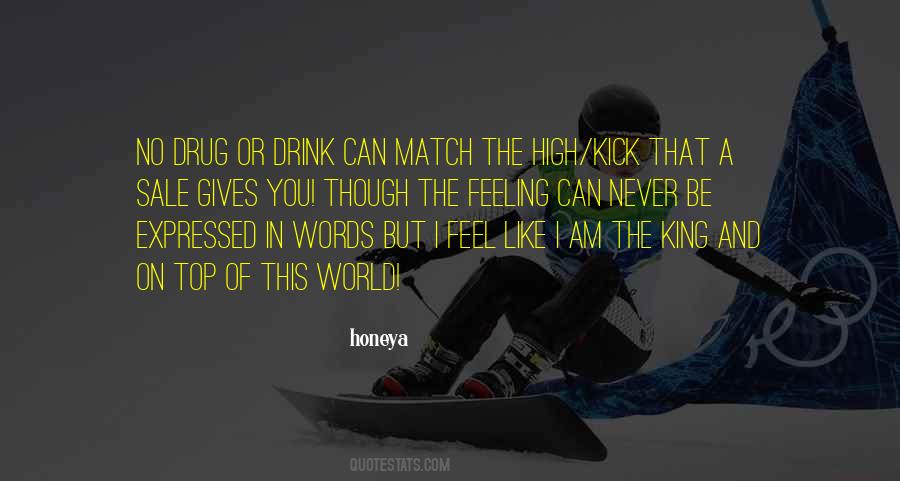 #52. Man they treat me like a legend, am I really this cold? I'm really too young to be feeling this old. - Author: Drake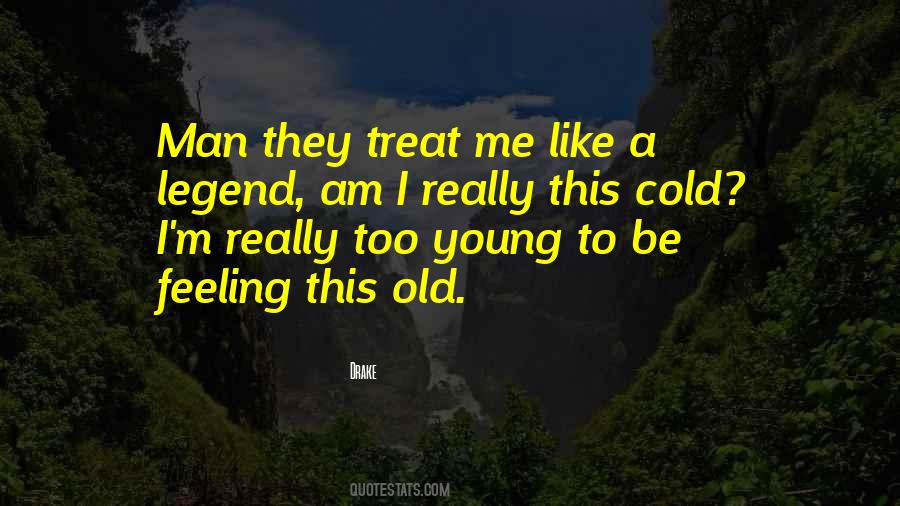 #53. It hurts almost more than I can bear. Tears sting my eyes again; I wipe them away impatiently. I am so tired of crying, so tired of feeling like half a person, but I don't know how to change things... (I have never felt so lost and alone.) - Author: Kristin Hannah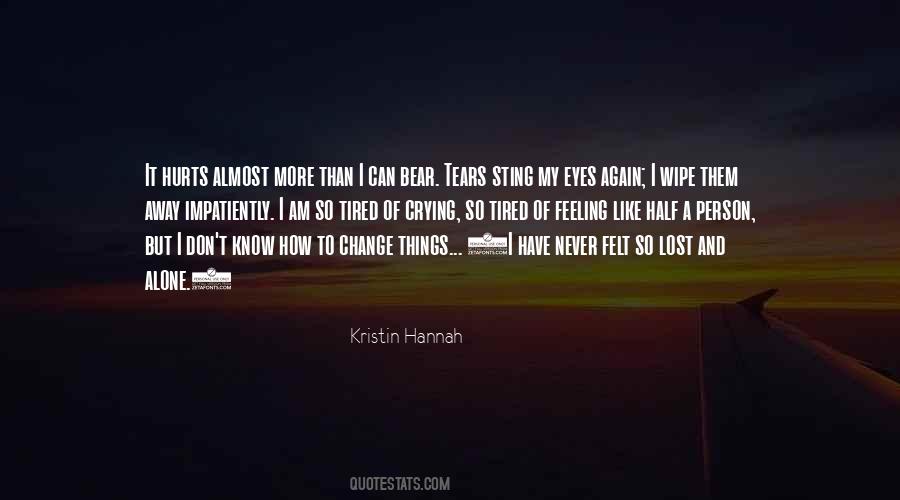 #54. I feel like an independent man, and I am. This is the kind of feeling I always wanted. You can rarely get that ... Well, I could rarely get that in the early part of my life. - Author: Jack Kirby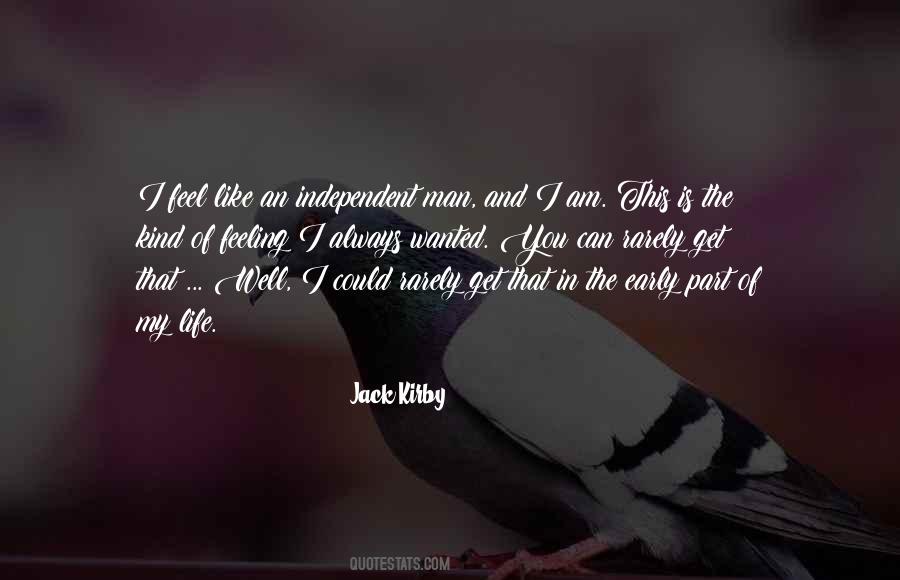 #55. I hope that the feeling of making poetry is not confined to the people who write it down. There is no luxury like it, and I hope we all share it ... I am sure that the great glory of poetry in one's heart does not wait on achievement. - Author: Stella Benson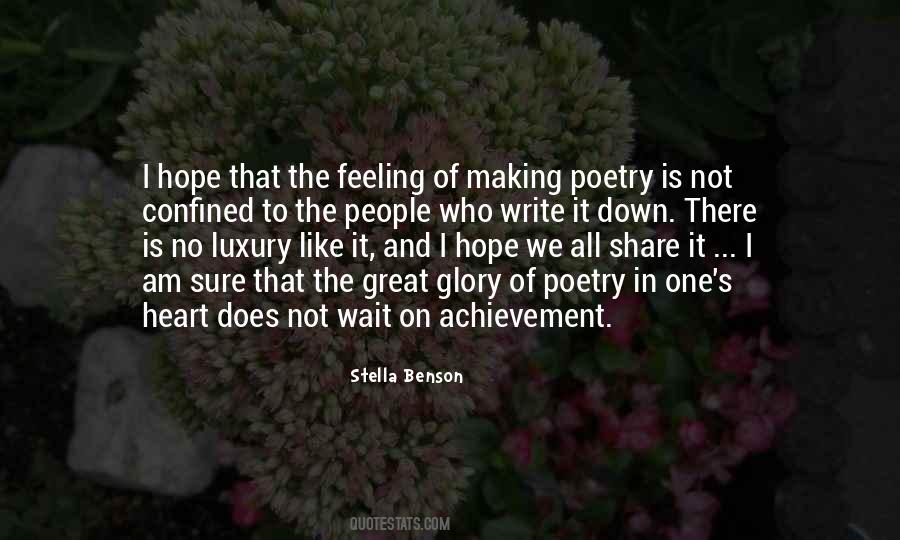 #56. I am definitely feeling 'intimate.' I'm kind of unstoppable at the moment! Like the big 'O' is like the biggest 'O' ever. - Author: Jessica Simpson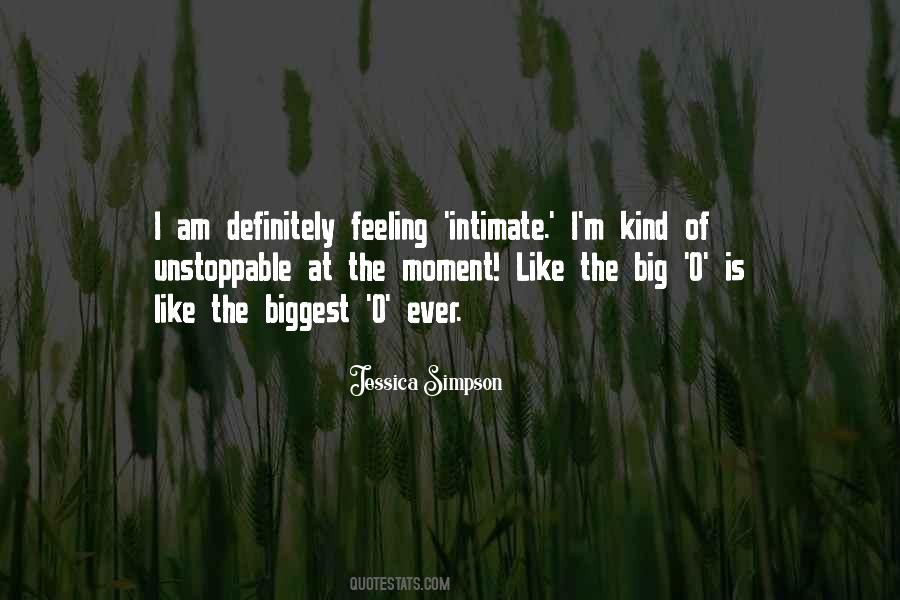 #57. I am not good. I am not virtuous. I am not sympathetic. I am not generous. I am merely and above all a creature of intense passionate feeling. I feel - everything. It is my genius. It burns me like fire. - Author: Mary MacLane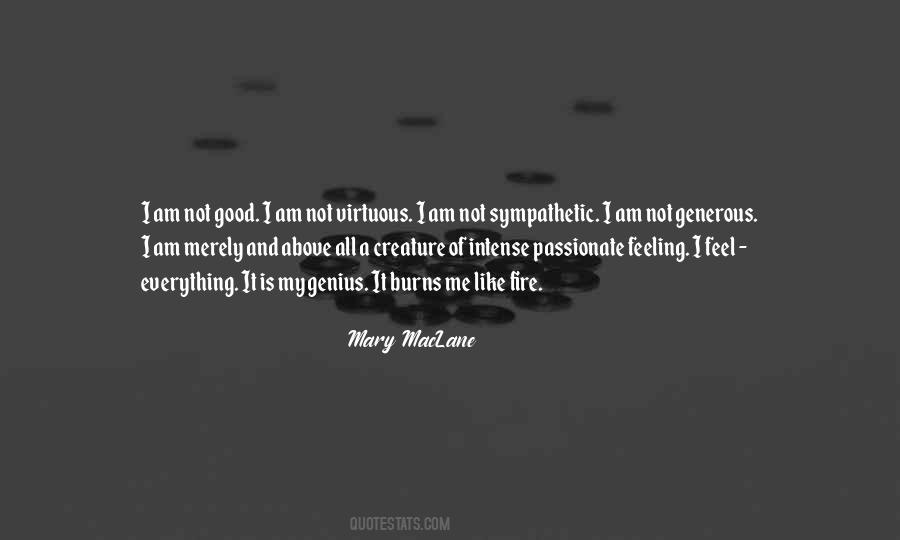 #58. I rarely cry. I save my feelings up inside me like I have something more specific in mind for them. I am waiting for the exact perfect situationand then BOOM! I'll explode in a light show of feeling and emotion - a pinata stuffed with tender nuances and pent-up passions - Author: Carrie Fisher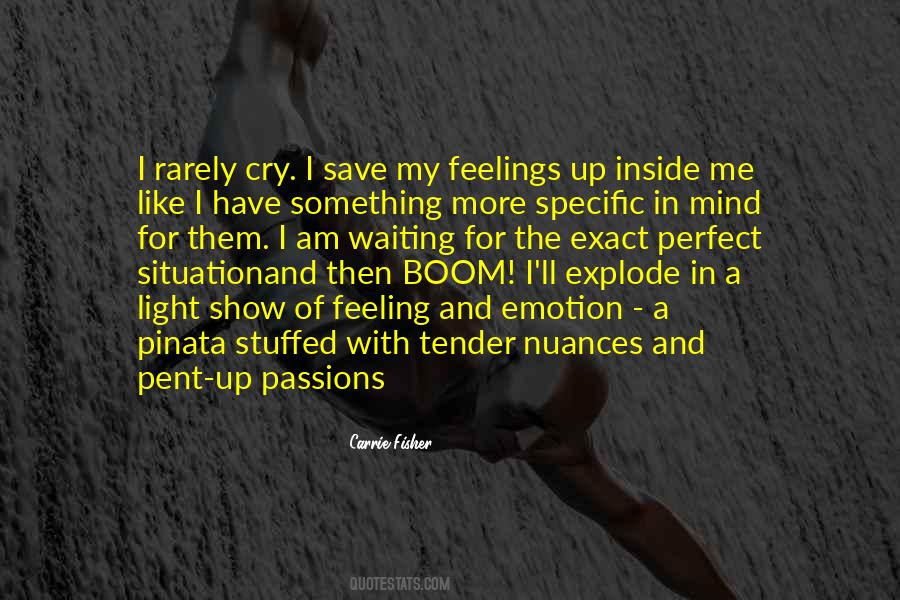 #59. I am not an exponent of expressionism. I don't know exactly what that means, but I don't like the sound of it. I dislike cults and isms. I want to paint in terms of my own thinking and feeling. - Author: Georgia O'Keeffe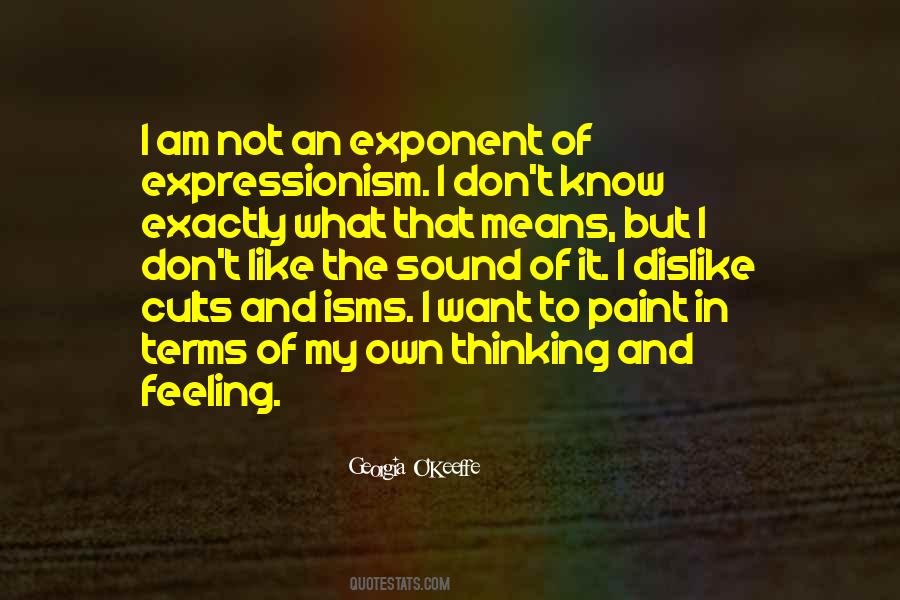 #60. Brian Epstein was like all people who turn out to be of interest, someone who was of interest to himself. I hear this a lot now. There's a feeling of I am different. - Author: Derek Taylor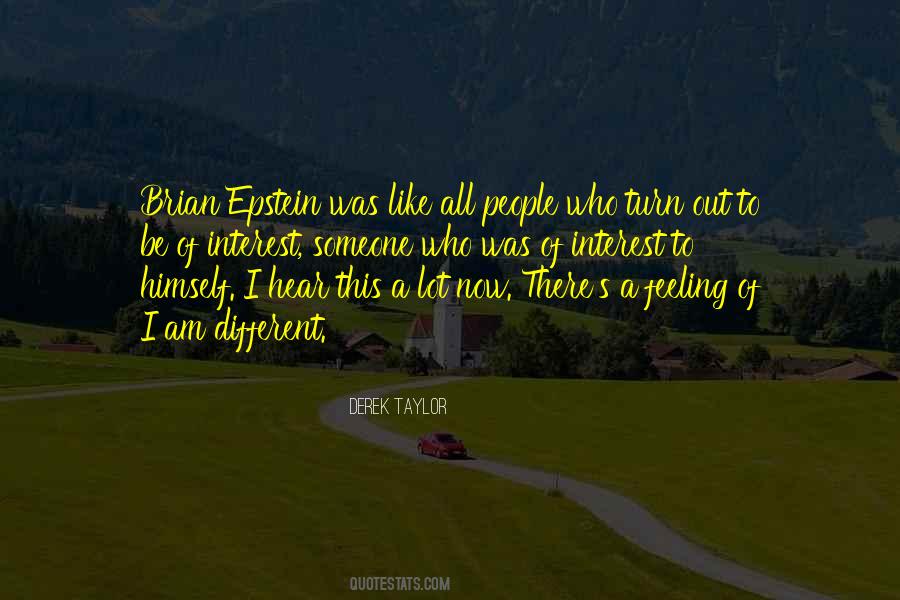 #61. I feel like I'm moving from a world where I was creating fantasies that weren't real inside - and very often feeling really dissatisfied - to now living in reality for the first time in my life since I was a kid, and learning to appreciate where I am now while actually sitting with that reality. - Author: Damien Rice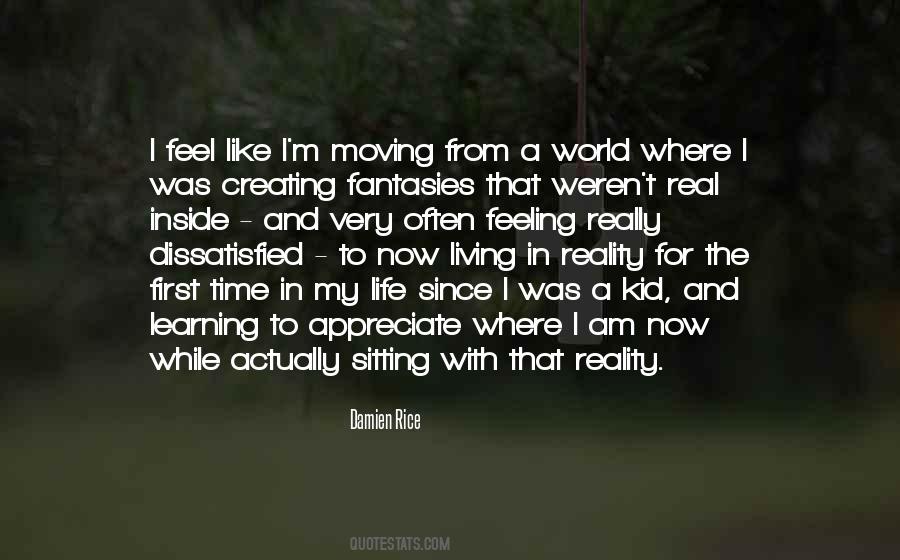 #62. I am not an artist and never have been. Rather I am like a craftsman and feel very close to the mediaeval artisans who produced their work anonymously and who, along with their apprentices, had a true feeling for the physical materials they were working with. - Author: Werner Herzog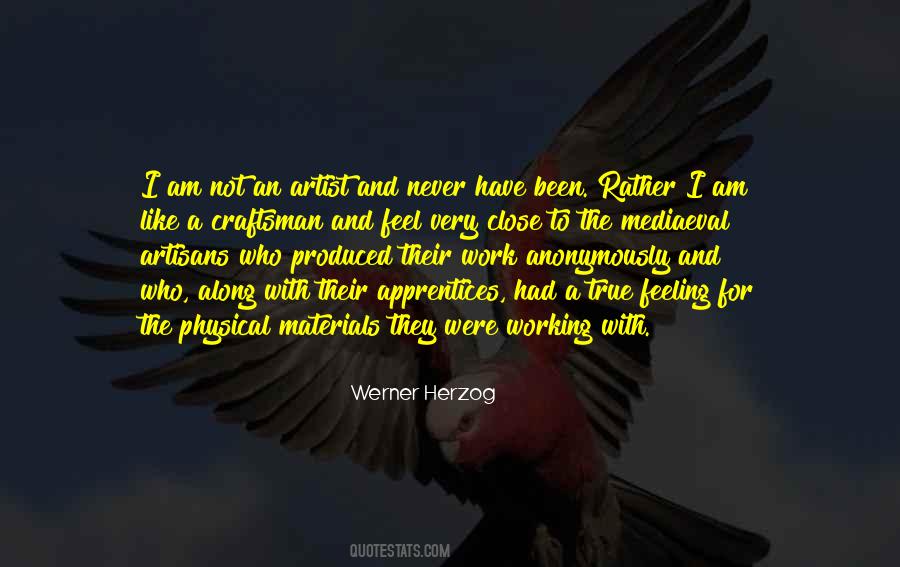 #63. I am really enthusiastic about my new council position because part of my satisfaction in life is feeling like I have done something. With this responsibility I hope I can accomplish things for the City of Williamstown and the people. - Author: Barbara Lewis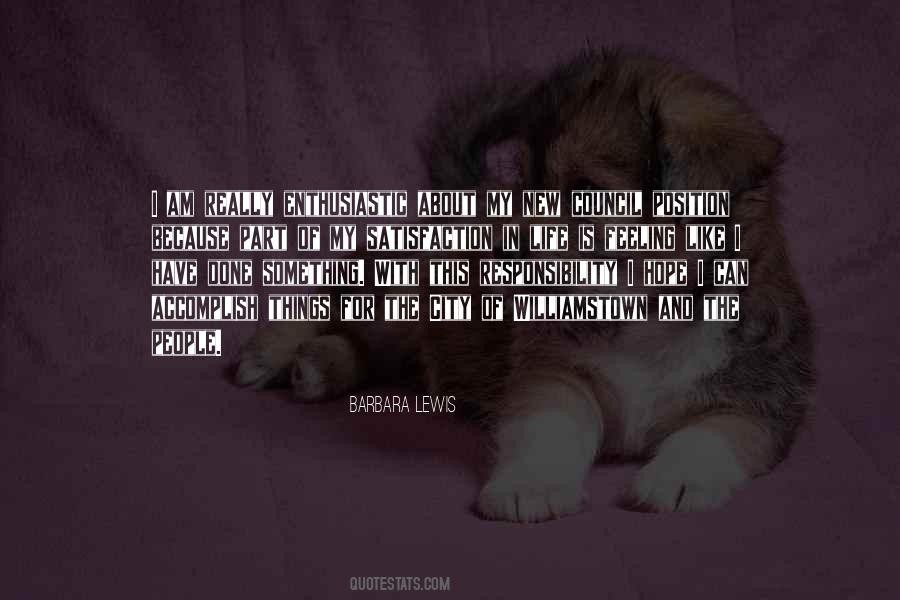 #64. Lying there, feeling safe in his tight embrace, a tear escaped my resolute eye and darkened his purple shirt. I usually do not cry when I am afraid, but invariably did when I felt safe and cocooned, like I felt in the confines of his strong, sure arms. - Author: Kavipriya Moorthy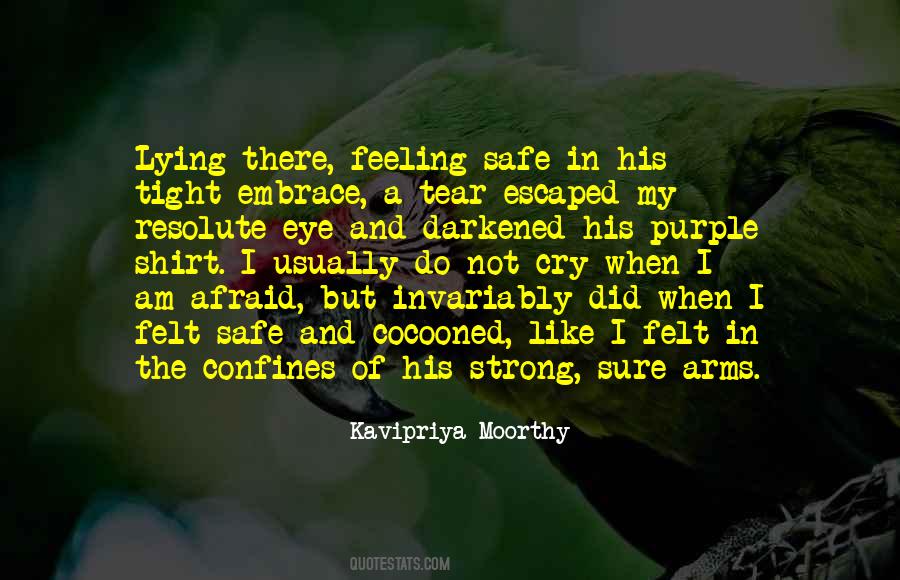 #65. When I have a model who is quiet and steady and with whom I am acquainted, then I draw repeatedly 'til there is one drawing that is different from the rest, which does not look like an ordinary study, but more typical and with more feeling. - Author: Vincent Van Gogh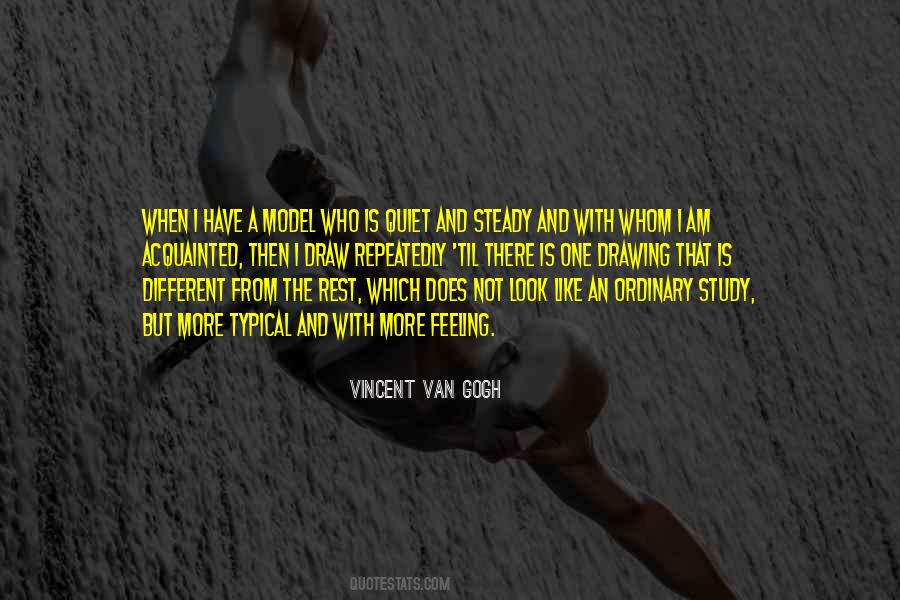 #66. You cannot beat the feeling of sitting on top of the charts. I had almost forgotten what it feels like ... It feels great! It is really a very exciting time and I am enjoying the ride. - Author: Lionel Richie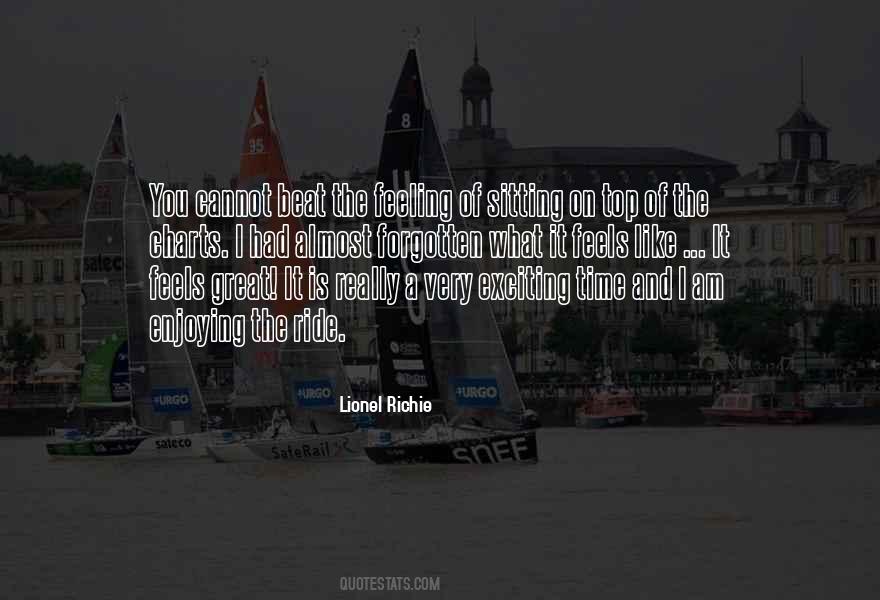 #67. Nobody really metamorphoses. Cinderella is always Cinderella, just in a nicer dress. The Ugly Duckling was always a swan, just a smaller version. And I bet the tadpole and the caterpillar still feel the same, even when they're jumping and flying, swimming and floating.
Just like I am now. - Author: Holly Smale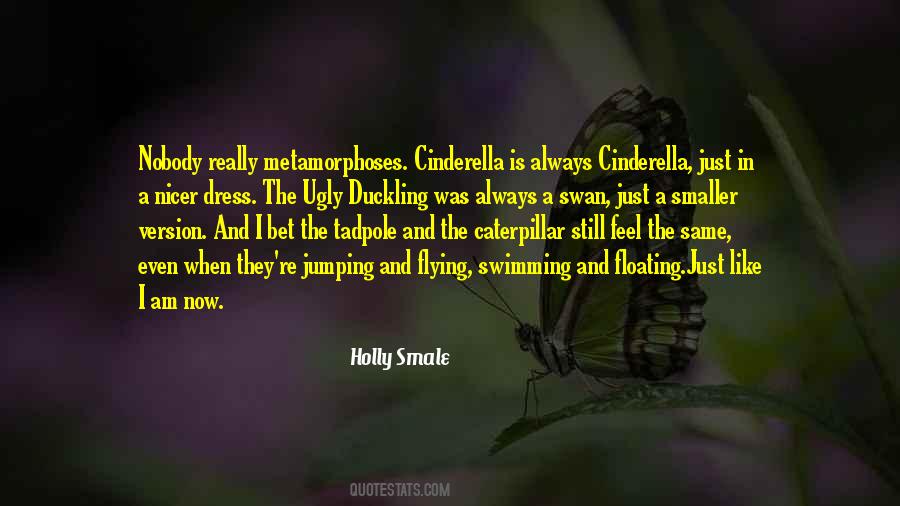 #68. As I get older, my skin shows more of how I am feeling, like a mirror. If I am stressed, or not getting enough sleep, I see it in my face right away. - Author: Joanne Froggatt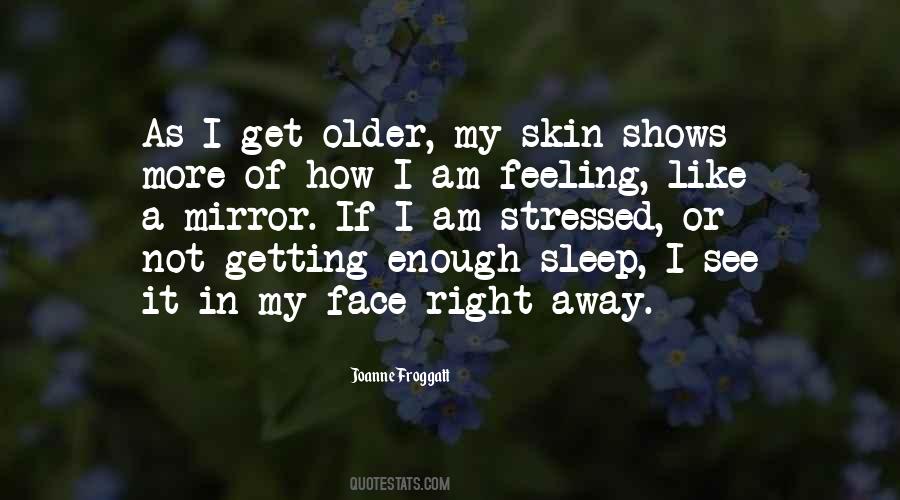 #69. My greatest fear is feeling like a professional novelist. Somebody who creates characters, who sits down and has pieces of paper taped to the wall - what's going to happen in this scene, or this act. What I like is for it to be a much more scary, sloppy reflection of who I am. - Author: Jonathan Safran Foer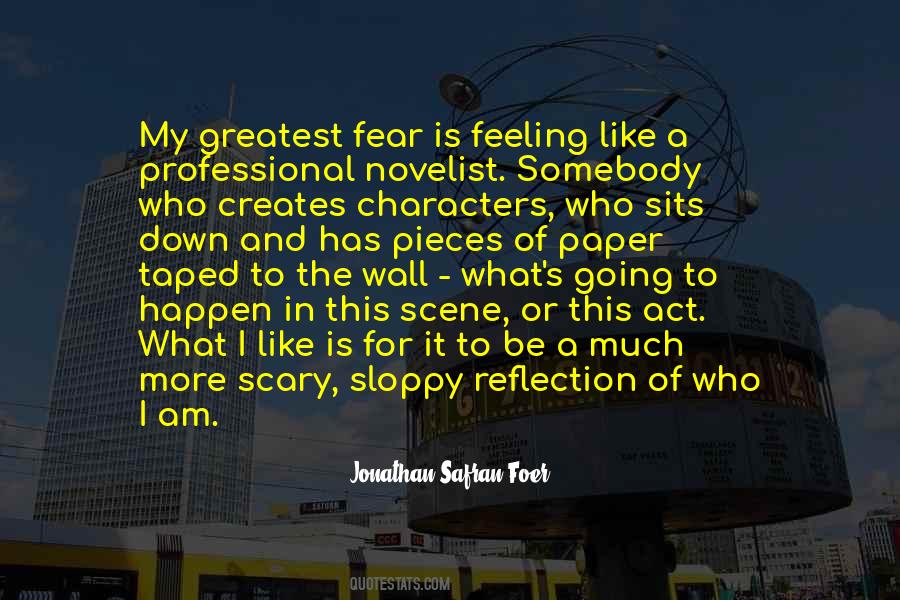 #70. I didn't want to break with my family. I wasn't about to make waves. But I had this feeling I wanted to do something that I liked to do. Acting's what I liked to do most. There must have been a moment when I felt, 'Oh, my God, I like this and what am I going to do about it?' - Author: Charles Kimbrough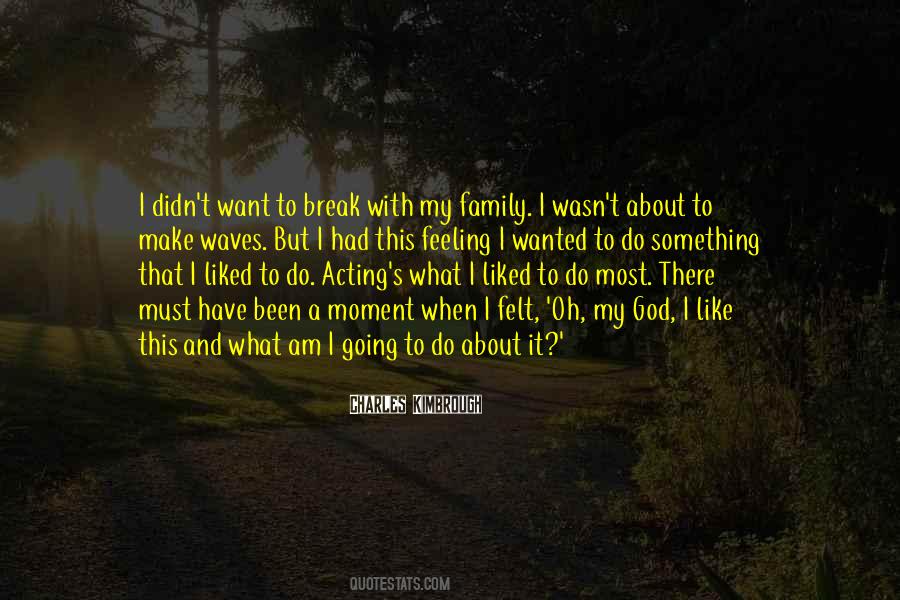 #71. I'm so sorry, I continue. And it's like the last word is a hurdle and I can't leap it, because something in the word snags my voice and suddenly I am giving everything up. I am letting my shoulders fall and I am feeling myself become the absence, feeling myself become that gasp and sob. - Author: David Levithan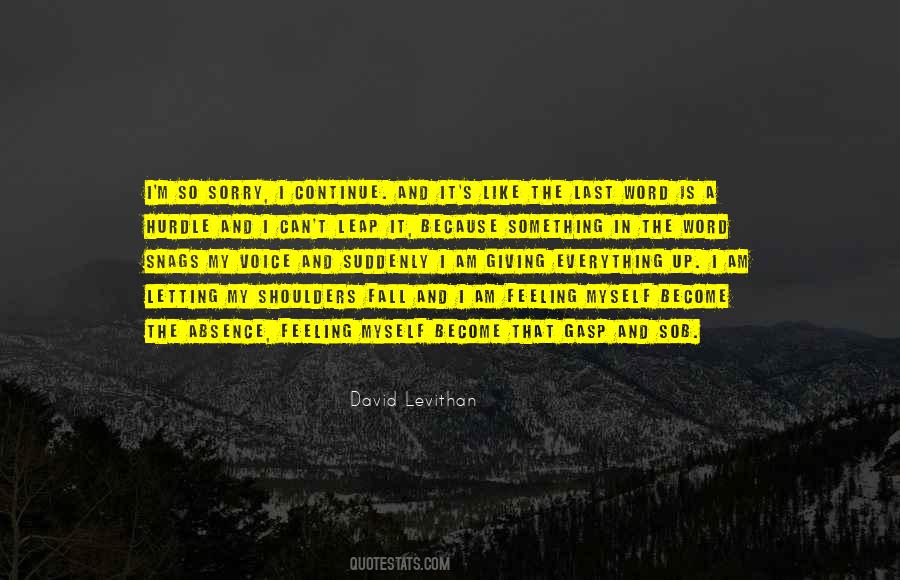 #72. London is like a dream come true. As I ramble through it I am haunted by the curious feeling of something half-forgotten, but still dimly remembered, like a reminiscence of some previous state of existence. It is at once familiar and strange. - Author: Joseph Fort Newton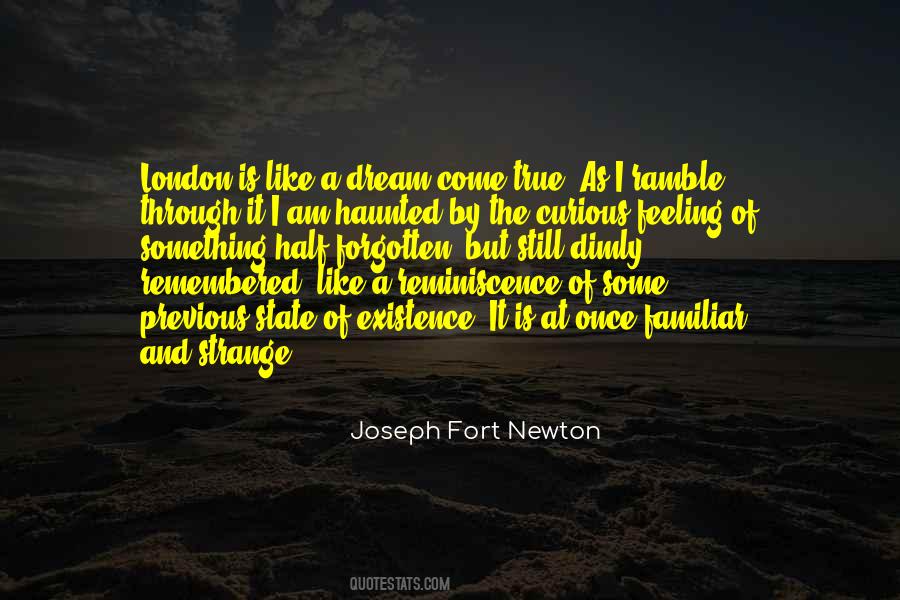 #73. I see explicit covers on magazines, and they're getting even more explicit, and it's like, Are women being empowered, or is this just what sells magazines? Are they feeling pressured, or have they really come into themselves and are saying, 'I am woman, hear me roar?' - Author: Rosie Perez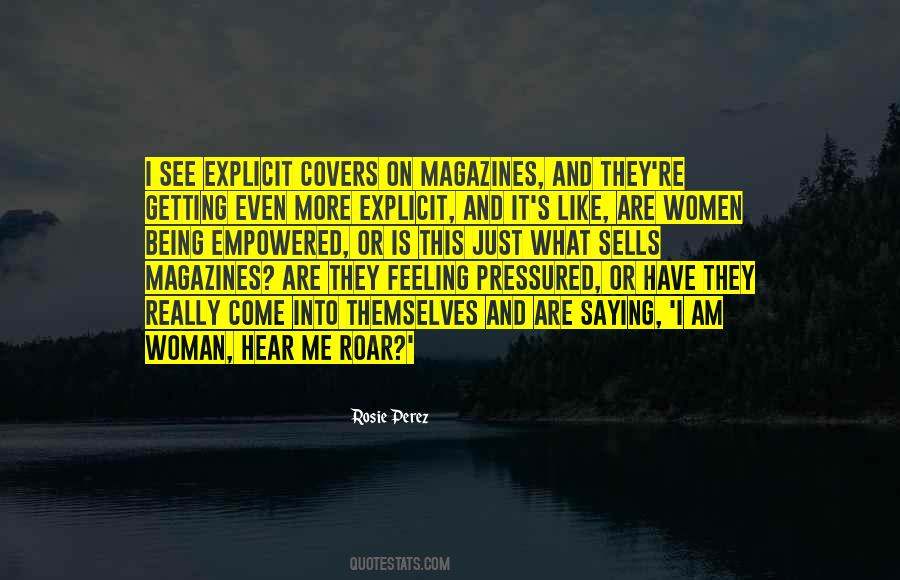 #74. I'm living under water. Everything seems slow and far away. I know there's a world up there, a sunlit quick world where time runs like dry sand through an hourglass, but down here, where I am, air and sound and time and feeling are thick and dense. - Author: Audrey Niffenegger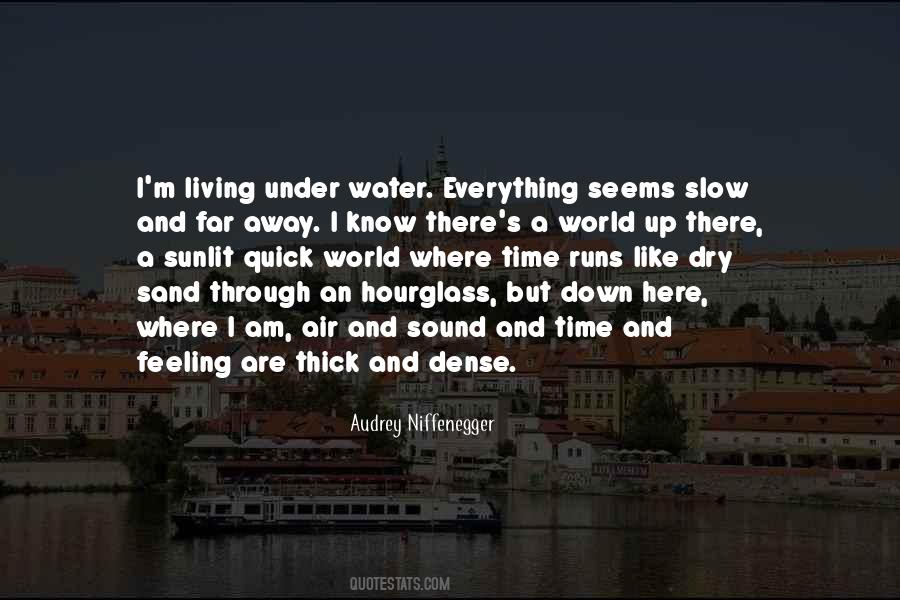 #75. Love is not all you need. I need time ... a lot of it. Love won't help me forget. It was the reason why I'm like this. It was all the reason behind this pain I am feeling. Because. Of. Love. - Author: Kristine Cuevas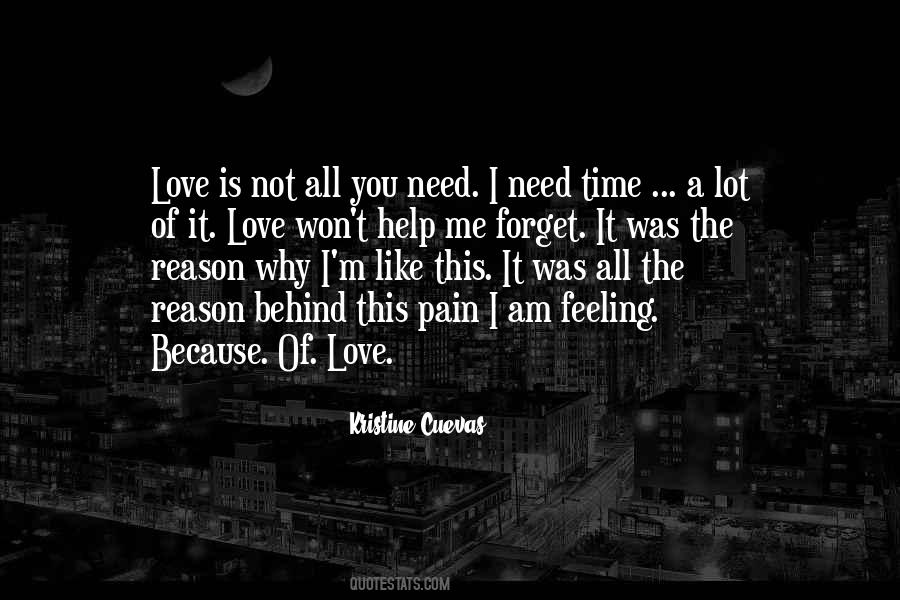 Famous Authors
Popular Topics