How To See Beauty Famous Quotes & Sayings
List of top 48 famous quotes and sayings about how to see beauty to read and share with friends on your Facebook, Twitter, blogs.
Top 48 How To See Beauty Quotes
#1. No matter how bad things get, you can always see the beauty in them. The worse things get, the more you have to make yourself see the magic in order to survive. - Author: Francesca Lia Block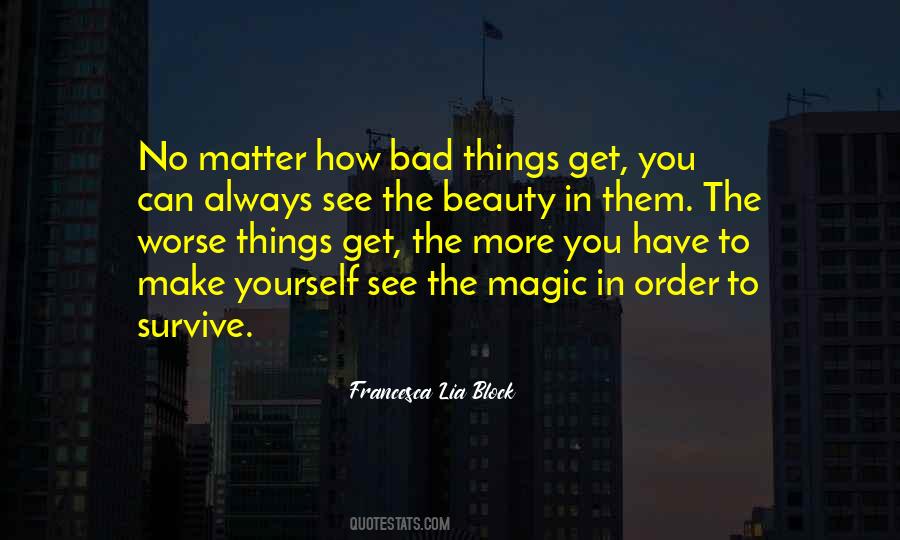 #2. If I told you I love you now
How many seconds would it take
How long would you allow
All that I am to break
I turn away
Before you can see
How badly I need you to stay
With me - Author: Penny Reid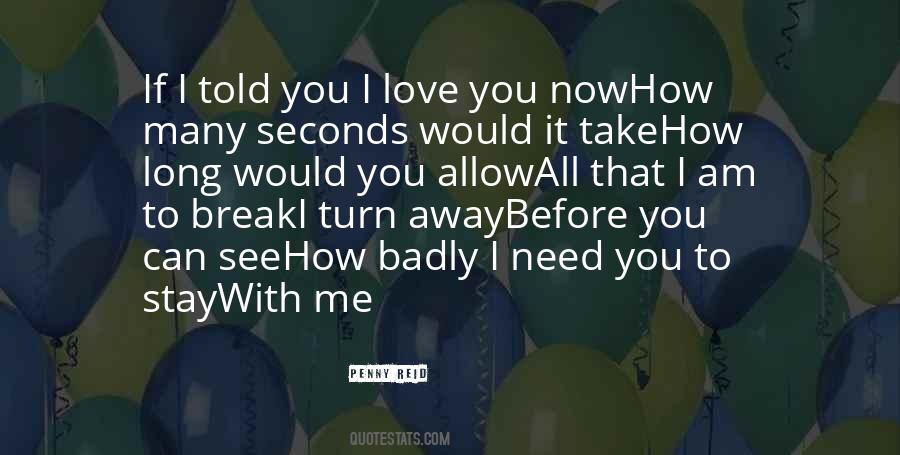 #3. [Fear] can be a pleasure to look at, and I understand how some other humans love to experience his essence. We can sense beauty, even if we don't see it. - Author: Kelsey Sutton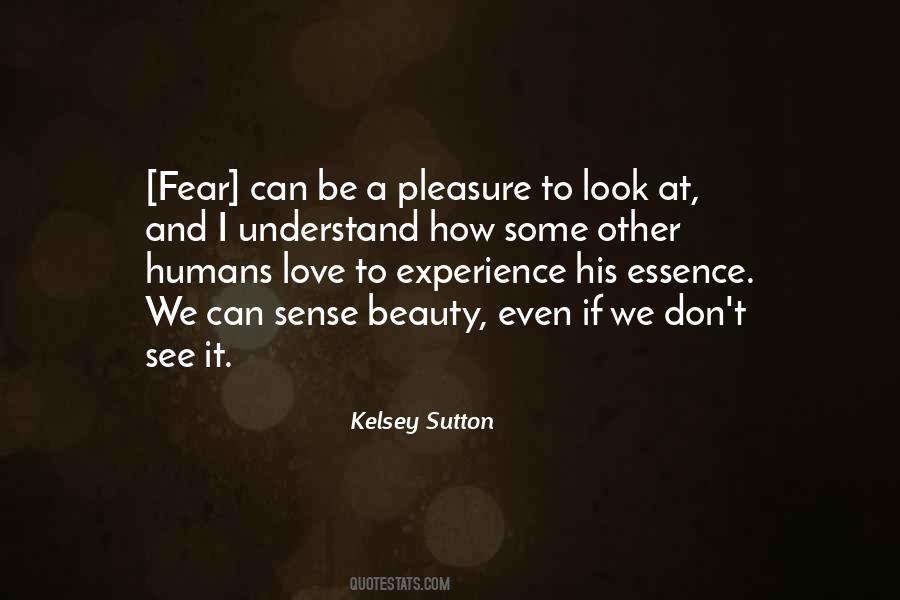 #4. The power of beauty
Lies within our soul
And how we choose
To see everything
It is not found from
The strokes of a make-up brush
Nor the acceptance from others - Author: Apple Blossom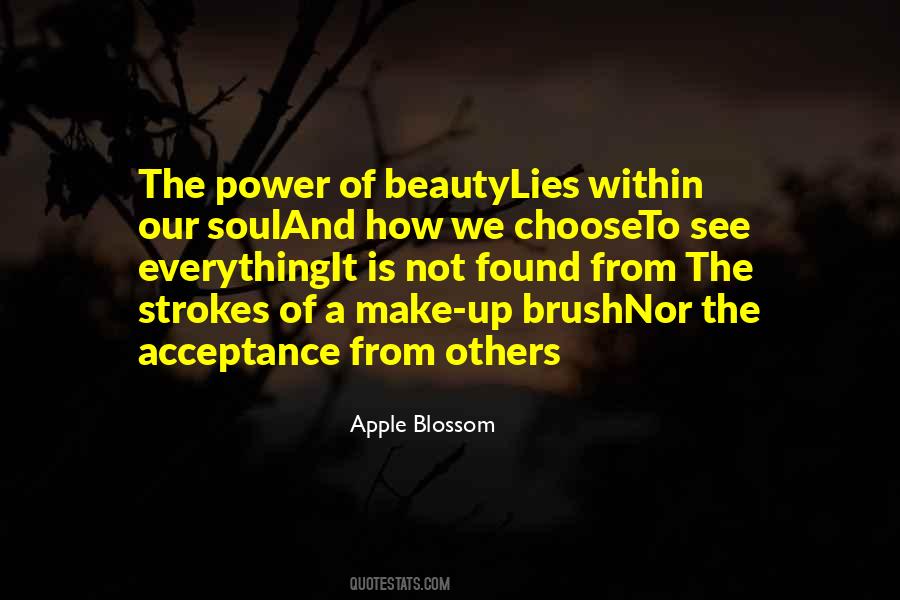 #5. How can a falling dove turn again into a flying dove once again? It really takes the eyes of someone who sees you for the beauty that you really are. And if there are no other eyes there to see you in that way, then you had better be those pair of eyes, for yourself, to see yourself with! - Author: C. JoyBell C.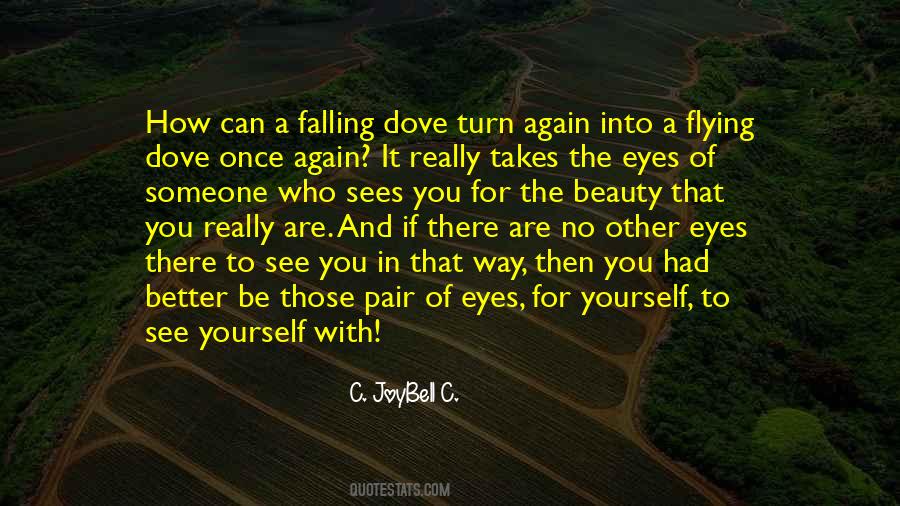 #6. Life should be lived as a dream to see and enjoy the beauty of life. - Author: Debasish Mridha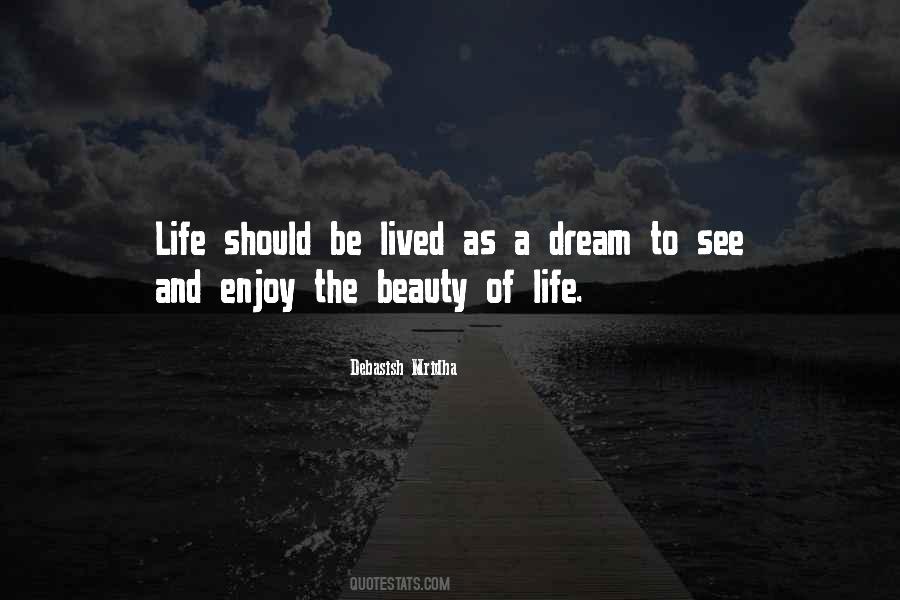 #7. I enjoy entering the viewpoint of characters who are as different from myself as I can get - children, elderly women, animals, a sexy death row murderess - and to imagine how these disparate individuals see the world's cruelty and beauty and vastness. - Author: Scott Bradfield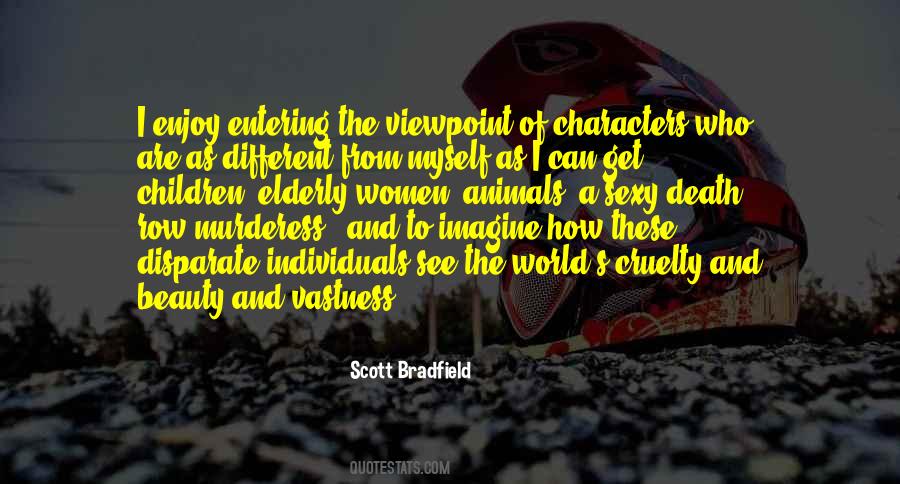 #8. When tea becomes ritual, it takes its place at the heart of our ability to see greatness in small things. Where is beauty to be found? In great things that, like everything else, are doomed to die, or in small things that aspire to nothing, yet know how to set a jewel of infinity in a single moment? - Author: Muriel Barbery
#9. How many time have I talked with people who have ridden the trails where I have ridden, yet had seen nothing? They passed over the land just to get over it, not to live with it and see it, feel it.
There was beauty out there ... - Author: Louis L'Amour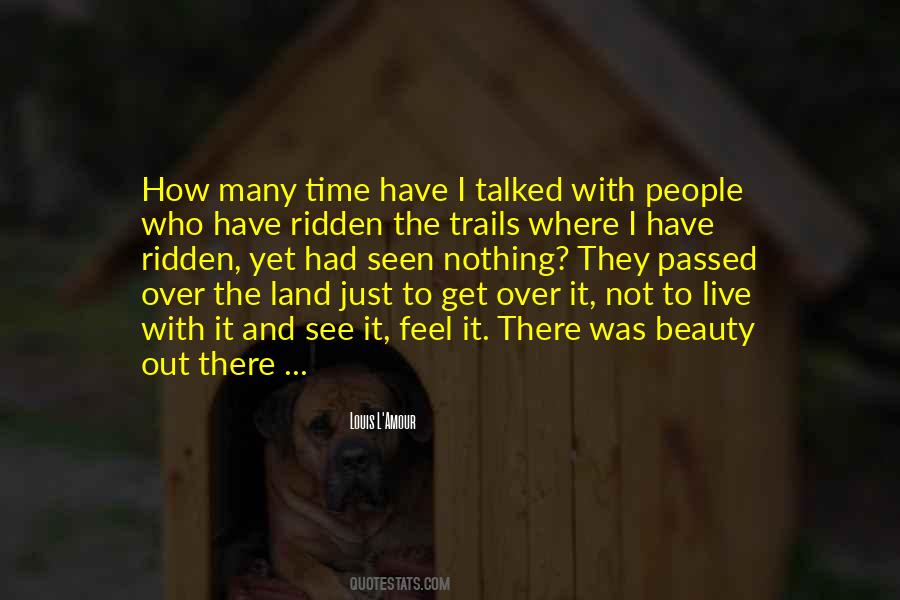 #10. How beautiful would it be if we could just see souls instead of bodies? To see love and compassion instead of curves. - Author: Karen Quan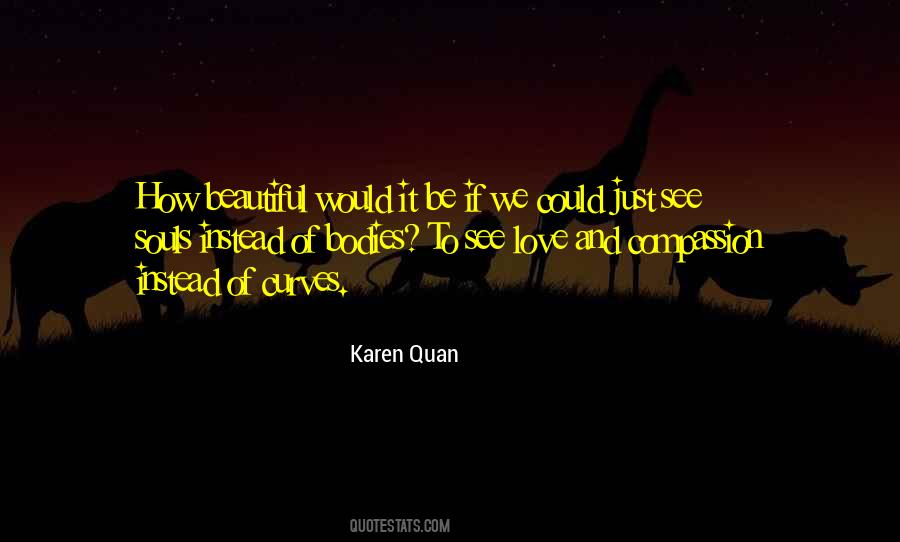 #11. 1. "It is what we believe about ourselves that determines how others see us"
2. (regarding friends) "cherish the good and pretend not to notice the harmless rest"
3. "oysters are a lot like women. It's how we survive the hurts in life that brings us strength and gives us our beauty - Author: Beth Hoffman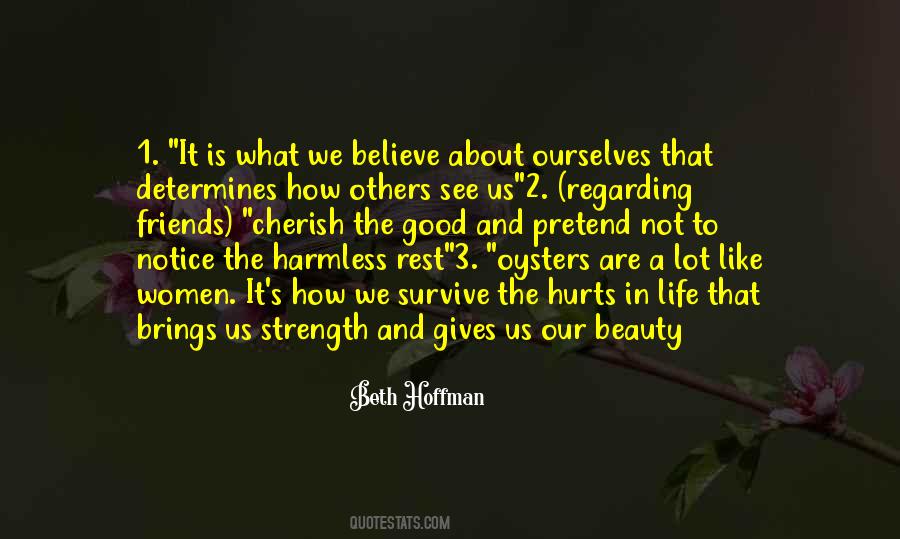 #12. This universe belongs to those who know how to see, feel, and love the beauty of life and the universe. - Author: Debasish Mridha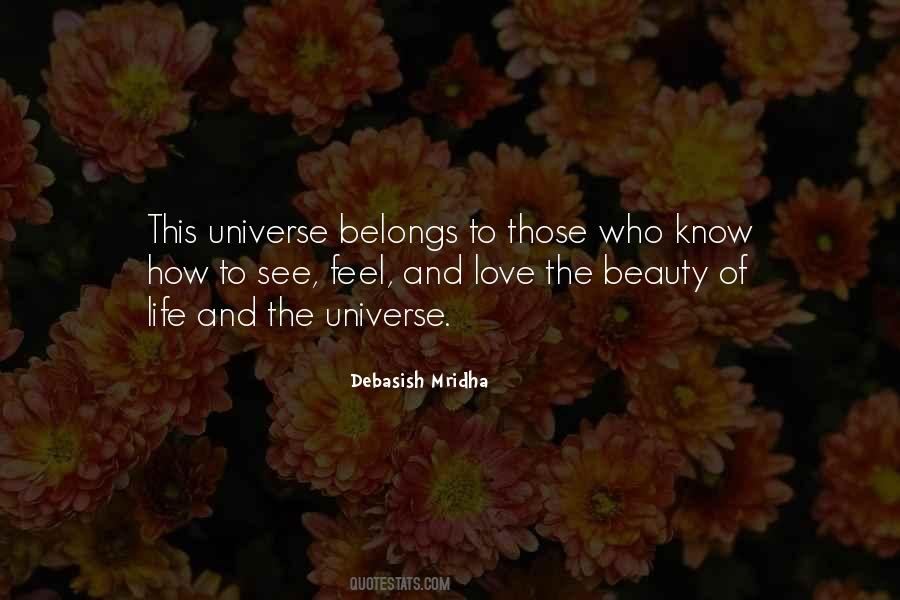 #13. There was a pretty young woman I used to see pegging out sheets and I worried that she would grow old there and that no one would know how beautiful she was. And maybe she would die without ever having really lived. - Author: Sebastian Faulks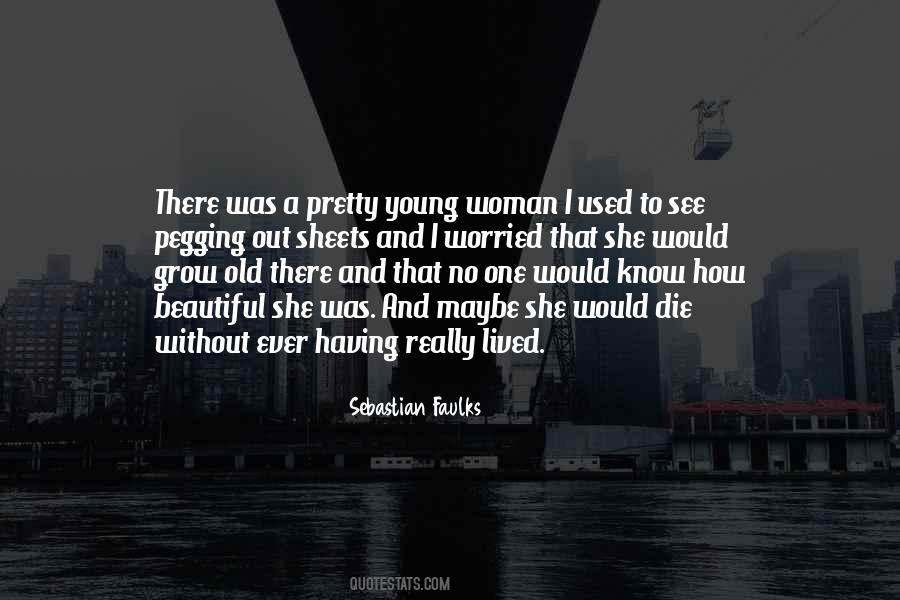 #14. He who does not know how to appreciate flowers will not be able to see the beauty of life - Author: Debasish Mridha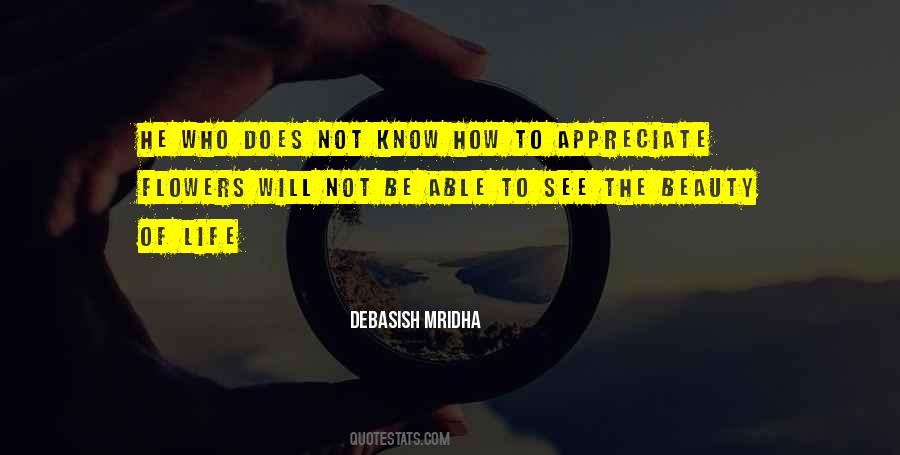 #15. Things are because we see them, and what we see, and how we see it, depends on the Arts that influenced us. To look at a thing is very different from seeing a thing. One does not see anything until one sees its beauty. Then, and then only, does it comes into existence. - Author: Oscar Wilde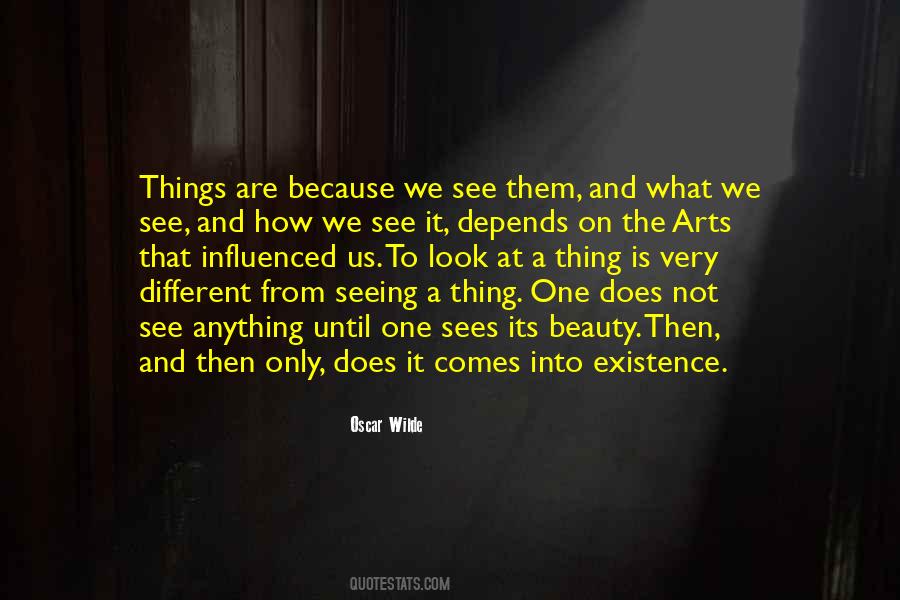 #16. Some things take so long
But how do I explain
When not too many people
Can see we're all the same
And because of all their tears
Your eyes can't hope to see
The beauty that surrounds them
Now, isn't it a pity - Author: George Harrison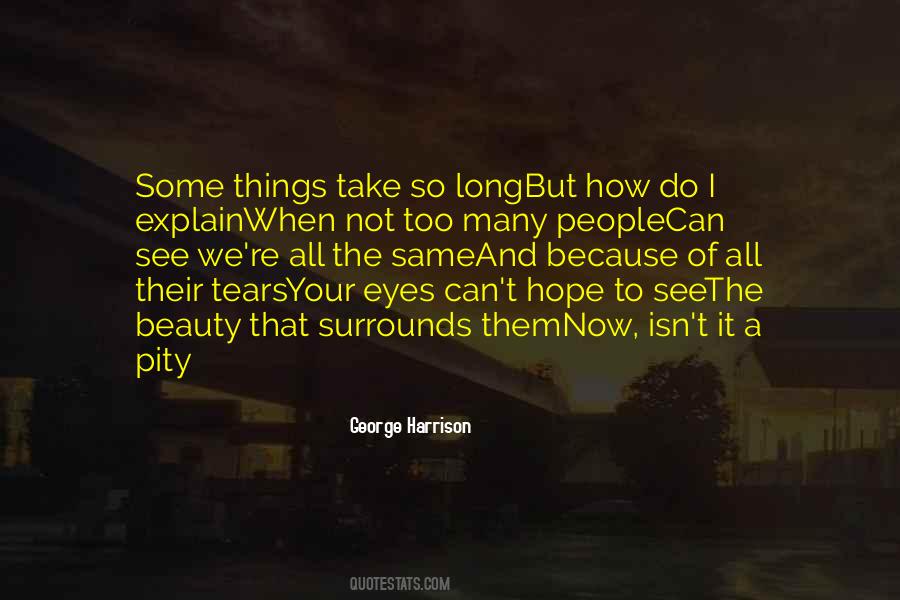 #17. I thought how sadly beauty of inscape was unknown and buried away from simple people and yet how near at hand it was if they had eyes to see it and it could be called out everywhere again. - Author: Gerard Manley Hopkins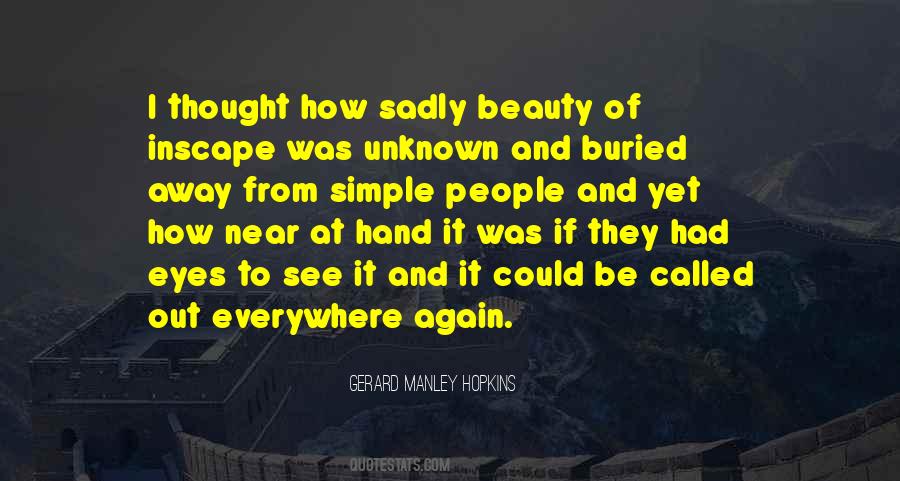 #18. Olivia is a piece of art. You have to know how to interpret her, how to see the beauty under the harsh lines of her personality. - Author: Tarryn Fisher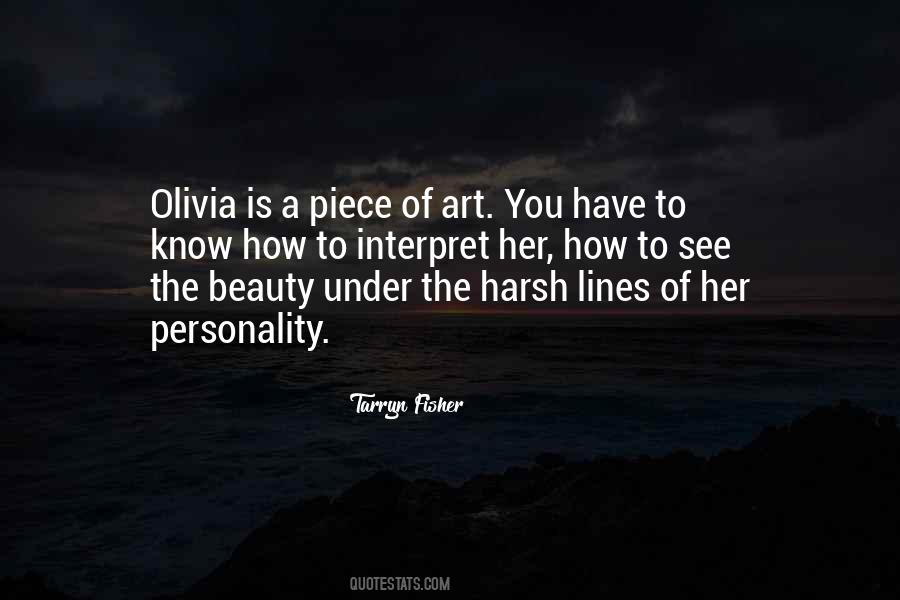 #19. Beauty is all about us, but how many are blind! They look at the wonder of this earth and seem to see nothing. People move hectically but give little thought to where they are going. They seek excitement ... as if they were lost and desperate. - Author: Pablo Casals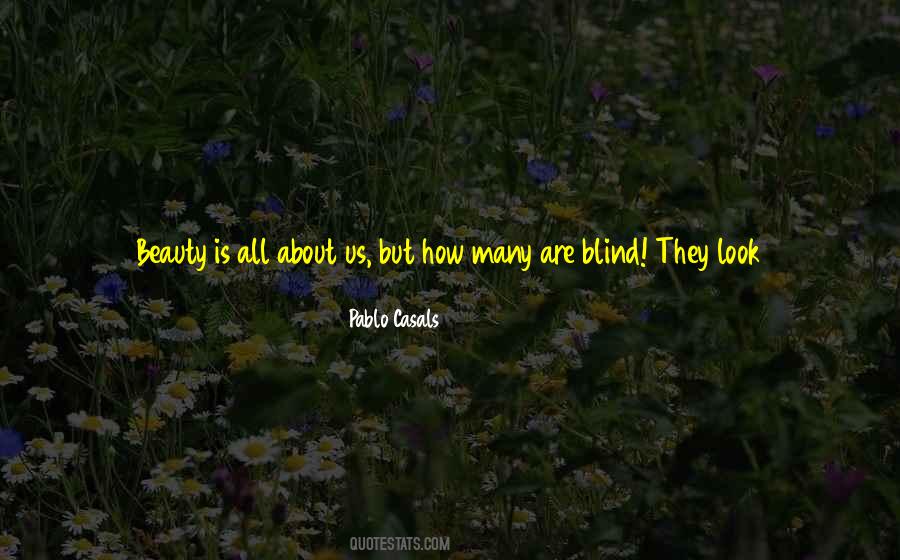 #20. What a magnificent body, how I should like to see it on the dissecting table. - Author: Ivan Turgenev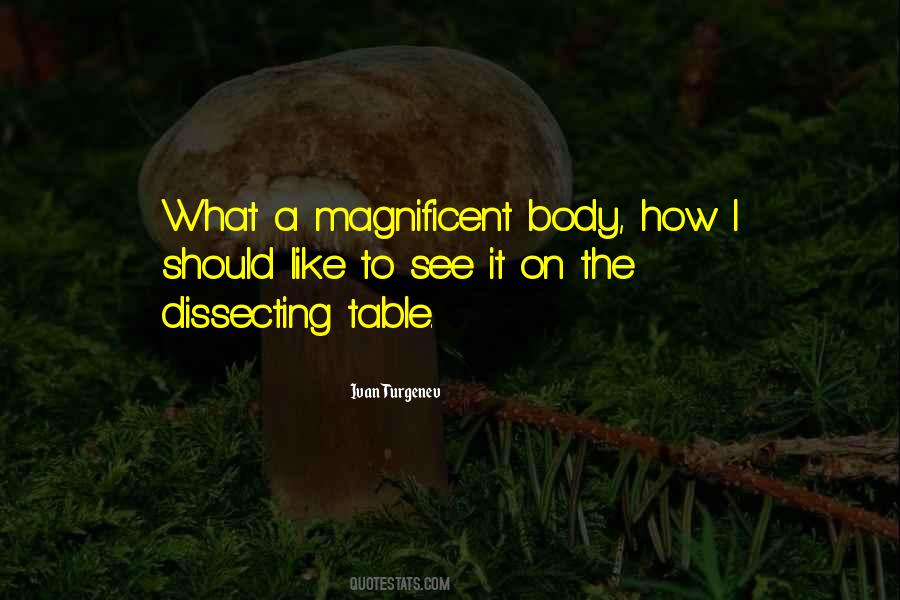 #21. I see I have this patience to wait it out, and the truth is no matter how dark I feel I would never take my own life, because when the darkness is over, then what a blessing is the feeblest ray of light! - Author: Valerie Martin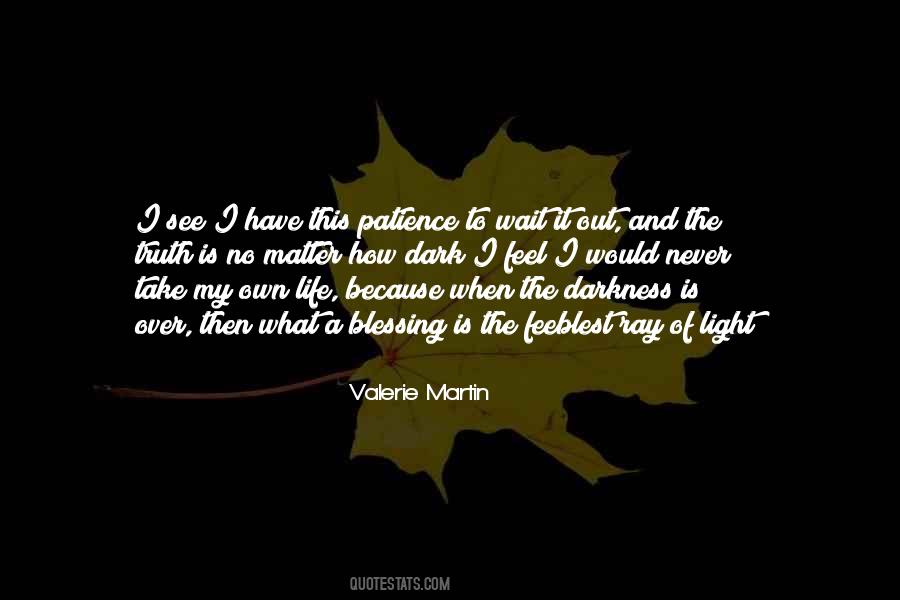 #22. How could we forget those ancient myths that stand at the beginning of all races, the myths about dragons that at the last moment are transformed into princesses? Perhaps all the dragons in our lives are princesses who are only waiting to see us act, just once, with beauty and courage. - Author: Rainer Maria Rilke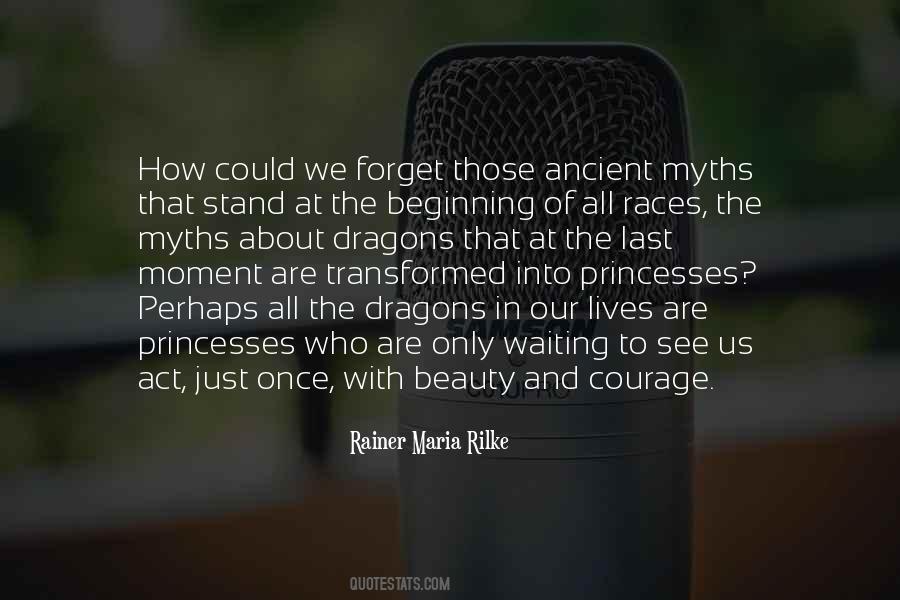 #23. The more clear your view, the more real beauty you will see. Always new. Always fresh. And each new emotion is a new discovery of yourself. - Author: Ruben Papian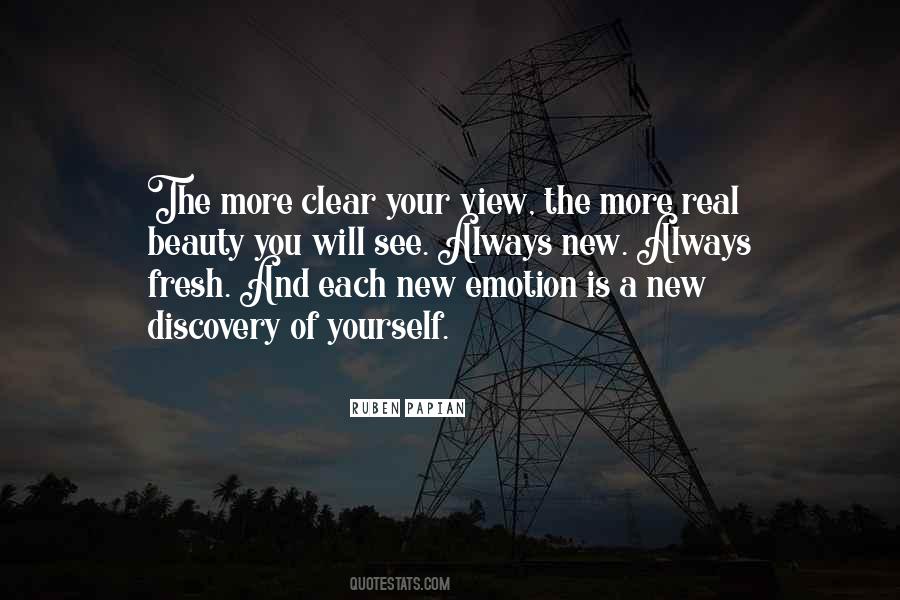 #24. No time to see, in broad daylight,
Streams full of stars, like skies at night.
No time to turn at Beauty's glance,
And watch her feet, how they can dance.
No time to wait till her mouth can
Enrich that smile her eyes began. - Author: W.H. Davies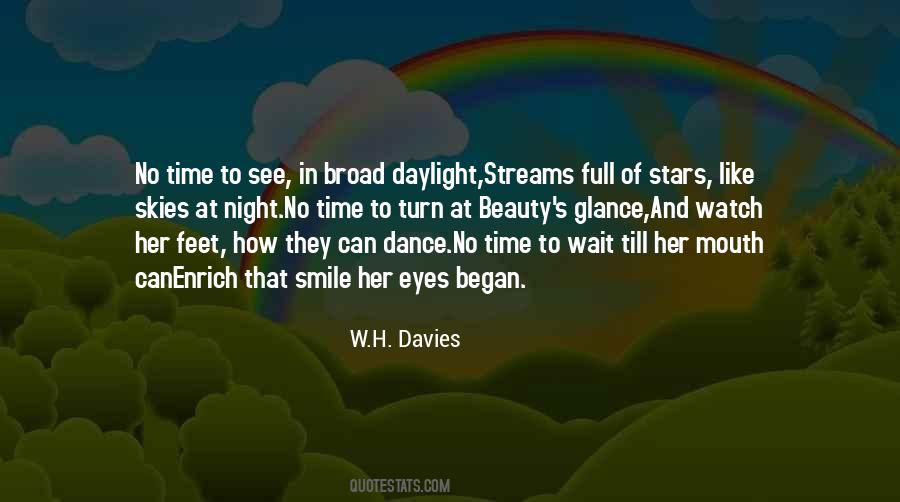 #25. That is how they were: they spent their lives proclaiming their proud origins, the historic merits of the city, the value of its relics, its heroism, its beauty, but they were blind to the decay of its years. Dr Juvenal Urbino, on the other hand, loved it enough to see it with the eyes of truth. - Author: Gabriel Garcia Marquez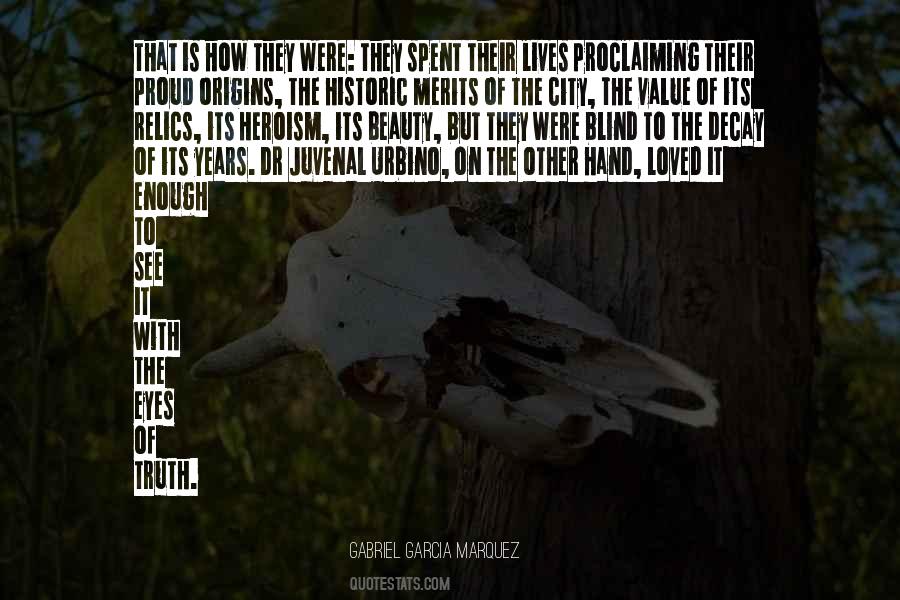 #26. From now on whenever I read a math book, I'm going to try to figure out by myself how everything was done, before looking at the solution. Even if I don't figure it out, I think I'll be able to see the beauty of a proof then. - Author: Donald E. Knuth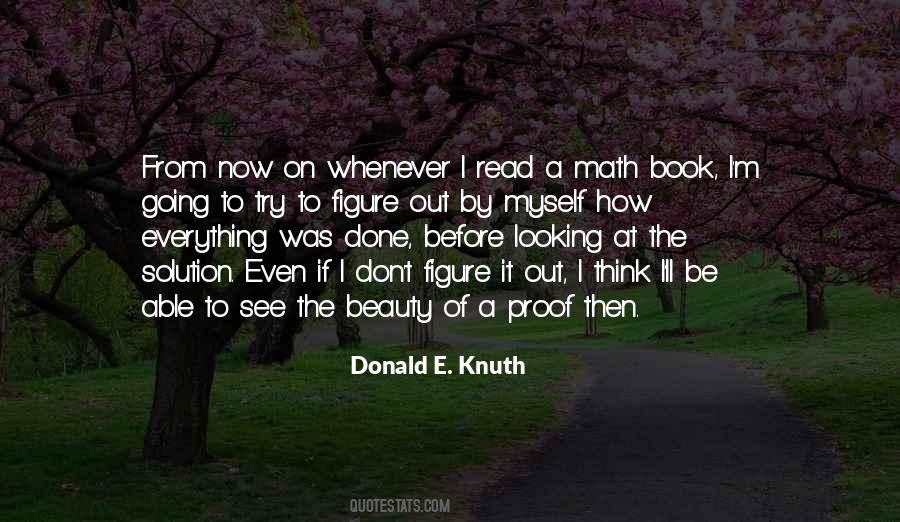 #27. The beauty of Broadway is that if I'm 60 or 70 years old, if they'll accept me back, I can go back. So I think for right now I'm going to focus on the music
it's the new baby
and see how it's going to work out, and then maybe in a few years maybe I'll go back. - Author: Heather Headley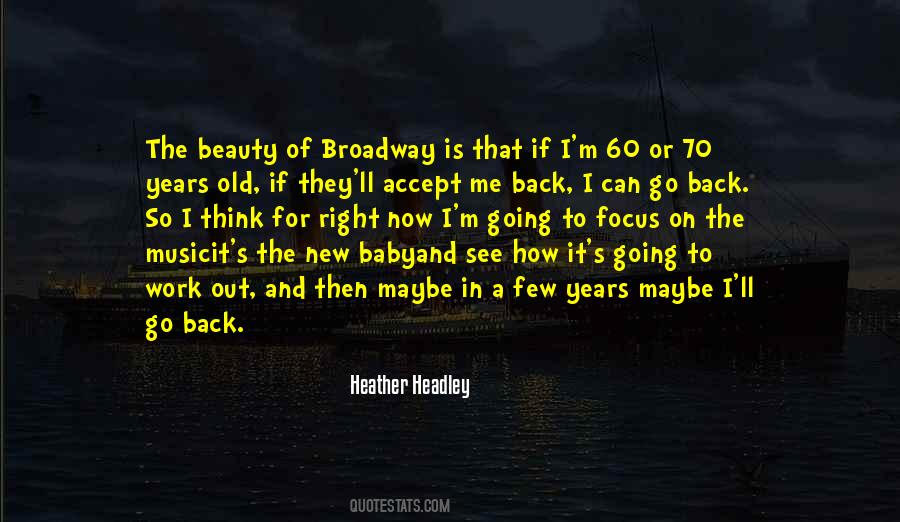 #28. One day, you will stand at the summit of a figurative mountain and look back on your life's journey. And, to your utter amazement, you will see how your experiences with depression, dark and painful as they were, only added to the overall beauty of your life. - Author: Seth Adam Smith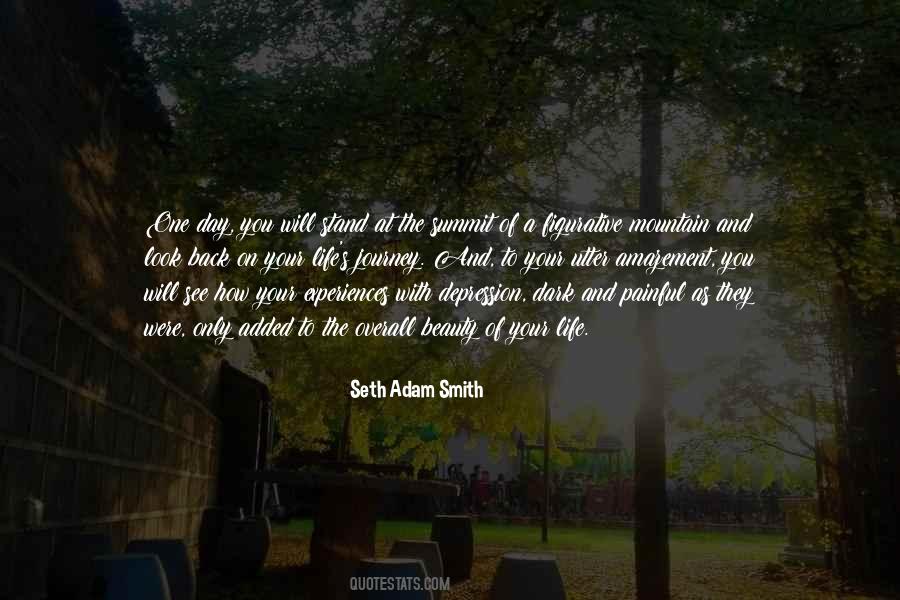 #29. The beauty that is there is also available for me, too. But I see a deeper beauty that isn't so readily available to others ... I don't see how studying a flower ever detracts from its beauty. It only adds - Author: Richard P. Feynman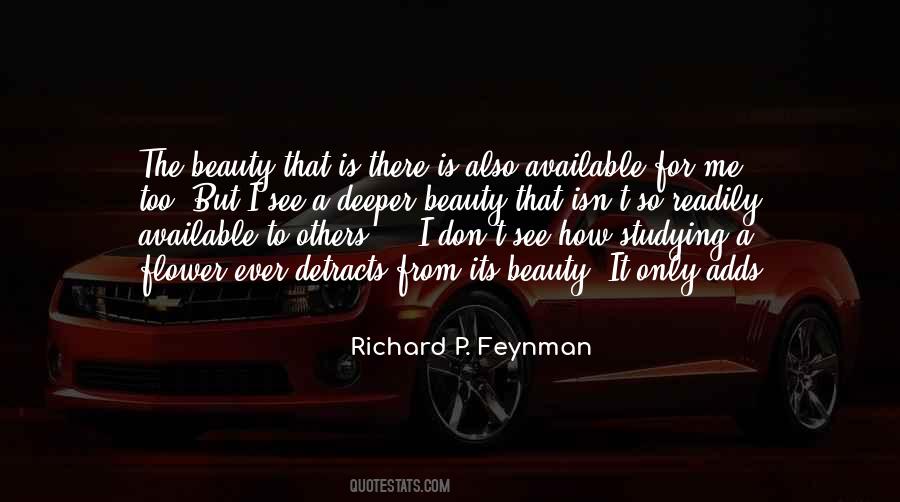 #30. You were the poem I never knew how to write because no words could describe the wind you cannot see, but feel. - Author: Shannon L. Alder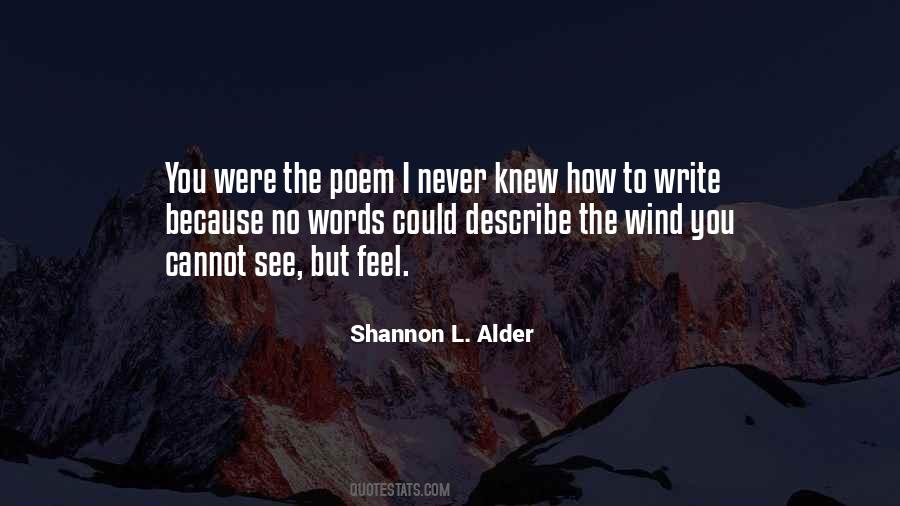 #31. Inviting fellow human beings to experience beauty teases their souls and allows them, albeit briefly, to see a picture of how things ought to be. - Author: Gabe Lyons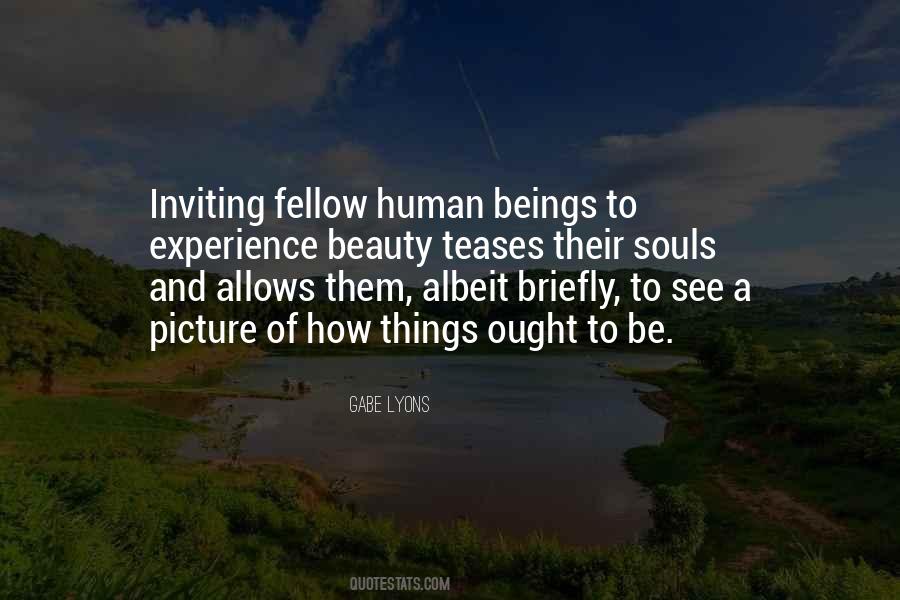 #32. Humans struggle with the underside of the tapestry, unable to see the beauty in their situation, for they cannot know how the trouble of life fits with The Plan. - Author: Chris Fabry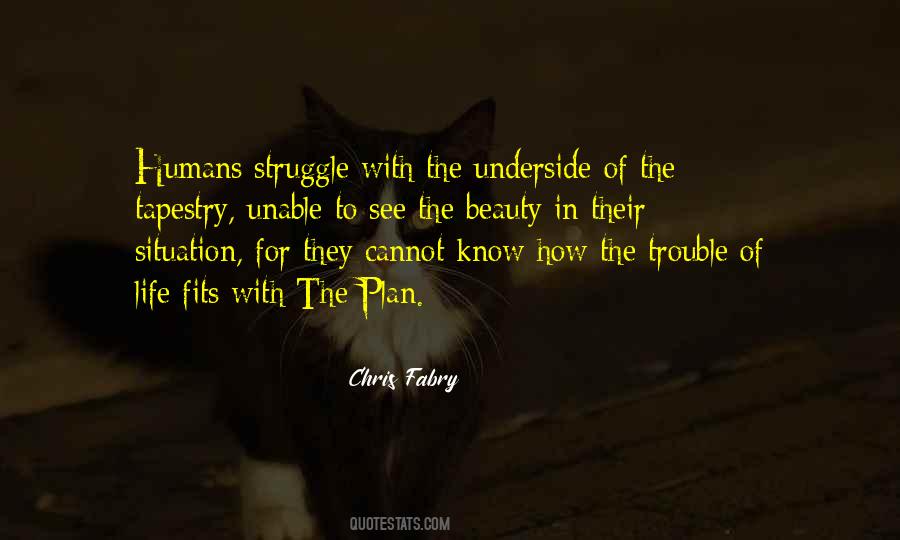 #33. The ultimate purpose of education is to learn how to find and see the beauty of creation so that you may feel the joy of life. - Author: Debasish Mridha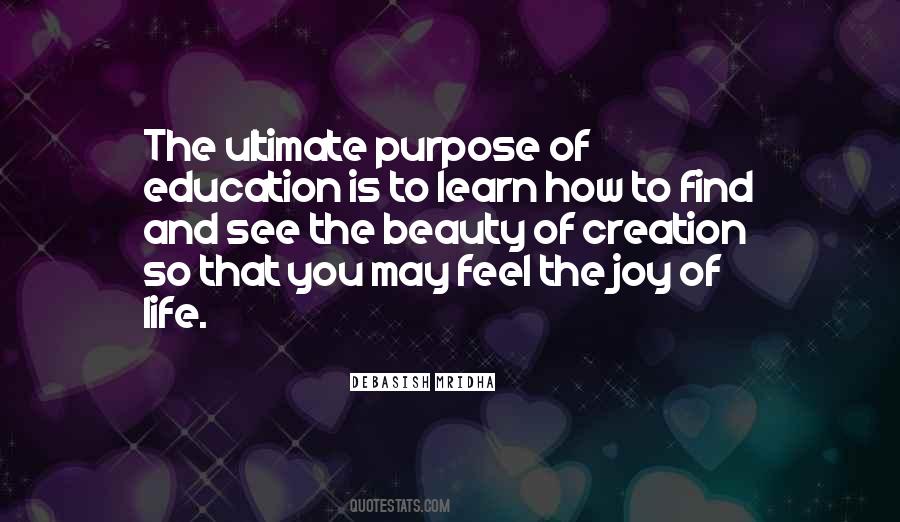 #34. I guess it's human nature to question yourself, to question why all the pain has had to happen? sometimes there isn't any answers it just is what it is and how we make ourselves feel and see through that, is what will determine how we move forward. - Author: Nikki Rowe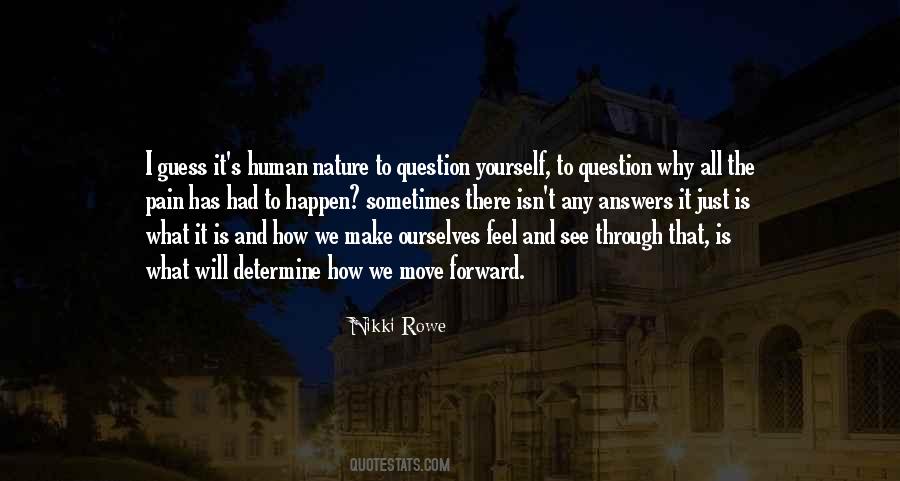 #35. How beautiful that is! said Laurie softly, for he was quick to see and feel beauty of any kind. - Author: Louisa May Alcott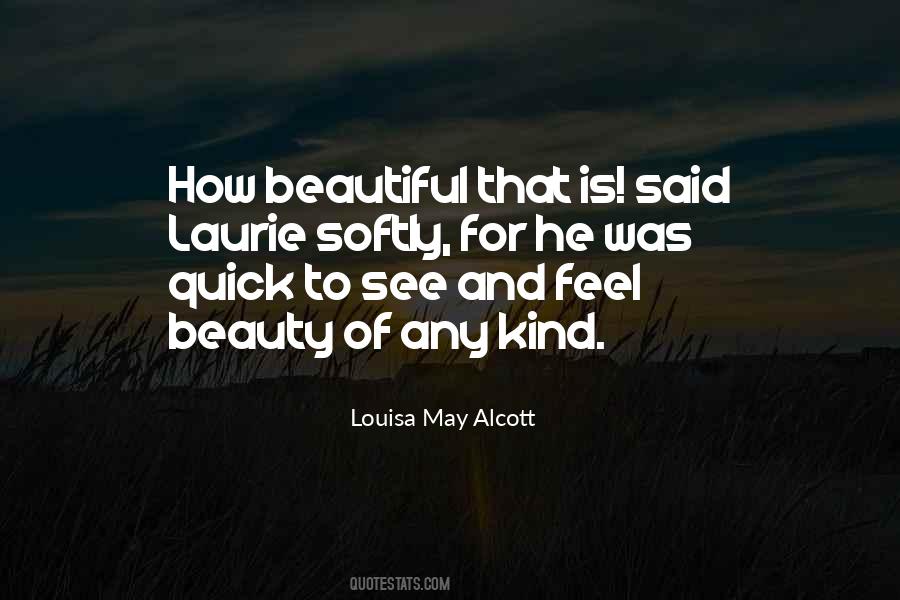 #36. How great God is! He has given us eyes to see the beauty of the world, hands to touch it, a nose to experience all its fragrance, and a heart to appreciate it all. But we don't realize how miraculous our senses are until we lose one. - Author: Malala Yousafzai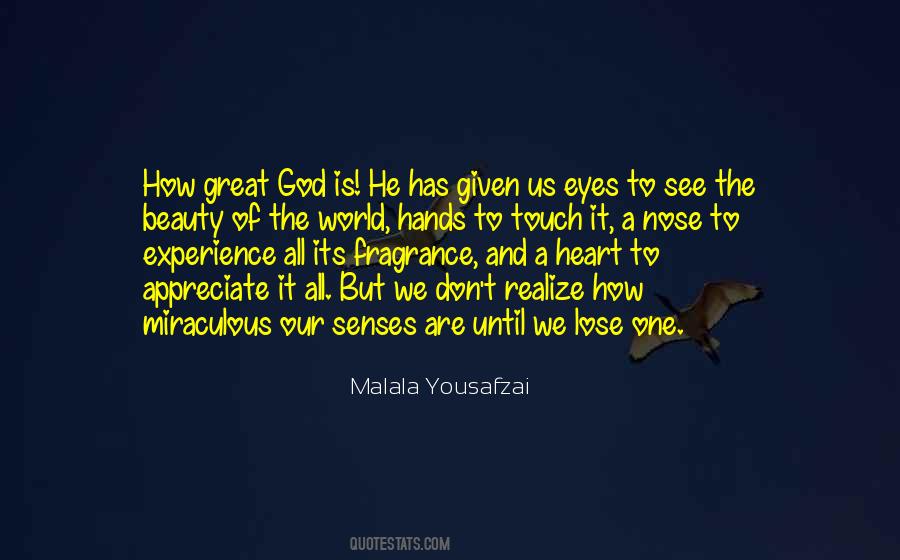 #37. Imagine how happy, how holy, life would be if we ever really learn to see beauty. - Author: Joan D. Chittister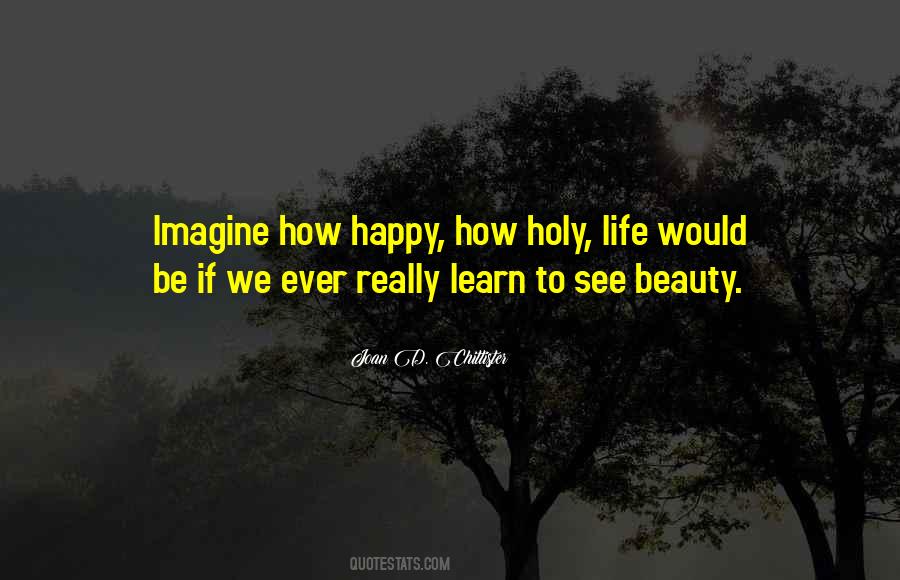 #38. How terrible it must be not to see and feel beauty ... I'm so glad I can find happiness in all lovely little things ... It seems to me that every time I look out of a window the world gives me a gift. - Author: L.M. Montgomery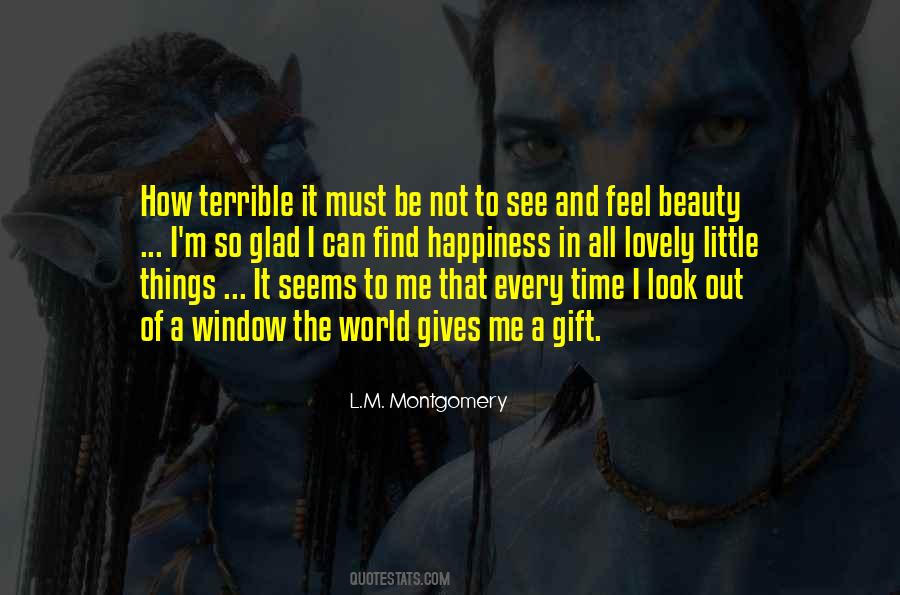 #39. True education should teach us how to think, how to see the beauty in the midst of ugliness, how to love without judging, how to find opportunity to help, and how to develop a peaceful and nonviolent society. - Author: Debasish Mridha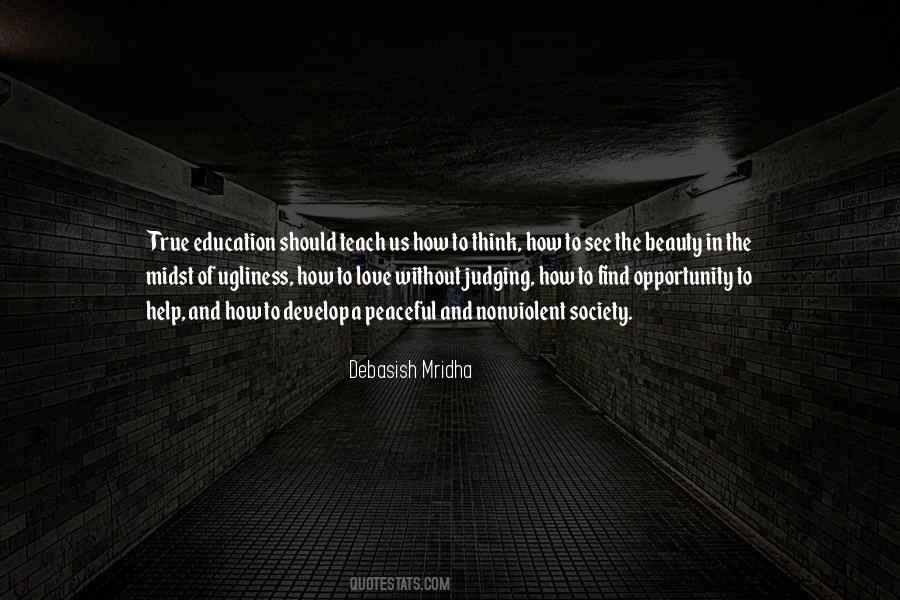 #40. Darkness coiled between what he wanted them to believe and the self he despised. It only made him more alone. How could you save someone when he didn't let you kno him? What a waste. The beauty he murdered in this place. He could never see what he had, only what he failed to achieve. - Author: Janet Fitch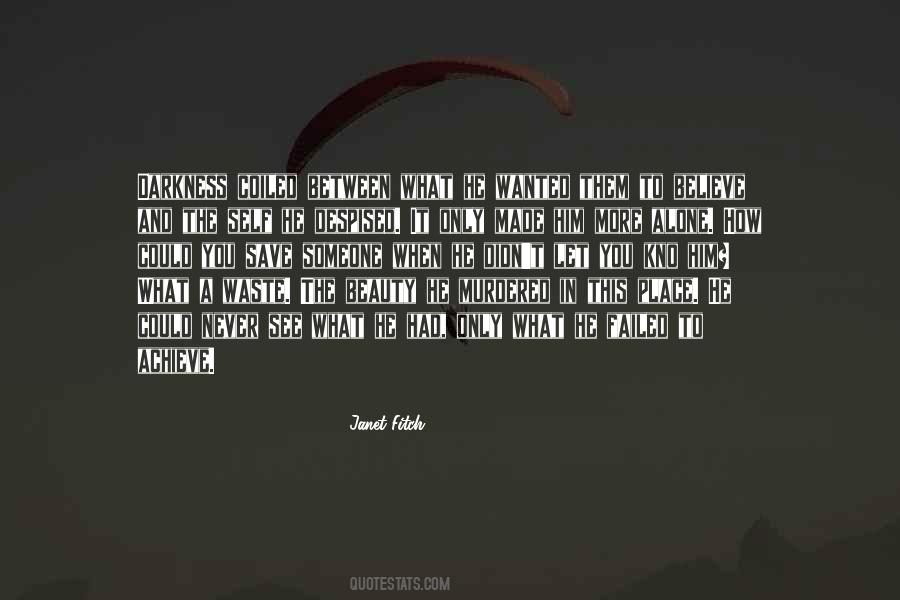 #41. Not the eyes, but the heart sees the beauty. - Author: Debasish Mridha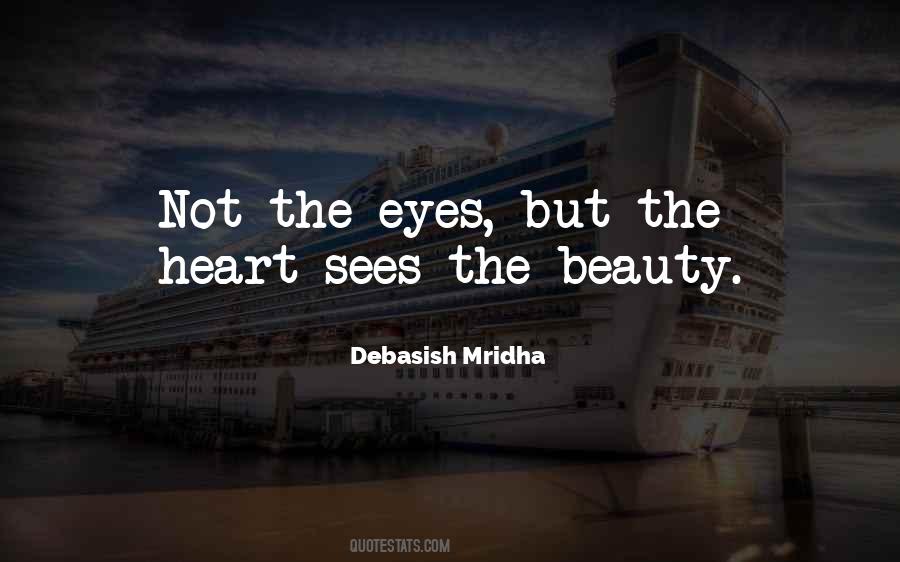 #42. That made me sad. Sure, sirens are a pain in the ass, but how could he not see all the beauty that was out there
the starlight leaving stains of brightness in the water, the salt-kissed wind? I wanted to find a way to share it with him, show him there was more in the world than blood and shadow. - Author: Cassandra Rose Clarke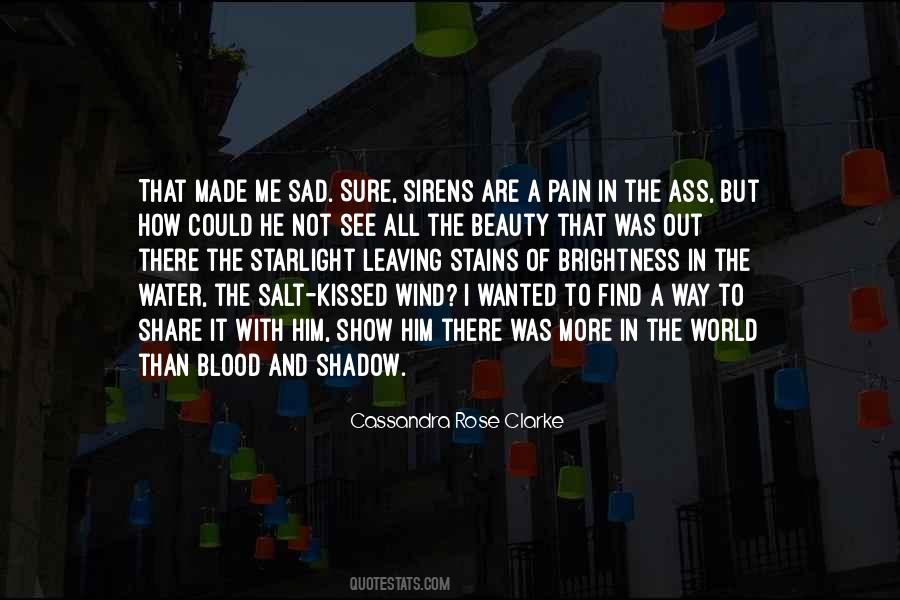 #43. That's how powerful you are, girl ... You pretty, but pretty alone is not what people see. You the kinda pretty, the kinda beauty, that's like a mirror. Men and women see themselves in you, only now they so beautiful that they can't bear to see you go. - Author: Walter Mosley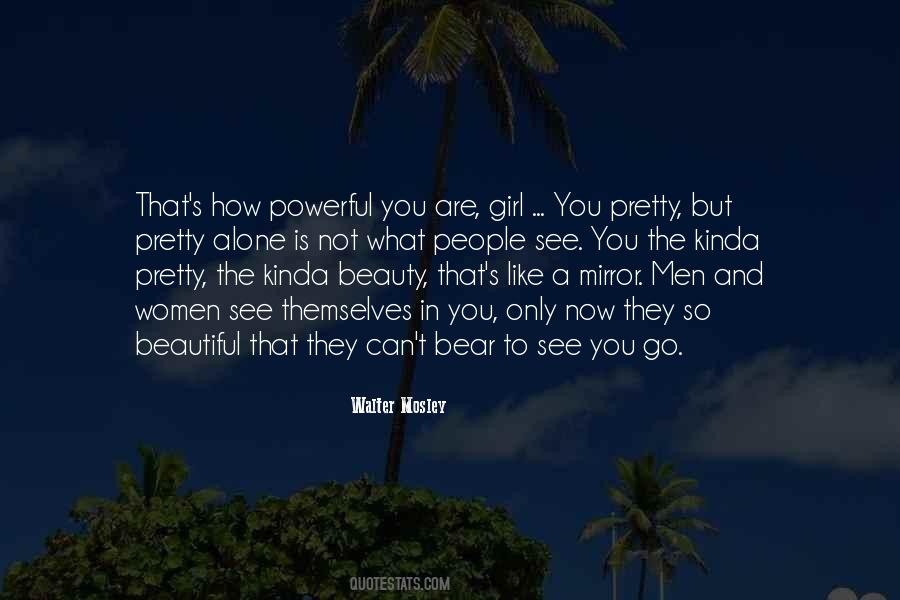 #44. let us always have men ready to give the loving pains of a life to the faithful representing of commonplace things - men who see beauty in these commonplace things, and delight in showing how kindly the light of heaven falls on them. There - Author: George Eliot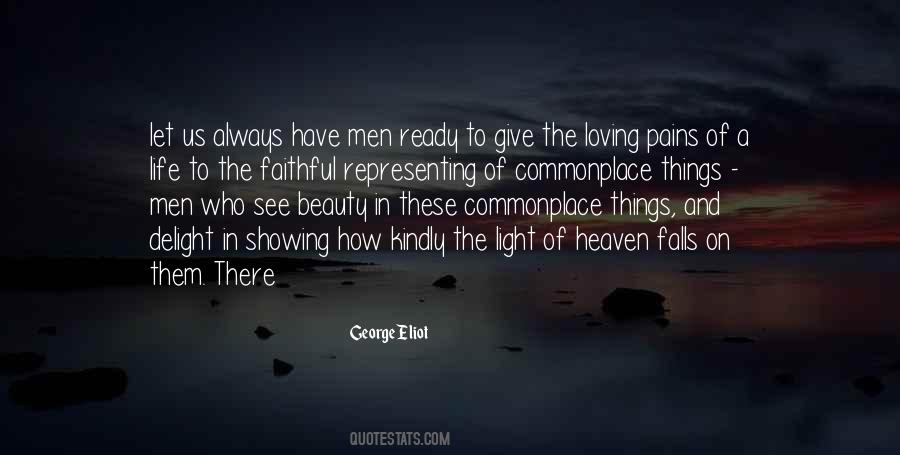 #45. It doesn't matter how many friends I have because my best friend is God. And, he is a Super Friend. People come and people go, but God's love for you will remain the same. Embrace it, Cherish it, and Spread it everywhere you go. Let your light shine brightly for all the world to see. - Author: Amaka Imani Nkosazana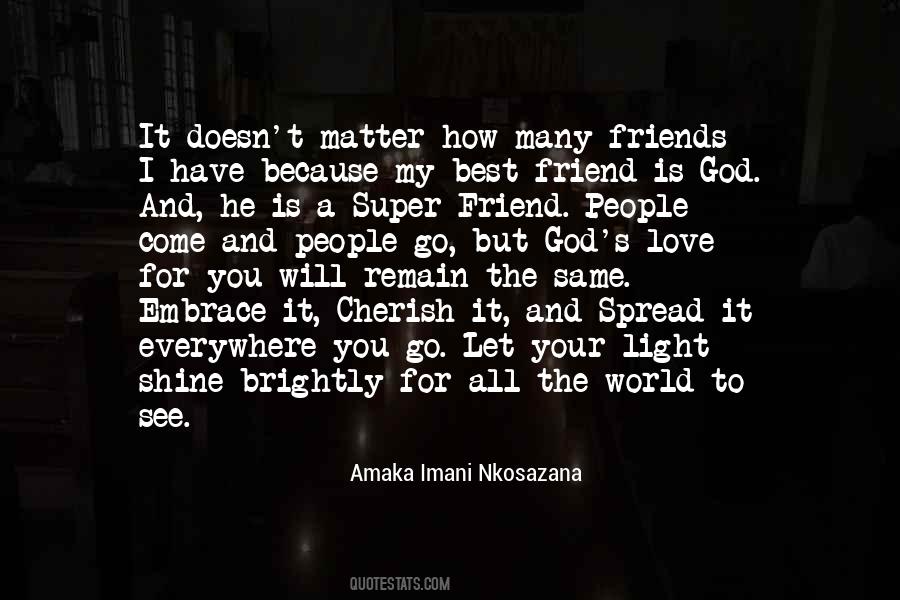 #46. If you don't know your worth, if you don't know your value, if you don't know how fantabulous you are - it's going to be hard for other people to see it. Being appreciative of self is beauty to me. - Author: Kelly Rowland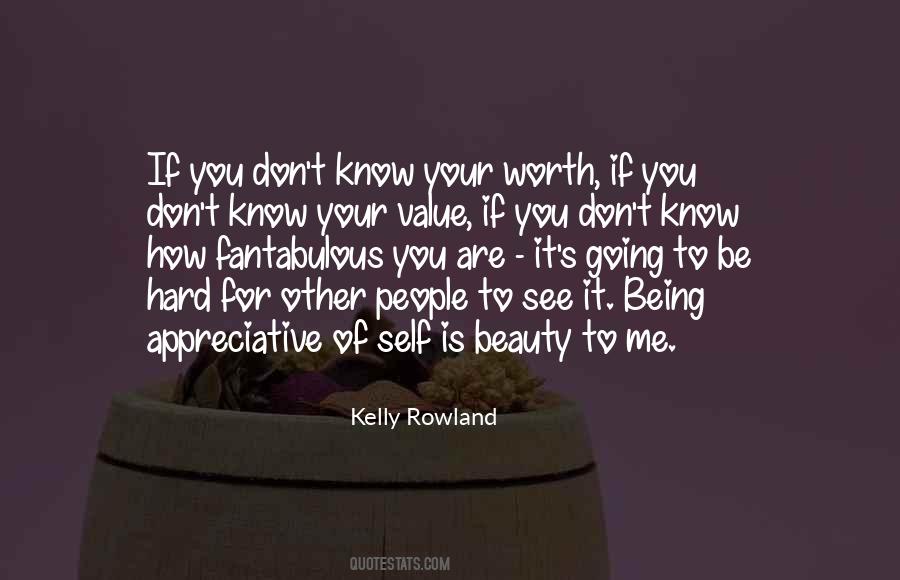 #47. To see how pretty an old woman once was, it is not enough just to look at each feature; they must be translated. - Author: Marcel Proust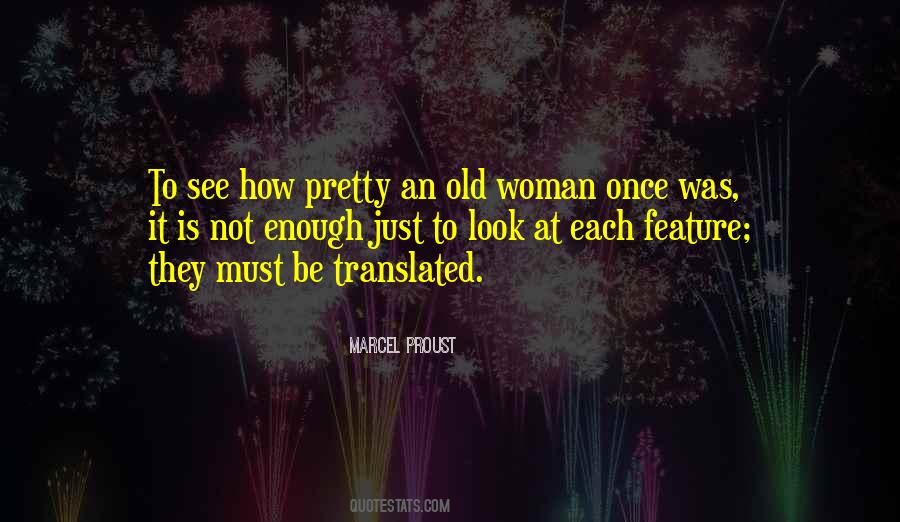 #48. It is very fashionable for good-looking ladies to say how hard it is to be beautiful, but that's not true. There are times when itdepresses and bothers me to see just how easy things are made for a beautiful woman. - Author: Catherine Deneuve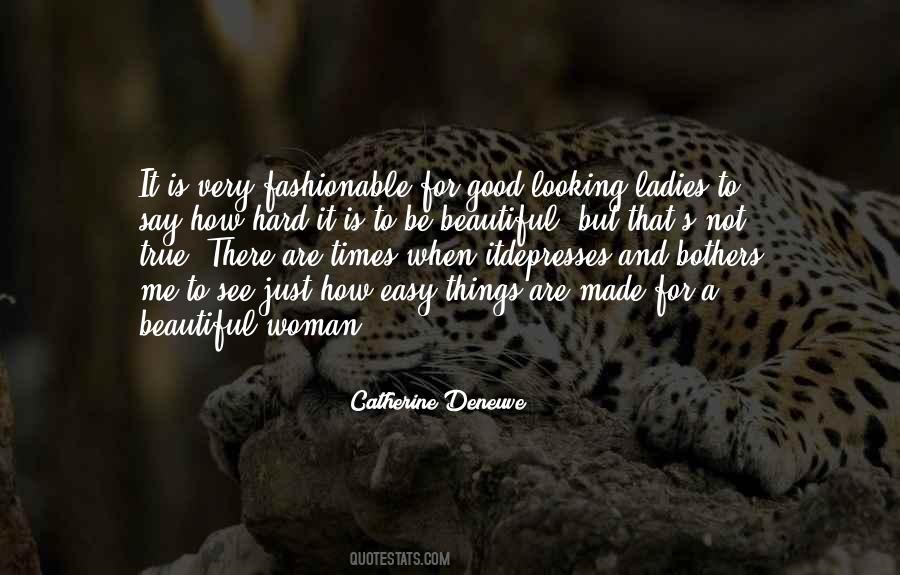 Famous Authors
Popular Topics