Hope You Will Change Famous Quotes & Sayings
List of top 46 famous quotes and sayings about hope you will change to read and share with friends on your Facebook, Twitter, blogs.
Top 46 Hope You Will Change Quotes
#1. With success, if you don't plan and just take each day as it comes, there will come failure. - Author: Auliq Ice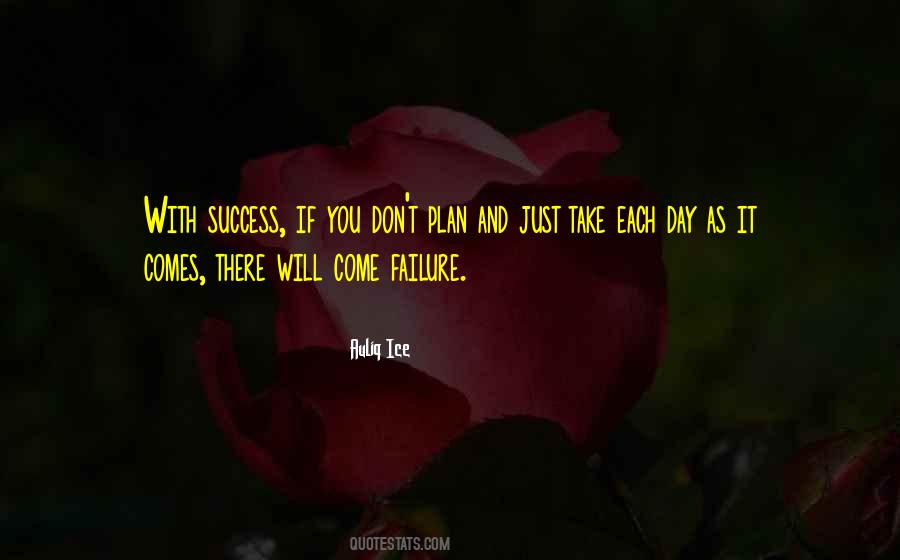 #2. I thought if we made an album that tried to change the world, or give it hope, it would really happen. But all people found was death and destruction and misery and self-hate. I learned that the world doesn't want to be saved, and it will f**king punch you in the face if you try. - Author: Gerard Way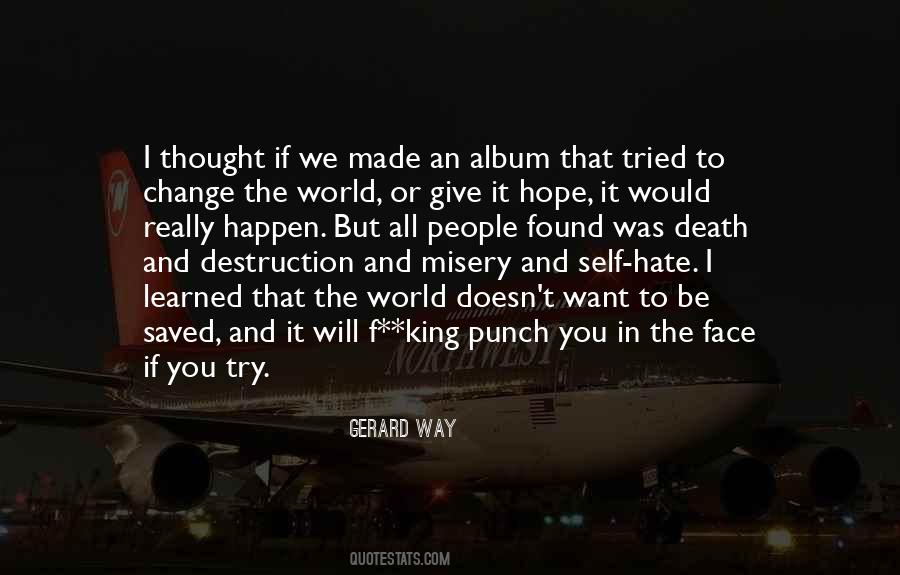 #3. You are equipped to change atmospheres. The first one is your own. Rise up. Speak to your mountains and they will fall. Partner with Heaven and see it come to your rescue. - Author: Jenelle Dancel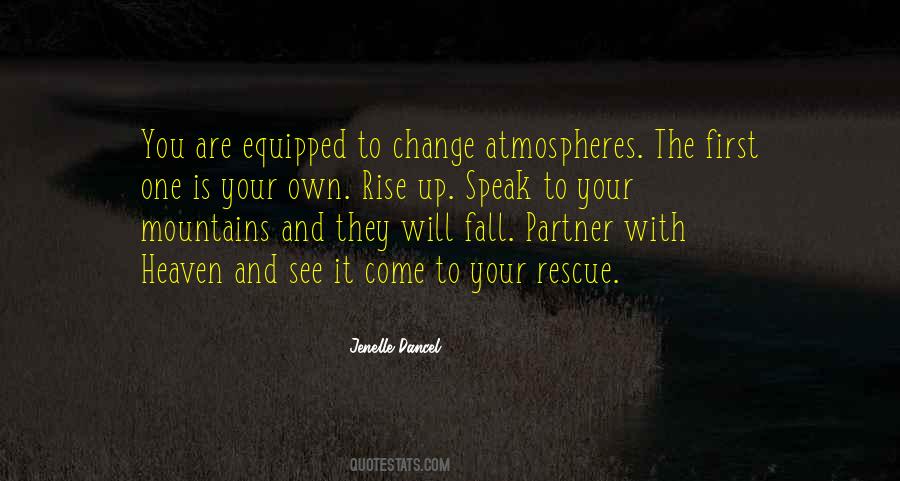 #4. It all easy. I have been always telling you, my love, that I had no idea of the change being so very material to Hartfield as you apprehended; and now you have Emma's account. I hope you will be satisfied. - Author: Jane Austen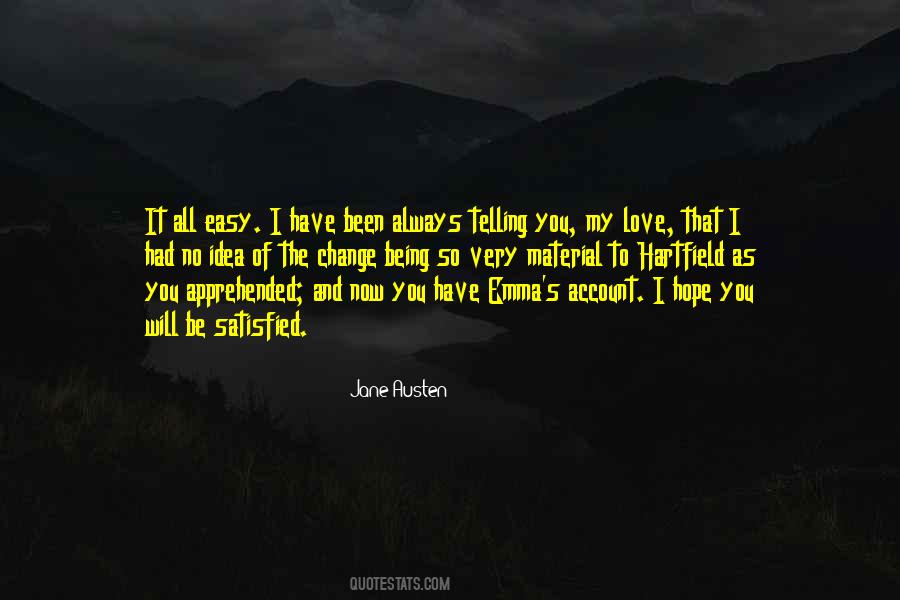 #5. The empty spaces of your soul are the ones you search for, pray for and want so desperately to be filled. They are also the spaces that will never be filled, until you are ready to do something you have never done. - Author: Shannon L. Alder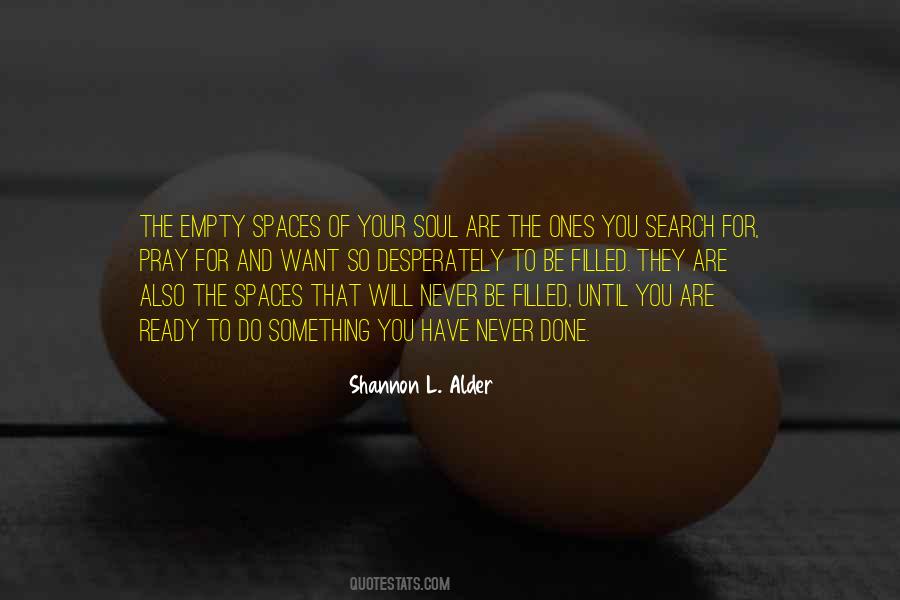 #6. Get going. Move forward. Aim High. Plan a takeoff. Don't just sit on the runway and hope someone will come along and push the airplane. It simply won't happen. Change your attitude and gain some altitude. Believe me, you'll love it up here. - Author: Donald J. Trump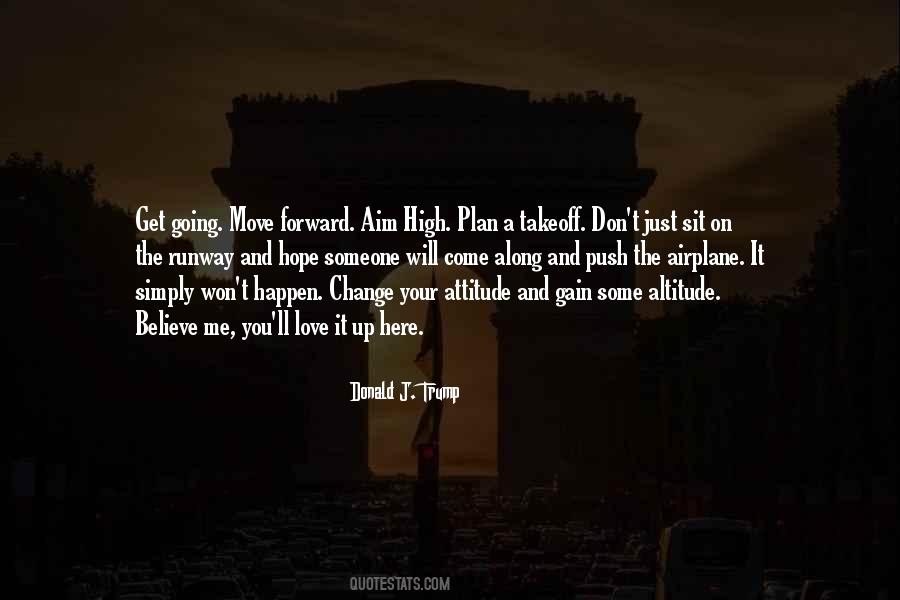 #7. Hoping a situation will change keeps you at a distance from your true feelings-sadness, anger, fear. Each of these feelings is best appreciated up close. Feel them deeply, and they will cease to bother you. Hope they'll go away, and they'll bother you all day. - Author: Gay Hendricks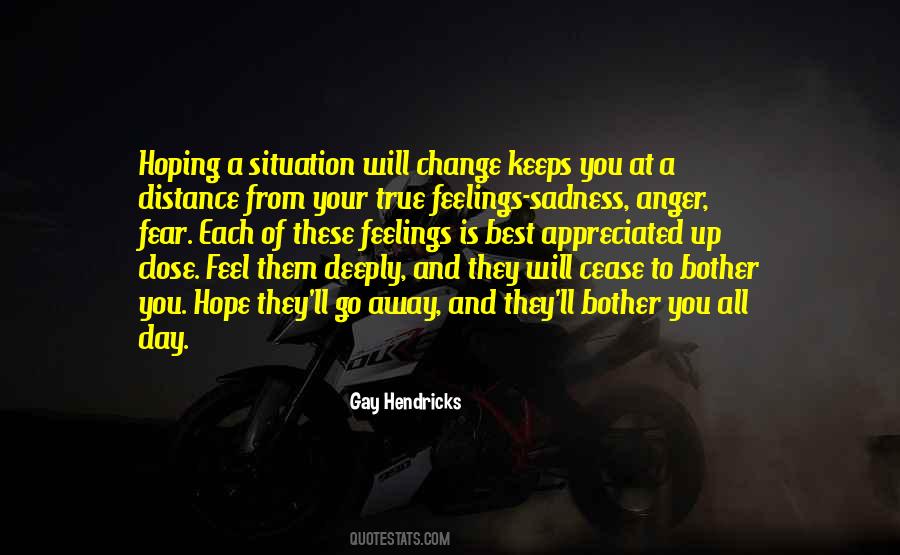 #8. The time is now, the place is here. Stay in the present. You can do nothing to change the past, and the future will never come exactly as you plan or hope for. - Author: Dan Millman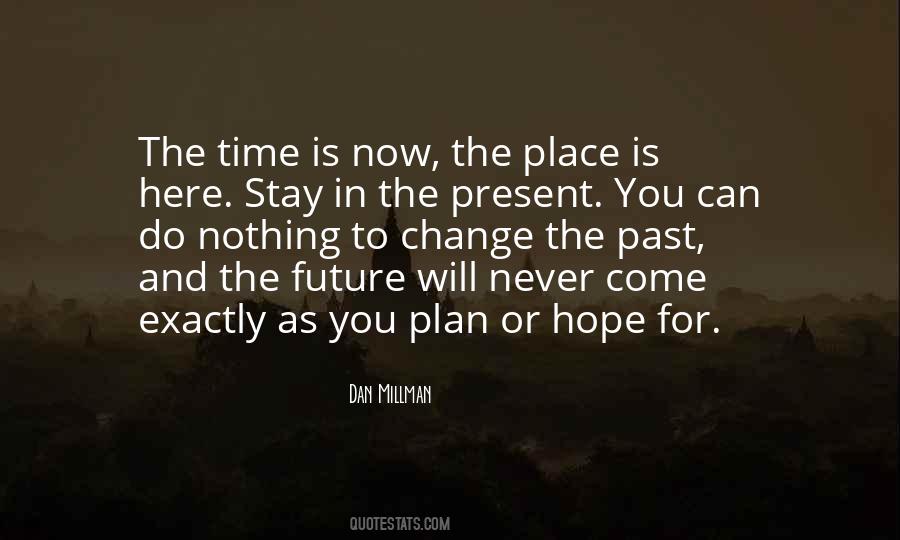 #9. You may not always change your situation but you can always change your perception. For better or worse, it will change the situation. - Author: Debasish Mridha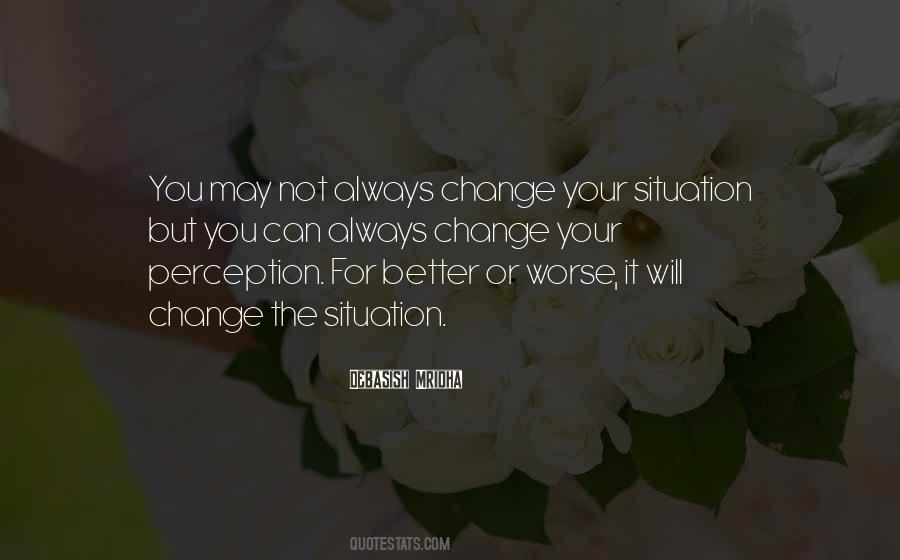 #10. I am writing with the hope that as you cry and laugh with my family you will be encouraged that God still uses flawed human beings to change the world. And if He can use me, He can use you. - Author: Katie J. Davis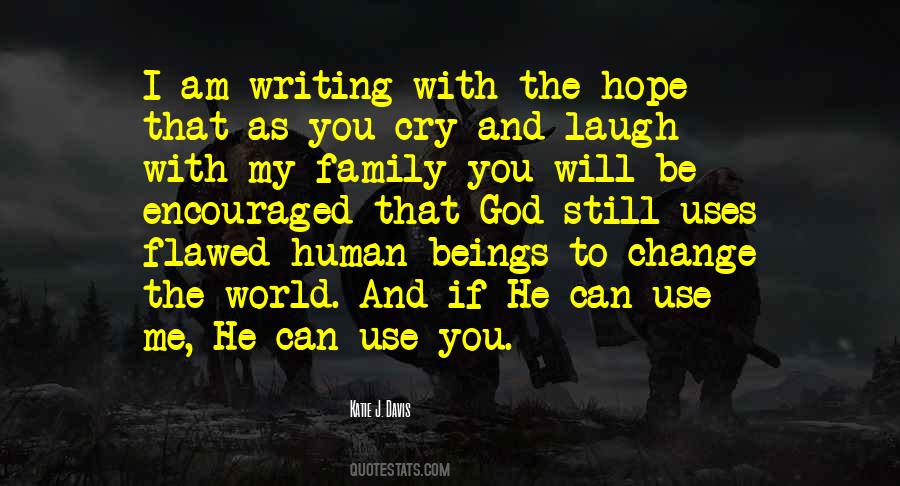 #11. No matter where you are, you are just one thought away from happiness. Forget everything; just think about happiness and everything will change. - Author: Debasish Mridha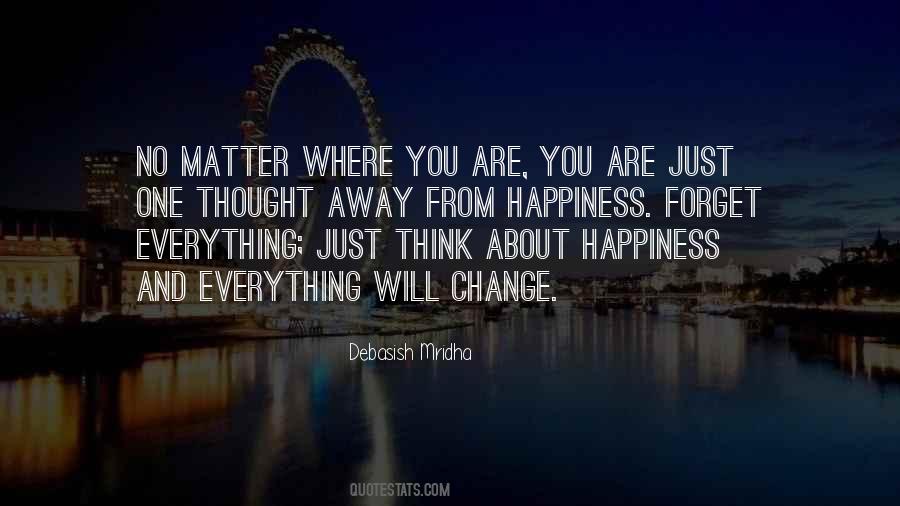 #12. The key thing to keep in mind is that people do change, but they do it in their own time, for their own reasons. That's why you can hope for change, you can encourage change, you can communicate that you want change, but there are never any guarantees that it will happen. - Author: John Hawkins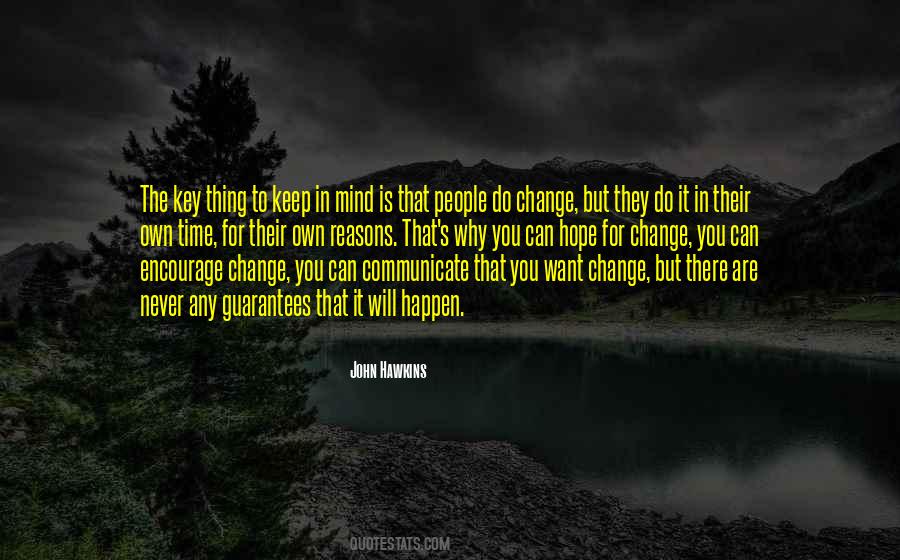 #13. Give yourself permission to see and feel the extraordinary events in your own life. In internalizing them, you also will find your perspective about life and its meaning will change, resulting in growth and expansion of your soul. - Author: Susan Barbara Apollon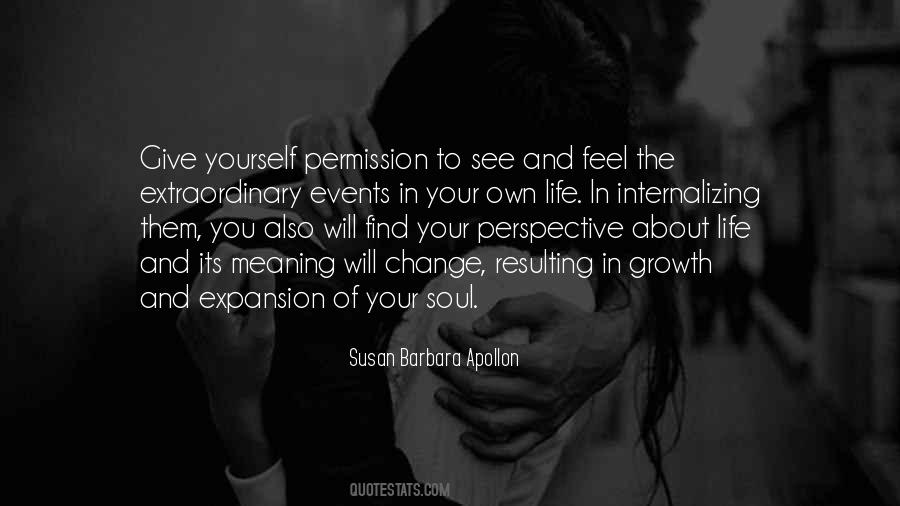 #14. You can't change someone's behaviour, all you can do is remind them, and hope that Allah will change their heart. - Author: Nouman Ali Khan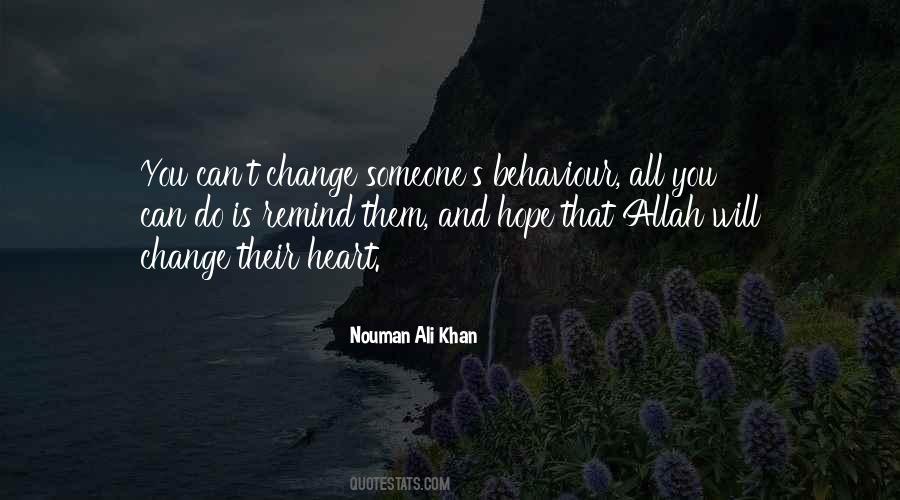 #15. You gotta show kids YOU'RE not scared (even if inside at times you are) and when you show you're not afraid of the "monsters" then they too will stand up even when the lights are off. - Author: Jill Telford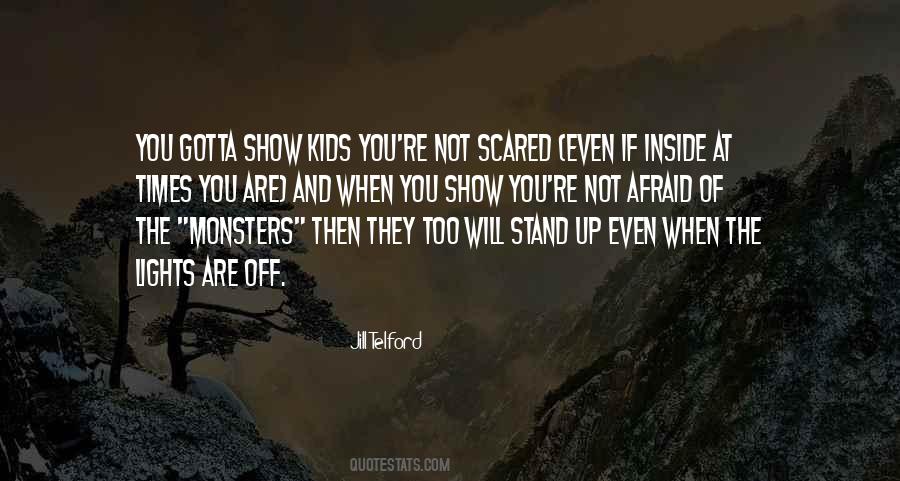 #16. You know every time you change a decade, it's a problem, because you approach the end little by little. But my decision is to keep going. The problem is always to know when the head doesn't work well. Someone has to tell you. I hope my children will tell me. - Author: Costa-Gavras
#17. There's a moment in everybody's life when you're hopeless, just hopeless with hope and trust. And then something happens, something too big to understand, and then everything changes - Author: Will Donner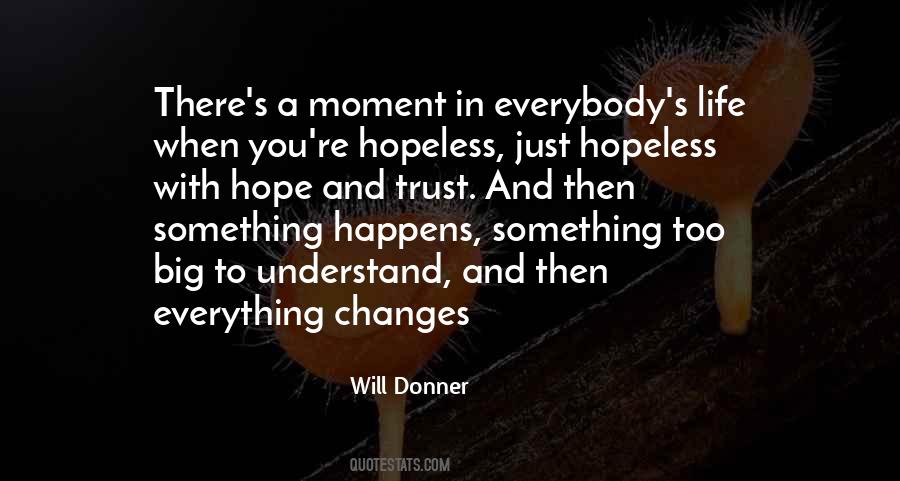 #18. We are bound no longer by the straitjacket of the past and nowhere is the change greater than in our profession of arms. What, you may well ask, will be the end of all of this? I would not know! But I would hope that our beloved country will drink deep from the chalice of courage. - Author: Douglas MacArthur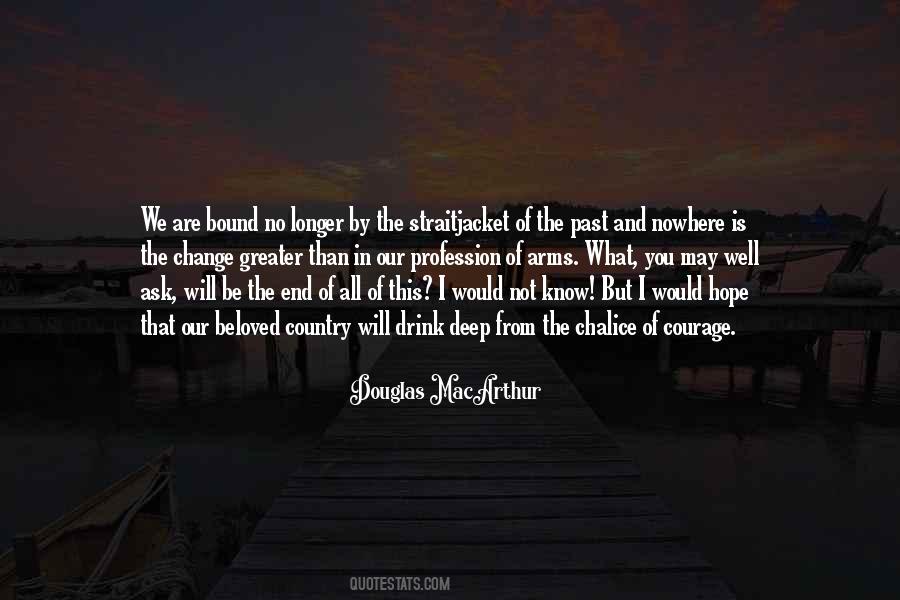 #19. Your circumstances will lie to you. Your emotions will lie to you. Even other people will lie to you. But not God. And because of this, "We have this hope as an anchor for the soul, firm and secure" (Hebrews 6:19). Your identity is secure. Nothing going on in your life can change it. - Author: Holley Gerth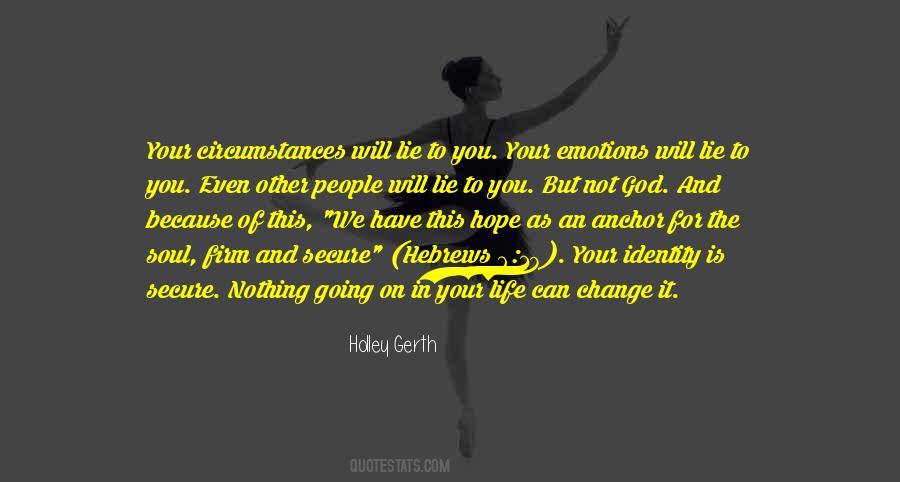 #20. Take from me the hope that I can change the future and you will send me mad. - Author: Israel Zangwill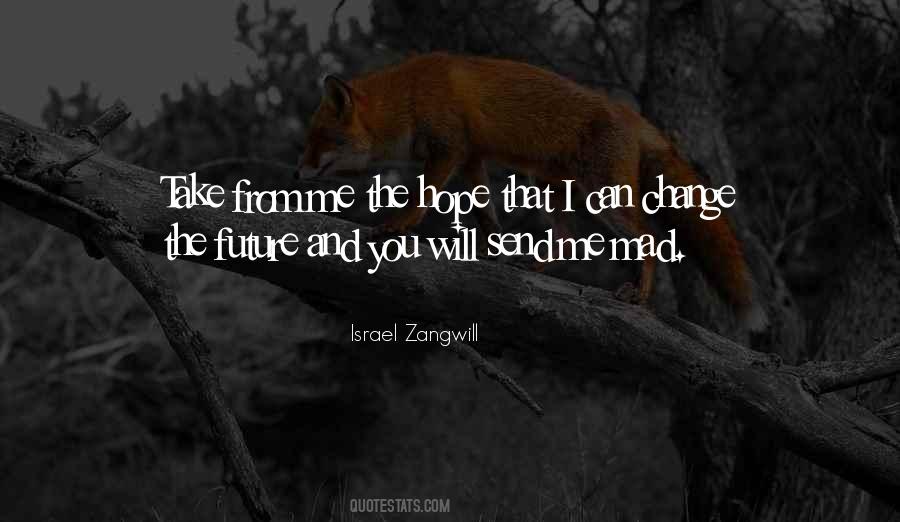 #21. All will go to plan, Paige. You should not give up hope." He looked at the stage. "Hope is the one thing that might still save us all." I followed his gaze. The bell jar and the lifeless flowers stood on a covered plinth. "Hope for what?" "Change. - Author: Samantha Shannon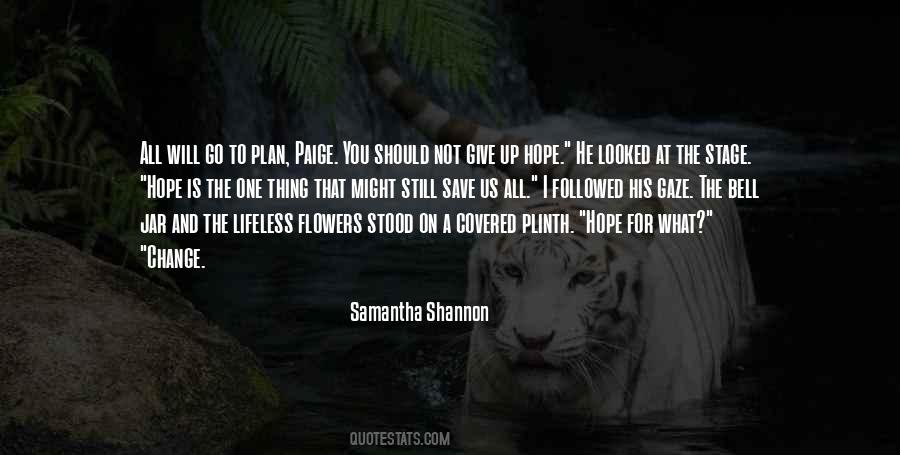 #22. The worth is in the act. Your worth halts when you surrender your will to change and experience life. But options are before you; choose one and dedicate yourself to it. The deeds will give you a new hope and purpose. - Author: Christopher Paolini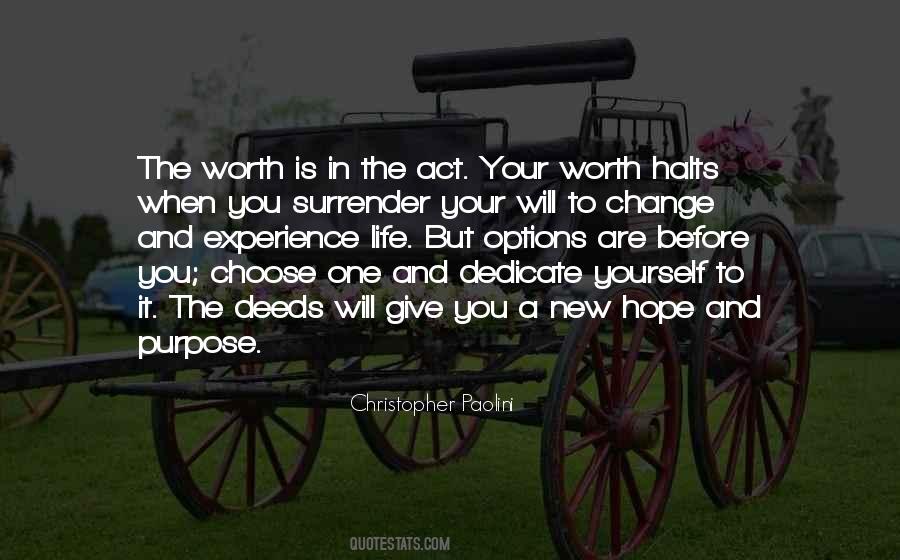 #23. What I like most about change is that it's synonym for 'hope'. If you are taking a risk, what you are really saying is, 'I believe in tomorrow and I will be part of it. - Author: Linda Ellerbee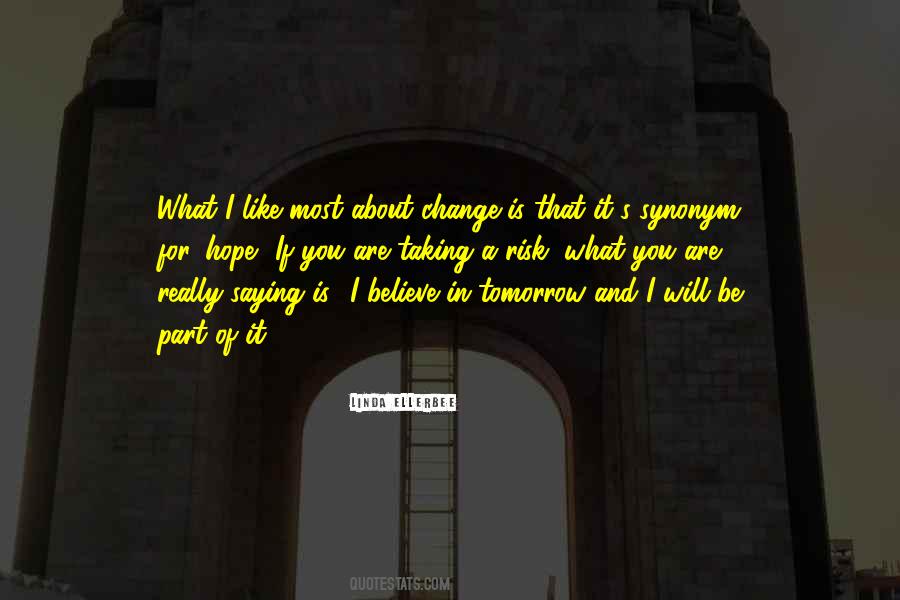 #24. Here's another change I've noticed: The dark is more than the sun dropping off, more than the moon and the stars. It's what you can't see that you hope you will see, what hasn't been that might be. - Author: Beth Kephart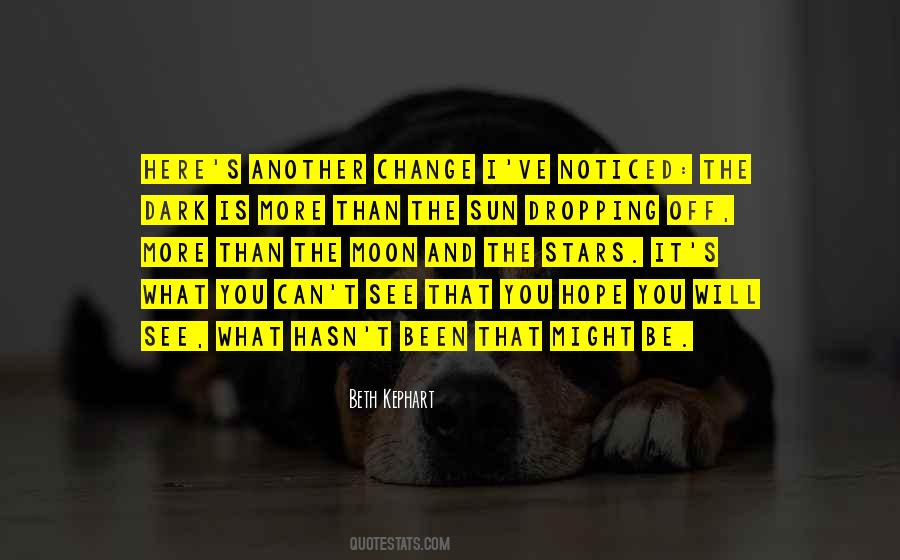 #25. If you have Hope for a needed change ... Faith that it will happen someday & Courage to stand against all adversity and make it happen ... You have the dire tools to change the world! - Author: Timothy Pina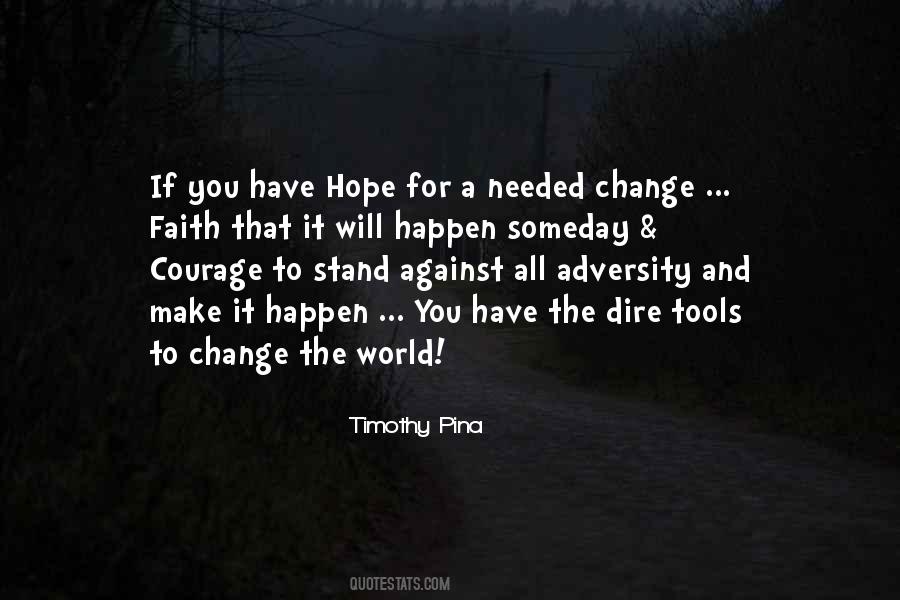 #26. The world is broken he said, how will you fix it?

I don't think anyone can fix it but we can teach ourselves & eachother to focus on the good and the important and maybe little by little this place won't feel so heavy. - Author: Nikki Rowe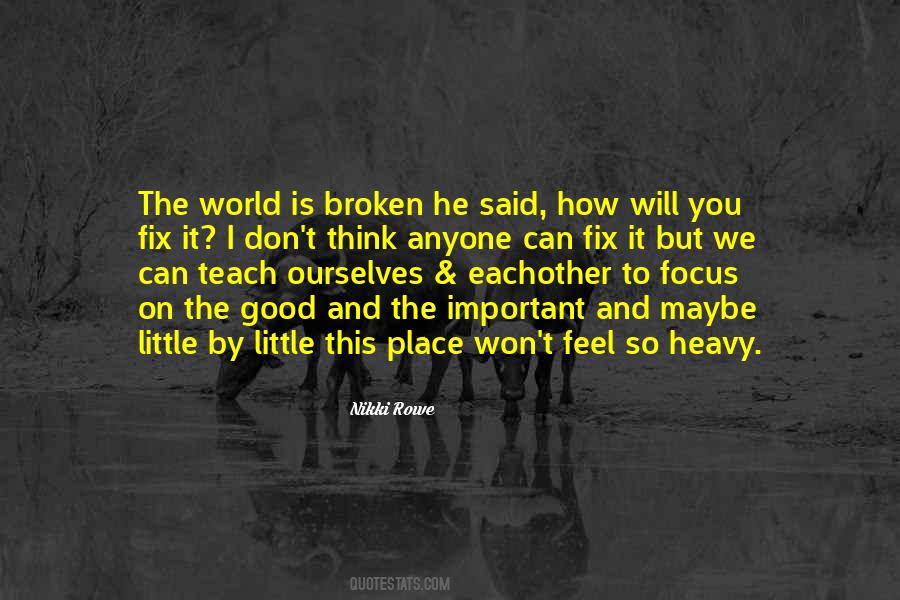 #27. As the earth dies your spirit will bloom; as the world fades your soul will rise and glisten. Amongst the dehydrated crevices of a desert earth you will stumble upon your diamonds; in between the dry skulls and cracked bones you will find your sapphires. - Author: C. JoyBell C.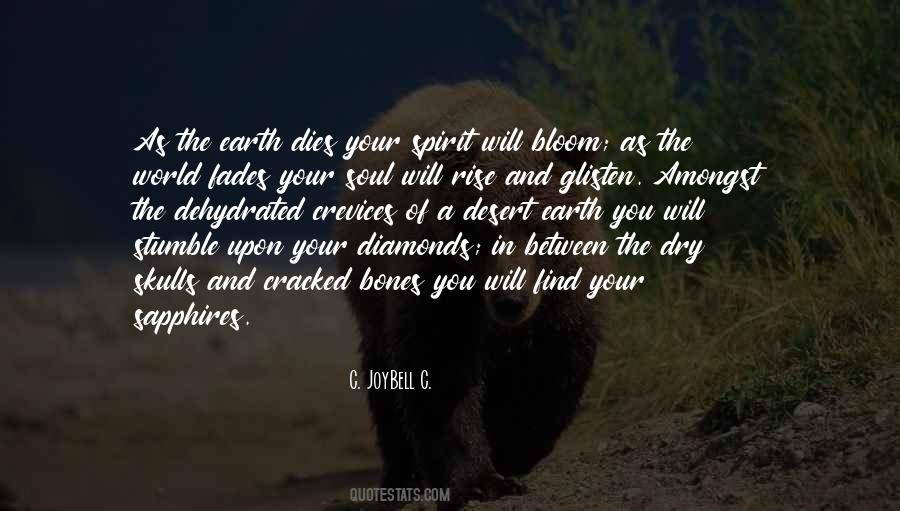 #28. It requires a hard look at what is, rather than what you hope will be. As you let go of managing and controlling, you must also let go of the idea that "when he changes I'll be happy." He may never change. You must stop trying to make him. And you must learn to be happy anyway. - Author: Robin Norwood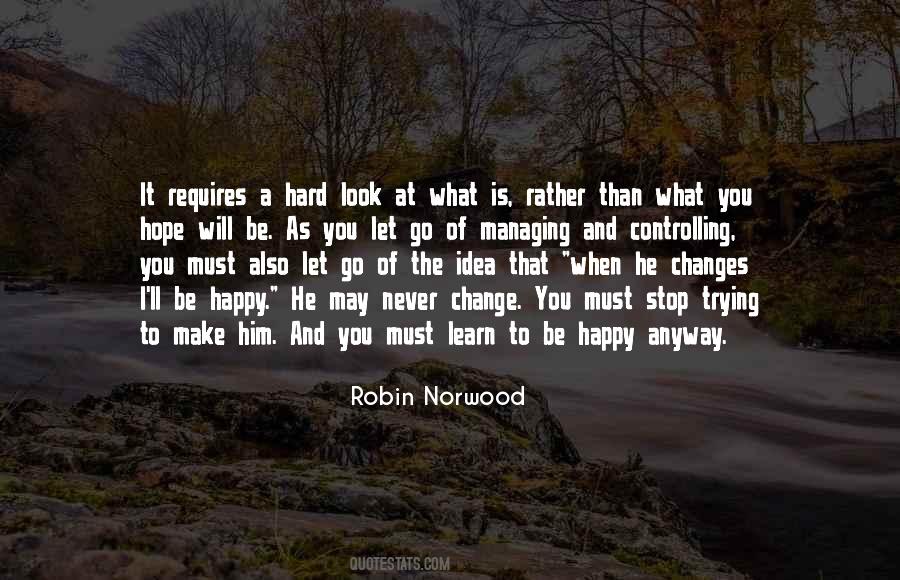 #29. They say never say never but we'll make an exception because:
never would I change you
never would I leave you
never would I bring you down
never ever will I stop loving you. Now change those woulds to "wills" and you'll have a better idea of me. - Author: Hope Alcocer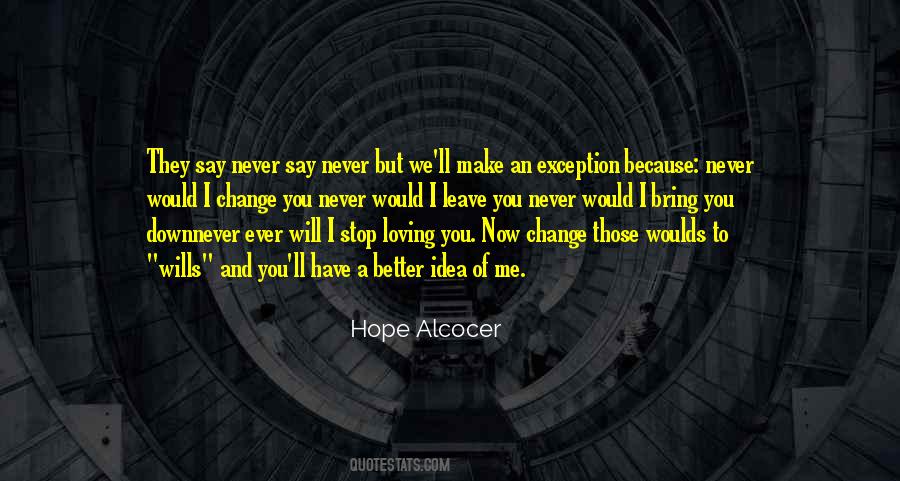 #30. Love is a drug. You can get addicted to it. And it will change your life forever. - Author: Debasish Mridha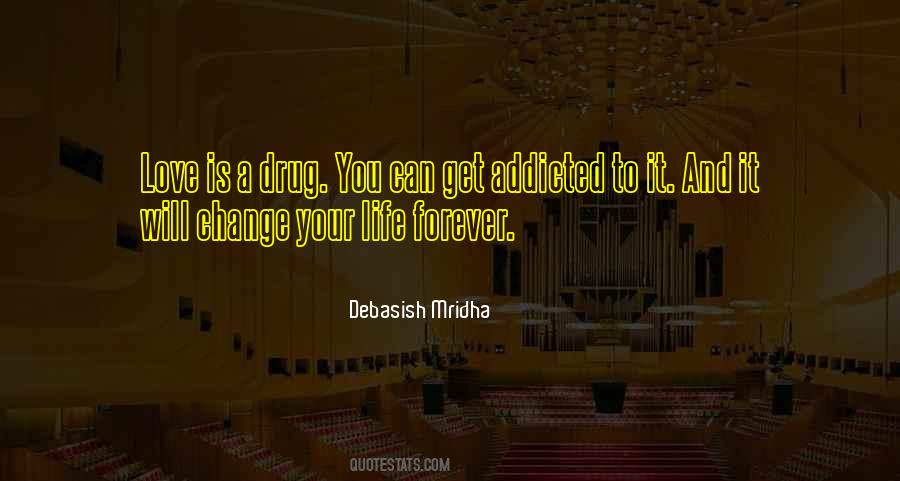 #31. With the change of the seasons, God reminds us that darkness always ends. Light always exists and will always return when missing. There is no night that doesn't end. No nightmare from which you cannot awaken. No hurt that cannot heal. - Author: Sharon Bayliss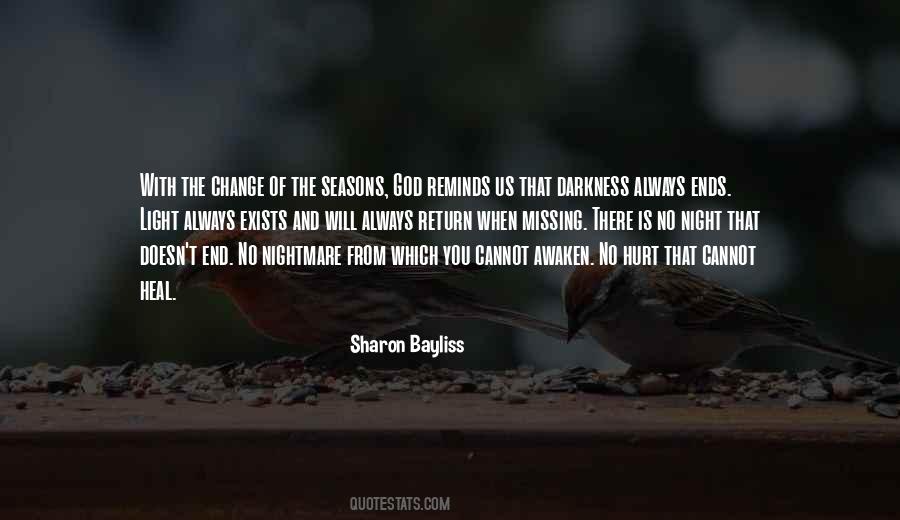 #32. But I will hold on hope
And I won't let you choke
On the noose around your neck
And I'll find strength in pain
And I will change my ways
I'll know my name as it's called again - Author: Mumford & Sons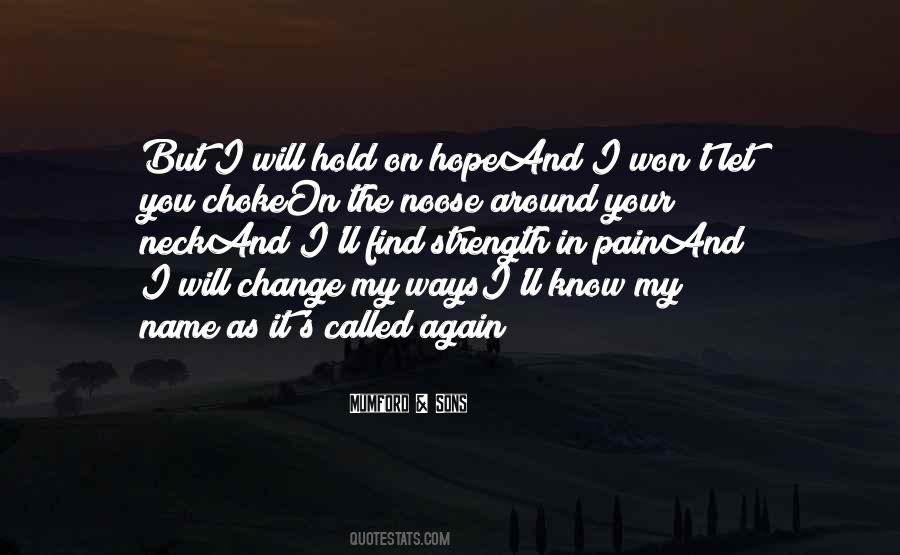 #33. If you don't like the way life is going, then don't complain, just change the way. You will have a new life. - Author: Debasish Mridha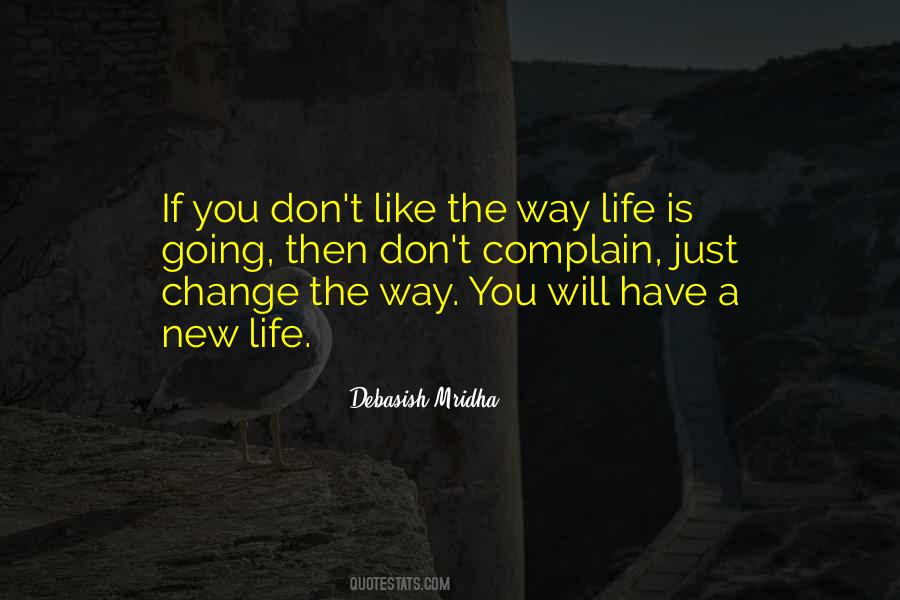 #34. If you do nothing, nothing will get done and nothing will change. - Author: Debasish Mridha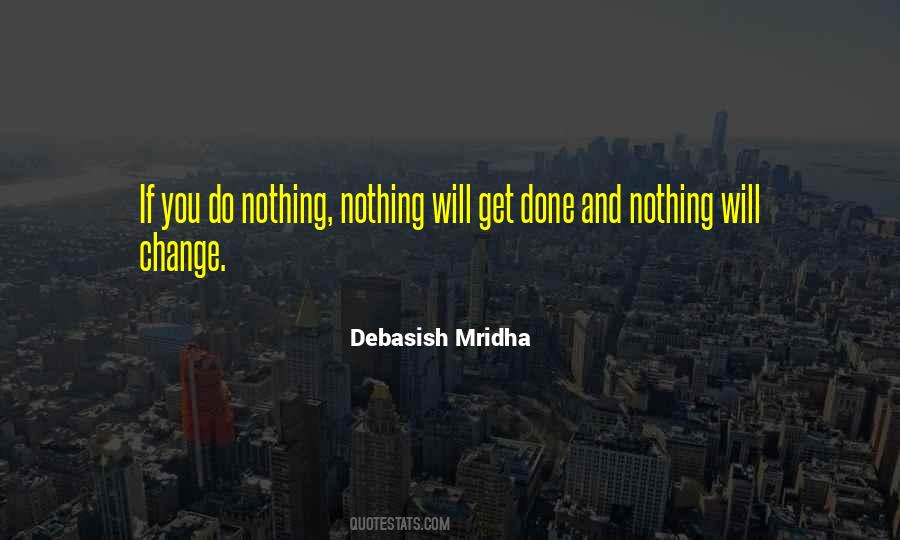 #35. If you assume that there is no hope, you guarantee that there will be no hope. If you assume that there is an instinct for freedom, that there are opportunities to change things, then there is a possibility that you can contribute to making a better world. - Author: Noam Chomsky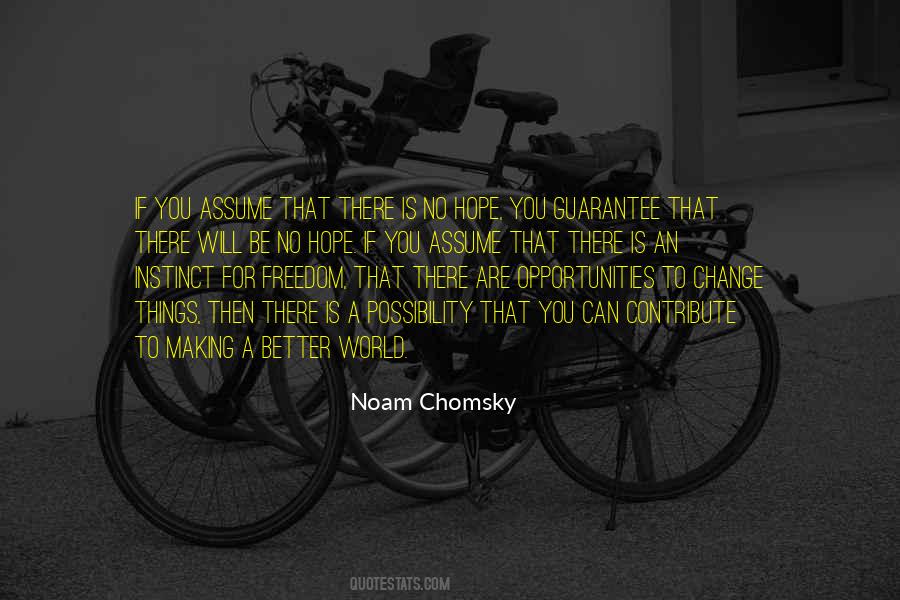 #36. If you want people to listen to you, you have to listen to them. If you hope people will change how they live, you have to know how they live. If you want people to see you, you have to sit down with them eye-to-eye. - Author: Gloria Steinem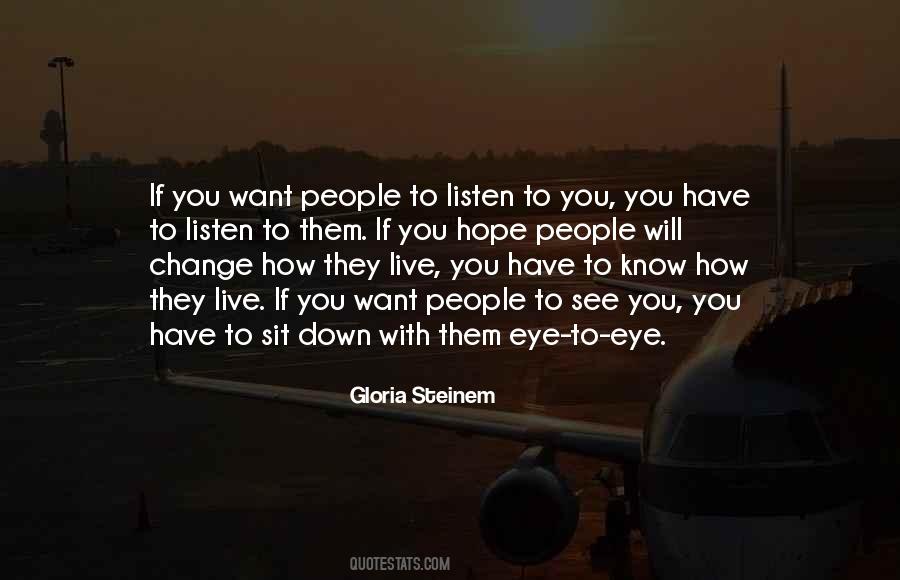 #37. When you become healthy, courageous, and hopeful, following your conscience becomes much easier. When people are healthy, courageous, and hopeful, it's difficult to bend their mind and will. They will speak out what they believe, and stand up and do what is right even when it means a loss to them. - Author: Ilchi Lee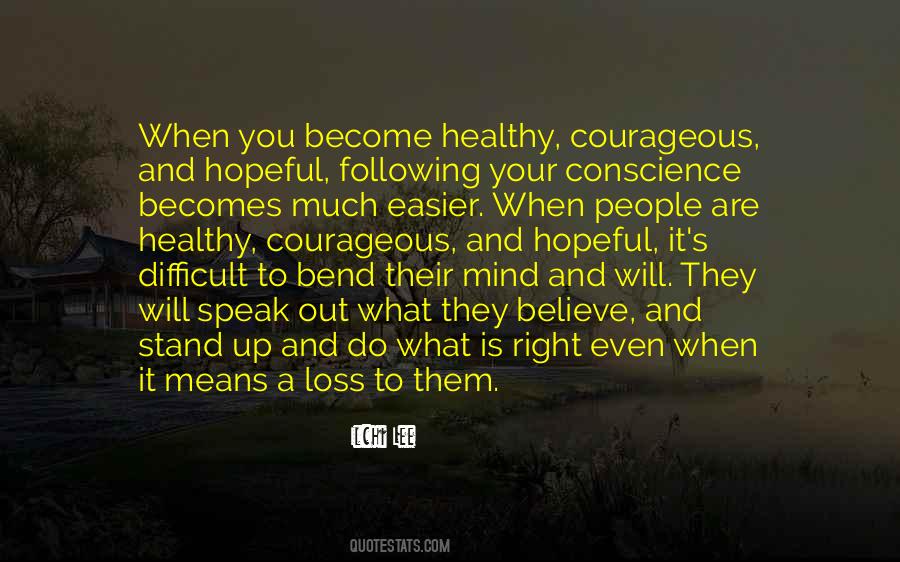 #38. Tomorrow, you promise yourself, things will be different, yet, tomorrow is too often a repetition of today. And you disappoint yourself again and again. - Author: James T. McCay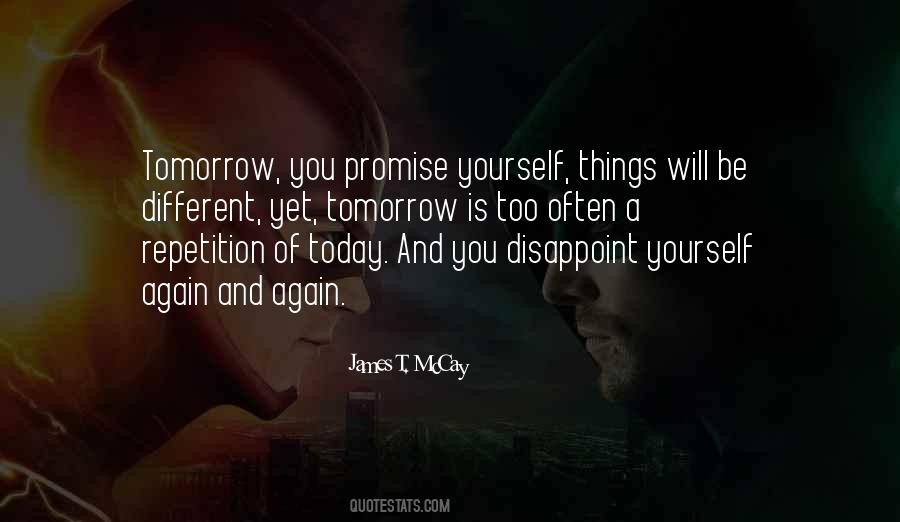 #39. An attitude adjustment from the inside out is what it will take to get you to change direction. The truth is God is on your side, no matter how far you've wandered. He still loves you. He still needs you. Your sins don't define you. He does. - Author: Toni Sorenson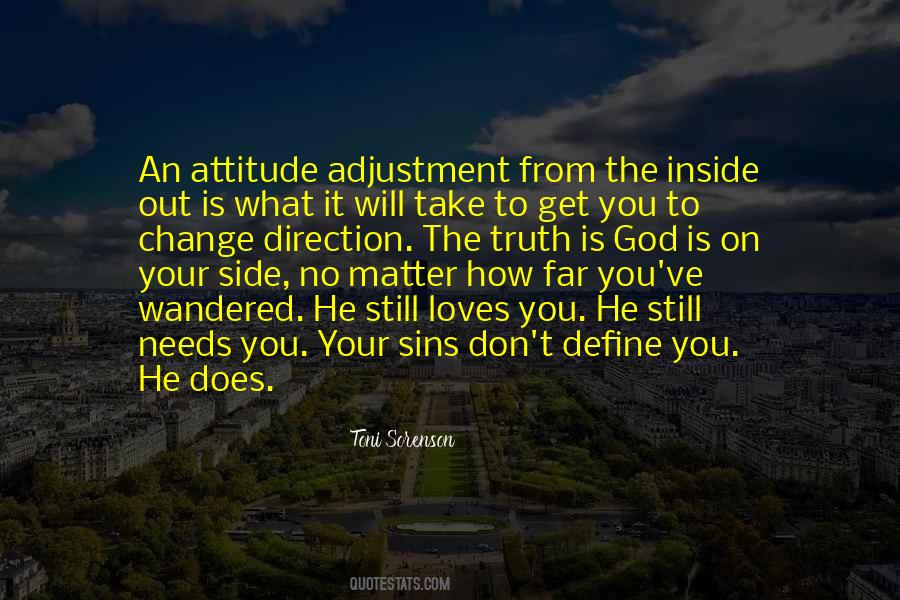 #40. If you are an investor, I hope that you will stay with me for three, four, ten years. But if you ask me to make profits in ways that I have to change my allure, I won't do that. I won't lose my identity. - Author: Brunello Cucinelli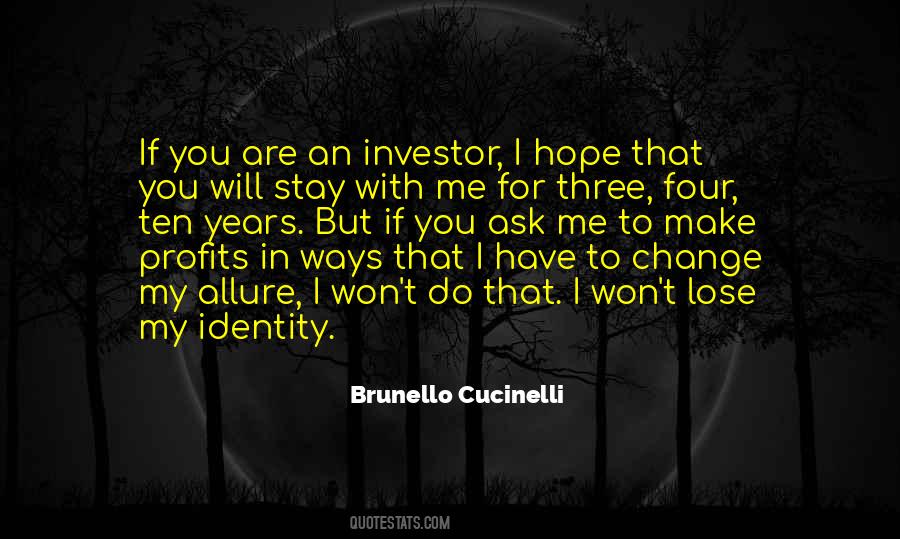 #41. Many people lack the basic equipment to be in a relationship and there's nothing you can do to change it. You can't take a skunk and dip it in perfume and hope it becomes a puppy. Eventually, the perfume will wear off and you'll still have a skunk on your hands. - Author: Sherry Argov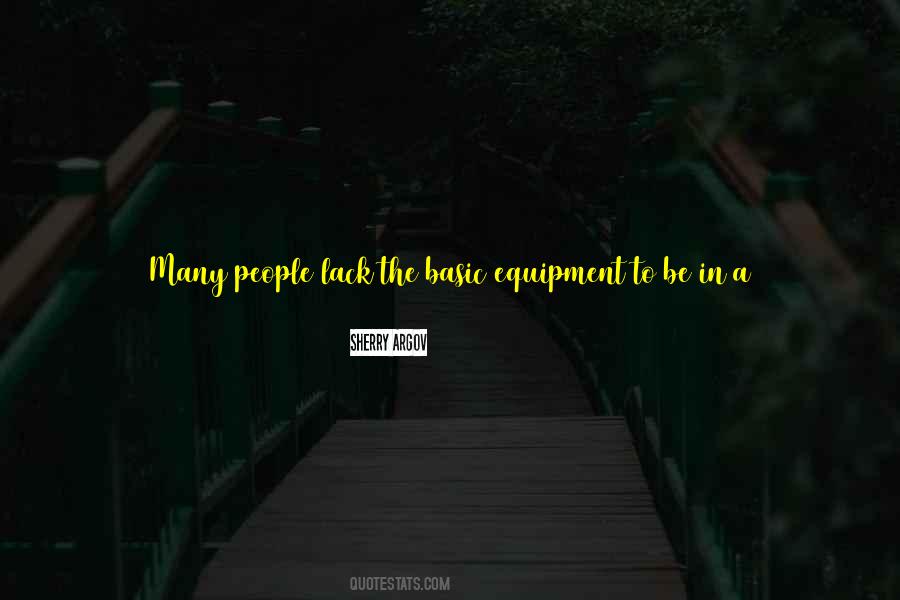 #42. Then, I guess, I can only hope that you will change your mind. But I will love you, without a doubt, for all eternity. - Author: A.M. Hudson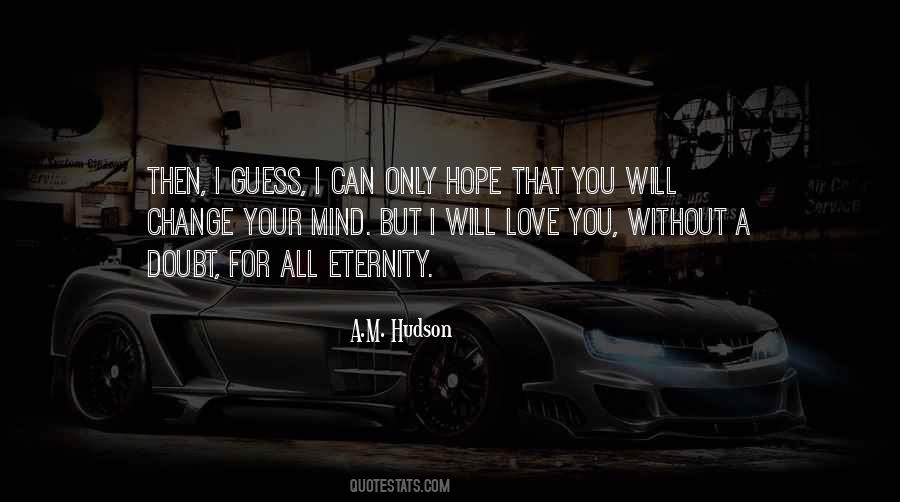 #43. Anna Pavlovna turned toward him and, with a Christian mildness that expressed forgiveness of his indiscretion, nodded and said: "I hope to see you again, but I also hope you will change your opinions, my dear Monsieur Pierre. - Author: Leo Tolstoy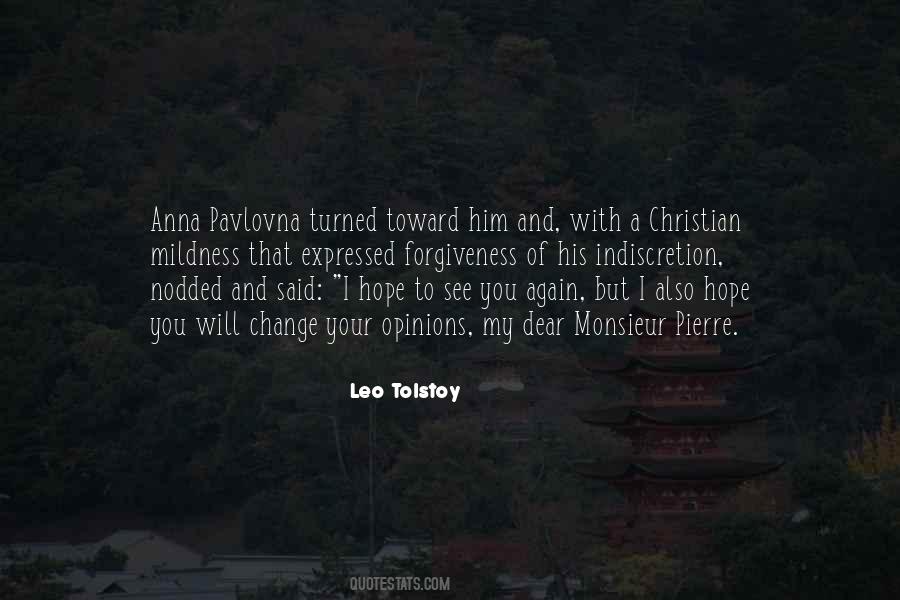 #44. Never forget that life is good when you perceive that it's not.
Take every step forward with love and joy and it will change your perception. - Author: Debasish Mridha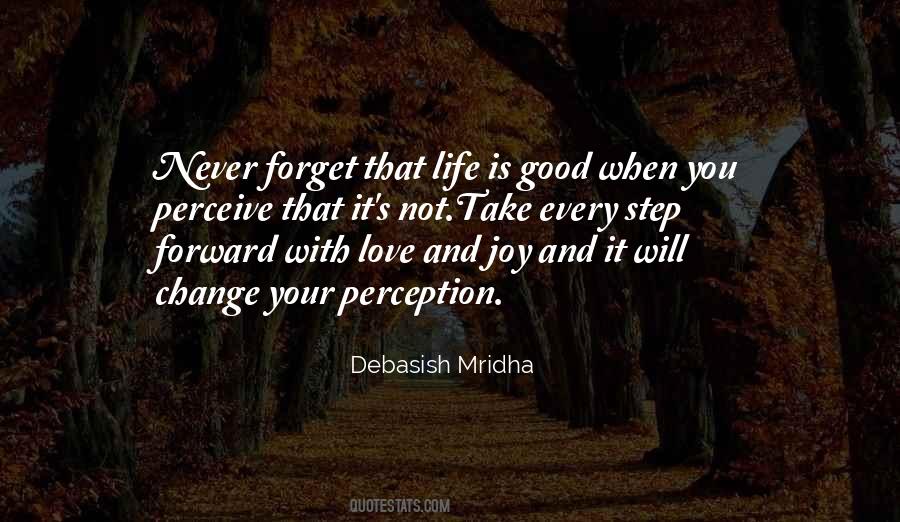 #45. Things will get easier, people's minds will change, and you should be alive to see it. - Author: Ellen DeGeneres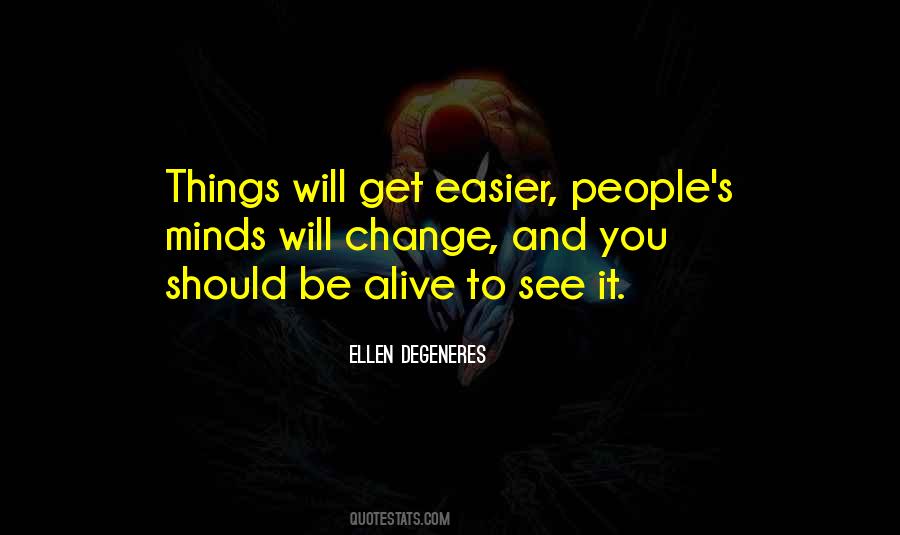 #46. But it's no ordinary apple tart. It's the apple tart of hope. After you've taken a bite, the whole world will look almost completely different. Things will start to change and by the time you've had a whole slice you'll realise everything is going to be okay. - Author: Sarah Moore Fitzgerald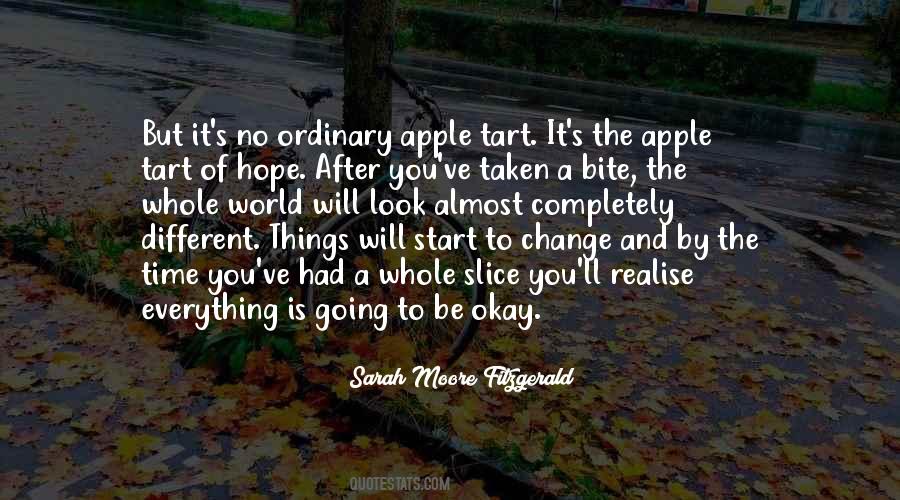 Famous Authors
Popular Topics