Hearts Of Fire Famous Quotes & Sayings
List of top 51 famous quotes and sayings about hearts of fire to read and share with friends on your Facebook, Twitter, blogs.
Top 51 Hearts Of Fire Quotes
#1. God is not some omnipotent authority looking down from above, threatening to throw us into a pit of fire if we disobey. God is the energy that flows through the synapses of our nervous system and the chambers of our hearts! God is in all things! - Author: Dan Brown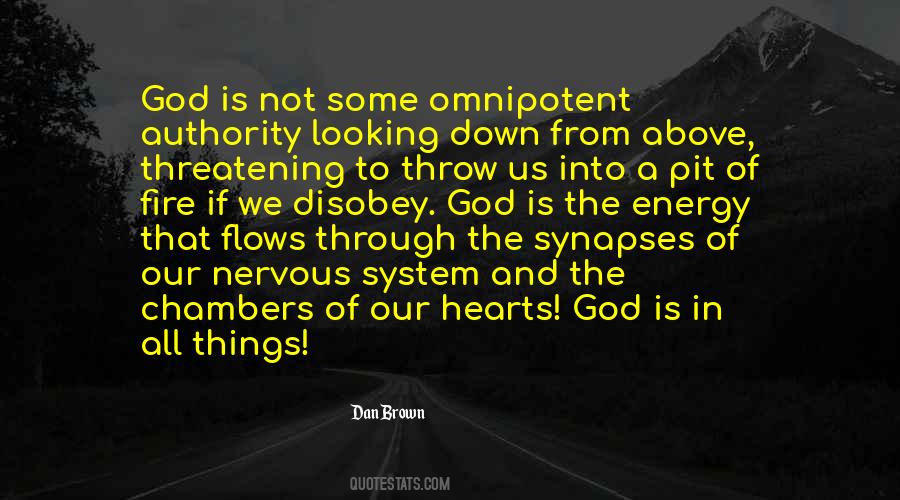 #2. Deep within yourself, listen to your conscience which calls you to be pure ... a home is not warmed by the fire of pleasure which burns quickly like a pile of withered grass. Passing encounters are only a caricature of love; they injure hearts and mock God's plan. - Author: Pope John Paul II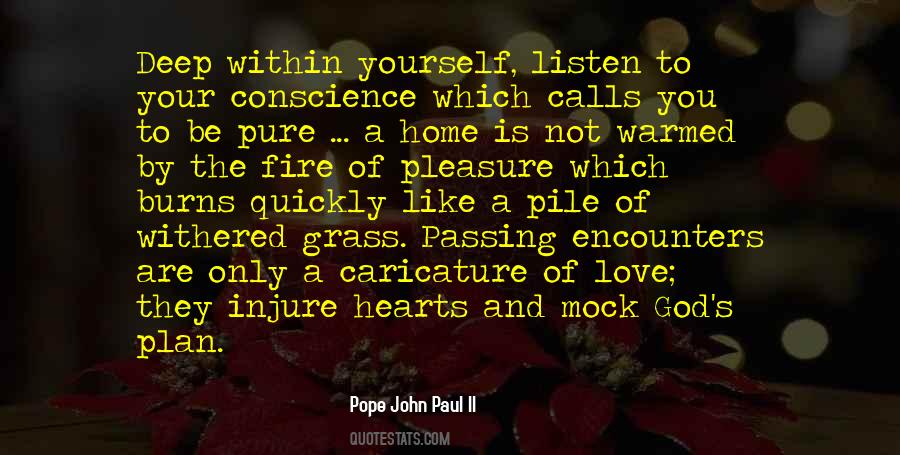 #3. Life is more than a heartbeat, Mage. It's the essence of our souls and the fiber of our beings. It is the breath of imagination within our souls; it's the fire in our hearts that burns for change and progress. Extinguish the fire and you have killed the man, even if he still draws breath. - Author: Dannika Dark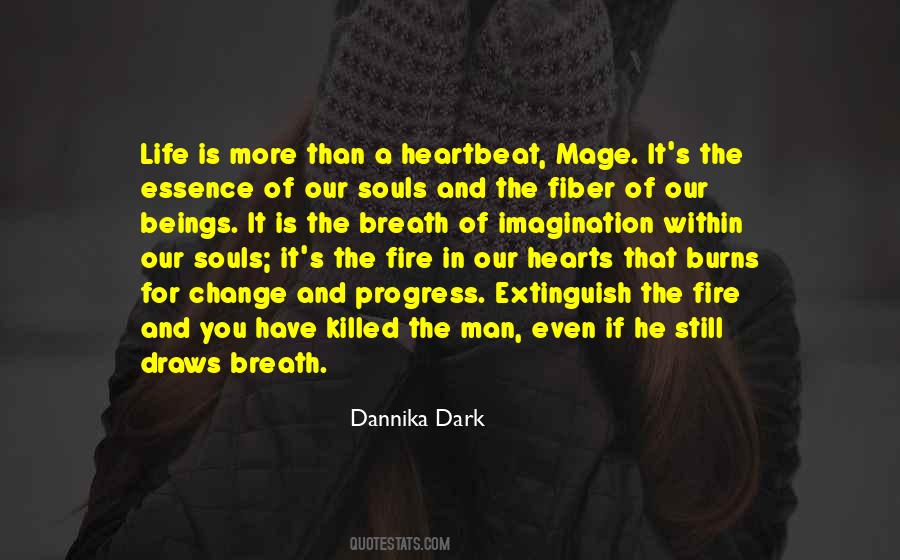 #4. And Marlowe, Webster, Fletcher, Ben, Whose fire-hearts sowed our furrows when The world was worthy of such men. - Author: Elizabeth Barrett Browning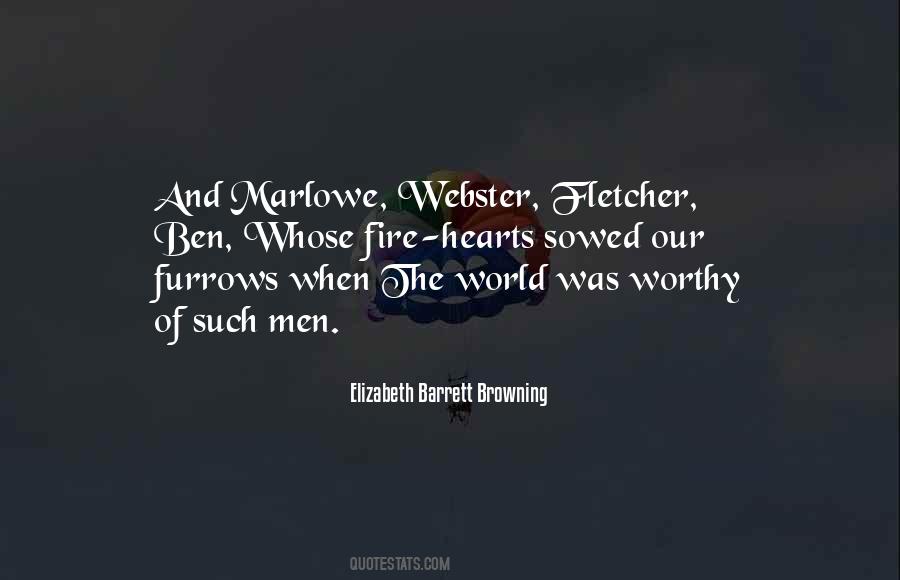 #5. All stories are lies. But good stories are lies made from light and fire. And they lift our hearts out of the dust, and out of the grave. - Author: Mike Carey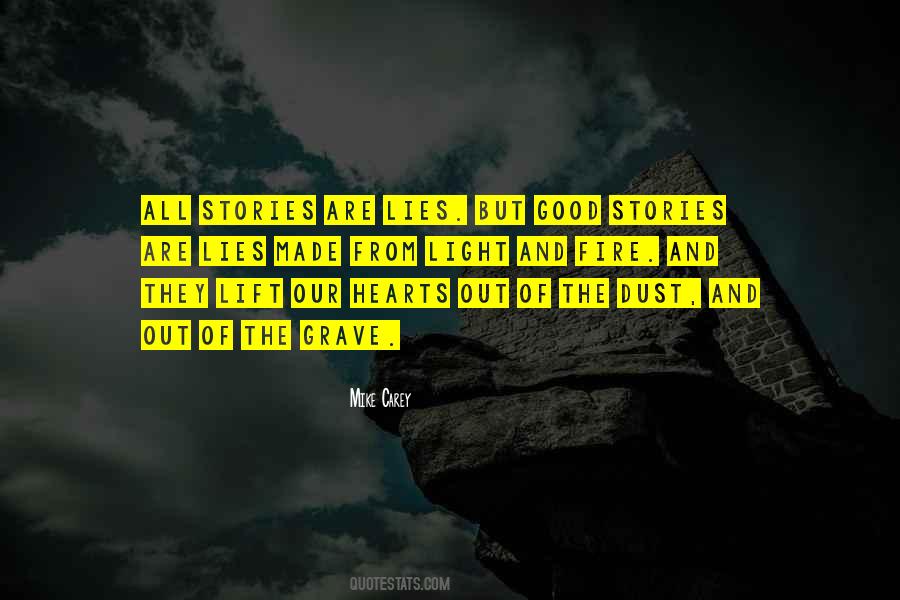 #6. This is joy's bonfire, then, where love's strong arts
Make of so noble individual parts
One fire of four inflaming eyes, and of two loving hearts. - Author: John Donne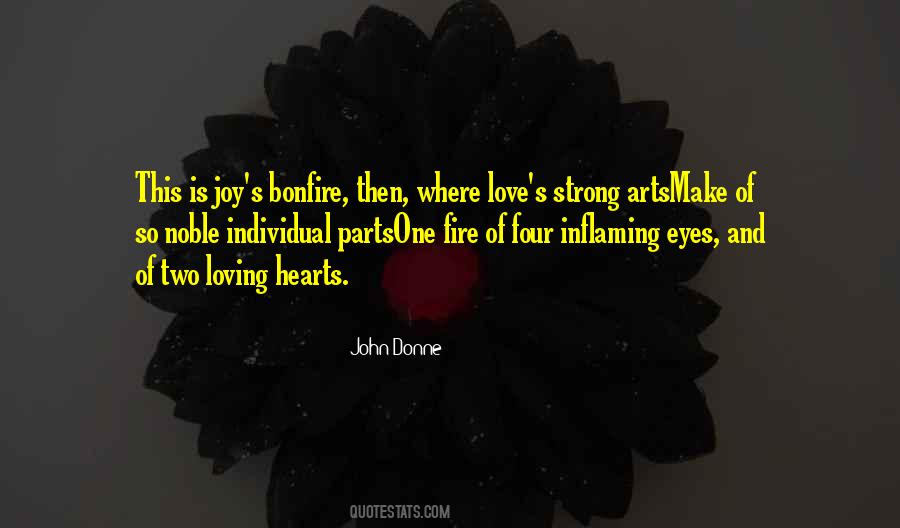 #7. They have seen Death and ultimate defeat,
and yet they would not in despair retreat,
but oft to victory have tuned the lyre
and kindled hearts with legendary fire,
illuminating Now and dark Hath-been
with light of suns as yet by no man seen. - Author: J.R.R. Tolkien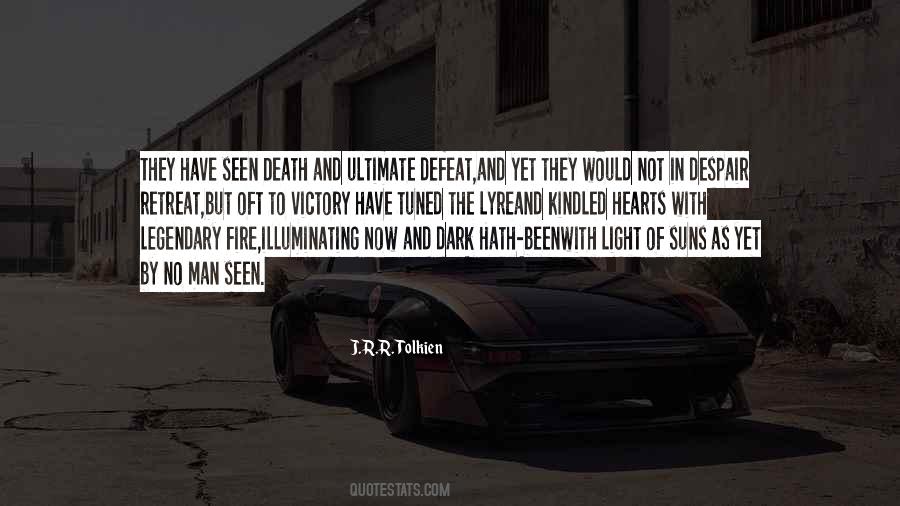 #8. Instead of attacking people, we need to love people. It lights a fire under me because it's a reminder of why we need the Gospel. Our hearts are so corrupt. - Author: Trip Lee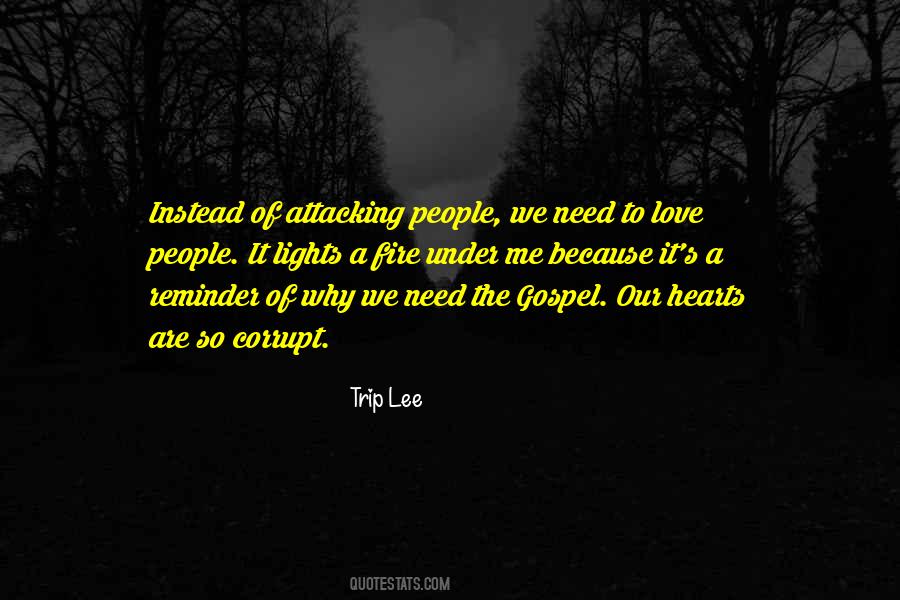 #9. Allow your hearts to be driven by principle, not bias. Love, not hate. Unity, not division. The fire of your dreams, not the rain of your sorrows. - Author: Suzy Kassem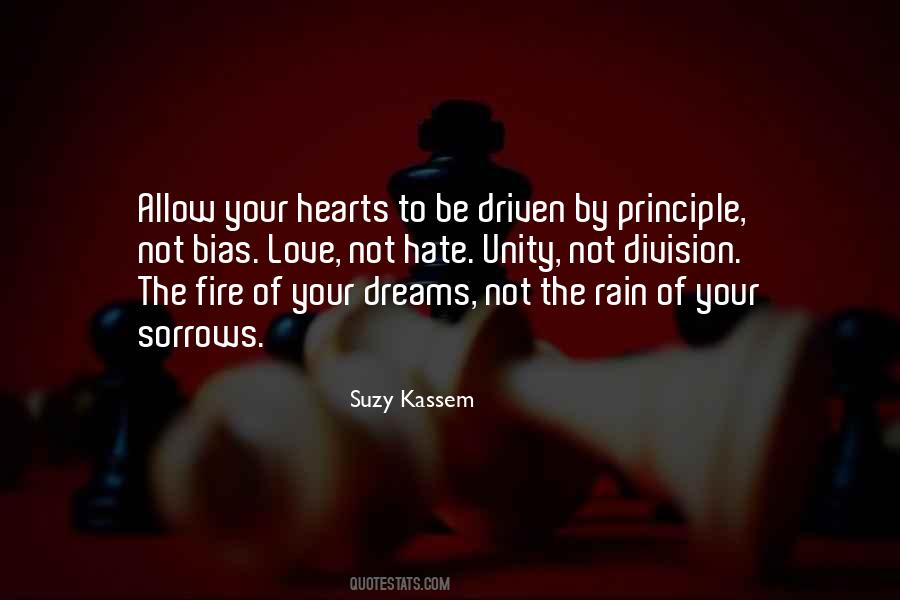 #10. Now young faces grow sad and old and hearts of fire grow cold
We swore blood brothers against the wind
I'm ready to grow young again - Author: Bruce Springsteen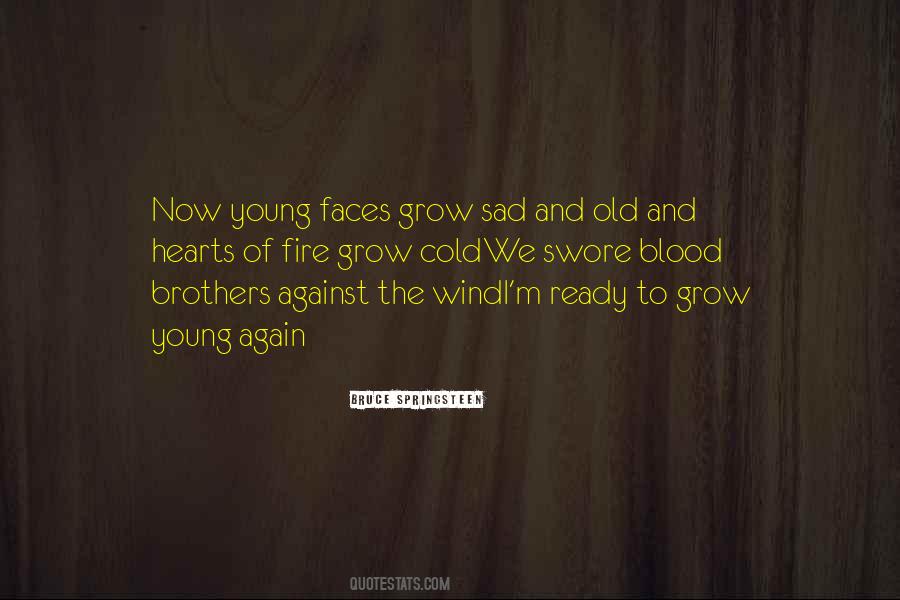 #11. The devil fears hearts on fire with love of God. - Author: St. Catherine Of Siena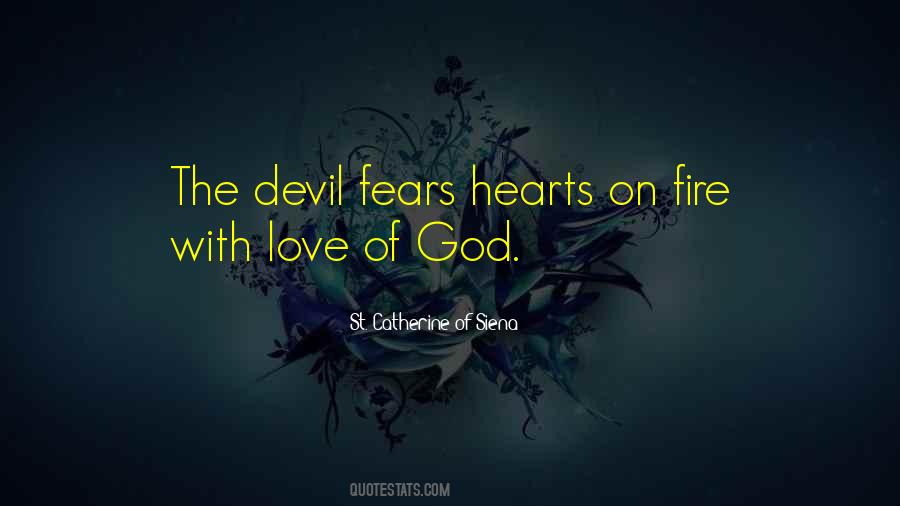 #12. Take now this Ring,' he said; 'for thy labours and thy cares will be heavy, but in all it will support thee and defend thee from weariness. For this is the Ring of Fire, and herewith, maybe, thou shalt rekindle hearts to the valour of old in a world that grows chill. - Author: J.R.R. Tolkien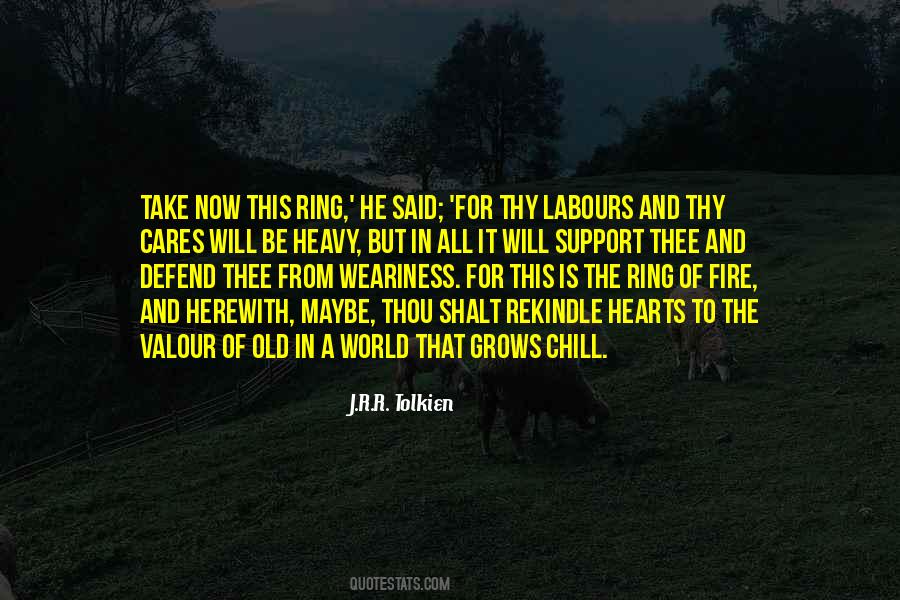 #13. We've had a deal of bad poetry, haven't we? Suggesting the climax to this thrilling and literary spectacle. The Olla Podrida, my sweet-hearts, will now be set on the fire. - Author: Dorothy Dunnett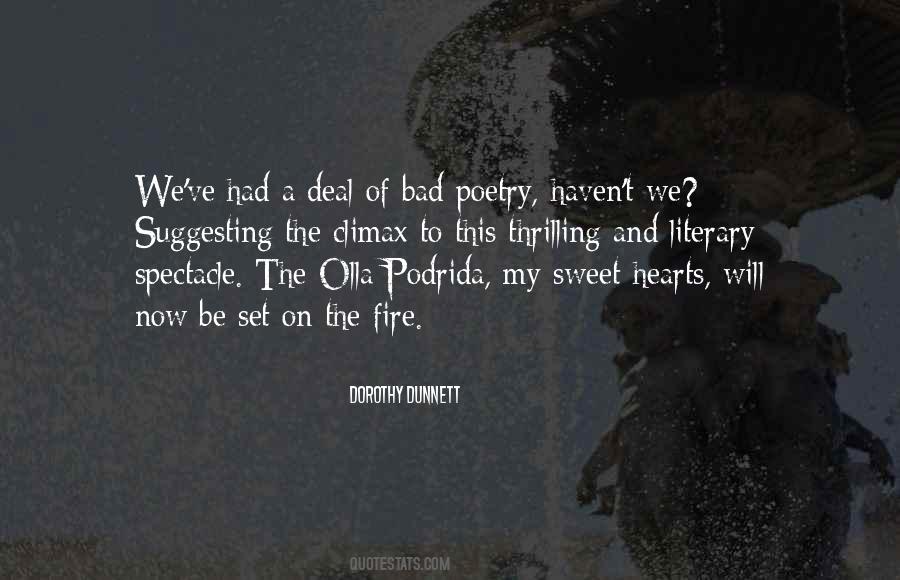 #14. All the colors
Of the rainbow
Hidden 'neath my skin
Hearts have colors
Don't we all know?
Red runs through our veins
Feel the fire burning up
Inspire me with blood
Of blue and green
I have hope
Inside is not a heart
But a kaleidoscope - Author: Sara Bareilles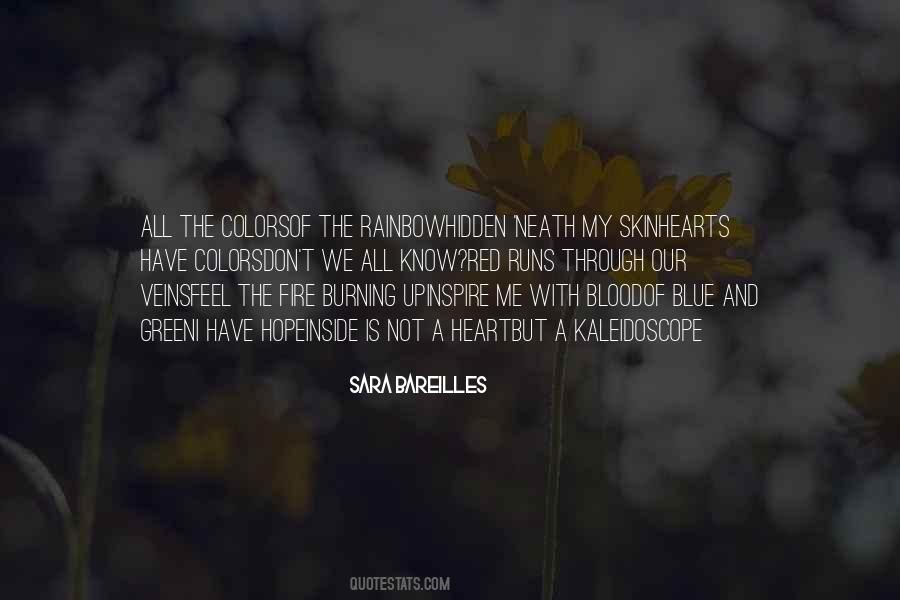 #15. There may be a great fire in our hearts, yet no one ever comes to warm himself at it, and the passers-by see only a wisp of smoke. - Author: Vincent Van Gogh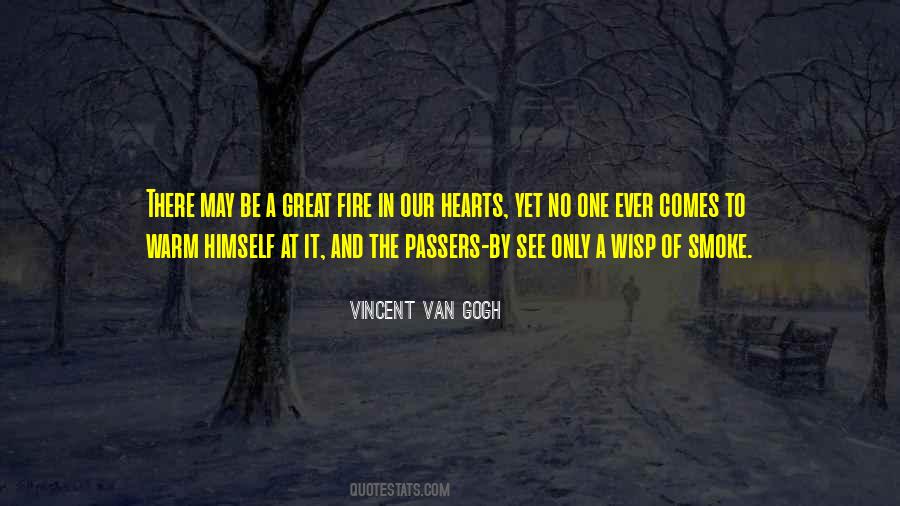 #16. I think of those who were truly great. The names of those who in their lives fought for life, Who wore at their hearts the fire's center. - Author: Stephen Spender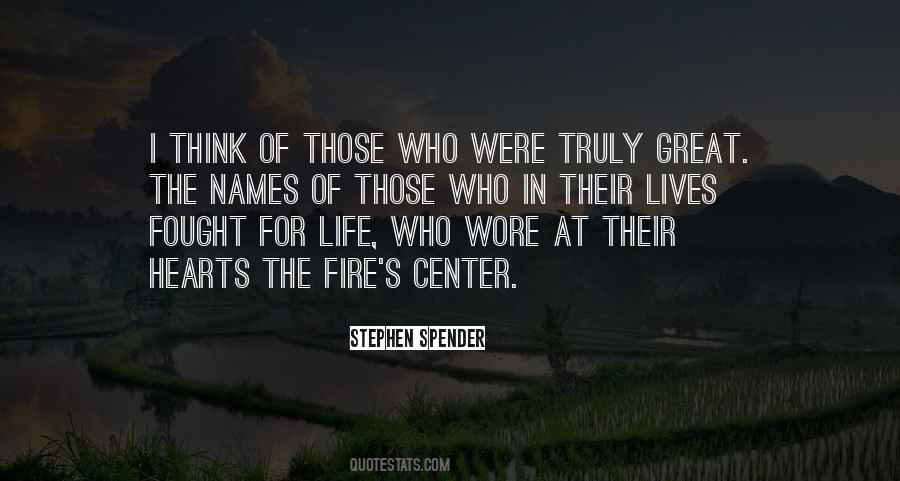 #17. We have shared the incommunicable experience of war, we have felt, we still feel, the passion of life to its top. In our youth our hearts were touched with fire. - Author: Oliver Wendell Holmes Jr.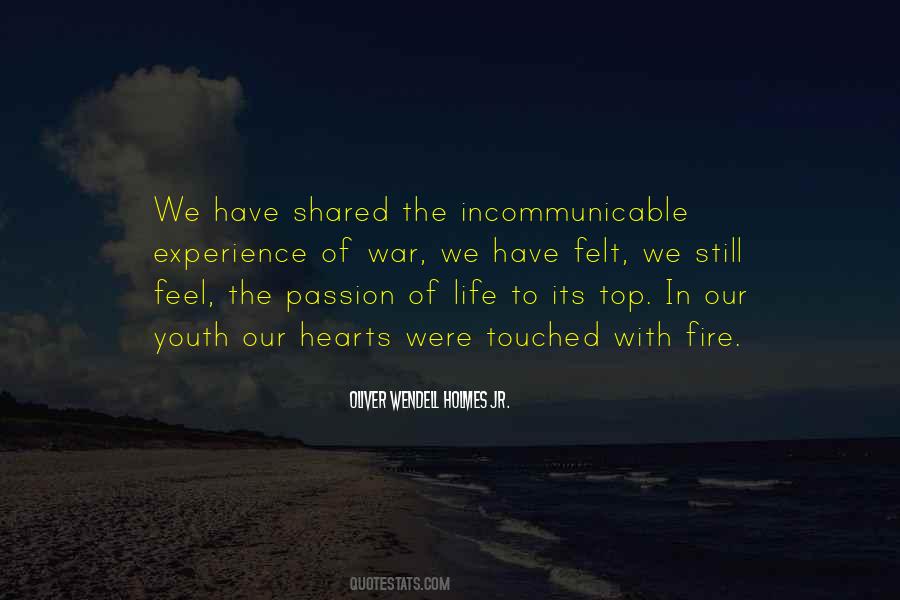 #18. Each of us has a fire in our hearts for something. It's our goal in life to find it and keep it. - Author: Mary Lou Retton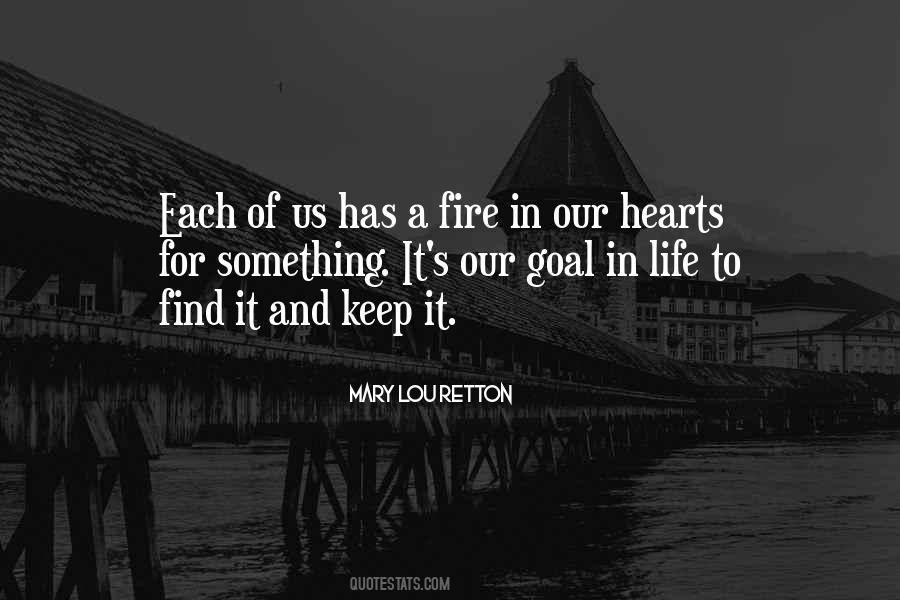 #19. We hold the moon in our bellies and fire in our hearts. We bleed We give milk. We are the mothers of first words. These words grow. They are our children. They are our stores and poems. - Author: Terry Tempest Williams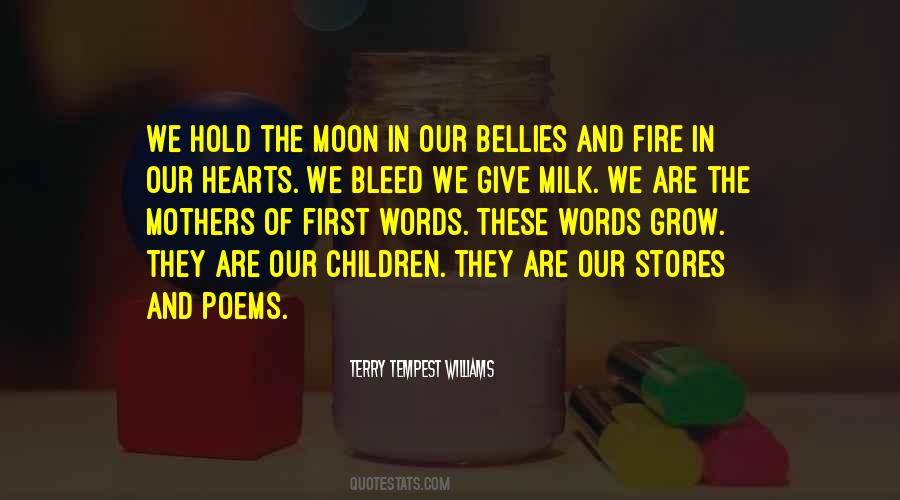 #20. Christ Jesus consumed our hearts like a blazing fire. - Author: Lailah Gifty Akita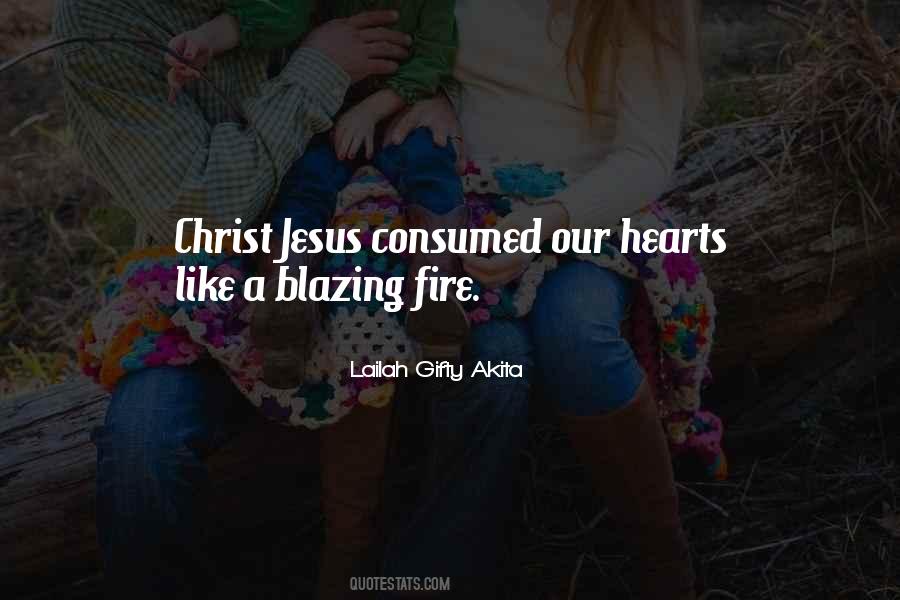 #21. I know of a world that is sunk in shame, Where hearts oft faint and tire; But I know of a Name, a precious Name, That can set that world on fire: Its sound is sweet, its letters flame. I know of a Name, a precious Name, 'Tis Jesus. - Author: J. Chapman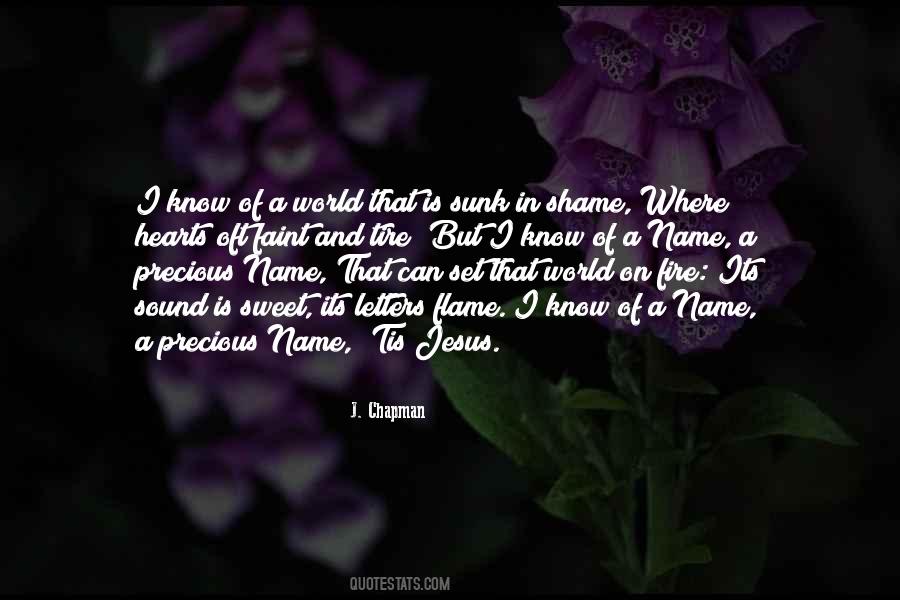 #22. The scriptures bid us to send forth our light and our truth and when children carry within their hearts the torch of hope, they learn the darkness yields not only to man-made fire, but to starlight, to the rising sun, and to the light of the soul. - Author: Dennis Kucinich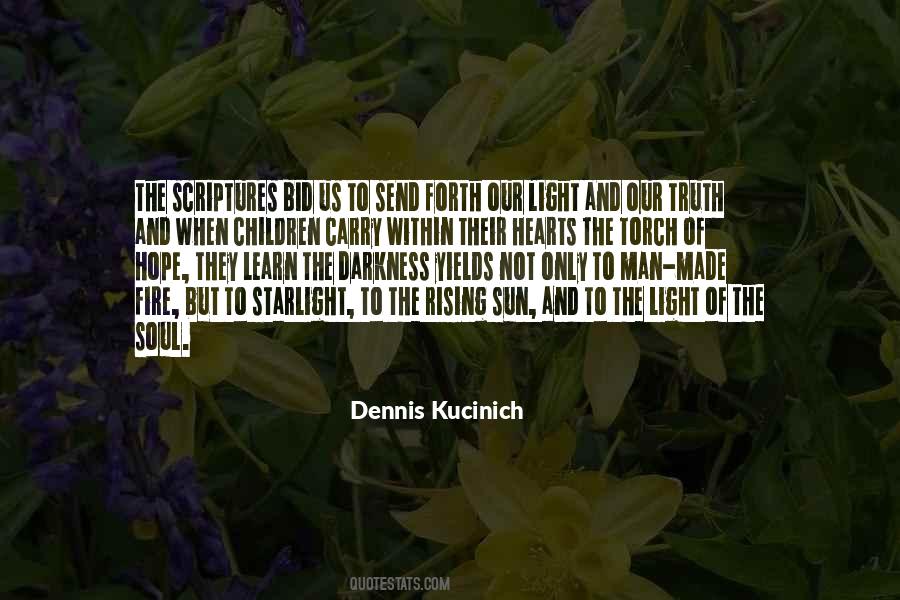 #23. Best of children, sisters arm-in-arm, we must bear what the gods give us to bear
don't fire up your hearts with so much grief. No reason to blame the pass you've come to now. - Author: Sophocles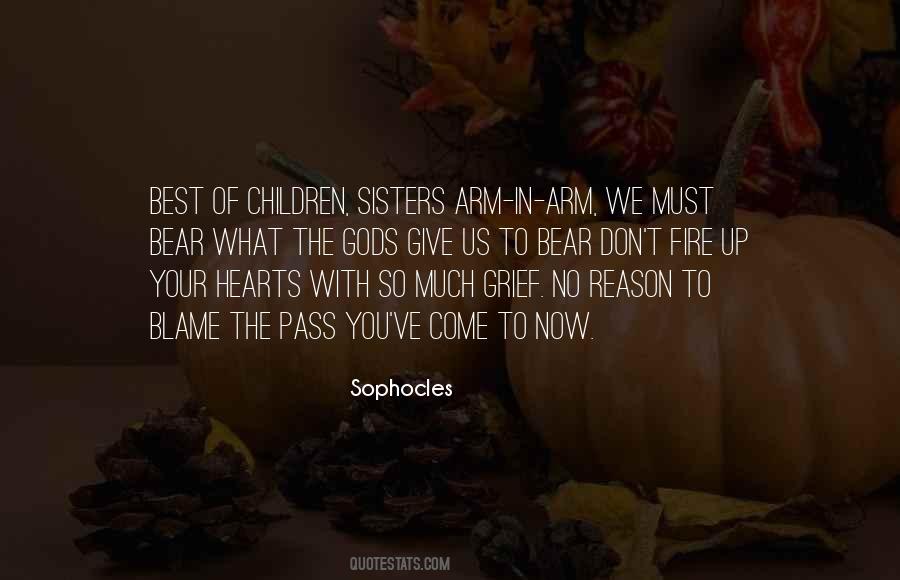 #24. A spark of divinity ignited a flame of fire within our spirit, our soul and our hearts. - Author: Lailah Gifty Akita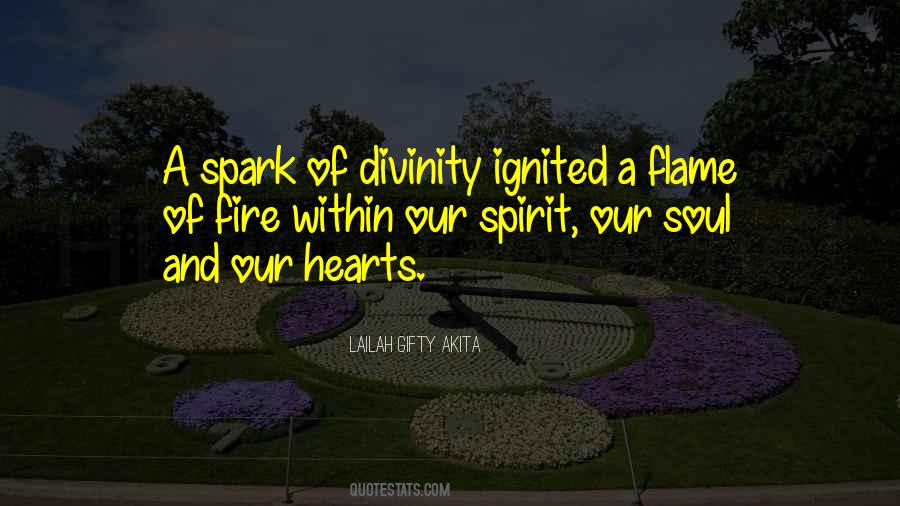 #25. Love may claim our hearts but lust will always claim our bodies. It is the traitor that lurks in every soul. - Author: Anthony Ryan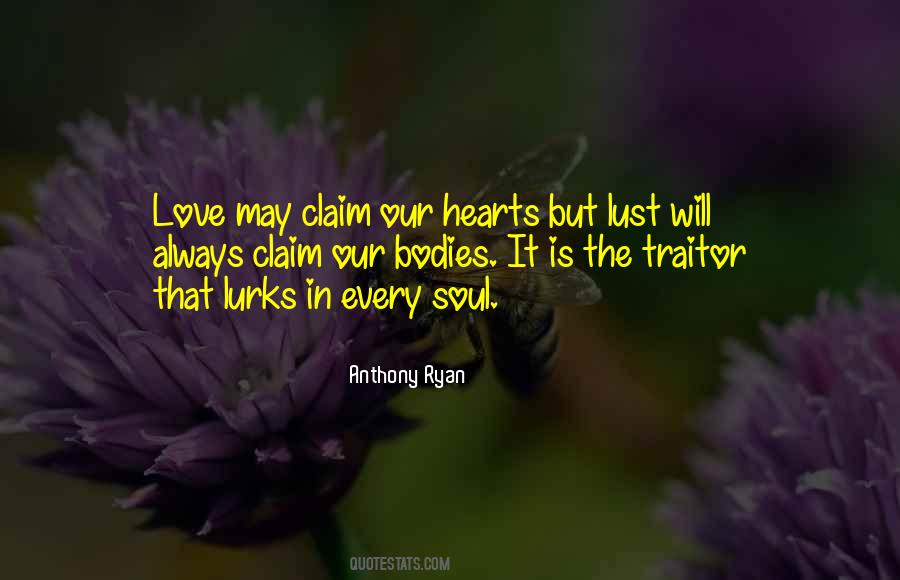 #26. The right words are fire that burn through the most stagnant of hearts and minds - Author: Ashley Lynn Dotson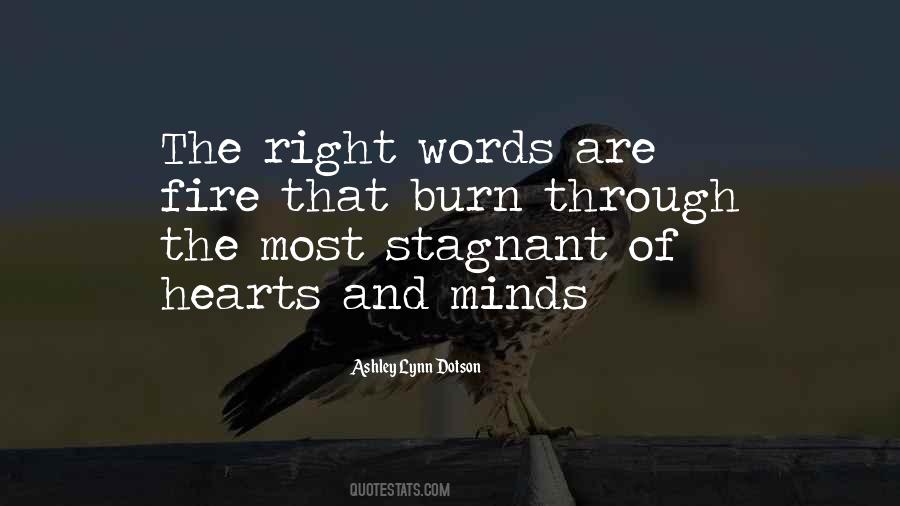 #27. With resentment, hearts burn in the fire of hatred. With forgiveness, hearts dance with pure joy. - Author: Debasish Mridha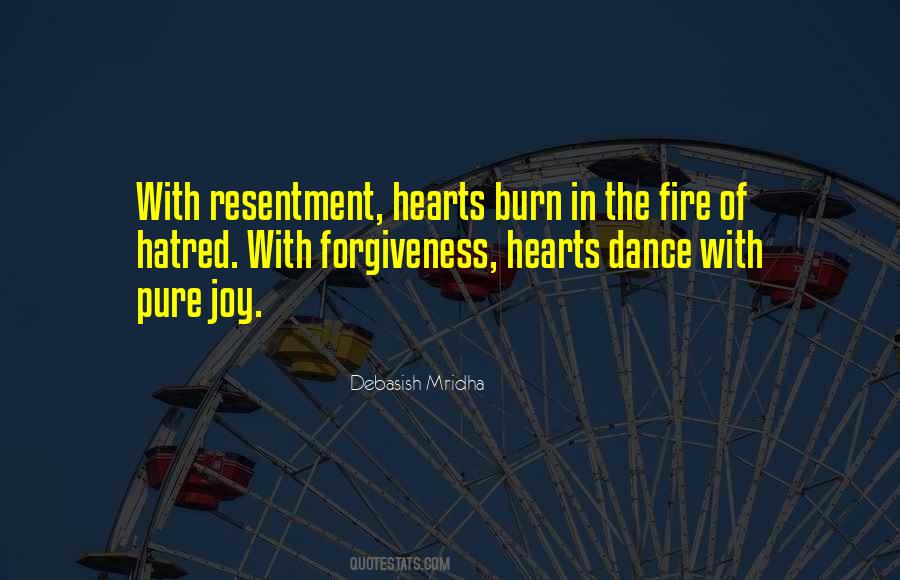 #28. Pride, envy, avarice - these are the sparks have set on fire the hearts of all men. - Author: Dante Alighieri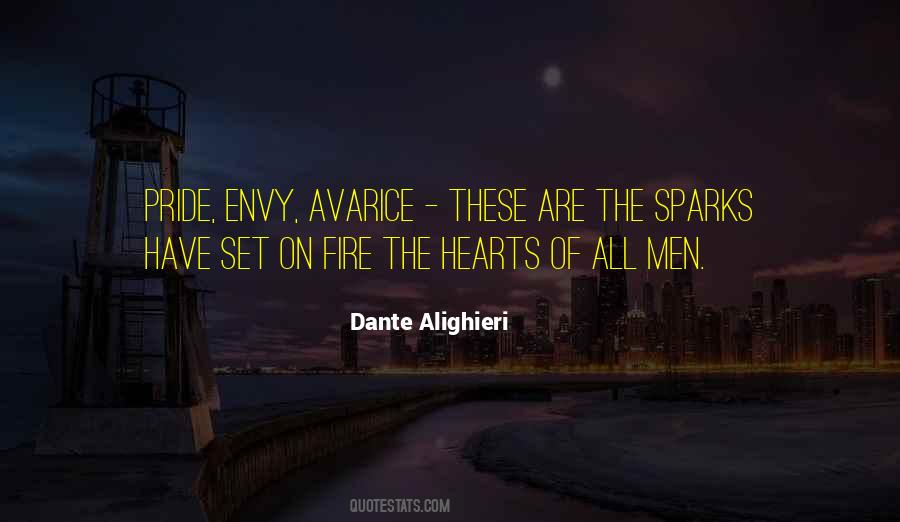 #29. Some of us die long before our last breath. We perish in the fire of love, reduced to ashes in the consuming blaze. No, we do not die when our hearts cease to beat, but when they start beating the first time
for somebody else. - Author: Shakieb Orgunwall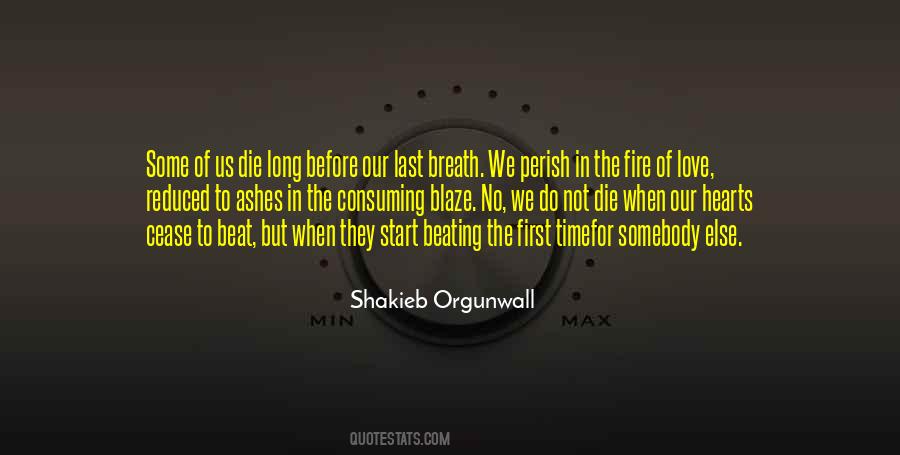 #30. So slowly the hot elephant hearts
grow full of desire,
and the great beasts mate in secret at last,
hiding their fire. - Author: D.H. Lawrence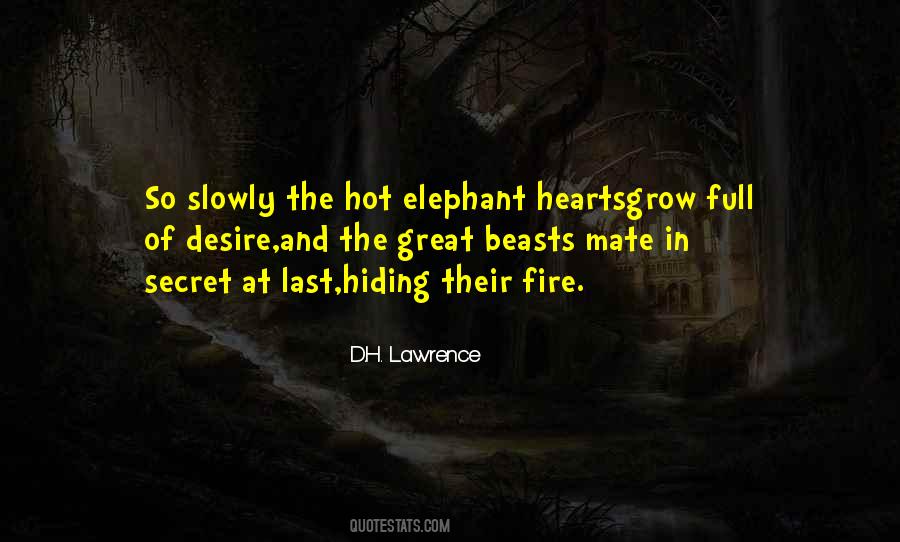 #31. Set fire to cities and nations, to hearts and minds, to the very core of every human spirit. Make sure your words seep into the skin of the reader, leaving trace minerals that sustain the ailing human shell. Make them pay attention. Set fire to the soul. Anything less is an abomination to creation. - Author: Susan Marie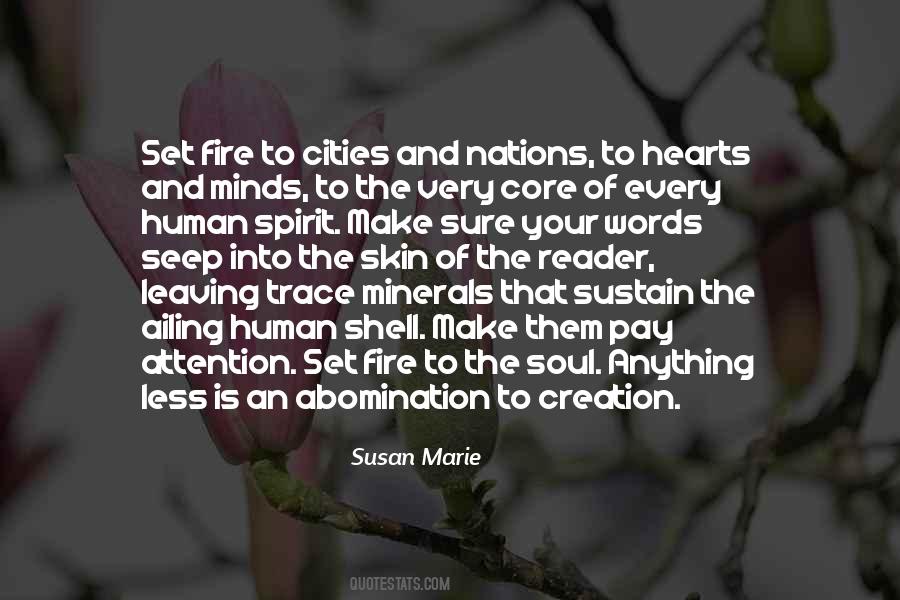 #32. Was this how it began? One silly woman with fire in her blood stirring the hearts of a legion of fools? - Author: Hugh Howey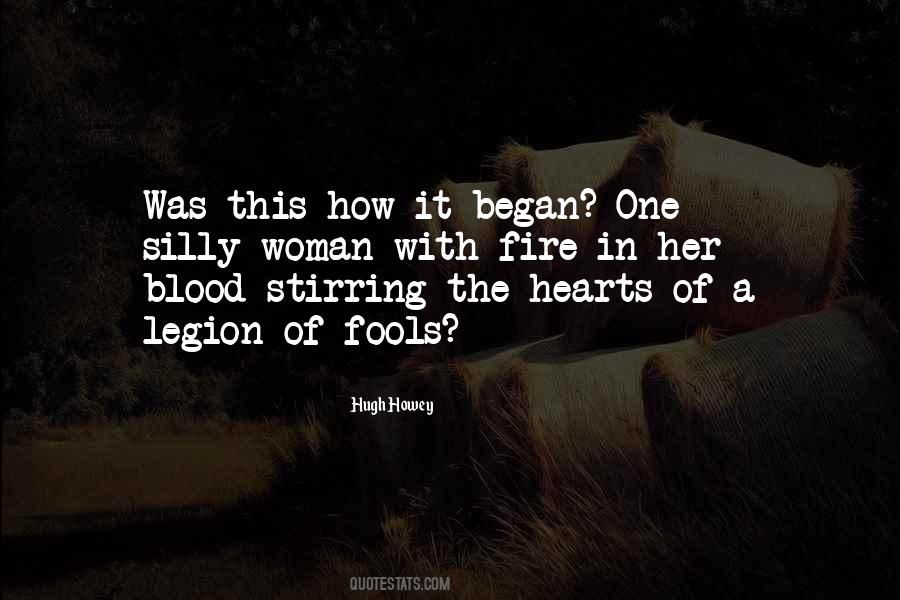 #33. The brevity of a human lifespan tormented them as never before, and their hearts soared above the vault of time to join with their descendants and plunge into blood and fire in the icy cold of space, the eventual meeting place for the souls of all soldiers. * - Author: Liu Cixin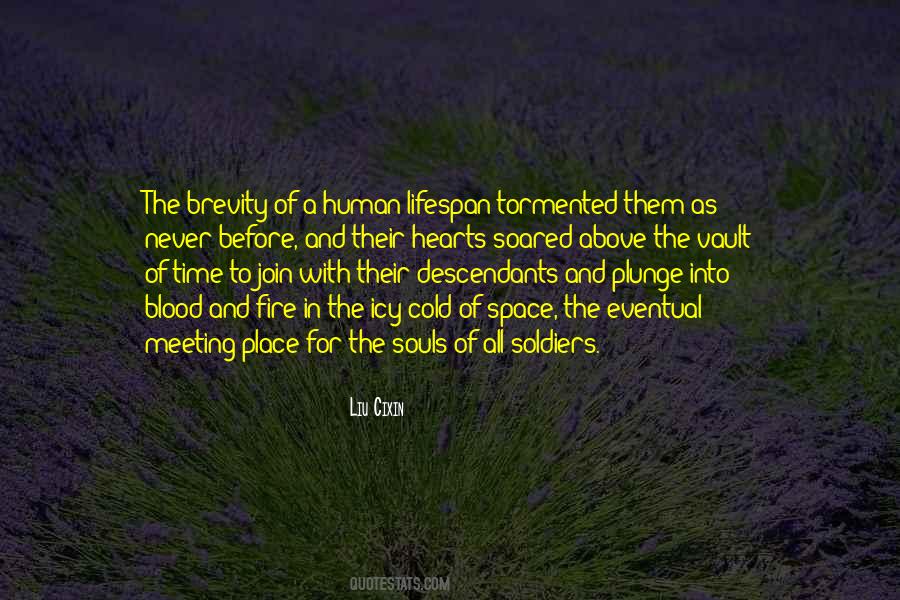 #34. The best teacher kindles the fire of knowledge with appreciation and love of students whose hearts so eagerly desire to learn. - Author: Debasish Mridha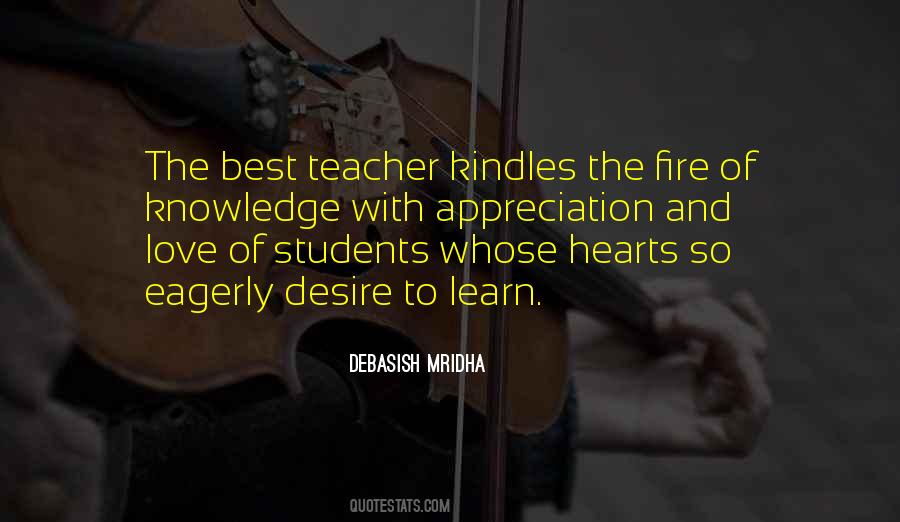 #35. Become nothing...
hurry .... dissolve ...
end the fire ...
Drown in the ocean of love...
Disintegrate...
Become like water
No even lighter
Ethereal Vapour
Bellow across the hearts
Embalm spirits
Create Bliss. - Author: Gabriel Iqbal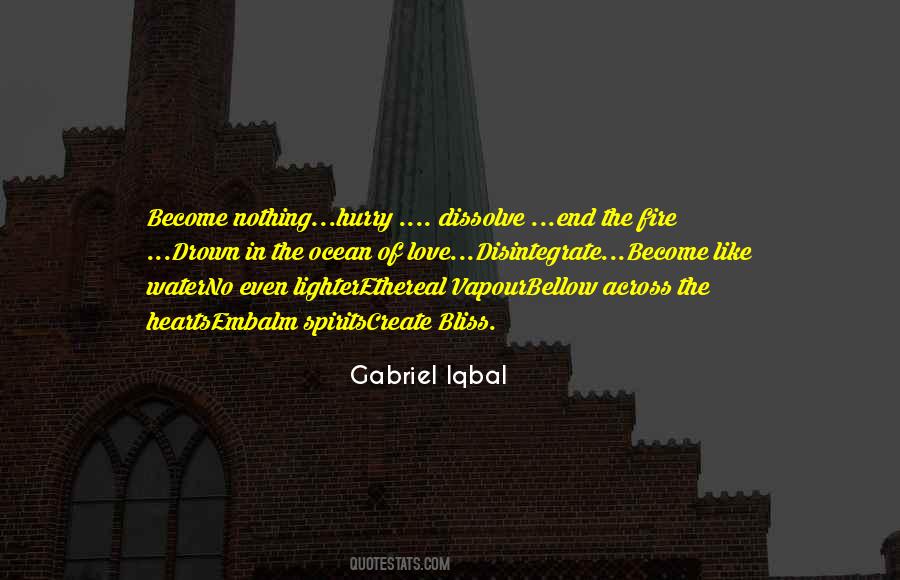 #36. A good many preachers say I am lowering the pulpit. I am glad I am. I am trying to get it down to the level of men's hearts. If I wanted to hit Chicago I would not put the cannon on the top of this building and fire into the air. Too many preachers fire into the air. - Author: Dwight L. Moody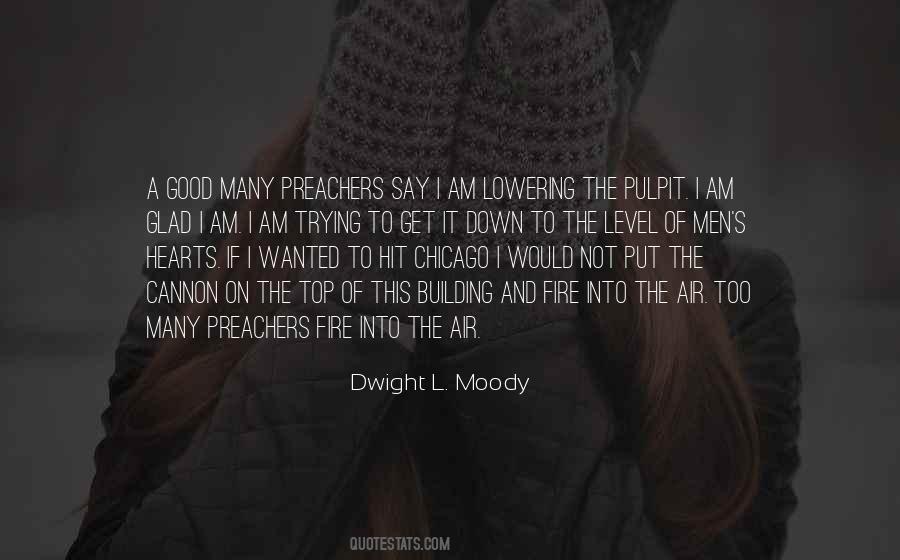 #37. It is stern work, it is perilous work, to thrust your hand in the sun
And pull out a spark of immortal flame to warm the hearts of men:
But Prometheus, torn by the claws and beaks whose task is never done, would be tortured another eternity to go stealing fire again. - Author: Joyce Kilmer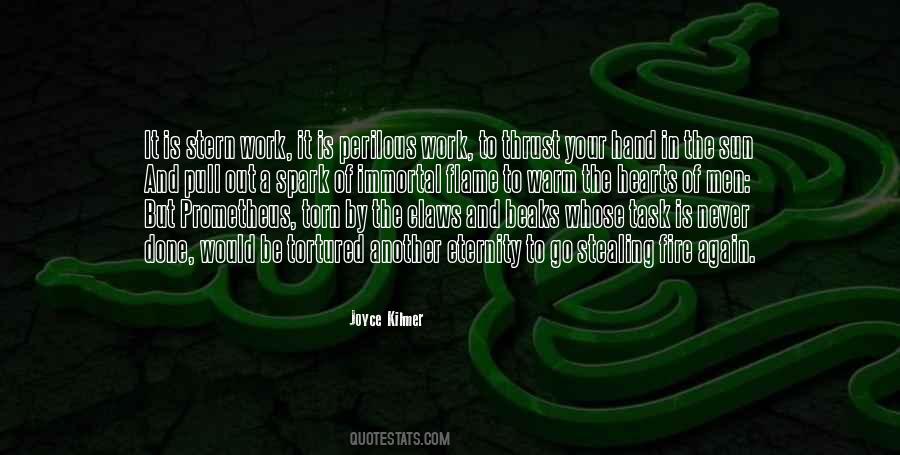 #38. The most virtuous hearts have a touch of hell's own fire in them. - Author: John A. Farrell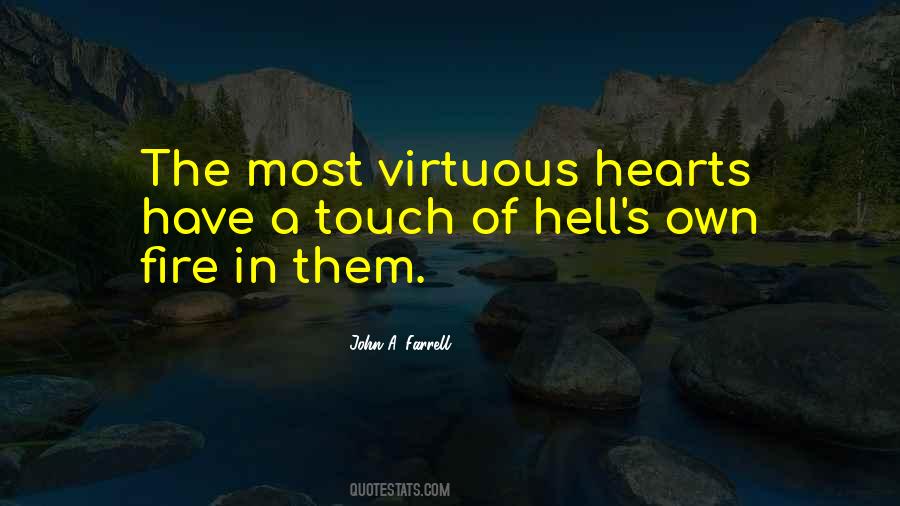 #39. Why I love the ancients so much? Aside from everything else, when I read them, the entire past between them and me unfolds at thesame time. The hearts of how many heroes and poets may have been set on fire by Plutarch's biographies which now inspire me with their own and with borrowed flames! - Author: Franz Grillparzer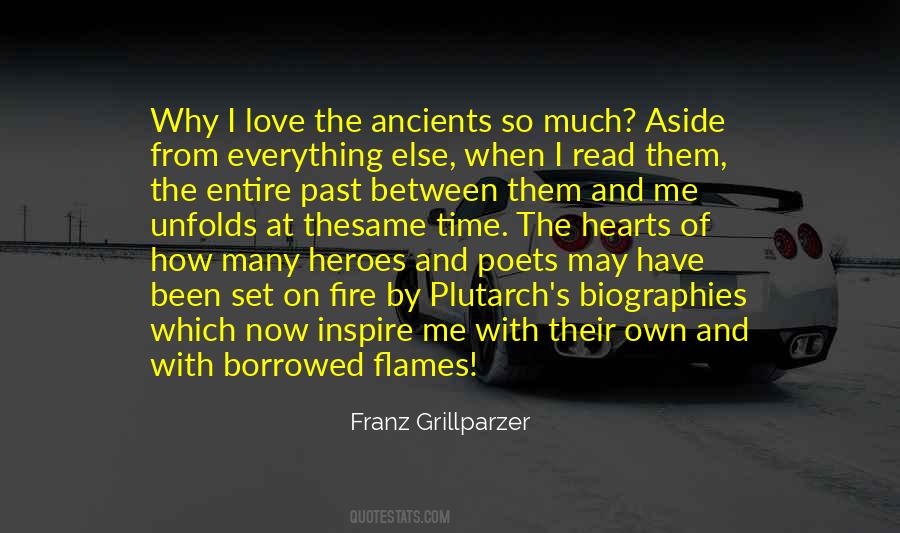 #40. The fires of refinement will shine the light of Christ into the dark places of our hearts, burn off the chaff, and restore us to a state of greater purity. - Author: Robin Bertram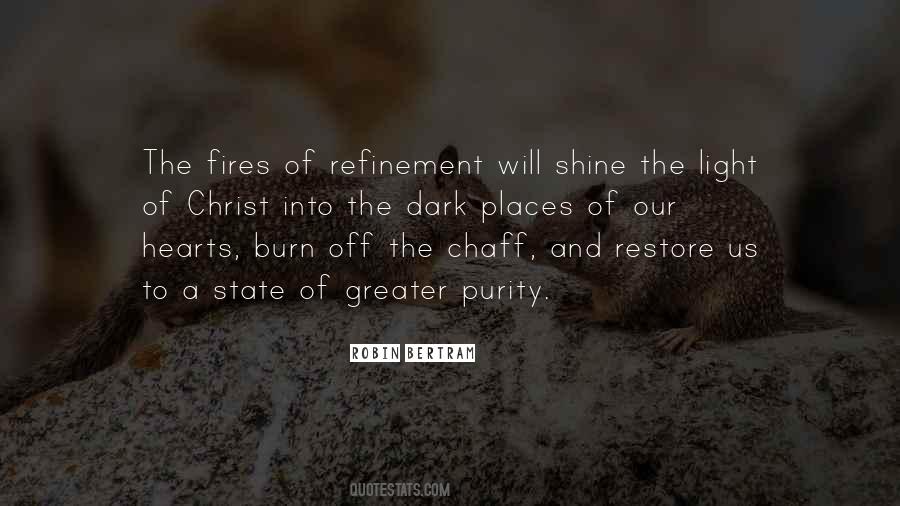 #41. In our hearts there burns a fire ...
That burns all veils to their root and foundation
When those veils have been burned away
Then the heart will understand completely.
Ancient love will unfold ever-fresh forms
In the heart of the Spirit,
In the core of the heart. - Author: Rumi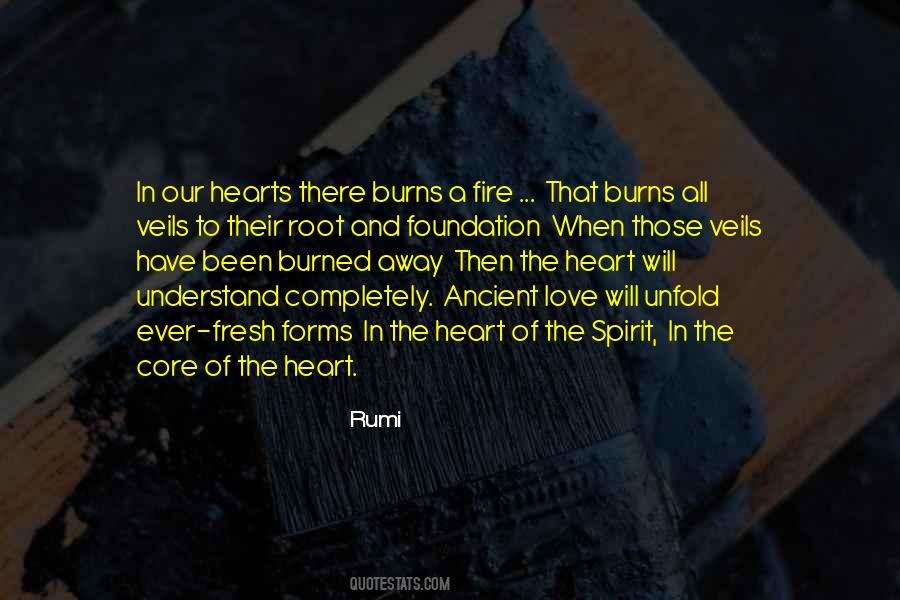 #42. The blazing fire in our hearts; Word of the LORD God. - Author: Lailah Gifty Akita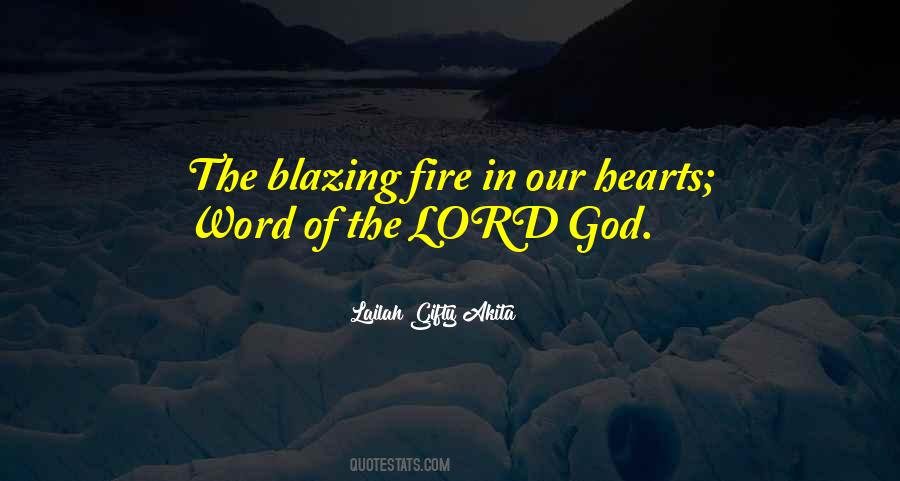 #43. Consume all obstacles, heavenly fire, and give us now both hearts of flame and tongues of fire to preach Your reconciling word, for Jesus' sake - Author: Charles Spurgeon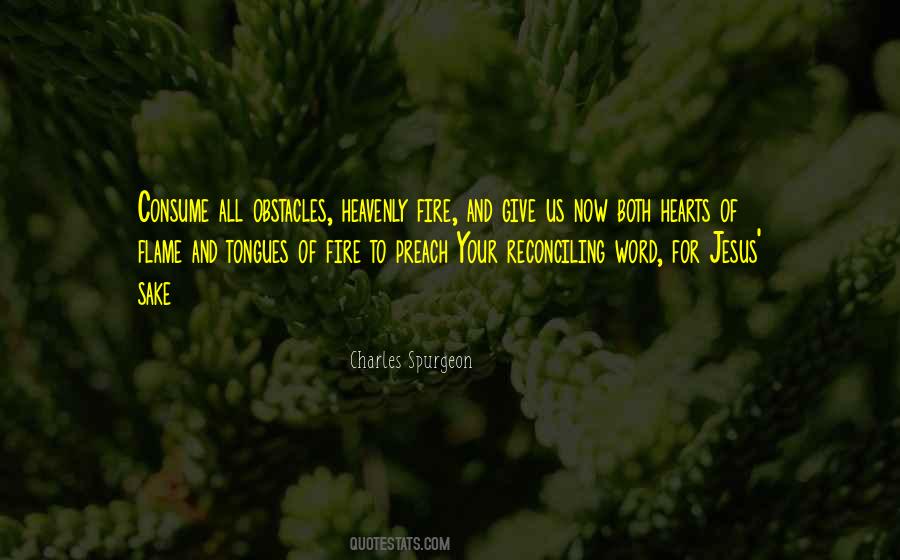 #44. Oh god
Let all lovers be content
Give them happy endings
Let their lives be celebrations
Let their hearts dance in the fire of your love - Author: Rumi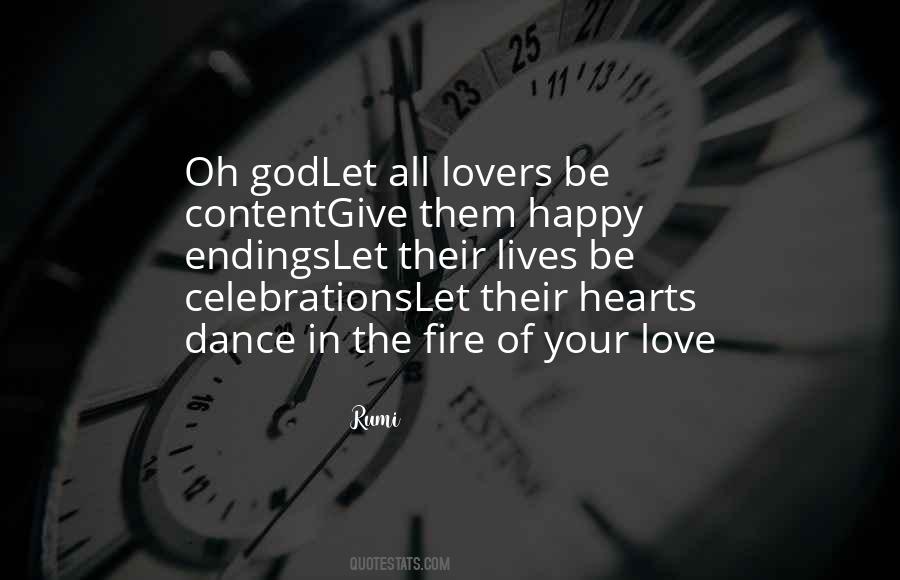 #45. You deserve for
your heart to be heard-
because love lights a
fire in us all.
it can make us warm with
wonder or melt from its
intense power.
nevertheless it is magic-
and that alone is worthy
of being unleashed. - Author: Alexandra Elle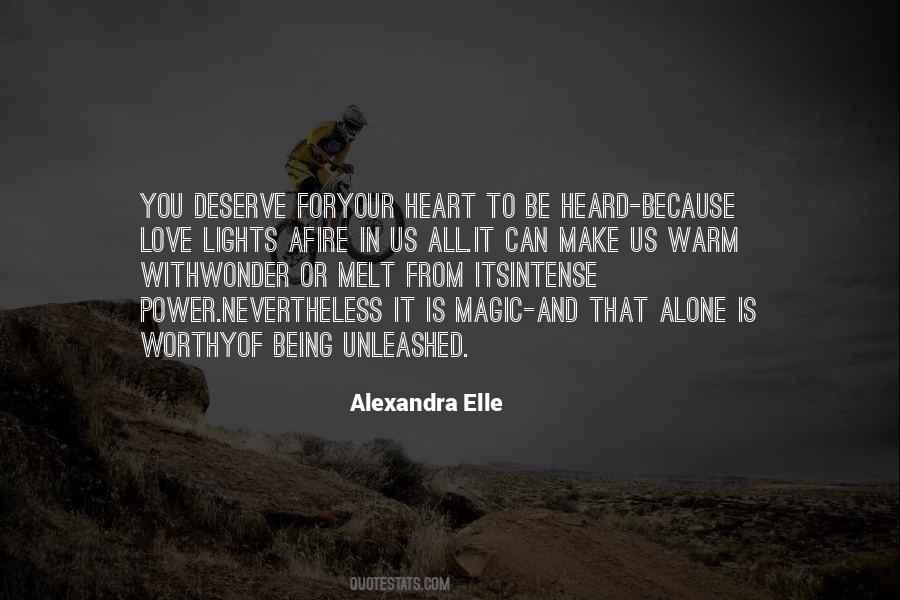 #46. To tirelessly promote the cause of Christ and his Father's Kingdom is the fire that should burn bright in the hearts of all men"

~ R. Alan Woods [2012] - Author: R. Alan Woods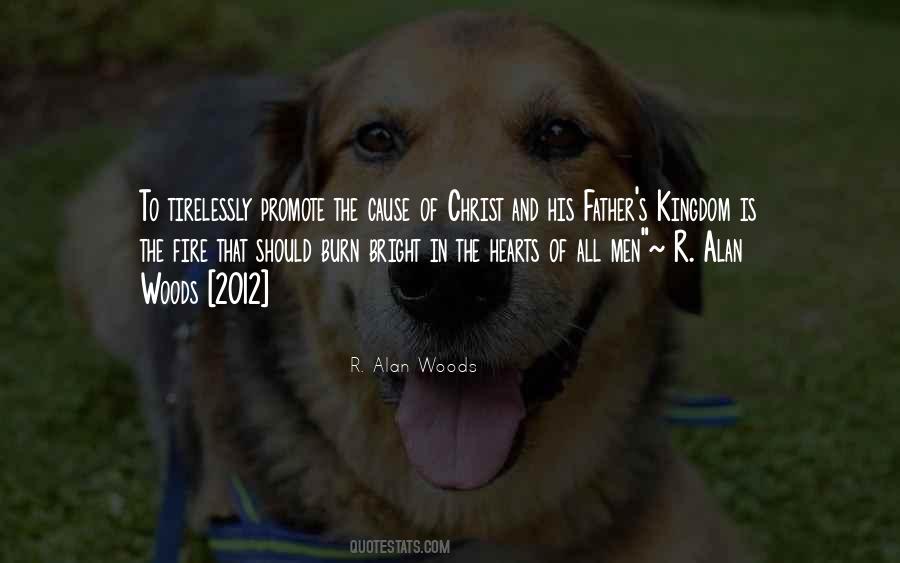 #47. So, our vocation is to go, not just to one parish, not just to one diocese, but all over the world; and do what? To set people's hearts on fire, to do what the Son of God did. He came to set the world on fire in order to inflame it with His love. - Author: Vincent De Paul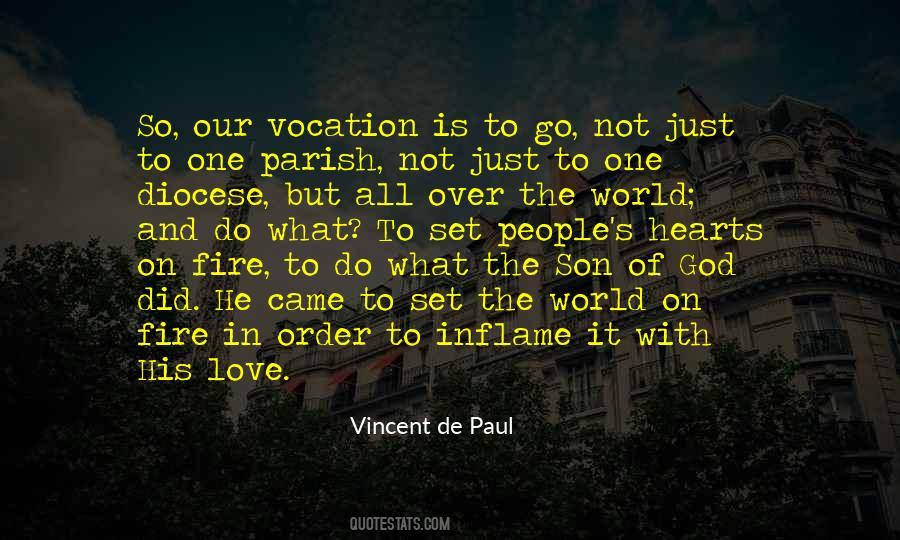 #48. We Shadowhunters, we put ourselves in danger, every hour, every day. I think sometimes we are reckless with our hearts the way we are with our lives. When we give them away, we give every piece. - Author: Cassandra Clare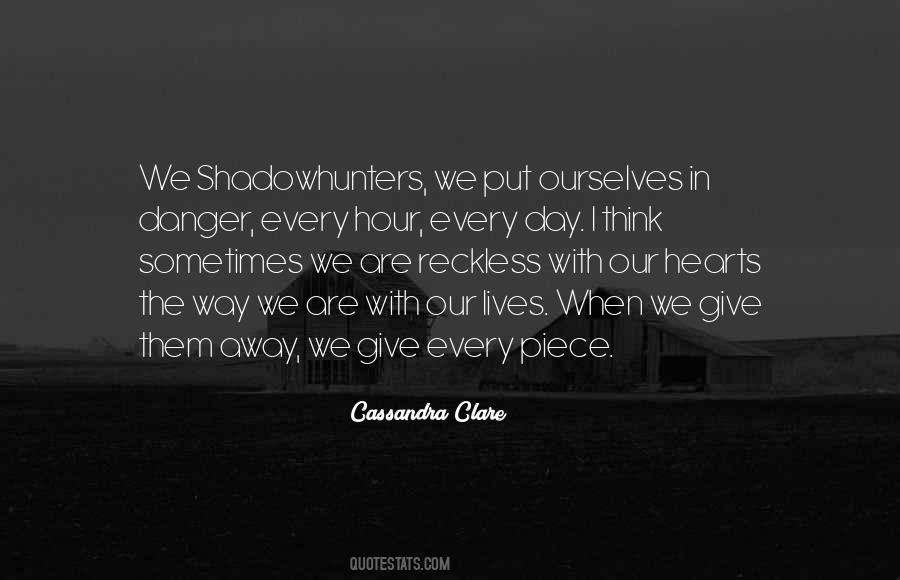 #49. What the great mentor is always looking for is a person who is willing to tap his genius, to put it through the refiner's fire, to do the hard work to develop it. Indeed, mentoring is the medieval art of alchemy-turning plain old human steel into hearts and minds of gold. - Author: Oliver DeMille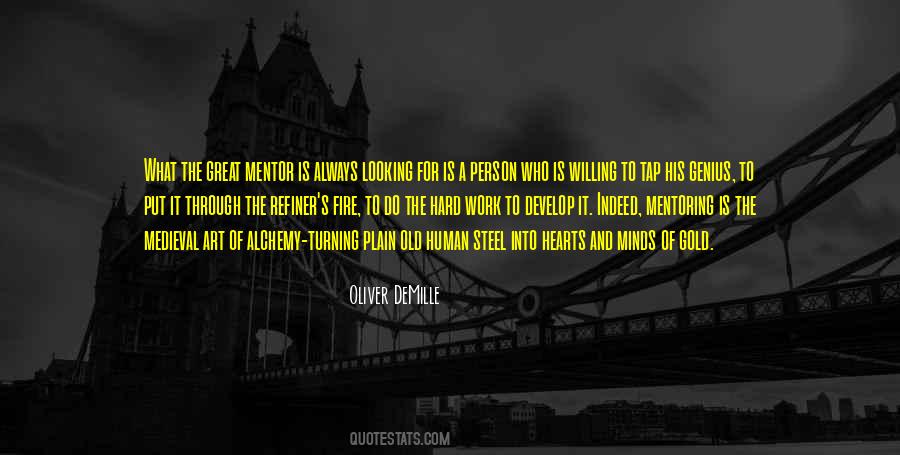 #50. Today too, as at her origins, the Church ... cries out:"Veni, Sancte Spiritus! Come Holy Spirit, fill the hearts of your faithful, and kindle in them the fire of your love!" Amen. - Author: Pope Francis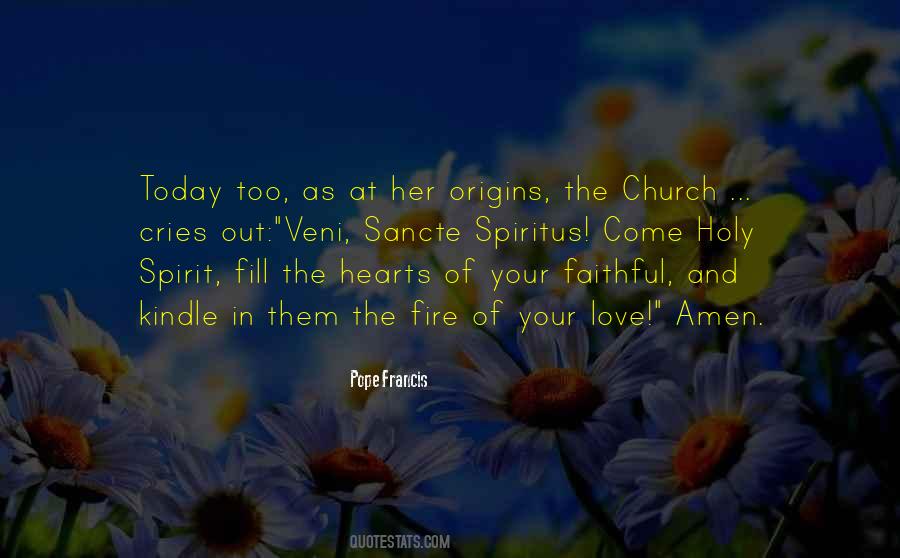 #51. If we but paused for a moment to consider attentively what takes place in this Sacrament, I am sure that the thought of Christ's love for us would transform the coldness of our hearts into a fire of love and gratitude. - Author: Angela Of Foligno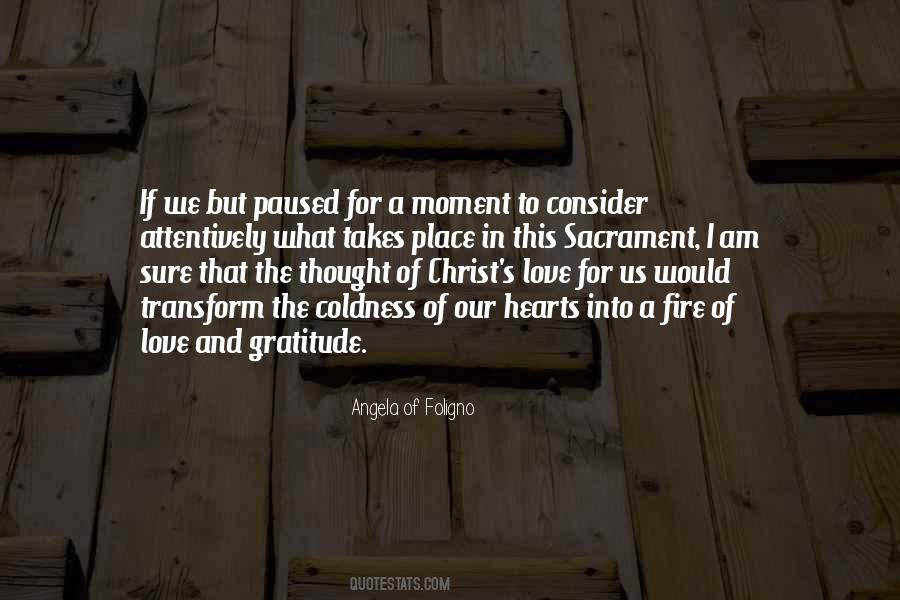 Famous Authors
Popular Topics