Hand Of God Famous Quotes & Sayings
List of top 100 famous quotes and sayings about hand of god to read and share with friends on your Facebook, Twitter, blogs.
Top 100 Hand Of God Sayings
#1. In the middle of the North Pole, anything hot gives the feeling like touching the hand of the God! - Author: Mehmet Murat Ildan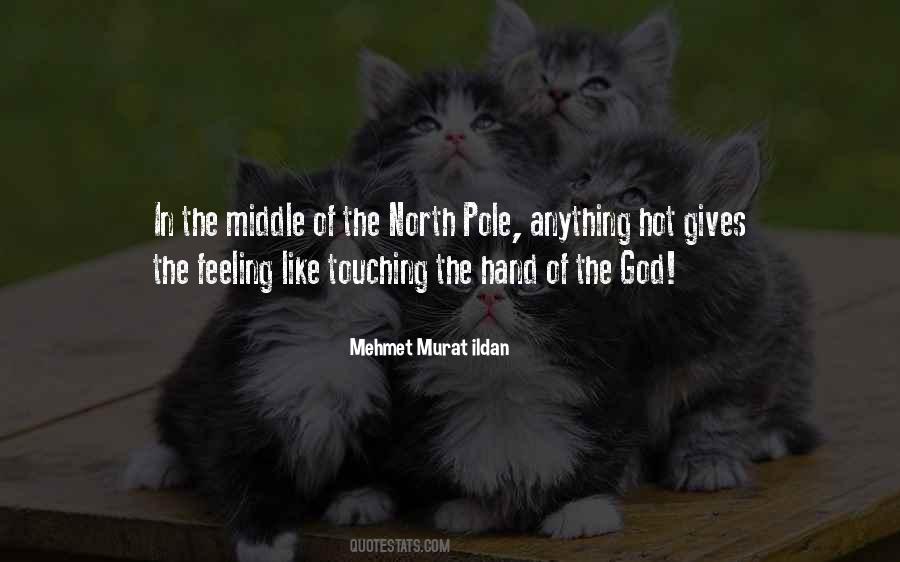 #2. The sovereignty of God is the one impregnable rock to which the suffering human heart must cling. The circumstances surrounding our lives are no accident: they may be the work of evil, but that evil is held firmly within the mighty hand of our sovereign God. - Margaret Clarkson - Author: Randy Alcorn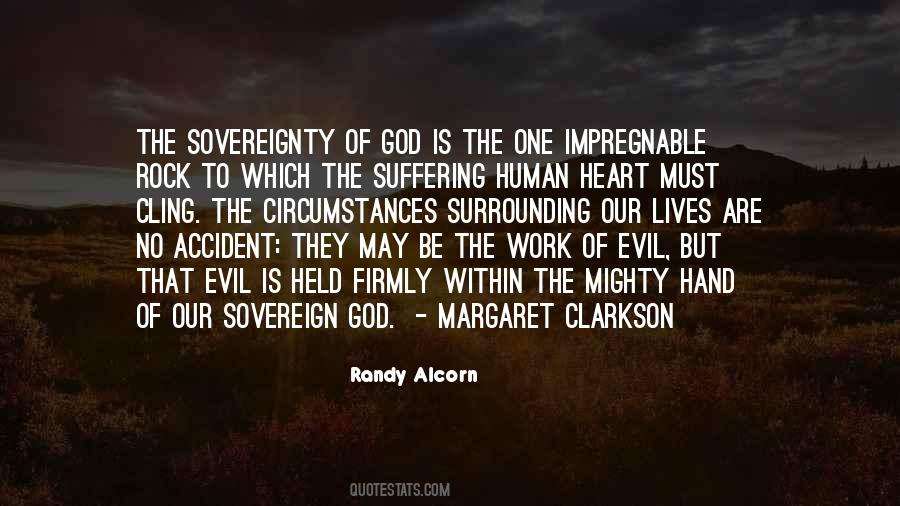 #3. Hatred and greed are heavy loads. Your motive, on the other hand, is love. And instead of priding yourselves on your cunning, you recognize how weak you are ... so weak that you must depend totally on the Spirit of God. - Author: Brother Andrew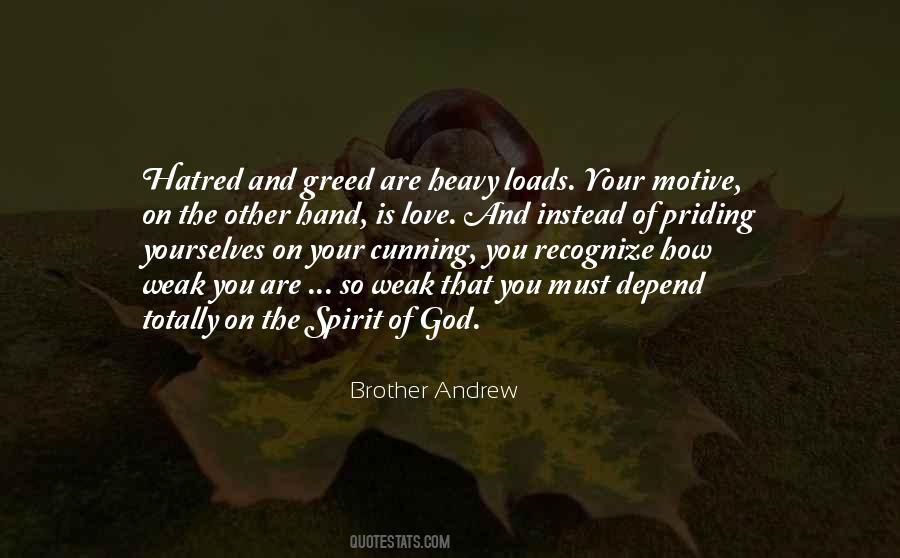 #4. Even if they were society's pariahs, they were going to be angels in a marble white heaven and sit on the right hand of Jesus, the Son of God. - Author: Maya Angelou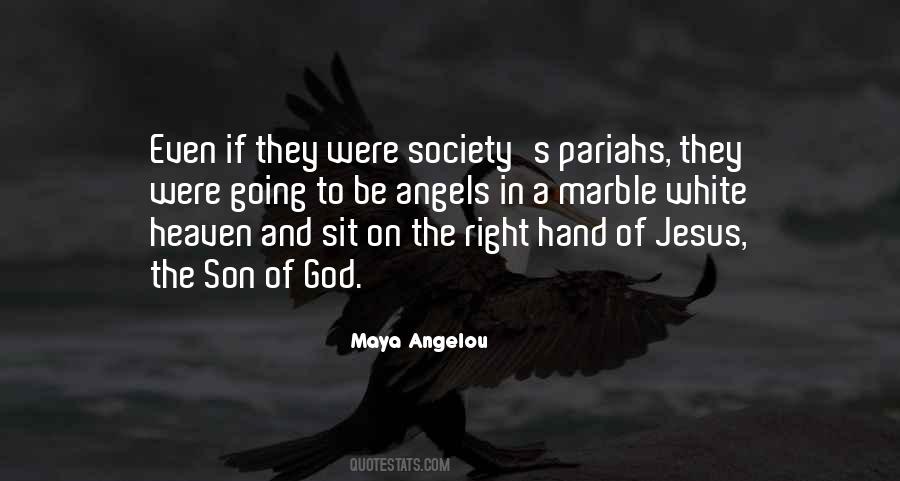 #5. The moon is made round by the right hand of God.
The moon is made crescent by His left.
But it is God's heart that makes my love for you forever. - Author: Deborah Rodriguez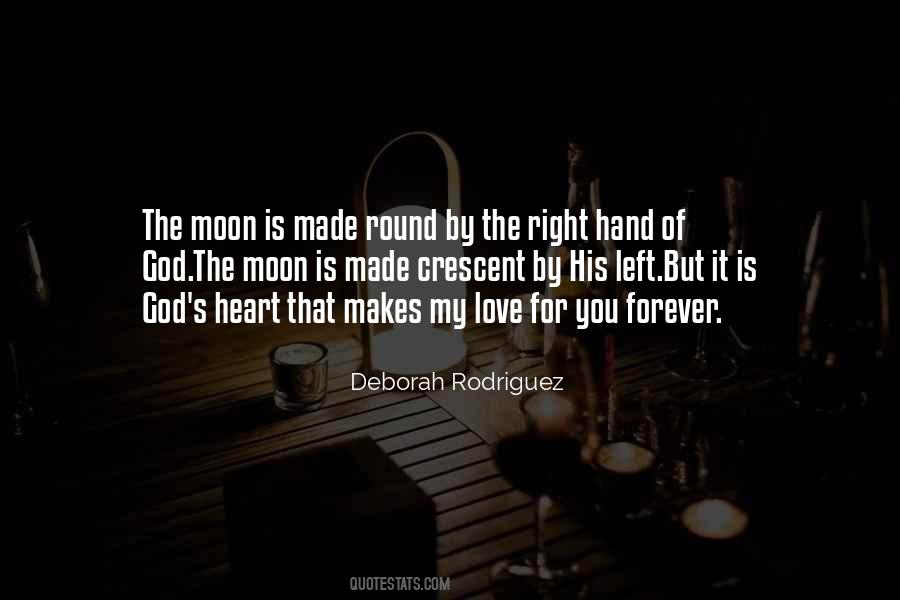 #6. The Lord makes firm the steps of the one who delights in him; though he may stumble, he will not fall, for the Lord upholds him with his hand. - Author: Anonymous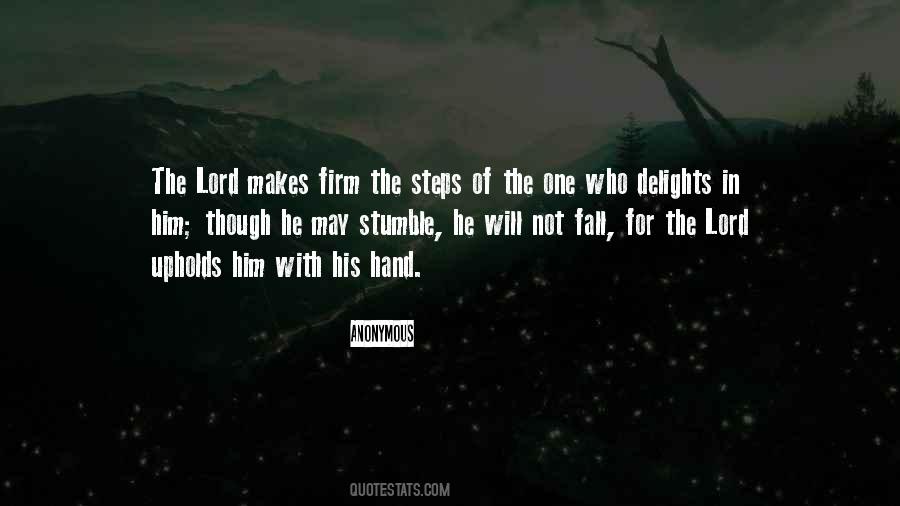 #7. Sometimes prayer moves the hand of God, and sometimes prayer changes the heart of the person who is praying. - Author: Mark Driscoll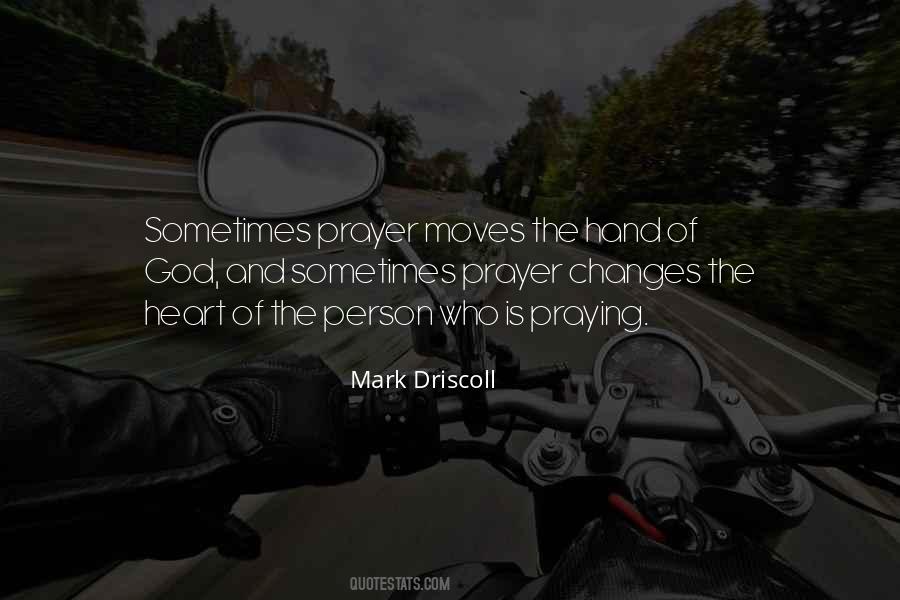 #8. I, for one, am profoundly grateful to feel the hand of God at work in my life. But at the beginning and end of the day, when my default setting is to show kindness and love to others, I never regret it. And to me, that is what faith is all about. - Author: Charity Sunshine Tillemann-Dick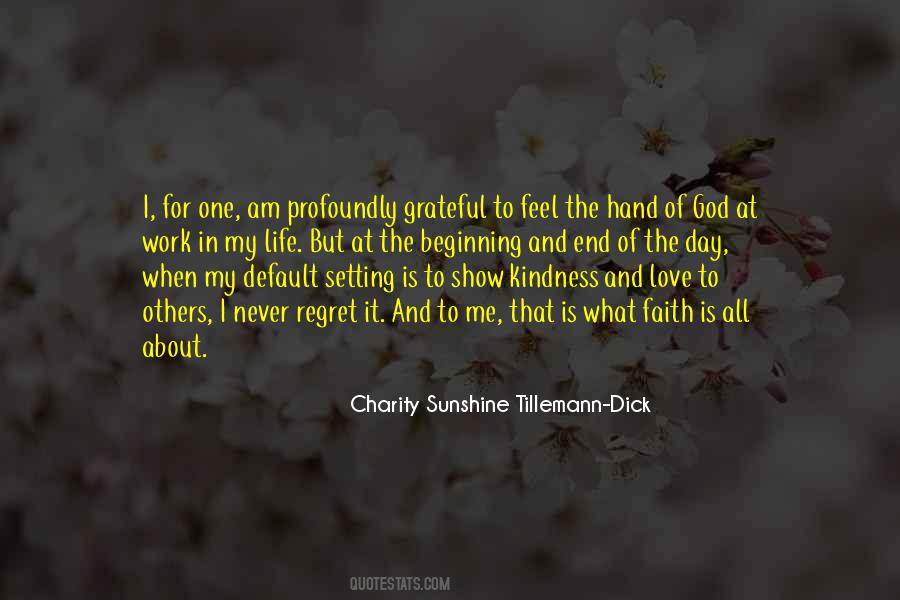 #9. She patted his hand. Gnarled, ropescarred, speckled from the sun and the years of it. The ropy veins that bound them to his heart. There was map enough for men to read. There God's plenty of signs and wonders to make a landscape. To make a world. - Author: Cormac McCarthy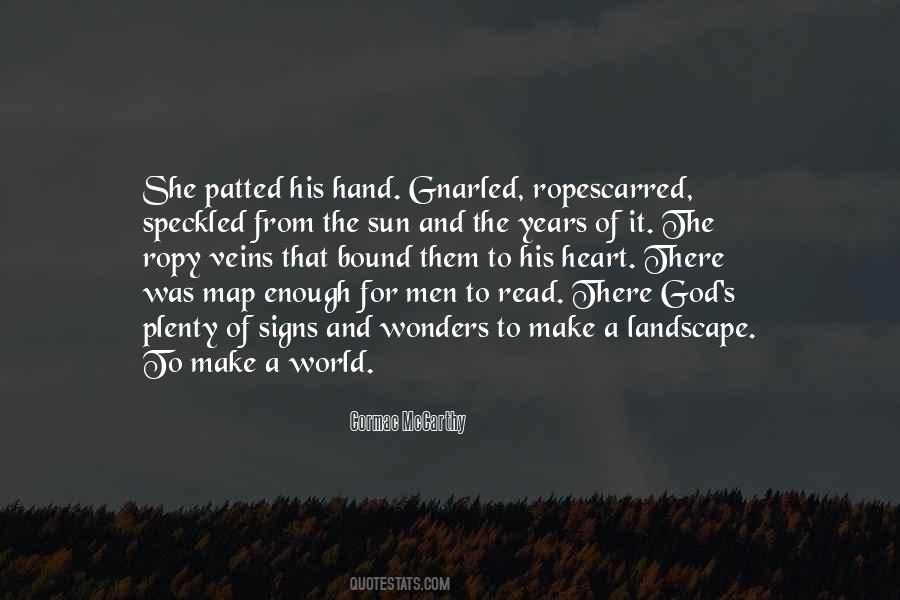 #10. In the deepest darkness God tenderly grasps my hand and whispers that darkness is nothing more than a place that He is preparing for the arrival of light. - Author: Craig D. Lounsbrough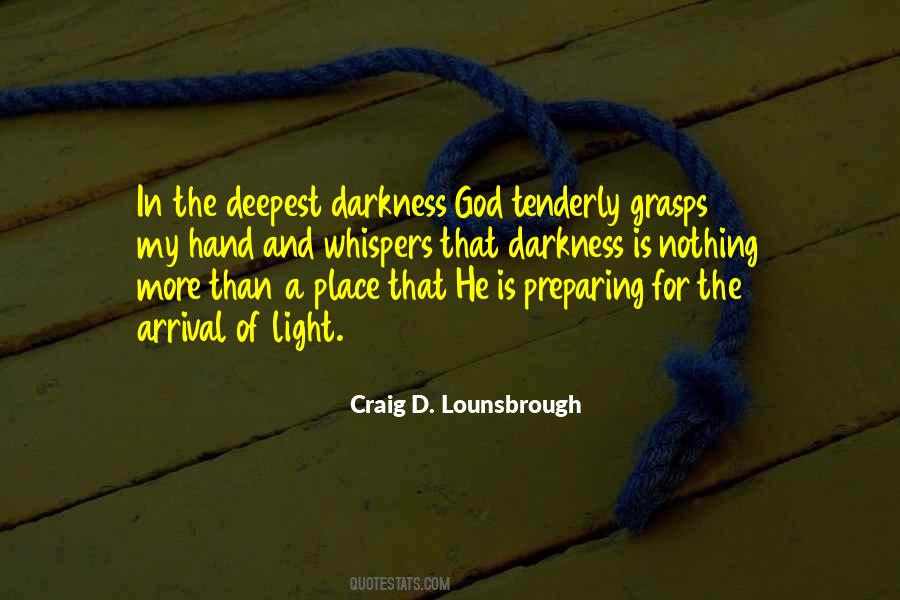 #11. Don't ever let the blessings from your hand take my gaze off the beauty of your face or my pursuit of the beating of your heart. - Author: BJ Richardson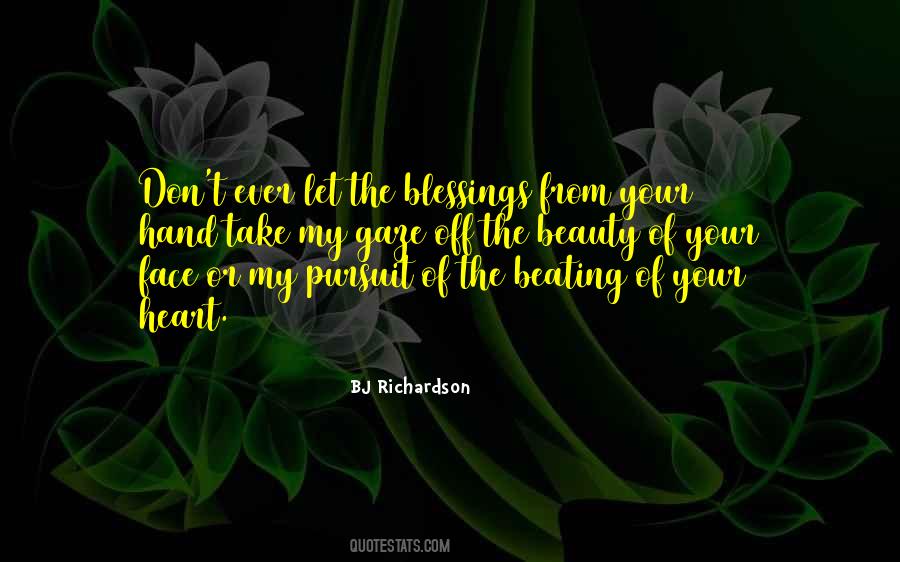 #12. I believe in God as I believe in my friends, because I feel the breath of His affections, feel His invisible hand, drawing me, leading me, grasping me; because I possess an inner consciousness of a particular Providence and of a universal mind that marks out for me the course of my own destiny. - Author: Miguel De Unamuno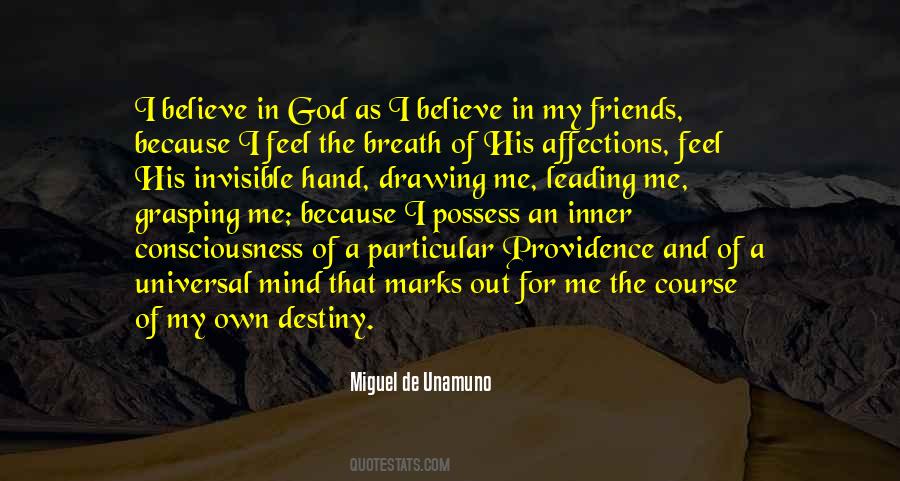 #13. God come save the youth, Ain't nothin else to do but have faith in you, Dear Lord I live the life of a Thug, hope you understand Forgive me for my mistakes, I gotta play my hand. - Author: Tupac Shakur
#14. Once in his lifetime every artist feels the hand of God and creates something that comes alive. - Author: Crane Wilbur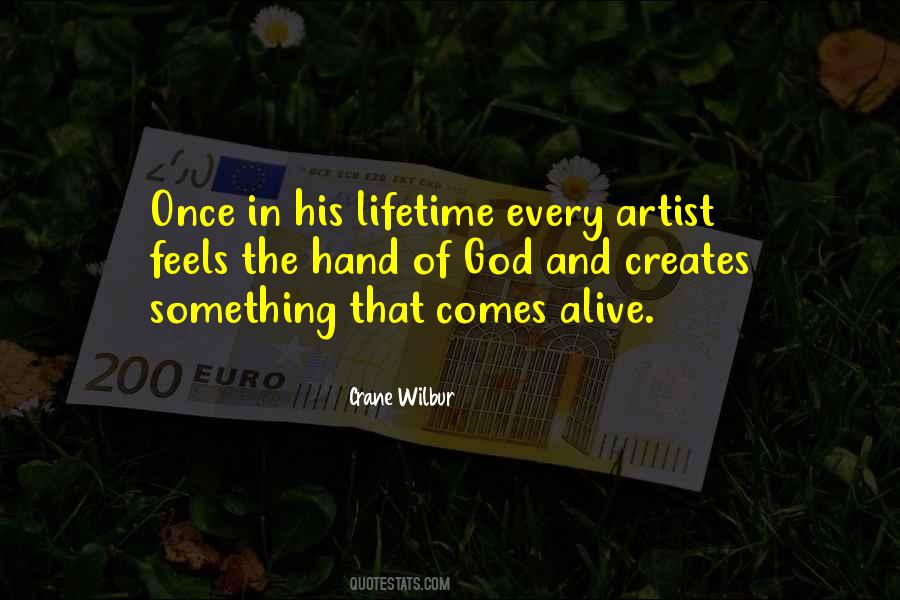 #15. No light privilege is it to have a hand in building up the moral life of these new communities; no common honour surely to help to lay side by side with the foundations of their free political institutions the broad and deep foundations of the Church of God. - Author: Henry Parry Liddon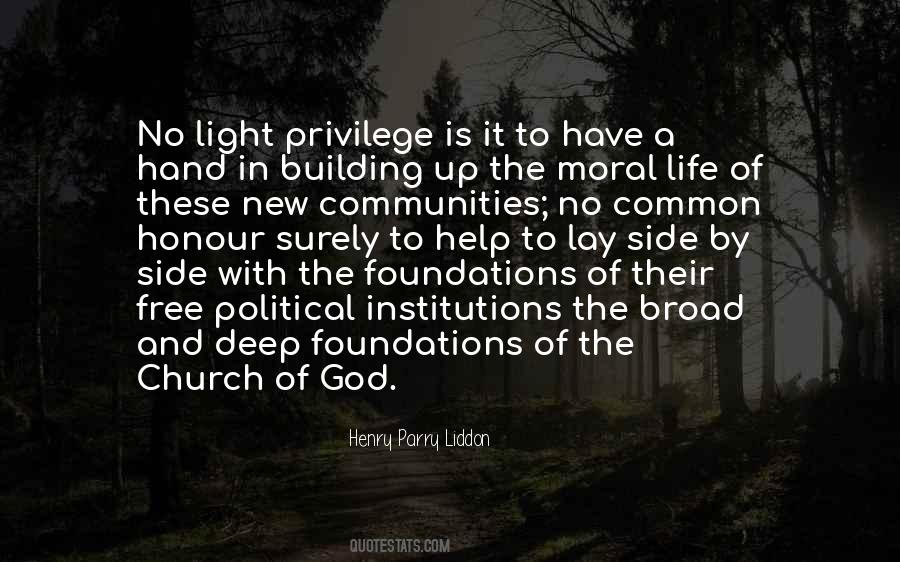 #16. Bear sorrows for the sake of the Heavenly Kingdom. Without sorrows there is no salvation. On the other hand, the Kingdom of God awaits those who have patiently endured. And all the glory of the world is nothing in comparison. My joy! I implore you to acquire a peaceful spirit. - Author: Seraphim Of Sarov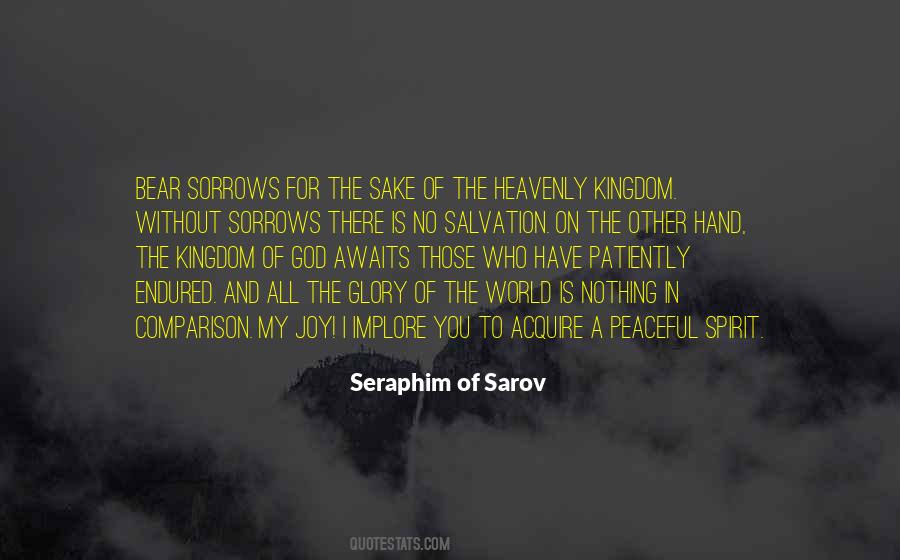 #17. God is a man of such perfect, flawless character that he only watches over everyone equally
the strong and the weak, the rich and the poor
and never plays favorites or reaches His hand out to any of them. Oh, what a wonderful God. He can just drop dead. - Author: Yukako Kabei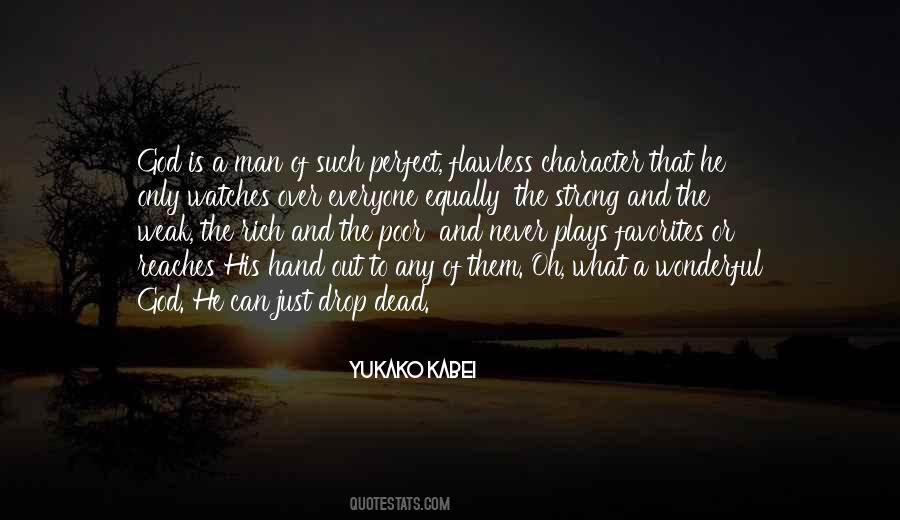 #18. If the hand of God had come down from heaven and smacked him dead, James could not have been more surprised.
He waited, certain he had misunderstood. - Author: Cathy Maxwell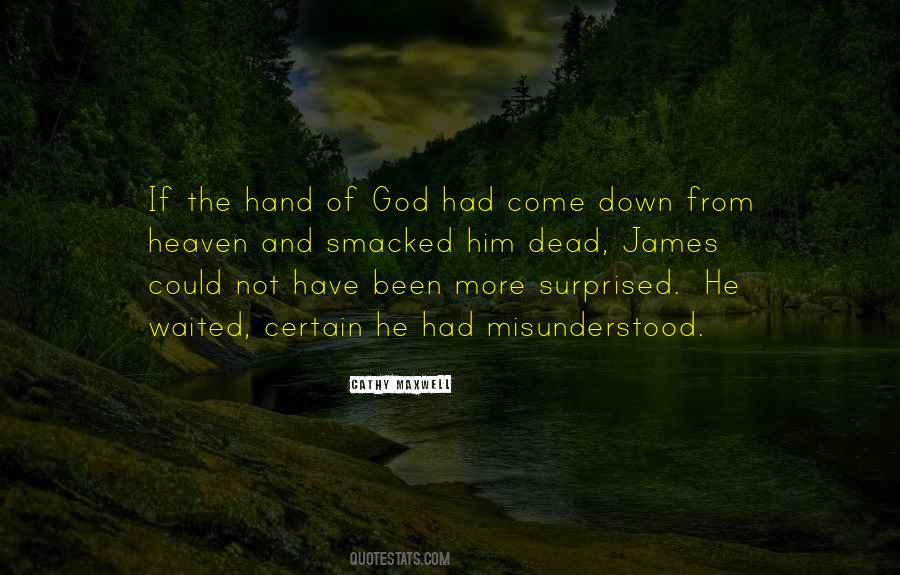 #19. We may be sure that it is the love of God only that can make us come out of self. If His powerful hand did not sustain us, we should not know how to take the first step in that direction. - Author: Francois Fenelon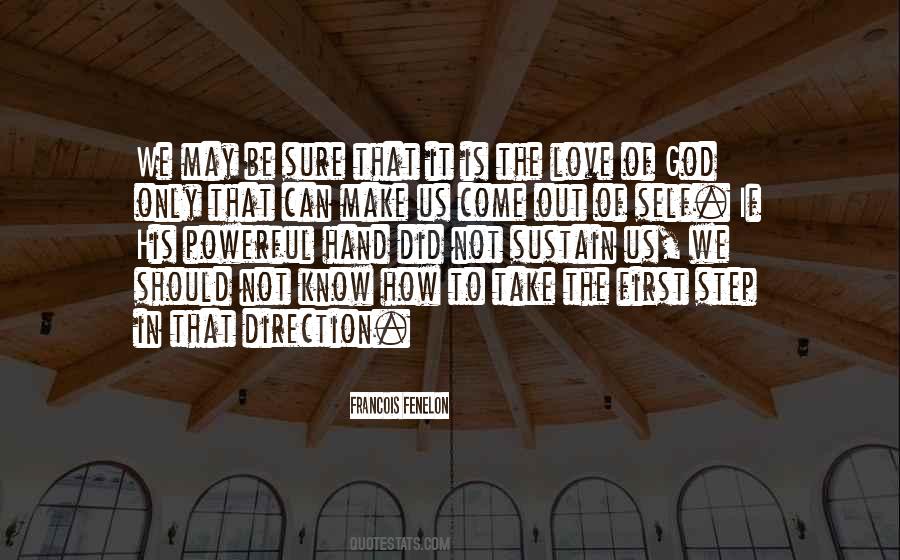 #20. Night is a great gift from God" he said."It is the mother of man and comes quietly and tenderly to cover him.It rests its cool hand on his forehead and effaces the day's cares from his body and soul.Brothers its time to surrender ourselves to night's embrace - Author: Nikos Kazantzakis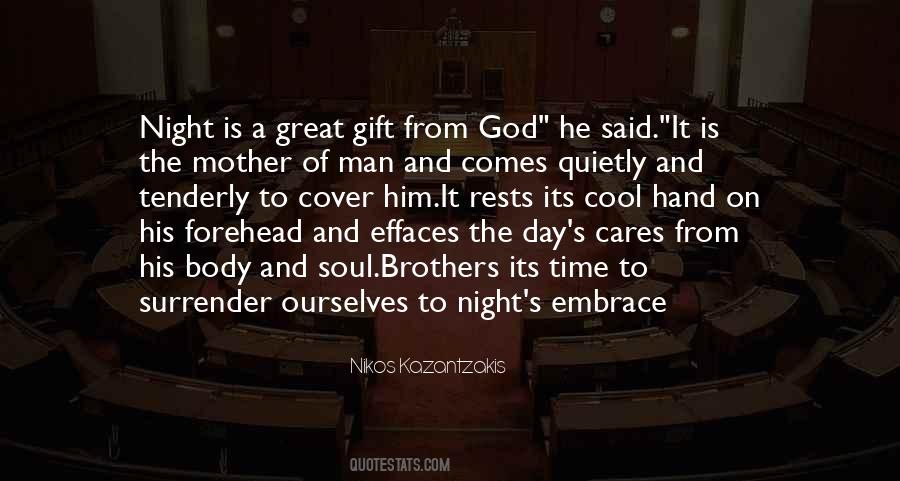 #21. I see America, not in the setting sun of a black night of despair ahead of us, I see America in the crimson light of a rising sun fresh from the burning, creative hand of God. I see great days ahead, great days possible to men and women of will and vision - Author: Carl Sandburg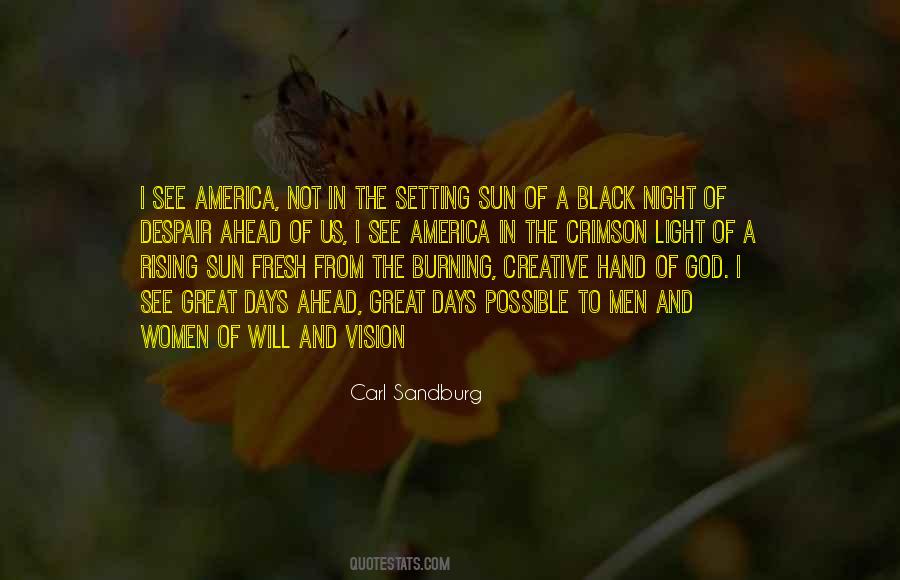 #22. This whole world is functioning on the foundation of [karmic] 'effect'. God has no hand in this. People did not understand this and that is why they put this on God's head (blamed God). - Author: Dada Bhagwan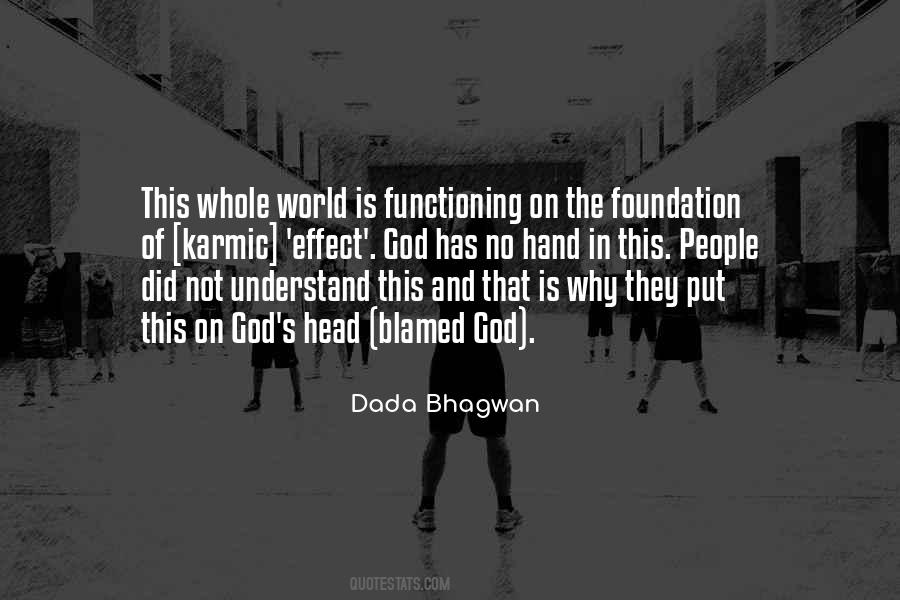 #23. God bless the physician who warms the speculum or holds your hand and looks into your eyes. Perhaps one subtext of the health caredebate is a yen to be treated like a whole person, not just an eye, an ear, a nose or a throat. A yen to be human again, on the part of patient and doctor alike. - Author: Anna Quindlen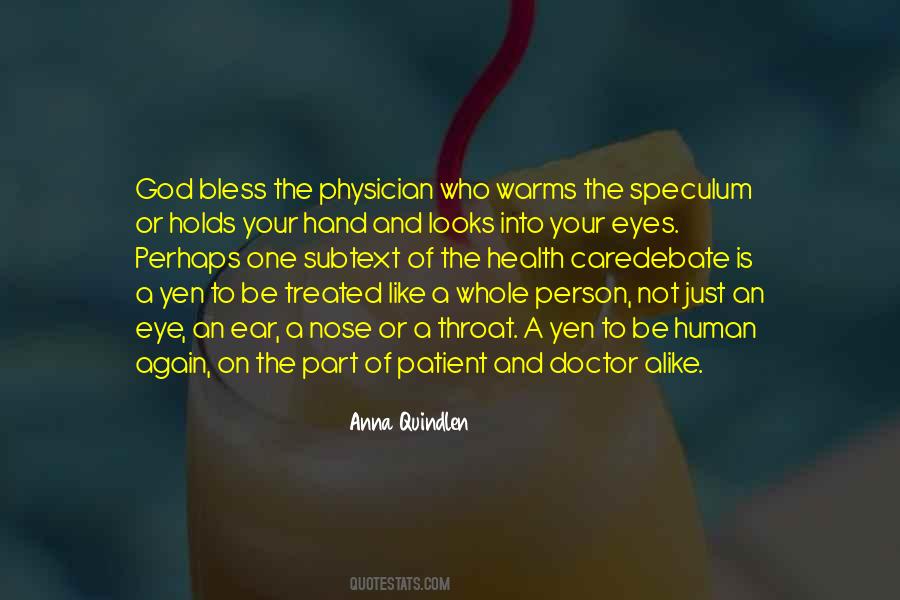 #24. If there is a God he hasn't been paying attention. He should retire and hand over to a younger man, because he's making a real bollocks of everything. - Author: Lemmy Kilmister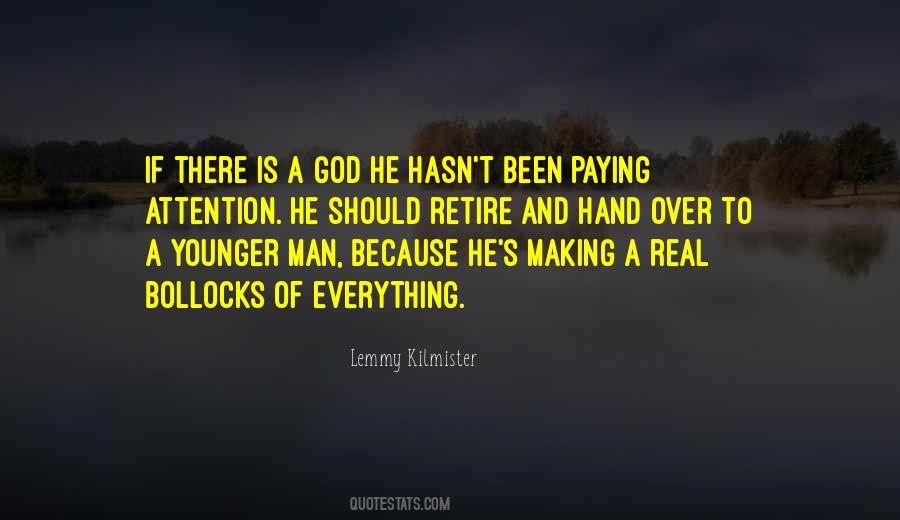 #25. To cultivate a garden is to walk with God, to go hand in hand with nature in some of her most beautiful processes, to learn something of her choicest secrets, and to have a more intelligent interest awakened in the beautiful order of her works elsewhere. - Author: C.N. Bovee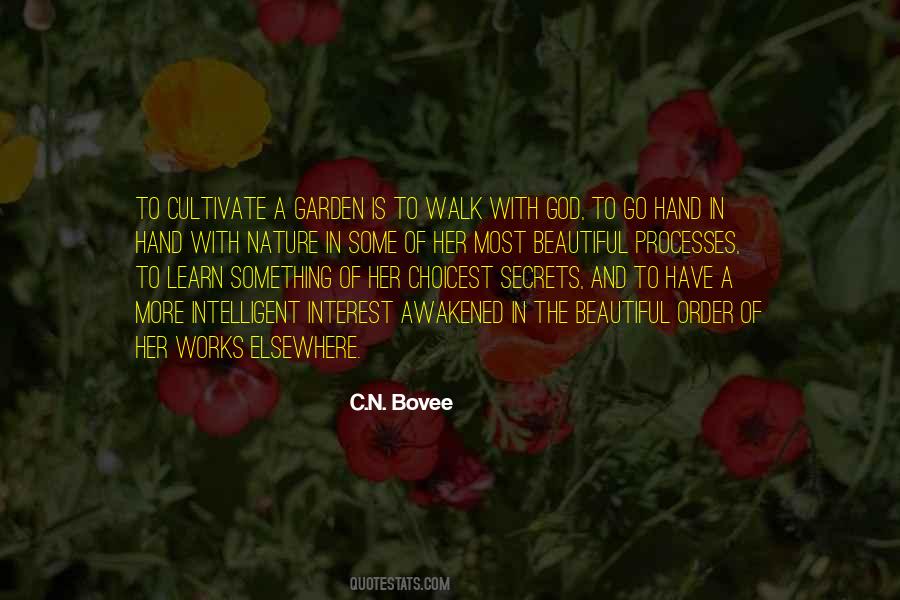 #26. Religion, for instance, cannot be accepted or rejected out of hand, until the student knows exactly what religion means. - Author: Idries Shah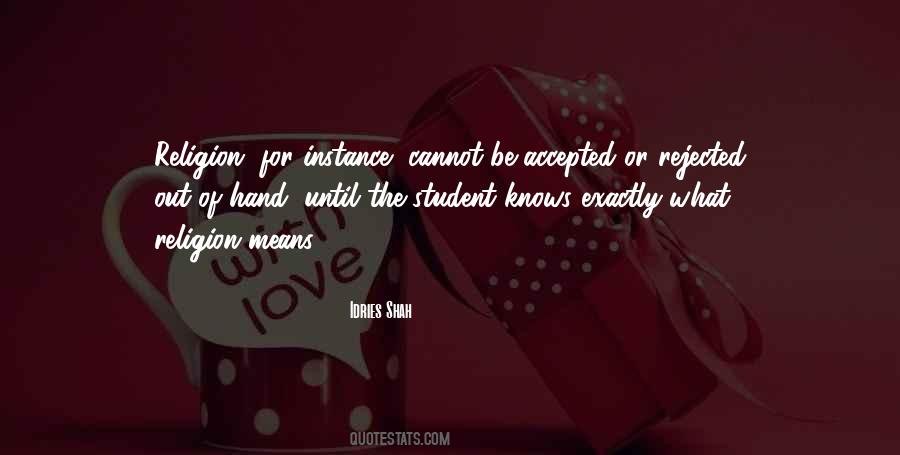 #27. Have you ever wondered why there are so many Gods and so many religions? It is because in the Land of the Gods, there is not a single hand to guide the Gods on a proper path. - Author: Lionel Suggs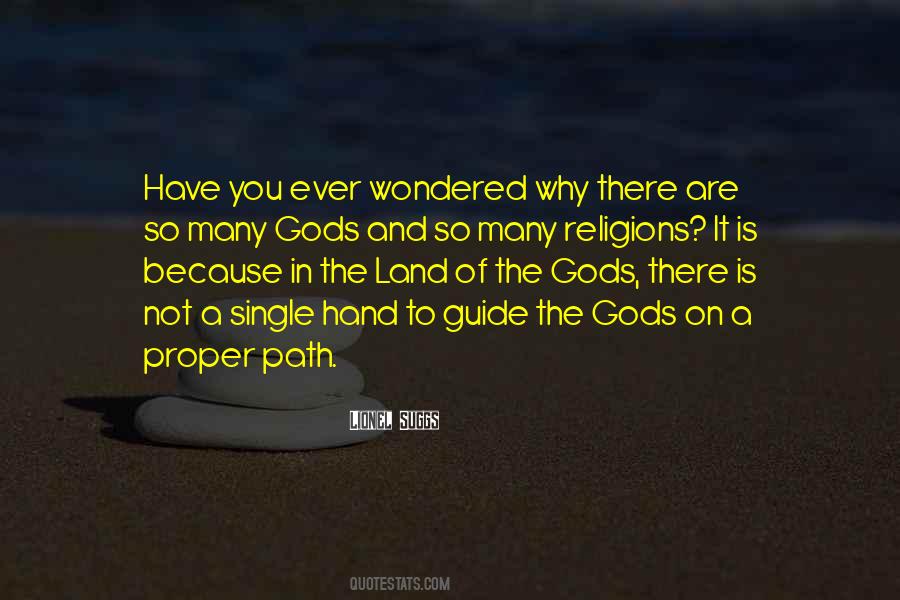 #28. May the sun shine warm upon your face; the rains fall soft upon your fields and until we meet again, may God hold you in the palm of His hand. - Author: R.P. Dahlke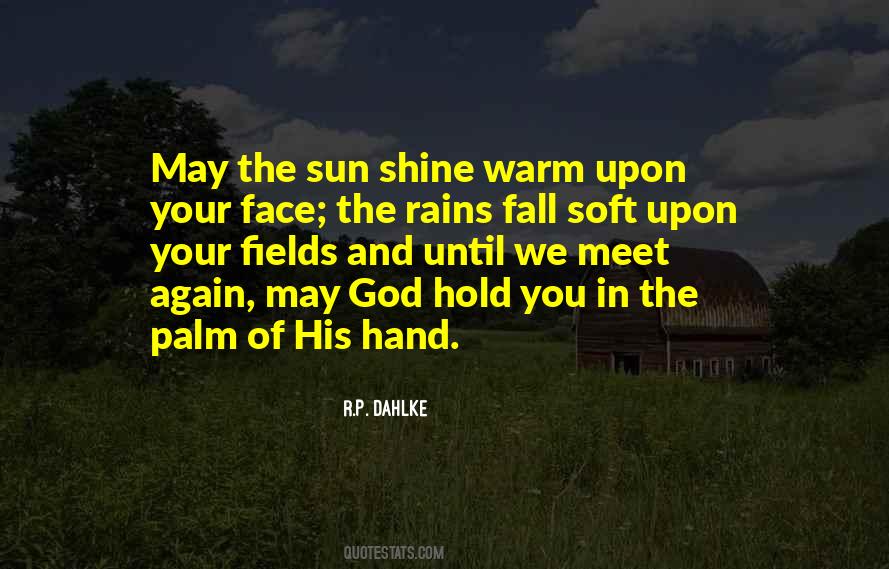 #29. So heaven was this vague, uneasy, almost cartoonish concept, a confusing cultural mash up of puffy clouds, harps, winged Angel's, Golden sunlight, a giant hand that may or may not belong to a giant man with a flowing white beard named God. - Author: Paul Tremblay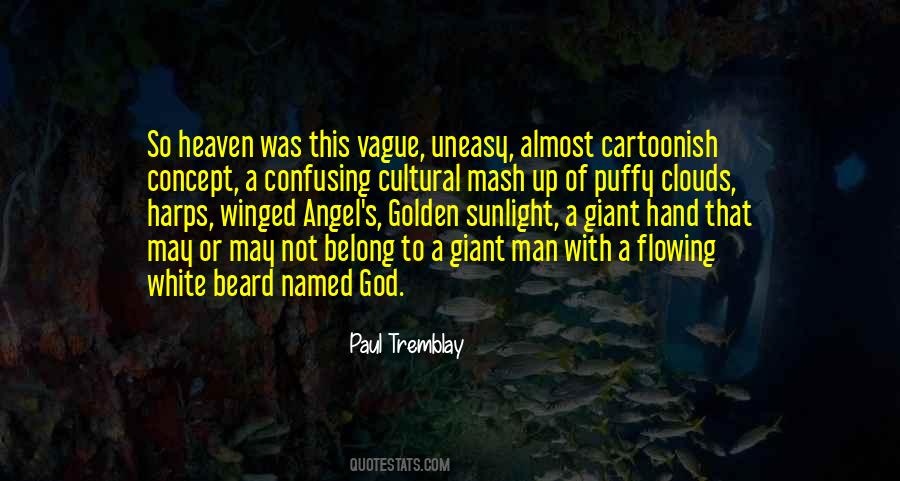 #30. God's Fatherly prerogative, is a kingly attribute so sweetly veiled in love, that the King's crown is forgotten in the King's face, and His sceptre becomes, not a rod of iron, but a silver sceptre of mercy - the sceptre indeed seems to be forgotten in the tender hand of Him who wields it. - Author: Charles Haddon Spurgeon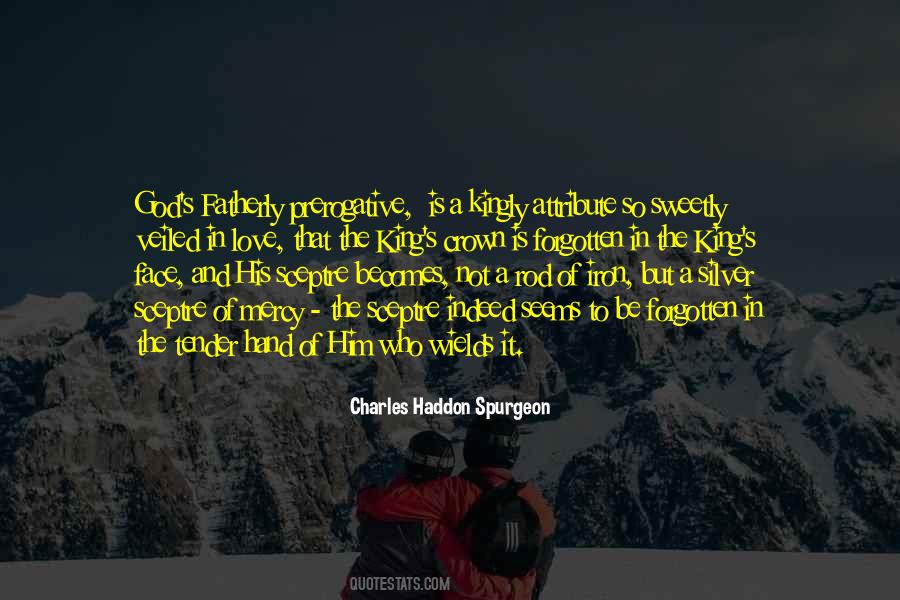 #31. We dangle by a flimsy thread,
Our little lives are grains of sand:
The Cosmos is a tiny sphere
Held in the hollow of God's hand.
Give up your anger and your spite,
And imitate the Deer, the Tree;
In sweet Forgiveness find your joy,
For it alone can set you free. - Author: Margaret Atwood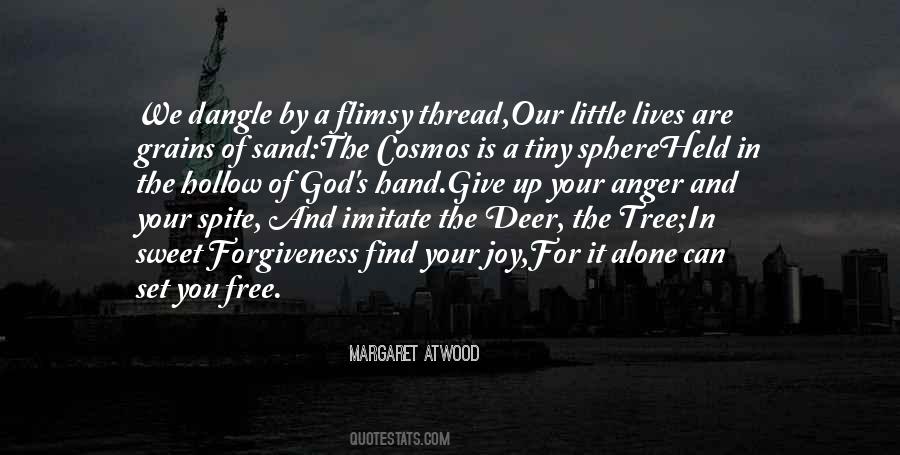 #32. We, as mothers, will have children of all ages, at all stages of their religious journey. Some have been saved, some are struggling in sin, some are confused, and some are under the chastening hand of God. We need to be there, praying, smiling, encouraging and seeing them through these rough years. - Author: Sharon White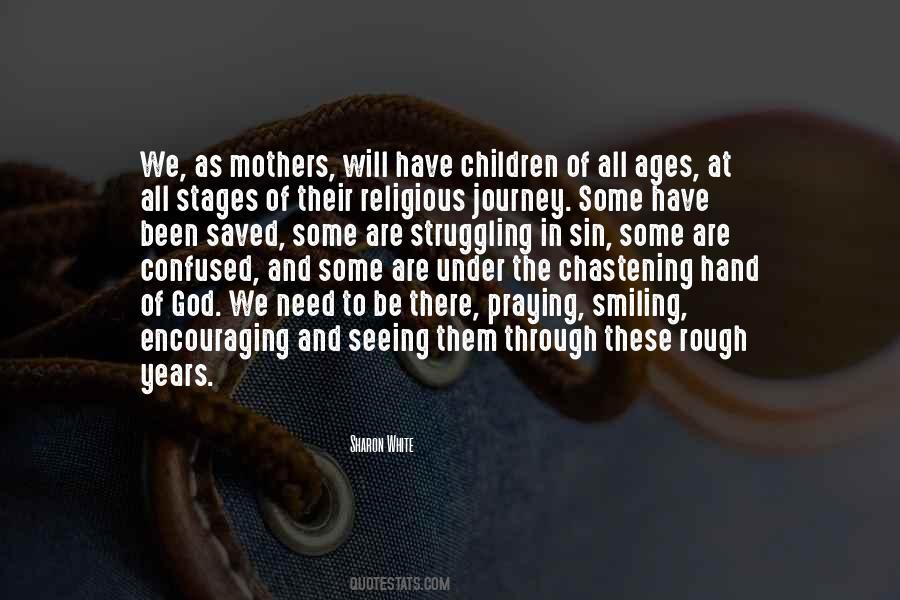 #33. Our combined beauty," Callie says seriously, hand pressed against her chest, "was too much for even a god to bear all at once."

Lyons, Heather (2013-11-17). A Matter of Heart (Fate Series Book 2) (p. 128). Cerulean Books. Kindle Edition. - Author: Heather Lyons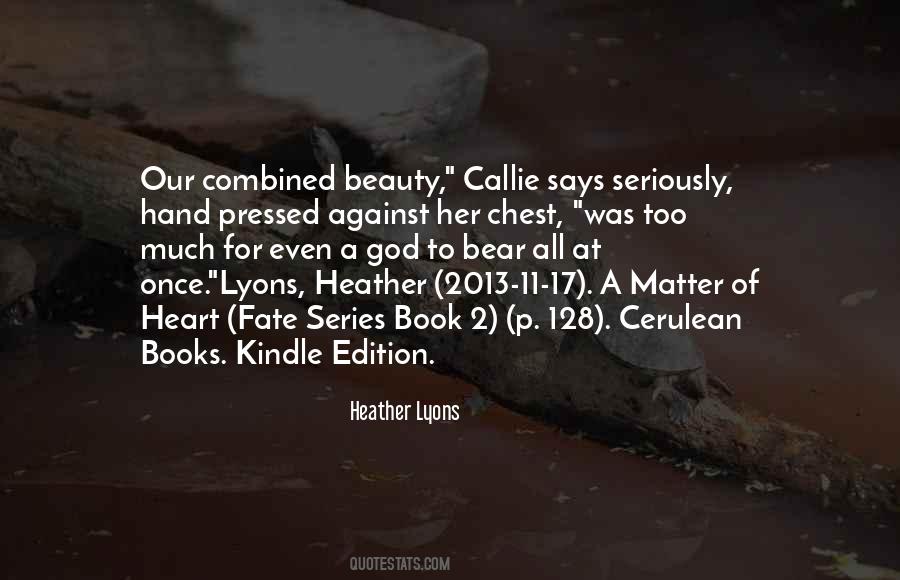 #34. Why should we not have a first-hand and immediate experience of God? - Author: Ralph Waldo Emerson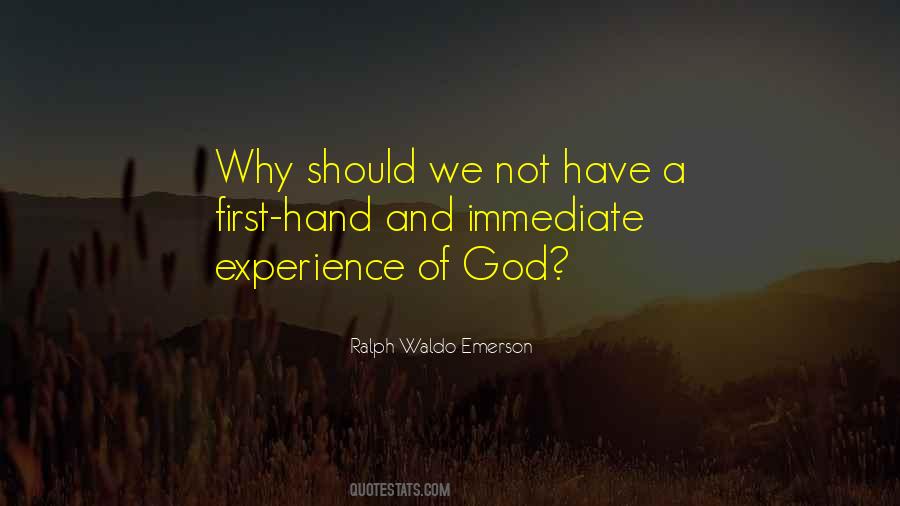 #35. God wishes to exhaust all means of kindness before His hand takes hold on justice. - Author: Henry Ward Beecher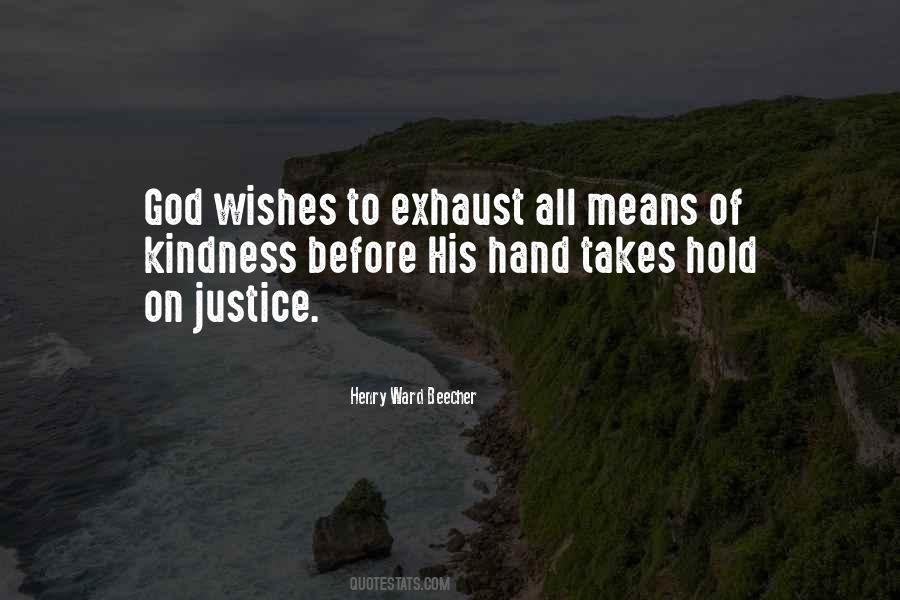 #36. Give me a light that I may tread safely into the unknown." And he replied, "Go out into the darkness and put your hand into the hand of God. That shall be to you better than light and safer than a known way." Then - Author: Alice Munro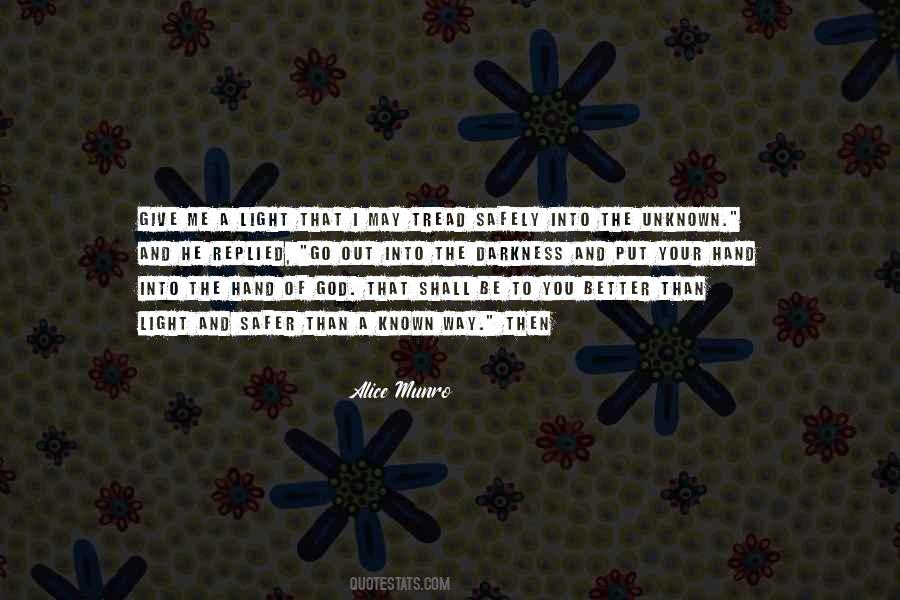 #37. You know you have received the invitation when your heart is ready to risk everything to hold the hand of God. - Author: Holly Lynn Payne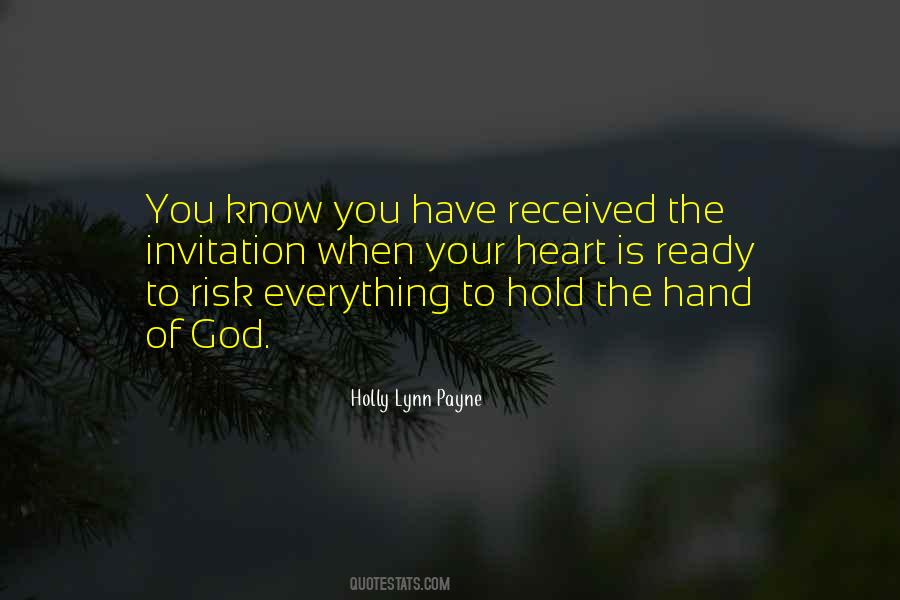 #38. In the end, it is about whether God wants us to be in the final, but I know that is what God wants. This time we will not need the Hand of God, because it is the will of God. - Author: Diego Maradona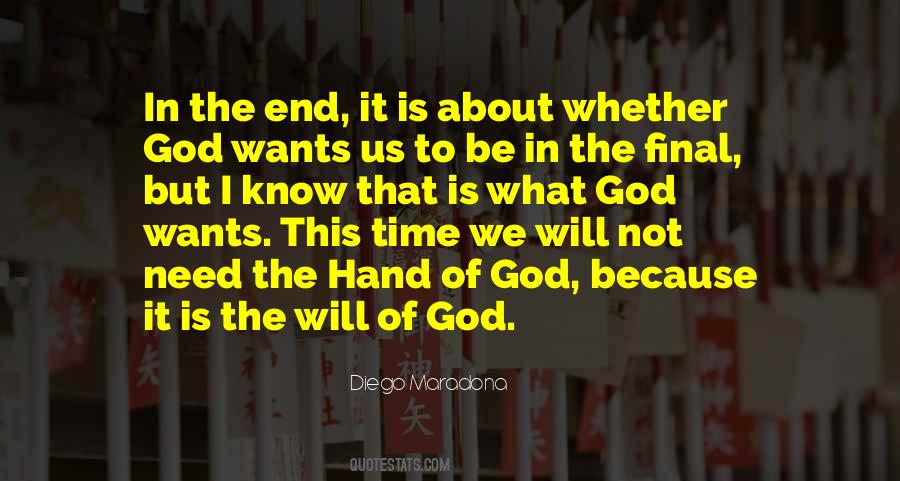 #39. The hand of the wicked can't stir one moment before God allows them to begin, and ... one moment after God commands them to stop. - Author: J.C. Ryle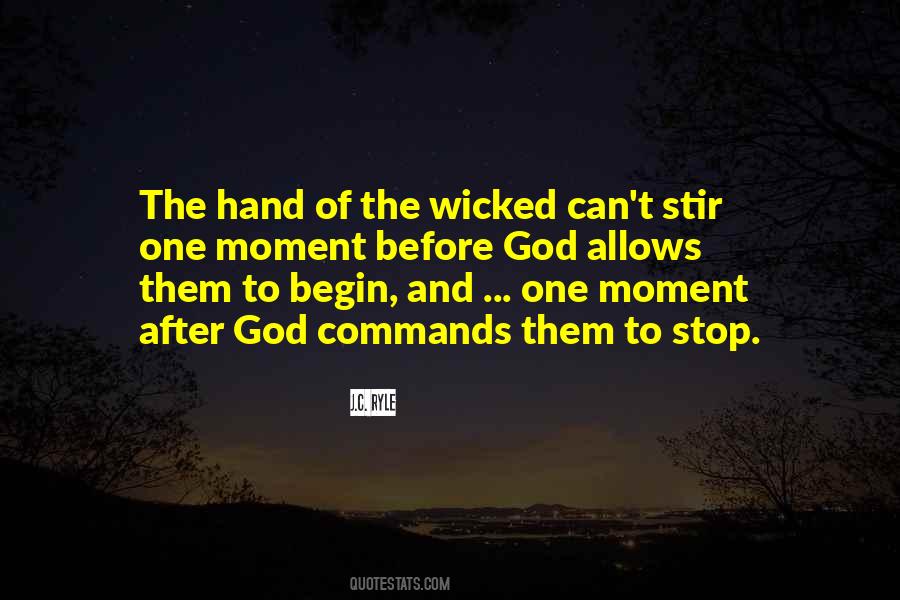 #40. We are all pencils in the hand of God. - Author: Mother Teresa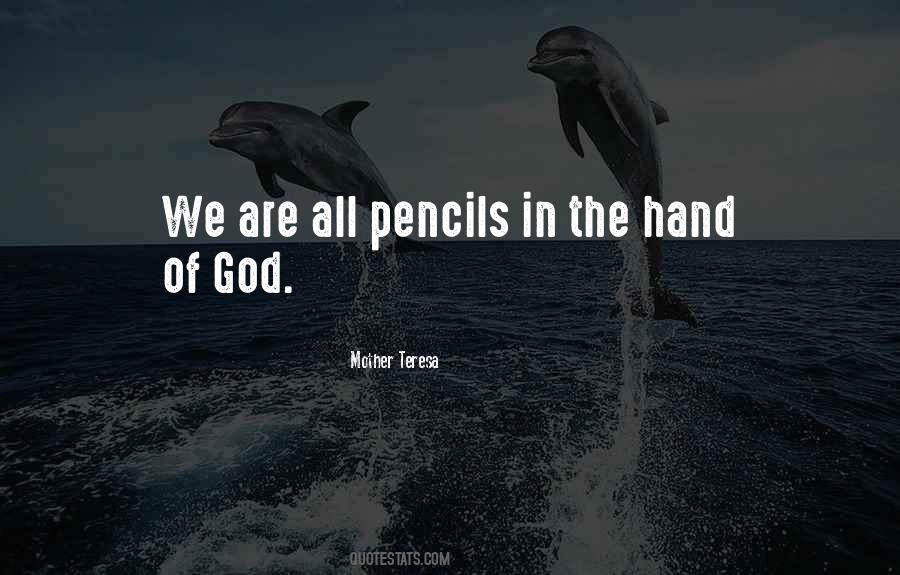 #41. Whoever be the instruments of any good to us, of whatever sort, we must look above them, and eye the hand and counsel of God in it, which is the first spring, and be duly thankful to God for it. And whatever evil of crosses or afflictions befalls us, we must look above the instruments of it to God. - Author: Thomas Boston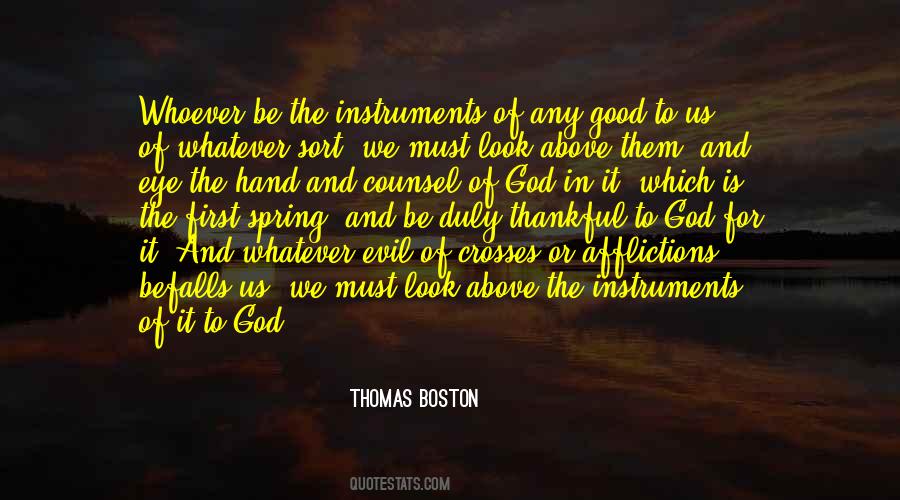 #42. What [others] most need is to see in you a reflection of what God is like and of the transforming power of the Gospel. Your life can create hunger and thirst for God in others' lives and can be a powerful instrument in the hand of the Holy Spirit to draw their hearts to Christ. - Author: Nancy Leigh DeMoss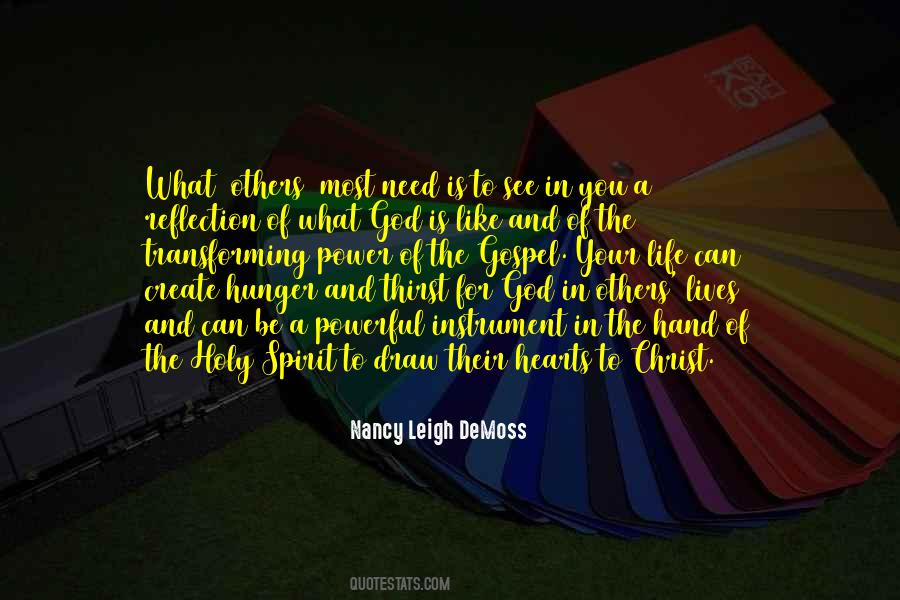 #43. I figure there are a few actors like Marlon Brando, George C. Scott and Laurence Olivier who have been touched by the hand of God. I'm in the next bunch. - Author: John Forsythe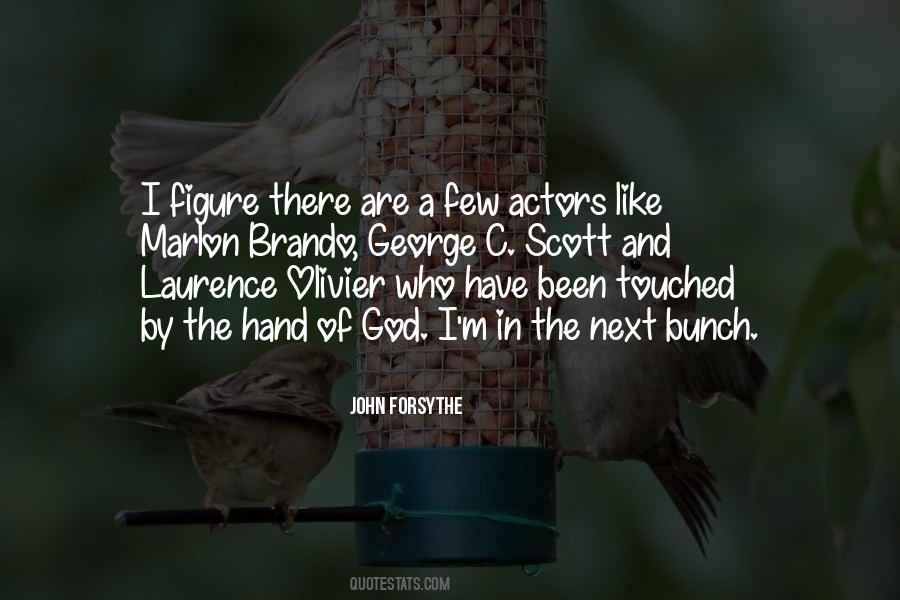 #44. We cry for the hand of God to bring us salvation, but then we seize the voice of God and use it to profess our destructive nature. - Author: J.M. Campos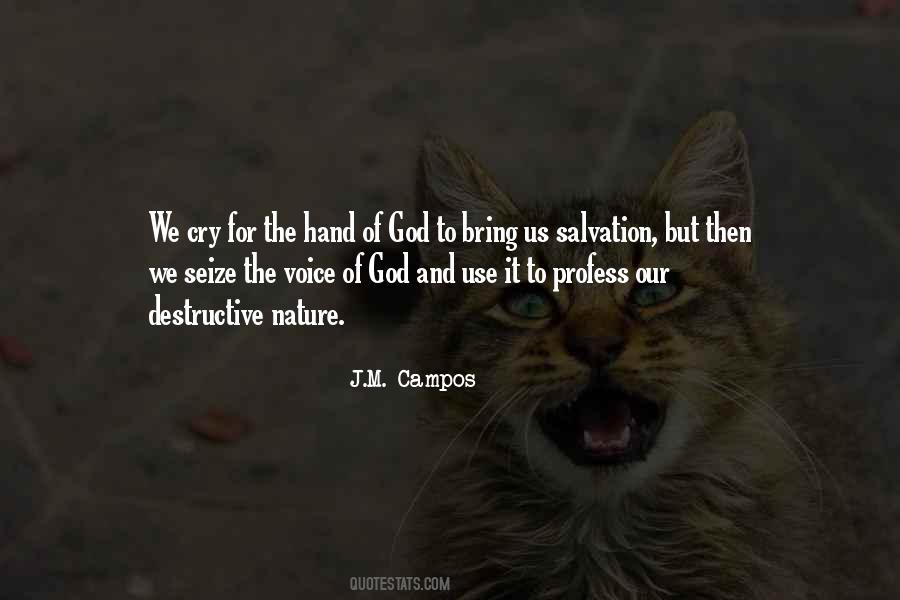 #45. Coincidence is just the hand of God who pushes you on the right track. That path will lead your steps towards an epiphany that will change your life. Don't believe in coincidences, believe in the righteousness of everything that happens to you. - Author: Irina Serban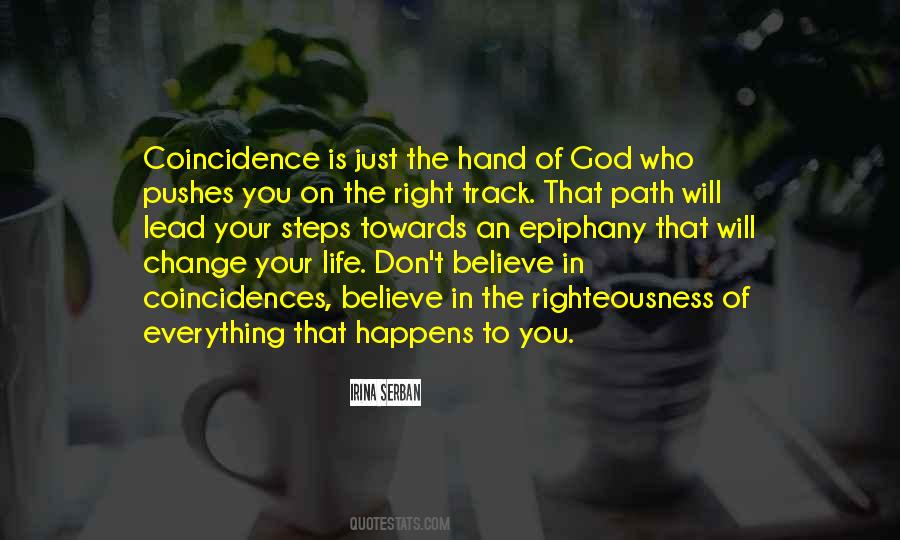 #46. The more we learn about the wonders of our universe, the more clearly we are going to perceive the hand of God. - Author: Frank Borman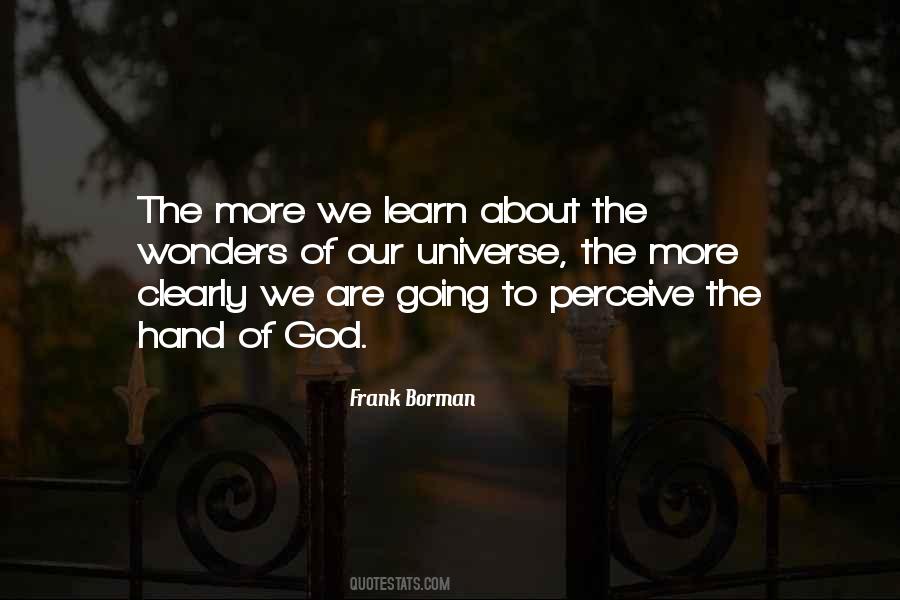 #47. God has raised his hand to give us respite. It could be he has something more in mind for us. With this time on our hands, we should try to figure out what it could be. Because HE don't do pointless acts of charity. - Author: E.L. Doctorow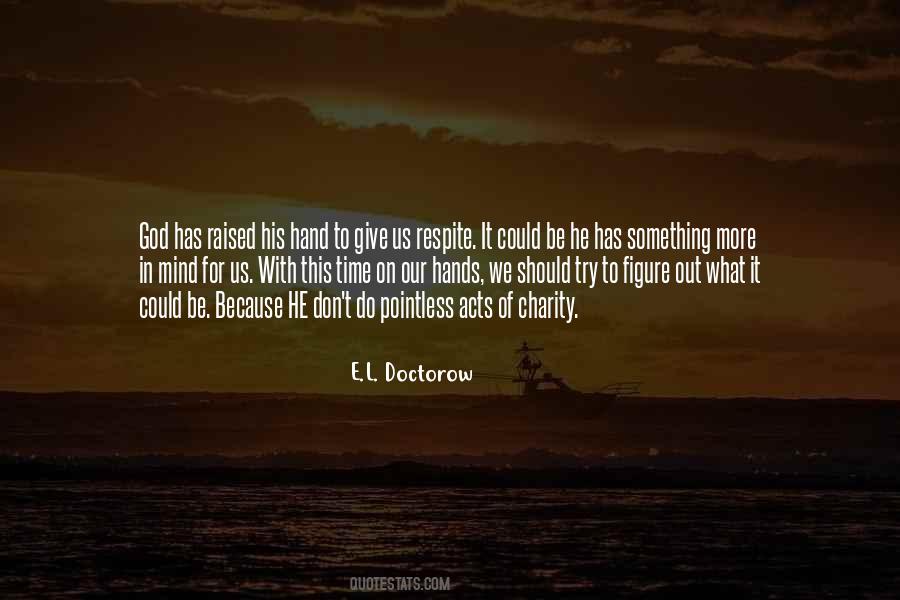 #48. I don't know if
you know this about me, but I am a soldier.
Or the leader of God's army, but okay, let's be modest. - Author: Cynthia Hand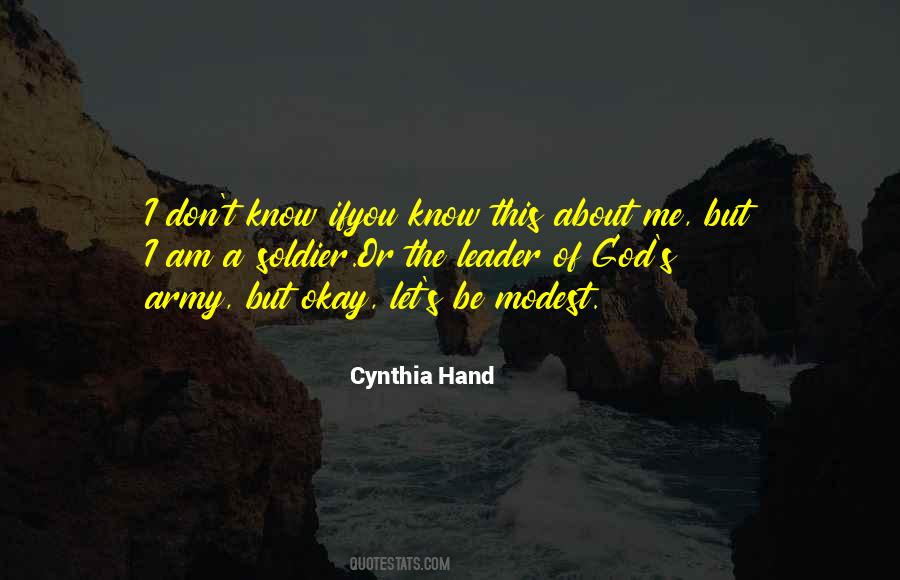 #49. Unlike God the artist does not start with nothing and make something of it. He starts with himself as nothing and makes something of the nothing with the things at hand. - Author: Samuel Pepys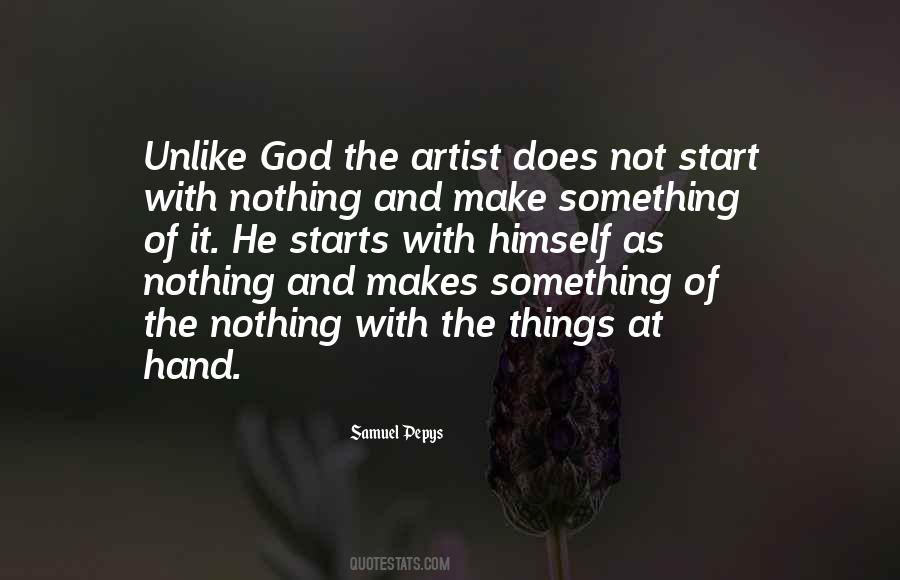 #50. God surpasses our dreams when we reach past our personal plans and agenda to grab the hand of Christ and walk the path he chose for us. He is obligated to keep us dissatisfied until we come to him and his plan for complete satisfaction. - Author: Beth Moore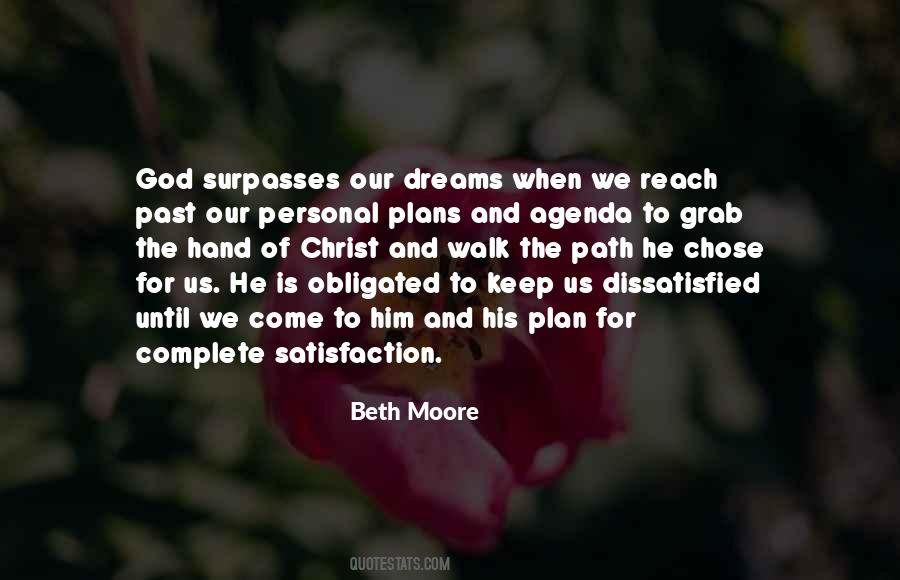 #51. Children are the most wholesome part of the race, the sweetest, for they are the freshest from the hand of god. - Author: Herbert Hoover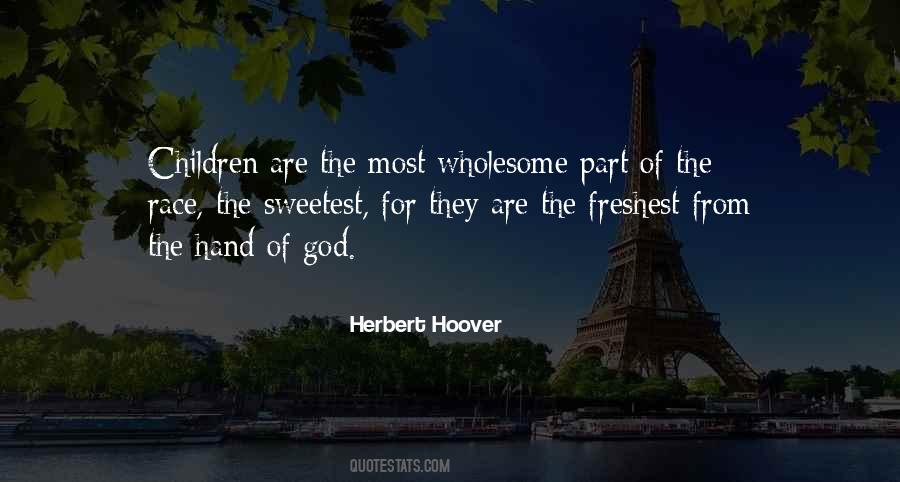 #52. Feeling sorry for yourself is a universal solvent of salvation. - Author: Paul Hoffman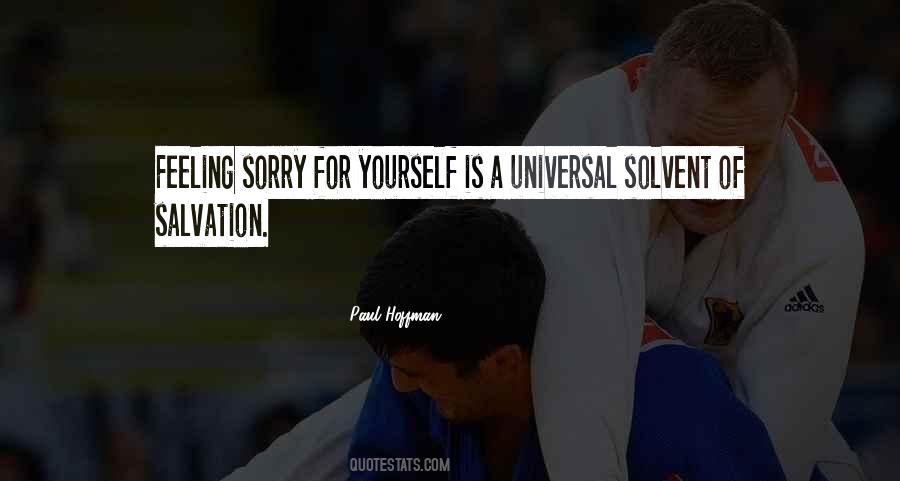 #53. We look for wonders and the unseen reality-the hand of God- in things extrordinary, when more often his presence is to be found in the unheralded, familiar, everyday events of which life is woven. - Author: David G. Myers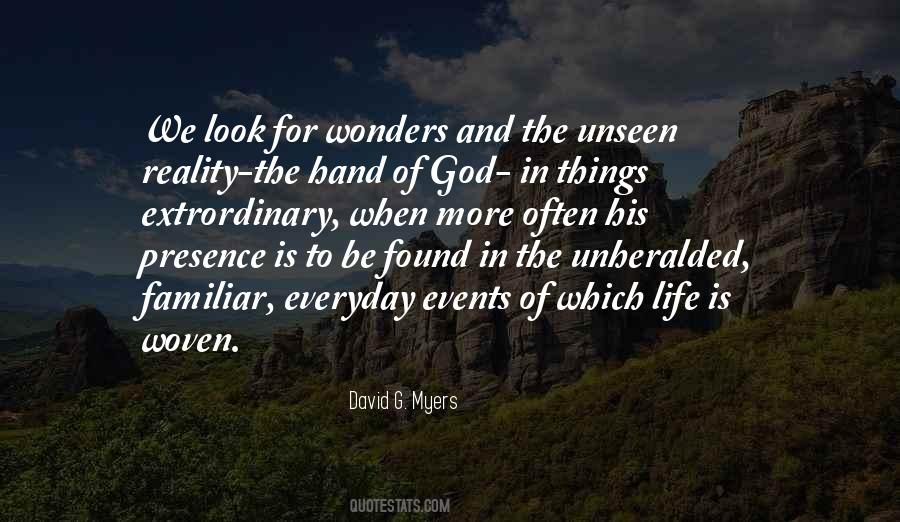 #54. MAR1.14 Now after that John was put in prison, Jesus came into Galilee, preaching the gospel of the kingdom of God, MAR1.15 And saying, The time is fulfilled, and the kingdom of God is at hand: repent ye, and believe the gospel. - Author: Anonymous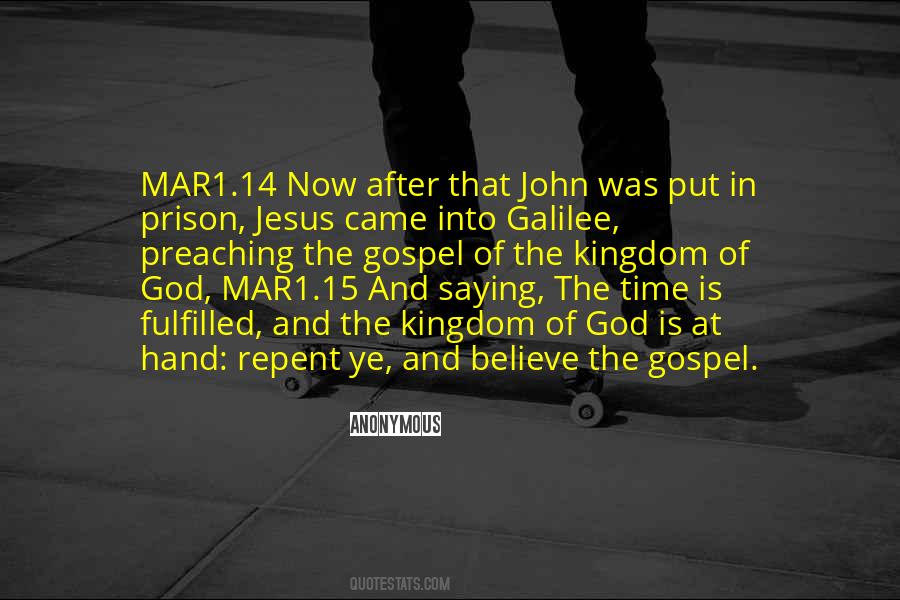 #55. 18And t Melchizedek king of Salem brought out bread and wine. (He was u priest of v God Most High.) 19And he blessed him and said, w Blessed be Abram by God Most High, x Possessor [2] of heaven and earth; 20 and blessed be God Most High, who has delivered your enemies into your hand! - Author: Anonymous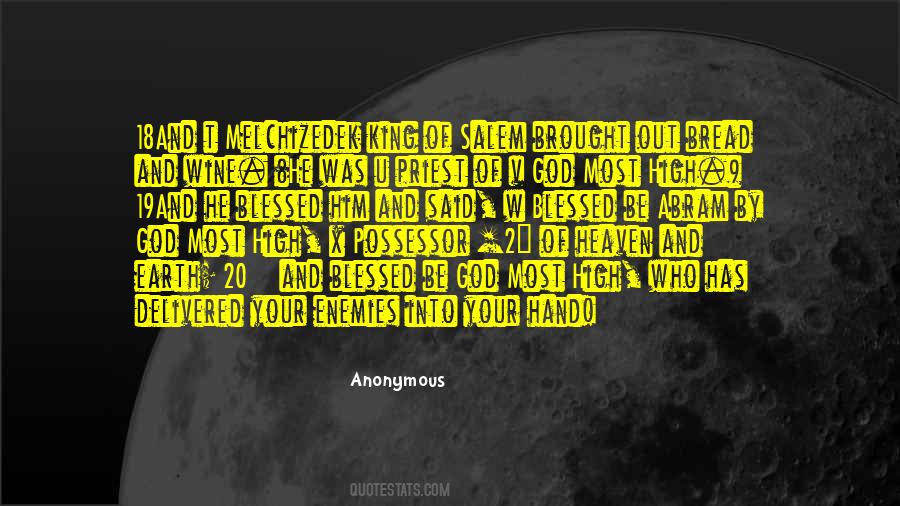 #56. One day the wickedness of the kings of the world would destroy us, oh sorrow, and armies of the world would march upon us, wailing, and the purest of the children of God would have to deliver themselves unto the Lord by their own hand.
The Deliverance. - Author: Chuck Palahniuk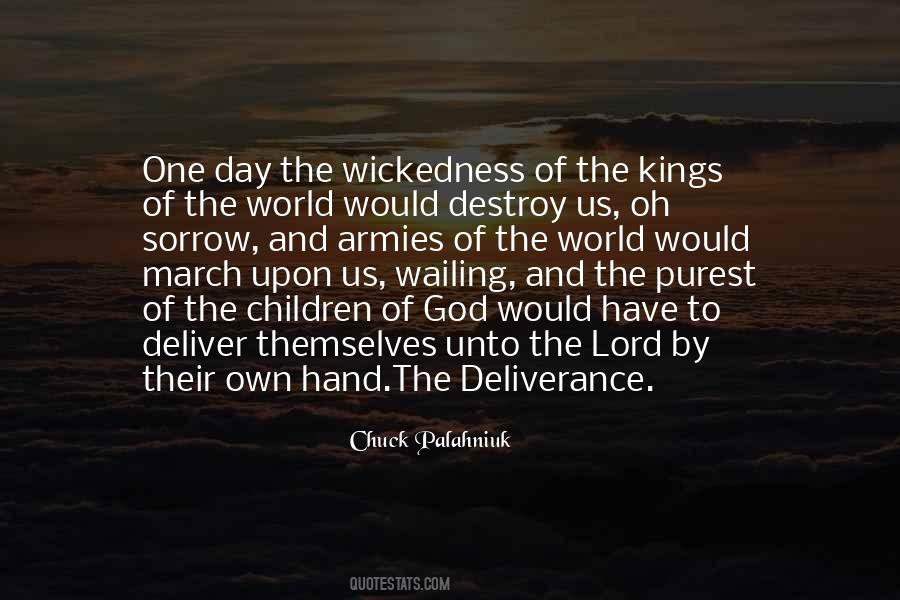 #57. Supernatural explanations always mean the end of inquiry: that's the way God wants it, end of story. Science, on the other hand, is never satisfied: our studies of the universe will continue until humans go extinct. - Author: Jerry A. Coyne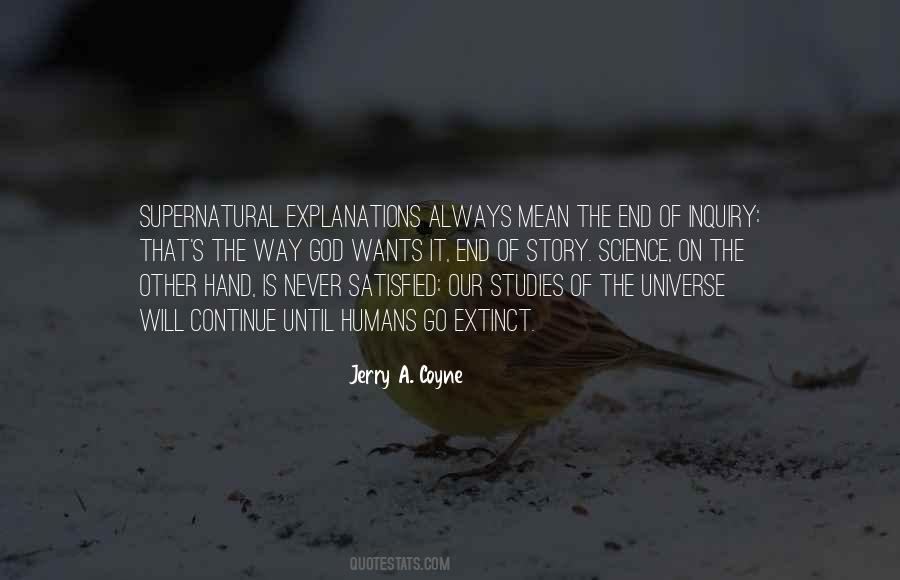 #58. If we want to know the Glory of God, if we want to experience the beauty of God, and if we want to be used by the hand of God, then we must LIVE in the WORD of God. - Author: David Platt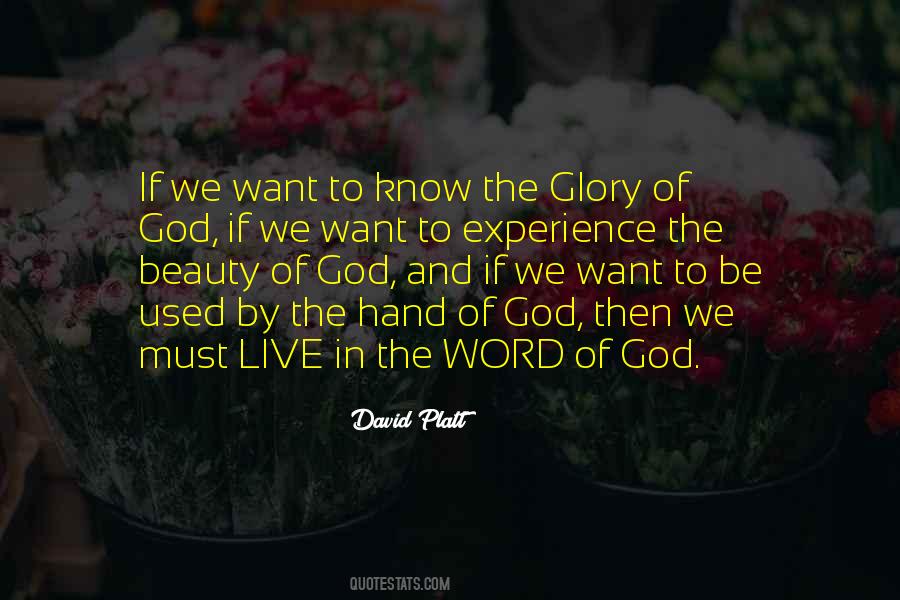 #59. The battle for the lead between faith and reason can be settled by accepting the guiding hand of an experienced navigator. - Author: Elaine Orabona Foster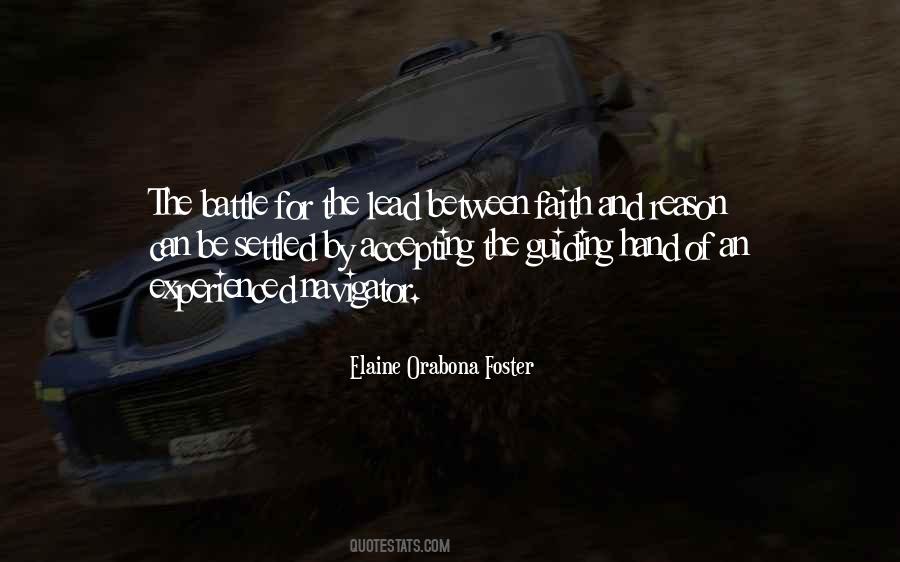 #60. God is the ruler of history. His times are well chosen The Roman Empire was an instrument in his hand. And so are the nations of the modern world. - Author: John Gresham Machen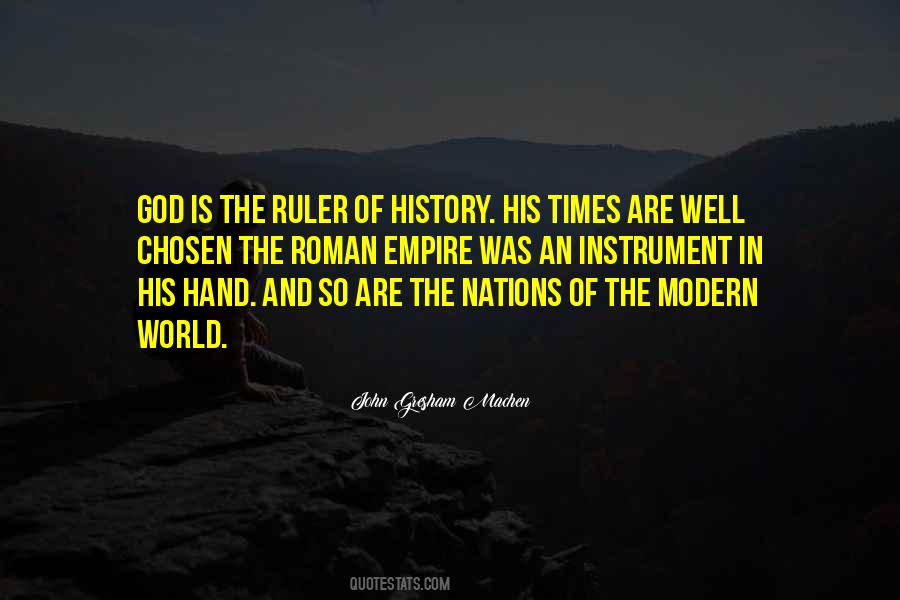 #61. Were my soul trembling on the wing of eternity, were this hand freezing to death, were my voice choking with the last struggle, I would still, with the last gasp of that voice, implore you to remember the truth: God has given America to be free. - Author: Patrick Henry
#62. Proportion thy charity to the strength of thine estate, lest God proportion thine estate to the weakness of thy charity. Let the lips of the poor be the trumpet of thy gift, lest in seeking applause, thou lose thy reward. Nothing is more pleasing to God than an open hand and a closed mouth. - Author: Francis Quarles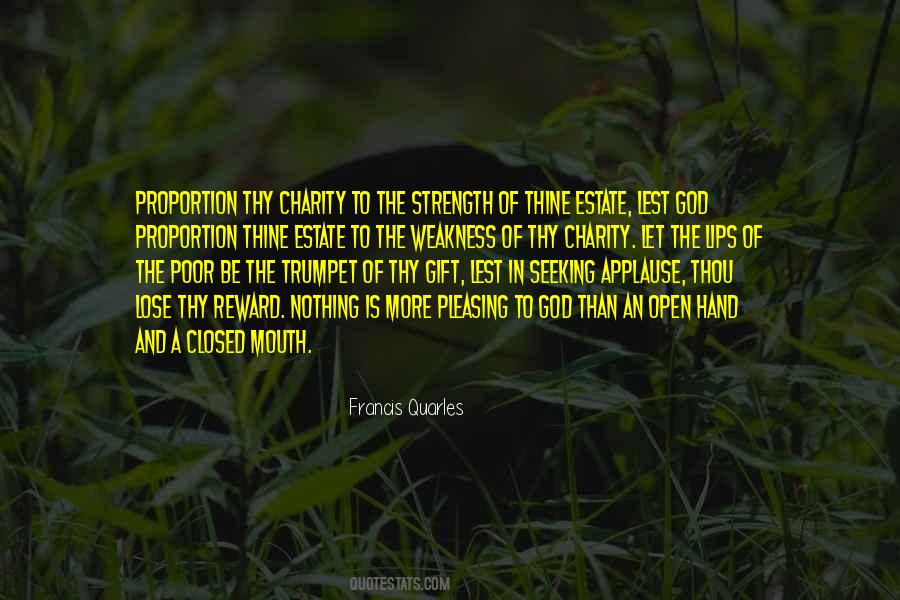 #63. The Kingdom of God might be at hand, but that hand was empty. - Author: J.G. Ballard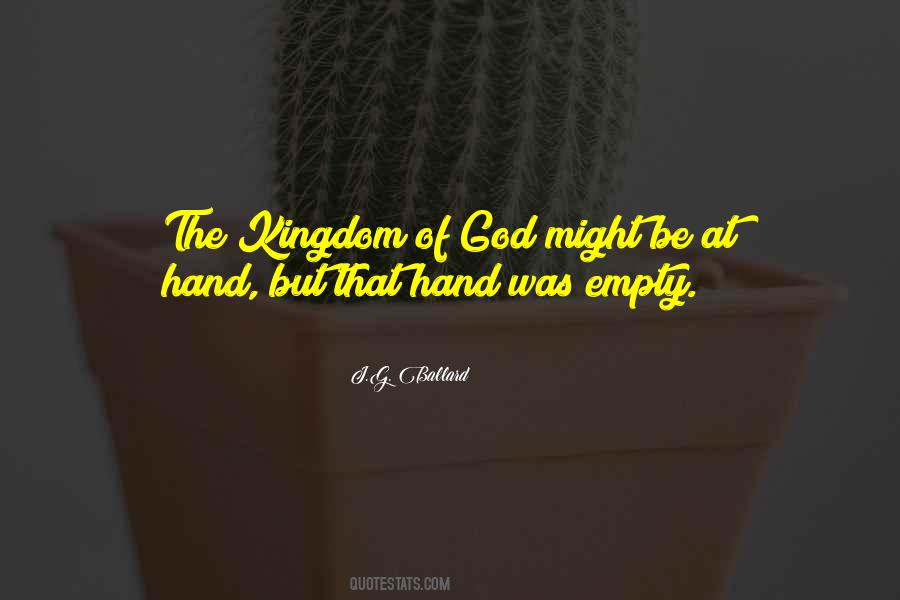 #64. An important key to not becoming overwhelmed by what is going on around us is looking for evidences of God's hand at work in the midst of the turmoil and being "simply overwhelmed with thankfulness to Him. - Author: Nancy Leigh DeMoss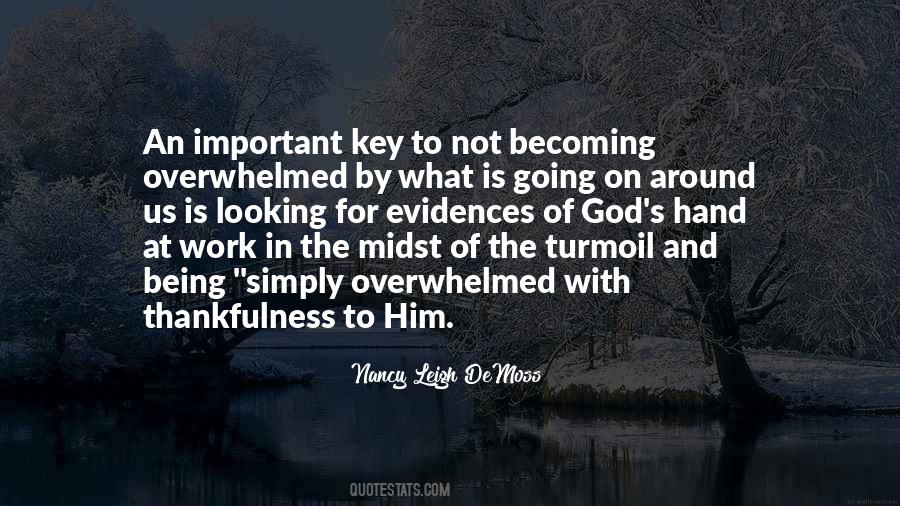 #65. I'm a little pencil in the hand of a writing God, who is sending a love letter to the world. - Author: Mother Teresa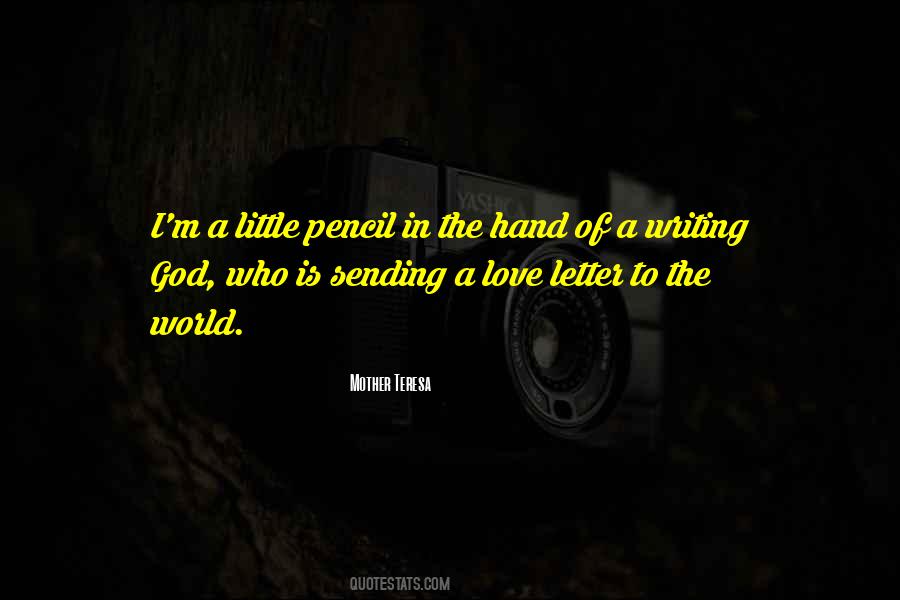 #66. Contrastingly to the new model of distribution, we shot Hand of God using the traditional format of film. I myself use very few apps and tend not to engage in social media. I do use Instagram under my production company's name, but that's it. - Author: Marc Forster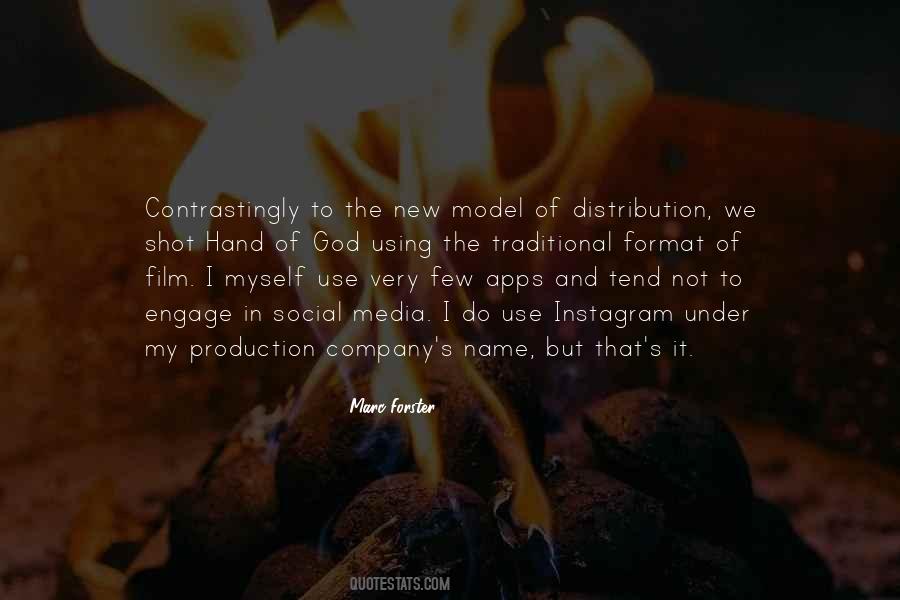 #67. Man to God: "I've let you down so many times."

God to man: "You weren't holding me up. I uphold you with My righteous right hand. That's how it works in this relationship. I - hold - you - up. - Author: The Skit Guys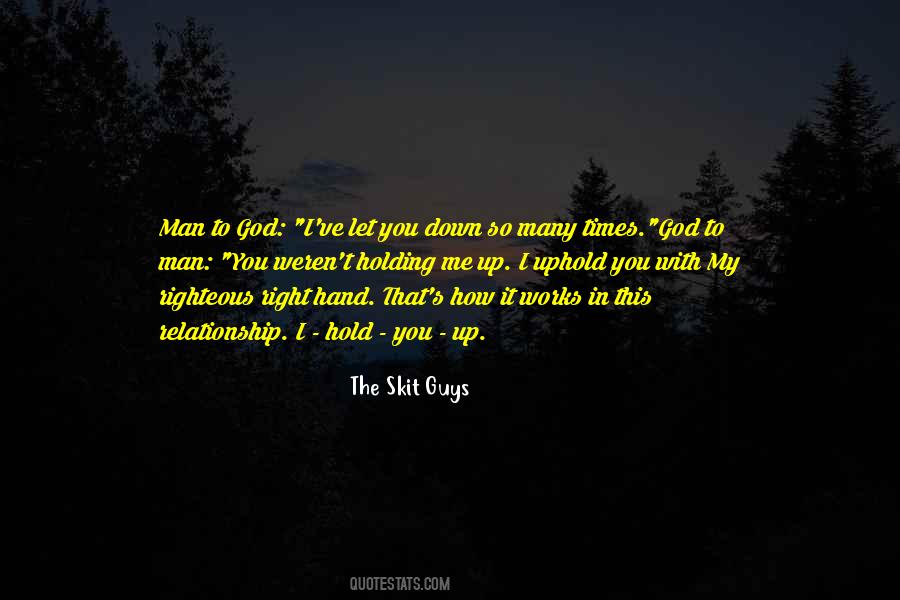 #68. I decide I'm not dead because I can hear the sound of the rain hitting the roof of the car. I'm alive because I'm listening to the rain, and the rain becomes the hand of God strumming his fingers on the roof, deciding what to do. - Author: Lisa Genova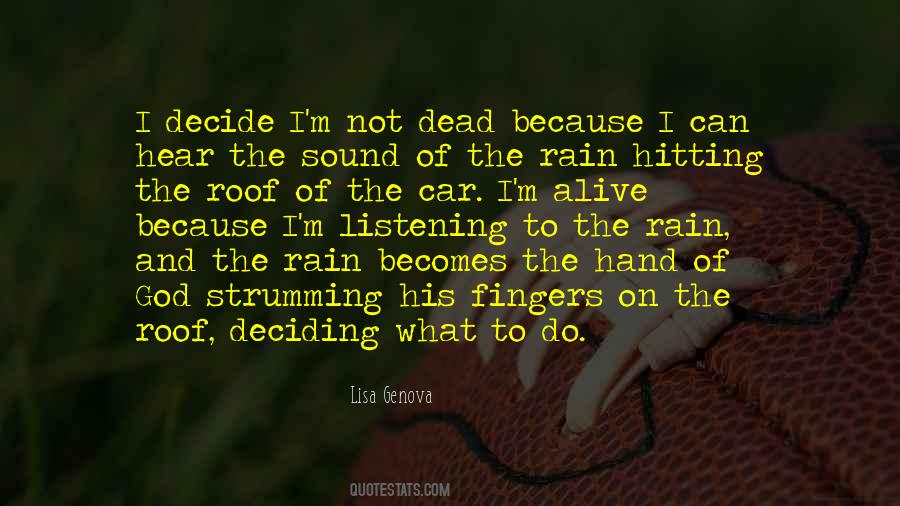 #69. It is in those times of hopeless chaos when the sovereign hand of God is most likely to be seen. - Author: Thomas Chalmers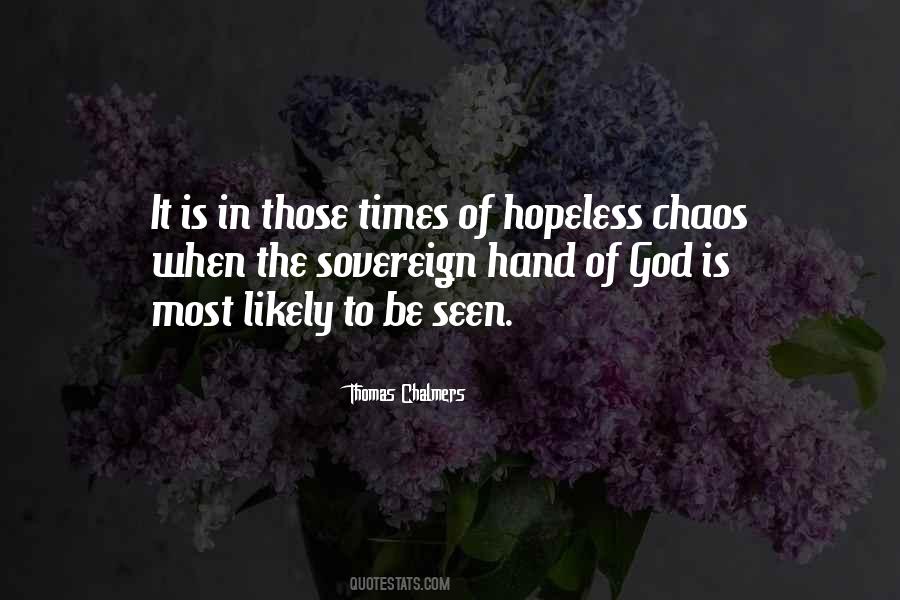 #70. Grow old along with me! The best is yet to be, the last of life, for which the first was made. Our times are in his hand who saith, 'A whole I planned, youth shows but half; Trust God: See all, nor be afraid! - Author: Robert Browning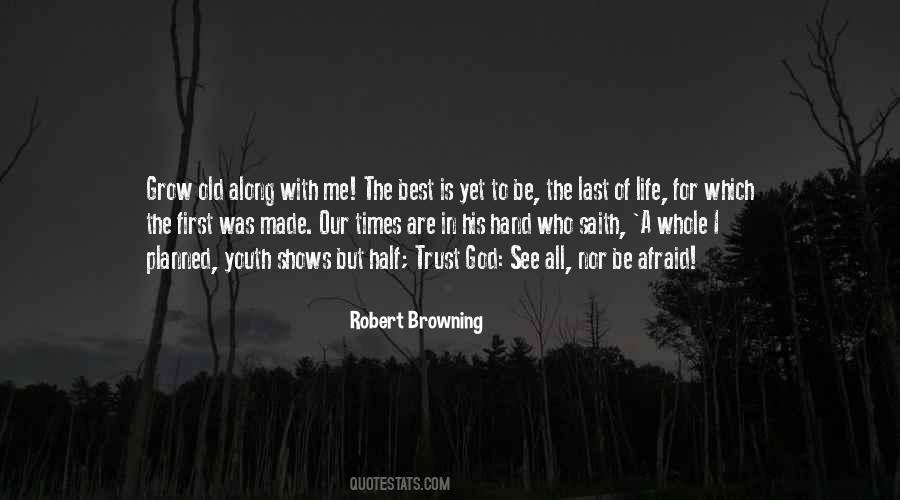 #71. The new humanity that is created around Jesus is not a humanity that is always going to be successful and in control of things, but a humanity that can reach out its hand from the depths of chaos, to be touched by the hand of God. - Author: Rowan Williams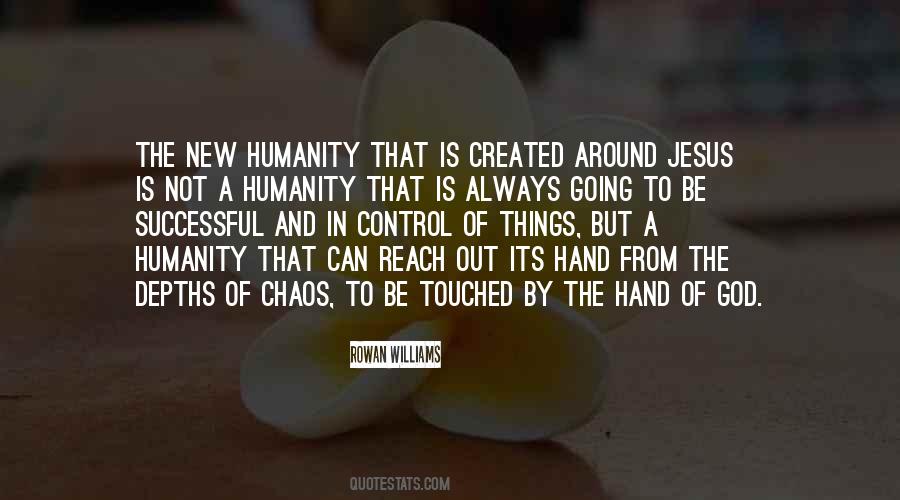 #72. Puny man can do nothing at all to help or please God Almighty, and Luck is not the hand of God. - Author: Kurt Vonnegut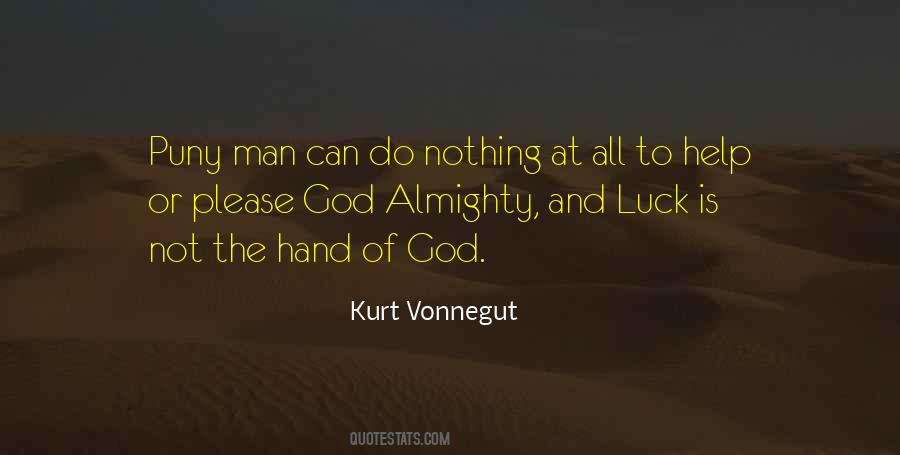 #73. I wonder what God must have thought then / When He saw the work of Cain's hand / That the first baby born on the planet / Grew up to kill the third man. - Author: Brian M. Boyce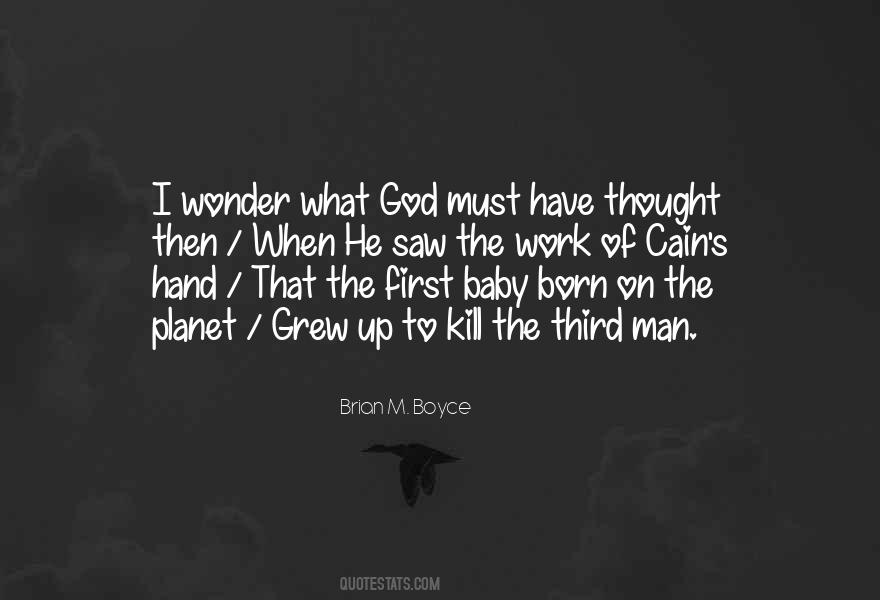 #74. This isn't a religious book though I mention God, not a medical advisory though I speak of pain. It's a circus, a mortuary, a grade school, a limousine ride. Will it be worth the paper it's printed on or the screen you hold in your hand? I just hope you remember it next week. - Author: Chila Woychik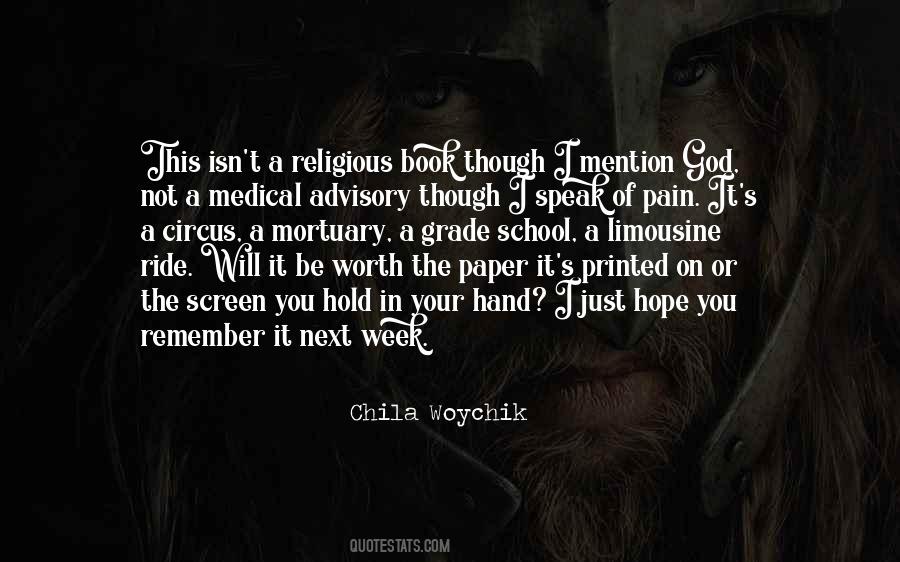 #75. You're the right colour for the Angel of Death, Mister Cale. But a little short.' 'I could cut your head off and stand on it. Then I'd be taller. - Author: Paul Hoffman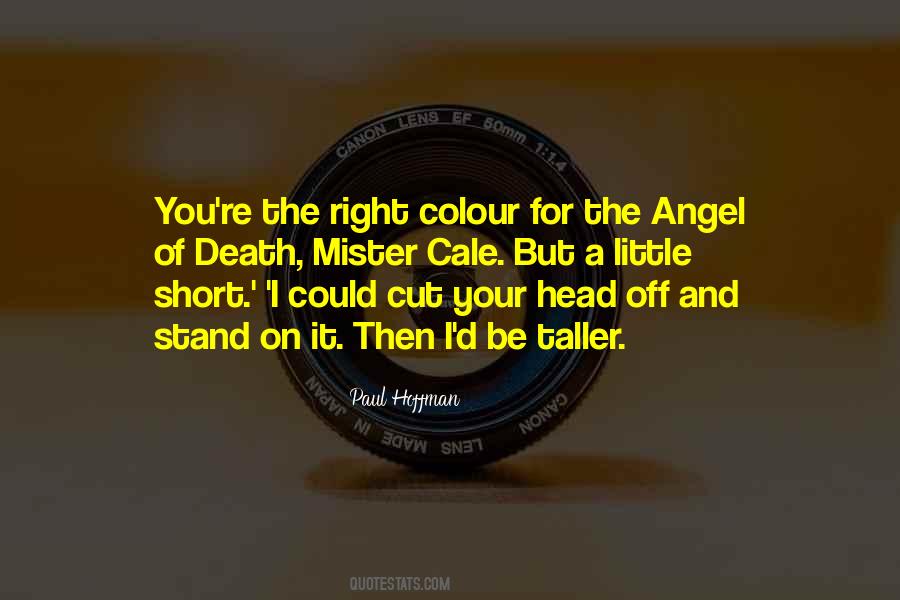 #76. The iron bolt which so mysteriously fastens the door of hope and holds our spirits in gloomy prison, needs a heavenly hand to push it back. - Author: Charles Haddon Spurgeon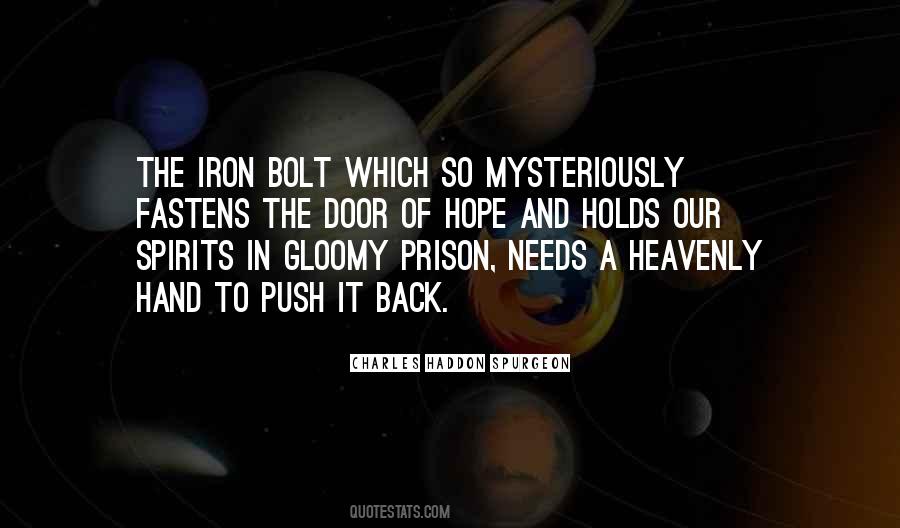 #77. Lord Jesus, receive my spirit ... I see the heavens open and Jesus standing at the right hand of God. - Author: Thomas Cranmer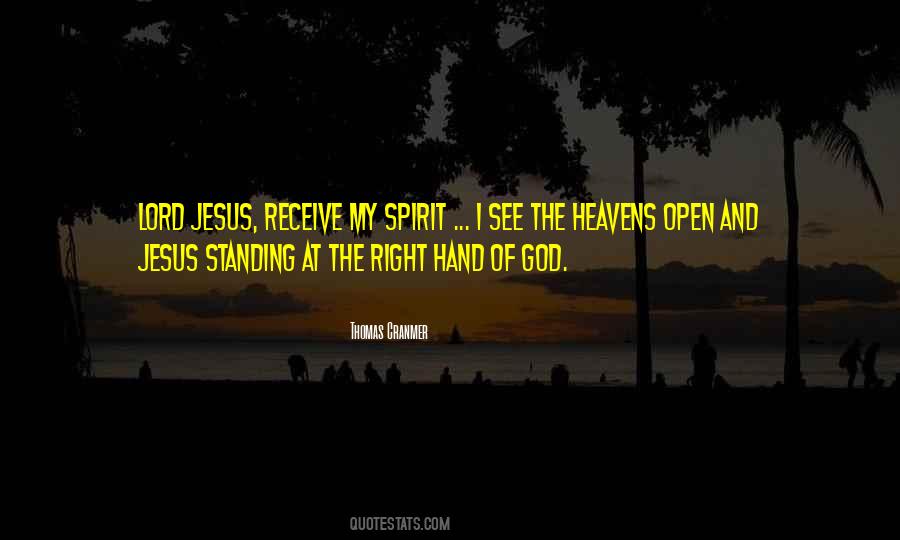 #78. May the road rise up to meet you, may the wind be ever at your back. May the sun shine warm upon your face and the rain fall softly on your fields. And until we meet again, May God hold you in the hollow of his hand. - Author: Anonymous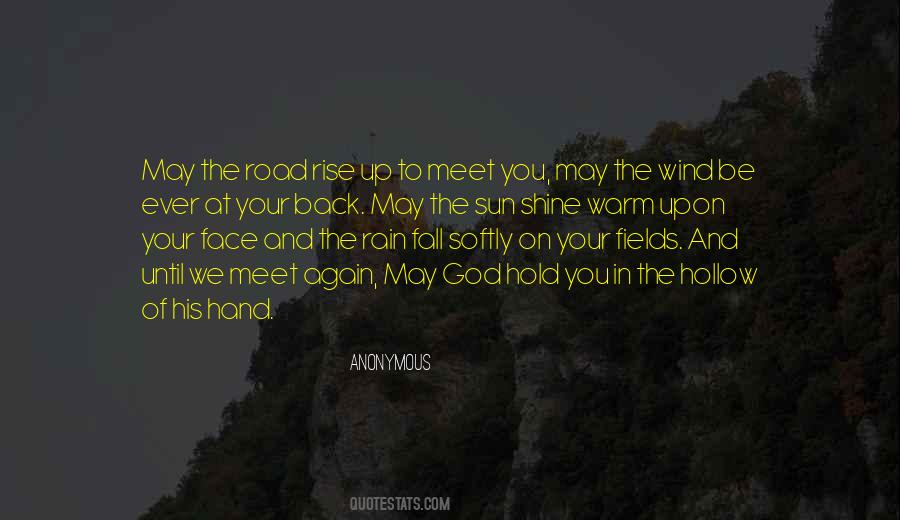 #79. Sometimes the Bible in the hand of one man is worse than a whisky bottle in the hand of (another) ... There are just some kind of men who - who're so busy worrying about the next world they've never learned to live in this one, and you can look down the street and see the results. - Author: Harper Lee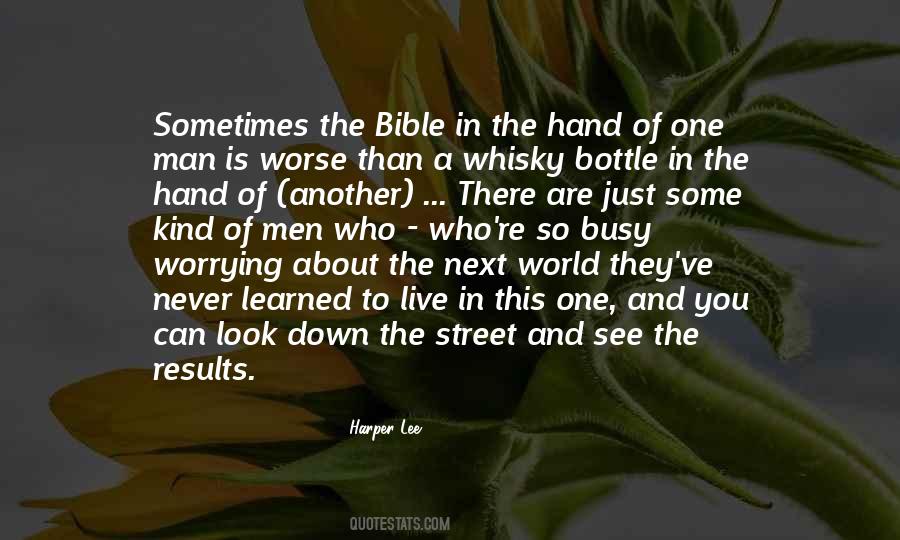 #80. Even in the greatest afflictions, we ought to testify to God, that, in receiving them from his hand, we feel pleasure in the midst of the pain, from being afflicted by Him who loves us, and whom we love. - Author: John Wesley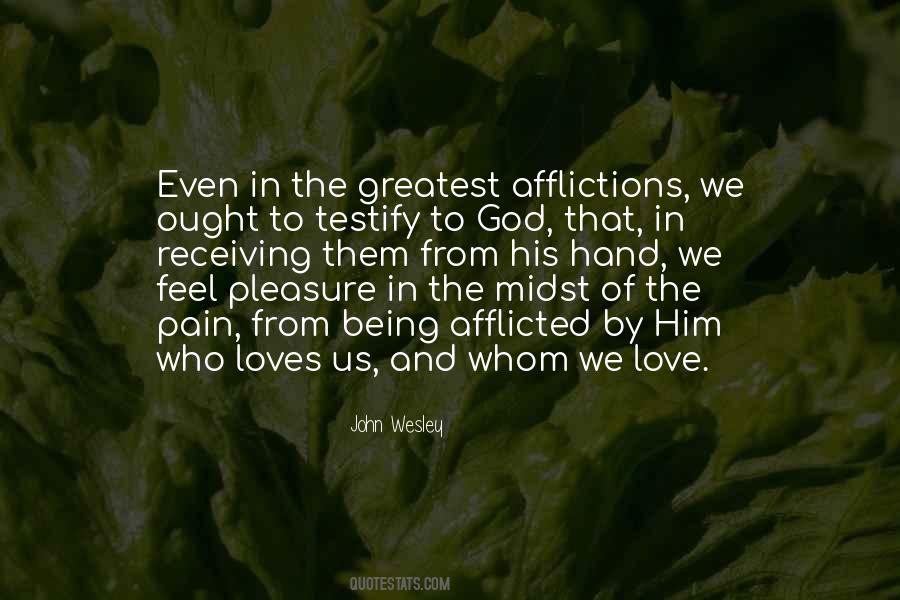 #81. I had many friends to help me to fall; but as to rising again, I was so much left to myself, that I wonder now I was not always on the ground. I praise God for His mercy; for it was He only Who stretched out His hand to me. May He be blessed for ever! Amen. - Author: Saint Teresa Of Avila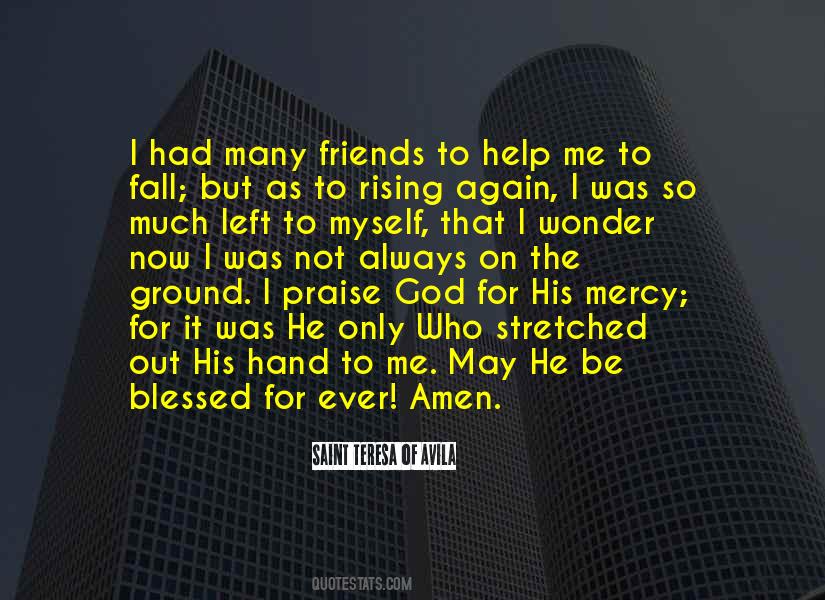 #82. we love the way Jesus loves, good things will happen all in good time; if we try to force God's hand, we will only wind up with a lot of frustration and disappointment. - Author: Bill Searcey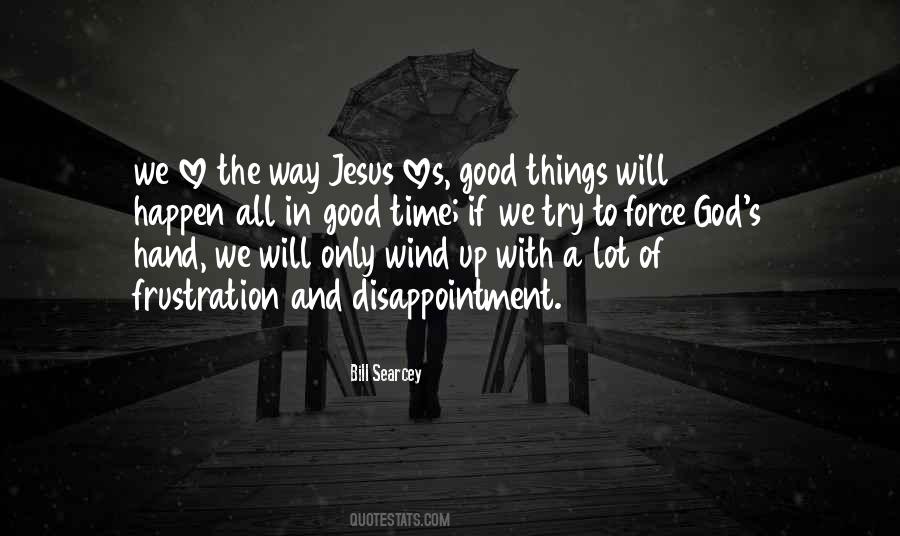 #83. I believe God spoke to you at cliffs. Her hand came to rest on the top of my head. But perhaps you weren't truly listening - Author: Jenny B. Jones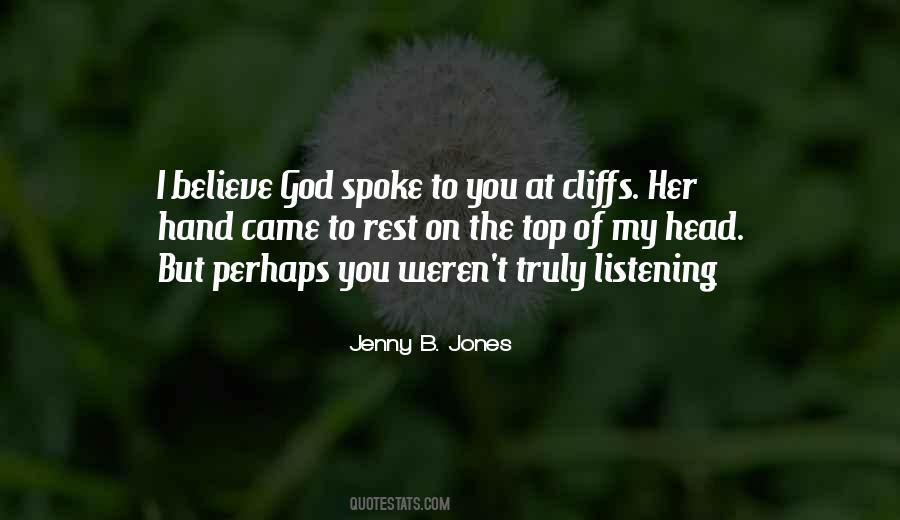 #84. Always receive with equal contentment from God's hand either consolations or sufferings, peace or distress, health or illness. Ask nothing, refuse nothing, but always be ready to do and to suffer anything that comes from His Providence. - Author: Teresa Margaret Of The Sacred Heart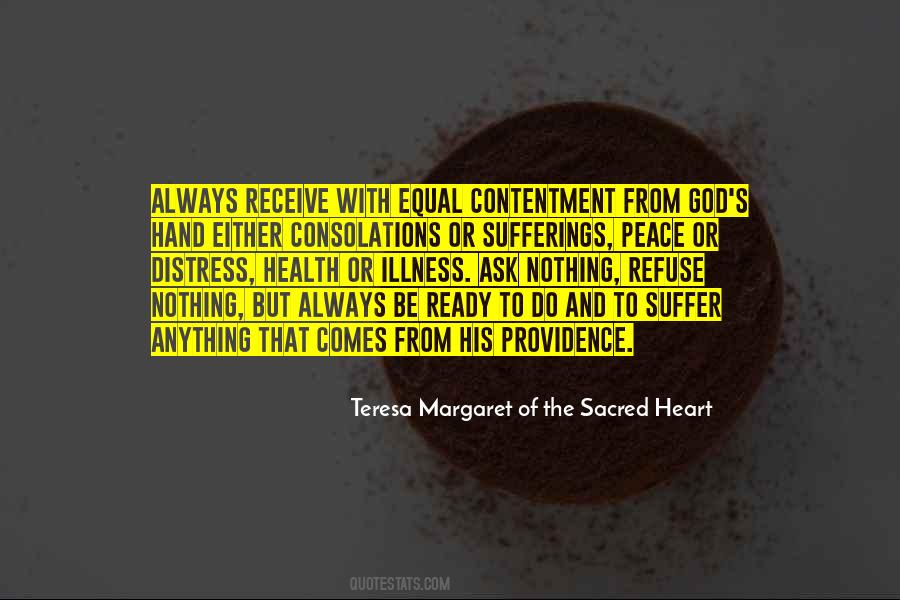 #85. Eight people show up. The emcee is warm, friendly, and about as funny as Shoah. I take the stage to the sound of, my hand to God, one person clapping once and only once, and then I start into my act. - Author: Patton Oswalt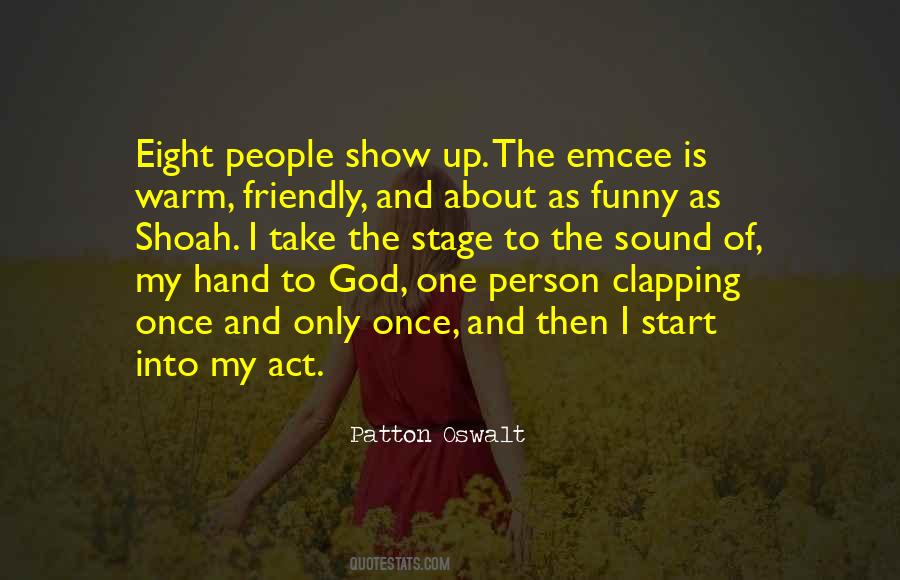 #86. Behold , I have graven you upon the palm of my hand, that is what Jesus came on earth to do: to proclaim, to give us the Good News that God loves us, that we are precious to Him. - Author: Mother Teresa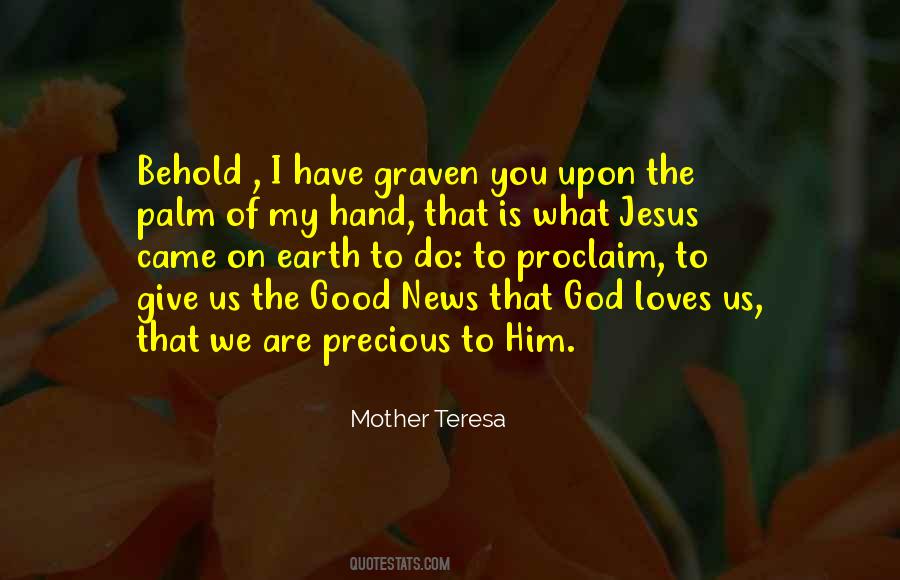 #87. I could not help but see the hand of the balancer in all of this. Could hatred and determination be a counterweight to organization and experience? I suddenly understood something about the old god of death and why he was also the god of balances. - Author: Robin Hobb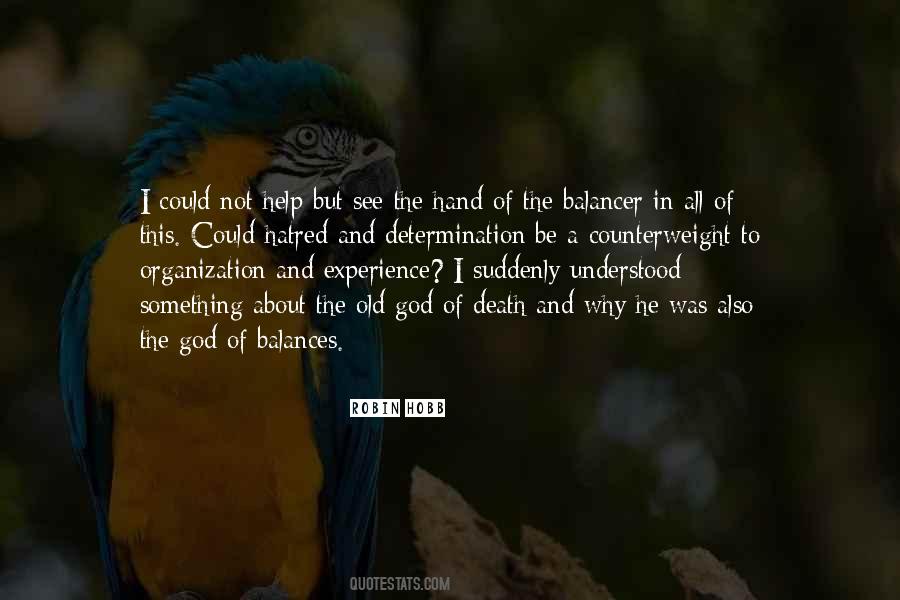 #88. May the strength of God pilot us, may the wisdom of God instruct us, may the hand of God protect us, may the word of God direct us. Be always ours this day and for evermore. - Author: Saint Patrick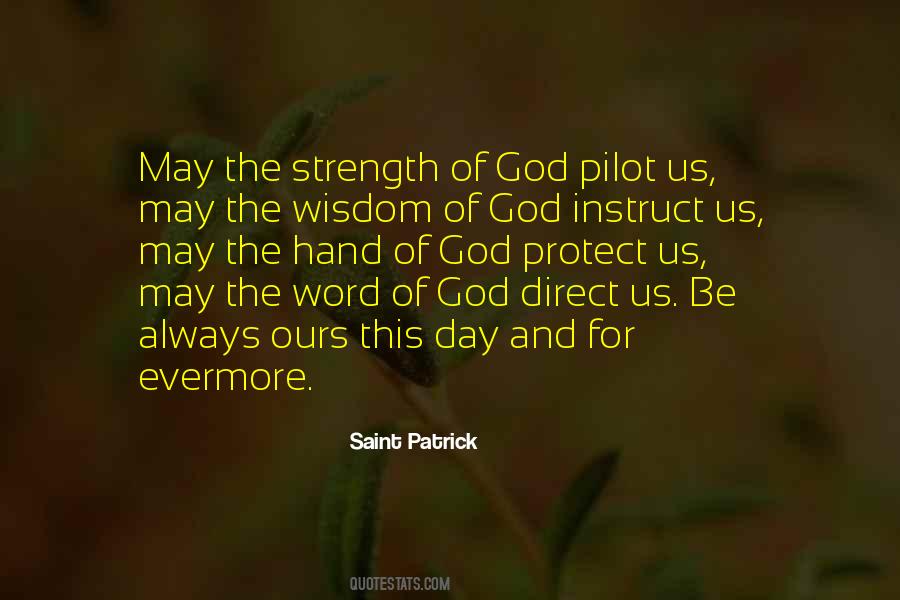 #89. The impulse to pursue God originates with God, but the outworking of that impulse is our following hard after Him; and all the time we are pursuing Him we are already in His hand: Thy right hand has upheld me. - Author: A.W. Tozer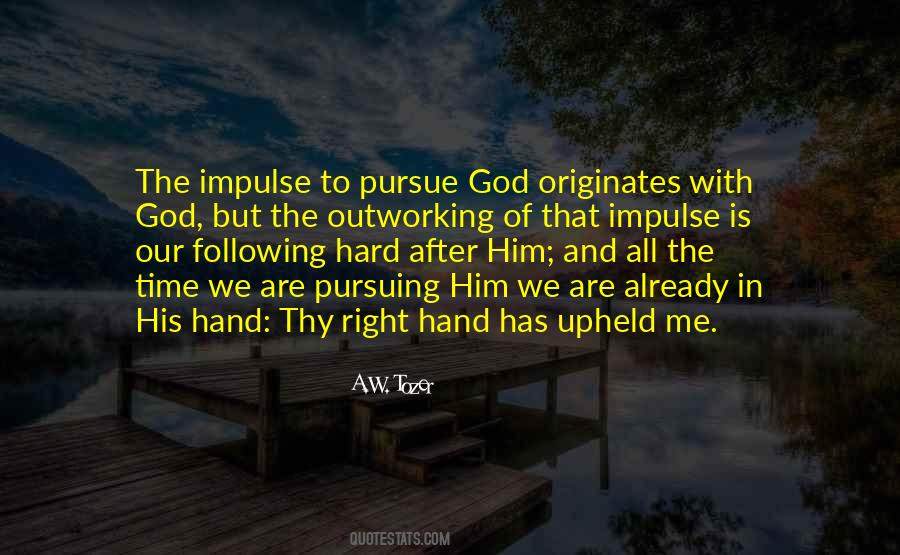 #90. Dreams are tawdry when compared with the leading of God, and not worthy of the aura of wonder we usually surround them with. God only doeth wonders. He does nothing else. His hand can work nothing less. - Author: Jim Elliot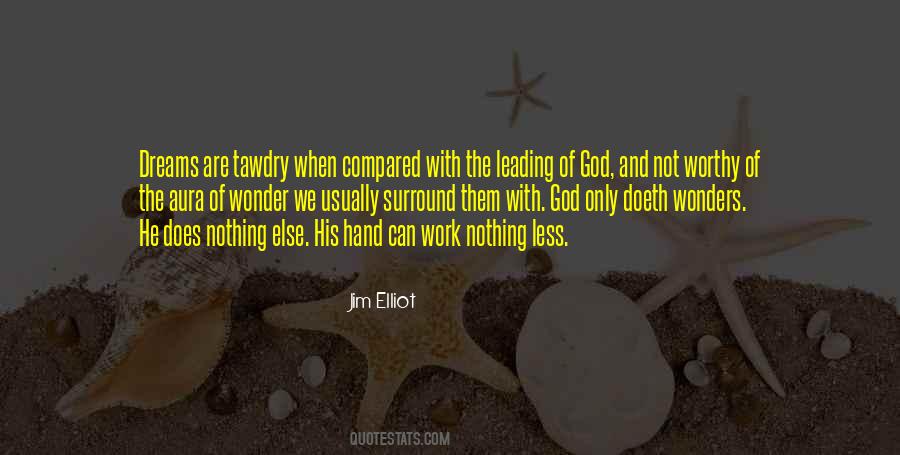 #91. south, moving slowly. It looked something like a huge blue-gray shower curtain being drawn along by the hand of God. You could just barely see through it, enough to make - Author: Barbara Kingsolver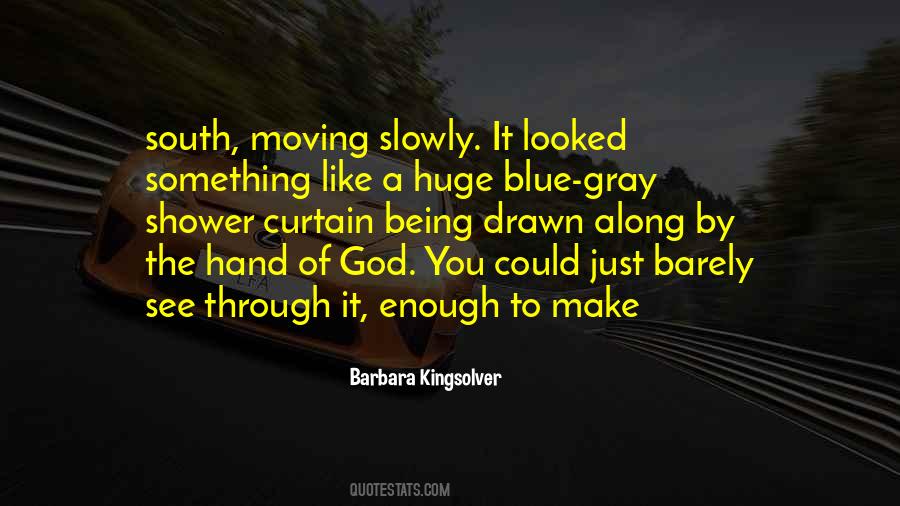 #92. If at any time, then we are troubled at the small number of those who believe, let us, on the other hand, call to mind, that none comprehend the mysteries of God save those to whom it is given. - Author: John Calvin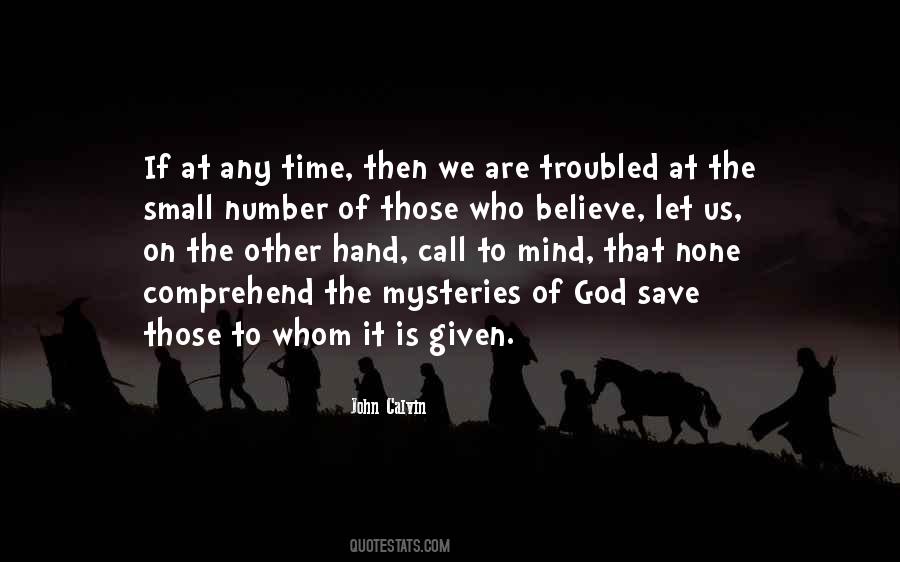 #93. Comfort and familiarity are not what God points us toward. Jesus isn't in the business of flying to and fro for the rest of our lives, hand-delivering spiritual baby food to us. - Author: Louie Giglio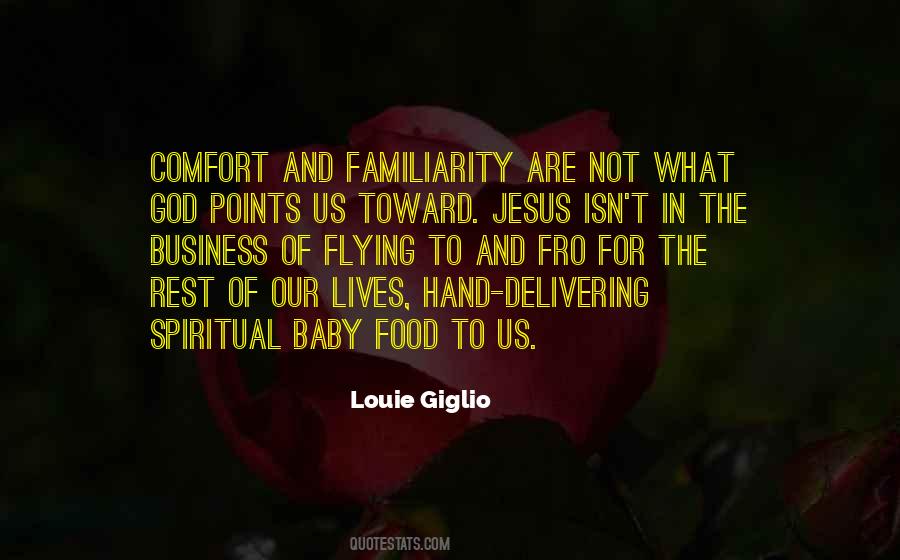 #94. A tyrant must put on the appearance of uncommon devotion to religion. Subjects are less apprehensive of illegal treatment from a ruler whom they consider god-fearing and pious. On the other hand, they do less easily move against him, believing that he has the gods on his side. - Author: Aristotle.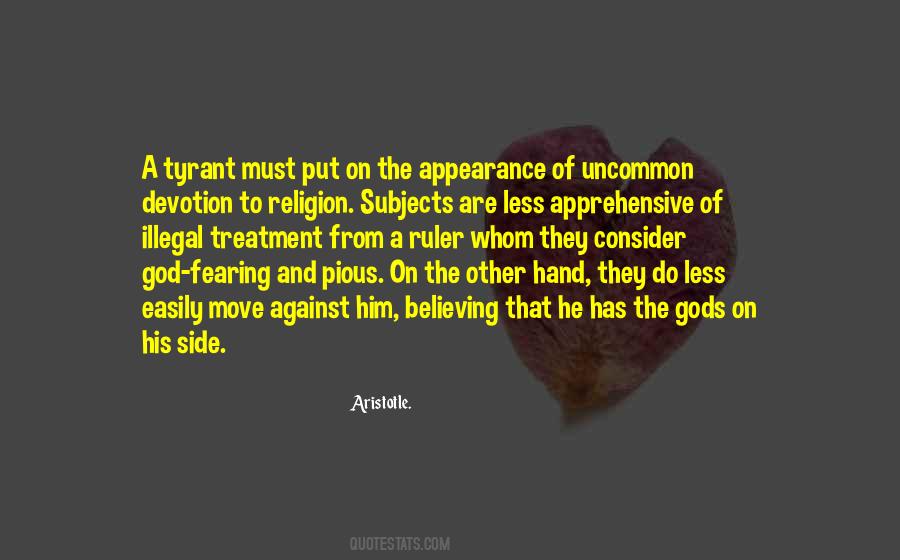 #95. The real issue at hand is how God is going to respond to a culture when the majority of the people seek to veto Him. - Author: Tony Evans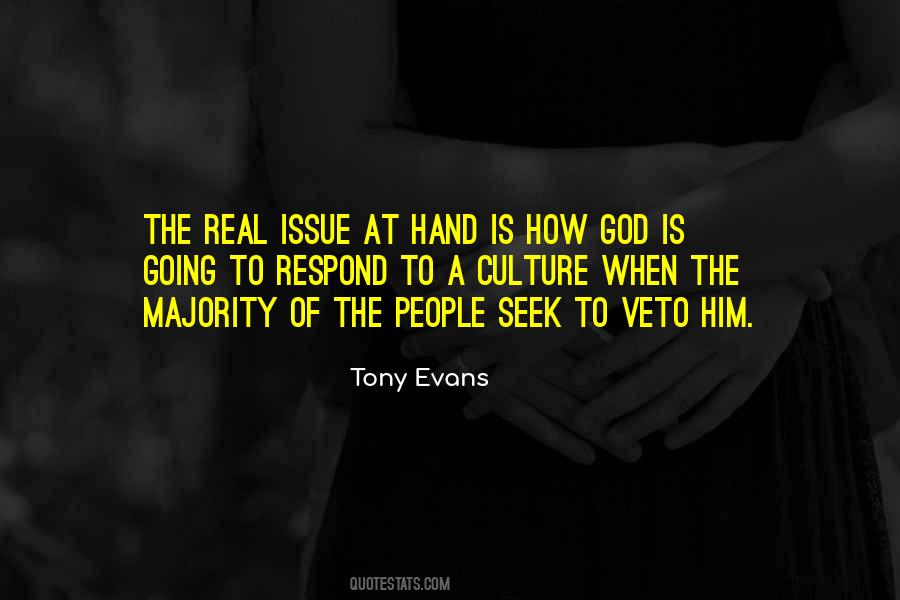 #96. God, it stinks," I said, hand over my nose as he pulled me into a long step. Al strode forward, head high. "It's the stench of bureaucracy, my itchy-witch, and why I chose to go into human resources when but a wee lad. - Author: Kim Harrison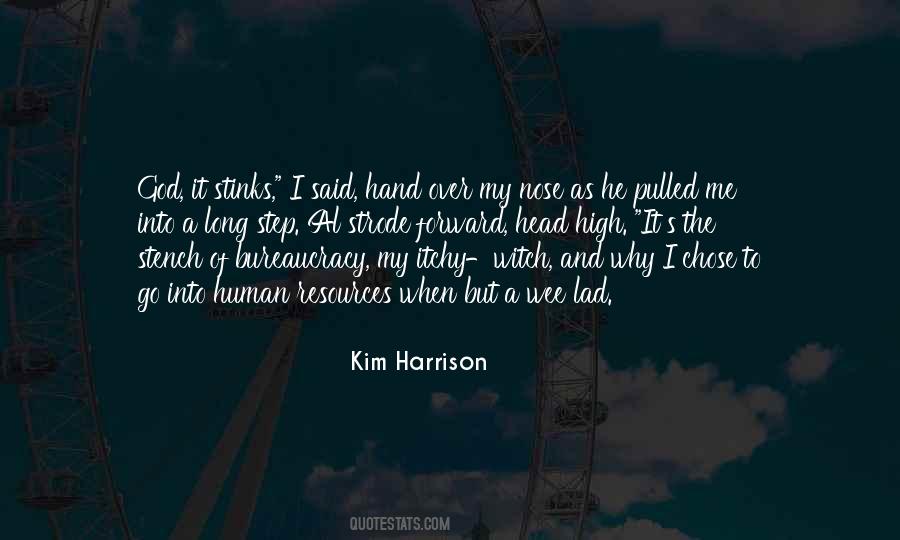 #97. In uniting yourself to God's will, you take on new life and gather great courage, willingly embracing the cross and kissing His hand even when it chastises you, a hand that reaches out to you in love and has no other intention but your greater spiritual well-being. - Author: Paul Of The Cross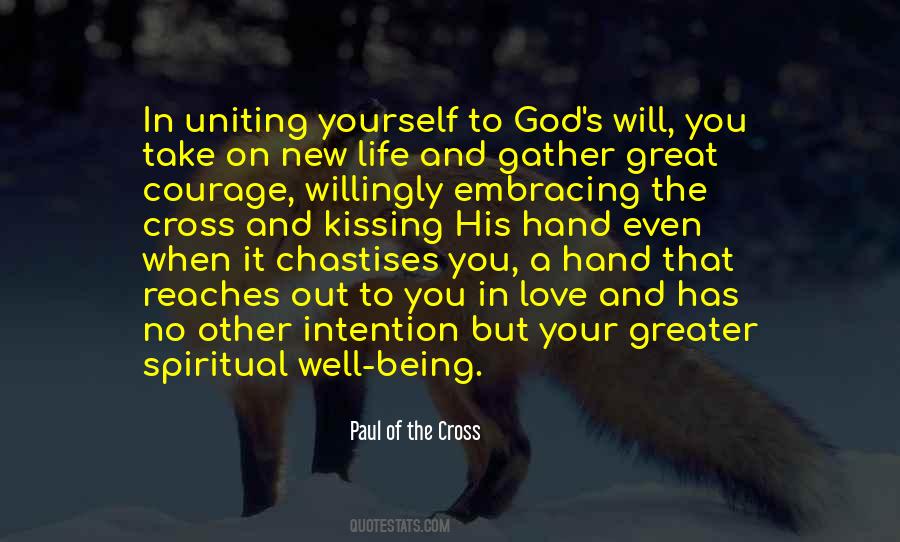 #98. Smoke and dust hanging over the city like the hand of an angry God - Author: Ron Veness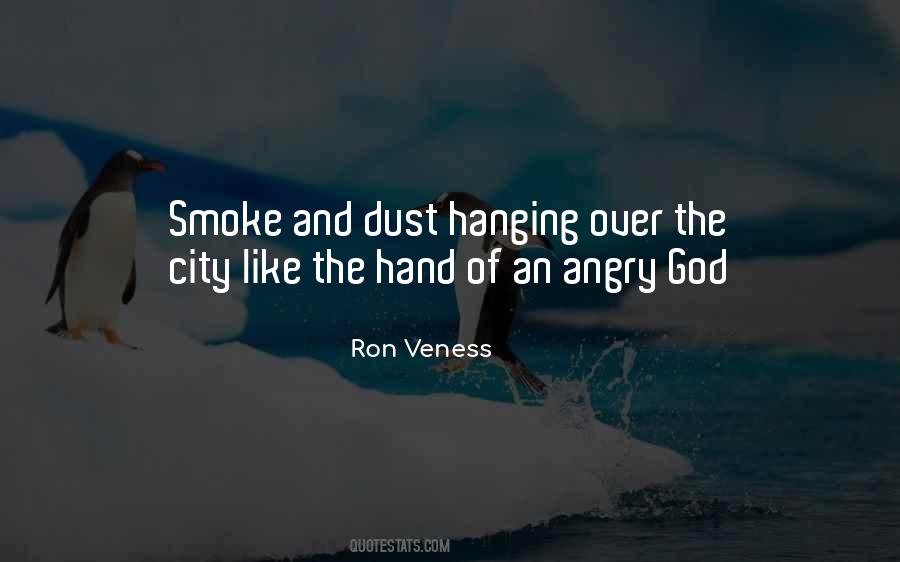 #99. Pride lives on the defensive against anyone and anything that tries to subtract from its self-sustained worth. Confidence, on the other hand, is driven by the certainty of God-given identity and the conviction that nothing can take that identity away. - Author: Beth Moore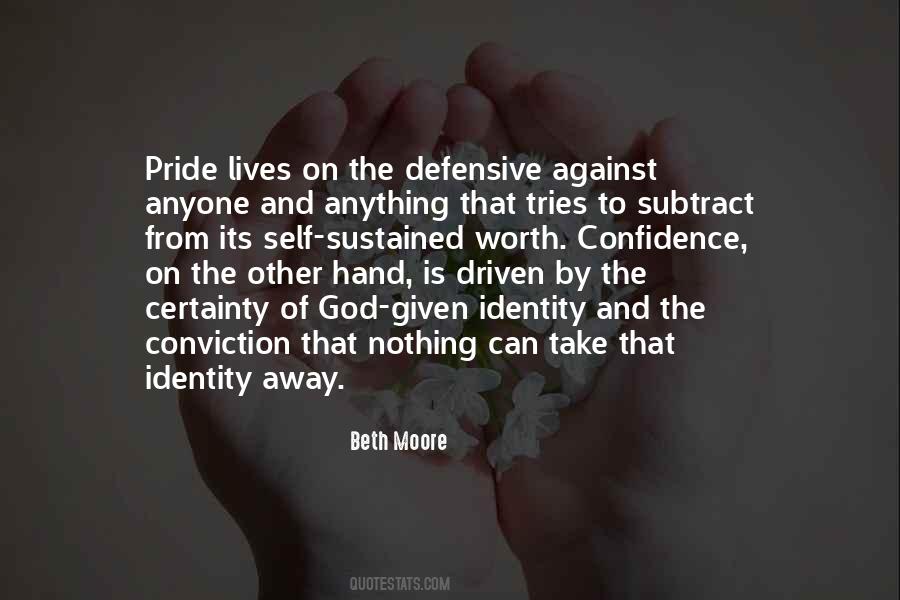 #100. Hope is willing to leave unanswered questions unanswered and unknown futures unknown. Hope makes you see God's guiding hand not only in the gentle and pleasant moments but also in the shadows of disappointment and darkness. - Author: Henri Nouwen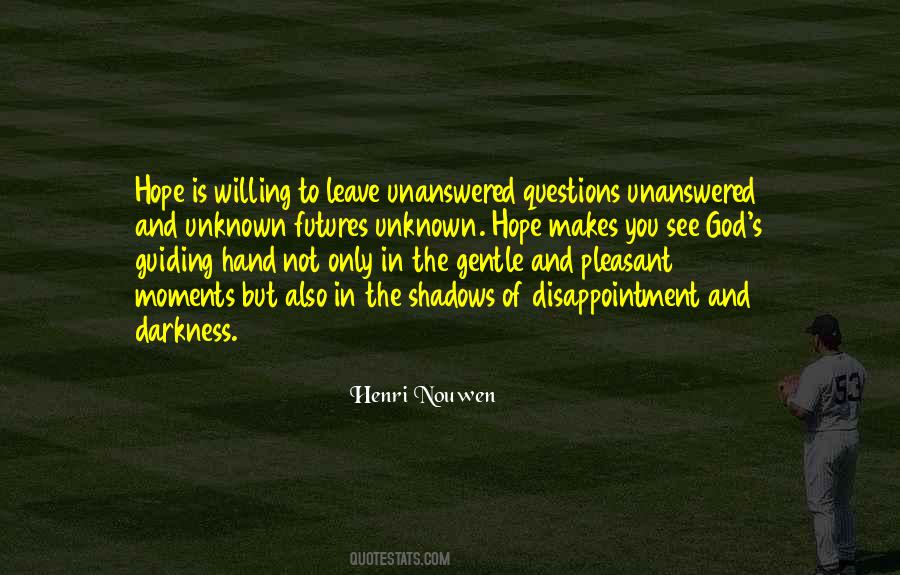 Famous Authors
Popular Topics