Grace Of Jesus Famous Quotes & Sayings
List of top 100 famous quotes and sayings about grace of jesus to read and share with friends on your Facebook, Twitter, blogs.
Top 100 Grace Of Jesus Quotes
#1. Don't let anyone charge you for what God has freely given. - Author: Paul Ellis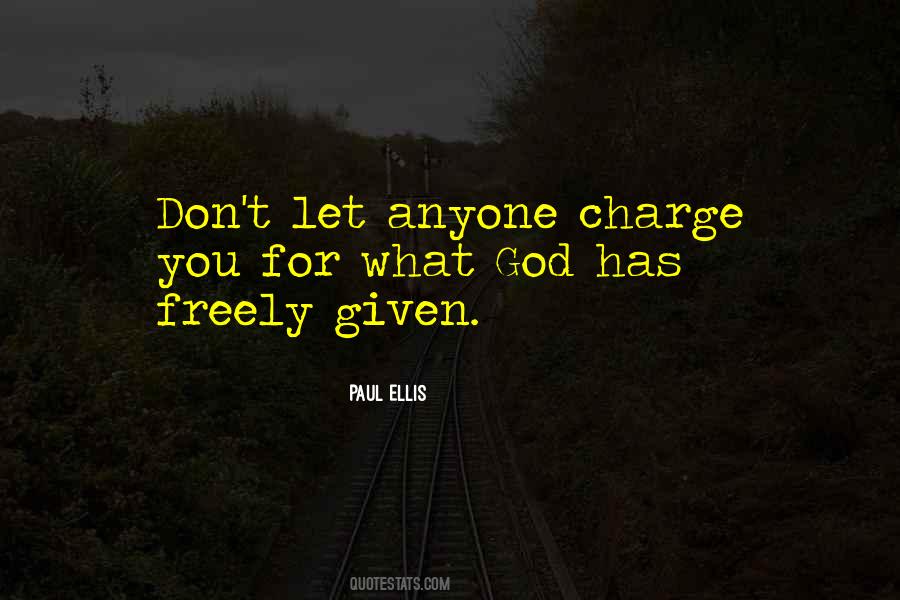 #2. The burden of sin leads you to the need of a savior - Author: John Paul Warren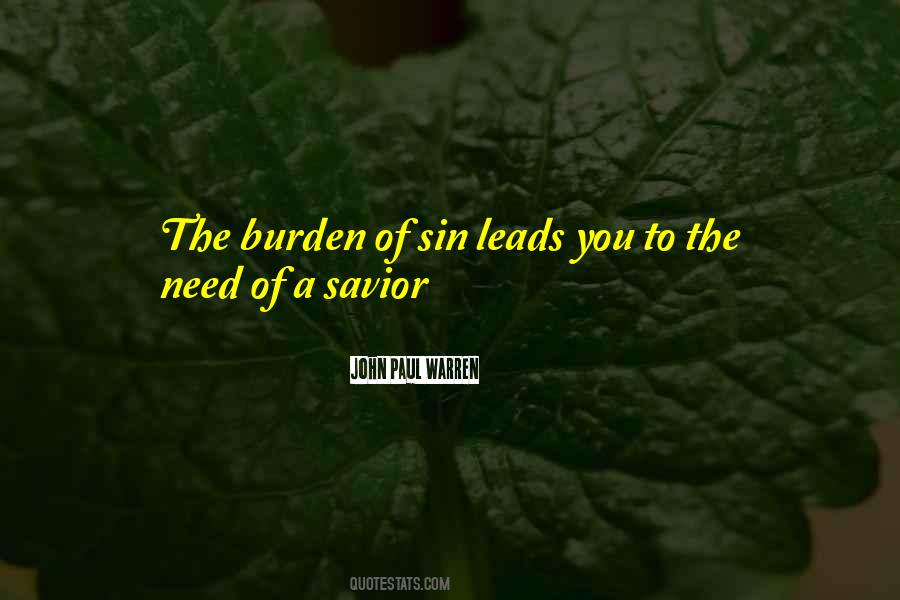 #3. When men see how relevant the ten commandments are for economics, they should gain new respect for the importance of the laws of God for all of life, but especially for the life of dominion man, the man redeemed by grace through faith in the one true Dominion Man, Jesus Christ. - Author: Gary North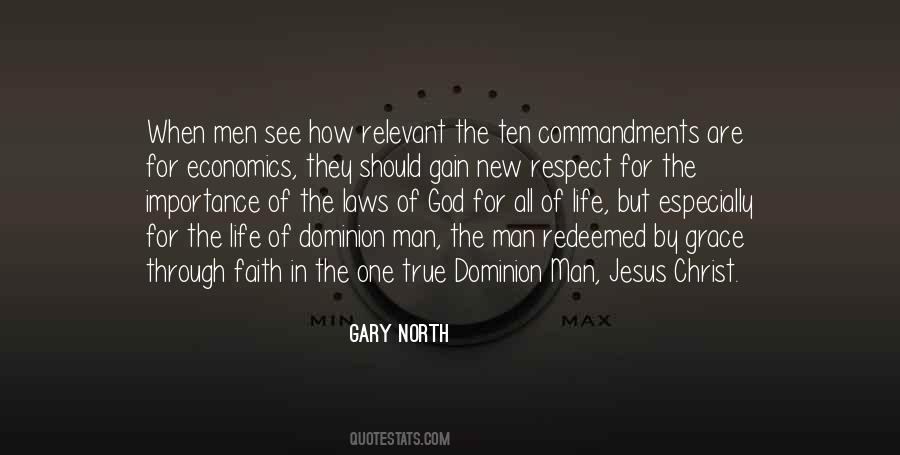 #4. No one of you is insignificant, in part because you make the gospel of Jesus Christ what it is - a living reminder of His grace and mercy, a private but powerful manifestation in small villages and large cities of the good He did and the life He gave bringing peace and salvation to other people. - Author: Jeffrey R. Holland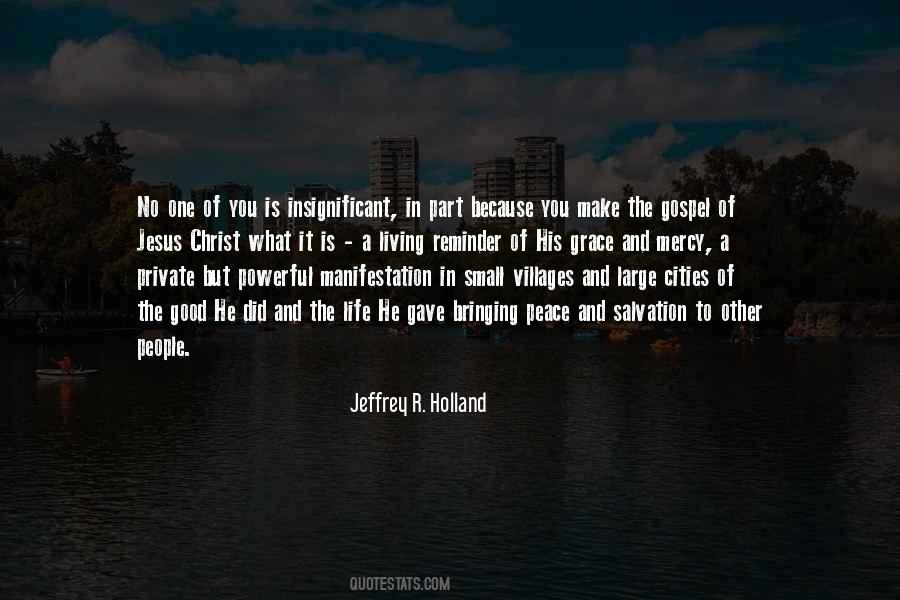 #5. The LAW points you to self-efforts. GRACE points you to the finished work of Jesus Christ. - Author: John Paul Warren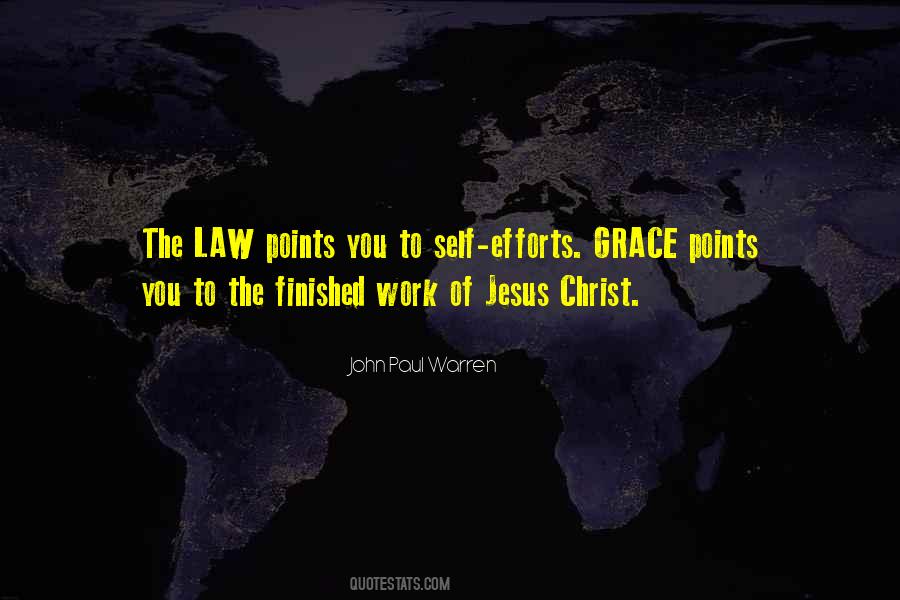 #6. Lord Jesus, we praise you for your victory over death and your grace. In our moments of doubt and worry, remind us of the certainty of the resurrection, until we see it with our own eyes. Amen. - Author: Northwestern Publishing House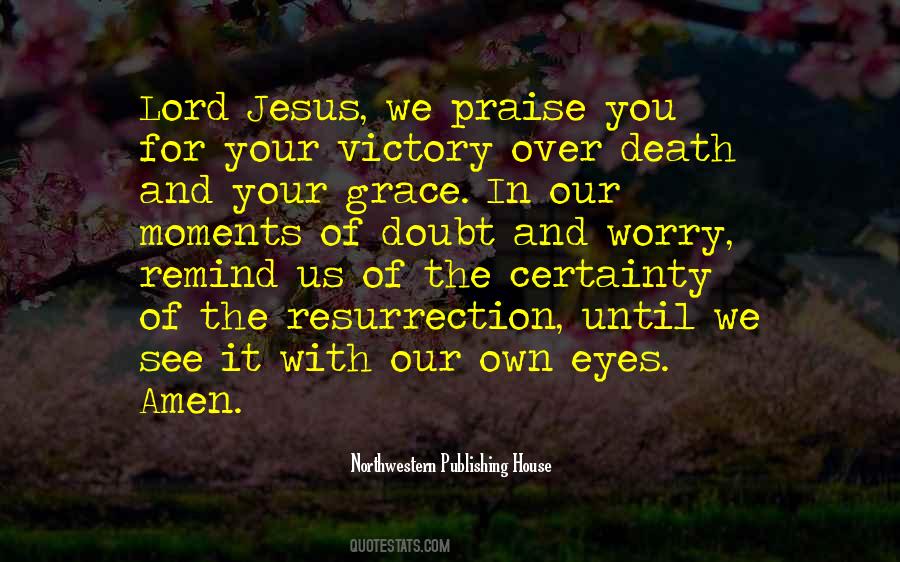 #7. I'll look to the cross
As my failure is lost
In the light of
Your glorious grace - Author: Hillsong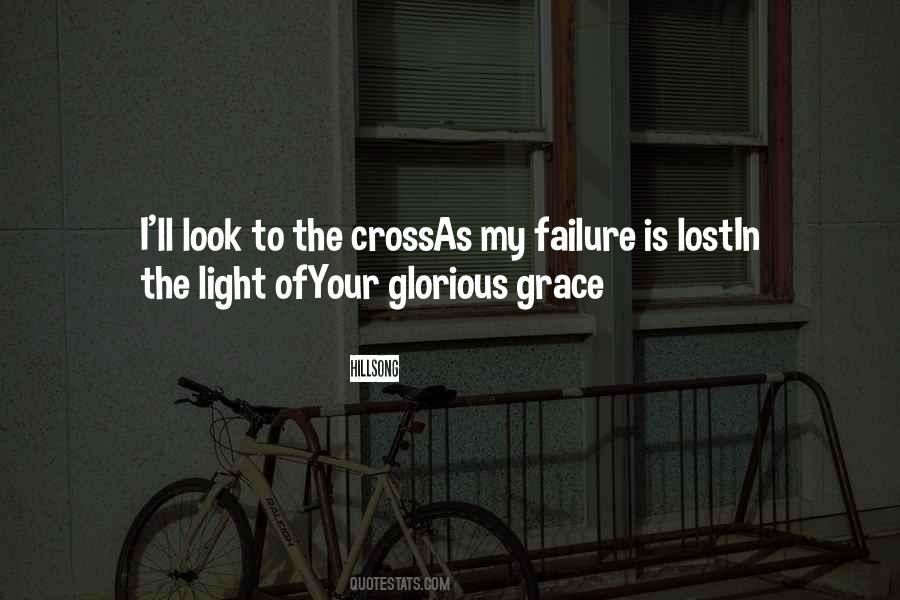 #8. I want to move past my own unkindness with love, and know the reckless love of Jesus, and extend that love - that unconditional, always-believing-the-best, full-of-forgiveness-and-grace love. - Author: Kara Tippetts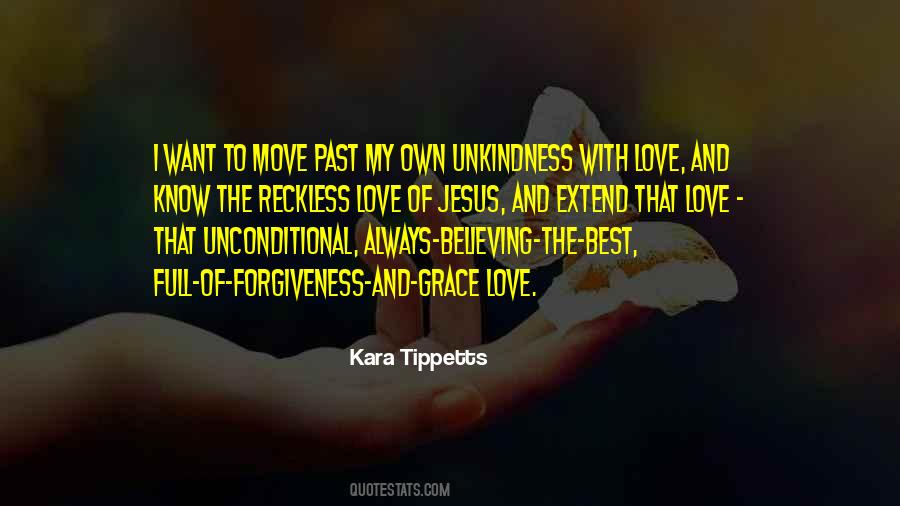 #9. I will go as far as Martin Luther, where he says, 'If any man ascribes anything of salvation, even the very least thing, to the free will of man, he knows nothing of grace, and he has not learned Jesus Christ rightly.' - Author: Charles Spurgeon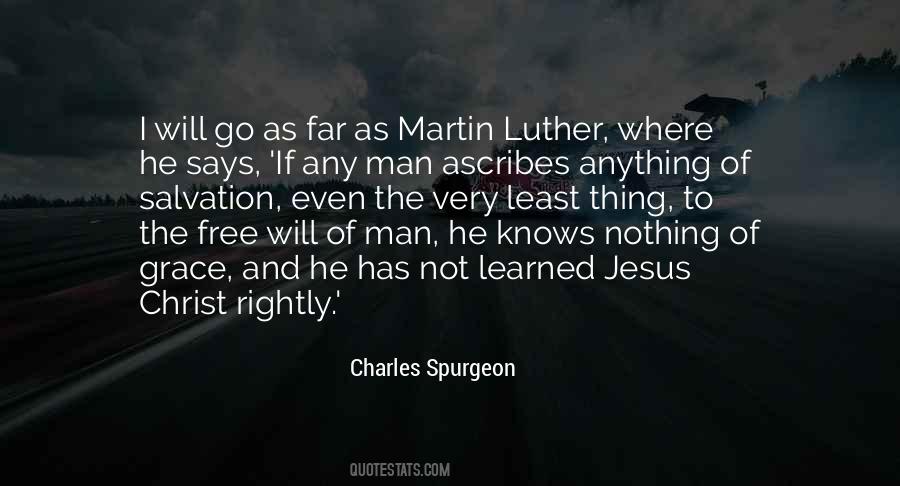 #10. Ah! How contrary are the teachings of Jesus to the feelings of nature! Without the help of His grace it would be impossible not only to put them into practice, but to even understand them. - Author: Therese De Lisieux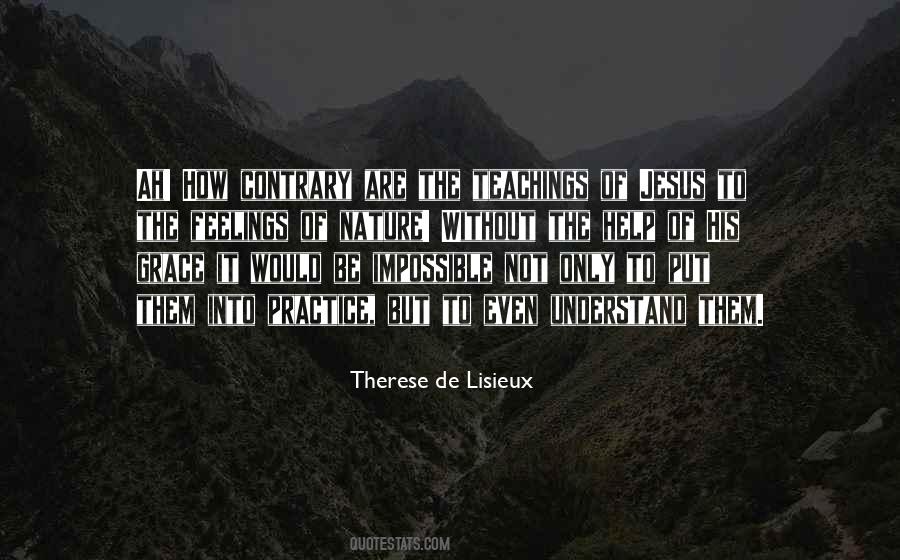 #11. ROM16.20 And the God of peace shall bruise Satan under your feet shortly. The grace of our Lord Jesus Christ be with you. Amen. - Author: Anonymous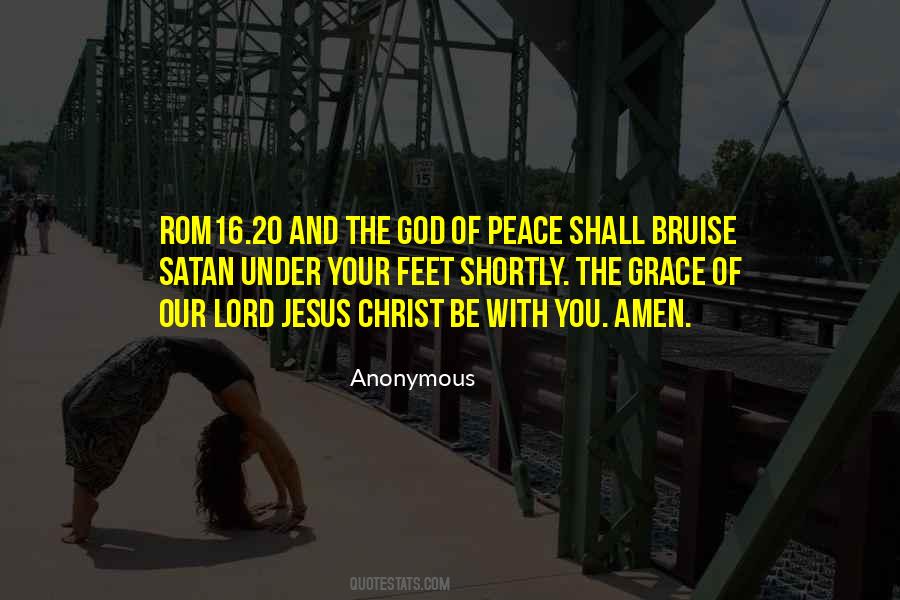 #12. I win not because of my own efforts or my own goodness, but rather through the grace, love, and mercy of my Lord and Savior, Jesus Christ. He died so that I might win this game of life and live with Him forever. - Author: Zig Ziglar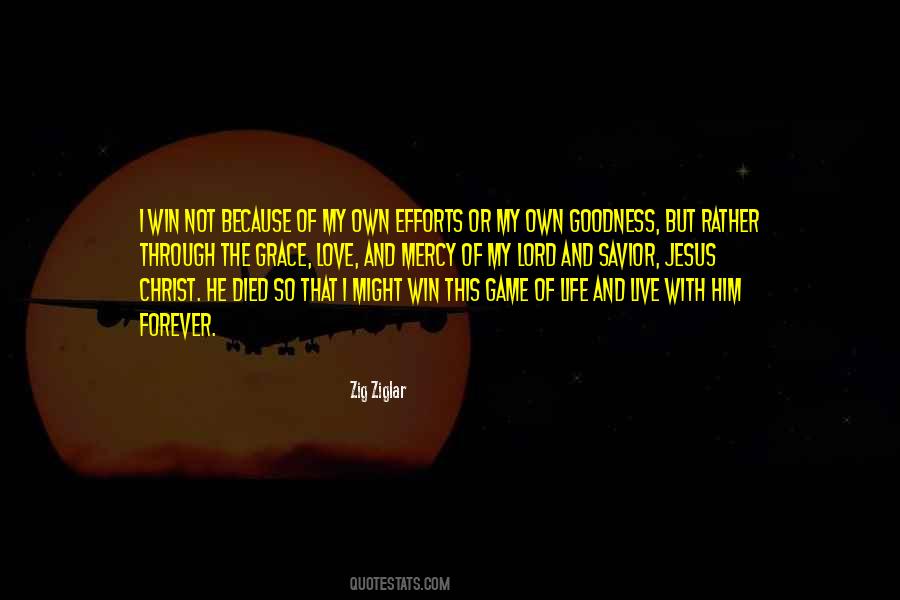 #13. We're so worried about the legal details of crossing doctrinal t's and dotting sociopolitical i's that we miss the big picture. The love picture. The one thing Jesus was really clear about: LOVE. If we could just get that one thing down, I believe the details would take care of themselves. - Author: Cathleen Falsani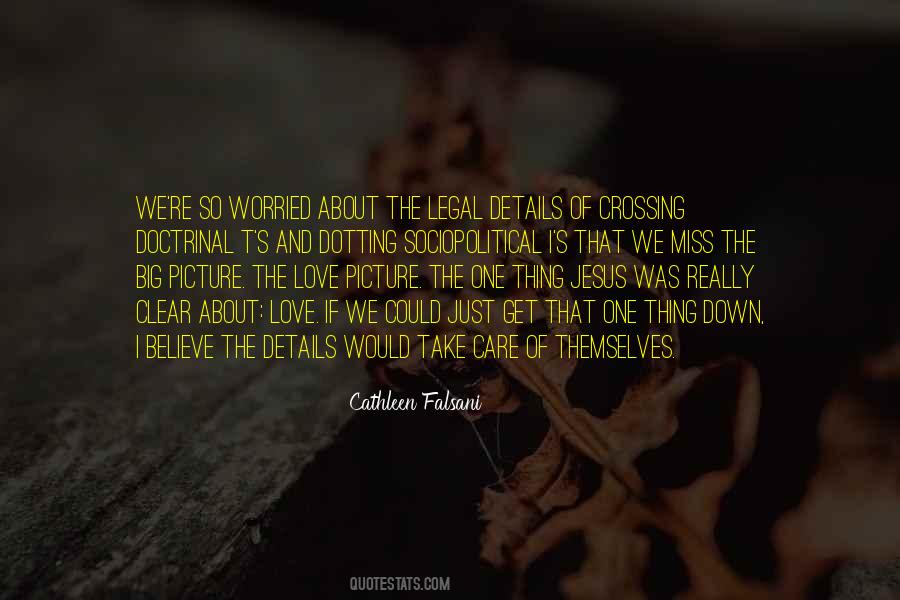 #14. Lord Jesus, I pray thee, grant me grace, that I may never set my heart on the things of this, but that all worldly and carnal affections may utterly die and be mortified in me. Grant me above all things that I may rest in thee, and finally quiet and pacify my heart in thee. - Author: Catherine Parr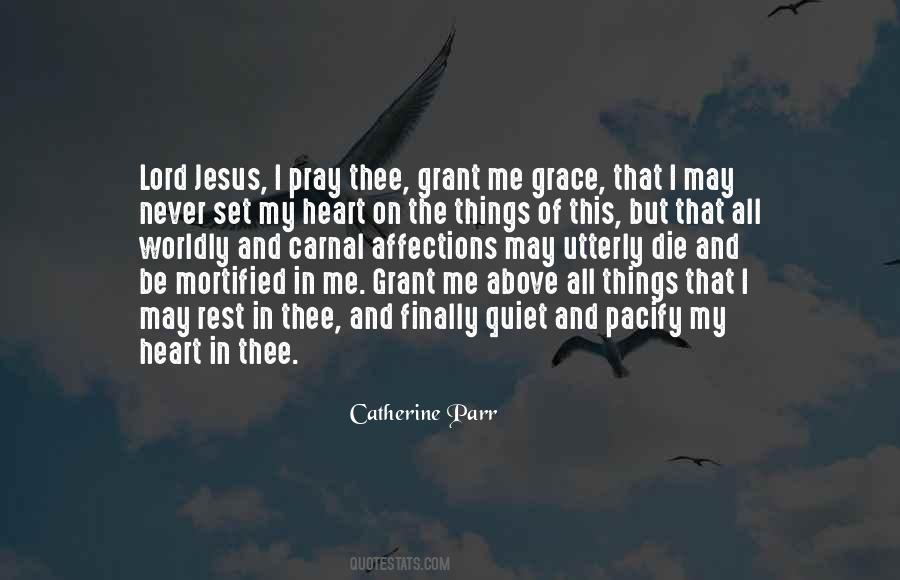 #15. When you look in the eyes of grace, when you meet grace, when you embrace grace, when you see the nail prints in grace's hands and the fire in his eyes, when you feel his relentless love for you - it will not motivate you to sin. It will motivate you to righteousness. - Author: Judah Smith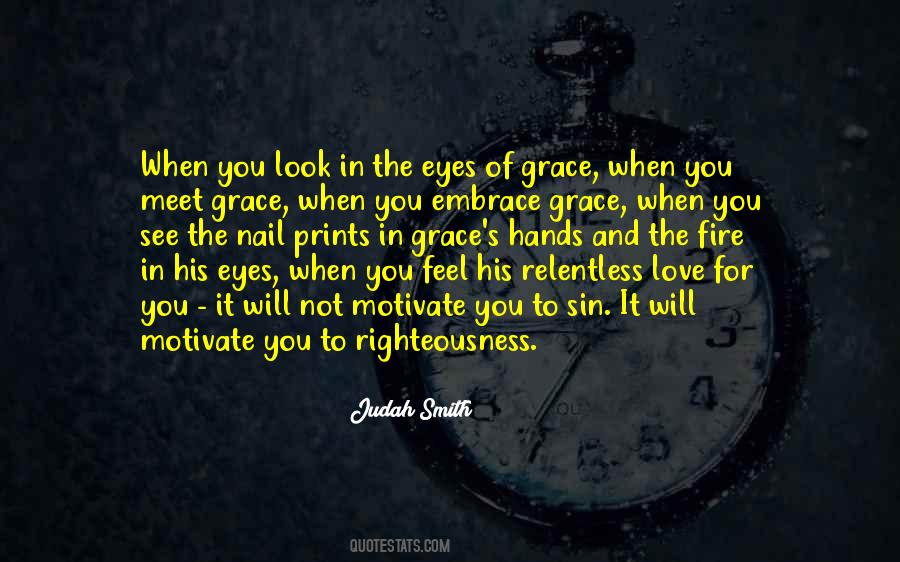 #16. Lord make me happy enough in the grace of Jesus to avoid being proud, cold, scared, and hooked. - Author: Timothy Keller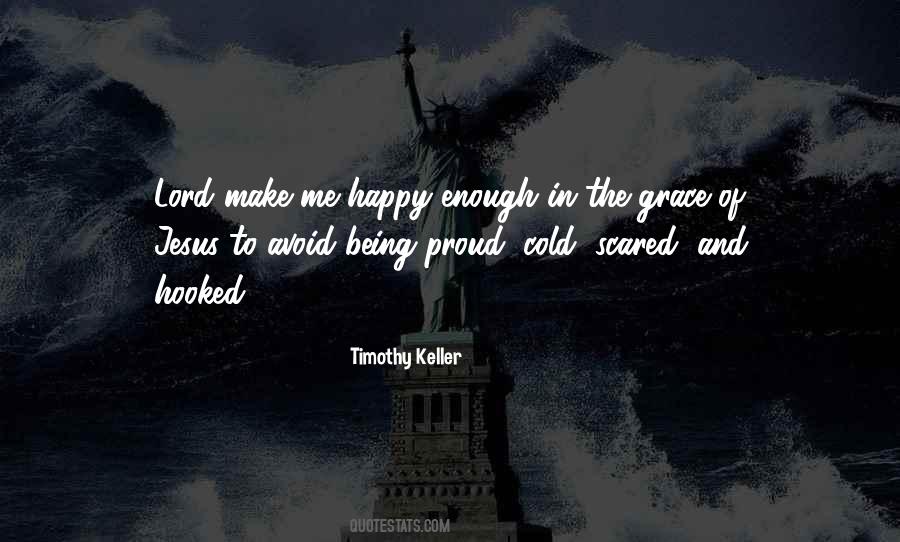 #17. 4 For He chose us in Him, before the foundation of the world, to be holy and blameless in His sight. In love 5 He predestined us to be adopted through Jesus Christ for Himself, according to His favor and will, 6 to the praise of His glorious grace that He favored us with in the Beloved. - Author: Anonymous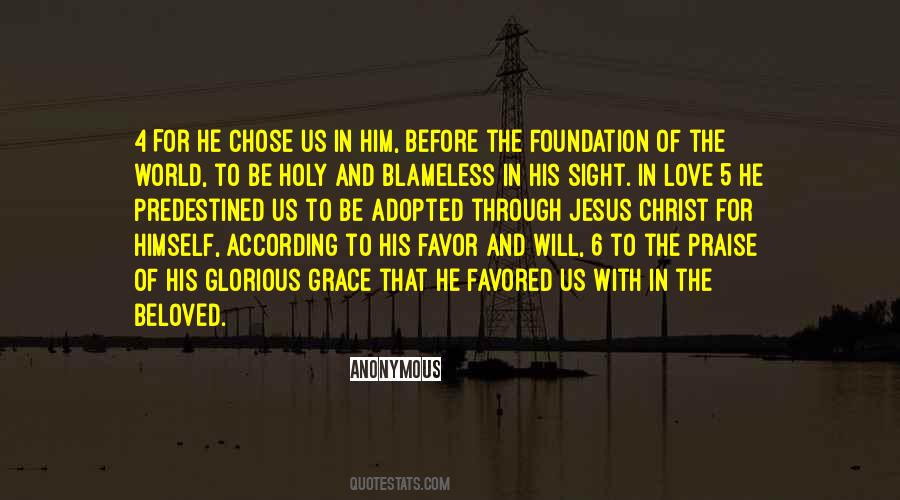 #18. There is in Jesus Christ more merit and righteousness than the whole world has need of. - Author: John Bunyan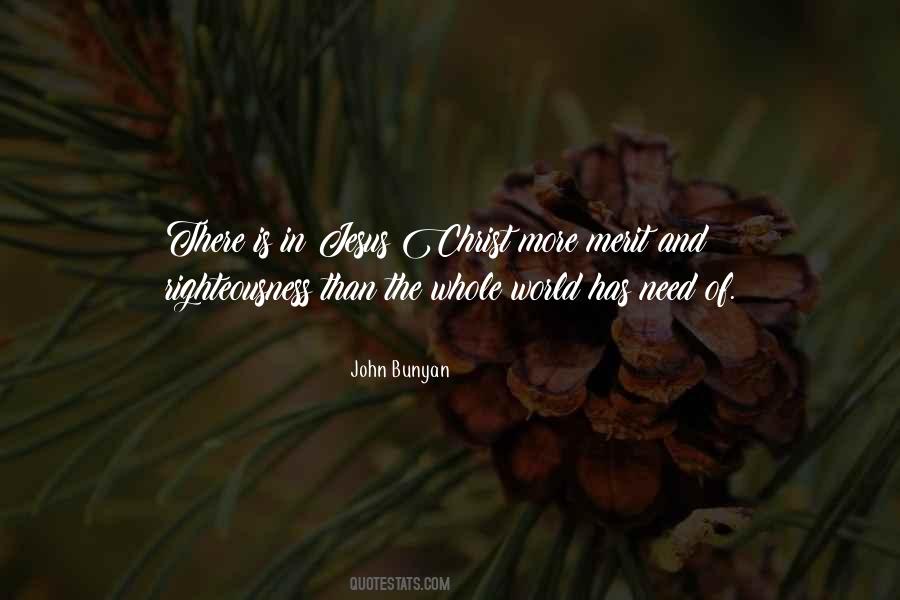 #19. To live by grace is to live solely by the merit of Jesus Christ. To live by grace is to base my entire relationship with God, including my acceptance and standing with Him, on my union with Christ. - Author: Jerry Bridges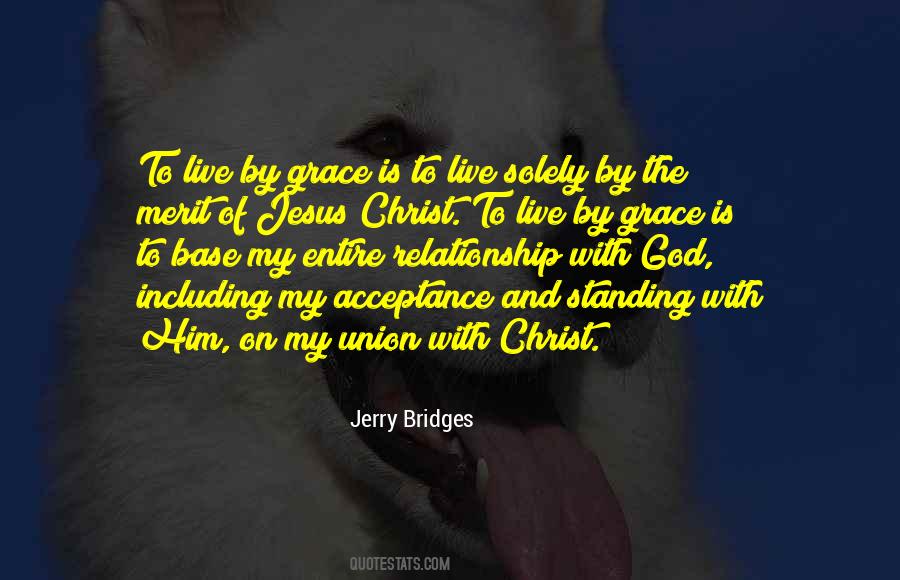 #20. We obey God not because we are afraid of what He will do to us if we do not. Rather, we obey Him because we are moved by all that He has done for us in Jesus Christ. He has lovingly elected us and sprinkled us with the sin-forgiving, grace-abounding blood of Jesus. - Author: Anthony J. Carter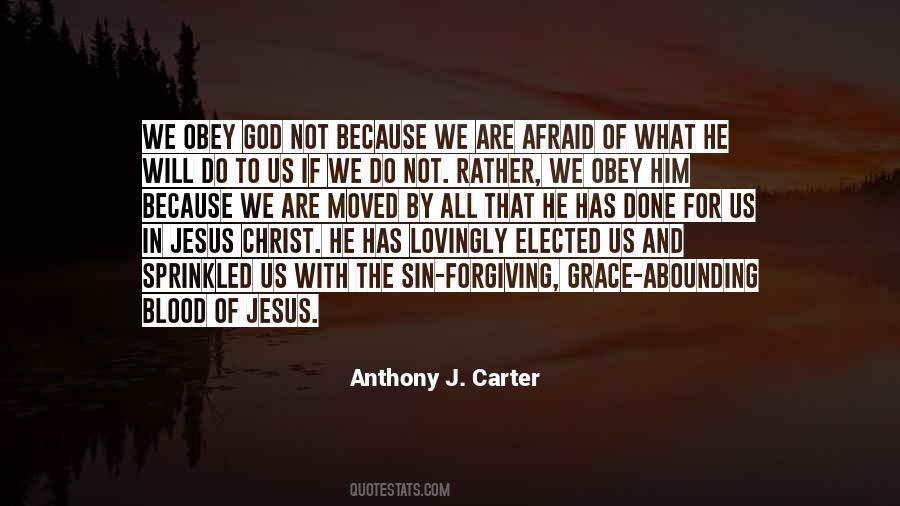 #21. Jesus is the light of the world. His light shines through all darkness. His love heals all hatred. His grace and mercy forgives all sins. The anointing of his blood heals the sick and the lame. His guarding angels will forever protect you and his word will forever guide you. - Author: Colishia S. Benjamin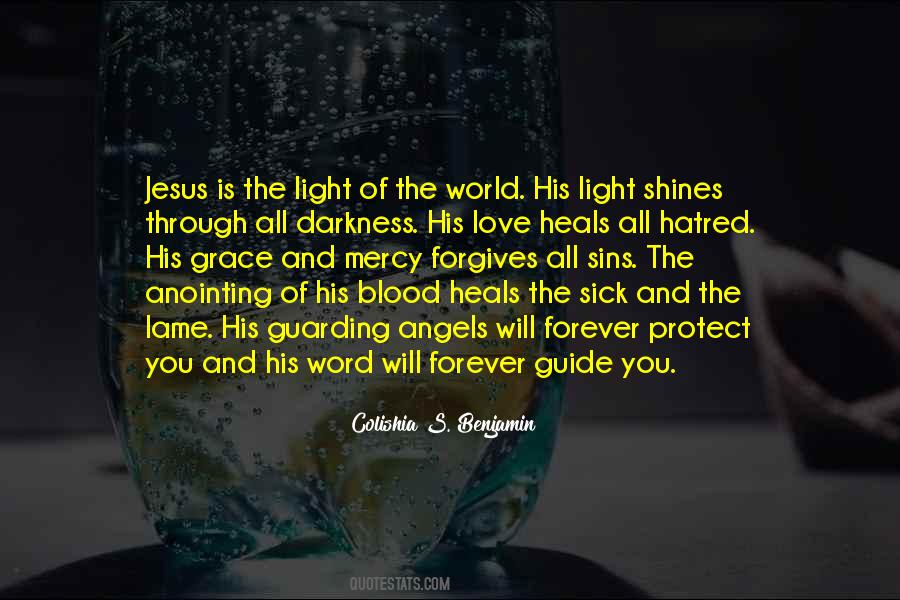 #22. But, while a man can be restrained by strict law and order, he cannot be changed by law; he cannot be saved by law. Man can only be saved by the grace of God through Jesus Christ. - Author: Rousas John Rushdoony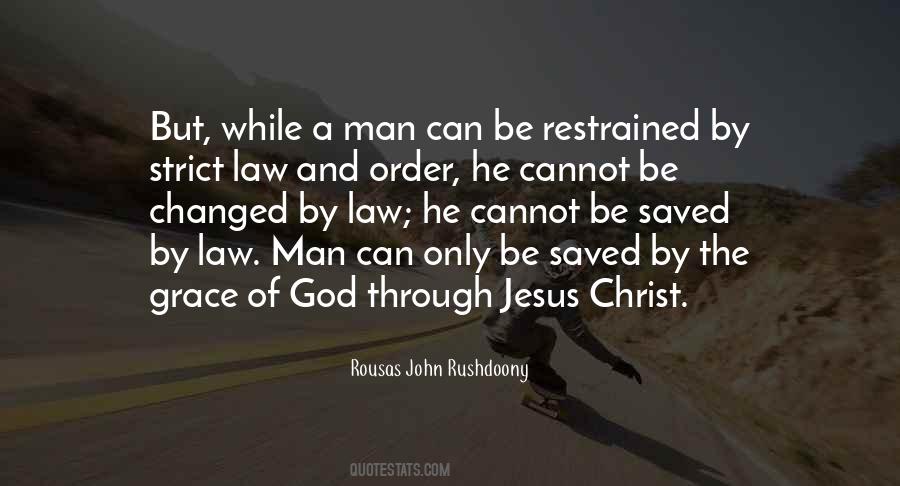 #23. Remember, when you're sinned against its tempting to respond sinfully. Don't give in, talk to your heart and seek the grace of Jesus. - Author: Paul David Tripp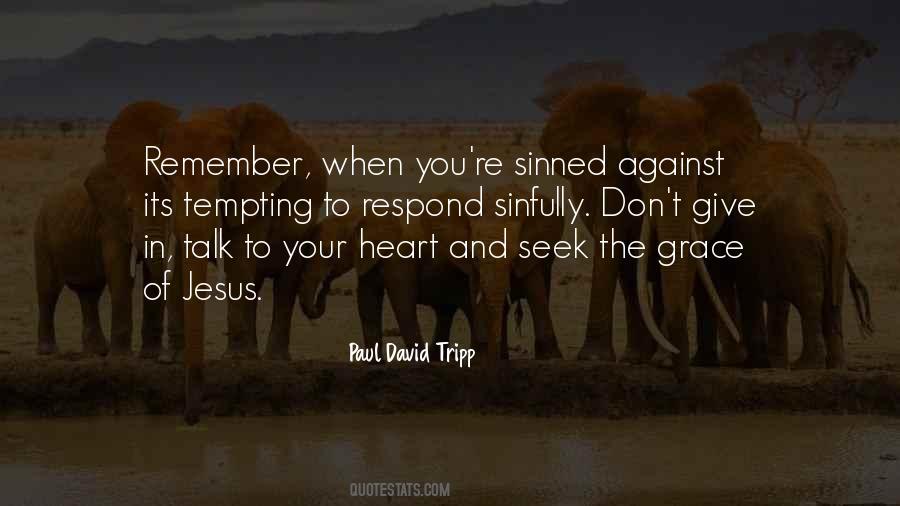 #24. People who've been hit with the gospel respond naturally with radically changed lives and hearts. The church and the ministries of the church are gospel centered when they flow from hearts that are afire with wonder at the glory and grace of God, revealed in the person of Jesus. - Author: Daniel Montgomery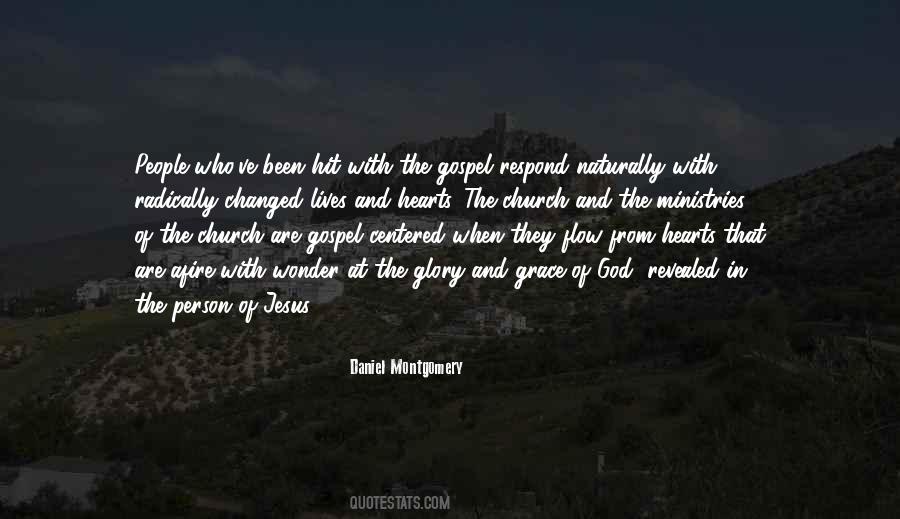 #25. A Jesus girl who rises up and unexpectedly gives grace when she surely could have done otherwise reveals the power and the mystery of Christ at work - in her life and in the world. - Author: Lysa TerKeurst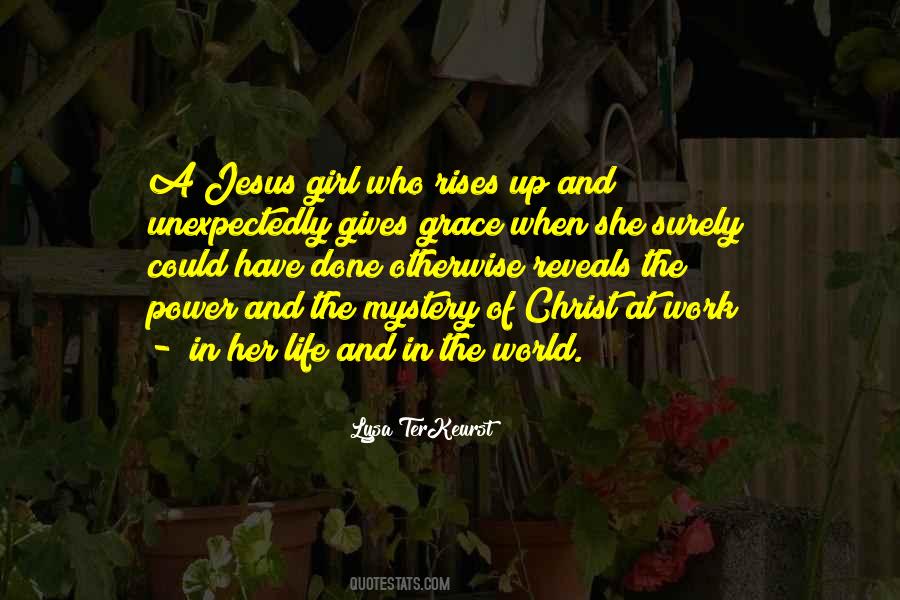 #26. Sacraments are like hoses. They are the channels of the living water of God's grace. Our faith is like opening the faucet. We can open it a lot, a little, or not at all. - Author: Peter Kreeft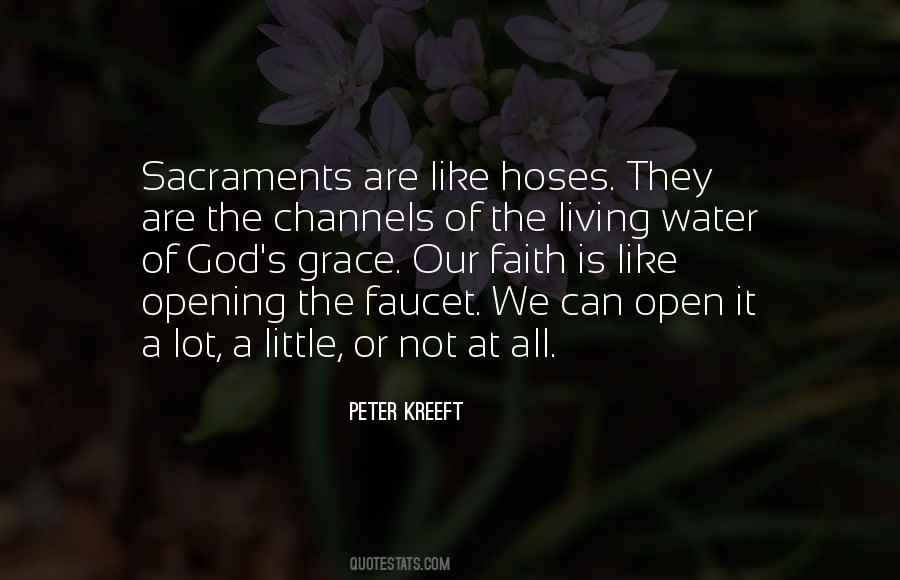 #27. Grace is not a theology. It is not a subject matter. It is not a doctrine. It is a person, and his name is Jesus. That's the reason the Lord wants you to receive the abundance of grace, for to have the abundance of grace is to have the abundance of Jesus. - Author: Joseph Prince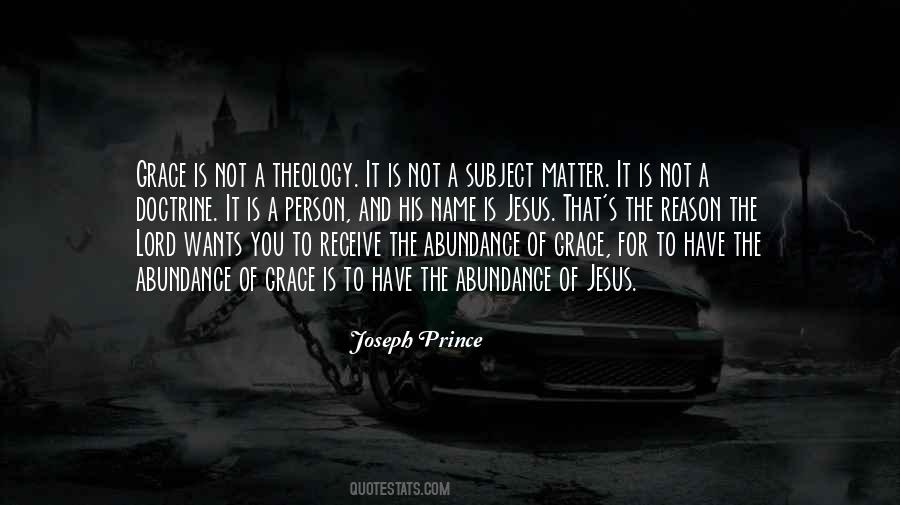 #28. In the midst of our failed attempts at loving Jesus, His grace covers us. - Author: Francis Chan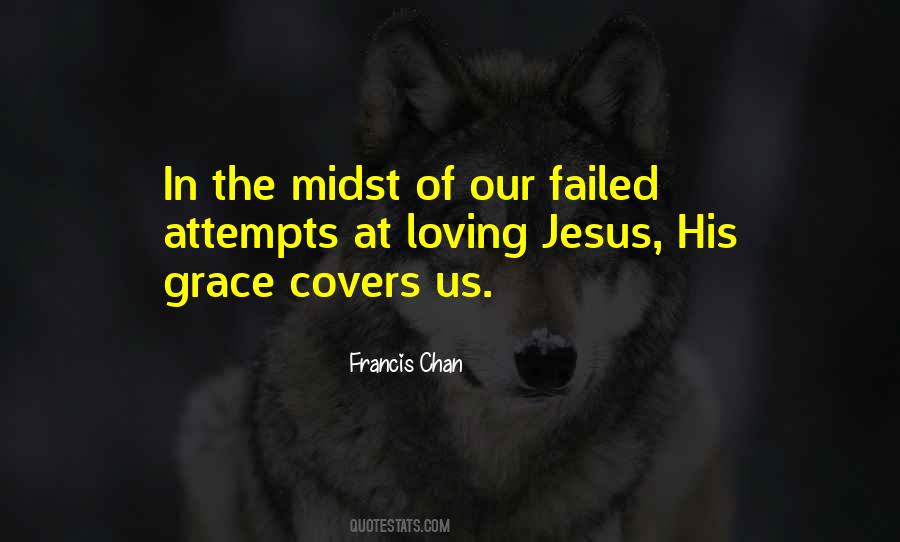 #29. It took six days from start to finish for the totality of Creation; but within three days He cut His schedule in half to save you. - Author: Johnnie Dent Jr.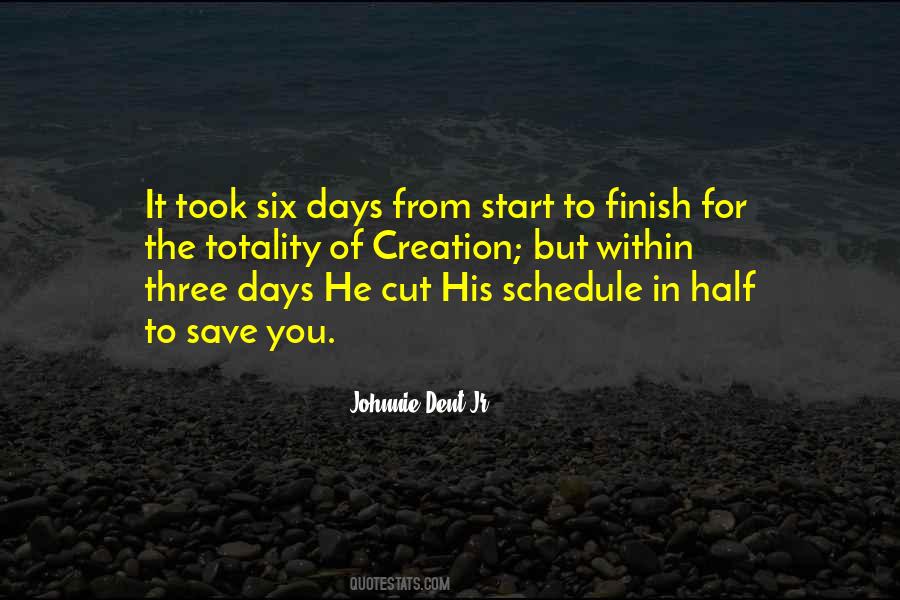 #30. No one celebrates the presence and grace of the Lord Jesus Christ more than the person who has embraced his desperate and daily need of it. - Author: Paul David Tripp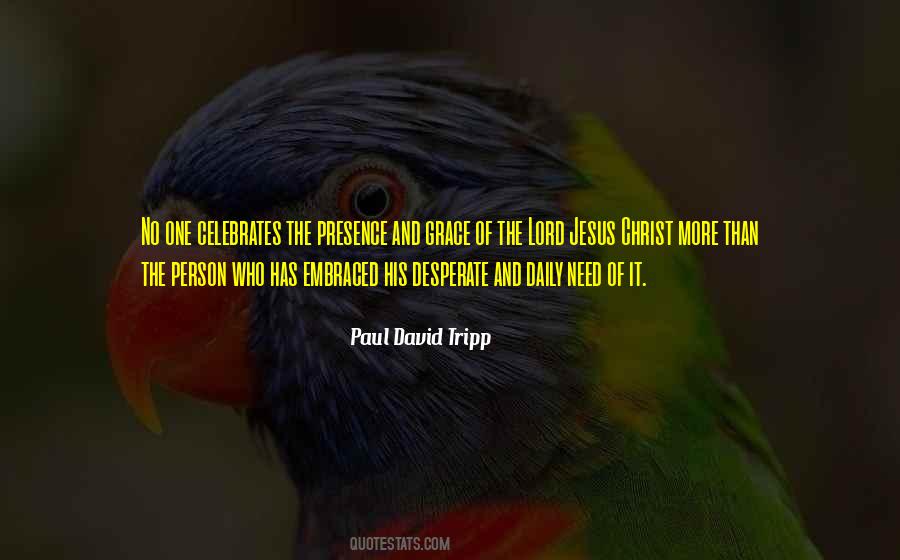 #31. Assured of your salvation by the unique grace of our Lord Jesus Christ is the heartbeat of the gospel, joyful liberation from fear of the Final Outcome, a summons to self-acceptance, and freedom for a life of compassion toward others. - Author: Brennan Manning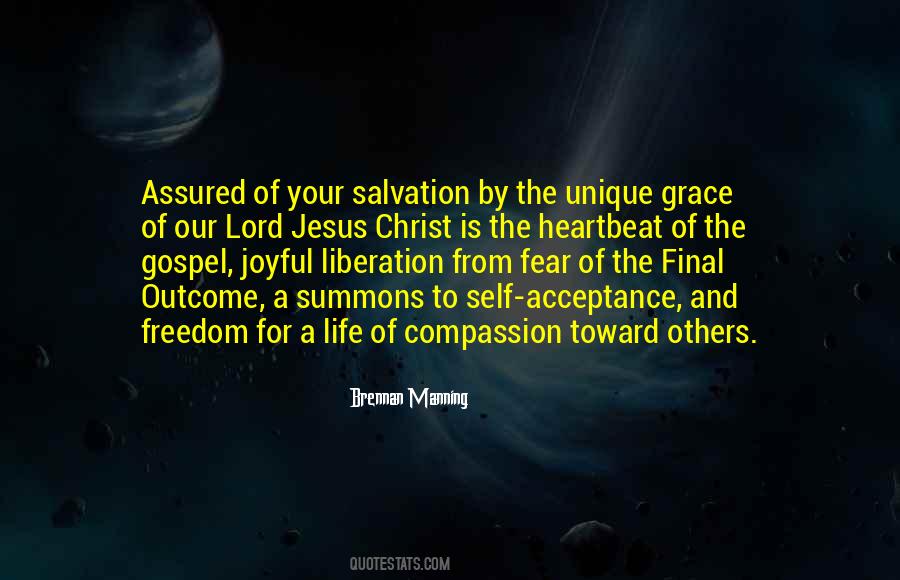 #32. Jesus does not cherish an offense, loving us as well after the offense as before it. - Author: Charles Haddon Spurgeon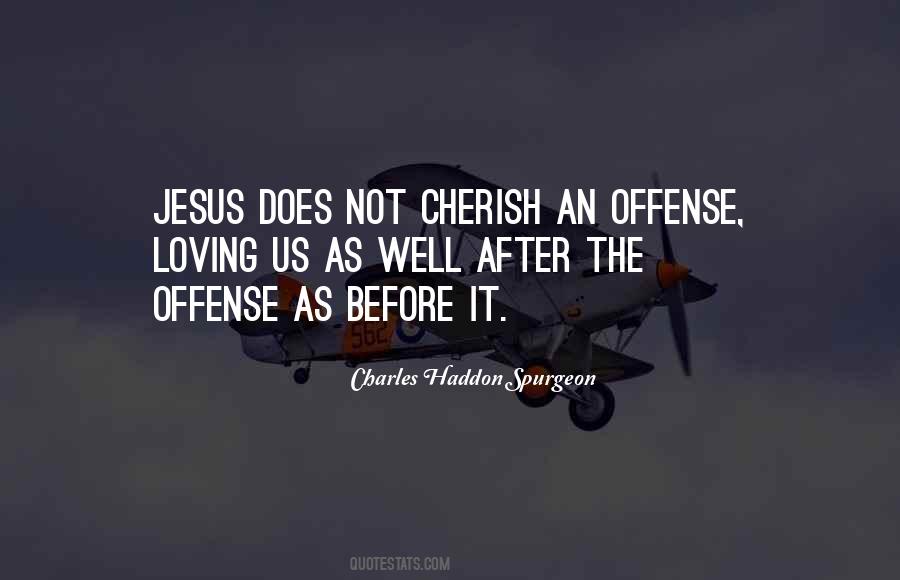 #33. The Lord is my redeemer.
The Lord is my defender - Author: Lailah Gifty Akita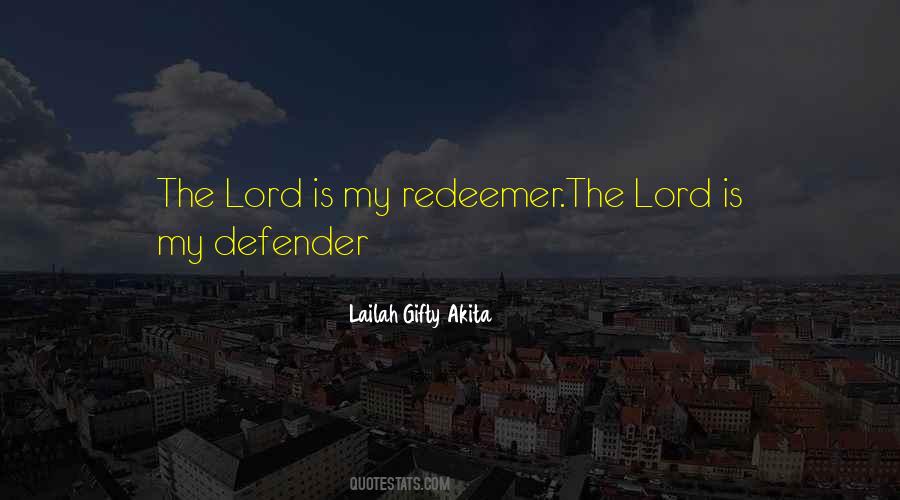 #34. Like people touch the feet of Jesus on the Pieta and hope for a blessing, I would touch the feet of the dancer and hope for grace. - Author: Jillian Lauren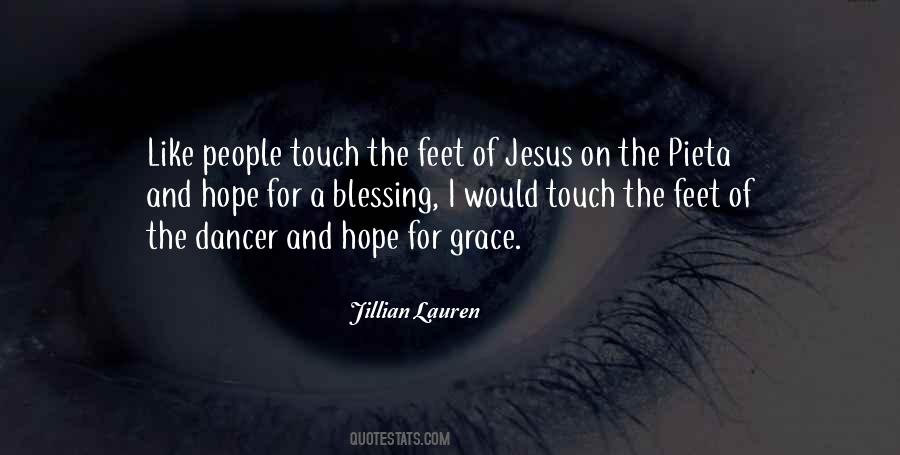 #35. The grace gospel is the only message which puts Jesus at the center of all things. The very essence of life is Christ. In Him is life... - Author: Paul Silway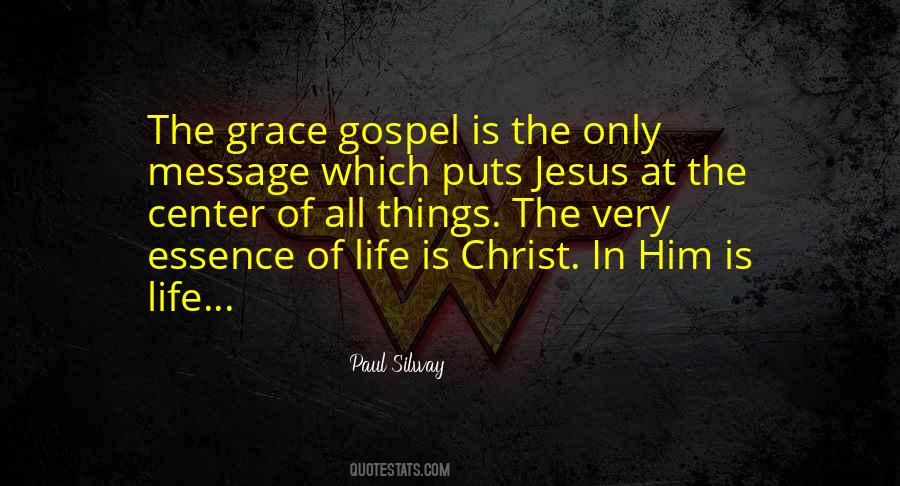 #36. Without private prayers and personal study of the Scriptures, how can we increase in faith and grow in the grace of our knowledge of Christ Jesus? - Author: Lailah Gifty Akita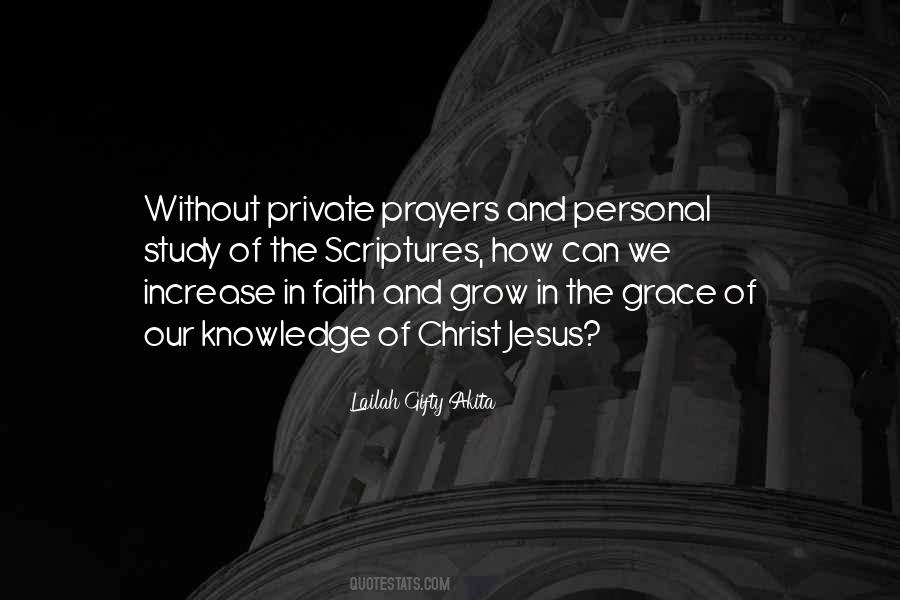 #37. God's great love is the grace of redemption. - Author: Lailah Gifty Akita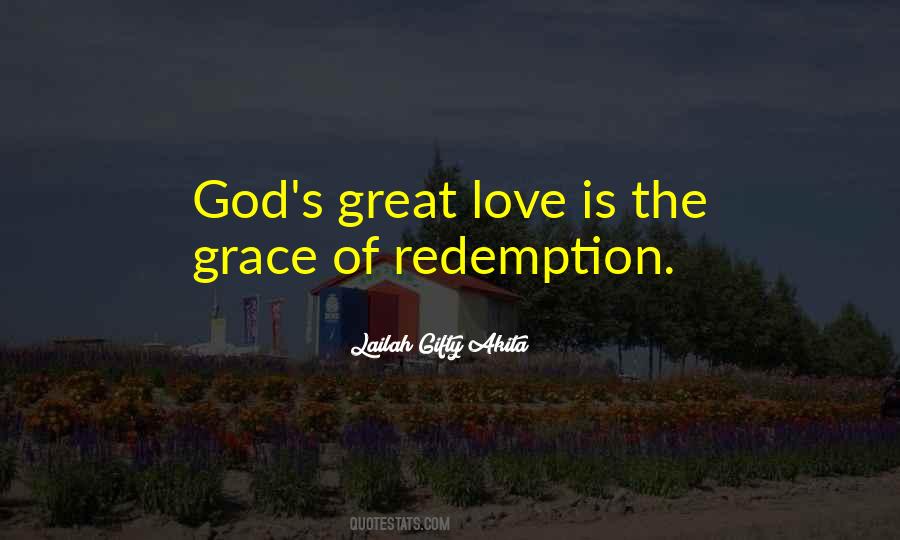 #38. Jesus does not demand of us higher standards, he offers us himself. Jesus does not require of us super-human ability or commitments. He gives us his ability and grace. - Author: Ronnie McBrayer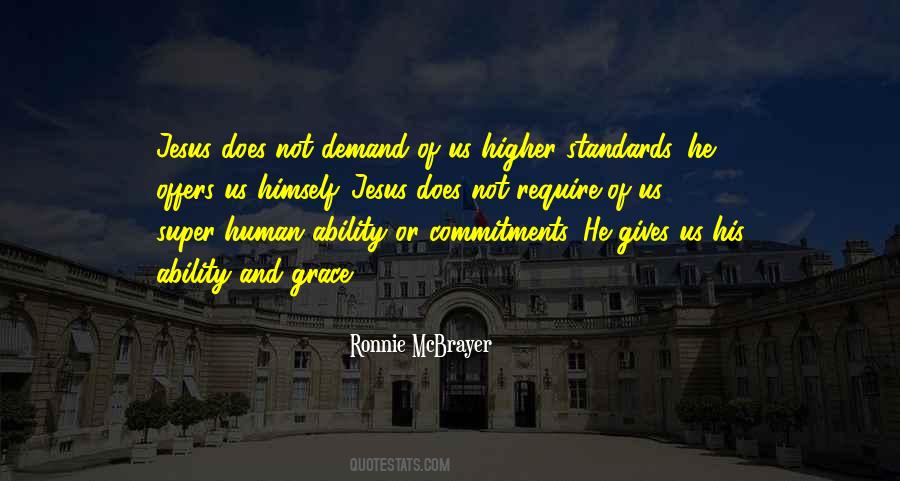 #39. We do not stand in any experience which we have had, we do not stand in any progress which we have made, we do not stand in our success in the battle against sin. We stand in the grace of our Lord Jesus Christ, by which he has justified us. - Author: Peter Jensen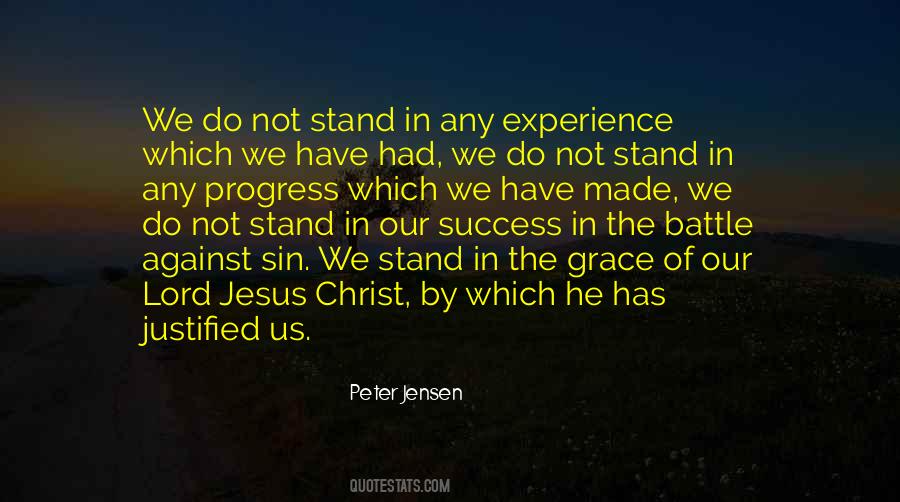 #40. For if, by the trespass of the one man, death reigned through that one man, how much more will those who receive God's abundant provision of grace and of the gift of righteousness reign in life through the one man, Jesus Christ! - Author: Anonymous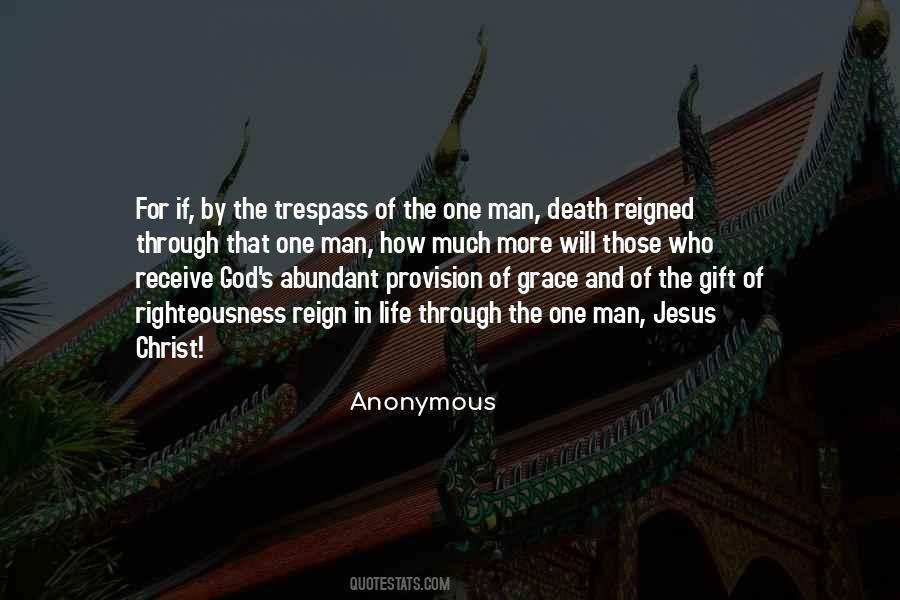 #41. Let grace microwave your cold heart. "Grow in the grace and knowledge of our Lord and Savior Jesus Christ" (2 Peter 3:18). When you do, you'll find yourself joining the ranks of the truly wealthy. You'll be rich with grace. - Author: Max Lucado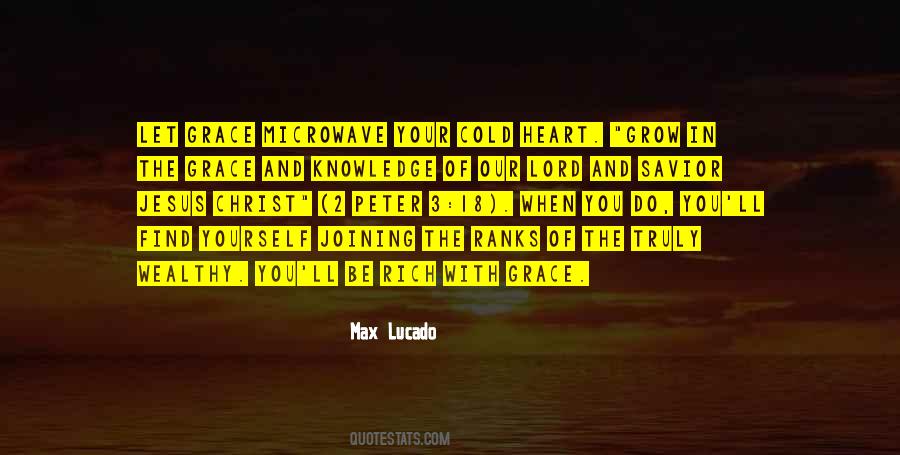 #42. If my activism, however well-motivated, drives out love, then I have misunderstood Jesus' gospel. I am stuck with law, not the gospel of grace. - Author: Philip Yancey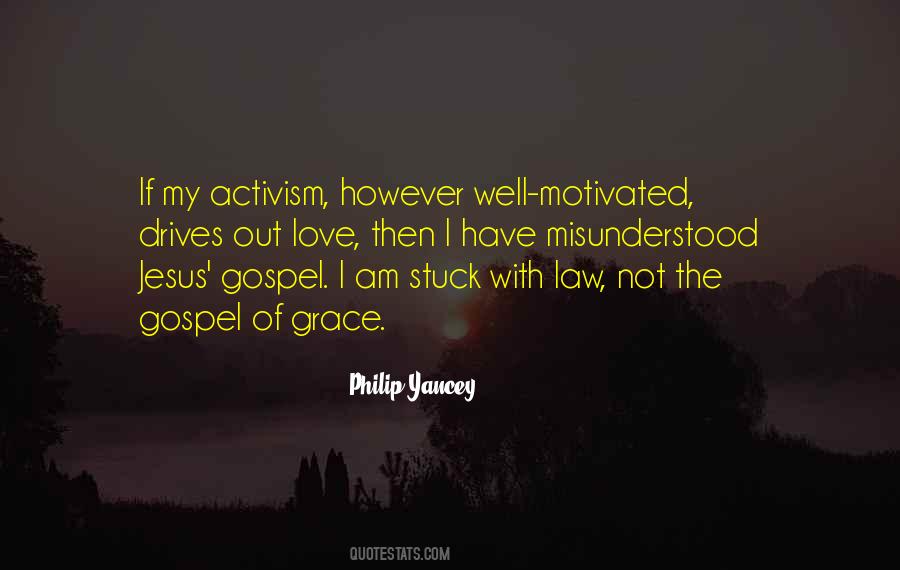 #43. while grace sets apart Christianity, so does truth. Jesus was filled with grace and truth, and in Christianity you can know the truth, not just through some sort of spiritual experience, but also through careful investigation. - Author: Lee Strobel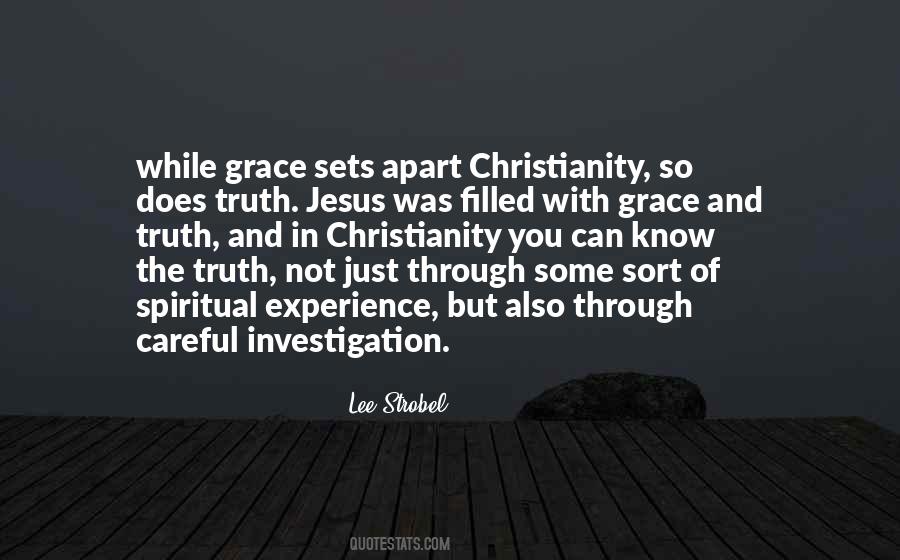 #44. So we have only one place of hope, one solid rock on which to stand, and that rock is Christ Jesus. Only when we admit that we have awe-fickle hearts will we begin to reach out for and cling to the forgiving, transforming, rescuing, and delivering grace of Jesus. - Author: Paul David Tripp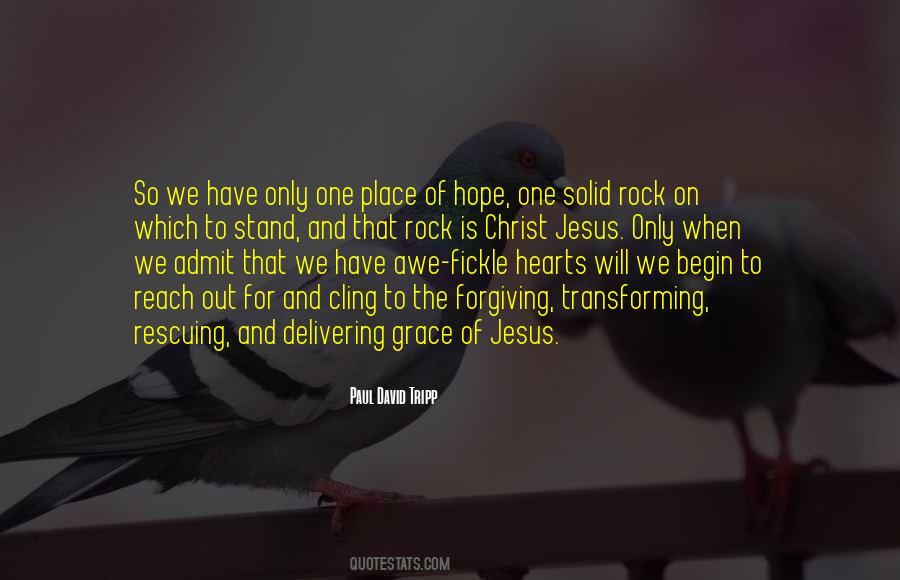 #45. Jesus's gospel is not about a cosmic religious apocalypse upon rebellious pagans. His gospel is about a new messianic kingdom where He rules in the spirit of His Father, a kingdom full of joy, grace, freedom, and release from all that ails humanity. - Author: Hugh Halter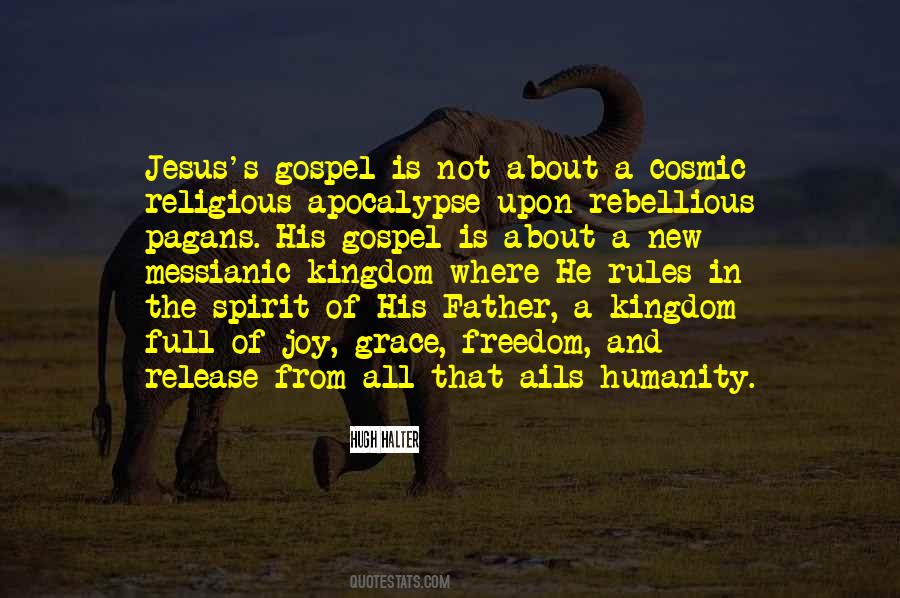 #46. The true act of heroism in Jesus on the cross and the emptying of the tomb is so that his people can return to the grace of doing life with God in a place, with love for our neighbors, and the freedom to enjoy God in the work, play, rest, and love that he gives us there. - Author: Zack Eswine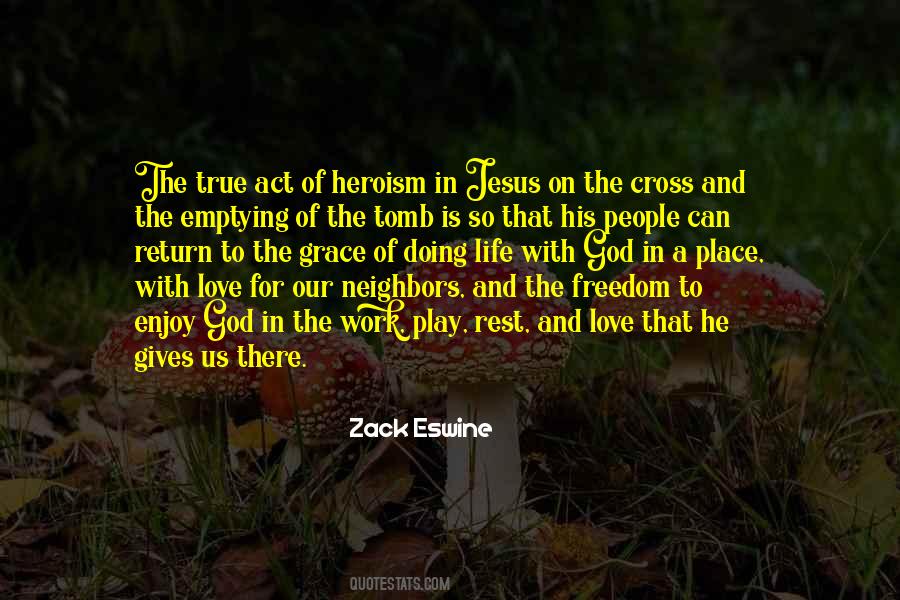 #47. Two great prayers;
Yahweh, grant me grace for my daily activities.
Yahweh, protect me from all evil, so that my life will be free of pain in Jesus name. Amen! - Author: Lailah Gifty Akita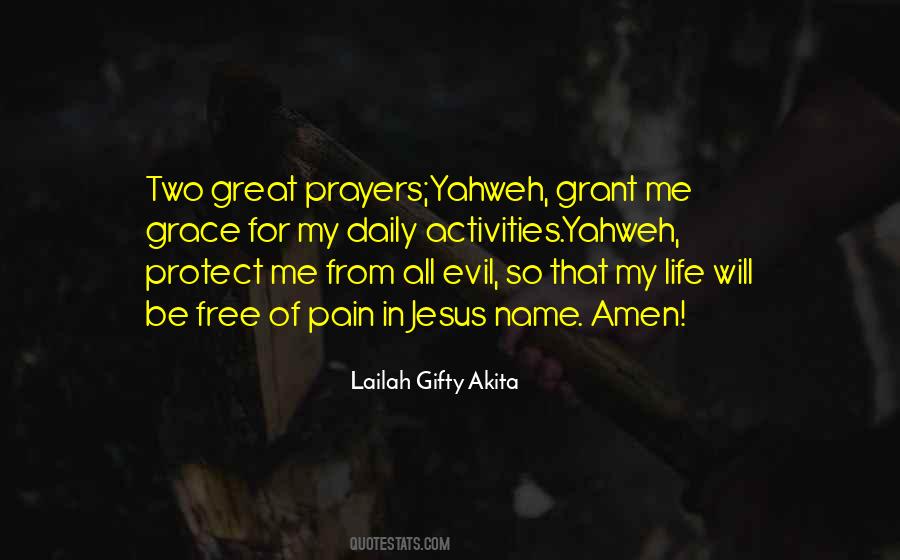 #48. Church practice has been more influenced by Plato than by Jesus. We invariably prefer the universal synthesis, the answer that settles all the dust and resolves every question even when it is not entirely true over the mercy and grace of God. - Author: Richard Rohr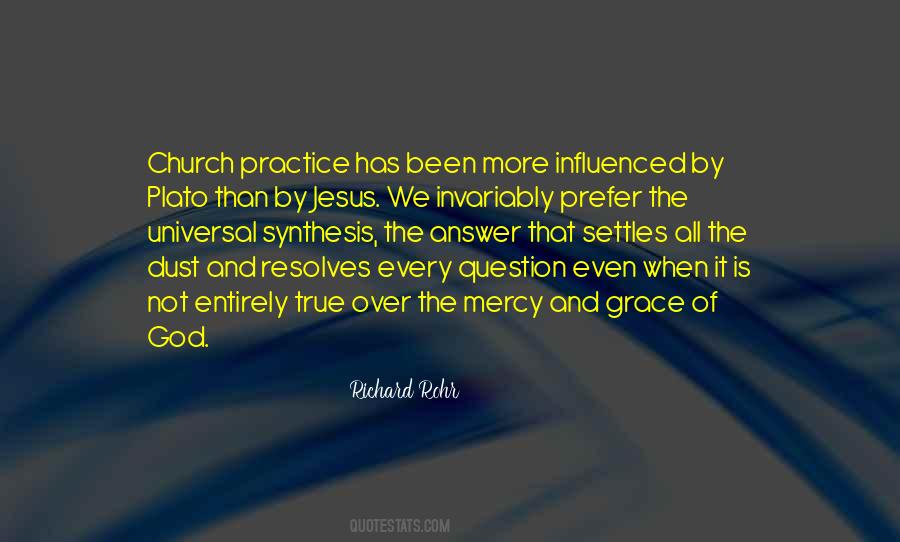 #49. Hold fast to Jesus and remember: This breaking of you will be the making of you. A new you. A stronger you. Strengthened not with the pride of perfection but with the sweet grace of one who knows an intimate closeness with her Lord. - Author: Lysa TerKeurst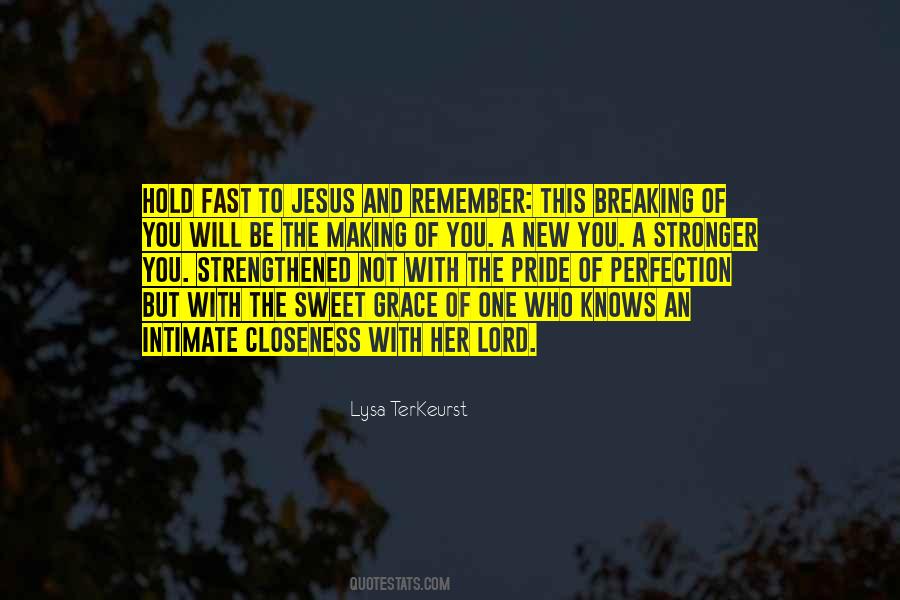 #50. My desire as a Christian pastor is to see churches raised up as communities of grace ruled by Jesus and led by his gloriously masculine men who work their jobs, eat their meat, drink their beer, romance their wives, study their Bible, and raise their kids in glory and joy - Author: Mark Driscoll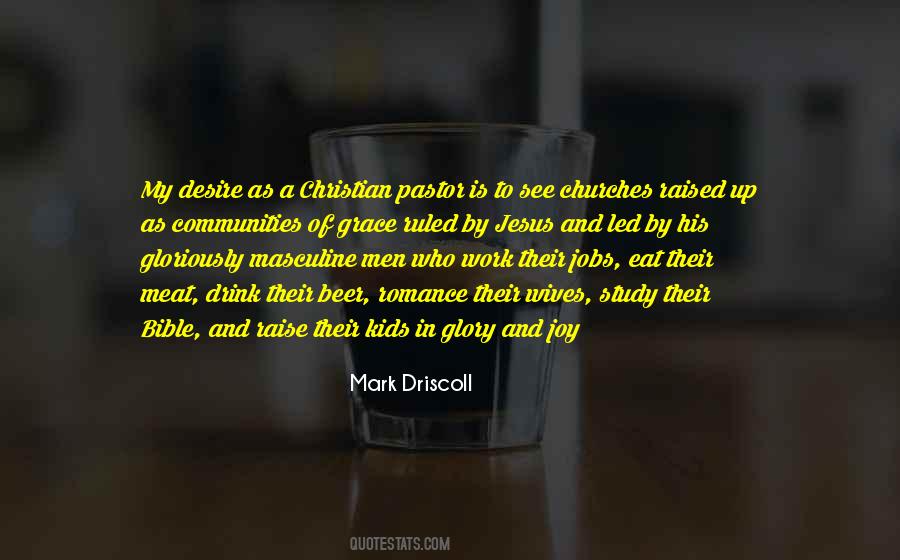 #51. If your preaching of the gospel of God's free grace in Jesus Christ does not provoke the charge from some of antinomianism, you're not preaching the gospel of the free grace of God in Jesus Christ. - Author: D. Martyn Lloyd-Jones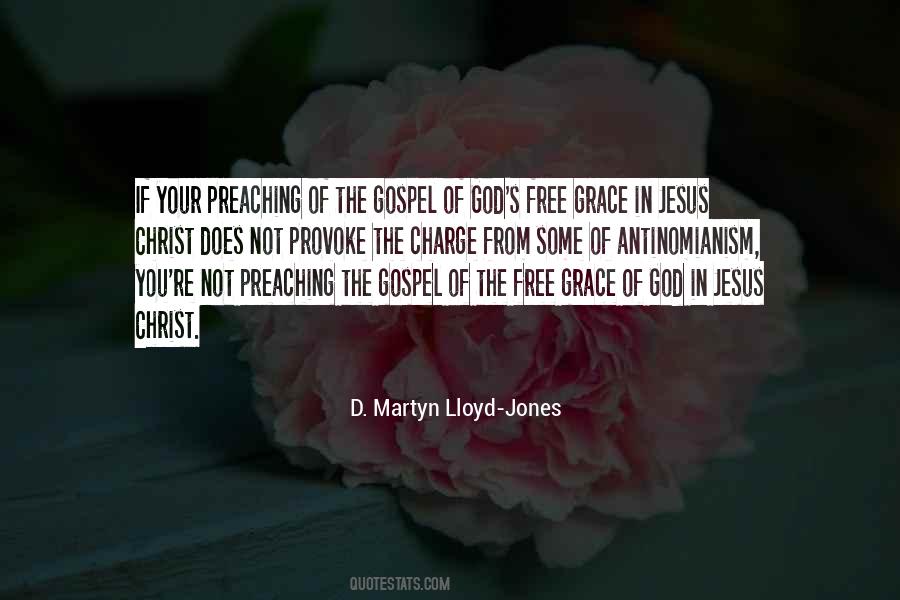 #52. Are you wiser in God (now) than you were last year at this time? Peter says we're to grow in grace and the knowledge of the Lord Jesus Christ. - Author: Leonard Ravenhill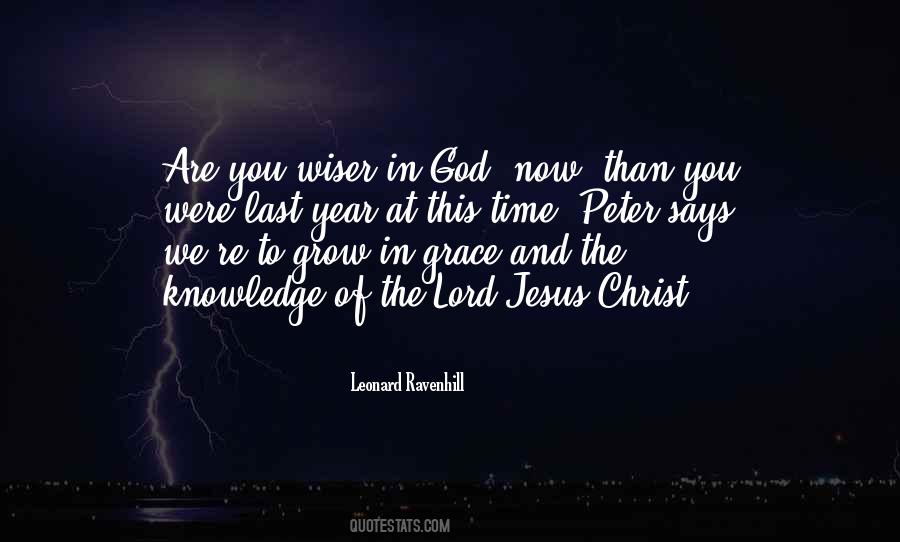 #53. Without the grace of Jesus: a hopeless end. With the grace of Jesus: an endless hope. - Author: Rick Warren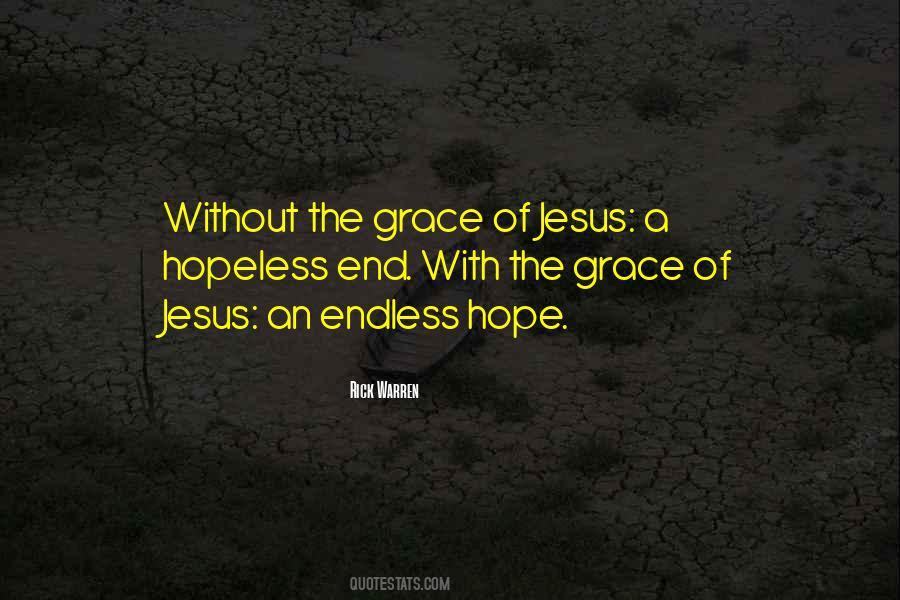 #54. Arise, believer, and behold the Lord Jesus yoking the whole of his divine Godhead to the chariot of salvation! How vast his grace, how firm his faithfulness, how unswerving his immutability, how infinite his power, how limitless his knowledge! - Author: Charles Haddon Spurgeon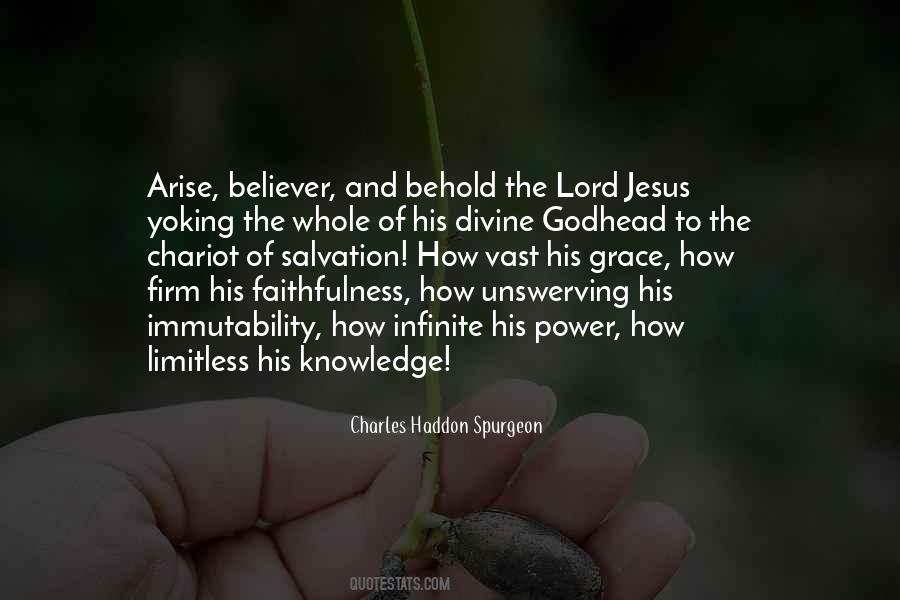 #55. Thus the motivation, energy and drive for holiness are all found in the reality and power of God's grace in Christ. And so if I am to make any progress in sanctification, the place where I must always begin is the gospel of the mercy of God to me in Christ Jesus. - Author: Sinclair B. Ferguson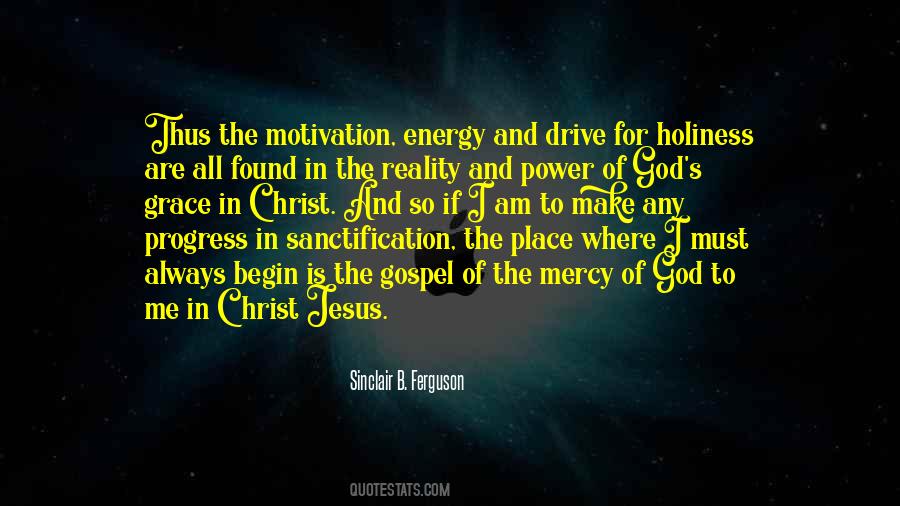 #56. What matters is the sinner becomes a saint through the grace of salvation in Christ Jesus. - Author: Lailah Gifty Akita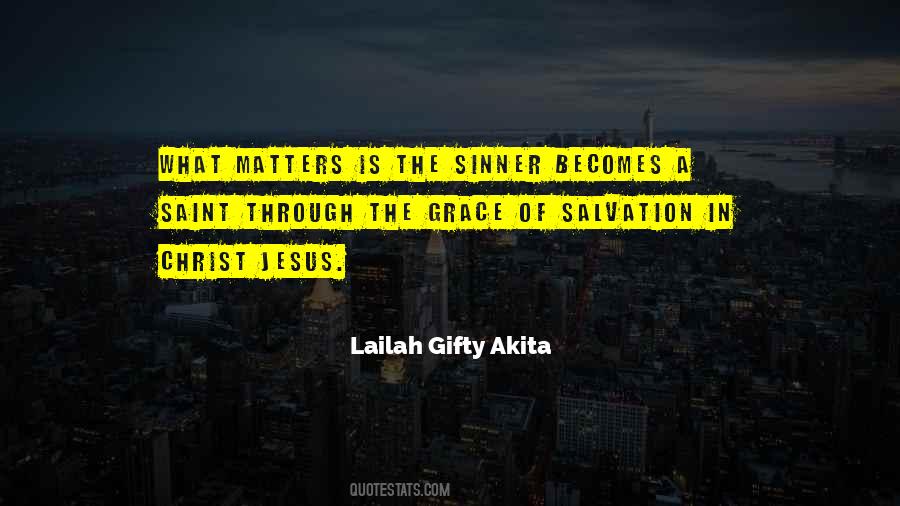 #57. How Sweet the name of Jesus ... the rock on which I build, my shield and hiding place, my never failing treasury, filled with boundless stores of grace. - Author: John Newton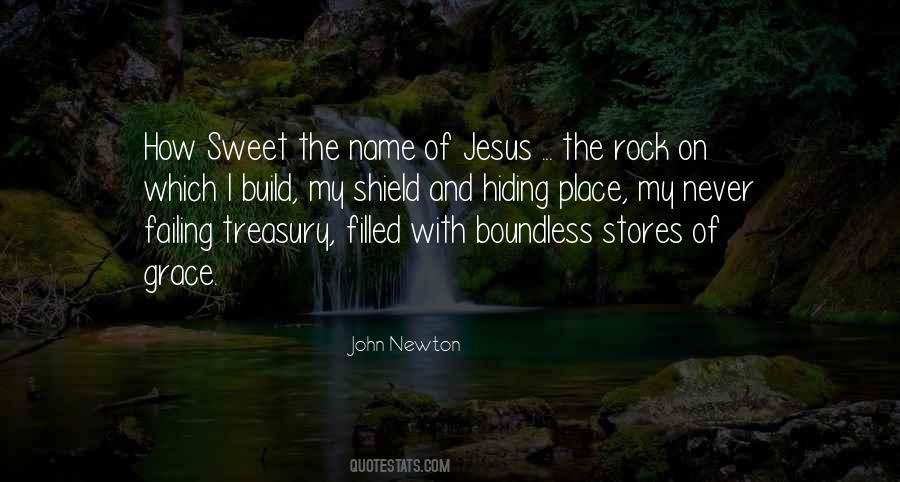 #58. Grace is costly because it calls us through our person to the person of Jesus Christ. And when we follow the person of Jesus Christ, when we follow his call through our person, we're sent to act for the concrete person of our neighbor in the world. - Author: Andrew Root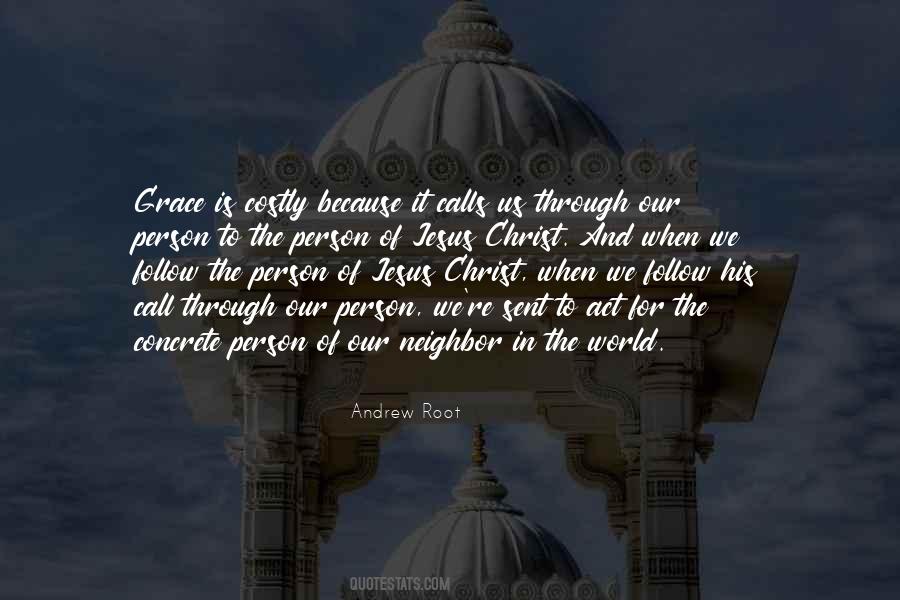 #59. One of the the loveliest lines I have ever read comes from Brother Roger, the Prior of the Protestant monks of Taize, France: 'Assured of your salvation by the unique grace of our Lord Jesus Christ.' It is still difficult for me to read these words without tears filling my eyes. It is wonderful. - Author: Brennan Manning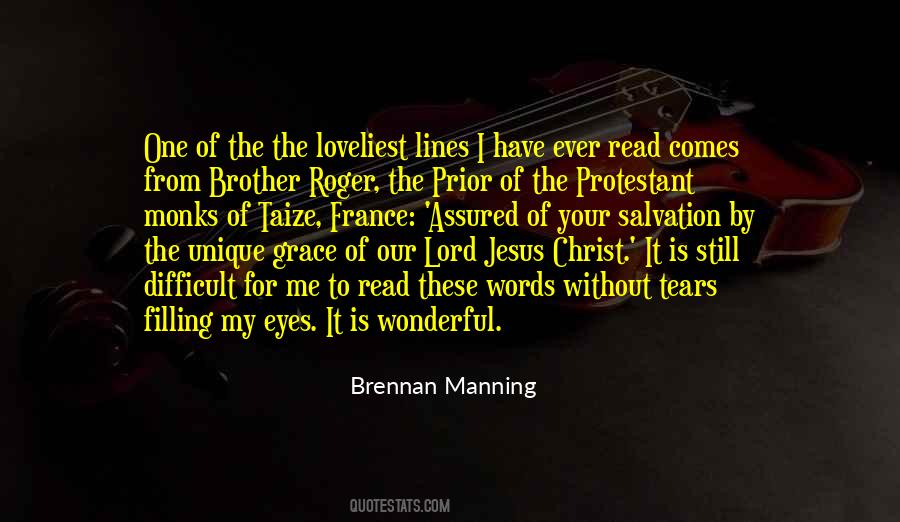 #60. Jesus came into our world as a man to embody grace. He left us, the church, to be the body of Christ, not a flock of parakeets that repeat Christian jargon but the ongoing in-the-flesh presence of His grace. We are the evidence that God's grace is more than just words. - Author: Preston Sprinkle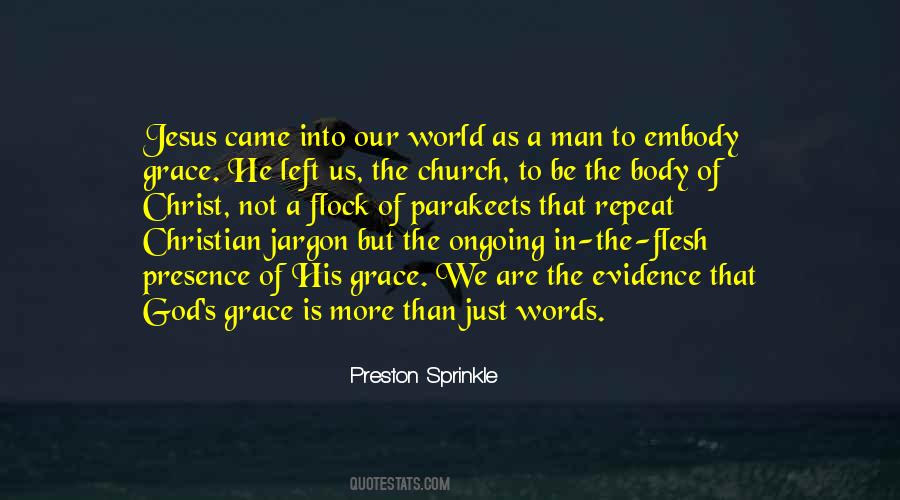 #61. Man ate angels' food of old - and why not now? O for grace to feed on Jesus, and so to eat of the fruit of the land of Canaan this year! - Author: Charles Haddon Spurgeon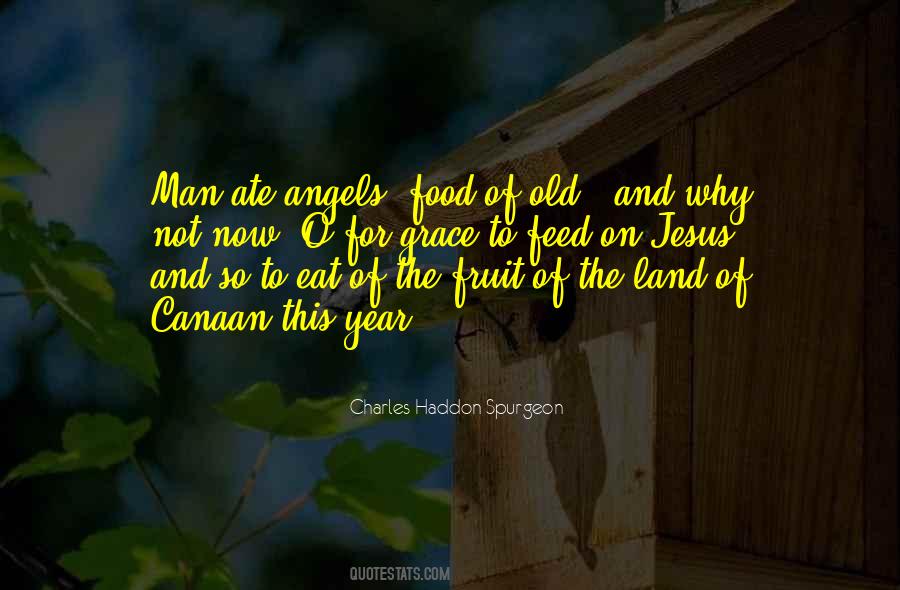 #62. I hope, by God's grace, that I am truly a Christian, not deviating from the faith, and that I would rather suffer the penalty of a terrible death than wish to affirm anything outside of the faith or transgress the commandments of our Lord Jesus Christ. - Author: Jan Hus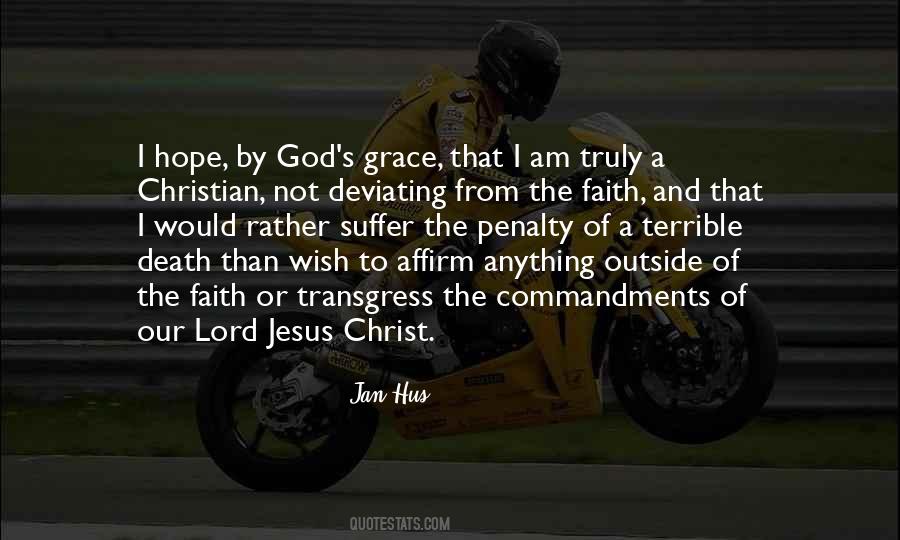 #63. When I was abandoned by everybody, in my greatest weakness, trembling and afraid of death, when I was persecuted by this wicked world, then I often felt most surely the divine power in this name, Jesus Christ ... So, by God's grace, I will live and die for that name. - Author: Martin Luther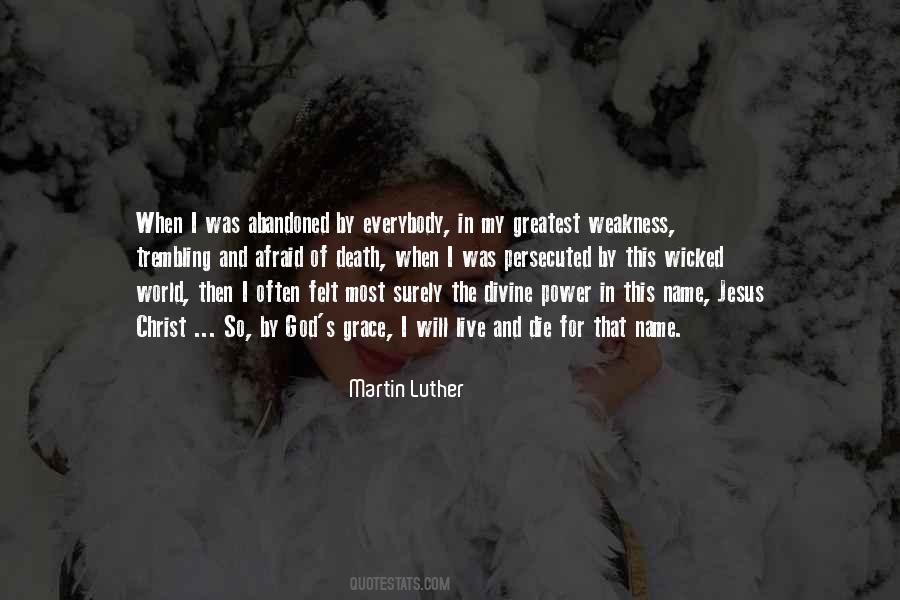 #64. Her (Mary's) Son first had to be the Child of the Father in order then to become man and be capable of taking up on his shoulders the burden of a guilty world. - Author: Hans Urs Von Balthasar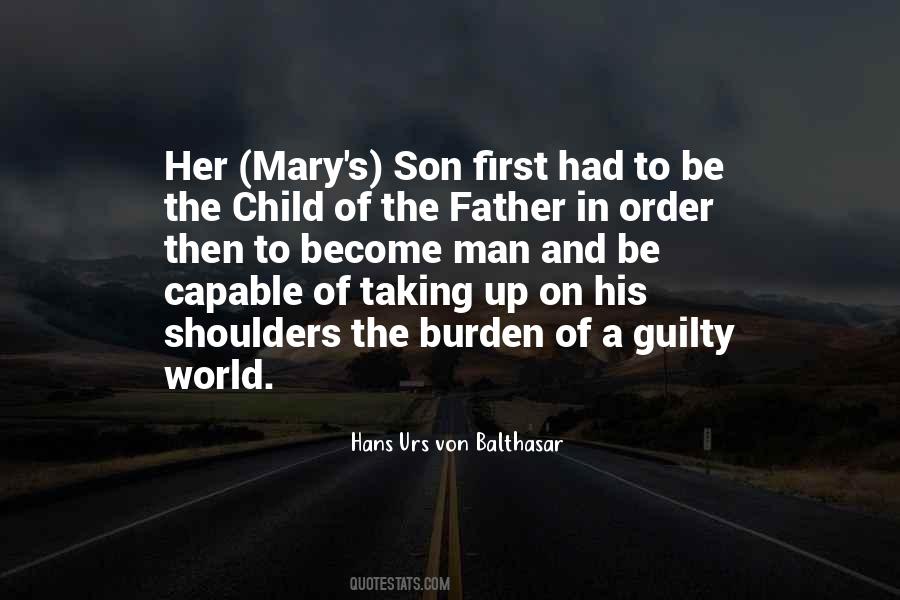 #65. Why do I lunge for control instead of joy? ... do I thin Jesus grace too impotent to give me the full life ... Whenever I am blind to joys well, isn't it because I don't believe in Gods care? P 130 - Author: Ann Voskamp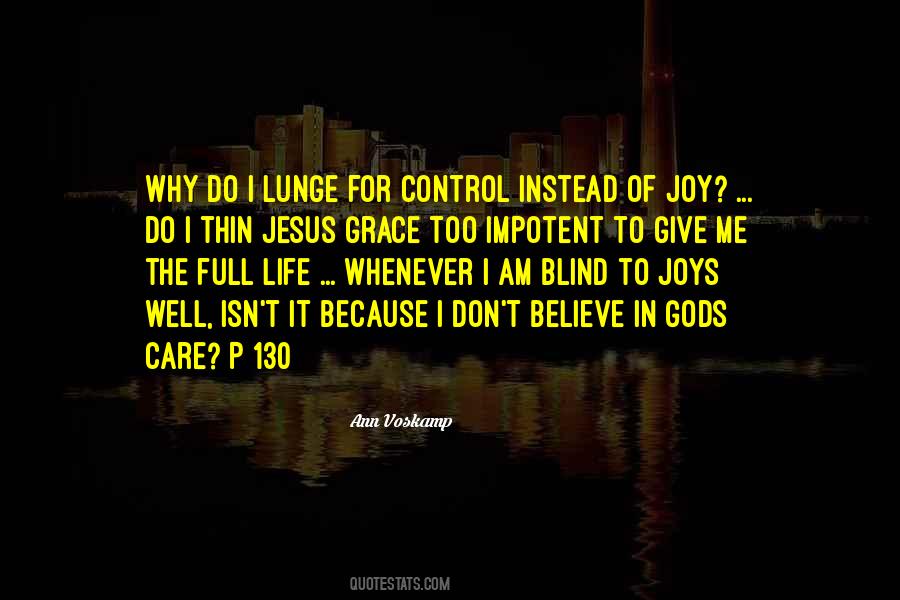 #66. God doesn't just give us grace; He gives us Jesus, the Lord of grace. - Author: Joni Eareckson Tada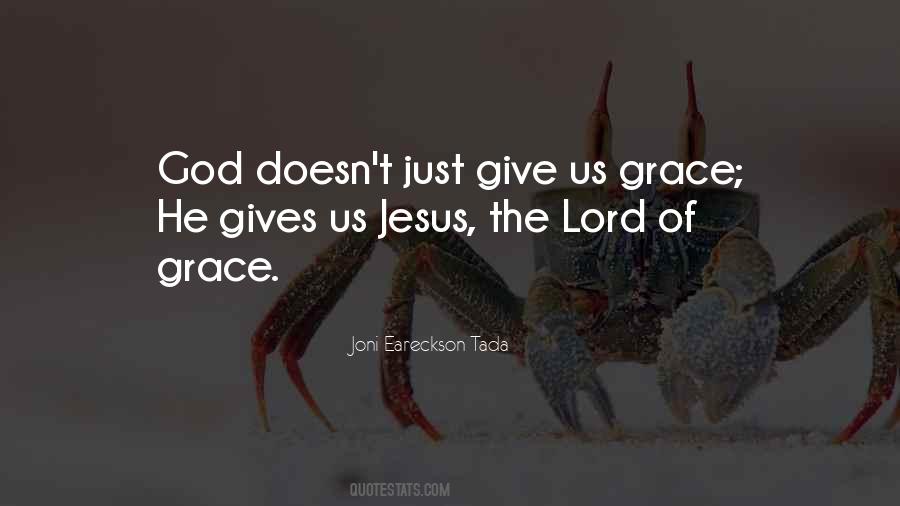 #67. Jesus comes not for the super-spiritual but for the wobbly and the weak-kneed who know they don't have it all together, and who are not too proud to accept the handout of amazing grace. - Author: Brennan Manning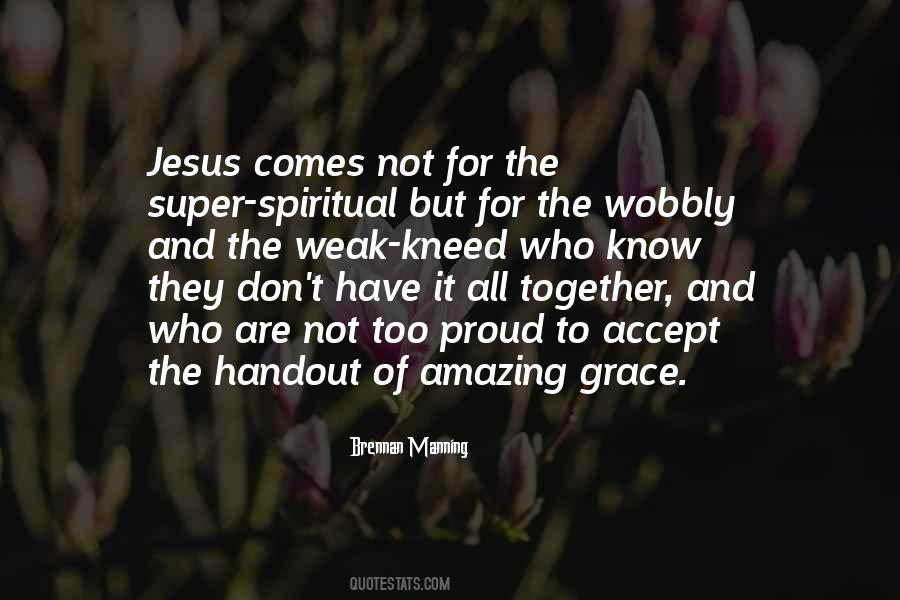 #68. Jesus did not come to strike a balance between grace and truth. He brought the full measure of both ... It's easy to create an all-truth church model. It may be even easier to create an all-grace model, but Jesus didn't leave either option on the table. - Author: Andy Stanley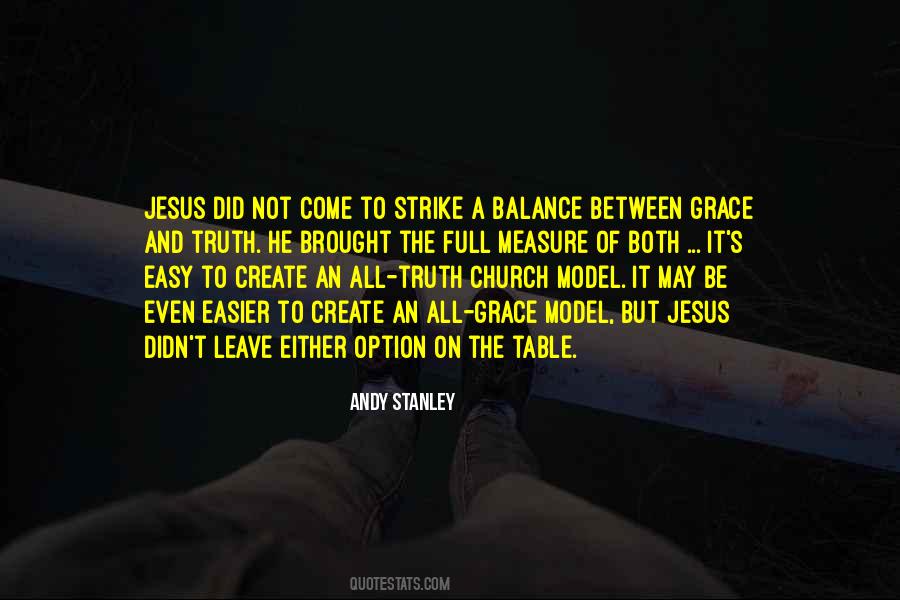 #69. By the supernatural miracle of God's grace I stand justified, not because I am sorry for my sin, not because I have repented, but because of what Jesus has done. - Author: Oswald Chambers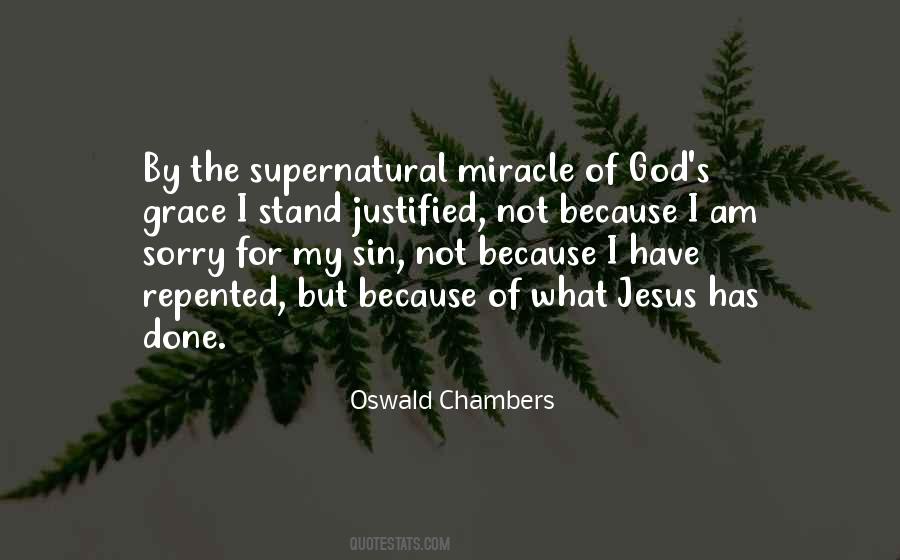 #70. You are a new creation by the blood of Jesus. - Author: Lailah Gifty Akita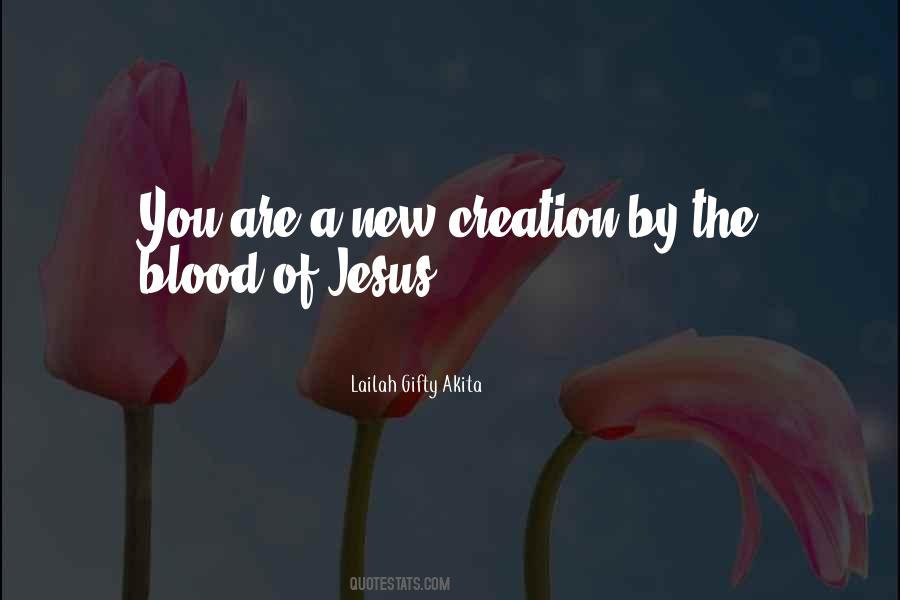 #71. Hope is in the name of God, the name of our Lord Jesus Christ. Hope is when you compare your suffering to the infinite, immeasurable love and grace of God. - Author: Nick Vujicic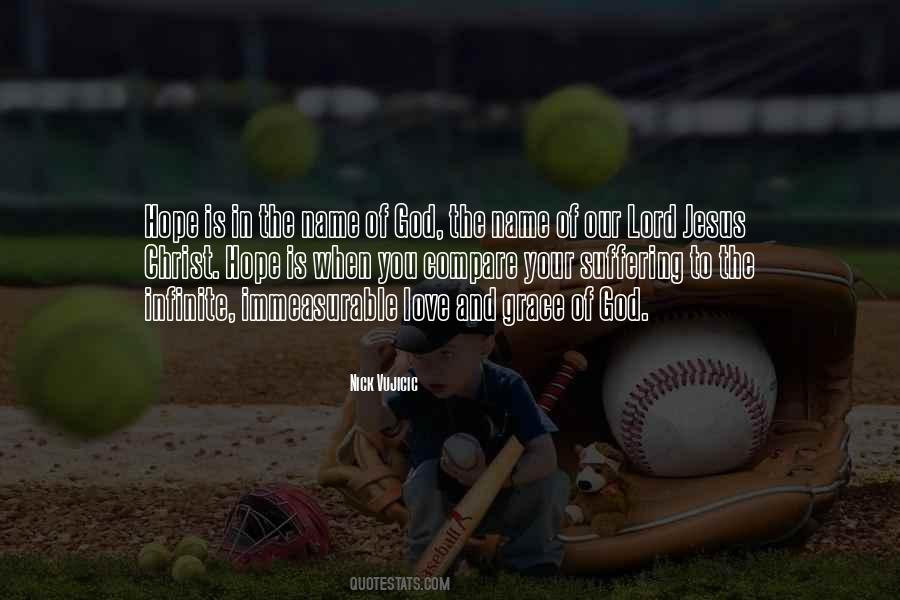 #72. Jesus' death, he said, broke down the temple barriers, dismantling the dividing walls of hostility that had separated categories of people. Grace found a way. - Author: Philip Yancey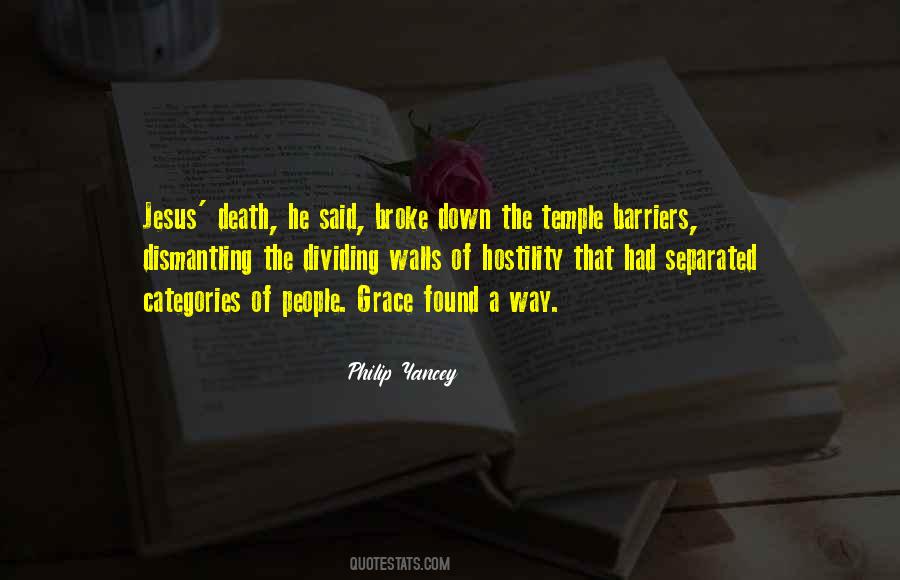 #73. Real success in the kingdom of God is not about being strong and looking good and knowing all the right answers. It's about continually yielding oneself to Jesus and determining to take purposeful little steps of obedience, and the ragged reality that it's all about God and His grace at work in us. - Author: Mary Beth Chapman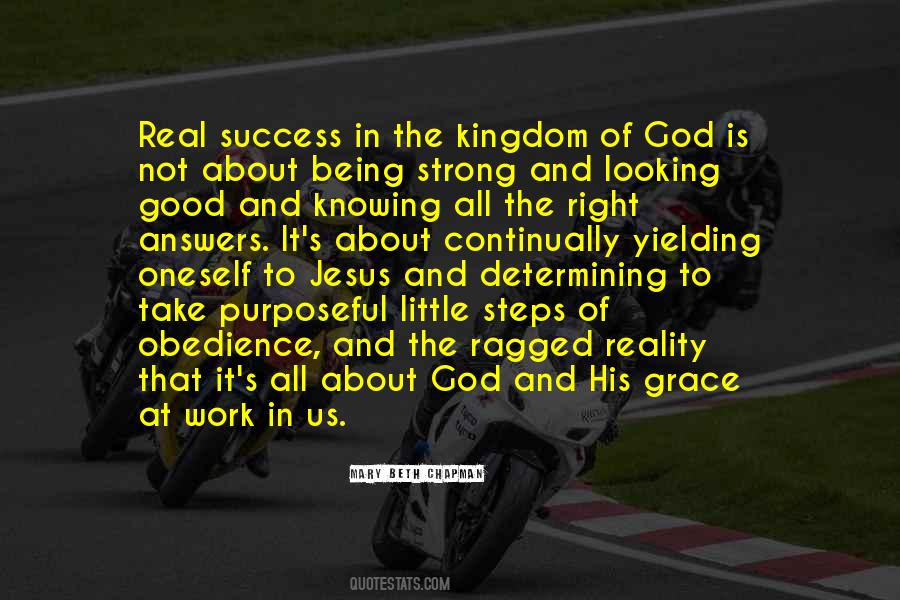 #74. We cannot keep to ourselves the words of eternal life given to us in our encounter with Jesus Christ: they are meant for everyone, for every man and woman ... It is our responsibility to pass on what, by God's grace, we ourselves have received. - Author: Pope Benedict XVI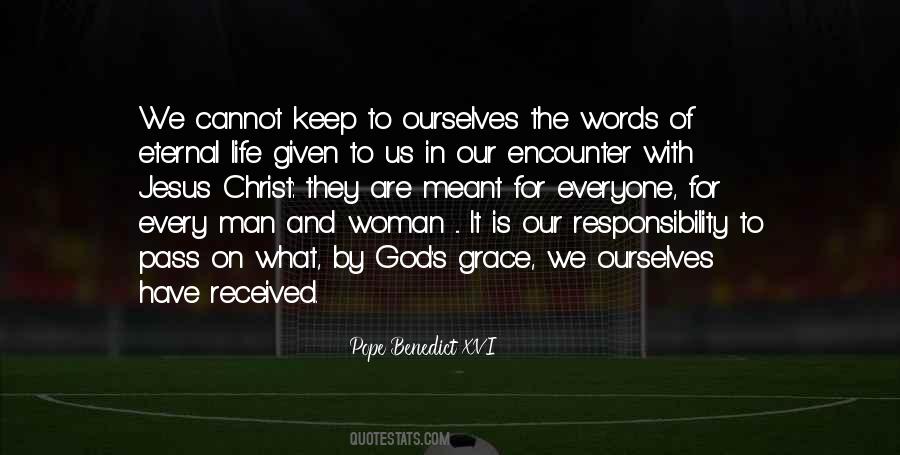 #75. Ye [Anabaptists] be proud contemners of the free grace of God offered to man in Christ Jesus. For with the Pelagians and Papists ye are become teachers of free will, and defenders of your own righteousness - Author: John Knox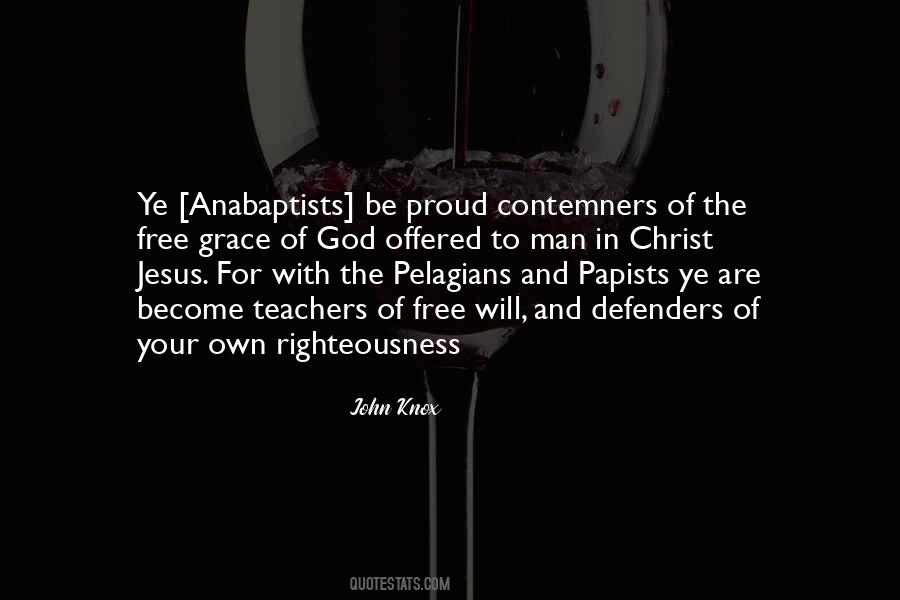 #76. Our relationship with Jesus is based on grace- on the unexpected, undeserved, counterintuitive love of God. - Author: Justin Buzzard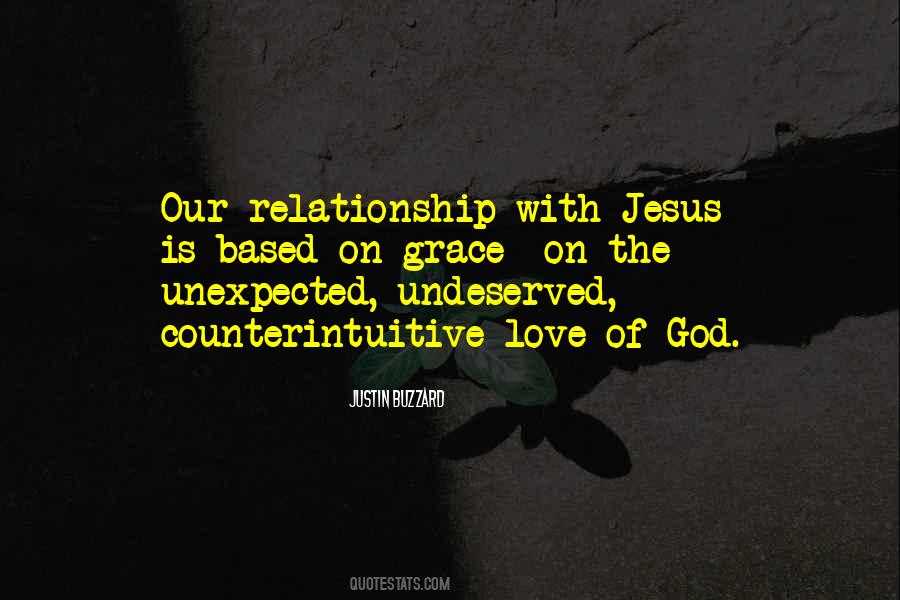 #77. When you hear of a notorious sinner, instead of thinking you do well to be angry, beg of Jesus Christ to convert, and make him a monument of his free grace. - Author: George Whitefield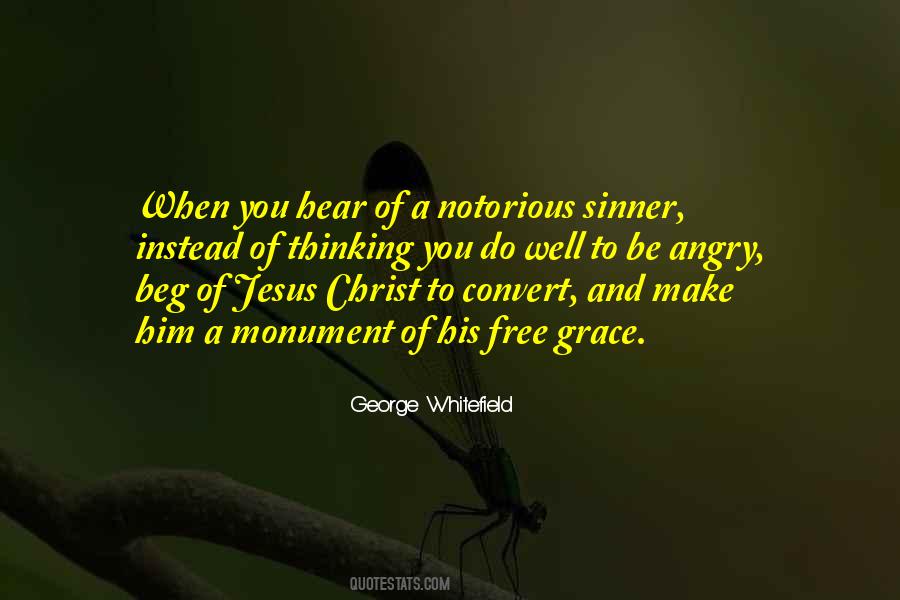 #78. Gather every promise. This is Jesus, the life of every grace, the life of every promise, the life of every ordinance, the life of every blessing. - Author: Ellen G. White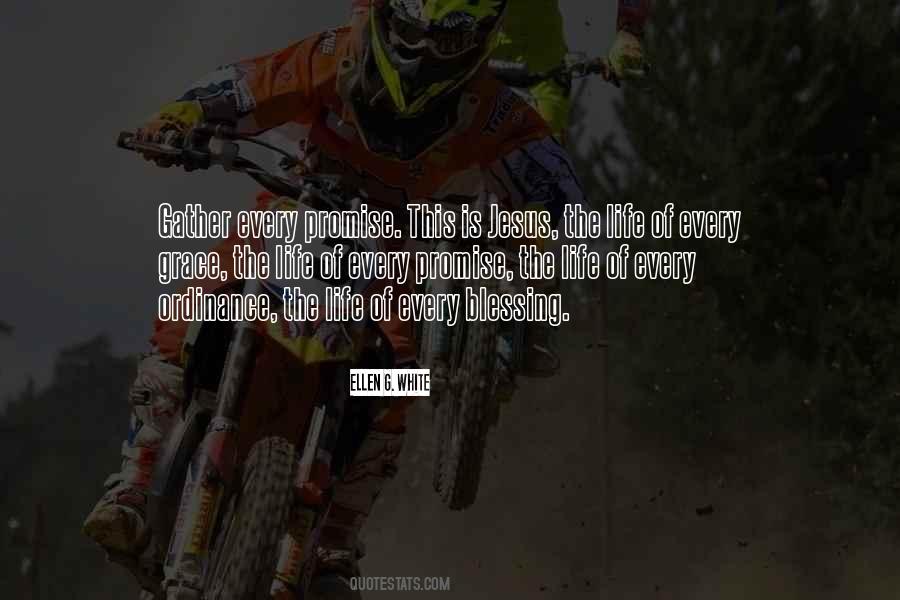 #79. It's pretty amazing that the Lord of heaven and earth, creator of everything, the God of Jacob and Israel, the Messiah, Jesus, allows us to carry him around in our hearts! He is good and full of grace, even when we aren't. He loves us even when we mess it up. He deserves our very best! - Author: Lisa M. Prysock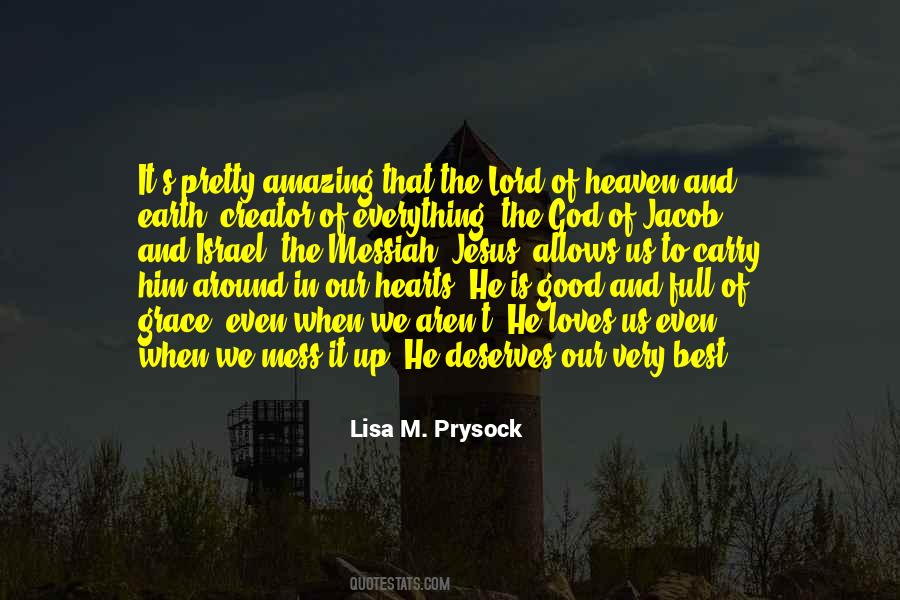 #80. Thus, for Aquinas, the New Law goes beyond the Sermon on the Mount and the other teachings of Jesus. It is nothing less than divine grace - divine life and power. Grace is the New Law that enables us to keep the commandments in a way that we as children of Adam couldn't on our own. - Author: Scott Hahn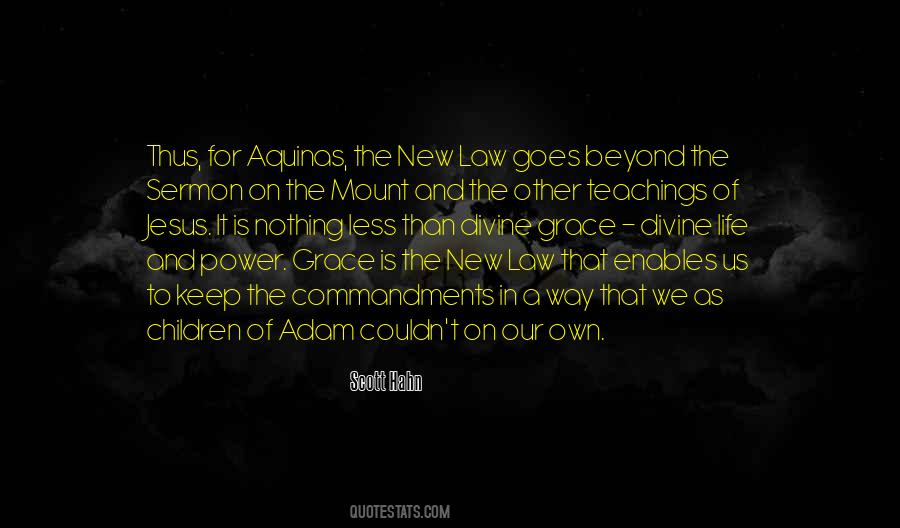 #81. There were few people, perhaps, more passionately fond of travelling, and seeing fresh places, and new scenes, than myself; but now, since, by the grace of God, I have seen beauty in the Lord Jesus, I have lost my taste for these things. - Author: George Muller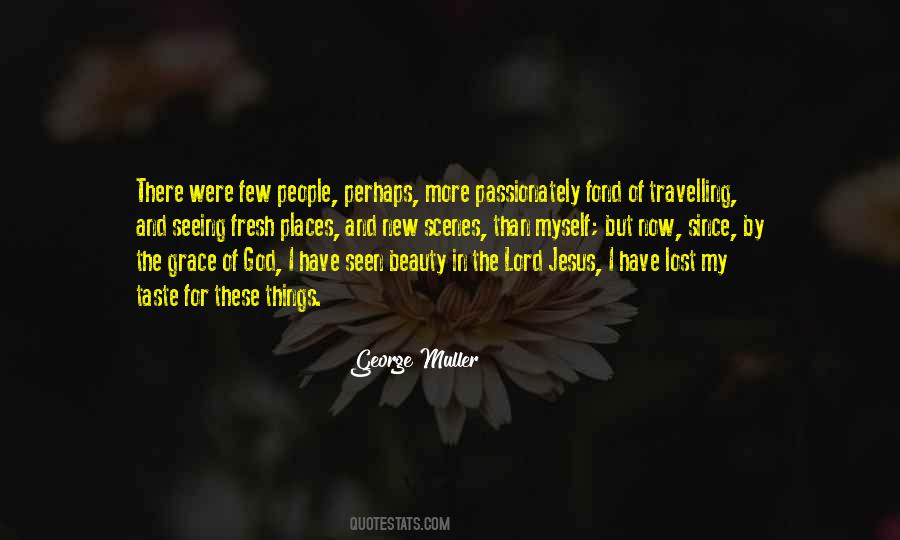 #82. Carefully purify your conscience from daily faults; suffer no sin to dwell in your heart; small as it may seem, it obscures the light of grace, weighs down the soul, and hinders that constant communion with Jesus Christ which it should be your pleasure to cultivate. - Author: Francois Fenelon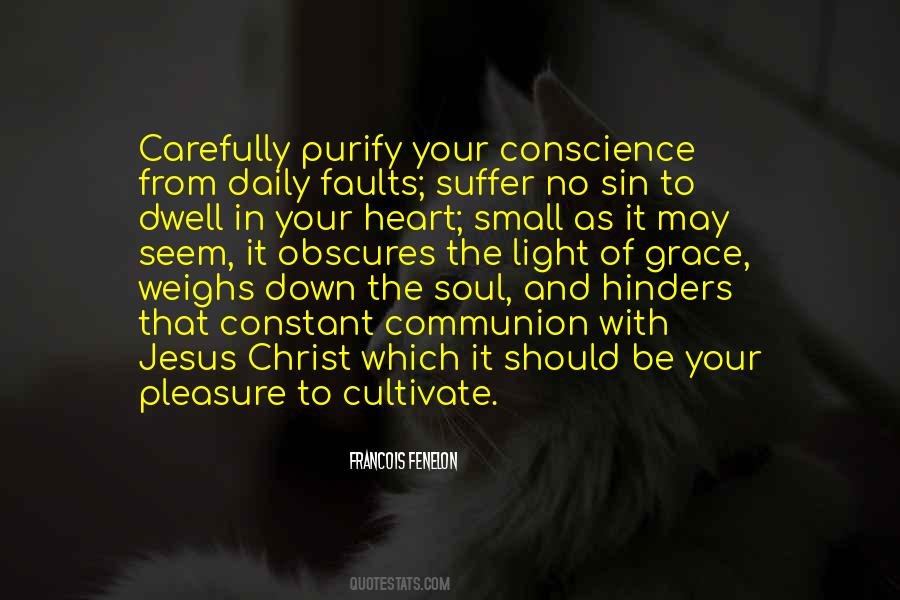 #83. The truth is in Jesus and it leads to the fullness of truth about God, man, creation, history, sin, righteousness, grace, faith, salvation, life, death, purpose, meaning, relationships, heaven, hell, judgement, eternity, and everything else of ultimate consequence. - Author: John F. MacArthur Jr.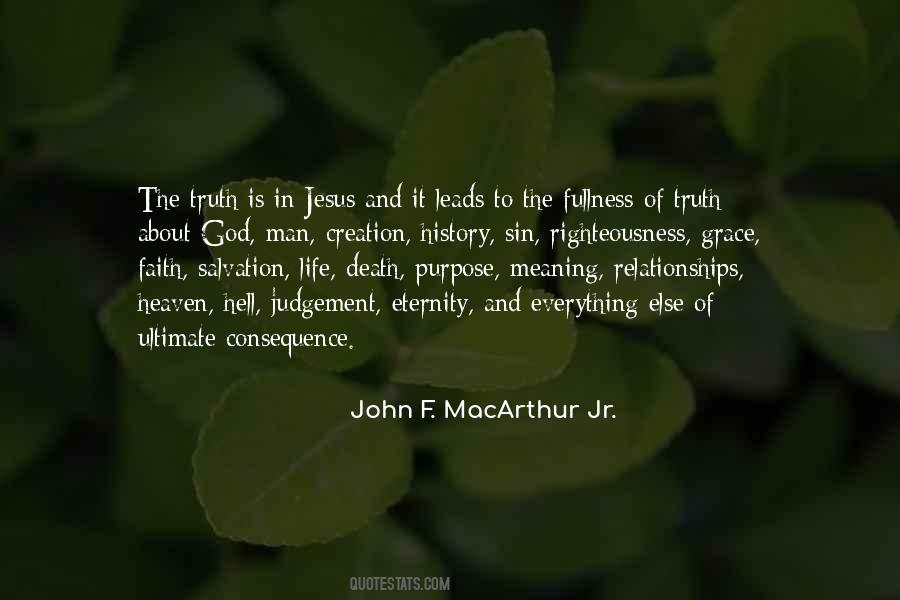 #84. Eucharisteo is giving thanks for grace. But in the breaking and giving of bread, in the washing of feet, Jesus makes it clear that eucharisteo is, yes, more: it is giving grace away. - Author: Ann Voskamp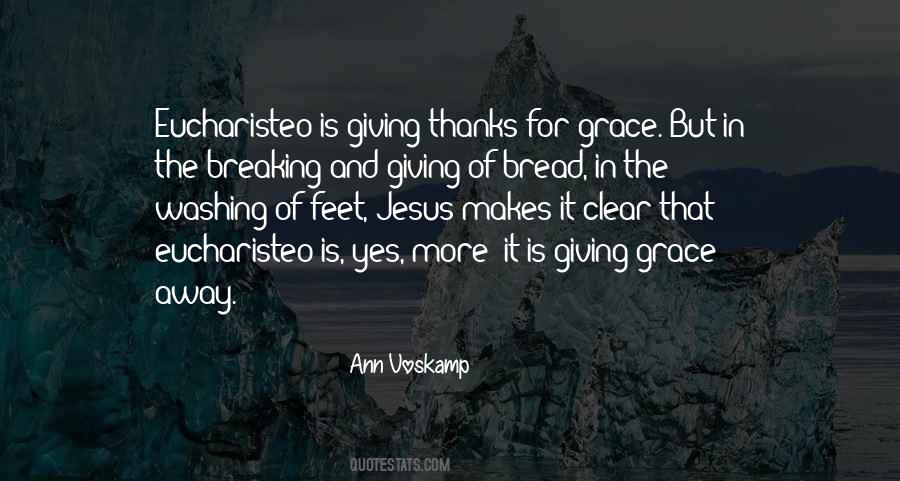 #85. Jesus always colored outside of the lines here, extending grace and healing to those well beyond His people group. He often healed people first; they believed second. - Author: Jen Hatmaker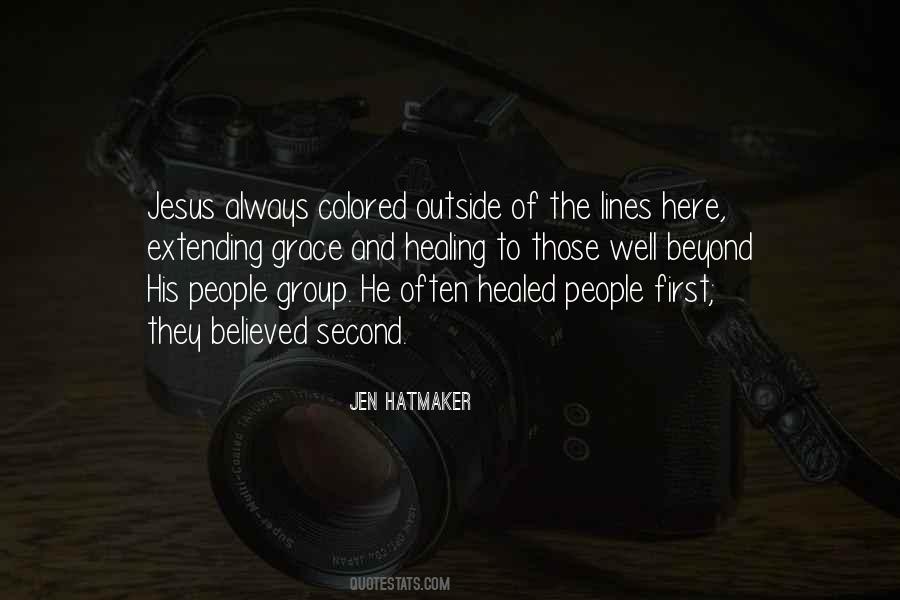 #86. That is the joyful task of every follower of Jesus. Someday may it be written about me on my tombstone: He was so amazed by God's grace that he couldn't keep it to himself. - Author: Lee Strobel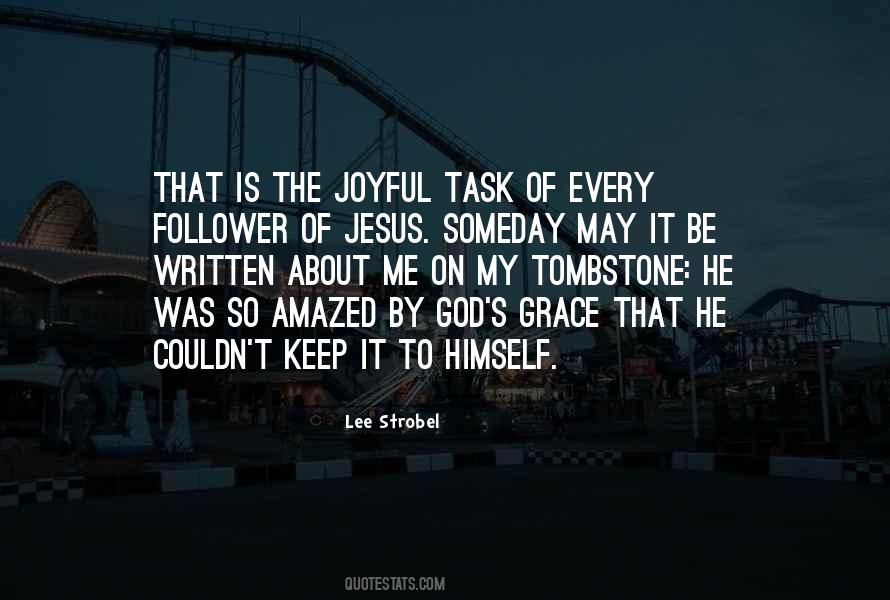 #87. If Jesus is the heart of the church, people are the lifeblood. There is a reason He created community and told us to practice grace and love and camaraderie and presence. People soften the edges and fill in the gaps. Friends make up some of the best parts of the whole story. - Author: Jen Hatmaker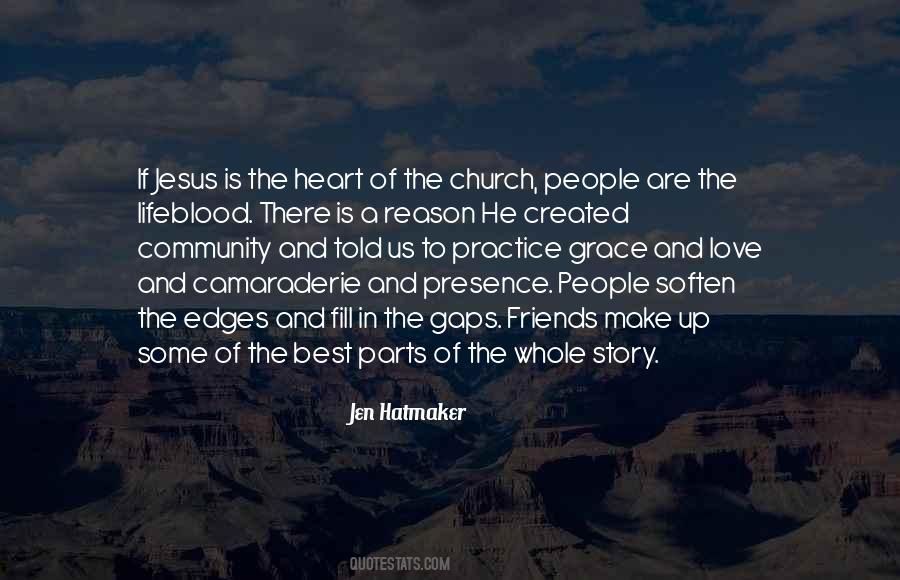 #88. The grace of the Lord Jesus Christ, and the love of God, and the fellowship of the Holy Spirit be with all of you. 2 Corinthians 13:13 - Author: Beth Moore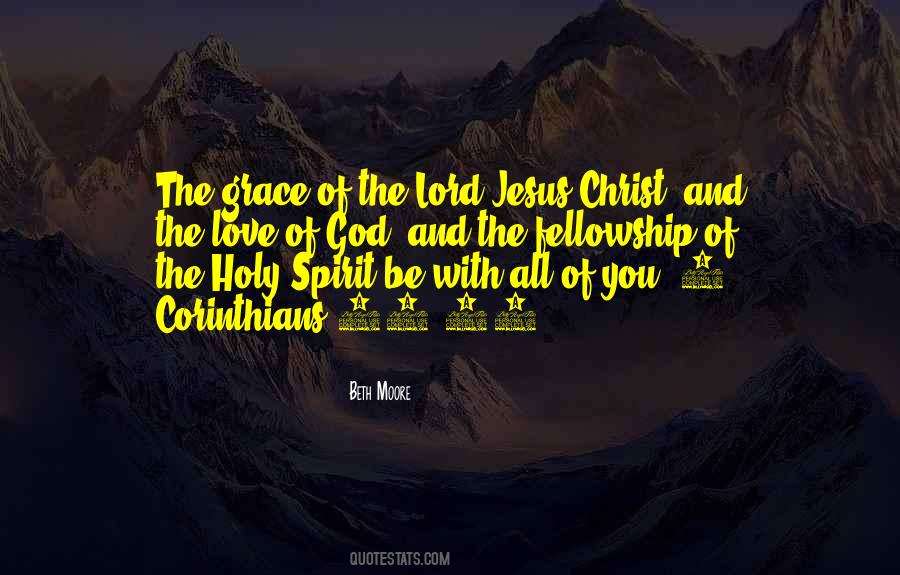 #89. Grace is not a doctrine or a religion. It is a person, Jesus Christ. - Author: John Paul Warren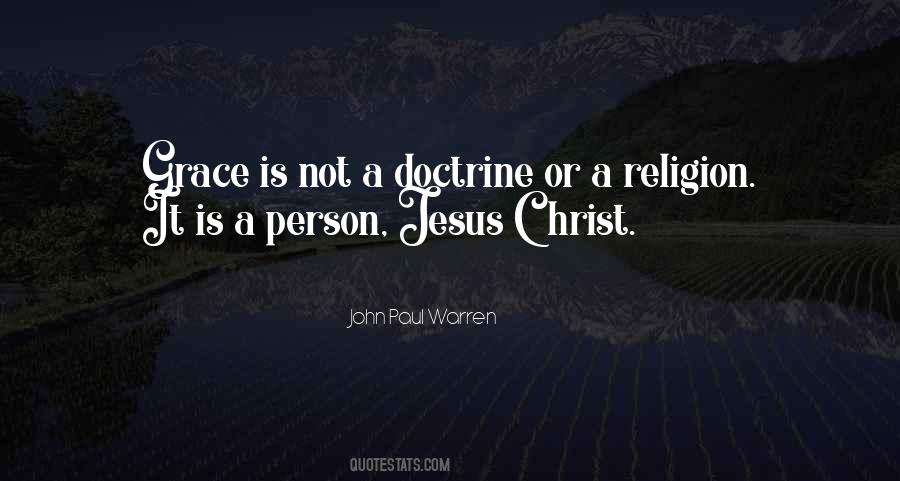 #90. Jesus shows us that there's never a change of mind unless there's a change of heart, and there will never be a change of heart without a conversation between trusted friends.

Halter, Hugh (2014-02-01). Flesh: Bringing the Incarnation Down to Earth (p. 167). David C. Cook. Kindle Edition. - Author: Hugh Halter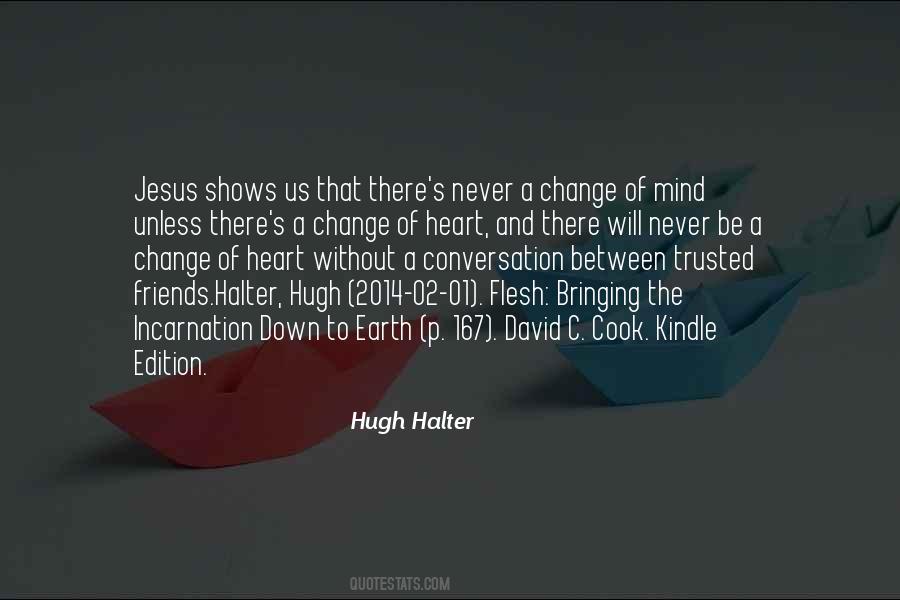 #91. I discovered that being thankful and experiencing the power and presence of Jesus Christ are tightly entwined. As we practice thankfulness, we experience more of God's transforming grace, God's thereness. - Author: Mark Buchanan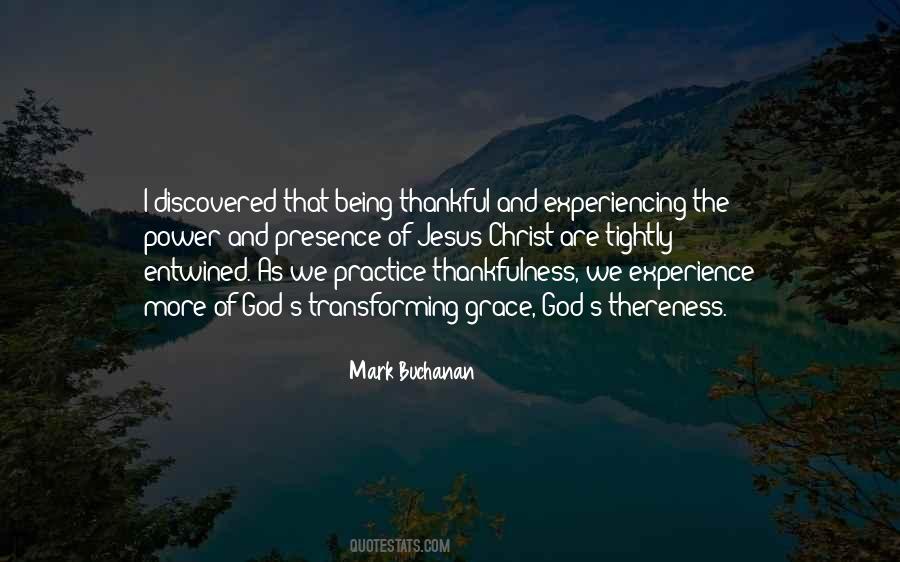 #92. To suppose that whatever God requireth of us that we have power of ourselves to do, is to make the cross and grace of Jesus Christ of none effect. - Author: John Owen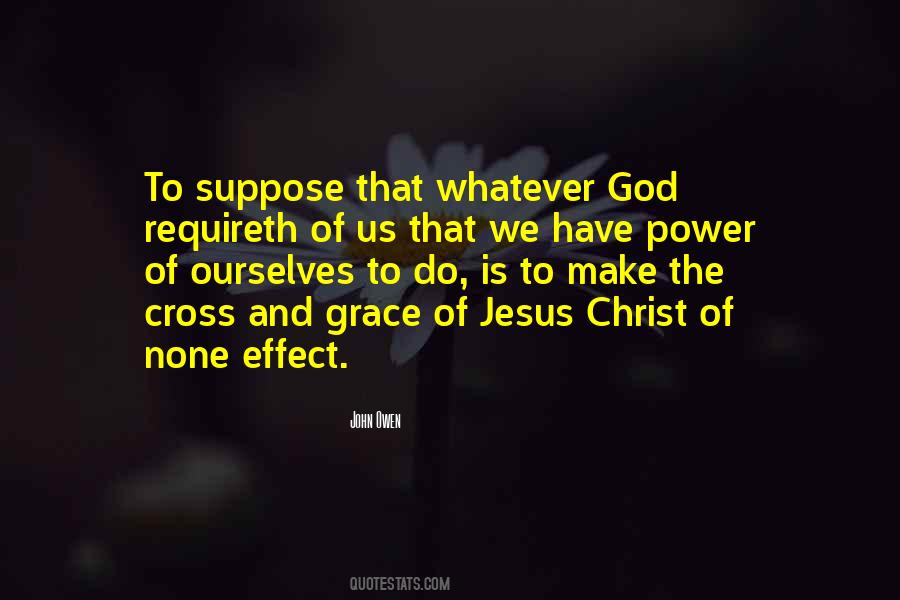 #93. The gospel is not mere forgiveness or grace, empty of content, but always refers to Jesus. So the gospel is good news about a human person who is God in our history, our world and who came to accomplish something in his life death and resurrection. - Author: William McDavid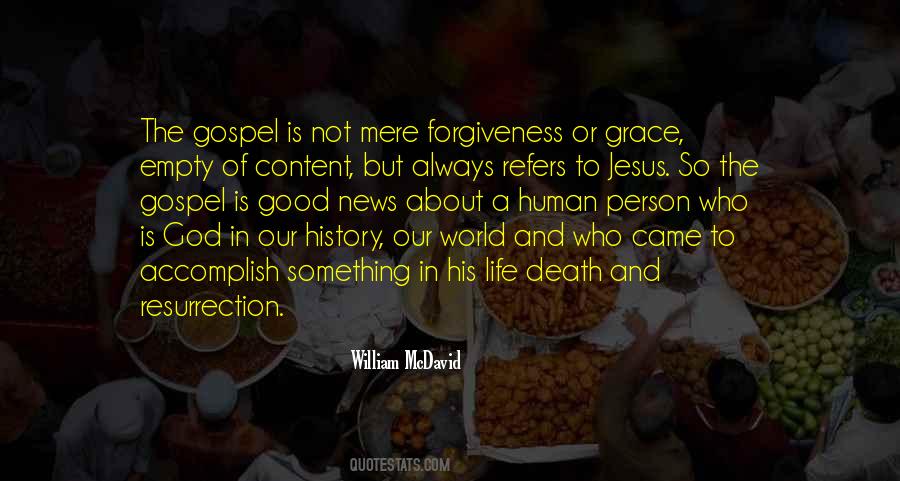 #94. The story of the Bible is not the story of the covenant of grace; nor is it the story of Israel. The Bible is the story of God's work in history to sum up all things in Christ. New Covenant Theology strives to keep this one plan of God - centered in Jesus Christ - primary. - Author: A. Blake White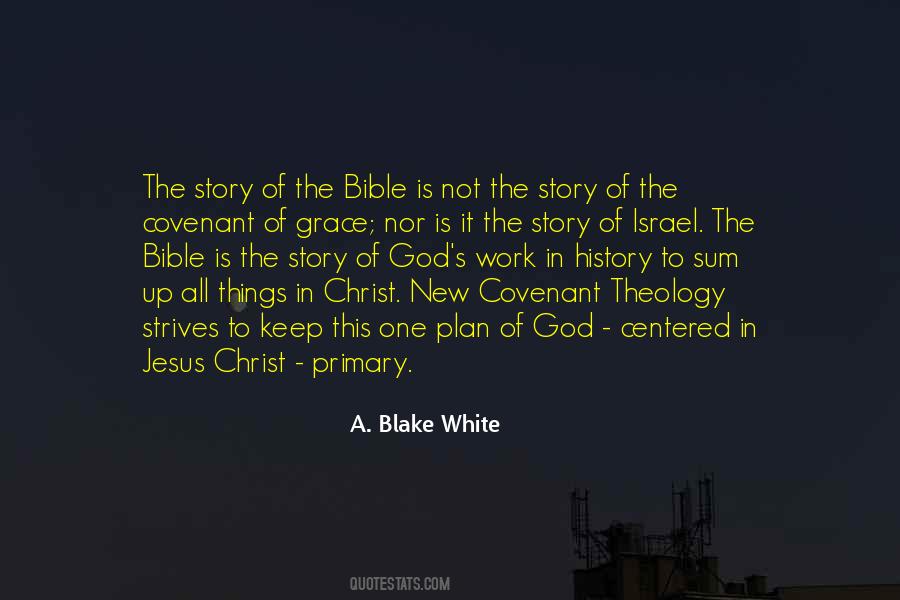 #95. 2PE3.18 But grow in grace, and in the knowledge of our Lord and Saviour Jesus Christ. To him be glory both now and for ever. Amen. - Author: Anonymous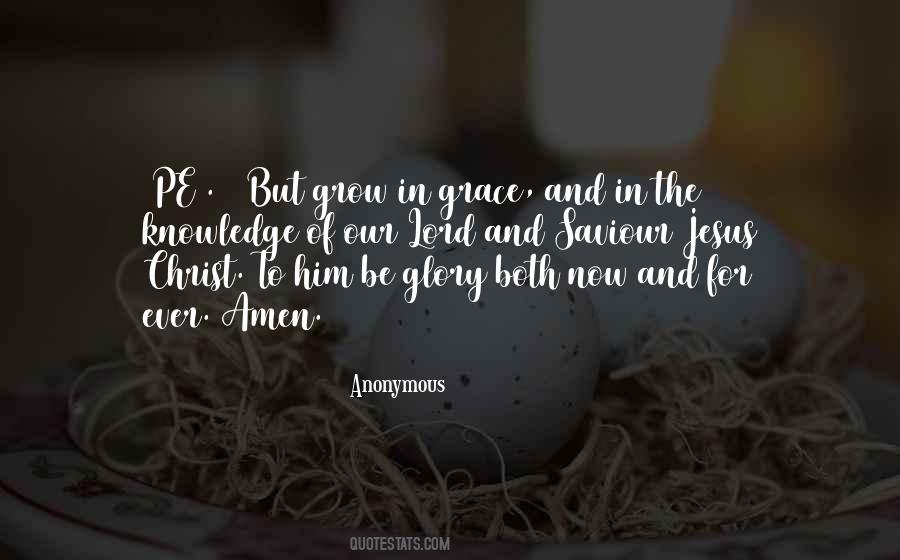 #96. Long-term, gospel-motivate d obedience can only come from the grace of what Jesus has already done, not the guilt of what we must do. - Author: Tullian Tchividjian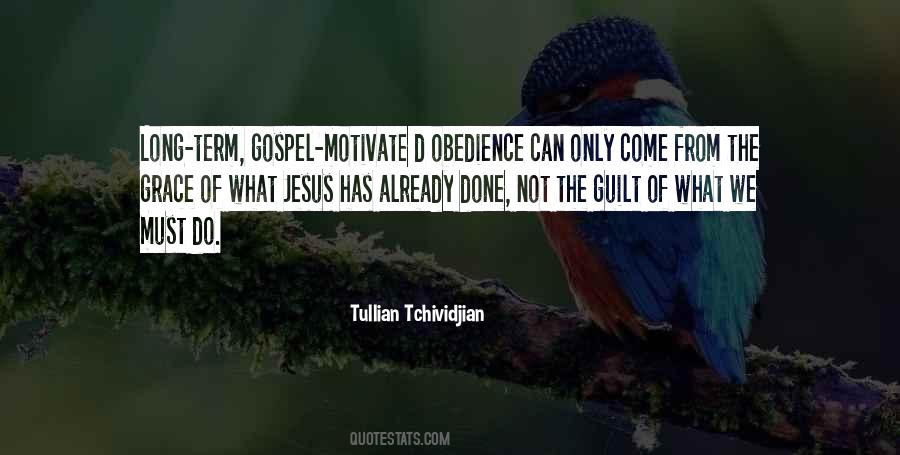 #97. He left His Father's throne above, (So free, so infinite His grace!) Emptied Himself of all but love, And bled for Adam's helpless race. - Author: Charles Wesley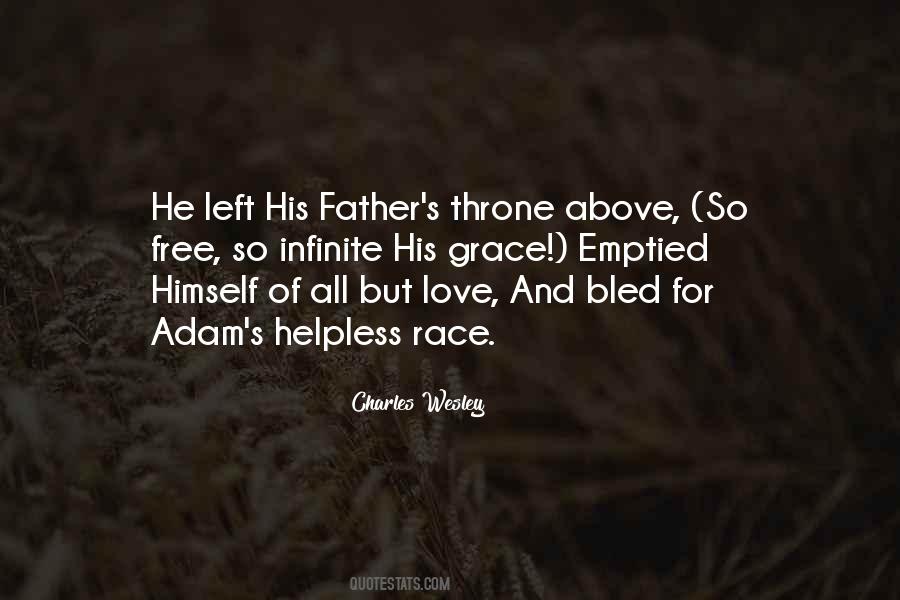 #98. O Christian, never be proud of things that are so transient, injurious, and uncertain as the riches of this evil world! But set your heart on the true and durable riches of grace in Christ Jesus. - Author: Isaac Ambrose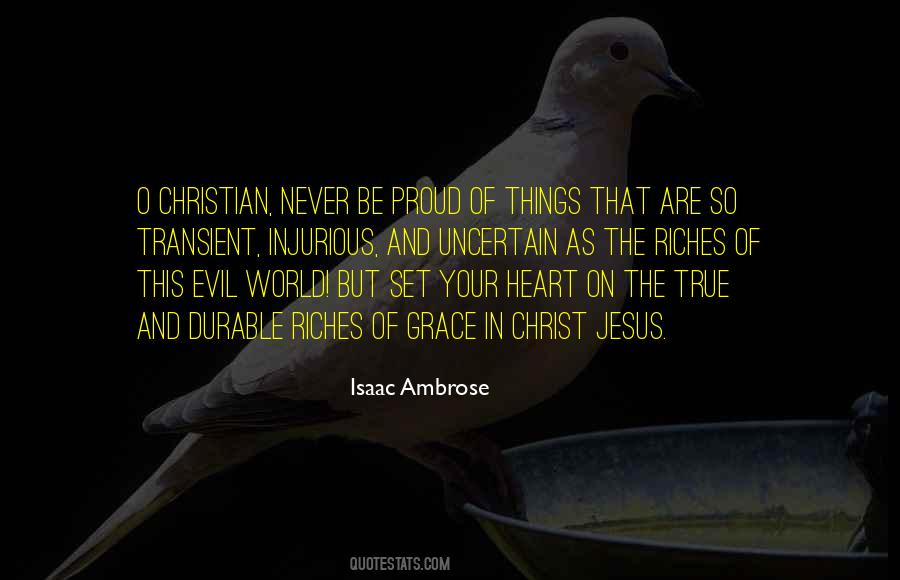 #99. Romans expounds the grace of the Lord Jesus Christ to both Jewish and Gentile believers. It's written to everyone! Anybody who truly understands and embraces its message will be forever changed in the way they relate to God. - Author: Andrew Wommack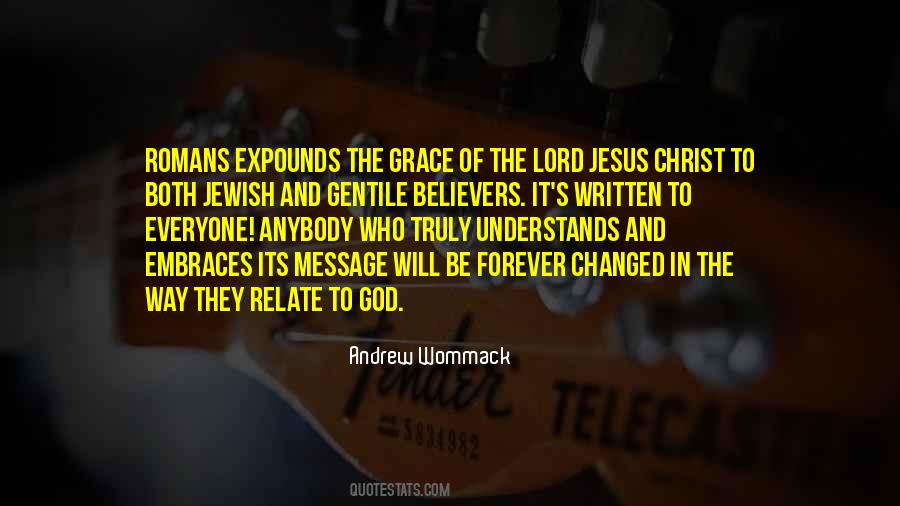 #100. God is not an employer looking for employees. He is an Eagle looking for people who will take refuge under his wings. He is looking for people who will leave father and mother and homeland or anything else that may hold them back from a life of love under the wings of Jesus. - Author: John Piper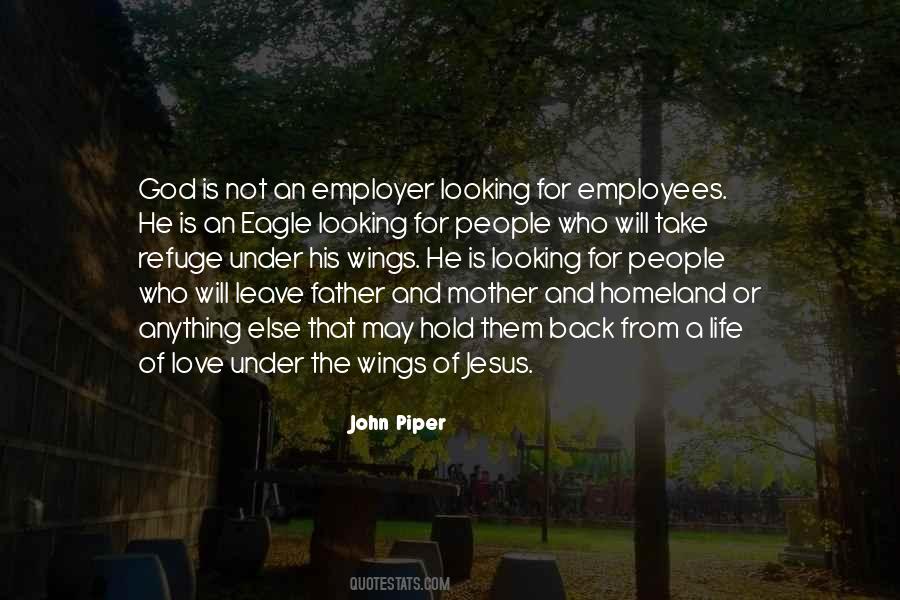 Famous Authors
Popular Topics